New Age Islam News Bureau
28 Jan 2019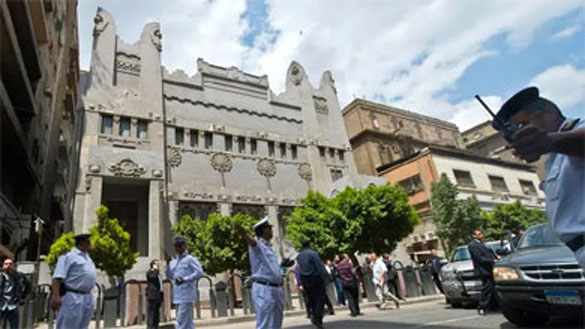 Still, there is no doubt that the amount allocated to the revival of Jewish heritage was a major source of controversy. (AFP)
-----
• Ijtihad Needed To Tackle Modern Challenges to Islam: Salman Khurshid
• 'Islam in India Influenced By Sufism, Bhakti Movement': Jaipur Literature Festival
• 'Do Not Glorify Aurangzeb, Instead Reclaim Fakiri Islam'
• Islamic Browser Promises Better Web Experience with Halal Internet
• ISIS-Jamaat-ARSA Nexus Plotting Series of Terror Attacks in South Asian Nations
• Ulema Pledge Joint Struggle against Terrorism
• Israeli Minister Tours East Jerusalem Al-Quds, Settlers Storm Al-Aqsa Mosque
• Boko Haram: Nigerian Air Force Deploys Female Combatants to North-East
• The Controversial Revival of Egypt's Jewish Heritage
India
• Ijtihad Needed To Tackle Modern Challenges to Islam: Salman Khurshid
• 'Islam in India Influenced By Sufism, Bhakti Movement': Jaipur Literature Festival
• 'Do Not Glorify Aurangzeb, Instead Reclaim Fakiri Islam'
• A Positive Feeling, Gujarati Hindus Say after Visiting Masjid Umar Bin Khattab
• Flag hoisting held in Islamic Madrasas
• Is Attending 'Puja', Accepting 'Prasad' Un-Islamic? Here's What Muslim Clerics Say
• Islamic charity fund used in buying voice of media houses in the world
• Maharashtra ATS Nabs 24-Year-Old with Link to 'ISIS-Inspired' Group from Thane
• Remove 'Muslim' in AMU as it's uncomfortable: BJP MP
• Pakistan breaches truce on LoC, intrusion bid foiled on IB
• Sleuths suspect Amroha-Delhi terror handler based in Pakistan
--------
Southeast Asia
• Islamic Browser Promises Better Web Experience with Halal Internet
• Philippines cathedral bombing sparks peace process worries
• Islamic State behind lethal Philippine church bombing
• Prabowo Will Not Create Islamic Caliphate, Says Christian Brother
• Umno leaders cite rise of Malay Muslim wave for BN's Cameron Highlands victory
• 20 die in Philippine church bomb attacks
• Sabah Muslim couple buck the norm with piggy wares for CNY
• A million mosques in Indonesia? Only God knows, says Kalla
--------
South Asia
• ISIS-Jamaat-ARSA Nexus Plotting Series of Terror Attacks in South Asian Nations
• Draft Afghan peace pact reached: Taliban
• Islamic State training camp busted in Sri Lanka
• U.S. is serious about pursuing peace in Afghanistan: Pompeo
• Khalilzad shares details of U.S.-Taliban talks in Qatar with President Ghani
--------
Pakistan
• Ulema Pledge Joint Struggle against Terrorism
• Taliban, US, Pakistan hail progress in peace talks
• Pakistan shuts Mazar-i-Sharif consulate after botched attack
• Pakistan will try to resume peace talks with India after polls: Fawad
• Social equality imperative to build a peaceful society: moot
• Govt that came through rigging can't be tolerated further: Fazl
• PM's remarks about founders of opposition parties deplored
• Work on 900km Pak-Afghan border fence completed: army
--------
Mideast
• Israeli Minister Tours East Jerusalem Al-Quds, Settlers Storm Al-Aqsa Mosque
• Tel Aviv responsible for expansion of settler terrorism: PLO official
• Palestinian President Abbas to shake up his government
• Netanyahu Warns Hezbollah Chief of Israel's 'Lethal' Power
• Palestinian artist brings Japanese origami to Gaza
• Israeli forces shot, injure more Palestinians in West Bank clashes
--------
Africa
• Boko Haram: Nigerian Air Force Deploys Female Combatants to North-East
• ISIS says it killed 30 Nigerian soldiers
• New 'Long Live Tunisia' party born, to be led by PM Chahed
• Anti-government protesters rally in Sudan despite massive police deployment
• Boko Haram attacks military bases in northeast Nigeria
• Desolation, dismay stare in the face of displaced Libyans
• Burkina Faso attack kills 10: security source
--------
Arab World
• The Controversial Revival of Egypt's Jewish Heritage
• Saudi Arabia executes four Yemenis for murdering Pakistani man
• Arab League calls for Syrian integrity, peaceful solution to crisis
• Six killed, over a dozen injured in bomb and gun attacks across Iraq
• US, Western Arms Discovered at Terrorists' Hideouts in Syria
• US Sends Fresh Military Convoy to Deir Ezzur after Vast Popular Unrest Against SDF
• Civilians Attack Turkish Army Camp in Northern Iraq
• Aleppo: Turkey-Backed Forces, Kurds Engage in Fierce Clashes in Northern Syria's Manbij
• SDF Arrests over 1,300 Civilians in Raqqa Uprisings
• UN envoy meets Arab League chief for Syria talks
• Bomb attacks kill four policemen, wound several others in northern Iraq
• Iraq to summon Turkish envoy over killing of Iraqi Kurd
--------
Europe
• Emmanuel Macron: Egypt's Rights Record Seen As Worse Than Under Hosni Mubarak
• 'My Son Was Terrified': How Prevent Alienates UK Muslims
• Bosnian-Serb leader eyes secession over name row with Muslim party
• Newcastle Islamic school leaders 'reach out' to vandals
• Iraq must move away from economic reliance on Iran - British official
--------
North America
• 'Muslim Ban': Two Years On, Trump's Order Still Destroying Lives
• US says progress made in Taliban talks amid reports of troop pull-out deal
• Muslim US congresswoman slams Trump admin for backing Venezuela 'coup'
Compiled by New Age Islam News Bureau
URL: https://www.newageislam.com/islamic-world-news/ijtihad-needed-tackle-modern-challenges/d/117578
--------
Ijtihad Needed To Tackle Modern Challenges To Islam: Salman Khurshid
January 27, 2019
Former Union minister Salman Khurshid Sunday said there is a need to resort to ijtihad to interpret Islam to tackle modern challenges before the Muslim community.
Ijtihad is an Islamic term implying a process of deducing legal decisions based on the Quran.
"In modern and contemporary society, there is a great need for a serious look at ijtihad to interpret Islam in terms of modern challenges," said Khurshid, replying to a question on as to who speaks for Muslims in India.
The problem, however, lies in acceptance of interpreters and their interpretations, he added.
In India, we have Muslim Personal Law Board; lot of people accept it, but lot others do not," said Khurshid.
Similarly, the country has the Supreme Court, but lot of people question if it is equipped to deal with the core of Islam, he added.
Khurshid was speaking here at Jaipur Literary Festival session on 'Islam: Multiple Histories'.
He also urged his community members to look within.
Elaborating on Islam in India, the Congress leader said Islam in India is different from what it is in West Asia.
India's Islam is greatly influenced by other religions of our land, he said.
Rejecting any threat to Indian Muslim world from Wahhabism, an Islamic doctrine and religious movement, Khurshid highlighted the facts that Sufism and Bhakti andolan came together in India, which has imbibed the ideas of Saint Kabir.
You have a country that revolves around the kind of ideas that Saint Kabir gave us, I do not think wahhabism has a ghost of a chance of finding roots in India, he said.
Both Indian Muslims and non-Muslims have been united on all issues of international concern about the Islam. India is a country with remarkably rich culture of Sufism and Bhakti movement coming together, he said.
On Islamic State, he said it is a negation of Islam.
Islam is a wondrous religion. There are many things in Islam but what we see in the name of Islam today in the world with people resorting to violence not only against people of other religions but against the Muslims themselves is a total negation of Islam, he said.
Asked about his views of triple talaq issue, Khurshid said it is a completely "misunderstood concept".
The supreme court has come to the conclusion that there is no triple talaq in India. It came to this conclusion after having looked into this concept with considerable efforts. That is the end, he said.
https://www.business-standard.com/article/pti-stories/ijtihad-needed-to-tackle-modern-challenges-to-islam-khurshid-119012700622_1.html
--------
'Islam in India Influenced By Sufism, Bhakti Movement': Jaipur Literature Festival
JANUARY 27, 2019
The puritanical Islamic doctrine of Wahhabism was incapable of taking roots in India because of diverse traditions in the Muslim community influenced by the country's composite culture, experts on Muslim culture said on Sunday.
The panel of experts analysed multiple interpretative traditions among Muslims in India and elsewhere as well as modern challenges before them at a discussion on "Islam: Multiple Histories" at the Jaipur Literature Festival here.
Sufism and the Bhakti movement have had an impact on the beliefs and thoughts of Muslims since the medieval period, the experts said, adding that Islam practised in India was "vastly different" from that in West Asian countries.
Current dilemmas
The speakers also focused on the issues faced by Muslims living in secular societies, dilemmas created by technological advancements and the challenge of finding a unitary voice for the entire community.
Congress leader and former External Affairs Minister Salman Khurshid, historian Rana Safvi and Canada-based anthropologist Zulfikar Hirji, who teaches at York University, Toronto, were in conversation with American journalist and author Max Rodenbeck, who is at present the South Asia Bureau Chief with The Economist.
Mr. Khurshid said though the basic belief of Muslims was the same everywhere, its understanding, interpretations and conceptions were quite different. "In that sense, Wahhabism, which is very different from Sufi Islam, cannot find a place in our country," he said, and added that Indian Muslims had already repudiated the two-nation theory of Mohammed Ali Jinnah.
The Congress leader said the doors of Ijtihad (independent interpretation) were not closed forever in Islam and there was a "great need" for its application in contemporary society to interpret the religion in the light of modern challenges.
Democratic dialogue
"We should work on it in a democratic way. Both the spiritual and political leaders should join efforts and guide the community," he said.
Ms. Safvi said Sufism had a special place in India's history, as Sufi mystics such as Nizamuddin Auliya and Khwaja Moinuddin Chishti would sit and discuss Islam and understood it as a service to the people. In the secular domain, no one could stop non-Muslims from speaking up for Muslims' rights, she said.
Prof. Hirji made references to the book, "Islam: An Illustrated Journey", co-authored by him and Farhad Daftari, while stating that Islamic violence was a "total rejection of Islamic values".
https://www.thehindu.com/news/national/jaipur-literature-festival-islam-in-india-influenced-by-sufism-bhakti-movement/article26105856.ece
--------
'Do Not Glorify Aurangzeb, Instead Reclaim Fakiri Islam'
Jan 28, 2019
MUMBAI: Used to hear victimhood stories, the packed hall at the historic Khilafat House in Byculla heard Hilal Ahmed in disbelief. He took the community, not down the memory lane of Muslim's "glorious past" or the gloomy present but for some course corrections. He urged the community to reclaim what he termed fakiri Islam (Islam of the marginalised as the Prophet practised and preached) and dissociate themselves from Islam that monarchs propagated.
An associate professor at New Delhi-based Centre for the Study of Developing Societies and an eminent voice on political Islam and Muslim representation, Hilal was in the city last week to speak on "Marginalisation and Representation of Muslims in India: The Way Ahead" organised by Community Talking Platform, an initiative of the NGO Qartaba Wisdom Club.
"Post-partition, the Muslim discourse has remained confined to a few identity issues like Babri Masjid, minority character of Aligarh Muslim University and Urdu. The victimhood mentality has been a big hurdle," said Ahmed, 48. A PhD from the School of Oriental and African Studies from the University of London, Hilal took a swipe at the tendency to turn the Babri Masjid issue into a dispute between two communities. "It is dispute of the ownership of land which the court will decide. A perception is being given that if Muslims surrendered their claim over Babri Mosque, hundreds of other disputed places of worship would surface. Country is ruled by laws not perceptions," he said.
Ahmed who went to a DAV school in Delhi where he studied Sanskrit before attending universities of Delhi and London argued that Islam must be reclaimed from those who look at faith from the prism of power. "Instead of glorifying Aurangzeb, efforts should be on fakiri Islamat," he said. He expressed dismay over the dwindling number of Muslim devotees at dargahs of Sufi saints. He also criticised movements like Tablighi Jamaat which spread a certain escapism in the community. "We have to talk about and wrestle with issues more here than of hereafter," he said.
https://timesofindia.indiatimes.com/city/mumbai/do-not-glorify-aurangzeb-instead-reclaim-fakiri-islam/articleshow/67719011.cms
--------
Islamic browser promises better web experience with halal internet
January 28, 2019
KUALA LUMPUR: A Malaysian startup is betting that there's plenty of pent-up demand for a new browser that's compliant with Islamic values, at a time of mounting concerns over privacy, bias and online abuse over the internet.
SalamWeb, a mobile browser, is designed to deliver a Muslim-friendly web experience.
The app, which includes messaging, news and other features, is aimed at users in Malaysia and Indonesia, according to Hasni Zarina Mohamed Khan, managing director at Salam Web Technologies.
Her goal is to eventually capture 10% of the 1.8 billion global Muslim population.
She pointed to some of challenges facing the web, as the world's largest technology companies from Google to Facebook face criticism for doing too little to address harmful content and false information.
Human rights group Amnesty International looked at abusive interactions and concluded that Twitter is a "toxic place for women."
"We want to make the internet a better place," Hasni Zarina said. "We know the internet has the good and the bad, so SalamWeb offers you a tool to create this window that lets you go to the internet to see the good."
SalamWeb relies on community-vetted content filters that mark web pages as appropriate, neutral or inappropriate, while warning users when they approach sites with gambling or pornography.
It also has Muslim-specific functions, such as prayer times and an indicator for Qibla, or the direction that a Muslim must face when praying.
The products are certified compliant by the independent Amanie Shariah Supervisory Board, and is built on the open-source Chromium software that's the basis of Google Chrome web browser.
Shariah law prohibits activities considered unethical, such as gambling, prostitution and alcohol- and pork-related businesses, as well as interest-based financial products.
"We're promoting universal values – although SalamWeb is targeted to Muslims, it can be used by anyone.
"The internet can be a harmful place. It's obvious that we need an alternative," Hasni Zarina said.
https://www.freemalaysiatoday.com/category/business/2019/01/28/islamic-browser-promises-better-web-experience-with-halal-internet/
--------
ISIS-Jamaat-ARSA nexus plotting series of terror attacks in South Asian nations
January 28, 2019
A newly-formed nexus between Islamic State (ISIS), Jamaat e Islami (JI) and Arakan Rohingya Salvation Army (ARSA) is secretly plotting series of terrorist attacks in Bangladesh, India, Sri Lanka and Nepal.
According to Shwe Kalaung of the Jihad Watch, "the increasing global problem of Islamic terrorism is now becoming a harsh reality in Sri Lanka. The four men arrested at the compound with the explosives are being held for three months for further interrogation, with permission from the Defense Ministry under the Prevention of Terrorism Act, to establish more information about their network and motives. There have been no prior Islamic terror attacks in Sri Lanka, and authorities are wondering if this new jihadist group in Wanathawilluwa, the northwest region of the island, has connections to international Islamic terror organizations. The evil purpose of these explosives is yet to be determined.
"A recent rise of Islamic jihad activity in Sri Lanka has been paralleled by a rise in Islamic gangs who are controlling the drug trade. The historic heroin seizure in December, 2018 shows a direct link to networks in Afghanistan, Pakistan and Bangladesh. Ruthless Islamic gangs are known to control the underworld in Sri Lanka, and have been connected to the recent assassination plot of the President, along with several other political leaders in late October 2018. Not much information is known about this new radical Islamic group which was caught with the explosives or their connections to the underworld in Sri Lanka, but the common purpose of these Islamic gangs and jihadist networks is to create conflict and political instability inside Sri Lanka. Many Sri Lankans, both Tamils and Sinhalese, believe they have become the target of Islamic jihadis[t] over the last few years; growing evidence shows their fears are not unfounded, since there have been no previous historic problems with Islamic terror in Sri Lanka."
Although until recently, Arakan Rohingya Salvation Army (ARSA) was known as a Myanmar-based Islamist terror outfit, latest information reveals, this group already is linked with Islamic State (ISIS). Recent attacks against Buddhists, such as the killing of two monks at a temple in Thailand, or the smashing of statues from a Hindu temple in India, show a heightened level of daily regional jihadist activity. In Rakhine State, Myanmar, Islamic terror led to a complete insurgency in late August 2017 from the ISIS-linked terror organization Arakan Rohingya Salvation Army (ARSA) that was formed in 2012. This insurgency was masterminded by Pakistani spy agency Inter Service Intelligence (ISI) through a Pakistan-born Saudi imam, Ata Ullah, who also is known as the head of ARSA. So the war on terror in Asia has literally become like an all-out war in the countries of the Golden Horseshoe Caliphate.
Bangladesh government has faced with a rise of jihadist activity from powerful jihadist factions such as Al Qaeda-linked Ansar Al Islam (AAI) and ISIS-linked Jamaatul Mujahedin Bangladesh (JMB) inside the country. Since August 2018, Jamaat e Islami (JI) has taken control of production and sale of Yaba pills (methamphetamines) in Myanmar. The nexus is now selling this narcotic through a network of drug dealers inside Bangladesh. According to information, although the illegal trade of Yaba was earlier controlled by leaders of ruling Awami League, the control of this trade gradually now is going into the grips of JI cadres as well as members of other jihadist outfits in Bangladesh. It is even learnt by counterterrorism experts, an infamous Awami League leader known for his direct involvement in Yaba trade has secretly joined hands with newly formed JI controlled nexus.
Each month, Yaba pills worth US$ 20-25 million are smuggled inside Bangladesh mainly through Bangladesh-Myanmar border. Members of Jamaat e Islami are handling such huge trade by establishing secret distribution centers within Chittagong division while ARSA men are coordinating it from Myanmar.
Illegal drug money spent into jihadist activities:
Cash proceeds of Yaba pills trade are secretly handed over to Pakistani ISI by JI men in Bangladesh which is subsequently used in buying arms and explosives for ARSA and other jihadist outfits in Bangladesh. Similar method is also followed in other South Asian nations such as India, Sri Lanka, Maldives and Nepal. With the help of Jamaat e Islami, ISIS has been very successfully expanding its existence and network within the South Asian countries.
Dangerous network of jihadists and terrorists:
Under the directives of Pakistani spy agency Inter Service Intelligence (ISI) and supervision of Jamaat e Islami (JI), cash and weapons are being secretly supplied to several jihadist and terrorist outfits in South Asia with notorious agenda. In India, cash and weapons are regularly going to the members of Kashmir-based Islamist militancy groups and country's northeastern state-based United Liberation Front of Assam (ULFA).
In Nepal, terror assistance is reaching an active group of terrorists named Nepal People's Army (PLA), National Defence Army (NDA) and Terai Army. Additionally, jihadist and terrorist groups hiding in Nepal also are amongst the recipients of such support. Circulation of counterfeit Indian rupees:
Through the jihadist and terrorist groups inside India, Pakistani spy agency Inter Service Intelligence (ISI) has been circulating hundreds of millions of counterfeit Indian currency bills with the agenda of destroying country's economy. According to credible information, ISI has been producing counterfeit Indian currency bills inside the security printing press in Pakistan, which later is pushed into India through several routes. Members of Lashkar e Taiba (LeT), ARSA, Ansar Al Islam, ULFA etc are actively involved in working with ISI is spreading such huge volume of counterfeit money through its networks inside India.
https://www.weeklyblitz.net/news/isis-jamaat-arsa-nexus-plotting-series-of-terror-attacks-in-south-asian-nations/
--------
Ulema pledge joint struggle against terrorism
January 28, 2019
LAHORE: Representatives of political and religious organisations of the country have agreed unanimously to carry out a joint struggle for elimination of the menace of terrorism and extremism from the country.
Clerics and representatives of 28 religious and political organisations from Pakistan gathered here Sunday at Paigham-e-Islam Ulema Mashaikh Convention that held here under the aegis of Pakistan Ulema Council. The participants of the convention announced observing 2019 as year to mark annihilation of terrorism, extremism and violence from the country.
The convention demanded the government to redress the grievances of seminaries and Masajid with immediate effect. The participants of the convention resolved to carry out joint struggle for the cause of the belief of Finality of Prophethood. Hafiz Muhammad Tahir Mehmood Ashrafi, Chairman Pakistan Ulema Council, presided over the convention and announced that Dar-ul-Afta Pakistan is being constituted in Lahore in March 2019 to keep check on issuance of religious decrees in the country through a proper mechanism. A joint declaration issued at the convention underlined that an extremist and terrorist mindset has harmed Islam and Muslim world more than any other issue. Islam has nothing to do with extremism and terrorism as teachings of Islam and Prophet Muhammad (PBUH) has stressed on seeking moderate way. The convention pointed out that religious scholars had announced unanimously in Islamabad Declaration, which held on 6th January, that extremists' ideologies should not be associated with Islam and Muslims.
The convention demanded the government initiate consultative process for proper legislation of Paigham-e-Pakistan draft. It demanded Prime Minister Imran Khan to redress the grievances of seminaries and mosques regarding to make ease for registration process. The seminaries are serving a major share of the country's populace and concerns of religious sections of society regarding seminaries registration should be addressed on priority without further delay. The extremism and terrorism will get reinforcement if extension is not given to military courts, said participants of the convention.
The joint declaration of the convention praised endeavours on part of the PTI government for strengthening bilateral relations with brotherly Muslim countries. The declaration welcomed the decision of Saudi Crown Prince Amir Muhammad bin Salman to visit Pakistan and mounting investment in Pakistan. It also praised peace talks process for stability in Afghanistan with efforts of Pakistan and Saudi Arabia stating that peace talks between Afghan Taliban and US leadership is very fruitful for peace and stability in the region. The convention announced that 4th international message of Islam conference will be held on 3rd March at Convention Centre, Islamabad, in which 5,000 religious scholars from Pakistan and all over Muslim world will participate. A resolution adopted at the convention condemned Sahiwal tragedy and demanded the government expose the elements responsible for this barbaric incident by taking them to task.
https://www.thenews.com.pk/print/424509-ulema-pledge-joint-struggle-against-terrorism
--------
Israeli minister tours East Jerusalem al-Quds, settlers storm al-Aqsa Mosque
Jan 27, 2019
In a provocative move, an Israeli minister has toured the occupied Old City of East Jerusalem al-Quds, and a group of Israeli settlers have stormed the al-Aqsa Mosque.
Miri Regev, who is a member of the Knesset for the Likud party and minister of culture and sport, toured the streets of the occupied territories with a camera crew in order to promote her political campaign for the upcoming Israeli parliamentary elections, the Palestinian Ma'an news agency reported on Sunday.
In December last year, Israeli lawmakers voted to dissolve the parliament in a bid to hold early elections in April.
Separately on Sunday, a group of nearly 40 Israeli settlers escorted by Israeli forces entered the al-Aqsa Mosque compound in the occupied Old City of East Jerusalem al-Quds.
Sheikh Omar al-Kiswani, the director of the al-Aqsa Mosque, said that Israeli forces also banned employees from the Islamic Endowment Department from entry into the holy compound, preventing them from carrying out their work duties.
Al-Kiswani said that such provocations by Israeli forces occur on a daily basis.
Eyewitnesses said that Israeli forces also detained and assaulted a Palestinian youth in the area.
Ultra-Orthodox Israeli legislators and extremist settlers regularly storm the al-Aqsa Mosque compound in the occupied city.
Most of the Knesset members are right-wing extremists who support the demolition of the Islamic site in order to build a Jewish temple instead on what is known among settlers as the Temple Mount.
The al-Aqsa Mosque compound sits just above the Western Wall plaza and houses both the Dome of the Rock and the al-Aqsa Mosque.
Tensions continue in the occupied Palestinian territories in the aftermath of US President Donald Trump's recognition of Jerusalem al-Quds as Israel's "capital" and the relocation of the US embassy to the occupied city.
On December 21 last year, the United Nations General Assembly overwhelmingly voted in favor of a resolution that calls on the US to undo those moves.
https://www.presstv.com/Detail/2019/01/27/586971/Israel-minister-tour-East-Jerusalem-alQuds-alAqsa-Mosque
--------
Boko Haram: Nigerian Air Force deploys female combatants to North-east
January 27, 2019
The Nigerian Air Force (NAF) has deployed airwomen and female air officers, known as Women of War, for military operations in the North-east.
The female military personnel, according to Chief of Air Staff, Sadique Abubakar, are actively involved in the on-going counter-insurgency operation with special forces against Boko Haram terrorists and other criminal elements.
Mr Abubakar, an air marshal, told PRNigeria that NAF is a gender-sensitive service that encourages its personnel to explore their potentials without inhibition in the armed forces.
The Air Force Chief said: "We call them Women of War as they are well trained to engage in combat and combat support operations for peace, security and national development.
"The female personnel like their male counterparts, help in neutralising insurgents during air strike missions, while also providing tactical supports for the ground troops.
"Some of our airwomen and female officers are regular combatants who have completed specialised training at home and abroad. Some of them regularly fly Beechcraft, a special fighter plane used for gathering intelligence, carrying out surveillance and reconnaissance.
"In the last few months, they courageously flew our aircraft across North-eastern states, especially in Borno and the fringe of Lake Chad to detect and strike at insurgents' locations. They fly sometimes between four to six hours on the ISR platform.
"The Women of War have continued to showcase their professional capacity as fearless and courageous military personnel as pilots, loadmasters, aircraft maintenance engineers, aerospace engineers, armament specialists, squad leaders, combatants, loadmasters, Military police, and air traffic controllers among others."
While the NAF's Women of War are productive and adding value to the service in critical specialties, some of them are currently undergoing various studies in combat operations and aircraft maintenance. PRNigeria gathered that a Nigerian female officer is currently undergoing training in the United States of America to become the first female fighter pilot in the history of the NAF and another female officer is undergoing training in South Africa to become the first NAF female helicopter gunship pilot.
https://www.premiumtimesng.com/regional/nnorth-east/308299-boko-haram-nigerian-air-force-deploys-female-combatants-to-north-east.html
--------
The controversial revival of Egypt's Jewish heritage
By Sonia Farid
27 January 2019
In September of 2017, Egyptian President Abdel Fattah el-Sisi allocated $71 million for the restoration of Jewish sites. While seen by many as a long overdue step to acknowledge an important part of Egyptian culture, others have been skeptical as they questioned the motives and timing of it, or simply objected to the amount of money allotted to the project.
In December of the same year, the Ministry of Antiquities stated that Jewish landmarks are as much of a priority for the government as Pharaonic, Roman, Coptic, and Islamic sites. A year later, in 2018, the ministry announced the registration of 500 Jewish artifacts collected from several synagogues across Egypt.
Magda Haroun, the head of the Jewish community in Egypt, commended the seriousness of the government in preserving Jewish heritage and noted that the registration of Jewish artifacts, which include lamps, chandeliers, cups, and candlesticks, is extremely important since it protects them from damage and theft. Haroun also said that the project is expected to yield more benefits for the community in the future.
"We are now in talks with the Ministry of Culture to turn Jewish synagogues into cultural centers and we are also planning to cooperate to restore Jewish cemeteries," she said. "In the past, we used to face the challenge of a lack of awareness about Jewish heritage. Now, this challenge is disappearing at the government and public levels." In the first event of its kind, Haroun invited Jewish, Christian, and Muslim Egyptians in December of 2018 to the Sha'ar Hashamayim (Gate of Heaven) synagogue in downtown Cairo to celebrate Hanukkah. "We have a vast heritage and as an individual I am not worried about it because the youth of Egypt will preserve it," she said in the speech she gave at the ceremony.
On the other hand, Israeli journalist Ariel Ben Soloman argues that the restoration of Jewish heritage is more of a political step than a cultural one. He described Egypt's president as "operating based on realpolitik," which is also why Egypt cooperates with Israel on defense and intelligence issues.
Political analyst Haisam Hassanein of the Washington Institute for Near East Policy argued that three motives are likely to have given rise to recent interest in Jewish heritage in Egypt. The first is improving relations with the US as "the government sees American Jewish citizens and organizations as a gateway to US policymakers, whom they perceive as overtly sympathetic to Jewish causes." The second is tourism since the restoration of Jewish sites is bound to bring to Egypt Jewish tourists from all over the globe. The third is projecting an image of Egypt as an example of moderation, which Hassanein argues also boosts the image of Sisi.
Still, there is no doubt that the amount allocated to the revival of Jewish heritage was a major source of controversy. Prominent Egyptian architect Mamdouh Hamza said that the restoration of Jewish sites is a positive step, yet the fact that the Egyptian government pays for it, is not.
Abdel Rehim Rihan, director general of archeological studies in Sinai and the Delta at the Ministry of Antiquities argued that the restoration of Jewish sites should not be associated with politics, but should be regarded as a means of bridging the gap between cultures and achieving peaceful coexistence.
"Synagogues are museums in themselves. The holy chest in each of them contains the Torah scrolls in addition to typical Jewish items such as the menorahs," he said. Rihan added that there should be a permanent exhibiting room in each synagogue as is case with the Saint Catherine Monastery in the Sinai Peninsula. He also suggested that the manuscripts discovered in 1896 at the Ben Ezra synagogue and in 1987 at the Jewish cemetery in Cairo, both collections known as the Cairo Geniza, should be displayed at the Egyptian National Library and Archives. "Researchers should be allowed to use the manuscripts to conduct studies on a community that constituted an integral part of Egypt's social, economic, and political life."
https://english.alarabiya.net/en/features/2019/01/27/The-controversial-revival-of-Egypt-s-Jewish-heritage.html
--------
India
A positive feeling, Gujarati Hindus say after visiting Masjid Umar bin Khattab
January 28, 2019
Ahmedabad: A positive feeling and nice gesture! This is what Hindu men and women said after visiting Masjid Umar bin Khattab in Soni Chawl of Rakhial area located just 6 kms from Naroda Patiya in Gujarat.
"I am happy that they have kept the mosque open for all. Today, I came here and witnessed the Namaz, which gave me positive vibes", a Hindu visitor told news agency ANI.
The trustees of Masjid Umar bin Khattab had opened the doors of the mosque for people across all religions to send a message of communal harmony and provide visitors first hand experience of "what Muslims do inside the mosques and why they pray five times a day."
"The main aim is to initiate communal harmony among people. Today, people have wrong impressions about the activities that take place in a mosque. So, we kept it open to let people know what exactly is happening here. We request other mosques also to follow this trend so that people can understand our religion", a member of the masjid committee said.
Talking to The Times of India, a Nikol resident, Pravin Patel, who runs an embroidery business, said that he had visited the mosque and learned why prayers were offered five times a day and how Islam gives the liberty to express your views. Pointing at a poster carrying an Aayah (verse) from the Holy Quran, he said that it is written that every person has a right to express his view.
The organisers had also put a panel displaying a message from Hadith — sayings of Prophet Muhammad (peace be upon him) along with an image of a smartphone showing social media forums like WhattsApp, Facebook and Twitter. The message reads, "Do not spread rumours. Prophet Muhammad had stated that the man who spreads a message without cross checking its authenticity is also a liar."
The events titled Masjid for all, A Mosque with open doors and Visit My Mosque are being organised in the United States, UK and other Western countries to clear misconception about Islam and Muslims since last few years. Trustees of some mosques had recently run such campaigns in Hyderabad and Pune. However, it was for the first time Gujarati Hindus had got a chance to visit a mosque.
http://www.ummid.com/news/2019/january/28.01.2019/a-positive-feeling-gujarati-hindus-say-after-visiting-masjid-umar-bin-khattab.html
--------
Flag hoisting held in Islamic Madrasas
Jan 27, 2019
Hyderabad: On par with other educational institutions, the teachers and the students of Islamic Deeni Madrasas also celebrated Republic Day in Hyderabad and other districts of Telangana.
The students of Islamic Madrasas participated in essay writing competition and highlighted the importance of Republic Day in the elocution competitions.
At Darul Uloom Islamic School, the Principal of the school, Maulana Mufti Jamaluddin Qasimi unfurled the national flag and addressed the students highlighting the importance of the constitution of India and the rights guaranteed therein.
He also mentioned the role played by the Muslims and the sacrifices the Muslim scholars offered during the freedom struggle for Indian independence.
https://www.siasat.com/news/flag-hoisting-held-islamic-madrasas-1460601/
--------
Is attending 'puja', accepting 'prasad' un-Islamic? Here's what Muslim clerics say
by Sameer
Jan 28, 2019
Hyderabad: A meeting of Muslim scholars was held at the head office of Muslim Shibban to consider the issue of a Muslim Minister who attended puja and accepted prasad from a pandit.
Muslim scholars expressed the feeling that any Muslim participating in the religious ceremonies of any other religion amounts of heresy. It becomes obligatory for any such persons to refrain from such acts in the future.
Mufti Abdul Mughni, Maulana Durwesh Mohiuddin, Mufti Mahboob Shareef Nizami, Maulana Hamid Husain Shuttari, Maulana Naseeruddin, Maulana Wajid Husain and other Islamic scholars attended the meeting. They said that it is binding on the part of the Muslims to protect the faith of unity of Allah (SWT).
Full report at:
https://www.siasat.com/news/attending-puja-accepting-prasad-un-islamic-heres-what-muslim-clerics-say-1460902/
--------
Islamic charity fund used in buying voice of media houses in the world
January 28, 2019
Islamic charity fund known as zakat is being used in buying voice of secularist and non-Muslim media outlets in the world. Zakat, or charity, is one of the five pillars of Islam. The amount is calculated as 2.5 percent of a family's annual savings and the donation can be made in cash or kind any time of the year, but most contributions are made during the Ramadan— a period of fasting and prayers — because, according to Islam, it is believed that the "rewards of good deeds" in this month are many folds more than the rest of the year.
Although in 2016, All-India Council of Muslim Economic Upliftment calculated the amount of Zakat collected in India alone stood at US$ 0.5 billion per year – the total amount now have crossed the figure of US$ 1 billion.
Amongst the Gulf countries, Saudi Arabia alone collects more than US$ 35 billion from zakat every year. Saudi Arabia is the only country in the Gulf to both impose a zakat payment, income tax and corporation tax, which it assesses and collects under its Department of Zakat and Income Tax. The kingdom levies zakat on Saudi, GCC nationals and businesses.
In United Arab Emirates, the amount of zakat collected from the millionaires stood at least US$ 8 billion. On the other hand, Qatar, another oil-rich nation in the Gulf though has not institutionalized zakat payment but it does have a Zakat Fund which is voluntary and as in the UAE, can be paid online. According to statistics, annual amount of zakat collected in Qatar is also above US$ 5 billion.
According to assessment, the global collection of zakat per year would be more than US$ 600 billion.
Although zakat fund is supposed to be used for helping the poor and upliftment of their lives, Muslim nations in the Gulf are using such fund in patronizing media houses around the world, especially in the non-Muslim nations. This is being done with the goal of keeping those zakat-receiving media houses silent on various issues such as rise of radical Islam and jihadism. In a Hindu-majority country like India, major segment of the newspapers and television channels are direct or indirect recipients zakat fund every year, which compels them in remaining tight-lipped on voicing against the rise of radical Islam as well as Muslim atrocities on Hindus, Buddhists, Ahmadiyyas, Sikhs, Bahais etc.
In 2017, Indian authorities banned an Islamist broadcast company named Peace TV, which was run with zakat money by a notorious Islamist preacher named Zakir Naik. There are dozens of channels like Peace TV in the Middle East as well as different parts of the world, which are propagating radical Islam, antisemitism and even jihad thus posing a grave threat to the global security.
Full report at:
https://www.weeklyblitz.net/news/islamic-charity-fund-used-in-buying-voice-of-media-houses-in-the-world/
--------
Maharashtra ATS nabs 24-year-old with link to 'ISIS-inspired' group from Thane
Jan 28, 2019
The Maharashtra Anti-Terrorism Squad has arrested a 24-year-old man from Thane in connection with an alleged ISIS-inspired group that wanted to carry out mass attacks at big events using poisonous chemicals.
The arrest was made Saturday from Mumbra in neighbouring Thane district and a laptop, tablet computer, hard disk, pen drives, router, mobile phones and diaries were seized from his residence, an ATS official said.
The accused has been identified as Talah Potrick (34), who is said to be a resident of Dosti Planet North, Shil Daighar, Mumbra in Thane district. According to the police sources, Potrick was radicalised in 2014 and was in touch with an ISIS handler since then.
Earlier, the ATS had arrested 9 youths including a 17-year-old minor who were allegedly planning to launch a massive attack by mixing chemicals in food and water. The agency had also recovered chemicals in experimental quantity from them which were marked as Hydrogen Peroxide. Potrik is suspected of being in touch with one of the previously arrested accused Mohammad Mazhar Shaikh and he had attended several meetings organised by him since August 2018.
"Potrick was in touch with an ISIS handler in Syria since 2014. As per reports, he had radicalised many other people in the last four years in southern and eastern parts of Maharashtra including Beed, Nanded and Khed. After his arrest, we are expecting to crack down a bigger nexus of the ISIS module which is active in the state. Once all the dots are connected in the case, we might get a clearer picture so as to establish the real motive and masterminds behind the nexus," said a senior police officer on the condition of anonymity.
As per police reports, Potrick is a native of Khed is a management graduate. He was working in a private company. After being inspired by ISIS ideology in 2014, he came into contact with Syria-based handler. Sources claim that Potrick was planning to execute a lone wolf attack in the state.
"Potrick has been booked under Section 120(b) of the Indian Penal Code, section 19,20,38 and 39 of the Unlawful Activities (Prevention) Act and Section 153 of the Bombay Police Act," added the officer.
Those arrested earlier have been identified as Fahad Shah, Zamen Kutepadi, Mohammad Mazhar Shaikh, Sarfaraz Ahmed, Zahid Shaikh, Mushaheed Islam, a juvenile; and Salman and Mohseen Khan.
CRACKDOWN ON ISIS IN STATE
July 2016: ATS officials arrested Nasir Bin Yafi Chaus, a resident of Parbhani for allegedly being in touch with ISIS members over social media. He had created at least 18 bogus accounts through which he was in touch with his handler in Syria. He had plans to flee to Syria and join the outfit.
Full report at:
https://www.dnaindia.com/mumbai/report-maharashtra-ats-nabs-24-year-old-with-link-to-isis-inspired-group-from-thane-2712803
--------
Remove 'Muslim' in AMU as it's uncomfortable: BJP MP
Jan 28, 2019
AGRA: BJP's Aligarh MP Satish Gautam has said that the term 'Muslim' in Aligarh Muslim University's name makes many people uncomfortable and it would be best to rename the over-a-century-old varsity. "The word 'Muslim' makes a large section of the society uncomfortable. It will be suitable to call its as Aligarh University," Gautam said. Asked if Banaras Hindu University should also be renamed, the BJP MP said, "India is a Hindu Rashtra and there is no point in removing 'Hindu' from the BHU."
Gautam has been in news for his frequent tirade against AMU. From demanding the removal of MA Jinnah's portrait hanging in one of the varsity's many halls, to dubbing AMU a "seminary for terrorists", Gautam has been in news for launching several attacks on the varsity. "Being the central government's representative, it is my duty to speak whenever things go wrong. I will never be silent on the issues that harm national interests. I am against the mentality that prevails and drives things there and not the institute," the MP said.
Full report at:
https://timesofindia.indiatimes.com/city/agra/remove-muslim-in-amu-as-its-uncomfortable-bjp-mp/articleshow/67717990.cms
--------
Pakistan breaches truce on LoC, intrusion bid foiled on IB
Jan 27, 2019
JAMMU: The Pakistani side fired unprovoked across the Line of Control (LoC) in Naushera sector of Rajouri district in Jammu and Kashmir, on Sunday. A similar violation was carried out by Pakistan on Saturday too in Poonch district. The same day, an intruder was also shot at by the Border Security Force (BSF) in an infiltration bid across the International Border (IB) in Samba sector.
"Pakistani Army this afternoon (Sunday), at 1315 hours, fired small arms and resorted to heavy mortar shelling in Naushera sector of Rajouri," a defence spokesman said. He added that Indian troops effectively retaliated to the firing. A similar ceasefire violation also took place on Saturday at 1000 hours in Mankote area of Mendhar sector in Poonch along the LoC.
In wake of the frequent violations by Pakistan on the LoC on Saturday, the Indian Army called off the traditional exchange of sweets with the Pakistani Army in Poonch district to mark India's Republic Day.
On Saturday, the Border Security Force (BSF) troops foiled an infiltration bid across the IB in Samba sector. The intruder was shot at, and later "hospitalized to Government Medical College & Hospital (GMC&H), Jammu, for injuries in the right arm, left leg and abdomen," a source said.
Officials said investigations have been initiated.
Full report at:
https://timesofindia.indiatimes.com/india/pakistan-breaches-truce-on-loc-intrusion-bid-foiled-on-ib/articleshow/67714699.cms
--------
Sleuths suspect Amroha-Delhi terror handler based in Pakistan
by Deeptiman Tiwary
January 28, 2019
SECURITY OFFICIALS suspect that the handler of the alleged Amroha-Delhi terror module, which the National Investigation Agency (NIA) claimed to have busted last month, was based in Pakistan, sources told The Indian Express.
The handler assumed the online identity of Abu Malik Peshawari and was instrumental in motivating the module's alleged mastermind — Mufti Suhail, a preacher from Delhi's Jaffrabad — to join the Islamic State, the NIA has alleged.
The "preliminary conclusion" on the handler's identity is based on analysis of purported online chats between Suhail and Peshawari, sources said. "The Urdu that Peshawari speaks and writes is largely identified with a certain region in Pakistan. Such Urdu is neither spoken in India nor in any other part of the world. We are yet to identify him or come to a definitive conclusion that he is a Pakistani," said an officer speaking on condition of anonymity.
After it claimed to have busted the alleged module on December 26, the NIA has found that some members of this group had travelled to Kashmir twice last year to establish contact with local militants for training and weapons, sources said.
In a bid to attract the attention of IS sympathisers online, sources said, Suhail identified himself as Abu Basir al Khurasani. The second part of this name, sources said, was an attempt to indicate his location and allegiance — the Af-Pak-India region and the IS Khorasan, operational in Afghanistan's Nangarhar.
As the 29-year-old preacher from Amroha began trawling the Internet, he soon found a "friend and guide" on Facebook in Peshawari, said sources. Investigators suspect it was on Peshawari's directions that Suhail allegedly began motivating his friends and acquaintances to engage in IS activities.
NIA investigators, however, appear to have ruled out a link between Sohail's alleged module and another led by Abdullah Basith from Hyderabad, who was also found to have been in touch with suspected members of the Islamic State in J&K. Two members of Basith's group had been arrested by Delhi Police from Amroha, from where Mufti Suhail and some of his associates hail.
Investigations into the Amroha-Delhi module have, however, revealed that one of the accused — Saqib Iftekhar, a Hapur-based imam — had travelled to J&K twice in search of weapons and to meet militants.
"In May, he visited Bandipora in North Kashmir and went to Rajouri in Jammu. In August, he visited Tral to meet a cleric. He and the cleric are known to each other as they studied theology in an Amroha seminary together. He asked the cleric to arrange for weapons and to help him meet Mujahideen. The cleric made him meet a man connected to militants," the officer claimed.
The NIA has arrested 12 persons in the Amroha-Delhi case. The last arrest was made on January 12, when Mohammed Absar Ahmed, a theology teacher in Hapur, was nabbed from Meerut. Ahmed was a friend of Iftekhar and had travelled with him to Kashmir twice, according to the NIA.
"Absar's interrogation revealed that Iftekhar wanted to start a new group. It was in this connection that they had met a cleric in Tral," an NIA officer claimed.
Full report at:
https://indianexpress.com/article/india/sleuths-suspect-amroha-delhi-terror-handler-based-in-pakistan-5557366/
--------
Southeast Asia
Philippines cathedral bombing sparks peace process worries
January 28, 2019
MANILA: The Islamic State-claimed bombing of a Catholic cathedral that killed 20 in the Philippines' restive south put fresh pressure Monday on peace efforts aimed at ending decades of separatist violence.
Two explosions tore through the cathedral, shattering pews and windows, on the Muslim-majority island of Jolo, killing worshippers at Sunday mass and security forces in one of the nation's worst bombings in years.
Experts voiced concern on Monday over the impact the attack would have on a decades-long push for peace that culminated last week in voters approving expanded Muslim self-rule in the south.
The vote was the result of negotiations started in the 1990s with the nation's largest rebel group, the Moro Islamic Liberation Front (MILF), and will give it considerable power over the so-called Bangsamoro region.
The IS claim, in a formal communique, said two suicide bombers had detonated explosive belts, according to the SITE Intelligence Group, which monitors jihadist activities.
But a military report said the second bomb was left in the utility box of a motorcycle in the parking area outside the church. Police said they believe the explosives were detonated remotely, but did elaborate.
Despite the contradictions, authorities have not ruled out IS involvement.
Jihadist factions aligned with the group – including the notorious Abu Sayyaf kidnap-for-ransom group – which were not part of the peace process, are prime suspects in the bombing.
The remote island of Jolo is a base of the group, which is blamed for deadly bombings, including an attack on a ferry in Manila Bay in 2004 that claimed 116 lives in the country's deadliest terror assault.
'Opportunities squandered'
"This is a big challenge for the Bangsamoro government," said Rommel Banlaoi, chair of the Philippine Institute for Peace, Violence and Terrorism Research.
The former rebels need to show they will be able to pull the region toward peace in order to attract much-needed investment to alleviate poverty and counter extremism, he told AFP.
"MILF needs to prove it can make a difference… the gravity of the problem faced by MILF is wow, so overwhelming," he added.
The church attack came despite President Rodrigo Duterte putting the southern Philippines under martial rule after pro-IS militants seized the southern city of Marawi in May 2017.
Government officials have argued that martial rule, which gives authorities extra powers, has been effective in taming the perpetually restive region.
Meanwhile, condolences poured in from around the world for the victims at the cathedral, which has been repeatedly targeted by grenade attacks that did not prove fatal.
Pope Francis, speaking in Panama, expressed his "strongest reprobation" for the violence. Once again, he said, "the Christian community has been plunged into mourning."
But experts were also worried about how the attack would impact the hopes for new development in the region, which were spurred by the self-rule vote victory.
"It's a terrible human tragedy, it's also a development tragedy," World Bank economist Andrew Mason told broadcaster ABS-CBN.
"When we see conflict areas, when we see ups-and-downs and negative impacts due to violence and conflict, what we see is also these are development opportunities that are squandered."
https://www.freemalaysiatoday.com/category/world/2019/01/28/philippines-cathedral-bombing-sparks-peace-process-worries/
--------
Islamic State behind lethal Philippine church bombing
JANUARY 27, 2019
Two lethal explosions targeting a Catholic church on Sunday rocked the Philippine southern island province of Sulu, the known bailiwick of the Islamic State-inspired Abu Sayyaf Group. At least 18 were killed and 83 wounded, the Philippine military said.
Lieutenant Colonel Gerry Besana, spokesperson of the Armed Forces of the Philippines Western Mindanao Command (Westmincom), condemned the bomb attack, which erupted at around 8:15 am in Jolo, the capital of Sulu province, as an act of terrorism.
The Islamic State of Iraq and Syria (ISIS) claimed responsibility late Sunday for the twin bombings through the militant group's news agency Amaq, Reuters reported.
The Philippine National Police said as of 1:20 pm on Sunday that 27 were killed (20 civilians and 7 soldiers) and 77 others wounded in the attack. No group had claimed responsibility for the bombing as of 3pm on Sunday afternoon.
Besana told Asia Times military authorities are looking at the possible involvement of the Islamic State-linked Abu Sayyaf Group in the twin blasts, which killed five soldiers and a Philippine Coast Guard officer who were guarding the church.
The other 12 fatalities were civilians attending the religious mass, Besana told Asia Times. Of the 83 injured, 16 were soldiers, two from the Philippine Coast Guard, while the rest were civilians, he said.
Besana said the second blast occurred at the parking area of the Catholic church, which is administered by the missionary Oblates of Mary Immaculate. The improvised explosive device was placed inside the utility box of a motorcycle, the Philippine military said.
Authorities are now investigating whether Abu Sayyaf launched the twin bomb attacks in retaliation for the military's recent ramped up campaign against the terror outfit's sanctuaries in Sulu, a Muslim-dominated province in the predominantly Catholic nation.
The deadly bombing came less than a week after a successful plebiscite to establish a new Bangsamoro region in the south, the centerpiece of a final peace deal between the government and Moro Islamic Liberation Front (MILF) rebel group.
The military was cautious, however, to link the church bombing's to the newly ratified Bangsamoro Organic Law, which was passed on January 21 and will grant wide-ranging autonomy to a newly created Bangsamoro Autonomous Region in Muslim Mindanao (BARMM).
Sulu voted against inclusion in the BARMM, which will replace the 28-year-old Autonomous Region in Muslim Mindanao (ARMM) which was the outgrowth of a separate peace deal with a different Islamic Moro rebel group.
Sulu Governor Abdusakur Tan II has challenged the legality of the BOL before the Supreme Court, arguing that its enactment is unconstitutional because it abolishes the existing ARMM, which he argues can only be done by amending the Constitution and not through an act of Congress.
The BARMM aims to bring just and lasting peace to the region after four decades of civil war that has impoverished the Muslim region, the country's perennially poorest.
While President Rodrigo Duterte, who hails from Mindanao, has yet to install the BARMM, fighting erupted on Thursday between the military and remnants of the Islamic State-aligned Maute Group that laid siege to Mindanao's Marawi City beginning in May 2017.
Over 350,000 civilians were uprooted in the five-month war that left the city in shambles.
The military announced on Friday that troops overran the camp of the Maute Group remnants in Lanao del Sur, which voted for inclusion in the BARMM. Three Maute Group fighters were killed, while three others were arrested in an operation that injured three government soldiers.
Lieutenant General Arnel Dela Vega, Westmincom's commander, ordered all military units to intensify security measures following the encounter in Lanao del Sur and the deadly twin explosions in Sulu. Both provinces are under the Westmincom's command.
Octavio Dinampo, a peace advocate who teaches at the Mindanao State University in Jolo, said the explosions were so loud he heard them from his house in Sitio Tanjung in Indanan town, which is situated four kilometers from the blast site in downtown Jolo. "The explosions came about 45 seconds apart. I thought our troops were firing 105 howitzers," he said in a phone interview.
Dinampo said he believes the bomb attack in Sulu was perpetrated by Abu Sayyaf in retaliation for the losses they have suffered from continuing military offensives in the area.
Around five months ago, he said the military's intelligence community intercepted plans that Abu Sayyaf would conduct bombings in downtown Jolo.
Dinampo, who was abducted by Abu Sayyaf in 2008, said the military then closed the street where the Catholic cathedral was located for about 20 days, but reopened it after the public complained of inconvenience.
"Now we have this very brutal and grisly attack inside a church…This is an act of reprisal and plain and simple terrorism to sow fear among civilians," he said, condemning the incident.
Dinampo said there are six military brigades now operating in Sulu to neutralize Abu Sayyaf.
Last month, President Duterte activated the 11th Infantry Division in Jolo to augment troops currently deployed in the province, Abu Sayyaf's traditional region of operation.
Dinampo said addressing the Abu Sayyaf problem with military might would likely not uproot the notorious extremist group that beginning in 2000 turned to kidnap-for-ransom to sustain its operations.
Abu Sayyaf abducted 21 hostages — 10 European and Middle Eastern tourists and 11 Malaysian workers — from a posh resort in Sipadan Island, Malaysia in 2000.
Abu Sayyaf is also responsible for the Philippines' largest ever terror attack, the 2004 SuperFerry 14 bombing that killed 116 people. The attack, detonated with a 3.6 kilogram bomb, has been described as the world's deadliest terror attack at sea.
Von Al Haq, spokesperson of the Bangsamoro Islamic Armed Forces, the MILF's armed wing, condemned the blast and called on government authorities to thoroughly investigate the incident.
"This is a terrible act of terrorism," he said.
Full report at:
http://www.atimes.com/article/philippine-church-bombing-points-to-abu-sayyaf-terror-group/
--------
Prabowo will not create Islamic caliphate, says Christian brother
January 28, 2019
Presidential candidate Prabowo Subianto's younger brother, Hashim Djojohadikusumo, who is also a member of Prabowo's campaign team, said he could guarantee that the Gerindra Party chairman would not seek to create an Islamic state if he won the upcoming presidential election.
Hashim made the statement at a "Diversity and Peaceful Election" event organized by the Indonesian Communion of Churches (PGI) on Sunday.
At the event, a woman asked Hashim, who is a Christian, about the support Prabowo received from the Islam-based Prosperous Justice Party (PKS) and hard-line mass organization Islam Defenders Front (FPI), and whether that meant Prabowo would create a caliphate.
"I will tell you ma'am, what is the guarantee that Prabowo will not create a caliphate? I am that guarantee," he said as quoted by tempo.co. "My Catholic older sister and brother-in-law, they are also the guarantees."
Prabowo's support among conservative Muslims, including former sympathizers of the now-banned Hizbut Tahrir Indonesia (HTI), has led to rumors that he would turn Indonesia into an Islam-based state if he was elected.
Hashim, however, said, as a politician, Prabowo would accept support from anyone, and that it did not necessarily indicate what Prabowo would do if he was president.
Full report at:
https://www.thejakartapost.com/news/2019/01/28/prabowo-will-not-create-islamic-caliphate-says-brother.html
--------
Umno leaders cite rise of Malay Muslim wave for BN's Cameron Highlands victory
JAN 27, 2019
PETALING JAYA - Leaders of Malaysia's Umno-led Barisan Nasional (BN) coalition have attributed the victory it secured in the Cameron Highlands by-election to the rise of a Malay Muslim wave, heralding the move as the first step towards reclaiming Putrajaya after being ousted from power last year.
Umno vice-president Mohamed Khaled Nordin on Sunday (Jan 27) lauded BN candidate Ramli Mohd Nor's win at Saturday's by-election which saw him becoming the first person from the indigenous orang asli community to be elected as a Member of Parliament.
He won the seat by a 3,238-vote majority in a four-corner contest against ruling Pakatan Harapan (PH) alliance candidate M. Manogaran and independent candidates Sallehudin Ab Talib and Wong Seng Yee.
Umno, the BN's biggest component party, and the fellow opposition Parti Islam SeMalaysia (PAS), had cooperated for the by-election, with PAS staying out of the contest to back the BN candidate.
"If the understanding between Umno and PAS is further cultivated and mobilised effectively, it will give rise to a large and important Malay Muslim wave that could silence Pakatan Harapan," Datuk Seri Khaled was quoted saying by The Star news website.
"Even more so when the Malays and Bumiputeras realise that the voices of the Malays in Pakatan Harapan are very small and represent a minority that is constantly ignored," he said in a media statement.
Mr Khaled said Pakatan is uncomfortable with the outcome of the Cameron Highlands polls, as it does not want to see the Malays and the opposition parties uniting and cooperating.
He noted that the result also showed that voters were confident that Umno and PAS - rather than PH member parties such as the Democratic Action Party (DAP) - were the best combination to champion the Malay and Bumiputera cause without denying other races. "Malays and Bumiputeras will not be influenced and choose a party such as DAP, which clearly rejects the concept of the special position of the Malays and Bumiputeras through their Malaysian Malaysia ideology," he said.
Umno's acting president Mohamad Hasan hailed the BN's win, calling it a first step towards returning to government. "To Pakatan Harapan, the win in Cameron Highland's is the start of Barisan's revival. And we are not going to stop till we wrest Putrajaya, God willing," he said according to The Star.
He added that BN and PAS would continue to collaborate for the benefit of the people. "Although we do not have a formal alliance or cooperation, both parties want the best for Malaysia. We will also continue to work together for Malay and Muslim unity," he said.
Meanwhile, former Umno president Najib Razak, who campaigned for the BN at the by-election, hit out at Mr Manogaran for claiming that the coalition had played up racial issues to win at the polls.
"What he had said is not true. We did not play any racial issues to win votes. "Instead, we only demanded the rights of the Malays according to the constitution and also the rights of the non-Malays. We did not demand anything more than that," he was quoted telling reporters according to the Malay Mail.
Full report at:
https://www.straitstimes.com/asia/se-asia/bns-cameron-highlands-by-election-win-shows-the-rise-of-a-malay-muslim-wave-says-umno-v
--------
20 die in Philippine church bomb attacks
January 28, 2019
JOLO: At least 20 people were killed Sunday when a double bomb attack hit a Catholic church on a southern Philippine island that is a stronghold of militants, the military said, days after voters backed expanded Muslim self-rule in the region.
A powerful first blast shattered pews, shattered windows and left bodies strewn inside the cathedral in the Catholic-majority nation´s restive south as mass was being celebrated.
Just moments later a second explosion outside killed troops who were rushing to help the wounded in the smoking and heavily damaged church on Jolo, which is overwhelmingly Muslim. It is one of the deadliest bomb attacks to strike the insurgency-plagued southern Philippines in years, and shows the insurgency in the region is still a threat despite recent steps toward peace, experts said. The bloodshed came less than a week after voters´ decisive approval of giving Muslims in the south more control over their own affairs, which sparked hopes of quelling long-time separatist violence. "Just because the (referendum) has passed does not mean that things are going to get better overnight," said Gregory Wyatt, director for business intelligence at PSA Philippines Consultancy. "There are still militant groups that will continue to be active and pose a security threat," he said. Bishop Angelito Lampon, who previously served in Jolo, said Sunday´s attack may be the worst, but was certainly not the first on the church. "In my 20 years there from 1998 to last week, there were seven hand grenades lobbed into our cathedral," he said. "Fortunately there was just a little damage and no casualties." Manila swiftly vowed to hunt down the attackers, but no group has claimed the bombing. "We will pursue to the ends of the earth the ruthless perpetrators behind this dastardly crime," presidential spokesman Salvador Panelo said in a statement. "The law will give them no mercy."
https://www.thenews.com.pk/print/424657-20-die-in-philippine-church-bomb-attacks
--------
Sabah Muslim couple buck the norm with piggy wares for CNY
Durie Rainer Fong
January 28, 2019
KOTA KINABALU: It's a busy day at the Riverson Walk bazaar at Kota Kinabalu Times Square where traders have set up their stalls and spread out an array of goods and products to tempt passers-by.
Adam Baderun and Yuslina Badrum are among the many calling out to prospective customers. Their stall features a variety of laser-cut items specially designed for Chinese New Year.
Key chains, pins and bookmarks are carefully arranged in rows. But perhaps the most eye-catching sight of all are the figurines of pigs, in conjunction with the Chinese zodiac animal being celebrated this year.
The pig is considered unclean by the predominant Malay-Muslim community, but this Sabahan Muslim couple have no problem selling the figurines, nor do their customers seem fazed by the sight of tudung-clad Yuslina hawking her piggy wares.
Yuslina, nicknamed Yus, is of Kadazan-Sungai descent.
"It's business as usual," she told FMT. "There have been no awkward reactions so far, only positive comments and inquiries from our customers."
Yus, a secondary school teacher, doesn't understand the fuss over the animal in West Malaysia. She says if people truly understand their religion, they won't get upset over trivial matters.
"For me, there is no issue (selling pig figurines)," she said.
"Pigs and dogs are God's creation as well. As long as you keep to your own religion, like not consuming swine meat, you're okay.
"You'd be surprised how much we can learn and understand about other people's culture if we promote tolerance."
The bazaar here where FMT caught up with the couple is held every two months. Yus and her husband Adam share the business with two others.
Adam said all of the items at their stall are made in their own shop in Penampang using laser cut technology. When asked about their experience of selling the figurines, he said it is a non-issue in Sabah.
"In the peninsula, the very mention of babi or pig will raise red flags. But for us, we know our faith. Selling the icons will not shake our beliefs. We don't consume the meat, and the items are just art.
"It's not our place to look down on other people's culture," he added. "In Sabah, we live in a multiracial and multi-religious setting, and we tolerate each other. We learn to appreciate our respective beliefs."
Adam is an aircraft technician. His father is from Perak and his mother hails from Selangor, but both have been living in Sabah for over 40 years now.
"My parents have no problem with us selling the pig icons," he told FMT. "They have been here for so long and have learned how tolerant a society Sabah is."
But the bulk of Adam's thanks for teaching him about the harmonious lifestyle in Sabah goes to his wife, Yus. He and Yus, both 32 now, got married in 2013.
"My wife's family consists of Muslims and non-Muslims. That's where I effectively learned about tolerance and understanding the beliefs of others," he said.
Adam and Yus said the pig figurines have been a hit among their customers. In the past, they have also sold items commemorating Easter and Christmas, including decorative pieces inscribed with Bible verses.
"We've had orders from people for these items as well," Adam said. "Again, we know our own faith as this doesn't trouble our beliefs. It is just art.
Full report at:
https://www.freemalaysiatoday.com/category/nation/2019/01/28/sabah-muslim-couple-buck-the-norm-with-piggy-wares-for-cny/
--------
A million mosques in Indonesia? Only God knows, says Kalla
January 28, 2019
Vice President Jusuf Kalla has said that the number of mosques in Indonesia has increased significantly in recent years, but the exact number of remains a mystery.
"Only God knows the number of mosques in Indonesia. If someone says 1 million, I'm sure everyone will believe it," he said at the opening of the national coordination meeting (Rakornas) of the Nahdlatul Ulama's women's chapter, Muslimat, in Jakarta on Sunday, as quoted by Antara news agency.
"I always say there are 800,000 [mosques] but 1 million is also possible. This is an extraordinary development."
Kalla, who is also the chairman of the Indonesian Mosque Council, said that with 800,000 mosques, there was one mosque for every 225 Muslims, including babies.
He said mosques were located everywhere, including in offices, schools and shopping malls.
"Now, malls are only popular if there is a big mosque above it, allowing people to perform Friday prayers or Maghrib prayers there," he said. "We are thankful that Indonesia has experienced such as good change."
Full report at:
https://www.thejakartapost.com/news/2019/01/28/a-million-mosques-in-indonesia-only-god-knows-says-kalla.html
--------
South Asia
Draft Afghan peace pact reached: Taliban
January 27, 2019
Taliban officials say US negotiators have agreed on a draft peace pact setting out the withdrawal of foreign troops from Afghanistan within 18 months, potentially ending the United States' longest war.
The details of the draft were given to Reuters by Taliban sources at the end of six days of talks with US special peace envoy Zalmay Khalilzad in Qatar aimed at ending the war, more than 17 years since American-led forces invaded Afghanistan.
It stipulates that troops would leave within 18 months of the agreement being signed.
While no joint statement was issued, Khalilzad tweeted later that the talks had made "significant progress" and would resume shortly, adding that he planned to travel to Afghanistan to meet government officials.
"Meetings here (in Qatar) were more productive than they have been in the past. We have made significant progress on vital issues," he wrote, adding that numerous issues still needed work.
"Nothing is agreed until everything is agreed and everything must include an intra-Afghan dialogue and comprehensive ceasefire," he wrote in the tweets.
US Secretary of State Mike Pompeo on Saturday wrote on Twitter that he had received "encouraging news" from Khalilzad about the talks.
"The US is serious about pursuing peace, preventing #Afghanistan from continuing to be a space for international terrorism & bringing forces home," Pompeo tweeted.
He did not give a timetable for the potential withdrawal of US forces.
A Taliban statement issued later also noted progress on troop withdrawal and other issues but said more negotiations and internal consultations were required.
"The policy of the Islamic Emirate during talks was very clear - until the issue of withdrawal of foreign forces from Afghanistan is agreed upon, progress in other issues is impossible," said Taliban spokesman Zabihullah Mujahid, using another name the group calls itself.
It was not clear whether the draft described by the Taliban sources was acceptable to both sides or when it could be completed and signed.
According to the sources, the hard-line Islamic group gave assurances that Afghanistan will not be allowed to be used by al-Qaeda and Islamic State militants to attack the United States and its allies - a key early demand of Washington.
"In 18 months, if the foreign forces are withdrawn and ceasefire is implemented, then other aspects of the peace process can be put into action," a Taliban source said, quoting from a portion of the draft.
More talks on the draft are expected in February, again in the Qatari capital Doha, the Taliban sources said.
News of progress on a deal comes as the Taliban continues to stage near-daily attacks against the Western-backed Afghan government and its security forces.
Despite the presence of US-led foreign forces training, advising and assisting their Afghan counterparts 17 years after the US-led an invasion to drive them from power, the Taliban controls nearly half of Afghanistan.
Afghan President Ashraf Ghani said last week that 45,000 members of the country's security forces had been killed since he took office in 2014.
The United States has some 14,000 troops in Afghanistan as part of the NATO-led mission.
Australia has 300 troops and civilians in Afghanistan, the Australian Department of Defence says on its website.
https://www.weeklytimesnow.com.au/news/breaking-news/us-to-quit-afghanistan-under-deal-taliban/news-story/84a245b69a216b93f5356ebaa62a30e5
--------
Islamic State training camp busted in Sri Lanka
January 27, 2019
Authorities in Sri Lanka have confirmed that the massive explosives seizure at a remote compound in Wanathawilluwa was actually a training camp for the Islamic State (IS) that attempted to detonate multiple high explosive bombs targeting historic Buddhist monuments in the ancient city of Anuradhapura. This is the first actual terror threat from the Islamic State in Sri Lanka, as the Criminal Investigation Department (CID) hunts for over fifty more named suspects across the island connected to this IS chapter. Already an imam, or mawlawi, from the remote IS training camp has been arrested; he has confessed in an interrogation that the weapons and high explosives belong to an Islamic State chapter in Sri Lanka.
By 2017, scores of known Sri Lankan ISIS fighters had returned from Syria, and there was a subsequent spike in jihadist activity throughout Sri Lanka. A Sri Lankan ISIS fighter was reported killed during airstrikes in Syria; he was eulogized as a holy martyr of Islam on social media by Sri Lankan Muslims across the country who have sympathies with ISIS, including a bizarre online article in OnLanka on July 19, 2015, that alluded to more Sri Lankan ISIS fighters. Also, an affluent postgraduate student from Sri Lanka named Mohamed Nizamdeen, who was living in Australia, was charged with ISIS-affiliated terror-related offences while plotting to assassinate Australian politicians. This case was widely publicized because Nizamdeen is the nephew of MP Faiszer Musthapha, a cabinet minister in the Sri Lankan government and the grandson of the late former Chairman of the Bank of Ceylon. His terror-related charges were later dropped, in a surprising move by the Australian authorities. More evidence for the Islamic State activities in Sri Lanka comes from a propaganda video that was discovered online, which showed an unknown doctor from India discussing ISIS medical facilities and further claiming that Sri Lankan doctors are working for ISIS in Raqqa, Syria.
As a side note, the doctors of the Islamic State are not the friendly family medical practitioners of ISIS propaganda. Rather, these ISIS doctors can be seen as performing horrific unethical medical procedures, including forced abortions and euthanasia, and testing new procedures and organ harvesting on Yazidis, Christians and other ISIS captives in makeshift facilities or dungeons, with no regard to the sanctity of human life of non-Muslims. They were akin to evil doctors in Nazi Germany. Further, in all likelihood, these monstrous ISIS doctors could have been helping to fund Islamic State operations through illegal organ trafficking in the Middle East, as Sri Lanka was once a global center for organ transplants. No medical doctor with any professional or personal ethics would travel abroad with the sole intention of joining an evil terror organization, let alone having the perverse ambitions of providing medical assistance to merciless Islamic State fighters and their regime of pure evil.
The foiled IS plot to simultaneously obliterate a multitude of sacred Buddhist monuments in the ancient city of Anuradhapura with C4 high explosives has confirmed fears that Sri Lanka is now a target of the Golden Horseshoe Caliphate of South and Southeast Asia. The Golden Horseshoe Caliphate spans from the western side of Indonesia to include Singapore, Malaysia, Thailand, Myanmar, Bangladesh, India and Sri Lanka, all connected by land and water through the Andaman Sea, Bay of Bengal and Indian Ocean. Additional countries on the eastern side, including Cambodia, Laos and Vietnam, have not yet been infiltrated by Islamic jihadis at the same levels. The vast majority of Muslims in the Golden Horseshoe Caliphate are Sunnis, having learned about and accepted Islam through trade and conquest, while the other predominant religions are Hinduism and Theravada Buddhism, both of which are the more widespread ancient religions of the region, and whose core teachings reflect peace and tolerance by any interpretation. There are much smaller populations of Christians and localized ethnic religions in the region, too.
Recent attacks against Buddhists, such as the killing of two monks at a temple in Thailand, or the smashing of statues from a Hindu temple in India, show a heightened level of daily regional jihadist activity. In Rakhine State, Myanmar, Islamic terror led to a complete insurgency in late August 2017 from the ISIS-linked terror organization Arakan Rohingya Salvation Army (ARSA) that was formed in 2012. This insurgency was masterminded by a prominent Saudi imam, Ata Ullah. So the war on terror in Asia has literally become like an all-out war in the countries of the Golden Horseshoe Caliphate. Even the government of Bangladesh is faced with a rise of jihad activity from powerful jihadist factions inside the country.
The wider scope of the recently thwarted terror attack in Sri Lanka by IS was to cause greater conflict between the Muslim and Sinhalese community and to provoke a public backlash, in the same tactical manner as the failed 2017 insurgency in Myanmar. Similar to the large-scale attack in Myanmar, the IS training camp in Sri Lanka has been connected directly to narcoterrorism from Islamic gangs in Bangladesh, supported by jihadists in the GCC (Gulf Cooperation Council). These terror networks are using the money generated from Islamic gangs for purchasing expensive weapons, properties, training and even bribes.
In Rakhine State, Myanmar, the funds for ARSA have come from the production of yaba pills, methamphetamines, manufactured there and sold to Islamic gangs inside Bangladesh. ARSA has also received support from Saudi Arabia. However, in the case of ARSA, the training camps are located inside Bangladesh close to the border of Rakhine State, Myanmar. But heroin is the main drug in Sri Lanka, exported from the Taliban narcostate in Afghanistan by Islamic gangs in Pakistan linked to the notorious narcoterrorist Dawood Ibrahim, a known resident of Karachi, whose D-Company syndicate also has deep ties throughout India. Bangladeshi nationals have been caught trafficking in Sri Lanka, with the recent historic heroin seizure in early 2019, where the main suspect was discovered to be operating inside Bangladesh, frequently travelling back and forth between the two countries. In effect, Bangladesh is a key country through which the international distribution of drugs is organized by Islamic gangs to fund terror activities for the Golden Horseshoe Caliphate, further corroborating the theory that Bangladesh will be the political, religious and geographic epicenter of this emerging Caliphate on the Western front, while jihadists in Malaysia and Indonesia are exerting more influence in southern Myanmar, Thailand and countries east of the Malay Peninsula.
Another chilling aspect of the Golden Horseshoe Caliphate is the 786 movement, which is a doomsday prophecy, signaling the complete global Islamic takeover in simple calculation: 7+8+6=21. The endgame here is total Islamic conquest of the world by the end of the 21st century, hence the sum of 21. This sounds like something from a conspiracy junkie, but many people from these areas will recognize 786 as a sign of the end of times, or Armageddon, with the rise of the global caliphate. Indeed, reports emerge of 786 in Sri Lanka from around the mid-1980s and in Myanmar from the 1990s; the number was commonly displayed in shop windows and on Muslim food items, including products imported from the Middle East and other parts of Asia, as a symbol for supporting the jihadist cause. The 786 movement has gone underground in Myanmar after a great public backlash, namely the 969 counter-movement: citizens started to become upset at the blatant jihadist signs threatening their impending enslavement, similar to watching the moving hands on the Doomsday Clock. Evidence of the 786 movement can still be found in graffiti on walls in Yangon and Rakhine State, and in subliminal messages from ARSA jihadist recruitment videos. The intent of the sinister 786 movement is very clear and it is very real.
The latest developments in Sri Lanka have implicated the drug kingpin Makandure Madush, an international drug and weapons trafficker, to the funding of this Islamic State training camp, with the expensive C4 high explosives & weapons seizure. He is the godfather of organized crime in Sri Lanka, controlling the illegal drug trade inside the country. Many members of his network are experienced ex-LTTE soldiers, showing that he is utilizing an existing framework in the underworld with a well-trained criminal army. This raises the possibility that the LTTE armed conflict was backed by ruthless Islamic gangs, or even the Taliban, through drug trafficking. Islamic gangs brutally kill all rivals until a kingpin emerges as the undisputed leader; the kingpin generally has some high-level connection to the Taliban in Afghanistan for the heroin trade, almost like joining the Taliban family of warlords; one can only speculate on the initiation rites.
In Sri Lanka, gang-related feuds over the last few years have shown Makandure Madush as the underworld leader of organized crime. He even went so far as to launch a major deadly attack on a prison bus that was transporting them to court in February 2017, killing a rival gang leader, known as Samayan, and five associates. Madush is thought to have fled Sri Lanka after this prison bus shooting. The feud between Ranale Samayan's gang and Madush goes back to 2016, when Madush's brother was murdered by Samayan. As the bloody gang wars continued in Sri Lanka, it was reported that there were eight killings in the first few months of 2018, with Madush at the center of these murders.
On June 22, 2018, during a jewel heist in the southern city of Matara, gang members murdered a first respondent to the situation with a high-tech mini-Uzi manufactured exclusively in Israel, while two other policemen and a civilian were injured. Security camera footage from the heist can be found online. Sadly, the police officer died from his deadly injuries sustained by the rapid spray of munitions, being unprepared to face such powerful weapons in the line of duty. More arrests related to the heist followed after a tense police chase, and a key accomplice of the gang was killed by police.
The police investigation traced the jewel heist back to Makandure Madush through examination of the weapons used and interrogations. He was known to have been living in Dubai after escaping arrest in the country for the deadly prison bus attack sometime around the early part of 2017. During the investigation of this jewel heist, information was discovered about the conspiracy to assassinate President Sirisena with other key political figures, orchestrated by Madush from Dubai, like the jewel heist and gang feuds.
According to Digatha News on March 26, 2018, just before the jewel heist in June and the subsequent police crackdown:
Sri Lanka's intelligence units have confirmed that persons wanted for serious crimes such as former diplomat Udayanga Weeratunga and underworld leader Madush, who have been issued Interpol red notices and wanted by police for years in connection to serious crimes, are freely living in Dubai.
And,
The information received by the intelligence units have revealed that most of them have fled to India, Singapore and Malaysia first and later reached Dubai. It is reported that they are already involved in various crimes including drug trafficking, mafia gangs, international espionage and arms sales and operating from the Emirati capital. According to the information received, the absconding criminals earn millions from their illegal activities and deposit the money in Dubai banks.
So it is well known that Madush still actively masterminds the illegal drug trade, arms deals and extortion rackets in Sri Lanka from Dubai. Even this earlier intelligence source shows Madush as the likely candidate for supplying the new Islamic State chapter in Sri Lanka with high explosives and high-tech weapons. Also, narcoterrorist Dawood Ibrahim was known to have lived and conducted business from Dubai before moving to Karachi, Pakistan, making Dubai one of the networking hotspots for international Islamic crime syndicates.
An important part of Madush's network was taken down in a raid shortly after the jewel heist, on June 25, 2018, when a high level accomplice, known as Thilak, was killed by police in a shootout. A Chinese T-56 assault rifle, similar to the Russian AK-47, was recovered from the scene. Another raid in early July 2018 saw four more henchmen arrested, including a leader working for Madush, known as Josa. More weapons and some heroin were seized. Grenades are another item routinely seized from Madush's gang members. Madush is wanted by Interpol for controlling the drug trade in Sri Lanka, and for murders and extortion as well, but the Sri Lankan government seems powerless to demand extradition from the United Arab Emirates, despite their new strategies in 2018. Madush and his underworld army are implicated in involvement with this new Islamic State chapter in Sri Lanka through the proceeds of drug trafficking, the powerful high-tech weapons, and high explosives. Additional information about these networks and their connections will become more apparent as the investigation continues to make progress, with more arrests, confessions and confiscated digital equipment.
As these elaborate international crime syndicates are exposed, a detailed understanding of the networks begins to emerge, which can be traced back to the same places, such as the GCC countries of Saudi Arabia and the UAE, who are masterminding terror in the region of the Golden Horseshoe Caliphate, funded by the drug trade with powerful Islamic gangs linked to Taliban warlords. Since the overall short-term political objective is to create conflict and instability in these regions, as in Myanmar and Sri Lanka, the possibility exists of a deeper political objective that the terror activities are meant to disrupt China's String of Pearls strategy for regional expansion and development. For instance, both Rakhine State in Myanmar and Sri Lanka are involved with this project, so the geopolitical significance cannot be ignored, as they overlap with the competing Chinese intentions here.
For Buddhists and Hindus living in Sri Lanka, India, Myanmar, Thailand, Indonesia, Bangladesh, Malaysia and Singapore; they believe that they have been the victim of Islamic jihad for a long time. The hard evidence here cannot be disputed, considering landmark events such as the 1971 genocide against Hindus in Bangladesh, the historical genocides against non-Muslims in Rakhine State, or the constant attacks against Buddhists, Hindus and non-Muslims everywhere in the region. The Buddhists and Hindus living in Rakhine, Bangladesh, Malaysia, and Indonesia are continually subjected to some of the worst human rights violations from jihadists and radical Islamic governments, with no support from the UN, which is dominated by the GCC countries in the OIC, who consider religious minorities to be second class citizens. There can be no doubt of the rise of Islamic jihad activiy in the Golden Horseshoe Caliphate, as evidenced by the constant barrage of terror-related attacks and human rights abuses in these countries against Buddhists and Hindus.
Whatever shadowy entities in the GCC countries, particularly Saudi Arabia and the UAE, who are facilitating jihad in the Golden Horseshoe Caliphate need to be held accountable by their governments, unless the government inaction of GCC countries is a deliberate complicity to the agenda of the Islamic State and their affiliated crime syndicates. So the conflict is expected to worsen in the affected areas of Asia until these matters are properly addressed on the international stage, especially the war on drugs and the increasing presence of the Islamic State. A good strategy would be to evaluate the foreign aid given to Pakistan, Afghanistan, Bangladesh, Malaysia and Indonesia to help stop the growing problems of human trafficking, Islamic gangs, jihad terror, and human rights abuses, until these countries take full responsibility for their part in international terrorism. Perhaps even Western trade penalties on places such as the UAE would help, until the long list of criminals and terrorists living there have been brought to justice, which gives more emphasis on the need for ethical oil supplies to leverage such trade restrictions with oil rich countries.
Full report at:
https://www.weeklyblitz.net/news/islamic-state-training-camp-busted-in-sri-lanka/
--------
U.S. is serious about pursuing peace in Afghanistan: Pompeo
27 Jan 2019
The U.S. Secretary of State Mike Pompeo has said the United States is serious about pursuing peace in Afghanistan as efforts are underway to revive direct talks between Taliban and Afghan government to end the ongoing violence in Afghanistan.
"The U.S. is serious about pursuing peace, preventing Afghanistan from continuing to be a space for international terrorism & bringing forces home," Pompeo said in a statement posted in his Twitter account.
He said "Working with the Afghan government and all interested parties, the U.S. seeks to strengthen Afghan sovereignty, independence & prosperity."
The U.S. Special Representative for Afghanistan Reconciliation Ambassador Khalilzad had earlier said that significant progress has been made on vital issues during the 6-day talks with Taliban political leaders in Qatar.
"After six days in Doha, I'm headed to Afghanistan for consultations. Meetings here were more productive than they have been in the past. We made significant progress on vital issues," Khalilzad said in a Twitter post.
However, he said a number of issues are still left to work out, emphasizing that he will build on the momentum and resume talks shortly.
Full report at:
https://www.khaama.com/u-s-is-serious-about-pursuing-peace-in-afghanistan-pompeo-03190/
--------
Khalilzad shares details of U.S.-Taliban talks in Qatar with President Ghani
28 Jan 2019
The U.S. Special Representative for Afghanistan Reconciliation Ambassador Zalmay Khalilzad with with President Mohammad Ashraf Ghani on Sunday evening and shared the details of U.S. talks with Taliban political leaders in Qatar.
Ambassador Khalilzad rejected the media reports which suggested that the talks also focused on change of political system in the country and said no such discussion has been made, according to a statement by ARG Palace.
He also added that no discussions have been made regarding the formation of a transitional government, emphasizing that he has no authority to discuss such issues but to facilitate intra-Afghan dialogue.
Ambassador Khalilzad said he has only held talks regarding a ceasefire during the meetings with the Taliban leaders but there has been no progress in this regard.
According to Ambassador Khalilzad, the U.S. side emphasized during the meetings that the only way to bring peace is intra-Afghan talks.
The U.S. Special Representative also added that the Taliban leaders demanded the U.S. troops withdrawal but no agreement has been reached in this regard, insisting that if any decision is taken in this regard then a comprehensive discussion would be made in coordination with the Afghan government.
Full report at:
https://www.khaama.com/khalilzad-shares-details-of-u-s-taliban-talks-in-qatar-with-president-ghani-03194/
--------
Pakistan
Taliban, US, Pakistan hail progress in peace talks
January 28, 2019
PESHAWAR: Afghan Taliban on Sunday acknowledged that progress had been made in talks held last week in Qatar but denied reaching any agreement with their American interlocutors on a ceasefire and talks with the Afghan government.
In a brief statement, Taliban spokesman Zabihullah Mujahid said the meeting between their political office in Doha and special US representative Zalmay Khalilzad held for six consecutive days had finally come to an end.
"In accordance with the agenda, this round of negotiations revolving around the withdrawal of foreign troops from Afghanistan and other vital issues saw progress," he said.
"But since issues are of critical nature and need comprehensive discussions, therefore it was decided that talks about unresolved matters will resume in similar future meetings in order to find an appropriate and effective solution and also to share details of the meetings and receive guidance from their respective leaderships," the statement read.
It made it clear that until the issue of withdrawal of foreign troops from Afghanistan was agreed upon, progress on "other issues is impossible".
The statement ran counter to media reports about a "rather definitive" agreement on the withdrawal of foreign troops from Afghanistan.
Mujahid denied his group had reached any agreement on a ceasefire with Khalilzad. "Reports by some media outlets about agreement on a ceasefire and talks with the Kabul administration are not true," his statement added.
Progress praised
While Foreign Minister Shah Mehmood Qureshi highlighted Pakistan's role in facilitating the dialogue between Taliban and the United States and hailed the progress made in the talks, Mujahid's statement thanked Qatar for "their facilitation role".
Mr Qureshi said "the world has accepted Pakistan's stance on the peace process". But peace in the region was not possible without dialogue, he said.
"Pakistan has pursued a regional outlook by reaching out to different countries and advocating its resolve for a stable and peaceful region," Mr Qureshi said.
US Secretary of State Michael Pompeo called it an "encouraging news".
Like his envoy, Pompeo used Twitter to hail the peace process. "Encouraging news from [Ambassador Khalilzad]. He reports significant progress in talks with the Taliban on Afghanistan reconciliation," he tweeted.
Pompeo underlined the US desire to withdraw American troops from Afghanistan in his brief message. But equally important for the US was the need to ensure that Afghanistan did not again become a hub of terrorism after the pullout, he added.
"The US is serious about pursuing peace, preventing Afghanistan from continuing to be a space for international terrorism & bringing forces home," he wrote.
He also emphasised the US commitment to continue working with the Afghan government. "Working with the Afghan govt & all interested parties, the US seeks to strengthen Afghan sovereignty, independence & prosperity," he added.
Ambassador Khalilzad was in Kabul on Sunday to try to secure cooperation from Afghan president after negotiations with Taliban leaders in Qatar, Reuters reported.
With the special US representative and his boss Secretary Pompeo, as well as Pakistan and the Taliban, hailing progress in the talks, he must now win over President Ashraf Ghani — whose government the Taliban have so far kept out of the process.
Six days of talks ended in Qatar on Saturday with key parts of a draft pact reportedly mapped out. But it is not clear whether the draft described by the Taliban sources is acceptable to both sides or when it could be completed and signed.
A fresh round of talks between Khalilzad and the Taliban is expected to take place on February 25 in Doha, two senior Taliban sources said.
While he has not been directly involved until now, Ghani's role is likely to grow as a full deal gets closer and diplomacy intensifies.
Without going into details on Saturday night, Khalilzad said in tweets that nothing could be agreed without an intra-Afghan dialogue and a full ceasefire.
"He [Khalilzad] will inform Ghani and his officials about all the developments, seek their opinion before travelling back to Washington," a senior Afghan official said on conditions of anonymity.
Khalilzad is also due to brief top regional diplomats on Monday morning.
President's options
Western diplomats describe Ghani as being in a tight spot, with no authority to decide on the foreign troops' departure and the final decision to declare the ceasefire resting with the Taliban.
He, however, does enjoy the power to decide to support an interim government rather than push for presidential elections which could prove to be a distraction to the peace effort.
So far he has rejected talk of an interim government.
"It is time for Ghani to choose between elections or peace process," said a western diplomat based in Kabul.
Despite the progress on a draft pact, violence is widely expected to continue, with the Taliban mounting daily attacks against the Afghan government and its security forces.
The Taliban now control about half of Afghanistan's territory and Ghani said in Switzerland last week that 45,000 members of the country's security forces had been killed since he took office in 2014.
A former Taliban leader predicted intense fighting ahead. "I think Taliban won't stop their fight until they get 100 per cent sure that foreign forces are leaving Afghanistan," said Sayed Mohammad Akbar Agha, who heads Ways to Save Afghanistan, an independent group run by tribal elders and religious scholars working towards securing peace in the war-torn country.
https://www.dawn.com/news/1460197/taliban-us-pakistan-hail-progress-in-peace-talks
--------
Pakistan shuts Mazar-i-Sharif consulate after botched attack
Iftikhar A. KhanU
January 28, 2019
ISLAMABAD: Pakistan on Sunday announced closure of its consulate general in Mazar-i-Sharif following a foiled bid of a grenade attack.
According to the Foreign Office, the decision has been taken after a woman was caught trying to sneak a hand grenade she was carrying in her personal hand bag into the consulate.
The woman was arrested by the police and is under investigation to find perpetrators of the failed attack.
The embassy of Pakistan in Kabul urged the Afghan foreign ministry to ensure provision of foolproof security to its consulate general in Mazar-i-Sharif and to share the findings of its investigation at the earliest.
The Pakistani consulate in Mazar-i-Sharif will remain closed for visa services till the provision of foolproof security by the authorities in Mazar-i-Sharif to prevent any untoward incident in the consulate general, announced the FO.
According to reports, an Afghan official has also confirmed that a woman has been arrested on suspicion of attempting to attack the Pakistani consulate in northern Balkh province after a hand grenade was found in her bag.
A spokesman for the provincial governor, Munir Ahmad Farhad, said the woman was in police custody and an investigation was under way. She was arrested after being interviewed inside the consulate, he added.
The attempt to attack the consulate came at a time when the negotiations between the United States and the Taliban appear to be moving towards a peace deal to bring the longest and costliest war in Afghanistan to an end.
In a rare development on Saturday, the two sides admitted "progress on vital issues" in their talks, albeit the insurgents said there was no agreement on ceasefire or talks with the Afghan government, which they had labelled as American puppet.
US chief negotiator Zalmay Khalilzad held negotiations with Taliban representatives at their political office in Qatar for six days, much longer than planned and the longest ever attempt to end the bloody conflict.
Last year Pakistan had closed its consulate in Jalalabad, which remained closed for over one month. It resumed operation in the first week of October after being assured of proper security by the Afghan government.
Full report at:
https://www.dawn.com/news/1460208/pakistan-shuts-mazar-i-sharif-consulate-after-botched-attack
--------
Pakistan will try to resume peace talks with India after polls: Fawad
Jan 28, 2019
Dubai: Pakistan will try to resume peace talks with India once elections are results are out and the political flux there subsides, reported Gulf News.
"We have delayed our efforts to hold talks with India because we do not expect any big decision from the present Indian leadership," said Fawad Chaudhry, Minister of Information of Pakistan.
He told Gulf News in an interview on Sunday that it is not the right time to hold dialogue as Indian politics is currently in turmoil because of the upcoming elections. "It is useless to talk to them (India) now unless there is some stability. We will move forward once the new government is formed after the elections," he said.
Pakistan Prime Minister Imran Khan has invited India on a number of occasions, including during his acceptance speech, for talks to make peace after winning the elections, but there has been no major response from the nuclear-powered-neighbor.
Chaudhry said the opening of the Kartarpur Corridor between India and Pakistan in November last year is a remarkable development between the two countries because it will not only help the Sikh community but also benefit the Indo-Pak relations.
Chaudhry spoke on a wide range of topics covering Afghan peace talks, relations with the US, Pakistan's role in the regional peace and his country's relations with countries in the Middle East.
When asked which Indian leader will suit Pakistan more when it comes to peace talks — Narendra Modi or Rahul Gandhi, the minister said it does not matter for Pakistan. "We will respect any Indian leader and the party elected by the Indian people. And, we would like to move forward to hold dialogue with whosoever comes into power in India," he said.
Calling the shots
On being asked who calls the shots in Pakistan when it comes to foreign policy – the army or the civilian government, Chaudhry said sternly: "Of course Prime Minister Imran Khan."
"During the earlier regimes, there had been conflicts between the civilian government and the army on various issues as they were not capable of talking to each other frankly. But this is the not the case anymore since Imran Khan has come into power," he said.
"Our government has an advantage that we can talks freely with each other. Currently, each and every major policy in Pakistan is actually a consensus policy – with the civilian government and the army on the same page," he explained.
Afghan peace dialogue
Chaudhry said Pakistan is playing its role at a fairly advanced level for the Afghan peace dialogue. "Frankly, we expect a positive outcome from the negotiations between the US and Afghan Taliban," he said.
The Information Minister said Pakistan's role in bringing Taliban to the negotiation table has been appreciated by US President Donald Trump so much so that he has reviewed and changed his policies against Pakistan.
According to reports, the US may offer Pakistan a free trade agreement (FTA) in return for its assistance in ending the Afghan war. During a recent visit to Pakistan, US Senator Lindsey Graham is believed to have discussed the idea with Pakistani officials.
"I know about the FTA offer but cannot comment on this at this stage," said Chaudhry
Chaudhry said stability and peace in Afghanistan is not just in the US' interests but Pakistan will also greatly benefit from this.
Imran, Trump meeting
The Minister said the meeting between Imran Khan and Trump is on the cards but it will be possible only after the Afghan peace talks. "We are waiting to see this happen," he added.
Pakistan's role in the Middle East
During the last decade or so, Chaudhry noted that Pakistan had become irrelevant to the Middle East for the earlier governments isolated the country.
"Soon after coming into power, Prime Minister Imran has reviewed the policies and we have worked on improving relations with Saudi Arabia and the UAE. Imran visited both the countries on his first official visit and talked to the leadership at length," he said.
Full report at:
https://www.pakistantoday.com.pk/2019/01/28/pakistan-will-try-to-resume-peace-talks-with-india-after-polls-fawad/
--------
Social equality imperative to build a peaceful society: moot
January 28, 2019
ISLAMABAD: Speakers at a conference on Sunday maintained that social equality was imperative to build a peaceful society where there is no room for violence, extremism and terrorism.
The event titled 'Ishq-e-Rasool (PBUH) and Paigham-e-Pakistan Conference' was organized by the Anjuman Mohibban-e-Tareeqat International, Mohra Shareef, in Multan. The conference was the last in a series of events organized under Paigham-e-Pakistan initiative of the Government of Pakistan in Burewala, Mandi Bahauddin, Cheecha Watni and Multan from January 25 to January 27.
Council of Islamic Ideology member and Ittehad Mashaikh-e-Pakistan President Pir Shehzad Fazeel Ayyaz Qasmi chaired the session. A large number of religious scholars, intellectuals, lawyers, civil society activists and notables of the area attended the conference.
Pir Shehzad Fazeel Ayyaz Qasmi called for promoting the true message of humanity given in the 'Charter of Madina' for salvage of the society caught up in the clash of interests. He stressed the need to follow the teachings of Prophet Muhammad (Peace Be Upon Him) whose life is a complete guidance and a source of inspiration for every Muslim irrespective of his age, creed or geographical background.
Qasmi said the role of teachers and ulema is of vital importance in character building of students at educational institutions and madaris to achieve lasting peace and tranquility through elimination of extremism, sectarianism and terrorism from the society. He urged ulema belonging to different schools of thought to forge unity among their ranks to thwart the evil designs of enemies who wanted to divide and weaken the Muslims on religious lines.
"Holy Prophet (Peace Be Upon Him) in his last sermon taught us the lesson of basic human rights. It is need of the hour to review our curricula to include human rights, which will help counter the trends of extremism and sectarianism among youth," he opined.
Full report at:
https://www.thenews.com.pk/print/424481-social-equality-imperative-to-build-a-peaceful-society-moot
--------
Govt that came through rigging can't be tolerated further: Fazl
Qayyum Nawaz Babar
January 28, 2019
DERA ISMAIL KHAN: Jamiat Ulema-e-Islam-Fazl (JUI-F) head Maulana Fazlur Rehman on Sunday said the Pakistan Tehreek-e-Insaf (PTI) government, which came through rigging, cannot be tolerated further.
Addressing the participants of the Muttahida Majlis-e-Amal (MMA) 'Million March', he said that Pakistan came into being in the name of Islam and nobody would be allowed to strip the country of its Islamic identity.
The MMA leader Liaquat Baloch, Mufti Kifayatullah, Maulana Gul Naseeb and Abdul Jalil Jan were also present on the occasion.
Fazlur Rehman said that the people of the southern districts supported the JUI-F as they had rejected the PTI leaders. He said the participation of a large number of people in the march showed that the government had lost the trust of the masses.
The JUI-F leader said the government was conspiring to amend the law that had declared the Ahmadis as a minority. He said the government was trying its best to please its western maters. He said that the anti-Islam elements were obliged in the Aasia Bibi case.
The Maulana demanded the Supreme Court of Pakistan to reopen the Aasia Bibi case. He said that the government would not be allowed to please a particular community. He said that efforts were afoot to recognise Israel, adding that doing so would be a betrayal to the ideology of Pakistan and the objectives for which the country came into being. Fazlur Rehman said the government borrowed heavily in the last five months, increasing the country's foreign debt burden. He added that his party would not allow the implementation of any foreign agenda contrary to the teachings of Islam.
Full report at:
https://www.thenews.com.pk/print/424706-govt-that-came-through-rigging-can-t-be-tolerated-further-fazl
--------
PM's remarks about founders of opposition parties deplored
Hassan Mansoor
January 28, 2019
KARACHI: Prime Minister Imran Khan's remarks about the founding leaders of two major opposition parties during his speech at the convocation of the Namal College Mianwali on Sunday drew sharp reaction from leaders of the Pakistan Muslim League-Nawaz and the Pakistan Peoples Party.
The leaders of both parties rejected the PM's speech in which he said military dictators Gen Ayub Khan and Gen Ziaul Haq had brought PPP founding chairman Zulfikar Ali Bhutto and PML-N supremo Nawaz Sharif to power corridors.
Reacting to the utterances, Sindh Local Government Minister Saeed Ghani said, "The selected PM" had "distorted something about which he did not know anything i.e. history."
Mr Ghani, who is also president of PPP's Karachi division, said "Shaheed Zulfikar Ali Bhutto introduced the parliamentary system in our country at a time when there was no democracy and no mechanism to hear the voice of the people."
He said the late Bhutto had made great contributions to ensure democracy in Pakistan and the 1973 Constitution, which was still the country's backbone, was one of them. "Who will deny this that at that time there was no constitution, democratic order or parliament?" he said, explaining that the founding party leader was a member of Ayub's cabinet but "it does not change the fact that he changed the system while becoming part of the system".
After the assassination of former prime minister Benazir Bhutto in Rawalpindi, former president Asif Zardari inherited the political turmoil but proved himself the true heir of the Bhuttos by according provincial autonomy under the 18th Amendment and empowering the parliament, he said.
The former president restored the 1973 Constitution in its original shape "by removing aberrations made by dictators Gen Ziaul Haq and Gen Pervez Musharraf", Mr Ghani added.
Mr Ghani said PPP chairman Bilawal Bhutto-Zardari had bequeathed the philosophy of his mother and grandfather while "Imran Khan's legacy is tainted by proven corruption charges against his father".
Instead of distorting history, he said, PM Khan should have focused on the issues that had inflicted the country.
Criticising the PM Khan's address to students at Mianwali, former minister and PML-N leader Ahsan Iqbal said, "He doesn't even know the difference between convocation and jalsa. Convocations are not occasions to make political speeches and do opposition bashing. Where has Oxford education gone?"
Full report at:
https://www.dawn.com/news/1460204
--------
Work on 900km Pak-Afghan border fence completed: army
January 28, 2019
GHULAM KHAN: The army has said that work on a 900-kilometre-long portion of fence along the Pak-Afghan border has been completed.
Briefing journalists and anchorpersons on Sunday at Ghulam Khan, a border village in North Waziristan tribal district, Inter-Services Public Relations (ISPR) Director General Maj Gen Asif Ghafoor said work on about 1,200km chunk — the most sensitive portion out of the total 2,600km border with the war-torn country — had commenced last year.
Take a look: Pakistan fortifies border with Afghanistan to reduce cross border attacks
He said the project would cost about Rs70 billion, which included the cost of gadgets and surveillance equipment to keep strict vigil on the illicit movement from across the ­border.
He said the fence had helped check the movement of terrorists from across the border and the situation would further improve after the completion of the project next year.
The visit of media persons was conducted for the first time in the country's history as earlier no such activity could have happened as it had been a no-go area for civilians and even security forces.
Giving a break-up, the ISPR chief said that about 1,200km of the total 2,600km border with Afghanistan was in Khyber Pakhtunkhwa and the rest in Balochistan.
In reply to a question about the reconciliation process in Afghanistan, he said Pakistan had been playing a role in it and if the parties concerned struck some mutual settlement it would ultimately be in its interest too. Due to that settlement, he said, the elements having the backing of inimical forces in Afghanistan, such as the Tehreek-i-Taliban Pakistan, would have to opt for some reconciliatory path as they would be left with no other choice.
Earlier, 11 Corps Commander Lt Gen Shaheen and his team separately arranged a briefing for the media persons at the Corps Headquarters, Peshawar. The corps commander said that after the end of the war in the area troops were now in the process of consolidation while steps were in hand to resettle about 4,000 families, who had gone to Afghanistan about four decades ago.
He said that 95 per cent work on resettlement of internally displaced persons (IDPs) had already been accomplished. Talking about the Pashtun Tahaffuz Movement (PTM), he claimed that most of their demands had already been met, while the rest, if any, could be sorted out through a dialogue process.
He said that following the operation against militants there was no no-go area in the erstwhile Fata (Federally Administered Tribal Areas), which had become part of Khyber Pakhtunkhwa.
Lt Gen Shaheen said the local commanders had been empowered to hold dialogue and meetings with the people of their respective areas and help mitigate their grievances.
The ISPR chief was of the opinion that instead of making a hue and cry abroad, the PTM leaders should sit with the local leadership and seek settlement of their genuine grievances.
The media persons were also taken to Miramshah, the district headquarters of North Waziristan, where they interacted with the local populace. Students, traders and common citizens, while interacting with the media persons, welcomed the role of the Pakistan Army in restoring what they called complete peace in the area. However, some of them complained that they had not been given compensation by the civil administration for the losses they had incurred during the decade-long drive against militancy.
On the occasion, head of the Petroleum Dealers Association Raqib Gull said the local administration had made estimates of the losses caused to petrol pumps in the area. He said that around 69 petrol pumps had been damaged and they demanded a financial compensation of Rs560 million.
Full report at:
https://www.dawn.com/news/1460222/work-on-900km-pak-afghan-border-fence-completed-army
--------
Mideast
Tel Aviv responsible for expansion of settler terrorism: PLO official
Jan 27, 2019
The Palestine Liberation Organization (PLO) has held the Israeli regime and its allies fully responsible for the recent spike in settler terrorism across the occupied territories, referring to the latest fatal shooting of a Palestinian man during a confrontation with Israeli soldiers and settlers.
On Sunday, Hanan Ashrawi, a member of the PLO Executive Committee, condemned "the heinous murder of Hamdi Na'san, 38, and the injury of 30 other Palestinian civilians at the hands of armed Israeli settler militias."
"Under heavy protection from Israeli forces, these militias raided al-Mughayyir village near Ramallah, terrorizing the defenseless residents and wreaking havoc on the isolated village.
"The political climate in Israel negates Palestinian rights and expresses objectionable racism against the Palestinian people. As such, the marked escalation of terror attacks by armed groups of Israeli settlers against Palestinian civilians is a natural outcome of the culture of hate and atmosphere of incitement and violence against Palestinians that this extremist Israeli government espouses and promotes," Ashrawi pointed out.
The senior Palestinian official further held the Tel Aviv regime fully accountable for what she described as a "heinous crime."
Ashrawi stressed that those governments, which actively support Israel's colonial policies and "shield it from accountability, also bear moral and criminal liability" for the crimes that are committed by Israeli forces and settlers, and go unpunished.
"Equally, those states that choose to remain silent against this terror campaign must know that silence amounts to complicity," she stated.
Na'san was shot in the back on Saturday, and succumbed to his wounds shortly after at a hospital in the central West Bank city of Ramallah. He is survived by his wife and four children.
More than half a million Israelis live in over 120 settlements built since Israel's occupation of the Palestinian territories of the West Bank in 1967. This is while much of the international community considers the settler units illegal and subject to the Geneva Conventions, which forbid construction on occupied land.
https://www.presstv.com/Detail/2019/01/27/586941/Israel-settler-terrorism-PLO
--------
Palestinian President Abbas to shake up his government
27 January 2019
Palestinian officials say President Mahmoud Abbas has decided to shake up his government.
The move is the latest sign of failure in more than a decade of attempts to reconcile with the rival Hamas movement.
The officials say Abbas appointed a four-member committee from his Fatah movement on Sunday to consult with political factions about forming a new government.
The three officials spoke on condition of anonymity because they were discussing internal deliberations.
The official Wafa news agency said Fatah had decided to form a political government to replace the current Prime Minister Rami Hamdallah's Cabinet of technocrats.
Full report at:
https://english.alarabiya.net/en/News/middle-east/2019/01/27/Palestinian-President-Abbas-to-shake-up-his-government.html
--------
Netanyahu warns Hezbollah chief of Israel's 'lethal' power
27 January 2019
Israel's prime minister warned the head of Lebanon's Hezbollah of his army's "lethal" power on Sunday, in reaction to Hassan Nasrallah cautioning the Jewish state against further strikes in Syria.
"The lethal striking force of the IDF (Israeli army) stands facing Hezbollah," Israel's premier Benjamin Netanyahu said at the start of a cabinet meeting.
In an interview with Beirut based al-Mayadeen television on Saturday, Hezbollah chief Hassan Nasrallah had warned Netanyahu that Syria and Hezbollah could "at any moment" decide to "deal with ... Israeli aggression."
"Don't make an error of judgement and don't lead the region toward war or a major clash," Nasrallah said, stating that Hezbollah possessed "high-precision missiles" capable of hitting anywhere in Israel.
Israel's army has since 2013 claimed hundreds of attacks on what it says are Iranian military targets and arms deliveries to Tehran-backed Hezbollah, with the goal of stopping its main enemy Iran from entrenching itself militarily in neighboring Syria.
Netanyahu said Nasrallah was experiencing "great consternation" over Israel's recent operation to expose and destroy tunnels from Lebanon to Israel.
He also spoke of what he called Hezbollah's "financial distress" and the Jewish state's "determination".
"Believe me, Nasrallah has good reasons not to want to feel the might of our arm."
Earlier this month Israel concluded an operation to unearth and destroy tunnels which the army accused Hezbollah of digging across the border from Lebanon.
Nasrallah had on Saturday acknowledged "there are tunnels in southern Lebanon," refusing to specify who built them and when, and mocking Israel for taking "many years" to find them.
Full report at:
https://english.alarabiya.net/en/News/middle-east/2019/01/27/Netanyahu-warns-Hezbollah-chief-of-Israel-s-lethal-power.html
--------
Palestinian artist brings Japanese origami to Gaza
27 January 2019
In a small studio packed with sculptures made of scrap metal, Palestinian artist Ahmed Humaid has found a new medium in origami, the Japanese art of paper folding.
It's an unlikely pursuit for an artist living in the Gaza Strip, which has been largely cut off from the outside world since Israel and Egypt imposed a crippling blockade on the Hamas-ruled territory more than a decade ago.
But the 29-year-old Humaid, who has no regular job, says interest in origami is on the rise.
"With more people asking about it, this work has turned into a source of income for me," said Humaid, who lives in Nusseirat refugee camp in central Gaza.
Humaid practices a form of origami in which he folds and forms the pages of an entire book into a readable inscription of calligraphic letters.
He has no formal training. He said he learned about origami when he saw some photos on Instagram. He began following Japanese artists and wrote to them. Some offered help and feedback.
When he made his first origami work in October, it took him 15 hours to finish. He shared the photo with some Japanese artists who acclaimed the work.
Since then, Humaid has sold 45 works locally, including books folded into names that lovers have given to each other as gifts, as well as logos for local businesses. Depending on the size and number of letters, he charges 50 to 100 shekels (about $15-30) per order.
Unemployment in Gaza, a coastal enclave sandwiched between Israel and Egypt, stands at more than 50 percent, according to UN and other international estimates. It is even higher among Gaza's youth.
Humaid would like to expand his business beyond Gaza's borders, but the blockade has cut off virtually all exports, and Israel and Egypt heavily restrict travel into and out of the territory.
Full report at:
https://english.alarabiya.net/en/features/2019/01/27/Palestinian-artist-brings-Japanese-origami-to-Gaza.html
--------
Israeli forces shot, injure more Palestinians in West Bank clashes
Jan 27, 2019
A series of violent clashes have broken out between Palestinian youths and Israeli regime forces in a village of the occupied West Bank, where mourners were waiting for the funeral procession of a man who was killed by Israeli settlers a day earlier.
Medical sources said on Sunday that one Palestinian youth was shot by Israeli forces in his foot while dozens of others suffered from tear gas inhalation at the entrance of Turmusayya Village, near the city of Ramallah.
The Sunday skirmishes followed a raid by Israeli settlers on the nearby West Bank village of al-Mughayer on Saturday evening, which led to a Palestinian man being shot dead and dozens more sustaining injuries. Thirty eight-year-old Hamdi Taleb Na'san was killed and 30 others were wounded after Israeli settlers escorted by regime troops stormed al-Mughayer, which is located 27 kilometers northeast of the city of Ramallah in the occupied territories.
At least six of those injured were struck with live ammunition, while the 24 others suffered wounds after being hit with rubber-coated steel bullets.
Na'san is the fourth Palestinian killed by Israeli violence across the Palestinian territories over three days.
Reacting to the latest attack, UN Special Coordinator for the Middle East Peace Process Nickolay Mladenov in a Twitter post on Sunday voiced "shock" at the "terror" carried out by Israeli settlers in al-Mughayer.
Israeli settlers engage in provocative, violent, and sometimes deadly actions against Palestinians on a regular basis.
In October 2018, an extremist teenage settler killed a Palestinian mother in the northern West Bank by throwing a rock at her.
Full report at:
https://www.presstv.com/Detail/2019/01/27/586947/Israel-Palestine-Turmusayya-Nasan-Nickolay-Mladenov
--------
Africa
ISIS says it killed 30 Nigerian soldiers
January 28, 2019
ISIS said on Sunday it killed 30 Nigerian soldiers in an attack in the country's northeastern Borno state, a claim disputed by the Nigerian Army.
A Nigerian Army spokesman said an attack on troops by insurgents in the Borno village of Logomani was repelled on Saturday and eight soldiers were hurt, none with life-threatening injuries.
In a statement issued through its news agency Amaq, ISIS claimed responsibility for the attack on a village it referred to as Lomani.
ISIS in West Africa (ISWA), which split from Islamist group Boko Haram in 2016, has carried out a number of attacks in northeast Nigeria in the last few months.
Borno is the state worst hit by the insurgents whose attacks on Nigerian military bases in the last few months have made security a key campaign issue ahead of the country's presidential election on February 16.
"Only eight of our troops were wounded, out of which four have since been evacuated...while the other four are receiving treatment," said the army spokesman.
https://www.thenational.ae/world/africa/isis-says-it-killed-30-nigerian-soldiers-1.818822
--------
New 'Long Live Tunisia' party born, to be led by PM Chahed
27 January 2019
Secular government leaders announced a new party called Long Live Tunisia on Sunday which is to be led by the prime minister and will compete with moderate Islamists in upcoming elections.
Though the premier, Youssef Chahed, was not there, thousands of supporters gathered in the coastal city of Monastir to celebrate the birth of Tahya Tounes, the party's Arabic name.
The new movement was formed after months of wrangling within ruling coalition party Nidaa Tounes (Tunisia's Call), resulting in the resignation of dozens of leaders.
The fragile coalition, which also includes the moderate Islamist party Ennahda (Renaissance), is struggling to pass economic reforms demanded by foreign lenders.
"Our goal will be to have a strong party that will lead economic reforms and return hope for frustrated Tunisians," Zohra Idriss, a lawmaker and member of the new party, told Reuters by telephone from Monastir.
"We seek to lead the nation and compete with the Islamists ... Chahed will be the leader."
Elections are due by the end of this year, with Renaissance, Tunisia's largest party, favorite to win, according to polls.
The opposition said the prime minister, a 43-year-old technocrat in office since 2016, had neglected Tunisia's problems to concentrate on his political future.
"For months, Chahed has focused on establishing this party and not saving the national country economy," said Zouhair Magzaoui, head of Harakat Achaab (People's Party).
The North African country has been hailed as the Arab Spring's only democratic success because protests toppled autocrat Zine El Abidine Ben Ali in 2011 without triggering the kind of violent upheavals seen in Syria and Libya.
But nine cabinets since then have failed to resolve Tunisia's economic problems, including high inflation and unemployment.
Full report at:
https://english.alarabiya.net/en/News/north-africa/2019/01/27/New-Long-Live-Tunisia-party-born-to-be-led-by-PM-Chahed.html
--------
Anti-government protesters rally in Sudan despite massive police deployment
Jan 27, 2019
Anti-government protesters in Sudan have flocked to the streets of the capital, Khartoum, and its twin city of Omdurman to hold sit-ins and rallies, as hundreds of riot police attempted to break up the crowds and disrupt the rallies.
Hundreds of demonstrators held rallies in their neighborhoods and some squares in both cities on Sunday, the latest in a string of demonstrations since December 17 last year against Sudanese President Omar al-Bashir over price hikes and shortages in the East African nation, calling on him to step down.
The Sunday rallies, as those held previously, were called and organized by the Sudanese Professionals' Association (SPA), an umbrella group of unions representing doctors, teachers, and engineers.
According to witnesses, the massive deployment of riot police and security agents prevented protesters from convening at several of the designated locations.
As they marched, the demonstrators shouted, "The people want the downfall of the regime," a signature slogan of the "Arab Spring," the series of uprisings and revolutions that erupted in Arab countries back in 2011.
"You're police, you have to protect us," shouted the protesters as police cordoned off a number of squares in the capital and Omdurman — which is the country's second largest city, where demonstrators had planned to gather for sit-ins. Police forces also filled some locations with muddy water to prevent demonstrators from gathering, witnesses said.
The country's National Intelligence and Security Service (NISS) have reportedly been carrying out a crackdown on protesters, opposition leaders, activists, and reporters in an attempt to prevent the spread of the rallies.
Meanwhile, President Bashir, who is in Egypt on an official visit to meet with his Egyptian counterpart, Abdel Fattah al-Sisi, continues to reject calls for his resignation.
He has said the demonstrations are "an attempt to clone the so-called Arab Spring in Sudan."
"There is a problem [in Sudan]. We are not claiming that there is not. But it's not of the size or extent raised in some media," he has said.
Official figures say that at least 30 people, including a number of security agents, have lost their lives since the onset of the rallies. Some rights groups say at least 40 people have been killed.
The rallies first erupted in the farming town of Atbara in the wake of a move by the government to triple the price of one loaf of bread, which angered people and triggered the initial demonstrations, which swiftly mushroomed into nationwide protests against Bashir.
Full report at:
https://www.presstv.com/Detail/2019/01/27/586969/Sudan-protest-Omar-alBashir
--------
Boko Haram attacks military bases in northeast Nigeria
Jan 27, 2019
Boko Haram militants attacked two military bases in northeast Nigeria's Borno State, near the border with Cameroon, injuring six soldiers, two military sources told AFP on Sunday.
The attacks were the latest against military targets in the region, with security becoming a major campaign issue ahead of presidential and legislative elections next month.
President Muhammadu Buhari, who came to power in 2015 on a pledge to end the militancy, is seeking re-election in the February 16 polls.
Early on Sunday, troops fought off an attack by militants believed to be from the Abubakar Shekau faction of Boko Haram in the town of Pulka, along the border with Cameroon.
"The terrorists attacked around 1:15 am (0015 GMT) and soldiers engaged them in a 30-minute fight, forcing them to withdraw," a military officer said in an account confirmed by another officer.
The militants' intention was to attack and loot the town after overrunning the base, said the officer, who asked not to be identified because he was not authorized to speak to the media.
Late on Saturday, militants from the same faction attacked another base in Logomani Village near the town of Gamboru, leading to a fight that left six soldiers injured.
"Troops came under attack by Boko Haram terrorists who came in four gun trucks around 6:30 pm (1730 GMT)," the second officer told AFP.
"Six soldiers were wounded from bomb fragments," he said.
Boko Haram has intensified attacks on military targets in the region over the past several months.
On Wednesday and Thursday, the militants attacked three bases in Borno and neighboring Yobe State, stealing weapons and burning the bases.
Boko Haram's militancy in northeast Nigeria has claimed 27,000 lives since 2009.
Full report at:
https://www.presstv.com/Detail/2019/01/27/586943/Nigeria-Boko-Haram-Borno-military-bases
--------
Desolation, dismay stare in the face of displaced Libyans
January 28, 2019
AL-GAWALESH, Libya: "Our town has been looted, homes wrecked and olive trees torched," Moftah Mohammed said in dismay on returning home to Al-Gawalesh in western Libya after years wandering from place to place.
Al-Gawalesh, perched on the slopes of Jebel Nefussa, 120 km west of Tripoli, paid the price for its support of former Prime Minister Muammar Qaddafi during a 2011 NATO-backed revolt in which he was captured and killed.
Once home to close to 10,000 people, the town is a scene of desolation: Wind- and dirt-swept, burnt-out homes, destroyed schools and other public buildings, devoid of any public services.
"It was July 6, 2011" when he and his family like all other residents had to flee Al-Gawalesh, Mohammed said. "To stay would have meant death," in the face of NATO airstrikes on Qaddafi's forces.
Fear of reprisals by neighboring communities which had sided with the victorious rebels kept it a ghost town for the past seven-and-a-half years. In the face of often entrenched bitterness and a hunger for revenge, the UN mission in Libya has been working for reconciliation through the return of displaced communities to their pre-war homes.
The way was cleared for a return to Al-Gawalesh with a reconciliation deal signed back in 2015 between representatives of the towns of Jebel Nefussa that came along with promises of financial aid.
The town's mayor, Said Amer, said residents were still waiting for compensation payments to repair their homes.
"Some families have no choice but to live in these burned-out homes, not realizing the risks posed to their health and that of their children," the mayor said.
The municipality says families have filed 1,600 compensation claims, none of which have been settled. Libya's financial woes have blocked reconstruction in towns such as Al-Gawalesh, according to the internationally recognized Government of National Accord (GNA).
"We need a development plan and financing for reconstruction that we don't have," Yussef Jalala, minister for the displaced in the Tripoli-based GNA, told AFP. He pinned the blame on the international community.
"On several occasions the international community has promised aid to help rebuild devastated towns but nothing has materialized," he said.
According to the latest figures published by the International Organization for Migration, Libya's displaced number around 187,000.
Human Rights Watch (HRW) this week raised the alarm over the fate of Tawergha, a town in northeast Libya that also sided with Qaddafi during the revolt.
Most of its 48,000 inhabitants have still been unable to return, more than seven years on, it says.
"The Government of National Accord should urgently devise a strategy for Tawerghans' safe return, ensuring reconstruction and security," it said.
Full report at:
http://www.arabnews.com/node/1442981/middle-east
--------
Burkina Faso attack kills 10: security source
January 28, 2019
Ten people were killed Sunday in northern Burkina Faso in a "terrorist attack", according to a security source and a local elected official.
"Around 10 armed individuals in the morning carried out a terrorist attack in the village of Sikire," which left "10 dead and two seriously wounded," a security source told AFP.
Sikire is in the Sahel region and is frequently a target of Islamist attacks.
According to a local official in Arbinda, about 20 kilometres away, contacted by phone from Ouagadougou, "the assailants armed with Kalashnikovs made several tours of the village opening fire on the inhabitants."
"They ransacked and set fire to shops and other businesses and took motorbikes," added the official who requested anonymity.
He said the inhabitants had stayed holed up in the homes "in panic over these attacks which have been increasing in the area," he said.
On January 10, 12 people were killed in attack in Gasseliki, a village around 30 kilometres south of Arbinda.
Burkina Faso lies in the heart of the vast Sahel region, which is struggling with a bloody Islamist insurgency.
The region turned into a hotbed of violent extremism and lawlessness after chaos engulfed Libya in 2011.
At first concentrated in the north, the attacks have spread to other regions including the east, which borders Togo and Benin.
The capital Ouagadougou has been hit three times, leaving nearly 60 dead.
The attacks attributed to several Islamist groups and to other smaller factions has caused more than 280 deaths since 2015.
Since January first, a state of emergency has been declared in 14 of the country's 45 provinces.
Full report at:
https://www.thenational.ae/world/africa/burkina-faso-attack-kills-10-security-source-1.818742
--------
Arab World
Saudi Arabia executes four Yemenis for murdering Pakistani man
Jan 28, 2019
RIYADH: Saudi Arabia on Sunday executed four Yemenis found guilty of murdering a security guard, the kingdom's interior ministry said.
The four men robbed and killed a Pakistani man who worked as a security guard at a company, said a ministry statement carried by the official Saudi Press Agency.
The execution took place in Mecca, the statement added.
Twenty people have been executed in the kingdom since the beginning of the year, according to the authorities.
The ultra-conservative kingdom has one of the world's highest rates of execution, with suspects convicted of terrorism, homicide, rape, armed robbery and drug trafficking facing the death penalty.
In 2018, Saudi Arabia carried out the death sentences of 120 people.
https://www.pakistantoday.com.pk/2019/01/27/saudi-arabia-executes-four-yemenis-for-murdering-pakistani-man/
--------
Arab League calls for Syrian integrity, peaceful solution to crisis
Jan 27, 2019
Secretary-General of the Arab League Ahmed Aboul Gheit has stressed the need for maintaining Syria's territorial integrity against foreign-sponsored Takfiri terrorist groups, and a peaceful settlement to the conflict there.
During a meeting with the United Nations' new envoy to Syria, Geir Pedersen, in the Egyptian capital city of Cairo on Sunday, Aboul Gheit said the solution to the conflict in Syria must meet the aspirations of all Syrians while preserving unity in the country and region.
He went on to say that his 22-member regional organization's stance vis-à-vis the crisis is in line with the related UN Security Council resolutions, saying the conflict "is considered first and foremost an Arab issue."
The high-ranking Arab diplomat then underlined the need for measures to stop regional and international meddling in Syria, saying such interventions have had negative repercussions on the course of the conflict settlement.
Aboul Gheit also called for the complete elimination of terrorism from the Syrian soil.
Pedersen, for his part, briefed the Arab League chief on the most important results of his initial contacts with the parties concerned with the crisis in Syria ever since he took office earlier this year.
On Saturday, Tunisian Foreign Minister Khemaies Jhinaoui called on the Arab League to restore Syria's membership, saying the "natural place" of the country is within the 22-member regional organization.
"Syria is an Arab state, and its natural place is within the Arab League," Jhinaoui said during a news conference with his Russian counterpart Sergei Lavrov in Tunis.
"The question of Syria returning to the Arab League does not depend on Tunisia but on the Arab League," he noted, adding, "The foreign ministers (of member states) will decide on this subject."
Tunisia is scheduled to host the 30th annual summit of the Arab League in March.
Full report at:
https://www.presstv.com/Detail/2019/01/27/586956/Arab-League-Syria
--------
Six killed, over a dozen injured in bomb and gun attacks across Iraq
Jan 27, 2019
Iraqi security officials and medical sources say at least six people have lost their lives and more than a dozen sustained injuries when separate bomb and gun attacks struck the country's northern provinces of Salahuddin and Nineveh as well as the eastern province of Diyala.
Shirqat police chief colonel Majeed Ghatran said two policemen died and eight others were wounded when a bomb hit a bus transporting security forces on their way to work near the town, located some 300 kilometers (190 miles) north of the capital Baghdad, on Sunday.
He added that another bomb struck a second group of officers, who were heading to the location of the first explosion, killing two and wounding three.
Moreover, Police Lieutenant Abdelkadir al-Jabbouri said unidentified gunmen fatally shot an Iraqi man and his wife in the town of Shoura, south of Mosul.
Police Captain Habib al-Shimari also said militants had attacked a security checkpoint in Diyala, injuring five security personnel.
There were no immediate claims of responsibility for Sunday's attacks, but such assaults bear the hallmark of those carried out by Daesh Takfiri terrorists.
Former Iraqi Prime Minister Haider al-Abadi declared the end of military operations against Daesh in the Arab country on December 9, 2017.
On July 10 that year, he had formally declared victory over Daesh in Mosul, which served as the terrorists' main urban stronghold in Iraq.
In the run-up to Mosul's liberation, Iraqi army soldiers and Hashd al-Sha'abi fighters had made sweeping gains against Daesh.
Iraqi forces took control of eastern Mosul in January 2017 after 100 days of fighting, and launched the battle in the west on February 19 that year.
Full report at:
https://www.presstv.com/Detail/2019/01/27/586934/Iraq-bombing-Diyala-Nineveh
--------
US, Western Arms Discovered at Terrorists' Hideouts in Syria
Jan 27, 2019
Field sources reported on Sunday that engineering units of the Syrian army discovered a number of TOW and Grad anti-tank missiles and guns made by the US and other NATO members along with several machine-guns, RPGs, mortars, grenades, satellite systems, thermal cameras and military vehicles in cleansing operations in the former strongholds of terrorists in the three provinces.
The Syrian army forces on a daily basis find different types of military equipment made and supplied by the western states to terrorists, in liberated areas.
In a relevant development on Thursday, the Syrian army found a large number of weapons and ammunition, including Israeli and western arms, during cleansing operations in the former bases of terrorists near Damascus.
The engineering units of the Syrian army discovered weapons and military equipment, including different types of mortars, artilleries, RPGs and over 200,000 rounds of machine-guns and guns, in operations to purge terrorists from the towns near Damascus.
Full report at:
http://en.farsnews.com/newstext.aspx?nn=13971107000975
--------
US Sends Fresh Military Convoy to Deir Ezzur after Vast Popular Unrest Against SDF
Jan 27, 2019
"A US military convoy comprising military vehicles and equipment have been dispatched to the town of al-Shahil in Southeastern Deir Ezzur," local sources in Deir Ezzur were quoted as saying.
The sources reiterated that the US military convoy was dispatched to Southeastern Deir Ezzur after the residents of al-Shahil town held massive rallies against the SDF fighters.
They pointed to the armed conflict between the tribesmen of the region with the SDF in the surrounding oil-rich areas of al-Amr, and said a number of people were wounded in clashes.
Meantime, Southeastern Deir Ezzur is now under SDF-imposed curfew after an unknown group attacked an SDF military post in al-Tayaneh South of Zabian town in the region.
In a relevant development on Saturday, a large number of people poured into the street in Eastern Deir Ezzur to show their protests against the SDF.
Residents of the town of Abu Humman in Southeastern Deir Ezzur launched massive protests and closed the roads leading to the town, battlefield sources in Eastern Deir Ezzur said.
The sources reiterated that the civilians staged massive protests against SDF's measures, including piling up fuel products, corruption and other offenses in the region.
"The residents of Deir Ezzur called for releasing the people who have been arrested by the SDF fighters," they said.
The residents of Shaitat town in Southeastern Deir Ezzur also held massive protests and called for their rights with regard to oil revenues.
The report comes as the armed tribesmen had clashed with SDF fighters in the town of Khasham over control of oil resources of the region.
The popular uprising in Deir Ezzur is taking place while Raqqa was also scene of protests and clashes between civilians and SDF fighters over the past three years.
In a relevant development in early December, a large number of people poured into the street in a key town in Northeastern Hasaka, calling for the withdrawal of the US and Turkish troops and their allied militants from their region.
SANA reported that a large number of civilians, social activists and parties in the town of Qamishli took to the streets, opposing occupation of the region by the US and Turkish troops.
It further said that the protestors condemned a visit by the former French Foreign Minister to al-Jazeera region controlled by the Syrian Democratic Forces (SDF), calling for independence of the Syrian parties from the US policies and asking for their affiliation to Damascus again.
The protestors, also, opposed US forces' illegal bases and presence of militants, affiliated to Turkey and the US, in Syria as a violation of international law and against Syria's national unity and integrity, SANA said, adding that the protestors called for expulsion of the occupiers and their allied militants from Syria.
In a relevant development in Northeastern Syria, media activists reported last month that protesters took to the streets and called for the expulsion of the US army men and the SDF from the city of Raqqa in Northeastern Syria.
"Tens of Raqqa residents revolted against the US deployment and SDF forces in al-Mansour district of Raqqa city and called for their expulsion," media activists in Raqqa said.
The sources, meantime, said that the Raqqa residents in their slogans called on the Syrian army to free the region from the occupiers, and said that the protests took place after the SDF forces launched attacks on civilians which resulted in the eruption of clashes between the two sides.
In the meantime, the SDF forces arrested several protesters in a new wave of suppression of civilians.
Full report at:
http://en.farsnews.com/newstext.aspx?nn=13971107000722
--------
Civilians Attack Turkish Army Camp in Northern Iraq
Jan 27, 2019
The Arabic-language al-Ma'aloumeh news website reported on Sunday that the residents of Dohuk province staged protest rallies near the Turkish forces' security headquarters in Shiladzi region in the town of al-Imadiyeh, setting fire at it.
It added that the demonstrations were held after the Turkish army's airstrikes against Dohuk province killed 5 civilians.
The Kurdish civilians set fire at the Turkish army's headquarters, wounded 9 soldiers and took captive 2 others but freed them later.
The Turkish forces also responded the attack with bullet fire, killing and wounding a number of civilians.
The Iraqi foreign ministry in a statement condemned the Turkish soldiers' firing at civilians in Shiladzi, summoning the Turkish ambassador to Baghdad to protest at the incident.
Full report at:
http://en.farsnews.com/newstext.aspx?nn=13971107000789
--------
Aleppo: Turkey-Backed Forces, Kurds Engage in Fierce Clashes in Northern Syria's Manbij
Jan 27, 2019
The Kurdish-language Hawar News reported that heavy clashes followed after the Turkish Army and its allied militants known as 'Euphrates Shield' targeted and attacked the military positions of Manbij Military Council along Sojour control line in the outskirts of Manbij city in Northeastern Aleppo.
It noted that the villages of Sokria Kabira, Halounji and Mohsena to the North and Northwestern parts of Manbij city came under attack by the Turkish Army and its allied militants.
Meantime, battlefield sources reported heavy clashes between Turkish Army troops and militants of Manbij military council near the village of Halvanji in Northern Manbij.
Several Ankara-backed militants were also killed and wounded in fierce clashes with the Kurdish fighters in al-Malekia front and Mara'anaz as well as Ma'areh in Northern Aleppo.
In a relevant development earlier this month, the Turkish army dispatched a new convoy of forces and equipment to borders with Syria's Hasaka to counter the Kurdish militias.
The Turkish army forwarded a long convoy of military vehicles to borders with Syria near the Syrian town of Ra'as al-Ain that is under the Kurdish fighters' control in Northwestern Hasaka.
The Turkish convoy, including a number of vehicles, Tanks, armored vehicles and a large volume of military hardware, entered the Kilis region.
The Turkish military is preparing to kick off military operations against the Syrian Democratic Forces (SDF) in Eastern Euphrates.
Meantime, the Arabic-language Al-Manar news website reported that the Turkish Army has fired artillery and rockets at SDF's military positions in Silvaha region in Ra'as al-Ain in Northwestern Hasaka.
The sources said that the Turkish Army attacks on the SDF have taken place after SDF fired at Jilanbiner region in Turkey just opposite to Ra'as al-Ain.
Local sources, meantime, reported that the US-backed Syrian Democratic Forces (SDF) arrested a number of people in Hasaka and Raqqa provinces after accusing them of cooperating with the Ankara forces.
Hawar news had reported earlier this month that the Turkey-backed militants continued shelling the strongholds of the US-backed Kurdish militia in Manbij region in Northeastern Aleppo regardless of the US support for the Kurds.
It added that gunmen of the Turkey-led Euphrates Shield Force targeted the positions of the Manbij Military Council from the village of Tokhar in Northeastern Aleppo.
Full report at:
http://en.farsnews.com/newstext.aspx?nn=13971107000655
--------
SDF Arrests over 1,300 Civilians in Raqqa Uprisings
Jan 27, 2019
The Syrian Democratic Forces have detained more than 1,300 Syrian citizens, most of them children, youth and women, in areas stretching between Abu Qabi and al-Tabaqa, South of Euphrates River, the Arabic-language service of Russian Sputnik news agency quoted media activists as saying.
It noted that a number of Arab members of SDF left the group after the US-backed militia arrested a number of Arab tribesmen in Raqqa.
Meantime, media activists in Raqqa were quoted as saying that the residents of Raqqa hoisted Syria's national flag and printed graffiti against the US occupying troops and the SDF in several regions, including the town of Kadiran to West of Raqqa, calling for the Syrian Army rule over the region.
The SDF fighters have reportedly severely tortured a renowned tribal leader of Al-Tarn Tribe in the Western part of Raqqa after he in a statement called for the presence of the Syrian Army in the areas under the control of the US and the SDF.
In a relevant development on Saturday, the SDF dispatched a well-equipped military convoy to Raqqa to confront the heightened tensions between the SDF and civilians in the region.
The Arabic-language service of Sputnik news agency reported that the convoy, consisting of the US-made Hummer vehicles and other military equipment supplied by Washington, was sent to the Western parts of Raqqa city to suppress the tribal people's uprising.
It added that thousands of SDF forces have also been stationed in regions near the towns of Hunaideh and al-Mansoureh, noting that the US forces deployed in Western Raqqa have withdrawn from the two towns towards Eastern Euphrates for their fear of popular uprising.
Other reports also said that the SDF militants have in the past three days attacked over 600 houses in the two towns, and detained at least 70 people, adding that the civilians threw stones at the Kurdish vehicles to stop the arrests.
In a relevant development on Thursday, the people of Raqqa in Northern Syria poured to the streets to protest at the US-backed SDF moves in the region, setting fire at a number of their bases.
Media activists in Raqqa reported that hundreds of residents of the town of al-Mansoureh in Southwestern Raqqa staged massive protest rallies against the SDF and set fire at some of their checkpoints and bases in the town.
They added that the protest rallies were held after a young resident of the region was killed by the SDF during forced recruitment operations.
The sources said that similar rallies were also held in the towns of Hunaideh, al-Safsafeh and Mazra'at al-Safsafeh region, adding that the residents surrounded the US-backed forces' strongholds.
Meantime, the SDF sent a large number of forces and military equipment from Raqqa city and the town of al-Tabaqah to al-Mansoureh, wounding a number of civilians with bullet fire to disperse the angry crowd.
Full report at:
http://en.farsnews.com/newstext.aspx?nn=13971107000599
--------
UN envoy meets Arab League chief for Syria talks
27 January 2019
The new UN special envoy for Syria held talks Sunday with the head of the Arab League, whose members appear divided about whether to readmit the war-torn country.
The League, which will hold its annual summit in Tunisia in March, suspended Syria's membership in November 2011 as the death toll in the country's civil war mounted.
Norwegian diplomat Geir Pedersen, who this month become the fourth UN negotiator aiming to resolve the nearly eight-year conflict, met with Arab League chief Ahmed Abul Gheit in Cairo on Sunday, the organization said.
They discussed the latest talks among Arab states about the organization's decisions on Syria since 2011, the League said in a statement.
Abul Gheit also pointed to the importance of "reaching a peaceful solution" to the Syrian crisis, it said.
Pedersen also met with Egypt's Foreign Minister Sameh Shoukry.
Several Arab states including Lebanon and Tunisia have recently called for Syria's return to the Arab League.
In December, Sudan's President Omar al-Bashir made the first visit by any Arab leader to the Syrian capital since 2011, and the United Arab Emirates reopened its embassy in Damascus.
In another sign of a diplomatic thaw, the speaker of Jordan's parliament invited his Syrian counterpart to meetings of the Arab Parliamentary Union in Amman in March, Jordanian state news agency Petra reported Sunday.
But not all of the League's members support closer ties with Damascus.
Qatar, which has backed rebels in Syria's civil war, said this month that Damascus under President Bashar al-Assad should not be allowed back into the Arab League.
Full report at:
https://english.alarabiya.net/en/News/middle-east/2019/01/27/UN-envoy-meets-Arab-League-chief-for-Syria-talks.html
--------
Bomb attacks kill four policemen, wound several others in northern Iraq
27 January 2019
At least four policemen were killed and 11 wounded by two roadside bombs that targeted police convoys in separate attacks in northern Iraq on Sunday, the service and medical sources said.
Two died and eight were wounded when a bomb hit a bus carrying police on their way to work near the town of Shirqat, its police chief colonel Majeed Ghatran said.
Another bomb struck a second group of officers that was heading to the location of the first explosion, killing two and wounding three, he said.
No organization claimed responsibility for the bombings.
ISIS militants have carried out guerrilla-style attacks in the area since their military defeat in Iraq in December 2017.
https://english.alarabiya.net/en/News/middle-east/2019/01/27/Bomb-attacks-kill-four-policemen-in-northern-Iraq-police-says.html
--------
Iraq to summon Turkish envoy over killing of Iraqi Kurd
Jan 27, 2019
The Iraqi Foreign Ministry says it will summon the Turkish ambassador to Baghdad over the death of an Iraqi Kurd by Turkish fire in Iraq's semi-autonomous Kurdistan region.
On Saturday, a crowd attacked a Turkish military camp in the Shiladzeh area of Iraqi Kurdistan's Duhok Province to apparently protest Turkish airstrikes on northern Iraq.
Turkish troops opened fire on the crowd, killing one of them and wounding several others.
On Sunday, the Iraqi Foreign Ministry denounced the incident, saying it planned to summon the Turkish envoy.
"The Foreign Ministry will summon the Turkish ambassador to hand a protest note about the incident and demand that it not be repeated," it added.
The Turkish air force has been carrying out operations against positions held by the Kurdistan Workers' Party (PKK) — a Turkish secessionist group designated as terrorist by Ankara — in Turkey's troubled southeastern border region as well as in northern Iraq and neighboring Syria.
Turkish air raids left 36 people dead in the Iraqi Kurdistan in 2018, according to a tally by local Kurdish authorities.
Meanwhile, the Turkish Defense Ministry said the Saturday raid on its base in northern Iraq was the "result of provocation by the PKK terrorist organization."
"There was partial damage to vehicles and equipment during the attack," the ministry tweeted, adding that necessary precautions were being taken.
The Kurdistan Regional Government (KRG) admitted that there had been "provocateurs" and vowed to launch a comprehensive investigation into the incident.
"There are provocateurs behind the attack and they will be punished," the KRG said in a statement.
Full report at:
https://www.presstv.com/Detail/2019/01/27/586922/Iraq-Turkey-ambassador-death-of-Iraqi-Kurd
--------
Europe
Emmanuel Macron: Egypt's rights record seen as worse than under Hosni Mubarak
January 28, 2019
French President Emmanuel Macron said on Sunday human rights in Egypt were perceived as worse now than under former strongman Hosni Mubarak, who was toppled by protests in 2011.
His comments marked a hardening after he said in 2017 he would not "lecture" President Abdel Fattah El-Sisi over civil liberties, which activists say are being eroded.
"I think current policies are perceived by intellectuals and Egypt's civil society as tougher than under the Mubarak regime," Mr Macron told reporters on the sidelines of a trip to Egypt.
Mr Mubarak, a former air force commander, was jailed for conspiring to kill demonstrators who ended his three-decade rule, but he was freed on appeal in 2017.
"I can't see how you can pretend to ensure long-term stability in this country, which was at the heart of the Arab Spring and showed its taste for freedom, and think you can continue to harden beyond what's acceptable or justified for security reasons," Mr Macron added.
"I think that's becoming paradoxical and harmful for Egypt itself."
Non-governmental organisations are pressuring Mr Macron to be firm with the Egyptian president, who in April secured a second term, shoring up his position as a power-broker in the region.
Mr Macron said he would be more outspoken during the three-day trip, which began on Sunday, and would also mention individual cases in private. He was to meet Mr El-Sisi on Monday.
Mr El-Sisi's critics accuse him of cracking down on all dissent, but supporters say tough measures are needed to stabilise Egypt, rocked by years of unrest after the fall of Mr Mubarak.
In an interview earlier this month, Mr El-Sisi denied that Egypt was holding political prisoners, though one rights group estimates the number at 60,000.
In October 2017, Mr Macron gave Mr El-Sisi, who was visiting Paris, a list of activists he believed could be released from prison.
On Sunday, he said only two of them had been freed, which he considered "unsatisfactory."
"I will at the same time have a confidential dialogue on individual cases and speak out more distinctly, as well as have symbolic exchanges, because I think that's in the interest of President Sisi and Egypt's stability," Mr El-Macron said.
"In Egypt, we're not only talking about political opponents who are being imprisoned, but opponents who are part of the traditional democratic sphere and are not threatening the regime. Journalists, homosexuals, women and men of conviction."
https://www.thenational.ae/world/mena/emmanuel-macron-egypt-s-rights-record-seen-as-worse-than-under-hosni-mubarak-1.818731
--------
'My son was terrified': how Prevent alienates UK Muslims
27 Jan 2019
Ifhat Smith's son was 13 years old when he was questioned by school officials and asked if he was affiliated to the jihadist group Islamic State.
Smith was shocked when she ultimately realised her child had been questioned under the government's Prevent strategy – but was left baffled when she discovered the interrogation was triggered by his use of the term "eco-terrorist" in a classroom discussion about environmental activists.
The boy was in a French class at his school in Islington, north London, when he used the phrase to describe some images. Nothing was said at the time. He went home, enjoyed the weekend and returned to school on Monday.
"He was in a French lesson, someone came in, said something to the teacher and the teacher pointed at him. They said, 'follow me,'" Smith said. "He had never been in trouble at school. He was really nervous. There were two women there, one he didn't know. "First they made a joke asking him was he a 'tree-hugging hippy' but then they asked him if he was affiliated with Isis. Isis wasn't even a word in his vocabulary. He was terrified. He didn't know what was going to happen."
Ultimately, the officers were satisfied that Smith's son was not the next Osama bin Laden. He was asked to return to class and the subject was never raised again. When Smith's son returned from school and told her what happened, she immediately called the head of his year group.
"The penny dropped. I said, 'have you been questioning my son under Prevent?' She said they had to because of regulations, schools were having to do this. This was such a shock. I'd heard little bits about Prevent, I just thought it's something so far removed from us, we're not going to be affected by this."
The experience of Smith's son reflects the central concern surrounding the government's Prevent strategy for years: that it fosters discrimination against people of Muslim faith or background and inhibits legitimate expression.
There have been numerous similar reports over the last 15 years: an eight-year-old questioned by Prevent after his teachers mistook his T-shirt slogan for Isis propaganda, a 17-year-old referred because he wore a "Free Palestine" badge to school and a student of counter-terrorism questioned after an official spotted him reading a textbook entitled Terrorism Studies.
After years of pressure from individuals, campaigners and politicians, the government has finally agreed to address these concerns with an independent review of the Prevent strategy.
One of four strands of the government's counter-terrorism strategy, known as Contest, Prevent was created by the Labour government in 2003 and its remit was widened by the coalition government in 2011.
Its stated purpose is designed to steer people vulnerable to all forms of extremism away from violence and essentially from becoming terrorists capable of violence. The Channel programme, an arm of Prevent, mentors those identified as at risk of radicalisation. Since 2012 more than 1,200 people had been supported by Channel.
The controversy surrounding the approach deepened in July 2015, when the government introduced a statutory duty on schools, NHS trusts, prisons and local authorities to report concerns about people who may be at risk of turning to extremism or terrorism.
Rob Faure Walker, a secondary school teacher in Tower Hamlets and a PhD candidate investigating the impact of counter-extremism discourses in educational settings, saw the impact of the duty first-hand when children suddenly stopped talking about specific issues for fear they would be targeted by Prevent officers – a so-called "chilling effect".
"The most profound example I had was a kid who was a devout Muslim telling me he was scared of practising his religion in school for fear of a referral," he said.
Walker said that as a teacher he came to realise that having robust discussions with children on difficult topics – such as those who expressed frustration with western foreign policy or made racist remarks – actually helped ensure such views did not lead to violence.
"In my experience what is now being targeted as extremism was part of the mechanism that pathways to violence were diverted," he said. "Since then Prevent comes in and starts to specifically target those types of conversations, putting a duty on me as a teacher to report those conversations as extremism – and it's based on a false premise that the airing of extreme views is a predictor for violence."
Longstanding critics of Prevent have cautiously welcomed the review, which will be launched within six months of the government's counter-terrorism and border security bill passing into law.
Yasmine Ahmed, the director of the NGO Rights Watch UK, which in 2016 produced a landmark report on the impact of Prevent, said: "We think it's essential given serious human rights concerns – particularly the impact on children in schools.
"The Prevent strategy is not a hard security measure, we're not talking about torture. It's incredibly pervasive. Parents weren't talking to their children about political pressures or Islam because they were worried about what the children might go on to say at school. It was hugely chilling. It's a form of censorship."
She added: "Prevent has alienated and marginalised the community who are now mistrustful of the security apparatus that needs them to work with them."
Miqdaad Versi, assistant secretary general at the Muslim Council of Britain, said one of their core concerns with Prevent had been the lack of a means of testing or proving its success. He said: "If you have a strategy it should have the appropriate controls to see if it's effective. It's standard practice. That's a core part of our concern."
Rachel Logan, legal expert at Amnesty International UK, which has repeatedly called for an independent review, said: "Prevent has always looked to be a highly dubious scheme built on shaky, almost evidence-free foundations, and we need to see a review that properly assesses its impact and approach."
Prevent is not without its supporters, however, including significant, influential voices within counter-terror circles. Announcing the review, the security minister, Ben Wallace, challenged critics of the strategy to produce solid evidence of their allegations, accusing them of "distortion and spin".
Richard Walton, who was head of Scotland Yard's counter-terrorism command from 2011 to 2016, said: "The implementation of the government's Prevent strategy has undoubtedly resulted in lives being saved that would have been lost from terrorist attacks had interventions not taken place. It comes as no surprise, therefore, that the strategy has traditionally been opposed by extremist and terrorist groups who want to undermine the government's efforts to prevent terrorist attacks.
"I question whether a review commissioned by the Home Office of its own counter-terrorism strategy is really necessary and value for money at this time when the threat from terrorism remains severe, which means a terrorist attack is highly likely."
But the emotional and psychological impact on those who believe they were wrong to have been quizzed under the Prevent strategy is clearly damaging.
Full report at:
https://www.theguardian.com/uk-news/2019/jan/27/prevent-muslim-community-discrimination
--------
Bosnian-Serb leader eyes secession over name row with Muslim party
Jan 28, 2019
Bosnian-Serb leader Milorad Dodik has renewed threats to break up Bosnia, after the country's main Muslim party said the name of its Serb-run Republika Srpska region should be changed.
The row has deepened uncertainty in ethnically divided Bosnia, where bickering parties from its Serb, Croat and Muslim (or Bosniak) communities are yet to form a new central government after national elections last October.
The Dayton peace accord that ended Bosnia's 1992-1995 war divided it into two semi-autonomous "entities", Republika Srpska and the Muslim-Croat Federation, which are linked at the state level by a relatively weak government in Sarajevo.
The pro-Russian Mr Dodik has long resisted EU-backed efforts to integrate the regions and has threatened to seek independence for Republika Srpska rather than transfer powers to the central government, which he claims the Bosniak majority will use to victimise Serbs.
The Party of Democratic Action (SDA), which is the largest Bosniak political group, now plans to ask Bosnia's constitutional court to change the name of Republika Srpska (RS) in response to its alleged discrimination against Muslims and Croats.
"It's time we say 'enough'. We accepted the name Republika Srpska because we wanted peace, but we never accepted that it would be an entity where we'd be humiliated," said SDA leader Bakir Izetbegovic.
"It is not the intention of the SDA to abolish the name of the RS. We will ask that Bosniaks and Croats be included in everything, including in the name," Bosnia's N1 media outlet quoted him as saying.
Mr Dodik, who is the Serb member of Bosnia's tripartite state presidency and leads Republika Srpska's main party, said he would not wait for a ruling from a constitutional court in Sarajevo that he believes "will always rule against the RS".
"If this appeal is accepted by the constitutional court... we will consider this a flagrant violation of the Dayton peace agreement and we will call for a session of the RS national assembly to decide on the future status of Republika Srpska," he declared.
"If the SDA wants to do this, I will push for rigorous protection measures in the RS... All the laws that allow us to take control of the border overnight are already written," he added.
"If you wanted to throw us, Republika Srpska, out of Bosnia... then you are doing the best job possible."
Other Bosnian-Serb political leaders agreed with Mr Dodik, who is under US sanctions for allegedly undermining the Dayton accords and Bosnian statehood.
While seeking close ties with Moscow, Mr Dodik says he backs Bosnia's faltering bid to join the European Union, but his party's opposition to Bosniak and Croat hopes of Nato membership has hampered formation of a new national government.
"We call on all political parties to refrain from political manoeuvres aimed at distracting attention from the real issues facing Bosnia," the EU delegation in Sarajevo said of the name dispute.
Full report at:
https://www.irishtimes.com/news/world/europe/bosnian-serb-leader-eyes-secession-over-name-row-with-muslim-party-1.3772442
--------
Newcastle Islamic school leaders 'reach out' to vandals
27 January 2019
Leaders of an Islamic education centre that was vandalised have said they do not want to punish those responsible.
Users of the Bahr Academy in Newcastle would like to talk to the perpetrators about acceptance.
Graffiti was scrawled on walls, furniture overturned and copies of the Koran thrown on to the floor.
The centre's trustees said they wanted those involved to come to get to know its members, as talking could prevent further attacks.
Muhammad Abdulmuheet said he was shocked when he saw the damage, which included a swastika on one of the walls.
"I thought we'd moved away from that. What are they trying to say?," he said.
"We want to say to them, whoever they are, come and speak to us, we want to inform you that we are not really what you might have thought we are," Mr Abdulmuheet said.
"We want to speak to you, so you can find out what we are about and teach you what Islam actually says, so you have a correct understanding of what we are trying to do in these places."
Full report at:
https://www.bbc.com/news/uk-england-tyne-47020272
--------
Iraq must move away from economic reliance on Iran - British official
January 28, 2019
Iraq must wean itself off economic reliance on Iran and become more energy self-sufficient, Britain's foreign office minister for the Middle East said on Sunday.
Alistair Burt visited Iraq after a flurry of high-profile diplomacy in Baghdad this month that followed US President Donald Trump's surprise announcement he was pulling American troops out of Syria.
US allies worry the withdrawal, even if it proceeds more slowly than initially planned, will embolden Iran, whose influence has grown in Iraq and Syria in recent years.
Washington hopes to counter Iranian influence through renewed sanctions, and has pressured Iraq to halt imports of Iranian gas.
"To expect Iran to have no influence in Iraq is fanciful," Mr Burt said in an interview with Reuters at the British Embassy in Baghdad.
"What is important is that Iraq finds the opportunity to follow its own future in terms of foreign relations and that its economy is strong, and isn't reliant on Iran."
Burt said Iraq must convert oil resources to become more self-sufficient. "The sooner all its oil wealth can come on stream and can capture all the energy that is sometimes not used as effectively as possible ... the better," he said.
Iraq's oil export capacity is nearly 5 million barrels per day, although it is pumping below capacity in line with an OPEC agreement to reduce production to stabilise prices. Washington hopes it can reduce its gas flaring to satisfy domestic energy needs and rely less on Iranian power imports.
Mr Burt said there were ideas for more power projects in Iraq, without elaborating.
He doubted that a military escalation between the United States and Iran in Iraq or Syria was imminent, but warned of "confrontation which might occur should there be a miscalculation."
Tension has ramped up between Washington's chief regional ally Israel, and Iran and its allies in Syria and Iraq in recent weeks. Israel struck what it said were Iranian targets near Damascus on Monday in an increasingly open assault on Iran's presence there.
Full report at:
https://www.thenational.ae/world/mena/iraq-must-move-away-from-economic-reliance-on-iran-british-official-1.818726
--------
North America
'Muslim ban': Two years on, Trump's order still destroying lives
27 January 2019
Ali Harb
WASHINGTON, DC - Families split; travellers stranded; students unable to attend their universities; people being forced to be away from their loved ones.
Two years after President Donald Trump signed an executive order severely restricting travel from several Muslim-majority countries, the effects of the executive order that came to be known as the Muslim ban, are still happening.
"We've seen families torn apart, individuals not being able to visit loved ones, weddings that were missed, healthcare they haven't been able to receive, students not being able to come to school - there is a real life daily impact that it has, and that's ongoing," Abed Ayoub, the legal director of the American-Arab Anti-Discrimination Committee (ADC), said.
After Trump signed his ban on 27 January 2017, demonstrators flooded airports, 1,000 State Department officials lodged a rare dissent cable, and lawyers filed a rush of lawsuits all in protest against the executive order, which put a 90-day block on citizens from Iran, Iraq, Syria, Yemen, Sudan, Libya and Somalia.
The protests and early court decisions suspending the ban restored hope of a united front against the executive order and underlying bigotry behind it.
Last year, however, the Supreme Court upheld the ban after a lengthy legal battle, ruling in favour of executive power to control immigration, although Trump had professed to his discriminatory intent as a candidate in late 2015, calling for a "total and complete shutdown of Muslims" coming to the US.
Now advocates say they are turning to politicians and presidential candidates to undo the ban.
Total chaos
The order left the lives of people like Syrian doctor Khaled Almilaji, who was waiting to get a visa to continue his masters programme at Brown University and return to his wife who was pregnant with their first child, in limbo.
"You can go to the website – you see your number and there is 'pending'. This pending can take years," he told MEE at the time, stuck in Turkey and continuing his studies remotely while his wife's due date grew closer.
It also threw the country's airports into an instant tailspin, as protesters and lawyers, like Sharifa Abbasi who works for the Virginia-based HMA law firm, gathered to help new arrivals, and untangle a knot of bureaucracy, so freshly spun, no one knew exactly what was going on.
"There were lawyers on the phone with the local elected official's offices, people trying to reach Customs and Border Protection and airlines, people writing different memos, teams doing legal research, conference calls going on every day," said Abbasi, who was volunteering at Dulles Airport.
"It was beautiful because everybody just wanted to come together and offer their support."
As the pack of at least 50 lawyers, fed by other volunteers and surrounded by chanting demonstrators and journalists, continued to advise people, Abbasi said she felt certain that the order would be "blown out by the courts".
"I didn't think it was going to go on for this long, that it even stood a chance," she said. "But unfortunately, given the political climate we are in now, anything can fly."
Ban 3.0
In fact, the ban had gone through several incarnations before making its way to the Supreme Court last June.
It originally applied to permanent residents, before the Department of Homeland Security issued a directive exempting Green Card holders from the executive order, following some 24 hours of mass confusion at airports.
In March 2017, Trump signed what would become known as the "second Muslim ban". The new decree excluded Iraq from the list. Baghdad had agreed to start accepting deportees from the US in exchange for the move.
The deal allowed the administration to round up dozens of Iraqi Christians who had outstanding deportation orders, even as they argued that sending them back to Iraq could amount to a "death sentence".
In yet another amendment to the ban in September 2017, the White House removed Sudan from the list and added travel restrictions on the citizens of Chad, North Korea and Venezuela.
Robert McCaw, director of the government affairs department at Council on American-Islamic Relations (CAIR), said each version of the ban aimed to "cover up the discrimination, bigotry and unlawfulness" of the previous one.
"It's CAIR's position that the Muslim ban continues, not only to be discriminatory, but is unconstitutional," McCaw said.
The way forward
The Supreme Court's ruling to uphold the ban was a "travesty of justice", McCaw said, citing other historical missteps by the high court, including the Korematsu case that allowed the internment of Japanese-Americans during World War II.
However, he noted that the Supreme Court's decision is not subject for appeal.
"So now it is up to Congress to use its lawful authority to de-fund or repeal this Muslim ban executive order," McCaw continued.
Late in 2017, Congresswoman Judy Chu and Senator Chris Murphy introduced a bill that would "prohibit the use of any funds or fees to implement" the order.
Another "legislative fix", according to McCaw, would be to reform the Immigration and Nationality Act, on which Trump based his executive order.
McCaw acknowledged that such efforts have minimal chances of passing through Congress, as Trump's Republican Party is still in control of the US Senate. A legislative push however is still important, he said.
"It is to communicate to the American public that this order can be overturned by Congress, if there is enough votes," he said.
If Trump loses his re-election bid in 2020, his successor could overturn the ban by executive order.
A handful of Democratic politicians and activists have announced their candidacy for the upcoming presidential elections; McCaw said he is still waiting to see who will be the first candidate who will pledge to repeal the ban.
Beyond the ban
The ban has had a chilling effect on the number of people from the targeted countries coming into the US.
US State Department data shows that in the fiscal year 2018 only 819 Yemenis were granted "immediate relative visas" to join their families in the US, a stark drop from the 8,447 in 2016, President Barack Obama's last year in office.
The fiscal year ends on 30 September, meaning the ban was fully in effect for three months in the last reporting cycle.
Beyond the direct impact of the ban on potential travellers and family members who may await them here, advocates say the executive order has created an atmosphere of fear that has contributed to the rise of Islamophobia.
"The Muslim ban itself - being discriminatory - marginalises American Muslims and paints them as being a threat to their fellow citizens and neighbours," McCaw said.
"Since President Trump was elected and he issued the Muslim ban executive order, there has been a stark increase in hate crimes and acts of discrimination targeting American Muslims, and vandalism targeting their houses of worship and community centres."
Ayoub echoed McCaw's statement, adding that the ban had a "psychological impact" on Arab, Muslim and immigrant communities in the US.
"Mistrust in the government, worrying about their immigration status, worrying about loved ones, the stress - that really took a toll," he said.
According to Ayoub, that anxiety was not limited to people from countries listed in the executive order, as people from all communities, including US citizens, started questioning if they would be targeted next.
And their concerns are warranted: Abbasi said she has noticed that the processing time for visas for people from countries with large Muslim populations not on the list – like Tunisia, Afghanistan and Pakistan – have slowed down.
"If you are already outside the country, there are a lot of people that are hopeless," she said. "Imagine all of the talent in these past two years that really could have done something for the country."
'Put each other together'
One of those people was Khaled Almilaji, the Syrian doctor who was stranded in Turkey when the ban came down, hoping to return to his masters programme and to his pregnant wife, Jihan, who is also a doctor.
Almilaji, 37, was working for a pharmaceutical company and finishing up a medical residency when the war started. In September 2011, he was imprisoned for six months in Damascus. He was tortured for two weeks, including by electrocution, and one of his fingers and a rib was broken.
Yet prison authorities relied on him to treat other prisoners which he did blindfolded so he couldn't identify anyone later on.
After he was released from prison, he spent the next five years making a major impact on healthcare services for Syrians, including his role on a task force that vaccinated 1.4 million Syrian children against polio and stopped the virus from spreading as it had in Iraq.
Two years after the ban altered their lives, Almilaji's now 17-month-old daughter, Daria, Jihan and he are now settled in Toronto, where Khaled and Jihan were reunited in June 2017.
He is nearly done with a masters in health informatics at the University of Toronto, and said he has already used what he has been learning to improve health services in northern Syria.
"I'm finishing my masters in April. It's amazing, right?" he said on Saturday. "I was lucky that I didn't waste more time in this."
Jihan, who is preparing for exams to continue her medical studies, has been able to travel to visit her family in Germany. Meanwhile, Khaled has returned frequently to Turkey to work on initiatives including an underground hospital for women and children, and projects providing care for Syrians in Idlib, Aleppo and Hama.
"We were lucky that we were still able to get degrees, look for medical training jobs and, at the same time, continue doing this work. Not a lot of people had the same chance," he said.
One day, he said, he hoped history books will detangle the chaotic political moment, and provide lessons for the world.
"It's a mess, but it's needed because it's not a matter of the results of one election or another, it's a matter of our collective behaviour. Our communities are divided, but these things showed that division," he said.
"This is good because as a doctor you cannot fix something unless you diagnose it. It was there and now it is on the surface. We have to put each other together."
https://www.middleeasteye.net/news/muslim-ban-two-years-trumps-order-still-destroying-lives-257486355
--------
US says progress made in Taliban talks amid reports of troop pull-out deal
Jan 27, 2019
The US envoy leading the so-called "peace talks" with the Taliban terrorist group has confirmed "significant progress" in the negotiations amid claims by the group that the American side has agreed to a troop-withdrawal deal.
"Meetings here were more productive than they have been in the past. We have made significant progress on vital issues," Zalmay Khalilzad said in a Twitter message on Saturday from Qatar, where the talks have been underway for the past six days.
Khalilzad noted, however, that no deal had yet been finalized with the militant group that has claimed responsibility for numerous bombings and terror attacks against the Afghan government and civilian targets as well as on the US-led foreign troops in the war-torn country. He further expressed confidence that talks would resume shortly.
"Nothing is agreed until everything is agreed and everything must include an intra-Afghan dialogue and comprehensive ceasefire," he further wrote.
A US State Department spokesperson, however, declined to comment on Khalilzad's statements.
Meanwhile, US negotiators Saturday agreed on a draft peace agreement, setting out the withdrawal of foreign troops from Afghanistan within 18 months, according to the details of the agreement given to Reuters by Taliban sources.
"The policy of the Islamic Emirate during talks was very clear — until the issue of withdrawal of foreign forces from Afghanistan is agreed upon, progress in other issues is impossible," said Taliban spokesman Zabihullah Mujahid, using another name the group calls itself.
It was not immediately clear whether the draft described by the Taliban sources was acceptable to both sides or when it could be completed and signed.
The Taliban sources further said other clauses in the draft include an agreement over the exchange and release of prisoners, the removal of an international travel ban on several Taliban leaders by Washington and the prospect of an interim Afghan government after the ceasefire is signed.
They also confirmed provisions in the draft that have wider repercussions for Afghanistan's ties with its neighbors, particularly Pakistan, India and China.
The sources added the deal include provisions that separatist militants from Balochistan, a resource-rich southwestern Pakistani province, will not be allowed to use Afghan soil to target Pakistan.
According to the sources, the terrorist group gave assurances that Afghanistan will not be allowed to be used by allied al-Qaeda and rival Daesh (ISIL) terrorist groups to attack the US and its allies — a key early demand of Washington. Daesh terrorists were among the militants initially trained by the CIA in Jordan in 2012 to destabilize the Syrian government.
They further said the deal included a ceasefire provision but they had yet to confirm a timeline and would only open talks with Afghan representatives once a truce was implemented.
Up until now, the Taliban has repeatedly rejected the Afghan government's offer of holding talks, preferring instead to talk directly to the American side.
"In 18 months, if the foreign forces are withdrawn and ceasefire is implemented then other aspects of the peace process can be put into action," a Taliban source said, quoting from a portion of the draft.
Despite the presence of US-led forces in Afghanistan 17 years after their invasion to drive Taliban from power, the terrorist group controls nearly half of the country.
Afghan President Ashraf Ghani said last week that 45,000 members of the country's security forces had been killed since he took office in 2014.
Full report at:
https://www.presstv.com/Detail/2019/01/27/586895/US-Taliban-peace-talks-Zalmay-Khalilzad-Qatar-troop-pullout
--------
Muslim US congresswoman slams Trump admin for backing Venezuela 'coup'
Jan 27, 2019
Muslim US Representative Ilhan Omar has blasted the administration of President Donald Trump for backing the recent "coup" attempt against the legal government in Venezuela.
Omar, who in November became one of the first Muslim women to be elected to Congress, took to twitter to express outrage over Washington's policy of "handpicking" leaders of other countries to serve operate interests.
"We cannot hand pick leaders for other countries on behalf of multinational corporate interests," Omar wrote Friday. "The legislature cannot seize power from the President, and Venezuela's Supreme Court has declared their actions unconstitutional."
Venezuela has been convulsed by a political crisis. The Latin American country further plunged into crisis on Wednesday, after opposition leader Juan Guaido declared himself "interim president" and rejected the presidency of Nicolas Maduro.
Minutes after Guaido's self-proclamation, the US said it recognized him as the "legitimate" leader of Venezuela, calling on other countries to follow suit. Caracas responded by cutting ties with Washington.
Maduro, who began his second term this month after winning a vote boycotted by the opposition, has called Guaido an "agent of the gringos," accusing him of taking orders from the US.
The Associated Press has revealed in a report that Guaido quietly traveled to Washington, Colombia and Brazil in mid-December to brief officials on his plans to provoke unrest.
The US has also imposed several rounds of economic sanctions against Venezuela on the grounds that Maduro's government undermined people's democratic rights.
Omar, a Minnesota Democrat, said if the US wanted to really help Venezuelan people it could begin by removing the sanctions.
"If we really want to support the Venezuelan people, we can lift the economic sanctions that are inflicting suffering on innocent families, making it harder for them to access food and medicines, and deepening the economic crisis. We should support dialogue, not a coup!" she wrote.
The lawmaker also called on the White House to roll back foreign interventions and focus on domestic issues instead.
Full report at:
https://www.presstv.com/Detail/2019/01/27/586963/US-Ilhan-Omar-Trump-Venezuela-coup-Guaido-Maduro
--------
URL: https://www.newageislam.com/islamic-world-news/ijtihad-needed-tackle-modern-challenges/d/117578
New Age Islam, Islam Online, Islamic Website, African Muslim News, Arab World News, South Asia News, Indian Muslim News, World Muslim News, Women in Islam, Islamic Feminism, Arab Women, Women In Arab, Islamophobia in America, Muslim Women in West, Islam Women and Feminism