New Age Islam News Bureau
12 November 2020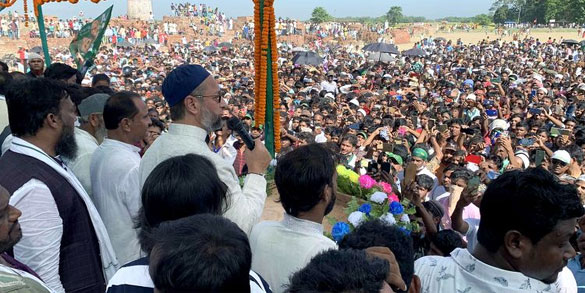 All India Majlis-e-Ittehadul Muslimeen president Asaduddin Owaisi addresses an election rally in Bihar
Image Credit: ANI
----
• Military Intelligence And UP Police Suspect That ISI Or Anti-National Forces May Have Sneaked Their Men Into The Army
• Austria Seeks To Criminalise 'Political Islam' As It Unveils Broad New Anti-Terror Measures
• Pak Court Jails Spokesperson Of Hafiz Saeed-led JuD for 32 Years In Terror Financing Cases
• Who Is Going To Take Hefazat-e-Islam Bangladesh's Helm After Shah Ahmad Shafi'
• Muslim Brotherhood Responds To Saudi Council Of Senior Scholars
• Lebanon's Hezbollah Leader Nasrallah: Glad About Trump's 'Humiliating Downfall'
India
• If Indian Secular Parties Want Muslim Votes, They Will Have To Treat Them As Equal Citizens
• Military Intelligence And UP Police Suspect That ISI Or Anti-National Forces May Have Sneaked Their Men Into The Army
• AMU organises national webinar on Allama Iqbal's 'legal philosophy'
• Asaduddin Owaisi's 'vote-cutter' AIMIM sends jitters in Bengal after Bihar show
--------
Europe
• Austria Seeks To Criminalise 'Political Islam' As It Unveils Broad New Anti-Terror Measures
• UK Counter-Terrorism: Lockdown Is Fuelling Online Extremist Recruitment
• Azerbaijan: Muslim prayer call resounds across Shusha
• Russia denies Erdogan's claim of Turkey jointly monitoring Nagorno-Karabakh deal
--------
Pakistan
• Pak Court Jails Spokesperson Of Hafiz Saeed-led JuD for 32 Years In Terror Financing Cases
• Maryam asks GB people to elect PML-N for development
• Shehbaz, Hamza, eight others indicted in assets case
--------
South Asia
• Who Is Going To Take Hefazat-e-Islam Bangladesh's Helm After Shah Ahmad Shafi'
• Bangladeshi Christians And Other Minority Groups In Peaceful Protest Against Islamist Attacks
• CID Arrests Missing JnU Student Tithy For Hurting Religious Sentiment
• Muslims attack ethnic Christian villagers in Bangladesh
• 50 Taliban Killed in Defence Operations
• Radio Azadi Reporter Killed in Helmand Blast
--------
Arab world
• Muslim Brotherhood Responds To Saudi Council Of Senior Scholars
• Recognize Iran's role in supporting terrorism, extremism: Saudi Arabia's King Salman
• Arab Coalition intercepts two explosive-laden boats launched by Houthis in Yemen
• Two injured in attack on non-Muslim cemetery in Jeddah: Authorities
• Four injured in bomb blast at WWI memorial in Saudi Arabia's Jeddah
• Assad says US hampering return of Syrian refugees
• Bahrain's crown prince appointed new prime minister
--------
Mideast
• Lebanon's Hezbollah Leader Nasrallah: Glad About Trump's 'Humiliating Downfall'
• Iran State TV Airs Opposition Figure's Purported Confession To 'Terrorism'
• 'Not The Actions Of An Ally': Close Biden Ally Blasts Turkey's Foreign Involvement
• Turkey Forewarns US Secretary Of State Pompeo On Religion Ahead Of Visit
• FM: Pakistan Never Allows Hostile Acts against Iran
• Iran Proposes Establishment of Int'l Fund to Reconstruct Syria
• Over 120 Palestinian inmates infected with coronavirus inside Israeli jails: Rights group
--------
North America
• US Embassy In Pakistan Apologizes After Retweet That Pakistan President Is 'Dictator'
• US urges release of Jewish hostage in Yemen held by Iran-backed Houthis
--------
Africa
• Libya Talks Reach Breakthrough On Election Roadmap: UN Envoy
• Libyan man pleads guilty to murder over UK 'terror' stabbings
--------
Southeast Asia
• Dr Mahathir: If Najib Can Be In Parliament, His Corruption Trials Should Resume Too, But With Cap On Media, Observers
• PM Muhyiddin reiterates Malaysia's solidarity with Palestine at Asean Summit
Compiled by New Age Islam News Bureau
URL: https://www.newageislam.com/islamic-world-news/if-indian-secular-parties-want/d/123452
--------
If Indian Secular Parties Want Muslim Votes, They Will Have To Treat Them As Equal Citizens
November 12, 2020
Shivam Vij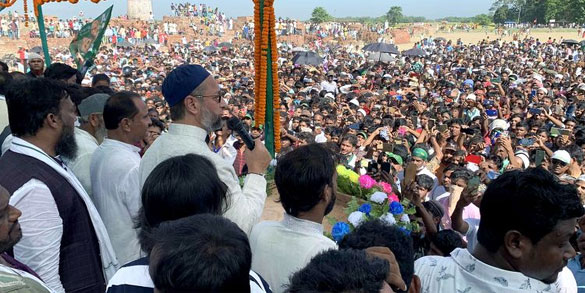 All India Majlis-e-Ittehadul Muslimeen president Asaduddin Owaisi addresses an election rally in Bihar
Image Credit: ANI
----
In a corner of a Hindu-majority India lies a Muslim-majority district, Kishanganj. In India's politics Kishanganj has a rich history. It was from here that a journalist friend of Rajiv Gandhi, MJ Akbar, had won a seat in India's parliament in 1989. Akbar is today a member of the Hindu nationalist Bharatiya Janata Party, which in itself speaks volumes about Indian politics today and the thorny place Indian Muslims find themselves in.
With the rise of Hindu nationalism in electoral politics, Muslims have found it harder and harder to be represented in India's central and state legislatures, reducing their ability to be heard in the corridors of power. "Secular" parties that do not subscribe to Hindu nationalism find it tough to put up Muslim candidates in election for the fear that he or she may not get the votes of Hindus.
Amid such a political reality, there are small enclaves where Muslims are in large enough numbers to make sure they can elect a Muslim to the legislature. Kishanganj in India's east with 68% Muslims is one such place. The old city of Hyderabad in the south is another. Asaduddin Owaisi has been the member of parliament from Hyderabad since 2004. He leads a party whose name suggests it is a party of Muslims: All-India Majlis-e-Ittehadul Muslimeen. Before him, his father held this seat continuously since 1984.
In 2014, Narendra Modi became India's prime minister, and with him, his Hindu nationalist Bharatiya Janata Party gained a clear majority in the national parliament for the first time. Hindu nationalism had arrived, front and centre. In 2015, Asaduddin Owaisi arrived in Kishanganj. His AIMIM announced it will contest 6 seats in the Bihar assembly elections that year. Consider the many levels at which Owaisi's politics is ambitious, daring and even a little crazy. Firstly, given that a 'Muslim party' the Muslim League, had managed to Partition India in 1947, it is a tribute to Indian's multiparty democracy that a 'Muslim party' even exists.
Secondly, it is daring to be expanding this party in pockets of Muslim concentration across India since secular parties have been on a campaign labelling AIMIM as an extremist party, a mirror image of Hindu nationalism. It is, in fact, not extremist at all, if you discount a crazy speech or two by Owaisi's hot-headed brother.
Asaduddin Owaisi is a fierce Constitutional nationalist, his speeches in Parliament envied by parties across the board. He appeals to so many Muslims, especially the youth, because he tells Indian Muslims they do not need to think of themselves as second-class citizens: the Constitution gives them equal rights.
Thirdly, it is quite unconventional for a bunch of Hyderabadi Muslims to travel into remote places across India and lay the ground for electoral politics. I'd love to hear all the funny anecdotes of the exchange of Hyderabad humour with Bihari lingo. There are only two truly national parties in India, the BJP and the Congress. Regional parties which dominate the politics of their states have found it difficult to expand their footprint to even more state. The only other people who have managed to do so in the past are the Communists.
Rise of Muslim leadership
In Kishanganj in 2015, I met Asaduddin Owaisi. I asked him what he really wanted. His critics compare him to Mohammed Ali Jinnah, the founder of Pakistan. The more charitable ones say he's funded by the BJP to split Muslim votes, helping the BJP candidates win in a multiparty democracy.
Owaisi patiently explained he only wants a few Muslim representatives in India's assembly and parliament who can speak up for the rights of Muslims, the developmental neglect of Muslim concentration areas. Secular parties that seek Muslim votes in the name of saving secularism fail to do justice to these voters, he complains. And if he was really out to divide Muslim votes and help the BJP win, why would he contest a handful of seats?
Working with the poorest
In that election in 2015, I met voters who said they loved Owaisi, but wouldn't vote for him, as he was not going to be in a position to form government. A secular alliance led by Nitish Kumar was going to get their votes. The AIMIM did not win a single seat.
What has happened since then tells you why the AIMIM has just won 5 seats in and around Kishanganj. Nitish Kumar betrayed the trust of Muslim voters and joined the BJP. Secular parties have failed miserably in speaking up for Muslims on various issues, especially the issue of amendment of India's citizenship laws.
When Rajiv Gandhi's daughter, Priyanka Gandhi, hailed the inauguration of the construction of a temple on the site of a mosque demolished by Hindu fundamentalists in 1992, the AIMIM made sure every voter in Kishanganj got to know what Priyanka Gandhi had said.
In this Bihar election, another secular alliance tried to come to power, but failed. It is now blaming Owaisi. But the AIMIM's vote split may have helped the BJP win at most one seat out of 243. There is a message the Muslim voter is sending through Owaisi's 5 seats. The Indian Muslim voter does not feel represented or even heard by secular parties, who think they will win elections if they can pretend their Muslim voters do not exist.
Along with Bihar, there were critical by polls in Madhya Pradesh that could have replaced a BJP government with a Congress government. The Congress party in Madhya Pradesh, led by Kamal Nath, tried to appeal to Hindu identity to win the election but failed miserably. This is the message from Kishanganj: if secular parties want Muslim votes, they will have to treat them as equal citizens and give up their tried-and-failed strategic silence about secularism and minority rights.
https://gulfnews.com/opinion/op-eds/the-message-from-bihar-indian-muslims-want-secular-parties-to-stop-pretending-they-dont-exist-1.75224360
--------
Military Intelligence And UP Police Suspect That ISI Or Anti-National Forces May Have Sneaked Their Men Into The Army
Nov 12, 2020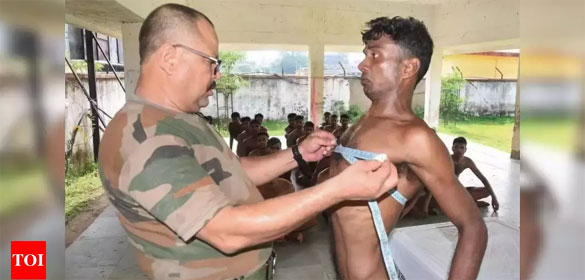 BAREILLY: A joint team of Military Intelligence (MI) and UP Police on Wednesday unearthed a racket —involving an ex-serviceman, two policemen and five others — which allegedly helped several youths land jobs in the army on fake documents in the last two years. The investigators suspect that Pakistan's spy agency ISI or some other anti-national forces may also have sneaked their men into the army using the racket. Police have arrested the retired soldier, one of the policemen and three others so far.
At a press conference attended by senior police officers and a representative of the MI, the number of those who got jobs in the army through the racket was put at 21. UP Police have also roped in the Intelligence Bureau as it has started reverification of all the candidates who made it to the Indian Army starting January 2019 in four districts where the racket was active.
DIG of Bareilly range, Rajesh Pandey, told TOI, "I have ordered reverification of all the successful candidates in Bareilly, Pilibhit, Budaun and Shahjahanpur. We have also asked the IB and other security agencies to join the investigation. I am monitoring the case and coordinating with all the agencies."
The accused were arrested from a rented apartment in Banda area, Shahjahanpur. They were later identified as Suresh Som, 55, Hukum Singh, Paramveer Singh, Mukesh Kumar and police constable Manveer Singh. The MI officer from Bareilly said, "Suresh Som was a havildar in 26 Rajput Regiment and retired in February 2010. Our Bareilly unit is thoroughly investigating the case with police. A separate internal investigation is also going on. The possibility of the involvement of anti-national groups like ISI cannot be ruled out as Som had leaked inside information to recruit the candidates on fake documents."
He said that the MI Bareilly is scanning antecedents of 21 candidates as of now. "The numbers can go up after the investigation," he said. Two other accused, including police constable Moolchand and one Arvind Kumar are on a run, police said.
Senior superintendent of police (SSP) of Shahjahanpur, S Anand, said that arrested constable Manveer Singh used to ratify the fake documents of candidates in Shahjahanpur district using his position.
The SSP said, "It is a very big scam. Data of 21 candidates, shortlisted in the army through fake documents and showing them as residents of Bareilly division, has been found so far.
"We have seized 23 fake stamps of government offices and village heads. Several forged mark-sheets and other fake documents were also recovered from the accused. We are trying to find out the total number of candidates who were recruited through fraudulent means. This is a matter related to national security and no one will be spared. One of the accused constables, Manveer, had accepted a bribe of Rs 52,000 from the accused for the verification of a candidate. The accused were getting huge amounts of money for the recruitment. The involvement of ISI or some other anti-national forces behind this racket cannot be denied," he added.
During the press conference, ex-servicemen Som said that he wanted to make quick money to start a career in politics.
https://timesofindia.indiatimes.com/india/isi-link-in-army-recruitment-scam/articleshow/79181458.cms
--------
Austria Seeks To Criminalise 'Political Islam' As It Unveils Broad New Anti-Terror Measures
11 November 2020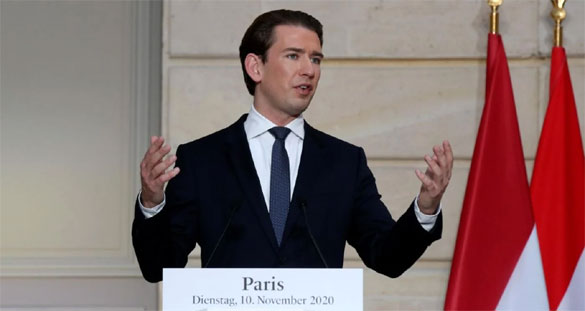 Austrian Chancellor Sebastian Kurz says measures target both terror suspects and ideology that drives them (AFP/File photo)
-----
Austria plans to introduce a series of anti-terrorism measures following last week's deadly attack in Vienna, including the criminalisation of political interpretations of Islam that are deemed to encourage violent extremism.
Chancellor Sebastian Kurz said on Wednesday that the measures were intended to protect society from extremists he described as "ticking time bombs".
The proposals include the ability to keep individuals convicted of terror offences behind bars for life, facilitate electronic surveillance of people convicted of terror-related offences upon release, and criminalise political activity that encourages violence.
Kurz said the measures, which will be brought to a vote in parliament in December, take a two-pronged approach, targeting both terror suspects and the ideology that drives them.
"We will create a criminal offence called 'political Islam' in order to be able to take action against those who are not terrorists themselves, but who create the breeding ground for them," Kurz tweeted after the meeting.
He also said the government planned to simplify the process of shutting down associations or mosques deemed to play a role in radicalisation, and to enable the public to report potential "jihadist" activities on an online platform.
A central register of imams will also be created.
Also among the measures is a proposal that would make it possible for authorities to strip people of Austrian citizenship if they are convicted of terror-related offences.
Vice-Chancellor Werner Kogler, who leads the junior coalition party, the Greens, said the new measures would apply to "all forms of terror", including "terror by neo-Nazis".
Homes and businesses raided
On Monday, almost 1,000 police and intelligence service officers raided homes, businesses and associations allegedly tied to the Muslim Brotherhood and Hamas, seizing millions of euros in cash across four provinces.
Prosecutors insisted the raids were not connected to the attack last week, but were the result of an investigation stretching back more than a year.
Four people were killed and 22 wounded when Kujtim Fejzulai, described as a 20-year-old Islamic State sympathiser, opened fire with a Kalashnikov in a busy area of the Austrian capital the night before the country went into a new Covid-19 lockdown.
A dual Austrian and Macedonian national, Fejzulai had been convicted of a terror offence in April last year for trying to travel to Syria to join the Islamic State group.
An investigation has been launched into why Austria didn't have Fejzulai under observation despite being tipped off by Slovakian authorities that in July he had tried to purchase ammunition at a shop in the Slovakian capital, Bratislava.
Austrian authorities said they have been working closely with the FBI on the investigation, and the State Department said separately that US Secretary of State Mike Pompeo talked on Wednesday with his Austrian counterpart, offering further support from Washington.
The attack in Vienna followed an attack in the French city of Nice in which four people were killed.
France has also begun to close mosques and is cracking down on organisations it suspects are spreading hatred.
However, there are fears of collective punishment and rising Islamophobia in France, especially after Barakacity, a prominent charity, was dissolved in late October.
https://www.middleeasteye.net/news/austria-agrees-broad-new-anti-terror-measures
--------
Pak court jails spokesperson of Hafiz Saeed-led JuD for 32 years in terror financing cases
November 12, 2020
A Pakistani anti-terrorism court on Wednesday handed down 32 years imprisonment to the spokesperson of Mumbai attack mastermind Hafiz Saeed's Jammat-ud-Dawah (JuD) terror group in two terror financing cases.
The Anti-Terrorism Court (ATC) here also convicted two other JuD leaders, including the brother-in-law of Saeed, in terror financing cases.
"ATC Judge Ijaz Ahmad Buttar handed down 32 years imprisonment to JuD spokesperson Yahya Mujahid in two FIRs. Prof Zafar Iqbal and Prof Hafiz Abdul Rehman Makki (brother-in-law of Saeed) were awarded 16 and one-year jail terms in two cases," a court official told PTI.
He said that the two other JuD leaders — Abdul Salam bin Muhammad and Luqman Shah — were indicted in more terror financing cases.
The court directed the prosecution to present its witnesses on November 16.
The suspects were presented in the court in high security and media was not allowed to enter the court premises during the case proceedings.
Last week, the ATC Lahore convicted JuD's Hafiz Abdul Rehman Makki, Zafar Iqbal and Muhammad Ashraf in two more cases of terror financing registered by the Counter Terrorism Department (CTD) of Punjab police.
Zafar Iqbal and Muhammad Ashraf have been given a collective imprisonment of 16 years each under different sections of the Anti-Terrorism Act. Makki has been sentenced to one-year imprisonment in a case with a fine of Rs 170,000.
In September last year, the ATC Lahore handed down over 16 years imprisonment to Prof Zafar Iqbal and Hafiz Abdus Salam bin Muhammad and one-and-a-half-year sentence to Makki in a terror financing case.
In February last year, Saeed had been sentenced to jail for 11 years on terror finance charges by an ATC in Lahore.
The ATC sentenced Saeed and his close aide Zafar Iqbal to five-and-a-half years each in two cases. A total of 11 years sentence will run concurrently. Saeed is serving his term in Lahore's Kot Lakhpat jail. He was arrested in July last year.
The CTD of Punjab police had registered 23 FIRs against Saeed and his accomplices on the charges of terror financing in different cities of the province.
Saeed-led JuD is the front organisation for Lashkar-e-Taiba which is responsible for carrying out the 2008 Mumbai attack that killed 166 people, including six Americans.
The US named Saeed as a Specially Designated Global Terrorist, and the US, since 2012, has offered a USD 10-million reward for information that brings Saeed to justice.
He was listed as a terrorist under the UN Security Council Resolution 1267 in December 2008.
https://indianexpress.com/article/pakistan/hafiz-saeed-jud-spokesperson-jail-terror-financing-case-7048677/
--------
Who Is Going To Take Hefazat-e-Islam Bangladesh's Helm After Shah Ahmad Shafi'
Anwar Hussain
November 11th, 2020
Schism out in the open as the organization prepares to hold its first council on November 15 after Shah Ahmad Shafi's death
Hefazat-e-Islam Bangladesh is preparing to hold its first council after the demise of the platform's supreme leader Shah Ahmad Shafi amid swirling speculations as to who will take the helm of the Qawmi madrasa-based radical Islamist party.
Speculation is rife that incumbent Secretary General Junayed Babunagari and Nayeb-e-Ameer and Dhaka city unit President Nur Hossain Kasemi are likely to be made the next ameer and secretary general of Hefazat-e-Islam, respectively.
Azizul Haque Islamabadi, central organizing secretary of Hefazat-e-Islam Bangladesh, told Dhaka Tribune that the organisation had taken all-out preparations to hold the council scheduled for November 15.
"Several hundred councillors, advisers, top Islamic leaders and scholars are going to attend the council to be held at Al-Jamiatul Ahlia Darul Ulum Moinul Islam, known as Hathazari Madrasa. The existing committee of the organization will be restructured through the council. The council will also pick the next Ameer of Hefazat-e-Islam," said the Hefazat leader.
Meanwhile, the rift within the party has resurfaced as a faction of Hefazat-e-Islam announced that it would boycott the forthcoming council.
Speaking to Dhaka Tribune, Hefazat's central Joint Secretary General Mainuddin Ruhi said they had decided to boycott the council as they were not invited.
"So far as I know, the five joint secretaries general, including myself, and 26 out of 35 Nayeb-e-Ameers have not been invited to the council. Allama Shafi's two sons, Anas Madani and Md Yusuf, have not been invited to the council as well. Under such circumstances, it is embarrassing for us to attend the council uninvited," said Ruhi.
Replying to a query, the Hefazat leader said the followers of Ahmad Shafi had been left out of the council on purpose and instead of being a participatory council, it would be a unilateral one.
Ruhi went on to say that militant elements would infiltrate Hefazat if Junayed Babunagari was made ameer.
"The chain of command will collapse if Junayed Babunagari and Nur Hossain Kasemi are made ameer and secretary general, respectively. Babunagari will supersede Kasemi since he is the nayeb-e-ameer of Hefazat," said Ruhi.
"Hefazat will lose its strength as an organization under the leadership of Babunagari. Hefazat will no longer remain a force to be reckoned with if the division deepens," said Ruhi.
Ruhi also feared that the Babunagari-led faction might swoop on them if they attended the council.
It is mentionable that Ruhi came under attack during the two-day long student unrest at Hathazari Madrasa which led to the resignation of Shafi from the post of rector of the Madrasa and removal of his younger son Anas Madani from the post of assistant director.
Junayed Babunagari began to consolidate his position after the death of Ahmad Shafi.
As Babunagari began to strengthen his position, the followers of Shafi were increasingly being cornered.
Earlier on June 17, the Madrasa Shura Committee relieved Junayed Babunagari of his post of Assistant Director.
Soon after the death of Shafi, Babunagari became chief shaikul hadith and nazim-e-talimat (director of education).
On September 18, Shafi breathed his last while undergoing treatment at Asgar Ali Hospital in the capital.
Hefazat was formed in 2010 and came to prominence by mobilising opposition to the Shahbagh Movement in early 2013. It was then that its leaders issued their now infamous 13-point charter, which included demands for a ban on the free mixing of men and women, and death penalty for atheists.
https://www.dhakatribune.com/bangladesh/politics/2020/11/11/who-is-going-to-take-hefazat-s-helm
--------
Muslim Brotherhood responds to Saudi Council of Senior Scholars
November 12, 2020
The Muslim Brotherhood (MB) responded on Tuesday evening to the statements of Saudi Arabia's Council of Senior Scholars accusing it of terrorism, and stressed that the organisation is based on a reformist ideology that advocates for Islam and not terrorism.
p announced: "The brotherhood, which was founded in 1928 in Egypt, is distant from acts of violence, terrorism and disseminating division between the nation's components."
Fahmy added: "The MB has been, since its establishment, a reformist advocacy group that calls to obeying Allah through sharing wise and pious advice without excess or negligence."
He indicated that the brotherhood denies all the accusations of the Council of Senior Scholars, emphasising that: "The approach of the group is founded on the Holy Quran and the sahih of authentic hadith without exaggeration or extremism, and its history attests to that."
The MB spokesperson continued: "The group, which is completely distant from acts of violence and terrorism, has always been a victim of the violence and terror of dictatorships." Fahmy confirmed that: "The brotherhood remained biased towards the correct foundations of Islam and the just causes of the nation, the Palestinian cause first and foremost."
Fahmy relied on the views of prominent Saudi scholars of the brotherhood's activities, namely, Abdul Aziz Ibn Baz, Abdullah Ibn Jibreen and Safar Al-Hawali, as well as the Permanent Committee for Scholarly Research and Ifta.
He asserted: "All of those scholars said that the brotherhood is one of the closest groups to truth, among Ahlu Sunna Wal Jama and the sects which achieved salvation, and attested that the group is moderate and intends to reform and advocate the teachings of Islam."
Fahmy called on everyone to work on uniting the nation, spreading the teachings of Islam, defending the Sunnah of the Prophet, and confronting the dangers and conspiracy against Muslims.
The Council of Senior Scholars considered the brotherhood a terrorist organisation, following in the footsteps of the Saudi Ministry of Interior, which took a similar step in March 2014.
Meanwhile, Saudi Minister of Hajj and Umrah Abdul Latif Al Al-Sheikh tweeted that the council's statement was: "Satisfactory and adequate, and leaves no excuse of ignorance after reading it."
The council conveyed: "The brotherhood is a terrorist group that does not represent the approach of Islam. It is a perverted organisation that disobeys legitimate rulers, stirs up discord, conceals foul doings under the cover of religion, and practices violence and terrorism. The brotherhood did not show keenness to follow the teachings of Islam or the Sunnah and hadith, but aimed rather to reach power," adding that the group was the incubator for many terrorist organisations.
https://www.middleeastmonitor.com/20201112-muslim-brotherhood-responds-to-saudi-council-of-senior-scholars/
--------
Lebanon's Hezbollah leader Nasrallah: Glad about Trump's 'humiliating downfall'
12 November 2020
The leader of Lebanon's Hezbollah said on Wednesday he was pleased about "the humiliating downfall" of US President Donald Trump but urged regional allies to be on alert for any US or Israeli "folly" during the rest of his term in office.
Hassan Nasrallah, in a televised speech, described Trump's administration as "among the worst, if not the worst" in the United States, but said that the new US president would not alter Washington's pro-Israel policy in the Middle East.
For all the latest headlines follow our Google News channel online or via the app.
He added that US sanctions imposed on ally Gebran Bassil, an influential Lebanese Christian politician, are aimed at exerting political pressure.
The United States last week blacklisted Bassil, the son-in-law of Lebanon's president, on accusations of corruption and ties to the Iran-backed Shia Hezbollah that Washington deems a terrorist group.
https://english.alarabiya.net/en/News/middle-east/2020/11/12/Lebanon-s-Hezbollah-leader-Nasrallah-Glad-about-Trump-s-humiliating-downfall-
--------
India
AMU organises national webinar on Allama Iqbal's 'legal philosophy'
Sameer
11th November 2020
Aligarh: A national webinar on the topic "Legal Philosophy of Sir Muhammad Iqbal (Allama Iqbal) was organized by the Law Society, Faculty of Law, Aligarh Muslim University. People from 15 different countries of the world participated in this webinar.
Chief Guest of the webinar, Prof. Abdul Haq, Professor Emeritus, University of Delhi and an authority on Allama Iqbal said that if we look at the history of poets, then we cannot find any match of Allama Iqbal. He is the greatest poet in the world. Allama Iqbal has done a lot of work in the field of law but people have not highlighted that work. He congratulated Prof. Shakeel Samdani for organizing a webinar on this aspect of Allama Iqbal's life.
Prof. Haq further said that law was an important part of Iqbal's life and one can find many legal terms in Iqbal's poetry. Legal terms from Urdu like Daleel, Gawah, Insaaf, Huqooq, etc are repeated simultaneously in his writings. He practiced law for 30 years in his life. Allama Iqbal was the only Urdu poet who was a very successful barrister and he wrote successfully in three different languages, that is, English, Persian, and Urdu. He said that Iqbal was a farsighted man who advocated modern education in the early 20th century and gave the concept of compulsory education. He said that it is the duty of the Law faculties throughout the subcontinent to do research in the legal works of Allama Iqbal. He also suggested that AMU must have a Chair in his name.
Presiding over the webinar, Prof. Shakeel Samdani, Dean, Faculty of Law and President, Law Society said that Sir Muhammad Iqbal is a very well known personality throughout the world. The song ' Sare Jahan Se Accha, Hindustan Hamara ' is a song which takes our patriotic spirits to the next level and is a gift to all Indians from him. Prof. Samdani further said that about 90 years ago, Iqbal was a human rights activist who talked about fundamental rights, freedom of expressions, labour rights, compulsory education and patriotism. Iqbal has contributed a lot in Urdu poetry and there is no substitute for him.
Giving a detailed information on Iqbal, Prof. Shakeel Samdani said that Iqbal's poetry is based on social justice. Over 4500 books in all major languages have been written on Allama Iqbal which is a record in itself. He also discussed the journey of Iqbal to Europe.
At last Prof. Samdani promised the participants that he will make all efforts to establish a chair in the Faculty of Law, AMU in the name of Sir Muhammad Iqbal and also announced that a lecture on the legal aspect of Sir Muhammad Iqbal will be organized every year by the Law Faculty.
Chief Speaker of the webinar, Prof. Saud Alam Qasmi, Former Dean, Faculty of Theology, AMU said that Prof. Shakeel Samdani and the Law Society has done a very commendable job by organizing a webinar on the legal philosophy of Allama Iqbal. He said that Iqbal was very much fond of Sir Syed Ahamd Khan and Aligarh Muslim Univeristy and this can been seen in his writings. He has praised Sir Syed for bringing Muslims in the mainstream of education. Prof. Qasmi further said that Iqbal was of the view that both old and new laws should be taught in AMU. Iqbal was also very much attached to Sir Ross Masood.
This conference was inaugurated by Prof. Zahiruddin, PVC, AMU who said that Allama Iqbal was a great poet, reformer and politician. He was a highly educated man who has contributed a lot for the development of Indians. Personalitites like him are very rare.
Addressing the participants, Ayesha Samdani, MBBS Student, AMU said that the parents of Iqbal played a very important role in his personality building by giving two examples from Iqbal's life. She further said that Sir Iqbal has completed his legal education from England and he was a great Barrister of his time. Ayesha said that there are more than 100 reported cases of Iqbal and his first reported case was in the first year of his legal career. Some of his principles were adopted by the British courts and are still being used today. She also discussed in detail about some of the leading cases from his life time.
Prof. Mohd. Asharf welcomed the guest and Abdullah Samdani, Secretary, Law Society proposed the vote of thanks. This webinar was conducted by Ayesha Nasir Alavi.
Afif Jilani, Mahelaka Abrar and Nikita Motwani introduced the guests. Shalja Singh, Somya Agarwal and Fozia were rapporteurs in this webinar. Sadaf Khan started this webinar by reciting verses from the Holy Quran. This webinar was a great success with the efforts of Pawan Varhsney, Shubham Kumar, Hunain Khalid, Sheob Ali, Kashif Sultan, etc.
https://www.siasat.com/amu-organises-national-webinar-on-allama-iqbals-legal-philosophy-2020509/
--------
Asaduddin Owaisi's 'vote-cutter' AIMIM sends jitters in Bengal after Bihar show
Indrajit Kundu
Kolkata
November 12, 2020
The National Democratic Alliance (NDA) has won the 2020 Bihar Assembly Election. After Bihar, the focus now shifts to West Bengal. In most parts, the Bihar result is unlikely to have a direct bearing, but the election in Bengal is six months away, and in politics, that's a long break.
There is, however, one factor that may weigh in heavily across the border -- the success of Asaduddin Owaisi, whose party AIMIM has been levelled by many as a 'vote-cutter'.
Asaduddin Owaisi's All India Majlis-e-Ittehadul Muslimeen (AIMIM) picked up five crucial seats in the Muslim-dominated Seemanchal region of north Bihar, securing 1.24 per cent of total votes polled, and denting the Mahagatbandhan in Bihar. Of these five, two were won by the Congress and one by the RJD in 2015.
Buoyed by the success in Bihar, especially in bordering areas of Bengal, Asaduddin Owaisi on Tuesday announced that his party will contest election in West Bengal next.
Reacting to allegations that his party was dividing anti-BJP votes, Owaisi said he was running a political party that has a right to contest on its own.
"You mean we should not fight elections. You [Congress] went and sat in the Shiv Sena's lap [in Maharashtra]. If anyone asks why did you fight the elections...I will fight in West Bengal, Uttar Pradesh and will fight every election in the country... Do I need to ask anyone's permission to fight the polls," he said when asked if the party will contest in other states.
TMC-Congress on the back foot
With AIMIM fast gaining ground among Muslim youth across states, parties in Bengal, especially the ruling Trinamool Congress is wary of this challenge. Already, both the TMC and the Congress have accused Owaisi of being a proxy for the BJP.
"Muslims got fooled by him. The BJP used him. Those votes should have gone to the secular front but went to him. All secular parties should be cautious of vote cutter Owaisi sahab," said Congress MP Adhir Ranjan Chowdhury.
Chowdhury is a five-time MP from Behrampore in Mursdidabad district, which has the highest concentration of Muslim population in Bengal.
In Birbhum, TMC strongman Anubrata Mondal echoed Chowdhury and said, "You all know AIMIM. They are BJP's biggest dalal. They have spoilt the result of several seats in Bihar. They claim to be pro-Muslim but they are actually a proxy for BJP. No one should trust them."
The Muslim factor in Bengal
Bengal's 27 per cent Muslim vote has been the deciding factor on who wrests power in the state. In the recent election, Mamata Banerjee's Trinamool Congress got the lion's share of the Muslim vote, while Congress managed to retain its old bastions in Muslim majority Malda and Murshidabad districts.
With the AIMIM's entry as a popular Muslim party, the situation may change.
Three districts in north Bengal have a clear Muslim majority -- Murshidabad (66 per cent), Malda (51 per cent) and North Dinajpur (49 per cent). Six districts -- Coochbehar (25 per cent), Birbhum (37 per cent), South 24 Pargana (35 per cent), North 24 Paraganas (25 per cent), Howrah (26 per cent), Nadia (26 per cent) -- have more than 25 per cent Muslim population.
The other districts with more than 10 per cent of the population are Bardhman 20.73 per cent Dakshin Dinaj 24.63 per cent, Hooghly 15.77 per cent, Kolkata 20.6 per cent, Pashchim Medinipur 10.49 per cent and Purba Medinipur 14.59 per cent.
Overall, there are 16 districts in Bengal which have more than 10 per cent Muslim population. Of these16 districts, 12 have more than 20 per cent Muslim population.
Of the total 294 Assembly constituencies, there are about 90 seats that have a sizeable Muslim electorate. Which way they swing will be a deciding factor. The AIMIM may not win many seats, but it can surely play a spoiler.
Advantage BJP?
In case of a four-cornered fight between the TMC, BJP, Congress-Left combine (possible alliance) and AIMIM, fragmentation of the Muslim vote will give a definitive edge to the BJP. Last year's Lok Sabha election result in Raiganj (North Dinajpur) being a case in hand.
A long-time Congress stronghold under Priya Ranjan Dasmunshi, the BJP got a chance victory in Raiganj securing a 40 per cent vote share, defeating CPIM veteran MD Salim. TMC secured 35 per cent vote, CPIM got 14 per cent while the Congress bagged 6 per cent votes.
Well aware of the threat to her prized possession, TMC supremo Mamata Banerjee had sounded caution well ahead of time last year.
Warning against the rise of "minority extremism" propelled by groups based outside Bengal, Banerjee said, "There are some extremists within the minority community. They are being funded by the BJP. They are based out of Hyderabad. They are conducting meetings here, telling Muslims that they will protect them. Do not fall for it my minority brothers and sisters."
Experts feel Owaisi's rise as a pan-Indian Muslim face has been in the making for quite some time, especially with Muslims losing space in the mainstream parties with the rise of Hindutva politics.
"Owaisi sees himself as a pan-Indian leader. Naturally, he is putting up candidates everywhere. Rise of such a pan-India Muslim leader will surely give some advantage to the BJP. There cannot be a Hindu Mahasabha without a Muslim league. If you don't have a modern Jinnah in Owaisi, then how can the RSS/BJP move ahead. They need Owaisi more than he needs himself!" says veteran journalist Suvojit Bagchi.
https://www.indiatoday.in/news-analysis/story/asaduddin-owaisi-vote-cutter-aimim-jitters-bengal-bihar-show-1740284-2020-11-12
--------
Europe
UK counter-terrorism: Lockdown is fuelling online extremist recruitment
11 November 2020
The coronavirus lockdown in England is not only impacting on the nation's mental health but it is now claimed it could even potentially pose a threat to national security.
According to a senior counter-terrorism officer, the second lockdown in England is exposing young people to online grooming by "extremists".
Superintendent Matthew Davison, who works in Counter Terrorism Policing, has drawn a direct connection between the restrictions brought about by the coronavirus pandemic and the dissemination of "hate" and "disinformation" by extremists on online platforms.
In a briefing to the media, Supt Davison, who is the regional Prevent coordinator in north-east England, claimed that young people are being targeted "in their bedrooms".
Prevent – which seeks to pre-empt terrorist actions well before they take shape – is one of the central elements of the British government's counter-terrorism strategy.
According to Davison, referrals to Prevent have declined during the pandemic.
He attributed the drop in referrals to young people staying away from educational institutions due to coronavirus restrictions, notably the lockdown.
Traditionally, higher education institutions, and especially universities, have provided the bulk of Prevent referrals.
Davison said that Counter Terrorism Policing is "really concerned" about extremists making "proactive plans" to reach into people's homes with a view to winning the "hearts and minds" of young people.
"They're [extremists] monitoring the migration of young people, particularly on different platforms, and targeted [sic] them with all sorts of propaganda with a view to recruiting them", Davison added.
https://www.presstv.com/Detail/2020/11/11/638411/UK-Extremism-Recruitment-Activity-Coronavirus-Lockdown
--------
Azerbaijan: Muslim prayer call resounds across Shusha
Ruslan Rehimov
11.11.2020
BAKU, Azerbaijan
The Muslim call to prayer, known as the adhan, was heard Wednesday in Nagorno-Karabakh's symbolic city of Shusha for the first time in nearly three decades.
Footage on social media showed an Azerbaijani soldier reciting the adhan at Shusha's historical Yukhari Govhar Agha Mosque.
Shusha, which was occupied by Armenian forces on May 8, 1992, is a strategically important city in the Upper Karabakh region, also known as Nagorno-Karabakh, which is an internationally recognized territory of Azerbaijan. It is located on the road to Khankendi, the region's largest city.
Azerbaijani President Ilham Aliyev announced on Nov. 8 that Shusha had been liberated from Armenian occupation.
"After 28 years, the adhan [call to prayer] will be heard in Shusha," Aliyev, wearing a military uniform, said in an address to the nation.
Relations between the ex-Soviet republics have been tense since 1991, when the Armenian military occupied Upper Karabakh, also known as Nagorno-Karabakh, a territory recognized as part of Azerbaijan.
Fresh clashes erupted on Sept. 27, and the Armenian army continued its attacks on civilians and Azerbaijani forces, even violating humanitarian cease-fire agreements, for 44 days.
Baku liberated several cities and nearly 300 of its settlements and villages from Armenian occupation during this time.
On Nov. 10, the two countries signed a Russia-brokered agreement to end the fighting and work towards a comprehensive resolution.
Turkey welcomed the truce, which resulted from Baku's military successes against Yerevan.
https://www.aa.com.tr/en/azerbaijan-front-line/azerbaijan-muslim-prayer-call-resounds-across-shusha/2040684
--------
Russia denies Erdogan's claim of Turkey jointly monitoring Nagorno-Karabakh deal
Tuqa Khalid
11 November 2020
The Russian Kremlin denied on Wednesday Turkish President Recep Tayyip Erdogan's claim that Ankara and Moscow were jointly monitoring the ceasefire deal signed by Armenia and Azerbaijan to end the conflict over the Nagorno-Karabakh region.
Erdogan had said that Turkey and Russia signed an agreement to establish a joint center to coordinate efforts for monitoring the ceasefire and that Ankara would participate in the peacekeeping force.
For all the latest headlines follow our Google News channel online or via the app.
However, Russian Presidential Spokesman Dmitry Peskov said Turkey's statement on creating a monitoring center in Karabakh runs counter to Kremlin's stance, according to state news agency TASS.
"This is not how we understand it," he said, adding that the presence of Turkish peacekeepers in Nagorno-Karabakh was not agreed on.
Peskov had told reporters on Tuesday "the creation of a center to monitor the Nagorno-Karabakh ceasefire in Azerbaijan was not mentioned in the joint statement by the leaders of Azerbaijan, Armenia and Russia and was subject to a separate agreement," TASS reported.
The ceasefire between Azerbaijan and Armenia was announced on Tuesday, ending the worst fighting in the region in decades, and celebrated as a victory in Azerbaijan and its ally Turkey.
Speaking to members of his AK Party in parliament, Erdogan said Turkey would participate in the peacekeeping force and that the agreement ended Armenia's 28-year occupation of Azeri lands - an allusion to Nagorno Karabakh, a mountainous enclave within Azerbaijan ruled by ethnic Armenians.
"Turkey will take part in the joint peace force to be formed to monitor the ceasefire along with Russia," Erdogan said. "The relevant agreement on the formation of the Joint Turkish-Russian Centre to monitor the ceasefire was signed this morning. It will be formed on Azeri lands liberated from occupation."
Protests in Armenia
Thousands of Armenians took to the streets in the capital Yerevan on Tuesday to protest the agreement Prime Minister Nikol Pashinian signed with Azerbaijan and Russia to end the war over the disputed Nagorno-Karabakh region.
Pashinian said the deal was "extremely painful" for him and the Armenian people. "The decision was the result of an in-depth analysis of the military situation and based on the assessment of the best experts in the field," he said in a Facebook post.
"I believe this is the best possible solution for the current situation," Pashinyan added.
"This is not a victory but there is not defeat until you consider yourself defeated. We will never consider ourselves defeated and this shall become a new start of an era of our national unity and rebirth," he said.
The agreement calls for Armenian forces to turn over control of some areas it held outside the borders of Nagorno-Karabakh, including the eastern district of Agdam.
That area carries strong symbolic weight for Azerbaijan because its main city, also called Agdam, was thoroughly pillaged, and the only building remaining intact is the city's mosque.
Armenians will also turn over the Lachin region, which holds the main road leading from Nagorno-Karabakh to Armenia. The agreement calls for the road, the so-called Lachin Corridor, to remain open and be protected by Russian peacekeepers.
Soon after the announcement, thousands of people streamed to the main square in the Armenian capital Yerevan to protest the agreement, many shouting, "We won't give up our land!"
Some of them broke into the main government building, saying they were searching for Pashinian, who apparently had already departed. A few hundred entered the building, ransacking offices and breaking windows, an AFP journalist said.
Armenian and Azerbaijani forces have been fighting for six weeks over the region of Nagorno-Karabakh. The region lies within Azerbaijan but has been under the control of ethnic Armenian forces backed by Armenia since a war there ended in 1994. The latest outburst of hostilities began September 27 and has left hundreds — perhaps thousands — dead, marking the worst escalation of fighting since the war's end.
Azerbaijan has relied on strong support from its ally Turkey, which has trained Azerbaijani military and provided it with strike drones and long-range rocket systems. Meanwhile, Russia has a defense pact with Armenia and a military base there.
https://english.alarabiya.net/en/News/world/2020/11/11/Russia-denies-Erdogan-s-claim-of-Turkey-jointly-monitoring-Nagorno-Karabakh-deal
--------
Pakistan
Maryam asks GB people to elect PML-N for development
12 Nov 2020
GILGIT: Pakistan Muslim League-Nawaz vice-president Maryam Nawaz insisted on Wednesday the incumbent Pakistan Tehreek-i-Insaf government will go home before this year end.
Addressing a corner meeting in Nagar Khas on Wednesday, she said the Nov 15 elections were very important for the people of GB as they would decide their fate through their votes.
She insisted the Imran Khan-led government had done great injustice to her father and former prime minister Nawaz Sharif.
She termed Imran Khan a tyrant who had the ghost of revenge and jealousy in his mind, but she and her father faced the tyranny with bravery.
Addressing the participants of the gathering, she said: "You are brave people as you respect your mothers, sisters and daughters."
Maryam Nawaz declared that Imran Khan did not know what was happening in the country as country was being run by others. She also came down hard on the government for failing to check the unbridled inflation.
"People from every corner of this country are cursing Imran Khan and his fake government for the current mess the country is in," she said, adding people were unable to pay gas, electricity bills, fees of children and run their kitchens.
The PML-N leader insisted that Imran Khan was surrounded by thieves, and asked the GB people that they should not vote for a person 'whose government was going to end'.
Ms Nawaz claimed that Nawaz Sharif was the person who could heal the people's wounds, and asked the people to vote for him as he had brought huge development to the region.
"You should realise that you are not voting for PML-N but for your development, success, welfare, empowerment," she said.
https://www.dawn.com/news/1589930/maryam-asks-gb-people-to-elect-pml-n-for-development
--------
Shehbaz, Hamza, eight others indicted in assets case
12 Nov 2020
LAHORE: An accountability court on Wednesday indicted Leader of Opposition in National Assembly Shehbaz Sharif, his son Leader of Opposition in Punjab Assembly Hamza Shehbaz and eight other suspects in a Rs7 billion reference of money laundering and assets beyond means.
However, all the suspects pleaded not guilty and decided to contest the trial.
Denying the charges as false and fabricated, Mr Shehbaz said he had been victimised on political grounds. He said all the cases pending against him had been engineered by his political opponents.
Presiding Judge Jawadul Hassan also asked Hamza as if he wanted to say something in his defence.
Hamza also denied the charges levelled in the reference filed by the National Accountability Bureau (NAB) and termed them politically motivated. He said his family had been subjected to vindictive actions at the behest of the government. He pledged to prove his innocence in the trial.
As the suspects pleaded not guilty, the judge directed the NAB to present its witnesses on the next hearing for their evidence.
Shehbaz's daughter Javeria Ali was also indicted through her pleader while four members of the opposition leader's family had not so far joined the proceedings before the court. They are Nusrat, wife of Shehbaz, his son Suleman Shehbaz and son-in-law Haroon Yousaf. The proceedings to declare them absconder are under way.
Other suspects indicted on Wednesday include Fazal Dad Abbasi, Rashid Karamat, Muhammad Usman, Masroor Anwar, Nisar Ahmad, Shoaib Qamar and Qasim Qayum. The NAB also nominated four approvers in the reference including Yasir Mushtaq, Muhammad Mushtaq, Shahid Rafiq and Aftab Mahmood.
The reference mainly accused Shehbaz of being a beneficiary of the assets held in the name of his family members and benamidars, who had no sources to acquire such assets. It said the family members and benamidars of the Shehbaz's family received fake foreign remittances of billions in their personal bank accounts. In addition to these remittances, the bureau said, billions of rupees were laundered by way of foreign pay orders, which were deposited in personal bank accounts of Hamza and Suleman.
The reference said Shehbaz and his family failed to justify the sources of funds used for acquisition of assets.
Outside the judicial complex, the police used force to control charged workers of PML-N who tried to climb the armoured vehicle that brought Shehbaz to the court from the jail.
MNA Rana Sanaullah Khan, MPA Rana Mashood Ali Khan, Raja Hanif Abbasi, Azma Bukhari and other leaders also reached the court to express solidarity with the party president.
https://www.dawn.com/news/1589872/shehbaz-hamza-eight-others-indicted-in-assets-case
--------
South Asia
Bangladeshi Christians And Other Minority Groups In Peaceful Protest Against Islamist Attacks
Nov 12, 2020
Bangladeshi Christians, and other minority groups, took to the streets of Dhaka in a 500-strong peaceful protest march on 7 November against relentless Islamist extremist attacks on minority communities.
Rana Dasgupto, the Secretary General of the Bangladesh Hindu, Bouddha, Christian Oikya Parishad (BHBCOP), the march organisers, stated that at least 17 people from ethnic and religious minority communities were killed between March and September this year, with attacks continuing throughout the Covid crisis.
The protesters say that the Islamist attacks against minority communities ''hurt religious feelings'', and minority leaders claimed that communities are living with "uncertainty" because "the government failed to protect them''.
A placard stating, ''Stop Using Facebook for Community Attack" highlighted the role of social media in persecution-related incidents, with some arrests of Hindu students made after accusations of "offending religious sentiment" in Facebook comments.
The 1% Christian minority has typically enjoyed greater religious freedom in Bangladesh than in many other Muslim-majority countries but, along with the 9% Hindu and small Buddhist populations, is subject to discrimination from the 90% Muslim majority. Violence against Christians, particularly in rural areas, has been growing, with those active in evangelism and converts from Islam particularly targeted. The country's constitution gives religious minorities the right to practise and share their faith, but Islam is the state religion.
https://news.barnabasfund.org/Bangladeshi-Christians-and-others-in-peaceful-protest-against-Islamist-attacks/
--------
CID arrests missing JnU student Tithy for hurting religious sentiment
Hasan Al Javed
November 11th, 2020
She had been missing since October 25
Criminal Investigation Department (CID) of police has arrested suspended Jagannath University (JnU) student Tithy Sarkar for allegedly making derogatory remarks about Islam and Prophet Mohammed (pbuh) on Facebook.
She was arrested on Wednesday evening, CID's Senior Assistant Superintendent of Police (ASP) Jisan Ul Haque confirmed the matter to Dhaka Tribune.
Cyber Police Centre of CID will hold a press briefing at 12pm on Thursday in this regard.
Earlier on October 23, some screenshots of Tithi's Facebook account making derogatory comments about Islam and Prophet Muhammad (pbuh) went viral.
Following the incident, Tithy, a third-year student of the zoology department at JnU, went missing on October 25. Since then, the law enforcement agencies were looking for her.
Tithy's sister, Smriti Rani Sarker filed a general diary (GD) on October 27 in this regard with Pallabi police station.
On October 26, authorities of JnU issued a suspension order against Tithi for reportedly hurting religious sentiments.
On November 5, Tithy was sued under the Digital Security Act for allegedly making derogatory comments about religion on Facebook.
Abu Musa Rifat, a student from Tithy's department, filed the case with the Cyber Tribunal in Dhaka.
https://www.dhakatribune.com/bangladesh/nation/2020/11/11/cid-arrests-missing-jnu-student-for-hurting-religious-sentiment
--------
Muslims attack ethnic Christian villagers in Bangladesh
November 12, 2020
A group of Bengali Muslims, allegedly led by a land grabber, attacked ethnic Christian villagers and left houses and a village chapel ransacked and at least one person injured in northeastern Bangladesh.
About 50-60 men armed with weapons attacked Ichhachhara village in the Kulaura area of Moulvibazar district on Nov. 9 evening.
The assailants vandalized a grocery shop, houses and the chapel. They were led by Rafiq Ali, a Bengali Muslim who recently lost a legal battle over ownership of land to a Khasia villager and was evicted by the local administration only hours earlier.
The village, inhabited by ethnic Khasia Christians, is covered by Immaculate Conception Church of Lokhipur of Sylhet Diocese.
Oblate Father Joseph Gomes, the parish priest, said that Rafiq Ali was angry as the local administration had supported a villager whose land he had occupied illegally.
"The land and betel leaf plantation belong to a Khasia man, Jasper Amalrang, but Rafiq grabbed it by force with fake documents. The land and the plantation are the only source of income for the family. Police and the administration were supportive in ruling in favor of Jaspar and evicted Rafiq Ali duly," Father Gomes told UCA News.
The priest expressed dismay that the attackers dared to vandalize the chapel used for Sunday liturgy and left its fences broken and altar desecrated.
"They have also pelted bricks and stones at village houses and one villager was hurt. We demand justice for the attack and the end of abuses against ethnic people," Father Gomes said.
Police confirmed the incident and vowed to take further action.
"Rafiq Ali used a fake land document to illegally occupy five acres of land of villager Jasper Amalrang. The local land office issued a verdict in favor of Jaspar and the administration handed over the land by evicting Rafiq Ali. He was aggrieved over the decision, so he attacked the village at night," Binay Bhushay Roy, officer in-charge of Kulaura police station, told UCA News.
Roy said that police and the local administration are ready to support the community and would take action against the perpetrator once a case is filed.
"The local administration is trying to forge a compromise deal. If that does not happen, we will take action against attackers as per the law," he added.
Land grabbing, eviction and violence against ethnic Khasia people in northeast of Bangladesh are not uncommon. A series of incidents has targeted the community in recent years.
Khasia is a matrilineal mongoloid ethnic group, mostly living in Bangladesh and northeastern Indian states. An estimated 40,000 Khasia live in Bangladesh, mostly Christians, living in forested cluster villages called punji and relying largely on betel leaf plantations for a livelihood.
https://www.ucanews.com/news/muslims-attack-ethnic-christian-villagers-in-bangladesh/90260#
--------
50 Taliban Killed in Defense Operations
By Mohammad Haroon Alim
12 Nov 2020
11 Taliban were killed and four were wounded after they attacked ANDSF positions in Pashtun Zarghon district of Herat Province Wednesday night.
According to Ministry of Defense, ANA repelled the attack and large amounts of Taliban's ammunition and weapons were seized.
Meanwhile, Kandahar officials say 39 insurgents have been killed in teh province.
Kandahar governor's spokesman, Ahmad Bahir Ahmadi told the media on Wednesday night that the clearance operation had taken place in several districts.
He added, "In the last 24 hours, clearing operations have been carried out in different districts of Kandahar with the aim of suppressing the enemy".
"39 opposition members were killed and 18 others were injured during the operation." Bahir said.
He says that in addition to destroying a minefield, 175 planted mines were discovered and defused.
Bahir also said that a Taliban rocket had hit a residential area in Zherai district of the province, killing four women.
On the other hand, 12 taliban militants were killed and 8 others were wounded in Trinkot and Gizab districts last night,
Mod reports, "A large amount of Taliban's weapons and ammunition were destroyed as a result of reciprocal attacks,".
https://www.khaama.com/at-least-50-taliban-killed-in-defense-operations-786876/
--------
Radio Azadi Reporter Killed in Helmand Blast
By Mohammad Arif Sheva
12 Nov 2020
HELMAND, Afghanistan – Elias Dayee, an Afghan journalist at Radio Azadi, is killed after a magnetic mine blew a vehicle early Thursday morning in southern province of Helmand, local authorities confirmed.
No group or individual has immediately claimed responsibility for the attack.
Omar Zwak, spokesman for the Helmand Governor, told local media the incident took place in Police District 1 of the Lashkargha city.
Officials did not provide further details but said investigation is underway through the case. It, however, remained unclear whether the vehicle targeted was of Dayee's own car.
The blast came days after a similar attack in Makroyan-e-Char area of Kabul city killed at least one former TOLOnews presenter Yama Siawash and further two civilians.
The incident sparked a widespread criticism over the currents government's incompetency to protect its citizen, including journalists throughout Afghanistan.
https://www.khaama.com/radio-azadi-reporter-killed-in-helmand-blast-34534/
--------
Arab world
Recognize Iran's role in supporting terrorism, extremism: Saudi Arabia's King Salman
Joseph Haboush
11 November 2020
Saudi Arabia's King Salman bin Abdulaziz called on the international community to recognize the danger of Iran's role in supporting terrorism, extremism and sectarianism, a statement carried by the Saudi Press Agency reported on Wednesday.
"The Kingdom affirms the danger of the regional project by the Iranian regime, and we reject its interference in internal affairs and its support for terrorism, extremism and sectarianism," King Salman said in his opening speech to the Shura Council.
For all the latest headlines, follow our Google News channel online or via the app.
"We call on the international community to take a strong position against Iran to ensure it does not obtain weapons of mass destruction and develop its ballistic missile project," the king added.
The new Shura Council is made up of 150 members and will serve a four-year term.
The Shura Council was restructured last month with Sheikh Abdallah Al-Sheikh appointed as its head.
Yemen
King Salman also condemned the Iran-backed Houthi militia's continued attacks, violating international law by launching bomb-laded drones and rockets at Saudi Arabia.
However, King Salman voiced Saudi Arabia's support for the Yemeni people to reclaim their independence and sovereignty.
Palestine
Saudi Arabia continues to stand by the Palestinian people and their call for an independent state with East Jerusalem as its capital, the Saudi Arabian king said.
"We support the efforts for peace in the Middle East via negotiations between Palestinians and Israelis in order to reach a fair and permanent solution," King Salman said.
https://english.alarabiya.net/en/News/gulf/2020/11/12/Recognize-Iran-s-role-in-supporting-terrorism-extremism-Saudi-Arabia-s-King-Salman
--------
Arab Coalition intercepts two explosive-laden boats launched by Houthis in Yemen
Rawad Taha
11 November 2020
Arab Coalition successfully intercepted and destroyed two explosive-laden boats in the Red Sea, launched by Iran-backed-Houthi militia in Yemen, Spokesperson Colonel Turki al-Maliki said on Wednesday, according to state news agency SPA.
"The boats represented a threat to regional and international security, maritime routes and international trade," al-Maliki said.
The spokesman said the boats were launched from Hodeidah Governorate, which the Houthi militias use "as a base to launch ballistic missiles, drones, booby-trapped remote-operated boats, as well as the random deployment of sea mines in flagrant violation of international humanitarian law and a violation of the provisions of the Stockholm cease-fire agreement in Hodeidah."
https://english.alarabiya.net/en/News/gulf/2020/11/12/Arab-Coalition-intercepts-two-explosive-laden-boats-launched-by-Houthis-in-Yemen
--------
Two injured in attack on non-Muslim cemetery in Jeddah: Authorities
Tamara Abueish
11 November 2020
An employee of the Greek embassy and a Saudi Arabian security guard were slightly injured during an attack on a non-Muslim cemetery in Saudi Arabia's Jeddah, according to authorities from the Mecca Governorate.
The Khawajaat Cemetery has been secured and the situation is currently stable, an Al Arabiya correspondent said.
For all the latest headlines follow our Google News channel online or via the app.
The incident occured earlier on Wednesday when several members from different foreign embassies were attending an event at the cemetery, the authorities said without providing more details.
In a joint statement, the embassies of France, Greece, Italy, the United Kingdom and the United States said that they support Saudi Arabian authorities in their investigation into the attack and its perpetrators.
The embassies also thank the Saudi Arabian first responders who helped everyone who was at the site of the attack, the statement added.
Al-Ekhbariya TV also showed footage of security cordons around the cemetery.
People of different nationalities, including British and Portuguese soldiers, have been buried in the Khawajaat Cemetery, according to Al Arabiya.
https://english.alarabiya.net/en/News/gulf/2020/11/11/Several-injured-in-blast-at-non-Muslim-cemetery-in-Saudi-Arabia-s-Jeddah
--------
Four injured in bomb blast at WWI memorial in Saudi Arabia's Jeddah
11 November 2020
As many as four people have reportedly been wounded after a purported bomb explosion hits a World War I memorial ceremony that was being attended by European diplomats in the Saudi Arabian port city of Jeddah.
The blast hit a non-Muslim cemetery, where the ceremony was being held, on Wednesday.
The French Foreign Ministry said the event had been joined by "by several consulates, including that of France."
The Armistice commemoration "was the target of an IED (improvised explosive device) attack this morning, which injured several people," the Ministry added.
Roads leading up to the cemetery in central Jeddah were blocked by the Saudi traffic police, an AFP photographer said.
Last month, a Saudi citizen wounded a guard at the French Consulate in Jeddah with a knife. France, itself, has also been witnessing a spate of similar violent attacks.
Western officials, media outlets, and observers have, meanwhile, been rushing to suggest that those, who have been staging such attacks, have been informed by "Islamic beliefs" and acted out of outrage over French President Emanuel Macron's multiple insults against Islam and its Prophet Muhammad (PBUH) over the past several months.
Over the past months, the French head of state has attacked the sentiments of nearly two billion Muslims worldwide on several occasions.
In September, he defended the "right to blaspheme" in France after French satirical magazine Charlie Hebdo republished sacrilegious cartoons of Prophet Muhammad. On October 2, he claimed in a speech that Islam was "in crisis globally" and announced his plan "to reform Islam" to make the faith, what he called, more in line with French values.
Later, Macron supported a French teacher's displaying of cartoons insulting the Prophet in his class. "France will never renounce caricatures," Macron declared, defending the teacher for "promoting freedom."
The French president's effrontery has opened the floodgates of backlash from Muslims around the world, with numerous Muslim states and leaders issuing condemnatory statements against him and people rising in thousands-strong protests. Many Muslim companies and associations have also boycotted French items in protest.
At the same time as denouncing profanity and condemning attempts at justifying it under the pretext of "free speech," Muslim countries, authorities, and scholars have also invariably condemned extremism and violence, including the type that has been witnessed across the world since Macron's comments.
https://www.presstv.com/Detail/2020/11/11/638385/Saudi-Arabia-explosion-ceremony-Jeddah-European-diplomats-WWI-memorial
--------
Assad says US hampering return of Syrian refugees
11 November 2020
Syrian President Bashar al-Assad has blamed the United States for hampering the return of refugees to Syria.
"Today we continue working persistently for the return of every refugee who wants to return and participate in the restoration of the homeland," Assad said in a speech delivered via video at the opening of the two-day International Conference on the Return of Refugees in Damascus on Wednesday.
"But there are big obstacles," he added, citing the US sanctions and the blockades imposed by Washington and its allies, which he said are hindering the rebuilding of Syria.
Assad further said the return is not only humanitarian but a "national issue."
"They refuse to be a number in politically-motivated statistics or a pawn in the hands of the regimes that support terrorism against their homeland," he explained.
The Syrian leader noted that some host countries are exploiting the refugees to benefit from international aid for them.
He added that millions of refugees were being forced to stay in some host countries by "pressure or intimidation" or by financial enticements.
Elsewhere in his remarks, Assad thanked Russia, which co-organized the conference, for the "tremendous effort" it made to support it, despite the West's attempts to "disrupt the forum".
Last month, Syrian Foreign Minister Walid al-Muallem denounced the Western role in setting conditions and fabricating flimsy pretexts to halt the return of Syrian refugees to their homeland, slamming the West for politicizing the purely humanitarian issue and its use as a card for advancing their political agendas.
Since 2011, some 5.6 million Syrians have been forced to flee abroad as refugees, mostly to the neighboring countries of Turkey, Lebanon, Jordan, Egypt and Iraq.
https://www.presstv.com/Detail/2020/11/11/638393/Assad-US-return-Syrian-refugees
--------
Bahrain's crown prince appointed new prime minister
12 November 2020
Bahrain's Crown Prince Sheikh Salman bin Hamad Al Khalifa has been appointed as new prime minister of the Persian Gulf kingdom.
A royal order carried by the official BNA news agency on Wednesday said Bahrain's King Hamad bin Isa Al Khalifa had named the crown prince, his eldest son, as the kingdom's new premier after his uncle, Sheikh Khalifa bin Salman Al Khalifa, who died a day earlier at a hospital in the US.
The BNA said the new appointment takes effect immediately.
Bahrain declared a week of official mourning for the 84-year-old prime minister, who held the post since 1970, making him the world's longest-serving head of government at the time of his death.
Bahrain's new premier, 51, has studied in the United States and Britain, including a master's degree from Cambridge University. He has also served as first vice prime minister and deputy supreme commander of the Bahraini military.
His predecessor's tenure saw a heavy-handed crackdown on dissent in Bahrain.
Commenting on the premier's death in a statement, Sayed Ahmed Alwadaei, director of the Bahrain Institute for Rights and Democracy, an opposition human rights monitor, said Prince Khalifa had "left behind a legacy of abuse and power."
Since 2011, Bahraini people have been holding peaceful protest rallies regularly, demanding that the Al Khalifa family relinquish power and let a just system representing all citizens be established.
Bahraini protesters have also been complaining about widespread discrimination against the country's Shia majority.
Manama has responded to the anti-regime demonstrations with an iron fist. The authorities have detained rights campaigners, broken up major opposition political parties, revoked the nationality of several pro-democracy activists and deported those left stateless.
https://www.presstv.com/Detail/2020/11/12/638436/Bahrain%E2%80%99s-crown-prince-appointed-new-prime-minister
--------
Mideast
Iran state TV airs opposition figure's purported confession to 'terrorism'
Yaghoub Fazeli
11 November 2020
Iran's state television aired a short video on Wednesday in which a Sweden-based Iranian Arab opposition figure that Tehran said it recently detained abroad appeared to confess to involvement in terrorist attacks.
An Iranian lawmaker said earlier this month that Iranian intelligence agents captured Habib Chaab – also known as Habib Eseywed – abroad and took him to the capital Tehran.
Iran has not revealed the location of Chaab's arrest, but the Arab Struggle Movement for the Liberation of Ahwaz (ASMLA), an Iranian Arab separatist group previously headed by Chaab, has accused the Iranian regime of abducting him after "luring" him to Turkey.
For all the latest headlines, follow our Google News channel online or via the app.
In the video, Chaab was shown confessing to involvement in terrorist attacks and armed robberies in Ahwaz, as well as cooperation with foreign intelligence services.
Iran's state broadcaster IRIB has a long history of airing purported confessions that activists and rights groups say are obtained through threats and torture.
The International Federation for Human Rights and London-based Justice for Iran said in a report in June that IRIB has aired the forced confessions of at least 355 individuals and defamatory content against at least 505 others between 2009 and 2019.
Chaab was also shown saying that ASMLA was responsible for an attack on a military parade in Ahwaz in 2018 that killed 25 people.
ASMLA denies Iranian accusations that it was behind the attack, which ISIS had claimed responsibility for.
Chaab was arrested "while planning a new terrorist operation," according to the video narrator, who added that longer footage with more details on Chaab and ASMLA is to be aired.
ASMLA, considered a terrorist organization by the Iranian regime, seeks a separate state for the indigenous Ahwazi Arab population inside Iran's oil-rich southwestern Khuzestan province, with its capital city of Ahwaz.
An ethnic minority in Iran, Ahwazi Arabs say they are deprived of decent living standards and civil rights, and face discrimination due to their Arab identity and heritage.
Some see themselves as living under Persian occupation and demand independence or autonomy.
Ahmad Mola Nissi, ASMLA's founder, was shot dead in the Netherlands in 2017.
In recent years, a number of Iranian dissidents have been arrested in neighboring countries and taken to Iran.
In August, Iran said it arrested US-based opposition figure Jamshid Sharmahd. Details of his arrest and subsequent travel to Iran remain a mystery.
Last year, Iran announced the arrest of Iranian journalist-turned-activist Ruhollah Zam.
Zam, who was given political asylum in France and was also based in other parts of Europe, was sentenced to death in June for allegedly fuelling anti-government unrest in late 2017 on social media.
https://english.alarabiya.net/en/News/middle-east/2020/11/12/Iran-opposition-Iran-state-TV-airs-opposition-figure-s-purported-confession-to-terrorism-
--------
'Not the actions of an ally': Close Biden ally blasts Turkey's foreign involvement
Emily Judd
11 November 2020
A member of Joe Biden's "inner circle" blasted Turkey's foreign involvement on Monday, saying the moves were "not the actions of an ally" of the United States.
Michael Carpenter, a former adviser to Biden when he served as vice president, is likely to be a "key staffer" to Biden during his presidency, according to the Atlantic Council.
While Carpenter acknowledged Turkey as a "NATO ally and strategic partner for the United States," he said that Ankara has "engaged in a number of different arenas where it is acting irresponsibly and aggressively."
Turkish President Recep Tayyip Erdogan has ramped up Turkish presence in a number of key regional disputes over the last year.
Turkey is "undermining what we think are our shared interests – whether it be Nagorno-Karabakh or whether it be Libya, or tensions in the Aegean, or whether it be the purchase of the S-400 missile defense system from Russia," said Carpenter during a virtual panel hosted by the Hellenic Foundation for European and Foreign Policy.
"This is a set of problems that require a lot of attention at the very start of the next administration," he said.
Biden said last year that the US should be taking "a very different approach" to Erdogan.
"He has to pay a price for whether or not we're going to continue to sell certain weapons to him," Biden said in an interview with the New York Times.
Erdogan's foreign policy
Under President Recep Tayyip Erdogan, Turkey has become involved in conflicts in Libya and Nagorno-Karabakh, while isolating European nations like Greece and France over the eastern Mediterranean dispute.
In January, Turkey became directly involved in Libya's civil war when its parliament approved Erdogan's proposal to deploy troops to Tripoli, to help the Government of National Accord (GNA), which Turkey backs, compete for power in the country against the Libyan National Army (LNA).
In September, Turkey publicly backed Azerbaijan's claims to the disputed province of Nagorno-Karabakh after tensions flared.
France and Armenia have accused Turkey of sending Syrian fighters to the region to support Azerbaijani forces against Armenian troops, but Turkish officials have denied these claims.
Seven European Union leader condemned Turkey's expansionist actions in the gas-rich eastern Mediterranean Sea in a September statement that warned of potential EU restrictive measures against Turkey.
Carpenter said that many of the US problems with Turkey will have to be resolved in coordination with the European Union.
Agitating America
The current Trump administration has warned Turkey of "potential serious consequences" for the US-Turkish relationship after Turkey tested its Russian-made S-400 defense systems last month.
State Department Spokesman Morgan Ortagus told Al Arabiya English at the time that the US "has been clear on our expectation that the S-400 system should not be operationalized."
"We have also been clear on the potential serious consequences for our security relationship if Turkey activates the system," said Ortagus.
Turkey confirmed the testing of the Russian defense systems it purchased in 2019, arguing that the move did not conflict with its NATO commitments.
"We are not going to ask America for permission," said Erdogan.
Ortagus said the US condemns "in the strongest terms the S-400 test missile launch as incompatible with Turkey's responsibilities as a NATO Ally and strategic partner of the United States."
Turkey and the US are both part of the 29-member international military alliance, the North Atlantic Treaty Organization (NATO), which was founded to create a counterweight to the Soviet Union's military capabilities at the time of the organization's establishment.
https://english.alarabiya.net/en/News/middle-east/2020/11/11/-Not-the-actions-of-an-ally-Close-Biden-ally-blasts-Turkey-s-foreign-involvement
--------
Turkey forewarns US Secretary of State Pompeo on religion ahead of visit
11 November 2020
US Secretary of State Mike Pompeo's planned visit to Turkey got off to a rocky start Wednesday when Ankara criticized his decision to raise the issue of religious freedom.
Washington's top diplomat will be in Istanbul next Monday and Tuesday as part of a seven-nation tour that also takes him to France and parts of the Middle East.
The Istanbul leg is notable for an absence of scheduled meetings with any top Turkish officials.
The State Department said Pompeo wanted to "discuss religious issues in Turkey and the region and to promote our strong stance on religious freedom around the world."
The meeting with the patriarch will come four months after President Recep Tayyip Erdogan converted Istanbul's emblematic Hagia Sophia monument into a mosque.
Pompeo publicly criticized the conversion in July.
The Turkish foreign ministry called Pompeo's chosen subject matter for the visit "completely irrelevant."
"It would be more suitable for the US to first look in the mirror and show the requisite sensitivity towards human rights violations in the country such as racism, Islamophobia and hate crimes," it said in the English-language statement.
Relations between Washington and its strategic NATO ally have run hot and cold during Donald Trump's presidency.
Erdogan has cultivated close personal relations with Trump and been able to call him up directly to try to influence specific policy decisions.
But Ankara and Washington have also sparred over US support for a Syrian Kurdish militia that Turkey views as a grave security threat.
Erdogan congratulated Joe Biden for his election victory on Tuesday – three full days after it was called by US media.
He followed that up by sending a separate message to Trump a few hours later expressing thanks for his "warm friendship" and saying he stood by his side "no matter how the official election result is certified."
The Turkish foreign ministry did not explain why none of its officials had planned meetings with Pompeo.
But it noted that its "reaction" to his visit "has been duly conveyed to the US side, together with our advice to focus instead primarily on increasing the cooperation between our countries regarding regional and global matters."
https://english.alarabiya.net/en/News/middle-east/2020/11/11/Turkey-forewarns-US-Secretary-of-State-Pompeo-on-religion-ahead-of-visit
--------
FM: Pakistan Never Allows Hostile Acts against Iran
2020-November-11
"Establishment of peace and security at Iran-Pakistan borders is highly important and Pakistan will not allow hostile measures against Iran," Qureshi said at the meeting in Islamabad on Wednesday.
He described Iran as an important friendly and neighboring state, and said, "The Pakistani government has decided to further develop trade and economic cooperation with Iran."
Bilateral ties, regional developments, issues related to the Muslim world, confronting Islamophobia, regional cooperation, specially strengthening of the ECO, joint fight against terrorism, illegal immigration and facilitation of pilgrimage, as well as the formation of a joint economic commission in the near future were among issues discussed in the meeting.
Zarif, for his part, underscored Iran's preparedness to develop all-out relations with Pakistan, specially the trade and economic ties.
He also referred to the importance of reinvigoration of security at common borders, reminding the need for continued consultations in this regard.
Zarif traveled to Pakistan on Tuesday evening for a two-day official visit.
Earlier today, Zarif conferred with Pakistan's Army Commander Qamar Javed Bajwa on defense relations between Tehran and Islamabad, stressing cooperation in the fight against terrorism and border security.
Zarif and Javed Bajwa discussed various issues, including the fight against terrorism and strengthening border security cooperation and expansion of military relations between the two neighboring countries.
The two sides also reviewed the latest security developments in the region, specially the situation in Afghanistan.
https://www.farsnews.ir/en/news/13990821000926/FM-Pakisan-Never-Allws-Hsile-Acs-agains-Iran
--------
Iran Proposes Establishment of Int'l Fund to Reconstruct Syria
2020-November-11
"Iran proposes establishment of an international fund to reconstruct Syria," Khaji, also Senior Assistant to the Iranian Foreign Minister for Special Political Affairs, said, addressing the conference in Damascus on Wednesday.
He also blasted the US government for imposing inhumane sanctions against Syria amid the war-torn country's fight against the coronavirus epidemic.
"Iran insists on the political settlement of the crisis in Syria. The international community wants increased assistance and partnership in reconstruction of Syria to accelerate repatriation of the refugees," Khaji said.
Khaji and Syria's Deputy Foreign and Expatriates Minister Faisal Mikdad in a meeting in Damascus on Tuesday had conferred on ways to accelerate return of Syrian refugees to their home, stressing the need for strengthening peace and stability in the country.
During the meeting, Khaji and Mikdad discussed the latest developments in Syria, specially the conference for the repatriation of refugees and the constitution committee's activities, as well as bilateral ties between Tehran and Damascus.
They also underlined support for the activities of the constitution committee to resolve the political crisis in Syria and strengthen peace and stability in the country.
Khaji has traveled to Syria to participate in the international conference on the return of refugees and hold talks with the high-ranking Syrian officials.
In relevant remarks early November, Khaji said various parties should converge to tackle the challenges facing Syria, insisting the dire need for international participation to this end.
Khaji made the remarks in a phone call with UN Special Envoy for Syria Geir Otto Pedersen.
The Iranian diplomat underlined the need for collective efforts to help resolve Syria's challenges as a humanitarian and positive move.
Pedersen, for his part, elaborated on the results of his negotiations with the representatives of several regional countries over the Syrian issue.
The two sides also exchanged views on the political process and activities of the Syrian Constitutional Committee.
They also addressed the issue of the Syrian refugees which will be discussed during a conference in Damascus in the coming weeks.
https://www.farsnews.ir/en/news/13990821000571/Iran-Prpses-Esablishmen-f-In%E2%80%99l-Fnd-Recnsrc-Syria
--------
Over 120 Palestinian inmates infected with coronavirus inside Israeli jails: Rights group
11 November 2020
A Palestinian human rights group says more than a hundred Palestinian prisoners have contracted coronavirus inside Israeli-run detention centers across the occupied territories, expressing grave concern over the health condition of the inmates.
The Palestinian Prisoners' Society (PPS) said in a report that eleven Palestinian detainees had tested positive for coronavirus in the Gilboa prison in northern Israel.
It added that the new infections brought to 123 the number of Palestinian inmates diagnosed with COVID-19, the disease caused by the virus.
The news came on the same day that a Palestinian prisoner suffering from laryngeal cancer passed away following a sharp deterioration in his health due to medical negligence.
Qadri Abu Bakr, head of the Palestinian Commission of Detainees and Ex-Detainees Affairs, said 46-year-old Kamal Abu Wa'er died on Tuesday, condemning his death as a premeditated crime committed by the Israel Prison Service (IPS) and holding Israeli authorities fully responsible for his loss.
Abu Bakr noted that the IPS was fully aware of the seriousness of Abu Wa'er's health condition, but it ignored numerous calls for his release.
He said such a crime demonstrates the failure of the international community and relevant institutions to hold Israel accountable for its violations, warning that the world's continued silence on these practices will embolden the Tel Aviv regime to continue perpetrating crimes against Palestinians.
Hamas: Israel commits war crimes against Palestinian prisoners
Meanwhile, the Gaza-based Hamas resistance movement denounced Israeli authorities over the death of the cancer-stricken prisoner.
Hamas spokesman Hazem Qasem said in a statement that the death shed light on the exercise of deliberate medical negligence by the Israel Prison Service.
Qasem noted that the death of Abu Wa'er brings the number of Palestinian prisoners who had died in Israeli jails since 1967 to 226.
"This means the Israeli Occupation perpetrates a calculated war crime against the (Palestinian) detainees in Israeli jails," the Hamas official said.
Qasem went on to say that the IPS deliberately violates international laws in dealing with the Palestinian prisoners and is exercising a "bullying policy" towards them.
He underlined that the Palestinian nation and resistance movements will continue their unflinching support for prisoners until they obtain freedom.
PLO: Israel bears full responsibility for death of Abu Wa'er
Separately, a senior member of the Palestine Liberation Organization (PLO) stated that the death of Abu Wa'er as a result of deliberate medical negligence pointed to the brutal and cruel treatment that Palestinian inmates endure in Israeli prison facilities.
"The martyrdom of Abu Wa'er adds to Israel's long list of crimes and deliberate violations of international law and human rights. The absence of a system of protection and accountability and the international community's inaction vis-à-vis the practices of the Israeli apartheid regime have given the Israeli Occupation the green light to continue its crimes against our defenseless people," PLO executive committee member Hanan Ashrawi said.
She added that the Tel Aviv regime is legally and morally accountable for the death.
Ashrawi then called on the United Nations, the UN Human Rights Council, the International Committee of the Red Cross (ICRC), the World Health Organization and all international bodies to assume their moral, humanitarian, legal and political responsibilities regarding Palestinian prisoners.
More than 7,000 Palestinian prisoners are currently held in some 17 Israeli jails, with dozens of them serving multiple life sentences.
Over 350 detainees, including women and minors, are under Israel's administrative detention.
The administrative detention, which is a form of imprisonment without trial or charge, allows authorities to incarcerate Palestinians for up to six months. The duration could be extended for an infinite number of times.
Some prisoners have been held in administrative detention for up to 11 years.
https://www.presstv.com/Detail/2020/11/11/638373/123-Palestinian-detainees-have-contracted-coronavirus-in-Israeli-jails-Group
--------
North America
US embassy in Pakistan apologizes after retweet that Pakistan president is 'dictator'
Emily Judd
11 November 2020
The US embassy in Pakistan apologized on Wednesday after its Twitter account retweeted a post that called Pakistani President Arif Alvi a "dictator," causing social media backlash with the hashtag #ApologiseUSembassy.
The US Embassy in Islamabad retweeted a post on Tuesday from a member of the National Assembly of Pakistan Ahsan Iqbal.
Iqbal shared a screenshot of a Washington Post article titled: "[US President Donald] Trump's defeat is a blow to the world's demagogues and dictators."
"We have one in Pakistan too. He will be shown way out soon," said Iqbal in the post.
Social media quickly noticed the US embassy account retweeted Iqbal's comparison of Pakistan's president to a dictator and demagogue. Within hours, the hashtag #ApologiseUSembassy was trending on Twitter.
The American embassy responded in a post saying that the account was "accessed last night without authorization."
"The U.S. Embassy does not endorse the posting or retweeting of political messages. We apologize for any confusion that may have resulted from the unauthorized post," the embassy said in a tweet.
https://english.alarabiya.net/en/News/world/2020/11/11/US-embassy-in-Pakistan-apologizes-after-retweet-that-Pakistan-president-is-dictator-
--------
US urges release of Jewish hostage in Yemen held by Iran-backed Houthis
Emily Judd
11 November 2020
The US called on the Iran-backed Houthi militia to release a Yemeni Jewish hostage on Tuesday.
Levi Salem Musa Marhabi, a member of Yemen's dwindling Jewish community, has been wrongfully imprisoned for four years, according to the US State Department.
"We call on the Houthis to respect religious freedom, stop oppressing Yemen's Jewish population, and immediately release Levi Salem Musa Marhabi," the State Department said in a statement.
Marhabi was allegedly targeted by the Houthis for visiting Israel, according to a report in Jewish news outlet, Ami magazine.
The report, based on conversations with Marhabi's relative, said the Houthis are holding Marhabi in "terrible conditions."
Houthi hostage-taking
The Houthis have frequently taken hostages, mostly civilians and even humanitarian workers.
Last month, two American hostages were released from Houthi custody. Washington thanked Oman's Sultan Haitham bin Tariq and Saudi Arabia's King Salman for their efforts to secure the release of the hostages.
Journalists have also been targets of Houthi kidnapping amid the ongoing war for the country. The Iran-backed Houthis took over the capital Sanaa from the internationally recognized government in 2014.
The Houthis have since frequently launched drone attacks against Saudi Arabia, including deadly attacks against the Kingdom's Abha Airport.
Anti-Semitism
The official Houthi slogan includes the phrases "Death to America, Death to Israel, Curse on the Jews."
On Saturday, the Yemeni embassy in Washington condemned a Houthi graduation ceremony for its use of the motto, calling it "appalling anti-American and anti-Semitic rhetoric."
In August, Israeli media reported that the Houthis were ordering Yemen's remaining Jewish citizens to leave the country or be deported.
The current Jewish population is estimated to be around 100 people.
The majority of Yemen's indigenous Jewish community fled the country in 1949 after the creation of the state of Israel.
https://english.alarabiya.net/en/News/gulf/2020/11/11/US-urges-Iran-backed-Houthis-to-free-Jewish-hostage-in-Yemen
--------
Africa
Libya talks reach breakthrough on election roadmap: UN envoy
12 November 2020
Political talks in Tunis on Libya's future have reached a breakthrough, the United Nations acting Libya envoy said on Wednesday, paving the way towards elections within 18 months.
The participants reached a preliminary agreement on a roadmap to parliamentary and presidential elections that includes steps to unite Libya's institutions, Stephanie Williams said at a news conference in Tunis.
For all the latest headlines follow our Google News channel online or via the app.
She said Tuesday's "heinous killing" of dissident lawyer Hanan al-Barassi in the eastern city of Benghazi showed there was a crisis of accountability across Libya.
After years of chaos and warfare in Libya, with key institutions held by rival factions riven by political, regional and ideological divisions, and foreign powers pouring in arms, many Libyans remain skeptical of peacemaking efforts.
However, the Tunis talks, which began on Monday, follow a ceasefire agreed last month between the main warring sides - the internationally recognized Government of National Accord (GNA) in the west and the eastern-based Libyan National Army (LNA).
https://english.alarabiya.net/en/News/north-africa/2020/11/12/Libya-talks-reach-breakthrough-on-election-roadmap-UN-envoy
--------
Libyan man pleads guilty to murder over UK 'terror' stabbings
11 November 2020
A Libyan man on Wednesday pleaded guilty to three murders and three attempted murders after stabbing six people in an English park earlier this year.
Khairi Saadallah, 26, had been due to stand trial over the attack in Forbury Gardens in Reading, west of London, on the evening of Saturday June 20.
For all the latest headlines follow our Google News channel online or via the app.
But at a pre-trial hearing at the Old Bailey court in central London, he pleaded guilty to the charges.
Saadallah was initially arrested by police on suspicion of murder but then re-arrested under counter-terrorism legislation.
The prosecution's case is the stabbings were a terror attack -- but judge Nigel Sweeney told the court Saadallah had denied being motivated by an ideological cause.
Prosecutor Alison Morgan said the case merited a "whole life" term in prison. Sentencing was adjourned until the week of December 7.
The court will examine whether Saadallah was motivated by religion, politics or ideology, any pre-meditation and planning and the influence of his mental state at the time.
Three friends -- history teacher James Furlong, 36, US expat Joe Ritchie-Bennett, 39, and David Wails, a 39-year-old scientist -- each died from a single stab wound in the attack.
Three other people were taken to hospital for their stab injuries to be treated and later released.
The stabbings followed two high-profile knife attacks near London Bridge, central London, in November last year, and another in Streatham, in the south of the capital, in February.
Two people were killed in the first and three people injured in the second.
The perpetrators, who were both shot dead by armed police, were both convicted terrorists released early from prison.
Saadallah was known to Britain's security services after intelligence that he planned to travel abroad, possibly for terrorism purposes.
But the threat was deemed to be "insubstantial".
Britain's domestic Press Association news agency quoted court documents as saying Saadallah arrived in the country as a refugee, after fleeing conflict in his native Libya.
He had six previous convictions for 11 crimes between June 2015 and January last year, including racially aggravated assault, knife offences and criminal damage.
In November 2018, he was detained under the Mental Health Act, and was said to have a history of debt, homelessness, alcohol and substance misuse.
He had suffered from post-traumatic stress disorder, depression and a personality disorder, which made him "aggressive and unpredictable", the documents showed.
He had been released early from prison in June after a previous sentence had been reduced on appeal.
https://english.alarabiya.net/en/News/north-africa/2020/11/11/Libyan-man-pleads-to-guilty-to-murder-over-UK-terror-stabbings
--------
Southeast Asia
Dr Mahathir: If Najib can be in Parliament, his corruption trials should resume too, but with cap on media, observers
12 Nov 2020
BY THASHA JAYAMANOGARAN
KUALA LUMPUR, Nov 12 — Tun Dr Mahathir Mohamad today took a swipe at former prime minister Datuk Seri Najib Razak by saying that if the latter can be present in Parliament for debates, his pending corruption trials should resume as well.
Dr Mahathir's comments came about during the Budget 2021 debate in Parliament today where he shared that he was not confident with Perikatan Nasional's (PN) ability to solve the Covid-19 pandemic and ensuing economic crisis with the recently tabled Budget.
He also said that he does not agree with the decision to cap the number of MPs present in the Dewan Rakyat hall to 80.
"With today's record, I'm not confident PN can solve the Covid-19 crisis. In this crisis, cash is no more king. Even though the 'Cash is King' is giving advice in here. Don't forget what happened," he said referring to Najib.
"It is strange that his court cases have stopped but he can be in this hall. Why can't the court case go on then? You just have to limit the number of media and observers in the courtroom.
"Just follow the SOPs. If you're waiting for Covid-19 to end, it might take years. The supposed prisoner will be free," he added, again referring to Najib.
Dr Mahathir also said the Dewan Rakyat should be able to have 222 MPs present without any issues as so many SOPs are in place.
"A lot has been done with SOPs in here. We have tested all MPs. Even though there are 80 MPs present, it still feels like 222 MPs because there is distancing. They are still sitting in their own places because there are plastic dividers.
"So there is no need to reduce the number if it still feels like there are 222 MPs present. The plastic dividers keep us safe. While I thank the Speaker's intention to keep everyone safe, it shouldn't be this way until we cannot perform our duties," he said.
https://www.malaymail.com/news/malaysia/2020/11/12/dr-mahathir-if-najib-can-be-in-parliament-his-corruption-trials-should-resu/1921927
--------
PM Muhyiddin reiterates Malaysia's solidarity with Palestine at Asean Summit
12 Nov 2020
KUALA LUMPUR, Nov 12 — Malaysia remains in strong solidarity with the people of Palestine and supports concrete and honest efforts to find a just and lasting solution to the Israeli-Palestinian conflict based on international law and relevant United Nations resolutions through negotiations involving the parties concerned.
Prime Minister Tan Sri Muhyiddin Yassin, in his intervention at the 37th Asean Summit plenary session today, said the only viable solution to the Israel-Palestine conflict is through the two-State solution — based on the pre-1967 borders — with East Jerusalem as the Capital of Palestine.
The prime minister is leading the Malaysian delegation to attend the biannual summit virtually from here (Kuala Lumpur), which runs from today until this Sunday.
The summit is chaired by Vietnam Prime Minister Nguyen Xuan Phuc in his capacity as Asean Chair 2020 under the theme "Cohesive and Responsive Asean."
In his intervention, Muhyiddin also strongly condemns the actions by irresponsible individuals or groups "who cloak themselves in the name of religion to justify their heinous acts of terrorism".
Touching on freedom of speech, the prime minister said although essential to democracy, it is a tool that must be expressed with responsibility, and should not be utilised to justify harm, stoke hatred and propagate Islamophobia.
Also part of the Malaysian delegation to the 37th Asean Summit is Foreign Minister Datuk Seri Hishammuddin Tun Hussein as well as Senior Minister and International Trade and Industry Minister Datuk Seri Mohamed Azmin Ali.
Asean, established in 1967, comprises Brunei, Cambodia, Indonesia, Laos, Malaysia, Myanmar, the Philippines, Singapore, Thailand, and Vietnam. — Bernama
https://www.malaymail.com/news/malaysia/2020/11/12/pm-muhyiddin-reiterates-malaysias-solidarity-with-palestine-at-asean-summit/1921933
--------
URL: https://www.newageislam.com/islamic-world-news/if-indian-secular-parties-want/d/123452
New Age Islam, Islam Online, Islamic Website, African Muslim News, Arab World News, South Asia News, Indian Muslim News, World Muslim News, Women in Islam, Islamic Feminism, Arab Women, Women In Arab, Islamophobia in America, Muslim Women in West, Islam Women and Feminism