New Age Islam News Bureau
13 Dec 2017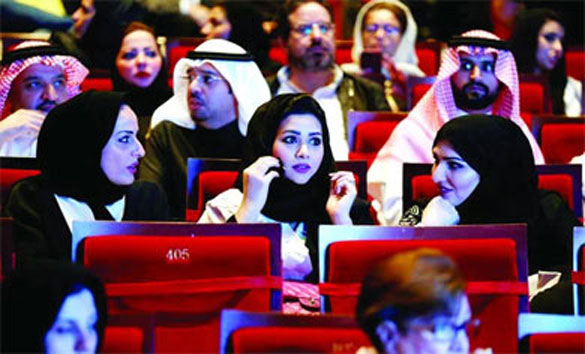 Saudis are rejoicing the government's decision to allowing opening cinemas across the Kingdom
---
• 'I Did It for the Islamic State,' Bombing Suspect Told Investigators
• Islamist Hardliners Approach to Jerusalem, Inventing Civil-Islamic Conflict
• Saudi Malls Preparing To Benefit from Cinema Reopening
• Citing Sachar, Rajasthan Health Department Sends Data on Muslim Staff to Centre
• Fewer Terrorist Attacks Lead To Revival of Fun, Festivity in Islamabad
• SA Muslim, Jewish, Christian Leaders United In Condemnation of 'Shameful' Trump
North America
• 'I Did It for the Islamic State,' Bombing Suspect Told Investigators
• Former Police Officer Argues FBI Pushed Him to Support Terrorism
• US national security adviser: Qatar and Turkey are new sponsors of radical ideology
• High school student suspended for racial comment on Muslims
• NY attack suspect taunted Trump before botched bombing
• Intelligence reform needed to rebuild confidence, Muslim group tells MPs
--------
Mideast
• Islamist Hardliners Approach To Jerusalem, Inventing Civil-Islamic Conflict
• Yemeni Snipers Kill 19 Saudi Troopers, Mercenaries in Retaliatory Attacks
• Russia suspends diplomatic presence in Yemen
• Two Palestinians killed in Israel attack
• Iranian Intelligence Minister: Afghanistan, Pakistan ISIL's Next Target
• Houthi militia kills four employees from Yemen Today TV
• Reports of sexual offenses rise by 10 percent in Israeli army
--------
Arab World
• Saudi Malls Preparing To Benefit from Cinema Reopening
• Hezbollah Leader Calls for Arab Countries to Stop Seeking New Ties with Israel
• Over 50 Terrorists Killed, Wounded in Syrian Army Rapid Advances in Idlib Province
• Syria: Rival Terrorist Groups Resume Infighting in Eastern Damascus
• Syrian Army Utilizing Modern Armored Vehicles in War on Terrorism
• Chess, Smokes, Therapy for Ex-Jihadists at Syria Rehab Centre
• Syrian Army Makes Fresh Gains in War on Al-Nusra in Southwestern Damascus
• Saudi fund plans cinema venture with AMC
• Saudis comprise biggest number of terrorists arrested in Iraq: Report
--------
India
• Citing Sachar, Rajasthan Health Department Sends Data on Muslim Staff to Centre
• Chhattisgarh Madrasas to Offer Formal Education
• Protests against Move to Demolish 170-Year-Old Heritage Building Of Madrasa
• Rajasthan: This Muslim community wants cow smugglers to face social boycott
• Kulbhushan Jadhav case: Pakistan to submit reply to ICJ today
• J&K police nabs youth on way to join Zakir Musa's militant group
--------
Pakistan
• Fewer Terrorist Attacks Lead To Revival of Fun, Festivity in Islamabad
• Pakistan's Resolution for Peace through Inter-Religious Dialogue Adopted by UN
• The curious case of Hafiz Saeed, MML and Pakistan
• One-year jail for 'individuals' announcing sighting of moon
• France Acknowledges Pak Sacrifices In War on Terror
• JI sets Dec 31 deadline for merger of FATA with KP, abolition of FCR
• No Muslim Can Compromise On Khatm-e-Nabuwwat: Pakistan Muslim League
--------
Africa
• SA Muslim, Jewish, Christian Leaders United In Condemnation of 'Shameful' Trump
• Malawi Muslim Youth, Quadria Back PAC Demos - Mam Integrity 'Seriously Questionable'
• Somali journalist killed in front of his children
• US air strike destroys vehicle bomb outside Mogadishu
• Blast kills four people in northeastern Nigeria, MSF says
--------
South Asia
• American Troop Hunting Taliban and Islamic State Fighters, From 20,000 Feet
• Hekmatyar Offers All-Out Support to Taliban If the Group Opts Peace Talks
• Minister: Afghanistan Possible Destination of Thousands of Fleeing ISIL Terrorists
• Bangladesh police interrogate wife, relatives of New York blast suspect
• PM: Rohingya influx causes severe effect on Bangladesh's environment
• France backs Bangladesh for solution to Rohingya crisis
• Taliban to face a very long winter, says US General
• Explosion in Taliban leader's house leaves 4 dead, wounded in Laghman
--------
Southeast Asia
• Political Islam, Intolerance, and the IS Threat in Indonesia
• Use of 'Halal' Logo in Restaurants Restricted in China's Xinjiang
• Zakir Naik challenges passport revocation in Bombay court
• Moderate Muslims should sue Jakim for defamation, says G25
• Religious extremism poses threat to ASEAN's growth
Compiled by New Age Islam News Bureau
URL: https://www.newageislam.com/islamic-world-news/i-islamic-state-bombing-suspect/d/113556
--------
'I Did It for the Islamic State,' Bombing Suspect Told Investigators
By Al Baker and Benjamin Weiser
DEC. 12, 2017
Along his journey Monday morning toward a crowded subway tunnel below Midtown Manhattan, a would-be suicide bomber posted a statement to his Facebook page deriding President Trump, the federal authorities said on Tuesday. Then, among the throngs of commuters, he detonated a homemade pipe bomb affixed to his torso with the aim of inflicting as much death as possible.
The allegations were contained in a criminal complaint filed in federal court in Manhattan on Tuesday against the bombing suspect, Akayed Ullah, 27, an immigrant from Bangladesh who had lived for several years in Brooklyn. Because his crude bomb malfunctioned, he survived his own attack and has been charged with five federal counts that include the use of weapons of mass destruction, provision of material support to the Islamic State and bombing a place of public use.
The complaint said that Mr. Ullah, who has been held at Bellevue Hospital Center, admitted to investigators that he had built the pipe bomb and carried out the attack.
"I did it for the Islamic State," he said, according to the complaint.
It said he also told his interrogators that one of his goals in carrying out the attack "was to terrorize as many people as possible."
"He chose to carry out the attack on a workday because he believed that there would be more people," the complaint added.
The Facebook post, published by his account on Monday morning, read: "Trump you failed to protect your nation."
Mr. Ullah, while at the hospital, waived his Miranda rights verbally and in writing, the complaint said.
Mr. Ullah began to be radicalized by at least 2014, the complaint said, and he viewed ISIS propaganda online, including a video directing followers to carry out attacks where they were living if they could not join the group's efforts overseas. Using the internet, Mr. Ullah began researching how to build explosives about a year ago, the complaint said. Within the past two to three weeks, it said, he began gathering the materials to construct the bomb: a metal pipe which he filled with explosive material he created; screws to pack inside; and Christmas tree lights and a nine-volt battery to spark its detonation. Then, about one week ago, he built the pipe bomb at his apartment in Brooklyn.
Investigators were continuing to delve into the past of Mr. Ullah, who is believed to have acted alone and chose the spot in a narrow hallway connecting subway stations beneath Times Square for its Christmas-themed posters.
His device, however, affixed to his torso with plastic zip ties, failed to fully detonate, the police said, and Mr. Ullah himself was the only one seriously injured in a blast that sent smoke billowing through the underground passageways of Midtown and snarled a Monday morning commute. Port Authority police officers, who were the first to reach Mr. Ullah, found him lying on the ground, injured, the fragments of his partially-detonated device around him and wires connected to the battery in his pants pocket running beneath his jacket.
"It didn't function with the force and power that the recipe intended," John J. Miller, the New York Police Department's commissioner of intelligence and counterterrorism, said about the bomb in an interview on Tuesday on "CBS This Morning."
Mr. Miller said the events could have "been far, far worse."
Mr. Ullah used metal screws inside the pipe because, as he told investigators, he believed they would cause "maximum damage," the complaint said.
After his arrest, the complaint said, investigators who searched his residence in Brooklyn recovered, among other things: metal pipes; pieces of wire and fragments of what appeared to be Christmas lights; metal screws similar to those found strewn at the bombing scene; and a passport in Mr. Ullah's name with handwritten notes including, "O America, die in your rage."
The charges against Mr. Ullah were announced at a news conference on Tuesday by Joon H. Kim, the acting United States attorney in Manhattan; William F. Sweeney Jr., the head of the F.B.I.'s New York office, and Benjamin B. Tucker, the first deputy police commissioner.
"In the middle of rush hour," Mr. Kim said, "as everyday New Yorkers hurried to their jobs, to their schools, ready to start the workweek and get going with their busy lives, one man came to kill, to maim and to destroy."
Mr. Kim said that he expected that Mr. Ullah, while he was in the hospital, would be given a "bedside presentment" — that is, make an initial appearance before a magistrate judge, possibly via videoconference.
Some of the charges against Mr. Ullah, if he were to be convicted, carry maximum sentences of life in prison.
Meanwhile, a fuller portrait of Mr. Ullah and his motives was emerging as investigators fanned out across New York to track down every lead. Albert Fox Cahn, the legal director of the state's chapter of the Council on American-Islamic Relations, however, said some of law enforcement's tactics had been too aggressive.
Standing outside the apartment building on Ocean Parkway in Brooklyn, where Mr. Ullah lived, Mr. Cahn said law enforcement officials had held children as young as 4 out in the cold and pulled a teenager out of classes at his high school to interrogate him without a lawyer or his parents present.
"These are not the sorts of actions we expect from our justice system," Mr. Cahn said on Monday. "And we have every confidence that our justice system will find the truth behind this attack and that we will, in the end, be able to learn what occurred today."
The F.B.I.'s Mr. Sweeney, without addressing Mr. Cahn's criticism directly, said at the news conference that there were instances after such attacks where the intelligence "may dictate that we locate, detain and interview individuals" to ensure the safety of the public and law enforcement personnel.
"Our teams use appropriate, reasonable and lawful methods to accomplish these goals," he added, "but to be clear, our teams will move with speed and move with purpose."
Early on Tuesday, James Waters, the chief of counterterrorism for the Police Department, said in an interview on NY1 that public safety concerns forced investigators to focus intently on Mr. Ullah's relatives and associates in the moments after the violence.
"We needed to make sure that this was the only individual involved," he said. "That this was not going to be an attack with multiple players involved."
To that end, investigators also fanned out overseas, with Bangladeshi police officers visiting Mr. Ullah's ancestral village at Musapur Union in eastern Bangladesh on Tuesday afternoon, speaking with several of his relatives.
"They stayed here for an hour and wanted to know more about Akayed Ullah," said a cousin named Emdad. "We shared what we know. But police did not find any criminal record against him."
Counterterrorism investigators also brought Mr. Ullah's wife in for questioning on Tuesday and questioned her parents, with whom she was living in Dhaka, where Mr. Ullah was born.
Nate Schweber contributed reporting from New York; AK Mohammed Moinuddin from Dhaka, Bangladesh; and Jeffrey Gettleman from New Delhi.
https://www.nytimes.com/2017/12/12/nyregion/suicide-bomber-nyc-terrorism-subway.html?mtrref=www.google.co.in&gwh=50B0B919FF69923059C8642A9E85B59D&gwt=pay
--------
Islamist Hardliners Approach to Jerusalem, Inventing Civil-Islamic Conflict
By: Khaled Salah
Dec. 13, 2017
CAIRO - 13 December 2017: It has been two days since Trump's decision, and we keep hearing those who tell us that what happened in the Jerusalem file occurred because of the Muslims being far from Islam, and the failure of the Islamic state in the Arab countries. The same old trade has wasted this nation for centuries. The takfiris (extreme Muslims) and their terror group counterparts do not want Jerusalem, and their hearts are not nostalgic for Al-Aqsa Mosque. However, they are addicted to the power trade and the exploitation of holy places to wage war on Arab regimes.
They partake in cheap trade in holy places to distract Muslims from the core of the issue, and they mislead people to market their notions that we are all non-Islamic and that if we return to Islam – "The special version of the Muslim Brotherhood and ISIL" – our lost dignity will return to us.
They are constantly misleading society, so we should fight their ideology early on within the society while we also fight to protect Jerusalem abroad.
This is the Great War in my opinion. I had addressed it in an earlier article about the relationship between the Islamic state and the civil state, and I tell you clearly, if the Prophet Muhammad (peace be upon him) was among us, he would not have put the Holy Quran on his weapon to defend Jerusalem. Rather, he would have thought and planned for the tools we possess in that confrontation. Prophet Muhammad (peace be upon him) did not fight through prayers alone, nor by distinguishing between what is Islamic and what is otherwise in the arts of political and military action.
Who told you, my brother, that the Islamic state stands on the opposite side of civilizational liberalism, modernity, science and development. Take a look at the strategy adopted by Prophet Muhammad (peace be upon him) in the founding of his pristine state in Yathrib (present-day Medina). Watch and reflect to know that Prophet Muhammad was a symbol of civilization and modernity, as well as a messenger for enlightenment. He was a political leader who knew the boundaries at which the revelation stops in order to make the intellect work. He and his distinguished companions after him knew the boundaries that the intellect cannot exceed in its respect of the revelation and the sanctity of the word of God.
What the Prophet Muhammad (peace be upon him) did in Medina was a civil and political miracle in an environment that had upset the mind and endowed itself to nomadism and ignorance. It is inconceivable that their present projects, which call for nomadism and ignorance rather than intellect, science and civilization, are related to Islam.
The Prophet (peace be upon him) sought the help of disbelievers against other disbelievers in the first stage of the "Dawah" (calling to Islam) in Mecca. It was the reality that forced him to seek help from one of the disbelievers to face the denial of the pagans of Quraish and their cruelty toward the Prophet. If one of the Muslims did this now, he would be chased by campaigns of "takfir" (apostasy) and sentenced to death.
The Prophet (peace be upon him) is the one who sent the first generation of Muslims to Abyssinia (present-day area of Ethiopia) to be under the protection of a Christian ruler in a Christian state. Had such action been taken by one of the Muslims today, the neo-fundamentalists would have questioned his faith and challenged him with the measures of loyalty and exoneration.
The Prophet (peace be upon him) is the one who drew a plan to migrate from Mecca to Medina, secretly holding alliances with the people Yathrib before he conveyed his alliance with them to the public, and he didn't wait for Gabriel (peace be upon him) to lead him in the desert. The migration was a divine directive, but the planning and implementation were indeed human.
The Prophet (peace be upon him) was the one who planned the project of citizenship in Yathrib with the immigrants and Ansar (his supporters from Medina), as well as with his numerous alliances with the Jews of the city.
It was the Prophet (peace be upon him) who decided to meet the army of Quraish in Badr – far from his fledgling state – to protect women and children, and to protect the political gain that sparked the hearts of Mecca's heathens with anger and sorrow.
It was the Prophet (peace be upon him) who, when he ordered that his army be camped before Bir Badr, publicly admitted in front of his friends that the revelation had nothing to do with this war. When asked by some of his friends whether this decision was from revelation or war and strategy, the Prophet (peace be upon him) said, «It's war and strategy», and he came down at the advice of the war experts and set his troops after the well of Badr, depriving the heathen army of the water.
The Prophet (peace be upon him) is the one who suffered a cruel defeat at Uhud, after some Muslim soldiers violated his war plan against the army of Quraish. The defeat was not related to either the new religion or the revelation. Plans and implementation were the strengths or weaknesses of the prophetic project for political stability in his modern state.
The Prophet (peace be upon him) is the one who decided to dig the trench around the city to protect it from fear of the tyranny of the armies of "Al Ahzab"; he did not leave it up to the angels, but rather took the advice of his companion Salman. He did not await the revelation to decide what is best for the people of Yathrib in the face of the invading army.
The Prophet (peace be upon him) is the one who signed Treaty of Hudaybiyyah, which provided that all those who are extradited from Quraish must stay in Quraish and that he would not accept them if they migrated to Medina. In addition, all those who expiate from the people of Medina must be allowed by the Prophet to return to Quraish without harm. If an agreement of this content was signed by a Muslim political leader today, his people would rebel against him to defend the dignity of the religion, and he could even be assassinated by his own bodyguards or a handful of his soldiers.
The Prophet (peace be upon him) is the one who said to the people of Yathrib, "You know the issues of your life," and he did not involve religion in agriculture, trade, state economics or the arts of governance, administration and war, which he adopted in the creation of his modern state. His companions did not stray off from his rational scientific approach in managing the state; Islam was one. The jurisprudence of his companions was extremely diverse in forms of succession, in the nature of enemies and friends, and in the financial and political management of the Islamic state.
Who then dares to make the political solution contrary to the Islamic solution, as if Islam did not already know the negotiating priorities, profit and loss calculations, and the arts of achieving religious and national goals with mental and negotiating merit? Who then dares to say that this is a political decision of Islam, and that another is not from Islam? Who then dares to imagine that the religion of God and the "Sunnah" (tradition) of His Prophet (peace be upon him) wanted us to have a rigid approach to the interests sent to Muslims, without understanding what God wanted us to be refined by reason and science?
Islam itself is a liberal, intellectual and civil religion with a historic testimony, and the companions themselves, in their diversity in the forms of governance and administration, proved that the revelation did not order us to take only one approach over another. It wanted to go from various modalities and ways in building, organizing and modernizing the state, and to investigate the administration of justice. I tell you, whenever the mind is absent and politicians merchandise religion in the name of God and justice, then know that it is not Islam or an Islamic state!!!
Wherever the mind and justice are together, you are into the fold of the state of Islam. Whenever we plan wisely, intellectually and with calculated pressures, we will take our rights in Jerusalem without the merchants of Jerusalem misleading us.
https://www.egypttoday.com/Article/2/36666/Islamist-hardliners-approach-to-Jerusalem-inventing-civil-Islamic-conflict
--------
Saudi malls preparing to benefit from cinema reopening
TARIQ AL-THAQAFI
13 December 2017
JEDDAH: Malls in Saudi Arabia are preparing to benefit from the government's decision allowing opening of cinemas in the Kingdom by finding space for theaters and re-exploiting empty spaces, according to mall operators, managers and officials.
They expect major shifts in the next seven months in the engineering levels of the malls. Mohammed Rashid Aba Al-Khiel, head of the digital sector and marketing at the Arab Centers, the largest developer, owner and operator of commercial centers in Saudi Arabia, told Arab News that the decision had been expected since the end of 2016.
"The decision comes as part of the package of economic entertainment projects to ensure that the money, or part of it, remains at home in the local content," he said. Aba Al-Khiel also said the system does not stop at cinemas but extends its dimensions to food, beverages, cafes, entertainment and sales.
"Cinema adds to the experience of the beneficiary, especially with high temperatures and the dearth of (entertainment) options for Saudi families, which are limited to malls..."
He added: "If the operators can run movie theaters effectively, it is possible to keep pace with similar experiences in neighboring countries. We lack the operational experience in dealing with the film industry and its economic benefit. We suffer from a lack of experience in this field. Global experience should be considered."
Malls have multiple options to take advantage of the decision, depending on the sizes and allocations of screens, diversity of the target segments and the value of the content, he explained.
The chairman of the commercial centers' committee at the Jeddah Chamber of Commerce and Industry (JCCI), Mohammed Alawi, told Arab News that a large group of malls had considered this decision and some included it its engineering plans. Some malls have included it as their first choice to expand their investment and development plans.
Alawi said: "Some of these malls are targeting areas that were vacant and will begin to move directly to reformulate these sites and arrange them economically so that they can be configured...
"After the approval, global operators from all over the world will come to create an integrated cinema style according to the latest standards. This will encourage investors to move and find financial flows in the markets."
Alawi expects that all malls in Saudi Arabia will work to keep up with the decision in the next seven months. "Malls that do not have cinema-equipped buildings will move and provide space even if they exploit some economically inefficient locations."
Alawi, who previously ran the Red Sea Mall, said: "The Red Sea Mall, for example, would provide at least 12 cinema showrooms, with at least 300 seats each, currently being built."
He explained that the flow of capital abroad throughout the year was not justified, and greatly hurt the Saudi economy. Alwai said that 6.5 million cinema tickets are booked annually online in Bahrain, of which 5 million are from Saudi Arabia.
"SR80 billion ($21.3 billion) is spent annually outside the country. The Vision (2030) aims to keep 50 percent of them domestically. The cinema decision can revive transport, subsistence, contracting companies and jobs for Saudis."
Ryan Kadouri, director of the Red Sea Mall, told Arab News that the decision is great and will have a positive impact on the retail sector, will create a huge economic momentum in doubling the number of visitors to malls and will revive markets after the recession experienced in the past two years.
"It will provide support to the local market and create great job opportunities for Saudis. It will help increase the number of visitors to the malls."
He said the volume of visitors accustomed to traveling abroad is expected to reach 21 million to the Red Sea Mall in 2018 from 18 million visitors in 2017.
Kadouri said: "Cinema projects are expected to take time because they are linked to specialized international companies, and all are waiting for the official mechanisms. We are in the process of preparation. The market will recover significantly."
He pointed out that commercial malls are looking for open spaces and to keep pace with the variables of the market.
"The right operator should be chosen as well as the importance of quality, transfer of expertise and the use of modern technologies … and the allocation of showrooms for different segments of society, and so on."
http://www.arabnews.com/node/1208091/saudi-arabia
--------
Citing Sachar, Rajasthan Health department sends data on Muslim staff to Centre
by Deep Mukherjee
December 13, 2017
Saying that it was doing so as part of its implementation of the Sachar Committee's recommendations, the Rajasthan government has collected data on Muslim employees in the state's health department and sent it to the Centre.
In a letter dated November 30, the State Directorate of Medical, Health and Family Welfare Services had sought information on all Muslim employees posted across the state, at all sub-centres, public health centres and community health centres. The letter, addressed to all the chief medical and health officers (CMHOs) across the state, asked for personal details of these employees.
Referring to an order sent by "Deputy Secretary, Union Health Ministry", on November 20, the letter, signed by B L Saini, joint director, administration, of the state directorate, said: "In the pro forma attached with the letter, furnish information of Muslim employees posted at sub-centres, public health centres (PHCs) and community health centres (CHCs) under your jurisdiction, and ensure that it is mailed immediately to the departmental email id…"
The letter added that this information would be sent to the central government.
When contacted, Saini told The Indian Express: "The Government of India had recently asked every state to collect details of employees from the minority community so that welfare schemes, as per the Sachar Committee's recommendations, can be implemented." He added that the information pertained to the employees' place of posting and retirement date. "The information was compiled and sent to the Government of India as per the instructions that we received," said Saini.
http://indianexpress.com/article/india/citing-sachar-rajasthan-health-dept-sends-data-on-muslim-staff-to-centre-4980289/
--------
Fewer Terrorist Attacks Lead To Revival of Fun, Festivity in Islamabad
DECEMBER 13, 2017
ISLAMABAD: Stephen Grabowski, a musician from Denmark performed in a chilly evening of Islamabad to an enthusiastic crowd of men, women and kids at a music festival organised by a private company.
"This is the first time when I visited Islamabad, I got a very warm response from people here, they love music; they said they wish to see my performance again. I also want to come again to perform in front of so many music lovers here," Grabowski told Xinhua.
The musician said that Pakistan is a country of peace-loving people, and there are basically not many terrorist attacks in major cities, so he found it safe to visit the country and perform there.
The Dane singer performed at the three-day Islamabad Food and Music Festival held at the outskirts of the capital along with other famous local singers.
Talking to Xinhua, the show organiser Rashid Khan said that the response was not so good on the first day, but a large number of people thronged the festival on the second and third day due to positive word of mouth.
"The festival has been held at a 'secure location,' people found it 'safe' to attend it. We will hold the festival in other cities too to spread the message of peace," Khan said.
Naina Razzaq, a 19-year-old, clad in all western attire, said she visited the festival with her friends, adding that it is the first festival of this kind which she is attending in the city since she was born.
"There had been certain concerts in five-star or four-star hotels, but in open air this is the first festival I have attended. It is a quite different experience. I enjoyed a lot with my friends," Naina said.
Apart from Grabowski, Indian band Stereo Nations also performed at the concert, which is the first of its kind in the open air, since things have been brought under control after a 16-year-long tough battle against terrorism jointly fought by the country's government, armed forces and its people.
According to the latest data compiled by the country's National Counter Terrorism Authority (NACTA), the year of 2017 witnessed 426 terror incidents, mostly of small intensity as compared to 785 attacks in 2016.
The NACTA said that overall a downward trend in terrorist activities is being noticed in the country during the last few years.
The wave of terrorism hit the country in 2001, when the United States launched the NATO-led war against terrorism in neighbouring Afghanistan, and terrorist attacks hit their peak in 2010 in the country with some 2,061 incidents. Since then, Pakistan witnessed at least 1,300 attacks in each year.
The drop in the terrorist attacks is being ascribed to the armed offensive codenamed "Operation Zarb-e-Azb" launched in the tribal areas of the country in mid-2014, as well as intelligence-based sting operations, authorities said.
The army also launched operations in the Khyber Agency area in four phases between October 2014 and August 2017, to reinforce troops' deployment and effectively impede terrorist movement along the high mountains and all-weather passes.
It also launched Operation Radd-ul-Fassad and the National Action Plan to hunt down militants and their sleeper cells in other parts of the country through a vibrant and coordinated intelligence.
A rising pop sensation in the country Waqar Ahsin, whose recently sung song got more than 3.6 million hits on YouTube in less than four months of its release, said that improvement in law and order situation will also raise opportunities for local musicians to showcase their talent.
"There were not many concerts in the past due to extremism, which had a heavy blow on our pop music industry. Now the army has controlled the situation to a great extent, so music industry will also bounce back as normal cultural art of this land of the pure," Ahsin told Xinhua.
Local experts said that though the issue of terrorism has been controlled to a great extent, but there is still a long way to go for the government to make the people feel "fully secure".
To curb extremism, the government should include lessons against terrorism in the general curriculum of the students at school, college and university level to help cultivate the much-needed culture of tolerance and peaceful co-existence, said Yasir Malik, a professor of theology at the Government College University Faisalabad.
https://dailytimes.com.pk/158410/fewer-terrorist-attacks-lead-revival-fun-festivity-islamabad/
--------
SA Muslim, Jewish, Christian leaders united in condemnation of 'shameful' Trump
2017-12-12
Cape Town – South African leaders from the Abrahamic religions – Muslims, Jews and Christians – on Tuesday expressed their solidarity in condemnation of US President Donald Trump's "shameful" decision to recognise Jerusalem as the capital of Israel.
A common thread among the religious and civic leaders who spoke at a press conference organised by the South African Boycott, Divestment and Sanctions movement, was that the issue was not one of religion, but of human rights.
Last Wednesday Trump announced that he had determined that it was "time to officially recognise Jerusalem as the capital of Israel".
The international community has largely condemned this step.
In 1947, when Israel and Palestine were partitioned, Jerusalem was to be administered as an international city, but in 1948, Israel invaded a part of the city. In the war of 1967, Israel occupied the remainder of the city.
"Today we gather here to, firstly, condemn the shamefulness of Donald Trump's undermining of international consensus, international law and UN resolutions by unilaterally recognising Jerusalem (a Palestinian city of Palestinian Christians, Muslims and Jews) as the capital of Israel and a site for the construction of a new US embassy," reads the joint statement released by the movement's leaders.
'Israeli apartheid worse than SA apartheid'
They also support the call on the South African government to downgrade its embassy in Israel to send a "clear message to the regime that its human rights abuse, violations of international law, its annexation of Jerusalem and other Palestinian areas are completely unacceptable to peace- and justice-loving people of the world".
Well-known Anglican priest and social justice activist Father Michael Lapsley, who was maimed after he received a letter bomb from the apartheid government's Civil Cooperation Bureau, said he recently visited Israel/Palestine.
"What I saw with my remaining eye is that Israeli apartheid is worse than South African apartheid," he said.
Activist Terry Crawford-Browne visited Jerusalem in 2010 and in June this year. Asked about the humanitarian situation in Gaza and the West Bank, he said: "The situation is pretty desperate. It is far worse this year than it was in 2010."
He likened the situation to genocide and said Israel wants to remove Palestinians from Jerusalem and make it unbearable for them elsewhere so that they move of their own volition.
Heidi Grunebaum of South African Jews for a Free Palestine said the organisation unequivocally condemns Trump's decision.
"The land is not Trump's to give away, nor is it Bibi Netanyahu's (Israeli Prime Minister Benjamin Netanyahu)," she said.
'Smack in world's face'
Wendy Kahn, the national director of the South African Jewish Board of Deputies, previously told News24 the organisation recognised the sovereignty of the US and its prerogative to make decisions in the advancement of its national interest.
"We, however, believe that the Israelis and Palestinians must now come together to the negotiation table to find a peaceful solution to this tragic conflict.
"Our plea to world leaders, including our own government, is to actively put pressure on both sides to do so," she said.
Second deputy president of the Muslim Judicial Council Sheikh Riad Fataar said it was an act of arrogance to go against religious leaders like Trump, "who has the audacity to smack the world in the face".
"We will stand as one where you want to practice apartheid," he said.
He called on the United Nations to protect the rights of all the people who live in Jerusalem.
Speaking about world leaders, he said: "Where are the people who stand up for justice? You are silent in the face of oppression. What kind of leaders are you?"
On Wednesday there will be a march from District Six in Cape Town to Parliament, and on Thursday there will be a picket outside the US consulate in Sandton, Johannesburg, to protest Trump's decision.
https://www.news24.com/SouthAfrica/News/sa-muslim-jewish-christian-leaders-united-in-condemnation-of-shameful-trump-20171212
--------
North America
Former police officer argues FBI pushed him to support terrorism
By Rachel Weiner
December 12, 2017
In the years Nicholas Young went to work patrolling Washington's Metro system, a federal prosecutor said, an FBI agent was lying awake at night worrying about what he might do.
As the first police officer to face terrorism charges in the United States goes to trial in federal court this week, FBI special agents and undercover operatives explained to jurors how they began investigating Young in 2010 — and why he was not arrested until August 2016. It was then that Young bought Google Play gift cards that prosecutors say he thought would be used by Islamic State recruits to download encrypted messaging applications.
During the years-long investigation of the Alexandria, Va., native, several law enforcement officials testified, Young repeatedly made violent remarks that were concerning but did not prompt immediate action. Prosecutors said a sting operation involving the gift cards was necessary to get a dangerous radical not just off the streets, but also out of law enforcement.
An FBI agent will testify that "he didn't sleep at nights because [Young] had talked about torturing and killing an FBI agent," Assistant U.S. Attorney Gordon Kromberg told the judge Tuesday.
An image of Young seized during a search of his home last year and filed in Alexandria federal court. (U.S. attorney's office for the Eastern District of Virginia)
But Young's attorneys countered, saying his arrest was an overreach born of frustration that a six-year investigation had yielded nothing of value.
In private exchanges, defense attorney Linda Moreno said in her opening statement, agents wrote they "hit the case with a defibrillator," saying "let's hope he goes one step further" and breaks the law.
"The FBI induced Nicholas Young, a police officer who had served with distinction, to commit a crime where none existed," she said.
Young, 37, who worked for the Metro Transit Police, hopes to be the first person since the­ Sept. 11, 2001, attacks to win a terrorism trial by arguing that he was entrapped by law enforcement.
In his opening statement, Kromberg pushed back against that defense, telling jurors the government would show that Young had long-standing inclinations toward terrorism and believed in an alliance between white supremacists and Muslim extremists against Jewish people.
"Young's hatred of Jews was quite extraordinary," Kromberg said.
Young participated in reenactments as an SS officer — "one of the most vicious terrorist groups that ever existed," Kromberg said. He said jurors would see a picture of the SS tattoo on Young's arm, showing that the police officer didn't just dress up as a Nazi — "he saw himself as that." Kromberg also said Young had a framed photograph of Hitler at his house and used an Israeli flag as a doormat.
Moreno told jurors that Young is no neo-Nazi but a libertarian with an interest in politics who was committed to his job in law enforcement and his country. "A six-year investment . . . and what they have to show for it are gift cards," Moreno said. "That's why they're talking about Hitler."
An undercover officer first met Young in 2010 while tracking suspected extremists in Northern Virginia, under the guise of being a recent convert to Islam and a U.S. Marine from Boston.
They hit it off right away, said the officer, who testified behind a screen and used the pseudonym Khalil Sullivan.
"We had good conversations" about work, politics and dating, Sullivan said.
Young was also part of conversations about terrorism, Sullivan testified, and spoke of his "animosity" toward the FBI. He believed he was being watched, and he talked about how he could take on agents at his home or how someone could attack federal buildings.
"There were times we were joking, times we were not joking," Sullivan said. He said Young's descriptions of potential clashes with federal agents were "hypothetical."
While the level of detail Young gave in describing a potential attack on a federal building was "a little alarming," Sullivan said, "I didn't take it as a plan."
Sullivan ultimately cut ties with Young at his bosses' direction; he was told to focus on another investigation.
There was no apparent FBI intervention when Young in 2011 twice went to fight against Moammar Gaddafi in Libya, but when he came back he was questioned by agents at Dulles International Airport.
In the summer of 2014, an undercover informant targeted Young more directly after meeting him at the All Dulles Area Muslim Society Center in Chantilly, Va.
Identified in court only as Mohammed, or "Mo," the informant posed as a military reservist of Palestinian descent. He told Young that, like him, he had gone to George Mason University, had religious conflicts at work and had clashed with his father.
The FBI paid him $34,000 to befriend Young, Mo testified.
Over Sprites and Afghan food, Mo said, he and Young discussed religion and politics.
Mo acknowledged Young asked him why he wanted to join the Islamic State, saying: "It's kind of nice here in the U.S., isn't it? . . . No one restricts us from practicing our religion here." Young once said the militants "sound like a bunch of criminals who are hungry for power and money," Mo said.
But then Young gave Mo extensive advice for joining the Islamic State undetected, and he sent Mo a text message suggesting he thought his friend was on vacation, according to the recorded conversations introduced in court.
Mo actually traveled to Turkey because the FBI was worried that Young, as a police officer, "had access to government records and would be able to check" if the informant had not actually left the country, FBI Special Agent John Minchello testified.
Young was by his own admission "paranoid," as he repeatedly told Mo in conversations played in court.
"The people that do this," he said of informants, "are going to be nice guys; they're going to be great guys."
https://www.washingtonpost.com/local/public-safety/former-police-officer-argues-fbi-pushed-him-to-support-terrorism/2017/12/12/dc812230-deaf-11e7-8679-a9728984779c_story.html?utm_term=.d85a1c8891c9
--------
US national security adviser: Qatar and Turkey are new sponsors of radical ideology
Joyce Karam
December 13, 2017
US national security adviser General HR McMaster criticised Qatar's and Turkey's "new role" in sponsoring and funding extremist ideology on Tuesday, and attributed the rise of the Justice and Development party in Ankara to Turkey's growing problems with the West.
In a rare public foreign policy appearance with his British counterpart Mark Sedwill hosted by Policy Exchange in Washington, Mr McMaster announced that US President Donald Trump will roll out a new national security strategy on Monday.
The strategy will be based on four vital strategic interests for the United States, he added, and listed them as follows:
1. Protect the US homeland and the American people
2. Advance American prosperity
3. Preserve Peace through strength
4. Advancing American influence
In paraphrasing these strategic pillars, Mr McMaster spoke of three threats to US interests globally, and two of which centred in the Middle East.
First he mentioned China and Russia "as revisionist powers" encroaching on US allies and undermining the international order, followed by the threat from "rogue regimes such as Iran and North Korea" who he said "support terror and are seeking weapons of mass destruction."
The third threat he labelled as the jihadist radical organisations that need to be deterred by operating effectively he explained.
Mr McMaster struck a hawkish tone on Russia. He said: "We are facing a threat from Russia that involves also so-called new generation warfare.
"These are very sophisticated campaigns of subversion and disinformation, and propaganda, using cybertools operating across multiple domains that attempt to divide our communities within our nations."
Asked about political Islam and his views on the Muslim Brotherhood and other Islamist political organisations, General McMaster called himself a "big fan" of the review conducted by former British diplomat Sir John Jenkins in 2014 about the topic. The review- which the UK government did not make public- is believed to warn of the threat of political Islam.
"Radical Islamist ideology is obviously a grave threat to all civilised people" Mr McMaster said.
The US national security adviser said this threat has been identified "myopically" in the past.
"We didn't pay enough attention how it's [radical Islamist ideology] is being advanced through charities, Madrassas and other social organisations."
While Mr McMaster made reference to Saudi Arabia's support for some of these organisations decades ago, he singled out Qatar and Turkey as main supporters today. He said it "is now done more by Qatar, and by Turkey".
He added that the Trump administration is committed to countering extremist ideologies and funding and referenced the new centre established during the US President's visit to Saudi Arabia. It is a "big problem when Islamist radical ideology bridges into political Islam" he said.
While stressing that not all the Muslim Brotherhood branches are alike, he urged to build opposition groups that respect individual freedoms, and in order to avoid another "Morsi model" in reference to former Egyptian president overthrown in 2013. Mr McMaster said that the Brotherhood operated clandestinely and monopolized opposition after the street upheavals and fall of Hosni Mubarak in 2011.
The other model that Mr McMaster identified with the Brotherhood is Turkey's AKP. "By operating through civil society, they consolidate power through one party, sadly it is a problem contributing to Turkey's drift from the West" he said.
On Iran, Mr McMaster described the government in Tehran as a "rogue regime also and a revisionist regional power" and said "we need to counter destabilising activity especially in Syria" as well as blocking support for its proxies and its paths to nuclear weapons. He also advocated looking for sanctions outside the nuclear deal, and abandoning the Obama approach that made the deal itself a focal point of the strategy toward Iran.
Full report at:
https://www.thenational.ae/world/the-americas/us-national-security-adviser-qatar-and-turkey-are-new-sponsors-of-radical-ideology-1.683989
--------
High school student suspended for racial comment on Muslims
December 12, 2017
NEW YORK – A high school senior in Missouri, Alex Lonsdale, served a two-day in-school suspension for allegedly calling a fellow Muslim student, a terrorist.
It all started when Lonsdale and Faraz Pervaiz got into a debate about the nature of Islam after Lonsdale told The College Fix that he had based his claims off of polls conducted by ICM Research for the 2016 Channel 4 documentary about pro-terrorist sentiment among British Muslims.
However, the friendly debate turned into an argument when Pervaiz asked Lonsdale "why are you making my religion out to be like that?"
Pervaiz then became quiet and left as Lonsdale told him "'I wasn't saying that you're a bad kid because you're Islamic,' I wasn't being rude. I didn't personally attack him at all," he told The College Fix.
Both students have had experience debating policy issues in the school's debate club: Lonsdale and his debate partner shared a semifinal placement at the Grain Valley High School New Year Novice Kickoff this year, while Pervaiz and his partner tied for first in policy debate at a high school tournament in December 2016, according to The Kansas City Star.
The school's debate team currently ranks second in the nation by the National Debate & Speech Association, where Liberty High School competes annually during its national competition.
According to the College Fix, Lonsdale was called into the principal's office three days later and was asked to explain the statements that Pervaiz said he had made including that "all Muslims are terrorists."
School officials accused Lonsdale of "creating an emotionally unsafe zone" and told him that his behavior could be considered "harassing" or "hounding" and that he should be conscious of "social cues."
After school officials interviewed three other student witnesses, Lonsdale was assigned to serve an in-school suspension the rest of the day and the following day however, he was still allowed to attend some of his Advanced Placement classes.
The school said that Lonsdale was not entitled to an appeal, though Assistant Principal Bridget Herrman gave him a letter containing the "necessary information about the suspension," and sent one to his parents stating that he was suspended "due to behavior" and had been prescribed "corrective disciplinary action."
"I don't know why that kid [Pervaiz] didn't just walk away if it made him uncomfortable," Carrie Lonsdale, Alex's mother, told the College Fix.
Miles, a student who witnessed the debate, slipped a handwritten letter to Lonsdale saying "you initiated a 35-minute conversation trying to prove that Faraz's entire religion was about terrorism, you need to apologize for what you did and how you made Faraz feel."
Full report at:
http://www.newsindiatimes.com/high-school-student-suspended-for-racial-comment-on-muslims
--------
NY attack suspect taunted Trump before botched bombing
13 December 2017
The 27-year-old Bangladeshi immigrant accused of carrying out an attempted bombing in New York made a taunting Facebook post directed at President Donald Trump before the attack, according to a criminal complaint unsealed Tuesday.
"Trump you failed to protect your nation," Akayed Ullah wrote Monday on the social media site before allegedly carrying out the terrorist attack.
Ullah, who lives in Brooklyn, most seriously harmed himself when he set off what authorities have described as a pipe bomb-like improvised explosive device in a heavily-trafficked subway underground walkway during the morning rush hour. He was quickly sent to nearby Bellevue Hospital for treatment. At least three pedestrians took themselves to local hospital for treatment of minor wounds.
He was read and waived his Miranda Rights, or the right to remain silent, verbally and in writing when interviewed by police, later saying he was inspired by ISIL to carry out the botched attack, the complaint said.
"I did it for the Islamic State," Ullah allegedly told investigators. According to the complaint, he built the metal screw-filled pipe bomb one week before carrying out the attack. It was attached to his body using zip ties, and used a nine-volt battery and a Christmas tree lightbulb.
It ultimately was not powerful enough to turn the pipe and the metal screws it contained into deadly shrapnel.
During a search of his Brooklyn apartment investigators recovered a passport with a handwritten note reading: "O America, die in your rage", as well metal pipes, screws similar to those found at the explosion site, and wires, the complaint said.
He now faces five federal charges including providing material support to ISIL, and use of a weapon of mass destruction. He is scheduled to appear in court later Tuesday but it is unclear if he is healthy enough to make the trip.
Ullah's family said they are "outraged" by the police response following the attack.
"We are heartbroken by the violence that was targeted at our city today, and by the allegations being made against a member of our family," the family said in a statement read late Monday by Albert Fox Cahn, the legal director of the Council of American-Islamic Relations-New York.
"But we are also outraged by the behavior of the law enforcement officials who have held children as small as 4 years old out in the cold and who pulled a teenager out of high school classes to interrogate him without a lawyer, without his parents," the family added. "These are not the sorts of actions we expect from our justice system, and we have every confidence that our justice system will find the truth behind this attack, and that we will, in the end, be able to learn what occurred today."
It is not clear if the statement is referring to children who are part of the family, or other non-family members.
President Donald Trump cited the attack to push his immigration initiatives aimed at tightening restrictions for those seeking U.S. entry, particularly individuals from Muslim-majority countries.
"America must fix its lax immigration system, which allows far too many dangerous, inadequately vetted people to access our country," he said in a statement issued hours after the attack.
"My Executive action to restrict the entry of certain nationals from eight countries, which the Supreme Court recently allowed to take effect, is just one step forward in securing our immigration system."
Ullah is from Bangladesh -- a country not on Trump's travel ban, but the president has sought a separate end to so-called "chain migration", or U.S. entry based on extended familial relations.
Full report at:
http://www.worldbulletin.net/america-canada/196820/ny-attack-suspect-taunted-trump-before-botched-bombing
--------
Intelligence reform needed to rebuild confidence, Muslim group tells MPs
Dec 12 2017
OTTAWA — Reform of national security agencies — not just more oversight and review — is needed to rebuild confidence and trust, a national Muslim group says.
The National Council of Canadian Muslims told MPs studying the Liberal government's wide-ranging national security bill Tuesday that new watchdog powers won't fix the "culture of impunity" and systemic ills within Canadian security agencies.
The council's executive director, Ihsaan Gardee, said the bill strengthens the security establishment, even as the available evidence suggests disarray — bias and top-down bullying — within the institutions that carry out intelligence-gathering and enforcement.
"Oversight of those agencies is not sufficient," Gardee said during a meeting of the House of Commons public safety committee. "Real reform is necessary."
Conservative MP Pierre Paul-Hus, the party's public safety critic, challenged Gardee to provide some specific examples of the lack of confidence.
Gardee pointed to high-profile cases of Canadian Arabs, including Maher Arar, being subjected to abuse abroad, with the actions of Canadian agencies being partly to blame.
The Liberal government's security legislation revises elements of a contentious omnibus bill brought in by the Harper Conservatives after a gunman killed a sentry at the National War Memorial and rushed on to Parliament Hill in 2014.
The bill would limit, but not eliminate, powers that allow the Canadian Security Intelligence Service to actively disrupt terror plots.
A new super-watchdog — the National Security and Intelligence Review Agency — would oversee the intelligence activities of well over a dozen federal agencies. In addition, an intelligence commissioner would authorize some intelligence and cybersecurity activities in advance — a measure the government says is intended to build public confidence.
Another change takes aim at the recurring problem of mistaken no-fly list name matches involving youngsters, allowing the public safety minister to inform parents that their child is not on the roster.
Under a revised appeal process, someone's name would be dropped from the no-fly list if the minister does not deal with their appeal within 120 days. However, the minister would be able to extend the deadline before the first 120-day period expires.
The government says the changes are steps toward a longer-term solution to no-fly list headaches.
Faisal Bhabha, legal adviser for National Council of Canadian Muslims, said the no-fly list should be scrapped.
"No amount of tinkering can solve the underlying problem, which is that the no-fly list is one of the most damaging instruments of racial and religious profiling currently in place in this country," he testified.
"It was an interesting experiment but its time has come to an end."
Zamir Khan, whose three-year-old son Sebastian often has difficulties at the airport because of the list, said some families have missed flights and children shy away from air travel for fear of stigmatization.
"This is not a future I want for my son," he told the MPs.
Khan, representing a group known as the No Fly List Kids, said the Liberal security bill falls short of ensuring the timely implementation of a redress system.
A redress mechanism like the one in place in the United States would be a "massive improvement" over the current Canadian approach, he said.
Full report at:
http://www.metronews.ca/news/canada/2017/12/12/intelligence-reform-not-more-review-needed-muslim-group-tells-mps.html
--------
Mideast
Yemeni snipers kill 19 Saudi troopers, mercenaries in retaliatory attacks
Dec 12, 2017
Yemeni army soldiers, backed by fighters from allied Popular Committees, have shot dead 19 Saudi troops and pro-Saudi militiamen loyal to resigned Yemeni president Abd Rabbuh Mansur Hadi in the kingdom's southwestern border region of Najran.
An unnamed military source told Yemen's official news agency SABA that Yemeni forces shot and killed five Saudi troops in the al-Asha and al-Shorfa areas of the region, located 969 kilometers south of the capital, Riyadh, on Tuesday.
Yemeni soldiers and Popular Committees fighters launched two rockets against Saudi army outposts in the Rajla, al-Sadid and Lesser al-Makhrouq areas of the same Saudi region. There were no immediate reports of casualties.
Later, Yemeni soldiers and their allies fired a barrage of artillery rounds at the al-Karas military base, leaving scores of Saudi soldiers dead and injured.
Separately, several Saudi soldiers lost their lives or sustained injuries when Yemeni forces targeted a gathering of Saudi troopers in al-Sharqan military base.
Additionally, five Saudi-sponsored militiamen were fatally shot in different districts of Yemen's southwestern province of Ta'izz.
Yemeni soldiers and their allies also struck the position of Hadi loyalists east of Kahboub region in the same Yemeni province, killing two of them.
In Yemen's central province of Ma'rib, army forces and fighters from Popular Committees launched a number of artillery rounds in the Wadi al-Ziq area of Sirwah district, killing and wounding a number of them.
Yemeni snipers also shot and killed seven Saudi mercenaries in different parts of Ma'rib province.
Saudi Arabia has been incessantly pounding Yemen since March 2015 in an attempt to crush the popular Houthi Ansarullah movement and reinstate Hadi, a staunch ally of the Riyadh regime.
More than 12,000 people have been killed since the onset of the campaign more than two and a half years ago. Much of the Arabian Peninsula country's infrastructure, including hospitals, schools and factories, has been reduced to rubble due to the war.
The Saudi-led war has also triggered a deadly cholera epidemic across Yemen.
According to the World Health Organization's latest count, the cholera outbreak has killed 2,167 people since the end of April and is suspected to have infected 841,906.
On November 26, the United Nations children's agency (UNICEF) said that more than 11 million children in Yemen were in acute need of aid, stressing that it was estimated that every 10 minutes a child died of a preventable disease there.
Additionally, the UN has described the current level of hunger in Yemen as "unprecedented," emphasizing that 17 million people are now food insecure in the country.
It added that 6.8 million, meaning almost one in four people, do not have enough food and rely entirely on external assistance.
A recent survey showed that almost one third of families had gaps in their diets, and hardly ever consumed foods like pulses, vegetables, fruit, dairy products or meat.
More than 3 million pregnant and nursing women and children under 5 also need support to prevent or cure malnutrition.
http://www.presstv.com/Detail/2017/12/12/545387/Yemeni-snipers-kill-19-Saudi-troopers-mercenaries-in-retaliatory-attacks
--------
Russia suspends diplomatic presence in Yemen
December 13, 2017
MOSCOW - Russia has halted its diplomatic presence in Yemen and its embassy staff have left the country amid the deepening conflict between the government and Huthi rebels, the foreign ministry said Tuesday. "Considering the situation in Sanaa, a decision has been taken to temporarily suspend Russia's diplomatic presence in Yemen . All employees of the Russian embassy have left the country," Russian foreign ministry spokeswoman Maria Zakharova told AFP.
http://nation.com.pk/13-Dec-2017/russia-suspends-diplomatic-presence-in-yemen
--------
Two Palestinians killed in Israel attack
December 13, 2017
GAZA CITY - Two Palestinians were killed in the Gaza Strip on Tuesday with authorities in the Hamas-run territory blaming an Israeli strike, but Israel's military immediately denying the claim.
The circumstances of the incident, which occurred near Gaza's northern border with Israel , were initially unclear.
Palestinian health ministry spokesman Ashraf al-Qudra told AFP the two men were killed "in Beit Lahia in northern Gaza after an Israeli strike targeted a motorcycle".
The Israeli army immediately denied this, saying in a statement "contrary to Palestinian reports earlier today, the (army) did not attack in the northern Gaza Strip".
Qudra named the two men as Hussein Ghazi Nasrallah and Mustafa al-Sultan, both in their 20s.
Family members at the hospital where the bodies were taken told AFP the two men were members of Islamic Jihad, an Islamist group that fought alongside Hamas in the last war with Israel in 2014.
The deaths came amid tensions between Palestinians and Israeli forces following US President Donald Trump's announcement he would move the US embassy in Israel to Jerusalem and recognise the city as Israel's capital.
Full report at:
http://nation.com.pk/13-Dec-2017/two-palestinians-killed-in-israel-attack
--------
Iranian Intelligence Minister: Afghanistan, Pakistan ISIL's Next Target
Dec 12, 2017
"The ISIL has lost land but it has not surrendered its arms and is after occupying lands in Afghanistan, Pakistan and anywhere else possible to revive the idea of Islamic caliphate," Alavi said, addressing a forum in Tehran on Tuesday.
He also referred to US President Donald Trump's controversial decision to recognize Jerusalem Quds as Israel's capital, and said the decision came after the terrorists, including the ISIL, sustained a deadly blow and their supporters grew disappointed and adopted crazy behavior.
Alavi expressed pleasure that the world is aware of the dangers of Trump's decision and avoided support.
In relevant remarks in November, Iranian Foreign Minister Mohammad Javad Zarif warned that the ISIL terrorist group is a danger which threatens the region, including Afghanistan.
Zarif made the remarks in a meeting with Special Representative of the UN Secretary-General and Head of the United Nations Assistance Mission in Afghanistan Tadamichi Yamamoto in Tehran.
He also referred to cooperation between Iran and Afghanistan and the necessity for accelerating it in different political and economic fields, stressing the importance of confrontation against the spread of threats and danger of the ISIL in the region, including Afghanistan, given the terrorist group's recent failures in Iraq and Syria.
He also stressed Iran's preparedness to cooperate with the UN and other affiliated bodies on Afghanistan, and said, "Iran wants stability in Afghanistan and its efforts are focused on this area."
Full report at:
http://en.farsnews.com/newstext.aspx?nn=13960921000796
--------
Houthi militia kills four employees from Yemen Today TV
12 December 2017
Houthi militias killed four people who work for the Yemen Today television station, while detaining other employees and transferring them to an unknown location.
The militia had previously stormed the channel, which is owned by late President Ali Abdullah Saleh located in South Sanaa, and used it to broadcast a statement for what is known as their political council.
https://english.alarabiya.net/en/News/gulf/2017/12/12/Houthi-militia-kills-four-employees-of-Yemen-Today-TV.html
--------
Reports of sexual offenses rise by 10 percent in Israeli army
Dec 12, 2017
The number of reported sexual assaults in the Israeli army has increased every year since 2012, and latest figures show that there has been a 10 percent increase in the number of sexual complaints filed by Israeli soldiers this year.
According to a report published by Arabic-language Arabi 21 online newspaper, the rise in the number of reported sexual harassment cases could be attributed to growing awareness about the menace within Israel's military forces.
The report added that the Israeli army plans to launch a computerized educational program in order to prevent sexual harassment.
All those who serve in the Israeli armed forces, from corporals to the chief of staff, will be assessed by the program at least once every year. The program will soon be installed on the computers of the army, and an application is set to be developed for cell phones in the near future, Arabi 21 noted.
It further noted that soldiers will be asked to record their personal details and pass a test to examine their comprehension. Those who score less than 65 will be asked to go through the process again.
Earlier this year, an internal Israeli army survey found that one in six women soldiers had been sexually harassed during their military service.
While 15.6 percent of respondents reported facing such behavior, the true incidence of harmful sexual behavior within the Israeli military is in fact much higher.
The figures, which relate to 2016, further revealed that 60 percent of female soldiers and officers, who took part in the survey, said there was a sexualized atmosphere in their units.
They described soldiers or commanders frequently telling sexual jokes and stories, making hurtful sexual comments about them or sharing pornographic images.
A similar proportion of respondents, 57 percent, reported receiving hurtful sexual comments.
A total of 35 percent of women who answered the questionnaire said they were touched or subjected to sexual gestures, leers or winks; 12 percent said a fellow soldier or officer had exposed himself in a way that embarrassed the respondent; and 5 percent reported being offered some reward in return for sex.
Full report at:
http://www.presstv.com/Detail/2017/12/12/545374/Reports-of-sexual-offenses-rise-by-10-percent-in-Israeli-army
--------
Arab World
Hezbollah Leader Calls for Arab Countries to Stop Seeking New Ties With Israel
By NADA HOMSI
DEC. 11, 2017
BEIRUT, Lebanon — The leader of the Lebanese militant group Hezbollah said on Monday that the group would return its focus to fighting on behalf of Palestinians, saying it had prevailed in other regional battles against Syrian insurgents and the Islamic State.
Ridiculing Syrian insurgents as "tools of the U.S.A. and Israel," the Hezbollah leader, Hassan Nasrallah, said that "Jerusalem, Palestine and the Palestinian people will return to being the priorities" for Hezbollah, adding that the group would "dedicate all its time to resistance."
Speaking via a video feed at a rally in Beirut, the Lebanese capital, that was organized to protest President Trump's decision to recognize Jerusalem as Israel's capital, Mr. Nasrallah called on Arab and Muslim countries to abandon their pursuit of normalizing relations with Israel by evicting the country's embassies and cutting diplomatic ties.
"Today we are witnessing a true intifada," or uprising, Mr. Nasrallah told the crowd, speaking of protests that have spread throughout the Palestinian territories of the West Bank and Gaza. "Muslims and Christians are all united to defend their holy sites in Jerusalem."
The rally drew thousands of protesters and was the largest yet in Lebanon in response to Mr. Trump's Jerusalem declaration last week, which upset a decades-old diplomatic status quo.
The Trump declaration gives Hezbollah, a Lebanese Shiite movement that rose to prominence as a militia fighting the Israeli occupation of southern Lebanon in the early 1980s, a chance to try to reclaim some of the popularity it lost in recent years because of its involvement in the war in Syria.
Many former Hezbollah supporters in the Arab world soured on the Iran-backed group when it entered the war in support of the authoritarian government of President Bashar al-Assad, whose violent crackdown on political protests in 2011 turned into a brutal six-and-a-half-year civil war that has displaced more than 11 million Syrians.
The Syrian government's counterinsurgency crackdown included bombing and besieging Palestinian refugee camps, where there was some support for the Syrian rebels. That, too, led Palestinian and other Arab critics to complain that Hezbollah had strayed from its roots of resisting Israeli occupation and abetted in the oppression not only of Syrians, but also of Palestinian refugees in Syria.
Hezbollah is still believed to have thousands of troops in Syria, and Mr. Nasrallah, who spoke from an undisclosed location, made no suggestion that they would leave anytime soon.
On Monday, demonstrators marched down a road in the southern Beirut neighborhood that houses Hezbollah's headquarters, chanting "Death to Israel! Death to America!" and "Zionists must die, die, so Jerusalem doesn't die!"
Both the Israelis and Palestinians claim Jerusalem as their capitals. Israel captured East Jerusalem in 1967 and annexed it in a move that was never officially recognized by the international community.
Although Israel controls the entire city, both sides agreed in 1993 that its status would be resolved through peace negotiations. Critics, including many Palestinians, say Mr. Trump's recognition of Jerusalem derails that process, which was already stagnant.
Alaa Dahab, a half-Palestinian, half-Lebanese teenager who grew up in Gaza, attended the rally on Monday to show her support for Hezbollah.
"We are with anyone that loves, helps and resists for Palestine," she said.
The rally included a diverse group of people of varying ideologies, religions and nationalities — Islamists and communists, Muslims and Christians, Palestinians and Lebanese. Palestinian refugees were bused from refugee camps around Lebanon in what has become a staple in a week of protests against the Jerusalem decision.
Mirna Mhawesh, 16, a Palestinian who traveled to the rally from the Shatila refugee camp, said, "We are here because we can't do anything from here except show Palestinians inside Palestine that we're with them."
Hwaida Saad and Anne Barnard contributed reporting.
https://www.nytimes.com/2017/12/11/world/middleeast/hezbollah-nasrallah-jerusalem.html?mtrref=www.google.co.in&gwh=CED16329F6E65694DA84083B3C338E25&gwt=pay
--------
Over 50 Terrorists Killed, Wounded in Syrian Army Rapid Advances in Idlib Province
Dec 12, 2017
The sources said that the army units stormed the Al-Nusra gathering centers and strongholds in their push towards the villages of Abu Dali in Southeastern Idlib, killing or wounding over 50 terrorists.
The sources further added that other terrorist groups in Idlib province have rushed to assist Al-Nusra with fresh forces and military equipment to slow down the army men's advances towards Abu al-Dhohour base in Southeastern Idlib and also towards Morek and Khan Sheikhoun, the main bastions of the terrorists in Southern and Eastern Idlib.
The army soldiers are pushing towards Abu al-Dhohour base through Northeastern Hama, Ithriya-al-Shakousiyeh in Hama and Khanasser in Southern Aleppo.
Reports said on Monday that the army troops pushed the Al-Nusra Front back from more regions in Northeastern Hama and entered Idlib province for the first time in the last three years.
Full report at:
http://en.farsnews.com/newstext.aspx?nn=13960921000754
--------
Syria: Rival Terrorist Groups Resume Infighting in Eastern Damascus
Dec 12, 2017
The news websites reported that Faylaq al-Rahman terrorists clashed with the gunmen of Abu Musa Ash'ari Brigade that defected the former over a year ago.
The websites said that the infighting erupted between the Faylaq al-Rahman and Abu Musa Ash'ari in the town of Hamouriyeh after Faylaq fighters stormed the checkpoints of Abu Musa at the entrances of Hamouriyeh and blocked movements from the town.
In the meantime, media activists said that terrorists are on alert in entire areas linking the Central part of Eastern Ghouta to Douma region.
Dissident-affiliated websites reported on Saturday that the Al-Nusra Front (Tahrir al-Sham Hay'at or the Levant Liberation Board) was to exit Eastern Ghouta and move towards militant-held regions in Northern Syria following an agreement with Russia.
The websites reported that the Al-Nusra militants were to leave Eastern Ghouta for Northern Syria in the coming days after the militant group and the Russian reconciliation center reached an agreement over the relocation of the Al-Nusra fighters to other militant-held regions.
The websites went on to say that while a large number of terrorists were waiting for the start of the plan, a fresh wave of disunity has surfaced among them.
In the meantime, a source close to the Al-Nusra said that some of the foreign members of the group and commanders were just due to leave the region.
Full report at:
http://en.farsnews.com/newstext.aspx?nn=13960921000809
--------
Syrian Army Utilizing Modern Armored Vehicles in War on Terrorism
Dec 12, 2017
The BMP stands for Boyevaya Mashina Pekhoty 1 meaning infantry fighting vehicle, and the Sy rian army has embarked on armoring the BMP-1 in the front and on both sides.
The army has also mounted several extra monitors over the cannon turret of the BMP-1, the Arabic Sputnik reported.
It added that the up-dated BMP-1 was ultimately tested successfully in anti-terrorism operation in Northeastern Damascus.
The Syrian Army experts modernized the BMP-1 to make it resistant against terrorists' anti-tank missiles.
A Russian media outlet reported on Sunday that the army was utilizing modern Russia-made UR-77 armored vehicles to cross the Euphrates River to storm ISIL's positons on the Eastern bank of the river in Deir Ezzur province.
The Arabic-language service of RT reported that the UR-77 armored vehicles would missiles from the Western bank of the Euphrates River to the Eastern bank.
Full report at:
http://en.farsnews.com/newstext.aspx?nn=13960921001171
--------
Chess, Smokes, Therapy For Ex-Jihadists At Syria Rehab Centre
December 13, 2017
MAREA, SYRIA: In a rehabilitation centre in northern Syria, young men huddle over an innocuous game of chess and some cigarettes -- activities they once brutally suppressed as ISIS terrorists.
Based in the rebel-held town of Marea, the Syrian Centre for Countering Extremist Ideology is home to around 100 one-time ISIS fighters from Syria, the Middle East and even Europe.
"I used to dream of establishing an Islamic state... but now, we take courses that clear up what's wrong with what we once believed," 23-year-old Mohammad Haj Ahmad says.
Ahmad hails from Raqa, the northern city that served as the de facto capital of a now-collapsed "caliphate" sprawling across Syria and Iraq.
He joined ISIS in 2014 and took part in one of its most gruesome battles at Tabqa airport near Raqa, where extremist executed more than 200 army troops.
"I was completely convinced by their slogans about jihad, that they were the only ones implementing religion correctly, and that everyone else was an infidel and an apostate," he tells AFP.
"My father was scared I'd be convinced to blow myself up."
Now, Ahmad and fellow ex-jihadists are undergoing intensive rehabilitation courses in Marea aiming to wash away extremist habits so they can ultimately reintegrate into society.
Ahmad doesn't know what he will do once he is cleared by rebel authorities to leave the centre.
"Maybe I'll start a business, continue my studies, or go to Europe," he shrugs.
Therapy, Civil Rights
The two-storey centre in Marea opened on October 27. "We founded the centre because of the many fighters coming to northern parts of Aleppo province after the collapse of ISIS, which created a security problem," says its head, Hussein Nasser.
Some lodgers checked in voluntarily, while others are undergoing therapy as part of the jail sentence dished out by rebel authorities for joining ISIS.
They are split into three categories: short-term ISIS fighters, those who fought heavily or for an extended period and foreigners from Tunisians to Uzbeks.
Treatment lasts up to six months, which can be renewed, Nasser says.
The administrators, doctors, and activists who run the centre coordinate closely with rebel authorities, particularly the court system.
"The centre's lecturers provide an assessment to relevant judicial authorities, who decide if the person can be integrated into society or not," Nasser adds.
He says the centre is financed locally but seeking additional funds to take in more foreigners and open a branch for female ISIS members.
Inside, patients shuffle into classrooms for group and individual therapy sessions as well as courses on Islamic law, civil rights, and psychology.
Some sport beards and others are clean-shaven. Most wear an unofficial uniform of bright sweatshirts under sleeveless back vests.
"The courses are similar to corrective treatment, giving them positive outlooks on themselves and their abilities," says the centre's psychosocial therapist Abdulkarim Darwish.
Darwish listens to their life stories, then runs therapy sessions to identify what social factors led them to join ISIS.
During breaks, the ex-jihadists pray, eat modest meals on mattresses lined around a windowless room, and play chess -- one of the many forms of entertainment ISIS considered un-Islamic -- or spend time with their wives and children, who also stay at the centre.
'I Didn't Come From Mars'
"I never thought I would turn into a jihadist," says Hawas al-Ali, 26, who quit his job as a cook in northern Iraq in 2016 and moved to east Syria.
He joined an ISIS police unit deployed to bolster flailing terrorists fighting battalions.
"My aim was the victory of Islam, but after a while I began thinking about returning to civilian life, society, my relatives and children," says Ali.
He checked himself into the centre and now says he's excited to return "to my life before Daesh (ISIS)".
Ali fears of being arrested if he returns to Iraq, so for now is stuck in northern Syria and may travel to Turkey.
Ashraf Nasir, 24, says he is ready to become again an active member of a society which ISIS once terrorised.
"I'm an essential part of society -- I didn't come from under a rock or from Mars, even though I joined Daesh," he says.
The problem, Nasir worries, lies in "how society will accept us".
Going home will be even harder for foreigners like Muslim Gadzhimetov.
The Ukrainian entered Syria in 2016 coming from Turkey to join ISIS and earlier this year he was detained by rebels.
Gadzhimetov says he decided to defect when he learned of the atrocities committed by ISIS against other Muslims. "I consider myself guilty for this," he says.
Full report at:
https://www.ndtv.com/world-news/chess-smokes-therapy-for-ex-jihadists-at-syria-rehab-centre-1787044
--------
Syrian Army Makes Fresh Gains in War on Al-Nusra in Southwestern Damascus
Dec 12, 2017
The army men, backed up by the army's artillery and missile units, stormed the defense lines of the Al-Nusra in Southwestern Damascus and won full control over Modavar hills South of Bardaya Mountains and Eastern Tal (hill) al-Maqtoul Southwest of Bardaya.
In the meantime, the artillery and missile units opened heavy fire at terrorists' strongholds in Beit Jinn in Southwestern Damascus.
Military sources confirmed earlier today that the army troops intensified attacks on the positions of the Al-Nusra Front in Southwestern Damascus, killing tens of terrorists.
The sources said that the army's artillery units opened heavy fire at the movements of a group of Al-Nusra terrorists near the village of al-Mughur al-Mir, killing and wounding the entire members of the 17-member group and destroying their arms and ammunition.
The artillery units, meantime, pounded the Al-Nusra strongholds in al-Mughur al-Mir and Beit Jinn Farm, inflicting major losses on the terrorists, the sources added.
Full report at:
http://en.farsnews.com/newstext.aspx?nn=13960921001213
--------
Saudi fund plans cinema venture with AMC
13 December 2017
DUBAI: Saudi Arabia's main sovereign wealth fund said it planned to enter the cinema business with major US-based movie exhibition company AMC Entertainment Holdings, as the Kingdom lifts a 35-year-old ban on cinemas.
"In line with the fund's mandate to help unlock promising new sectors within the Kingdom, PIF and AMC Entertainment will explore theatrical exhibition and related investment and partnership opportunities in Saudi Arabia," the Public Investment Fund said.
Neither of the partners gave details of the business ventures which might arise from their non-binding memorandum of understanding.
The Saudi government announced on Monday that the first theaters could start showing films as early as March, part of a liberalizing reform drive that has opened the door to concerts, comedy shows and women drivers in the past year.
AMC, which owns the Odeon brand, is one of the largest movie exhibition companies in the world with about 1,000 theaters and 11,000 screens across the globe.
Other cinema chains are also eyeing the Saudi market. Dubai-based mall operator Majid Al Futtaim, which owns VOX Cinemas, said it wanted to open the first movie theater there. The government said it expected to open over 300 cinemas with more than 2,000 screens by 2030.
Full report at:
http://www.arabnews.com/node/1208146/business-economy
--------
Saudis comprise biggest number of terrorists arrested in Iraq: Report
Dec 12, 2017
Saudi nationals reportedly comprise the biggest number of the foreign terrorists arrested during Iraqi army operations against the Takfiri Daesh terror group in the northern and western parts of the country.
The London-based New Arab news website cited an Iraqi Interior Ministry official as saying that the number of foreigners arrested during battles with the outfit in those areas had risen to more than 400.
Those, the source said, hailed from Arab, European and Asian countries, adding that Saudi detainees came on top, numbering 51.
Other detainees included Moroccans, Egyptians, Jordanians, Lebanese, Syrians, Chechens, Tajikistanis, Turks and Pakistanis, it added.
The source and Mansour al-Baiji, an Iraqi lawmaker, said the arrestees will not be extradited and will instead stand trial in Iraq as they were involved in crimes against Iraqis.
The Riyadh regime has been widely accused of providing the Daesh terror group with ideological and financial backing.
The Takfiri outfit invaded Iraq in 2014 and overtook around a third of the country's expanse in exceptionally brutal attacks.
Full report at:
http://www.presstv.com/Detail/2017/12/12/545348/Iraq-Daesh-Saudi-Arabia
--------
India
Chhattisgarh madrasas to offer formal education
11th December 2017
RAIPUR: Chhattisgarh is going to become the first BJP-ruled state where formal school curriculum subjects will be taught in madrasas from Class 9 onwards, starting from the next academic session. The move is the culmination of a year-long exercise by the Chhattisgarh Madrasa Board to streamline education provided in madrasas and go beyond religious teaching.
The Board is set to introduce a course structure based on National Council of Educational Research and Training (NCERT) syllabi to qualitatively improve madrasa education.
"After West Bengal, Chhattisgarh is going to be the only state in the country to offer regular courses at the high school and higher secondary levels in madrasas from the next academic session. In the coming years, computer education will also be introduced in the madrasas," school education minister Kedar Kashyap said.
Chhattisgarh has 319 registered madrasas, where the regular courses would be offered. As many as 286 madrasas are getting a grant from the Board. Since 2005-06, students passing out from Class 8 in the madrasas have had to go for correspondence courses for high school and higher secondary education, owing to which several students are believed to have discontinued their studies.
"The new syllabus will be enforced from 2018-19 in the madrasas. We are going ahead with the vision of Shri Atal Bihari Vajpayee, who wished to reform madrasa education, and Chief Minister Dr Raman Singh, who advocates qualitative improvement in madrasas in line with skills development and the job market. Our mission will be accomplished only when Muslim students connect with the mainstream education system," Madrasa Board Chairman Mirza Ejaz Baig told The New Indian Express.
Facilities in the madrasas will be improved for teaching the new curriculum. Two additional teachers will be appointed in the 97 madrasas where the 9th class will start next year. Around 2,200 students will initially benefit from the move. The Board will seek grants from the Union HRD ministry and the state government to ensure that the new courses don't face any constraints.
The groundwork to start regular academic courses in madrasas began a year ago. Experts from the NCERT, Aligarh Muslim University, Delhi University, and Jamia Milia, among other institutes, were invited and consulted to decide on the courses. Workshops and training for madrasa teachers have begun across the state.
"The Madrasa Board will function like the Chhattisgarh state board of secondary education. The teaching, examination and certification will all be done by the Board," Baig said. The new curriculum will include arts, science, maths, social science, and commerce as subjects.
Efforts are on to get all madrasas in the state to register with the Board. The leaders of the Muslim community now hope that their children will go for higher education and pursue graduate and postgraduate courses.
http://www.newindianexpress.com/nation/2017/dec/11/chhattisgarh-madrasas-to-offer-formal-education-1723985.html
--------
Protests against Move to Demolish 170-Year-Old Heritage Building Of Madrasa
DECEMBER 09, 2017
Muslim scholars and members of a few Muslim political parties stopped the demolition of the 170-year-old heritage building of Madrasa-e-Azam Higher Secondary School for Boys on Anna Salai late on Friday, claiming that the authorities had not given any notice.
The 21-acre property was gifted by the then Nawab of Arcot to Madrasa-e-Azam 300 years ago. Many scholars and saints studied there. According to a section of Muslims, the building had heritage value.
The structure had become weak because of poor maintenance and other reasons. The representatives of the parent-teacher association had appealed to the government to conserve the heritage part of the building.
However, the government started moves to demolish it at night. Alhough the contractors arrived at the venue with demolition equipment on Friday, they had to stop work owing to the protest.
Appollo Hanifa, co-ordinator, Tamizhaga Islamiya Iyakkangalin Kootuamaippu, said, "We Muslim brethren oppose and condemn the attempt of the government, on the sly at night, to demolish the property which was given for the sole purpose of educating poor Muslims. The members of the Wakf met the officials a few days ago and appealed to them to give up the plan of demolishing the property. Even the Education Minister promised to look into our plea. Within 15 days, the contract for demolition was given. We will not allow single brick to be removed from here."
Stiff opposition
Syed Mansooruddin, hereditary trustee, Mount Road Dargah, said: "At least the PTA should have been informed. The maintenance of the property should be restored to the Nawabs of Carnatic Endowment or the superior body of all Muslim educational institutions. "
The Public Works Department said the building was in a dilapidated condition.
Full report at:
http://www.thehindu.com/news/national/tamil-nadu/protests-against-move-to-demolish-madrasa/article21383107.ece
--------
Rajasthan: This Muslim community wants cow smugglers to face social boycott
December 12, 2017
Meo community leaders have asked for the social boycott of cow smugglers after several incidents of cow smuggling in Mewat area of Rajasthan were reported.
The community leaders have demanded that girls should not be married in those families where members are cow smugglers and neither should they be invited to social gatherings.
The recent incidents of cow smuggling has also led to a growing suspicion amongst people living in Mewat area spread across parts of Haryana and Rajasthan's Alwar and Bharatpur.
There are 40 lakh people from the Meo community who live in this area. Because of cow smugglers within the community, Muslims in the area who breed and rear cows are getting a bad name.
The district Meo panchayat of Alwar district has decided to boycott cow smugglers.
"Incidents of cow smuggling are coming to the fore one after another in Mewat", said Sher Mohammad of the district Meo panchayat, Alwar. The panchayat has appealed to the people to stop cow smuggling.
But despite that, several incidents of cow smuggling are still being reported. The Meo panchayat has also asked the people in Palla village in Haryana's Nuh area to boycott the cow smuggler who was caught on Monday. If they don't boycott the smuggler, the entire Palala village may face boycott.
"Subedar Khan and Deendar Khan, responsible for the slaughter of 36 cows in Rewara village have to face social boycott," said Sher Mohammad.
There have been several cases of cow smuggling in Rajasthan's Alwar district in the recent past. In Alwar itself around 354 cases of cow smuggling were recorded in the past three years in which 556 smugglers have been arrested so far.
Full report at:
http://indiatoday.intoday.in/story/meo-community-leaders-want-cow-smugglers-to-face-social-boycott/1/1108344.html
--------
Kulbhushan Jadhav case: Pakistan to submit reply to ICJ today
Dec 13, 2017
NEW DELHI: Pakistan is expected to submit its reply today to the International Court of Justice (ICJ) in the Kulbhushan Jadhav case, sources told Pakistan's Geo News.
Jadhav, an Indian national, was convicted of espionage by a Pakistani military court and in April sentenced to death. On May 18, the ICJ ordered Pakistan to halt his execution, after India approached the Hague-based international court.
India has consistently denied Pakistan's allegation that Jadhav is a spy working for the Research and Analysis Wing.
Jadhav was arrested by Pakistan, allegedly from Balochistan, in March 2016.
Last week, Pakistan agreed to allow a meeting of Jadhav with his mother and wife on December 25. Pakistan's foreign office spokesman Mohammad Faisal said a staff member from the Indian high commission will also be present during the meeting.
Pakistan previously repeatedly denied India consular access to Jadhav on the ground that it was not applicable in cases related to spies. Jadhav had filed an appeal with Pakistan Army chief General Qamar Javed Bajwa to seek clemency, which is still pending.
Full report at:
https://timesofindia.indiatimes.com/india/kulbhushan-jadhav-case-pakistan-to-submit-reply-to-icj-today/articleshow/62048528.cms
--------
J&K police nabs youth on way to join Zakir Musa's militant group
M Saleem Pandit
Dec 13, 2017
SRINAGAR: Jammu and Kashmir police on Tuesday detained a Srinagar youth who was going to join militant Zakir Moosa led 'Ansar Gazwat ul hind'. The said youth was later released and handed over to his parents, a senior police officer said.
The boy who hails from Srinagar down town in Rainawari area, was detained by the police at Qamria Chowk in Ganderbal in central Kashmir of the old city was arrested early morning on Tuesday, Senior Superintendent of Police (SSP) Ganderbal Fayaz Ahmed Lone said.
The police officer said, boy was being tracked as he was in contact with Pakistani militants through social media. He said, the boy was under surveillance for some time.
"We were tracking his movements and nabbed him today (Tuesday) and during questioning, he confessed that he was on way to join Ansar Gazwat ul Hind," SSP Lone said.
Full report at:
https://timesofindia.indiatimes.com/india/jk-police-nabs-youth-on-way-to-join-zakir-musas-militant-group/articleshow/62046449.cms
--------
Pakistan
Pakistan's resolution for peace through inter-religious dialogue adopted by UN
DECEMBER 12, 2017
LAHORE: The United Nations General Assembly, on Tuesday, adopted Pakistan and Philippines' resolution for the promotion of peace and harmony in the community through inter-religious dialogue.
Pakistan's Ambassador to the United Nations Maleeha Lodhi said that UN's adoption of this resolution shows the world's support for Pakistan's efforts of eliminating extremism and intolerance from the society.
She also said that the resolution promotes the use of dialogue to address issues that cause religious and cultural divide.
https://dailytimes.com.pk/157952/pakistans-resolution-peace-inter-religious-dialogue-adopted-un/
--------
The curious case of Hafiz Saeed, MML and Pakistan
Dec 13, 2017
Amsterdam [The Netherlands], Dec 13 (ANI): The release of Jamaat-ud-Dawa (JuD) Chief Hafiz Saeed and former Pakistan president Parvez Musharraf's open admission of his liking towards the former and the Lashkar-e-Taiba (LeT) will win Islamabad foes, more than friends, says an expert.
Paul Stott, a senior teaching fellow at the Centre for International Studies and Diplomacy at SOAS University of London, has, in an article titled 'Hafiz Saeed: A Series of Curious Developments', opined that the view of Pakistan's courts - that there was no evidence to link Saeed to Mumbai - was unwelcome news for Indo-Pakistani relations, "and may even have had United States President Trump's trigger finger hovering over the Twitter icon on his mobile phone."
Case in point - last week's meeting of the US Secretary of State for Defence, General James Mattis, with Pakistan's Army Chief, General Qamar Javed Bajwa in Rawalpindi. They had much to discuss.
"Both parties were too polite, in public at least, to comment on the release of long term jihadist Hafiz Saeed, from Pakistani custody on 23/11/17. Both the US and India consider Saeed a terrorist, the latter seeking his trial for the 2008 Mumbai attacks, which killed 166. There is near unanimity that Pakistan, and Saeed's group, Lashkar-e-Taiba, co-ordinated the rolling gun and bomb attacks which targeted India's largest city. Britain, whose mosques and university Islamic societies once served as a welcoming home to Saeed's calls for jihad in Kashmir, has also closed the door on LeT and its charitable wing Jamaat-ud-Dawa (JuD)," Stott said.
But the overlooking of Saeed misdemeanours and his subsequent accession to politics in Pakistan may cause a dent in Islamabad's foreign policies.
No evidence to link Saeed to Mumbai certainly cleared "the way for the next projected stage in Saeed's career - an entry into politics. This is through a new party, the Milli Muslim League, which claims, rather unconvincingly, to be acting in the political lineage of Pakistan's founder Muhammad Ali Jinnah. The MML has struck an early obstacle though in the form of Pakistan's Electoral Commission, which is reluctant to register the party," Stott added.
Further drawing attention towards Musharraf's "unrequited love" towards LeT and JuD, Stott said, "This outbreak of unrequited love made even hardened observers blush. Not least as Musharraf himself had proscribed LeT in 2002. In his autobiography, he had talked of 9/11 bringing issues around terrorism to a head, but that under his leadership Pakistan was already itching for action against its own armed groups. How times change."
Stott then drove the point home by saying that Pakistan has a clear absence of a published national security strategy, and that the commentators have struggled to pin down the exact components of President Trump's military doctrine.
Stott said Trump has though been surprisingly consistent. "He expects countries - from Europe to the Gulf - to step up and take responsibility for their own defence, whilst working bi-laterally against common foes. Not for the first time, Pakistan does not seem to be 'down with the programme'," and hence, risks losing the friendship with America.
Full report at:
https://www.aninews.in/news/world/europe/the-curious-case-of-hafiz-saeed-mml-and-pakistan201712130808280001/
--------
One-year jail for 'individuals' announcing sighting of moon
Agencies
DECEMBER 13, 2017
ISLAMABAD: The Ministry of Religious Affairs on Tuesday forwarded the draft of Ruet-e-Hilal Bill 2017 to the federal cabinet for approval, which seeks the reconstitution of the Central Ruet-e-Hilal Committee and suggests a one-year imprisonment, a Rs 200,000 fine, or both, for anyone who announces the sighting of the new moon before the Central Ruet-e-Hilal Committee.
Two members from each province and one each from Azad Jammu and Kashmir (AJK), Gilgit-Baltistan (GB), Federally Administered Tribal Areas (Fata) and Islamabad will be part of the new committee. One representative each from the meteorological department, the Space and Upper Atmosphere Research Commission (SUPARCO) and the Ministry of Religious Affairs will also be part of the committee.
Television channels which announce the sighting of the moon before a formal announcement by the committee will be fined up to Rs1 million and could also face suspension under the proposed bill. The bill also suggests a six-month imprisonment or a Rs50,000 fine or both for those providing false evidence of moon-sighting. It also seeks to limit the tenure of the committee's chairman to three years and appointment for the post to be rotated among all four provinces. After approval by the cabinet, the bill will be tabled in the parliament. Moon sighting in Pakistan becomes a cause of controversy each year around key festivals, especially the two Eids, as independent clerics, most notably Mufti Shahabuddin Popalzai of Peshawar's Masjid Qasim Ali Khan, often digress from the Central Ruet-i-Hilal Committee's decisions, leading to key events being celebrated at different times in the country.
https://dailytimes.com.pk/158352/one-year-jail-individuals-announcing-sighting-moon/
--------
France acknowledges Pak sacrifices in war on terror
December 12, 2017
Pakistan attaches great importance to its relations with France as a political, economic and security partner, bilaterally as well as within the context of the European Union, reported Radio Pakistan.
It was stated by Foreign Secretary Tehmina Janjua while talking to delegations of the French National Assembly and Senate led by Jean-Bernard Sempastous and Pascal Allizard in Islamabad.
She briefed the parliamentarians on the improved security situation in the country and conducive environment for trade and investment.
She said the Friendship Groups play a key role in bringing the two countries closer. She also welcomed interest of French companies for investing in Pakistan.
She briefed the delegation about the regional security situation and highlighted Pakistan's efforts in the fight against terrorism.
While referring to Pakistan's principled policy based on peaceful relations with neighboring countries including India and Afghanistan the foreign secretary called upon the parliamentarians to play their role in the resolution of Jammu and Kashmir dispute for upholding the principles of human rights.
Full report at:
http://nation.com.pk/12-Dec-2017/france-acknowledges-pak-sacrifices-in-war-on-terror
--------
JI sets Dec 31 deadline for merger of FATA with KP, abolition of FCR
Rehmat Mehsud
DECEMBER 13, 2017
ISLAMABAD: Jamaat-e-Islami (JI) on Tuesday threatened to stage a prolonged sit-in if government fails to merge FATA with Khyber Pakhtunkhwa (KP) and abolish Frontier Crimes Regulation (FCR) – a special set of laws that still govern the tribal region – by December 31 this year.
"If the central government doesn't fulfill our legitimate demands by the end of this month, we will ask people from nook and corner of the country to converge in Islamabad to stage an exemplary sit-in," Siraj-ul-Haq told a huge gathering in Islamabad during the last leg of his 'long march'.
The JI long march kicked off on Monday from Khyber Agency to press for the merger of FATA with KP.
Siraj said the government was trying to divide FATA people on the merger issue and warned that the wrath of the tribal people would reach the power corridors if their legitimate demands were not met. "I ask my supporters to arrange tents for a prolonged sit-in in the federal capital if the government fails to agree to our demand of merger of FATA with KP," he noted.
He said the political agents – top administrators in each tribal agency – are as powerful today as the rulers of Mughal era in the sub-continent, who could put a tribesman behind bars for 25 years without any genuine reason under the draconian FCR laws. "I ask Prime Minister Shahid Khaqan Abbasi that the tribal people will lock your and your ministers' offices if you turned down their genuine demands," he warned.
Syed Khurshid Shah, opposition leader in the National Assembly (NA) and Pakistan People's Party (PPP) stalwart, also joined the JI gathering, announcing that his party fully supports merger of FATA with KP. "It is PPP's stated stance that FATA should be merged with KP without any further delay," he told the gathering.
JI provincial Amir Mushtaq Ahmad said that leaders of other political parties had been invited to the sit-in and long march as all the political parties were united over the immediate merger of FATA with KP. He said the government should abolish FCR, merge FATA with KP and announce a special package of development projects in the tribal areas.
Also on Tuesday, opposition again staged a walkout from the National Assembly after the government failed to table a bill pertaining to reforms in the tribal areas.
During the assembly session, chaired by Speaker Ayaz Sadiq, Opposition Leader Khursheed Shah criticised the government over employing delaying tactics on the issue of FATA reforms. "The government is not serious regarding implementation of FATA reforms bill," he noted.
Full report at:
https://dailytimes.com.pk/158375/ji-sets-dec-31-deadline-merger-fata-kp-abolition-fcr/
--------
No Muslim Can Compromise On Khatm-e-Nabuwwat: Pakistan Muslim League
Dec 13, 2017
LAHORE: Pakistan Muslim League (PML) senior central leader and former deputy Prime Minister Ch Parvez Elahi has said that no Muslim can compromise on Khatm-e-Nubawwat and lovers of the Holy Prophet (PBUH) present in N-League have started tendering their resignations slowly and gradually which is only the beginning.
He said this while speaking in a meeting of senior lawyers convened to hold legal consultations on the Model Town tragedy report at his residence here on Tuesday.
Former provincial law minister Muhammad Basharat Raja, Lahore High Court (LHC) Bar Association Secretary Amir Saeed Rawn, Muslim League Lawyers' Wing President Alamgir, advocate Jahangir A. Jhojha, Arshad Jhojha, advocate Rana Asad Munir, advocate Rafay Ahmad Khan and advocate Chaudhary Abdul Razzaq were present at the occasion.
The meeting discussed the legal aspects in detail and a future line of action was formulated to ensure the deliverance of justice to the Model Town affectees.
Full report at:
https://www.pakistantoday.com.pk/2017/12/12/no-muslim-can-compromise-on-khatm-e-nabuwwat-pml/
--------
Africa
Malawi Muslim Youth, Quadria Back PAC Demos - Mam Integrity 'Seriously Questionable'
12 DECEMBER 2017
By Zawadi Chilunga
Malawi Muslim youth leadersgip has joined the Quadria Muslims Association of Malawi to throw their weight behind the Public Affairs Committee (PAC) peaceful demonstrations this Wednesday calling on their membership to come en-masse to support the cause.
Muslim Association of Malawi (MAM) leadership told reporters in Blantyre on Sunday that they will not attend the march because doing so will be going against their doctrine of peace, contact and dialogue.
MAM, an umbrella body of the Muslim community in Malawi which also sits on the quasi-religious grouping governance body, argued that demonstrations contravene the teaching of the Holy Quran-the central religious text of Islam, and the teaching of their Prophet Muhammad.
Another Islamic association, The Qadria Muslim Association of Malawi asked Muslims in the country to take in the demonstrations which have been organized to protest against government reluctance to table the electoral reforms bills in parliament.
Responding to call which also appeared on Malawi Muslim Website page, Muslims have described the MAM leaders as hypocrites who pocketed a lot of money from government authorities to denounce the demos.
They have vowed never to listen to the call and that they will still take part in the demonstrations.
In a statement signed by Muslim Students Association, spokesperson Allie Jafali and member Silverster James, said the Muslim youth should take to the streets on Wednesday, saying those those who are "eating" should stay away.
They stated,that when it comes to national politics the conduct of MAM led by national chairperson Sheikh Idrissah Muhammad "is seriously questionable" to the extend that most Malawian Muslims "no longer have trust in MAMA" as an institution with integrity to lead Malawian Muslims in political bargaining and religious services.
"Over the years, MAM's influence over the affairs of Muslims has significantly dwindled," reads the statement seen by Nyasa Times.
The Muslim students quashed MAM arguement that the peaceful demonstrations will be against the teaching of the Holy Quran, saying the current issues does not arise within the context of religion.
"It is purely political dispute whose solution is equally political," reads the statement.
In the wake of the decision by PAC to hold the demonstrations, more faith groups have also drummed up support for PAC, rallying their congregants to engage in the demonstrations that aim to protest against government's failure to table the Electoral Reforms Bills in the current parliamentary meeting as promised.
The Electoral Reforms Bills include an amendment of Section 80 (2) of the Constitution and Section 96 (5) of the Presidential and Parliamentary Elections Act proposing a 50 percent plus 1 percent majority in presidential election and an amendment of Section 81 (3) of the Constitution for the swearing in of the President and Vice-President to be done after 30 days.
PAC marched to Parliament last month to deliver a petition to President Peter Mutharika and the Speaker of the National Assembly Richard Msowoya.
In their petition, PAC gave the Democratic Progressive Party (DPP)-led government until November 29 to have the set of six Bills tabled, failing which PAC would schedule a peaceful demonstration in the country's major cities.
http://allafrica.com/stories/201712120807.html
--------
Somali journalist killed in front of his children
December 13, 2017
MOGADISHU - A Somali television journalist was killed by a car bomb in front of his children , relatives said, the fifth murder of a journalist in the war-torn country this year.
Mohamed Ibrahim Gabow, a journalist working for Kalsan TV, had taken a break from work to spend time with his children .
He had just left his home on Monday afternoon in the capital Mogadishu when a bomb planted beneath the driver's seat ripped through the car. He died in hospital.
"He was a professional journalist dedicated to working for the public," grieving relative Mohamed Abdirahman said late Monday. "We don't know why they killed him in front of his children ." No one has claimed responsibility for the attack, but journalists have been regularly targeted by rival forces in the long-running conflict.
"The explosive device was attached beneath the driver's seat of the car," said police officer Ibrahim Mohamed.
Somalia is one of the most dangerous countries for journalists: 45 Somali reporters were killed between 2007 and 2015, according to the Committee to Protect Journalists (CPJ).
Abidirisak Mire, a colleague of Gabow, said people were unsure why he would have been targeted. "We don't know the motive," he said.
The Al-Qaeda-aligned Shabaab militant group has been blamed for a string of attacks against journalists.
Full report at:
http://nation.com.pk/13-Dec-2017/somali-journalist-killed-in-front-of-his-children
--------
US air strike destroys vehicle bomb outside Mogadishu
13 December 2017
US forces in Somalia conducted an air strike Tuesday against a bomb-laden vehicle outside Mogadishu that was deemed an "imminent threat" to the capital, officials said.
The strike occurred about 65 kilometers southwest of Mogadishu and comes after as many as 512 people were killed in a massive truck bombing in October.
"In coordination with the Federal Government of Somalia, US forces conducted an air strike against an al-Shabaab vehicle-borne improvised explosive device in the early morning hours of December 12," the US military's Africa Command said in a statement.
"This strike supports our partner forces by removing an imminent threat to the people of Mogadishu."
AFRICOM added that it had assessed that no civilians were killed in the strike.
Al-Shabab has been fighting to overthrow successive internationally backed governments in Mogadishu since 2007 and frequently deploys car and truck bombs against military, government and civilian targets.
The devastating October blast leveled buildings in the capital's busy Kilometer 5 neighborhood.
Full report at:
https://english.alarabiya.net/en/News/middle-east/2017/12/13/US-air-strike-destroys-vehicle-bomb-outside-Mogadishu.html
--------
Blast kills four people in northeastern Nigeria, MSF says
Dec 12, 2017
At least four people have been killed and several others injured in an explosion at a camp for people displaced by militancy in northeastern Nigeria.
The blast took place at about 12:30 p.m. (1130 GMT) on Monday in the border town of Pulka, the Gwoza area of Borno state. The troubled town is located about 110 kilometers (70 miles) southeast by road from the state capital Maiduguri.
A Spanish team from the medical charity Doctors Without Borders, known by its French acronym as the MSF, which is providing healthcare in the region, said the blast killed three people and injured seven, one of whom subsequently died after being admitted for treatment.
"All our staff are safe. The team is monitoring the security situation to assess any further steps," Ivan Munoz, an MSF spokesman, said.
A Nigerian military source confirmed the deadly incident and put the death toll at five.
It was initially thought that the blast was caused by a bomber. But a military source in the town said later that the examination of the blast scene indicated it may have been caused by a mortar shell.
"We are still examining the fragments (of the mortar shell) to determine where it came from and who is responsible," he said, adding, "It is not clear if it was a stray projectile or deliberate attack."
The Boko Haram Takfiri terrorist group has carried out attacks before against internally displaced people (IDP) across the region.
In September last year, at least seven people were killed when Boko Haram terrorists fired an RPG at a camp at Ngala in Borno state near the border with Cameroon.
Full report at:
http://www.presstv.com/Detail/2017/12/12/545404/Nigeria-Boko-Haram-MSF
--------
South Asia
American Troop Hunting Taliban and Islamic State Fighters, From 20,000 Feet
By ERIC SCHMITT
DEC. 11, 2017
ABOARD A B-52, over Eastern Afghanistan — Flying at more than 20,000 feet, the hulking long-range bomber circled ominously above a militant-infested swath of Afghan territory near the rugged border with Pakistan, hunting for Taliban or Islamic State fighters who could threaten friendly troops nearby.
A ride in the cockpit on a recent 13-hour combat mission provided a rare bird's-eye view of the Trump administration's newly revamped Afghanistan policy of sending thousands of additional American troops closer to the front lines — and more warplanes like this one to protect them. That includes striking Taliban drug depots to cripple the group's financial lifeline, as the Pentagon did in Iraq and Syria in hitting the Islamic State's oil tankers and cash-storage sites.
During the Obama administration, American commanders were barred from carrying out offensive airstrikes against the Taliban. Attacks had to be defensive, aimed at protecting Afghan forces on the ground; conditions that commanders complained tied their hands and led to a stalemate. Now the gloves are off, and American warplanes have already dropped more than 3,900 bombs and missiles against targets in Afghanistan this year, three times as many as last year.
"These new authorities give me the ability to go after the enemy in ways that I couldn't before," Gen. John W. Nicholson Jr., the top American commander in Afghanistan, said last month after ordering the new operation, code-named Jagged Knife. "We're hitting the Taliban where it hurts, which is their finances."
American airstrikes and Afghan ground raids over the past month have so far destroyed 25 drug labs in southern Afghanistan, wiping out $16 million in Taliban proceeds and throwing the group's regional narcotics operations into financial disarray, according to military officials and Drug Enforcement Administration estimates.
General Nicholson said the campaign would last for months, as the Taliban operates 400 to 500 labs across the country to sustain the group's $200 million-a-year opium trade. The drug money accounts for at least 60 percent of the Taliban's income, and goes to buy weapons, recruit and pay fighters and conduct operations.
With the war in Afghanistan now in its 17th year, President Trump's strategy aims to drive the Taliban to a negotiated settlement. It seeks not only to squeeze the group's opium revenues, but also to increase Afghan army offensives backed by American air power and to hold elections to enhance the Afghan government's legitimacy.
"The Taliban have three choices: reconcile, face irrelevance or die," General Nicholson said.
Afghanistan specialists say they have heard such boasts before, and the war is still being fought. They also voiced doubts about the hit-them-in-the-pocketbook plan.
"It's useful to impact the Taliban financially, but it may just drive production into neighboring Pakistan or Iran," said David W. Barno, a retired Army lieutenant general who led the war effort in Afghanistan for almost two years.
Other critics said the sharp increase in airstrikes will backfire, inevitably causing more civilian casualties and the accompanying political blowback, despite the military's best efforts to mitigate that risk.
"If you increase the number of strikes without allocating the time, personnel and resources to preventing, investigating and acknowledging each one, you get more civilian casualties," said Daniel R. Mahanty, United States program director at the Center for Civilians in Conflict, an advocacy group. "It's basic math."
Targeting specialists at the military's air command center in Qatar say they assembled the list of drug facilities that directly finance Taliban insurgents battling the government by examining hundreds of hours of aerial surveillance and poring over intelligence reports. Airstrikes have been carried out at night when fewer people are near the targets.
"It was a very deliberate process," said Capt. Ryan Pretty, an Army artillery officer who is deputy chief of the team overseeing the bombing campaign's effects.
Watching and eavesdropping on the scurrying around by drug lab operators whose depots were not hit in the first wave offered important insights for planners drawing up the next set of strikes, helping them map out local Taliban networks.
"These strikes and the aftermath taught us a lot about the complexity of the Taliban's narcotics operations," said Navy Lt. William Conway, a former prosecutor in Chicago who is now a lead intelligence officer for Afghanistan at the command center in Qatar.
Central to both the antidrug and troop-protection operations are the B-52's. They are the latest chapter in the storied bomber's history over the past six decades, from its carpet-bombing missions in the Vietnam and 1991 Persian Gulf wars, to its strategic role as part of the country's nuclear deterrent. In January, B-52's will deploy from Louisiana to Guam for duty in the Pacific, including near North Korea.
Of the roughly 750 B-52's originally built, the Air Force is still flying about 75 of the sweptwing, eight-engine H-model planes. The aircraft I flew on, nicknamed Night Train, was built in 1961, making it nearly twice as old as any of its five crew members from the 69th Bomb Squadron out of Minot Air Base, N.D.
Our mission began before 5 a.m. at the squadron headquarters at Al Udeid Air Base in Qatar, where the crew received a series of intelligence, safety and mission briefings. Following bomber tradition, the crew then sprayed on cologne (a very pungent "Extreme Liberty" for this mission).
In the pre-dawn darkness, a bus ferried the crew to its jet, its engines running, bombs hanging off its massive wings. Crew members clambered up a metal ladder into the fuselage. The two weapons officers — Soar, 30, from Pittsburgh, and Will, 28, from Arcadia, Calif. — sat in front of glowing screens in the cramped, windowless offensive operations compartment.
Up another metal ladder was the cockpit and a separate cramped, windowless space for the electronic warfare officer — Poppa, 28, from San Diego. The mission commander, Rage, 29, from Minden, Neb., and his co-pilot, Bravo, 26, from Hillsborough, N.J., ducked down an aisle and shoehorned themselves into their seats in the cockpit, while strapped into oxygen masks, flight suits, flight vests and ejection seats with parachutes. I sat in an instructor pilot seat behind Rage.
The crew members asked to be identified only by their call signs or first names for security reasons. It is a young crew, with only one member, Soar, having previously deployed overseas. One of a dozen crews in the squadron, this was their 23rd mission to Afghanistan or Iraq and Syria since arriving in September.
At 5:41 a.m., with the reddish dawn seeping across the horizon, the B-52 lumbered down the runway and roared off on the 3 and a half-hour flight to southern Nangahar Province in eastern Afghanistan, where Taliban and Islamic State fighters are battling with Afghan army troops for control.
Once there, with jaw-dropping views of 16,000-foot, snow-capped peaks out the tiny cockpit windows, the crew received instructions from Special Operations forces working with Afghan troops on the ground to use their high-powered camera sensors to spy on several buildings in a village compound, and look for any "nefarious" activity.
In this case, the B-52 was acting as an airborne cavalry, ready to rush to the aid of friendly forces with a formidable arsenal that included about two dozen 2,000-pound and 500-pound laser-guided bombs — more than 10 tons of destruction in all.
Inside the B-52, affectionately known as a Buff (as in "Big, Ugly, Fat," followed by an expletive), the noise was deafening. Crew members wore headphones and talked over microphones. Thirteen hours is a long time in a very confined space, and the crew has tricks to stay alert, including energy drinks and lots of caffeine. An eclectic mix of heavy metal, rock, country and rap music blared through their headphones.
For six hours, the B-52 flew tightly banked routes to give Soar the best view of his potential targets. Black-and-white images flickered across his screen: A man chopping wood. A woman doing laundry. Suddenly, he spotted something suspicious: a man pulling a long cylindrical object out from under a tarp. Was it just a long piece of wood or pipe, or was it a surface-to-air missile?
Taking no chances, Rage and Bravo veered the plane out of missile range, and called for an armed Reaper drone nearby to take a closer look. After nearly an hour and some delays, the B-52 needed to turn back to base without resolving the minor mystery.
No bombs were dropped that day, as has been the case on about a quarter of the crew's so-called overwatch missions to protect Afghan troops. "But the good guys got home safely," said Rage.
https://www.nytimes.com/2017/12/11/world/asia/taliban-isis-afghanistan-drugs-b52s.html
--------
Hekmatyar offers all-out support to Taliban if the group opts peace talks
Dec 12 2017
The leader of Hezb-e-Islami Gulbuddin Hekmatyar has offered an all-out support to Taliban if the group opts to participate in peace talks with the Afghan government.
Hekmatyar made the offer during his visit to southeastern Paktia and Khost provinces where he met with supporters of his party during his three-day stay.
He said the ongoing conflict has no winner and will burn the Afghan nation since this is a conflict among the Afghan people and only the nation will suffer.
Calling on Taliban to join peace process, Hekmatyar said Hezb-e-Islami is prepared for an all-out support if the group agrees to start peace talks with the Afghan governmet.
This comes as the Taliban group has persistently rejected to participate in any form of reconciliation process.
On the other hand, the commander of the NATO and US forces in Afghanistan Gen. Nicholson has warned that the Taliban militants will be eliminated if they did not accept the offers for reconciliation.
Speaking to reporters in Pentagon via teleconference from Kabul few days earlier, Gen. Nicholson said "We'll have to continue to apply the three types of pressure, engage within the region and leverage all of the instruments available to meet our goals."
He also added "In the face of this pressure, the Taliban cannot win. Their choices are to reconcile, live in irrelevance, or die."
Gen. Nicholson was briefing the reporters regarding the impact of the new US strategy for South Asia.
Full report at:
https://www.khaama.com/hekmatyar-offers-all-out-support-to-taliban-if-the-group-opts-peace-talks-04036
--------
Minister: Afghanistan Possible Destination of Thousands of Fleeing ISIL Terrorists
Dec 12, 2017
"The ISIL has some moves in Afghanistan. When we, as the regional states, express pleasure in ISIL's failure in Syria and Iraq, we should also be careful and investigate where the surviving members of the terrorist group have fled. Where are the 5,900 ISIL members, who have fled from Raqqa, now," Osmani was quoted as saying by the Iranian media on Tuesday.
"Undoubtedly, one of the places that the ISIL members are willing to be deployed is Afghanistan and our security forces have captured 11 ISIL members in Logar region," he added.
His remarks came as Iranian Intelligence Minister Seyed Mahmoud Alavi warned that the ISIL terrorist group which has sustained heavy defeats in Iraq and Syria is now attempting to find a new shelter, naming Afghanistan and Pakistan as its main target.
"The ISIL has lost land but it has not surrendered its arms and is after occupying lands in Afghanistan, Pakistan and anywhere else possible to revive the idea of Islamic caliphate," Alavi said, addressing a forum in Tehran on Tuesday.
He also referred to US President Donald Trump's controversial decision to recognize Jerusalem Quds as Israel's capital, and said the decision came after the terrorists, including the ISIL, sustained a deadly blow and their supporters grew disappointed and adopted crazy behavior.
Alavi expressed pleasure that the world is aware of the dangers of Trump's decision and avoided support.
Also, in November, Iranian Foreign Minister Mohammad Javad Zarif warned that the ISIL terrorist group is a danger which threatens the region, including Afghanistan.
Zarif made the remarks in a meeting with Special Representative of the UN Secretary-General and Head of the United Nations Assistance Mission in Afghanistan Tadamichi Yamamoto in Tehran.
He also referred to cooperation between Iran and Afghanistan and the necessity for accelerating it in different political and economic fields, stressing the importance of confrontation against the spread of threats and danger of the ISIL in the region, including Afghanistan, given the terrorist group's recent failures in Iraq and Syria.
He also stressed Iran's preparedness to cooperate with the UN and other affiliated bodies on Afghanistan, and said, "Iran wants stability in Afghanistan and its efforts are focused on this area."
Full report at:
http://en.farsnews.com/newstext.aspx?nn=13960921001264
--------
Bangladesh police interrogate wife, relatives of New York blast suspect
December 12, 2017
Akayed Ullah, 27, detonated a homemade bomb strapped to his body at the Port Authority Bus Terminal on Monday.
At least four family members of Manhattan blast suspect Akayed Ullah were questioned by the Counter Terrorism and Transnational Crime (CTTC) unit in Dhaka on Tuesday.
Akayed is currently being held by law enforcement officials in the US on suspicion of detonating an "improvised low-tech explosive device" inside a New York City subway passageway on Monday morning, injuring himself and three other people.
A senior NYPD official told NBC News that Ullah had told investigators he was angry over the killing of Muslims around the world and had attempted the attack "in the name of ISIS".
On Tuesday, Akayed's maternal cousin, Wahedujjaman Jahed, told the Dhaka Tribune that law enforcers in Dhaka had taken four relatives of Akayed into custody after the Zohr prayers.
Also Read- Manhattan blast suspect Akayed Ullah 'born and brought up in Dhaka'
The four relatives – Akayed's maternal uncle Abdul Ahad, his wife Jannatul Ferdous Jui, father-in-law Julfikar Haider, and mother-in-law Mahafuza Akhter – were released at 8:45pm, after six-and half hours of marathon questioning at the CTTC unit on Minto Road, confirms the unit's Additional Deputy Commissioner Mohammad Saiful Islam.
"We have not been detained but only being questioned about Akayed," maternal uncle Abdul Ahad said.
Meanwhile, Akayed's cousin Jahed told the Dhaka Tribune that Akayed used to stay with his in-laws at Tannery Mor in Hazaribagh whenever he came to Bangladesh.
"Akayed was married to Jui around one-and-a-half years ago and the couple have a seven-month old child," Jahed said.
Also Read- Akayed Ullah charged with three counts of terrorism offences
Chittagong Superintendent of Police Nur-E-Alam Mina informed the Dhaka Tribune that Akayed's family were originally from Sandwip but left soon after the 1971 Liberation War to live at Hazaribagh in the capital city.
SP Mina said he had received reports that Akayed visited his grandmother in Sandwip's Gasua area as recently as a few months ago.
"We have come to know that the suspect lived in Dhaka before migrating to the US and had visited his ancestral home a few months ago," the SP said.
"The local police station is collecting information about Akayed and his family. We have contacted his uncle Tuchan Company and cousin Sohrab."
Abu Taher, a member of Muchapur Union Parishad in Sandwip upazila, said Akayed Ullah had last visited the area on September 8 this year.
Also Read- Manhattan attack spreads panic and shame among Bangladeshi expats
Postmaster Kamal Uddin, a neighbour in Akayed's ancestral home in Musapur Union, said that Akayed's father, Sanaullah Mia, was a freedom fighter.
Other villagers confirmed that Akayed Ullah was born and raised in Dhaka but went to the US in 2011 on a visa available to certain relatives of US citizens.
"His father Sanaullah left Sandwip at the age of 22 and went to Dhaka. He got married here and his son Akayed Ullah was born in Dhaka," a villager who wished to remain unnamed told UNB.
"Sanaullah passed away two years back in New York. He was buried there."
Dhaka Tribune visited the neighbourhood in Dhaka's Hazaribagh area where Akayed's family lived before going to the US.
Bablu, the owner of a house once rented by Akayed's family, told the Dhaka Tribune that the family members were "decent".
"There was nothing unusual in their behaviour," he said.
Full report at:
http://www.dhakatribune.com/bangladesh/2017/12/12/police-interrogate-relatives-new-york-blast-suspect/
--------
PM: Rohingya influx causes severe effect on Bangladesh's environment
December 13, 2017
Sheikh Hasina reiterated her call to the developed countries to fulfil their commitments in bringing climate justice and meeting historical responsibility
Prime Minister Sheikh Hasina has said influx of a huge number of Rohingyas from neighbouring Myanmar has caused severe effect on Bangladesh's forest and environment, creating a major challenge to climate adaptation.
"Bangladesh has been facing a huge challenge owing to the influx of over one million forcibly displaced Rohingyas from Myanmar. On humanitarian grounds, we have given them shelter on 1,783 hectares of our forest land in Cox's Bazar," she said, adding the Rohingya crisis has severely affected forest and environment in that area.
The prime minister said this while delivering a statement at the High-Level Segment of the "One Planet Summit" in on Tuesday.
The "One Planet Summit" is an alliance of hundreds of global leaders from all sectors for accelerating the collective actions against climate change, particularly to find new means of financing for adaptation and mitigation.
The Bangladesh premier joined the "One Planet Summit" at the invitation of three co-organisers — French President Emmanuel Macron, UN Secretary General Antonio Guterres and World Bank President Jim Yong Kim.
Sheikh Hasina reiterated her call to the developed countries to fulfil their commitments in bringing climate justice and meeting historical responsibility.
"We can secure the world only through shared responsibility … our collective commitments and actions for resilience and adaptation would contribute to peace, stability and prosperity as well as addressing inequalities across societies," she said.
Sheikh Hasina said Bangladesh is one of the most vulnerable countries to the impact of climate change although it's not responsible for this threat. "Yet, with our limited resources, we are addressing the consequences of climate change by mitigation and adaptation," she said.
The premier said climate change issues have been mainstreamed in Bangladesh's sustainable development strategy aimed at becoming a middle-income country by 2021.
"Despite being a developing country, Bangladesh spends over 1% of its GDP in combating climate change," she said.
Reiterating Bangladesh's commitment to prioritizing the water sustainability issues in all of its economic, social and environmental actions, she said as a member of the UN-WB High Level Panel on Water, Bangladesh is firmly committed to addressing the issue.
"We are making our agriculture climate resilient and reducing dependency on ground water for urban water supply," she said.
The summit kicked off at La Seine Musicale, a music and performing arts center, located at Ile Senguin island in the western suburbs of the French capital.
Over 100 world leaders along with 2,000 participants from non-governmental organisations, foundations, public and private sectors are taking part in the summit.
The Bangladesh prime minister renewed her commitment for implementation of the Paris Agreement and praised French President Macron's leadership on climate change issues.
Sheikh Hasina said one of the means to address the challenges of climate change and environmental degradation is afforestation. "So our government has already undertaken massive projects for plantation programmes," she said.
The premier said a flagship project costing USD 50.76 million is underway for conservation of the "Sundarbans" – the largest mangrove forest and a Unesco world heritage site in Bangladesh.
Full report at:
http://www.dhakatribune.com/bangladesh/2017/12/13/bangladesh-pm-rohingya-influx-causes-severe-effect-environment/
--------
France backs Bangladesh for solution to Rohingya crisis
December 12, 2017
The French president gave the assurance to Bangladesh Prime Minister Sheikh Hasina during their bilateral meeting at Elysee Palace in Paris on Tuesday
France will fully support Bangladesh to find a permanent solution to the ongoing Rohingya crisis at the UN and other international forums, French President Emmanuel Macron said on Tuesday.
The French president gave the assurance to Bangladesh Prime Minister Sheikh Hasina during their bilateral meeting at Elysee Palace in Paris, Foreign Affairs Secretary Md Shahidul Haque told reporters during the post-meeting press briefing.
At the meeting, President Macron also enquired about the present status of the refugee crisis, what Bangladesh is doing now and what it expects from France in this connection, Shahidul said.
In reply, Prime Minister Hasina said more than one million forcibly displaced Myanmar Rohingyas were currently living in Bangladesh, which had created a big burden on the country.
The crisis is also hazardous for the local environment, the prime minister noted.
She briefly mentioned the five-point proposal that she had placed at this year's UN General Assembly and said the real solution to this problem is lying in the implementation of those proposals.
Hasina also briefed the French president about the recent bilateral agreement with Myanmar regarding Rohingya repatriation.
Full report at:
http://www.dhakatribune.com/bangladesh/foreign-affairs/2017/12/12/france-backs-bangladesh-rohingya-crisis/
--------
Taliban to face a very long winter, says US General
Dec 13 2017
The U.S. Air Force Brigadier General Lance Bunch has said the Taliban group will face a very logn winter as operations involving air campaign is underway against the group mainly focusing on fincial resouces of the group.
"Since the beginning of this campaign, we have eliminated 25 narcotics processing labs from the Taliban inventory. This equates to almost $80 million of drug money eliminated from the kingpins' pockets, while denying over $16 million of direct revenue to their Taliban partners," he told reporters in Pentagon via teleconference from Kabul.
Gen. Bunch further added that while U.S. air interdiction has been very successful, it's not just the U.S. doing this work, and it's not just airstrikes that are having an impact at cutting off Taliban lifelines so effectively.
"Just last week, we released video footage from Helmand province of our U.S. Marines high-mobility artillery rocket systems that took aim at more Taliban narcotics processing facilities while still enabling the Afghan 215th Corps' continued offensive in Helmand," he said.
According to Gen. Bunch, the Afghan National Interdiction Unit conducted two simultaneous raids of Taliban narcotics bazaars, as part of this integrated campaign. This resulted in over 2,000 kilograms of heroin and 5,000 kilograms of opium getting confiscated.
Full report at:
https://www.khaama.com/taliban-to-face-a-very-long-winter-says-us-general-04038
--------
Explosion in Taliban leader's house leaves 4 dead, wounded in Laghman
Dec 12 2017
An explosion ripped through the residence of a local Taliban leader in eastern Laghman province of Afghanistan leaving at least four people dead or wounded.
The provincial government media office in a statement said the incident took place early on Monday in the Badpakh district.
The statement further added that a number of insurgents were busy preparing Improvised Explosive Devices when the incident took place.
The deputy shadow district chief of the group Abduul Samad was killed along with a IED maker Pacha Khan in the explosion, the provincial government said.
According to the statement, at least two others including the son of Abdul Samad were wounded in the explosion.
The anti-government armed militant groups including the Taliban insurgents have not commented regarding the report so far.
The anti-government armed militant groups frequently use explosives materials for the roadside bombings and car bombings to target the government staff and security personnel.
Full report at:
https://www.khaama.com/explosion-in-taliban-leaders-house-leaves-4-dead-wounded-in-laghman-04037
--------
Southeast Asia
Political Islam, intolerance, and the IS threat in Indonesia
13 December 2017
According to the pollster Alvara, one in five Indonesian students favour the establishment of an Islamic Caliphate; one in three don't approve of non-Muslims leading Muslims. Research undertaken by the Setara Institute indicates that Jakarta is now the least religiously tolerant city in the country.
This intolerance is often attributed to the race-baiting and religious tension that characterised the election for governor in Jakarta in April, which saw the Chinese Christian incumbent Ahok lose to Anies Baswedan. Baswedan's supporters targeted Ahok's Christianity, asserting that the Koran forbids Muslims from being ruled by non-Muslims. A blasphemy charge was fabricated against Ahok, which later lead to his jailing. Baswedan, who offered little policy pronouncements of note other than that he was a Sunni Muslim, won over 60% of the vote. The election was closely followed by Islamic State-inspired suicide bombings on 25 May that killed three police officers.
Many observers of Indonesian affairs see these events as linked. The increasing persecution of minorities and rise in terrorist attacks is characterised as reflective of an increasing radicalism; Indonesia, once lauded as a beacon of 'tolerant' Islam, may go the way of the caliphate. The Islamic State uprising in Marawi is seen as a portent of things to come in Indonesia.
The reality is more complex. In a trend that began under then-president Susilo Bambang Yudhoyono's first term, intolerant strains of Sunni Islam have increasingly been used as electoral tools. Politicians across the Sunni Muslim-majority areas of the archipelago have campaign on Islamic piety, and numerous sharia-inspired local regulations and bylaws passed, most of them contradicting Indonesia's constitution and secular identity.
This radicalisation has been accompanied by demands that Indonesia 'return' to the originally proposed 1945 constitution, which would apply Sharia to Muslims. Through Yudhoyono's second term, churches in Muslim areas of Jakarta were shuttered, and in the national curriculum, science ceded ground to religion. The Islamic Defenders Front, a gang of extortionists with an Islamic flavour, increased raids on food-sellers during Ramadan and closed bars (but not the bars that 'donated' to them). Shia Muslims and Ahmadiyah were persecuted and driven from their homes.
These local trends deepened alongside even more worrying ones: twin bombings in Jakarta hotels in 2009 killed nine and injured 50. An al-Qaeda inspired camp was uncovered in Aceh in 2010 after several failed attacks on foreigners. Bombing plots were uncovered in Sumbawa; an Islamist insurgency simmered in central Sulawesi, and across Java, cells of young radicals targeted police in actions more akin to gang skirmishes than jihad. Indonesians joined Islamic State in Syria, with some returning to carry out attacks in Jakarta in January 2016, killing two civilians.
But while aspects of Sunni Islam are increasingly persecutorial in Indonesia, the link between this intolerance and the Islamic State's brutal millenarian nihilism is, for now, tenuous. While many young radicals who began persecuting Ahmadiyah have gone on to kill police or travel to Syria, nearly all do not.
This intolerance decoupled from millenarianism is reflective of how Islam is used in Indonesian politics; the Yaumul Qiyamah, or end of days, is not discussed by politicians or their imam allies. They denounce rival politicians, steer votes, and ensure the obedience of local communities by preaching vigilance against immorality and the fictitious encroachment of other religions. Such an approach is geared toward electing politicians based on their ability to recite Koranic passages rather than their non-religious policy platforms. Islam is the answer to everything, especially if one has no other answer. Threats to business and investment are predatory, not extremist – and a recent constitutional court ruling that the Ministry of Home Affairs does not have the right to rescind new local regulations unilaterally will surely increase rent-seeking by local politicians. This will increase instability far more than recent attacks.
The future of Islam in Sunni-majority areas of Indonesia is not Islamic State. Aceh, on the northern tip of Sumatra, is a more likely scenario. It is the only province where many (but not all) aspects of Sharia are law, and are applied to both Muslims and non-Muslims. The Sharia enforcement agency, the Wilayatul Hizbah, raids homes and restaurants, searching for alcohol, unmarried men and women in suspicious proximity to each other, and so on. That force generally specialises in the harassment of women and the poor, and its members have committed multiple rapes. The stifling atmosphere of prescribed piety in Aceh encourages vigilantism; mobs police their own neighbourhoods, beating offenders and handing them over to religious courts for caning as local newspapers glorify the entire process.
All this serves to integrate ordinary citizens into what are essentially religious surveillance networks. It is this atmosphere that many local politicians outside of Aceh seek to emulate. As this oppression is labelled Islamic, many a Sunni Muslim is afraid to vote otherwise.
While Aceh is more likely a future than Raqqa, the latter is a possibility that should not be discounted in some parts of the archipelago. The political weaponisation of Sunni Islam leads to an ecclesiastical arms race amongst adversaries, opening the door wider to conspiracy, persecution and the millenarian path toward paradise. In the medium term, religious minorities and secularists may suffer, as could a wider Sunni electorate that feels compelled to vote for Islamic piety and an opaque culture of corruption over good governance.
Radicals will continue their bizarre 'gang war' against the police; attacks, especially suicide bombings, will likely increase. A few jihadis will survive the Islamic State collapse and return home with the experience and ability to execute complex, large-scale attacks. The anti-terrorist police unit Densus 88 will likely kill most sooner or later, just as they did to Noordin Top and the previous Jemaah Islamiyah generation that committed the 2002 and 2005 Bali bombings.
But these terrorists are generally separate from a prevailing fundamentalism, whose practitioners draw a line between themselves and suicide bombings. The Indonesian purveyors of this contradiction inherited it from Wahhabi Islam, which was proclaimed across the Sunni Indonesian political spectrum as a model of 'tolerance' during Saudi Arabia's King Salman's visit to the country in May this year. The 20% of students who support a caliphate is a concern, especially those who support jihad to achieve it. Those surveys were conducted in elite schools; one can't help but compare these attitudes to the beliefs that drove elite young men from rich families in Bangladesh to carry out the July 2016 attack on a restaurant in Dhaka, killing 22 hostages and two police.
Meanwhile, in Indonesia's Christian east, Christians wonder what place they have in a country that looks increasingly 'Islamic'. The turn against secularism in the nation's west may serve to strengthen weak separatist movements in the east, and may lead to more violent sectarian conflicts along the Muslim-Christian fault lines in Central Sulawesi, Maluku and Maluku Utara, where communal violence flourished for years after the fall of the Suharto dictatorship. Papua is prone to such conflict as well; the 2015 burning of a mosque in Tolikara led to calls in Jakarta for Muslims to travel to the area to 'defend' their co-religionists there. In these places, extremist militias, both Muslim and Christian, can grow quickly in soil fertilised first by rhetoric, and later with blood.
https://www.lowyinstitute.org/the-interpreter/political-islam-intolerance-and-threat-indonesia
--------
Use of 'halal' logo in restaurants restricted in China's Xinjiang
Dec 12, 2017
Chinese authorities have banned the use of "unauthorised" halal logos in restaurants in Urumqi, the capital of the restive Xinjiang region in the country's far west, a move that experts say is aimed at reducing religious symbolism in everyday life.
The halal sign can only be used in restaurants that meet standards set by the China Islamic Association (CIA) for Islamic cuisine, state media reported on Tuesday.
The association is the Communist Party-approved national organisation for Muslims in China. Halal food must be genuine and meet standards required by the Quran and Islamic law, the association had earlier said.
"To make sure the halal food is genuine is to protect Muslim consumers from spiritual harm. Fake halal food might not hurt their lives but will make them suffer mental trauma," state media quoted the association as saying.
The Xinjiang Uyghur Autonomous Region, home to millions of Muslim Uyghurs, has witnessed unrest blamed by Beijing on radical extremists. Rights groups, however, say the violence is triggered by the Chinese government's repressive policies.
Some of these policies include restrictions on wearing veils, sporting long beards and fasting during the holy month of Ramzan.
The latest move to weed out unauthorised halal logos is directed at preventing the proliferation of fake Islamic cuisine.
"Only restaurants with a proper halal certificate that complies with the halal standards of the association are allowed to hang signs with halal," an Urumqi-based official told the Global Times tabloid.
Those who do not remove the logos have been asked to cover them up, officials said.
"The order can be interpreted as a bid to downplay the religious effect in people's daily life," Xi Wuyi, an expert on Marxism at the Chinese Academy of Social Sciences, said in a comment on Chinese social media.
"Respecting dining habits of ethnic minority groups does not mean promoting the related religious factors in social life," Xi was quoted by a newspaper as having written on social media.
Earlier this year, the Xinjiang government passed a law banning veils and "abnormal" beards in what was officially said to be an effort to curb displays of ­extremism.
Full report at:
http://www.hindustantimes.com/world-news/use-of-halal-logo-in-restaurants-restricted-in-china-s-xinjiang/story-bbTsSmLLHVn51p0aZI0vnM.html
--------
Zakir Naik challenges passport revocation in Bombay court
December 13, 2017
KUALA LUMPUR: Fugitive Islamic preacher Zakir Naik has filed a petition in the Bombay High Court challenging the revocation of his passport by India's external affairs ministry.
He claims he has been targeted because he is a Muslim, according to a report in The Hindustan Times (HT).
The passport of Naik, who has Malaysian permanent resident status,was revoked after he repeatedly failed to appear for questioning before India's National Investigation Agency (NIA) and the Enforcement Directorate in connection with alleged terror-funding cases.
The controversial Islamic preacher also wants the court to direct the investigating agencies to submit reports, along with evidence, to the court on the charges levelled against him.
In his petition, filed by his lawyer, Naik claims he has never incited communal disharmony or any illegal activity against any specific religion or community and that he has always condemned those who incite violence and terrorised people.
He claimed the investigating agencies were targeting him only because he was a Muslim and that his lectures had been "distorted and doctored to implicate him in false and frivolous cases," HT reported.
Naik, who was reportedly issued a passport by Saudi Arabia, fled India after he was accused of influencing terrorists involved in a terror strike in Dhaka on July 1, 2016. He has been frequently seen in Malaysia.
In November last year the NIA registered a criminal case against him, and India banned his Islamic Research Foundation (IRF).
Full report at:
http://www.freemalaysiatoday.com/category/nation/2017/12/13/zakir-naik-challenges-passport-revocation-in-bombay-court/
--------
Moderate Muslims should sue Jakim for defamation, says G25
12 Dec 2017
RISING intolerance and extremism in Malaysia's Islamic bureaucracy are threatening the peace and harmony of the country, said G25's Noor Farida Mohd Ariffin.
Citing the Department of Islamic Development Malaysia (Jakim) as an example, Noor Farida said the religious department has shown intolerance of moderate Islamic NGOs such as G25, the Islamic Renaissance Front (IRF), Ikram, and Sisters in Islam, while political party Amanah has been accused of being "liberal" and a "threat" to Islam and the country's sovereignty in a booklet produced by Jakim's research arm.
She said the booklet titled "Martabatkan Islam di Malaysia", published by the Malaysia Islamic Strategic Research Institute (Iksim), also accused DAP leader Hannah Yeoh of being an evangelist out to make Malaysia a Christian state.
"According to them, we are threats to the country, as (are) liberalism, pluralism, and moderation," she said in a keynote speech on Malaysia as a secular state at the Kuala Lumpur and Selangor Chinese Assembly Hall's sixth civil society awards ceremony tonight.
Noor Farida said the NGOs that have been defamed should consider taking legal action against the federal religious authority.
She also took Jakim to task for using public funds to sow discord among Muslims and Malaysians of other faiths.
"These little Napoleons are taking it upon themselves to impose their (narrow) interpretation of Islam (on others)," said the former Malaysian ambassador to Holland.
She also spoke out against the banning of books published by G25, the IRF, and Turkish author Mustafa Akyol.
"There has always been diversity of views within Islam, unfortunately in Malaysia, only those in the bureaucracy are accepted."
Noor Farida's speech received hearty applause and cheers from the multiethnic audience of about 200, who were mainly civil society leaders.
Jaringan Kampung Orang Asli Kelantan, which is fighting to stop unsustainable logging in Kelantan, independent publisher Gerakbudaya founder Chong Ton Sin, and the Delineation Action Research Team each received RM5,000 in recognition of their work.
Incepted in 2008, the biannual Civil Rights Award aims to recognise the contributions of the individual or organisation towards a progressive and democratic Malaysia.
Full report at:
https://www.themalaysianinsight.com/s/27346/
--------
Religious extremism poses threat to ASEAN's growth
December 13, 2017
YANGON/JAKARTA -- With Mt. Agung billowing volcanic ash into the sky above his home in Bali, Khairy Susanto was unsure if he could fly back after joining tens of thousands of fellow Indonesian Islamists at a rally near the presidential palace in Jakarta.
"Inshallah, we can fly, but it doesn't matter, we will be OK," Susanto said. "We are happy to be here today to celebrate our victory."
The Dec. 2 event marked a year since an estimated half-million people clamored in the rain for the arrest of Basuki Tjahaja Purnama, the then-governor of Jakarta. Since then, Purnama, a Protestant of Chinese descent nicknamed Ahok, lost the gubernatorial election and was sentenced to two years in jail on the same blasphemy charges that brought massive crowds onto Jakarta's streets late last year.
The episode raised concerns around the world that Indonesia's relatively tolerant variant of Islam -- and its secular democracy -- was under attack. And it was a startling display of the strength of Islamist groups in Indonesia, home to the world's largest Muslim population. Among the organizers were the Islamic Defenders Front, known as FPI, and the Islamic Ummah Forum.
Those groups do not claim affiliation with the al-Qaida-linked militants who killed 202 people in Bali in 2002, nor the estimated 1,150 Indonesians who traveled to Syria and Iraq to fight for the so-called Islamic State. But the government has been sufficiently alarmed to ban the local wing of Hizbut Tahrir, another Islamist movement involved in the anti-Ahok protests -- and which hopes to establish a caliphate.
Across Asia, the rise of hard-line religious movements is fueling a macho form of nationalism and creating dangerous new faultlines in communities. Beyond Indonesia with its numerous Islamist groups are Myanmar's zealous Buddhist organizations, which have stoked anti-Muslim sentiment to deadly effect. Bangladesh has seen the rise of Islamic fundamentalists including Hefazat-e-Islam, while Sri Lanka has Bodu Bala Sena, a radical Sinhalese Buddhist group.
Such groups number in the dozens across Asia -- fundamentalist Buddhists, Muslims and Hindus who are adding new fuel on what are sometimes ancient ethnic conflicts. Some boast memberships that run into the hundreds of thousands, powered by zealous social media campaigns, community support programs and effective fundraising operations. The donations, often tiny amounts collected from poor followers, become a source of support for hard-line leaders.
Analysts warn that such ethno-religious chauvinism represents the biggest threat to the economic growth the region has enjoyed in recent years -- and to the dream of greater cohesion over trade and economic issues. "Rapid economic growth over the past three decades has raised standards of living across much of Asia, but left marginal areas, like Mindanao in the Philippines and Rakhine State in Myanmar, untouched and therefore comparatively worse off," said Michael Vatikiotis, Asia director of the Centre for Humanitarian Dialogue. "It is perhaps no coincidence that these areas are afflicted by violent conflict."
Vatikiotis warns that rising levels of economic inequality and bitter political divisions could fan a broader conflict in mainstream society. Unlike IS and other jihadist groups, these groups focus more on protests, propaganda and, in extreme cases, physical intimidation. Through networks of community-based leaders, they bring in funding and support from relatively moderate constituencies.
Full report at:
https://asia.nikkei.com/Features/Cover-story/Religious-extremism-poses-threat-to-ASEAN-s-growth
--------
URL: https://www.newageislam.com/islamic-world-news/i-islamic-state-bombing-suspect/d/113556
New Age Islam, Islam Online, Islamic Website, African Muslim News, Arab World News, South Asia News, Indian Muslim News, World Muslim News, Women in Islam, Islamic Feminism, Arab Women, Women In Arab, Islamophobia in America, Muslim Women in West, Islam Women and Feminism