New Age Islam News Bureau
31 Oct 2014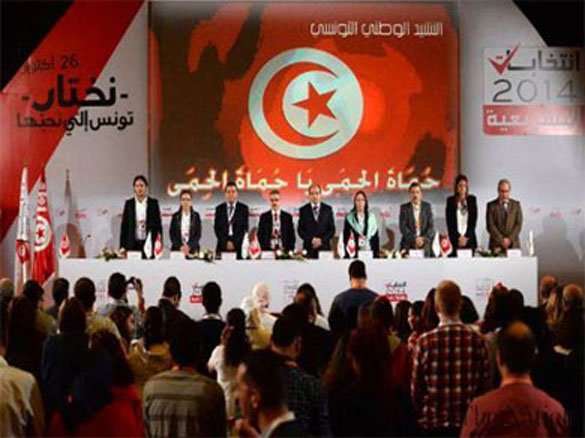 Secular Nidaa Tounes party beats Islamists in Tunisian poll
-----------
Arab World
• Hundreds of Tribesmen Opposed To Islamic State Found In Iraqi Mass Graves
• Saudi Arabia, Turkey Bound by History, Common Values
• 18 Suspected ISIL Militants Indicted In Lebanon
• SA admits sending militants to Kobani through Turkey
• French, Jordanian expatriates celebrate Saudi achievements
• Investigation ordered after Saudi family attacked in UK
• Iraqi refugees forced to live under ISIL
• Syria war fuels sectarian tension in Lebanon
• UN's Syria envoy proposes action plan
-----------
Pakistan
• Security Forces Kill 14 Militants in Khyber Agency
• US Drone Strike Kills Five in S Waziristan
• PTI's Magnetic Pull Keeps 'Rebels' In Check
• Maulana Sami ul-Haq says he supports Taliban morally
• Now, Dr Tahir ul Qadri sees foreign hand in Pakistan crisis
• 'Pakistan following non-interference policy in Afghanistan'
• Turkmenistan asks PIA to clear debts over airspace use
• 'Names of accused in corruption cases cannot be made public'
• Immense potential in Pak-China cooperation: Sartaj
• Khyber Pakhtunkhwa coalition begins to show cracks
• Old-timer sees many a skeleton in Sharifs' cupboard
--------
India
• 'Intelligence Report' On Lok Sabha Member Ajmal's Jihadi 'Links' Rock Assam
• Eyebrows Raised As Shahi Imam Of Jama Masjid, Delhi, Invites Sharif, Snubs Modi
---------
Africa
• Tunisia secularists win landmark vote in Arab Spring birthplace
• Burkina Faso declares state of emergency
• Libyan rebel free to sue UK over 'torture'
• Algeria turns 'deaf ear' to border dispute
• Amnesty: Libya militias committing war crimes
-----------
North America
• Foreign militants joining ISIL on unprecedented level: UN
• Harassing Muslims on rise in Canada: Organization
• US will reveal identity of OBL's killer next month
• Israel's settlement plans cast doubt on peace commitment: UN
-----------
Southeast Asia
• Growing Islamic fundamentalism seen pushing Malays to quit country
• Halloween Becomes a Target amid Debate about Islam's Role in Malaysia
• Ahok gets nod from Muslim leaders
• Indonesian Defence Chief May Smooth Path for Army Novice Jokowi
• Religious Affairs Minister Lukman Holds Faith in Freedom
-----------
Europe
• Europeans Protest Muslim Supremacy
• Iran should be part of solution to crisis in Syria: Russia
----------
South Asia
• Afghan President Ghani invites Taliban to join peace process
• Bangladesh tops list of 32 nations facing extreme risks as a result of climate change
• Ghulam Azam family upset with BNP
-----------
Mideast
• Muslim men over 50 return to Al Aqsa mosque
• Cutting aid to terrorists 1st step to restore peace: Iran official
• Tensions mount in al-Quds over Israeli restrictions
• UN watchdog demands Gaza war probe, slams Israel abuses
• Israel nabs 5 Palestinians in East al-Quds
• Amman accuses Israel of 'state terrorism' in Jerusalem
• Funeral held for Palestinian killed by Israeli forces
Compiled by New Age Islam News Bureau
URL: https://www.newageislam.com/islamic-world-news/new-age-islam-news-bureau/hundreds-of-tribesmen-opposed-to-islamic-state-found-in-iraqi-mass-graves/d/99808
----------
Arab World
Hundreds of Tribesmen Opposed To Islamic State Found In Iraqi Mass Graves
31 October 2014
BAGHDAD: The bodies of 150 members of an Iraqi Sunni tribe which fought Islamic State have been found in a mass grave, security officials said on Thursday.
Islamic State militants took the men from their villages to the city of Ramadi and killed them on Wednesday night and buried them, an official in a police operations centre and another security official told Reuters.
In a separate case, witnesses said they found 70 corpses from the same Albu Nimr tribe near the town of Hit in the Sunni heartland Anbar province. Security officials there were not immediately available for comment.
Most of the victims found near Hit were members of the police or an anti-Islamic State Sunni force called Sahwa (Awakening).
"Early this morning we found those corpses and we have been told by some Islamic State militants that 'those people are from Sahwa, who fought your brothers, the Islamic State, and this is the punishment of anybody fighting Islamic State'," an eyewitness said.
Tribal sheikhs from Albu Nimr say both sets of victims were among more than 300 men aged between 18 and 55 who were seized by Islamic State this week.
Iraq's Shiite-led government wants Sunni tribal leaders to back the armed forces in the war against Islamic State militants who are notorious for beheading or executing anyone opposed to their radical ideology.
http://www.arabnews.com/middle-east/news/652706
----------
Saudi Arabia, Turkey Bound By History, Common Values
31 October 2014
Turkey will mobilize its expertise to promote regional and global peace, said Yunus Demirer, Turkish ambassador to the Kingdom, on Wednesday.
The ambassador was addressing a packed audience at the 91st anniversary celebrations of the foundation of the Republic of Turkey, held at the embassy premises.
Riyadh Gov. Prince Turki bin Abdullah bin Abdul Aziz was the chief guest. Azzam Al-Gain, deputy foreign affairs minister and chief of protocol at the Ministry of Foreign Affairs, was also present at the event.
The ambassador and the governor jointly cut the cake to mark the occasion.
"The Turkish nation celebrates with pride the 91st anniversary of the proclamation of the Republic of Turkey," he said. "We Turks look back with a great sense of satisfaction at the achievements of our republic. The republican era constitutes a relatively short period throughout Turkish history, but its accomplishments under the vision of Mustafa Kemal Atatürk are, nonetheless, impressive."
The ambassador said, however, that the joyous occasion is overshadowed by the mining accident that recently took place in Turkey.
"Our thoughts and prayers are with the 20 miners trapped underground," he said.
"We celebrate not only the Turkish Republic Day but also the special relationship between Turkey and Saudi Arabia and between our two peoples. We are bound together by history, culture and common values and, as such, very much value this relationship."
Quoting Turkish President Recep Tayyip Erdogan, the ambassador said his country has a foreign policy understanding that defends peace, solidarity, justice and prosperity in the world, respects internal affairs and the territorial integrity of each and every country and upholds human rights and freedom above everything else.
"These values, which we have carefully preserved and safeguarded for 91 years, will remain the fundamental principles of Turkish foreign policy in the future, as is the case today. Turkey will never hesitate to support justice, rightness and peace and will continue to courageously defend the rights of the oppressed and victimized in every single issue."
"With its steadily growing economy, its democracy reaching higher standards, its resolute European Union strategy, its membership to the G-20 and its active policies in international platforms, Turkey will never abstain from mobilizing its wide experience for the sake of regional and global peace and the benefit of humanity," he added.
There is genuine opportunity to establish a long-term partnership between Turkish and Saudi business communities, Ambassador Demirer said.
"Saudi visitors also feel at ease in Turkey," he said, pointing out that Turkey is among the world's top 12 producers of building materials such as cement, glass, steel and ceramic tiles. "Turkish-Saudi relations date back centuries. We have a lot in common. We are two brotherly countries bound by strong historical, social and cultural ties. Our relations have developed in many areas and evolved to a strategic level in recent years."
Two-way trade between Turkey and Saudi Arabia had shown a very dynamic trend in the last decade.
The volume of bilateral trade has considerably increased during this period. Both exports and imports have tripled, with trade volume between Turkey and Saudi Arabia reaching $8 billion in 2013.
Turkish imports from Saudi Arabia have been traditionally dominated by minerals fuels. Petrochemical products are the second largest category of Saudi exports to Turkey.
Turkish exports to Saudi Arabia are much more diversified. Steel and iron products tend to dominate Turkish exports, followed by machinery and transport equipment, agricultural and textile products.
"However, I believe that this volume still does not reflect the real potential. There is scope to further boost bilateral commerce," the envoy concluded.
http://www.arabnews.com/saudi-arabia/news/652841
----------
18 suspected ISIL militants indicted in Lebanon
Oct 31, 2014
Lebanon has indicted 18 suspected members of the ISIL Takfiri militant group on charges of planning to set up an emirate in the north of the Arab country.
The suspects, who were not identified and whose nationalities remain unknown, are also accused of attacks on Lebanese army soldiers besides plotting to occupy villages in the northern Dinniyeh region to establish an emirate. The charges are punishable by the death penalty.
Fifteen of the individuals are on the run.
Among the suspects is 46-year-old Ahmad Salim Miqati, who is a high-level operative for the ISIL; he goes by the noms de guerre Abu Bakr and Abu al-Hoda.
He is accused of "taking part in operations against the army, inciting the murder of its troops, stirring sectarian strife and possessing arms and explosives."
Miqati's arrest last week sparked three days of deadly clashes between Lebanese armed forces and gunmen in Lebanon's northern port city of Tripoli, situated 85 kilometers (53 miles) north of the capital Beirut.
On Wednesday, Lebanese security forces exchanged fire with al-Qaeda-linked militants in the Bekaa Valley near the border with Syria. Local sources said the clashes erupted outside the towns of Deir al-Ghazal and Qusaya on Wednesday when al-Nusra Front militants tried to infiltrate into Lebanon from Syria.
Over the past months, Lebanon has been suffering from terrorist attacks by al-Qaeda-affiliated militants as well as random rocket attacks, which are viewed as a spillover of the conflict in Syria.
Syria has been gripped by deadly violence since 2011 with the ISIL Takfiri terrorists currently controlling parts of it mostly in the east and north.
http://www.presstv.ir/detail/2014/10/31/384225/lebanon-indicts-18-suspected-isil-members/
-----------
SA admits sending militants to Kobani through Turkey
Oct 30, 2014
The so-called Free Syrian Army (FSA) admits for the first time that it has sent hundreds of militants to Syria's northern city of Kobani through Turkey, with Damascus condemning Ankara for letting the militants enter Syria.
A Turkish-based FSA commander was quoted by Reuters as saying on Thursday that 400 FSA militants were in Kobani fighting against the ISIL.
Nizaral-Khateeb added that even more reinforcements are poised to enter the flashpoint city at a later time.
He added that a coordinating post has been established to facilitate activities between the group's forces and Iraqi Kurdish Peshmerga fighters.
Earlier in the day, Abdul Jabbar al-Oqaidi, another FSA commander, said that around 200 FSA militants had entered Kobani from Turkey.
The development comes as reports say a first group of around 10 Peshmerga fighters entered Kobani. A hundred and fifty Kurdish fighters are also ready to gradually join their comrades in the city as gunfire and shelling by the ISIL Takfiri militants on the border area appeared to be causing delays.
"ISIL has intensified its attacks on the border gate after the news of the Peshmerga's arrival... and the clashes have been fierce," Idris Nassan, a Kurdish official, said.
Meanwhile, Syria slammed Turkey for allowing the FSA militants to enter Syria, which Damascus said constituted a violation of its sovereignty. The Syrian Foreign Ministry called the move a "disgraceful act."
Kobani and its surroundings have been under attack since mid-September, with the ISIL militants capturing dozens of nearby Kurdish villages.
The ISIL advance in the region has forced tens of thousands of Syrian Kurds to flee into Turkey, which is a stone's throw from Kobani.
Turkey continues to block any delivery of military, medical or humanitarian assistance into Kobani, where the ISIL terrorists are feared to be aiming at massive bloodletting.
Analysts say Ankara, having already won the US green light, plans to let the terrorists seize the Kurdish town of Kobani before sending tanks and troops to fight them in a bid to capture and possibly annex the Syrian territory.
http://www.presstv.ir/detail/2014/10/30/384214/fsa-militants-head-to-kobani-via-turkey/
----------
French, Jordanian expatriates celebrate Saudi achievements
31 October 2014
The French Consulate and the Jordanian Consulate, paid tribute to the excellent relationship between the two countries, as well as their mutual achievements in a belated celebration of the Saudi National Day. This took place as part of Jordanian Enterprises forum program under the patronage of Prince Sattam bin Khaled at the residence of French Consulate General Dr. Louis Blaine on Wednesday.
Dr. Louis Blaine welcomed Prince Sattam and guests, saying that the French Consulate was honored to host the Saudi National Day with the cooperation of Jordanian consulate as part of Jordanian Enterprises forum, though they were late in organizing the event due to the hot weather and Haj season.
He said that France and Jordan are enjoying historical links in trade, cultural exchange and in many other ways, and that he was very happy to have Prince Sattam, as well as Saudi and Jordanian communities present on the occasion.
Full report at:
http://www.arabnews.com/saudi-arabia/news/652791
----------
Investigation ordered after Saudi family attacked in UK
30 October 2014
Prince Mohammed bin Nawaf, Saudi ambassador to the UK, has ordered an investigation into the case of scholarship student Hamad Saleh Al-Yami and his family, after they were attacked by armed men in Birmingham.
Hamad's daughter was injured in the attack.
Al-Yami's wife said her family wants to return back home immediately, claiming earlier that the consulate failed to provide them with the necessary help and support.
Abdullah Asiri, an embassy official, said the embassy is looking into the issue, he said.
Full report at:
http://www.arabnews.com/saudi-arabia/news/652371
----------
Iraqi refugees forced to live under ISIL
30 Oct 2014
Zakho, Iraq - The unfinished brick apartment buildings rise above a muddy square teeming with children and crowded with makeshift stalls selling chocolate bars and second-hand jackets.
Inside, between the concrete pillars, families have strung clothing lines and draped them with sheets to create the illusion of rooms. Each one holds an individual tragedy.
Murad Qassim and his family fled the village of Wardia near Sinjar on August 12 when ISIL surrounded the community. He left behind his father, who was 110.
"I couldn't carry him and I didn't have a car to take him so I had to leave him there," Qassim says. His father was beheaded when ISIL arrived, villagers told him.
Almost three months after ISIL took over large areas of the north of Iraq, tens of thousands of displaced, traumatised Iraqis like Qassim who fled to the Kurdish region of northern Iraq, are still living in construction sites.
Underfunded UN and aid agencies, along with a region and country grappling with a financial as well as security crisis, say they are struggling to keep people from freezing and going hungry as winter approaches.
"The expectation is that the international community can cover this to the full extent," says Barbara Manzi, head of the United Nation's humanitarian affairs office in Iraq. "We don't have the capacity. This is big. This is big for all of us."
Across Iraq, fighting has forced almost two million Iraqis to flee since the beginning of the year. Combined with more than a million displaced by the civil war, the country now has one of the largest populations of displaced citizens in the world.
With winter temperatures dipping below zero, the UN says at least 325,000 people are living without proper shelter.
Full report at:
http://www.aljazeera.com/news/middleeast/2014/10/iraqi-refugees-forced-live-under-isil-20141030623250351.html
----------
Syria war fuels sectarian tension in Lebanon
0 Oct 2014
Beirut - As Tripoli, Lebanon's second city, picks up the pieces following four consecutive days of clashes between ISIL-linked armed groups and the Lebanese army, experts and local figures question the reasons behind the army's unprecedented use of heavy force this time round.
"The Lebanese army is changing its approach towards armed groups in the north. It is [the army] coming in hot and hard on these groups," said Aram Nerguizian, a senior researcher at the Center for Strategic and International Studies, in Washington DC. "The LAF is no longer willing to absorb punches," Nerguizian told Al Jazeera.
The recent round of fighting marked the worst spillover of Syria's war into the country since the Islamic State of Iraq and the Levant (ISIL) and al-Nusra Front fighters clashed in Arsal, on the Syrian border, in August.
The bout of violence, the deadliest since the outbreak of civil war in Syria in 2011, broke out on October 23, after an army patrol was attacked in the market area. The Lebanese army carried out raids in the city searching homes of individuals with alleged links to ISIL.
According to an army statement, 162 armed suspects had been arrested since clashes broke out on Friday and at least 42 people, including 11 soldiers, were killed in the fighting with some 150 wounded.
RELATED: Talks stalled over kidnapped Lebanese soldiers
Tripoli was calm on Wednesday October 29, as civilians returned to their homes after the army, backed by helicopter gunships, took over the fighters' strongholds including that of Shadi Mawlawi and Osama Mansour. Mawlawi and Mansour are reportedly linked to al-Nusra Front and have been leading the fight against the army.
During the recent battles, the army appeared to have overpowered the ISIL-linked fighters. This, says Nerguizian, was due to having learnt the lessons of the Abra clashes, which took place in June 2013 between the army and supporters of a Salafist sheikh in Saidon, south Lebanon, and in Arsal in August.
Full report at:
http://www.aljazeera.com/news/middleeast/2014/10/syria-war-fuels-sectarian-tension-lebanon-2014102963054535228.html
----------
UN's Syria envoy proposes action plan
Oct 31, 2014
The United Nations special envoy to Syria, Staffan de Mistura, has proposed an action plan for areas where Syrian forces are fighting Takfiri militants.
De Mistura said on Thursday that the proposal includes "freeze zones" in Syria to allow deliveries of humanitarian aid, starting with the country's largest city Aleppo.
"It should be something that freezes the conflict in that area and gives an opportunity for some type of humanitarian improvement and for the people to feel that at least there, there will not be this type of conflict," said De Mistura.
Syrian Ambassador to the UN Bashar Jaffari responded to de Mistura's comments, saying Damascus was ready to give the proposal "due consideration" and that he would receive more details of the plan during a meeting on Friday.
Full report at:
http://www.presstv.ir/detail/2014/10/31/384255/un-syria-envoy-proposes-action-plan/
----------
Pakistan
Security Forces Kill 14 Militants in Khyber Agency
October 31, 2014
KHYBER AGENCY - The security forces claimed to have killed 14 militants in Manday Kas, Speen Kabr and Aka Khel areas of Tehsil Bara, Khyber Agency.
The forces sources Thursday said that infantry soldiers assisted by gunship helicopters inflicted a crushing blow to the militants, targeting their positions in Bara areas.
The militants, belonged to the banned Lashkar-e-Islam and Tehrik-e-Taliban Pakistan, were identified as Khetab Gul, Majidullah, Suleman, Yasir, Wali Mohammad, Shahid, Ajmal, Hamish Gul, Yaqoot, Gul Rehman, Tayyab, Khalid Azam Masoud, Qari Saqib and Jandal Uzbak, the sources said.
http://nation.com.pk/national/31-Oct-2014/forces-kill-14-militants-in-bara
----------
US drone strike kills five in S Waziristan
October 31, 2014
WANA: A suspected US drone strike killed at least five militants in the tribal region bordering Afghanistan on Thursday, with local villagers saying the dead included of a senior Arab commander.
US drone strikes have escalated this month, hitting targets in tribal areas several times a week, but the latest strike comes just days after US and British combat troops in neighbouring Afghanistan officially ended their operations. "The bodies were taken to an unknown location after the attack. We heard from local militants that there was a senior Arab commander but they didn't mention his name," said one villager in South Waziristan. Another villager, who also spoke anonymously, said a number of "foreign guests" were staying in the targeted house after fleeing a major military offensive in the tribal region of North Waziristan.
Drone strikes stopped while the Pakistani government pursued ultimately fruitless peace talks with the Taliban insurgency but resumed four days before the military announced an anti-Taliban offensive in North Waziristan in June. Death tolls from drone strikes are often disputed and North Waziristan, a mountainous region along the Afghan border, is currently off limits to journalists. The Taliban also seal the sites of many strikes. Foreign militants including al Qaeda-linked Arabs and Uzbeks are holed up in the remote mountains on the Afghan border alongside their Pashtun Taliban hosts, planning and staging attacks together. Pakistan strongly condemned the drone attack. FO spokesperson Tasnim Aslam said Pakistan has consistently maintained that these strikes amount to violation of its sovereignty and territorial integrity.
http://www.dailytimes.com.pk/national/31-Oct-2014/us-drone-strike-kills-five-in-s-waziristan
----------
PTI's magnetic pull keeps 'rebels' in check
October 31th, 2014
LAHORE: The Pakistan Tehreek-i-Insaf (PTI) has certainly not achieved the target of exerting enough pressure on Nawaz Sharif to resign as prime minister but the level of support it has attained through public meetings in various Punjab towns has benefited the party in an 'expected' way -- checking rebellion among its lawmakers on the issue of resigning from their assembly seats.
A senior PTI leader admitted while talking to Dawn that the party had been facing resistance, or at least reluctance, of some MPAs on the resignation issue and there was a risk of "change of heart" on the part of some of them during the verification process before the Punjab Assembly speaker.
Know more: Acceptance of PTI resignations may lead to mid-term polls: leaders
"Although the (PTI) Punjab legislators had tendered their written resignations en masse, it is feared that some could have told the (Punjab Assembly) speaker that they acted under coercion so their resignations may not be accepted."
To check the possible 'betrayal' the leadership decided that in no case would any elected member appear before the speaker in his/her individual capacity for the verification process, he added.
Full report at:
http://www.dawn.com/news/1141482/ptis-magnetic-pull-keeps-rebels-in-check
----------
Maulana Sami ul-Haq says he supports Taliban morally
October 31, 2014
PESHAWAR: Chief of Jamiat Ulema-e-Islam-Sami (JUI-S) Maulana Sami ul-Haq on Thursday said his party has always morally supported the Taliban who were fighting against US forces in Afghanistan.
In a news conference at Peshawar Press Club, Haq said Pakistan is currently facing a critical situation, with the army engaged in operations in the tribal areas and some political parties "busy dancing" for a revolution.
He said his party was in favour of a "real revolution" but the ones advocating it at present should clear their concept of one. "No party is sincere. Everyone is fighting for their own interest and want to reach the Parliament."
The Maulana also criticised the Pakistan Tehreek-e-Insaf, adding its chief Imran Khan and Pakistan Awami Tehreek chief Dr Tahirul Qadri should first clear their concept about a revolution.
Full report at:
http://tribune.com.pk/story/783970/armed-opposition-sami-says-he-supports-taliban-morally/
-----------
Now, Dr Tahir ul Qadri sees foreign hand in Pakistan crisis
October 31, 2014
LAHORE - Without naming the foreign powers, PAT chief Dr Tahir ul Qadri has claimed that the involvement of foreign powers in the internal affairs of Pakistan led to the rule of corrupt and incompetent governments.
According to a press statement issued on Thursday, Dr Qadri talking to different delegations which called on him in Canada claimed that increase in prices of gas, oil and electricity was also dictated by foreign powers who had vested interests in Pakistan. Dr Qadri said that the sit-ins had created awareness among the overseas Pakistanis and well as those living in Pakistan. He it was the result of successful PAT Inqilab campaign that the government had come under pressure and was now talking about giving relief to the poor.
Full report at:
http://nation.com.pk/lahore/31-Oct-2014/now-qadri-sees-foreign-hand-in-pakistan-crisis
----------
'Pakistan following non-interference policy in Afghanistan'
By Sardar Sikander Shaheen
October 31, 2014
ISLAMABAD: Pakistan on Thursday said it was following the policy of non-interference into Afghanistan's affairs while urging 'other' countries to follow the course.
It also said to have exchanged its commitment to the Iran Pakistan (IP) Gas Pipeline Project with the neighbouring country recently. Moreover, Islamabad is also "mindful of the developments in Bangladesh," in the context of death sentences and life imprisonment handed to Jamaat-e-Islami (JI) leaders for their support to Pakistan.
"We adhere strictly to the policy of non-interference in Afghanistan's internal matters," Foreign Office Spokesperson Tasnim Aslam told a weekly press briefing.
"Pakistan has reiterated its policy of non-interference and we expect other countries would do the same," she said in an implied yet obvious reference to India's reportedly rising influence in Kabul's domestic affairs.
She said that the Heart of Asia moot in Beijing would provide an opportunity to Afghanistan's "immediate regional countries and the countries which have troops in Afghanistan to develop understanding for stability and peace in Afghanistan."
The conference is being held today (Friday), being participated by the delegates of 14 states. Adviser to Prime Minister on National Security and Foreign Affairs Sartaj Aziz leads the Pakistani delegation that includes Foreign Secretary Aizaz Chaudhry.
According to the FO spokesperson, the verified number of Pakistanis who crossed the international border and went to Afghanistan after the onset of Operation Zarb-e-Azb in North Waziristan Agency (NWA) was 67,120. Of these, more than 38,000 came back within weeks, she added. "The remaining keep moving - because of the easement rights and because they have relatives on the other side. We would be very happy to know that Afghanistan is developing the capacity to look after a large number of people."
Asked to comment on the reports that Pakistan asked Iran to either withdraw the fine on IP Gas Pipeline Project or extend the deadline during Iranian Deputy Foreign Minister Ibrahim Rahimpour's visit here, the spokesperson said there was commitment from both the sides to this project.
Full report at:
http://www.dailytimes.com.pk/national/31-Oct-2014/pakistan-following-non-interference-policy-in-afghanistan
----------
Turkmenistan asks PIA to clear debts over airspace use
By Zeeshan Ahmed
October 31th, 2014
KARACHI: Turkmenistan has given Pakistan International Airline (PIA) a notice to clear all debts for using the country's airspace for international flights by November 3.
Turkmenistan's government has alleged that Pakistan's national carrier has been using its airspace and has not made a payment in this regard for months.
PIA uses Turkmenistan's airspace for flights to Canada and European countries as the route saves both fuel and time.
Also read: Saudi Arabia warns PIA of halting flights over unpaid dues
The national carrier is in a restructuring phase after the government announced in September last year that 26 per cent of its shares would be privatised. Disinvestment of the airline, the government believes, is the only way of saving it from total extinction.
Full report at:
http://www.dawn.com/news/1141566/turkmenistan-asks-pia-to-clear-debts-over-airspace-use
----------
Immense potential in Pak-China cooperation: Sartaj
October 31, 2014
Islamabad- Advisor to the Prime Minister on the National Security and Foreign Affairs, Sartaj Aziz, met the Chinese Foreign Minister Wang Yi in Beijing ahead of the Fourth Ministerial Conference of the Heart of Asia-Istanbul Process, to be hosted by China.
They discussed a wide range of bilateral economic and security issues.
The Adviser said that Pakistan and China bilateral cooperation had deepened over the years and as strategic partners, both countries had a common stake in regional cooperation, peace and stability.
Full report at:
http://nation.com.pk/national/31-Oct-2014/immense-potential-in-pak-china-cooperation-sartaj
----------
Khyber Pakhtunkhwa coalition begins to show cracks
By Khawar Ghumman
October 31th, 2014
ISLAMABAD: Cracks have begun to show in the fragile partnership between the protesting Pakistan Tehreek-i-Insaf (PTI) and the Jamaat-i-Islami, which has been in damage-control mode ever since the PTI launched its anti-government protests in August.
The Jamaat has looked to be weary of its senior coalition partner in Khyber Pakhtunkhwa and their ongoing protests against electoral rigging.
Certain JI leaders have even criticised PTI chief Imran Khan over his calls for the dissolution of the National Assembly.
Know more: PTI no different from PML-N, says Siraj
Finally responding to the provocation on Thursday, the PTI leadership broke its silence and came down hard on Jamaat Emir Siraj ul Haq, who had told a rally in Mansehra on Wednesday that both the PML-N and the PTI were "two sides of the same coin", were not sincere in solving people's problems and only concerned with serving their own political interests.
The Jamaat chief's uncharacteristic candour seems to have stirred up a veritable hornet's nest.
A spokesperson for the party denied the remarks attributed to the Jamaat emir. Shahid Shamsi told Dawn that on the instructions of his party leader, he was issuing a clarification apropos the statement that was attributed to Mr Haq.
And a JI statement issued in Karachi said: "we strongly deny the reports carried by a section of the media quoting JI chief Sirajul Haq that PTI and PML-N are two sides of the same coin."
But this is certainly not the first time a JI leader has spoken out publicly against the PTI and its tactics. On October 9, JI Secretary General Liaquat Baloch criticised the political culture the PTI was promoting in its Islamabad sit-in.
The reported statement sent shockwaves through political circles in KP and evoked a harsh reaction from the PTI leadership. Mr Khan, in a statement, regretted that Sirajul Haq had chosen to club the PTI with the PML-N and PPP, while conveniently overlooking the number of NAB cases against both Nawaz Sharif and Asif Zardari.
Presenting himself as a clean politician, Mr Khan said it was unfair on the part of the JI leader to compare his party with the PPP and PML-N, since they had neither assets nor funds abroad.
Mr Khan said that if Sirajul Haq and JI were really committed to enforcing Islamic law, they needed to stand by the PTI in its struggle for justice against the corrupt and decadent rulers. He demanded that the JI "stop playing on both sides of the wicket" and tell the people of Pakistan where it stood.
Full report at:
http://www.dawn.com/news/1141506/kp-coalition-begins-to-show-cracks
----------
Old-timer sees many a skeleton in Sharifs' cupboard
By Amjad Mahmood
October 31th, 2014
LAHORE: Veteran Muslim Leaguer Sardar Zulfikar Ali Khosa claims a number of PML-N's elected and unelected members unhappy at the leadership's attitude are contacting him but he has no plan to channelise these contacts for forming a forward bloc in the ruling party.
"I haven't approached anybody. However, a number of MPs and unelected leaders annoyed at the treatment meted out to them by the Sharifs did contact me during the last many days," the Khosa chieftain, who was off the political scene since August 2012, told a group of reporters at his residence here on Thursday.
Once the most trusted lieutenant of the Sharifs, he threatened to expose some secrets if he was issued a show-cause notice for speaking against the ruling family.
Denies plan to form forward bloc
"I'll make public a secret letter, which contains a lot (of facts)."
Refusing to accept dynasty politics within the PML-N, he said he did not accept Hamza, the son of Punjab Chief Minister Shahbaz Sharif, as his (Khosa's) leader.
"Their concept of good governance is exposed by the fact that they've imposed their family members on each department of the government."
Asked whether the establishment was behind his sudden awakening from over two-year-long slumber, he said his conscience was not for sale.
"Had I any desire to occupy the party, I would have done that when the Sharifs remained in exile for over eight years."
Referring to the coldness he was facing at the hands of the top leadership, he said: "I requested for a meeting with Nawaz Sharif the day he was taking oath as the third-time prime minister. He asked his secretary to set appointment for me but till today I'm in the waiting list," he said.
Full report at:
http://www.dawn.com/news/1141481/old-timer-sees-many-a-skeleton-in-sharifs-cupboard
----------
'Intelligence report' on Lok Sabha member Ajmal's jihadi 'links' rock Assam
by Samudra Gupta Kashyap
October 30, 2014
An intelligence report supposedly sent to the Centre by a security agency pointing at the alleged role of the All India United Democratic Front (AIUDF) and Jamiat Ulema-e-Hind in recruiting Muslim youths from Assam for jihadi training in Bangladesh has rocked Assam in the past couple of days, with different parties and groups demanding a high-level investigation into the charges.
Groups critical of the AIUDF, whose president and Lok Sabha member Maulana Badruddin Ajmal is also head of the Jamiat Ulema-e-Hind in Assam, have already taken to the streets in protest. Bajrang Dal, a constituent of the sangh parivar meanwhile has called a 12-hour bandh on Friday demanding arrest of Ajmal. The BJP and its other sister groups on the other hand burnt effigies of Ajmal for the second consecutive day on Thursday.
Ajmal meanwhile has denied the allegations and rushed to New Delhi to meet prime minister Narendra Modi and home minister Rajnath Singh and demand a probe on what he described as baseless, unfounded and fabricated allegations that are intended at tarnishing the image of his party as well as himself.
Full report at:
http://indianexpress.com/article/india/india-others/intelligence-report-on-ajmals-jihadi-links-rock-assam/
----
Eyebrows Raised As Shahi Imam Of Jama Masjid, Delhi, Invites Sharif, Snubs Modi
Oct 31, 2014
NEW DELHI: Trust Syed Ahmed Bukhari, Shahi Imam of Jama Masjid, to score a political point where none exists. The anointment ceremony of the naib imam, or the imam's deputy, is a religious function. But Bukhari has used it to create a political controversy by inviting Pakistan PM Nawaz Sharif for the function on November 22 while ignoring Indian PM Narendra Modi.
Bukhari defended his decision by saying that he had the right to choose his guests. "Modi claims to be the prime minister of 125 crore Indians but conveniently and deliberately avoids addressing Muslims. He has shown he doesn't like us. He is the one who has been maintaining distance from the community. So, I too chose to maintain my distance," he said.
However, other Muslim leaders, including All Indian Muslim Personal Law Board member Kamal Farooqi, said such acts gave the entire Muslim community a bad name. They insisted that it was no longer a "personal function" when the Imam signaled that the Pakistan PM was preferable to the Indian PM. They stressed that Bukhari didn't represent Indian Muslims.
On his guest list for the anointment ceremony of Bukhari's 19-years-old son Shaban are Sonia and Rahul Gandhi, Ahmed Patel, Arvind Kejriwal, Akhilesh Yadav, Mulayam Singh Yadav and Mamata Banerjee. He has also invited BJP leaders Rajnath Singh, Harsh Vardhan, former Chandni Chowk MP Vijay Goel and Shahnawaz Hussain. Religious figures from Tunisia, Egypt, Saudi Arabia and Bangladesh and diplomats from various countries are other invitees.
Sources said Rajnath Singh had not received the invitation till Thursday evening and he is likely to be out of Delhi that day.
Full report at:
http://timesofindia.indiatimes.com/india/Eyebrows-raised-as-Bukhari-invites-Sharif-snubs-Modi/articleshow/44988724.cms
------------
Africa
Tunisia secularists win landmark vote in Arab Spring birthplace
October 31, 2014
TUNIS - Tunisia's secular Nidaa Tounes won landmark parliamentary elections, results showed Thursday, beating Islamist rivals in a vote that raised hopes of a peaceful transition in the birthplace of the Arab Spring.
Sunday's election has been hailed as a victory for democracy in the North African nation, which touched off the so-called Arab Spring when protests drove longtime dictator Zine El Abidine Ben Ali from power in 2011.
Tunisians hope the election, and a presidential vote on November 23, will provide much-coveted stability, nearly four years after the revolution.
Nidaa Tounes - an eclectic coalition of left and centre-right politicians, opposition figures and senior people from the ousted Ben Ali regime - won 85 of 217 seats, the ISIE election body told a press conference. The Islamist Ennahda party, which had run Tunisia in coalition with other parties for much of the time since Ben Ali's downfall, took 69 seats.
With an outright majority of 109 seats virtually out of the question once final results are issued, political horse-trading has already begun on forming a coalition.
Under Tunisia's electoral system, a party that gains the largest number of votes but falls short of a majority is given a mandate to form a coalition government.
But there is no natural alliance among the various parties, and press reports have suggested a grand coalition between the two top vote-getters may be possible.
Nidaa Tounes is headed by Beji Caid Essebsi, an 87-year-old veteran of Tunisian politics, who vowed to form a coalition with other parties to take the country forward. Essebsi himself is a candidate for the presidency, and considered a frontrunner. "We took the decision in advance that Nidaa Tounes would not govern alone, even if we won an absolute majority," he told Al-Hiwar Al-Tounsi television.
"We will govern with those closest to us, with the democratic family, so to speak," he said. Mohsen Marzouk, a Nidaa Tounes official, said "the question of (forming a) government will be sorted out after the presidential election," meaning the end of December if a run-off is required.
Full report at:
http://nation.com.pk/international/31-Oct-2014/tunisia-secularists-win-landmark-vote-in-arab-spring-birthplace
----------
Burkina Faso declares state of emergency
30 Oct 2014
Burkina Faso's president has declared a state of emergency, after tens of thousands of people took the streets, setting parliament ablaze in violence that left at least one person dead.
Army General Honore Traore, the joint chief of staff, also said that the government and parliament had been dissolved on Thursday.
Some of the protesters, who are opposed to constitutional amendments that would allow President Blaise Compaore to stay in power for another term, ransacked state television and tried to storm other state buildings.
"A state of emergency is declared across the national territory. The chief of the armed forces is in charge of implementing this decision which enters into effect today," said a statement from the president read by a presenter on Radio Omega FM.
The president also said he would open talks with the opposition.
"I dissolve the government from today so as to create conditions for change," the statement said. "I'm calling on the leaders of the political opposition to put an end to the protests. I'm pledging from today to open talks with all the actors to end the crisis."
It was not immediately clear where the president was.
Traore later announced that a curfew would be in effect from 7pm to 6am.
"The Place de la Nation where the heart of the demonstrations are taking place is full of people so they are not respecting the curfew," Jean-Claude Meba, a journalist in Ouagadougou, told Al Jazeera.
Politicians had been due to vote on Thursday on a government plan to change the constitution to allow Compaore - who took power in a coup in 1987 - to stand for re-election again next year, when he was due to stand down.
Full report at:
http://www.aljazeera.com/news/africa/2014/10/burkina-faso-declares-state-emergency-20141030172358165981.html
----------
Libyan rebel free to sue UK over 'torture'
30 Oct 2014
A former Libyan rebel commander has won the legal right to sue the UK for damages over years of torture he says he endured at the hands of Muammar Gaddafi's henchmen after being illegally handed to Libya by British and US authorities.
The UK's Court of Appeal ruled on Thursday that Abdel Hakim Belhaj, who helped topple Gaddafi in 2011, could sue the government over his claim that Britain conspired with the CIA in his "rendition" to Libya.
The case could pave the way for similar legal action against the British government in similar torture or rendition cases.
"The allegations in this case, although they are only allegations, are of particularly grave violations of human rights," the court ruling said.
"The stark reality is that unless the English courts are able to exercise jurisdiction in this case, these very grave allegations against the executive will never be subjected to judicial investigation."
A spokesman for Britain's Foreign Office declined to comment on the court ruling.
Belhaj, who is now leader of the Libyan al-Watan Party, says he and his pregnant wife were abducted by CIA agents in Thailand in 2004 and then transferred to Tripoli with the help of British security officials.
After the fall of Gaddafi, documents were discovered indicating British officials had been in contact with Libya's former spy chief Moussa Koussa over Belhadj.
Belhadj says he was originally detained in China, before being transferred to Malaysia and then moved to a CIA "black site" in Thailand.
He says he was then flown via the British island of Diego Garcia in the Indian Ocean to Tripoli.
As a long-standing enemy of Gaddafi, he was imprisoned and tortured for six years while his wife was also mistreated during her four-month incarceration.
The files unearthed from Gaddafi's archives after his fall suggest Belhadj was captured due to a British tip-off after he initially made an attempt to seek asylum in the UK.
'Deal in the desert'
Britain and the US had been keen to build relations with Gaddafi at the time, following the Libyan leader's 2003 pledge to give up sponsoring terrorism and to end his country's chemical and nuclear weapons programmes.
Full report at:
http://www.aljazeera.com/news/middleeast/2014/10/libyan-rebel-free-sue-uk-over-torture-20141030183554692339.html
----------
Algeria turns 'deaf ear' to border dispute
31 Oct 2014
Marsa Ben M'hdi, Algeria - The Algeria-Morocco frontier has remained closed for the past 20 years because of political friction, with locals on each side of the border eagerly awaiting a resolution.
To the west lies Saida beach in Morocco; to the east is Marsa Ben M'hdi, also known as "Port-say", a small city on the Mediterranean coast in Algeria. Only a small sandbank separates thousands of Moroccan-Algerian families living in the borderland.
"Every week, I used to visit my aunt and my cousins, who reside in Saida. Since 1994, I have not seen them a single time," Hamouda, a former Algerian policeman who did not provide a last name, told Al Jazeera.
RELATED - Analysis: Hamrouche Algeria's next president?
The border between Morocco and Algeria, which runs for about 1,600km, is one of the longest closed frontiers in the world. Algeria shut its land border with Morocco in 1994 after Rabat imposed visa regulations on Algerian visitors in the wake of a terrorist attack on the Atlas Asni Hotel in Marrakech. At the time, Morocco suspected Algiers was behind the bombing.
"Rabat expected Algiers to slap visa requirements on Moroccans, but the kingdom could not imagine that Algeria would also retaliate by closing the border crossings," Abdelaziz Rahabi, who served as the Algerian ambassador in Spain at the time, told Al Jazeera. "Algeria reacted firmly as the country was going through a rough patch. Actually, 1994 was one of the bloodiest years of the black decade [when a civil war raged between the government and armed groups]."
Since then, checkpoints, on both sides of the border, have been closed and controls tightened. The two countries marked the 20th anniversary of the closure of their common border this year by building a barbed-wire fence, starting from the beach, under the pretext of fighting both terrorism and trafficking. "It is expected to separate the entire frontier," a young guard, posted in Marsa Ben M'hdi beach, told Al Jazeera in an interview last month. So far, the fence stretches about 40km along the border.
Full report at:
http://www.aljazeera.com/news/middleeast/2014/09/algeria-turns-deaf-ear-border-dispute-2014925121752206960.html
-----------
Amnesty: Libya militias committing war crimes
31 October 2014
CAIRO: Amnesty International says rival militias and armed groups in Libya are committing "mounting war crimes" with impunity.
In a new report released Thursday, it accuses fighters of having complete disregard for civilian lives, saying militants have fired GRAD rockets and artillery into civilian neighborhoods. It also says "scores of civilians have been abducted by armed groups."
"In today's Libya the rule of the gun has taken hold. Armed groups and militias are running amok, launching indiscriminate attacks in civilian areas and committing widespread abuses, including war crimes, with complete impunity," Deputy Director for the Middle East and North Africa Hassiba Hadj Sahraoui said in a statement.
Full report at:
http://www.arabnews.com/middle-east/news/652696
----------
North America
Foreign militants joining ISIL on unprecedented level: UN
Oct 31, 2014
The United Nations has warned that unprecedented numbers of foreigners are flocking to Iraq and Syria to join extremist groups such as the ISIL despite US-led strikes on the groups' positions.
According to a report by the UN Security Council, 15,000 people have flocked to Syria and Iraq to fight alongside the ISIL or other such groups.
The report added that the militants hail from more than 80 countries, which had not contributed to international terrorism before.
In addition, more countries than ever before will face a backlash as battle-hardened terrorists start to come back to their home countries from Syria and Iraq.
The UN report also revealed that many of the foreign militants coming to Iraq and Syria are youngsters as the ISIL makes massive use of social media.
Since late September, the US, along with some of its Arab allies, has been conducting airstrikes against the ISIL inside Syria without any authorization from Damascus or a UN mandate. The US had already begun an aerial bombing campaign against the Takfiri terrorists in Iraq in August.
Full report at:
http://www.presstv.ir/detail/2014/10/31/384226/foreigners-joining-isil-on-record-scale/
----------
Harassing Muslims on rise in Canada: Organization
Oct 30, 2014
A Muslim civil liberties and advocacy organization in Canada says reports of anti-Muslim harassment have risen dramatically in the North American country.
The National Council of Canadian Muslims said on Thursday that it has seen a tenfold increase in reports of harassment, including racial slurs on public buses, notes left on car windshields and bullying at schools.
Amy Awad, the group's human rights coordinator, said a normal volume of reports of anti-Muslim incidents across Canada is about five a week.
"That has gone up about tenfold, with a real surge in the past few days," she said.
Adil Charkaoui, the coordinator of the Quebec Collective Against Islamophobia, also said his group has received 30 complaints of harassment since last week.
Imam Syed Soharwardy, the founder of Muslims Against Violence in Calgary, said he has also received a number of complaints recently.
The dramatic increase in anti-Muslim harassment reports in Canada follows attacks last week in which two Canadian soldiers were killed.
Full report at:
http://www.presstv.ir/detail/2014/10/30/384216/harassing-muslims-on-rise-in-canada/
-----------
US will reveal identity of OBL's killer next month
October 31, 2014
WASHINGTON - A new documentary will be aired in the United States next month, revealing the identity of the Navy SEAL who killed former al-Qaeda leader Osama bin Laden in 2011, according to media reports.
Fox News will present the two-part documentary called, "The Man Who Killed Osama Bin Laden," on November 11-12. The feature includes an interview with the soldier who will describe the events that led to the death of bin Laden.
President Barack Obama announced on May 2, 2011 that bin Laden was killed by US forces in his compound in Abbottabad. A number of media reports later said the US government was moving to hide files about the US military's suspected raid on Osama bin Laden.
The US military has not revealed the identity of the Navy SEAL so far. He has retired since the killing. The special forces soldier known as "The Shooter" gave an interview to Esquire magazine last year, without revealing his name. During his February 2013 interview, the shooter said he was so concerned about being identified that he refused to meet families of 9/11 victims to preserve his anonymity.
Full report at:
http://nation.com.pk/international/31-Oct-2014/us-will-reveal-identity-of-obl-s-killer-next-month
----------
Israel's settlement plans cast doubt on peace commitment: UN
October 31, 2014
UNITED NATIONS - Amid rising tensions in the Middle East, a senior United Nations official told the Security Council that Israel's decision to accelerate planning for some 1,000 new Jewish settler homes in occupied East Jerusalem raises serious doubts about the Israeli commitment to peace with the Palestinians.
The Israeli plans, along with Palestinian concerns about Jerusalem's holy sites, prompted the Palestinians to ask Jordan to request an emergency Council meeting in the hope that its 15 members would condemn recent Israeli actions. But will the United States, a veto-wielding power and a close ally of Israel, allow the 15-member body to take any action is the question being asked here. Briefing the Council, Jeffrey Feltman, UN Under-Secretary-General for Political Affairs, acknowledged that recent heightened tensions over unilateral actions, provocations and access restrictions at holy sites in Jerusalem are contributing to a volatile situation, and stressed that further delay in negotiations and the pursuit of peace would only serve to deepen divisions and further exacerbate the conflict. "The status quo is not a viable option," Feltman said. "Ignoring the calls from the international community for such negotiations for whatever excuse will only breed more violence in the region that has already seen too much of it."
Referring to the settlements' building plans, he said, "If pursued, these plans would once again raise grave doubts about Israel's commitment to achieving durable peace with the Palestinians as the new settlements threaten the very viability of the future State of Palestine."
Palestinian observer Riyad Mansour said Israeli settlements were eroding the future Palestinian state, of which East Jerusalem is to be the capital. "Every day the territorial contiguity and integrity of our state is being fragmented and undermined by such illegal actions, seriously diminishing the viability of the two-state solution," he said. He also complained about Israel's approach to Jerusalem, including holy sites like the Temple Mount and al-Aqsa mosque. "Jerusalem is under siege," Mansour said, adding that Israeli provocations at al-Aqsa and Dome of the Rock mosques were "threatening to incite yet another cycle of violence." Israeli Ambassador Ron Prosor dismissed Mansour's criticisms, telling council members that the Palestinians were propagating "half truths, myths and outright lies about Israel." "I'm here to convey one simple truth: The people of Israel are not occupiers and we're not settlers," he said. "Israel is our home and Jerusalem is the eternal capital of our sovereign state."
Full report at:
http://nation.com.pk/international/31-Oct-2014/israel-s-settlement-plans-cast-doubt-on-peace-commitment-un
----------
Southeast Asia
Growing Islamic fundamentalism seen pushing Malays to quit country
BY BOO SU-LYNOCTOBER 30, 2014
KUALA LUMPUR, Oct 30 — Malays could be next in line after the Chinese to leave the country, in a bid to escape the growing religious fundamentalism and authoritarianism that leaves little room for free thought and dissent, according to activists and observers.
While Malaysia bills itself as a moderate Muslim nation, recent developments have demonstrated an increasingly conservative and hard-line approach to Islam here that is intolerant of cultures and practices not sanctioned by religious groups and authorities.
Malaysians for Malaysia convener Azrul Mohd Khalib said the Friday sermons prepared by the religious authorities that paint non-Muslims as enemies of Islam, as well as the use of labels such as liberalism, pluralism and humanism to vilify fellow believers, have dismayed and scared Muslims.
"Thinking Muslims are being marginalised and persecuted," Azrul told Malay Mail Online yesterday.
"It is creating a climate of fear, suspicion and prejudice. Because of that, Muslims who do not prescribe to that belief system do not see themselves as being welcomed or even tolerated in this country," the social activist added.
Azrul said many Muslims have started emigrating in the past 15 years based on anecdotal evidence, noting that Islamic authorities prohibit dissent and discussions of the country's predominant religion.
"You are told 'you cannot use logic and rationale to understand and practise Islam. 'You must only refer to the Quran and hadith and nothing else'," he said.
Hadith are "traditions" from the time of Prophet Muhammad that are not contained in the Quran.
Former de facto law minister Datuk Zaid Ibrahim said on Tuesday that more Malay-Muslims could be expected to leave the country if local religious authorities continue to pursue and prosecute those whose opinions they deem "deviant".
Over the years, Islamic authorities have gradually become more rigid in their interpretation and application of the Shariah code in Islam.
They vilified and attacked a recent dog-petting event in which some Muslims touched dogs, which are considered unclean here in Malaysia. The programme triggered such outrage that its organiser received death threats.
On Tuesday, the National Fatwa Council issued an edict banning Muslims from "celebrating" Halloween, which it categorised as a Christian celebration of the dead.
Kelantan this month began enforcing a by-law that empowers state authorities to fine Muslim men up to RM1,000 or jail them for up to a year, or both, for failing to attend Friday prayers thrice in a row.
An Oktoberfest-themed beer festival in Selangor also drew the ire of Muslim groups earlier this month, despite the promotional event being targeted at and restricted to non-Muslims.
Muslim intellectual Kassim Ahmad is also being prosecuted by Islamic authorities for allegedly suggesting that Muslims need only follow the Quran, and not the accompanying Hadith. The view differs from that which is officially approved.
Full report at:
http://www.themalaymailonline.com/malaysia/article/growing-islamic-fundamentalism-seen-pushing-malays-to-quit-country
----------
Halloween Becomes a Target Amid Debate About Islam's Role in Malaysia
Oct 31, 2014
A fatwa from Malaysia's religious affairs ministry telling Muslims there they cannot celebrate Halloween is not the only troubling development to have hit the Southeast Asian country recently.
As The Wall Street Journal's James Hookway writes, a Muslim religious edict denouncing Halloween parties in Malaysia might not seem like a significant move. Plenty of Christian groups also view the commerce and frivolity that accompany the celebration as vaguely pagan and a little bit off-color.
But the role of Islam in public life is becoming a combustible issue here, driven on in part by the deepening conflict between government supporters and backers of opposition leader Anwar Ibrahim, whose trial on sodomy charges at the country's highest court is gaining momentum.
Full report at:
http://blogs.wsj.com/indonesiarealtime/2014/10/31/halloween-becomes-a-target-amid-debate-about-islams-role-in-malaysia/
----------
Ahok gets nod from Muslim leaders
October 31 2014
A qori (Muslim scholar) recited Koran verses during the commemoration of the Islamic New Year at City Hall on Wednesday, while acting governor Basuki "Ahok" Tjahaja Purnama, a Christian of Chinese descent, listened attentively.
During his speech, Ahok asked more than 100 Muslim clerics from across the capital to encourage youngsters to visit mosques more often.
The former regent of East Belitung, a majority Muslim population, said that mosques were places for the teaching of virtues.
"And mosques should be free of political agendas," he added.
Ahok also encouraged youngsters to not only learn how to read the Koran, but to understand the messages behind them.
"We want children to have read and understood the entirety of the Koran by the time they are 12 years old. This is your task, Muslim leaders," he told the audience.
In a move to prove that he was onboard, Ahok also said the city would be willing to procure land around small mosques to provide adequate space for expansion.
"Bigger spaces can accommodate more people, especially during mass prayers during Islamic holidays," he said.
With bigger spaces, he continued, the city administration would be able provide various amenities, including free Wi-Fi and mobile libraries to encourage youngsters to stick around after prayers.
"I hope this way the youngsters will want to go to the mosque before they hang out at the public park. Don't forget to pray before hanging out," he said.
After former Jakarta governor and current President Joko "Jokowi" Widodo — a Muslim-Javanese whom many deemed well equipped to unite different groups during his time as governor — left City Hall for the Presidential Palace, Ahok had to prove he was up to the task.
During the fasting month of Ramadhan, Ahok regularly visited mosques and joined fast-breaking events in an attempt to shrug off allegations voiced by a number of groups that he neglected the voice of the Muslim community.
Full report at:
http://www.thejakartapost.com/news/2014/10/31/ahok-gets-nod-muslim-leaders.html
----------
Indonesian Defense Chief May Smooth Path for Army Novice Jokowi
Oct 31, 2014
Former Suharto-era general Ryamizard Ryacudu, tapped by Indonesian President Joko Widodo for defense minister, could become a conduit to the powerful armed forces for the country's first leader to rise from outside the aristocracy or the military.
Ryamizard, who spearheaded anti-separatist crackdowns in his time as army chief of staff in the early 2000s, said he's waiting for instructions from Joko for defending an archipelago that would stretch from New York to Alaska.
"Wait, let me learn first," Ryamizard told reporters Oct. 26. "I don't want to speak presumptuously. I'm awaiting the president's roadmap."
Joko, known as Jokowi, is a former furniture dealer who entered politics in 2005 and had little experience in security policy in his time as a mid-city mayor and then governor of Jakarta. His selection of Ryamizard, 64, could smooth ties with the armed forces, though it has raised concerns among rights groups and questions about his capacity to modernize a military that for most of Indonesia's history has been focused on internal threats.
"Ryamizard gives Jokowi a defense minister who is well liked within his own military," said Ken Conboy, country manager at RMA Indonesia, a Jakarta-based risk management firm. "Ryamizard was a soldier's soldier, but never really known as a diplomat. So there is perhaps some risk to Jokowi that Ryamizard will be prone to making politically inappropriate statements."
Full report at:
http://thejakartaglobe.beritasatu.com/news/indonesian-defense-chief-may-smooth-path-army-novice-jokowi/
----------
Religious Affairs Minister Lukman Holds Faith in Freedom
Oct 31, 2014
Jakarta. The lone minister to survive the cut in President Joko Widodo's cabinet from the previous administration has unveiled plans to draft a bill that would afford unprecedented protection to religious minority groups, continuing where he left off in his battle against rising religious intolerance.
"Over the next six months, we will work on this bill to protect all religious groups, including those outside the six main religions of Islam, Catholicism, Protestantism, Hinduism, Buddhism and Confucianism," Lukman Hakim Saifuddin, the minister for religious affairs, said at a press conference in Jakarta on Wednesday.
"The bill will protect everyone's religious rights, especially the rights guaranteed by the Constitution," he said. "First, the right to believe in whatever they choose to put their faith in. There should be a guarantee that everyone is free to choose their own religion or belief. Second, the independence for anyone to practice their belief."
He added he hoped that "the bill can improve the quality of life."
Lukman was inaugurated in June, in the twilight of the Susilo Bambang Yudhoyono administration, following the naming of the previous minister, Suryadharma Ali, as a graft suspect.
He has shown a more conciliatory stance than his predecessors on engaging with minority religious groups, including Shiite and Ahmadi Muslims — with whom he held breaking of the fast during Ramadan.
Suryadharma, by contrast, was known for his hostility toward these groups, including a public call for the Ahmadis to recant their "heretical" beliefs.
Full report at:
http://thejakartaglobe.beritasatu.com/news/religious-affairs-minister-lukman-holds-faith-freedom/
----------
Europe
Europeans Protest Muslim Supremacy
Oct 31, 2014
Europeans have finally had a belly full of Muslim bullying and self-styled supremacy and have taken to the streets in protest.
Perhaps one of these days, Americans will wake up and do the same.
After putting up with the prevalent and arrogant attitude of Muslim Supremacy, Europeans had enough and took to the streets of Cologne, Germany. But it's not just a movement on the streets; it's also hitting social media, with one German woman recently tweeting "We don't want a theocracy," referring to forced harsh Islamic Sharia Law Muslims are trying to foist upon Europe.
And in Great Britain, a popular youth movement protesting against Islam is the EDL, which is calling for a halt of Islamic immigration and the Islamification of cities in the UK.
In Italy, thousands of Italians demonstrated in Milan against Islamic Supremacy.
In contrast with the United States, which has virtually no visible public protesting of Islam, in Europe, they now have an alliance called "Cities against Islamization" in Austria, Denmark, Belgium, Spain, Germany, Italy, France, the UK, and in Holland.
Full report at:
http://www.westernjournalism.com/europeans-protest-muslim-supremacy/
----------
Iran should be part of solution to crisis in Syria: Russia
Oct 31, 2014
Russia has once again stressed that Iran should be part of a solution to the ongoing crisis in Syria.
Russia's Ambassador to the United Nations Vitaly Churkin made the remarks following a Thursday meeting between the members of the UN Security Council and UN's Special Envoy for Syria Staffan de Mistura on the Syrian conflict.
De Mistura plans to set up a "group of friends" in an effort to find political ways to end the war, Churkin said.
Russia noted that Iran and Saudi Arabia as two influential regional players must be included in the group, he added.
The envoy also noted that his country is open to cooperate with the UN in ending the conflict.
"We intend to participate very actively and call for [de Mistura] to continue his work together with us," Churkin said, adding, "Russia is ready to work in other formats."
On October 27, Russia's foreign minister also stressed the role of Iran and Saudi Arabia in efforts to end the Syria crisis, saying it will be a "great mistake" to exclude the two states from any future talks on the issue.
The top Russian diplomat also hailed de Mistura's visit to Iran earlier this month as part of efforts to revive the stalled peace process.
"We consider it to be a great mistake to exclude countries like Iran and Saudi Arabia from the list of negotiators," Lavrov stated, adding, "All Syrian neighbors without exception should be represented at the negotiating table."
Full report at:
http://www.presstv.ir/detail/2014/10/31/384254/iran-must-be-part-of-syria-solution/
----------
South Asia
Afghan President Ghani invites Taliban to join peace process
October 31th, 2014
BEIJING: Afghanistan's new president invited the Taliban to join in a peace process backed by the international community on Friday, an unusual direct reference to the insurgents who have stepped up attacks in an attempt to bring down his month-old government.
Speaking at a conference on Afghan peace and reconstruction in Beijing, Ashraf Ghani Ahmadzai made no specific proposals and indicated government forces wouldn't back away from the fight.
However, his mention of the Taliban by name marked a departure from his usual public references to them as "political opponents".
"Peace is our highest priority. We invite the political opposition, particularly the Taliban, to join and enter Afghan dialogue, and ask all of our international partners to support an Afghan-led and Afghan-owned peace process," Ghani Ahmadzai said.
He added: "We must not and will not permit groups pursuing grand illusions to use our country as the battleground or launching-pad against the international system."
It wasn't immediately clear if there was any particular significance to Ghani Ahmadzai referring to the Taliban by name, beyond the fact that he was speaking to an international audience on his first state visit abroad.
Ghani Ahmadzai's attitude toward the Taliban has been a departure from that of his predecessor, Hamid Karzai, who habitually referred to the insurgents as his "brothers" and castigated the United States for its military presence in Afghanistan.
In response, the Taliban have intensified suicide bombing, roadside bombs and rocket attacks on the Afghan capital to give the impression that Ghani Ahmadzai's government can't protect the capital.
In his address to the gathering, Chinese Premier Li Keqiang said China has faith in Afghanistan's ability to solve its own problems, but that its neighbours should help create a peaceful environment without interfering in its internal affairs.
"The International community should respect Afghanistan's sovereignty, independence and territorial integrity, not interfere with its internal affairs and support Afghanistan's efforts to realize security and stability," Li said.
Full report at:
http://www.dawn.com/news/1141571/afghan-president-ghani-invites-taliban-to-join-peace-process
----------
Bangladesh tops list of 32 nations facing extreme risks as a result of climate change
October 31th, 2014
Bangladesh, Sierra Leone and South Sudan led a ranking of countries facing extreme risks as a result of climate change, exacerbating the chances of civil conflict, according to a study by UK researcher Maplecroft.
A total of 32 countries out of 196 surveyed face that level of threat, the Bath, England-based analyst said on Wednesday in an e-mailed statement. Nigeria, Chad, Haiti, Ethiopia, the Philippines, the Central African Republic and Eritrea rounded out 10 most at risk.
The threatened nations all depend heavily on agriculture, which accounts for 28 percent of their combined economic output relying on farm-related revenue, and 65 percent of the working population employed in the sector, according to Maplecroft. The climate risk combined with food insecurity act as "threat multipliers" escalating the danger of civil conflict, it said.
Full report at:
http://www.thedailystar.net/backpage/bangladesh-tops-list-of-32-nations-48249
----------
Ghulam Azam family upset with BNP
October 31th, 2014
Jamaat high-ups and family members of Ghulam Azam are very disappointed that the BNP gave them the cold shoulder over the Jamaat guru's demise and skipped his namaz-e-janaza, insiders of both parties said.
Abdullahil Amaan Azmi, fourth son of Ghulam Azam, in a facebook post on Wednesday said that the "whole nation" was disappointed with the BNP's silence about his father's death although the entire world was mourning.
"I'm not sure why," he wrote.
Throwing an "open challenge" to the BNP, he wrote that the BNP would do better if they remembered that they could never go to power again without Jamaat's support.
Talking to The Daily Star, Azmi confirmed the authenticity of his facebook account and of the post.
He also wrote: "I have no hesitation in saying that BNP could never form govt without Jamaat's support. Sadly enough, their silence on the death of the founder Ameer of the party, and spiritual Guru till his death, is utterly unexpected and unacceptable! How ungrateful they can be!!!"
A Jamaat central executive working council member said Ghulam Azam was their spiritual leader and the BNP's silence about his demise saddened them deeply.
Convicted war criminal Ghulam Azam died on October 23 and his funeral was held at the Baitul Mukarram complex on October 25 in the presence of a huge number of Jamaat leaders and activists from across the country.
In its verdict, the International Crimes Tribunal-1 said Azam deserved death but it sentenced him to 90 years in jail considering his old age and poor health.
Talking to The Daily Star, a number of the BNP's top and mid-level leaders said the party's high-ups decided against expressing any reaction over the convicted war criminals, the ICT verdicts and related issues following widespread criticism at home and abroad for backing the arrested Jamaat leaders and speaking against the ICT.
"As part of our strategy, we did not even offer our condolences to Ghulam Azam's family and did not take part in his namaz-e-janaza though he was a former chief of Jamaat," a BNP standing committee member said.
Full report at:
http://www.thedailystar.net/backpage/ghulam-azam-family-upset-with-bnp-48251
-----------
Mideast
Muslim men over 50 return to Al Aqsa mosque
October 31th, 2014
JERUSALEM: Muslim worshippers over the age of 50 returned to pray at Al Aqsa mosque in Jerusalem's Old City on Friday, a day after Israeli authorities shut down all access to the sacred compound following violence in East Jerusalem.
The Muslim quarter of the Old City was calm early in the day, the Muslim holy day, and police said pre-dawn prayers had passed off without incident. However, security was tight ahead of midday prayers, when more people were expected to attend.
Israeli border police increased their presence in the cobblestone alleyways of the Old City and around the Muslim access points or gates into the Al Aqsa compound, checking identification papers closely.
Palestinian President Mahmoud Abbas described the closure of Al Aqsa as "tantamount to a declaration of war" by Israel.
His Fatah party and Hamas had called for a "day of rage" in Jerusalem to protest at the closure of the holy site that was partially reopened late on Thursday. Rainfall in Jerusalem, the first in weeks, looked likely to dampen any protests.
Locals said it was the first time Al Aqsa had been closed to all visitors — Muslims, Jews and tourists — since 2000, when the second Intifada or Palestinian uprising began. But Jordanian religious authorities said it was first full closure since 1967.
Israel police frequently limit access to Al Aqsa to women and Muslim men over the age of 40 or 50 when they are concerned about potential clashes at the site. It was not clear when the compound would be reopened to all Muslim worshippers.
"I normally go five times a day to pray, but the police are not letting me today," said Ahmed Abu Zaaror, 21, who runs a fruitstand in the Muslim quarter of the Old City. Asked if he was angry at the situation he said: "What can I say? I have to keep all my anger inside."
Tension High
Tensions have been high on the streets of East Jerusalem and around the Al Aqsa compound for weeks, following the Gaza war and Israel's moves to expand settlement building in eastern areas of the city, which the Palestinians want for a capital of an independent state alongside Gaza and the West Bank.
Al Aqsa, which Jews refer to as Temple Mount, is a particularly sensitive issue. The 38-acre (15 hectares) compound houses the 7th century Dome of the Rock and the Al Aqsa mosque, from where Prophet Mohammad (pbuh) is said to have ascended into heaven. It is the third holiest place in Islam.
Full report at:
http://www.dawn.com/news/1141573/muslim-men-over-50-return-to-al-aqsa-mosque
----------
Cutting aid to terrorists 1st step to restore peace: Iran official
Oct 31, 2014
A senior Iranian official says cutting financial and military support for the ISIL Takfiri militants and other terrorist groups is the first step to restore stability to the Middle East.
The head of Iran's Strategic Council on Foreign Relations, Kamal Kharrazi, made the remarks in a meeting with UN Deputy Secretary General Jan Eliasson in Tehran on Thursday.
"The Islamic Republic of Iran rushed to the aid of the Iraqi people from the onset of the ISIL attacks," the Iranian official said, adding that the Iranian support helped Iraqis curb the militants' advances and achieve major victories.
"The problem started when, instead of seeking a political solution to the problem in this country, some regional and other countries, with an incorrect and over-ambitious strategic calculation, started dispatching weapons to the militants to topple the Syrian government," he added.
"This… has helped the growth of different terrorist groups and caused massive destruction in cities and human casualties," he further said.
"The wrong tactic helped a group like the ISIL form a terrorist army and seize important pieces of land in Iraq and Syria and even threaten other countries," Kharrazi said.
Stopping military and financial support for the ISIL Takfiri group and other terrorist groups is the first step to settle the problems in Syria and to restore security to the region, the senior Iranian official said.
Full report at:
http://www.presstv.ir/detail/2014/10/31/384227/cut-aid-to-terrorists-to-restore-peace/
----------
Tensions mount in al-Quds over Israeli restrictions
Oct 31, 2014
Tensions are mounting in al-Quds (Jerusalem) as the Israeli regime imposes restrictions on Palestinian worshippers attending Friday prayers.
Israeli authorities deployed security forces across al-Quds ahead of Friday prayers.
"Police have added a wide range of units and are continuing to implement security measures in Jerusalem (al-Quds), which will continue for as long as it takes for the situation on the ground to gradually become less tense," Israeli police spokesman Micky Rosenfeld said.
This came a day after Tel Aviv announced the closure of al-Aqsa mosque compound to Palestinian worshippers for the first time since 2000, but later it promised to reopen the holy site to those over 50.
Palestinian President Mahmud Abbas also warned that the Israeli move amounts to a "declaration of war."
"This dangerous Israeli escalation is a declaration of war on the Palestinian people and its sacred places and on the Arab and Islamic nation," Abbas' spokesman Nabil Abu Rudeina quoted him as saying on Thursday.
Tensions flared up in the city after Israeli forces killed a Palestinian man suspected of attempting to kill an extremist Jewish rabbi.
Moataz Hejazi, 32, was seriously injured when Israeli forces stormed his home in the Abu Tor neighborhood and opened fire on him. He succumbed to injuries after being left on the scene for more than half an hour.
Full report at:
http://www.presstv.ir/detail/2014/10/31/384247/tensions-in-alquds-over-israeli-bans/
----------
UN watchdog demands Gaza war probe, slams Israel abuses
31 October 2014
GENEVA: A UN human rights watchdog on Thursday urged Israel to respect the rights of Palestinians, and demanded the country probe violations committed during repeated assaults on Gaza.
With tensions soaring in East Jerusalem, and months of almost daily clashes, the UN Human Rights Committee published conclusions Thursday from its review earlier this month of Israel's human rights record.
The committee lamented continued punitive demolitions of Palestinian homes in the West Bank, excessive force by the Israel Defense Forces and decried reports of the use of torture and ill treatment of Palestinians, including children, in Israeli detention facilities.
It also slammed the "continuing confiscation and expropriation of Palestinian land and restrictions on access of Palestinians in the Occupied Palestinian Territory, including East Jerusalem."
Full report at:
http://www.arabnews.com/middle-east/news/652701
----------
Israel nabs 5 Palestinians in East al-Quds
Oct 30, 2014
Israeli forces have arrested five Palestinian protesters in East al-Quds (Jerusalem), amid tensions over an earlier move by Israel to close the Al-Aqsa Mosque.
The Palestinians were nabbed in the al-Thawri neighborhood on Thursday as clashes broke out in the area.
Similar clashes also erupted between Palestinians and Israeli forces in the al-Mokaber mountain area and at the Qalandiya checkpoint.
Back at the time of the clashes, the protesters were outraged by Israel's closure of the Al-Aqsa Mosque compound. Israel had denied all Palestinians entry into the mosque over the shooting of an Israeli right-wing activist, which was blamed on a Palestinian.
Later in the day, however, Tel Aviv announced that it had decided to reopen the mosque.
"It was decided to restore (the compound) to normal... effective immediately," Israeli police spokeswoman Luba Samri said.
Israel said, however, that entry for men would be restricted to those over 50 because of a fear of unrest at Friday prayers.
Full report at:
http://www.presstv.ir/detail/2014/10/30/384215/5-palestinians-arrested-in-east-alquds/
----------
Amman accuses Israel of 'state terrorism' in Jerusalem
30 October 2014
AMMAN: Jordan on Thursday accused Israel of "state terrorism" after it closed Jerusalem's flashpoint Al-Aqsa mosque compound, the third holiest site in Islam.
Israel said its closure of the shrine, which is also holy to Jews, was temporary and aimed at calming tempers after police shot dead a Palestinian accused of trying to kill a Jewish hard-liner.
Jordan's Islamic affairs minister, Hayel Daoud, denounced the Jewish state for "closing the gates of Al-Aqsa mosque and preventing the faithful from entering," state news agency Petra reported.
He urged the international community to help Jordan put pressure on Israel "to raise the terrorist blockade" imposed on the compound.
"This is a dangerous escalation by the authorities of the occupation and state terrorism that we can neither accept nor keep silent about," Daoud said.
Full report at:
http://www.arabnews.com/featured/news/652451
----------
Funeral held for Palestinian killed by Israeli forces
Oct 31, 2014
Mourners have held a funeral in East Al-Quds (Jerusalem) for a former Palestinians prisoner who was killed by Israeli forces after being suspected of attempted murder, Press TV reports.
The funeral was held for Moataz Hejazi late Thursday after the 32-year-old was shot dead by Israeli troops who had surrounded his house in the Abu Tor neighborhood of East al-Quds (Jerusalem) earlier in the day.
Israeli officials claim he was responsible for the attempted killing of Yehuda Glick, a far-right activist.
Glick, an American-born Israeli settler, was shot and wounded by gunmen on a motorcycle as he left a conference at the Menachem Begin Heritage Centre on October 29. Hejazi had served 11 years in prison before being released in 2012.
Full report at:
http://www.presstv.ir/detail/2014/10/31/384245/palestinian-killed-by-israel-laid-to-rest/
----------
URL: https://www.newageislam.com/islamic-world-news/new-age-islam-news-bureau/hundreds-of-tribesmen-opposed-to-islamic-state-found-in-iraqi-mass-graves/d/99808