New Age Islam News Bureau
12 Dec 2019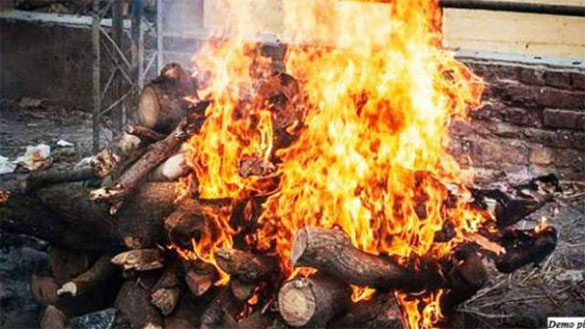 Daulatiya Devi, 70, whose body was found in a dilapidated house was cremated with traditional Hindu rituals
-------
• Humanity over Hate: Muslims Lay to Rest Destitute Hindu Woman, Daulatiya Devi, Not Just According To Hindu Customs and Rituals, but Also Prepared For 'Dashkarma' and 'Brahmbhoj
• JuD Chief Hafiz Saeed, 12 Others Indicted In Terror Financing, Money-Laundering
• The Muslim-Run Charity Feeding Birmingham's Homeless This Christmas
• Muslim Council Of Britain Encourages All Muslims To Go Out And Vote!
• US Welcomes Indictment of Hafiz Saeed
• ISIS Stoned Teacher to Death for 'Refusing To Teach Jihad' To Young Children in Syria
• Tribunal Hands down Death Sentence to Tipu Sultan for War Crimes in Rajshahi during the Liberation War In 1971
• The Chilling Stories from inside China's Muslim Internment Camps
• Egyptian Civilian Triggers Discovery of Ancient Temple
• "Sharia Law Should Be Taught In Nigerian Schools with Arabic Language" ~ CJN
Compiled By New Age Islam News Bureau
URL: https://www.newageislam.com/islamic-world-news/humanity-hate-muslims-lay-rest/d/120507
India
• CAB Attempt to Reduce Muslims into Second Class Citizens in India: US Lawmaker
• As civil disobedience, I will register as Muslim and invite the consequences: Harsh Mander
• Indian Union Muslim League files writ petition in Supreme Court against Citizenship Amendment Bill
• NRC: Mosques urge Muslims to update docs
• CAB set to be law as RS passes it 125-99, indefinite curfew and Army in Guwahati
• Nanavati Panel Gives Modi Clean Chit in Post-Godhra Riots
• Supreme Court to take up review petitions against Ayodhya verdict today
• Divisive law, India excludes Muslims: How foreign media reacted to Citizenship Bill
------
Pakistan
• Lawyers' protest forces Buzdar to end meeting with MNAs
• PM consults PTI leaders on constitutional amendments
• Hundreds attack, ransack PIC: Lawyers lynch law, humanity in Lahore
• Rangers deployed at 10 different places in Lahore
------
Europe
• 20 Seized in Danish Dragnet as Copenhagen Claims to Foil Islamist Terror Plans
• Denmark Arrests 20 over Islamist Attack Plot
• UK Polls: PM Boris Johnson Holds On To Lead but Hung Parliament within Margin
• Hindus expected to largely vote Tory, PIO vote could swing up to 40 seats in UK election
• UN Experts: Libya Is New Focus Of Daesh Extremists
------
North America
• US Ambassador to Australia Accuses China Of Harassing The Uighur Muslim Community With Fake Chinese Police Cars Parked Outside Their Homes
• Niger Military Post Ambushed By Suspected Islamic Militants, At Least 70 Soldiers Killed, Officials Say
• Head of anti-abortion group given millions by Trump administration says Muslims are 'replacing' Christian Europeans
• First Muslim Maj.-Gen. in Israel Police at UN: State offers equality
• Danish police arrest 20 in raids to thwart suspected Islamist attack
• US reprimands Pakistan for misusing F-16 fighter jets
• 6 dead, including shooters, in attack on US Jewish store
• US Detained 10k Indians in 2018 In Bid To Remove Illegal Aliens: Report
• Top DOD Officials: US Presence, Airpower Needed to Prevent Islamic State Resurgence
------
Mideast
• Iraqi Media Official: Baghdad Pressured by US to Sour Ties with Iran
• Senior Lawmaker: US after Empowerment of Puppet Regime in Iraq
• Official: ISIL Occupation of Oil Wells in Diyali Prevented by Hashd Al-Shaabi
• With Netanyahu's fate in question, Israel heads to new election
• Date Palm, Arab Region Symbol of Prosperity, Listed By UNESCO
• Political crisis is costing Lebanon more than $70m a day
• More profitable year forecast for private investing in the Middle East
• Several Ringleaders of Recent Riots Arrested in Tehran
• IRGC Rejects Claims Attributed to Iranian General on Lebanon as Misquote
• Minister: Iran Repels Massive State-Sponsored Cyber Attack against Infrastructures
• White Helmets, Al-Nusra Terrorists Preparing for New False-Flag Chemical Attack in Idlib
• Clashes between Followers of Shia Parties, Police Taking Place in Downtown Beirut
------
South Asia
• Fleeing Rohingya on trial in Myanmar for "illegal travel"
• Landslide in Badakshan goldmine kills 5 and 35 other illegal miners get disappeared
• Taliban attack near Bagram airbase kills 2, injures 73 and wipes off a large clinic
------
Southeast Asia
• PKR infighting spells doom for Malaysia, says Umno number 2
• Najib appears agitated by AG's line of questioning in SRC trial
• Muslim scholars seek to continue Bahtiar Effendy's legacy
• BIMB rises 1.87% on Bank Islam taking over listing status
------
Arab World
• Asians Charged With Offending Islam Land in Court
• SR42m cinema inaugurated in Saudi Arabia's Jazan region
• Diplomatic Quarter: Indian Embassy hosts its annual diplomatic film festival
• Services resume at Saudi airport's Haramain high-speed rail station
• Saudi university launches Kingdom's first self-driving buses
------
Africa
• Islamic education complementary, says Don
------
Australia
• Controversial Australian sheikh known as the Imam of Peace is rushed to hospital with a mystery illness
------
Humanity over Hate: Muslims Lay to Rest Destitute Hindu Woman, Daulatiya Devi, Not Just According To Hindu Customs and Rituals, but Also Prepared For 'Dashkarma' And 'Brahmbhoj
09 Dec 2019
Hope is the antidote to despair it is said. Re-affirming faith in the doctrine, at the time when silent tension is simmering in the Hindu and Muslim communities after the Ayodhya land dispute verdict, an uncle and nephew pair from Maner, Patna have displayed another example of humanity and communal harmony.
Chandu Khan and his nephew Javed Khan, members of the Muslim community, cremated an elderly Hindu woman, Daulatiya Devi, not just according to Hindu customs and rituals, but also prepared for 'Dashkarma' and 'Brahmbhoj'.
Daulatiya Devi, who stayed alone in Meera Chak area after the demise of her husband, did not have any children or relatives to look after her. She used to survive on alms gathered from people in the area, after she could no longer run the small grocery shop due to old age. She passed away last week, and her body was found in a ruined house, orphaned.
The news of her death spread to nearby areas. That is when Chandu Khan from Qazi Mohalla stepped up to the occasion and decided to conduct her last rites. He called his nephew Javed to help with the funeral. Given that she was Hindu, Javed was cautious at first, but got reassured after visiting the Ward Councilor Amol Bajaj with his uncle. They performed the funeral and rituals as per Hindu customs at the Ganga Ghat in Haldi Chhapra. Chandu Khan lit the funeral pyre. This move by was appreciated and supported by everyone from the community.
This humane act by Chandu and Javed has reignited the 'sufiyana tehzeeb' that India is known for.
But this is not the first incident where communities pitted against each other (as per popular narrative) have come to each other's rescue. In Ahmedabad this year, three Muslim brothers in Gujarat laid to rest their father's friend, a Brahmin, as per Hindu rituals.
In Assam's Kamrup district, a group of Muslim villagers performed the last rites of a Hindu man who had stayed at his Muslim friend's residence with his family for the past 25 years.
There is no dearth of incidents in India that portray Hindu-Muslim harmony and communal respect. It is only due to fascist propaganda that the harmony spread at the grassroots does not make its way to us so as to portray the reality that humanity has continued to pervade over hate.
The right wing regime has always demonized the minorities – be it by making them targets of lynch mobs or bringing about amendments to the law to weed them out of the country altogether. Chandu and Javed's act has not only shown their tolerance and benevolence, but has also chipped away a little at the undignified story spun around them by practicing humanity over hate.
https://sabrangindia.in/article/humanity-over-hate-muslims-lay-rest-destitute-hindu-woman
------
JuD Chief Hafiz Saeed, 12 Others Indicted In Terror Financing, Money-Laundering
Numan Wahab
December 12, 2019
LAHORE: An anti-terrorism court Wednesday indicted the chief of the banned Jamaatud Dawa (JuD) Hafiz Saeed, Naib Ameer Abdul Rehman Makki and 11 other JuD leaders, accused of terror financing and money-laundering.
The officials produced Hafiz Saeed with deputy JuD chief Hafiz Abdul Rehman Makki, Hafiz Abdul Salam bin Mohammad, Mohammad Yahya Aziz, Malik Zafar Iqbal and others before the court of ATC Judge Arshad Hussain Bhutta.
As the hearing commenced, ATC Deputy Prosecutor Abdul Rauf Wattoo implored the court to frame charges against the accused. However, Naseeruddin Nayyer counsel of the accused Jud leaders opposed the motion of the state prosecutor. The counsel argued that his clients have been nominated in false case under international pressure. He argued that the counter-terrorism department has nominated his clients without substantive evidence.
The counsel reiterated the claim of banned JuD leaders saying that his clients have been nominated in cases by wrongly attributing them as leaders of the banned Lashkar-e-Taiba (LeT). His clients had already quit the LeT before the organisation was banned in 2002, counsel argued. The counsel further argued that cases against his clients have been made on the basis of a link to defunct Al-Anfaal Trust which was formed to construct mosques in the country.
After the arguments of counsel of the banned JuD leaders, the judge asked JuD leadership whether they accept charges levelled against them in the challan submitted by the CTD against them, the JuD leaders categorically denied all the allegations and pleaded innocent. The court after hearing the accused indicted them in the case and asked the prosecution to produce state witnesses before the court today (Thursday) for regular trial proceedings. The court has also directed the home department to submit some original record of the case on the next hearing.
It is pertinent to mention that trial of terror financing case will take place on daily basis. As per case details, on July 3, the top 13 leaders of the JuD were booked in two dozen cases for terror financing and money-laundering under the Anti-Terrorism Act (ATA), 1997. The counterterrorism department (CTD), which registered the cases in five cities of Punjab, declared that the JuD was financing terrorism from the massive funds collected through non-profit organisations and trusts including Al-Anfaal Trust, Dawatul Irshad Trust, Muaz bin Jabal Trust, etc. Furthermore, the CTD during detailed investigations found that they had links with the JuD and its top leadership, accused of financing terrorism by building huge assets/properties from the collected funds in Pakistan. These non-profit organisations were banned in April.
Later, on July 17, Hafiz Saeed was arrested from Gujranwala on charges of terror financing by the Punjab CTD. He was sent to prison on judicial remand after the CTD presented him before a Gujranwala ATC. Besides the top two JuD leaders, Malik Zafar Iqbal, Ameer Hamza, Mohammad Yahya Aziz, Mohammad Naeem, Mohsin Bilal, Abdul Raqeeb, Dr Ahmad Daud, Dr Muhammad Ayub, Abdullah Ubaid, Mohammad Ali and Abdul Ghaffar were also booked in the cases.
https://www.thenews.com.pk/print/582238-terror-financing-money-laundering-hafiz-saeed-12-others-indicted
------
The Muslim-run charity feeding Birmingham's homeless this Christmas
ByKirsty Card
12 DEC 2019
As temperatures plummet, the homeless of Birmingham are increasingly in need of help from generous strangers.
So with Christmas approaching the Purpose of Life charity organised a festive lunch to feed the city's rough sleepers and those who had fallen on hard times.
Its' founder is Saj Hussain - a Muslim.
And he believes it is his mission in life to take care of the desperate and the needy, no matter who they are or what they believe in.
In fact, he says he wouldn't be a good Muslim if he didn't care for those facing Christmas on the streets.
"I set the charity up years ago to help people," Saj said at Sunday's event.
"Prophet Mohammed said, 'He is not a Muslim who eats his fill when his neighbour is hungry.'
"That doesn't mean my Muslim neighbour, that means anyone. No matter who they are or what they believe in.
"I don't want to be turned away at the gates when my time comes because I only looked after myself.
"It was once said that there are two most important days in our lives: the day we are born and the day we find out why. None of this happened by chance.
"I suggest that everyone should work on their purpose because this is mine. This project is my way of saying thank you to God.
"We had a really successful dinner in August and this was our second one.
"Our goal is to eventually be able to do this every month."
A hundred homeless people received a festive lunch with gifts, games and makeovers at the event.
It was held at Kind Aid International on Camden Street where the homeless were provided with hot food and free hair cuts.
Around 20 volunteers, from the ages of eight to 40, put together the lunch, also offering employability and housing advice.
The project started in Leeds but came to Birmingham for the first time in August. Familiar faces from the first event attended the lunch on December 8.
Martin Bourne, aged 36, said that since the August event his life has started to improve.
He said: "I became homeless in 2013 and when I came to the last event with Purpose of Life, I was staying in accommodation from the Salvation Army.
"I became homeless after I lost my mum, then my nan and my relationship ended after six years. My step-daughter then died when she was only 21 and after that it was just drink, drink drink.
"I've now been able to get help and I'm taking the stepping stones I need to get out of this situation. I live in a shared house now."
Martin helped the volunteers with the clean up at the event saying that he 'likes to give back the effort that's been given to him.'
Members of the community who feel isolation were also welcomed to the event.
An elderly woman from Chelmsley Wood said that she heard about the event on the radio and thought it was 'wonderful what they are doing for the homeless.'
People were able to get free taxis to and from the event that ran from 2pm until 4pm and were invited to take any extra food away with them.
The event featured a variety of activities for people to get involved in including raffles, drawing competitions and a three course lunch.
Guests were also treated to beauty treatments and hair cuts.
Sister Volunteers Ruqaiyah (19) and Sadiyah Khan (22) led the make up station with child volunteers next to them doing Hena Tattoos.
The university students volunteer for Purpose for Life with their family and said it had opened their eyes to the struggle homeless people are facing.
Ruqaiyah said: "We were nervous when we got asked to volunteer with our family because we'd never worked with homeless people before.
"Everyone's perspective on homeless people is different, it's getting so much worse in Birmingham now.
"It's so sad because when someone becomes homeless, people don't see them as human anymore but we are out here with this organisation to change that."
Housing and employability service, PURE also attended the event to give advice and help homeless people aged 29 and over get access to training to get back into work.
A representative of PURE said: "This is the first time that we have been to one of these events but we came to offer out help and support.
"We offer a range of courses and workshops to help improve someone's employability. We also help people who need accommodation and assist people with earning difficulties to get them into work."
*Birmingham Live was asked not to photograph some of those attending the event.
https://www.birminghammail.co.uk/news/midlands-news/muslim-run-charity-feeding-birminghams-17383701
------
MUSLIM COUNCIL OF BRITAIN ENCOURAGES ALL MUSLIMS TO GO OUT AND VOTE!
12 December 2019
2019 General Election and British Muslims: Muslim Council of Britain encourages Muslim voters to participate today, forecasts highest ever Muslim voter turnout
Today the Muslim Council of Britain, the country's leading British Muslim representative body has reiterated that British Muslims have a civic and religious duty to vote in the 2019 UK General Election, and has predicted that British Muslim voters will be more vocal in this election than in any other vote in the country's history.
The MCB has worked with local partners and affiliates across the UK to mobilise the vote of Muslim communities, many of which have a crucial role in the election. The organisation's research has identified 31 marginal constituencies where Muslim votes may have a deciding role.
Although non-partisan, the MCB has been vocal throughout the election campaign in calling for a full inquiry into the Conservative Party's Islamophobia problem, and challenging broadcasters including the BBC to cover it proportionately.
MCB Secretary General, Harun Khan, said:
"We have been one of the leading voices for Muslims' concerns this election. This has ranged from driving the first ever National Muslim Voter Registration Day, to identifying the marginal constituencies where Muslims have the biggest role to play, to challenging both the political and media class on Islamophobia. Muslim concerns are simply too significant to be ignored.
"The result is that this election is predicted to have the highest Muslim turnout in history."
ENDS
https://mcb.org.uk/press-releases/muslim-council-of-britain-encourages-all-muslims-to-go-out-and-vote/
------
US welcomes indictment of Hafiz Saeed
Dec 12, 2019
WASHINGTON: The US has welcomed the indictment of Hafiz Saeed, the Mumbai terror attack mastermind and chief of the banned JuD, and urged Pakistan to ensure a full prosecution and expeditious trial in line with its international obligations.
"We welcome the indictment of Hafiz Saeed and his associates," Alice G Wells, the acting assistant secretary of state for South and Central Asia, said on Wednesday in a tweet.
Wells also said the US calls for a full prosecution and expeditious trial in line with its international obligations.
"We call for Pakistan to ensure a full prosecution and expeditious trial in line with its international obligations to counter terrorist financing and bring the perpetrators of terrorist attacks like 26/11 to justice," she said.
Saeed was indicted on Wednesday by a Pakistani anti-terrorism court along with three of his close aides on terror financing charges.
The anti-terrorism court (ATC) Lahore indicted Saeed, Hafiz Abdul Salam bin Muhammad, Muhammad Ashraf and Zafar Iqbal in the presence of the accused.
ATC Judge Arshad Hussain Bhutta directed the prosecution to produce witnesses and adjourned the hearing till Thursday.
https://timesofindia.indiatimes.com/world/pakistan/us-welcomes-indictment-of-hafiz-saeed/articleshow/72483764.cms
------
ISIS stoned teacher to death for 'refusing to teach jihad' to young children in Syria
By BRIAN MCGLEENON
Dec 11, 2019
Teachers forced to work in ISIS schools were instructed to focus on versus of the Koran that focused on war and murder. One woman, named only as Ayat, said she tried to teach children in her home in eastern Syria after ISIS "closed the schools and turned them into training centres for fighters". But terror chiefs found out about the 27-year-old's scheme after the mother of one pupil "talked too much", Al Jazeera reported.
In the Al Jazeera documentary, 'Women of ISIL' the woman explained: "The news spread from one person to another.
"And ISIL found out a teacher was teaching at home and was not following their instructions.
"They told my husband, 'she'd better get training in ISIL's laws and teach children at the mosque like we want, or else'.
"It was a threat. I had no other choice."
Another woman in ISIS' control had refused to teach children the prescribed curriculum and instead allowed her students to draw and sing children's songs.
The next day, the teacher was arrested at her home.
In the Al Jazeera documentary Ayat said: "She was accused of adultery.
"And for this, the punishment was stoning until death.
"They take the person to a specific place and they implement the punishment.
"And that is exactly what they did with her."
The teacher known as Ayat also recalled an instance in which ISIS began recruiting women her age for the creation of a new brigade. In 2014, the Al-Khansaa Brigade was founded as an all-women police or religious enforcement unit for the extremist group.
"These women used any means possible to convince other women to enlist and take part in the fighting", she said.
"They flattered them by telling them that they would be like men; that they would have authority, power and control - and of course, money."
When Ayat was asked to join the brigade, she told those in charge of recruitment that she had health issues so they "would not suspect me of being against them".
Ayat, whose last name is not known, underwent training in ISIS laws and the "approved" curriculum, during which she said she was constantly reminded that she was "one of them and had to abide by the rules".
In the film, Ayat said she was on her guard "even at home" and would tremble when she saw a vehicle of religious police pass by.
She added that at times, supervisors would make surprise visits to the mosque to check the teachers were "behaving the way they instructed us to".
Recently UK General Sir Nick Carter said that ISIS and extremism had "absolutely not been defeated".
In his annual speech at the Royal United Services Institute, the 60-year-old also said Syria had become a "tinder box" that could very easily ignite.
He warned of conflicts between different armed groups, such as Russian mercenaries in the war zone.
He said: "ISIS and the extremist ideas it represents, has absolutely not been defeated, indeed the threat from terrorism has proliferated, as was sadly demonstrated once again in the attack at London Bridge."
https://www.express.co.uk/news/world/1215963/isis-news-syria-teacher-stoned-to-death-koran-education-terror
------
Tribunal Hands down Death Sentence to Tipu Sultan for War Crimes in Rajshahi during the Liberation War In 1971
11 Dec 2019
A three-member panel of the International Crimes Tribunal led by Justice Shahinur Islam handed down the verdict on Wednesday.
Tipu Sultan from Rajshahi's Boalia had been charged with crimes against humanity, including torture, looting and killings during the Liberation War in 1971.
Prosecutors Md Mokhlesur Rahman Badal and Jahid Imam represented the state while lawyer Gazi MH Tamim appeared for the defendant.
The court, in its 177-page verdict, said the prosecution had proved the allegations brought against Tipu beyond any doubt.
"We are satisfied with the verdict," said Prosecutor Mokhlesur.
On the other hand, the defendant's lawyer Tamim expressed disappointment with the decision.
"I hope he challenges this verdict. I believe that he will be acquitted on appeal."
Under the international crime law, those convicted of war crimes have the opportunity to appeal to the top court within a month of the verdict.
The war crimes tribunal has so far tried 41 cases and convicted 103 people. Of them, 98 people have been convicted while 68 received capital punishment.
Tipu Sultan is known to many as 'Tipu Razakar' or a collaborator for his role during the 1971 war. He is the only one living among the group of local collaborators who assisted the genocide at Rajshahi University by the Pakistani occupation force at the beginning of the Liberation War, according to the prosecution.
He was a local activist of Islami Chhatra Sangha, which later changed its name to Islami Chhatra Shibir, the student wing of Jamaat-e-Islami, after the independence of the country. Tipu was active in Chhatra Shibir too.
There has been no information about Tipu Sultan involved in political activities after 1984 but he is locally known as a Jamaat-e-Islami supporter.
Completing his study from the Islamic History and Culture Department in Rajshahi University, he joined the Gopalpur Degree College as an assistant professor in 1984 and retired in 2011.
Tipu Sultan was arrested on Aug 10, 1974 but was released later. He was again arrested on Jan 1, 2017 by the police in a case under the Explosives Act. Later, he was shown arrested in a war crime case.
https://bdnews24.com/bangladesh/2019/12/11/tribunal-hands-down-death-sentence-to-tipu-sultan-for-war-crimes-in-rajshahi
------
The chilling stories from inside China's Muslim internment camps
Harald Maass
14 December 2019
Vegetable-seller Kairat Samarkhan didn't know why he had been summoned to the police station. 'I had to empty my pockets and hand over my belt and laces. Then they started to ask questions,' he says. After days of interrogation, during which he was hardly allowed to sleep, officers pulled a sack over his head and drove him to a camp near the city of Altai. Samarkhan, a Muslim Kazakh, told me about his experience in the camp: 'Every day, we had to renounce the Muslim faith and confirm that we respect the laws of China. Before every meal, we chorused: "Long live Xi Jinping!" '
In the past two years China has — almost unnoticed by others — built the largest network of internment camps in the world. There are more than 1,000 in the western region of Xinjiang in which roughly a million Muslims have been detained with the official aim of eradicating 'the virus in their thinking'. The Chinese government claims that the camps aren't cruel, simply educational, but Samarkhan was tortured and eventually tried to kill himself. 'I ran against the wall with my head. Again and again. I did not want to live any more.' He was then taken to a hospital and eventually released, whereupon he fled to Kazakhstan.
It's impossible to visit an actual camp unless you're part of a state-sanctioned press visit, but I recently managed to travel undercover to Xinjiang and witnessed — even outside the camps — a police and surveillance state that seems like a hi-tech version of Mao's Cultural Revolution. Every street and alley, even in the smallest villages, is monitored by surveillance cameras, many equipped with facial recognition technology. Department stores, restaurants and most other public buildings are protected by security guards carrying large clubs. There are newly built police stations every few hundred yards. In some cities, armoured military vehicles patrol the streets and the buildings are fortified with barbed wire and tank traps. Nearly all of the mosques that I visited during my journey had been closed and nobody dared to pray any more.
For the Uyghur and Kazakh people, daily life has become a routine of police controls and security checks. Along the highways, at the entrances of cities and everywhere in the streets are checkpoints. Only the Muslims are checked. Many have to install a surveillance app called 'Jingwang' ('clean web') on their phones, which monitors all communication. To fill up at a petrol station people have to register with their ID card and facial recognition. When they do, this data, along with information from surveillance cameras, shopping behaviour and health documents, is collected and processed and any suspicious activity is flagged. Let's say the algorithm found that one family uses more water than their neighbours: this could indicate having unregistered guests at home, so an automatic message is sent to the police. The suspects are often simply sent to a camp.
I interviewed more than a dozen families of detained Muslims as well as former camp inmates who told me chilling details. Since China has prevented uncensored videos and pictures from inside the camps leaking abroad, their testimonies are the strongest proof of what's happening. Many showed me photos of detained loved ones. Others were understandably reluctant to make their names public. I did hear about the case of Dolkun Tursun, a member of the Chinese Communist party and former government employee in the city of Gulja. 'They took him away in the middle of the night,' said his wife Gülnur Beikut. Tursun was held for more than a year in a camp for the crime of having the messaging service WhatsApp on his phone. For months the family had no information about his whereabouts.
The clothing merchant Erbolat Savut spent half a year in a camp accused of 'buying too much petrol'. Even after their release most inmates are kept under a kind of confinement in their home with strict controls, and during our last correspondence a relative said Savut was still under house arrest.
Several people I talked to had been detained after it was found they'd been talking to relatives abroad. One elderly man, a retired imam called Bolat Razdykham, was taken away to a camp directly from hospital, where he was recovering from a cancer operation. When relatives abroad made his case public, authorities in Xinjiang intimidated the local family. They warned them to be silent, said the daughter, Liza Bolat.
Anyone with a relative or friend interned is right to be afraid of what the authorities will do. Kairat Samarkhan said that even the slightest sign of disobedience, or just a sloppily made bed, would lead to punishment. Some inmates had their hands and feet in shackles for many days. Others were forced to stay for hours in painful positions.
'Once, I threw my blanket in anger,' said Samarkhan. Two guards took him away. 'They brought me to a room with iron hinges attached to one wall. After three hours I was in so much pain that I just screamed.' He never dared to disobey again.
Two caches of the Chinese government's internal documents, which leaked last month, confirm the testimony of former inmates like Samarkhan. The papers include a detailed 'telegram' or order given by the government on how the camps had to be built and run, including where to put fences and walls. Round-the-clock video surveillance systems 'with no blind spots' should monitor inmates, the documents demand. Doors must be locked twice to 'prevent escapes' under all circumstances. The documents show that the Chinese government was also concerned about public opinion abroad. The camps are 'highly sensitive', one paper says. 'It is necessary to strengthen the staff's awareness of staying secret, serious political discipline and secrecy discipline.'
China defends its policy in Xinjiang as part of a fight against terrorism. For many years, sporadic riots and attacks have been unsettling the region. In 2009, mass protests and a violent uprising broke out in the regional capital of Urumqi that were brutally crushed by China's military. Nearly 200 people died. In 2013 and 2014 there were violent attacks in Beijing and Kunming (Yunnan province) that China attributed to Uyghur terrorists. According to Beijing, Uyghurs have been trained by terrorist groups and fighting alongside the Islamic State. 'There is no doubt that the current peace and stability in Xinjiang is partly due to the high intensity of regulations,' writes the official newspaper Global Times.
It's not clear though that China's justification makes much sense. Independent experts doubt Beijing's claims about a massive terrorist threat. They see the riots as a result of the growing desperation of Uyghurs and a reaction to China's harsh policies in the region. For decades, China has curtailed the rights of Uyghurs and other minorities, restricting the use of Uyghur language in schools, denying women the right to wear veils and men to have long beards. Parents are even forbidden to give their children traditional Muslim names. 'The aim is to eradicate the culture and traditions of Uyghurs,' says Adrian Zenz from the European School of Culture and Theology in Korntal, Germany, a leading expert on Xinjiang. 'It is a cultural genocide.'
For obvious reasons, China is trying hard to prevent information from flowing out of Xinjiang. The whole region, an area of deserts and mountains more than six times the size of the UK and home to 11 million Uyghurs, 1.6 million ethnic Kazakhs and other ethnic groups, is practically sealed off. All the more reason to keep trying to break that seal. Those leaked documents show that Xi ordered local authorities to use the 'organs of dictatorship' to control the Muslim population. 'We must… show absolutely no mercy,' he said.
This crackdown on a religious minority is unparalleled even in the history of communist China, and it's happening in plain sight.
https://www.spectator.co.uk/2019/12/the-chilling-stories-from-inside-chinas-muslim-internment-camps/
------
Egyptian civilian triggers discovery of ancient temple
MOHAMMED SHAMAA
December 11, 2019
CAIRO: Nobody in the Egyptian Ministry of Culture could believe that an illegal attempt by a civilian to prospect for monuments underneath his own home would lead to a grand discovery.
But that is just what happened when this week the ministry began archaeological excavations in the Mit Rahinah area, neighboring the pyramids of Giza.
The illegal digging by the 60-year-old resident alerted the authorities who arrested him in the first week of this month. The tourism authorities then went in and were surprised by the discovery.
The archaeological mission discovered an entire temple underneath the village of Mit Rahinah.
According to a statement issued by the ministry, 19 chunks of pink granite and limestone bearing inscriptions depicting Ptah, the god of creation and of the ancient city Manf, were also discovered.
Among the finds were also an artifact traceable to the reign of Ramesses II and inscriptions showing the king practicing a religious ritual.
Egyptian researcher Abdel-Magid Abdul Aziz said Ptah was idolized in Manf. In one image, the god is depicted as a human wrapped in a tight-fitting cloth.
The deity was also in charge of memorial holidays and responsible for several inventions, holding the title Master of all Makers.
"There's a statue of the god Ptah in the Egyptian Museum, in its traditional form as a mummy," Abdul Aziz said.
"His hands come out from the folds of his robe ... as depicted in art pieces. Ptah appears as a bearded, buried man," he added.
"Often he wears a hat, with his hands clutching Ankh (the ancient Egyptian hieroglyphic symbol for the key of life)."
Ayman Ashmawy, head of ancient Egyptian artifacts at the Ministry of Antiquities, said: "The artifacts are in the process of being restored, and have been moved to the museum's open garden in Mit Rahinah." He added that work was being done to discover and restore the rest of the temple.
As for the illegal prospecting of the area by its people, Ashmawy said the residents of Mit Rahinah were seeking to exploit the monuments.
He added that the law forbids prospecting for archaeological monuments, and that doing so could lead to a long prison sentence and a major fine, up to hundreds of thousands of Egyptian pounds.
Mit Rahinah contains a large number of monuments, which have been discovered by chance. The area is home to an open museum, 20 km south of Cairo.
"What we see from current discoveries in Mit Rahinah are just snapshots of an ancient city that was once vibrant," Ilham Ahmed, chief inspector of the archaeological mission, told Arab News.
https://www.arabnews.com/node/1597591/middle-east
------
"Sharia law should be taught in Nigerian schools with Arabic language" ~ CJN
by Ikokwu Ikemba
December 12, 2019
The Chief Justice of Nigeria (CJN), Justice Ibrahim Tanko Muhammad, yesterday advocated for the amendment of Nigeria's constitution to accommodate some of the concerns of Muslims and the Shari'a law.
Muhammad made this known while declaring the 20th Annual Judges Conference open at the Ahmadu Bello University (ABU), Zaria Faculty of Law's Moot Court.
Commenting on the theme of the two-day conference, 'Documentation of Contracts in Islamic Law: Procedure, Sample Precedents and Practice', organised by the Centre for Islamic Legal Studies (CILS) of the ABU in collaboration with National Judicial Institute (NJI), Abuja, Justice Muhammad also urged academicians to champion the cause of redesigning the methods of teaching Shari'a law.
Represented by Justice Muhammad Danjuma, Grand Khadi of Niger State, the CJN said the implementation of his suggestions would be more feasible if universities give the Shari'a law its own faculty.
He said: "As we all know, there are sections of the constitution that allow the implementation of Shari'a personal law and apart from that, we cannot do more. However, we have the number to emend the constitution to suit our own position as Muslims."
Muhammad said increase of judges to be learned in Shari'a would allow them to attend to issues that have to do with Islamic law. In the same vein, the CJN said in view of the importance of the Shari'a legal system to the legal profession, Shari'a law ought to be taught in Arabic language in Nigerian universities.
He added: "The Shari'a law should be taught in Arabic not English. There is no university in Nigeria that runs Shari'a in Arabic; they all teach Shari'a in English. So, academicians let's also look into this issue."
The Vice-Chancellor of ABU, Professor Ibrahim Garba, said academic conferences are avenues of creating knowledge for the benefit of humanity, hence the university's decision to support the judges' conference.
https://www.thebreakingtimes.com/sharia-law-should-be-taught-in-nigerian-schools-with-arabic-language-justice-tanko-cjn/
------
India
CAB attempt to reduce Muslims into second class citizens in India: US lawmaker
Thursday, December 12, 2019
Washington, Dec 12: India's Citizenship Amendment Bill is an attempt to reduce minority Muslims into second class citizens, a Muslim-American Congressman has said as the contentious bill got the clearance from both the houses of the Indian parliament.
The contentious Citizenship Amendment Bill (CAB), which seeks to provide Indian citizenship to non-Muslim migrants from Pakistan, Bangladesh and Afghanistan, was passed by Rajya Sabha on Wednesday. Lok Sabha cleared the Bill on Monday.
"This move is yet another attempt to effectively reduce Muslims in India to second-class citizens," said Congressman Andre Carson, who is one of the three Muslim members currently serving in the US Congress. Carson also raised his concern for the removal of the special status of Jammu and Kashmir. "When the Indian Prime Minister Modi announced the unilateral changes to Jammu and Kashmir's status on August 5, I expressed my grave concern about its implications for the future of Kashmir," he said.
Calling it a dangerous move that disregards international norms, Carson said that government has ignored the democratic will of the Kashmiri people, undermined the rich tradition of Indian constitutionalism and raises huge questions about the future of India. India on August 5 abrogated provisions of Article 370 of the Constitution to withdraw Jammu and Kashmir's special status and bifurcated it into two union territories.
Calling it a dangerous move that disregards international norms, Carson said that government has ignored the democratic will of the Kashmiri people, undermined the rich tradition of Indian constitutionalism and raises huge questions about the future of India. India on August 5 abrogated provisions of Article 370 of the Constitution to withdraw Jammu and Kashmir's special status and bifurcated it into two union territories.
Pakistan reacted strongly to India's decision and downgraded bilateral ties and expelled the Indian envoy. India has categorically told the international community that the scrapping of Article 370 was an internal matter. It has also advised Pakistan to accept the reality and stop all anti-India propaganda. "Today, we witness yet another potentially devastating move by the Prime Minister, as lawmakers enacted his draconian CAB," he said.
https://www.oneindia.com/international/cab-attempt-to-reduce-muslims-into-second-class-citizens-in-2995139.html
------
As civil disobedience, I will register as Muslim and invite the consequences: Harsh Mander
ABHIMANYU CHANDRA
12 December 2019
By 11 December, both houses of Parliament had passed the contentious Citizenship (Amendment) Bill of 2019. The CAB excludes members of six communities—Hindu, Sikh, Buddhist, Jain, Parsi and Christian—from Afghanistan, Pakistan or Bangladesh, from being treated as illegal immigrants, if they entered India on or before 31 December 2014. The bill eases the requirements for them to gain Indian citizenship. Notably, illegal Muslim migrants from these countries will not be entitled to the benefits under the bill, and will continue to be considered illegal immigrants.
Observers have commented that the CAB is possibly a precursor to a nationwide implementation of the National Register of Citizens, in order to identify and expel illegal immigrants. Since non-Muslim illegal migrants would be able to avail Indian citizenship through the CAB, it would in effect leave only Muslims vulnerable to expulsion from the country.
On 10 December, after the Lok Sabha passed the bill, the human-rights activist Harsh Mander made an announcement on Twitter. "If CAB is passed, this is my civil disobedience: I will officially register Muslim," he wrote. "I will then refuse to submit any documents to NRC. I will finally demand the same punishment as any undocumented Muslim- detention centre & withdrawn citizenship. Join this civil disobedience."
Later that day, Abhimanyu Chandra, a PhD student at the University of Chicago, met Mander in New Delhi. They discussed Mander's announcement, the possibility of him garnering wider support, and the sexualised nature of the hate messages that he was receiving in response. Mander believed that the CAB was breaking not only "the central values of the freedom struggle or the Constitution," but also the legacy of the Indian civilisation, a "civilisation that was so comfortable with welcoming people of different faiths and identities," he said. "I do hope that that older civilisational legacy will assert itself in this moment of crisis."
Abhimanyu Chandra: On the concept of civil disobedience, how do you see this playing out? Is this a solution to the problem that you are trying to address?
Harsh Mander: I feel that the only thing we can do to resist is to adopt forms of civil disobedience. In my practice of civil disobedience, I have learnt most of all from Mahatma Gandhi. What Mahatma Gandhi taught us was that if there is an unjust law, you should first publicly break it. And then not just accept, but demand the consequences in terms of punishment. So it's not simply enough to say, "I am ready for consequences," you have to tell the state, "Now that I have publicly broken your law, either you do away with that law or you punish me. You can't not punish me and not do away with the law." That is the frame within which this struggle has to happen.
The problem here was that the consequences of boycotting the NRC, which is the central civil disobedience that I hope people will follow, are only going to apply to the Muslim people. There will be a national NRC. Presumably everyone will be required to muster documents. But everybody will be reassured that even if you are not able to produce documents, there will be no adverse consequences on your citizenship, unless you are a Muslim. So, in effect, it's an NRC only for Muslims.
Now within the Muslim community, if people who are well to do are able to muster the documents, and they produce them, in one sense they would almost be throwing their impoverished and poorly educated working-class Muslims, brothers and sisters, under the bus. Because they know that they will not be able to produce these documents. So my appeal to them would be to boycott the NRC.
But for someone like me, who is not a Muslim, how does my boycotting of the NRC amount to civil disobedience? The only way it can amount to civil disobedience is if I am registered as a Muslim.
Now here, how is your religion recorded by the state? It's basically recorded by self-declaration in the census. I have no intention of converting to Islam, far from it. I am born to Sikh parents. I am agnostic, and a humanist. I believe in respecting every faith and in a humanist philosophy. I am not going to abandon that in any way.
https://caravanmagazine.in/politics/harsh-mander-civil-disobedience-register-muslim
------
Indian Union Muslim League files writ petition in Supreme Court against Citizenship Amendment Bill
A day after Citizenship Amendment Bill, 2019 was passed in Rajya Sabha, the Indian Union Muslim League (IUML) have filed a writ petition against the bill in the Supreme Court on Thursday.
Senior Advocate Kapil Sibal will represent Indian Union Muslim League (IUML) in Supreme Court.
In its petition, the Indian Union Muslim League (IUML) has pleaded the SC to declare Citizenship Amendment Bill 2019 as illegal and void.
The Citizenship Amendment Bill, 2019, was passed in the Rajya Sabha on Wednesday with a 125-105 vote share, two days after it was passed in the Lok Sabha following a 12-hour long debate. The bill was tabled in the upper house of the Parliament.
125 votes fell in favour of the Bill, while 105 votes were against it. The controversial Citizenship Amendment Bill was tabled in the Rajya Sabha by Union Home Minister Amit Shah on Wednesday, day after the bill was passed in the Lok Sabha on Monday midnight. The House began its discussions on the bill from 2 PM onwards.
The Bill aims to provide for Indian citizenship to the Hindus, Jains, Christians, Sikhs, Buddhists and Parsis from Bangladesh, Pakistan and Afghanistan after six years of residence in India instead of the current mandatory stay of 11 years even if they do not possess any document.
https://www.dnaindia.com/india/report-indian-union-muslim-league-files-writ-petition-in-supreme-court-against-citizenship-amendment-bill-2805287
------
NRC: Mosques urge Muslims to update docs
Dec 12, 2019
Bengaluru: Apparently in anticipation of nation-wide rollout of NRC (National Register of Citizens), mosques in Karnataka have given a call to Muslims to keep their documents up-to-date.
Imams and Moulvis have been appealing them to set right their documents if there are any anomalies in them. The Jamia Masjid in Bengaluru even opened a 'Citizen Centre' three months ago to assist people to keep their documents ready and help in addressing the anomalies.
"It is essential for every citizen of India to keep their documents up to date. Keeping that in view, an effort has been made through the Jamia Masjid where we are asking Muslims to properly maintain their records," Maqsood Imran, the Imam of Jamia Masjid in Bengaluru, said on Wednesday.
"We have also set up in the Jamia Masjid a 'Citizen Centre' where we are asking people to keep certain documents ready and ensure that they don't bear any mistakes," he said.
The Imam said sometimes there are differences in the names in Aadhaar, PAN Card, Election Photo Identity Card (EPIC) and other documents.
These anomalies should be corrected to avoid any problems in future, he said.
Imran, however, claimed that this drive has nothing to do with NRC because, according to him, infiltration is not an issue in South India and there is no need to be scared or worried about NRC.
"NRC is not an issue. It will not affect us in any manner. Hukoomat ke paas paise zyada hain to kharch kare (If the government has money in excess then let them splurge)," the Imam added.
Mohammed Shahnaz, a resident of Basaveshwaranagar, too confirmed that the mosque in his area has asked the Muslims to keep all the documents ready and rectify any mistakes in them.
These measures come against the backdrop of Centre making it clear that the NRC will be rolled out across India before 2024 polls.
At a public meeting in Jharkhand during an election rally on December 2, Home Minister Amit Shah said he has set a 2024 deadline for implementing the NRC across the country, asserting that "each and every" infiltrator will be identified and expelled before the next general election.
Home Minister of the BJP-ruled Karnataka, Basavaraj Bommai too had expressed his views favouring the NRC in the state. Mr Bommai had said that he would discuss the matter with the Union Home Minister. — PTI
https://www.deccanchronicle.com/nation/current-affairs/121219/nrc-mosques-urge-muslims-to-update-docs.html
------
CAB set to be law as RS passes it 125-99, indefinite curfew and Army in Guwahati
Dec 12, 2019
NEW DELHI: The Citizenship (Amendment) Bill is set to become law with the Rajya Sabha passing the hotly debated and polarising legislation by 125-99 votes on Wednesday after a lengthy discussion over its provisions offering citizenship to Hindus and five other minorities from Pakistan, Afghanistan and Bangladesh.
The numbers did not prove a challenge for the government as it notched a comfortable tally even without the support of three Shiv Sena members who chose to boycott the vote. The move helped the government by bringing down the House's effective strength marginally.
The bill, which will become law after getting the President's assent, opens a path of citizenship for Hindus, Christians, Sikhs, Buddhists, Parsis and Jains fleeing religious persecution.
Graphic (1)
Just like in the Lok Sabha, the debate saw the opposition attacking the government for a new citizenship scheme sculpted after the Hindutva idea of nationhood. The opposition said the bill discriminated against Muslims and was violative of the right to equality enshrined in the Constitution. Jamiat Ulama-i-Hind, an influential body of clerics, announced its decision to challenge the new citizenship regime in court.
Home minister Amit Shah defiantly stood his ground and said a law meant to protect religious minorities from persecution in the three Muslim-majority countries could not have Muslims under its ambit. He also asserted that the legislation would clear judicial scrutiny as the proposed law, under the doctrine of "reasonable classification", did provide for exceptions from equal application of law in certain situations.
Besides the three Shiv Sena MPs who left the chamber, BJP member Anil Baluni, Independents Veerendra Kumar and Amar Singh and NCP's Majeed Memon (all unwell) were absent. NCP's Vandana Chavan took leave for personal reasons. According to political sources, other absentees included MPs from regional parties who were not seen in the House at the time of voting.
The government's cause was powered by the help it received from AIADMK, with 11, and BJD, with seven MPs, voting for the CAB along with YSRCP and TDP. After dilly-dallying, AGP voted for the CAB as did PMK, SDF and BDF along with Independents, including nominated members.
The margin between the government and the opposition was wider in the divisions over five opposition amendments that were negated 124-98. The vote once again underlined that the Modi government has got over its Upper House jinx with significant bills like triple talaq and removal of J&K's special status being passed with relative ease.
Responding to the charge that the bill excluded Muslims, Shah said the opposition was deaf to the distress of people who had to flee their countries and were struggling to build new lives. Shah said the bill did not target one community and efforts to stoke fears among Muslims were wrong as no Indian national would lose citizenship. "Will it be secularism only if Muslims are included? As per your definition, only if Muslims come then it will be secularism," the minister said, adding over 500 Muslims were given Indian citizenship in the past five years.
With protests against CAB breaking out in Assam, Shah assured that the government was committed to preserving the language and culture of the state and a committee under Clause 6 of the Assam Accord was seized of the matter.
Shah, as Prime Minister Narendra Modi did earlier at a BJP meeting, launched a scathing attack on Congress, saying remarks made by its functionaries echoed those emanating from Pakistan. The minister also declared this was a "nagrikta (citizenship) dene ka bill, na ki citizenship lene ka".
He repeated his argument that "religion-based'' Partition — for which he held Congress responsible — was the reason for the Modi government to bring the bill. "Partition on the basis of religion was the biggest mistake. The bill is meant to address the problems created by it. Congress never confronted these issues. Unlike the current Narendra Modi government, they were interested only in running the government," Shah said.
While most clarifications sought veered around the exclusion of Muslims in the bill, Shah said the community had nothing to fear and that every citizen should have faith in the government. "The opposition should not play with fire by creating fear. The citizenship of Muslims will not be affected," he said, in remarks that seemed directed at Congress's P Chidambaram and Kapil Sibal.
The minister emphasised there was no question of creating a Muslim mukt (free) India as an MP had alleged. "The Modi government has always upheld the Constitution which can never allow anything like that," he said.
"Congress leaders have themselves said in the past that it was important to take care of Hindu and Sikh refugees. Even Gandhiji said Hindus and Sikhs in Pakistan can come to India if they face persecution and that it would be the Indian government's responsibility to take care of them by providing them employment,"' he said.
The minister said Congress's comments seemed to match those of Pakistan PM Imran Khan not just on CAB but also on Balakot air strikes, LoC surgical strikes and issues related to Article 370.
https://timesofindia.indiatimes.com/india/cab-set-to-be-law-as-rs-passes-it-125-99-indefinite-curfew-and-army-in-guwahati/articleshow/72481979.cms
------
Nanavati panel gives Modi clean chit in post-Godhra riots
Dec 12, 2019
AHMEDABAD: Five years after it gave a clean chit to the then Gujarat chief minister Narendra Modi in the 2002 post-Godhra riots, the report of the commission headed by Justice (retd) G T Nanavati, which probed the communal violence, was tabled in the state assembly on Wednesday. The report also gives a clean chit to ministers and officials of the then Gujarat government for the riots, which claimed the lives of 1,025 people across the state.
Five years ago, the two-member commission of Justice Nanavati and Justice (retd) Akshay Mehta had submitted the second part of its report, which dealt with the post-Godhra riots. The first part, submitted in 2008, dealt with the Sabarmati Express train carnage in Godhra in which 59 kar sevaks were killed on February 27, 2002. While the first part said the Sabarmati Express train carnage had been orchestrated by a conspiracy, the voluminous second part concluded that the subsequent riots in Gujarat were not a conspiracy but an "aftermath" of the Godhra killings.
While the first and second parts of the report were submitted 11 and five years ago, respectively, they have become public only after being tabled in the assembly on Wednesday.
"It was because of the Godhra incident that large sections of the Hindu community became very angry and ultimately indulged in violent attacks on Muslims and their properties," the report says. "There is no evidence to show that these attacks were either inspired or instigated or abetted by any minister of the state or by any religious or political party or organisation as such."
The report has rubbished the allegations that Modi incited communal violence through various decisions — visiting the charred bogie, having the postmortem examinations of the bodies conducted at the railway yard, and ordering a change in the course of police investigation of the train carnage. "These are incorrect assumptions and made for maligning the chief minister," the commission observed.
It clarified that the bodies of kar sevaks were not paraded on the streets of Ahmedabad, as alleged, to inflame passions. "The commission does not find any substance in the allegation that the CM had arranged the same with an evil intention," it says.
The commission has rejected the accounts of three whistle-blower IPS officers, who had alleged the involvement of the Modi government in the riots.
The commission ruled that the then DCP, intelligence, Sanjiv Bhatt, was not telling the truth about his presence in the February 27 meeting held at the CM's residence. The commission also said that Bhatt submitted a false document to prove his statement.
The panel has rejected the claims of R B Sreekumar (ADGP, intelligence, during that period) calling him a "disgruntled officer". The commission also discarded the call detail record CDs submitted by Rahul Sharma (DCP, control room, during the riots) stating that the CDs were copies and thus unreliable.
The commission has exonerated the government machinery saying that it tried to quell the riots and ensured Army deployment well in time. As for police, it said: "At some places, they were ineffective in controlling the mobs because they were inadequate in numbers or insufficiently armed." As far as violence in Ahmedabad city, the commission observed "the police had not shown their competence and eagerness which was necessary".
The commission said that departmental action was initiated against officials for their laxity. The action was to be taken by their superior officers and not by the chief minister. "But the allegations that Modi shielded them were baseless," it said.
The commission found some members of VHP and Bajrang Dal responsible for violence. "Local members of VHP and Bajrang Dal took part in the incidents which happened in their localities," the commission said. "In some incidents in three or four districts, including Ahmedabad, some local BJP workers also appear to have taken part."
However, the probe panel praised some BJP workers for standing for peace. "There is also evidence to show that BJP leaders in some districts had helped the authorities and local people in maintaining peace in their districts," the commission concluded.
The commission said that the initial adverse comments about the Gujarat government's action by the National Human Rights Commission (NHRC) were based on incomplete information. It said that in the end, there was no lapse on the part of the government in complying with NHRC recommendations.
Reacting to the report, Gujarat's junior home minister Pradipsinh Jadeja said: "An attempt was made to tarnish the image of Narendra Modi globally. Those who could not defeat Modi in elections had resorted to this conspiracy against him. The Nanavati commission has given him a clean chit now."
https://timesofindia.indiatimes.com/india/nanavati-panel-gives-modi-clean-chit-in-post-godhra-riots/articleshow/72482704.cms
------
Supreme Court to take up review petitions against Ayodhya verdict today
December 12, 2019
The judges will take up the matter in chamber and they will take a call on whether or not to allow the pleas to be heard in open court.
The Supreme Court will on Thursday take up petitions seeking review of its November 9 judgment in the Ayodhya case. The judgment was delivered by a bench headed by the then Chief Justice of India Ranjan Gogoi and also comprising Justices S A Bobde (the current CJI), D Y Chandrachud, Ashok Bhushan and S Abdul Nazeer.
But with Justice Gogoi's retirement on November 7, the bench has been reconstituted to include Justice Sanjiv Khanna.
The judges will take up the matter in the chamber and they will take a call on whether or not to allow the pleas to be heard in open court.
As per the list of business uploaded on the apex court's website, the bench would consider 18 review petitions in-chamber, out of which nine have been filed by parties who were part of the earlier litigation, and the other nine by "third parties".
Bringing to an end a seven-decade legal battle over the title to the disputed Ram Janmabhoomi-Babri Masjid site in Ayodhya, an issue that roiled India and propelled the rise of the BJP, the SC in its unanimous November 9 verdict ruled that the entire disputed land be handed over to a trust to be constituted for construction of a Ram temple and that Muslims be given five acres at "a suitable prominent place in Ayodhya" for building a mosque.
Those who have filed review petitions include Maulana Syed Ashhad Rashidi, legal heir of original litigant M Siddiq and Uttar Pradesh president of the Jamiat Ulama-e-Hind, five petitioners "supported" by the All India Muslim Personal Law Board, the Akhil Bharat Hindu Mahasabha and 40 "concerned citizens", including economist Prabhat Patnaik, historian Irfan Habib and ex-civil servant Harsh Mander.
https://indianexpress.com/article/india/supreme-court-to-take-up-review-petitions-against-ayodhya-verdict-today-6162737/
------
Divisive law, India excludes Muslims: How foreign media reacted to Citizenship Bill
December 12, 2019
Rajya Sabha on Wednesday passed the landmark and contentious Citizenship (Amendment) Bill that has created sharp divides and pushed the Northeast towards violent protests. The Bill seeks to grant citizenship to persecuted religious minorities from religious minorities of Pakistan, Afghanistan and Bangladesh.
The northeastern states are up in arms with the government rushing Army to the burning Assam and Tripura to diffuse tension. A curfew has been imposed in many parts of the Northeast while Army was called in at four places and Assam Rifles personnel were deployed in Tripura.
Army has also been deployed in Tinsukia, Dibrugarh and Jorhat districts and Internet services have been suspended.
While the BJP and Prime Minister Narendra Modi hailed the passing of the Citizenship Bill as historic, the soon-to-be legislation has divided the political camps and citizens. Here's how the foreign media reacted to the landmark change in India's citizenship laws:
The New York Times has carried an article with the headline, "Indian Parliament Passes Divisive Citizenship Bill, Moving It Closer to Law". The article further writes, "The upper house of the Indian Parliament passed a contentious citizenship bill on Wednesday, bringing a religiously polarizing measure one step closer to law as new protests erupted across the country."
"The measure, called the Citizenship Amendment Bill, uses religion as a criterion for determining whether illegal migrants in India can be fast-tracked for citizenship. The bill favors members of all South Asia's major religions except Islam, and leaders of India's 200-million-strong Muslim community have called it blatant discrimination," read the New York Times report.
The Washington Post has carried the headline, "India passes controversial citizenship law excluding Muslim migrants". The article says, "Lawmakers in India on Wednesday passed a fundamental change to its citizenship law to include religion as a criterion for nationality for the first time, deepening concerns that a country founded on secular ideals is becoming a Hindu state that treats Muslims as second-class citizens."
The Post further adds, "The new legislation creates a path to citizenship for migrants who belong to several South Asian religions but pointedly excludes Islam, the faith practiced by 200 million Indian citizens."
Al Jazeera has written, "The bill brings sweeping changes to India's 64-year-old citizenship law by giving citizenship to "persecuted" minorities - Hindus, Sikhs, Buddhists, Jains, Parsis and Christians - from Bangladesh, Afghanistan and Pakistan."
The Independent has said, "India's ruling Hindu nationalist government has won parliamentary approval for a controversial law that would make it easier for refugees of certain faiths from neighbouring countries to gain citizenship, but not Muslims."
https://www.indiatoday.in/india/story/army-deployed-in-assam-protests-turn-violent-over-citizenship-bill-1627657-2019-12-12
------
Pakistan
Lawyers' protest forces Buzdar to end meeting with MNAs
Amir Wasim
December 12, 2019
ISLAMABAD: The violent lawyers' protest in Lahore forced Punjab Chief Minister Usman Buzdar to abruptly end his planned meeting with the ruling party MNAs from the province at the Parliament House here on Wednesday.
The chief minister along with senior police and government officials came to the committee room only to inform the waiting MNAs that he was rushing to Lahore after getting reports about the incident outside the Punjab Institute of Cardiology.
Talking to Dawn, Pakistan Tehreek-i-Insaf (PTI) MNA from Hafizabad Chaudhry Shaukat Ali Bhatti said the chief minister had told them that he would try to convene the meeting again before Dec 20 — the day the National Assembly is expected to be prorogued.
When asked about the purpose of the meeting, Mr Bhatti said the MNAs wanted to talk to the chief minister about development works in their respective constituencies.
Most in ruling party are said to be dissatisfied with governance and the state of affairs in Punjab
He said the MNAs also wanted to talk about development funds which were available to the MPAs, but not to the MNAs.
The chief minister had arranged the meeting with the party legislators on the directive of Prime Minister Imran Khan, amid rising concerns within the ruling party over Mr Buzdar's 'failure' to handle the affairs of the most important province.
Although the party leaders do not publicly comment against the Punjab set-up, in their private conversations they admit that there are concerns within the party ranks about the performance of Mr Buzdar and a majority within the PTI even wants him to be replaced.
The performance of the Punjab chief minister and his "administrative failures" also reportedly came under scrutiny at a recent meeting of the PTI's core committee presided over by PM Khan at his Banigala residence.
Mr Khan met Mr Buzdar after the core committee meeting.
While no official word on the meeting was released to the media, some TV channels reported that the PM expressed his annoyance over his 'poor governance in Punjab' and asked him to deliver even if he had to change any bureaucrat.
Talking to Dawn, a key federal minister on condition of anonymity claimed that a majority in the PTI was dissatisfied with the governance and the state of affairs in Punjab.
The minister seemed to be so much annoyed with Mr Buzdar that when he was asked if he attended the meeting at the Parliament House, he simply replied that he was not even interested in meeting the chief minister.
"It seems that the South Punjab people are now avenging the people of the rest of the province for the injustices committed with them in the past," the minister said while mocking the performance of Mr Buzdar, who belongs to Dera Ghazi Khan.
The rumours of Mr Buzdar's replacement started doing the rounds in the wake of saga involving ailing former prime minister Nawaz Sharif's departure to London for medical treatment.
However, during his last visit to Lahore on Nov 30, Prime Minister Imran Khan once again made it clear that Punjab Chief Minister Usman Buzdar would complete his term.
During one of the meetings with members of the Punjab cabinet and MPAs at the CM Secretariat, PM Khan had reportedly said he knew everyone sitting in the meeting wanted to become the chief minister, but he would continue standing by Mr Buzdar.
"Those aspiring to replace Mr Buzdar should wait for the next four years," the prime minister had been quoted as saying in the meeting.
https://www.dawn.com/news/1521737/lawyers-protest-forces-buzdar-to-end-meeting-with-mnas
------
PM consults PTI leaders on constitutional amendments
Syed Irfan Raza
December 12, 2019
ISLAMABAD: In the backdrop of the virtually stalled process of legislation in parliament due to a widening government-opposition rift, Prime Minister Imran Khan on Wednesday launched the process of consultation on amendments to the Constitution concerning an extension in the tenure of Army Chief Gen Qamar Javed Bajwa.
During the first phase of such meetings, the prime minister met senior leaders of the ruling Pakistan Tehreek-i-Insaf (PTI) — National Assembly Speaker Asad Qaiser, Leader of the House in the Senate Shibli Faraz, Defence Minister Pervez Khattak, Parliamentary Affairs Minister Azam Swati and Planning and Development Minister Asad Umar.
The Supreme Court on Nov 28 allowed a six-month extension in the tenure of the army chief and gave six-month deadline to the government to make amendments to the law regarding re-appointment and extension in the service of Gen Bajwa.
When contacted, NA Speaker Qaiser said the prime minister had called the meeting to discuss the overall legislative process in parliament and the issue of the army chief also came under discussion.
PML-N says it won't cooperate with govt until it mends its ways
He said the prime minister was told that talks were under way with the opposition for smooth passage of pending bills and a bill was to be tabled regarding amendments to the laws relating to the re-appointment and extension in the tenure of the army chief. "We have assured the prime minister that a way will be found so that there is no deadlock between the members of treasury and opposition benches in the National Assembly and the Senate."
The speaker said backdoor meetings between the government and opposition were under way to reach consensus on pending and new legislations. "A meeting was also held today between the government and the opposition on the appointment of chief election commissioner in which we also informally discussed the issue of pending and forthcoming legislations with the opposition," he added.
The speaker said the government would try to ensure that all new bills would be initially sent to the legislative committee of the parliament, in which all parties in the NA and the Senate have representation, so that these could be discussed and reservations of the opposition could be addressed before sending the bills to the parliament.
"We [the government and the opposition] will also ensure that the situation on any issue does not become so aggravated that the parties concerned have to move court of law," Asad Qaisar said. "We want to settle all issues in the parliament.
It has been learnt that there is a backlog of more than 160 bills in the parliament, but no legislation is being made due to lack of harmony and cooperation between the government and the opposition.
The ruling PTI and its allies are in majority in the National Assembly while the opposition dominates the Senate. Under the constitution every bill which is passed by the lower house has to be passed by the upper house of the parliament also.
Not only the opposition but some other quarters and analysts also have started blaming the government for not evolving 'harmony' with the opposition as a result of which the process of legislation has virtually stalled.
Recently the government tried to make legislation through presidential ordinances and President Dr Arif Alvi promulgated eight ordinances.
However, the government withdrew all of them over the opposition's criticism and agreed to table the bills in the National Assembly under prescribed rules and procedure.
Pakistan Muslim League-Nawaz stalwart Khawaja Asif, in his fiery speech on the floor of the National Assembly on Monday, warned the government that the opposition would not cooperate with the government and would not let the legislation process run smoothly. He accused the PTI of organising a demonstration outside the residence of former prime minister Nawaz Sharif in London a couple of day ago.
Talking to Dawn, PML-N information secretary Marriyum Aurangzeb said Khawaja Asif, as a senior leader of the party, had announced that the N-League would not become part of any talks with the government on any issue, including pending legislation in the parliament.
She said on the issue of legislation on re-appointment and extension in the term of the army chief, the PML-N had a clear stance: "We are waiting for the detailed verdict of the Supreme Court."
Ms Aurangzeb said on the one hand the government 'in connivance with the National Accountability Bureau" was keeping opposition leaders behind the bars without any conviction or evidence and, on the other, it [the government] wanted cooperation of the opposition.
"The government has pushed the opposition to the wall and we will not cooperate with it until the government mends its ways," she added.
Steel mill restoration
Later, the prime minister chaired another meeting on restoration of defunct Pakistan Steel Mills (PSM) and directed that an international company be selected in a transparent process for maintenance of the mill.
The prime minister was informed that various international companies had shown interest in restoration of the PSM.
The meeting, which was attended by Planning Minister Asad Omar, Privatisation Minister Muhammedmian Soomro, the PM's Adviser on Finance Hafeez Shaikh, Adviser on Commerce Razzaq Dawood and Adviser on Institutional Reforms Dr Ishrat Hussain, discussed overall condition of the PSM and steps to be taken for its revival.
https://www.dawn.com/news/1521723/pm-consults-pti-leaders-on-constitutional-amendments
------
Hundreds attack, ransack PIC: Lawyers lynch law, humanity in Lahore
Amer Malik
&Arshad Dogar
December 12, 2019
LAHORE: An unbridled group of lawyers stormed the Punjab Institute of Cardiology (PIC) in Lahore on Wednesday to settle score with doctors in an ongoing face-off, resulting in the death of at least three patients, while the Punjab government acted as silent spectator in the brewing crisis waiting to boil down for the last three weeks.
According to independent sources, at least three patients including Gulshan Bibi and Muhammad Anwar died due to discontinuation of treatment during the scuffles and brawls as the lawyers attacked the country's largest cardiac hospital in the country.
However, conflicting figures kept circulating as Punjab Health Minister Dr Yasmin Rashid confirmed the death of three patients while Grand Health Alliance (GHA) Chairman Dr Salman Haseeb Chaudhry claimed the death of 8 to 10 patients due to lawyers' rowdyism and ransacking of life-saving equipment in the hospital which was turned into a battlefield, supposedly spared of violence even during war.
Prime Minister Imran Khan has taken notice of the attack and sought a report from the chief secretary and the IGP. Chief Minister Usman Buzdar, who was attending some official engagement in Islamabad, immediately flew back to Lahore and ordered an impartial inquiry to identify the miscreants among the lawyers community to fix responsibility with full spectrum of law, ascertain the damage and ensure compensation to the loss of lives and public and private property.
The lawyers were brandishing weapons and committing aerial firing, which intimidated patients, their attendants, doctors, nurses and hospital staff. The entire government machinery and security apparatus were rendered dysfunctional as the lawyers freely implemented their agenda to destroy equipment including ventilators, oxygen supplying equipment, ransacked computers and furniture, brought down the main gate, broke windowpanes and over 100 vehicles parked in and outside the hospital.
GHA activists initially barred Punjab Health Minister Dr Yasmin Rashid from entering the hospital for failing to resolve the issue between the lawyers and the doctors in the hospital for the last three weeks. However, Dr Yasmin assured doctors, nurses and medical staff of government support in dispensation of justice against the lawyers for committing such dastardly act. "The Punjab government will try and ensure registration of an FIR under Section 302 to make an example of the miscreants in the interest of justice," she assured doctors and hospital staff.
The witnesses told The News the lawyers forcibly removed oxygen masks of patients in the Emergency Ward and ICU/CCU units, forced doctors to stop operations midway that endangered the lives of serious cardiac patients. As the doctors, nurses, medical staff, visitors and patients were running to save their lives and locking themselves in various rooms, the police's act of indiscriminate teargas shelling inside the hospital to disperse the violent lawyers made the matter worse for critical heart patients.
The violent lawyers torched a police vehicle under the influence of imaginary power intoxication. The lawyers displayed their audacity to break the law as they threatened to sprinkle petrol on a young passerby with an aim to burn him alive.
Meanwhile, the PML-N expressed shock at the incident and condemned the Punjab government for its failure to safeguard the public life and property even in the provincial capital. The PML-N Punjab Information secretary expressed shock and anger over Provincial Information Minister Fayyazul Hasan Chohan's statement accusing the PML-N of fueling such violence, saying that the Punjab government has become a security risk for people and is hiding its inefficiency to ensure law and order in the province.
The PIC administration, doctors, medical staff, patients and visitors to the hospital have demanded stringent action against the unruly lawyers by registering cases under terrorism charges. "We demand immediate cancellation of the licenses of the violent lawyers and want their cases proceeded through military courts under terrorism charges," said GHA Chairman Dr Salman Haseeb.
Meanwhile, the GHA announced holding three-day mourning over the tragic incident in solidarity with the deceased patients, while one of its groups known as Young Consultants Association (YCA) announced boycotting their services in hospitals until dispensation of justice.
While talking to The News, Secretary Specialized Healthcare and Medical Education (SHC&ME) Momin Agha said the department would take urgent measures to restore functioning of the hospital with immediate repair, restoration and replacement of equipment, computers, furniture and other paraphernalia to ensure provision of uninterrupted healthcare services to patients. He assured an impartial inquiry into the sad incident to fix responsibility and damage assessment with a view to compensating the loss of the public and private properties including bikes, cars and other vehicles.
Meanwhile, former chief minister Shahbaz Sharif condemned the incident, saying that humanity was dehumanized and the law of the land was torn into pieces in Lahore. "Today's horrible incident has brought shame for every Pakistani as I cannot find words to sufficiently condemn hooliganism whose cost had to be borne by patients," said the PML-N president who put the responsibility on the Punjab government by saying that the incident showed the Punjab government's failure. He demanded a high-level inquiry into the incident.
The Lahore police once again proved a total failure in countering the violent protesters. The officers preferred to stay back and played role of silent spectators. Action against police officers after the Model Town incident and in some other incidents in Islamabad and Lahore kept police officers away from becoming proactive in the recent tragedy.
Instead of tackling the situation, the Anti-Riots Force played havoc with the heart patients and their attendants by firing teargas shells. The police should have used water cannon to disperse the violent lawyers, but they preferred to use teargas shells. The presence of cops at the PIC gate and intelligence of the Lahore police could not play any role in controlling the situation before hand. The officers managing CCTV cameras of Safe City Authority also failed to alert the police force timely despite the fact that the lawyers reached the PIC in big groups from Lahore bar. A timely action and presence of police could have helped in stopping the entry of lawyers into the Emergency Ward, but the police became active after the lawyers had played havoc with the hospital.
Shelling coupled with lathi-charge forced the lawyers to flee the hospital and take shelter in the Gillani Park. The police chased them and arrested over 34 of them. Some of the police officers requesting anonymity said the police force is still not independent in taking action against violent protesters. They said the delay in the approval of action results in huge loss to human lives and properties.
Lawyers spread in the hospital in groups and started damaging cars parked outside the Emergency Ward, Administration Block, Nursing Hostel and Doctors Hostel. At least 15 cars were badly damaged. The windscreens and windows were shattered. The lawyers hit the cars and doctors with bricks and stones. They also set a police van on fire, parked on the Jail Road. A number of cops including an SHO also received minor injuries during the scuffle.
The lawyers didn't stop here. A group resorted to aerial firing to create panic among road users and patient attendants. One of the attendants said the lawyers have themselves defaced law through their inhumane act. He said hospitals are not attacked even in the state of war in any country of the world, but the lawyers of Lahore have created history of brutality by ransacking Emergency Ward.
A video of the lawyers in which they hurled life threats to doctors before the attack had also gone viral. They were heard saying that they will do bypass of doctors and stents will be implanted in their hearts. A woman told The News there was hue and cry and lawyers were not caring about any patient. Her husband was in critical condition. She begged the lawyers to spare patients but they paid no heed to her request. Some of the paramedical staff shifted her husband and other patients of ICU to CCU-III. A group of lawyers also followed doctors at CCU-III and broke the glasses of Ultrasound Room.
The attendants also thrashed lawyers when they started manhandling lady doctors. The violent lawyers removed oxygen masks from the mouths of patients and pulled live-saving drips.
The incident created a severe traffic mess on the Jail Road, The Mall and the Canal Road for hours. The city traffic police started diverting traffic to alternative routes. The lawyers also thrashed citizens outside GPO after blocking the road for every kind of traffic. The traffic flow was also halted on the Ferozpur Road outside the General Hospital as the paramedical staff registered their protest against Wukla Gardi. The traffic police diverted vehicles coming from Gulberg towards The Mall and the Canal Road and from Shadman, they were diverted towards China Chowk and The Mall.
Shops, labs and food outlets on both sides of the Jail Road were closed. Keeping in view the uncontrollable situation, the Punjab government called in contingents of Punjab Rangers. The Rangers reached the hospital and patrolled the road.
A hospital peon, Yousaf, said he had not seen this kind of brutality in the past 15 years. He admitted that doctors also keep on protesting but they never close Emergency Ward and operation theaters. A pregnant woman was also pushed down by the lawyers while the coats of lady doctors were removed, he claimed.
Mohsin, the attendant of his father, said he requested an SHO to stop lawyers from hurting patients and their attendants by taking action against 'terrorists', but the SHO said he had not received orders from the SSP. He said the lawyers involved in this violent activity should be hanged openly so that nobody could dare doing so in the future.
CCPO Lahore Zulfiqar Hameed, DIG Operations Rai Babar Saeed, SSP Operations Naveed and SSP Investigations Zeeshan Ashgar visited the hospital with heavy contingents of police. Experts from the Forensic Science Agency reached the scene and collected evidence. Investigators recorded statements of eyewitnesses and made footages of the damaged properties. The police also took the record of CCTV cameras into custody for further investigations. No case was registered against the lawyers till late night.
https://www.thenews.com.pk/print/582232-hundreds-attack-ransack-pic-lawyers-lynch-law-humanity-in-lahore
------
Rangers deployed at 10 different places in Lahore
Salman Aslam
December 12, 2019
LAHORE: Pakistan Rangers Punjab has been deployed at 10 different places of the provincial metropolis to maintain law and order situation.
One each platoon has been deployed at Governor's House, both sides of GOR I and II, Punjab Assembly, GPO Chowk, The Mall, Punjab Civil Secretariat, Aiwan-e-Adal, Supreme Court Lahore Registry, Lahore High Court, office of IG Punjab, and Punjab Institute of Cardiology. Two companies have been reserved for emergency back-up.
The deployment was made on the request of Punjab home department after the legal fraternity added another 'feather in its cap' by attacking an institution catering for patients with heart-related complications. The inhuman treatment meted out to the people by lawyers and doctors in courts and hospitals respectively besides strikes and sudden protests with roadblocks has become a common practice in the city.
https://www.thenews.com.pk/print/582244-rangers-deployed-at-10-different-places-in-lahore
------
Europe
20 Seized in Danish Dragnet as Copenhagen Claims to Foil Islamist Terror Plans
12.12.2019
While the names and the nationalities of those arrested remain to be disclosed, the authorities have stated that the alleged militants were motivated by Islamist extremism and had plotted acts of terror on Danish soil.
About 20 people have been arrested in a nationwide anti-terror campaign that stretched over the entirety of Denmark. Arrests were made in the capital city of Copenhagen, as well as across Zealand and in Jutland, mainland Denmark.
Searches and arrests were made at twenty addresses in seven police districts, and terror plans have been foiled, the Chief Police Inspector of Copenhagen Police, Jørgen Bergen Skov, and Chief Police Inspector and Operational Chief of the Security and Intelligence Service (PET), Flemming Drejer, said at a press conference, as quoted by Danish Radio.
Those arrested were reportedly driven by Islamist motives and conspired to carry out an act of terror on Danish soil. Some of the individuals tried to procure firearms and acquired ingredients to manufacture explosives.
According to PET, all suspects have been detained, and the action does not change with the official assessment of the terror threat against Denmark.
Denmark's former Justice Minister Søren Pape Poulsen thanked the police for averting a terrorist attack.
"As a minister of justice, one gains insight into the darkest corners of Denmark. That knowledge stays with you. It is with deepest respect that I once again send my gratitude to the police and intelligence for, as it seems, once again averting a terrorist attack on us," Pape Poulsen tweeted.
However, unanswered questions still abounded after the joint press conference. Nothing is known about those arrested – such as their nationality, gender or interrelationships. Nor is the target or the date of the planned attack known.
At the briefing, Copenhagen Police chief inspector Jørgen Bergen Skov assured that the police now have the situation "under control", with all suspects in the case now arrested and none remaining at large.
Preliminary court hearings for some of those arrested are likely to take place on Thursday, the inspector confirmed.
Earlier this year, Denmark adopted a law that makes it possible to strip jihadists of their Danish citizenship, provided that it is not the only one they have. So far, the law has already been used several times by Interior Minister Mattias Tesfaye.
https://sputniknews.com/europe/201912121077549176-20-seized-in-danish-dragnet-as-copenhagen-claims-to-foil-islamist-terror-plans/
------
Denmark arrests 20 over Islamist attack plot
Thursday, 12 Dec 2019
COPENHAGEN, Dec 12 — Danish police said yesterday they had arrested 20 people suspected of planning "Islamist attacks".
The suspects had tried to acquire weapons and explosive devices, police said.
"Police searched 20 addresses and arrested 20 people", Copenhagen police chief Jorgen Bergen Skov said at a press conference.
He did not specify the target of the possible attack but said police had arrested all the suspects it had on its radar.
"They are people who have both the intent and ability to commit a terrorist attack," Bergen Skov said.
The suspects will be brought before a judge today for closed-door hearings.
Denmark was last hit by militant attacks in 2015 when Copenhagen's Great Synagogue was targeted in a shooting which saw one security officer killed after an earlier attack on a conference on freedom of expression also left one person dead.
Five police officers were injured in the twin attacks. Officers gunned down and killed the 22-year-old perpetrator Omar El-Hussein, a Danish citizen of Palestinian origin who had pledged allegiance to the Islamic State (IS) group. — AFP
https://www.malaymail.com/news/world/2019/12/12/denmark-arrests-20-over-islamist-attack-plot/1818425
------
UK polls: PM Boris Johnson holds on to lead but hung Parliament within margin
Dec 11, 2019
PARIS: The final day of Britain's general election campaign saw top party leaders making a last-ditch sprint across the UK to woo the voters, as a definitive pre-poll survey gave Prime Minister Boris Johnson an edge but also kept the prospect of a hung Parliament on the table.
A total of 3,322 candidates are standing across the 650 seats in the House of Commons this year, with Brexit and Britain's impending exit from the European Union (EU) playing a key role in the campaign this time.
A Conservative majority would allow Prime Minister Johnson to pass his controversial Brexit deal and take the UK out of the 28-member EU on January 31.
The last election in 2017 had thrown up 12 Indian-origin MPs, including the first female Sikh MP Preet Kaur Gill and the first turbaned Sikh MP Tanmanjeet Singh Dhesi - both for the Opposition Labour Party.
Thursday's election looks set for a hike on that number, with Labour's Navendru Mishra and Conservatives' Gagan Mohindra and Goan-origin Claire Coutinho among the frontrunners to clinch their party's strongholds.
The ethnic minority surge in the number of MPs is expected to include all the Indian-origin MPs from the last election, except Labour's Keith Vaz - who announced his resignation just ahead of the election in the wake of a sex scandal.
For the Tories, Priti Patel, Alok Sharma, Rishi Sunak, Shailesh Vara and Suella Braverman are set for a return. For the Labour Party, besides Gill and Dhesi, the others contesting so-called safe seats include Keith Vaz's sister Valerie Vaz, Lisa Nandy, Seema Malhotra and Virendra Sharma.
In what is being pegged as a very close election that could go down to the last vote on polling day on Thursday, the model that accurately predicted the outcome in the last election in 2017 reveals that unlike some of the previous surveys, the ruling Conservative Party can no longer be guaranteed a majority.
The YouGov poll on the eve of polling day, based on interviews over the past week, suggests that the Conservatives are on course to win 339 seats, Labour 231, the Liberal Democrats 15 and the Scottish National Party (SNP) 41.
This is comfortably over the magic 326-figure required for a majority in the 650-member House of Commons, but the figure remains within the margin that could well throw up a hung Parliament.
"Based on the model we cannot rule out a hung Parliament," notes Anthony Wells, YouGov's director of political research.
The latest 13-seat majority for the Tories is a far cry from the comfortable 68-seat majority forecast just two weeks ago. This keeps the field open for Jeremy Corbyn led Opposition Labour Party and smaller parties like the Lib Dems and SNP to feel hopeful that they may still be in with a chance to influence the final outcome.
Under YouGov's multilevel regression and post-stratification (MRP) model applied to the demographic make-up and individual characteristics of each of the constituencies in Great Britain, the survey provides a broad prospect of vote shares for each seat.
"This is a very close fought election and we need every vote," Johnson said on the final leg of the campaign trail, adding that a Tory victory on Thursday was "absolutely not" guaranteed.
"This could not be more critical, it could not be tighter — I just say to everybody the risk is very real that we could tomorrow be going into a hung parliament," the 55-year-old prime minister said.
"We cannot have more drift, more dither, more delay, more paralysis for this country," he said, adding that Opposition Labour's policies would be an "economic disaster".
"We have got to move forward. We have a fantastic agenda for the country, we can get Brexit done. We've got a deal that's ready to go".
Equally, Corbyn and Lib Dem leader Jo Swinson and SNP chief Nicola Sturgeon have been trying to hammer home the message that the result is not a foregone conclusion and that the 46-million electorate of the country could still swing the vote with a large turnout.
Any party with more than half the MPs (326) in the Commons usually forms the government. If no party has a majority of MPs, the one with the most can form a coalition, with one or more other parties to gain control.
While Johnson has been focussed on his party's "Get Brexit Done" message, the Opposition parties have been offering another referendum on the final Brexit deal and have been keen on focussing on domestic issues such as the struggling state-funded National Health Service (NHS).
Corbyn said what the country has had for the last nine years is cuts to public services, frozen public sector wages and lost jobs.
The 70-year-old leader is also scheduled to be in north-east of England - where the Tories are targeting Leave-voting Labour seats - to appeal to the undecided voters.
Polls open on Thursday morning at 7 am and close at 10 pm local time, at which time the results of the first major exit poll are declared, which usually go on to reflect the final tally that will become clear in the early hours of Friday.
According to expert analysis, the new Parliament set to be voted in on Friday is expected to be the most diverse in Britain's history based on projections.
https://timesofindia.indiatimes.com/world/uk/uk-polls-pm-boris-johnson-holds-on-to-lead-but-hung-parliament-within-margin/articleshow/72477976.cms
------
Hindus expected to largely vote Tory, PIO vote could swing up to 40 seats in UK election
Dec 11, 2019
LONDON: British Hindus are expected to vote for the Conservative Party in significant numbers in Thursday's election in response to Labour's perceived anti-India and anti-Hindu stance under its leader Jeremy Corbyn.
A group of British Indians have been campaigning for "pro-India" candidates in 40 seats, the majority of which are Conservative candidates.
"The Indian community will influence about 40 seats at this election," claimed Overseas Friends of BJP UK president Kuldeep Singh Shekhawat. "The majority of PIOs have switched to the Tories and it is not only Hindus. Quite a few Sikhs and Muslims too," he said.
Political analyst Kapil Dudakia agreed. "Some from the Indian community have aligned to the Lib Dems, but many are now very much with the Tory party," he said.
However, Dudakia warned the shift to the Tories was mainly among the 817,000-strong Hindu community in Britain and driven by Labour's "anti-India and anti-Hindu" stance.
A large number of PIO Sikhs and Muslims "were still with Labour", he claimed.
Dr Rakib Ehsan, researcher on British ethnic minority public attitudes, agreed. "PIO Muslims are likely to remain with Labour because of issues like Kashmir and Palestine. I expect some Sikhs will vote Conservative as Punjabi Sikhs, in particular, are Brexit-leaning. We might see Gujarati Hindus vote Conservative. I also expect to see some shift to the Lib Dems as British Indians tend to be Remainers."
"The Tories have fielded the most PIO candidates and their manifesto is pro-India," Shekhawat explained. "Labour have fielded very few PIO candidates and their manifesto is not in favour of the Indian community. They will increase taxes on people who earn more than £80,000 — a lot of Indians earn more than that — and tax second homes. All they are offering is free broadband, which is a joke. Boris supports India and he said if re-elected Delhi will be his first stop," Shekhawat said.
Explaining where the PIO vote could tip the balance, in Harrow West, Shekhawat believes newcomer British Bangladeshi Tory candidate and NHS GP Anwara Ali will oust Labour incumbent Gareth Thomas. "The main reason is Kashmir. He has not said anything in favour of India," he said.
In Gujarati diaspora-dominant Harrow East, he thinks the PIO vote will enable Tory Bob Blackman to hang on to his seat, even though he has faced a vicious campaign from activists from the hard Left as well as a pro-Labour Muslim pressure group.
The British Indian vote will also help Agra-born Tory candidate Alok Sharma increase his majority in Reading West, he said.
"Bob is one of the only voices who has spoken up for India over Kashmir in Parliament and he solidly stands behind the community," he said.
Shekhawat thinks the PIO vote will oust Labour's Valerie Vaz, the 64- year-old sister of disgraced MP Keith Vaz, who has been MP in Walsall South for nine years. According to Shekhawat, the Indian diaspora is supporting Tory Sikh Gurjit Kaur Bains who previously worked for Priti Patel. Walsall voted by 68% to leave the EU.
The diaspora is not supporting the Tories in all 40 seats, he said. In Brent North, the PIOs are supporting Labour's Barry Gardiner, Shekhawat said, even though it is a PIO — Anjana Patel — who is standing for the Tories. "Barry has been supporting India all along," he said, adding Virendra Sharma, Labour candidate in Ealing Southall, also had the support of the Indian community.
Things are looking volatile in Leicester East, Vaz's former seat, where almost a third of the population is Hindu and three PIOs are standing. A large number of PIOs are not happy with Labour's new candidate, Claudia Webbe, because she chaired the party conference where the Kashmir motion was passed. But the vote against her is split as "you have got two Gujaratis fighting each other (Tory Bhupen Dave and Nitesh Dave, a Liberal Democrat)", Shekhawat explained. Leaflets are being distributed by a group called Operation Dharmic Vote calling on the "dharmic community" — described as Hindu, Jain, Sikh and Buddhist — to vote for Bhupen.
On Wednesday six PIO Labour councillors at Leicester City Council wrote to Corbyn expressing their "deep and overwhelming anger" about the direction the Labour Party is moving in. "The party has treated the Hindu community with disdain and disrespect," the letter read. "We are currently considering whether we can remain in the Labour Party that has become both anti-Hindu and anti-Indian," it said. Last month Hindu Council UK wrote to the chief rabbi of the UK, Ephraim Mirvis, endorsing his views about Labour being anti-Semitic, saying the party was also anti-Hindu and "has veered towards what almost is a fascist ideology".
"The diaspora is sentimental and will not tolerate their "original country India" being criticised," Shekhawat said. He said PIOs started shifting to the Tories after Corbyn became Labour leader and "switched sides and supported Pakistan". "British Pakistanis will vote for Corbyn," Shekhawat added.
https://timesofindia.indiatimes.com/world/uk/hindus-expected-to-largely-vote-tory-pio-vote-could-swing-up-to-40-seats-in-uk-election/articleshow/72481056.cms
------
UN experts: Libya is new focus of Daesh extremists
December 11, 2019
UNITED NATIONS: UN experts say the interference of Chadian and Sudanese fighters in Libya is "a direct threat" to the security and stability of the war-torn country, which a leader of the Daesh extremist group has declared "one of the main axes" of its future operations.
The panel of experts said in a 376-page report to the UN Security Council released Tuesday that the presence of the Chadians and Sudanese "has become more marked" in 2019 as a result of the intensification of the conflict in Libya. It said their continued presence as organized groups or as mercenaries "may lead to further instability."
Libya has been in turmoil since a civil war in 2011 toppled Muammar Qaddafi, who was later killed. In the chaos that followed, the country was divided, with a weak UN-supported administration in Tripoli overseeing the country's west and a rival government in the east aligned with the Libyan National Army led by Gen. Khalifa Haftar, each supported by an array of militias and foreign governments.
Haftar launched a surprise military offensive April 4 aimed at capturing Tripoli despite commitments to attend a national conference weeks later aimed at forming a united government and moving toward elections. Fighting for Tripoli has stalled in recent months, with both sides dug in and shelling one another along the city's southern reaches with increasingly sophisticated weapons.
While the LNA and the eastern government enjoy the support of France, Russia, Jordan, the United Arab Emirates and other key Arab countries, the Tripoli-based government is backed by Italy, Turkey and Qatar.
"Jordan, Turkey and the United Arab Emirates routinely and sometimes blatantly supplied weapons, with little effort to disguise the source" in violation of a UN arms embargo, the report said.
The experts identified multiple cases of non-compliance with the arms embargo, the majority of transfers to Haftar's LNA from Jordan or the United Arab Emirates and the majority to the Tripoli government from Turkey.
But, the panel said, "Neither side has the military capability to effectively decide the outcome to their advantage."
The experts said counter-terrorism operations in Libya against Daesh and Al-Qaeda extremists by the government and Haftar's forces, and an increase in activity by the United States Africa Command, continue to disrupt the structure of both groups and temporarily reduce their capacity to conduct operations.
But the panel also reported the new focus on Libya by Daesh, also known as ISIL, quoting a video in July by a Daesh leader in Libya, Mahmud Massud Al-Baraassi, also known as Abu Musab Allibi. In the video, the report said, "he highlighted that Libya was now one of the main axes of future ISIL operations, which are designed to compensate for the loss of ground" in Syria.
"ISIL in Libya finances its activities through robbery, kidnap for ransom, extortion of Libyan citizens and the cross-border smuggling of artifacts and other commodities," the panel said. "Taxation of human trafficking networks continues to be a source of funding for ISIL in Libya."
As for foreign fighters, the experts named five Sudanese armed groups operating in Libya — four in support of Haftar's LNA and one backing the government's forces. They named four Chadian armed groups — one supporting the LNA, two supporting the government, and one with 100 fighters whose factions support both side.
In one example, the panel estimated 1,000 Sudanese troops from Sudan's Rapid Support Forces were deployed to Libya on July 25 by Gen. Mohamed Hamdan Dagalo, initially to guard critical infrastructure so Haftar's troops could carry out offensive operations.
The panel said Sudan and Dagalo, who has command responsibility, both violated UN sanctions.
The Associated Press reported last week that Libyan government officials plan to confront Moscow over the alleged deployment of Russian mercenaries fighting alongside Haftar's LNA. US officials also accuse Russia of deploying fighters through a private security contractor to key battleground areas in Libya in the past months.
The UN panel of experts, who monitor sanctions against Libya, made no mention of Russian mercenaries in the report. Several diplomats said they expect the Russian mercenary issue to be raised in the Security Council.
https://www.arabnews.com/node/1597576/middle-east
------
North America
US ambassador to Australia accuses China of harassing the Uighur Muslim community with fake Chinese police cars parked outside their homes
11 December 2019
The United States has suggested China is harassing members of the minority Uighur community in Australia.
American ambassador to Australia Arthur Culvahouse said he was outraged by the levels of intimidation and argued there should be serious consequences.
'What is happening, and it's unacceptable, is that Uighur who are lawfully in Australia, who are raised in Australia, working, paying taxes in Australia are being harassed by agents of a foreign power,' he told ABC News on Thursday.
'They're being monitored. There's police cars, fake police cars, that are with Chinese police logos parked outside their residences.
'They're being profiled in Xinjiang back in China; are being punished for any time they express their concerns about how their community is being treated, and as a freedom-loving democracy, we are outraged.'
Asked if the Chinese government was responsible, Mr Culvahouse replied: 'Yes, indeed.'
The ambassador said people would be rightly outraged if the US monitored the activities of Americans abroad.
'They would want my head on a stick,' he said.
'There should be serious consequences.'
Australia and the US have both raised concerns about China detaining more than one million Uighurs and other Muslim minorities in prison-like camps in Xinjiang.
https://www.dailymail.co.uk/news/article-7782825/US-ambassador-Australia-accuses-China-harassing-Uighur-Muslim-community.html
------
Niger military post ambushed by suspected Islamic militants, at least 70 soldiers killed, officials say
Suspected Islamic extremists attacked a military installation in western Niger near the border of Mali on Tuesday, killing at least 70 soldiers in one of the country's deadliest onslaughts in recent history.
President Mahamadou Issoufou tweeted on Wednesday that he would be cutting short his overseas trip to Egypt so he could return home to deal with the crisis, The Associated Press reported. A presidential adviser who spoke with the AP on condition of anonymity confirmed the body count of the overnight attack.
The violence erupted just several days before a summit where French President Emmanuel Macron was set to address the role of French soldiers in the West African Sahel region.
The area has been seen as a hotbed of terrorist activity, Islamic extremism and kidnapping.
Two years ago, four U.S. service members were killed, along with four Nigerien soldiers, when they were ambushed by militants just 30 miles from the sight of the recent carnage.
Nigerien and French forces have been unable to quell the violence as reports of military outpost attacks have increased, due to their cache of weapons and vehicles.
The extremists are reportedly taking advantage of the area's instability in an attempt to initiate a jihadist takeover.
After intervening in 2013 to oust various jihadists from power, France has now launched its biggest overseas military operation in West and Central Africa to assist with the threat.
Macron is expected to clarify France's future role in the region during this week's summit with West African leaders.
https://www.foxnews.com/world/islamic-attack-terrorism-niger-africa-france
------
Head of anti-abortion group given millions by Trump administration says Muslims are 'replacing' Christian Europeans
The head of a prominent anti-choice group funded in part by Donald Trump's administration reportedly said "the culture of Europe is changing" after Christians were "replaced" by "immigrant Muslims" due to contraception and abortion access.
Kathleen Eaton Bravo, the chief executive of the anti-contraception organisation Obria, said in a recently unearthed 2015 interview: "Few realise that [abortion] has had a devastating impact on our society, and threatens our culture's survival."
"Take the example of Europe: When its nations accepted contraception and abortion, they stopped replacing their population", she added. "Christianity began to die out. And, with Europeans having no children, immigrant Muslims came in to replace them, and now the culture of Europe is changing."
Obria has received nearly $2m (£1.5m) in grants from the Trump administration and was set to receive more than $3m (£2.3m) more over the next two years, according to The Guardian, which reported Ms Bravo's past comments on Wednesday.
Ms Bravo's comments, which were provided to the Catholic World Report for a story titled "Fighting the culture of death — and Planned Parenthood — in California", echoed xenophobic and white supremacist sentiments espoused by the far-right.
As seen in anti-immigrant screeds posted by mass shooters on right-wing corners of the web, white supremacists typically believe Muslim refugees and immigrants are hell-bent on taking over European and other western societies and implementing forms of strict Sharia law. There is no evidence to suggest this is actually taking place in Europe.
Ms Bravo goes on to suggest the US could soon face a similar fate to the one she claims Europe is currently enduring thanks to Muslim immigrants.
"In only two of the past 40 years have we replaced our population", she said. "We're on the same track as Europe. The church and family are in crisis."
Obria has become the subject of controversy for receiving grants from the Trump administration previously offered exclusively to groups providing contraception and abortion resources to women.
Mr Trump's White House changed the policies surrounding federal family planning funds in order to deliver grants to organisations like the one led by Ms Bravo, an outspoken opponent to Planned Parenthood.
Ms Bravo was reportedly congratulated in an email by Diane Foley — a top official at Health and Human Services — on receiving the grants from the Trump administration, and invited to have a private conversation to discuss the funding.
https://www.independent.co.uk/news/world/americas/us-politics/abortion-trump-obria-kathleen-eaton-bravo-muslims-christian-europeans-catholic-a9242881.html
------
First Muslim Maj.-Gen. in Israel Police at UN: State offers equality
By MAAYAN JAFFE-HOFFMAN
DECEMBER 12, 2019
"Distinguished members of the Committee, the doors are open," was the message that Jamal Hakroosh delivered about the State of Israel's Arab citizens last week to attendees of the World Conference against Discrimination and Racism at the United Nations in Geneva.
Hakroosh, the first Muslim Major General in the Israeli National Police, represented the Ministry of Public Security and the Israel National Police on December 4. He delivered a briefing about how the Israel National Police has supported him professionally and emotionally and how he, in turn, has been able to help his Arab community.
"I, Jamal Hakroosh, a citizen of the state of Israel, Arab, Muslim, was born in Kfar Qana, in the North of Israel," he began in a speech, which was later disseminated in English to the press. "As any Arab citizen of Israel, I was educated, brought up, and studied in the village, and never knew anything outside of the village. This is representative of the general Arab population of that time, meaning 40 years ago."
He said that for generations, Arab society in Israel was closed off and clan-based. Today, however, the situation is completely different.
"Virtually all Arab young people complete their high school studies in the village, and the majority continue to university-level studies," Hakroosh explained.
"This is a very important change that took place in Arab society, to the benefit of Arab young men and women," he said.
When Hakroosh was 20, he decided to "become an ambassador for my people and for my generation," and he joined the police. At that time, 40 years ago, there was not a single Muslim policeman and his role came with many difficulties and obstacles. Still, he persevered.
"It was not easy to accept me, a Muslim Arab, as commander during sensitive and difficult events such as those that the Israeli public has been through," Hakroosh said in Geneva. "Not only criminal events, but also security and terror-related – our country has seen many of those events."
He was promoted and performed sensitive jobs.
"I was the commander of three big police stations, providing policing services to Arab and Jewish citizens alike," he said, noting that he was first promoted to commander of the coastal region of Israel, and eventually to the position of major general.
"This is the place to highlight that the Israel police is a decent institution, that opens doors before every citizen in the country, regardless of their background or religion," Hakroosh said in his speech. "I must take this opportunity and say, that not only did the Israel police open doors to an Arab citizen, but also my friends and colleagues of my generation can now be found among directors of medical wards in Israeli hospitals, and lecturers in Israeli universities. Meanwhile, thousands more Arab students are enrolled in Israeli universities."
But he said that he cannot do enough on his own. Arab society is plagued by violence, as the authority of the elders has been lost and the vacuum has not been filled, except by violence that threatens the Arab citizen. "Especially the good citizens that have paid with their personal security, and very often, with their lives.
"I emphasize, can we accept an average of 70 Arab murder victims per year, killed by Arabs? This situation is very dangerous, there is no personal security to any Arab citizen."
As such, in 2016, the government passed Resolution 922 and ordered the creation of a special unit to improve policing services in Arab society and put an end to the danger to personal life and security in Arab streets. Hakroosh was asked to command this unit.
He said that in the last two years, eight police stations have been added to Arab towns and communities. The goal is to establish another 10 over the next three years. Additionally, more than 600 young Arab men and 55 young Arab women have joined the police.
"This is the revolution and the change that we aspired to reach," Hakroosh explained. "This is what is happening in the Israeli police: equality to every citizen, open doors to every citizen. Today you will be able to see an Arab Muslim policewoman supplying policing services to an Arab citizen. Something like this is unprecedented."
But he admitted there are still many changes to make. In July, the 2018 Personal Security Index Violence, Crime and Policing in Arab Towns by the Abraham Initiatives showed that 61% of all murder and manslaughter victims in Israel in 2018 were Arab citizens, despite Arabs only constituting around 20% of Israeli citizens.
Moreover, more than one-third – that's 36% – of Arab citizens of Israel have a sense of personal insecurity in the community where they live due to violence, compared to 13% of Jews. The study also found that 59% of Arab citizens are afraid of being victims of violent offenses.
Furthermore, a study by Abraham Initiatives regarding weapon collection, with points used to help get illegal weapons off the Arab streets, found that 57% of the points did not function properly.
A release explained that the inspections, carried out in 40 of the 50 pickup points in Arab localities, showed that 16 collection points were not operational at all at the time of the test, seven points were in different locations from the ones published, and only 16 were functioning properly.
Hakroosh did not address these issues but did say that "we know that any exceptional event can interfere with the path to reaching the goal" and that reducing is "a very difficult task, although a very important one, and success is not at all certain."
But he said he hoped the challenges ahead would not outweigh the successes that had already been achieved.
"Your ears are hearing about the changes in Israel Police for the benefit of equality, justice to the Arab citizen, and your eyes can see the change standing before you – and it is me, a Muslim Arab, who reached the highest position of the Israel police, the highest rank – one below the General Commander of the police," he concluded.
https://www.jpost.com/Arab-Israeli-Conflict/First-Muslim-Maj-Gen-in-Israel-Police-at-UN-State-offers-equality-610636
------
Danish police arrest 20 in raids to thwart suspected Islamist attack
COPENHAGEN (Reuters) - Danish police arrested about 20 people on Wednesday after carrying out raids throughout the country to thwart what they suspected were preparations for an Islamist militant attack, police and security officials said.
The detainees had tried to obtain explosives and firearms, police said.
The raids were mounted on the suspicion that several people had been planning an attack, the Danish intelligence service said in a news conference with police.
"It is our assessment, that those people are driven by a militant, Islamist motive," operational chief of the intelligence service, Flemming Drejer, said.
Police did not give a precise number for the arrests.
Some of those arrested would face preliminary questioning on Thursday on charges of terrorism, chief of police Jørgen Bergen Skov said.
"It's important to underline, that we detained all those, we have been looking for," Skov said. "We now have the situation under control."
Denmark has not seen a militant attack since 2015, when two people were killed and six police officers were wounded.
In that incident, a lone gunman shot and killed a man outside a culture center hosting a debate on freedom of speech, and later killed a person outside a Jewish synagogue in central Copenhagen. The gunman was killed in a shoot-out with police.
This year, the Danish government imposed temporary border controls at its border with Sweden following the bombing of the Danish Tax Agency in Copenhagen, which led to the arrest of three Swedish men.
https://www.reuters.com/article/us-denmark-security/danish-police-arrest-20-in-raids-to-thwart-suspected-islamist-attack-idUSKBN1YF1VE?feedType=RSS&feedName=worldNews&utm_source=feedburner&utm_medium=feed&utm_campaign=Feed%3A+Reuters%2FworldNews+%28Reuters+World+News%29&&rpc=401
------
US reprimands Pakistan for misusing F-16 fighter jets
Dec 12, 2019
WASHINGTON: The United States has reprimanded Pakistan for misusing US-supplied F-16 fighter jets and jeopardizing their shared security, US News reported citing official documents.
According to the website, Andrea Thompson, then-undersecretary of State for Arms Control and International Security Affairs had written a letter in August to Pakistan Air Chief Marshal Mujahid Anwar Khan lambasting him over the usage of F-16 fighter jets.
The communication between the two officials comes months after India, in February, had said that its army shot down one F-16 jet during a skirmish with the Pakistan Army.
Though the letter did not mention February's incident, it could be seen as a first admission from the US of its concern about Pakistan used its fleet of F-16s in stark violation of the original terms of the sale.
According to a source, the letter began by relaying the State Department's confirmation that Pakistan had moved the F-16s and accompanying American-made missiles to unapproved forward operating bases in defiance of its agreement with the US using diplomatic language.
On February 27, a day after India launched airstrikes on terror camps in Pakistan, Islamabad fighter planes violated Indian airspace in the Rajouri sector of Jammu and Kashmir and dropped bombs on their way out, officials had said.
Craters were reportedly spotted at the places where the bombs were dropped by the Pakistani jets but there were no reports of any casualty.
Shortly thereafter, an F-16 fighter of the Pakistan Air Force was reportedly shot down and was seen falling in Lam area, about three kilometers inside Pakistan, officials said.
A parachute was also seen dropping along with the crashing fighter but the fate of its pilot was not known.
In March, the United States had said that it was "closely following" the reports alleging Pakistan's use of F-16 fighter jet aircraft. However, the US News reported citing an official, saying that a matter of policy it does not comment publicly "on the contents of bilateral agreements involving US defense technologies, nor the communications we have about them."
Notably, Thompson, who has since left government, warned the Pakistanis that their behavior risked allowing these weapons to fall into the hands of malign actors and "could undermine our shared security platforms and infrastructures."
The Pakistani armed forces possess 76 American-supplied F-16s - by far the most potent fighter jet in its military arsenal. Pakistan first began receiving the plane in 1982 and maintains them under strict rules imposed by the State Department, the Department of Defense and Congress. Among the rules are that Islamabad may only house the fighters and the corresponding American missiles on two specific air force bases at Mushaf and Shahbaz and that it only uses them for counter-terror operations, not against foreign countries.
https://timesofindia.indiatimes.com/world/pakistan/us-reprimands-pakistan-for-misusing-f-16-fighter-jets/articleshow/72484521.cms
------
6 dead, including shooters, in attack on US Jewish store
Dec 12, 2019
NEW YORK: Two armed individuals targeted a New Jersey kosher grocery in an attack that killed six people, including the shooters, though the motive of the attack remains unclear, public safety officials said on Wednesday.
A police shootout with two people armed with highpowered rifles erupted after midday on Tuesday in Jersey City, New Jersey. The six dead included three civilians, one police officer and both shooters, authorities said.
The four-hour gun battle at the Jewish JC Kosher Supermarket erupted after the pair shot the police officer at a nearby cemetery, which they fled in a white van.
"They exited the van and they proceeded to attack this location in a targeted manner," Jersey city public safety director James Shea told a morning news conference. "With the amount of ammunition they had, we have to assume they would have continued attacking human beings if we hadn't been there."
The NYT reported that a suspect involved in the shooting had posted anti-Semitic and anti-police messages online. Jersey city mayor Steven Fulop ordered police to be on high alert to protect Jewish neighbourhoods following the attack.
https://timesofindia.indiatimes.com/world/us/6-dead-including-shooters-in-attack-on-us-jewish-store/articleshow/72482909.cms
------
US detained 10k Indians in 2018 in bid to remove illegal aliens: Report
Dec 12, 2019
WASHINGTON: Nearly 10,000 Indians were detained in the US in 2018 by law enforcement agencies as part of their operations to identify and remove aliens who present a danger to national security or are a risk to public safety, according to a government report. Of these, 831 were removed from the US, the report said on Tuesday.
According to the report titled "Immigration Enforcement: Arrests, Detentions, and Removals, and Issues Related to Selected Populations" by government accountability office, the number of Indians detained by the US Immigration and Customs Enforcement (ICE) has more than doubled between 2015 and 2018.
In 2015, the ICE had detained 3,532 Indians, which increased to 3,913 in 2016; 5322 in 2017 and 9,811 in 2018. According to the report, the ICE removed 831 Indians in 2018. The figure was 296 in 2015; 387 in 2016 and 474 in 2017. The number of administrative arrests of Indians by the ICE in 2015 was 317, which increased to 390 in 2016, 536 in 2017, and 620 in 2018, the report said.
According to the report, the number of enforcement and removal operations by the ICE varied from calendar years 2015 through 2018 but increased overall from 1,12,870 in 2015 to 1,51,497 in 2018.
The ICE detention data also showed that detentions of transgender and pregnant individuals increased from calendar years 2016 to 2018 and detentions of individuals with disabilities increased from 2017 to 2018.
https://timesofindia.indiatimes.com/world/us/us-detained-10k-indians-in-2018-in-bid-to-remove-illegal-aliens-report/articleshow/72482906.cms
------
Top DOD Officials: US Presence, Airpower Needed to Prevent Islamic State Resurgence
Dec. 11, 2019
By Brian W. Everstine
The Islamic State group has not completely been pushed out of Syria and without a sustained US presence, including air surveillance and strike operations, it will re-emerge within a matter of months, the top US military uniformed official told lawmakers.
It likely will take between six and 12 months, but IS will once again become a major threat if the US leaves, Chairman of the Joint Chiefs of Staff Gen. Mark Milley said at a Dec. 11 House Armed Services Committee hearing.
There are between 500 and 600 US forces remaining in northern Syria, down from approximately 1,000 that were in the area before President Donald Trump announced he was ordering the withdrawal of forces in October, Defense Secretary Mark Esper said at the hearing.
Esper told lawmakers that despite the loss of the physical caliphate and the death of the group's leader, IS is still an ideology that is hard to defeat. In August, Operation Inherent Resolve estimated IS still had between 14,000-18,000 members in Iraq and Syria, according to the Defense Department Inspector General.
American forces will be able to fully leave when the US has enough confidence in the fighters it has trained, "when we feel comfortable that local security and police forces are capable of handling any resurgence," Esper said.
The October announcement of a withdrawal preceded the Turkish incursion into the region aimed at creating a 30-kilometer safe zone stretching south of the border it shares with Syria. Milley said he had recommended pulling a small number of troops co-located with Syrian Democratic Forces out of the immediate area before the incursion. But once that happened, Syrian Democratic Forces in the region shifted their focus to fighting the Turkish advance until a ceasefire was brokered and they retreated.
Milley and Esper said they coordinated with the White House before Trump's October announcement, and that in conversations with Turkish leaders Ankara made it clear that it could not guarantee the safety of Americans in their way.
"There are 15,000 Turkish soldiers, and we had all the intelligence indicators to indicate that orders were written and sent and rehearsals were complete and they were going to attack," Milley said. "There were 28 United States Special Forces Green Berets and I am not going to allow 28 American soldiers to be killed and slaughtered just to call somebody's bluff."
Since that initial, moderate withdrawal of American forces in the north, SDF fighters and US forces are still working together outside the buffer zone, Esper and Milley said. For example, US forces retain their major presence at Al-Tanf where they are protecting oil facilities in the region.
The SDF also still has "adequate control" of 24 prisons in Syria, and Milley testified he is not worried about the security of these IS fighters.
"There's no risk I can see of mass escape," Milley said.
However, the US does not have solid intelligence on the security of several facilities inside the Turkish-controlled area, Milley said.
https://www.airforcemag.com/top-dod-officials-us-presence-airpower-needed-to-prevent-islamic-state-resurgence/
------
Mideast
Iraqi Media Official: Baghdad Pressured by US to Sour Ties with Iran
Wed Dec 11, 2019
TEHRAN (FNA)- Head of Iraq's Media Development Center Adnan al-Siraj said that the US has increased its pressures on Baghdad to darken relations with Iran, and blasted Washington for treating Iraq as a US colony.
"The US administration, including the president, foreign ministry and its embassy in Baghdad, are pressuring Iraq" to darken ties with Iran, al-Siraj told the Arabic-language service of al-Jazeera news channel on Wednesday.
He added that Washington has cautioned Baghdad that it would help Iraq to come out of the current crisis only if Baghdad darkens ties with Tehran.
"Washington wants Baghdad to show hostile behavior towards Iran, while the Iraqis do not consider the Iranians as their enemy and certainly do not want any side to interfere in their affairs," al-Siraj said.
He also blasted the American officials for treating Iraq as a US colony by trafficking in the country without any permission and coordination with the government.
Iran and Iraq have forged close and brotherly relations in the past few years after Iraqi dictator Saddam was toppled.
In relevant remarks on Tuesday, Iraqi Ambassador to Tehran Sa'ad Javad Qandil underlined close and unbreakable relations between his country and Iran.
"Iran and Iraq are two countries in one front," Qandil said, addressing a ceremony in the Northern city of Qazvin.
He warned of the Western states' attempts to weaken the regional states, and said, "Economic insecurity is one of the weapons used by the US against Iran and other countries of the region."
Qandil also said that the foreign states are after disintegration of Syria politically, militarily and geographically through engineered chaos and sowing differences among different bodies in the country.
Also, in June, Iraqi President Barham Salih, in a meeting with Iran's Ambassador to Baghdad Iraj Masjedi, reiterated his country's high regard for bilateral ties with Tehran, describing the ties as broad and deep.
During the with Masjedi in Baghdad, Salih said that Iran is a Muslim country and a great neighbor to Iraq, adding the two neighbors share a border of 1,400 kilometers.
The Iraqi President also described Iran-Iraq relations as extensive and deep, adding that "the stability and security of Iran, Iraq and other countries in the region are intertwined."
"The situation in Iraq and its way dealing with the current crises in the region are a result of the Iraqi national and independent decision and its transparent policy of preventing the escalation of tensions and crises with the aim of strengthening the stability and security of the countries of the region, including Iraq itself," he added
Salih went on to say that "in the current situation, we have a historic responsibility to work to reduce the tensions in the region and prevent the escalation of tensions that threatens the stability of regional countries".
https://en.farsnews.com/newstext.aspx?nn=13980920000728
------
Senior Lawmaker: US after Empowerment of Puppet Regime in Iraq
Wed Dec 11, 2019
TEHRAN (FNA)- A senior Iraqi parliamentarian warned of the US interference in the country's internal affairs, specially formation of the new government.
"The US is attempting to meddle in the formation of the new government because it wants a regime which moves based on Washington's plans," Karim al-Aliwi, the representative of al-Fatah coalition, told the Arabic-language Baghdad al-Youm news website on Wednesday.
He added that Washington wants to implement its plots in Iraq and other regional states by interference in the political process of the country.
"The Iraqi people, specially the protestors and the religious leaders, denounce any foreign interference in the Iraqi nation's decision," Aliwi said.
In relevant remarks on Tuesday another Iraqi MP had also strongly condemned the US meddling in the internal affairs of his country amid efforts to form a new government.
Head of Sa'eroun fraction at the Iraqi parliament Nabil al-Tarafi was quoted by al-Ma'aloumeh as saying that the US interference in Iraq is not acceptable at all.
"We cannot bear foreign meddling in Iraq," he added.
"Formation of government is a national issue and does not need foreign interference," al-Tarafi said, warning of Washington's strenuous attempts to meddle and influence government formation in his country.
Influential Iraqi Shiite cleric Muqtada al-Sadr had also earlier lashed out at the United States for its interference in Iraq's internal affairs.
In a statement in November, al-Sadr said that the Iraqi people want an early election free from the US intervention, as the country does not need arrogant countries and the help of others.
"Once again it (America) proved that it interferes in the affairs of others," he stated, noting that Iraq belongs to the people of Iraq who can decide their fate democratically and peacefully.
"Iraqis will not allow Washington to turn their country into another Syria," said the leader of Sadrist Movement and Sa'eroun parliamentary alliance.
"Enough interference in our affairs. Iraq has a senior who can protect it and does not need the intervention of either you or anyone else," al-Sadr added.
https://en.farsnews.com/newstext.aspx?nn=13980920000641
------
Official: ISIL Occupation of Oil Wells in Diyali Prevented by Hashd Al-Shaabi
Wed Dec 11, 2019
TEHRAN (FNA)- Hashd al-Shaabi (Iraqi popular forces) thwarted an ISIL plot to occupy the oil wells in Iraq's Diyali province, a senior security official said.
Head of the security committee at Diyali governor-general's office Sadeq al-Hosseini told the Arabic-language al-Ma'aloumeh website on Tuesday that Hashd al-Shaabi forces in Naft Khaneh region in Eastern Ba'aqoubah repelled the ISIL plot to occupy the oil wells in the region.
He added that Hashd al-Shaabi adopted the strategy of line of fire in its recent operations to confront the ISIL attacks against the oil-rich region of Naft Khaneh and adjacent areas.
"Hashd al-Shaabi plays a strategic role in establishment of security in Diyali and is in control of an extensive area in the province which sometimes witnesses activities of the remnants of the ISIL terrorists," al-Hosseini said.
Hashd al-Shaabi continues fight against the ISIL while the US fighter jets shrug off targeting the terrorists' hideouts in al-Anbar province in Western Iraq.
A security source at Hashd al-Shaabi command center told al-Ma'aloumeh news website that the US fighters in Northern al-Anbar near the province of Saladdin close their eyes on ISIL moves, adding that the US indifference has entailed negative impacts on the province's security and stability.
"The US fighters fly for a long time over these regions but they refrain from bombing the ISIL centers," a move that runs counter to the US forces' main excuse for their presence at Ein al-Assad airbase, he said.
In relevant remarks in September, Another high-ranking Iraqi security source said that the US Army continued its support for the ISIL terrorist group in Southwestern Kirkuk (Center of Iraq).
The US Army troops stationed in Iraqi Army's Division 14 Command Headquarters have warned the Iraqi troops not to bombard the ISIL's military positions in Makhoul mountainous region, the source noted.
He told al-Ma'aloumeh that the US troops had also warned the Iraqi Army not to conduct any ground or air operations in the mountainous region and its surrounding areas against ISIL.
The US Army troops have supported the ISIL terrorists many times before in Syria and Iraq and Head of Badr Organization has recently accused the US Army troops of a plan to construct a crossing for passage of the ISIL terrorists in Western Iraq.
https://en.farsnews.com/newstext.aspx?nn=13980920000595
------
With Netanyahu's fate in question, Israel heads to new election
Dec 12, 2019
JERUSALEM: Israel headed on Wednesday towards a third national election in less than a year with Prime Minister Benjamin Netanyahu facing the fight of his life for political survival after a criminal indictment.
A midnight deadline, the last of a series of set to allow for the formation of a new government after a September election, passed unmet. That triggered another election within three months. Under an earlier agreement between the two main parties, March 2 was the date to be set for the new election.
What had once seemed nearly impossible to many Israelis - a third visit to polling stations after the inconclusive ballots of April and September - carries a heavy economic price: it will be well into 2020 before a new budget is passed, which will mean months of cutbacks that will weigh on growth.
Neither Netanyahu's right-wing Likud party nor the centrist Blue and White party led by his main rival, former military chief Benny Gantz, won enough seats in the Knesset for a governing majority in the previous two contests.
Both men were delegated the task of forming a coalition, but failed. Each has blamed the other for the impasse, in which neither could agree on the terms for a "rotating" premiership.
Wednesday's deadline marked the end of a final three-week period in which Israel's president gave Knesset lawmakers an opportunity to find a new candidate from within their ranks.
In the two previous national elections, Netanyahu's opponents focused on the three corruption investigations against him that included allegations he dispensed favours to media barons in a push for more favourable media coverage.
But this time, Israel's longest-serving leader is running under the cloud of a criminal indictment announced last month.
Denying any wrongdoing, Netanyahu, 70, has accused legal authorities of attempting a "coup" aimed at ousting a popular right-wing leader. Critics alleged that Netanyahu was trying to undermine the rule of law and set an election campaign theme portraying himself as the victim of "deep state" conspiracy.
As prime minister, Netanyahu is under no legal obligation to resign as a result of the indictment, and while in office he can ask the legislature to grant him immunity from prosecution.
As caretaker premier, Netanyahu would remain in the post until a new government is formed - a process that could stretch months past a March ballot if what is likely to be tortuous coalition-building is taken into account.
"There are only three reasons for this election - bribery, fraud and breach of trust," Blue and White lawmaker Yair Lapid told the Knesset, alluding to the charges against Netanyahu.
Vowing to "win big" at the polls, Netanyahu has described himself as best-placed to deal with Israel's many security threats. He has cited U.S. backing for proposed Israeli annexation of occupied land where Palestinians seeks statehood as a reason for Gantz to partner up with him in government.
"They (Blue and White) want to hide the fact that they did everything to avoid creating a national-unity government that would have annexed the Jordan Valley and applied Israeli sovereignty to the settlements of Judea and Samaria (West Bank)," Netanyahu said in video statement on social media.
"It was they who imposed a new election on us."
An opinion poll on Israel's Channel 13 news on Tuesday forecast Blue and White would win 37 seats to Likud's 33 in the 120-member parliament, increasing the one-seat advantage it gained in the last election.
But it also indicated that both parties could still struggle to secure enough allies for a majority coalition.
https://timesofindia.indiatimes.com/world/middle-east/with-netanyahus-fate-in-question-israel-heads-to-new-election/articleshow/72484291.cms
------
Date palm, Arab region symbol of prosperity, listed by UNESCO
11 December 2019
The symbol of the date palm tree has historically presented prosperity in the Arab region
All parts of the date palm were and are still used in some parts of the region for shelter or to produce a range of products
DUBAI: The date palm, which was recognized by UNESCO on Wednesday, has for centuries played an important role in the establishment and growth of civilizations in the hot and dry regions of the Arab world.
Now date palm-related knowledge, traditions and practices have been inscribed on UNESCO's list of Intangible Cultural Heritage of Humanity.
The tree, whose roots penetrate deep into the soil, allowing it to grow in arid climates, has not only been a source of food but also of economic gain.
"Date palms gather in oases of different densities within desert areas indicating the presence of water levels suitable for irrigation," according to a nomination put forward by 14 countries — Bahrain, Egypt, Iraq, Jordan, Kuwait, Mauritania, Morocco, Oman, Palestinian Territories, Saudi Arabia, Sudan, Tunisia, United Arab Emirates and Yemen.
"As a result, this aided mankind in settling down despite harsh conditions," said the document.
Until this day, platters of dates adorn tables in homes and businesses across the Arab world, where the symbol of the date palm tree has historically presented prosperity.
The offering of the sweet fruit, coupled with a cup of coffee, is a sign of good old-fashioned Arab hospitality.
According to the UN's Food and Agriculture Organization, the date palm is probably the most ancient cultivated tree.
It was grown as early as 4,000 BC and used for the construction of the moon god temple near Ur in southern Iraq — the ancient region of Mesopotamia.
"The population of the submitting states has been associated with the date palm tree for centuries as it aided them in the construction of civilization," they said in the nomination.
"Historical research and various antiquities excavations have resulted in the plant's significant cultural and economic status in numerous regions such as Mesopotamia, ancient Egypt and the Arab Gulf."
The ancient crop also faces some modern challenges. Gulf countries have fought hard to eradicate the red palm weevil, which originally came from Asia and was first detected in the region in the 1980s.
The beetle, which is barely a few centimeters (around an inch) long, produces larvae that feed off palm trunks, killing the trees.
"In Gulf countries and the Middle East, $8 million is lost each year through removal of severely infested trees alone," according to the FAO.
All parts of the date palm were and are still used in some parts of the region for shelter or to produce a range of products, including handicrafts, mats, rope and furniture.
To celebrate and promote their date palm heritage and palm products, some of the submitting countries hold annual date festivals, most notably the annual Liwa Date Festival in the UAE and the Dates Festival in Al-Qassim in Saudi Arabia.
Both Gulf countries are among the top date exporters, according to the Geneva-based International Trade Center.
https://www.arabnews.com/node/1597621/middle-east
------
Political crisis is costing Lebanon more than $70m a day
11 December 2019
NAJIA HOUSSARI
BEIRUT: Lebanon is losing more than $70 million a day as a result of the political and economic crisis, ministers say. There has also been an alarming decline in imports and the 2019 budget deficit will be much greater than expected, they added.
Meanwhile private-sector bosses gathered to demand action, and revealed the devastating effects of the crisis on their businesses, which has forced many to cut wages or fire staff as they struggle to survive.
The country has been in turmoil since October 18, when protests began against the ruling elite. On October 29, Prime Minister Saad Hariri and his government resigned, but replacements are yet to be named, leaving the economy and banking system are in chaos.
"Public-sector employees will get paid before December 25 and their salaries for the next months are guaranteed, but there is a dramatic decline in state imports," said caretaker Finance Minister Hassan Khalil. "The deficit will rise and 2020 budget figures will be reconsidered."
Caretaker Economy Minister Mansour Bteish added: "The country is half-paralyzed. The total income per day is $150 million, which means the national economy is losing at least $70 to 80 million a day. The crisis has dramatically worsened and urgent solutions are needed."
Owners of private businesses gathered in the heart of Beirut to demand action.
"The private sector in Lebanon represents 75 percent of the country's revenues," said Waddah Sadeq, owner of a marketing and advertising company. "Fifty percent of companies are in danger and might close amid the financial and economic crisis, due to the lack of a consensus to form a new government that could save the country.
"The private sector can only survive until the first quarter of 2020. There are 40,000 private companies in Lebanon with 850,000 employees providing for 500,000 families. About 5,000 employees have been dismissed, especially in the restaurant, tourism and services sectors.
"Factories are struggling to survive and if the situation does not improve, they will most certainly close. Imports have been blocked due to the banking restrictions and so the work of businesses relying on imports is suspended. What are politicians still waiting for?"
Pierre Issa, the cofounder of Arc-en-ciel, a non-profit organization that works with private companies, said: "Our state is making us pay taxes with no services in return. The situation of organizations such as ours has become very critical and we are stuck with two options: paying employees or paying taxes."
Sahar, a restaurant owner, said: "Work has been severely affected. Suppliers are unable to withdraw their money from banks to meet our needs. People are avoiding eating at restaurants because they are being paid half their salaries or have been fired from their jobs.
"We are struggling to survive. This month I must cut my employees' salaries in half because I do not want to fire any of them. But I do not know what I will have to do if the situation remains this bad in 2020."
Architect Fouad Naayem said he had to let some staff go, and added: "I have kept only eight employees because I had to reduce expenses. Our work in Lebanon is paralyzed. If the economic stagnation continues, I will be forced to migrate."
Nabil Kettaneh is the owner of Kettaneh Group, which was established in 1922 and sells cars, hospital equipment and home appliances.
"My concern today is to provide the salaries of 210 employees, given that the company is making zero revenues" he said "People have stopped buying cars due to the banking restrictions and the economic crisis. We want a government able to control the situation, save the national economy and restore banks' trust. Our deposits are blocked . We cannot transfer money abroad to import goods."
The International Support Group for Lebanon, which convened in Paris on Wednesday, said that the preservation of "Lebanon's stability, security, sovereignty, political independence and territorial integrity requires the urgent formation of a competent and credible government to implement economic reforms." The group added that the government must "be independent of regional crises and tensions," and called for "the adoption of a reliable budget for 2020" as soon as possible.
https://www.arabnews.com/node/1597611/middle-east
------
More profitable year forecast for private investing in the Middle East
JUMANA KHAMIS
December 11, 2019
DUBAI: On a day that Saudi Aramco shares opened at SR35.2 ($9.39) at the Riyadh's Tadawul stock exchange, Ammar Al-Khudairy, chairman of Samba Financial Group, one of the banks managing the deal, made three main forecasts for the region's economy.
"We will see capital markets doing better, which means private equity will start making some money again," he said during a panel discussion on "the future of private investing" at the SALT conference in Abu Dhabi on Wednesday.
Al-Khudairy's second forecast was some "bifurcation of private investing," followed by private infrastructure. "Saudi Arabia has been talking about privatization, both greenfield and brownfield, for three years," he said, adding that the government has piloted some projects and is working on a "very aggressive plan" to privatize 21 water-related assets and several thousand schools in 2020.
He said China is one of the top two or three relationships globally for Saudi Arabia, despite the few Chinese investments seen in the Kingdom.
While many experts say that private equity is enjoying a "golden era" in the West, the same cannot be said about the Middle East.
Recalling a time before the 2008 financial crisis, Al-Khudairy said there were 92 to 93 announced PE firms and PE funds then. "Today, we have six," he said, attributing the figure to the unfavorable market in the region.
"If we look at Saudi Arabia, the biggest market in the region, it has been breaking even for the past five years," he said, adding that the MENA region has had a total return of 4 percent during the same time.
As for the Aramco local initial public offering, Al-Khudairy said: "There was a last-minute call to make Aramco IPO a local IPO. So there was no proactive marketing outside the region."
Aramco shares opened at 10 percent above their IPO price of SR32, reaching a record $26.5 billion on their first day.
Al-Khudairy noted that as a part of the final allocation, 23 percent went to non-Saudi entities and 37 percent went to institutional investors in Saudi Arabia.
"But a lot of it (international) is Gulf and also some American and European and Chinese money."
Saudi Arabia was also the focus of remarks by David Rubenstein, co-founder and co-executive chairman of the Carlyle Group, in the same session on the final day of the Middle East's first Salt conference.
The Carlyle Group is one of the world's largest and most successful investment firms with $212 billion of assets.
Rubenstein said considering Saudi Arabia's size, it will continue to have "attractive opportunities" beyond the oil and gas sector.
As an investor, he saw the Arab world as made up of four main areas, with the GCC emerging as the only one with attractive prospects. The Levant has experienced years of conflict and violence, while North Africa is known for the Arab Spring and, like Turkey, is blighted by uncertainties.
That does not mean the GCC region is not without its challenges. According to Rubenstein, the first is a lack of government-owned properties and private-owned estates for sale, which he attributed to the high number of family-owned business in the region that lack the incentive to sell.
"A lot of the money that has been invested here is money that is already in the MENA region," Rubenstein said, adding that it could take some time before a large number of private equity firms are seen in the GCC.
Attracting Western capital is the second challenge, whether from the US, Western Europe or even Asia, which Rubenstein said is linked to public perceptions about the MENA region.
https://www.arabnews.com/node/1597561/middle-east
------
Several Ringleaders of Recent Riots Arrested in Tehran
Wed Dec 11, 2019
TEHRAN (FNA)- Police officials in Tehran province announced that four more leaders of the recent riots have been identified and detained.
"The officers have identified 4 main culprits and provocateurs of riots in the towns of Tehran province who had blocked the roads, destroyed the governmental buildings and set fire at financial institutions and arrested them in their hideouts in separate operations after coordination with judicial authorities," Commander of the Law Enforcement Police in the Western part of Tehran province Brigadier General Mohsen Khancherli said on Wednesday.
He added that the suspects have confessed to their acts of sabotage and attacks on police officers and have been handed over to the judiciary to stand trial.
On November 15, the government raised Iran's extremely cheap gas price in order to moderate the national consumption rate, which stands at 110 million liters per day, 40 million liters above the maximum domestic requirement.
The government also announced a number of aid and subsidiary programs to protect vulnerable households from the adverse effects of the measure.
The price reform, required by Iranian legislature and essential as US-imposed sanctions seek to deplete Iran's budgetary resources, had been long delayed due to concerns regarding the move's probable backlash.
The measure's adoption prompted initially peaceful protests, but riotous elements, abusing the situation, quickly entered the scene, destroying public property, setting ablaze banks and gas stations among other facilities, and opening fire on people and security forces.
Intelligence reports and eye-witness accounts showed that the rioters who had taken advantage of public protests against gasoline price hikes to stir chaos in the country were armed with different weapons.
The protest rallies of Iranian people against the gasoline rationing turned violent since the first hours of the gatherings after the rioters used weapons.
https://en.farsnews.com/newstext.aspx?nn=13980920000838
------
IRGC Rejects Claims Attributed to Iranian General on Lebanon as Misquote
Wed Dec 11, 2019
TEHRAN (FNA)- Spokesman and Head of the Islamic Revolution Guards Corps' Public Relations Department Brigadier General Ramezan Sharif dismissed media misquotes of the recent remarks made by a veteran Iranian General about Iran's response to Tel Aviv's threats from Lebanon, saying that he is not an advisor to the IRGC commander.
"Reviews show what General Morteza Qorbani's remarks have been misinterpreted and misquoted by the media," General Sharif said on Wednesday.
The spokesman said "General Qorbani has, in fact, meant to speak of response to Israel by possible various means and capacities".
The spoksman valued the services rendered to the country by the war veteran, but underlined that General Qorbani "is not an advisor to the IRGC commander at present", and works elsewhere at the Iranian Armed Forces.
General Sharif also lauded the Lebanese defense minister for his smart response which foiled the Saudi-Zionist media's mischief over the remarks.
The Persian-language Mizan Online News Agency had quoted General Qorbani in an interview on Tuesday as saying that the smallest provocation from Israel would lead to flattening Tel Aviv from Lebanon, without even having to launch missiles from Iran.
The Israeli and Arab media outlets were fast to run a hype over his misinterpreted comments.
In response to the statement, Lebanon's Defense Minister Elias Bou Saab said, "If what is attributed to (General Qorbani) is correct, it is unacceptable and it is a violation of the sovereignty of Lebanon, which has a relationship of friendship with Iran."
"The independence of the Lebanese must not be affected in any way," the minister stressed.
https://en.farsnews.com/newstext.aspx?nn=13980920000814
------
Minister: Iran Repels Massive State-Sponsored Cyber Attack against Infrastructures
Wed Dec 11, 2019
TEHRAN (FNA)- Iranian Minister of Communications and Information Technology Mohammad Javad Azari Jahromi announced that a huge cyber attack organized by a foreign state has been thwarted by the country's powerful security shield.
"Recently, we faced a highly-organized and state-sponsored attack against the infrastructures of the electronic government and it was identified and repelled by the country's security shield," Azari Jahromi told reporters in a press conference in Tehran on Wednesday.
He did not provide any details about the attack, saying, "I cannot say for now which country has conducted the attack."
Azari Jahromi, meantime, said that dimensions of the attack are clear now, adding that a report will be released later.
In relevant remarks in October, Azari Jahromi said that his country's home-grown cybersecurity wall helped Tehran to foil 33 million cyberattacks in the past year.
Addressing the Munich Security Conference (MSC) Cyber Security Summit in Qatar, Azari Jahromi said his country's cybersecurity project codenamed Digital Fortress (Dejfa) could deter 33 million cyberattacks in the past year.
The Iranian minister added, "US' unilateralism and use of sanctions is a threat to international cybersecurity and the solution to global cybersecurity problems lies in using multilateral mechanisms."
Also in the same month, Head of Iran's Civil Defense Organization Brigadier General Gholamreza Jalali, whose organization is in charge of cyber security, said that his country is seriously following up the case of the United States' repeated cyber-attacks against its energy sites, adding that Tehran has now developed a tight security system for countering such hostile moves.
"The Americans have repeatedly threatened and mounted cyber-attacks against us," Jalali said on October 06.
"The legal implications of such actions could naturally affect them and Iran is seriously following up the issue at its juridical and foreign ministry capacities," he said, adding that Iran is putting in place robust security measures to protect its vital infrastructure.
Last month, US media reports said the United States was considering possible cyber-attacks against Iran after the September 14 attacks on Saudi oil sites which Washington was quick to blame on Iran without evidence.
Jalali said, "Our task is to enhance our cyber defense preparations in the energy and other critical areas."
https://en.farsnews.com/newstext.aspx?nn=13980920000464
------
White Helmets, Al-Nusra Terrorists Preparing for New False-Flag Chemical Attack in Idlib
Wed Dec 11, 2019
TEHRAN (FNA)- The terrorists of Tahrir al-Sham al-Hay'at (the Levant Liberation Board or the Al-Nusra Front) and White Helmets have transferred chemical substances to several cities in Idlib Province under the supervision of European and Turkish experts, local sources said.
Al-Nusra Front terrorists in coordination with pro-militant White Helmets have already transported chemical substances to Southern Idlib, the Arabic-language service of the Russian Sputnik news agency quoted local sources as saying.
The local sources noted that the chemical consignments have been transferred to the cities of Saraqib and Ma'aret al-Numan in Idlib province, and said that chemical substances contained chlorine gas.
They said that two vehicles belonging to the White Helmets carried chlorine gas capsules and arrived in Al-Nusra Front military bases in Saraqib city on Wednesday morning. The French, Belgian and Turkish militants of Al-Nusra Front helped White Helmets transfer the chemical substances.
The terrorists also sent several other capsules containing chlorine gas to Ma'aret al-Numan region.
In a relevant development in late June, media sources said that the White Helmets and Tahrir al-Sham were reportedly preparing to shoot a scene in the demilitarized zone in Idlib that would show a chemical attack by the Syrian Army.
The Arabic-language Morasseloun news website quoted special sources in Idlib province as saying that Tahrir al-Sham was planning to launch a new chemical attack on civilians and areas controlled by the Turkish Army in Mourek and Jbal al-Zawiyeh in Northern Hama and Southern Idlib.
The sources pointed to the preparedness of the White Helmets to take films from the preplanned chemical attacks, and said most probably the cameramen of the CBS television network who had recently obtained permits for preparing videos from Tahrir al-Sham terrorist commanders in Idlib would also contribute to shooting the scene.
According to intel, Tahrir al-Sham commanders had previously paid $200 to each of the White Helmets to take films and pictures from the aftermath of the chemical attacks on children in Saraqib and Jorjnaz in Idlib.
Meantime, the Tahrir al-Sham terrorists are also planning to conduct chemical attacks after the Syrian and Russian air forces carry out airstrikes on the town of Jorjnaz in Southern Idlib.
The sources noted that the terrorists intended to victimize civilians in real chemical attacks, and said that the White Helmets were also supposed to film the chemical attack to accuse the Syrian Army for the crime later.
https://en.farsnews.com/newstext.aspx?nn=13980920000306
------
Clashes Between Followers of Shia Parties, Police Taking Place in Downtown Beirut
12.12.2019
BEIRUT (Sputnik) – Lebanese police are clashing on Thursday with followers of the Shia parties, trying to prevent them from coming to the squares of Downtown Beirut, occupied by peaceful protesters, eyewitnesses told Sputnik from the site.
Some Lebanese media also report that Shia activists were throwing Molotov cocktails at police officers.
That is not the first attempt of Shia activists to attack opposition demonstrators, whose camps were set on fire and looted.
People have remained in the streets of Lebanon since 17 October, despite premier Saad Hariri and his cabinet being dismissed, to demand economic reforms, specifically in the banking sector.
Before Hariri's cabinet resigned, both of the main Shia-based groups, Hezbollah and the Amal movement, were represented in the Lebanese government.
https://sputniknews.com/middleeast/201912121077548450-clashes-between-followers-of-shia-parties-police-taking-place-in-downtown-beirut/
------
South Asia
Fleeing Rohingya on trial in Myanmar for "illegal travel"
Dec 11, 2019
PATHEIN: Dozens of Rohingya Muslims appeared in a Myanmar court on Wednesday to face charges of travelling illegally after they were arrested while fleeing apartheid-like conditions in the country's Rakhine state.
The group of 93, including 23 children, were brought to court on the same day that Myanmar's leader, Aung San Suu Kyi, appeared before the top UN tribunal in The Hague to defend the country against accusations of genocide in Rakhine.
Armed police barred journalists from entering the court in the town of Pathein, with officials citing "security reasons". Only their bare feet were visible to a Reuters reporter at the court as police used trucks to block the group from view as they were led into the court. Such hearings in Myanmar are usually open to reporters.
The 93 Rohingya had been arrested on Nov. 28 on a beach in the Irrawaddy delta region of southwestern Myanmar after boarding a boat from Rakhine.
More than 730,000 Rohingya fled Myanmar to Bangladesh in 2017 to escape a military-led crackdown that U.N investigators have said was carried out with "genocidal intent" and included mass killings and rapes.
But some 600,000 remain in the country, confined to camps and villages where they are unable to travel freely or access healthcare and education.
After the hearing, lawyer Thazin Myat Myat Win told reporters a judge adjourned the trial until Dec. 20. If convicted they face up to two years in prison.
"The children fled because they cannot live freely in their area. They tried to find an exit route," said activist Kyaw Soe Aung, who was observing the case.
The plight of Rohingya still living in Rakhine was in focus at this week's hearings at the International Court of Justice in The Hague, were Gambia has brought a case accusing Myanmar of violating the 1948 Genocide Convention.
Lawyers for the mostly Muslim west African country on Tuesday referred to conditions inside the camps across Rakhine, where Rohingya are reliant on donations from aid groups, saying the country was "starving" the population.
Opening Myanmar's defence on Wednesday, Suu Kyi said authorities were taking steps to improve living conditions, including expediting access to education, saying there would be "no tolerance for human rights violations in Rakhine or elsewhere in Myanmar".
But in recent weeks, several groups of Rohingya have been arrested while attempting to flee by boat.
In November, a Pathein court sentenced 14 people to two years in jail for illegal travel.
"I don't know what to say," said 50-year-old Hasin, who said his son was arrested separately while attempting to leave their home in Kyauktaw township. "We have food for lunch and are out of food for dinner," he told Reuters by phone from Rakhine, breaking into sobs. "We are struggling."
On Monday, rights group Fortify Rights released video footage they said showed the group of 93 crammed into overcrowded cells while awaiting trial.
"Most of them are children, 11-year-olds to 13-year-olds," said Thazin Myat Myat Win, the lawyer. "Their crimes are not real crimes.
"The government says they are welcoming those who are on the Bangladesh side to come back into the country. They told the world 'they are welcome to come back into the country' and then they treat children this way."
https://timesofindia.indiatimes.com/world/rest-of-world/fleeing-rohingya-on-trial-in-myanmar-for-illegal-travel/articleshow/72478641.cms
------
Landslide in Badakshan goldmine kills 5 and 35 other illegal miners get disappeared
Thursday, 12 Dec 2019
As a result of a landslide in Badakhshan goldmine, 5 illegal miners have been killed and 35 others have been disappeared, a provincial spokesperson said.
Nek Mohammad Nazari, the spokesperson for Badakhshan governor confirmed the presence of 40 mine workers in a goldmine in Khali village of Raagh district of Badakhshan at the time of the landslide.
According to Nek Mohammad, the residence of the village have found 5 dead bodies after the landslide, other 35 workers are still disappeared.
The area is under the control of Taliban and the government cannot send relief and rescue forces to the site, Nek Mohammad said.
This comes as that hundreds of mine workers are engaged in illegal goldmine extraction in Raagh district of Badakhshan.
The extraction of Badakhshan goldmine was contracted with CENTAR, a U.S mining company last October, but president Ghani ordered contract termination in late November 2019.
https://www.khaama.com/landslide-in-badakshan-goldmine-kills-5-and-35-other-illegal-miners-get-disappeared/
------
Taliban attack near Bagram airbase kills 2, injures 73 and wipes off a large clinic
Wednesday, 11 Dec 2019
A motor bomb explosion and long-running gunfires near U.S military base in Bagram district of Parwan province on Wednesday morning, killed 2 civilians and injured 73 most of whom were civilians, MOI spokesperson confirmed.
The powerful explosion has totally destroyed a large clinic which was built by the Korean Development funds and was in active since 2016.
According to Nasrat Rahimi, spokesperson for the Ministry of Interior Affairs, 7 militants entered in to the clinic building after the explosion.
Taliban have taken the responsibility of the attack and have claimed that their militants have succeeded to enter in to the U.S military base in Bagram.
A Resolute Support Spokesperson told Khaama Press that the Taliban fighters who remained after an unsuccessful attempt to breach Bagram airfield were killed in a series of airstrikes this evening.
The fighters barricaded themselves inside the medical facility building they attacked early Wednesday morning, RS spokesperson said.
He also said that some coalition service members were evaluated for minor injuries following the initial attack, but were late released.
This comes as the fifth day of the ongoing negotiations for a political settlement between Taliban and U.S delegation is over and more likely it takes more time to reach a deal.
The major subjects of discussions between the U.S delegation and Taliban leaders are violence reduction, ceasefire and intra-Afghan talks.
https://www.khaama.com/taliban-attack-on-bagram-airbase-kills-2-injures-73-and-wipes-off-a-large-clinic-98760/
------
Southeast Asia
PKR infighting spells doom for Malaysia, says Umno number 2
December 12, 2019
PETALING JAYA: Umno deputy president Mohamad Hasan has voiced concern that PKR leaders continue to quarrel over the prime minister's post, as seen at the Pakatan Harapan party's recent congress.
Mohamad said it was unfortunate that there had been no discussions on economic issues including the ringgit's drop and rising debt.
"Billions of ringgit in foreign investment has left Bursa Malaysia, and its performance is among the worst in the world this year. As of last week, the amount of foreign investment which left Malaysia in 2019 was more than RM10 billion.
"The infighting will only fuel suspicion that Malaysia is in the wrong hands," he said.He said as part of the ruling coalition, PKR's disunity will affect the country and the people.
"They are fighting over who will become prime minister and for how long. It is very worrying that the quarrel now involves ministers from PKR who should be focusing their attention on developing the country," he said in a statement.
"What is happening to this Malaysia Baru? It's more like 'Malaysia haru biru' (chaos)."
Tension between PKR's top two leaders – Anwar Ibrahim and his deputy Mohamed Azmin Ali – erupted into violent scuffles between their supporters at the PKR national congress in Melaka last week.
Azmin and those aligned with him including Zuraida Kamaruddin, the housing and local government minister, chose to skip the final day of the congress, and instead held their own gathering at a hotel in Kuala Lumpur.
Mohamad said that since the Pakatan Harapan administration took over after last year's general elections, foreign investment and the Bursa Malaysia's performance has worsened.
https://www.freemalaysiatoday.com/category/nation/2019/12/12/pkr-infighting-spells-doom-for-malaysia-says-umno-number-2/
------
Najib appears agitated by AG's line of questioning in SRC trial
December 11, 2019
KUALA LUMPUR: Former prime minister Najib Razak told the SRC International trial there was no need for former second finance minister Ahmad Husni Hanadzlah to go to Switzerland to check on alleged frozen SRC International funds by the Swiss government.
For the first time, Najib appeared to be agitated over the line of questioning by Attorney-General Tommy Thomas, especially with regards to Husni and an account in a Swiss bank.
Najib told the High Court he was told that a "1MDB entourage" had already visited BSI Bank in Lugano, Switzerland, and that the group was satisfied with what it had found on the trip.
Previously, Husni had told the court that he met Najib to get his consent to fly to Switzerland in an attempt to solve the issue of frozen funds, believed to be from SRC International. He added that Najib had rejected his request.
Former SRC International chairman Ismee Ismail had testified that he and fellow directors had gone to Switzerland to seek confirmation that their RM1.5 billion deposit was safe at the bank there.
The court had heard during the trial that SRC International received a total loan of RM4 billion from Retirement Fund Incorporated (KWAP) between August 2011 and February 2012. The government guaranteed the company's loans.
Thomas then pressed Najib on whether he had refused to let Husni go to Switzerland as the former prime minister was concerned that Husni might find out that the "money was stolen".
"It's not that. I want the money to come back to Malaysia, too," Najib said.
He said he had never attempted to "limit" Husni's involvement in 1MDB issues, adding that Husni was tasked with answering 1MDB-related questions in the Dewan Rakyat.
"He must have known about 1MDB affairs," Najib said, over questions by the AG that he wanted to stop Husni from finding out anything.
When Thomas started to ask whether the RM4 billion fund had "vanished", causing the company to have serious cash flow problems, Najib appeared agitated.
"SRC was given a directive to resolve this matter. I was shocked about it (RM4 billion) and we want the money back, of course," he said.
Thomas then suggested to Najib that as the prime minister, until his fall from power in May 2018, he had not taken any measures to bring back SRC International's money.
"Answer my question," the AG said.
Najib, in trying to control his temper, responded by saying: "That does not mean the (frozen) money was not there." He pointed out that the Swiss government had frozen the account.
He also maintained that SRC International was not in an insolvent state and that the company only had "cash flow problems", despite repeated questions from Thomas as to whether SRC International's RM4 billion loan needed to be written off.
"I do not agree and we have not come to that," Najib said.
The hearing continues before Justice Mohd Nazlan Mohd Ghazali on Dec 18.
Najib is facing six charges of money laundering and criminal breach of trust in the transfer of RM42 million to his account from SRC International, a former unit of 1MDB.
He is also accused of abusing his power as prime minister by giving government guarantees on SRC International's RM4 billion loan from KWAP.
https://www.freemalaysiatoday.com/category/nation/2019/12/11/najib-appears-agitated-by-ags-line-of-questioning-in-src-trial/
------
Muslim scholars seek to continue Bahtiar Effendy's legacy
Thu, December 12, 2019
Three weeks after the passing of prominent Muslim intellectual Bahtiar Effendy, about 100 colleagues and friends gathered to remember his efforts to bridge Islam and democracy.
The event was held, fittingly, in the auditorium of Syarif Hidayatullah State Islamic University's (UIN Jakarta) Social and Political Faculty, where Bahtiar served as the faculty's first dean.
"It's been almost a month since his passing, and we wanted to hold the event to remember him and to honor his contributions to Islam and political studies," the faculty's dean, Ali Munhanif, said at the event on Tuesday morning.
Bahtiar, a champion of democracy, died on Nov. 21 after a 23-year battle with cancer.
Instead of mourning the loss, colleagues and friends filled the event with hopeful discussions about how to continue Bahtiar's legacy.
One of Bahtiar's friends, former minister of religious affairs Lukman Hakim Saifuddin, said that in his final days, Bahtiar continued to express concerns about the state of Indonesia's direct-election system.
In the 2019 presidential and legislative elections, the country saw discrimination against and intimidation of religious minorities, as well as rallies protesting the election results.
"He [Bahtiar] argued that our nation didn't have any experience carrying out direct elections, so the government couldn't anticipate the fallout. This issue was on his mind until his death," Lukman said.
Lukman felt that it was the duty of fellow Muslim scholars to find solutions to this issue.
"Now that Bahtiar has gone, it is our time as Muslims to prove that we can also contribute to a better democratic system in Indonesia," he said.
Born in Ambarawa, Central Java, on Dec. 10, 1956, Bahtiar gained prominence for his ideas about the relationship between Islam and democracy. His dissertation, Islam and the State in Indonesia, is considered a classic in the study of Islam.
His interest in Islam and democracy stemmed from his educational background.
He studied at the Pabelan Islamic boarding school in Magelang, Central Java, before pursuing an undergraduate degree in comparative religious studies at IAIN Jakarta, now called UIN.
In 1988, he flew to the United States to pursue a master's degree in Southeast Asian studies at Ohio University. He later went to Ohio State University to obtain a master's degree in political science in 1992 and PhD in political science in 1994.
Bahtiar wrote books and articles about the relationship between Islam, democracy and religious pluralism. He became known as a champion of democracy in Indonesia.
Colleagues who attended the event shared the view that Muslim scholars should continue Bahtiar's legacy in Indonesia, a democratic nation with the largest Muslim population in the world.
"He has made so many contributions to political studies, and his successors should understand that continuing his study will help Indonesia create a better democracy in the future," said Nazarudin Nasution, a UIN Syarif Hidayatullah lecturer.
Bahtiar's dedication to the study of Islam and democracy manifested not only in his written work but also in the establishment of the Social and Political Faculty at UIN Syarif Hidayatullah.
Ali Munhanif, the dean of the faculty, said that Bahtiar convinced the university's rector office to establish the faculty.
Bahtiar served as its dean from its establishment in 2009 to 2013. He composed its curriculum and hired top teaching staff to provide a world-class education for the students.
To honor Bahtiar's contributions, Ali said that the auditorium where the event was held would be named Bahtiar Effendy Auditorium.
"He has gone, but his legacy at this university will last forever," Ali said. (glh)
https://www.thejakartapost.com/news/2019/12/12/muslim-scholars-seek-to-continue-bahtiar-effendys-legacy.html
------
BIMB rises 1.87% on Bank Islam taking over listing status
Surin Murugiah
December 12, 2019
KUALA LUMPUR (Dec 12): BIMB Holdings Bhd shares rose 1.87% this morning after it said it is undertaking a group restructuring exercise to unlock significant value for shareholders and transfer its listing status to its subsidiary Bank Islam Malaysia Bhd.
At 9.06am, BIMB rose 8 sen to RM4.36, valuing it at RM7.69 billion.
BIMB said the restructuring will involve a proposed placement of new BIMB shares to raise RM800 million.
It said the proceeds together with internal cash will be used to fully settle BIMB's outstanding sukuk, held by Lembaga Tabung Haji.
Other aspects of the restructuring include a Scheme of Arrangement (SOA) by BIMB to settle its outstanding warrants, whereby BIMB warrant holders would be paid a cash consideration for the cancellation of exercise rights in respect of the warrants.
It also includes an internal reorganisation whereby BIMB will dispose of its entire equity interests in its stockbroking and leasing subsidiaries to Bank Islam, to be settled in cash.
https://www.theedgemarkets.com/article/bimb-rises-187-bank-islam-taking-over-listing-status
------
Arab World
Asians charged with offending Islam land in court
Ihab Atta, Staff Reporter
The Dubai Criminal Court heard on Wednesday the case of three Asian suspects charged with posting pictures and publications containing phrases offending the Islamic religion and its sanctities via the Facebook and the Instagram.
The witness who reported the defendants, an Asian, working as a Government Relation manager at a famous Dubai hotel, indicated he had received a communication from the hotel security that the suspects put bad pictures and writings against Islam in their accounts on the Internet.
The witness summoned the suspects who admitted that they had sent those pictures through their accounts on the media, so the witness informed the police.
Another witness, a Dubai police sergeant, affirmed that a report had been received from the Al Barsha Police Station about the incident, and they rushed to the suspects' residence where the police found mobile phones and laptops, which were referred to the Criminal Evidence to be checked.
On being questioned, the suspects admitted they had published photos which offended the Islamic religion and Muslims on social media, a week after the Sri Lanka bombings.
In a seperate case, the Dubai Public Prosecution referred an unemployed Gulf citizen, 37, to the Dubai Criminal Court on charges of assaulting two policemen who came to arrest him for possessing narcotics and abusing psychotropic substances.
Earlier, Dubai Police's Anti-narcotics Department received a tip-off from a reliable source that the defendant was abusing narcotics and psychotropic substances. A search warrant was issued by the Dubai Public Prosecution and a witness accompanied by a group of the department staff and a policewoman headed to the defendant's apartment. As soon as the police agents entered the apartment, the defendant followed them and a heated argument erupted which snowballed into a brawl.
The defendant was arrested and after searching his apartment, hashish and crystal methamphetamine in rolls, bags and syringes were seized.
A second witness who took part in arresting the defendant stated that they went to the defendant's apartment when they knocked at the door, the defendant's wife opened it. Asked about her husband, she said he was asleep. She, however, waked him up and told him that police agents wanted him. Asked about the narcotics, the defendant told the police about a bag containing the said narcotics. After testing a sample, the defendant was found to be abusing hashish or marijuana, amphetamine and methamphetamine.
https://www.gulftoday.ae/news/2019/12/11/asians-charged-with-offending-islam-land-in-court
------
SR42m cinema inaugurated in Saudi Arabia's Jazan region
December 12, 2019
JAZAN: Jazan Deputy Gov. Prince Mohammed bin Abdul Aziz, on Wednesday inaugurated the first cinema in the Kingdom's southern region.
The cinema, which cost more than SR42 million, is situated at Al-Rashid Mall, in Jazan City.
Jeddah's first cinema opened its doors to the public earlier in January, and an industry expected up to 35 million people in the Kingdom to go to the movies every year.
Cinemas were banned in the country for decades until the first one opened last April in Riyadh.
Research from PwC Middle East in November estimated that total cinema revenue in Saudi Arabia would reach $1.5 billion by 2030. The forecast was based on a projected 2030 population of 39.5 million, and 6.6 screens per 100,000 people.
There will be cinemas in Tabuk by the end of this year or by early 2020. The lifting of the cinema ban is part of the Vision 2030 reform plan.
https://www.arabnews.com/node/1597706/saudi-arabia
------
DiplomaticQuarter: Indian Embassy hosts its annual diplomatic film festival
Updated 12 December 2019
Indian politician Suresh Prabhu, who is visiting the Kingdom, was the guest of honor at the opening ceremony
Prabhu noted the huge popularity of movies in India and expressed his happiness attending the event
The Indian Embassy in Riyadh is hosting "Ambassador's Choice: Screening of Films," an annual diplomatic film festival where movies from a number of countries are screened every evening.
The 8th edition of the festival was inaugurated on Dec. 5 at the embassy's auditorium.
Indian politician Suresh Prabhu, who is visiting the Kingdom, was the guest of honor at the opening ceremony. The opening was attended by a number of ambassadors of various countries, members of the diplomatic corps, Saudi nationals and members of the Indian community.
In his opening remarks, Prabhu noted the huge popularity of movies in India and expressed his happiness attending the event.
Indian Ambassador Ausaf Sayeed gave a short introduction to the film festival and the idea behind it.
The two-week festival began with the screening of three Saudi short films titled "The Swan Song" by Hana Alomair, "A Colorful Life" by Abdurahman Sandokji and "Jaleed" by Abdurahman Sandokji.
The screenings were followed by an interactive session with the directors of the respective films.
This was followed by the screening of widely acclaimed Bollywood movie "Dangal" on Dec. 6, Ukrainian movie "Haytarma" on Dec. 7, Brazilian film "O Roubo Da Taca" on Dec. 8, Bangladeshi film "Hasina" on Dec. 9 and Spanish film "Blancanieves" on Dec. 11.
The festival will also be screening "The Sky of My Childhood" from Kazakhstan on Dec. 12, "Mudras Calling" from Myanmar on Dec. 13, "Samanala Sandhwaniya" from Sri Lanka on Dec. 14, "Yellow Flowers on the Green Grass" from Vietnam on Dec. 16 and
"No Se Acepian Devoluciones" from Mexico on Dec. 17.
The festival will conclude with the screening of "Queen," a 2014 Indian comedy-drama on Dec. 18.
https://www.arabnews.com/node/1597701/saudi-arabia
------
Services resume at Saudi airport's Haramain high-speed rail station
12 December 2019
Work is still underway to repair damage and restore operations at Al-Sulaymaniyah station in Jeddah following the huge blaze in September
The high-speed rail service to Jeddah's King Abdul Aziz International Airport (KAIA) resumed on Wednesday after a fire tore through one of its stations in Jeddah in September.
The General Authority of Civil Aviation (GACA), in cooperation with operators of the Haramain rail transport system, began running trains again between Makkah and Madinah through the King Abdullah Economic City (KAEC) in Rabigh. The station at the KAIA is connected to the airport's Terminal 1.
Work is still underway to repair damage and restore operations at Al-Sulaymaniyah station in Jeddah following the huge blaze in September.
During peak hours Haramain trains run every 10 minutes and the rail service has the capacity to carry 20 million passengers a year.
The go-ahead to resume operations came after an official inspection of equipment and passenger facilities at the station, which was overseen by the GACA's assistant chief operating officer, Sulaiman bin Ahmed Al-Bassam, KAIA general manager, Essam bin Fouad Nour, and government officials.
The new KAIA rail link is the first airport connection of its kind in the region and is aimed at easing the transfer of visitors and pilgrims to the Two Holy Mosques as part of the Kingdom's Vision 2030 goal to be able to accommodate 30 million pilgrims by 2030.
KAIA Terminal 1 covers 810,000 square meters and consists of six floors, commercial areas, and a designated waiting lounge for those traveling VIP class. Its railway station has six 519-meter-long platforms, each capable of handling two trains with 832 passengers, and it can deal with approximately 3,204 travelers
per hour.
The multibillion-dollar rail project has been designed to cope with the growing number of foreign pilgrims arriving in the Kingdom and relieve traffic pressure on roads between Makkah, Madinah and Jeddah.
https://www.arabnews.com/node/1597696/saudi-arabia
------
Saudi university launches Kingdom's first self-driving buses
12 December 2019
THUWAL: A Saudi university is helping lead the global drive toward autonomous vehicles with the launch on Wednesday of the Kingdom's first self-driving buses.
Two driverless shuttles, nicknamed Olli and EZ10, will undergo trials on the King Abdullah University of Science and Technology (KAUST) campus with a view to starting regular commuter services for students and staff early next year.
The transport initiative is the result of a collaboration project between KAUST, digital vehicle manufacturer LM (Local Motors) Industries, driverless technologies firm EasyMile, and the Saudi Public Transport Co. (SAPTCO).
The shuttles were launched during a special ceremony at the Thuwal university site.
KAUST's head of digital experience and innovation, Mohamed Abdel-Aal, told Arab News: "They're electric, running on battery, not petrol. They are connected to the internet and communicate with a central command center, and are autonomous, self-driving."
Olli and EZ10 use camera and censor technology to sense and feel their surroundings.
FASTFACTS
• Two driverless shuttles, Olli and EZ10, will undergo trials on KAUST campus.
• Olli and EZ10 use camera and censor technology to sense and feel their surroundings.
• Olli, is 3D printed — the body, and a lot of its components.
"One of the buses, Local Motors' shuttle Olli, is actually 3D printed — the body, and a lot of its components. These shuttles can be produced very quickly because they do not require complex manufacturing," said Abdel-Aal.
He added that KAUST was currently involved in discussions on how the Kingdom could benefit from advances in driverless vehicles.
Saudi bus firm SAPTCO is supporting the project as a certified operator of the autonomous shuttles, should it be required.
"For KAUST, as a university, this launch allows us to test, co-develop and co-design concepts in these shuttles, acting as a living lab. KAUST can test and examine these shuttles in a controlled environment, and whatever we learn can also scale outside to bigger cities and the region," Abdel-Aal added.
During the launch event, Sulaiman Al-Thunayan, vice president for government affairs at KAUST, thanked governmental sectors, such as Saudi Customs and King Abdul Aziz International Airport, for helping to give the official green light for the operation of the smart shuttles at relatively short notice.
"KAUST has always ensured it leaves an imprint on the realization of Vision 2030, and this is one initiative that showcases that," he added.
KAUST Chief Information Officer Jason Roos said the idea to find smart solutions came about six months ago, and had given birth to other initiatives and platforms whether from "drones, autonomous vehicles, to digital immersive experiences when it comes to security."
Projects such as KAUST Smart helped to break down barriers between organizations and departments and ensured that "things happen at KAUST that cannot be done anywhere else in the world," added Roos.
"This isn't about a bus, this is about a new industry, autonomous vehicles and the incredible things of a technology that KAUST is going to be part of developing," said Kevin Cullen, the university's vice president of innovation and economic development.
The center is responsible for putting the research conducted at KAUST to use for the community, he added.
KAUST CEO Tony Chan said the launch had taken place at an opportune moment, as the university was celebrating its 10-year anniversary on Dec. 13.
The shuttle buses will be taken on test drives and if all goes well are set to start running services for KAUST students and employees in January.
https://www.arabnews.com/node/1597686/saudi-arabia
------
Africa
Islamic education complementary, says Don
December 12, 2019
By Adegunle Olugbamila
A Senior Lecturer at the Department of History, Lagos State University (LASU), Dr Wunmi Oluwatoki, has described Islamic education as an asset that helps learners thrive in mainstream education.
He said it was one of the reasons that Muslim parents must ensure that Islamic education was ingrained in their wards from childhood.
Oluwatoki gave this counsel at the 15th Annual Quiz and Qur'anic Recitation organised by the National Council of Muslims Youth Organisation Amuwo-Odofin chapter.
Oluwatoki noted that Qur'anic education espouses certain philosophies such as fate, ambition, death, destiny, and fear in Almighty Allah, among others.
"One interesting thing about Qur'anic education is that it makes man understand that whatever he aspires in life has been predestined by God. Even though man may struggle, only God has preeminence.
Therefore, making these children to understand this from a very tender age will restrict their desperation for worldly things. It will also make them more prayerful, knowing that man proposes; God disposes."
Chairman of the occasion, Abdulganiyyu Olukolu congratulated the participants as well as their parents for their desire in believing and upholding Islamic education.
Aside winning prizes, Abdulganniyyu admonished participants to see their participation as part of their service to God. He also encouraged them to put more efforts in their studies, noting that when they excel, their teachers and school mates would single them out because of their affiliation to Islam.
In the quiz category, Miss Omotosho Usman and Master Omotosho Usman both from Tusiyan School Agboju defeated Ali Qudus and Ibrahim Tawakalitu from Markas Taalim Liaroby while Hajarat Bello and Rukayat Tijani from Markas Danul Salam emerged second runners-up.
Similarly in the Quran recitation, Adekunle Mahbab from Markas Kuje Amuwo emerged first, followed by Ahmad Bello from Navy Town; Islammiyah and Jimeh Khadijah from Tawakalitu Mosque.
The winners in each category were presented with a standing fan, a ceiling fan and a wall clock in that order.
The sponsor of the competition Alhaji Abdul Wasiu Aderibigbe recounted how the contest began 15 years ago as a means of honouring his late mother Alhaja Osenat Kehinde Lawal.
"At the end of the day, we usually have six winners–three winners from the quiz and three from the Quran recitation categories," he began.
"I am glad to tell you that each category of this event has been so successful. Winners that emerge from this competition have always represented Amuwo-Odofin chapter at the state level.
Some of the winners that this competition has produced are also in attendance here. There is a particular winner who has gone to establish his own Islamic school and he is here with some of his students," he concluded.
https://thenationonlineng.net/islamic-education-complementary-says-don/
------
Australia
Controversial Australian sheikh known as the Imam of Peace is rushed to hospital with a mystery illness
12 December 2019
A controversial Australian imam has called on people to pray for him after he was rushed to hospital with a mystery illness.
Mohammad Tawhidi, who calls himself the Imam of Peace, tweeted an image of himself in the back of an ambulance on Wednesday.
'Please pray for me whatever religion you believe in. Please,' he captioned the photo.
He also added an update to his Facebook page that said he was in severe pain and had difficulty breathing.
The tweet quickly received more than 47,000 likes with many of his supporters tweeting at him telling him to be strong and they hope he recovers.
'Please dear Lord bless the Imam. Bless his doctors with skill. And please allow him to continue his work,' one user wrote.
'Get well soon sir, praying for your speedy recovery,' another user said.
The Adelaide-based Shia religious leader moved to Australia from Iraq in 1995 when he was 12.
He amassed a large social media following under the name 'Imam of Peace' and often advocates against Islamic extremism.
Tawhidi has more than 608,000 Twitter followers for criticizing extremist and anti-West elements of Islam.
In December last year Tawhidi claimed an Islamic preacher from Pakistan was calling for him to be killed.
The sheikh tweeted the death fatwa that was issued against him by Mufti Ahmad Raza Sialvi, with photos of the call to kill.
'Yesterday, a death Fatwa was issued against me by Mufti Sialvi of Pakistan. First, I thank the officials who contacted me expressing their concerns and support,' his tweet read.
'I've put all future meetings and events on hold until further notice. I'll come out of this much stronger.'
https://www.dailymail.co.uk/news/article-7783585/Controversial-Australian-sheikh-known-Imam-Peace-rushed-hospital-illness.html
------
URL: https://www.newageislam.com/islamic-world-news/humanity-hate-muslims-lay-rest/d/120507
New Age Islam, Islam Online, Islamic Website, African Muslim News, Arab World News, South Asia News, Indian Muslim News, World Muslim News, Women in Islam, Islamic Feminism, Arab Women, Women In Arab, Islamophobia in America, Muslim Women in West, Islam Women and Feminism