New Age Islam News Bureau
16 Sept 2018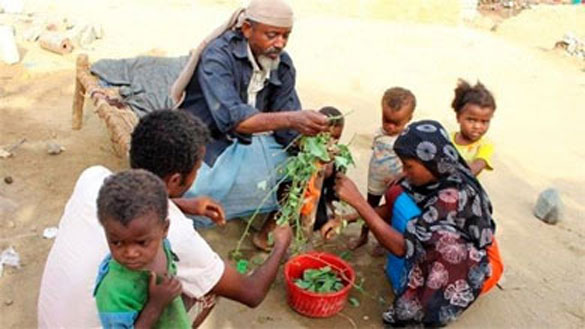 In this Aug. 25, 2018 photo, a man feeds children Halas, a climbing vine of green leaves, in Aslam, Hajjah, Yemen.
------
• Humanitarian Crisis Caused By Saudi Arabia's Deadly Bombing: Starving Yemenis Eat Leaves to Survive Amid War: Report
• Eritrea President, Ethiopia PM Reach Jeddah to Sign Historic Peace Deal
• 15 Islamic Parties Form Alliance in Support to Awami League
• Taking A Stand Against Transgressions And Provocations That Transcend Borders Is Needed: Muslim World League Chief
Mideast
• Humanitarian Crisis Caused By Saudi Arabia's Deadly Bombing: Starving Yemenis Eat Leaves to Survive Amid War: Report
• Palestinian Resistance Icon Tamimi Determined to Visit Iran
• Iran orders closure of newspaper for 'insulting' Shia Islam
• Terrorists attack Iran's embassy in Paris: Report
• Saudi airstrikes kill 15 on Hudaydah-Sana'a highway
• Tension mounts over 11-year-old Gaza boy's killing at border rally
• Doomed Palestinian village turns to Europe as last hope
--------
Africa
• Eritrea President, Ethiopia PM Reach Jeddah to Sign Historic Peace Deal
• Ethiopia Says Airstrike in Somalia Kills 70 Al-Shabab Militants
• Tunisia ruling party suspends PM's membership as rift deepens
• Rights lawyer wants Qatar to pay for its support of armed militias in Libya
--------
South Asia
• 15 Islamic Parties Form Alliance in Support to Awami League
• Afghan Intelligence Forces Suffer Casualties in Parwan Explosion
• Pak Foreign Minister, Afghan President Discuss Ties, Regional Security
• Pakistan's new government vows to strengthen Pak-Afghan ties, regional security
• President Ghani met with the Foreign Minister of Pakistan in Kabul
• Ghani informs of major changes in the security leadership in Kabul
--------
Arab World
• Taking A Stand Against Transgressions And Provocations That Transcend Borders Is Needed: Muslim World League Chief
• Remains of Nearly Two Dozen Daesh Commanders Found in Mass Grave in Iraq's Nineveh
• Israel and Egypt's Enduring 'Cold Peace'
• US-backed Forces Storm IS-held Village in East Syria
• Israel Launches Fresh Missile Attack on Damascus Int'l Airport
• Iraqi Forces Unearth Mass Grave of Izadi Victims in Nineveh Province
• Syrian Army Discovers Israeli Arms in ISIL's Positions in Dara'a
• Polls open in Syrian regime-held areas for first local elections since 2011
• Syrian military downs Israeli missiles fired at Damascus airport
• Sanaa TV revels as Houthi militants fire ballistic missile, but Saudis swat it down
• Iraq parliament elects Sunni lawmaker Al-Halbousi as speaker, breaking deadlock
--------
North America
• Bolingbrook Group Aims to Clear up Misconceptions about Islam
• Meatpacker, Muslim Workers In US Settle Bias Dispute
• US ending final source of aid for Palestinians: Report
--------
India
• Gurugram Muslim Leaders Seek Clarity on Mosque Unsealing
• India, Serbia Resolve to Fight Terrorism, Enhance Cooperation in Defence Manufacturing
• Bangladeshi arrested with Indian passport
• Pakistan release Sikh devotees visit schedule
• J&K: Five militants killed in south Kashmir, civilian shot during protests
• J-K: Army Jawan injured as Pakistan violates ceasefire along LoC
--------
Pakistan
• Provinces Unwilling To Accommodate Undocumented, Illegal Afghan Refugees
• Pakistan Willing To Open Afghan Land Route for India: US Envoy
• Pakistan ready to train Afghan law enforcers: FM
• NAB challenges IHC decision to hear Sharifs' petitions
• Taliban commander shot dead in Bannu
• Training workshop on 'Human Rights Education' held
--------
Europe
• Like Sweden, Finland Has Its Muslim-Bashing Populists
• Germany 'Cannot Rule Out' Longer-Term Military Role in Middle East
• Muslims mark Imam Hussein Day in Vienna
• Czech PM faces criticism for 'Syrian orphans' remarks
• Italy launches operation against YPG/PKK terrorist
--------
Southeast Asia
• Instead Of Malay Rights, Focus on Furthering Islamic Agenda: Pas Youth Leader
• China Walks a Tightrope on the Uighur Muslim Issue
• Pas Muktamar passes Malay Muslim unity proposals
• China keen to expand ties in Islamic studies
• PAS non-Muslim wing tells party: Be careful with BN
• Malaysia: UMNO Leader Seeks Better Relations with PAS to Regain Power
• Militants free 3 Indonesian hostages in southern Philippines
Compiled by New Age Islam News Bureau
URL: https://www.newageislam.com/islamic-world-news/humanitarian-crisis-caused-saudi-arabia/d/116391
--------
Humanitarian Crisis Caused By Saudi Arabia's Deadly Bombing: Starving Yemenis Eat Leaves to Survive Amid War: Report
Sep 16, 2018
Many Yemeni families reportedly have nothing to eat but leaves as a humanitarian crisis caused by Saudi Arabia's deadly bombing campaign on the impoverished state reaches a critical stage.
The Associated Press reported that people in the Aslam district of Yemen's northwestern Hajjah Province rely on leaves from the local vine, known as Halas in Arabic or Arabian Wax Leaf in English, due to worsening hunger.
Mothers, the report said, pick the leaves, then wash and boil them into a sour, acidic green paste to stave off starvation.
According to local health figures, Aslam recorded one of Hajjah's highest jumps in the number of malnourished children, from 384 cases being treated in January, an additional 1,319 more came in over the next six months.
Additionally, Aslam's main health center has no pediatricians, electricity, oxygen cylinders and fuel for generators, the report said.
"Aslam is just another picture of Somalia," said Saleh al Faqih, a worker in a mobile Health Ministry clinic.
In the village of al-Mashrada, situated near Aslam, the mother of a 7-month-old girl, Zahra, is undernourished herself and is often unable to breastfeed her child.
"Since the day she was born, I have not had the money to buy her milk or buy her medicine," said the mother who feeds her whole family with Halas mush.
"We are in the 21st century, but this is what the war did to us," said Mekkiya Mahdi, the Aslam health centre chief.
At least 20 children are known to have died of starvation this year in Hajjah.
Walid al-Shamshan, head of the Health Ministry's nutrition section in Hajjah, said the province had seen 17,000 cases of severe acute malnutrition in the first six months of 2018, higher than in any full year on record.
"Deaths happen in remote villages where people can't reach the health units," Shamshan said. "It's a steady deterioration and it's scary."
Saudi Arabia and its allies launched a brutal war, code-named Operation Decisive Storm, against Yemen in March 2015 in an attempt to reinstall former president Abd Rabbuh Mansur Hadi, a staunch ally of Riyadh, and crush Houthis.
The Western-backed offensive initially consisted of a bombing campaign, but was later coupled with a naval blockade and the deployment of ground forces into Yemen.
The blockade on Yemen has smothered humanitarian deliveries of food and medicine to the import-dependent country.
An estimated 8.4 million Yemenis are on the verge of starvation while almost 18 million lack access to good, nutritious food.
http://217.218.67.231/Detail/2018/09/16/574280/Yemen-Saudi-Arabia-Hajjah
--------
Eritrea president, Ethiopia PM reach Jeddah to sign historic peace deal
16 September 2018
Ethiopian Prime Minister Abiy Ahmed and Eritrean President Isaias Afwerki both reached Jeddah on Saturday where they are expected to sign a historic peace deal between their countries.
At King Abdulaziz International Airport, both were received by high ranking officials.
Saudi Arabia will host a landmark peace agreement between the two countries in the presence of Abiy Ahmed and Afwerki which will end a 20-year war between Eritrea and Ethiopia.
They also signed agreements to open embassies in their respective capitals, restore flight services and allow Ethiopia to use port facilities in Eritrea.
"This is a further agreement helping to cement the positive relations between them," UN deputy spokesman Farhan Haq said.
Saudi Arabia's King Salman invited UN Secretary General Antonio Guterres to attend the signing ceremony, which is also due to be attended by African Union Commission President Moussa Faki, UN sources said.
https://english.alarabiya.net/en/News/gulf/2018/09/16/Eritrea-president-Ethiopia-PM-reach-Jeddah-to-sign-historic-peace-deal.html
--------
15 Islamic Parties Form Alliance in Support To Awami League
Sep 16, 2018
A new alliance of 15 Islamic parties, the Islamic Democratic Alliance, emerged on Saturday to further strengthen the ruling Awami League‑ led alliance in the next general election likely to be held in December.
Party representatives declared the alliance at a press conference held at a city hotel.
Speaking at the conference, alliance members said that they would work to help the Sheikh Hasina-led government continue the 'unprecedented development' it had achieved and protect the country from conspirators.
Bangladesh Islami Oikya Jote chairman Misbahur Rahman Chowdhury was made chairman of the alliance.
Bangladesh Tariqat Federation former secretary general MA Awal was named alliance co-chairman and spokesperson with Democratic Islamic Movement chairman M Nurul Islam Khan as secretary general.
The other 12 alliance members were Bangladesh Islamic Party, Bangladesh Democratic Front, Bangladesh Jamaat E Darussunnah, Bangladesh Islamic Democratic Forum, Bangladesh Gana Kafela, Bangladesh Janaseba Andolon, Bangladesh
Peoples Democratic Party, Bangladesh Islamic Peshajibi Parishad, Islami Union Bangladesh, Bangladesh Manobadikar Andollon and National Labour Party.
All 15 parties besides Tariqat Federation were unregistered and some had split from other parties.
Tariqat Federation and Islami Oikya Jote were also partners of the AL-led alliance.
When asked about the registration status of the parties, MA Awal said that the 14 unregistered parties had already applied to the Election Commission for registration but the EC was yet to respond.
Misbahur Rahman said that the EC playing a mysterious role in giving registrations to the political parties and that the registration process was flawed.
http://www.newagebd.net/article/50699/15-islamic-parties-form-alliance-in-support-to-al
--------
Taking A Stand Against Transgressions And Provocations That Transcend Borders Is Needed: Muslim World League Chief
September 15, 2018
JEDDAH: Dr. Mohammed bin Abdul Karim Al-Issa, secretary-general of the Muslim World League (MWL), has stressed the importance of taking a stand against transgressions and provocations that transcend borders.
Silence about the excesses of some countries and international organizations may be misunderstood and encourage further abuse, said Al-Issa.
Al-Issa was commenting while discussing a doctoral thesis at the Department of Contemporary Islamic Studies at Imam Muhammad bin Saud Islamic University.
The thesis was presented by researcher Zaid Al-Kathiri and titled: "The application of legal Hudud and Ta'zir in the Kingdom of Saudi Arabia and the allegations of international organizations."
The researcher discussed allegations by international organizations about some forms of punishment in Islam, where the objections focus on the legal texts mentioned in the Qur'an and the tradition of the Prophet, demanding the abolition of the application of these texts.
Al-Issa talked about the reasons behind such calls, saying: "I would like to point out that not all organizations have reservations, but only some of them," adding that "Some details are necessary for this issue to help the researcher revise his thesis." "One of the great countries that usually issue international human rights reports recently threatened ... the International Criminal Court, saying that it would be 'illegal' to investigate reports against it. We say if this is the position of that state on a controversial issue ... what if the criticism encroaches on the constitutional and procedural rights which are sovereign for each country?"
http://www.arabnews.com/node/1372586/saudi-arabia
--------
Mideast
Palestinian Resistance Icon Tamimi Determined to Visit Iran
Sep 15, 2018
Ahed's family had been invited by human rights groups for meetings in Europe and were scheduled to leave earlier this month. But Israeli officials informed his father that the entire family – Ahed's father, her mother Nariman and her two brothers – had been banned from traveling abroad, the Arabic-language al-Khabar al-Youm reported on Saturday.
Bassem al-Tamimi, Ahed's father, said that no reason has been mentioned by Israeli authorities for the decision but his family "are trying again to travel to Jordan and then to Iran to participate in pro-Palestinian events".
On July 29, Tamimi, a resident of Nabi Saleh village that is located 20 kilometers Northwest of Ramallah, and her mother, Nariman, were released from an Israeli prison after serving an eight-month sentence on assault and incitement charges and arrived home to a hero's welcome.
The 17-year-old girl was detained by Israeli forces last December after a video of the curly-haired teen kicking and slapping two armed Israeli soldiers in protective gear went viral on Facebook. Israeli military forces had raided her home to arrest her brother.
In March, an Israeli court handed down an eight-month prison sentence to the Palestinian teenage protester for "attacking" Israeli forces.
Israeli forces have on occasions arrested members of Tamimi's family, including brothers and parents, for their opposition to Israel's invasion of Palestinian lands.
Israeli forces shot dead her uncle Rushdie al-Tamimi in Nabi Saleh village in 2012.
Her aunt Bassima al-Tamimi was beaten to death by an Israeli policeman in 1993 while attending her son's trial session at the time.
http://en.farsnews.com/newstext.aspx?nn=13970624000634
--------
Iran orders closure of newspaper for 'insulting' Shia Islam
Sep 16, 2018
Iran's top prosecutor has ordered the closure of a reformist newspaper on charges of "insulting" Shia Islam, according to media reports.
Mohammad Jafar Montazeri ordered the shutting down of Sedayeh Eslahat for "desecrating" the family of Prophet Muhammad's grandson, Imam Hussein, the Fars news agency reported on Friday.
The article that caused offence was about a female-to-male gender reassignment surgery, according to The Associated Press, which cited Iranian media reports.
It was published on the newspaper's front page on Thursday and carried the headline: "Ruqayyah became Mahdi after 22 years".
Ruqayyah was the daughter of Hussein and the article was published during Muharram, a holiday in which Shia Muslims mourn the Imam's death.
According to Shia Islam, Mahdi is the name of the 12th Shia Imam who has lived since the 9th century.
In a letter published by Fars, Montazeri said the article caused "protest during these days of sorrow", and ordered the editor of Sedayeh Eslahat be punished over its publication.
Iran is ranked 164th out of 180 countries in Reporters Without Borders' (RSF) press freedom index.
In August, Iranian courts jailed seven journalists and ordered them to be flogged publicly over their coverage of protests by the Dervish minority.
Full report at:
https://www.aljazeera.com/news/2018/09/iran-orders-closure-newspaper-insulting-shia-islam-180915123604224.html
--------
Terrorists attack Iran's embassy in Paris: Report
Sep 15, 2018
Iran's Embassy in Paris has come under attack by alleged supporters of Iraq-based anti-Iran terrorists after the Islamic Revolution Guards Corps (IRGC) fired missiles at terrorist commanders in the Arab country's Kurdistan region.
The attackers desecrated the Iranian flag and hurled stones and different objects at the building, causing damage.
Iranian media outlets described them as supporters of the Komala Party of Iranian Kurdistan, which is based in northern Iraq and has been engaged in anti-Tehran terrorist acts in the past decades.
There have been yet no comment from Iranian or French officials about the incident.
On Sunday, the IRCG confirmed that it had fired seven short-range missiles at a gathering of terrorist commanders in the Iraqi region.
The IRGC is on a constant watch for attempts by Iraq-based terrorists to infiltrate into Iran for acts of terror and sabotage.
The Corps' has engaged the terrorists in western borders on countless occasions, nipping numerous terror plots in the bud, arresting terror elements, and seizing their weaponry and equipment.
Full report at:
http://217.218.67.231/Detail/2018/09/15/574191/Iran-Embassy-Paris-attack-IRGC-Iraq-Kurdish-terrorists
--------
Saudi airstrikes kill 15 on Hudaydah-Sana'a highway
Sep 15, 2018
At least 15 people have lost their lives in fresh air raids conducted by Saudi warplanes on a strategic road linking the Yemeni port city of Hudaydah to the capital, Sana'a.
The al-Masirah television network affiliated to Yemen's Houthi Ansarullah movement reported that more than 20 people had also been injured in the aerial assaults on the Kilo 16 highway.
Over the past few days, fighting has intensified between Houthi fighters and Saudi-backed militants loyal to former Yemeni President Abd Rabbuh Mansur Hadi around the critical highway, through which humanitarian aid is delivered to the Yemeni people.
Amanda Brydon, humanitarian policy adviser at Save the Children NGO, expressed concerns about fresh tensions in Yemen.
"What we are seeing with the fighting is [that] the critical junction at Kilo 16 is the artery towards Sana'a and other parts of the country," she told Al Jazeera.
Hudaydah, she said, is a lifeline for the rest of the country, where over 80 percent of the country's commercial imports come through.
Backed by Saudi airstrikes, Emirati forces and pro-Hadi elements launched the Hudaydah offensive on June 13 despite international warnings that it would compound the impoverished nation's humanitarian crisis.
Saudi Arabia claims that the Houthis are using Hudaydah for weapons delivery, an allegation rejected by the fighters.
On Friday, Mohammed Hadi, a Hudaydah resident, reported fierce battles around the Kilo 16 route.
"The main road was blocked and there are some by-streets, but they are not safe to go through because airstrikes target any car in those streets," he told the Middle East Eye news portal.
He said pro-Hadi militants had advanced towards Hudaydah while Houthi reinforcements had arrived from the north and other parts of the city.
Mohammed al-Boukhaiti, a Hudaydah-based member of the Houthi political council, said Yemeni fighters were still in control of the Hudaydah-Sana'a highway.
"The Yemeni army confronted the attack of the coalition and today Kilo 16 is under the control of the army, but it is not safe for passengers because the airstrikes target them," he said.
Saudi Arabia and its allies launched a brutal war, code-named Operation Decisive Storm, against Yemen in March 2015 in an attempt to reinstall Hadi, a staunch ally of Riyadh, and crush the Houthis.
The Western-backed offensive initially consisted of a bombing campaign, but was later coupled with a naval blockade and the deployment of ground forces into Yemen.
UN envoy holds talks with Houthis
In another development, UN Special Envoy for Yemen Martin Griffiths held talks with a Houthi delegation, led by spokesman Mohammed Abdulsalam, in the Omani capital, Muscat.
During the meeting, Griffiths was briefed on the Houthis' reasons for their absence from the latest round of the peace talks in the Swiss city of Geneva, Yemen's official SABA news agency reported.
The Muscat discussions, the report said, also covered "necessary measures" needed for negotiations "as soon as possible" between Yemen's warring sides.
The Geneva peace talks failed after Saudi Arabia prevented the Houthi delegation from joining the Geneva talks, giving representatives of the Hadi administration to leave the Swiss city.
Full report at:
http://217.218.67.231/Detail/2018/09/15/574185/Yemen-Hudaydah-Saudi-Arabia
--------
Tension mounts over 11-year-old Gaza boy's killing at border rally
September 15, 2018
GAZA CITY: There are conflicting reports surrounding the death of a boy at a Gaza border rally that Palestinians initially blamed on Israel.
Israel's military claimed their evidence shows the 11-year-old was hit by a rock thrown by protesters. Two Gaza rights groups said he died after being struck "with a solid object."
The Hamas-run Gaza Health Ministry said Shadi Abdel-Al was killed by Israeli fire. A spokesman said on Saturday he died from head wounds. The boy is the youngest fatality from Israeli gunfire.
The ministry removed a baby from their official death toll in May after The Associated Press reported she died from a pre-existing medical condition, not from Israeli tear gas as it had claimed.
Hamas has led protests since March partially over an Israeli-Egyptian blockade on the territory.
Israel's tactics against the protests have drawn international condemnation.
"He used to go every Friday to the marches like thousands of other people. This Friday was his destiny to die as a martyr," said the boy's father, Abdel-Aziz Abdel-Al.
Another Palestinian, 28-year-old Hashem Hassan, said he saw Abdel-Al being shot 70 meters from the fence: "He threw a few stones, which flew just a few yards. He posed no threat."
Asked about Abdel-Al's death, a military spokeswoman said only that troops had kept to their open-fire regulations.
Friday's deaths brought to 177 the number of Palestinians killed since the sometimes violent demonstrations were launched on March 30 to press demands against Israel.
Palestinian medical officials earlier said Israelis killed three Palestinians, including the 11-year-old boy, and wounded at least 248 others taking part in weekly protests at the fortified Gaza Strip border.
The Israeli military said it used force necessary to repel 13,000 Palestinians who massed at several points at the fence.
Some hurled rocks, firebombs and grenades at troops under cover of smoke from burning tires, injuring a soldier, and nine Palestinians briefly crossed into Israel, the military said.
Since March 30, Gaza has also seen shelling exchanges between the coastal enclave's Hamas rulers and Israel. An Israeli soldier was killed by a Palestinian sniper and Israel has lost tracts of forest and farmland to cross-border incendiary attacks.
But Washington has backed its ally in accusing Hamas of staging the mass-mobilization to distract from Gaza's poverty and governance problems and to provide cover for armed Palestinian border incursions. Hamas has denied this.
The Israeli military said that, twice this week, its patrols discovered and dismantled bombs that had been planted for use against them at the fence.
Early on Friday, several Palestinians crawled to the fence to throw a pipebomb at troops, who fired back, the military said. There was no word of casualties.
The protesters want rights to lands Palestinians lost during the 1948 war of Israel's foundation, as well as the easing of a crippling blockade that Israel, with the help of neighboring Egypt, has placed on Gaza to isolate Hamas and deny it weaponry.
UN and Egyptian mediators have been trying to reach a deal to calm Gaza, where Israel and Hamas have fought three wars in the last decade.
Full report at:
http://www.arabnews.com/node/1372661/middle-east
--------
Doomed Palestinian village turns to Europe as last hope
September 16, 2018
KHAN AL-AHMAR, West Bank: For the anxious Palestinian residents of Khan Al-Ahmar, there's little left to do but wait.
After the West Bank hamlet lost its last legal protection against demolition late last week, Israeli forces could swoop in any day now to tear down the desert community's few dozen shacks and an Italian-funded schoolhouse made from recycled tires.
Some hold out hope that Israel might be deterred by an inevitable international outcry over razing the community. Major European countries have warned that flattening Khan Al-Ahmar poses a grave threat to the already fading prospects of a two-state solution to the Israeli-Palestinian conflict.
The seemingly outsized international attention being paid to the tiny community is linked to its strategic location in the center of the West Bank. It's an area deemed essential for setting up a viable Palestinian state in the West Bank, Gaza Strip and east Jerusalem, areas Israel captured in 1967.
Israel has portrayed the battle over Khan Al-Ahmar as a mere zoning dispute. Critics of Prime Minister Benjamin Netanyahu's policies say the village has become a symbol for what they describe as an ongoing displacement of Palestinians to make room for Israeli settlements.
With demolition now looming, dozens of activists, including foreigners, have been spending nights in Khan Al-Ahmar to show support. They sleep on mattresses spread out under green tarp covering the front yard of the Italian-funded school.
"We cannot prevent demolition," said activist Mohammed Abu Hilweh, 30, from Jerusalem, as he stretched out on a mattress on a recent evening, settling in for the night.
"But we can resist, delay and when it happens, we can rebuild," he said.
Khan Al-Ahmar is located a few dozen meters from a four-lane highway that runs east-west, effectively slicing the West Bank in half at a narrow waist and linking Jerusalem with the Jordan Valley.
The highway is also flanked by several Israeli settlements, including Maaleh Adumim, the West Bank's third largest. A new settlement across the highway from Maaleh Adumim, called E1 by Israeli planners, would effectively block the remaining land link between West Bank Palestinians and east Jerusalem, their hoped-for capital. Khan Al-Ahmar sits just outside the area mapped for E1, which until now had largely been frozen under US pressure.
Hanan Ashrawi, a senior Palestinian official, called the planned demolition a "blatant attempt" by Israel to separate the Palestinians from Jerusalem. "It is absolutely imperative that the international community intervene," she said.
For the past 25 years, the international community has favored the establishment of a Palestinian state alongside Israel as the best hope for peace. But those hopes are quickly fading.
In a departure from predecessors, President Donald Trump, who has promised a new peace plan, has refused to endorse the two-state solution while recognizing Jerusalem as Israel's capital, over Palestinian opposition.
The US State Department has said little about the looming demolition, referring reporters to the Israeli government for details.
By contrast, European governments have been outspoken.
"The demolition of this small Palestinian village would not only affect a local community," EU foreign policy chief Federica Mogherini recently told the European Parliament. "It would also be a blow against the viability of the state of Palestine and against the very possibility of a two-state solution."
Separately, France, Germany, Italy, Spain and the United Kingdom warned in a rare joint statement that demolition would have "very serious" consequences.
For now, Israel appears to be moving ahead. After a decade-long legal battle, Israel's Supreme Court rejected a final appeal earlier this month. Late last week, a moratorium on demolition expired.
Israel has not announced a date for the demolition, but earlier this week dismantled five corrugated metal shacks near Khan Al-Ahmar that had been set up by villagers a few days earlier in a show of defiance. On Friday, troops returned with heavy equipment, removing earthen mounds set up to slow demolition. Two Palestinians and an American-French law professor were detained.
The 180 residents of Khan Al-Ahmar are members of the Jahalin Bedouin tribe that has lived in the area since being expelled from the southern Negev Desert after Israel's establishment in 1948. The United Nations granted them refugee status.
Shani Sasson, a spokeswoman for COGAT, the Israeli defense body responsible for Palestinian civilian affairs, said Israel has offered to relocate the villagers.
She said the tribe squats on land that is not safe for living, and that the Israeli government has prepared an alternative site just a few kilometers (miles) away with sewage treatment and access to water and electricity. She said Israel has invested over $2 million in the relocation project.
"We are doing them a service," she said. "This is not against them, this is for them."
Residents acknowledge that life in their village is tough. But they say there is no place they would rather live. They say Israel is trying to move them to a site that will be too crowded for their livestock and that sits near a sewage facility and a garbage dump.
"We Bedouin people like the desert life," said Yousef Abu Dahouq, a Khan Al-Ahmar resident, sitting on a wooden bench near the school, sipping tea and smoking a waterpipe. "We live next to each other, support each other."
The Palestinians and Europeans see a deeper Israeli agenda.
Khan Al-Ahmar is in the 60 percent of the West Bank that is known as Area C and remains under full Israeli control, according to interim peace deals from the 1990s that are seemingly locked in place because of diplomatic paralysis. The remainder of the territory is administered by a Palestinian autonomy government.
Area C is home to about 400,000 Israeli settlers and an estimated 150,000 to 200,000 Palestinians. Israel places severe restrictions on Palestinian development while supporting and promoting dozens of settlements in the area.
The EU has attempted to build numerous structures for Palestinians in Area C, only to see them demolished or rejected because of a lack of hard-to-get permits. Khan Al-Ahmar's Italian-funded school was built from car tires because a construction permit could not be obtained.
"This is the situation on the ground: New settlements for Israelis are built, while Palestinian homes in the same area are demolished," said Mogherini. "This will only further entrench a one-state reality, with unequal rights for the two peoples, perpetual occupation and conflict."
The village chief, Eid Khamis, promised to put up a fight.
Full report at:
http://www.arabnews.com/node/1372826/middle-east
--------
Africa
Ethiopia says airstrike in Somalia kills 70 Al-Shabab militants
15.09.2018
ADDIS ABABA - Ethiopian Air Force fighter jets have carried out an airstrike against the Al-Qaeda-affiliated extremist group al-Shabaab in Somalia.
The airstrike was carried out to foil plans of the militant group to attack Ethiopian contingent of the African Union Mission in Somalia (AMISOM).
About 70 al-Shabaab militants were killed and two vehicles packed with weapons were destroyed in the air strike.
Brigadier General Yilma Merdassa, Chief of Ethiopian Air Force, said the airstrike was conducted after an extensive study and plans.
He said, "we achieved 100% of our plans."
Meanwhile, Merdassa did not disclose where the air raid took place and provided no specific date.
Ethiopia is one of the troop-contributing countries to AMISOM - African Union Mission in Somalia which is helping weak Somali government in the fight against Al Shabaab since 2007.
Other countries contributing troops to the AU Mission are Burundi, Djibouti, Kenya and Uganda.
https://www.garoweonline.com/en/news/somalia/ethiopia-says-airstrike-in-somalia-kills-70-al-shabab-militants
--------
Tunisia ruling party suspends PM's membership as rift deepens
15 September 2018
Tunisia's ruling party has suspended Prime Minister Youssef Chahed in the latest escalation of a row with the president's son that has paralyzed key decisions on the troubled economy.
The North African country is often portrayed as the lone success story of the Arab Spring of 2011 but more than seven years after the ouster of longtime strongman Zine El Abidine Ben Ali it is still battling high inflation and unemployment and sometimes violent social unrest.
Nidaa Tounes announced Chahed's referral to its disciplinary committee late on Friday after he delivered a stinging attack on infighting within the party that he said was restricting his government's ability to revive the economy.
"Secondary political conflicts.. have disrupted the work of the government, holding it back and blocking the reform process and the decisions necessary to achieve economic growth," he said in a televised address to a policy conference.
The ruling party is led by President Beji Caid Essebsi's son Hafedh, who has been battling to oust the premier for months.
The power struggle previously came to a head in July, when the president himself called on Chahed to resign.
The move received the backing of the powerful UGTT trade union confederation, which opposes the program of austerity budgets and privatizations of state enterprises championed by the prime minister.
But Chahed was saved by the Islamist Ennahdha party, the second largest in parliament, which said it was important for Tunisia's stability that the prime minister remain in post.
Chahed, who took office in August 2016, is the seventh prime minister since the revolution and already the longest serving. He also has the ear of Western donors.
The premier has since been preparing for any new moves against him, by forming his own separate grouping within Nida Tounes.
He can count on the backing of around 40 lawmakers -- nearly half of the party's parliamentary bloc.
The deepening rift within the ruling party comes as the government faces a mid-October deadline to unveil a 2019 budget.
Inflation, which is projected to average 7.8 percent this year, and unemployment, which has remained stubbornly over 15 percent, helped stoke an outbreak of violent unrest in January.
But analysts expressed concern that political considerations might prompt the abandonment of any tough or potentially unpopular new policy initiatives to tackle them.
"The country is completely absorbed by short-term political maneuvering by the personal ambitions of one person or another, to the detriment of pressing economic decisions, social priorities and structural reform," said political scientist Hamza Meddeb.
Full report at:
https://english.alarabiya.net/en/News/north-africa/2018/09/15/Tunisia-ruling-party-suspends-PM-as-rift-deepens.html
--------
Rights lawyer wants Qatar to pay for its support of armed militias in Libya
September 15, 2018
JEDDAH: A lawyer representing victims of fighting in the Libyan town of Tawergha is urging the international community to stop Qatar from supporting armed militias behind the violence.
Siraj al-Tawerghi said that Tawergha, now a ghost town in the city Misrata, has been witnessing a humanitarian tragedy since 2011, and the biggest tragedy is the deliberate silence of international bodies and human rights organizations even though cases of abuse against Tawergha inhabitants have been documented.
Such cases include forced displacement, widespread violation of its children's rights to decent living, education and health, and the violation of their right to be protected from torture, murder and unlawful imprisonment by armed militias backed by Qatar, he said.
"We only want to bring the people of Tawergha back to their homes and exercise their legitimate rights guaranteed by international agreements and conventions," Al-Tawerghi said during a speech at a symposium in Geneva on the sidelines of the 39th session of the International Council of Human Rights.
He spoke on behalf of Said Abdel Hafez, president of the Forum for Development and Human Rights Dialogue.
Al-Tawergi lamented that "the international community is tight-lipped about the human rights issue in Libya, despite the fact that this country is witnessing the most egregious violations perpetrated systematically by terrorist organizations and affecting civilian victims."
Full report at:
http://www.arabnews.com/node/1372706/middle-east
--------
South Asia
Afghan Intelligence forces suffer casualties in Parwan explosion
Sep 15 2018
An explosion targeted the Afghan intelligence forces in northern Parwan province of Afghanistan, leaving at least eight of them dead or wounded.
Provincial spokesperson Wahida Shahkar confirmed the incident and said at least four personnel of the National Directorate of Security (NDS) lost their lives in the explosion.
She said the incident took place earlier today in the vicinity of Khalazai area of the province and as a result four NDS personnel also sustained injuries.
According to Shahkar the explosion was triggered by an improvised explosive device planted on a roadside.
No individual or group has so far claimed responsibility behind the incident.
The anti-government armed militants including Taliban frequently use improvised explosive device to target the security forces but in majority of such attacks the ordinary civilians are also targeted.
In the meantime, a security source at least four intelligence personnel and a civilian were killed in the explosion.
Parwan has been among the relatively calm provinces in the North of Afghanistan but the security situation of the province has deteriorated during the recent years.
https://www.khaama.com/afghan-intelligence-forces-suffer-casualties-in-parwan-explosion-05958/
--------
Pak Foreign Minister, Afghan President Discuss Ties, Regional Security
September 15, 2018
Kabul: Pakistan's Foreign Minister Shah Mehmood Qureshi on Saturday held a one-on-one meeting with Afghan President Ashraf Ghani in the Afghan capital where the region's security situation and bilateral relations were discussed.
This was Qureshi's first foreign trip after assuming office. Upon arrival at the Presidential Palace, the Pakistani Foreign Minister was received by his Afghan counterpart Salahuddin Rabbani, Geo News reported. He was in Afghanistan for a day.
The Office of the Afghan President, ARG Palace, said in a statement that the two sides discussed security, regional peace and stability, joint fight against terrorism, border management and other issues related to the Afghanistan Pakistan Action Plan for Peace and Solidarity, Khaama Press reported.
Qureshi also held delegation-level talks with the Afghan side during which bilateral trade matters and closure of the Pakistan Consulate General in Jalalabad due to a security crisis came under discussion.
He was accompanied by Foreign Secretary Tehmina Janjua and the Director-General for Afghan relations along with other officials.
Qureshi separately met his Afghan counterpart Rabbani. The latter said that establishing peace was as important for Pakistan as for Afghanistan, while the Pakistani minister said that the sides should cooperate in dealing with various challenges.
"Our challenges are similar and we have to deal with them through mutual cooperation," Qureshi said.
He further said that there was a persistent need to focus on the working group in Afghanistan to move forward and proposed that a meeting between scholars from both sides could be arranged to resolve issues.
Pakistan's Information Minister Fawad Chaudhry earlier said that "the main purpose of the Foreign Minister's visit was to improve coordination on security-related issues between the two countries".
Full report at:
http://www.india.com/news/world/pak-foreign-minister-afghan-president-discuss-ties-regional-security-3327351/
--------
Pakistan's new government vows to strengthen Pak-Afghan ties, regional security
Sep 16 2018
Pakistan's Foreign Minister Shah Mehmood Qureshi met with the Chief Executive of the Unity Government of Afghanistan Abdullah Abdullah during his visit to Kabul, delivering the message of the new government of Pakistan in support of regional security.
Qureshi, quoted in a statement released by the Office of the Chief Executive, said the Pakistani delegation has visited Kabul with a message to strengthen bilateral relations between Kabul and Islamabad.
He said the new government in Pakistan is prepared to cooperate with Afghanistan in improving the regional security.
The Pakistani Foreign Minister Shah Mehmood Qureshi arrived in Kabul accompanying a delegation of high level Pakistani officials.
The Office of the President, ARG Palace, in a statement had earlier said that President Ghani met with the Pakistani delegation led by Foreign Minister Shah Mehmood Qureshi in Gul Khana Palace.
The statement further added that the two sides discussed security, regional peace and stability, joint fight against terrorism, and other issues related to Afghanistan Pakistan Action Plan for Peace and Solidarity.
Pointing towards the importance of Afghanistan Pakistan Action Plan for Peace and Solidarity, President Ghani said it is a comprehensive plan and its effective would only be noted once practical steps have been taken.
Full report at:
https://www.khaama.com/pakistans-new-government-vows-to-strengthen-pak-afghan-ties-regional-security-05964/
--------
President Ghani met with the Foreign Minister of Pakistan in Kabul
Sep 15 2018
President Mohammad Ashraf Ghani met with the Foreign Minister of Pakistan Shah Mehmood Qureshi and the Pakistani delegation accompanying him during the visit to Kabul.
The Office of the President, ARG Palace, in a statement said President Ghani met with the Pakistani delegation led by Foreign Minister Shah Mehmood Qureshi in Gul Khana Palace.
The statement further added that the two sides discussed security, regional peace and stability, joint fight against terrorism, and other issues related to Afghanistan Pakistan Action Plan for Peace and Solidarity.
Pointing towards the importance of Afghanistan Pakistan Action Plan for Peace and Solidarity, President Ghani said it is a comprehensive plan and its effective would only be noted once practical steps have been taken.
According to ARG Palace, the two sides also held talks regarding the practical steps to be taken as part of the Afghanistan Pakistan Action Plan for Peace and Solidarity and Pakistan's support to an Afghan-led peace process.
Full report at:
https://www.khaama.com/president-ghani-met-with-the-foreign-minister-of-pakistan-in-kabul-05962/
--------
Ghani informs of major changes in the security leadership in Kabul
Sep 16 2018
President Mohammad Ashraf Ghani informed regarding the major changes in the security leadership in capital Kabul after a series of deadly attacks left scores dead in the capital, particularly in western parts of the city.
He made the remarks during a meeting with the directors of the private schools in West of Kabul city.
The Office of the President, ARG Palace, in a statement said the directors of the private schools shared their concerns and issues regarding the private schools, particularly the security concerns.
In his turn, President Ghani offered condolences regarding the recent incidents and called the attacks in West of Kabul city, an attack on the unity and religious solidarity of the people of Afghanistan.
He urged the directors of the private schools to review the security challenges in close coordination with the security institutions so that practical steps could be taken.
President Ghani further added that the security of Kabul city has been divided in four zones and a new deputy commandment has the responsibility of the security of the West of Kabul city.
Full report at:
https://www.khaama.com/ghani-informs-of-major-changes-in-the-security-leadership-in-kabul-05965/
--------
Arab World
Remains of nearly two dozen Daesh commanders found in mass grave in Iraq's Nineveh
Sep 15, 2018
Iraqi security forces have found a mass grave in the country's northern province of Nineveh, which contains the remains of 23 high-ranking commanders of the Daesh Takfiri terrorist group believed to have been executed by fellow militants for disobeying orders to carry out bombings and other acts of violence.
Colonel Saleh Sheef, an official from the media bureau of the Nineveh Operations Command, told Arabic-language Basnews news agency that federal police forces had made the discovery south of Mosul, located some 400 kilometers north of the capital Baghdad.
Sheef added that identity cards showing the militants' first names, surnames and ranks were recovered from the site.
Another Izadi mass grave unearthed in Iraq
Meanwhile, local search teams in Nineveh province have found a mass grave containing the bodies of dozen members of the Izadi minority, who are believed to have been executed by Daesh Takfiri terrorists when they were in control of an area there.
Arabic-language al-Forat news agency reported that the mass grave was located in the industrial neighborhood of Sinjar town. The site has been closed off to the public, and local authorities are waiting for international teams and competent officials to arrive and launch an investigation.
On August 15, an official at the Endowments and Religious Affairs Ministry of the semi-autonomous Kurdistan Regional Government said more than 3,000 members of the Izadi minority had remained unaccounted for ever since Daesh overran their hometowns in northern Iraq back in 2014.
"The fate of 3,102 Izadis remain unknown since Daesh terrorists attacked our towns and cities in mid-2014," Khairi Bozarni said at a conference on the Izadi genocide in Erbil, capital of Iraq's semi-autonomous Kurdistan region.
Bozarni added that more than 2,500 Izadi Kurds lost their lives at the hands of Daesh terrorists, while another 6,000 – mostly women and children – were abducted.
He noted that 66 places of worship for the Izadis had also been desecrated or destroyed by the terror group.
"What's more, more than 100,000 Izadis have fled [the] Kurdistan region and Iraq in general since the summer of 2014," Bozarni said.
He also said that Kurdish Prime Minister Nechirvan Barzani had secured the release of more than 2,000 abducted Izadis.
Back in August 2014, Daesh terrorists overran the town of Sinjar, killing, raping, and enslaving large numbers of Izadi Kurds.
The region was recaptured in November 2015, during an operation by Kurdish Peshmerga forces and Izadi fighters.
http://217.218.67.231/Detail/2018/09/15/574203/Tens-of-Daesh-commanders-remains-found-in-mass-grave-in-Iraqs-Nineveh
--------
Israel and Egypt's enduring 'cold peace'
Sep 16, 2018
CAIRO: Forty years after signing the Camp David Accords, Egypt and Israel live in uneasy peace, as cool diplomatic ties have failed to unfreeze other relations.
"There is still a psychological barrier between us and the Israeli people," said Egyptian ex-lawmaker Mohammed Anwar Sadat, nephew of former president Anwar Sadat.
Mohammed Sadat proudly keeps a photo of his late uncle in his Cairo office.
Egypt's then head of state risked everything in making peace with Israel at the US presidential retreat Camp David on September 17 1978.
The Accords, cemented by a peace treaty in 1979, saw regional powerhouse Egypt temporarily shunned by the rest of the Arab World.
Sadat himself was assassinated on October 6, 1981. The late president "had great courage and a vision for the future", his nephew said.
But the peace, he said, "has always been cold". While many Egyptians welcome the absence of war, they remain hostile to Israel.
"Egypt's acceptance of full diplomatic and political normalisation" has not translated into "a cultural or popular normalisation", said Mustafa Kamal Sayed, professor of political sciences at Cairo University.
This uneasy but stable status quo is reflected on Cairo's streets, where many put their antipathy towards Israel down to their neighbour's policies towards the Palestinians.
"The normalisation failed to gain popular support because of events linked to Palestinians," said bank worker Mohammed Oussam.
He said he could not forget Israel's bombing of "schools and refugee camps" during Lebanon's 1975 to 1990 civil war.
"The Israelis have not adhered to the principles of peace with the Palestinians or the Arabs," said another Mohammed.
It's a sentiment also shared by Islam Emam. "We speak of peace, of normalisation -- then they kill our brothers and take their land", he said, referring to the Palestinians.
He blames Israel's government, rather than its citizens. "In the end, nobody truly chooses his government," he said.
Enmity towards Israel often crystallises over sporting events.
Egyptian and Liverpool football maestro Mohamed Salah has been criticised at home for appearing in a Champions League match in Israel in 2013, when he played for Switzerland's FC Basel.
Salah said he did not make political decisions.
Three years later, Egyptian judo Olympian Islam El Shehaby refused to shake hands with Israeli rival Or Sasson at the Rio games -- a gesture that embarrased Egyptian authorities.
Writer and Hebrew translator Nael el-Toukhy said any Egyptian who reaches out to Israelis faces intense pressure.
Israel is a hot topic for Egyptian talk shows, guaranteed to stoke the kind of high feelings seen in debates on gay rights.
More than 65 percent of Egyptians alive today were not yet born when the Camp David Summit took place, according to official figures. But Egyptian public rejection of Israel is a constant. National politics is also affected, despite decades of formal diplomatic ties.
In March 2016, Egyptian lawmaker Tawfiq Okasha paid a high price for inviting Israel's ambassador to dinner at his home.
Accused of discussing issues linked to national security, he was ousted from parliament in a two-thirds majority vote.
Full report at:
https://timesofindia.indiatimes.com/world/middle-east/israel-and-egypts-enduring-cold-peace/articleshow/65826559.cms
--------
US-backed Forces Storm IS-held Village in East Syria
September 15, 2018
Beirut: US-backed Syrian forces entered Saturday an eastern village held by the Islamic State group where intense clashes are ongoing a day after the extremists reportedly killed 20 fighters, the forces and a war monitor said.
The Kurdish-led Syrian Democratic Forces said its fighters stormed Bagouz and are close to the center of the village. The forces added that they plan to open another front in the Sousseh area along the Euphrates river to increase pressure on the extremists. SDF launched with the help of the US-led coalition a wide offensive this week to capture the last pocket held by IS in Syria. The Kurdish-led forces have been among the most effective in the fight against IS in Syria, forcing them out of much of the country's east.
Despite losing most of the territory it held between Iraq and Syria since its peak in 2014, the jihadist IS remains a disruptive force in both countries. Its leader, Abu Bakr al-Baghdadi, urged his followers to "persevere" in an audiotape attributed to him last month.
The IS-linked Aamaq news agency said the group's gunmen targeted advancing SDF fighters in the Bagouz area with mortar rounds, roadside bombs and sniper fire inflicting many casualties among them. The SDF commander of the operation in Bagouz, who identified himself as Shergo, said in a video statement that the fighting is intense from both sides and that his fighters now control almost half of the village.
"We will take all this place from ISIS," Shergo said in English, using a different acronym to refer to IS. The Britain-based Syrian Observatory for Human Rights said IS fighters are relying on a network of tunnels in the area and land mines to slow down SDF's offensive.
It said that some 100 women and 30 men, including IS fighters, along with their children, surrendered to SDF fighters. The IS gunmen were taken to a tightly secured position in the area, it added. The storming of Bagouz came a day after the Observatory and a Kurdish official said IS gunmen killed 20 SDF fighters in the country's east.
The Observatory said the extremists took advantage of a sandstorm to launch a counterattack, which killed 20 fighters and wounded others. Kurdish official Ebrahim Ebrahim said the 20 fighters were killed in an ambush by IS fighters. SDF said in a statement that only two of its fighters were killed and six others wounded in Friday's clashes.
Full report at:
http://www.india.com/news/world/us-backed-forces-storm-is-held-village-in-east-syria-3327462/
--------
Israel Launches Fresh Missile Attack on Damascus Int'l Airport
Sep 16, 2018
SANA reported that the Israeli fighter jets targeted several missiles at Damascus international airport last night.
It further said that the air defense units intercepted the Israeli missiles and managed to destroy them.
In the meantime, al-Moraseloun news website quoted a field source as saying that the air defense units fired four missiles at the Israel missiles that were flying towards Damascus international airport.
Another field source said that parts of the intercepted Israeli intruding missiles fell in a residential neighborhood near the airport, adding that the attack caused no human casualties.
SANA reported in late June that two missiles were fired by Israeli military at Damascus international airport at midnight, adding that the move was carried out in line with Tel Aviv's continued support for terrorist groups in Southern Syria to enable them stand against the government forces' advances in the region in recent days.
In the meantime, the Arabic-website of Sputnik quoted a field sources as reporting that the Syrian air defense units intercepted the Israeli missile fired from occupied territories and managed to destroy one of them over al-Amal Farms in Northern Quneitra and intercepted another missile over the town of al-Ba'ath in Quneitra province.
Also, the English-website of Sputnik quoted other sources as claiming that Israeli fighter jets targeted an Iranian cargo plane while unloading in Damascus international airport.
Meanwhile, the AMN reported that in the aftermath of the strike a powerful blast was reported in Northern Quneitra that borders Southwestern Damascus, closer to Israel.
It added that the explosion was due to the interception of an Israeli drone by Syria's air defense system.
In Early May, SANA reported that the air defense units intercepted 2 Israeli missiles fired at al-Keswah region in Southern Damascus.
In the meantime, al-Jazeera TV channel reported that the Israeli missile attack was launched to target a militant base in Southern Damascus.
Also, al-Mayadeen TV quoted sources in Quneitra province as reporting that three Israeli missiles were fired from the occupied Golan Heights at Syrian territories.
The sources further told al-Mayadeen that the Israeli warplanes were flying over the Golan Heights, underlining the possibility that the fighter jets fired the missile at Syria's soil.
Full report at:
http://en.farsnews.com/newstext.aspx?nn=13970625000140
--------
Iraqi Forces Unearth Mass Grave of Izadi Victims in Nineveh Province
Sep 15, 2018
The Arabic-language al-Forat news website quoted Yazda Organization, which is responsible for registering ISIL's atrocities against Izadi people, as reporting that a new mass grave of Izadi victims has been found in an industrial zone in Sinjar in Western Nineveh.
It further said that the mass killing of Izadi people dates back to the time when the ISIL was ruling over Sinjar.
The town of Sinjar, whose residents are mostly Iraq's Izadi minority, was occupied by the ISIL in August 2014, al-Forat said, adding that a large number of men and women faced mass execution and were buried in mass graves.
A Kurdish official disclosed in June that a mass grave containing bodies of ISIL members who were wounded in war and executed by the Takfiri terrorist group was found in the Eastern parts of Mosul province.
"Locals have found a mass grave containing bodies of 83 ISIL foreign members with Afghan, Chechen, Sudanese and Pakistani nationalities in the village of Shamsiat," Saeed Mamuzini, a media officer for the Kurdistan Democratic Party's (KDP) 17th branch in Mosul, said.
He noted that the ISIL executed its members because they had sustained serious injuries or handicapped in the war, making them unable to fight.
The ISIL Takfiri terrorists currently control shrinking swathes of Syria and Iraq. They have threatened all communities, including Shiites, Sunnis, Kurds, Christians, Izadi Kurds and others, as they continue their atrocities in Iraq.
Senior Iraqi officials have blamed Saudi Arabia, Qatar, and some Persian Gulf Arab states for the growing terrorism in their country.
Full report at:
http://en.farsnews.com/newstext.aspx?nn=13970624000908
--------
Syrian Army Discovers Israeli Arms in ISIL's Positions in Dara'a
Sep 15, 2018
The army engineering units found a large volume of cannons, RPG, rockets, arms and ammunition, including Israeli ones, in regions that were once under ISIL's control in Hawz Yarmouk in Western Dara'a.
Earlier this month, the army men carried out mop-up operation in the village of al-Mo'alaqa and in the small town of Jabata al-Khashab in Quneitra, finding a large volume of weapons, munitions and medicines in regions that were once under control by ISIL and Tahrir al-Sham Hay'at (the Levant Liberation Board or the Al-Nusra Front).
Israel and American sniper rifles, machineguns, rockets, cannons, communication devices and medicines were found in the terrorists' positions.
http://en.farsnews.com/newstext.aspx?nn=13970624000540
--------
Polls open in Syrian regime-held areas for first local elections since 2011
16 September 2018
Voting began across government-controlled parts of Syria on Sunday for the war-ravaged country's first local elections since 2011, state news agency SANA said.
Polling booths opened at 7:00 am (0400 GMT) and are expected to stay open for 12 hours.
"Voting centers opened for citizens to cast their ballots to elect their representatives in the local administrative councils," SANA reported.
"More than 40,000 candidates are competing for 18,478 seats across all provinces," it said.
Syrian state television broadcast footage of voters around Damascus and in the coastal government bastions of Tartus and Latakia dropping their ballots into plastic boxes as election officials looked on.
Syrian troops now control around two-thirds of the country after scoring a series of military victories in recent months, including around Damascus and in the country's south.
Voting was expected in some of the recaptured areas.
The number of seats had slightly increased from the roughly 17,000 open in the last elections, as smaller villages had been promoted to fully fledged municipalities.
The councils operate at the municipal level, and newly elected representatives are expected to have more responsibilities than their predecessors, especially those linked to reconstruction and urban development.
Syria last held local elections in December 2011, just nine months into the conflict.
Full report at:
https://english.alarabiya.net/en/News/middle-east/2018/09/16/Polls-open-in-Syrian-regime-held-areas-for-first-local-elections-since-2011.html
--------
Syrian military downs Israeli missiles fired at Damascus airport
Sep 15, 2018
Syrian military has announced that its missile defense system successfully intercepted and downed Israeli missiles fired at an airport in the capital Damascus.
The official SANA agency said late Saturday that the military had thwarted an "Israeli aggression," adding that a number of "enemy missiles" fired at the Damascus International Airport had been dismantled.
"Our air defense systems thwarted an Israeli missile aggression," a military source told the agency, after reports said several explosions had been heard near the airport.
An Israeli military spokeswoman would not comment on the report by SANA.
"We don't comment on foreign reports," said the Israeli official, without elaborating.
Israel has become increasingly involved in the war in Syria with attacks on the country's military and civilian infrastructures over the past few months.
The Tel Aviv regime has launched the attacks as Syria has managed to recapture many areas across the country from the grip of militants.
However, many of those attacks have failed as Syrian defense system has managed to shoot down missiles fired by the Israelis.
The attack on Damascus airport on Saturday came just a fortnight after Syrian authorities rejected reports about a missile attack by Israel on the facility.
Syria repeatedly claims that Israel has backed terrorist groups since the war broke out in the Arab country in March 2011.
Full report at:
http://217.218.67.231/Detail/2018/09/15/574248/Syria-defense-Israel-aggression-Damascus-airport
--------
Sanaa TV revels as Houthi militants fire ballistic missile, but Saudis swat it down
September 16, 2018
JEDDAH: Houthi militants fired a ballistic missile toward Saudi Arabia early Saturday night, but Saudi air defenses shot it down before it could do any damage, a spokesman for coalition forces supporting Yemen's legitimate government said.
Colonel Turki al-Maliki said the Saudi Air Defense Force spotted the missile being being launched at 7:15 p.m. (local time) from the Yemeni governorate of Saada toward the southern Saudi city of Jazan and intercepted it.
Al-Maliki accused the Houthis of deliberately targeting civilian and populated areas in the Kingdom, in willful violation of international law.
"This hostile act by the Houthi terrorist militia of Iran proves the continued involvement of the Iranian regime in supporting the Houthi armed militias in clear defiance of the UN resolutions issued in this regard and a threat to the security of Saudi Arabia and regional and international security. The launching of ballistic missiles towards towns and villages In the population is contrary to international humanitarian law," he said in a statement.
The Houthis' Al-Masirah TV station itself confirmed that the missile launch was meant to hit a populated area, according to a Reuters report.
"The (Houthi) rocket force fired a Badr ballistic missile at the Industrial City of Jizan," Al-Masirah said, without saying when the attack took place.
The Iran-aligned Houthis regularly announce they have fired missiles over the Saudi-Yemeni border into Jizan province in an effort to hit important facilities, including an oil refinery operated by Saudi Aramco. Most of the missiles are intercepted by Saudi Air Defence Forces, using the US-supplied Patriot missile system.
The Houthis say their missile attacks are in retaliation for air raids on Yemen by the Western-backed coalition, which entered Yemen's war in 2015 to try to restore President Abd-Rabbu Mansour Hadi. Hadi was ousted from the capital Sanaa by the Houthis in 2015.
Saudi Arabia and the United Arab Emirates have accused Iran of arming the Houthis as part of the Tehran regime's regionwide destabilization program in furtherance of its hegemonistic ideology.
The coalition, along with its Western allies, have shown proof of Iran's support for the Houthis, including its supply of ballistic missiles.
Full report at:
http://www.arabnews.com/node/1372726/saudi-arabia
--------
Iraq parliament elects Sunni lawmaker Al-Halbousi as speaker, breaking deadlock
September 15, 2018
BAGHDAD: Rival blocs in Iraq's Parliament ended a political stalemate on Saturday and elected a Speaker and his two deputies.
The move is the first step in the formation of a government after months of wrangling since elections in May.
MPs elected a Sunni to head the Parliament, a Shiite as first deputy and a Kurd as second deputy, in a return to the power-sharing system adopted since the 2003 US-led invasion that toppled Saddam Hussein.
Mohammed Al-Halbousi, 37, a civil engineer from the vast desert province of Anbar, had been chairman of the Parliamentary Finance Committee until 2017. He is the youngest Speaker in Iraq's parliamentary history.
Halbousi was nominated by Al-Binna'a alliance, which includes most of the political blocs supported by Iran. He received 169 votes — 80 more than his closest rival.
"The selection of a young Iraqi to fill the post of Speaker is an important development that sends a firm message to the former politicians that they have to leave and make way for the new generation," said Khamis Al-Khanjar, one of Iraq's key Sunni figures.
There were no clashes on Saturday between Al-Binna'a and the Reform coalition sponsored by Moqtada Al-Sadr, one of Iraq's most influential Shiite clerics, who is supported by the US. The last session on Sept. 3 ended in acrimony, when each claimed they had the largest number of seats and should be allowed to form a government. Violent protests broke out in Basra the next day, killing at least 15 people.
Arab News reported on Friday that agreement had been reached between Al-Sadr and his rivals to include some pro-Iran factions in his coalition. Evidence of the deal emerged during Saturday's parliamentary session.
Al-Binna'a MPs stepped down after their candidate won the post of Speaker, and announced the withdrawal of their candidate for first deputy to allow Sadr's candidate to take the position.
"The results of the session of Parliament indicate that the agreement between Al-Binna'a and the Reform coalitions can overcome the obstacles and lead the political scene toward the destination they want," a prominent Shiite lawmaker involved in the talks to form the government told Arab News.
"The conclusion suggests that Al-Binna'a and Reform together are in practice the largest bloc and the real decision maker.
Full report at:
http://www.arabnews.com/node/1372471/middle-east
--------
North America
Bolingbrook group aims to clear up misconceptions about Islam
Sep 16, 2018
The Muslim Association of Bolingbrook will host an informational session called "Clearing Up Misconceptions About Islam" next Saturday at the Fountaindale Public Library.
Sabeel Ahmed will give the presentation and be there to answer audience questions.
Ahmed is an expert on Islam who travels the world giving lectures and serves as the director of Gain Peace, an outreach division within the Islamic Circle of North America.
Visitors can learn answers to all their questions about the religion. Admission is free, and snacks will be provided.
The MAB has made it part of its mission to provide educational opportunities.
http://www.theherald-news.com/2018/09/14/bolingbrook-group-aims-to-clear-up-misconceptions-about-islam/az0tay/
--------
Meatpacker, Muslim Workers in US Settle Bias Dispute
September 15, 2018
A major U.S. meatpacking company has agreed to pay $1.5 million to settle charges of discrimination involving Muslim workers who walked off the job in a dispute over prayer breaks.
The U.S. Equal Employment Opportunity Commission announced the financial settlement Friday after several years of litigation between Cargill Meat Solutions Corporation and 138 Muslim workers, most of whom were Somali immigrants.
The dispute began in late 2016 after the workers were fired following a three-day walkout at a meatpacking plant in Fort Morgan, Colorado.
Management had changed policies allowing Muslim workers to take short prayer breaks.
The EEOC said it had "reasonable cause to believe that Somali, African and Muslim employees were harassed, denied their requests for prayer breaks and fired."
Cargill disagreed but said it settled the case to avoid further litigation. The company also said it was committed to allowing "Muslim workers to take short breaks to perform their obligatory prayers."
A Teamsters union chapter representing the workers will pay them $153,000 to settle discrimination complaints related to the dispute. The EEOC said Teamsters Local 455 had failed to advocate for the workers — who were dues-paying union members — and had harassed them because of their race, religion and national origin.
The union denied wrongdoing but also agreed to give their union officials grievance training and to publicize employee rights to work in an environment free of discrimination.
The Council on American-Islamic Relations applauded the settlements, as did Denver lawyer Qusair Mohamedbhai, who represented the workers.
Full report at:
https://www.voanews.com/a/meatpacker-muslim-workers-in-us-settle-bias-dispute/4573222.html
--------
US ending final source of aid for Palestinians: Report
15.09.2018
By Diyar Guldogan
The U.S. blocks millions of dollars to programs that build relationships between Israelis and Palestinians, the New York Times reported on Friday.
Citing current and former American officials, the report said, "the move to prevent Palestinians -- including, in many cases, children -- from benefiting from the funds squeezes shut the last remaining channel of American aid to Palestinian civilians."
U.S. Agency for International Development (USAID), Conflict Management and Mitigation Program, and Kids4Peace were among the programs that U.S. President Donald Trump refused to allocate funds for.
"Essentially, U.S.A.I.D. was faced with the choice of shutting down the program and losing the funds, or keeping something going. They decided to support programs that involve Israeli Jews and Israeli Arabs," Tim Rieser, foreign policy aide to Senator Patrick Leahy, was quoted as saying by the New York Times.
The USAID said in a statement on Friday that it is "currently unable to engage Palestinians in the West Bank and Gaza as a result of the administration's recent decision on Palestinian assistance."
Jason Greenblatt, assistant to Trump and special representative for international negotiations, on Friday shared New York Times' story on Twitter.
"..both Palestinian and Israeli kids will lose, and these programs will be meaningless, if the PA continues to condemn a plan they haven't seen & refuses to engage on it. Hopefully the PA will lead... let's see...," Greenblatt said on Twitter.
The U.S. administration on Monday announced the closure of the Palestine Liberation Organization's (PLO) Washington office, which also serves as a Palestinian embassy.
Notably, the move came shortly after the U.S. cancelled all funding to UNRWA, the UN's cash-strapped Palestinian refugee agency.
The decision also comes as the U.S. administration prepares to unveil a controversial Middle East peace plan, details of which have yet to be made public.
Full report at:
https://www.aa.com.tr/en/americas/us-ending-final-source-of-aid-for-palestinians-report/1255684
--------
India
Gurugram Muslim leaders seek clarity on mosque unsealing
Sep 16, 2018
Four days after a mosque was sealed in Sheetla Mata Colony, local Muslim leaders met divisional commissioner D Suresh at his residence on Saturday seeking clarity on the process to unseal the structure.
On Friday, reports surfaced that the divisional commissioner had directed the mosque to be unsealed in the evening, though the city administration later released a statement clarifying that no such order was issued.
According to the leaders, they were informed by the divisional commissioner on Saturday that a formal appeal against the sealing by the Municipal Corporation of Gurugram (MCG) can be made in the court of the divisional commissioner, which could pave the way for the mosque to be unsealed.
"After informing us on Friday that mosque will be unsealed, the divisional commissioner informed us that the only way to get it done is by submitting an official appeal in his court. He then informed us that the court would accordingly take a call based on the evidence and finding," said Haji Shehzad Khan, chairman of the Muslim Ekta Manch.
Rahul Roy, a member of the Gurgaon Nagrik Ekta Manch, said that they had gone to meet the divisional commissioner 'as he had informed us that the mosque will be unsealed on Friday evening, but this never took place. Hence, the forum met him for clarity.'
"The divisional commissioner apprised us of the legal hurdles if an order for unsealing is passed. He also said that an internal inquiry has been initiated on the issue. Based on the report, he said that officials will take the next course of action. At present, status quo is being maintained," said Roy.
"We are hoping the issue does not get drawn into a legal hurdle and is solved administratively. Members of the forum and Muslim Ekta Manch leaders are pondering over the next steps that can be taken," said Roy.
Divisional commissioner D Suresh did not respond to the texts and calls for comment.
On Wednesday, MCG officials had sealed the mosque and 10 other buildings in the area, on the grounds that these had been built after the Punjab and Haryana high court, in September 2016, had stayed new construction in the 300-metre radius of the Indian Air Force (IAF) ammunition depot in Sector 14.
On Friday, Gurugram police had detained 12 people affiliated to right-wing outfits under Section 107 (likely to commit breach of peace or public tranquillity) of the CrPC, 1973.
https://www.hindustantimes.com/gurugram/gurugram-muslim-leaders-seek-clarity-on-mosque-unsealing/story-HzD0ejlhpg1mv4aJX2a1FJ.html
--------
India, Serbia Resolve to Fight Terrorism, Enhance Cooperation in Defence Manufacturing
September 15, 2018
Belgrade: India and Serbia on Saturday resolved to fight the scourge of terrorism in all its forms and manifestations and decided to enhance cooperation in areas like defence manufacturing, IT and infrastructure, as Vice President Venkaiah Naidu met Serbian President Aleksandar Vucic. Naidu, who arrived here on Friday, was welcomed by Vucic at the Serbia Palace. During the visit, the two sides signed an agreement on cooperation in the field of plant health and plant quarantine and a revised Air Services Agreement.
"The agreement on cooperation in plant protection and plant quarantine would contribute to increasing bilateral trade in agricultural products. The Air Services Agreement would boost trade and tourism by the launch of direct air connectivity between India to Serbia in future," Naidu said in a statement.
In their discussions, the two leaders also exchanged views on multilateral issues and agreed to intensify cooperation in the areas of mutual interest. "India and Serbia have had close cooperation at the United Nations and other multilateral fora. We agreed that United Nations needs to be reformed to reflect the realities of today and address current global challenges, it is long overdue," Naidu said.
"We resolved to fight the scourge of terrorism in all its forms and manifestations and agreed to strengthen cooperation in the fight against terrorism at various international fora. It is a global challenge and requires a global response. Terror has no religion. Terroism is enemy of humanity. We must all come together. I am happy that both of us agreed to move in the direction of creating the needed public opinion," he said.
Naidu had an extensive discussion with Vucic on all important aspects of bilateral relations as well as global and regional issues of common interest to both of our countries."We expressed our commitment to further build on long-standing friendly ties between our two countries," he said. During their talks, Naidu and Vucic agreed to expand the bilateral cooperation especially in the areas of economic and cultural relations.
"In the area of economic cooperation, both sides agreed to enhance cooperation in the areas of priority such as agriculture, food processing, defence manufacturing, science and technology, information technology, infrastructure, tourism and pharmaceuticals," Naidu said. He said India looked forward to further closer cooperation with Serbia.
"I have already assured the President that India stands for the sovereignty and the territorial integrity of Serbia. There is no question of any dilution and deviation of our stand. I am also equally happy that the Hon'ble President has unequivocally publically declared their support to India's cause in the United Nations and also in the other international forums," he said.
Full report at:
http://www.india.com/news/world/india-serbia-resolve-to-fight-terrorism-enhance-cooperation-in-defence-manufacturing-3327438/
--------
Bangladeshi arrested with Indian passport
SEPTEMBER 15, 2018
He was working in Dubal as a technician and was visiting India for a vacation
Alert immigration officials at the Kempegowda International Airport caught a 28-year-old Bangladeshi who went to Dubai in the UAE two years ago using an Indian passport to work as a technician.
The accused was caught by officials when he landed at KIA from Dubai on Thursday and submitted documents for immigration clearance.
A detailed probe revealed that the original name of the accused was Mohammed Moshikul Islam and he is from Bangaldesh. He had crossed the border illegally in 2012 and entered West Bengal. After working as casual labourer for some time, he managed to get a fake birth certificate in Kolkata through a tout, using which he obtained an Indian passport in 2015 in the name of Mondal Mohammed Moshikul.
Using the passport, he went to Dubal to work as technician. He was caught while returning to India on Thursday for a vacation.
He was booked under various sections of the Passport Act and remaded in judicial custody.
Domestic help caught
In another incident, officials nabbed a 45-year-old woman from Kadapa in Andhra Pradesh who was trying to board a flight to Bahrain using a fake passport in the wee hours of Thursday.
The accused, Venpalli Ramannamma, was heading to Bahrain to work as a domestic help.
Ramannamma's Aadhaar card details were different from her passport details. A detailed inquiry led her to confess to the crime.
According to officials, she was a class II dropout but got the passport through a tout in 2005 by claiming to be Desai Raa Devi from Hyderabad.
Full report at:
https://www.thehindu.com/news/cities/bangalore/bangladeshi-arrested-with-indian-passport/article24957177.ece
--------
Pakistan release Sikh devotees visit schedule
Sep 15, 2018
AMRITSAR: Evacuee Trust Property Board (ETPB) has released the ten days visit programme of Indian Sikh devotees for the birth anniversary of Guru Nanak Dev scheduled to be celebrated at Gurdwara Nankana Sahib, Pakistan in November.
According to the programme prepared by ETPB, parent body of Pakistan Sikh Gurdwara Parbandhak Committee, the Indian Sikh jatha would arrive in Pakistan via Attari border on November 21 and would return on November 30.
The bhog of akhand path will be held on November 23 at Gurdwara Janamasthan Nankana Sahib. Sikh devotees will also visit Gurdwara Panja Sahib, Gurdwara Dera Sahib , Gurdwara Darbar Sahib, Kartarpur and Gurdwara Rori Sahib , Amenabad.
https://timesofindia.indiatimes.com/india/pakistan-release-sikh-devotees-visit-schedule/articleshow/65823410.cms
--------
J&K: Five militants killed in south Kashmir, civilian shot during protests
by Bashaarat Masood
September 16, 2018
The Jammu and Kashmir Police and Army killed five militants in a joint operation in south Kashmir Saturday. Later, a civilian was killed after the forces fired on youths protesting the killing of the militants.
J&K Police said the militants were involved in the killing of policemen in South Kashmir, and described the operation as a "huge success for the police and security forces". The operation began Friday night, when a joint team of the police, Army and paramilitary forces cordoned off Chowgam village of Kulgam after inputs about the presence of militants.
Early Saturday morning, as the forces zeroed in on a target house, the militants opened fire, triggering a gunfight. The exchange of fire continued for several hours, and culminated in the killing of all five militants in the house. "A huge success for police and security forces," J&K Police tweeted after the encounter. "It was a combo of HM (Hizbul Mujahideen) and LeT (Lashkar-e-Taiba) terrorists involved in a series of terror acts."
Police have identified the killed militants as Gulzar Paddar, Zahid, Faisal, Zahoor and Masroor. Gulzar, police said, was a close associate of the slain Hizb commander Altaf Kachroo. Gulzar, who had joined the militant ranks two years ago, was involved in a series of terror acts, including the killing of five policemen last year, at Pombai, police said. They said he was also involved in the snatching of police weapons.
Police said that Zahid, a resident of Okey village of Kulgam, was involved in the killing of a policeman at Zainapora Shopian on Eid, while Faisal was involved in the killing of a policeman in Shopian last year.
Soon after the killing of the militants, people took to the streets in Chowgam and its adjoining villages, and clashed with police and paramilitary forces. A civilian was killed and over 20 were injured after the joint forces opened fire and fired pellets at the protesters. The slain youth has been identified as 24-year-old Rouf Ahmad, a resident of Anchidoora in Anantnag town. He was hit by a bullet in the neck. Rouf was killed at Chowgam some 17 kilometres from his home.
An official at Anantnag District Hospital told The Sunday Express that the hospital received 22 injured. "Three of them were hit by bullets out of which one succumbed," the official said. "The others had pellet injuries. We referred some of them to Srinagar."
Medical Superintendent of Shri Maharja Hari Singh (SMHS) Hospital in Srinagar Dr Saleem Tak told The Sunday Express that the hospital received eight injured.
Full report at:
https://indianexpress.com/article/india/jk-army-hizb-ul-mujahideen-militancy-south-kashmir-5358503/
--------
J-K: Army Jawan injured as Pakistan violates ceasefire along LoC
September 15, 2018
An army Jawan was injured as Pakistani troops resorted to unprovoked firing along the Line of Control in Jammu and Kashmir's Nowshera sector on Saturday.
According to a defence ministry spokesperson Lt Colonel Devender Anand, "the enemy opened up small arms fire at about 10.30 am leading to injury to one soldier. The injured is out of danger and has been evacuated to Command Hospital at Udhampur," he added.
Meanwhile, sources said that the Indian Army retaliated. The exchange of fire at intermittent intervals was going on between two sides.
https://indianexpress.com/article/india/j-k-one-army-jawan-injured-as-pakistan-violates-ceasefire-along-loc-5357976/
--------
Pakistan
Provinces unwilling to accommodate undocumented, illegal Afghan refugees
Sep 16, 2018
In a high-profile inter-ministerial meeting, the four provinces have reportedly expressed concern and said that they are unwilling to accommodate undocumented and illegal Afghan refugees.
Ministry of States and Frontier Regions reportedly held the meeting where state agencies' representatives were also present.
Security concerns were reportedly cited as the reasons for the provinces' stance on the matter.
Moreover, it was also decided that the minutes of the meetings would be sent in the form of a summary to the federal cabinet.
https://www.pakistantoday.com.pk/2018/09/16/provinces-unwilling-to-accommodate-undocumented-illegal-afghan-refugees/
--------
Pakistan willing to open Afghan land route for India: US envoy
Anwar Iqbal
September 16, 2018
WASHINGTON: Pakistan approached Afghanistan earlier this year, indicating its willingness to discuss the resumption of trade between Afghanistan and India through the Pakistani land route, says a senior US diplomat.
In an interview to India's Economic Times newspaper, Ambassador John Bass said that reopening land routes between South and Central Asia will benefit all countries in the region.
Pakistan does not allow India to use the land route for trading with Afghanistan, arguing that technical and strategic issues connected to transit trade should be resolved first.
"A couple of months ago, for the first time the Pakistani government expressed a willingness to start talks with its Afghan counterparts for parameters to enabling trade between India and Afghanistan through Pakistan," Mr Bass said.
The US ambassador to Afghanistan also said that Indian firms were gradually increasing their investments in Afghanistan. Last year's trade show in Delhi led to $27 million of investments at the event itself, and another $200 million of "prospective" investments from Indian companies, much of which had materialised, he added.
Ambassador Bass told the Indian newspaper that a political settlement in Afghanistan was in Pakistan's long-term interest. "Increased trade in both directions, increased connectivity through central and south Asia through Afghanistan — those are all missed opportunities if Pakistan has its sole focus on perpetuating the status quo," he said.
The US envoy said that India raised the issue of US sanctions on Iran when US Secretary of State Mike Pompeo and Defence Secretary Jim Mattis visited New Delhi earlier this month for Two-plus-Two talks.
The Indians were particularly interested in knowing how the sanctions would impact Chabahar port, which was built in Iran with Indian assistance for connecting India with Central Asia through Afghanistan.
The Indian government conveyed its perspectives "on the importance of Chabahar as a means to expand bilateral trade and help improve Afghanistan's connectivity with South Asia," he said.
"We are processing and evaluating how best to reimpose sanctions on Iran, with the Iranian regime's malevolent behaviour and its activities in destabilising its neighbours," Ambassador Bass said.
"My government is still thinking through how Chabahar factors in the reimposition of the toughest sanctions that we believe need to be put in place to hold the Iranian government accountable for its action."
He said the US administration was reviewing the sanctions to see how to deal with such issues, without hurting the US objective of persuading Iran to change its policies.
Full report at:
https://www.dawn.com/news/1433197/pakistan-willing-to-open-afghan-land-route-for-india-us-envoy
--------
Pakistan ready to train Afghan law enforcers: FM
Iftikhar A. Khan
September 16, 2018
ISLAMABAD: Foreign Minister Shah Mehmood Qureshi in his maiden visit to Kabul underscored the need for enhanced coordination between the two countries in counterterrorism efforts with an offer to train personnel of Afghan police and other law enforcement agencies at Pakistani institutions.
The foreign minister during his visit met Afghan President Mohammad Ashraf Ghani and Chief Executive Dr Abdullah Abdullah and held delegation-level talks with his Afghan counterpart Salahuddin Rabbani.
Mr Qureshi conveyed to the Afghan leadership that the new government in Islamabad attached importance to its relations with Afghanistan and would work towards further deepening cooperation in the fields of trade, development and connectivity. "The visit provided an opportunity to set out the contours of the new government's future engagement with Afghanistan to build mutually beneficial relationship and enhance cooperation between the two countries," added a Foreign Office statement issued after the meeting.
In their meeting, the two foreign ministers took decisions on holding meetings of the Joint Economic Commission (JEC), Afghanistan-Pakistan Transit Trade Coordination Authority (APTTCA), Steering Committee of the Joint Ulema Conference and the working groups of Afghanistan-Pakistan Action Plan for Peace and Solidarity (APAPPS). They also agreed to expedite matters related to providing necessary security to Pakistan consulate general in Jalalabad.
According to the Afghanistan ministry of foreign affairs, Mr Qureshi and Mr Rabbani agreed to hold Afghanistan-Pakistan's Ulema meeting and a second round of the trilateral meeting of Afghanistan, Pakistan and China. While the two sides decided to hold the Ulema meeting in the near future, they did not give information when and where the second round of the trilateral meeting would be held, stated the Afghan media, Tolo News. The last meeting of the three countries was hosted by China in December 2017 where Beijing tried to mediate between Kabul and Islamabad to help them improve their relations.
FM Qureshi also invited President Ghani to visit Pakistan. He underlined the importance of frequent high-level engagements between the two countries that contributed to building trust and improving mutual understanding.
He highlighted the need to maintain this upward trajectory in bilateral relations through more high-level visits during the upcoming months.
He reiterated Pakistan's support for the national unity government's efforts to bring about a lasting peace in Afghanistan and assured the Afghan leadership that Pakistan, along with other partners of Afghanistan, remained ready to play constructive role in facilitating an Afghan-led and Afghan-owned peace process and reconciliation.
In the context of enhancing trade between the two countries, he said Pakistan had decided to waive off regulatory duty on imports from Afghanistan. It was for this reason, he added, Afghan exports to Pakistan recorded substantial increase of 118 per cent in 2018. He stated that Pakistan would fast-track standardisation and automation of custom procedures as well as upgrade of infrastructure at crossing points between the two countries.
The foreign minister also handed over a letter from Prime Minister Imran Khan addressed to Afghan President Ashraf Ghani, marking the first consignment of 40,000 tonnes of wheat gifted to the Afghan people.
For the second phase of 3,000 scholarships, more than 600 scholarships had already been granted, he said.
Full report at:
https://www.dawn.com/news/1433206/pakistan-ready-to-train-afghan-law-enforcers-fm
--------
NAB challenges IHC decision to hear Sharifs' petitions
Nasir Iqbal
September 16, 2018
ISLAMABAD: National Accoun­tability Bureau (NAB) chairman Javed Iqbal approached the Supreme Court on Saturday with a request to set aside the Islamabad High Court's (IHC) Sept 10 decision to proceed with the petitions of former prime minister Nawaz Sharif for the suspension of sentences awarded by an accountability court in the Avenfield reference.
The NAB chairman approached the SC also on Sept 1 when the accountability watchdog challenged the IHC's Aug 7 order of transferring two corruption references against Mr Sharif, his daughter Maryam Nawaz and son-in-law retired Capt Muhammad Safdar from accountability court Judge Mohammad Bashir to Judge Mohammad Arshad Malik.
In the fresh application before the apex court, which was drafted by advocates M. Akram Qureshi and Jahanzaib Bharwana, NAB pleaded before the court to direct the high court to commence hearing of the Sharifs' appeals against their conviction.
On July 6, Judge Bashir announced 10-year imprisonment for Mr Sharif, seven for Ms Maryam and one year for Mr Safdar in the Avenfield reference.
The two other references against the Sharifs — Al-Azizia/Hill Metal and Flagship Investment — are now being heard by Judge Malik.
The appeals filed by the Sharifs against their conviction are still pending in the high court. In the meanwhile, they filed a set of petitions in the high court seeking suspension of sentences passed by the accountability court.
When the high court decided to hear the appeals against the conviction, the Sharifs moved applications for the early hearing of their petitions filed against the conviction. The high court accepted the applications and decided to commence hearing petitions from Sept 11.
In its application, the NAB chairman argued that it was not just and reasonable for the high court to pass an order without issuing a notice to the state.
The high court could not review its own decision of hearing the appeals, the NAB application contended, adding that the high court was not righteous in passing an order in the connected matters to proceed with the cases pertaining to the suspension of the conviction.
The NAB application argued that the petitioners had not provided any cogent reasons for seeking the relief, besides the relief being sought was in contravention with the spirit of the provisions of Section 32 of the National Accountability Ordinance (NAO).
There is no justification for postponement of the main appeals against the conviction by taking instead the applications for the suspension of the conviction when the appeals were already fixed for hearing on Sept 10, the NAB application says.
The application emphasised that the high court had gone beyond its jurisdiction by postponing the hearing of the arguments in the appeals, adding it was not reasonable to postpone because of the personal inability of the counsel for the convicts.
The proceedings in the appellate court could not be controlled by the whims of convicts/Sharifs, the NAB application said.
Full report at:
https://www.dawn.com/news/1433202/nab-challenges-ihc-decision-to-hear-sharifs-petitions
--------
Taliban commander shot dead in Bannu
SEPTEMBER 16, 2018
Former Taliban commander was gunned down by some unknown armed men and escaped the scene on Saturday, the police said.
According to the details, unidentified attackers opened indiscriminate fire at an ex-Taliban commander named Gul Muhammad alias Qari Saifullah in Township area of Bannu. Gul was killed on the spot. The attackers fled the scene after committing the murder and the body was shifted to a nearby hospital for post-mortem.
The police, after registering a case against unknown assailants, have started an investigation.
https://dailytimes.com.pk/298630/taliban-commander-shot-dead-in-bannu/
--------
Training workshop on 'Human Rights Education' held
Waqas A. Khan
SEPTEMBER 15, 2018
MURIDKE: Fazaldad Human Rights Institute (FHRI) and Rice Partners (Pvt) Ltd (RPL) in collaboration with Mars Food organized a one day teachers training workshop on Human Rights Education (HRE) to raise awareness and understanding on the concept of HRE.
The training workshop aimed at providing knowledge and skills to the attendants to promote human rights, child rights, rights of minorities and women empowerment.
The workshop was conducted in a highly participatory manner through presentations, group work, engaging games and activities to help the participants not only to understand the concepts but also to internalize them in their respective plans and policies.
Project Officer Mr Rizwan Ali informed the participants about the working of FHRI. He said that FHRI is the most experienced organization in Pakistan on training for human rights and democracy.
"Our training program has reached over 75,000 teachers, judges, police officers, bureaucrats, and elected local body representatives," he said, adding that "170,000 students have been direct beneficiaries of this program while indirect beneficiaries run into the millions."
Senior trainer FHRI Mr Waqas A Khan introduced the participants with the concept of human rights and told the participants about the rights granted to the citizens of Pakistan by the Constitution of Pakistan.
He said that though all the rights are equally important, but there is a need to pay specific attention to education, social security, standard of living, health and health services and access to appropriate information.
District Education Officer (EDO) Sheikhupura Misbah Tallat highlighted the importance of women rights with reference to women empowerment. She said that the dream of developed Pakistan cannot be fulfilled without empowering our women. She further added that women should know the meaning of honor to become empowered women.
Senior master trainer, educationist Samia Mubashir highlighted the role of teachers towards human rights education. She said that teachers are the role models for the children and the society, so they should fulfill their responsibility of spreading human rights education.
Project Manager Helping Hand Islamabad (HHI) Mr Imran Mehmood threw light on the child rights and informed the participants about the United Nations convention on the child rights. He also told the people about the contemporary issue of child abuses and informed the participants about the strategies for elimination of child abuses.
Program Manager RPL Mr Zafar Iqbal concluded the workshop by saying that the RPL is a social impact business and working for the betterment of the farmers and farm laborers.
Full report at:
https://dailytimes.com.pk/298486/training-workshop-on-human-rights-education-held/
--------
Europe
Like Sweden, Finland has its Muslim-bashing populists
16/09/2018
The rise of the far-right Sweden Democrats, who are hostile to Muslims and migrants, is mirrored in Finland, Sweden's neighbour to the east. Finland, too, has an authentically populist political party with a nasty message for immigrants of non-European, non-Christian heritage.
Like Swedes, Finns have elections on their minds. Finnish voters will go to the polls next year. Despite its relatively homogenous, small population — just 5.5 million; 17 inhabitants per sq. kilometre — and comparatively placid politics, Finland's populists maintain an unhealthy focus on Muslims. This might seem surprising considering Finland has a rather small number of Muslims, perhaps 70,000, the majority of whom are adolescents.
Not so. The Finns Party, which is part of the governing coalition, has an ugly anti-Muslim, anti-migrant agenda, one that is likely to become more strident as the election draws closer. On September 11, a Finns Party politician was convicted of public incitement to violence against the Finnish Red Cross, which runs reception centres for asylum seekers.
Finns Party Leader Jussi Halla-aho was fined by Finland's Supreme Court six years ago for comments linking Islam to paedophilia and Somalis to theft. One of the party's deputy leaders, Laura Huhtasaari, who ran for Finnish president this year, channelled US President Donald Trump with a "Finland First" message and rants about "Muslim backwardness." Earlier this year, Huhtasaari was fined for a Facebook post calling for a Muslim-free Finland, which a court said amounted to discrimination against an ethnic group.
The Finnish populists are unapologetic about wanting a Finland with no immigration from outside Europe, except for individuals who bring clear economic benefits. In any case, Finland's Muslim community, which includes Arabs, Kurds, Turks, Iranians, Somalis, Bosnians and Kosovo Albanians, lives in a markedly Islamophobic culture. The International Social Survey Programme of 2008 said that approximately one-half of the Finnish population had a negative attitude towards Islam and Muslims, more than any other country in the 42-country study.
That explains some of the context for the Finns Party's rhetoric, which chimes with that of the Sweden Democrats next door. The Sweden Democrats are desirous of locking migrants in to overt displays of "Swedishness," whatever that might mean. Sweden Democrats' foreign affairs spokesman Markus Wiechel admitted his party wanted migrants to "become Swedish… to assimilate."
This hard-line approach can only provoke resistance in Sweden, Finland and elsewhere in Europe, when a more measured give-and-take is required.
Consider the findings of a recently submitted doctoral dissertation on the identities of young Muslims in Finland. The scholar, Teemu Pauha of Helsinki University, investigated young Finnish Muslims' sense of belonging to the country in which they were born and made a surprising discovery.
"Within the scope of a single interview session, the same study subject could talk about both 'those Finns' and 'us Finns,' depending on the connotations linked with Finnishness in each case. Many considered themselves Finns when abroad and foreigners in Finland," Pauha said.
Pauha's research opens with an interesting anecdote that illustrates the extent of disconnection between Finnish Muslims and their country. In December 2017, the 100th anniversary of Finnish independence, a Muslim youth organisation, Nuorten Muslimien Foorumi (NMF), organised a gala to mark the occasion. An NMF activist went on television to explain the organisation's goal was to "construct the kind of Muslims who feel that they are also Finnish." It suggested, Pauha writes, that "Finnish identity is not automatic" but something to be consciously built by Muslims.
Just how hard that will be is clear from Pauha's analysis of letters written by 11-16-year-old Muslims to an imaginary friend about life in Finland. "Finnishness is associated with things that are haram, especially smoking and drinking, and, as a result, becoming more like the Finns is portrayed as a cause of losing one's Muslimness," says Pauha. Clearly, the idea of Finnishness itself must change if it is to fit all of the country's population in the 21st century.
That said, young Finnish Muslims' uncertain embrace of Finland has profound implications for them, their country and Europe more generally. By 2050, the Pew Research Centre estimated, migration could push Finland's Muslim population to 3.4%, a big increase from 0.8% in 2010.
Even if Finland walls itself off to non-Europeans and Muslims, Pauha says, the Muslim population will grow, "but more modestly, to approximately 1.4%."
Whatever happens, Finns and Muslims must accommodate each other.
https://middle-east-online.com/en/sweden-finland-has-its-muslim-bashing-populists
--------
Germany 'cannot rule out' longer-term military role in Middle East
16 September 2018
German Defence Minister Ursula von der Leyen on Saturday said she could not rule out a longer-term deployment of German forces in the Middle East, amid a broader debate about a role for Germany in possible military action Syria.
Von der Leyen spoke during a visit to the Azraq air base in Jordan where some 300 German troops support a refuelling plane and four Tornado warplanes that fly reconnaissance missions as part of U.S. led-coalition operations against ISIS in Iraq and Syria. Asked if Germany needed a strategic base in the Middle East, von der Leyen said, "First we must bring this deployment to a successful end. I don't want to rule the idea out, let me put it this way."
Von der Leyen and other German officials on Wednesday called for concerted efforts to prevent chemical weapons being used in Syria, and Chancellor Angela Merkel said Germany could not simply look away if such attacks took place.
The German government said it was in talks with the United States and other allies about possible participation in military intervention if chemical weapons were used in attacks on Idlib, the last major rebel-held enclave in Syrian.
The news has divided the German ruling coalition, with the Social Democrats, ruling any such action out unless it is sanctioned by the United Nations.
Germany, under pressure from the United States to boost defence spending and take on more responsibility within NATO, did not take part in April military strikes by U.S., French and British forces on Syria after a chemical weapons attack.
The United States has pledged to surpass that if Syria uses chemical weapons again.
Full report at:
https://english.alarabiya.net/en/News/middle-east/2018/09/16/Germany-cannot-rule-out-longer-term-military-role-in-Middle-East.html
--------
Muslims mark Imam Hussein Day in Vienna
Sep 16, 2018
Muslims in the Austrian capital Vienna have held a march to mark the martyrdom anniversary of Prophet Mohammad's grandson, Imam Hussein. Demonstrators say their message is promoting justice and fighting extremism. Homa Lezgee reports.
http://217.218.67.231/Detail/2018/09/16/574257/Muslims-mark-Imam-Hussein-Day-in-Vienna-
--------
Czech PM faces criticism for 'Syrian orphans' remarks
16.09.2018
By Mehmet Yilmaz
PRAGUE
Czech Prime Minister Andrej Babis faces criticism over his remarks on Syrian orphans in a newspaper interview published on Saturday.
Babis was quoted as saying in the interview published in Pravo newspaper: "Why should we be accepting any Syrian orphans? There are orphans even in the Czech Republic and we must take care of those. Why should we be taking care of Syrian orphans, of all people?"
The interview was also published on Novinsky.cz website, with the headline "Babis: The Czech Republic will not accept a single refugee".
Czech Interior Minister and acting Minister of Foreign Affairs Jan Hamacek criticized Babis on Twitter, saying: "Surely, as a 10-million-strong country, we could manage to offer a new home to 50 children who lost their parents in Syria."
Hamacek also reminded that the Czech Republic donated more than 200 million Czech Koronas ($9.1 million) to buy patrol vessels for the Libyan Coast Guard.
Babis, in the interview, said he had proposed a way to fight migration in the European Union and "found 75 billion euros in the European budget proposal".
Full report at:
https://www.aa.com.tr/en/europe/czech-pm-faces-criticism-for-syrian-orphans-remarks/1255790
--------
Italy launches operation against YPG/PKK terrorist
15.09.2018
By Ecenur Colak
ROME
Counter-terror teams in western Italy searched a suspected Italian YPG/PKK member's house and seized his passport, local media reported Saturday.
Italian news agency ANSA said the police on Sardinia Island searched the houses of three Italian nationals within the framework of an operation against "war activities abroad".
They were living on the island's central city of Nuoro and southern city of Cagliari.
One of the suspects, Pierluigi Caria, whose affiliation with YPG/PKK was confirmed, was planning to go to Iraq and then Syria soon.
His passport has been seized as a precautionary measure by the Anti-Mafia Directorate in Cagliari, it was reported.
The investigation against the three people was initiated after a photograph showing two YPG/PKK members was circulated.
The terrorists in the photograph, French Olivier Francois Jean le Clainche and Italian Pierluigi Caria, showed one armed with a Kalashnikov and the other holding his left fist in the air.
Their identity was tracked down through a flag belonging to a so-called anti-fascist organization in Bretonnia, France and the flag of Sardinia Island that is seen in the photo.
The French terrorist, codenamed Kendal Breizh, was killed by the Turkish army forces in Syria's Afrin on Feb. 18 during Operation Olive Branch which was launched with the aim of clearing YPG/PYD/PKK terrorists in the region.
Caria is accused within the framework of Italian Penal Code's Article 270 on acts committed with the purpose of terrorism and violent acts against the state.
Full report at:
https://www.aa.com.tr/en/europe/italy-launches-operation-against-ypg-pkk-terrorist/1255490
--------
Southeast Asia
Instead of Malay rights, focus on furthering Islamic agenda: Pas Youth leader
16 September 2018
KUALA NERUS: Pas should avoid being fixated on protecting Malay rights, and instead focus on furthering its Islamic agenda.
Youth Central Committee member Akram Ikrai Taib Azamuden said that fighting to protect the rights of one group could lead to the oppression of other groups – a position that goes against Islam, which is open and welcoming to all.
"Everyone is seeking to protect their rights now. The Chinese, Indians, the LGBT (Lesbian, Gay, Bisexual and Transgender communities) are all seeking their rights.
"We should not be trapped by this (tribal mentality) of (always wanting to protect) Malay rights because if we are, we will be oppressing not only the Chinese, Indians and LGBT, but also other minority groups in the country," he said in his debate speech at the 64th Pas Muktamar at the Terengganu Indoor Stadium here today.
Akram said Pas's Islamic foundations means that it is committed to the Islamic concept of openness to all, regardless of their beliefs.
On Friday, Pas Youth rejected a motion to support political cooperation between the Islamist party and its traditional rival, Umno.
The Youth delegates had overwhelmingly voted in support of a motion seeking to amend an earlier motion calling for political cooperation between the two parties.
The first motion was proposed by the Kota Raja Pas Youth division, which called for "political cooperation" instead of "general cooperation," as the latter concept is "too informal."
The second motion, by a delegate from Tumpat, Kelantan, called for an amendment to the original motion proposing to remove mention of "political cooperation" and "the strengthening of ties with Umno and Barisan Nasional." This motion was approved by 273 delegates, with 58 delegates objecting.
Akram said the party's youths have placed their trust on party President Datuk Seri Abdul Hadi Awang and the Ulama Syura Council to decide on whether or not to continue their cooperation with Umno.
"(The leaders on stage here) have been chosen by those sitting down there (Pas delegates in the audience), thus we should give them our full trust to make this important decision," he added. © New Straits Times Press (M) Bhd
https://sg.news.yahoo.com/instead-malay-rights-focus-furthering-043311788.html
--------
China walks a tightrope on the Uighur Muslim issue
September 16, 2018
Mahmood Hasan
China has never been at ease with its religious minorities—be they Buddhists, Muslims, Christians or those practicing the religio-philosophical traditions of Confucianism and Taoism. China's Communist Party has directed its nearly 90 million members to shun religion for maintaining party unity. It warns that religious belief is a "redline" for the cadres and those who refuse to comply would be punished. Religion in China is seen as a hindrance to human development.
However, though China's constitution theoretically allows religious belief, China is actually an atheist state and has promoted atheism throughout the country. Consequently, adherents across all religious organisations—whether state-sanctioned or banned/underground—face intensified persecution and repression.
The trouble is, over the past decades, religious observance has been on the rise in China. According to UNHRC 2013 Universal Periodic Review, the number of registered religious believers in China is around 100 million, though the actual number will be much higher. Amid rapid modernisation and economic progress, the number of religious believers who yearn to fill their spiritual vacuum has grown. Though persecution against the Uighur Muslims has been going on for some years, the actual picture has now emerged.
Uighurs are a Turkic-speaking Muslim ethnic minority numbering nearly 10 million (45 percent) in a population of 22.1 million in China's largest autonomous province of Xinjiang. They consider themselves culturally and ethnically close to Central Asian nations. Xinjiang is bordered by eight countries including the former Soviet Central Asian republics, Mongolia, Afghanistan, Pakistan and India.
Economic development of the resource-rich region has seen large-scale immigration of the Han Chinese to the region. Han Chinese account for 90 percent of China's total population but is a minority (37 percent) in Xinjiang. Uighurs complain of discrimination and marginalisation by the Chinese authorities. There are also complaints that Han Chinese who get the best jobs are not sharing the profits of the region's economic boom.
This has led to tensions between the Uighur Muslims and the Han Chinese. Anti-Han resentment has been on the rise since the 1990s and led to serious rioting, knife attacks and suicide bombings on many occasions. Added to this was the surge in nationalist sentiments amongst the Uighur Muslims. If the Central Asian countries can gain independence following the collapse of the Soviet Union, why can't the autonomous Xinjiang be also independent?
In early August 2018, the United Nations Committee on the Elimination of Racial Discrimination reviewed reports of discrimination against Uighurs in Xinjiang. The UN said it is alarmed by reports of mass detention of Uighurs. The UN body released its concluding observations on August 30, 2018, criticising the "broad definition of terrorism and vague references to extremism and unclear definition of separatism in Chinese legislation."
The Committee report said that Beijing has "turned the Uighur administrative region into something that resembles a massive internment camp." More than one million Uighurs are in "re-education camps"—actually detention camps, according to the Committee.
Most inmates have never been charged with a crime but they do not receive any legal representation. Beijing initially denied the existence of such camps but later admitted that some religious extremists were being held for "re-education". Beijing says it wants to promote "harmonious unity" between Uighurs and the Han Chinese. A large number of Chinese troops are currently stationed in Xinjiang to control the situation.
The Committee called upon Beijing to: i) end the practice of detention without lawful charge, trial and conviction; ii) immediately release individuals currently detained under these circumstances; iii) provide the number of people held as well as the grounds for their detention; and iv) conduct an impartial investigation of racial, ethnic and ethno-religious profiling. Clearly, China has been in violation of the Universal Declaration of Human Rights.
Amnesty International and Human Rights Watch reports claimed mass imprisonment of Uighur Muslims in camps where inmates are forced to swear loyalty to China's President Xi Jinping and to shout Communist Party slogans. The inmates are poorly fed and reports of torture are widespread with some dying. Some of the oppressive measures imposed include: Uighur children are not allowed in mosques; male Uighurs cannot have beards or wear caps (except for the very old); no veils for women. There are strict restrictions on their movement. In 2014, Beijing also banned Uighurs from fasting during the month of Ramadan. For Beijing, every Uighur is a potential terror suspect.
In another development in early August 2018, hundreds of Muslim worshippers in north-western Ningxia region refused to back down when the authorities tried to demolish the Weizhou Grand Mosque on grounds that it was not built with proper permits. Though law enforcers have temporarily left the area, tension continues to run high among the Ningxia Muslims.
Beijing's repressive measures on the Uighurs are actually feeding terrorism, according to critics. Suppression of Uighurs has driven many activists underground. Beijing is jittery about the independent way of life, the Turkic language and religious practices of the Uighurs—but more so because of the influence of neighbouring Muslim states. Some Uighurs are said to have fought with ISIL in Syria and have now returned to Xinxiang.
Beijing has also recently promulgated a law that prohibits religious preaching on Internet and live-streaming of prayers and worshipping. Beijing justifies its repression on the Muslim population on the lame excuse that China faces serious threats from Islamist militants. But Beijing's policies towards the Buddhists of Tibet and the Christian community are equally questionable. The Chinese Communist Party has not yet been able to reconcile and accept the concepts of human rights and religious freedom.
Full report at:
https://www.thedailystar.net/opinion/bystander/news/china-walks-tightrope-the-uighur-muslim-issue-1634272
--------
Pas Muktamar passes Malay Muslim unity proposals
September 16, 2018
KUALA NERUS: The 64th Pas Muktamar has passed a proposal to propagate Malay Muslim unity in the country.
It was one of six proposals passed without debate on the final day of the Muktamar at the Gong Badak indoor stadium.
Under the 'people's unity' principle, the Pas Youth Central Committee (DPPP) felt that unity should be further strengthened.
It also agreed to prevent unhealthy politics which could harm the harmony and future of the religion, people and country.
The DPPP felt that there was a wave of change and realisation by the people towards politics and that Pas needed to respond to lead the nation.
"The constitution has assured that Islam is the official religion of the nation, making it the decider for the continued harmonious development of the various communities.
"DPPP realises the historical sentiments of the various races and religions which have invariably brought about suspicions and insecurity.
"We also regret threats towards the nation's pillars which are Islam, the Malay rulers, Malay reserve land, Malay language and citizenship brought about by Pakatan Harapan as envisioned by DAP," it said.
The Muktamar also approved of the joint proposal by the Dewan Ulama and Dewan Muslimat to defend the status of Islam in the country.
It stated that Pakatan Harapan had a soft approach towards the threats against Islam.
"With the Syiah belief going viral, various deviant teachings, and practices against Islam has been brought into into our society.
"These are spread via non-governmental organisations which are said to be human rights and religious advocates."
It urged the party leadership to be firm over the special rights of Islam as enshrined in the Constitution, and called for action against anti-Muslim statements, including those who belittle the implementation of Syariah laws.
"We want the government to resolve matters concerning the lesbian, gay, bisexual and transgender (LGBT) community."
Full report at:
https://www.nst.com.my/news/politics/2018/09/411788/pas-muktamar-passes-malay-muslim-unity-proposals
--------
China keen to expand ties in Islamic studies
16 Sep 2018
PUTRAJAYA: Malaysia and China want to expand cooperation in the field of education, especially in Islamic studies, said Education Minister Dr Maszlee Malik (pic).
Dr Maszlee, who is on a four-day working visit to China, said the chairman of Shanxi Halal Business Chamber of Commerce, Tie Qun­ping, proposed that the International Islamic University of Malaysia set up a branch in Xian pro­vince, as well as an International Islamic School for early education.
He said Xian alone had a Muslim population of more than 300,000 and millions more in the Shanxi pro­vince and in five other provinces.
"Malaysia has a reputation as a moderate nation and does not promote radical ideologies.
Dr Maszlee also suggested that China sent its students to Malaysia and the Education Ministry was prepared to do everything necessary to acquire quality Islamic education and in other fields.
Full report at:
https://www.thestar.com.my/news/nation/2018/09/16/china-keen-to-expand-ties-in-islamic-studies/
--------
PAS non-Muslim wing tells party: Be careful with BN
September 15, 2018
KUALA NERUS: The PAS Supporters' Assembly (DHPP) has reminded party leaders not to ignore them in the party's efforts to forge cooperation with Umno.
DHPP delegate Lau Chin Chua said Umno's presence was recent, but DHPP had long been defending PAS and drawing non-Malay supporters in previous elections.
"Now (PAS) is becoming friendly with Umno, MCA and MIC. Remember why Umno fell… because its leaders were not trustworthy," he said when debating the PAS president's policy speech at the party's 64th muktamar, or general assembly, here.
Lau also reminded PAS members to be cautious about "friendship" with Umno, MCA and MIC, saying it could be seen as defending their corrupt leaders.
"Friends are friends, but a wrong is still a wrong. If some of them are punished for corruption, we do not sympathise with them because they are wrong," he said.
https://www.freemalaysiatoday.com/category/nation/2018/09/15/pas-non-muslim-wing-tells-party-be-careful-with-bn/
--------
Malaysia: UMNO Leader Seeks Better Relations with PAS to Regain Power
2018-09-15
Malaysia's oldest political party is looking forward to forging better relations with its former nemesis Pan-Malaysian Islamic Party (PAS) to regain power in five years by winning the 15th General Election, its president said Saturday.
Speaking at a press conference after attending the PAS general assembly in Kuala Terengganu, United Malays National Organization (UMNO) President Ahmad Zahid Hamidi said despite the good relations, the two parties have not formalized ties. UMNO leads the Barisan Nasional (BN) coalition and PAS is one of four parties in the Gagasan Sejahtera coalition.
"At the moment, the only formal cooperation that exists between PAS and UMNO is at the parliamentary level where lawmakers from both parties work together on issues and as clusters relating to existing governmental portfolios," Zahid said. "To engage in a long-term relationship for GE15, I think the working level discussion has to be established first."
His remarks came after PAS president Abdul Hadi Awang hinted about the prospect of dissolving BN in the future in favor of a new opposition coalition.
"I think there will be a political change followed by a coalition change in either the government or the opposition," Abdul Hadi said.
"Pakatan Harapan (PH) itself is breaking apart and if that continues, perhaps not long after, they will return to being the opposition," he said, alleging there is infighting by members of the People's Justice Party (PKR) as it prepares for party elections in October.
PKR, led by Anwar Ibrahim, joined with other parties to form PH and knock off the ruling BN coalition in the May 9 general election, bringing Mahathir Mohamad to power as prime minister. Anwar, who after the election received a royal pardon for sodomy convictions and is running in a by-election for a seat in parliament, is expected to succeed Mahathir in about two years.
Zahid, the first UMNO president to attend the PAS assembly, expressed his admiration for the Islamic party's stance on not being antagonistic to the federal government.
"It's a new concept and I believe that this is what the public wanted, a united front of opposition parties that tackles the public's issues and concerns," Zahid said.
Awang Azman Awang Pawi, a sociologist with the Academy of Malay Studies at Universiti Malaya, told BenarNews that Zahid is seeking inroads with PAS even as he seeks a close relationship with Anwar.
"Despite the warm embrace between PAS and UMNO, Zahid is looking into the opportunity of working together with the PH government, especially PKR," he said.
Zahid on Friday confirmed a UMNO official's statement that party leaders empowered him with seeking new alliances outside of BN, including the ruling coalition and PAS.
In his opening remarks at the PAS 64th general assembly, Abdul Hadi said he is confident the party has a good chance of winning the next election and all members need to work hard to prepare.
Blaming the party's showing in May's election where it captured 18 seats on an uneven playing field, Abdul Hadi said PH's success was attributed by the coalition's command of social media that was done "without any care of moral boundaries and no concern for sins."
He also said PH won because some voters failed to see the beauty of Islam.
Full report at:
https://www.benarnews.org/english/news/malaysian/pas-umno-09152018102634.html
--------
Militants free 3 Indonesian hostages in southern Philippines
September 16, 2018
MANILA, Philippines: Muslim militants have freed three Indonesian men they kidnapped at sea early last year off Malaysia then brought them to their jungle hideouts in the southern Philippines, officials said Sunday.
The Indonesians were freed Friday with the help of the Moro National Liberation Front, a rebel group that signed a peace deal with the Philippine government, in Indanan town in Sulu province, police said.
The released hostages, Hamdam Salim, Subandi Sattuh and Sudarlan Samansung, were to be handed to the Indonesian ambassador in southern Zamboanga city later Sunday, the military said.
While cruising on board a speedboat, the three were taken at gunpoint by suspected Abu Sayyaf militants off Malaysia's Sabah state on Borneo island in January last year. The hostages were brought aboard motorboats to the gunmen's jungle hideout in Sulu, a poor, predominantly Muslim province in the southern Philippines where the Abu Sayyaf has had a presence since the late 1980s, security officials said.
An Abu Sayyaf commander, Marjan Sahidjuan, who uses nom de guerre Apo Mike, led the abductors who freed the captives in exchange for a ransom, a security official said, speaking on condition of anonymity because he wasn't authorized to talk to media.
Regional military spokesman Lt. Col. Gerry Besana said the military is unaware of any ransom payment and added that relentless offensives pressured the kidnappers to let go of their hostages.
Efforts by the Philippines, Malaysia and Indonesia to beef up security along their massive sea border have considerably eased piracy and kidnappings in the past months primarily by the Abu Sayyaf, which is blacklisted by the United States and the Philippines as a terrorist organization.
Full report at:
http://www.arabnews.com/node/1372816/world
--------
URL: https://www.newageislam.com/islamic-world-news/humanitarian-crisis-caused-saudi-arabia/d/116391
New Age Islam, Islam Online, Islamic Website, African Muslim News, Arab World News, South Asia News, Indian Muslim News, World Muslim News, Women in Islam, Islamic Feminism, Arab Women, Women In Arab, Islamophobia in America, Muslim Women in West, Islam Women and Feminism