New Age Islam News Bureau
28 Nov 2012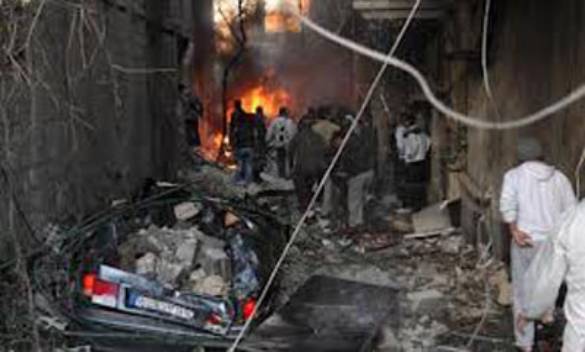 Arab World
• Human Rights of Saudi Arabia urges imams, Khatibs to focus on human rights' issues
• Blasts kill 38 near Syria capital, second aircraft downed
• Insurgent attacks kill 30, wound dozens in Iraq
• 7 Egyptian Christians sentenced to death for anti-Islam film
• Syria, Iran, N. Korea condemned for rights abuses
• Downing of Copter May Show a New Syrian Rebel Capability
• Dubai worker jailed for murdering prostitute
• Two Iranian men charged with kidnap, rape in UAE
• King Abdullah named Muslim World's 'most influential personality'
• Saudi diplomat shot dead in Yemeni capital Sanaa
• Gunmen kill seven members of Iraqi family
• Saudi man killed after three decades of jihad
• Conference in Riyadh condemns terror and extremism
• Ministry punishes firms after discovering 47,000 fake Saudi employees
• Syrian War Clouds Turkish Plan to Clear Land Mines
• Police, protesters clash in Cairo
Mideast Asia
• Sunni Leaders Gaining Clout in Mideast
• Palestinian Islamic Jihad releases personal, confidential info on Israel forces
• Palestinians to petition ICC if Arafat poisoning proved
• Israel PM faces dilemma after Likud lurches further right
• Israeli envoy wants lifting of Manila worker ban
• Anti-Israel group hacks UN nuclear agency server
• NATO surveys possible missile sites on Turkish-Syrian borders: Report
• Strike that killed Gaza family was 'no mistake': Israel
• Abbas eyes new upgrade of Palestinian status at UN
• Israelis expect Gaza ceasefire breakdown
• Turkey's Erdogan Considers Gaza Visit
North America
• Hamas and Islamic Jihad Propagandists are "Members of the News Media"
• Post-2014 mission only at the invitation of Afghan government: US
• US needs rethink of Mideast peace plan, say experts
• Marc Grossman resigns as special AfPak representative
• US Senate works on new package of Iran sanctions
• North Waziristan security situation is 'worrisome': Olson
Europe
• France to Vote in Favour of Palestinians' U.N. Bid
• Denmark to back upgraded Palestinian UN status
South Asia
• Job Bias Worsens Uighur Muslim Life in China
• Kabul Bank sent millions of dollars abroad: report
• 7 Jama'at ul Mujahideen Bangladesh men get 10 years jail for serial blasts
• As Complaints Grow, Afghanistan Promises School-System Review
• 3 officials of the company which had caught Fire in Dhaka on 5-day remand
• Govt to lift ban on YouTube soon: Bangladesh Information Minister
• Maldives Govt. "confident" as secret voting for no-confidence motions passed again
India
• India to take up GMR issue with Maldives
• Tata's closure in Kashmir punctures hope raised by bigwigs visit
• E-mail threat to avenge execution of Quassab sent to Jammu from Bangalore
• Bangladeshis top infiltration threat
• Hoax letter for naming Main Gate on Ajmal Quassab, creates panic at Ghaziabad courts
• Centre seeks report from Uttar Pradesh over 'honour killing'
• Indian docs in Nigeria say passports snatched, salaries denied
Pakistan
• Pakistan's problems cannot be miraculously resolved in 90 days: Sharif
• Four 'militants' killed in Bara clash
• TTP rejects Islamabad's amnesty
• Pak test fires nuke capable ballistic missile
• Pak activists support Bhagat Singh renaming
• Tehrik-e-Taliban threat: Red alert ahead of Guru Nanak Jayanti in Pak
• AQ Khan registers party to contest general elections
• Diligent student compiles list of 780,000 porn sites for PTA to ban
• G-B govt unveils trophy hunting programme
• Pakistani media: Public health a blip on the media radar
• Court stays shifting of Sindh Muslim College
• Pakistan all set to go to polls in May
• Sonia Naz rape case: Court voids decision to release main accused
• 90 Pak infiltrators sneak into India through border
Africa
• African housemaid clubbed to death by a Saudi
• Ugandan Terrorism Suspects Say F.B.I. Interrogators Beat Them
Southeast Asia
• Hair salon ruling not for non-Muslims: Hadi
Compiled by New Age Islam News Bureau
Photo: Blasts kill 38 near Syria capital, second aircraft downed
URL: https://www.newageislam.com/islamic-world-news/new-age-islam-news-bureau/human-rights-of-saudi-arabia-urges-imams,-khatibs-to-focus-on-human-rights'-issues/d/9465
--------
Arab World
Human Rights of Saudi Arabia urges imams, Khatibs to focus on human rights' issues
28 November 2012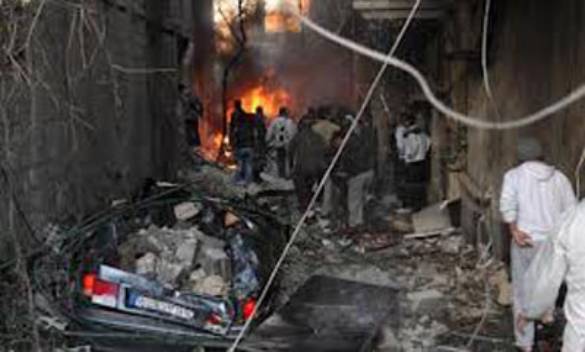 The National Society of Human Rights (NSHR) has called on imams and Khatibs in the Kingdom to focus more on people's issues rather than theoretical preaching in order to achieve national solidarity and spread of humanitarian values.
The NSHR made this appeal in a dialogue conference organized by it in Jeddah on Sunday to mark the International Day of Toleration. Carrying the logo "Toleration and Human rights," the event sought to design a national program to enact regulations criminalyzing acts of intolerance and spread a culture of toleration.
The participants in the event stressed the need for governmental departments, educational and media establishments, and the Presidency of Youth Affairs to make joint efforts to adopt programs that promote toleration among various social sections.
"Most khatibs and imams engage in preaching on religious rituals far removed from the realities of daily life. They do not play their role to spread the culture of toleration and mutual coexistence," Abdullah Basfar, secretary-general of the World Commission for Qur'an Memorization, a subsidiary of the Muslim World League, said while participating in the dialogue.
He also expressed his willingness to help the NSHR prepare speeches for khatibs focusing on the spread of human rights values.
Another participant in the dialogue, Adnan Al-Zahrani, a researcher in religious denominations, appealed to supporters of any madhab (Islamic school of thought) not to speak fanatically on behalf of the school to which he belongs.
Former Rector of the Jeddah College of Education Hassan Yahya said there were some differences of opinion on how to incorporate the topic of human rights into the educational system. "While one group said human rights should be included in school syllabi, another group argues it should be one of the majors available for general study in universities."
Another speaker on the occasion, Chairman of the Board of Directors of the Jeddah Literary Club Abdullah Al-Sulami, said literary clubs had a large role to play in spreading toleration and balanced views among the young generation. He added that the club planned to launch an intellectual program with the aim of cultivating a balanced outlook with the help of which different cultures could coexist with toleration.
Chairperson of the Family Protection Council of Jeddah Sameerah Al-Ghamdi attributed the growing tendency of violent behavior in children to intolerant homes where they grew up. She said children should be taught values of human rights in schools, media that influence them, and mosques, which they respect.
In his speech, Saud Katib, head of the department of communication at King Abdulaziz University, blamed social media sites such as Facebook, Twitter, and YouTube for spreading intolerance among the youth.
http://www.arabnews.com/nshr-urges-imams-khatibs-focus-human-rights%E2%80%99-issues
--------
Blasts kill 38 near Syria capital, second aircraft downed
Nov 28, 2012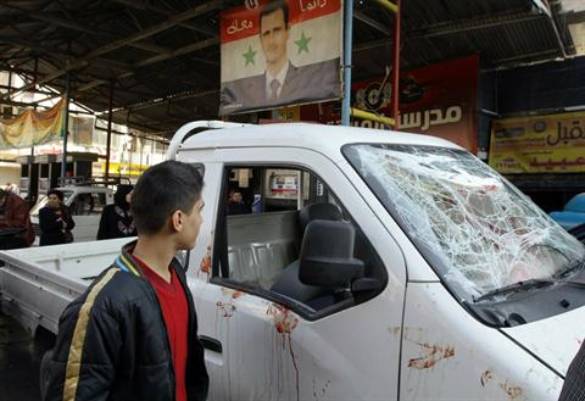 JARAMANA, Syria: Simultaneous car bombings killed at least 38 people and left a trail of destruction in a town near Syria's capital on Wednesday, as rebels downed a military aircraft for a second straight day.
The explosives-packed cars were detonated at daybreak in a pro-regime neighbourhood of the mainly Christian and Druze town of Jaramana, residents, state media and a rights watchdog reported.
The blasts ripped through a central square near a petrol station, sending residents fleeing in panic.
There was a ball of fire at the end of a narrow lane, and the impact of the explosions brought walls down onto cars, crushing them and scattering debris over the ground.
Pools of blood and severed body parts were on the streets, said an AFP photographer in the town.
The death toll mounted as the morning wore on, with the Syrian Observatory for Human Rights giving tallies of 20, then 29 and finally at least 38. The interior ministry put the count at 34.
"Activists and residents in the town said most of the victims were killed when a suicide attacker blew up his car, just after an explosive device was used to blow up another car," said the Observatory.
Residents rushed with the dozens of wounded to hospital, or to visit the homes of bereaved families.
"What do they want from Jaramana? The town brings together people from all over Syria and welcomes everybody," one of them told AFP.
Jarmana has now been targeted by four such bomb attacks in three months. It is home to predominantly Christians and Druze, an influential minority whose faith is an offshoot of Shiite Islam.
Sectarian divides are a key factor in Syria's armed rebellion, with many in the Sunni Muslim majority frustrated at more than 40 years of Alawite-dominated rule.
SANA reported that "terrorists" blew up the two car bombs at the same time, as two separate explosive devices were set off without claiming any lives.
The Syrian uprising erupted in March 2011 with peaceful pro-democracy protests, inspired by the Arab Spring. It transformed into an armed insurgency when the government began a bloody crackdown on dissent.
The regime of President Bashar al-Assad, himself from the Alawite offshoot of Shiite Islam, insists it is fighting foreign-backed "terrorists".
The failure of international diplomacy has enabled it to press on with its all-out military campaign to crush the rebellion, and the fighting has resulted in more than 40,000 deaths, according to the Observatory.
In the latest violence, an AFP correspondent on the Syria-Turkey border reported that rebel fighters shot down a fighter jet in the embattled northwest.
The warplane came down in a massive explosion, leaving behind a plume of smoke, the journalist said, reporting several kilometres (miles) away from where the jet was downed.
The aircraft was hit by a missile and crashed at Daret Ezza, said the Observatory, a Britain-based watchdog that relies on a network of activists and medics on the ground for its information.
It came a day after rebels downed an army helicopter for the first time with a newly acquired ground-to-air missile, in what the Observatory said had the potential to change the balance of military power in the conflict.
The gunship was on a strafing run near the besieged northwestern base of Sheikh Suleiman, the last garrison in government hands between Syria's second city and the Turkish border.
Little more than a week ago, the rebels seized tanks, armoured vehicles, artillery, 120-mm mortars and rocket launchers when they took the government forces' sprawling Base 46, about 12 kilometres (eight miles) west of Aleppo.
The rebels, a mix of military defectors and armed civilians, are vastly outgunned but analysts say they are now stretching thin the capabilities of Assad's war machine and its air supremacy by opening multiple fronts.
This was evident again on Tuesday, as rebels further tightened the noose around the key northern city of Aleppo, and violence across the country killed at least 132 people, 58 of them civilians, said the Observatory.
Elsewhere on Wednesday, regime warplanes carried out five raids in 15 minutes on Maaret al-Numan, a rebel-held town on the strategic Damascus-Aleppo highway.
Fighter jets also bombarded anti-regime town Daraya southwest of Damascus and the besieged, rebel-held neighbourhood of Khaldiyeh in the central city of Homs, dubbed by activists as "the capital of the revolution".
http://timesofindia.indiatimes.com/world/middle-east/Blasts-kill-38-near-Syria-capital-second-aircraft-downed/articleshow/17402126.cms
---------
Insurgent attacks kill 30, wound dozens in Iraq
28 Nov 2012
Insurgents launched attacks against security forces and civilians in central and northern Iraq today, killing at least 30 people and wounding dozens, officials said.
Shiite mosques in Baghdad were main targets, along with a city claimed by squabbling ethnic groups in a disputed northern region. The conflicts threaten the stability of Iraq following the final pullout of US military forces nearly a year ago.
Car bombs exploded near three mosques shortly after nightfall in the capital, killing 21. Police and hospital officials said the first exploded near a Shiite mosque following evening prayers in the Hurriyah neighbourhood, killing nine worshippers and wounding 20 others. Minutes later, another car bomb went off near Gaereat mosque, killing five people.
Later, police said a third car bomb exploded, killing seven Shiite worshippers and wounding 21 others in Shula neighbourhood in northern Baghdad.
Ali Habib, a taxi driver, said he was driving near the Shiite mosque in Hurriyah when he heard a loud explosion. He rushed to the blast site and helped take wounded to the hospital.
"The scene was horrific, with people screaming for help," he said. "Such attacks bring back memories of the darkest days of sectarian strife that took place several years ago in Iraq."
In the north, a police officer said three bombs in parked cars exploded simultaneously in the oil-rich city of Kirkuk, the largest city in the area claimed by several ethnic groups in a dispute with the central government in Baghdad.
http://www.thehindu.com/news/international/insurgent-attacks-kill-30-wound-dozens-in-iraq/article4141107.ece
----------
7 Egyptian Christians sentenced to death for anti-Islam film
Nov 28 2012
Cairo: A Cairo court on Wednesday sentenced to death seven Egyptian Christians tried in absentia for participating in an anti-Islam video that was released on the Internet in September and had prompted violent protests in many Muslim countries.
The seven accused persons were convicted of insulting the Islamic religion through participating in producing and offering a movie that insults Islam and its prophet, Judge Saif al-Nasr Soliman said.
The crude, low-budget video, produced privately in California, denigrated the Prophet Mohammad and triggered anti-US protests and attacks on Western embassies around the Muslim world.
http://www.indianexpress.com/news/7-egyptian-christians-sentenced-to-death-for-antiislam-film/1037532/
-----------
Syria, Iran, N.Korea condemned for rights abuses
November 28, 2012
A U.N. General Assembly committee condemned Syria, Iran and North Korea for human rights violations in votes criticised by all three countries.
The Syria resolution approved on Tuesday blamed Syria's government for "widespread and systematic gross violations of human rights and fundamental freedoms," accusing it of massacres, extrajudicial killings and the targeting of civilians.
It called on the government to halt the abuses and attacks on civilians. The resolution, which passed in a 132-12 vote, also condemned "any human rights abuses by armed opposition groups." The Syrian government complained that the resolution singled it out for abuses in the 21-month conflict.
Full report at:
http://www.thehindu.com/news/international/syria-iran-nkorea-condemned-for-rights-abuses/article4142694.ece
--------
Downing of Copter May Show a New Syrian Rebel Capability
By ANNE BARNARD, C. J. CHIVERS and HWAIDA SAAD
November 28, 2012
BEIRUT, Lebanon — Syrian rebels downed a military helicopter with a surface-to-air missile outside Aleppo on Tuesday, video uploaded by antigovernment activists appeared to show, marking what is potentially a major battlefield advance: confirmation that rebels have put their growing stock of heat-seeking missiles to effective use.
In one video, a utility helicopter that appeared to be a Russian-built Mi-8 can be seen banking in a slow left turn and then being hit squarely near its engine by a fast-moving projectile rising at a sharp angle from below. Another video showed what appeared to be the same helicopter moments after the strike. The crippled aircraft manages a partly controlled descent in spreading flames, as a voice off-camera shouts, "sarook," or rocket, before it strikes the ground and explodes.
Full report at:
http://www.nytimes.com/2012/11/28/world/middleeast/copter-downing-may-show-new-syria-rebel-capability.html?ref=world&_r=0
--------
Dubai worker jailed for murdering prostitute
Prosecutors sought capital punishment for accused who claimed he acted in self-defence
By Bassam Za'za', Legal and Court Correspondent Published: 00:00 November 28, 2012
Dubai: A man will serve 15 years in jail after being convicted of strangling a prostitute with a headscarf in September 2011.
The Dubai Court of First Instance convicted M.K, 27, a Bangladeshi national, of intentionally murdering his countrywoman, identified as Salma, following an altercation over the latter's fees. The woman's headscarf (shayla) was used to strangle her, records showed.
Full report at:
http://gulfnews.com/news/gulf/uae/crime/dubai-worker-jailed-for-murdering-prostitute-1.1110933
-----------
Two Iranian men charged with kidnap, rape in UAE
Marie Nammour / 28 November 2012
Two 20-year-old Iranian men, who first kidnapped and then filmed themselves gang-raping and molesting a drunken British woman, have been charged in the Court of First Instance.
According to the prosecution records revealed yesterday, at about 3am one night in July, three Iranian men — the third still at large — who were in the country on business visas kidnapped the woman after intercepting the cab she was in, telling the driver they knew her and would drop her off at her place.
Full report at:
http://www.khaleejtimes.com/kt-article-display-
-----------
King Abdullah named Muslim World's 'most influential personality'
November 27, 2012
AMMAN — King Abdullah, Custodian of the Two Holy Mosques, tops the list of "500 Most Influential Personalities in the Muslim World.
The Amman-based Royal Islamic Strategic Studies Center (RISSC) said King Abdullah topped the list because of the services he has been providing to the Two Holy Mosques with Makkah being visited every year by four million pilgrims and 10 million Umrah performers.
Full report at:
http://www.saudigazette.com.sa/index.cfm?method=home.regcon&contentid=20121127144144
--------
Saudi diplomat shot dead in Yemeni capital Sanaa
Nov 28, 2012
SANAA: A Saudi diplomat was shot dead by unidentified gunmen in the Yemeni capital Sanaa on Wednesday, Saudi-owned Al Arabiya television reported, citing diplomatic sources.
The station give no further details. Yemen has been grappling with a number of security problems including the local offshoot of al Qaida.
http://timesofindia.indiatimes.com/world/middle-east/Saudi-diplomat-shot-dead-in-Yemeni-capital-Sanaa/articleshow/17402458.cms
----------
Gunmen kill seven members of Iraqi family
November 28, 2012
TARMIYAH: Gunmen armed with silenced weapons attacked a house in a town north of Baghdad on Wednesday, killing seven members of a family, including three young children, security officials and a medic said.
Two members of the family, including one of the dead, belonged to the anti-Qaeda Sahwa militia force, made up of Sunni tribesmen who resisted the militant group and helped turn the tide of the war in Iraq.
Full report at:
http://dawn.com/2012/11/28/gunmen-kill-seven-members-of-iraqi-family/
----------
Saudi man killed after three decades of jihad
November 27, 2012
DAMMAM — After spending three decades of his life engaging in jihad in Afghanistan, Bosnia and Herzegovina and Kashmir, Saudi Abdul Aziz Al-Jeghaiman was killed in Ideleb, Syria, at the beginning of this Islamic year following extensive bombardment by the Syrian army, reported Al-Hayat daily.
Al-Jeghaiman was offered a teaching assistant post by King Faisal University in the 1980s but decided to turn the offer down and travel to Afghanistan instead to participate in jihad with other Saudi and Arab youths.
Sources told Al-Hayat that Al-Jeghaiman even led the front lines of the Mujahideen for so long and left the country after the war was over.
Full report at:
http://www.saudigazette.com.sa/index.cfm?method=home.regcon&contentid=20121127144147
--------
Conference in Riyadh condemns terror and extremism
28 November 2012
A recently concluded conference in Riyadh condemned all forms of terror and extremism. It called for Arab governments to boost developmental projects, curb unemployment and address youth problems.
The conference on the impact of terrorism on social development was jointly organized by Naif Arab University for Security Sciences (NAUSS) and the secretariat-general of the Arab Council of Social Ministers.
Full report at:
http://www.arabnews.com/conference-condemns-terror-and-extremism
--------
Ministry punishes firms after discovering 47,000 fake Saudi employees
28 November 2012
The Ministry of Labor has suspended the advantages it had granted to several companies that were implementing the Nitaqat system after it discovered they had given fake numbers of Saudi employees. The ministry found out that 47,000 Saudis registered as private sector employees at the General Organization of Social Insurance (GOSI) are in fact not working in the private sector. The names are of persons employed in the government sector, including an undisclosed number of military personnel, according to an Al-Eqtisadiyah newspaper report that quoted unidentified sources on Tuesday.
Full report at:
http://www.arabnews.com/ministry-punishes-firms-after-discovering-47000-fake-saudi-employees
--------
Syrian War Clouds Turkish Plan to Clear Land Mines
November 28, 2012
AKINCI, Turkey (AP) — For two people walking into a Turkish minefield, they looked awfully assured.
The pair strode in from Syria on a recent afternoon, following a faint track across the grassy plain. They slipped into Turkey through a fence near a vacant military watchtower and vanished into an olive grove.
Such hazardous crossings are a smuggler's tradition at the border, where Turkish plans to clear a vast belt of land mines have been clouded by Syria's civil war. Last week, Turkey asked NATO allies to deploy Patriot missiles as a defense against any aerial attacks from Syria after shells and bullets spilled across the border, killing and injuring some Turks.
Full report at:
http://www.nytimes.com/aponline/2012/11/28/world/europe/ap-eu-turkey-border-mines.html?ref=europe&_r=0
--------
Police, protesters clash in Cairo
November 28, 2012
New clashes erupted on Wednesday in Cairo between security forces and protesters angry at a decree by President Mohammed Morsi granting himself sweeping new powers, said witnesses.
Police fired tears gas against the stone-throwing protesters in Tahrir Square, where thousands have been camping out for several days in a bid to convince Mr Morsi to rescind the decree.
State television confirmed that police had used tear gas to disperse protesters who were gathering near the U.S. embassy.
Last week, Mr Morsi signed a constitutional declaration exempting all his decisions and laws of judicial review and barred courts from dissolving an Islamist-controlled assembly drafting a new constitution.
http://www.thehindu.com/news/international/police-protesters-clash-in-cairo/article4143061.ece
--------
Mideast Asia
Sunni Leaders Gaining Clout in Mideast
By NEIL MacFARQUHAR
November 28, 2012
RAMALLAH, West Bank — For years, the United States and its Middle East allies were challenged by the rising might of the so-called Shiite crescent, a political and ideological alliance backed by Iran that linked regional actors deeply hostile to Israel and the West.
But uprising, wars and economics have altered the landscape of the region, paving the way for a new axis to emerge, one led by a Sunni Muslim alliance of Egypt, Qatar and Turkey. That triumvirate played a leading role in helping end the eight-day conflict between Israel and Gaza, in large part by embracing Hamas and luring it further away from the Iran-Syria-Hezbollah fold, offering diplomatic clout and promises of hefty aid.
Full report at:
http://www.nytimes.com/2012/11/28/world/middleeast/sunni-leaders-gaining-clout-in-
--------
Palestinian Islamic Jihad releases personal, confidential info on Israel forces
November 27, 2012
The Palestinian group Islamic Jihad has released seven documents, containing personal and confidential information about more than 100 Israeli troopers, a report says.
The documents have been released by Palestinian media outlets, Ynetnews, the website for the Israeli daily Yedioth Ahronoth, reported on Monday.
The revelation came a day after the Israeli military declared that the Islamic Jihad had sent text messages to thousands of reserve troopers during Operation Pillar of Defense against Palestinians in the Gaza Strip from November 14 to 21.
Full report at:
http://www.presstv.ir/detail/2012/11/27/274808/israel-forces-info-revealed/
--------
Palestinians to petition ICC if Arafat poisoning proved
28 November 2012
RAMALLAH: The Palestinian leadership is to petition the International Criminal Court in The Hague if it finds proof that the late Yasser Arafat was poisoned, an official said yesterday.
"If it is proved that Arafat was poisoned, we will go to the international court," said Tawfiq Tirawi, head of the Palestinian commission investigating Arafat's death, referring to the International Criminal Court (ICC).
Full report at:
http://www.arabnews.com/palestinians-petition-icc-if-arafat-poisoning-proved
--------
Israel PM faces dilemma after Likud lurches further right
27 November 2012
JERUSALEM: The victory of hard-liners and the sidelining of moderates within Benjamin Netanyahu's rightwing Likud does not augur well for the Israeli premier ahead of January elections, commentators warned on Tuesday.
Results published late Monday after a vote to choose Likud's list for the January 22 elections, showed a victory for hard-liners, with lawmakers who have made a name for themselves by supporting settlement and opposing a Palestinian state looking certain to win a parliamentary seat.
Full report at:
http://www.arabnews.com/israel-pm-faces-dilemma-after-likud-lurches-further-right
--------
Israeli envoy wants lifting of Manila worker ban
27 November 2012
MANILA: Israel's envoy to Manila says he will ask the government to lift a ban on the deployment of Filipino workers to Israel following the end of heavy fighting between Israeli and Hamas forces.
Ambassador Menashe Bar-on said Tuesday that the ban is unnecessary because the situation in Israel was returning to normal after a cease-fire agreement last week.
Full report at:
http://www.arabnews.com/israeli-envoy-wants-lifting-manila-worker-ban
--------
Anti-Israel group hacks UN nuclear agency server
November 28, 2012
The UN nuclear agency has acknowledged that one of its computer servers was hacked by an anti-Israeli group.
The IAEA said a previously unknown group called Parastoo had posted contact details for more than 100 nuclear experts on the group's website.
Parastoo asked those listed to sign a petition calling for an IAEA investigation into Israel's undeclared nuclear weapons programme.
Full report at:
http://www.bbc.co.uk/news/world-middle-east-20522585
--------
NATO surveys possible missile sites on Turkish-Syrian borders: Report
NATO asks member-states to deploy surface-to-air and Patriot missiles along the Turkish-Syrian borders, seeking possible sites
28 Nov 2012
NATO experts on Wednesday began a survey of sites that would serve as suitable locations for the deployment of Patriot missiles along the border with its war-torn neighbour Syria, the state-run Anatolia news agency reported.
Full report at:
http://english.ahram.org.eg/NewsContent/2/8/59348/World/Region/NATO-surveys-possible-missile-sites-on-TurkishSyri.aspx
--------
Strike that killed Gaza family was 'no mistake': Israel
Israel claims strike that killed 12 Palestinians in recent onslaught on Gaza - including ten from same family - targeted 'terror operative'
27 Nov 2012
There was "no mistake" in an Israeli air strike that killed 12 Palestinians in Gaza, including 10 from the same family, the Israeli army said on Tuesday, saying the raid targeted a "terror operative."
The November 18 strike, in the middle of a conflict between Israel and Palestinian militant groups in Gaza, hit the home of the Dallu family, killing 10 of its members, and two neighbours, including five children and five women.
Full report at:
http://english.ahram.org.eg/NewsContent/2/8/59317/World/Region/Strike-that-killed-Gaza-family-was-no-mistake-Isra.aspx
--------
Abbas eyes new upgrade of Palestinian status at UN
November 28, 2012
The Palestinians head to the United Nations on Thursday in a bid to upgrade their status in a move likely to bring them new global recognition but also harsh repercussions.
President Mahmud Abbas will personally submit the request seeking to upgrade their rank from an observer entity to that of a non-member observer state before the UN General Assembly.
If the request is approved by the 193 member states of the UN General Assembly, it will give the Palestinians access to a range of UN agencies and also potentially to the International Criminal Court.
Full report at:
http://www.hindustantimes.com/world-news/RestOfAsia/Abbas-eyes-new-upgrade-of-Palestinian-status-at-UN/Article1-965326.aspx
--------
Israelis expect Gaza ceasefire breakdown
Yashwant Raj, Hindustan Times
November 28, 2012
Eriz Megish returned last week to his Segway business from the front unsure how long the ceasefire brokered by Egypt will last, but relieved he didn't have to kill anyone.
He was among the thousands of reservists mobilised by the Israeli government for a possible ground attack on Gaza that eventually never happened.
The peace remained fragile though, with not many giving it much of a chance. Not at least in the long term. Megish said he doesn't believe it will last long.
Full report at:
http://www.hindustantimes.com/world-news/RestOfAsia/Israelis-expect-Gaza-ceasefire-breakdown/Article1-965251.aspx
--------
Turkey's Erdogan Considers Gaza Visit
November 28, 2012
ANKARA, Turkey (AP) — Turkey's prime minister says he may visit the Gaza Strip alongside Hamas' supreme leader, Khaled Mashaal.
Recep Tayyip Erdogan told a group of Turkish journalists on Tuesday that he could spring a "surprise" and join Qatar-based Mashaal if he visits Gaza next month. Mashaal has invited the Turkish leader, who has cultivated close ties to Hamas and has long announced his intention to visit Gaza.
Full report at:
http://www.nytimes.com/aponline/2012/11/28/world/europe/ap-eu-turkey-palestinians.html?ref=europe&_r=0
--------
North America
Hamas and Islamic Jihad Propagandists are "Members of the News Media"
November 26, 2012
By Daniel Greenfield
The New York Times' top cokehead and wife-beater David Carr (sorry that's former cokehead and wife-beater) denounced Israel over the death of Mohamed Abu Aisha, director of Al-Quds Educational Radio and two cameramen for Hamas' Al Aqsa television.
Three employees of news organizations were killed in Gaza by Israeli missiles. Rather than suggesting it was a mistake, or denying responsibility, an Israeli Defence Forces spokeswoman, Lt. Col. Avital Leibovich, told The Associated Press, "The targets are people who have relevance to terror activity."
Full report at:
http://frontpagemag.com/2012/dgreenfield/new-york-times-claims-hamas-and-islamic-jihad-propagandists-are-members-of-the-news-media/
--------
Post-2014 mission only at the invitation of Afghan government: US
Nov 28, 2012
WASHINGTON: Any American mission in Afghanistan or presence of troops there would be only at the invitation of the Afghan government and a possible post-2014 presence would be aimed at training its forces and targeting the remnants of al-Qaida, the Pentagon has said.
"Any post-2014 mission would obviously be at the invitation of the Afghan government. We have full respect for Afghan sovereignty. I think we've said that a prospective, a possible post-2014 presence would be aimed at training Afghan forces and targeting the remnants of al-Qaida," the Pentagon press secretary George Little told reporters at a news conference yesterday.
Full report at:
http://timesofindia.indiatimes.com/world/us/Post-2014-mission-only-at-the-invitation-of-Afghan-government-US/articleshow/17396087.cms
--------
US needs rethink of Mideast peace plan, say experts
28 November 2012
WASHINGTON: The US administration must radically rethink ways to achieve a sustainable Israeli-Arab peace deal or risk seeing the goal of a two-state solution slip away, experts warned Monday.
New realities in the Middle East, including the changes wrought by the Arab Spring and the rise of the Palestinian group Hamas, meant the old ways of doing business had to be shelved, they told a Washington symposium.
"If we don't seize whatever opportunity there is in the present, the prospects for negotiating a solution anytime in the near future are really very slim," said William Quandt, who as a member of the National Security Council was deeply involved in reaching the historic 1978 Camp David accords.
Full report at:
http://www.arabnews.com/us-needs-rethink-mideast-peace-plan-say-experts
--------
Marc Grossman resigns as special AfPak representative
Nov 28, 2012
WASHINGTON: The US special envoy to AfPak, Marc Grossman, is stepping down after leading the American diplomatic campaign in the volatile region for two years as President Barack Obama's pointsman to the crucial zone.
Grossman would be replaced by his deputy special US representative for Afghanistan and Pakistan, David D Pearce in an acting capacity.
His resignation would come into effect from December 14. Secretary of state Hillary Clinton had roped in Grossman, a former State Department diplomat, after the sudden death of Richard Holbrooke, in 2010.
Full report at:
http://timesofindia.indiatimes.com/world/us/Marc-Grossman-resigns-as-special-AfPak-representative/articleshow/17398916.cms
--------
US Senate works on new package of Iran sanctions
Nov 28, 2012
WASHINGTON: New sanctions aimed at reducing global trade with Iran in the energy, shipping and metals sectors may soon be considered by the U.S. Senate as part of an annual defense policy bill, senators and aides said on Tuesday.
The sanctions legislation, which has not yet been unveiled, comes during a crowded calendar as the Senate races to deal with deficit reduction, the defense bill and other pressing issues by the end of the year.
Full report at:
http://timesofindia.indiatimes.com/world/us/US-Senate-works-on-new-package-of-Iran-sanctions/articleshow/17395958.cms
--------
North Waziristan security situation is 'worrisome': Olson
November 28, 2012
LAHORE: US Ambassador Richard Olson has said that the security situation in the North Waziristan tribal region is "worrisome".
However, he also sought dispel the impression that Washington was pushing Islamabad to go after the Haqqani network – the deadliest of all Taliban factions – which, they believe, is based in North Waziristan.
The United States has a clear position: it's for the Pakistan government to decide whether a military operation should be launched or not, Ambassador Olson told journalists in Lahore on Tuesday.
Full report at:
http://tribune.com.pk/story/471948/north-waziristan-security-situation-is-worrisome-olson/
---------
Europe
France to Vote in Favour of Palestinians' U.N. Bid
By SCOTT SAYARE and CHRISTINE HAUSER
November 28, 2012
PARIS — Support in Europe for a heightened Palestinian profile at the United Nations grew on Tuesday when the French government said it would vote in favor of the Palestinians' bid for nonmember observer status, embracing a move that Israel and the United States have opposed.
The announcement by France, a permanent member of the United Nations Security Council, is the most significant boost to date for the Palestinians' hopes to be granted the enhanced status in the world forum, and with that greater international recognition. Russia and China, two other permanent members, have also thrown their weight behind the Palestinian bid.
Full report at:
http://www.nytimes.com/2012/11/28/world/europe/france-says-it-will-vote-in-favor-of-palestinians-un-bid.html?ref=middleeast
---------
Denmark to back upgraded Palestinian UN status
Denmark's FM says his country will back the Palestinian UN bid for recognition based on a non-observer status at the General Assembly
28 Nov 2012
Denmark will back a Palestinian bid to upgrade its United Nations status to that of a non-member observer state at a General Assembly vote this week, the Danish foreign ministry said on Wednesday.
Full report at:
http://english.ahram.org.eg/NewsContent/2/8/59337/World/Region/Denmark-to-back-upgraded-Palestinian-UN-status.aspx
--------
South Asia
Job Bias Worsens Uighur Muslim Life in China
26 November 2012
CAIRO – While employers are favouring the dominant ethnic Hans, China's Uighur Muslims are facing discrimination in the job market, allowed only in low-status and low-paying jobs, a new study has found.
"There is a clear tendency for Uighurs to hold low-status and low-paying positions," Dr Reza Hasmath from Melbourne University's Faculty of Arts said in a study on its website.
"So they are generally enduring lower employment rates and wages than their Han counterparts."
Full report at:
http://onislam.net/english/news/asia-pacific/460190-job-bias-worsens-uighur-muslims-life.html
--------
Kabul Bank sent millions of dollars abroad: report
November 28, 2012
Hundreds of millions of dollars from Kabul Bank were spirited out of Afghanistan some smuggled in airline food trays to bank accounts in more than two dozen countries, according to an independent review released on Wednesday about massive fraud that led to the collapse of the nation's largest financial institution.
The report, which was financed by international donors, offers new details about how the men at Kabul Bank and their friends and relatives got rich off $861 million in fraudulent loans in what the International Monetary Fund has called a Ponzi scheme that used customer deposits and operated under nascent banking oversight in the war-torn country.
Full report at:
http://www.thehindu.com/news/international/kabul-bank-sent-millions-of-dollars-abroad-report/article4142790.ece
---------
7 Jama'atul Mujahideen Bangladesh men get 10 years jail for serial blasts
November 28, 2012
A Rajshahi court on Wednesday handed down 10 years rigorous imprisonment to seven activists of banned militant outfit Jama'atul Mujahideen Bangladesh (JMB) in connection with a serial bomb blasts case in 2005.
The court also fined them Tk 10,000 each, in default, to suffer further six months in jail.
Among the convicts, Tariqul Islam, Shafiullah, Abu Isa and Johurul Islam were present at the court when Ekramul Haque Chowdhury, judge of the Speedy Trial Tribunal, delivered the verdict in a crowded court, reports our Rajshahi correspondent.
Full report at:
http://www.thedailystar.net/newDesign/latest_news.php?nid=42779
--------
As Complaints Grow, Afghanistan Promises School-System Review
By Ron Synovitz and Zarif Nazar
November 27, 2012
Sheila, a 15-year-old Afghan girl, has spent years attending a refugee-camp school on the north side of Kabul. But she still does not know how to write her own name.
"I am supposed to study the Koran, Dari, mathematics, Pashto, the English language -- altogether I am enrolled in 11 subjects," she says. "But there are no lessons at my school because the teachers come for just a few minutes. Then they leave. So we sit there doing nothing."
Full report at:
http://www.rferl.org/content/afghanistan-to-review-entire-educational-system/24782702.html
-----------
3 officials of the company which had caught Fire in Dhaka on 5-day remand
November 28, 2012
A Dhaka court on Wednesday placed three officials of fire-devastated Tazreen Fashion Ltd on a five-day remand in a case filed for the deaths of 111 workers in a devastating fire at the factory.
Ashulia police Wednesday night arrested the officials -- Md Dulal Uddin, 37, administrative officer; Md Hamidul Islam Lavlu, 32, store in-charge; and Al-Amin, 27, security supervisor; of Tazreen Fashion Ltd -- in the capital and Ashulia.
Full report at:
http://www.thedailystar.net/newDesign/latest_news.php?nid=42765
--------
Govt to lift ban on YouTube soon: Bangladesh Information Minister
November 28, 2012
Information Minister Hasanul Haque Inu on Wednesday said the government will soon lift the ban on YouTube which was blocked in Bangladesh following posting of an anti-Islam film on it.
"We have sent a letter to YouTube authority to ensure that the anti-Islam movie cannot be watched from anywhere in Bangladesh," Inu said when he was addressing a press briefing at secretariat.
The minister further said, "Personally, I want resumption of Youtube service in my country. That's why, I have talked to the authorities concerned in this regard."
Bangladesh Telecommunication Regulatory Commission on September 17 blocked popular video streaming website YouTube.com.
http://www.thedailystar.net/newDesign/latest_news.php?nid=42775
--------
Maldives Govt. "confident" as secret voting for no-confidence motions passed again
By Luke Powell | November 27th, 2012
Jumhoree Party (JP) MP Abdulla Jabir has revealed he is "confident" that the vote on secret balloting for no-confidence motions against the President will pass in parliament.
The Kaashidhoo MP's comments follow Parliament's General Committee's decision to pass the proposed amendments to establish secret voting.
The same amendment was voted on just over a week ago in parliament, but was defeated by a narrow margin of 34 to 39 votes.
Full report at:
http://minivannews.com/politics/jp-mp-abdulla-jabir-confident-as-secret-voting-for-no-confidence-motions-passed-again-by-committee-47987
--------
India
India to take up GMR issue with Maldives
SANDEEP DIKSHIT
November 28, 2012
Government proposes to monitor the situation in Maldives closely
The government reacted strongly to the decision of the Maldives government to terminate the agreement with the GMR Group by promising to pursue the issue with Male as it thought politics had intruded into what was a purely commercial matter.
Even as several political parties opposed to ousted Maldivian President Mohd. Nasheed, during whose tenure GMR won the airport management contract, have been calling for its cancellation for quite some time, New Delhi pinned its hopes on elections slated towards the middle of next year to cool tempers.
Full report at:
http://www.thehindu.com/news/national/india-to-take-up-gmr-issue-with-maldives/article4140991.ece
--------
Tata's closure in Kashmir punctures hope raised by bigwigs visit
Peerzada Ashiq, Hindustan Times
November 27, 2012
Ashfaq Ahmad (37) (name changed), an IT engineer from Srinagar, got married in 2009 immediately after securing a job in one of the country's leading cellular brand Tata Docomo. Four years down the line, Ahmad, father of a child, is distressed whether to relocate outside Kashmir or join the six lakh plus jobless youth of the valley.
The decision, announced earlier this month, by the Tata Tele-Services Limited to wind up its cellular and broadband service to around 50,000 consumers in the valley has both around 150 employees and dozens of franchise distressed. They are hunting for new avenues of earning in a very grim market of the valley, which adds exponentially to unemployed figures every year.
Full report at:
http://www.hindustantimes.com/India-news/Srinagar/Tata-s-closure-in-Kashmir-punctures-hope-raised-by-bigwigs-visit/Article1-965115.aspx
--------
E-mail threat to avenge execution of Quassab sent to Jammu from Bangalore
AHMED ALI FAYYAZ
November 28, 2012
J&K Police team in Karnataka to question cyber café owner
Following a threat to avenge Ajmal Quassab's execution with terror strikes on the Mata Vaishno Devi shrine town of Katra, Jammu and Kashmir police have registered a criminal case, sounded a red alert and beefed up security in Udhampur and Reasi districts.
After detecting that the e-mail threat to a hotel at Katra emanated from Bangalore, a J&K Police team went to Karnataka and started questioning a couple running a cyber café in a posh locality.
Full report at:
http://www.thehindu.com/news/national/email-threat-to-avenge-execution-of-Quassab-sent-to-jammu-from-bangalore/article4140957.ece
--------
Bangladeshis top infiltration threat
Nov 28, 2012
NEW DELHI: In the past three years, India has seen maximum infiltration from Bangladesh compared to any other country.
In reply to a question on infiltration in the Lok Sabha, the government said that around 4,500 Bangladeshis were caught while infiltrating various borders since 2009, while forces apprehended 317 Pakistanis for sneaking in during the same period. All Pakistani infiltrations occurred through Indo-Pak border.
Full report at:
http://timesofindia.indiatimes.com/india/Bangladeshis-top-infiltration-threat/articleshow/17394793.cms
--------
Hoax letter for naming Main Gate on Ajmal Quassab, creates panic at Ghaziabad courts
November 28, 2012
Panic spread at the Ghaziabad court complex on Tuesday after a letter, which threatened to blow up the complex if the main gate was not named after hanged Pakistani terrorist Ajmal Quassab, was found.
Ghaziabad senior superintendent of police (SSP) Prashant Kumar termed the letter a hoax. "The letter seemed to be written with some ulterior motive. We have beefed up security and are holding discussions with bar association members. We are investigating the matter," he said.
Full report at:
http://www.hindustantimes.com/India-news/UttarPradesh/Hoax-letter-creates-panic-at-Ghaziabad-courts/Article1-965286.aspx
--------
Centre seeks report from Uttar Pradesh over 'honour killing'
Nov 28 2012
New Delhi, Meerut : The Centre on Tuesday said that it was seriously considering a Constitution amendment to deal with honour killings, as it sought a report from the Uttar Pradesh government on the murder of a man featured in Aamir Khan's show on the problem.
Full report at:
http://www.indianexpress.com/news/centre-seeks-report-from-uttar-pradesh-over--honour-killing-/1037239/
--------
Indian docs in Nigeria say passports snatched, salaries denied
Pritha Chatterjee
Nov 28 2012
New Delhi : Two Indian doctors at an Indian-owned hospital in Nigeria have approached the federal court of that country and sought help from the Ministry of External Affairs in India, alleging their employers have confiscated their passports, and denied them three months' salary.
Authorities at the hospital — a branch of Primus Super Specialty Hospital in Chanakyapuri, New Delhi — in Nigeria's capital Abuja admitted that the doctors' passports had been kept at the time they joined for "safety purposes", but denied any "wrongdoing". They confirmed that they had received a show-cause order issued by the Nigerian court.
Full report at:
http://www.indianexpress.com/news/indian-docs-in-nigeria-say-passports-snatched-salaries-denied/1037230/
--------
Pakistan
Pakistan's problems cannot be miraculously resolved in 90 days: Sharif
By Sidrah Moiz Khan
November 28, 2012
SWAT: "Problems of Pakistan cannot be miraculously resolved in 90 days as claimed by some politicians," said Pakistan Muslim League-Nawaz (PML-N) chief Nawaz Sharif on Wednesday while taking a jibe at Pakistan Tehreek-e-Insaf's chairperson Imran Khan.
Khan had said that PTI, once in power, will end corruption in 19 days and terrorism in 90 days.
Full report at:
http://tribune.com.pk/story/472137/pakistans-problems-cannot-be-miraculously-resolved-in-90-days-sharif/
-----------
Four 'militants' killed in Bara clash
November 28, 2012
LANDI KOTAL/KOHAT: The security forces claimed to have killed four militants during a clash in Bara tehsil of Khyber Agency on Tuesday.
The security forces brought the bullet-riddled bodies of four young suspected militants to Levies Centre in Shahkas area in Jamrud tehsil.
Two of them were identified as Mohammad Asim, a resident of Charsadda, and Shah Faisal, who hailed from Darra Adamkhel.
The two bodies were handed over to their relatives after identification while the remaining two were still lying in the Levies Centre, security officials said.
Full report at:
http://dawn.com/2012/11/28/four-militants-killed-in-bara-clash-2/
-----------
TTP rejects Islamabad's amnesty
ANITA JOSHUA
November 28, 2012
The Tehreek-e-Taliban Pakistan (TTP), which has taken responsibility for numerous suicide bombings and targeted attacks across the country, has rejected the federal government's amnesty offer and has pledged to continue with its fight till the ouster of all secular rulers of Pakistan.
Full report at:
http://www.thehindu.com/news/international/ttp-rejects-islamabads-amnesty/article4140765.ece
--------
Pak test fires nuke capable ballistic missile
November 28, 2012
Launch aimed at strengthening the country's deterrence capability, says Pak military
Pakistan on Wednesday tested the Hatf-V nuclear-capable ballistic missile with a range of 1,300 km, with the military saying that the launch was aimed at strengthening the country's deterrence capability.
A statement from the military described the test as a "training launch" conducted by a strategic missile group of the Army Strategic Force Command.
Full report at:
http://www.thehindu.com/news/pak-test-fires-nuke-capable-ballistic-missile/article4143031.ece
--------
Pak activists support Bhagat Singh renaming
Nov 28 2012
Lahore : Civil society activists have filed two applications in a Pakistani court asking it to make them parties to a case challenging the renaming of a traffic roundabout in Lahore after freedom fighter Bhagat Singh.
Activists Taimur Rehman and Saeeda Diep filed the applications in the Lahore High Court yesterday through lawyer Yasir Latif Hamdani.
They contended that a frivolous impression was created by Tehreek-e-Hurmat-e-Rasool, the petitioner in the case, that the decision to rename Fawara Chowk at Shadman after Bhagat Singh was a "conspiracy against Pakistan".
Full report at:
http://www.indianexpress.com/news/pak-activists-support-bhagat-singh-renaming/1037481/
--------
Tehrik-e-Taliban threat: Red alert ahead of Guru Nanak Jayanti in Pak
Nov 27 2012
Lahore : Pakistani authorities have put in place extensive security arrangements for Indian Sikh pilgrims attending events to mark the birth anniversary of Guru Nanak in the wake of the Taliban's threat to target Indians in retaliation for the execution of Ajmal Quassab.
A red alert has been issued at all places where the Sikhs will join events organised to mark Guru Nanak's birth anniversary, and no vehicle without a special sticker issued by police will be allowed to enter Nankana Sahib district, officials said today.
Full report at:
http://www.indianexpress.com/news/tehriketaliban-threat-red-alert-ahead-of-guru-nanak-jayanti-in-pakistan/1037027/
---------
AQ Khan registers party to contest general elections
November 28, 2012
ISLAMABAD: Father of Pakistan's nuclear bomb, Abdul Qadeer Khan, has registered his new political party to contest general elections expected next year for the first time, officials said on Wednesday.
In July, he set up Tehreek-e-Tahaffuz Pakistan (TTP) to contest the 2013 elections and to campaign for an end to endemic corruption.
But attendance at his public meetings has been sparse and Khan is unlikely to emerge a serious contender at the ballot box despite his popularity.
Full report at:
http://tribune.com.pk/story/472138/aq-khan-registers-his-party-to-contest-next-election/
-----------
Diligent student compiles list of 780,000 porn sites for PTA to ban
March 2, 2012
Who knows pornography better than a teenage boy?
In a bid to aid the Pakistan Telecommunication Authority (PTA) in its ongoing efforts to block online porn in Pakistan, fifteen-year-old Ghazi Muhammad Abdullah has compiled and sent forward a list of 780,000 adult websites which he thinks should be blocked in Pakistan.
Speaking to ProPakistani, Abdullah said that he sent this list to the PTA following a letter sent to him by Director General, Law and Regulations, which stated:
"If there is any specific website that you wish to bring into the knowledge of PTA, it is requested that PTA may be informed of the same accordingly for further necessary action at our end."
Full report at:
http://tribune.com.pk/story/344443/diligent-student-compiles-list-of-780000-porn-sites-for-pta-to-ban/
-----------
G-B govt unveils trophy hunting programme
By Shabbir Mir
November 28, 2012
GILGIT: The Gilgit-Baltistan (G-B) government unveiled its trophy hunting programme for 2012-13 on Tuesday, announcing a $40,000 hunting fee for Pakistan's national animal, the Markhor.
A fee of $6,250 for Blue Sheep and $2,500 for Ibex was also announced by Wildlife Divisional Forests Officer (DFO) Aftab Mehmood.
"The decision was taken at a high-level meeting chaired by the chief secretary," Mehmood told The Express Tribune, adding that under the quota, hunters would be permitted to hunt a total of four Markhors and eight Blue sheep during the season, which begins in October and ends in April.
Full report at:
http://tribune.com.pk/story/472007/g-b-govt-unveils-trophy-hunting-programme/
-----------
Pakistani media: Public health a blip on the media radar
By Farahnaz Zahidi
November 28, 2012
KARACHI: A staggering 54% of the most serious crises and shocks Pakistan has suffered in the last three years have been health-related, while only 3% have been law and order related.
This came up in a meeting on Tuesday organised by John Snow, Inc. (JSI), a public health research and consulting firm that has worked in Pakistan for over two decades to improve the quality of and access to health care systems. More than 20 hosts of morning shows and current affairs programmes sat alongside journalists on Tuesday to discuss the relationship between public health and the media.
Full report at:
http://tribune.com.pk/story/472005/pakistani-media-public-health-a-blip-on-the-media-radar/
-----------
Court stays shifting of Sindh Muslim College
November 28, 2012
KARACHI: For now, the students of SM college can rejoice. The Sindh High Court has suspended the notification to shift the college to another building in a nearby neighbourhood.
The college students had gone to court against the government's decision to shift the college building. The Sindh government had earlier merged the Sindh Muslim (SM) Government Science College with Sindh Madressatul Islam, which was recently given the status of a university. Once the university's management took control of the administrative affairs of the college, it decided to shift the physical assets and staff of the SM college to the building of Government Degree Girls' College in Kharadar.
Full report at:
http://tribune.com.pk/story/471897/court-stays-shifting-of-sindh-muslim-college/
-----------
Pakistan all set to go to polls in May
Nov 28, 2012
LAHORE: Pakistan's next general election will be held in May, information minister Quamar Zaman Kaira said on Tuesday, offering for the first time a specific timeframe for the polls.
"The general election will be held in May next year. In the presence of a vibrant media and independent judiciary, there is no chance of postponement of the elections," Kaira said. The Pakistan People's Party-led government will ensure free and fair polls under an independent interim caretaker set-up and the election commission, he said.
Full report at:
http://timesofindia.indiatimes.com/world/pakistan/Pakistan-all-set-to-go-to-polls-in-May/articleshow/17396592.cms
--------
Sonia Naz rape case: Court voids decision to release main accused
2012/11/28
LAHORE: The Federal Shariat Court on Wednesday declared the decision to release the main accused in the Sonia Naz rape case as void, DawnNews reported.
A two-member bench of the FSC, comprising of Justice Shahzad Sheikh and Justice Jahangir Arshad, heard the appeal in the Sonia Naz rape case.
Full report at:
http://dawn.com/2012/11/28/sonia-naz-rape-case-court-voids-decision-to-release-main-accused/
-----------
90 Pak infiltrators sneak into India through border
Nov 28 2012
New Delhi : At least 90 Pakistani infiltrators entered India through the Indo-Pak border this year, raising serious concern in the security establishment.
Apart from the Pakistani infiltrators, seven Bangladeshi nationals also entered India illegally through the border despite heightened security, according to a Home Ministry estimate, prepared on the basis of ground report sent by intelligence agencies.
Full report at:
http://www.indianexpress.com/news/90-pak-infiltrators-sneak-into-india-through-border/1037483/
------------
Africa
African housemaid clubbed to death by a Saudi
28 November 2012
Police arrested a Saudi man who clubbed an African housemaid to death in Hamdaniah district in east Jeddah Sunday night.
The suspect also seriously injured his wife with a club during his late night quarrel, Al-Medina daily reported on Tuesday.
While the wife sustained a broken leg and fingers, another maid locked herself inside a room to escape her employer's angry outburst.
Full report at:
http://www.arabnews.com/african-housemaid-clubbed-death
--------
Ugandan Terrorism Suspects Say F.B.I. Interrogators Beat Them
2012/11/28
Four terrorism suspects charged with killing 76 people in Uganda in 2010 say they were physically abused by F.B.I. agents, an international rights organization reported Tuesday. The suspects said men who identified themselves as F.B.I. agents beat them during interrogations in 2010 and 2011 in Uganda, the Open Society Justice Initiative said in a report. One suspect, Selemi Hijar Nyamandondo, said an interrogator hit him in the eye, causing his glasses to break, his eye to bleed and making him collapse. Omar Awadh Omar said he was punched and slapped by men who said they were F.B.I. agents. An F.B.I. spokesman in Washington called the accusations without merit. "When investigating cases overseas, all F.B.I. personnel operate within the guidelines established by the attorney general as well as all other applicable laws, policies and regulations," said the spokesman, Paul Bresson.
http://www.nytimes.com/2012/11/28/world/africa/ugandan-terrorism-suspects-say-fbi-interrogators-beat-them.html?ref=africa
--------
Southeast Asia
Hair salon ruling not for non-Muslims: Hadi
28 November 2012
KUALA LUMPUR -The Kelantan government does not intend to enforce any provision relating to the Islamic morality by-laws on non-Muslims.
PAS president Datuk Seri Abdul Hadi Awang said in a statement today this is clear in the Kelantan Syariah Criminal Enactment (II) 1993 that it is not applicable to non-Muslims.
Following reports that a Chinese female hairdresser in the state had been sued for cutting the hair of non-Muslim men, Abdul Hadi explained that state government has to fulfil its duties.
"Kelantan has to carry out its responsibilities after being entrusted with the mandate from the people to ensure that the moral integrity of Muslims is safeguarded," he said.
Full report at:
http://www.malaysia-chronicle.com/index.php?option=com_k2&view=item&id=44405:hair-salon-ruling-not-for-non-muslims-hadi&Itemid=2
--------
URL: https://www.newageislam.com/islamic-world-news/new-age-islam-news-bureau/human-rights-of-saudi-arabia-urges-imams,-khatibs-to-focus-on-human-rights'-issues/d/9465