New Age Islam News Bureau
14 October 2022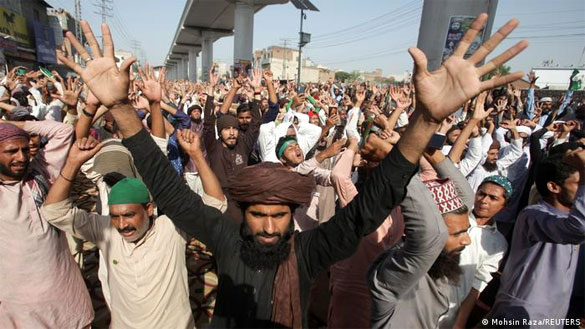 Accusations of blasphemy can spark deadly mob attacks in Pakistan
----
• Taliban Orders Male Teachers and Students to Sign Pledge to Adhere To Sharia Law
• US Slaps Visa Curbs on Taliban Officials and Other Individuals 'Responsible For Repressing Afghan Women and Girls'
• As Part of Its Outreach among Muslims Uttar Pradesh Government Solemnised 1,300 Muslim Weddings
• Kurd Abdul Latif Rashid Named Iraq President, Shia al-Sudani Appointed PM-Designate
Pakistan
• Ummah Will Not Tolerate Conspiracy against S Arabia, Says Chairman Pakistan Ulema Council
• Pak President Confers Hilal-E-Pakistan on Muslim World League Secretary General
• Imran claimed power through conspiracy, says Fazl
• Investigations reveal drug use resulted in recent killings: Faisalabad police pilot project to fight 'ice epidemic'
--------
South Asia
• Islamic Emirate Cabinet Not Formalized After One Year
• Efforts Underway to Ease Economic Sanctions: Islamic Emirate
• MoIC Urges Approval of Media Law in Afghanistan
• Afghan Twitter Campaign 'StopHazaraGenocide' Reaches 10 Million Tweets
• Taliban Ban Foreign Journalists on Misreporting Charge
• Taliban say Afghanistan secure enough for big projects
--------
North America
• Witnesses of unsolved Mosque-area shootings in Oakland still search for answers
• Pakistan, Saudi Arabia do not find mention in America's latest national security strategy
• Chartered Flight Carrying Over 300 Afghans Lands in Canada
• Biden seeking off-ramp after escalating tensions with Saudi Arabia: Expert
• US slams as 'spin' Saudi denial OPEC+ cut was political
--------
India
• Mob Attacks Mosque in Gurugram, Threatens Namazis with Expulsion from Village; Case Registered
• Hijab Ban: Muslim Panel Hails Justice Dhulia's Verdict, Asks Karnataka Govt To Withdraw Case
• Fresh Suit by Vishwa Vedic Sanatan Sangh-Backed Social Worker Seeks Worship Of Deities At Gyanvapi Mosque Compound
• Two nabbed in Tumakuru for burning Muslim religious flag
• J&K: NIA conducts searches in drone delivery case
• Want normal ties also with Pakistan: Meenakashi Lekhi at international meet
• Pakistan rakes up J&K at UN vote on Russia, India strikes back
• Religious freedom should not be used to promote 'separatism', says BJP
• UP: DGP seeks report on Sultanpur clashes, Muslim clerics claim bias
--------
Arab World
• Saudi envoy urges UN Security Council to designate Houthis as terrorists
• Saudi Arabia condemns Russia's annexation moves inside Ukraine
• Lebanon MP sanctioned by US says he played behind-the-scenes role in border talks
• New details found in Syria on missing ISIS hostages: Rights group
• Iran intensifies crackdown on Kurdish areas as protests rage
• 18 Syrian army personnel killed in terrorist bomb attack near capital Damascus
--------
Mideast
• Turkish Imam Loses His Job over Lyrics Criticizing Government
• Mission to UN: Iran Left with No Choice but to Eradicate Terrorism in Iraq
• Iran judges ordered to 'avoid going weak' on Mahsa Amini-linked protesters
• Iran's N. Chief Confirms Uranium Enrichment with New Centrifuges at Natanz Facility
• FM Underlines Iran's Opposition to Geopolitical Change in Regional Borders
• Turkey criminalizes spread of 'disinformation', up to three years jail term announced
• At least two Palestinians killed in Israeli West Bank raid: Report
• Iran pardons, commutes sentences for almost 1,900 convicts
• Palestinian groups reach reconciliation deal to end years-long division
--------
Europe
• Russia-Ukraine War: Money and Menace Being Used To Recruit Muslims in the Caucasus
• Ukraine thanks Saudi Arabia for UN vote against Russia annexations
• Russia using Iranian nationals in Ukraine to launch suicide drones: Report
• Cologne's mega mosque to start calling Muslims to prayer
• France says Iranian drone sales to Russia would violate UN Security Council resolution
• Scottish court rules in favour of Iraq-born migrant in tuition-fee case
--------
Africa
• You're Symbol Of Peace In Nigeria – Lengmang Praises Islamic Cleric
• Mali bus blast leaves at least 11 dead: Sources
• Nigerian court acquits separatist leader of all government charges
• Somalia police say journalist arrested over security-related charge
--------
Southeast Asia
• Cagamas Introduces Islamic Reverse Mortgage Financing For Senior Citizens
• Pahang and Perlis dissolve legislatures, paving the way for state polls to be held during Malaysia's GE15
• Najib's popularity seen as X factor in GE15
• Stable govt needed to face recession, says Zahid
• Sabah, Sarawak will be kingmakers in GE15, says Shafie
Compiled by New Age Islam News Bureau
URL: https://newageislam.com/islamic-world-news/human-rights-activists-hate-blasphemy-pakistan/d/128178
--------
Human Rights Groups Activists Sound Alarm Over Hate Crimes, Blasphemy Claims In Pakistan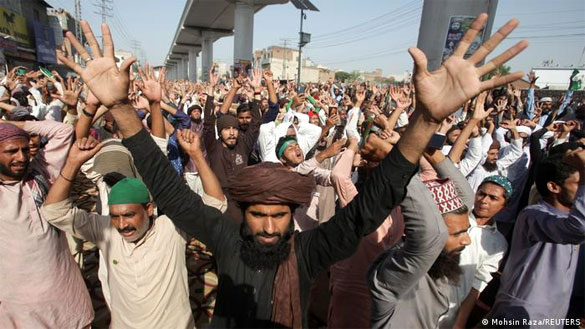 Accusations of blasphemy can spark deadly mob attacks in Pakistan
----
October 13, 2022
A handicapped man was set ablaze in Ghotki, Pakistan on October 1, 2022. When the victim jumped into a nearby pond to extinguish fire, the attacker, apparently a student of a religious seminary, followed him, strangling him to death. The reason, according to media reports, were accusations of blasphemy. The video of the killing went viral online.
The killing sent shockwaves across Pakistani society, especially among minority communities in the deeply religious country where most people identify as Sunni Muslims.
Just a few days later, Shia scholar Naveed Ashiq was killed in the eastern Punjab province.
In a separate incident, a radical Sunni cleric in the same province called for the killing of pregnant women from the Ahmadi religious sect. The Ahmadi are not recognized as Muslim under Pakistani law.
Claims of blasphemy can be especially dangerous in Pakistan. Human rights groups believe most accusers use these claims to settle personal scores and property disputes as well as other minor issues.
Records show that 1,415 people were accused of blasphemy between 1947 and 2021. According to the Center for Research and Security Studies, a Pakistani think tank, 81 of the accused were killed — 71 men and 10 women.
Hate crimes on rise
Disturbingly, the number of incidents which involve accusations of blasphemy and hate crimes against minorities appears to be rising.
In December 2021, a Sri Lankan man was lynched in Sialkot city of Punjab while this February a man accused of desecrating the Holy Quran was beaten to death by a mob in the Punjabi town of Khanewal.
Recently, a school in the city of Attock, in the same eastern province, expelled four Ahmadi children. The reason provided by the school was merely that they were Ahmadi, said Amir Mahmood, Punjab spokesperson for Jamaat-e-Ahmadi, an Ahmadi organization.
The Ahmadi representative told DW that social media was awash in hate literature against his community, complete with anti-Ahmadi banners and posters. This has, in some cases, led to blasphemy allegations, Mahmood said.
No action from the state
Recently, a gathering of a Sunni extremist outfit in Islamabad openly chanted slogans against Shia Muslims. Several politicians and even one of Pakistan's top judges have also openly denigrated minorities in recent years.
Activists and minority communities point to the culture of impunity as one of the reasons behind the attacks on minorities and blasphemy accusations which can also target Muslims.
Even high-ranking politicians are not immune against extremist attacks. Pakistan's current planning minister, Ahsan Iqbal, was shot and wounded in 2018 by an Islamist hardliner. Iqbal served as the country's interior minister at the time.
Asad Butt, co-chair of the Human Rights Commission of Pakistan, also believes that the number of hate crimes and blasphemy claims is on the rise. He slammed the Pakistani government for ignoring the problem.
"Instead of taking action, the government is talking to the Taliban who killed Christians, Ahmadis and many Muslims and extremist groups that spread hate against minorities," he told DW.
This attitude encourages extremists to peddle hate against minorities and encourage lynchings against those accused of blasphemy, Butt said.
Element of fear
Activist Sadia from Okara in Punjab believes that the extremist groups wield immense influence in Pakistani society. This influence is enough to deter people from questioning the claims of those accusing others of blasphemy, she said, adding that if a person is accused of blasphemy, people simply start gathering outside their residence without subjecting the claims to any scrutiny.
"In such matters the sense of fear is so profound that you can't dare to ask those who accuse anyone of blasphemy," Sadia told DW.
This element of fear encourages extremists in their lynchings and hate campaigns, and neither politicians nor ordinary people are ready to break this fear-based framework, she said.
Some activists believe that unregulated growth of religious seminaries has fed the increase in hate crimes and claims of blasphemy. The killer of handicapped man in Ghotki is said to be a student of a religious seminary.
Political activist Naghma Iqtidar points out that religious seminaries can now be found in every part of the Pakistani province of Sindh, marking a significant change compared to two decades ago.
"Hate crimes and accusations of blasphemy have also risen during the same period," she told DW.
TLP gaining strength
Pakistan has witnessed an immense popularity of a religious group called Tehreek-e-Labbaik Pakistan (TLP) during the last 14 years. The far-right group fiercely opposes any amendments to the country's blasphemy laws. In 2017, it paralyzed the capital Islamabad by staging a massive sit-in and demanding the resignation of Zahid Hamid, who was the justice minister at the time. Hamid eventually stepped down.
Last year, TLP supporters clashed with the police, leading to several deaths. The unrest started after their leader was arrested for giving the Pakistani government an ultimatum and insisting they expel the French ambassador over a blasphemy dispute. TLP leader, Saad Rizvi, was eventually released in November 2021 and a short-lived ban on the party was lifted.
A follower of the group is believed to be responsible for the killing of an Ahmadi man in Chiniot in late September 2022.
Many critics claim that the organization not only carries out vitriolic attacks on minorities but also on anyone daring to challenge them.
Punjabi activist Sadia believes the TLP is more powerful than any other religious group in Pakistan today. Naghma Iqtidar from Sindh claims their rise has created more intolerance in society, leading to more accusations of blasphemy.
Human rights commission chair Butt notes that the group has tens of thousands of voters across Pakistan and has even managed to win two seats in the province of Sindh.
Government's stance
Critics believe a vast number of hate crimes go unreported. Anis Haroon, a member of the National Commission on Human Rights, says no institution in Pakistan records such incidents.
But Muhammad Jalal-ud-din, the leader of the Jamiat Ulema-e-Islam party (the Party of Islamic Scholars), which is part of the ruling coalition, rejects claims that hate crimes are on the rise.
He told DW that minorities in Pakistan are awarded all rights under the country's constitution. The politician insisted that the government was not lenient towards anyone preaching hatred. Jalal-ud-din also rejected the alleged link between religion-fueled violence and talks with the Taliban, saying that the talks were a completely separate issue.
"Anyone breaking the law would be brought to justice, including those attempting to stir hatred," he said.
Source: Dhaka Tribune
Please click the following URL to read the text of the original story:
https://www.dhakatribune.com/south-asia/2022/10/13/18-flood-victims-killed-in-pakistan-bus-fire
--------
Taliban Orders Male Teachers and Students to Sign Pledge to Adhere To Sharia Law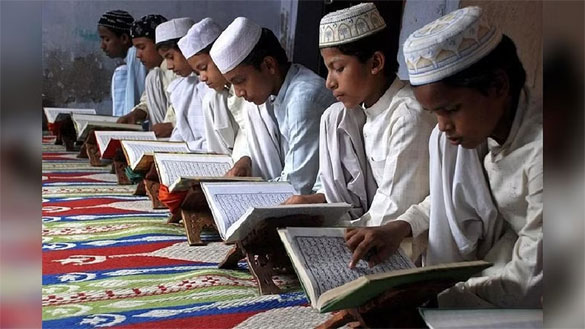 Representative Image/ Reuters
-----
14th October 2022
Kabul: The Taliban-led government in Afghanistan has ordered male teachers and high-school students in Kandahar province to sign a written pledge that they will adhere to the militant group's extremist interpretation of Islamic Sharia law.
That includes following the Taliban's strict dress code for men, including growing a beard, wearing a turban or Islamic cap, and donning the "pirhan tumban", the traditional baggy shirt and pants common in rural Afghanistan, RFE/RL reported.
Failure to sign or adhere to the pledge can lead to students being expelled from school or teachers losing their jobs, according to locals.
The order for male teachers and students in the ninth grade and above to sign the pledge has been widely criticized.
"This is an irrational step and must be strongly discouraged," a high-school student in Kandahar, who did not want to be named for fear of retribution said.
"I want the Taliban to stop curbing our freedoms."
"They should stop imposing such extremist ideas," another high-school student in the province, who said he was forced to sign the pledge.
The pledge is the latest attempt by the Taliban to police the appearances of Afghan men and women in public, RFE/RL reported.
Since seizing power in August 2021, the Taliban has ordered male government employees to grow beards and wear traditional attire or risk being fired.
In some areas, men have been forced to attend prayers.
In some parts of Afghanistan, the Taliban has banned Western-style clothing and haircuts.
The militants have also imposed strict gender segregation in schools, universities, hospitals, government offices, and public transport.
Couples who eat out in restaurants are often questioned and harassed by the Taliban's notorious morality police, RFE/RL reported.
Source: Siasat Daily
Please click the following URL to read the text of the original story:
https://www.siasat.com/taliban-orders-male-teachers-students-to-sign-pledge-to-adhere-to-sharia-law-2433732/
--------
US Slaps Visa Curbs on Taliban Officials and Other Individuals 'Responsible For Repressing Afghan Women and Girls'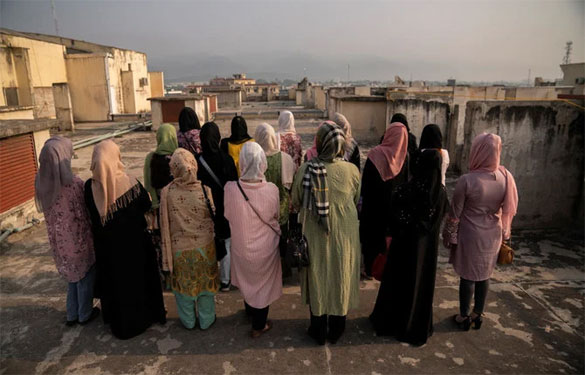 Representative Image/Files
----
Anwar Iqbal
October 13, 2022
WASHINGTON: The United States has imposed visa restrictions against Taliban officials and other individuals 'responsible for repressing Afghan women and girls', hoping to persuade the regime to reconsider its repressive policies.
"Today I am announcing a visa restriction policy … to restrict the issuance of visas for current or former Taliban members, members of non-state security groups, and other individuals believed to be responsible for, or complicit in, repressing women and girls in Afghanistan through restrictive policies and violence," said US Secretary of State Antony Blinken in a statement issued on Tuesday evening.
In Kabul, the Afghan Foreign Ministry said the new US visa rules could have a "negative" impact on ties with Afghanistan's government, which held talks with Washington this week.
Secretary Blinken also called on other governments to "join us in taking similar actions and to continue to underscore a collective message that only a government in Afghanistan that represents all its people and protects and promotes the human rights of every individual could be considered legitimate."
He defined the actions that constitute the violation of US visa rules as discontinuing, restricting access to education for girls and women; preventing their participation in the workforce, restricting their movement, expression, or privacy.
Immediate family members of a violator may also be subject to these restrictions.
Source: Dawn
Please click the following URL to read the text of the original story:
https://www.dawn.com/news/1714750
--------
As Part of Its Outreach among Muslims Uttar Pradesh Government Solemnised 1,300 Muslim Weddings
Officials told TOI that Rs 600 crore have been earmarked for for group marriages throughout the state in this fiscal, of which the department has spent Rs 81.76 crore until August
-----
Oct 14, 2022
LUCKNOW: As part of its outreach among Muslims, the Yogi Adityanath government has ensured marriages of over 1,300 couples from the minority community across the state in this financial year thus far. These weddings have been performed under the chief minister group marriage scheme that was launched a few years ago.
Earlier, these marriages were solemnised by different departments, including minorities welfare; however, from now on, the social welfare department has been made the nodal agency for these group marriages and budgets from all the departments have shifted to it.
Officials told TOI that Rs 600 crore have been earmarked for group marriages throughout the state in this fiscal, of which the department has spent Rs 81.76 crore until August.
From April to August this year, the department has been able to host group marriages of around 16,033 couples. Of which, 1387 couples from minority community, 9,374 couples from the Dalit community, 4,649 couples from the OBC category and 623 couples from general category got married.
Of these, Moradabad division had the lion's share of 1,567 weddings, followed by Varanasi (1,409), Lucknow (1,274), Kanpur (1,035), Ayodhya (1,014), Meerut (962), Prayagraj (934), Gorakhpur (933) and Bareilly (871).
Principal secretary, social welfare department, Hari Om said that efforts would be made to ensure maximum marriages are solemnised in the coming wedding season as applications in huge numbers have already been received.
As part of the scheme, the government provides Rs 51,000 to the bride when the marriage is performed. Of the total amount given, Rs 35,000 is transferred into the bride's account while utility items are gifted to the bride from the leftover amount. No money is transferred to the groom, the officials further said. Couples from below poverty line, from any caste or religion, can avail the scheme.
Source: Times Of India
Please click the following URL to read the text of the original story:
https://timesofindia.indiatimes.com/city/lucknow/uttar-pradesh-govt-solemnised-1300-muslim-weddings/articleshow/94847000.cms
--------
Kurd Abdul Latif Rashid Named Iraq President, Shia al-Sudani Appointed PM-Designate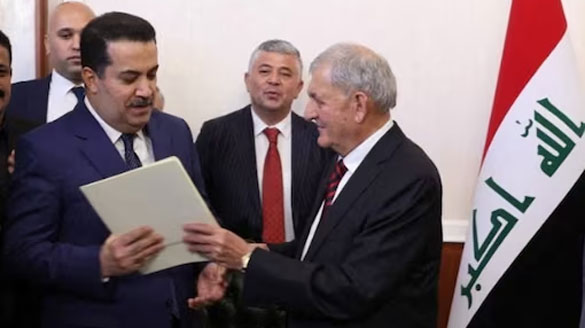 Newly elected Iraqi President Abdul Latif Rashid has named Mohammed Shia al-Sudani as prime minister-designate and tasked him with forming a new government in Baghdad, Iraq (Image: Reuters)
-----
OCTOBER 14, 2022
Despite a rocket attack on Baghdad's Green Zone, Iraqi lawmakers Thursday elected a new president who swiftly named a prime minister in hopes of ending a year of political gridlock and violence in the war-scarred nation.
Abdul Latif Rashid, a 78-year-old Iraqi Kurd, was elected as head of state, replacing Barham Saleh, by the assembly in the capital's heavily fortified Green Zone government and diplomatic district.
Rashid won more than 160 votes against 99 for the incumbent Saleh, an assembly official said.
The new president swiftly named Shiite politician Mohammed Shia al-Sudani as prime minister-designate, tasking him with reconciling feuding Shiite factions and forming a government a whole year after Iraq last went to the polls.
The 52-year-old Sudani, who has the backing of influential pro-Iran factions, vowed to form a government "as quickly as possible", but faces the daunting task of winning over their rivals, the millions of diehard supporters of fiery cleric Moqtada Sadr.
When Sudani was first proposed in July, the move sparked mass protests by Sadr's followers, who breached the Green Zone and stormed parliament.
He now has 30 days to form a new government capable of commanding a majority in parliament.
"I shall spare no effort to form a strong government," Sudani said in a televised speech, vowing to work with "all political forces and elements of society".
He also promised the youth he would confront problems such as "the lack of (public) services, poverty, inflation and unemployment".
Western governments swiftly welcomed the move to end Iraq's political standoff.
The US State Department called on the new leaders to "bear in mind the will of the Iraqi people" and urged all sides "to refrain from violence and to resolve differences amicably and peacefully through the political process."
The French embassy congratulated Sudani on his nomination and called for the "formation of a government that will do all in its power to answer the legitimate demands of all Iraqi people and especially its youth."
A reminder of Iraq's troubles came earlier in the day as lawmakers headed into parliament, when a barrage of nine Katyusha-style rockets rained down on the area, the security forces said.
At least 10 people were wounded, including six members of the security forces or bodyguards of lawmakers, as well as four civilians in a nearby district, a security official told AFP.
US ambassador Alina Romanowski condemned the attack "in the strongest terms" on Twitter and warned that "the people of Iraq must resolve their political differences & grievances solely thru peaceful means.
"Attacks like these undermine democracy & trap Iraq in a perpetual cycle of violence."
'CRISIS BREEDS INSTABILITY'
The democratic institutions built in oil-rich Iraq since the 2003 US-led invasion that toppled dictator Saddam Hussein remain fragile, and neighbouring Iran wields major influence.
For just over a year now, Iraq has had only a caretaker government to tackle an array of pressing problems, including unemployment, decaying infrastructure, corruption and the impacts of climate change.
The United Nations mission in Iraq warned this week that "the protracted crisis is breeding further instability" and that the divisive politics are "generating bitter public disillusion".
Lawmakers had made three previous attempts to elect a new head of state, in February and March, but failed to even reach the required two-thirds threshold for a quorum.
Under Iraq's post-Saddam power-sharing system, meant to avoid more sectarian conflict, the president by convention is Kurdish, the prime minister a Shiite Arab and the parliament speaker a Sunni Arab.
The presidency has usually been held by the Patriotic Union of Kurdistan (PUK) of Rashid and Saleh. This year the rival Kurdistan Democratic Party (KDP) had demanded the presidency but ultimately abandoned the bid.
Rashid, a hydraulic engineer versed in environmental issues, is seen as a compromise candidate for the polarised country.
Source: News18
Please click the following URL to read the text of the original story:
https://www.news18.com/news/world/kurd-abdul-latif-rashid-named-iraq-president-shia-al-sudani-appointed-pm-designate-6161311.html
--------
Pakistan
Ummah Will Not Tolerate Conspiracy against S Arabia, Says Chairman Pakistan Ulema Council
By Asim Yasin
October 14, 2022
ISLAMABAD: The Chairman Pakistan Ulema Council and the Secretary General, International Tahzeem-e-Harmain Al-Sharifain Council, Hafiz Muhammad Tahir Mahmood Ashrafi said on Thursday, that the Muslim Ummah would not tolerate any conspiracy against the Kingdom of Saudi Arabia.
"All those elements who made conspiracies to weaken the Kingdom of Saudi Arabia have always failed as no force can weaken the relations between Pakistan and Saudi Arabia. Pakistan has an independent and sovereign policy pertaining to its ties with Saudi Arabia."
Ashrafi asserted, that some forces are trying to destabilise the ties between Pakistan and Saudi Arabia for a long time but all these forces have always failed in their conspiracies and would be foiled in the future too.
Ashrafi stressed, that the ties between Pakistan and Saudi Arabia will become stronger and more stable with the visit of the Secretary General Muslim World League, Dr. Muhammad bin Abdul Karim Al-Issa. He said the role of religious scholars and the Ulema-Mashaykh associated with the Muslim World League from Pakistan and Saudi Arabia are unanimous on the elimination of extremism, terrorism and Islamophobia.
Hafiz Ashrafi said that the 'Declaration of Makkah' and 'Paigham-e-Pakistan' are great efforts of the religious scholars and the Ulema-Mashaykh from Pakistan and the Kingdom of Saudi Arabia.
He said that the policy adopted by Saudi Arabia vis-a'-vis the oil crisis has been supported and endorsed by the Gulf Cooperation Council. Ashrafi stressed that the leadership of Saudi Arabia understands its issues very well.
"Alhamdulillah, Saudi Arabia is the strongest country in the Islamic world, and it is foolish to consider Saudi Arabia as weak," he said. He said those who try to play with the peace, stability, defence and security of Saudi Arabia will have to face the wrath of the entire Muslim Ummah.
"There are sacred places for Muslims in the Kingdom of Saudi Arabia and the people and the government of Saudi Arabia under the leadership of Khadim-e-Harmain Al-Sharifain, Shah Salman bin Abdulaziz and Crown Prince Mohammed bin Salman are rendering services for Islam and Muslims that are unprecedented in history,' he said.
Ashrafi hoped that the Crown Prince of Saudi Arabia and other dignitaries of the Kingdom of Saudi Arabia would visit Pakistan very soon. In response to a question, Hafiz Ashrafi said that the prime minister and the army chief have made it clear several times, that the kingdom of Saudi Arabia is very dear to all of us, we consider the defence of the kingdom as our very own defence. "No force or country can build pressure on Pakistan on the issue of iys relations with Saudi Arabia," he said.
Source: The News Pakistan
Please click the following URL to read the full text of the original story:
https://www.thenews.com.pk/print/999788-ummah-will-not-tolerate-conspiracy-against-s-arabia-says-ashrafi
--------
Pak President Confers Hilal-E-Pakistan on Muslim World League Secretary General
October 13, 2022
ISLAMABAD — Pakistani President Dr. Arif Alvi has awarded Secretary General of the Muslim World League and President of the Organization of Muslim Scholars of the Kingdom of Saudi Arabia Dr. Mohammed AI-Issa with the Hilal-e-Pakistan.
The award is among the highest civil decorations of Pakistan, in recognition of his prominent efforts in spreading the message of peace of Islam and in combating the growing phenomenon of Islamophobia, through correcting misconceptions towards Islam. Also his global role in enhancing dialogue and harmony among followers of various civilizations and faiths through international initiatives and personal visits he paid to various countries and his meetings with various religious leaders in the world.
Source: Saudi Gazette
Please click the following URL to read the full text of the original story:
https://saudigazette.com.sa/article/625966
--------
Imran claimed power through conspiracy, says Fazl
Faiz Muhammad
October 14, 2022
CHARSADDA: Pakistan Democratic Movement chairman and Jamiat Ulema-i-Islam-Fazl chief Maulana Fazlur Rehman on Thursday claimed that the ruling alliance in the centre would defeat the Pakistan Tehreek-i-Insaf in the upcoming by-elections for three National Assembly seats in Khyber Pakhtunkhwa.
He also rejected former prime minister Imran Khan's claim about his removal through a foreign conspiracy and insisted that the Pakistan Tehreek-i-Insaf chief had come to power in 2018 through a conspiracy.
"Imran Khan is a big threat to Pakistan's sovereignty," the PDM chief told a public meeting in the Parang Stadium here in connection with the Oct 16 by-election in the NA-24 Charsadda-II constituency.
Workers of the PDM member parties attended the event in large numbers.
PDM chief insists alliance to sweep by-elections
The public meeting was also addressed by Qaumi Watan Party central chairman Aftab Ahmed Khan Sherpao, Awami National Party central vice-president Haider Khan Hoti, Pakistan Muslim League-Nawaz leader Amir Muqam, Liaqat Shabab of the Pakistan Peoples Party, former law minister and MPA Sultan Mohammad Khan, and ANP provincial chief and NA-24 candidate Aimal Wali Khan.
Mr Fazl told the rally that the 'bubble' of Mr Imran's regime change claim had burst after parliament, judiciary, other institutions and even President Dr Arif Alvi had denied 'conspiracy' for the ouster of the former prime minister.
"The audio leaks have punctured the regime change theory," he said.
The PDM chief said all political parties had gathered under the banner of the PDM to foil the attempt of the PTI chief and "forces supporting him within the country and abroad to disintegrate the country."
He said it was the constitutional right of people to elect their representatives but the PTI chairman had deprived them of that right as the party's members boycotted the National Assembly instead of attending its session to resolve the people's problems.
Mr Fazl said the PTI chief didn't trust his party leaders and opted to contest by-elections in nine constituencies which show his immaturity.
He claimed that the forces, which had imposed the 'incompetent' Imran government on the nation, regretted their move.
The PDM chief said the PTI had been ruling Khyber Pakhtunkhwa for the last nine years but had miserably failed to deliver.
He said the people didn't trust Mr Imran and his party anymore and would vote against them in the Oct 16 by-polls.
Mr Fazl called the former prime minister a 'foreign agent', who, he alleged, received funds from the US and Israel.
He said Imran was holding secret meetings with the US officials.
"The Election Commission of Pakistan has proved that Imran and his party illegally received foreign funds," he said.
The PDM leader said the parties, which were part of the ruling alliance in the centre, had put their political interests at stake by joining the federal government to save the country from becoming bankrupt.
He said the PTI was to blame for the country's economic and political crises.
Mr Fazl also alleged that the Imran government had rolled back the China-Pakistan Economic Corridor project at the behest of the American and Israeli governments.
Source: Dawn
Please click the following URL to read the full text of the original story:
https://www.dawn.com/news/1714875/imran-claimed-power-through-conspiracy-says-fazl
--------
Investigations reveal drug use resulted in recent killings: Faisalabad police pilot project to fight 'ice epidemic'
Asif Chaudhry
October 14, 2022
LAHORE: The Punjab police have launched a pilot project in Faisalabad to prevent horrific killings by ice (crystal meth) users following reports that the use of the drug has assumed epidemic proportions and lead a person to violence.
The Faisalabad police would treat the ice users as 'patients' and launch multiple activities to engage the young generation inclined towards ice addiction. They have begun a programme to enlist the students of the universities and the youngsters of the elite families, reporting high prevalence of the drug.
A senior police officer told Dawn that officers including experts of the Faisalabad police studied the investigations into some high-profile murder cases recently reported in Islamabad and Karachi. They held meetings with the vice chancellors of the universities, psychiatrists and other health professionals.
He said the gruesome murder of Noor Mukadam in Islamabad grabbed the attention of the law-enforcement agencies when it was reported that the suspect was a chronic ice user. A year after this incident, another murder of a young woman by her husband had been reported in Islamabad, he said. Initial investigation revealed that the suspect murdered his wife under the influence of ice.
In another such incident, a woman who was an ice user allegedly dismembered her husband in Karachi.
Police said a responsibility had been assigned to a team of experts of the Faisalabad police to take help of international researches on effects of ice when it was reported that its use increases violent behaviour.
"Ice (crystal meth) is methamphetamine, a member of the amphetamine family of drugs," Faisalabad City Police Officer (CPO) Omer Saeed Malik told Dawn. He said the drug was highly addictive and linked to chronic physical and mental health problems.
The CPO said police inquiries suggested that students and youngsters, especially of the elite families, were more inclined to the addiction of ice. The students staying in hostels used it in groups and the most disturbing aspect was that they started consuming it to stay focused for exams, he said.
The Faisalabad police experts found out that many students wanted to concentrate on their studies, especially during examinations, and used ice. "This desire takes the students towards the use of 'ice' or crystal meth," the CPO said, adding that later many of them failed to get rid of ice due to its addiction.
Similarly, he said, the youngsters used it for pleasure at formal gatherings. "Once people who are on meth become psychotic, they become very dangerous because of its amazing addictive power which is evident from the recent high-profile murder cases reported in Islamabad and Karachi," he said.
Sharing statistics of the Anti-Narcotics Force, the CPO said around 27 million people struggle with drug abuse in Pakistan. "We have introduced an App (Breaking the Ice) which is available on App Store," Mr Malik said. The purpose was to get information on the source of ice and help patients, especially students. "Any person can lodge a complaint on the App about the ice user in his surroundings. Even a student can complain about his fellow and police have devised a system/strategy to conceal the identity of the complainant," he said.
A senior police officer has been appointed focal person who will activate the police experts to contact the ice user for his treatment. Recently, the police officers visited the Faisalabad Medical University and held a meeting with VC Prof Zafar Chaudhry to engage him for the treatment and rehabilitation of the ice drug users. After a detailed meeting, a 20-bed rehabilitation centre was established at the medical university, where the ice users would be provided complete treatment, the CPO said.
Source: Dawn
Please click the following URL to read the full text of the original story:
https://www.dawn.com/news/1714945/investigations-reveal-drug-use-resulted-in-recent-killings-faisalabad-police-pilot-project-to-fight-ice-epidemic
--------
South Asia
Islamic Emirate Cabinet Not Formalized After One Year
October 14, 2022
It has been more than one year since the Islamic Emirate announced its cabinet, and it still has yet to become official.
The Islamic Emirate's spokesman, Zabiullah Mujahid, said that the announcement of an official cabinet will take some time.
"The official cabinet takes time. The constitution has yet to be formed. The Afghans living abroad have not come yet. These are the principles of the government, whenever these criteria are met, the government will exist in a normal situation," he said.
This comes as some political analysts believe that the introduction of an official cabinet will pave the ground for proper governance in the country.
"It has been more than one year since the interim cabinet has been trying to reach the trust of the nation and the international community. This is the time to bring change to this cabinet. Figures should come in the government who will not be acting heads but officially appointed to know and recognize their responsibilities," said Sayed Ishaq Gailani, leader of the National Solidarity Movement of Afghanistan.
Source: Tolo News
Please click the following URL to read the full text of the original story:
https://tolonews.com/index.php/afghanistan-180285
--------
Efforts Underway to Ease Economic Sanctions: Islamic Emirate
October 14, 2022
The Ministry of Economy said that efforts are underway to ease the economic sanctions on Afghanistan imposed after the Islamic Emirate swept into power following the rapid collapse of the western-backed government.
Deputy Minister of Economy, Abdul Latif Nazari, said that the freezing of Afghan assets in American and European Banks has triggered an economic crisis that affects the life of Afghans.
"The Islamic Emirate is making efforts to convince the sanction-imposing countries to not seek their political goals through economic means because the people of Afghanistan are being affected by this," he said.
This comes as the Russian Foreign Ministry's Spokesperson, Maria Zakharova, said that the West had been destroying Afghanistan for years and in the end stole its money.
"We strongly urge Westerners to fully unblock the accounts of the (Afghan) Central Bank as soon as possible. We believe that such half-measures as the creation of an Afghan Trust Fund from stolen funds...All these half-measures are hypocritical. They are insufficient for a full-scale reconstruction of the Afghan economy and infrastructure." Zakharova was quoted by the Anadolu Agency.
This comes as economists said that the existing sanctions have increased unemployment in the country.
"More than 400,000 to 500,000 people are engaging in markets. But we unfortunately see that they don't find jobs. We see that employment has decreased in Afghanistan," said Mansour Hedayat, an economist.
This comes as Canadian Prime Minister Justin Trudeau mentioned the need to provide aid to the people of Afghanistan but didn't give a timeline of when Canadian aid groups would be able to respond to a humanitarian crisis in Afghanistan.
"We know how important it is to support the people of Afghanistan," Trudeau responded during a news conference. "We will continue to look at how we can help."
Source: Tolo News
Please click the following URL to read the full text of the original story:
https://tolonews.com/business-180294
--------
MoIC Urges Approval of Media Law in Afghanistan
By Arif Ahmadi
13 Oct 2022
KABUL, Afghanistan – Abdul Haq Hammad, the head of publications in the Ministry of Information and Culture, said mass media law should be approved as soon as possible, saying the law is of utmost necessity and must not be prolonged any further.
This came at a time media practitioners in Afghanistan have been facing restriction since collapse of the former government, as the Taliban leadership bid to form a new law that will bound the practice of journalism in the country.
"We do not have a media law and the Ministry of Information and Culture adjusted the law and we sent the media law to the leader of the Islamic Emirate and in the meeting we urged that this law be given priority," Hammad said, as TOLOnews quoted.
Meanwhile, the Afghanistan Federation of Journalists and Media welcomes the new law, expressing support for its implementation in the country.
"If this law can solve the problems of reporters, journalists and media, we support it and we ask that they should support the media community," said said Masroor Lutfi, head of the Afghanistan National Journalists Union (ANJU).
In early September, a spokesman for the Islamic Emirate Zabiullah Mujahid said the mass media law will be reviewed by the Ministry of Information and Culture.
"We will make some changes in the culture and religious sections and send it to the Islamic Emirate leader to confirm, and in the near future it will be available to the media," said Mujahid in a thread.
Media in Afghanistan Under the Taliban Rule
While the Taliban rule exclaimed during the past year no reporter has been killed in the country, Afghanistan Journalists Center (AFJC) expressed "deep concern" over the increasing number of media practitioners being arrested and tortured.
Statistics from last 12 months by the AFJC show at least four journalists and media practitioners have lost their lives in Afghanistan: three as a result of two ISIS-affiliated explosions in Kabul and one person during coverage of the war between the Taliban and former government forces in Kandahar.
The report also showed about 130 other incidents against journalists and media practitioners, where about 90 cases were short and long-term detention up to a month, including violence and threats.
Most of these cases have been recorded during the past 8 months, which reflects on the Taliban leadership in Afghanistan since last August, according to the statement.
Meanwhile, hundreds of male and female journalists have left the country since the fall of the Islamic Republic on August 15. And, more than half of about 600 media outlets – mainly the radios, televisions, and print publications – were shut down due to financial crisis the sudden brought about to the companies.
Currently, about 30% of other media outlets that have been operating despite the odds are on the verge of financial collapse, forcing many others to operate intermittently for a few hours a day or week.
Source: Khaama Press
Please click the following URL to read the full text of the original story:
https://www.khaama.com/moic-urges-approval-of-media-law-in-afghanistan/
--------
Afghan Twitter Campaign 'StopHazaraGenocide' Reaches 10 Million Tweets
By Saqalain Eqbal
13 Oct 2022
The "#StopHazaraGenocide" Twitter campaign, started by Afghan social media users to protest the bloody attack on the Kaaj education center and recurring atrocities committed against Hazaras in Afghanistan, has received more than 10 million tweets.
Following a terrorist attack that killed over 54 students, mostly girls, at the Kaaj education center west of Kabul, the Afghan capital, the hashtag campaign made a splash on Twitter and quickly turned into a hot trend.
With billions of views, 16 million interactions, and over 10 million tweets, the "#StopHazaraGenocide" hashtag has become one of the most popular trends in Afghanistan.
Twitter users have implied that the hashtag and the global protests calling for an end to the "genocide" against the Hazara people could bring the Afghan people together as a nation.
After the attack on the Kaaj education center on September 30, protests around the world began in Sydney, Australia, and later spread to more than 100 cities, parallel to the Twitter campaign.
The Hazara demonstrations still continue bringing numerous people to the streets screaming for justice. Thousands marched in London, the capital of England on Wednesday to raise the topic of the Hazara genocide to the British Parliament.
Source: Khaama Press
Please click the following URL to read the full text of the original story:
https://www.khaama.com/afghan-twitter-campaign-stophazaragenocide-reaches-10-million-tweets-78767/
--------
Taliban Ban Foreign Journalists on Misreporting Charge
Akmal Dawi
October 13, 2022
After imposing a series of restrictions on Afghan journalists, including mandatory face masks for female television anchors, the Taliban now appear to be targeting foreign journalists they deem biased and critical of their governance.
In the latest move, Taliban authorities banned Stefanie Glinski, a freelance journalist, from returning to Afghanistan. Glinski had covered Afghanistan for various international media outlets over the past four years and recently reported on the desire of some Afghan women to flee Taliban rule.
"The Taliban contacted me regarding my work. I was told that 'relevant [Taliban] departments have a few concerns' & that they want 'details.' I was also accused of making allegations when I had clearly stated that it's others making these allegations; I was simply reporting," Glinski wrote on her verified Twitter account on October 10.
Glinski said the Taliban sought information, via WhatsApp, about her sources, but she refused, fearing doing so would put her contacts at jeopardy and compromise her journalistic integrity.
"They told me that the government will be holding all sides accountable from now onwards, and anyone found breaking the law or unable to substantiate reports […] will be dealt with according to the law, which includes cancellation of visas & non-entry to Afghanistan," Glinski said on Twitter.
VOA reached out to Taliban chief spokesperson Zabihullah Mujahid and foreign ministry spokesperson Abdul Qahar Balkhi for comment, but neither answered his phone.
Lynne O'Donnell, a columnist for Foreign Policy magazine who was briefly detained by the Taliban in July, says she was "threatened, abused, detained, interrogated and forced to make false confessions, on Twitter & on video."
Speaking to VOA, O'Donnell condemned the Taliban as "liars, fantasists, murderers, drug dealers, and terrorists."
"Why would they want the truth of their method of staying in power through violence, arbitrary detention, torture and killing with impunity to be revealed to the world by journalists with integrity when their biggest aspiration is to gain the diplomatic recognition that would give them legitimacy?" she asked.
Rejecting O'Donnell's allegations, Taliban authorities have accused her of openly supporting anti-Taliban forces and "falsifying reports of mass violations" by Taliban forces.
In August, the Taliban also detained a Pakistani journalist working for an Indian channel when he was seen filming the site of a U.S. drone strike in Kabul where al-Qaida leader Ayman al-Zawahiri was killed.
An Indian journalist who did not want to be named told VOA she was fearful of the Taliban's new vetting and security procedures and had therefore delayed her return to Afghanistan.
Not surprising, no coincidence
"If visas have been stopped or withdrawn, it's hardly surprising," said Yvonne Ridley, a British journalist and author who was detained for 11 days by the Taliban in 2001 for illegally entering Afghanistan.
She said many countries, including the United States, deny visas to journalists suspected of biased reporting. U.S. officials have occasionally barred entry to journalists in recent years, such as a Yemeni journalist who was denied entry for a Pulitzer Prize ceremony in 2019.
Ridley said she recently visited Afghanistan without facing any restrictions.
"I managed to get access to all key ministers, and a main focus of my last trip was interviewing ordinary Afghan women who had never been given the chance to voice their opinions or views, ever," she told VOA.
The Taliban are widely condemned for their restrictions on women's education, livelihood and rights, but some Taliban officials, including high-profile Interior Minister Sirajuddin Haqqani, have sat for exclusive interviews with foreign female journalists.
Most foreign media outlets left Afghanistan immediately after the Taliban seized power last year. An exodus of Afghan journalists has ensued as hundreds of Afghan media personnel have left the country over the past year.
At least 215 of the country's 540 media outlets have closed because of financial, social and political problems since last year, according to Reporters Without Borders.
"Two female foreign journalists have been targeted [by the Taliban], and we don't think it's a coincidence," Pauline Adès-Mével, editor in chief of Reporters Without Borders, told VOA. "We consider it a big problem."
Holding power to account
Backed by foreign donors, Afghanistan had a vibrant media landscape and progressive press laws prior to the return of the Taliban to power last year.
While Taliban officials say they are committed to a free press within the boundaries of Islam, independent observers point to their actions in limiting media freedoms and the many restrictions the Taliban have imposed on journalists.
As access to facts becomes more difficult in Afghanistan, rumors and misinformation often distort descriptions of actual events in the country.
"Access to information is [a] basic and internationally recognized right of every human being, and that doesn't exempt Afghanistan," said Adès-Mével. She said an information blackout will not serve the Taliban.
Source: VOA News
Please click the following URL to read the full text of the original story:
https://www.voanews.com/a/taliban-ban-foreign-journalists-on-misreporting-charge/6789461.html
--------
Taliban say Afghanistan secure enough for big projects
12th October 2022
ISLAMABAD: The Taliban said Wednesday there is enough security across Afghanistan to restart major economic projects that stopped due to decades of war, despite a slew of attacks rocking the country since the group seized power more than a year ago.
The Taliban have struggled in their transition from insurgency and warfare to governing amid an economic downturn and the international community withholding official recognition.
Foreign aid stopped when the Taliban took over Afghanistan in August 2021.
World governments piled on sanctions, halted bank transfers and froze billions more in Afghanistan's currency reserves.
Taliban-appointed government spokesman Zabihullah Mujahid said Afghanistan has the opportunity to connect with the rest of the countries in the region, highlighting China as a key part of the nation's economic development.
"In the last Cabinet meeting, it was decided that the Silk Road, which will connect Afghanistan with China, must be built. This historic road can play a great role in the economy of the country," he said at a seminar about regional connectivity.
"It is a great opportunity, we have good security and it is the time to start major economic projects."
In March this year, Chinese President Xi Jinping gave his strong backing to Afghanistan, spotlighting Beijing's aspirations to play a leading role in Afghanistan following the withdrawal of USC forces.
Foreign Minister Wang Yi, at the same regional conference, led calls for the US to unfreeze Afghan assets held abroad and end sanctions on the government.
The Taliban's deputy prime minister, Abdul Salam Hanafi, said Afghanistan's role for the connectivity of countries in the region was very important.
"Afghanistan can play a great role in creating important corridors. We want to be connected to China through our Badakhshan province."
" The geopolitics and geostrategic position of Afghanistan could lead the country to play a positive role in linking neighboring countries in the region and beyond", he added.
He repeated the Taliban's assurances that the group would not allow anyone to use Afghan soil to stage attacks on other countries.
Source: New Indian Express
Please click the following URL to read the full text of the original story:
https://www.newindianexpress.com/world/2022/oct/12/taliban-say-afghanistan-secure-enough-for-big-projects-2507479.html
--------
North America
Witnesses of unsolved Mosque-area shootings in Oakland still search for answers
13 October, 2022
It has been around three weeks since a fatal shooting near a mosque in the northern California city of Oakland, and neighbours are still looking for answers.
The incident happened by the corner of 31st Street and Telegraph Avenue on the evening of 21 September, shortly after prayer time. The three shooting victims, two of whom died shortly after, were in front of a nearby restaurant Layalina, around the corner from the Oakland Islamic Center, when a masked man in an unlicensed car fired shots.
"I want answers as much as anyone," Ramzey Mohamed, a cashier at Layalina, told The New Arab. "This happens every day. But not here, not in this part of Oakland," he added, noting the contrast between the area where he works and what he's seen in other parts of the city.
On a sunny October day, the neighbourhood looks quiet and pleasant. On the major thoroughfare of Telegraph Avenue, which straddles Oakland and Berkeley, are bakeries, grocery stores, restaurants, schools and churches as well as medical buildings in the area, the namesake of the neighbourhood's name Pill Hill. There's even an office of the California Highway Patrol with law enforcement cars parked outside, one of many indications of a secure area.
Closer to the mosque are businesses catering to immigrants from the Middle East, with signs in both English and Arabic indicating translation services and immigration legal assistance, as well as colourful grocery stores.
Until last month, there were no apparent indications that a shooting would occur in this community. So far, there are no motives for the shooting. However, based on the CCTV footage from Layalina, the assailant appeared to be targeting the 19-year-old Yemeni American, who survived his shooting, while the other two men who died are believed to be bystanders, Mohamed said.
Mohamed grew up with the teen who survived the shooting, both children of Yemeni immigrants.
He continued to go about his business taking orders as he talked about the incident. He went back and forth between shrugging and expressing shock at what had happened. He then pointed out multiple bullet marks that remain dented on the restaurant's windows, TV sets and refrigerator.
Another witness to last month's violence was Hatim Nasser, an immigrant from Yemen, who works as the mosque's translator. He had known the two deceased older men - 59-year-old Belal Esa, an Ethiopian - for more than 20 years and 27-year-old Asam Al-Awjri, a Yemeni for around four years. After hearing the gunshots, Nasser ran to the scene while awaiting the police.
He has nothing but fond memories of his friends, who had been making their way from the mosque, where they had recently finished their evening prayers.
"It was very shocking because I was here. We were sitting here," Nasser told TNA while sitting in the mosque's garden. "It was a Monday and we'd sat down to eat. That's when we heard gunshots, so we all rushed to the corner." His friend died while he was trying to apply pressure to him to stop the bleeding.
Expressing a similar sentiment to others in the neighbourhood who never expected such violence to get this close, Nasser said, "To be honest, we hear gunshots coming from half a mile from here, but nothing this close. It's a nice area."
Though their area is considered relatively safe, Oakland itself has long had a high homicide rate. According to FBI statistics, Oakland has the third highest violent crime rate in California, after San Bernardino and ahead of Compton. In terms of total murders, Oakland comes in second in the state only after Los Angeles (which has around 10 times the population). At the same time, local media have noted a staffing shortage in local police as well as other reported homicides in Oakland within hours of the ones in front of Layalina.
"This is a moment, a nightmare, we haven't woken up from. We have a reminder every single day. He parked his car here. It's evidence," Nasser said.
Referring to the main assailant who remains at large, he said, "He will meet his fate, either here or in the afterlife. We feel like he killed all of us."
Source: The New Arab
Please click the following URL to read the full text of the original story:
https://english.alaraby.co.uk/news/witnesses-mosque-area-shootings-oakland-want-answers
--------
Pakistan, Saudi Arabia do not find mention in America's latest national security strategy
Anwar Iqbal
October 14, 2022
WASHINGTON: Pakistan and Saudi Arabia, once considered key US allies, are not even mentioned in the US National Security Strategy 2022, which identifies China as "America's most consequential geopolitical challenge".
The 48-page document, released on Wednesday evening, does mention terrorism and other geo-strategic threats in the South and Central Asian region, but unlike the recent past, it does not name Pakistan as an ally needed to tackle those threats. Pakistan was also absent from the 2021 strategy paper.
In Washington, the omission is seen as reflecting a mutual desire to build a separate US relationship with Pakistan. Islamabad has long complained that the United States views Pakistan only as a tool to counter threats from Afghanistan and other nations.
In recent statements, both the US and Pakistani officials emphasised the need to de-link Pakistan from both Afghanistan and India and give it the separate identity it deserves as a nuclear state of more than 220 million people.
Pakistan, Saudi Arabia do not find mention in Washington's latest national security strategy
The US officials have also acknowledged Pakistan's desire to maintain its close ties with China and that's why it's not seen as an ally in the US strategy to counter China's influence in the region.
Russia is mentioned as the second major threat to US global interests after China and is condemned for unleashing a "brutal and unprovoked war" on its neighbour Ukraine.
Russia and China are the only two nations that have their own chapters in the document.
The twofold strategy underlines pandemics, climate change, inflation, and economic insecurity as, as big a threat to US interests as growing competition with major powers like China and Russia.
"If we lose the time this decade, we will not be able to keep pace with most notably the climate crisis," the document warns.
The strategy also identifies Iran as a small, autocratic power acting in an aggressive and destabilising way.
India is identified as the world's largest democracy and a 'major defence partner', in realising Washington's vision of a "free and open" Indo-Pacific.
Saudi Arabia's absence from the document followed the Saudi-led oil cartel's decision to slash production by two million barrels a day, causing an increase in al­­r­eady-high gas prices in the United States.
"We are reevaluating the relationship with Saudi Arabia, and this is a relationship that has existed over decades," US National Security Adviser Jake Sullivan told reporters in Washington when asked to explain the absence.
US President Joe Biden was "doing so with the purpose of looking out for US interests and values as we think about the future of the US-Saudi relationship", Mr Sullivan added.
The document notes that the Biden administration "ended America's longest war in Afghanistan, and with it an era of major military operations to remake other societies".
But the document clarifies that the ad­­ministration would continue to maintain "the capacity to address terrorist threats to the American people as they emerge".
The strategy pledges to "ensure (that) Afghanistan never again serves as a safe haven for terrorist attacks on the United States or our allies" and warns Afghan­istan's de facto rulers that Washington will "hold the Taliban accountable for its public commitments on counterterrorism".
The document also notes that terrorist groups like "Al Qaeda, ISIS, and associated forces have expanded from Afghanistan and the Middle East into Africa and Southeast Asia".
Praising India as "the world's largest democracy", the document add that "the United States and India will work together, bilaterally and multilaterally, to support our shared vision of a free and open Indo-Pacific".
Source: Dawn
Please click the following URL to read the full text of the original story:
https://www.dawn.com/news/1714960/us-sees-china-not-russia-as-biggest-geopolitical-challenge
--------
Chartered Flight Carrying Over 300 Afghans Lands in Canada
By Saqalain Eqbal
13 Oct 2022
The Canadian government has announced that in its most recent move, it has relocated 326 Afghan citizens to Canada who were in Tajikistan, as part of its process of evacuating vulnerable Afghans.
A chartered flight from Dushanbe, the Tajik capital, relocated the aforementioned number of Afghan refugees to Canada, according to Sean Fraser, the Canadian Immigration Minister.
With the most recent Afghans relocated, Canada has relocated and hosted more than 21,700 Afghan nationals since mid-August of last year, according to Canada's top immigration official.
The Canadian Department of Immigration, Refugees and Citizenship reported that efforts to evacuate Afghans who are in need of assistance and are vulnerable are ongoing.
The Canadian government's move of relocating another batch of Afghan refugees from Tajikistan comes at a time as reports surface of the Tajik officials forcibly deporting Afghan refugees to Afghanistan.
The reports even prompted the famous Afghan singer, Farhad Darya, to write an open letter to the president of Tajikistan.
Source: Khaama Press
Please click the following URL to read the full text of the original story:
https://www.khaama.com/chartered-flight-carrying-over-300-afghans-lands-in-canada-57684/
--------
Biden seeking off-ramp after escalating tensions with Saudi Arabia: Expert
Michael Hernandez
14.10.2022
WASHINGTON
US President Joe Biden and his senior officials have for over a week grown increasingly furious with Saudi Arabia in a public row over global oil production cuts.
The president is now confronted with the reality of having to follow through on threats to impose consequences on the key US ally and "recalibrate" the bilateral relationship at a tenuous moment in American geopolitics.
Geoffrey Aronson, a non-resident scholar at the Middle East Institute think tank, said the Biden administration has set the stage for grand actions it is ill-prepared to take.
"They've now created an expectation that they have to do something even before they know what they're going to do, which is not the best position to be in," Aronson said during a telephone interview with Anadolu Agency. "I don't think that they have this grand design on sort of recapitalizing the US-Saudi alliance. I don't get a sense that there's a lot of inner direction here."
"I think they're just hoping that the focus goes away in the next weeks, as I'm sure it will, and they can try to maintain or restore the relationship so that it's out of the papers and off page one," he added.
Saudi Arabia, which chairs the OPEC+ cartel, voted last week in favor of reducing output by some 2 million barrels per day, and the White House alleged on Thursday that not only did it lend its support but worked diligently behind the scenes to ensure the bloc implemented them, pressuring other nations to fall in line.
National Security Council spokesman John Kirby said the US provided Saudi Arabia with data which he said showed there is no "market basis" for the drastic oil drawdown, adding that Saudi officials were well aware the reduction "would increase Russian revenues and blunt the effectiveness of sanctions."
The decision to reduce oil production has spiked oil prices and is tantamount to "moral and military support" for Russia's ongoing war against Ukraine, Kirby maintained.
"The country that benefits the most from this 2 million barrel cut is Russia because it does come down to supply and demand, and Russia obviously wants to keep the supply down so that demand drives the price up," he said. "We've been, I think, very candid and very clear about our concerns over this short-sighted regrettable decision."
Oil has remained a major lifeline for the Kremlin as it presses its invasion of Ukraine in defiance of economic and diplomatic pressure from the US and its allies.
The cut also comes just one month before the US holds midterm elections, with Democrats vulnerable to losing at least one chamber in Congress. Higher gas prices at a time of rampant US inflation are not likely to bolster their electoral prospects.
Saudi Arabia has denied its actions were politically-motivated, maintaining it was seeking to ensure market stability.
That explanation is likely correct, but the nadir that has come to define US-Saudi ties under Biden has made it "hard for either" Washington or Riyadh "to ask the other for a favor," said Aronson.
On Capitol Hill, key Sen. Bob Menendez has vowed to block all arms sales to the Kingdom in retaliation for the oil cuts, while a group of Democrats in the House of Representatives have introduced legislation to withdraw US troops and advanced air defense systems from Saudi Arabia.
While Biden has vocally criticized the Kingdom and warned of impending consequences, he has not telegraphed what form his response will take.
Complicating any action is the US's prevailing interest in presenting itself as a reliable partner for its Gulf Arab allies at a time when it is confronting a set of challenges around the world that the Biden administration has focused on addressing multilaterally, including Iran and Ukraine. By publicly ratcheting up tensions, "we're really shooting ourselves in the foot here," said Aronson.
"To the extent that the Americans want to be seen as a reliable ally who are there when problems are encountered and are there through times good and bad, I think the responses of these last few days certainly do not amplify that assessment," he said.
Source: Anadolu Agency
Please click the following URL to read the full text of the original story:
https://www.aa.com.tr/en/americas/biden-seeking-off-ramp-after-escalating-tensions-with-saudi-arabia-expert/2711342
--------
US slams as 'spin' Saudi denial OPEC+ cut was political
13 October 2022
The United States has slammed Saudi Arabia for insisting last week's output cut by the Organization of the Petroleum Exporting Countries and allies (OPEC+), in which Riyadh is a top producer, was economically rather than politically motivated.
"The Saudi Foreign Ministry can try to spin or deflect, but the facts are simple. The world is rallying behind Ukraine in combating Russian aggression," White House National Security Council spokesman John Kirby said in a statement on Thursday.
The oil-exporting alliance, which includes the 13 OPEC nations and 11 non-members including Russia, made the production cut announcement on Wednesday. The group agreed to cut output by 2 million barrels per day, equal to 2 percent of global supply.
Independent observers believe the Biden administration is worried that the decision to cut oil production will cause a gas price hike in the US ahead of the November midterm elections which Democrats are already set to lose to the Republicans.
The OPEC move was a large blow to the administration of Biden, who visited oil-rich Saudi Arabia on a July trip to appeal to Saudi Crown Prince Mohammed bin Salman.
In a statement on Thursday, Saudi Arabia's Foreign Ministry rejected as "not based on facts" claims that the slash in oil production was politically motivated against the US, saying that OPEC+ adopted the decision through consensus, took into account the balance of supply and demand and tried to curb market volatility.
"Saudi Arabia has viewed the statements... which have described the decision as the kingdom taking sides in international conflicts and that it was politically motivated against the United States," the Saudi foreign ministry said in the statement.
Saudi Arabia would "like to express its total rejection of these statements that are not based on facts and which are based on portraying the OPEC+ decision out of its economic context," it added.
The White House said on Tuesday that President Joe Biden was re-evaluating the US relationship with Saudi Arabia after the oil production cut.
"I think the president's been very clear that this is a relationship that we need to continue to re-evaluate, that we need to be willing to revisit," Kirby said in an interview with CNN. "And certainly in light of the OPEC decision, I think that's where he is."
The spokesman added that Biden is willing to work with Congress on the future of Saudi relations.
Bob Menendez, the Democratic chairman of the US Senate Foreign Relations Committee, on Monday, urged the country to freeze its cooperation with Saudi Arabia, including most arms sales, accusing the kingdom of helping to underwrite the Russian war in Ukraine.
"The United States must immediately freeze all aspects of our cooperation with Saudi Arabia, including any arms sales and security cooperation beyond what is absolutely necessary...," Menendez said.
Source: Press TV
Please click the following URL to read the full text of the original story:
https://www.presstv.ir/Detail/2022/10/13/690891/US-slams-as--spin--Saudi-denial-OPEC--cut-was-political
--------
India
Mob Attacks Mosque in Gurugram, Threatens Namazis With Expulsion from Village; Case Registered
OCTOBER 13, 2022
Amob of more than 200 people ransacked a mosque here in a village assaulting people who were praying inside and threatened to expel them from the village. Police have registered an FIR in the incident that happened in Bhora Kalan village Wednesday night, but no arrests were reported till Thursday evening. According to a complaint filed by Subedar Najar Mohammad, Bhora Kalan village has only four houses of Muslim families.
He said that the ruckus began Wednesday morning when a mob comprising about 200 people reportedly led by Rajesh Chauhan alias Babu, Anil Bhadoria, and Sanjay Vyas surrounded the mosque and entered the prayer hall where they threatened the namazis with expulsion from the village. In the night again, when we were praying inside the prayer hall in the mosque, the mob came and assaulted the namazis and even locked the prayer hall. They also threatened to kill us, the Subedar said in his complaint, according to police. police reached, the accused had fled.
Source: News18
Please click the following URL to read the full text of the original story:
https://www.news18.com/news/india/mob-attacks-mosque-in-gurugram-threatens-namazis-with-expulsion-from-village-case-registered-6160525.html
--------
Hijab ban: Muslim panel hails Justice Dhulia's verdict, asks Karnataka govt to withdraw case
Milan Sharma
New Delhi
Oct 13, 2022
By Milan Sharma: The All India Muslim Personal Law Board (AIMPLB) has praised Justice Sudhanshu Dhulia's observation in the hijab ban case, saying that his approach is in line with the Constitution and "ideals of individual freedom".
On Thursday, a two-judge bench of the Supreme Court gave a split verdict in the case of hijab ban in Karnataka's educational institutions. While Justice Hemant Gupta dismissed the appeals challenging the Karnataka High Court judgment which had refused to lift the ban, Justice Sudhanshu Dhulia held that wearing of hijab is a matter of choice and there shall be no restrictions its wearing anywhere in the schools and colleges of the state.
"Justice Dhulia has focused on promoting girls' education and removing barriers to their education—an aspect that is certainly welcomed and is missing from Justice Hemant Gupta's judgment," AIMPLB said in a statement.
The Muslim panel further requested the Karnataka government to withdraw its order on hijab.
"The government should note that women's education in India, particularly among the Muslim community, is already receiving inadequate attention. The government should not support any measure that creates obstacles in women's education. Rather, the government must support a harmless practice, evidently significant to these young girls, and abstaining from it puts these girls in an uncomfortable situation," the AIMPLB statement read.
While hearing a batch of petitions challenging the Karnataka High Court order, Justice Hemant Gupta referred to the Karnataka government's February 5 order which banned wearing clothes that "disturb equality, integrity, and public order in schools and colleges".
"Accordingly, I do not find that government order impinges on the constitutional promise of fraternity and dignity. Instead, it promotes an equal environment where such fraternal values can be imbibed and nurtured without any hindrance of any kind," Justice Gupta noted.
On the other hand, Justice Dhulia not only quashed the high court verdict but also criticised the February 5 government order.
"Under our constitutional scheme, wearing a hijab should simply be a matter of choice. It may or may not be a matter of essential religious practice, but it still is, a matter of conscience, belief, and expression," he said.
Source: India Today
Please click the following URL to read the full text of the original story:
https://www.indiatoday.in/india/story/hijab-ban-muslim-panel-hails-justice-dhulias-verdict-asks-karnataka-govt-to-withdraw-case-2284988-2022-10-13
--------
Fresh Suit By Vishwa Vedic Sanatan Sangh-Backed Social Worker Seeks Worship Of Deities At Gyanvapi Mosque Compound
Oct 13, 2022
VARANASI: A Vishwa Vedic Sanatan Sangh-backed social worker, Prabhu Narain, filed an application in the court of civil judge senior division (fast-track court) here on Thursday, seeking regular worship of deities in the Gyanvapi mosque compound.
On the other hand, Anjuman Intezamia Masajid (AIM), the Gyanvapi mosque management committee, completed its arguments in the same court while challenging the maintainability of another VVSS-backed petition that seeks ban on entry of Muslims in the Gyanvapi mosque, handing over Gyanvapi premises to the Hindus and permitting regular 'puja-archana' (worshipping) of Lord Aadi Visheshwar — the 'shivling' claimed to have been found in ablution pond of Gyanvapi mosque during court commission survey on May 16.
Additional district government counsel (civil) Sulabh Prakash said that after hearing the application of Prabhu Narain, the court reserved its order. "On the issue of maintainability of VVSS suit seeking banning entry of Muslims in Gyanvapi and other reliefs, the FTC fixed October 15 for further hearing," he added.
VVSS chief Jitendra Singh Visen said that social worker Prabhu Narain of Ranchi in Jharkhand "filed the suit with scientific base and historical evidences". Anupam Dwivedi, one of the VVSS lawyers, said: "Prabhu Narain is a noted environmentalist and chairman of the Centre for Science and Indian Philosophy."
He added, "In his suit, Prabhu Narain has demanded the right for regular worshipping of Lord Aadi Visheshwar, Shringar Gauri, Lord Ganesh, Lord Hanuman and other deities in Gyanvapi, removal of upper construction erected illegally over the temple and restoration of the heritage of the temple."
"Reliefs sought by Prabhu Narain have similarities with other petitions already filed by the VVSS, but his scientific and historical evidence will prove impossible to be challenged by the AIM," Dwivedi added.
The VVSS had come to limelight by supporting Rakhi Singh, the niece of Visen who is plaintiff no. 1 in the case 18/2022 Rakhi Singh vs state of UP and others in which five Hindu women have sought right to worship Shringar Gauri and other deities in Gyanvapi compound.
During court commission survey ordered in this case, the plaintiffs had claimed that a 'shivling' was found in the ablution pond of Gyanvapi mosque on May 16. Later, the court had rejected AIM's application challenging the maintainability of case no. 18/2022 and regular hearing was started in the matter.
Source: Times Of India
Please click the following URL to read the full text of the original story:
https://timesofindia.indiatimes.com/city/varanasi/fresh-suit-seeks-worship-of-deities-in-gyanvapi-mosque-compound/articleshow/94842896.cms
--------
Two nabbed in Tumakuru for burning Muslim religious flag
14th October 2022
TUMAKURU: Police have arrested two youth for setting fire to a religious green flag that was put up at a circle in Sira town during Eid Milad recently. Following the incident, members of the Muslim community staged a protest demanding action against the miscreants. Ramesh and Deviprasad, who do menial jobs, have been arrested and sent to judicial custody.
Source: New Indian Express
Please click the following URL to read the full text of the original story:
https://www.newindianexpress.com/states/karnataka/2022/oct/14/two-nabbed-in-tumakuru-forburning-muslim-religious-flag-2507952.html
--------
J&K: NIA conducts searches in drone delivery case
Oct 14, 2022
NEW DELHI: The National Investigation Agency on Friday conducted searches at multiple locations including the Poonch district in Jammu and Kashmir in connection with a drone delivery case.
According to the NIA, no detentions in the matter have been made so far.
In the past nine months, security forces have observed the illegal entry of 191 drones into Indian territory from neighbouring Pakistan, raising major concerns in terms of internal security in the country.
The central government recently shared the input from the security forces deployed at the India-Pakistan border to maintain such illegal attempts from the Pakistan side.
In the early hours today, troops of the Border Security Force (BSF) shot down a drone that entered India in Punjab's Gurdaspur sector from the Pakistan side on the International Border.
It is pertinent to mention that in the past nine months the army personnel have observed 191 drones, of which 171 entered into Indian territory through the India-Pakistan border along the Punjab sector while 20 were seen in the Jammu sector, a document accessed by the ANI mentioned.
As per the document, the "UAV (Unmanned Aerial Vehicle) observation in Indo-Pak border was seen in Punjab and Jammu frontier with effect from January 1, 2022, to September 30, 2022".
The document further revealed that most of these drones or UAVs managed to flee while a total of seven have been shot down by the Border Security Force (BSF) personnel, who have been deployed along the India-Pakistan border to keep a tab on such illegal activities being orchestrated by Pakistan's Inter-Services Intelligence.
Officials in the BSF told ANI that the drones are being used by Pakistan's side to transport weapons, explosives and narcotics across the international border in Jammu and Punjab from Pakistan.
The increased drone activity across the border was brought to the notice of Union Home Minister Amit Shah in the security review meeting in Srinagar recently with top security and intelligence chiefs in attendance. While BSF, which means the international border with Pakistan in the Jammu sector, believes that it has been able to repel drones carrying arms, ammunition and explosives from Pakistan, the state police and the intelligence agencies differ with this assessment.
The security forces have seized various AK series assault rifles, pistols, MP4 carbines, carbine magazines, high explosive grenades as well as narcotics which were transported into Indian territory from Pakistan from the drones shot down so far.
As per security agencies, BSF intelligence inputs and Jammu and Kashmir Police officials, the drones are also used to drop packets of Afghan heroin for financing terror operations in the Valley and Punjab.
It is learnt that the group behind the transportation of weapons, explosives and drugs is Pakistan-based Lashkar-e-Taiba and other terror outfits which has camps across the International Boundary and is backed by ISI.
The Home Ministry is learnt to have directed the concerned agencies to find out a solution to stop drone activities and meanwhile security agencies and law enforcement forces are asked to keep a special watch on such movements.
According to the document accessed by ANI, the seven drones that were shot down by the BSF troops between January 1 to September 15 were observed in Punjab's Amritsar, Ferozpur and Abohar regions.
As per inputs, the first drone was shot down by the BSF on January 18 in Punjab's Amritsar near Havelian Border Out Post (BoP). The BSF personnel on February 13 again shot down another drone soon after it entered Indian territory and was observed near CB Chand BoP in Amritsar. The BSF personnel also shot down two drones on March 7 and March 9 in Ferozpur's TJ Singh and Amritsar's Havelian BoPs respectively.
Source: Times Of India
Please click the following URL to read the full text of the original story:
https://timesofindia.indiatimes.com/india/jk-nia-conducts-searches-in-drone-delivery-case/articleshow/94853219.cms
--------
Want normal ties also with Pakistan: Meenakashi Lekhi at international meet
Oct 14, 2022
India said on Thursday that it desired normal relations with all its neighbours, including Pakistan, and advised Islamabad to create a conducive atmosphere, including by taking "credible, verifiable and irreversible actions" to stop cross-border terrorism against it and enable the two countries to engage and address issues bilaterally. Junior minister for external affairs Meenakashi Lekhi described Pakistan as the "global epicentre of terrorism".
Source: Times Of India
Please click the following URL to read the full text of the original story:
https://timesofindia.indiatimes.com/india/want-normal-ties-also-with-pakistan-meenakashi-lekhi-at-international-meet/articleshow/94846566.cms
--------
Pakistan rakes up J&K at UN vote on Russia, India strikes back
Oct 14, 2022
NEW DELHI: Pakistan, which abstained from voting on the United Nations general assembly (UNGA) resolution slamming Russia, raised the J&K issue in explanation of its stance while talking about right to self-determination. Indian ambassador Ruchira Kamboj responded, as she delivered India's own explanation, by slamming Pakistan for making frivolous and pointless remarks and reiterating that J&K will remain an integral and inalienable part of India.
Kamboj also called upon Pakistan to stop cross-border terrorism "so that our citizens can enjoy their right to life and liberty".
"We have witnessed unsurprisingly yet again an attempt by one delegation to misuse this forum and make frivolous and pointless remarks against my country. Such statements deserve our collective contempt and sympathy for a mindset which repeatedly utters falsehoods," she said.
"It's important, however, to set the record straight. The entire territory of Jammu and Kashmir is and will always be an integral and inalienable part of India irrespective of what the representative of Pakistan believes or covets" she added.
Source: Times Of India
Please click the following URL to read the full text of the original story:
https://timesofindia.indiatimes.com/india/pakistan-rakes-up-jk-at-un-vote-on-russia-india-strikes-back/articleshow/94846194.cms
--------
Religious freedom should not be used to promote 'separatism', says BJP
Oct 14, 2022
NEW DELHI: Asserting that it will always be opposed to students wearing hijab or any dress other than uniforms in schools, BJP on Thursday said religious freedom should not be used to promote "separatism" and referred to the protests against head scarves that have rocked Iran.
"Uniform in schools is meant to promote uniformity among students. I believe that separatism is promoted in the garb of issues like the promotion of the burqa or hijab. This mindset was the reason behind India's partition. This separatism progressively morphs into extremism which can be a source of terrorism," said party general secretary C T Ravi who is from Karnataka.
While Ravi said that it would not be appropriate for him to comment on SC's split verdict on the insistence of a section of Muslims that girls from the community had the constitutional right to wear hijab in classrooms, he maintained that he would speak against the separatist mindset now being promoted in the garb of the demand for the right to wear hijab when the rules requiring students to wear uniform in Karnataka school has been in force since 1965.
Source: Times Of India
Please click the following URL to read the full text of the original story:
https://timesofindia.indiatimes.com/india/religious-freedom-should-not-be-used-to-promote-separatism-says-bjp/articleshow/94846013.cms
--------
UP: DGP seeks report on Sultanpur clashes, Muslim clerics claim bias
13th October 2022
Lucknow: The Uttar Pradesh Director General of Police (DGP) has sought a report in connection with clashes in Sultanpur after some clerics alleged that action was being taken against one side.
The police have booked 55 people and arrested 30 in connection with the clashes during a procession for Durga idol immersion in Sultanpur on Monday.
At least 12 people have suffered minor injuries in the incident.
Cleric Maulana Mehatrul Islam said that those booked in the case were mainly from the minority community.
Police have charged the accused with an attempt to murder and registered a case under relevant sections of the Indian Penal Code (IPC) and the Uttar Pradesh Recovery of Damages to Public and Private Property Act, 2020.
Superintendent of Police, Sultanpur, Somen Barma said, "On the basis of CCTV footage and video clips of the incident, 55 people have been identified of whom 30 have been arrested. The arrested persons include the principal and maulvi of a madrassa who had reportedly incited the mob to hurl stones at the procession."
The officer said that the statements of residents present at the spot would also be recorded. Cops are also making efforts to identify the people whose vehicles got damaged during the violence and get their cases registered.
"Both sides were party to the violence," he said.
Around 6 p.m. on October 10, at least 50 people were taking out a procession for Durga idol immersion. When the procession reached the Ibrahimpur locality, members of the minority community objected to the loud music and asked the members of the procession to lower the volume as they were offering 'namaz'. An argument ensued which resulted in a clash between the two groups.
Background of the Case
The incident dates back to October 10 when members of the Hindu community took out a procession on the occasion of Durga Puja. As the procession passed by a mosque, members of the Muslim community requested the crowd to lower the volume of the music.
The crowd refused to lower the volume, sparking clashes and stone pelting between the two groups. As per witnesses from the Muslim community, a few Hindu men brandishing swords barged into the mosque, vandalised it, and set it ablaze. The Hindu crowd beat up and injured several Muslim men over the issue.
A house belonging to Muslims was also damaged. Following the incident, the police took action.
However, among 52 persons booked for violence, 51 were Muslims and one was an unarmed person. It is to be noted that so far, 10 Muslims have been detained in connection with the violence.
Source: Siasat Daily
Please click the following URL to read the full text of the original story:
https://www.siasat.com/up-dgp-seeks-report-on-sultanpur-clashes-muslim-clerics-claim-bias-2432918/
--------

Arab World
Saudi envoy urges UN Security Council to designate Houthis as terrorists
EPHREM KOSSAIFY
October 14, 2022
NEW YORK CITY: Saudi Arabia on Thursday called for the Iran-backed Houthi militia in Yemen to be officially designated as a terrorist group, for it to face an international boycott, and for its funding sources to be blocked.
While reiterating its commitment to the international efforts to end the war in Yemen, the Kingdom also said it reserves the right to defend itself should the militia resume attacks on Saudi targets.
"We will spare no effort to deter these hostile acts against us," Abdulaziz Al-Wasil, the Kingdom's permanent representative to the UN, said during a Security Council meeting to discuss the latest developments in the war-ravaged country.
A truce, which had been in place since April and was extended twice, expired on Oct. 2 despite intensive diplomatic efforts to renew and expand the agreement.
The failure to extend the ceasefire was blamed on what council members described as "additional maximalist demands" on the part of the Houthis that could not be met.
The latest proposal that Hans Grundberg, the UN's special envoy for Yemen, submitted to all parties before the truce expired included a six-month renewal period, the payment of salaries and pensions to civil servants, the reopening of certain roads in Taiz and other governorates, the addition of more destinations for flights from Sanaa airport, the unhindered entry of fuel ships to Hodeidah port, a commitment to the release of detainees as a matter of urgency, and the strengthening of deescalation mechanisms through the auspices of the Military Coordination Committee.
The longer renewal period of six months, compared with the previous two-month extensions, was designed to provide time for negotiations to begin on an indefinite ceasefire, the resumption of an inclusive political process, and wider economic issues.
"I appreciate the position of the Government of Yemen on engaging positively with my proposal and I regret that Ansar Allah (the official name for the Houthis) came up with additional demands that could not be met," said Grundberg.
He urged all parties to "demonstrate the leadership and flexibility required to reach an extended and expanded agreement."
Reiterating his "appreciation for the continued steadfast support" of the Security Council, as well as that of Saudi Arabia and Oman, Grundberg said that the achievements and benefits of the truce should not be underestimated.
Implemented after eight years of conflict, he said, the truce had brought the longest period of calm yet to Yemen, during which there had been no major military operations and a 60 percent decrease in civilian casualties.
It also meant that Sanaa airport was able to reopen, allowing more than 27,000 people to travel abroad for medical attention, education or business. In addition, more than 1.4 million tons of fuel were delivered to Hodeidah's port during the period of the truce, more than three times the amount that arrived during the whole of 2021.
Face-to-face meetings, under the auspices of the UN, of the parties involved in the conflict also took place to discuss military de-escalation and the reopening of roads in Taiz and other governorates.
Ambassador Al-Wasil told the Security Council: "We have all borne witness on Oct. 2 to the rejection by the Houthi militia of (Grundberg's) proposal.
"This rejection was no surprise for those who are aware of the nature of this extremist terrorist militia that has taken the Yemeni people hostage, is controlling their fate and exposing entire Yemeni generations to the risks of war and armed conflict, putting at the forefront their extremist ideological interests.
"Hence the threats to peace and stability in the region and Yemen continue and hamper a peaceful settlement (there)."
The Saudi envoy said a group that is rejecting a peace proposal, hampering international efforts to repair the stricken Safer oil tanker that threatens to cause an unprecedented environmental disaster in the Red Sea, laying mines and trafficking illegal weapons, confiscating shipments of humanitarian supplies, and targeting the infrastructures of neighboring states through drone attacks "is not a peaceful group and does not care about the suffering of the Yemeni people. This is a terrorist group under the terms of the Security Council Resolution 2624."
He added: "Although the proposals to extend the truce might in some way be partially in favor of the Houthis, the Security Council accepted them for the Yemeni people. The international community welcomed this step forward. My country has also supported the efforts of the special envoy to achieve the truce — with other countries and members of the coalition, the United States, the UK and other countries — all to achieve a comprehensive political agreement solution in Yemen.
"But let us recall that the Houthi militia had already violated the truce on several occasions. They refused to put the revenue from oil tankers in the special account to pay civil servants' salaries. They also organized military parades in Hodeidah, which is a flagrant violation of the Stockholm agreement. It also continues to besiege Taiz.
"So as we have run out of efforts — the Houthi militia are rejecting any efforts to achieve a peaceful settlement, (they) are insisting on defying the cause for peace and stability in Yemen — it falls to the international community, and the Security Council in particular, to reassess this extremist group that is taking the future of Yemen hostage."
Richard Mills, the US deputy permanent representative to the UN, said "It is our responsibility as the Security Council to be clear, clear about why Yemen has diverted from the path to peace: It is because of the actions of the Houthis, who failed to accept the UN truce proposal and whose inflammatory threats to commercial enterprises are an offense to the entire international community.
"It is the Houthis who must take action to prevent further suffering and enable even greater benefits for Yemenis under an expanded truce agreement. They have a moral responsibility not to deprive Yemenis of these benefits, including salary payments for nurses and teachers and tens of thousands of other civil servants who have not been paid in years."
As he expressed appreciation for the "commitments of the Yemeni Government and Saudi Arabia to maintain the terms of the truce and to exercise restraint during this sensitive period," the American envoy implored the Houthis to do the same.
Mills also praised "the strong commitment of regional partners such as Oman, Saudi Arabia and others to ending the devastating cycle of destruction in Yemen and to bring in new opportunities to that country."
He urged the Houthis to "cease rhetoric threatening commercial shipping and oil companies in the region. Such threats are unacceptable and even a small incident or provocation could have an outsized impact on Yemen's future."
Source: Arab News
Please click the following URL to read the full text of the original story:
https://www.arabnews.com/node/2180741/saudi-arabia
--------
Saudi Arabia condemns Russia's annexation moves inside Ukraine
13 October, 2022
Saudi Arabia's representative to the UN has condemned Russia's annexation of four regions inside Ukraine, calling on all countries to abstain from using force.
On Thursday, Riyadh, along with 142 other member states, voted in favor of a UN resolution that called out Russia's annexation moves.
Syria, Nicaragua, North Korea, Belarus and Russia voted against the resolution, while another 35 countries abstained from voting.
Abdulaziz Alwasil, the Saudi representative to the UN, said the vote cast by the Kingdom was in line with its position of "upholding the principles enshrined in the Charter of the United Nations."
"All countries must abstain from the use of force," he added.
A statement from the Saudi government said the Kingdom had "clearly and repeatedly" expressed its position to uphold international law, the UN Charter, and the sovereignty and territorial integrity of states, "including Ukraine."
The statement cited Saudi Arabia's March vote in support of UN Resolution ES-11/1, which called for a full withdrawal of Russian forces from Ukraine, as well as its mediation efforts to find a peaceful resolution to the Russian invasion.
Saudi Arabia has supported humanitarian relief efforts, providing $10 million worth of aid to Ukrainian refugees in Poland. Crown Prince Mohammed bin Salman also played a central role in mediation efforts that successfully resulted in the release of 10 prisoners of war (POWs), including two Americans.
Source: Al Arabiya
Please click the following URL to read the full text of the original story:
https://english.alarabiya.net/News/gulf/2022/10/13/Saudi-Arabia-condemns-Russia-s-annexation-moves-inside-Ukraine
--------
Lebanon MP sanctioned by US says he played behind-the-scenes role in border talks
13 October, 2022
A leading Lebanese politician who is sanctioned by the United States said on Thursday he played a behind-the-scenes role in US-brokered talks to delineate Lebanon's maritime boundary with Israel by liaising with Hezbollah.
Gebran Bassil, a Christian member of parliament and former minister, was sanctioned in 2020 for alleged corruption and material support to Hezbollah but denies the accusations.
He told Reuters in an exclusive interview on Thursday that despite the sanctions, he was personally involved in US-mediated negotiations to draw the sea border between Lebanon and Israel.
"It's only normal that I have a role. Everybody knows this - it's my obligation and it's my duty," he said in his office on the outskirts of Beirut. "I can link politically with the parties inside and outside... and clearly, we succeeded."
If finalized, the maritime border agreement - hailed by all three parties as a historic achievement - would mark a diplomatic departure from decades of war and hostility as well as opening the door to offshore energy exploration.
Bassil declined to say specifically what kind of role he played, but did say he was in touch with Hezbollah, the powerful armed Iran-backed militia that is a sworn enemy of Israel.
"I was in direct and continuous contact with many people – Hezbollah, others than Hezbollah," he said, describing the Iran-backed armed militia's role as "positive."
There was no immediate response from the United States government or from Hezbollah to requests for comment.
Bassil's Free Patriotic Movement is Hezbollah's top Christian ally, and he has credited the armed group for the leverage they offered Lebanon in the negotiations process.
He said his involvement in the file was not an effort to wipe his name of the US blacklist.
"This has nothing to do with the sanctions. Not at all. The sanctions will be removed because they are unfair," he said.
Bassil said he was already undergoing an appeals process in the United States by reaching out to the Treasury Department and demanding details on the US government's file on him through a Freedom of Information Act request.
The American ambassador to Lebanon Dorothy Shea earlier told Reuters that Bassil had not requested sanctions be lifted in exchange for political overtures, including helping secure a maritime border agreement.
"It's not how sanctions work. We're not that cheap," Shea said.
Source: Al Arabiya
Please click the following URL to read the full text of the original story:
https://english.alarabiya.net/News/middle-east/2022/10/13/Lebanon-MP-sanctioned-by-US-says-he-played-behind-the-scenes-role-in-border-talks
--------
New details found in Syria on missing ISIS hostages: Rights group
13 October, 2022
New details on the ISIS extremist group's former detention centers for foreign hostages in Syria and on grave sites offer clues on where victims may be buried, a rights group said Thursday.
The US-based Syrian Justice and Accountability Center (SJAC) said it had managed to pinpoint the exact locations of seven detention facilities once run by the extremist group.
It said it had identified three potential burial grounds after monitoring US court proceedings against a member of the notorious ISIS kidnap-and-murder cell dubbed "the Beatles."
The four-member cell, named after the pop band by their captives because of their British accents, was allegedly involved in the abductions of at least 27 people in Syria from 2012 to 2015.
The hostages, some of whom were released after their governments paid ransoms, were from at least 15 countries, including the United States, Denmark, France, Japan, Norway and Spain.
The ISIS tortured and killed their victims, including by beheading, and released videos of the murders for propaganda purposes.
The rights group said that, to corroborate information and trace hostage movements, it conducted further interviews with former hostages, victims' relatives and a second ISIS "Beatles" member who pleaded guilty in the United States.
Information collected during the proceedings "provided evidence regarding the possible resting sites for both foreign and Syrian hostages known to be executed," the report said.
"Executions and burials often occurred at some distance from detention centers," in some cases less than a mile away, it added.
Two potential grave sites are believed to be located south of Raqa city, once the ISIS group's de facto Syria capital, SJAC researcher Gabriel Young said.
A third potential burial spot was identified in Idlib province, now Syria's last major opposition bastion, he told AFP.
The rights group said it would conduct further investigations into the sites to confirm whether they contain corpses.
In March, a US trial opened against "Beatles" member El Shafee Elsheikh, who is accused of involvement in the murders of American journalists James Foley and Steven Sotloff and relief workers Peter Kassig and Kayla Mueller.
Source: Al Arabiya
Please click the following URL to read the full text of the original story:
https://english.alarabiya.net/News/middle-east/2022/10/13/New-details-found-in-Syria-on-missing-ISIS-hostages-Rights-group
--------
Iran intensifies crackdown on Kurdish areas as protests rage
October 13, 2022
DUBAI: Iranian security forces stepped up their crackdown on Kurdish regions of the country overnight, deploying shock troops, as authorities pursued their deadly suppression of nationwide protests sparked by Mahsa Amini's death in police custody.
Nearly four weeks after Amini, a 22-year-old Iranian Kurd, was detained in Tehran for "inappropriate attire," the protests show no sign of abating in a bold challenge to Iran's clerical rulers, even if the unrest does not seem close to toppling them.
The unrest has underlined pent-up frustrations over freedoms and rights in Iran, with many women joining in. The deaths of several teenaged girls reportedly killed while demonstrating have becoming a rally cry for more protests.
Iran deployed members of the Basij militia, troops which have been at the forefront of repressing popular unrest, in Kurdish areas where seven people were killed in protests overnight.
Videos on social media which Reuters could not verify showed what appeared to be Basij beating protesters in Kurdish areas.
Two sources in Sanandaj, capital of Kurdistan province, told Reuters that Basij members, along with riot police, were attacking demonstrators.
A witness told Reuters hundreds of riot police and Basij forces have been transferred from other provinces to Kurdistan to confront protesters.
"A few days ago some Basij members from Sanandaj and Baneh refused to follow orders and shoot the people," said the witness.
"In Saqez the situation is the worst. Those Basiji forces just shoot at people, houses, even if there are no protesters."
Basij volunteers, affiliated to the elite Revolutionary Guards, may number in the millions, with 1 million active members, analysts say.
Although the latest protests have persisted for weeks, the Iranian authorities have experience of quelling much longer bouts of unrest. In 2009, nationwide demonstrations that erupted over a disputed election lasted for about six months before finally being brought under control.
While many officials have struck an uncompromising tone, a top adviser to Supreme Leader Ayatollah Ali Khamenei has been cited as questioning whether police should be enforcing headscarf-wearing — rare criticism of state efforts to impose the hijab.
Human rights groups have reported more than 200 killed in the crackdown on the protests, which have been particularly intense in Kurdish regions where security forces have put down unrest by the Kurdish minority in the past.
A source in Sanandaj told Reuters riot police were searching houses and arresting dozens of young people, describing the situation as very tense with hundreds of police officers on the city's streets.
"We have information from Baneh and Saqez as well. They have arrested dozens of young people since yesterday, including teenagers," added the source, who declined to be identified because of fears for their safety.
Rights group Hengaw, which reports on Iran's Kurdish regions, said protesters in 10 cities had confronted "security forces' intense violence" on Wednesday night.
In the city of Kermanshah, direct fire from security forces killed two people, Hengaw said. It posted a picture of the body of an 18-year-old man it said was one of the dead.
A video posted on social media from Kermanshah late on Wednesday showed a fire burning in the road. "Kermanshah is hell, it's war, it's war," a voice can be heard saying.
Three members of the security forces were also killed in Kermanshah and around 40 more injured, Hengaw said.
It said a fourth member of the security forces was killed in Mahabad, and firing by security forces killed another person in Sanandaj.
Officials have denied that security forces have fired on protesters and have previously reported around 20 members of the security forces killed during the nationwide unrest.
Reuters could not independently verify the videos and reports.
Iran's Kurds are part of an ethnic minority spread between several regional states whose autonomy aspirations have also led to conflicts with authorities in Iraq, Syria and Turkey.
TOUGH SENTENCES
While officials have blamed violence on ethnic separatists — the Revolutionary Guards have attacked Kurdish Iranian dissident bases in neighboring Iraq — protesters' chants have stressed unity against Islamist rule and called for Khamenei's downfall.
During the protests, many women have been publicly removing, waving and burning the headscarves they are required to wear under Iran's conservative dress codes that led to Amini's arrest.
Khamenei adviser Ali Larijani, a former parliament speaker, said "if 50 percent of our country's women do not practice wearing a full hijab, then the police should not be involved."
"The question here is this: Should the government interfere in all matters such as this one?" he told the Ettela'at daily.
Security forces arrested three human rights lawyers who were protesting in front of the Bar Association in Tehran on Wednesday, lawyer Saeid Dehghan said.
While Iran has used force to crack down on the unrest, there has been no sign yet of the Revolutionary Guards — an elite force — being deployed.
Iran's top judge said he had ordered tough sentences for the "main elements of riots," a semi-official news agency reported.
"I have instructed our judges to avoid showing unnecessary sympathy ... and issue tough sentences for them while separating the less guilty people," Gholamhossein Mohseni Ejei was quoted as saying.
Source: Arab News
Please click the following URL to read the full text of the original story:
https://www.arabnews.com/node/2180506/middle-east
--------
18 Syrian army personnel killed in terrorist bomb attack near capital Damascus
13 October 2022
At least 18 Syrian government soldiers have been killed and more than two dozen others injured in a terrorist bomb attack near the capital Damascus.
The deadly attack occurred on Thursday, when an explosive device attached to a military bus in Damascus countryside went off, killing 18 soldiers and wounding 27 others, Syria's official news agency SANA reported.
"A military bus in Damascus countryside was targeted this morning by a terrorist detonation with an explosive device that was planted in advance," SANA said, citing a military source.
The terrorist attack is considered to be one of the deadliest ones in months against Syrian government troops not on an active front line.
Attacks in particular have been on the rise, including in the Damascus countryside.
There were no immediate claims of responsibility for the attack, but such assaults bear the hallmark of Takfiri terror factions, particularly the Daesh terrorist group, which was defeated in the Arab country but its remnants launch sporadic attacks against civilians and government troops.
Since 2011, Syria has been gripped by foreign-backed militancy, leading to the emergence of Daesh and other terrorist groups in the Arab country.
The Syrian government has repeatedly condemned the US and the EU for waging economic terrorism on the country through their unilateral sanctions, holding them responsible for the suffering of the Syrian people, especially now that the country is grappling with a deadly coronavirus outbreak.
Source: Press TV
Please click the following URL to read the full text of the original story:
https://www.presstv.ir/Detail/2022/10/13/690888/Syria-bomb-attack-bus-Damascus-Daesh
--------
Mideast
Turkish imam loses his job over lyrics criticizing government
Pinar Tremblay
October 13, 2022
Turkey's official religious body demoted an imam over a protest song he wrote and sang, in a move critics say is another indication of the government's increasingly blatant intolerance of any sort of criticism ahead of parliamentary and presidential elections.
"They see there is bribing — still they don't say anything. There is no justice, no morals; they are keeping their silence," Imam Fatih Ardic, who has worked in Turkey's western province of Manisa, wrote in his song without knowing these lyrics would cost him his job.
The video clip of the song, which was released on YouTube in the summer, quickly became popular. The song was even aired by one of Turkey's public broadcasters, TRT radio.
Yet the Religious Affairs Directorate (the Diyanet) launched an investigation into Ardic in early October over the song, titled "Is it permissible hodja?" Last week, Ardic was relocated to another province as a janitor.
Defending his position, Ardic said that he could not "remain silent in face of injustice, lawlessness and financial hardships in Turkey as a religious official."
Ardic also recounted that he was questioned for more than three hours over the song "as if I was a top wanted criminal" by the chief inspectors dispatched by the Diyanet for the investigation. They asked him several questions, including whether it was appropriate for a religious man to make music.
The imam said he was even held responsible for comments made on YouTube under his video clip.
According to analysts, the demotion of the imam came as another sign of growing intolerance among the government's rank, particularly ahead of critical elections set to be held in June.
"Islamists aim that Islam rules all aspects of life, including politics. The demotion of Ardic seems like a contradiction with religion. But it is only conflictual in one aspect. Islam also advises that Muslims form a strong unity. The advice is to be forgiving and understanding of the in-group but stern against the enemies. This is where Ardic failed," Birol Baskan, political scientist and nonresident scholar at the Middle East Institute, told Al-Monitor. he said. "However critical he might be, he should not voice criticism."
Yet Ardic's demotion could also trigger a backlash from the public.
According to Baskin Oran, professor emeritus of international relations, the government seems to be aiming to consolidate its voter base by silencing any views that could construct criticism toward it.
Source: Al Monitor
Please click the following URL to read the full text of the original story:
https://www.al-monitor.com/originals/2022/10/turkish-imam-loses-his-job-over-lyrics-criticizing-government
--------
Mission to UN: Iran Left with No Choice But to Eradicate Terrorism in Iraq
2022-October-13
The Permanent Mission of Iran to the United Nations sent a letter to the head of the Security Council to elaborate on Tehran's reasons for its recent military operation against terrorist groups in Northern Iraq, explaining that terrorists have used Iraqi territory to carry out armed attacks against civilians and Iran's infrastructure.
Iran's Permanent Mission to the UN responded to criticism and "unsubstantiated claims" directed, during an earlier meeting of the body, at Tehran's retaliatory military operations on terrorist positions in Northern Iraq.
The mission in its letter explained that Iran was left with no choice but to uphold its rights and give a proportionate response to terrorist attacks following destructive measures by terror groups against Iran's national security and its people, as well as the failure to heed Iran's repeated warnings.
The letter said that diplomacy did not work in the case, and added separatist terror groups in the Iraqi Kurdistan Region "have continued to use Iraqi territory to conduct armed and terrorist attacks against civilians and Iran's vital infrastructure".
The terror groups, the letter added, exploited peaceful protests in Iranian cities to incite violent riots and organize sabotage operations in the country.
It said despite Iran's repeated warnings and diplomatic communications, neither Iraq's federal officials nor local Kurdish authorities "have taken effective and concrete measures to comply with their international obligations".
"Under these conditions and considering the ongoing terrorist attacks, the Islamic Republic of Iran had no choice but to exercise its inherent right to self-defense under international law in order to protect its people, national security, sovereignty, and territorial integrity," the letter said.
Tehran, it added, reiterates its unwavering commitment to Iraq's sovereignty, urging Baghdad to respond to the terror activities against Iran as a responsible UN member.
The IRGC has in recent days launched a series of aerial raids on the positions of Iraqi Kurdistan-based terrorist groups.
The operation came after the illegal entry of armed teams linked with the Kurdish terrorist groups into the Iranian border cities in recent weeks.
The IRGC Ground Force has announced that that the operations against terror bases will continue until all anti-Iran separatist and terrorist outfits holed up in the rugged mountainous area lay down their arms and surrender.
The Iranian Armed Forces, specially the IRGC, have repeatedly warned that they will never tolerate the presence and activity of terrorist groups along the Northwestern border and will give strong and decisive responses in case of anti-security activities.
The IRGC has on countless occasions attacked and destroyed terrorist hideouts in the Kurdistan region with artillery fire, missiles and drones.
Source: Fars News Agency
Please click the following URL to read the full text of the original story:
https://www.farsnews.ir/en/news/14010721000271/Missin-UN-Iran-Lef-wih-N-Chice-B-Eradicae-Terrrism-in-Ira
--------
Iran judges ordered to 'avoid going weak' on Mahsa Amini-linked protesters
13 October, 2022
Iran's judges have been issued orders against handing down soft sentences for people found to be the "main elements of riots" that flared over Mahsa Amini's death, the judiciary said.
A wave of unrest has gripped the Islamic republic since Amini died on September 16 after her arrest by the morality police in Tehran for allegedly violating the country's strict dress code for women.
The street violence has led to dozens of deaths -- mostly of protesters but also members of the security forces -- and hundreds have been arrested.
"Iran's judiciary chief Gholamhossein Mohseni Ejei ordered judges to avoid... issuing weak sentences for the main elements of these riots," said the judiciary's Mizan Online website.
"Undue sympathy and weak sentences for the main elements are an injustice to the people," Ejei was quoted as saying.
"At the same time, some stages of leniency should be considered for people who are included among the less guilty elements," he said.
Iran has charged more than 100 people over the "riots" in Tehran and the southern Hormozgan province alone, the judiciary said on Wednesday.
The judiciary chief echoed remarks by Iran's supreme leader Ayatollah Ali Khamenei, who on Wednesday referred to the involvement of "enemies" in the protests.
Source: Al Arabiya
Please click the following URL to read the full text of the original story:
https://english.alarabiya.net/News/middle-east/2022/10/13/Iran-s-judiciary-chief-orders-tough-sentences-for-main-elements-of-riots-Report
--------
Iran's N. Chief Confirms Uranium Enrichment with New Centrifuges at Natanz Facility
2022-October-13
Eslami said on Wednesday that Iran has now launched the third cascade of centrifuges at Natanz.
He noted that this is confidential and that the IAEA must observe confidentiality, but the body has as usual leaked such information in violation of the rule.
The AEOI chief added that Iran as a member of the IAEA, abides by the agency's treaties and carries out all its activities under the supervision of the UN oversight body.
The official stressed that in view of all those points, Iran in advance notifies the IAEA of all its plans, intentions and actions.
Eslami stated that the nuclear agency's reports over the past few days are based on Iran's official announcements of its actions that are in line with its strategic action law and its policy to reduce the country's commitments under the 2015 nuclear deal, JCPOA.
Iranian officials say the country will continue development of its peaceful nuclear industry without attention to the warnings and threats raised by Israel and the United States.
Iran and the IAEA have been at odds over several issues in recent years.
The IAEA certified Iran's compliance with the 2015 nuclear deal several times until 2019, when the country began to ditch some of its nuclear obligations in a legal retaliatory move a year after Washington's unilateral withdrawal from the deal.
Iran has always had full cooperation with the IAEA and allowed it to visit the country's nuclear sites, but calls the nuclear agency's approach unconstructive and destructive.
Tehran has criticized the nuclear agency for taking politicized positions toward its nuclear activities.
Back in June, Eslami said that heightened propaganda against Iran's peaceful nuclear program was part of the Western states' maximum pressure policy against the Iranian nation.
"Iran has 3 percent of the world's nuclear capacity, but more than 25 percent of inspections have been carried out in Iran," Eslami stated.
Source: Fars News Agency
Please click the following URL to read the full text of the original story:
https://www.farsnews.ir/en/news/14010721000162/Iran's-N-Chief-Cnfirms-Uranim-Enrichmen-wih-New-Cenrifges-a-Naanz
--------
FM Underlines Iran's Opposition to Geopolitical Change in Regional Borders
2022-October-13
The top diplomat made the remarks in a meeting with visiting Head of the Armenia-Iran Parliamentary Friendship Group Georg Papuyan in Tehran.
Amir Abdollahian pointed to the Islamic Republic's principled position of respecting the countries' national sovereignty and territorial integrity.
He said Tehran was opposed to whatever action that could affect changes to international borders or bring about geopolitical transformations in the region.
Amir Abdollahian, meantime, demanded peaceful resolution of Armenia and neighboring Azerbaijan's differences concerning the disputed Nagorno-Karabakh region.
Nagorno-Karabakh is internationally recognized as part of Azerbaijan, but has been populated by ethnic Armenians.
Source: Fars News Agency
Please click the following URL to read the full text of the original story:
https://www.farsnews.ir/en/news/14010720000774/FM-Underlines-Iran's-Oppsiin-Gepliical-Change-in-Reginal-Brders
--------
Turkey criminalizes spread of 'disinformation', up to three years jail term announced
14 October, 2022
Turkey criminalized the spread of what authorities describe as false information on digital platforms, giving the government new powers in the months remaining before elections.
The measure, proposed by the governing AK Party and its nationalist ally MHP, is part of a broader "disinformation law" that was adopted by parliament on Thursday. It mandates a jail term of one to three years for users who share online content that contains "false information on the country's security, public order and overall welfare in an attempt to incite panic or fear."
Media groups and opposition parties have decried the bill as censorship, seeing it as a move to stifle critics and journalists in the run-up to elections set for next year.
"The crime is defined with rather vague and open-ended terms," said Mustafa Kuleli, vice president of the European Federation of Journalists. "It is not clear how prosecutors will take action against those who allegedly spread false information.
Other articles in the law range from amendments to issuance of press cards to the procedure of correcting "false information online.
'Systematic Censorship'
Reporters Without Borders' World Press Freedom Index ranks Turkey 149th out of 180 nations, saying 90% of the national media is under state control. The organization has accused Turkish President Recep Tayyip Erdogan's government of stepping up attacks on journalists to deflect attention from economic and other problems ahead of elections.
In 2020, Turkey passed a contentious law that obligated social-media companies with more than 1 million daily users in the country to appoint local representatives, and gave authorities more power to block access to sites.
Erdogan has also repeatedly threatened to shut down some social media, citing what he considered to be personal attacks against himself and his family. He's described the platforms as "a threat to democracy" and "a national security problem."
Courts banned YouTube and Wikipedia for years, while access to Twitter was slowed to a trickle at times of heightened strife, such as cross-border operations into Syria and terrorist attacks at home.
Source: Al Arabiya
Please click the following URL to read the full text of the original story:
https://english.alarabiya.net/News/middle-east/2022/10/14/Turkey-criminalizes-spread-of-disinformation-up-to-three-years-jail-term-announced
--------
At least two Palestinians killed in Israeli West Bank raid: Report
14 October, 2022
Two Palestinians were killed Friday during an Israeli raid in the flashpoint city of Jenin in the occupied West Bank, the Palestinian health ministry said.
"Two martyrs arrived at the Jenin government hospital," the ministry said, as the Israeli military announced an ongoing operation in the city's refugee camp.
The army did not immediately comment on the deaths when contacted by AFP.
Israeli forces used live fire in clashes with Palestinians in the Jenin camp, the official Palestinian news agency Wafa reported.
Dozens of Palestinians have been killed in recent months during near daily Israeli raids across the West Bank.
Two Palestinian teenagers were shot dead Saturday during a raid in Jenin, while a 12-year-old boy died Monday from wounds sustained last month, according to a health ministry toll.
The expansion of military operations in Jenin and elsewhere in the West Bank followed deadly attacks on Israelis earlier this year.
Israeli forces are currently hunting for attackers who shot dead two soldiers in separate incidents over the past week.
One soldier was killed Tuesday near Nablus, south of Jenin, while on Saturday another was shot dead at a checkpoint in Israeli-annexed east Jerusalem.
The pursuit for the Jerusalem gunman has prompted a massive operation inside the city's Shuafat refugee camp, which has severely impeded daily life.
Palestinians went on a day-long general strike earlier this week in the city, in solidarity with Shuafat residents.
Source: Al Arabiya
Please click the following URL to read the full text of the original story:
https://english.alarabiya.net/News/middle-east/2022/10/14/At-least-two-Palestinians-killed-in-Israeli-west-bank-raid-Report-
--------
Iran pardons, commutes sentences for almost 1,900 convicts
13 October, 2022
Iran's supreme leader has pardoned or commuted the sentences of almost 1,900 prisoners on the occasion of the birth anniversaries of Prophet Muhammad and a key figure in Shia Islam.
Ayatollah Ali Khamenei "granted pardons or commuted the sentences of 1,862 convicts" on the eve of Iran marking the birth anniversaries of Islam's Prophet Muhammad and Imam Sadeq, the sixth of the 12 revered imams in Shia Islam, the leader's website said.
The Judiciary's website, Mizan Online, said among those are 95 women and 123 security convicts. It added that 13 of the prisoners had been sentenced to death.
Source: Al Arabiya
Please click the following URL to read the full text of the original story:
https://english.alarabiya.net/News/middle-east/2022/10/13/Iran-pardons-commutes-sentences-for-almost-1-000-convicts
--------
Palestinian groups reach reconciliation deal to end years-long division
13 October 2022
Palestinian resistance groups and factions in the occupied West Bank and the besieged Gaza Strip have reached an agreement in the Algerian capital as part of efforts aimed at resolving their years-long differences.
The agreement came on Thursday under an Algerian-brokered initiative for reconciliation among 14 groups, including Hamas, Islamic Jihad and Fatah.
Mustafa Barghouti, the Secretary-General of the Palestinian National Initiative political party, said the Palestinian groups agreed to sign the Algerian Declaration and inaugurate a united Palestinian National Council after two days of round table talks under the auspices of the Algerian government.
"After long discussions, it was agreed on a statement that will be issued as the Algerian document for national reconciliation," Barghouti said.
"It was agreed to elect the Palestinian National Council at home and abroad, using a proportional representation system with the participation of all Palestinian factions, within a maximum period of one year from the date of signing the declaration."
The declaration, Barghouti said, also ensured that the factions could hold general presidential and legislative elections in the Gaza Strip and the West Bank, including the occupied al-Quds, within a maximum period of one year from the date of signing the declaration.
Media reports said the declaration would include "unifying Palestinian national institutions, mobilizing the available energies and resources to implement reconstruction projects, and supporting the infrastructure and social for the Palestinian people in a way that protects their steadfastness in the face of the Israeli occupation."
An Algerian-Arab working group was said to have been tasked with supervising and following up on the implementation of the terms of the agreement in cooperation with Palestinian officials.
Algeria's presidency said in a statement that the declaration would serve as a solid ground for achieving the national unity between all the Palestinian factions.
Hamas hails initiative to end Palestinian division
Ismail Haniyeh, head of the political bureau of Palestinian resistance movement Hamas, welcomed the agreement and said the talks had a positive atmosphere, expressing his deep appreciation for the initiative Algeria launched to heal the rift between Palestinians.
"We are satisfied with Algeria's meetings and the positive atmosphere that dominated the talks between us," Haniyeh said on Thursday.
Haniyeh lauded the Algerian team that supervised the dialog between the Palestinian factions for its patience and keenness on not imposing any vision from any side on the talks.
Since January, Algeria has launched several initiatives to mediate a Palestinian national reconciliation, hosting dozens of key political leaders from the different factions to agree on a common goal.
The Palestinian leadership has been divided between Fatah and Hamas since 2006, when the latter scored a landslide victory in parliamentary elections in the Gaza Strip. Hamas has ever since been running the coastal enclave, while Fatah has been based in the autonomous parts the Israeli-occupied West Bank.
Source: Press TV
Please click the following URL to read the full text of the original story:
https://www.presstv.ir/Detail/2022/10/13/690887/Palestinian-resistance-groups-Algerian-Declaration-peace-agreement-
--------
Europe
Russia-Ukraine war: Money and menace being used to recruit Muslims in the Caucasus
13 October 2022
Russian President Vladimir Putin's partial mobilisation last month to deploy troops to Ukraine has created disarray in its Muslim-majority Caucasus territories and led to violent protests.
But Circassians and other Muslims living in the mountainous region between the Black and the Caspian seas told Middle East Eye that many were willing to serve in exchange for lucrative monthly salaries.
Others said they would sign up in order not to raise the suspicions of the Russian authorities, who could come after them for retribution.
Ahmed, a Circassian miner living in the northern Caucasus, told MEE that he had convinced his son to serve in the army because there were no jobs in their town, other than in a couple of old factories and mines.
"Participating in the war is better than trying to find work in a factory and a mine," he said. "We cannot refuse. It is a lot of money."
Ahmed said that if his son survived the war and came back with the money promised by the Russian state, he could afford to set up a business.
The Russian Caucasus is a neglected part of the federation, lacking investments and industry. Residents complain that jobs are mostly found in ethnic Russian-majority parts of Russia, such as the north or east.
The North Caucasian Federal District is the poorest economic zone in Russia, with a monthly minimum wage of around 13,000 rubles ($205). The Russian government is offering 135,000 rubles ($2,131) a month to conscripted soldiers.
Ibrahim, a conscripted Circassian soldier, said his main motivation to fight in Ukraine was the lucrative salary, but he thought that senior and local officials would take a cut of his money before it got to him.
"But even if we get half of this salary, it is enough for us," he said.
'Everyone is scared of Kadyrov'
Others say the local authorities would retaliate if they refused to serve in the war.
Kambolat, another Circassian from the Kabardian tribe, said he knew the Ukraine invasion wasn't going well and that the conditions were rapidly deteriorating, but felt he had to let his son go so as not to anger local officials.
"The army even couldn't distribute the uniforms," he said. "I personally bought a lot of stuff for my son."
Samil, another parent from Dagestan, believed that it should be ethnic Russians fighting against the Ukrainian army rather than his son. But he had to let his son go to the war zone.
"I told my son to turn himself into the Ukrainians whenever possible," he said. "We told this to every child we sent to the army, so they can survive."
Thousands of Chechens are believed to have been deployed in Ukraine and played a key role in the capture of the strategic Black Sea town Mariupol earlier this year.
Chechen leader Ramzan Kadyrov, a Putin loyalist who is head of the Chechen Republic, a semiautonomous Caucasus region within the Russian Federation, has been one of the most prominent cheerleaders for the war in Ukraine.
On Saturday, Kadyrov claimed that another 70,000 Chechens were ready to join the 10,000 already fighting in Russia's military operation in Ukraine.
"Ten thousand Chechen fighters are already participating in this noble cause. If necessary, another 70,000 are ready to join them," Kadyrov wrote on his channel on the Telegram social network.
Kadyrov earlier said that the mobilisation did not extend to Chechnya. However, last week he posed with soldiers about to be deployed to the front.
Some Chechens interviewed by MEE believed their children were being deployed to Ukraine as part of a suicide mission, since being infantry in a highly sophisticated war where the opposition is using artillery, rockets and drones could be only considered as such.
"Everyone is scared of Kadyrov," said Muhammed, whose son has been deployed to Ukraine. "We cannot do anything."
Opportunity
Another Chechen, a former commander, said Kadyrov had been running the country like a corporation.
"He sells our soldiers after producing them for Putin," Rahman said. "Many Chechen youths are joining Kadyrov's squads to prove themselves by killing as many Ukrainians as possible and receiving money, status and power in return."
Rahman had already taken his son and grandson out of the country.
Rahman said many Chechens were looking at the war as an opportunity rather than something they do out of loyalty to Putin or Kadyrov. The former commander claimed that about 1,000 Chechen fighters had already lost their lives in Ukraine.
The Circassian and Chechen communities in the Caucasus also have people who are staunchly pro-Russian and pro-Putin.
Dagestan resident Murad, whose family is close to the Russian administration, believed it was vital he joined the draft.
"There is a terrorist threat against Russia. As people who suffered under Islamic terrorism, we have to heed the call," he said. "We will have a new wave of terrorist attacks if Russia weakens."
He also added that the footage showing resistance against mobilisation in the region was the work of Islamic militants.
Similarly, two Chechens claimed they were fighting against "terrorists" in Ukraine and that they were not serving in expectation of money or status.
Despite the new recruitment efforts, the war in Ukraine isn't going in Russia's favour. The Ukrainian army, with its sophisticated western weapons, has captured huge swathes of territory in a counteroffensive that started in September, pushing Russian troops out of Kharkiv and moving east across the Oskil River.
Source: Middle East Eye
Please click the following URL to read the full text of the original story:
https://www.middleeasteye.net/news/russia-ukraine-money-menace-recruit-muslims-caucasus
--------
Ukraine thanks Saudi Arabia for UN vote against Russia annexations
13 October, 2022
Ukraine's ambassador to Saudi Arabia praised the Kingdom on Thursday for voting in favor of a UN resolution that condemned the purported Russian annexation of Ukrainian territories.
Last month, Russia proclaimed its annexation of four partially occupied regions in Ukraine - Donetsk, Luhansk, Kherson and Zaporizhzhia - after staging so-called referendums.
Saudi Arabia was one of 143 UN member states that voted for the UN resolution on Wednesday, which also called for the immediate reversal of Russia's annexation declaration.
In a tweet from Anatolii Petrenko, Ukraine's ambassador to Saudi Arabia, the envoy thanked the Kingdom for its vote.
"Grateful to #SaudiArabia for its steadfast position and support of the #UNGA Resolution 'Territorial Integrity: Defending the Principles of the UN Charter.' Your voice was heard loudly and clearly," Petrenko said.
The tweet was reposted by the official account for Ukraine's embassy in Saudi Arabia.
Source: Al Arabiya
Please click the following URL to read the full text of the original story:
https://english.alarabiya.net/News/gulf/2022/10/13/Ukraine-thanks-Saudi-Arabia-for-UN-vote-against-Russia-annexations
--------
Russia using Iranian nationals in Ukraine to launch suicide drones: Report
14 October, 2022
Russian forces took Iranian instructors to the occupied Kherson and Crimea regions to launch Shahed-136 kamikaze drones, the Ukrainian National Resistance Center reported.
The Iranian nationals reportedly teach Russian forces on using and monitoring the launch of the drones, according to information published on the Ukrainian armed forces-run website on Wednesday.
The Iranians are based in the Russian-administered Ukrainian areas of Zalizniy Port, Hladivtsi in Kherson, and Dzhankoy in Crimea, the report said.
They "directly monitor the launch of drones on Ukrainian civilian targets, including strikes on Mykolaiv and Odesa," it added.
"Iran helps the aggressor not only with equipment but also with people," the report claimed.
Three drones operated by Russian forces attacked the small town of Makariv, west of Ukraine's capital, early on Thursday with officials saying that critical infrastructure facilities were struck by what they said were Iran-made suicide drones.
Ukraine has reported a spate of Russian attacks with Iranian-made Shahed-136 drones in recent weeks. Iran denies supplying the drones to Russia, while the Kremlin has not commented.
On Thursday, France's foreign ministry said that any sale of Iranian drones to Russia would be a violation of the United Nations Security Council resolution that endorsed the 2015 nuclear accord between Iran and world powers.
According to media reports, Iran has delivered hundreds of its drones to Russia despite warnings from Washington, a Kyiv ally.
Ukraine said that it would "significantly reduce" Iran's diplomatic presence in retaliation to Tehran's deliveries of drones to Moscow.
It removed the accreditation of the Iranian ambassador and said it is "significantly reducing" the Iranian embassy's diplomatic staff.
Source: Al Arabiya
Please click the following URL to read the full text of the original story:
https://english.alarabiya.net/News/world/2022/10/14/Russia-using-Iranian-nationals-in-Ukraine-to-launch-suicide-drones-Report
--------
Cologne's mega mosque to start calling Muslims to prayer
October 13, 2022
BERLIN: Germany's largest mosque will for the first time broadcast the call to prayer on Friday after city authorities in Cologne gave the go-ahead for a pilot project, under strict limits.
Cologne's Central Mosque, an imposing building in the western city's Ehrenfeld district, will be allowed to send out a single call to prayer over loudspeakers for up to five minutes on Fridays, between noon and 3:00 pm. The volume must not exceed 60 decibels.
The agreement, part of a two-year pilot project, was to be formally be signed by Cologne officials on Thursday.
Mosques in several cities in Germany have long been authorized to broadcast the call to prayer, but Cologne city only approved it from last October.
In majority-Muslim countries, the muezzin calls the faithful to prayer five times a day.
"We're very happy," Abdurrahman Atasoy, general secretary of the Turkish-Islamic Ditib organization which runs the mosque, told local media.
"The public call to prayer is a sign that Muslims are at home here."
Cologne mayor Henriette Reker said allowing the call to prayer was "a sign of respect" for the city's many Muslims.
But the project has not been without controversy, particularly because of the involvement of Ditib, which has close ties to Turkish President Recep Tayyip Erdogan and manages more than 900 mosques in Germany.
Critics have accused the organization of spying on Turkish dissidents living in Germany.
Erdogan himself traveled to Cologne in 2018 to inaugurate the Central Mosque, sparking rival rallies by thousands of pro- and anti-government demonstrators.
The Central Mosque, a massive glass and concrete structure designed as a flower bud flanked by two minarets, has room for 1,200 worshippers.
Germany is home to more than five million Muslims, accounting for around six percent of the population.
Source: Arab News
Please click the following URL to read the full text of the original story:
https://www.arabnews.com/node/2180486/world
--------
France says Iranian drone sales to Russia would violate UN Security Council resolution
October 13, 2022
PARIS: France's foreign ministry said on Thursday that any sale of Iranian drones to Russia would be a violation of the United Nations Security Council resolution that endorsed the 2015 nuclear accord between Iran and world powers.
The ministry added that it was coordinating with its EU partners on how to respond.
Source: Arab News
Please click the following URL to read the full text of the original story:
https://www.arabnews.com/node/2180541/world
--------
Scottish court rules in favor of Iraq-born migrant in tuition-fee case
October 13, 2022
LONDON: The result of a high-profile court case in Scotland has forced the government to change the country's university tuition-fee law for migrants, the BBC reported on Thursday.
The Court of Session case found that 20-year-old Iraq-born Ola Jasim, who has lived in Scotland since the age of 11, had her human rights breached by being denied free tuition.
Jasim said her parents were forced to borrow money from other family members to meet her tuition fees, and the family's financial predicament had forced them to abandon "small things" that "bring joy in your life."
Scotland offers free tuition to domestic university students, but Jasim was denied on account of being two months short of the required stay in the country.
She applied to study medicine two years ago, but was told by authorities that she failed to qualify for the country's residency rules.
A person aged under 18 on the commencement of their university degree must be ordinarily resident in Scotland and have lived in the UK for seven years to qualify for free tuition. Those aged 18-25 have to have lived in the UK for either half their life or 20 years.
Jasim's court case found that previous instances of Scotland denying free tuition to migrants were unlawful as a result of breaches to the European Convention on Human Rights.
Her court victory is expected to have widespread ramifications for hundreds of migrant students in Scotland, setting a legal precedent that ensures their right to free tuition.
Jasim, who is now in her third year of medicine at Dundee University, told the BBC: "For the past couple of years I have been my parents' biggest financial burden and they have not only not had to look after themselves properly but my sisters as well because everything was going into me.
"It was a lot of guilt for me to deal with. My parents never complained about it but I could see the difference it made in their lives.
"(The decision) made me feel discriminated against even though this is what I call home. You are really trapped. It was a lose-lose situation.
"Now I know the law is changing, hopefully a lot of people's lives will be changed too because it is not just me who has been so badly treated."
Jasim was represented by lawyer Andy Sirel, who said: "The Scottish government like to talk about how they are a pro-human rights government and are opposed to the UK government down south but with these rules they effectively copied and pasted the UK immigration rules on educational policy and have fallen in line with the home secretary.
Source: Arab News
Please click the following URL to read the full text of the original story:
https://www.arabnews.com/node/2180596/world
--------
Africa
You're symbol of peace in Nigeria – Lengmang praises Islamic cleric
October 13, 2022
By Amos Tauna
Joseph Lengmang, the Director General, Plateau State Peace Building Agency (PBA), has described Imam Abdullahi Abubakar, the Islamic cleric who risked his life to shield 262 Christians in his mosque, during an attack on Yelwa Gindi Akwati village of Barkin Ladi Local Government Area of the state on June 23, 2018, as a symbol of peace in Nigeria.
Lengmang also said that the Islamic cleric should be celebrated by all peace lovers for standing for the love of humanity.
Speaking to newsmen in Jos on Wednesday, he explained that Imam Abdullahi was among the 447 recipients recently conferred with National Honours by President Muhammadu Buhari at the 2022 national honours award event in Abuja for his selfless service to humanity.
Source: Daily Post Nigeria
Please click the following URL to read the full text of the original story:
https://dailypost.ng/2022/10/13/youre-symbol-of-peace-in-nigeria-lengmang-praises-islamic-cleric/
--------
Mali bus blast leaves at least 11 dead: Sources
14 October, 2022
At least 11 people were killed and 53 injured when a bus hit an explosive device in central Mali on Thursday, according to a hospital source.
The explosion occurred on the road between Bandiagara and Goundaka in the Mopti area in the early afternoon, a security source said. The region is known as a hotbed for extremist violence.
Earlier, police and local sources gave a provisional toll of 10 dead and many seriously injured.
"We have just transferred nine bodies to the clinic. And it's not over yet," said Moussa Housseyni of the local Bandiagara Youth Association, adding that they were all civilians.
Mali has long struggled with an extremist insurgency that has claimed thousands of lives and forced hundreds of thousands from their homes.
Mines and improvised explosive devices (IEDs) are among the extremists weapons of choice. They can explode on impact or be detonated remotely.
Source: Al Arabiya
Please click the following URL to read the full text of the original story:
https://english.alarabiya.net/News/world/2022/10/14/Mali-bus-blast-leaves-at-least-11-dead-Sources-
--------
Nigerian court acquits separatist leader of all government charges
Ibrahim Garba Shuaibu
14.10.2022
KANO, Nigeria
Nigeria's Appeals Court ruled Thursday that the leader of the banned Indigenous People of Biafra (IPOB) separatist group had been illegally arrested abroad and dropped all government charges against him.
Nnamdi Kanu was discharged by a three-man panel of judges.
They blamed the federal government for the wrongful extradition of Kanu from Kenya and his "reckless" detention.
On Jan. 18, 2017, a Federal High Court in the capital Abuja banned IPOB, which has been fighting for an independent state of Biafra, deeming it a terrorist organization.
The IPOB filed a lawsuit against the move, saying it was unconstitutional.
Kanu was arrested but released on bail. He fled Nigeria before being seized and brought back in 2021.
The Appeals Court ruled that he was forcefully arrested and flown back to the country, which was a gross violation of all international conventions, protocols and guidelines that Nigeria is a signatory to and a breach of his fundamental human rights.
Source: Anadolu Agency
Please click the following URL to read the full text of the original story:
https://www.aa.com.tr/en/africa/nigerian-court-acquits-separatist-leader-of-all-government-charges/2711253
--------
Somalia police say journalist arrested over security-related charge
Mohammed Dhaysane
13.10.2022
MOGADISHU, Somalia
The head of a Somali journalists association, Abdalle Ahmed Mumin, is in the custody of police, the country's Information Ministry said.
In a statement issued late on Wednesday, the ministry said he is being held on a security-related charge and not related to his work as a journalist.
His arrest comes just days after the government banned the coverage of news related to al-Qaeda-affiliated terrorist group al-Shabaab amid military offensives against the group in the country's Hiran region.
Mohamed Ibrahim, the president of Somali Journalists Syndicate, told Anadolu Agency over the phone that Abdalle has been held incommunicado by the state intelligence and security agency.
Source: Anadolu Agency
Please click the following URL to read the full text of the original story:
https://www.aa.com.tr/en/africa/somalia-police-say-journalist-arrested-over-security-related-charge/2711018
--------
Southeast Asia
Cagamas introduces Islamic reverse mortgage financing for senior citizens
Sunbiz
13-10- 2022
PETALING JAYA: Cagamas Bhd, the National Mortgage Corp of Malaysia today introduced Skim Saraan Bercagar Islamik (SSB-i), a global-first Islamic reverse mortgage financing for senior citizen homeowners, which is aimed to help them fund their retirement in compliance with syariah principles.
Cagamas president and CEO Datuk Chung Chee Leong (pix) said with the launch of the scheme, it has enhanced its reverse mortgage offerings to appeal to the local market.
"The introduction of SSB-i offers an alternative for senior homeowners who prefer a syariah-compliant financing solution. It also represents our continuous commitment to support the development of Islamic finance," Chung said in a statement.
SSB-i is an Islamic reverse mortgage financing facility which allows retirees aged 55 and above, to leverage against the value of their fully paid homes and convert it into a steady monthly cash payout to supplement their retirement funds up to the age of 120 years, without sacrificing home ownership.
It is based on a sale-based commodity transaction under the syariah concept of Commodity Murabahah via Tawarruq arrangement, and will enjoy the same stamp duty exemption as SSB until end of 2023.
"We will continue to evaluate the expansion of SSB and SSB-i to other cities in Malaysia. SSB and SSB-i represent Cagamas' continuous efforts to address financial gaps in the marketplace with an initial RM100 million allocation to help retirees unlock the value of their homes safely to receive guaranteed monthly payout throughout their lifetime.
"This comprehensive and integrated solution focuses on retirees who may be affected due to a lack of savings and aims to help them maintain a decent standard of living," he added.
Source: The Sun Daily
Please click the following URL to read the full text of the original story:
https://www.thesundaily.my/business/cagamas-introduces-islamic-reverse-mortgage-financing-for-senior-citizens-MF9979970
--------
Pahang and Perlis dissolve legislatures, paving the way for state polls to be held during Malaysia's GE15
Najmi Syahiran Mamat
14 Oct 2022
KUALA LUMPUR: Two states under the administration of Barisan Nasional (BN) – Perlis and Pahang announced on Friday (Oct 14) that their legislatures have been dissolved, paving the way for polls at both state and national levels to be held simultaneously.
In a press conference, Perlis chief minister Azlan Man said that he and state assembly speaker Hamdan Bahari were granted an audience with the Raja of Perlis the day before.
"His Royal Highness has given his consent and the date of dissolution of the state assembly, effective today," he said.
There are 15 seats in the Perlis state legislature. Before the dissolution of the 14th state assembly, 10 seats were represented by Barisan Nasional (BN), three by Parti Keadilan Rakyat (PKR) and two by Parti Islam Se-Malaysia (PAS).
Separately, Pahang chief minister Wan Rosdy Wan Ismail said he was granted an audience with Pahang Regent Tengku Hassanal Ibrahim Alam Shah Al-Sultan.
He said that the regent, in accordance with Clause (2) Article 26 Part Two of the Pahang Constitution, has given his consent for the state assembly to be dissolved.
"Today was chosen to allow the tabling and debate on the state Budget 2023 to be completed first, thus obtaining approval to be implemented next year. The state government believes there is a need to also participate in the general election," he said during a press conference on Friday.
On Thursday, Mr Wan Rosdy said that the status of the state assembly will be known soon after passing the state budget for next year.
According to a Bernama report, he said the priority was to pass the budget which was tabled last Friday so that the state government's plans for the people could be implemented.
On Wednesday, Perak chief minister Saarani Mohammad requested the dissolution of the state assembly during an audience with Sultan Nazrin Muizzuddin Shah.
Mr Saarani then said that the sultan would only announce his decision on the matter later. The Perak state assembly is also led by BN.
Several days after the dissolution of Malaysia's parliament at the federal level, there is lingering uncertainty regarding the status of the state assemblies.
PENANG STILL WAITING
Democratic Action Party (DAP) secretary-general Anthony Loke said on Tuesday that the Penang state chapter of his party has asked for a review of the decision by Pakatan Harapan (PH) against dissolving the state assembly.
"There are views from many people, especially in Penang, for the elections to be held at the same time," he was quoted as saying by local media.
At the same time, states under PH including Selangor and Negeri Sembilan have yet to make a firm decision on whether to dissolve the state assemblies.
On Friday, the chairman of DAP's national legal bureau, Ramkarpal Singh urged the coalition to consider its decision of having state elections separately from the national polls.
He said that there is "nothing unprincipled" in holding concurrent elections now as it is certainly in the interests of people.
Mr Ramkarpal also claimed that the people in Penang do not want separate elections. He said that their wish "to hold state and parliament elections concurrently is overwhelming".
"I wish to appeal to the PH leadership to seriously consider holding simultaneous parliament and state elections now in all its states as we will be stronger facing the opposition now," he said in a statement.
Selangor chief minister Amirudin Shari reportedly said on Tuesday that Selangor Sultan Sharafuddin Idris Shah wanted the current PH state government to complete its full term.
Negeri Sembilan chief minister Aminuddin Harun also reportedly said on Tuesday that there are no plans to dissolve the assembly, although PH's presidential council would have the final say on the matter.
On Thursday, PAS president Abdul Hadi Awang confirmed in a statement that the three state assemblies led by his party – Kedah, Terengganu and Kelantan will not be dissolved.
He said the party has decided to strengthen its ties with Perikatan Nasional (PN) in the upcoming general election.
"We will strengthen our collaboration with PN for the coming polls to unite the ummah (Muslims)," he said.
PAS is a component party of PN.
With the exception of Sarawak, national and state-level elections have usually been held concurrently in Malaysia.
For now, the state assemblies of Sabah, Sarawak, Johor and Melaka are out of the equation as polls were held recently.
Source: Channel News Asia
Please click the following URL to read the full text of the original story:
https://www.channelnewsasia.com/asia/malaysia-pahang-perlis-dissolve-state-assemblies-state-polls-ge15-3007651
--------
Najib's popularity seen as X factor in GE15
SK Devi
October 14, 2022
PETALING JAYA: Former prime minister Najib Razak may yet have a hand in influencing voters in the coming general election despite being behind bars, according to two analysts.
Speaking to FMT, James Chin of University of Tasmania's Asia Institute, and Council of Professors fellow Jeniri Amir referred to Najib's popularity on social media.
Chin noted that "Bossku is still active" on Facebook and that he had already started campaigning. "Bossku" is the name Najib's supporters use when referring to him.
Chin crowned him as Malaysia's social media king, saying no other political leader came close to him in terms of reach.
He said Najib's popularity, especially with young Malays, would likely influence the outcome of GE15.
He praised the former prime minister for his "good responses" to major issues.
"He also knows how to put people down but he doesn't always criticise the opposition blindly," he added.
Najib has 4.1 million followers on Twitter, vastly ahead of other Malay leaders. Muda president Syed Saddiq Abdul Rahman and Bersatu president Muhyiddin Yasin have about a million followers each, and Umno president Ahmad Zahid Hamidi has about half a million followers.
On Facebook, Najib leads with 4.6 million followers.
Najib is serving a 12-year prison sentence after the Federal Court upheld his 2020 conviction for his role in one of the world's largest financial scandals.
Jeniri said Najib could influence GE15 if the BN election machinery banked on issues pertaining to him, including his imprisonment.
He spoke of "people-centric policies" that Najib introduced when he was the prime minister and said BN could refer to these in its campaigning.
He attributed Najib's popularity on social media to his "people's touch".
"People really follow him on social media and this has helped to validate his image," he said.
He also said BN might benefit if it roped in Najib's daughter, Nooryana Najwa, for its campaign.
Nooryana and her brother, Nazifuddin, have been vocal against the imprisonment of their father.
However, Azmil Tayeb of Universiti Sains Malaysia disagreed that Najib would be a factor in the impending polls.
Source: Free Malaysia Today
Please click the following URL to read the full text of the original story:
https://www.freemalaysiatoday.com/category/nation/2022/10/14/najibs-popularity-seen-as-x-factor-in-ge15/
--------
Stable govt needed to face recession, says Zahid
October 13, 2022
PETALING JAYA: A strong and stable government is needed in view of the increasing risk of a global recession, as projected by two major financial institutions, Ahmad Zahid Hamidi said in justifying the need for a general election.
The predictions by the World Bank and the International Monetary Fund, the Umno president said, meant there was a pressing need for the nationwide polls to be held.
He also said the public must not allow a government which had "enemies within" the administration.
This included National Recovery Council chairman Muhyiddin Yassin who had attacked the current administration, he said, adding that this had created a negative perception among foreign investors.
Last month, Muhyiddin said a general election should be held if Prime Minister Ismail Sabri Yaakob could not manage the economy and country well.
"We can't let this situation prolong or it would be difficult for Malaysia to act as a team to cushion the impact of the recession," Zahid said in a Facebook post.
"Even if there are policies and plans in place to face it (the recession), there's a high chance of failure in terms of implementation because of such politicking. And the people would be at the receiving end."
Zahid went on to say he found it suspicious that the opposition was adamantly against the 15th general election being held this year on grounds that the economy was unstable.
The opposition, he claimed, wanted the current administration, which they said had failed to help the people, to remain in power until the recession happened next year.
Recently, the World Bank and IMF said the global economy had been shifting from an environment with low inflation and low interest rates to a world that was "more volatile and more fragile".
Source: Free Malaysia Today
Please click the following URL to read the full text of the original story:
https://www.freemalaysiatoday.com/category/nation/2022/10/13/stable-govt-needed-to-face-recession-says-zahid/
--------
Sabah, Sarawak will be kingmakers in GE15, says Shafie
October 13, 2022
KOTA MARUDU: Sabah and Sarawak will be the kingmakers in the 15th general election due to the number of seats in the two states, says Warisan president Shafie Apdal.
Sabah has 25 parliamentary seats while Sarawak has 31.
Shafie said they would be able to determine which coalition formed the next government.
"It is time to change the country's political landscape.
"If the two states act wisely, Sabah and Sarawak will no longer be controlled by a party from Kuala Lumpur," he said at a Warisan event here.
The former Sabah chief minister and federal minister said by being a kingmaker, it would not only benefit Sabah's interest but it would be beneficial for the country.
"We want a stable administration."
Shafie was responding to Sarawak United People's Party president, Dr Sim Kui Hian, who predicted that Sabah and Sarawak would determine who would take over Putrajaya.
Sim said whoever wished to form the next government would need the backing of the two states.
On a separate matter, Shafie reiterated that his party would go solo in the impending polls, unless PBS decided to join forces with them.
"Prior to this, I said that we wanted only PBS for the KDM (Kadazan Dusun Murut) seats."
Source: Free Malaysia Today
Please click the following URL to read the full text of the original story:
https://www.freemalaysiatoday.com/category/nation/2022/10/13/sabah-sarawak-will-be-kingmakers-in-ge15-says-shafie/
--------
URL: https://newageislam.com/islamic-world-news/human-rights-activists-hate-blasphemy-pakistan/d/128178
New Age Islam, Islam Online, Islamic Website, African Muslim News, Arab World News, South Asia News, Indian Muslim News, World Muslim News, Women in Islam, Islamic Feminism, Arab Women, Women In Arab, Islamophobia in America, Muslim Women in West, Islam Women and Feminism