New Age Islam News Bureau
18 Jan 2020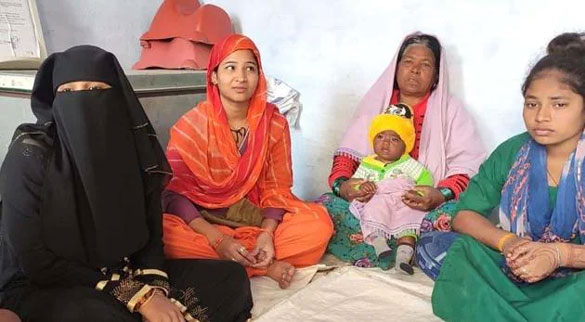 Government personnel who have to collect data for an ongoing survey for ration cards and food eligibility slips have run into opposition from Muslims.(HT Photo)
-------
• Whatsapp Message Reportedly From VHP and Bajrang Dal Warning Muslims Not To Hire Stalls for Vittal Temple Fair in Karnataka
• Amid Anti-CAA Protests, Muslims in MP's Neemuch Refuse to Show Documents
• Pakistani Court Hands Down 55-Year Sentences to 86 Islamists, Khadim Rizvi's Brother, Nephew among Them
• Bangladesh Fears Rohingya-Like Crisis over India Citizenship Law
• ISIS Panel in Syria Acts As 'Judge, Jury and Executioner,' Report Finds
• The Day Iran Attacked US Targets in Iraq Was 'Day of God': Iran's Khamenei
• China's Rights Abuses in Xinjiang Could Provoke a Global Terrorist Backlash
• UN: Children of Foreign ISIS Militants Must be repatriated
India
• 'Hum Aayenge Apne Watan,' Kashmiri Pandits Pledge To Return To Valley On Social Media
• Whatsapp Message Reportedly From VHP and Bajrang Dal Warning Muslims Not To Hire Stalls for Vittal Temple Fair in Karnataka
• Amid Anti-CAA Protests, Muslims in MP's Neemuch Refuse to Show Documents
• Akalis tread a middle path: Won't back NRC, support NPR, demand tweak in CAA resolution
• UP Police Inflicted 'Enormous Violence' on Muslims during Protests: People's Tribunal
• Himanta Biswa Sarma Says CAA Rules Won't Consider Religious Persecution
• Syro-Malabar Church says 'love jihad' a threat in Kerala, govt says it doesn't exist
• Indian General Talks of 'Deradicalization Camps' for Kashmiris
• Davos diplomacy likely between India, Malaysia amid palm row
• India can nudge US to revive our n-deal: Iran Foreign Minister
--------
Pakistan
• Pakistani Court Hands Down 55-Year Sentences to 86 Islamists, Khadim Rizvi's Brother, Nephew among Them
• Surrender First, Challenge Conviction Later, SC Office Tells Musharraf
• PM Imran proposes three names for CEC in letter to Shehbaz
• Pakistan's politicians undermining democracy
• Corruption by Shahbaz, Maryam to be made public: PM Imran Khan
• Pakistan Seeks Peace in the Region as well as Globally
• Zardari quits NA standing committees
• China calls on India to respond positively to request of UNSC members on Kashmir issue
• Lahore journalist remanded into FIA custody over 'anti-state' Facebook posts
• Khalid Maqbool's resignation the result of power struggle within MQM: Kamal
• UN sees slight recovery in Pakistani economy from 2021
--------
South Asia
• Bangladesh Fears Rohingya-Like Crisis over India Citizenship Law
• Taliban Offer to Reduce Violence in Afghanistan Ahead of Deal with U.S
• Afghan Taliban see deal with US by end of month
• Anti-CAA stir hotspots reflect varying ground realities
• Bangladesh court orders arrest of journalist
• Afghan military operations kill 8 Taliban militants
--------
Arab World
• ISIS Panel in Syria Acts As 'Judge, Jury and Executioner,' Report Finds
• Iraqi Police Arrest ISIS Religious Official In Eastern Mosul
• Bureaucracy to brutality: New evidence reveals IS hierarchy
• Hezbollah supporters say revenge for Soleimani's death has only just begun
• Airstrikes kill 18, wound 15 others in Syria's Aleppo: Monitor
• US official calls for 'credible' government in Lebanon
• Two protesters killed, 25 injured in clashes with Iraqi security forces
• 12 Syrian troops, 50 militants killed in Idlib, says Russian Defense Ministry
• Hezbollah warns of 'chaos' if Lebanon government delayed
• Syria ceasefire has failed as civilians killed daily: UN rights boss
• Saudi envoy meets UN Counter-Terrorism official in New York
• Lebanese block roads as protests enter fourth month
--------
Mideast
• The Day Iran Attacked US Targets in Iraq Was 'Day of God': Iran's Khamenei
• Iran Ready for Negotiations with Saudi Arabia, Persian Gulf States: FM Zarif
• Jewish Dems push to reverse Trump ban on migration from some Muslim countries
• Iran Warns against Politicization of Ukrainian Plane Incident
• Iran to Lunch New Monetary Policies on Saturday
• Hundreds of Jordanians rally against gas deal with Israel
• Three Turkish soldiers killed in car bomb attack in northern Syria
• Iranian representative to go to Ukraine next week, Kiev says
• Iran decries certain countries' political abuse of Ukraine plane crash
• Scuffles erupt as Israeli forces demolish Palestinian homes
• Hundreds of Jordanians protest against gas deal with Israel, demand govt. resignation
• Ukraine says Iran to hand over downed jet's black boxes
--------
Southeast Asia
• China's Rights Abuses in Xinjiang Could Provoke a Global Terrorist Backlash
• Mujahid Calls for Stern Action over Ponggal 'Haram' Circular to Schools
• NU Cleric Meets Pope Francis, Talks 'Social Activism' In Rome To Address Interfaith Conflicts
• Malaysia talks to India over palm curbs as wider trade dispute looms
• Hadi: G25 A Threat To Muslims, More Dangerous Than Militant Group Al-Maunah
• What salafi movement? UKM says two top leaders appointed under BN, not Maszlee
• Central Java to launch tolerance education pilot project in Solo Raya's schools
--------
North America
• UN: Children of Foreign ISIS Militants Must be repatriated
• Canada: Muslim Group Challenges Quebec Religious Law
• Trump warns Iran's Khamenei to 'be very careful with his words'
• US, Pakistani top diplomats talks Afghan cooperation
• US sanctioning Iranian IRGC brigadier general
• Saudis paid about $500M for US troops: report
• FBI: Saudi officials help fugitives flee US
• Trump warns Iran's supreme leader
• US House renews push for Pompeo Iran testimony, subpoena threat
• US officials must face execution for ordering Soleimani assassination: Scholar
• US assassination of General Soleimani was 'immoral action': New York Times
--------
Africa
• Threat of Terrorists, Migrants, Drugs Worries Libya's Neighbors
• France Calls For International Consensus On Libya Peace Process
• Son of noted Muslim preacher shot in South Africa
• Somali military kills more than 40 al-Shabaab militants
• Libya calls to invite Qatar, Tunisia to Berlin Conf.
• Syrians with Turkish citizenship lead militant factions in Libya: Sources
• Libya's Haftar thanks 'dear friend' Putin for peace efforts
• Greece tells Haftar to take constructive stance at Berlin conference
--------
Europe
• France Weighs Up Its Thankless Mission Fighting Jihadists in Africa
• Muslim Council Of Britain Welcomes Hackney Council's Motion To Adopt Islamophobia Definition
• UK Freezes Hezbollah Assets Following Designation Of Entire Group As 'Terrorist'
• France promises continued support against ISIS in Iraq and Kurdistan
• Berlin talks to seek political solution to Libya crisis
• UK says Berlin Conference important for Libya ceasefire
• UK expands Hezbollah asset freeze, targets entire organization
• 6 F-35 jets were reportedly on Iran's borders at time of plane crash: Russia
Compiled By New Age Islam News Bureau
URL: https://www.newageislam.com/islamic-world-news/hum-aayenge-apne-watan-kashmiri/d/120828
--------
'Hum Aayenge Apne Watan,' Kashmiri Pandits Pledge To Return To Valley on Social Media
Jan 18, 2020
NEW DELHI: To mark the 30th anniversary of the mass exodus of Kashmiri Pandits from the Valley, members of the community took to social media to post videos of themselves by narrating the "Hum Aayenge Apne Watan" dialogue from an upcoming flick, 'Shikara', with the hope that they would return to their homeland one day.
On January 19, 1990, lakhs of Kashmiri Pandits were forced to leave their homes in the Valley following a genocidal campaign launched by the terrorists.
Theatre actor Chandan Sadhu participated in the campaign and said that Kashmiri Pandits have shown "unimaginable resilience" and hopes to return to the Valley soon.
"As Kashmiri Pandits complete 30 years in exile this weekend, let our cry for justice be finally noticed. We have shown unimaginable resilience, and today we resolve to return home. Kashmiri Pandit friends: please record this video statement and put it up with #HumWapasAayenge," Sadhu tweeted.
Chandan Sadhu
@chandansadhu
Today Kashmiri Pandits complete 30 years in forced exile from home. Today we resolve to return home. Until then, never forget, never forgive. The cry for justice only grows louder. #HumWapasAayenge
453
1:26 AM - Jan 18, 2020
Twitter Ads info and privacy
181 people are talking about this
The #HumWapasAayenge is trending on Twitter as more and more Kashmiri Pandits joined in the campaign to narrate the "Hum Aayenge Apne Watan" dialogue and a pledge to return to their homes.
Noted political commentator Sunanda Vashisht tweeted a throwback image of herself and said that resolve to go back home has strengthened more.
"I don't have many pictures left of my childhood. Choosing between life and family albums is really no choice at all. When lives were rescued, family albums got left behind. 30 years have passed. Resolve to go back home has only strengthened. #HumWapasAayenge," she tweeted.
Radio personality Khushboo Mattoo tweeted a video repeating the dialogue from Shikara and tweeted, "Said this in a BBC interview three years back. And I am saying it again #HumWapasAayenge #Shikara."
Journalist Rahul Pandita also took to his Twitter and captioned his post saying, "30 years of exile from Kashmir. Let us now pledge that we will return home."
'Shikara' chronicles the exodus of Kashmiri Pandits from the Valley on the night of January 19, 1990. Helmed by Vidhu Vinod Chopra, the movie is slated to release on February 7.
Netizens have supported the initiative and have expressed solidarity with the Kashmiri Pandits.
In July last year, home minister Amit Shah said in the Rajya Sabha that the central government is committed to bringing Kashmiri Pandits and Sufis back to the Valley saying a time will come when they will offer prayers at the famous Kheer Bhawani temple.
"Kashmiri Pandits were forced to leave Kashmir. Many of their shrines were demolished. Sufism was targeted in Jammu and Kashmir. Sufism used to talk about unity and harmony but they were attacked. No voice was raised in favour of Kashmiri Pandits and Sufis when they were brutally attacked. Sufis used to talk about the unity among Hindus and Muslims but they were forced to leave the Valley. Narendra Modi-led government is committed to bringing back Kashmiri Pandits, he had said.
The Mata Kheer Bhawani temple is one of the holiest shrines of Kashmiri Pandits, located about 14 kilometres east of Srinagar.
Last September, a delegation of the Kashmiri Pandit community met the Prime Minister in Houston and thanked him for the historic decision to abrogate Article 370 that gave special status to Jammu and Kashmir.
Modi acknowledged the hardships endured by the community following their exodus from their ancestral homeland back in 1989-1990 due to militancy.
"You have suffered a lot, but the world is changing. We have to move ahead together and build a new Kashmir," the Prime Minister had told the delegation.
"I had a special interaction with Kashmiri Pandits in Houston," Modi had tweeted following the interaction.
In October, Union minister Prakash Javadekar announced that the Centre has decided to provide compensation of Rs 5.5 lakh each to 5,300 displaced families from Pakistan-occupied Kashmir (PoK), who initially opted to move outside Jammu and Kashmir but later on returned.
These families were earlier left out in the rehabilitation package that was approved by the Cabinet on November 30, 2016.
The Prime Minister had announced a reconstruction plan for Jammu and Kashmir in November 2016. His plan included a rehabilitation package for a one-time settlement of 36,384 displaced persons' (DPs) families of PoK-1947 and Chhamb.
https://timesofindia.indiatimes.com/india/kashmiri-pandits-tweet-pledge-to-return-to-valley/articleshow/73350204.cms
--------
Whatsapp Message Reportedly From VHP and Bajrang Dal Warning Muslims Not To Hire Stalls for Vittal Temple Fair in Karnataka
Jan 17, 2020
MANGALURU: A WhatsApp message reportedly from VHP and Bajrang Dal is doing the rounds, warning Muslims not to hire stalls during the annual fair of Vittal Sri Mahatobara Panchalingeshwara Temple, situated 35 km from Mangaluru.
The annual fair is from January 14 to 22, and the grand fair is held in the last few days. The message on social media warns that not only are Muslims not welcome to the fair, but they also cannot put up any shops there. "Ignore this warning at your peril," the message adds, directing them to spread this message among their community not to come, as they only would be responsible for any untoward incident.
However, Vittal town panchayat president Damyanathi told TOI that stalls are set up on government land, and that anybody can hire stalls. "We have sent a circular and it has been clearly mentioned that it is a secular fair. Over the years, people from all religions have participated in it. This year tender for stalls have been bagged by Ganesh Shenoy, and he can be contacted for the same," Damayanthi stated in a circular.
Sources said that after the message went viral, which was reportedly sent by right-wing groups, Ganesh Shenoy, who had bagged the tender, has returned the advance taken by two Muslim shopkeepers. "Ganesh Shenoy, who was under pressure, has returned advance money of two Muslim shopkeepers, who wanted to set up stalls during the temple's annual Rathostava. During the festival, there will be stalls for a distance of 1 km near the temple, and every year, even Muslims used to put up stalls there. This year they have been repeatedly denied the opportunity to set up stalls," said a resident from Vittal.
Four years ago, printing the name of then deputy commissioner A B Ibrahim's name on an invite of Mahalingeshwara Temple, Puttur, had sparked off a major controversy. Ganesh Shenoy was not available for comment even after repeated calls.
https://timesofindia.indiatimes.com/city/mangaluru/karnataka-muslims-warned-not-to-hire-stalls-for-vittal-temple-fair/articleshow/73334494.cms
--------
Amid anti-CAA protests, Muslims in MP's Neemuch refuse to show documents
Jan 18, 2020
Mustafa Husain
Amid protests against the Citizenship Amendment Act (CAA) and the National Register of Citizens (NRC), Muslims in Neemuch and adjoining districts in Malwa region of Madhya Pradesh are refusing to show their Aadhar and other identity cards to government personnel during an ongoing survey for ration cards and food eligibility slips, say officials.
Neemuch is situated in Malwa region on the MP-Rajasthan border, 428 kilometers North West of Bhopal. The population of Neemuch is about 1.28 lakh according to the 2011 census out of whom about 30000 are Muslims.
The survey began on December 31 and would go on more than a month during which each anganwadi worker has to contact as many as 150 families to verify the ration cards with the government records.
An anganwadi assistant in Neemuch, Veena Pathrod said, "When we go into Muslim-dominated localities they don't show their ration cards. They don't show their aadhar cards and voter I-cards as well with help of which we could verify the credentials of the ration cards and food eligibility slips holders."
She said, "The fear among them is that such information as on the cards may be used against them and they may be deprived of their citizenship in the coming days. Even when we persuade them that nothing is going to happen like this they don't believe us. They refuse to share any information."
Haji Bhura Qureshi, a resident of Madhavganj locality in Neemuch said, "Government personnel have been visiting our locality almost daily but we are scared that if we show any document to them and same may be misused against us."
Khursheed Bano, an ex-corporator and resident of Mujawar locality said, "There is fear among Muslims after CAA was introduced and there were talks about NRC. Several Muslims talk to me and ask if they will be deprived of their citizenship. I try to convince them that nothing is going to happen but they hardly look satisfied with my reply."
A social worker Kishore Javeria said, "This is true that after the CAA came into being there is anxiety and fear in Muslim community. The administration has to take steps to ensure that the feeling of fear, anxiety and apprehension is allayed."
The fear is not confined to Neemuch. It is stalking people in neighbouring districts too.
Hameed Painter, a resident of Khanpura locality in Mandsaur and Mohd Ibrahim, a resident of Madina Masjid area of Ratlam spoke in a similar vein.
Additional district magistrate of Neemuch Vinay, Kumar admitted that administration is facing the problem.
He said, "The present survey work will be followed by Census work. The government's policies are based on population only. If common man doesn't show their documents or give information about them they will have difficulties in getting the benefits from the government schemes. This phenomenon has come to our notice and we are looking into it as to how to sort it out."
The opposition BJP has accused vested interests of spreading fear among the people over CAA.
There are deliberate attempts by some elements to infuse fear in mind of people despite the fact the central government and the BJP have repeatedly made it clear that CAA is about granting the citizenship, not about snatching one's citizenship. The government has also made its stand clear on NRC. There should be no reason for any apprehension or fear," said Rajneesh Agrawal, spokerperson of the BJP's Madhya Pradesh unit.
Minister for backward classes and minorities in Kamal Nath government Arif Aqueel blamed the Center for the fear among minorities.
"It is but natural that the circumstances created by the central government have resulted in fear stalking the minority community. But at the same time, Muslims are a brave community. They are citizens of the country for generations like others. No one can snatch the right of citizenship. The government will take steps to ensure that people don't have any fear or apprehension," Aqueel said.
https://www.hindustantimes.com/india-news/amid-anti-caa-protests-muslims-in-mp-s-neemuch-refuse-to-show-documents/story-OxV3Nc7Ixj8P2Wp1UQfjmI.html
--------
Pakistani court hands down 55-year sentences to 86 Islamists
By MUNIR AHMED
January 18, 2020
ISLAMABAD (AP) — A Pakistani court has sentenced 86 members of a radical Islamist party to 55-year prison terms each for taking part in violent rallies in 2018 over the acquittal of a Christian woman in a blasphemy case, a party official said Friday.
The verdicts, unusually harsh for Pakistan, were announced late Thursday night by the court in Rawalpindi, a garrison city near Islamabad. The trial had lasted for over a year. Pir Ejaz Ashrafi, a senior leader of the radical Tehreek-e-Labbaik party, said the sentences would be appealed.
Among those sentenced was Ameer Hussain Rizvi, the brother of firebrand cleric Khadim Hussain Rizvi who heads the party.
" Justice has not been done," Ashrafi told The Associated Press. "We will challenge the verdicts."
The 86 were charged with damaging public property, beating people up and disrupting normal life by staging sit-ins against the acquittal of Aasia Bibi earlier that year.
Bibi was convicted of blasphemy in 2009 and sentenced to death on charges of insulting Islam. Her case stemmed from a quarrel with fellow farm workers who refused to drink from the same water container used by a Christian. She consistently denied the charges against her.
The country's Supreme Court overturned her conviction in 2018 but after hard-line Islamists staged nationwide rallies against the ruling, authorities continued to hold her in protective custody before she was allowed to leave for Canada last year to reunite with her family there.
Pakistan's blasphemy laws are often used to settle scores or intimidate followers of minority religions, including Shiite Muslims. A charge of insulting Islam can bring the death penalty, and the mere accusation of blasphemy is sometimes enough to whip up vengeful mobs, even if courts acquit defendants.
In two related cases, Salman Taseer, the governor of eastern Punjab province, was shot and killed by one of his bodyguards in 2011 for defending Bibi. His assassin, Mumtaz Qadri, was celebrated as a martyr by hard-liners following his execution, with millions visiting a shrine erected in his honor near Islamabad. Later in 2011, Pakistan's minister for minorities, Shahbaz Bhatti, was assassinated, also after demanding justice for Bibi.
Last year, authorities arrested Rizvi for leading incendiary rallies. He was later freed on bail on medical grounds pending trial.
Last month, in the Pakistani city of Multan, a court convicted Junaid Hafeez, a Muslim professor, of blasphemy, sentencing him to death for allegedly spreading anti-Islamic ideas. He was held for six years awaiting trial and spent most of that time in solitary confinement.
A prominent Pakistani lawyer, A.K. Dogar, criticized Thursday's verdicts, saying they were mostly symbolic and that none of those convicted would spend more than 25 years in prison at the most, which is equivalent to a life sentence under Pakistani law. Dogar was not involved in the case of the sentenced Tehreek-e-Labbaik members.
"Imprisonments given by judges of more than 25 years are mostly symbolic," he said. "The convicted person only spends a maximum 25 years in prison."
https://apnews.com/21af88fa342b89e7da29a3362ac39e32
--------
Bangladesh Fears Rohingya-Like Crisis over India Citizenship Law
JANUARY 16, 2020
DHAKA -- India's contentious new citizenship law has strained relations with neighboring Bangladesh, which fears a flood of refugees streaming into the country in a repeat of the Rohingya crisis, analysts say.
Bangladesh's Deputy Foreign Minister Shahriar Alam last week became the latest government official to cancel a trip to India. His move comes a month after Foreign Minister A.K. Abdul Momen and Home Minister Asaduzzaman Khan nixed visits as relations between Dhaka and New Delhi sour.
The shutdown of mobile phone networks along India-Bangladesh border on Dec. 29 and the voluntary return of more than 400 Bangladeshi illegal migrants from India have fueled the uproar over India's Citizenship Amendment Act, or CAA.
Fears over the CAA being a prelude to a broader national citizen registry appeared well founded last August, when India's northeastern state of Assam updated its list of citizens, excluding in the process nearly two million Bengali-speaking people.
The CAA came into force in December, prompting nationwide protests in India that have claimed more than 20 lives.
Under the law, Hindus, Christians, Sikhs, Parsis, Buddhists and Jains who fled persecution in neighboring Muslim-majority Afghanistan, Bangladesh and Pakistan have an expedited path to citizenship. The law applies to refugees who arrived in India before 2015.
But the CAA excludes Muslims, angering and worrying India's 200 million-strong Muslim population.
The recent spate of canceled visits by Bangladeshi ministers is indicative of "tensions in relations," said Chowdhury Rafiqul Abrar, professor of international relations at Dhaka University.
The controversial legislation deeply worries Indian Muslims, he says, who out of fear of detention or other reprisals may stream into Bangladesh, which is already hosting roughly 1.2 million Rohingya refugees fleeing Myanmar. "Where will they go except Bangladesh?" he told the Nikkei Asian Review.
Touhid Hossain, a former foreign secretary of Bangladesh, warns that the CAA will be a "sword of Damocles hanging over Bangladesh," adding that "It may pose a problem anytime."
But Mohammad Sarwar Mahmood, a director general of the South Asia department at Bangladesh's foreign ministry, downplayed fears.
Mahmood said he feels "reassured" by the pledge Indian Prime Minister Narendra Modi made to his Bangladeshi counterpart, Sheikh Hasina, referring that Bangladesh would not be affected by any national register of citizens.
Still, he says, "We're monitoring the situation."
The Assam incident was further exacerbated by remarks from India's powerful home minister, Amit Shah's, who hinted at introducing a national register to kick out "illegal" migrants, who he described as "termites."
An official of Bangladesh's home ministry told media that recent attempts to deport people from India had been prevented by Bangladeshi border guards. Still, he said about 445 Bangladeshis who had previously entered India illegally returned home last year.
Other officials have said that the number of returnees has increased since November.
Bangladesh's telecom regulator cut mobile communication service on Dec. 29 along a 1-km stretch of border, citing security concerns -- a move that affected nearly 10 million cellular phone users. The restrictions were lifted on Jan. 1.
To Hossain, New Delhi's actions are stoking anti-Indian sentiment among Bangladeshis, who fear another refugee crisis.
Calling the issue a potentially mini-Rohingya crisis, opposition journalist union leader Syed Ali Asfar says that while Indian Muslims may try to sneak into Bangladesh, Bangladeshi Hindus may seek citizenship in India.
https://asia.nikkei.com/Politics/International-relations/Bangladesh-fears-Rohingya-like-crisis-over-India-citizenship-law
--------
ISIS panel in Syria acts as 'judge, jury and executioner,' report finds
January 18, 2020
A U.S.-based Syrian rights group said Thursday that it's assembled a 24-page report titled "Judge, Jury and Executioner," detailing the atrocities committed by the Islamic State and the total control with which they ruled over elements of daily life in the country.
The 24-page report is based on dozens of documents collected by local Syrian activists from abandoned offices in the Raqqa province, which were then provided to The Syria Justice and Accountability Center (SJAC), according to The Associated Press.
The Washington-based group claimed the evidence they've received can help identify militants who've committed horrific crimes and assist in their international prosecution.
The Bureau of Justice and Grievances, which claimed to be a watchdog that held Islamic militants to account, was actually doing the bidding of the Islamic State and invading the lives of citizens at every level.
A U.S.-based Syrian rights group said Thursday that it's assembled a 24-page report titled "Judge, Jury and Executioner," detailing the atrocities committed by the Islamic State and the total control with which they ruled over elements of daily life in the country.
The 24-page report is based on dozens of documents collected by local Syrian activists from abandoned offices in the Raqqa province, which were then provided to The Syria Justice and Accountability Center (SJAC), according to The Associated Press.
The Washington-based group claimed the evidence they've received can help identify militants who've committed horrific crimes and assist in their international prosecution.
The Bureau of Justice and Grievances, which claimed to be a watchdog that held Islamic militants to account, was actually doing the bidding of the Islamic State and invading the lives of citizens at every level.
Al-Abdallah said his team was already working on establishing the identities of the perpetrators.
"We will start matching videos to documents basically and mapping out identities," he said.
https://www.foxnews.com/world/isis-syria-bureacracy-murder
--------
The day Iran attacked US targets in Iraq was 'day of God': Iran's Khamenei
17 January 2020
Iran's Supreme Leader Ali Khamenei said on Friday that the day Iran attacked US targets in Iraq was a "day of God" and a "blow to America's image" in his first Friday sermon since 2012.
Iran launched more than a dozen ballistic missiles against US military and coalition forces in Iraq on January 8 in response to the US-ordered drone strike that killed top Iranian General Qassem Soleimani in Baghdad on January 3.
"The fact that Iran has the power to give such a slap to a world power shows the hand of God," Khamenei said.
His comments were met by chants of "Death to America!"
Khamenei also said protests in Iran over the Ukrainian plane attack were aimed at overshadowing Soleimani's ''assassination."
Iran admitted on Saturday that it mistakenly shot down Ukrainian flight 752 on January 8 shortly after it took off from in Tehran that killed all 176 people on board.
Death of Soleimani: "Disgrace for the US administration"
Soleimani's death was a "disgrace for the US administration," Khamenei said, adding that millions in Iran and thousands in Iraq mourned Soleimani after he was killed.
"Soleimani was the most powerful commander of the resistance front in the region," Khamenei said, adding that Soleimani was the "real leader fighting against terrorism."
Soleimani was the commander of the Quds Force, the overseas operations arm of Iran's Islamic Revolutionary Guard Corps (IRGC).
Khamenei said the Quds Force should be viewed as a "humanitarian organization with human values."
Khamenei said US President Donald Trump is a "clown" who pretends to support Iranians but will betray them.
Trump tweeted in Farsi on January 12 that he was "inspired" by the courage of the Iranian people.
"To the brave, long-suffering people of Iran: I've stood with you since the beginning of my Presidency, and my Administration will continue to stand with you. We are following your protests closely, and are inspired by your courage," Trump tweeted.
Khamenei's speech came amid protests in the country over the accidental downing of a Ukrainian passenger plane and rising tensions with the US.
Khamenei last gave a Friday sermon in February 2012, when he called Israel a "cancerous tumor" and vowed to support anyone confronting it, and warned against any US strikes on Iran over its nuclear program, saying the US would be damaged "10 times over."
https://english.alarabiya.net/en/News/middle-east/2020/01/17/Millions-in-Iran-Iraq-mourned-Soleimani-Iran-s-Khamenei-says-in-Friday-sermon.html
--------
China's Rights Abuses in Xinjiang Could Provoke a Global Terrorist Backlash
By Mollie Saltskog and Colin P. Clarke
January 16, 2020
In mid-November 2019, The New York Times published more than 400 pages of leaked internal documents from the authorities in the Xinjiang Uighur Autonomous Region, a province in northwestern China. At least one million people, but perhaps twice that number—mostly ethnic Uighurs, Kazakhs, and other Muslim minorities—have been incarcerated in the province's so-called reeducation camps, where detainees are held against their will and forced to perform manual labor, forbidden from contacting relatives, and in some cases psychologically and physically tortured.
The leaked documents included painstaking instructions for the silencing of those whose parents had been locked away, as well as internal speeches in which Chinese President Xi Jinping called on the Chinese people to show "no mercy" and use all the "weapons of people's dictatorship" to combat a perceived extremist threat. The leak confirmed what human rights organizations, practitioners, and China watchers have long feared: that the Chinese Communist Party (CCP) is engaged in the systematic persecution of the country's domestic religious and ethnic minorities.
So far, Chinese authorities have carried out this campaign with impunity. The United States and several European countries have voiced concern about human rights in Xinjiang, but Chinese officials retort by invoking their country's sovereignty. Moreover, they claim, harsh actions in Xinjiang were necessary to protect China from what it calls "the three evils"—terrorism, separatism, and religious extremism. Less often spoken about is the Chinese government's vested interest in asserting control over a region that has historically opposed Chinese rule—and one which now serves as Beijing's gateway to the Eurasian continent for infrastructure investment, trade, and energy diversification.
Given the intensity of China's commitment to bringing Xinjiang to heel, condemning human rights abuses there has availed Washington very little and served to raise hackles in Beijing. There is a better way for U.S. policymakers to engage the Chinese government regarding the persecution of Uighurs and other minorities, and the approach is a counterintuitive one: Washington should offer to share its counterterrorism expertise.
At the moment, China views Russia and the Central Asian states as security partners. These states address their own terrorism problems by cracking down on minorities and strangling human rights. Such an approach in Russia temporarily curbed domestic terrorism but stoked terrorism abroad. Former Soviet Republics accounted for the largest number of foreign fighters that traveled to Iraq and Syria to join the Islamic State, known as ISIS. China appears to have adopted similar tactics, and if it continues down this road, Beijing could very well be setting the stage for a generational struggle with Uighurs both within China and abroad, where a Uighur diaspora is growing in the Middle East and Southeast Asia.
The United States and its allies could show China a better way forward. By advising China on security questions, the United States could help relieve the pressure on Chinese minorities even while improving Washington's relationship with Beijing.
THE THREE EVILS
Anyone who has tried to broach a conversation about human rights in Xinjiang with a Chinese government official knows that the dialogue tends to end abruptly—usually with a lecture on how China has successfully eliminated terrorism within its borders. This policy comes as a direct response to a number of relatively recent terrorist attacks in China—the government cites, for instance, the 2013 Tiananmen Square car bombing and the 2014 Kunming Railway Station attack. The Chinese counterterrorism strategy is deeply rooted in the belief that socioeconomic development of this previously underdeveloped region will eradicate "the three evils." Such is the explanation the CCP has offered for developments in Xinjiang in its white papers and in the antiterrorism law it adopted in 2015.
Beijing may be correct in arguing that the police state the CCP created in Xinjiang has temporarily attenuated the threat of terrorism in China. There is little evidence to the contrary. But this argument is difficult for outsiders to adjudicate, given that China has a history of being less than transparent about the frequency and lethality of terrorist attacks throughout the country. China also defines terrorism more broadly than Western security analysts generally would, including under its rubric both separatism and religious extremism.
Moreover, counterterrorism concerns are not the only ones driving Beijing to assert harsh control over Xinjiang. Several of the CCP's most important domestic and foreign policy goals require unfettered access to the region. Xinjiang's geographic location is crucial to the Belt and Road Initiative's land routes that connect the Chinese and European markets. The region is also central to Chinese energy ventures and security. According to Chinese state media, for instance, the Central Asia–China gas pipeline that runs from Turkmenistan to Khorgos, Xinjiang, delivered more than 47.9 billion cubic meters of natural gas to China in 2019. Political unrest in Xinjiang and the threat of the region's independence could severely endanger China's energy security and sabotage President Xi's signature project and political legacy. Reining in the region is for this reason of paramount importance to the CCP. Doing so through draconian repression, however, is myopic and could result in a new cycle of terrorist violence.
OF SEPARATISTS AND TERRORISTS
Whether or not the militant groups in Xinjiang are linked to transnational terrorism to begin with is a subject of debate. Beijing has long tried to tie the historic separatist movement in Xinjiang to Islamist terrorist organizations outside China's borders, like al Qaeda. The CCP accelerated these efforts in the 2000s, after the 9/11 attacks and in the early years of the United States' global war on terrorism. The CCP also claims that the East Turkistan Islamic Movement (ETIM), a Uighur jihadist group, maintains connections to Xinjiang, but most terrorism experts would argue that these links are tenuous and that, in any case, they withered well before 2020.
Even so, terrorism has come to pose a growing threat to Chinese interests and nationals abroad. Analysts have tied the 2015 bombing of a shrine in Bangkok, in which Chinese tourists were targeted, to the deportation of Uighurs from Thailand to China, at the latter's request. Kyrgyz security services claimed that a 2018 car bomb attack on the Chinese embassy in Bishkek was a joint operation by the ETIM and Kateeba Tawhid wal Jihad, a predominantly Uzbek group based in Syria. And an Afghan militant group claimed responsibility for a 2018 attack on the Chinese consulate in Karachi, which ended with a shootout. During this period, Chinese nationals abroad have been the victims of multiple kidnappings and executions.
In 2019, terrorist organizations such as al Qaeda and ISIS explicitly mentioned China in many of their propaganda materials—citing the CCP's abuse of Muslim minorities as a justification for going after China and Chinese nationals. On the messaging application Telegram, jihadi groups use images of Chinese atrocities against Uighurs to recruit and radicalize Muslims throughout the world. The situation in Xinjiang serves to rally extremists across the globe, just as U.S. abuses in Abu Ghraib Prison became a potent recruitment tool for al Qaeda in Iraq in 2004.
THE VOICE OF REASON
Through its Belt and Road Initiative, Beijing has rolled out large-scale, highly visible infrastructural projects abroad that furnish an abundance of soft targets for transnational terrorism. The growing anti-Chinese sentiment in many countries and regions where Chinese investments are ubiquitous—including several South Asian, Central Asian, and African countries—poses a serious security threat. Such organizations capitalize upon local grievances, making Beijing's exposure abroad a potential vulnerability. The United States has a wealth of experience in countering the threat stemming from transnational terrorist organizations. China lacks this expertise and would benefit from tapping into that of the United States. While a true partnership is unlikely due to the competitive nature of U.S.-Chinese relations, Washington could certainly supply Beijing with credible intelligence about specific plots against China or Chinese interests. It would have to do so without compromising sources or methods, but the information would likely garner goodwill and could create an opening for the United States to persuade the CCP that a scorched-earth approach to counterterrorism, particularly one that involves egregious human rights abuses, is likely to backfire in the long term.
Without U.S. cooperation, however, Beijing will continue to turn to private security contractors—such as former Blackwater chief executive Erik Prince, known for employing a team of soldiers for hire who operate outside of recognized legal boundaries and with little accountability—as well as Shanghai Cooperation Organization members, such as Russia, Uzbekistan, and Tajikistan, all of whom approach counterterrorism with little regard for human rights.
FAINTEST HOPES
Beijing's counterterrorism strategy in Xinjiang is ultimately counterproductive. The policy could instigate more violence, serve as a recruitment tool, and increase the number of attacks against Chinese projects and nationals abroad. To avert this potential threat to global security, U.S. policymakers must first recognize that the situation in Xinjiang is about more than human rights abuses. Rather, Beijing's crackdown risks fanning the flames of transnational terrorism against China.
Washington should appeal to China by offering to help ensure its domestic security rather than simply condemning the CCP's human rights abuses. Such outreach could help defuse the humanitarian crisis and alleviate the crackdown in Xinjiang, even while preventing China from aligning more closely with Russia and other authoritarian states.
As the repercussions of China's high-handed counterterrorism policy play out, U.S. policymakers may find themselves wishing that they had made the security-focused humanitarian argument—and Chinese officials will wish that they had listened to it.
https://www.foreignaffairs.com/articles/china/2020-01-16/chinas-rights-abuses-xinjiang-could-provoke-global-terrorist-backlash
--------
UN: Children of Foreign ISIS Militants Must be Repatriated
16 January, 2020
UN investigators on Thursday called for thousands of children of militants who fought for ISIS to be repatriated from Syria.
The UN Commission of Inquiry on Syria said in a report that the children were in a "particularly precarious" situation since they often lacked official papers.
"This, in turn, jeopardizes their rights to a nationality, hinders family reunification processes and puts them at a higher risk of exploitation and abuse," the report said.
The UN says around 28,000 children of foreign militants are living in Syrian camps -- 20,000 of them from Iraq.
Thousands more are believed to be held in prisons, where teenage children are being detained alongside adults.
Commission chair Paulo Pinheiro said the detention of children with adults was "a terrible violation", urging the relevant governments to take action to stop this.
"All this delay in not taking these children from these prisons is outrageous. It's a scandal," he said.
Following the collapse of the self-proclaimed "caliphate" of ISIS last year, foreign militants from nearly 50 countries were detained in Syria and Iraq.
Many of their relatives are held in the overcrowded Al-Hol camp in northeastern Syria, home to around 68,000 and where more than 500 people -- mostly children -- died in 2019.
The UN commission called on governments to recognize papers issued by non-state actors such as ISIS and witness testimonies to allow the children to obtain official documents.
UNHCR human rights official Marie-Dominique Parent told the European Parliament in November that roughly 700 to 750 children with European links were being held in camps in northeast Syria, with 300 of them said to be French.
Some countries have started to repatriate the children -- with or without their parents -- on humanitarian grounds.
But the UN investigators criticized the practice of revoking citizenship of suspected ISIS militants used by countries including Britain, Denmark and France.
Its report said the practice had "negatively impacted children, including their ability to exercise basic human rights".
"States have well-defined obligations to protect children, including from statelessness. Failing to abide by such fundamental principles would be a clear derogation of duty," Agence France Presse quoted Commissioner Hanny Megally as saying.
The report also criticized plans by some countries to repatriate children without their mothers, saying it could "run counter to the principle of the 'best interests of the child'".
The UN set up its Commission of Inquiry on Syria to investigate human rights abuses shortly after the outbreak of the conflict in 2011.
In its report on Thursday it also accused the Syrian government of committing war crimes and crimes against humanity, including murder, rape and torture, AFP said.
https://aawsat.com/english/home/article/2085841/un-children-foreign-isis-militants-must-be-repatriated
--------
India
Akalis tread a middle path: Won't back NRC, support NPR, demand tweak in CAA resolution
January 18, 2020
Having drawn flak in Punjab for supporting the Citizenship Amendment Act in Lok Sabha, the Shiromani Akali Dal (SAD) Friday took a middle path in the Vidhan Sabha asserting that it would not back a nationwide National Register of Citizens (NRC), defending the National Population Register, and demanding an amendment in the resolution seeking inclusion of Muslims in the list of communities that would be granted citizenship under the amended law.
The amendment was, however, not allowed by Speaker Rana KP Singh. This led to a protest by the SAD members, who opposed the resolution.
Earlier, the Akali Dal that had voted in favour of CAA in Lok Sabha, came up strongly against the NRC. "We strongly oppose any move like the NRC that forces needless hardships on the common people. We will not support this as it would mean people standing in queues to get their name registered," said party leader Bikram Singh Majithia. He said the Akali Dal had voted in its favour in Lok Sabha as they could not understand what it was then.
Majithia, however, also congratulated Chief Minister Amarinder Singh for bringing a resolution against the CAA in the Assembly.
The Akalis said they were seeking the amendment in the government resolution so that the Muslims also get the benefits being promised to the Hindu, Sikh, Buddhist, Jain, Christian and Parsi communities under the CAA.
"The party wants the Congress not to oppose the relief given to thousands of Sikhs, but to focus only on securing relief to the Muslims," said SAD legislature party leader Sharanjit Singh Dhillon.
Elaborating the difference between the stand taken by the SAD and the Congress, respectively, on CAA on the floor of the Housa, Majithia later told reporters: "There are three bottles of blood and three critical patients in a clinic, each patient needing a bottle. The SAD wants that at least three patients may be saved by giving a bottle each to them, and efforts should meanwhile be made to secure a fourth bottle. But the Congress wants that if the fourth bottle is not found, no one should be given blood and all four patients should be allowed to die. They don't want to save Muslims; they want to let the Sikhs suffer too".
Majithia called "redundant and hollow " and "political posturing", the announcement by Amarinder Singh on the NPR. "The NPC has been in existence since 1955, further amended in 2013. Former Prime Minister Manmohan Singh and former Home Minister P Chandambram had been on record saying that there was nothing wrong with the NPC. As such, Amarinder's statement on the issue is nothing but "empty rhetoric."
While speaking on CAA, Majithia raised the issue of the wife of a Congress legislator Kaka Randeep Singh Nabha, who is from Afghanistan. Nabha hit back at Majithia for raising the personal issue for politics and stated that his family, following the teachings of Sikh Gurus, respected every religion and community.
CAPT HITS OUT AT SAD
Chief Minister Amarinder Singh, in his address in support of the resolution against the CAA, hit out at the Akali Dal saying they were changing stands. "They did something in Lok Sabha, said something else outside and are doing something else here," Amarinder said.
He said that while following the political agenda they should not forget that the history will never forgive them. Pointing out that Punjab had just celebrated the 550th Prakash Purb of Sri Guru Nanak Dev ji, who taught that "koyi Hindu nahin, koyi Mussalman nahin, sab rab key bandey," Amarinder asked the Akalis if they had forgotten the Guru's teachings. "You should be ashamed, and you will repent this one day," he said, adding that he felt bad about speaking in such language but circumstances had made it necessary.
https://indianexpress.com/article/india/akalis-tread-a-middle-path-wont-back-nrc-support-npr-demand-tweak-in-caa-resolution-6222736/
--------
UP Police Inflicted 'Enormous Violence' on Muslims During Protests: People's Tribunal
Ashish Jha
January 18, 2020
New Delhi: "The state of affairs in UP shows a complete collapse of rule of law. In fact, the very state administration that is charged with protecting the rule of law is perpetrating violence upon its own people," a people's tribunal jury has said about the recent violence in the state.
Large-scale protests against the Citizenship (Amendment) Act have occurred across the country, but stories from Uttar Pradesh have stood out because of the extent of the police clampdown and violence. Fact-finding teams from Karwan-e-Mohabbat, an NGO headed by Harsh Mander, travelled the state and collected the data about police brutality. The teams presented their findings before a people's tribunal comprising Justice A.P. Shah, Justice Sudarshan Reddy, Justice V. Gopala Gowda, Shanta Sinha, Irfan Habib, Deb Mukherji, Chaman Lal, N.C. Saxena and Anirudh Kala at the Indian Society of International Law on Thursday.
On hearing victims' testimonies and the fact-finding teams' reports, the jury said it was "deeply worried and dismayed". "It is convinced that the entire state machinery, led from the top, acted with grave prejudice and perpetrated violence targeting one particular community, the state's Muslim population, and the social activists leading the movement," a statement from the jury said.
The jury came down heavily on the police, saying not only had it indulged in violence, it had also filed false cases against Muslims and activists, beat children and minors in custody, and preventing medical personnel from treating the injured.
"The complaints of the victims about police brutality, violence and destruction of property were either not filed or filed incorrectly. On the other hand, thousands of FIRS were filed against unnamed persons on accusation that protestors had become violence with the intention of continued harassment and intimidation," the jury said.
Not just the police – the political and administrative leadership turned a blind eye to the atrocities, the jury said. "In several instances, the jury have observed that senior leadership such as the Chief Minister directed the Police to use the strongest force against protesting citizens by using words like badla or revenge. The Jury concludes that the state administration, through arbitrary and extensive imposition of Section 144 CrPC in several districts, shutting down of internet services, violated the citizens rights and facilitated police violence."
According to data presented by the fact-finding team in western Uttar Pradesh, 16 people have been killed by the police with bullets. All of them belong to Muslim working-class families.
The fact-finding team also presented some video footage as proof and accused the police of plundering property and destroying the homes of victims. The team also claimed that injured people were unable to get medical treatment as doctors were told not to help them.
During the proceeding, victims of police brutality recalled their trauma and accused the police of torturing and beating them mercilessly. Former IPS officer and social activist S.R. Darapuri also testified in front of the tribunal and said, "The police arrested me at 11:30 an and changed the time in FIR to 7 pm, and didn't allow me to call my lawyer." He also accused the police of beating up people selectively on the basis of their religious identity.
Sadaf Jafar, an actor, activist and Congress spokesperson from Lucknow, was also present before the tribunal and said that she was arrested and taken away in a van in which no woman police officer was available. She also accused the police of using hateful and communal words against her.
Condemning the police brutality in UP, senior lawyer and social activist Prashant Bhushan said that communalisation of the UP police is unprecedented. He launched a scathing attack on chief minister Adityanath and said, "Why are the chief minister and police not held guilty and liable for the damages caused by the police?" He added that the high court and Supreme Court should take suo moto notice in all these cases.
Commenting on the violence that took place in the campus of Aligarh Muslim University, Irfan Habib, a prominent historian and also a member of tribunal, compared the BJP-led government with Nazi Germany. "Even the British didn't enter and impose Section 144 in the AMU campus, what the BJP government did."
Social Activist Medha Patekar, professor Nivedita Menon and author and activist Arundhati Roy were also present. Patekar said, "Hindutva government, police and the doctors all together are aggravating violence in the state." She also appealed to all opposition parties to come together on the issue of CAA and proposed nationwide NRC, and said that all parties should fight the battle on both the legal and political fronts, like Kerala.
https://thewire.in/rights/uttar-pradesh-police-violence-protests
--------
Himanta Biswa Sarma says CAA rules won't consider religious persecution
Jan 18, 2020
GUWAHATI: Denying that "religious persecution" was a criterion for offering Indian nationality to Hindu and other select communities under the amended citizenship law, Assam finance minister Himanta Biswa Sarma on Friday claimed that watertight rules were being framed to detect "fraudulent conversion" and ensure strict compliance with the December 31, 2014, cut-off.
"There are three criteria for applying for citizenship. First, one has to be either a Hindu, Jain, Parsi, Christian, Sikh or Buddhist. Second, the applicant's country of origin has to be either Bangladesh, Afghanistan or Pakistan. Third, the applicant should have proof of residence in India before December 31, 2014. Religious persecution is not a criterion," Sarma told TOI.
He pointed out that the Citizenship (Amendment) Act has no provision for granting Indian nationality to a person on grounds of religious persecution because there was no way of proving an applicant faced such an ordeal before fleeing any of the three countries of origin.
"How can an applicant prove he or she is a victim of religious persecution or fled the country of origin and entered India owing to fear of religious persecuti-on? To get such proof, a person has to go back to Bangladesh or the other two countries and get a police certificate. Why should Banglade-sh, for instance, admit there is religious persecution?"
https://timesofindia.indiatimes.com/india/himanta-biswa-sarma-says-caa-rules-wont-consider-religious-persecution/articleshow/73345143.cms
--------
Syro-Malabar Church says 'love jihad' a threat in Kerala, govt says it doesn't exist
ROHINI SWAMY
17 January, 2020
Bengaluru: Kerala's Syro-Malabar Church has alleged that nearly 12 Christian women have been converted to Islam through 'love jihad' in the last three years and taken to Syria where some of them might even have been killed.
The church issued a statement Wednesday, expressing concern over the "rising number of love jihad" cases in the state and called it a part of a larger agenda of the Islamic State (IS) to "threaten the religious and social harmony of Kerala".
'Love jihad' is a term coined by Hindu fundamentalist groups, referring to an alleged campaign by Muslim men to convert Hindu girls in the guise of love.
Father Antony Thalachelloor, a member of the church's media commission, told the Print: "The Islamic State has been luring Christian women as part of their international agenda of hunting down Jewish and Christian women."
The synod (council of bishops) of the church headed by Cardinal George Alencherry alleged that the 12 Christian women converted to Islam were among the 21 women who moved to Syria after being recruited by the IS in 2016.
Accusing the Kerala Police of being incompetent in controlling the forced conversions, the synod has now decided to alert the Christian community about 'love jihad'.
"In the next few months, we will sensitise families and girls through our pious organisations so that they are educated enough not to fall in this trap," said Thalachelloor.
Several suspected cases of 'love jihad' have been reported in Kerala with the Hadiya case being the most famous among them. While initially, it was alleged to be a 'love jihad' case, the Supreme Court finally ruled that it wasn't.
Suspected 'love jihad'' cases
The Syro-Malabar Church, which is the second-largest Eastern Catholic Church in the world after the Ukrainian Church, claimed the sudden increase in 'love jihad' cases has been reported to the police, but they did not investigate the matter properly, forcing them to pass a resolution on 15 January.
According to the resolution, Christian women in Kerala are being targeted and killed in the name of 'love jihad'.
The church's statement assumes significance in the light of an incident of a 19-year-old Christian woman who was allegedly threatened by a Muslim man for conversion in Kozhikode last year.
The case came to light in September when the woman's parents filed a police complaint, alleging that she was lured by a man named Jasim, whom she met at her coaching centre.
The father of the woman alleged that Jasim drugged his daughter and recorded obscene videos of her, which were later used to blackmail her.
"The complaint said that the accused was not only trying to convert the girl but the entire family by blackmailing them," said an officer from Nadakkavu police station over the phone.
The church sources also told ThePrint that individual dioceses have been receiving complaints that Muslim men are trying to convert Christian women in the guise of love.
'Conversion was not into Islam but into terrorism'
George Kurian, Vice-Chairman of the National Commission for Minorities, told The Print that he had written a letter to Union Home Minister Amit Shah last year in September, seeking a probe into 'love jihad' cases by "Islamic radicals" in Kerala.
"The spate of organised religious conversions and using the victims for terror activities by trapping them through 'love jihad' has shown the Christian community is a soft target for Islamic radicals," he wrote in the letter, seeking intervention of the National Investigation Agency (NIA).
"It was based on my letter that the NIA intervened in the Kozhikode case and the accused has been arrested. While the central government is doing enough to try and stop these 'love jihad' cases, the allegation is that the Kerala government needs to pull their socks up," he told ThePrint.
Kurian said there was another case of a Christian girl from Delhi who went missing last year. "She was traced to the UAE after I alerted the government about this. The girl was brought to the Indian embassy in UAE where she told her family that she was forced to convert," he added.
Explaining that 'love jihad' is a reality, Kurian cited a report by the Kerala Catholic Bishops Council's Commission for Social Harmony and Vigilance that said there were 4,000 instances of 'love jihad' between 2005 and 2012.
"Conversion, per se, is not a problem, but in these cases, the conversion was not into Islam but into terrorism," he said.
Kurian has written a letter to Kerala DGP Loknath Behera Thursday, seeking a report within 21 days on the alleged 'love jihad' cases.
Church's claims are baseless, says Kerala minister
Denouncing the church's claims of an increase in 'love jihad' cases, Kerala Minister for Minorities Welfare K.T. Jaleel told ThePrint the allegations are "completely baseless and exaggerated".
Jaleel said 'love jihad' does not exist in Kerala and that police have conducted detailed investigations into such suspected cases and found no evidence of 'love jihad' in them.
"If a Muslim boy marries a girl from another community, it becomes 'love jihad'. What if a Muslim girl marries a boy from another religion? What do you call it then? Their allegations are baseless. The Kerala government takes such complaints seriously and has investigated such cases when the police have received complaints," he said.
When asked about the 21 women from Kerala who were allegedly converted to Islam and taken to Syria to join the IS, Jaleel said a larger number of Muslim girls have been taken there. "You can't blame and single out one community," he added.
The church's statement also drew reaction from the radical group Popular Front of India (PFI). The outfit asked the church to immediately withdraw their statement as it would affect the ongoing protests against the Citizenship Amendment Act across the country.
https://theprint.in/india/syro-malabar-church-says-love-jihad-a-threat-in-kerala-govt-says-it-doesnt-exist/351174/
--------
Indian General Talks of 'Deradicalization Camps' for Kashmiris
By Jeffrey Gettleman and Kai Schultz
Jan. 17, 2020
NEW DELHI — India's top military commander has created shock waves by suggesting that Kashmiris could be shipped off to "deradicalization camps," which rights activists consider an alarming echo of what China has done to many of its Muslim citizens.
It was far from clear what the military commander, Gen. Bipin Rawat, chief of India's defense staff, meant when he made the public comments on Thursday or whether a plan was afoot to set up large-scale re-education camps in the part of the disputed Kashmir region that India controls.
But rights activists and Kashmiri intellectuals were deeply unsettled, saying that the general's words revealed how the highest levels of the Indian military viewed Kashmiri people and that his comments could presage another disturbing turn of events.
"It's shocking he would even suggest this,'' said Siddiq Wahid, a Kashmiri historian who earned his Ph.D. from Harvard. "It reminds me of the Uighur camps in China. I don't think the general realizes the insanity of what he is talking about."
Over the past three years, the Chinese government has corralled as many as a million ethnic Uighurs, Kazakhs and others into what it calls vocational training centers but what rights activists say are internment camps and prisons. The Uighurs, like Kashmiris, are Muslims who are part of a minority that is often viewed with suspicion by the central government.
Kashmir has been mired in crisis for decades and this past year the Indian government upended decades of delicate, albeit flawed policies by unilaterally revoking the statehood of Jammu and Kashmir, the part of the region it controls. It sent in thousands of additional troops, arrested practically the entire intellectual class there, including elected representatives, business people and students, and shut down the internet.
All of that was highly unexpected and is what makes Kashmiri intellectuals fear the general's comments. They say that under the government of Prime Minister Narendra Modi, just about anything — however unbelievable just a few years ago — is possible.
Mr. Modi's party has been pushing a religious nationalist ideology that critics say favors India's Hindu majority and deeply alienates its Muslim minority. Just last month, Mr. Modi's government passed a highly divisive law that creates a special path for migrants to get Indian citizenship — if they are not Muslim. Outrage at the law set off weeks of nationwide antigovernment protests, which are continuing.
Kashmir was India's only predominantly Muslim state until August, when Mr. Modi's government summarily erased its statehood. Since then, it has been suspended in tension, with most internet service still shut off and schools deserted.
General Rawat made the suggestion about sending Kashmiris to deradicalization camps at an international affairs conference in New Delhi attended by government officials, foreign diplomats, business executives and scholars.
Responding to a question on how to fight terrorism, the general said that in Kashmir, "Girls and boys as young as 10 and 12 are now being radicalized. These people can still be isolated from radicalization in a gradual way, but there are people who have completely been radicalized."
"These people need to be taken out separately, possibly taken into some deradicalization camps," he continued. "We've got deradicalization camps going on in our country."
His statements became front-page news across India on Friday and left many analysts scratching their heads.
Saket Gokhale, a civil rights activist in Mumbai, said this was the first he had ever heard of deradicalization camps inside India.
He said that in some areas where the security forces were battling armed groups, such as the Maoist belt in central India, the military ran deradicalization programs including community visits and vocational training. But those were voluntary and did not involve confinement.
"There have been outreach programs, but a deradicalization program is very different from a deradicalization camp," Mr. Gokhale said.
Mr. Wahid, the historian, said he was concerned about the general's use of the word "camps."
"Are we talking about summer camps or one-year camps where you strip people of their identity and rebuild them?'' he asked.
Indian military officials declined to clarify the general's remarks.
General Rawat, a four-star general, has spent much of his career leading counterinsurgency operations in northeastern India and Kashmir, which is also claimed by Pakistan. He has a history of using hard-nosed tactics.
In 2017, he gave an award to a major who had tied a young Kashmiri man to an army jeep and used him as a human shield against stone throwers.
"In fact, I wish these people, instead of throwing stones at us, were firing weapons at us," the general said in an interview at the time. "Then I would have been happy."
If the demonstrators had been wielding guns, the general said, then he could have done what he wanted to do, according to Indian news reports.
Many Kashmiri intellectuals denied that Kashmir had a radicalization problem, at least not a religious radicalization problem. The militancy is minuscule — fewer than 300 armed fighters by most estimates — and much of the combatants' ideology turns on political differences with the Indian government, not religious ones.
Noor Ahmad Baba, a professor of political science at Central University of Kashmir, who has studied patterns of radicalization, said India was taking its cue from China and might now try to crush all political dissent.
"Kashmir is a political issue — it needs a political resolution, not deradicalization camps," he said. "And where is the radicalization?"
"The general should understand that such statements are extra-constitutional and he should speak cautiously," Professor Baba added. "Even thinking of a deradicalization camp is a dangerous precedent."
https://www.nytimes.com/2020/01/17/world/asia/india-kashmir-camps.html
--------
Davos diplomacy likely between India, Malaysia amid palm row
JAN 18, 2020
Trade ministers from India and Malaysia are likely to meet on the sidelines of the World Economic Forum's annual meeting in Davos next week amid a palm oil spat between the two countries, a Malaysian government spokesman told Reuters on Friday.
India has repeatedly objected to Malaysian Prime Minister Mahathir Mohamad speaking out against recent policies which critics say discriminate against Muslims.
Malaysia, a Muslim-majority nation, is the second biggest producer and exporter of palm oil and India's restrictions on the refined variety of the commodity imposed last week has been seen as a retaliation for Mahathir's criticism of New Delhi's actions.
India's trade minister Piyush Goyal denied on Thursday that the government was trying to hit out at Malaysia in particular.
The row between the countries, nevertheless, pushed benchmark Malaysian palm futures to its worst weekly decline in more than 11 years on Friday.
No agenda has been set for the proposed meeting between Goyal and his Malaysian counterpart Darell Leiking, the spokesman for Malaysia's Ministry of International Trade and Industry said, adding that the request for a meeting had come from India.
An Indian government source said a meeting was indeed likely with Leiking. A spokeswoman for India's trade ministry did not immediately respond to a request for comment.
Reuters reported on Thursday that Malaysia does not want to escalate the palm spat with India by talking of any retaliation for now, after Mahathir's media adviser called for tighter regulations on Indian expatriates and products. Malaysia instead wants to rely on diplomacy.
Two other Indian government sources said the country expects Mahathir to tone down his criticism of Indian domestic policies. Another reason for frosty ties between the countries is the continued presence of controversial Indian Islamic preacher Zakir Naik in Malaysia,
said one of the sources.
Naik, who faces charges of money laundering and hate speech in India, has lived in Malaysia for more than three years and has permanent residency in the country. He denies the Indian accusations.
The sources declined to be identified as they were not authorised to talk to the media.
https://economictimes.indiatimes.com/news/economy/foreign-trade/davos-diplomacy-likely-between-india-malaysia-amid-palm-row/articleshow/73349820.cms
--------
India can nudge US to revive our n-deal: Iran Foreign Minister
by Nirupama Subramanian
January 18, 2020
IRAN'S FOREIGN Minister Javad Zarif said Friday that if India wanted to play a role in defusing US-Iran tensions, it could "encourage" the United States to return to the nuclear deal of 2016, from which President Donald Trump walked out in 2018.
Expanding on his statements at the Raisina Dialogue in Delhi earlier this week, Zarif reiterated that Iran was not interested in negotiating a new deal with the US, but wanted the Americans to honour the one inked after negotiations between 2013 and 2016. "The reason for that is — we had probably the longest dialogue that anybody has had with the US… negotiated a deal with each other that is long, detailed… It wasn't a deal between Javad Zarif and John Kerry (then US Secretary of State). It was a deal between Iran, US, seven other major members of the international community, and more than that, it became a (UN) Security Council resolution," Zarif said.
"But if India wants a role in preventing further escalation, in bringing the US back to the negotiating table instead, the joint commission [for dispute resolution in the deal] is there. In technical terms, it's called P5+1 and Iran. Last time we met was in April 2018. The US broke off the deal in May 2018…decided to leave the room. India can play a leading role in bringing them back into compliance with their agreement, so that they can come back and join the negotiation. And we will not reject that, if India wants to play that role," he said.
"India is very dear friend of Iran, and has good relations with the United States, and it can encourage the US to come back to the negotiating table," he said.
Zarif was in Mumbai for a few hours to interact with businessmen engaged in trade with Iran in a session organised by the Mumbai-based All India Association of Industries.
The Foreign Minister also welcomed any efforts by India to bring Iran and its neighbours, Saudi Arabia, Bahrain, UAE, Kuwait and Qatar, to the negotiating table. "We are always open to negotiate with them. We do not have any preconditions to negotiate with them. If India can play a role in doing so, we would welcome that," he said, adding that "the most important priority" in his country's foreign policy is its "neighbourhood policy".
Describing India and Iran as "complementary" economies, Zarif said US sanctions had ruined potential for trade and investment between the two countries — bilateral trade fell from $17bn in 2017 to less that $7bn in 2018.
In this context, Zarif called for "removing the dollar" from bilateral trade and switching to a rupee-rial mechanism which, he said, was already in place but had to made "economically feasible".
"It shouldn't be less expensive to buy an Indian product paid in US dollars than an Indian product paid in Indian rupees. That's the bottleneck we need to address. If we address that, then we rid ourselves of this colonial domination of the US dollar," he said, while asking the business community in both countries to step up by sacrificing short-term profits for long-term interests.
Zarif said Iran and India were also working on operating banks in each other's countries. Pasargad, a private Iranian bank, got permission to open a branch in Mumbai in 2019 but has not been set up yet. "We are in the process of finalising the agreement with India for the initial capital. Because of the difficulty in transferring hard currency, we can use the initial capital we have already in India… gained by the sale of oil. Legally. the government of India can accept it, and I hope they will accept it, and we can establish that as the foundation capital for Pasargad Bank, which is one of our biggest, privately owned banks," he said.
Zarif also asked India to open bank branches in Iran, in the Chabahar free zone, or in Tehran, "hopefully both", which would enable Iranian and Indian businessmen to transact in national currencies.
Raising the possibility of engaging in barter trade, especially in agricultural produce, he said: "We need to find mechanisms for exchange without going to the bank. The only way the US is able to impose its will in the world is because of the dollar. If you remove the dollar from our transactions, then we don't have to take their nonsense."
Zarif said while the Iranian parliament has approved expansion of the Chabahar free zone, India has faced difficulties procuring equipment for the port despite US exemption from sanctions for the project since financial transactions relating to Iran were still a problem.
The other problem, he said, was connecting Chabahar to Afghanistan and Central Asia by rail.
https://indianexpress.com/article/india/india-can-nudge-us-to-revive-our-n-deal-iran-foreign-minister-6222326/
--------
Pakistan
Surrender first, challenge conviction later, SC office tells Musharraf
January 18, 2020
ISLAMABAD: The Supreme Court's (SC) registrar on Friday rejected an appeal filed by former military strongman General (r) Pervez Musharraf challenging his conviction by a special court in the high treason case, saying the convict has to first surrender to the authorities before appealing the sentence.
The Registrar Office refused to entertain the petition under Order XXIII Rule 8 of SC Rules 1980.
Musharraf's lawyer, meanwhile, said that he would challenge the registrar's objection within 30 days. "I have already prepared my arguments in this regard," Advocate Salman Safdar told reporters.
Musharraf's appeal is based on the verdict passed by Lahore High Court (LHC) Justice Sayyed Mazahar Ali Akbar Naqvi, which has declared the filing of a complaint on high treason charge against the former president unconstitutional and termed the formation of the special court as well as its proceedings "illegal".
The special court, comprising judges of three high courts, awarded the death sentence to Musharraf on Dec 17, with a dissenting note from one judge who said that instead of capital punishment, the former military ruler should've been awarded life imprisonment for imposing emergency and forcibly confining over 60 judges to their residences in 2007.
In reaction to the ruling, army had said that the decision was "received with lot of pain and anguish by rank and file of Pakistan armed forces".
In his appeal, Musharraf alleged that the treason trial "suffered from interference and external pressures".
The plea argued that Musharraf did not receive a fair trial, and that Islamabad High Court's guidelines to ensure a fair trial, were disregarded.
The appeal also took strong exception to Paragraph 66 of the verdict, maintaining that desecration of a dead body was in contravention to the injunction of Islam, and violated human dignity.
In the said paragraph, Justice Waqar Seth giving his minority view ruled, "We direct the Law Enforcement Agencies to strive their level best to apprehend the fugitive/convict and to ensure that the punishment is inflicted as per law and if found dead, his corpse be dragged to the D-Chowk, Islamabad, Pakistan and be hanged for 3 days."
The appeal stated that the prosecution case suffered from an "admitted, noticeable and unexplained delay" of over five years from the date of the alleged offence, which could draw "adverse inferences". "…if the alleged offence was so heinous and so apparent, why did the prosecuting agency delay the initiation of the investigation and subsequent trial for such a long period of time. This delay serves to be fatal to the prosecution case as it reeks of malice and unfairness."
https://www.pakistantoday.com.pk/2020/01/17/first-surrender-then-challenge-conviction-sc-office-tells-musharraf/
--------
PM Imran proposes three names for CEC in letter to Shehbaz
Jan 17 2020
ISLAMABAD: Prime Minister Imran Khan wrote a letter to Pakistan Muslim League-Nawaz (PML-N) President Shehbaz Sharif, proposing three names for the post of Chief Election Commissioner (CEC).
The letter—written by the prime minister on January 15—calls for "meaningful negotiations" with the PML-N leader for the appointment of the new election commission chief.
The names of three former federal secretaries were suggested by the premier in his letter to Shehbaz. These included Jamil Ahmed, Fazal Abbas Maken and Sikander Sultan Raja.
PM Imran stated that he had written the letter to resolve the pending issue of the appointment of a new head to oversee the commission.
The News reported a day earlier that the government and opposition reached a consensus on names of ECP members from Sindh and Balochistan.
Sources told The News that the name of Nisar Durrani for the post of the ECP member from Sindh, which was proposed by the PPP and the name of Shah Mehmood Jatoi from Balochistan has been agreed between the government and opposition. Now in the meeting of the Parliamentary committee, the name for the post of the Chief Election Commissioner likely to be finalised and all the names for the key posts would be announced simultaneously after reaching consensus.
https://www.geo.tv/latest/267873-pm-imran-proposes-three-names-for-cec-in-letter-to-shehbaz
--------
Pakistan's politicians undermining democracy
ByKUNWAR KHULDUNE SHAHID, LAHORE
JANUARY 17, 2020
Faisal Vawda, Pakistan's Federal Minister for Water Resources, carried a military boot when he appeared on the popular TV show Off The Record on ARY News on Tuesday to mock opposition politicians who also appeared on the show.
Vawda, a cabinet minister from the ruling Pakistan Tehrik-e-Insaf (PTI), wielded the boot on national television to mock his fellow panelists on the show, Javed Abbasi and Qamar Zaman Kaira, from the two main opposition parties.
Vawda's stunt with the boot, a euphemism for the all-powerful army, was designed to insult the two leaders from Pakistan Muslim League-Nawaz (PML-N) and Pakistan People's Party (PPP) after their parties ostensibly gave up their position against sanctioning an extension for incumbent Chief of Army Staff General Qamar Javed Bajwa.
Earlier this month, parliamentarians from both the PML-N and PPP unanimously agreed to join hands with the PTI to make the requisite amendments to the Army Act in a bid to ensure a seamless extension of the chiefs of the armed forces.
The legislation on the army chief's extension was pushed by the Supreme Court in November, after discrepancies were found in the Prime Minister's notification in August, which prolonged General Bajwa's tenure by another three years.
The extension had been approved by Prime Minister Imran Khan owing to "extraordinary circumstances" surrounding national security, especially in the aftermath of the aerial dogfight with India last year.
The amendment to the Army Act this month has now legitimized the extensions for armed forces chiefs and streamlined it as well.
However, legal observers noted the amendments to Section 8 of the Army Act dealing with the chief's extension do not specify any conditions required for such a move to be undertaken by the President at the advice of the Prime Minister. Moreover, the amendment also underlines that such an extension cannot be challenged in court.
Since the National Assembly and Senate overwhelmingly approved the amendments, critics have already been lambasting the PML-N and the PPP for their volte-face given that they've spent the past year and a half mocking Prime Minister Imran Khan as being 'selected' as a puppet by the military establishment following the 'politically engineered' general elections in 2018.
However, observers noted that the fact the federal minister actually resorted to such gimmicks – accusing the opposition of 'licking the boot clean' on the show – for agreeing with the legislation tabled by the PTI, underlines the complete disregard for civilian supremacy by the ruling party, which many believe is still shackled by the military establishment.
While Vawda has been widely condemned, along with being told off in private by Prime Minister Khan as well, and the host of Off The Record Kashif Abbasi banned for two months by the Pakistan Electronic Media Regulatory Authority, many see the incident as being representative of the mockery the political parties have collectively made of civilian supremacy in the country.
"You get a censuring call even if the word 'establishment' is improperly used on any talk show and here an entire show was aired with a military boot on the table," said a senior producer at a prominent media house.
"I can assure you that the DG ISPR [Inter Services Public Relations] and the army leadership were absolutely enjoying watching the civilian leaders – especially the so-called custodians of civilian supremacy – engaging in mudslinging and making a circus out of democracy in the country."
PPP leader and former Information Minister Qamar Zaman Kaira, who walked out of Tuesday's episode of Off The Record, claims that through Vawda the ruling PTI has confessed it is working at the behest of powers that be.
"By bringing the boot on the TV show [the PTI has] accepted the ownership of the boot," Kira said. "Now they're accusing others of polishing the boot, which they admit that they do themselves.
"What others used to indirectly say, Vawda has demonstrated and owned that in front of the entire nation. An important minister of the government is saying that those wearing the boots have coerced politically parties into getting the vote [for the Army Chief's extension]."
However, for many the way that the PML-N and the PPP fell in line with the PTI, without offering any resistance during the legislation, wasn't any less a betrayal of the Parliamentary supremacy that they claim to uphold, especially with the law now almost arbitrarily allowing extensions for army chiefs taking away the right to challenge the extension in court.
"It is true that we should have defined the 'extraordinary circumstances' for the extension. We even suggested the amendments, but no party – including the PML-N – was willing to stand with us. But we should have stressed on the amendment, even if it would have been voted out," maintained Kaira.
While both parties claim that the decision to support the Army Act amendments was taken collectively, insiders from both the PML-N and the PPP reveal that the final word came from the two supremos: Nawaz Sharif and Asif Ali Zardari.
This has further fueled speculation that both Sharif and Zardari have managed to extract some form of deals with the military establishment, which might have agreed to use its clout to provide them relaxation in their ongoing corruption cases.
Sharif, who was allowed to leave for London for medical reasons in November, is currently serving a prison sentence on charges of corruption, which the Army had been suspected of pushing.
"Both parties have probably [agreed deals] or succumbed to some pressure linked with personal interests of the leadership. The PML-N and the PPP are pushing their leaders' interests over the parties," noted military scientist Ayesha Siddiqa, the author of Military Inc.: Inside Pakistan's Military Economy.
Where there is discontent within the two major opposition parties following the Army Chief's extension, and the manner in which it was carried out, senior officials in the army have quietly expressed displeasure as well.
For about half the country's time as an independent state, Pakistan has been ruled by the Chief of Army Staff under military dictatorships, and the remaining half has been dominated by army chiefs pushing their extensions, one way or the other.
Over the last two decades, General Raheel Sharif is the only army chief who retired on time in November 2016, but not without getting the lucrative commander position in the Saudi-led Islamic Military Counter-Terrorism Coalition.
"There are certain officers who will be affected as a consequence of the amendment. The officers expect that after the completion of a tenure the chief would retire. It is an extraordinary step justified through the notion of these being 'extraordinary times,' but in Pakistan's case the past 72 years have all been extraordinary times," said Lieutenant General Talat Masood, a former secretary at the Ministry of Defense Production.
Supporters of the development argue that with the political parties uniting, and being on the same wavelength as the military establishment, the fact that there would be no conflict among the institutions would benefit the state.
"Harmony between institutions is beneficial for the country. But subservience is a different matter," Masood maintained. Ayesha Siddiqa, meanwhile, fears that this subservience will actually aggravate the many crises dampening progress in Pakistan.
"[Now that] there is an artificial 'no conflict' [among the civil and military leadership], Bajwa will strengthen himself and become more oppressive, which could result in frictions throughout the country," she said.
https://www.asiatimes.com/2020/01/article/pakistans-politicians-undermining-democracy/
--------
Corruption by Shahbaz, Maryam to be made public: PM Imran Khan
January 18, 2020
ISLAMABAD: Prime Minister Imran Khan on Friday instructed authorities to publicise evidence of corruption gathered against Pakistan Muslim League-Nawaz (PML-N) President Shahbaz Sharif and Vice President Maryam Nawaz.
In a meeting chaired by the premier, it was decided that the government would continue its aggressive policy towards corrupt individuals. During the meeting, the new developments in theChaudhry Sugar Mills case were brought to light and the decision was made to disclose the information to the public.
The prime minister said it is important for organisations to identify white collar crimes adding that the government will not compromise on any corruption scandals and will ensure a fair accountability process for all. The nation should know the consequences for those responsible for destroying the economy, he said.
https://www.thenews.com.pk/print/600494-corruption-by-shahbaz-maryam-to-be-made-public-pm-imran-khan
--------
Pakistan Seeks Peace in the Region as well as Globally
January 17, 2020
By Prof. Engr. Zamir Ahmed Awan
Pakistani narrative is gaining momentum worldwide. Pakistan's peace efforts in the Middle-East, Afghanistan, and any other part of the world are lauded and got well recognition. In fact, Pakistan was the victim of Afghan-War for 4 decades and suffered huge economic, political, and social losses. Pakistan is willing to share its bitter experiences and trying its best to promote Peace globally.
PM Imran Khan, in an interview with German broadcaster Deutsche Welle (DW), said "Then there is Afghanistan. Pakistan is doing its best to bring peace to Afghanistan. It is a country that has suffered so much in the past 40 years. We pray that the Taliban, the Americans, and the Afghan government achieve peace".
"I think they are heading towards a ceasefire. We are hoping that the US-Taliban talks succeed, as we have a new government in power in Afghanistan with President Ashraf Ghani being re-elected," PM Imran remarked when asked about the Afghan situation.
"Peace in Afghanistan would open up trading opportunities in Central Asia. It [Afghanistan] would also become an economic corridor for us. If there is peace in Afghanistan, our people in Khyber Pakhtunkhwa province, which borders Afghanistan, will also benefit," he said.
"Pakistan has played its part in peace talks. There was a hostage situation and with Pakistan's efforts, two out of three Western hostages were released. So, we are doing our best with whatever influence we have," he added.
Pakistan has emerged as a Peace-Loving nation and well matured, responsible state. The Visionary leadership in Pakistan has taken several initiatives for Peace and Stability. Our role in Afghanistan, to bring the Taliban to the negotiation table with The US is one of its big success. PM Imran Khan has visited Tehran and Riyadh, to diffuse tension between Saudi Arabia and Iran. Pakistan supports to diffuse US-Iran Tension. Foreign Minister of Pakistan has been traveled to Tehran, Riyadh, Oman, and the US for dissolving tension. Pakistan has such experience and influence in the region to mediate among stake-holders for Peace and overcoming the differences.
While India is the opposite case. PM Imran Khan, in an interview with German broadcaster Deutsche Welle (DW), said that India had been taken over by an extremist ideology known as Hindutva which is inspired by the German Nazis, and its [Hindutva's] founding fathers believed in racial supremacy. It is really a big tragedy for the region that India has been taken over by the extremist Rashtriya Swayamsevak Sangh (RSS) and warned the global community that the nuclear-armed country was being run by extremists. PM Imran Khan said "It is a tragedy for India itself — and for all its neighbors — that the country has been taken over by RSS, an organization which also assassinated the great Mahatma Gandhi. A nuclear-armed country is being run by extremists, and Kashmir has been under siege for over five months".
His remarks came in a response to questions, about tensions in South Asia and the occupation of Kashmir by Indian troops. "Just as the Nazi ideology was built on hatred for minorities, the RSS ideology is also based on hatred for Muslims and other minorities, including Christians." India is building detention camps in the same lines as Nazi in Germany. In fact, there exist similarities between RSS ideology and Nazi ideology. So one should expect a similar outcome, or even worse. He further said that he was the first leader to warn the world about what is happening in India. India has been taken over by an extremist ideology known as Hindutva. India is no longer a Secular or democratic country. It is the ideology of RSS. The RSS, a political organization founded in 1925, inspired by the German Nazis, and following its steps in a much bigger and advanced manner.
It is worth mentioning that India and Pakistan, both are nuclear countries and possess enough compiles of weapons to destroy each other completely. If the international community keeps its role of spectators, it might lead to a big disaster not only for India itself but as well as for Pakistan, all neighboring states, whole region and global.
In response to a question about the disproportionate coverage accorded to protests in Hong Kong as opposed to the siege of occupied Kashmir, PM Imran said that the tragedy of Kashmir was much greater but commercial interests are more important for western countries. "Unfortunately, commercial interests are more important for Western countries. India is a big market and that is the reason behind the lukewarm response to what is happening to some eight million people in Kashmir, as well as to minorities in India," he noted. Although the general public in such countries stands with the Peace and protests against India atrocities in Kashmir and against its minorities. The general public around the world condemned Indian record violations of Human Rights.
It is appealed to the UN, the International Community, All peace-loving nations and Individuals to approach India and take appropriate measures to defuse tension in the region.
https://moderndiplomacy.eu/2020/01/17/pakistan-seeks-peace-in-the-region-as-well-as-globally/
--------
Zardari quits NA standing committees
January 18, 2020
Former president and Pakistan People's Party (PPP) Co-chairman Asif Ali Zardari withdrew his membership of the National Assembly (NA) standing committees on Friday.
According to a notification issued by the NA Secretariat, Zardari, who sat on the committees on water resources, maritime affairs, privatisation and industries, and production, had withdrawn his membership and in his place, Mir Munnawar Talpur has been made a member of the committee on water resources, Jam Abdul Karim will join the committee on maritime affairs, Syed Hussain Tariq will sit on the committee on privatisation and Syed Mustafa Muhammad will be a member of the industries and production committee.
Earlier, Opposition Leader and Pakistan Muslim League-Nawaz (PML-N) President Shehbaz Sharif had withdrawn himself from three NA standing committees after the government launched a campaign to seek his resignation as the Public Accounts Committee (PAC) chairman. He sat on the committees on information and broadcasting, law and justice and Kashmir affairs and Gilgit-Baltistan (GB).
https://www.pakistantoday.com.pk/2020/01/18/zardari-quits-na-standing-committees/
--------
China calls on India to respond positively to request of UNSC members on Kashmir issue
January 17, 2020
After a recently-held United Nations Security Council (UNSC) meeting to review the situation in India-occupied Jammu and Kashmir, China has called on India to "give serious consideration and positive response to the request of UNSC members" on the issue.
The remarks were made on Friday during a press conference by the Chinese foreign ministry spokesperson, Geng Shuang.
Shuang was asked what China's position on the situation in the occupied valley is, especially, in the backdrop of reports that many of the UNSC members had viewed the forum as an inappropriate place to take up the issue.
According to the officially released comments, the Chinese foreign minister said that at Pakistan's request, the UNSC members heard a briefing by the UN secretariat on the issue on January 15. He rubbished claims that the issue did not get much support from members of the UNSC.
"Members of the Security Council are concerned about the current situation in Kashmir, and call for observance of the UN Charter and international law, and peaceful resolution of disputes through political dialogue. They believe relevant parties should remain restrained and deescalate the tension," said Shuang.
"I shall stress that the India and Pakistan issue has all along been on the agenda of the UNSC, and the Security Council should continue to pay attention to Kashmir in light of new developments," he added.
The Chinese foreign minister said that the UNSC review will aid in easing the situation in the region "and properly resolve the issue".
He expressed China's resolve to continue to play "a constructive role in upholding regional peace and stability".
When pressed to comment on India's assertion that no one had shared China's views during the meeting, Shuang said: "We are aware of India's position, but what I talked about just now is China's position. As a matter of fact, China and India stay in touch on this issue."
Commenting on the massive number of Indian troops deployed in the region and the ongoing curfew, the Chinese official said that China has urged both India and Pakistan "to exercise restraint, step up dialogue and enhance mutual trust to deescalate the situation as soon as possible".
"At the same time, as a responsible major country, China has been in close communication with both India and Pakistan and stands ready to play a constructive role."
Regarding India's announcement that it would invite Prime Minister Imran Khan to the Shanghai Cooperation Organisation (SCO) summit to be held in New Delhi later this year, Shuang said that China is hopeful both sides "will have close communication, coordination and cooperation under the SCO framework to contribute to the grouping's healthy development and greater role in regional affairs".
"India and Pakistan are both major countries in South Asia. We encourage them to strengthen communication, resolve outstanding differences through dialogue and consultation, and constantly improve and grow bilateral relations," Shuang concluded by saying. https://www.dawn.com/news/1528916/china-calls-on-india-to-respond-positively-to-request-of-unsc-members-on-kashmir-issue
--------
Lahore journalist remanded into FIA custody over 'anti-state' Facebook posts
Rana Bilal
January 17, 2020
A local court in Lahore on Friday granted the Federal Investigation Agency (FIA) three-day physical remand of a journalist whom the agency has accused of sharing "anti-state" content on Facebook.
Azharul Haq Wahid, who has remained associated with Channel Five and daily Khabrain newspaper, was arrested by the FIA on Thursday and a first information report (FIR) was registered against him under Sections 11 and 20 of the Pakistan Electronic Crimes Act (Peca) 2016, read with Section 505 of the Pakistan Penal Code.
Examine: Reviewing Peca's powers
According to the FIR registered at the FIA Cyber Crime Wing police station, a copy of which is available with Dawn.com, "It had been learnt during scrutiny of social media that anti-state and defamatory material against the public functionaries and state departments is being uploaded through a Facebook ID" in the name of Wahid.
The FIA presented the journalist before Judicial Magistrate Yasir Arafat today. The counsel for the agency requested physical remand of Wahid, saying it needed to further interrogate him for "sharing anti-state material on Facebook". It was unclear what the "anti-state" content contained.
The suspect also shared an "offensive, edited" version of the country's national anthem on his Facebook page, the lawyer said, adding that a raid had also been conducted at the journalist's home after obtaining search warrants.
Advocate Mian Dawood, representing Wahid, rejected the allegations of sharing anti-state material against his client and said that the FIA had arrested him "illegally". He argued that the agency had already seized the journalist's mobile phone and thus his further physical remand was not necessary.
After hearing all arguments, the court sent Wahid into FIA's custody on a three-day physical remand, with the agency directed to produce him again on January 20.
The magistrate also ordered the FIA to submit a report regarding its inquiry against the journalist.
'Unconstitutional step'
The Lahore Press Club issued a statement on Friday saying its office-bearers "strongly condemn" FIA's arrest of Wahid — a member of the press club's council.
"The arrest of the journalist by the FIA is tantamount to usurping the right to freedom of expression and is an unconstitutional step," a statement issued the press club secretary said.
The press club's officers demanded of Prime Minister Imran Khan to ensure the journalist is immediately released and of the FIA to issue an apology, saying journalists would otherwise stage countrywide protests.
Senior journalist Mazhar Abbas also took to Twitter to criticise Wahid's arrest, terming it "highly condemnable".
"In the last one year the agencies have picked up journalists [and] rights activists under PECA 2016," he wrote.
https://www.dawn.com/news/1528913/lahore-journalist-remanded-into-fia-custody-over-anti-state-facebook-posts
--------
Khalid Maqbool's resignation the result of power struggle within MQM: Kamal
Azfar-ul-Ashfaque
January 18, 2020
KARACHI: Pak Sarzameen Party chairman Syed Mustafa Kamal said on Friday that the resignation of federal minister Dr Khalid Maqbool Siddiqui was the outcome of a power tussle within the Muttahida Qaumi Movement-Pakistan and it had nothing to do with the issues of Karachi.
Accusing senior MQM-P leader Amir Khan of plotting against Dr Siddiqui, he alleged that it was Mr Khan who had forced the MQM-P convener to resign from his ministry as he wanted to make his "favourites" part of the federal cabinet.
He said this while talking to the media outside the accountability courts after his appearance in a NAB reference.
"We condemn the conspiracy against Khalid bhai and we stand with him because neither he has blood of Mohajir youth on his hands nor he created a Haqiqi-like party," he said, referring to the Mohajir Qaumi Movement-Haqiqi which was the former party of Mr Khan.
"I ask Kanwar Naveed Jameel [deputy convener of MQM-P and its parliamentary party leader in Sindh Assembly] and his workers to cooperate with Khalid bhai for the good of Karachi as he was not involved in any killings," he said.
Justifying his accusation against a party he left many years ago, he said that he would have never talked about Dr Siddiqui's resignation if it was an internal matter of the MQM-P.
He said he was talking about it because the MQM-P was doing politics of resignations in the name of Mohajirs.
He asked the Pakistan Tehreek-i-Insaf government to not worry over the MQM's resignation as it would not quit the federal government.
'MQM cannot afford to quit govt'
He said that it would soon be business as usual as the MQM-P could not afford to quit the government.
"They know files of MQM's UC chairmen till the members of the coordination committee are ready and everyone, including the mayor, will be arrested as soon as they quit the government," he added.
He said if MQM-P was serious about the city's issues, it should have taken the resignation of Karachi Mayor Wasim Akhtar as he had done "nothing" for the metropolis during his nearly four-year term.
The PSP chief alleged that Mayor Akhtar was not being removed by the MQM-P because he was looking after the expenses of the Muttahida's coordination committee by getting involved in "corruption".
He said that if the MQM-P was sincere with Karachi it could have taken up the issues with the prime minister like "seven million missing people" in the census results of Karachi and ownership rights for the residents of Martin Quarters, Pakistan Quarters, etc.
Muttahida refutes
Meanwhile, MQM-P leader Khwaja Izharul Hasan said that there was no difference within the MQM-P. "Khalid Maqbool Siddiqui is our convener and we are working under his guidance," he added.
https://www.dawn.com/news/1528938/khalid-maqbools-resignation-the-result-of-power-struggle-within-mqm-kamal
--------
UN sees slight recovery in Pakistani economy from 2021
January 18, 2020
The Pakistani economy will continue to suffer in 2020 amid high inflation and interest rates, with a little respite expected in 2021 onward when it is expected to recover slightly owing to an increased government revenues as a result of hike in taxes and the reforms proposed by the International Monetary Fund (IMF), said a United Nations report on world economy.
According to the World Economic Situation and Prospects 2020 report, Islamabad's "continued commitment to reform, combined with productive investment in infrastructure and strategic capacity development, will be critical for the country to find its way back to its previous growth path".
"Pakistan has been struggling with a balance-of-payments crisis and the burden of high public debt, which have led to an arrangement with the IMF and corresponding fiscal tightening. High inflation and security concerns have hurt domestic demand and private investment, and the government's ability to address the slowdown has been severely curtailed by the fiscal tightening," said the report.
It noted that "export growth has fallen to 0.4 per cent owing to disappointing sales of textiles, which constitute 60pc of the country's goods exports. "GDP growth has remained weak at 3.3pc in both 2018 and 2019 – well below the 4 to 6pc range of previous years," it said.
Meanwhile, the State Bank of Pakistan is balancing a stronger commitment to inflation targeting with a managed depreciation of the currency.
"While the tightened monetary policy in Pakistan is expected to help move inflation towards target levels in the years to come, the country's inflation remains extremely vulnerable to fuel price fluctuations and weather conditions, as is the case for most countries in the region," the report cautioned.
A good harvest and resulting moderate food price inflation will be of critical importance for the region's poor, whose household budgets are strongly linked to food prices, it suggested.
'SERIOUS STRUCTURAL BARRIERS TO EMPLOYMENT':
Moreover, the report said that the South Asian region needed to remove "serious systemic and structural barriers to employment" to the youth employment in the region, noting that young people are among those "struggling the most".
"In Afghanistan, Bangladesh, Pakistan and Sri Lanka, for example, more than 30 per cent of youth are not in education, employment or training," it disclosed.
"The region's young labour force is its greatest capital and has the potential to be a key driver of development, particularly within the Sustainable Development Goal framework," the UN report said.
Pakistan's economy is not just dealing with its "own structural challenges", it, along with other economies of the region, also shares a number of external and domestic downside risks – external factors include ongoing trade disputes, geopolitical uncertainty— that could cloud its economic outlook.
SOUTH ASIA GROWTH LIKELY TO REBOUND:
Growth in South Asia is projected to rebound in 2020, but the region will continue to face daunting challenges to sustainable development, according to the UN report.
Economic growth in South Asia is forecast to recover to 5.1pc in 2020 after falling to a decade-low of 3.3pc in 2019, but it will remain well below the rates seen in the recent past.
The region struggled in 2019 with a combination of external headwinds, notably the global economic slowdown and falling trade, and country-specific domestic challenges. As the effects of one-off shocks wane and governments respond with vigorous fiscal expansion, economic activity will rebound in most of the countries.
According to the report, after experiencing a sharp economic slowdown from 6.8pc in 2018 to 5.7pc in 2019, India has committed to an ambitious fiscal expansion plan to complement the country's already loose monetary policy.
The combination of the fiscal stimulus and financial sector reforms, boosting investment and consumption, is expected to support a recovery in growth to 6.6pc, but it will take continued structural reforms to bring India's growth back to its previous levels.
The risks to South Asia's economic outlook are heavily tilted to the downside, the report noted. The region remains exposed to external shocks, notably trade shocks and climate change, due to insufficient climate-resilient infrastructure and a lack of economic diversification in most countries.
Structural challenges also include the low quality of employment, with gender barriers in the labour market among the highest in the world. High-quality formal employment continues to be a distant dream for most people in South Asia, hampering the region's long-term development prospects. As economic growth recovers, policymakers will urgently need to address these structural barriers to development, the report says.
TRADE DISPUTES BLEED ECONOMY:
Impacted by prolonged trade disputes, the global economy suffered its lowest growth in a decade, slipping to 2.3pc in 2019. The world, however, could see a slight uptick in economic activity in 2020 if risks are kept at bay, according to the report.
The document stated that growth of 2.5pc in the ongoing year is possible, but a flareup in trade tensions, financial turmoil, or an escalation of geopolitical tensions could derail a recovery. In a downside scenario, global growth would slow to just 1.8pc this year.
Prolonged weakness in global economic activity may cause significant setbacks for sustainable development, including the goals to eradicate poverty and create decent jobs for all. At the same time, pervasive inequalities and the deepening climate crisis are fuelling growing discontent in many parts of the world, the report noted.
https://www.pakistantoday.com.pk/2020/01/17/un-sees-slight-recovery-in-pakistani-economy-from-2021/
--------
South Asia
Taliban Offer to Reduce Violence in Afghanistan Ahead of Deal With U.S.
By Mujib Mashal and Taimoor Shah
Jan. 16, 2020
KABUL, Afghanistan — The Taliban have offered a brief period of reducing violence in Afghanistan during ongoing negotiations with United States diplomats, three officials familiar with the talks said on Thursday, a concession seen as important to finalizing a preliminary peace deal between the insurgents and the United States to end their 18-year war.
If the American side accepts the offer, it could amount to the most significant development in the yearlong negotiations since talks resumed after President Trump had scuttled the peace process on the eve of a deal in September.
Though the pledge to reduce violence falls short of the overarching long-term cease-fire sought by the Afghan government, Western diplomats had said getting the Taliban to agree to more than a modest reduction in attacks would be difficult before the withdrawal of foreign forces gets underway.
Details of the offer, confirmed by Western and Taliban officials familiar with the negotiations, were unclear, though the Taliban have said in the past that a reduction in violence would mean scaling back attacks on major cities and highways.
Also unclear was the duration of any reduction — though one Taliban official suggested it was between seven and 10 days — and whether the American side had agreed to the Taliban proposal, which was made on Wednesday.
But the offer appears to have put the talks in Doha into a new phase. Soon after midnight, the Taliban negotiating team's spokesman, Suhail Shaheen, said the two negotiating teams had talked about details of "the signing of the agreement and the ceremony for it."
"The talks will continue for the coming days," Mr. Shaheen said on Twitter.
In another sign that a deal could be closer, the top commander of United States and NATO forces in Afghanistan, Gen. Austin S. Miller, joined the American negotiating team in Doha, officials said.
The issue of whether to agree to a cease-fire before the departure of the roughly 13,000 American forces and thousands more NATO troops has been an existential one for the Taliban, who see violence as their most important leverage. The insurgents spent more than a month deliberating Washington's demand.
Members of the Taliban negotiating team repeatedly traveled from Doha, Qatar, where the talks are taking place, to consult with the group's leaders and commanders in Pakistan, where they enjoy havens. In the end, they came back to the Americans with a proposal of reducing violence for a brief period.
Some officials suggested the arrangement could essentially amount to a cease-fire — in which no attacks are carried out — without explicitly using the term, which some Taliban leaders believe would divide their ranks.
The Taliban's willingness to reduce violence is likely to lead to the signing of the deal between the insurgents and the United States that includes a gradual withdrawal of American troops from Afghanistan in return for a Taliban pledge that Afghan soil will not be used by international terrorist groups to launch attacks against the United States and its allies. The signing of a deal would then move the peace process to its next stage, in which the insurgents would sit with the Afghan government, so far excluded in the talks, and other political factions to negotiate future power-sharing.
In the past, the Taliban have refused to talk with the Afghan government, calling it an American puppet. But in September, before Mr. Trump scuttled a nearly signed peace deal, a round of negotiations that was to include some members of President Ashraf Ghani's administration had been planned in Oslo for soon after the signing of a deal between the Taliban and the United States.
The Afghan government still seemed to be pushing for an extensive cease-fire. Hamdullah Mohib, the national security adviser, said at a conference in New Delhi on Wednesday that Afghan leaders saw a cease-fire as a sign of the Taliban's seriousness for genuine peace, and that the group — which the government has long seen as a proxy of the Pakistani military — can deliver on what they sign.
"Peace for our people means the end of violence," Mr. Mohib said. "This is why we insist that a cease-fire is necessary to create a conducive environment for talks."
A cease-fire, he added, "will prove to the Afghan people and government that our enemies are not only serious about peace, but that it is within their control to maintain their part of a future deal."
Mr. Trump's scuttling of the talks threw into confusion American policy on Afghanistan, and raised fears that Mr. Trump, long public about his weariness with the war, might pull troops from the country even without a deal. But it also provided a window of reflection over a peace process that many saw as too rushed.
Afghan leaders, which had worried that their American allies were selling them out, saw an opportunity for course correction and urged a complete reset that emphasized a cease-fire as a condition for any resumption of talks.
The Taliban used the break to bridge divides in their own ranks, most notably the suspicions of many in the military over any deal. Mullah Abdul Ghani Baradar, the Taliban deputy leading the talks, traveled to Pakistan and held several large meetings, some with as many as 300 senior and midlevel commanders and officials, to bring them onboard with what he said was the best deal he could negotiate.
About a month into the lull, American diplomats, led by the chief negotiator Zalmay Khalilzad, began quietly looking at trust-building measures that could put the negotiations back on track. That included releasing several senior Taliban leaders from prison, a move officials hope Taliban negotiators can use to prod their own military to agree to reduce violence.
During his first visit to Afghanistan in November, Mr. Trump announced the resumption of negotiations. He said the Taliban were interested in a cease-fire. His remarks, which seemed to echo the Afghan government's desire, appeared to catch both the militants and his own officials off guard. But both sides returned to the table in hope of finding ways to significantly reduce the bloodshed so the deal could move forward.
Mujib Mashal reported from Kabul, and Taimoor Shah from Kandahar, Afghanistan. Fahim Abed contributed reporting from Kabul and Thomas Gibbons-Neff from Washington.
https://www.nytimes.com/2020/01/16/world/asia/afghanistan-taliban-agreement.html
--------
Afghan Taliban see deal with US by end of month
Ismail Khan
January 18, 2020
PESHAWAR: The Afghan Taliban on Friday said they had agreed to reduce 'military operations' to provide safe environment for the withdrawal of foreign troops from Afghanistan and talks with the Americans were centered on fixing a date for signing the agreement.
"We have agreed to scale down military operations in days leading up to the signing of the peace agreement with the United States," Taliban chief spokesman in Doha, Suhail Shaheen, told Dawn on phone.
"The purpose (of scaling down) is to provide safe environment to foreign forces to withdraw from Afghanistan," he added.
"There is no agreement on ceasefire," Shaheen insisted. "It's a reduction in our military operations," he said. "It is our prerogative to see how, when and where to scale down our military operations and it's not going to be restricted to foreign forces only. The scaling down will be blanket and shall include all forces including state forces."
Asked whether the reduction in attack would continue after the signing of the peace agreement, the Afghan Taliban spokesman said the day the agreement was signed other clauses contained in the document would come into force.
He did not elaborate on what those clauses would be, but added that the agreement would lead to commencement of an intra-Afghan dialogue including the Ashraf Ghani-led Kabul administration and negotiations for a nationwide ceasefire.
American negotiators are in the Qatari capital, Doha, for talks with the Afghan Taliban interlocutors. US chief negotiator Zalmkay Khalilzad had initiated the first round of peace talks with Afghan Taliban deputy head Mullah Abdul Ghani Akhund, also known by his nom de guerre Mullah Beradar, early this week.
The two sides have had three sessions and broke up for a recess on Friday to meet again possibly on Saturday. Sher Mohammad Abbas Stanakzai would head the Afghan Taliban team in the talks, Shaheen added.
"Talks are on," the spokesman said. "We have an agreement," he added. "Nothing else remains to be discussed as far as the terms of the agreement are concerned," Shaheen said. "The draft agreement is ready."
"The only issue that needs to be sorted out is the 'date' to sign the peace agreement," he said. "It's now a matter of days. We are optimistic that we may be able to sign the agreement latest by this month's end."
Afghan Presidential Palace has said it is unaware of any possible deal between the US and the Afghan Taliban but it has been cautioned about the prospects, saying it would have to be taken into confidence before an agreement is reached and signed.
Analysts say efforts to find a peaceful settlement have been geared up to ink an agreement before the onset of spring to pre-empt the usual Afghan Taliban "spring offensive" and help put an end to America's longest war in history.
President Trump has pledged to bring the 18-year-long war in Afghanistan to an end that has cost the US $ 1.5 trillion and the lives of 2,400 of its soldiers, according to media reports.
Pakistan's Foreign Minister Shah Mehmood Qureshi, who is in Washington to meet among others State Secretary Mike Pompeo, reiterated his earlier statement that he had seen willingness from the Afghan Taliban to reduce violence.
But he called upon the US to remain engaged in Afghanistan's reconstruction after a possible peace agreement with the Afghan Taliban. "Don't repeat the '80s," he warned.
Worried about rising tension in the Middle East, Islamabad has been warning that the flare-up between Washington and Tehran could potentially hurt the prospects of peace in Afghanistan.
Mr Qureshi has already visited Tehran and Riyadh and is now in DC to meet his US counterpart.
https://www.dawn.com/news/1528977/afghan-taliban-see-deal-with-us-by-end-of-month
--------
Anti-CAA stir hotspots reflect varying ground realities
18 JANUARY 2020
New Delhi, Jan 18 (IANS) The plethora of protests that greeted the introduction of the Citizenship Amendment Act, 2019 (CAA) continue to keep India on its toes even as the world watches from the sidelines.
Apart from Delhi, there have been violent protests in Assam and Uttar Pradesh. Although the protests at all these places are basically against the CAA, the protests have been propelled by different motivations.
The most significant protests in Delhi, with some universities like Jamia Millia Islamia and JNU emerging as the fulcrums for agitation.
The most violent of protests broke out intermittently in old city areas of Delhi such as Jaffarabad and Seelampur. The protests in Jaffrabad and Seelampur have been unofficially attributed to the presence of significant Bangladeshi migrant populations in those areas.
Among the first of the public protests against the CAA in Delhi were by JMI students. However, the JMI protests were soon overtaken by the violent protests that resulted in significant damage to public transport and property in the vicinity.
However, it has been the ''more than a month-long'' agitation at Shaheen Bagh that has captured the imagination of protestors and observers alike. Since December 15, a group of protestors, mainly women and youngsters have been camping at the protest site and shown no sign of budging from the spot.
The Shaheen Bagh example has been replicated across Uttar Pradesh in Prayagraj and Varanasi, besides in Kolkata and other states as well.
Intense protests had initially broken out in the Northeast, primarily Assam where the death toll was pegged at five.
For decades, the Northeast, particularly Assam, has borne the brunt of illegal migration from neighbouring Bangladesh. While the bulk of the immigrants are Muslims, a sizeable proportion of the Bangladeshi immigrants are Hindus and Buddhists fleeing religious persecution in their country.
However, the Assamese are in no mood to accommodate refugees of any religious order. Though the situation seems to be slowly limping back to normal here.
In Uttar Pradesh, more than 22 people have died in face-offs between protestors and the police. Unlike Assam, where the protests focused on the potential dilution of Assamese identity with the Bengali influx, it''s a different story in Uttar Pradesh, where Muslims comprise close to 20 per cent of the population.
Here, the opposition to CAA goes beyond the apparently anti-secular character of the controversial law. The protests in the northern state were decidedly violent to the extent that the BJP government in the state announced punitive actions against those responsible.
While the CAA talks of fast-tracking citizenship process for non-Muslim minorities fleeing persecution in Pakistan, Bangladesh and Afghanistan, Muslims in India, the Muslims are worried at the series of allegedly anti-Muslim moves taken by the Narendra Modi-led NDA government.
The CAA is being seen as a precursor to the National Register of Citizens, which puts the onus of proving citizenship on the citizen.
The anti-CAA lobby seems to be putting up a brave fight even as it shows signs of losing steam, except for isolated pockets like Shaheen Bagh in Delhi.
The pro-CAA lobby has picked up the narrative and is steadily building up the discourse in favour of the controversial law.
https://www.outlookindia.com/newsscroll/anticaa-stir-hotspots-reflect-varying-ground-realities/1711432
--------
Bangladesh court orders arrest of journalist
JANUARY 17, 2020
A Bangladesh court Thursday issued an arrest warrant for the country's most respected independent newspaper editor after a student was killed at an event organized by a sister publication.
Matiur Rahman, editor of the Prothom Alo daily, is an outspoken champion of freedom of expression in a country where rights groups say that independent voices are under severe threat.
He and nine others have been charged with causing death by negligence after a 14-year-old boy was fatally electrocuted in November at an event organized by a magazine published by Prothom Alo's owner.
Matiur Rahman, editor of Bangladesh's Prothom Alo daily, and nine others have been charged with causing death by negligence after a 14-year-old boy was fatally electrocuted in November at an event organized by a sister publication.
Anisul Hoque, a leading novelist and associate editor of the Bengali-language newspaper, was among those charged.
Rahman, 76, already faces at least 55 cases for defamation and hurting religious sentiments but this is the first time he has been issued with an arrest warrant.
The dozens of cases are part of a larger, organized assault on independent media in Bangladesh dating back several years, New York-based Human Rights Watch said in 2016 when they were filed.
Since that year, major advertisers including multinational companies have been allegedly ordered by a security agency not to place advertisements in the daily, resulting in revenue losses of tens of millions of dollars.
There was no immediate comment from Rahman or the newspaper.
Rights groups have accused the government of Prime Minister Sheikh Hasina of cracking down on dissent through newly enacted internet laws that experts say would make investigative journalism almost impossible.
In its annual report published on Wednesday, Human Rights Watch said journalists, activists, students, and other critics have self-censored for fear of arrest, violent attacks by ruling party supporters, or threats from authorities, while the government censored expression online.
The government has also blocked dozens of websites in recent years including several top news portals, such as English website of Al Jazeera, over reports critical of influential Bangladesh ministers.
Meanwhile, in another case featuring "hurting of religious sentiments," hundreds of parents picketed a top Bangladesh school and blocked a major road in the capital to protest against a decision to make Islamic dress optional for students.
Some 200-300 parents held hands and blocked a road in front of an Ideal School and College campus in Dhaka's Banasree neighbourhood on Wednesday, said local police chief Abdul Kuddus.
Ideal is one of the country's best private school chains, with branches in several middle-class neighbourhoods. Its students regularly top nationwide exam tables.
Parents said the school this year dropped a requirement for boys to wear Islamic skull caps and for girls to wear an "orna," a loose scarf-like shawl that covers the chest.
"It has been a tradition of this school since 1973 and we don't have any problem with it," said Tofazzal Hossain, a parent.
"Why did the authorities suddenly take such an anti-Islamic decision without discussing it with us?"
College principal Shahan Ara Begum said neither item of clothing had been banned, but rather made optional.
She said also that Muslim traditions should not be forced on pupils belonging to other faiths.
Although overwhelming Muslim, Bangladesh is officially secular.
Thousands of people took to social media to criticize the school's new dress code.
"How would the female students go in front of their male teachers without the orna?" Facebook user Shipon Ahmed wrote.
https://www.asiatimes.com/2020/01/article/bangladesh-court-orders-arrest-of-journalist/
--------
Afghan military operations kill 8 Taliban militants
17 Jan 2020
According to the security sources at least 8 Taliban militants have been killed in Afghan military operations on Thursday.
The Afghan special security forces conducted a rain in Charkh district of Logar province, killing two Taliban fighters, detaining two and destroying a small weapons cache, MOD confirmed in a statement.
The statement published by the Afghan Ministry of Defense also said about an airstrike in the Nahr-e-Saraj district in southern Helmand province which has killed at least six Taliban fighters.
The Taliban office has not yet commented about their casualties in Logar and Helmand provinces.
This comes as there will be a 10-day brief ceasefire between the Taliban fighters and Afghanistan National Army before signing a peace deal between the United States and the Taliban.
Suhail Shaheen, a Taliban spokesperson said in a tweet early Friday morning that they have discussed 'signing a peace deal' with the US envoy Zalmay Khalilzad on Thursday.
https://www.khaama.com/afghan-military-operations-kill-8-taliban-militants-9798636/
--------
Arab World
Iraqi police arrest ISIS religious official in eastern Mosul
January 16-2020
ERBIL (Kurdistan 24) – Iraqi security forces on Thursday announced the arrest of a senior religious Islamic State official in eastern Mosul.
Iraq's Security Media Cell said in a statement that the Nineveh Police Command's SWAT team arrested "a so-called sharia official and mufti of ISIS called Abu Abd al-Bari" in the Mansour neighborhood after continuous investigations and "accurate information."
Shifa Al-Neama, nicknamed Abu Abd Al-Bari, was allegedly working as a preacher at several mosques in the city of Mosul.
"He is known for his provocative speeches against the [Iraqi] security forces, and he was inciting affiliation and allegiance to ISIS and educating extremist ideology during ISIS' control over Mosul," the Security Media Cell said.
"He is considered one of the leaders in the first row of ISIS gangs, and he is responsible for issuing fatwas regarding the execution of a number of scholars and clerics who refrained from pledging allegiance to ISIS."
The Security Media Cell also charged the suspect for being responsible for encouraging the bombing of the Prophet Yunus mosque in July 2014.
Mosul was previously the so-called Islamic State's stronghold when they emerged in Iraqi in mid-2014 before Iraqi forces, with support from the Kurdistan Region Peshmerga and US-led Coalition, recaptured it in July 2017.
Despite over two years having passed since Baghdad declared a final victory over the Islamic State, the group continues to conduct attacks in areas it once controlled, embarking on a wave of kidnappings, assassinations, and bombings that have raised fears of a new stage of heightened insurgency.
Iraqi security forces also arrested a "prominent terrorist" in southern Mosul, the country's Interior Ministry announced on Tuesday.
The US military announced on late Wednesday that it had resumed joint operations with Iraqi forces against the Islamic State after operations were suspended following US-Iran tensions.
https://www.kurdistan24.net/en/news/9a194d3a-3255-4e49-b88d-ecc9a3f327a9
--------
Bureaucracy to brutality: New evidence reveals IS hierarchy
January 17, 2020
BEIRUT (AP) — Documents compiled by a U.S.-based Syrian rights group reveal how Islamic State militants used one of their most powerful bureaucratic bodies to regulate daily life and impose and execute penalties.
The new evidence could be used in international prosecutions.
The Washington-based Syria Justice and Accountability Center said Thursday that the evidence — documents produced by IS itself — could help identify individuals responsible for atrocities during the militants' four-year reign of terror and lead to criminal prosecutions.
The 24-page report, called "Judge, Jury and Executioner," is based on dozens of documents obtained by SJAC from inside Syria and collected by a local activist from abandoned IS offices in Raqqa province, where the militants also had their self-declared capital in a city that carries the same name.
Dozens of documents showed that the Bureau of Justice and Grievances had a much more expansive role than the militant group had publicly revealed. While IS portrayed it as a body that investigated complaints against its own members and held them accountable, the investigation showed that it had a more integral role in sentencing and executing penalties, issuing arrest warrants and death and marriage certificates, and regulating daily life, including use of technology, in the territories controlled by IS.
Mohammad Al-Abdallah, SJAC executive director, said the report explains the internal dynamics among the different branches of IS and how decisions were made — an important tool for prosecutors investigating the militant group that can help establish chain of command.
Such an internal picture could help prosecutors move beyond pursuing strictly terrorism-related charges by establishing responsibility for war crimes, genocide and crimes against humanity, Al-Abdallah said. The SJAC has already compiled at least nine names of IS judges and prosecutors based on the documents already reviewed.
Even though the real identity of those named may need more than the documents to establish, such as photos, witness testimonies and prison records, Al-Abdallah said his center's project is only starting. Thousands more documents and videos are available to Al-Abdallah's center and his team of researchers plan to go through them all.
"We will start matching videos to documents basically and mapping out identities," Al-Abdallah said.
The report also focused on the non-combatant side of IS — prosecutors and judges — who were key in planning and ordering crimes, not just executing them, Al-Abdallah said.
Thousands of IS militants are languishing in prisons in Syria and Iraq, including hundreds of Europeans. Their fate has been a major dilemma for their home countries as well as Syria and Iraq, who are keeping them in crowded detention facilities. The issue has triggered a debate in many European countries, many of which have declined to repatriate their nationals citing security concerns.
https://news.yahoo.com/bureaucracy-brutality-evidence-reveals-hierarchy-191328682.html
--------
Hezbollah supporters say revenge for Soleimani's death has only just begun
write Wael Taleb and Richard Hall
January 18, 2020
Qassem Soleimani was often described as a "shadowy" figure; an elusive commander who criss-crossed the Middle East in secret on his mission to sustain a regional military alliance loyal to Iran.
But in the days after he was killed by a US drone strike this month, his face was suddenly everywhere. Posters and billboards mourning his death appeared in Baghdad, Damascus, Sana'a and Beirut – places where Soleimani had spent years cultivating proxies and militias.
In the southern suburbs of Lebanon's capital, known for its strong support of Hezbollah – one of Iran's strongest allies – giant images of the Iranian general's face now loom large.
Some two weeks after his death, anger over Soleimani's killing is still palpable among Hezbollah supporters here. And despite Washington's hope that the conflagration has been contained, many believe that it has only just begun.
"He was putting limits on American influence in the region and it was working for him," says Umm Kassem Tarheene, who owns a mini-market in Dahiya, south Beirut. "That's why they killed him."
"Americans pretend to be peaceful and democratic, but they make wars and kill us like it is nothing. I think they treat animals better than us. It was for people like Soleimani to stand up against that," she says.
The US, and much of the world, saw Soleimani as a terrorist and a war criminal – and with good reason. In Syria, he organised the deployment of thousands of Shia militiamen to bolster the forces of the president, Bashar al-Assad, and helped to orchestrate the devastating sieges that starved large populations of civilians into submission.
In Dahiya, however, he was seen as a protector.
"Soleimani defended the whole region, not just Iran, from extremism, as well as American and Israeli influence," says Zeaiter, a van driver, referring to the general's role in battling Isis in Syria.
"His assassination will just make us stronger mentally," he adds.
As the head of Iran's Quds Force, Soleimani was responsible for the Revolutionary Guard's foreign operations. His primary mission was to build a "resistance axis" of Shia proxies that would project Iran's regional might and act as a counter to US and Israeli power in the Middle East.
Hezbollah, often seen as one of the most successful of these projects, was founded by Revolutionary Guards in the early 1980s with the aim of expelling Israeli forces from Lebanon and establishing an Islamic republic. In the years since, Hezbollah has relied on Iran for support and weaponry, which it claims is necessary as a deterrent against Israeli aggression.
Over the years, Soleimani formed a particularly close relationship with the Hassan Nasrallah, the leader of Hezbollah, and reportedly visited him in Beirut just days before he was killed.
In a rare interview in October last year, Soleimani reminisced about overseeing Hezbollah's forces alongside Nasrallah during the 2006 war against Israel, and revealed that he had spent all 34 days of the fighting in Lebanon. Soleimani's role in that conflict, during which much of Dahiya was flattened by Israeli airstrikes, was seen as crucial in holding off a more serious Israeli incursion.
After Soleimani's killing, Nasrallah promised to avenge his death by forcing the US military to leave the region, and called on Iran's allies to take action.
"When the coffins of American soldiers and officers begin to be transported to the United States, [Donald] Trump and his administration will realise that they have really lost the region and will lose the elections," Nasrallah said, referring to the 2020 US presidential vote.
Iran's own retaliation for Soleimani came just days after his death. A barrage of missiles was fired at two US bases in Iraq, although no one was killed.
Mohammad Javad Zarif, Iran's foreign minister, said afterwards that the strikes "concluded" Tehran's response, and that Iran was not seeking further "escalation or war". But Iran's proxies and allies, including Hezbollah, may yet seek their revenge.
In Dahiya, the group's supporters expect more to come.
"Iran's strike was just the start," says Zeaiter, the van driver. "The only way Iran's strike would be the end of the tension was if it caused the American forces to get out of Iraq, because this is what Soleimani wanted."
In his speech two days after Soleimani's death, Nasrallah said attacks on US military forces in the region would force them to withdraw "humiliated, defeated and in terror ... as they left in the past".
Hezbollah was responsible for a suicide bombing that destroyed a US marine headquarters in Beirut in October 1983, killing 241 servicemen, and a suicide bombing the same year the US embassy. US troops withdrew from Lebanon the following year.
A former Hezbollah fighter who declined to give his name says part of the reason for the group's furious reaction is that Soleimani's killing was as much an attack on Iran as it was on its proxy groups.
"I see the assassination of Soleimani as a strike in the core of what is known to be called the resistance axis," the former fighter, who has since left the group, says.
"Among Hezbollah supporters he was marketed as an important Shia figure who was going to liberate Palestine from Israeli occupation."
"He was responsible for all the military operations of the Iranian proxies in the Syrian war, and in Iraq. He also took military decisions in Yemen and he had a range of influence on Hezbollah," he adds.
Soleimani's importance to Iran's regional alliance was no doubt a key reason for his killing. The Trump administration has taken a significantly more aggressive stance towards Hezbollah, imposing heavy sanctions on the group which has squeezed its sources of funding.
Taken together with the killing of Hezbollah's patron, the Trump administration's approach has created something of a siege mentality among the group's supporters, and its leadership.
"I don't like war and I don't want it to happen," says Umm Kassem Tarheene, "but if someone attacks you and tries to do harm to your country, you have to punch them out."
https://www.independent.co.uk/news/world/middle-east/soleimani-hezbollah-iran-hassan-nasrallah-middle-east-lebanon-a9285201.html
--------
Airstrikes kill 18, wound 15 others in Syria's Aleppo: Monitor
18 January 2020
At least 18 people have been killed and 15 others were wounded in airstrikes by the Syrian regime and Russia in the western countryside of Aleppo on Saturday, the Syrian Observatory for Human Rights reported.
https://english.alarabiya.net/en/News/middle-east/2020/01/18/Airstrikes-kill-18-wound-15-others-in-Syria-s-Aleppo-Monitor.html
--------
US official calls for 'credible' government in Lebanon
18 January 2020
"A credible government is one that will act in the interests of all Lebanese and is broadly perceived by the Lebanese people as such, and is able to restore international confidence in Lebanon," a US State Department official in Washington told Al Arabiya in exclusive comments.
Senior Lebanese political sources have said on Thursday "that a new government that is expected to be formed soon."
"The test of any government will be its actions," the official said on the issue of the formation of the government in Lebanon.
"As we have previously said, Lebanese leaders need to commit to and implement the reforms necessary to respond to the Lebanese people's demands for an end to endemic corruption, better governance, and economic opportunity. As we have also repeatedly said, we believe Lebanon must have a credible and capable cabinet able to take those steps," the official added.
"Only a government that is capable of undertaking real and tangible reforms will restore investor confidence and unlock future international assistance for Lebanon. There is a strong international consensus on this point. There is no route to international assistance other than through concrete reforms taken by a credible and capable government."
"We renew our call for all sides to refrain from violence and for authorities to protect the right to peaceful protest."
https://english.alarabiya.net/en/News/middle-east/2020/01/18/US-official-calls-for-credible-government-in-Lebanon-.html
--------
Two protesters killed, 25 injured in clashes with Iraqi security forces
17 January 2020
Two protesters were killed and over a dozen wounded in central Baghdad on Friday in renewed violence between anti-government demonstrators and Iraqi security forces, activists and officials said. The deaths follow weeks of calm.
Riot police fired tear gas and hurled sound bombs to disperse crowds on the strategic Sinak Bridge after protesters attempted to breach cement barriers previously erected by security forces, causing the casualties, activists and medical and security officials said.
Two protesters were killed and at least 25 wounded, three activists and a security official said. One protester died after a tear gas canister was launched directly at his neck, the medical sources said.
The officials spoke on condition of anonymity in line with regulations.
Angry demonstrations have rocked Baghdad and Iraq's south for the last three months, denouncing the country's political system which is seen as among the most corrupt in the world.
Since October, the unrest has seen around 460 people killed and some 25,000 wounded, the vast majority of them demonstrators.
The movement, seeking sweeping political reforms, and better jobs and services, has also faced a campaign of intimidation, abductions and assassinations.
https://english.alarabiya.net/en/News/middle-east/2020/01/17/At-least-one-protester-killed-25-injured-in-clashes-with-Iraqi-security-forces-.html
--------
12 Syrian troops, 50 militants killed in Idlib, says Russian Defense Ministry
17 January 2020
Twelve Syrian troops were killed, and 24 injured in the past 24 hours in Syria's opposition-held Idlib province, the Russian Defense Ministry said on Friday.
Fifty militants were also killed in the fighting, it said.
On Thursday, the Russian Defense Ministry had denied media reports that it had bombed civilian targets in the de-escalation zone in Idlib, saying there had been no military flights since a ceasefire was introduced on January 9, RIA news agency reported.
https://english.alarabiya.net/en/News/middle-east/2020/01/17/12-Syrian-troops-50-militants-killed-in-Idlib-says-Russian-Defense-Ministry.html
--------
Hezbollah warns of 'chaos' if Lebanon government delayed
17 January 2020
A senior Hezbollah official warned Friday that Lebanon could fall into chaos and "complete collapse" unless a new government is formed.
Sheikh Ali Daamoush's comments came amid more bickering between politicians on the formation of a new Cabinet amid a crippling financial crisis and ongoing mass protests against the country's ruling elite.
Prime Minister-designate Hassan Diab had been expected to announce an 18-member Cabinet on Friday, but last minute disputes among political factions scuttled his latest attempt.
Lebanon has been without a government since Prime Minister Saad Hariri resigned Oct. 29 amid nationwide protests against corruption and mismanagement by a political class that has been running the country since the end of the 1975-90 civil war.
Panic and anger gripped the public as they watched their local currency, pegged to the dollar for almost three decades, plummet, losing more than 60 percent of its value in recent weeks on the black market. Meanwhile, banks have imposed informal capital controls, limiting withdrawal of dollars and foreign transfers from the country.
The economy has worsened since mass protests began Oct. 17, turning violent in recent weeks as anger mounts. Earlier this week, protesters carried out acts of vandalism, targeting mostly banks. The eastern Bekaa Valley on Wednesday night witnessed sectarian attacks unseen in years. That raised alarm the political, economic, financial and social crisis could get out of control.
"We see that it is necessary to form a Cabinet as soon as possible because we know that the crisis which the country and people are suffering from cannot be solved without a Cabinet," Daamoush said during the Friday prayers sermon.
"Losing the opportunity to form a government now means that the country is headed into chaos, disorder and total collapse," Daamoush warned.
Following a meeting between Diab and the parliament speaker on Thursday, news spread that the new government with 18 ministers will most likely be announced Friday.
But a person taking part in negotiations for the government formation told The Associated Press on Friday "there are some problems" they are trying to solve. He said some political groups are insisting the government be made up of 24 ministers to have more representation, while Diab is insisting on 18.
The person spoke on condition of anonymity because he was not authorized to speak to the media.
Protesters have already rejected the new Cabinet saying that although it is going to be made up of experts, the ministers are named by the political groups they blame for Lebanon's problems. The protest movement is insisting that the government be made of independent technocrats.
https://english.alarabiya.net/en/News/middle-east/2020/01/17/Hezbollah-warns-of-chaos-if-Lebanon-government-delayed.html
--------
Syria ceasefire has failed as civilians killed daily: UN rights boss
17 January 2020
United Nations human rights chief Michelle Bachelet called on Friday for an immediate cessation of hostilies in Idlib, saying that the latest Syrian ceasefire had "yet again failed to protect civilians."
"It is deeply distressing that civilians are still being killed on a daily basis in missile strikes from both the air and ground," Bachelet said in a statement on the ceasefire, which was due to be implemented nearly a week ago.
Around 350,000 Syrians, mostly women and children, have fled a renewed Russian-backed offensive in the opposition-held Idlib province since early December, and have sought shelter in border areas near Turkey, the United Nations said on Thursday.
https://english.alarabiya.net/en/News/middle-east/2020/01/17/Syria-ceasefire-has-failed-as-civilians-killed-daily-UN-rights-boss.html
--------
Saudi envoy meets UN Counter-Terrorism official in New York
January 18, 2020
NEW YORK: The Kingdom's permanent representative to the UN, Abdallah Al-Mouallimi, met the undersecretary-general of the UN Office of Counter-Terrorism (UNOCT), Vladimir Voronkov, in New York. The meeting reviewed the cooperation between Saudi Arabia and UNOCT.
Al-Mouallimi said Saudi Arabia was keen to continue working with UNOCT, which was established with the Kingdom's support, for its important role in strengthening international efforts to counter terrorism.
Voronkov expressed his gratitude to the Saudi government for its efforts to counter terrorism.
https://www.arabnews.com/node/1614716/saudi-arabia
--------
Lebanese block roads as protests enter fourth month
January 17, 2020
BEIRUT: Protesters blocked several main roads across Lebanon on Friday as unprecedented demonstrations against a political elite accused of corruption and incompetence entered their fourth month.
The protest movement rocking Lebanon since October 17 has resurged this week, over delays in forming a new cabinet to address the country's growing economic crisis.
No progress seemed to have been made on a final lineup, which protesters demand be made up solely of independent experts and empty of traditional political parties.
In central Beirut, dozens of protesters Friday stood between parked cars blocking a key thoroughfare linking the city's east and west.
"We blocked the road with cars because it's something they can't move," Marwan Karam said.
The protester condemned what he regarded as efforts to form yet another government representing the usual carve-up of power between the traditional parties.
"We don't want a government of masked political figures," the 30-year-old told AFP. "Any such government will fall. We won't give it any chance in the street."
Forming a new cabinet is often a drawn-out process in Lebanon, where a complex system seeks to maintain balance between the various political parties and a multitude of religious confessions.
Nearby, Carlos Yammine, 32, said he did not want yet another "cake-sharing government."
"What we have asked for from the start of the movement is a reduced, transitional, emergency government of independents," he said, leaning against his car.
Elsewhere, demonstrators closed roads including in Lebanon's second city of Tripoli, though some were later reopened, the National News Agency said.
The protest movement is in part fueled by the worst economic crisis that Lebanon has witnessed since its 1975-1990 civil war.
The protests this week saw angry demonstrators attack banks following the imposition of sharp curbs on cash withdrawals to stem a liquidity crisis.
On Thursday night, protesters vandalized three more banks in the capital's Hamra district, smashing their glass fronts and graffitiing ATMs, an AFP photographer said.
Earlier, Lebanon's security services released most of the 100-plus protesters detained over the previous 48 hours, lawyers said.
Human Rights Watch on Friday condemned the arrests and the response of security forces to protests outside a police station on Wednesday night demanding detainees be released.
"The unacceptable level of violence against overwhelmingly peaceful protesters on January 15 calls for a swift independent and transparent investigation," said Joe Stork, deputy Middle East director at the rights watchdog.
Over the past few months, the Lebanese pound — long pegged to the US dollar at 1,507 — has fallen in value on the unofficial market to around 2,500.
The World Bank has warned that the poverty rate in Lebanon could rise from a third to a half if the political crisis is not remedied fast.
https://www.arabnews.com/node/1614516/middle-east
--------
Mideast
Iran ready for negotiations with Saudi Arabia, Persian Gulf states: FM Zarif
17 January 2020
Iranian Foreign Minister Mohammad Javad Zarif says the Islamic Republic is ready to hold talks with Saudi Arabia and other Persian Gulf countries to promote regional security.
"We are ready for negotiations with Saudi Arabia and other Persian Gulf littoral states and we are ready to give proposals regarding security in this region, particularly the Strait of Hormuz," Zarif said in an address to a meeting held in the Indian city of Mumbai on Friday in coordination with All India Association of Industries (AIAI).
He added that Iran has also presented proposals on ways to establish peace in the Strait of Hormuz.
Established in 1956 in Mumbai, the AIAI has over 1,500 members and through its affiliates it represents over 50,000 industries.
In an address to the 74th session of the United Nations General Assembly on September 25, Iranian President Hassan Rouhani said as a steward of maritime security in the Persian Gulf and the Strait of Hormuz, Iran invites all countries that are affected by developments in the strategic region to join the country's new regional peace initiative, dubbed Hormuz Peace Endeavor (HOPE).
He said the "coalition of hope" aims to promote peace, stability, progress and prosperity of littoral states and help achieve mutual understanding and establish peaceful and friendly relations among them.
The Iranian foreign minister said in October 2019 that he is ready to visit Saudi Arabia to help reduce tensions between Riyadh and Tehran if suitable conditions existed.
"If suitable conditions are provided, I would be ready to travel to Riyadh to settle differences" between the two countries, Zarif said while answering a question posed by Yemen's Arabic-language al-Masirah news agency.
"Tehran welcomes any initiative that aims to ease tensions in the region and will cooperate [with other parties] to end Yemen's war," he added.
https://www.presstv.com/Detail/2020/01/17/616431/Zarif-Saudi-Arabia-All-India-Association-of-Industries-Persian-Gulf-Mumbai-India
--------
Jewish Dems push to reverse Trump ban on migration from some Muslim countries
January 18, 2020
JTA — Two moderate Jewish Democrats spearheaded a call on the leadership of the US House of Representatives to bring a bill forward that would nullify US President Donald Trump's restrictions on immigration from a number of Muslim majority countries.
"As Americans, we must stand against the persecution of religious minorities," said the letter sent Thursday to the House Speaker, Nancy Pelosi and her deputies. "To pass the NO BAN Act is to stand up for the bedrock American value of religious liberty."
The letter was signed by 32 moderate Democrats, many of whom represent districts won by Trump in 2016. The letter signals that Democrats see immigration as a winning issue in this year's congressional and presidential elections.
Two of the three lawmakers spearheading the letter are Jewish: Josh Gottheimer of New Jersey and Max Rose of New York. The third is Stephanie Murphy of Florida. Among the signatories were another four Jewish Democrats in swing districts: Elaine Luria in Virginia, Elissa Slotkin in Michigan, Kim Schrier in Washington and Susan Wild in Pennsylvania.
The act was introduced last year by Representative Judy Chu, a California Democrat, and has the support of most of the Democratic caucus. A release to the press announcing the letter said it was spurred in part by unconfirmed reports that Trump plans to expand the ban to other Muslim majority countries.
The Trump administration says the restrictions are not religiously discriminatory and are based on threat assessments.
https://www.timesofisrael.com/jewish-dems-push-to-reverse-trump-ban-on-migration-from-some-muslim-countries/
--------
Iran Warns against Politicization of Ukrainian Plane Incident
Jan 17, 2020
"This is strange that the Canadian FM, only a day after doing initial measures and besides Iran's full cooperation, reads such a statement and asks for a consular access, which was agreed upon and delivered accordingly by Iran on the first day of the incident due to human aspects of the issue," Mousavi said on Friday, after the London meeting of officials from 5 countries whose citizens died in an unintentional downing of Ukrainian flight in the Southwestern outskirt of Tehran.
The diplomat added that Tehran is surprised with some of the remarks made on the sidelines of the quinquepartite meeting in London.
Mousavi described that "in past years, the Islamic Republic has asked Canada to let consular representative offices be active in the two countries; however, the Canadian government has refused the issue due to the US pressure on Iranian citizens," he said, "The motivation of the Canadians' latest remarks are not clear to us."
Expressing condolences with the families of the victims of the flight, the Iranian spokesman underlined that the Islamic Republic has had very good cooperation with the dispatched foreign delegations studying the case in Iran.
"All the bodies of the victims have been identified and Iran is in full cooperation with all the affiliated countries and will continue doing so as far as the regulations require," he added.
To respect the families of the victims, he called on all the parties to let the procedures be done without any marginal disputes and not to mingle the issue with political motivations.
The remarks come as representatives of Canada, Ukraine, Sweden, Afghanistan, and Britain, whose citizens were killed in the tragic Ukrainian plane crash which was unintentionally downed by Iranian defense systems last Wednesday, held a meeting in London. In a statement, the mentioned countries asked Tehran to pay compensation, noting that Tehran should hold a "thorough, independent and transparent international investigation open to grieving nations."
Early on last Wednesday, a Boeing 737 plane carrying 180 passengers and crew, mostly Iranians, crashed shortly after takeoff from Imam Khomeini Airport in Tehran, leaving no survivors.
The General Staff of the Iranian Armed Forces said in a statement on Saturday that the Ukrainian Boeing 737 plane was shot down as a hostile object due to human error at a time of heightened US threats of war.
Supreme Leader of the Islamic Revolution Ayatollah Seyed Ali Khamenei in a message on Saturday extended his condolences again on the death of the Ukrainian plane's passengers, and ordered the Armed Forces to take the needed measures to find faults and flaws that have led to the bitter incident and prevent repetition of similar incidents in future.
Also, Iranian President Hassan Rouhani extended condolences to the families of those killed in the Ukrainian plane incident, and promised that all those who have been guilty in the unforgivable mistake of shooting down the jet will be prosecuted.
Russian State Duma (parliament's lower house) Speaker Vyacheslav Volodin blamed the United States for the exacerbation of tensions in the Middle East that led to the launch of the Iranian missile at the passenger plane of the Ukraine International Airlines near Tehran.
On Tuesday, a tripartite investigation team, made up of experts from Iran, Ukraine, and Canada, was formed in the Islamic Republic's capital city to open probe into the causes of the unfortunate Ukrainian passenger plane incident in the Southwestern outskirt of Tehran.
https://en.farsnews.com/newstext.aspx?nn=13981027000384
--------
Iran to Lunch New Monetary Policies on Saturday
Jan 17, 2020
The Central Bank of Iran said on Thursday that it would start to implementing OMO policies as of Saturday January 18, 2018, in a bid to pursue better control over the capital flow in the country.
The announcement was made as President Rouhani visited the CBI headquarters in Northern Tehran to meet with senior banking officials of the country.
"Today, the supervision of the CBI on banks and the scrutiny have increased and the OMO which was unveiled today and will be implemented from Saturday is a very good move," said Rouhani while marking the launch of the new monetary policy in Iran.
The CBI had planned to start using OMO measures in late September. The delay comes amid the bank's struggle to cope with financial difficulties caused by the American sanctions on Iran, including waves of fluctuations in the currency market.
CBI governor Abdolnasser Hemmati said on Thursday that OMO policies would greatly improve the CBI's ability to monitor overdrafts in the banks.
He said the policy, a first to come in CBI's 60-year history, should be viewed as a revolutionizing change in the way the country has managed capital flow, especially in interbank lending market.
Despite repeated attempts by the CBI to reduce the interest rate paid to deposits in Iran, banks still prefer rates that are much higher than many other countries in the world.
Experts believe open market operation would give the CBI more control over the interest rates while it would allow a better control over liquidity and inflation in the country.
Last month, President Rouhani said that the country's budget bill for the next fiscal year had been set in a way to offset the negative effects of the US sanctions and, hence, includes a significant cut in oil revenues.
"Our budget for the next year, like the current year, will be based on resistance against sanctions; the budget's message is that we will manage the country despite all sanctions," Rouhani said in an open session of the Parliament in Tehran.
"Next year's budget is not much reliant on oil. Anticipated revenues for oil and gas sales are close to the required budget for civil projects," he said, adding that 700 trillion rials (some $5.3 billion) have been allocated to such projects.
Rouhani was at the Parliament to submit the next year's budget bill.
"We were under the toughest sanctions last year; we promised that the administration, with the support of the resistant Iranian nation and other organizations, would make every effort to provide and implement the budget and this has been realized by now," Rouhani said.
Nine months have passed since the start of the local calendar year of 1398 and all the daily budgets have been provided, he said, adding that 340 trillion rials (some $2.6 billion) have been allocated to civil projects. "Major projects have either been inaugurated or will be by the year-end."
"All this has been realized while Americans and Zionists thought that sanctions would cripple the government, but they gave up on that and will keep being disappointed in the future," Rouhani said.
In October, Hemmati announced that the country has further reduced its reliance on oil revenues to bring the share of the income earned though crude sales in the budget to less than 30 percent.
"Oil has had the major share of production and exports in Iran's economy for 50 years, but today less than one-third of the exports is related to oil," Hemmati wrote on his Instagram.
He reiterated that Iran's economic growth had been greatly affected by the oil sector, but now the situation has changed.
"The CBI will be able to create stability in non-oil sector by adopting monetary and currency policies," the CBI governor added.
https://en.farsnews.com/newstext.aspx?nn=13981027000154
--------
Hundreds of Jordanians rally against gas deal with Israel
17 January 2020
Hundreds of Jordanians demonstrated in downtown Amman on Friday, calling on the government to cancel an agreement in which Israel began pumping natural gas to the kingdom this year.
Jordanian security forces prevented the protesters from reaching symbolic al-Nakheel Square in the capital, where the turnout had been expected to grow larger.
Earlier this month, Jordan's National Electric Power Co., said gas pumping had started as part of a multi-billion-dollar deal with Texas-based Noble Energy aimed at lowering the cost of power in the energy-poor kingdom.
Noble Energy and Israel's Delek Group are, among others, partners in the newly operational Leviathan gas field off Israel's Mediterranean coast.
In a statement then, NEPCO said importing the gas from Israel was "the last option" after supplies of Egyptian gas came to an end after its pipeline was repeatedly targeted by ISIS-affiliated militants in Sinai. NEPCO said Israel was "the only available source."
At odds with the kingdom's official policy, many Jordanians still see Israel as an enemy and often meet steps toward normalization with great public backlash. Over half the population are believed to be Palestinian refugees or their descendants.
Dozens of police Friday formed lines to prevent protesters from marching. The demonstrators chanted anti-Israel slogans and held banners reading, "The gas of the enemy is an occupation!" and "Down with the gas deal."
The Jordanian flag-waving protesters also threatened to overthrow the government if it sticks by the gas deal.
Murad al-Adayleh, secretary general of the Islamic Action Front Party, called on the government, "which has allowed the start of importing the gas," to step down.
When the deal was signed in 2016, it was not reviewed by Jordan's lower house of Parliament. Last year, that body issued a non-binding resolution against the agreement.
A parliament session was planned for Sunday to submit an urgent memo requesting a ban on gas purchases from Israel.
The $10 billion deal is expected to provide 45 billion cubic meters of Israeli gas to Jordan over the next 15 years.
From the same Leviathan gas field, Israel has also begun exporting natural gas to Egypt. On Friday, Israeli Prime Minister Benjamin Netanyahu boasted about the move, saying on Twitter that he has labored to make Israel a "world power exporter."
https://english.alarabiya.net/en/News/middle-east/2020/01/17/Hundreds-of-Jordanians-rally-against-gas-deal-with-Israel.html
--------
Three Turkish soldiers killed in car bomb attack in northern Syria
17 January 2020
A car bombing has killed three Turkish soldiers in a Turkish-controlled area in northern Syria, Turkey's Defense Ministry said.
The ministry said the attack occurred late on Thursday as the soldiers were carrying out road checks in northern Syria, in an area that is under the control of Turkish forces and Turkish-backed Syrian fighters since a Turkish incursion into the region in October.
"Three heroic brothers-in-arms were martyred in a car-bomb attack during a road check," the ministry said. It did not provide further details on the attack.
No group immediately claimed responsibility for the bombing.
Turkey invaded the border area in neighboring Syria to drive away the Syrian Kurdish People's Protection Units, or YPG, a group it considers extremists because of its links to Kurdish rebels fighting inside Turkey. However, the same fighters were the main US allies on the ground in the war against ISIS.
Thursday's blast was the latest in a series of attacks targeting Turkish troops or the allied Syrian rebels in northern Syria. Four soldiers were killed last week in a similar car bomb explosion.
Turkish President Recep Tayyip Erdogan condemned the attack and vowed retaliation.
"We cannot let this go without a response," he said.
More than 20 Turkish soldiers have died in the region since the start of the incursion, which drew widespread international criticism. The US in turn was seen as abandoning the Syrian Kurdish force that had helped fight IS militants.
Erdogan also said he would discuss the situation in Syria's Idlib province on Sunday with world leaders who will be attending a conference in Berlin on the conflict in Libya.
Violence in Idlib has continued despite a new cease-fire agreement between Russia and Turkey, which support opposite sides in the conflict, that went into effect last week.
Syrian government warplanes hit a market and an industrial area on Wednesday in Idlib, the last territory in rebel hands. The attacks killed at least 15 people, opposition activists said.
https://english.alarabiya.net/en/News/middle-east/2020/01/17/Three-Turkish-soldiers-dead-in-car-bomb-attack-in-northern-Syria.html
--------
Iranian representative to go to Ukraine next week, Kiev says
17 January 2020
An Iranian representative will travel to Ukraine next week following the shooting down of a Ukrainian passenger plane near Tehran last week, Foreign Minister Vadym Prystaiko told parliament on Friday.
He said Iran was willing to pass on to Ukraine the data and voice recorders from the flight after they had been examined by a joint investigation team comprising experts from Iran, Canada, and Ukraine.
The airliner was struck by a missile on Jan. 8 shortly after leaving Tehran en route to Kiev. Iran admitted on Saturday it had shot down the plane in error.
https://english.alarabiya.net/en/News/middle-east/2020/01/17/Iranian-representative-to-go-to-Ukraine-next-week-Kiev-says.html
--------
Iran decries certain countries' political abuse of Ukraine plane crash
17 January 2020
Iran's Foreign Ministry has decried the "abuse" of Iran's accidental downing of Ukraine plane by some countries who pursue certain "political plots" against Iran.
"We urge all sides to not abuse humanitarian issues - specifically this tragic incident - in a bid to make political gestures and pursue their political dreams," Foreign Ministry spokesman Abbas Mousavi said on Friday.
"For the sake of the mourning families, allow procedures to continue as they currently are in a natural matter, far from diversions," he added.
The Ukrainian plane, en route to Kiev and carrying mostly Iranian passengers, crashed minutes after take-off near the capital Tehran on January 8, killing all 176 on board.
Among the victims were also citizens from Canada, Ukraine, Sweden, Afghanistan and the United Kingdom.
Despite attributing the crash to technical failure in initial assessments, Iran ultimately said that the plane had been brought down by a missile fired "unintentionally" due to "human error" after further investigations on Saturday.
After the crash, Iranian Foreign Minister Mohammad Javad Zarif said human error at time of crisis caused by US adventurism led to disaster.
Mousavi's Friday remarks came in response to a joint meeting and statement made by the foreign ministers of the five countries whose citizens were also among the crash victims.
On Thursday, the foreign ministers called on Iran to pay compensation for the victims and to conduct "thorough, independent and transparent international investigation open to grieving nations".
Following the meeting, Canadian Foreign Minister Francois-Philippe Champagne warned Iran that "the world is watching" the country.
In his Friday remarks, Mousavi expressed disappointment that such a meeting had been held and that certain negative comments had been made regarding Iran.
"Seeking to console the mourning families and addressing the humanitarian implications of this incident, we have had very smooth and beyond usual cooperation with the delegations of these countries," he said.
Mousavi also decried the words of the Canadian foreign minister, which he said came despite Iran's cooperation and progress in matters regarding the incident.
The spokesman added that Champagne had called on Tehran to provide consular services despite the fact that Iran had already provided the services to facilitate matters related to the plane crash.
Mousavi said Tehran had in previous years repeatedly called on Ottawa to allow for bilateral consular representation regardless of the two countries' diplomatic relations in order to respect the rights of individuals which need the services.
The spokesman said that Canada had rejected talks over the matter as it was following Washington's policy in pressuring Iranian citizens and residents.
In 2012, Ottawa severed diplomatic ties with Iran, citing, among other pretexts, what it described as continued threats from Tehran to its ally, Israel.
https://www.presstv.com/Detail/2020/01/17/616402/Iran-plane-crash-incident-political-abuse
--------
Scuffles erupt as Israeli forces demolish Palestinian homes
18 January 2020
A video has emerged showing scuffles erupting between local residents and Israeli forces as they were demolishing two Palestinian homes in the southern Hebron Hills area of the occupied West Bank.
In the video released on Friday Israeli forces are seen punching several men as they were dragging them away. Residents said two Palestinians were also detained.
In a statement on Friday, the Israeli Civil Administration alleged that the buildings in the Palestinian city of al-Khalil (Hebron) were built illegally.
The family who owned the houses said they were in the process of appealing to the Civil Administration to legalize the houses which were located in the strategically sensitive Area C of the occupied West Bank.
Area C accounts for more than 60 percent of the occupied West Bank, and would form a significant part of a future Palestine state under the so-called two-state solution. It is fully controlled by Israeli authorities.
Israeli officials have recently approved the construction of 6,000 new settler homes in the West Bank's Area C, where the Israeli army has full control over the management of resources, planning and construction, and strictly limits Palestinian construction or development to less than one percent of the area.
More than 600,000 Israelis live in over 230 illegal settlements built since the 1967 Israeli occupation of the Palestinian territories of the West Bank and East Jerusalem al-Quds.
The UN Security Council has condemned Israel's settlement activities in the occupied territories in several resolutions.
https://www.presstv.com/Detail/2020/01/18/616464/Israel-Palestine-demolition-West-Bank-construction-settlements
--------
Hundreds of Jordanians protest against gas deal with Israel, demand govt. resignation
17 January 2020
Hundreds of people have staged a demonstration in Jordan to express their resentment over the government's multi-billion-dollar agreement to import natural gas from the Occupied Palestinian Territories.
On Friday, the protesters staged a rally, which was organized by the Jordanian National Campaign Against the Gas Agreement with the Zionist Entity, in the capital Amman, calling on Prime Minister Omar Razzaz to step down.
They also demanded the parliament, which will hold a session next Sunday to discuss the issue of natural gas imports from Israel, to vote against the agreement and hold those who signed it to account.
The demonstrators then urged all Jordanians nationwide to take part in anti-gas deal protests, push for the abolition of the agreement, and put all those responsible for the crime and treachery on trial.
The protesters also chanted slogans in condemnation of the gas agreement with Israel, and called for the ouster of Razzaz's government.
The protesters engaged in clashes with Jordanian security forces as they sought to reach Nakheel Square. The demonstrators, however, were pushed back by police officers.
Last week, hundreds of people protested in the northeastern Jordanian city of Zarqa against the import of natural gas from Israel by Jordan.
The mayor of Zarqa, Imad al-Momani, called on the authorities to "cancel this humiliating agreement" while speaking to the demonstrators.
On September 26, 2016, Jordan's National Electric Power Company signed a 10-billion-dollar deal with US-based Noble Energy and Israeli partners in order to tap the Leviathan natural gas field in the Mediterranean Sea off the coast of Israel for the supply of approximately 1.6 trillion cubic feet of natural gas, or 300 million cubic feet per day (mcf/d), over a 15-year term.
On March 26 last year, members of Jordan's parliament called for the cancellation of the gas deal with Israel during a parliamentary session closed to the public.
House Speaker Atef Tarawneh stated at the time that all sectors of the society and members of parliament utterly reject Jordanian electricity company agreement to buy Israeli natural gas.
Several legislators argued that the multi-billion-dollar deal violates Article 33, section two of the Jordanian constitution, which states: "Treaties and agreements which entail any expenditures to the Treasury of the State or affect the public or private rights of Jordanians shall not be valid unless approved by the parliament; and in no case shall the secret terms in a treaty or agreement be contrary to the overt terms."
Lawmaker Saddah al-Habashneh said the deal was unconstitutional, stressing that members of parliament were not given access to read what he called the "secret" deal.
"Why are they hiding it? It's a clue that there is something. It is totally rejected," he commented.
Habashneh then demanded the deal be scrapped along with Jordan's peace accord with Israel – known as Wadi Araba Treaty and signed on October 26, 1994.
"We are calling for the Wadi Araba agreement to be dropped. What is peace when they're attacking Gaza?" the parliamentarian said.
"And with yesterday's recognition of the Golan Heights, what's left? We want dignity," he pointed out.
On March 25, 2019, US President Donald Trump signed a proclamation, formally recognizing Israel's sovereignty over the Golan Heights. The announcement came as Israeli Prime Minister Benjamin Netanyahu visited the White House.
The Syrian Ministry of Foreign Affairs and Expatriates, in a statement, called the US decision a "blatant attack on the sovereignty and territorial integrity" of Syria.
"The liberation of the Golan by all available means and its return to the Syrian motherland is an inalienable right," according to the statement carried by Syria's official news agency SANA, which added, "The decision ... makes the United States the main enemy of the Arabs."
The Arab League also condemned the move, saying "Trump's recognition does not change the area's status."
Iran, Iraq, Russia and Turkey also condemned the US move.
Israel seized the Golan Heights from Syria after the 1967 Six-Day War and later occupied it in a move that has never been recognized by the international community. The regime has built dozens of settlements in the area ever since and has used the region to carry out a number of military operations against the Syrian government.
https://www.presstv.com/Detail/2020/01/17/616427/Hundreds-of-Jordanians-protest-against-gas-deal-with-Israel,-demand-govt.-resignation
--------
Ukraine says Iran to hand over downed jet's black boxes
January 17, 2020
KIEV: Ukraine said Friday Iran was ready to hand over the black box flight recorders of the Ukrainian passenger plane downed by an Iranian missile.
The Kiev-bound Ukraine International Airlines Boeing 737, crashed shortly after taking off from Tehran last Wednesday, killing all 176 people on board, mostly Iranian and Canadian citizens.
Ukraine's foreign minister said Iran would grant a team of investigators from Iran and Canada as the countries that have lost the most nationals access to the recorders.
"After that, the Iranian side is ready to separately transfer the black boxes to Ukraine," Vadym Prystaiko told lawmakers during a parliamentary session.
"This is consistent with international standards, although we still demand that they be given to us immediately to ensure the independence and objectivity of the investigation," Prystaiko said.
Meanwhile, Canadian Prime Minister Justin Trudeau on Friday urged Iran to send the flight and cockpit data recorders from the crashed jet to France for analysis and said the first remains of victims should soon arrive back in Canada.
"Iran does not have the level of technical expertise and mostly the equipment necessary to be able to analyze these damaged black boxes quickly," Trudeau said.
He told a news conference in Ottawa that France was one of the few countries with the ability to read the plane's so-called black boxes, which he said were badly damaged.
"The right place to send those black boxes to get proper information from them and in a rapid way" is France, he said, adding "that is what we're encouraging the Iranian authorities to agree to."
Trudeau also said his government will give Canadian $25,000 ($19,122) to families of each of the 57 citizens and 29 permanent residents of Canada who perished in the downing of a Ukrainian jetliner in Iran last week.
He added he still expects Iran to compensate the families but said they need help now for funerals, travel to Iran and bills. He said any money Iran provides at a later date will go straight to the families and will not be reimbursed to the Canadian government.
"I want to be clear, we expect Iran to compensate these families," Trudeau said. "But I have met them. They can't wait weeks. They need support now."
After initial denials, Iran admitted it has shot down the plane "unintentionally" while on high alert after firing missiles at US troops stationed in Iraq in retaliation for the killing of top Iranian commander Qasem Soleimani by a US strike.
Prystaiko told CNN on Wednesday that Kiev has "good cooperation" with Tehran on the crash probe, but lacked "access to the information stored in the black boxes."
"We just want to know that nobody will be tampering with the recordings themselves," he said.
Prystaiko said an Iranian official will visit Kiev next week "to apologize officially and provide explanations."
On Thursday, Canada, Ukraine, Sweden, Afghanistan and Britain issued a five-point plan for cooperation with Iran during the investigation, calling for "full and unhindered access" for foreign officials.
https://www.arabnews.com/node/1614561/middle-east
--------
Southeast Asia
Mujahid calls for stern action over Ponggal 'haram' circular to schools
Predeep Nambiar
January 17, 2020
NIBONG TEBAL: Minister in charge of Islamic affairs Mujahid Yusof Rawa today said stern action must be taken against the education official who issued a circular claiming Ponggal was haram (forbidden) in Islam as advised by the Department of Islamic Development (Jakim).
He said this was because Jakim had never said it was "haram" to attend the Tamil harvest festival but instead, it had said it was permissible for Muslims to take part in the celebration as long as the Islamic ethics were observed.
"My wife's a teacher at a school in Nibong Tebal with many Indian students. Her school has been taking part in Ponggal, while observing Islamic ethics for many years," he said at the sidelines of an event at the Arumugam Pillai Industrial Training Institute here today.
Mujahid questioned the official from the education ministry for distorting the contents of the letter.
"You (the official) used words such as 'terpaksa' (forced to) and 'haram', come on lah. We said Ponggal is permissible, so long as Islamic ethics are observed.
"We demand stern action on the person who wrote the letter and later blamed Jakim for making the decision. Have some pity on me and Jakim."
The letter Mujahid was referring to was an education ministry circular issued on the eve of Ponggal to all school heads.
The Jan 13 circular stated that Jakim had declared taking part in Ponggal rituals was "haram", especially the act of boiling milk, which was the main event of the Tamil harvest festival.
It was written by the ministry's education and teaching institutions deputy registrar Adzman Talib.
Separately, Mujahid panned the G25, a group of eminent ex-civil servants, for questioning the legality of Jakim and the National Council for Islamic Affairs (MKI).
He said G25's questioning of Jakim and MKI's status was akin to questioning the "halal" certification industry, where Malaysia has the lion's share in a US$2 trillion world "halal" industry.
Mujahid said if what G25 said was true, 30,000 religious school teachers and some one million students under them were receiving payments from an illegitimate body.
He said the group should have kept its findings for an academic debate instead of getting it out in the open as it would leave the public confused.
"The ripple effect of their remarks is untimely, especially at a time where there is tension over race and religion. What are you trying to get at? You are making things worse."
Earlier, Mujahid launched the e-RPH programme for religious schools, including a mobile phone app for teachers to help them impart quality education for their students. He said the government was looking into increasing the current RM1,000 allowance for religious school teachers by RM100, pending government approval.
https://www.freemalaysiatoday.com/category/nation/2020/01/17/mujahid-calls-for-stern-action-over-ponggal-haram-circular/
--------
NU cleric meets Pope Francis, talks 'social activism' in Rome to address interfaith conflicts
January 17, 2020
Indonesia's largest Islamic organization Nahdlatul Ulama (NU) has highlighted the importance of social activism in addressing interreligious conflicts during a discussion with religious leaders held as part of the Abrahamic Faiths Initiative forum in Rome from Tuesday to Friday.
"The discussion, held from Wednesday morning to afternoon at the Gregorian University, Rome, focused on the stance and measures that we can take together in tackling crises that are heavily influenced by interreligious conflicts," NU supreme council secretary-general, Yahya Cholil Staquf, said in a statement on Thursday.
Following the discussion, Yahya and 17 other religious leaders held a meeting with Pope Francis at his residence in Vatican City on Wednesday evening to talk about conclusions from the earlier discussion.
Yahya said that during the visit, Pope Francis had emphasized that regardless of their conflicts, people must return to the roots of their beings, and that was to become each other's brothers and sisters.
In the statement, Yahya quoted Samuel Dale Brownback, the United States Ambassador at Large for International Religious Freedom, who had expressed during the discussion his deep concern that such interfaith conflicts could further lead to killings if remained unaddressed.
"The statement is exactly the same as the analysis explained in Ansor's Declaration on Islam for Humanitarian Islam issued in 2017," he said, referring to NU's youth wing GP Ansor.
He also quoted Rev. Thomas Johnson of the World Evangelical Alliance, emphasizing that a mere declaration would not be enough as people might not read and study the declaration thoroughly.
Yahya concurred, saying that a declaration had to be prepared with real, follow-up strategic measures. He cited as an example of NU's social activism in serving the people, including by protecting the rights of minority groups, as one of the group's transformative strategies to curb interreligious conflicts.
Rabbi David Rosen, former chief rabbi of Ireland who currently serves as director of the American Jewish Committee's Department of Interreligious Affairs, highlighted the need for political groups to resort to religions as their foundation for conflict resolution strategies instead of militaristic and economic approaches, Yahya said in the statement. (ars)
https://www.thejakartapost.com/news/2020/01/17/nu-cleric-meets-pope-francis-talks-social-activism-in-rome-to-address-interfaith-conflicts.html
--------
Malaysia talks to India over palm curbs as wider trade dispute looms
January 17, 2020
Malaysia is talking to the Indian government and trade officials in a bid to resolve concerns over New Delhi's new palm oil import restrictions, a minister in Kuala Lumpur said on Thursday amid a trade spat between the countries.
The government has repeatedly objected to Malaysian Prime Minister Mahathir Mohamad speaking out against recent policies which critics say discriminate against Muslims. Malaysia is a Muslim-majority nation.
India, the world's biggest buyer of edible oils, last week placed curbs on imports of refined palm oil and has informally asked traders to stop importing all kinds of palm oil from Malaysia, the world's second biggest producer and exporter of palm oil.
Reuters reported on Wednesday, citing sources, that New Delhi could also restrict imports of petroleum, aluminium ingots, liquefied natural gas, computer parts and microprocessors from Malaysia.
However, India's Commerce Minister Piyush Goyal on Thursday said that New Delhi had not imposed any curbs on imports from Malaysia and Turkey, and that the government was not contemplating any restrictions on the two countries.
"This year, we foresee more challenges in some of our major markets," Teresa Kok, Malaysia's primary industries minister who is in charge of palm oil, told an industry conference, referring to India's new palm import rules.
Kok said that the Indian high commissioner, the ambassador in Malaysia, was one of the people she was in touch with over the issue.
It is "important for us to engage with them further through diplomatic channels and stakeholders," she told reporters on the sidelines of the event. "We will continue to engage."
In some good news for Malaysian palm sellers, Bangladesh's farm minister told Reuters his country was open to buying more from Malaysia if it offers competitive rates.
The South Asian country buys mainly from Indonesia, which is expected to be the biggest beneficiary of the Malaysia-India dispute.
Mahathir, the 94-year-old premier who is vocal on issues concerning the Muslim world, ignored a question from Reuters on the spat with India on the sidelines of a separate event on Thursday.
On Tuesday, Mahathir said that Malaysia was concerned about the palm oil curbs but indicated he would continue to speak out against "wrong things" even if it costs his country financially.
Last month, Mahathir criticised India's new religion-based citizenship laws, which critics say discriminate against Muslims, and its policies in the Muslim-majority region of Kashmir which is also claimed by Pakistan.
India was Malaysia's biggest buyer of palm oil in 2019, buying 4.4 million tonnes. In 2020, purchases could fall below 1 million tonnes if relations do not improve, Indian traders say.
To make up for the potential loss, Malaysian officials say they are trying to sell more to countries such as Pakistan, the Philippines, Myanmar, Vietnam, Ethiopia, Saudi Arabia, Egypt, Algeria, Jordan, Kazakhstan and Uzbekistan.
But replacing a massive buyer like India will not be easy, and there have been calls for both countries to talk it out putting aside any "personal or diplomatic ego".
The other concern for Malaysia is that following the signing of an initial trade deal between the United States and China on Wednesday, China could buy more soyoil from the United States and less Malaysian palm oil.
https://www.indiatoday.in/business/story/malaysia-talks-india-over-palm-curbs-wider-trade-dispute-looms-1637599-2020-01-17
--------
Hadi: G25 a threat to Muslims, more dangerous than militant group Al-Maunah
January 17, 2020
PETALING JAYA: PAS today said that G25 was more dangerous than Al-Maunah, the militant group that sparked a major security alert in 2000 after they raided a military armoury.
Party president Abdul Hadi Awang also said the group of retired senior civil servants posed an intellectual threat to Muslims, following its release of a report on the administration of Islam in the country which sparked criticism over its call to review shariah provisions on apostasy.
In its conclusion, the report released last Saturday, "Administration of Matters Pertaining to Islam", that a Muslim's decision to leave Islam was a personal one, and questioned the legality of the Islamic Development Department (Jakim) and the National Council for Islamic Affairs.
Hadi accused G25 of insulting state muftis and religious advisers to the rulers, saying the group was insinuating that they did not understand the Federal Constitution.
He said G25 should not think that they were the only ones who understood Islam, and compared it to Al-Maunah.
"We have experienced a time when Al-Maunah, a group that indulged in prayer rituals but ignorant of Islamic jurisprudence, attacked an army camp and endangered the lives of people.
"This group (G25) and its ilks are more dangerous than Al-Maunah as they are a threat to Muslim beliefs."
In 2000, members of the Al-Maunah cult raided a military armoury. Their 29 followers were arrested at a jungle hideout in Perak following a four-day stand-off with security forces.
They took four hostages and killed two of them – a policeman and a soldier – before surrendering.
Their leader Mohd Amin Mohd Razali was sentenced to death for treason in 2006.
https://www.freemalaysiatoday.com/category/nation/2020/01/17/g25-more-dangerous-than-militant-group-al-maunah-says-hadi/
--------
What salafi movement? UKM says two top leaders appointed under BN, not Maszlee
17 Jan 2020
BY ZURAIRI AR
KUALA LUMPUR, Jan 17 — Universiti Kebangsaan Malaysia (UKM) has denied today that three of its top leaders were appointed by Maszlee Malik for being members of Muslim group Ikram.
The university said two of them were even initially appointed under the previous Barisan Nasional (BN) administration, following an accusation by foreign media Asia Sentinel of an alleged "Salafist" infiltration of top academic posts in the country.
"Prof Datuk Mohd Hamdi Abd Shukor who is an academic in engineering field was appointed as the vice-chancellor of UKM based on his credibility and extensive experience in leadership and administration," it said in a statement.
UKM said this included Mohd Hamdi's appointment as University of Malaya's deputy vice-chancellor for academic and international affairs from 2011 to 2014.
It also denied the same accusation in the appointments of deputy vice-chancellor for industry and community partnership Prof Datuk Imran Ho Abdullah and the former deputy vice-chancellor for research and innovation affairs Prof Datuk Mohd Ekhwan Toriman
It said Imran's first appointment in 2014 was made by then deputy prime minister Tan Sri Muhyiddin Mohd, and for the second time in 2017 by then higher education minister Datuk Seri Idris Jusoh, before Maszlee made the same decision in 2019.
Similarly, Mohd Ekhwan was first appointed by Idris in 2017.
"Therefore, UKM denies the statement issued by a news portal stating that all three UKM academics were appointed based on their activities in the Ikram organisation but the appointments were made based on their credibility in their respective academics' fields, leadership and administrative," it said.
Yesterday Asia Sentinel alleged that Maszlee appointed at least 26 university officials with Islamist leanings and who were aligned with him and Perlis Mufti Datuk Mohd Asri Zainul Abidin prior to his resignation as education minister.
Maszlee did not deny links with Ikram but dismissed claims he was carrying out the group's agenda. The former education minister also insisted that he is committed to diversity amid allegations of proselytisation.
https://www.malaymail.com/news/malaysia/2020/01/17/what-salafi-movement-ukm-says-two-top-leaders-appointed-under-bn-not-maszle/1829063
--------
Central Java to launch tolerance education pilot project in Solo Raya's schools
January 17, 2020
In an effort to eradicate radicalism and intolerance at school, the Central Java Education and Culture Agency is to commence tolerance education pilot projects in 20 schools in Solo Raya, which includes Surakarta city and its surrounding regencies, starting next month.
The initiative was introduced following the latest case of intolerance at Gemolong 1 State High School in Sragen regency last week, in which a female student was bombarded by threats sent through WhatsApp because she did not wear a hijab.
The threats were reportedly sent by other students who were active in the school's religion club.
Jumeri, head of the Central Java Education and Cultural Agency, said the office decided to launch the pilot projects after the establishment of an advocacy team tasked to curb radicalism and intolerance at schools.
"The team has advised to make programs in cities or regencies that often see heated tensions from cases of intolerance and radicalism. In executing [the pilot project] we will cooperate with several parties, including the Wahid Foundation," Jumeri said.
The projects are to be conducted within three to six months, he said, adding that the agency was currently in the process of selecting the Solo Raya schools that would participate.
"What we will do is to give education and training to [students] to respect diversity and differences," he said.
"We will start with Sragen," Jumeri added. "We will also do a special program to educate teachers, students and staff, as well as the principals of schools in several cities and regencies that see simmering [intolerance] tensions."
In the future, the agency said it expected that such a tolerance education program could be carried out in every school in Central Java -- both in public and private schools -- especially at high school level.
There are currently about 3,000 high schools and vocational schools in the province, of which 640 are public schools.
"All [school] principals have signed integrity pacts in which they guarantee that their schools are not radical. It needs to be underlined that radicalism is not identical with Islam, but with other religions also," he said.
Jumeri said the agency would sanction anyone within an educational institution who carried out intolerant actions. Teachers who were found committing such actions, for instance, could be fired or demoted from their positions, he added. (gis)
https://www.thejakartapost.com/news/2020/01/17/central-java-to-launch-tolerance-education-pilot-projectin-solo-rayas-schools.html
--------
North America
Canada: Muslim group challenges Quebec religious law
Barry Ellsworth
17.01.2020
TRENTON, Canada
The National Council of Canadian Muslims (NCCM) filed on Friday a challenge to Quebec's controversial religious symbols law with Canada's top court.
Also joining in the challenge were the Canadian Civil Liberties Association and plaintiff Ichrak Nourel Hak.
The Quebec law bans most civil servants, including nurses, teachers and police officers, from wearing religious symbols such as turbans, hijabs, crosses and kippahs while on the job.
Hak is a University of Montreal student studying to become a teacher but because she wears a hijab, she cannot teach in a Quebec public school.
Critics argue that the law is a thinly-veiled attack centered on Muslim women who wear the headgear and it forces people to choose between their religion and their job.
The law, passed in June, applies to new hires and proponents say, guarantees the religious neutrality of the state.
The Quebec Superior Court ruled in September that while the law is causing harm to Quebecers who wear religious symbols, it could not overturn a law that was duly passed by elected representatives.
That moved the appeal to the highest court.
In Canada, it is necessary to ask permission from the Supreme Court of Canada and that is what the three parties did on Friday. It is considered in this instance to be a formality and the case will likely be heard in October.
https://www.aa.com.tr/en/americas/canada-muslim-group-challenges-quebec-religious-law/1706111
--------
Trump warns Iran's Khamenei to 'be very careful with his words'
18 January 2020
In a warning to Iran's Supreme Leader Ali Khamenei, US President Donald Trump said on Friday that the leader "who has not been so Supreme lately should be very careful with his words."
Trump was responding to remarks made by Khamenei during his first Friday prayers sermon in eight years, where he told worshippers chanting "Death to America" that the elite Revolutionary Guards could take their fight beyond Iran's borders after the US killing of a top Iranian commander.
Trump tweeted that Iran's economy "is crashing, and their people are suffering."
Donald J. Trump
✔
@realDonaldTrump
The so-called "Supreme Leader" of Iran, who has not been so Supreme lately, had some nasty things to say about the United States and Europe. Their economy is crashing, and their people are suffering. He should be very careful with his words!
112K
3:52 AM - Jan 18, 2020
Twitter Ads info and privacy
38.9K people are talking about this
Earlier on Friday, US Special Representative for Iran Brian Hook said that the more Iran threatens the world, the more isolated it will become.
"As long as the regime threatens the world it will become more isolated," Hook said in response to Khamenei's speech earlier on Friday . "Until Iran behaves like a normal nation its isolation will only deepen."
https://english.alarabiya.net/en/News/middle-east/2020/01/18/Trump-warns-Iran-s-Khamenei-to-be-very-careful-with-his-words-.html
--------
US, Pakistani top diplomats talks Afghan cooperation
Michael Gabriel Hernandez
17.01.2020
WASHINGTON
Secretary of State Mike Pompeo and Pakistani Foreign Minister Shah Mahmood Qureshi discussed on Friday a series of issues, including the importance of bilateral cooperation in bringing a long-elusive peace to Afghanistan.
The leaders also addressed Iran, and increased economic relations, State Department spokeswoman Morgan Ortagus said in a brief statement following their meeting.
Pompeo's meeting with Qureshi comes amid reports that the Afghan Taliban have presented the U.S. with a proposal that would reduce hostilities for a number of days to allow peace talks to resume.
Pakistani and Taliban negotiators are also meeting in Doha, Qatar for informal talks, according to reports.
On Thursday, Qureshi also met with the leadership of the U.S. Senate Foreign Relations Committee at Capitol Hill, including Senators James Risch, Bob Menendez, Mitt Romney and Chris Murphy.
They discussed the U.S.-Pakistan bilateral relationship, the situation in South Asia, the Afghan peace process and recent developments in the Middle East.
During the talks, Qureshi briefed the U.S. lawmakers on India's lockdown in occupied Jammu and Kashmir and its implications for regional security.
https://www.aa.com.tr/en/americas/us-pakistani-top-diplomats-talks-afghan-cooperation/1706125
--------
US sanctioning Iranian IRGC brigadier general
Mıchael Gabrıel Hernandez
17.01.2020
WASHINGTON
The U.S. announced on Friday it is sanctioning a top military official in Iran's Islamic Revolutionary Guards Corps over alleged involvement in the violent suppression of popular protests.
Brian Hook, the State Department's top official for Iran, told reporters the department has imposed visa sanctions on Brigadier General Hassan Shavapour for committing "gross violations of human rights against protesters" in the Iranian city of Mahshahr.
Hook said the general "oversaw" the killings of 148 people during last November's mass demonstrations, and "was in command of units responsible for the violent crackdown and lethal repression around Mahshahr."
The designation is based upon information sent via a "tip line" Secretary of State Mike Pompeo established for Iranians during the protests. Over 88,000 pieces of information have been received through the channel, according to Hook.
Friday's designation of the Iranian general comes amid the Trump administration's continued push on what it calls its "maximum pressure campaign" on Iran, which has included President Donald Trump's decision to withdraw Washington from an international pact intended to curb Tehran's nuclear program and subsequent reimposition of economic sanctions on the Iranian oil sector.
The effort has repeatedly brought tensions between the U.S. and Iran to a fever pitch, most recently putting them on the brink of war following the killing of the former architect of Iran's regional strategy.
Iran responded by launching salvos of ballistic missiles at Iraqi bases where U.S. forces are stationed, but both sides have indicated they would not escalate further militarily.
Iran announced, following the death of Gen. Qasem Soleimani in a U.S. airstrike in Baghdad, that it would no longer comply with any commitments under the 2015 deal signed with several world powers, which Trump has already left and has sought to scuttle.
Earlier this week, Iranian President Hassan Rouhani warned the U.S. and Europe against taking any "wrong" steps in response to Iran's decision.
"If you take a wrong step, you will sustain loss, the right move is to come back to the JCPOA [Joint Comprehensive Plan of Action]," he said, referring to the accord.
"U.S. troops are not safe in the Middle East and the insecurity may be inflicted upon European soldiers in the future," he added.
Hook responded, saying "as long as the Iranian regime threatens the world it will become further isolated."
"Until Iran behaves like a normal nation, its isolation will only deepen," he added.
https://www.aa.com.tr/en/americas/us-sanctioning-iranian-irgc-brigadier-general-/1706095
--------
Saudis paid about $500M for US troops: report
Mıchael Gabrıel Hernandez
17.01.2020
WASHINGTON
Saudi Arabia has paid the U.S. roughly $500 million in compensation for the costs associated with stationing American forces in the Kingdom, according to a report.
The payment was made in December, an anonymous U.S. official told CNN.
If true, it stands in stark contract to U.S. President Donald Trump's claim while speaking to Fox News last week that Riyadh "already deposited $1 billion in the bank" in return for the troop deployment.
The Pentagon has yet to officially confirm the dollar amount of Saudi Arabia's payment, or if one has indeed been made. But CNN reported that bilateral negotiations are continuing between the allies to determine what the Kingdom will be paying for. Those talks include the establishment of a payment mechanism to cover deployment costs.
The U.S. has sent thousands more troops and missile defense systems to Saudi Arabia as tensions have escalated in region with Iran, including an attack Washington blames on Iran which took offline major portions of Riyadh's oil exports.
Saudi Arabia has only partially repaid the costs associated with the U.S.'s aerial refueling operations it conducted to supported the Saudi-led campaign against Houthi rebels in Yemen.
The U.S. mission was halted in November 2018 amid rights concerns, and the U.S. said the following month that Saudi Arabia and the United Arab Emirates owed over $330 million in associated costs.
https://www.aa.com.tr/en/americas/saudis-paid-about-500m-for-us-troops-report/1706005
--------
FBI: Saudi officials help fugitives flee US
James Reinl
18.01.2020
NEW YORK
United States officials believe Saudi Arabia's government "almost certainly" helps its citizens escape justice by fleeing the country once they are accused of serious offenses, The Oregonian newspaper reported Friday.
It said it obtained a newly declassified document from the FBI that said Riyadh's assistance to suspects was "undermining the US judicial process."
The revelations are the latest details to emerge to stoke tensions between the U.S. and its hydrocarbon-rich Gulf ally, in the wake of a Saudi officer's fatal shooting of three Americans at a naval base in Florida last month.
The newspaper described an FBI intelligence bulletin in August that was released Friday, that said the U.S. must take action to stop Riyadh from helping Saudi wrongdoers escape overseas.
The heavily-redacted document said Riyadh helps citizens escape to avoid embarrassment, but does not indicate what assistance it gives nor the number of fugitives who have fled.
An investigation by The Oregonian last year uncovered several instances of Saudis studying at U.S. colleges who faced manslaughter, rape and other serious charges who then vanished -- presumably with help from Riyadh.
In some cases, suspects managed to exit the U.S. even after surrendering their passports to authorities.
One suspect, Abulrahman Sameer Noorah, a student at Portland Community College, vanished weeks before his 2017 trial in the hit-and-run killing of Fallon Smart, 15, who later reappeared in Saudi Arabia, the newspaper said.
https://www.aa.com.tr/en/americas/fbi-saudi-officials-help-fugitives-flee-us/1706225
--------
Trump warns Iran's supreme leader
18.01.2020
By Hakan Copur
WASHINGTON
U.S. President Donald Trump said Friday that Iran's Supreme Leader Ayatollah Ali Khamenei "should be very careful" about what he says.
"The so-called 'Supreme Leader' of Iran, who has not been so Supreme lately, had some nasty things to say about the United States and Europe. Their economy is crashing, and their people are suffering. He should be very careful with his words!," Trump said on Twitter.
Earlier this month, Qasem Soleimani, the head of Iran's Islamic Revolutionary Guards Corps' (IRGC) elite Quds Force, was killed in a U.S. drone strike in Baghdad.
His death marked a dramatic escalation in tensions between the U.S. and Iran, which have often been at a fever pitch since Trump chose in 2018 to unilaterally withdraw Washington from a 2015 nuclear pact world powers struck with Tehran.
Khamenei, who bestowed the country's highest honor on Soleimani last year, vowed "severe retaliation" in response to his killing.
Iran's IRGC launched more than a dozen ballistic missiles against U.S. military and coalition forces in Iraq.
https://www.aa.com.tr/en/americas/trump-warns-iran-s-supreme-leader/1706223
--------
US House renews push for Pompeo Iran testimony, subpoena threat
17 January 2020
A US House of Representatives committee has renewed a threat to subpoena Secretary of State Mike Pompeo if he does not provide information about an American drone strike that assassinated Iranian Lieutenant General Qassem Soleimani.
Representative Eliot Engel, the Democratic chairman of the House Foreign Affairs Committee, said on Friday he scheduled a public hearing with Pompeo for Wednesday, January 29, Reuters reported.
"This hearing deals with the most weighty issues with which our country and Congress deal, including the use of force," Engel wrote in a letter to Pompeo.
"Therefore, I consider your testimony to be of extremely high importance and am prepared to use all legal means to ensure your attendance," Engel added. "I trust, however, that this will not be necessary."
Earlier, the House Foreign Affairs Committee scheduled a hearing with Pompeo on January 14, but Pompeo did not appear.
"If Secretary Pompeo is not going to cooperate with the committee, then we will consider very strongly taking other action in the future, including subpoenas," Engel said on Tuesday.
Engel had said he would send a letter to Pompeo and Secretary of Defense Mike Esper seeking information about the strike.
The administration of President Donald Trump is facing intense criticism as officials offer vague justifications for the attack.
The US military carried out an airstrike on the order of Trump at Baghdad's international airport January 3, assassinating General Soleimani and the second-in-command of Iraq's Popular Mobilization Units (PMU), Abu Mahdi al-Muhandis, as well as eight other companions.
Pompeo said on Monday the assassination was part of a "bigger strategy of deterrence," a shift from Trump's previous claim that the deadly drone strike was carried out to prevent an "imminent" attack.
Immediately after the January 3 drone strike that claimed the life of General Soleimani, Pompeo alleged that Soleimani had been involved in planning an "imminent attack" in the region that "put American lives at risk."
The House last week rebuked Trump by passing a resolution that would stop the president from further military action against Iran.
"I think the administration is not being straight with the country or the Congress," Engel said as he opened the hearing.
https://www.presstv.com/Detail/2020/01/17/616446/US-House-renews-push-for-Pompeo-Iran-testimony
--------
US officials must face execution for ordering Soleimani assassination: Scholar
17 January 2020
US President Donald Trump and senior officials in his administration must face execution for ordering the assassination of Iranian General Qassem Soleimani, which was an "act of murder" based on lies and false claims, an American scholar says.
"That makes the murder of General Soleimani completely illegal, and clearly a war crime, an act of murder," said Kevin Barrett, an author, journalist and radio host with a Ph.D. in Islamic and Arabic Studies.
"Here in the United States, murderers are still executed, so President Trump, [Secretary of State] Mike Pompeo and whoever else is behind this crime should be executed," Barrett told Press TV on Wednesday.
The US military carried out an airstrike on the order of Trump at Baghdad's international airport January 3, assassinating General Soleimani and the second-in-command of Iraq's Popular Mobilization Units (PMU), Abu Mahdi al-Muhandis, as well as eight other companions.
In an apparent about-face, Pompeo said on Monday the assassination of Soleimani was part of a "bigger strategy of deterrence," a shift from Trump's previous claim that the deadly drone strike was carried out to prevent an "imminent" attack.
Immediately after the January 3 drone strike that claimed the life of General Soleimani, Pompeo alleged that Soleimani had been involved in planning an "imminent attack" in the region that "put American lives at risk."
US Senate Democrats said on Tuesday they had enough votes in the Republican-controlled Senate to pass a resolution curbing Trump's ability to wage war on Iran without congressional approval, which would be a rebuke of the Republican president for ordering the killing of General Soleimani.
To become law, the measure must pass the House of Representatives and either be signed by Trump, or garner a two-thirds majority in both houses of Congress in order to override his veto.
Many members of Congress, including some of Trump's fellow Republicans as well as Democrats, have been pushing the administration for more information about the killing.
Criticism grew as Trump and his top officials have offered shifting justifications for the drone strike.
https://www.presstv.com/Detail/2020/01/17/616408/US-Iran-Qassem-Soleimani-Kevin-Barrett
--------
US assassination of General Soleimani was 'immoral action': New York Times
17 January 2020
The US assassination of General Qassem Soleimani on the orders of President Donald Trump was an "immoral action" and a "clear violation of national and international law," according to an editorial in The New York Times.
"The administration recently announced that, on orders of the president, the United States had 'taken out' (which really means 'murdered') an important military leader of a country with which we were not at war," the Times article said, which was written by Benjamin Ferencz, a Hungarian-born American lawyer.
"As a Harvard Law School graduate who has written extensively on the subject, I view such immoral action as a clear violation of national and international law," Ferencz wrote in his op-ed.
"The public is entitled to know the truth. The United Nations Charter, the International Criminal Court and the International Court of Justice in The Hague are all being bypassed. In this cyberspace world, young people everywhere are in mortal danger unless we change the hearts and minds of those who seem to prefer war to law," he added.
Ferencz, 99, said he "cannot remain silent" anymore over US war crimes.
Ferencz was an investigator of Nazi war crimes after World War II and the chief prosecutor for the US Army at the Einsatzgruppen Trial, one of the 12 military trials held by US authorities at Nuremberg, Germany.
Ferencz was born in 1920 in Transylvania, which is part of Hungary, but was occupied by Romania at the time. He was ten months old when he emigrated to the US with his Jewish family.
"Now in my hundredth year, I cannot remain silent. I entered the United States in January 1921 as a poor immigrant boy, and I have felt obliged to repay the United States for the opportunities given to me," Ferencz wrote in the Times article.
Tensions between the US and Iran have skyrocketed in recent weeks after the US military carried out an airstrike on the order of Trump at Baghdad's international airport January 3, assassinating General Qassem Soleimani and the second-in-command of Iraq's Popular Mobilization Units (PMU), Abu Mahdi al-Muhandis, as well as eight other companions.
Iran responded by launching missiles at Iraqi military bases that house US troops.
US officials have made confusing remarks about what prompted Trump to order the assassination.
https://www.presstv.com/Detail/2020/01/17/616405/US-assassinaiion-General-Qassem-Soleimani
--------
Africa
Threat of Terrorists, Migrants, Drugs Worries Libya's Neighbors
17 January, 2020
As efforts to reach a long-term agreement for Libya's crisis continue to stumble, its neighboring countries are worried that the ongoing instability will spill over across their borders. Experts from Egypt, Tunisia and Algeria have expressed their concern over the threat of terrorists, migrants and drugs spreading into their countries from Libya.
Security expert and member of Egypt's higher counter-terrorism council, Khaled Akasha said Cairo was working tirelessly to confront ongoing Turkish attempts to "replicate the Syrian tragedy in Libya."
"This threatens neighboring countries, starting with Egypt that shares a 1,250 kilometer border with Libya," he told Asharq Al-Awsat, citing local authorities' busting of numerous attempts by terrorists to infiltrate Egypt.
The chaos in Libya has driven Cairo to seek a political solution that would see the unification of military and security institutions that will allow them secure the country's borders and combat terrorist groups on its territories, he added.
Commenting on pro-Turkey mercenaries that had arrived in Libya from Syria, he said that the majority of them are members of terrorist groups. They join the militias in Libya that support the Tripoli-based Government of National Accord, Akasha said.
Sending the mercenaries to Libya has relieved Ankara from the burden of their presence in Syria, he noted.
In November, Egypt sentenced notorious terrorist and former Egyptian officer Hisham al-Ashmawy to death for his failed attempt to assassinate a former interior minister. The suspect was detained by the Libyan National Army and handed over to Cairo. He was also wanted for leading a terrorist group that carried out attacks in western Egypt before fleeing to Libya.
Tunisia
Academic and strategic affairs researcher, Alieh al-Allani said Tunisia was most concerned with the spike in the flow of migrants should battles intensify in Libya, which will compound Tunis' economic woes.
He explained that Tunisia was a transit point for many migrants as they embark on their dangerous journey across the Mediterranean to reach Europe.
He told Asharq Al-Awsat that Tunisia had hosted back in 2011 tens of thousands of Libyans. "We do not regret this, but with the current living conditions in Tunisia, a new flow of migrants will impose a major burden on state institutions and resources."
He revealed that the Tunisians were concerned that migrants would seize job opportunities and that many among them may have been members of terrorist groups in Libya.
Algeria
Algeria shares Egypt and Tunisia's concerns. Its worries are also compounded by arms and drugs smuggling from Libya.
MP Ahmed Saddouq told Asharq Al-Awsat that Libya is a strategic partner for Algeria and therefore "any chaos there will inevitably negatively impact Algeria."
Algeria rejects any foreign meddling in Libya and stresses the need to reach a political solution that should be negotiated by the Libyan parties alone, he stated. The role of the regional and international community should be restricted to helping them arrive to a solution.
https://aawsat.com/english/home/article/2087026/threat-terrorists-migrants-drugs-worries-libya%E2%80%99s-neighbors
--------
Son of noted Muslim preacher shot in South Africa
16 Jan 2020
A South African activist and son of a deceased prominent Muslim preacher is fighting for his life in a hospital after he was shot outside a court in the coastal city of Durban on Wednesday.
Police colonel Thembeka Mbele said 65-year-old Yousuf Deedat - son of Sheikh Ahmed Deedat - was shot in the head as he walked towards the Verulam family court on the outskirts of Durban with his wife.
Mbele said an unknown suspect opened fire, shooting Deedat in the head. He was later rushed to a hospital for medical attention, while the suspect fled in a car in an unknown direction.
"He is in critical condition in a local hospital. While his injuries remain severe, we remain hopeful for Deedat's recovery," Deedat's family said in a statement late on Wednesday.
They also requested the family's privacy be respected.
Sheikh Ahmed Deedat, who died in 2005, was a prominent South African Muslim missionary who held several interfaith public debates with evangelical Christians.
He was known across the world as a respected public speaker and writer who published several widely-distributed booklets on Islam and Christianity.
He was the founder of the Islamic Propagation Centre International, which aims for Islam to be heard and understood across the world.
The late Deedat was awarded the King Faisal International Prize in 1986 for his 50 years of missionary work.
His son Yousuf is a famous community activist and Muslim scholar in Durban. Police said they were still investigating the reason behind his shooting.
https://www.aljazeera.com/news/2020/01/son-noted-muslim-preacher-shot-south-africa-200116112904952.html
--------
Somali military kills more than 40 al-Shabaab militants
Mohammed Dhaysane
18.01.2020
MOGADISHU, Somalia
More than 40 al-Shabaab terrorists were killed by the Somali National Army (SNA), officials said.
Gen. Mohamed Ahmed Taredishe told reporters the terrorists were killed after they attacked a military base in the middle Shabelle region.
More than 30 terrorists were wounded during the gunfight between the SNA and the Somali-based al-Qaeda affiliated group, according to Somali military radio.
In a statement issued by the Defense Ministry, at least four soldiers were killed and three others were wounded during the attack.
Separately, in an operation against the group in the State of Jubaland, eight al-Shabaab fighters were killed, military official Ise Mohamud, told Anadolu Agency.
And the group attacked a police station in Afgoye, 30 kilometers southwest of the capital, Mogadishu.
Police officer Ibrahim Hassan confirmed the attack to Anadolu Agency but did not provide information about casualties.
https://www.aa.com.tr/en/africa/somali-military-kills-more-than-40-al-shabaab-militants/1706227
--------
Libya calls to invite Qatar, Tunisia to Berlin Conf.
Walid Abdullah
17.01.2020
TRIPOLI, Libya
The Libyan Foreign Ministry demanded that both Qatar and Tunisia be invited to take part in the Berlin conference salted for Sunday.
The Foreign Ministry of the UN-recognized Government of National Accord (GNA) sent an official letter to the German embassy in Tripoli, urging Berlin to include both countries in the conference, and confirmed that their participation would promote the peace talks and Libya's stability, according to the Libyan Al-Ahrar televised channel.
The ministry said Tunisia is "a neighboring country to Libya which hosted thousands of Libyans and its security has been affected by the ongoing crisis."
"Qatar was, and still, an important supporter to the Libyan Feb. 17 revolution which ousted Libya's long-ruling Muammar Gaddafi regime," the statement added.
The German government had announced that head of GNA Fayez al-Sarraj, Libyan warlord Khalifa Haftar as well as Turkey, Russia, China, France, Italy, the U.S., the U.K., United Arab Emirates, Republic of Congo, UN, EU, African Union, Arab League, Algeria, and Egypt were invited to the conference.
On Jan. 12, the warring sides in the Libyan conflict announced a ceasefire in response to a call by Turkish President Recep Tayyip Erdogan and Russian President Vladimir Putin.
Since the ouster of late ruler Muammar Gaddafi in 2011, two seats of power have emerged in Libya: one in eastern Libya supported mainly by Egypt and the United Arab Emirates and the other in Tripoli, which enjoys the UN and international recognition.
https://www.aa.com.tr/en/africa/libya-calls-to-invite-qatar-tunisia-to-berlin-conf/1705715
--------
Syrians with Turkish citizenship lead militant factions in Libya: Sources
18 January 2020
Turkey is training Syrian factions to fight in Libya, sources told Al Arabiya, adding that Syrians holding Turkish citizenship are leading the militant factions in Libya.
Special Turkish forces have arrived in the Libyan capital to protect figures in the UN-recognized Government of National Accord (GNA) headed by Prime Minister Fayez al-Sarraj, the sources said.
One of the leading Syrian militants inside Libya is Hamza Al-Omar, who obtained a Turkish citizenship seven months ago. He is currently in Tripoli and also heads a group consisting of 35 Syrians.
Turkey has trained four groups of Syrians, with each group consisting of 35 militants specialized in urban warfare.
Some of these militants have intensive experience as they have fought alongside the Turkish army in Syria, while others participated in military training inside Turkey.
The sources pointed to an agreement between Turkey and the GNA which guarantees that Turkey receives funding for the entire period their military forces are present inside Libya.
The GNA has also signed agreements with three Turkish civil contracting companies.
According to the sources, the GNA has signed an agreement to support its militias with armored vehicles and tanks from Turkey, despite an arms embargo.
Turkey has also sent an intelligence group consisting of 25 Turks responsible for espionage and collecting information on the Libyan National Army (LNA) forces headed by Commander Khalifa Haftar.
The military training is taking place in camps set up by the Turkish army, while Turkish military engineers are currently in Libya supervising the training of Libyan militants who support the GNA, the sources told Al Arabiya.
The North African state has been in turmoil since a 2011 uprising that overthrew and killed dictator Muammar Qaddafi.
Sarraj relies on a plethora of militias, including extremist and terrorist groups, formed in and after the 2011 uprising.
General Haftar launched an offensive to capture the Libyan capital of Tripoli in April vowing to end the rule of militias that include hardline groups linked to Al Qaeda and others. General Haftar has reportedly received support from international allies opposed to extremism and the Muslim Brotherhood.
According to the United Nations, Turkey has already supplied military equipment to forces loyal to the GNA, including tanks and drones.
https://english.alarabiya.net/en/News/north-africa/2020/01/18/Syrians-with-Turkish-citizenship-lead-militant-factions-in-Libya-Sources.html
--------
Libya's Haftar thanks 'dear friend' Putin for peace efforts
17 January 2020
Libyan General Khalifa Haftar, who Moscow is said to be supporting in Libya's conflict, has thanked President Vladimir Putin for his efforts to end fighting in the war-ravaged country, the Kremlin said Friday.
"Vladimir Putin, my dear friend!" Haftar said in a letter to Putin, quoted by the Kremlin ahead of a Libya peace conference in Germany that the Russian leader will attend on Sunday.
"I express my personal gratitude and appreciation for the efforts of the Russian Federation to bring about peace and stability in Libya."
https://english.alarabiya.net/en/News/north-africa/2020/01/17/Libya-s-Haftar-thanks-dear-friend-Putin-for-peace-efforts.html
--------
Greece tells Haftar to take constructive stance at Berlin conference
17 January 2020
Greece encouraged Libyan military commander Khalifa Haftar to be constructive at an upcoming conference in Berlin to try end the war over Tripoli, its foreign minister said on Friday after meeting the commander in Athens.
"We encouraged the commander to take part with a constructive spirit in Berlin's procedure and try ... to achieve a ceasefire and the restoration of safety in Libya," Greek Foreign Minister Nikos Dendias told reporters after the meeting.
He said Athens should have been a participant in the Berlin conference on Libya on Sunday.
https://english.alarabiya.net/en/News/north-africa/2020/01/17/Greece-tells-Haftar-to-take-constructive-stance-at-Berlin-conference.html
--------
Europe
France Weighs Up Its Thankless Mission Fighting Jihadists in Africa
Jan 18th 2020
After nightfall on a moonless evening last November, three French combat helicopters, backed by fighter jets, took off from military bases deep in the African Sahel. Their mission was to support a French commando operation on the ground, tracking terrorists in pickup trucks and motorbikes in the Liptako region of Mali. Flying in tight formation and close to the ground in total darkness, two of the helicopters collided. Thirteen French soldiers, the youngest aged 22, were killed.
The deaths shook France. They also revived questions about what exactly the country is doing in this vast semi-arid belt south of the Sahara desert. On January 13th, at a summit he hosted in the French south-western town of Pau with the leaders of five Sahel countries, President Emmanuel Macron tried to provide an answer. France is there to bring "security and stability", he declared, and nothing else. "If at any time an African state asks the French army not to be there any longer," Mr Macron said irritably, "we'll leave."
https://www.economist.com/europe/2020/01/18/france-weighs-up-its-thankless-mission-fighting-jihadists-in-africa
--------
Muslim Council of Britain welcomes Hackney Council's motion to adopt Islamophobia definition
17 January 2020
The definition was announced by the All-Party Parliamentary Group (APPG) on British Muslims in December 2018, and became the centre of debate in May last year after the government rejected it, saying that its wording needed "further careful consideration".
If voted through at a full council meeting next week, the motion would commit the Town Hall to endorsing and adopting the definition, as well as speaking out against the rise in recent years of racism targeting "Muslimness or perceived Muslimness".
MCB Secretary General Harun Khan said: "Islamophobia is rife across Britain, often perpetuated by elected politicians and the media, which then has real life implications for Muslims in terms of hate crime and abuse.
"It is the responsibility of everyone - particularly all levels of government - to take ownership over tackling Islamophobia. We welcome this motion calling on Hackney Council to adopt the APPG on British Muslims definition of Islamophobia, which has already been adopted by a number of local councils, political parties, academics and civil society organisations.
"We hope Hackney Council votes in favour of this motion to send a clear signal to Muslims and anti-racists in Hackney that this sort of bigotry will not be tolerated."
The APPG definition includes calling for the killing of Muslims, making mendacious, dehumanising or stereotypical allegations about Muslims, or accusing Muslims as a group of being responsible for real or imagined wrongdoing committed by other Muslims.
Examples of mendacious stereotypes cited in the motion include conspiracies about Muslim entryism in politics, the myth that Muslim identity has a unique propensity for terrorism, or claims of a 'Muslim takeover' or demographic threat.
Accusing Muslims of inventing or exaggerating Islamophobia or genocides perpetrated against Muslims is included in the definition, as well as accusations of divided loyalties between the Muslim community and their country of origin.
https://www.hackneygazette.co.uk/news/hackney-council-motion-to-adopt-islamophobia-definition-1-6471698
--------
UK freezes Hezbollah assets following designation of entire group as 'terrorist'
18 January 2020
Britain's Treasury has expanded the scope of its asset-freezing measures against Hezbollah to cover the Lebanese resistance movement in its entirety.
In a notice published on its website Friday, the Treasury's Office of Financial Sanctions Implementation said the move requires that any individual or institution in the UK with accounts or financial services connected to Hezbollah suspend them or face prosecution.
"Failure to comply with financial sanctions legislation is a criminal offence or to seek to circumvent its provisions is a criminal offence," it said.
The UK had already banned Hezbollah's external security unit and its military wing in 2001 and 2008, respectively.
The Treasury's new measure followed Britain's decision last year to blacklist the group.
In February 2019, then Home Secretary Sajid Javid accused Hezbollah of destabilizing the Middle East, saying London was "no longer able to distinguish" between the group's banned military branch and its political party.
"Hezbollah itself has publicly denied a distinction between its military and political wings," the Treasury said Friday.
"The group in its entirety is assessed to be concerned in terrorism and was proscribed as a terrorist organization in the UK in March 2019. This listing includes the Military Wing, the Jihad Council and all units reporting to it, including the External Security Organization," it added.
Israeli Public Security Minister Gilad Erdan welcomed the UK Treasury's measure, calling on the EU and other countries to follow London's example.
Similarly, Brian Hook, the US special representative for Iran, said Washington was "very pleased" with the decision.
Hezbollah was formed following the Israeli regime's invasion of Lebanon and the ensuing occupation of its southern parts in the 1980s. It currently constitutes Lebanon's de facto military power.
The resistance movement has helped the national army retake the occupied regions from Tel Aviv and thwart two Israeli acts of aggression against Lebanon in 2000 and 2006.
It has also been playing a significant role in the Syrian army's fight against foreign-backed Takfiri terror groups, thus preventing the infiltration of Daesh and al-Nusra Front militants into Lebanon.
The resistance movement, along with its allied parties, holds more than half the seats of the 128-member Lebanese parliament.
Anti-arms group included in UK's terror watchlist
Also on Friday, the Campaign Against Arms Trade (CAAT), an organization working to end the international arms trade, was placed on the watchlist of the UK's controversial anti-terrorism program called the Prevent scheme.
Andrew Smith, a spokesperson for the group, denounced the move as "political policing."
"The message that this appalling list sends is that if you care about social justice or oppose war, arms sales, discrimination or conflict then you can be included alongside white nationalists and neo-Nazi hate groups," he said in a statement.
"Political policing has been a major problem, and this document takes things to a whole new level. It is yet another shameful attempt to repress dissent. This further discredits the fundamentally flawed Prevent scheme. It is long past time for police and government to stop criminalizing democratic protest."
https://www.presstv.com/Detail/2020/01/18/616462/UK-Hezbollah-assets-freeze
--------
France promises continued support against ISIS in Iraq and Kurdistan
January 16-2020
ERBIL (Kurdistan 24) – On Thursday, the French Consul General in Erbil affirmed his country's ongoing support for the security of the Kurdistan Region and Iraq during a meeting with the head of the leading Kurdistan Democratic Party (KDP).
Masoud Barzani received the Consul General Olivier Decottignies in the KDP's mountaintop headquarters known as Pirmam, located outside the federal region's capital.
In the meeting, both sides discussed the latest security developments and domestic political tribulations Iraq is facing, as well as regional and international tensions playing out on its soil.
Decottignies affirmed that Paris would continue its ongoing support as a member of the US-led anti-Islamic State Coalition forces, which resumed operations on Wednesday after their suspension as a result of escalating hostilities between Washington and Tehran that began with attacks by Iranian-backed militias on Iraqi military bases hosting US troops, as well as on the US embassy in Baghdad.
Read More: Joint US-Iraqi military operations against ISIS resume
Since 2014, the French government has provided humanitarian, logistical, and military support to the Kurdish Peshmerga and Iraqi forces in the fight against the extremist group.
Both Barzani and Decottignies took part in a lively and in-depth exchange about the threat of the extremist organization and the risk of its resurgence in Iraq and throughout the region.
France maintains strong relations with the Kurdistan Region and played a significant role in pressuring Baghdad to lift harsh sanctions imposed on the semi-autonomous region following its 2017 independence referendum.
https://www.kurdistan24.net/en/news/0bec8566-f4c2-4209-90c9-7e99ae91f271
--------
Berlin talks to seek political solution to Libya crisis
Ayhan Şimşek
17.01.2020
BERLIN
Germany is set to host a major peace conference on Libya that will seek a stronger commitment from regional actors for a cease-fire in the war-torn country to pave the way for a political solution.
Chancellor Angela Merkel invited leaders from Turkey, Russia, the U.S., China, France, the U.K. and other regional actors to a single-day conference in Berlin on Sunday, amid a fragile cease-fire between Libya's internationally recognized government and forces loyal to Libyan warlord Khalifa Haftar.
The German government cautioned against high expectations ahead of the conference and underlined that a single meeting could not end the conflict, but would be the beginning of a political process under the auspices of the United Nations.
Merkel's spokesman Steffen Seibert confirmed on Friday that both Libya's Prime Minister Fayez al-Sarraj and the eastern-based commander Khalifa Haftar accepted invitations for the conference.
World leaders to attend
Turkish President Recep Tayyip Erdogan and Russian President Vladimir Putin, who brokered a cease-fire last weekend between the warring parties after months long clashes, already announced that they would attend the conference in Berlin.
French President Emmanuel Macron, British Prime Minister Boris Johnson and Italian Prime Minister Giuseppe Conte also confirmed their attendance.
The U.S. administration announced that Secretary of State Mike Pompeo would travel to Berlin for the conference and would push for a cease-fire and return to UN-facilitated talks for a political solution.
Top officials from Egypt and United Arab Emirates, main supporters of the Libya's renegade commander Haftar, will also to take part in the conference.
Algeria's President Abdelmadjid Tebboune, and Republic of Congo's President Denis Sassou Nguesso, who chairs the African Union's High-Level Committee on Libya, were also invited.
Germany's priorities
Ahead of the conference, German Chancellor Merkel urged regional actors to support the cease-fire and respect the UN arms embargo on Libya.
"At the Libya conference, we must achieve above all that the weapons embargo will be implemented […] it was already agreed within the UN framework, but so far not adhered to," she told a press conference on Thursday.
Haftar's forces, which received backing from Egypt and the United Arab Emirates, began a major military offensive in April last year to capture Tripoli from the UN-recognized Government of National Accord (GNA), drawing international condemnation.
According to the UN, more than 1,000 people have been killed since the start of the offensive and over 5,000 others injured.
Fragile cease-fire since Sunday
On Jan. 12, the warring sides of the Libyan conflict announced a cease-fire in response to a joint call by Turkish and Russian leaders.
But talks for a permanent cease-fire deal ended without an agreement on Monday after Libyan warlord Khalifa Haftar left Moscow without signing the deal.
Since the ouster of late ruler Muammar Gaddafi in 2011, two seats of power have emerged in Libya: one in eastern Libya supported mainly by Egypt and the UAE, and the other in Tripoli, which enjoys the UN and international recognition.
https://www.aa.com.tr/en/europe/berlin-talks-to-seek-political-solution-to-libya-crisis/1706013
--------
UK says Berlin Conference important for Libya ceasefire
Ahmet Gurhan Kartal
17.01.2020
LONDON
The Berlin Conference on Sunday is "an important step towards securing a ceasefire" in Libya, Britain's foreign secretary said on Friday.
In a Twitter post, Dominic Raab wrote his country is committed to uniting all sides behind peace efforts initiated by the UN.
"Sunday's Berlin Conference is an important step towards securing a ceasefire and political solution to conflict in Libya," Raab said.
"Spoken to Libyan PM Serraj to stress UK commitment to uniting international community behind UN's efforts to find lasting peace," he added.
British Prime Minister Boris Johnson will attend the conference alongside the leaders of other countries invited to event -- a high-level international effort to end fighting in the North African country.
The German government had announced that head of UN-recognized government in Libya Fayez al-Sarraj, Libyan warlord Khalifa Haftar as well as representatives from Turkey, Russia, China, France, Italy, the U.S., the U.K., United Arab Emirates, Republic of Congo, UN, EU, African Union, Arab League, Algeria, and Egypt were invited to the conference to be held in Berlin on Sunday.
Since the ouster of late ruler Muammar Gaddafi in 2011, two seats of power have emerged in Libya: one in eastern Libya supported mainly by Egypt and the United Arab Emirates, and the other in Tripoli, which enjoys the UN and international recognition.
On Jan. 12, the warring sides of the Libyan conflict announced a cease-fire in response to the call of Turkish President Recep Tayyip Erdogan and Russian President Vladimir Putin.
On Monday, the sides in the Libyan conflict gathered in the Russian capital Moscow to discuss a cease-fire meant to end the hostilities in Libya and start a political dialogue, but Haftar rejected to sign the deal and he left the meeting after al-Sarraj signed the deal.
https://www.aa.com.tr/en/europe/uk-says-berlin-conference-important-for-libya-ceasefire/1705963
--------
UK expands Hezbollah asset freeze, targets entire organization
17 January 2020
Britain's Treasury said on Friday it designated the entire Lebanese Hezbollah organization as a terrorist group under its Terrorism and Terrorist Financing rules, and as such its assets will be frozen.
Previously it was only Hezbollah's military wing which was subject to asset freezing under UK government rules.
Hezbollah, a heavily armed group designated as a terrorist organization by the United States, was established in 1982 by Iran's Islamic Revolutionary Guard Corps and is an important part of a regional Tehran-led alliance known as "the axis of resistance." The Treasury spokesperson said following the annual review of the existing designation against the military wing of the Hezbollah , "the decision was taken to designate the entire organisation under the Terrorist Asset-Freezing Act etc 2010 (TAFA). This brings the designation in line with the Home Office proscription of the organisation in 2019."
The existing listing of Hezbollah military wing is an EU-wide listing, the spokesperson said. "This remains in place and still applies in the UK."
"The UK remains committed to the stability of Lebanon and the region, and we continue to work closely with our Lebanese partners," the spokesperson added.
https://english.alarabiya.net/en/News/world/2020/01/17/Hezbollah-designated-under-terrorist-asset-freezing-act-UK-Treasury.html
--------
6 F-35 jets were reportedly on Iran's borders at time of plane crash: Russia
17 January 2020
Acting Russian Foreign Minister Sergei Lavrov says there is unverified information that at least six American F-35 jets were "in the Iranian border area" at the time when Iran accidentally downed Ukraine International Airlines flight PS752 last week.
"This information has yet to be verified, but I'd like to underline the edginess that always accompanies such situations," he said on Friday.
Lavrov stressed that it was important to understand the context of the incident, which occurred as Iran was on very high alert after retaliating against Washington's assassination of Lieutenant General Qassem Soleimani.
"There is information that the Iranians were expecting another attack from the United States after the strike but did not know what form it might take," Lavrov said.
The Russian foreign minister added that he was not trying to excuse anyone for the incident.
On January 8, the Ukrainian plane crashed minutes after take-off near the capital, Tehran, while en route to Kiev. The incident led to the death of all of the 176 people on board, most of whom were Iranians.
Iran initially attributed the crash to technical failure but ultimately announced that the plane had been brought down by a missile fired due to "human error" after conducting further investigations.
'Very serious red flag'
Speaking on Friday, the Russian foreign minister also said that the tragic downing of the Ukrainian plane served as a "very serious red flag" that signaled a need to "start working on de-escalation and not on constant threats."
"An increase in tensions between Iran and the US will not help settle any single crisis in the region, if only because the tensions will be increasing," he said.
Lavrov added that Washington's "unprecedented" assassination of Soleimani "undermined and put into question all imaginable norms of international law."
According to Iraqi officials, Soleimani had been invited to Iraq as a formal guest of the Iraqi government when he was targeted by a US drone strike at Baghdad International Airport.
https://www.presstv.com/Detail/2020/01/17/616436/Iran-Ukraine-airplane-US-F-35-Russia-Lavrov
--------
URL: https://www.newageislam.com/islamic-world-news/hum-aayenge-apne-watan-kashmiri/d/120828
New Age Islam, Islam Online, Islamic Website, African Muslim News, Arab World News, South Asia News, Indian Muslim News, World Muslim News, Women in Islam, Islamic Feminism, Arab Women, Women In Arab, Islamophobia in America, Muslim Women in West, Islam Women and Feminism