New Age Islam News Bureau
23 Apr 2018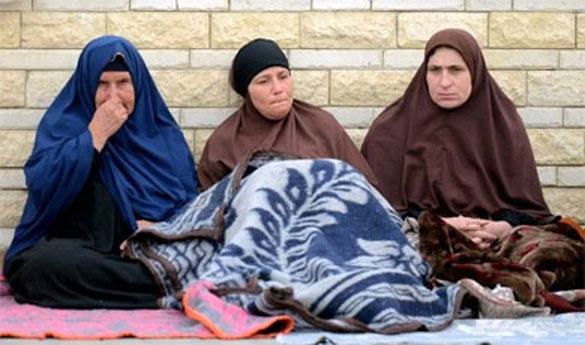 Relatives of the victims of the bomb and gun assault on the North Sinai Rawda mosque sit outside the Suez Canal University hospital in the eastern port city of Ismailia on November 25, 2017. (AFP)
----
• HRW: Egypt Fight against Daesh Threatens Humanitarian Crisis
• Minister Invites Chinese Muslims to Study Islam in Turkey
• Muslim, Dalit Outfits to Hold Jan Akrosh Rally in Gujarat
• ISIS Militants Behead Three Brothers in Nangarhar Province
• Indonesia Bites Back As Campuses Spew Out Radicals
Arab World
• HRW: Egypt Fight against Daesh Threatens Humanitarian Crisis
• Iraq Says It Killed 36 'IS Terrorists' In Syria Raid
• Five civilians killed in Syria regime shelling on IS-held district
• Popular Uprising against US-Backed Militants Reported in Eastern Syria
• Syrian Army Repels Terrorists' Heavy Offensives in Homs Province
• Anti-Hezbollah candidate Ali al-Amin beaten in southern Lebanon
• Syrian military pummels ISIS-held districts in Damascus
• Saudi Arabia raises number of beheadings by 70%
• Saudi Arabia downs Houthi missile fired across border
--------
Mideast
• Minister Invites Chinese Muslims to Study Islam in Turkey
• Iran President Vows Full Support for Syria Reconstruction
• Kushner, Mnuchin to be sent to open US embassy in Jerusalem al-Quds
• Saudis down new missile from Yemen rebels
• Houthi fighter killed in Arab Coalition air raids in Yemen
• Ministry: Gaza Palestinian dies from Israeli gunfire wounds
• Turkey: 42 terrorists 'neutralized' over last week
--------
India
• Muslim, Dalit Outfits to Hold Jan Akrosh Rally in Gujarat
• Haj Pilgrims Highest This Year at 1, 75,025: Mukhtar Abbas Naqvi
• India condemns 'reprehensible' terror attacks in Afghanistan, offers help
• Tirupur dist admin help sought to solve row over mosque
--------
South Asia
• ISIS Militants Behead Three Brothers in Nangarhar Province
• Despite Presence of Foreign Troops, Daesh Growing In Afghanistan
• Freeland expected to travel to Bangladesh, visit Rohingya refugee camp in May
• Pak-Afghan tribal elders agree to extend ceasefire after recent clash
--------
Southeast Asia
• Indonesia Bites Back As Campuses Spew Out Radicals
• Murder of Hamas Member In Malaysia Grabs Global Attention
• Preventing other 'Marawis': Battle for hearts and minds of Philippine Muslims
• Family accuses Mossad of killing Palestinian in Malaysia
• Indonesia maintains its stance on Syria following pressure from US and its allies
--------
Pakistan
• Five Terrorists Killed By Security Forces during Dera Bugti Operation
• Two Killed In Sectarian Attack in South-Western Pakistan
• Pakistani Christians Launch White Flag Campaign
• Imran assails PPP, PML-N over charter of democracy
• Soldier killed in Miramshah IED blast
• Pakistan condemns Afghan suicide attacks
• 'Pakistan Won't Ever Allow Its Soil to Be Used For Money-Laundering, Terror-Financing'
• JUI-F denies seeking extra security for Fazl
--------
Africa
• Gunmen Kill At Least 30 in NW Nigeria Attack
• 15 Militants Killed In Anti-Jihadist Operation in Mali: Army
• Two Suicide Bombers Kill Four in North Nigeria Mosque
• 11 migrants dead, 263 rescued off Libya coast
• Tunisia reopens consulate in Libyan capital Tripoli
--------
North America
• In Travel Ban Case, Supreme Court Considers 'The President' Vs. 'This President'
• Chicago protesters denounce US strike on Syria
• US ready to strike Syria again if Assad ignores message
--------
Europe
• Crossing Divides: Meet the British Army Veteran Turned Pro-Mosque Campaigner
• Allies to Play Key Role in Creating New Syria
• EU decries Israel killing Palestinian teen
• Greek president rejects Erdogan's proposal for soldier swap
Compiled by New Age Islam News Bureau
URL: https://www.newageislam.com/islamic-world-news/hrw-egypt-fight-daesh-threatens/d/115020
--------
HRW: Egypt fight against Daesh threatens humanitarian crisis
April 23, 2018
BEIRUT: Egypt's military operations against an affiliate of the Daesh group in North Sinai is threatening to spark a humanitarian crisis, Human Rights Watch said on Monday.
The offensive launched on February 9 "has left up to 420,000 residents in four northeastern cities in urgent need of humanitarian aid," said the New York-based organization.
The campaign "has included imposing severe restrictions on the movement of people and goods in almost all of" North Sinai, HRW said in a report.
"Residents say they have experienced sharply diminished supplies of available food, medicine, cooking gas, and other essential commercial goods."
The authorities conducting the campaign, dubbed "Sinai 2018," have also banned the sale of gasoline for cars in the area "and cut telecommunication services for several days at a time," the report said.
Human Rights Watch also said authorities had "cut water and electricity almost entirely in the most eastern areas of North Sinai, including Rafah and Sheikh Zuwayed."
"A counterterrorism operation that imperils the flow of essential goods to hundreds of thousands of civilians is unlawful and unlikely to stem violence," said Sarah Leah Whitson, the organization's Middle East and North Africa director.
"The Egyptian army's actions border on collective punishment," she added.
Since the launch of the offensive, the military has distributed images of forces providing humanitarian assistance to people living in the area.
According to the military, residents support the campaign and many have come forward with useful information to help the authorities neutralize the militants.
Security forces have stepped up efforts to quell attacks by an Egyptian militant group that later declared allegiance to Daesh since Islamist president Muhammad Mursi was deposed in 2013. Mursi was forced out by the military, following mass protests against him.
The group has killed hundreds of soldiers, policemen and civilians, mainly in its North Sinai stronghold but also elsewhere in Egypt.
More than 100 militant and at least 30 soldiers have been killed in the ongoing operation, according to army figures.
http://www.arabnews.com/node/1289661/middle-east
--------
Minister Invites Chinese Muslims to Study Islam in Turkey
April 20, 2018
Turkey's culture and tourism minister on Friday suggested that China's Muslims can study Islam at universities in his country.
"We can send Chinese copies of Quran and books of hadith [record of the traditions or sayings of the Prophet Muhammad]. Chinese Muslims who want to study Islam can enroll in graduate and postgraduate programs at faculties of theology in Turkey," Numan Kurtulmuş said in Shanghai during a meeting with the city's mufti, Musa Cin.
Turkish Minister of Culture and Tourism on Friday stressed the cooperation with Muslims in China, proposed education opportunity in Turkey.
"We are the members of a family of more than 1.5 billion Muslims around the world. We should speak to each other more, we should have more grasp of our respective cultures and heritage," Kurtulmuş told Cin at Xiaotaoyuan Mosque.
The Shanghai mufti, for his part, underlined close relations between the two countries.
There are eight mosques and around 200,000 Muslims in the city, he said.
Muslims comprise 10 of around 56 ethnic minorities in China. Hui (Chinese Muslims), Uyghurs, Kyrgyzs, Kazakhs, Tajiks, Tatars, Uzbeks, Salars, Bao'ans, and Dongshiangs mostly live in northern and northwestern China.
https://www.yenisafak.com/en/world/minister-invites-chinese-muslims-to-study-islam-in-turkey-3329529
--------
Muslim, Dalit Outfits to Hold Jan Akrosh Rally in Gujarat
Apr 23, 2018
Ahmedabad: To protest against the recent rape horrors in the country, various Muslim and Dalit organizations will come together to hold the Jan Akrosh Rally in Shahibaug on Monday evening. These organizations include Rashtriya Dalit Adhikar Manch (RDAM) led by Jignesh Mevani, Alpsankhyak Adhikar Manch, Dalit Muslim Ekta Manch, and Hamari Avaaz Hamara Adhikar forum. The rally is likely to turn massive as the organizers started spreading the word on various social media platforms. People from across the state are likely to participate in the rally.
Jignesh Mevani, independent MLA from Vadgam and convener of RDAM, said that the public rally was the need of the hour because Prime Minister Narendra Modi and other top leaders of the ruling BJP were silent over the horrors.
"The call was given by members of my group, which with other forums, has spoken against the recent rape cases in Kathua in Jammu & Kashmir, Unnao in Uttar Pradesh, and Surat in Gujarat," Mevani said. "Shockingly, the BJP is either ruling or is in alliance in those states. This speaks volumes about the deteriorating law and order situation in the BJP-ruled states. So we will hold a rally to wake up the sleeping government."
Kaleem Siddiqui of Dalit-Muslim Ekta Manch said that the rally is an attempt to show unity between Muslims and Dalits. "Every moment of each passing day, someone somewhere is holding a protest against the horrors," said Siddiqui. He said that a march will be organized from Namaste Circle in Shahibaug to RTO circle. "People are registering their protest through candlelight marches and with slogans against the regime," he said. "It has become necessary to give expression to this akrosh (anger)."
Meanwhile members of RDAM sat on a day's fast in Danilimda area of the city. Dixit Parmar of RDAM said that around 80 members sat on a fast at Ambedkar Hall on Sunday.
https://timesofindia.indiatimes.com/city/ahmedabad/muslim-dalit-outfits-to-hold-jan-akrosh-rally/articleshow/63873300.cms
--------
ISIS militants behead three brothers in Nangarhar province
Apr 23 2018
The ISIS militants have executed three brothers by beheading them on charges of having links with the government and security institutions in Nangahrar province.
A local government source said the incident took place late on Sunday night in the vicinity of Chaparhar district.
The source further added that the three brothers were apparently beheaded on charges of supporting the government and security officials.
The militants affiliated with the terror group beheaded a child in northern Jawzjan province of Afghanistan few days ago.
The local officials confirmed on Tuesday that the incident has taken place in the vicinity of Darzab district, home to several ISIS militants.
Provincial security chief Abdul Hafiz Khashi said the child, believed to be 14-year-old, was beheaded by ISIS militants because he was taking food and water to the security forces in the area.
Khashi further added that the victim has been identified as Rahimdad and was helping the security forces voluntarily.
This comes as counter-terrorism operations and airstrikes are underway by the Afghan and US forces in Nangarhar and other parts of the country to root out the militants affiliated with the terror group as they attempt expand foothold in the restive parts of the country.
https://www.khaama.com/isis-militants-behead-three-brothers-in-nangarhar-province-04950/
--------
Indonesia bites back as campuses spew out radicals
April 23, 2018
Junaida (not his real name) says he became an "accidental radical" while attending a university in Jakarta because he was curious about the secret goings-on among his friends, who had joined an underground "club."
He said many of his friends espoused extremist views and he decided to join their group partly out of peer pressure, and partly because he wanted to know more about their behind-closed-doors activities.
Moreover, at least some of the authority figures at the university appeared to endorse their views, he said.
As a freshman back in 2016, he said he was surprised to find out that radical views were widely accepted on campus and those who espoused conflicting opinions were quickly condemned as "infidels."
He had gone to university expecting to be educated on the importance of respecting diversity; what he found, he said, was much more sinister.
He said the group asked him to reject key elements of Indonesia's secular ideology of Pancasila, or the Five Principles of Nationalism, Internationalism, Democracy, Social Prosperity and Belief in God.
"I was even asked to prepare for jihad. But I told them I didn't want to kill anyone," he told ucanews.com. "Then after seven months, I quit the group."
While his story may sound terrifying to a Western audience it is not uncommon in Indonesia, where many college campuses are seen as breeding grounds for radicalism despite efforts over Easter by Muslim groups to show that hard-line groups' views are neither welcome nor widely shared.
Other groups in Indonesia are going one step further and trying to build religious harmony by engaging young children in interreligious activities.
The National Counterterrorism Agency ran a survey last year and found that as many as 40 percent of students in 15 provinces in Indonesia were indicated as being of a radical mindset, which caused at least one Islamic university to outlaw face veils on campus before later rescinding the measure.
Meanwhile, the agency said that lecturers are also not immune to the influence of extremist groups.
One of the most recent cases involving a university student being indoctrinated and resorting to shocking violence is that of Suliono from Banyuwangi in East Java.
Wielding a sword, the student went on a rampage at a church in Yogyakarta — another city in Java renowned as a centre for education some 500km from Jakarta — in February.
He reportedly charged through the entrance of St. Lidwina Bedog Church during a Sunday Mass, injuring bystanders and destroying icons of Jesus and the Virgin Mary during his 15-minute attack before he was shot by police.
Three members of the church, including the parish priest, were injured in the incident along with one responding police officer.
The episode seemed to echo another church attack in August 2016 when a man wielding a knife attacked a priest during another Sunday service at the St. Joseph Catholic church in Medan, North Sumatra.
Both attacks sparked fears of pending terrorist attacks on the respective parishes and towns.
In the case of Suliono, police said he had been attending a campus in Magelang, Central Java, where they suspect he was radicalized.
In response to these escalating stories, Technology, Research and Higher Education Minister Muhammad Nasir has pledged to sanction lecturers and students who are involved in radicalism or terrorist movements.
He urged colleges to list and report to the ministry anyone who is indicated of spreading radicalism.
"I have asked rectors to monitor lecturers and students. If they are proved to be involved, they can be expelled from their university," he said.
"Radical-minded students have no place on campuses," he added.
He said his ministry has designed a curriculum that will provide no room for such extremism to exist in colleges.
The minister encouraged lecturers to promote nationalism and tolerance when they interact with their students.
From 'brainwashing' to 'social trash'
Ali Fauzi, a former terrorist who was involved in the 2002 Bali bombings that claimed 202 lives, claims he was indoctrinated by his lecturers at university.
"I became involved in a radical group because some of the lecturers kept telling me how important it was to fight against infidels, even to kill them," said Fauzi, who specialized in making bombs.
"Now I regard myself as social trash, a useless person, because everyone avoids me and labels me a terrorist," Fauzi said, adding he also used to assemble bombs that were used by terrorists in Mindanao in the southern Philippines.
However, he said that despite the extent of his crimes, he has admitted his guilt and repented. In 2016, he established a foundation to promote peace.
Fauzi said the Indonesian authorities must pay much closer attention to what is going on under their noses on campuses across the country.
Nia Kurniati, a lecturer at Bandung Islamic University in West Java, admitted she used to encounter many radical students on campus but said their numbers have declined sharply in recent times.
"Now we constantly monitor the activities of students because radical groups target them," she told ucanews.com.
The students were seen as easy prey because many lack a strong religious education and school wardens used to let them go about their business without keeping an eye on their activities, she said.
"We always teach them that Islam is a religion of love [not hate]," Kurniati said.
Zainal Abidin Bagir, a lecturer at Yogyakarta-based Gadjah Mada — one of Indonesia's leading universities — also said students at public colleges are seen as the easiest targets.
"But on our campus, such groups very much represent a minority and we do not consider them dangerous," he said.
"I hope our students think critically and strengthen their faith whenever they are faced with such radicalism," he added.
Revitalization of religious education
Azumardy Azra, a professor at Jakarta-based Syarif Hidayatullah State Islamic University, said social media is a useful tool that both camps can draw on to boost their numbers and undermine those of opposing views.
He said radicalized students are using social media to network outside of their campuses and called on religious leaders to exercise greater tolerance and serve as social role models.
"We urge religious leaders and Islamic scholars in Indonesia to help give Muslims a broader understanding and be more tolerant of other faiths," the respected intellectual told ucanews.com.
He said religious education should be revitalized not only at schools and colleges but also within families and promoted more strongly within society as a whole.
"Religious teaching must go beyond formalism and instil in students a strong sense of ethics and character," he said.
American Sidney Jones, an expert on security in Southeast Asia, particularly Islamic terrorist movements in Indonesia, said the country can stamp out radicalism and extremism by continuing to promote peace, democracy and tolerance.
https://www.ucanews.com/news/indonesia-bites-back-as-campuses-spew-out-radicals/82056
--------
Arab World
Iraq says it killed 36 'IS terrorists' in Syria raid
April 23, 2018
BAGHDAD - Iraq said Sunday its forces had killed "36 terrorists" belonging to the Islamic State jihadist group, including senior members, in air raids this past week in Syria. A video of Thursday's operation showed two F-16 fighter jets destroying a house in eastern Syria. "The Iraqi air raids, carried out by several F-16s in Syria on April 19, targeted IS terrorists who represented a danger to Iraq," said General Yahya Rasool, spokesman for the Joint Operations Command (JOC), which coordinates the fight against IS in Iraq.
https://nation.com.pk/23-Apr-2018/iraq-says-it-killed-36-is-terrorists-in-syria-raid
--------
Five civilians killed in Syria regime shelling on IS-held district
April 23, 2018
BEIRUT - Five civilians have been killed in 24 hours in regime shelling on a southern district of Syria's capital held by the Islamic State group, a monitor said Sunday.
Syrian troops are waging an intense bombing campaign against Yarmuk, a Palestinian refugee camp on the edge of Damascus, and nearby districts that are held by IS. An elderly man was killed Sunday in shelling on Yarmuk, and another died after he was wounded in bombardment there the previous day, said the Britain-based Syrian Observatory for Human Rights.
A woman, her husband, and their child were killed in shelling in Yarmuk late Saturday, it said. "This brings to 11 the number of civilians killed since the shelling escalated on Thursday," said Observatory head Rami Abdel Rahman.
The bombing and clashes continued into Sunday, Abdel Rahman said, with air strikes, artillery, and surface-to-surface missiles hitting the neighbourhood.
Chris Gunness, spokesman for the UN Palestinian refugee agency (UNRWA), said the bombardment had pushed most Yarmuk residents to flee their homes and put the area's last hospital out of service. "Since the start of fighting four days ago, most of the 6,000 civilians in Yarmuk camp have been forcibly displaced to the neighbouring area of Yalda," he said.
"The last functioning hospital inside Yarmuk, Palestine Hospital, is now completely unable to operate," Gunness said.
He called on all sides to allow civilians to leave safely, for the sick and wounded to be evacuated, and for safe access for humanitarian workers to distribute food and medicine. Yarmuk was once a densely populated and thriving district of the capital, but it has been ravaged by violence since Syria's conflict broke out in 2011.
Syria's government imposed a crippling siege on it in 2012, and fighting among rebels and rival jihadists has exhausted residents. In 2015, IS overran most of Yarmuk, and the small numbers of other rebels and jihadists, including from Al-Qaeda's former affiliate, that had a presence there agreed to withdraw just a few weeks ago.
Simultaneously, the Syrian army was finishing off the last rebel pockets in Eastern Ghouta, a suburb of Damascus that had been the opposition's main bastion near the capital.
Securing Eastern Ghouta has allowed the regime to refocus on Yarmuk, but the escalating shelling has sparked worries among humanitarian organisations.
Evacuated Syria rebels,
civilians head to Afrin
Syrian rebels and civilians bussed out of an area near Damascus were heading Sunday to a northwestern pocket of the country held by pro-Turkish forces, a monitor and rebel sources said.
The displacement was the result of a negotiated withdrawal of rebels from the East Qalamun area, 60 kilometres (35 miles) northeast of Syria's capital.
Under the deal, several thousand anti-government fighters and their relatives are to be granted safe passage from East Qalamun to rebel-held territory in the north.
Some were being bussed even further to the area of Afrin, a hilly enclave in northwest Syria that Ankara-backed forces captured in recent months from Kurdish fighters. Rebels said they were headed to a camp for the displaced in the area.
"There are 1,148 people on this convoy, going from the East Qalamun region to the Jandairis camp" in the Afrin region, said Abu Mahmoud, a rebel fighter responsible for the convoy's security.
He spoke to AFP near Al-Bab, a northern rebel town used as a way station for such evacuation deals in recent months. As the convoy paused outside Al-Bab at a security checkpoint, children could be seen scampering off the shabby-looking buses for a break in the sun.
The Syrian Observatory for Human Rights, a Britain-based war monitor, said parts of the convoy were already arriving in the Afrin region. "The convoy has arrived and there are already several thousand rebels and civilians resettled in Afrin," Observatory chief Rami Abdel Rahman said. "Some are squatting in abandoned homes," he added. Tens of thousands of people were displaced by the Turkish-led assault on the Afrin region, whose small towns and villages were home to mostly Syrian Kurds.
Full report at:
https://nation.com.pk/23-Apr-2018/five-civilians-killed-in-syria-regime-shelling-on-is-held-district
--------
Popular Uprising against US-Backed Militants Reported in Eastern Syria
Apr 22, 2018
Anti-SDF movements by pro-government residents have recently been reported in the regions that are under the US-backed militants in Eastern Deir Ezzur.
A commander of the pro-government Jeish al-Ashayer (Tribal Army) has moved into the SDF regions, including al-Sha'aytat, to plan a coup or rebellion by the residents against SDF's rule, locals said.
In the meantime, local sources in Eastern Deir Ezzur reported that the Syrian Army flags have been hoisted by unknown people in the towns of al-Shahil and al-Kashakiyeh that are under SDF control.
In a relevant development but in Raqqa province earlier this month, people in Raqqa hoisted the country's official flag in the city after popular uprising against the US occupation.
Field sources reported that a group of people in Raqqa named 'popular forces in the Eastern Region' hoisted the Syrian government's flag over one of the buildings of Raqqa city.
They also vowed to fight against the US forces and their affiliated militants in the region, according to the sources.
Full report at:
http://en.farsnews.com/newstext.aspx?nn=13970202001149
--------
Syrian Army Repels Terrorists' Heavy Offensives in Homs Province
Apr 22, 2018
The ISIL, deployed in Eastern Badiyeh (desert) stormed the army positions East of the Third Station in Eastern Homs, but the army, backed up by the artillery and missile units, warded off their attack.
A large number of the ISIL gunmen were killed or wounded and their remaining pockets retreated.
In the meantime, other units of the army engaged in heavy fighting with terrorists in Salim and al-Hamrat in Northeastern Homs, and repelled their attack, killing a large number of the militants.
The artillery and missile units pounded the movements and positions of the terrorists West of the town of al-Rastan, inflicting major losses on the militants.
In a similar development on Tuesday, the army units fended off a heavy offensive of a group of ISIL terrorists in al-Muhassah region South of the town of al-Quaryatayn in Southwestern Homs, killing and wounding most of the militants.
In the meantime, other units of the army stormed ISIL's positions in Humeimeh region in Homs' Eastern Badiyeh (desert), killing a number of the militants.
Full report at:
http://en.farsnews.com/newstext.aspx?nn=13970202000702
--------
Anti-Hezbollah candidate Ali al-Amin beaten in southern Lebanon
22 April 2018
A candidate running against Hezbollah in Lebanon's parliamentary elections was in hospital on Sunday after being assaulted by a group of men in his southern hometown, he told AFP.
Journalist Ali al-Amin is a vocal critic of the Tehran-backed Shiite movement Hezbollah, and is challenging the party in the upcoming May 6 legislative election.
"I was hanging up the very first picture of myself at the bottom of my street in Shaqra, just 100 metres (yards) away from my house," he said.
Dozens of men approached him and demanded he take down the campaign poster, but he refused. They then began beating him, Amin said.
"I'm at the hospital now. My tooth is broken, I have very severe back pain and was hit in the head," he said.
Amin, who is running in the polls as a Shiite Muslim, directly blamed Hezbollah: "It was an organized group of well-known guys, authorized by Hezbollah."
Lebanon's May 6 legislative vote will be the first since 2009, after years of deadlock and security concerns prompted repeated extensions of the parliament's mandate.
It is Amin's first time running in the southern district, which is granted 11 seats under Lebanon's new electoral law -- eight of them allocated for Shiite Muslims.
Lebanon's 128 parliamentary seats are distributed according to the religious sects present in each district, with the total body split evenly between Muslims and Christians.
Hezbollah and its ally the Amal movement are the two most powerful political forces in the predominantly Shiite southern district of Bint Jbeil, where Amin's hometown lies.
He has received threats in recent years but insisted Saturday's violence would not deter him.
"This incident won't affect us, we're still going to run. But we want the world to see what kind of elections will be held under Hezbollah," he said.
Hezbollah is a current member of Lebanon's parliament and cabinet, but the United States considers it a "terrorist" group and many criticize it for suppressing dissent in areas under its control.
Full report at:
https://english.alarabiya.net/en/News/middle-east/2018/04/22/Anti-Hezbollah-candidate-Ali-al-Amin-beaten-in-southern-Lebanon.html
--------
Syrian military pummels ISIS-held districts in Damascus
22 April 2018
Syrian government forces used warplanes, helicopters and artillery on Sunday to pound districts of the capital held by ISIS and the Nusra Front, in a bid to enforce an evacuation deal reached with the militants earlier in the week.
The militants agreed to give up their last pocket in southern Damascus on Friday but have yet to begin surrendering to government forces and relocating to ISIS-held areas elsewhere in the country.
State-run al-Ikhbariya TV showed thick gray smoke billowing from the ISIS-held Hajar al-Aswad neighborhood on Sunday, and government warplanes streaking overhead amid heavy bombardment of the area. Hundreds of ISIS fighters and allied militants are holed up in Hajar al-Aswad and the nearby Yarmouk Palestinian refugee camp.
Residents of Damascus reported hearing loud booms throughout the night and Sunday morning.
President Bashar Assad has escalated his military campaign to retake all remaining enclaves in the capital and surrounding areas. The insurgent-held areas in southern Damascus are the last holdouts, after rebels evacuated the eastern Ghouta suburbs following a fierce government offensive and an alleged poison gas attack in the town of Douma.
Chemical weapons inspectors collected samples from Douma on Saturday, two weeks after the suspected gas attack there prompted retaliatory strikes by Western powers on the Syrian government's chemical facilities.
The site visit, confirmed by the Organization for the Prohibition of Chemical Weapons, will allow the agency to proceed with an independent investigation to determine what chemicals, if any, were used in the April 7 attack that medical workers said killed more than 40 people. The OPCW mission is not mandated to apportion to blame for the attack.
Douma was the final target of the government's sweeping campaign to seize back control of eastern Ghouta from rebels after seven years of revolt. Militants gave up the town days after the alleged attack.
The Syrian government and its ally Russia denied responsibility for the suspected chemical attack.
Meanwhile, rebels have begun evacuating three towns in the eastern Qalamoun region in the Damascus countryside.
Al-Ikhbariya TV said that 35 buses left the towns of Ruhaiba, Jayroud, and al-Nasriya on Saturday carrying hundreds of rebels and their families to opposition-held territory in northern Syria.
Full report at:
https://english.alarabiya.net/en/News/middle-east/2018/04/22/Syrian-military-pummels-ISIS-held-districts-in-Damascus.html
--------
Saudi Arabia raises number of beheadings by 70%
Apr 22, 2018
The number of beheadings in Saudi Arabia during the first quarter of 2018 rose by over 70 percent in comparison with the corresponding period last year, a new report by a nonprofit organization says.
In its latest report published Saturday, the European-Saudi Organization for Human Rights (ESOHR) said executions by the Saudi government in the first quarter of 2018 increased by 72 percent.
The report also showed that a number of foreign nationals also face capital punishment in Saudi Arabia.
ESOHR released its report amid widespread criticism of Saudi Arabia over its terrible human rights record, including the censorship of free speech, indiscriminate incarceration of citizens with no due process, and lack of basic freedoms for women and girls.
The Saudi government refrains from providing any official statistics for people on death row but the organization confirmed that 42 people are expected to be imminently executed, including 8 individuals who were minors at the time of the offense.
The anti-death penalty rights group Reprieve said in March that Saudi Arabia's execution rate has increased since Mohammed bin Salman was appointed crown prince in 2017. The group said 133 executions have taken place in the eight months since his appointment last June, compared with 67 in the eight months before.
Maya Foa, the group's director, said, "The doubling of executions under the new crown prince reveals that, beneath his glossy public image, Mohammed bin Salman is one of the most brutal leaders in the kingdom's recent history."
In its report, ESOHR denounced the Saudi regime's execution of people for alleged offenses that are not even against the international law and said the convicts have simply attended peaceful demonstrations, exercised freedom of speech or practiced their religious rites.
The Riyadh regime has been rejecting all requests for visits by special independent rapporteurs of the United Nations since 2008, the report added.
Concern is growing about the increasing number of executions in Saudi Arabia.Saudi authorities say the executions reveal the Saudi government's commitment to "maintaining security and realizing justice." The country has come under particular criticism from rights groups for the executions carried out for non-fatal crimes.
According to the London-based rights group Amnesty International, Saudi Arabia has one of the highest execution rates in the world. The New York-based Human Rights Watch (HRW) has called on the Saudi regime to abolish its "ghastly" beheadings.
In the most stunning case of executions in 2016, Saudi Arabia executed on January 2 Sheikh Nimr al-Nimr along 46 other people in defiance of international calls for the release of the prominent Shia cleric and other jailed political dissidents in the kingdom.
In July 2017, human rights group Amnesty International called on Saudi Arabia to halt the executions of 14 individuals who were sentenced to death following a "grossly unfair mass trial" as part of the kingdom's "bloody execution spree."
"By confirming these sentences Saudi Arabia's authorities have displayed their ruthless commitment to the use of the death penalty as a weapon to crush dissent and neutralize political opponents," said Amnesty's director of campaigns for the Middle-East, Samah Hadid..
Full report at:
http://www.presstv.com/Detail/2018/04/22/559340/Beheading-Saudi-Arabia-ESOHR-execution
--------
Saudi Arabia downs Houthi missile fired across border
April 22, 2018
RIYADH: Saudi air defenses on Sunday intercepted a ballistic missile fired by Houthi militia at the Kingdom's southern border city of Najran, which set a farm ablaze, state media said.
"Saudi forces were able to intercept (the missile)," the Saudi Press Agency said, citing the Saudi-led coalition fighting Iran-backed Houthis.
"But the shrapnel scattered over residential areas and caused a fire at a farm belonging to a citizen, without causing any injuries."
The missile was launched from Saada, the Houthi stronghold in northern Yemen, the coalition was cited as saying.
The coalition said another missile crashed in a Saudi desert on Sunday, without specifying a location, adding it caused no damage.
Sunday's strikes are the latest in a series of rebel bombardments on Saudi territory.
Saudi forces said they intercepted a Houthi ballistic missile targeting the Kingdom's southern coastal city of Jizan on Friday, the second such strike in the area in over a week.
Earlier this month, Saudi forces said they intercepted rebel ballistic missiles fired at Riyadh and the south of the Kingdom, where two drones were also shot down.
Saudi Arabia has since March 2015 led a coalition of Arab states fighting to roll back the Houthis in Yemen and restore its neighbor's internationally recognized government to power.
Nearly 10,000 people have since been killed in the conflict, in what the United Nations has called the world's worst humanitarian crisis.
In March, an Egyptian laborer became the first known fatality in a rebel missile attack on the Saudi capital.
Full report at:
http://www.arabnews.com/node/1289581/saudi-arabia
--------
Mideast
Iran president vows full support for Syria reconstruction
Apr 21, 2018
Iranian President Hassan Rouhani says the Islamic Republic is fully prepared to help Syria with the reconstruction of the war-ravaged country.
"Just as it stood by the Syrian people in their fight against terrorism, the government of the Islamic Republic of Iran is ready to stand by you in Syria's reconstruction employing all it has in power," Rouhani said in a message to his Syrian counterpart Bashar al-Assad on Saturday.
He extended his congratulations to the Syrian president on the occasion of Evacuation Day, Syria's national day commemorating the evacuation of the last French soldier, the country's proclamation of full independence as well as the end of the French mandate of Syria on April 17, 1946.
Rouhani said the Syrian people had made sacrifices in the past to gain independence and drive arrogant powers out of their country.
The Syrians are now making tireless efforts to thwart enemies' plots and save their country from terrorists and are achieving new victories on a daily basis, he added.
The Iranian president emphasized that the Islamic Republic would continue its assistance to the Syrian government and nation until the complete establishment of security and stability in the Arab country.
Rouhani expressed hope that a final victory would be achieved in the campaign against terrorists in Syria soon.
Leader of the Islamic Revolution Ayatollah Seyyed Ali Khamenei said in March that Syria was on the frontline of the fight against the enemies of Islam.
"Syria today is on the frontline, so our duty is to support the Syrian resistance," Ayatollah Khamenei told Syrian Minister of Religious Endowments (Awqaf) Mohammad Abdul-Sattar al-Sayyed in Tehran.
http://www.presstv.com/Detail/2018/04/21/559231/Rouhani-Assad-Evacuation-Day-reconstruction
--------
Kushner, Mnuchin to be sent to open US embassy in Jerusalem al-Quds
Apr 22, 2018
While it is not yet clear if Ivanka Trump, the US president's Jewish daughter, will attend the US embassy opening in Jerusalem al-Quds, a report says that Treasury Secretary Steven Mnuchin will lead a delegation to the inauguration along with Ivanka's husband Jared Kushner who is another top Jewish figure in the White House.
Some 250 people are expected to attend the ceremony, Axios reported Sunday.
Around 40 US lawmakers and members of pro-Israel groups are among those traveling to Palestine to open the US embassy in Israel.
Meanwhile, Israeli officials are reportedly planning to make the best out of the inauguration to convince other countries to follow US in moving their embassies to al-Quds.
The US president finally broke with decades of US policy in December by announcing that the embassy in Israel would be relocated from Tel Aviv to the holy city.
Since US Congress ruled in 1995 that the embassy be relocated from Tel Aviv, every president has deferred the troublesome measure by issuing a six-month waiver.
The city has been designated as "occupied" under international law since the 1967 Arab War, which Palestinians want as the capital of their future state.
Trump made the move despite foreign leaders' warnings that it could stoke further tensions in the region.
Full report at:
http://www.presstv.com/Detail/2018/04/22/559373/Jerusalem-alQuds-Kushner-Mnuchin-to-be-sent-to-open-US-embassy
--------
Saudis down new missile from Yemen rebels
April 23, 2018
RIYADH - Saudi air defences on Sunday intercepted a ballistic missile fired by Yemeni rebels at the kingdom's southern border city of Najran, which set a farm ablaze, state media said. "Saudi forces were able to intercept (the missile)," the Saudi Press Agency said, citing the Saudi-led coalition fighting Iran-backed Huthi rebels.
"But the shrapnel scattered over residential areas and caused a fire at a farm belonging to a citizen, without causing any injuries." The missile was launched from Saada, the Huthi stronghold in northern Yemen, the coalition was cited as saying.
The coalition said another missile crashed in a Saudi desert on Sunday, without specifying a location, adding it caused no damage. Sunday's strikes are the latest in a series of rebel bombardments on Saudi territory. Saudi forces said they intercepted a rebel ballistic missile targeting kingdom's southern coastal city of Jizan on Friday, the second such strike in the area in over a week.
Earlier this month, Saudi forces said they intercepted rebel ballistic missiles fired at Riyadh and the south of the kingdom, where two drones were also shot down. Saudi Arabia has since March 2015 led a coalition of Arab states fighting to roll back the Huthis in Yemen and restore its neighbour's internationally recognised government to power.
Full report at:
https://nation.com.pk/23-Apr-2018/saudis-down-new-missile-from-yemen-rebels
--------
Houthi fighter killed in Arab Coalition air raids in Yemen
21 April 2018
Houthi leader, Khalid Silan, also known as Abu Hussein, and a number of his companions were killed during an Arab Coalition air raid in al-Tifa directorate, Yemeni forces in al-Bayda directorate said on Friday.
According to reports, Silan operated as a supply and arming officer in al-Tifa and al-Malajim directorates.
Sources in Taaiz said 18 militia members were killed during strikes on Houthi sites in al-Areesh area east of Mawza and west of Maqbanah districts.
https://english.alarabiya.net/en/News/gulf/2018/04/21/Houthi-supply-arming-officer-in-Yemen-s-al-Bayda-killed-in-coalition-air-raids.html
--------
Ministry: Gaza Palestinian dies from Israeli gunfire wounds
April 23, 2018
GAZA: A Palestinian wounded by Israeli gunfire in the Gaza Strip has died, the Hamas-controlled territory's health ministry said on Monday.
Abdullah Shamali, 20, died overnight of "bullet wounds to his belly" sustained on Friday in Rafah, near the enclave's border with Israel, a ministry spokesman said.
Shamali was one of five Palestinian demonstrators, including a 15-year-old, killed or fatally wounded in Gaza on Friday.
His death brings to 39 the toll from Israeli fire since the start of "March of Return" protests on March 30.
Tens of thousands of Palestinians in the coastal enclave, wedged between Israel, Egypt and the Mediterranean, have gathered at the border on consecutive Fridays to call for Palestinian refugees to be allowed to return to their former homes now inside Israel.
Some protestors have launched stones or burning tires at Israeli soldiers.
Israeli forces have responded with live ammunition, wounding hundreds in addition to those killed.
The Israeli army says its fores only open fire in self-defence or to stop protestors attempting to breach the barrier separating the territory from Israel.
More than 440 demonstrators suffered bullet wounds or gas inhalation on Friday, rescuers said.
Israel has drawn harsh criticism from rights groups along with calls for investigations by the United Nations or the European Union.
Full report at:
http://www.arabnews.com/node/1289656/middle-east
--------
Turkey: 42 terrorists 'neutralized' over last week
23.04.2018
By Faruk Zorlu
ANKARA
A total of 42 terrorists were "neutralized" as part of counter-terror operations across Turkey over the past week, the Interior Ministry said on Monday.
Turkish authorities often use the word "neutralized" in their statements to imply that the terrorists in question either surrendered or were killed or captured.
In a statement, the ministry said security forces had carried out 1,383 counter-terrorism operations on April 16-23.
The ministry specified that 18 of the terrorists were killed, 10 were captured, and 14 surrendered to authorities.
During the operations, 131 people were also arrested for allegedly aiding and abetting the PKK terrorist group and 47 others for their suspected links to the Daesh terrorist group.
Also, another 532 people were arrested for suspected links to the Fetullah Terrorist Organization (FETO), and 12 others for links to leftist terrorist groups.
The PKK -- listed as a terrorist organization by Turkey, the U.S. and the EU -- resumed its armed campaign against Turkey in July 2015.
Since then, it has been responsible for the deaths of more than 1,200 Turkish security personnel and civilians, including a number of women and children.
FETO and its U.S.-based leader Fetullah Gulen orchestrated the July 2016 defeated coup, which martyred 250 people and injured nearly 2,200.
Ankara also accuses FETO of being behind a long-running campaign to overthrow the state through the infiltration of Turkish institutions, particularly the military, police, and judiciary.
34 terrorist shelters destroyed
Security forces also destroyed 34 shelters, including a number of caves, and two hand-made explosives in operations in the eastern provinces of Diyarbakir, Tunceli, Sirnak, Mardin, Hakkari, Van, and Bingol, the statement said.
In addition, they seized 5,033 tons of ammunition, 39 hand grenades, and 53 assorted weapons.
According to the statement, 2,553 anti-drug raids were conducted across the country, leading to 3,525 arrests.
Full report at:
https://aa.com.tr/en/todays-headlines/turkey-42-terrorists-neutralized-over-last-week/1125757
--------
India
Haj Pilgrims Highest This Year at 1, 75,025: Mukhtar Abbas Naqvi
April 23, 2018
The number of Haj pilgrims has increased because of enhanced quota despite a government decision to remove subsidies — of a total 3,55,604 applications, 1,75,025 pilgrims will go to Haj this year.
"Prime Minister Narendra Modi has succeeded in increasing the Haj quota for the second consecutive year. As a result, the number of pilgrims has reached the highest since India's Independence," said Union Minister for Minority Affairs Mukhtar Abbas Naqvi on Sunday. He stressed that the decision to do away with subsidy has not affected the Haj pilgrims.
Naqvi was addressing a training camp organised for Haj Khadim-Ul-Hujjaj at Haj House in Mumbai. "Of the 3,55,604 applications received for Haj, 1,89,217 are men and 1,66,387 women," he said. According to Naqvi, 1,28,002 pilgrims, which include about 47 per cent women, will go through the Haj Committee of India, while 47,023 pilgrims will go through private tour operators. Besides, for the first time Muslim women from India will go to Haj without "Mehram" (male companion). In all, 1,308 women have applied to go for Haj without "Mehram" and all of these women have been exempted from the lottery system and allowed to proceed to Haj.
In all, 6,700 pilgrims will go from Ahmedabad, 350 from Aurangabad, 5,550 from Bengaluru, 254 from Bhopal, 11,700 from Cochin, 4,000 from Chennai, 19,000 from Delhi, 5,140 from Gaya, 450 from Goa, 2,950 from Guwahati, 7,600 from Hyderabad, 5,500 from Jaipur, 11,610 from Kolkata, 14,500 from Lucknow, 430 from Mangalore, 14,200 from Mumbai, 2,800 from Nagpur, 2,100 from Ranchi, 8,950 from Srinagar and 3,250 from Varanasi.
The Centre's directive to airlines not to unreasonably hike fares has helped keep the air fare in check. "In 2017, Rs 1,030 crore was paid to airlines for air fare for 1,24,852 Haj pilgrims. Whereas, in 2018, Rs 973 crore will be paid to airlines for 1,28,002 Haj pilgrims. It means, Rs 57 crore less will be paid to airlines this year even after ending the Haj subsidy," he said.
Naqvi said training camps and online/digital process have helped to make the Haj process transparent and help pilgrims. While indicating that Saudi Arabia has given the green signal to India's decision to revive the option of sending Haj pilgrims through sea route, he said, "Officials from both countries are in discussion on all the necessary formalities and technicalities so that Haj pilgrimage through sea route can be started in the coming years."
The Haj pilgrims were for the first time given the choice of embarkation points, which recieved an overwhelming response.
In the training camp, 623 "Khadim-ul-Hujjaj" from all the states participated. Officials from the Haj Committee of India, BMC, disaster management agencies and doctors informed them in detail all the process related to Haj, including accommodation, transport, health and safety of pilgrims. For the first time, women assistants will be deployed to monitor various facilities for women pilgrims.
Consul General of India at Jeddah, Mohammad Nur Rehman Sheikh, Haj Committee of India Chairman Chaudhary Mehboob Ali Qaiser, members of Haj Committee of India and other officials were present on the occasion.
http://indianexpress.com/article/cities/mumbai/haj-pilgrims-highest-this-year-at-175025-naqvi-5147811/
--------
India condemns 'reprehensible' terror attacks in Afghanistan, offers help
Apr 22, 2018
India on Sunday strongly condemned the terror attacks in Afghanistan's capital Kabul and in the country's Baghlan province during the ongoing voter registration process that claimed at least 48 lives.
"India strongly condemns the cowardly and barbaric terrorist attack in Kabul and Baghlan today (Sunday)," the external affairs ministry said in a statement.
"What makes this attack particularly reprehensible is the fact that the terrorists and their backers chose to attack a voters' registration centre for the upcoming parliamentary and district council elections," it stated.
"The attack has resulted in the death of Afghans who firmly support and believe in the democratic process to empower themselves and make their voice heard."
Around 10 am, a suicide bomber blew himself up among a crowd lining up to get access to an election-related registration site in Kabul on Sunday, killing 31 people and injuring 54 others, officials said.
The blast occurred in front of a school located in Kabul's Qala-e-Nazir area. The dead included women and children while several wounded remained in critical condition.
Hours later, insurgents placed an IED close to a voter registration centre in Pul-e-Khumri city in Baghlan province, killing six of a family, Afghan media reported.
"This is not only an attack on innocent civilians but also an attack on the democratic rights of the Afghan people," the Ministry statement said.
"Our thoughts and prayers are with the family members of the victims, and we wish quick and complete recovery to the injured.
Full report at:
https://www.hindustantimes.com/india-news/india-condemns-reprehensible-terror-attacks-in-afghanistan-offers-help/story-ZVkUItSnRsgvA1bqnhOg0H.html
--------
Tirupur dist admin help sought to solve row over mosque
Apr 23, 2018
Tirupur: An all-party meeting conducted on Saturday to settle a dispute concerning the functioning of a mosque in the city has sought the intervention of the district administration and the police department.
Some Hindu outfits had demanded the closure of the mosque, which had been functioning in a residential area in Mahalakshmi Nagar in 15 Velampalayam for the last four years, alleging that it was causing disturbance in the locality. They had preferred a writ petition before the Madras high court.
To find an amicable solution, All Islam Jamad Federation called the meeting, which was conducted in a hotel on Kangeyam Road. Leaders of DMK, Congress, CPM, CPI, DMDK, Naam Tamilar Katchi, TMMK and Indian Muslim League attended it.
DMK Tirupur north district president and former mayor K Selvaraj stressed on the need to maintain social harmony. "The district administration should intervene in the issue and hear what the local residents have to say about it before taking any decision. All parties have decided to meet the collector and the city police commissioner soon," he said.
Full report at:
https://timesofindia.indiatimes.com/city/coimbatore/tirupur-dist-admin-help-sought-to-solve-row-over-mosque/articleshow/63873542.cms
--------
South Asia
Despite presence of foreign troops, Daesh growing in Afghanistan
Apr 22, 2018
Daesh Takfiri terrorist group is growing in Afghanistan as thousands of foreign troops have apparently failed to restore security 17 years after the United States and its allies invaded the country under the guise of the so-called war on terror.
Daesh, which has been behind several past bombings in Kabul, claimed responsibility for a deadly bomb attack outside a voter registration center in the Afghan capital on Sunday. Over 30 people were killed and nearly 60 others wounded in the attack, which was carried out at the doorway of an identity card distribution and voter registration center in Kabul's Dasht-e-Barchi area. The neighborhood in western Kabul is mainly inhabited by members of the Muslim Shia Hazara minority, who have been targeted regularly by both Daesh and Taliban.
In recent years, Hazara Muslims have been targeted in a series of deadly bombings and several large-scale kidnappings across Afghanistan, which have prompted demonstrations and sit-ins in Kabul and elsewhere. The community, the poorest of Afghanistan's ethnic groups, accounts for about 20 percent of Afghanistan's population and is the country's third-largest minority.
A series of bomb blasts targeted a Shia Muslim cultural center in Dasht-e-Barchi area of Kabul in late December last year, killing at least 41 people and wounding dozens. In July 2016, at least 80 Shia Muslims were killed in two bomb blasts carried out by Daesh in Kabul. In November of the same year, at least 27 people were killed after a large bomb explosion hit a Shia mosque in the Afghan capital.
To add to the war-torn country's woes, Daesh has also established a foothold in eastern and northern Afghanistan. The terrorist group has mostly been populating the eastern province of Nangarhar, from where it has carried out high-profile brutal attacks at major population centers across the country.
Since late 2017, news reports have focused on Daesh's growing presence in northern Afghanistan, especially Jowzjan, which borders Turkmenistan in Central Asia. These reports were amplified by Russia and other Central Asian neighbors of Afghanistan, which have voiced concerns regarding the reported presence of foreign militants, including Chechens, Uzbeks, Chinese Uighurs and some Arabs.
Earlier in February, Iranian Defense Minister Brigadier General Amir Hatami said the United States was transferring Daesh to Afghanistan to justify its military presence in the South Asian country following heavy blows dealt to the Takfiri terrorist group in Syria and Iraq.
His remarks came after Leader of the Islamic Revolution Ayatollah Seyyed Ali Khamenei issued a similar warning about Washington's attempt to relocate Daesh from the Middle East to Afghanistan.
In the same month, Russian Foreign Minister Sergei Lavrov said Moscow was wary of Washington and NATO's denial of the presence of Daesh terrorists in Afghanistan.
In December last year, a high-ranking Russian official warned that an estimated 10,000 members of Daesh were present in Afghanistan, and that their number was growing due to the relocation of the terror outfit to the Central Asian country after territorial defeats in Syria and Iraq.
In November last year, Former President Hamid Karzai said the United States was colluding with Daesh in Afghanistan and allowing the Takfiri group to flourish in the war-stricken country.
Karzai said the administration of US President Donald Trump had also used Daesh as an excuse to drop a massive bomb on Afghanistan in April 2017.
According to Afghan intelligence documents, security officials believe that Daesh is present in nine provinces from Nangarhar and Kunar in the east to Jawzjan, Faryab, and Badakhshan in the north and Ghor in the central west.
Afghan President Ashraf Ghani recently said there were around 40 militant groups fighting in Afghanistan, which could make the prospects of a negotiated peace even bleaker.
Daesh began establishing presence in Afghanistan almost a year after making sweeping land grabs in Iraq and Syria in 2014. The Takfiri terrorist group took advantage of the ongoing chaos in Afghanistan and recruited some of its fighters from among Taliban defectors.
Since 2015, when Daesh made its first appearance in Afghanistan, the Taliban has in places made tactical adjustments with Daesh, and there are areas where the Taliban and Daesh have coexisted and even cooperated against Afghan security forces.
http://www.presstv.com/Detail/2018/04/22/559353/Afghanistan-Daesh-terrorists-US-NATO-Russia-Iran
--------
Freeland expected to travel to Bangladesh, visit Rohingya refugee camp in May
APRIL 22, 2018
Foreign Affairs Minister Chrystia Freeland is expected to travel to Bangladesh at the beginning of May, where she is hoping to visit a Rohingya refugee camp and witness firsthand the effects of the displacement of nearly 700,000 members of the Muslim minority from Myanmar.
The Globe and Mail confirmed that Canada's Special Envoy to Myanmar, Bob Rae, is scheduled to join Ms. Freeland in Bangladesh, where she plans to attend the Organization of Islamic Co-operation meeting of foreign ministers on May 5 and 6. Although the trip is still in the planning stages, senior government officials confirmed that Ms. Freeland will not visit neighbouring Myanmar.
The minister's current itinerary, therefore, does not include a meeting with the country's de facto leader Aung San Suu Kyi, an honorary Canadian citizen and Nobel laureate who has come under fire for her handling of the Rohingya crisis. Ms. Freeland, along with Prime Minister Justin Trudeau and Mr. Rae, met with Ms. Suu Kyi last November at the Asia-Pacific Economic Co-operation summit in Vietnam.
Ms. Freeland is aiming to visit a Rohingya refugee camp in Bangladesh during her visit, the official said. The hilly, sprawling and crowded camps – some of the largest in the world − are located near the Myanmar border, mostly in Cox's Bazaar. The region is currently in its cyclone season, creating fears that heavy rains could wash away parts of the camps at any moment, worsening the already dire situation.
John Kirton, a University of Toronto international-relations professor and expert on the Group of Seven, said Ms. Freeland has made the Rohingya crisis one of her personal foreign-policy priorities. He said he was not surprised to hear that the minister would not be visiting Myanmar, since the optics of meeting with the country's military – which led the crackdown on Rohingya in Rakhine state – would not be good.
"It would be difficult to go there and not go to the local areas, where the Rohingya still live, and there you would be totally controlled by the Myanmar military. So it would be either a sanitized … version of what you'd see, and you would be implicitly condoning the Myanmar generals' side of the story," Prof. Kirton said.
News of the minister's expected trip comes after Mr. Rae, a former Ontario premier and Liberal MP, published a report on the Rohingya crisis earlier this month. The report called on Canada to lead an international effort to investigate "clear evidence" that crimes against humanity were committed against the minority group − a crisis Mr. Rae says bears the hallmarks of a genocide. He said that the investigation should not exclude any Myanmar officials – even Ms. Suu Kyi.
Mr. Rae also urged the Canadian government to push for the Rohingya crisis to be addressed at multiple international forums, including the Organization of Islamic Co-operation foreign ministers' meeting in Dhaka in May and during Canada's presidency of the G7.
Canada is playing host to G7 foreign affairs and security ministers in Toronto until Tuesday, ahead of the leaders' summit in Charlevoix, Que., this June.
The most recent violence in Myanmar's Rakhine state began in August, 2017, after Rohingya insurgents attacked police posts and an army base. Myanmar's military responded with a violent crackdown, triggering an exodus of Rohingya to neighbouring Bangladesh. Ms. Suu Kyi and the country's military have come under international pressure to end the violence, but she has little or no control over the military under the constitution.
In response to the crackdown, Canada targeted Major-General Maung Maung Soe – the former head of the Myanmar army's Western Command who allegedly led a clearance effort in Rakhine state – under its new "Magnitsky" sanctions law aimed at human-rights abusers. Canada has also provided more than $45-million in humanitarian assistance for Myanmar and Bangladesh since the beginning of 2017.
The Rohingya crisis is one of many topics up for discussion at the G7 summit under way in Toronto; Ms. Freeland discussed the matter with her counterparts on Sunday afternoon.
The minister kicked off the day by holding a working brunch with her counterparts, plus Ukrainian Foreign Minister Pavlo Klimkin, at her Toronto townhouse on Sunday morning, where they discussed the situation in Ukraine.
Full report at:
https://www.theglobeandmail.com/world/article-freeland-expected-to-travel-to-bangladesh-visit-rohingya-refugee-camp/
--------
Pak-Afghan tribal elders agree to extend ceasefire after recent clash
Apr 23 2018
The local tribal elders from Khost province of Afghanistan and Pakistan's Kurram Agency met on Sunday to hold talks to defuse tensions after a deadly clash left at least five Pakistani soldiers and two Afghans dead.
According to reports, the meeting was organized in Kurram Agency of Pakistan and it was decided that the ceasefire should be extended.
The Pakistani officials are saying that the elders also agreed to form a delegation to visit the area and resolve and disputes relating to the Durand Line.
Pakistan claims that the incident took place after the Pakistani soldiers came under fire from the Afghan side of the line but the Afghan officials are saying that the clash took place in Zazai Maidan district of Khost after Pakistani troops intruded into the Afghan soil.
The provincial government media office of Khost in a statement said last week that the Pakistani militia forces launched attacks on security posts in Jando Sar and Bad Khawaran areas of Zazai Maidan district at around 8 am on Sunday.
The statement further added that the local residents and security personnel responded to Pakistani militia forces fire, claiming that some dead bodies of Pakistani military forces and their weapons were left in the area.
Full report at:
https://www.khaama.com/pak-afghan-tribal-elders-agree-to-extend-ceasefire-after-recent-clash-04951/
--------
Southeast Asia
Murder of Hamas member in Malaysia grabs global attention
Apr 23, 2018
KUALA LUMPUR - The brutal slaying of Hamas member Dr Fadi Albatsh (pic) has grabbed global attention, especially in the Muslim world.
The 35-year-old Palestinian lecturer, who had been living in Malaysia with his wife and three children for 10 years, was shot dead in Setapak here by two assailants as he was on his way for subuh prayers at 6am on Satur-day.
The world media, including international wires as well as Palestinian and Israeli news outlets, picked up the news.
While many parties pointed to Israeli intelligence agency Mossad as being behind the assassination, theories abound about the hit, including Dr Fadi's expertise in weapons and links to the Islamist organisation Hamas, which rules the Gaza Strip.
News portals also quoted a family friend as claiming that Dr Fadi, who was active in several NGOs, was killed to stop aid to Palestine.
While Hamas has confirmed Dr Fadi as a member, Palestinian websites say he was related to a senior official of the Palestinian Islamic Jihad, Khaled Albatsh, who accused Mossad of carrying out the attack.
Dr Fadi's father, too, told Al Jazeera that he believes Mossad to be behind his son's killing.
Family of slain Palestinian wants to bury him back home in Gaza
He called on the Malaysian authorities to act swiftly and find the culprits.
Dr Fadi, who had permanent resident status in the country, received his doctorate from Universiti Malaya in 2015 and was a senior lecturer at the British Malaysian Institute.
His official biography states that his research interests include power converters, power qua­lity and renewable energy.
Israeli media repor­ted that he was also deeply involved in the Hamas drone development project.
Mossad, known for its meticulous clandestine operations against "enemies" of Israel, is said to have been responsible for the slayings of various Hamas members.
In January 2010, Hamas military commander Mahmoud al-Mabhouh was killed by a team of assassins at a hotel room in Dubai.
In December 2016, Hamas-linked drone expert Mohammed Zawahri was shot dead in southern Tunisia.
According to a news portal, a woman claiming to be a Tunisian journalist who contacted Mohammed for an interview might have had ties to Mossad. The woman reportedly disappeared a day before the killing.
Meanwhile, Inspector-General of Police Tan Sri Mohamad Fuzi Harun told a press conference yesterday that police were awaiting the results of a post-mortem on Dr Fadi's body which was sent to the Selayang Hospital.
"No arrests have been made and the murder weapon has not been recovered.
"We are still investigating all angles. We cannot confirm yet that the killers are European as claimed by some witnesses," he said.
http://www.asiaone.com/malaysia/murder-hamas-member-malaysia-grabs-global-attention
--------
Preventing other 'Marawis': Battle for hearts and minds of Philippine Muslims
By Joseph Franco
23rd April 2018
FOR more than five months, the Battle for Marawi raged between Philippine security forces and militants linked to the Islamic State. The battle raised important questions as to how much foreign terrorist fighters influenced their Filipino counterparts.
Was Marawi the prelude to a systematic campaign to bring the so-called caliphate to Southeast Asia? On the face of it, the urban warfare seen in Marawi's streets would appear to be a successful importation of tactics and strategy from Raqqa or Mosul.
In the aftermath of the battle, there were some concerns about how other cities in the southern Philippine island of Mindanao might be targeted next by remnants of the Maute Group or other Islamic State‐inspired terrorist groups. But these views ignored the socio-economic and historical context of Mindanao.
The battle for Marawi should be viewed instead as a proverbial perfect storm, with the Maute Group and its allies more correctly considered as opportunistic actors who exploited the violent milieu of the area.
Several factors made Marawi a setting conducive for the Maute Group to attempt a violent takeover. Insecurity in Marawi is linked to the emergence of a built environment that is distinct in the Philippines. Houses and establishments are built from reinforced concrete or what the locals term as buhos, which made it especially difficult for government forces to re-take the city.
The self‐help and clan‐centred nature of Marawi's enclaves not only created physical structures and micro‐environments that aided the terrorists. Distrust and insecurity also led to a fragmented sense of community, which could have inoculated the Muslim population against the appeal of IS. The perennial siege mentality of the city's residents meant that the military could not hope to rely on the community providing information on infiltrating militants. That same hardy, self‐reliant mindset which built the city's physical infrastructure effectively walled‐off the population from the security services.
What lessons can we draw from this battle and how can we prevent another Marawi?
The need to resolve the roots of the conflict remains under-appreciated and points to a surprising reality. Although the Philippines has been facing multiple secession and terrorist threats in Mindanao for more than four decades, no presidency has yet come out with a strategy to counter violent extremism at the national level.
Preventing future 'Marawis' cannot be premised on counter‐ideological approaches or be focused against IS narratives alone. Violent extremism in Mindanao is driven by largely material considerations, so counter‐ideological work such as promoting a state‐supported brand of Islam may only prove to be counterproductive and further alienate Filipino Muslims. It would also fail to address the material quality‐of‐life issues that underpin the conflict. A heavy‐handed ideological approach would further exacerbate identity-based divisions between Muslims, Christians and the indigenous peoples of Mindanao.
For the military, Marawi will serve as another reminder of the need to enhance its capabilities for future contingencies in urban terrain. The Armed Forces of the Philippines should incorporate the lessons of Marawi into military training curriculums. One lesson is that re-trained forces need the appropriate equipment to execute their expanded mission set. For instance, mechanisms which covered the emergency procurement of drones should be codified into better standard operating procedures.
In addition, Manila should foster its existing partnerships with foreign military forces. During the crisis, US special operations forces were immediately deployed to Marawi to provide intelligence, surveillance and reconnaissance support to their Philippine counterparts.
To prevent similar outbreaks of violence, broader initiatives should also be pursued in step with military efforts.
First, President Rodrigo Duterte must follow through with the promise for political autonomy for the region, as outlined in the 2014 Comprehensive Agreement on the Bangsamoro between the Philippines and the Moro Islamic Liberation Front. The creation of an autonomous Bangsamoro ('Moro nation') homeland should take precedence over the hard push by Duterte's allies to convert the Republic of the Philippines into a federal state. A shift to a federal form of government would render moot the comprehensive agreement and could likely lead to a flare‐up in violence.
Second, young people should be given particular attention in any Mindanao development programs. The Maute Group was able to recruit its fighters from disaffected youth in Lanao del Sur province with promises of financial rewards and economic mobility. For those who were educated and hailed from wealthy clans of the Maranao ethnic group, the Maute Group promised adventure and the fulfilment of a sense of duty to fight the 'crusaders' from the Philippine military.
Much needs to be done, but there are reasons to be hopeful. In spite of decades of conflict in Mindanao, not one incident of a Filipino extremist killing himself in a suicide bombing or attack has ever been reported. The appeal of martyrdom (and rewards in the afterlife promised by jihadist propaganda) has meant little in the face of the real world financial inducements that prompt membership in organisations like the Maute Group.
Full report at:
https://asiancorrespondent.com/2018/04/preventing-other-marawis-battle-for-hearts-and-minds-of-philippine-muslims/#B24mFugK01TxRghg.97
--------
Family accuses Mossad of killing Palestinian in Malaysia
April 21, 2018
Kuala Lumpur police chief says footage from closed-circuit television cameras near the scene of the shooting showed that two assailants waited for around 20 minutes in the area before attacking.
The family of a Palestinian professor and Hamas member accused Israel's Mossad spy agency on Saturday of killing him on the streets of Kuala Lumpur.
Malaysian police said Fadi Mohammad al-Batsh, 35, was killed in a drive-by motorcycle shooting as he headed on foot to take part in dawn Muslim prayers on Saturday.
In a statement from the Hamas-ruled Gaza Strip, his family said: "We accuse the Mossad of being behind the assassination."
The Islamist Palestinian movement said Batsh, a research scientist specialising in energy issues, was one of its members.
Hamas did not accuse Israel of killing him but called Batsh a "martyr" — a word it usually uses for people killed by Israeli forces.
Contacted by AFP, an Israeli official refused to comment.
Kuala Lumpur police chief Datuk Seri Mazlan Lazim said one of two suspects on a high-powered motorcycle "fired 10 shots, four of which hit the lecturer in the head and body. He died on the spot."
"The police also found two empty bullet shells there," the police chief said, according to Malaysia's state-run Bernama news agency.
The police chief said that footage from closed-circuit television cameras near the scene of the shooting showed that two assailants waited for around 20 minutes in the area before attacking.
"We believe the lecturer was their target because two other individuals walked by the place earlier unharmed. We will view the recordings of all the CCTV in the area to identify the suspects and get the registration number of the motorcycle," he said.
The Palestinian representative in Malaysia, Anwar al-Agha, told AFP that Batsh, who was married and a father of three, was a lecturer in electrical engineering who had lived in Malaysia for the past 10 years.
"I visited the site of the attack. Fadi is a member of Hamas," he said,
Asked if Mossad could be responsible for his killing, he said: "I cannot comment on this. We have to wait for the official investigation."
The Batsh family urged Malaysian authorities to investigate his murder and "arrest those responsible for killing him before they flee." They also asked for the return of his body to his hometown of Jabalya in the Gaza Strip.
The Mossad is believed to have assassinated Palestinian militants and scientists in the past, but has never confirmed such operations.
Full report at:
https://www.dhakatribune.com/world/south-asia/2018/04/21/gunmen-shoot-dead-palestinian-lecturer-malaysia/
--------
Indonesia maintains its stance on Syria following pressure from US and its allies
22 April 2018
Jakarta: Indonesia said its position remains the same after the US, the UK and France called on it to join forces in pressuring Syria's Assad regime about its alleged use of chemical weapons.
Envoys from the three countries on Thursday asked to meet Indonesia's Foreign Minister Retno Marsudi and requested that the country go further in its stance on Assad's regime.
Arrmanatha Nasir, Foreign Ministry spokesman, told journalists on Friday that Indonesia was deeply concerned about developments in Syria after the US and its allies' missile strikes.
Nasir said during the meeting that the three Western countries' ambassadors conveyed their views on Syria, while Marsudi reiterated Indonesia's position issued last week after the strike, which underlines the need for all parties to respect international laws and norms, in particular the UN charter on international peace and security.
Indonesia also "strongly condemned the use of chemical weapons by any parties in Syria" and called on all parties to show restraint and prevent an escalation of the deteriorating situation.
Indonesia stressed the importance of a comprehensive resolution of the conflict in Syria through negotiations and peaceful means and expressed concern about the security of civilians, calling on all parties to ensure that the safety of women and children was always a priority.
Beginda Pakpahan, an international relations lecturer at Universitas Indonesia, said that the country's position on Syria was clear and reflected its free and active foreign policy.
"They (the ambassadors) should be aware of Indonesia's position," Pakpahan told Arab News.
Rene Pattiradjawane, a former Kompas daily senior journalist and foreign policy commentator, said that it was natural the three countries would seek support from Indonesia as the world's most populous Muslim-majority country.
According to the Foreign Ministry, there are up to 2,000 Indonesian citizens in Syria.
Moazzam Malik, the UK's ambassador to Indonesia, said after Thursday's meeting that he and fellow ambassadors to Indonesia, the US's Joseph R. Donovan and France's Jean-Charles Berthonne, would Iike Indonesia to join them in holding the Assad regime accountable for the suspected misuse of chemical weapons against their own citizens and the abuse of the Chemical Weapons Convention.
Full report at:
http://www.arabnews.com/node/1288951/world
--------
Pakistan
Five terrorists killed by security forces during Dera Bugti operation
Apr 23, 2018
Security forces conducted a search operation on Saturday and killed at least five terrorists involved in targeting security personnel and government forces in Balochistan province.
According to sources, the security forces launched a raid in Bamboor area of Dera Bugti after receiving a tip-off. The terrorists who were holed inside a camp started firing at the security personnel. "At least five terrorists were killed in retaliatory action and their training camps were also destroyed," according to a source.
A large cache of arms and explosives was also recovered from the camps while 28 suspects were rounded up by security personnel.
Meanwhile, Bojla Bugti, a rebel commander, and 10 members of his group surrendered their arms to the Home Minister Sarfaraz Bugti during a small ceremony.
Earlier in April, at least two terrorists were killed and a Balochistan Frontier Corps (FC) personnel was killed in an exchange of fire during intelligence-based operations (IBOs).
Inter-Services Public Relations (ISPR) said in a statement that IBOs were conducted in Pishin, Dasht, Turbat and Dera Bugti. A large cache of arms and ammunition was also recovered from the hideouts of militants.
https://www.pakistantoday.com.pk/2018/04/21/five-terrorists-killed-by-security-forces-during-dera-bugti-operation/
--------
Two Killed In Sectarian Attack in South-Western Pakistan
22 Apr 2018
QUETTA, Pakistan: Two people from the ethnic Hazara community were shot dead in a sectarian attack in southwestern Pakistan on Sunday, where targeted killings of minorities have continued despite improvements in overall security.
Three Hazara men were travelling together on the outskirts Quetta, capital of Pakistan's Baluchistan province, when two men on a motorcycle opened fire on them, killing two and wounding the third, a police official said.
"It is a sectarian target killing," senior police officer Syed Attaullah Shah told Reuters.
No group has claimed responsibility for Sunday's attack.
At least six Hazaras have been killed in targeted killings in the past two months in Quetta, the official added.
Hazaras are a mainly Shi'ite Muslim community, and are frequently targeted by Taliban, Islamic State, and other Sunni Muslim militant groups for their religious beliefs in both Pakistan and Afghanistan.
Many Hazaras fled to Pakistan during decades of conflict in neighboring Afghanistan, and nearly half a million now live in and around Quetta.
In 2013, three separate bombings killed more than 200 people in Hazara neighbourhoods, raising international awareness of the plight of the community.
The violence in Baluchistan has fuelled concern about security for projects in the US$57-billion China Pakistan Economic Corridor, a transport and energy link planned to run from western China to Pakistan's southern deep-water port of Gwadar.
Full report at:
https://www.channelnewsasia.com/news/asia/two-killed-in-sectarian-attack-in-southwestern-pakistan-10164568
--------
Pakistani Christians launch white flag campaign
April 20, 2018
Catholic and Protestant Church leaders announced on April 19 they would raise white flags across Pakistan to show their rejection of what they claim is increasing religious persecution at the hands of hard-line Islamists.
"We request all the Christians and civil society to hoist a white flag on their rooftops for one month. This campaign is a pledge to make Pakistan a hub of justice and security," said Reverend Amjad Niamat, convener of the Pakistan Christian Action Committee (PCAC).
"We demand the government help our committee in this regard and give a positive message to the whole world," he added while addressing the media at Lahore press club.
Dominican Father James Channan, five pastors and several lay people among the panelists also voiced their support for the campaign at the conference.
They urged the government and the Supreme Court of Pakistan to take note of recent cases of persecution against Christians.
Meanwhile, a group of three priests and two clerics demanded compensation for victims of targeted killings in Quetta at another news conference organized by the National Commission for Inter-religious Dialogue and Ecumenism. It ended with Christian and Muslim prayers for peace.
On April 15, two Catholics were gunned down in Quetta, the provincial capital of Balochistan, within two weeks of a prior attack on clergymen.
On March 26, a Catholic father of four was allegedly beaten to death by doctors and security guards at a government hospital in Lahore.
Sajid Masih, also Christian, remains hospitalized after he jumped from the fourth floor of the Punjab headquarters of the Federal Investigation Agency (FIA) in a suicide attempt on Feb. 23 while being interrogated with his cousin.
Reports say both the man and his cousin were tortured and ordered to engage in lewd sexual acts in a bid to humiliate them.
"We know some miscreants want to create panic in the country with these attacks. But our nation is against such attempts to weaken it. The white flags will symbolize both our sincerity and commitment to peace," said Khalid Gill, chairman of the Minority Inqalabi Tehreek (Revolution Movement) Pakistan.
Full report at:
https://www.ucanews.com/news/pakistani-christians-launch-white-flag-campaign/82108
--------
Imran assails PPP, PML-N over charter of democracy
April 23, 2018
KARACHI: Pakistan Tehreek-i-Insaf (PTI) chairman Imran Khan has said that his party will not make any alliance with the Pakistan Peoples Party and Pakistan Muslim League-Nawaz in the upcoming elections.
Talking to media in London on Sunday, he accused the PPP and PML-N of striking a deal in the name of Charter of Democracy and 18th Amendment for installing the caretaker government which held the elections in 2013.
He said the only task of the caretaker government was to hold a free and fair election, but every political party had levelled allegations of rigging in the 2013 elections.
About 'horse-trading' in the recent Senate elections, he said the PTI had taken action against its people who sold their votes. "Will other parties take action against their own people [who sold their vote]," he asked.
He said that if no action was taken by other parties then he would himself reveal the names of their people.
Full report at:
https://www.dawn.com/news/1403298/imran-assails-ppp-pml-n-over-charter-of-democracy
--------
Soldier killed in Miramshah IED blast
Pazir GulUpdated
April 23, 2018
MIRAMSHAH: One soldier lost his life and three others suffered injuries in a roadside bomb blast near Miramshah in North Waziristan tribal region on Sunday.
Officials said that a military convoy was on its way to Miramshah from the Datakhel area when an improvised explosive device went off near one of the vehicles. They said one soldier died and three others were injured.
The martyred was identified as Muhammad Hanif. Wounded soldiers were taken to a military hospital. A curfew was imposed in the area to facilitate the movement of the convoy.
Meanwhile, another explosion occurred near Angher Village, but no casualty was reported.
https://www.dawn.com/news/1403294/soldier-killed-in-miramshah-ied-blast
--------
Pakistan condemns Afghan suicide attacks
Apr 23, 2018
ISLAMABAD: Pakistan on Sunday strongly condemned the suicide attacks in Kabul and Baghlan, Afghanistan.
"Pakistan strongly condemns the heinous and reprehensible suicide attacks that targeted innocent civilians at a voter registration centre in Kabul and in Baghlan province of Afghanistan," a statement issued by the Foreign Office (FO) said.
"We are grieved at the loss of precious innocent lives in this brutal act of terrorism and express our heartfelt sympathies and condolences to the bereaved families and pray for the speedy recovery of the injured," the statement added.
The FO said that Pakistan is confident that such attacks would not deter the resolve of the Afghan people to determine their own future through their votes.
FO also reiterated its unequivocal condemnation of terrorism in all its forms and manifestations and expressed solidarity with the government and people of Afghanistan in this hour of grief and sorrow.
https://www.pakistantoday.com.pk/2018/04/22/pakistan-condemns-afghan-suicide-attacks/
--------
'Pakistan won't ever allow its soil to be used for money-laundering, terror-financing'
April 23, 2018
Adviser to Prime Minister on Finance Miftah Ismail says Pakistan will never allow its soil to be used for money-laundering and terror-financing, reported Radio Pakistan.
In an interview with Bloomberg TV in Washington, he said Pakistan is committed to fulfill its international obligations in this regard.
Miftah Ismail said we will work with the international community as well as Financial Action Task Force and International Cooperation Review Group to come out of the grey list as soon as possible.
To a question, the adviser ruled out any further devaluation of rupee against dollar as things are moving in the right direction.
He said the country's exports are now increasing and there has not been any inflation which is at present less than four percent.
The finance adviser also expressed the confidence that Pakistan would achieve 6.25 percent GDP growth next year.
https://nation.com.pk/23-Apr-2018/pakistan-wont-ever-allow-its-soil-to-be-used-for-money-laundering-terror-financing
--------
JUI-F denies seeking extra security for Fazl
April 23, 2018
PESHAWAR: Jamiat Ulema-e-Islam-Fazl (JUI-F) on Sunday denied that it had requested Inspector General of Police (IGP) Khyber Pakhtunkhwa to provide extra security for its chief Maulana Fazlur Rehman. JUI-F's provincial spokesman Abdul Jalil Jan on Sunday refuted news being circulated on social media and aired by a section of electronic media that the Personal Secretary of Maulana Fazlur Rehman had written a letter to the IGP KP for provision of extra security owing to security threats. It may be added that Chief Justice of Pakistan Mian Saqib Nisar on Thursday directed police chiefs of all provinces to withdraw within 24 hours the security protocol provided to influential individuals not entitled to official security.–APP
https://nation.com.pk/23-Apr-2018/jui-f-denies-seeking-extra-security-for-fazl
--------
Africa
Gunmen kill at least 30 in NW Nigeria attack
Apr 23, 2018
LAGOS (Xinhua): At least 30 people were killed and scores of others wounded following another attack by bandits in Nigeria's northwestern state of Zamfara, local officials confirmed on Saturday.
The bandits unleashed terror in Danmani and Kabaro communities in Maru area of the state between late Thursday and early Friday, Salisu Dangulbi, a local government official told Xinhua.
Dangulbi said many villagers had fled their homes due to fear of more attacks.
Security operatives were deployed to the communities on Friday, to forestall further attacks, he noted.
Mohammed Shehu, a police spokesperson, who confirmed the killings to reporters in Gusau, capital of Zamfara state on Saturday, said units of mobile police working with the military and other security agents were immediately mobilized to the affected areas and that peace and normalcy had been restored.
Three of the suspected bandits have now been arrested by security operatives, according to the police.
On April 11, scores of people lost their lives when bandits attacked two villages in another area of the state.
More than a dozen attacks have been recorded in the state since the beginning of the year despite efforts to calm the situation by the Buhari administration.
President Muhammadu Buhari recently visited Zamfara were he met with traditional and community leaders over the security situation in the state. Over a hundred people have been killed in the past few months in attacks in the state by armed bandits.
Last month, Buhari ordered deployment of troops to Zamfara to end the incessant killings in the state since last year. This led to the deployment of Air Force and Army personnel to the state to contain the situation.
https://nation.com.pk/22-Apr-2018/gunmen-kill-at-least-30-in-nw-nigeria-attack
--------
15 militants killed in anti-jihadist operation in Mali: army
2018-04-22
Fifteen militants have been killed in an anti-jihadist operation in central Mali, the Malian army said on Saturday, adding that one soldier died and two others were injured.
The "terrorists" were "neutralised, their weapons recovered and their motorbikes destroyed" during Friday's mission in the Tina forest in the Mopti region, the army said in a statement.
The army "suffered one death and two injuries".
Mali has seen a resurgence of violence in recent weeks. Last Sunday a UN base in the historic city of Timbuktu was attacked by rocket fire and car bombs, killing one UN peacekeeper and wounding seven others.
Last month the UN Mission in Mali (MINUSMA) expressed "deep concern" over an increase in "serious violations and human rights abuses against civilians, including cases of summary execution" in the centre of the country, where jihadist groups are particularly active.
MINUSMA, which has 12 000 peacekeepers in Mali, said it had recorded at least 85 major violent incidents and armed confrontations that resulted in at least 180 civilian victims since the beginning of the year.
The unrest in the former French colony stems from a 2012 Tuareg separatist uprising against the state, which was exploited by jihadists in order to take over key cities in the north.
Although French forces succeeded in removing Al-Qaeda-linked groups from places such as Timbuktu, the groups have morphed into more nimble formations operating in rural areas, sometimes winning over local populations by providing basic services and protection from bandits.
The insurgency has gradually spread to the country's centre, where local grievances are sometimes exploited by radical Islamists in a region awash with guns.
In June 2015, Mali's government signed a peace agreement with some armed groups, but other jihadists remain active, and large tracts of the country remain lawless.
Full report at:
https://www.news24.com/Africa/News/15-militants-killed-in-anti-jihadist-operation-in-mali-army-20180421
--------
Two suicide bombers kill four in north Nigeria mosque
April 23, 2018
KANO - Two suicide bombers killed four Muslim worshippers in a mosque in a northeast Nigerian town still being rebuilt after virtual destruction by Boko Haram in 2014, sources told AFP Sunday.
The bombers, a man and a woman, detonated their explosives inside the mosque during morning prayers on Saturday in the town of Bama in Borno state.
The pair "blew themselves up in a mosque while people were praying" said Baba Shehu Gulumba, Bama local government chairman. An earlier toll listed three deaths. "Another victim died at the hospital in Maiduguri," taking the toll to four, Shehu Gulumba later told AFP.
A senior military officer in Bama earlier confirmed that three people had died, adding that nine people were also injured. "Some of the injured are in a critical condition and may hardly make it. They have been transferred to Maiduguri for better medical care," said the military officer, who asked not to be named.
The attack came two weeks after residents began returning to the town which was destroyed by Boko Haram four years ago. Bama, a major trading hub on the road to Cameroon and home to 270,000 people, was captured in September 2014, forcing residents to flee to Maiduguri, the state capital.
When it was retaken by the Nigerian military in March 2015, 85 percent of the town had been demolished by the jihadists. Borno state officials said it would require 40 billion naira (94 million euros, $111 million) to rebuild the town, a staggering amount in the impoverished region.
According to officials 11,000 homes had been rebuilt which residents said represent one-third of those destroyed. On April 5 the state's information commissioner Mohammed Bulama said 1,200 people had returned to the town in a phased resettlement of the 100,000 displaced residents living in camps in Maiduguri.
Boko Haram has been notorious for suicide attacks on civilian and military targets in response to army offensives that have put pressure on the militant group.
Full report at:
https://nation.com.pk/23-Apr-2018/two-suicide-bombers-kill-four-in-north-nigeria-mosque
--------
11 migrants dead, 263 rescued off Libya coast
April 23, 2018
TRIPOLI - At least eleven migrants died at sea and another 263 were rescued on Sunday in two separate operations off the coast of Libya, the country's navy said. In the first operation, "a coastguard patrol... was able to rescue 83 illegal migrants and recovered 11 bodies in a rubber boat five nautical miles northeast of Sabratha", navy spokesman General Ayoub Kacem told AFP.
Sabratha is about 70 kilometres (40 miles) west of Tripoli. "The 11 dead migrants drowned when the dinghy overturned but were recovered by the survivors and hoisted into the boat," said Mohamad Erhouma, a member of the nearby city of Zawiyah's coastguard. The second rescue operation took place off the coast of Zliten in the country's east, where 180 migrants were rescued from two boats, according to General Kacem. Zliten is about 170 kilometres (100 miles) east of Tripoli. The migrants, of different African nationalities, "were aboard two inflatable boats when they were intercepted and then brought back to the port of Tripoli", he said.
Since the 2011 fall and killing of longtime dictator Moamer Kadhafi, Libya has become a key launch pad for migrants making desperate bids to reach Europe, often on unseaworthy vessels.
Full report at:
https://nation.com.pk/23-Apr-2018/11-migrants-dead-263-rescued-off-libya-coast
--------
Tunisia reopens consulate in Libyan capital Tripoli
21 April 2018
Tunisia has reopened its consulate in the Libyan capital, the Libya foreign ministry said on Saturday, the latest mission to return to Tripoli.
Most embassies left Tripoli in 2014 when heavy fighting broke out between rival factions and few came back when a UN-backed administration took office in 2016.
The Tunisian consulate resumed work after talks between the two countries, the Libyan foreign ministry said. The Tunisian foreign ministry declined to comment, but a diplomatic source confirmed the move.
The Tunisian consulate had closed its mission in 2015 after ten staff were kidnapped.
In recent weeks some Western embassies have sent diplomats for longer stays to Tripoli as security has improved, although few stay full time on the ground.
The Italian and Turkish embassies as well as the UN mission are among the few open.
https://english.alarabiya.net/en/News/north-africa/2018/04/22/11-migrants-dead-263-rescued-off-Libya-coast-navy-.html
--------
North America
In travel ban case, Supreme Court considers 'the president' vs. 'this president'
By Robert Barnes
April 22, 2018
The Supreme Court's final oral argument of the term will be one of its most important and potentially far-reaching, an examination of the president's authority to protect the country by banning some foreigners who seek entry.
But, similar to a debate that has consumed Washington for the past 15 months, a major issue for the court is separating "the president" from "this president."
The justices on Wednesday will consider President Trump's third iteration of a travel ban that bars most nationals from a small group of mostly Muslim nations. It is the first time the court has considered the merits of a policy that has consumed the administration since its start, and raises deep questions about the judiciary's role in national security issues usually left to the political branches.
The first version of the ban was issued just a week after Trump took office, and lower courts have found that it and each reformulated version since exceeded the authority granted by Congress and was motivated by Trump's prejudice — animus, as courts like to say — toward Muslims.
The state of Hawaii, which is leading the challenge of the ban, told the Supreme Court:
"For over a year, the president campaigned on the pledge, never retracted, that he would ban Muslims from entering the United States.
"And upon taking office, the president issued and reissued, and reissued again, a sweeping and unilateral order that purports to bar over 150 million aliens — the vast majority of them Muslim — from entering the United States."
Hawaii's brief, by Washington lawyer Neal K. Katyal, cites not only Trump's campaign comments, but also his actions as president, including the time he retweeted "three anti-Muslim propaganda videos" from a widely condemned far-right British organization. This led to a response by the solicitor general of the United States to the justices of the Supreme Court that could have been written only in this era, about this chief executive:
"The president's retweets do not address the meaning of the proclamation at all."
Solicitor General Noel J. Francisco urged the court not to get distracted by the president's bluster — he has said nice things about Muslims, too, the brief states — and to keep its examination on the law.
"The Constitution and acts of Congress . . . both confer on the President broad authority to suspend or restrict the entry of aliens outside the United States when he deems it in the nation's interest," Francisco wrote.
If the president's comments and tweets were not a factor, many legal experts said, the court would be likely to extend the deference to the political branches it has shown in the past when considering issues of immigration and national security.
Washington lawyer Gregory G. Garre, who defended executive authority as President George W. Bush's solicitor general, said the law makes such respect clear.
"No matter where the court ends up, the president starts with two significant pluses — the executive's inherent constitutional authority over foreign affairs and a textually broad grant of authority by Congress to regulate the entry of aliens determined to be detrimental to the interests of the United States," Garre said.
Los Angeles lawyer Theodore J. Boutrous Jr. agrees, with a caveat: But Trump.
"This case comes to the court with this backdrop of a president who has been shattering norms, even brazenly saying they don't matter," said Boutrous, who filed a brief on behalf of the U.S. Conference of Catholic Bishops urging the court to strike down the ban.
His brief on behalf of the bishops said that the travel ban is a result of "blatant religious discrimination" and that it "poses a substantial threat to religious liberty that this court has never tolerated before and should not tolerate now."
Trump's efforts to ban certain travelers has a complicated backstory. He first issued a proclamation banning travel from certain countries a week after taking office. It went into effect immediately, causing chaos and protests at airports around the world.
The U.S. Court of Appeals for the 9th Circuit issued an injunction. Instead of appealing to the Supreme Court, the administration enacted a second version of the plan. That was stopped by two regional courts of appeals.
Before the Supreme Court could consider the merits of the second plan, the administration in September announced a new one.
It blocked entry into the United States of most people from Chad, Iran, Libya, Somalia, Syria and Yemen, and certain visitors from North Korea and Venezuela. The latter two countries are not part of the challenge before the Supreme Court, and the administration on April 10 removed Chad from the list.
Francisco told the court that the third edition of the ban responds to the criticisms by lower courts of the first two, and was the result of a "worldwide review of the processes for vetting aliens seeking entry from abroad."
The resulting ban was no different from what past presidents have occasionally imposed, he said. Congress specifically has granted authority that the president "may by proclamation, and for such period as he shall deem necessary, suspend the entry of all aliens or any class of aliens" after a finding that the entry "would be detrimental to the interests of the United States," Francisco wrote.
But challengers to the ban point to another section of the law, which says a person may not be denied an immigration visa "because of the person's race, sex, nationality, place of birth, or place of residence."
Allowing the president to ban citizens of a nation, the challengers said, amounts to giving the president a "line-item veto over the entire immigration code."
Besides examining the immigration statute, the court has said it will review the decision of the U.S. Court of Appeals for the 4th Circuit that the ban violates the First Amendment's guarantee against religious discrimination.
And the court will also consider whether the judiciary even has authority to "look behind" the face of an immigration proclamation to examine whether it was drawn with improper motives.
Again, the court was urged to look beyond Trump.
"The scope of this court's decision here will have an impact on this (and future) president's ability to protect our national security interests as he (and Congress) sees fit," said a brief filed by national security experts supporting Trump. "At the end of the day, it is not the role of the judiciary to intercede in such matters, and this court should clearly say so."
The challengers are backed by a large number of organizations that contend otherwise. Religious groups say it is the job of the court to guard constitutional protections against religious discrimination. Universities say the ban harms them in recruiting students and scholars. A different set of national security experts say the ban will harm U.S. interests in the long run.
The libertarian Cato Institute says its research leads to the conclusion that the ban is based more on discrimination than protection.
"Not a single person from these countries has killed anyone in a terrorist attack in the United States in over four decades," the brief stated. "Nationals of the designated countries have also been much less likely to commit other serious crimes than U.S.-born persons or other foreign nationals."
The justices may have already signaled that they are inclined to rule for the administration. In December, the court issued a stay of a lower court's injunction and allowed the ban to take effect, with only Justices Ruth Bader Ginsburg and Sonia Sotomayor noting their objections.
[Justices allow full enforcement of Trump ban while challenges continue]
Josh Blackman, a professor at the South Texas College of Law in Houston, said only once in the more-than-a-decade Roberts court have the justices granted a stay without later reversing the opinion of the lower court.
In a conference call with reporters sponsored by the Federalist Society, Blackman predicted the same would happen in this case. But he, too, addressed the question of how the court would view Trump, and made his case for reversing the lower courts in a way it is unlikely the Trump administration itself would endorse.
"If the court rules here for President Trump, I don't see that many lingering problems; I don't know that we'll ever have a president again like Trump, who says such awful, awful things on a daily basis," Blackman said.
"I worry much more if they rule against President Trump, and they give courts [a] green light to parse campaign statements and the like, this could potentially hamstring not just this president, but also future presidents."
https://www.washingtonpost.com/politics/courts_law/in-travel-ban-case-supreme-court-considers-the-president-vs-this-president/2018/04/22/f33f1edc-44cb-11e8-8569-26fda6b404c7_story.html?utm_term=.12aa12fc0009
--------
Chicago protesters denounce US strike on Syria
Apr 22, 2018
Hundreds of protesters have gathered in the US city of Chicago to condemn the recent strike against Syria ordered by President Donald Trump.
Several places in Syria came under attack by US, British and French military forces on April 14 despite international warnings against further escalation of the conflict.
"I ordered the United States Armed Forces to launch precision strikes on targets associated with the chemical weapons capabilities of" Syria, Trump said in a televised address from the White House.
Tomahawk cruise missiles and other types of bombs were used in the attack which the US said came in response a chemical attack in the Syrian town of Douma on April 7.
The demonstrators on Saturday said that the US government was not telling the truth in justifying the military strike.
"We believe the US lies and comes up with false pretenses to justify military intervention in sovereign foreign countries," a protester said. "So we believe that for people in the US, it's especially important for us to oppose wars abroad, because we have the loudest voice to influence the US government to stop killing people, to let people determine their own destinies in their other countries."
"We don't trust what the US government says typically, not without any sort of independent verification, because we know that the US has imperialist interest in Syria. They want to set up a puppet government, so that they control the oil pipelines that are being proposed through there, the resources in Syria," he added.
A day after the attack, Trump claimed that the mission was "accomplished," saying, "A perfectly executed strike last night. Thank you to France and the United Kingdom for their wisdom and the power of their fine Military."
The strike came after the West blamed the government of Syrian President Bashar al-Assad for a suspected a chemical attack in Douma. Damascus has consistently denied the allegation.
Another protester said that the US has no firm proof that the chemical attack actually took place.
"From what I've read, we have not developed any firm proof that it actually occurred. The United States mentioned that the English bombing occurred before the inspectors could go there and verify the chemical weapons were used. So we really don't know if there was a chemical attack or not. There clearly was a bombing though and we did it."
Full report at:
http://www.presstv.com/Detail/2018/04/22/559323/US-Syria-trump
--------
US ready to strike Syria again if Assad ignores message
21 April 2018
Defense Secretary Jim Mattis said Friday the U.S. is ready to carry out additional military action against Syria if Bashar al-Assad fails to heed the message of last week's allied cruise missile strike.
"He would be ill-advised to ignore the international community's statement, and we stand ready to address anything in the future," Mattis told reporters, adding he has seen universal support for what he called the "regrettable but necessary attack" on Assad's suspected chemical weapons sites.
Mattis' latest remarks came during a meeting with his Japanese counterpart Itsunori Onodera at the Pentagon.
Forces of the Assad regime struck targets in Douma district in the suburb of Eastern Ghouta earlier this month using a toxic gas which left at least 78 civilians dead, according to the Syrian Civil Defense, also known as the White Helmets.
Following the attack, the U.S., UK and France jointly launched retaliatory strikes last Friday targeting the Assad regime's chemical weapons capabilities.
The strikes targeted a chemical weapons research center near Damascus, a chemical weapons warehouse and a command center related to chemical weapons located west of Homs, said U.S. Joint Chiefs of Staff Chairman Joseph Dunford.
The Damascus suburb of Eastern Ghouta has been under siege for the last five years. Humanitarian access to the area, which is home to 400,000 people, has been completely cut off.
Assad regime forces have intensified their siege, making it nearly impossible for food or medicine to get into the district and leaving thousands of civilians in need.
Defense Minister Onodera also noted that the joint strike showed the resolve of the international community in dealing with weapons of mass destruction.
"I think this gave a certain message towards North Korea as well," he added, noting that Washington and Tokyo must work "synergistically" along with the international community to make North Korea abandon all weapons of mass destruction and its ballistic missile program in a complete, verifiable and irreversible manner.
"Together, we are carefully reviewing a possible new path to peace, and at the same time, we remain vigilant," he said, referring to North Korea.
Full report at:
http://www.worldbulletin.net/america-canada/201295/democrats-sue-russia-trump-campaign-wikileaks
--------
Europe
Crossing Divides: Meet the British Army veteran turned pro-mosque campaigner
Apr 23, 2018
It's hard to miss Ian Durrant's house in Lincoln.
A Union flag and the cross of St George flutter 20ft (6.1m) high in his front garden.
Ian says they're there "because I'm a veteran and I'm proud to be English". But he admits the flags sometimes give off the wrong impression.
"Someone came to talk to me, and he said, 'Congratulations on flying the flag, what are you going to do about those bloody Muslims?' I said, 'Are you National Front?' 'Yes I am, brother,' he said. So I advised him - using army language - to get out of my garden."
A decade of waiting
With its towering facade, jade green dome and glistening gold crescent, Lincoln's first purpose-built mosque is already settling into the city's skyline.
In a few weeks the £2m ($2.9m) building will open - more than a decade after its first planning application was submitted to the council.
Ian was one of the mosque's most vociferous opponents. The former soldier - who served for 25 years in the army - set up a group trying to stop the application.
But he says his reservations were about traffic.
"There was no parking, there would have been nearly 90 cars, and the building only provided 12 parking spaces."
'We'll burn the mosque'
However, things then got nasty. The site where the mosque was planned to be built burned down in unexplained circumstances.
On three separate occasions, groups including the English Defence League (EDL) and East Anglian Patriots marched through the city centre.
Participants shouted chants like "Burn the poppy, and we'll burn the mosque".
This is my country, too: Life as a black British Muslim
Worried that his campaign against the mosque was being hijacked by anti-Islamic groups, Ian felt compelled to act.
"We had a letter campaign in the press against the EDL, asking people, 'If you see them, turn your back on them and walk away.' And they did," he says.
Rumours flying
Lincoln's Muslim population is small compared with cities such as Leicester or Birmingham, but it's long outgrown its current mosque. On Friday - the most important day of the week in Islam - it has to rent a larger community hall to accommodate about 250 worshippers.
After the mosque's initial planning bid failed, a subsequent application at a former dairy site was approved. This placated people like Ian who had been unhappy about the original location, but others were still sceptical about the mosque's intentions.
Tanweer Ahmed, chairman of the Lincoln Islamic Association, says there were rumours flying around that the new mosque would have "loudspeakers doing the call to prayer five times a day - and some thought we would try and get rid of the local war memorial".
In reality, he says, local Muslims simply wanted "to feel comfortable".
So he decided to act - by knocking on every door in the area.
Safety worries
"A lot of people welcomed us - but a few people were not happy. We were giving them leaflets, and they were throwing them straightaway into the bin," Tanweer says.
Even Muslim people questioned his moves.
"My wife was saying, 'Why are you doing that?', and my children were worried that someone could harm me. Some of my colleagues were also worried about safety. And there were some that just didn't want to do it."
Tanweer also needed to show locals that the presence of Islam in their area wouldn't threaten their way of life. So he reached out to Ian.
"I knew nothing about Islam, and someone sent me an email saying, 'We're running a series of talks - would you like to come?' So I did. I sat in the front on my own and it was fascinating," Ian says.
He's attended so many events - including Eid celebrations and mosque open days - that many worshippers recognise him on the street. But he's raised eyebrows within his own community.
"I took pride in being friends with, and talking to, Muslim people. Other people would say, 'Why the hell are you doing that?' And I said, 'They're people.'"
Joining Remembrance Day
"If I look out of the window to the left, I can see the cathedral in its glory," says Ian, as he draws a net curtain. "If I look right I see the mosque. East has met West in Lincoln."
Lincoln is best known for its beautiful 1,000-year-old cathedral. But it also has links with the armed forces - it was the birthplace of the military tank, and produced the renowned Royal Lincolnshire Regiment.
So Remembrance Day is a big deal for local residents. Ian and other veterans parade at their local war memorial, just 100 metres from the new mosque.
In 2012, he got a pleasant surprise when Tanweer and other Muslims turned up, carrying wreaths and wearing poppies.
"People who I knew have said, 'It's good to see them joining in the community.' I said, 'Tanweer Ahmed is here - not out of invite, but by right!'"
Shared history
Tanweer says some Muslims were sceptical about attending the memorial.
"People were saying, 'Why are you going there? Why do we need to go there?' I said to them, 'We live in this country, and these people have given their lives to save this country.'"
He also wanted to highlight both the English and Muslim communities' shared history. In World War One, 400,000 Indian Muslim soldiers fought for Britain, and in World War Two, 600,000 soldiers took part.
Tanweer says it was important for him and Ian to step into each other's sacred spaces and embrace each other's cultures, without sacrificing their own identities.
"Locals feel much more comfortable if we go to their space, they can ask us questions - but if they come to mosques, they might not feel comfortable asking questions," says Tanweer.
"So it's important that we visit them. But at the same time, they're coming to us".
Focusing on the future
Tanweer will be relieved once the mosque opens. But he knows his job isn't over.
Last year's terrorist attacks have created a sense of unease among Muslims in the city. Tanweer himself has been verbally abused, and the old mosque has been pelted with stones.
He thinks the Muslim community needs to continue engaging with locals to prevent any more trouble. He hopes the new mosque can help by offering space within the building for non-Muslims to run activities, such as children's clubs or exercise classes.
"A lot of people don't know what happens in the mosque, so if they're using the mosque on a regular basis, they will feel much more comfortable building a relationship with us," Tanweer says.
Ian's excited about the mosque's opening ceremony, and hopes to bring his friends along. He admits that their opinions about Islam have changed over the years - largely thanks to him.
"My guys - apart from one - don't mention Muslims any more to me. I'd like to think they're accepting my way of thinking. I don't like prejudice.
"I served in Kuwait with Muslims. I served in Borneo with Muslims. It makes me feel very proud that I have been accepted."
http://www.bbc.com/news/uk-43337775
--------
Allies to play key role in creating new Syria
23 April 2018
French President Emmanuel Macron on Sunday said the U.S. should at least maintain a diplomatic presence in Syria, ahead of a visit to Washington.
"It's not automatically U.S. forces, but that's U.S. diplomacy and that's your president," Macron said in an interview on Fox News conducted in France.
"We will have to build the new Syria afterward, and that's why I think the U.S. hold is very important," he said.
He warned against leaving a vacuum in Syria once the war with Daesh is over, adding that it will most likely be filled by Iran and Bashar al-Assad.
"Even after the end of the war against ISIS [Daesh], the U.S., France, our allies, all the countries of the region, even Russia and Turkey, will have a very important role to play in order to create this new Syria and ensure Syrian people to decide for the future.
"I will be very blunt. The day we will finish this war against ISIS, if we leave, definitely and totally, even from a political point of view, we will leave the floor to the Iranian regime, Bashar al-Assad and his guys, and they will prepare the new war. They will fuel the new terrorists."
Also commenting on his Russian counterpart, Macron said: "I do believe that we should never be weak with President [Vladmir] Putin. When you are weak, he uses it. And it's fine, that's a game. That's -- he made a lot of fake news. He has a very strong propaganda and he intervenes everywhere along."
Full report at:
http://www.worldbulletin.net/europe/201353/allies-to-play-key-role-in-creating-new-syria
--------
EU decries Israel killing Palestinian teen
21 April 2018
The European Union on Saturday urged an investigation of the killing of a Palestinian teen and called on Israel to stop using deadly force against peaceful Palestinian protestors.
"Yesterday Israeli soldiers again opened fire on protesters in Gaza using live ammunition from across the border fence killing four Palestinians, including a 15-year old and wounding more than 150," said EU spokeswoman Maja Kocijancic. "A full investigation is needed to understand what happened and why."
She added: "As we once again mourn the loss of lives, the EU calls on the Israel Defense Forces to refrain from using lethal force against unarmed protestors. As stated repeatedly, the priority now must be to avoid any further escalation of violence and loss of life."
Four Palestinians were killed by Israeli army gunfire on Friday amid ongoing rallies on the Gaza Strip's eastern border against Israel's decades-long occupation.
Since March 30, when the demonstrations began, 39 Palestinians have been killed and almost 4,000 others injured in Israeli attacks.
The border rallies in Gaza are part of a six-week-long protest set to culminate on May 15. That day will mark the 70th anniversary of Israel's establishment -- an event Palestinians refer to as "The Catastrophe."
Full report at:
http://www.worldbulletin.net/europe/201317/eu-decries-israel-killing-palestinian-teen
--------
Greek president rejects Erdogan's proposal for soldier swap
Apr 22, 2018
Greek president Prokopis Pavlopoulos has rejected a suggestion by his Turkish counterpart Recep Tayyip Erdogan about the possibility of a swap of soldiers between the two countries.
Pavlopoulos said on Sunday that his country will never bow to Ankara's request to hand over eight Turkish soldiers wanted over a suspected role in a failed coup attempt in return for Turkey's extradition of two jailed Greek soldiers.
"The exchange of the two Greek soldiers that are jailed with the eight Turkish soldiers that are in Greece is out of the question," Pavlopoulos said in reference to the two Greek soldiers who have been charged with espionage in Turkey after crossing over the border on March 2.
Erdogan said Saturday that Turkey will only extradite the soldiers if Greece extradited the Turkish soldiers whom Ankara designates as members of FETO, a movement led by US-based cleric Fethullah Gulen who is accused of masterminding the July 16, 2016 coup attempt.
"They (Greece) ask us to give back the Greek soldiers and we told them 'if you make such a demand, you should first give us FETO soldiers involved in a coup against our state'," Erdogan said, adding, "If they are handed to us, we will consider" the situation on Greek soldiers.
Turkey wants its eight servicemen who escaped the country following the coup to face prosecution at home. Greece's Supreme Court has ruled against the request and authorities in Athens insist Ankara has deliberately jailed the Greek soldiers to force the extradition of Turkish soldiers. Greek Prime Minister Alexis Tsipras called on Turkey earlier this month to stop using the jailed soldiers as "pawns to blackmail".
Greek Defense Minister, Panos Kammenos said on Saturday that Erdogan's comments about the swap proved there was a hostage situation.
Full report at:
http://www.presstv.com/Detail/2018/04/22/559348/Greece-Turkey-soldier-swap
--------
URL: https://www.newageislam.com/islamic-world-news/hrw-egypt-fight-daesh-threatens/d/115020
New Age Islam, Islam Online, Islamic Website, African Muslim News, Arab World News, South Asia News, Indian Muslim News, World Muslim News, Women in Islam, Islamic Feminism, Arab Women, Women In Arab, Islamophobia in America, Muslim Women in West, Islam Women and Feminism