New Age Islam News Bureau
16 Apr 2019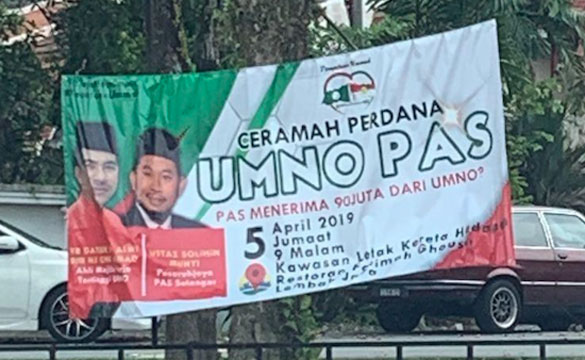 Last week's Umno-PAS public talk in Ampang. Picture by WFTV.LIVE
---------
•
How China Turned Kashgar, an Ancient Town In Northwest China, Into A Prison
• Can Pakatan Harapan Survive The Religious Onslaught From Islamists And Malay Nationalists?
• Our Hearts Are With Our French Brothers over Notre-Dame Fire: Grand Imam of Al-Azhar
• Russia Hedges Its Bets In Libya As Khalifa Haftar Pushes For Tripoli
• '10 Percent' Of Similarities Enough For World Peace, Says Muslim World League Chief
• Hasaka: US-Controlled Camp Turns into ISIL Headquarters
• US Officially Designates Iran's Revolutionary Guards A Terrorist Group
• 'Ilhan Omar Is Impacting Conversation of Politics In US'
• Sudan's Main Protest Group Calls for Civilian Transitional Council
Southeast Asia
• How China Turned Kashgar, an Ancient Town In Northwest China, Into A Prison
• Can Pakatan Harapan Survive The Religious Onslaught From Islamists And Malay Nationalists?
• Reaction to NZ attack improves interfaith trust
• Indonesia, Saudi Arabia Agree to Further Strengthen Ties
--------
Europe
• Our Hearts Are With Our French Brothers over Notre-Dame Fire: Grand Imam of Al-Azhar
• Russia Hedges Its Bets In Libya As Khalifa Haftar Pushes For Tripoli
• Shamima Begum Begins Legal Challenge For Citizenship
• Anti-Muslim Message Posted On Swedish Party's Twitter Account
• New Zealand PM Ardern's approval rating rises to highest since taking office
• Germany urges end to fighting in Libya
• Ex-European officials decry Trump's Palestine policy
• The orphans of ISIS: Innocent children forsaken in 'hellish' Syrian camps
--------
Arab World
• '10 Percent' Of Similarities Enough For World Peace, Says Muslim World League Chief
• Hasaka: US-Controlled Camp Turns into ISIL Headquarters
• Syria: Tahrir Al-Sham, White Helmets Readying to Launch Chemical Attack in Demilitarized Zone
• Syria: US Sends New Logistics Convoy for Kurds in Eastern Euphrates
• Senior MP: US Bribing Tribal Leaders in Western Iraq
--------
Mideast
• US Officially Designates Iran's Revolutionary Guards A Terrorist Group
• Some Arab rulers serving US, Zionists; waging war against Muslims: Leader
• Ex-European officials demand rejection of US 'deal of century'
• UN: Parties to Yemen war agree on Hudaydah pullout
• Israeli settlers attack Palestinian family in West Bank
• Yemeni government and Houthi militants 'accept' Hodeidah troop redeployment plan
--------
North America
• 'Ilhan Omar Is Impacting Conversation of Politics In US'
• Trump Calls Omar's Statements 'Anti-Semitic, Anti-Israel and Ungrateful'
• Trump 'deal of century' to forgo Palestine statehood: US paper
• US slaps sanctions on alleged new Daesh financiers
• US asks its citizens to reconsider travel plans to Pakistan due to terrorism
--------
Africa
• Sudan's Main Protest Group Calls for Civilian Transitional Council
• African Union Threatens To Suspend Sudan over Coup
• Sudan's military council appoints new army chief of staff
• 'Sudan's forces to remain in Yemen' despite Bashir ouster
• Sudan's new military rulers meet European diplomats
• 27 militants killed in northeast Nigeria
--------
South Asia
• High Council of Jihadi and National Parties boycotts Consultative Peace Jirga
• Consortium of ISIS and jihadists go into false propaganda against Bangladesh
• Former Afghan intelligence chief boycotts Consultative Peace Jirga
• Taliban's Red Unit militants suffer heavy casualties during a clash with ISIS-K militants
• 10 Taliban militants killed, 9 arrested in Kunduz and Badghis operations
• 10 militants killed in joint Afghan-coalition forces operation in Ghazni
--------
India
• Kartarpur Corridor: India, Pakistan to Hold Second Round of Talks Today
• Most J-K Jaish commanders' neutralised, new launch pads open across LoC
• Technology was on India's side in Balakot operation: IAF chief
--------
Pakistan
• Pakistan and KSA Are Tied With the Mutual Bond Of Islamic Believes And Values: NA Speaker
• Pakistan Watchdog Decries Forced Conversions, Curbs on Media
• Hazaras ask on fourth day of protest: where is Imran Khan
Compiled by New Age Islam News Bureau
URL: https://www.newageislam.com/islamic-world-news/how-china-turned-kashgar-ancient/d/118338
--------
How China Turned Kashgar, An Ancient Town In Northwest China, Into A Prison
Apr 15, 2019
Kashgar is an ancient town in northwest China. Hundreds of thousands of Uighurs and other Muslims from this region have been detained in camps, drawing international condemnation. But outside the camps, Uighurs live in a virtual cage.
China has built a vast net of controls that shows the Communist Party's vision of automated authoritarianism. Neighbors become informants.
Children are interrogated. Mosques are monitored.
We visited Kashgar several times to see what life is like. We couldn't interview residents — that would have been too risky for them, because we were constantly followed by the police. But the restrictions were everywhere.
Every 100 yards or so, police stand at checkpoints with guns, shields and clubs. Many are Uighurs. The surveillance couldn't work without them.
Muslim minorities line up, stone-faced, to swipe their official identity cards. At big checkpoints, they lift their chins while a machine takes their photos, and wait to be notified if they can go on.
The police sometimes take Uighurs' phones and check to make sure they have installed compulsory software that monitors calls and messages.
Xinjiang is in China's far west, but it feels more part of Central Asia. Ethnic minorities — including Uighurs, Kazakhs and Tajiks — outnumber the Han Chinese majority here. They are mostly Sunni Muslims with their own cultures and languages.
Every so often, a police officer in uniform stopped us, searched our phones for pictures and deleted any they said were sensitive.
Sometimes their choices made no sense. One officer erased a picture of a camel, though I was able to restore it. "In China there are no whys," he said.
For Uighurs, the surveillance is even more pervasive. Neighborhood monitors are assigned to watch over groups of families.
An army of millions of police and official monitors can question Uighurs and search their homes. They grade residents for reliability. A low grade brings more visits, maybe detention.
Dilnur fled Kashgar to Turkey three years ago and has lost touch with her family in Xinjiang. But she remembers the searches:
"They don't care if it's morning or night, they would come in every time they want."
Orphanages have been taking away the children of detainees. We don't know how many, but the government says that orphanages held 7,000 children across Kashgar alone last year.
Surveillance cameras are everywhere. In streets, doorways, shops, mosques. We counted 20 cameras on one stretch of street.
In one little shop, dozens of locals come every day to buy samsa, a baked pastry filled with mince. Here too, and in nearly every shop, cameras are watching.
The cameras and checkpoints suck up oceans of information about people. But who is viewing all these images?
Chinese companies are earning a fortune selling this surveillance technology. They make it sound like a sci-fi miracle allowing the police to track people with laser precision.
But spend time in Xinjiang and you see that the surveillance state acts more like a sledgehammer — sweeping, indiscriminate; as much about intimidation as monitoring.
The intimidation works. We visited one of the few mosques in the city that remain open, the famed Id Kah mosque. Only a few dozen men came for the main prayers on a Friday, the main Islamic day of worship. A few years ago, thousands of worshippers gathered.
At the mosque, worshippers register and go through a security check. Inside, they pray under surveillance cameras that the police can monitor.
Children are interrogated. "In the kindergarten, they would ask little children, 'Do your parents read the Quran?'" Dilnur told us.
"My daughter had a classmate who said, 'My mom teaches me the Quran.' The next day, they are gone."
The very architecture of Kashgar has been altered to make the city easier to control.
The Old City, a mazelike area of mud brick homes, has mostly been demolished. The government said it was for safety and sanitation. But the rebuilding has also created wider streets that are easier to monitor and patrol.
Some areas are still undergoing demolition and reconstruction.
The new brick homes seem more comfortable, but Uighurs mourn their old neighborhoods. Tourists wander the refurbished alleys, often unaware of the ancient lanes they replaced. But visitors are kept far from the indoctrination camps on the edge of town.
One piece of land in southern Kashgar was empty in August 2016. Today it is a re-education camp with a capacity of roughly 20,000 people. The government says it is a vocational training center. A recent satellite image shows the camp occupies more than 2 million square feet.
This camp is not the only one growing. Thirteen camps in Kashgar have all jumped in size, reaching more than 10 million square feet last year.
Tourists have been returning. But many Uighurs still live in corrosive fear. A careless comment, a vengeful neighbor, a frightened child — all could lead to questioning, searches, and maybe time in an indoctrination camp.
https://timesofindia.indiatimes.com/world/china/how-china-turned-a-city-into-a-prison/articleshow/68895336.cms?from=mdr
--------
Can Pakatan Harapan survive the religious onslaught from Islamists and Malay nationalists?
By Kazi Mahmood
April 16, 2019
It was religious duty of Islamists from Parti Islam Se-Malaysia (PAS) that enabled them to pardon Malaysia's United Malays National Organisation (Umno), the former political coalition majority component party. Since then, PAS has changed its "fatwa" or religious edict to anoint Umno as a Muslim, hence Islamic, party.
But, since PAS was once a party "'For All", it has linked up with the Malaysian Chinese Association (MCA) and the Malaysian Indian Congress (MIC) whom PAS now deems as "halal" political partners in its alliance with the Umno.
Here, we are not trying to examine the emergence of a postliberal halal politics in Malaysia. However, it is an exciting time for the Muslim majority country with the creation of a new alignment for a political Islam not seen before in the region.
There is no certainty if the current spectrum of political component parties that make up the opposition alliance will lead to a two-way fight pitting the liberal Pakatan Harapan (PH) government in power against a political offering that can be regarded as hardline Islamic.
But, what is certain is this: Malay Islamists joining forces with Malay nationalists is a curse for liberal forces in the country.
Prime Minister Mahathir Mohamad tweaked the PH alliance with a sizeable deal for the Malay-Muslim representatives. He imposed a cap on the Democratic Action Party's list of candidates, thus limiting its presence with a lower number of MP's than the Malay-led parties.
This, however, did not prevent a larger number of non-Muslims MP's winning under the PH banner and that has fueled PAS and Umno Malay leaders to stoke the fires in the Malay belt. They campaigned from day one of their May 2018 defeat with theories that the Mahathir-led PH government was one made up of mostly "kafirs" (unbelievers) and that the new PM is a pharaoh who leads a largely non-Muslim cabinet.
This perception took hold among disillusioned Umno supporters, who number in the millions, and the almost one million unhappy PAS members. Accepting defeat with a tint of joy, PAS elected 18 MP's and now controls two states at the expense of Umno.
These defeats tore Umno apart with a temporary loss of faith, only to get a magical helping hand from PAS. Not to forget PH insiders who are constantly working against each other for their own selfish interests.
Then came the spat between Mahathir and the crown prince of the state of Johor which borders Singapore. That may have added more fuel to the perceived diminishing Islamic or Malay rule in the country.
Augmenting that is the handling of the high profile 1MDB scandal by two powerful non-Malay figureheads, finance minister Lim Guan Eng who hails from the DAP and attorney general Tommy Thomas who was handpicked by Mahathir.
A significant number of Malays see Lim and Thomas as the main people pressing the charges against ex-PM Najib Razak. Why not a Malay to deal with the ex-PM and why not a Malay as Finance Minister, they ask?
With this argument, they mean to say the finances of the country should be in the hands of a Malay and the Attorney should not be a non-Muslim. That would probably mean leaving Najib alone on the kleptocracy charges, perhaps.
The dominant reason for the Umno-PAS alliance is to ensure the return of Najib Razak as a leader and absolving him of his alleged crimes, says Mahathir, whose assertion does not mean Umno-PAS supporters disagree with this alliance's principle is to work toward's getting Najib off the hook.
PAS does nothing without issuing fatwas, which party members consider as the word — deeply religious in meaning — from top leadership. The followers have to obey these edicts in a strict ritualistic sequence. Otherwise, the party would not be an Islamic party, would it?
Hence, helping Najib against the onslaught from supposed Chinese or non-Malay domination can become an act of faith.
Whether Najib is accused of stealing or leading a kleptocracy regime does not matter. What matters is the belief he is innocent until proven guilty and, more importantly, in the eyes of PAS leadership and members, that he is undeniably squeaky clean.
In this same line of thought, Umno-PAS voters believe they are saving the country from the ogre represented by DAP, which they believe to be a party that is destroying the Islamic identity of Malaysia.
In calling for this particular jihad, PAS has galvanised Muslims, in particular, to join forces and fight DAP which PAS presents as the puppet master of the apparatus of the government.
How will PH survive this attack on their legitimacy? The PH government is a multiracial one similar to the Barisan Nasional (BN)-UMNO one that governed Malaysia for 61 years. However, under BN-UMNO, it was generally accepted for the majority Malay- and Muslim-led government to partner with MIC, MCA and fellow component party Gerakan (Parti Gerakan Rakyat Malaysia) while it was "haram" (proscribed by Islam) for PAS to associate themselves with DAP.
However, elections after elections since 1999, PAS fought alongside DAP and was a component party of political coalition Pakatan Rakyat (PR) founded by Anwar Ibrahim (now considered Mahathir's successor). Then, in 2015, the Islamic party knifed PR in the back; some say PAS pulled out of PR when they received "donations" from Umno.
Yet, the unlikely Umno alliance with PAS has resulted in a triple victory against the PH government headed by Mahathir. Whether the governing coalition will survive religious onslaught against its reform agenda or not will depend on its next move.
Will there be a cabinet reshuffle soon to give way to Anwar Ibrahim to enter the cabinet after his grand return to parliament? Or, will there be a return to the affirmative-action policies that will checkmate the rise of Islamist sentiments alongside increasing Malay nationalism?/ TISG
http://theindependent.sg/can-pakatan-harapan-survive-the-religious-onslaught-from-islamists-and-malay-nationalists/
--------
Our hearts are with our French brothers over Notre-Dame fire: Grand Imam of Al-Azhar
April 16, 2019
DUBAI: Sheikh Ahmed Al-Tayeb, the Grand Imam of Al-Azhar, Egypt's leading Islamic institute, has expressed sadness over the fire that devastated large parts of the historic Notre-Dame cathedral in Paris.
"I feel so sorry for the massive fire at the historical architectural masterpiece 'Notre-Dame Cathedral' in Paris, our hearts go out to our brothers in France, they deserve our full support," in a tweet.
الأزهر الشريف
✔
@AlAzhar
Al-Azhar Grand Imam: I feel so sorry for the massive fire at the historical architectural masterpiece "Notre Dame Cathedral" in Paris, our hearts go out to our brothers in France, they deserve our full support.#NotreDame#Paris#France pic.twitter.com/CLNMR1KVTG
46
1:02 AM - Apr 16, 2019
Twitter Ads info and privacy
32 people are talking about this
Al-Tayeb also tweeted the same message in Arabic and French.
الأزهر الشريف
✔
@AlAzhar
فضيلة #الإمام_الأكبر أ.د/ أحمد #الطيب #شيخ_الأزهر الشريف: أشعر بالحزن تجاه حريق #كاتدرائية_نوتردام بباريس، هذه التحفة المعمارية التاريخية، قلوبنا مع إخواننا فى #فرنسا، لهم منا كل الدعم#NotreDame#Paris#باريس
196
12:55 AM - Apr 16, 2019
Twitter Ads info and privacy
153 people are talking about this
The fire is suspected to have started in the 850-year-old cathedral's attic, where restoration works are being done.
الأزهر الشريف
✔
@AlAzhar
Le Grand Imam d'Al-Azhar : j'exprime ma profonde tristesse à l'égard de l'incendie de la cathédrale de Notre-Dame de Paris, ce chef d'œuvre architectural... Tous nos soutiens à nos frères français.#NotreDame#Paris#France@EmmanuelMacron pic.twitter.com/dCPlrUQONu
60
1:08 AM - Apr 16, 2019
Twitter Ads info and privacy
35 people are talking about this
The French fire brigade have yet to officially confirm the cause of the massive blaze, which destroyed the famous tourist attraction's iconic spire and oak wood roof.
Firefighters managed finally to control of fire during the early hours of Tuesday.
The French President Emmanuel Macron, speaking from the scene, described the blaze as a "terrible tragedy" although the "worst had been avoided," and promised Parisians that they will "rebuild this cathedral together."
"Let's be proud, because we built this cathedral more than 800 years ago, we've built it and, throughout the centuries, let it grow and improved it. So, I solemnly say tonight: we will rebuild it together," Macron told reporters.
http://www.arabnews.com/node/1483221/world
--------
Russia hedges its bets in Libya as Khalifa Haftar pushes for Tripoli
April 15, 2019
After years of positioning itself as one of Khalifa Haftar's most loyal patrons, the Kremlin appears to be putting the brakes on its overt support the Libyan commander.
Just days after Gen Haftar, whose Libyan National army controls the east and south of the country, launched an operation to capture the capital Tripoli, Russian officials telephoned the field marshal to remind him that only a political solution could end fighting in the North African nation.
The Kremlin appeared eager distance itself from Gen Haftar in the eyes of the international community, too. President Vladimir Putin's spokesperson called on both sides to avoid bloodshed, adding that "Moscow is not participating in this in any way."
Now that rivalry between his eastern government based in Tobruk and the internationally recognised Government of National Accord (GNA) in Tripoli is coming to a head, analysts say that the Kremlin is hedging its bets.
"The endgame for Russia is to stay in the game and remain a pivotal player in any settlement to enjoy the economic and security spoils," says Vladimir Frolov, a Russian political analyst.
Ultimately, the Kremlin wants to "gain leverage with Europe and to use this leverage for gaining concessions from the EU on things more central to Russia's interests," like lifting Ukraine sanctions, Mr Frolov told The National.
The goal for Russia is to be an essential mediator, according to Max Suchkov, a Middle East expert at the Russian International Affairs Council, a Kremlin-sponsored think tank. "In all of this, Moscow will stick to the golden rule of Russian diplomacy: Position yourself in a way that makes you the go-to for all the parties regardless of your own engagement with each of them," he wrote in a recent column.
Since the dictator Muammar Gaddafi was overthrown in 2011 after more than 40 years ruling Libya, the rival governments and assorted Islamist militants have battled for control of the oil-rich.
Gen Haftar's fight to take the capital, launched earlier this month to the surprise of western diplomats, flared on Sunday when an eastern Libyan warplane crashed in southern Tripoli during a renewed push for the capital.
The assault on the capital would represent the culmination of Gen Haftar's consolidation of power in Libya, which he has done under the aegis of defeating terrorism.
Once close to Gaddafi, Gen Haftar fell out with the Libyan leader after being captured by Chadian forces in 1987. He then devoted the next two decades to toppling his former boss.
Gen Hafter returned from exile in the US in 2011, and soon gained both military and political stature as he solidified his hold over the east and much of the country's oil infrastructure, while attracting the support of the UAE, Egypt and Saudi Arabia, alongside Russia.
The most theatrical display of Moscow's support for Gen Haftar came in 2017. As Russia's flagship piece of military hardware, the Admiral Kuznetsov aircraft carrier, was departing Syria, officials gave a tour to Gen Haftar before he spoke to Russia's Defence Minister Sergei Shoigu via video link about fighting international terrorism.
But the Kremlin has also offered hands-on assistance. To the dismay of western diplomats and officials in the Tripoli government, Russia has printed banknotes for the Tobruk government.
And although the Kremlin has stopped short of intervening militarily on behalf of Gen Haftar, his regular visits with defence and foreign ministry officials in Moscow have raised eyebrows. In November, he was seen at a meeting in the Russian capital alongside Yevgeny Prigozhin, the Kremlin-connected businessman alleged to run a private military company whose fighters are reported to be deployed in eastern Libya.
But Russia analysts are keen to point out that Russia hasn't put all its eggs in one basket in Libya. Fayez Al Serraj, the prime minister of the GNA is also a regular in Moscow, and in 2016 Russia's state-run oil giant Rosneft signed a deal to buy oil from Libya's National Oil Corporation in Tripoli.
Whether the Kremlin's investment in Gen Haftar pays off remains to be seen but Moscow is positioned to seek out the next best actor if the commander's star wanes, says Leonid Bershidsky, a Russian political columnist.
"If Haftar fails to win control of Tripoli," he wrote in Bloomberg recently, "and his hold on much of Libya's natural wealth weakens as a consequence, the Kremlin will be actively seeking others to empower so it can get back into the country's oil and gas sector and seek opportunities for a naval presence."
One potential alternative the Kremlin has considered is Qaddafi's son Saif, with whom Russian officials have deepened ties, in case he should emerge as a unifying figure.
For the time being, Moscow is watching Libya with caution.
"Moscow backs Haftar in his latest offensive only rhetorically only for reasons of not spoiling relations with him were he to come up on top," Mr Frolov said. The Kremlin is holding back on tangible support, he said, "so as to leave open the channels of communications and influence with the government in Tripoli."
https://www.thenational.ae/world/mena/russia-hedges-its-bets-in-libya-as-khalifa-haftar-pushes-for-tripoli-1.849372
--------
'10 percent' of similarities enough for world peace, says Muslim World League chief
April 15, 2019
KAZAN, Tatarstan: People need to cooperate on the 10 percent of things they have in common to achieve world peace, the Saudi Press Agency quoted the head of the Muslim World League (MWL) as saying on Monday.
The body's secretary-general, Dr. Mohammed bin Abdul Karim Al-Issa, was giving a lecture in the southwestern Russia city of Kazan.
He said cultural communication was important and so were conversations about religious and national diversity, especially in countries where there were different faiths and ethnicities.
"Mankind has no other option to achieve harmony and peace but to fully understand the inevitability of differences and diversity, and then cooperate through similarities, of which 10 percent is enough — we believe — to achieve world peace inside countries and between them."
He was at Kazan Federal University, in the Republic of Tatarstan, and his audience included faculty members and students.
The university employs 11,000 people, 4,000 of whom are academics. It has 47,000 students and one-third of them are from Muslim countries.
The university has a center for Islamic studies, which seeks to promote Islamic culture and train scholars. The center also has 13,000 manuscripts, 5,000 of which are in Arabic.
Al-Issa said the MWL endeavored to promote the true version of Islam and counter extremist ideologies falsely attributed to Islam, as well as other forms of extremism, especially the concepts of the extreme right in Western countries.
"The MWL also aims to extend bridges of communication and dialogue to followers of other religions and cultures, to partner with them and provide initiatives that serve common goals, in addition to extending bridges of support to everyone, regardless of religion, race or color. Even though Muslims are proud of their religious affiliation, they know that this does not conflict with their national identity.
"In fact, Muslims know that this national affiliation, which seeks good for all, is a key element for achieving harmony between their religious and national identities and that extremist ideas contradict these just concepts."
Last week, he and the grand mufti of Tatarstan signed an agreement to cooperate in the dissemination of moderate Islam and its principles of tolerance and coexistence.
Last month, Moscow and the Muslim World League moved to develop closer ties, following a meeting between Al-Issa and Russia's Parliament Speaker Vyacheslav Volodin.
Al-Issa signed a cooperation agreement between the MWL and Moscow's Fund for Islamic Culture, Science and Education. The agreement focused on tackling extremism and promoting tolerance.
It also addressed the interaction between Muslims and Islamic organizations in Russia and Muslim-majority countries.
http://www.arabnews.com/node/1483061/saudi-arabia
--------
Hasaka: US-Controlled Camp Turns into ISIL Headquarters
Apr 15, 2019
"The ISIL terrorists and commanders have turned the SDF-controlled al-Hawl Camp as a venue for holding their meetings and coordinating their movements," the Arabic-language service of Russia Today quoted an Iraqi intelligence source as saying.
It noted that 90 percent of the residents of al-Hawl Camp are families of the ISIL terrorists, and said, "The ISIL terrorists and commanders who are using the camp are still supported by the terrorist organization."
In a relevant development on Thursday, media reports said that the situation of al-Hawl refugee camp has deteriorated, making the death toll of children to considerably increase everyday, media reports said.
At least 82 children have died in al-Hawl refugee camp over the past 20 days due to the worsening of hygienic and healthcare conditions as well as shortage of medicine and foodstuff, the Arabic-language media sources reported.
The sources said that over 240 children have died in al-Hawl Camp since the beginning of 2019.
Earlier, the London-based Syrian Observatory of Human Rights (SOHR) reported that over 73,000 people are living in critical conditions.
In a relevant development earlier this week, Head of the Russian reconciliation center in Syria, Major General Viktor Kupchishin said that between 10 and 20 people, many of them children, die each day in al-Hawl refugee camp.
"According to a female refugee, who managed to flee the Al-Hawl camp on the territory controlled by the US-led coalition, the humanitarian situation in the camp is catastrophic. Between 10 and 20 people die each day, including children," he stated.
"In the past week, due to the lack of medicines, food and unbearable living conditions, seven children died in the camp. The overall number of children, who died in the Al Hawl camp, has risen to 235," he added.
Kupchishin urged international organizations to take measures and alleviate the suffering of people in the camp, one of the biggest in Syrian regions East of the Euphrates river.
Kupchishin pointed out that in order to prevent a humanitarian catastrophe, the Syrian government had provided security guarantees to refugees leaving the US-controlled Tanf zone and set up the Jleb mobile checkpoint. Bus convoys have been sent there to take refugees to their places of permanent residence.
"The Syrian government offers security guarantees to temporarily displaced persons and a simplified procedure to restore their identity documents. Temporary shelters have been prepared," he said.
http://en.farsnews.com/newstext.aspx?nn=13980126000671
--------
US officially designates Iran's Revolutionary Guards a terrorist group
15 April 2019
The United States officially designated Iran's Islamic Revolutionary Guard Corps as a foreign terrorist organization, according to a notice published in the US Federal Register on Monday.
US President Donald Trump said last week he would make the symbolic but unprecedented move, which immediately was condemned by Iran and created concerns about reprisal attacks on US forces.
The IRGC is in charge of Iran's ballistic missile and nuclear programs.
It also is involved with the country's banking and shipping industries.
The new designation makes it easier to prosecute companies or people in the European Union that do business with Iran.
US law already punishes US persons who deal with the IRGC with up to 20 years in prison because of the group's designation under the United States Specially Designated Global Terrorist list, a different US sanctions program.
Last Minday, Iran warned that Washington's designation of its IRGC as a terrorist organization could endanger peace and stability in the Middle East and beyond, state TV reported.
Tehran also took retaliatory action by naming the United States Central Command (CENTCOM) as a terrorist organization and the US government as a sponsor of terror.
https://english.alarabiya.net/en/News/middle-east/2019/04/15/US-officially-designates-Iran-s-Revolutionary-Guards-a-terrorist-group.html
--------
'Ilhan Omar is impacting conversation of politics in US'
Riyaz ul Khaliq
15.04.2019
Ilhan Omar, a Democratic member of U.S. Congress, is victim of "fabricated controversies" but it has galvanized support for her, believes an American activist and a friend of Omar.
Speaking to Anadolu Agency Sunday on the sidelines of an Islamophobia conference at Istanbul Sabahattin Zaim University, Ahmed Bedier, leader of United Voices of America, said that it was "very dangerous and irresponsible" for the U.S. President Donald Trump to spread misinformation about Congresswoman Omar.
"It is rare that a president would tweet and talk about a fresh member of the Congress. It is made up of 435 members. There are many of them who represent the country and not all of them get the attention of the U.S. president. He normally deals with the leadership not fresh members," Bedier, who was a speaker at the Islamophobia conference, said.
On Friday, Trump tweeted "WE WILL NEVER FORGET!" with a 43-second edited video that featured Omar's remarks at an address to the Council of American-Islamic Relations (CAIR) last month, the country's largest Muslim advocacy organization.
In her address, Omar had said the CAIR "was founded after 9/11 because they recognized that some people did something, and that all of us were starting to lose access to our civil liberties."
"It sends the message Omar is an important figure; she is having an impact on the conversation of politics in Washington and it also is a message that he [Trump] feels threatened by her, or by her politics and existence," Bedier asserted.
"If we look at her mere existence, what she represents is everything Trump has been speaking out against -- immigration, Omar is a migrant. She is a refugee; she comes from Somalia. She is half Yemeni and both countries are among Muslim countries on the [travel] ban list," he explained.
The immigration restriction is the Trump administration's third, and affects people from Iran, Libya, North Korea, Somalia, Syria, Venezuela, and Yemen. Chad was dropped from the list of affected countries.
The latest version of the travel ban blocks people from seven countries -- five of which are Muslim-majority -- from U.S. entry. It bars immigration from, Iran, Libya, Somalia, Syria and Yemen as well as North Korea and Venezuela.
Moreover, Omar is a Muslim who wears scarf, Bedier said. "So many of the things Trump has been speaking against, and he had campaigned for the office [of the president]."
"Omar's coming in Congress is a big blow to Donald Trump. She did not come before Trump but she became [Congress member] because of Trump," he observed.
She is also a member of appropriation and foreign policy committees at the U.S. Congress.
The United Voices of America leader said that Omar has a "serious agenda". "She is not in Washington to play and that agenda is rooted in her experience."
"It is one of the few times when you have a member in Congress especially on the powerful committee on Foreign Relations, perhaps [Omar is] the first one that has experienced American foreign policy directly, the bad side of it; how it impacts, displaces people, creates refugees …" he added.
"There are fabricated controversies; their aim is to hurt her reputation, misrepresent her words and meanwhile to reduce her reputation and put pressure on Democratic leadership to kick her out of the important committees," he said.
"But fortunately these forces will not succeed because Omar derives her legitimacy and support directly from the people and from grassroots using social media for them, through which she is able to bypass media which has been hostile to her," Bedier explained.
Also speaking on a pro-Israel gathering of AIPAC, Bedier said that almost all speakers spoke against Omar. "It has increased her popularity; when Donald Trump attacks her, those who do not know Omar come to know about this woman which has helped galvanize support for her."
Dalia Fahmy, a political sciences professor, from Long Island University, New York, said that attacks on Omar come from two places.
"First that she is a Muslim woman and [second] she is a black Muslim woman," said Fahmy who addressed the rise of the alternative right and the mainstreaming of anti-Muslim sentiment in the U.S. during the Islamophobia conference.
"She is in a position of power and from that position she is asking some critical questions. She is challenging the dominant paradigm of young people entering politics and remaining quiet," Fahmy said about Omar.
However, she said, "When the president [Trump] tweets that we will not forget, her [Omar's] statements were taken out of context -- that she supports 9/11… This could perpetually lead to violence against herself."
"The latent threat of violence against a Congresswoman by other members in the U.S. is a different paradigm something which we have seen in America before. And yet there is silence," the American academic wondered.
"Omar also faced foreign threats for example from Saudi Arabian papers and media in the United Arab Emirates because she has questioned them … For example, the assassination of Jamal Khashoggi calls for investigations which goes against the interests of Saudi Arabia and newspapers started a narrative that she is a threat," the academic explained.
A circle of Congress members need to come around in support of Omar, according to Fahmy. "Not just Muslims but average Americans should push their representatives to support her."
"What we need is a coalition of Congress people to answer the constituents who colonize the language of Omar," she added.
Fahmy also said that the international rules and values apply to everyone and that "we give individuals right to advocate how they see U.S. interests and not see it as a threat to status quo".
"Omar is basically advocating the U.S. interests and it is not perceived as such because it is not in line with what other people have historically been saying," Fahmy added.
It has just been three months that Omar is in office. "Let's hope that the door for young women [in politics] is not closed after this moment," she said.
"It is a watershed moment that young women coming in Congress and asking critical questions."
https://www.aa.com.tr/en/americas/-ilhan-omar-is-impacting-conversation-of-politics-in-us-/1452633
--------
Sudan's main protest group calls for civilian transitional council
16 April 2019
The Sudanese group that led protests against deposed President Omar al-Bashir called on Monday for the transitional military council that has taken power to be disbanded and for a new interim civilian ruling council to be formed.
Representatives of the Sudanese Professionals' Association (SPA) piled pressure on the military commanders who have taken over, issuing a long list of demands for deeper and faster change to end repression and a ruinous economic crisis.
If their demands were not met, the group would press on with protests and not join a future transitional government, Ahmed al-Rabie, an SPA member, told Reuters.
The SPA held its first news conference since Bashir, who ruled with an autocratic hand since seizing power in a coup 30 years ago, was ousted by the military on Thursday following months of street demonstrations.
A new interim civilian body should be given full executive powers, with the armed forces having representation, and the Transitional Military Council (TMC) that took over last week should be dissolved, the SPA said.
"If our demand for the formation of a civilian transitional council with military representation is not met, we will not be part of the executive authority, the cabinet, and we will continue the mass escalation and the sit-ins to fulfil our demands," Rabie told Reuters.
In a communique on Monday, the African Union's Peace and Security Council called for Sudan's military to transfer power to a "transitional civilian-led political authority" within 15 days or face suspension from the AU.
Lieutenant General Jalal al-Deen al-Sheikh, a member of the TMC, met Ethiopia's prime minister in Addis Ababa, where the AU is based, and said, "We are already in the process of choosing a prime minister" for a civilian government, according to the Sudanese state news agency SUNA.
"So we are initiating this even before having this session with the African Union. This is our conviction and this is also the way forward to peace, but also, we respect it and we are committed to the decision of the Peace and Security Council."
Protesters deflect bid to end sit-in
The SPA issued its demands hours after protesters blocked an attempt to break up a sit-in outside the Defense Ministry that has continued despite Bashir's exit, a Reuters witness said.
Troops had gathered on three sides of the sit-in and tractors were preparing to remove stone and metal barriers, but protesters joined hands and formed rings around the sit-in area to prevent them.
Some of the most prominent SPA leaders, most of whom are in their 20s and 30s and were detained until after Bashir's ouster, spoke at the news conference.
SPA representatives also renewed calls for the head of the judiciary and his deputies and public prosecutor to be removed.
They demanded the dissolution of Bashir's National Congress Party and said they received affirmation from the TMC that the party will not participate in a transitional government.
The SPA also called for the seizure of the party's assets and the arrest of its prominent figures.
It demanded the dissolution of paramilitary groups that were loyal to the old government, and of the National Intelligence and Security Service's (NISS) operations authority, and called for an end to Sudan's press law and the public order law, which the SPA has said restricts freedoms.
On Saturday, Salah Abdallah Mohamed Saleh, better known as Salah Gosh, resigned as head of NISS. He was once seen as the most powerful person in the country after Bashir and protesters held him responsible for the killing of demonstrators demanding an end to military rule.
"For us in the SPA, in the first stage, the transitional government stage, we will play a role in the restoration of the civil service and state institutions and establishing a democratic state," said Gamaria Omar, an SPA member.
"Afterwards, the SPA will be comprised of unions, and will be a guardian of democracy in Sudan," she added.
Outside the Defense Ministry on Monday, the protesters, numbering about 5,000 in the morning with more arriving, chanted "Freedom, freedom" and "Revolution, revolution," and appealed to the army to protect them.
Some drummed and waved national flags as they mingled in the street, while others took shelter from the sun under parasols and makeshift tents.
The protest outside the compound, which also includes the intelligence headquarters and the presidential residence, began on April 6, after more than three months of protests triggered by a deepening economic crisis.
On Monday the military council said it was restructuring the joint forces command, appointing a new chief of staff for the army and a deputy.
Britain's ambassador to Sudan, Irfan Siddiq, said he had met the deputy head of the transitional military council, Mohamed Hamdan Dagalo, and had "asked for clarity on whereabouts of former President Bashir and other senior former regime figures."
When the military announced Bashir's ousting, they said he had been arrested and was being kept at a "safe place".
Sudanese sources told Reuters that Bashir was at a presidential residence under "heavy guard."
https://english.alarabiya.net/en/News/middle-east/2019/04/16/Sudan-s-main-protest-group-calls-for-civilian-transitional-council.html
--------
Southeast Asia
Reaction to NZ attack improves interfaith trust
April 16 2019
The mosque shootings in Christchurch, New Zealand, last month could have set off a wave of retaliatory incidents around the world, but an empathetic response from the government and people of New Zealand was key in helping boost global solidarity with Muslims.New Zealand Prime Minister Jacinda Ardern's stance proved pivotal in the aftermath of the massacre, in which a lone gunman killed 50 Muslim worshippers at two mosques on March 15.Part of the bloodbath was even live-streamed by the Australian white supremacist perpetrator, who has since been arrested.The attacks sparked anger among Muslims globally, but Ardern's decision to immediately describe the incident as a terror attack — a move rarely made by leaders in the West — effectively eased tensions, said Nasaruddin Umar, the grand imam of Istiqlal Mosque in Jakarta.On top of that, the majority of the population condemned the a...
https://www.thejakartapost.com/news/2019/04/16/reaction-nz-attack-improves-interfaith-trust.html
--------
Indonesia, Saudi Arabia Agree to Further Strengthen Ties
APRIL 15, 2019
Jakarta. President Joko "Jokowi" Widodo and King Salman bin Abdulaziz Al Saud have agreed during a bilateral meeting in Riyadh on Sunday to further strengthen economic ties between Indonesia and Saudi Arabia.
"President Jokowi and King Salman agreed to increase economic cooperation in the future, especially in the energy and tourism sectors," Indonesian Foreign Minister Retno Marsudi said after the meeting.
The Saudi government has also agreed to raise Indonesia's annual hajj quota by 10,000 to 231,000 pilgrims.
Ace Hasan Syadzily, deputy chairman of House of Representatives Commission VIII, which oversees religious affairs, said Indonesians currently spend up to 18 years on average on a waiting list to perform the hajj pilgrimage.
"The additional hajj quota will reduce the waiting list for Indonesian pilgrims. In South Sulawesi, the waiting list is up to 40 years," Ace said in a statement on Monday.
He added that the increased quota would not have been granted if Indonesia did not have close ties with Saudi Arabia.
Jokowi also met with Saudi Foreign Minister Adel al-Jubeir to discuss cooperation on counterterrorism and spreading a more moderate brand of Islam.
They also discussed ways the two countries can work together to support the Palestinian cause.
Full report at:
https://jakartaglobe.id/context/indonesia-saudi-arabia-agree-to-further-strengthen-ties
--------
Europe
Shamima Begum begins legal challenge for citizenship
April 15, 2019
The teenage ISIS recruit who left east London to join the terror group in 2015, has sought to reverse the decision to strip her of British citizenship through a request submitted by her family members in the UK.
The teenager was reportedly more heavily involved in ISIS than previously thought including sewing ISIS fighters into suicide vests so they could not be removed before detonation.
Ms Begum has said she was "just a housewife" during her time in Raqqa.
Jeremy Hunt, the British Foreign Secretary, said the east London schoolgirl knew what she was signing up to when she left her home, adding the decision to fund the appeal from the taxpayer was a matter of regret.
"On a personal level, it makes me very uncomfortable because she made a series of choices and she knew the choices she was making, so I think we made decisions about her future based on those choices," he said on Monday.
Accounts from activist group Sound and Picture differ wildly from Ms Begum's version of events. They say she, along with the two other girls who left Bethnal Green to join ISIS, Amira Abase and Kadiza Sultana, were part of the Khansaa Battalion, a female-only police service.
Ms Begum also used her position to try and influence other young women to join the extremist group, according to messages recovered by the group. Using the pseudonyms "Umm Asma" then "Umm Ahmed," she spoke to girls across Europe, it is alleged.
"Don't believe any of the bad things you hear about Dawla, it's fake. You have everything you want here," one of the messages read.
"And we can help find you a good-looking husband."
The legal aid agency, which decides who is eligible for cash towards their legal fight, provides support to people involved in a "serious matter" without the means to pay for a lawyer. Ms Begum qualifies as, living in a refugee camp, she does not have money to pay for legal representation.
Banned from the UK, Ms Begum was previously represented by Tasnime Akunjee, who confirmed the granting of legal aid, but added her case has been taken up by human rights solicitor Gareth Peirce, who represented former Guantanamo Bay detainee Moazzam Begg and Abu Qatada, who was deported to Jordan after a long legal battle. Mr Akungee told The Telegraph the case had been handed over to Ms Peirce because she had the "legal aid contract to do the work".
Ms Peirce is assisting in the case of Julian Assange in his legal battle against extradition to the US.
Family friend and former police superintendent Dal Babu said Ms Begum was groomed and authorities failed to act.
"The police were aware of this, counter-terrorism police were aware of this, the school she was at were aware of it and the social workers at Tower Hamlets council… despite all of that, they did not share the information with the family," he told BBC Radio's Today programme.
Mr Babu said Ms Begum's case could set a precedent for others held in refugee camps – not only fighters and their wives, but children born to them or taken over to Iraq and Syria by their parents.
Ms Begum left the UK in 2015 at the age of 15 to join the extremist group. She was one of three schoolgirls who left for the now-retaken enclave in Syria and Iraq. The other two are feared dead.
A home office spokesman said it did not comment on individual cases, but decisions to revoke a national's citizenship "are based on all available evidence and not taken lightly".
https://www.thenational.ae/world/europe/shamima-begum-begins-legal-challenge-for-citizenship-1.849236
--------
Anti-Muslim message posted on Swedish party's Twitter account
15.04.2019
A racist message urging followers to like the post for a "dead Muslim" was posted from Sweden's ruling Social Democratic Party's Twitter account, which got hacked on Monday, a statement by the party said.
A shocking message reading "One like = one dead Muslim" was posted from the ruling party's account, which was hacked at 2.00 a.m. local time (0000GMT).
The party took a hold of the control of the account at 9:30 a.m. local time (0700GMT), the statement said.
The hackers also wrote that Swedish Prime Minister Stefan Lofven has resigned and joined the army as a lieutenant.
In addition, a message reading "sale of drugs is free" was also posted by hackers.
Full report at:
https://www.dailysabah.com/islamophobia/2019/04/15/anti-muslim-message-posted-on-swedish-partys-twitter-account
--------
New Zealand PM Ardern's approval rating rises to highest since taking office
April 15, 2019
WELLINGTON: New Zealand Prime Minister Jacinda Ardern, who was praised at home and abroad for her handling of the Christchurch mosques shooting last month, received her highest approval rating since taking office in a widely watched poll on Monday.
The 1 NEWS Colmar Brunton political survey showed 51 percent of respondents said Ardern was their preferred prime minister, climbing seven percentage points from the last poll in February.
Its the first political survey since a lone gunman killed 50 Muslim worshippers at two mosques in Christchurch on March 15.
Ratings for Ardern's rival, opposition National Party leader Simon Bridges, dropped one percentage point to five percent.
Party vote results also showed Ardern's Labour Party rising three percentage points to 48 percent while the National's rating dropping to its lowest since September 2017, at 40 percent.
"All I know is that I'm doing my job to the best of my ability," Ardern told 1News when asked about the poll result.
Since coming to power in 2017, Ardern's coalition government has faced several challenges including weak business confidence, emboldened unions and a slowing economy. Her youth and global celebrity has also given critics doubt.
But the 38-year-old leader struck all the right notes in the hours after the Christchurch attack.
Ardern promptly labelled the mass killing as terrorism, and set about reassuring a nation that has been largely unscathed by the violence and fears that have afflicted other countries in the past two decades.
Picture of Ardern's wearing a head scarf and comforting families affected by the massacre went viral on the social media, and garnered praises from Muslims around the world, as well as leaders of other nations.
She also successfully passed a contentious gun law within a month of the shooting, which banned semi-autmatic weapons.
Ardern burst into prominence after her coalition ended 10 years of National Party's center right rule, promising more money for social services and by vowing to tighten foreign investment rules.
She rocketed to global celebrity as an inspiration for women after the unexpected election win, and she became only the second leader to give birth while in office since Pakistan's Benazir Bhutto.
Full report at:
http://www.arabnews.com/node/1483206/world
--------
Germany urges end to fighting in Libya
Ayhan Şimşek
15.04.2019
BERLIN
German Chancellor Angela Merkel has urged conflict parties in Libya to end fighting and return to peace negotiations, her office said on Monday.
Merkel has spoken with Egyptian President Abdel-Fattah al-Sisi in a telephone call that focused on recent developments in Libya and Sudan, her spokesman Steffen Seibert said.
"The Chancellor has expressed concern over the current military escalation in Libya," he said, referring to the military offensive of Khalifa Haftar, who commands forces loyal to East Libya-based government, to capture capital Tripoli.
"The Chancellor has called for a return to negotiations and to the UN-led political process as quickly possible," he said.
Egyptian President al-Sisi held talks with commander Haftar in Cairo on Sunday.
Seibert said, during Merkel's phone call with al-Sisi, the leaders have also discussed the Sudan crisis, and the German Chancellor has underlined the importance of a quick transition to civilian rule in the country.
Full report at:
https://www.aa.com.tr/en/europe/germany-urges-end-to-fighting-in-libya/1453141
--------
Ex-European officials decry Trump's Palestine policy
Ahmet Gurhan Kartal
15.04.2019
LONDON
A letter by former European politicians condemned the U.S. President Donald Trump's one-sided policy in Israel-Palestine conflict.
Signed by two former NATO secretary-generals, six former prime ministers, and 25 former ministers, the letter called on Europe to reject any American peace plan if it is not fair for Palestinians.
"It is time for Europe to stand by our principled parameters for peace in Israel-Palestine," read the letter -- sent to the EU and European governments as well as British newspaper The Guardian -- calling for a two-state solution in the conflict.
"Europe should reject any plan that does not create a Palestinian state alongside Israel with Jerusalem as the capital for both countries," the letter said, according to the newspaper, which revealed the letter in an exclusive piece.
"Unfortunately, the current U.S. administration has departed from longstanding U.S. policy," the letter said and criticized Trump's recognition of "only one side's claims to Jerusalem."
The letter said the U.S. also "demonstrated a disturbing indifference to Israeli settlement expansion" in the occupied West Bank and cut hundreds of millions of dollars in aid to Palestinians, "gambling with the security and stability of various countries located at Europe's doorstep."
Former prime ministers of France, Sweden, Poland, Italy, Belgium and Romania, Jean Marc Ayrault, Carl Bildt, Wlodzimierz Cimoszewicz, Massimo D'Alema, Guy Verhofstadt, and Dacian Ciolos, respectively, are among the signatories of the letter.
Former NATO secretary generals Willy Claes and Javier Solana, as well as former Irish President Mary Robinson and former U.K. Foreign Secretaries David Miliband and Jack Straw also signed the letter.
Full report at:
https://www.aa.com.tr/en/europe/ex-european-officials-decry-trump-s-palestine-policy/1452566
--------
The orphans of ISIS: Innocent children forsaken in 'hellish' Syrian camps
April 16, 2019
The boy walked in worn out men's trainers many sizes too large and stood apart as the fighters searched the cluster of women and children being evacuated from the last ISIS-held territory in Syria on a frigid March winter day.
The fighters were from the Syrian Democratic Forces (SDF), the US-backed group that until last month was battling the last ISIS fighters holding territory in the Euphrates River valley. The boy was from Aleppo, but like more than 60,000 ISIS supporters and their children hailing from over 40 countries, he had ended up in Baghouz. The farming hamlet near the Iraqi border is where the extremist group had chosen to make its last stand.
The boy spotted a pile of meals the SDF fighters had discarded some time in the past month that they had been screening evacuees in this desolate desert area. He picked up an egg, peeled it and ate it, then he picked up two more and ate them too. Then he opened a plastic styrofoam container and scooped grey mashed potatoes into his mouth. Finally satiated, the boy turned away from the fighters searching the niqab-clad women for weapons, explosives and cellphones, and stared across the windswept plain.
A young SDF fighter saw the boy standing alone and spoke to him in Arabic. The boy told the fighter his name is Mohamed and his age is 12 years old, though he looked younger. His parents were dead, he said. He didn't know if he had any relatives.
"Your jacket is very big," the fighter said.
"It is a little big," he agreed, pulling it tighter around his frail frame.
The fighter gave him a bag of bread and told him: "After an hour we will take you away from here."
In the weeks since the the SDF declared military victory over ISIS, Syrian Kurdish forces and international NGOs have been struggling to deal with the huge number of people who fled from Baghouz. Among this unpopular and unloved cohort, unaccompanied children like Mohamed are the most vulnerable, most in need of support, and entirely innocent of the sins of their parents. The Syrian Kurds say they are unable to take care of them alone and few countries are rushing to their assistance.
After its rapid expansion across Iraq and Syria in 2014, the caliphate declared by ISIS leader Abu Bakr Al Baghdadi came under a sustained assault from a global coalition. Driven out of Iraq in 2017 and restricted to the Euphrates River valley in eastern Syria by late 2018, civilians under ISIS were forced into an extended retreat that left the dregs of the group surrounded in Baghouz this winter.
When they finally fled the final redoubt, those identified as civilians – nearly all women and children – were taken in trucks to Al Hol, a squalid tent city 200 kilometres to the north. The women arrived with only what they could carry, the children clothed in castoff garments.
Kurdish authorities denied The National permission to visit the overcrowded camp recently, but aid agencies report that conditions are dire, particularly for children who have been living in deprivation for so long.
At least 100 children have died either en route to Al Hol, or shortly after arriving there, according to the International Rescue Committee. Most of those who died suffered from treatable ailments, including pneumonia and hypothermia. Nearly a third of children screened by Save the Children were suffering from acute malnutrition, the aid organisation said.
The nearest hospital is two hours away by rutted roads and is so crowded that it only accepts the most severe cases. Photos from the facility show grubby infants with bulging eyes lying in rows of cots in crowded wards. Staff say most are infested with lice and scabies and many are wounded from bombings. Others are traumatised and mute.
The nationalities of some are unknown. Others have, or are entitled to, foreign citizenship.
At least 3,704 foreign-born children were taken into ISIS territory, according to the International Centre for the Study of Radicalisation at King's College London. Many more were born under the caliphate and their births were never officially registered. An unknown number were killed in the fighting.
In a chaotic environment where Kurdish forces and international NGOs have found themselves stretched to their limits, even getting an accurate count of the children is difficult. Few children have identification papers, meaning aid agencies are reliant on what people in the camp tell them. "You can never tell if the information given to us is actually factual or not," said Sara Al Zawqari, spokesperson for the International Committee of the Red Cross (ICRC) who visited Al Hol recently.
There are at least 6,972 foreign children at Al Hol camp, according to Save the Children. Of those, 3,397 are under five years old. They represent more than 40 nationalities, not including Iraqis, who the organisation counted separately. Among them are 355 unaccompanied children.
So far, western governments have been slow to repatriate their children or refused their return outright.
Germany has repatriated fewer than 10 children, the country's foreign ministry said on April 5. Last month, France repatriated five orphaned children, and is dealing with other returns on a case-by-case basis.
The British government insists that the camps where children are held are too dangerous to reach. But the ICRC says it is willing to help repatriate children if it receives an official request.
Australian Prime Minister Scott Morrison said last month that he would not send officials to help repatriate three orphaned Australian children. "I'm not going to put one Australian life at risk to try and extract people from these dangerous situations," Mr Morrison told reporters.
Last month, the Danish government announced that it will not recognise the children of ISIS members as Danish nationals. "They are born to parents who have turned their backs on Denmark, and therefore should not belong in Denmark," Integration Minister Inger Stojberg told Danish Radio.
It is a situation that has outraged humanitarian actors.
"No child should be left to die slowly from a preventable disease or have their future written off when their life has barely begun," Helle Thorning-Schmidt, former Danish prime minister and chief executive of Save the Children, said last month.
"Governments around the world must step up and take responsibility for the lives of children of their respective nationalities."
After visiting Al Hol in March, the ICRC's Fabrizio Carboni described the overcrowded camp as an apocalyptic scene. "We're leaving hundreds of obviously innocent children there," the agency's regional director for the Middle East said. "Hundreds of kids are alone in this hellish place."
He had a message for foreign governments whose citizens are languishing in the camp: "What have these kids done? Nothing… For states who have nationals in Al Hol: you have to remember the best interests of these children."
The repatriation of foreign children needs to be accelerated, Kurdish authorities say. "Huge numbers of kids need rehabilitation," the Kurdish administration's top foreign affairs official AbdulKarim Omar said, adding that his administration lacked the resources to do so. "If not, they are ticking time bombs."
Save the Children has been working in the camps for the past year and a half and the group's Syria director Sonia Khush says she is disappointed by the lack of interest in saving the most innocent of ISIS' victims.
"We were hoping that governments would be more proactive with taking these children back but that hasn't really happened," Ms Khush told The National. "I appeal to foreign governments to enable these children to have a normal life back home, they are victims and they've done nothing wrong. They have rights just like other citizens do."
With appropriate help, these children can be saved, Juliette Touma, Unicef's head of communications for the Middle East region, says.
Full report at:
https://www.thenational.ae/world/mena/the-orphans-of-isis-innocent-children-forsaken-in-hellish-syrian-camps-1.849314
--------
Arab World
Syria: Tahrir Al-Sham, White Helmets Readying to Launch Chemical Attack in Demilitarized Zone
Apr 15, 2019
The terrorist commanders have recently held a meeting to designate the missions of the terrorists for using chemical weapons in six spots along the frontlines behind the demilitarized zone in Northern Syria, the Arabic-language service of the Russian Sputnik news agency quoted informed sources in Idlib province as saying.
They said that the chemical substances will be supplied from tens of locations where the chlorine gas capsules and chemical-mounted missiles had been stored.
"The senior Tahrir al-Sham commanders in a meeting with White Helmet, Jeish al-Izza and Islamic Turkistani Party terrorists agreed to immediately use chemical weapons as soon as the Syrian Army makes advances towards their military positions," the sources said.
They also said that the terrorist commanders have been given advanced wireless systems connected to a coded communication network to expedite exchange of information, instructions and developments concerning the use of chemical weapons on Syrian Army targets.
Meanwhile, the Syrian Army is preparing for a major assault on terrorists in the demilitarized zone as the militant groups continue violating the Sochi agreement by continuing their daily attacks from the demilitarized zone.
In a relevant development earlier this month, Tahrir al-Sham al-Hay'at and White Helmets equipped 120 missiles with chemical warheads in cooperation with western experts to launch false-flag chemical attack in the demilitarized zone to later accuse the Syrian Army of the incident.
The Arabic-language website of Sputnik quoted local sources in Idlib province as saying on Thursday that Tahrir al-Sham and Turkistani terrorist groups have mounted chemical warheads on 120 missiles in one of the former's strongholds in Sahl al-Rouj region in Western Idlib.
They added that the missiles had been transferred from one of Tahrir al-Sham's arms caches to their stronghold in Sahl al-Rouj on 5 ambulance vehicles last Monday, noting that the White Helmets have also transferred special equipment from Khan Sheikhoun to the region.
The sources said that Belgian chemical experts collaborated in equipment of missiles with chemical materials, adding that they also supervised transfer of 8 chlorine gas capsules from one of Tahrir al-Sham positions in the town of al-Dana in Northern Idlib to the base.
According to the report, the missiles equipped with chemical warheads were delivered to Jeish al-Izza and Horras al-Din terrorists in Northern Hama and the regions occupied by Ansar al-Touhid in Sahl al-Ghab and Turkistani party in Northeastern Lattakia.
Relevant reports said last Sunday that the pro-militant White Helmets Organization in collaboration with the Western spy agencies were planning to carry out a fake chemical attack in Hama and Aleppo to later accuse the Syrian Army of the incident and annul the Turkish-Russian agreement.
The Arabic-language al-Mayadeen news channel quoted a local source in Aleppo as saying that the White Helmets have transferred a number of barrels containing toxic materials from their bases in Idlib to Northern Hama.
He added that the terrorists are plotting to launch a new false-flag chemical attack in cooperation with the western intelligence agents, noting that the scenario is due to be implemented in the demilitarized zone in Northern Hama and Aleppo where Jeish al-Izza terrorists are stationed.
The source said that the aim of such provocative acts is defeating the plans to return control of Idlib to the Syrian government without any conflicts, adding that the plot was hatched after commanders of Tahrir al-Sham, Horras al-Din and Turkistani terrorist groups rejected a Turkish-Russian plan to give in the control of Idlib to the Syrian government.
http://en.farsnews.com/newstext.aspx?nn=13980126000218
--------
Syria: US Sends New Logistics Convoy for Kurds in Eastern Euphrates
Apr 15, 2019
"Over 250 trucks carrying logistical support for SDF arrived in Syria's Eastern Euphrates after crossing the border with Iraq," the Kurdish-language Xeber24 news website reported.
The news website noted that the US convoy comprising equipment, drilling equipment, oil tankers and several more covered trucks are now in Eastern Euphrates to continue providing support for the SDF.
In a relevant development last week, media reports revealed that Washington has dispatched new military aid to the Syrian Democratic Forces (SDF) in Eastern Euphrates after it said mission has been accomplished in the war on ISIL.
The London-based Syrian Observatory for Human Rights (SOHR) reported last Monday that the US-led coalition has sent new military convoys, including tens of trucks carrying military aid and logistical equipment, from Iraqi Kurdistan region to areas occupied by the SDF in Eastern Euphrates.
It added that nearly 700 trucks, carrying vehicles and military and logistic equipment of the US-led coalition have arrived from Iraq to Eastern Euphrates.
Last month, Washington-backed Kurdish fighters in Syria declared their final victory over the ISIL terrorist group, ending bloody battle against the group that once held territory spanning a third of Syria and Iraq.
The US Defense Department also announced that the Islamic State no longer holds any territory in Syria, according to former White House Spokeswoman Sarah Sanders.
In December 2018, US President Donald Trump declared the ISIL terrorist group defeated in Syria and announced American troop pullout from the country but gave no timeline. The surprise announcement resulted in the resignation of Secretary of Defense James Mattis, US anti-IS coalition envoy Brett McGurk and Pentagon Chief of staff Rear Admiral Kevin Sweeney who disapproved of the American president's decision.
But last month, the American leader confirmed that 400 US soldiers will remain in the war-torn country indefinitely. Notably, Trump did not give any credit to the Syrian Army, Russia and other allies for reducing the self-styled caliphate to its current miserable state.
Notably, the US troops have been operating in Syria as part of an international coalition for about five years without the permission of Syrian authorities or the UN Security Council. The United States has, in particular, supported the Kurdish-led militia controlling the territories to the East of the Euphrates and opposing the Syrian government.
Full report at:
http://en.farsnews.com/newstext.aspx?nn=13980126000703
--------
Senior MP: US Bribing Tribal Leaders in Western Iraq
Apr 15, 2019
"Hood is trying to change the opinion of a number of tribal leaders in Ameriyeh district of al-Fallujah in his visits to the region and is bribing them to guarantee an agreement with the US forces' continued deployment in the region," Mahdi Taqi was quoted by the Arabic-language al-Ma'aloumeh news website on Monday.
He urged the Iraqi foreign ministry to take a strict position against the move, and warned that the US embassy in Baghdad is supporting and sponsoring certain groups in pursuit of destructive goals in Iraq.
Taqi described Hood's measures as a violation of international laws and Iraq's sovereignty.
Commander of Popular Forces in Ameriyeh region in al-Anbar Salah al-Issawi revealed on Sunday that Hood has visited the region in Southern Fallujah.
In a relevant report in March, Iraqi sources said that the US forces deployed in the country were forcing tribal leaders who had been fighting for ISIL to spy on Hashd al-Shaabi (popular forces) in al-Anbar province in Western Iraq.
Al-Ma'aloumeh quoted a high-ranking source in al-Anbar as saying that the US forces stationed in the region had restarted espionage operations to collect intelligence from a number of Hashd al-Shaabi commanders in al-Anbar and their bases in the region.
Full report at:
http://en.farsnews.com/newstext.aspx?nn=13980126000706
--------
Mideast
Some Arab rulers serving US, Zionists; waging war against Muslims: Leader
Apr 15, 2019
Leader of the Islamic Revolution Ayatollah Seyyed Ali Khamenei has blasted leaders of "certain Islamic nations" for serving Israel and the United States in stark contrast to the teachings of Islam's holy book, the Qur'an.
"Many wrongdoings, misunderstandings, despairs, disloyalties, hostilities and submissions to tyrannical powers result from estrangement with the Qur'an, and the spirituality and knowledge that come with it," the Leader told reciters and researchers of the holy book in Tehran Monday.
"Unfortunately, the rulers of some Islamic countries do not adhere to Qur'anic teachings and instead of being 'harsh against the unbelievers,' they have become servants and followers of America and the Zionists; and instead of being 'merciful to one another,' they pave the way for divisions and wars, like the wars in Yemen and Syria, and the massacre of Muslims."
Addressing the closing ceremony of the 36th International Qur'an Contests, Ayatollah Khamenei said, "Today, many leaders of Arabic countries are of this kind."
The Leader noted that some of those rulers "colluded with Israelis and stepped on the blood of Palestinians."
Over the past years, leaders of some Arabic countries, namely Saudi Arabia and the United Arab Emirates, have led overt and covert efforts to normalize ties with the Israeli regime.
Israeli Prime Minister Benjamin Netanyahu has on many occasions hinted at extensive security and political dealings with Arab nations that largely remain a secret upon the request of their leaders.
'Normalization of Israel ties contradicts Islamic teachings'
Ayatollah Khamenei pointed to the Riyadh regime's deadly war against Yemen, which has killed thousands of civilians since its onset in March 2015.
"Today Yemen is being constantly bombarded. Who is doing the bombing? Is he an unbeliever? No! He is a Muslim; at least he appears to be a Muslim," the Leader continued.
The UAE and several other Arab countries in the region have been helping Riyadh with the unprovoked war, led by Saudi Crown Prince Mohammed bin Salman.
'Enemies in their death throes'
Ayatollah Khamenei said unlike some Islamic nations, Iran is putting the Qur'an at the heart of its decision-making, "no matter how angry this makes them (the enemies)."
"Although today the hostilities look more than they were in terms of both volume and intensity, these actions and conspiracies are the last throes of our enemies' enmity with the Islamic Republic."
Flood relief efforts
Ayatollah Khamenei said a nationwide campaign in Iran to help people in flood-hit areas is in many ways similar to the mobilization movement that took place during Iraq's eight-year war against the Islamic Republic in the 1980s.
"This extraordinary popular movement that we witness today is like the self-sacrificing and enthusiasm that we saw" during former Iraqi dictator Saddam Hussein's war, the Leader noted.
"Our martyrs taught the Iranian nation many lessons and the less seen movement by the people to help flood-hit areas was an apt example," Ayatollah Khamenei continued.
Earlier in the day, the Leader called on President Hassan Rouhani to swiftly compensate damages caused by the recent floods across the country using all available resources.
Rouhani had earlier asked for authorization to use the National Development Fund (NDF) resources to compenstate flood losses.
Ayatollah Khamenei wrote in a letter on Monday that the president would be authorized to tap into the reserve after exhausting all other resources in his control.
"The damage from catastrophic flooding is heavy and woeful, particularly in some provinces, and must be completely pursued and compensated," the Leader wrote.
However, Ayatollah Khamenei urged the government to explore other budgetary measures to fund the relief efforts before drawing money out of the sovereign fund.
https://www.presstv.com/Detail/2019/04/15/593484/Iran-Leadr-Ayatollah-Khamenei-Arab-leaders-serving-Israel-US
--------
Ex-European officials demand rejection of US 'deal of century'
Apr 15, 2019
A group of former senior European politicians have signed a letter to the European Union that calls on the bloc to reject the so-called US peace plan for the Middle East if it is one-sided and unfair to Palestinians.
The letter, addressed to EU foreign policy chief Federica Mogherini and sent to The Guardian newspaper to publish, was signed by 25 former foreign ministers, six former prime ministers and two ex-NATO secretary generals.
The letter comes as US President Donald Trump prepares to unveil his administration's plan – dubbed "the deal of the century" – on the Israeli-Palestinian conflict.
"It is time for Europe to stand by our principled parameters for peace in Israel-Palestine," read the letter, calling for a solution that guarantees a separate and fully sovereign state of Palestine.
"We are convinced that a plan that reduces Palestinian statehood to an entity devoid of sovereignty, territorial contiguity and economic viability would severely compound the failure of previous peace-making efforts," the former officials said.
They also criticized the Trump administration for its "disturbing indifference" to the expansion of illegal settlements, which are backed by Israel's recently re-elected Prime Minister Benjamin Netanyahu.
"Unfortunately, the current US administration has departed from longstanding US policy," the letter said, criticizing Trump's 2017 recognition of "only one side's claims to Jerusalem [al-Quds]."
The so-called deal, a backchannel plan to allegedly reach a peace settlement between Israel and the Palestinians, was proposed by the US administration in late 2017. Although the plan has not been released, leaks signal it will consist of the same tried and failed ideas.
Palestinians believe that the deal suggests building their own Jerusalem al-Quds from areas surrounding the existing city and forget about the historic place. They also believe that the US-drafted plan calls for keeping borders and security under Israeli control, while it keeps Israeli settlements' final borders to be discussed in later negotiations.
Trump's son-in-law and senior adviser Jared Kushner has made regional tours over the past two years to secretly win support for the plan.
The prospect of peace between Israelis and Palestinians was dealt a major blow in December 2017, when Trump recognized Jerusalem al-Quds as the "capital" of Israel.
He also moved the American embassy from Tel Aviv to the occupied city on May 14, 2018, in what appeared to be an intentional coincidence with the 70th anniversary of Nakba Day (Day of Catastrophe). The occasion marks the expulsion by Israel of Palestinians from their motherland.
In 1948, when Israel declared its existence, some 700,000 Palestinians were driven out of their homes and scattered across refugee camps in the occupied West Bank, the Gaza Strip and neighboring countries.
Angered by Trump's contentious move, Palestinian President Mahmoud Abbas boycotted the US administration, saying Washington was no longer qualified to serve as the sole mediator in the decades-long conflict with Israel, and that an international mechanism needed to be devised to replace the US in the so-called peace process.
Abbas has already rejected the initiative, calling it "the slap of the century," because it is said to be hugely in favor of the Israeli regime.
Full report at:
https://www.presstv.com/Detail/2019/04/15/593524/European-politicians-US-peace-plan-IsraeliPalestinian-conflict
--------
UN: Parties to Yemen war agree on Hudaydah pullout
Apr 15, 2019
Yemen's Houthi Ansarullah fighters and Saudi Arabia's mercenaries loyal to the former government in Sana's have agreed to a detailed plan for the initial withdrawal of forces from the strategic Red Sea port city of Hudaydah, the UN special envoy for Yemen says.
Martin Griffiths told the UN Security Council on Monday that agreement for the first phase of withdrawals was reached after negotiations between the warring parties and Danish General Michael Lollesgaard, who heads the UN operation monitoring the ceasefire and a redeployment agreement reached in Sweden in December 2018.
"Both parties have now accepted a detailed redeployment plan," Griffiths said via video conference from the Jordanian capital, Amman.
He said he had received assurances from the leader of Ansarullah, Abdul-Malik al-Houthi, when they met in Sana'a last week that Houthi forces would support the deal.
"Let us be clear that when, and I hope it is when and not if, these redeployments happen, they will be the first voluntary withdrawal of forces in this long conflict," Griffiths said.
Elsewhere in his remarks, the UN official said he was laying the groundwork for broader negotiations on ending the deadly campaign led by the regime in Riyadh against Yemen. "We all need to see tangible progress in Hudaydah before moving to focus on the political solution."
The UN announced a deal on a two-stage pullback from Hudaydah and its ports on February 17, but the redeployment failed to materialize on the ground.
The redeployment of forces is a critical part of a truce reached during UN-mediated peace talks in Sweden.
The Houthis have repeatedly complained that the Saudi-led coalition has been violating the ceasefire. UN diplomats earlier said the Houthis refused to pull away from Hudaydah ports as part of the first stage, citing fears that forces linked to the Saudis will move in to take over facilities there.
Saudi Arabia and the United Arab Emirates launched the Hudaydah offensive in June 2018 but have been facing strong resistance from Yemeni armed forces, led by the Houthis, as well as the city's residents.
Hudaydah, a lifeline for millions of Yemenis, has seen some of the heaviest fighting in the Saudi-led war, which Riyadh began in March 2015.
The imposed war initially consisted of an aerial campaign but was later compounded by a naval blockade and the deployment of mercenaries to Yemen.
Yemen is going through the worst humanitarian crisis since 2015.
Full report at:
https://www.presstv.com/Detail/2019/04/15/593515/Yemen-Hudaydah-Saudis-UN-Martin-Griffiths-Michael-Lollesgaard
--------
Israeli settlers attack Palestinian family in West Bank
Apr 15, 2019
Masked Israeli settlers have been caught on camera attacking a Palestinian family in the occupied West Bank with rocks.
The Israeli human rights organization, Yesh Din, said a group of masked settlers from Yitzhar settlement attacked a family in the neighboring Palestinian village of Urif south of Nablus with stones on Saturday.
Security camera footage from the village shows a Palestinian mother carrying a child into a car, while other family members walk around it. The settlers then come running down the road and start hurling stones at them.
Afterwards, the mother and a family member rush to grab their children and then flee to the house.
According to Urif residents, some 50 settlers stormed the village's eastern neighborhood, smashing car windows and throwing stones at houses.
The Israeli military said the "friction" between Palestinians and Israelis ended when soldiers and policemen dispersed the crowd. However, they did not arrest any settlers.
The United Nations said in a February report that acts of violence and vandalism committed by Israeli settlers against Palestinians and their property have risen since the beginning of 2019.
About 600,000 Israelis live in over 230 illegal settlements built since the 1967 occupation of the Palestinian territories of the West Bank and East Jerusalem al-Quds.
Palestinians want the West Bank as part of a future independent Palestinian state with East Jerusalem al-Quds as its capital. Israel's continued settlement expansion on Palestinian territories has been a major sticking point in Israeli-Palestinian talks, which have stalled since 2014.
Settlers shoot dead Palestinian
Separately, settlers opened fire at a Palestinian who threw rocks at Israeli-plated cars near the West Bank village of Hawara earlier this month, human rights group B'tselem said Sunday.
After one of the rocks hit a settler's vehicle, shots were "apparently" fired from inside the car. The settler, Yehoshua Sherman, then got out of his car and opened fire on Abdel Fattah who was "crouching" near dumpsters.
Another setter then exited his truck and joined Sherman and together, the two fired several more rounds at Abdel Fattah who was "lying wounded on the ground," the report said.
"There was clearly no justification whatsoever for the additional shots that Sherman and the truck driver fired at [Abdel Fattah] when he was already lying injured on the ground," it said.
The Israeli military said Abdel Fattah "was shot by civilians and neutralized after hurling stones at Israeli cars." It claimed that the Palestinian man had later approached "one of the cars and attempted to carry out a stabbing attack."
B'tselem's spokesman Amit Gilutz stressed that the group had not learned of any stabbing attempt in its investigation of the incident earlier this month.
The group also accused Israeli forces of preventing the settlers from being held accountable. According to B'tselem, soldiers erased the footage of the incident on a nearby shop's video recording system.
"They did nothing to arrest the two settlers, promptly drove the Palestinians away from the scene, and then addressed the urgent task of eliminating any footage of the incident, to ensure that the truth never comes to light and the shooters would not face any charges or be held accountable in any way," it said.
Netanyahu: Putting Israeli, US forces on ICC trial absurd
Israeli Prime Minister Benjamin Netanyahu told the weekly cabinet meeting that it was absurd "to come and put on trial US or Israeli soldiers."
Netanyahu made the remarks as he lauded the International Criminal Court (ICC)'s decision last week to reject a request to investigate US forces for possible war crimes in Afghanistan.
The Israeli premier said the Hague-based court's decision "corrects an injustice and will have far-reaching implications for the functioning of the international system" regarding Israel.
Neither the US nor Israel have ratified the Rome Statute, which established the court in the first place.
Full report at:
https://www.presstv.com/Detail/2019/04/15/593466/Israeli-settlers-attack-Palestinian-family
--------
Yemeni government and Houthi militants 'accept' Hodeidah troop redeployment plan
April 15, 2019
LONDON: Both sides in the Yemen conflict have agreed to a new plan to redeploy their troops in the port of Hodeidah, the UN envoy to the country said on Monday.
The breakthrough comes months after a ceasefire deal for the port city was struck in Sweden between the Iran-backed Houthi militia and Yemeni government forces.
However, implemenetation of the deal in Hodeidah, which became the main focus of the conflict, has stalled with the Arab coalition supporting government troops accusing the Houthis of dozens of violations of the deal.
Martin Griffiths told a Security Council meeting that the breakthrough of the two sides agreeing to a new "detailed redeployment plan" for Hodeidah was "extremely welcome."
He said the redeployment "would be the first voluntary withdrawal of forces in this long conflict."
"We all need to see tangible progress in Hodeida before moving to focus on the political solution," Griffiths added.
The detailed plan on the pullback was negotiated by Danish General Michael Lollesgaard who heads a UN monitoring mission.
Following the deal on the first stage, Lollesgaard will now focus on the second phase and seek to resolve disputes over the deployment of local forces in areas from where there has been a pullback.
Full report at:
http://www.arabnews.com/node/1482861/middle-east
--------
North America
Trump calls Omar's statements 'anti-Semitic, anti-Israel and ungrateful'
Apr 15, 2019
US President Donald Trump has censured House of Representatives Speaker Nancy Pelosi (D-Calif.) for defending Muslim Congresswoman Ilhan Omar, saying the Minnesota Democrat is "out of control."
"Before Nancy, who has lost all control of Congress and is getting nothing done, decides to defend her leader, Rep. Omar, she should look at the anti-Semitic, anti-Israel and ungrateful U.S. HATE statements Omar has made," Trump tweeted.
"She is out of control, except for her control of Nancy!" he added.
Donald J. Trump
✔
@realDonaldTrump
Before Nancy, who has lost all control of Congress and is getting nothing done, decides to defend her leader, Rep. Omar, she should look at the anti-Semitic, anti-Israel and ungrateful U.S. HATE statements Omar has made. She is out of control, except for her control of Nancy!
108K
7:00 PM - Apr 15, 2019
Twitter Ads info and privacy
50.4K people are talking about this
Earlier on Monday, an adviser Trump's reelection campaign has blamed influx of death threats against Omar on "her ill-thought-out words" rather than racist attacks by Trump.
"I don't think it's the president that's putting her in danger, I think it's her ill-thought-out words that she used to describe the greatest terror attack on the history of United States soil which killed nearly 3,000 Americans," Marc Lotter said on CNN. "Make no mistake, no congressperson, no American should be threatened and no one is inciting violence," said Lotter, the Trump campaign's director of strategic communications. "I think what they're doing is showing outrage toward words that should have been better thought out."
On Saturday, Trump shared the video suggesting that Omar, a Democratic member of the House of Representatives from Minnesota, was dismissive of the 9/11 attack.
The video spliced news footage of 9/11 with a clip from a speech Omar gave last month in which she described the terror attack as "some people did something."
Pelosi, the top Democrat in the lower chamber of Congress, criticized Trump on Saturday for for Trump's post.
"The memory of 9/11 is sacred ground, and any discussion of it must be done with reverence," Pelosi said in a statement posted on Twitter. "The President shouldn't use the painful images of 9/11 for a political attack."
Omar put out a statement Sunday night, detailing what she has faced since the Republican president posted the video, including "an increase in direct threats on my life."
She also said, "Violent crimes and other acts of hate by right-wing extremists and white nationalists are on the ride in this country and around the world. We can no longer ignore that they are being encouraged by the occupant of the highest office in the land."
In the hours after Trump attacked Omar, top Democrats in the US Congress strongly condemned Trump and other Republicans for attacking Omar over comments she made that seemingly minimized the 9/11 attacks, which were a series of strikes in the US that killed nearly 3,000 people and caused about $10 billion worth of property and infrastructure damage.
US officials assert that the attacks were carried out by 19 al-Qaeda terrorists but many experts have raised questions about the official account.
They believe that rogue elements within the US government, such as former Republican Vice President Dick Cheney, orchestrated or at least encouraged the 9/11 attacks in order to accelerate the US war machine and advance the Zionist agenda.
'Omar won't back down to Trump's racism and hate'
Lawmakers from Trump's Republican Party have accused Omar of minimizing the 9/11 attacks, while critics of the president say he took Omar's words out of context in order to stoke anti-Muslim sentiment.
US Senator Bernie Sanders, who is running for president again in the 2020 elections after he lost in 2016, described Omar as a leader with "strength and courage."
"She won't back down to Trump's racism and hate, and neither will we. The disgusting and dangerous attacks against her must end," Sanders tweeted Friday.
Massachusetts Senator Elizabeth Warren condemned the attacks against Omar as not only dangerous for the congresswoman, but Muslims in the US in general.
Full report at:
https://www.presstv.com/Detail/2019/04/15/593502/Trump-campaign-Omars-illthoughtout-words-putting-her-in-danger
--------
Trump 'deal of century' to forgo Palestine statehood: US paper
Apr 15, 2019
Sources familiar with US President Donald Trump's "Deal of the Century" have warned that it will be void of any guarantees for a separate, fully sovereign state of Palestine, the Washington Post reports.
The unnamed sources told the paper that the proposal, which is expected to arrive soon, will only offer Palestinians some improvements in living conditions and nothing more.
The White House is poised to drop the much-anticipated package later this spring or by early summer, culminating over two years of efforts by Trump adviser and son-in-law Jared Kushner.
With officials on all sides tight-lipped about the terms of the offer, remarks from Kushner and other US officials have suggested that it does away with Palestinian statehood as a per-requisite for any agreement.
Instead, Trump's plan to purportedly end the decades-long conflict between Palestinians and Israelis more than anything focuses on Israel's security concerns, the report said.
"We believe we have a plan that is fair, realistic and implementable that will enable people to live better lives," a senior White House official told the Post on Friday.
"We looked at past efforts and solicited ideas from both sides and partners in the region with the recognition that what has been tried in the past has not worked. Thus, we have taken an unconventional approach founded on not hiding from reality, but instead speaking truth," added the official.
According to a new report by US news and information website Axios, King Abdullah II of Jordan said in a closed-door meeting with American lawmakers last month that the White House had given him zero information on how it proposes to divide the Palestinian territory.
According to the Post, the American head of state has told friends he would change traditional assumptions about ways to resolve the conflict.
However, the outcome would look nothing like his unorthodox personal diplomacy with North Korea and would rather be the product of Kushner, who became Trump's designated agent for all Middle East peace deals at the beginning of his presidency in 2017.
While with North Korean leader Kim Jong-un, Trump has tried to make peace through vague promises of economic growth and sanctions removal, Arab officials familiar with Kushner's sales pitches said he has offered no specific incentives to Palestinians.
What Kushner has offered are suggestions about economic opportunities for Palestinians in exchange for Israeli annexation of the West Bank and all other disputed territories.
Kushner and other US officials have indicated that peace and economic development for Palestine are intertwined with the Arab world's recognition of Israel and their acceptance of a Palestinian "autonomy" as opposed to a "sovereignty," sources said.
"What we've tried to do is figure out what is a realistic and what is a fair solution to the issues here in 2019 that can enable people to live better lives," Kushner said in an interview with Sky News Arabia as he sought Arab support on a visit to the region in February.
Israeli Prime Minister Benjamin Netanyahu gave away the most substantial hints at the deal's contents when he promised on the eve of his re-election last week that he will annex some settlements in the West Bank.
The package, according to the sources, is expected to pledge tens of billions of dollars in aid and investment in the West Bank and the Gaza Strip, the two areas with the most Palestinians, and billions more to Egypt and Jordan, the two Arab nations that have made peace with Israel.
Kushner stands little chance of success, analysts say, as European and some Arab leaders have already lost faith in his attempts.
A series of actions that Trump has taken in favor of Israel, including moving the US embassy from Tel Aviv to Jerusalem al-Quds after recognizing it as the Israeli regime's capital, have killed any hopes of a breakthrough.
Trump has also stirred anger by cutting annual aid to Palestine and shuttering the offices of the Palestine Liberation Organization (PLO) in Washington.
Those actions have alienated the Palestinian Authority, which has boycotted all negotiations with Washington.
Kushner and former Trump lawyer Jason D. Greenblatt, who would be the lead US negotiator for talks, have pleaded with Palestinian President Mahmoud Abbas to return to the table and seal the deal.
"To the PA: Our plan will greatly improve Palestinian lives & create something very different than what exists," Greenblatt wrote in a tweet last week. "It's a realistic plan to thrive/prosper even if it means compromises. It's not a 'sell out' — if the plan isn't realistic, no one can deliver it."
A chief adviser of Abbas said last week that while the Palestinian Authority viewed Americans as biased, they will not reject the Trump plan out of hand.
Ilan Goldenberg, the chief of staff to the lead US negotiator in the last failed attempt under former US President Barack Obama, said he still expects the package to be a nonstarter that would pave the way for annexation by forcing the Palestinians to reject the offer.
Former EU leaders reject no statehood deal
On Sunday, 37 high-ranking ex-officials of the European Union published a call for the European Union to reaffirm its commitment to a Palestinian statehood and reject any deal that fails to account for it.
Full report at:
https://www.presstv.com/Detail/2019/04/15/593470/US-deal-of-century-Kushner-Trump-Palestine-Israel
--------
US slaps sanctions on alleged new Daesh financiers
April 15, 2019
WASHINGTON: The United States on Monday imposed sanctions on financiers with bases in Belgium, Kenya and Turkey on charges they funneled money internationally for the Daesh extremist group.
The Treasury Department said it had pinpointed successors to Fawaz Muhammad Jubayr Al-Rawi, who was killed in a US-led coalition air strike in Syria in 2017 after allegedly sending millions of dollars earmarked for the jihadists.
The United States imposed sanctions on seven people including Mushtaq Talib Zughayr Al-Rawi, who as of late 2018 was living with his family in Belgium, according to the Treasury Department.
Forces seized evidence during a raid on the Daesh group last year that showed Mushtaq was helping fund them by exploiting the Iraqi government's electronic payment machines designed to distribute payments to public employees and retirees, the Treasury Department said.
"Treasury is dedicated to ensuring the enduring defeat of Daesh by cutting off all remaining sources of their terror funding around the globe," said Sigal Mandelker, the department's under secretary for terrorism and financial intelligence.
Rawi's network dates from the 1990s in Iraq, when it used the region's hawala system, the informal network of money transfers conducted through face-to-face guarantees, to evade biting international sanctions on the country then ruled by Saddam Hussein.
The Treasury Department also sanctioned a money exchange company, Al-Ard Al-Jadidah, said to connect Iraq's hawalas with the northern Turkish city of Samsun.
An Daesh member in Iraq allegedly received $1 million through the exchange last year, it said.
Also targeted in the latest sanctions was Kenya-based Halima Adan Ali, who the Treasury Department said was part of a network that moved more than $150,000 through the hawala system to Daesh fighters in Syria, Libya and central Africa.
She has been arrested twice by Kenyan authorities and also served as a recruiter for Somalia's Al-Shabab militants, according to the Treasury Department.
Full report at:
http://www.arabnews.com/node/1482911/world
--------
US asks its citizens to reconsider travel plans to Pakistan due to terrorism
Apr 16, 2019
WASHINGTON: The US has advised its citizens to reconsider their travel to Pakistan due to terrorism and asked them not to travel to restive Balochistan, Khyber Pakhtunkhwa and Pakistan occupied Kashmir (PoK), identified as the most dangerous areas due to terror attacks.
While Pakistan in general has been placed in "Level Three" category in the latest travel advisory issued by the US on Monday, several parts of the country, including Balochistan, KPK province, PoK and India-Pakistan border, have been placed in the most dangerous "Level Four" category, in which US citizens are asked not to travel due to high risk areas.
"Due to risks to civil aviation operating within or near Pakistan, the Federal Aviation Administration (FAA) has issued a Notice to Airmen (NOTAM) and/or a Special Federal Aviation Regulation (SFAR)," the State Department said in the travel advisory.
Asserting that terror groups continue plotting possible attacks in Pakistan, the State Department said that terrorists may attack with little or no warning, targeting transportation hubs, markets, shopping malls, military installations, airports, universities, tourist locations, schools, hospitals, places of worship and government facilities.
"Terrorists have targeted US diplomats and diplomatic facilities in the past, and information suggests they continue to do so," it said.
Terrorist attacks continue to happen across Pakistan, with most occurring in Balochistan and Khyber Pakhtunkhwa, including former Federally Administered Tribal Areas (FATA). Large-scale terrorist attacks have resulted in hundreds of casualties, it said.
"Do not travel to Balochistan province," the State Department said, adding that active terrorist groups, an active separatist movement, sectarian conflicts and deadly terrorist attacks against civilians, government offices and security forces destabilise the province.
Similarly, in the PoK, it warned that militant groups are known to operate in the area and the threat of armed conflict between India and Pakistan remains. "Indian and Pakistani military forces periodically exchange gun and artillery fire across the Line of Control (LoC)," it said.
Noting that India and Pakistan maintain a strong military presence on both sides of the border, the travel advisory said the only official Pakistan-India border crossing point for persons who are not citizens of India or Pakistan is in the province of Punjab between Wagah and Attari.
"Do not travel to KPK province, which includes the former FATA," the advisory said.
Full report at:
https://timesofindia.indiatimes.com/world/pakistan/us-asks-its-citizens-to-reconsider-travel-plans-to-pakistan-due-to-terrorism/articleshow/68899729.cms
--------
Africa
African Union threatens to suspend Sudan over coup
15 April 2019
The African Union on Monday threatened to suspend Sudan following last week's coup that saw Omar al-Bashir ousted by the military after nearly three decades in power.
If the junta fails to hand power to civilians within 15 days, the AU will suspend "the participation of the Sudan in all AU's activities until the restoration of constitutional order," the body's Peace and Security Council (PSC) said in a statement.
Bashir ruled Sudan with an iron fist for 30 years before he was deposed last week following mass protests that have rocked the country since December.
The protesters have remained in the streets, demanding a return to civilian rule from the military council that's replaced Bashir.
The AU echoed the protesters' demands, calling the military intervention a "coup d'Etat, which (the PSC) strongly condemns."
The body, which has 55 member states, added that "a military-led transition would be completely contrary to the aspirations of the people of Sudan."
https://english.alarabiya.net/en/News/middle-east/2019/04/15/African-Union-threatens-to-suspend-Sudan-over-coup.html
--------
Sudan's military council appoints new army chief of staff
15 April 2019
Sudan's military council on Monday appointed Colonel General Hashem Abdel Muttalib Ahmed Babakr as army chief of staff in a restructuring of the military command council.
Colonel General Mohamed Othman al-Hussein was appointed as deputy chief of staff, the council said in a statement.
https://english.alarabiya.net/en/News/middle-east/2019/04/15/Sudan-s-military-council-appoints-new-army-chief-of-staff-.html
--------
'Sudan's forces to remain in Yemen' despite Bashir ouster
Apr 16, 2019
Sudan's junta says the Sudanese troops taking part in the Saudi-led war on Yemen will continue fighting on behalf of Saudi Arabia despite a coup that has partially changed the power structure in the African country.
"We will stick to our commitment with the Arab alliance and our troops will remain until the alliance achieves its goals," Mohammad Hamdan Daglo, the number two in a military council that has overtaken power in Sudan since the ouster of its long-time president Omar al-Bashir, said in a statement to the official Sudan News Agency (SUNA) on Monday.
Saudi Arabia and a number of its regional allies launched a devastating war on Yemen in March 2015 with the goals of bringing the government of a former Yemeni president back to power and driving out the Houthi Ansarullah movement, a popular group that took over state affairs after that president resigned and fled the country. While it had aimed to achieve its goals in a matter of weeks, the Saudi-led coalition continues to be bogged down more than four years later.
The war has killed tens of thousands of people in Yemen and pushed the impoverished country to the brink of famine.
Sudan, a Saudi vassal state, has been a member of the Saudi-led coalition. The military ouster of Bashir last week raised speculation that Sudan may stop contributing to the deadly war. Bashir himself had faced calls to withdraw from the coalition over mounting Sudanese casualties.
The Monday statement about a policy continuation came shortly after Saudi Arabia and the United Arab Emirates — the main two aggressor regimes in the war on Yemen — expressed support for Sudan's junta, the so-called Transitional Military Council (TMC). Riyadh had also announced a "humanitarian aid package" to Sudan.
Bashir was ousted by the Sudanese military after five months of protests over his policies. But the Sudanese protesters have not stopped taking to the streets.
Sudanese demand scrapping of transitional military council
Also on Monday, the representatives of the Sudanese Professionals' Association (SPA), which led the protests against Bashir, urged the dissolution of the military council and the formation of a new interim civilian ruling council.
In its first news conference since the ouster of Bashir, the SPA issued a long list of demands for deeper and faster change to end repression and an economic crisis.
"If our demand for the formation of a civilian transitional council with military representation is not met, we will not be part of the executive authority, the cabinet, and we will continue the mass escalation and the sit-ins to fulfill our demands," Ahmed al-Rabie, an SPA member, told Reuters.
The statement came hours after troops tried to break up an ongoing sit-in outside the Defense Ministry that began on April 6. Protesters joined hands and formed rings around the sit-in area to prevent the forces from removing stone and metal barriers.
Full report at:
https://www.presstv.com/Detail/2019/04/16/593538/Sudan-forces-soldiers-troops-Yemen-war
--------
Sudan's new military rulers meet European diplomats
Adel Abdel-Rahim
15.04.2019
Lieutenant-General Mohamed Hamdan Daglo, deputy head of Sudan's ruling military council, held separate meetings on Monday with three European ambassadors in capital Khartoum.
On its official Facebook page, Sudan's Rapid Support Forces (of which Daglo is commander) published photos of Daglo holding separate meetings with U.K. Ambassador Irfan Siddiq, Dutch Ambassador Karin M. Boven, and EU Ambassador Jean Michel Dimond.
It provided no further details about Monday's meetings.
One day earlier, Daglo also briefed U.S. Charge d'Affaires Steven Koutsis on the latest developments in the troubled country.
Last week, the Sudanese army ousted longtime President Omar al-Bashir, who had ruled Sudan since 1989, following months of popular demonstrations against his continued rule.
The army also announced the establishment of a military council that will run the country's affairs for a two-year transitional period.
On Saturday, Lieutenant-General Abdel-Fattah Burhan, head of the military council, pledged to carry out wide-ranging political and economic reforms.
In a televised address, Burhan said that the two-year transitional period would conclude with "free and fair" elections.
Full report at:
https://www.aa.com.tr/en/africa/sudan-s-new-military-rulers-meet-european-diplomats/1452876
--------
27 militants killed in northeast Nigeria
Rafiu Ajakaye
15.04.2019
At least 27 Boko Haram terrorists have been killed in a joint operation by Nigerian and Cameroonian forces, a Nigerian army spokesman said on Monday.
In a statement, Sagir Musa said troops destroyed gun trucks and recovered arms and ammunition belonging to the militant group in the clearance operations that took place in several villages of Nigeria's northeastern Borno state.
"Coordinated military operation is ongoing especially in the fringes of Gamboru-Ngala and surrounding areas to deal with the fleeing bandits running out Multinational Joint Task Force's onslaught on their hideouts," he added.
https://www.aa.com.tr/en/africa/27-militants-killed-in-northeast-nigeria/1452559
--------
South Asia
High Council of Jihadi and National Parties boycotts Consultative Peace Jirga
15 Apr 2019
The High Council of Jihadi and National Parties comprising of several formal and prominent political parties boycotted the Consultative Peace Jirga following a meeting of the leaders of the council which was organized in the residence of Syed Mansoor Naderi, the leader of Paiwand Millie Party of Afghanistan and member of the leadership council of Jihadi and National Parties.
According to a statement released by Paiwand Millie Party of Afghanistan, the meeting focused on recent developments in the country, including the issue of Consultative Loya Jirga, peace summit due to be organized in Qatar, and completion of the term of government of national unity led by President Mohammad Ashraf Ghani.
The statement further added that the participants of the meeting called reconciliation process as the only fundamental need of the people of the country considering the existing critical situation of the country while considering Jirgas, national and historical benevolent gatherings as an accepted value and tradition of the elders of the country.
However, the statement added that the leaders of the High Council of National and Jihadi parties consider the Consultative Peace Jirga as a unilateral move by the government and in contrast with the national constitution and other enforced laws of the country.
The leaders of the council also added that they not consider the consultative peace Jirga in favour of the nation and current situation of the country considering its dramatic and biased nature which follows specific aims for election campaigns.
The statement also added that leaders of the government have so far not consulted with the leaders of the political parties, presidential candidates, independent national figures and elders regarding the convening of the Jirga and the government is set to convene the costly Jirga at a time when its objectives, agenda, and contents have not been clarified to the nation.
Questioning the main objective of the Jirga which has been described as consultative by the government, the leaders of the High Council of Jihadi and National Parties added that a consensus exists among more than 30 million population of the country regarding reconciliation process and no Afghan would vote to invalidate peace process even a final decision is not taken during the Jirga>
The leaders of the council also emphasized that the main objective of the Jirga would therefore be an attempt by the government to deviate the attention of the people and prepare for an all-out campaign for the upcoming presidential elections, which the council rejects considering the unpleasant condition of the people who have mainly suffered due to the recent natural disasters including flooding and no attention and humanitarian aid have been made to the victims in a responsible way from the government.
This comes as Chief Executive Abdullah, former national security advisor Mohammad Haneef Atmar, and former intelligence chief Rahmatullah Nabil have so far confirmed that the members of their electoral teams will not participate in consultative peace Jirga, mainly citing the reasons outlined by the High Council of Jihadi and National Parties.
https://www.khaama.com/high-council-of-jihadi-and-national-parties-boycotts-consultative-peace-jirga-03721/
--------
Consortium of ISIS and jihadists go into false propaganda against Bangladesh
April 16, 2019
For the past many weeks, a financier of Islamic State (ISIS), Shahid Uddin Khan and his hired cohorts are continuing massive propaganda against Bangladesh – more precisely country's top-most security agency Directorate General of Forces Intelligence (DGFI) and internationally acclaimed anti-militancy journalist and editor of Blitz, the most influential newspaper with the ulterior agenda. According to information, Lt Col (sacked) Shahid Uddin Khan smuggled out millions of dollars from Bangladesh to various countries including United Kingdom. In 2009, he invested one million Pounds in the United Kingdom in exchange of obtaining immigrant status under visa Tier 1, vide VAF No. 511702. The investment was made in the name of Shahid's wife Farzana Anjum. The family has established a company named Zumana Investment & Holding Limited in the UK.
United Kingdom had never inquired about the legality of the money Shahid and his family had invested, although it is learnt from various sources in Bangladesh that the family had never taken any permission from the Bangladesh Bank for repatriating such a huge amount of money.
In January 2019 it was learnt from various Bangladeshi newspaper reports that Shahid Uddin Khan and his family were actively involved into jihadist activities and were funding militancy groups such as Islamic State (ISIS).
On the other hand, Tasneem Khalil, an unknown junior reporter in Bangladesh, who has the past track record of appeasing radical Islam, Palestinian terrorists and Hamas made false claim of being persecuted by DGFI and sought political asylum in Sweden. According to information, most of the members of Khalil's family are notoriously anti-Semitic and radical Muslims. Recently this man was hired by Lt Col (sacked) Shahid Uddin Khan as a propagandist.
Tasneem Khalil and Shahid Uddin Khan are enjoying patronization from terror-network Al Jazeera. Recently Al Jazeera wrote a defamatory article against Bangladesh and DGFI with fictitious and false information. Later the content though had been uploaded by Shahid Uddin Khan in his YouTube channel; recently those contents had vanished because Shahid's criminal records are being gradually exposed by Blitz. According to British law, if any individual is found in money laundering, stern actions are taken by the authorities. It is learn from verifiable sources, British authorities already are investigating the visa Tier 1, vide VAF No. 511702 of Shahid Uddin Khan, his wife Farjana Anjum and daughters and stern actions would be taken against them soon. The authorities may deport this notorious ISIS-funder family to Bangladesh, where they are currently facing numerous charges of serious crimes.
Through his entire career, Tasneem Khalil has a dubious past. In Dhaka he is known as a damn liar and opportunist. For years he was maintaining links with anti-Semitic individuals and organizations, which had turned him into blue-eyed darling of Al Jazeera. Sitting in Sweden, he now is directly engaged in criminal conspiracy against Bangladesh as a hired collaborator of Shahid Uddin Khan. It is also learnt that Shahid, Tasneem and few of the members of this racket are actively trying to stage a coup in Bangladesh by giving instigation to several individuals as well as military personnel.
The Eastern Herald contacted National Crime Agency (NCA) in the United Kingdom to know if they have started investigating the case of Lt Col (sacked) Shahid Uddin Khan, his wife Farjana Anjum and daughters specific case of money laundering. The organization said, the matter actually needs to be brought into the attention of NCA in written form although they have already received copies of several reports published by Blitz on this matter. According to NCA, even a responsible individual from Bangladesh or United Kingdom can directly write with specific allegations, which would help them in initiating the investigation.
Commenting on Tasneem Khalil, Blitz editor and internationally acclaimed anti-militancy journalist Salah Uddin Shoaib Choudhury said, "This boy has exposed his face by giving space to a dirty man like Shahid Uddin Khan, allowing the later in uttering lies on an arranged so-called interview on Tasneem's Facebook account. I have never heard of any person named Tasneem Khalil in the past. He was possibly a low-ranking reporter in Dhaka".
Mr. Choudhury further said, "An ISIS funder, a thief and proven fraud like Shahid Uddin Khan is now questioning my integrity as a journalist. He has Tasneem as his lapdog. They say I am not a journalist. Well, I am not a so-called journalist like Tasneem Khalil who had taken political asylum in the West with fake claims. It goes beyond my dignity even to say anything about a tiny individual like Tasneem".
He further said, "Shahid and his hired cohorts can bark like street dogs, but very soon, they will be facing legal consequences".
Full report at:
https://www.weeklyblitz.net/news/consortium-of-isis-and-jihadists-go-into-false-propaganda-against-bangladesh/
--------
Former Afghan intelligence chief boycotts Consultative Peace Jirga
15 Apr 2019
The former Afghan intelligence chief Rahmatullah Nabil has confirmed that the members of his electoral team will not participate in upcoming Consultative Peace Jirga (Assembly of tribal elders).
According to a statement released by electoral team of Mr. Nabil, the leadership of the team tasked with the preparations and convening of the consultative Jirga is comprised of individuals from a particular electoral team which lacks legitimacy and acceptance on national level.
Calling the agenda of the Jirga or gathering as vague and non-transparent, the electoral team of Mr. Nabil has expressed concerns that the political parties, movements, and civil society organizations have been sidelined from the process of ongoing preparations convene the consultative Jirga, while a specific circle has been tasked to make major decisions regarding the convening of the Jirga.
The electoral team of Mr. Nabil has also criticized the government for allocating 5 million US Dollars from national budget for the Jirga, lack of logical mechanism to appoint members of the Jirga, and its attempts to misuse the name of Jirga for election purposes.
The statement also added that the government has never accepted the legitimate demands of the people and political movements therefore the decisions of the Jirgas will never have executive guarantees.
Full report at:
https://www.khaama.com/former-afghan-intelligence-chief-boycotts-consultative-peace-jirga-03719/
--------
Taliban's Red Unit militants suffer heavy casualties during a clash with ISIS-K militants
16 Apr 2019
At least sixteen militants were killed or wounded during a clash between Taliban and ISIS Khurasan militants in eastern Nangarhar province of Afghanistan.
The 201st Silab Corps of the Afghan Military in a statement said the clash broke out in Haidar Keli, Asman Kala, Ibrahim KHel, and Wadi Sar areas of Khogyani district on Monday.
The statement further added that eight militants of the Red Unit of Taliban were killed during the clash and four others were wounded.
According to 201st Silab Corps, at least four ISIS militants were also killed during the exchange of fire with Taliban militants.
The anti-government armed militants including Taliban have not commented regarding the incident so far.
Full report at:
https://www.khaama.com/talibans-red-unit-militants-suffer-heavy-casualties-during-a-clash-with-isis-k-militants-03724/
--------
10 Taliban militants killed, 9 arrested in Kunduz and Badghis operations
15 Apr 2019
At least ten Taliban militants were killed and nine others were wounded during the operations which were conducted in Kunduz and Badghis province in the past 24 hours.
Informed military sources said Monday that the Afghan Special Forces conducted an operation in the provincial capital of Kunduz province killing 4 Taliban fighters and arresting 9 others.
The sources further added that airstrikes were also conducted in Kunduz city which left 3 Taliban fighters dead.
"Airstrikes were conducted in Bala Murghab district of Badghis province in support of Afghan Security Forces killing 3 Taliban fighters," the sources added.
Full report at:
https://www.khaama.com/10-taliban-militants-killed-9-arrested-in-kunduz-and-badghis-operations-03723/
--------
10 militants killed in joint Afghan-coalition forces operation in Ghazni
15 Apr 2019
At least ten militants were killed during a joint operation of the Afghan and coalition forces in south-eastern Ghazni province of Afghanistan.
The 203rd Thunder Corps of the Afghan Military in the Southeast issued a statement late on Sunday evening confirming that ten militants were killed and three others including one of their commanders were wounded during a joint Afghan-coalition forces operation sin Gilan district of Ghazni.
The statement further added that the operations were conducted in Lawang and Khatak areas of the distric.t
According to 203rd Thunder Corps, the Taliban commander who has sustained injuries during the operation has been identified as Abdul Rahim.
The security forces also discovered a large weapons and explosive cache belong to Taliban militants during the same operation, the 203rd Thunder Corps said.
Full report at:
https://www.khaama.com/10-militants-killed-in-joint-afghan-coalition-forces-operation-in-ghazni-03722/
--------
India
Kartarpur corridor: India, Pakistan to hold second round of talks today
Apr 16, 2019
ISLAMABAD: India and Pakistan will hold a second round of talks regarding Kartarpur corridor on Tuesday.
Officials from both countries are expected to discuss technical aspects regarding the construction of the corridor, including fencing, road, and maps.
According to Dunya news, officials from Pakistan's ministry of foreign affairs, ministry of religious affairs and federal works organisation (FWO) will attend the dialogues.
Local media has claimed that Pakistan has completed more than 50 per cent of the construction's work of the corridor.
The meeting comes after India postponed the second round of talks on corridor after reports surfaced about the appointment of "controversial elements" by Pakistan in a committee associated with the corridor.
The two countries were previously slated to meet on April 2 in Pakistan for the second round of talks.
Despite the postponement, India offered to hold a technical meeting to discuss other aspects, according to India's ministry of external affairs spokesperson Raveesh Kumar.
Kumar had said earlier that India had sought certain clarifications from Pakistan on several "unaddressed" issues regarding the Corridor, including the number of pilgrims that can visit daily, issues of visas, etc.
The first round of talks between the two sides was held at Attari in Punjab on March 14 during which issues like finalisation of the draft agreement between the two countries were discussed.
https://timesofindia.indiatimes.com/india/kartarpur-corridor-india-pakistan-to-hold-second-round-of-talks-today/articleshow/68899795.cms
--------
Most J-K Jaish commanders' neutralised, new launch pads open across LoC
Apr 16, 2019
Shishir Gupta
Terror group Jaish-e-Mohammed's (JeM) launch pads in new locations across the Line of Control have been activated ahead of a possible effort to push terrorists from the Pakistan-based group into Jammu and Kashmir, top counter-terror officials and senior Jammu and Kashmir police officials said, although the latter added that this is because Indian security forces have eliminated most of the Jaish leadership in the valley.
They added that Mohammad Umair, JeM chief Masood Azhar's nephew, who was seen around Pulwama in February, when a terrorist affiliated to it carried out a suicide attack on a CRPF convoy, killing 40, has either been killed or has gone back to Pakistan.
According to the counter- terror and police officials, none of whom wished to be identified, the reason for the activation of the launch pads is to boost the Jaish's strength and capabilities in the state.
After the Pulwama attack, Indian security forces have been able to eliminate the majority of the Jaish leadership in the valley, they added, with only one commander, who operates under the codename Munna Bihari currently active in the Shopian district.
Previously, Indian forces have gunned down Azhar's elder brother Ibrahim Athar eldest son Usman Haider and brother-in-law Abdul Rasheed Kamran's son Talha Rasheed. Soon after Pulwama, the security forces gunned down Jaish divisional commander Kamran on February 18.
In a recent audio clip, broadcast over the Jaish's Rang-o-Noor channel, Ibrahim Athar indicates that Mohammed Umair may have also been neutralized by the Indian security forces. In the audio clip, Athar is heard telling his cadre that Umair and Kamran have already reached "heaven."
HT learns that many of these launch pads are in the scenic Lolab Valley, north of Kupwara, and around 114 km north-west of Srinagar.
The effort to amplify the infiltration of terrorists coincides with the melting of snows on high mountain passes. Post Pulwama, the Pakistan Army cleared terrorist launch pads fearing a repeat of the 2016 Indian surgical strikes. After the Indian air strike at Jaish's biggest terror training camp at Balakot, the globally proscribed group has threatened to get even by targeting innocents in hinterland India or security forces in the Valley. Communication intercepts indicate that Jaish will ratchet up violence in the Valley in the coming months, the counter-terror officials said.
Full report at:
https://www.hindustantimes.com/india-news/jem-renews-its-bid-to-import-terrorism/story-1UzdhziTBaHYlQKAfolMQO.html
--------
Technology was on India's side in Balakot operation: IAF chief
April 15, 2019
Technology was on India's side in the Balakot air strikes, Air Chief Marshal BS Dhanoa said on Monday, asserting that the results would have been further tilted in the country's favour if Rafale jets were inducted in time.
The Indian Air Force chief was addressing a gathering at a seminar on aerospace power of the future and the impact of technology.
"In the Balakot operation, we had technology on our side, and we could launch precision stand of weapons with great accuracy. In the subsequent engagements, we came out better because we upgraded our MiG-21s, Bisons, and Mirage-2000 aircraft," he said.
"The results would have been further skewed in our favour had we inducted the Rafale aircraft in time," Dhanoa said. The Air Force struck a Jaish-e-Mohammad terrorist training camp in Pakistan's Balakot area on February 26, in response to the February 14 Pulwama terror attack in which 40 CRPF personnel were killed.
The Pakistan Air Force retaliated the next day by unsuccessfully targeting various military installations in Jammu and Kashmir.
Dhanoa said in his speech, "In the proposed induction of the Rafale and S-400 surface-to-air missile system, in the next two-four years, once again the technological balance will shift in our favour like it was in 2002 during Operation Parakaram during the last stand-off."
India inked an inter-governmental agreement with France in September 2016 for the procurement of 36 Rafale fighter jets at a cost of around Rs 58,000 crore. The delivery of the jets — capable of carrying a range of potent weapons and missiles — is scheduled to begin from September.
In October last year, India and Russia signed a multibillion-dollar deal for S-400 'Triumf' long-range air defence missile systems. It has the capability to destroy incoming hostile aircraft, missiles, and even drones at ranges of up to 400 km.
The seminar on 'Aerospace power in the 2040s: Impact of Technology' was held at Subroto Park here to mark the birth centenary of the late Marshal of the IAF Arjan Singh.
The event was hosted by the IAF along with the Centre for Air Power Studies (CAPS), an autonomous defence research and analysis body.
"Among all arms of the military, technology affects us the most…land forces mainly fight with men, naval and air force officers operate machines and in the Air Force this technology has to be packed in smaller machines and subject to extreme temperature and pressure conditions," the IAF chief said.
And, air power is more sensitive to technological change, he said. Defence Minister Nirmala Sitharaman last week complimented the IAF for its "flawless execution" of the February 26 Balakot operation and subsequent thwarting of the Pakistani response while addressing top IAF commanders here.
At the event on April 11, Dhanoa emphasised on further enhancing the IAF's capability in the field of space, cyber, artificial intelligence and drone technology to further boost its overall combat capability.
Full report at:
https://indianexpress.com/article/india/technology-was-on-india-side-in-balakot-operation-iaf-chief-5677186/
--------
Pakistan
Pakistan and KSA Are Tied With the Mutual Bond Of Islamic Believes And Values: NA Speaker
Shoaib Ur Rehman
April 15, 2019
Speaker National Assembly Asad Qaiser has said that Kingdom of Saudi Arabia (KSA) and Pakistan are like two bodies and one soul. Our sorrow, happiness and destination are the same. Both the countries are the symbol of peace, brotherhood, progress and prosperity.
He expressed these views while talking to Imam-e- Ka'aba Sheikh Abdullah Awad Al-Juhani who called on him here at Parliament House on Monday.
The Speaker said that both countries were tied in a strong religious, cultural and historic bonds as people of both nations are tied under the great values of Islam. He said that every Muslim in Pakistan has great respect and affection to the custodian of the Al Harmain Al Shareefen.
He said the Muslim world was facing multiple challenges at present and we have to create unity among our ranks and shun our differences to overcome these challenges. While appreciating the role of KSA to unite the Muslim Ummah, he said that unity and close cooperation between Muslim countries is the need of the hour.
He said following the teachings of the Holy Prophet (Peace be Upon Him) is the only solution of all socio-economic issues being faced by the world.
He added that Islam teaches peace and brotherhood and abhor all kinds and manifestation of terrorism and extremism.
He said KSA and Pakistan can defeat the forces of extremism and terrorism by enhancing cooperation and collaboration at all forums. He mentioned that the recent visit of the Crown Prince of KSA has strengthened the bilateral relations between both the nations.
The Speaker eulogized the efforts of Imam-e-Ka'aba in spreading peace and great values of Islam all across the world. He also applauded the positive role of KSA in international affairs.
He said that KSA role in the world to resolve the conflict is exemplary.
Stressing the need for enhancing bilateral Parliamentary relations between both the nations, the Speaker said that Parliament of Pakistan is committed to strengthen the relation between Pakistan and KSA.
Imam-e- Ka'aba Sheikh Abdullah Awad Al-Juhani has said that the success in this world and hereafter would be possible by following the teachings of Islam.
He mentioned that deviation from the golden principles of Islam and differences in the ranks of Muslim Ummah are the causes of the increasing terrorism, extremism and other challenges being faced by the Ummah. He said that Pakistan is always ranked high in the eyes of government of KSA.
Imam-e-Kaba also led the Zuhar prayer at Speaker House and prayed for the peace and progress of Ummah. Later on Speaker National Assembly hosted luncheon in the honour of Imam-e- Ka'aba Sheikh Abdullah Awad Al-Juhani.
The Minister for Foreign Affair Shah Mehmood Qureshi, Federal Minister for Information and Broadcasting Fawad Ahmed Chaudhry, Minister for Religious Affairs and Interfaith Harmony Noor-ul-Haq Qadri Minister for Health Amir Kiyani, Federal Minister for Communications and Postal Services Murad Saeed, Minister for National Food Security and Research Sahibzada Muhammad Mehboob Sultan, Minister of State for Parliamentary Affairs Ali Muhammad Khan, and Parliamentarians were also present on the occasion.
https://www.brecorder.com/2019/04/15/489348/pakistan-and-ksa-are-tied-with-the-mutual-bond-of-islamic-believes-and-values-na-sapeaker/
--------
Pakistan watchdog decries forced conversions, curbs on media
By Munir Ahmed 
April 15, 2019
ISLAMABAD — An independent rights watchdog on Monday raised concerns about incidents in Pakistan of forced conversions and marriages of girls from the country's minority Hindu and Christian community to Muslim men.
The Human Rights Commission of Pakistan in it annual report said lawmakers need to pass effective legislation to end the practice — the extent of which remains unclear. It said around 1,000 cases of forced conversion of Hindu and Christian girls were reported just in the southern Sindh province last year. In some cases, it said the girls were recovered on court orders, but the situation in general remained appalling.
"Unfortunately, no authentic data is available on forced conversions" and marriages in Pakistan, the report said.
Ghazi Salahuddin, a senior member of the watchdog, said Pakistani media have also faced "unprecedented curbs" in the previous year. However, he did not answer a direct question when asked whether the army was behind imposing such curbs on the press.
The 335-page "State of Human Rights in 2018," released in the capital, Islamabad, is considered a report card of sorts on Pakistan, where Hindus, Christians and Sikhs and Ahmadis are tiny minorities.
The rights overview came out less than a week after a Pakistani court allowed two sisters from the Hindu community to live with their Muslim husbands, rejecting allegations from their parents saying their daughters were abducted and forcibly married.
The case of the sisters from the southern Sindh province drew the attention of Prime Minister Imran Khan, who ordered a government probe.
The investigations concluded the girls were 18 and 19 and that they were not forced to change their religion.
Joseph Francis, a senior member of the watchdog group, said the abduction of Hindu and Christian girls for conversion and marriages was now a common thing in the southern Sindh and eastern Punjab provinces.
The report said minorities "continued to face harassment, arrest or even death for simply living their lives in accordance with their beliefs in Pakistan in 2018."
The report also expressed concern over what it says was the misuse of blasphemy laws in Pakistan, where around 70 people have been lynched since 1990 on charges of insulting Islam.
It said 40 people were currently on death row or serving a life sentence after being convicted on charges of blasphemy.
The report touched on last year's release of Aasia Bibi, a 54-year-old Christian woman who was freed by the Supreme Court after eight years on death row for blasphemy. For her safety, she has been living in an undisclosed location under tight security. She had initially hoped to join her daughters in Canada, where they have been granted asylum.
Bibi's case has brought international attention to Pakistan's blasphemy law, which carries a death sentence.
Full report at:
https://www.washingtonpost.com/world/asia_pacific/pakistan-watchdog-decries-forced-conversions-curbs-on-media/2019/04/15/1eb3232e-5f65-11e9-bf24-db4b9fb62aa2_story.html
--------
Hazaras ask on fourth day of protest: where is Imran Khan
APRIL 16, 2019
Members of the Shia Hazara community, protesting against the Hazarganji suicide bombing, ended their sit-in late on Monday night after receiving assurances from Balochistan Chief Minister Jam Kamal Alyani and State Minister for Interior, Sheharyar Afridi. A prominent representative present at the press conference asked the Federal Interior Minister, Shehrya Khan Afridi, "Where is Imran Khan" as he finished his speech at the press conference. He gave the example of the New Zealand prime minister who tended to the aggrieved right after a terror attack and asked, why could the Pakistani prime Minister not do the same?
As a reply, the interior minister claimed that Prime Minister Imran Khan had spoken to the former Iranian president Akbar Hashemi Rafsanjani, (although he died in 2017).
Despite rainfall, members of the Hazara community continued their sit-in on Quetta's Western Bypass, which links the city with highways. Women and children are also part of the sit-in demanding action against the perpetrators of Hazara killings.
State Minister for Interior Sheharyar Afridi arrived in Quetta on Monday to review the security situation. He was accompanied by Prime Minister's Special Assistant on Overseas Pakistanis and Human Resource Development Zulfiqar Bukhari.
Afridi visited the Imam Bargah located in Hazara town to condole with the bereaved family members. Speaking on the occasion, he said attempts are being made to spread anarchy in the country. "There is no doubt that the Hazara community has been subjected to severe cruelty. We are standing shoulder-by-shoulder with you in every difficulty and trial," he said. "The state will take action against those responsible for the Hazarganji attack," he asserted. "The state will take every possible step for the elimination of terrorism as it is taking measures to protect all the borders," he added.
"Federal government stands with the Hazara community and concrete steps will be taken to end the crimes against them. The federal government will play its role in making sure that these heinous crimes end. I stand with the community and I assure you that the government has been working to ensure that such crimes end. That is why this was the first such incident to occur over the span of nine months. The question is, who is it that wants to create these differences between Pakistanis? Who wants to create a situation of conflict within Pakistan?" he said.
I am saying these things and asking these questions because Pakistan's enemies want that this country be added to the [Financial Action Task Force] blacklist. They want that at every level, including the economic level, such blows be dealt that Pakistan – God forbid – breaks apart," he said. "I request the Hazara community to not doubt our intentions. The state will respect each and every native of Balochistan," he added.
Shehryar Afridi, meanwhile, called on Balochistan Chief Minister Mir Jam Kamal Khan to discuss ensuring protection of people after the tragedy which left over 20 dead. He expressed deep sorrow over the death of people in Hazarganji blast and said provincial and federal government stand with families of the deceased in this difficult time and measures are underway to arrest those involved in the tragic incident. The chief minister informed Afridi about investigation into the explosion in detail.
Full report at:
https://dailytimes.com.pk/377234/hazaras-ask-on-fourth-day-of-protest-where-is-imran-khan/
--------
URL: https://www.newageislam.com/islamic-world-news/how-china-turned-kashgar-ancient/d/118338
New Age Islam, Islam Online, Islamic Website, African Muslim News, Arab World News, South Asia News, Indian Muslim News, World Muslim News, Women in Islam, Islamic Feminism, Arab Women, Women In Arab, Islamophobia in America, Muslim Women in West, Islam Women and Feminism