New Age Islam News Bureau
13 Dec 2019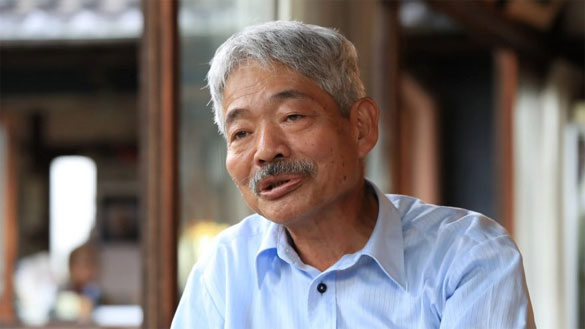 Tetsu Nakamura had been granted honorary Afghan citizenship for decades of humanitarian work in the country.
------
• How A Noncitizen And Non-Believer, Dr. Tetsu Nakamura, Can Leave Thousands Of Mourning Muslims Behind? Could It Be A Matter Of Debate?
• Call For Muslim World To Strengthen Innovative Spirit
• No, Pakistan's Non-Muslim Population Didn't Decline From 23% To 3.7% as BJP Claims
• Saudi Arabia a 'Model of Moderate Islam,' Says EU Official
• Israel Bars Gaza's Christians from Visiting Bethlehem and Jerusalem at Christmas
• ADL Downplays Anti-Semitism among European Muslims
• You Cannot Detach Education from Islam, Says Gbajabiamila
• 'I Want to Pursue My Love for Sanskrit' Says BHU's Muslim Professor Firoz Khan
• Trump Administration Continues to Enable and Fund Troubled Islamic Organization
• White Supremacist Sent Mosque Shootings Footage To Fellow Christchurch Extremist Phillip Arps
Compiled By New Age Islam News Bureau
URL: https://www.newageislam.com/islamic-world-news/how-noncitizen-non-believer-dr/d/120517
------
South Asia
• World Islamic Economic Foundation and Government of the State of Qatar inked
• US, Taliban peace talks interrupted again after the 'Bagram' attack.
• 391 Afghans, 1595 Pakistanis Received Indian Citizenship During The Last 3 Years
------
Southeast Asia
• Islamic Organization for Food Security opens headquarters in Nur-Sultan
• Malaysia: At the top of the Islamic digital world
• Mufti of Kyrgyzstan, Malaysian Islamic Tourism Center Director discuss cooperation
• Da'i Farhan Reported to Jais for Allegedly Tarnishing Islam's Image With Second Marriage
• Spiritual Administration of Muslims announces tender on vaccination of pilgrims
• Malaysia's BIMB to start restructuring to move listing status to Bank Islam
------
Pakistan
• India's actions in Kashmir and persecution of Muslims could lead to a 'catastrophe' in S. Asia: Pakistan warns
• IIFM forum probes challenges facing Islamic finance industry
• Police take flak for not naming PM's nephew in FIRs
• SC urged to overturn IHC order in Musharraf case
------
Arab World
• Saudi Arabia Ranked 36th in World on Human Development
• Human rights chief Awwad Al-Awwad stresses Saudi Arabia's openness at EU meet
• Minister of Islamic Affairs chairs meeting of Executive Council of Conference of Endowments
• Anti-Arab Spray Painted On Mosque In Northern Israel
• After Trump Executive Order, GOP Lawmaker Tries To Get Georgetown Funding Pulled Over 'Anti-Israel, Pro-Islamist' Bias
• Saudi Civil Service Ministry links up with 90 other agencies
• WHO discuss criteria to accredit Madinah as a healthy city
------
Mideast
• Indicted Netanyahu To Quit All Ministries, Remain PM
• Bahrain sentences 34 to prison for membership in Shia opposition group
• Islamic State militants with the badges of Turkey-backed Syrian FSA and SNA
• Top Security Official: Plots Hatched by Adversaries for False-Flag Killings in Tehran Riots
• IRGC Commander: Iranians to Overcome US Brutal Sanctions
• Spokesman: Iran Not to Tolerate Interference in Its Internal Affairs
• New rocket attack targets Iraq base housing US troops
------
Europe
• British Muslim Group Requests Equality Watchdog Investigate 'Institutionally Embedded' Tory Islamophobia
• Stanley Johnson Booed By TV Audience after Defending Son's Comments about the Muslim Veil
• London man who fought for so-called Islamic State and recruited others named in joint ITV News investigation
• Tory Who Warned Of Muslim Conspiracy To Make People Transgender Elected To Parliament
• Moment Judge Rinder Explodes With Fury At Stanley Johnson Over Muslim Women Comments
• Demark: Police arrest 20 over Islamist terror plot
• Fife mosque unites with others to call for end to gender-based violence
• Times apologises and pays libel damages to imam who appeared on BBC debate
------
Africa
• CAN Knocks CJN over Call for More Sharia Provisions in Constitution
• Nigeria uses live fire to disperse Muslims marking 2015 massacre anniversary
• Conference Gives Recipe For Harmony Between Muslims, Christians In Nigeria
------
India
• Faultlines redrawn in Assam: Muslims targeted by Assamese nationalists join Citizenship Act protests
• Delhi: Jamia Millia Islamia students clash with police after march opposing CAB stopped
• Why Indian Union Muslim League Has Challenged CAB in the SC
• West Bengal Muslims, Political Parties to Fight Citizenship Bill — On Streets & In Courts
• India: Citizenship Bill Discriminates Against Muslims, Says Rights Group
• 'They Will Lock Us Up or Just Kill Us': Muslims Fearful In West Bengal
• Two dead in India clashes after parliament passes anti-Muslim law
------
North America
• Like in Europe, America's Broken Asylum System Enables Islamist Infiltration
• Sonny Bill Williams: 'We've been taught to be embarrassed of Islam'
• Islamic State claims responsibility for military camp attack in Niger - statement
------
New Zealand
• Mosque Shooting Image Charge Admitted
------
How A Noncitizen And Non-Believer, Dr. Tetsu Nakamura, Can Leave Thousands Of Mourning Muslims Behind? Could It Be A Matter Of Debate?
Friday, 13 Dec 2019
Tetsu Nakamura had been granted honorary Afghan citizenship for decades of humanitarian work in the country.
Dr. Tetsu Nakamura was truly believed to have devoted over 10 years of his life and profession to serving a poor and drought impacted region in eastern Afghanistan. Being said that not only has he continued providing healthcare services, but he has also thrived in employing Japanese know-how and expertise to launch tens of water canal and irrigation projects to irrigate the drylands to bring life and hope back to the villages where people have been badly stricken by drought and been miserably suffering from prevalent fatal diseases. He was Dr. Tetsu Nakamura, a Japanese physician, who was barbarously gunned down along with his 5 Afghan colleagues in a roadside shooting in Nangarhar, Afghanistan.
His death surprisingly came out to be dreadfully shocking news across the country and it even brought them to tears and regrets of his loss. It literally seemed like a long-lived public figure or a beloved benevolent leader was assassinated after all years of providing protection and food for his followers. People from all over the country strongly condemned the vicious action and a wide array of civil activists from different backgrounds appeared to react to the incident and held candle lights vigil in his memory. Likewise, social media users repeatedly circulated his pictures to present the deepest sorrow and grieving for his loss. That was not all, he was also paid special tribute by senior officials and his death was honorably treated as a huge loss to the public life. As a sign of gratitude, the government announced to shell out memorial tributes by either erecting monument or naming a public place after him in honor of his humanitarian aid.
With all this said above, it could be a matter of debate to figure out how this all values congregated to characterize a noncitizen or a non-believer man as a role model in a strictly religious country. Particularly in a territory where its nation has long been famous for driving foreigners away from their country for many reasons such as, covert espionage, malicious intervention or intrinsic religiosity of the people. The way how Dr. Nakamura integrated into the society and hunted down hearts of thousands of Muslims could be of a great significance when it comes to analyze the cultural and religious distinction in the region where he served. How a noncitizen Buddhism believer can leave thousands of mourning Muslims behind? what made him such a great man? Was he simply a Buddhist priest who was missioned to help a Buddhist community? Was he a Christian who came to add some values to Christian community? Or likewise, was he a dedicated Muslim to serve only a Muslim community? Here we would explore some answers to the questions.
In light of this incident, things turned out to show up differently that can, to some degree, contradict the persistent belief that religions are barriers to social integration and we must always expect love, passion and assistance from people of the same faith, religion and race, by contrast, religions are the routs leading us to humanity intersection and we most of the time happen to receive the big sacrifices from those who have really understand the correlation between humanity and religion in lieu of being only faithful agents of the religions. Dr. Nakamura left a treasured legacy to the world to prove that humanity under any name and from any origin, unless otherwise impacted by politics and religions, can itself work to bring people together. In particular, his precious legacy could somehow be regarded as lessons learned for those nationals and religious people who have long been victims of a dominant misconception that all infidels and non-citizens are seeking hostility and espionage behind every humanitarian activity. On the other hand, that will also work for those non-citizens and infidels who by any chance encountered disrespect under religious and cultural hatred and they still anticipate the same deeds. As a matter of fact, people of all ethnic and religious background and even nothing much in common but all manner of ties-in with humanity can cherish each other as their own as well as consider humanity as a common value of human beings, irrespective of race and religion of course.
Dr. Nakamura appeared to be more of a true human than an ordinary Buddhist, a Christian or a Muslim while serving the people in need and nothing could happen but with his constant act of random kindness, unconditional loyalty and non-negotiable integrity. The first sign of greatness in him was his continued respect and unbiased understanding of indigenous local custom and culture, meaning, he adopted a homogenous way of living with local people rather than being either a privileged passive bystander or a special false figure. With a consistent love and passion to his job and people, he always kept looking at things through the lenses of humanity as well as treating people with due respect and humility.
To wrap up, what Dr. Nakamura did was to demonstrate that humanity can itself cater for people and religions cannot be hurdles if the purposes are truly intended to reach out the human being needs. He would believe that religions are the routs leading us to humanity and we, by no means, are supposed to sacrifice humanity for the convenience of faith, race and politics. In short, we believe that he lived his life the way every single religion wanted, like the way accentuated in a translated poem from Saadi Shirazi to whom the humanity owes!
https://www.khaama.com/how-a-noncitizen-and-non-believer-man-can-leave-thousands-of-mourning-muslims-behind-could-it-be-a-matter-of-debate00900/
------
Call for Muslim world to strengthen innovative spirit
13/12/2019
By Siti Radziah Hamzah
KUALA LUMPUR, Dec 13 -- Muslim countries must strengthen their education system, especially in the fields of science, technology, engineering and mathematics (STEM), to cultivate a spirit of innovation and an ability to adapt quickly to a fast-changing world.
International Centre for Education in Islamic Finance (Inceif) president and chief executive officer, Prof Datuk Dr Azmi Omar, said they have tremendous potential to offer positive contributions to the global community.
As it stands, there is a lack of innovation coming out of the Muslim world despite having abundant natural and human resources, he said.
"We need to go back to an education where Muslim countries really have to work on innovation, which means strengthening STEM and related areas.
"We have the resources, but we are not able to innovate. It's time to move towards a culture of innovation," he said ahead of the Kuala Lumpur Summit 2019 which will be held from Dec 18 – 21 at the Kuala Lumpur Convention Centre.
Prof Azmi suggested that Muslim countries identify and leverage their respective strengths to enhance cooperation among themselves.
The objective of the summit is to find new and workable solutions to problems afflicting the Muslim world, and improving the state of affairs of Muslims and Muslim nations.
To be chaired by Prime Minister Tun Dr Mahathir Mohamad, the Kuala Lumpur gathering will also focus on rebuilding the Islamic civilisation.
http://www.bernama.com/en/general/news.php?id=1799129
------
No, Pakistan's non-Muslim population didn't decline from 23% to 3.7% as BJP claims
December 12, 2019
While moving the Citizenship Amendment Bill in the Lok Sabha on Monday, Union Home Minister Amit Shah said at the time of Independence, non-Muslims comprised 23 per cent of Pakistan's population and that by 2011 their share was reduced to 3.7 per cent.
With regards to Bangladesh, he claimed that in 1947, non-Muslims comprised 22 per cent of its population and their share in 2011 fell to 7.8 per cent.
Amit Shah's verbatim quote in Hindi: "1947 main Pakistan ke andar alpasankhyakon ki aabadi 23 pratishat thi, aur 2011 main wog ghat kar 3.7 pratishat ho gayi. Bangladesh main 1947 main aplsankhyakon ki aabadi 22 pratishat thi aur 2011 main wo kam ho kar 7.8 pratishat ho gayi. Kahan gaye ye log? Ya toh unka dharm parivartan hua. Ya wo maar diye gaye, ya bhaga diye gaye, ya Bharat aa gaye."
(Refer to Amit Shah's speech from the video on his Twitter profile below from 9min 40sec onwards for this quote.)
On Wednesday, while moving the Citizenship Amendment Bill in the Rajya Sabha, Amit Shah reiterated his claim, saying Pakistan and Bangladesh have seen a decline of up to 20 percentage points in their populations of religious minorities.
"Whan ke alpshankyak kahan gaye? Ya toh vo maar diye gaye, ya unhone Bharat main sharan liya (Where did the minorities disappear in Pakistan and Bangladesh? Either they were persecuted or they took shelter in India)," Amit Shah said in the Rajya Sabha.
This has been a position maintained by the Bharatiya Janata Party and its supporters. To highlight the persecution of religious minorities in Pakistan (particularly of the Hindus), the BJP and right-wing Hindu organisations in India have been citing similar figures to argue that non-Muslims were brutally persecuted in an Islamic Pakistan after the Partition of 1947.
But how true are these numbers? Has population of non-Muslims in Pakistan really shrunk to 3.7 per cent today from a high of 23 per cent? What is the basis of this claim?
IndiaToday.in's analysis of Pakistan's Census data shows that these claims are faulty.
Pakistan got its identity as a separate nation on August 14, 1947. Back then, Pakistan also included present-day Bangladesh which was known as East Pakistan. These two territories were carved out as a new independent nation with Islam as its state religion.
There is no authentic and reliable official data on the religious composition of Pakistan's population in 1947. While presenting the data on religious composition of Pakistan in 1947 in his speech, Home Minister Amit Shah did not mention his source either. A similar figure was mentioned in an article published by the Hudson Institute in 2013. The artilce 'Cleansing Pakistan of Minorities' was written by Farahnaz Ispahani, former member of Pakistan's Parliament. But she too did not mention the source of her figures.
The preceding figures on Pakistan's religious composition that are available are from Census 1941. But since it was conducted in an undivided India, referring to it is futile as it doesn't reflect the ground situation created just after the bloodied Partition in 1947.
After its formation, the first census in Pakistan was carried out in 1951. This census included both East and West Pakistan.
As per this census, the share of Muslims in Pakistan's overall population in 1951 was 85.80 per cent, while the share of non-Muslims was 14.20 per cent. (Pakistan here refers to East and West Pakistan taken together).
What is important to note in Census 1951 is that Pakistan's non-Muslim population wasn't evenly distributed.
In West Pakistan, the non-Muslim population was just 3.44 per cent, while in East Pakistan (today's Bangladesh) they had a significant share comprising 23.20 per cent of the population therein.
To understand the change in population of religious minorities in present-day Pakistan, we need to separately analyse the trends in West Pakistan and East Pakistan (now Bangladesh).
WHAT HAPPENED IN WEST PAKISTAN
In 1951, Muslims comprised 96.56 per cent of the total population in the territory that is today known as Pakistan. The table below details the religious composition of each of Pakistan's five provinces.
https://www.indiatoday.in/india/story/pakistan-bangladesh-non-muslim-population-citizenship-amendment-bill-bjp-1627678-2019-12-12
------
Saudi Arabia a 'model of moderate Islam,' says EU official
December 13, 2019
Awwad Al-Awwad, president of the Saudi Human Rights Commission, met Tomas Zdechovsky, vice chairman of the European Parliament Committee on Employment and Social Affairs, in Brussels on Thursday.
The Kingdom's ambassador to the EU, Saad bin Mohammed Al-Arifi, also attended the meeting.
They discussed ways to develop cooperation between the Kingdom and the European Parliament in social and humanitarian fields, in addition to a review of the Kingdom's efforts to support human rights, and the reforms it has undertaken in this field, including the issuance of 60 decisions.
Zdechovsky described Saudi Arabia as a model of moderate Islam, citing its role in combating extremism and the importance of its position in the Islamic world.
https://www.arabnews.com/node/1598261/saudi-arabia
------
Israel bars Gaza's Christians from visiting Bethlehem and Jerusalem at Christmas
December 12, 2019
JERUSALEM/GAZA: Christians in the Gaza Strip will not be allowed to visit holy cities such as Bethlehem and Jerusalem to celebrate Christmas this year, Israeli authorities said on Thursday.
Gazan Christians will be granted permits to travel abroad but none will be allowed to go to Israel and the occupied West Bank, home to many sites holy to Christians, a spokeswoman for Israel's military liaison to the Palestinians said.
Israel tightly restricts movements out of the Gaza Strip, territory controlled by Hamas.
The spokeswoman said that following "security orders," Gazans would be allowed to travel abroad via Israel's Allenby Bridge border crossing with Jordan but not to visit cities in Israel or the West Bank.
Gaza has only around 1,000 Christians — most of them Greek Orthodox — among a population of 2 million in the narrow coastal strip.
This year's decision is a break with usual policy. Last year, Israel granted permits for close to 700 Gazan Christians to travel to Jerusalem, Bethlehem, Nazareth and other holy cities that draw thousands of pilgrims each holiday season.
Gisha, an Israeli rights group, said the ban points "to the intensifying of access restrictions between the two parts of the Palestinian territory," calling it "a deepening of Israel's separation policy" for the West Bank and Gaza.
The Palestinians seek to set up a state in the West Bank and Gaza, territory Israel captured in the 1967 Middle East war.
Israel in the past has defended its restrictions on Gazans traveling to the West Bank, saying many Palestinians from Gaza stay on illegally when granted short-term permits.
In Gaza, one Christian woman voiced hope Israel would reverse its policy so she could visit her family in the West Bank city of Ramallah.
"Every year I pray they will give me a permit so I can celebrate Christmas and see my family," Randa El-Amash, 50, said, adding: "It will be more joyful to celebrate in Bethlehem and in Jerusalem."
Christian leaders in Jerusalem condemned the move, but added that they are appealing to Israeli authorities to reverse the decision.
"Other people around the world are allowed to travel to Bethlehem. We think Gaza's Christians should have that right, too," said Wadie Abu Nassar, an adviser to local church leaders.
https://www.arabnews.com/node/1598161/middle-east
------
ADL downplays anti-Semitism among European Muslims
by Andrew Bostom
12-12-2019
Cardiologist Vera Kosova, a German Jewish immigrant from Uzbekistan, provided these balanced, lucid insights on Western European anti-Semitism during an interview at the Frankfurt Book Fair, held this October, saying, "It is important that the anti-Semitism debate be led openly, honestly, and broadly. There's a right-wing anti-Semitism; there's a left-wing anti-Semitism, and there is Muslim anti-Semitism. Muslim anti-Semitism clearly dominates in the statistics, and also does especially among the surveys done among the Jews."
A lone study of its kind, conducted in 2012 by the European Union Fundamental Rights Agency (FRA) to assess violence and violent threats targeting Jews, bolsters Dr. Kosova's contention. Uniquely, the FRA study queried Jewish victims of anti-Semitic attacks and threats about the identity of their attackers.
The study found that such attacks were anywhere from three to 13 times more likely to come from Muslims than from those with "extremist right-wing views." Furthermore, with the lone exception of Germany, where the numbers of left-wing vs. right-wing attacks were essentially equal, the study found that left-wing anti-Semitic violence or threatened violence also exceeded right-wing anti-Semitic violence or threatened violence.
Violent acts or threats from those with "Christian extremist" views were negligible in absolute terms and even more so relative to "Muslim extremists."
A month after Dr. Kosova's interview, on Nov. 21, the Anti-Defamation League released its 2019 survey data on the occurrence of extreme anti-Semitism in 18 countries, assessed between April 15 and June 3, 2019. Six of these countries – Belgium, the United Kingdom, Germany, Spain, France, and Italy – included a Muslim over-sample, allowing for a direct comparison of Muslims vs. Christians, those professing no religion, and the overall populations.
ADL's own press release stated: "Muslim acceptance of anti-Semitic stereotypes was substantially higher than among the national populations – on average almost three times as high – in the six countries tested: Belgium, France, Germany, Italy, Spain, and the United Kingdom."
However, the ADL downplayed these striking findings in its press release, listing them as the last of six bullet points.
The ADL also failed to note how compared to Western European Christians, specifically, Muslims were also some three times more likely to harbor extreme anti-Semitic attitudes as gauged by agreeing with at least six of 11 anti-Semitic stereotypes queried.
Given the worldwide pandemic of Muslim anti-Semitism ADL's 2014 global survey revealed, it is imperative to acknowledge and hold accountable the most authoritative, mainstream Islamic religious teaching institutions – Sunni and Shiite alike – that continue to promote canonical Islam's most virulently anti-Semitic tropes from the Quran and the traditions of Islam's prophet Muhammad.
Sunni Islam's Vatican, Al-Azhar University, and its previous and current Grand Imam papal equivalents, Muhammad Sayyid Tantawi (d. 2010), and Ahmed el-Tayeb, respectively, epitomize these trends.
Tantawi, arguably the greatest modern commentator on the Quran, in addition to serving as Al-Azhar Grand Imam from 1996 until his death in 2010, provided this summary gloss on the Koranic depiction of Jews, emphasizing its timeless relevance:
"[The] Quran describes the Jews with their own particular degenerate characteristics, i.e. killing the prophets of Allah [see Quran 2:61/3:112 ], corrupting His words by putting them in the wrong places [4:46], consuming the people's wealth frivolously [4:161], refusal to distance themselves from the evil they do [3:120; 5:79], and other ugly characteristics caused by their deep-rooted (lascivious) envy [2:109] … only a minority of the Jews keep their word … [A]ll Jews are not the same. The good ones become Muslims [3:113], the bad ones do not."
More ominously, Tantawi's exhaustive modern analysis of Islam's defining, canonical sources concludes by sanctioning bigoted, even violent, Muslim behaviors toward Jews, to "rid them of their evil."
Tantawi's successor, current Al-Azhar Grand Imam Ahmed el-Tayeb, shares Tantawi's Jew-hating virulence. El-Tayeb has labeled the Jews eternal Koranic enemies (per Quran 5:82), blamed Jews for the rise of Islamic State and other jihadist groups, and claims "the issue of anti-Semitism is a lie." Not surprisingly, both Tantawi and Tayeb (then Al-Azhar mufti) sanctioned homicide bombing against Israel's Jews even in the immediate aftermath of the horrific Netanya Passover massacre in March 2002.
Such "sacralized" hatred, preached authoritatively by the avatars of institutional Islam, continues to fuel the global pandemic of Muslim anti-Semitism, and is being promulgated unchallenged. The abject failure of Jewish and other religious and civic leaders to denounce this institutionalized Islamic Jew-hatred is a lingering disgrace.
https://www.israelhayom.com/opinions/adl-downplays-anti-semitism-among-european-muslims/
------
You cannot detach education from Islam, says Gbajabiamila
By Sulaimon Salau
13 December 2019
The Speaker, Federal House of Representative, Femi Gbajabiamila, has said that education and Islam cannot be estranged but the nation must get it right.
Gbajabiamila, who spoke at the 80th Anniversary Lecture of the Lagos Crescent Bearers in Lagos said: "We cannot sit down and watch the decline of education in the country. I hereby declared myself a bearer."
He said that education is not a privilege but a right and there is the need to declare a state of emergency in the education sector.
He also paid tributes to the founding fathers of the Crescent Bearers. such: Mobolaji Odunewu, S.M. Onigbanjo, I.A.S. Adewale. A. Fatayi-Williams, M.R.B. Ottun, M.N. Ola Aboaba, M.O. Ekunsumi, N.A. Kekere-Ekun, R.A. Gbajumo, Ade Thanni, and A.W. Williams.
The primary objective of the CB founding fathers was to promote the acquisition of western education by Muslims for their collective improvement and upwardly social mobility in a colonial society, in which Muslims not only experience marginalization but were also typically held up to ridicule and suffer social opprobrium for their religious beliefs and cultural attachments.
Speaking in the same vein, the Chairman Independence Electoral Commission (INEC), Prof. Mahmood Yakubu, said that the problem in the universities is not funding but lack of good management of resources.
Yakubu, who was the Executive Secretary of Nigeria's Tertiary Education Fund (TetFund), urged the universities to use the money they are getting from the government to provide facilities that will help to build the university.
He added that the problem in our universities is not that of physical infrastructure but that of providing the needed facilities.
"How many of our universities are connected to the internet?" he asked.
He said: "It is not just a matter of establishing a university. There is the need to expand facilities instead of creating institutions."
He also said that the system is not producing successors that will take up the mantle from the current generation of professors who are managing the universities.
"The system had to produce successors to the current generation of successors which is not producing. Most students are not going into post graduate programmes that will produce the future professors. University is a place of knowledge. We cannot compete globally when our universities are actually closed," he said.
He also stressed the need for the universities to review the content of what they teach.
https://guardian.ng/features/you-cannot-detach-education-from-islam-says-gbajabiamila/
------
'I want to pursue my love for Sanskrit' says BHU's Muslim professor Firoz Khan
Dec 13, 2019
He has been in the eye of the storm for over a month, but his calm exterior does not reveal any signs of turmoil that he may have experienced within. After he was accorded a warm welcome in the department of Sanskrit that he has joined after resigning from his position in the faculty of Sanskrit Vidya Dharma Vigyan (SVDV), Dr Feroz Khan said, "I am very happy here at BHU. I want to focus on teaching and academic activities in the department now. I want to teach and I want to study."
He said he wanted to pursue his love for Sanskrit and also promote the language. "I have a plan in mind but let me start my teaching duties first," he said.
Dr Feroz Khan, who had qualified for the post of Assistant Professor in different faculties in BHU, refused to speak on the controversy that made him opt for a change of faculty.
"I have come on my own wish and do not want to say anything more," he said.
Talking about BHU, Khan said that it was a great university and he felt happy to have got an opportunity to teach here under the guidance of senior professors.
He refused to speak a word about the controversy over his appointment, the month-long protest and the students of SVDV.
"I believe in looking forward not behind," he said.
"I want to make it clear that I joined the department of Sanskrit on my own. I want to request the media to leave me alone now so that I can focus on teaching and academic activities. Let me live in peace and let me focus on teaching," he said with folded hands.
Dr Feroz Khan was appointed Assistant Professor in the SVDV on November 7 which triggered protest by students of the faculty. The students insisted that as a Muslim, Khan could not be allowed to teach them 'karam-kand' (rituals).
The protests ended only when Dr Khan resigned on Monday and opted for another faculty.
https://www.hindustantimes.com/education/i-want-to-pursue-my-love-for-sanskrit-says-bhu-s-muslim-professor-firoz-khan/story-qSW2L3sajWTSUtkAzWLBcN.html
------
Trump Administration Continues to Enable and Fund Troubled Islamic Organization
December 11, 2019
Since 2014, the U.S. government, under both Obama and Trump, has given two branches of Islamic Relief, a global Islamist charity tied closely to the Muslim Brotherhood, over $2 million of taxpayers' money.
Most recently, in October, the U.S. Agency for International Development (USAID) handed over $356,000 to Islamic Relief Worldwide, the radical franchise's parent organization.
Is the extent of Islamic Relief's extremist ties small enough that a well-meaning bureaucrat might simply be oblivious? Or is this an appalling dereliction of duty that means taxpayers' money is now subsidizing terrorist acts?
In fact, it is difficult to be unaware of Islamic Relief, the largest Islamic charity in the Western world, which annually raises hundreds of millions of dollars in donations and grants. The charity and its officials are rarely out of the news.
In 2012, Islamic Relief co-founder Essam El-Haddad became the senior foreign policy advisor to Egypt's short-lived Muslim Brotherhood President, Mohamed Morsi. In the wake of the collapse of the Morsi regime, Haddad was jailed by an Egyptian court for "financing terrorism through the exploitation of global charities such as Islamic Relief."
But it is not just the Egyptian government that has pointed to the involvement of Islamic Relief with extremism and terror. Although governments all over the world have previously worked with Islamic Relief, many have now begun to defund, designate and otherwise disassociate themselves. The U.S, compared to the rest of the world, is far behind in recognizing the serious problems presented by this Islamist charity.
For example, the German government has openly stated that Islamic Relief has "significant ties" to the Muslim Brotherhood, with a Swedish government report reaching similar conclusions. In April, Italy's Regional Council of Lombardy passed a resolution denouncing Islamic Relief for hosting radical preachers.
European discontent is downstream from a lot of other, more serious governmental allegations. Israel has designated Islamic Relief as a terror financing organization for funding Hamas. The United Arab Emirates (UAE), a majority Muslim country, has done the same thing. A government-sponsored Commission in Tunisia, another majority Muslim country, accused Islamic Relief of financing Jihadists across the Libyan border.
Additionally, in the United Kingdom, where Islamic Relief's headquarters is based, the Charity Commission has raised the issue of hate speech from Islamic Relief preachers. Majority-Muslim Bangladesh has similar concerns, banning Islamic Relief from working with Rohingya Muslim refugees because of concerns that Islamic Relief was seeking to radicalize the vulnerable Rohingya refugees.
Increasing recognition of Islamic Relief's extremism is beginning to affect its income sources. According to data in its own annual reports, Islamic Relief Worldwide (IRW) has experienced a steady decline in the amount of monies received from European governments – from over $7 million in 2011 to just under $1 million in 2018. In recent years, IRW has reported no grants at all from the British, Spanish and Swedish governments, and noticeably less from the European Union and the United Nations.
Given European worries, it is all the more baffling, then, that Islamic Relief's U.S. branch continues to receive increasingly generous funds from the U.S. Government. According to its 2018 report, the U.S. branch is by far Islamic Relief's most profitable branch, reporting over $145 million of revenue in 2017 and contributing 16.5% of IRW total income.
The charity enjoys significant political support. The Department of Agriculture and the Federal Emergency Management Agency both list Islamic Relief as a partner. In 2018, Acting Assistant Attorney General John Gore agreed to be the guest of honorat an Islamic Relief reception on Capitol Hill. And in November 2019, Islamic Relief tweeted "IslamicRelief joins @USAID Administrator Green & Ivanka Trump for the Women's Global Development & Prosperity Forum event following the global technical conference 'Breaking Gender Barriers'."
Meanwhile, numerous members of Congress attended Islamic Relief's reception on Capitol Hill. Notoriously, Rep. Ilhan Omar (D-MN) headlined a fundraiser for Islamic Relief. When criticized for appearing next to an especially noxious anti-Semite who worked for the charity (but subsequently left in the wake of the Forum's investigation into his extremism), Omar made up implausible excuses but continued with the event nonetheless.
It seems Americans and the government are far less aware of the danger posed by Islamic Relief than are many of their counterparts in the rest of the world. This is surprising, given that, as a report by the Middle East Forum revealed last year, Islamic Relief has been under federal investigation in recent years, although few details are known.
Some members of Congress are beginning to raise the alarm. Several have written a letter to the administration about Islamic Relief. Curiously, it has gone unanswered. Islamic Relief's activities also caught the attention of the House Oversight and Government Reform Committee at a public hearing last year, where this record of terror finance and extremism was brought out into the open.
Yet in spite of these important steps, Islamic Relief continues to operate in the United States with little scrutiny. Americans bristle at the notion that they are supposed to follow the crowd, believing themselves to stand alone and make judgments independent of foreign pressure. Oftentimes, that's an admirable trait. But not when it comes to ignoring evidence of terror finance and extremism that is so conspicuous and severe that even allied-Muslim majority countries are expressing alarm.
The Trump Administration must answer critics of the government's continued partnership with Islamic Relief, end all public funding for the charity, and fully investigate its ties to terror finance and hostile foreign governments such as Turkey and Qatar. By doing so, the administration would importantly restart the crackdown on charity-cloaked terror finance abandoned by the Obama administration, reassert America's leadership in the struggle against radical Islam, and give moderate, non-Islamist Muslims an opportunity to replace theocrats dressed as charity workers.
https://www.meforum.org/60098/trump-administration-funds-islamist-group
------
White supremacist sent mosque shootings footage to fellow Christchurch extremist Phillip Arps
13 Dec, 2019
A white supremacist sent a doctored version of the mosque shootings to fellow Christchurch extremist Phillip Arps two days after the attack, it's been revealed today.
Police raided a 42-year-old man's Burnside house on March 25 "in relation to the Christchurch terror attacks" just 10 days earlier.
Officers seized his cellphone on which the police digital forensic unit found numerous pictures and videos of the footage of the mosque attack, along with four copies of the alleged gunman's so-called "manifesto" – items that have been classified as objectionable.
A screenshot of the shooting was also found on the phone of the man who has interim name suppression with the text "Call of Duty Black Mosque NZ Edition" overlaid.
It shows the shooter holding an automatic rifle at the entrance to Al Noor Masjid and a deceased person lying in the entrance way, according to the police summary of facts.
"This newly-made image was then sent multiple times via Facebook Messenger with three laugh/cry emojis following one of the messages," police told Christchurch District Court this morning.
The defendant also used mobile phone video editing application YouCut to edit the original 16 minute, 55 second video into smaller files.
They were saved on the evening of March 17 – two days after the attack – and that night emailed eight times – four to one man, and another four to Arps.
When spoken to by police, the man admitted the offending and today pleaded guilty before Judge Stephen O'Driscoll.
He was remanded on bail to be sentenced on February 26.
The issue of interim name suppression will be fully argued that day.
Arps, 44, who thought graphic and banned footage of the Al Noor Mosque attack on March 15 was "awesome", was jailed for 21 months at Christchurch District Court in June after admitting two charges of distributing an objectionable publication.
Judge O'Driscoll said Arps, who owns a white supremacist-themed insulation company, had "glorified" the killings and showed "particular cruelty" and callousness.
Arps has appealed his sentence to the Court of Appeal, arguing that it was "manifestly excessive".
In 2016, Arps was one of a group of men who filmed themselves doing Hitler salutes as they delivered boxes of pigs heads and offal to the Al Noor mosque in Christchurch.
"White power ... Bring on the cull," Arps was seen saying in the video.
In that case, he was convicted of offensive behaviour and fined $800.
https://www.nzherald.co.nz/crime/news/article.cfm?c_id=30&objectid=12293492
------
South Asia
World Islamic Economic Foundation and Government of the State of Qatar inked Agreement to hold 2020 World Islamic Economic Forum
Friday, 13 Dec 2019
Doha, 12 December 2019 – The Government of the State of Qatar and the WIEF Foundation signed an agreement to jointly organise the 14th World Islamic Economic Forum (WIEF) in the month of October 2020 at the Sheraton Grand Doha Resort & Convention Hotel with the theme "Economic Resilience: Inclusive Growth".
Speaking at the Joint Media Briefing, H.E Nasser Al Mahanidi, Director of Finance, Ministry of Commerce and Industry, said: "We are honoured to be the Host for the 14th edition of WIEF Forum. The Forum will offer a global platform for businessmen looking to strengthen global cooperation, which is crucial to advancing sustainable development".
"The objective is in line with Qatar's aspiration to play a key role in shaping the projected US$3 trillion Islamic economy and propel Qatar's position as one of the world's capitals of Islamic economy," said H.E. Nasser Al Mahanidi.
"The WIEF Foundation is pleased to hold the 14th WIEF in Doha. Qatar is fast emerging as the most attractive FDI destination amongst the GCC nations. Islamic economies present great opportunities for growth in terms of their enormous size and purchasing power," said Tun Musa Hitam, Chairman of WIEF Foundation.
"The Forum is timely against the backdrop of a global landscape impacted by various challenges including global trade policies, tightening of global financial conditions, climate risks in economic decision making and technological disruption", added Tun Musa Hitam.
The Forum is expected to be attended by more than 2,500 participants from 80 countries which include Leaders, Role Players and media representatives from Central Asia, Middle East, Asia Pacific and beyond. The 14th WIEF will provide a global platform for industry leaders to share their thoughts and insights on promoting growth towards an inclusive and resilient future through the creation of a more sustainable and forward-looking global business landscape.
The global economy will continue to grow at a steady pace of 3 percent in 2020, after an expansion of 3.1 percent in 2018.
According to the 2018/19 State of the Global Islamic Economy Report by Thomson Reuters, the Islamic economy continues its steady growth with an estimated spending recorded at US$2.1 trillion in 2017. The value of Islamic finance sector assets was estimated at $2.4 trillion in 2017 and is expected to surge to $3 trillion by 2023.
https://www.khaama.com/world-islamic-economic-foundation-and-government-of-the-state-of-qatar-inked-agreement-to-hold-2020-world-islamic-economic-forum/
------
US, Taliban peace talks interrupted again after the 'Bagram' attack.
Friday, 13 Dec 2019
U.S peace envoy Zalmay Khalilzad has informed that the Doha peace negotiations have been 'paused' following the attack on Bagram airfield.
We're taking a brief pause for them to consult their leadership on this essential topic, said Khalilzad.
The major topics of the 5 days talks between the U.S peace delegations and the Taliban leaders in Doha, Qatar were 'violence reduction' and 'ceasefire', but the Wednesday's attack by Taliban which killed 2 and injured over 70 most of whom were civilians, changed the scene.
https://www.khaama.com/us-taliban-peace-talks-interrupted-again-after-bagram-attack-9876/
------
391 Afghans, 1595 Pakistanis Received Indian Citizenship During The Last 3 Years
Thursday, 12 Dec 2019
At last 391 Afghans and 1595 Pakistani nationals have received Indian citizenship during the last 3 years, Union Minister of States for Home Affairs, Nityanand Rai, told media on Wednesday.
Nityanand Rai has also said that 40 Afghans and 712 Pakistani refugees have been granted citizenship in 2019.
Rai noted that provision for capturing online citizenship data of migrants from minority communities namely – Sikh, Hindu, Buddhist, Jain, Parsi and Christian – hailing from Afghanistan, Pakistan and Bangladesh was introduced way back in 2018 and as per available data, 927 Sikhs and Hindus from Afghanistan and Pakistan have been granted Indian Citizenship since then.
This comes as that India has recently passed the citizenship law that offers fast-track citizenship to non-Muslims from neighbouring Muslim-majority countries which is a turning point in Prime Minister Narendra Modi's drive to redefine the country as a Hindu homeland.
The move marks the first time that India being officially a secular state with a religiously diverse population, has set religious criteria for citizenship.
https://www.khaama.com/391-afghanistan-1595-pakistanis-received-indian-citizenship/
------
Southeast Asia
Islamic Organization for Food Security opens headquarters in Nur-Sultan
13 December 2019
NUR-SULTAN. KAZINFORM On December 11 the Islamic Organization for Food Security inaugurated its headquarters at the building of the Astana International Financial Centre, the Kazakh MFA's press service reports.
1st Deputy Foreign Affairs Minister of Kazakhstan Shakhrat Nuryshev, Vice Minister of Agriculture of Kazakhstan Nurbek Dairbekov, Islamic Organization for Food Security Director General Yerlan Baidaulet, executives of the Agriculture Ministers of Bangladesh, Burkina Faso, The Gambia, the UAE, Saudi Arabia and OIC ambassadors, accredited in Kazakhstan, took part in the solemn ceremony.
Addressing those gathered, Nuryshev noted that Kazakhstan renders all-round support to the Islamic Organization for Food Security, as well as extending its membership.
On the margins of the ceremony the national agrarian scientific and educational centre and the Islamic Organization for Food Security signed the memorandum of cooperation.
Besides, the fourth regular meeting of the Executive Council of the Islamic Organization for Food Security kicked off the same day to debate the current activities of the Organization purposed to strengthen practical cooperation between the OIC member states in the sphere of food security.
The development of the Islamic Organization for Food Security was initiated by 1st President of Kazakhstan –Elbasy Nursultan Nazarbayev. Currently, it comprises 34 states of the Islamic world.
https://www.inform.kz/en/islamic-organization-for-food-security-opens-headquarters-in-nur-sultan_a3594339
------
Malaysia: At the top of the Islamic digital world
09 DEC 2019
For years, Malaysia has seen huge contributions to its GDP come from its burgeoning digital economy, with a prediction that 21% of the nation's GDP will be digitalized against the current level of 18% come the year 2022. Interestingly enough, a large chunk of this digital pie consists of digital products and services catering to the Islamic crowd. From Islamic finance to Muslimfriendly travel options, demand and supply in this particular sector have seen a steady climb in recent times.
Lately, Malaysia has escalated its focus on serving these sectors, with the Malaysia Digital Economy Corporation (MDEC) acting as one of the leading lights in this regard. In 2017, MDEC took a step forward by releasing Mi'yar—a guide and reference created for start-ups, investors, and other ecosystem players interested in being a part of IDE.
Serving as a reference point, Mi'yar helps entities understand the requirements for Islamic venture capital, Shariah compliant business operations, and halal products and services. In addition to keeping businesses compliant, the Mi'yar guide was also crafted to expedite growth for those within the IDE ecosystem—one of MDEC's key focus areas in its mandate to grow Malaysia's overall digital economy.
Fast forward to today, Malaysia has become a global leader in numerous segments within the IDE, having been identified as the top Muslim travel destination in the world, the largest sukuk issuer in the world, the possessor of one of the world's best halal standards, and leader in global Islamic finance and banking.
Additionally, the number of innovative Islamic businesses in Malaysia is on a healthy uptrend, with 15 start-ups currently certified as IDE compliant. Among these are names such as Wahdah Technologies, Tripfez, Salam Web Technologies, Zaahara Ventures, ZeptoExpress, Wahed Technologies, Ethis Ventures and many others—all of which have demonstrated the capacity to perform as digital service providers on the same level as not only the best in the Islamic scene, but also the rest of the world.
Looking ahead, there is much cause for optimism for anyone with a vested interest in Malaysia's digital Islamic scene. Building upon strong fundamentals, Malaysia's IDE is poised to witness an influx of funds from investors who have taken note of the scene's strong growth. In June 2019, the Malaysia Tech Week organised by MDEC saw an investment inflow of approximately RM30 million from Islamic venture capital firms such as Ficus Venture Capital and China-based Gobi Partners into Islamic tech start-ups and platforms that use Malaysia as a focal point.
This should be considered alongside the wealth of opportunity available on a global scale—with a worldwide Islamic population of over 1.8 billion Muslims, Malaysia's status as a leader in Islamic digital services, technology, and finance puts it in an enviable position to grow its Islamic market capitalisation and continue its excellent track record of innovation in all things IDE.
https://www.salaamgateway.com/story/malaysia-at-the-top-of-the-islamic-digital-world
------
Mufti of Kyrgyzstan, Malaysian Islamic Tourism Center Director discuss cooperation
DECEMBER 13, 2019
AKIPRESS.COM - Mufti of Kyrgyzstan Maksat ajy Toktomushev met Director General of Islamic Tourism Center under the Ministry of Tourism, Art and Culture of Malaysia Abdul Khani Daud.
The bilateral cooperation prospects were discussed at the meeting.
The Central Administration of Muslims of Kyrgyzstan stands ready for cooperation, the Mufti of Kyrgyzstan said.
https://akipress.com/news:630869:Mufti_of_Kyrgyzstan,_Malaysian_Islamic_Tourism_Center_Director_discuss_cooperation/
------
Da'i Farhan reported to Jais for allegedly tarnishing Islam's image with second marriage
Friday, 13 Dec 2019
BY TAN MEI ZI
PETALING JAYA, Dec 13 — Preacher Nik Ahmad Farhan Nik Mohamad has been reported to the Selangor Islamic Religious Department (Jais) for allegedly running afoul of Islamic family law.
The religious scholar, who rose to fame on TV3's Da'i, is accused of marrying a second wife without the knowledge of his first spouse, Fatin Nurul Ain Mat Aris, as well as pronouncing the talak satu (divorce pronouncement) to Fatin via a WhatsApp voice note without court approval, mStar reported.
The complaint was lodged by Ches Al-Maliki, a friend and confidante of Fatin's.
"If found guilty, Nik Farhan could face a fine up to RM1,000 or up to six months of prison, or both," said Shariah lawyer Datuk Hazizah Kassim, who is representing Ches.
Hazizah added that Nik Farhan's prior responses to Ches on social media have "tarnished" the image of Islam.
He had accused Ches of slander after she revealed that his marriage to a single mum-of-eight in Mecca was done without seeking permission from Fatin, who is currently pregnant with their second child.
"What Ches has done here today is to put a halt to incidents that can be seen as demeaning and attracting negative attention towards Islam.
"If we scrutinise the situation, Nik Farhan is also guilty of slander and has made Islam be looked down on through his words, actions, and writings.
"Based on his statements on social media, he has ridiculed and polluted the purity of Islam.
"Hopefully, it can serve as a lesson to other preachers out there to not simply put out public statements," said Hazizah.
Nik Farhan had previously revoked a police report he made against Ches for slander and was given 24 hours to issue a public apology and explanation, with Ches threatening to take legal action if he failed to do so.
https://www.malaymail.com/news/showbiz/2019/12/13/dai-farhan-reported-to-jais-for-allegedly-tarnishing-islams-image-with-seco/1818837
------
Spiritual Administration of Muslims announces tender on vaccination of pilgrims
DECEMBER 13, 2019
AKIPRESS.COM - The Spiritual Administration of Muslims of Kyrgyzstan announced tender for vaccination of hajj pilgrims.
The tender will be held on Jan 28 and applications will be received until Dec 17.
Pilgrims will be vaccinated against flu and meningitis after medical examination at medical facilities in all regions.
Upon vaccination every pilgrim will receive a certificate.
https://akipress.com/news:630886:Spiritual_Administration_of_Muslims_announces_tender_on_vaccination_of_pilgrims/
------
Malaysia's BIMB to start restructuring to move listing status to Bank Islam
12 DEC 2019
Malaysia's BIMB Holdings Bhd (BHB) has revealed details of its planned restructuring exercise that will move its listing status to current subsidiary Bank Islam.
In a filing with Bursa Malaysia on Wednesday (Dec 11), BIMB said the plan is for a placement of new BIMB shares of up to 800 million ringgit, a scheme of arrangement to settle outstanding warrants, an internal reorganisation, distribution and capital repayment, and transfer of listing to Bank Islam.
Proceeds from the proposed 800 million ringgit placement of new shares will go towards settling an outstanding sukuk issued to controlling shareholder Lembaga Tabung Haji.
The scheme of arrangement to pay warrant holders will be in a cash consideration for the cancellation of exercise rights in respect of the warrants, according to the statement. The total warrants consideration will be funded using internally-generated funds.
After the 800 million ringgit placement and scheme of arrangement are completed, the Group will undertake an internal reorganisation.
The Group said the internal reorganisation will "simplify the shareholding structure and the corporate structure of the BHB Group".
"Fewer layers in the corporate structure will help enhance the supervision and efficiency of the new Bank Islam Group and facilitate the positioning of Bank Islam to become the frontrunner of the new banking group," it said.
The internal reorganisation will involve disposal of the Group's subsidiaries to Bank Islam.
"The total consideration for the Proposed Disposals will be paid in full by Bank Islam upon completion of the Proposed Internal Reorganisation in terms to be set out in the SSA (share sale agreement). The cash consideration will be funded using internally generated funds of Bank Islam," said the Group.
Following this, the entire shareholdings of BHB in Bank Islam and Syarikat Takaful Malaysia Keluarga Bhd will be distributed by way of distribution-in-specie to the shareholders of BHB.
"Upon completion of the Proposed Distribution and Capital Repayment, the Distribution Entitled Shareholders will directly hold the Consolidated Bank Islam Shares and STMKB Shares, in proportion to their shareholdings in BHB as at the Distribution Entitlement Date and BHB will cease to be a shareholder of Bank Islam and STMKB," said BHB.
There will then be a one-for-one share swap of BHB and Bank Islam shares after Bank Islam undertakes a share consolidation to match both outstanding share bases.
Bank Islam will then assume the listing status of BHB.
"The Proposed Transfer of Listing will also enable Bank Islam to gain direct access to the equity capital market for its fund raising activities to support its organic growth and provide an opportunity for investors to invest directly in Bank Islam via an investment in new Bank Islam Shares," said the Group.
BIMB Holdings posted 7.24% increase in profit before tax for the third-quarter compared to the same three months last year.
The bank reported 317.8 million ringgit ($76.16 million) in profit before zakat and tax for July-September versus 296.35 million ringgit for the corresponding quarter in 2018.
However, Bank Islam, Malaysia's oldest standalone Shariah-compliant bank, saw its profit before zakat and tax (PBZT) drop by 7.2% to 208.8 million ringgit compared to 225 million ringgit for the third-quarter of last year. The bank attributed the drop mainly to higher finance cost and net allowance for impairment on financing and advances.
https://www.salaamgateway.com/story/malaysias-bimb-to-start-restructuring-exercise-to-move-listing-status-to-bank-islam
------
Pakistan
India's actions in Kashmir and persecution of Muslims could lead to a 'catastrophe' in S. Asia: Pakistan warns
December 13, 2019
UNITED NATIONS, Dec 13 (APP):Pakistan has warned that India's unilateral annexation of Jammu and Kashmir, imposition of a crippling, military-enforced curfew in the disputed state and mass arrests of Kashmiris, as also its hostile actions against Indian Muslims could propel South Asia "towards a catastrophe".
"It is high time for the international community to wake up to the clear and present danger and intervene to defuse this India-instigated crisis," Ambassador Munir Akram told the UN General Assembly on Thursday.
Speaking in a debate on "Culture of Peace", the Pakistani envoy said that as a party to the Kashmir dispute, the United Nations has an obligation to secure the implementation of the Security Council resolutions and also to protect the human rights of the Kashmiri people, including their right to self-determination.
In his speech, Ambassador Akram deplored that the war on terror, following the 11 September 2001 terrorist attacks in the United States, has virtually turned into a war on Islam. The "pernicious" equation of Islam with terrorism had been used to justify discrimination against Muslim individuals, communities and entire nations as well as a series of foreign invasions in the Muslim world.
"It has also justified denial of justice and self-determination to the Palestinian and Kashmiri peoples," he added.
Noting that Islamophobia was becoming even more pervasive, the Pakistani envoy said that the phenomenon has assumed a 'deadly dimension" in India.
The mothership of governing Bharatiya Janata Party is the Rashtriya Swayamsevak Sangh (RSS), a fascist organization created almost 100 years ago by its founder, Gowalker, who advocated "cleansing" of Muslims and other minorities from India's "Aryan" Hindu population, Ambassador Akram said.
"The RSS' gangs of violent thugs organize and behave like Hitler's Brown Shirts."
Pointing out out that a RSS member had assassinated Mahatama Gandhi, he said that in 1992 the organization's mob destroyed the historic Babri Mosque in Ayodhya. Last month, the Indian Supreme Court handed-over the Mosque site to those who destroyed it. to build a Hindu Temple.
The same year, in 1992, he added, thousands of Muslims were killed in Mumbai by Hindu extremist mobs. "There is considerable evidence that, in 2002, (Prime Minister Narendra) Modi, a life-long member of the RSS, as Chief Minister of Gujrat orchestrated the massacre of 2000 Muslim men, women and children there."
In several parts of India, the Pakistani envoy said, the plan for ethnic cleansing was being implemented.
In Assam, he said, two million Muslims and Christians have been arbitrarily stripped of their Indian nationality. Thousands were being held in concentration camps, and the new nationality registration was to be applied across India. In this regard, he pointed to the passage by Indian Parliament of a patently anti-Muslim law called the Citizenship Amendment Bill, which envisions granting citizenship to all in India except the Muslims.
"Muslims are being indiscriminately killed across India, with complete impunity, by Hindu 'cow vigilantes' and extremists," he said, adding that Indian journalists, the electronic and print media, and even opposition politicians had been silenced.
The annexation of Jammu and Kashmir and the obliteration of its identity was a primary objective of the Modi Government, which on 5 August unilaterally and illegally changed two articles in the Indian Constitution to eliminate Jammu and Kashmir's special and autonomous status, in a bid to transform a Muslim-majority state into a Hindu-majority territory.
"We fear that Indian repression will intensify further," Ambassador Akram said. "The Kashmiris will inevitably express their rage and rejection. Indian forces will without doubt respond with characteristic brutality. "
To divert attention from its repression, India could launch another "false flag" operation to justify another aggression against Pakistan, he said, while noting that New Delhi had issued new maps showing both Indian-occupied and Pakistan administered Jammu and Kashmir as part of India.
Referring to the intensification of India's ceasefire violations, the Pakistani envoy said, "We have observed threatening Indian Army movements along the Line of Control in Kashmir in recent days."
Pakistan, he said, does not want war, but if India mounts another attack against Pakistan, "we will respond vigorously and effectively."
"It is high time for the international community to wake up to the clear and present danger and intervene to defuse this India-instigated crisis," Ambassador Akram said in conclusion.
https://www.app.com.pk/indias-actions-in-kashmir-and-persecution-of-muslims-could-lead-to-a-catastrophe-in-s-asia-pakistan-warns/
------
IIFM forum probes challenges facing Islamic finance industry
December 13, 2019
The International Islamic Financial Market (IIFM) organised its 10th annual seminar on the pre-conference day of the 26th World Islamic Banking Conference (WIBC 2019) at the Gulf Hotel, Bahrain.
The awareness seminar on Islamic finance hosted by the Central Bank of Bahrain (CBB) witnessed a packed audience of over 250 delegates from across the globe. The seminar, ascertained various Islamic banking activities, while co-ordinating with regulators and the financial sector on policy-making and strategy building for the Islamic banking and finance industry. Present were dignitaries including the IIFM board of directors representing the Central Bank of Bahrain, Bank Indonesia, Central Bank of Sudan, Autoriti Monetari Brunei Darussalam, Islamic Development Bank and other senior officials from the Islamic finance industry.
A high-profile line-up of speakers at the seminar not only discussed IIFM standards but also consequent industry development initiatives. The day-long seminar deliberated on vital subjects such as the global sukuk market and its development, ISDA/IIFM Islamic hedging standards, IIFM-BAFT Islamic trade finance standards and global benchmark reforms.
LIBOR is the most commonly used benchmark rate in financial markets which will be phased out by January 2021 and the conventional market is already gearing up to move to alternative reference rates.
The preparedness level of the Islamic finance industry to deal with this significant shift in the financial markets was discussed and it was recommended that more comprehensive deliberation should take place in the form of a specialised roundtable led by IIFM.
The aim of the event was to establish clarity in advancing sustainable development of the Islamic finance industry.
The event concluded with a dialogue on the need for more standardisation of documentation. Bahrain-based IIFM is a global Islamic infrastructure entity that regulates trading and capital flows across the full spectrum of Sharia-compliant financial instruments internationally by issuing standardised documentation, product confirmations and guidelines for the Islamic Financial Services Industry.—Agencies
https://pakobserver.net/iifm-forum-probes-challenges-facing-islamic-finance-industry/?utm_source=rss&utm_medium=rss&utm_campaign=iifm-forum-probes-challenges-facing-islamic-finance-industry
------
Police take flak for not naming PM's nephew in FIRs
December 13, 2019
LAHORE: The police authorities faced severe criticism for not nominating Prime Minister Imran Khan's nephew Barrister Hassaan Niazi in the cases registered against the lawyers who attacked the Punjab Institute of Cardiology.
Two FIRs were lodged against 250 lawyers after they stormed the state-run cardiac hospital, damaged public property and beat government employees. Police framed terrorism, murder and street crime charges in the cases lodged on the complaint of the PIC chief executive and the Shadman SHO.
After going through several CCTV/mobile phone footage and obtaining credible information from other sources, police higher-ups nominated 21 lawyers in the FIRs which were lodged late on Wednesday.
An official said mobile phone footage surfaced the same day that caught PM's nephew Hassaan Niazi throwing stones on police on Jail Road. The footage went viral on the social media, he said, adding that police neither nominated him in the FIRs nor did they arrest him.
Police took the flak for alleged favour to PM's nephew who is the son of Hafeezullah Niazi, a columnist who is a strong critic of the PTI since his falling out with Mr Imran Khan a few years ago.
A senior police officer denied the allegation of giving favour to Hassaan Niazi saying all the lawyers who participated in the violent protest would be treated equally. He said Hassaan was among more than 200 lawyers who had gone underground to avoid arrest. The police teams were carrying out raids for their arrest, he said, adding that 46 lawyers had been arrested so far.
Meanwhile, the chief minister met Punjab Assembly Speaker Pervaiz Elahi and his son MNA Moonis Elahi and said the PIC incident was "very shameful and deplorable". He said the responsible elements would not escape the law.
Pervaiz Elahi expressed complete solidarity with the doctors, paramedical staff, patients and their relatives.
https://www.dawn.com/news/1521920/police-take-flak-for-not-naming-pms-nephew-in-firs
------
SC urged to overturn IHC order in Musharraf case
December 13, 2019
ISLAMABAD: The Sup­reme Court was asked on Th­u­rsday to overturn the Nov 27 Islamabad High Court (IHC) order of restraining the special court from announcing its verdict in the treason trial of former president retired Gen Pervez Musharraf.
"It is respectfully prayed that the impugned judgment be set aside in view of April 4, 2019, judgement of this court," said the appeal moved by Taufiq Asif, a former president of the Lahore High Court Bar Association, through his counsel, Sheikh Ahsan-ud-din.
On April 4, the Supreme Court had held that the treason trial of Pervez Musharraf was a case of paramount importance under the Constitution and should be conducted expeditiously.
The verdict had stated that the control over proceedings of the trial cannot be allowed to vest in the accused, adding that the former president would lose his legal right to defend himself if he failed to turn up before the special court conducting his trial for imposing emergency on Nov 3, 2007.
The decree was passed by the Supreme Court to help the special court reach a logical conclusion. The decree carried a clear directive to go ahead with the treason case against Pervez Musharraf without recording his statement under Section 342 of the Code of Criminal Procedure (CrPC) in case he did not show up before the trial court, the verdict had explained.
On Nov 26, the Lahore High Court Bar Association approached the Supreme Court seeking a direction for the special court to comply with the apex court's order and "proceed expeditiously with due diligence".
But on Nov 27, the IHC allowed identical petitions of complainants, the interior ministry and Musharraf's counsel, and stopped the special court from announcing its verdict.
Now in his fresh petition, Taufiq Asif stated before the Supreme Court that the IHC order was contrary to the Constitution and the law, adding since the special court was set up under Section 4(1) of the Criminal Laws Amendment (Special Court) Act 1976, no writ petition was competent before the high court.
The petition argued that the Supreme Court, for the first time after promulgation of the 1973 constitution, had laid down a procedure to be followed by the special court. The high court stands barred under Article 199(5) of the constitution from entertaining writ petitions, the appeal contended.
Under Article 12(3) of the special court act 1976, the right of appeal was available to the complainant, the app­eal said, adding that the interior ministry was emp­loying different tactics to avoid an early decision of the treason trial, the petition alleged.
The ministry of interior, Pervez Musharraf, the special court and the federal government have been named respondents in the appeal.
https://www.dawn.com/news/1521990/sc-urged-to-overturn-ihc-order-in-musharraf-case
------
Arab World
Saudi Arabia ranked 36th in world on human development
December 13, 2019
NOOR NUGALI
RIYADH: Saudi Arabia has been ranked 36th in the world in a UN Development Program (UNDP) study highlighting the growth of global inequality.
The 2019 Human Development Report has warned that business as usual would not solve a new generation of inequalities.
While great strides had been made in fighting poverty, hunger and disease, many societies were still not working as they should, the report's findings showed.
As a result, a new generation of inequalities was opening up around education, technology and climate change which if left unchecked could trigger a "new great divergence" in society of the kind not seen since the industrial revolution nearly two centuries ago, its authors concluded.
The UN produces the report on an annual basis to measure countries' progress beyond economic growth and this year's document was titled "Beyond income, beyond averages, beyond today: Inequalities in human development in the 21st century."
As well as analyzing inequalities the report proposed a range of policy options to tackle them.
The UN listed Saudi Arabia 36th out of 189 countries and territories in its human development index (HDI), considered to be a high category placing.
With Saudi Arabia gearing up to host the 2020 G20 summit of world leaders, Adam Bouloukos, the Kingdom's resident representative at the UNDP, said: "We are in a moment of time which is unique."
Having taken over the presidency of the G20, he said the Kingdom had already "come out shining" from the meetings it had hosted in preparation for the November gathering in Riyadh.
Bouloukos said that the UN report tried to look at inequities in different ways.
He pointed out that conflicts, wars, and terrorist incidents had enormous growth impact on economies and countries in continual turmoil were experiencing long-term development issues.
Saudi Arabia had an important role in helping the world to tackle these problems which were being discussed during the G20 meetings, he added.
One of the reasons Saudi Arabia had not been placed higher in the index was because of the challenges that still lay ahead. However, Bouloukos pointed out that while the transformations taking place in the Kingdom had been noted, there was a time lag in the report and next year the full extent of the changes would be recognized.
While the report was global in scope, its data and findings can be unpacked at regional level to identify contours of inequality across world regions.
The Arab states region had experienced significant growth in human development over the past two decades, as measured through the report's index. But according to the HDI and its sister list, the 2019 inequality-adjusted human development index (IHDI), the unequal distribution of education, health and living standards had stymied progress in the region, with up to 24 percent of its human development value lost when adjusted for inequality.
Gender inequality and vulnerability to conflict persisted in the region, figures showed.
Describing the "next-generation" inequalities likely to impact development progress, the report noted, for example, that in countries with very high levels of human development, subscriptions to fixed broadband were growing 15 times faster, and the proportion of adults with tertiary education was growing more than six times faster than in countries with low human development.
The HDI recorded a 14 percent gap in human development between men and women in the Arab states' region. Whereas worldwide the share of non-farming employment for women was 39 percent, that figure fell to just 16 percent for the region. It also had one of the widest gaps in the world for women's labor force participation, as well as one of the lowest percentages of women with access to banking services.
Vulnerability to conflict or crisis had also rolled back the region's human development progress, with new data showing that Syria had lost 15 percent of its value on the HDI since 2010, and Libya has shed 10 percent in the same period. Since 2014, Yemen had lost 8 percent of progress by this measure, rounding out research commissioned by UNDP Yemen which showed that the country's human development had been pushed back by 21 years due to the ongoing conflict.
The UN report recommended policies that looked at, but also went beyond, income, anchored in lifespan interventions starting even before birth, including through pre-labor market investments in young children's learning, health, and nutrition. Such investments must continue through a person's life, over the course of working years and into retirement and old age, it said.
The report further argued that taxation could not be examined in isolation, but must be part of a system of policies, including those for public spending on health, education, and alternatives to a carbon-intensive lifestyle.
Averages concealed the dynamics in society which really mattered to people, the study stated, and while they could be helpful in telling the bigger story, much more detailed information was needed to create policies to tackle inequality effectively.
Looking beyond today, the report asked how inequality could change in the future, particularly through the lens of climate change and technological transformation — two forces that seemed set to shape human development outcomes into the next century.
Environmental sustainability remained a challenge for the region, which registered the world's lowest rate of renewable energy consumption.
https://www.arabnews.com/node/1598231/saudi-arabia
------
Human rights chief Awwad Al-Awwad stresses Saudi Arabia's openness at EU meet
December 13, 2019
JEDDAH: Awwad Al-Awwad, president of the Saudi Human Rights Commission (HRC), told EU members that the Kingdom has been an international leader in human rights obligations.
He met with 17 members of the EU's Political and Security Committee in the presence of the head of the Saudi mission to the EU, Ambassador Saad bin Mohammed Al-Arifi on Thursday in Brussels.
"The Kingdom sought to protect and promote human rights and fulfilled its international obligations by submitting all its international reports. This made it one of the 36 countries to do so out of 197 state parties. This was due to the support provided by King Salman to human rights," Al-Awwad said.
"Crown Prince Mohammed bin Salman has made a qualitative leap and has led a reform, development, change and modernization movement in all of the state's facilities and human rights in particular. The three past years have seen the taking of around 60 human rights-related decisions, with 22 of those aimed at empowering women.
"The Kingdom's Vision 2030 is at the forefront of these reforms intended to focus on humans, the central element of development," he added, noting that "the vision included objectives related to human rights."
The HRC president said that Saudi Arabia "is open to the world and still looks forward to achieve more under its wise leadership. It seeks to achieve the principles and values of human rights and hopes they will become universal, which would promote the achievement of sustainable development and the protection and promotion of human rights."
Al-Awwad stressed the Kingdom's interest in fighting terrorism.
"The Kingdom has fought extremism in cooperation with other countries by launching several centers and projects to promote the values of moderation and tolerance, facing the sources of extremism and terrorism to fight extremist thinking," he said.
The meeting discussed means of boosting cooperation between the Kingdom and the EU in social and humanitarian work.
https://www.arabnews.com/node/1598186/saudi-arabia
------
Minister of Islamic Affairs chairs meeting of Executive Council of Conference of Endowments
2019/12/12
Amman, Dec. 12, 2019, SPA -- The Saudi Minister of Islamic Affairs, Call and Guidance Sheikh Dr. Abdullatif bin Abdulaziz Al Al-Sheikh, who is also Chairman of the Executive Council of Ministers of Endowments and Islamic Affairs conference of Muslim States presided over here today, the twelfth session of the Council's work.
In addition to Saudi Arabia, the conference was attended by other member countries of the Executive Council, namely Egypt, Gambia, Indonesia, Jordan, Kuwait, Morocco, and Pakistan, and sponsored by the Prime Minister of Jordan, Omar Razzaz.
https://www.spa.gov.sa/viewfullstory.php?lang=en&newsid=2010591
------
Anti-Arab Spraypainted on Mosque in Northern Israel
December 12, 2019
In the village of Manshiet Zibdeh, located in what is now Israel, a mosque was defaced with racist graffiti on Thursday morning, and cars parked at the mosque had their tires punctured.
Israeli police were called in by the Imam of the Mosque when the graffiti was found, but they failed to carry out any kind of investigation or locate the assailant.
This was considered to be a "price tag" attack, which is a tactic used by Israeli right-wing settlers to, as they claim, make Palestinians 'pay a price' for living on their ancestral land – land which the Israeli settlers want to take over.
In a similar attack toward the end of last month, about 70 vehicles had their tires slashed in the town of Jaljulia in Israel.
https://imemc.org/article/anti-muslim-spraypainted-on-mosque-in-northern-israel/
------
After Trump executive order, GOP lawmaker tries to get Georgetown funding pulled over 'anti-Israel, pro-Islamist' bias
Michael Arria
December 12, 2019
On December 11, President Trump signed an executive order that effectively weaponizes antisemitism as a cudgel to beat back BDS activities on college campuses. The order threatens to withhold federal funding from universities if the government determines that they've failed to prohibit discrimination.
Trump's move was barely announced before a member of congress attempted to use the new playbook. Rep. Denver Riggleman (R-VA) has sent a letter to Secretary of Education Betsy DeVos asking for Georgetown University to be investigated over its alleged anti-Israel bias. The news was reported on Twitter by the Jewish Telegraphic Agency's Washington bureau chief Ron Kampeas.
"I have recently become aware of systematic support for biased, anti-American, pro-BDS individuals and scholarship at Georgetown University's Center for Contemporary Arab Studies that are not in accordance with the mission of Title VI funds and contrary to America's national security interests…The so-called Boycott, Divestment, and Sanctions (BDS) movement is a dagger aimed at the heart of one of America's closest allies, Israel," reads the letter. Riggleman cites a report on Georgetown faculty from Islamophobic commentator Daniel Pipes's website as the basis behind his concerns.
Riggleman was elected to Virginia's 5th district in 2018, beating his Democratic opponent, the investigative journalist Leslie Cockburn, with 53% of the vote. This September he traveled to Israel as part of an AIPAC-sponsored trip and, like many Republican members of that delegation, returned to criticize the push for a two-state solution. "The United States must step back and simply support Israel's right to exist and to secure itself," he declared at the time, "There is no easy fix."
"The United States must step back and simply support Israel's right to exist and to secure itself," says congressman Riggleman. This "right to exist" zombie refuses to die. Once more, for any walking dead out there:
"There is no such thing as a state's "right to exist", period. No such right is recognized under international law. Nor could there logically be any such right. The very concept is absurd. Individuals, not abstract political entities, have rights….The proper framework for discussion therefore is the right to self-determination, and it is precisely to obfuscate this truth that the propaganda claim that Israel has a "right to exist" is frequently made. It is necessary for Israel's apologists to so shift the framework for discussion because, in the framework of the right to self-determination, it is obviously Israel that rejects the rights of the Palestinians and not vice versa."
Well, I think that very idea of international law implies that each 'nation' to which the law applies has a duty to refrain from attacks on others unless with exceptional provocation and justification per some version of just war theory. From this it follows that each of these 'nations' has a corresponding right not to be attacked unless for corresponding wrongdoing. In that sense there is a right to exist.
W e can have these disagreements about the "right to exist" precisely because the term has no meaning in the framework of modern international law. I think you're talking about "the right to live in peace within secure and recognised boundaries", which is different from the (meaningless) "right to exist". I think the point is important – and goes beyond pedantic nit-picking – because of the way the phrase "right to exist" is used.
"Nor should Israel's "right to exist" be confused with its people's "right to live in peace within secure and recognised boundaries," the wording of United Nations Security Council Resolution 242. "
https://mondoweiss.net/2019/12/after-trump-executive-order-gop-lawmaker-tries-to-get-georgetown-funding-yanked-over-anti-israel-pro-islamist-bias/
------
Saudi Civil Service Ministry links up with 90 other agencies
December 13, 2019
RIYADH: The Ministry of Civil Service, through a strategic partnership with the e-government program "Yesser," has linked central databases with 90 government agencies representing more than 86 percent of public sector employees.
The database connection was secured after the agencies completed the requirements for sending human resources data through the government integration channel according to the classification of groups specified by the ministry.
The ministry, represented by its Digital Transformation Agency, has provided more than 27 electronic services on its website, serving government agencies and public sector employees.
This includes the "Eltizam" (commitment) service to provide human resources data including personnel data, jobs, salaries, qualifications, leave and performance evaluation.
There is also the "My Career Data" platform, which enables civil servants and human resources specialists to review and correct data, providing access to historical career records and administrative transactions.
King Salman recently issued directives to government agencies to complete electronic connectivity with the Ministry of Civil Service, to provide human resources data within 120 days.
https://www.arabnews.com/node/1598256/saudi-arabia
------
WHO discuss criteria to accredit Madinah as a healthy city
December 13, 2019
MADINAH: More than 22 government, community, charity and volunteer agencies are preparing for WHO's accreditation of Madinah as a healthy city.
Dr. Abdul Aziz Al-Sarani, Taibah University rector and chairman of the Supreme Supervisory Committee of Healthy Cities Program in Madinah, said that the program meets more than 97 percent of World Health Organization (WHO) standards and 90 percent of required practices.
On Wednesday Al-Sarani received the WHO delegation to discuss topics related to Madinah's accreditation as a healthy city. He commended the organization's efforts globally, especially the Healthy Cities Program and its health, social and environmental impact on countries.
He said that the program aims to improve urban citizens' health status, especially in areas that require more basic needs, while prioritizing the development of health, environment and social services.
Al-Sarani thanked Madinah Gov. Prince Faisal bin Salman and Deputy Governor of Madinah Prince Saud bin Khalid Al-Faisal for their support, and said that this would be reflected in the development of medical and health services in Madinah.
He also praised the role of participating sectors that worked hard to achieve all the required standards.
https://www.arabnews.com/node/1598246/saudi-arabia
------
Mideast
Indicted Netanyahu to quit all ministries, remain PM
December 12, 2019
JERUSALEM: Embattled Israeli Prime Minister Benjamin Netanyahu, facing criminal charges and a new general election, will resign from all other ministerial positions he holds but remain premier, his lawyers said on Thursday.
The announcement to the supreme court came the same morning as Parliament dissolved itself and set a date for a new election, the third within a year.
The court had received a petition from the Movement for Quality of Government in Israel (MQG) demanding that Netanyahu, who is also minister of agriculture, diaspora, health and welfare, step down from all his positions in light of his indictments.
Attorney General Avichai Mandelblit last month charged Netanyahu with bribery, fraud and breach of trust in three different corruption cases.
Israeli law stipulates that ministers facing criminal charges resign, but has no such provision for prime ministers.
Following the petition, Mandelblit said that while Netanyahu could not be forced to resign as premier, the issue of his ministerial positions would be addressed later.
In the Thursday submission to the court, Netanyahu's legal team said: "He will cease being a minister by Jan. 1, 2020 and appoint other ministers instead.
"The prime minister will continue to be prime minister, as per the law," attorneys Avi Halevy and Michael Rabello said.
The MQG said Netanyahu's intention to resign as minister "was not enough," describing his continued premiership "a terrible shame on Israel."
"Netanyahu should fight for his innocence as a private person and not from the prime minister's office," the NGO said in a statement.
Netanyahu protests his innocence, accusing the state prosecution and media of a witch hunt.
He has yet to announce whether he will seek immunity from prosecution — a parliamentary process complicated by the short life of the current parliament.
A new election was called for March 2, after neither Netanyahu nor his centrist rival Benny Gantz managed to form a majority coalition following the September vote.
https://www.arabnews.com/node/1598141/middle-east
------
Bahrain sentences 34 to prison for membership in Shia opposition group
December 12, 2019
A Bahraini criminal court has handed down prison sentences to 34 defendants over their alleged membership in the Shia opposition group Wefaq, the Bahrani newspaper Al-Ayam has reported.
The Bahraini government considers Wefaq a terror group. It was the country's largest opposition party before a court suspended its activities and froze its funds in 2016.
The court sentenced eight of the defendants to life imprisonment and fined them 100,000 Bahraini dinars each ($265,231).
Seven other defendants were sentenced to 10 years, eight were sentenced to five years, and nine to 15 years each. One defendant was sentenced to three years in prison.
https://www.middleeastmonitor.com/20191212-bahrain-sentences-34-to-prison-for-membership-in-shia-opposition-group/
------
Islamic State militants with the badges of Turkey-backed Syrian FSA and SNA
December 12, 2019
Former ISIS militants fighting with Turkey-backed Syrian FSA and SNA militants. 2019. Photo: ANF/SM
QAMISHLO, Syrian Kurdistan,— Islamic State members along with Turkish army participated in the occupation of the Kurdish towns of Serêkaniyê (Ras al-Ain) and Girê Spî (Tel Abyad) in Syrian Kurdistan, under the Turkish flag and in the uniform of the so-called Syrian National Army (SNA). Meanwhile, they no longer consider it necessary to hide their identity, Firat News Agency ANF reported.
Since 2016 Turkey has organized members of the "Islamic State" (ISIS) in the "Free Syrian Army" (FSA). When the occupation operation of the Northern Syrian region of Shehba was launched from Jarablus on August 24, 2016, numerous ISIS jihadists from Jarablus, Akhtarin, Mare and Azaz cut off their hair and beards and put on uniforms of the Turkish state-controlled FSA.
In the course of the Kurdish-led Syrian Democratic Forces (SDF) offensive to liberate Raqqa and Deir ez-Zor, tens of thousands of ISIS members moved to Turkey and the Turkish-occupied territories in northeastern Syria. These jihadists were also placed in FSA ranks by the Turkish state.
When the occupation of Afrin began on January 20, 2018, the Islamists in the FSA no longer considered it necessary to camouflage themselves by trimming their beards. The Turkish state had meanwhile completely transformed the FSA into a jihadist army.
Some of the ISIS members participating in the occupation operation in Serêkaniyê and Girê Spî launched by the Turkish state on October 9, 2019 in the ranks of the so-called Syrian National Army (SNA) no longer consider camouflage necessary. Although the Turkish secret service has warned them several times, jihadists of the FSA and SNA eagerly share photos from their time with the "Islamic State" and spread propaganda for the ISIS on the social media.
Former ISIS militants fighting with Turkey-backed Syrian FSA and SNA militants
Former ISIS militants fighting with Turkey-backed Syrian FSA and SNA militants. 2019. Photo: ANF/SM
Below are details of some of the ISIS members who have participated as "FSA" or "SNA" in the occupation of Afrin and Serêkaniyê:
Ahmed Abud: The 33-year-old is known as Abu Shihab. He belongs to the al-Khalahi tribe and comes from Mayadin in Deir ez-Zor. In 2014 he joined the ISIS in Mayadin. Two years ago he moved to the Turkish-occupied territories in
Shehba and joined the Jaysh al-Sharqiya militia, which consists almost entirely of ISIS members. He participated in the Turkish occupation operation in Afrin and was particularly active in the fighting in Jindires.
Now he has participated in the occupation of Serêkaniyê and Girê Spî and has been appointed by the Turkish state to the General Command of the Jaysh al-Sharqiya units stationed in the two cities.
Former Islamic State militants fighting with Turkey-backed Syrian proxies
Former ISIS militants fighting with Turkey-backed Syrian FSA and SNA militants. 2019. Photo: ANF/SM
Abu Ahmed al-Khureshi: The Islamist belongs to the Qaraani tribe and comes from the village al-Quriyah in Deir ez-Zor. In the SNA he is known as Abu Jasim, while he was called Abu Ahmed al-Khureshi in the ISIS. He is married and has three children. At the beginning of the Syrian Civil War he joined the Faruk Battalion. When the ISIS appeared in the region, he became a member and worked as a military instructor for the ISIS in al-Baraka in Hesekê. His emir at that time was Abu Jandal al-Belchiki. Later he himself became the military emir of several road checkpoints of the ISIS. During his time in Deir ez-Zor and Aleppo he participated in all combat operations.
In 2017, al-Khureshi moved to the Turkish-occupied territories in Shehba through the mediation of the ISIS military intelligence service. His cousin was the emir of the Isud al-Sharqiye militia in Idlib. He himself joined this group, participated actively in the occupation of Serêkaniyê and continues to stay there. Abu Ahmed al-Khureshi uses a Facebook account called Anas Khalil, where he also shared photos from his time within the ISIS.
Former ISIS militants fighting with Turkey-backed Syrian FSA and SNA militants. 2019. Photo: ANF/SM
Mohammed al-Debas: This jihadist was born in 1988 and comes from the neighborhood of al-Katif in al-Bukemal district in Deir ez-Zor. Before the beginning of the Syrian civil war, he had earned his living as a vegetable merchant. In 2013 he joined the Al-Nusra front in al-Bukemal. When Deir ez-Zor fell under the rule of the "Islamic State", al-Debas moved to the ISIS and moved to Idlib six months later. There he joined al-Nusra again. In 2015 he went to Turkey under the aegis of Al-Nusra commander Xizhil and returned from there to Idlib. In 2015, he participated in military training in Jordan and, after his return, joined a group controlled by the Turkish state. With this group he participated in the occupation of Afrin. He participated in the invasion of Serêkaniyê and Girê Spî in the ranks of the Sultan Murad Brigade set up by the Turkish secret service. He continues to live in the area.
Former ISIS militants fighting with Turkey-backed Syrian FSA and SNA militants. 2019. Photo: ANF/SM
Ahmed Adnan al-Rahwmi: The jihadist was born in al-Bukemal in Deir ez-Zor in 1998 and was a construction worker there. He joined the ISIS in 2014. In the "Islamic State" he was accused of theft and fled with his family to Turkey at the end of 2014. When the Turkish state set up the "Euphrates Shield" units within Turkey for the occupation operation in Shehba, he joined them there. He participated in the occupation of Afrin in 2018, and in the invasion of Girê Spî and Serêkaniyê as a member of the Sultan Murad Brigade in October 2019.
Suud Ghayeb al-Rakkad: The Islamist from the village of Na'ur near Til Kocher in the Dêrik region is known as Selil Shammar al-Shammari and uses this name on Facebook. He belongs to the Shammar tribe. He joined the FSA in Til Kocher at the beginning of the Syrian civil war, and became a member of ISIS in early 2014. He was a military commander of the ISIS in Hol. After about a year he went to Turkey. There he joined "Euphrates Shield" units of the FSA. In 2018 he participated in the invasion of Afrin. He actively participated in the invasion of Serêkaniyê, which started on 9 October, as a member of the Ahrar al-Sharqiya. His brother Faysal Ghayip al-Rakkad is also a member of this militia. He himself is in Mabruka at the moment.
Ahmed Abu Qutada: The jihadist comes from Saliya district of Deir ez-Zor and was active in ISIS in 2017. He is now a member of Ahrar al-Sharqiya, which is controlled by the Turkish state, and has been recognized in a video published by himself during the occupation attack on Siluk near Girê Spî.
https://ekurd.net/islamic-state-militants-fsa-2019-12-12
------
Top Security Official: Plots Hatched by Adversaries for False-Flag Killings in Tehran Riots
Thu Dec 12, 2019
TEHRAN (FNA)- Secretary of Iran's Supreme National Security Council (SNSC) Ali Shamkhani said enemies had plotted to increase the number of fatalities during the recent riots in several cities, adding that most of the people killed in Tehran province were not even involved in any protest gatherings.
"More than 85 percent of the victims of the recent incidents in towns of Tehran Province had not taken part in any gathering and were killed with non-organizational firearms and cold weapons in a very suspicious manner," said Shamkhani Secretary in a meeting with families of some of the victims of the riots in the Western towns of the province on Thursday.
He noted that there was certainly a plot hatched by the "adversaries" to cause as many fatalities as possible and pin the blame on Iran's security forces for the killings.
In mid-November, the Iranian government raised gasoline prices in order to moderate the national consumption rate.
The move prompted protests in a number of cities that went largely peaceful but turned violent when armed riotous individuals took advantage of the situation to vandalize public and state property, and attack civilians and security forces alike.
Shortly after the riots broke out, Supreme Leader of the Islamic Revolution Ayatollah Seyed Ali Khamenei tasked the Supreme National Security Council with compiling a report detailing the reasons behind the riots and immediate attending of the families of the victims.
https://en.farsnews.com/newstext.aspx?nn=13980921000639
------
IRGC Commander: Iranians to Overcome US Brutal Sanctions
Thu Dec 12, 2019
TEHRAN (FNA)- Islamic Revolution Guards Corps (IRGC) Commander Major General Hossein Salami underlined that the Iranian people will overcome the difficulties posed to the nation by sanctions, warning enemies of a crushing response to any possible military action.
"Iran is seeking to turn economic resistance into resistance economy by reversing sanctions and the Iranian nation will overcome the obstacles," General Salami said late on Wednesday.
He underlined that the Iranian Armed Forces are fully prepared to confront the enemies with outmost power.
In relevant remarks last month, General Salami said Iran's display of might and power had deterred enemies' resort to the military option.
"We thank God that we have humiliated the enemy on land, on sea and in the air, and have knocked them down a peg and they have come to realize that they should not engage in a conflict with this nation," he said.
General Salami stressed that the Iranian Armed Forces do not allow the enemies to make the smallest aggression against the country, and added, "The enemy knows this and it knows that it should put its weapon down and raise his hands as a sign of surrender to the (Iranian) nation."
https://en.farsnews.com/newstext.aspx?nn=13980921000366
------
Spokesman: Iran Not to Tolerate Interference in Its Internal Affairs
Thu Dec 12, 2019
TEHRAN (FNA)- Iranian Foreign Ministry Spokesman Seyed Abbas Mousavi blasted French President Emmanuel Macron's interfering remarks about Iran, and said that the foreign statesmen should avoid adopting such stances in future.
"Neither the Iranian government nor the country's judiciary would even accept any advice from anyone," Mousavi wrote on his Twitter account.
"Interference in Iran's internal affairs is intolerable," he added.
Mousavi reiterated that the French president should not forget that Iran is an independent sovereign state.
French President Emmanuel Macron had earlier called for the immediate release of two French nationals arrested in Iran, Fariba Adelkhah and Roland Marshall.
"On Human Rights Day, I think of Fariba Adelkhah and Roland Marshall, two compatriots jailed in Iran and their families," President Macron tweeted.
He went on to say that their imprisonment cannot be tolerated, adding that they should be released immediately. "I have said this to President Rouhani and I repeat it here."
https://en.farsnews.com/newstext.aspx?nn=13980921000117
------
New rocket attack targets Iraq base housing US troops
December 12, 2019
BAGHDAD: Two rockets were fired at a military base near Baghdad airport housing US troops, the 10th such attack since late October, the Iraqi army said on Thursday.
There were no casualties in the overnight attack, which follows one on the same base on Monday which wounded six members of Iraq's elite US-trained counterterrorism force, two of them critically, the army said.
Washington has expressed mounting concern about the flurry of attacks on US bases and diplomatic missions, several of which it has blamed on Shiite militia groups trained by its foe and rival for influence Tehran.
Security sources have linked at least one attack last week to Kataib Hezbollah, a powerful Shiite faction close to Tehran and blacklisted by Washington.
Iran holds vast sway in Iraq, especially among the more hard-line elements of the Hashd Al-Shaabi, a paramilitary force largely made up of Shiite militias.
A US defense official told AFP the rocket attacks made the Hashd a bigger security threat to American troops in Iraq than Daesh, the militant movement which the US has vowed to help Baghdad wipe out.
On Friday, the US imposed sanctions on three senior Hashd figures.
Tensions between Iran and the US have soared since Washington pulled out of a landmark nuclear agreement with Tehran last year and reimposed crippling sanctions.
Baghdad — which is close to both countries and whose many security forces have been trained by either the US or Iran — is worried about being caught in the middle.
US officials say they are considering plans to deploy between 5,000 and 7,000 additional troops to the region to counter Iran.
Anti-protester killed
Meanwhile, demonstrators lynched a teenager accused of attacking a protest encampment in Baghdad on Thursday, police and witnesses said, in an attack that threatened to tarnish the protest movement's broadly nonviolent image.
Police said a dispute between a 17-year-old male and protesters culminated with the body of the youth being strung from a traffic light near Tahrir Square, the epicenter of the months-old anti-government protest movement.
Earlier, police said protesters, some of whom have accused police of not protecting them from "saboteurs," set fire to the nearby house of the young man.
Video streamed live online showed security forces withdrawing before a crowd dragged a man along the ground while people kicked him.
His body, dressed only in underpants, was then strung up by the feet from a traffic light.
The corpse was later removed and taken to a forensic morgue, witnesses said. The morgue confirmed receiving a body.
The brutal episode could radically change the situation for a protest movement that has claimed pacifism in the face of violence in which 460 people have been killed and 25,000 injured, mostly protesters.
A statement signed by "the protesters of Tahrir" shared online denounced "a Machiavellian plan aimed at tarnishing the reputation of the peaceful protesters."
The thousands of protesters in Tahrir Square "had nothing to do with this morning's events," it concluded.
As images emerged online, a Twitter account close to Muqtada Sadr addressed the Shiite cleric's unarmed "blue helmets," who deployed to protect protesters after unidentified gunmen attacked them last week.
"If within 48 hours, the terrorists responsible are not identified, the blue helmets will have to withdraw from all the places where protesters assemble," it wrote.
Powerful pro-Iran militia leader Qais al-Khazali -- who was recently targeted by US sanctions -- denounced the "chaos" he has warned of since protests began.
"How long will this chaos and lawlessness continue, these weak security forces and proliferation of weapons and dirty militias," he asked on Twitter.
Protesters accuse pro-Iran armed factions of playing a role in the killing and abduction of protesters.
https://www.arabnews.com/node/1598136/middle-east
------
Europe
British Muslim group requests equality watchdog investigate 'institutionally embedded' Tory Islamophobia
12 December, 2019
An anti-Islamophobia organisation has lodged a formal request with the UK's Equality and Human Rights Commission (EHRC) to investigate anti-Muslim hate in the Conservative Party.
Muslim Engagement and Development (MEND) penned an open letter to EHRC chair David Isaacs reiterating the findings of its recent report that documents 120 instances of Islamophobia at the hands of Conservative MPs, councillors, and party candidates over the past five years.
The letter added that the report was compiled in response to the group's numerous calls for party to internally investigate the issues that have been ignored.
"We firmly believe that the institutionally embedded nature of Islamophobia within the Conservative Party amounts to a breach of equalities duties that has detrimental impacts to the political participation of British Muslims across the country," the letter stated.
Nine times the UK's Conservative Party were shockingly Islamophobic and got away with it
The letter also cites the fact that the former Chair of the Conservative Party, Sayeeda Warsi, has herself attested that the party has failed to address Islamophobia within its ranks.
This failure "demonstrates the urgent need for an independent investigation into Islamophobia within the Conservative Party and the explicit inclusion of Islamophobia as a consideration within its members' code of conduct", the letter said.
The EHRC, a UK public body responsible for the enforcement of equality and non-discrimination laws in the country, is currently undertaking a probe into allegations of antisemitism in the Labour Party.
Various Muslim groups in the UK have been trying to shine a light on the extent of anti-Muslim discrimination and hate within the Tory party in the run up to the general election.
Many of the claims revolve around the Prime Minister, Boris Johnson.
In its 2018 report, Islamophobia watchdog Tell MAMA UK identified a siginificant spike in anti-Muslim hate crimes in the country in August after Johnson wrote a newspaper column referring to veiled Muslim women as "letterboxes" and "bank-robbers".
In the week following his article, anti-Muslim incidents increased by 375 percent.
The Muslim Council of Britain accused the BBC on Tuesday of neglecting to report on the full extent of Islamophobia in the party, claiming it was tantamount to "incitement" against Muslims in the UK.
"The Conservative Party has an institutional, widespread problem with Islamophobia, which has been clearly documented both by the Muslim Council of Britain and other individuals, organisations and media outlets," said the group's Secretary General Harun Khan.
Previous criticism of Islamophobia in the party from the Council prompted Johnson to apologise for "all the hurt and offence that has been caused" and promised an independent inquiry into Islamophobia in the party despite claims by some the inquiry has been watered down.
https://www.alaraby.co.uk/english/news/2019/12/12/british-muslim-group-requests-rights-watchdog-investigate-tory-islamophobia
------
Stanley Johnson booed by TV audience after defending son's comments about the Muslim veil
13 December 2019
Boris Johnson's father has been heckled by a live television audience on election night after defending his son's remarks about the Muslim veil - and making it worse.
Appearing on Channel 4's alternative election coverage, he said that the remarks had been "taken out of context".
"Most of the things that have been said against him have taken the article out of context. And I don't want to go further down this route, but I will say, if I was a female fighter jet pilot, I would expect someone to say 'don't wear a burqa'."
Fellow television guest Nish Kumar held his head in his hands as he asked: "What are you talking about man?!"
Presenter Krishnan Guru-Murthy asked him to repeat what he said, to which he did.
"I said if I was a female fighter jet pilot, there have to be circumstances where..."
"You can't be allowed to say that," said one in the audience, to cries, gasps and boos.
"You'd expect them to be qualified, and that's the only thing that matters," said Robert Rinder.
"Robert Rinder, have you ever flown a plane," responded Johnson.
"Don't be so absurd," replied Rinder. "How dare you sit there and use language like that. That is disgraceful and it shouldn't require Nish to have to defend that.
"Whether I'm a person of the left or the right you don't sit there and use the platform that you've been gifted to sit there to say anything else. And people who want to defend our country should do so in circumstances where they're adequately qualified."
Rinder went on to say that Johnson was "talking rubbish", He was praised by audiences as host Guru-Murthy pleaded with the audience not to boo the guests.
https://www.theneweuropean.co.uk/top-stories/stanley-johnson-on-channel-4-election-coverage-1-6423016
------
London man who fought for so-called Islamic State and recruited others named in joint ITV News investigation
An east London man who joined so-called Islamic State was behind a recruitment network of Portuguese jihadists which helped to recruit young British men and deliver them to the battlefield in Syria.
Nero Saraiva, a Portuguese national who became a permanent resident in the UK, travelled to Syria in 2012 where he continued to organise a recruitment operation using friends who stayed behind in Europe and money raised in London through fraud.
Saraiva and his team advised recruits on which flights to book to get to Syria, the appropriate clothes to wear when travelling and even arranged for intermediaries to meet them once they arrived in Syria.
The network targeted young men in Lisbon and London, including one "petty criminal" who was arrested during the riots in 2011, according to an investigation carried out by ITV News in conjunction with Portuguese magazine SÁBADO.
The network is thought to have helped "several" militants to reach Syria during 2013.
Although the importance of the Portuguese cell within so-called Islamic State is well known, their role recruiting British men and evidence of sophisticated tactics they used can only now be revealed.
Saraiva's work in Syria was supported in Lisbon by friends including brothers Celso and Edgar Rodrigues da Costa, who later went to Syria to fight.
They are thought to have married London twins Reema and Zara Iqbal while living under so-called Islamic State.
CCTV images contained in a Portuguese police file and seen by ITV News appear to show members of the network at work during the summer of 2013.
Edgar Rodrigues da Costa and an associate are pictured welcoming two British men to Lisbon airport - the first leg of a journey that would eventually take the London recruits to Syria.
Saraiva, who used the alias Abu Yaqub al-Andalusi, was captured after escaping so-called Islamic State's "Caliphate" during the final battle for Baghouz last spring, and has since been questioned by American interrogators while in Kurdish custody.
He is considered by counter-terrorism officials to be a "high value" detainee because of his suspected links to the kidnapping of the British photojournalist John Cantlie.
Taroughi Haydari from London can be revealed as one of the men recruited by Saraiva's network.
Haydari, whose current whereabouts are unknown, is thought to have been brought to Syria with the help of Saraiva and his associates.
A relative of Haydari who asked not to be identified described his shock following his sudden departure in 2013.
"One day he didn't come home and didn't answer his mobile," he told ITV News.
"His sister searched and he was not there, and when she saw the passport was gone she thought he had definitely gone somewhere....
"She was crying all the time.
"After a few days when his mobile disconnected, the police came, about six or 10 vans surrounded our house and searched everything from four o'clock in the morning to noon."
A third "recruit' – a 29 year old businessman from east London - is believed to have changed his mind about going to Syria by time he reached Turkey, and returned to the UK. He has refused to respond to several requests for an interview made by ITV News.
Last year ITV News revealed that Nero Saraiva attended a so-called Islamic State commander's "call to arms" in Syria during the early days of the terror group.
Foreign fighters were ordered to play a lead role in the fight for territory.
https://www.itv.com/news/2019-12-12/london-man-who-fought-for-so-called-islamic-state-and-recruited-others-named-in-joint-itv-news-investigation/
------
Tory who warned of Muslim conspiracy to make people transgender elected to Parliament
NICK DUFFY
DECEMBER 13, 2019
A Conservative candidate who shared a blog claiming there is a Muslim conspiracy to make people transgender has been elected to Parliament.
Sally-Ann Hart prevailed over Labour in Hastings and Rye despite facing an investigation over allegations of antisemitism, transphobia and Islamophobia.
The candidate received 26,896 votes in Thursday's election, ahead of Labour's Peter Chowney on 22,853.
The seat was previously held by former Home Secretary Amber Rudd, a Conservative moderate and equalities minister.
Tory candidate Sally-Ann Hart had shared hate-filled blog
Hart had faced anger earlier this week when it was reported she shared a 2017 blog post claiming that extremists are secretly pushing a "Muslim agenda" by promoting LGBT rights+ and women's right to choose.
The blog had claimed: "They want the non-Muslim population to be stagnant while their Muslim population grows. Numbers mean power.
"They want a young male population that is weakened or with confused female tendencies, whether real or imagined, or transgendered.
"They want to oppress the women and weaken the men. And the rest of America? They are controlling you via the media."
Hart described the blog as an "affecting read" as she posted it to her Facebook wall.
The candidate was already facing a probe for anti-Semitism for sharing a video implying that George Soros, a Jewish billionaire, controlled the EU.
Conservatives had promised investigation over comments
A Conservative spokesperson said: "Sally Ann Hart is under investigation and these comments will form part of that investigation.
"Our complaints process is rightly a confidential one but there are a wide range of sanctions to challenge and change behaviour, including conditions to undertake training, periods of suspension and expulsion, and these are applied on a case-by-case basis."
Labour's shadow equalities minister Naz Shah said: "This disgusting Islamophobia and homophobia have no place in our society. And no one who spreads these vile far-right conspiracy theories is fit to be an MP."
"Boris Johnson has claimed that Conservative members who do this sort of thing are 'out first bounce'. So it defies belief that Sally-Ann Hart was selected as a candidate in the first place, and it is shameful that Boris Johnson is now failing to take action."
https://www.pinknews.co.uk/2019/12/13/tory-muslim-conspiracy-transgender-election/?utm_source=feedburner&utm_medium=feed&utm_campaign=Feed%3A+Pinknews+%28Pink+News%29
------
Moment Judge Rinder explodes with fury at Stanley Johnson over Muslim women comments
ByJames Rodger
13 DEC 2019
Stanley Johnson has sparked fury - after declaring 'women fighter pilots shouldn't wear burkas'.
Judge Rinder reacted with fury to Boris Johnson's dad Stanley's comments about Muslim women this evening.Mr Johnson was interviewed during Channel 4's Alternative Election show.
During the debate, the Prime Minister's dad echoed his son's controversial views.
Stanley angered many by spontaneously saying: "If I was a female fighter jet pilot, I would expect someone to say don't wear a burka."
Nish Kumar responded immediately by saying: "What are you talking about man?"
Robert Rinder said: "She has to be qualified... that is the only thing that matters.
"How dare you, how dare you sit there and use that kinds of language. That is disgraceful."
Stanley said: "My grandfather could recite the Quran."
One furious viewer responded: "So if you ever wanted proof that hate , racism, misogyny and bigotry are learnt, tune into channel 4 and watch Boris Johnson's father in action #alternativeelectionnight".
Katherine Ryan was presenting the coverage on Channel 4 this evening.
A second chipped in with: "It's like watching your drunk elderly family member at Christmas you can't believe they're saying these things and there's no stopping them #alternativeelectionnight".
Another wrote: "Having Muslim heritage doesn't absolve your Islamophobia. Appalling."
https://www.birminghammail.co.uk/news/showbiz-tv/moment-judge-rinder-explodes-fury-17412986
------
Demark: Police arrest 20 over Islamist terror plot
12-12-2019
Danish police arrested about 20 people on Wednesday after carrying out raids throughout the country to thwart what they suspected were preparations for an Islamist terrorist attack, police and security officials said.
The detainees had tried to obtain explosives and firearms, police said.
The raids were mounted on the suspicion that several people had been planning an attack, the Danish Security and Intelligence Service said in a news conference with police.
"It is our assessment, that those people are driven by a militant, Islamist motive," operational chief of the intelligence service, Flemming Drejer, said.
Police did not give a precise number for the arrests.
Some of those arrested would face preliminary questioning on Thursday on charges of terrorism, chief of police Jorgen Bergen Skov said.
"It's important to underline, that we detained all those we have been looking for," Skov said. "We now have the situation under control."
Denmark has not seen a terrorist attack since 2015, when two people were killed and six police officers were wounded.
In that incident, a lone gunman shot and killed a man outside a culture center hosting a debate on freedom of speech, and later killed a person outside a Jewish synagogue in central Copenhagen. The gunman was killed in a shoot-out with police.
This year, the Danish government imposed temporary border controls at its border with Sweden following the bombing of the Danish Tax Agency in Copenhagen, which led to the arrest of three Swedish men.
https://www.israelhayom.com/2019/12/12/demark-police-arrests-20-over-islamist-terror-plot/
------
Fife mosque unites with others to call for end to gender-based violence
by Craig Smith
December 12 2019
Kirkcaldy Central Mosque was one of just a select few across the UK which changed its usual Friday religious speeches, khutbahs, for a sermon on gender justice.
The gesture was in support of Islamic Relief UK's 16 Days of Activism campaign, #ThroughHerEyes, which falls between November 25 and December 10, and saw Imams quote sections of the Quran dispelling stereotypes and making it clear that violence against women is not tolerated in any form.
As the UK's largest Muslim charity, Islamic Relief UK is using the campaign to take a stance against all forms of violence against women and girls, including domestic abuse, sexual violence, human trafficking, forced and early child marriage, female genital mutilation (FGM), and so-called "honour" killings.
Maria Zafar, campaigns and mobilisation co-ordinator at Islamic Relief UK, revealed that two women a week in the UK alone are killed by a current or former male partner.
"As the UK's largest Muslim charity it is vital that we use our voice to try and challenge negative stereotypes about gender roles and teach people that any form of abuse against women and girls is wrong," she said.
"Islamic Relief supports women in some of the world's poorest countries, from empowering communities in Ethiopia to end FGM, to ending early forced marriage in Niger, to providing safe spaces for female refugees.
"It is crucial that in the UK, we take inspiration from this incredible work and speak to our own communities about what equality for women really looks like."
Kirkcaldy was one of a handful of mosques delivering sermons north of the border, with individual mosques in Edinburgh and Glasgow joining in similar events held in London, Manchester, Hull and south Wales.
The Soroptimist International (SI) of Kirkcaldy group is also showing solidarity with the campaign, focusing on rape as a weapon used both in war and in peace time against women and girls.
Valerie Cuell, president of SI Kirkcaldy, explained: "Soroptimists worldwide stand up in support of the victims of rape wherever they live in today's world.
"We note the number of reported cases of rape in Nepal have quadrupled in the past decade.
"One survey in 2016 found that 23% of women had been subject to physical, emotional or sexual violence with 7% having experienced sexual violence.
"Over half of the victims were minors, one in five under the age of 10.
"Soroptimists, locally and nationwide, will be supporting our new project 'Empowering Girls in Nepal', partnering with charity ChoraChori UK, which will provide security, rehabilitation, education and training for vulnerable girls who are school drop-outs, or who come from rural communities where sexual abuse is commonplace.
"Some club members were fortunate to meet the founder of ChoraChori recently when he visited Kirkcaldy to update the members of the Congregational Church who have supported the charity for 20 years."
https://www.thecourier.co.uk/fp/news/local/fife/1036202/fife-mosque-unites-with-others-to-call-for-end-to-gender-based-violence/
------
Times apologises and pays libel damages to imam who appeared on BBC debate
Imam Abdullah Patel, who appeared on BBC One's Our Next Prime Minister on 18 June, was selected to ask Boris Johnson and the four other Tory leadership hopefuls whether they agreed that Islamophobic rhetoric had real-life consequences.
He was subsequently suspended from his mosque and his job as a deputy headteacher after controversial posts he had made online emerged. Press Gazette understands he has since been fully reinstated and that no action was taken against him.
Two days after the debate, The Times wrongly claimed Patel had blamed Israel for the 2003 murder of a British police officer by a terror suspect in Manchester. The claim is believed to have been based on posts by someone with the same name.
In its correction, published today, the Times said: "This gave the impression that he had expressed views which excused or explained acts of terrorism. We accept that he did not make any such comment."
The front page story on 20 June, headlined: "Tory candidates threaten BBC debate boycott", also wrongly claimed that Patel ran a primary school that had been warned by Ofsted for imposing a segregation policy for parents at events that ran "counter to British democratic principles".
In fact, the education watchdog's criticism came before Patel was working at the school.
The front-page article ended by directing readers inside to the "Cleric's history of controversy", while the page eight headline claimed: "Israel is the real problem, said Imam in BBC row."
The Times has settled Patel's defamation claim against it by making a formal offer of amends and agreeing to apologise and pay damages and legal costs.
In a statement shared by his lawyers, Patel said: "It's a great relief for me and my loved ones to finally put this episode to an end.
"We owe thanks to my legal representatives and well-wishers who have ensured that shoddy sensationalist journalism will be challenged and defeated.
"For my part, I will continue holding anyone, including politicians to task for stoking the flames of anti-Muslim sentiment."
Patel's solicitor Zillur Rahman, of Rahman Lowe Solicitors, said the imam had been "vindicated" and that the case "highlights the shocking level of journalism to which the Muslim community are often subject to, even in newspapers such as The Times".
Our Next Prime Minister was watched by more than 5m people. The BBC subsequently said it would consider "additional steps" in its vetting process after another guest was found to have been a former Labour staffer and local election candidate whose affiliations were not mentioned on air.
https://www.pressgazette.co.uk/times-apologises-and-pays-libel-damages-to-imam-who-appeared-on-bbc-debate/
------
Africa
CAN Knocks CJN over Call for More Sharia Provisions in Constitution
December 13, 2019
Onyebuchi Ezigbo in Abuja
The Christian Association of Nigeria (CAN) has faulted the Chief Justice of Nigeria (CJN), Justice Ibrahim Muhammad, for advocating a constitution amendment to include more Shari'a content in the country's school curriculum, describing the call as ill-timed, provocative and unacceptable.
Muhammad on Wednesday had advocated the amendment of the constitution to accommodate some of the concerns of Muslims and the Shari'a law.
He spoke while declaring the 20th Annual Judges Conference open at the Ahmadu Bello University (ABU), Zaria Faculty of Law's Moot Court.
Speaking on the theme of the two-day conference, 'Documentation of Contracts in Islamic Law: Procedure, Sample Precedents and Practice,' organised by the Centre for Islamic Legal Studies (CILS) of the ABU in collaboration with National Judicial Institute (NJI), Abuja, Justice Muhammad also urged academics to champion the cause of redesigning the methods of teaching Shari'a law.
The CJN, who was represented by the Grand Khadi of Niger State, Justice Muhammad Danjuma, said the implementation of his suggestions would be more feasible if universities give the Shari'a law its own faculty.
"As we all know, there are sections of the constitution that allow the implementation of Shari'a personal law and apart from that, we cannot do more. However, we have the number to amend the constitution to suit our own position as Muslims," he said.
Muhammad had also advocated increase of judges who were learned in Shari'a to allow them to attend to Islamic law issues.
The CJN said in view of the importance of the Shari'a system to the legal profession, Shari'a law ought to be taught in Arabic language in Nigerian universities.
"The Shari'a law should be taught in Arabic not English. There is no university in Nigeria that runs Shari'a in Arabic; they all teach Shari'a in English. So, academicians let's also look into this issue," the CJN added.
But in a reaction, CAN described the call by the CJN as ill-timed, provocative and unacceptable.
The Special Assistant to CAN's President, Mr. Adebayo Ayodeji, told THISDAY yesterday that there were many challenges ranging from kidnappings, banditry and terror attacks facing the country that were begging for solution.
According to him, rather than dwell on needless controversy over such issues, attention should be given to efforts to make the country more peaceful.
He said: "We have not seen the full text of the paper presented and we learnt the Chief Justice was represented at the event. So, it is difficult to know if the speech was that of the Chief Justice or his representative. Be that as it may, asking for the constitutional amendment with a view to adding more to the Sharia contents is ill-timed, provocative and unacceptable.
"Today, there is a cloud of uncertainty over the country, occasioned by the menace of insecurity and alleged assault on the judiciary, to add the controversial Sharia to the list is very unfortunate.
"The proponents of the idea, whoever they may be, should bury the thought. Let us join the well-meaning Nigerians who are searching for the solution to the kidnappings, bandits and terror attacks if truly we want Nigeria to be peaceful."
https://www.thisdaylive.com/index.php/2019/12/13/can-knocks-cjn-over-call-for-more-sharia-provisions-in-constitution/
------
Nigeria uses live fire to disperse Muslims marking 2015 massacre anniversary
Thursday, 12 December 2019
Nigerian security forces have used live fire to confront a protest marking the fourth anniversary of state-authorized massacre against the country's Muslim community.
The forces attacking the rally in the capital Abuja on Thursday fired into the air to disperse the protesters, who were commemorating the 2015 bloodletting in the Zaria town of the northern Nigeria Kaduna State.
The demonstration had been joined by more than 100 supporters of the Islamic Movement in Nigeria (IMN).
In 2015, the army killed 350 IMN followers during a raid on the house of the movement's leader Sheikh Ibrahim al-Zakzaky.
"We are protesting to commemorate the killing of our members in Zaria four years ago," said Muhammed Bello, a demonstrator, during the rally.
Abuja has been coming down hard on the movement ever since, including by blacklisting it as a "terrorist group" and killing hundreds in clashes with those rising in protest against the deadly violence.
Nigerian police have used live ammunition to break up a religious gathering by supporters of senior cleric Sheikh Ibrahim Zakzaky in Kaduna State.
The country has also kept Sheikh Zakzaky, who has been left in dire health conditions due to the 2015 attack and subsequent mistreatment, and his wife in detention since seizing them during the crackdown.
Back in August, Sheikh Zakzaky and his wife were allowed to travel to India to receive medical treatment as his condition was deteriorating. But he returned to Nigeria a few days later, citing a push by the Nigerian government to "obstruct" his treatment.
The authorities then transferred the duo to a prison, where many detainees have so far died due to lack of medical attention.
Nigeria has transferred top Shia cleric Sheikh Ibrahim Zakzaky and his wife to a dilapidated "detention" prison in Kaduna.
Those joining the Thursday rally asserted, though, that they would keep coming to the streets to protest the plight that has been deliberately imposed on them. "They cannot stop [us] from exercising our rights to free protest," Bello said.
https://www.presstv.com/Detail/2019/12/12/613505/Nigeria-Abuja-protest-Shias-Zakzaky
------
Conference Gives Recipe For Harmony Between Muslims, Christians In Nigeria
By Saheed Salawu
Dec 13, 2019
THE 2019 edition of the annual Conference on Islam in Nigeria (COIN), organised by the Islamic Welfare Foundation (IWF) and the University of Abuja ended on Thursday in Abuja with the participants urging stakeholders in the Nigeria project to choose peace over conflict "as conflict can only hinder the attainment of the other lofty goals that we hold dear."
The formal opening ceremony of the conference with the theme 'Law and Religious Conflicts in Nigeria' was chaired by the vice chancellor of the University of Abuja, Professor Abdur-Rasheed Na'Allah.
A communique after the conference urged all stakeholders in the Nigeria project to avoid actions and utterances capable of pitching one sect against the other in each religion or one religion against the other.
The document said Nigerians, especially politicians, must refrain from using religion for political purposes, just as it appealed to the National Assembly as well as state and local government legislatures to review existing laws that discriminate against any particular religion.
The communique, signed by IWF national coordinator, Alhaji Abu Salami and Head, Department of Islamic Studies, University of Abuja, Dr AbdulAzeez Shittu, reads in part: "Our educational institutions, especially at the tertiary level, are a microcosm of the Nigerian society in terms of their heterogeneity and should, therefore, be made a veritable platform for inculcating broad mindedness that will ultimately minimise conflicts in Nigeria.
"Nigerians in general should imbibe the Islamic justice system which emphasises that justice must be done always even if against self or family as contained in Qur'an 4:135 so that when conflicts arise, people do not take sides on the basis of personal affiliations but stand firmly for truth and justice.
https://tribuneonlineng.com/conference-gives-recipe-for-harmony-between-muslims-christians-in-nigeria/
------
India
Faultlines redrawn in Assam: Muslims targeted by Assamese nationalists join Citizenship Act protests
Ipsita Chakravarty & Arunabh Saikia
Masood Zaman, a lawyer in Lower Assam's Dhubri district, was indignant. "The funny thing is, everyone in Dhubri came out on the streets on their own, without any leadership," he said. "Is the Asom Sahitya Sabha becoming an RSS office? Is the AIUDF sleeping? Has the Congress joined the BJP? They are all supposed to be anti-CAB."
The Asom Sahitya Sabha is the socio-cultural body that has historically spearheaded Assamese cultural assertions. The AIUDF or All India United Democratic Front is a political party that started life in 2006, claiming to stand for the rights of Bengali-speaking Muslims in Assam. Both opposed the CAB or the Citizenship Amendment Bill, passed by Parliament this week, even though many people like Zaman think not vociferously enough.
The Bill, which has now become law, makes undocumented non-Muslim migrants from Pakistan, Afghanistan and Bangladesh who entered India before December 31, 2014, eligible for Indian citizenship. It also eases citizenship criteria for documented migrants belonging to these groups, specifically excluding Muslims.
As news of its passage in Parliament spread on Wednesday, Zaman said, shops in Dhubri town closed spontaneously. The town is the headquarters of Lower Assam's Muslim-majority Dhubri district. The district is also home to a large number of Koch-Rajbonghshis, a community defined as indigenous to the region.
On December 12, a day after the bill was passed in the Rajya Sabha, protestors poured into the streets, many of them students from local colleges. "They were all chanting anti-CAB slogans," said Zaman. "The shouted 'Jai Ai Axom' and wore gamosas around their neck." Both the slogan and the gamosa, or scarf, are markers of Assamese nationalism.
The marches in this Lower Assam district, he explained, were not about "Hindu or Muslim"; they were against "infiltrators". "They were shouting 'BJP murdabad'," Zaman said.
Not just in Dhubri, where many Muslims identify themselves as Assamese speakers, even in Barak Valley, dominated by Bengali-speaking Muslims, a section of the youth have staged protests.
Anti-BJP protests
As the Citizenship Amendment Bill was passed this week, Assam erupted in protests, with casualties reported in Guwahati and stations set alight in Upper Assam. Internet has also been shut down by the authorities in most parts of the state.
Assam has seen decades of mobilisation against "illegal immigrants" from Bangladesh. The state recently updated its National Register of Citizens, meant to be a list of genuine Indian citizens living in the state. The terms of citizenship were drawn from the Assam Accord, the culmination of an anti-foreigners agitation that began in 1979. It stipulated that anyone who could not prove they or their ancestors entered the country before March 24, 1971, would be deemed a foreigner liable to deportation. Over 19 lakh individuals were left out of the citizenship list.
Ethnic and linguistic faultlines have usually trumped religious divides. Assamese ethno-nationalist groups have long demanded the expulsion of all undocumented migrants, whether Hindu or Muslim. In the popular imagination, the illegal immigrant was usually a Bengali speaker from Bangladesh.
But the Bharatiya Janata Party, through the Citizenship Amendment Bill, has tried to recast this identity politics along communal lines, distinguishing between Hindu "refugees" from Bangladesh and Muslim "infiltrators".
Himanta Biswa Sarma, Assam finance minister and the BJP's point man in the North East, claimed the Citizenship Amendment Bill would help accommodate 5.4 lakh Bengali Hindus left out of the NRC. So far, the demographic profile of those left out of the NRC has not been made public.
Sarma also labelled almost the entire Muslim population of Assam as "infiltrators". In a retort to the Congress's Rahul Gandhi, he tweeted: "Rahul Ji are you aware that during @INCIndia regime indigenous communities of Assam have become minority. Infilitrated Bangladeshi Muslims in Assam constitutes 36% of population. They speak no Assamese language & influence 45 assembly seats. Is that not ALSO ethnic cleansing?"
The comment was not lost on Muslim communities in Assam. As with most other protestors in the state, it has concentrated anger on the BJP.
At the mercy of the tribunals
Parvin Sultana, who teaches in a college affiliated to the Guwahati University, said the bill had to be seen in conjunction with the Assam BJP's repeated attempts to discredit the current NRC list, pushing for the exercise to be repeated. "From their rhetoric, it is clear that they don't like this NRC because it has too many Muslims," she said. "So now the idea seems to be make the Muslims go through the hardship all over again and protect the Hindus."
Abdul Jubba, who could not make it to list, seemed resigned. "What can we do if the government wants to make Hindus citizens and us illegal migrants?" he said. Jubba said he would not endorse the bill even if it included Muslims. "I have papers to establish my ancestors were here before 1930," he said. "I will go to the foreigner tribunal and prove that."
The foreigners tribunals are quasi-judicial bodies tasked with ruling on matters of disputed nationality. Those left out of the NRC will have to prove their citizenship in these opaque tribunals, notorious for arbitrary orders. Many in Assam are convinced that the passage of the bill will mean an easy pass for Bengali Hindus, while Muslims will find it harder to clear their names.
According to the Intelligence Bureau, those who benefit from the bill would have to prove that they had fled religious persecution in their home countries and were therefore eligible for citizenship. But Zaman believes there will be few documentary requirements of Bengali Hindus whose cases were pending at the tribunals.
"You don't need anything, you can just produce a petition saying you were persecuted, with a two-rupee stamp and the government will accept that," he said.
Shajahan Ali Ahmed, an activist from Lower Assam who works on citizenship rights and who was left out of the NRC himself, is also losing hope in the tribunals. "It's going to get tough," he reflected. "Earlier, the machinery distinguished between Indian and foreigner, now it will only be cases against Muslims. The tribunals needed reform."
Fighting the communal twist
Till now, there have been no serious communal conflagrations. But Muslim residents of Assam worry the BJP will queer the pitch. "Politically, there will be an attempt to take things in a different direction," said Ahmed.
Residents of both Lower Assam and the Barak Valley spoke of inflammatory videos doing the rounds the last few days. Most appear to show Muslims being harangued or beaten up and asked to prove their allegiance to Assam. One video, in particular, is described by residents of both Lower Assam and the Barak Valley. It reportedly shows a Bihari youth being kicked after he gave a Muslim name. When he said he was from Bihar, his interlocutors reply only Biharis are from Bihar, not Muslims.
While many have taken these videos at face value, Zaman is suspicious. "The BJP's IT cell is trying to incite violence," he said. "We are telling people on WhatsApp groups not to forward or circulate them."
To cut through the communal rhetoric, Muslims in Lower Assam have made common cause with the spontaneous protests that broke out in Guwahati and Upper Assam. Their demand, they say, is the same as that of the "mainstream Assamese": all those who had arrived after 1971 should be considered illegal immigrants not eligible for citizenship, whether they be Hindu or Muslim.
But Muslims in Assam are a diverse group, and responses to the current crisis have varied from district to district and even different regions of a district.
'Desi Muslims'
According to popular perception, many so-called illegal immigrants had trickled into the districts of Lower Assam, close to the Bangladesh border. The region has seen waves of migration, first from eastern districts of the colonial province of Bengal, then from East Bengal and finally from Bangladesh. But ethnic and linguistic faultlines are not set in stone in this fluid border region.
"Most of the people on the streets in Dhubri town identify as 'desi Muslims'," explained Zaman. "Many speak in the Rajbongshi tongue, or a dialect or Assamese which has similarities to Bengali." Others were Muslims who were part of early migrations from Mymensingh, in present-day Bangladesh, but no longer identified as Bengali. "Our basic identity is Assamese," said Zaman.
Dhubri district lies on the Brahmaputra, where the tides have formed chars or sand bars, some of them inhabited for close to a century. Char dwellers have frequently been branded as illegal immigrants even though most say they have the papers to prove Indian citizenship according to the terms of the Assam Accord.
"For 50 years, they have tried to become part of the Assamese mainstream," said Zaman. "Assamese became the major language because char Muslims returned their mother tongue as Assamese [in the Census]."
The Citizenship Amendment Bill, he explained, had created a "fear psychosis" among them. "They think Hindu Bengalis will be brought from Bangladesh and settled there," said Zaman.
'Miyas will be harassed'
Further up the Brahmaputra, Barpeta, another Muslim-majority districts of Lower Assam, is also on edge. "Assam's finance minister, Himanta Biswa Sarma, has directly said Muslims who came from East Bengal – that is our community, the Miyas – will be harassed," said Ahmed.
Once a pejorative word for Muslims of Bengali origin, "Miya" has been reclaimed by the community, even giving rise to a genre of poetry describing the experiences of Bengali origin Muslims and written in their native dialects. Earlier this year, it had drawn a backlash from ethnic Assamese and prompted FIRs claiming the poems promoted social enmity. But the Citizenship Amendment Bill seems to have redrawn the faultlines again.
"We are all for the Assam Accord," said Ahmed. "We all feel that March 24, 1971, should be the basis for citizenship."
Despite closing ranks behind the Assam Accord, Ahmed is worried. "There is a lot of fear," he said. "Bengali Muslims have been targeted for decades. Bengali Hindus less so, but they will be targeted more now. The 1979 movement was based on suspicion of Bengalis. This bill has made them even more suspect."
When the bill was passed, crackers had gone off in Bengali-dominated villages. It had created tensions, Ahmed said, since it suggested the village was home to undocumented Bengali Hindu migrants who would gain from the bill.
On the evening of December 12, the Barpeta Road Nagarik Samaj, a local citizens' body consisting of people from all communities, was deep in deliberations. Finally, Ahmed said, they decided to hold a three-hour hunger strike on December 14 and a protest meeting against the Citizenship Amendment Bill on December 15.
A 'polarised' Barak Valley
Crackers had also gone off in the Bengali-dominated Barak Valley after the bill was passed. Some had been celebratory, others aggressive. For instance, some had targeted the house of Siddique Ahmed, a former Congress legislator who had issued a statement against the bill, said a teacher at a government college in the border district of Karimganj.
After the bill was passed, the majority of Barak's Bengali Muslims had remained silent, stunned and saddened by the new bill. But a section of the Muslim youth had launched protests.
"Our society has become very polarised," the teacher explained. "The Bengali Muslims who are protesting think that the refugees who came after 1947, and especially after 1971, they have changed our society. And after this bill, more will come. Most of the landed class here is Muslim, and it could lead to struggles over land."
Muslims of Barak Valley trace their histories back to ancient and medieval kingdoms that once spread across the Cachar plains, giving rise to a version of indigeneity that competes with that of the ethnic Assamese. At Partition, most of the region's Muslims fled across the border. Most of the Bengali migrants who crossed over after Partition were Hindus driven out by bouts of communal violence.
Linguistic identity is strong here, and both Hindus and Muslims speak Sylheti, a dialect of Bengali. Which means Muslims here are unwilling to align themselves with the protests of the Brahmaputra Valley. "We don't accept the rabid identity politics of the Assamese," said the teacher. "We won't give up our language like the people of Lower Assam."
But the linguistic ties that bound both communities together have worn thin with the polarising politics of the last few years. Given its large population of Bengali Hindu migrants, the Barak Valley was one of the BJP's early testing grounds.
"Everyone thinks that all the Bengali Hindus left out of the NRC will now get their names in [now that the Citizenship Amendment Bill has been passed]," said the teacher. Personally, he is sceptical of these claims. "I was also involved in NRC work. Himanta Biswa Sarma said 5.4 lakh will get citizenship. I know that all of them were not refugees. Bengali Hindus were harassed, but everyone's become a Modi bhakt, no matter how much they suffer."
But the Citizenship Bill, he said, had driven a bitter wedge between Hindus and Muslims in the Barak Valley. "There is hurt," he said. "We are all Bengalis but we have to follow two different laws."
https://scroll.in/article/946677/why-even-muslims-targetted-by-assamese-nationalists-are-joining-the-protests-against-citizenship-act
------
Delhi: Jamia Millia Islamia students clash with police after march opposing CAB stopped
Dec 13, 2019
NEW DELHI: Students of the Jamia Millia Islamia (JMI) University here clashed with police personnel who interrupted their protest march opposing the Citizenship (Amendment) Act.
The protesters had called for a march to Parliament House from the university campus to express their opposition to the legislation. However, they were stopped near the varsity where protesters clashed with the police.
The students accused the police of using force against them.
https://timesofindia.indiatimes.com/city/delhi/delhi-jamia-millia-islamia-students-clash-with-police-after-march-opposing-cab-stopped/articleshow/72526897.cms
------
Why Indian Union Muslim League Has Challenged CAB in the SC
By SYED FIRDAUS ASHRAF
December 13, 2019
A day after the Citizenship (Amendment) Bill, 2019 was been passed by the Rajya Sabha, the Indian Union Muslim League challenged it in the Supreme Court, saying the legislation is against the basic principles of the Constitution.
Leaders of the IUML -- a member of the United Progressive Alliance -- also met Congress MP and senior lawyer Kapil Sibal who is likely to present their case in the apex court.
"Today they are excluding Muslims, tomorrow there can be someone else -- like people speaking a particular language or from a particular region," P V Abdul Wahab, IUML's Rajya Sabha MP from Kerala who is also the party's national treasurer, tells Rediff.com's Syed Firdaus Ashraf.
Why has the IUML challenged the Citizenship (Amendment) Bill, 2019 in the Supreme Court?
There was no way out other than going to the Supreme Court. It is the only authority to verify the validity of law (passed by Parliament).
Is it because it is particularly discriminatory against Muslims?
It is discriminatory and against the spirit of the Constitution.
It is against Muslims today. But tomorrow it could be against everybody.
We are all equal according to the Constitution and this bill violates the spirit of the Constitution.
Home Minister Amit Shah specifically told Parliament that this bill is to give citizenship and not to take it away from anyone.
We are not against giving citizenship. But it should not be discriminatory.
According to the Constitution, we are all equal.
The Bharatiya Janata Party's argument is that Bangladeshi and Pakistani Muslims come to India for economic gains, whereas Hindus from these countries come because of religious persecution.
For whatever reason they come, the Government of India has the right to grant or refuse them citizenship.
It doesn't matter if somebody comes in the name of Islam, Hinduism or Sikhism, but their reason must be just.
And if it is the case then they can be given citizenship. Similarly, it can be denied if their reason for coming to India is not satisfactory.
The argument here is that Muslims from pre-Partition India got homelands in Pakistan and Bangladesh. So why do they need to come to India?
India is not a Hindu or Muslim or Christian country. India is a secular country.
The RSS (Rashtriya Swayamsevak Sangh) spoke about a two-nation theory and because of that all this happened.
Now they want to make India a Hindu country, but it is not possible because of the Constitution.
Do you mean that what Muhammad Ali Jinnah said 80 years ago about India being a Hindu country has been proven correct?
We are not concerned with what Jinnah said. He played (his politics) for whatever reasons. It is not an issue today as India is a country with secular credentials.
Pakistan went on to become a Islamic country, but only ostensibly as Muslims who migrated from India were called Mohajirs (refugees). They are still called the same.
They have their own party in Pakistan (the Muttahida Qaumi Movement). So it means that in Pakistan, Muslims are also persecuted.
And if Hindus are persecuted in Pakistan, we are not against giving them Indian citizenship. Our only concern is that if a Pakistani Muslim is persecuted (by the State), s/he should also get citizenship.
Like (Bangladeshi author) Taslima Nasreen was persecuted by the Bangladesh government so she should also get Indian citizenship.
You feel Taslima Nasreen should get Indian citizenship?
If she is being persecuted in Bangladesh, yes.
Today they are excluding Muslims (from the CAB), tomorrow there can be someone else -- like people speaking a particular language or belonging to a particular region.
Therefore, we have to uproot this (law) at this stage.
The BJP has got a hidden agenda and therefore we are against them.
What is the BJP's hidden agenda and what are your fears for the future?
You see in the NRC (National Register of Citizens) in Assam, there were more non-Muslims than Muslims. So now these non-Muslims will become Indian citizens overnight.
The BJP had the Citizenship Bill in its manifesto and the people voted for the party. They say we have the people's support.
You cannot change the spirit of the Constitution even if you have 100 per cent seats in Parliament.
The minorities have special rights in India in spite of Articles 14 and 15. Why do you think the CAB violates these Articles?
They are changing the basic structure of the Constitution.
Let the court decide (whether the law is unconstitutional).
Many Hindus empathise with Hindu refugees and say if not India, where will they go?
They are most welcome. We are not against them. But don't think all Muslims can go to other countries.
Being a Muslim, I don't want to go to any Muslim country because India is a secular country. All other Muslim countries are either monarchies or dictatorships. India is far better.
Can I go to Saudi Arabia just like that? They have their own laws. The same way I cannot go to Indonesia and settle there just because I am a Muslim.
So far, Muslims in India are not persecuted. We do have problems, but we overcome those problems because of the Constitution.
Your party is the successor of the All India Muslim League that demanded Partition. Now you are opposing a move intended to benefit Hindu refugees from across the border. Don't you think this sends a wrong message to Hindus?
The IUML goes back 72 years. It has been working here for these many years and everything that we do is transparent.
You cannot compare Jinnah's Muslim League to our party.
But you are approaching the Supreme Court against Hindu refugees.
We are not going to take away anyone's rights. We are only going to the Supreme Court to protect the rights (of Muslims) which are given by the Constitution. Nothing more.
https://www.rediff.com/news/interview/why-muslim-league-has-challenged-citizenship-amendment-bill-in-the-supreme-court/20191213.htm
------
West Bengal Muslims, political parties to fight citizenship bill — on streets & in courts
MADHUPARNA DAS
12 December, 2019
Kolkata: Muslim organisations and political parties in West Bengal are preparing to mount a pushback — on the streets and in courts — against the Narendra Modi government's contentious Citizenship Amendment Bill even as Northeast states like Assam and Tripura witness turbulent scenes.
At least 16 Muslim organisations in West Bengal — a state with over 30 per cent Muslim population and another 5-8 per cent Muslim migrants from Bangladesh — are planning to hit the streets in a week-long protest starting Friday against the citizenship bill.
The bill provides for giving Indian citizenship to non-Muslim illegal migrants from Pakistan, Afghanistan and Bangladesh. The Rajya Sabha passed the Bill Wednesday, two days after it was cleared by the Lok Sabha.
While the Mamata Banerjee government has already announced that it won't implement provisions of the citizenship bill as well as the proposed National Register of Citizens for the country, Congress and CPI(M) told ThePrint they will challenge the bill in courts.
Even the minority wing of the BJP is in a bind over explaining the party's stand to Muslims amid fears that in conjunction with NRC, the bill could result in disenfranchisement of the community. Home Minister Amit Shah has already denied this in Rajya Sabha, looking to assuage such fears.
But West Bengal is still on the edge.
'Muslims are with Mamata Banerjee'
In south Kolkata, at least 16 Muslim organisations, regardless of their political affiliation, held a closed-door meeting Wednesday to finalise their week-long protest programme in the city, beginning Friday.
The move came even as mosques and Sharia help centres are working round the clock to address queries and confusions about the new Citizenship (Amendment) Bill and its fallout for the community.
Kolkata has already seen at least five protest rallies and meetings in the last week against the tabling of the bill in Parliament.
Speaking to ThePrint, former Trinamool Congress MP Idris Ali highlighted the "consecutive assaults" on the Muslim community over last four years under the Modi government, saying Muslims have been bearing with the whims and fancies of the 'saffron' forces for long.
"It started with the Triple Talaq Bill, and, then, there is a running debate on Uniform Civil Code. We patiently waited for years and accepted the Ayodhya verdict. Every day, we hear of lynching incidents over cow slaughter and transporting of beef.
"Now they are trying to question our 'Indian-ness'. So, it is time that we get united and build a strong Opposition against them. Muslims are with Mamata Banerjee. She has always shielded the democratic and secular values of the country," he said.
As president of the All India Minority Forum, backed by several Muslim groups, Ali said he will write to the West Bengal chief minister urging her to stand strong against the BJP and ensure that the democratic rights of Muslims living in the state are protected.
After the bill was passed, Trinamool MP Derek O' Brien said in Rajya Sabha, "Mamata Baneree (has) clearly stated that CAB and NRC will not be implemented in Bengal."
he All India Muslim Personal Law Board (AIMPLB) also thanked Banerjee and opposition parties for fighting against the Modi government on the issue.
"We are grateful to Mamata ji, senior Congress leaders and all other parties who are opposing this bill not to protect minority, but the Constitution of India. If there is no Rahim, how can Ram stay? Ram and Rahim have always coexisted here and that is India," said AIMPLB member Maulana Abu Talib Rahmani, after attending a meeting over the bill in Kolkata.
However, AIMPLB won't file a petition against the bill. Its members can seek legal intervention individually, Rahmani added.
'Bengal protests are different'
Rahmani also sought to differentiate the nature of peaceful protest rallies in West Bengal from the violent agitation going on in Assam and Tripura.
The Northeastern states are witnessing turbulence as protests against the bill have turned violent. People in the two states are fighting over the issue of ethnicity, seeking denial of citizenship to any non-ethnic migrant.
However, the protests in Bengal are over the exclusion of Muslims under the bill.
"The type of protests is distinctively different from each other. Is there any minority involved in Assam and Tripura protests? But both the states are on fire. So the primary issue is the bill and its nature. The bill is against the Constitution of India," Rahmani said.
There is a blatant attempt being made to accuse only Muslims of holding such protests which is not true, he said.
As tension simmers in Bengal, the state police directorate has been instructed to maintain a vigil in sensitive areas and monitor social media so that rumours don't spread.
'Will take legal route'
With the Rajya Sabha passing the citizenship bill Wednesday, Congress MP Adhir Ranjan Chowdhury called it a "black day" for the country as he termed the bill "unnecessary".
"This will foment trouble for Bengalis. The protests in Assam are against Bengalis. Assam is going back to that age-old issue. This was completely unnecessary. I was there in the joint parliamentary committee. There were only 31,300 applications seeking citizenship, but BJP keeps mentioning an absurd figure of crores," he said.
"Our party and several others will approach court. But Bengalis will suffer. In fact, the Hindus from Bangladesh will also have to face huge difficulty there," Chowdhury said.
Apart from Congress leaders, the CPI(M) too said it would file a petition against this bill. CPI(M)'s state secretary and politburo member Suryakanta Mishra said, "We will appeal in the apex court, but we also need to reach the people's court. People will judge this. We will not allow NPR (National Population Register or census) in Bengal."
CPI(M) believes NPR will be the first step toward NRC.
'Difficult for us to explain'
Even as BJP's state unit leaders celebrated the passage of the citizenship bill, the party's minority unit in West Bengal is in a spot of bother.
With the NRC and this bill playing an important role in Bengal politics, Muslim members in BJP's Minority Morcha have now started questioning the intent of BJP.
"It is becoming very difficult for us to make people believe that BJP will not act against Muslims. From beef lynching to Babri Masjid, from Triple Talaq to Uniform Civil Code, every time, our people are being targeted," said a BJP Minority Morcha Muslim leader, who didn't wish to be named.
Senior leaders, however, are trying hard to quell such anger.
Minority Morcha president Ali Hossain said, "We know that we have to face hundreds of questions from our community people. They were misinformed by Trinamool Congress and others. We, the Indian Muslims will never be affected by this bill. We are urging everyone to be patient and see. We can assure that BJP is not against Muslims."
Basir Alam, a senior leader of the unit, also said, "This is true that people are asking questions. But this is because of the ruling party that has been systematically spreading lies and misleading people. They used us as a vote bank.
"We are taking Amit Shah ji's speech to people in which he said that the Indian Muslims had nothing to fear. We are legal citizens of the country and we are not scared of CAB and NRC," said Alam.
These statements came even as BJP headquarters in Kolkata burst crackers and distributed sweets after the passage of the bill in Rajya Sabha. BJP national general secretary Kailash Vijayvargiya was part of the celebrations.
Speaking to ThePrint, Vijayvargiya called the bill a major setback for TMC and a huge victory for BJP.
"Despite its efforts, Trinamool Congress failed in stalling the bill. This is a huge victory for us and for all such refugees including the Matua community in Bengal who have been waiting for this for decades," he said.
About the apprehensions of the state's Muslim community, he said, "The Indian Muslims have nothing to fear. They will not be touched. It is our promise.
"This bill is aimed at the infiltrators only. Meanwhile, Muslim migrants who already had got citizenship under the earlier provision will not be affected. This is a defeat of the appeasement politics," he added.
https://theprint.in/politics/west-bengal-muslims-political-parties-to-fight-citizenship-bill-on-streets-in-courts/333972/
------
India: Citizenship Bill Discriminates Against Muslims, Says Rights Group
December 12, 2019
The Indian government's proposed law to grant citizenship based on religion violates India's international legal obligations, Human Rights Watch said today. The Citizenship (Amendment) Bill, 2019 protects only the rights of non-Muslim irregular immigrants from the neighboring Muslim-majority countries of Afghanistan, Bangladesh, and Pakistan.
The bill passed the lower house of parliament on December 9 and was passed in the upper house on December 11. The Bharatiya Janata Party (BJP)-led government has sought to justify singling out non-Muslim migrants by claiming that the proposed law will give sanctuary to religious minorities fleeing persecution in neighboring countries.
"The Indian government's claim that the citizenship law aims to protect religious minorities rings hollow by excluding Ahmadiyya from Pakistan and Rohingya from Myanmar," said Meenakshi Ganguly, South Asia director. "The bill uses the language of refuge and sanctuary, but discriminates on religious grounds in violation of international law."
The bill reflects many other policies promoted by the BJP government that favor majority Hindus at the expense of Muslims, such as the failure to properly prosecute party supporters implicated in attacks on religious minorities. The government has also deported Rohingya Muslim refugees to Myanmar despite the risks to their lives and security.
BJP politicians have also demonized Muslim immigrants and asylum seekers, including calling them "infiltrators," to gain electoral support. For instance, in September 2018 at an election rally in Delhi, Home Minister Amit Shah said "illegal immigrants are like termites and they are eating the food that should go to our poor and they are taking our jobs. They carry out blasts in our country and so many of our people die," referring to Muslim immigrants from Bangladesh. He promised that, "if we come to power in 2019, we will find each and every one and send them away. Action against them should not worry any patriot."
The Citizenship (Amendment) Bill, 2019 amends the Citizenship Act, 1955 to make irregular immigrants from Hindu, Christian, Buddhist, Sikh, and Zoroastrian communities from Afghanistan, Bangladesh, and Pakistan eligible for citizenship, but excludes Muslims. The government makes a distinction between Muslims, who it says have immigrated illegally, and "refugees" – namely Hindus, Sikhs, Buddhists, and Jains trying to escape persecution in their country of origin. Defending the bill in parliament, Shah said, "There is a fundamental difference between a refugee and an infiltrator. This bill is for refugees."
In January, several opposition lawmakers, part of the joint parliamentary committee that reviewed the bill, concluded that it violates articles 14 and 15 of the Indian constitution, which guarantee the right to equality and nondiscrimination.
During the parliamentary debate on December 9, several opposition leaders opposed the bill as an assault on the foundational values of the country. "[T]his is merely a cynical political exercise to further single out and disenfranchise an entire community in India and in doing so, a betrayal of all that was good and noble about our civilization," said Shashi Tharoor, a lawmaker from the Indian National Congress party.
The bill comes amid the BJP government's push for a nationwide citizenship verification process, a National Register of Citizens (NRC), that would identify irregular immigrants, which government statements indicate are aimed at disenfranchising and stripping Muslims of their citizenship rights. The bill, says Shah, will ensure protection of Hindus and other non-Muslims. "I want to assure all Hindu, Sikh, Jain, Buddhist, and Christian refugees, that you will not be forced to leave India by the Center [government]. Don't believe rumors. Before NRC, we will bring [the] Citizenship Amendment Bill, which will ensure these people get Indian citizenship," Shah said in October.
The National Register of Citizens has already left nearly two million people at risk of arbitrary detention and statelessness in India's northeast state of Assam. In August, Assam completed the NRC following repeated protests and violence by Assamese groups against ethnic Bengali settlers who they said were affecting the cultural, ethnic, and economic rights of Assam's original inhabitants. However, both Hindus and Muslims were among the two million people excluded from the list. The BJP has indicated that it considers the new citizenship law as the solution for Bengali-speaking Hindus left out of the NRC in Assam. Dilip Kumar Paul, a BJP lawmaker, said that, "Our BJP's stand is that Hindus can never be foreigners."
The proposed law has drawn international condemnation, including from the United States Commission on International Religious Freedom, which said that if the bill passes, the US government "should consider sanctions against the home minister and other principal leadership."
The proposed law violates India's international obligations to prevent deprivation of citizenship on the basis of race, color, descent, or national or ethnic origin as found in the International Covenant on Civil and Political Rights (ICCPR) and other human rights treaties. The 1992 Declaration on the Rights of Persons Belonging to National or Ethnic, Religious and Linguistic Minorities establishes the obligation of countries to protect the existence and identity of religious minorities within their territories and to adopt the appropriate measures to achieve this end. Governments are required to ensure that people belonging to minority groups, including religious minorities, may exercise their human rights without discrimination and in full equality before the law.
"The Indian government is creating legal grounds to strip millions of Muslims of the fundamental right of equal access to citizenship," Ganguly said. "The government should demonstrate its expressed commitment to protecting refugees by passing a law that protects them irrespective of their religion."
https://www.eurasiareview.com/12122019-india-citizenship-bill-discriminates-against-muslims-says-rights-group/
------
'They will lock us up or just kill us': Muslims fearful in West Bengal
Hannah Ellis-Petersen
Thu 12 Dec 2019
It was 81 days ago that Kamal Hussain Mondal, a 32-year-old brick factory worker from a remote village in West Bengal, took his own life. He had been a carefree man and attentive father to his two young sons, and was known throughout Soladana village for his devotion to his wife Khayrun Nahar Bibi. The pair had been married for 13 years but she spoke of their "puppy love". He would feed her with his hands at mealtimes and on Sundays he would take her out on the back of his bicycle, telling others he loved simply riding through the fields together and chatting.
"He promised he would look after us for ever," says Bibi. "But after he heard about NRC, everything changed and he fell into a deep despair. He told me: all Muslims are going to be driven from India now. They will lock us up or just kill us. Just wait and see."
In mid-September, news that the government planned to carry out a National Register of Citizens (NRC) across India, to be implemented first in West Bengal, began to spread in this tiny village. The exercise will mean that every person in the country will have to prove they or their ancestors are citizens of India, rather than "infiltrators" from Bangladesh or Pakistan, and they will have to have the documentary evidence to back up their claim. According to the government, those who can not prove it will be sent to detention centres and face deportation.
The BJP government insists that this vast bureaucratic endeavour is merely a long-overdue bid to count and identify citizens in India and to tackle illegal immigration. However the overwhelming fear among Muslims is that there is a far more sinister communal motive behind the exercise. The BJP openly subscribe to a Hindu nationalist agenda, aiming to establish the world's largest democracy as a Hindu rather than secular state as enshrined in the constitution. The party's past five years in power has seen the nation become divided down communal lines, with anti-Muslim hatred stirred up in the process. Since September, as several BJP politicians publicly vowed that "no Hindu will have to leave India because of NRC", the Muslim community of West Bengal and beyond has grown increasingly worried that the NRC exercise seemed only to target them.
According to multiple accounts heard by the Guardian, over the past two months in villages across West Bengal, the RSS – the Hindu nationalist organisation that spawned the BJP – has also been conducting a covert campaign using its grassroots networks to reassure all Hindu households that they have nothing to worry about with the NRC, even if they have no supporting documents.
This week, the worst fears of the Muslim community were confirmed. A citizenship amendment bill (CAB), which was passed easily by parliament's lower house on Monday and by the upper house at midnight on Wednesday, granted citizenship to migrants from Pakistan, Bangladesh and Afghanistan – but not if they are Muslim. It was signed into law early on Thursday morning.
The implications of this amendment are enormous. Should the NRC be carried out, it means that Muslims found without the correct documents will face the threat of being declared an illegal alien. Hindus, Sikhs and Jains are protected.
"This amendment undermines the entire secular foundations of India, it violates the constitution which states that no one can be discriminated against on the basis of identity and it threatens the very basis of Indian democracy," says Kanhaiya Kumar, a student activist leading the charge against the NRC. "But most of all it sows communal poison and hatred by writing into law that Muslims are second-class citizens."
The climate of fear that has seeped into Muslim communities across India since the nationwide NRC was proposed is increasingly palpable. In poorer communities in particular, it is common for people to have none of the necessary documents to prove their Indian citizenship, with the paperwork lost to flooding or fires or simply carelessness. Others have documents with incorrect information on them.
In Mondal's case, it became too much to bear. While his family had only ever lived in India, he realised he was missing several key documents including his father's birth certificate, while his own name was spelt differently across the paperwork he did have. "For almost a week he did not sleep or eat and he would stay up all night looking up NRC on his phone," says Bibi. "He became very depressed, he would sit with his head against the wall or lie down on the floor in despair, telling me that we would certainly be driven out."
Mondal had attempted to get his documents corrected online at the local cyber cafe, but struggled due to his illiteracy, and as the week went on, anxiety began to consume him. By that Saturday he had become quiet and withdrawn, only speaking to repeat his fears of being taken away, and when he slipped out of their bed at 4am on Sunday, Bibi presumed he was going to the market for an early cup of tea to ease his restlessness. But at 5.30am she was shaken awake by her sister-in-law. Mondal had killed himself.
Wiping away tears with her headscarf, Bibi said their youngest son, five-year-old Asadun, was still struggling to understand what had happened. "He keeps asking me if we get all the documents sorted, will my father come back?" she says. To date, at least 6 people have killed themselves in West Bengal over concerns related to the NRC.
The concerns are not unfounded. An NRC exercise was recently carried out in Assam, which resulted in 1.9 million people being left off the citizenship list for reasons as minor as spelling mistakes on their documents, and some for no definable reason at all. So-called "illegals" are due to be sent to detention centres at the end of December.
The Assam NRC was not initially designed to be rolled out nationwide; rather, it was originally based on decades-old legislation to help protect the indigenous Assamese people, both Muslim and Hindu. However, critics say it has been hijacked by the BJP as a way to sow religious discord and was reframed by the party as a means to weed out illegal Muslims. Observers note that it was only after discovering that 1.5 million Hindus in Assam had been left off the citizenship list that the BJP was prompted to introduce this week's amendment, to ensure that if the NRC was rolled out nationwide, no more Hindus could be declared illegal.
Aparajita Bhuyan, BJP state spokesperson in Assam, was adamant that the measure was "not anti-Muslim" but added that all those Hindus in Assam found to be illegal would be given citizenship, while "after the Muslim illegal immigrants are identified in Assam, the government will decide what action would be taken against them."
While 10 new detention centres are currently being built in Assam, and even more in West Bengal, questions remain over what the BJP government intends to do with the millions of detainees it will have on its hands after the NRC is rolled out. While it has publicly spoken of deportation, this will be impossible because neither Bangladesh, Pakistan nor Afghanistan has agreed to take them. It will similarly be too costly and impractical to keep everyone in prisons. One suggestion, already being proposed to companies in Assam, is that the detainees could be used as a huge cheap labour force in factories and industrial plants.
Days after the citizenship bill was first passed by parliament at the start of this week, its effect in stoking communal tensions was already evident. In the small West Bengal village of Ramnathpur, home to a predominately Muslim population, villagers spoke of "simmering tension'" that had arisen lately between Muslims and Hindus. "We are panicking because India is adopting the hate politics of Nazi Germany and we Muslims are the target," said Maruf Hossain, 25.
Dilip Ghosh, president of the BJP in West Bengal, said the fear in the Muslim community was unfounded. "Muslims are perhaps scared because some groups or parties are misleading them on this issue," said Ghosh. "Our prime minister and home minister have clearly said that Muslims should not have any reason to worry. All our [BJP] party leaders are also assuring them they should not be scared. This bill deals only with the non-Muslim minorities from the neighbouring countries. The bill has nothing to do with Indian Muslims. All Indian Muslims will remain citizens of this country."
Yet it is not just those in rural communities that there is concern. One Muslim professor, who asked to remain unnamed out of fear of the authorities, said a "communal poison" had seeped into society in the past few months. "Muslims in India have a gun to their head now," he said.
Shaikh Azizur Rahman contributed reporting
https://www.theguardian.com/world/2019/dec/12/they-will-lock-us-up-or-just-kill-us-muslims-fearful-in-west-bengal
------
Two dead in India clashes after parliament passes anti-Muslim law
The Citizenship Amendment Bill (CAB) offers amnesty to non-Muslim illegal immigrants from three countries.
The bill – which applies to non-Muslims from Afghanistan, Bangladesh and Pakistan – was passed in the upper house of parliament on Wednesday night.
Critics across India say the bill is discriminatory. In the north-east, protesters claim they will be "overrun" by migrants from Bangladesh.
The ruling Hindu nationalist Bharatiya Janata Party says the CAB will give sanctuary to people fleeing religious persecution.
Assam is one of India's most multi-ethnic states. A third of its 32 million citizens are Muslims, the second-highest number after Indian-occupied Kashmir.
Prime Minister Modi sought to reassure people in Assam, telling them they had "nothing to worry" about. "The central government and I are totally committed to constitutionally safeguard the political, linguistic, cultural and land rights of the Assamese people," he tweeted.
However, with internet and mobile services shut down, it is unlikely residents would have been able to read the message.
In their petition to the Supreme Court, the Indian Union Muslim League argued that the bill violated articles of equality, fundamental rights and the right to life.
More than 700 eminent Indian personalities, including jurists, lawyers, academics and actors, have signed a statement "categorically" condemning the bill.
Meanwhile, Human Rights Watch said the Indian government's proposed law to grant citizenship based on religion violates India's international legal obligations.
"The Indian government's claim that the citizenship law aims to protect religious minorities rings hollow by excluding Ahmadiyya from Pakistan and Rohingya from Myanmar," said Meenakshi Ganguly, South Asia director. "The bill uses the language of refuge and sanctuary, but discriminates on religious grounds in violation of international law."
HRW said the bill reflects many other policies promoted by the BJP government that favour majority Hindus at the expense of Muslims, such as the failure to properly prosecute party supporters implicated in attacks on religious minorities. The government has also deported Rohingya Muslim refugees to Myanmar despite the risks to their lives and security.
BJP politicians have also demonised Muslim immigrants and asylum seekers, including calling them "infiltrators," to gain electoral support.
The Citizenship Amendment Bill makes irregular immigrants from Hindu, Christian, Buddhist, Sikh, and Zoroastrian communities from Afghanistan, Bangladesh, and Pakistan eligible for citizenship, but excludes Muslims.
The government makes a distinction between Muslims, who it says have immigrated illegally, and "refugees" – namely Hindus, Sikhs, Buddhists, and Jains trying to escape persecution in their country of origin.
"The Indian government is creating legal grounds to strip millions of Muslims of the fundamental right of equal access to citizenship," Ganguly said. "The government should demonstrate its expressed commitment to protecting refugees by passing a law that protects them irrespective of their religion."
https://5pillarsuk.com/2019/12/12/two-dead-in-india-clashes-after-parliament-passes-anti-muslim-law/
------
North America
Like in Europe, America's Broken Asylum System Enables Islamist Infiltration
by Todd Bensman
December 9, 2019
On September 30, 2017, a Somali immigrant who initially had himself smuggled over the Mexico-California border conducted a double vehicle ramming and stabbing attack, carrying an ISIS flag, that left a police officer and four others gravely injured in Edmonton, Alberta.
But Abdulahi Hasan Sharif arguably would never have been present in Canada for his melee had he not been able to claim one of America's most indulgent and abused immigration benefits: political asylum. Simply asking a U.S. Customs and Border Protection officer at the border for asylum sets in motion a process that guarantees most foreign strangers legal entry into the United States for as long as processing takes, which can amount to years.
That's exactly what Sharif did as soon as he crossed from Tijuana to the San Ysidro port of entry on July 12, 2011 after a long smuggler-led journey from Somalia. It didn't matter that Sharif's claim was not granted; it got him in and free to lodge a more successful Canadian claim in January 2012. Within 36 months, Canadian intelligence was interviewing Sharif for espousing genocidal Islamist beliefs, and we know what happened later in Edmonton.
We also now know that Sharif's use of the asylum system to access what, for any foreign-born jihadist, would be a target-rich dreamland, is far from a one-off.
New research published by the Center for Immigration Studies (CIS), which examined the extent of border-infiltrating migrant-terrorist attacks in the European Union, shows that dozens exploited overwhelmed asylum systems, similar to U.S. ones even in non-crisis times, to gain legal entry into targetable nations and time to radicalize, plot, and conduct attacks.
As reported in Part I and Part II of this series from the CIS study, a new terror travel tactic of illicit cross-border migration in Europe – and the complementary role of asylum law – hold learnable lessons for American land border and immigration security. Chief among these is how a deeply dysfunctional American asylum system, left unreformed and administered without considering security, can enable the same kind of death and destruction experienced by Europe in recent years – and in Edmonton.
How Europe's Asylum Laws Killed
The CIS study What Terrorist Migration Over European Borders Can Teach About American Border Security established that many of the 104 terrorists known to have infiltrated Europe's borders with migrant caravans between 2014 and 2018 applied for asylum and, by doing so, acquired the necessities of time and access to incubate plots or carry them out.
Before Europe's migrant crisis in 2014, European Union member states followed common procedures for granting asylum and temporary international protection to people ostensibly fleeing persecution or harm back home. Not including appeals, six months was the recommended guideline for adjudicating applications before the crisis, with legal residence and even government financial support provided during the wait.
By early 2015, though, hundreds of thousands of migrants from Muslim-majority countries like Syria, Iraq and Afghanistan, arriving at the EU's southern and eastern borders, were overwhelming the system. This dramatically extended processing and wait times. In the 55 migrant-terrorism cases for which there was sufficient data, the average time between a border entry and attack or arrest was 11 months.
But even the EU's pre-crisis six months offered plenty of time for plotting and attacking, including 17 in under three months. Importantly, administrative asylum processes rarely discovered terrorists, indicating that bureaucrats with the closest interactions were neither trained nor interested in detecting the malevolent among the benevolent.
For instance, Germany approved the asylum claim of Syrian ISIS migrant Jaber al-Bakr in five months. Then, due to roommates diming him out, police arrested al-Bakr in the advanced stages of planning an ISIS-connected bomb attack using 1.5 kg. of explosives found in his apartment. In another case, German police arrested Syrian asylum seeker and mid-level ISIS commander Leeth Abdalhameed within two weeks of his arrival. Abdalhameed applied for asylum under a false name and avoided providing his fingerprints. He was only arrested after a fellow refugee informed police of his past work as a mid-level commander who smuggled money, medicine and ammunition for the terrorist group in Syria.
Plenty of other migrant-terrorists involved in actual attacks and plots took advantage of extended process delays caused by high claim volumes. In 15 cases, the time lapse exceeded 15 months. One such case was Afghan asylum seeker "Jawad S.," who arrived in Germany as an unaccompanied 16-year-old in November 2015. It took 18 months for German authorities to reject his asylum claim in August 2017 on unknown grounds, but he was able to stay pending an appeal. Two years and nine months after arriving, a film about how artists in the Netherlands ridiculed Prophet Mohammed triggered Jawad S. to travel to Amsterdam, where he stabbed two American tourists in revenge.
A Terrorist-Accommodating American Asylum System
The problem is that, even in the best of times, the U.S. asylum system, severely dysfunctional, if not completely broken, would easily accommodate migrant-terrorists and discover none. Smugglers who specialize in transporting migrants the long distances from Muslim-majority countries learn the U.S. system as well as any immigration lawyer so they can best abuse it.
Terrorists like Sharif would likely travel among the nearly 4,000 migrants from Muslim-majority countries who are apprehended annually at the U.S. southern border, most of them claiming political asylum. To proceed, claims of persecution go through an initial "credible fear" screening interview by federal officers and, if approved there, as a majority were for years until very recently, move on to an immigration judge for a merit hearing.
The vast majority of credible fear interview screenings, above 90 percent, have been positive, which contributed to vast hearing backlogs and time for any plotting or radicalization that far exceeds what developed in Europe. The backlog, for instance, grew to more than 800,000 by January 2019, with the average wait time of about 19 months to see a judge. By September 2019, the backlog had topped one million. Plenty of time for terrorist plot gestation or radicalization with little risk of detection.
The motive to commit asylum fraud is powerful. The professional smugglers who transport migrants from higher risk Muslim-majority countries literally embroider U.S. asylum system deficiencies into their very business models. After all, it is neither in the interest of the smuggler nor migrant customers who might lose tens of thousands in fees were they to lose asylum and be deported.
Court records examined in a study of this kind of smuggling show these smugglers to be highly versed in how pass the credible fear screen and later gain approval by judges. Such smugglers coach their clients in fraudulent persecution stories and in the kinds of information to withhold from American adjudicators.
For example, the Mexico City-based Nepalese smuggler Rakhi Gauchan, prior to her 2013 arrest, coached most of her Pakistani and Bangladeshi clients to tell American immigration officials that they belonged to certain persecuted political parties then in asylum vogue and not to disclose disqualifying information about asylum denials in other countries. She would critique their "life story" and suggest how to make the story more compelling.
Bogus stories, omitted information and huge backlogs would work in a terrorist's favor perhaps even better in the United States than in Europe. A Congressional Research Service report recognized that terrorists from countries of "special concern, (i.e., Saudi Arabia, Syria, Iran, Pakistan, Egypt, Lebanon, Jordan, Afghanistan, Yemen and Somalia) would seek to hide fraudulent asylum claims like these among the hundreds of thousands of pending cases."
Like European asylum, the American system rarely ferrets out potential terrorist actors or fraud. Almost repetitive Government Accountability Office investigations dating to at least 2008 find the U.S. does virtually nothing to detect asylum fraud. In 2014, four Republican congressmen asked the GAO to investigate the asylum process after a leaked DHS report showed that up to 70 percent of cases contained proven or possible fraud.
A 2015 GAO investigation found that U.S. Attorneys won't prosecute asylum fraud and that this trickles down to ICE investigators who become disinclined to investigate and send referrals.
This isn't just my assessment, either.
The asylum system was regarded as so vulnerable to terrorist infiltration that DHS's 2008-2013 threat assessment's "highest level of concern" was that "terrorists will attempt to defeat border security measures with the goal of inserting operatives and establishing support networks in the United States" by posing as "refugees or asylum seekers ... from countries of special interest for terrorism."
President Donald Trump in recent months has taken steps to correct some of the worst asylum law deficiencies, such as reducing carte blanch credible fear approvals. But these measures appear aimed mainly at Central American entrants. Whether this administration or the ones that follow Trump apply fixes to border entrants from Muslim-majority countries is a question the country will surely be asking when America experiences more Sharifs, or what Europe is still suffering through right now.
https://www.meforum.org/60101/broken-asylum-system-enables-islamist-infiltration
------
Sonny Bill Williams: 'We've been taught to be embarrassed of Islam'
By George Ramsay and Alex Thomas
December 12, 2019
(CNN)After the Christchurch terror attacks, Sonny Bill Williams knew he had to speak out.
The 34-year-old felt the responsibility not only because of his status as an All Black -- a star of New Zealand's esteemed rugby team -- but also as one of the country's most recognized Muslims.
Over 50 people were killed in March after a gunman opened fire in two mosques in the city of Christchurch. The shooter, Australian citizen Brenton Harrison Tarrant, was motivated by anti-immigrant, anti-Muslim ideology.
"I was hurting, I know New Zealanders were hurting, Muslims were hurting, so I had to step up, I had to get into that space and be vulnerable," Williams, who recently announced he would be switching from rugby union to league having signed for the Toronto Wolfpack, told CNN Sport's Alex Thomas.
"Sometimes I didn't know what I was doing but I knew that I was trying to be positive and I think as New Zealanders we've really led the way in that space and talking about the elephant in the room."
At the time of the attack, Williams released an emotional message paying tribute to the victims, saying he was "deeply saddened that this would happen in New Zealand." He also visited survivors in hospital and attended a prayer meeting near Al Noor mosque where the attacks took place.
Williams converted to Islam in 2008 and says he wouldn't have achieved as much as he has as an athlete were it not for his faith.
"My soul was yearning for something, I didn't know what that was," he says, reflecting on the early days of his career.
"I was young I was, I guess, insecure. All I knew was rugby and rugby league. That game actually defined who I was. If I had a good game, I felt like I was a good person. If I had a bad game, I wouldn't want to leave the house.
"I think that's what Islam has given me. It's allowed me to be vulnerable enough to step into certain situations and environments and lead and thrive and put myself out there."
Sonny Bill Williams and Ofa Tuungafasi say a prayer following New Zealand's Rugby World Cup semifinal.
Pushing positivity
Williams, a two-time Rugby World Cup winner with the All Blacks, bowed out of rugby union after this year's competition in Japan.
One of the most successful cross-code athletes in sport, he's played league, union and sevens at the highest level, as well winning all seven of his heavyweight boxing fights.
With his move to Toronto to play in rugby league's 13-a-side format, Williams is thought to be the sport's highest-paid athlete having signed a two-year deal worth $10 million.
He has regularly featured in the Muslim 500 -- a list of the world's most influential Muslims -- alongside Liverpool and Egypt forward Mo Salah, Manchester United and France midfielder Paul Pogba and UFC fighter Khabib Nurmagomedov.
"Over time as I become more confident in the person, the man that I am, I think in today's society we've been taught to be embarrassed of Islam, to be embarrassed because of a few bad apples that are out there," said Williams.
"I'm not a politician, but I just do what I feel is right and I'm grateful and blessed that sport has allowed me to use that vehicle to push I guess a bit more positivity out there into the world."
Williams famously gave away his Rugby World Cup winners' medal to a fan who broke onto the pitch to hug the center, only to be tackled to the ground by a steward.
He ended his All Blacks career with a third-place finish at this year's World Cup having scored 13 tries in 58 appearances.
He now begins preparation for the new Super League season, where Toronto Wolfpack has recently earned promotion to the league mainly comprised of English teams. Toronto's first game is against Castleford on February 2.
https://us.cnn.com/2019/12/12/sport/sonny-bill-williams-islam-chirstchurch-terror-attack-new-zealand-rugby-league-spt-intl/index.html
------
Islamic State claims responsibility for military camp attack in Niger - statement
DECEMBER 12, 2019
CAIRO (Reuters) - Islamic State claimed responsibility on Thursday for an attack on a military camp in Niger near the border with Mali on Tuesday, according to a statement issued by a branch of the militant group in the region.
Islamic State West Africa Province (ISWAP) said the attack killed at least 100 soldiers and injured many others, while a Niger army spokesman said on Wednesday that 71 soldiers were killed.
Jihadists with links to Islamic State and al Qaeda have mounted increasingly lethal attacks across West Africa's Sahel region this year despite thousands of regional and foreign troops being sent to counter them.
https://in.reuters.com/article/islamic-state-niger-niger-attack/islamic-state-claims-responsibility-for-military-camp-attack-in-niger-statement-idINKBN1YG27D?rpc=401&
------
New Zealand
Mosque shooting image charge admitted
Anne Clarkson
Dec 13 2019
A 42-year-old man has admitted sharing an image he called "Call of Duty Black Mosque NZ Edition" after the March 15 terror attack in Christchurch.
The image showed the shooter holding his rifle at the entrance of the Al Noor mosque, and a deceased body lying in the entrance way.
He also had numerous pictures and videos of the footage from the mosque attack on March 15.
The man pleaded guilty in the Christchurch District Court on Friday to a charge of possessing an objectionable publication, and making an objectionable publication.
He has interim name suppression, which will be argued at his next appearance in court on February 26.
A pre-sentence report has been ordered and the man remains on bail.
The man sent the image multiple times using Facebook messenger with three laugh/cry emojis following one of the messages.
The man used a mobile phone app called Youcut to edit the original video into smaller files, and sent eight emails of the files on March 17.
He also pleaded guilty to possession of cannabis plant, possess of utensils for methamphetamine, unlawful possession of a firearm at another session in the court, and will be sentenced on all charges.
https://www.stuff.co.nz/national/crime/118172732/mosque-shooting-image-charge-admitted
------
URL: https://www.newageislam.com/islamic-world-news/how-noncitizen-non-believer-dr/d/120517
New Age Islam, Islam Online, Islamic Website, African Muslim News, Arab World News, South Asia News, Indian Muslim News, World Muslim News, Women in Islam, Islamic Feminism, Arab Women, Women In Arab, Islamophobia in America, Muslim Women in West, Islam Women and Feminism