New Age Islam News Bureau
26 Dec 2014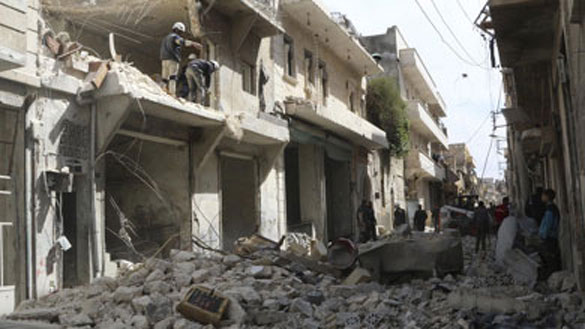 At least 45 civilians were killed and some 175 wounded when aircraft bombed a northern Syrian city. (File photo: Reuters)
----------
Europe
• Hoping To Create a New Society, the Islamic State Recruits Entire Families
• Pope Condemns 'Brutal Persecution' Of Minorities by Islamic State
• Green Party MP: Islamophobia growing threat in Germany
Arab World
• Saudi Scholar Revives Controversy over Face-Covering Niqab
• Syrian air force kills 45 civilians in stepped-up raids
• Iraqi Police: Coalition Airstrikes Kill ISIS Governor of Mosul
• Shoura Council Fails To Agree On Birth Control
• Hezbollah seizes top official who spied for Zionists
• Two Egyptian troops killed in Sinai bombing
• The Islamic State is failing at being a state
• PM's Christmas message: Kurdistan is island of peace, tolerance
Pakistan
• Arrest Warrant Issued For Lal Masjid Cleric Maulana Abdul Aziz
• 7 Suspected Militants Killed In North Waziristan Drone Strikes
• Establishment of Military Courts the Only Option: Jamaat-e-Islami
• IS wall chalking in Larkana ahead of Benazir Bhutto's death anniversary
• Maulana Fazl ur Rehman opposed to military courts, but ready for rethink
• MQM wants 'true democracy' in Pakistan: Altaf Hussain
• Terrorists have no link to Islam: Pak President
• Militant commander who facilitated Peshawar school attack killed in Khyber
India
• Vajpayee Always Initiated the Peace Process between India and Pakistan, Says Senior Journalist, Sultan Shahin
• US Islamic Scholar Warns Indian Politicians Not To Focus on Conversion
• Muslim Community Members Burn Effigy of Central Government for Denial of Visa
• 16 Rajasthan ministers, including HM, receive threatening emails sent by IM
Africa
• Islamists Kill 19 Libyan Soldiers after Attack on Oil Ports
• Three AU soldiers, civilian killed in Shabab attack on base
• Ex-militants seek review of amnesty programme
• Mauritania condemns man to death for 'insulting the prophet'
North America
• Obama Hails End of Afghan War in Christmas Address, Says World Is Better, Safer
• Mitzvah Day Is Joint Jewish and Muslim Day of Service on Christmas
• McCain fears Peshawar-like attack in Afghanistan
South Asia
• Unknown Gunmen Kill a Woman with Her Daughter in Afghanistan
• President Urges Saudis to Invest In Maldives and "Get Warmed Up For" Heaven
• Bangladesh FM: Madrasa education need to be modernised
• Bangladesh Minister: Khaleda wants to destabilise country
Mideast
• 407 Jewish Settlers Forced Way Into Al-Aqsa for Hanukkah
• Turkey, Iraq seek new measures against ISIL
• Turkey needs to see human rights improvement in Egypt for thaw: FM
• Netanyahu: Israel won't stand for attacks from Gaza, the Golan, Lebanon or anywhere
Southeast Asia
• Indonesian IS Fighter Warns TNI Chief: Soldiers of God Are Waiting for You
• Penang government building in lockdown as protesters hurl abuse over 'Allah'
• Hudud sitting set to be washout, PAS sec-gen suspects
Compiled by New Age Islam News Bureau
URL: https://www.newageislam.com/islamic-world-news/new-age-islam-news-bureau/hoping-to-create-a-new-society,-the-islamic-state-recruits-entire-families/d/100703
-----------
Europe
Hoping To Create a New Society, the Islamic State Recruits Entire Families
26 Dec, 2014
LONDON — Last month in Syria, Siddhartha Dhar stood in front of a banged-up yellow pickup truck, holding an assault rifle in his right hand and cradling his newborn son with his left.
Dhar's first four children had been born in London, his native city, but his new baby, wrapped in a fuzzy brown onesie, was born in territory controlled by the Islamic State.
Someone snapped a photo of Dhar, 31, and he proudly tweeted it out as proof that he; his wife, Aisha; and their children had fled Britain and were now living in what the militants consider an Islamic caliphate that will one day reign over the world.
The arrival of the Dhar family in Syria last month represents a key strategic goal of the Islamic State: to build not just an army but a society. The group has vowed to create a nation ruled by Islamic Sharia law, and its leaders and online recruiters have encouraged doctors, nurses, lawyers, engineers and accountants to join them in building the institutions of a new holy land.
Entire families — fathers, mothers and children — have answered that call in numbers that have surprised and alarmed analysts who study the extremist group.
"These families believe they are doing the right thing for their children," said Melanie Smith, a research associate at the King's College International Center for the Study of Radicalization in London. "They think they are taking them to a kind of utopia."
Back in London, Dhar's younger sister, Konika Dhar, 27, said she was heartbroken when she saw the Twitter photo on her phone.
Her brother was now an Islamist militant calling himself Abu Rumaysah, who fled to Syria with his family while he was on bail in Britain after being arrested on terrorism-related charges. In his caustic tweets from Syria, he taunted the U.K.'s "shoddy security system" that had allowed him to jump bail.
But Konika Dhar still thought of her brother as "Sid," the stylish British kid who gelled his hair, dated girls, listened to Nirvana and Linkin Park, rooted for the Arsenal soccer team, and loved to watch American action movies.
"I think he has actually forgotten Siddhartha Dhar, and he has become this other person," she said. "I just want my brother to know it doesn't have to be this way. He really doesn't have to leave his life. I really miss the children; I can't imagine not seeing them again."
Promise of earthly rewards
Unlike al-Qaeda, which operates in many countries but is a stateless army, the Islamic State controls territory that it has taken by force in Iraq and Syria. To create the Islamist society it envisions, the group has gone to great lengths to take over existing schools, hospitals and playgrounds, or to build these and other institutions of daily family life.
"The more they are successful at creating a whole new society, the more they are able to attract entire families," said Mia Bloom, a professor of security studies at the University of Massachusetts at Lowell who has written extensively about women and terrorism. "It's almost like the American dream, but the Islamic State's version of it."
In the Syrian city of Raqqa, the group's main stronghold, the extremists have established a clinic for pregnant women run by a female gynaecologist trained in Britain. Boys attend school, studying almost exclusively religion, until they are 14, when they are expected to start fighting, Smith said. Girls stay in school until they are 18; their instruction is about the Koran and Sharia law, as well as learning how to dress, keep house, cook, clean and care for men, all according to a strict Islamic code.
Bloom said the Islamic State also appeals to women by providing electricity, food and a salary of up to $1,100 per month — a huge sum in Syria — for each fighter's family. The largesse is funded with money looted from banks, oil smuggling, kidnappings for ransom, and the extortion of truckers and others who cross Islamic State territory.
In Raqqa, once a city of more than 200,000 people, the militants have kicked locals out of their homes and doled out those houses as rewards to fighters and their families, many of whom come from impoverished backgrounds.
"The other jihadi groups promise you all these wonderful things in the afterlife," Bloom said. "The Islamic State promises to give you stuff in the current life and the afterlife, so you don't have to wait to enjoy all your rewards."
Analysts estimate that at least 15,000 people have moved to the Islamic State territories, including several thousand, such as Dhar, from Western countries. While it is impossible to know how many families have joined, Bloom said the majority are probably from Tunisia, Saudi Arabia, Jordan and other Arab nations that have sent the most fighters to Syria.
The United Nations has documented extreme brutality toward women by Islamic State radicals, including reports of women, particularly from minority groups, being stoned to death or sold into prostitution or sex slavery for its fighters.
But the Islamic State uses family imagery in its aggressive and highly polished online recruiting on social media, including videos showing fighters pushing children on swings and passing out toys, and children playing on bouncy castles and bumper cars, riding ponies, and eating pink cotton candy.
Those images are designed to reassure mothers that their children will be safe in a place racked by fighting and regular bombing by the United States and its allies.
However, recent reports from Syria and Iraq suggest that the Islamic State's propaganda about its public services does not match reality on the ground and that people are enduring painful shortages of electricity, food, medicine and clean water. Smith said she has recently noted increasing complaints from women in the Islamic State territories with whom she communicates on social media.
"To these families, it makes a lot of sense to go there," Smith said. "They think, 'This is the path for me; this is my reward.' But when you think about what it's really like to live there, it's unfathomable."
A death and a conversion
Sid Dhar was 16 when his father died unexpectedly, and his sister said the loss set him adrift.
His parents were Hindus who had immigrated to London from India when they were children, then created a working-class life in Palmers Green on the city's northern fringe. They lived in a tiny row house on a busy highway alongside other immigrants from India, Pakistan, Greece and Cyprus.
Konika Dhar, a law student, said her family embraced both, Hindu and British culture, celebrating Diwali as well as toasting Christmas with Baileys Irish Cream around a decorated tree in their small living room.
"We were just a normal family," she said, sitting in a coffee shop in their London neighbourhood. "Then my dad died."
When their father died at 46, Konika Dhar said, her mother dealt with her grief privately, while she and her sister turned to each other for comfort. Sid Dhar, the middle child and only male in the house, had no man in the family to lean on, his sister said.
"He felt like he needed to be the man of the house, and make decisions then and there," she said. "He never asked for help. I felt like him being the only boy in the family, he needed guidance, but nobody was there to give it to him."
She said his grades started suffering, he became more introverted, and over the next two years he barely managed to finish high school. She said he abandoned his dream of going to college and becoming a dentist, and he took a job as a clerk in a Boots pharmacy.
"I feel like it's a domino effect," Konika Dhar said. "One incident has an impact on everything else."
Dhar sought support from his closest friend, Mizanur Rahman, a Muslim boy from the neighborhood and the son of immigrants from Bangladesh.
They had met when they were 8 years old and called each other "Sid" and "Midge." They played basketball and video games together. They were born four days apart, and every year on Dhar's birthday, Rahman called to ask him what it felt like to be older.
Rahman was growing more deeply religious; inspired largely by the sermons of a fiery preacher he met named Omar Bakri Mohammed. Bakri was one of London's best-known radical Islamist preachers; he had long been linked to al-Qaeda and in 2004 vowed that Muslims would give the West "a 9/11, day after day after day."
The Syrian-born Bakri was a driving force behind two extremist groups that were eventually banned by the British government: Hizb ut-Tahrir and al-Muhajiroun. Bakri now lives in exile in Lebanon after he was refused re-entry into Britain in 2005 because his presence was deemed "not conducive to the public good."
When he was still a teenager, more than a decade ago, Rahman said he was "amazed" by Bakri's sermons and persuaded Dhar to come hear him speak at a mosque near their homes. Rahman said Dhar was deeply moved by Bakri's rhetoric, and the two spoke endlessly about Islam over the coming months.
At home, Konika Dhar watched with sadness as her brother stopped eating his mother's cooking, because he said he did not want to eat food prepared by a non-Muslim.
He stopped listening to music and watching TV, and he got rid of his bed and slept on the floor, saying he was trying to emulate the simple life of the prophet Muhammad.
One evening in 2002, when Dhar was 19, he and Rahman went to hear another of the many Bakri sermons they attended. On their way home, Dhar walked past his own house and said he wanted to come to Rahman's place, just a few doors down.
For months Rahman had been urging Dhar to convert to Islam. He said in an interview that Dhar had always found a reason to delay, mainly saying he was worried about what his family would think.
"I was saying, 'Look, we could all die at any moment, you don't know when you are going to die, none of us knows the future,'?" Rahman said, telling Dhar that only Muslims are allowed to join God in paradise. "I told him: 'If you die now, before you become a Muslim, what are you going to do? There's no point in delaying.'?"
They arrived at Rahman's house at about midnight and sat in the living room.
"Okay, let's just do it," Dhar said.
With Rahman and his older brother as the two witnesses required in Islamic tradition, Dhar sat on his friend's couch and said, in the Arabic he had been practicing: "I testify there is none worthy of worship but Allah, and Muhammad is the messenger of Allah."
The friends embraced.
With that declaration, he was now a Muslim, and he gave up the name Siddhartha Dhar. He now went by Saif al-Islam, an Arabic name that means "sword of Islam."
At first, Rahman said, Dhar told no one about his conversion. But two weeks later, he was arrested while participating in a pro-Palestinian protest. Rahman said Dhar's mother came to pick him up at the police station, and that's when she learned that her son had converted to Islam.
Marriage, arrest and flight
Dhar wanted to start a family with a conservative Muslim wife, so friends arranged for him to meet a young Pakistani-British woman named Aisha, and they quickly married.
Konika Dhar said Aisha, who is her brother's age, is a "quite modern woman, but at the same time has very strong views" about her strict interpretation of Islam. She said Aisha covers herself fully in black so that only her eyes are visible.
They were married in a community hall in London on Nov. 9, 2006, when Dhar was 23. They moved to Walthamstow, an East London neighbourhood that had been home to a number of radical Islamists, including several of the men convicted in a failed 2006 plot to bomb transatlantic airliners.
Their first child, a daughter named Rumaysah, was born in 2008, and Dhar started calling himself Abu Rumaysah, which means "father of Rumaysah." Their second child, Usama, was born the following year; Rahman said the name was inspired by Osama bin Laden.
Dhar had wanted his old friend to attend his wedding, but Rahman couldn't because he was in prison. By then, Rahman and Dhar had been following another radical Islamist leader in London, Anjem Choudary, who was at the forefront of several groups banned by the British government for extremist activities.
In February 2006, Rahman, who had adopted the nom de guerre Abu Baraa, gave a speech about cartoons of the prophet Muhammad that had been published in a Danish newspaper, saying that he wanted to see British troops in Iraq "coming home in body bags." He was convicted of soliciting murder and served two years in prison.
Dhar was also becoming more and more radical and a close lieutenant of Choudary. Rahman said they were motivated by a belief that the British government, along with Washington, was waging war against Muslims in Britain and around the globe.
With the rise of the Islamic State in the past couple of years, Dhar became one of the group's most vocal supporters in Britain, giving media interviews in which he called for the establishment of Sharia law in Britain.
"Women need to be covered up, men lashed for fornication, and hands cut off for theft and breaking Sharia law," he said in one interview. In another, he said Islamic law forbade him from loving his mother because she was not Muslim.
Dhar was arrested many times on suspicion of belonging to Islamist groups banned in Britain. Most recently, on Sept. 25, Dhar, Rahman, Choudary and seven others were arrested on charges of belonging to a banned group and "encouraging terrorism." The men were granted bail.
After his release, Dhar and Aisha, who was pregnant, and their four children under 6 years old apparently took a bus to Dover, crossed the English Channel by ferry, then drove to Paris, where they boarded a flight to Turkey.
On Nov. 26, Dhar tweeted the photo of himself in Syria.
In London, Rahman is delighted for his friend and said he has done nothing more than emigrate to a new home.
"He wants to live a better life, in a better place, with real education for his children, with freedoms for himself as a Muslim that he doesn't have here," he said. "Ironically, over there, he is far safer than I am here because he is not waiting for the next police raid, he is not waiting for the police to jump on him at any moment and harass him."
He said that Dhar has no intention of taking up arms to fight and that the Twitter photo with the assault rifle was just a "clever" way to taunt the British authorities. He said Dhar's most recent job in London was renting out bouncy castles for children's parties, but he also has experience designing Web sites, so he guessed that he might help the Islamic State with its online presence.
Konika Dhar said her family is devastated by her brother's choices. "It's such a shame," she said. "Nobody said the right thing at the right time, and now look at what has happened."
She said she hasn't given up hope that he might return.
"I think my brother has become so involved and consumed in this new movement, he has lost sight of what it is to be a Muslim," she said. "I want him to be back to normal. He would still be welcome in our family, in our house, with his lovely children."
http://www.washingtonpost.com/world/national-security/hoping-to-create-a-new-homeland-the-islamic-state-recruits-entire-families/2014/12/24/dbffceec-8917-11e4-8ff4-fb93129c9c8b_story.html
-----------
Pope condemns 'brutal persecution' of minorities by Islamic State
26 Dec, 2014
VATICAN CITY: Pope Francis on Thursday condemned the "brutal persecution" of minorities by Islamic State insurgents and said the joy of Christmas was marred by the suffering of children in the Middle East and around the world.
Tens of thousands of people flocked to St. Peter's Square to hear the Argentine pope deliver his "Urbi et Orbi" (to the city and the world) blessing and message, marking the second Christmas since his election last year. He condemned Islamic State fighters who have killed or displaced Shias, Christians and others in Syria and Iraq who do not share the group's ideologies. "I ask him, the saviour of the world, to look upon our brothers and sisters in Iraq and Syria, who for too long now have suffered the effects of ongoing conflict, and who, together with those belonging to other ethnic and religious groups, are suffering a brutal persecution," he said.
Later he departed from his text and spoke emotionally of "children displaced due to war and persecution, abused and taken advantage of before our very eyes and our complicit silence." "I think also of those infants massacred in bomb attacks, also those where the Son of God was born," he said, without elaborating. Again without elaborating, he spoke of "contemporary Herods," with blood on their hands, referring to the Biblical king who ordered children to be killed because he saw Jesus as a threat to his power. He also spoke of "infants killed in the womb" condemning abortion as a product of "a culture that does not love life."
Speaking of the plight of refugees he asked that "indifference be changed into closeness and rejection into hospitality, so that all who now are suffering may receive the necessary humanitarian help to overcome the rigours of winter, return to their countries and live with dignity." He appealed for an end to conflicts in African countries, urged dialogue between Israelis and Palestinians, condemned the attack by Taliban militants that killed more than 130 students in Pakistan last week, and thanked those helping the victims of the Ebola epidemic.
On Christmas eve, Francis made a surprise telephone call to comfort Christian refugees in a camp in Ankawa, Iraq. "You are like Jesus on Christmas night. There was no room for him either ..." he told them. Pope Francis ushered the world's 1.2 billion Roman Catholics into Christmas on Wednesday, urging them to allow God to enter their lives to help combat darkness and corruption. Meanwhile, Britain's Queen Elizabeth used her annual Christmas Day broadcast on Thursday to advocate reconciliation, especially in Scotland where an unsuccessful independence referendum earlier this year polarised public opinion. Channelling the spirit of a brief World War One Christmas truce between British and German soldiers 100 years ago, the 88-year-old monarch held the historic moment out as an example of how irreconcilable differences can sometimes be bridged.
"Of course, reconciliation takes different forms. In Scotland after the referendum many felt great disappointment, while others felt great relief; and bridging these differences will take time," she said. Scots voted by a margin of 55-45 to reject independence from the United Kingdom in a September referendum after a sometimes bitter two-year campaign which divided friends and families. Alex Salmond, the former leader of the defeated pro-independence Scottish National Party (SNP) suggested before the vote that his party would accept the result, however close, and not resurrect the matter for years.
But the SNP has since staged an unexpected recovery and, under its new leader, Nicola Sturgeon, has made clear it will work towards a second referendum. The divisions that opened up during the referendum campaign remain raw.
"Sometimes it seems that reconciliation stands little chance in the face of war and discord," said the queen. "But, as the Christmas truce a century ago reminds us, peace and goodwill have lasting power in the hearts of men and women."
http://www.dailytimes.com.pk/region/26-Dec-2014/pope-condemns-brutal-persecution-of-minorities-by-islamic-state
-----------
Green Party MP: Islamophobia growing threat in Germany
World Bulletin / News Desk
26 Dec, 2014
"Islamophobia poses a big problem in Germany, like anti-Semitism," warns Ozcan Mutlu, a representative of the Green Party in the German parliament in Berlin.
Speaking with The Anadolu Agency on Thursday, Mutlu warned that the rising turnout of the demonstrations was of grave concern for the five million Muslims of Germany.
Demonstrations in the East German city of Dresden led by the far right group Patriotic Europeans against the Islamization of the Occident have attracted thousands.
"Islamophobia has peaked nowadays in Germany, becoming especially widespread in Europe after the 9/11 terror attacks," he pointed out.
Mutlu blames German media for failing to adequately cover the threat. "German media has not taken its responsibility of warning the people about Islamophobia so far," Mutlu said.
"The problem is not the large turnout at these demonstrations, but the fact that they propogate racism and Islamophobia," Mutlu said. Mutlu pointed out the anomaly that a large number of demonstrators turn out in Dresden, yet the city has a relatively small Muslim population.
Nearly 100,000 Turkish entrepreneurs in Germany employ approximately 400,000 people, according to the Independent Industrialists' and Businessmen's Association.
"The demonstrators' concerns are completely irrelevant, because, the immigrants in Germany do not harm the German economy; on the contrary, they make a contribution to the economy."
The Green Party has demanded the enhancement of new programs and projects for immigrants, as well as additional financing for them.
"But the ruling parties do not agree with us, and they have declined all of our demands," Mutlu complained.
Mutlu also said that paying more attention to education was essential in eliminating Islamophobia, anti-semitism and anti-immigrant feeling.
"We have to teach our children to be aware of racism, and we also have to teach that multiculturalism is rich."
Racist mosque attacks in Germany
Lower Saxony Green Party Deputy Belit Onay drew attention to the rising number of mosque attacks in Germany, saying that the mosque attackers are driven by Islamophobia.
"There is no proof that the organized crime syndicates have committed the attacks," Onay told AA.
The most recent mosque attack occurred in Dormagen city in the federal state of Northern Rhein-Westphalia on Saturday. Neo-Nazis attacked the Turkish-Islamic Union's Suleymaniye Mosque by painting swastikas on its walls.
"The mosque attack in Dormagen is unfortunately a common type of attack," Onay said. "After the 9/11 terror attacks, an average of one mosque attack every two weeks has been carried out in Germany from 2001 to 2011."
The Turkish Parliament's Human Rights Committee issued a report in November on the arson attacks targeting the mosques in Germany.
The conclusion of the report was that the attacks had become frequent, and that suspects could not be arrested.
The report of the committee has been prepared according to data received from German authorities.
The report announced that a total of 297 mosque attacks have been carried out between 2001 and 2011, and 78 mosque attacks between 2012 and 2014. This shows an increase to three attacks per month on average.
Onay also said that the mosque attacks have not been carried out in a single region of Germany, but also have spread country wide.
"The rise of Islamophobia is obvious. The right wing parties make use of Islamophobia in their campaigns," he said.
Onay also said that every mosque attack has not been counted as an Islamophobic or a racist attack by German police. Unless the attackers leave swastikas painted on the wall, or other indications of racist feeling, the police do not treat the crimes as Islamophobic.
"Arson attacks on mosques or attacks in which doors and windows are broken have not been counted as Islamophobic or racist attacks," he said.
"But every attack on synagogues in Germany has been evaluated as anti-Semitic or racist."
Onay said that his party would take necessary steps by submitting this issue to the German Federal Council in the coming months.
According to a study by a German think tank, the Friedrich Ebert Foundation, 18.2 percent of Germans support measures to prevent Muslim immigrants coming to Germany. The research, conducted between June and September, gathered the views of 1,915 citizens aged between 16 and 95.
http://www.worldbulletin.net/headlines/151618/green-party-mp-islamophobia-growing-threat-in-germany
---------
Arab World
Saudi Scholar Revives Controversy over Face-Covering Niqab
26 Dec, 2014
Religious scholars in Saudi Arabia are once again facing off over the controversial issue of the face-covering Niqab. The former head of the Makkah branch of the Commission for the Promotion of Virtue and Prevention of Vice, Sheikh Ahmad Al-Ghamdi, stirred the new uproar when he openly stated that women are allowed to reveal their faces in public.
"I am truly convinced about the fact that women do not have to cover their faces, and my wife, who is a cousin, is equally convinced about it," Al-Ghamdi said while appearing on a television talk show alongside his wife, who was not veiled.
Al-Ghamdi appeared on the TV to prove he stood behind his view after a heated debate ensued after a reply he gave to a woman went viral on the Internet with thousands of people offering their comments.
"I received a question on my Twitter account from a woman who asked me if Islam allowed her to post a picture of her face on a social network," Al Ghamdi said. "I told her that it was allowed. My opinion was based on scholarly books and on the stance of well-known and highly respectable religious figures," he said.
Many religious scholars found Al-Ghamdi's actions to be pompous and controversial and said women should not reveal their faces in front of male strangers.
Kingdom's Grand Mufti Sheikh Abdulaziz Al-Alsheikh has said Muslim women had a duty to wear full Hijabs, which cover their faces.
"There are those who said that it was okay for women to show their faces to strangers and that the veil is a social tradition, and not a religious order. This is wrong because covering the face is a religious obligation," he said in remarks published by local news site Sabq.
Member of the Board of Senior Scholars and the General Presidency of Scholarly Research and Ifta Sheikh Saleh Al-Fawzan said when there is not a clear edict on a particular issue in the Qur'an and Sunnah (Traditions of the Prophet), one may refer back to the opinion of the great scholars of Islam.
"A woman's veil is a protection for her against men with vile intentions. According to the Maliki school of thought, women are prohibited from revealing their faces to strange men. There is no clear evidence for this prohibition in the Qur'an or the Sunnah, but it is widely accepted that a woman's face may invite unwanted attraction and therefore she must cover it to protect herself," he said.
The imam of Quba Mosque in Madinah, Sheikh Saleh Al-Maghamsi, said it is always better to be modest though he admitted that not all scholars agree that women should not reveal their faces.
"One must see the social conditions in a country and listen to what the scholars of that country say on the matter. If a woman finds no hardship in covering her face, then she should wear the veil. But if she lives in a country where unveiling is the norm, then we have no right to force her to put on her veil. The best judgment is to leave the decision to the women themselves. They are aware of the men of their culture and what exposes them to danger and what doesn't," said Al-Maghamsi.
Sheikh Abdulaziz Al-Fawzan, a scholar at the High Institute for Jurisprudence at Imam Muhammad Bin Saud Islamic University and supervisor of Islam Message Network, agreed.
"If she is used to covering her face and if she is comfortable in doing so, she may continue the practice; but if she is not, it should be left to her own judgment. I personally find that it is important for a woman to cover her face, especially if she is young and beautiful. However, if she is old or unattractive then she may be lenient," he said.
Sheikh Yousef Al-Shabily, another scholar at the same institute, said differences are normal among scholars and it is every Muslim's responsibility to find out what is right for him or her.
"I personally do not believe that covering the face is mandatory. However, I do not excuse women who put on makeup and reveal their faces. That is inarguably prohibited. Even scholars who have allowed women to unveil their faces set a condition that they should not be beautified in any manner," said Al-Shabily.
Sheikh Adel Al-Kalbani, a former imam of the Grand Mosque, said Saudi society is not used to conflicting opinions on religious matters. "We believe in one opinion and view everything else is wrong. I tweeted once that you would know a real Saudi hijabi when she travels abroad. Many Saudi women take their hijab off when they travel because they are not covering their faces as a religious duty. All in all, no scholar should force his followers to listen to him. It is hard to say anything definite about an issue that has been a matter of dispute for a long time," said Al-Kalbani. In his reply to what Sheikh Al-Ghamdi publicly announced, Al-Kalbani said it is important to remember that a religious issue is being discussed and all views should be respected.
"There are more pressing matters than figuring out whether women are obliged to cover their faces or not. We need a law against sexual harassment, for example. Sexual harassment exists in our society and it has nothing to do with women revealing or covering their faces and we need to address it," said Al-Kalbani.
http://www.saudigazette.com.sa/index.cfm?method=home.regcon&contentid=20141226228610
-----------
Syrian air force kills 45 civilians in stepped-up raids
26 Dec, 2014
AMMAN - At least 45 civilians were killed and some 175 wounded when aircraft bombed a northern Syrian city controlled by Islamic State, as Bashar al-Assad's government stepped up air raids, residents and a monitoring group said on Friday.
Helicopters and war planes dropped barrel bombs -- steel drums full of shrapnel and explosives -- on residential and industrial areas in the city of al Bab and neighboring Qabaseen, northeast of Aleppo, on Thursday and overnight, locals said.
Syrian state media did not report the strikes on al Bab, a city of around 100,000 people that has been a target of heavy government strikes since the start of U.S- led military campaign against Islamic State, an Islamist militant group, in Syria in late September.
http://www.jpost.com/Breaking-News/Syrian-air-force-kills-45-civilians-in-stepped-up-raids-385845
-----------
Iraqi Police: Coalition Airstrikes Kill ISIS Governor of Mosul
26 Dec, 2014
Hassan Saeed Al-Jabouri is the second ISIS-appointed governor to be killed in the extremist stronghold in December
Coalition airstrikes killed the latest Islamic State of Iraq and Greater Syria (ISIS)-appointed governor of Mosul on Thursday, according to Iraqi police.
Hassan Saeed Al-Jabouri, known as Abu Taluut, is the second ISIS governor of Mosul to be killed in December, CNN reports.
According to Maj. Gen. Watheq Al-Hamdani, the Iraqi police commander leading the government's efforts to retake Mosul, Jabouri was killed 29 km south of the city in the village of Qayyara. He had been in office less than 25 days.
Mosul has been a stronghold for ISIS fighters since they took the city from Iraqi forces earlier this year. The Pentagon says they will move to retake the city beginning in January.
http://time.com/3647361/iraq-isis-governor-mosul/
-----------
Shoura Council fails to agree on birth control
26 Dec, 2014
Shoura Council members have failed to reach agreement on the wording of a contentious policy document on birth control.
According to reports on Wednesday, the disagreement was over the phrase "reduce the total fertility rate by spacing out of pregnancies," with some members arguing that this is an attempt to cut the birth rate, which they say would have negative consequences for the economy.
The council postponed the debate but did not specify a date for its resumption. The council had asked members to vote on the document three times, but on each occasion there was no quorum reached for approval, rejection or modification of the wording.
The postponement is in line with Article 31 of the Regulatory Procedures of the Shoura Council, which states that "decisions issued by the council require a majority, as stipulated in Article 16 of the regulations, and if a majority is not achieved, the issue must be put to a vote at another meeting."
Full report at:
http://www.arabnews.com/saudi-arabia/news/679966
-----------
Hezbollah seizes top official who spied for Zionists
26 Dec, 2014
BEIRUT: Lebanon's Hezbollah has detained a senior party official it accused of spying for Israel and "sabotaging security operations" abroad, a source close to the movement said on Thursday.
"Three months ago, Hezbollah's security apparatus detained a man named Mohammad Shawraba, who is a collaborator in its ranks," said the source, who spoke to AFP on condition of anonymity.
Hezbollah's investigation of Shawraba, who comes from the southern Lebanese town of Mahruna, revealed he had been working with Israel's Mossad intelligence service since 2007, the source said.
Full report at:
http://www.arabnews.com/middle-east/news/679841
-----------
Two Egyptian troops killed in Sinai bombing
26 Dec, 2014
A military officer and a solider were killed late Thursday when a bomb struck an Egyptian army vehicle in the volatile Sinai Peninsula, a hotbed of Islamist insurgency, the army has said.
Another solider was injured in the attack that occurred south of the North Sinai town of Al-Arish, army spokesman Mohamed Samir added in a statement.
The area has been the scene of a series of attacks by Islamist militants against security forces.
Egypt's army has struggled to crush militant violence based in the peninsula that has spiked since the ouster of Islamist president Mohamed Morsi and at times expanded to mainland cities, including Cairo.
The army began late October demolishing houses and clearing residents in the Sinai border city of Rafah to set up a buffer zone, after 31 soldiers were killed in two militant attacks in Al-Arish, the deadliest violence on Egyptian troops in recent times.
Authorities said the move is aimed at deterring militant infiltration and arms smuggling.
http://english.ahram.org.eg/NewsContent/1/64/118847/Egypt/Politics-/Two-Egyptian-troops-killed-in-Sinai-bombing-.aspx
-----------
The Islamic State is failing at being a state
26 Dec, 2014
GAZIANTEP, Turkey — The Islamic State's vaunted exercise in state-building appears to be crumbling as living conditions deteriorate across the territories under its control, exposing the shortcomings of a group that devotes most of its energies to fighting battles and enforcing strict rules.
Services are collapsing, prices are soaring, and medicines are scarce in towns and cities across the "caliphate" proclaimed in Iraq and Syria by the Islamic State, residents say, belying the group's boasts that it is delivering a model form of governance for Muslims.
Slick Islamic State videos depicting functioning government offices and the distribution of aid do not match the reality of growing deprivation and disorganized, erratic leadership, the residents say. A trumpeted Islamic State currency has not materialized, nor have the passports the group promised. Schools barely function, doctors are few, and disease is on the rise.
Full report at:
http://www.washingtonpost.com/world/middle_east/the-islamic-state-is-failing-at-being-a-state/2014/12/24/bfbf8962-8092-11e4-b936-f3afab0155a7_story.html
--------
PM Christmas message: Kurdistan is island of peace, tolerance
Dec 26, 2014
ERBIL, Kurdistan Region—In a Christmas message Kurdistan Region Prime Minister Nechirvan Barzani said that Christians are an essential part of Kurdistan's population and that they should always feel at home and in peace.
"This is not about numbers and larger or smaller population, its about the originality and history of thousands of years of Christians and their participation in building, coexistence and administering this country," said Barzani in his Christmas speech in Erbil on Wednesday. "The Christians are one of the essential parts and owner of this country. They can protect their past, present and future here in their own country."
Prime Minister Barzani said that the country's Christians will not falter in the face of threats posed by the Islamic State (ISIS) and that they will stay in Kurdistan and protect their identity, history and values.
Full report at:
http://rudaw.net/english/kurdistan/25122014
---------
Pakistan
Arrest warrant issued for Lal Masjid cleric Maulana Abdul Aziz
26 Dec, 2014
ISLAMABAD: Senior Civil Judge Saqib Jawad issued a non-bailable arrest warrant on Friday against Lal Masjid cleric Maulana Abdul Aziz while hearing a case filed by civil society members.
During the hearing, the investigation officer of the case requested the court to issue an arrest warrant for Abdul Aziz for investigation, based on a First Information Report (FIR) that was previously registered against the cleric at Aabpara Police Station.
Judge Saqib accepted the investigation officer's request and an arrest warrant was issued, which will be followed by the police taking legal procedures to arrest Aziz for further investigation.
The non-bailable FIR was registered under section 506 (2) of the Pakistan Penal Code which states punishment for criminal intimidation or threats.
Following the deadly attack on Army Public School in Peshawar, civil society activists gathered outside the capital's Lal Masjid last week to protest a statement by the cleric in which he refused to condemn the massacre.
Full report at:
http://www.dawn.com/news/1153286/arrest-warrant-issued-for-lal-masjid-cleric-maulana-abdul-aziz
-----------
7 suspected militants killed in North Waziristan drone strikes
26 Dec, 2014
PESHAWAR: At least seven suspected militants, including three foreigners, were killed Friday in two separate drone strikes in North Waziristan Agency.
Intelligence sources said the first strike took place near the Kund area of Shawal in which the compound of Punjabi Taliban commander Qari Imran was targeted.
The strike left four militants dead but there was no confirmation as to whether Qari was killed in the attack.
The second strike took place in the Mangroti area of Shawal whereby a drone fired two missiles on a compound, leaving three suspected militants of Uzbek origin dead. The compound was also destroyed in the strike.
North Waziristan is among Pakistan's seven tribal districts near the Afghan border which are rife with insurgents and are alleged to be strongholds of Taliban and Al Qaeda operatives, among others.
Pakistan's military in mid-June had launched an all-out operation, named 'Zarb-i-Azb', against Taliban militants in the region.
Drone attacks are widely unpopular across Pakistan and according to survey conducted in June this year, 66 per cent of the country's citizens oppose these strikes.
http://www.dawn.com/news/1153275/7-suspected-militants-killed-in-north-waziristan-drone-strikes
-----------
Establishment of military courts the only option: Jamaat-e-Islami
26 Dec, 2014
PESHAWAR: Jamaat-e-Islami (JI) chief Sirajul Haq has said despite reservations there was no other option besides the formation of military courts.
The JI chief along with PPP leader Rehman Malik and National Party (NP) leader Hazil Bizenjo visited the Army Public School here on Thursday. The JI chief while speaking to the media said the 'march' against terrorists had begun with the announcement of the unanimous action plan. PPP leader Rehman Malik said the jirga was ready to talk to those militants who were willing to disarm. He emphasised that the terrorists involved in the Peshawar massacre did not deserve to be forgiven. The former interior minister also called on the government to award the Nishan-e-Haider to martyred students. NP leader Hazil Bizenjo said it was now time to fight all types of terrorists.
Meanwhile, Rehman Malik said every child who has been martyred in Peshawar army public school carnage be awarded Nishan-e- Haider medal as the martyred children have united the nation by rendering sacrifice of their lives. Rehman Malik said this while talking to media men here after his visit to Army Public School Peshawar Thursday. He said this is not Peshawar tragedy is not an ordinary incident of terrorism and it is attack on parents of the whole country.
http://www.dailytimes.com.pk/national/26-Dec-2014/establishment-of-military-courts-the-only-option-ji
-------
IS wall chalking in Larkana ahead of Benazir Bhutto's death anniversary
26 Dec, 2014
KARACHI: Wall-chalking, carrying the name of militant group Islamic State (IS), appeared in Larkana on Friday.
The wall-chalking appeared in a youth hostel located in Sachal Colony.
Following the emergence of the wall-chalking, locals in the area voiced their concerns after which police started an investigation.
A day earlier, a grenade attack on Rangers personnel injured a soldier, which was rumoured to be linked with the IS.
The pro-IS wall chalking has appeared at a time when people from different parts of the country are reaching Larkana in large numbers to observe the seventh death anniversary of former Pakistan Peoples Party Chairman and the country's assassinated premier Benazir Bhutto.
http://www.dawn.com/news/1153283/is-wall-chalking-in-larkana-ahead-of-benazir-bhuttos-death-anniversary
-----------
Maulana Fazlur Rehman opposed to military courts, but ready for rethink
26 Dec, 2014
ISLAMABAD: "We are opposed to establishment of military courts in principle – but we are prepared to explore possibilities in this regard that are within the constitutional ambit," Maulana Fazlur Rehman, chief of his own faction of the Jamiat Ulema-i-Islam (JUI-F), said on Thursday.
Speaking at an ulema conference jointly organised by his party and Wafaqul Madaris al Arbia – the body responsible for overseeing the affairs of seminaries affiliated with the Deobandi school of thought – the JUI-F leader lauded the army's role in the fight against terrorists. However, he warned that this fight should not in any way undermine democracy in the country.
"We recognise that the army has a key role in the war against terrorism, but we cannot support handing over the reins of the country to the army chief for two years," he said.
JUI-F, Wafaqul Madaris and ASWJ deplore anti-madressah sentiment
Full report at:
http://www.dawn.com/news/1153257/fazl-opposed-to-military-courts-but-ready-for-rethink
-----------
MQM wants 'true democracy' in Pakistan: Altaf Hussain
26 Dec, 2014
KARACHI: Leader of Muttahida Qaumi Movement (MQM) Altaf Hussain has said MQM wants the imposition of "true democracy" in Pakistan.
According to an MQM statement, talking on telephone to Amjad Bashir, a member of European Parliament and leader of United Kingdom Independence Party who was visiting MQM headquarters Nine Zero on Thursday, Altaf said the MQM was struggling for the elimination of feudal system and striving to establish the rule of poor and oppressed people "who were 98 percent of the country's population". Talking about the worsening law and order situation in the country he stressed upon the need of establishing local police system. He said keeping in view the rising population, new provinces should be made in the country. This, he said, was necessary for the better governance to establish new provinces and new administrative units in the country, he added.
http://www.dailytimes.com.pk/sindh/26-Dec-2014/mqm-wants-true-democracy-in-pakistan-altaf
-----------
Terrorists have no link to Islam: Pak President
Dec 26, 2014
QUETTA: President Mamnoon Hussain said that terrorists are misled people who have no link to Islam. The president was addressing the Bolan Medical College convocation here on Friday.
In his address President Hussain said the government and army were determined to eliminate terrorism from the country.
The president informed graduates that Balochistan would benefit the most from the Pak-China Economic Corridor. He added that several foreign companies wanted to set up operations in Balochistan but had reservations due to the security situation.
According to the president, electricity load shedding would be eliminated in Pakistan by 2018.
http://www.thenews.com.pk/article-169832-Terrorists-have-no-link-to-Islam:-Mamnoon-Hussain-
-----------
Militant commander who facilitated Peshawar school attack killed in Khyber
26 Dec, 2014
PESHAWAR: A key militant commander Saddam, who was responsible for facilitating the Peshawar school massacre, was killed by security forces in Khyber Agency's Jamrud area on Thursday night.
Political Agent of Khyber Agency Shahab Ali Shah, while speaking at a press conference in Peshawar, said that Saddam was killed in the Gundi area of Jamrud, adding that one of his accomplices was also arrested in an injured condition.
He said that as a key operational commander of the Tariq Gedar group of Tehreek-i-Taliban (TTP), Saddam had facilitated the Taliban gunmen who had launched the attack on Army Public School in Peshawar.
Full report at:
http://www.dawn.com/news/1153282/militant-commander-who-facilitated-peshawar-school-attack-killed-in-khyber
-----------
India
Vajpayee Always Initiated the Peace Process between India and Pakistan, Says Senior Journalist, Sultan Shahin
Vajpayee has always been a Bharat Ratna, say Muslim community leaders
Dec 26, 2014
New Delhi: Muslim leaders have welcomed the government's decision to confer the country's highest civilian award, the Bharat Ratna, on former Prime Minister Atal Bihari Vajpayee. While some of them described the veteran BJP leader as "secular" and "peace loving", others said he is a "true nationalist" and an "excellent human being".
Lauding the statesmanship of the former PM, senior journalist, Sultan Shahin, who met the prime minister on several occasions, said, "Vajpayee always initiated the peace process between India and Pakistan. He wanted to have good relations with neighbouring country and therefore, travelled to Pakistan and invited the then President General Pervez Musharraf to sit together, mutually resolve the crisis and restore peace and normalcy along the border. He successfully silenced bitter criticism against the peace move from his own political party, the BJP."
He further said Vajpayee always tried to reach out to Muslims despite being a member of the Sangh Parivar.
"Although he was a member of a Parivar (family) with which Muslims have issues, as prime minister of the country Vajpayee always made efforts to take all communities along. He is secular and good human being," said Shahin.
"We welcome the government's decision to honour Atal Ji. He has done a commendable job as prime minister of the country. I have learnt good lessons from his personality and these will have a lasting imprint on me. He should have been bestowed the Bharat Ratna during the UPA government itself," renowned Muslim cleric Khalid Rasheed Firangi Mahali told Firstpost.
Shia cleric Syed Hamid ul Hasan, who is considered close to the former prime minister, said Vajpayee has always been the "Ratna" (gemstone) of the country.
"He is a great man and a patriot. His record as the prime minister is flawless. He respected all religions," he said.
Recalling one of his meetings with Vajpayee at Begum Hazrat Mahal Park in Lucknow, where the former Prime Minister was the MP, Hasan said, "He personally informed me that he is visiting Lucknow and wished to have a meeting. After listening to my speech, he told me, 'Aaj pahli baar mujhe alfaz ki kami mahsoos ho rahi hai (This is the first time when I feel that I am running short of words).' He was so down to earth."
Explaining Vajpayee's religious tolerance and accommodative nature, he said, "He had invited me to his residence in Delhi for Iftar. We (Shias) usually breakfast when the sun completely disappears and the sky becomes dark which may take approx 10-15 minutes more as compared to Sunnis. He kept sitting with me till I had my Iftar (evening meal to breakfast)."
"He is a great man not because of the position he held, but because of his qualities," he added.
When reminded that both Babri mosque demolition and Gujarat riots took place in his tenure, he said, "He has always maintained that 'Babri masjid ki shahdat hamare desh ke liye sharnak tha, hai aur rahega(the demolition of Babri mosque was a shameful incident, is shameful and will remain a shameful incident for ever)'. On Gujarat riots, he said maintaining law and order is a state subject."
Advocate Zafaryab Jilani, convener of the Babri Masjid Action Committee and member of the Muslim Personal Law Board, hailed the decision and said the 90-year-old politician is "not at all communal".
"Apart from Liberhan Commission's report on his involvement in the demolition of Babri mosque, it cannot be said he is communal. I don't think that the Muslims community should have any opposition to the decision of bestowing the highest civilian honour on him," he said.
Former High Court judge MS Liberhan who had prepared a report on the Babri demolition had termed Vajpayee, LK Advani and Murli Manohar Joshi as pseudo-moderates, pretending to keep a distance from the Ram Janambhoomi campaign when they were actually aware of the whole conspiracy.
His report said: "They have violated the trust of the people.... There can be no greater betrayal or crime in a democracy and this Commission has no hesitation in condemning these pseudo-moderates for their sins of omission."
When asked about his controversial speech made on the eve of demolition of Babri mosque, Jilani clarified that the speech was "not provocative" in nature. "He (Vajpayee) was trying to give a message which was wrongly interpreted," he added.
The BJP leader had said, "It's true that till the Lucknow bench of the high court does not come to a decision, the Supreme Court has asked us not to start any construction work. But the court has told us that you do bhajan and kirtan. But bhajan is not done by one person. It is done with others. And even more people are required for kirtan. And bhajan and kirtan cannot be done while standing....There are sharp-edged stones on the ground...no one can sit there. The ground has to be levelled. Arrangements for a yajna will have to be done. We will have to make a platform for yajna....I don't know what will happen there tomorrow. I wanted to go to Ayodhya but I was told to go to Delhi."
Congratulating Vajpayee for the "belated prestigious award", Dr Tasleem Rehmani said, "Vajpayeeji deserved it for his cosmopolitan thought process and his contributions to the nation."
But he questioned the selection of freedom fighter Madan Mohan Malaviya for the prestigious honour.
"Everyone should remember that the era of communal politics was formally started in undivided India with the advent of Hindu Mahasabha. It was established in 1915 by Madan Mohan Malviya. All through his life, he kept nurturing the communal tree. None of the Hindu Mahasabha members could ever win any election, except Syama Prasad Mookerji, in undivided India for the constituent assembly and that too with the help of the Congress party. Today, the same Hindu Mahasabha is trying to glorify people like Godse," Rehmani said.
When reminded that Malviya established Benaras Hindu University, which is imparting quality education to thousands of students of the country, Rehmani said, "We have many luminaries who founded universities in the country. Will the government confer Bhart Ratna on all of them? Should Bhart Ratna be given on the basis of political ideologies? If so, we will soon see this award being conferred on even Godse."
http://www.firstpost.com/politics/secular-vajpayee-true-ratna-says-muslim-community-2016161.html
----------
US Islamic Scholar Warns Indian Politicians Not To Focus on Conversion
26 Dec, 2014
A noted US-based Islamic scholar today appealed to politicians to uplift social and educational conditions of the poor instead of focusing on issues like conversion, saying those who convert due to inducement or fear become a liability for their newly-embraced religion.
Aslam Abdullah also urged religious leaders of different communities to take the initiative in defusing the recent controversy over the issue of religious conversion and reconversion.
"This controversy over religious conversion is an exercise in futility and will only lead to the diversion of attention from the real issues of the people. It will only derail the efforts aimed at development and progress," Abdullah, who was here to participate in a national seminar at AMU, said.
Full report at:
http://www.financialexpress.com/article/miscellaneous/muslim-conversion-us-islamic-scholar-warns-politicians-not-to-focus-on-conversion/22810/
----------
Muslim Community Members Burn Effigy of Central Government for Denial of Visa
Shariq Majeed,TNN | Dec 26, 2014
LUDHIANA: Criticising union government for not providing visas to common people from Pakistan to visit India, members of Muslim community led by Jamia mosque authorities burnt the effigy of Central government today.
Members of Muslim Community criticised the External Affairs Minister, Sushma Sawaraj, for granting 6300 visas to Ahmadiya sect members to attend function in Qadiyan of Gurdaspur district later this month whereas denying the same to the common masses in Pakistan with roots in India to visit their native place. The protesters who were holding placards "Down with Central Government" also raised slogans against the government and Sushma Swaraj.
Addressing the gathering at Jamia Mosque, Maulana Habib-ur-Rehman Saani Ludhianvi, the Shahi Imam (Punjab), criticized the ministry's granting of visas to them. He added that on one hand government is seeking to make an anti- conversion law, but on the other hand they are allowing Ahmediya sect members to bring out the same through these religious programme at Qadiyan in Gurdaspur, the sacred place of Ahmadiyas.
Talking to The Times of India, Naib Shahi Imam Punjab, Muhammad Usman Ludhianvi, said that it is shocking that the External affairs ministry fails to give visas to thousands of elderly people from Pakistan to visit their native place but gives visas to Ahmadiya sect members. He added that they have sent a memorandum to President of India to cancel the 6300 visas of Ahmadiya sect members slated to visit Qadiyan later this month.
Earlier Sub divisional Magistrate (SDM) Ludhiana received three page memorandum from Naib Shahi Imam.
http://timesofindia.indiatimes.com/india/Muslim-community-members-burn-effigy-of-Modi-government/articleshow/45648941.cms
-----------
16 Rajasthan ministers, including HM, receive threatening emails sent by IM
Dec 26, 2014
16 ministers in Rajasthan have received threatening messages on their official email IDs purportedly sent by terrorists group Indian Mujahideen prompting the police to further strengthen the security arrangements in the state.
Home Minister Gulabchand Kataria and Social Justice and Empowerment Minister Arun Chaturvedi are among the Cabinet ministers and Ministers of State who received the emails on
December 22.
"We are examining the credibility and authenticity of the email and its sender who gave threats in the message saying 'You yourself understand what we will do'. We are investigating the matter and have collected inputs which are being shared with intelligence agencies," DGP Omendra Bharadwaj said.
He said that there is no specific target and also type of attack mentioned in the message which was sent on Monday purportedly by terrorists group Indian Mujahideen.
ADG-ATS Alok Tripathi said that language of the message was poor and no specific target was mentioned.
Full report at:
http://indianexpress.com/article/india/india-others/rajasthan-ministers-receive-threatening-emails-purportedly-sent-by-indian-mujahideen/#sthash.36YqMjIT.dpuf
-----------
Africa
Islamists kill 19 Libyan soldiers after attack on oil ports
26 Dec, 2014
BENGHAZI: Islamists killed at least 19 soldiers after a surprise attack in which they used speedboats in a failed bid to seize some of Libya's main oil terminals, officials said.
The militiamen belonging to the Fajr Libya, or Libya Dawn, launched the attack on the port of Al-Sidra by firing rockets from speedboats, setting an oil tank on fire, security sources said.
Soldiers damaged three of the vessels before clashes in which at least 19 of them were killed, they said, adding the militants were eventually repelled.
"These speedboats had fired several rockets at the terminals of Ras Lanuf and Al-Sidra and one of them hit a tank south of Al-Sidra port which then caught fire," said Ali al-Hassi, security spokesman for the region.
Witnesses said the attack was launched overnight, and reported seeing smoke from the burning oil tank.
A military source said 19 soldiers were killed in the region, and that the oil tank struck by a rocket was still burning in the Al-Sidra oil terminal.
Al-Sidra is located in the region known as the "oil crescent" that has been the scene of recent fighting between government forces and Fajr Libya.
Since the clashes erupted on Dec 13, oil production in the country has dropped to nearly 350,000 barrels per day compared with 800,000 previously, according to industry experts
A medical source at Ibn Sina hospital in Sirte said the facility received 18 bodies from the fighting.
Full report at:
http://www.dawn.com/news/1153239/islamists-kill-19-libyan-soldiers-after-attack-on-oil-ports
-----------
Three AU soldiers, civilian killed in Shabab attack on base
26 Dec, 2014
Three African Union soldiers and a civilian were killed Thursday after Shabab militants attacked the force's heavily fortified headquarters in Somalia.
The AU force known as AMISOM said troops regained control of the base in Mogadishu after a gunfight that left five of the attackers dead while three others were captured.
"Three AMISOM soldiers and a civilian contractor unfortunately lost their lives," AMISOM said in a statement, updating earlier information that said the four had been injured in the attack.
"AMISOM has regained control of the Halane base camp and restored normalcy. All African Union (AU) and United Nations (UN) personnel in the base camp are safe and secure," it added.
Full report at:
http://english.alarabiya.net/en/News/africa/2014/12/25/Official-Gunmen-attack-AU-base-in-Somalia.html
-----------
Ex-militants seek review of amnesty programme
26 Dec, 2014
FORMER militants under the aegis of Niger Delta Peoples Democratic Front (NDPDF) have faulted the Federal Government Amnesty Programme and called for its review.
Leader of the group, Precious Iyoyo, said in Port Harcourt that the programme has failed to address the major issues that led to the agitation in Niger Delta region.
He regretted that the Federal Government wasted billions of naira in training some of the repentant Niger Delta warlords abroad without providing jobs for them at the end of the training, a situation that poses greater threat to the society.
Iyoyo reasoned that government should have invested the money in building industries that would have created job opportunities for the teeming unemployed youths in the region and reduce restiveness than the peripheral training it gave them.
He said, "This is a clarion call on the Federal and State governments to take a second look at Full report at:
http://www.guardiannewsngr.com/news/national-news/191615-ex-militants-seek-review-of-amnesty-programme
-----------
Mauritania condemns man to death for 'insulting the prophet'
26 Dec, 2014
Mauritania condemned a man to death for "insulting the prophet", a human rights group said, a day after the country opened the trial of an anti-slavery activist.
Mohamed Cheikh Ould Mkhaitir, 28, was arrested a year ago for writing an article about the Prophet Mohammad and the caste system, an extremely sensitive subject in a West African country with deep social and racial divisions.
He claims his article has been misinterpreted.
The prosecution asked for the death penalty to be carried out in accordance with Islamic sharia law and recommended he be shot. Mauritania, a poor country straddling Arab and black Africa, last applied the death penalty in 1987.
Separately, a court in the southern town of Rosso began proceedings on Wednesday against anti-slavery campaigner Biram Ould Dah Ould Abeiday and six members of his organization for "inciting violence, disrupting public order, contempt for authorities and membership of a non-recognized organization."
http://www.jpost.com/Breaking-News/Mauritania-condemns-man-to-death-for-insulting-the-prophet-385822
-----------
North America
Obama Hails End Of Afghan War In Christmas Address, Says World Is Better, Safer
26 Dec, 2014
Addressing U.S. troops at the Marine Corps Base in Hawaii on Christmas, President Barack Obama said that Afghanistan will not be "a source of terrorist attacks again," according to media reports. Obama's speech was delivered just a week before the U.S. combat mission in the country is scheduled to end.
"We've been in continuous war now for over 13 years," Obama reportedly said. "Next week we will be ending our combat mission in Afghanistan.
"Because of the extraordinary service of the men and women in the American armed forces, Afghanistan has a chance to rebuild its own country," Obama reportedly told the troops. "The world is better, it's safer, it's more peaceful, it's more prosperous and our homeland protected because of you."
Although most U.S. and NATO troops will withdraw from Afghanistan by the end of 2014, a residual force of about 13,000 soldiers, including 10,800 American soldiers, will stay back to train and assist the Afghan army.
In his speech, Obama also alluded to the ongoing U.S.-led operations against the Islamic State group in Iraq and Syria, according to media reports.
"We still have some very difficult missions around the world, including in Iraq," Obama reportedly said.
A U.S.-led coalition is currently carrying out airstrikes against ISIS targets in northern Iraq and Syria. As of now, there are nearly 1,600 U.S. soldiers on the ground in Iraq, where they are advising Kurdish and Iraqi forces. However, this number is likely to grow to over 3,100 in the coming months after Obama authorized a plan in November to double U.S. forces on the ground.
http://www.ibtimes.com/obama-hails-end-afghan-war-christmas-address-says-world-better-safer-1767334
-----------
Mitzvah Day is joint Jewish and Muslim day of service on Christmas
26 Dec, 2014
Members of the Detroit-area Jewish and Muslim communities are joining together on Christmas for a day of good deeds in the Detroit area. It's called Mitzvah Day.
About 1,000 volunteers from both faiths will participate in 43 service projects across metro Detroit.
"It's a wonderful time for those of us who are not celebrating Christmas to help our fellow neighbors and community members," said Amina Iqbal, outreach director for the Michigan Muslim Community Council. "The Muslim and Jewish communities have so much in common, and we all know how acts of kindness unify our hearts."
Iqbal said the volunteers' work in nursing homes, soup kitchens and shelters will free up their Christian neighbors to celebrate Christmas at home with their families.
Mitzvah Day has been an annual Christmas Day tradition of Detroit's Jewish community for over 20 years, with Muslim participation for the last six, according to Janet Berman, who co-chairs Mitzvah Day.
"I think it is good for us to always remember that there are people out there who need help," said Berman.
Mitzvah Day has been organized by the Jewish Community Relations Council, the Jewish Federation of Metropolitan Detroit, and the Michigan Muslim Community Council.
http://michiganradio.org/post/mitzvah-day-joint-jewish-and-muslim-day-service-christmas
----------
McCain fears Peshawar-like attack in Afghanistan
26 Dec, 2014
WASHINGTON: A senior US senator warned on Thursday that the Taliban could carry out a Peshawar- like attack in Afghanistan in the near future.
Senator John McCain told Fox News that the US plan to withdraw most of its combat troops from Afghanistan by Dec 31 had encouraged the Taliban who had been carrying out 'unusual' attacks this winter.
"We're going to see the same movie we saw in Iraq," the former Republican presidential candidate, and likely next chairman of the Senate Armed Services Committee, said.
The US withdrawal from Iraq in 2011 allowed Islamic militants to re-emerge and spread their tentacles Syria.
But the Obama administration hopes that the Afghan security forces it is leaving behind will be able to deal with the Afghan insurgents.
Senator McCain, who is celebrating Christmas with US troops in Afghanistan, warned that last week's brutal attack on a school in Peshawar had further encouraged the Taliban and they will inflict "more of these kinds of heinous outrageous attacks" in Afghanistan.
To avoid this, Senator McCain urged the Obama administration to leave a bigger "stabilising force" in Afghanistan than they originally planned to.
Full report at:
http://www.dawn.com/news/1153235/mccain-fears-peshawar-like-attack-in-afghanistan
----------
South Asia
Unknown gunmen kill a woman with her daughter in Afghanistan
Dec 26 2014,
A woman and her daughter were shot dead by unknown gunmen in northern Faryab province of Afghanistan.
According to the local security officials, a kid was also injured following the incident.
Provincial police spokesman, Syed Masood Yaqoobi, confirmed that two women were killed and a kid was injured after gunmen stormed into their house in Sherin Tagab district.
Yaqoobi further added that the reason behind the assassination of two women is not clear so far and security forces have launched an investigation into the incident.
He said no suspect has been arrested in connection to the incident so far.
According to the provincial independent human rights commission officials, at least 24 women have been killed in this province since the beginning of the year.
The officials said in majority of the incidents, the family members have been involved in the murder of the women.
At least two women were murdered by their family members in Pashtun Kot and Bulcharagh districts of Faryab province last month.
The provincial officials said the women were murdered for honor, since one of the victims had divorced her husband, while the second woman was not giving birth to a child.
http://www.khaama.com/unknown-gunmen-kill-a-woman-with-her-daughter-in-faryab-8885
-----------
President urges Saudis to invest in Maldives and "get warmed up for" heaven
26 Dec, 2014
President Abdulla Yameen has urged a visiting Saudi Arabian trade delegation to invest in the Maldives "to get warmed up" for paradise in the afterlife.
"As Muslim brothers, we all strive to go to Jannathul Firdous [paradise]. While we have a paradise in the heavenly Maldives, I urge all Saudi business people, if you are seeking to go to Jannathul-paradise in your afterlife, why don't you get warmed up for that? Paradise is here in the Maldives," Yameen said at a briefing this morning at Traders Hotel.
The 16 member contingent is the first Saudi business delegation to visit the Maldives. It consists of seven Saudi government officials and representatives from the private sector .
Noting existing Middle-Eastern investments in the telecoms, transport and tourism sector, Yameen invited Saudi Arabia to further invest in the energy sector, including renewable energy, real estate sectors and in developing an Islamic Financial Center in the Maldives.
The government's landmark Special Economic Zones (SEZ) Act provides a modern legal framework to engage with investors on strategic projects, the president said.
The SEZ Act ensures investment guarantees and protection in line with international best practices, he claimed.
Full report at:
http://minivannews.com/politics/president-yameen-urges-saudis-to-invest-in-maldives-and-%E2%80%9Cget-warmed-up-for%E2%80%9D-heaven-91820
-----------
Bangladesh FM: Madrasa education need to be modernised
26 Dec, 2014
Finance Minister Abul Maal Abdul Muhith has stressed the need for modernisation of madrasa education.
The minister was speaking at a programme of Dargah Hazrat Shahjalal (R) Madrasa at Sylhet Alia Madrasa ground on Thursday afternoon.
"Education can build a prosperous nation. You [madrasa students] have to be more active and spontaneous to engage yourself in building digital Bangladesh," Muhith said.
The three-day long conference will end on Saturday.
Hefazat-e-Islam chief Shah Ahmed Shafi among others attended the conference as guest.
Later, the minister joined the Golden Jubilee programme of the Bangladesh Television on its Sylhet station premises.
http://www.dhakatribune.com/bangladesh/2014/dec/25/muhith-madrasa-education-need-be-modernised#sthash.boKzMRyS.dpuf
-----------
Bangladesh Minister: Khaleda wants to destabilise country
26 Dec, 2014
Commerce Minister Tofail Ahmed has said BNP Chairperson Khaleda Zia wants to destabilise the country just when it is going along the path of development.
"Remember Pakistan where 146 people were shot dead at an army-run school. Pakistan is a dysfunctional state and some wants to make Bangladesh similar," he said while inaugurating a programme in Bhola, marking the Bangladesh Television's Golden Jubelee yesterday.
Khaleda had on Tuesday threatened an all-out movement in the new year, 2015, just six days away. Just within less than 24 hours on Wednesday noon, her party leaders and activists clashed with Chhatra League activists near Bakshibazar makeshift court ahead of her appearance before it in the Zia Orphanage Trust graft case. At least 30 people were injured in the clash.
http://www.dhakatribune.com/politics/2014/dec/26/tofail-khaleda-wants-destabilise-country#sthash.zE9rXJWY.dpuf
----------
Mideast
407 Jewish settlers forced way into Al-Aqsa for Hanukkah
World Bulletin / News Desk
26 Dec, 2014
At least 407 Jewish settlers forced their way into East Jerusalem's flashpoint Al-Aqsa Mosque complex during this week's Hanukkah holidays, a Palestinian NGO said Thursday.
The Al-Aqsa Foundation for Endowments and Heritage said that, from Sunday to Thursday, 407 Israelis – protected by Israeli police – had conducted individual and group tours inside the mosque complex.
Of these, 52 were young Israeli troops who entered the complex in military uniform as part of a so-called "guidance and exploration" program, the NGO said.
"Occupation forces harassed Muslim worshippers at the gates of the mosque complex, arresting 20 over the past week," it added.
It went on to say that detained worshippers had been subsequently released after being subject to monetary fines and barred from entering the Al-Aqsa complex for periods ranging from two weeks to one month.
Full report at:
http://www.worldbulletin.net/headlines/151615/407-jewish-settlers-forced-way-into-al-aqsa-for-hanukkah
--------
Turkey, Iraq seek new measures against ISIL
26 Dec, 2014
Turkey and Iraq have begun a new round of talks to seek additional measures for the elimination of the threat posed to the region by extremist Islamists as Baghdad requested more military and intelligence assistance from Turkey, including the delivery of weapons.
Joint potential moves against the Islamic State of Iraq and the Levant (ISIL) were discussed during a High-Level Strategic Cooperation Council meeting that took place in Ankara on Dec. 25 under the leadership of the two prime ministers, Ahmet Davutoğlu and Haider al-Abadi, and with the participation of key ministers in a show of the beginning of a new era in bilateral ties.
We are currently providing military training to Peshmergas in northern Iraq in their fight against Daesh [the Arabic acronym of the ISIL]. But we are open to any kind of ideas. We are ready to provide any kind of support we can give to Iraq," Davutoğlu told reporters at a joint press conference with al-Abadi after lengthy talks. "Our defense ministers and security institutions have held detailed talks today and will continue to work over this issue."
Al-Abadi thanked Turkey for its cooperation in Iraq's fight against ISIL, which controls some parts of the country, but underlined that they were in need of military training and intelligence assistance. He said he submitted a list of demands from Turkey during the talks in Ankara.
Full report at:
http://www.hurriyetdailynews.com/turkey-iraq-seek-new-measures-against-isil.aspx?pageID=238&nID=76110&NewsCatID=510
-----------
Turkey needs to see human rights improvement in Egypt for thaw: FM
26 Dec, 2014
Ankara wants to repair its relationship with Cairo, but Egypt needs to take steps "to end human rights violations" against its people, Turkish Foreign Minister Mevlüt Çavuşoğlu has said, noting there has been attempts to establish a dialogue between two countries.
"Western countries, as well as some Gulf countries, are saying our relations with Egypt should recover, and we say we can recover," Çavuşoğlu said in a live interview with state broadcaster TRT Haber on Dec. 25.
Ties between Ankara and Cairo have been strained since former army chief and current president Abdel Fattah el-Sisi toppled the elected President Mohamed Morsi, affiliated with the Muslim Brotherhood, after mass protests against his rule.
Qatar has recently announced its determination to thaw ties with Egypt, diverging from an agreement with Turkey over opposition to the Cairo government, only a few days after renewing commitments to have closer relations with Ankara, which has put pressure on Turkey to review its policy on Egypt.
Full report at:
http://www.hurriyetdailynews.com/turkey-needs-to-see-human-rights-improvement-in-egypt-for-thaw-fm.aspx?pageID=238&nID=76079&NewsCatID=510
-----------
Netanyahu: Israel won't stand for attacks from Gaza, the Golan, Lebanon or anywhere
26 Dec, 2014
Prime Minister Benjamin Netanyahu spoke at a graduation ceremony for IAF cadets at the Hatzerim Air Base near Beersheba on Thursday, rejecting the idea that Israel is guilty of war crimes.
"There are those in the international community who accuse you, IDF pilots, of committing war crimes. You defend the country and the country will defend you," he said.
"The foremost mission for you, and for all of us, is to protect our home, to protect the state of Israel," Netanyahu said.
"Our policy to carry this out is two-fold. First, to prevent and thwart attacks when necessary, and to respond forcefully to every attack," he said.
Full report at:
http://www.jpost.com/Arab-Israeli-Conflict/Netanyahu-Israel-wont-stand-for-attacks-from-Gaza-the-Golan-Lebanon-or-anywhere-385745
---------
Southeast Asia
Indonesian IS Fighter Warns TNI Chief: Soldiers of God Are Waiting for You
26 Dec, 2014
Jakarta. In a YouTube video uploaded on Dec. 24, an Indonesian national fighting in the Middle East warns the nation's security forces that the Islamic State movement is happy to "slaughter" them "one by one" as part of its attempt to implement Shariah law in the world's largest Muslim-majority nation state.
"We've heard that you want to help the coalition forces, to eliminate the Caliphate. But know that we are truly happy to hear this. Because this means that, God willing, the meeting between you and us will be expedited by God," a man says in Indonesian in the 4.01-minute long YouTube clip.
"And if you don't come to us, we will come to you. We will come back to Indonesia … to implement the Shariah of God. The implementation of the Shariah of God starts with waging a war on you — with slaughtering you one by one — the [Indonesian] military, the National Police, Densus [88] and Banser."
Banser is the security wing of Nahdlatul Ulama, the country's biggest Islamic organization, which is known for helping secure churches during Christian holidays and mosques of minority Muslim groups under threat. Densus 88 is the elite antiterror unit of the National Police.
'In Syria since March'
A source within Densus 88 told the Jakarta Globe on condition of anonymity that the man in the clip is Abu Jandal, also known as Salim Mubarok Attamimi.
Full report at:
http://thejakartaglobe.beritasatu.com/news/indonesian-fighter-warns-tni-chief-soldiers-god-waiting/
-----------
Penang government building in lockdown as protesters hurl abuse over 'Allah'
26 Dec, 2014
The Penang state administrative centre at Komtar in George Town was in a lockdown for two hours this afternoon as a boisterous group of right-wing Malay supporters held a protest at its main entrance against the use of the word "Allah".
Entrances on all sides were closed off and heavy police presence prevented the protesters led by Penang Perkasa youth Chief Mohd Rizuad Mohd Azudin from entering the government office with a memorandum and some banners.
This led to the group of 50-odd protesters shouting slogans to become more vocal as police barred them from ascending the main stairway near the Maybank outlet.
Rizuad criticised state executive councillor for religious affairs, Datuk Abdul Malik Kassim, to whom he wanted to deliver the memorandum, for standing by chief minister Lim Guan Eng's assertion that non-Muslims in Penang were not prohibited from using the word "Allah".
"Malik is clever at provoking but scared to face the Malays of Penang," he said, calling Malik a "pondan" (effeminate).
Full report at:
http://www.themalaysianinsider.com/malaysia/article/penang-government-building-in-lockdown-as-protestors-run-amok#sthash.kCQGsIL7.dpuf
-----------
Hudud sitting set to be washout, PAS sec-gen suspects
DECEMBER 26, 2014
KUALA LUMPUR, Dec 26 — The Kelantan government will likely postpone the special assembly sitting to amend its hudud enactment due to the worsening floods in the state, PAS secretary-general Datuk Mustafa Ali predicted today.
Mustafa said, however, that the matter will be decided by the Kelantan PAS government with the state Mentri Besar Datuk Ahmad Yaakob expected to make the announcement over the weekend.
"I have a huge feeling that the sitting will be postponed as the floods would make it difficult for people to travel in Kota Baru.
"But that is just my opinion... you have to wait for the MB himself to make the announcement," Mustafa told a press conference at the party's headquarters here.
The PAS secretary-general also announced that the briefing on the special sitting on the Islamic penal code scheduled for Sunday will be postponed indefinitely, raising the possibility that the special assembly may also not take place on Monday.
Full report at:
http://www.themalaymailonline.com/malaysia/article/hudud-sitting-set-to-be-washout-pas-sec-gen-suspects#sthash.QlJeos4X.dpuf
-----------
URL: https://www.newageislam.com/islamic-world-news/new-age-islam-news-bureau/hoping-to-create-a-new-society,-the-islamic-state-recruits-entire-families/d/100703