New Age Islam News Bureau
7 Nov 2015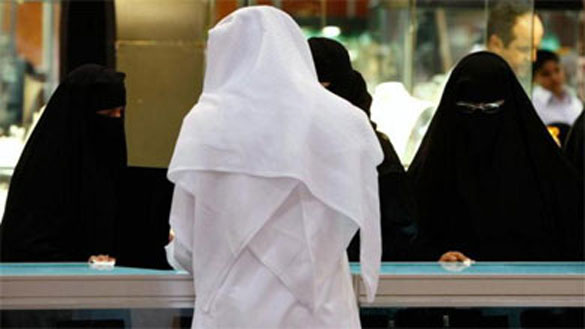 The Committee for Protection of Virtue and Prevention of Vice is more commonly known in Western media as Religious Police. (File photo: AP)
-----------
Arab World
• Honey Trap: Saudi Religious Police 'Used Porn' To Lure Suspects
• Saudi Arabia: Grand Mufti Says Islamic State Is Un-Islamic
• At Least 28 Terrorists Killed, Injured in Airstrikes in Palmyra
• 20 ISIL Militants Killed in Syrian Forces' Counter-Assault in Homs Province
• Syrian Army's Recent Victories Force Nusra Militants to Beg ISIL Military Cooperation
• Iraqi Forces Thwart ISIL Attack in Baiji
• ISIL Terrorists Suffer Heavy Casualties in Army Counter-Attack in Syria's Deir Ezzur
• Intercepted ISIS chatter 'boasted about Egypt crash'
• KSA, Oman on the same page over Syria, Yemen
• Syrian Forces Advancing towards ISIL-Held City of Quayratayn in Homs Province
• Syrian Army Captures Militants' Stronghold in Hama Province
• Syrian Army Close to Recapture Homs-Damascus Highway after Two-Month Closure
• Syrian Army Storms Militants' Positions across Hama Province
------
South Asia
• Pak Tribal Elders Engaged For Uniting Afghan Taliban Factions
• Terrorist Attack on Security Posts Rebuffed In Nangarhar, 16 Militants Killed
• Suu Kyi confident of victory in Myanmar elections
• Bangladesh police allowed to shoot attackers in self-defence
• Hamid Karzai Foundation launched
-------
India
• ISI Has Asked IM Operatives to Desecrate Shrines: Intelligence Inputs
• Working To Saffronise Education in Entire Country: RSS Ideologue Dina Nath Batra
• Religious Places of Muslims, Christians in Odisha Should Be Under State Regulating Authority: RSS
• After Dadri, Muslim Clerics Call All-Religion Seminar
• Tipu Sultan's B'day Bash Divides Opinion
-------
Southeast Asia
• 'Haram' To Welcome Obama, Hizbut Tahrir Tells Putrajaya, Malaysian Muslims
• Najib Happy To Learn Malaysia Named Most Advanced Islamic Economy
• Police detain cook in Sabah for spreading false information on Facebook
• Bloggers to lodge police reports against pro-Najib bloggers
• Sabah gov't gives RM31m for Chinese, mission schools
-------
Pakistan
• Govt Will Not Allow Killings in Islam's Name: Nawaz
• PPP Praises PM's Vision of Democratic, Liberal Pakistan
• Taliban operative arrested in Swat
• Pakistan building diplomatic pressure in effort to resolve Kashmir: Maleeha Lodhi
• Pak Army most battle-hardened, says army chief
• Urdu as official language: SC moved to extend deadline mentioned in judgment
------
Europe
• Kremlin Slams Charlie Hebdo Cartoons on Egypt Crash
• UK: Loud Protest Mars Egypt's Sisi Visit
• After attacks, France walks narrow line on Islam in schools
• Russian plane black boxes point to 'attack'
• Russia suspends flights to Egypt
------
Mideast
• Yemeni Forces Win Back Key Regions in Southern Provinces
• Turkey, Bulgaria & Greece Move To Tackle Migration
• Pilot of Downed Saudi Fighter Jet Captured in Sana'a
• Israeli fire kills Palestinian in Gaza clashes
• Iran cleric stresses resistance economy, self-reliance
------
Africa
• S. Sudan Bans Russian-Made Plane AN-12 From Airspace
• UNSC to Meet Over Burundi 'Hate Speech'
------
North America
• Gulf States, BRICS Should Do More For Syrian Refugees: US
• Metro Detroit Arab, Muslim Events Push for Change
• Four face US terror charges for alleged Qaeda support
• Canada ready to settle 25,000 Syrian refugees: PM
Compiled By New Age Islam News Bureau
URL: https://www.newageislam.com/islamic-world-news/new-age-islam-news-bureau/honey-trap--saudi-religious-police-'used-porn'-to-lure-suspects/d/105204
------
Arab World
'Honey Trap': Saudi Religious Police 'Used Porn' To Lure Suspects
Nov 6, 2015
Saudi Makkah newspaper has accused the Committee for Protection of Virtue and Prevention of Vice, known in Western media as Religious Police, of using obscene photographs to lure suspected criminals online.
According to the newspaper, the Bureau of Investigation and Prosecution in Saudi Arabia's Asir province warned the Religious Police in its region to stop luring suspected criminals of cybercrimes by luring unsuspecting Saudis through obscene photographs. They also warned the Religious Police to "strictly stick with criminal procedure regulations laid out by the law."
Asir's Investigations Bureau were told by suspects arrested that the conversations they had online were not initiated by them but through strangers they met online on the other end.
They also said they were sent obscene images by strangers who insisted on meeting them in person. When they agreed, they were surprised to be arrested in sting operations.
They claimed it was the religious police, and not regular civilians as initially thought, who were the sources from where the obscene images were being sent.
In response to the allegations, the official spokesman for the religious police Turki al-Shalil wrote a response denying the allegation and said:
"We address all the IT and ethical criminal activities in accordance to the law and regulations as laid out by standard criminal regulations."
In a statement released after Makkah published its report, Shalil also said the religious police deny having ever used phishing and spyware software in monitoring suspected criminals that do not comply with the law.
A lawsuit is reportedly being filed against Makkah and Marsad newspapers because of their recent reports alleging the abuse of power by the Religious Police and accusing them of publishing offensive and false news relating to Islamic clerics. — Al Arabiya http://saudigazette.com.sa/saudi-arabia/honey-trap-saudi-religious-police-used-porn-to-lure-suspects/
-------
Saudi Arabia: Grand Mufti Says Islamic State Is Un-Islamic
BY ARAB NEWS NOVEMBER 6, 2015
Grand Mufti Sheikh Abdul Aziz Al-Asheikh has slammed the Islamic State, or Daesh, terrorist group as corrupt and un-Islamic.
Al-Asheikh, speaking at a seminar focusing on ways to counter the organization at Imam Turki bin Abdullah Mosque in Riyadh on Thursday, said the group follows an ideology that has no parallel in Muslim history, according to a report in a local publication recently.
He said the members of Daesh could only be described as criminals whose plan was to corrupt the country and shed the blood of Muslims.
This was how they were operating in Iraq and elsewhere. Those who joined the organization were naive and ill-informed, he said.
Sulaiman Al-Ruhaili, a professor in Islamic studies and a member of the Reconciliation Committee, called on Muslim governments to wage war against Daesh to protect the Muslim world.
Al-Ruhaili said fighting Daesh, known also as the Islamic State of Iraq and the Levant, was the greatest form of Jihad because its members were criminals, apostates and were guilty of killing Muslims, women and children in Syria and elsewhere.
Al-Ruhaili said Daesh members were "foolish" because when they killed a Saudi man they argued whether Islam allowed his body to be photographed. Similarly, they cut off the head of a Kurdish woman with a knife and then debated whether they should have touched her hair.
He said that Daesh members were involved in inciting new Muslims in Europe, and kidnapping women and children.
http://www.eurasiareview.com/06112015-saudi-arabia-grand-mufti-says-islamic-state-is-un-islamic/
-----
At Least 28 Terrorists Killed, Injured in Airstrikes in Palmyra
Nov 07, 2015
TEHRAN (FNA)- Syrian airstrikes hit ISIL positions in Palmyra city in Homs province, killing and injuring at least 28 terrorists, reports said Saturday.
Syrian fighter jets bombed ISIL positions in Palmyra in Homs, and killed and wounded at least 28 terrorists, informed sources said, adding militants' vehicles and military equipment were also destroyed.
Army sources said on Friday that the Syrian Army alongside popular forces have won several battles against the ISIL terrorists and recaptured many areas in the province of Homs, and are getting ready to storm the militant-held city of Qaryatayn.
The sources said that the Syrian army alongside the popular forces continued their advance towards the town of Maheen after repelling an assault from the ISIL outside of the recently captured hilltop of Tal Sinni in the Homs province's Eastern countryside.
With five hills recaptured in less than 48 hours, the Syrian Armed Forces are steadily making progress towards the imperative town of Maheen.
After Maheen the government forces will be in position to assault the ISIL-controlled city of Qaryatayn, which was taken from the National Defense Forces of Syria in August of this year.
http://english.farsnews.com/newstext.aspx?nn=13940816000232
-----
20 ISIL Militants Killed in Syrian Forces' Counter-Assault in Homs Province
Nov 07, 2015
TEHRAN (FNA)- The Syrian Army alongside the National Defense Forces (NDF) fended off a massive assault of the ISIL terrorists in the Southeastern part of Homs city and killed 20 of them in a counter-attack on Saturday.
The ISIL large-scale offensive was repelled by the Syrian forces near Maheen-Sadad road, and the government forces killed 20 terrorists and pushed the other ones back form the fighting area.
On Friday, the Syrian Army alongside popular forces won several battles against the ISIL terrorists and recaptured many areas in the Central province of Homs, getting ready to storm the militant-held city of Quayratayn.
The sources said that the Syrian army alongside the popular forces continued their advance towards the town of Maheen after repelling an assault from the ISIL outside of the recently captured hilltop of Tal Sinni in the Homs province's Eastern countryside.
With five hills recaptured in less than 48 hours, the Syrian Armed Forces are steadily making progress towards the imperative town of Maheen.
After Maheen the government forces will be in position to assault the ISIL-controlled city of Quraytayn, which was taken from the National Defense Forces of Syria in August of this year.
http://english.farsnews.com/newstext.aspx?nn=13940816000897
-----
Syrian Army's Recent Victories Force Nusra Militants to Beg ISIL Military Cooperation
November 07, 2015
TEHRAN (FNA)- The Syrian Army's large-scale successful operations across the country, backed up by the Russian warplanes, and al-Nusra Front's failures in various battlefields have caused the terrorist group to ask the ISIL leaders to form a joint front against the government forces, intelligence sources disclosed Saturday.
The sources said that the al-Qaeda-affiliated al-Nusra Front has sent its senior commanders to negotiate with the ISIL leaders to fight against Syrian President Bashar al-Assad's government in a joint front.
Full report at:
http://english.farsnews.com/newstext.aspx?nn=13940816000758
------
Iraqi Forces Thwart ISIL Attack in Baiji
Nov 07, 2015
TEHRAN (FNA)- Iraqi security forces repelled large-scale attacks by ISIL terrorists on a district in Baiji city in Salahuddin province, leaving a group of them dead.
Informed sources said the Iraqi forces thwarted the ISIL attacks on al-Siniyah district in Baiji, and killed at least 5 militants and destroyed their booby-trapped vehicles.
On Wednesday, ISIL leader Abu Bakr al-Baghdadi's aide was killed near Samarra city, the command center of Salahuddin operations announced.
The Iraqi security forces and al-Hashd al-Shaabi volunteer forces killed the aide of the ISIL leader near Samarra on Wednesday, the command center of Salahuddin operations said, adding that the dead terrorist was of Algerian origin.
The Iraqi forces also inflicted heavy losses on ISIL terrorists in their mop-up operations in the region.
Meanwhile, Iraqi warplanes destroyed an ISIL military vehicle and another car, which was carrying barrels of explosives, belonged to the terrorists in Sharif Abbas area in Western Samarra.
Full report at:
http://english.farsnews.com/newstext.aspx?nn=13940816000413
------
ISIL Terrorists Suffer Heavy Casualties in Army Counter-Attack in Syria's Deir Ezzur
Nov 06, 2015
The Syrian army's 137th Artillery Brigade of the 17th Reserve Division, in coordination with the army's 104th Airborne Brigade of the Republican Guard, carried out a counter-assault against the ISIL in Haweeja al-Muri'iyah and killed scores of them.
On Thursday, the Syrian army launched a hunting operation in Deir Ezzur to mop up a key region from the ISIL terrorists.
Informed sources said the army targeted ISIL terrorists in al-Jubaila in Deir Ezzur, killing tens of them.
Full report at:
http://english.farsnews.com/newstext.aspx?nn=13940815000257
------
Intercepted ISIS chatter 'boasted about Egypt crash'
7 November 2015
Communications between ISIS leaders in Raqqa, Syria, and persons in the Sinai Peninsula included boasts about the downing of a Russian passenger jet over the area, NBC reported on Friday, citing unidentified U.S. officials.
"They were clearly celebrating," NBC Nightly News quoted a U.S. official as saying. The "chatter" included a boast of taking down the plane on Saturday and how it was done.
The U.S. intelligence community intercepted a message from a Sinai group affiliated with ISIS that warned of "something big in the area" before the jet crash.
U.S. steps up screening of flights
The U.S. said Friday it was stepping up security screenings of U.S.-bound flights from some Middle East airports as a precaution after the crash of the Russian airliner in Egypt.
In this photo made available Monday, Nov. 2, 2015, and provided by Russian Emergency Situations Ministry, Egyptian Military on cars approach a plane's tail at the wreckage. (Reuters)
Homeland Security Secretary Jeh Johnson said the U.S. also would review its assessments of certain foreign airports and offer them help with security, as well as take other measures, "both seen and unseen."
There is growing evidence that the plane that crashed Saturday in the Sinai, killing all 224 people, was brought down by an explosion.
Sources close to the investigation told AFP that information from the airliner's flight data and voice recorders "strongly favors" the theory that a bomb exploded on board the Airbus A321.
Russia suspends Egypt flights
Moscow suspended passenger flights to Egypt, but has said it is premature to reach conclusions that the flight was attacked.
However President Vladimir Putin agreed with Egyptian President Abdel Fattah al-Sisi to bolster coordination to secure Russian flights and resume them as soon as possible.
Sisi called Putin and they agreed "to bolster cooperation between the two countries' relevant agencies to ensure the safety of Russian tourists and strengthen security measures for Russian planes," a statement said.
Full report at:
http://english.alarabiya.net/en/News/middle-east/2015/11/07/U-S-officials-ISIS-leaders-boast-about-Egypt-crash-.html
------
KSA, Oman on the same page over Syria, Yemen
7 November 2015
MUSCAT: Foreign Minister Adel Al-Jubeir has held talks in Oman, a traditional mediator in the region, on the conflicts in Syria and Yemen.
Al-Jubeir and his Omani counterpart Yussef bin Alawi reviewed "the situation in Syria and Yemen and means of strengthening cooperation" among the six Gulf states, Al-Jubeir said.
He told Oman's ONA news agency that "the view is one" between Saudi Arabia and Oman on "all the matters discussed today."
Alawi, for his part, said the sultanate was "exerting diplomatic efforts to find a peaceful solution in Syria and Yemen."
Full report at:
http://www.arabnews.com/middle-east/news/831601
------
Syrian Forces Advancing towards ISIL-Held City of Quayratayn in Homs Province
Nov 06, 2015
The sources said that the Syrian army alongside the popular forces continued their advance towards the town of Maheen after repelling an assault from the ISIL outside of the recently captured hilltop of Tal Sinni in the Homs province's Eastern countryside.
With five hills recaptured in less than 48 hours, the Syrian Armed Forces are steadily making progress towards the imperative town of Maheen.
Full report at:
http://english.farsnews.com/newstext.aspx?nn=13940815000442
------
Syrian Army Captures Militants' Stronghold in Hama Province
Nov 06, 2015
The army seized back Al-Safsafeh village in the Northwestern parts of Hama countryside earlier today.
Tens of terrorists were killed and dozens more were injured in the Syrian army's operations in Northwestern Hama.
On Wednesday, the Takfiri militants fighting in Hama province came under heavy airstrikes by the Syrian air force, and suffered heavy losses in the attacks.
Syrian warplanes targeted terrorists' concentration centers in Latmin, al-Lihaya, near Morek and al-Banah in the Northern countryside of Hama, and killed a number of militants and destroyed their machinegun-equipped vehicles.
Syrian army troops also intensified operations against the Takfiri militants in Hama province, and took a heavy toll from the terrorists on Wednesday.
Full report at:
http://english.farsnews.com/newstext.aspx?nn=13940815000573
------
Syrian Army Close to Recapture Homs-Damascus Highway after Two-Month Closure
Nov 06, 2015
The sources said that the Syrian Army's 105th Brigade and their allies continued their advance in Damascus countryside by launching an assault on Jeish al-Islam's defensive positions at the Northern entrance of Douma; this attack forced the militant forces to reinforce their second line of defense at this stronghold.
If the Syrian Armed Forces can retake the territory to the East of the Chips Factory, they will be able to reopen the Homs-Damascus Highway after closing of it two months ago due in Jeish al-Islam's offensives.
On Thursday, a military source confirmed death of a number of Saudi nationals, who were joining the Takfiri terrorists to fight against president Bashar al-Assad's government, in the countryside of the Syrian capital of Damascus.
"The Syrian army troops have killed 24 foreign fighters in the countryside of of Damascus of Darayya overnight," a military source said.
"We killed dozens of militants in 24 hours, including 24 foreigners who are mostly citizens of Saudi Arabia," the source added.
Full report at:
http://english.farsnews.com/newstext.aspx?nn=13940815000395
----
Syrian Army Storms Militants' Positions across Hama Province
Nov 06, 2015
The militant groups deployed in the abovementioned locations sustained heavy casualties and their military hardware were destroyed in the army offensives.
On Wednesday, the Takfiri militants fighting in Hama province came under heavy airstrikes by the Syrian air force, and suffered heavy losses in the attacks.
Syrian warplanes targeted terrorists' concentration centers in Latmin, al-Lihaya, near Morek and al-Banah in the Northern countryside of Hama, and killed a number of militants and destroyed their machinegun-equipped vehicles.
Full report at:
http://english.farsnews.com/newstext.aspx?nn=13940815000530
------
South Asia
Pak tribal elders engaged for uniting Afghan Taliban factions
November 07, 2015
Jawad R Awan
LAHORE - Tribal elders from Pakistan have been engaged for peace within the Tehreek-e-Taliban Afghanistan factions, sources close to Taliban leadership told The Nation.
They will also seek support from Akora Khattak headquarters of Jamia Haqqania to persuade the Taliban splinters for harmony, they added.
At the same time they said, "Mullah Rasool who has announced his splinter group three days back, could pose a real challenge to Mullah Akhtar Mansour, the sitting chief of Tehreek-e-Taliban Afghanistan (TTA) if he scores allegiance from the 40-member powerful supreme council of the organisation.
"
The split, according to the tribal people on both sides of the Durand Line, is the first formal division among Afghan Taliban since its emergence in the mid-1990s.
The divisions emerged after the confirmation of death of Mullah Omar in late July.
Some of the key Taliban leaders accused his successor, Mullah Mansour of hiding the news for chieftainship of the TTA.
In telephonic interviews with the paper, Taliban sources claimed it is not clear if the dissidents could build up support among Taliban fighters without allegiance from the supreme council.
"The TTA intelligence network under the direct command of its chief is gathering information to get an idea of the real strength of the splinter group apart from support of the key commanders.
The information gathered so far suggests that Mullah Rasool enjoys the support of a few dozen foot soldiers and second-line commanders mainly operating with him or connected to him because of tribal linkages or personal friendships," they maintained.
"The Afghan Taliban high command doesn't want to engage misled brothers into bloody fights paving way for the Daesh (Islamic State) operating mainly in the districts bordering with Pakistan.
Keeping in view these vital considerations the TTA top leadership has called for the help of tribal elders from Pakistan and Afghanistan to play a proactive role for peace.
For the peace mission, some of the peacemakers have also approached the Akora Khattak the headquarters of Jamia Haqqania that enjoys support among many Taliban commanders to help uniting the movement," added the Taliban sources.
When asked, the incumbent chief had not bagged the 40-member supreme council oath of allegiance in a single meeting after the confirmation of Mullah Omar's death, they said, "It is true but he finally received the required pledge for heading the TTA and nobody from the supreme council has overtly or covertly supporting Mullah Rasool.
"
It is widely believed that Mullah Mansour was the man behind the peace process that held its initial round in July this year in Murree.
Most of the anti-peace elements had joined the ranks of Daesh.
But some of the high-ranking commanders had either been killed in drone strikes or in fierce gun-battles with Afghan security forces.
Some of them who tried to crossover to Pakistan had been killed or captured by this side of the security agencies.
Full report at:
http://nation.com.pk/national/07-Nov-2015/pak-tribal-elders-engaged-for-uniting-afghan-taliban-factions
------
Terrorist attack on security posts rebuffed in Nangarhar, 16 militants killed
Nov 07 2015
Security forces have rebuffed a coordinated attack on a number of security posts in Hasak Mina District of eastern Nangarhar province.
Colonel Hazrat Hussain Mashriqiwal, spokesman of Nangarhar police says in a statement that seven attackers were killed an unknown number of them wounded in the clash that erupted following the attack on Friday.
Col. Mashriqiwal further states in the statement that the dead bodies of the killed militants were left behind on the battle ground.
According to the statement, nine militants were killed and 30 others wounded in military operation in Achin District.
Full report at:
http://www.khaama.com/terrorist-attack-on-security-posts-rebuffed-in-nangarhar-16-militants-killed-4089
------
Suu Kyi confident of victory in Myanmar elections
Nov 07, 2015
YANGON: Myanmar's boisterous election campaign drew to a close on Friday, two days before milestone polls that could finally propel Aung San Suu Kyi's pro-democracy party to power after a decades-long struggle against the military.
Suu Kyi's National League for Democracy (NLD) is eyeing an outright majority in Sunday's general election, the first the party has contested since 1990.
Myanmar was ruled for half a century by a brutal and isolationist junta that crushed pro-democracy movements through a combination of violent crackdowns and political chicanery.
But in 2011 the military unexpectedly ceded power to a quasi-civilian government led by former top-ranking general President Thein Sein.
The wave of reforms that followed loosened the military chokehold on the nation.
A free press has flourished since, most political prisoners have been released and the economy is creeping back to life in lockstep with the rollback of most international sanctions.
But the ruling, army-backed Union and Solidarity Development Party (USDP) is the main obstacle to a historic NLD win.
Late on Friday Thein Sein, who has pegged the election as the centrepiece of reforms, used a broadcast on state television to reassure the electorate that the outcome of the poll would not be disputed.
"The government and Tatmadaw (army) will respect the results of the free and fair election," he said.
Full report at:
http://www.dawn.com/news/1217981/suu-kyi-confident-of-victory-in-myanmar-elections
------
Bangladesh police allowed to shoot attackers in self-defence
Nov 07, 2015
DHAKA: Bangladesh has given policemen permission to shoot in self-defence if fired upon, the home minister said on Friday, after a policeman was killed in an attack claimed by the self-styled Islamic State.
Until now, policemen at checkpoints and guarding government sites could only fire on the orders of superior officers. In certain circumstances, they needed a magistrate's permission.
On Wednesday, two men on a motorcycle stabbed a policeman at a checkpoint in Ashulia, about 20 km north of the capital, Dhaka, in an attack that was later claimed by IS. The men fled without the police firing a shot.
That killing, attacks last weekend on bloggers critical of religious extremism as well as the killing of two foreigners have raised fears that the group is targeting its secular democracy.
"We have asked the police to counter any attacks on them. They can open fire immediately for their safety," Home Minister Asaduzzaman Khan said.Khan rejected that and pointed instead at the Bangladesh Nationalist Party (BNP) and Islamist party, Jamaat-e-Islami.
"This is nothing but a plan to destabilise the country and create panic among the police," he said.
Full report at:
http://www.dawn.com/news/1217976/bangladesh-police-allowed-to-shoot-attackers-in-self-defence
------
Hamid Karzai Foundation launched
By ZABIHULLAH MOOSAKHAIL
Nov 07 2015
A welfare foundation under the name of the former president of Afghanistan Hamid Karzai was launched in Kabul on Saturday.
Karzai said in the inaugural ceremony that the 30 years of war which has internal and external reasons not only prevented Afghanistan's development but also pushed it back, adding that, the country needs efforts of young generation to get in the line with developed world countries.
He said that Hamid Karzai Foundation will keep up with the achievements accomplished during the past 13 years in education sector and assist youth to improve by providing them more educational opportunities in the country and abroad.
Full report at:
http://www.khaama.com/hamid-karzai-foundation-launched-4089
------
India
ISI Has Asked IM Operatives to Desecrate Shrines: Intelligence Inputs
Nov 7, 2015
NEW DELHI: Pakistani intelligence agency ISI has reportedly tasked terrorists belonging to Indian Mujahideen to carry out acts of vandalism at religious places in India, particularly Punjab, in a bid to incite communal passions.
Sources said attempts to vandalize religious places or desecrate religious symbols could be undertaken in border areas of Punjab or Jammu & Kashmir by IM terrorists, mainly absconders in ongoing cases relating to past attacks by the outfit. The two states have been advised to step up vigil in a latest advisory marked to the state chief secretaries/DGPs.
A few other states, including Haryana and UP, have been alerted and asked to take preventive steps as vandalism at their religious places may lead to communal tension in the neighbouring states.
Only last month, inputs about five Pakistani terrorists having entered India had prompted the Centre to alert all states. They were asked to stay extra vigilant against any attempt by subversive elements to disrupt the peace and spark communal tensions during the festival season.
Full report at:
http://timesofindia.indiatimes.com/india/ISI-has-asked-IM-operatives-to-desecrate-shrines-Intelligence-inputs/articleshow/49696672.cms
------
Working to saffronise education in entire country: RSS ideologue Dina Nath Batra
Nov 7, 2015
CHANDIGARH: RSS ideologue and Haryana government's school and higher education consultant Dina Nath Batra says he not only wants to 'saffronize' education in the state but in the entire country. He was in Chandigarh on Friday to co-chair the first state-level consultative meeting on the new education policy for Haryana.
Chief minister Manohar Lal Khattar chaired the meeting which was attended by a range of people, from vice-chancellors of universities to teachers. Founder of the Shiksha Bachao Andolan Samiti also indicated that the Bhagwad Gita would be introduced as a moral education subject in schools from class VI to XII from next session. He also clarified that the existing school teachers will teach the Hindu scripture.
"The students will be taught a compilation of two shlokas from every chapter of the Bhagwat Gita,'' he said. The government had announced in December 2014, that it planned to introduce the Gita in schools with many accusing it of trying to saffronize school education in the state. Since then, however, the subject had been in cold storage.
Speaking to TOI later, he said that his own definition of saffornization was not related to any community or religion, but to a set of ideas which give an independent identity to a person. "Saffron is made of a mixture of red and yellow," he said. "Red is symbolic of bravery while yellow symbolizes patience and prosperity. Hence, we need this kind of education."
Batra insisted that he was not working just in Haryana. "I am working for saffronization of education in the whole country, and I want to complete it at the earliest," he said, adding, "let us teach the world about contribution of our experts and expertise towards the global growth." Batra, however, dismissed the allegation that his strategy was part of a larger agenda of the Sangh.
Full report at:
http://timesofindia.indiatimes.com/india/Working-to-saffronize-education-in-entire-country-RSS-ideologue-Dina-Nath-Batra/articleshow/49696212.cms
------
Religious places of Muslims, Christians in Odisha should be under state regulating authority: RSS
By Debabrata Mohanty
November 6, 2015
The Rashtriya Swayamsevak Sangh on Friday demanded that religious places belonging to Muslims and Christians should be brought under the State Endowment Commissioner's purview to keep an eye on their sources of income. "For Hindus there is an Endowment Commissioner. But there is no such body or public authority for Muslims and Christians. As there is no regulating authority there is no impediment to the their spread. As increase in Christian and Muslim population would soon be a demographic challenge, there is a need to keep an eye on their financial sources," said Prant Sanghchalak (eastern Odisha) of RSS Samir Kumar Mohanty, while briefing reporters about the resolutions passed by Akhila Bharatiya Karyakari Mandal, the highest executive body of RSS last week in Ranchi.
Apart from 16000 temples and over 450 mutts, the Odisha Hindu Religious Endowments (Amendment) Act 2012 extends to Jain or Buddhist institutions and endowments. Mohanty said, of late there is an attempt to spread hatred against some Hindu religious leaders in Odisha on the pretext that they are taking people for a ride. "For Hindu religious leaders there are restrictions. But there is no such bar for other religions," he alleged.
Quoting Census figures of 2011, Mohanty said between 1961 and 2011, Hindu population of Odisha went down from 98% to 94%. While growth rate in Christians in Odisha jumped by 478 per cent (2.01 lakh to 11.61), it was 323 per cent (2.15 lakh to 9.11 lakh) for Muslims and 130 per cent in case of Hindus.
Dr Basant Pati, Bhubaneswar Mahanagar Sanghachalak said though Odisha's social demographic has not changed like that of Assam due to infiltration, the imbalance in population growth rate appears to be a challenge for all. "In Kandhamal, the violence in 2008 had its roots in social tension triggered by conversion of Hindu tribals into Christianity. Even now we are reporting cases of illegal conversion to district authorities of Kandhamal, but without any success," he said.
Full report at:
http://indianexpress.com/article/india/india-news-india/religious-places-of-muslims-christians-in-odisha-should-be-under-state-regulating-authority-rss/
------
After Dadri, Muslim Clerics Call All-Religion Seminar
By Mohd Faisal Fareed
November 7, 2015
In wake of Dadri incident and sporadic incidents of communal clashes in the Uttar Pradesh, Muslim clerics of Ghaziabad, under the patronage of Islamic seminary Darul Uloom, Deoband, will organise a two-day peace seminar of all religions on November 9-10. The seminar will be held at Jamia Mehmoodul Madaris, Mussorie, in Ghaziabad and will be attended by Kalki Peethadheshwar Acharya Pramod Krishnam, Shahi Imam, Ludhiana, Maulana Habeebur Rehman Saani and UP Minister Shahid Manzoor.
"Earlier, Mufti Abul Qasim Nomani, the rector of Deoband seminary, was also expected to attend the seminar but he had some last minute engagements and is unavailable," Maulana Mohammad Khalid Qasmi, organiser of the seminar told The Indian Express. "We still have blessings of Maulana Nomani as we all are alumni of the Deoband seminary. Even our madrasas in Ghaziabad region are run as per the directions from Deoband," Qasmi said.
Full report at:
http://indianexpress.com/article/cities/lucknow/after-dadri-muslim-clerics-call-all-religion-seminar/
------
Tipu Sultan's b'day bash divides opinion
Nov 7, 2015
MYSURU: The Karnataka government's move to celebrate Mysuru warrior Tipu Sultan's birth anniversary as an official event across Karnataka on November 10 has ruffled the BJP and right-wing groups. They've opposed the government's move to celebrate the event in a grand manner, terming the ruler as anti-national.
The decision to commemorate Tipu's birth anniversary as a state-sponsored one was made by chief minister Siddaramaiah at the release of a book on Tipu in 2014. The BJP has accused the CM of trying to appease the minorities with the decision and has opposed the setting up of a university named after the ruler. Senior BJP leader D H Shankaramurthy, who is chairman of the Karnataka legislative council, told TOI that though he cannot comment on the celebrations, he will not attend the main function in Bengaluru.
The government's move has cleaved opinion on Tipu, with historians, writers and politicians on both sides. While historian M Chidananda Murthy has likened Tipu to Adolf Hitler, writer S Shettar says reviling the rule without research is abuse of scholarship. Shettar said, "Condemning Tipu as anti-Hindu without properly studying the facts about his contributions and administration amounts to abuse of our scholarship. It is possible that Tipu might have hurt the sentiments of a particular community during his rule which could be a political compulsion rather than his hatred for that community. The scholars.'' With less than a week for the function, rightw i n g groups have gone into a huddle deliberating ways to oppose. BJP legislator from Mysuru, Go Madhusudan, is against setting up of a Tipu varsity, claiming that Tipu had offered support to Afghan ruler Ahmed Khan Abdali in waging war against India.
Full report at:
http://timesofindia.indiatimes.com/india/Tipu-Sultans-bday-bash-divides-opinion/articleshow/49696748.cms
------
Southeast Asia
'Haram' to welcome Obama, Hizbut Tahrir tells Putrajaya, Malaysian Muslims
BY AIZYL AZLEE
November 6, 2015
PUTRAJAYA, Nov 6 — The local chapter of a hardline Islamist group claimed today that it would be "haram" for the Putrajaya and Muslims here to welcome United States President Barack Obama when the latter arrives in Kuala Lumpur later this month for his second visit to Malaysia.
The group, Hizbut Tahrir Malaysia (HTM), labelled Obama an "enemy" of Islam, citing the deaths of Muslims in Iraq, Afghanistan, as well as in the ongoing Syrian conflict, which they blamed on the US president's administration.
"We hope that Muslims, specifically in Malaysia, realise that Obama is Islam's enemy. Many of our brothers and sisters have been killed in Iraq and Afghanistan.
And now, as a result of the cooperation, the permission and the instruction of the US, we see Russia has invaded Syria and have dropped their bombs in Syria, killing many Muslims there," HTM spokesman Abdul Hakim Othman told reporters outside the prime minister's office here this afternoon.
"And we hope Muslims in Malaysia realise that they are our enemy and that it is haram to welcome them."
The group handed over a memorandum to the Prime Minister's Department today to state its objection to Obama's scheduled visit this month.
In the memorandum, HTM pointed out that two visits by a US president in two years was out of the ordinary. The pro-caliphate movement also warned of Obama allegedly bringing with him agenda that could endanger Muslims here, and Malaysians in general.
It listed four official reasons for its rejection of the US president's visit, including a claim that Obama is the leader of an imperialist country that shows hostility towards Muslims in the name of countering terrorism; and another claim accusing the world leader of backing Zionist Jews.
Full report at:
http://www.themalaymailonline.com/malaysia/article/haram-to-welcome-obama-hizbut-tahrir-tells-putrajaya-malaysian-muslims
------
Najib happy to learn Malaysia named most advanced Islamic economy
7 NOVEMBER 2015
KUALA LUMPUR: Prime Minister Datuk Seri Najib Tun Razak said he was pleased that Malaysia has been named the world's most advanced Islamic economy by global intelligent business provider Thomson Reuters. "The Government and banking institutions laid down a strong foundation for Islamic finance to grow - adhering to the teachings of Islam," he said in his Facebook, today. On Thursday, Thomson Reuters' acting head of Islamic finance, Mustafa Adil was reported as saying that Malaysia's Islamic finance was also far ahead of countries in the Cooperation Council for the Arab States of the Gulf (GCC). Speaking at the 11th World Islamic Economic Forum, Mustafa said Malaysia scored very high on all the indicators used to measure the advancement, including a country's level advancement through six indicators, which are its level of governance, transparency, education, finance, corporate social responsibility and overall awareness. --Bernama
http://www.nst.com.my/news/2015/11/najib-happy-learn-malaysia-named-most-advanced-islamic-economy
----------
Police detain cook in Sabah for spreading false information on Facebook
November 7, 2015
KOTA KINABALU, Nov 7 — Police have detained a 25-year-old cook believed to have circulated false information through Facebook about three Filipino children being kidnapped and murdered here.
City Police chief ACP M.Chandra said the suspect who allegedly used the Facebook account, 'Radzlan Razz' to spread the erroneous news was nabbed at 8.45 pm at Kuta Bistro Waterfront here last night.
Full report at:
http://www.themalaymailonline.com/malaysia/article/police-detain-cook-in-sabah-for-spreading-false-information-on-facebook
----------
Bloggers to lodge police reports against pro-Najib bloggers
Ho Kit Yen
November 6, 2015
KUALA LUMPUR: Kelab LLLM (Lu Langsi Lu Mati) Malaysia, the Bloggers' Organization, will be lodging police reports across the peninsula on Friday against bloggers who insult royalty on their websites.
Its' president Ema Lee Abu Samah said 40 members will be lodging reports in various states. "We are filing police reports to get the authorities to take action against bloggers who insult royalty."
"So far we have identified six bloggers, all pro-Najib, who posted slanderous statements on their social media accounts against the royal families," she said.
Full report at:
http://www.freemalaysiatoday.com/category/nation/2015/11/06/bloggers-to-lodge-police-reports-against-pro-najib-bloggers/
----------
Sabah gov't gives RM31m for Chinese, mission schools
November 6, 2015
SANDAKAN: The Sabah state government has set aside RM31.2 million in assistance to local vernacular (Chinese), mission schools and non-Muslim organisations this year.
Chief Minister Musa Aman said of the amount, RM1.8 million were for non-Muslim organisations and RM1.6 million for six vernacular schools here.
"Rest assured that the state government will provide the RM32 million assistance even though oil prices and crude palm oil prices have dropped and affected the state's earnings.
"Even though the state government's budget is limited, we are committed to helping schools and non-Muslim organisations in Sabah," he said during the presentation of the assistance here today.
Full report at:
http://www.freemalaysiatoday.com/category/nation/2015/11/06/sabah-govt-gives-rm31m-for-chinese-mission-schools/
----------
Pakistan
Govt will not allow killings in Islam's name: Nawaz
November 06, 2015
SIALKOT – Prime Minister Nawaz Sharif on Friday said that announcement of a historic farmers package, Karachi-Lahore Motorway, ongoing efforts to rid country of terrorism and power crisis herald a real New Pakistan.
"The previous governments did nothing for power generation. We accepted this challenge and will resolve the issue within stint... Operation against terrorism will continue till the menace is rooted out. We will not allow decapitation and killings in name of Islam," he said addressing a ceremony of cheque distribution among the farmers.
He said that the government would break ground for Lahore-Karachi Motorway by the next month. Work on Hazara Motorway was already underway that, in next phases, would link Pakistan with China through Khunjrab. He said a network of roads would be constructed under the China-Pakistan Economic Corridors enhancing connectivity among the provinces as well as the states.
"Khyber Pakhtunkhwa is being linked with Balochistan through the western corridor. This will also link Quetta with Iran. A road to connect Torkham and Jalalabad is also being constructed," the prime minister said. He said since his previous government built Lahore-Islamabad and Islamabad-Peshawar motorways in 1999, the successor governments could not expand the network during the last 16 years.
Nawaz said a motorway between Sialkot and Lahore would soon be built as all arrangements in this regard had been finalised. He said once these motorway projects were completed, the people would be able to reach Karachi from Sialkot within few hours by road without bearing the high airfares.
Full report at:
http://www.pakistanherald.com/news/8383/06-november-2015/govt-will-not-allow-killings-in-islam%E2%80%99s-name(col)-nawaz
----------
PPP praises PM's vision of democratic, liberal Pakistan
November 07, 2015
ISLAMABAD - The Pakistan People's Party (PPP) yesterday praised Prime Minister Nawaz Sharif's vision of Pakistan's future as a democratic and liberal country.
Senator Farhatullah Babar, Spokesman of PPP Co-chairman Asif Ali Zardari, yesterday told senators that he welcomed the prime minister's statement but he should now stand by his words.
The prime minster' remarks raised eyebrows among his party' traditional supporters and criticised by religious party that Pakistan is first and foremost an Islamic republic.
His comments were made to foreign investors on Wednesday in an attempt to change perception of Pakistan.
His vision, he said, was of a democratic and liberal country with the private sectors thrives and no one is left behind.
Senator Farhatullah Babar yesterday seized on his comments and said they amounted to U-turn in his previous position: "It is encouraging because PM was not earlier known (for) these ideas.
In 1990, he was having a thought of bringing Caliphate in the country.
I think it is a general transformation in the thinking of PM," Babar said.
He warned that the PM would be subject to criticism by certain quarters but he should not give in.
All liberal and democratic forces should stand behind the PM, he said.
Soon after the Senate session, Ameer of Jamaat Islami Senator Sirajul Haq asked the PM to withdraw his statement.
"PM Nawaz Sharif should withdraw his statement as it is contrary to Constitution of Pakistan, philosophy of Allama Iqbal and principles laid down by Quaid-e-Azam," he said.
Pakistan is an Islamic democratic country under the constitution, he added.
He alleged that PM made the statement on demand of US soon after his return from Washington.
Earlier in the Senate, Federal Minister Rana Tanveer said that Organisation of Islamic Countries (OIC) Summit on Science and Technology scheduled to be held in Islamabad from November 9 to 11 had been postponed for security reasons.
The decision was taken after the terrorist attack on an airbase in Peshawar.
"Any untoward incident might have happened and this would have embarrassment for the whole country," he said.
Full report at:
http://nation.com.pk/national/07-Nov-2015/ppp-praises-pm-s-vision-of-democratic-liberal-pakistan
----------
Taliban operative arrested in Swat
November 06, 2015
SWAT - The Counter Terrorism Department (CTD) arrested a terrorist of banned Tehreek-e-Taliban Pakistan (TTP) besides recovering arms and explosives from his possession here on Thursday. The CTD responding to an intelligence report conducted operation against the militants in Odigram area of scenic Swat Valley during which a terrorist of TTP identified as Umer Hayat was arrested. The CTD team recovered arms and explosives from his possession who has been shifted to an undisclosed location for further interrogation.–INP
http://nation.com.pk/islamabad/06-Nov-2015/taliban-operative-arrested-in-swat
----------
Pakistan building diplomatic pressure in effort to resolve Kashmir: Maleeha Lodhi
Nov 07, 2015
NEW YORK: Pakistan is working hard to turn up diplomatic pressure on India to move towards resolving the Kashmir dispute based on United Nations Security Council (UNSC) resolutions that call for an internationally-supervised plebiscite for Kashmiris to decide their future, Ambassador Maleeha Lodhi has said.
"To that end, we have raised and continue to raise this decades-old dispute at all forms of the United Nations (UN)," she told a largely-attended meeting held at Pakistan House . The meeting was held to mark the anniversary of Indian occupation of Kashmir that began on October 27, 1947, and is known as "Black Day".
She said Prime Minister Nawaz Sharif set the pace when he addressed the UN General Assembly's high-level session in September and made a clarion call for the grant of UN-pledged right of self-determination to the people of Kashmir and "an end to the atrocities let loose by Indian security forces in occupied Kashmir".
The prime minister also proposed a four-point 'new peace initiative' including demilitarising Kashmir and Siachen, and formalising the 2003 ceasefire, describing these as the "simplest" measures to implement towards peace between the two countries.
The Pakistan delegation to the UN kept up the momentum by focusing the international community's attention to human rights violations in Kashmir and the people's struggle for freedom from Indian yoke, she told the meeting, which was organised by Pakistani consulate in New York.
Lodhi said that before coming to New York to take up her assignment in February, she had met leaders of all political parties and had found complete consensus among them on the need to step up efforts at the UN for a resolution of the Kashmir dispute.
Pakistan, she said, would continue to steadfastly support the struggle of the Kashmiri people for freedom and self-determination as it has consistently done in the past. "We'll always stand by the people of Kashmir," she said.
Full report at:
http://www.dawn.com/news/1218105/pakistan-building-diplomatic-pressure-in-effort-to-resolve-kashmir-maleeha-lodhi
----------
Pak Army most battle-hardened, says army chief
Nov 07, 2015
RAWALPINDI: Terming Pakistan Army the most battle-hardened fighting force, Chief of Army Staff (COAS) General Raheel Sharif said on Friday that "our overwhelming achievements in fight against terrorism, speak volumes of our professional competence and the same has been acknowledged globally".
"We have to strive hard to maintain that level and keep improving our combat efficiency and that is only possible through rigorous training."
He made the remarks at the concluding ceremony of the third physical Agility and Combat Efficiency Championship held near Attock.
According to ISPR, all teams participated with extraordinary vigour and demonstrated highest level of motivation, agility and physical fitness.
Stressing the importance of physical fitness for a soldier, the army chief praised
the performance, competitive spirit and efforts of both trainers and trainees to achieve remarkable standards.
He said physical fitness helped to improve self-confidence and competence of a soldier, adding, it is heartening to note that Pakistan Army soldiers are way above the international standards laid-down to judge the physical efficiency.
He praised the soldiers for setting new records and encouraged them to participate in national and international events.
Full report at:
http://www.dawn.com/news/1218089/pak-army-most-battle-hardened-says-army-chief
----------
Urdu as official language: SC moved to extend deadline mentioned in judgment
NASIR IQBAL
Nov 07, 2015
ISLAMABAD: The Punjab government has approached the Supreme Court seeking a slight change in the apex court's Sept 8 judgment ordering the federal and provincial governments to immediately start using Urdu in official work.
Moved by Additional Advocate General (AAG) Razzaq A. Mirza on behalf of the Punjab chief secretary and provincial law secretary the review petition has requested the court to revise its judgment only to the extent where the governments have been ordered to translate all available laws from English into Urdu within three months.
The Supreme Court verdict had ordained the statutory, regulatory and oversight bodies to take steps without delay to implement the Article 251 of the constitution requiring the use of the national language.
The deadline of three months, suggested by the Supreme Court judgment, ends on Dec 8.
"The provincial government is already engaged in implementing the constitutional mandate gradually, but the three-month deadline seems very unrealistic to complete the gigantic task before it," AAG Mirza told Dawn.
The petition says the provincial government has already created three posts of translators and has framed necessary rules besides forwarding a requisition to the Punjab Public Service Commission for appropriate appointments on these posts under the rules.
The provincial government has also completed translation of around 150 laws and these laws have been uploaded on the official website, the review petition said, adding that the expression of interest had also been published in daily newspapers for outsourcing the translation of laws of Punjab.
Full report at:
http://www.dawn.com/news/1218072/urdu-as-official-language-sc-moved-to-extend-deadline-mentioned-in-judgment
----------
Europe
Kremlin slams Charlie Hebdo cartoons on Egypt crash
06 November 2015
The Kremlin on Friday angrily condemned France'sCharlie Hebdo satirical magazine for publishing political cartoons on the Egypt plane crash in which 224 people died, most of them Russian tourists.
"In our country we can sum this up in a single word: sacrilege," President Vladimir Putin's spokesman Dmitry Peskov told journalists.
"This has nothing to do with democracy or self-expression. It is sacrilege."
The Kremlin spokesman called the cartoons "unacceptable" but said Russia would not make an official complaint.
One cartoon shows debris and human remains raining down on an armed ISIL militant, with the caption: "ISIL: Russian aviation is intensifying bombardments," a reference to its air strikes in Syria.
Another shows a skull with a pair of sunglasses hanging off it with the crashed plane in the background.
It is titled "The dangers of Russian low-cost airlines", and the speech bubble says "I should have taken Air Cocaine," a reference to a current scandal over French pilots smuggling drugs from the Dominican Republic.
Jihadist gunmen shot dead 12 people in and around Charlie Hebdo's offices in January enraged at its cartoons of Prophet Mohammed.
On Russian-language Twitter, hashtags "Charlie Hebdo" and "I'm not Charlie" were among the top trends on Friday.
Writing on Twitter, the lower house of parliament's international affairs chief Alexei Pushkov asked: "Is there any limit to Russophobia on the pages of Western media?
"As the whole world condoles with us, Charlie Hebdopreaches its vile right to sacrilege."
Russian state television news gave lengthy coverage to criticism of the Charlie Hebdo cartoons, which it did not show.
Full report at:
http://www.worldbulletin.net/europe/166084/kremlin-slams-charlie-hebdo-cartoons-on-egypt-crash
----------
UK: Loud protest mars Egypt's Sisi visit
06 November 2015
A large group of demonstrators outside 10 Downing Street is continuing to register its protest against Abdel Fattah el-Sisi's visit to London as he meets with British Prime Minister David Cameron.
Several protesters could be seen Thursday carrying banners and chanting slogans against Sisi and his regime.
"Cameron invite refugees not dictators", "Stop butcher el-Sisi", "Cameron shame on you, British values where are you?" were some of the messages given out by the protesters, who came not only from the U.K., but all over Europe.
A family of five from Spain was among a group of anti-Sisi demonstrators. Nadia, 21, said that they did not want Sisi in Britain or in Spain, and instead only wanted Egypt's first democratically-elected President Mohamed Morsi back.
The head of the Egyptian Revolutionary Council, Maha Azzam, also joined the protests against Sisi's visit. Azzam said that Cameron should clearly tell Sisi that human rights violations in Egypt were unacceptable.
"His presence here is seen as a violation of British values, a violation of international law. He is seen as a man who kills his own people. He is responsible for the imprisonment over 40,000 political prisoners.
Full report at:
http://www.worldbulletin.net/europe/166059/uk-loud-protest-mars-egypts-sisi-visit
----------
After attacks, France walks narrow line on Islam in schools
November 6, 2015
PARIS — This was the week that schoolchildren in one Paris suburb got a stark choice at the cafeteria: pork or nothing at all.
Chilly-Mazarin joined a handful of towns run by right-leaning mayors which have ended a practice of offering a substitute for students forbidden by their religion from eating pork.
The decisions have come amid increased discussions in France about its secularist ideals following the terror attacks in January that were blamed on French Islamic extremists — a discussion critics say has been hijacked by anti-Muslim forces on the far right.
On Wednesday, the Socialist government issued unusually direct criticism against the schools that have ended the pork substitutes as it was training dozens of appointees to mediate tense questions about the role of religion in schools and in public life.
Increasingly narrow line
In back-to-back speeches, the education and interior ministers walked the country's increasingly narrow line on religion in schools, with the unspoken threat of Islamic extremism hovering over the auditorium in Paris' tony 16th arrondissement.
Education Minister Najat Vallaud-Belkacem said teachers at schools have to impart the secularist ideal, but "not a secularism that is a declaration of war against a religion, as we see when a mayor here or there decides that in the name of a so-called secular ideal, children will be forced to eat pork or skip school lunch."
France forbids "ostentatious" symbols of religion in schools and government buildings, a mandate generally interpreted to mean Muslim head scarves and one that includes parents who accompany school outings wearing them. Schools take seriously their mission to educate the next generation of secular French citizens, never more so than since the January terror attacks.
Vallaud-Belkacem alluded to that mission repeatedly in her speech to the mediators, whose job is to offer advice to local governments and schools about France's much-vaunted division between church and state.
"School is a place of knowledge, not of belief. This distinction is essential and we have to repeat it and teach it without cease," said Vallaud-Belkacem, who was born in Morocco and raised as a Muslim. Schools need to take responsibility for spotting and countering extremism, she said.
Full report at:
http://www.dailyastorian.com/friday-extra/20151106/after-attacks-france-walks-narrow-line-on-islam-in-schools
----------
Russian plane black boxes point to 'attack'
Nov 07, 2015
PARIS: Black box data from the Russian plane that crashed in Egypt last week indicates it was hit by a bomb, sources said, before an Egypt-led probe into the disaster was set to release its first findings Saturday.
Both the flight data and voice recorders failed 24 minutes after the plane took off from the Sharm el-Sheikh resort en route to Saint Petersburg, when it plummeted from the sky into the Sinai Peninsula killing all 224 people on board.
Cairo and Moscow initially dismissed a claim self-styled Islamic State (IS) militants downed the plane, but growing evidence it was attacked has prompted several countries to warn against travel to Sharm el-Sheikh.
On Friday, Russian President Vladimir Putin also ordered flights to the Red Sea resort halted, in a fresh blow to Egypt's already struggling tourism industry.
Kremlin spokesman Dmitry Peskov told news agencies the measure did not mean Russia believed the crash — the worst aviation disaster in Russia's history — was due to an attack, and the investigation continued.
The head of Russia's emergencies ministry said Russian experts had taken samples from the crashed jet and were testing it for any traces of explosives.
But a source close to the investigation told AFP the black box data "strongly favours" the theory a bomb on board brought down the plane.
Another person close to the case in Paris said the plane had suffered "a violent, sudden" end, saying: "Everything was normal during the flight, absolutely normal, and suddenly there was nothing."
Egyptian Aviation Minister Hossam Kamal and the head of the Egypt-led investigation into the disaster are due to hold their first news conference at 1500 GMT on Saturday, although the government warned it could be delayed.
Security was horrendous
Egyptian President Abdel Fattah al-Sisi's office said he called Putin and they agreed to bolster coordination to "strengthen security measures for Russian planes."
With international concerns mounting, European airlines prepared to bring home thousands of tourists from the Red Sea resort, which has been a jewel in Egypt's tourism crown.
Denmark on Friday became the latest European country to warn against travelling to Sharm el-Sheikh, following France, Belgium and Britain, while several airlines have banned check-in luggage as a precaution.
Read: Russia, Egypt dismiss US, UK claims bomb brought down jet
The US said it would also step up security screenings of US-bound flights from some Middle East airports as a precaution.
There were angry scenes in Sharm el-Sheikh, as thousands of anxious Britons, who had also hoped to fly home, were sent back to their hotels after Egypt blocked several other repatriation flights.
"I think a lot of people will question whether they ever want to go to Egypt again," Emma Turner, a 34-year-old from southeast England, said after arriving back in London.
Eight flights carrying some 1,400 travellers returned to Britain on Friday after restrictions were lifted, but tourists were only allowed to bring carry-on bags.
Kamal said only eight of 29 flights could take off because the airport could not cope with all the luggage left behind.
Russia's Interfax news agency quoted a representative of national carrier Aeroflot saying a plane would be sent Friday to pick up stranded Russians.
Tourism industry hit
IS said it downed the plane in retaliation for Russian air strikes in Syria, but has provided no details as to how.
Full report at:
http://www.dawn.com/news/1218101/russian-plane-black-boxes-point-to-attack
----------
Russia suspends flights to Egypt
Nov 07, 2015
SHARM EL SHEIKH: Russian President Vladimir Putin agreed to suspend all Russian flights to Egypt on Friday after a recommendation by his chief of intelligence for a halt until the cause of last week's crash of a passenger jet in the Sinai Peninsula is determined, as an official said pieces of wreckage from the plane had been brought to Moscow to test for possible traces of explosives.
The suspension came after several days of statements by British and American officials that it was possible a bomb on board had brought down the Russia carrier Metrojet's Airbus A321-200, which crashed 23 minutes after takeoff from the Sinai resort of Sharm el-Sheikh, killing all 224 people on board. Russian and Egyptian officials had bristled at the statements, saying it was too soon to tell the cause.
The suspension, covering all of Egypt, is even more sweeping than that imposed by Britain, which had halted flights to Sharm el-Sheikh only. "I think it will be reasonable to suspend all Russian flights to Egypt until we determine the real reasons of what happened," intelligence chief Alexander Bortnikov Bortnikov said in televised comments. "It concerns tourist flights most of all".
Full report at:
http://www.dawn.com/news/1217979/russia-suspends-flights-to-egypt
----------
Mideast
Yemeni Forces Win Back Key Regions in Southern Provinces
Nov 06, 2015
The Yemeni forces took control of a number of villages in Damet region in Zale province, and killed tens of terrorists in heavy clashes.
The army and popular forces also advanced from al-Qassr region towards Klabe in Ta'iz province.
On Wednesday, Yemen's Ansarullah fighters and army troops killed a ranking Saudi commander and dozens of his forces in Ta'iz.
The Yemeni forces took control of a military base that had been occupied by Saudi forces in Ta'iz province a while ago, and killed a senior Saudi commander and his troops deployed in the base.
Full report at:
http://english.farsnews.com/newstext.aspx?nn=13940815000331
----------
Turkey, Bulgaria & Greece move to tackle migration
06 November 2015
Turkey, Bulgaria andGreece are set to work on solutions to irregular immigration as part of a project being prepared by the International Organization for Migration (IOM).
Representatives of the three countries will come together as part of a 'Regional Cooperation Border and Management among Turkey, Greece and Bulgaria Project' and discuss collaboration, according to an IOM official.
Emrah Guler, an IOM project officer in Turkey, said that the project, with a budget of 1.8 million euros [$2 million], would last for 18 months.
"Information exchange is very important between the neighboring countries on irregular immigration. If the three countries work without knowledge of each other, it effects both illegal migrants and refugees," Guler said.
Guler added that the project would prevent irregular migration with the help of information exchange between the three countries.
Full report at:
http://www.worldbulletin.net/europe/166086/turkey-bulgaria-greece-move-to-tackle-migration
----------
Pilot of Downed Saudi Fighter Jet Captured in Sana'a
Nov 06, 2015
Yemen's air defense forces managed to shot down an F-15 Saudi warplane in Bilad al-Rous district, in the Western part of the Sana'a province, on Thursday.
The Saudi fighter was targetted by the Yemeni army anti-air missile defense systems and hit al-Laham mountain after the strike.
Now the latest reports from Yemen's capital said the pilot of the plane that is reportedly a Saudi national has also been arrested a few hours later.
Yemeni forces and Ansarullah fighters have shot down several Saudi warplanes and spy drones over the past few months in various parts of the country, including the provinces of Saa'da, Ma'rib, Jizan, Dhamar and Sana'a.
On Saturday, the Yemeni army and popular forces shot down two spying aircraft of the Saudi-led coalition forces as they were running reconnaissance missions in two different parts of the province of Saa'da.
The Saudi-led coalition plane was targeted by the Yemeni army while flying over Sahar region in Saa'da province on Saturday.
Meantime, a separate report said that the Yemeni popular forces have also downed a spying drone in al-Zaher region.
No other details have been released on either incident yet.
On October 29, a Saudi military plane used for airdropping arms cargoes for the terrorists and Saudi troops was shot down in the province of Ta'iz.
The Saudi-led coalition's logistics plane was hit while flying over the mountainous area of Sabr in Ta'iz province.
In the past 7 months tens of drones and fighter jets of the Saudi-led coalition have been shot down by the army and popular forces in different Yemeni provinces, including Saa'da, Ma'rib, Jizan, Dhamar and Sana'a.
On October 16, the Yemeni army and popular forces hit a strategic military air base in Asir province in Southern Saudi Arabia with Scud missiles, killing tens of high-ranking Saudi officers and commanders and destroying over two dozen F-15 fighter jets and Apache helicopters.
Full report at:
http://english.farsnews.com/newstext.aspx?nn=13940814000836
----------
Israeli fire kills Palestinian in Gaza clashes
6 November 2015
Israeli forces shot and killed a Palestinian in the Gaza Strip on Friday during clashes along the border, the enclave's health ministry said.
Salame Abu Jamaa, 23, was shot in the head during a protest east of Khan Yunis, health ministry spokesman Ashraf al-Qudra said.
The Israeli army confirmed they had shot a suspect, saying they responded after Palestinians tried to breach the buffer zone between Gaza and Israel.
"The forces called the perpetrators to halt, followed by warning shots in the air, and upon the suspects' continued assault, forces fired toward a main instigator, confirming a hit," a spokeswoman told AFP.
Full report at:
http://english.alarabiya.net/en/News/middle-east/2015/11/06/Israeli-fire-kills-Palestinian-in-Gaza-clashes.html
----------
Iran cleric stresses resistance economy, self-reliance
Nov 6, 2015
A senior Iranian cleric has stressed the implementation of the policy of the "resistance economy" as instructed by Leader of the Islamic Revolution Ayatollah Seyyed Ali Khamenei.
The Leader of the Islamic Revolution has repeatedly stressed, defined and set the outlines of the "resistance economy," Ayatollah Mohammad Emami Kashani said in his sermon to worshipers at the weekly Friday Prayers in Tehran.
"Therefore, the country must be independent when it comes to living conditions, and must be self-reliant in [the areas of]… production, and economy," the senior cleric added.
"The resistance economy must be implemented as it can resolve many problems in the country," he said.
On February 25, Ayatollah Khamenei called on the three branches of the Iranian government to seriously pursue and implement the general policies of the resistance economy.
Ayatollah Khamenei noted that there is a great deal of hope that economic flourishing will occur in the medium-term and will partially alleviate the people's economic concerns if the policies of the resistance economy are seriously implemented.
The Leader had outlined the general policies of Iran's resistance economy in a decree issued on February 19.
As part of the program, the government must take action to promote "knowledge-based economy and domestic production, especially in strategic products and services, and the consequent reduction of dependence on imports."
The decree also encourages greater privatization and increased exports of goods and services through legal and administrative reforms as well as foreign investment for export purposes.
In his Friday sermon, Ayatollah Kashani also referred to the agreement reached between Iran and the P5+1 group over Tehran's nuclear program – known as the Joint Comprehensive Plan of Action (JCPOA) – and expressed hope that the JCPOA would be implemented "properly."
He said that if the JCPOA is "fully" implemented, it can solve some of the existing problems in the country.
Full report at:
http://www.presstv.ir/Detail/2015/11/06/436572/Iran-Ayatollah-Kashani-resistance-economy
----------
Africa
S. Sudan bans Russian-made plane AN-12 from airspace
07 November 2015
South Sudan has banned Russian-made Antonov-12 and Canadian-made Cessna 208 Caravan aircraft from operating within its airspace following a recent plane crash that left dozens of people dead, South Sudanese transport minister said Friday.
On Wednesday, a Russian-made Antenov-12 aircraft crash killed at least 36 people.
Transport Minister Kuong Danhier Gatluak told Anadolu Agency that the ban on the two aircraft "shall come into force with immediate effect". The affected companies are owned by National Allied service, a Juba-based logistic company, and Air Works Kenya Ltd.
Since 2011, many foreign airlines have been using South Sudanese airspace for air transit operations.
The minister also said that all victims were from South Sudan's Upper Nile State except for five Armenians and a Russian.
Survivors
There were at least two survivors from the plane crash incident, including an infant.
A 14-month-old baby girl was transferred from Juba teaching hospital to a private China hospital, director of emergency at the Juba hospital Dr. Abraham Adut, said. He added that the infant's mother was killed along with an elder sister of about five years.
"In fact, the father of the child came yesterday, he was in Paloch in Upper Nile State when the tragedy befell his family," Upper Nile State Minister of Information Daniel Yoar Akec said.
Akec said that the two survivors included the infant from Pigi County and a wounded soldier from Wedkona.
Full report at:
http://www.worldbulletin.net/africa/166098/ssudan-bans-russian-made-plane-an-12-from-airspace
----------
UNSC to meet over Burundi 'hate speech'
06 November 2015
The UN Security Council will meet on Monday to discuss Burundi as "hate speech" threatens to exacerbate a deteriorating political situation, the French foreign ministry said Friday.
"At our demand, the UN Security Council will meet on Monday 9 November over the situation in Burundi," said French foreign ministry spokesman Romain Nadal, denouncing the wave of "hate speech" which threatens to inflame the central African country.
Burundi has seen months of violence triggered by President Pierre Nkurunziza's successful bid to win a third term in office, prompting a dramatic rise in killings, arrests and detentions.
Monday's session will also be attended by representatives of the UN High Commissioner for Human Rights and members of the African Union, Nadal said.
Full report at:
http://www.worldbulletin.net/africa/166091/unsc-to-meet-over-burundi-hate-speech
----------
North America
Gulf states, BRICs should do more for Syrian refugees: US
Nov 07, 2015
WASHINGTON: Wealthy Gulf Arab states such as Saudi Arabia and Qatar as well as the so-called BRICs emerging market nations should do more to help Syrian refugees, a senior United States (US) official said on Friday.
"I would like to see more aid come from the Gulf states that are in the Middle East area and are relatively wealthy compared to Jordan and Lebanon," Assistant Secretary of State Anne Richard told C-SPAN's 'Newsmakers' program.
"We would also like to see more from the so-called BRICs — Brazil, Russia, India, China and, to a lesser extent South Africa," she added.
"These are the wealthy states that care about the region that could and should be doing more on the humanitarian side."
About 250,000 people have died and some four million driven abroad as refugees because of the Syrian conflict, which began in 2011 with protests against Syrian President Bashar al-Assad and has evolved into a full-blown civil war.
The majority of the refugees have flowed into neighbouring nations such as Turkey, Jordan and Lebanon but hundreds of thousands have also made their way to Europe.
Richard said that some Gulf Arab states such as Kuwait and the United Arab Emirates (UAE) had contributed strongly for refugees while others, such as Saudi Arabia and Qatar, could do more.
Full report at:
http://www.dawn.com/news/1218102/gulf-states-brics-should-do-more-for-syrian-refugees-us
----------
Metro Detroit Arab, Muslim events push for change
November 6, 2015
As an Arab American who works in public policy and backs civic efforts, Ghida Dagher pays attention to the issues affecting her community as well as Metro Detroit.
Recently, the 26-year-old from Dearborn Heights has noted a host of incidents in the media and elsewhere — including concerns about immigrants from the Middle East and a flier asking voters not to support Muslims on the Hamtramck City Council.
That's partly why she decided to attend the Arab American Summit in Dearborn this weekend. Themed "From Marginalized to Organized" and convened by the National Network for Arab American Communities, the symposium aims to address such issues and strategies to surmount them.
"I think there's a lot of untapped potential and people need to realize what their potential roles are for the avenues for involvement," Dagher said. "It's going to help tell the narrative of this community and its population that I don't think otherwise has been told."
Speaking out and mobilizing anchor the summit as well as another event at Cobo Center in Detroit this weekend. The Islamic Organization of North America's 11th annual convention, "Living the Faith: Challenges and Opportunities," includes acclaimed speakers and guests examining what Muslims in Metro Detroit as well as nationwide face.
At a time when Arabs and Muslims grapple with others' misconceptions about their identities and renewed tensions, participants in both gatherings hope they spark significant action.
"It's important to discuss, hopefully hear some new solutions and inspire our community towards greater heights," said Dawud Walid, executive director of the Council on American-Islamic Relations' Michigan chapter, who is speaking at the IONA convention.
More than 1,000 people are expected to attend that function, which is visiting Detroit for the first time, executive director Ahmed Ismail said.
The program revolves around sessions tackling topics such as anti-Muslim sentiment, mental health, violent extremism, raising families and more, organizers said. The aim is to identify priorities, find resources and organize teams to develop plans "to help our community really be a better community," Ismail said. Eventually, he said, the goal is "to be able to build a book, a template that can be taken to any state or even outside the U.S., any ethnic group or any religion… to say: 'How you will find issues among the community and how will you create teams to work with them?' "
Among the scheduled speakers is Walid, who plans presentations on countering Islamophobia and addressing structural racism. "The fight against bigotry must be at the front of the Muslim agenda, especially in this age, for two reasons. One is that there is an unprecedented amount of Islamophobia in the sociopolitical discourse — even worse than in the last two presidential election seasons. We have major candidates who are making overtly Islamophobic comments and implicitly bigoted comments about Muslims, and it's not just happening even on the national level," he said. "We've seen what just took place in Sterling Heights recently with some very hateful mosque opposition. So this is a very timely issue."
Social issues also guide this weekend's Arab American Summit, which organizers call the first of what is expected to become a biennial conference.
Full report at:
http://www.detroitnews.com/story/news/local/wayne-county/2015/11/06/metro-arab-events/75334594/
----------
Four face US terror charges for alleged Qaeda support
November 07, 2015
CHICAGO:– Four men face terrorism charges for allegedly raising $22,000 and taking it from the United States to Yemen to give to late US-born Al-Qaeda leader Anwar Al-Awlaki in 2009, US prosecutors have said. Farooq and Ibrahim Mohammad, aged 37 and 36, were born in India. They studied engineering in Ohio and Illinois and married American women. Asif and Sultane Salim, aged 35 and 40, are US citizens. Asif studied at the University of Ohio at the same time as Farooq Mohammad.–AFP
The indictment details seven years of discussions about deadly attacks carried out by Al-Qaeda, along with more mundane discussions about how to best raise the money without getting caught and jokes about how engineers are over-represented among jihadists.
"I really need to go fatwa (edict handed down by a Muslim scholar) shopping for that rip-off thing," Farooq Mohammad wrote in a 2007 e-mail.
In 2008, he wrote: "If you want something knocked down or blown up, ask an engineer."
Farooq Mohammad - who had been living in the United Arab Emirates - traveled to a village in Yemen where al-Awlaki was living in July 2009 along with two other unnamed co-conspirators, the indictment said. But he was unable to meet with him because government troops were nearby, it added.
Sultane Salim was the first to be questioned by the FBI in 2011 and said the $17,000 he sent Ibrahim Mohammad was to repay a loan he'd used to buy a house.
Asif Salim moved to the United Arab Emirates months before his brother was first questioned by the FBI.
Full report at:
http://nation.com.pk/international/07-Nov-2015/four-face-us-terror-charges-for-alleged-qaeda-support
----------
Canada ready to settle 25,000 Syrian refugees: PM
06 November 2015
Canada's new prime minister Thursday vowed to make good on campaign promises to resettle 25,000 Syrian refugees by the beginning of next year and bring home fighter jets battling the ISIL group in Iraq and Syria.
In his first interview since taking office on Wednesday, Justin Trudeau told the Radio-Canada network: "The goal is still to have 25,000 Syrian refugees in Canada before January 1."
Several government ministries have been mobilized to achieve this goal in such a short time, Trudeau said, adding the federal government would have to work closely with Canada's provinces and municipalities.
The refugees must be given ways to support their families once they reach Canada so they can benefit their community and the country as a whole, just like the "waves of immigrants and refugees that did so earlier," Trudeau said.
He also said his defense minister, Harjit Sajjan, was working to bring home Canadian warplanes from the fight against ISIL in Iraq and Syria.
Full report at:
http://www.worldbulletin.net/america-canada/166072/canada-ready-to-settle-25000-syrian-refugees-pm
----------
URL: https://www.newageislam.com/islamic-world-news/new-age-islam-news-bureau/honey-trap--saudi-religious-police-'used-porn'-to-lure-suspects/d/105204