New Age Islam News Bureau
27 March 2020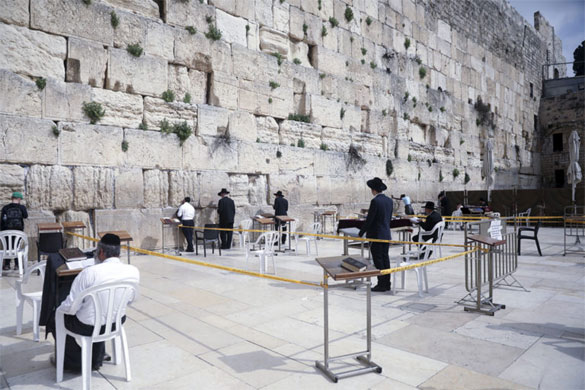 Ultra-Orthodox Jews pray at the Western Wall in Jerusalem on March 15, 2020. Israel imposed sweeping travel and quarantine measures more than a week before, but coronavirus cases have continued to rise. (AP Photo/Mahmoud Illean)
------
• Holy Land Churches, Mosques, Synagogues Closed: Israeli Government Instituted A Nearly Complete COVID-19 Lockdown
• Pakistani Clerics Quarrel as Egypt's Al-Azhar University Announces Major Fatwa
• Malaysia Detects Five Generations of Covid-19 Cases Linked to Mosque Cluster
• Abu Khalid Al-Hindi Carried Out the Attack on Sikh Temple In Kabul: ISIS-K
• Organization Of Islamic Cooperation Calls To Coordinate In Fight Against Virus
• Coronavirus: Christians, Muslims, Fulani, Igbo Must Unite Against This Common Enemy – Islamic Group
• Norway-Based Fundamentalist Preacher Mullah Krekar Extradited to Italy
• Christian Religious Body Suspends Prayers And Assemblies In Churches In View Of Lockdown
------------
Mideast
• Holy Land Churches, Mosques, Synagogues Closed: Israeli Government Instituted A Nearly Complete COVID-19 Lockdown
• US only humiliating, blackmailing Saudi Arabia, UAE: Ansarullah leader
• IMF Should Reject Islamic Republic's Loan Request
• Palestine demands medical supplies to fight novel coronavirus
• Turkey, allied militants using water as weapon against civilians in Syria's Hasakah: Foreign Ministry
-----
Pakistan
• Pakistani Clerics Quarrel as Egypt's Al-Azhar University Announces Major Fatwa
• Pray at home: Ulema advise Muslims: Governor Sarwar warns of stern action if people flout lockdown
• Sindh, Balochistan, Punjab restrict congregational prayers in mosques
------
Southeast Asia
• Malaysia Detects Five Generations of Covid-19 Cases Linked to Mosque Cluster
• Safety above all: Tanah Abang market closes for 10 days, faces Ramadan losses amid COVID-19
• Islamic banks to face slower financing growth
• G20 Agrees to Expedite PPE Shipment to Covid-19-affected Nations
------
South Asia
• Abu Khalid Al-Hindi Carried Out the Attack on Sikh Temple In Kabul: ISIS-K
• Afghan cabinet approves plan to impose curfew in Kabul city
• Afghan national tested positive for coronavirus after returning from Saudi Arabia
• Afghan forces thwart deadly car bomb attack in Paktia province
-----
Arab world
• Organization Of Islamic Cooperation Calls To Coordinate In Fight Against Virus
• Coronavirus hits Gulf banks' deal making ahead of Ramadan lull
• Islamic finance bodies to assess coronavirus damage on industry
-----
Africa
• Coronavirus: Christians, Muslims, Fulani, Igbo Must Unite Against This Common Enemy – Islamic Group
• COVID-19: Muslim Media Group Lauds FG, States, Advocates Total Lockdown
-----
Europe
• Norway-Based Fundamentalist Preacher Mullah Krekar Extradited to Italy
• Astley Bridge pub flattened to make way for mosque
• The Islamic State's Biography of a British-Sudanese Medic
-----
North America
• 12 Muslim Children's Book to Read During Quarantine
• International Islamic Trade Finance Corporation Ranks 2nd Globally
• America's 234-Year-Old Shock at Jihad
• Pakistan to propose UN's counter-terror strategy also target anti-Muslim groups in South Asia, Europe
-----
New Zealand
• Christchurch Mosque Shootings: Life in Prison Looms for NZ's First Convicted Terrorist
------
India
• Christian Religious Body Suspends Prayers And Assemblies In Churches In View Of Lockdown
• Tamil Nadu: Preachers from Indonesia, Thailand And Kyrgyzstan Caught in The Viral Storm
• Minorities Panel Appeals To Muslims To Obey Curfew Norms
• Coronavirus in J&K: Mosques, shrines closed to avoid large gatherings
• Muslim cleric, 27 others booked for defying COVID-19 lockdown in Bhopal
Compiled by New Age Islam News Bureau
URL: https://www.newageislam.com/islamic-world-news/holy-land-churches-mosques-synagogues/d/121419
------
Holy Land Churches, Mosques, Synagogues Closed: Israeli Government Instituted A Nearly Complete COVID-19 Lockdown
March 26, 2020
Michele Chabin
JERUSALEM (RNS) — In the days before the novel coronavirus, the thought that every church, synagogue and mosque in the Holy Land would be ordered shut was simply unimaginable.
On Wednesday (March 25), the Israeli government instituted a nearly complete COVID-19 lockdown that includes the closure of all houses of worship. The directive permits 10 worshippers to pray outdoors, provided they stand at least 6 feet apart.
The day before, the Ministry of Health revealed that 24% of infected Israelis had contracted the virus in synagogues. Another 5% were exposed in yeshivas.
In the West Bank, the Palestinian Authority shuttered all mosques and churches, including the Church of the Nativity, weeks ago after an outbreak of the virus in Bethlehem, the traditional birthplace of Jesus and the territory's most visited site.
Although communal religious practice is being curtailed around the world in an attempt to thwart the virus's spread, the limitations on communal prayer, coupled with the total collapse of religious tourism before Passover, Easter and Ramadan, is hitting the Holy Land particularly hard.
Two weeks before Easter, which falls on April 12, Bethlehem's streets are deserted, its shops locked tight. No one is permitted to enter the city, and almost no one is permitted to leave it.
"It's an extremely difficult time for families because Easter is high season," said Wadie Abunassar, an adviser to and spokesman for church leaders in the Holy Land. "But what can we do? Even the Vatican is closed. We are not unique. Health must come first."
People pray on March 23, 2020, in front of the shuttered gates of the Al-Aqsa Mosque compound, as all houses of worship are closed to prevent the spread of coronavirus in Jerusalem. (AP Photo/Mahmoud Illean)
In Israel, religious tourism is also nonexistent, and hotels are empty or being used to quarantine patients who have tested positive for the virus. Citizens have been told to hold their Passover Seder at home, with only their nuclear family. Many single people may be spending the holiday alone.
In a move that has angered some Jewish women, rabbinical authorities have insisted that women's mikvehs, or ritual baths, remain open.
According to Jewish law, a married woman cannot have sexual relations with her husband until she is ritually cleansed in a mikveh after menstruating or childbirth.
"As long as the government is neither regulating nor enforcing its own sanitation protocols in the state-operated mikvaot, it is a public health hazard to keep them open. When state religious bodies act as though they are above the law, not only does it endanger our democracy; in this case, it endangers our very lives," said Rachel Stomel, director of English communications at the Center for Women's Justice.
Although the health directives are deeply disruptive, they are also fostering out-of-the-box solutions to religious quandaries, said Rabbi David Rosen, director of the American Jewish Committee's Department of Interreligious Affairs.
"People are attempting to deal with the situation in creative ways. It's actually quite remarkable. The virus is engendering community support and spiritual inspiration across religious divides around the world," Rosen said.
In a controversial move, a group of prominent Israeli Sephardi rabbis ruled that it is permissible for elderly grandparents stuck at home to participate in their family's Seder using Zoom and other internet-based solutions.
"Well-intentioned rabbis may think they are permitting something on a temporary basis, but the implications could be far-reaching," Rabbi Seth Winberg wrote in a Jerusalem Post op-ed. "After we flatten the curve … will it not seem more convenient to log in from home?"
The vast majority of rabbis have yet to endorse virtual minyans, however, so neighbors are organizing daily prayers (including the mourner's kaddish), weddings, circumcisions and bar mitzvahs on home balconies, in their backyards or on the street.
A woman prays March 25, 2020, in Jerusalem in front of the closed Church of the Holy Sepulchre, a place where Christians believe Jesus Christ was buried, as Israel tightens its measures to fight the spread of the coronavirus. (AP Photo/Mahmoud Illean)
Despite being in self-imposed quarantine after a trip abroad, Ellen Berkman Amzallag managed to recite the mourning blessing for her late father, who died 10 years ago, with a minyan thanks to the quorum of men who recited prayers outside her Jerusalem home.
"I was able to say kaddish from my living room while 10 men, including one son, were praying outside. My son in quarantine was in the room with me," Amzallag said.
Even with these innovations, the stringent coronavirus regulations are painful for Israeli and Palestinian couples marrying in the absence of beloved relatives, and families burying their loved ones.
When Razi Yitzchak died on March 17, his wife and adult children needed to alter their Jewish mourning practices due to the coronavirus.
Only a small group of mourners was permitted at the funeral, in keeping with Israel's COVID-19 guidelines against people congregating.
The burial society kept mourners 12 feet away from Yitzchak's body out of concern for the health of the gravediggers. After the mourners slashed their clothes with a knife – as is customary in Judaism – the burial society disinfected it in alcohol. Furthermore, the mourners weren't allowed to shovel soil into Yitzchak's open grave because the shovels would be difficult to sanitize.
"It is hard to be in this mourning status, with all our rich traditions, built-in and ready to go but instead of following them, posting them on Facebook instead," Yitzchak's son Shaiel wrote during the seven-day shiva period, which is ordinarily a time when people come to comfort the mourners in person.
"It would never have been easy to bury our father," Shaiel said. "But this kind of funeral, though, was really, really hard. No hugging. No touching. So few people."
But it is still unsettling, especially because Ramadan – a time of communal prayer, fasting and break-fasts, will begin in late April.
"It's very heavy for me. As someone who is used to praying in a mosque every day I feel something is missing. But Allah asks us to protect ourselves and not to put ourselves or others in danger. That takes priority," Zahalka said.
https://religionnews.com/2020/03/26/holy-land-coronavirus-shut-down-israel-pa-close-churches-mosques-synagogues/
------
Pakistani clerics quarrel as Egypt's Al-Azhar University announces major fatwa
Murtaza Ali Shah
Mar 26 2020
At the request of President Arif Alvi, the Grand Imam Sheikh of Egypt's Al Azhar University issued a Fatwa permitting the suspension of Friday prayers to control the spread of the deadly coronavirus.
Saudi Arabia, Iran, United Arab Emirates, Kuwait, Palestine, Turkey, Syria and various other Muslim majority countries have suspended collective prayers but the Ulema of Pakistan have been unable to unite in fighting this virus and are continuing collective prayers despite efforts by the government to stop them.
Earlier, the spread of coronavirus in Palestine was linked to the religious gathering in Raiwind, which is one of the largest ones in the world. Pakistan was named a "super-spreader" by international media outlets in the Muslim world after failing to take necessary precautions in controlling the spread in its mosques.
Despite the Fatwa by Al Azhar university — which is considered as the Islamic world's most prestigious one — Pakistani clerics continue offering collective prayers, ignoring the severe health risks they pose.
Mufti Taqi Usmani who is one of the most revered religious clerics of Pakistan announced on Wednesday that congregational prayers would continue with the exception of people older than 50, young kids and those that showed symptoms of the deadly coronavirus.
Mufti Tariq Masood, another prominent religious cleric opposed Usmani's view and supported the government in advising a ban on congregational prayers. In an emotional message released on social media, Masood said: "We still don't understand the intensity of this virus. You can pray at home during this time and ask Allah for forgiveness and health."
A few days earlier, Allama Zameer Akhtar Naqvi claimed to possess the antidote for coronavirus. This claim was highly criticised by Pakistanis who believed that this claim showed how non-serious Pakistani clerics were in dealing with this global health crisis.
While scientists and pharmaceutical companies are working to develop a vaccine that could cure the virus, experts believe that such a vaccine could take anywhere between 12-18 months before it reaches the average consumer.
The Chairman of the Senate Committee on Science and Technology, Senator Sajjad Mir also commented on the Pakistani clerics' position on dealing with the virus. He said, "Please do not introduce a narrow-minded interpretation of our religion. Use common sense when interpreting religious texts".
Various members of the civil society and the government are collectively trying to convince the Ulema of Pakistan to unanimously agree on temporarily halting congregational prayers but as of the filing of this report, no consensus has been reached.
https://www.geo.tv/latest/279347-pakistani-clerics-quarrel-as-egypts-al-azhar-university-announces-major-fatwa
-----
Malaysia detects five generations of Covid-19 cases linked to mosque cluster
4 HOURS AGO
PETALING JAYA (THE STAR/ASIA NEWS NETWORK) - Malaysia's Health Ministry has detected five generations of positive Covid-19 cases that were linked to the tabligh gathering in the Seri Petaling Mosque last month.
Health director-general Datuk Seri Dr Noor Hisham Abdullah said that from the tabligh cluster, 711 cases had infected their families.
"If we look at the tabligh cluster, there are 711 index cases and these index cases spread to their families, which are the first generation.
"Their family members infect their neighbours, and these neighbours infect their friends. We have seen five generations of infections. Every person who infect another individual... there are five generations," he said during a press conference on the Covid-19 situation on Thursday (March 26).
The tabligh cluster makes up 55 per cent of all the Covid-19 cases in the country, or 1,117 of 2,031 cases so far.
The tabligh gathering from Feb 27 to March 3 this year saw about 16,000 attendees, with 1,500 of them being foreigners from 25 different countries.
"We have to determine how we are going to identify the close contacts of the tabligh attendees. The first is their family members and the second is maybe their friends. This investigation is complicated and will take time," said Dr Hisham.
He said that 13,762 tabligh attendees were screened with 9,327 samples taken to be tested.
https://www.straitstimes.com/asia/se-asia/malaysia-detects-five-generations-of-covid-19-cases-linked-to-mosque-cluster
-----
Abu Khalid al-Hindi carried out the attack on Sikh temple in Kabul: ISIS-K
27 Mar 2020
The offshoot of the Islamic State terror group, ISIS Khurasan, claimed that the attack on Sikh temple in Kabul was carried out by Abu Khalild al-Hindi.
The Amaq News Agency, affiliated with the terror group released the photo of the suicide bomber who stormed the Sikh temple in Kabul city on Wednesday.
The Ministry of Interior confirmed that the attack on Sikh temple in Kabul city left at least 25 people dead and 8 others wounded.
A suicide attack, claimed by ISIS Khurasan, killed at least 19 people including many members of the Sikh community in Jalalabad city of Nangarhar in mid-2018.
The attack also killed also killed Awtar Singh Khalsa, the only Sikh candidate who had planned to contest the parliamentary elections.
https://www.khaama.com/abu-khalid-al-hindi-carried-out-the-attack-on-sikh-temple-in-kabul-isis-k-04568/
-----
Organization of Islamic Cooperation calls to coordinate in fight against virus
March 27, 2020
JEDDAH: The Organization of Islamic Cooperation (OIC) called on the governments of member states, research institutions and Muslim scholars to coordinate in the effort to find a vaccine for the coronavirus disease (COVID-19).
The secretary-general of the OIC, Dr. Yousef Al-Othaimeen, said that the Muslim world should not stand idle while other countries around the world seek to find a treatment for this global crisis.
He stressed his full confidence in the innovation, production capacities and human cadres of the Islamic world.
Al-Othaimeen also expressed the OIC's full support to slow the spread of COVID-19.
https://www.arabnews.com/node/1648096/saudi-arabia
------
Coronavirus: Christians, Muslims, Fulani, Igbo must unite against this common enemy – Islamic group
March 27, 2020
By Seun Opejob
The Muslim Rights Concern, MURIC, on Friday, urged Nigerians to come together because Coronavirus is a common enemy.
MURIC said Nigerians irrespective of their faith, religious background and ethnicity should use this period of Coronavirus pandemic to build new bridges and ensure unity.
The Islamic rights group made the call in a statement in a statement signed and sent to DAILY POST by its Director, Professor Ishaq Akintola.
According to MURIC: "The latest toll from CoronaVirus, also known as Covid-19, is alarming. As at today, Friday 27th March, 2020, this dreaded virus has taken the lives of 24,071 people around the world. According to Worldometer, there are also 531,799 confirmed cases of infections. With the number of deaths now at 1,000, the United States now leads in the area of fatality.
"Nigerians should not lose sight of the hidden message in this global tragedy. The most important message is that despite belonging to different faiths, races, colour, etc, the whole of mankind is woven together in fate. We should therefore seek to sink our differences. We should put all human heads under the same thinking cap and eliminate stigma, racism and all forms of discrimination. Our watchword should be humanity first.
"Nigerians should not allow this opportunity to slip by without taking a giant leap across the yawning abyss. Nigerians are too divided over primordial, infinitesimal and inconsequential things. It is either over creed, ethnicity or politics. Yet there are still divisions within every issue at stake.
"Although Muslims and Christians tear at each other's throats in this country, Muslims still have differences within Islamdom and ditto for Christians. Again, while the Igbo rave at Hausa-Fulani, both groups still nurse deep-seated intra-ethnic grievances. The Egba/Ijebu and Modakeke/Ife rivalry is well known among the Yoruba. Inter-party bitterness in Nigeria may be condemnable but the intra-party intolerance is most despicable.
"Yet right now a common enemy in the name of Corona Virus is on the prowl. America's nuclear bomb and the North Atlantic Treaty Organisation (NATO) are useless against it. No alliance is being contemplated by the West to fight the common foe. This makes a mockery of man's inhumanity to man. We marshalled the most dangerous weapons against fellow homo sapiens but failed to prepare to defend humanity against coronavirus."
MURIC also charged leaders of different religions and ethnic groups in Nigeria to "create new bridges at this particular period."
"Let us make new compromises towards resolving seeming intractable problems. Let us be persuaded by the phenomenon of Covid-19 which knows no colour, no race, no political party or ethnicity. It does not discriminate between a Muslim, a Christian or the adherents of any other religion. This is the time for all of us to sink our differences. What matters is our dear country, Nigeria. What matters is humanity," MURIC added.
https://dailypost.ng/2020/03/27/coronavirus-christians-muslims-fulani-igbo-must-unite-against-this-common-enemy-islamic-group/
------
Norway-based fundamentalist preacher Mullah Krekar extradited to Italy
27.03.2020
Mullah Krekar had previously made death threats against now-Prime Minister Erna Solberg and has been classified as a "threat to national security", earning him a place in the UN list of terrorists.
After a long legal battle, Islamist cleric and convicted terrorist Mullah Krekar has been extradited to Italy, where he was sentenced last year to 12 years in prison for having planned terror attacks.
"Krekar is no longer in Norway," Justice Minister Monica Mæland proclaimed to national broadcaster NRK, adding that Krekar had been "delivered to Italy".
Mæland explained that the extradition, initially cleared by Norway's Supreme Court, was recently green-lit by King Harald V after years of legal proceedings.
Krekar, an Islamist cleric whose real name is Najmuddin Faraj Ahmad, was declared a threat to national security in Norway more than 15 years ago, not least after uttering death threats to now-Prime Minister Erna Solberg, both in the early 2000s and three years prior to her becoming prime minister. The threat made against Solberg in 2010 was answered with demands that the cleric be jailed or deported, and many were outraged when he was allowed to stay in Norway.
Mullah Krekar first arrived in Norway as a refugee nearly 30 years ago and later brought his family as well. He breached the terms of his asylum by travelling back to Northern Iraq and leading a guerrilla group listed as a terrorist organisation by the US.
In April 2006, a Pakistani-Norwegian businessman offered Krekar 500,000 kroner to leave Norway, calling him a "pest for all Muslims in Norway". Krekar rejected the offer.
The Islamic cleric has been in and out of court and prison for years, as Norwegian authorities maintained that Krekar has encouraged terrorist acts and regularly threatened other Norwegian residents and citizens. Krekar denied making threats, claiming instead that he simply expressed his interpretations of Islamic law.
While the authorities of Iraqi Kurdistan have repeatedly asked for Mullah Krekar to be extradited from Norway, Oslo has rejected this push, as it failed to obtain assurance that he wouldn't be executed upon arrival.
In celebration of having Krekar finally deported, Progress Party politicians Sylvi Listhaug and Jøran Kallmyr organised another kind of party in parliament, complete with a cake. It was decorated with a Norwegian and an Italian flag and included an ironic parting message for their old foe: "Good luck, Krekar!"
https://sputniknews.com/europe/202003271078723939-cake-celebration-as-norway-finally-extradites-dangerous-islamist-extremist--photo/
-----
Christian Religious Body Suspends Prayers And Assemblies In Churches In View Of Lockdown
New Age Islam News Bureau
In view of the lockdown following Covid-19 epidemic, the Christian religious body of Kolkata has issued advisory to the churches in the country to suspend all religious congregations in churches and offer prayers at home.
The Roman Catholic Archdiocese of Kolkata, Mr Thomas D'Souza has advised all the churches under its order to avoid public gathering during religious services till the Covid-19 triggered lockdown is lifted.
In a circular issued recently, the Archbishop asked priests of 65 churches in the country to put on hold religious services like Friday prayers in the run up to the Easter, the public celebration of the Holy Mass or Way of the Cross or Adoration of the Black Sacrament in the parish churches to avoid large gathering. Last Friday, Roman Catholic Christians, estimated to be 2lakh in Kolkata, prayed within the confines of their homes.
-----
Mideast
US only humiliating, blackmailing Saudi Arabia, UAE: Ansarullah leader
26 March 2020
The leader of Yemen's Houthi Ansarullah movement has warned Saudi Arabia and the United Arab Emirates against continuation of their military aggression against Yemen, saying the United States is simply blackmailing and humiliating the Riyadh and Abu Dhabi regimes to pursue its own agenda.
"The general evaluation and studies confirm that economic losses inflicted on the Saudi regime have been huge and its ambitions have not been realized. The Saudi and UAE economies are suffering from economic crises, and continue to decline," Abdul-Malik al-Houthi said in a televised speech broadcast live from the capital Sana'a on Thursday afternoon, which marked the anniversary of Saudi aggression against its southern neighbor.
The Ansarullah chief noted that Saudi Arabia and the UAE have unfortunately presented an image of themselves, which is much worse than the Israeli regime.
Ansarullah says any political solution to the Yemen conflict should begin with an end to the US-sponsored Saudi war and the blockade on the country.
"[The United States of] America and Israel want Saudi Arabia and the UAE to be depicted as brutal to replace Israel. There is no point in continuing this aggression after all these failures and losses," Houthi pointed out.
The Ansarullah leader went on to say that the Saudi-led coalition aims to occupy the entire Yemen, and wrest full control over the nation.
He then called on people from all strata of the Yemeni society to stand against the Saudi-led aggression, emphasizing, "Yemeni people will never surrender to aggression forces."
Houthi highlighted that enemies have been stunned by the resistance and capabilities of the Yemenis in the face of the ongoing Saudi-led war, stating that the foes have desperately sought to sow the seeds of discord and division among Yemeni people but all to no avail.
"Yemeni people have thwarted enemy plots as they put their trust in God. Their unity and steadfastness is a divine gift," the Ansarullah chief underscored.
Elsewhere in his remarks, Houthi said that enemies sought the economic collapse of Yemen as part of their all-out aggression against the impoverished Arab country, but they faced the nation's resistance.
"Yemeni people have helped the axis of resistance greatly over the past five years. The Yemeni nation has made great sacrifices to support forces in battles against aggressors," he pointed out.
Human Rights Watch says Saudi forces and their allies have commited serious abuses against Yemeni civilians since June last year in al-Mahrah.
Houthi said Yemeni armed forces have developed great capabilities and managed to manufacture various weapons and military hardware over the past five years, stressing that all such achievements have been made irrespective of ongoing sea, land and air blockade on Yemen.
"The Yemeni military has successfully launched full-scale operations against enemies. Yemeni missile units have created a deterrent force for the country as well," the Ansarullah leader said.
Saudi Arabia and a number of its regional allies launched a devastating campaign against Yemen in March 2015, with the goal of bringing former president Abd Rabbuh Mansur Hadi and crushing the Ansarullah movement.
The US-based Armed Conflict Location and Event Data Project (ACLED), a nonprofit conflict-research organization, estimates that the war has claimed more than 100,000 lives over the past nearly five years.
Saudi Arabia and the United Arab Emirates have purchased billions of dollars' worth of weapons from the United States, France and the United Kingdom in the war on Yemen.
The UN says over 24 million Yemenis are in dire need of humanitarian aid, including 10 million suffering from extreme levels of hunger.
https://www.presstv.com/Detail/2020/03/26/621664/US-only-humiliating,-blackmailing-Saudi-Arabia,-UAE:-Houthi
------
IMF Should Reject Islamic Republic's Loan Request
March 26, 2020
The Islamic Republic of Iran has requested a $5 billion loan from the International Monetary Fund (IMF) as Tehran confronts a perfect economic storm combining President Donald Trump's maximum pressure campaign, an unexpected plunge in oil prices, and the COVID-19 pandemic. Were the IMF to approve this loan, the nature and structure of the Islamic Republic would likely result in the misuse of these funds in manner that benefits the regime but not the people.
The Islamic Republic runs a corrupt economy where freedom is scarce, accountability nonexistent, and transparency rare. Transparency International's corruption index ranks Iran 146th among 180 countries. The Central Bank of Iran – designated by the United States for its direct financing of terrorism – lacks the independence of a normal central bank and engages in a range of money laundering activities. The country's banking system is an inefficient structure where politically connected figures embezzle billions of dollars from ordinary depositors. Firms controlled by the military or by the supreme leader, Ali Khamenei, dominate the economy.
The Islamic Republic's rampant corruption and money laundering practices are rooted in a financial structure that runs contrary to IMF rules by operating multiple currency exchange rates. While the IMF allows its members to operate multiple rates temporarily, Tehran relies on its multiple rates as a means of distributing political spoils, by granting regime loyalists access to hard currency on favorable terms.
In addition to these structural issues, Iran diverts its revenues to fund terrorism, missiles, and illicit nuclear capabilities. In response, the Trump administration imposed "maximum pressure" sanctions, vowing to add additional pressure until the regime halts its sponsorship of terrorism, removes its forces from the Middle East, dismantles its nuclear and missile programs, and releases all U.S. hostages. The IMF would be right to worry that its loan may never be repaid and – worse – that Tehran will use it to subsidize malign activities.
The influence of the Islamic Revolutionary Guard Corps (IRGC), a U.S.-designated foreign terrorist organization whose leaders and affiliates are subject to UN sanctions, also seriously compromises the integrity of the Iranian financial system. The IRGC controls roughly 25 to 30 percent of the Iranian economy, while Khamenei sits on a $200 billion empire, which also operates above the law. Businesses owned and controlled by the IRGC or supreme leader account for 20 to 25 percent of the value of all firms listed on the Tehran Stock Exchange. The U.S. Treasury Department's Financial Crimes Enforcement Network has found Iran's entire financial system, including its central bank, to be a jurisdiction of primary money laundering concern.
For the IMF to have confidence in Iran's ability to repay a loan – or even use such funds in a responsible manner – the Islamic Republic would have to halt all sponsorship of terrorism; stop investment in its illicit missile and nuclear programs; disentangle the supreme leader, clerics, and IRGC from the economy; and comply with all the requirements and recommendations of the Financial Action Task Force (FATF), which just last month ordered the global banking community to defend itself against Iranian money laundering practices.
The World Health Organization and various countries and non-governmental organizations are taking proactive steps to deliver medical supplies and technical assistance to help the Iranian people combat COVID-19. America would be doing the same, but Tehran has rejected multiple offers of assistance, while the supreme leader promotes baseless conspiracy theories accusing the United States of inventing the coronavirus. While transfers of goods and supplies directly to the Iranian people serve a crucial need, cash payments, loans, and other lines of credit to the Islamic Republic of Iran pose grave threats to international security and do not help ordinary Iranians. Without wholesale behavioral changes by Iran's government and structural changes to its economy, the United States and other IMF shareholders should reject Iran's request for any IMF loan.
https://www.fdd.org/analysis/2020/03/26/imf-should-reject-islamic-republics-loan-request/
-----
Palestine demands medical supplies to fight novel coronavirus
27 March 2020
A top Palestinian official says the Palestinian Authority has submitted a request to several countries for medical supplies, including diagnostic test kits, as it is struggling to cope with the rising cases of COVID-19 with its limited resources and weak healthcare system.
"There is a serious shortage of medical supplies, including test kits and sets, to combat the virus in Palestinian territories," Hussein al-Sheikh, head of the General Authority of Civil Affairs of the Palestinian Authority, said in a brief press statement on Thursday.
Moreover, Palestinian Foreign Minister Riyad al-Maliki has reached out to his counterparts in a number of regional countries to garner financial and moral support for Palestine's efforts to contain the spread of the new coronavirus.
The Palestinian Ministry of Foreign Affairs and Expatriates announced in a statement that the 65-year-old diplomat held telephone conversations with Saudi and Kuwaiti foreign ministers Faisal bin Farhan Al Saud and Ahmad Nasser al-Mohammad Al Sabah as well as the Secretary-General of the Organization of Islamic Cooperation (OIC) Yousef al-Othaimeen over the issue.
The Palestinian government issued an order confining Palestinians in the Israeli-occupied West Bank to their homes for two weeks as a precaution against the spread of coronavirus.
Separately, Secretary-General of the Palestine Liberation Organization (PLO) Saeb Erekat said that while Palestine is battling coronavirus with very limited resources, Israeli authorities continue to raze Palestinian houses in the occupied West Bank.
"As Palestine is battling coronavirus with very scarce resources, Israeli occupation forces entered Ein ad-Duyuk at-Tahta village in Ariha (Jericho) governorate today, and demolished three homes. Is this what some refer as 'cooperation' to fight the virus? It is rather another Israeli crime against peace," Erekat said in a statement issued on Thursday.
The first two cases of coronavirus infection have been confirmed in the densely-populated Gaza Strip, which is under the Israeli siege.
"Dozens of Palestinian workers are also dumped at checkpoints (across the West Bank) in a show of the immoral corruption of the Occupation. Complete halt to the Israeli occupation is a basic requirement for a just and lasting peace," the statement pointed out.
Ibrahim Melhem, the spokesman for the Palestinian Authority, told a news briefing in the central West Bank city of Ramallah on Thursday that 15 new COVID-19 cases were recorded in Palestinian territories, raising the total number to 86.
Israel has given its spy agency Shin Bet the green light to use "counter-terrorism" operations against those infected with a new coronavirus, treating the pandemic as a security menace.
The senior Palestinian official said the 15 new cases were from the village of Beddo, which lies northwest of Jerusalem al-Quds.
They were infected "after interacting with the Palestinian woman who was declared dead (from coronavirus) on Wednesday," said Melhem, adding more precautionary measures will be taken in the village.
https://www.presstv.com/Detail/2020/03/26/621692/Palestine-demands-medical-supplies-to--fight-novel-coronavirus
------
Turkey, allied militants using water as weapon against civilians in Syria's Hasakah: Foreign Ministry
26 March 2020
The Syrian Ministry of Foreign Affairs and Expatriates has strongly condemned Turkey and its allied Takfiri militants for cutting off water supply to local residents in the country's northeastern city of Hasakah and surrounding residential neighborhoods over the past two days.
"Turkish occupation forces and affiliated terrorists cut off drinking water from Allouk water station and feeding wells deliberately and systematically, depriving more than 600,000 Syrian citizens, mostly women and children, from drinking water," the ministry said in identical letters sent to United Nations Secretary-General António Guterres and the rotating President of the UN Security Council Zhang Jun on Thursday.
The Syrian ministry noted that Turkish military forces shelled the water station during their cross-border military operation last October, putting it out of service.
Syrian officials, accordingly, presented a briefing to the UN Security Council on February 27, informing the international body of a water outage in Hasakah.
"But unfortunately the Security Council, its General Secretariat or relevant international organizations failed to condemn the Turkish forces' bombing of such a critical civilian facility and their use of water as a weapon against civilians," the letters pointed out.
The Syrian Foreign Ministry finally called on the Security Council to condemn the crimes being perpetrated by Turkish soldiers, and obligate Ankara to stop its violation of the international law and humanitarian principles, besides its support for terrorist groups wreaking havoc inside Syria.
Syria urges the US, the EU, and some Arab states to lift their sanctions against the Arab country amid the outbreak of COVID-19 in the region.
Director General of Hasakah Water Company, Mahmoud al-Ukla, told Syria's official news agency SANA in a statement on Wednesday that company's workers had resumed the operation of Allouk water station after Turkish troops and their militant proxies had cut water supply to the city and its countryside earlier in the day.
Drinking water starts to be pumped from Alouk station to Hasaka after mercenaries of Turkish occupation forces cut off water for three dayshttps://www.sana.sy/en/?p=188832
Hasaka, SANA- Hasaka Water Department on Wednesday started to pump the water from Alouk water station to the gathering tanks, then to be pumped to the residential neighborhoods in the city of Hasaka...
Allouk water station is located near the border town of Ra's al-Ayn, which Turkish troops and their allied militants seized in October 2019 during the so-called Peace Spring Operation.
On Monday, a United Nations official said interruption to the key water station in Syria's northeast puts thousands of lives at risk as efforts ramp up to prevent the outbreak of the novel coronavirus there.
UNICEF Representative in Syria Fran Equiza said the interruption "during the current efforts to curb the spread of the coronavirus disease puts children and families at unacceptable risk."
He underlined that the station is the main source of water for around 460,000 people in Hasakah city, the town of Tal Tamer as well as al-Hol and Areesha camps.
The Syrian government has applied a series of measures, as cases of COVID-19 infection have been found in the war-ravaged Arab country.
The measures include suspending schools, universities, as well as some ministries and closing marketplaces and restaurants.
https://www.presstv.com/Detail/2020/03/26/621685/Turkey,-allied-militants-using-water-as-weapon-against-civilians-in-Syria%E2%80%99s-Hasakah:-Foreign-Ministry
------
Pakistan
Pray at home: Ulema advise Muslims: Governor Sarwar warns of stern action if people flout lockdown
March 27, 2020
LAHORE: Twenty supreme Ulema of all schools of thought, including Pakistan Ulema Council (PUC) Chairman Maulana Tahir Ashrafi, called on Punjab Governor Ch Sarwar and later in a joint communiqué, they all advised people to stay home and offer prayers regularly at homes.
They also paid tribute to medical experts, doctors and paramedical staff on waging an effective war against coronavirus. The governor said if people do not take government's appeal for staying home seriously then a stern action would not be hesitated as we have to save them from corona at every cost. The opposition should not play politics because this is the time to save Pakistan from Italy like situation and all have to get united, he said.
Those met with Punjab governor included Pakistan Ulema Council Chairman Maulana Tahir Ashrafi, Markazi Jamiat Ahl-e-Hadith chief Senator Prof. Sajid, Jamia Asharfia Chief Maulana Fazal Rahim, Jamia Naeemia Chief Dr Raghib Hussain Naeemi, Badshahi Mosque's Khateeb Maulana Abdul Khabeer Azad, Maulana Ghulam Muhammad Sialvi, Maulana Abdul Mulk, Pir Sahibzada Raza Muhammad, Dr Mumtaz-ul-Hassan Bharvi, Maulana Muhammad Amir, Mufti Ashiq Hussain, Sahibzada Abdul Mustafa, Allama Niaz Hussain Naqvi, Pir Nazim Hussain Shah, Maulana Afzal Hussain Haideri, Maulana Sahibzada Fazal Rahim, Dr Tahir Raza Bokhari, DG Auqaf and others. Provincial Minister for Religious Affairs Pir Syed Saeed-ul-Hassan Shah was also present on this occasion.
The situation created in the wake of impending coronavirus threat; the government's measures and public advisories and other matters were discussed in the meeting. In the joint communiqué issued after the meeting, the governor said that all segments of society including Ulema are getting united and In Sha Allah, together we all will save 220 million Pakistanis from corona pandemic. However, it is necessary for people to stay home and do not come out, because when they come out of their houses then it will be difficult for them to prevent themselves from corona.
"We are appealing the people time and again to stay home and if they do not adhere to government advisory, the government will not have any other option but to take stringent action. We have to save the people from corona, come what may and ensure all necessary steps in this regard. We are thankful to Ulema for standing by the government in fighting out dreadful virus."
In the joint communiqué, the Ulema assured that they would fully cooperate with the government in implementing its advisories regarding safety from corona and In Sha Allah, together we all will defeat coronavirus. All the Ulema advised the general public to adopt preventive measures by staying home and performing prayers regularly at their homes, besides following the advisories/guidelines given by the government. The entire nation salutes doctors, paramedical staff and all those fighting on frontline against corona pandemic.
https://www.thenews.com.pk/print/635154-pray-at-home-ulema-advise-muslims-governor-sarwar-warns-of-stern-action-if-people-flout-lockdown
------
Sindh, Balochistan, Punjab restrict congregational prayers in mosques
Friday Mar 27 2020
KARACHI: Congregational prayers throughout Pakistan have been limited to a few people only as the federal and provincial governments ramp up efforts to enforce social distancing amid the spread of the novel coronavirus that has left eight dead and more than 1,200 infected.
On Friday morning, the Punjab government followed the Sindh and Balochistan governments in issuing an advisory notifying mosques that prayers were to be limited to three to five people only, including the mosque administration. The order also applied to Friday prayers.
"People should pray at home to avoid catching the epidemic. The Punjab government took the decision in light of the recommendations of the medical experts in this regard," the advisory issued by the provincial government proclaimed.
President Arif Alvi on Friday said that he would be praying the Zuhr prayer at home instead of going to a mosque for the Friday congregational prayer following religious traditions with regards to sickness.
"Like on the previous Jumu'ah I will pray Zohar at home. I follow a very considerate Prophet (PBUH) who allowed people to pray in their homes to avoid rain or cold weather or even to avoid a sickness," he said.
Like on the previous Jumu'ah I will pray Zohar at home. I follow a very considerate Prophet ﷺ who allowed people to pray in their homes to avoid rain or cold weather or even to avoid a sickness. My prayer is that 'May Allah forgive us and help us overcome this Corona pandemic'.
Deputy Commissioner Islamabad Muhammad Hamza Shafqaat on Friday advised people in the federal capital to pray at home in order to contain the spread of the coronavirus.
"I request all those in Islamabad to pray at home. Mosques are requested to limit prayers to their staff only," he said on Twitter.
Hours after Sindh government's announcement to restrict congregational prayers, Balochistan also decided to limit the number of people at mosques for prayers.
A notification issued by the home and tribal affairs department on Friday said the government had limited Friday prayers across the province at mosques with immediate effect.
Mosques will remain open but only five people can perform prayers, including the prayer leader and four others, the notification read.
The Sindh government had on Thursday limited congregational prayers in mosques to five people, across the province from March 27, 2020 till April 5, 2020. The announcement was made by Sindh information minister Syed Nasir Hussain Shah. "Only three to five persons will be allowed to offer prayers in mosques," he said.
He said that the provincial government had decided to impose a ban on congregational prayers after consulting ulemas belonging to every Islamic school of thought. "The decision was taken after consulting doctors and ulemas," confirmed chief minister Sindh's advisor Murtaza Wahab.
He said that mosques will remain open across the province and only five people, including the staff of the mosque, will be able to pray together. Three to five persons will be able to offer Friday prayers in congregation inside the mosque, he added.
The decisions came a few hours after federal minister for religious affairs Dr Noor-ul-Haq Qadri announced that the government had decided to 'restrain' congregational prayers in mosques across the country.
"It has been decided with consensus that Friday prayers will be restrained," said Federal Minister for Religious Affairs Dr Noor-ul-Haq Qadri during a news conference on Thursday. "Only mosques' administration staff and a limited number of worshippers will be allowed to pray inside mosques," he added.
He clarified that mosques will not be closed but prayers and zikr will continue inside them. Dr Qadri said that the decision had been taken in consultation with ulema belonging to various schools of thought.
"Ulema have been told to tell people to pray inside their homes," he said. "It is not only the job of the government to control coronavirus but also of the people." The minister said that various programmes, classes and examinations across various madressahs in Pakistan had been postponed in light of the outbreak.
https://www.geo.tv/latest/279437-sindh-balochsitan-punjab-restrict-congregational-prayers-to-three-to-five-people
-----
Southeast Asia
Safety above all: Tanah Abang market closes for 10 days, faces Ramadan losses amid COVID-19
March 27, 2020
The usually packed Tanah Abang Market in Central Jakarta is closing its door for 10 days from Friday through April 5 in a move that is likely to hit traders, but has been deemed necessary to curb the further spread of the COVID-19 outbreak in the Indonesian capital.
City-owned market operator PD Pasar Jaya has already closed nearly all blocks in Southeast Asia's largest textile market, namely Block A, Block B and Block F. Block G remains open, but its operation is restricted to grocery vendors, said Pasar Jaya president director Arief Nasrudin.
"We are temporarily halting all trading activities as part of the measures to prevent the spread of COVID-19," Arief said in a statement on Thursday, adding that the market operator had informed all traders about the closure policy prior to implementation.
The famous textile market is home around 10,000 tenants that generate daily sales transactions of up to Rp 100 billion (US$ 6.20 million). It is located in the strategic and busy Tanah Abang area, where the streets are also filled with traders and vendors.
The market typically sees its busiest time of year ahead of Ramadan, the holy Islamic fasting month that starts next month, when people from across the archipelago come to the market to purchase goods in bulk for reselling in their place of origin.
Tanah Abang is the first city-owned market to close amid the COVID-19 outbreak in the capital city. The last time it closed was in May 2019 during the post-election riots in Jakarta, which forced traders to close their doors temporarily for their own safety.
The Jakarta administration has not imposed a policy that requires all traditional markets in the city to suspend operations.
The administration issued a circular last week that imposed a temporary closure on several entertainment venues and a temporary closure for all offices – or work from home (WFH) – to contain the spread of the highly contagious respiratory illness.
Jakarta, dubbed the epicenter of the national outbreak, on Thursday reported 32 new cases, bringing the cumulative tally to 495 confirmed cases including 48 deaths and 29 recovered cases.
With people practicing physical distancing by staying at home, Tanah Abang traders have seen "a significant decline in their revenues", said the head of the Indonesian Market Traders Association, Abdullah Mansuri.
"There are no customers and no people are coming, so we agreed to the plan to close until April 5," Mansuri told The Jakarta Post by phone on Thursday. "We will see how it turns out later."
The outbreak was expected to affect the market's textile traders, as the public health emergency could prevent them from selling during Ramadan, which Mansuri said was "the yearly [sales] opportunity".
"[The seasonal period] involves many stakeholders, such as laborers, angkot [public minivans], neighborhood residents and nearby food sellers," he said, adding that total sales during the Islamic fasting month was projected to reach above Rp 5 trillion.
As a preventive measure for traders and customers that could be carrying the virus, Pasar Jaya has equipped its markets with thermal scanners and hand sanitizers for both visitors and vendors. The company also regularly disinfects its facilities, offices and musholla (prayer rooms).
Researcher Enny Sri Hartati of the Institute for Development of Economics and Finance's (Indef), who spoke to the Post by phone on Thursday, said that the market operator should close all other markets it managed to prevent the further spread of the virus that causes COVID-19.
As many traders and informal workers depended on daily incomes to make ends meet, the central government should provide a 14-day social insurance scheme to support them while they could not earn an income, she added.
The government could start by helping the most vulnerable, namely those who were recipients of social assistance programs, like the Jakarta Smart Card education program for the urban poor, said Enny.
https://www.thejakartapost.com/news/2020/03/27/safety-above-all-tanah-abang-market-closes-for-10-days-faces-ramadan-losses-amid-covid-19.html
-----
Islamic banks to face slower financing growth
March 27, 2020
KUALA LUMPUR ISLAMIC banks in the country could experience slower financing growth amid lower growth of the economy due to Covid-19 and lower oil prices. The Association of Islamic Banking and Financial Institutions Malaysia (AIBIM) president Datuk Adissadikin Ali said the outlook does not look good as businesses are not performing or even downsizing, so there will be no new job creation and increment will be freeze or employees might have to receive pay cuts. He said in the worst-case situation, it will lead to unpaid leave or layoffs which might contribute to difficulty for people to serve financial obligations or take out new loans. Adissadikin said banks have announced relief measures which should alleviate some pressure on the near-term asset quality and profitability. "While Islamic banks have provided adequate loss-absorption buffers and have stable credit profiles to withstand the current economic challenges, the current situation may have a direct impact to the Islamic banks' asset quality should it prolong. "Covid-19 outbreak will not just affect the Islamic finance industry, but Malaysia as a whole. The overall impact of the virus on the economy will depend on the duration and spread of the outbreak, as well as policy responses," he told The Malaysian Reserve.
https://pakobserver.net/islamic-banks-to-face-slower-financing-growth/?utm_source=rss&utm_medium=rss&utm_campaign=islamic-banks-to-face-slower-financing-growth
-----
G20 Agrees to Expedite PPE Shipment to Covid-19-affected Nations
27 March 2020
TEMPO.CO, Jakarta - Minister of Finance Sri Mulyani said that G20 members have agreed to accelerate and increase the supply of personal protective equipment or PPE as well as other medical devices to countries affected by Covid-19. Sri said the pandemic has rendered many countries short of PPE for medical workers, as well as ventilators, medical test kits, and hand sanitizers.
"The IMF and the World Bank seek support so that companies that are able to procure it will be prioritized, so that the supply of medical devices throughout the world can be increased. Indonesia has the capacity to supply, including hand sanitizers, and others," Sri Mulyani said at a press conference at Bogor Palace on Thursday night, March 26.
In addition, Sri said, G20 members reached an agreement to learn between nations on what has been done in the fight against Covid-19.
The virtual meeting resulted in G20 country leaders' agreement to focus on saving human lives, as the coronavirus outbreak is not just a health problem but a human tragedy.
"Right now, this is about how the entire world is trying to reduce the risk of spreading. It will have consequences on many things," she said.
Previously, President Joko Widodo or Jokowi invited leaders of the G20 nations to band together and win two "wars"; the first is against the coronavirus, and the second against the weakening of the world economy. According to Jokowi, the G20 must become a driver in global solidarity to face and deal with Covid-19, and prevent the pandemic from disrupting partnerships that have been built for years.
https://en.tempo.co/read/1324587/g20-agrees-to-expedite-ppe-shipment-to-covid-19-affected-nations
-----
South Asia
Afghan cabinet approves plan to impose curfew in Kabul city
27 Mar 2020
According to a statement released by the Provincial Government in Nangarhar, Hazrat Bilal, a resident of Jalalabad city, was tested positive for coronavirus on Thursday night.
The statement further added that Bilal returned to Jalalabad city from Saudi Arabia 18 days ago and was tested for the disease three days earlier.
https://www.khaama.com/afghan-cabinet-approves-plan-to-impose-curfew-in-kabul-city-04572/
----
Afghan national tested positive for coronavirus after returning from Saudi Arabia
27 Mar 2020
An Afghan national was tested positive for the novel coronavirus (COVID-19) after returning home from the Saudi Arabia.
The Provincial Government in Nangarhar in a statement said Hazrat Bilal, a resident of Jalalabad city, was tested positive for coronavirus on Thursday night.
The statement further added that Bilal returned to Jalalabad city from Saudi Arabia 18 days ago and was tested for the disease three days earlier.
Bilal is currently being treated in one of the hospitals run by Nangarhar Provincial Public Health Directorate, the statement said, adding that Bilal's family members have been quarantined and are in self-isolation for a period of 14 days.
https://www.khaama.com/afghan-national-tested-positive-for-coronavirus-after-returning-from-saudi-arabia-04571/
-----
Afghan forces thwart deadly car bomb attack in Paktia province
27 Mar 2020
The Afghan forces thwarted a plot to detonate a car bomb in South-eastern Paktia province, the Afghan military said.
The 203rd Thunder Corps in a statement said the Afghan National Defense and Security Forces identified and destroyed a vehicle packed with explosives in Sayed Karam district.
The statement further added that the enemies were looking to detonate the car bomb in an unknown location, as part of their plan to shed the blood of innocent civilians.
This comes as the militants attacked a Sikh temple in Kabul city early on Wednesday, killing at least 25 people and wounding 8 others.
https://www.khaama.com/afghan-forces-thwart-deadly-car-bomb-attack-in-paktia-province-04570/
-----
Arab world
Coronavirus hits Gulf banks' dealmaking ahead of Ramadan lull
March 27, 2020
DOHA Gulf banks are losing out on a critical quarter for earnings with the coronavirus outbreak, as deals and lending activity come to a near standstill ahead of a lull that starts with the fasting month of Ramadan in April and extends into summer. Several deals – such as the initial public offering (IPO) of Saudi Arabia's Amlak International for Real Estate Finance and a sukuk, or Islamic bond, issuance by Dubai Islamic Bank- have been called off, sources close to the deals told Reuters. Amlak and DIB did not respond to requests for comment. "On the origination side, things have slowed down to a standstill. Nothing new is coming across," said a Dubai-based banker who declined to be named. "Banks are reviewing their portfolios and identifying clients that are going to be impacted. We're at the identification stage," the banker said. Data from Refinitiv for the Gulf Arab region shows the first quarter saw no equity capital market deals, with debt capital markets down by 36.3%. Mergers and acquisitions plunged 86.1%. Some bankers see the coming few months as a write-off, with no meaningful activity until the fourth quarter. "Basically no one is looking for funding today. All the capital markets issuances that we've worked on, we've been like, 'do you guys need a bridge Do you guys want to put funding in place' And all the responses have been no," a second Gulf banker said. "Any bond mandate we have, the issuers are saying, 'fine, markets are not there, let's look at next quarter, let's look at the September-October window,'" he added. Gulf states have announced stimulus packages to support their hydrocarbon-dependent economies, which are also being hit by an oil price collapse, as they take drastic measures to contain the coronavirus spread. Many have instructed banks to grant grace periods on loan repayments for private sector firms.— Reuters
https://pakobserver.net/coronavirus-hits-gulf-banks-dealmaking-ahead-of-ramadan-lull/?utm_source=rss&utm_medium=rss&utm_campaign=coronavirus-hits-gulf-banks-dealmaking-ahead-of-ramadan-lull
------
Islamic finance bodies to assess coronavirus damage on industry
March 27, 2020
JEDDAH As the coronavirus keeps spreading globally and leaves a swath of economic disruption on its way, several Islamic finance umbrella organisations have started assessing the potential damage the virus has on Islamic finance and banking and the halal industry as a whole. The Islamic Development Bank, a multilateral development finance institution focusing on supporting the Islamic finance industry in its 57 member states, in a statement said it was "deeply concerned about the loss of lives, the socio-economic disruptions and the strain on countries' health systems caused by this emerging pandemic." The bank expressed solidarity with its member countries and emphasised it stood ready "to extend all possible support to address the threat caused by the Covid-19 virus" and would lend support to its members "in the short, medium and long-term." Iran, hit hardest by the disease in the Middle East, was among the first to send a request to the Islamic Development Bank – among other international development organisations – for financial and non-financial assistance to control, combat and treat the coronavirus and tackle the economic impact of the pandemic on the country. Iran's ministry of economy on its website said it expects "urgent responses" to its requests. In another statement last week, Kuala Lumpur-based Islamic Financial Services Board, a globally active body that sets standards and offers guidance for Islamic banking and finance with 180 members, including regulatory and supervisory agencies, industry associations and financial institutions, said it was "closely monitoring the current regional and global situation" and was implementing measures to ensure the health and safety of all member representatives and staff. The measures include the postponement of all physical workshops and meetings and the introduction of virtual formats instead, the activation of a dedicated information and support telephone hotline for all members, delegates and the public, as well as "initiatives to assess and review the financial stability implications of Covid-19 on the global Islamic financial services industry, particularly on our members' jurisdictions." The member banks of the Association of Islamic Banking and Financial Institutions Malaysia, one of the largest national umbrella groups for Islamic banks in the industry, encouraged their customers, both individuals and businesses, to connect with their respective banks "to seek advice regarding their banking issues that have arisen as a result of the outbreak." As a first proactive measure, a number of Malaysian Islamic banks, including Maybank Islamic, RHB Islamic Bank and Hong Leong Islamic Bank, have begun to offer relief packages for their clients, namely temporary deferment of loan repayments, restructuring and rescheduling of financing lines and other options on a caseby-case basis to help overcome immediate financial constraints faced by customers owing to the virus outbreak. "We do understand that this sudden turn of events arising from the virus outbreak have impacted some of our customers across various industries, and also individually," Maybank president and CEO Abdul Farid Alias said in a statement, adding that "as their financial partner, we would like to do our part and help relieve them from added distress during this difficult period. In addition to assistance and help from banks, a number of Islamic insurance operators in Malaysia – alongside conventional insurers – have pledged to provide hospitalization coverage and treatment to their policy holders during the coronavirus outbreak even though diseases with legal quarantine are technically excluded from coverage. According to the Malaysian Takaful Association, its 15 members, among them large Islamic insurers such as AIATakaful, Hong Leong Takaful, Sun Life Takaful, Prudential Takaful, Maybank's takaful division Etiqa and Zurich Takaful Malaysia, will waive this exclusion for certificate holders of life, health and family takaful. "We call for strong global co-ordination and collaboration for immediate response and medium- to long-term interventions," IsDB president Bandar M H Hajjar said, adding that "we will work hand in hand with all partners for a united action to overcome this pandemic." The IsDB will also co-operate with development partners such as Arab Co-ordination Group, an organisation which comprises bilateral and multilateral Arab development institutions, the Opec Fund for International Development and theAsia Infrastructure Investment Bank to mobilise resources to support member countries, Hajjar noted.
https://pakobserver.net/islamic-finance-bodies-to-assess-coronavirus-damage-on-industry/?utm_source=rss&utm_medium=rss&utm_campaign=islamic-finance-bodies-to-assess-coronavirus-damage-on-industry
-----
Africa
COVID-19: Muslim Media Group Lauds FG, States, Advocates Total Lockdown
Mar 27, 2020
By Saheed Salawu
THE Muslim Media Watch Group of Nigeria (MMWG) has expressed satisfaction with the efforts of the federal and state governments at containing the Coronavirus pandemic in the country.
It, however, called on the authorities not to hesitate to declare a total lockdown and save the country from an "imminent calamity."
In a statement by its national coordinator, Alhaji Ibrahim Abdullahi, the MMWG noted the Federal Government's effort, including the approval of fund to fight the disease, and described it as commendable.
It commended the Sultan of Sokoto, Alhaji Muhammad Sa'ad Abubakar; the Emir of Ilorin, Alhaji Ibrahim Sulu Gambari and other traditional and religious leaders in the country who have taken necessary steps to complement government's effort at preventing the spread of the disease.
The group, however, called on all religious leaders to continue to prevail on all their followers to shut all mosques and churches and let people worship in their homes.
It called on the police and other security agencies to enforce the ban on religious gatherings, saying any recalcitrant religious leader should be dealt with.
The group added: "MMWG believes that with all practical efforts made so far, we need to blend it with spiritual devotion. As we remain at home and wherever we are, we should pray hard to overcome the Coronavirus pandemic and other health issues soonest, by Allah's grace.
"The sensitisation efforts through the media on prevention methods, dangers of ignoring the advocacy and implications of panic buying and use of Chroloquine and Quinine are all praiseworthy. However, federal and state governments need to do more.
"There is the need for effective and holistic monitoring and supervision of the utilisation of the money approved to combat the pandemic to avoid diversion to private pockets.
"Corruption in the Nigerian society is so endemic that when any devastating events occur, another opportunity for looting has opened for the corrupt ones in the government circles. How would that of Coronavirus be different so that we would be saved from the pandemic and be back to our normal lives?
"The Federal Government should flood the country with protective gears and sanitiser so that masses keeping indoors and restricting their own movements in line with its orders could benefit in their states and the Federal Capital Territory, Abuja, as most people might not be solvent to procure the items.
"There is the need for more testing equipment to be urgently procured to speed up the number of screening exercises to avoid further spread of the disease in Nigeria."
https://tribuneonlineng.com/covid-19-muslim-media-group-lauds-fg-states-advocates-total-lockdown/
------
Europe
Astley Bridge pub flattened to make way for mosque
27 March 2020
The Brierfield pub in Blackburn Road, which closed in 2016, had planning permission approved for its demolition in November 2019, and now the pub has been pulled down.
The next stage of the plans for the site, a mosque, are yet to be submitted formally as designs for the building and its surroundings are still to be fully figured out in line with regulations.
The Masjid-e-Salaam Trust is in charge of the development in Astley Bridge, having bought the pub building over four years ago.
During the application process for the demolition of the building, over 150 letters of objection were received by Bolton Council in protest against the pub's disappearance.
Many felt that the building had served as a significant landmark in the area, and that losing the building could be a loss of heritage for area.
The application stated concerns such as "cannot afford to lose any more of our local history" and "the building is too important to lose".
Mohammed Patel, secretary of the Masjid-e-Salaam trust, previously told The Bolton News that plans for the site have been ongoing for over two years, with much time and consideration going into the site.
He said: "We hoped to have the plans submitted by now. Our architects are working very hard on getting together the most detailed drawings that they can so we can show in detail what we are planning."
The delay in the next phase has been caused by council concerns over trees at the site, with the authorities wanting to protect trees and woodland in the area.
Mr Patel described how they are looking to amend some plans, in order to replace any trees that will be affected by construction.
https://www.theboltonnews.co.uk/news/18337862.astley-bridge-pub-flattened-make-way-mosque/
------
The Islamic State's Biography of a British-Sudanese Medic
Mar 26, 2020
by Aymenn Jawad Al-Tamimi
The Islamic State's days of territorial control and governance in Iraq and Syria are long past, but that does not mean the group has ceased to use memories of those days for propaganda purposes. This week's issue of the al-Naba' newsletter features an example of that with the biography of one 'Abu Hassan al-Sudani', a British-Sudanese medic who joined the Islamic State in March 2015 along with a group of other British-Sudanese medics. Their case was publicized in the British media at the time. Abu Hassan al-Sudani was eventually killed in fighting in northern Iraq in 2017 during the campaign of Iraqi forces to liberate Mosul and Ninawa province from the Islamic State. This biography serves to confirm that he was indeed killed during that campaign.
The main propaganda purpose of this biography is to emphasize that acquisition of earthly skills and scientific knowledge should not have to mean turning away from supporting the religion as the 'Tawagheet' ('idolatrous tyrants') hope when they offer good employment prospects and lives of material comfort for graduates of those courses. While the territorial 'Caliphate' may have vanished, the biography concludes with stressing that Islamic State fighters still need skilled doctors to assist them in their fighting efforts, and so Abu Hassan al-Sudani's life should serve as an example for why medics should support the cause of supporting the religion.
To summarize, the biography stresses that Abu Hassan al-Sudani had a comfortable upbringing (implicitly countering the idea that only misfits and the poor joined Islamic State for reasons of self-interest) and was by no means of a very religious background. The biography says that he had no particular inclination to support the religion until he returned to Britain after medical studies in Sudan and liaised with a group of youth (i.e. the other British-Sudanese medics who went to Syria) supporting the Islamic State cause. The reason for that group of youth's desire to 'migrate' and support the religion- the biography stresses- was that they themselves had seen the establishment of the religion in the Islamic State's project.
Of course, there is considerable truth to this: a significant motivating factor for the wave of foreigner mobilization to go to Syria was the announcement of the Caliphate in July 2014 and the idea of living in a utopia implementing Islamic law- something the biography notes. Further, the biography highlights peer-to-peer interaction with the supporting youth as an important turning point in Abu Hassan al-Sudani's life and his turn to the desire to 'migrate', despite the fact that previously he had not been well acquainted with the religion and the concept of 'migration'. In my view this corroborates an important point by Amarnath Amarasingam, who has pointed out that fanatical zeal for a cause needs to be distinguished from knowledge of that cause. Just as far-right extremists may profess fanatical devotion to their nations while not knowing much about the histories of their countries, so many Islamic State supporters can have the motivation of religious zeal while not knowing much of the finer points of religious doctrines like nullifiers of Islam and rules of jurisprudence on ritual cleanliness: the lack of knowledge does not negate the zeal for the cause.
Further, note that the consumption of Islamic State propaganda releases is mentioned in the biography but seems to be a secondary element to the face-to-face peer interaction, as it was one of Abu Hassan al-Sudani's peers who gave him the material in the first place.
The biography confirms accounts that Abu Hassan al-Sudani worked at first in the health department in Raqqa, but interestingly notes that he then went with his companion Abu Omar al-Sudani (Ahmad Sami Khidr) to the frontiers in the Damascus countryside region, providing medical aid to the fighters there (NB: the exact locations are not specified, but see this article by Aaron Zelin and Oula al-Rifa'i from 2015 on Islamic State in south Syria for some context). He was then mobilized along with Abu Omar al-Sudani and others to head from Raqqa to Iraq in order to try to break the siege of Mosul, but he was then killed in the fighting there. Incidentally, the account differs slightly from the media reports from the time. According to the biography, it was Abu Omar who was killed in an assault on an enemy barracks, while Abu Hassan was killed as a convoy he was travelling in back to positions was hit by enemy helicopter gunfire.
The Tawagheet of the Earth are keen to distance those of 'material sciences' away from the religion, and to inculcate their minds with kufr [disbelief] ideas and doubts during the different stages of their study, and make imitation of the disbelievers of the West in all matters of their life as an objection for them, and that living among their backs and serving them should be a dream for them to strive to achieve. In addition they promote the notion that preoccupation away from supporting their religion, and indeed hostility to Islam and its people should be a necessary quality for them, and in this deviant thought they become the best help for the Tawagheet in controlling the land of the Muslims, and the most evil example they call the youth to follow, as an example of success in life, even if they are among the biggest losers in the Hereafter.
But God Almighty insists that His light should be fulfilled, so He guides towards it by His grace youth through whom He supports His religion, and makes their zeal to put to use what they have learnt to wage war against kufr and its people, and He makes them proof upon those like them who bear knowledges and skills that are urgently needed in all affairs of the Muslims, and especially the mujahideen among the who pray to their Lord to strengthen them through their brothers and give them victory though them against the disbelieving people.
Abu Hassan al-Sudani- may God accept him- is from the land of the two Niles, Sudan, a surgeon, who preferred to wrap bandages around the wounds of his oppressed Ummah and to serve his mujahideen brothers in the path of God Almighty to meet the reward from the Exalted rather than the comfortable position and the societal status in the land of disbelief. Then he finished his life with martyrdom in the path of God Almighty, after he forsook university qualifications and scientific titles. We reckon him as such and we do not vouch for anyone over God.
Abu Hassan was raised in the land of the Crusaders in Britain. Then he moved with his parents to Bilad al-Haramain [Saudi Arabia], before travelling to Sudan to complete medical studies there. And he was known for his excelling in his university studies as he was the first in his cohort during the time of his studies.
He was not known for any inclination to support the religion during his upbringing and the time of his studies, but rather he was like other youth who spent the time of his studies and awaited the employment and salary that he expected at the end of the path. Also he was from a wealthy family, which opened for him all the gates of this world in a country that has suffered- and still suffers- from poverty and calamities- something not hidden to anyone.
And God Almighty willed for him guidance to the truth, as we reckon, and to be employed in supporting the religion, in a placed as far removed from that as can be: in the land of kufr Britain, to which he returned after completing his studies in Sudan. For God Almighty facilitated for him the companionship of good from the youth of Islam supporting the mujahideen, who burn with zeal to support the religion, even if many of them procrastinate and delay in that, until God should make for them a cause to remove from their burden all the excuses and remove from their mind all the justifications, and to proceed hurriedly to their Lord that He may be pleased. For they find it has come by decree and appointment from God the Exalted and that what just deeds have gone past them, they can recompense for that by the permission of God with more effort and expending for this religion, such that the certainty comes to them and they are upon that.
And among the reasons for the guidance of many of the Muslims in the world has been the fact that the mujahideen of the Islamic State established the religion in the land, and their implementation of the law of their Lord, and their announcement that what is under their hands is an abode of Islam, and that their league is the group of the Muslims arising on a book that guides and a sword that gives victory and an imam that governs them in what pleases God, and their call for the Muslims in every place to migrate to them, and to wage jihad with them. So the people looked and behold the Islamic State had returned to life again, such that in their souls kindled the fire to strive to support it, and to seek migration to it to live under the rule of God in it, and seek death under its banner.
Most of what distinguishes the story of Abu Hassan is the speed of his embrace of the truth in a time in which those who embrace the truth have been few in number. And his guidance was after he graduated from the college of medicine and his return to Britain (whose nationality he held), awaiting his almost guaranteed position, and at the time some of his colleagues were secretly planning to migrate to the land of the Caliphate, and Abu Hassan noticed the frequency of their meetings and asked them about the reason for their repeated meetings at late hours, so one of them sensed the good in him, and informed him they wanted to migrate.
So when he asked: "What is migration?" He clarified to him that it is a duty on every Muslim who cannot show his religion in his land, to leave the abode of kufr for the abode of Islam, as was the case of the Companions (may God be pleased with them) in the beginning, and a discussion occurred between the two of them in which Abu Hassan asked questions and the other answered him. It concluded with him being giving some of the releases of the Islamic State, then the two separated.
And on the following day immediately, his brothers were surprised at Abu Hassan's coming to them announcing to them the decision to migrate with them! And the brothers greatly rejoiced at the companionship of Abu Hassan, and God facilitated for them the migration after expending effort planning in secrecy and arriving in the Islamic State.
And the sound fitra and the humbling of the self to the truth are two signs of the guidance of success from God to man. For he- may God have mercy on him- did not cite excuses as pretexts and he was not deceived by the multitude of the contraveners and the 'ulama [scholars] of the Tawagheet, and he did not turn in haughtiness from the truth through his qualification and position in society. Thus we reckon him.
And arrogance is among the obstacles to guidance! And a reason for the lack of truth reaching the heart. The Almighty has said: "I will turn away from My signs those who are haughty in the land without right. Even if they see every sign they will not believe in them. Even if they see the path of guidance, they will not take it up as a path. And if they see the path of transgression they will take it up as a path: that is because they have declared Our signs to be false and they were heedless of them"- (al-'Araf 146).
As soon as he arrived in the Islamic State, his parents and relatives opposed him, and the brothers feared for him that he would change and recant, as he was newly established on the path of jihad, but they were surprised about his steadfastness. For the reprimand of a blamer did not seize him in the cause of God and he was yearning to deepen understanding in the religion, and those who were with him testified that he was fasting and rising.
And he was entrusted with working in the hospitals in al-Sham, so he worked for a time in the hospital of al-Raqqa treating the sick and wounded of the mujahdieen and the victims of air-bombing raids from the citizens. So he attained the affection of the people and their prayers of good for him, because of his good manners and surgery expertise he quickly acquired from his colleagues. Also he had a hand of good in training and teaching through various medical courses in the medical institute for the mujahideen.
After this he moved to the Damascus countryside, and he was the best helper for the companion of his path Dr. Abu Omar al-Sudani (Ahmad Sami Khidr)- may God accept him- who was an amir for medical matters in the Damascus frontiers. And the two men- may God accept them- insisted on seeking direct participation in the expeditions and battles, but their amirs reminded them of the hadith of the Messenger (prayers and peace be upon him): "Blessed is a servant who takes up care for the reins of his horse in the path of God: his hair unkempt and feet dusty. If he is in the vanguard, he is in vanguard, and if he is in rearguard, he is in the rearguard" (narrated by al-Bukhari). And they reminded them that their role behind their brothers in the frontiers is no less important than the role of the mujahideen in the first rank, for the importance of what they offer to the mujahideen in the frontier of medical aid in the battles and the expeditions is not hidden to anyone. So the two continued in their effort and jihad on this frontier until their expected appointment with martyrdom came.
The parties of kufr surrounded the city of Mosul, a little before the kindling of the epic battles in it, and the soldiers of the Caliphate were mobilized to break the siege of it, so Abu Hassan and Abu Omar were enlisted with the assault battalions heading from Raqqa to the al-Ba'aj area located south of Telafar, to head from it to fight the mobilizations of the Rafidites who besieged Mosul. And there the two did well in the fight with their brothers, as they participated in assaulting the screen against the idolatrous Rafidites, and after the mujahideen assaulted one of their barracks, Abu Omar- may God accept him- was killed by a grenade thrown towards him by one of the apostates hidden inside the barracks, and as the mujahideen returned to their positions a helicopter of the enemy got in their way, so the mujahideen clashed with it such that during that the doctor Abu Hassan was killed and he joined his companion Abu Omar (may God Almighty accept them both) among the martyrs.
And the mujahideen on all the fronts are still in most urgent need of the brothers of Abu al-Hassan al-Sudani (may God accept him) from the skilled doctors who heal the wounded of the mujahideen, and aid them in their jihad. So they will have in every Muslim life they save the great good, and in every scene they bear witness to with the mujahideen they will have a share in the reward of their fighting the idolaters, and only those who have endured will meet it. And only the one of great fortune will meet it. And praise be to God the Lord of the Worlds.
http://www.aymennjawad.org/2020/03/the-islamic-state-biography-of-a-british-sudanese
-------
North America
12 Muslim Children's Book to Read During Quarantine
MARCH 26, 2020
Faced with COVID-19 school closings across the country, millions of American parents seek ways to care for their children at home and make sure they take measures to avoid academic decline during self-quarantine. Muslim authors write children's books that provide entertaining diverse stories and give young people chances to read and learn about our multifaceted culture.
Invite Your Children To Enjoy The Rich And Beautiful Culture Of African American Muslims. Bashirah And The Amazing Bean Pie Shares A Fantastic Story Of A Multi-Generational African American Muslim Family. A Ramadan and Eid Story A Heart Warming Tale Filled With Faith, Food And Family. Join Bashirah As She Celebrates The Eid Holiday! Celebrating Diversity
With her new backpack and light-up shoes, Faizah knows the first day of school is going to be special. It's the start of a brand new year and, best of all, it's her older sister Asiya's first day of hijab–a hijab of beautiful blue fabric, like the ocean waving to the sky. But not everyone sees hijab as beautiful, and in the face of hurtful, confusing words, Faizah will find new ways to be strong.
Paired with Hatem Aly's beautiful, whimsical art, Olympic medalist Ibtihaj Muhammad and Morris Award finalist S.K. Ali brings readers an uplifting, universal story of new experiences, the unbreakable bond between siblings, and of being proud of who you are.
From Muslim and Latino poet Mark Gonzales comes a touching and lyrical picture book about a parent who encourages their child to find joy and pride in all aspects of their multicultural identity.
Written as a letter from a father to his daughter, Yo Soy Muslim is a celebration of social harmony and multicultural identities. The vivid and elegant verse, accompanied by magical and vibrant illustrations, highlights the diversity of the Muslim community as well as Indigenous identity. A literary journey of discovery and wonder, Yo Soy Muslim is sure to inspire adults and children alike.
Helping children to know Body Safety Rules, and to speak up if someone makes them feel unsafe can be a challenging, and uncomfortable task for parents, caregivers, counselors and educators. Written from a child's voice and perspective, My Voice Is My Super Power will help make the job a lot easier. Buddy is a young boy who teaches body safety and helps his cousin cope with a real-life experience after she disclosed her abuse at their sleepover. With kid-friendly illustrations, and language, children can read this book alone, or with an adult, to know the concept that their bodies are their own, their voice is their "Super Power", and they have the ability to use it to speak up if they feel unsafe.
1 in 4 girls and 1 in 6 boys will experience some form of sexual abuse before the age of 18. All adults want to keep their children safe from abuse. Prevention is possible through education. This book can be used as an empowering teaching tool to keep our children safe, help prevent, and assist with ending Childhood Sexual Abuse.
The Muslims book 8: The Red Shoes is a great addition to your Muslim children's book collection. In this book, a girl named Huda wants to buy some new red shoes, but her mom refuses. Allah has already given Huda a lot of shoes. But Huda desperately wants some more! How will Huda's mom show her the importance of being grateful for what we already have?
You Are Beautiful introduces the characters Zaynab and Zakiyyah, two sisters, who experience their first encounter with racial prejudice and who are saddened by what they hear. Throughout the course of the story, they overcome intolerance and realize the beauty of ethnic diversity and true friendship. This book highlights the importance of countering ignorance with knowledge and kindness.
Everyone in the village knows not to come near the cranky, old monkey Rico or his precious bananas. However, after some unwanted encounters, Rico learns a life-changing lesson. Find out how in this heart-warming tale of friendship, kindness and the power of prayer.
Kamillah is a caterpillar who is struggling to understand life's changes. With a friend by her side and discovering a beautiful surprise at the end of her cycle, she happily accepts the biggest change. A lovely book any child can relate too. It will definitely leave little ones wanting to read it repeatedly.
Yaseen has got some big dreams. He dreams of helping his family, his friends, and his community. But is it really possible for a kid like Yaseen to do all of those things? Of course, it is! Read Yaseen's Big Dream to follow him on an adventure unlike any other.
Join nine-year-old Jennah on her very first adventure where she discovers the world of Hijab. Also, learn some interesting facts from Jennah about why girls and women wear hijab. This book is perfect for Grades K-3 as a way to introduce information from other cultures to create a diverse and inclusive environment.
Eight-year-old Ibrahim and friends win a Quran competition, where the prize sees them scoring tickets to watch an exciting football game after their class is paid a visit by Hakeem Mohammed, a star football player from the California Spartans.
Hakeem Mohammed and the California Spartans are in New York City for one of the most anticipated football games of the season. Ibrahim and friends unite with Hakeem in the locker room to meet the team before the big game. Though their meetings with Hakeem were brief, he instilled a life long impression before going on to star in one of the most memorable games in football.
This story unfolds in No Ordinary Day, the first book from 'Childhood Champions', a new series of stories about a group of Muslim children in New York City and their daily adventures.
In this moving picture book, author Hena Khan shares her wishes for her children: "Inshallah you find wonder in birds as they fly. Inshallah, you are loved, like the moon loves the sky." With vibrant illustrations and prose inspired by the Quran, this charming picture book is a heartfelt and universal celebration of a parent's unconditional love.
https://www.patheos.com/blogs/nbamuslims/2020/03/26/6266/
-----
International Islamic Trade Finance Corporation Ranks 2nd Globally
March 26, 2020
International Islamic Trade Finance Corporation (ITFC) Ranks 2nd Globally and as Well in Europe, Middle East and Africa (EMEA) as Islamic Finance Bookrunner and Mandated Lead Arranger – Bloomberg Syndicated Loans League Tables 2019
The International Islamic Trade Finance Corporation (ITFC) (www.ITFC-IDB.org), member of the Islamic Development Bank (IsDB) Group, ranked 2nd Globally and as well in Europe, Middle East and Africa's (EMEA) Islamic Finance listings of the Bloomberg Syndicated Loans League Tables 2019 for the largest Bookrunner and Mandated Lead Arranger.
The League Tables, showed that the ITFC provided financing worth in excess of US$2 billion as Bookrunner and Mandated Lead Arranger in 2019, cementing its position as a solid and reputable Partner with which other banks and financial institutions strive to work.
Thanks to our partners, ITFC was able to make widespread progress in developing strategically important relationships with OIC member countries
"The ITFC's ranking in the 2019 Bloomberg Global Syndicated Loans League Tables represent a major milestone in our journey towards boosting inclusive socio-economic growth across OIC member countries. Thanks to our partners, ITFC was able to make widespread progress in developing strategically important relationships with OIC member countries and in facilitating financing for incredibly important industry sectors." said Eng. Hani Salem Sonbol, CEO, ITFC.
The ITFC's share of the Global Bookrunner Islamic Finance was more than 9% per cent on a volume of US$2.04 billion, whilst its share of the Global MLA Islamic Finance market exceeded 6.9%. This places ITFC in the league of major international and regional financial institutions of the World.
It is worth mentioning that ITFC since inception had provided more than US$51 billion of trade financing to OIC Member Countries. In 2019, ITFC completed important syndicated deals for several member countries, especially for Egypt, Pakistan, Bangladesh, Turkey, Tunisia, Djibouti and Gambia to support key sectors including, energy, industrials, healthcare, agriculture and others. ITFC plans to continue and expand the development in its member countries with the help of its dependable investors base.
The International Islamic Trade Finance Corporation (ITFC) (www.ITFC-IDB.org) is a member of the Islamic Development Bank (IsDB) Group. It was established with the primary objective of advancing trade among OIC Member Countries, which would ultimately contribute to the overarching goal of improving socioeconomic conditions of the people across the world. Commencing operations in January 2008, ITFC has since consolidated all trade finance businesses that used to be handled by various windows within the IsDB Group. Earning the A1 rating by Moody's is a reflection of the Corporation's creditworthiness and financial strength to responding swiftly to customer needs in a market-driven business environment.
Since 2008, ITFC has provided more than US$51 billion to OIC Member Countries, making it the leading provider of trade solutions for the Member Countries' needs. With a mission to become a catalyst for trade development for OIC Member Countries and beyond, the Corporation helps entities in Member Countries gain better access to trade finance and provides them with the necessary trade-related capacity building tools, which would enable them to successfully compete in the global market.
https://goodmenproject.com/business-ethics-2/leadership-2/international-islamic-trade-finance-corporation-ranks-2nd-globally/
------
America's 234-Year-Old Shock at Jihad
Fri Mar 27, 2020
Raymond Ibrahim
Exactly 234 years ago this week, two of America's founding fathers documented their first exposure to Islamic jihad in a letter to Congress; like many Americans today, they too were shocked at what they learned.
Context: in 1785, Muslim pirates from North Africa, or "Barbary," had captured two American ships, the Maria and Dauphin, and enslaved their crews. In an effort to ransom the enslaved Americans and establish peaceful relations, Thomas Jefferson and John Adams—then ambassadors to France and Britain respectively—met with Tripoli's ambassador to Britain, Abdul Rahman Adja. Following this diplomatic exchange, the Americans laid out the source of Barbary's hitherto inexplicable animosity in a letter to Congress, dated March 28, 1786:
We took the liberty to make some inquiries concerning the grounds of their [Barbary's] pretentions to make war upon nations who had done them no injury, and observed that we considered all mankind as our friends who had done us no wrong, nor had given us any provocation. The ambassador answered us that it was founded on the laws of their Prophet, that it was written in their Koran, that all nations who should not have acknowledged their authority were sinners, that it was their right and duty to make war upon them wherever they could be found, and to make slaves of all they could take as prisoners, and that every Musselman who should be slain in battle was sure to go to Paradise.
Abdul had continued by smugly noting that Islam's "law" offers "as an incentive" more slaves to those who are first to board infidel vessels, and that the power and appearance of the seaborne jihadis—who reportedly always carried three knives, one in each hand and another in their mouths—"so terrified their enemies that very few ever stood against them."
One can only imagine what the American ambassadors—who years earlier had asserted that all men were "endowed by their Creator with certain inalienable rights"—thought of their Muslim counterpart's answer. Suffice to say, because the ransom demanded was over fifteen times greater than what Congress had approved, little came of the meeting.
Centuries before setting their sights on American vessels, the Barbary States of Muslim North Africa—specifically Tripoli, Algiers, Tunis—had been thriving on the slave trade of Christians abducted from virtually every corner of coastal Europe—going as far as Britain, Ireland, Denmark, and Iceland. These raids were so successful that, "between 1530 and 1780 there were almost certainly a million and quite possibly as many as a million and a quarter white, European Christians enslaved by the Muslims of the Barbary Coast," to quote American historian, Robert Davis.
The treatment of these European slaves was exacerbated by the fact that they were Christian "infidels." As Robert Playfair (b.1828), who served for years as a consul in Barbary, explained, "In almost every case they [European slaves] were hated on account of their religion." Three centuries earlier, John Foxe (b.1516) had written in his Book of Martyrs that, "In no part of the globe are Christians so hated, or treated with such severity, as at Algiers."
The punishments these European slaves received for real or imagined offenses beggared description: "If they speak against Mahomet [blasphemy], they must become Mahometans, or be impaled alive. If they profess Christianity again, after having changed to the Mahometan persuasion, they are roasted alive [as apostates], or thrown from the city walls, and caught upon large sharp hooks, on which they hang till they expire."
As such, when Captain O'Brien of the Dauphin wrote to Jefferson saying that "our sufferings are beyond our expression or your conception," he was clearly not exaggerating.
After Barbary's ability to abduct coastal Europeans had waned in the mid-eighteenth century, its energy was spent on raiding infidel merchant vessels. Instead of responding by collectively confronting and neutralizing Barbary, European powers, always busy quarrelling among themselves, opted to buy peace through tribute (or, according to Muslim rational, jizya).
Fresh meat appeared on the horizon once the newly-born United States broke free of Great Britain (and was therefore no longer protected by the latter's jizya payments).
Back in Congress, some agreed with Jefferson that "it will be more easy to raise ships and men to fight these pirates into reason, than money to bribe them"—including General George Washington: "In such an enlightened, in such a liberal age, how is it possible that the great maritime powers of Europe should submit to pay an annual tribute to the little piratical States of Barbary?" he wrote to a friend. "Would to Heaven we had a navy able to reform those enemies to mankind, or crush them into nonexistence."
But the majority of Congress agreed with John Adams: "We ought not to fight them at all unless we determine to fight them forever." Considering the perpetual, existential nature of Islamic hostility, Adams may have been more right than he knew.
Congress settled on emulating the Europeans and paying off the terrorists, though it would take years to raise the demanded ransom.
When Muslim pirates from Algiers captured eleven more American merchant vessels in 1794, the Naval Act was passed and a permanent U.S. naval force established. But because the first war vessels would not be ready until 1800, American jizya payments—which took up 16 percent of the federal budget—began to be made to Algeria in 1795. In return, over 100 American sailors were released—how many died or disappeared is unclear—and the Islamic sea raids formally ceased. American payments and "gifts" over the following years caused the increasingly emboldened Muslim pirates to respond with increasingly capricious demands.
One of the more ignoble instances occurred in 1800, when Captain William Bainbridge of the George Washington sailed to the pirate-leader of Algiers, with what the latter deemed insufficient tribute. Referring to the Americans as "my slaves," Dey Mustapha ordered them to transport hundreds of black slaves to Istanbul (Constantinople). Adding insult to insult, he commanded the American crew to take down the U.S. flag and hoist the Islamic flag—one not unlike ISIS' notorious black flag—in its place. And, no matter how rough the seas might be during the long voyage, Bainbridge was required to make sure the George Washington faced Mecca five times a day to accommodate the prayers of Muslims onboard.
That Bainbridge condescended to becoming Barbary's delivery boy seems only to have further whetted the premodern terrorists' appetite. In 1801, Tripoli demanded an instant payment of $225,000, followed by annual payments of $25,000—respectively equivalent to $3.5 million and $425,000 today. Concluding that "nothing will stop the eternal increase of demand from these pirates but the presence of an armed force," Jefferson, now America's third president, refused the ultimatum. (He may have recalled Captain O'Brien's observation concerning his Barbary masters: "Money is their God and Mahomet their prophet.")
Denied jizya from the infidels, Tripoli proclaimed jihad on the United States on May 10, 1801. But by now, America had six war vessels, which Jefferson deployed to the Barbary Coast. For the next five years, the U.S. Navy warred with the Muslim pirates, making little headway and suffering some setbacks—the most humiliating being when the Philadelphia and its crew were captured in 1803.
Desperate measures were needed: enter William Eaton. As U.S. consul to Tunis (1797–1803), he had lived among and understood the region's Muslims well. He knew that "the more you give the more the Turks will ask for," and despised that old sense of Islamic superiority: "It grates me mortally," he wrote, "when I see a lazy Turk [generic for Muslim] reclining at his ease upon an embroidered sofa, with one Christian slave to hold his pipe, another to hold his coffee, and a third to fan away the flies." Seeing that the newborn American navy was making little headway against the seasoned pirates, he devised a daring plan: to sponsor the claim of Mustafa's brother, exiled in Alexandria; and then to march the latter's supporters and mercenaries through five hundred miles of desert, from Alexandria onto Tripoli.
The trek was arduous—not least because of the Muslim mercenaries themselves. Eaton had repeatedly tried to win them over: "I touched upon the affinity of principle between the Islam and Americans [sic] religion." But despite such familiar ecumenical overtures, "We find it almost impossible to inspire these wild bigots with confidence in us," he lamented in his diary, "or to persuade them that, being Christians, we can be otherwise than enemies to Mussulmen. We have a difficult undertaking!" (For all his experience with Muslims, Eaton was apparently unaware of the finer points of their (Sharia) law, namely, al-wala' wa'l bara', or "loyalty and enmity.")
Eaton eventually managed to reach and conquer Tripoli's coastal town of Derne on April 27, 1805. Less than two months later, on June 10, a peace treaty was signed between the U.S. and Tripoli, formally ending hostilities.
Thus and despite the (rather ignorant) question that became popular after 9/11, "Why do they hate us?"—a question that was clearly answered to Jefferson and Adams 234 years ago this week—the United States' first war and victory as a nation was against Muslims; and the latter had initiated hostilities on the same rationale Muslims had used to initiate hostilities against non-Muslims for the preceding 1,200 years.
http://www.frontpagemag.com/fpm/2020/03/americas-234-year-old-shock-jihad-raymond-ibrahim/
------
Pakistan to propose UN's counter-terror strategy also target anti-Muslim groups in South Asia, Europe
March 27, 2020
UNITED NATIONS, Mar 27 (APP):Ahead of the biennial review of the UN's Global Counter Terrorism Strategy (GCTS), Pakistan is set to introduce a series of proposals to upgrade the document so that it also focuses on the new and emerging terrorism threats from far-right terrorist and anti-Muslim supremacist groups in South Asia and Europe, according to informed sources.
The strategy, adopted by the UN General Assembly in 2006, calls for international cooperation to combat all forms of the terrorism, but its counter terrorism normative has remained limited to addressing the threats posed by Al-Qaeda, Da'esh and their affiliates.
Instead, the Pakistani move, which obviously targets Hindutva ideology, seeks the condemnation of "all terrorist groups without distinction".
Pakistan's new proposals for the strategy's review were negotiated in New York amongst the Organization of Islamic Cooperation members States that led to the adoption of an OIC paper.
Diplomats here called the proposals 'significant and forward-looking', saying Pakistan has OIC's solid support to build on its initiatives.
pearheaded by Pakistan, the OIC paper also stressed the need for member states to take necessary measures, including enacting civil and administrative laws as well as criminal laws, to combat direct and indirect forms of religious and racial discrimination, incitement to violence, couched in xenophobia and anti-Muslim hatred propaganda.
It also calls for expansion of Security Council terrorism Sanctions list to include anti-Muslim supremacist groups including Rashtriya Swayamsevak Sangh (RSS).
In this regard, the OIC called on the member states that while the current UN Security Council Counter Terrorism Sanctions regimes should be reviewed and overhauled to ensure that targeted sanctions against individuals and entities should meet the objectives of the sanctions regimes and are used effectively in line with human rights standards and due process of law, it also upholds the central role of the concerned member state whose individuals/entities are being designated and the state which affected by the listed individuals/entities.
As regards Indian Occupied Jammu and Kashmir, the OIC adopted a number of proposals, calling on member states that the GCTS review resolution should strongly oppose any attempt to equate the legitimate struggle of peoples under colonial or alien domination and foreign occupation for self-determination guaranteed through UN resolutions with terrorism.
On the current oppressive measures enacted by India in Kashmir, the OIC paper reminds member states that laws and measures in counter terrorism domain including mass incarcerations, communication blackouts, curfews to suppress freedom of speech and expression, especially if directed against a specific (or vulnerable) group, may adversely affect global efforts to combat terrorism.
https://www.app.com.pk/pakistan-to-propose-uns-counter-terror-strategy-also-target-anti-muslim-groups-in-south-asia-europe/
------
New Zealand
Christchurch mosque shootings: Life in prison looms for NZ's first convicted terrorist
27 Mar, 2020
Less than a fortnight after the first anniversary of the Christchurch mosque shootings, and on the first day of New Zealand's four-week Covid-19 lockdown, the Australian man responsible for the attacks has surprised the nation by pleading guilty to all charges.
As well as being guilty of 51 counts of murder and 40 counts of attempted murder, he becomes the first person convicted of terrorism in New Zealand.
Up until now, the accused man had pleaded not guilty to all charges and was due to stand trial from June 2. But the guilty plea means a trial is no longer necessary and the process now moves to the sentencing phase.
Prime Minister Jacinda Ardern she "let out a massive sigh of relief" when she heard the news of his guilty pleas, and that she expected many New Zealanders would also feel a certain sense of relief that the whole nation, but particularly our Muslim community, are being spared from a trial that could've otherwise have acted as a platform.
But families of victims and the wider New Zealand public look likely to face a long wait before the Australian terrorist is sentenced, as the court processes have been disrupted by the pandemic response. The judge has indicated that sentencing will only take place when all victims who want to attend can be present.
A note released by the judge, Justice Mander, records that the defendant intimated earlier this week that he wished to plead guilty to all charges and then confirmed that in writing.
Criminal courts continue operating for urgent matters during the lockdown and the High Court at Christchurch used audio-visual links for the defendant and his lawyers at the change of plea hearing. Only a small number of media representatives and senior members of the Christchurch Muslim community were present.
Aside from any difficulties for probation officers preparing their advice to the judge, sentencing hearings also provide an opportunity for victims and families of victims to present victim impact statements.
These are usually presented orally in cases of serious crime. Managing this process would have been difficult in normal circumstances and is now even more complex during a pandemic lockdown, but the judge has made clear he hopes this can happen.
Speaking after the news of the guilty pleas, Police Commissioner Mike Bush said some police staff who were working on the prosecution of the mosque attacker would now be freed up to help with New Zealand's COVID-19 response.
https://www.nzherald.co.nz/crime/news/article.cfm?c_id=30&objectid=12320336
-----
India
Tamil Nadu: Preachers from Indonesia, Thailand And Kyrgyzstan Caught in The Viral Storm
Mar 27, 2020
As Tamil Nadu went into shutdown mode in wake of the Covid-19 panic, some 50 Islamic preachers from Indonesia, Thailand and Kyrgyzstan went behind closed doors in the state's hinterland, worried and apprehensive. They had arrived in Tamil Nadu a month ago from New Delhi, fanning out to Kancheepuram, Chengalpet and Adirampattinam in Thanjavur district, staying in the local mosques, visiting Muslim families in their homes and preaching Islam.
This has become a source of fresh concern for the Tamil Nadu government and district authorities battling to contain the virus. Fortunately, the group of pilgrims have not shown any Covid-19 symptoms yet. District collectors have kept it under wraps, and rightfully so, fearful about setting off the panic button among people. All of them have been quarantined and their hands now bear the red 'home quarantined' seal.
Thanjavur collector M Govinda Rao confirmed that 32 Muslim pilgrims, including 12 from Indonesia and 10 each from Bengaluru and West Bengal, had been quarantined and were being monitored.
Another group of around 10 Malaysian pilgrims, besides their two guides, stayed in the Mamood Masjid in Mannady in Chennai for about a month and left the city by March 20 before the TN lockdown, said Thajuddin, an assistant at the mosque.
The Muslim pilgrims from the Tablighi Jamaat, a religious outreach society, had arrived a month ago. Following a strict regime inside the mosques where they stayed, they carried spread the word of faith and communal harmony. While some took lessons on the Islamic tenets from the local maulvis, most undertook a pilgrimage to preach Muslim families in the mosques' vicinity.
"Three groups stayed in mosques in Chengalpet, Kancheepuram and Adirampattinam until the Covid-19 panic began," Thamin Ansari, who works at the world headquarters of the Tablighi Jamaat in Nizamudin in New Delhi told TOI. A few days ago, after more Muslim pilgrims tested positive for the dreaded Covid-19 in Madurai and Perundurai, the mosques alerted the district administration. "We have quarantined a group of 16 in the upper floors of the mosque in Kancheepuram as soon as we got an alert," collector P Ponniah said.
The pilgrims housed in the Kancheepuram mosque included 10 from Indonesia and four from Malaysia besides two guides. "The mosque head told us that they had arrived in New Delhi in Januaryend and reached Kancheepuram on March 5," said Ponniah. "They have shown no symptoms of the virus," he said. The office of Chengalpet collector John Louis confirmed that some Muslim pilgrims had been kept under quarantine but declined to divulge further information.
"These pilgrims come every year, visiting mosques across Tamil Nadu. They also head out to Bulandshahr in Uttar Pradesh and Haryana, as they are closer to Delhi, besides Karnataka," said Hafiz Mohammed Noorulah, imam of the Thiru-Vi-Ka Nagar masjid near Perambur which follows the Tablighi Jamaat faith.
But Tamil Nadu went into a tizzy when Madurai resident and secretary of a mosque in Anna Nagar, an elite quarter of the city, tested positive for Covid-19. More so because the 54-year-old man had no travel history and had not stepped out of his locality for the past several months. The man died on March 25 and alarm bells began ringing as this meant the start of community infections, which, if not checked, could turn calamitous. After local authorities made inquiries, it was found the virus could have been transmitted by the Tablighi Jamaat preachers and pilgrims from Indonesia, Malaysia and Thailand, who arrived in groups of eight to 12 via Delhi and lived in mosques around the country.
Another case that raised concerns was of a pilgrim from Thailand who indicated Covid-19 like symptoms when screened at the Coimbatore airport just before boarding his flight back to his country. He had toured mosques in Perundurai in Erode district from March 11 to 16 with a group of seven, The man tested negative but died later due to other health complications, said officials.
When the remaining six were screened, two tested positive. But it's not just the group members who were isolated and quarantined, 295 families comprising 1,118 members also had to be quarantined as the pilgrims visited mosques on nine streets in Perundurai town where they lived.
With international flights being grounded from March 22, the influx of people have been arrested. Local authorities hope they have been able to identify the potential cases from the countries of Malaysia, Indonesia and Thailand, which were among the early targets of Covid-19, and will contain the spread of the virus.
https://timesofindia.indiatimes.com/city/chennai/tamil-nadu-preachers-of-faith-caught-in-the-viral-storm/articleshowprint/74839470.cms
-----
Minorities panel appeals to Muslims to obey curfew norms
MARCH 26, 2020
Delhi Minorities Commission chairman Zafarul-Islam Khan on Thursday appealed to Muslims in the city to strictly obey curfew restrictions and adhere to social distancing norms.
His appeal came as a reaction to an information that Muslims in some areas like Old Delhi, Zakir Nagar, Seelampur and Jafarabad were lax about social distancing and the restrictions imposed by the government to control and contain the virus epidemic.
Mr. Khan asked Muslims in these neighbourhoods to strictly obey the curfew restrictions, adhere to social distancing norms and approach hospitals if symptoms were noticed and follow quarantine rules.
"Imams and mosque committees must strictly adhere to the current restrictions and restrict congregational prayers to a maximum of four persons including, the imam and muezzin while others must pray at home. Preservation of human life is a primary duty of all. People must not pay attention to fake videos offering doubtful advice and cures," Mr. Khan said.
He added that authorities, especially police, must deal firmly with violators, while allowing people to procure essential supplies or to go to chemists and hospitals.
"Action, in particular, must be taken against imams and mosque committees members who are adamant to flout the current restrictions," Mr. Khan said.
https://www.thehindu.com/news/cities/Delhi/minorities-panel-appeals-to-muslims-to-obey-curfew-norms/article31176669.ece
-----
Coronavirus in J&K: Mosques, shrines closed to avoid large gatherings
March 27, 2020
The restrictions on the movement and assembly of people to contain the spread of the coronavirus continued in Kashmir for the ninth day on Friday as most mosques and shrines were shut to avoid large gatherings for congregational prayers, officials said. The curbs were tightened across the valley in the wake of detection of more COVID-19 cases, they added. Many roads have been sealed off in the valley and barriers erected by the security forces to check the movement of people.
Police vehicles fitted with public address systems went around the residential areas of the city and elsewhere in the valley till late on Thursday as well as in the morning hours of Friday to announce that restrictions under section 144 of the Code of Criminal Procedure (CrPC) were imposed.
The police were also using drones in some parts of the city to announce the restrictions on the movement of people, the officials said. Most of the mosques and shrines across the valley, including those in the summer capital here, were closed on the appeal of the administration to avoid large gatherings for congregational prayers on Friday, they added.
While Prime Minister Narendra Modi announced the 21-day countrywide lockdown on Tuesday evening, the Union Territory administration here had announced a lockdown across Jammu and Kashmir till March 31 on Sunday as part of its efforts to curb the spread of the coronavirus.
The administration said essential services, including healthcare personnel, were exempted from the restrictions. It asked people to cooperate and warned of action for violating the prohibitory orders. The district administrations have put in place a mechanism to ensure uninterrupted supplies and deliveries of essential services to the general public. Essential commodities will be home-delivered to the residents as part of the mechanism.
However, there have been reports of violations by people at several places across the valley, following which the police have taken action by effecting arrests and seizing vehicles.
The markets across the valley were shut and public transport was off the roads with only pharmacies and groceries allowed to open, the officials said. Educational institutions across Kashmir have been closed, while all public places including gymnasiums, parks, clubs and restaurants were shut down more than a week before the lockdown announced by the prime minister.
Restrictions were first imposed in many parts of the valley on Thursday last week to contain the spread of the virus. The measures were taken after a 67-year-old woman from the Khanyar area of the city, who had returned from Saudi Arabia on March 16 after performing Umrah, tested positive for COVID-19.
The number of coronavirus cases has gone up to 10 in the valley, while the figure for the Union Territory is 13. One patient has recovered from the disease in Kashmir, while another one succumbed at a hospital here on Thursday morning.
https://www.businesstoday.in/current/economy-politics/coronavirus-in-jk-mosques-shrines-closed-large-gatherings/story/399389.html
-----
Muslim cleric, 27 others booked for defying COVID-19 lockdown in Bhopal
27th March 2020
BHOPAL: An offence was registered against a Muslim cleric and 27 others, for allegedly defying the COVID-19 lockdown, by offering prayers at a mosque in Madhya Pradesh's Bhopal city, police said on Friday.
The Imam of Zainab Masjid in Islampura and others organised a prayer at 8 pm on Thursday, defying section 144 of Criminal Procedure Code (CrPC) and the nationwide lockdown, which is put in place to contain the spread of coronavirus.
https://www.newindianexpress.com/nation/2020/mar/27/muslim-cleric-27-others-booked-for-defying-covid-19-lockdown-in-bhopal-2122196.html
----
URL: https://www.newageislam.com/islamic-world-news/holy-land-churches-mosques-synagogues/d/121419
New Age Islam, Islam Online, Islamic Website, African Muslim News, Arab World News, South Asia News, Indian Muslim News, World Muslim News, Women in Islam, Islamic Feminism, Arab Women, Women In Arab, Islamophobia in America, Muslim Women in West, Islam Women and Feminism