New Age Islam News Bureau
18 Nov 2013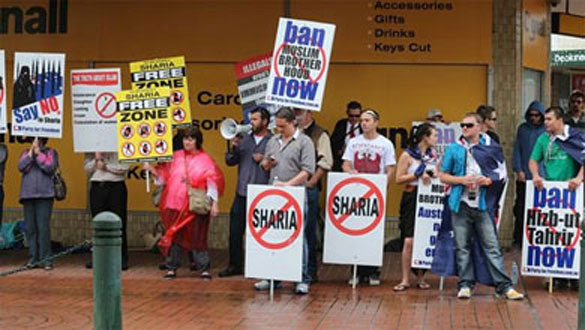 Protesters at Muslim group Hizb ut-Tahrir Australia's conference at Lidcombe. Source: News Limited
------------
Australia
• Hizb ut-Tahrir Australia Conference Hears 'This Country at War' With Radical Islam
Mideast
• Mossad Working with Saudis on Contingency Plans for Potential Attack on Iran
• Jews desecrate cemetery in Al-Quds
• Al-Qaeda bio weapons expert' secretly held for 3 years in Israel with no trial
• Attack on Islamic school kills 8 in Yemen
• Iran unveils what it says is its biggest drone
• Turkish PM hints at general amnesty, calls for support to Kurdish peace process
• Israel experts wary on French pledges ahead of Iran talks
North America
• US military working on plan to train thousands of Libyans
• White House pushes to loosen Gitmo transfer rules
Arab World
• 4 Syrian generals among 31 dead in rebel bomb attack
• Syria rebel chief, Abdel Qader Saleh killed in regime strike: Sources
• Three Islamist leaders referred to criminal court for insulting judiciary
• National Security officer, Mabrouk, assassinated in Cairo
• Iraq death toll from Baghdad bombings rises to 26
• Brotherhood's dialogue offer rebuffed by government
• Historic Saudi sabre sells for $1 mn at French auction
Europe
• Terror trial could be held in secret 'to stop conspirators being tipped off'
• France Calls for Halt to Israeli Settlement Construction
• Up to 12,000 Afghan Taliban eliminated in 2013: UN report
• Top Assad officials in Moscow to discuss Syria talks
• Putin calls Iran's leader, sees chance to end nuclear row
• Workers in Qatar treated like cattle: Amnesty
India
• In Wake of Muzaffarnagar Riots, Social Media Abuzz With Hate Posts
• Over 54 Indian companies to participate in Jewellery Arabia in Bahrain
• Hold tripartite dialogue to resolve Kashmir issue: Moderate Mirwaiz
• India Hails Election Of New Maldives President
Africa
• Future of Maghreb Cannot Be Shaped By Expansion Strategy: Bukhari to UN
• Libya clashes: Misrata militia ordered out of Tripoli
• Al-Shabaab is facing a bloody crisis of its own: terrorists are turning on each other
• Somalia: President and PM Political Standoff Turns Tribal
• Tunisian president: Coup attempt foiled
Pakistan
• Pakistan TV channels fined Rs 10 million for excessive Indian content
• Three killed in Kohat violence; curfew in place
• Pakistani extortionists cash in by posing as Taliban
• Govt orders crackdown on hate speech online
South Asia
• Biswal: US want a free, fair and acceptable election to Bangladeshis
• All-party interim govt installed to oversee Bangladesh elections
• Kabul's school of rock offers lessons for life
• International community welcomes end of democratic uncertainty in Maldives
• Will draw half the salary, want to live in own home: Abdulla Yameen
Southeast Asia
• Rulers in Malaysia have no right to dictate religion to non-Muslims, constitutional expert
• Indonesia Executes Pakistani Drug Trafficker
• Indonesia Recalls Ambassador from Australia Over Spy Allegations
Compiled by New Age Islam News Bureau
URL: https://www.newageislam.com/islamic-world-news/new-age-islam-news-bureau/hizb-ut-tahrir-australia-conference-hears--this-country-at-war--with-radical-islam/d/34466
------------
Australia
Hizb ut-Tahrir Australia Conference Hears 'This Country at War' With Radical Islam
November 18, 2013
A HARDLINE Islamic group has warned Muslims that the government was trying to "brainwash" their children and that they should resist any attempts to water down their strict view of Islam.
"The government is playing a dirty, dirty game," Wassim Doureihi told the 600-strong audience at the Hizb ut-Tahrir Australia conference in Lidcombe yesterday.
Hizb ut-Tahrir wants global Sharia law. Yesterday in Sydney it launched a 124-page report on what it sees as Australian government attempts to divide the Muslim community into extremists and moderates.
"The fundamental objective of these policies is to change Islam, to secularise Islam, to produce a so-called 'moderate Islam': a state-sanctioned version of Islam that is secular, politically impotent and localised," it said.
Mr Doureihi warned the audience that it was "a war on Islam - a war that is being waged in this country as it is in the rest of the world".
Fellow speaker Soadad Doureihi warned: "This is truly a battle." He said the Australian government had "arrogantly" assumed that because Muslim youth "went to their schools and watch their TV shows" they would adopt "their values".
Because that did not happen, he said, authorities had instead moved to target young Muslims with sponsored leadership programs. "This is not a leadership course, it is a brainwashing course," he said.
Outside, about 20 Australian Defence League members waved banners and chanted: "Australians are welcome, terrorists are not" watched by police .
League president Ralph Cerminara said: "This (Hizb ut-Tahrir) is a terrorist organisation and it needs to be banned from Australia."
Inside people told how they had been approached by representatives of ASIO and the Australian Federal Police to inform on other members of their Muslim community.
"Know your rights," Wassim Doureihi said. "When ASIO calls the simple message is that you open the door and slam it on their face."
The organisers said the government was attempting to manipulate their community by providing funding via counter-terrorism and counter-extremism groups.
"Not only do you reject it, you spit on it because it is money that will be the source of your demise," Mr Doureihi said. "It's not engagement, it's entrapment."
Soadad Doureihi condemned the National Imam's Council and the Lakemba Muslim Association for taking government money that was "absolutely conditional" on producing a more watered down version of Islam.
Sheik Rian Wiramihardja said: "They are rewriting Islam to make it more palatable to Western tastes and we have to be aware of this."
The speakers called on those present to resist any attempts to moderate Islam.
http://www.news.com.au/national/nsw-act/hizb-uttahrir-australia-conference-hears-this-country-at-war-with-radical-islam/story-fnii5s3x-1226762077040
------------
Mideast
Mossad working with Saudis on contingency plans for potential attack on Iran
November 18, 2013
The Mossad is working with Saudi officials on contingency plans for a potential attack on Iran in the event that Tehran's nuclear program is not sufficiently curbed in the deal that may be concluded between Iran and world powers in Geneva this week, The Sunday Times reported.
Both Jerusalem and Riyadh have expressed displeasure at the deal being formulated between Iran and the P5+1 group of world powers that they see as doing little to stop Tehran's progress toward a nuclear weapon.
According to the Times, Riyadh has already given its consent for Israel to use Saudi airspace for a potential attack on Iran.
The paper quoted a diplomatic source as saying the Saudis were willing to assist an Israeli attack by cooperating on the use of drones, rescue helicopters and tanker planes.
"Once the Geneva agreement is signed, the military option will be back on the table. The Saudis are furious and are willing to give Israel all the help it needs," the Times quoted the source as saying.
Prime Minister Binyamin Netanyahu said in an interview with French daily Le Figaro on Saturday that there is a "meeting of the minds" between Israel and the "leading states in the Arab world" on the Iran issue – "one of the few cases in memory, if not the first case in modern times.
"We all think that Iran should not be allowed to have the capacities to make nuclear weapons," he said. "We all think that a tougher stance should be taken by the international community. We all believe that if Iran were to have nuclear weapons, this could lead to a nuclear arms race in the Middle East, making the Middle East a nuclear tinderbox."
Saying that an Iran with nuclear arms would be the most dangerous development for the world since the mid-20th century, and stressing that the "stakes are amazing," Netanyahu urged the world's leaders to pay attention "when Israel and the Arabs see eye-to-eye."
"We live here," he said. "We know something about this region. We know a great deal about Iran and its plans. It's worthwhile to pay attention to what we say."
Netanyahu made the comments as French President Francois Hollande was set to arrive in Israel for talks on Iran on Sunday.
French objections are widely viewed as having held up an agreement with Iran last Saturday night in Geneva. The nuclear talks are set to resume in Geneva on Wednesday, and US officials have suggested that a deal may likely be signed.
Diplomatic officials said one reason for France's tough position on Iran – the toughest position among the P5+1 states that also include the US, Russia, China, Britain and Germany – has something to do with its close ties to Saudi Arabia and the United Arab Emirates, which are as adamantly opposed to Iran getting nuclear weapons as is Israel.
http://www.jpost.com/Iranian-Threat/News/Report-Mossad-working-with-Saudis-on-contingency-plans-for-potential-attack-on-Iran-331961
------------
Jews desecrate cemetery in Al-Quds
November 18, 2013
RAMALLAH – Extremist Jewish settlers on early Sunday vandalised a Muslim cemetery in occupied Jerusalem, Palestinian and Israeli sources said.
The Al-Aqusa Foundation for Endowment and Heritage said that extremists spray-painted the words "price tag" on the the Ma'man Allah cemetery in central Jerusalem. The foundation added that tombstones were also sprayed painted with the words "revenge" and "price tag."
The foundation said it filed a criminal complaint with Jerusalem police. The Israeli police confirmed the attack and said it has launched an investigation.
The cemetery, which includes the graves of the companions of Prophet Mohammed (PBUH) and located near Al-Khalil Gate, is the biggest and oldest graveyard in the Palestinian lands.
"Price tag" refers to acts of vandalism and violence perpetrated by extremist Jewish settlers targeting Palestinians in Jerusalem and the West Bank but also Christian sites, usually carried out in retaliation to the evacuation of West Bank settlements by Israeli forces.
The foundation said that the Israeli authorities started new excavations at Ma'man Allah cemetery on January to build the Museum of Tolerance complex on the site.
The $150 million complex, designed by Israeli Chyutin Architects firm, would include a museum, conference and education centres, a library and a theater, all dedicated to promoting tolerance in Israel and abroad.
According to the foundation, the bulldozers of the Jewish-dominated Jerusalem municipality started the excavations in the cemetery's western part at depths more than 15 meters.
It added that Israel is expected to exhume the remains of more than 1,000 Muslims during the excavations.
Because the work involves unearthing hundreds of skeletons, it has aroused fierce opposition from Muslim and Jewish groups, who petitioned the Israeli Supreme Court against it.
Israel captured East Jerusalem in the June 1967 War, annexed it in 1980, and has since built settlements there that are home to some 300,000 Jewish settlers.
Control over the city has been seen as the most sensitive and thorniest issue of Israeli-Palestinian conflict. Palestinians hope to make East Jerusalem the capital of their future state but the Israel says the city is its eternal capital.
http://www.saudigazette.com.sa/index.cfm?method=home.regcon&contentid=20131118186962
------------
Al-Qaeda bio weapons expert' secretly held for 3 years in Israel with no trial
November 18, 2013
A man, whom Israel calls an Al-Qaeda bioweapons expert, is seeking release from prison after been held in detention for three years without trial, court documents reveal.
Samer Baraq, 39, is one of more than a hundred prisoners being held by the state of Israel under so-called administrative detention. It's a policy akin to what the United States adopted towards the prisoners of Guantanamo Bay facility.
It allows a person to be locked up without a regular trial, if putting the accused in court would require evidence exposing the workings of the secret services. Instead, a closed military tribunal decides on whether the captive is dangerous enough to merit detention.
Asked if his client denied the allegations against him, Baraq's lawyer, Mahmid Saleh, told Army Radio: "If he is such a senior terrorist, then why hasn't he been prosecuted? There is no evidence against him."
He added that Israel was prepared to release his client back to Jordan, where his Pakistani wife currently lives, but Jordanian authorities would not accept him.
Baraq, a Palestinian born in Kuwait, has been held in administrative detention since 2010, when he was arrested while trying to enter Israel from Jordan, Ynet reports. Israeli authorities say he is a senior Al-Qaeda operative on a mission to recruit jihadists in Palestine, who poses serious danger to Israel and the entire region, if set free.
He studied microbiology in Pakistan since 1995, receiving a master's degree, and also received military training in Afghanistan, according to interrogation transcripts cited by the report. In 2001 he was recruited by Ayman Zawahri, the current leader of Al-Qaeda.
His current state of incarceration if far from being unfamiliar to Baraq. He was previously arrested for three months in 2003 in US, where he was held in Guantanamo. He was later jailed twice in Jordan – the country where his family moved after the first Gulf War – for eight months for the first time and for five years later. His capture by Israel came two years after his five-year imprisonment ended.
This week Israel's Supreme Court reviews a petition from Baraq, who had asked in October to be released. He filed similar petitions in the past, but was denied.
"There can be no disagreement about the danger posed by him, and that his release would ignite military activities of the Salafi Jihad against the State of Israel," the Supreme Court said as it denied Baraq's previous petition in July.
Baraq's father Hilmi claims that his son was arrested several times in Jordan between 2009 and 2010 and that he was removed to Israel by that country's security forces rather than being detained crossing the border of his own free will.
http://rt.com/news/israel-prisoner-trial-qaeda-897/
--------
Attack on Islamic school kills 8 in Yemen
World Bulletin / News Desk
November 18, 2013
An armed attack on a center of Islamic studies in the north of Yemen killed eight and injured 18 on Sunday, acording to sources.
The Damaj town in the northern province of Saada has been mired in sectarian clashes between Sunni Salafis and Shiite Houthis.
Surur al-Wadi, the spokesman for the "Dar al-Hadith" Religious School in Damaj, said on Sunday that the conflict has exacerbated over the last three weeks.
Houthis allege that the school, which has thousands of students and attracts many from abroad, acts as a hornet's nest for jihadists, who use unlawful means to come to Yemen.
The school rejects the claims, saying all their foreign registrants are documented and staying legally in the country.
In 2011, Houthis laid siege to the town of Damaj, claiming that weapons were smuggled into Dar al-Hadith. The ensuing violence killed several hundred people.
http://www.worldbulletin.net/?aType=haber&ArticleID=123152
--------
Iran unveils what it says is its biggest drone
AP
2013-11-18
TEHRAN: Iran unveiled a new aircraft Monday that it says is the biggest drone yet to be developed in the Islamic Republic, capable of staying aloft for up to 30 hours.
Defense Minister Hossein Dehghan said the reconnaissance and combat drone Fotros has a range of 2,000 kilometers (1,250 miles). That would cover much of the Middle East including Israel. The earlier Shahed-129 (Witness-129) drone is reported to have a similar range, but can only stay aloft 24 hours.
Full report at:
http://www.dawn.com/news/1056968/iran-unveils-what-it-says-is-its-biggest-drone
------------
Turkish PM hints at general amnesty, calls for support to Kurdish peace process
November 18, 2013
Prime Minister Recep Tayyip Erdoğan called Nov. 17 on Turkey's Kurdish citizens to embrace the government-led peace process, a day after hinting at a possible general amnesty.
"A new process, a new climate, a new spring atmosphere is being experienced not only in Turkey but also in the region," Erdoğan said at a ceremony yesterday in the southeastern province of Diyarbakır's Bismil district.
He asked for Kurdish citizens to support the government's bid to end the decades-long Kurdish conflict.
Full report at:
http://www.hurriyetdailynews.com/turkish-pm-hints-at-general-amnesty-calls-for-support-to-kurdish-peace-process.aspx?pageID=238&nID=58072&NewsCatID=338
------------
Israel experts wary on French pledges ahead of Iran talks
November 18, 2013
Strong French declarations on Iran may win praise in Israel but are no guarantee Paris will advance a deal acceptable to the Israelis when nuclear talks resume, experts warned Monday.
On his first state visit to Israel, President Francois Hollande was warmly received after France took a tougher stance than its Western partners in the latest world powers' bid to reach a deal to scale back Tehran's nuclear programme in talks in Geneva that ended on November 10.
Full report at:
http://english.ahram.org.eg/NewsContent/2/8/86798/World/Region/Israel-experts-wary-on-French-pledges-ahead-of-Ira.aspx
------------
North America
US military working on plan to train thousands of Libyans
November 18, 2013
The US military is working on plans to train 5,000 to 7,000 members of the Libyan security forces and also special operations forces who can carry out counter-terrorism missions, a senior US military official said.
Libya's government is struggling to keep order as rival militias and hardline Islamists refuse to disarm two years after Muammar Gaddafi was ousted in a NATO-backed uprising. Tripoli has seen deadly clashes over the past several days.
Admiral William McRaven, who heads the US military's Special Operations Command, declined to go into details about the training plan, saying these were still being negotiated.
"Suffice to say that there is going to be a kind of conventional effort, to train their conventional forces, between 5 and 7,000 conventional forces. And we have a complementary effort on the special operations side to train a certain number of their forces to do counter-terrorism," he told a defense forum in California at the weekend.
Full report at:
http://english.ahram.org.eg/NewsContent/2/8/86761/World/Region/US-military-working-on-plan-to-train-thousands-of-.aspx
----------
White House pushes to loosen Gitmo transfer rules
Nov 18, 2013
President Barack Obama is pushing to overcome obstacles to closing the Guantanamo Bay prison, an elusive goal which has frustrated him since he took office. That is setting the White House on a collision course with Congress in its bid to loosen restrictions for moving out detainees.
Administration officials say a Senate defence policy bill, coming up for debate within days, would allow them to move out prisoners who have long been cleared for transfer overseas but are still held, in part because of a complicated Pentagon certification process. The bill would ease those restrictions and lift a ban on bringing suspected terrorist prisoners from Guantanamo to the United States for detention, trial or emergency medical treatment.
The White House effort faces dogged resistance, with opponents pointing out that some former detainees have joined terrorist efforts after being released from the remote U.S. naval prison in Cuba.
Full report at:
http://www.thehindu.com/news/international/world/white-house-pushes-to-loosen-gitmo-transfer-rules/article5364009.ece
-----------
Arab World
4 Syrian generals among 31 dead in rebel bomb attack
Nov 18, 2013
A rebel bomb attack killed 31 Syrian military troops on an army base near Damascus on Sunday. Four generals were among those killed. The attack came amid a major regime offensive against rebel positions around Damascus and Aleppo, AFP reported.
"Three generals and a brigadier-general were among 31 troops killed in a bomb attack that caused a building in the army transport base in Harasta to collapse,'' Syrian Observatory for Human Rights director Rami Abdul Rahman said.
The rebel group Direh al-Aasmeh (Shield of Damascus) brigade - which is part of the Western-backed Free Syrian Army - has claimed responsibility for the attack, posting a video of the blast on YouTube. The video shows the military building collapsing.
"The timing of the attack is significant" since government troops have only just regained several rebel strongholds in the area, Rahman added.
Full report at:
http://rt.com/news/generals-syria-rebel-attack-874/
---------
Syria rebel chief, Abdel Qader Saleh killed in regime strike: Sources
November 18, 2013
The head of the Syrian rebel Liwa Al-Tawhid Brigade has died of wounds he suffered in a regime air strike last week, the rebels and a monitor said on Monday.
"Abdel Qader Saleh has been martyred," said a posting on a Facebook page linked to the brigade.
The Britain-based Syrian Observatory for Human Rights also reported the death.
"Abdel Qader Saleh, known as Hajji Marea, died of wounds he sustained last Thursday when war planes targeted the Liwa al-Tawhid leadership," it said in a statement.
"He was taken to Turkey after being wounded, and died in a hospital there before being brought back to Syria for burial," Observatory director Rami Abdel Rahman told AFP.
Thursday's strike also killed Yussef Al-Abbas, known as Abu Al-Tayyeb, Liwa Al-Tawhid's intelligence chief.
Full report at:
http://english.ahram.org.eg/NewsContent/2/8/86759/World/Region/Syria-rebel-chief-killed-in-regime-strike-Sources.aspx
------------
Three Islamist leaders referred to criminal court for insulting judiciary
November 18, 2013
Judge Tharwat Hamad ordered Sunday that Al-Wasat Party leaders Essam Sultan, Gamal Gabriel and Muslim Brotherhood member Taher Abdel-Mohsen be referred to Cairo Criminal Court on charges of insulting the judiciary.
Several judges filed complaints against the defendants, accusing them of insulting the judiciary by accusing the institution of corruption in interviews with the press.
The complaints also came after the accused promoted a proposed law to retire some 3,500 judges aged over 60.
Full report at:
http://english.ahram.org.eg/NewsContent/1/64/86697/Egypt/Politics-/Three-Islamist-leaders-referred-to-criminal-court-.aspx
------------
National Security officer, Mabrouk, assassinated in Cairo
November 18, 2013
A senior officer in Egypt's National Security apparatus was assassinated Sunday, the Interior Ministry said.
The late Lieutenant Colonel Mohamed Mabrouk was responsible for investigating one of the cases of ousted president Mohamed Morsi as well as jihadist cells.
He was shot near his house in Cairo's eastern district of Nasr City on Sunday night. Sources told Al-Ahram's Arabic news website that Mabrouk was hit by seven bullets fired by unknown gunmen in a drive-by shooting.
Full report at:
http://english.ahram.org.eg/NewsContent/1/64/86754/Egypt/Politics-/National-Security-officer-assassinated-in-Cairo.aspx
------------
Iraq death toll from Baghdad bombings rises to 26
November 18, 2013
Violence across Iraq, including a spate of evening bombings against markets and cafes in Baghdad, killed at least 26 people and a dozen militants, officials said Monday.
The attacks on Sunday were the latest in a protracted surge in violence that has forced Iraq to appeal for international help in combatting militancy just months before its first general election in four years.
The deadliest attacks struck in Baghdad, where a wave of evening bombings targeted civilians in both Sunni and Shiite neighbourhoods of the capital.
From the evening onwards, four car bombs and three roadside bombs hit areas ranging from the Shiite slum neighbourhood of Sadr City in northeast Baghdad to the western Sunni suburb of Radhwaniyah.
Full report at:
http://www.hurriyetdailynews.com/iraq-death-toll-from-baghdad-bombings-rises-to-26.aspx?pageID=238&nID=58088&NewsCatID=352
------------
Brotherhood's dialogue offer rebuffed by government
November 18, 2013
A Muslim Brotherhood-led alliance said Nov. 16 it is ready for a national dialogue to end Egypt's political standoff, for the first time not formally demanding the nation's toppled president return to power.
The country's military-backed government, however, signaled no intention to start talks with supporters of ousted President Mohamed Morsi. Underscoring that, judges also suggested that the government disband the Brotherhood's political party.
The call by the alliance of Islamist groups is the first formal proposition by Morsi supporters, who have organized near-daily protests demanding his return to office since he was removed in a popularly supported military coup July 3.
Full report at:
http://www.hurriyetdailynews.com/brotherhoods-dialogue--offer-rebuffed-by-government.aspx?pageID=238&nID=58065&NewsCatID=352
------------
Historic Saudi sabre sells for $1 mn at French auction
November 18, 2013
A rare sabre considered a "historic testimony" to the creation of modern-day Saudi Arabia sold for more than $1.2 million at an auction in France on Sunday.
The 24-carat-gold and steel sword, with an ivory handle and long curved blade, was bought for 955,400 euros over the phone "by a mysterious buyer who entered bidding mid-sale," said auctioneer Jean-Pierre Osenat.
Full report at:
http://english.ahram.org.eg/NewsContent/2/9/86797/World/International/Historic-Saudi-sabre-sells-for--mn-at-French-aucti.aspx
------------
Europe
Terror trial could be held in secret 'to stop conspirators being tipped off'
November 18, 2013
A new 'secret justice' row flared up last night after it was revealed that two suspected terrorists could be tried behind closed doors.
Prosecutors will apply to a judge today for a draconian order to hold large parts of a major terrorist trial out of the public eye.
Senior Scotland Yard detectives believe that alleged conspirators of the men could be tipped off if details of their actions are made public. They said there are 'strong operational reasons' for large swathes of the trial to be held in secret.
But critics said the move is further evidence of a dangerous trend of secrecy despite Britain's historic commitment to open justice. Shami Chakrabarti, director of campaign group Liberty, condemned the move as part of a 'dramatic drift towards secret trials'.
Full report at:
http://www.dailymail.co.uk/news/article-2508807/Secret-justice-row-revealed-terror-trial-place-closed-doors.html
------------
France Calls for Halt to Israeli Settlement Construction
November 18, 2013
French President Francois Hollande is calling on Israel to stop building settlements in occupied territory, saying the construction complicates ongoing negotiations with the Palestinians.
Hollande said Monday at a joint news conference with Palestinian President Mahmoud Abbas in Ramallah that the settlements make it difficult for the two sides to achieve a two-state solution.
Full report at:
http://www.voanews.com/content/france-calls-for-halt-to-israeli-settlement-construction/1792164.html
--------
Up to 12,000 Afghan Taliban eliminated in 2013: UN report
AFP
2013-11-18
KABUL: Up to 12,000 Afghan Taliban fighters have been killed, wounded or captured this year, according to a United Nations report, which said violence in the war-torn nation was at a three-year high.
US-led Nato forces are to withdraw the bulk of their 75,000 troops from Afghanistan by the end of the next year after 13 years of fighting the Taliban.
The paper for the UN Security Council warned that the insurgents' homemade bombs, which accounted for 80 per cent of the casualties among Afghan security forces, were becoming increasingly sophisticated.
Full report at:
http://www.dawn.com/news/1056967/up-to-12000-afghan-taliban-eliminated-in-2013-un-report
------------
Top Assad officials in Moscow to discuss Syria talks
November 18, 2013
MOSCOW: A senior Syrian regime delegation was Monday in Moscow to hold talks with top Russian diplomats on plans to hold a peace conference in Geneva to end the Syria conflict, the foreign ministry said.
President Bashar al-Assad's presidential adviser Buthaina Shaaban and Deputy Foreign Minister Faisal Muqdad were in Moscow and would hold talks with Gennady Gatilov and Mikhail Bogdanov, who are both Russian deputy foreign ministers, it said.
"The official Syrian delegation has arrived in Moscow and will hold talks at the foreign ministry," the Russian foreign ministry was quoted as saying by the Interfax and RIA Novosti news agencies.
Full report at:
http://tribune.com.pk/story/633183/top-assad-officials-in-moscow-to-discuss-syria-talks/
------------
Putin calls Iran's leader, sees chance to end nuclear row
By REUTERS
11/18/2013
Russian President Vladimir Putin told Iranian President Hassan Rouhani on Monday there was a "real chance" to resolve the international standoff over Tehran's nuclear program.
The Kremlin said Putin and Rouhani had spoken by telephone at the Russian leader's request, two days before negotiators from Iran and six global powers hold their next talks.
"...In the context of the Iranian nuclear program, V.V. Putin underlined that at the moment a real chance has appeared to find a solution to this long-running problem," the statement said.
It did not say how Rouhani had responded, other than quoting him as saying he approved of Russia's contribution to the talks on Iran's nuclear program.
Full report at:
http://www.jpost.com/Iranian-Threat/News/Putin-calls-Irans-leader-sees-chance-to-end-nuclear-row-332106
------------
Workers in Qatar treated like cattle: Amnesty
Reuters | Nov 18, 2013
DOHA: Qatar's construction industry is rife with abuse of migrant workers who are "treated like cattle" and live in squalid accommodations, Amnesty International said on Sunday while calling on world soccer's governing body to help with the situation.
Qatar will host the 2022 World Cup and Amnesty asked FIFA to work with the Qatari authorities to stamp out abuses of workers who mainly come from South Asia.
"Our findings indicate an alarming level of exploitation in the construction sector in Qatar," said Amnesty Secretary General Salil Shetty.
"FIFA has a duty to send a strong public message that it will not tolerate human rights abuses on construction projects related to the World Cup.
Full report at:
Workers-in-Qatar-treated-like-cattle-Amnesty/articleshow/25976432.cms
------------
India
In Wake Of Muzaffarnagar Riots, Social Media Abuzz With Hate Posts
Ashish Tripathi & Pervez Iqbal Siddiqui, TNN | Nov 18, 2013
LUCKNOW: The Samajwadi Party government in Uttar Pradesh seems to have taken no lessons from the Muzaffarnagar riots in which 62 persons were killed and over 60,000 displaced. The misuse of social media -which the UP government claims were used to instigate communal riots-are once again being used to whip up communal passions across the state. But authorities are turning a blind eye. Highly inflammatory pictures and text are being posted on social media, which many fear, may result in further aggravating communal tension in the state, which has already witnessed more than 100 riots in the past one-and-half-year.
A video shot at Sialkot in Pakistan in 2010 showing a mob lynching two youths was morphed and posted in the YouTube in September 2013 claiming it is of two Hindu boys killed at Kawal in Muzaffarnagar. It was circulated through Facebook, CDs and MMS. It was also shown to people in the Mahapanchayat at Nangla Mandaud in Muzaffarnagar on September 7. The fake video surcharged the atmosphere resulting in one of the bloodiest riots in UP. Bharatiya Janata Party MLA Sangeet Singh Som was booked for allegedly sharing the fake video. He was recently released on bail and has given a call to hold another Mahapanchayat soon and before that some highly provocative stuff is on the social media again, one of the pages being in the name of the BJP MLA.
Full report at:
http://timesofindia.indiatimes.com/india/In-wake-of-riots-social-media-abuzz-with-hate-posts/articleshow/25966882.cms
------------
Over 54 Indian companies to participate in Jewellery Arabia in Bahrain
Melvyn Thomas, TNN | Nov 18, 2013
SURAT: Over 54 leading diamond and jewellery companies from Surat, Mumbai, Jaipur, etc are participating in the five days long 22nd Jewellery Arabia exhibition in Bahrain starting from November 19.
This year's Indian pavilion at the Bahrain International Convention and Exhibition Centre is spread over 810 square meters of space, showcasing exquisite craftsmanship and jewellery collections comprising diamonds, gold and platinum and fine jewellery.
Industry sources said that the trade relations between India and the Middle East are booming. Trade with the Middle East continue to grow steadily over the years as export to UAE for 2012 stood at $18.49 billion out of which gold and studded jewellery exports itself accounted for nearly 50 per cent of the total export.
Full report at:
http://timesofindia.indiatimes.com/india/Over-54-Indian-companies-to-participate-in-Jewellery-Arabia-in-Bahrain/articleshow/25987272.cms
----------
Hold tripartite dialogue to resolve Kashmir issue: Moderate Mirwaiz
PTI | Nov 17, 2013
SRINAGAR: Advocating a tripartite dialogue for resolving Kashmir issue, Moderate Hurriyat Conference led by Mirwaiz Umer Farooq on Sunday said the amalgam will extend "fully support" any process which can help in finding a solution to the vexed problem.
"The struggle of Kashmiris cannot be suppressed by force and the leadership of Hurriyat, which is representative of the aspirations of the people, will continue to fully support any process which can help in resolving the (Kashmir) issue," the Mirwaiz told a religious gathering here.
Full report at:
http://timesofindia.indiatimes.com/india/Hold-tripartite-dialogue-to-resolve-Kashmir-issue-Mirwaiz/articleshow/25955853.cms
------------
India hails election of new Maldives president
TNN | Nov 18, 2013
NEW DELHI: Heaving a sigh of relief, India welcomed Maldives' new president, Abdulla Yameen or Yameen Abdul Gayoom, after an unexpected second run-off victory on Saturday confirmed his victory over former president Nasheed. Congratulating Yameen, Prime Minister Manmohan Singh told him the elections were a vote for democratic pluralism in Maldives.
Earlier, the MEA said, "We welcome the acceptance of the verdict of the people of Maldives by all sides and commitment expressed to take the country forward on the path of stability, progress and development."
Full report at:
http://timesofindia.indiatimes.com/world/south-asia/India-hails-election-of-new-Maldives-president/articleshow/25965452.cms
----------
Africa
Future of Maghreb Cannot Be Shaped By Expansion Strategy: Bukhari to UN
November 18, 2013
New York — "The future of the Maghreb region cannot be shaped by spoils resulting from a land expansion strategy, as well as violating international law and human rights," said Mr. Bukhari Ahmed, Polisario Front's Representative to the United Nations (UN).
"Moroccan regime has begun to feel a new American vision, based on the fact that there is nothing can be taken seriously in Maghreb and Sahel regions, without the consent and cooperation of Algeria, whom we share the same vision for a safe, democratic and prosperous Maghreb and Sahel," indicated Mr. Bukhari, in an interview with the Algerian magazine of El-Mihwar.
"The Polisario Front firmly believes that the referendum on self-determination is the honourable and appropriate way for the parties and the UN," he said, adding that UN has all the means, including the list of voters and a very detailed roadmap enshrined in the Houston's agreements, to organize the referendum, which was ratified by the Security Council.
Full report at:
http://allafrica.com/stories/201311180800.html
-----------
Libya clashes: Misrata militia ordered out of Tripoli
November 18, 2013
Militia groups from the Libyan city of Misrata have been ordered to leave the capital, Tripoli, within three days following deadly clashes there.
Tripoli is now observing a three-day strike in protest at Misrata gunmen who opened fire on demonstrators trying to evict them from their headquarters.
Libya's deputy intelligence chief was abducted on Sunday at the airport but has since been freed, say reports.
Two years after its revolution, Libya still lacks a stable government.
The rival militias which helped topple Col Muammar Gaddafi in 2011 have so far refused to disarm.
Full report at:
http://www.bbc.co.uk/news/world-africa-24982399
------------
Al-Shabaab is facing a bloody crisis of its own: After the Westgate atrocity, the terrorists are turning on each other
November 18, 2013
Abdulhamid Daar's dreams of joining al-Shabaab began as a teenager in Toronto, with long sermons from imams on how Islam was under grave threat, making it the duty of believers to fight and defend the faith. This took the 23-year-old engineering student on a journey to Somalia and jihad.
He experienced the excitement and satisfaction of being involved in the struggle for what he believed to be a righteous cause. But he also saw friends being killed, and felt the constant fear that he, too, would die or be left crippled.
Full report at:
http://www.independent.co.uk/news/world/africa/alshabaab-is-facing-a-bloody-crisis-of-its-own-after-the-westgate-atrocity-the-terrorists-are-turning-on-each-other-8944584.html
------------
Somalia: President and PM Political Standoff Turns Tribal
November 18, 2013
The political dispute between President Hassan Sheikh Mohamud and Prime Minister Abdi Farah Shirdon has taken a new shape today.
The prime minister is reported to have invited members of parliament from his Darood tribe and urged them to take their stand to support his political position and that of their tribe.
More than 48 MP's from Daarod tribe took part in a meeting that was organized by the prime minister in his office today.
Full report at:
http://allafrica.com/stories/201311180408.html?aa_source=mf-hdlns
------------
Tunisian president: Coup attempt foiled
World Bulletin / News Desk
November 18, 2013
Tunisian President Moncef Marzouki has paid tribute to the ruling Ennahda Party for offering "major concessions" to help solve the stalemate in Tunisia, expecting political rivals to agree on the new prime minister soon and unveiling details about a botched coup last summer.
"Ennahda has demonstrated great deal of historic responsibility because nothing oblige them to give up power after people gave them majority in the elections," Marzouki told Anadolu Agency in an exclusive interview at the Carthage presidential palace.
The Ennahda-led government has agreed to resign so that a new interim cabinet can be formed to organize and supervise upcoming elections.
Full report at:
http://www.worldbulletin.net/?aType=haber&ArticleID=123160
----------
Pakistan
Pakistan TV channels fined Rs 10 million for excessive Indian content
PTI | Nov 18, 2013
ISLAMABAD: Ten entertainment television channels in Pakistan have been slapped with Rs 10 million fine for airing excessive Indian and foreign content, a media report said on Monday.
Pakistan Electronic Media Regulatory Authority imposed the fine on the channels and issued warning letters to them to desist from such practice in future, The News report said.
It quoted a document of Ministry of Information, Broadcasting and National Heritage, as saying that the local channels were airing excessive Indian content, much more than the prescribed limits.
Full report at:
http://timesofindia.indiatimes.com/world/pakistan/Pakistan-TV-channels-fined-Rs-10-million-for-excessive-Indian-content/articleshow/25983118.cms
----------
Three killed in Kohat violence; curfew in place
ZAHIR SHAH SHERAZI
2013-11-18
PESHAWAR: Army took control of Khyber Pakhtunkhwa's Kohat and Hangu cities and a curfew was imposed following a clash on Monday near Imambargah Said Habib in the Zargaran bazaar area of Kohat district. The curfew in Hangu was however lifted after two hours.
Station Hose Officer Cantonment police station Mazhar Jaan told Dawn.com that three people were killed in the clash near the imambargah.
The dead include two policemen and a civilian.
He further said several others were injured in the clash, adding that an angry mob of a religious group had set a number of shops on fire in Tirah bazaar.
Police said activists of Ahle Sunnat Wal Jamaat, a religious group, were carrying out a protest against the recent violence in Rawalpindi when they clashed with a rival group near the Full report at:
http://www.dawn.com/news/1056959/three-killed-in-kohat-violence-curfew-in-place
------------
Pakistani extortionists cash in by posing as Taliban
AFP
2013-11-17
ISLAMABAD: It began innocuously enough, two men on a motorbike delivered a plain brown envelope to the home of Mohammed, an Islamabad businessman.
But the contents plunged him into a terrifying three-month nightmare.
The letter, headed with the banner of the Pakistani Taliban, informed Mohammed that a Taliban judge had found him guilty of not living by Islamic principles.
It said Mohammed, not his real name, had been fined five million rupees ($50,000) and threatened dire consequences if he went to the police or failed to pay up.
"Our squad of suicide bombers is always prepared to send non-believers to hell, God willing," the letter seen by AFP read.
Full report at:
http://www.dawn.com/news/1056757/pakistani-extortionists-cash-in-by-posing-as-taliban
------------
Govt orders crackdown on hate speech online
November 18, 2013
ISLAMABAD: The government ordered the Ministry of Information Technology (MoIT) and the Federal Investigation Agency (FIA) to take strict action against anyone who propagates sectarianism via social media or mobile phones, Express News reported on Monday.
Social media will be monitored for controversial statements that could lead to sectarian conflicts and measures will taken against those who spread such content.
The government also asked the FIA to investigate the issue and ordered them to take action against people who are involved in spreading such statements.
The government's decision comes after conflicts in Rawalpindi left nine people dead and over 80 injured on November 15. A curfew was imposed in the area and was lifted earlier today.
Full report at:
http://tribune.com.pk/story/633193/govt-orders-crackdown-on-hate-speech-online/
------------
South Asia
Biswal: US want a free, fair and acceptable election to Bangladeshis
November 18, 2013
Visiting US Assistant Secretary for South and Central Asian Affairs Nisha Desai Biswal on Sunday said Washington wanted a free, fair and acceptable election in Bangladesh.
"Washington wants a democratic system, socio-economic development and stability in Bangladesh and a free and fair election acceptable to the people of Bangladesh," BNP Vice-Chairperson Shamsher Mobin Chowdhury told journalists after Biswal's meeting with BNP Chairperson Khaleda Zia.
In the meeting at her Gulshan office, Khaleda categorically told the US official that her party wanted a solution acceptable to all through a dialogue.
Asked if Biswal said anything about taking part in the polls under the all-party government, Shamsher said: "She did not come here to give any advice. She did not come here to put pressure."
Full report at:
http://www.dhakatribune.com/politics/2013/nov/18/biswal-us-wants-polls-acceptable-bangladeshis#sthash.gJvUXpP2.dpuf
------------
All-party interim govt installed to oversee Bangladesh elections
Nov 18, 2013
Poll-bound Bangladesh today installed an "all-party" interim government headed by Prime Minister Sheikh Hasina to oversee upcoming elections despite boycott by the main opposition BNP which termed the move as "farce", heightening tension in the country.
Six ministers and two state ministers took oath to join an election-time Cabinet. President Abdul Hamid administered the oath at the presidential palace.
All the new ministers are from the constituents of the Awami League—led grand alliance.
The new ministers are: Amir Hossain Amu and Tofail Ahmed (Awami League), Rashed Khan Menon (Workers Party), and Anisul Islam Mahmud, Ruhul Amin Hawlader and Rawshan Ershad (Jatiya Party).
Full report at:
http://www.thehindu.com/news/international/south-asia/allparty-interim-govt-installed-to-oversee-bangladesh-elections/article5364179.ece
----------
Kabul's school of rock offers lessons for life
November 18, 2013
KABUL: With a sense of showmanship that would have impressed Freddie Mercury, Salahdeen, aged seven, struts his way through a passionate rendition of "We Will Rock You" – all part of the learning process at Kabul's "school of rock".
Founded two years ago in a living room in the Afghan capital, the school has grown into a busy youth club based at an arts centre with a recording studio and 35 students mastering singing, the guitar and drums.
The walls are covered in murals of local life and musical heroes such US duo The White Stripes, while the garden outside is decorated with graffiti paintings including one of a woman struggling with her veil.
Full report at:
http://tribune.com.pk/story/633171/kabuls-school-of-rock-offers-lessons-for-life/
------------
International community welcomes end of democratic uncertainty in Maldives
By JJ Robinson | November 18th, 2013
The international community has welcomed the conclusion of the Maldivian electoral process, after two months and six attempts at polls that suffered delays, annulments and obstruction.
Progressive Party of the Maldives (PPM) candidate Abdulla Yameen was sworn in as President yesterday, after a last-minute coalition with resort tycoon Gasim Ibrahim netted him 51.39 percent in Saturday's run-off vote against former President Mohamed Nasheed.
The Commonwealth Ministerial Action Group (CMAG) recalled its earlier decision to place the Maldives on its agenda due to concerns about democratic progress in the country.
"Ministers welcomed the successful conclusion of the presidential election and noted the interim statement of the Commonwealth Observer Group, which stated that the election had been "credible and peaceful". They congratulated the people of Maldives for showing their firm commitment to democracy, and for exercising their franchise in record numbers," read a statement.
Full report at:
http://minivannews.com/politics/international-community-welcomes-end-of-democratic-uncertainty-notes-high-voter-turnout-72051
----------
Will draw half the salary, want to live in own home: Abdulla Yameen
November 17, 2013
Maldives President-elect Abdulla Yameen has said he prefers to live in his own home and collect half the presidential salary, after assuming office on Sunday.
Speaking to the press after winning the presidential election, Yameen said, if his security personnel permits, he would prefer to sleep in his own home.
"I am planning to go home to sleep tonight. God willing, I will sleep at home tomorrow too. I don't intend to, if my security allows, to move somewhere else," Yameen said.
Yameen said his campaign pledged are fresh in his memory and that he will draw half the presidential salary as promised during the election.
Full report at:
Yameen said he will share details of his intended cabinet after he takes oath on Sunday.
http://www.sun.mv/english/17758
----------
Southeast Asia
Rulers in Malaysia have no right to dictate religion to non-Muslims, constitutional expert
November 18, 2013
State rulers in Malaysia have no power to suspend or deny the rights of non-Muslims to refer to God as Allah or their rights to religious freedom, which are guaranteed under the Federal Constitution, says constitutional law expert Dr Abdul Aziz Bari.
He said the laws are clear about the authority of the state rulers, just days after Selangor's Sultan Sharafuddin Idris Shah reminded non-Muslims in the state not to refer to God as Allah, which was affirmed a month ago by an appeal court ruling.
"The powers of all the rulers must be seen within the context of the Federal Constitution. The authority of the rulers as heads of religion only applies to Muslims within their respective states," Abdul Aziz told The Malaysian Insider.
Full report at:
http://www.themalaysianinsider.com/malaysia/article/state-rulers-have-no-right-to-dictate-religion-to-non-muslims-says-constitu
------------
Indonesia Executes Pakistani Drug Trafficker
November 18, 2013
A Pakistani drug trafficker was executed by firing squad at a South Tangerang cemetery early Sunday morning in the fifth death sentence carried out by Indonesian authorities since the government announced a renewed push to execute those convicted of capital offenses.
Muhammad Abdul Hafeez, 44, was executed by members of the National Police Mobile Brigade (Brimob) at 12:17 a.m. Sunday, Setia Untung Arimuladi, spokesman for legal affairs at the Attorney General's Office, said. Hafeez was sentenced to death in a 2001 drug charge for attempting to smuggle more than one kilogram of heroin into Indonesia from Peshwar, Pakistan.
Full report at:
http://www.thejakartaglobe.com/news/indonesia-executes-pakistani-drug-trafficker/
------------
Indonesia Recalls Ambassador From Australia Over Spy Allegations
November 18, 2013
Indonesia recalled its ambassador to Australia on Monday over claims the nation's intelligence agency spied on President Susilo Bambang Yudhoyono and his inner circle, intercepting phone calls between the president and members of his family and staff in the latest spying allegation to test ties between the two nations.
Foreign Minister Marty Natalegawa offered an infuriated response to the allegations on Monday, calling this latest spying scandal an "unfriendly act" that would require a "measured" response from Jakarta. It was the latest diplomatic scandal to rattle relations between the neighboring countries after disputes over Australia's hard-line asylum-seeker policies and allegations that Australian diplomats were involved in a global US-led spying network prompted harsh words from Jakarta.
Full report at:
http://www.thejakartaglobe.com/news/indonesia-recalls-ambassador-from-australia-over-spy-allegations/
-----------
URL: https://www.newageislam.com/islamic-world-news/new-age-islam-news-bureau/hizb-ut-tahrir-australia-conference-hears--this-country-at-war--with-radical-islam/d/34466