New Age Islam News Bureau
18 October 2020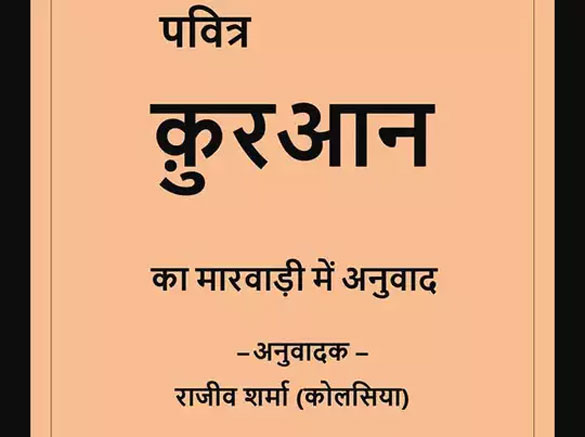 Marwari Translation of the Quran
-----
• Hindu Youth Rajeev Sharma's Marwari Translation of the Quran Is the First Translation in Marwari by a Non-Muslim
• Communal Harmony: Heart-Warming Tale of a Muslim Councillor Taking the Lead in Constructing a Circumambulatory Path for a Temple
• Fury As New Statesman Writer Condemns 'Brutal Police Murder' Of Islamist Terrorist Who Beheaded Teacher Outside French School
• Biden: Muslims Will Serve 'At Every Level' of His Administration
• How Much the Iranian Mullahs Spend on their Robes
• Vaccine Candidates: WHO Includes Three Made By Bangladesh
• Saudi Arabia Allows Muslims to Perform Prayers in Al-Haram Mosque
• Lady Health Workers of Pakistan Announce Plans to Enter Parliament during Session Tomorrow
India
• Hindu Youth Rajeev Sharma's Marwari Translation of the Quran Is the First Translation in Marwari by a Non-Muslim
• Communal Harmony: Heart-Warming Tale of a Muslim Councillor Taking the Lead in Constructing a Circumambulatory Path for a Temple
• Hindu-Muslim Couple in India Challenge Controversial Interfaith Marriage Law
• Madrassas Are Legacy of Muslim League Govt in Assam: Himanta Biswa Sarma
• National Investigation Agency Court Jailed Fifteen for Islamic State 'Conspiracy'
-----------
Europe
• Fury As New Statesman Writer Condemns 'Brutal Police Murder' Of Islamist Terrorist Who Beheaded Teacher Outside French School
• Queen Steps In To Cut Sentence Of Day-Leave Killer Who Tackled London Bridge Terrorist
• Newcastle Muslim Community's Heart-warming Gesture That Will Help To Save Lives
• Beheaded French teacher was DOXXED online, while mosque shared parent's complaint over 'naked man' caricature of Prophet Mohammed
• Man coughed on Muslim family on shopping trip in Leeds city centre and said 'there you go'
• French police search homes of health minister, ex-PM
----------
North America
• Biden: Muslims Will Serve 'At Every Level' of His Administration
• Donald Trump's Amplification of Osama bin Laden Conspiracy Could Alienate Military, Report Says
• Coptic art adorns Cairo's historic mosques
---------
Mideast
• How Much the Iranian Mullahs Spend on their Robes
• A Biden Win Could Mean a Loss for Israel's Netanyahu
• Israeli Envoy to Azerbaijan Slams Armenian Violence, Threats On Civilians
• Arms embargo on Iran expires despite US opposition
• Iran imposes new restrictions as COVID-19 deaths surpass 30,000
• Iran Comes Under Attack As Armenia, Azerbaijan Clash Over Nagorno-Karabakh
• Iran's Regime Smuggles Medicine to Iraq, While Complaining about Sanctions
• Iran: Resistance Units Pay Homage to the Martyrs of the November 2019 Uprising, the Iconic
---------
South Asia
• Vaccine Candidates: WHO Includes Three Made By Bangladesh
• We are Hopeful of Preventing Further Covid Spread: Prime Minister Sheikh Hasina
• Afghan Government Appoints Security Chiefs to 100 Provincial Districts
• Abdullah Heads to Iran following Visits to Pakistan, India
• Salang Road Side Bomb Claims 3, Injures One
• Anti-rape march attacked in Feni
---------
Arab world
• Saudi Arabia Allows Muslims to Perform Prayers in Al-Haram Mosque
• Saudi Arabia, Google Partner in Plan to 'Level-Up' Mideast
• Campaign to boycott Turkish products gains momentum
• Chinese envoy Chen Weiqing looks forward to this year's Riyadh Season
• Saudi artist Abdullah Alhumaid puts Riyadh street life in the frame
---------
Pakistan
• Lady Health Workers of Pakistan Announce Plans to Enter Parliament during Session Tomorrow
• Over 5,800 names struck off travel blacklist: ministry
• Law draws 'red lines' about national institutions: minister
• Pakistan must share its economic security narrative with world: Moeed
• Charged up PM Imran hits back at Nawaz for 'maligning' military leadership
• Pakistan approves 'new visa requirements' for Afghan nationals
---------
Southeast Asia
• After Viral Support Letter, Umno Supreme Council Member Annuar Musa Says Allah Forbids Disunity
• Man of your word or hypocrite? Choice is yours, Dr Mahathir, says PKR Youth vice-chief
• Dr Mahathir, Anwar should set aside political differences, says Khalid Samad
• Health Ministry mobilises HKL forensic team to Sabah
---------
Africa
• Sudan Businessman to Visit Israel to Accelerate Normalisation Process
• Schools in Northern Cameroon Close as Boko Haram Steps Up Attacks
• Jihadists kill 14 soldiers in attack on Nigerian army base
Compiled by New Age Islam News Bureau
URL: https://www.newageislam.com/islamic-world-news/hindu-youth-rajeev-sharmas-marwari/d/123184
------
Hindu Youth Rajeev Sharma's Marwari Translation of the Quran Is the First Translation in Marwari by a Non-Muslim
M. D. Khaiba
17 Oct 2020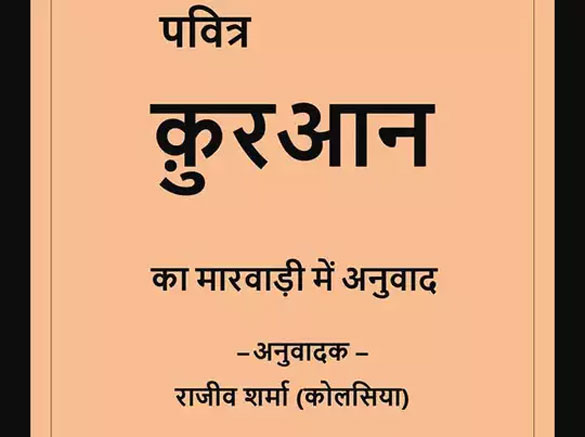 Marwari Translation of the Quran
-----
Rajeev Sharma has worked for Rajasthan's daily "Rajasthan Patrika". He lives in Kolsiya village in Jhunjhunu district of Rajasthan.
In March 2015, he started translating the Holy Quran into Marwari. This was after his biography of the Prophet Muhammad (pbuh) in Marwari was well received.
Sharma says "I am a writer. Ink is my blood and pen is my heart. And I am a proud Hindu." He says that the reason he translates Islamic texts is to remove misunderstandings people have due to ignorance. He feels ignorance is to be blamed not intolerance for all the communal disharmony.
People have a wrong belief that Islam's message is only for Arabs. How can there be boundaries for any good message, Sharma asks. He says a goodness is not confined to any country; it is for the whole mankind.
As he did not know Arabic, he could have relied on Hindi translations of the Quran. But he says that used websites which offer word for word translation of the Quran. He says that way he was able to better understand the words and attempted to be truest to the original text.
After more than two years in December 2017, the handwritten manuscript of the translation was completed. He says probably this is the first translation of Holy Quran in Marwari by a non-Muslim.
Sharma says that typing the manuscript, editing and proofreading takes a lot of time. Moreover, he had some health issues because of which he could not focus on completing it. After this he will look for a reputed publisher to publish it.
Meanwhile, Rajeev Sharma started posting verses of the Quran in Marwari in WhatsApp groups, on this Telegram channel and his Facebook page, which he says are liked very much by readers. He says that people call his translation beautiful and he gets congratulatory messages from Marwaris living across the globe. He says readers tell him that his translation smells of Rajasthan.
https://www.milligazette.com/news/4-national/33721-hindu-youths-marwari-translation-of-the-quran-that-smells-of-rajasthan/
----------
Communal Harmony: Heart-Warming Tale of a Muslim Councillor Taking the Lead in Constructing a Circumambulatory Path for a Temple
18th October 2020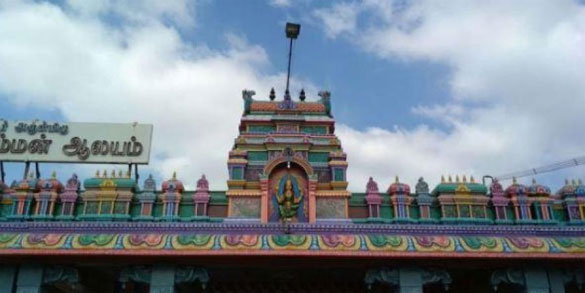 Muslim councillor of Pudukottai panchayat channels first tranche of Rs 5.34 lakh for temple
----
By Sowmya Mani
PUDUKKOTTAI: A desire was disclosed, and a prophecy was made in the run-up to the local body polls. A year later both came true, marking another glorious chapter in the success story of democracy and communal harmony.
The heart-warming tale of a Muslim councillor taking the lead in constructing a circumambulatory path for a temple here is an advertisement of that thread that binds us together: Humanity. For Chidambaram, the 77-year-old priest of Muthu Mariamman Temple in Manamkeludi, the path is the culmination of decades of petitioning.
When Najimudeen Jahabersadik landed at his door canvassing for votes, Chidambaram prophesized Najimudeen's victory but not before placing his long-pending request. Najimudeen Jahabersadik says he was in Dubai during the lockdown. When the funds were finally released after a delay, he channeled the first tranche of Rs 5.34 lakh towards the temple.
"Najimudeen helped build the path the first thing after assuming office. This proves that God is one," says Chidambaram. Najimudeen aims to justify the people's mandate by not letting prejudices cloud his vision.
https://www.newindianexpress.com/states/tamil-nadu/2020/oct/18/muslim-councillor-ofmuthu-mariamman-temple-channelsfirst-trancheofrs-534-lakh-towards-temple-2211706.html
---------
Fury As New Statesman Writer Condemns 'Brutal Police Murder' Of Islamist Terrorist Who Beheaded Teacher Outside French School
18 October 2020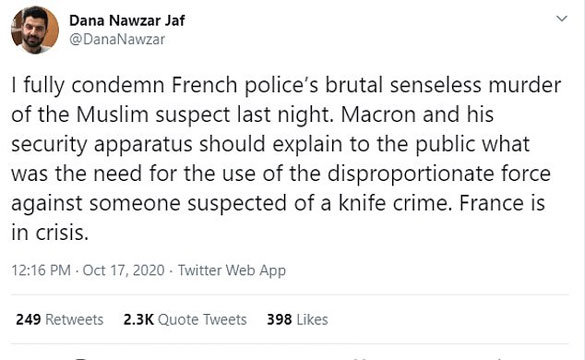 By ABUL TAHER
A British-based writer sparked outrage last night by condemning French police for shooting dead the armed Islamist terrorist who beheaded teacher Samuel Paty.
Dana Nawzar Jaf – a former Chevening Scholar at Durham University – questioned the police's decision to kill Chechen fanatic Aboulakh Anzorov, fearing the terrorist would attack them or others.
Mr Jaf, who describes himself as a Kurdish activist, had taken to Twitter, posting: 'I fully condemn French police's brutal senseless murder of the Muslim suspect last night.
Dana Nawzar Jaf (pictured) ¿ a former Chevening Scholar at Durham University ¿ questioned the police's decision to kill Chechen fanatic Aboulakh Anzorov +7
Muslim parents including Brahim Chnina (right) had taken offence at slain teacher Mr Paty's (left) decision to show his class caricatures of the Prophet and branded him a 'thug'
A picture of a body lying in the middle of the road was shared online before French anti-terror prosecutors confirmed they were investigating an assault in which a man was decapitated on the outskirts of Paris
The killer fled to the nearby town of Eragny-sur-Oise (pictured) around two miles away from where the alleged beheading occurred, where he refused to surrender and was shot dead by the police +7
'Macron and his security apparatus should explain to the public what was the need for the use of the disproportionate force against someone suspected of a knife crime. France is in crisis.'
Last night, Mr Jaf, who is believed to have arrived in Britain as an exchange student from Iraq in 2009, could not be reached for comment.
https://www.dailymail.co.uk/news/article-8851689/Anger-writer-condemns-brutal-police-murder-Islamist-terrorist-beheaded-French-teacher.html
--------
Biden: Muslims Will Serve 'At Every Level' of His Administration
BY ROBERT SPENCER
OCT 17, 2020
The sparse attendance and conspicuous lack of enthusiasm at Joe Biden's rallies seems to have led old Joe's handlers, despite his 10,000-point lead in the polls, to decide that another round of Islamopandering might be just the shot in the arm their campaign needs. After all, hard-Leftists such as Ilhan Omar, Rashida Tlaib and Linda Sarsour are all Muslims, and all were firmly in the Bernie Sanders camp before the Democratic National Committee shivved their man yet again. Their support for Biden has been decidedly tepid. And so it was time to send them some love.
On Wednesday, Biden released a video message to Muslim Advocates, the association of Muslim lawyers that bears the primary responsibility for demanding, back in 2010, that the Obama administration remove all mention of Islam and jihad from counterterror training. Obama, of course, immediately complied, despite the fact that this would hamstring the ability of law enforcement and intelligence agencies to understand, and defeat, jihadists. And now Joe is working hard to show them that he will be just as solicitous.
"Today," Biden declared, "trust is ebbing; hope seems elusive. Instead of healing, we're being ripped apart." That's actually true, Joe, but whose fault is it, really? Biden continued: "And I refuse to let that happen. We have too bright a future to leave it shipwrecked on the shoals of anger and division." After that poetic flight, Biden got to the point: "As president, I'll work with you to rip the poison of hate from our society, honour your contributions and seek your ideas. My administration will look like America, Muslim Americans serving at every level."
Let's see. Muslims make up around one percent of America's population. So if the administration of President Biden (or President Harris, or President Pelosi) is actually going to "look like America," it will feature one Muslim appointee for every ninety-nine non-Muslim appointees.
Of course, the Democrats are unlikely to be that rigorous. Biden needs the support of the hard-Left, including not only Muslims such as Omar, Tlaib, Sarsour and their Muslim supporters, but their non-Muslim supporters as well, who are likely thrilled that Biden will be "inclusive" enough to place large numbers of Muslims in positions of power and influence. And in doing so, the Biden/Harris/Pelosi administration is unlikely to make any effort whatsoever to rule Sharia supremacists, Muslim Brotherhood operatives, and enemies of the freedom of speech out of consideration. Why, that would be "Islamophobic."
And if there is anything Biden doesn't want to appear to be at this point, it's "Islamophobic." At his town hall Tuesday, where George Stephanopoulos and Co. fawned over him for an hour and a half, Biden once again repudiated what he called the "New Green Deal," despite the fact that his website still affirms support for it. The far-Left is increasingly dominant in the Democratic Party, and doesn't take kindly to the candidate's repeatedly throwing them under the bus. And so look! He said "Inshallah"! And now he wants Muslims at "every level" of his administration!
Will the far-Left be fooled by this? Probably not, as they're more evil than they are stupid, but they don't really have any other place to go. The notorious anti-Semite and former Women's March leader Linda Sarsour signaled last July that she was keeping Biden on a short leash, stating "I choose Biden" and then immediately emphasizing that her support was decidedly conditional: "But I choose him as my opponent in the White House. I want him to defeat Trump so we can mobilize our movements to hold him accountable and push him to do and be better. We can't do that with Trump."
Bernie Sanders, said Sarsour, "earned our votes & we need Biden to continue to do the same." She elaborated: "When Joe Biden does the right thing, you better believe Linda Sarsour's going to say, 'You know what? Thank you so much President Joe Biden for doing the right thing.' And when President Joe Biden doesn't do the right thing our community needs to come together and hold him accountable."
Even Biden's latest pledge isn't going to make this problem go away. The only thing that will mollify the Omar/Tlaib/Sarsour (and AOC) wing of his party will be for him to embrace, wholeheartedly and without reservation, their entire socialist, internationalist, pro-migration, anti-counterterror agenda. Anything short of that, and the hard-Left will stay home, and then so will Joe, with nowhere to go but his basement even on January 20. Joe's people will be working very hard in the next two weeks stave off that possibility, and so expect him to engage in even more Islamopandering.
https://pjmedia.com/news-and-politics/robert-spencer/2020/10/17/biden-muslims-will-serve-at-every-level-of-his-administration-n1066190
-----------
How Much the Iranian Mullahs Spend on their Robes
17 October 2020
BEHNAM GHOLIPOUR
The unbridled rise in prices in recent years in Iran has also affected the apparel of the Shiite religious community. In recent years the price of a black chador – worn by religious Muslim women – has risen as have clerical robes which previously were supposed to symbolize simplicity. The price of a standard clerical outfit, worn by any seminarian or mullah on the street, can now be at least five million tomans [$165].
The price of various types of black chador, the key element of Iran's Islamic hijab rules by the country's ruling clerics, is at least 400,000 tomans [$14] and sometimes as high as two million tomans [$66]. Women have denounced these rising prices for years. But despite various forms of governmental support to make chides more affordable they are still relatively expensive.
A few online stores show the price of a chador starting at 100,000 tomans [$3.50] and reaching about one million tomans [$33]. Naturally, the cheaper the chador, the lower its quality and the sooner it will wear out.
The mantle – a kind of overcoat – is another common cover in Iran for women, which can be purchased at online stores for 30,000 tomans [$1].
If there was a once time when choosing between the chador and mantle was a matter of belief and ideology for Iranian women, with the chador a more traditional and conservation option and the mantle more liberal, now a part of this choice is determined by financial ability and lifestyle. But it is impossible to accurately estimate the role that cost has when women choose their covering because the ruling religious system does not publish data related to these matters.
The course of these changes has not changed much for the clergy and their apparel. They continue to use a covering robe that has been used by the Shiite clergy for decades, and in general, no significant changes have taken place during this period.
One of the most important features of this type of cover is the high consumption of fabric compared to other conventional men's clothing in Iran, which has led to the fact that this type of cover is more expensive.
This feature has become a negative factor in the livelihoods and purchasing power of clerics and scholars in recent years – many of whom have repeatedly claimed to have difficulty in providing for their families' daily living expenses.
A look at the prices of one of the most important online stores for clerical clothes shows that a clergyman has to spend millions of tomans to buy a set of clothes. But seminary officials say that clerics generally do not have a strong economic situation.
Their garb is one of the most important elements of the Shiite clergy. Prices start from 120,000 tomans [$4] and reach up to about 700,000 tomans [$24].
The price of a meter of cloth for a turban starts at 168,000 tomans [$5.60] and reaches up to 540,000 tomans [$18] per meter. An average of six meters of fabric is needed to make a turban, which in some cases can even reach 12 meters.
The ghaba [cloak] is another pillar of clerical clothing that is currently sold for between 200,000 and 400,000 tomans [$6.50 to $13].
Clerics also have a special bag for storing and carrying turbans, which costs between 50 and 70 thousand tomans [$1.50 to $2.50], further driving up the cost of living.
Cloaks or robes are the long cloths that the clerics wear under their heavier robes. But the Robes, however, are more expensive than ghaba and cost between 400 and 700 thousand tomans [$13.50 to $23].
Nalain, or the shoes of clerics, are currently priced between 70,000 to 170,000 tomans [$2.00-$5.50].
If a cleric wants to use araghchin, a skullcap, which is less common, he has to spend about 20,000 tomans [$6.50].
The price of a clerical shirt or thawb starts from 148,000 tomans [$5] and reaches 340,000 tomans [$11.50].
Clerical trousers also currently cost about 80,000 tomans [$2.50] on the Iranian market.
These prices show that a complete set of clerical clothes in Iran costs at least two million tomans [$66] and up to an astronomical five million tomans [$166.50].
If every cleric needs two or three sets of clothes, these costs will increase significantly and reach 15 million tomans [$500].
These figures are only taken from one reputable site selling clerical clothing in Iran. There are undoubtedly significant stores in Qom and other cities in Iran that sell clerical clothing at different prices and at various levels of quality.
On the other hand, the cost of providing general clothing for men in Iranian society is very small compared to the traditional clothing of the clergy.
A look at some sites for selling men's clothing online shows that if the minimum cost of providing a cleric's clothing is two million tomans, buying three pieces of men's original clothing (pants, shirt and shoes), can cost only about 200,000 to 400,000 thousand [$6.50 to $13], which is not significant.
The clerical garments of mullahs in the Islamic Republic, which was supposed to be a habit of simplicity, honesty and spirituality, has now become an expensive outfit and, in the eyes of a significant group of people, the garments of hypocrisy.
Clerical clothing now has many negative connotations among the Iranian public – to the point that some clerics prefer not to wear their robes in public. The priests' robes may have cost millions of tomans – and now their owners are faced with many informal restrictions on its use in Iran.
https://iranwire.com/en/features/7817
-----------
Vaccine Candidates: WHO Includes Three Made By Bangladesh
October 18, 2020
Staff Correspondent
Three Covid-19 vaccine candidates developed by the Bangladeshi vaccine company Globe Biotech Ltd have been included in the draft landscape of the World Health Organisation (WHO).
"This is a good progress, but this does not mean these vaccines are successful. There is a long way to go", Prof Sayedur Rahman, chairman of pharmacology at Bangabandhu Sheikh Mujib Medical University (BSMMU), told The Daily Star recently.
Earlier on October 5, Kakan Nag, CEO of the Globe Biotech Ltd, alleged that the WHO is "delaying the enlistment unnecessarily".
Bardan Jung Rana, country representative of WHO, told The Daily Star, "Coming into the landscape doesn't mean anything; it doesn't mean okay... There are lot of things [after that]."
On October 5, Globe Biotech announced that its first vaccine candidate, which is developed based on D614G variant mRNA vaccine, had passed in the pre-clinical trial on mice and was ready for a clinical trial.
It has not disclosed anything about the two other vaccine candidates – the DNA plasmid vaccine and the Adenovirus Type-5 vector vaccines.
In a press release yesterday, Globe Biotech Ltd claimed its company is the only organisation which has three Covid-19 vaccine candidates in the WHO draft landscape.
Meanwhile, Globe Biotech Ltd has signed an MoU with icddr,b, which will conduct all three phases of the clinical trials, Dr Mohammad Mohiuddin, manager of the Globe Biotech Ltd told The Daily Star yesterday.
"The icddr,b is now preparing the trial protocol. Once completed, it will apply to the BMRC [Bangladesh Medical and Research Council] for the trial approval," he added.
According to the US Centre for Disease Control (US-CDC), the general stages of the development cycle of a vaccine are: exploratory stage, pre-clinical stage, clinical development, regulatory review and approval, and manufacturing and quality control.
The final stage trial or Phase-III clinical trial means the vaccine is at its final stage of major trials, in which the vaccine is given to thousands of people and tested for efficacy and safety.
"Globally, many vaccines have been failing even at the final stage of trials. And BANCOVID [the vaccines from Bangladesh] has just passed the first stage. It does not authenticate the vaccine is effective. We could be sure about the efficacy after the mass scale human trial," Muniruddin Ahmed, a professor of pharmacy at the Dhaka University, told The Daily Star recently.
The recovery count rose to 3, 02,298 after another 1,560 patients were discharged from hospitals in 24 hours until 8:00am yesterday, a press release of the Directorate General of Health Services (DGHS) said.
It said the tally of infections has surged to 3,87,295 as 1,209 new cases were confirmed after 11,573 samples were tested at 110 authorised laboratories across the country during the time.
Among the total infections, 78.05 percent patients have recovered, while 1.46 percent died so far since the first Covid-19 positive cases were reported in the country on March 8.
https://www.thedailystar.net/frontpage/news/who-inducts-3-bangladesh-made-vaccine-candidates-1979849
---------
Saudi Arabia allows Muslims to perform prayers in Al-Haram Mosque
October 18, 2020
News Service
Saudi Arabia allowed its citizens and residents inside the kingdom to perform prayers in one of the most holy religious sites in Islam, Al-Haram mosque in Mecca, for the first time in seven months, state television reported early on Sunday.
Earlier this month Saudi Arabia allowed citizens and residents to perform the Umrah pilgrimage at Islam's holiest sites, Mecca and Medina, after a seven-month pause due to coronavirus concerns.
https://www.yenisafak.com/en/world/saudi-arabia-allows-muslims-to-perform-prayers-in-al-haram-mosque-3552035
--------
Lady Health Workers of Pakistan Announce Plans to Enter Parliament during Session Tomorrow
Ikram Junaidi
18 Oct 2020
ISLAMABAD: After failed negotiations with the federal government, during which they stayed in the Ministry of National Health Services (NHS) for six hours and allegedly even faced abusive language, protesting lady health workers (LHW) announced on Saturday that they will enter Parliament House during the parliamentary session tomorrow (Monday).
Meanwhile, the NHS ministry has argued that the federal government has nothing to do with LHWs because, following the 18th Amendment, they are now dealt with by provincial governments.
The women have continued to face difficulties as their protest continued for a fourth day, as they have not been provided sanitation, water or food facilities.
On Saturday morning, the workers were invited to the Ministry of NHS at 12:30pm for negotiations with Punjab Health Secretary Ajmal Bhatti.
While the media was given the impression that negotiations continued for six hours, LHW President Ruksana Anwar told the press later that not only did the negotiations fail, but the women were also harassed and threatened by ministry officers.
After six hours at the NHS ministry, talks with govt make no headway
She said it seemed as if officers who habitually misbehave with women were sent for the dialogue with them.
"Moreover, every night, some men are sent to the location of the sit-in and harass the women. Now we have been left with no choice but to go to parliament, so we have decided to enter parliament in Monday as a session is going to be held," she said.
During the negotiations, Ms Anwar said, ministry officers told the LHWs that they had no proof that they were LHWs.
"However, we told them that we have show-cause notices which should be considered as proof that we are LHWs. Then we were told that the Punjab health secretary did not have a mandate to make any promises. We had a 10 point agenda but they said that they cannot guarantee even a single point in writing," she said.
She appealed to the chief justice and chief of army staff to take notice, as sanitation, water and even food has been prohibited for sit-in participants.
The protesters were initially using the toilets at a fuel station and a metro bus station near the sit-in, but the staff at both were later told not to let them use these facilities.
Restaurants have also been told not to sell food to them, due to which on Friday, PPP leader Shazia Marri provided food and water to the protesters.
On Saturday, some police officials provided water to the sit-in participants.
An NHS ministry official who asked not to be named said the federal government had nothing to do with LHWs.
"After the 18th Amendment, the LHW programme was devolved to the provinces and now provinces can give assurances regarding salary structure or wages. However, the LHWs believe that a number of times they came to Islamabad and were given verbal assurances every time but in the end no one implemented them," he said.
The LHW Programme for family planning and primary healthcare was launched in 1993-4.
At the time, 110,000 women were recruited and deployed across the country to provide promotive, preventive, curative and rehabilitative services to their target population.
They also help cultivate community participation through enhanced awareness, attitude change and mobilisation, and are responsible for increased immunisation coverage in children aged between 12 and 23 months.
LHWs are responsible for focusing on maternal and child health by contributing towards the reduction in the infant mortality rate from 85 to 55 per 1,000 live births and the decline in the maternal mortality rate from 400 to 180 in 100,000 live births.
Their other responsibilities include the expansion of family planning services in urban slums and rural areas, and increase in the contraceptive prevalence rate from 22pc to 42pc in rural areas and 40pc to 58pc in urban areas, and the improvement in the nutritional status of mothers and children.
https://www.dawn.com/news/1585598/lhws-announce-plans-to-enter-parliament-during-session-tomorrow
---------
India
Hindu-Muslim couple in India challenge controversial interfaith marriage law
Debarshi Dasgupta
18-10-2020
Blood flowed on the streets of New Delhi during the February riots, as Hindus and Muslims attacked each other. A young interfaith couple in the city witnessed the events unfold with horror. But this explosion of violence did not weaken their resolve to marry each other.
Ms Nida Rehman, a 26-year-old Muslim, and Mr Mohan Lal, a 28-year-old Hindu, had decided to get married after they met and fell in love in 2011 while they were university students.
"The child that will come into our house will become familiar with both Hinduism and Islam and grow to respect both religions," she told The Sunday Times.
But India, polarised along religious lines, has been a hostile flowerbed for such interfaith unions that attract censure, not just from the lovers' families, but also society at large.
Ms Rehman walked out of her parent's house in August - they wanted Mr Lal to convert to Islam - and moved into a flat that the young couple rented. She did so after spending a few days under the protection of Dhanak of Humanity, a not-for-profit organisation that counsels interfaith as well as inter-caste couples and offers them temporary refuge.
The couple has taken the battle to the Delhi High Court, seeking to overhaul a law they believe discriminates against interfaith couples.
On Sept 21, they filed a petition against the 1954 Special Marriage Act (SMA), which requires an interfaith couple seeking to marry to issue a notice to a local government "marriage officer" in a district where at least one of them has lived for 30 days or more prior to issuing their notice. This notice must contain private details such as names, addresses and photographs of the couple and has to be displayed in a "conspicuous place" in the marriage officer's office.
Any objection is then inquired into by the officer and the marriage is not solemnised until he is satisfied that the objection lacks merit or unless it is withdrawn. Couples who share the same faith but want to have a secular marriage under the SMA must also follow the same process.
Ms Rehman believes interfaith couples face a greater risk of harassment from uncooperative government officials and strangers after their private details are made public through such notices, especially by those who wish to exploit these relationships for political gains.
Her petition calls for Sections 6 and 7 of the SMA, which lay out this process of inviting public objections, to be scrapped. It claims these sections violate an individual's fundamental rights, including the right to privacy.
Ms Rehman applied last month to the local marriage officer to marry under the SMA, but is still waiting to hear when her 30-day notice period to register her marriage starts.
In cases where the woman is a Hindu and the man a Muslim, accusations of "love jihad" further aggravate communal tension. The term is used by radical Hindu groups to accuse Muslim men of participating in a planned conspiracy to convert Hindu women to Islam by seducing them.
Neither party to a proposed marriage should have a living spouse nor should they suffer from any "unsoundness of mind" that renders them incapable of giving valid consent. They should also not suffer from a "mental disorder" that makes them unfit for marriage or "procreation of children".
There have been growing calls for SMA reform in recent years. In 2018, the Law Commission of India recommended that the 30-day period be reduced to "bring the procedure in line" with Hindu and Muslim marriage laws that enable couples to register their marriage in a day. Between January and September last year in New Delhi, 461 marriages were registered under the SMA, compared with 13,572 under the Hindu Marriage Act.
Mr Asif Iqbal, who co-founded Dhanak of Humanity in 2005, said that the harassment and procedural delays that interfaith couples have to suffer through in order to marry under the SMA force many among them to convert to their partner's faith.
This expedites the marriage and makes it easier under Hindu or Islamic marriage laws. Such an outcome also helps them avoid family pressure or harassment from local police - something which couples living together face at times.
But Ms Rehman and Mr Lal refuse to compromise in such a manner. "We have been clear right from the start of our relationship that we will not convert. We are what we are, we chose each other for what we are. Why change that?" she said.
https://www.straitstimes.com/asia/hindu-muslim-couple-in-india-challenge-controversial-interfaith-marriage-law
----------
Madrassas are legacy of Muslim League govt in Assam: Himanta Biswa Sarma
Trailer Launch
Oct 18, 2020
GUAWAHATI: Assam education minister Himanta Biswa Sarma on Saturday said the government-run madrassas, which the BJP-led state government will close down and convert into general schools in November, are the legacy of the Muslim League government in state that grew during the subsequent Congress rule.
"Some of these madrassas are more than 50 years old and are the legacy of Sir Syed Muhammad Saadulla, who was the first Prime Minister of Assam under British rule. The Muslim League government in Assam then set up these madrassas," Sarma added.
"Then, there were just a few such madrassas, which grew in number during the reign of Congress governments later. Today, there are 610 of them and another 300 are awaiting provincialisation. If we had not taken the decision to close them, their numbers would have nearly 1,000 by now," he said.
He further added, "The state is spending Rs 260 crore annually on these 610 madrassas."
The Assam Provincial Muslim League led by Saadulla was in power in the state thrice —between 1937 and 1938, 1939 and 1941 and between 1942 and 1946.
Sarma added, "A scholastic research work by a faculty of Gauhati University shows that students in these madrassas are ignorant that they are being only imparted theological education when they actually dream to become doctors and engineers. This is human rights violation. Accidentally, the person who carried out the research is a follower of Islam. Many other Muslim intellectuals also do not approve of the idea of madrassas being run by government."
The minister said, "Our decision to close down these madrassas is not an act against any religion as the privately-run madrassas can continue to function. We will, however, bring regulations for the private madrassas where students will be clearly told why they are studying there. These madrassas will have to introduce science and maths in the curriculum and have to register with the state."
Sarma added that the Madrasa Board will also be dissolved and all the state-run madrasas will be converted into general schools.
"The final year students will be allowed to pass out but henceforth all fresh admission in these schools will be for general education only and not theological study," he added.
The Sanskrit tols will also be handed over to the Kumar Bhaskarvarma Sanskrit University and these will be converted into centres of learning and research where Indian culture, civilisation and nationalism will be studied, the minister said.
He added that examinations of the madrassas and the tolls are different with students not appearing for the matriculation examination conducted by the state board.
"They are given equivalency certificate with those appearing in the Board examinations, which is unfair on the regular students," he said.
https://timesofindia.indiatimes.com/city/guwahati/madrassas-are-legacy-of-muslim-league-govt-in-assam-himanta-biswa-sarma/articleshowprint/78728469.cms
----------
National Investigation Agency Court Jailed Fifteen for Islamic State 'Conspiracy'
18 October 2020
Our Special Correspondent
A special National Investigation Agency court has sentenced 15 people to rigorous imprisonment for terms ranging between five and 10 years in connection with an Islamic State conspiracy.
The IS, a proscribed terrorist organisation, had allegedly hatched a criminal conspiracy to establish its base in India by recruiting youths through social media platforms.
In a statement, the NIA said on Saturday that the case had been registered in December 2015 and that the accused were arrested during country-wide searches.
According to the NIA, the accused persons had formed an organisation named Junood-ul-Khilafa-Fil-Hind, which sought to establish a Caliphate in India and pledged allegiance to the IS, to recruit youths and carry out terror activities in India at the behest of one Syria-based Yusuf Al Hindi.
"After the arrest of (the) ISIS terrorists, their activities were minimised," the statement added.
https://www.telegraphindia.com/india/15-jailed-for-islamic-state-conspiracy/cid/1795023
--------
Europe
Queen steps in to cut sentence of day-leave killer who tackled London Bridge terrorist
Oct 18, 2020
The New Daily
The convicted murderer who grabbed a narwhal tusk to help foil a terror attack on London Bridge last November will see his sentence cut following an intervention by the Queen.
Steven Gallant, 42, was on day release at an event for reformed prisoners in Fishmonger's Hall when Usman Khan began a rampage, that left two people dead.
Jack Merrit, 25, and 23-year-old Saskia Jones – both instructors in the Learning Together scheme to help prisoners access education – were killed, while several others were wounded.
It was Gallant's first time out on day leave after being jailed for life with a minimum term of 17 years in 2005 for the murder of a firefighter in Hull.
He helped restrain Khan, who was wearing a fake suicide vest and armed with two knives, before the terrorist was shot dead by police.
The Ministry of Justice revealed on Saturday that the Queen had employed the little used "Royal Prerogative of Mercy" to bring Gallant's case before the parole board 10 months early.
It is understood he has been a model prisoner who has expressed remorse for his crimes and has not faced any punishment or loss of privileges for the past 10 years.
Gallant was one of two men convicted of the murder of Barrie Jackson, 33, who was beaten to death outside a pub in Hull.
https://thenewdaily.com.au/news/world/uk-news/2020/10/18/queen-backs-convicted-killer/
---------
Newcastle Muslim community's heartwarming gesture that will help to save lives
By Rachael Nichol
17 OCT 2020
Almost 400 new blood donors are needed every day to help save lives.
But with only 6% of donors coming from black, Asian and ethnic communities, the NHS warns it is facing a shortage.
To help tackle this, dozens of members from the Tahweed Newcastle Islamic Centre have donated blood.
The session on October 8 was organised with the aim of promoting blood donation in the Muslim community.
And the date coincided with The Day of Arbaeen which marks 40 days after the Day of Ashura, the day Hussain ibn Ali was martyred in the Battle of Karbala.
The 39-year-old said: "We are the followers of Holy Prophet Muhammad and to commemorate his martyrdom we are encouraged to go on that day and give the donation of blood.
"In our religion during Muharram, we are encouraged to help those in need and we want to help save people's lives by doing donating blood.
"However, more awareness is needed in our community about donating in order to help others and to help more members of our community revive memories of the grandson of the Holy Prophet."
Sheikh Meisam Ghasemi, director of Tawheed Newcastle Islamic Centre on Bentinck Road, said: "Blood donation is a way for us to honour the sacrifice made by Hussain ibn Ali and to help those in need.
"Giving blood is quick, safe, and clean, and the whole donation process is easy. We want to encourage donors from all backgrounds and hope that this group session will become a regular event."
Lynn Woods, Newcastle Donor Centre manager, said: "We are very grateful to Sheikh Ghasemi and everyone at the Tahweed Newcastle Islamic Centre for making their first donations.
"It's easy to register to become a donor, we need nearly 400 new, first time donors every day to meet patients' needs, to replace those people who can no longer donate for reasons such as ill health, age and pregnancy.
"Our donor centres are the perfect place to make your first donation, they are bright and modern with Wi-Fi, charging points, and you can often find appointments in the evenings and weekends.
"There are around 48,000 donors from black, Asian and minority ethnic (BAME) communities in the UK - around 6% of overall donors – and we need more.
NHS Blood and Transplant have a permanent blood donor centre on Holland Drive, Newcastle, and is a perfect place to make the first donation.
If you would like to become a blood donor, register today and book an appointment by calling 0300 123 23 23 or visit www.blood.co.uk.
https://www.chroniclelive.co.uk/news/north-east-news/newcastle-muslim-communitys-heartwarming-gesture-19089364
---------
Beheaded French teacher was DOXXED online, while mosque shared parent's complaint over 'naked man' caricature of Prophet Mohammed
17 Oct, 2020
France news
French teacher Samuel Paty, who was brutally murdered near Paris on Friday, had his private details exposed on social media last week, after a parent complained he'd shown "naked man" cartoons of the Prophet Mohammed in class.
The original complaint was reportedly lodged by the father of a 13-year-old girl who studied at the school in Conflans-Sainte-Honorine, where Paty taught history and geography. He said in a Facebook video that the teacher had, at some time earlier this month, shown the class a caricature of a "naked man," stating it was the "Muslim prophet."
Before displaying the offensive imagery – widely believed to be a cartoon from the notorious Charlie Hebdo satirical magazine – the teacher asked Muslims to leave the classroom, the father claimed. His daughter and another Muslim boy refused to leave, however, and then took offense with the imagery, complaining to their parents.
Beheaded French teacher was DOXXED online, while mosque shared parent's complaint over 'naked man' caricature of Prophet Mohammed
The girl's father then called upon fellow Muslims to take action against the teacher and urged them to file complaints to the school to have Paty fired. While the original post did not contain Paty's name, it had enough information to have the teacher easily identified.
The drive to have the teacher fired was backed by a local mosque, which shared the video address and urged followers to contact the father of the offended girl.
The post, which apparently did not include the teacher's private details, has been taken down by the mosque after Paty's murder, as it released a statement to condemn the beheading.
Samuel Paty was killed and beheaded in Conflans-Sainte-Honorine on Friday. The perpetrator, who has been identified as an 18-year-old man of Chechen origin, was gunned down by the police in the neighboring town of Eragny, after firing his handgun at the officers.
The murder suspect enjoyed refugee status in France and received a residence permit in March, a French anti-terrorism prosecutor said on Saturday
https://www.rt.com/news/503806-beheaded-paris-teacher-doxxed/
---------
Man coughed on Muslim family on shopping trip in Leeds city centre and said 'there you go'
By Joe Cooper
17th October 2020
A man, his pregnant wife - who was wearing a hijab - and their child were shopping in Leeds on the afternoon of Monday, September 21, just days before local lockdown restrictions were imposed on the city.
The family believe they were targeted due to their ethnicity, according to Tell MAMA, an organisation which records anti-Muslim incidents and supports victims of Islamophobia.
A family member told Tell MAMA how the man singled them out, having walked from a distance - identifying them by their South Asian ethnicity and the woman's religious clothing - before stopping to cough on them and then walking away.
No family member has since reported any coronavirus symptoms, but they are concerned the perpetrator will continue to target others unless he is caught.
They described the perpetrator as being a white man in his mid-to-late forties or early fifties, and said he carried a bottle of what they believed to be alcohol.
A spokesperson said: "As a force we employ dedicated hate crime coordinators across districts in order to assist investigating officers in identifying perpetrators, providing after care support for victims and to increase awareness of hate crime.
"We work closely with local councils, victim support and the numerous community based West Yorkshire third party hate incident reporting centres to ensure that victims, witnesses and other affected parties are support and have the opportunity to report incidents in an alternative location to a police station.
"If you have experienced hate crime or an incident then please report it in any way you feel comfortable.
"By the police being made aware of an incident, we can deal with it and potentially prevent the same thing happening to someone else."
Information can also be given anonymously to the independent charity Crimestoppers on 0800 555 111.
https://www.yorkshireeveningpost.co.uk/news/crime/man-coughed-muslim-family-shopping-trip-leeds-city-centre-and-said-there-you-go-3006533
----------
French police search homes of health minister, ex-PM
By LORI HINNANT
17 October 2020
PARIS -- French police searched the homes of the health minister, the former prime minister and other top officials Thursday in an investigation into the government's response to the global coronavirus pandemic.
The dawn searches, confirmed by the Health Ministry, come as France is fighting against a resurgent epidemic that has now filled a third of the country's intensive care units with COVID-19 patients and is again putting Europe to the test. President Emmanuel Macron announced curfews on around 20 million people in the Paris region and eight other French metropolitan areas starting Friday night to try to slow the tide.
The investigation threatens to rekindle public frustration with a government that's been accused of lying to the public about mask stocks, underestimating testing needs and overestimating France's ability to vanquish the pandemic — not once, but now twice.
About 1,000 protesting nurses, doctors and other public hospital staff marched through Paris on Thursday to demand more investment, staff and higher salaries after years of cost cuts.
The searches "will make the people's mistrust grow," said Dr. Ludovic Toro, who was among the doctors, COVID-19 patients, prison personnel, police officers and others who filed more than 90 legal complaints in the spring over the government's management of the pandemic.
Among those whose homes were searched Thursday include Health Minister Olivier Veran, his predecessor Agnes Buzyn, former Prime Minister Edouard Philippe, the current head of the country's national health service Jerome Salomon, and Sibeth Ndiaye, a former government spokeswoman. Veran's office was searched as well.
Dr. Toro still has no high-protection masks for his practice, nine months after the first virus case was confirmed in France. And he says he is seeing more patients with COVID-19 symptoms now than he did in the spring.
He and other doctors accuse the government of lying to the public earlier in the year, when top officials told the public masks weren't necessary even as they struggled to secure enough supplies for French hospitals amid surging global demand.
The government has said that its early guidance on not wearing masks was based on limited understanding of the new coronavirus at the time.
Asked about Thursday's searches, current Prime Minister Jean Castex wouldn't comment on the investigation but said he had "total" confidence in the health minister to do his job.
The government continues to send mixed messages about the virus. In addition to the curfew in several cities, the prime minister announced a nationwide ban on public weddings Thursday, even as the president encouraged French people to travel as usual for upcoming autumn school vacations.
The government announced it will deploy 12,000 police to enforce the new curfew, and will spend another 1 billion euros to help businesses hit hardest by the latest virus restrictions.
"Our compatriots thought this health crisis was behind us," Castex said. "But we can't live normally again as long as the virus is here."
France is registering nearly 180 virus cases per 100,000 people every week, with 22,591 total new cases Wednesday. It has reported one of the world's highest virus-related death tolls, at more than 33,000 lives lost.
https://abcnews.go.com/Health/wireStory/french-leader-decries-islamist-terror-attack-teacher-73662700
----------
North America
Donald Trump's Amplification Of Osama bin Laden Conspiracy Could Alienate Military, Report Says
October 17, 2020
Tyler MacDonald
During Donald Trump's Thursday NBC town hall, the head of state doubled down on his decision to retweet a QAnon conspiracy theory that Osama bin Laden is alive. According to The Hill, the decision could alienate military voters ahead of the election, which is less than three weeks away.
Our Air Conditioning Systems are leading India with comfort, high performance and maximum energy-efficiency.
Gary Schmitt, a national security expert with the conservative American Enterprise Institute, said the retweets are "certainly not going to help him."
"Most of the folks in the military are there voluntarily, they're career, they're not just there for during the term of one president. They have a good sense that they've dedicated themselves to a certain life and the president seems to be suggesting that, outside anything else, they've been fooled."
Robert O'Neill, a former Navy SEAL who has publicly supported Trump and claimed he killed bin Laden in the 2011 raid, pushed back on the head of state's comments.
"Very brave men said [goodbye] to their kids to go kill Osama bin Laden. We were given the order by President Obama."
O'Neill said there was no body double used in the operation and concluded his Tuesday statement by thanking Trump.
Despite pushback, Trump defended his decision to amplify the theory.
"That was an opinion of somebody and that was a retweet. I'll put it out there. People can decide for themselves," he said during his town hall.
https://www.inquisitr.com/6337940/donald-trump-osama-bin-laden-alienate-military/
---------
Coptic art adorns Cairo's historic mosques
Hani Sameer
Oct 17, 2020
CAIRO — Islamic art is not the product of one country or one people, writes Tharwat Okasha in his book, "The Encyclopedia of Islamic Photography." Rather, it is the merger of the arts of several civilizations that flourished before Islam, including the Persian, Roman and Byzantine civilizations, due to the geographical expansion of the Islamic state.
Mukhtar al-Kasbani, a professor of Islamic and Coptic antiquities at Cairo University, told Al-Monitor, "Religious tolerance in Egypt instilled harmony between religion and art. Egyptian rulers had focused on the competences and skills of artists or architects without discrimination based on religion. This prompted Muslim architects to learn the decorative features of Coptic art. They subsequently developed these stylistic features and gave them an Islamic identity, turning them into what became known as Islamic art."
He pointed out that Islamic art in Egypt is characterized by abstraction, simplicity and the use of geometric and vegetal forms, while rejecting the depiction of living beings. "All these characteristics are inspired from Coptic art. This appears clearly in the decorations covering the walls, facades and doors of mosques. Egyptian mosques and churches are simple in terms of architectural composition and design, unlike the Pharaonic temples, which are grandiose and dazzling."
Kasbani commented on the marble columns topped by crosses that are found in the mosques of Historic Cairo. "These were brought from ruined buildings. No church was demolished to build a mosque since the Islamic conquest of Egypt. The crosses decorating the tops of the columns, or capitals, are a manifestation of Coptic art. There was no religious objection to using and preserving remnants of Coptic or Pharaonic monuments in building mosques."
He added that there are mosques in Cairo where capitals bear crosses, including Al-Azhar Mosque, where a human head appears in one capital and another bears a bird.
Al-Nasir Mohammad Ibn Qalawun Mosque, Al-Saleh Tala'i Mosque and the mosque of Al-Tanbugha Al-Mardani all contain column capitals decorated by crosses. Visitors can still see the crosses or parts of them. Some have been broken or eroded over time.
Tour guide Nur Yahya agrees with Kasbani. He confirmed that many of the mosques that were built since the Islamic conquest of Egypt in 641 AD through the Mamluk era include capitals depicting crosses that were brought from ruined churches or run-down Christian homes.
Yahya told Al-Monitor that most of Egypt's Muslim rulers have preserved its Christian churches. "Some Pharaonic temples and Roman monasteries have turned into churches with the spread of Christianity and before the introduction of Islam. Pagan [imagery] in these churches were erased and their walls and pillars were decorated with crosses and passages from the Bible."
Yahya pointed out that Coptic influence on Islamic art goes beyond columns from ruined churches, saying, "A marble Gothic door was brought from one of the churches of the city of Acre. It was used as a gate to the Al-Nasir Mohammad Ibn Qalawun Mosque in Al-Muizz Street in Cairo."
Yahya explained that domes hold the same religious significance in mosques and churches such as "the Church of Abu Serga [St. Sergius] and the Hanging Church in the Old Cairo neighborhood." He added, "Domes also are found in mosques, where we find domes topped by a crescent."
Abdul Rahim Rayhan, an archaeologist and director of research, archaeological studies and scientific publishing for the archeological sites of South Sinai, said that Christian and Islamic architecture in Egypt share a great deal of symbolism owing to the mutual influence and cohesion of the two traditions.
In a telephone interview with Al-Monitor, Rayhan talked about Islamic monuments built by Coptic architects, most notably Saeed bin Katib Al-Farghani, who designed Ibn Tulun Mosque.
The mosque was built by order of Prince Ahmed Ibn Tulun, the governor of the Abbasid state in 877 AD, at the top of Jabal Yashkar overlooking the hills of Mokattam. "Ibn Tulun wanted to build a mosque that would withstand fire or flood, even if Egypt was entirely consumed or submerged. The mosque was supported by 160 brick piers instead of the marble columns used in most mosques," he said.
Rayhan also talked about Al-Rifai Mosque in the Citadel Square in Cairo. "Khoshyar Hanim, the mother of Khedive Ismail, ordered its construction in 1869. The mosque was built over two stages and Hussein Fahmy Pasha was the original engineer. When Hoshiyar Qadin died in 1885, work was halted on the mosque and was resumed 25 years later at the order of Khedive Abbas Helmy II. Max Herz Pasha, a Hungarian Jewish architect and head of the Committee for the Conservation of Arab Monuments in Cairo, led the second phase of construction. This is why the mosque was built with a facade decorated with giant crosses."
Rayhan pointed out that the similarity between Coptic and Islamic arts attest to the shared values and cohesion between the Egyptian nation's two main religious traditions.
https://www.al-monitor.com/pulse/originals/2020/10/egypt-cairo-mosques-church-islamic-coptic-art.html
----------
Mideast
A Biden Win Could Mean A Loss For Israel's Netanyahu
DANIEL ESTRIN
October 17, 2020
Israel's Benjamin Netanyahu has been one of President Trump's closest allies, with each of them helping the other's political fortunes. Now that could be in doubt.
NPR has been looking at what the election might mean for some of President Trump's allies, and there might be no closer ally than Benjamin Netanyahu. The conservative Israeli leader has thrown in his lot with Trump so much that he could face trouble at home if Joe Biden becomes the next president. NPR's Daniel Estrin reports from Jerusalem.
DANIEL ESTRIN, BYLINE: When President Trump caught the coronavirus, a top Israeli rabbi prayed for the speedy recovery of Donald John, son of Fred.
ESTRIN: Many in Israel are also praying Trump wins the elections. Prime Minister Benjamin Netanyahu would have a lot to gain. His connection to Trump plays well with many Israelis, and he's given Trump political support in turn. A month after entering the White House, Trump was blamed for a wave of anti-Semitism in the U.S., and Netanyahu came to Trump's defense.
PRIME MINISTER BENJAMIN NETANYAHU: There is no greater supporter of the Jewish people and the Jewish state than President Donald Trump. I think we should put that to rest.
ESTRIN: Trump won over Israelis doing things like recognizing Jerusalem as Israel's capital, though Palestinians claim part of the city for their capital. And as Netanyahu faced a series of elections, Trump gave him a boost, tweeting his support and hosting him at the White House. Now with Trump running for reelection, Netanyahu went back to the White House to sign peace deals with Arab countries.
NETANYAHU: Israel has never had a better friend than you - the greatest friend that Israel has ever had in the White House.
ESTRIN: Over the last decade, Netanyahu has curried favor with Republican leaders and evangelical groups while angering Democrats. But now Israeli officials are trying to play both sides.
DANNY DANON: I think both of them would be good with Israel.
ESTRIN: Danny Danon recently served as Israel's ambassador to the U.N.
DANON: Vice President Biden proved it with his long service in the Senate, and then President Trump proved it in the last four years.
ESTRIN: But can Netanyahu create inroads with a Biden administration? We asked Ayelet Frisch, senior adviser to the late Israeli president Shimon Peres. She sat in on private meetings with Biden.
AYELET FRISCH: (Through interpreter). I don't believe that Biden and Netanyahu have the same trust relationship that Trump and Netanyahu have.
ESTRIN: She mentions that Netanyahu's aides have become close confidants of Trump's aides.
FRISCH: (Through interpreter) They created such a dramatic fabric of influence. I don't believe there will be the same influence under a Biden administration.
ESTRIN: Biden says his administration could rejoin the Iran nuclear deal that Trump left, and it would reverse steps Trump took against Palestinians. Mitchell Barak is a pollster in Jerusalem.
MITCHELL BARAK: They're going to start to try and make it a little more even-handed or to look more even-handed. And the free lunches that we've been getting up until now - we're going to have to pay for some of those things. And then Netanyahu does not have the advantage because it's going to be more of an antagonistic relationship.
ESTRIN: A Trump defeat would come at a bad time for Netanyahu. His approval ratings are slipping, and he's on trial for corruption. And there are weekly demonstrations calling for his resignation. Left-wing protester Nehama Yehoshafat says the two right-wing leaders enable each other.
NEHAMA YEHOSHAFAT: I fear the relationship of two egomaniac, psychotic leaders who are driving the world into chaos for their own personal whims and interests. I think they deserve each other, but we don't deserve them.
https://www.npr.org/2020/10/17/924977201/a-biden-win-could-mean-a-loss-for-israels-netanyahu
----------
Israeli envoy to Azerbaijan slams Armenian violence, threats on civilians
By JERUSALEM POST STAFF
OCTOBER 18, 2020
"It is unacceptable to use violence and threats against civilians," Israeli Ambassador to Azerbaijan, George Deek, said on Saturday, referring to recently reported actions of the Armenian military, Azeri news agency Trend reported.
Speaking with Azeri presidential administration officials regarding the ongoing conflict with Azerbaijan and Armenia in the contested Nagorno-Karabakh region, Deek was told about the Armenian military provocations. These included targeted rocket and artillery strikes on unoccupied cities in Azerbaijan, and atrocities carried out against the local civilian population.
"We strongly condemn the targeting of civilians. We are deeply moved by the recent events in Ganja, Mingachevir, Barda, Tartar and other cities and regions of Azerbaijan, when civilians, including children, were injured and killed as a result of intense missile and heavy artillery attacks. In connection with the tragedy, I express my deepest condolences and wish a speedy recovery to the injured," Deek said, Trend reported.
The ambassador noted that Israel stands in solidarity with their Azeri allies, and offered to provide humanitarian aid to the country.
The ongoing conflict between Armenia and Azerbaijan, which first sparked on September 27, is the worst since Azerbaijan and ethnic Armenian forces went to war in the 1990s over Nagorno-Karabakh, internationally recognized as part of Azerbaijan but populated and governed by ethnic Armenians. Both sides have accused one another of violating ceasefire agreements and using provocative military actions, targeting civilians and infrastructure.
The two countries agreed to a new ceasefire Saturday night, but tensions remain high.
https://www.jpost.com/israel-news/israeli-envoy-to-azerbaijan-slams-armenian-violence-threats-on-civilians-646069
---------
Arms embargo on Iran expires despite US opposition
By Maziar Motamedi
18 Oct 2020
Tehran, Iran – Despite opposition from the United States, a long-standing conventional arms embargo imposed on Iran has expired in line with the terms of a landmark nuclear deal between Iran and world powers, according to the Iranian foreign ministry.
The 13-year ban imposed by the United Nations Security Council (UNSC) came to an end on Sunday as part of Resolution 2231 of the Joint Comprehensive Plan of Action (JCPOA), an accord signed in 2015 that gave Iran sanctions relief in exchange for curbs on its nuclear programme.
In a statement carried by state media, the Iranian foreign ministry said "as of today, all restrictions on the transfer of arms, related activities and financial services to and from the Islamic Republic of Iran … are all automatically terminated."
The end of the embargo means Iran will legally be able to buy and sell conventional arms, including missiles, helicopters and tanks, and the Iranian foreign ministry said the country can now "procure any necessary arms and equipment from any source without any legal restrictions, and solely based on its defensive needs".
However, Iran was self-reliant in its defense, the statement said, adding that "unconventional arms, weapons of mass destruction and a buying spree of conventional arms have no place" in the country's defense doctrine.
The US unilaterally withdrew from the JCPOA in May 2018, imposing waves of harsh economic sanctions on Iran. US President Donald Trump's administration has also employed every means in its power to unravel the nuclear deal and stop the lifting of the arms embargo on Iran.
The latest came in early October when 18 Iranian banks were blacklisted, including those that process humanitarian trade transactions – effectively severing Iran's financial sector from the global economy.
The US administration has been fervently supported in its efforts by Israel and a number of Arab countries that oppose Iran's expanding regional influence.
From the 14 UNSC member states, the so-called E3 of France, Germany, and the United Kingdom, and eight others abstained while Russia and China opposed the extension. Only the Dominican Republic supported the resolution.
After announcing the triggering of a process to "snap back" sanctions on Iran and waiting for a month, the US in September announced it has unilaterally reinstated all UN sanctions on Iran that were lifted as part of Resolution 2231.
But an overwhelming majority of UNSC member states once more rejected the bid, saying no process to reinstate sanctions was started because the move had no legal basis.
In trying to indefinitely extend the arms embargo on Iran, the US claims the lifting of the embargo will open a floodgate of arms deals that would quickly serve to further destabilise the region.
The foreign ministers of the E3 in July issued a joint statement that said while the three countries remain committed to fully implementing Resolution 2231, they believe the lifting of the arms embargo "would have major implications for regional security and stability".
For one, relentless US sanctions have significantly restricted Iran's ability to buy advanced systems, whose purchase and maintenance could cost billions of dollars.
Furthermore, China and Russia, or any other country pondering arms sales to Iran, would act based on their foreign policy interests, which would have to consider the balance of power and future economic interests in the Gulf and the wider region.
According to Tong Zhao, a senior fellow at the Carnegie-Tsinghua Center for Global Policy, the deal has already caused international scrutiny, so China, which wants to demonstrate the image of a "responsible power", will tread carefully.
"More importantly, if [Joe] Biden is elected the new US president – which seems increasingly likely – Beijing would want to reboot the US-China relationship with a new US administration," he told Al Jazeera.
In this vein, Zhao said it would be unlikely for Beijing to jeopardise the opportunity to mend ties with a Biden administration by making huge arms deals with Tehran.
As for Russia, a 2019 US Defense Intelligence Agency report speculated Iran would buy Su-30 fighters, Yak-130 trainers, T-90 tanks, Bastion mobile coastal defence missile systems, and the S-400 surface-to-air missile defence systems.
Iranian Defence Minister Brigadier General Amir Hatami travelled to Russia in late August to visit the International Military-Technical Forum Army-2020 and hold talks with senior Russian officials. The trip boosted speculations Iran is interested in Russian arms.
However, Nicole Grajewski, a research fellow with the International Security Program at the Belfer Center for Science and International Affairs, says there is no indication Russia and Iran have finalised a list of potential arms for negotiations.
"It is not totally unfounded to suggest that Russia and Iran may wait until the US presidential elections," she told Al Jazeera. "Both sides have reasons not to antagonise Biden if he is elected: Iran with the JCPOA and Russia with New START."
New START is an arms reduction treaty and the last existing nuclear arms control pact between Russia and the US that expires in February. Russian President Vladimir Putin on Friday called for a one-year extension of the pact.
Moreover, Grajewski pointed out that while the Trump administration has been inconsistent in implementing provisions of the Countering America's Adversaries Through Sanctions Act (CAATSA), Russia will take US sanctions into account – especially since Moscow would like to sell weapons to states that could become subject to secondary US sanctions.
"Russia won't be as willing as China to sell Iran weapons on barter like it did in the 1990s," Grajewski said. "Plus, Russia doesn't want to damage its relations with the UAE, Saudi Arabia and Israel by providing Iran with high-tech or advanced weapons."
But the researcher believes Iran and Russia may enjoy a boost in military cooperation and contacts that have increased in the past few years due to shared interests in Syria and a general improvement in bilateral relations.
"There will likely be additional military exchanges and drills in addition to an increase in efforts that promote the interoperability between the Russian and Iranian armed forces at the tactical level," she said.
Following the implementation of the nuclear deal in 2016, Russia completed delivery of the S-300 air defence missile system to Iran, which was successfully tested by Iran in early 2017.
This finally concluded an $800m deal signed between the two states in 2007 that was left unfulfilled by Russia after multilateral sanctions pressure on Iran grew.
As Iranian defence expert Hossein Dalirian explains, after years of multilateral and unilateral sanctions, Iran concluded it has to rely on the expertise of its own engineers and experts to boost defence capabilities.
"With this perspective, extensive efforts were launched inside Iran to develop a diverse range of advanced arms and systems that are now produced locally, which are on par with those of developed nations, even as attested by military experts of Iran's enemies," he told Al Jazeera.
Among others, these include unmanned aerial vehicles (UAVs) and the Bavar-373 surface-to-air missile defence system, which was officially rolled out in August 2019, and which Iran says is on par with the state-of-the-art Russian S-400 system.
However, Dalirian said, it has not been possible, or economically feasible, for Iran to produce a number of armaments, including fifth-generation fighter jets.
"Even though Iranian experts have recently achieved technological know-how to produce fighter jet parts, and built Kowsar, which is on par with fourth-generation fighter jets, it seems that purchasing fighter jets might be pursued by Iran at the same time as locally developing modern fighter jets," he said.
"Now it remains to be seen what Iran's enemies, specifically the US, have planned for potential buyers of Iranian arms in political terms," he said.
https://www.aljazeera.com/news/2020/10/18/arms-embargo-on-iran-expires-despite-us-opposition
-----------
Iran imposes new restrictions as COVID-19 deaths surpass 30,000
By Maziar Motamedi
17 Oct 2020
Tehran, Iran – "The second time I was dealing with the virus, one night I was in so much pain that I said my prayers before going to sleep because I felt like I might not see another morning," says Tehran resident Sadaf Samimi.
The 29-year-old journalist told Al Jazeera she first tested positive for COVID-19 in July at her workplace and has since been working from home.
But in early September, she got sick a second time with the coronavirus after she met two of her close friends, who had been isolating at home. One of her friends had shopped for groceries at a large market, where they might have contracted the virus.
Samimi said she experienced a shortage of breath and the symptoms of a strong cold the first time she was infected, but getting through the second time was a much more painful experience, marked by severe body pains and a splitting headache, among other symptoms.
"I get so irritated and angry about people who go out unnecessarily and when I see friends posting about going on trips on social media. I feel they and their families have been fortunate enough not to be infected, so they don't know what they're doing to themselves."
According to health officials, more than four in five Iranians adhered to health protocols in March, weeks after the pandemic began, but that has now dropped to as low as 40 percent.
Authorities maintain that reopening schools and holding public ceremonies to observe religious occasions have had no bearing on the number of cases.
Iran passed 30,000 official COVID-19 casualties on Saturday as health ministry spokeswoman Sima Sadat Lari announced 253 more people lost their lives in the past 24 hours.
The highest number of single-day infections was recorded at 4,830 cases on Wednesday, when a worst single-day death toll of 279 was also reported.
The majority of Iran's 32 provinces, including Tehran, are still classified as red in a colour-coded scale denoting the severity of outbreaks.
In response to the alarming rise in the number of infections, deaths and hospitalisations, officials have introduced new restrictions for Tehran, which is bearing the brunt of COVID-19 cases in the country facing the worst outbreak in the Middle East.
Last week, a mandatory city-wide mask rule was implemented and President Hassan Rouhani announced fines for people and businesses who fail to adhere to the rules.
He said people who violate the mask rule will face a fine of 500,000 rials ($1.6), while the highest fine for individuals has been defined at 2 million rials ($6.6) for those who test positive for COVID-19 and knowingly endanger others by not quarantining.
Businesses have also been ordered to refuse offering services to people without masks and could face up to 10 million rials ($33) in penalties, and ultimately, closures.
Finalising the penalties took weeks and police officials, who have been tasked with issuing the penalties, say no fines have been issued yet.
At the request of the health ministry, officials also put in effect three-day travel restrictions on five metropolises that expire at the end of Saturday.
As part of the travel restrictions, which do not apply to travel by rail or air, only people whose licence plates are registered in Tehran, Karaj, Mashhad, Isfahan and Urmia, or can prove they live in these cities, are allowed to travel to and from there.
The move came in response to an expected wave of travel during the three-day period, which coincided with national religious holidays.
On Saturday, Tehran's governor announced the city's partial shutdown – that saw the closure over the past two weeks of cafes, universities, cinemas and sport centres, among other places – will remain in place until at least October 23.
But authorities have been unable to impose more comprehensive lockdowns because the economy is still under immense pressure from sanctions imposed by the United States.
The sanctions have come relentlessly after US President Donald Trump unilaterally withdrew from a 2015 nuclear deal between Iran and world powers.
Samimi, who has lost several extended family members and family friends since the start of the pandemic, says after going through the COVID-19 ordeal twice, she strongly supports any restrictions that could help save lives.
"I'm no economic expert and I don't know what the financial toll will be for people and businesses, but I think human lives are more important than the economy," she said.
But in an economy marked by high inflation and unemployment, many do not have the option to work from home or lose their limited incomes.
"I follow all the protocols as best I can, but a hungry stomach doesn't care about these things," Shahrokh, a 50-year-old father of two who works as a driver in an online ride-hailing app, told Al Jazeera.
"I stayed at home for a few weeks when the pandemic first began, but I've been out working since. It's fate; if I'm supposed to die, I die," said Shahrokh, who suffers from diabetes, a condition that makes him much more vulnerable if he contracts the virus.
"I'm not the most experienced person, but caring for COVID patients has been one of the strangest and saddest experiences I've ever had," said 24-year-old Mahsa, a final-year medical intern who spent months working in hospitals affiliated with the Azad University in Tehran during the pandemic.
Mahsa said it was especially frustrating for her and her colleagues not to be able to console patients; in part because so much remains unknown about the virus, and because of restriction caused by having to observe physical distancing and wear so much protective gear.
At times, she said, hospital staff could not even keep patients in the emergency room for a few minutes to give them an oxygen boost before sending them away to another hospital.
Footage aired by state-run television from hospitals in the capital in recent days have also shown that many have no empty beds, even in emergency rooms, and have no choice but to leave patients waiting or to turn them away.
What is more, many hospitals are facing shortages in medicine, especially treatments that have shown promise in helping COVID-19 patients.
This has forced distraught family members to scramble for medicine, at times from black markets, often at astronomical prices that many cannot afford.
Last week, Supreme Leader Ayatollah Ali Khamenei ordered all military hospitals to accept coronavirus patients, while commander-in-chief of the Islamic Revolutionary Guard Corps (IRGC) Hossein Salami pledged "the entire medical and support capacity of the IRGC" to help fight the virus.
According to Mahsa, "What is evident the most at the moment among health workers is fatigue and exhaustion from the overflow of patients, and having to wear protective gear and following strict protocols at all times, even during brief rest periods, because rest areas are shared as well."
https://www.aljazeera.com/news/2020/10/17/iran-imposes-new-restrictions-as-covid-19-deaths-surpass-30000
----------
Iran Comes Under Attack As Armenia, Azerbaijan Clash Over Nagorno-Karabakh
October 17, 2020
By EurAsian Times Desk
Iranian Foreign Ministry Spokesman Saeed Khatibzadeh condemned misfire at his Iran's border areas and stated that Tehran would not tolerate further rockets into its borders. "Unfortunately, worrying news has been reported on the issue, which is not acceptable at all," Khatibzadeh said.
"The security of the Iranian citizens living in border areas is the redline for our armed forces and in case of repeated shelling, the Islamic Republic of Iran will not remain indifferent," he went on to say.
Earlier, Azerbaijani Foreign Ministry announced late Friday that Armenian forces launched rocket attacks on Iranian territory as a provocation. "This act of the sneaky enemy makes us angry and we are sharing the concern of the brotherly Iranian people," it said.
The ministry said Iran condemned Armenia's aggressive policy and supported Azerbaijan's territorial integrity. "Today, we feel the solidarity of the brotherly Iranian people and appreciate the officially declared support of the Iranian government," it said.
In relevant remarks early this month, the Iranian foreign ministry had repeated the country's warning to Azerbaijan and Armenia to avoid misfire during military clashes between the two neighbours.
"The Islamic Republic of Iran is seriously and with high sensitivity monitoring the moves at the bordering areas of Iran and declares that any aggression against our country's territories by any party engaged in the (conflicts in the) region will not be tolerated and we seriously warn all sides to show necessary caring in this regard," Foreign Ministry Spokesman Saeed Khatibzadeh said.
https://eurasiantimes.com/iran-comes-under-attack-as-armenia-azerbaijan-clash-over-nagorno-karabakh/
---------
Iran's Regime Smuggles Medicine To Iraq, While Complaining About Sanctions
by Shamsi Saadati
17th October 2020
The Iraqi army's intelligence on Thursday reported it has confiscated 19 trucks that were smuggling hundreds of thousands of medications from Iran to Iraq. All the while, Iran's regime complains about international sanctions preventing them from helping people amid the COVID-19 pandemic.
According to Iraq media outlets, these trucks were traveling from the side roads in the Iraqi province of Diyala to evade customs duties and were stopped on the same route. The Iranian regime has been using the smuggling of goods as a source of income to fund its illicit activities.
In addition, according Alireza Vahabzadeh, an advisor to the regime's Minister of Health, the systematic smuggling of medicine causes a huge price difference between drugs in Iran and Iraq.
This new trafficking of medicine is taking place while the regime and its apologists try to blame United States sanctions for the spread of the COVID-19 pandemic. They try to blame U.S. sanctions, while medicines are exempted from these sanctions.
Behrooz Bonyadi, one of the regime's former members of parliament, on November 1, 2019 said: "The trafficking of medicine is fully organized." "Traffickers rent citizens' insurances to purchase medicine and smuggle it to Iraq," Bonyad told the state-run Royedad24 website.
Regarding this "organized" trafficking, Said Namaki, the regime's Health Minister, in June 2019 said: "With two million euros of government currency, they imported power cables instead of stents for hearts."
The corruption is institutionalized in the mullahs' regime. One of the most important aspects of the regime's corruption is the uncontrolled import of smuggled goods that dominates large percentages of mullahs' economy. The Revolutionary Guards (IRGC) controls the majority of this smuggling network and controls of nearly 90 ports in Iran, which are nearly 45% of Iran's 212 official ports. The IRGC's imports and exports from these ports is evaluated at nearly $12 billion each year.
In this regard, the state-run Tasnim news agency on May 5, 2017 wrote: "The figure of $15-20 billion of smuggled goods is not a low figure for our country; it is natural that the entrance of goods from illegal channels can deliver irrecoverable damages. From an economic point of view the uncontrolled entrance of smuggled goods will lead to the end of the country's domestic production, and this could have meant jobs for two million people."
All the while, IRGC forces shoot and kill deprived porters near Iranian borders. These poor porters carry heavy loads on their back to earn money for feeding their families. The IRGC's smuggling network has enormously destructive impacts, particularly now amid the coronavirus outbreak that people are in need of medicine.
Thus, supporting the mullahs' regime and advocating for sanctions to be lifted only helps the IRGC and other oppressive and terrorist forces to continue their malign activities.
https://www.ncr-iran.org/en/news/economy/while-whining-about-sanctions-irans-regime-smuggles-medicine-to-iraq/
--------
Iran: Resistance Units Pay Homage To the Martyrs of the November 2019 Uprising, the Iconic Singer Mohammad Reza Shajarian
by Secretariat of Iran (NCRI)
17th October 2020
Following the call by Mr. Massoud Rajavi, the Leader of the Iranian Resistance, to commemorate the martyrs of the November 2019 uprising, Resistance Units in the Eastern Iranian city of Tous, paid homage to the martyrs of the uprising and the iconic artist Mohammad Reza Shajarian, who passed away last week,
This courageous move came while the clerical regime, in fear of public gatherings and protests in honor of Shajarian at his burial place in Tous, has imposed tight security in the city. Resistance Units and supporters of the Mujahedin-e Khalq (MEK/PMOI) held pictures of the martyrs of the uprising, photos of Shajarian, and a message addressed by Mr. Rajavi, which read, "In memory of Shajarian, who will always remain in our memories… We will always remember his most moving message, 'death to the dictator.'"
https://www.ncr-iran.org/en/ncri-statements/statement-iran-resistance/iran-resistance-units-pay-homage-to-the-martyrs-of-the-november-2019-uprising-the-iconic-singer-mohammad-reza-shajarian/
---------
South Asia
We are Hopeful of Preventing Further Covid Spread: Prime Minister Sheikh Hasina
October 18, 2020
Unb, Dhaka
Prime Minister Sheikh Hasina yesterday said Bangladesh will be able to prevent the further spread of the Covid-19 in the coming days.
"So far, we're lucky that both the infection and mortality rates of the disease are very low in Bangladesh. We're hopeful that we'll be able to prevent the further spread of the disease in the coming days," she said.
The PM said this in her pre-recorded video message played at the First International e-Conference on Critical Care-2020. Bangladesh Society of Anesthesiologists organised it virtually.
She said united efforts and the hard-labour of physicians and health workers can contain the spread of the deadly virus in Bangladesh.
She mentioned that the anesthesiologists play a crucial role in the management of critically ill patients apart from their work in operation theatres.
"Our anesthesiologists have been doing a wonderful job during this pandemic managing the Covid-19 patients in ICUs and outside. Bangladesh Society of Anesthesiologists helped the government prepare the National Guideline for Covid ICU Management."
Hasina said they also arranged new ICU facilities all over the country and trained up ICU doctors and staffers to deal with Covid-19 patients.
She said a good number of physicians, including some anesthesiologists, died from coronavirus infections while discharging their duties.
Hasina said the government has given utmost importance towards improving the country's healthcare service. "We truly believe that getting healthcare is the basic rights of a citizen. So, we've widened the treatment facilities at government hospitals by adding additional beds, recruiting doctors and other health staffers."
She mentioned that the government has set up a number of new specialised hospitals in the country in the last couple of years. The private sector has also come up in a big way in this area.
The PM said about 18,000 community clinics and union health centres set up by the government have been providing primary healthcare services to rural people. Patients are getting 30 types of free medicine.
The PM said anaesthesiology, a medical speciality concerned with the total perioperative care of patients before, during and after surgery, is getting increased attention everywhere.
"This is because it covers anaesthesia, intensive care medicine, critical emergency medicine, and pain medicine. Bangladesh is no exception. We duly recognise their contributions."
Hasina said the job of a physician is a noble profession. By treating an ailing human being, the physicians serve humanity. "So, when anyone becomes a doctor, that person's first and foremost task is to serve humanity. I hope you won't forget your duty under any circumstances."
https://www.thedailystar.net/frontpage/news/were-hopeful-preventing-further-covid-spread-pm-1979881
---------
Afghan Government Appoints Security Chiefs to 100 Provincial Districts
Mohammad Haroon Alim
18 Oct 2020
The Afghan government in ceremonial event introduced new police chiefs for 100 districts in 29 provinces on Saturday.
President Ashraf Ghani, First Vice President Amrullah Saleh and National Security Advisor Hamdullah Mohib spoke at the inauguration ceremony of the new police chiefs for 100 districts, Presidential Palace statement reads.
Mohib said a committee was established by a presidential decree for selection of the commanders, following much efforts 100 lieutenants and officers were appointed to their duties.
According to the statement, President Ghani addressed the commanders: "You have the support of the Commander-in-Chief of the Armed Forces, go to your duties with a full impetus with new motives, treat the civilians well, and have no mercy on the enemy".
This is despite the start of Intra-Afghan talks between the Afghan government and the Taliban, the fighting has escalated rather than subsided, and the government has recently recruited 100 lieutenants and police officers to take the security commands of the districts.
https://www.khaama.com/government-appoints-security-chiefs-to-100-districts-767544/
--------
Abdullah Heads to Iran following Visits to Pakistan, India
By Mohammad Arif Sheva
18 Oct 2020
KABUL, Afghanistan – Chairman of the High Council for National Reconciliation Abdullah Abdullah headed to Iran Sunday morning to "exchange views on Afghan Peace" with Iranian officials, after wrapping at least two visits on the same topic to Pakistan and India earlier this month.
Abdullah is due to meet President Hassan Rouhani, including a number of high profile Iranian dignitaries, to discuss ongoing Afghan peace process and regional support.
"During the official visit, he will meet & exchange views on Afghan peace process, I/Afg talks, regional support…and bilateral issues with excellencies, the President, Foreign Minister, Speaker of the Majles, leadership of the security sector & other Iranian dignitaries," he said in a tweet.
Abdullah's official visits to neighboring countries came a time the country bid to mark a political deal with the Taliban delegations in Doha, which will determine peace and stability in Afghanistan.
https://www.khaama.com/abdullah-heads-to-iran-following-visits-to-pakistan-india-345345/
---------
Salang Road Side Bomb Claims 3, Injures One
By Mohammad Haroon Alim
17 Oct 2020
Local officials in Parwan province confirm that a roadside bomb blast in Salang district of the province killed three people, including Jamal head of the crimes department, and two of his accomplices.
Reports indicate Anti-terror Police chief for the district was also injured in the blast.
Wahida Shahkar, spokeswoman for the governor of Parwan told Khamaa Press that the incident took place at around 6:20 am this Morning in the village of Lalmah-e-Sabzak in Salang district.
Shahkar added that the blast was caused when the police Ranger vehicle collided with a roadside mine.
According to the spokeswoman for the governor of Parwan, the explosion occurred when the security officials were trying to go on a mission to the village of Siahsang in Salang district.
So far, no individual or group has claimed responsibility for the incident.
https://www.khaama.com/salang-road-side-bomb-claims-3-injures-one-686876/
---------
Anti-rape march attacked in Feni
October 18, 2020
Star Report
The long march by anti-rape protesters from Dhaka to Noakhali came under repeated attacks in Feni yesterday after men of the ruling Awami League and police allegedly carried out "joint attacks" on them, leaving at least 35 protesters injured.
The incidents happened at the Shanti Company intersection in Feni town around 11:30am after the demonstrators concluded a rally in the Feni Shaheed Minar area.
"Goons of the local Awami League launched attacks on us with sticks and rods. At first, police were mere spectators. Then they too joined the ruling-party men and chased us… When we got on the bus, they attacked us again, hurling brick chunks, charging with sticks and ransacking the buses," Mehedi Hasan Nobel, president of Bangladesh Chhatra Union, told reporters in Chowmuhani of Noakhali.
"In the two-hour journey from Feni to Noakhali, we saw Chhatra League and Jubo League men take up positions on the sides of the road. Fearing for their security, police did not arrange any treatment for us and so the injured had to remain in the bus," Mehedi said, adding that they finally received primary treatment at Life Care Hospital in Chowmuhani.
At least 35 activists got primary treatment from the hospital, said Rakib Uddin, a physician at the hospital. Eight to 10 of them suffered severe blows and were later treated at Noakhali General Hospital.
Photos and videos of the attack went viral on social media as heavy criticism poured in from netizens. In the videos, it was seen that police were mere spectators when attackers swooped and made no attempt to detain them.
The attack came on the day when Bangladesh Police organised anti-rape and anti-violence rallies in 6,912 beats across the country to create public awareness against rape and violence against women.
Denying the allegations, Additional Superintendent of Feni Police Mainul Islam told The Daily Star that it was "not an attack", but a scuffle broke out there after the rally.
"Marchers wrote 'Dhorshokder Paharadar' [protecters of rapists], 'Tui Dhorshok' [you are a rapist], on posters of local lawmaker Nizam Uddin Hazari. In protest, his followers brought out a procession. Activists from the long march chased followers of the lawmaker and a scuffle ensued," he claimed.
"The general public were angered and reacted after seeing derogatory comments on the placards of Nizam Hazari, which also included a photo of the prime minister. No one from Awami League and its affiliates were involved," he told reporters.
Hriddho Anindya, cultural affairs secretary of Chhatra Union's Jahangirnagar University unit, who was at the march, alleged that police first attacked them when some protesters were painting a wall in the Feni Shaheed Minar area.
"Later, when we tried to move towards the bus, some miscreants entered the procession and attacked us. They ransacked our six buses," he said.
Demonstrators said they cancelled their rally in Dagonbhuiyan upazila after learning that the ruling party men also attacked local leftist protesters there.
The long marchers finally held a concluding rally at Maizdi Shaheed Minar of Noakhali around 4:00pm. They demanded immediate resignation of the home minister.
Later, they announced protest rallies across the country on October 19. If their nine-point demand is not met, they warned of a highway blockade across the country on October 21. Tougher protests will come if the home minister did not resign, they said.
In a press statement, Bangladesh Chhatra Union said such attacks in Feni clarified the position of the government and the police, in favour of the rapists.
Protesting the attacks in Feni, several left-leaning parties brought out processions and protest rallies in several parts of the country, including Dhaka. They demanded arrest of the Feni attackers and resignation of the "failed" home minister.
Protests against rape and violence against women erupted across the country since the beginning of October, following the recent incidents of gang rape in Sylhet's MC College and in Noakhali's Begumganj upazila.
Around 450 protesters, including left-leaning parties, socio-cultural ogranisations, students, youths and rights activists, started the long march under the banner "Bangladesh against Rape and Impunity" to press home their nine-point demand, from the capital's Shahbagh area around 10:30am on Friday.
Their nine-point demand includes reformation of the Evidence Act, implementation of the Convention on the Elimination of all Forms of Discrimination Against Women (CEDAW) charter, exemplary punishment for those involved in gender-based violence, and an end to repression of women in the hills and on plain land.
Meanwhile, various political, labour and social parties and organisations organised human chains, demonstrations and protest processions in front of the National Press Club in the capital against rape and torture of women and children in the country.
Speakers at these programmes said the incidence of rape and oppression of women and children is increasing due to the culture of impunity in the country. For the same reason, incidents like murder, kidnapping, and extrajudicial killings are also increasing, they said.
https://www.thedailystar.net/frontpage/news/anti-rape-march-attacked-feni-1979853
----------
Arab world
Saudi Arabia, Google Partner in Plan to 'Level-Up' Mideast
ONE CARLO DIAZ
October 18, 2020
DUBAI: Several Saudi ministries have teamed up with tech giant Google to launch a set of projects aimed at helping the Kingdom's economic strategy and digital transformation.
Google said the initiatives will focus on Saudi Arabia and the MENA region and will boost economic recovery amid the coronavirus pandemic. The program, named "Grow stronger with Google," will include a comprehensive list of digital tools, grants and training opportunities to support local businesses and job seekers across the region. In the Kingdom, Google will target the retail, tourism and technology sectors, including Saudi Post, which will list 100,000 local entities on the company's digital platform and train employees in online marketing.
"We are proud to partner with Google in this initiative to bring value to Saudi nationals, residents and local businesses, especially SMEs through bringing them together using the Google 'My Business' platform," said President of the Saudi Post Anef Abanomi.
"Through this partnership we aim to list up to 100,000 businesses in the first phase in line with Saudi Post's strategic transformation objectives to improve quality of life and help SMEs achieve their e-commerce and digitization goals," he added.
Lino Cattaruzzi, managing director for Google in MENA, said in a press release: "During the pandemic, online tools have been a lifeline for many in Saudi Arabia. Making the most of the online opportunity can help Saudi people, businesses and communities and in the wider region bounce back stronger." He said the program will equip businesses and individuals in the Kingdom with digital skills, especially in sectors that have been most affected by the pandemic, such as retail and tourism.
In the Kingdom, Google will target the retail, tourism and technology sectors, including Saudi Post, which will list 100,000 local entities on the company's digital platform and train employees in online marketing.
The tech giant has also partnered with several Saudi bodies — including the Ministry of Communications and Information Technology and the Ministry of Tourism — to implement the programs. One project is set to train 50,000 students and businesses in digital marketing.
"We remain fundamentally optimistic about the future of this region, and we're confident that by working together with local partners, we can boost recovery and build on the rapid acceleration of tech adoption we've seen during the crisis," Cattaruzzi said.
The program also includes cloud training for local businesses, as well as workshops on advanced digital skills, such as a machine learning platform that will teach about 140,000 developers with a focus on women.
Google said it wants to help 1 million people and businesses throughout the MENA region learn digital skills and grow businesses by the end of 2021.
https://www.arabnews.com/node/1750431/saudi-arabia
--------
Campaign to boycott Turkish products gains momentum
HEBSHI ALSHAMMARY
October 18, 2020
RIYADH/JEDDAH: The popular campaign boycotting Turkish products in Saudi Arabia has gained further momentum over the past few days, attracting the support of commentators and businesses.
"Turkish political mess-ups and interference in countries of the Middle East is the real reason behind this popular boycott of Turkish products," said Dr. Hamdan Al-Shehri, a political analyst and international relations scholar.
"Turkish President Erdogan changed his previous policy of minimizing Turkish problems and instead exported it to the outside. Turkey has been threatening the region just as Iran is, using terrorist militias, spreading them in the countries of the region and by their support for the Brotherhood, which is classified as a terrorist organization in many countries of the world. This constitutes a regional security threat to the Arab countries and the Gulf states directly, especially with Turkey's exploitation of the Qatari crisis and the continuous auctions of the Palestinian cause."
Dr. Al-Shehri said that the popular boycott of Turkish products was a message from the Saudi people and others who were in solidarity with the campaign to reject Turkish interventions and Turkish hostility toward the countries of the region, such as their interference in the issue of the rotation of the Two Holy Mosques and interventions in Iraq, Syria and Libya.
Dr. Al-Shehri said that the boycott would have a major role in influencing the global economic crisis due to the COVID-19 outbreak, which proved both Erdogan's mismanagement in dealing with the pandemic and the great weakness of the Turkish lira.
Alsadhan Group, one of the oldest stores in Riyadh, has expressed its support for the campaign. Its CEO, Eid Alanazi, told Arab News that it was not reasonable for society to buy and sell Turkish products when Turkey had shown clear enmity toward the Kingdom and its leadership.
In a statement to Arab News, Alsadhan Group stressed that it supported the community efforts boycotting all Turkish products, adding that Alsahdan Trading Company and SPAR Stores, which are subsidiaries of the group, did not import any goods directly from Turkey. The statement said that the group's top management had instructed Alsadhan and SPAR supermarkets to stop selling Turkish products.
Alsadhan Group will continue to support any national efforts that serve the religion, the king and the country, and would not tolerate any attempts aiming to bring harm to the country and Saudis, the statement said.
Alanazi said that it was important to boycott all Turkish products because Turkey has shown its enmity to the Kingdom. He said that it was the duty of each citizen to boycott the products of any country that did not respect the Kingdom and the Saudi leadership. Boycotting was as efficient as any other weapon that could be used to protect the Kingdom, he said.
Abdullah Al-Othaim Markets announced on Friday that it would stop imports from Turkey. "To all our customers, we have directed all concerned departments to stop importing products from Turkey and purchasing Turkish products from local suppliers and also to get rid of the Turkish product inventory at all our branches and not make any new orders for these products. This decision has been taken to support the popular boycott campaign and because we believe it is a national duty and also a response to the Turkish government's practices against our precious country," the statement said.
"At the end of the day, it is up to what people think and what they like or not. Even President Trump cannot interfere in what Americans want to buy, whether they want a Huawei or an iPhone. Advanced countries give their people freedom of choice in terms of what one wants to eat, drink, wear or drive. It's a private freedom. We are not at war to boycott Turkey; besides, there are many Saudi investments in Turkey despite the fact that some Turkish officials do not speak with respect about the Kingdom and Saudis," he said.
"The Kingdom is a wise country and does not interfere in what people think or want. However, the Kingdom's security is a red line that should not be crossed. The Kingdom only targeted Iran when Iran started to threaten the Kingdom's security," he said.
"If anyone is still not convinced this is a popular boycott, they can visit any of the Turkish restaurants or coffee shops and see with their own eyes how these places are open to everyone who wants to visit them," Al-Matrafi said.
Mubarak Al-Aati, a Saudi writer and analyst, said that an increasing number of Saudi people have called for the boycotting of Turkish products and these voices had formed a strong and tangible economic move that reflected on the Turkish economy, which was collapsing.
"The boycott calls reflect a national unity from Saudis against the hostile actions of the Justice and Development Party in Turkey and President Erdogan. Saudi people are sending a message to the Turkish government that the security and image of the Kingdom and the leadership is a red line. The Saudi people have shown that they are close to their leadership. The boycott is a weapon Saudi people are using against the risks of foreign interference including the Turkish interference, which is categorically rejected by all Saudis without exception," he said.
Adnan Alaslami, a Saudi national, said that he fully supported the popular boycott of Turkish products and that there were alternative local products as good as Turkish ones. Saudi investors should take advantage of the boycott and go to neighboring countries and import products from there instead of Turkish products, he said. This was a good chance for them to diversify the products in local markets and end any monopolistic activities.
"I pray to Allah the Almighty to protect our country and continue bestowing on us the blessing of security and safety under the leaderships of Custodian of the Two Holy Mosques and the crown prince," he said.
https://www.arabnews.com/node/1750426/saudi-arabia
---------
Chinese envoy Chen Weiqing looks forward to this year's Riyadh Season
DEEMA AL-KHUDAIR
October 18, 2020
RIYADH: One of the many Kingdom's residents who is looking forward to this year's Riyadh Season is the Chinese Ambassador, Chen Weiqing. He tweeted his excitement for the — yet to be announced — events after the promo video by the president of the General Entertainment Authority, Turki Al-Sheikh. The video has received more than 20 million views since it was tweeted on October 10.
Ambassador Chen tweeted on Wednesday an interaction between Al-Sheikh and Egyptian singer Amr Diab, who performed in the 2019 Riyadh Season.
When the chairman of the GEA posted a clip of Frank Sinatra singing "My Way" the singer commented, "You have exquisite taste in music."
Ambassador Chen tweeted, "I stumbled upon a beautiful interaction between two kind gentlemen," adding "Amr Diab is my favorite musician, I like his songs very much, I made the song "Wahashtiny" my ringtone."
Amr Diab's fandom has sky-rocketed in recent years with numerous appearances at major events in the Kingdom such as Formula-E's debut in the Middle East at Diriyah in 2018.
Al-Sheikh replied lightheartedly to the ambassador's tweet: "Thank you very much, Ambassador and you are more than welcome in your second country. I have one complaint, Amr Diab keeps getting younger every year."
The singer excitedly replied: "I am very happy with the Chinese Ambassador @AmbChenWeiQing's interaction (with us) and your follow ups with my songs. This is Riyadh Season's mission, to go global. Thank you @Turki_alalshikh, you are making me bear a great responsibility to be younger than the year before."
On Saturday, the chairman of the GEA tweeted an invite to the Chinese ambassador: "@AmbChenWeiQing The General Entertainment Authority invites you to any party or event, for you and your dear family, an invite from me personally."
The ambassador replied: "Thank you for the kind invite, you are part of my family." The heartwarming interaction between important figures from two nations made Twitter flood with comments from users that show the strong ties between the Kingdom and the People's Republic of China.
In an interview with Arab News last month, Ambassador Chen highlighted how the ties between the two nations had strengthened after the pandemic.
"The saying 'a friend in need is a friend indeed' has become the best footnote to the friendship between China and Saudi Arabia," he told Arab News.
"At the critical time when the Chinese people were striving to win the battle against COVID-19, the Saudi Arabian government and people, from all walks of life, voiced support and offered assistance to China in various ways," he said.
Chen said that since the outbreak Chinese President Xi Jinping and King Salman have spoken three times on the phone, and the two countries have carried out high-level cooperation in COVID-19 prevention and control. "I believe greater progress and development of bilateral relations will be achieved after the pandemic," he added. Riyadh Season took off in 2019 and attracted more than 5 million visitors — both locals and from abroad.
https://www.arabnews.com/node/1750391/saudi-arabia
---------
Saudi artist Abdullah Alhumaid puts Riyadh street life in the frame
CALINE MALEK
October 17, 2020
DUBAI: Experimental film photographer Abdullah Alhumaid is not your average 25-year-old Saudi. His creative journey, which began unexpectedly on the streets of Beirut, has flourished, resulting in "Rats of Bat'ha," a project capturing daily life in a Riyadh neighborhood.
In the age of smartphones and Instagram filters, old-fashioned film photography is a dying art — limited by a finite roll of film and the patience required to develop it. But Alhumaid's eye-opening work could provide the flash of inspiration needed for a wider comeback.
"The experimental experience started at the beginning of 2018 when I was going for a quick trip to Beirut," Alhumaid told Arab News. "Two hours before my flight, I met a friend who had a film camera, which I had never operated. I borrowed it for the trip to experiment and to see how it goes."
What stuck with Alhumaid after his trip were interactions with Beiruti locals who became his photographic subjects. While convincing them to shed their inhibitions and pose for portraits, he too was coaxed out of his comfort zone. Something had clicked.
"It was surprisingly beautiful, given I'd never operated a camera before, especially a film one, which was not at the top of my list," he said. "The interactions were breathtaking — I allowed myself to interfere with people's daily lives and tried to put them on the spot."
Although many of his subjects were hesitant at first, the process of persuading them was central to Alhumaid's experience, from careful first impressions to the questions he posed to put them at ease.
"It's not about nagging, because that's not comfortable," he said. "I got to interact with different types of people, including homeless people, and got to know their stories. It's about connecting in a human way. And when you open up to them, that gives you a worthwhile experience that you wouldn't normally think of."
Unfortunately, his first roll of film was damaged, erasing his earliest work. His second shoot, however, proved far more successful thanks to some valuable tips from an experienced Beirut photographer who took him under his wing.
Although many of his subjects were hesitant at first, the process of persuading them was central to Alhumaid's experience. (Supplied/Abdullah Alhumaid)
The end result is Alhumaid's signature style of moody city snapshots, many of them employing the sharp dualities of light and shadow, while others mesh urban straight lines with a blur of motion. The dated quality of film lends the images a hue of nostalgia.
"What I love about the film camera is that you're not attached to the results," he said. "You don't see results immediately, so you're not distracted by the tool; rather you're inspired to be in the moment and to place your focus on the interaction.
"You only get 36 images, so you'll be pickier and more aware of what you shoot because you don't want to waste your whole film on one subject."
In the age of digital photography, where pictures can be captured, cropped, retouched and deleted faster than you can say cheese, it is surprising to see old film cameras making a comeback in modern Saudi Arabia.
However, there are now very few stores in the Kingdom fitted with darkrooms to develop rolls of film — just one in all of Riyadh in fact. As a result, Alhumaid is on the lookout for like-minded shutterbugs who want to rebuild the industry.
Al-Bat'ha is one of the oldest commercial districts of downtown Riyadh — increasingly diverse and always buzzing. In October 2018, after returning from Beirut, Alhumaid made this distinctive neighborhood his source of inspiration.
"It is unfortunately left behind, and now only expats live there," Alhumaid said. "It used to be the downtown of Riyadh. Going there and seeing the contrast we live in, in terms of bubbles we create for ourselves, was mesmerizing — the simplicity, the colors, the fruits, the expats, and how they were shocked at how we were taking photos of them. It was lovely to touch base with the city."
It was here Alhumaid framed the idea for "Rats of Bat'ha." And in case you were wondering, he and his shoot team are the eponymous rats, weaving through the urban maze with rodent-like curiosity, he says.
"Al-Bat'ha is the street that pushed me again to take this passion forward and keep it as a funnel feeding itself with simplicity," he told Arab News. "I didn't want to plan anything; I wanted everything to be spontaneous and take it everywhere."
And that he did. From Japan, Portugal, Versailles in France, and everywhere else his photography has taken him, Alhumaid has tried to connect with local street life by capturing people on film. In the process, he said he has evolved.
From Japan, Portugal, Versailles in France, and everywhere else his photography has taken him, Alhumaid has tried to connect with local street life by capturing people on film. (Supplied/Abdullah Alhumaid)
Born and raised in Riyadh in a conservative household of academics and consultants, Alhumaid feels blessed to have grown up without technology. "They forbid it, not just because of religion, but because of how much it consumes you," he said of his parents.
"And I'm grateful for that, because they allowed us the space to create, to generate ideas and to work with what you have so it reflects your intellect."
As such, his five siblings ended up in fashion design, psychology, French literature, law and medicine. "It's derived from not having a TV," he said. "These elements played a role."
After a six-month stint playing for Al-Shabab football club, Alhumaid's interest turned to Riyadh's art scene, which was burgeoning in 2013. There he met a whole new community. After working in Dubai for a short period with Careem Wallet, he moved back to Saudi Arabia in July 2019 and enrolled at the Misk Art Institute, in collaboration with the palace of Versailles.
"We went to Versailles for five weeks and it was unbelievable," he said. "I worked in the cultural development department, where we did this program to attract Saudi tourists to Versailles, given that the smallest number of visitors come from the Middle East and the GCC."
Alhumaid is continuing to build his photography portfolio and someday hopes to feature his work in local and international exhibitions. (Supplied/Abdullah Alhumaid)
After completing his program, he worked in the brand team of the Al-Musafer travel agency in the Kingdom for seven months, before an opportunity with the content team at the Saudi Tourism Authority presented itself.
"I still work for them and we oversee the Visit Saudi tourism board website," he said. "We work with international agencies from New York and London in terms of development and content creation. I'm only six months in and I'm just ecstatic.
"It's beautiful, because we see the country opening up and people changing their behavior and their misconceptions. We, as a society, have so much to offer."
In the meantime, Alhumaid is continuing to build his photography portfolio and someday hopes to feature his work in local and international exhibitions. Luckily for him, a great wave of creative potential is cresting in Saudi Arabia, bringing with it whole new industries in art, music and film.
"Some people started their own production houses, studying abroad and coming back to the country," Alhumaid said. "Saudi Arabia is booming now more than ever — tourists have started visiting and that's how you learn from each other, by being exposed.
"It doesn't help anyone to be divided. And that's how we move forward, as the bad apples start changing their behavior."
https://www.arabnews.com/node/1750381/saudi-arabia
---------
Pakistan
Over 5,800 names struck off travel blacklist: ministry
Iftikhar A. Khan
18 Oct 2020
ISLAMABAD: Names of 5,807 individuals were struck off the travel blacklist after consultation with relevant agencies and departments, the interior ministry announced on Saturday.
The decision came about after Interior Minister retired Brig Ijaz Ahmad Shah took notice of the problems being faced by citizens whose names remained on the blacklist for a long time and directed the Immigration and Passports director general to immediately convene a meeting of the periodical review committee to consider cases on merit and remove names after the due process.
Accordingly, the committee reviewed the names of citizens falling in category B of the blacklist and proposed removal of 5,807 individuals from the list of 42,725 people. The names were then removed by the relevant authority.
Relief went mostly to those deportees who either travelled abroad on forged documents or were found involved in crime in host country
The committee will consider rest of the cases in its forthcoming periodic review as per recommendations of the agencies and departments concerned. In line with the directions of the interior minister, the committee will now meet biannually to review cases of blacklisted individuals.
Federal Minister Ijaz Shah has asked the director general of Passports and Immigration to take steps to facilitate citizens, noting that they formed a window for human resources being utilised across the world, sending valuable remittances back home.
An official of the interior ministry told Dawn that there were two main blacklist categories. He said category 'A' included names of those involved in serious crime like terrorism, money laundering and anti-state activities whereas the 'B' category mainly had names of deportees who had either travelled abroad on forged documents or were found involved in crime in the host country.
In January last year, the Senate had adopted a report of a house committee seeking abolition of the blacklist and other tools, except the Exit Control List.
Presentation of the Senate Standing Committee on Law and Justice's report was followed by a lengthy discussion on the issue of two separate lists — provisional nationality identification list and blacklist — which members from both sides of the aisle found to be contrary to Article 15 of the Constitution.
A minister had however observed that a tool should be available to the law enforcers to stop terrorists and criminals from leaving the country.
"Such decisions have to be taken on the spur of the moment," he said, asserting that the law enforcers could not wait for a week for the federal cabinet's approval to place the name of an individual on the ECL, particularly when he had made an attempt to flee the country late in the night.
Talking to Dawn, Senate Standing Committee on Law and Justice Chairman Javed Abbasi revealed that over one-and-a-half years ago, the interior secretary had assured the panel that all lists under which individuals were prevented from travelling abroad were being abolished, adding that the committee would take up the matter again.
He pointed out that the committee's report that declared the blacklist illegal and unconstitutional and sought its immediate abolition had been adopted by the House.
When contacted, an official of the Passports and Immigration department, candidly, conceded that no law governed the mechanism involving blacklist.
He said the blacklist was being maintained in pursuance of the Passport Manual 2006. The provision has remained part of the manual since 1957. However, some of its parts and categories were incorporated in the Passport Act, 1974, and the remaining continued to be part of the passport manuals, as and when issued.
https://www.dawn.com/news/1585650/over-5800-names-struck-off-travel-blacklist-ministry
---------
Law draws 'red lines' about national institutions: minister
Ishaq Tanoli
18 Oct 2020
KARACHI: Federal Minister for Law and Justice Dr Farogh Naseem has said that the government's basic agenda is (promotion of) the rule of law and under the law there are some "red lines" regarding national institutions.
Speaking at a judicial conference at a local hotel on Saturday, he said that the federal government was working for (promotion of) constitutionalism and making efforts to enforce fundamental right of common man and eradicate corruption.
In an apparent reference to former prime minister Nawaz Sharif's speech at the first rally of the Pakistan Democratic Movement in Gujranwala on Friday, Dr Naseem said that someone said yesterday that Panama Leaks was a conspiracy and also criticised the national institutions.
He said that this narrative had no room as many leaders of other countries from across the globe were also named in Panama Papers and some of them, including a former prime minister of the United Kingdom, gave justification (about appearance of their names in Panama Papers).
The minister asked whether Prime Minister Imran Khan, Army Chief Gen Qamar Javed Bajwa or Inter-Services Intelligence chief Lt Gen Faiz Hameed had asked someone to buy apartments in Avenfield (London) and do not provide money trail.
He said that the National Accountability Bureau was an independent institution and its chairman was an honest man, adding that they were working independently against corruption and the government had no agenda in this regard.
About the removal of former judge of the Islamabad High Court Shaukat Aziz Siddiqui, the minister said that some people were linking it with the government, but the judiciary of the country was independent. The Supreme Judicial Council (SJC) had taken suo motu notice of the issue involving the former judge and decided the case and now the former judge had filed an appeal in the apex court, he added.
Dr Naseem said that an election dispute between former US president George W. Bush and presidential candidate Al Gore was decided by the judiciary, but nobody criticised the judges.
He said that if they (PML-N leaders) didn't respect the judiciary and other institutions, the people would reject their narrative. He said that the case against the former prime minister was decided during the tenure of the PML-N government.
He said that according the judgements of the apex court, everyone had to provide money trail for overseas assets and the first case of this nature was decided by the SJC in 1971 against a judge of the Lahore High Court.
"Our government is facing many challenges, including economic challenge and inflation, but this is because of money laundering and corruption of previous rulers," the minister said.
He said that the law ministry was working on legal reforms and amendments had been made to many laws. For example, he added, the law about inheritance had been amended and now there was no need to approach the court in this regard, but the National Registration and Database Authority would address these issues within 15 days of filing an application.
He said that several amendments had also been made to the Civil Procedure Code and now the civil cases would be decided in around two to three years instead of 20 to 30 years.
https://www.dawn.com/news/1585662/law-draws-red-lines-about-national-institutions-minister
----------
Pakistan must share its economic security narrative with world: Moeed
Staff Reporter
18 Oct 2020
LAHORE: Special Assistant to the Prime Minister (SAPM) on National Security Moeed Yusuf has said that Pakistan needs to tell the world about its narrative of promoting economic security, regional connectivity and peace.
Speaking at 'Meet The Press' programme of the Lahore Press Club on Saturday, Mr Yusuf urged the media to represent state confidence in reporting. He said Pakistan was talking about regional peace, partnerships and economic corridor, asking what else a forward-looking country could be.
He said Islamabad was asking the world, including China and the US, to invest in Pakistan and become partners. Regretting that Pakistan should not call itself a "small market", he stressed the country must strengthen its confidence and start telling the world it was the sixth largest country.
He further said that media persons were equal partners in a country's diplomacy and the local media should extensively represent the country's narrative since hostile nations used their media to make their point.
Referring to his interview with Indian journalist Karan Thapar, the SAPM said most of the questions were based on news items published in the Pakistani media.
He said Pakistan needed to play aggressive for the Kashmir cause because India had changed the status of held Kashmir and was treating its population in the most inhumane way. India was spreading the narrative that Pakistan had sold out Kashmir and that it was no more serious about Kashmiris. However, he said, he had explained in the most vocal manner in the interview with Mr Thapar that "the Kashmir issue will be compromised over my dead body".
Yusuf said any bargain over Kashmir could take place after India withdrew all its actions, including the change of status on Aug 5, 2019 that led to an armed siege of the valley, and take decisions on the basis of the UN resolutions. Even pro-India Kashmiri leader Farooq Abdullah had stated in his interview with Thapar that Kashmiris did not want to hear India's name.
"I told Mr Thapar that India will be compelled to reverse its illegal actions in held Kashmir not because of Pakistan's pressure, but the pressure within the valley since Kashmiris are being treated in the most inhumane manner," Mr Yusuf said. He said that he asked India to come to the negotiation table.
In the interview, Mr Yusuf said, he had also made it clear that now Pakistan wanted to speak against terrorism being committed by India. He said he also explained how an Indian intelligence handler was in touch with the mastermind of the attack on Army Public School in Pakistan as well as provided proofs of Indian involvement in the attacks on a hotel in Gwadar, Pakistan Stock Exchange and the Chinese consulate.
The national security adviser said that his interview was very well appreciated within the country and added that almost 90 per cent feedback was that Pakistan saw a bold and clear-cut stance for the first time. "This means we never presented our case about Kashmir in a fearless manner," he remarked.
https://www.dawn.com/news/1585654/pakistan-must-share-its-economic-security-narrative-with-world-moeed
---------
Charged up PM Imran hits back at Nawaz for 'maligning' military leadership
Dawn.com
18 Oct 2020
Prime Minister Imran Khan on Saturday lashed out at former premier Nawaz Sharif for allegedly maligning the top army leadership, saying the PML-N supremo himself was launched into politics through the help of the military establishment.
His remarks came during an animated address to a Tiger Force convention in Islamabad, in which he dismissed opposition's power show of yesterday in Gujranwala as a "circus".
Commenting on the speech given by Nawaz during the opposition rally, Prime Minister Imran said the PML-N leader was using inappropriate "language" against the army and ISI chiefs at a time when Pakistani soldiers were constantly sacrificing their lives for the nation.
The premier while describing the prevailing geopolitical scenario said the government of Indian Prime Minister Narendra Modi hated Pakistan and Muslims "more than any other Indian government in the history of the subcontinent".
"There are constant attacks on our soldiers; they are sacrificing their lives every day," he said, noting that 20 security personnel were martyred in two attacks on Thursday.
"Why are they sacrificing their lives? For us; for the country. And this jackal (geedar) who ran with his tail between his legs used such language for the army chief and DG ISI," he added, referring to Nawaz.
While addressing the Pakistan Democratic Movement (PDM) rally via video link from London, Nawaz on Friday had accused the security establishment of being behind his ouster as prime minister and of "bringing Imran Khan into power".
He named Army Chief Gen Qamar Javed Bajwa and ISI chief Lt Gen Faiz Hameed, alleging that they were responsible for making a "state above the state" and for the presence of "two governments" in the country, among other things.
Recalling the origins of Nawaz's political career, Prime Minister Imran said he had first become a minister through the patronage of Gen (retd) Ghulam Jilani and reached chief ministership by "polishing the boots of Gen Ziaul Haq". He also accused the PML-N leader of having received "crores of rupees from the Mehran Bank to fight elections against the PPP", saying the ISI chief at the time had submitted a report in this regard to the Supreme Court.
"It is unfortunate that our country's courts have always helped him. This is the man who put [PPP co-chairperson Asif Ali] Zardari in jail twice. It was Zardari who instituted the Hudaibiya Paper Mills case against him, not Gen [Qamar Javed] Bajwa."
The premier cited several books written by Western authors which he said detailed Nawaz and Zardari's alleged corruption during their first stints in power.
"These people can sell the country to save their stolen money," he said, adding that the books he mentioned were "not written by Gen Bajwa".
"What they did to their country is what Mir Jafar and Mir Sadiq did to their people. This attack is not on Gen Bajwa but the Pakistan Army. This is the same thing Narendra Modi was talking about," he said.
Imran said Modi had repeatedly said that he liked Nawaz but that "the Pakistani army chief is a terrorist". "Why doesn't he say the same about me? Because I showed his true extremist picture to the world," he added.
Before his address took on a more serious tone, Prime Minister Imran showed a video clip, purportedly 11 years old, in which he had "predicted" the coming together of the opposition to protect their alleged corruption and even displayed a combination image of Nawaz before and after he left for London for medical treatment, suggesting that the PML-N leader had gotten better by just leaving the country.
Imran said he would not comment on the speeches done by PML-N Vice President Maryam Nawaz and PPP Chairperson Bilawal Bhutto-Zardari, referring to them as "kids" who were raised on their fathers' "haraam (prohibited) earnings".
The premier said Indian newspapers were praising Nawaz for espousing democracy but questioned whether they were unaware that "Ziaul Haq gave him a pacifier and this is the Nawaz Sharif who bought the judiciary".
"He is only with the judiciary as long as it is with him. When the judiciary closes Hudaibiya Paper Mills case, he praises the judiciary, but cries kyun nikala (why was I ousted?) when he is convicted in the Panama Papers case. Did Gen Bajwa file the Panama case?"
He challenged the opposition's claim of rigging in the 2018 elections, saying less petitions were filed to challenge the vote count in the 2018 polls than in 2013.
The prime minister said the government had "documentary evidence" that the PML-N had spent Rs2.5 billion from state funds to win the by-election in Lahore's NA-120 constituency, adding that the case had been forwarded to the National Accountability Bureau.
"The opposition has only seen one Imran Khan ... The Imran Khan they will now see will be different," he said, adding that "no dacoit will be given a production order of any sort."
While addressing the judiciary and NAB, he said "the people are tired and awaiting justice and completion of cases. I request the chief justice, whatever logistical support you need from the government, we are ready to provide that but for God's sake hold day-to-day hearings in order to conclude these cases [involving opposition leaders]."
He added that although NAB and the judiciary are independent, he will "personally prepare" the institutions under him to catch every person who has looted money and taken it abroad.
Once again addressing the courts, the premier said Nawaz was trying to "create choas" within the judiciary and the army and "appealing to the Israeli and Indian lobby in the US".
"I know the game he is playing; I have all the intelligence. It makes no difference to me who the army chief or DG ISI is because I am not stealing any money."
He lauded Gen Bajwa for standing with his government during "the difficult period", saying the army had taken a cut in the defence expenditure for two years and supported the government's foreign policy throughout.
"Nawaz Sharif, from today it will be my full effort to bring you back to this country and we will keep you in an ordinary jail, not a VIP one."
While addressing Corona Relief Tiger Force (CRTF) volunteers, the prime minister sought to explain the reasons for double-digit inflation in the country.
He said Pakistan had a record trade deficit of Rs40 billion when the PTI came into power. Because of the deficit, the rupee fell sharply against the dollar which in turn made imports, such as those of food items, more expensive.
Additionally, he said, for two years the rain fell when wheat was set to be harvested. The country needed 2.7 million tonnes of wheat but because of a deficit, its price started rising, the premier said.
"We got to know about it late because the system for determining it was non-functional. We have now imported to compensate for the shortage. [But] the market did not know and hoarding started. It is a big curse in our country and I need you for this," he told the volunteers.
He directed Tiger Force members "not to interfere anywhere personally" and only take a picture and upload that and the location where a product is being hoarded to the government's portal.
"It is the job of the administration to take action. You have to go to shops where prices are not displayed and you have to take and send a picture. I repeat, you do not have to interfere yourselves," Imran said, adding that there was a risk some people would pose as Tiger Force members to mint money from traders.
The prime minister's instructions come after opposition parties and traders opposed the government move to deploy Tiger Force volunteers for checking prices of food items to help it control inflation.
https://www.dawn.com/news/1585559/charged-up-pm-imran-hits-back-at-nawaz-for-maligning-military-leadership
----------
Pakistan approves 'new visa requirements' for Afghan nationals
By Mohammad Haroon Alim
17 Oct 2020
The Pakistani government has approved new conditions for obtaining visas for Afghan citizens and has instructed the Pakistani embassy in Kabul and its consulates across Afghanistan to implement the new conditions.
The Pakistani embassy in Kabul said in a statement on Saturday, that the new conditions have been approved in six cases for Pakistani visa applicants to Afghan nationals.
A one-year visit and tourism visa with multiple entries is provided for 60 days of stay at each visit, according to the statement.
The statement adds, individuals with serious illnesses such as injuries, fractures of bones and limbs, sick children, and pregnant women who have only one companion, can travel without a visa for three months upon arrival in the Torkham border terminal.
Applicants visiting family members will be given a Five-year visa with multiple entries and One year of stay is considered for the Afghan nationals who have Pakistani spouse and children.
The statement indicates, 5-year business visa with multiple entries will be issued to Afghan businessmen who have invested above and 50 million rupees in Pakistan and 2-3 years visa for those who have invested less than 20 to 50 million rupees in the country.
The statement also included, Visa entry for educational purposes is in accordance with the duration of the study program with multiple entries at school, college, and university level.
Work Visa duration is considered for one year, coordinated and recommended by the Pakistan Investment Board.
The Pakistani embassy in Kabul said that last week, the embassy and four Pakistani consulates in Afghanistan issued more than 19,000 visas to Afghan citizens.
Embassy officials have asked Afghan citizens seeking Pakistani visas not to pay any visa fees to anyone.
The Pakistani government is announcing new visa requirements for Afghan nationals as visa applicants protested in front of the Pakistani embassy in Kabul last week.
They accused Pakistani embassy officials in Kabul of failing to issue visas to applicants.
https://www.khaama.com/pakistan-approves-new-visa-requirements-for-afghan-nationals-877655/
----------
Southeast Asia
After viral support letter, Umno supreme council member Annuar Musa says Allah forbids disunity
BY IDA LIM
18 Oct 2020
KUALA LUMPUR, Oct 18 — Umno supreme council member Tan Sri Annuar Musa today stressed the need for unity and even cited Allah as forbidding division.
Annuar, who is also Barisan Nasional (BN) secretary-general, indicated that staying united was important for Muslim and Malay strength.
"Insyaallah we realise unity and consensus is not easy. Allah forbids us from being divided. We are commanded to keep faith with Islam. Therefore Allah reminds us that we will lose our strength if we are divided. We should discuss with patience so that Muslims and Malays are strong," he wrote on Twitter earlier today.
While Annuar did not directly explain or elaborate further on his Twitter account, his tweet was made in reference to PAS party mouthpiece Harakah Daily regarding an article on PAS continuing to uphold the Perikatan Nasional (PN) government while also continuing to cooperate with Umno via Muafakat Nasional (MN).
The PN federal government is currently composed of various parties such as Parti Pribumi Bersatu Malaysia (Bersatu), PAS and Umno.
Shortly before this tweet, Annuar had also commented on a purported letter which claimed that a certain number of Umno MPs had allegedly rescinded their support for Prime Minister Tan Sri Muhyiddin Yassin who is leading the PN government and were purportedly backing PKR president Datuk Seri Anwar Ibrahim to be prime minister.
In his comment, Annuar urged MPs under BN — which includes Umno — to act cohesively as a party instead of acting unilaterally, also stating his objection towards Anwar.
"True or fake is up to the creator of the letter. However I invite the 43 BN MP friends, don't play with the feeling of wanting to continue to be divided. We remain with the party policy... always en bloc NO ANWAR, NO DAP... don't act alone. We uphold the PARTY POLICY as entrusted," he had written on Twitter.
The letter which Annuar was commenting on had carried Umno president Datuk Seri Ahmad Zahid Hamidi's name as the purported author of the letter, and had allegedly contained both Zahid's and former prime minister Datuk Seri Najib Razak's signatures.
Umno executive secretary Datuk Mohd Sumali Reduan reportedly denied that the party had issued such a letter, claiming it was done to damage the reputation of the party and its president Zahid.
Anwar, who leads the Pakatan Harapan coalition, has in recent weeks claimed to have the support of over 120 MPs in the 222-member Dewan Rakyat, which is enough to oust Muhyiddin as prime minister and bring about a change of government.
Anwar was granted an audience with the Yang di-Pertuan Agong on Tuesday, but political speculation has subsequently continued as the palace has since said that the Agong did not receive a list with the names of the MPs said to support Anwar.
https://www.malaymail.com/news/malaysia/2020/10/18/after-viral-support-letter-umno-supreme-council-member-annuar-musa-says-all/1913804
----------
Man of your word or hypocrite? Choice is yours, Dr Mahathir, says PKR Youth vice-chief
BY KENNETH TEE
18 Oct 2020
KUALA LUMPUR, Oct 18 — Tun Dr Mahathir Mohamad should make good on his initial promise to support Datuk Seri Anwar Ibrahim in the latter's bid to take over the post of prime minister, PKR youth vice-chief Syed Badli Shah Syed Osman said today.
Syed Badli said it was up to Dr Mahathir whether he wanted to be seen as a man who honours his promises or a hypocrite who is untrustworthy in the eyes of the public.
"Even though Pakatan Harapan (PH) is no longer in power, the prior promise can still be fulfilled if Dr Mahathir voices his support for Anwar.
"Said support is sufficient to signal that Dr Mahathir is someone who honours his promise.
"As a legendary statesman, Dr Mahathir's name would surely be tainted if he is seen as a leader who breaks his promises," he said in a statement here.
Syed Badli also added it was public knowledge that Dr Mahathir had planned to hand over the prime minister's post to Anwar when PH was in power.
On October 13, Dr Mahathir clarified that he has not given his support to "a certain candidate who wishes to be the prime minister", amid political uncertainty over who most MPs in the 222-seat Dewan Rakyat support to lead the government.
The former prime minister also insisted that his new Parti Pejuang Tanah Air (Pejuang) remains independent of any individual or party.
Yesterday, Dr Mahathir's Pejuang nominated him as its choice to be prime minister for a third time.
Parti Pribumi Bersatu Malaysia president Tan Sri Muhyiddin Yassin is currently prime minister, but is being challenged by PKR president and Opposition Leader Datuk Seri Anwar Ibrahim who recently claimed to have the backing of over 120 MPs, enough to form a new government.
Pejuang was founded a few months ago by Dr Mahathir after he and four other MPs were expelled from Bersatu.
The Langkawi MP had also earlier this year backed Parti Warisan Sabah president Datuk Seri Mohd Shafie Apdal as prime minister should PH return to power.
Dr Mahathir had in February resigned as prime minister when Muhyiddin took Bersatu out of the then ruling PH coalition, prompting a change of government.
https://www.malaymail.com/news/malaysia/2020/10/18/man-of-your-word-or-hypocrite-choice-is-yours-dr-mahathir-says-pkr-youth-vi/1913818
---------
Dr Mahathir, Anwar should set aside political differences, says Khalid Samad
by Ahmad Zamzahur
17 Oct 2020
IPOH, Oct 17 — Parti Amanah Negara (Amanah) communications director Khalid Samad today expressed hope that Tun Dr Mahathir Mohamad and Datuk Seri Anwar Ibrahim can put aside their political differences for the sake of the country.
He said the former prime minister and PKR president should sit down and iron out their issues for the wellbeing of the country, in the process bringing Pakatan Harapan (PH) closer together.
"For Amanah, the gap between them was detrimental to PH. The last time we held a PH meeting was in June and after that, the situation got worse and we did not meet again," he told reporters after launching the fifth Perak Amanah Convention here.
Dr Mahathir was PH chairman before he resigned as Prime Minister on February 24, a few days after a reported tensed PH Presidential Meeting over issues centred on the power transition for the prime minister's post.
The same issue has resurfaced of late after Anwar, who is Opposition leader, claimed to have majority support from members of parliament (MPs) to form a new government.
On Tuesday, Anwar had an audience with the Yang di-Pertuan Agong Al-Sultan Abdullah Ri'ayatuddin Al-Mustafa Billah Shah at Istana Negara to provide documentation to support his claim.
However, Istana Negara in a statement later said Anwar only presented the number but not the list of MPs allegedly supporting him.
The statement also said that Al-Sultan Abdullah had advised Anwar to abide by and respect the legal process as enshrined in the Federal Constitution.
Earlier in his speech, Khalid admitted that PH — which now consists of PKR, Amanah and DAP — faced a challenging task of winning against Perikatan Nasional in the next general election.
"PH used to face PAS and Umno separately, but now we are facing united parties. Previously, Bersatu was with us and now they (PAS and Umno) cooperate with Bersatu.
"We have to understand that the political landscape has changed. So far, despite their quarrels, they are still united. They know when to put differences aside," said Khalid.
https://www.malaymail.com/news/malaysia/2020/10/17/dr-mahathir-anwar-should-set-aside-political-differences-says-khalid-samad/1913658
--------
Health Ministry mobilises HKL forensic team to Sabah
18 Oct 2020
by Miera Zulyana
KUALA LUMPUR, Oct 18 — Four officers from the National Institute of Forensic Medicine, Kuala Lumpur Hospital (KLH) have been mobilised to the Tawau Hospital in Sabah today to carry out forensic medicine duties and managing Covid-19 fatalities.
Health director-general Tan Sri Dr Noor Hisham Abdullah said the team comprises a forensic medicine specialist, two medical officers and an assistant medical officer.
"The specialist will work in Tawau for three months. These frontliners have been prepared to carry out field work in the country's bid to contain the Covid-19 pandemic.
"On behalf of all Malaysians, thank you to these heroes of the country," he said in a Facebook posting this morning.
As of yesterday, a total of 767 medical and health personnel from various categories and service schemes under the Health Ministry have been mobilised to Tawau, Lahad Datu, Semporna, Sandakan and Kota Kinabalu.
Covid-19-related fatalities have been recorded almost every day in Sabah for the past week, with four cases reported yesterday.
https://www.malaymail.com/news/malaysia/2020/10/18/health-ministry-mobilises-hkl-forensic-team-to-sabah/1913865
---------
Africa
Sudan businessman to visit Israel to accelerate normalisation process
October 17, 2020
Sudanese businessman Abu Al-Qasim Bortom is preparing a controversial trip to Israel, accompanied by 40 Sudanese citizens from different social backgrounds, in order to accelerate the normalisation process.
In the backyard of his home, whose façade resembles the White House, Bortom, the 54-year-old businessman who works in the fields of agriculture and transportation, told Agence France-Press that the trip will include: "University professors, workers, farmers, artists, athletes and Sufis."
Sudan is not currently holding official diplomatic relations with Israel, which in September signed two historic normalisation agreements with the United Arab Emirates (UAE) and Bahrain.
This trip became a source of controversy in the North African country due to the division of positions on the issue of normalisation with Israel, whether between political parties or within civil society, and even the transitional government that took power in Sudan after the overthrow of President Omar Al-Bashir in April 2019.
Regarding the purpose of the visit, Bortom, who wore traditional Sudanese clothes consisting of white robes and a turban, explained: "There is a psychological barrier between the Sudanese people and Israel, created by the Islamists, leftists and Arab nationalists. This psychological barrier must be removed."
However, he indicated that nothing prevents him from visiting Israel after the phrase stating: "The bearer [of this passport] is allowed to travel to all countries except Israel," was deleted from the Sudanese passport 15 years ago.
In an opinion poll conducted by the Arab Centre for Research and Policy Studies published last week, only 13 per cent of the Sudanese people support establishing diplomatic relations between Sudan and Israel, while 79 per cent oppose this step.
Bortom did not show any interest in the Palestinian cause, stating: "I only care about my country's interests and I believe that our enmity with Israel has harmed us. Our country is rich in natural resources, and yet we have become beggars."
The Sudanese economy is suffering a crisis partly due to the sanctions imposed on Khartoum for being included on the US list of states sponsoring terrorism since 1993. This was due to previous ties with Islamic organisations such as Al-Qaeda, whose former leader Osama Bin Laden was hosted by Sudan between 1992 and 1996, which led to isolating the country and depriving it from foreign investment.
The Sudanese businessman expressed: "I think that normalisation will help our country attract investment and have access to Western technology. It is true that Israel is a small country, but its citizens have a great influence over the Western economy in Europe and the United States."
While the military leadership in Sudan believe that normalisation will benefit the country, the civilian forces in the transitional government, led by Prime Minister Abdalla Hamdok, took a more cautious stance.
Last February, Head of the Sovereignty Council of Sudan Lieutenant General Abdel Fattah Al-Burhan, met with the Israeli Prime Minister Benjamin Netanyahu in Uganda.
At the beginning of this month, Lieutenant General Mohamed Hamdan Dagalo, vice chairman of the Sovereignty Council, confirmed to a Sudanese TV channel: "Israel is a developed country, and the whole world is cooperating with it. We need Israel to achieve prosperity."
The US administration wants Sudan to follow the lead of the UAE and Bahrain, as the US Secretary of State Mike Pompeo visited Khartoum in August to discuss the normalisation file.
However, Hamdok confirmed his keenness to separate the issues of: "Removing Sudan from the list of state sponsors of terrorism and normalisation with Israel."
He stressed at the end of September: "The issue is complex and has many implications, which requires a discussion with the Sudanese social components."
Secretary-General of the council Adel Hassan Hamza told AFP: "In the presence of 40 out of 50 members of the council, we issued a fatwa prohibiting normalisation with Israel because it is an occupying entity that looted the Palestinian lands. I think the government will abide by this fatwa."
However, Bortom believes that his visit to Israel will help build trust between the two peoples, and is determined to go ahead with his plan.
"The issue of normalisation with Israel is not religious, but a political one. I know that my trip will provoke negative reactions, but this does not scare me," Bortom asserted.
https://www.middleeastmonitor.com/20201017-sudan-businessman-to-visit-israel-to-accelerate-normalisation-process/
-----------
Schools in Northern Cameroon Close as Boko Haram Steps Up Attacks
By Moki Edwin Kindzeka
October 17, 2020
YAOUNDE, CAMEROON - Cameroon says it has again closed more than 60 schools on its northern border with Nigeria to protect children and teaching staff from increasing Boko Haram attacks. Many people have fled the region and are now displaced.
The Islamist group has stepped up its use of suicide bombers, even as the country's military has drastically reduced the jihadists' firepower.
The central African country has deployed its military to assure the safety of the remaining civilian population in the affected regions.
Ousmanou Garga, Cameroon's basic education official on the northern border with Nigeria, says recent Boko Haram attacks have made many schools unsafe.
Garga says several dozen schools in Cameroon's Mayo Sava, Mayo Tsanaga and Logone and Chari administrative units that border Nigeria's Borno state, the epicenter of Boko Haram's activities, no longer function.
"Sixty-two schools have been closed. The children have to be either scholarized (educated) in other schools very far from their own villages or to abandon schools. Thirty-four-thousand-and-fifty-four students have been registered as IDPs. We have the students of the host communities; we have even refugee students," he said.
Cameroon's military has been reporting at least three Boko Haram attacks every week since January. The military says most of the attackers are suicide bombers, mainly women and children. The military says the terrorist group has torched 13 schools within the past two months, held at least 200 people for ransom and abducted an unknown number of civilians.
Colonel Ndikum Azeh, commander of Cameroonian troops fighting Boko Haram in the Mayo Sava, Mayo Tsanaga and Logone and Chari administrative units, says the military has been deployed to protect civilians in the area. Azeh says some troops have also been deployed to teach displaced students in safer areas less susceptible to Boko Haram attacks.
"Ashigashia (a border town) has for long been a target for Boko Haram assault as early as 2014. The hierarchy (military) thinks that to sustain a good security situation, it is through the youths and the best process is through their education," Azeh said.
Nongovernmental organizations, rights and humanitarian groups have been calling on Boko Haram to respect the intergovernmental Safe School Declaration. Desire Fouda of the NGO School First says the declaration should be observed to protect students and ensure they are able to receive an education.
"We sensitize different actors in education to respect those guidelines on safe schools declaration so that all the different actors should contribute to help those children to have access to education," Fouda said.
Boko Haram terrorists have been fighting for 11 years to create an Islamic caliphate in northeast Nigeria. The fighting has spread to Cameroon, Chad, Niger and Benin, with regular killings, abductions and burnings of mosques, churches, markets and schools.
https://www.voanews.com/africa/schools-northern-cameroon-close-boko-haram-steps-attacks
----------
Jihadists kill 14 soldiers in attack on Nigerian army base
Presse in Kano
Sat 17 Oct 2020
Jihadists linked to the Islamic State group have killed 14 Nigerian soldiers in an attack on an army base, military sources have said.
Two sources told Agence France-Presse on condition of anonymity that fighters from the Islamic State West Africa Province (ISWAP) group had attacked the base in Jakana on Friday evening, firing machine guns and rocket-propelled grenades.
"We lost 14 soldiers in the fight, including the commanding officer and another officer," one source said. Several other soldiers were missing and presumed to have either escaped or been captured by the militants, said the second source who gave the same toll. The sources asked not to be identified as they were not authorised to speak.
The insurgents seized four trucks fitted with machine guns in the raid, the sources said. Jakana, 25km (15 miles) from regional capital Maiduguri in north-east Nigeria, lies on a known crossing route for ISWAP fighters moving between their camps in the Benisheikh forest area of Borno and their hideouts in the Buni Yadi area of Yobe.
The village and the base have been repeatedly raided by the jihadist fighters who splintered from the main Boko Haram group four years ago. Since the split, ISWAP has intensified attacks on military targets, raiding bases and ambushing soldiers.
At least 36,000 people have been killed and about 2 million displaced in the decade-long Islamist conflict in northeast Nigeria.
The violence has spread to neighbouring Niger, Cameroon and Chad, leading to the formation of a regional military force to fight the insurgents.
https://www.theguardian.com/world/2020/oct/17/jihadists-kill-14-soldiers-in-attack-on-nigerian-army-base
----------
URL: https://www.newageislam.com/islamic-world-news/hindu-youth-rajeev-sharmas-marwari/d/123184
New Age Islam, Islam Online, Islamic Website, African Muslim News, Arab World News, South Asia News, Indian Muslim News, World Muslim News, Women in Islam, Islamic Feminism, Arab Women, Women In Arab, Islamophobia in America, Muslim Women in West, Islam Women and Feminism