New Age Islam News Bureau
31 May 2020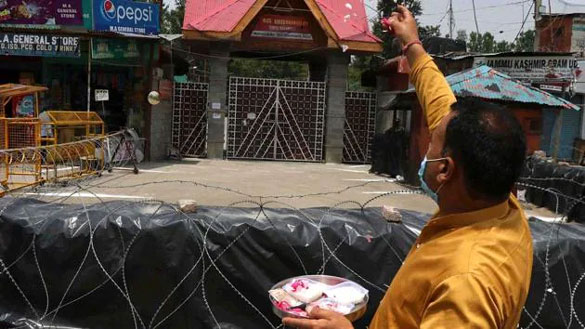 A man prays and makes an offering at the entrance to the Kheer Bhawani temple at Tulmulla in Ganderbal with no congregation held on the occasion of Mela Kheer Bhawani due to lockdown restrictions in Ganderbal, Jammu and Kashmir.(HT Photo)
-------
• European Union Says No to Taliban's Islamic Emirate in Afghanistan under any Circumstances
• 'Every Mosque Has A Great Story to Tell': Documenting Singapore's Lost Mosques
• Post-COVID-19 Economic Revival: Islamic Finance Can Play A Key Role In GCC
• IRGC Navy Commander Threatens to Set Iran's Dhows on Fire, While Mullahs Control Organized Network of Smuggling
• "We Were All Outraged," Says Arab Owner of Store at Centre Of US Protest Firestorm
• Top Boko Haram Commander Defects with Wife, Child
• British Muslim TV Apologises After Presenters Make Lewd Comments About Women
• Pakistan's KP Province Reopens Worship Places of Non-Muslims With Safety Rules
---------
India
• Hindu-Muslim Bonhomie: After Kashmiri Pandits' Heartwarming Wishes on Eid, Muslims Reciprocate on Kheer Bhawani
• Some Muslims Want Body of Man Shifted Out Of Hindu Graveyard
• Taj Mahal suffers minor damage in thunderstorm
------
South Asia
• European Union Says No to Taliban's Islamic Emirate in Afghanistan under any Circumstances
• Chinese Vaccine Could Be Ready by Year-End, Government Body Says
• Islamic State kills Afghan journalist, technician in bus blast
• Taliban reacts to Kabul bombing which killed 2 employees of a TV station dead
• Shoppers say new Eid collection 'to die for'
------
Southeast Asia
• 'Every Mosque Has A Great Story to Tell': Documenting Singapore's Lost Mosques
• Positive feedback for first Friday prayers in mosques
• Interactive: How Malaysia and other countries are easing their Covid-19 restrictions
• Further easing of curbs likely
• World Bank approves $250 million loan to support Indonesia's COVID-19's response
• Government's statements on new normal confusing: Muhammadiyah
-----
Arab world
• Post-COVID-19 Economic Revival: Islamic Finance Can Play A Key Role In GCC
• 10 Million SMS Sent to Educate People for Prayers in Saudi Mosques
• Saudi king, crown prince congratulates president-elect of Burundi on victory
• Saudi Arabia could return to extreme precautionary restrictions, minister warns
------
Mideast
• IRGC Navy Commander Threatens to Set Iran's Dhows on Fire, While Mullahs Control Organized Network of Smuggling
• Coronavirus: Iran Mosques to Resume Daily Prayers Amid Easing of Lockdown
• Al-Aqsa Mosque In Jerusalem Reopens After Two Months
• Iran says Islamic system has become influential int'l player
• Disrespect of Muslims Holy Sites, A Global Zionist Conspiracy: Iran Embassy
• US withdrawal from WHO: Iran says US blame games will never fool world
• Israeli forces fatally shoot unarmed Palestinian man with special needs in al-Quds
• Iran will take 'legal, practical' steps against US revocation of sanctions waivers
-----
North America
• "We Were All Outraged," Says Arab Owner of Store at Centre Of US Protest Firestorm
• COVID-19: Kogi govt must accept truth- Family of Chief Imam confirms index case
• US to send troops to Tunisia in support of Turkish forces and Islamist terrorists in neighbouring Libya
• Flooded Midland Is Mid-century Architecture Mecca
• Trump vows to stop rioters as 'cold' as race protests spread
• Mass protests in US, France, Hong Kong raise fears of renewed virus outbreaks
• Islamic State Calls COVID-19 God's Punishment for Foes: Tape
------
Africa
• Top Boko Haram Commander Defects with Wife, Child
• Bruneians Return to Mosques for Friday Prayers After Two Months
• George Floyd is our Fight too: A Muslim Perspective
• We can worship, but not all Durban's churches and mosques will be open
• Roundup: Continuous gunmen attacks in NW region worry Nigerian gov't
-------
Europe
• British Muslim TV Apologises After Presenters Make Lewd Comments About Women
• 'I Can't Believe I Fought to Defend You': Navy SEAL Who Shot bin Laden Unloads On 'Politically-Funded Terrorists' & 'Coward Cops'
• Ramadan festival a different experience this year for Kais
• Paris mosque to reopen Tuesday
• Brexit threats are back! Michel Barnier warns that the UK can't cope with coronavirus and no • trade deal with the EU as he accuses Boris Johnson of breaking promises
------
Pakistan
• Pakistan's KP Province Reopens Worship Places of Non-Muslims With Safety Rules
• Fresh Nawaz photo sparks debate over his health
• Accountability court issues bailable warrants for Nawaz
• ECC Approves Disbursement Criteria for Rs200bn Islamic Sukuk
• Mob vandalises Karachi's Civil Hospital after 'delay in handing over body' of Covid-19 patient
Compiled by New Age Islam News Bureau
URL: https://www.newageislam.com/islamic-world-news/hindu-muslim-bonhomie-after-kashmiri/d/121993
------
Hindu-Muslim Bonhomie: After Kashmiri Pandits' Heartwarming Wishes on Eid, Muslims Reciprocate on Kheer Bhawani
May 30, 2020
Ashiq Hussain
Hindu-Muslim bonhomie has gone viral on social media following Eid greetings of Kashmiri Pandits to Kashmiri Muslims, who reciprocated on Saturday on the occasion of Mela Kheer Bhawani, one of the biggest religious functions of the Kashmiri Pandits.
The newfound bonding between the two communities, bound by a shared culture and separated only by religion, is reminiscent of the pre-militancy days in the Kashmir Valley before 1989.
"I vividly remember when the situation was peaceful. I live in a lane at Chanapora (in Srinagar), where almost every house belonged to the Pandits and only a few to Muslims. There was so much love and brotherhood in those days. We used to live like a family; Pupa, Kaki, Buel (a person with blue eyes), Rajae, Sundur, Beti, all these were our neighbours," says Javeed Shah, a Srinagar resident, in chaste Kashmiri in an endearing video.
The annual Mela Kheer Bhawani is the biggest Hindu festival in Jammu & Kashmir after the Amarnath Yatra. But this year, the celebrations are muted because of the raging coronavirus disease (Covid-19) outbreak. Eid, too, couldn't be celebrated because of strict compliance of social distancing norms due to the pandemic. Thousands of Kashmiri Pandits from J&K and outside visit every year to pray at the temple of Kheer Bhawani that houses Hindu goddess Ragnya Devi at Tulmulla village in Ganderbal, about 27 kilometres away from Srinagar.
"Mubarak to you on the big occasion of Tulmulla (the place where Kheer Bhawani temple is located). May you always smile and be happy," greets Dr. Ommid in a video.
"Thanks for wonderful gesture. May Mata Rani blesses all of us with good health, prosperity, and peace," says Roop Krishan Raina in a social media post.
The video was uploaded by Amit Wanchoo, a doctor and social activist, who had earlier uploaded a video of Kashmiri Pandits greeting Kashmiri Muslims with Eid Mubarak.
Local Kashmiri Muslims took care of the Kheer Bhawani shrine after the exodus of a majority of Kashmiri Pandits from the Valley during the first wave of militancy in 1990.
"A few devotees have been praying since Friday evening as per the custom, which will end on Saturday evening. No mela could be held this year because of the pandemic," he said.
"One of the best things about religions is festivals & the best thing about festivals is culture. Sadly, the Kheer Bhawani festival couldn't happen this year. Jyestha Ashthami Greetings," said Shahid Choudhary, deputy commissioner, Srinagar, in a social media post.
https://www.hindustantimes.com/india-news/after-kashmiri-pandits-heartwarming-wishes-on-eid-muslims-reciprocate-on-kheer-bhawani/story-GWgd085kLVXHYS4hrSFdSJ.html
------
European Union Says No to Taliban's Islamic Emirate in Afghanistan under any Circumstances
May 30, 2020
KABUL: The European Union has said the reinstatement of Taliban's Islamic Emirate in Afghanistan is "not acceptable under any circumstances", reiterating its support for peace and stability of the war-ravaged country.
In a joint declaration, foreign ministers of 27 countries of the European Union have warned to cut all political backings and aid to the war-ravaged country should the insurgents re-establish their dictatorial regime.
This comes as Kabul government and the Taliban seemed one step closer to bilateral negotiations to end the grisly war. Silver linings emerged from the temporary halt in Taliban hostilities and a subsequent release by the Afghan government of hundreds of insurgent prisoners, which is setting motion for a reduced violence and trust-building.
The EU leaders urged the Taliban to use the 'historic opportunity' to join Afghanistan's current political system. They also reiterated the EU support for a peaceful and stable Afghanistan, seeking an immediate ceasefire and the start of intra-Afghan peace talks, in a bid to preserve the two-decade gains for buttressing the republic government and human rights.
The EU declaration also seeks to solve the Afghan conflict quagmire through political and diplomatic channels that won't run contrary to international conventions and brings about a state of permanent stability. European leaders emphasized that their assistance will fall in the sphere of buttressing government institutions, capacity building and graft-busting measures.
The militant group of Taliban has welcomed the EU leaders' declaration, but noted few points that they deemed to be in conflict with the 'right to independence' of Afghans.
The group's spokesman Zabihullah Mujahid, has said that others should not interfere in our affairs just as 'Afghans refrain from doing so'.
http://www.afghanistantimes.af/european-union-says-no-to-talibans-islamic-emirate/
------
'Every mosque has a great story to tell': Documenting Singapore's lost mosques
By Zhaki Abdullah
31 May 2020
SINGAPORE: Located off Upper East Coast Road, Jalan Hajijah is a quiet road, the home to several condominiums and landed properties.
For most of the last century, however, the area was home to Masjid Kampong Hajijah - a modest mosque serving the 300 residents of Kampong Hajijah, a village that stood by the sea before land reclamation extended the shoreline outwards.
Dating back to 1900, the mosque and the village surrounding it were torn down to make way for newer developments in the mid-1980s.
Independent heritage researcher Sarafian Salleh told CNA that Masjid Kampong Hajijah may have been just one of as many as 120 mosques that dotted the island in the mid-20th century, prior to the establishment of the Mosque Building Fund in 1975.
The mosque and the village were named for Madam Hajijah Cemat, a wealthy Malay landowner who founded the village and mosque, as well as donated the land for nearby Masjid Kampung Siglap, which still stands today.
https://www.channelnewsasia.com/news/singapore/every-mosque-has-a-great-story-documenting-lost-mosques-12732602
-----
Post-COVID-19 economic revival: Islamic finance can play a key role in GCC
May 31, 2020
Babu Das Augustine
Dubai: Islamic finance social instruments could help countries navigate the economic turbulence wrought by the COVID-19 pandemic in core Islamic finance countries that include the GCC, according to rating agency Standard & Poor's.
"Islamic finance abides by the goals and objectives of Sharia (Maqasid). While interpretations of the Maqasid differ, they broadly center around the protection of faith, life, mind, wealth, and dignity," said Mohamed Damak, Global head of Islamic Finance and director of research at S&P in a report.
While Islamic finance abides by the goals and objectives of Sharia, it has some overlap with environmental, social, and governance (ESG) considerations and the broader aim of sustainable finance.
Over the past three months, data show that the measures designed to curb the spread of COVID-19 are having a negative economic impact and worsening the business and financial positions of core Islamic finance countries.
The spread of COVID-19 and countermeasures to slow its spread have significantly slowed the core Islamic finance economies. As a result, the rating agency expects unemployment rates to increase, with a consequent significant loss of income for households as companies implement measures to reduce their costs amid declining revenue in core Islamic finance markets that includes the GCC.
Unemployment rate is likely lower in FCC as foreign workers represent the majority of the working population and many foreigners will likely return to their home countries if they are furloughed or laid off.
In addition, government intervention through various support measures should somewhat counterbalance the negative effects of higher unemployment. For example, some GCC governments announced they would cover the private sector salaries of their nationals--and in some of the countries the salaries of foreign workers as well.
Islamic finance abides by the goals and objectives of Sharia (Maqasid). While interpretations of the Maqasid differ, they broadly center around the protection of faith, life, mind, wealth, and dignity.
The Islamic-finance industry has been talking about the potential to use the social instruments of Islamic finance to help address the impact of COVID-19 on corporates and banks through unremunerated or subsidized liquidity to help them cope with the short-term loss in revenue and allow them to preserve employment.
Analysts at S&P said social instruments could also be used directly to support households by compensating them for lost income, and by providing access to affordable basic services, such as education and health care.
"From a credit rating perspective, in our opinion, banks' use of social instruments would have a limited effect on their balance sheets, as long as such instruments did not significantly reduce their profitability or increase their costs materially," said Damak.
According to S&P, Islamic banks are considering a more lenient approach concerning their potential headcount reduction, unless the crisis deepens further. Several conventional banks have already announced that they will retain staff for the time being, but also use other measures, such as paid leave with or without a reduced salary or remote working arrangements.
Analysis said Islamic banks and financial institutions are likely to tame measure to protect jobs within these institutions.a stakeholders in Islamic banks could perceive major layoffs negatively and such moves would probably also find some opposition from their governance structures, including Sharia boards.
Standard & Poor's believes four Islamic finance social instruments in particular can help core Islamic countries, banks, and corporations navigate the current situation.
This instrument consists of a loan granted for welfare purposes or to bridge short-term funding requirements where the borrower is required to repay only the principal. As corporations and individuals grapple with the impact of COVID-19 on their revenue, Qard Hassan from banks could provide breathing space until the environment stabilizes. For example, the central banks of some GCC countries opened liquidity lines for financial institutions at no cost to provide subsidized lending to their corporate and SME clients.
These are sukuk, where the rate of return declines if the issuer fulfills certain social objectives. Sukuk Ihsan, issued by Khazanah National Berhad in 2015-2017, are an example of such instruments. These instruments could help support the education and health care systems amid the current crisis and attract particularly ESG investors (those looking to invest for social reasons) and/or Islamic investors (looking for Sharia-compliant investments).
This consists of a donation of an asset or cash for religious or charitable purposes with no intention of repayment or remuneration. Waqf in the current circumstances could help provide affordable housing solutions or access to health care and education for people that might have lost a portion of their income. Recently, a UN agency signed an agreement with the Islamic Corporation for the Development of the Private Sector to look at the potential use of Waqfs as a source of sustainable financing focusing on vulnerable Saudi communities.
The Accounting and Auditing Organization for Islamic Financial Institutions prepared an exposure draft on Waqf governance, but it has not yet been approved.
This is similar to a tax levied on wealth over a certain threshold. Zakat can be used for social welfare purposes, for example supporting people in need or that have lost a portion of their income, without any expectations of repayment or remuneration. Based on our conversations with market participants, we believe that Zakat could help compensate the loss of income for households because of COVID-19.
https://gulfnews.com/business/banking/post-covid-19-economic-revival-islamic-finance-can-play-a-key-role-in-gcc-1.71780586
-----
IRGC Navy Commander Threatens to Set Iran's Dhows on Fire, While Mullahs Control Organized Network of Smuggling
by Sedighe Shahrokhi
30th May 2020
While the world knows of the Iranian regime's Revolutionary Guards (IRGC) role in terrorism, oppression, corruption, and smuggling, the IRGC's Navy commander now threatens dhow owners in southwestern Iran.
The IRGC and other regime officials are systematically plundering the national wealth for terrorism and adventurism. IRGC proxy groups such as Hezbollah are controlling a vast network of drug smuggling in South America. Yet, to show an "anti-corrupting" facade, they are bragging about fighting smugglers.
IRGC Brigadier General Alireza Tangsiri, commander of the regime's IRGC navy, on Tuesday warned that if the smuggling of goods does not stop, the IRGC would set fire to the dhows carrying the goods at sea. This news was reported by the state-run Jahan News website on the same day.
Alireza Tangsiri continued: "Smuggling of goods has resulted in the outflow of currency from the country, unemployment and is a major blow to the country's economic system."
Most of the dhows seized by the Iranian regime's navy are ships used by the natives of the southern provinces of Iran, such as Hormozgan and Bushehr, to transport goods from the United Arab Emirates, especially Dubai, to Iran.
On June 7, 2019, the Tasnim news agency, owned by the IRGC's terrorist Quds Force, reported that five dhows had caught fire in Bushehr. The fires were likely to have been intentional.
The primary goods smuggled into Iran by the owners of Iranian dhows in the south of the country are consumer and electrical goods, which are mainly sold in the southern provinces due to their small portion. Those who sell and import these goods are making their lives through this procedure.
On May 8, the Economic Commission of the Iranian regime's parliament announced that more than 95 percent of smuggled goods to Iran are imported after going through the so-called "official procedures" and "official principles." This report was wired by the state-run website Mashreq News.
Over the past three decades, there have been numerous reports of unauthorized piers in the Persian Gulf and the import of smuggled goods by the IRGC. In addition, the major smuggling shipments have been under the IRGC supervision. Unlike other countries where smuggling is not related to any government or military institutions, in Iran the IRGC has monopolized smuggling and illegal export and import of goods.
During their infightings, Mahmoud Ahmadinejad, the former president of the regime, in July 2011 accused the IRGC of playing a serious role in smuggling goods, saying: "Between 55 and 60 billion cigarettes are consumed in Iran. It is equivalent to 2 trillion tomans. This figure makes all world-class smugglers greedy, let alone our 'smuggling brothers'," referring to the IRGC.
In his controversial speech, Ahmadinejad also called on the country's various forces and departments to import their security, intelligence, and defense goods across the legal borders.
After Ahmadinejad's remarks, Mohammad Ali Jafari, then commander of the IRGC, attacked Ahmadinejad, calling him a stakeholder in smuggling, calling his remarks "deviant talk."
"It does not happen, and it's a matter of deviant talk. People who raise these issues are interested, and by raising such issues, they are trying to divert the attention of the government and other agencies from where the main smuggling of goods takes place," Jafari said.
The IRGC has about 80 illegal docks on Iran's shores and claims to import security and defense goods from these docks.
But the bigger reality is that in all economic spheres in Iran, both natural resources and massive constructions, or illegal fields such as fuel and goods smuggling to neighboring countries, the IRGC have always played a significant role. Billions of dollars of these revenues are sent to the accounts of the corrupt and terrorist commanders of the IRGC without going through any financial audit and tax collection. While Iranian society has to endure a dire economic situation and more than 60 million Iranians live below the poverty line, news continues to circulate about the IRGC opening deadly fire on porters (Koolbaran) in Iran's western province of Kurdistan and Baluchistan's fuel porters and confiscated their goods under the pretext of countering smuggling.
Even now, the real chief of pirates and terrorists of the IRGC is threatening to set Iranian dhows ablaze in the Persian Gulf because they do not tolerate even a small amount of the transfer of goods by anyone other than the corrupt mafia of the IRGC.
https://www.ncr-iran.org/en/news/terrorism-a-fundamentalism/irgc-navy-commander-threatens-to-set-irans-dhows-on-fire-while-mullahs-control-organized-network-of-smuggling/
------
"We Were All Outraged," Says Arab Owner of Store at Centre Of US Protest Firestorm
RAY HANANIA
May 31, 2020
CHICAGO: The firestorm of protest, arson and looting that has consumed the US for five days began at the counter of an Arab American grocery store.
Staff working for Mahmoud Abumayyaleh, the owner of Cup Foods, called Minneapolis police after George Floyd, 46, twice tried to use a counterfeit $20 bill to make a purchase.
Officers who arrested Floyd held him to the ground with a knee on his neck, as he pleaded that he could not breathe. He lost consciousness and died later in hospital. One officer has been charged with third-degree murder and further charges are expected.
"What took place outside … was not in our hands," Abumayyaleh told US TV. "The murder and execution was something done by the police, and it was an abuse of power. The police brutality needs to stop."
Abumayyaleh said he knew Floyd as a customer, and as someone who was always pleasant. He did not find out until the following morning that the man had died. "We were all outraged," he said, and Floyd "may not have even known that the bill was counterfeit."
The store owner and his sons, Samir, Adam and Mahmoud, have gone into hiding in the face of a wave of threats against them on social media. They took down their store's Facebook page and its landline phone has been disconnected.
Minneapolis has more than 50 Arab- and Muslim-owned stores mostly north of where the incident occurred, all operating under statewide COVID-19 restrictions. Arab store owners said they feared speaking out publicly about the incident.
An unidentified man who answered the phone at one Arab-owned store told Arab News that both the killing of Floyd and vandalism against businesses "is wrong."
Since Floyd died last Tuesday, protesters have vandalized, looted and burned down more than 200 stores in Minneapolis. On Friday and Saturday, the violence spread to New York, Detroit, Chicago, St. Louis, Houston, Atlanta and Charlotte North Carolina.
In Minnesota, protesters maintained a daily vigil in front of the Cup Foods store at 3759 Chicago Avenue, painting walls and the street with murals and graffiti in memory of Floyd. After four nights of confrontations in the city, Minnesota Gov. Tim Walz activated the state's national guard on Saturday for the first time since the Second World War.
US President Donald Trump said troops could be deployed if local authorities requested their help. "We could have our military there very quickly," he said.
https://www.arabnews.com/node/1682496/world
-----
Top Boko Haram commander defects with wife, child
May 30, 2020
A top Boko Haram commander has abandoned the terrorist group and defected with his wife and child to a secret location manned by the Multinational Joint Task Force(MNJTF).
According to Colonel Timothy Antigha, Chief of Military Public Information for MNJTF, the defector voluntarily denounced the terrorists groups and surrendered.
The defector disclosed that he joined Boko Haram in 2015 and took part in terrorist operations in Arege, Kangarwa, Metele and Mallam Fatori.
He said he decided to surrender following intense bombing of the terrorists positions by the Task Force.
"Constant artillery and air bombardments have greatly affected our plans and dampened our morale"
He said that "more fighters are ready to surrender, but they are uncertain of what fate awaits them".
Pressed for more answers on his personal motivation, he said, "I am not sure if our spiritual direction is correct".
In March this year, a group of Boko Haram terrorists surrendered in Sector Four in Diffa, Niger Republic.
Similarly, within the same period, some terrorists also surrendered to troops of Sector One in Mora, Cameroon and are currently being rehabilitated.
Boko Haram defectors in Sector Three (Nigeria) are also being rehabilitated through Operation SAFE CORRIDOR.
"While MNJTF will continue to intensify the tempo of its kinetic operations on all fronts, it encourages more terrorists to reject terrorism and abandon the needless killing of innocent civilians", Colonel Atigha said.
"They are further encouraged to seek redemption within the structures provided for rehabilitation within the different jurisdictions", he added.
https://www.pmnewsnigeria.com/2020/05/30/top-boko-haram-commander-defects-with-wife-child/
-----
British Muslim TV apologises after presenters make lewd comments about women
15 hours ago
British Muslim TV has apologised to its viewers after two of its presenters made lewd and sexist comments about women when they thought they were off-air.
In the early hours of April 28, Faz Ali and Jawad Sarwar were doing a live television fundraiser for the female-led charity Global One, when they made the comments during what they thought was a break.
In a video message BMTV editor Joseph Hayat said: "Here at British Muslim TV we are clear on our zero tolerance approach to sexism… On behalf of British Muslim TV I am sorry; we are sorry. Like many of you that witnessed it I was personally deeply shocked when I watched the footage. The incident does not reflect the culture here at British Muslim TV hence why I am reaching out directly before you…
"The derogatory and misogynist comments made about women were deeply disdainful and have no place within Britsih Muslim TV nor in society as a whole. Have no doubt the offensive comments posed were further magnified with them being said during the blessed month of Ramadan with such individuals fundraising based on Islamic principles and on behalf of a female-led charity."
Mr Hayat also apologised for not responding in a more timely and robust fashion, took full responsibility for the mistake, and said it won't happen on the channel again.
He added: "British Muslim TV is proud to have featured majority female-led content since the channel's inception. Prior to this regretful incident the channel has historically, consistently sought to and will continue to portray sisters in a postive light in keeping with the teachings of the Prophet Muhammad (pubh)."
Meanwhile, Global One has also issued a statement in which they said the presenters behaved in a manner that was wholly disrespectful to women and that they were very upset with the misogynistic comments made.
"As a Muslim women led charity we understand that these comments feed into a derogatory and damaging narrative which objectifies women at large. We understand that this has angered, upset and hurt many of our female supporters and the wider community, particularly women."
Jawad Sarwar said his words were inappropriate and that he was making "this video to apologise publicly to the BMTV viewers as well as the public, to say to them this will never happen again and this was wrong. May God forgive us and may our brothers and sisters have mercy upon us."
And Faz Ali said the words "don't reflect who I am and I completely understand they were incorrect, they were wrong; and I just want to apologise for that and I sincerely ask Allah SWT for forgiveness and I pray that Allah guides us all."
They said: "Sexism occurs in every section of society, and when we see it rear its ugly head within our sector we have a responsibility to call it out. Many Muslim charities are doing brilliant and transformative work globally on projects to empower women.
"But for lasting change we must reflect internally and embody women empowerment, first and foremost, in our own institutions. We must work harder to ensure that the Muslim charity sector is a safe and empowering space for women."
https://5pillarsuk.com/2020/05/30/british-muslim-tv-apologises-after-presenters-make-lewd-comments-about-women/
------
Pakistan's KP province reopens worship places of non-Muslims with safety rules
12 hours ago
Tariq Butt
The Khyber Pakhtunkhwa (KP) government in Pakistan has lifted a ban on prayers and congregations in non-Muslim places of worships.
The relief rehabilitation and settlement department notified the lifting of the ban saying it is subject to revision in light of the Covid-19 situation and advice of health experts.
It said under the standard operating procedures, the floors of worship areas won't be covered with carpets, while worshippers would offer prayers on bare floors.
According to the department, if worship places have mud floors, personal mats will be used and if carpets cannot be removed, they will be covered by plastic sheets, which should be cleaned regularly.
The formation of assembly will be avoided before and after prayers and will be discouraged by the managements of individual non-Muslim worship places.
If these worship places have courtyards, prayers will be performed there instead of closed or covered areas and not beyond premises.
The department said six feet distance among worshipers would be ensured in non-Muslim worship places and that such places would be marked if it was possible and didn't violate the sanctity of the premises. It added that shaking of hands and hugging by worshippers won't be allowed.
"Every worshiper will wear a face mask before entering the worship areas. The managements of the minority worship areas will keep a close liaison with the relevant district administration and police," it said.
The department said the quantity of the holy water in the baptismal at vestibules and other points of churches would be kept at such a level that it would be used according the one time, one person principle.
It added that railings, altar, tabernacle and pulpits would be cleaned with disinfectant, while crockery used in rites would also be sanitised and would be used exclusively.
The department said a committee would be formed for every non-Muslim worship area to ensure the implementation of SOPs to stem the spread of Covid-19. It said there would be a ban on processions at such places.
https://www.gulftoday.ae/news/2020/05/30/pakistan-kp-province-reopens-worship-places-of-non-muslims
------
India
Some Muslims Want Body Of Man Shifted Out Of Hindu Graveyard
May 31, 2020
Hyderabad: Some community members have demanded shifting of the remains of a Muslim man who was buried in a Hindu graveyard after custodians of six Muslim graveyards had denied permission citing lack of space. Many others want the body of Mohammed Khaja Miyan, 55, resident of Gandhamguda, Bandlaguda, who died of a cardiac arrest on May 22, to lie undisturbed, unless the family wants it shifted to a Muslim graveyard.
The Wakf Board has convened a meeting of the ulema and advocates to discuss the possibilities of exhumation in Sharia and the laws of the land. Meanwhile, the board has established a helpline desk to ensure hassle-free burial in Muslim graveyards, on phone number 79955 60136.
According to Khaja Miyan's family members, after they were refused permission at six Muslim graveyards, two locals, Sandeep and Shekar, had arranged a place to bury the man in a shamshan ghat.
Moulana Syed Khaja Moiz Ashrafi said those who had provided land at a Hindu graveyard should be praised and thanked by the Muslim community. He demanded the Wakf Board to take legal and Sharia opinion in this regard besides taking stern action against custodians who refused the burial.
Social activist Dr Mukhtar Ahmed Fardeen appealed to home minister Mahmood Ali and Wakf chairman Board Mohammed Saleem to make arrangements for shifting the body.
Moulana Mohammed Abdur Raheem Khurram Jamai opined that if the Wakf Board has the authority it can exhume the dead body and rebury it in a Muslim graveyard, though the decision should be left to the legal heirs.
Social activist Mohammed Mansoor Ali urged people not to make it a communal issue. He said the body could be shifted only if the shamshan ghat custodian or the heirs of the deceased ask for it. He called for evolving comprehensive rules to govern and manage graveyards.
Moulana Mufti Mohammed Abdul Mughni Mazaheri of Madarsa Sabeel-ul-Falah has issued a fatwa stating that without a valid reason exhuming a body from the grave is not admissible. It can be done if the heirs want to do so with a valid reason or the owner of the land demands shifting of the remains.
https://www.deccanchronicle.com/nation/politics/310520/some-muslims-want-body-of-man-shifted-out-of-hindu-graveyard.html
-----
Taj Mahal suffers minor damage in thunderstorm
May 31, 2020
Taj Mahal suffered minor damage during Friday night's storm in Uttar Pradesh's Agra district, officials told news agency PTI. The marble railing of the main mausoleum and red sandstone railings were damaged, they said.
A door was also damaged and a few trees nearby were uprooted, ASI Superintending Archaeologist Basant Kumar Swarnkar said. The false ceiling in the mausoleum also collapsed, he added.
In a statement issued in Lucknow on Saturday, Uttar Pradesh Chief Minister Yogi Adityanath expressed grief over loss of lives due to lightning and thunderstorm in Mainpuri, Agra, Lakhimpur Khiri and Muzaffarnagar districts. Officials have been directed to provide Rs 4 lakh to the kin of each of the deceased and adequate medical treatment for the injured, the statement said.
The Weather department has warned of thunderstorm accompanied with lightening and squall at isolated places over the state in the next few days
https://indianexpress.com/article/india/taj-mahal-suffers-minor-damage-in-thunderstorm-6435393/
------
South Asia
Chinese vaccine could be ready by year-end, government body says
May 31, 2020
A Chinese-made coronavirus vaccine could be ready for market as early as the end of this year, China's State-owned Assets Supervision and Administration Commission (SASAC) said in a social media post.
In trials, more than 2,000 people have received vaccines developed by the Wuhan Institute of Biological Products and the Beijing Institute of Biological Products. A vaccine could be ready for the market as early as the end of this year or early 2021, according to the May 29 post on Chinese social media platform WeChat.
Vaccines from the Wuhan Institute of Biological Products and the Beijing Institute of Biological Products had entered Phase II clinical trials. Both groups are affiliated with state-owned pharmaceutical group Sinopharm, whose management is overseen by SASAC.
The Beijing Institute of Biological Products' production line will have an annual manufacturing capacity of 100 million to 120 million doses, according to the article.
China has five coronavirus vaccines in human trials. Neither company could be reached for comment on Saturday evening.
https://www.thedailystar.net/coronavirus-deadly-new-threat/news/chinese-vaccine-could-be-ready-year-end-government-body-says-1906933
-----
Islamic State kills Afghan journalist, technician in bus blast
MAY 30, 2020
KABUL (Reuters) - Islamic State claimed responsibility for Saturday's bomb explosion that killed an Afghan journalist and a technician in minibus carrying employees of a local television station in Kabul.
At least seven people were wounded in the evening rush hour attack. Pictures showed a white minibus with extensive damage to its front.
"Our colleagues Mir Wahed Shah, an economic reporter, and Shafiq Amiri, an employee in the technical department, were martyred in the incident," said Mohammad Rafi Rafiq Sediqi, chief executive of the Khurshid TV station.
The United States, European Union and NATO condemned the attack. Last year, two employees of Khurshid TV were killed and two wounded in a similar attack.
Islamic State, which battles government forces and Taliban militants, has claimed some of the deadliest attacks in urban Afghanistan in recent years. It did not give a reason for Saturday's blast.
Taliban and other Islamist insurgents have repeatedly targeted Afghan journalists, killing 15 in 2018, the deadliest year yet for the Afghan media, according to the media freedom group Reporters Without Borders.
In 2016, a Taliban suicide bomber rammed his car into a bus carrying employees of Tolo TV, the country's largest private broadcaster, killing seven journalists.
The Taliban, who were ousted from power by U.S.-led forces in 2001, said Tolo was producing propaganda for the U.S. military and Western-backed Afghan government.
https://uk.reuters.com/article/uk-afghanistan-attacks-media/afghan-journalist-and-driver-killed-in-blast-idUKKBN2360J9?rpc=401&
-----
Taliban reacts to Kabul bombing which killed 2 employees of a TV station dead
31 May 2020
The Taliban group reacted to Kabul bombing which left two employees of a private TV station dead, including one of the reporters of the TV.
"Today's bomb attack against workers of Khurshid TV in #Kabul city has no relation with the Mujahidin of Islamic Emirate," Zabiullah Mujahid, a spokesperson for the group said in a Twitter post late on Saturday.
An official in the Ministry of Interior confirmed that the vehicle of Khurshid TV, one of the private TV channels, hit an improvised explosive device at around 4 pm on Saturday.
The official further added that the explosion killed two people, including a reporter and one of the technical workers of the television.
According to the official, the explosion wounded at least six others including one of the employees of the TV channel.
NO individual or group has so far claimed responsibility for the incident.
https://www.khaama.com/taliban-reacts-to-kabul-bombing-which-killed-2-employees-of-a-tv-station-dead-08871/
-----
Shoppers say new Eid collection 'to die for'
May 30, 2020
Shoaib Ahmed Sayam
Along with miseries, the pandemic has certainly brought citizens with generational privilege things to look forward to.
For instance, the exclusive collection of personal protective equipment (PPE) for Eid was the rage among people with daddy's 100 percent legitimate business money.
After a visit to the shops on Chand Raat, this reporter saw droves of mask-wearing families squeezing between individuals and peeking over shoulders to get a look at the newest collections.
"They have this coughing cool as hell protective overall, and that too in my favourite colour!" said Sadman Zaman, a university student who protested the protest for reduced tuition fees.
"I have full rights to make independent choices unlike poor people. I didn't create the economic system that syphons resources from them and showers it on my family," he said when asked why did he not pick the much cooler blue overall.
Fahad Zaman was scanning the safety-goggle display, picking one up with his disinfected hands and putting it on his infected face. "How do these look?" he asked this reporter, who was wearing matching goggles, which was unacceptable because he had bought that "one-of-a-kind" pair for Eid reporting.
The goggles came in different colours and styles, belonging to popular brands like Ray-bun, Pola, Guchi, Appel and Goggle.
Among all items, face-mask sellers were the winners in this pandemic. Customers were thronging mask stalls, which had a wide variety to offer. Shoppers had several materials to choose from -- velvet, georgette, silk, jamdani -- with embroidered patterns and tassels.
"Madam, these were specially imported from Thailand. You won't find these in any other pandemic," said a shopkeeper, trying to entice his potential buyer.
"These look local to me. I want a mask so beautiful it'll make the coronavirus beg to get inside me," the middle-aged woman retorted.
When asked how business is going, Nandu Zaman, a local shopkeeper, said, "After pivoting to selling PPE, business has been booming. It's as if people think Covid-22 cases are dwindling to zero instead of rising every day."
To find an answer, the reporter went from shop to shop, dodging spit particles and elbowing anyone who came close. Then he encountered someone who was rotating for five minutes at one point with her phone held up. She kept saying "Bhai, price?", "Price, brother?", "Mama, price?"
Sufia Zaman was, in fact, live broadcasting from her Facebook page "Cundar Cundar Jama Kulakshun" to provide her audience an authentic Eid shopping experience.
"There are 15 people watching right now. They'd be lost without my recommendation. Look, they're watching you now!" Sufia said, while pointing the camera at the reporter.
When asked about the significance of Eid shopping in this pandemic, she said, "Shopping is my passion. I shop and I shop, but I'm never satisfied. Online-shopping can never replace physically going to the store. I must caress the product, smell it, feel it, to be one with it."
https://www.thedailystar.net/satireday/news/shoppers-say-new-eid-collection-die-1906384
------
Southeast Asia
Positive feedback for first Friday prayers in mosques
May 30, 2020
Izah Azahari
After a 10-week closure of mosques and religious halls across the Sultanate, male congregants were finally allowed to perform the Friday prayers while maintaining social distancing.
At a press conference yesterday, Minister of Health Dato Seri Setia Dr Haji Mohd Isham bin Haji Jaafar said that the feedback from those attending the Friday prayers has been quite positive, following an initial report.
He also disclosed that a discussion would be held with the Ministry of Religious Affairs (MoRA), on the nationwide feedback.
Concerning the problems faced by a number of individuals who were not allowed to enter mosques or religious halls even after booking a slot, the minister said, "In theory, if a person makes a slot booking prior to the Friday prayers, he should be able to enter the mosque or religious hall.
"Nonetheless, there might be other factors barring a person from entry, such as a possible colour change in the person's health code to yellow, or a different colour on that day.
"But you should have a slot if you made a booking, as the slots were counted in advance.
Let's say there are only 500 available slots. Only 500 individuals will then be allowed to enter."
Dato Seri Setia Dr Haji Mohd Isham, however, added that the number might be lesser as some individuals were unable to attend, despite obtaining slots.
"A discussion will be held with the Ministry of Religious Affairs (today), to discuss issues that may have developed and to find out the possible causes," he said.
https://borneobulletin.com.bn/2020/05/positive-feedback-for-first-friday-prayers-in-mosques/
-----
Interactive: How Malaysia and other countries are easing their Covid-19 restrictions
31 May 2020
By DIYANA PFORDTEN
PETALING JAYA: More than half of the world's countries - including Malaysia - have eased lockdown restrictions that have been put in place to contain the spread of Covid-19, according to data from Oxford's Blatavnik School of Government.
Out of the 117 countries which have rolled back on these curbs, Malaysia is the 18th most rigid in lifting regulations despite allowing most business sectors to reopen under its conditional movement control order beginning May 4.
Schools have yet to reopen and people are advised to continue staying home, while restrictions remain on mass gatherings, and interstate and overseas travel.
It collects publicly available information on 17 indicators, where nine of them are used to measure the stringency index of 169 countries. A higher stringency index of up to 100 indicates stricter measures.
This includes regulations on containment, closure and health system policies such as school and workplace closures, movement restrictions and public information campaigns.
"Using a novel index that combines various measures of government responses, we describe variation in government responses, explore whether rising stringency of response affects the rate of infection, and identify correlates of more or less stringent responses, " it says.
Restrictions worldwide were most stringent roughly between mid-March to mid-April, while the easing of restrictions is ongoing starting from end-April.
Malaysia enforced the MCO from March 18. This was followed by a conditional MCO from May 4 which permitted certain economic and social activities to resume.
New Zealand, which imposed a strict national lockdown on March 26, had the biggest drop in stringency index (-60.19) as it gradually lifted its lockdown.
Its citizens, who were previously instructed to stay at home while businesses and schools closed, are now able to join gatherings of 100 attendees, travel domestically, reopen businesses and go shopping with specific public health guidelines in place.
Other countries with the greatest relaxations include Croatia (-53.71), Serbia (-50.93), Slovenia (47.68), South Korea (-47.68), Djibouti (-42.6) and Aruba (-40.74).
With the easing of restrictions, the OxCGRT also estimated countries' readiness to exit lockdown by looking into how close they meet four out of six criteria outlined by the World Health Organisation (WHO).
On May 29, the OxCGRT reported Malaysia as being close to meeting three out of the four measures, with a score of 0.6 out of the overall 1.
The country met most of the criteria for managing the risk of exporting and importing Covid-19 cases, having a public information campaign on Covid-19, as well as having testing and contact tracing policy for Covid-19 cases.
However, it did not meet the condition of having less than 50 daily new cases and a growth rate which is lower than the previous week.
New Zealand came closest to meeting all four of the WHO recommendations with an overall score of 1, while 8 other countries such as Spain, Rwanda, Vietnam and Australia followed closely behind with an overall score of 0.9 each.
While most countries are easing restrictions, Morocco, Egypt and Iceland have maintained restrictions in its country since late March, lasting for more than 60 days to date.
As of May 28, Cuba, Kuwait, El Salvador, and Hondorus are countries with the strictest regulations with stringency index of 100 each.
Meanwhile, countries with the least restrictions are Nicaragua (11.11), Belarus (13.89), Taiwan (22.22) and Burundi (22.22).
https://www.thestar.com.my/news/nation/2020/05/31/interactive-how-malaysia-and-other-countries-are-easing-their-covid-19-restrictions
------
Further easing of curbs likely
31 May 2020
By LOH FOON FONG
KUALA LUMPUR: The Health Ministry will recommend the opening up of more economic sectors such as social, sports and education, provided the number of Covid-19 cases remain low, says Datuk Dr Noor Hisham Abdullah.
In highlighting the positive impact of the conditional movement control order (MCO), the Health director-general commended Malaysians for their high social discipline.
"Social discipline is as high as 90%. More importantly, we are seeing the recovery phase. Now, after one week of Hari Raya, the signs look encouraging.
"If the trend continues, we will suggest opening up more sectors and monitor the situation, " he said in his daily briefing yesterday.Dr Noor Hisham said opening the education sector was important for Form 5 and Form 6 students who would be sitting for their public examinations.
"The virus is in the community, so it is important to plan how to live with the virus for two or three years until a vaccine or treatment is found, " he said, adding that community empowerment was equally important.
"If all of us come together, we can break the chain of infection, " he said.Yesterday, 30 new Covid-19 cases were recorded, bringing the cumulative tally to 7,762 cases. Three of the new cases were imported.
Dr Noor Hisham urged Malaysians, especially eatery owners, to continue giving their cooperation and adhere to the standard operating procedure (SOP).
"Action can also be taken under the Prevention and Control of Infectious Diseases Act with a fine up to RM1,000, " he said.
He also said 26 illegal foreign workers, who are currently warded in Hospital Sungai Buloh, would be transferred to the Malaysia Agro Exposition Park Serdang (Maeps) to prevent them from running away.
https://www.thestar.com.my/news/nation/2020/05/31/further-easing-of-curbs-likely
-----
World Bank approves $250 million loan to support Indonesia's COVID-19's response
Dyaning Pangestika
May 30, 2020
The World Bank has agreed to provide a US$250 million loan to support Indonesia's COVID-19 response, the organization's board of executive directors announced recently.
According to a statement issued by the World Bank on Friday, the funds will go toward strengthening the country's emergency response to the pandemic, including improving intensive care capacity, providing more personal protective equipment and improving the laboratory network and surveillance system.
The funds will also be used to prepare for future outbreaks of infectious diseases by improving the country's reporting and surveillance systems.
The primary beneficiaries of the program will be patients, especially those who are vulnerable and in high-risk populations, such as senior citizens and patients with chronic conditions, and healthcare providers.
"We are proud to support the government of Indonesia's COVID-19 response and its efforts to minimize the health, economic and social impacts of the pandemic, which is critical to its continued efforts to reduce poverty and protect the country's human capital," World Bank country director for Indonesia and Timor-Leste, Satu Kahkonen, said in the statement.
Finance Minister Sri Mulyani Indrawati said Indonesia would utilize the funds to strengthen the nation's capacity for preventing, testing and treating such diseases. "The government […] is utilizing all possible means to mitigate the health, social, and economic impacts of COVID-19."
The World Bank loan is one of several coordinated financing agreements Indonesia has made with several partners, including $250 million in co-financing from the Asian Infrastructure and Investment Bank and $250 million in parallel financing from the Islamic Development Bank.
https://www.thejakartapost.com/news/2020/05/30/world-bank-approves-250-million-loan-to-support-indonesias-covid-19s-response.html
------
Government's statements on new normal confusing: Muhammadiyah
Sri Wahyuni
May 31, 2020
As Indonesia has yet to see the curve of COVID-19 infection flatten, the government's decision to roll out guidelines on easing COVID-19 restrictions under its so-called new normal protocols has created confusion among the public, according to Islamic organization Muhammadiyah.
"The government's recent statements about the new normal has raised questions and caused confusion in the community," reads a statement that was jointly signed by Muhammadiyah chairman Haedar Nashir and secretary Abdul Mu'ti on Thursday.
In some areas, malls and shopping centers are open while mosques and worship houses remain closed. "This has the potential of causing tension between government institutions and congregations," the statement reads.
The statement also cites National Disaster Mitigation Agency (BNPB) data that indicates the outbreak in the country is not yet under in control.
"It therefore makes sense if the public's perception is that the [plan to loosen restrictions] means economic interests take precedent over the people's lives," according to the statement.
"Keeping the economy running is important, but saving people's lives is no less important given the uncertainty of whether the COVID-19 infection can be stopped."
Muhammadiyah questioned whether the government's decision to implement new normal protocols had been backed by epidemiologists through thorough assessments.
"All parties hope the pandemic ends soon. But everything needs to be assessed thoroughly so that our efforts over the past three months will end well," the statement reads, referring to large-scale social restrictions that have been in place in some areas since March.
The Health Ministry has confirmed fluctuating numbers of new cases daily, with several record highs of new cases and jumps recorded in the past two weeks, despite the government's occasional claim that the curve has flattened.
Muhammadiyah's Yogyakarta provincial branch (PWM DIY) issued a call on Friday reminding its members to continue staying and praying at home in a bid to further curb the spread of COVID-19.
The call was issued after PWM DIY held a meeting on Thursday night in response to the provincial administration's decision to extend the PSBB, which was initially to end on May 31, to June 30.
"We consider this necessary because Yogyakarta province is still in need of large-scale social restrictions," Muhammadiyah Yogyakarta branch chairman Gita Danu Pranata told The Jakarta Post on Friday.
The one-page statement called on Muslims to continue conducting prayers at home, including Friday prayers that would normally be held at mosques.
https://www.thejakartapost.com/news/2020/05/29/governments-statements-on-new-normal-confusing-muhammadiyah.html
-----
Arab world
10 million SMS sent to educate people for prayers in Saudi mosques
May 31, 2020
RIYADH: Ten million text messages (SMS) containing information on the precautionary measures approved by the Saudi Ministry of Islamic Affairs were sent in the wake of the return of congregational prayer in mosques.
The return of Friday and group prayers in the Kingdom's mosques — except in Makkah — comes as the second phase of easing restrictions begins on Sunday May 31 and will last until June 20.
The informative messages that were broadcasted by the ministry in several languages included advice, directives and instructions, in line with the authorities' decisions to ensure the safety of mosque-goers and prevent the spread of the coronavirus.
The Ministry of Islamic Affairs also increased its media presence through its participation in various satellite channels and social networking sites and through its digital platforms to educate the Saudi community about the importance of following the directions.
The Saudi minister of Islamic affairs, Sheikh Abdullatif Al-Asheikh, announced on Friday the readiness of the Kingdom's mosques to welcome worshippers after he completed field trips to check on necessary preparations.
"Throughout our inspection trips, we found our mosques to have completed preparations and are in the best condition," said the minister.
"Whatever remains falls upon citizens. I hope that citizens and residents follow healthy precautionary measures as instructed by professionals. I hope that they're careful with their own lives and the lives of others."
https://www.arabnews.com/node/1682461/saudi-arabia
-----
Saudi king, crown prince congratulates president-elect of Burundi on victory
May 31, 2020
King Salman and Crown Prince Mohammed bin Salman on Sunday congratulated Evariste Ndayishimiye on winning the presidential election in Burundi.
The king and crown prince wished Ndayishimiye success and the people of Burundi further progress and prosperity.
Ndayishimiye, who was the ruling party's candidate, was on Monday declared victorious after winning 68.72 percent of the vote.
Opposition leader Agathon Rwasa received 24.19 percent.
Ndayishimiye, 52, is a former army general and will replace President Pierre Nkurunziza.
https://www.arabnews.com/node/1682506/saudi-arabia
-----
Saudi Arabia could return to extreme precautionary restrictions, minister warns
RUBA OBAID
May 31, 2020
JEDDAH: The Kingdom could return to extreme precautionary restrictions if the number of COVID-19 patients exceeds the medical sector's capacity, Saudi Arabia's Health Minister Tawfiq Al-Rabiah warned on Saturday.
"Public awareness and adherence to precautionary measures is essential to continue the ease of restrictions," Al-Rabiah told Al-Arabiya on Saturday. "We continue monitoring the situation based on the number of critical cases in hospitals and their capacity to receive them. We want to be able to receive all cases that reach out to us and provide them with the care that they need. We are all in one boat in this situation, we are one team, and we must work together cautiously. Lack of commitment will definitely take us back to where we were."
The minister expressed his concern about overcrowding in some public places during the Eid holidays, adding that while crowds were likely at the initial phase of the 'unlock' he remained optimistic about the public's awareness level.
The minister said that although children were the least likely to be infected they could carry the virus without symptoms. He advised families to keep children away from elderly members of their families such as grandparents.
There were 1,618 new cases reported in Saudi Arabia, meaning that 83,384 people have now contracted the disease. There are currently 24,501 active cases.
The Health Ministry announced that 1,870 more patients had recovered from COVID-19, bringing the total number of recoveries to 58,883. More than 70 percent of coronavirus patients in the Kingdom have recovered from the disease.
The ministry has assigned 30 health practitioners to carry out the third stage of an expanded examination plan to assess the prevalence of COVID-19 in the city of Makkah.
The examination will take place at a center in the Al-Zaidi district, where citizens and expats will be tested inside their cars through 12 tracks without the need to leave their vehicles. The center has the capacity for over 1,000 tests daily and these will be carried out through appointments made on the ministry's Sehaty app.
Adjustments to previously announced social-distancing measures and regulations were announced by the Saudi Interior Ministry on Saturday. These include new violation penalties, as the second stage of restriction-easing starts on May 31.
Individuals who intentionally violate regulations will pay SR1,000 ($266). Breaches include not wearing a mask, not committing to social distancing marks and areas, refusing to undergo temperature checks at entrances, or not adhering to preventive protocols if their temperature is higher than 38 degrees Celsius.
The ministry amended the maximum number of people allowed for social gatherings inside homes, rest houses, farms, or in social events such as funerals and parties to 50 people.
Private sector establishments that are found to be non-compliant with new preventive measures and protocols will pay a penalty of SR10,000.
This penalty covers violations such as admitting entry to individuals not wearing medical or cloth masks, lack of disinfectants and sterilizers, not checking employee and customer temperatures at entrances, lack of sterilization on shopping facilities, cart surfaces and shopping baskets after each use, as well as opening fitting rooms and children's play areas.
https://www.arabnews.com/node/1682441/saudi-arabia
------
Mideast
Coronavirus: Iran mosques to resume daily prayers amid easing of lockdown
30 May 2020
Government employees went back to work in Iran on Saturday and President Hassan Rouhani said mosques would resume daily prayers across the country, even though some areas were still seeing high levels of coronavirus infections.
Rouhani also said on state television that shopping malls would be able to stay open beyond the 6pm closing time imposed as part of the lockdown, a further step in the government's plans to steadily ease the curbs, Reuters reported.
"Doors to mosques across the country will open to the public for daily prayers," Rouhani said, adding that worshippers should observe social distancing and other health protocols. Still, he did not specify when mosques would reopen.
Authorities are taking tougher measures to ensure health regulations are observed, including barring people from buses and metro trains if they do not wear face masks, Iranian media reported.
Alireza Zali, head of the government-led Coronavirus Taskforce of Tehran, told state TV the situation in the capital was "still not favorable," adding that the gradual easing of curbs should be accompanied by a "more serious observance" of the rules.
The worst-affected country in the Middle East, Iran has reported 148,950 infections and 7,734 deaths from Covid-19, according to the latest Health Ministry data.
A ministry spokesman said on Saturday that the southwestern province of Khuzestan was still classified as "red" amid a higher number of infections and deaths, while seven other provinces were at risk.
Meanwhile, the semi-official Tasnim news agency said Omid Noorafkan, 23, a professional footballer who plays for the Iranian club Sepahan, had tested positive for the virus. It did not give further details about his condition.
In related developments, Britain, France and Germany on Saturday strongly condemned a US decision to end sanctions waivers for companies from nations that remain in a nuclear accord with Iran, AFP reported.
The waivers allowed European, Chinese and Russian companies to work on the conversion of a heavy water reactor in Arak, a major industrial city in western Iran.
Also, Iran took Washington to task on Saturday over the killing of a black man by a white police officer that has sparked angry protests nationwide over racial injustice, Reuters said.
"Some don't think #BlackLivesMatter," Iranian Foreign Minister Mohammad Javad Zarif said on Twitter. "To those of us who do: It is long overdue for the entire world to wage war against racism. Time for a #WorldAgainstRacism."
https://www.middleeasteye.net/news/coronavirus-iran-mosques-resume-daily-prayers-amid-easing-lockdown
------
Al-Aqsa mosque in Jerusalem reopens after two months
31 May 2020
Jerusalem's Al-Aqsa mosque compound -- the third holiest site in Islam after Mecca and Medina in Saudi Arabia -- reopened on Sunday after being closed for more than two months because of the coronavirus pandemic.
Dozens of worshippers in protective masks were let into the compound before the first prayers of the day, held in a cool and windy night.
Chanting "God is greatest, we will protect Al-Aqsa with our soul and blood", the group gathered in front of the large wooden doors were welcomed by mosque director Omar al-Kiswani, who thanked them for their patience.
Israeli police on Saturday shot dead a disabled Palestinian they mistakenly thought was armed, prompting furious condemnation from the Palestinians.
The religious site, which houses Al-Aqsa mosque and the Dome of the Rock, had closed its doors in March as part of measures to limit the spread of COVID-19.
Muslims believe the Prophet Mohammed ascended to heaven there, and the site has often been a flashpoint in the Israeli-Palestinian conflict.
It is also the holiest site to Jews, who refer to it as the Temple Mount and believe it to be the location of two biblical temples -- the second of which was destroyed in 70 AD.
On the first day of the Eid holiday, scuffles had broken out between Israeli police and Palestinians as worshippers tried to break through barriers to enter the compound.
Known to Muslims as the Haram al-Sharif, the site is under the custodianship of neighbouring Jordan, which controlled the West Bank, including east Jerusalem, up until occupation by Israel in the Six-Day War of 1967.
With the number of COVID-19 cases declining, in recent days both Israel and the Palestinian territories have eased restrictions.
Fewer than 500 infections and just three deaths have been confirmed in the occupied West Bank and Gaza, which have a combined population of around five million.
Following the deadly shooting on Saturday, the Palestinian leadership demanded that whoever killed the man be brought before the International Criminal Court.
The incident happened in the alleys of the walled Old City near Lions' Gate, an access point mainly used by Palestinians.
There have been fears that Israeli plans to take advantage of a controversial green light from US President Donald Trump to annex swathes of the West Bank could stoke further violence.
https://www.dailymail.co.uk/wires/afp/article-8373321/Al-Aqsa-mosque-Jerusalem-reopens-two-months.html
-----
Iran says Islamic system has become influential int'l player
May 31,2020
IRNA - Newly-elected Majlis (Parliament) Speaker Mohmmad Baqer Qalibaf said on Sunday that the Islamic system as an important power in the region has become an influential player in the international community.
Islamic system has strategically become stronger, Qalibaf said in his speech to the Majlis formal session this morning.
Talking of the existing problems, the speaker said the new Iranian parliament took office at a time when the Islamic Republic faces a package of opportunities and threats; meanwhile, it started work to solve the problems through unity and solidarity.
On May 28, Qalibaf with 230 votes out of a total of 264 was elected as new speaker for the new Parliament whose representatives were elected after the February elections in Iran.
Today, the truth is undeniable that the Islamic Republic has resisted to the enemies for four decades without stepping back from its aspirations, Qalibaf noted.
Iran's regional power that grows day by day has led the Islamic Republic be a symbol of resistance against the arrogant powers.
The 11th round of the Iranian Parliament opened on May 27 at a ceremony in the presence of President Hassan Rouhani.
Concerning the parliament's stance on the United States, Qalibaf said the strategy of the Majlis is compatible with the path of Lt General Soleimani, the path which started from Iranian reciprocal action against US airbase of Ainal Asad in western Iraq, continued after defeating the US torn-out glory which will culminate by exit of all American forces from the region.
Lieutenant General Soleimani, Islamic Revolution Guards Corps (IRGC) Qods Force commander, and the acting commander of the Iraqi Popular Mobilization Units (PMU) - known as the Hash al-Shaabi - Abu Mahdi Al-Mohandes, separately leaving Baghdad airport in two motorcades were targeted and assassinated in the US terrorist attack on January 3.
https://en.irna.ir/news/83805473/Iran-says-Islamic-system-has-become-influential-int-l-player
-----
Disrespect of Muslims holy sites, a global Zionist conspiracy: Iran embassy
May 30, 2020
IRNA -- Embassy of the Islamic Republic of Iran in Pakistan says disrespect of Muslims' holy sites is a heinous crime planned by the enemies of Islam, especially the international Zionism, and its purpose is to divide the followers of Islam.
The embassy in a statement on Saturday called upon the Muslims to remain vigilant about such evil plots.
"The Embassy of the Islamic Republic of Iran considers the news of the destruction of the holy shrines of the Sunnis in Syria and its connection to the Islamic Republic as a vicious scenario and a pre-planned conspiracy, and strongly rejects it," the statement said.
It said undoubtedly, the publication of such fake news is an attempt to create divisions among the followers of Islamic sects and to provoke public opinions, feelings and emotions; this only benefits the international Zionism and enemies of the Muslim world.
"It is emphasized that any disrespect to the graves of the deceased and historical sites has no place in the school of Islam," said the statement.
It added that the perpetrators of this crime certainly do not have a correct understanding of this heavenly religion and must be held accountable before Almighty Allah.
"All journalists and members of the media are urged to refrain from spreading any rumors, based on their responsibility to provide professional information," said the embassy.
https://en.irna.ir/news/83805120/Disrespect-of-Muslims-holy-sites-a-global-Zionist-conspiracy.
------
US withdrawal from WHO: Iran says US blame games will never fool world
30 May 2020
The spokesman for Iran's Foreign Ministry has criticized US President Donald Trump's decision to terminate his country's relationship with the World Health Organization (WHO) amid the coronavirus pandemic, saying blame games did not and will not fool the world.
In a post on his Twitter account on Saturday, Abbas Mousavi added that the United States ended its relationships with the WHO "in the new chapter of its Withdrawal series, & amid a pandemic that has rattled the world."
In the new chapter of its Withdrawal series, & amid a pandemic that has rattled the world, the US terminates its relationship w/ @WHO. After failing its ppl, this irresponsible regime has been seeking a scapegoat to hide its debacle. But blame games didn't & won't fool the world.
"After failing its ppl, this irresponsible regime has been seeking a scapegoat to hide its debacle," the Iranian spokesperson said.
Speaking to reporters at the White House on Friday, Trump accused the WHO of becoming essentially a "puppet" organization of China and announced his decision to end relationship with the UN health body over its handling of the coronavirus pandemic.
"Because they have failed to make the requested and greatly needed reforms, we will be today terminating our relationship with the World Health Organization and redirecting those funds to other worldwide and deserving, urgent global public health needs," Trump said.
Trump had earlier threatened to permanently stop funding the WHO and withdraw from the UN agency unless it makes "major substantive improvements within the next 30 days," without detailing the improvements.
In his four-page letter earlier this month to the WHO head, Tedros Adhanom Ghebreyesus, Trump said that he will make his "temporary freeze" of US funding permanent after criticizing WHO's response to the pandemic.
Trump is under scrutiny for his scattershot approach toward the handling of the coronavirus outbreak and resorting to a blame game strategy to shift the blame he is facing for the worsening situation inside the country to others
The United States is now on the top of the list of the worst-affected nations across the globe with over 1,797,000 confirmed cases.
https://www.presstv.com/Detail/2020/05/30/626414/Mousavi-Iran-WHO-Trump-relationship
-----
Israeli forces fatally shoot unarmed Palestinian man with special needs in al-Quds
30 May 2020
Israeli military forces have shot dead an unarmed Palestinian man with special needs in the Old City of Jerusalem al-Quds, as tensions continue to mount in the occupied territories amid the Tel Aviv regime's contentious plan to annex parts of the West Bank.
The Israeli police alleged in a statement on Saturday that the 32-year-old man, identified as Iyad Halak, was "holding a suspicious object that appeared to be a gun."
The statement added that the man was asked to stop by Israeli officers stationed near the Lion's Gate, a main entrance to the al-Aqsa Mosque compound, but ran away when ordered to stop.
The father of a Palestinian man with special needs, reportedly shot dead by Israeli police when they mistakenly thought he was armed with a pistol, mourns his son's death at his home in East Jerusalem al-Quds, on May 30, 2020. (Photo by AFP)
Palestinians said Halak, a resident of Wadi al-Joz neighborhood in East Jerusalem al-Quds, had been on his way to a special needs educational institute in the Old City where he studied.
They added several bullets had been fired towards the ill-fated, mentally-challenged Palestinian man, and that he was left on the ground bleeding for a while until he died.
His father said Israeli forces searched the family home after the shooting, despite the fact there was no evidence Iyad was armed.
An initial investigation has reportedly been opened into the matter and two Israeli police officers were questioned over the shooting.
Ofer Cassif, a member of the predominantly-Arab Joint List party at the Knesset (Israeli parliament) said the man's death was "murder by police" as a result of the Israeli regime's incitement.
The Palestinian Islamic Resistance Movement, Hamas, also reacted to the incident, saying it attests to the criminal and sadistic nature of Israeli authorities.
"Such incidents will further provoke the uprising of our struggling nation. The uprising will not stop until the Occupier (Israel) has withdrawn from all of our entire Palestinian land," Hamas spokesman Hazem Qassem said in a press statement.
He added, "The terrorist behaviors of the leaders of the Occupation in addition to their thirst for Palestinian blood confirm the extent of the crime committed by some parties seeking to normalize ties with the regime. The continued efforts of such parties will make them accomplice to the Occupier in shedding the blood of Palestinians."
The shooting came a day after Israeli troops killed a Palestinian father of five children, identified as Fadi Adnan Sarhan Samara, 37, over an alleged car-ramming attack near Nabi Saleh village, northwest of the central West Bank city of Ramallah.
His family denied the car-ramming allegations, and said the man lost control of his car after Israeli settlers opened fire at it.
Tensions have been on the rise in recent weeks in the occupied territories as Israel has pressed ahead with its plans to annex large parts of the West Bank in line with US President Donald Trump's so-called Middle East peace plan, which strongly favors Israel and has been rejected by the Palestinians.
Israeli Prime Minister Benjamin Netanyahu, who was sworn into office for another term on May 17, has set July 1 for the start of cabinet discussions on extending Israeli sovereignty over settlements in the West Bank and the Jordan Valley.
In response to Israel's decision, Palestinian President Mahmoud Abbas declared the end of all agreements signed with Israel and the United States on May 19.
https://www.presstv.com/Detail/2020/05/30/626407/Israeli-forces-fatally-shoot-unarmed-Palestinian-man-with-special-needs-in-al-Quds
-----
Iran will take 'legal, practical' steps against US revocation of sanctions waivers
30 May 2020
Iran has roundly condemned the United States' latest decision to end the sanctions waivers in a landmark nuclear deal signed between the Islamic Republic and world powers in 2015, vowing to take "necessary practical and legal" steps to counter the negative impacts of the move.
Iranian Foreign Ministry Spokesman Abbas Mousavi on Saturday said the US move to end the sanctions waivers for international nuclear cooperation with the Islamic Republic is a blatant violation of United Nations Security Council Resolution 2231, which endorses the nuclear deal -- officially known as the Joint Comprehensive Plan of Action (JCPOA) -- and the UN Charter.
He said that the Islamic Republic of Iran will be closely monitoring the technical and political impacts of this move and "will take the necessary practical and legal steps if it adversely impacts Iran's nuclear rights recognized in international documents and the letter of the JCPOA," he added.
"This move ignores the Islamic Republic of Iran's inherent rights and disrupts international public order," the Iranian spokesperson pointed out.
Hawkish US Secretary of State Mike Pompeo said on Wednesday that Washington had ended the last remaining sanctions waivers in the JCPOA.
Iran's Ambassador to the United Nations Majid Takht Ravanchi said on Thursday that the US has destroyed the last means of retention of the JCPOA by ending waivers for sanctions prohibiting nuclear cooperation with Tehran.
Iran's UN envoy says the US has destroyed the last means of retention of the JCPOA by ending waivers for nuclear cooperation with Tehran.
"Two yrs ago, @realDonaldTrump ceased participation in #JCPOA. Now, in further violation of JCPOA & UNSCR 2231 @SecPompeo pulls final plug, imposing penalties for compliance EVEN w/nuclear provisions of 2231," Takht Ravanchi reminded in a Tweet.
In May 2018, US President Donald Trump took an illegal and unilateral decision to end Washington's participation in the nuclear deal and re-impose the sanctions that the agreement had lifted, in defiance of the fact that the accord has been endorsed by UNSC Resolution 2231.
France, Germany and Britain -- the three European signatories to the JCPOA -- censured the United States for ending the last remaining sanctions waivers in the deal.
"We deeply regret the US decision to end the three waivers," the three European countries said in a joint statement on Saturday.
"These projects, endorsed by UN Security Council Resolution 2231, serve the non-proliferation interests of all and provide the international community with assurances of the exclusively peaceful and safe nature of Iranian nuclear activities," they added.
China and Russia -- two permanent members of the UN Security Council and other signatories to the JCPOA, have also censured the US decision.
Speaking at a regular press conference in Beijing on Friday, Chinese Foreign Ministry spokesman Zhao Lijian said the move would hamper "shared efforts" made by parties to the nuclear deal to maintain the agreement after the unilateral US withdrawal.
"It [US decision] demonstrates its consistent pattern of unilateral and hegemonic practice. China is firmly opposed to that," Zhao added.
Russia's Foreign Ministry spokeswoman Maria Zakharova also on Thursday condemned the United States for undermining international security by deciding to end the waivers and withdraw from a number of international treaties, including a recent one pertaining to unarmed surveillance flights.
Russia raps the US for deciding to end Iran sanctions waivers and quitting an international treaty on unarmed surveillance flights.
"The nature of this behavior is clearly disruptive," Zakharova told reporters, adding, "Washington's actions are becoming more and more dangerous and unpredictable."
https://www.presstv.com/Detail/2020/05/30/626411/Mousavi-Iran-US-sanctions-waivers-JCPOA-
------
North America
COVID-19: Kogi govt must accept truth- Family of Chief Imam confirms index case
May 30, 2020
By Fikayo Olowolagba
Chief Imam of Kabba, Sheikh Ahmad Abubakar Ejibunu, has been confirmed as the index case of COVID-19 in Kogi state.
The Nigeria Center for Disease Control, NCDC has confirmed two index cases of Coronavirus in Kogi State for the first time since its outbreak in Nigeria
Chief Tai Ejibunu, Obatebise of Oweland, in a statement by the family, said the Chief Imam exhibited symptoms of COVID-19 before he tested positive after a referral from the Federal Medical Centre (FMC), Lokoja.
In the statement titled, "The COVID-19 Case Infection: Matters Arising, the family said, "Our attention has been drawn to the series of discussions going on concerning the COVID-19 index case in Kabba and the identity of the index case.
"I wish to affirm, on behalf of Ejibunu family, that the Chief Imam of Kabba, Sheikh Ahmad Abubakar Ejibunu, was down with flu some few days back and he had to be hospitalised at the Specialist Hospital in Kabba.
"After further medical attention at the Federal Medical Centre in Lokoja, he was referred to the National Hospital in Abuja and the test conducted on him by the NCDC showed that he was COVID-19 positive.
"We would have come out to speak on the matter earlier but we were not comfortable with the ding dong game going on between the NCDC and the Kogi State government.
"The family is concerned about the wellbeing of others and we wish to confirm that COVID-19 has found its way sadly into our community and the state.
https://dailypost.ng/2020/05/30/covid-19-kogi-govt-must-accept-truth-family-of-chief-imam-confirms-index-case/
-----
US to send troops to Tunisia in support of Turkish forces and Islamist terrorists in neighbouring Libya
30th May 2020
The United States intends to dispatch a military brigade to Tunisia, the US Africa Command (Africom), the force dedicated to intervening in African countries, has announced.
"As Russia continues to fan the flames of the Libyan conflict, regional security in North Africa is a heightened concern," Africom said in a statement on 29 May. Two days earlier, Africom claimed that Russia had delivered 14 MiG-29 and Su-24 fighter jets to the Libyan National Army's (LNA) Jufra air base, a claim that has been denied by the Russians and the LNA.
Since April 2019 the LNA has been fighting to liberate the Libyan capital Tripoli and the 15 per cent of the country still controlled by the unelected "Government of National Accord" (GNA).
The GNA is backed by the Muslim Brotherhood, Al-Qaeda and myriad other Islamist terrorist groups, organised crime groups, notably people and oil smugglers, Qatar and Turkey. Turkey has been particularly active in its support of the GNA, bringing in at least 10,100 Syrian mercenaries and jihadists into Libya and participating directly in attack on LNA forces.
On 28 May, David Schenker, an Israel lobbyist working as US Assistant Secretary of State for Near Eastern Affairs, gave an interview to France 24 in which he indicated that Washington is not averse to a takeover of Libya by the Muslim Brotherhood and its prodigies, Islamic State group and Al-Qaeda, and the other Islamist terrorists for which the GNA acts as an umbrella. He also strenuously avoided criticising the massive Turkish military intervention in aid of the Islamists in Libya.
Africom's announcement that it intends to dispatch a so-called "Security Force Assistance Brigade" to Tunisia can be seen as a move to secure supply lines from Tunisia to Turkish forces, Syrian mercenaries and the GNA's Islamist terrorist and crime syndicate militias deployed west of Tripoli.
In a statement, Tunisia's Defence Ministry said the US was a main partner in the effort to build its army's operational capability. This can only be laughed at given persistent reports that Tunisia had long been acting as a conduit for Turkish arms supples to the GNA militias — a duplicitous role given its repeated pledges of neutrality in the Libyan conflict.
https://www.redressonline.com/2020/05/us-to-send-troops-to-tunisia-in-support-of-turkish-forces-and-islamist-terrorists-in-neighbouring-libya/
-----
Flooded Midland is midcentury architecture mecca
May 30, 2020
MIDLAND, Mich. — Christopher Jue knew he was home the moment he and his wife stepped inside the sprawling 62-year-old ranch with brick floors, a sunken living room and built-in desks, shelves and bureaus — hallmarks of an Alden B. Dow original.
"To say it was a no-brainer is an understatement," Jue said of their decision to buy eight years ago in Midland, where more than 400 midcentury modern structures have made the city of about 42,000 a mecca for enthusiasts of the architectural style that emphasizes function and features clean lines, repeating patterns and spaces integrated with the outdoors.
Now, many wonder how badly the city's distinctive buildings — which also include the library, churches and schools — were damaged last week after torrential rains overwhelmed two central Michigan dams and submerged much of the city in water deeper than most residents had ever seen.
"As of right now we don't know of any that are a total loss, but we don't know whether all the homeowners will choose to restore them," said Craig McDonald, director of the Alden B. Dow Home and Studio, which started a project called Midcentury Modern Midland three years ago to identify and catalog the city's midcentury buildings. It documented 437, designed by dozens of architects from the 1930s-70s.
Dow, an architect whose family founded Dow Chemical Co. in Midland, about 130 miles north of Detroit, introduced modernism to the city and built many of its significant buildings. Other notable architects included Glenn Beach, Jackson Hallett, Francis "Red" Warner and Robert E. Schwartz.
Dow's studio and private home, built between 1934 and 1941, were spared from the flood because the pond that borders the block and glass structure has an outflow to a steep ravine that drains to the Tittabawassee River. The ravine was almost filled when the river crested at an all-time high of just over 35 feet "and if it had risen any higher we would have been in trouble," McDonald said.
One of Schwartz's most famous houses, built in 1964 and known for its dome-shaped shell made with Dow Chemical Styrofoam, took on almost 8 feet of water, compared to 3 feet during a big flood in 2017, said McDonald. He said the house can be saved.
The lower level of the Grace A. Dow Memorial Library, which houses the children's section and the city's public television studio, also flooded. The library was designed by Alden B. Dow and named after his mother. Restoration from damage caused by the 2017 flood was recently completed inside and outside the building, McDonald said.
McDonald recalled spending time as a child in the midcentury library and sitting on Barcelona chairs and stools, a classic midcentury furniture design, in the gallery and other spaces.
"Every public building in our town was gifted with ... beautiful design and it's what we knew as normal," McDonald said. "The incredible thing about Midland is that midcentury is woven into our whole community: it's churches, it's houses, it's office buildings, it's gas stations, it's flower shops."
Nobody knew exactly how far Dow's influence reached or how many midcentury buildings were in the city until Midcentury Modern Midland began digging through city records and canvassing neighborhoods three years ago, director Carol Neff said. And there likely are many more than the 437 listed now because they include only buildings for which the architect, designer or engineers could be authenticated.
Retirees Linda and Charles Mikkelsen said they moved to Midland from Dallas in November "just because of the architecture," though they had never visited the city before they began looking for a retirement home in Michigan, where Charles grew up.
Their 3,400-square-foot home, designed in 1966 by Jackson Hallett, is mostly masonry, brick and glass. Floodwater came through the windows and doors, and was about 2 feet deep. But as the Mikkelsens cleaned up and huge dehumidifiers hummed at their house this week, they said they had no regrets.
"This is an incredible town," said Charles Mikkelsen, for whom living in a midcentury home had been a longtime dream. "This is what we planned to do when we retired."
Christopher and Claudia Jue have no intention of leaving their 1958 home despite two floods in three years. This time their home, which was built on a concrete slab and overlooks a creek, was filled with about 5 feet of water. In 2017, it was flooded by less than a foot and it took 9 months to restore. Their street has 19 midcentury homes, including some of the most renowned in Midland.
The Jues, who moved all of their furniture to storage as the water rose, said the house is solidly built — it's mostly cement and brick, and is structurally sound. The force of the water cracked several large windows, some drywall might have to come down and they're not sure if the built-in cabinetry can be saved.
"You can marvel at the beauty, the flow, the colors and the openness (of a Dow home), but you really realize the integrity at a time like this," Jue said. "That's the brilliance that probably goes unnoticed."
https://www.freep.com/story/news/local/michigan/2020/05/30/michigan-flooding-midland-architecture/5291441002/
-----
Trump vows to stop rioters as 'cold' as race protests spread
31-May-2020
U.S. President Donald Trump warned Saturday that his government would stop violent protests over police brutality "cold," following nationwide protests over the death of a black man who died after a white police officer knelt on his neck.
George Floyd, the African American who died on Monday after a Minneapolis police officer knelt on his neck for nearly nine minutes, has become a fresh symbol of police brutality against blacks.
Floyd's death has sparked protests since Tuesday. The demonstrations, some of them violent are now made across the country, including one in Washington on Friday.
"We cannot and must not allow a small group of criminals and vandals to wreck our cities and lay waste to our communities," Trump said in Florida after watching the successful launch of a SpaceX rocket Saturday.
Rather than attempting to bring the nation together, the U.S. president repeatedly asked the states and cities get "much tougher" on demonstrators and warned of using the military stop protests.
In a post that Twitter has since hidden and labeled as in violation of the platform's rules about glorifying violence, Trump called protesters as "thugs" and drew a quote from a former Miami police chief, "when the looting starts, the shooting starts."
White Police Chief Walter Headley, who was accused of using racist tactics in his force's patrols of black neighborhoods, used that phrase to "declare war" on Miami's criminals. The chief's tough crackdown also incited mass protests later.
Apart from blaming public for misinterpreting his words, Trump Friday also changed the subject by making new attacks on China including stripping Hong Kong's special privileges with the U.S, and cutting ties with the World Health Organization (WHO).
He mentioned nothing on Floyd's death on Friday's press conference in the White House Rose Garden although reporters kept shouting questions about Floyd and Minnesota.
"Tip: it isn't a press conference when it's a statement delivered without taking questions," New York Times' reporter Maggie Haberman condemned in a tweet after the news conference.
Trump in several Saturday morning's tweets praising the Secret Service officers who guard the White House for "quickly (coming) down on (protesters), hard - didn't know what hit them" and being "the most vicious dogs, and most ominous weapons, I have ever seen."
Washington Mayor Muriel Bowser responded no Trump, saying there "are no vicious dogs & ominous weapons. There is just a scared man."
"While he (Trump) hides behind his fence afraid/alone, I stand w/people peacefully exercising their First Amendment Right after the murder of #GeorgeFloyd and hundreds of years of institutionalized racism," said Bowser, who is black.
He also accused Mayor Bowser of refusing to send DC police to help. But the Secret Service said in a statement that "The Metropolitan Police Department and the U.S. Park Police were on the scene."
The president also blamed the extreme left for organizing those violent protests. "The violence and vandalism is being led by Antifa and other radical left-wing groups," he noted.
Trump also slammed some mainstream U.S. news outlets after Minneapolis police officers arrested a CNN reporter live on television without giving any reason on Friday..
"Much more 'disinformation' coming out of CNN, MSDNC, @nytimes and @washingtonpost, by far, than coming out of any foreign country, even combined. Fake News is the Enemy of the People!" Trump wrote.
https://news.cgtn.com/news/2020-05-31/Trump-vows-to-stop-rioters-as-cold-as-race-protests-spread--QVZr9u3OKI/index.html
------
Mass protests in US, France, Hong Kong raise fears of renewed virus outbreaks
By BRIAN MELLEY
Today, 10:15 am
LOS ANGELES, California, United States (AP) — The mayor of Atlanta, one of dozens of US cities hit by massive protests after the police killing of a black man, has a message for demonstrators: "If you were out protesting last night, you probably need to go get a COVID test this week."
As emergency orders are lifted and beaches and businesses reopen in the US, add protests to the list of concerns about a possible second wave of coronavirus outbreaks. It's also an issue from Paris to Hong Kong, where anti-government protesters accuse police of using social distancing rules to break up their rallies.
Health experts fear that silent carriers of the virus who have no symptoms could unwittingly infect others at gatherings with people packed cheek to jowl and cheering and jeering, many without masks.
"Whether they're fired up or not that doesn't prevent them from getting the virus," said Bradley Pollock, chairman of the Department of Public Health Sciences at the University of California, Davis.
"It's not OK that in the middle of a pandemic we have to be out here risking our lives," Spence Ingram, a black woman, said after marching with other protesters to the state Capitol in Atlanta on Friday. "But I have to protest for my life and fight for my life all the time."
US protesters and National Guardsmen face off on East Lake Street, May 29, 2020, in St. Paul, Minnesota. (AP Photo/John Minchillo)
Atlanta Mayor Keisha Lance Bottoms, in her warning Saturday evening, said "there is still a pandemic in America that's killing black and brown people at higher numbers."
Minnesota Governor Tim Walz said after another night of unrest in Minneapolis that many protesters wearing masks were simply trying to hide their identities and "cause confusion and take advantage of this situation."
The protests started in Minneapolis following the death there of George Floyd last Monday after a white officer pressed a knee into the black man's neck.
The state's health commissioner has warned that the protests were almost certain to fuel new cases of the virus. Minnesota reported 35 deaths on Thursday, a single-day high since the start of the outbreak, and 29 more on Friday.
The protests come at a time when many US cities are beginning to relax stay-at-home orders. When Los Angeles officials announced the reopening of stores last week, they said political protests could resume but with a cap of 100 people.
US police attempt to disperse people protesting the death of George Floyd, a black man who died May 25 in the custody of Minneapolis Police, in Seattle, Washington on May 30, 2020. (Jason Redmond / AFP)
That didn't stop several hundred people from showing up for a protest that shut down a freeway. Most wore masks, but many did not observe a buffer zone.
Even for the many protesters who have been wearing masks, those don't guarantee protection from the coronavirus. The US Centers for Disease Control and Prevention recommends cloth masks because they can make it more difficult for infected people to spread the virus — but they are not designed to protect the person wearing the mask from getting it.
In Europe, unions in Paris flouted a ban on large gatherings Saturday at a march to protest conditions for those working in the country illegally. Police used tear gas to disperse the crowds and said they had banned the march due to the "health risks that such an event is likely to generate."
Hong Kong police have used tear gas, pepper spray and rubber bullets to break up protests in recent weeks. A ban on gatherings of more than eight people has been extended to June 4, the day of an annual candlelight vigil to mark the Chinese military's 1989 bloody crackdown on pro-democracy demonstrators in Beijing's Tiananmen Square.
Pro-democracy protesters march during a protest against Beijing's national security legislation in Hong Kong, May 24, 2020. (AP Photo/Vincent Yu)
More than 6 million coronavirus infections have been reported worldwide, with over 368,000 deaths and more than 2.5 million recoveries, according to the Johns Hopkins tally. The true death toll is widely believed to be significantly higher, with experts saying many victims died of the virus without ever being tested for it.
The US has been worst hit by the coronavirus outbreak, with more than 1.7 million cases and over 103,000 deaths, according to the tally.
In South America, the city of Bogota, Colombia, will lock down an area of nearly 1.5 million people where cases are continuing to rise.
Bogota Mayor Claudia Lopez said Saturday that no one in the working-class Kennedy area — inaugurated by late US President John F. Kennedy in 1961 — will be allowed out, except to seek food or medical care or in case of an emergency. Factories that had been allowed to operate will be ordered closed.
Elite sporting events will be allowed to resume in England starting Monday, but without spectators, paving the way for the planned June 17 return of the Premier League, the world's richest soccer competition.
England's deputy chief medical officer Jonathan Van-Tam warned that the situation overall remained precarious. "I believe this is also a very dangerous moment," he said. "We have to get this right."
https://www.timesofisrael.com/mass-protests-in-us-france-hong-kong-raise-fears-of-renewed-virus-outbreaks/
------
Islamic State Calls COVID-19 God's Punishment for Foes: Tape
MAY 29, 2020
Islamic State (IS) said the coronavirus pandemic was divine punishment for its enemies, according to an audio broadcast on Thursday, where the jihadists also vowed more attacks.
The person on the tape, which was posted on one of the militants' websites but could not be verified by Reuters, identified himself as IS spokesman Abu Hamzah al-Quraishi.
It was the Sunni Muslim group's third such tape since appointing Abu Ibrahim al-Hashemi al-Quraishi as new leader following the killing of Abu Bakr al-Baghdadi by US special forces in northwestern Syria late last year.
Quraishi urged IS fighters "everywhere to prepare whatever strength they could and be as hard as they could on the enemies of God and to raid their places," according to the tape. "Don't let a single day pass without making their lives awful."
He gave no specific targets but mentioned countries where the group is active such as Syria and Iraq as well as western Africa.
IS has struggled to regroup and develop new strategy since the killing of Baghdadi. It lost its last significant piece of territory in Syria last year after already being defeated in Iraq.
The SITE Intelligence Group monitoring website said the tape looked authentic. "IS spokesman echoes jihadi sentiment of COVID-19 being divine punishment," it said.
https://www.algemeiner.com/2020/05/29/islamic-state-calls-covid-19-gods-punishment-for-foes-tape/
------
Africa
Bruneians Return To Mosques For Friday Prayers After Two Months
May 30, 2020
Azlan Othman & Syazwani Hj Rosli
Bruneians returned to mosques for the first Friday prayers in over two months yesterday, while continuing to observe social distancing and other guidelines from the Ministry of Health (MoH).
Congregants were seen wearing face masks, as they lined up to have their BruHealth QR codes scanned and temperatures checked.
Members of the Royal Brunei Armed Forces (RBAF) and the Royal Brunei Police Force (RBPF), along with volunteers and mosque Takmir committee members were on standby, to facilitate the flow of congregants at the entrance points.
At Jame' 'Asr Hassanil Bolkiah in Kampong Kiarong, smart helmet scanning was used to check body temperatures from a distance.
Once inside the mosques, the congregants placed their prayer mats about one metre apart, in keeping with physical and social distancing measures.
One congregant said that the measures made him feel safer compared to being at shopping malls or the market-place, among large crowds.
https://borneobulletin.com.bn/2020/05/bruneians-return-to-mosques-for-friday-prayers-after-two-months-2/
-----
George Floyd is our Fight too: A Muslim Perspective
By Mohamed Brahimi
May 30, 2020
Boston – The egregiousness of what happened to George Floyd must have plunged anyone with a pulse into a deep pensive mood. Those of us who lived in the Boston area for a long time should have an idea about the many challenges that plagued getting the biggest mosque in New England off the ground.
The exorbitant cost of building up 70,000 Sq. ft of space pales in contrast to the legal battle that followed with the David Project. The latter is a hate group whose goal was not to score a legal win, but rather bleed the Muslim community financially.
They didn't have a legal leg to stand but they succeeded in interrupting the timely completing the construction by depleting our much needed resources by forcing us into a legal battle.
I recall attending a meeting where the leadership sought to consult with community members from all over the states. Several members of the community seemed to agree that coalition building was the best way to proceed.
For the longest time, the Muslim community acted like it lived in a cocoon. It is as if the community lived in gated community and saw no value in interacting with the larger community.
This is basically the same rationale that delayed the integration and wobbled the standing of the Muslim community in Europe. As American Muslims, we knew not to make the same mistake as our brethren in Europe.
The 2001 attacks gave us a rude awakening. We finally realize that we have unwittingly alienated ourselves. As a predominantly immigrant community, we found out that our newly acquired blue US passports didn't put us at an equal footing with the rest of society.
As it turned out, we took shelter in a spider's house, the flimsiest of all houses as the holy Quran points out. It is then where earned a new label, a suspect community.
The leadership community suggested that the urgent need to retool. We had to branch out and build alliances with other groups especially those with their own set of grievances. We needed to identify with downtrodden groups and build strength in numbers. It was like watching a community having its light-bulb moment, a long overdue epiphany. A glorious moment where the community came to its senses and decided to undo the policy if isolation that it has imposed on itself.
It just so happened that just few weeks prior in New Bedford, Massachusetts, Immigration officials raided a leather factory and arrested hundreds of undocumented workers and our leadership acted as if this incident happened in a parallel universe.
I made the point that asking other communities to rally around our causes should be reciprocal. I lamented the lackluster reaction of our community towards the plight of other communities in their constant fight against inequity, injustice, bigotry, police brutality, and economic disparities.
The Muslim leadership could not relate to most of these grievances. We are easily duped into believing the insidiously crafted media messages where victims are portrayed as culprit. We do not question why is it okay for the state to monopolize violence as some sort of property right.
Up until 9/11, Muslim community members fared pretty well and couldn't possibly empathize with the misery of those pigeonholed as inherently criminal because of the color of their skin.
The events of 9/11 should have helped us gain insights into the wretched lives of others. It should have caused us to spring into action and act upon the words of Dr. King:" injustice anywhere is injustice everywhere". It was not until our right to build our house of worship was being challenged that we conveniently sought to build coalition.
This is not an indictment of the average member of the Muslim community. To their credit, ordinary run of the mill Muslim Americans have an amazing track record of community service.
Their initiatives have earned great respect and they have always commanded the love and respect of their respective community.
My message was blunt and clear: we are an opportunist community and this runs contrary to the tenets of our belief as Muslims. A young rising human right attorney by the name Arsalan Iftikhar was among the attendees and fully endorsed my discontent.
I am not the most tactful person; I definitely lack the skill of sugarcoating my words. I am afraid too much time is spent on treading lightly so that people's feelings and egos are not hurt.
Very little time is spent on formulating a strategy that considers the end goal and does not get bogged down by narrow calculations. The brutal killing of George Floyd is yet another opportunity for the Muslim community to come out and register a strong presence.
This is not an African American problem. This is an affront to what we believe as Muslim We need to stand on the front lines in defense of justice for all. Others have come to our defense countless times. Our latest one is our battle to have the right to purchase our own graveyards; our own right to die and be laid to rest in dignity.
Mohamed Brahimi has an extensive background in community organizing and advocacy. He worked as a member of the Harvard University "Islam in the West" research team. He currently teaches at Worcester Polytechnic Institute. He is the founder and managing director Al Arab news newspaper; a bi-monthly publication that cater to Moroccans and Muslims in the Boston area.
https://www.moroccoworldnews.com/2020/05/304373/george-floyd-is-our-fight-too-a-muslim-perspective/
-----
We can worship, but not all Durban's churches and mosques will be open
23h ago
Durban - Different places of worship have different approaches to the relaxing of lockdown laws that will allow gatherings of up to 50 people, but no more.
Mosques, which will individually make their own decisions about how to open up, indicated that most Muslim places of worship would try to open as soon as possible and would adhere to government regulations.
A trustee at the North Beach Jamaat Khana, who asked not to be named, said a meeting would be held today to discuss the matter.
"We've done a lot of work, such as set up sanitising stations. We have just got to work out how it will be implemented," he said.
Sidney Govindsamy, chairperson of the Clairwood Shree Siva Soobramoniar Temple, said it would be open and would limit the number of worshippers to 50 at a time from Monday.
"Social distancing will need to be observed and worshippers will have to wear masks when entering the temple," he said.
"All devotees will be sanitised before entering the temple. A full sanitising process will start before the reopening, with daily cleaning and sanitising before and after services."
The Roman Catholic Church's Cardinal Wilfrid Napier said that the opening of churches would "not be permissible for a couple of weeks".
Reverend Mervyn Singh of the St John The Divine Anglican Church in Glenwood said it would become more of a hazard than a help if churches were to open.
Rather than take advantage of the new relaxed lockdown laws, Anglican churches that were already Covid-19 compliant would spend June bringing those that were not up to standard.
https://www.iol.co.za/ios/news/we-can-worship-but-not-all-durbans-churches-and-mosques-will-be-open-48709079
-----
Roundup: Continuous gunmen attacks in NW region worry Nigerian gov't
2020-05-31
By Bosun Awoniyi
LAGOS, May 30 (Xinhua) -- The Nigerian government has expressed worry and grief over the high spate of banditry in the northwest part of the country, which has claimed dozens of civilian lives.
Minister of Police Affairs, Muhammad Dingyadi, on Friday, pledged the commitment of the government to sustain the ongoing security operation in the northwest, where violence has soared in recent years as criminal gangs involved in cattle rustling and kidnapping.
The Nigerian security forces in February announced a sweeping operation aimed at armed gangs in the restive northern area.
The operation, according to the police minister was aimed at decimating all forms of crimes in the region to ensure peace, safety, and security of lives and properties.
He said the operation had yielded positive results by neutralizing the attacks by the bandits and dislodging them from their hideouts.
Also, Nigerian President Muhammadu Buhari on Thursday directed the military to enhance their operations to end frequent attacks by gunmen and criminal gangs in the country.
Buhari gave the order following attacks by gunmen in the northwestern Nigerian state of Sokoto on Wednesday, in which at least 70 people were killed.
The gunmen, believed to be bandits, rode on motorbikes and estimated to be in their hundreds stormed the villages of Garki, Dan Aduwa, Kuzari, Katuma, and Masawa, all about three kilometers from the town of Sabon Birrnin Gobir in the northern state of Sokoto on Wednesday.
Hundreds of people have been killed by criminal gangs carrying out robberies and kidnappings in the northwest part of the country since January this year.
Such attacks have added to security challenges in Africa's most populous country, which is already struggling to contain Boko Haram insurgencies in the northeast and communal violence over grazing rights in central states.
Commenting on the attacks, Chukwuma Okoli, a lecturer and resident researcher at the Federal University Lafia, said the federal government's current counter-banditry effort, based on military reconnaissance and raids, is good and commendable.
The way forward is the development of grassroots policing, enriched by local personnel and intelligence, the political science expert told Xinhua.
According to him, banditry and other causes of insecurity in northern Nigeria have been allowed to degenerate into a complex national emergency with dire territorial implications.
Authorities in Zamfara, a troubled state in northwestern Nigeria, have decried the worsening security situation in the state. The state has witnessed a series of onslaughts by gunmen in recent months.
Sokoto State governor Aminu Tambuwal told reporters in Abuja on Friday that he has demanded from the President more military intervention to check the activities of bandits.
"Apart from the previous attacks, only two days ago through banditry attacks, we lost about 74 people in a very heinous and dastardly act of aggression from the bandits," the governor told reporters after a meeting with Buhari.
In the same vein, Nasir el-Rufai, the governor of Kaduna, who also met with the Nigerian leader, said his visit was to find a lasting solution to the problem.
"The Sokoto story only hit the headlines just a few days ago, but in Zamfara, in Kaduna, in Niger, in Katsina, this banditry has become a northwestern scourge and we have been battling it with the support of the military," he added. Enditem
http://www.xinhuanet.com/english/2020-05/31/c_139101428.htm
-----
Europe
'I can't believe I fought to defend you': Navy SEAL who shot Bin Laden unloads on 'politically-funded terrorists' & 'coward cops'
30 May, 2020
Former Navy SEAL Robert J. O'Neill has called the rioters looting the US' major cities "politically-funded terrorists," and called for a harsh military response. O'Neill isn't the only pundit who sees a dark hand behind the riots.
George Floyd, an unarmed black man, was pinned to the ground and apparently choked to death by Minneapolis police officer Derek Chauvin on Monday. Since then, riots have consumed the Minnesota city and spread like wildfire throughout the US. According to O'Neill – the Navy SEAL who shot Osama Bin Laden in the famous 2011 raid – the unrest is being orchestrated from behind the scenes.
"I despise racism, I despise police brutality and it kills me that politically-funded terrorists are doing this on the shoulders of both," he tweeted on Friday night "These are coordinated attacks, are we going to defend ourselves?"
"I cannot believe I fought to defend you," he tweeted, before hinting that Democratic mayors were somehow supporting the destruction of their own cities.
As O'Neill tweeted, throngs of protesters in Minneapolis defied a National Guard-enforced curfew and embarked on a fourth night of looting and arson. A police station was razed to the ground, and more retail outlets were stripped bare. Similar scenes played out in Detroit, Atlanta, New York, Los Angeles, Portland and a number of other urban areas.
However, he's not the only commentator who thinks that someone is egging the rioters on. As the former SEAL ranted on Twitter, the hashtag "#AntifaTerrorists" trended. Unconfirmed reports on social media suggested that rioters were being directed by 'organizers', while the predominantly white members of 'Antifa' groups were blamed for instigating violence and vandalism.
The idea is not without precedent. Earlier this week, the 17-year-old daughter of Minnesota Rep. Ilhan Omar (D) retweeted a post from her local Democratic Socialists of America (DSA), requesting supplies for "comrades" rioting in Minneapolis. These supplies included plywood, sticks, and rackets, ostensibly for defending against police weaponry.
President Donald Trump too called the protesters "professionally managed." Blaming "ANTIFA and the Radical Left," he tweeted on Saturday that "These are 'Organized Groups' that have nothing to do with George Floyd. Sad!"
Perhaps unsurprisingly for a man who's spent a career solving problems with the barrel of a gun, O'Neill wants a stern crackdown on the riots. "After fighting Al-Qaeda, I'm embarrassed that our law enforcement can't defend our citizens," he tweeted, adding that the authorities should "meet force with force."
"To all the cops who retreated from invaders," he added, seemingly referring to the police precinct abandoned to arsonists on Thursday night, "put your badges in the trash."
As the Pentagon reportedly drew up plans to send in military police units to Minneapolis, President Trump criticized Mayor Jacob Frey for his apparent loss of control. "Get tough and fight," he tweeted on Saturday, "STRENGTH!"
Minnesota Governor Tim Walz, who was also criticized for his delayed response to the riots, announced on Saturday that he would deploy the full force of the state's National Guard. "Everything that we believe in, these people are trying to destroy," he said, just two days after he called the display of anger on the streets of Minneapolis "justified."
https://www.rt.com/usa/490253-binladen-seal-calls-crackdown-rioters/
------
Ramadan festival a different experience this year for Kais
Cathy Lee
May 30 2020
As members of the Muslim faith across Wexford and the globe celebrated the end of Ramadan with the Eid festivities at the weekend, asylum seekers at the Courtown Hotel said that this year's festival was something quite different.
For many, it was their first Ramadan in Ireland, but for all it was the first time to experience it during the Covid-19 restrictions.
'Ramadan is all about spiritual things and it's different because it's not as big, people are not gathering. We can't go to the Mosque at the moment, the one in Gorey is small but it's closed down because of coronavirus. So it's kind of different, not only just because we're in Ireland but because of coronavirus, people are preparing the meals at certain times and not the usual times.
'But Ramadan is not only about fasting from food but it's also about being a good person, being kind and calm. We fast from food but also fast from doing something bad to anyone or gossiping, talking badly about someone. It's about being a good person which reflects the message'.
'It's something similar to Christmas or Easter, when you break your fasting and it's a three-day holiday in our country. It's about the people celebrating and enjoying the end of this month. The parents give the kids some gifts or sometimes money, it's all about making them happy. The grown-ups sometimes might give gifts to each other as it's about sharing the happiness.
'Now we are all praying now to get rid of this virus and get our asylum decisions because we are waiting for our decisions from the National Protection Office. We are praying to get any feedback from them so we can get a decision, to start the whole process of moving out of direct provision,' he said.
Kais said that hearing about difficulties in relation to Covid-19 in other direct provision and emergency accommodation centres causes concerns for him and other residents in Courtown, but he feels safe where he is.
'The management here, they are trying to do the best they can to keep us safe. It's safe at the moment because no one is going out of the centre but who knows, maybe someone might go to Dublin or to any of the affected areas and come back and the entire place would be affected by it.
'It happened in other centres in Ireland so it's not safe, not because of the place itself, as I said we feel safe here, but it's not safe in general. The situation of Covid-19 in general is not safe, so it's kind of challenging to keep everything as normal,' he said.
Across Wexford, Muslims decorated their living quarters with items to mark Ramadan such as colourful paper lanterns, which date back to ancient Egypt.
Reem Abubakr, a 17-year-old Creagh College student who lives in the Courtown Hotel with her family, made some of these lanterns marking her first year to celebrate Ramadan in Ireland.
'Ramadan is the ninth month in the Hijri calendar and during this month, Muslims have to fast from sunrise to sunset to sympathize with the poor, be thankful to God for his blessings and to seek forgiveness. During fasting, Muslims keep themselves busy by reading the entire Quran for the whole month, praying more often, increasing charity and helping their family with preparing for Iftar, which is the first meal Muslims have at the sunset.
'Muslims during this time try to stop listening to music, cursing, and other inappropriate activities to dedicate more time to God. Ramadan is a great month for Muslims to spend more time with their families since a lot of families can't eat together due to being busy and etc.
'Another thing Muslims do in Ramadan is praying Taraweeh. Taraweeh is a special prayer that is done during the night. Muslims can pray twice or ten times at that time and this is considered a perfect opportunity to be closer to God as these prayers are only done during Ramadan.
'If you're wondering how you can help your Muslim friends during Ramadan, it's best to be aware of our practices and be understanding towards them by reading more about it to understand that sometimes we won't be as energetic due to lack of food, drink and sleep during the day but don't really worry about eating in front of us or hiding your food,' she said.
https://www.independent.ie/regionals/enniscorthyguardian/news/ramadan-festival-a-different-experience-this-year-for-kais-39232898.html
------
Paris mosque to reopen Tuesday
May 30, 2020
The Paris Grand Mosque board said the mosque will reopen on Tuesday.
The board issued a statement, saying that observing the health protocols is necessary for worshippers after the mosque opens its doors, ennaharonline.com reported.
Wearing face masks, maintaining social distancing and doing the Wudhu (ablution) at home not in the mosque are among the measures needed to be taken by those willing to say prayers in the mosque.
The Grande Mosquée de Paris (commonly known as The Paris Mosque or The Great Mosque of Paris), is located in the 5th arrondissement and is one of the largest mosques in France.
https://en.abna24.com/news//paris-mosque-to-reopen-tuesday_1041654.html
-----
Brexit threats are back! Michel Barnier warns that the UK can't cope with coronavirus and no trade deal with the EU as he accuses Boris Johnson of breaking promises
31 May 2020
Michel Barnier stoked up the Brexit threats today as he warned the UK cannot cope with coronavirus and no trade deal.
The EU negotiator accused Boris Johnson of reneging on promises as he warned there will not be an agreement unless the British side gives ground.
The vicious swipe came as the PM prepares to join talks for the first time this week, with the clock running down ahead of a summer deadline for deciding whether a settlement will be possible by the end of the year.
There is a deadline of July 1 to seek an extension to the 'standstill' transition period, which will end on December 31 otherwise. But Mr Johnson is adamant there will be no delay, and his envoy David Frost has warned that the hard line from Brussels on issues such as access to fishing waters could prevent progress.
In an interview with the Sunday Times, Mr Barnier said the UK had more to lose from failure to get a trade deal than the EU, and the damage would be compounded by the impact of coronavirus.
Mr Barnier insisted UK withdrawal from the EU was a 'lose-lose' for both sides and a question of 'damage limitation', saying no-one - not even Nigel Farage - had shown there was any 'added value' to the UK's departure.
But he said the EU was 'less exposed because 7 per cent of our exports go to the UK, whereas for the UK it's 47 per cent of their exports which come to the EU'.
Pointing to the coronavirus meltdown facing countries around the world, he said: 'If we don't get an agreement then that will have even more consequences. And then of course those will be added to the already very serious consequences of the coronavirus crisis..
'So, I think we have a joint responsibility in this very serious crisis, which affects so many families... with so many deaths, so many sick people, so many people unemployed... to do everything we can to reach an agreement and I very much hope that we will do so.'
A British source told the Mail on Sunday: 'What is clear is that the conventional approach will not get us much further. The EU needs to inject some political reality into its approach and appreciate that they cannot use their usual tactic of delay to drag the talks into autumn.'
https://www.dailymail.co.uk/news/article-8373547/Michel-Barnier-warns-UK-cope-coronavirus-no-trade-deal.html
-----
Pakistan
Fresh Nawaz photo sparks debate over his health
Zulqernain Tahir
May 31, 2020
LAHORE: Yet another leaked picture of former prime minister Nawaz Sharif at a roadside cafe in London sparked a debate about his health on Saturday.
In the picture, Sharif is seen sitting at a roadside eatery with his granddaughters. He is seen sporting a blue shalwar kameez and a cap.
As the picture went viral on social media, it sparked a debate about the former premier's health with his detractors asking why he does not return to Pakistan if he is well and roaming on London streets, while his supporters expressed joy at seeing their leader in good health and spirits.
Pakistan Muslim League-Nawaz (PML-N) spokesperson Marriyum Aurangzeb told Dawn that some passerby had taken the picture of Nawaz Sharif when he stopped at a roadside cafe after a walk, and uploaded it on social media.
Commenting on her father's picture, Maryam Nawaz tweeted: "The picture of Nawaz Sharif was released with an intent to humiliate him. But the response to it was otherwise. The supporters of Mian sb got happy to see him. His detractors must learn from this."
She further said when her mother was in the ICU, such elements even tried to take her picture. "For them to take Nawaz Sharif and his family's women's pictures is not difficult," she further tweeted and asked such people to stop indulging in petty things.
Earlier in January, a picture of an 'ailing' Nawaz having tea at a London restaurant along with some family members had gone viral, providing a chance to the Pakistan Tehreek-i-Insaf's (PTI) leadership to pounce on him for, what it called, feigning his ailment.
The PML-N chided the PTI leaders for doing politics on Mr Sharif's health, saying the government should get over the "Sharif phobia" and concentrate on addressing important issues facing the country.
Sharif had gone to London in November after the court allowed him a four-week stay abroad for medical treatment. The government, however, did not allow an extension to his stay.
https://www.dawn.com/news/1560421/fresh-nawaz-photo-sparks-debate-over-his-health
------
Accountability court issues bailable warrants for Nawaz
Malik Asad
May 30, 2020
ISLAMABAD: The Accountability Court of Islamabad on Friday issued bailable arrest warrants for former prime minister and Pakistan Muslim League-Nawaz (PML-N) supreme leader Nawaz Sharif because of his absence in the proceedings of a reference that accused him, Pakistan Peoples Party (PPP) co-chairperson Asif Ali Zardari and ex-PM Syed Yousaf Raza Gillani of receiving luxury vehicles and gifts from Toshakhana.
The reference was filed before the court on March 2. Accountability Judge Syed Asghar Ali on May 15 issued summons for Mr Sharif, Mr Zardari, Mr Gillani, Khawaja Anwar Majeed and Abdul Ghani Majeed, owners of the Omni Group, nominated as accused in the reference.
According to the National Accountability Bureau (NAB) reference, Mr Gillani had been accused of illegally allotting cars to Mr Zardari and Mr Sharif.
NAB's deputy prosecutor general Sardar Muzaffar Abbasi requested the court to issue arrest warrants for Mr Gillani and Mr Majeed although they had joined the court's proceedings.
The bureau also requested the court to issue non-bailable arrest warrants for Mr Sharif and Mr Zardari for being absent during the proceedings.
The counsel for Mr Zardari informed the court that he was admitted to a hospital. The counsel also filed an application seeking exemption of Mr Zardari for Friday's proceeding.
Since Mr Sharif has already gone abroad and no one appeared on his behalf to seek exemption from personal attendance, the judge issued bailable warrants for his arrest.
The court was told that Anwar Majeed was also admitted to a hospital and he did not receive summons issued on May 15. His counsel told the court that because of his ailment Mr Majeed could not travel to Islamabad to attend the proceedings.
The court directed all the accused persons, including Mr Sharif and Mr Zardari, to ensure attendance on the next date of proceedings, June 11.
The defence counsel said that since the NAB chairman did not invoke his power to issue warrants, the NAB prosecutor could not request the court to issue warrants for the accused persons.
The reference states that Mr Zardari and Mr Sharif obtained cars from Tosha­khana by paying 15 per cent of the price of the cars. The bureau further alleged that Mr Gillani facilitated Mr Zardari and Mr Nawaz in this regard. He dishonestly and illegally relaxed the procedure for the acceptance and disposal of gifts, issued by the government of Pakistan vide Cabinet Division's Memorandum No.9/8/2004-TK dated June 25, 2007, which expressly stipulates that vehicles shall not be allowed to be purchased by the recipients and be given to the central pool care of the Cabinet Division.
The reference further states that Mr Zardari accepted and received the armoured vehicles as gift from the United Arab Emirates (BMW750 Li model 2005, Lexus Jeep model 2007) and from Libya (BMW 760 Li model 2008) in September-October 2008. It was obligated to immediately report and deposit the vehicles with Toshakhana of Cabinet Division but he neither reported the gifted vehicles nor despoiled the same.
https://www.dawn.com/news/1560348/accountability-court-issues-bailable-warrants-for-nawaz
------
ECC Approves Disbursement Criteria for Rs200bn Islamic Sukuk
May 31, 2020
ISLAMABAD: The Economic Coordination Committee (ECC) of the cabinet Saturday approved the criteria for disbursement of Rs.200 billion in power sector received through Islamic Sukuk.
The ECC meeting was chaired by Adviser to Prime Minister on Finance and Revenue Dr Abdul Hafeez Shaikh, according to press statement issued by the Finance Ministry here.
The ECC decided that the energy purchase price, inclusive of GST, would be paid to ensure maximum generation capacity was available during next three summer months (June, July and August 2020) according to the plan.
The capacity payments will be disbursed to meet the debt servicing and taxation requirements for the period from June to end August 2020 and Payments to WAPDA, Nuclear Power Plants.
The partial settlement of import of power from Iran and NTDC transmission charges would be disbursed separately for operational requirements for public sector plants and entities, as WAPDA and Nuclear power plants comprise of more than 30% of the total planned generation in the next three months.
ECC directed Ministry of Energy to submit a proposal in next two weeks setting up the general principles and exact formula of payments based on the principles for the future payments.
The Chair also directed the Ministry of Energy to minimize discretion in the principles/ formula so that the funds may reach the maximum possible number of receivers and reduce the built up of liabilities towards the government.
It was also directed that as soon as the payments are made the information should also be made public through the official website of the Ministry for the information of the general public.
On the proposal of the Ministry of Industries and Production, ECC approved the release of Rs 525.858 million in favor of government of Azad Jammu and Kashmir for disbursement amongst the eligible commercial and industrial consumers of electricity under the PM's SME Relief Package.
Similarly, Rs136.299 million would be provided to the government of Gilgit Baltistan for disbursement amongst the eligible commercial and industrial consumers of electricity.
Total subsidy under the SME relief package for AJK and GB comes to 662.157 million rupees, the statement added.
https://www.brecorder.com/2020/05/31/601504/ecc-approves-disbursement-criteria-for-rs200bn-islamic-sukuk/
------
Mob vandalises Karachi's Civil Hospital after 'delay in handing over body' of Covid-19 patient
Imtiaz Ali
May 30, 2020
Violence erupted at the Dr Ruth Pfau Civil Hospital Karachi (CHK) on Friday night after dozens of people vandalised the facility and attacked doctors, allegedly because the medical staff "delayed handing over the body" of a Covid-19 patient, officials said.
Police officials said that a patient was brought to the hospital at 2:15am on Friday but he died while being treated. The doctors suspected the patient to have the coronavirus and conducted a test, which came back positive.
However, the relatives of the deceased patient refuted the test results and alleged that the doctors had declared him to be positive even though he was "normal".
Officials said that some 70 people stormed the hospital ward at around 10:30pm. They resorted to violence and forcibly took away the body. Videos taken of the hospital's entrance showed a large number of people removing equipment such as stretchers from the hospital premises and breaking the sanitiser gate installed there.
Responding to allegations of delay, CHK Medical Superintendent Dr Khadim Hussain Qureshi told Dawn.com that doctors at the hospital were only following the standard operating procedures (SOPs) issued by the government for handling bodies of people who die from the virus.
"We are government servants. We only follow what the government tells us," he said. He added that the patient had come to the hospital complaining of a heart problem. The doctors suspected that he had the coronavirus and conducted a test. "It takes time for the result to be received," he said.
Qureshi said that none of the doctors were injured in the violence. He added, however, that a female doctor was slapped by one of the deceased's relatives. "What kind of ethics are these?" he questioned while expressing disappointment at the incident.
"Doctors are already putting their lives in danger to save people; the public should support them. The way they have resorted to beating doctors, if doctors refuse to work, who will save [the people]?
"People should understand that doctors have no enmity with anyone. When a patient comes to us, we don't see their ethnicity or religion. We only want them to get better," he said.
He noted that a large number of doctors had tested positive and were self-isolating while some had lost their lives to the virus. "People should motivate doctors so they can work on the frontlines without any mental tension," he said.
A senior police official, who wished not to be named, told Dawn.com that the hospital administration had not approached police for lodging a first information report (FIR). However, he said police have decided to register the case against the persons involved over charges of rioting and creating hindrances in official work.
https://www.dawn.com/news/1560400/mob-vandalises-karachis-civil-hospital-after-delay-in-handing-over-body-of-covid-19-patient
------
URL: https://www.newageislam.com/islamic-world-news/hindu-muslim-bonhomie-after-kashmiri/d/121993
New Age Islam, Islam Online, Islamic Website, African Muslim News, Arab World News, South Asia News, Indian Muslim News, World Muslim News, Women in Islam, Islamic Feminism, Arab Women, Women In Arab, Islamophobia in America, Muslim Women in West, Islam Women and Feminism