New Age Islam News Bureau
15 Dec 2017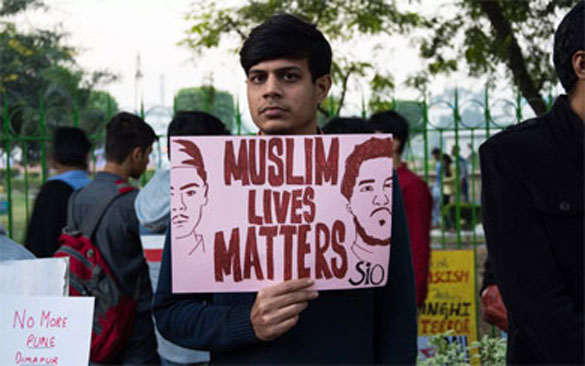 A man holds a banner in Delhi in response to the video 'Murdering a Muslim Man'
-----
• Hindu Man Raised £3,500 After Video of Him 'Murdering a Muslim Man' Went Viral
• Quran Beautifully Portrays the Message Of Peace, Says Army Chief Bipin Rawat To Kashmir Students
• ISIS Weapons: From 'Mother of the Devil' Explosives to Booby Traps
• At Least 6,700 Rohingya Died in Myanmar Crackdown, Aid Group Says
• Pro-ISIS Poster Threatens More New York City Attacks
• 'EU Position on Jerusalem (Quds) Remains Unchanged'
India
• Hindu Man Raised £3,500 After Video of Him 'Murdering a Muslim Man' Went Viral
• Quran Beautifully Portrays the Message Of Peace, Says Army Chief Bipin Rawat To Kashmir Students
• Opposition Walkout over Muslim Reservation in Maharashtra
• Sushma Swaraj grants medical visa to five ailing Pakistani children
• Communal rhetoric targeting Muslims in Gujarat campaign: CPI (M)
• UP: BSP corporator booked after he insisted on oath in Urdu
-------
Arab World
• ISIS Weapons: From 'Mother Of The Devil' Explosives To Booby Traps
• Iraq Hangs 38 Members of Islamic State, Al-Qaeda for 'Terrorism'
• Riyadh conference, 'blackmail of Geneva process': Syrian envoy to UN
• Fourth Annual Forum for Promoting Peace in Muslim Societies Concludes With Call for Action Plan to Address Islamophobia
• Divergent views among Muslims on extremist groups
• Gaps Growing among Terrorist Groups in Idlib
• Several Turkish Soldiers Killed, Wounded in Clashes with Kurds in Northern Aleppo
• Army Captures More Regions in Hama, Idlib
• US-led coalition securing Daesh terrorists, targeting civilians: Syria
-------
South Asia
• At Least 6,700 Rohingya Died in Myanmar Crackdown, Aid Group Says
• Suu Kyi's Dublin Award Revoked
• Red Cross Says Life Has Stopped in Myanmar's Rakhine
• 10 ISIS Militants Killed, Wounded In Afghan Forces Operations
• Bangladesh: JMB top militant leader arrested in Dhaka
-------
North America
• Pro-ISIS Poster Threatens More New York City Attacks
• Muslim Custodian Family of Church Of Sepulcher Refuse To Welcome US VP Pence
• Home-grown attacks rising worry in U.S. as Islamic State weakens abroad
• US weapons wound up in hands of ISIL terrorists: Study
• US 'committed to its strategic partnership with Turkey'
-------
Europe
• 'EU Position on Jerusalem (Quds) Remains Unchanged'
• Washington Might Use Defeated Daesh Terrorists in Fight against Assad: Putin
• Australian Jesuit Opening Minds to Muslim World
• Berlin should resolve problems with Ankara: Merkel aide
• European media cover declaration on Jerusalem (Qudus)
• How did Victorian Muslims celebrate Christmas?
-------
Mideast
• Abbas Speech against Trump Hailed By Hamas and Islamic Jihad Terrorists
• The Muslim World Stands United In Support Of Palestine — Momani
• Iran Pledges Support for Palestinian Terror Groups Fighting US Jerusalem Move
• KSA, UAE in rare talks with Yemen Islamist party
• Israeli troops detain two Palestinian teenage girls at gunpoint: Video
• Fresh Saudi airstrikes leave dozen more civilians dead in SW Yemen
• Israel carries out series of strikes on Hamas sites in Gaza
• Yemen Islah party sever ties with Muslim Brotherhood
• Yemeni army achieves strategic breakthrough in Sanaa
-------
Southeast Asia
• Religious Groups Called To Rise Up Against Radical Islam
• Leaders Laud Indonesia's Support for Palestinian Independence
• Moderation a Weapon against Terror, Southeast Asian Nations Say in Backing UN Resolution
• Terrorism Expert: M'sians among Members of New Pact in Philippines
• Report: Terrorism threat may be hurting MM2H programme
• Najib, Hadi to lead rally against Trump's Jerusalem move next Friday
-------
Pakistan
• Senate Panel Seeks Answers to Deportation of Turks
• Pakistan and Afghanistan to Hold Track-II Dialogue Today
• 19 terrorists, facilitators nabbed in Punjab, Balochistan IBOs: ISPR
• Tribal elders oppose FATA's merger with KP
• Schools in Punjab put on alert after warning of terrorist attacks
• Legislators Demand Judicial Inquiry into Faizabad Dharna by Religious Protesters
• Pakistan could lose territory to terrorists: US
-------
Africa
• We Are Running Out Patience, Shiite Muslim Warns Government
• 18 police killed in Somalia academy bombing
• One last push to end South Sudan's deadly civil war
• IMA, Crescent university are pride of Muslims — Imam Olanrewaju
• Nigeria: Families of Hundreds of Shi'a Muslims Killed in Zaria Still Await Justice
Compiled by New Age Islam News Bureau
URL: https://www.newageislam.com/islamic-world-news/hindu-man-raised-£3500-after/d/113582
-------
Hindu Man Raised £3,500 After Video of Him 'Murdering a Muslim Man' Went Viral
Rahul Bedi, New Delhi
14 DECEMBER 2017
Police in India's western Rajasthan state have frozen the bank account of a Hindu zealot who received public donations of around £3,500 days after he is alleged to have brutally murdered a Muslim labourer, burnt his body and circulated videos of the incident on social media.
Police officials said Shambhulal Regar, a resident of Rajasamand, 208 miles southeast of the state capital Jaipur, had received this money from some 516 'sympathisers' in an account being operated by his wife Sita Regar.
Two local businessmen were arrested on Wednesday for running the WhatsApp campaign seeking to raise money for Mr Regar, who was arrested on 6 December, accused of viciously killing migrant labourer Mohammad Afrazul.
Police claim Mr Regar hacked Mr Afrazul to death a day earlier with an axe and set his body alight, all of which he got his 14-year old nephew to film, before posting it on social media websites.
In an accompanying video a ranting Mr Regar justified the killing on the grounds that he suspected Mr Afrazul, of being in a relationship with a Hindu woman.
"This is what will happen to you if you carry out 'love jihad,'" Mr Regar had declared in the video that went viral online last week.
Radical Hindu groups have propagated this term after Prime Minister Narendra Modi's Hindu nationalist Bharatiya Janata Party assumed power in May 2014.
It refers to Muslim men seducing Hindu women in a deliberate 'jihad'-like campaign to convert them to Islam, raising existing sectarian tensions between these two communities.
Police sources said Mr Regar's alleged crime had been 'well received' by the region's majority Hindu community who began depositing small amounts of money into his account to support him.
"We will investigate those who deposited money into Regar's account to determine if they had any links with the accused," said senior police inspector general Anand Shrivastava.
He said around 300,000 rupees (£3,500) had been deposited into Mr Regar's account before it was frozen.
Mob violence is increasingly common in India against Muslims for eating beef.
Hindu gangs are known to lynch Muslims for consuming or processing beef, or trading in cows, which are sacred to Hindus.
Videos are often then circulated on social media.
Around 16 per cent of India's population of 1.25 billion is Muslim and over 80 per cent is Hindu.
http://www.telegraph.co.uk/news/2017/12/14/hindu-man-raised-3500-video-murdering-muslim-man-went-viral/
-------
Quran beautifully portrays the message of peace, says Army Chief Bipin Rawat to Kashmir students
December 14, 2017
The message of peace and harmony is "beautifully portrayed" in the holy Quran and people often do not understand its essence, Army Chief Gen Bipin Rawat told a group of students from Jammu and Kashmir today, adding it does not propagate violence.
Interacting with the group of madrassa students at his office in New Delhi, Gen Rawat also asked them to pick up sports like cricket and football and work towards containing terrorism so that Kashmir valley flourishes again.
"How many of you have read the holy Quran?" Gen Rawat asked the 25-member group which is here as part of a national integration tour being conducted by the Army.
"I will tell you what is the message in it. It is the message of peace and harmony ('Aman ka paigam hai'). And, it has been beautifully portrayed in it. And, all this noise made by the IS, it is nowhere mentioned in Quran ('Ye jo IS ka halla hai na, yeh Quran mey kahin nahin hai') ," he said.
"So, you must follow the message embedded in the holy text. You think people understand the message. We do not properly understand it. In simple ways, Quran has given the lessons (on human values)," the Army chief asserted.
The students, aged 13-22, arrived here on December 12 and many of them are visiting Delhi for the first time.
Various militant outfits have been trying to radicalise the youths in Kashmir valley by using different means including online propaganda. A number of people were arrested in the Valley in the past few months on charges of raising flags of dreaded terror group Islamic State (IS).
The Army chief warmly shook hands with all the students and accompanying teachers and asked them what difference they found between Delhi and Kashmir.
"Unlike Kashmir, you do not see bunkers here, people roam at night in peace. We want the same peaceful environment in Jammu and Kashmir too so that you can fearlessly go to schools and madrassas.
"Kashmir valley is equated with the heavens, and if you want that land to flourish, we must stop terrorism," Rawat said.
He suggested that they take up cricket and football and engage themselves in constructive activities. "Play cricket and football, but I hear that the youth there play hide-and-seek with weapons ('hathiyar ke saath chor-sipahi')," he said.
Abdul Hameed, 13, from Panjgram village in Jammu, said, "I am very happy to be in Delhi. I have never travelled out of Jammu. And for the first time I travelled in a train."
A senior Army official said the group visited Taj Mahal yesterday and tomorrow they will go to see Red Fort and Jama Masjid. During the trip, the students also visited the National Science Centre in Delhi, the official said, adding, "Today, we will take them for a metro ride".
"In Agra, they also prayed at a mosque, and tomorrow, they will also offer prayers at the Jama Masjid. And, in the evening, we will take a train back to the state," he said.
37-year-old teacher Abdul Majid, accompanying the students, said, "We will return and spread the message of peace ('Paigam-e-Aman') back home as the Quran says."
The Army has adopted a tough approach against militants in Kashmir valley and stepped up its counter-terror operations in the last six months.
The Army has also been carrying out various activities including organising national integration tours for youths of the state as part of efforts to reach out to the local residents.
http://indianexpress.com/article/india/quran-beautifully-portrays-the-message-of-peace-says-army-chief-bipin-rawat-to-kashmir-students-4983128/
-------
ISIS Weapons: From 'Mother of the Devil' Explosives to Booby Traps
14 December 2017
Western security officials have warned of the progress made by members of ISIS terrorist organization in the arms industry, which is now a risk in other countries and is no longer limited to the areas controlled by the organization in Syria and Iraq.
According to the New York Times, members of ISIS after successive strikes to expel them from some areas in Syria and Iraq, are now moving to other countries.
Foreign members of the terrorist organization return to their home countries to share knowledge and techniques over the Internet. They gather along with their veterans forming a network for weapons production and sharing techniques over the Internet.
Improvised chemical rockets were the latest in a procession of weapons developed by ISIS militia on an arms-manufacturing spree without recent precedence, said the news site.
With limited access to global arms markets, ISIS routinely manufacture their own weapons.
But now ISIS took the practice to new levels, with outputs "unlike anything we've ever seen" from a non-state force, said Solomon H. Black, a US State Department official who tracks and analyzes weapons.
Among the weapons found by Iraqi forces that fought ISIS in Mosul, three rockets were not fully completed.
The examination of these shells showed that they had an unusual advantage, namely, heavy liquid inside their warheads.
The tests later revealed that the warheads contained one of the crude oil derivatives like sulphur mustard, a forbidden chemical weapon that burns the victim's skin and respiratory system.
ISIS progressed from the stage of basic bombs used in the Brussels terrorist operation of March 2016, which killed at least 31 people and wounded 270 others.
Investigations have also uncovered the use of the same type of explosives, dubbed the "Mother of the Devil," in other terrorist attacks by the organization, the latest of which was an explosion inside a subway train at Parsons Green Station in Britain last September.
The danger of "mother of the devil" is that it can be made with items sold on supermarket shelves.
A statement issued by the US military in Baghdad said that the international coalition forces against ISIS succeeded in destroying explosive puppets and toys.
Many members of teams involved in demining in Iraq have accounts of varied forms of booby traps planted by ISIS, ranging from toys such as dolls, stuffed animals and plastic trucks, as well as electric teapots, fire extinguishers and light bulbs.
https://english.alarabiya.net/en/features/2017/12/14/ISIS-weapons-From-mother-of-the-devil-to-booby-traps-.html
-------

At Least 6,700 Rohingya Died in Myanmar Crackdown, Aid Group Says
By HANNAH BEECH
DEC. 14, 2017
BANGKOK — Doctors Without Borders estimated on Thursday that at least 6,700 members of Myanmar's Rohingya Muslim minority, including 730 children below age 5, had met violent deaths there in the month after a military crackdown on their villages.
The campaign against the Rohingya, which began in late August, has been called "ethnic cleansing" by the United States and the United Nations. Survivors who fled to neighboring Bangladesh gave consistent accounts of executions, gang rapes and burned homes.
But with Myanmar's government blocking international access to the area of western Myanmar where the Rohingya once lived, estimates of the toll have been hard to ascertain.
Doctors Without Borders, the international medical charity also known as Médecins Sans Frontières, said that nearly 70 percent of the victims it had tallied died of gunshot and that 9 percent were burned to death in their homes.
The group said its mortality figure was almost certainly an underestimate. The estimate was a summary of findings from six surveys carried out last month with refugees who had fled Myanmar for Bangladesh.
Survey teams interviewed 2,434 households in settlements in Bangladesh and asked the head of each to provide the date, location and cause of death of family members who died from March to October 2017. Doctors Without Borders then performed a weighted analysis using the population estimates for each settlement where the surveys were conducted.
Satellite imagery collected by international human-rights groups shows how dozens of Rohingya villages were razed by fire in northern Rakhine State.
Ethnic Rakhine Buddhists have also been accused of participating in the bloodletting.
More than 645,000 Rohingya have fled to Bangladesh since late August, when deadly attacks on Myanmar security posts by Rohingya insurgents led to a brutal military response.
The governments of Bangladesh and Myanmar say they have agreed to a voluntary repatriation plan in which Rohingya who have proof of residency can return home in the coming weeks.
But even if they possess the right documentation, few Rohingya living in the crowded refugee camps in Bangladesh have expressed interest in returning to the epicenter of so much violence.
The Myanmar government denies citizenship to most Rohingya and instead considers them illegal immigrants from Bangladesh.
Fabrizio Carboni, head of the International Committee of the Red Cross delegation in Myanmar, recently spent three days in northern Rakhine. It was a rare glimpse at what some international observers characterize as a huge crime scene.
"I didn't meet a single person who wasn't afraid," he said of his talks with both Rohingya Muslims and Rakhine Buddhists. "There is a mix of fear and anxiety about what will come next."
https://www.nytimes.com/2017/12/14/world/asia/myanmar-rohingya-deaths.html?mtrref=www.google.co.in&gwh=FC9C50B2AE979B173FA89079A2D64FFB&gwt=pay
-------
Pro-ISIS poster threatens more New York City attacks
DEC 14 2017
FOX NEWS - ISIS threatened to unleash more terror attacks on New York City and depicted NYPD Police Commissioner James O'Neill at the mercy of a knife-wielding jihadi fighter in a frightening new poster released Thursday -- just three days after an ISIS-inspired Bangladeshi man detonated a pipe bomb in a busy subway passageway.
The poster, obtained by MEMRI Jihad and Terrorism Threat Monitor, showed O'Neill as an ISIS captive, dressed in the trademark orange jumpsuit worn by ISIS prisoners and kneeling in front of a New York City backdrop underneath the phrase: "A message signed with blood to the nation of cross."
A smaller caption read: "We will do more Ops in your land, until the final hour and we will burn you with the flames of war which you started in Iraq, Yemen, Libya, Syria and Afghan."
"Just you wait, we are waiting too," the ominous message ended.
The threat comes just days after 27-year-old Akayed Ullah detonated a screw-packed pipe bomb attached to his body in a crowded subway passageway near Port Authority during the morning rush hour. The bomb didn't go off as planned, preventing a potentially deadly massacre. Ullah was the only person seriously hurt in the incident, though three other people suffered injuries that were not life-threatening.
Ullah, who faces terrorism and weapons charges, told authorities he planned the attack "for the Islamic State" and was angry about U.S. policies in the Middle East, the criminal complaint stated. Before the attack, Ullah wrote on Facebook: "Trump you failed to protect your nation."
Just hours after the episode, O'Neill said in a news conference that New York City will "not live in fear."
"But if you see something suspicious you have an obligation to come forward and tell us," O'Neill said.
The suspect reportedly chose to detonate the bomb in the a passageway because he saw a Christmas poster there.
http://www.fox32chicago.com/news/national/pro-isis-poster-threatens-more-new-york-city-attacks
-------
'EU Position on Jerusalem (Quds) Remains Unchanged'
15 December 2017
The European Union (EU) on Thursday underlined its "unchanged" stance on the Israel-Palestine conflict, reiterating its support for a two-state solution.
"EU leaders reiterate firm commitment to the two-state solution and, in this context, the EU position on Jerusalem remains unchanged," Donald Tusk, the president of European Council, said in his twitter account on Thursday while the EU leaders summit continues in Brussels.
On Dec. 6, U.S. President Donald Trump announced his decision to recognize Jerusalem as Israel's capital and relocate the U.S. embassy from Tel Aviv to the holy city.
The shift in longstanding U.S. policy on Jerusalem sparked angry demonstrations in the occupied Palestinian territories and in several Muslim countries.
An extraordinary Organization of Islamic Cooperation summit in Istanbul and final declaration of East Jerusalem as Palestine's capital came in response to U.S. President Donald Trump's decision to recognize Jerusalem as Israel's capital and relocate Washington's embassy from Tel Aviv to Jerusalem.
Jerusalem remains at the heart of the Israel-Palestine conflict, with Palestinians hoping that East Jerusalem -- now occupied by Israel -- might eventually serve as the capital of a Palestinian state.
http://www.worldbulletin.net/europe/196889/eu-position-on-jerusalem-qudus-remains-unchanged
-------
India
Opposition Walkout over Muslim Reservation in Maharashtra
Ashish Roy
Dec 15, 2017
Nagpur: Opposition MLCs staged a walkout from the legislative council on Thursday over the state government's refusal to provide reservation for Muslims. While education minister Vinod Tawde did not directly refuse to provide reservation, he made it clear that the BJP-Shiv Sena government was not in its favour.
The issue was raised during the question hour by Congress MLC Sanjay Datt. Datt said that even though Bombay High Court had allowed 5% reservation for Muslims in education, the government allowed the ordinance to lapse, due to which Muslims were deprived of reservations.
Social justice minister Rajkumar Badole, who was supposed to reply as the issue pertains to his ministry, said that Congress-NCP had given reservation to Muslims with an eye on the vote bank. Feeling that it was not the proper line of reply, Tawde took over, and said that Sardar Vallabhbhai Patel and Maulana Abul Kalam Azad were against reservation on religious grounds as it would create discord between two communities.
"Backward Muslims already get reservation under OBC category. It was the Shiv Sena-BJP government in 1990s, which made them eligible for OBC reservations," Tawde said.
Datt then said that chief minister Devendra Fadnavis had said that view of advocate general would be taken on Muslim reservation. "However, in spite of passage of three years this has not been done. When this government tabled a legislation for Maratha reservation it did not table one for Muslims. This shows that the government does not want to provide reservation to Muslims," he said.
Legislative council chairman Ramraje Nimbalkar directed Tawde to take the opinion of the advocate general and hold a meeting of all concerned MLCs. However, this did not pacify the Congress and NCP legislators.
Tawde then said that the high court had demanded data for providing reservation to Muslims. However, the Congress-NCP did not provide data even though they had 110 days before elections were called. This led to further commotion and the opposition staged a walkout.
https://timesofindia.indiatimes.com/city/nagpur/oppn-walkout-over-muslim-reservation/articleshow/62075118.cms
-------
Sushma Swaraj grants medical visa to five ailing Pakistani children
Dec 15, 2017
NEW DELHI: Indian External Affairs Minister Sushma Swaraj on Thursday announced granting visas to five Pakistani children, including a 10-month-old baby, for medical treatment in India.
"There is a request for medical visa from some Pakistani children – Muhammad Ahmad (10 months), Abuzar (7 years), Mohit (7 years), Zainab Shahzadi (8 years) and Muhammad Zain Aslam (9 years). We grant visa for all these Pakistani children for their treatment in India," Swaraj tweeted.
She also announced the acceptance of the request for medical visas of two other Pakistani nationals.
"Pakistani nationals Altaf Hussain and Amir Raza have also requested for a medical visa. On the recommendation of Indian High Commission in Pakistan, we accept their requests too," Swaraj tweeted.
"I have received the report from Indian High Commission in Pakistan. We will issue visa for your father Haji Ashique Hussain for his liver transplant surgery in India immediately and pray for his early recovery," she added.
Full report at:
https://www.pakistantoday.com.pk/2017/12/15/sushma-swaraj-grants-medical-visa-to-five-ailing-pakistani-children/
-------
Communal rhetoric targeting Muslims in Gujarat campaign: CPI (M)
December 14, 2017
The CPI(M) on Thursday accused Prime Minister Narendra Modi of pulling the election campaign in Gujarat down to the "lowest levels of vituperative communal rhetoric and scare-mongering, targeting Muslims". In an editorial in the latest edition of party organ 'People's Democracy', former general secretary Prakash Karat said Modi's election speeches were marked by a string of allegations and canards meant to create a communal imagery of Muslims and to link them to Pakistan.
"The Gujarat election campaign has witnessed the lowest levels of vituperative communal rhetoric and scare-mongering targeting Muslims. The main culprit for this base campaign is Prime Minister Narendra Modi himself," he wrote. The editorial criticised Modi for his remarks on Pakistan's alleged role in the polls.
"The worst canard was to insinuate that a dinner organised by Mani Shankar Aiyar for a visiting former foreign minister of Pakistan was an occasion for Pakistani meddling in the Gujarat elections," it said. Modi's claim that former prime minister Manmohan Singh was involved in this "dinner conspiracy" was "truly despicable", Karat wrote. "It showed a reckless disregard for constitutional proprieties and the vulnerabilities that the high constitutional office is subjected to in the hands of a person like Modi," the Communist leader said. Karat claimed during Modi's tenure as the chief minister of Gujarat, he "many a times brought up a Muslim name" and alluded to a Pakistan link during the elections.
Full report at:
http://indianexpress.com/elections/gujarat-assembly-elections-2017/communal-rhetoric-targeting-muslims-in-gujarat-campaign-cpim-4983015/
-------
UP: BSP corporator booked after he insisted on oath in Urdu
December 14, 2017
The lone BSP corporator of the Aligarh Municipal Corporation, Musharraf Hussain, has been booked for trying to outrage religious feelings, after he insisted on taking the oath in Urdu. The case under Section 295A of the Indian Penal Code (IPC) was registered against Hussain at the Bannadevi police station on Wednesday night, based on a complaint filed by BJP corporator Pushpendra Singh, police station in-charge Jitendra Dikshit said.
Singh, in his complaint, alleged that the BSP corporator tried to disturb communal harmony on Monday, the day of oath-taking. However, police were yet to register a case based on a complaint filed by Hussain, who alleged that he was beaten up on the day. Dikshit said they were looking into Hussain's complaint.
IPC Section 295A pertains to deliberate and malicious acts intended to outrage religious feelings of any class by insulting its religion or religious beliefs. Unpleasant scenes marred the swearing-in of newly-elected members of the Aligarh Municipal Corporation on Monday after BJP corporators allegedly created a ruckus when Hussain insisted on taking the oath in Urdu. Hussain was allegedly beaten up.
Full report at:
http://indianexpress.com/article/india/uttar-pradesh-up-bsp-corporator-booked-after-he-insisted-on-oath-in-urdu-4982872/
-------
Arab World
Iraq hangs 38 members of Islamic State, Al-Qaeda for 'terrorism'
Dec 14, 2017
Iraq hanged 38 jihadists belonging to the Islamic State group or Al-Qaeda for terrorism offences on Thursday in the southern city of Nasiriyah, provincial authorities said.
It was the largest number of executions in Iraq on a single day since September 25 when 42 people were put to death in the same prison.
"The prison administration executed on Thursday in the presence of Justice Minister Haidar al-Zameli, in Nasiriyah prison, 38 death row prisoners belonging to Al-Qaeda or Daesh (IS) accused of terrorist activities," said Dakhel Kazem, a senior official in the provincial council.
They were all Iraqis but one also had Swedish citizenship, a prison source said.
Prime Minister Haider al-Abadi on Saturday declared victory against IS after a three-year campaign by government forces backed by a US-led coalition to retake territory seized by the jihadists.
Rights watchdog Amnesty International has voiced repeated concerns about the use of the death penalty in Iraq, which it ranks as one of the world's top executioners behind China, Iran and Saudi Arabia.
In a report released on December 5, Human Rights Watch criticised both Iraq's central government and the autonomous Kurdish authorities over mass trials of suspected IS jihadists.
HRW said the authorities "appear to be prosecuting all ISIS (IS) suspects in their custody under counterterrorism laws, primarily for ISIS membership, and not focusing on specific actions or crimes that may have been committed".
The New York-based group identified 7,374 cases of suspects charged under this law since 2014, and put at 20,000 the total number of people imprisoned for suspected IS membership.
It expressed concerns that the broad prosecution of those affiliated with IS "in any way, no matter how minimal, could impede future community reconciliation and reintegration".
"Iraqi justice is failing to distinguish between the culpability of doctors who protected lives under ISIS rule and those responsible for crimes against humanity," said Sarah Leah Whitson, HRW's Middle East director.
HRW said it regretted what it called the inconsistent application of a 2016 law granting amnesty to suspects who can show they joined IS or any extremist group against their will and have not committed a crime.
"Execution of fighters who surrender or are hors de combat is a war crime," HRW added.
IS swept across a third of Iraq in 2014 and seized several major cities including Mosul, the country's second biggest, before a fightback launched in 2015.
http://www.hindustantimes.com/world-news/iraq-hangs-38-members-of-islamic-state-al-qaeda-for-terrorism/story-4Y9aoVndOxCE5Er1IOt7FJ.html
-------
Riyadh conference, 'blackmail of Geneva process': Syrian envoy to UN
Dec 14, 2017
Syria's ambassador to the United Nations has accused Saudi Arabia and Western states of sabotaging the latest round of peace talks held in Geneva in a bid to end the crisis in the Arab country.
Bashar Jaafari made the remarks on Thursday after the eighth round of the UN-mediated discussions ended without face-to-face talks between representatives of the Syrian government and the opposition.
Jaafari said a statement issued at the Riyadh II conference of the Syrian opposition in November, demanding President Bashar al-Assad's departure before any peace deal in Syria, was a "blackmail of the Geneva process."
The statement was meant to undermine the Geneva process by setting preconditions, he said, adding "those who drew up the Riyadh communiqué are the ones who sabotaged this round" of the Geneva talks.
"We do not put preconditions, but we object to the preconditions," Jaafari said, adding "nobody can exert pressure on us."
The head of the Syrian government delegation at the Geneva discussions also noted that his team will not engage in any dialogue with the opposition as long as it insists on Assad's removal.
He further blasted UN Special Envoy for Syria Staffan de Mistura for making an error by his latest comments which could even "derail his mandate."
In a Wednesday interview with Swiss broadcaster RTS, the UN envoy called on Russian President Vladimir Putin to "have the courage" to push the Syrian government to accept new elections and a new constitution.
The Russian leader should "convince the (Syrian) government that there is no time to lose" in efforts to reach peace in Syria, he added.
The Geneva negotiations have failed to achieve tangible results, mainly due to the opposition's insistence that the Syrian government cede power.
Full report at:
http://www.presstv.com/Detail/2017/12/14/545614/Syria-Saudi-Arabia-Geneva-Bashar-Jaafari
-------
Fourth Annual Forum for Promoting Peace in Muslim Societies Concludes With Call for Action Plan to Address Islamophobia
Dec 14, 2017
ABU DHABI, United Arab Emirates--(Business Wire)--Forum for Promoting Peace in Muslim Societies:
This press release features multimedia. View the full release here:
Bin Bayyah commends participants' efforts to promote peace and tolerance
H.E Shaykh Abdallah bin Bayyah concluded the fourth annual Forum for Promoting Peace in Muslim Societies, which was held in Abu Dhabi between 11-13 December, 2017, with the participation of more than 700 scholars, intellectuals and religious dignitaries from around the world. His Excellency thanked the participants who submitted valuable contributions, designed to promote peace and instill the culture of tolerance as a way of life for the benefit of all mankind.
Dr. Ahmed Sennouni, coordinator of the forum's Scientific Committee, delivered the final statement, which included a set of recommendations, notably the need to establish an international monitoring center to address and study Islamophobia, as well as the need to organize international forums for intercultural and interreligious dialogue, to evaluate achievements, share experiences and unify efforts.
Final Statement
The forum included open discussions to examine the symptoms, phenomena and differences in tackling the fundamental issues raised by the forum, and the mutual challenges to the humanitarian community. In its final statement, the forum indicated that fear of Islam causes major damage to the fabric of complex societies and to the social contract model, based on the principles of equal citizenship. The phenomenon of Islamophobia is also senseless and unethical, because it fuels hatred and discrimination in the West, which ultimately gives way to extremism; and with the prevalence of nuclear weapons and no assurance that such weapons will not be used in the future, this gives great cause for concern. However, this should not cause us to ignore the balanced voices in the West, which represent a decisive segment within the different parties and civil society organizations and confronted the violence and hate speech against Muslims with legal initiatives and awareness campaigns and solidarity.
The statement added that fear of Islam is a complex phenomenon, with diverse causes, most importantly lack of communication between intellectuals and scholars on both sides, to prevent hate speech and extremism and protect individuals and communities from both physical and moral terrorism.
It also noted that fear of Islam serves two types of extremists, one that distorts religious concepts, to fight the world and undermine coexistence among people; and another one that resorts to the same distorted concepts to accuse Islam and Muslims of violence, and of being incompatible with the values of the times. To claim that Islam is linked to terrorism will lead to unending wars.
The forum explained that fear of Islam can be addressed by looking with a new eye to the concepts of the Sharia, in light of the four governing values; notably mercy, wisdom, justice and interest; which may promote tolerance and coexistence and disclaim extremists. This is a necessary measure to be undertaken within the Islamic world, to defeat extremist ideologies that distort the real image of Islam; which is exactly why the Forum for Promoting Peace in Muslim Societies chose the theme "World Peace and Fear of Islam: Countering the Spread of Extremism" as a theme for its fourth annual meeting.
Another approach to dealing with fear of Islam would be to encourage dialogue with others and agree on constructive forms of cooperation. Different is not bad; especially if dialogue is based on recognizing all religions and advocating common moral values. The right to disagree, the freedom of religion, the right to argue, and adopting peaceful relations with others, are values and principles that promote dialogue and rapprochement between Muslims and non-Muslims, and foster alliances between other faiths. The statement said that the forum looks forward to a new approach to relations between Muslims and non-Muslims; and between the different cultures and religions in general – by being more accepting instead of exchanging criticism and mutual accusations, and building alliances for the service of mankind. When reconciled and united, Abrahamic religions can promote peace, justice and good in the world, and address grievances and injustice. Today's world is experiencing a horrific moral deterioration that cannot be averted despite the scientific progress and technological development. Values should include the universal elements of tolerance, true acceptance of diversity, pluralism, dialogue and communication. To achieve constructive dialogue, the forum stressed the need to review education curricula in Muslim societies to include the authentic values of Islam, which encourage tolerance and respect for other religions. International curricula also need to be re-examined to ascertain the extent to which they respond to the requirements of coexistence and promote respect for differences, rapprochement, tolerance and solidarity. To this end, the forum called for a 'global media charter of honor' to include all those who support this vision, and endeavor to overcome the differences with their opponents in the interest of coexistence and peace among humans.
The forum concluded with the following recommendations:
1. Establishing an international monitoring center to study fear of Islam, which will serve as a platform to study its causes and manifestations, and propose preventive methods to address it and raise awareness about its dangers;
2. Organizing international forums to promote communication and dialogue between religions and cultures; to evaluate achievements, share experiences and unify efforts;
3. Launching academic programs and scholarships to encourage rapprochement and exchange experiences between Islamic studies departments across universities in the Islamic world and universities that teach religious studies in the West;
4.
Encouraging scientific research in Islamic, humanitarian and social studies that tackle the topics of coexistence and rapprochement; and allocating an annual prize that recognizes the best studies in this field.
Participants congratulated the Forum for Promoting Peace on hosting the American Peace Caravan - based on the Marrakesh Declaration on the Rights of Religious Minorities in Muslim Societies - as evidence on the need for a positive partnership to achieve happy coexistence. They expressed their hope to see the Peace Caravan develop into a global peaceful movement, similar to the pre-Islamic alliance 'Hilf al-Fudul', to embody the common values of peace, love and harmony between Abrahamic faiths and then include all religions and cultures for the sake of humanity and mankind.
Participants expressed their delight with the forum's decision to award the 'Egyptian Family House' with the Imam Al Hassan bin Ali Award for Promoting Peace due to their lasting example of coexistence and partnership between Al-Azhar Al-Sharif and the Coptic Church to strengthen national unity.
They also expressed their appreciation for the warm welcome and hospitality they received in the United Arab Emirates, and thanked His Highness Sheikh Khalifa bin Zayed Al Nahyan, President of the UAE, His Highness Mohammed bin Rashid Al Maktoum, UAE Vice President, Prime Minister and Ruler of Dubai, His Highness Sheikh Mohammed bin Zayed Al Nahyan, Crown Prince of Abu Dhabi, Deputy Supreme Commander of the UAE Armed Forces and Chairman of the Executive Council of Abu Dhabi, and to their Highnesses rulers of the Emirates; praying Allah Almighty to have mercy on the soul of the founding father the late Sheikh Zayed and to maintain prosperity in the land of mercy and cohesion.
Day three of the forum tackled three key sessions each of which included three workshops.
1st Session - Fear of Islam: Causes and Contexts
The first session was based on the concept "Fear of Islam: Causes and Contexts." The first workshop discussed "Fear of Islam Today", and was chaired by Dr. Yusuf Hmito, member of the forum's Scientific Committee in the forum. Speakers at the workshop included Dr. Khawla Hassan, Adviser at the Islamic Council and Professor at Imam Online, United Kingdom; Dr. Joseph Mossad, Professor of Modern Arab Politics and Intellectual History at Columbia University; Dr. Nasr Mohammed Aref, Head of the Islamic Civilization Studies Department at Zayed University; and Dr. Aisha Al Adawiya, President of the "Karamah" Association.
The second workshop discussed "Fear of Islam from a Western Perspective" and was moderated by Dr. Amany Burhanuddin Lubis, Professor, member of the Board of Trustees of the Forum for Promoting Peace in Muslim Societies. Speakers included Dr. Muhammad Al Bishari, member of the Board of Trustees of the Forum for Promoting Peace in Muslim Societies; Dr. Stephen Weidner, editor of the Fikrun wa Fann magazine; Dr. Sherman Jackson, Professor of Arabic and Islamic Studies at Michigan University; and Dr. Hisham Hiller, deputy chairman of the anti-extremism working group in the British government.
The third workshop tackled the topic of "Islamophobia, the Media and Communication", and was moderated by Dr. Peter Welby, adviser at the Center for Religion and Geopolitics in Britain. Speakers included Dr. Rabia Chaudry, legal adviser and presenter at The New York Times; Prof. Idriss Al Kanburi, expert at the Moroccan Diaspora Council's research center; Dr. Mudassar Ahmed, Partner at UNITAS; and Dr. Maqsoud Kruse, Executive Director at Hedayah Center.
2nd Session - Islam and the World – An Islamic Vision of Global Peace
The second session was based around the theme of "Islam and the World – An Islamic Vision of Global Peace" and included three workshops. The first workshop was moderated by Dr. Mohammad Ahmed Al Khalayleh, Mufti of Jordan. Speakers included Dr. Abdullah Al Judai', Director of the Al Judai' Center for Research and Consultancy, Leeds, Britain; Dr. Ahmad Al-Haddad, Director of the Ifta Department in Dubai and member of the Muslim Council of Elders; and Dr. Ahmed Shehlan, Professor, Morocco.
The second workshop discussed "Jihad in the Service of Peace", and was moderated by Dr. Abdul Karim Shawki Allam, Mufti of Egypt. Speakers included H.E Sheikh Aslamo Ould Sayed Al Mustafa, Adviser to Mauritania's Prime Minister; Dr. Abdulhamid Ashaq, member of the forum's Scientific Committee; and HE Dr. Qutb Mustafa Sano, advisor for diplomatic affairs for the President in the Republic of Guinea.
The third workshop titled "Peace in Islamic Law" was moderated by Sheikh Mohammad Mukhtar Ould Imbala, Head of Mauritania's Fatwa & Grievances Supreme Council. Speakers included Mr. Ali Al Amin, Head of the Muslim Council of Elders; Dr. Abdul Majid El Saghir, Professor at Mohamed V University, Morocco; and Dr. Abdel Nasser Abou El Basal, Former President of the University of Islamic Sciences, Jordan.
3rd Session - Islam and The World – Ways to Rapprochement and Solidarity
The third session was themed on the topic of "Islam and The World – Ways to Rapprochement and Solidarity." The first workshop was moderated by Dr. Rafi' Taha Al-Rifa'i, Mufti of Iraq. Speakers included Dr. Ata'ollah Mohajerani, member of the Board of Trustees of the Forum for Promoting Peace in Muslim Societies; Dr. Ibrahim Mashrouh, member of the forum's Scientific Committee; and Dr. Mohamed Sammak, member of the Board of Trustees of the Forum for Promoting Peace in Muslim Societies.
The second workshop was moderated by Dr. Dr Othman Batikh, the Grand Mufti of Tunisia. Speakers included Dr. Aicha Haddou, Director of the Center for Research and Training in Interfaith Dialogue and Peace Building at the Mohammedia Association of Moroccan Scientists; Eric Geoffrey, Professor of Islamic Studies in the Department of Arabic and Islamic Studies at the University of Strasbourg; and Dr. Amineh Hoti, Executive Director of the Centre for Dialogues & Action, United States.
Full report at:
http://www.digitaljournal.com/pr/3595753
-------
Divergent views among Muslims on extremist groups
Haneen Dajani
December 14, 2017
There is a worrying conflation of religious adherence and support for politicised Islam, seen as a gateway to extremism, according to a new study on Muslim attitudes in the Middle East.
How They Believe, an in-depth look at Muslim thought and beliefs in five Arab countries by the Arab American Institute, has come up with some contentious findings. These include: a small but worrying percentage of self-described "very religious" respondents – dubbed Formalists in the report – saying they felt that groups like ISIL and al Qaeda are "mostly right" or "correct and follow a right-guided path"; whereas groups of self-described "moderately religious" – dubbed Adapters in the report – almost exclusively held the opposing view.
Presented by Dr James Zogby at a peace forum in Abu Dhabi this week, the report follows up on a survey last year. Dr Zogby chose to focus on the views of those in the UAE, Saudi Arabia, Morocco, Tunisia and Egypt this year.
The survey found no major demographic differences among respondents, but there were pronounced attitudinal differences between Formalists and Adapters.
Formalists largely believe that to be religious it is important to be observant and to adhere to all religious rituals. Whereas Adapters largely believe that to be religious implies living "a moral life" and being "good to others", as opposed to strict adherence to all rituals.
Dr Zogby said: "When respondents were asked if they think that groups espousing a politicised version of Islam should be seen as potential 'gateways' to extremism, we find the majority of Adapters agreeing that these groups are gateways and very strong majorities of Formalists (in some cases, near unanimity) disagreeing with this assertion.
"The strongest agreement that groups that politicise religion lead to extremism is among Adapters in the UAE (69 per cent) and Saudi Arabia (65 per cent). On the other hand, 99 per cent of Formalists in Morocco and Egypt and 95 per cent of such respondents in Tunisia say these groups are not gateways, as do 87 per cent of Formalists in Saudi Arabia and 83 per cent in the UAE."
Mohammed Ahmad, chief executive of Global Needs Foundation, an American non-profit, said the survey showed citizens "don't have enough education ... to distinguish between what is political and what is religious ... the burden remains on the shoulders of Muslim scholars and the governments in different countries" to address this issue.
Dr Zogby's report underlined the danger of this conflation of religious adherence with the politicisation of Islam.
"Formalists are far more likely than Adapters to believe that a caliphate would be a positive development. There is near unanimity among Formalists in Egypt and Morocco (98 per cent) that a caliphate would be positive, and very strong positives among Formalists in Tunisia (93 per cent) and Saudi Arabia (87 per cent). A majority of Formalists in the UAE (57 per cent) say a caliphate would be a positive development. Adapters in Morocco (67 per cent), Egypt (62), Saudi Arabia (56), and the UAE (55) say a caliphate would be a negative development," the report said.
Majorities of respondents agree that they either do not consider groups like ISIL or Al Qaeda to be Muslim or regard them as "a misguided perversion of the teachings of Islam".
Full report at:
https://www.thenational.ae/uae/divergent-views-among-muslims-on-extremist-groups-1.684608
-------
Gaps Growing among Terrorist Groups in Idlib
Dec 14, 2017
News websites affiliated to the dissidents reported on Thursday that gaps have widened between Ahrar al-Sham and Noureddin al-Zinki terrorist groups in Idlib in the past few days.
They added that the differences heightened following a meeting of terrorist commanders to set up a new operations room against the Syrian army, noting that a number of terrorists agree with unity among groups - for the danger of Idlib's collapse - and some others disagree for the presence of al-Nusra Front.
Sources said that given the military presence of Ahrar al-Sham in Southern Idlib, specially Jabal al-Zawiyeh, the final decision has not yet been made by the terrorist group to unite with other groups; also most military commanders of Noureddin al-Zinki are opposed to this unity given the bad record of clashes between the terrorist group and al-Nusra when they had united a few months ago.
Militant-affiliated websites reported on Tuesday that the al-Nusra Front and other terrorist groups have agreed to set up a Joint Operation Room as the Syrian Army troops are rapidly advancing in Northeastern Hama and Southern Idlib.
The websites reported that the commanders of Al-Nusra, Ahrar al-Sham, Noureddin al-Zinki and Jeish al-Ahrar held a meeting on Monday to pave the ground for the establishment of Join Operation Room to slow down the army's advances in Northeastern Hama and Idlib province.
Abdullah Mohammad al-Muhaysini, the commander and Mufti (religious leader) of Tahrir al-Sham Hay'at (the Levant Liberation Board), Mosleh al-Alyani, Chief Commander of Al-Nusra Abu Mohammad al-Joulani, Chief Commander of Ahrar al-Sham Hassan Soufan, Chief Commander of Jeish al-Ahrar Abu Saleh Tahan and Chief Commander of Noureddin al-Zinki Tawafoq Shahab participated in the Monday meeting, the websites disclosed.
The websites reported that the terrorist groups agreed on four paragraphs, including setting up a Joint Operation Room (reestablishing Jeish al-Fatah), ending infighting between Al-Nusra and al-Zinki, releasing each other's prisoners and paying salaries of the members of Ahrar al-Sham and Jeish al-Ahrar by Al-Nusra in several phases.
Military sources said earlier today that the army units stormed the Al-Nusra gathering centers and strongholds in their push towards the villages of Abu Dali in Southeastern Idlib, killing or wounding over 50 terrorists.
Full report at:
http://en.farsnews.com/newstext.aspx?nn=13960923000748
-------
Several Turkish Soldiers Killed, Wounded in Clashes with Kurds in Northern Aleppo
Dec 14, 2017
The Arabic-language al-Manar news channel reported that the Kurdish SDF forces engaged in clashes with the Turkish army in the village of Ashmeh at the border with Turkey and the Western parts of Koubani city in Northeastern Aleppo.
The report added that during the clashes, one of the Turkish army vehicles was destroyed, killing two soldiers and wounding others inside the car.
Meantime, the Turkish army launched missile attacks on Kurdish positions in Ashmeh in Northeastern Aleppo.
A Kurdish-language media outlet reported on Tuesday that the Turkish army troops and their affiliated militants launched heavy attacks on SDF in Northern Aleppo amid widespread speculations about Ankara's imminent military operation against the Kurds in the region.
The Kurdish-language Hawar news reported that tanks and mortar units of the Turkish army and the Ankara-backed militants opened heavy fire at SDF positions in Northern Aleppo, including the villages of Basfoun and Ba'eiyeh in Shirwa region near the town of Afrin in Northwestern Aleppo.
The Hawar news further added that the missile units of Ankara-backed militants pounded the village of Dikmadash in Sharan region North of the town of Afrin at border with Turkey.
Full report at:
http://en.farsnews.com/newstext.aspx?nn=13960923000569
-------
Army Captures More Regions in Hama, Idlib
Dec 14, 2017
The army forces continued to advance in Northeastern and Southern Idlib on Thursday, taking back control of the two villages of Eastern al-Zaferiyeh and Western al-Zaferiyeh.
Meantime, the Syrian fighter jets launched heavy strikes on the al-Nusra Front (Tahrir al-Sham Hay'at or the Levant Liberation Board) moves and regions.
The army's missile and artillery units also pounded the terrorists' positions and moves in al-Latamineh and Kafr Zita in Northeastern Hama, killing and wounding a large number of militants and destroying their military equipment.
A field source underscored the army's advance towards al-Moshrefiyeh-Abu Dali road at the border between Hama and Idlib, adding that they have retaken military control over the village of al-Zahra.
In a relevant development on Wednesday, the Syrian Army troops repelled a heavy offensive of a group of terrorists who planned to cut off Homs-Hama road.
The army men exchanged heavy fire with al-Islamiya Front terrorists that tried hard to prevail over the government forces' positions near the village of Khneifes South of the town of al-Salamiyah to close off Homs-al-Salamiyah road.
The army men fended off the attack after killing a number of terrorists and destroying their military equipment.
Full report at:
http://en.farsnews.com/newstext.aspx?nn=13960923000354
-------
US-led coalition securing Daesh terrorists, targeting civilians: Syria
Dec 14, 2017
Syria's Ministry of Foreign Affairs and Expatriates has censured the US-led coalition purportedly fighting the Daesh terrorist group, saying the military alliance is indeed targeting civilian facilities and providing the extremists with cover.
In two separate letters addressed to United Nations Secretary General Antonio Guterres and the rotating president of the UN Security Council, Koro Bessho, on Thursday, the ministry stated that the US-led coalition has been pretending to fight Daesh, but it has, in fact, been transporting the terrorists from one part of Syria to another and securing them.
The letters further noted that Daesh terrorists have been purged from most regions in Syria only through counter-terrorism operations conducted by government troops and allied fighters from popular defense groups.
They also criticized the so-called advocates of human rights and rule of law for turning a blind eye to the atrocities the US-led coalition is perpetrating in Raqqah and Dayr al-Zawr provinces.
Syria's official news agency, SANA, reported on Thursday that US-led air raids had claimed the lives of at least 23 civilians, mostly children and women, in the al-Jurze Sharqi village of Dayr al-Zawr province the previous evening.
The US-led coalition has been conducting airstrikes against what are said to be Daesh targets inside Syria since September 2014 without any authorization from the Damascus government or a UN mandate.
The military alliance has repeatedly been accused of targeting and killing civilians. It has also been largely incapable of achieving its declared goal of destroying Daesh.
On October 11, Syrian Foreign Minister Walid al-Muallem said the US-led coalition was trying to destroy the Arab country and prolong the armed conflict there.
Full report at:
http://www.presstv.com/Detail/2017/12/14/545602/USled-coalition-securing-Daesh-terrorists-targeting-civilians-Syria
-------
South Asia
Suu Kyi's Dublin award revoked
December 15, 2017
Dublin councillors on Wednesday voted to revoke an award given to Myanmar leader Aung San Suu Kyi to protest her handling of violence against Rohingya Muslims in her country, Irish media reported.
The vast majority of councillors backed the move to revoke the Freedom of the City of Dublin award, with 59 votes in favour, two against and one abstention, broadcaster RTE said.
The decision comes after more than 620,000 of Myanmar's Rohingya Muslim minority fled across the border to Bangladesh, escaping a crackdown by the army which the refugees have said involved murder, rape and arson.
Suu Kyi has faced international criticism for her apparent failure to defend the Rohingya minority; a dramatic fall from grace for the Nobel Peace laureate who spent years under house arrest in Myanmar.
"The daily oppression of the Rohingya people cannot be allowed to continue and if the revoking of this honour contributes to the pressure on the Burmese (Myanmar) government to respect their fellow citizens it is to be welcomed," councillor Cieran Perry said, quoted in the Irish Independent.
The city council's decision comes a month after musician Bob Geldof returned his own freedom award at Dublin City Hall, as a protest against Suu Kyi.
"I would be a hypocrite now were I to share honours with one who has become at best an accomplice to murder, complicit in ethnic cleansing and a handmaiden to genocide," Geldof had said.
http://www.thedailystar.net/world/suu-kyis-dublin-award-revoked-1505332
-------
Red Cross Says Life Has Stopped in Myanmar's Rakhine
December 14, 2017
Geneva. Life has stopped in its tracks in Myanmar's northern Rakhine state where an estimated 180,000 Rohingya remain, fearful after violence drove 650,000 to flee to Bangladesh, the International Committee of the Red Cross said on Wednesday (13/12).
Dominik Stillhart, ICRC director of operations, speaking after a three-day mission to the remote area, said continuing tensions in the Muslim and dominant Buddhist communities were preventing Muslim traders from reopening shops and markets.
The ICRC is one of the only aid agencies to operate in northern Rakhine after Myanmar's military waged a campaign the United Nations has called "ethnic cleansing" in response to Aug. 25 attacks by Rohingya militants on security posts.
"The situation in the northern Rakhine has definitely stabilized, there are very sporadic incidents, but tensions are huge between the communities," Stillhart told reporters.
"You get a sense, especially of the two main communities being deeply scared of each other. What surprised me is the fact that not only the Muslim communities are scared, but that the others are actually scared as well," he said.
Stillhart went to Maungdaw, Buthidaung and Rathedaung in northern Rakhine, where the ICRC is providing food, water and other aid 150,000 people. By year-end, it hopes to reach all of the 180,000 Rohingya it estimates remain in the "politically-sensitive" region, among 300,000 throughout Rakhine, he said.
"You travel through the countryside and you really see on both sides of the road, villages that are completely destroyed. It just gives you a bit of a sense of the scale of destruction. There is also this pervasive sense of absence.
"It is as if life has stopped in its tracks, people do not move, markets are closed in Muangdaw town," Stillhart said.
Myanmar's army released a report last month denying all allegations of rapes and killings by security forces.
No Significant Returns
"The main problem for the Muslim communities today is not that they are being attacked, or that there are incidents," Stillhart said.
Rather it is fear and uncertainty, and "the very limited possibilities for them to access their own livelihoods like fields, and especially markets and services", he said.
Myanmar and Bangladesh signed an agreement last month for the voluntary repatriation of hundreds of thousands of Rohingya within several months.
The returns must be voluntary and safe, Stillhart said.
"But for now we really don't see a significant return movement and I'm also not expecting that we will see massive return anytime soon," he said. About 300 Muslims still flee daily, he added, citing UN figures.
The ICRC visits detainees held in Rakhine, including Rohingya arrested since Aug 25, he said.
"What I can tell you is there are very few people who have been rounded up, surprisingly few people have been rounded up.
Full report at:
http://jakartaglobe.id/international/red-cross-says-life-stopped-myanmars-rakhine/
-------
10 ISIS militants killed, wounded in Afghan forces operations
Dec 14 2017
At least ten militants affiliated with the Islamic State of Iraq and Syria (ISIS) terrorist group were killed or wounded during the operations of the Afghan security forces in eastern Nangarhar province.
The provincial government media office in a statement said the operations were conducted in the vicinity of Khogyani district.
The statement further added that three ISIS militants were killed and seven others were wounded during the operations.
According to the provincial government, several villages have also been cleared from the presence of the IS militants as operations are still being conducted in some restive parts of the province.
The Afghan security forces also confiscated six Improvised Explosive Devices during the operations together with a communication device set, the statement added.
The anti-government armed militant groups including the ISIS terror group have not commented regarding the report so far.
Nangarhar is among the relatively calm provinces however the Taliban and ISIS militants have increased their insurgency activities in some its remote parts during the recent years.
However, operations are underway by the Afghan security forces to suppress the anti-government armed militant groups in this province.
Full report at:
https://www.khaama.com/10-isis-militants-killed-wounded-in-afghan-forces-operations-04044
-------
Bangladesh: JMB top militant leader arrested in Dhaka
December 14, 2017
Three militants, including one top leader, have been arrested from Dhaka's Mohakhali area, said Bangladesh police.
Dhaka Metropolitan Police Deputy Commissioner Masudur Rahman said that members of the Counter Terrorism Unit of the police arrested them during raids in the Mohakhali area on Wednesday night. One firearm and five rounds of bullets and 200 detonators were recovered from them.
The top militant leader, Abdus Samad, arrested is one of the founders of the newly declared Jamaat-ul-Mujahideen Bangladesh (JMB).
"Abdus Samad alias Mamur, joined JMB in 2010. He has acquired education from Dowra Hadis, Alia Madrasa and from Quami Madrasa. He was proficient at Arabic language", said Monirul Islam, head of Counter Terrorism Unit, during a press conference.
After organising the neo-JMB, Abdus Samad trained new joinees in various training camps. In fact, the new JMB also helped others with arms and explosives.
Monirul Islam also said that "Samad alias Mamu has acted as a bridge to introduce Tamim to the top militant leaders. Before the Holy Artisan attack in Gulshan, he was again involved in recruiting members in North Bengal. For this, Samad came to Dhaka initially, but later went to different districts of north Bengal".
According to the head of Counter Terrorism Unit, the neo JMB does not have the power or ability to launch new attacks. Almost all of those who worked as explosive experts have been arrested or killed in various missions. But the leaders of the organisation are still underground and are still trying to expand.
Full report at:
http://indiatoday.intoday.in/story/bangladesh-jamaat-ul-mujahideen-militant-arrested-dhaka/1/1110615.html
-------
North America
Muslim custodian family of Church of Sepulcher refuse to welcome US VP Pence
December 14 2017
The al-Husseini family, who keep the keys to the doors of Jerusalem's Church of the Holy Sepulcher, have rejected United States Vice President Mike Pence, who is known as U.S. President Donald Trump's greatest supporter in his decision to recognize Jerusalem as the capital of Israel.
Speaking to Hürriyet Daily News on Dec. 13, Adeeb Jawaad Joudeh al-Husseini said the U.S. Embassy in Israel had asked him to welcome Pence with VIP protocol at the church when he visits Jerusalem on the weekend.
Anyone can visit the church but "I absolutely refuse to welcome the American Vice President Mr. Mike Pence," said al-Husseini in a letter to U.S. officials in Tel Aviv on Dec. 9.
"According to VIP protocol, I have to meet Pence outside the church doors and present him with the keys. I refuse to accept him in the church," he said.
"Jerusalem already has many problems. We did not need a new one," said al-Husseini, citing Trump's decision.
"We hope President Erdoğan will contribute to peace building in our country," said al-Husseini, who came to Ankara and met with the president's son Bilal Erdoğan and other government officials on Dec. 13.
Two Muslim families are in charge of the church, which is shared for Catholic, Armenian and Greek Orthodox worship. The custodian of the keys is the Muslim al-Husseini family. The Muslim Nuseibeh family is responsible for helping open and close the doors of the church.
Since the Ayyubid dynasty founded by Saladin, Muslim custodians lock the doors and open them every day with the help of Christian religious representatives who carry the ladder.
Al-Husseini said the keys of the church were handed over in 1187 by Saladin to his family who were the "nobles of al-Aqsa."
In the past, due to the "destruction of the church by sultans," Saladin provided the keys to his family, who claim to be from the line of the Prophet Muhammad, so no one would dare harm the church, he said.
http://www.hurriyetdailynews.com/muslim-custodian-family-of-church-of-sepulcher-refuse-to-welcome-us-vp-pence-124094
-------
Home-grown attacks rising worry in U.S. as Islamic State weakens abroad
Dec 15, 2017
NEW YORK (Reuters) - The online video's message was clear: Supporters of Islamic State who could not travel overseas to join the militant group should carry out attacks wherever they were in the United States or Europe.
Bangladeshi immigrant Akayed Ullah, 27, followed those instructions on Monday when he tried to set off a homemade bomb in one of New York's busiest commuter hubs, in an attack that illustrates the difficulty of stopping "do-it-yourself" attacks by radicals who act alone.
While harder to stop than attacks coordinated by multiple people - whose communications may be more easily monitored by law enforcement or intelligence agencies - they also tend to do less damage. Ullah was the person most seriously wounded when his bomb ignited but did not detonate in an underground passageway linking the Port Authority Bus Terminal and the Times Square subway statin; three others sustained lesser injuries.
"They tend to be less organized and less deadly," said Seamus Hughes, a former adviser at the U.S. government's National Counterterrorism Center. "That's because you're dealing with more, for lack of a better word, amateurs."
The do-it-yourself style of attack is on the rise in the United States, according to research by the Program on Extremism at George Washington University, where Hughes is deputy director.
The United States has seen 19 attacks perpetrated by Islamic State-inspired people since the group declared a "caliphate" in June 2014 after capturing broad swaths of Iraq and Syria. Of those, 12 occurred in 2016 and 2017, almost twice as many as in the two preceding years.
"You're going to see continued numbers of plots and, unfortunately, attacks," Hughes said.
Ullah began immersing himself in Islamic State propaganda as early as 2014, three years after he arrived in the United States as a legal immigrant, according to federal prosecutors who charged him with terrorism offenses. They said in court papers that Ullah's computer records showed that he viewed ISIS videos urging supporters of the group to launch attacks where they lived.
Experts said the success of Western allies in retaking most of Islamic State's territory could inspire more attacks out of anger or vengeance.
"No group has been as successful at drawing people into its perverse ideology as ISIS," Federal Bureau of Investigation Director Christopher Wray said in congressional testimony last week. "Through the internet, terrorists overseas now have access into our local communities to target and recruit our citizens."
National security analysts generally divide such perpetrators into three broad categories.
Some attackers act at the direction of a group, like the Islamic State-backed militants who carried out coordinated attacks in Paris in 2015, killing 130; others have some limited contact with an organization but act largely on their own. A third type has no communication with a group but engage in violence after being radicalized by online propaganda.
It is easier for trained, battle-hardened ISIS fighters to travel from the Middle East to Europe than for them to reach the United States. That helps explain why U.S. attacks have largely been the work of "self-made" terrorists, said Brandeis University professor and radicalization expert Jytte Klausen.
"In these recent cases, we've seen very few indications that there was any type of direct training," Klausen said.
Self-directed perpetrators are the hardest for investigators to identify. Their ranks appear to include Ullah, as well as two other recent New York attackers: Ahmad Rahimi, the man who injured 30 with a homemade bomb in Manhattan in September 2016, and Sayfullo Saipov, the Uzbek immigrant accused of killing eight by speeding a rental truck down a bike lane in October.
While that type of attacker typically is less destructive, there are important exceptions. Oklahoma City bomber Timothy McVeigh and Terry Nichols killed 168 people, and Omar Mateen gunned down 49 people at a gay nightclub in Orlando last year.
Full report at:
https://www.reuters.com/article/us-new-york-incident-diy/homegrown-attacks-rising-worry-in-u-s-as-islamic-state-weakens-abroad-idUSKBN1E8308
-------
US weapons wound up in hands of ISIL terrorists: Study
Dec 14, 2017
Sophisticated weapons the US and Saudi Arabia secretly provided to so-called moderate militants fighting the Syrian government quickly fell into the hands of the Daesh terrorist group, also known as ISIL or ISIS, according to a new study.
The possession of these arms by Daesh remains a threat to the US-led coalition forces still operating in Syria and Iraq, according to the study released Thursday by Conflict Armament Research (CAR), a UK-based organization that monitors the movement of conventional weapons.
The weapons included anti-tank rockets purchased by the US military that ended up in possession of ISIL within two months of leaving the factory, according to the study, which was funded by the European Union and German government.
Efforts by the US and other countries to supply weapons to militant groups "have significantly augmented the quantity and quality of weapons available to (ISIL) forces," the report concluded.
The study examined 40,000 weapons and other items recovered from Daesh, during the past three years.
CAR researchers were unable to determine whether Daesh captured the weapons on the war zone or whether the militants sold or gave the arms to the terror group.
The report cites an ISIL propaganda video showing the terror group's fighters with weapons captured last year from the so-called New Syrian Army, a coalition of militant groups battling the government forces of Syrian President Bashar Assad.
It has long been known that ISIL captured huge amounts of US weapons, including tanks and artillery, when the terror group swept into Syria and Iraq in 2014.
The White House ended a secretive CIA operation begun by the administration of then President Barack Obama in 2013 to arm anti-Assad militants.
The covert program arming anti-Assad militants is distinct from the Pentagon's publicly acknowledged operation to arm the so-called Syrian Democratic Forces (SDF), a US-backed alliance of Kurdish and Arab forces fighting ISIL, but not Assad.
Saudi Arabia, which like the US strongly opposes the Syrian government, also supplies weapons to militant groups.
The new study raises questions about other sources for weapons.
The report said most of the weapons secretly sent to militants in Syria were purchased by the United States and Saudi Arabia from arms manufactured in Eastern Europe. It said the way the US government purchased the weapons raised troubling concerns about controlling arms sales.
The US-led coalition has been conducting airstrikes against what are said to be Daesh targets inside Syria since September 2014 without any authorization from the Damascus government or a UN mandate.
Full report at:
http://www.presstv.com/Detail/2017/12/14/545615/US-weapons-Syria-ISIL-Conflict-Armament-Research
-------
US 'committed to its strategic partnership with Turkey'
14 December 2017
The U.S. said Wednesday it is "committed to its strategic partnership with Turkey to bring stability to the region and defeat terrorism in all its forms" amid a row sparked by comments from a senior Trump administration official.
"We appreciate Turkey's efforts to increase its border security, stem the flow of foreign fighters through its territory and fight on the ground to clear ISIL from key towns in Syria," a National Security Council spokesman said.
"There is more work for everyone in the region to do to address the financing of terrorism and the ideologies that support violent extremism, and the United States will look for opportunities to deepen our cooperation on the issue with Turkey," he added. Speaking Dec. 12 at an event hosted by the British think tank Policy Exchange in Washington, National Security Advisor H.R. McMaster said Turkey and Qatar are the "main supporters" of "radicalism" and claimed Turkey's problems with the West were mainly due to the rise of the ruling party in Ankara. The remarks drew a swift rebuke from Ankara.
The Turkish Foreign Ministry said McMaster's remarks were acknowledged with "sadness". It added McMaster, due to the position he holds, "must know better".
"National Security Adviser McMaster's baseless claims are far beyond reality, astonishing and unacceptable," said the statement.
The Foreign Ministry urged the U.S. to stop supporting terrorist groups such as the PKK/PYD.
The PKK/PYD, also known as the YPG, is the Syrian wing of the PKK and has received U.S. support in the form of Special Forces back-up, air power and military supplies.
The U.S.'s use of the PKK/PYD in Syria has been a longstanding complaint for Turkey, which has been subjected to a decades-long terror campaign by the PKK, which is listed as a terrorist organization by Turkey, the EU and the U.S.
Full report at:
http://www.worldbulletin.net/america-canada/196867/us-committed-to-its-strategic-partnership-with-turkey
-------
Europe
Washington might use defeated Daesh terrorists in fight against Assad: Putin
Dec 14, 2017
Russian President Vladimir Putin says the United States is turning a blind eye to information provided by Moscow about Syrian terrorists traveling to neighboring Iraq in the hope that these militants could be later used to fight against Syrian President Bashar al-Assad.
Putin made the remarks at the traditional end-of-year press conference in the Russian capital of Moscow on Thursday, saying that the Kremlin has received no "reaction" from Washington regarding the given intelligence.
"Why? Because they [in the White House] are thinking that they [the terrorists] could be used to fight against Assad. This is the simplest thing, but at the same time, the most dangerous thing, including for those who are doing this," the Russian leader told nearly 1,500 reporters, who had joined the marathon session.
The US-led coalition has been conducting airstrikes against targets that are said to belong to the Daesh Takfiri terrorist group inside Syria since September 2014 without any authorization from the Damascus government or a UN mandate. The military alliance has repeatedly been accused of targeting and killing civilians. It has also been largely incapable of achieving its declared goal of destroying Daesh.
In contrast, Russian jets have been conducting air raids against Daesh targets and those of other terror outfits inside Syria at the Damascus government's request since September 2015. The airstrikes have helped Syrian forces advance against anti-Damascus militants, who have been wreaking havoc in the Arab country since 2011.
Putin further said that his Monday visit to the worn-torn Arab country was only possible due to the current security situation in Syria following the defeat of Daesh terrorists.
During his surprise visit to Syria, Putin ordered the Syrian-based Russian forces to begin withdrawing from the Arab country.
The Russian leader's visit came a few days after he declared a "complete victory" over Daesh on both banks of the Euphrates River in Syria as he stressed the significance of switching to a political process to ultimately end the crisis in the Arab country.
Elsewhere in his remarks, the Russian leader touched upon the important issue of returning the Syrian refugees to their homeland, saying Damascus and Moscow would not be able to cope with the refugee crisis alone.
http://www.presstv.com/Detail/2017/12/14/545604/Russia-Syria-Putin-Daesh-US-information-Assad
-------
Australian Jesuit opening minds to Muslim world
December 14, 2017
Australian-born Jesuit Father Paul Jackson, 81, long renowned for promoting Christian dialogue with Indian Muslims, was once asked by a nun if he could sing mystic Islamic Sufi songs.
Fr. Jackson indicated that he could not, then moved close to her and said: "See Sister, I am Paul Jackson and not Michael Jackson."
There were peels of laughter, recalls Father Patrick Pradhan of Darjeeling Jesuit province, who met Fr. Jackson in the capital, New Delhi, some 35 years ago.
When an elated Fr. Jackson talked about Sufis - an ancient tradition that embraces asceticism his "eyes would glow", Fr. Pradhan said with obvious affection.
Fr. Jackson arrived in the Hazaribag area of present Jharkhand state in 1963 to join a group of fellow Australian Jesuits, but was later based in Patna, capital of eastern Bihar state.
During the 1960s, he searched for ways to respond to the call of the Vatican Council II for Catholics "to open the windows" of their religion.
"One of the most pivotal moments in my life is when I said to myself, let me try to do something for the Muslims," Fr. Jackson, who is an Islamic scholar, now relates.
He began to learn Urdu, the language of South Asian Muslims, as well as ubiquitous Hindi.
In 1976, he began doctoral studies on Serafuddin Maneri, the famous 14th-century Sufi Islamic mystic of Bihar.
After his doctorate, Fr. Jackson began organizing "Exposure to Islam" courses for Jesuit regional theology students in the ancient city of Patna.
He would send students two by two to spend 10 days with both poor and middle-class Muslims as well as Sufis.
He still translates Islamic documents, writes articles on Islamic themes and addresses Muslim conferences and seminars.
Fr. Jackson acknowledges that fellow Jesuits are now more open to inter-faith dialogue than they were several decades ago.
Had his dream of helping Muslims been fulfilled? "Of course, yes!" the energetic Australian priest replied with a smile.
Jesuit Father Victor Edwin, a lecturer in Islam and Christian-Muslim Relations at the Jesuit's Vidyajyoti College of Theology in Delhi, said Father Jackson understood that an "openness to receive" is at the heart of dialogue.
Full report at:
https://www.ucanews.com/news/australian-jesuit-opening-minds-to-muslim-world/81073
-------
Berlin should resolve problems with Ankara: Merkel aide
15 December 2017
Solving problems between Germany and Turkey is in the interests of both sides, and officials continue discussions on concrete issues, a close aide of Chancellor Angela Merkel said on Thursday.
Peter Altmaier, a senior Conservative politician who heads the Federal Chancellory and serves as the federal minister for special tasks, made the remarks during a visit to the Turkish Embassy in Berlin.
"2017 has been a difficult year for German-Turkish relations. Now we are talking and discussing very concrete issues with our counterparts.
"We all have an interest in finding solutions," he told reporters at the embassy, where he visited a photo exhibit on Ottoman-German relations in the 19th century.
Altmaier stressed that Germany and Turkey have a century-plus history of ties, calling the exhibit a good example of their multifaceted relationship.
He stressed that despite political differences between Berlin and Ankara on several foreign policy and domestic issues, Turkey remains an important country.
Full report at:
http://www.worldbulletin.net/europe/196885/brexit-dominates-start-of-eu-leaders-summit
-------
European media cover declaration on Jerusalem (Qudus)
14 December 2017
The European media widely covered the Istanbul declaration that was issued on Wednesday following an extraordinary summit of the Organization of the Islamic Cooperation (OIC) in the wake of U.S. recognition of Jerusalem (Qudus) as Israel's capital.
The "Istanbul Declaration" dubbed "Freedom for Jerusalem" was issued Wednesday evening after an extraordinary summit held in Istanbul.
"We confirm that we recognize the state of Palestine with East Jerusalem as its capital, and call the world to recognize East Jerusalem as the occupied capital of Palestine," the declaration read.
Germany's influential weekly Der Spiegel ran the headline: "Islamic summit recognizes East Jerusalem as Palestine's capital".
The Suddeutsche Zeitung newspaper, also in Germany, said Turkish President Recep Tayyip Erdogan had called for a summit following U.S. President Donald Trump's recognition of Jerusalem as Israel's capital last week.
Germnay's daily Tageszeitung wrote: "Erdogan's red line", saying the Turkish president had described Israel as "occupying" state.
French newspaper Le Monde wrote: "Muslim leaders call for recognizing East Jerusalem as Palestine's capital."
French daily Le Figaro said Muslim leaders were united in their perception that Trump's decision supports extremism and terrorism.
French broadcaster France 24 reported Erdogan's remarks: "Israel is rewarded by Trump for its terrorist actions".
The U.K.'s Guardian newspaper shared remarks made by Erdogan and his Palestinian counterpart Mahmoud Abbas.
It mentioned Abbas's remarks: "Palestinians no longer accept U.S. as mediator, Abbas tells summit".
Another British daily, The Independent ran the headline: "Turkey's President Erdogan tells Jerusalem summit Israel is an 'occupying' and 'terror' state".
It said Turkey had hosted the 57-member OIC on Wednesday in the wake of the U.S. decision.
The British Broadcasting Corporation (BBC) said the leaders of 57 Muslim nations called on the world to recognize "the State of Palestine and East Jerusalem as its occupied capital".
The BBC said the OIC communique declared Trump's decision to recognize Jerusalem as Israel's capital as "null and void".
The Italian news agency ANSA ran the headline: "Erdogan: We recognize Jerusalem as capital of Palestine".
Italian newspapers La Repubblica ran the headline: "Turkey at the center of game".
Belgian newspaper De Morgen said: "Muslim countries respond to Trump's decision", adding that countries attending the summit did not recognize the "illegal and unilateral" U.S. decision on Jerusalem.
Dutch TV channel NOS also reported on Abbas's comment, writing: "Abbas: Jerusalem decision a crime".
Swiss magazine Blick reported on the extraordinary summit by using Anadolu Agency as source.
In Bosnia and Herzegovina, the biggest selling daily Dnevni Avaz ran the headline "Muslim countries declare East Jerusalem as capital of Palestine" while the Oslobodjenje daily opted to use report on Erdogan describing Israel as a "terrorist state".
Meanwhile, the Serbian tabloid Blic ran the headline: "Turkey calls on world to recognize East Jerusalem as capital of Palestine".
Full report at:
http://www.worldbulletin.net/europe/196866/european-media-cover-declaration-on-jerusalem-qudus
-------
How did Victorian Muslims celebrate Christmas?
by Tharik Hussain
At 6am on December 25, 1888, the winter sun was yet to rise over the English city of Liverpool.
A Victorian terrace house was feverish with activity.
The soft glow of candlelight emanating from 8 Brougham Terrace revealed men and women busily putting up decorations and preparing food for the big celebration ahead, Christmas Day.
In one corner, a familiar Victorian scene of a woman playing the piano and directing hymn rehearsals, the singers' voices muted by the howling of a bitter northeasterly wind as it rattled the thin panes of glass.
This was Britain's first mosque and Muslim community preparing for their very first Christmas Day.
At 8am, having led the tiny congregation in the early morning prayer, the Imam finally opened the mosque doors.
Imam William Henry "Abdullah" Quilliam founded the mosque after embracing Islam in 1887, aged 31 years old.
He was greeted by more than 100 of the city's poor, who had been invited to enjoy a charitable Christmas breakfast inside what locals called "Islam Church".
As the group of recent converts served the paupers a hearty meal of "sandwiches, bread and meat, seedloaf, bunloaf, bread and butter, tea and coffee," the music began.
Hymns praising the birth of the Prophet Isa, or Jesus, rung out through the venue. By evening, numbers swelled. Word had got around, and the Muslims offered a "substantial tea" and small musical concert to the visitors.
The entertainment began with "mesmeric performances" by two young Muslims before "some delightful airs upon the zither, the fairy bells and the mandolin" by one Miss Warren.
The finale was a "magic lantern" show and photo series from the imam's recent tour across distant Muslim lands.
These descriptions of Victorian Muslims at Christmas were taken from the pages of The Crescent, the country's first Muslim newspaper.
It was published by the Liverpool Moslem Institute between 1893 and 1907 and was recently made available online by the Abdullah Quilliam Society - which is based at the historic mosque - in partnership with the British Library.
"This reminds us there was an earlier generation of Muslims, looking to spread the word of Islam through finding points in common rather than things to argue about," said Timothy Winter, a prominent British Muslim scholar.
Winter, the dean of Cambridge Muslim College and lecturer in Islamic Studies at the Faculty of Divinity, University of Cambridge, converted to Islam in 1979. He has worked extensively with the archives.
Britain's first Muslim community mostly comprised English converts.
The Christmas scenes, described in every January issue of The Crescent, may come as a surprise.
Winter said the festivities demonstrated a willingness to appropriate local traditions, something that was easier because the group had grown up with them.
"They possessed a spirit of openness and hospitality and were more concerned with God and truth and conveying the word [as opposed to] boundary issues and questions of identity and difference," Winter told Al Jazeera.
The Victorian Muslims were not celebrating Christmas in the Christian sense, said Humayun Ansari, professor and author of The Infidel Within: Muslims in Britain since 1800.
They simply wanted to reach out to the community.
In doing so, Ansari said, Quilliam and the early British Muslims were "indigenising" their Muslim identities.
"What Quilliam is doing in these early examples is trying to communicate that Islam is more familiar to the Christians of Britain then they think. He is trying to show that it is not something foreign and alien, but part of the Abrahamic tradition," Ansari told Al Jazeera.
"These early British Muslims were taking elements of British indigenous culture deemed acceptable within the Islamic framework and marrying them with their religious identities. In doing so, they offer a roadmap and blueprint for what an indigenous British Muslim identity might look like today."
In addition to the mosque, the Muslims of Liverpool founded a school, orphanage and a museum.
At school, students were taught a curriculum that integrated Islam with mainstream British education, including music classes.
They took part in literary and debating events titled A night with Charles Dickens, Oliver Cromwell and Ancient Britons.
In the playground, boys played football and cricket.
The Crescent newspaper, edited by Quilliam, regularly published inspiring quotes of notable Brits such as Shakespeare and Lord Tennyson.
Quilliam's role and influence were such that he was given the title of Sheikh Ul Islam of Britain by the Ottomans, and when he left Liverpool in 1908, it seems his community disbanded too.
Today, there are more than 2.5 million Muslims in Britain and, unlike Quilliam's community, they hail from a multitude of ethnic and cultural backgrounds and observe Islam differently.
"The Victorian Muslims were a small community, almost exclusively white English," said Sadiya Ahmed, founder of Everyday Muslim - an organisation which preserves Britain's Muslim heritage.
"Today, we have Muslims in Britain whose families have come from all over the world as well as those who are ethnically English, and this inevitably means they approach Christmas in a number of ways," she told Al Jazeera.
The issue recently came to the fore when Tesco, a supermarket brand, released its festive advertising campaign featuring a Muslim family celebrating Christmas.
Critics threatened to boycott the company because they saw Islam as incompatible with Christmas.
However, others welcome the advert as embracing multiculturalism.
"Some [Muslims] will completely shun it as a Christian festival, believing it has nothing to do with Islam, said Ahmed.
"Others will embrace it as a secular British tradition, putting up trees, exchanging presents and eating a halal turkey on Christmas Day. And then there will be those viewing it as a celebration of the birth of an important prophet of Islam.
Full report at:
http://www.aljazeera.com/indepth/features/2017/12/victorian-muslims-celebrate-christmas-171214134651020.html
-------
Mideast
Abbas Speech Against Trump Hailed By Hamas and Islamic Jihad Terrorists
14 Dec 2017
TEL AVIV — Hamas and Islamic Jihad praised Palestinian Authority President Mahmoud Abbas on Wednesday for his aggressive speech to the Organization of Islamic Cooperation in Istanbul in response to U.S. President Donald Trump's recognition of Jerusalem as the capital of Israel.
Abbas sharply criticized the U.S. in his speech, saying it isn't worthy of sponsoring diplomatic negotiations with Israel. He called on the United Nations to lead the Middle East peace process.
The Palestinian president's aggressive speech was met with positive responses from the leaders of Hamas and Iran-backed Islamic Jihad, though both anti-Semitic terrorist organizations demanded that he translate his words into concrete action.
Hamas politburo member Dr. Mousa Abu Marzook praised Abbas for setting a "high bar" in his speech, but demanded that he not return to the West Bank until the U.S. president takes back his decision to recognize Jerusalem as Israel's capital.
"Mr. President, despite the high bar you set in your speech, it was still limited to being a demand, protest and threat without concrete steps even though we have many cards in our hands," Marzook wrote on Twitter.
"And you have an amazing people who are already in conflict for over 100 years. Don't frustrate this people by continuing down the same path and don't return to the Muqata in Ramallah without Trump rescinding his decision. Lift up your people and wake them up; you will find the entire world standing by you," he added.
Islamic Jihad terror official Daoud Shihab also praised Abbas for his speech. "Islamic Jihad welcomes many positive points made by President Abbas at the Organization of Islamic Cooperation," said Shihab. "But we still believe that the position of the Palestinian Authority doesn't rise to the challenge as much as needed to respond to the crime of American President Trump."
Shihab called on the PLO to repeal the Oslo Accords and end all its cooperation "with what's called the peace process."
The Islamic Jihad member added, "We call on the nations of the world to reconsider their recognition of Israel, so we, the Palestinians, must begin down this path so that the world will follow us."
http://www.breitbart.com/jerusalem/2017/12/14/abbas-speech-trump-draws-applause-hamas-islamic-jihad-terrorists/
-------
The Muslim world stands united in support of Palestine — Momani
Dec 14,2017
AMMAN — The outcome of Wednesday's meeting of Organisation of Islamic Cooperation (OIC) has shown that the Muslim's world stands united in support for the eternal right of Palestinians to Jerusalem, a senior official has said.
Minister of State for Media Affairs Mohammad Momani told Jordan TV on Thursday that the Islamic World made it clear that it rejects the US' decision to recognise Jerusalem as Israel's capital and move the US embassy to the occupied city.
Momani underlined the vigorous Jordanian diplomatic, political and media efforts that preceded the OIC extraordinary summit in Istanbul, adding that during the time when US President Trump's announcement was looming, Jordan's position by His Majesty King Abdullah was a step ahead of all other players, as it was "courageous and carried a clear warning of the repercussions of this decision, which is a violation of international legitimacy".
Momani, who is also the government spokesperson, stressed that Jordan was at the forefront of countries that faced the decision firmly, calling on the Arab League to meet and take part actively in the OIC extraordinary summit.
Momani said that the Jordanian-Palestinian coordination is constant and there are ideas already contemplated by the two sides, aimed to create the right international impact to address the repercussions of the move.
Momani said that Jordan has been warning that extremist would take advantage of such a situation and the absence of regional stability to advance their agendas.
In regards to Jordan and the decision of the International Criminal Court regarding the Sudanese president, Momani said that Jordan would deal with the situation within a legal framework.
Full report at:
http://www.jordantimes.com/news/local/muslim-world-stands-united-support-palestine-—-momani
-------
Iran Pledges Support for Palestinian Terror Groups Fighting US Jerusalem Move
DECEMBER 14, 2017
Iran has officially offered Palestinian terrorist groups its support in mounting "resistance aimed at blocking the implications" of US President Donald Trump's recognition of Jerusalem as Israel's capital.
Maj. Gen. Qasem Soleimani, commander of Iran's powerful Quds Force, a branch of the Islamic Revolutionary Guard Corps (IRGC), reached out on Monday to the commanders of the "military wings" of the Palestinian Islamic Jihad and Hamas terror groups in Gaza. Soleimani pledged the IRGC's "complete support for Palestinian Islamic resistance movements" and reiterated Tehran's "commitment to the Palestinian issue," IRGC-affiliated Sepah News reported.
Muslim nations should resolve their internal disputes and work together to defend the rights of Palestinians against Trump's decision, Iranian President Hassan Rouhani said during an address in Istanbul on Wednesday.
Iran's Defense Minister Brig. Gen. Amir Hatami warned Monday that Trump's move would "hasten the destruction of the Zionist regime and will double the unity of Muslims."
Full report at:
https://www.algemeiner.com/2017/12/14/iran-pledges-support-for-palestinian-terror-groups-fighting-us-jerusalem-move/
-------
KSA, UAE in rare talks with Yemen Islamist party
December 15, 2017
RIYADH : Saudi Arabia and the United Arab Emirates have held rare talks with Yemen's Al-Islah party, ignoring its close links with the Muslim Brotherhood as they review strategy against Shiite rebels.
Both countries have outlawed the Brotherhood as a terrorist group and the UAE even sponsored rival Sunni Islamist groups in Yemen.
But after the failure of an attempted uprising early this month against the rebels by their erstwhile ally former president Ali Abdullah Saleh, the two governments have been forced to review strategy in their nearly three-year-old military intervention. Saudi Crown Prince Mohammed bin Salman and his Abu Dhabi counterpart Mohammed bin Zayed received the Islamist party's chairman and secretary general in Riyadh late on Wednesday, the official Saudi Press Agency reported. It was an opportunity to "review the situation in Yemen and efforts to restore security and stability for the Yemeni people," SPA said.
Al-Islah was long a major military as well as political force in Yemen but its forces pulled back from the capital and the rest of the north as the rebels took control and are now largely confined to Marib province, east of Sanaa.
The movement is nominally part of the alliance supporting President Abderabbo Mansour Hadi but so far it has played only a minor part in the actual fighting against the Huthi rebels.
Saudi Arabia has not cut off all contact with parties linked to the Brotherhood, but the UAE had previously pursued a policy of "zero tolerance" toward Al-Islah, considered close to arch rival Qatar.
Saudi Arabia, the UAE , Bahrain and Egypt cut off all diplomatic and economic ties with Qatar in June, mainly over Doha's links to the Brotherhood.
Full report at:
http://nation.com.pk/15-Dec-2017/ksa-uae-in-rare-talks-with-yemen-islamist-party
-------
Israeli troops detain two Palestinian teenage girls at gunpoint: Video
Dec 15, 2017
Israeli forces have been caught on camera arresting two Palestinian teenage girls at gunpoint from inside an ambulance amid angry protests and clashes in the occupied Palestinian territories over a controversial US declaration on Jerusalem al-Quds.
The video, which has gone viral on social media, shows a group of Israeli troops stopping a Palestinian Red Crescent ambulance in the town of Halhul in the southern occupied West Bank.
The forces are seen jumping into the vehicle and pulling two people out after verbal and physical confrontations.
The Palestinian Ma'an news agency said locals identified the two as Palestinian teenage girls, who were later handcuffed and taken away.
Tensions have been running high in the occupied West Bank and the Gaza Strip since December 6, when US President Donald Trump defied international warnings and said Washington was recognizing Jerusalem al-Quds as the "capital" of Israel.
The US president also said his administration will being work to prepare for the relocation of Washington's embassy from Tel Aviv to al-Quds.
Trump's move on Jerusalem al-Quds, whose status is at the center of the decades-long Israeli-Palestinian conflict, angered the Palestinian people and the entire world community, including the US and Israel's own allies.
Since last week, Palestinians in the occupied West Bank and Gaza have been holding daily protests rallies against the US and Israel.
Most of the protests have been met with a fierce response by Israeli forces, who use tear gas, rubber bullets and stun grenades to disperse the protesters.
The regime's forces have also made dozens of arrests amid clashes with Palestinians across the West Bank.
Full report at:
http://www.presstv.com/Detail/2017/12/15/545663/Israel-Palestinian-Clashes-WestBank
-------
Fresh Saudi airstrikes leave dozen more civilians dead in SW Yemen
Dec 14, 2017
At least a dozen people have lost their lives in a fresh Saudi airstrike against a civilian target in Yemen's southwestern province of Ta'izz as the Riyadh regime presses ahead with its devastating aerial campaign against its crisis-stricken southern neighbor.
Local sources, speaking on condition of anonymity, told Arabic-language al-Masirah television network that the Saudi military aircraft on Thursday struck a bridge linking the al-Barh area of Maqbanah district to Hees town, killing four people.
Eight more lost their lives when Saudi jets targeted a civilian car in another part of the province, situated 260 kilometers south of the capital Sana'a.
Earlier in the day, Saudi warplanes bombarded residential neighborhoods in the Ghamar district of Yemen's mountainous northwestern province of Sa'ada, killing eight people. Two women, a child and three paramedics were among those killed.
Three civilians were also killed when Saudi fighter jets carried out three aerial attacks against al-Ghad area in the Razih district of the same Yemeni province.
Separately, Saudi warplanes conducted four aerial assaults against the Sawar al-Afsal area of Razih district, though no reports of casualties were immediately available.
Saudi Arabia has been incessantly pounding Yemen since March 2015 in an attempt to crush the popular Houthi Ansarullah movement and reinstate the former Yemeni president, Abd Rabbuh Mansur Hadi, a staunch ally of the Riyadh regime.
More than 12,000 people have been killed since the onset of the campaign more than two and a half years ago. Much of the Arabian Peninsula country's infrastructure, including hospitals, schools and factories, has been reduced to rubble due to the war.
The Saudi-led war has also triggered a deadly cholera epidemic across Yemen.
According to the World Health Organization's latest count, the cholera outbreak has killed 2,167 people since the end of April and is suspected to have infected 841,906.
On November 26, the United Nations children's agency (UNICEF) said that more than 11 million children in Yemen were in acute need of aid, stressing that it was estimated that every 10 minutes a child died of a preventable disease there.
Additionally, the UN has described the current level of hunger in Yemen as "unprecedented," emphasizing that 17 million people are now food insecure in the country.
It added that 6.8 million, meaning almost one in four people, do not have enough food and rely entirely on external assistance.
A recent survey showed that almost one third of families had gaps in their diets, and hardly ever consumed foods like pulses, vegetables, fruit, dairy products or meat.
Full report at:
http://www.presstv.com/Detail/2017/12/14/545618/Fresh-Saudi-airstrikes-leave-dozen-more-civilians-dead-in-SW-Yemen
-------
Israel carries out series of strikes on Hamas sites in Gaza
14 December 2017
Israel carried out a series of air strikes against Hamas in Gaza early Thursday, the army said, hours after rockets were fired at the Jewish state from the Palestinian enclave.
In a statement the Israeli army said they had targeted three Hamas military facilities in different parts of the Gaza Strip, which Hamas controls. "The military facilities were used as training and weapons storage compounds," the statement said.
"This was in response to the projectiles fired at Israeli territory from the Gaza Strip earlier this evening."
A Palestinian security source said there were more than 10 strikes on the targets, which included a Hamas naval site and a military base near the Shati refugee camp in northern Gaza.
Significant damage
The source said there had been significant damage to the sites, as well as more minor damage to nearby houses, causing minor injuries. There was no initial confirmation of injuries from the ministry of health in Gaza.
The strikes came hours after Israel's missile defense system intercepted two rockets fired from Gaza. The rockets are often fired by small groups but Israel holds Gaza's rulers Hamas responsible for any attacks from the territory.
The army also announced it would close off the main goods crossing between Gaza and Israel from Thursday "due to the security events and in accordance with security assessments".
Full report at:
https://english.alarabiya.net/en/News/middle-east/2017/12/14/Staffan-de-Mistura-urges-Putin-to-press-for-Syria-elections-.html
-------
Yemen Islah party sever ties with Muslim Brotherhood
15 December 2017
The United Arab Emirates minister of state for foreign affairs Dr Anwar Gargash announced that the Yemeni Islah party has severed ties with the Muslim Brotherhood in a tweet on Friday morning.
Dr Gargash said that the Islah party announced "its severance of ties with the Muslim Brotherhood terrorist organization".
"We now have an opportunity to test their intentions in the interest of Yemen and the Arab region. We work with flexibly and our goal is the security and stability of the region".
The statement was made after a meeting was held on Wednesday between Saudi Crown Prince Mohammed bin Salman and Sheikh Mohammed bin Zayed Al Nahyan, Crown Prince of Abu Dhabi met in Riyadh on Wednesday with the Chairman of the Yemen Islah party, Colonel Mohammed Abdullah al-Yidoumi, and Secretary-General Abdulwahab Ahmad al-Anisi.
Gargash sadded in another tweet that Sheikh Mohammed Bin Zayed's meeting with the leaders of Yemen's Islah Party was to unite efforts to defeat Iran and its Houthi militias.
Full report at:
https://english.alarabiya.net/en/News/gulf/2017/12/15/Yemen-Islah-party-sever-ties-with-Muslim-Brotherhood.html
-------
Yemeni army achieves strategic breakthrough in Sanaa
14 December 2017
The Yemeni army, with the support of Arab coalition air forces, has achieved a strategic breakthrough on Wednesday by reaching the district of al-Jawf, north of Sanaa.
They were able to reach the district through the Saada governorate, the main stronghold of the Houthi militia which is far north of Yemen bordering Saudi Arabia.
According to a statement by the Media Center of the Yemeni armed forces, the commander of the Saada axis, Brigadier Obaid al-Athla said, "The National Army forces were able to reach the first directorates of Al-Jawf from the governorate of Saada."
Al-Athla confirmed that Yemeni forces reached the beginnings of the al-Khab and al-Shaaf districts in al-Jawf, after liberating vast desert areas from the Houthi militia in the al-Ajasher area in Saada.
He also noted that the militia is collapsing day by day, and are suffering great loss in soldiers and weaponry.
Al-Athla promised of several more hits to come on the militia, but did not elaborate on any details.
Full report at:
https://english.alarabiya.net/en/News/gulf/2017/12/14/Yemeni-army-achieves-strategic-breakthrough-in-Sanaa.html
-------
Southeast Asia
Religious groups called to rise up against radical Islam
December 15, 2017
Moderates and minority religions in Indonesia have to band together and actively fight against a new push for the implementation of Sharia law across the country, analysts and political observers say.
Hard-line groups in Indonesia are increasing their efforts to implement Sharia law with support from certain political parties. Boni Hargens, a prominent Catholic political analyst said the alliance between radical groups with several political parties, such as the Prosperous Justice Party (PKS) and the Great Indonesia Movement Party makes their efforts to get rid of the secular state ideology of "Pancasila" possible.
"They are working with each other for their own interests. Pragmatic political parties want to gain power, while radical groups want to realize their dream to impose Sharia," he told ucanews.com after forum in Jakarta discussing religious extremism.
He said their agenda has become very evident since they succeeded in ousting Jakarta's Christian governor Basuki Tjahaja Purnama, commonly known as "Ahok" earlier this year.
"Their next target is President Joko Widodo in the election in 2019. They see him as a major obstacle to their mission," he said.
Sectarian mud-slinging employed in the Jakarta election will be re-played in the presidential election with Widodo being called a heretic, pro-communist and anti-Islamic, Hargens said.
He said moderate Muslim and minority religious groups must wake up and see this as a serious threat as it will only put the nation on a course toward conflict.
"It is not enough to put one's hopes only on the government. Religious groups must maximize efforts to fight against radical rhetoric by promoting concepts in favor of diversity," he said.
"Interfaith cooperation must also be pursued," he said.
The fight for influence now, he said, is so open. "Radical groups, although they are not much at present, are trying to exert major influence so moderates must act now to counter them," he said.
Soleman Pontoh, former head of Indonesia's Strategic Intelligence Agency said, "now is the time for moderate groups to end their silence."
"Indonesia could collapse the majority choose to keep quiet silent," he said.
Father Benny Susetyo, an outspoken priest, and secretary of the Setara Institute for Justice and Peace said the spread of radicalism in houses of worship is a serious concern.
"Religious leaders need to formulate common ground on what is allowed to be preached in sermons and what is not. Do not use the pulpit to vilify others or to blame other religions," he said.
Calling efforts to implement sharia "irrelevant," Said Aqil Siradj, chairman of Nahdatul Ulama, Indonesia's largest moderate Muslim organization said efforts are already under way to stem radical propaganda.
"We have formed a cyber team to counter fake news and misinterpretations of Islam on social media," he said.
https://www.ucanews.com/news/religious-groups-called-to-rise-up-against-radical-islam/81078
-------
Leaders Laud Indonesia's Support for Palestinian Independence
December 14, 2017
Jakarta. Indonesia reaffirmed its commitment to support Palestinian independence during the extraordinary summit of the Organization of Islamic Cooperation in Istanbul on Wednesday (13/12).
The country's foreign policy move was lauded by world leaders, including Jordan's King Abdullah II bin Al-Hussein and Palestine President Mahmoud Abbas.
In a statement received by the Jakarta Globe, Foreign Minister Retno Marsudi said Abbas had expressed his gratitude toward Indonesia for its support of Palestine.
"President Abbas also said that among countries outside the Middle East, Indonesia has been the most supportive for the rights of Palestinians," Retno said.
In his speech during the summit, which was called to discuss a decision by United States President Donald Trump to officially recognize Jerusalem as the capital of Israel, President Joko "Jokowi" Widodo said Indonesia would continue to step up its support for Palestine, in political, economic and foreign affairs.
"Indonesia will always side with Palestine as part of its foreign diplomacy," Jokowi said, as quoted in the statement.
King Abdullah also expressed his appreciation toward Indonesia during the occasion.
Jordan has a special role as custodian of the Muslim and Christian holy sites in Jerusalem.
The OIC issued a communique after the meeting calling on the United States to revoke its "unilateral" decision on Jerusalem, and urged member states to impose political and economic restrictions on the world's largest economy.
Indonesia has been a vocal supporter of Palestinian independence. Jokowi and Retno have both said on multiple occasions that support for Palestine is "at the heart of Indonesia's foreign policy."
The country opened a consulate general in Ramallah, Palestine's de facto capital, in 2016.
Full report at:
http://jakartaglobe.id/news/leaders-laud-indonesias-support-palestinian-independence/
-------
Moderation a Weapon Against Terror, Southeast Asian Nations Say in Backing UN Resolution
2017-12-14
Southeast Asian diplomats cited the Rohingya exodus and a recent battle in the southern Philippines in urging the United Nations to adopt a resolution introduced by Malaysia to fight extremism through moderation and peaceful dialogue.
Officials said 135 nations had accepted the "moderation" resolution, but the United States and Israel were the only countries that voted against it last week at the U.N. General Assembly in New York. There were no abstentions.
The resolution, submitted by Malaysian envoy Mohd Shahrul Ikram Yaakob for adoption by the General Assembly, encourages worldwide dialogue and tolerance to fight intensifying violent extremism around the globe.
It calls upon U.N. members "to support the Global Movement of Moderates initiative as a common platform to amplify the voices of moderation over those of violent extremism as and when conducive to terrorism."
The United Nations said Washington had cast a "no" vote because the resolution "failed to distinguish" between the words "extremism" and "violent extremism."
"While the United States universally rejected the latter, (it) expressed concern that nations or individuals might construe the resolution's language to curtail freedoms of expression or belief," the U.N. said in a statement, which did not shed light on Israel's vote.
In Malaysia, Prime Minister Najib Razak welcomed the resolution's adoption as a step in efforts to stop radicalism from spreading in the majority-Muslim country of 32 million people.
"Another historic success for #Negaraku," Najib said on Twitter this week, referring to Negaraku (My Country), Malaysia's national anthem.
Najib has staunchly advocated what he called "wasatiyyah," or moderation, in his multicultural nation that supports a diversity of faiths.
Last month, while launching a website and two publications owned by the Global Movement of Moderates Foundation in Putrajaya, south of Kuala Lumpur, Najib said that moderation rejected all forms of evil, such as extremism.
During the past few years, his government has warned of an emerging domestic threat from militancy, particularly from the violent extremist group known as Islamic State (IS).
Since 2013, Malaysian authorities have arrested at least 349 people suspected of links to IS and other militant groups. The country says it has foiled nine IS-linked terror plots, but IS claimed responsibility last year for a grenade attack that injured eight people at a nightclub near Kuala Lumpur.
"We do not have to look far to realize the crucial importance of practicing moderation," Najib said. "When we see what happened in Marawi City recently, we see the deadly effects of extremism."
Marawi fighting
In late October, the Philippine military declared an end to a five-month battle with pro-IS groups that had seized parts of the southern city, after bombing Marawi heavily. The fighting killed more than 1,200 people, flattened the once-scenic city and displaced its 200,000 residents. More than 970 militants died, the military said.
Teodoro Locsin, Jr., the Philippine ambassador to the U.N., told his fellow diplomats that the "moderation" resolution reflected Manila's road map to attain peace with Muslim rebels in the south.
He said a "peace caravan" involving religious leaders aboard a bus was traveling across the country, so officials could gather insights on creating avenues for dialogue and peace.
The caravan, which left the northern Philippines in late September, will end in Iligan City, about 38 km (24 miles) from Marawi.
"In a conflict misidentified as religious, it was important for all faiths to clarify what was religion and what was bloody ambition, what was prayer and what was rapine disguised as piety," Locsin said.
Diplomats rally for resolution
During the resolution's adoption on Dec. 8, Siti Arnyfariza Md Jaini, Brunei's U.N. ambassador, said "the rising threat of terrorism and violent extremism across the globe was a grim reminder of the need for sustained efforts to combat those phenomena."
"We must not allow the seeds of intolerance, hatred and extremism to take root," she said.
Indonesia's U.N. representative, Dian Triansyah Djani, said military measures alone would not be sufficient to combat or eliminate violent extremism.
It was critical to cultivate peace and stability, he emphasized, noting Indonesia's various national initiatives, including interfaith dialogue.
Indonesia, the world's largest Muslim-majority nation with 262 million people, is also dealing with a threat from militant groups like IS. The country was trying to eliminate the links between extremism and poverty through the creation of jobs and a reduction of inequality, the Indonesian ambassador said.
Myanmar's U.N. ambassador, Hau Do Suan, mentioned attacks against security forces by the militant group Arakan Rohingya Salvation Army (ARSA) in Rakhine State that spawned a massive exodus of Rohingya Muslims into Bangladesh this year.
He rejected extremism as harmful to any diverse and tolerant society.
An estimated 655,000 Rohingya fled Myanmar's Rakhine state and crossed into Bangladesh during a military crackdown that began after deadly attacks on police outposts by Muslim militants on Aug. 25.
The U.N., the U.S. and rights groups have accused Myanmar's military of committing atrocities against the Rohingya Muslims in what officials described as "ethnic cleansing." Myanmar officials have denied the allegations.
Towards 'a more harmonious world community'
The Malaysian envoy to the U.N., Mohd Shahrul Ikram, said Malaysia had presented the resolution to urge the United Nations to declare 2019 as The International Year of Moderation.
"The obstacles that prevent a culture of peace from taking root are many, but they are not insurmountable and moderation be seen as the bedrock of international relations in the global world where peace remained elusive," he told BenarNews.
Recent faith-related issues that bordered on intolerance have spurred controversy in Malaysia.
In September this year, the owner of a "Muslim-only" laundromat in Malaysia's Johor state dropped his policy excluding people of other faiths, when the local Sultan ordered him to apologize and be inclusive.
A board in front of the man's shop had proclaimed that it was "Muslim-friendly."
"This launderette only serves Muslim customers due to issues of purity. Any inconveniences are deeply regrettable. Please leave your shoes before entering," the sign said.
In September, Malaysian police cancelled a beer festival following objections from Muslim leaders, who claimed the event would encourage immorality and lead to criminal acts.
Nasharudin Mat Isa, chairman and CEO of the Global Movement of Moderates Foundation (GMMF), the Malaysian group that lobbied the government to push for the U.N. resolution, said its adoption underscored the foundation's goal of inculcating global peaceful co-existence.
Full report at:
http://www.benarnews.org/english/news/malaysian/malaysia-militants-12142017182554.html
-------
Terrorism expert: M'sians among members of new pact in Philippines
Zam Yusa
December 15, 2017
PETALING JAYA: Foreigners, including Malaysians, are among members of a new pact of pro-Islamic State (IS) groups and communists that have closed ranks in southern Philippines, an expert says.
Director of the Philippine Institute for Peace, Violence and Terrorism Research Rommel Banlaoi was quoted as saying that five groups had formed the "tactical alliance".
They are remnants of the Maute and Abu Sayyaf groups responsible for the siege on Marawi city, the Dawlah Islamiyah, a faction of the Bangsamoro Islamic Freedom Fighters (BIFF) and communist insurgent group the New People's Army (NPA).
The alliance is "supported by radical volunteers from Indonesia, Malaysia and other Muslim countries", Gulf News reported.
The first four groups have pledged allegiance to IS while the NPA was declared a terrorist organisation by Philippine president Rodrigo Duterte on Dec 5.
"Government agencies involved in security bared this recent development which could have implications on the current government campaign against the groups behind the Marawi adventure and the CPP-NPA (Communist Party of the Philippines-NPA)," Banlaoi was quoted as saying by Gulf News.
He was speaking during a recent lecture on national security at the National Defence College of the Philippines.
Paweł Wójcik, an analyst focusing on Southeast Asian terrorism issues for Polish current affairs site www.mpolska24.pl/, said such a pact was possible.
"I think that there might be some sort of cooperation, especially in south Cotabato where recent Abu Turaifi (alias of Esmail Abdulmalik, BIFF leader) attacks coincided with similar attacks claimed by the military to be made by the NPA," Wójcik told FMT.
Philippine and Malaysian authorities have publicised several names of Malaysian militants involved in the Marawi attacks.
However, the Terrorism Research and Analysis Consortium (TRAC) told FMT that based on chatter on IS-related communication channels, it believed more than 30 Malaysians were taking part in the Marawi siege.
Some of the Marawi militants are still unaccounted for, following the official conclusion to the war on Oct 23.
These include a Malaysian from Sabah, Amin Baco, one of several people touted as the new leader of IS in the region following the death of Isnilon Hapilon, IS emir-designate for Southeast Asia.
"There is absolutely no doubt that Malaysians are with the new alliance," Wójcik told FMT.
"This is especially taking into consideration that at least 185 IS militants on the Philippine armed forces' list of terrorists responsible for the Marawi invasion are still at large.
Full report at:
http://www.freemalaysiatoday.com/category/nation/2017/12/15/terrorism-expert-msians-among-members-of-new-pact-in-philippines/
-------
Report: Terrorism threat may be hurting MM2H programme
December 14, 2017
PETALING JAYA: Fears over terrorism and the tragedy of missing Malaysia Airlines flight MH370 may have contributed to a major decline in the number of Japanese citizens wanting to migrate to Malaysia, says an official with the Malaysia My Second Home (MM2H) programme.
MM2H senior assistant director Sharifah Ikhlas cited the two reasons in a report by the Japan Times, adding that the reduced numbers could also be attributed to a lack of funds to promote the programme.
She was referring to data showing that around 200 Japanese citizens moved here under the programme this year, compared with a high of 816 in 2012.
However, the director of a company appointed as an official agent by MM2H, said that the lower number of Japanese migrating here this year was nothing out of the ordinary.
NS Vision Marketing director Naoki Nakamura said it is about the same rate of migration by Japanese to Malaysia under MM2H prior to the devastating March 2011 earthquake and tsunami, and the consequent nuclear disaster, in Japan.
"We had seen a surge in visa applications as people wanted to escape the risks (posed by the nuclear disaster)," he said.
He added that the recent decline in people wanting to migrate was because fewer people feared a repeat of such a cataclysmic event as that which affected the Fukushima, Miyagi and Iwate prefectures in northeast Japan.
According to the daily, among the primary reasons given by Japanese wanting to resettle in Malaysia were the low cost of living, tropical climate and MM2H tax benefits.
"With the majority of migrants from Japan being 50 years or older, overseas long stays can be one of the ideal options for their second life," Sharifah was quoted as saying.
Malaysia My Second Home
The MM2H programme, which was launched in 2002, is open to all foreigners subject to certain conditions.
Those under 50 years of age need to bring in at least RM500,000 in terms of cash and have a monthly income of RM10,000.
For those over 50, all that is required is RM350,000 cash and a monthly income of RM10,000.
Meanwhile, foreigners who have retired in their country of origin, just need to show they are earning a pension or other forms of monthly income amounting to RM10,000 per month.
Full report at:
http://www.freemalaysiatoday.com/category/nation/2017/12/14/report-terrorism-threat-may-be-hurting-mm2h-programme/
-------
Najib, Hadi to lead rally against Trump's Jerusalem move next Friday
BY RAM ANAND
December 15, 2017
PUTRAJAYA, Dec 15 ― Prime Minister Datuk Seri Najib Razak and PAS president Datuk Seri Abdul Hadi Awang will jointly spearhead a rally next Friday against the United States' recognition of Jerusalem as Israel's capital.
Deputy Prime Minister Datuk Seri Ahmad Zahid Hamidi announced today that the rally will bring together several Islamic non-governmental groups, with Najib and Hadi both scheduled to make key addresses.
"The prime minister will deliver a speech, while (Hadi) will also deliver a speech. A third speech will be delivered by a NGO representative," he said.
Full report at:
http://www.themalaymailonline.com/malaysia/article/najib-hadi-to-lead-rally-against-trumps-jerusalem-move-next-friday#FMIBMDjQlB5htJE7.97
-------
Pakistan
Senate panel seeks answers to deportation of Turks
December 15, 2017
ISLAMABAD: The Senate Committee of Interior on Thursday summoned the secretaries of foreign affairs, interior, civil aviation and education departments as well as a prime minister's representative to explain how and why the Turk citizens affiliated with Pak-Turk schools were sent back to their country.
The matter of the Turk citizens, who were residing in Pakistan on valid visas, was raised by Senator Muhammad Khan Saif during a meeting on Thursday. Committee Chairman Senator Rehman Malik presided over the meeting.
The committee sought detailed information on the Turkish citizens' deportation to Turkey.
Asma Jahangir, the attorney for some of those Turks, told the panel that her clients were taken out handcuffed from their residences in September and were reportedly given into the custody of Turk police and taken to Istanbul, despite government assurances that they would not be deported until November 2017.
However, the interior ministry, the police and the Federal investigation Agency (FIA) denied any knowledge of them being sent to Turkey without passports.
Senate panel seeks Turkish family's recovery
Advocate Sadia Norren Malik told the committee that Turkish teachers had nothing to do with the politics of either country.
The chair directed the interior ministry to provide detailed information as to who took the Turkish teachers to Turkey, what kind of flight they were boarded, the numbers of Turks who have been deported, how many Turks were still in Pakistan, and under what agreement the administration of the schools has been transferred.
Senator Malik summoned Prime Minister Shahid Khaqan Abbasi's representative to brief the committee on the deportation of Turkish teachers last year. The committee also decided to call the foreign affairs secretary, interior secretary, civil aviation secretary, education secretary and representative of PM Office on its next meeting.
Senator Malik expressed annoyance over the absence of the Council of Islamic Ideology (CII) chairman, saying that if he continued to skip the meeting, the committee would move against him in the Senate and he might bring a privilege motion against him.
The senator said that there were three important bills pending for which the opinion of the CII chairman was needed but he was continuously ignoring the committee meetings.
The committee decided to discuss the Madrassah reforms and the National Counter-Terrorism Authority (Nacta) in a separate meeting in the first week of January.
The chair constituted a subcommittee headed by Senator Saif to consider the Anti-Terrorism (Amendment) Bill, 2017 moved by Senator Murtaza Wahab and Senator Mukhtiar Dhamrah, which aimed at witness protection in Pakistan.
Senate panel seeks details of all tax cases against fertiliser firm
Trump condemned
The committee strongly condemned the terror attack on an Army Vehicle and President Donald Trump's decision to recognise Jerusalem as the capital of Israel. Senator Malik moved two resolutions which were unanimously passed.
"The Senate Standing Committee on Interior strongly condemns the terror attack on Army vehicle in North Waziristan on December 12, 2017 in which Second Lieutenant Abdul Moeed and Sepoy Basharat were martyred. This committee pays rich tribute to the martyrs of nation, prays for their departed souls and expresses heartfelt condolences and sympathies with their families," one of the resolutions stated.
"The Muslim Ummah is facing terrorism across the world… particularly the Middle East and Pakistan are worst victim of terrorism. There is dire need of interfaith harmony and the decision of Donald Trump has hurt the process of interfaith harmony which will harm world's efforts toward peace," the other resolution stated.
https://tribune.com.pk/story/1584378/1-senate-panel-seeks-answers-deportation-turks/
-------
Pakistan and Afghanistan to hold Track-II dialogue today
Tahir Khan
DECEMBER 15, 2017
KABUL: Pakistan and Afghanistan will hold Track-II dialogue in Kabul today (Friday) to explore ways to improve relations between the two neighbouring countries, organizers here said.
The unofficial dialogue will take place amid signs of improvement in relations as both governments are making efforts to remove the mistrust.
Pakistani delegation led by Rana Muhammad Afzal Khan, member of the National Assembly belonging to the Pakistan Muslim League-Nawaz (PML-N), arrived in Kabul on Thursday.
The dialogue is part of Pakistan-Afghanistan Track 1.5/ II initiative titled: "Beyond Boundaries", which started in October 2015 as part of efforts to help improve relations between the two countries and enhance people-to-people contacts.
Pakistan ambassador Zahid Nasrullah hosted a reception for the Pakistani and Afghan delegates at the embassy and lauded the efforts at the unofficial level to bring the people closer.
Earlier, the ambassador briefed the Pakistani participants on the relationship between the two countries. He said Pakistani embassy issues up to 1,600 visas to Afghan nationals every day to facilitate them travel to Pakistan for trade, education and treatment. Similarly, the Jalalabad embassy also issues more than 1,500 visas every day.
Members of the dialogue will also hold meetings with Afghan leaders including Chief Executive Dr. Abdullah Abdullah, former President Hamid Karzai and several ministers.
Both sides will review policy recommendations of the previous meetings and review of political and other significant developments in Pak-Afghan relations- both negatives and positives- between now and last meeting held end of March, 2017.
They will also share views on how to work jointly and build on the positives and Peace and Reconciliation Strategy.
There will also be interactive discussion on Trade and Transit Relations between Afghanistan and Pakistan and repercussions of frequent Pak-Afghan Border closures, re-openings, losses to businesses and traders, and the way forward.
Both sides will also have interactive discussion on other important bilateral issues including refugees, latest on ground realities, role of Pakistan and Afghanistan media in Bilateral Relations and addressing misperceptions through dissemination of positives instead of focusing on negatives only.
The delegation includes Lt General (Retd) Asif Yasin Malik, former Secretary of Defense, Dr. Shoaib Suddle, former police chief of Balochistan and Karachi, Qazi Humayun, former ambassador to Kabul, Mian Sanaullah, former ambassador to Indonesia, Ms. Seema Ilahi Baloch, former ambassador to Poland, Rehman Azhar is a Pakistani anchor, Zahid Hussain, an analyst and writer, and Faiza, Executive Director / Secretary General of Pakistan-Afghanistan Joint Chamber of Commerce and Industry (PAJCCI).
Shazia Marri, MNA and Senator Shibli Faraz will join the delegation on Friday. Toaha Qureshi, International British Expert will chair the session.
Full report at:
https://dailytimes.com.pk/160097/pakistan-afghanistan-hold-track-ii-dialogue-today/
-------
19 terrorists, facilitators nabbed in Punjab, Balochistan IBOs: ISPR
Dec 15, 2017
The security forces on Thursday conducted an intelligence-based operation in Dera Bugti, Balochistan, district and recovered a cache of arms and explosives, said a statement released by the Inter-Services Public Relations (ISPR).
FC Balochistan, during the operation, recovered explosives, prepared IEDs, detonators and ammunition.
In a separate operation, Punjab Rangers, along with CTD, Punjab Police and intelligence agencies conducted IBOs in Sargodha, Bhakkar, DG Khan, Attock and Lahore. The security forces apprehended 19 terrorists and facilitators and also recovered illegal weapons from their possession, added ISPR.
https://www.pakistantoday.com.pk/2017/12/14/19-terrorists-facilitators-nabbed-in-punjab-balochistan-ibos-ispr/
-------
Tribal elders oppose FATA's merger with KP
Dec 15, 2017
More than 500 tribal elders held a grand jirga on Thursday and rejected the possible merger of Federally Administered Tribal Areas (FATA) with Khyber Pakhtunkhwa.
The elders, hailing from tribal areas, were of the opinion that FATA should be given the status of a separate province. The jirga also announced to hold a protest on December 23 in Islamabad.
The issue of the merger of the FATA with KP is one of the pending matters for the incumbent government and has dominated the political discourse of the country in recent weeks.
Earlier on Thursday, the members of opposition parties staged a walkout from the National Assembly (NA) in a bid to press the government to introduce the FATA Reforms Bill. The recommendations to bring the tribal areas at par with the rest of the country were approved by the federal cabinet on March 2 but the matter has been delayed since then.
Imran Khan also demanded of the government to immediately table a "full package of FATA reforms. Almost all the political parties support the demand of merger of FATA with KP, including Pakistan Tehreek-e-Insaf (PTI), Awami National Party (ANP), Pakistan People's Party (PPP), Qaumi Watan Party (QWP) and Jamaat-e-Islami (JI).
Full report at:
https://www.pakistantoday.com.pk/2017/12/14/tribal-elders-oppose-fatas-merger-with-kp/
-------
Schools in Punjab put on alert after warning of terrorist attacks
Dec 15, 2017
LAHORE: Chief minister monitoring office on Thursday issued an alert to educational institutions, bidding them to remain cautious of possible security threats.
According to the issued warning, a faction of the Tehreek-e-Taliban Pakistan (TTP) has acquired army uniforms and is currently undergoing training in Afghanistan to carry out terrorist attacks.
It further warns that the group is planning to target administrative areas, convoys, schools and hospitals.
Full report at:
https://www.pakistantoday.com.pk/2017/12/14/schools-in-punjab-put-on-alert-after-warning-of-terrorist-attacks/
-------
Legislators demand judicial inquiry into Faizabad dharna by religious protesters
Ijaz Kakakhel
DECEMBER 15, 2017
ISLAMABAD: The legislators in Upper House of parliament on Thursday demanded formation of a judicial commission to probe Faizabad sit-in, which according to them was a well-planned conspiracy to weaken the democratic government.
In a discussion on the situation arising out of the recent sit-in at Faizabad interchange in Islamabad through an adjournment motion moved by Farhatullah Babar, Saeedul Hassan Mandokhail and Sehar Kamran, the opposition senators maintained that the recent dharna was just the continuation of the previous sit-in held in D-Chowk. They questioned that why the government would give space to others to interfere in the democratic setup. Some senators termed the sit-in total failure of the PML-N government. However, both ruling and opposition members were of the view that distribution of money through uniformed persons among the protestors clearly showed that someone else brought them to Faizabad.
The ruling senators also lambasted the opposition for not standing with the government to find an amicable solution of the issue.
Speaking on the occasion, Senator Farhatullah Babar called for a judicial probe into the dharna that culminated in, what he said, a one-page 'national document of surrender' and setting up of a dangerous precedent of holding the state and society hostage through a gun and stick wielding mob of few hundreds.
He said it needs to be probed as to how the protesters came all the way from Lahore unhindered; how they sustained for three weeks; who negotiated the terms of 'surrender' and why some of them were 'rewarded' with cash at the end of the dharna.
Senator Sehar Kamran said the interior minister had claimed that he could disperse the crowd in three hours but failed miserably and his lack of strategy was even criticized by his own party members including the former interior minister.
However, PML-N's Senator Saud Majeed said that the current sit-in was the continuation of the previous one. He said that the sit-in had exposed the hidden agenda of some forces against the democratic setup.
Nihal Hashmi was of the view that everyone was talking about the respect of their respective organisations but nobody talks about the respect of the country. He said everyone needed to realize that no department or the person was above the prestige of Pakistan. Senator Rehman Malik said that the nation was totally disappointed from the parliament.
MQM's Senator Nighat Mirza said that the hidden hands had also divided the MQM and demanded that such interventions should stop.
Full report at:
https://dailytimes.com.pk/159831/legislators-demand-judicial-inquiry-faizabad-dharna-religious-protesters/
-------
Pakistan could lose territory to terrorists: US
Anwar Iqbal
December 15, 2017
WASHINGTON: Shifting between soft persuasions and tough advice, the United States is now saying that Pakistan could lose control of its territory if it does not sever ties with the Haqqanis and other terrorists.
US Secretary of State Rex Tillerson — who issued the advice at a Washington think-tank earlier this week — also said the militants who were focusing on Kabul might one day decide that Islamabad was a better target.
The warning followed a Pentagon statement, which said the new US strategy for Afghanistan had "fundamentally changed the battlefield in favour of Afghan national security forces" and the Taliban militants were now on the retreat.
And this change happened because the new strategy made it clear that US forces would stay in Afghanistan for as long as it took to stabilise the country and also because it gave American troops more power to confront the enemy, the Pentagon added.
The two statements follow the Trump administration's repeated calls to Pakistan to do more to destroy the alleged safe havens that Afghan militants still retain in parts of the Federally Administered Tribal Areas (Fata), a charge Islamabad strongly denies.
"Pakistan has allowed so many terrorist organisations to find safe haven within its territories, and these organisations are growing in size and influence, that at some point I have said to the leadership of Pakistan, you may be the target, and they turn their attention from Kabul and decide they like Islamabad as a target better," Secretary Tillerson said.
In his remarks on "Meeting the foreign policy challenges of 2017 and beyond" organised by the 2017 Atlantic Council-Korea Foundation Forum, Mr Tillerson said that Pakistan's relationship with the Haqqani network needed to be altered. "I understand that this is a relationship that has emerged probably for, in their view, good reasons a decade ago, but now that relationship has to be altered because if they're not careful, Pakistan is going to lose control of their own country," he said.
Full report at:
https://www.dawn.com/news/1376718/pakistan-could-lose-territory-to-terrorists-us
-------
Africa
We Are Running Out Patience, Shiite Muslim Warns Government
BY SAHARA REPORTERS, NY
DEC 14, 2017
Members of Islamic Movement in Nigeria (IMN ) has told the federal government that the movement is running out of patience of waiting in limbo for years without any sign of the release of their leader, Sheik Ibrahim El-Zakzaky.
This was said in a terse message at the end of the three days rally to commemorate two years of the Zaria massacre where hundreds of members of the movement were alleged to have been killed by Nigerian Army in Abuja.
Addressing members of the sect, the leader of the group, Sheik Abdul Hamid Bello noted that it would not reveal the next line of its action, adding that the federal government has stretched its patience beyond necessary and warned President Muhammadu not to test its will.
Bello who addressed the protesters at the National Human Right Commission (NHRC) explained that it was exactly two years since the Nigerian Army executed its foreign-backed plot in an 'all-out war against the Shiites ' where it killed 1000 + civilians, wounded hundreds, and arrested Sheik Ibrahim Zakzaky, his wife, and several others.
He accused the government of disobeying the court order to release El-Zakyzaky, noting that the group can no longer wait for eternity.
" At the end of their two days murderous mission, they left behind corpses of the young, old, and able-bodied men and women in their wake, apart from the wanton destruction of properties worth several hundred millions of naira, " he stated.
He narrated that the Nigerian Army cannot be described in words when the trained army burnt down human corpses with some even alive to ashes.
He explained that instead of the government to punish those officers behind the heinous act, the government rewarded them with promotions and all the paraphernalia that goes with their offices.
He revealed that Zakzaky and wife are still being held in detention in disregard of a court order for the freedom.
"The government of Buhari is behaving in contempt of the rule of law, telling all and sundry that it is above the law, " he said.
The group vowed not to relent on its peaceful protest until government set free their leader whose health is fast deteriorating health.
http://saharareporters.com/2017/12/14/we-are-running-out-patience-shiite-muslim-warns-government
-------
18 police killed in Somalia academy bombing
December 15, 2017
MOGADISHU : A suicide bomber from Somalia 's Shabaab insurgents killed 18 police officers and wounded 15 others on Thursday when he blew himself up inside the country's main police academy, the force's chief said.
Witnesses said the police were gathered in a square ahead of their early morning parade when the bomber attacked in the capital Mogadishu.
"Eighteen members from the police were killed , and 15 others were wounded, after a suicide bomber blew himself inside the academy," acting police chief General Muktar Hussein Afrah told reporters. The attacker disguised himself in a police uniform to access the camp, Afrah said.
"Some of the police were already in lines, and others were gathering, when the man in police uniform entered and blew himself up," said bystander Hussein Ali, describing the carnage.
Medics and ambulance teams rushed to take the wounded to hospital and collect the corpses.
Officers said the toll could have been far worse had the attacker killed himself in the centre of the crowd.
"The bomber could have inflicted more casualties if he could have managed to reach the midpoint where most people were," police officer Ibrahim Mohamed said.
The Al-Qaeda-affiliated Shabaab claimed responsibility and put the toll at 27 dead.
"It was martyrdom operation, in which the mujahedeen targeted the police academy camp," a statement posted on a pro-Shabaab website read.
Shabaab fighters have repeatedly attacked police officers in its decade-old battle to overthrow successive internationally-backed governments in Mogadishu.
Full report at:
http://nation.com.pk/15-Dec-2017/18-police-killed-in-somalia-academy-bombing
-------
One last push to end South Sudan's deadly civil war
by Winnie Byanyima
Dec 15, 2017
I know and have seen war and its horror and cruelty in my own country. I have supported peace processes in conflicts since. But all of that didn't quite prepare me for my trip to South Sudan earlier this year.
Since civil war broke out in December 2013, South Sudan has spiralled into a deeper state of emergency. It's a brutal conflict, steeped in claims of ethnic cleansing. A deadly hunger crisis reigns over parts of the country: It is the civilians, the women and the children who are paying the price. The palpable hope of South Sudan's independence in 2011 - something so many of us celebrated in our region - now seems very distant.
Women - strong, hard-working and self-sacrificing women - told me, "We want to walk freely, we want to farm, we want to feed our families." They live in a city called Malakal, on a "Protection of Civilians" (POC) site. "At home, we used our hands for our work, now we have been turned into beggars, and we cannot provide for our families," Mary* told me. She lives on the site now, and like many women has been widowed by the conflict.
I visited what felt like a ghost town. Malakal used to be South Sudan's second largest city after the capital, Juba. Now, most of its former residents have fled to neighbouring Sudan - the country that they fought for independence from so fiercely - or they live in the POC camps.
The camp I visited is now home to many displaced women and girls; it is guarded by UN peacekeepers who line its outskirts, in tall watchtowers. They carry heavy weaponry in case the camp is attacked - which it has been, on several occasions.
It is not a stretch for me to compare these camps to open-air prisons. This is not because these people are detained - they are not. It is also not a criticism of the United Nations for creating these sites - they are needed and have undoubtedly saved countless lives so far.
The camps do however signify the tragedy that the people of South Sudan face: people are there because they need protection from armed groups. I was told that should a person walk out of this camp they face the risk of persecution, harassment, even death. I will never forget the women I met who told me they have to choose between their children going hungry, or risking rape if they leave to search for food. The stories I heard are too awful to repeat. I saw the squalid conditions people have to live in, and I heard of the hunger people are enduring.
A war of this nature, which is now so deeply rooted, is unlikely to end without a huge diplomatic effort - something which up to now, has fallen short.
Ending the war in South Sudan must be at the very top of African leaders' political agendas. It is a catastrophe for the entire continent, and our region's biggest refugee crisis. It is a shameful failure of leadership in Africa.
The people of South Sudan and our region need renewed negotiations to begin, in order to bring genuine and long-lasting peace to the country. Peace may feel distant, but it is not unreachable. In December, the Intergovernmental Authority on Development (IGAD) will be holding the High-Level Revitalisation Forum in Addis Ababa. It is a critical opportunity to bring together warring parties to seek a long-term solution to this bloody conflict.
I call upon our regional leaders to push the warring parties to make the hard choices for peace. And together with our partners, Oxfam demands that regional and international powers throw their diplomatic weight behind a transparent and inclusive peace process.
The voices of the people affected by the conflict - women like Mary - must finally be heard. I urge our leaders to give space at the negotiating table to them, not only to those wielding a gun.
Any political process must formalise the involvement of the South Sudanese people, including the millions of refugees now living in Uganda, Sudan, Ethiopia, DRC and Kenya. This is the best way to establish a peace that lasts. Citizens have the right to determine the future of their country.
Oxfam is supporting South Sudanese civil society, including refugees, to come together to deliver their message to this forum. This week, representatives from South Sudanese civil society, including refugee communities, will present their vision to IGAD on how to create long-lasting peace in their country.
The longer the international community is complacent, the more they risk being complicit. Failure is not an option. To ensure a credible peace process, we need timelines, indicators and accountability.
Full report at:
http://www.aljazeera.com/indepth/opinion/push-south-sudan-deadly-civil-war-171214071246774.html
-------
IMA, Crescent university are pride of Muslims — Imam Olanrewaju
DECEMBER 15, 2017
In the mood of Maolud Nabiyy, marked in the expansive multimillion naira Masjid Al-Jabbar, situated within the over 20-acre land, the Islamic Mission for Africa, IMA, hosted eminent personalities in Nigeria as well as emissaries from Arab World recently. Conducting the celebration, the Mission's Chief Imam, Alhaji Hamid Olanrewaju urged Nigerian Muslims to emulate the virtues of Prophet Muhammad, (s.a.w), adding that the personality of Prophet Muhammad (s.a.w) was attested to by Allah in the Glorious Qur'an 68:1-15. Olanrewaju added that IMA, has grown to be epicenter of world class knowledge about Islam, a centre recognized on Islamic World map with partners across the globe. "It is a centre that Muslims can be proud of. It serves as a very good pivot for the establishment of Crescent University Abeokuta, which has now become the citadel of academic and moral excellence with its first class being, unarguably, world class. Speaking about the founder of the organization, IMA Historian, Alhaji Sa'eed Aweda, said Crescent University Abeokuta, which has grown to become the citadel of academic and moral excellence in Nigeria, adding that Prince Bola Ajibola who traversed the world, founded the center after the Islamic Centre in Leicester, UK, an idea that was created immediately he resigned his position as High Commissioner and returned to Nigeria. He stated that the radio programme called Al-Tanzeel, the revelation, aired on Ogun Radio which was mainly to broadcast recitation of Qur'an and its translation to languages later metamorphosed to Islamic Movement for Africa and later to Islamic Mission for Africa with a mission to propagate Islam.
https://www.vanguardngr.com/2017/12/ima-crescent-university-pride-muslims-imam-olanrewaju/
-------
Nigeria: Families of Hundreds of Shi'a Muslims Killed in Zaria Still Await Justice
13 DECEMBER 2017
The Nigerian authorities must ensure justice, truth and reparation over the military's unlawful killing of more than 350 Shi'a Muslims in the northern city of Zaria in December 2015, Amnesty International said on the two-year anniversary of the massacre.
No one has been held accountable for the killings, while the families of the missing are still awaiting news of their loved ones. Amnesty International has identified and visited the location of a possible mass grave near Mando, but it is yet to be exhumed.
"The Nigerian authorities' failure to hold anyone to account for the killing of hundreds of women, men and children by soldiers in Zaria, shows the acceptance of a culture of impunity for violations for human rights in the country," said Osai Ojigho, Director of Amnesty International Nigeria.
"Our research indicates that the deaths in the clashes between members of the Islamic Movement of Nigeria (IMN) and the Nigerian military two years ago were the consequence of an excessive use of force that must be thoroughly investigated."
Between 12 and 14 December 2015, Nigerian security forces killed hundreds of civilians, some of them supporters of the IMN - including men, women and children - and arrested more than 200 following a Shi'a Muslim protest.
The exact number of those killed is not known, but it may be higher than the official figure of 347. Hundreds of IMN supporters reported missing since the killings remain unaccounted for, feared dead.
Satellite images of the Mando mass grave site taken on 2 November and 24 December 2015 show severe disruption of an area of approximately 1000 square metres, including the destruction of buildings and mosques.
"A full independent forensic investigation into this crime under international law is long overdue. Many families still do not know the fate of their loved ones who have not been seen or heard of since December 12, 2015," said Osai Ojigho.
"Nigeria's Attorney General and Minister of Justice of the Federation should order that the bodies in the mass graves are exhumed, and that those suspected to be responsible for their deaths are prosecuted in fair trials without recourse to death penalty."
The Nigerian government has failed to publicly condemn the unlawful killings that took place in Zaria.
Meanwhile, the IMN's leader, Sheik Ibraheem El Zakzaky and his wife have been unlawfully detained since the killings, despite an Abuja High Court order for their release a year ago.
"The Nigerian government cannot continue to disregard this court order and as a matter of urgency respect the rule of law by releasing them immediately." said Osai Ojigho
In April 2016, a Kaduna state government official admitted that 347 IMN members were dumped in a mass grave near Mando.
"This information should be an important lead for the government to investigate the killings and ensure all those suspected of criminal responsibility are held to account," said Osai Ojigho.
"But until now, the shocking lack of accountability for these deaths has served only to bolster a climate of impunity."
Background
The IMN is a Shi'a religious and political organization whose leader, Ibraheem Yaqub El Zakzaky, has been a proponent of Shi'a Islam in Nigeria since the 1980s. In October 2016, Kaduna state government declared IMN an unlawful organization.
According to Amnesty International's research, more than 350 IMN members were killed by security forces between 12 and 14 December 2015 in Zaria.
In July 2016, the Kaduna State Commission of Inquiry, set up to investigate the killings, presented its report to the state government indicting the Nigerian military for unlawful killings.
In December, the Kaduna state government published its white paper on the report, which rejected most of the Commission's recommendations.
Full report at:
http://allafrica.com/stories/201712140106.html
-------
URL: https://www.newageislam.com/islamic-world-news/hindu-man-raised-£3500-after/d/113582
New Age Islam, Islam Online, Islamic Website, African Muslim News, Arab World News, South Asia News, Indian Muslim News, World Muslim News, Women in Islam, Islamic Feminism, Arab Women, Women In Arab, Islamophobia in America, Muslim Women in West, Islam Women and Feminism