New Age Islam News Bureau
16 November 2020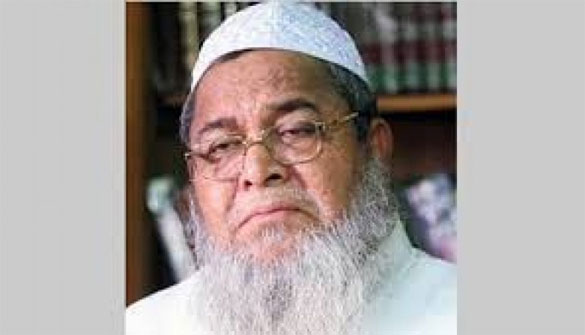 Junaid Babungari
-----
• PM Muhyiddin Urges ASEAN Members To Push Back 'Hate And Divide'
• Azerbaijan Vows To Protect Christian Churches Ahead Of Takeover Of Armenia-Held Areas
• Pakistan To Set Up Special Courts For Speedy Trial Of Rape Cases
• Turkey's Erdogan Visits North Cyprus, Calls For Two-State Solution For Island
• Iraqi Forces Deliver Crushing Blows To Daesh Sleeper Cells
South Asia
• Hefazat-e-Islam Bangladesh: Newly Elected Babunagari As The Amir And Qasemi As The Secretary General Would Work To Protect Dhaka, Freeing From Idols
• Kandahar Clashes Claim Member of Taliban Office in Qatar
--------
Southeast Asia
• PM Muhyiddin Urges ASEAN Members To Push Back 'Hate And Divide'
• Malaysia Risks Reprisal From China Over Refusal To Send Back Uighurs
--------
Europe
• Azerbaijan Vows To Protect Christian Churches Ahead Of Takeover Of Armenia-Held Areas
• Cyprus calls Erdogan's planned visit to Famagusta 'provocation'
-------
Pakistan
• Pakistan To Set Up Special Courts For Speedy Trial Of Rape Cases
• PTI continues to lead in controversial Gilgit-Baltistan elections
• 152 Pakistani terrorists operating in Afghanistan killed
• India creating unrest to damage CPEC: Qureshi
• Violence creates doubt about Afghan peace talks: PTM
--------
Mideast
• Turkey's Erdogan Visits North Cyprus, Calls For Two-State Solution For Island
• Israel to construct new housing units in sensitive east Jerusalem neighbourhood
• On anniversary of Iran's protests, Pompeo vows more US action against Iranian regime
• Coronavirus: Iran's Rouhani calls for national mobilization against COVID-19
• US, Israel Worked Together To Track And Kill Al-Qaeda Operative In Iran
• Fire damages historic wooden mosque on Istanbul's Bosporus Strait
• Hamas Slams UAE For 'Real Support' Of Israel's Settlement Expansion In West Bank
--------
Arab world
• Iraqi Forces Deliver Crushing Blows To Daesh Sleeper Cells
• Abu Dhabi's Etihad To Start Daily Flights To Israel's Tel Aviv In 2021
• UAE-Israel Relations: Dubai's Fresh Market Opens First-Ever Israeli Produce Display
• UAE To Grant 'Golden' 10-Year Visas To Certain Professionals, Degree-Holders, Student
• Pro-Sisi Party Mostaqbal Watn In Commanding Position In Egypt's Parliamentary Polls
• One killed, several wounded in mine blasts in Syria
• Trump's close ally admits hiding US troop numbers in northern Syria
--------
Africa
• Nearly 25,000 Ethiopians Flee Conflict To Sudan: State Media
• Ethiopia Seizes Town In Tigray, Accuses Local Leaders Of Taking 10,000 Prisoners
• Mali: Dozens of terrorists killed in French operation
• Rebel leaders who inked peace deal with government return to Sudan's Khartoum
• UN-led Libya talks held in neighbouring Tunisia enter final day
--------
North America
• It's Time To Leave Afghanistan: Acting US Military Chief
• No end to US war on Iran by other means
• Biden to 'reassess' close US-Saudi ties under Trump: Report
• US Army identifies 5 soldiers killed in Sinai copter crash
--------
India
• Unidentified Assailants Attack Secretary Of Karnataka Muslim Jamaat Outside Kandavara Mosque
• Kanpur Man Returns Home After Spending 8 Years In Pakistan Jail On Espionage Charges
• BSF Says Pak's Bid To Push 250-300 Terrorists From Each Launchpad Foiled
• A hub of terrorists and anti-nationals, situation in Bengal worse than Kashmir: Dilip Ghosh
• Religious places across Maharashtra to reopen today
Compiled by New Age Islam News Bureau
URL: https://www.newageislam.com/islamic-world-news/hefazat-e-islam-bangladesh-newly/d/123482
--------
Hefazat-e-Islam Bangladesh: Newly Elected Babunagari As The Amir And Qasemi As The Secretary General Would Work To Protect Dhaka, Freeing From Idols
Nov 15,2020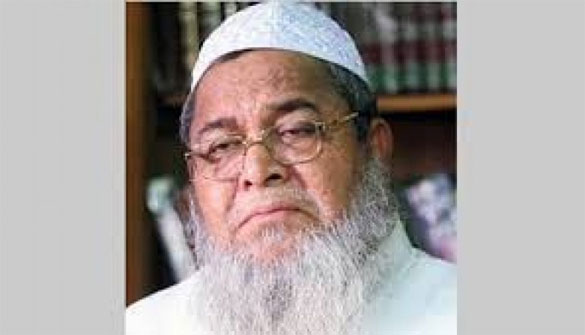 Junaid Babungari
-----
Junaid Babunagari and Noor Hossain Qasemi were elected amir and secretary general respectively of Hefazat-e-Islam Bangladesh in the organisation's council at Al Jamiatul Ahlia Darul Uloom Moinul Islam Madrassah, popularly known as Hathazari Madrassah, in Chattogram on Sunday.
Junaid Babunagari was the secretary general of Hefazat and the director (education) of Hathazari Madrassah while Noor Hossain Qasemi was the amir of Dhaka city unit of Hefazat and the principal of Jamia Madania Baridhara Madrassah in the capital.
Hefazat's senior nayeb e amir Mahfuzul Haque announced the organisation's 151-member new committee.
About 350 councillors from different districts cast their votes but many leaders close to former Hefazat amir Shah Ahmad Shafi did not join.
Moinuddin Ruhi, a joint secretary general of Hefazat's recent past committee and one of the close associates of Shafi, told New Age that over 50 leaders out of 229 of the previous committee were not invited in the council.
Hefazat's constitution says that the council should be organised with all committee members and, thus, the Sunday's council was unconstitutional, he added.
He said that they disown the new committee.
The leaders close to Shafi at a press conference in Chattogram Press Club on Saturday threatened to form a new committee if Sunday's central council was not cancelled.
The council was held after 59 days of Shafi's death as the post of amir fell vacant with his death on September 18.
Security beefed up at Hathazari due to the council to avoid any untoward situation, said Hathazari Police Station officer-incharge Masud Alam.
Bangladesh Khelafat Majlish acting secretary general Mamunul Haque said that Hefazat would work to protect Dhaka, freeing from idols.
Hefazat-e-Islam Bangladesh, a non-political Islamic organisation, was formed on January 19, 2010 with a 229-member Majlish-e-Shura committee electing the then Hathazari Madrassah director general Shafi as the Amir and Junaid Babunagari, the then senior Muhaddis of the madrassah, as the secretary general.
https://www.newagebd.net/article/121649/hefazat-names-junaid-babungari-as-new-chief
--------
PM Muhyiddin Urges ASEAN Members To Push Back 'Hate And Divide'
15 Nov 2020
By Syed Jaymal Zahiid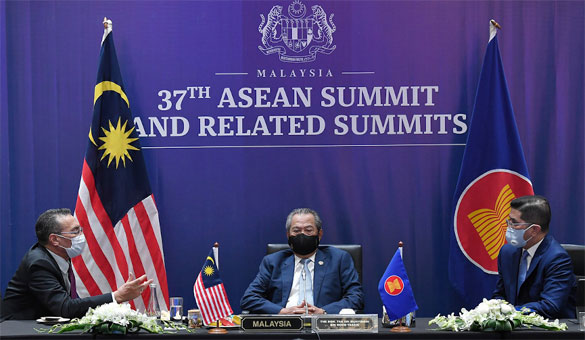 Prime Minister Tan Sri Muhyiddin Yassin (centre) having discussion with Datuk Seri Hishammuddin Hussein and Minister Datuk Seri Mohamed Azmin Ali before the 37th Asean Summit and Related Summits November 15, 2020. — Bernama pic
-----
KUALA LUMPUR, Nov 15 — Prime Minister Tan Sri Muhyiddin Yassin called on the South-east Asian nations to address the rise of "hate and divide" politics in the region, Foreign Minister Datuk Seri Hishammuddin Hussein said today.
Muhyiddin told the 37th Asean summit, held virtually, that Putrajaya saw the need to address divisive ideologies, likely a reference to the growing popularity of nativist views after many countries saw far right governments elected into power.
Hishammuddin said this included Islamophobia and deepening communal strife.
"Malaysia was the only nation that drew attention to the emerging landscape of hate and divide, especially on issues concerning religion like Islamophobia," the foreign minister told a press conference held to conclude the summit.
"The prime minister reminded them that there is an urgent need to address it."
The message coincided with Putrajaya's call for genuine efforts to identify and tackle the root cause of terrorism.
Speaking in the presence of world leaders including Russian President Vladimir Putin and Indian Prime Minister Narendra Modi, Muhyiddin said there was an urgent need to expand efforts to flatten the curve of terrorism.
He called the move crucial at a time when nations are battling a ravaging pandemic, saying restoring peace and stability to the world is paramount.
Malaysia is currently leading Asean's socio-economic recovery plan against the Covid-19 fallout, at the moment showing no signs of abating with a fresh wave of infections that have forced governments to go into a lockdown again.
All 10 Asean members have agreed to adopt the Asean Comprehensive Recovery Plan with Putrajaya leading coordination efforts, Hishammuddin said.
Asean government representatives signed the Regional Comprehensive Economic Partnership (RCEP) earlier today to conclude a four-day virtual summit.
The free-trade deal effectively made South-east Asia the world's biggest economic bloc.
Geopolitical strategists said the RCEP, which involves all of Asian's economic powerhouses and excludes the United States, is set to enhance China's regional dominance.
Muhyiddin called the pact an important instrument for economic recovery that will encourage the reopening of markets.
https://www.malaymail.com/news/malaysia/2020/11/15/pm-muhyiddin-urges-asean-members-to-push-back-hate-and-divide/1922875
--------
Azerbaijan vows to protect Christian churches ahead of takeover of Armenia-held areas
15 November 2020
The president of Azerbaijan is promising that Christian churches will be protected when the strongly Muslim country takes possession of areas formerly controlled by Armenians, as residents burned down their homes and fled in cars and trucks ahead of Sunday's expected takeover.
President Ilham Aliyev's office said he made the promise in a telephone call with Russian President Vladimir Putin, who is deploying peacekeeping forces in the areas under an agreement that ended six weeks of fighting between Armenia and Azerbaijan over the Nagorno-Karabakh region.
For all the latest headlines follow our Google News channel online or via the app.
Ethnic Armenian forces had controlled Nagorno-Karabakh and sizeable adjacent territories since 1994, after the end of a separatist war. Fighting resumed in late September and ended with an agreement that calls for Azerbaijan to regain control of the outlying territories as well as allowing it to keep parts of Nagorno-Karabakh that it seized during the recent fighting.
The first of the territories, Kalbajar, was to be turned over on Sunday. But Azerbaijan agreed at the last minute to give Armenian forces and civilians until Nov. 25 to withdraw.
Kalbajar is home to the well-known Dadivank monastery of the Armenian Apostolic Church. On Saturday, a day before the territory's expected handover, workers removed many of the monastery's sacred objects.
Azerbaijani presidential spokesman Hikmet Hajiyev said Sunday that the delay was requested by Armenia and granted "taking into account the worsening weather conditions and the difficult mountainous terrain."
Civilians fleeing the region caused huge traffic jams on the single road leading to Armenia.
Ethnic Armenian Garo Dadevusyan wrenched off his home's metal roof in Kalbajar in the last few days, trying to figure out how to destroy it.
"In the end, we will blow it up or set it on fire, in order not to leave anything to Muslims," Dadevusyan said. He piled the roof and family goods onto an old flatbed truck but their final destination was unclear.
"We are homeless now. We do not know where to go and where to live ... It is very hard," his wife, Lusine, said, choking back tears as the couple gave their house a final look.
Azerbaijan is about 95 percent Muslim and Armenians fear that churches would be damaged or closed when it takes control of the territories.
"President Aliyev said that Christian churches in Azerbaijani territories, which are returned to Azerbaijan in accordance with the trilateral statement, will also be properly protected by the state. Christians of Azerbaijan will have access to these churches," said the statement from his office.
Hundreds, if not thousands, of combatants and civilians have been killed since fighting flared anew in late September.
https://english.alarabiya.net/en/News/world/2020/11/15/Azerbaijan-vows-to-protect-Christian-churches-ahead-of-takeover-of-Armenia-held-areas
--------
Pakistan to set up special courts for speedy trial of rape cases
Nov 15, 2020
ISLAMABAD: Pakistan government is all set to promulgate next week an ordinance seeking establishment of special courts for speedy trial of rape cases, according to a media report.
Under the proposed law, rape cases would not be investigated by ordinary police officials and only a gazetted officer up to the level of DIG (deputy inspector general) or SSP (senior superintendent of police) would monitor these cases, Adviser to the Prime Minister on Parliamentary Affairs Babar Awan told Dawn News.
Awan said the proposed law also suggested steps for speedy disposal of cases.
He said this after Prime Minister Imran Khan through a tweet announced that the government had planned to bring a "stringent and holistic anti-rape ordinance closing all loopholes".
Awan, who is also a member of the Cabinet Committee on Legislative Cases, said the prime minister was very much concerned over the recent incidents of rape in different parts of the country.
He said the ordinance had been drafted in line with the prime minister's directives to his legal team for preparing the law covering "four sides", including protection of the victim so that her personal trauma could not become public and protection of witnesses.
Giving details, he said the properties of the convicts in such cases would be forfeited for paying compensation to the victims.
In order to create deterrence in the society, he said, "ultimate and stringent punishments" would be awarded to the culprits.
He did not elaborate the measures which the law suggests for this purpose, but ruled out the option of public hanging as demanded by several political leaders, including some ministers.
Awan said special courts would be set up in all the divisions to prevent delay in completion of the trials.
He said in the last few years, over 21,000 rape cases were registered in the country and "only few hundreds of them could go for trial".
To cover the loopholes and ensure timely justice, a new and separate prosecution network was being created, the adviser told the daily.
https://timesofindia.indiatimes.com/world/pakistan/pakistan-to-set-up-special-courts-for-speedy-trial-of-rape-cases/articleshow/79232167.cms
--------
Turkey's Erdogan visits North Cyprus, calls for two-state solution for island
15 November 2020
Turkish President Tayyip Erdogan called for an equal "two-state" solution in Cyprus during a visit on Sunday to the breakaway Turkish Cypriot north of the island, drawing a rebuke from the internationally recognized government in the south.
Erdogan also said Turkey and Northern Cyprus would no longer tolerate what he called "diplomacy games" in an international dispute over rights to offshore resources in the Eastern Mediterranean.
For all the latest headlines follow our Google News channel online or via the app.
Cyprus has been split along ethnic lines since a Turkish invasion in 1974 triggered by a brief Greek-inspired coup. Only Ankara recognizes Northern Cyprus as an independent state and it has no diplomatic relations with the government of Cyprus, which is a member of the European Union.
"Our priority is to ensure a fair, lasting and sustainable solution" in Cyprus that ensures Turkish Cypriots have security and legal rights, Erdogan told an audience after his arrival.
"A two-state solution must be negotiated on the basis of sovereign equality," he added.
United Nations-mediated peace talks on Cyprus broke down in 2017.
Erdogan was visiting Northern Cyprus after Ersin Tatar, who also supports a two-state solution, won last month's presidential election. Tatar's predecessor had backed reunification of the island.
Cyprus called Erdogan's visit "provocative and illegal".
"Ankara has absolutely no respect for international law, European principles and values, and its obligations towards the EU," the Cypriot presidency said in a statement.
Muscle-flexing
Erdogan later visited Varosha, a beach town that has been fenced-off and abandoned in no-man's land since 1974.
Ankara backed the partial re-opening of Varosha just before last month's election in a move criticized by the United States, Greece and Greek Cypriots.
Turkey has increasingly flexed its military muscle in the region, including by backing Azerbaijan in its renewed conflict with Armenia over the past few weeks.
Erdogan alluded to Turkey's dispute with EU members Greece and Cyprus and with other neighbors over territorial waters in the eastern Mediterranean.
The EU has threatened to impose sanctions on Turkey next month over illegal exploration at sea.
"Neither we nor Northern Cyprus can tolerate diplomacy games (in the region) anymore," Erdogan said.
He added that Tatar would soon visit Azerbaijan - which does not recognize Northern Cyprus - to "make the situation better", without elaborating.
Tatar backed Erdogan's calls for a two-state solution and offshore rights.
https://english.alarabiya.net/en/News/world/2020/11/15/Turkey-s-Erdogan-visits-North-Cyprus-calls-for-two-state-solution-for-island
--------
Iraqi forces deliver crushing blows to Daesh sleeper cells
15 November 2020
Iraqi forces have delivered severe blows to remnants of the Daesh terrorist group in the country, with counter-terrorism efforts by the Popular Mobilization Units (PMU) or Hashd al-Sha'abi proving an indispensable asset in the process.
The forces took on the terrorists in the eastern Iraqi Diyala Province, Nineveh and al-Anbar Provinces in the country's west, and Salahuddin Province that is wedged between them.
Daesh sleeper cell smashed in Diyala
On Sunday, Talib al-Mousavi, the commander of the PMU in Diyala, said the anti-terror force had managed to break apart the largest remaining Daesh network in the province.
He described the operation in Khanaqin District as a preemptive strike that neutralized plans by the terrorists to target civilians in Diyala.
According to the commander, a number of the terrorists were killed and large quantities of armaments and other military equipment were seized during the operation.
Terrorist kingpins nabbed in Mosul
Forces enlisted with the Iraqi Police Directorate security force also arrested two "senior" Daesh members in Nineveh Province.
Reporting the development on Saturday, the Interior Ministry said the operation took place in Zummar District, located 60 kilometers (37 miles) northwest of Mosul, the province's capital.
Iraqi security forces also neutralized a terrorist cell consisting of 15 Daesh militants throughout Nineveh's various areas, the National Security Department reported.
Major General Yahya Rasoul, a military spokesman for Iraqi Prime Minister Mustafa al-Kadhimi, meanwhile, reported destruction of as many as six Daesh hideouts in al-Anbar.
The operation that recruited the military, the army aviation, the air force, and tribal Hashd forces also led to the discovery and disposal of five explosive devices.
Also on Saturday, an intelligence official revealed that six Daesh terrorists had been arrested in Salahuddin Province's holy city of Samarra.
Daesh emerged in Iraq in 2014 amid the chaos and ruin that had resulted from the United States invasion of the Arab country.
A bloated US-led coalition began supposedly targeting the terror outfit in Iraq in the same year, but was found to be functioning surprisingly slow in confronting the terrorists.
Daesh soon swept up large swathes of Iraqi territory, prompting Baghdad to solicit its ally Iran's military advisory assistance. The joint anti-terror push, in which Hashd al-Sha'abi played a crucial role, defeated Daesh in late 2017.
The group's remnants, however, keep staging sporadic attacks throughout Iraq, mainly in the above provinces.
On Monday, Daesh attacked an army post in Baghdad, killing 11 people, including Hashd's members, and wounding eight others.
https://www.presstv.com/Detail/2020/11/15/638639/Iraq-operations-Daesh-terrorists
--------
South Asia
Kandahar Clashes Claim Member of Taliban Office in Qatar
By Mohammad Haroon Alim
15 Nov 2020
Maulvi Munir, a key member of the Taliban's political office in Qatar, had been killed by Afghan security forces during a battle in Kandahar province.
Interior Ministry spokesman Tariq Arian said in a press conference on Sunday, that Maulvi Munir, a key member of the Taliban's Qatar office, had been killed in a clash with Afghan security forces in Kandahar.
According to Tariq Areen, Maulvi Munir was in charge of the Yaqub network, the commander of the Mullah Baradar and Mullah Shirin fronts, the former Taliban governor for Kandahar and a member of the Taliban's political office in Qatar.
He added that more than 200 Pakistanis had been killed and many more wounded during the skirmish in Helmand and Kandahar provinces, who are currently receiving medical treatments in Pakistan.
https://www.khaama.com/member-of-talibans-qatar-office-killed-in-kandahar-clashes-88768/
--------
Southeast Asia
Malaysia risks reprisal from China over refusal to send back Uighurs
15 Nov 2020
BY DANIAL DZULKIFLY
KUALA LUMPUR, Nov 15 — Putrajaya's firm stand on not deporting Uighurs in the country to China may affect Malaysia's ties with the Asian economic super power, a Hong Kong daily reported today.
The South China Morning Post (SCMP) reported several pundits commending Malaysia for doing the right thing in defending the rights of the Uighur community who are reported to face persecution in their home country, which they said could invite the Chinese government's wrath.
Datuk Rais Husin who heads Malaysian think tank Emir Research lauded Putrajaya's decision.
"It is the right thing to do. You don't want to send them back to concentration camps camouflaged as re-education centres. Some may face serious persecution for just being Uighurs," he told SCMP.
Sean R. Roberts, a professor of international development studies at the George Washington University, noted Malaysia's bold move among other Muslim-majority nations.
"With this action, Malaysia is taking an important stance that many other states in the region, including Indonesia and Thailand, have been reluctant to take.
"It is likely to anger Beijing, but it is the responsible position," Roberts told SCMP.
He added that this decision by Malaysia "may result" in Uighurs within South-east Asia seeking safe harbour in the country, though he acknowledged that there "is no evidence that Uighurs are presently able to flee China at all".
SCMP reported that Uighurs who fled China to South-east Asia ultimately make their way to Turkey, another Muslim-majority country.
According to the Hong Kong paper, as many as 10,000 Uighurs ended up in Turkey between 2010 and 2016, but added that a small but "not insignificant" number are still living in South-east Asia without legal documents, especially in Malaysia, Thailand and Indonesia.
National War College professor of Southeast Asian studies Zachary Abuza said Malaysia "has long been an important node in the underground railway for Uighurs seeking to escape to Turkey".
"While Beijing still pressures Putrajaya on this issue, they probably understand that given the political sensitivities of it, this is not an issue where Malaysia is going to cave in," Abuza was quoted saying.
Senior fellow at the Cato Institute, Mustafa Akyol said Malaysia's position is the "beginning" of steps by other Muslim countries to "protect Uighurs from the wrath of China".
Akyol also added that while Uighurs are continuously being persecuted, "many Muslim leaders looked the other way because friendship with China pays".
Minister in the Prime Minister's Department Datuk Seri Mohd Redzuan Md Yusof said in September that the government will not entertain any request to extradite Uighurs to China and will allow them safe passage to a third country should they feel their safety is at risk.
Redzuan said Malaysia respects the right of sovereign countries to manage their own internal affairs, even if it recognises that the Uighurs face oppression in China.
https://www.malaymail.com/news/malaysia/2020/11/15/report-malaysia-risks-reprisal-from-china-over-refusal-to-send-back-uighurs/1922830
--------
Europe
Cyprus calls Erdogan's planned visit to Famagusta 'provocation'
15 November 2020
Cyprus has condemned Turkish President Recep Tayyip Erdogan's planned visit to a long-abandoned beach resort on the East Mediterranean Island.
Erdogan plans a visit to the Turkish Republic of Northern Cyprus (TRNC) and a seaside picnic at the Varosha beach front in the abandoned southern quarter of the Cypriot city of Famagusta on Sunday.
President Nicos Anastasiades lambasted Erdogan's decision as a "provocation without precedent."
The Greek Cypriot leader claimed Erdogan's picnic in the ghost town resort would undermine international efforts to deescalate tensions in the East Mediterranean.
Such actions "do not contribute to the creation of a favorable, positive climate for the resumption of talks for the solution of the Cyprus problem," he said in a statement. "They simultaneously undermine the efforts of the UN secretary-general to call an informal five-party meeting."
Tensions began to escalate between the rivaling neighbors Turkey and Greece after the recent discovery of gas in the Eastern Mediterranean.
The Varosha Beach, once dubbed a "Jewel of the Mediterranean", has been an abandoned "ghost town" ever since the Turkish military seized the seafront suburb of Famagusta in 1974. It had remained abandoned for 46 years before Turkey decided to reopen Varosha seafront.
Greek and Turkish Cypriots, Athens, Ankara and Cyprus' former colonial master, the Great Britain, which still uses the island as a military base, constitute the five sides with conflicting interests in Cyprus.
Erdogan has repeatedly warned about the consequences of failing to reach a peaceful solution in the East Mediterranean conflict.
The simmering tensions with Turkey have raised the specter of a possible military confrontation in the region.
German Foreign Minister Heiko Maas has warned the international community that "any small spark could lead to catastrophe."
Both Turkey and Greece claim rights to the gas–rich waters of the East Mediterranean Sea.
Athens claims it has exclusive drilling rights to thousands of little islands in the East Mediterranean Sea. The claim is backed by the European Union (EU), which last year sanctioned Ankara for conducting survey off the north Cypriot coast.
Also, Brussels has several times warned Ankara against doing further exploration.
Erdogan's plan to visit the politically-charged seaside resort is seen as an effort to cement Turkey's authority over northern Cyprus whose nation status is recognized only by Ankara.
Dozens of Greek Cypriot and Turkish organizations across the divided island have signed a joint petition calling for Varosha's "unilateral" reopening to halt, and for the Turkish leader to stay out.
"The festive nature of the reopening, built on the memories and suffering of its past inhabitants, hurts our conscience," the petition reads.
https://www.presstv.com/Detail/2020/11/15/638620/Cyprus-Conflict-Famagusta-Anastasiades-Erdogan-
--------
Pakistan
PTI continues to lead in controversial Gilgit-Baltistan elections
Nov 16, 2020
GILGIT-BALTISTAN (POK): The Imran Khan-led Pakistan Tehreek-e-Insaf (PTI) continues to remain in lead in eight of the 24 constituencies of Gilgit-Baltistan Legislative Assembly elections as of 9:00 am on Monday, according to unofficial results.
According to Geo News, as of 9:00 am on Monday, Raja Muhammad Zakeria Khan won in the GBA-7, Skardu-I constituency with 5,288 votes, Syed Amjad Ali won in the GBA-11, Kharmang constituency with 6,612 votes, Shamsul Haq Lone won in the GBA-14, Astore-II constituency with 5,418 votes and Raja Azam Khan won in the GBA-12, Shigar constituency with 10,349 votes, show unofficial results.
Meanwhile, independents had won unofficial victories in six constituencies.
Geo News reported that Pakistan Peoples Party (PPP) was leading in five constituencies, with unofficial victories in four constituencies, Jamil Ahmed in the GBA-2, Gilgit-II constituency with 6,848 votes; Muhammad Ismail in the GBA-24, Ghanche-III constituency with 6,204 votes; and Amjad Hussain in both the GBA-I, Gilgit-I constituency with 11,178 votes and GBA-4, Nagar-I constituency with 11,178 votes.
Unofficial results also showed Majlis Wahdat-e-Muslimeen (MWM) candidate having won the GBA-8, Skardu-II constituency with 7,842 votes.
The Pakistan Muslim League-Nawaz (PML-N) had the upper hand in two constituencies, while the Jamiat Ulema-e Islam (JUI-F) was ahead in one constituency.
The voting process in the region began at 8 am and continued until 5 pm without any interval on Sunday.
The elections were held amidst protest by people of Gilgit Baltistan against the Pakistan government's "illegal occupation" in the region.
PPP had also demanded that candidates of the ruling PTI be disqualified from the election alleging rigging.
PPP chairman Bilawal Bhutto-Zardari, who has been in the region for weeks and leading the party's political campaign, said that the election commission must not fail the people and should ensure that "every vote is cast and counted".
Geo News reported PPP Senator Sherry Rehman had also expressed her deep concern over the "deliberate restrictions on women's voting" in the Gilgit Baltistan Election 2020 and voiced worry over alleged rigging at the polling stations.
https://timesofindia.indiatimes.com/world/pakistan/pti-continues-to-lead-in-controversial-gilgit-baltistan-elections/articleshow/79241716.cms
--------
152 Pakistani terrorists operating in Afghanistan killed
Nov 15, 2020
KABUL: Over 150 Pakistan terrorists operating in Afghanistan were killed in operations conducted by the Afghan forces in Helmand and Kandahar province, the interior affairs ministry said on Sunday.
In a press conference, the interior affairs ministry's spokesman Tariq Arian released a list of Taliban terrorists killed in recent clashes against Afghan forces, Tolo News reported
"At least 55 Taliban commanders have been killed in Helmand and Kandahar provinces in Afghan forces operations in response to their attacks," Arain said.
"152 Pakistani fighters were killed in Helmand," he added.
According to a report by the United Nations Security Council (UNSC), around 6,500 Pakistan terrorists are operating in Afghanistan most of them belonging to the Tehrik-e Taliban Pakistan (TTP).
The 26th report of the Analytical Support and Sanctions Monitoring Team concerning ISIS, al-Qaida and associated individuals and entities stated that the Tehrik-e-Taliban Pakistan (TTP), a "large terrorist group present in Afghanistan", has claimed responsibility for various high-profile attacks in Pakistan and has facilitated others by Jamaat-ul-Ahrar and Lahskhar-e-Islam, the report said.
It said that many former TTP terrorists have joined Islamic State in Iraq and the Levant - Khorasan (ISIL-K) and member states expect that the group and its various splinter groups will align themselves with ISIL-K.
https://timesofindia.indiatimes.com/world/pakistan/152-pakistani-terrorists-operating-in-afghanistan-killed/articleshow/79237034.cms
--------
India creating unrest to damage CPEC: Qureshi
Shakeel Ahmed
16 Nov 2020
MULTAN: Foreign Minister Shah Mehmood Qureshi said on Sunday that India was conspiring to damage the China-Pakistan Economic Corridor (CPEC) project by creating unrest in the country.
Talking to the media here, he said Pakistan had solid proof that India was trying to create law and order situation in the country and for the purpose it had given Rs80 billion to a group.
He said India was running training camps of terrorists to disturb security situation in Gilgit-Baltistan and Azad Jammu and Kashmir.
Mr Qureshi was of the view that the security of Pakistan was above politics, adding that the people of the country would foil all such designs of the enemy with their unity.
He appreciated the role of President Arif Alvi and Prime Minister Imran Khan in highlighting India's state-sponsored terrorism and violation of international laws. PM Khan had timely issued statements about India's nefarious designs against Pakistan, he added.
Minister says Biden has complete understanding of South Asia issues
In reply to a question about any chance of atomic war between Pakistan and India, the foreign minister observed that India was well aware of Pakistan's capabilities. He, however, urged the world to take notice of the situation in the region. Pakistan would continue to put evidence of India's state-sponsored terrorism at different international forums, he added.
Talking about Afghanistan, Mr Qureshi said that establishment of peace in the country was necessary for economic progress in the region. Establishment of peace is among top priorities of Pakistan. "The progress of the region is linked with peace in Afghanistan. Pakistan and Afghanistan have to devise a joint comprehensive strategy for restoration of peace in Afghanistan," he added.
Answering a question, he said US president-elect Joe Biden had complete understanding of issues in South Asia, especially about affairs of Pakistan, India and Afghanistan. He said Pakistan would continue to convey its point of view effectively to new administration in the United States.
The foreign minister rejected the opposition's allegations of rigging in the Gilgit-Baltistan elections.
He criticised the Pakistan Muslim League-Nawaz (PML-N), saying that on the one hand it targeted the country's institutions and, on the other, sought some unconstitutional steps from them. He claimed that a large number of PML-N workers and leaders did not agree with the narrative of the party's leadership.
He alleged that the leaders of opposition parties were trying to pressurise the government for seeking some relief in corruption cases against them. But, he added, the Pakistan Tehreek-i-Insaf (PTI) government had made it clear that there would be no comprise on its stance on corruption and the accountability process in the country.
About former premier Nawaz Sharif, Mr Qureshi said the PML-N supreme leader's health was now stable and he should return to the country to face cases against him.
The minister expressed concern over the rising number of Covid-19 cases in the country and urged the opposition parties to take the virus seriously and avoid organising public meetings.
The foreign minister claimed that there was no shortage of sugar and wheat in the country and said the government was working hard to bring down inflation.
He said the Covid-19 pandemic had caused an economic recession in the world and badly affected the economies of many countries.
APP adds: The foreign minister said India was violating the Line of Control (LoC) and targeting civilians. India also damaged confidence-building measures at the LoC. Pakistan had never attacked innocent people in India-held Kashmir as it always expressed sympathies with innocent Kashmiris. He, however, said that Pakistan retaliated only against Indian military posts.
https://www.dawn.com/news/1590662/india-creating-unrest-to-damage-cpec-qureshi
--------
Violence creates doubt about Afghan peace talks: PTM
16 Nov 2020
PESHAWAR: Pakhtun Tahafuz Movement (PTM) chief Manzoor Pashteen has said that despite peace talks spike in violence has put a question mark on the ongoing peace process in Afghanistan.
Addressing a massive rally in Miramshah, the headquarters of North Waziristan tribal district, on Sunday, he said that on one hand the Taliban and Afghan government had started peace talks and on the other violence had intensified in the war-torn country.
"The prevailing uncertainty has put the peace process in doubt," Mr Pashteen said.
He called upon major global powers, including the US, not to use Afghan soil for safeguarding their interests. "Please go back to your own countries and stop fighting on Pakhtun soil," he said.
He urged the people to promote harmony, unity and resolve mutual disputes through dialogue. He said that the Pakhtun nation had already suffered due to militancy and violence. The PTM leader called for giving women their rights.
Former senator Afrasaib Khattak, MNA Mohsin Dawar and other leaders of the PTM also addressed the rally.
https://www.dawn.com/news/1590656/violence-creates-doubt-about-afghan-peace-talks-ptm
--------
Mideast
Israel to construct new housing units in sensitive east Jerusalem neighbourhood
15 November 2020
Israel is moving forward on the construction of hundreds of new homes for Jewish residents in a sensitive east Jerusalem neighborhood, the country's Housing Ministry and a settlement watchdog group said Sunday.
For all the latest headlines follow our Google News channel online or via the app.
The Housing Ministry on Sunday opened up tenders for more than 1,200 new homes in the Givat Hamatos area of Jerusalem. The settlement watchdog group Peace Now and other critics say construction there would seal off the Palestinian city of Bethlehem from east Jerusalem, further cutting off access for the Palestinians to the eastern sector of the city, which they claim as capital of their hoped-for state.
The move may test ties with the incoming administration of President-elect Joe Biden, who is expected to take a firmer tack against Israeli settlement expansion after four years of a more lenient policy under President Donald Trump.
https://english.alarabiya.net/en/News/middle-east/2020/11/15/Israel-to-construct-new-housing-units-in-sensitive-east-Jerusalem-neighborhood
--------
On anniversary of Iran's protests, Pompeo vows more US action against Iranian regime
Tuqa Khalid
15 November 2020
The United States will take "further action" against Iran's regime later this week, Secretary of State Mike Pompeo announced on Sunday, the anniversary of the bloody Iranian protests in 2019.
"On November 15, 2019 and in the week that followed, brave Iranians took to the streets of more than 200 cities across Iran to protest four decades of mismanagement by a corrupt regime that squandered its people's wealth on terrorism abroad and oppression at home," Pompeo said in a statement.
For all the latest headlines follow our Google News channel online or via the app.
"The Iranian regime tried to hide the evidence of its brutal crackdown through censorship, intimidation, and the digital darkness of Internet shutdowns, and still refuses to allow independent investigations into the killings it perpetrated during that fateful week," he added.
"The United States will continue to promote accountability by announcing further actions against the agents of repression later this week to bring a measure of justice to the Iranian people, the longest-suffering victims of the Islamic Republic of Iran."
The statement coincided with the one year anniversary of the violent crackdown against anti-government demonstrations in Iran. The protests which started on November 15 last year, may have been the bloodiest repression of protesters in Iran since the Islamic Revolution in 1979. Human rights groups estimate that thousands were arrested in the 2019 protests.
Iran's Interior Ministry has said around 225 people were killed during the protests, which erupted after state media announced that gas prices would rise by as much as 200 percent and the revenue would be used to help needy families.
Meanwhile, Reuters previously reported about 1,500 people were killed during less than two weeks of unrest that started on Nov. 15, 2019. The toll included at least 17 teenagers and about 400 women as well as members of the Iranian security forces and police.
US President Donald Trump's administration has ramped up Iran-related sanctions in the past few weeks.
The sanctions targeted companies and individuals for supplying a state military firm, and more than a dozen entities and people involved in Iran's nuclear, missile and conventional arms programs.
The US has also targeted Iran's state oil sector including the Ministry of Petroleum and the National Iranian Oil Company (NIOC) for supporting the Quds Force, the elite paramilitary arm of the Islamic Revolutionary Guard Corps.
The Quds Force is the overseas arm of the IRGC and gives material support to Iran-allied Shia militias in the region such as Hezbollah in Lebanon, Hamas in Palestine, Houthis in Yemen, and others in Syria and Iraq.
The US Department of the Treasury's Office of Foreign Assets Control (OFAC) also sanctioned the Minister of Petroleum Bijan Zanganeh among other high-ranking officials in Iranian companies in the energy sector.
Tensions between Tehran and Washington have escalated since US President Donald Trump unilaterally pulled out of the 2015 Iranian nuclear deal and reimposed sanctions against Iran as part of a "maximum pressure" campaign.
Analysts have said that the Trump's administration has been trying to make it difficult to lift sanctions on Iran's regime in anticipation of Joe Biden claiming the White House.
Biden takes office on January 20. The Democrat, who was Barack Obama's vice president, defeated Trump in the November 3 US election.
Biden has previously said he will return to the 2015 Iran nuclear deal under which Tehran agreed to restrict its nuclear program in return for relief from US and other sanctions, if the Iranian government resumes compliance.
https://english.alarabiya.net/en/News/middle-east/2020/11/15/On-anniversary-of-Iran-s-protests-Pompeo-vows-more-US-action-against-Iranian-regime
--------
Coronavirus: Iran's Rouhani calls for national mobilization against COVID-19
15 November 2020
Iranian President Hassan Rouhani on Sunday declared "the general mobilization of the nation and the government" to confront the third wave of the coronavirus after health authorities announced the highest ever number of daily cases in the Middle East's worst-hit country.
"I call on all governmental organizations and other forces and institutions to rush to the aid of the health ministry and health workers with all possible means," Rouhani said in a statement, published by Iranian state media.
For more coronavirus news, visit our dedicated page.
The government said on Saturday that stricter restrictions will be imposed in Tehran and some 100 other cities and towns across the country from Nov. 21. Non-essential businesses and services will be shut and cars will not be allowed to leave or enter those cities.
Iranian officials have repeatedly complained that many people ignore appeals to stay at home and respect health protocols, while Tehran city council chairman Mohsen Hashemi warned on Sunday that deaths could reach 1,000 a day in Tehran in the coming weeks, Iranian media reported.
For all the latest headlines follow our Google News channel online or via the app.
The health ministry, cited by state media, reported 12,543 new infections in the past twenty four hours, a record high, bringing the total cases in Iran to 762,068. The ministry reported 459 new deaths, bringing the total to 41,493.
Leading opposition figure Mir Hossein Mousavi and his wife Zahra Rahnavard, under house arrest since 2011, have tested positive for coronavirus, the opposition website Kalemeh reported on Sunday.
Like many other countries in recent weeks, Iran has been struggling to curb the spread of the disease. Authorities have refrained from imposing a full-blown lockdown amid concerns that such a step could wreck an already sanctions-battered economy.
The coronavirus crisis has exacerbated economic problems that worsened after US President Donald Trump withdrew in 2018 from Iran's 2015 nuclear deal with major powers and reimposed sanctions.
https://english.alarabiya.net/en/coronavirus/2020/11/15/Coronavirus-Iran-s-Rouhani-calls-for-national-mobilization-against-COVID-19
--------
US, Israel worked together to track and kill al-Qaeda operative in Iran
15 November 2020
The US and Israel worked together to track and kill a senior al-Qaeda operative in Iran earlier this year, a bold intelligence operation by the two allied nations that came as the Trump administration was ramping up pressure on Tehran.
Four current and former US officials said Abu Mohammed al-Masri, al-Qaeda's No. 2, was killed by assassins in the Iranian capital in August. The US provided intelligence to the Israelis on where they could find al-Masri and the alias he was using at the time, while Israeli agents carried out the killing, according to two of the officials. The two other officials confirmed al-Masri's killing but could not provide specific details.
For all the latest headlines follow our Google News channel online or via the app.
Al-Masri was gunned down in a Tehran alley on Aug. 7, the anniversary of the 1998 bombings of the US embassies in Nairobi, Kenya, and Dar es Salaam, Tanzania. Al-Masri was widely believed to have participated in the planning of those attacks and was wanted on terrorism charges by the FBI.
Al-Masri's death is a blow to al-Qaeda, the terror network that orchestrated the Sept. 11, 2001, attacks in the U.S, and comes amid rumors in the Middle East about the fate of the group's leader, Ayman al-Zawahiri. The officials could not confirm those reports but said the US intelligence community was trying to determine their credibility.
Two of the officials — one within the intelligence community and with direct knowledge of the operation and another former CIA officer briefed on the matter — said al-Masri was killed by Kidon, a unit within the secretive Israeli spy organization Mossad allegedly responsible for the assassination of high-value targets. In Hebrew, Kidon means bayonet or "tip of the spear."
The official in the intelligence community said al-Masri's daughter, Maryam, was also a target of the operation. The US believed she was being groomed for a leadership role in al-Qaeda and intelligence suggested she was involved in operational planning, according to the official, who like the others, spoke on condition of anonymity to discuss sensitive intelligence.
Al-Masri's daughter was the widow of Hamza bin Laden, the son of al-Qaeda mastermind Osama bin Laden. He was killed last year in a US counterterrorism operation in the Afghanistan-Pakistan region.
The news of al-Masri's death was first reported by The New York Times.
Both the CIA and Israeli Prime Minister Benjamin Netanyahu's office, which oversees the Mossad intelligence agency, declined to comment.
Israel and Iran are bitter enemies, with the Iranian nuclear program Israel's top security concern. Israel has welcomed the Trump administration's withdrawal from the 2015 Iranian nuclear accord and the US pressure campaign on Tehran.
At the time of the killings, the Trump administration was in the advanced stages of trying to push through the UN Security Council the reinstatement of all international sanctions on Iran that were lifted under the nuclear agreement. None of the other Security Council members went along with the US, which has vowed to punish countries that do not enforce the sanctions as part of its "maximum pressure" campaign on Iran.
Israeli officials are concerned the incoming administration of President-elect Joe Biden could return to the nuclear accord. It is likely that if Biden does engage with the Iranians, Israel will press for the accord to be modified to address Iran's long-range missile program and its military activity across the region, specifically in Syria and its support for groups like Hezbollah, Hamas, and Islamic Jihad.
The revelations that Iran was harboring an al-Qaeda leader could help Israel bolster its case with the new US administration.
Al-Masri had been on a kill or capture list for years. but his presence in Iran, which has a long history of hostility toward al-Qaeda, presented significant obstacles to either apprehending or killing him.
Iran denied the reports, saying the government is not harboring any al-Qaeda leaders and blaming the US and Israel for trying to foment anti-Iranian sentiment. US officials have long believed a number of al-Qaeda leaders have been living quietly in Iran for years and publicly released intelligence assessments have made that case.
Al-Masri's death, albeit under an assumed name, was reported in Iranian media on Aug. 8. Reports identified him as a Lebanese history professor potentially affiliated with Lebanon's Iranian-linked Hezbollah movement and said he had been killed by motorcycle gunmen along with his daughter.
Lebanese media, citing Iranian reports, said that those killed were Lebanese citizen Habib Daoud and his daughter Maraym.
The deaths of al-Masri and his daughter occurred three days after the catastrophic Aug. 4 explosion at the port of Beirut and did not get much attention. Hezbollah never commented on reports and Lebanese security officials did not report that any citizens were killed in Tehran.
A Hezbollah official on Saturday would not comment on al-Masri's death, saying Iran's foreign ministry had already denied it.
The alleged killings seem to fit a pattern of behavior attributed to Israel in the past.
In 1995, the founder of the Palestinian militant group Islamic Jihad was killed by a gunman on a motorcycle in Malta, in an assassination widely attributed to the Mossad. The Mossad also reportedly carried out a string of similar killings of Iranian nuclear scientists in Iran early last decade. Iran has accused Israel of being behind those killings.
Yoel Guzansky, a senior fellow at the Institute for National Security Studies and former analyst on Iranian affairs in the prime minister's office, said it has been known for some time that Iran is hiding top al-Qaeda figures. While he had no direct knowledge of al-Masri's death, he said a joint operation between the US and Israel would reflect the two nations' close intelligence cooperation, with the US typically stronger in the technical aspects of intelligence gathering and Israel adept at operating agents behind enemy lines.
https://english.alarabiya.net/en/News/world/2020/11/15/US-Israel-worked-together-to-track-and-kill-al-Qaeda-operative-in-Iran
--------
Fire damages historic wooden mosque on Istanbul's Bosporus Strait
15 November 2020
A historic wooden mosque in Istanbul caught on fire on Sunday and Turkish firefighters put out the blaze, working from both land and sea.
The Vanikoy Mosque, built in the 17th century during the reign of Ottoman Sultan IV Mehmed, is located on the Asian side of Istanbul along the Bosporus Strait. Videos showed heavy smoke pouring from the structure.
Istanbul's Fire Department tweeted the fire had been extinguished and cooling efforts were ongoing.
The firefighters prevented the fire from reaching a forest behind the mosque and the neighboring houses that line the Bosporus. They were aided by the coastguard.
The mosque is a wooden structure with a single minaret.
The cause of the fire was not yet determined and the city's governor said an investigation had been launched.
https://english.alarabiya.net/en/News/middle-east/2020/11/15/Fire-damages-historic-wooden-mosque-on-Istanbul-s-Bosporus-Strait
--------
Hamas slams UAE for 'real support' of Israel's settlement expansion in West Bank
15 November 2020
The Palestinian resistance movement Hamas has lambasted the United Arab Emirates (UAE) over its "real support" for Israel's settlement expansion in the occupied West Bank.
In a statement on Sunday, Hamas spokesman Hazem Qasem said Abu Dhabi had just recently received the head of "the Zionist Settlements Council" in the West Bank and concluded economic agreements with him, the Yemeni Arabic-language al-Masirah television network reported.
He said the recent visit to the UAE by outspoken annexation advocate Yossi Dagan, who heads a council for Israeli settlements in the occupied West Bank, and the signing of economic agreements between the two sides shows Abu Dhabi's "practical support" for Israel's settlement expansion in the Palestinian territories.
The Hamas official said the UAE leaders' cooperation with Israeli settlement expansion companies clearly violates all resolutions adopted by the Arab League against Israel's settlements.
"It is shameful that many countries and international bodies continue to boycott settlements and all their products, while the UAE is striving to strengthen its relationship with the Zionist settlement system," Qassem added.
All Israeli settlements are illegal under international law as they are built on the occupied Palestinian land.
Under a US-brokered agreement reached between Israel and the UAE some two months ago on the normalization of ties, the Tel Aviv regime had supposedly agreed to "temporarily" suspend applying its rule to further areas in the occupied West Bank and the strategic Jordan Valley that Israeli prime minister Benjamin Netanyahu had pledged to annex.
While Emirati officials have described the normalization deal with the Tel Aviv regime as a successful means to stave off annexation and save the so-called two-state solution to the Israeli-Palestinian conflict, Israeli leaders have lined up to call the bluff of Abu Dhabi's crown prince and de facto ruler of the UAE, Sheikh Mohammed bin Zayed Al Nahyan, who claimed Israel's annexation plans were off the table.
Bahrain and Sudan have also reached a US-brokered normalization agreement with the occupying regime.
The normalization deals have drawn widespread condemnation from Palestinians, who seek an independent state in the occupied West Bank and Gaza Strip, with East Jerusalem al-Quds as its capital. They say the deals ignore their rights and do not serve the Palestinian cause.
More than 600,000 Israelis live in over 230 settlements built since the 1967 Israeli occupation of the Palestinian territories of the West Bank and East Jerusalem al-Quds.
The UN Security Council has condemned Israel's settlement activities in the occupied territories in several resolutions.
Palestinians want the West Bank as part of a future independent Palestinian state with East Jerusalem al-Quds as its capital.
https://www.presstv.com/Detail/2020/11/15/638665/Palestine-Hamas-UAE-Israel-West-Bank-settlement-Arab-League
--------
Arab world
Abu Dhabi's Etihad to start daily flights to Israel's Tel Aviv in 2021
16 November 2020
Abu Dhabi's Etihad Airways said on Monday it would start daily flights to Tel Aviv in March after the United Arab Emirates and Israel's established formal ties this year.
Flight will start March 28 and will be timed to connect with Etihad services to and from China, Thailand, India and Australia, the state-owned carrier said in a statement.
For all the latest headlines follow our Google News channel online or via the app.
The announcement comes as the aviation industry faces its worst-ever crisis because of the coronavirus pandemic, which has wrecked air travel demand.
Etihad has slashed jobs and pushed forward with plans to shrink into a mid-sized carrier focused on carrying passengers to and from Abu Dhabi, the UAE capital.
Abu Dhabi does not allow non-residents to enter the emirate at its airport and has not said when that coronavirus-related restriction would be lifted.
Neighboring Dubai allows foreign visitors to enter.
State-owned FlyDubai will launch direct flights to Tel Aviv this month, while Dubai's airport operator has said El Al, Israir, Arkia will start Tel Aviv-Dubai services in December.
Etihad, FlyDubai and Israel' El Al have operated charter services between the UAE and Israel in recent months.
https://english.alarabiya.net/en/News/gulf/2020/11/16/Israel-relations-Abu-Dhabi-s-Etihad-to-start-daily-flights-to-Israel-s-Tel-Aviv-in-2021
--------
UAE-Israel relations: Dubai's Fresh Market opens first-ever Israeli produce display
15 November 2020
The Fresh Market in Dubai's Ras al-Khor opened on Saturday its first ever Israeli produce display as part of the two countries' efforts to establish diplomatic and business links, the Emirates News Agency (WAM) reported.
The Fresh Market, an UAE-based grocery chain, plays a key role in positioning Dubai as a regional hub for trading and the sale of local and imported produce, according to WAM.
For all the latest headlines follow our Google News channel online or via the app.
"Together with our colleagues in Dubai, we are beginning to see the 'fruits of peace' today. The export of fresh agricultural products from Israel to the UAE market has a significant advantage because of the geographical closeness and the speed with which the products can be transported directly to markets in the UAE and beyond," Shlomi Fogel, Chairman of Carmel Agrexco, told WAM.
The United Arab Emirates and Israel in September signed a historic bilateral agreement, called the Abrahams Accord, at the White House in Washington.
Along with establishing diplomatic relations, the UAE and Israel agreed to promote investment and tourism, as well as launch direct flights connecting the two countries.
Direct flights between the UAE and Israel are set to start on November 26 through Dubai-based airline Flydubai.
https://english.alarabiya.net/en/News/gulf/2020/11/15/Israel-relations-UAE-Israel-relations-Dubai-s-Fresh-Market-opens-first-ever-Israeli-produce-display-
--------
UAE to grant 'golden' 10-year visas to certain professionals, degree-holders, student
Tamara Abueish
15 November 2020
The United Arab Emirates will begin granting a 10-year "golden" visa to residents in certain professions or those with specialized degrees, high school students living in the country, and university students with a GPA of 3.8 or higher, the ruler of Dubai announced on Sunday.
The announcement is the latest in a string of new programs aimed at attracting people to the Emirates, as well as improving living standards for expatriates in the country.
All residents who hold a doctorate degree, medical doctors, and computer, electronics, programming, electrical, and biotechnology engineers can apply for the special visa, Sheikh Mohammed bin Rashid al-Maktoum said.
Degree holders in Artificial Intelligence (AI), big data, or epidemiology and viruses are also eligible, he added.
The move comes as part of the UAE's mission to foster young talent and attract highly-skilled professionals to the country, Sheikh Mohammed said.
In the midst of the coronavirus pandemic, Dubai in October began offering individuals and families a new "Dubai Virtual Working Program" that allows individuals and families to live in the UAE for a year while working abroad.
Over 200 doctors treating COVID-19 patients were also granted permanent Golden Residency visas for their efforts in the fight against the novel coronavirus.
In September, Dubai announced the launch of the "Retire in Dubai" program that offers resident expatriates and foreigners above the age of 55 to apply for a retirement visa.
In 2018, the UAE announced that it would be granting residency visas of up to 10 years for investors and professionals and their families in addition to grade 'A' students.
https://english.alarabiya.net/en/News/world/2020/11/15/UAE-to-grant-golden-10-year-visas-to-certain-professionals-degree-holders-student
--------
Pro-Sisi party Mostaqbal Watn in commanding position in Egypt's parliamentary polls
15 November 2020
Egypt's Mostaqbal Watn (Nation's Future) Party took a commanding lead in parliamentary polls on Sunday as the election commission announced results from a second round of voting.
Pre-selected lists headed by the party, which strongly supports Egyptian President Abdel Fattah al-Sisi, won all 284 seats allocated for the 596-seat chamber through a winner-takes-all system.
For all the latest headlines follow our Google News channel online or via the app.
Its candidates also won 59 of the 73 seats contested by individual candidates that have so far been declared by the commission.
Remaining individual seats will be decided in run-offs later this month and in early December. Sisi can appoint 28 legislators directly.
Turnout in the two rounds of voting in an election that began on Oct. 24 was 29 percent so far, according to the election commission.
Many candidates and parties filed legal complaints to the commission alleging electoral fraud, but all have so far been dismissed. Some have also taken complaints to the courts.
The commission's head, Lasheen Ibrahim, appealed to Egyptians to participate in the run-offs, urging them not to listen to rumours spread by "enemies of the homeland".
Parliament was already controlled by Sisi supporters, but Nation's Future has emerged as a dominant force and won nearly 75 percent of contested seats for Egypt's newly recreated Senate in August.
https://english.alarabiya.net/en/News/middle-east/2020/11/15/Pro-Sisi-party-Mostaqbal-Watn-in-commanding-position-in-Egypt-s-parliamentary-polls
--------
One killed, several wounded in mine blasts in Syria
14 November 202
At least one civilian has been killed and several others have been wounded in mine explosions in Syria's Aleppo and Hasakah provinces, state media say.
Official news agency SANA reported on Saturday that a mine left behind by terrorists went off when a vehicle passed over it near Manasher in the western outskirts of Aleppo City earlier in the day.
It added that the blast killed a civilian and wounded several others.
In a separate incident on Saturday, two civilians, including a child, were wounded after a mine exploded in the vicinity of Remelan al-Basha Village school, in northeastern Hasakah, SANA reported, adding that the 10-year-old child was critically injured.
It further said that the mine had been planted by militants of the so-called Syrian Democratic Forces (SDF), a US-backed alliance of Kurdish militants operating against Damascus.
The US, in collusion with the SDF, controls most of the oil fields in al-Jazira in Hasakah. Over the past months, thousands of trucks carrying weapons and military and logistical equipment have entered the region.
The US forces in the province and SDF are believed to be pillaging the Arab country's oil and mineral resources.
In August, Syria strongly condemned an agreement signed between the SDF and an American oil company aimed at stealing the country's oil, stressing that Damascus considers the contract null and void with no legal effect.
https://www.presstv.com/Detail/2020/11/14/638600/One-killed-several-wounded-in-mine-blasts-in-Syria
--------
Trump's close ally admits hiding US troop numbers in northern Syria
14 November 2020
Outgoing US special representative for Syria, James Jeffrey, says he and his team routinely misled President Donald Trump into believing that that true numbers of American troops in northern Syria were a lot lower than the actual size.
"We were always playing shell games to not make clear to our leadership how many troops we had there," Jeffrey made the startling revelation in an interview with Defense One website.
Back in October 2019, Trump ordered the withdrawal of US troops from northern Syria. The decision was met with immense criticism from lawmakers, military officials and diplomats like Republican Senator Lindsay Graham and former Pentagon chief James Mattis, who had several policy differences with the president and eventually quit from the top post on the heels of Trump's decision to pull out.
Pentagon officials could at last convince Trump to leave approximately 200 troops behind to "secure" oil fields.
However, the real number of troops in northeast Syria is "a lot more than" the roughly 200 troops Trump initially agreed to leave there, Jeffrey said.
"What Syria withdrawal? There was never a Syria withdrawal," the retiring diplomat said.
Jeffrey said he and other officials "decided to come up with five better arguments for why we needed to stay. And we succeeded both times. That's the story."
US Secretary of State Mike Pompeo announced on Monday that Jeffrey is stepping down this month from his post and Joel Rayburn, the current deputy assistant secretary for Levant affairs and special envoy for Syria, will replace him. Ambassador Nathan Sales, the State Department's coordinator for counter-terrorism, was designated as the special envoy for the so-called anti-Daesh coalition.
Last week, Jeffrey said there would be "no change" to US troop numbers in Syria following Democrat candidate Joe Biden's projected victory in the US presidential election.
Senior US officials have on occasions complained about Washington's policies in Syria, arguing that the approaches of the Trump administration have stuck American troops fighting a 'forgotten war' and guarding oil and gas resources there, while Russian troops are making advances and help the Damascus government recover after nearly a decade of militancy.
"It's a clusterf**k in Syria," one top US intelligence official, who requested anonymity, told American weekly news magazine Newsweek in early September. "We don't have a strategy."
Malcolm Nance, a former US Navy intelligence and counter-terrorism specialist, also compared the situation to another bloody quagmire for the Pentagon, and said the presence of US troops on the Syrian soil was a political game with little payoff.
"A few special forces supported by artillery and armor units are very much akin to 2002 in Afghanistan. It is now a forgotten war," Nance said.
Mine explosion kills two Turkish soldiers in Syria's Hasakah
Meanwhile, two Turkish soldiers were killed in Syria's northeastern province of Hasakah on Friday evening from the explosion of a landmine.
Russian state-owned RT Arabic television news network, citing unnamed military sources, reported that Turkish troops were about to lay mines on the outskirts of Tall Tamr town, when one of the mines detonated. As a result of the explosion, two soldiers were killed.
Turkish forces kill 14 YPG militants in northern Syria: Ministry
Separately, Turkish forces killed 14 Kurdish militants affiliated with the so-called People's Protection Units (YPG) in northern Syria.
The Turkish Defense Ministry said in a statement on Friday that the militants were "neutralized" when they attempted to "infiltrate" into Turkey's operation zone.
Last year, Turkey seized the control of the border town of Ra's al-Ayn after it launched a cross-border invasion of northeastern Syria with the help of its allied armed groups to push YPG militants away from border areas.
Ankara views the YPG as a terrorist organization tied to the homegrown Kurdistan Workers' Party (PKK).
https://www.presstv.com/Detail/2020/11/14/638561/Trump%E2%80%99s-close-ally-admits-hiding-US-troop-numbers-in-northern-Syria
--------
Africa
Nearly 25,000 Ethiopians flee conflict to Sudan: State media
15 November 2020
Around 25,000 Ethiopians fleeing conflict in the Tigray region have crossed into neighboring Sudan, state news agency SUNA reported, as the UN said it was working to find them shelter.
"The number of Ethiopian refugees who have arrived in Gadaref and Kassala states since Saturday has reached 24,944," the agency said.
Sudan's commissioner for refugees Abdullah Suleiman toured the border region on Saturday with UN refugee agency assistant representative in Sudan Jan Hansmann to discuss the influx.
For all the latest headlines follow our Google News channel online or via the app.
Hansmann, quoted by SUNA, said the priority of the UNHCR was to provide the refugees with shelter, food and water and then to transfer them to regions far from the border "for security reasons."
He said the UN refugee agency was working to establish new camps in Sudan for the Ethiopians.
Sudan has already said it would shelter thousands of Ethiopians fleeing the conflict at the Um Raquba camp, which in the 1980s hosted thousands of Ethiopian fleeing famine.
Over the past week, exhausted refugees have streamed across the border into Sudan after walking for two-days through searing heat, many of them barefoot.
Some arrived on scooters and other cycled, while others boarded makeshift boats to cross a river into Sudan to flee intense fighting at home.
Suleiman called on the international community to pitch in with aid for the refugees.
Ethiopian Prime Minister Abiy Ahmed announced November 4 he had ordered military operations in Tigray in a dramatic escalation of a long-running feud with the region's ruling party, the Tigray People's Liberation Front (TPLF).
UNHCR said it expected the number of refugees to grow if the conflict in neighboring Ethiopia worsens.
The leader of the Tigray region on Sunday claimed responsibility for rocket strikes on the airport of neighboring Eritrea's capital, sparking fears that the conflict could widen.
A Sudanese government source said up to 200,000 Ethiopians could seek shelter in Sudan.
https://english.alarabiya.net/en/News/world/2020/11/15/Nearly-25-000-Ethiopians-flee-conflict-to-Sudan-State-media
--------
Ethiopia seizes town in Tigray, accuses local leaders of taking 10,000 prisoners
16 November 2020
Ethiopian forces have liberated a town in the northern Tigray region, the government's emergency taskforce said late on Sunday, accusing local leaders of taking 10,000 prisoners from the town as they fled.
Tigray forces fired rockets into neighboring Eritrea on Saturday, escalating a 13-day conflict which has killed hundreds on both sides, and threatens to destabilize other parts of Ethiopia and the Horn of Africa.
For all the latest headlines, follow our Google News channel online or via the app.
"As the TPLF (Tigray's ruling party) militia were defeated in Alamata, they fled taking along around 10,000 prisoners," the government's taskforce said on Twitter.
With access restricted and most communications down in Tigray, Reuters could not independently verify assertions made by all sides.
There was no immediate comment from Tigray's leaders on the events in Alamata, a town near the border with Amhara regional state, about 120 kilometer (75 miles) from Tigray's capital Mekelle.
The US State Department's top diplomat for Africa, Tibor Nagy, denounced the attacks by Tigrayan forces on Eritrea, calling them "efforts to internationalize the conflict" in Tigray.
Debretsion Gebremichael, Tigray's regional president, has accused Eritrea of sending tanks and thousands of troops into his region in support of the Ethiopian government's offensive. Eritrea's
Foreign Minister Osman Saleh Mohammed told Reuters last week that his country was not involved in the conflict.
Abiy launched the campaign in Tigray on Nov. 4 after accusing local forces of attacking federal troops based in the northern state, which borders Eritrea and Sudan and is home to some 5 million people. Fighting spread into Ethiopia's Amhara state, whose local forces are fighting with federal troops in Tigray.
Late on Friday, rockets were fired at two airports in Amhara in what the TPLF said was retaliation for government air strikes.
The government says the strikes aim to destroy equipment controlled by insurgent Tigray forces.
At least 20,000 Ethiopians have fled into Sudan, the United Nations said on Sunday.
https://english.alarabiya.net/en/News/world/2020/11/16/Ethiopia-seizes-town-in-Tigray-accuses-local-leaders-of-taking-10-000-prisoners-
--------
Mali: Dozens of terrorists killed in French operation
Alaattin Dogru
14.11.2020
Dozens of terrorists were killed during Operation Barkhane carried out by French forces in Mali, according to a statement
Four Mirage 2000D aircraft left a military base in Niger's capital, Niamey, and destroyed at least 20 motorcycles and ammunition belonging to the terrorists, according to the France's Defense Ministry.
In Mali, France has carried out Operation Serval since January 2013, followed by Operation Barkhane in the Sahel – the northern part of Africa where Mali lies – since Aug. 1, 2014.
About 5,000 troops are installed in the region as part of France's military effort, stationed in Chad's capital, N'Djamina. They have carried out operations with the cooperation of the G5 Sahel, five West African countries of Niger, Chad, Burkina Faso, Mauritania, and Mali.
The region has seen a significant terrorist threat in recent years, with Boko Haram and al-Queda in the Islamic Maghreb (AQIM) maintaining a presence there as well as in neighboring countries.
https://www.aa.com.tr/en/africa/mali-dozens-of-terrorists-killed-in-french-operation/2043373
--------
Rebel leaders who inked peace deal with government return to Sudan's Khartoum
15 November 2020
Sudan's rebel leaders returned to the capital, Khartoum on Sunday, signaling the first major steps toward implementing a peace agreement with the government that aims to end the country's decades-long civil war.
Gen. Abdel-Fattah Burhan, head of the ruling sovereign council, welcomed leaders of the Sudan Revolutionary Front as "partners and peacemakers" upon their arrival from South Sudan on Sunday.
The front, a coalition of several armed groups centered in the western Darfur region, South Kordofan and Blue Nile, inked a peace agreement with the transitional government on October 3 after months of arduous negotiations in South Sudan's capital, Juba.
For all the latest headlines follow our Google News channel online or via the app.
Al-Hadi Idriss, head of the rebel front, told a televised news conference in Khartoum that their return to Sudan "means that we have become part of the transitional government."
Rebel leaders are to hold seats in the sovereign council currently running the country and Cabinet, according to the peace deal.
Additionally, the front's armed factions are to be integrated into Sudan's armed forces. The deal also grants self-rule for the southern provinces of Blue Nile, South Kordofan and West Kordofan.
He said they would share responsibilities with the transitional government in efforts to ease the suffering of millions in Sudan amid widespread shortages of essential goods, including fuel, bread and medicine.
The transitional government has been struggling to revive Sudan's battered economy, which has suffered under the weight of decades of US sanctions and mismanagement under former longtime ruler Omar al-Bashir, who came to power in an Islamist-backed military coup in 1989 and ruled the country until his ouster in 2019.
President Donald Trump announced last month that Washington would remove Sudan from the US list of state sponsors of terrorism, opening a path for the African country to attract foreign investment and engage with the international community.
Trump's move coincided with a US-backed push for Sudan to start normalizing ties with Israel, despite concerns the move was made by a transitional leadership and without public support.
Achieving peace with Sudan's rebel groups has been a crucial goal for the transitional government, which assumed power after a popular uprising led to the military overthrow of al-Bashir from power. Sudanese civilian leaders hope the deal helps in reviving the economy by slashing military spending, which takes up much of the national budget.
Prime Minister Abddalla Hamdok also welcomed the arrival of rebel leaders to Khartoum, describing it as the "true launching" of the peace process.
Sudan's largest single rebel group, the Sudan Liberation Movement-North led by Abdel-Aziz al-Hilu, was involved in the Juba talks but has yet to reach a deal with the government.
Another major rebel group, the Sudan Liberation Movement-Army led by Abdel-Wahid Nour, rejects the transitional government and has not taken part in the talks.
https://english.alarabiya.net/en/News/middle-east/2020/11/15/Rebel-leaders-who-inked-peace-deal-with-government-return-to-Sudan-s-Khartoum
--------
UN-led Libya talks held in neighbouring Tunisia enter final day
15 November 2020
A week of UN-led talks on Libya were set to conclude on Sunday, the latest phase in renewed efforts to end a decade of conflict in the North African country.
The political talks in neighboring Tunisia bring together 75 delegates selected by the UN to represent a broad range of constituencies, but observers have criticized the way they were chosen and cast doubts over their clout in a country where two administrations are already vying for power.
The UN said Friday that the delegates had agreed to hold national elections on December 24 next year, without specifying whether these would be presidential, parliamentary or both.
For all the latest headlines follow our Google News channel online or via the app.
The Tunisia talks were also meant to produce a temporary executive to govern in the interim, providing services to a country battered by economic woes and the coronavirus pandemic as well as the conflict.
The meetings came in parallel with military talks earlier in the week to fill in the deals of an October ceasefire deal that formally ended over a year of fighting between forces backing rival administrations.
The UN's former envoy to Libya and the architect of the current UN process, Ghassan Salame, told AFP on Friday he had higher hopes than ever for peace, citing "an accumulation of positive factors".
But observers remain wary, noting the numerous previous deals that have failed to bring an end to the war.
Libya has been split since 2014 between rival factions in the west, held by the Tripoli-based Government of National Accord (GNA), and the east, home to general Khalifa Haftar's Libyan National Army (LNA).
In 2019, general Haftar, who was backed by Russia and the United Arab Emirates, launched an offensive to seize Tripoli.
But after a year of bloody stalemate on the edges of Tripoli his forces were repelled by the GNA forces backed by Turkey.
That led to a formal ceasefire deal in October. Elected Libyan officials called Saturday for a constitution to be approved before national elections are held, without challenging the date of the polls.
https://english.alarabiya.net/en/News/north-africa/2020/11/15/UN-led-Libya-talks-held-in-neighboring-Tunisia-enter-final-day
--------
North America
It's time to leave Afghanistan: Acting US military chief
15 November 2020
Acting US Defense Secretary Chris Miller has issued his first public guidance to all Pentagon staff less a week after his appointment, declaring: "It's time to come home" from Afghanistan.
"We are not a people of perpetual war - it is the antithesis of everything for which we stand and for which our ancestors fought. All wars must end," Miller emphasized in a two-page memo sent Friday and publicly released on Saturday, adding: "Ending wars requires compromise and partnership. We met the challenge; we gave it our all. Now, it's time to come home."
The announcement came after Trump declared last month via a Twitter post that all US troops would be home from Afghanistan by Christmas (December 25). He was challenged later in the month, however, by US Joint Chiefs Chairman Gen. Mark Milley, who insisted that troop withdrawal would be conditions-based, further noting that the US was still awaiting a cease-fire and planned "peace deal" between the Taliban and Afghan government.
Miller, a former "Horse Soldier" and special operations officer who was part of the first contingent of US occupation forces that invaded Afghanistan in 2001, was removed from his job as director of the National Counterterrorism Center and was appointed as the acting Pentagon chief by US President Donald Trump on November 9 after firing former defense secretary Mark Esper.
The ouster of Esper further sparked a rash of firings within the US military establishment and other government agencies following Joe Biden's projected election victory amid speculations that Trump intended to sow instability ahead of the presidential transition.
There were other suggestions that Trump's installation of Miller and his advisers, such as retired Army Colonel Douglas Macgregor -- an outspoken critic of the US war on Afghanistan -- is part of a desperate effort to conclude the conflict before the end of the year.
Macgregor is also on record as describing Muslim immigrants as "invaders" who want to turn Europe "into an Islamic state," and calling for martial law at the US-Mexico border, insisting that US authorities should "shoot people" if necessary to prevent immigrants from entering the country.
No guideline, timetable for US pullout from Afghanistan
In the new memo, Miller further underlined the need to end the war in Afghanistan, though he did not provide a timeline or offer guidance on how a withdrawal would take place.
A transition in the war -- formerly known as Operation Enduring Freedom -- did take place on paper in late 2014 when the US military formally ended combat operations and assigned troops remaining in Afghanistan to act in advise-and-assist roles.
Since then, however, US combat operations have continued in the terror-ravaged country and regions of that American troops had withdrawn from -- such as Helmand province -- have been the destination of new US troop deployments.
"As we prepare for the future, we remain committed to finishing the war that Al Qaeda brought to our shores in 2001. This war isn't over. We are on the verge of defeating Al Qaeda and its associates, but we must avoid our past strategic error of failing to see the fight through to the finish," Miller's memo further read.
"Indeed, this fight has been long, our sacrifices have been enormous and many are weary of war - I'm one of them - but this is the critical phase in which we transition our efforts from a leadership to supporting role."
Miller's memo echoed thoughts expressed in his September 10 opinion article published by the Washington Post, in which he claimed the end of the war on al-Qaeda was in sight and the terrorist group – widely believed to have been established and supported by US operatives overseas --was in crisis.
The column further called for decisive efforts to crush the terror group before it could renew its strength, insisting that the US would "end the war on our terms.
https://www.presstv.com/Detail/2020/11/14/638606/US-military-Acting-Defense-Secretary-Chris-Miller-Afghanistan-troop-pullout
--------
No end to US war on Iran by other means
15 November 2020
By Stephen Lendman
Since Iran regained its sovereign independence from US/UK-installed tyrannical rule in 1979, Dems and Republicans waged sanctions war on the country and its people without letup — along with countless other dirty tricks.
Whether Trump or Biden is inaugurated in January won't change longstanding US war on Iran by other means.
It's always been all about Iranian independence from US control, along with wanting Israel's main regional rival neutralized.
It's also been about US rage for unchallenged control over the Middle East, its vast hydrocarbon resources and populations.
It's never been about an Iranian threat because none ever existed.
In 1977, the US International Emergency Economic Powers Act (IEEPA) empowered presidents to claim foreign threats even when none exist.
They can unjustifiably declare a national emergency and regulate commerce accordingly.
Following its 1979 revolution, the US launched war on Iran by other means.
At first, its policymakers seized $12 billion worth of Iranian government bank deposits, securities, gold, and other properties — including $5.6 billion held by overseas branches of US banks.
A full trade embargo followed.
In January 1981, it was lifted short-term under provisions of the Algiers Accords.
Most of the country's assets were unblocked, while Iranian Assets Control Regulations were enforced.
Throughout decades of US sanctions war on Iran, they've been unjustifiably justified by spurious claims lacking legitimacy.
US presidents since Jimmy Carter were and continue to be unacceptably hostile toward Iran.
Countless rounds of illegal US sanctions were imposed on the nation and its entities — aiming to make its economy scream and ordinary people suffer.
In 2010, the Obama/Biden regime's Comprehensive Iran Sanctions, Accountability, and Divestment Act (CISADA) extended and hardened the Clinton co-presidency's 1996 Iran Sanctions Act that punishes firms doing business with Tehran's oil sector.
It went further by prohibiting imports of Iranian foodstuffs and carpets.
Imports of other Iranian products and services were banned — directly or through third countries.
US exports to Iran are prohibited, including from offshore locations.
US firms, organizations, and individuals are banned from having normalized trade or other relations with Iran.
Trump regime "maximum pressure" went beyond where its predecessors went.
Everything the US threw at Iran since 1979 has been and continues to be in flagrant breach of international law.
Despite decades of all-out US war on Iran by other means, its ruling authorities successfully withstood the onslaught.
The diabolical US plot failed. The same goes for its sanctions war against other targeted nations.
On Wednesday, Iranian Deputy Foreign Minister Abbas Araghchi said that his government is indifferent toward whether Trump or Biden was elected on November 3.
Calling the process a "spectacle," he explained that Iran will "decide and act based on our own interests" regardless of whether Republicans or Dems are in charge of US policymaking.
On Thursday, Iranian President Rouhani said the following:
"All signs in the US and elsewhere in the world indicate that the world has come to realize that (the policy of) maximum pressure does not work and its era is over."
In late October, Rouhani stressed that US "sanctions have impacted people (adversely), but have failed to break us."
Since 1979, Dems were more hostile toward Iran than Republicans until Trump appointed Pompeo as his foreign policy chief.
Will Biden/Harris continue "maximum pressure" on Iran?
Will they harden Trump regime policies by piling on more toughness?
Will their unacceptable demands for returning to the landmark JCPOA kill any chance of it happening by either wing of the US one-party state?
All nations free from US control are on its target list for regime change — wars by hot and/or by other means its favored strategies.
US war on humanity at home and abroad in pursuit of unchallenged global dominance in breach of international, constitutional, and its own statute laws leaves no doubt about its status on the world stage.
America is a rogue state, a pariah state, a nation contemptuous of world peace, stability, the rule of law, and governance of, by, and for everyone equitably.
Whether Dems or Republicans control the White House and/or Congress, dirty business as usual war on humanity remains hard-wired US policy.
Stephen Lendman, born in 1934 in Boston, started writing on major world and national issues began in summer 2005. In early 2007, radio hosting followed. Lendman now hosts the Progressive Radio News Hour on the Progressive Radio Network three times weekly. Distinguished guests are featured. Listen live or archived. Major world and national issues are discussed. Lendman is a 2008 Project Censored winner and 2011 Mexican Journalists Club international journalism award recipient.
https://www.presstv.com/Detail/2020/11/15/638647/No-end-to-US-sanctions-war-on-Iran
--------
Biden to 'reassess' close US-Saudi ties under Trump: Report
15 November 2020
Projected US President-elect Joe Biden has vowed to "reassess" Washington's ties with the despotic kingdom of Saudi Arabia, a major US news network reported, predicting a "change" in close US-Saudi ties under President Donald Trump.
Biden, according to NBC News, has described the oil-rich Persian Gulf state as a "pariah" and has confirmed that he believe dissident Saudi journalist Jamal Khashoggi was murdered on direct orders of the regime's Crown Prince Mohammed bin Salman.
The mainstream US broadcaster further reported that Biden has also vowed during his presidential campaign to end Washington's support for the Saudi's war of aggression on neighboring Yemen, which has so far killed more than 112,000 people and spawned the world's worst humanitarian crisis that has left millions of civilians suffering from food and medical shortages.
It also cited experts as asserting that Biden has suggested that he would halt the sale of American weapons to Riyadh, further vowing to defend the rights of political dissidents across the globe.
The network, however, reiterated that all of the analysts it interviewed for the report emphasized that the strategic significance of the US-Saudi ties would endure and that Biden's presidency would by no means mark the end of those ties.
"There will be a clear-eyed recognition of the importance of the relationship from a security standpoint, from an economic standpoint and from relationships with the Muslim world," said former US ambassador to Riyadh Robert Jordan as quoted in the report.
Michael Stephens, a research fellow at the Royal United Services Institute in London, was also cited in the report as cautioning against taking Biden's campaign pledges at face value, pointing out that Trump was himself critical of Saudi Arabia ahead of his 2016 election.
During that race, Trump slammed his Democratic rival Hillary Clinton for taking money from the Saudi regime and other countries that "want women as slaves."
"It won't be, I think, that the Biden administration is just going to turn on the Saudis tomorrow and start telling them that they're bad and they need to shape up," Stephens added, noting that for one thing, he expected the Middle East to be fairly far down the Biden administration's list of priorities.
This is while representatives for the Biden team did not respond to requests for comment about what the Biden administration's policy would be toward Saudi Arabia.
But with the steady rise in US oil production, the value of the Saudi alliance has come under increasing scrutiny, and members of Congress from both parties have called for an end to special treatment for the kingdom.
"What they are going to lose is the complete immunity that Trump has given them and the personal access," said Yasmine Farouk, a visiting fellow in the Middle East Program at the Carnegie Endowment for International Peace, as quoted in the report, referring to political immunity.
Farouk further opined that Biden would be more selective about when he intervenes with Congress on behalf of the kingdom and would speak out against human rights violations and repression.
During Trump's administration, there were growing anger among US lawmakers in Congress over his close ties with the Saudis, fueled by the large number of civilian casualties in the military aggression on Yemen, as well as the murder of Khashoggi.
Trump, however, has gone out of his way to protect Riyadh from Congress.
Last year, the hawkish US president vetoed a congressional resolution to halt American military aid in the Saudi war in Yemen, as well as three other measures aimed at blocking more than $8 billion in arms sales to Saudi Arabia and the United Arab Emirates.
https://www.presstv.com/Detail/2020/11/15/638614/US-President-elect-Joe-Biden-Trump-administration-Saudi-Arabia-relations
--------
US Army identifies 5 soldiers killed in Sinai copter crash
15 November 2020
Five US soldiers who died when their UH-60 Black Hawk helicopter crashed in Sinai, Egypt on Nov. 12 have been identified.
The soldiers were participating in a Multinational Force and Observers deployment, part of routine efforts to supervise conditions of the Egyptian-Israeli Treaty of Peace. Seven uniformed MFO participants were killed in what is believed to be an accidental crash, including one Czech and one French service member; one additional US service member was injured.
Killed in the crash were:
Capt. Seth Vernon Vandekamp, 31, from Katy, Texas.
Chief Warrant Officer 3 Dallas G. Garza, 34, from Fayetteville, North Carolina
Chief Warrant Officer 2 Marwan Sameh Ghabour, 27, from Marlborough, Massachusetts
Staff Sgt. Kyle Robert McKee, 35, from Painesville, Ohio
Sgt. Jeremy Cain Sherman, 23, from Watseka, Illinois
According to information provided to Military.com by US Army Central, four of the soldiers were assigned to Aviation Company, Task Force Sinai, the US headquarters of the mission; one was assigned to the task force's Medical Company.
Vandecamp, an Army doctor, was on his first deployment and had arrived in Egypt in October, according to released information. His awards include the Army Commendation Medal and Army Achievement Medal.
Garza, a Black Hawk pilot, was prior enlisted, having commissioned in 2010, and had completed previous deployments to Afghanistan and Iraq. His awards include the Meritorious Service Medal, Air Medal with 2 Oak Leaf Clusters, Army Commendation Medal with 2 Oak Leaf Clusters and Army Achievement Medal with Silver Oak Leaf Cluster.
Ghabour, also a Black Hawk pilot, had commissioned as a warrant officer in 2018 and was on his first overseas assignment. His awards include the Army Aviation Badge.
McKee, a UH-60 repairer, had enlisted in the Army in 2003 and arrived in Egypt in July. He had previously deployed to Korea, Afghanistan and Iraq. His awards include the Air Medal, Army Commendation Medal, Army Achievement Medal and Combat Action Badge.
Sherman, a UH-60 crew chief, had enlisted in 2015 and arrived in Egypt in October. He'd previously deployed to Korea and Afghanistan. His awards include the Army Commendation Medal and Army Achievement Award.
More than 450 US Army and National Guard units are currently participating in the MFO mission, which involves 13 nations. The current US contingent is overseen by 1st Theater Sustainment Command out of Fort Knox, Kentucky, and includes soldiers from 1st Squadron, 112th Cavalry Regiment, Texas National Guard. They began their nine-month rotation March 8.
"It is with profound sadness that we mourn this tragic loss of life," Col. David S. Sentell, commander of Task Force Sinai, the US mission headquarters, said in a statement. "Our thoughts and prayers are with the families, friends and loved ones of our fallen during this most difficult time. They should know that their nation will continue to honor their sacrifice."
In a tweet Saturday, Pentagon spokesman Jonathan Rath Hoffman acknowledged the loss of the soldiers, saying the whole Defense Department "grieves alongside the friends and family of the service members killed this week in Sinai."
According to information previously released by MFO, the soldiers in the helicopter were on a routine mission near Sharm el-Sheikh, Egypt when the aircraft went down. The tragic crash is still under investigation.
https://www.presstv.com/Detail/2020/11/15/638608/US-military-helicopter-crash-Sinai-Egypt
--------
India
Unidentified Assailants Attack Secretary Of Karnataka Muslim Jamaat Outside Kandavara Mosque
Nov 16, 2020
MANGALURU: An unidentified assailants attacked secretary of Karnataka Muslim Jamaat, Mangaluru while he was coming out mosque after prayers, near Kaikamba, on Sunday night.
The victim has been identified as Abdul Aziz, 55, resident of Kaikamba and the incident took place around 10.30pm.
According to police Aziz was recently appointed as secretary of Karnataka Muslim Jamaat, Mangaluru. On Sunday he participated in a programme and after which went to Kandavara Mosque for prayers. While he was coming out of the mosque, two unidentified assailants attacked him with lethal weapons.
Aziz was immediately rushed to a private hospital in Mangaluru and police added his condition is stable. The incident is recorded in nearby CCTV.
A case has been registered at Bajpe police station.
https://timesofindia.indiatimes.com/city/mangaluru/unidentified-assailants-attack-man-outside-kandavara-mosque/articleshow/79242362.cms
--------
Kanpur man returns home after spending 8 years in Pakistan jail on espionage charges
Edited by Shivani Kumar
Nov 16, 2020
Shamsuddin, jailed in Pakistan on espionage charges, was waiting for eight years to meet his family. That wait finally came to an end on Sunday when the 70-year-old was brought back by authorities to his native place near Kanpur in Uttar Pradesh.
A smiling Shamsuddin met his sobbing daughters, and his sister lost consciousness briefly seeing the 70-year-old after such a long time. There was a Diwali-like atmosphere in the entire locality where he lived.
Shamsuddin had reached India via the Attari-Wagah border on October 26, but was serving the required quarantine period in Amritsar amid the Covid-19 outbreak.
The Uttar Pradesh Police reached Kanpur with Shamsuddin at 9:45 am and handed him over to the family members after initial paperwork.
"For us, this Diwali has become memorable. My daughter was also born on Diwali... Her prayers are over," HT's sister website Live Hindustan quoted Shamshuddin as saying.
A shoemaker by profession, Shamsuddin was arrested in Pakistan in 2012. He spent eight long years in Pakistani prison after been convicted for espionage charge.
He was also charged with possessing a fake passport.
https://www.hindustantimes.com/india-news/kanpur-man-returns-home-after-spending-8-years-in-pakistan-jail-on-espionage-charges/story-dmoSAf6sKY4gRuvnTR070J.html
--------
BSF Says Pak's Bid To Push 250-300 Terrorists From Each Launchpad Foiled
Edited by Abhinav Sahay
Nov 15, 2020
A top BSF official on Sunday blamed Pakistan for violating the 2003 ceasefire agreement without any provocation and using heavy weapons on Line of Control (LoC) in north Kashmir on November 13, inflicting damages on life and property of Indian forces as well as civilians.
The Indian Army and the BSF paid tributes to four army men and a BSF officer who were killed in different sectors of Baramulla, Kupwara and Bandipora districts in the shelling by Pakistan army on Friday. Four civilians including a woman and a seven-year-old boy were also killed in the exchange of firing in Uri, Naugam, Keran and Gurez sectors.
"Without any reason, Pakistan indulged in ceasefire violation using heavy artillery which prompted us to respond. We have also suffered some damage including the martyrdom of sub-inspector Rakesh Dobhal," said Inspector General of BSF, Rajesh Mishra, after paying tributes to his slain colleague.
The BSF said Pakistan started unprovoked ceasefire violations on the LoC on November 13, using artillery, mortars and other weapons targeting even the civilian areas.
Dobhal, a 2004 batch sub inspector from BSF's artillery regiment, was hit in the firing in Naugam sector of Kupwara. He is survived by his parents, wife and a daughter, who all live in district Dehradun (Uttrakhand).
"Pakistan used heavy weapons in this firing which was without any provocation. BSF and army responded fearlessly but in the firing, army jawans were also killed as well as a lot of damage was inflicted on civilians including civilian casualties," Mishra said.
Also Read: India summons Pakistani chargé d'affaires to protest civilian deaths in LoC shelling
Army also paid tributes to its slain men; Havildar Hardhan Chandra Roy (38) from Assam, Naik Satai Bhushan Rameshrao (28) from Nagpur, Gunner Subodh Ghosh (22) from West Bengal and Sepoy Jondhale Rushikesh Ramchandra (20) from Maharashtra, who gave their lives on November 13.
In a solemn ceremony at BB Cantt, Lt Gen BS Raju, Chinar Corps Commander, and all ranks paid homage to the soldiers who had received splinter injuries in Uri and Gurez sectors.
The IG BSF said that the forces responded fiercely during the violation.
"In our befitting response, Pakistan defenses were also hit and I understand they have suffered a lot of damages," he said.
Pakistan media quoting Inter-Services Public Relations (ISPR) has blamed India for the ceasefire violation on November 13. It has said that a Pakistani army soldier and four civilians were killed in Indian firing on Friday.
The BSF officer said that militants were waiting on launching pads on the other side of LoC to infiltrate into the country.
"As per our inputs, the infiltrators are ready there on launching pads. Around 250-300 are present on each launching pad and make every effort to infiltrate into the country and target the internal security here but army and BSF have remained successful to a large extent in thwarting those efforts," Mishra said.
India and Pakistan, who have fought at-least three wars since 1947, had agreed in 2003 to maintain peace along the border, but violations intensified after bilateral relations plummeted in 2016. India often accuses Pak of violating the ceasefire to give cover to infiltrating militants.
https://www.hindustantimes.com/india-news/bsf-says-pak-s-bid-to-push-250-300-terrorists-from-each-launchpad-foiled/story-CMhGIaEGLt0lJ1a7MawTKL.html
--------
A hub of terrorists and anti-nationals, situation in Bengal worse than Kashmir: Dilip Ghosh
Posted by Susmita Pakrasi
Nov 15, 2020
Alleging that the state has become a hub of "terrorists and anti-nationals", West Bengal BJP President Dilip Ghosh on Sunday said that the situation here is worse than Kashmir.
"The other day six Al-Qaeda terrorists were arrested from Aipurduar (in North Bengal). A network has been formed in several places of the state. Even Bangladesh leader Khaleda Zia has said the terrorists are being trained in India and sent to Bangladesh to create disturbance. This state has become a centre of terrorists, and anti-nationals. They are coming here from other places and taking shelter. The situation of Bengal is now worse than Kashmir," Ghosh alleged while talking to reporters after a BJP event at Baranagar in North 24 Parganas district on Sunday.
He added the people of Bengal are living in a state of fear. "Even my name was included in the hit list of the anti-nationals. I have been attacked in Jaygaon in Alipurduar district where Rohingya Muslims were placed. If you watch the video of the incident carefully, you can identify them through their appearances that they are not from Bengal," said Ghosh, adding West Bengal has abundant Rohingyas, and other infiltrators who caste their vote to Chief Minsiter Mamata Banerjee's Trinamool Congress (TMC).
"It is very alarming that a few political parties are giving shelter to the terrorists and anti-social elements."
The BJP leader, however, expressed confidence in the people of the state who know "which party to vote for" even if all other parties collectively contest against the BJP.
On AIMIM's President Asaduddin Owaisi's announcement to contest the next election in West Bengal, Ghosh said, "Many things can happen. Several political parties cane come here and contest. That doesn't matter to the BJP. Our party has created a good atmosphere to conduct polls. Around 45 per cent people of Bengal cast their votes for the BJP. They have full faith in us. The TMC, CPI(M), Congress, AIMIM, all the parties can merge together. The party, which wants development, will be on one side and which want to create unrest will be on another."
Before meeting the media persons, he attended the "Cha Chakra" -- an event on lines of tea adda -- on Tobin Road.
https://www.hindustantimes.com/india-news/a-hub-of-terrorists-and-anti-nationals-situation-in-bengal-worse-than-kashmir-dilip-ghosh/story-C2c7BW8hMU0cmNvUz4BFmL.html
--------
Religious places across Maharashtra to reopen today
Nov 16, 2020
Posted by Shivani Kumar
Religious places across Maharashtra are reopening for devotees to offer prayers from Monday after several months of closure due to the lockdown imposed in a bid to control the Covid-19 pandemic.
Maharashtra Chief Minister's Office (CMO) had on Saturday informed that all religious places including temples, shrines, churches, dargahs, etc in the state will be allowed to reopen for devotees from November 16.
Notably, the prominent religious places across the state including Sai Baba temple in Shirdi, the Mahim Dargah in Mumbai and the Dagdusheth Halwai Temple in Pune have been prepared for their reopening to the devotees.
The gates of the places of worship were opened after midnight for the management officials to clean and sanitise the premises ahead of its reopening for devotees to offer early morning prayers.
"After midnight, the doors of the Dargah Sharif were opened and the management officials entered the premises. After cleaning, the dargah will be opened for devotees for early morning Namaz," Mahim Dargah trustee Suhail Y Khandwani said.
Khandwani also urged the people to cooperate with the government and Dargah management to ensure people get to offer prayers without risking more exposure to Covid-19.
"People have been waiting for over eight months. Government SOP and internal SOP of the dargah will be followed. We have put up boards with government and Dargah SOPs. Only those with facemasks will be allowed inside the premises and their temperature will be recorded before entry," he said.
The Dagdusheth Halwai Temple in Pune has also carried out a complete sanitisation process for the temple premises and made arrangements for the adherence to Covid-19 protocol.
Speaking to ANI, Sunil Rasne, deputy president of the temple trust said, "For now we will not be allowing devotees to wait outside or offer prasad and flowers here. They are only allowed to take darshan and leave the place immediately."
The management of the Sai Baba temple in Shirdi said it will only allow visitors inside the premises after an online booking for a specific time slot.
"Devotees who want to visit will have to do online booking to get a time-slot for the 'darshan'. Along with this, people will also have to show a Covid-negative RT-PCR result at the gate. Senior citizens, children and pregnant women will not be allowed to enter the temple," a representative of the temple management said.
"We have made arrangements to control the crowd at the temple. People will be allotted time slots online for visit. Only 6,000 people will be allowed to enter the temple in a day. The temple will only remain open for 14 hours," the representative added.
Religious places across the state have remained shut since March this year, when the Central government imposed a complete lockdown to control the spread of Covid-19 pandemic.
https://www.hindustantimes.com/india-news/religious-places-across-maharashtra-to-reopen-today/story-9IDvE42vEUbmDHj4xdDOxN.html
--------
URL: https://www.newageislam.com/islamic-world-news/hefazat-e-islam-bangladesh-newly/d/123482
New Age Islam, Islam Online, Islamic Website, African Muslim News, Arab World News, South Asia News, Indian Muslim News, World Muslim News, Women in Islam, Islamic Feminism, Arab Women, Women In Arab, Islamophobia in America, Muslim Women in West, Islam Women and Feminism