New Age Islam News Bureau
5 Jul 2015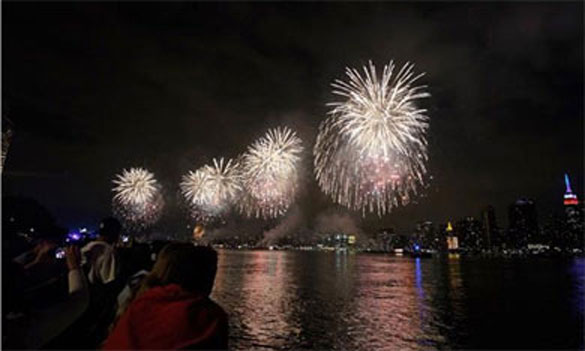 Security threats, wildfires and rainy weather apparently do little to dampen the spirits of celebrants in America.-AFP
---------
Arab World
• Heads of various religions laud tolerance in Islam
• Islamic State suicide bombers strike in Iraqi refinery town
• ISIS video shows troops' deaths in Syria archaeological site
• Deadly Strikes by US-Led Coalition Targeting IS in Raqqa
• Islamic State attacks Syria's power plant in Hasaka
• Shell kills two children and a Woman in Egypt´s Sinai
• Metal detectors being set up in Dubai mosques
• Egypt's Sisi rallies troops in Sinai after IS attacks
• U.S., allies target Islamic State in 24 air strikes in Syria, Iraq
• Emiratis break taboo, take up low-paid jobs
------
Africa
• 'Scores' killed by Nigeria female suicide bombers
• Tunisia declares state of emergency after beach attack
------
India
• After Malegaon, another 'Hindutva Blast' Faces Allegations of Sabotage
• In A First, RSS's 'Muslim Rashtriya Manch' Hosted Iftar Party, Diplomats Of Islamic Countries Attended
• Militants' photo on Facebook, J&K Police turn to court for help
• Bringing back Dawood Ibrahim is a matter of doing, not talking: Sadhvi Niranjan Jyoti
• Pakistan, India to operate banks across border soon: Mansha
------
Pakistan
• Seven troops killed as army pushes to finish anti-Taliban offensive
• Landmine explosion kills three Pakistani soldiers in North Waziristan
• Roadside bomb kills 3 troops, injures 6 in Pakistan
• Three security personnel killed in Bannu vehicle bomb attack
• Operation to continue till Pakistan freed from terror: COAS
• Bollywood legend Naseeruddin Shah to perform in a play at Alhamra
• Lt Gen. Nasir Janjua asks Balochistan youth to recognize enemy
• Rangers' statement an admission that operation only targeting MQM: Rabita Committee
• Altaf 'deeply hurt' by PPP leaders not answering his calls
• Pakistan jumps among world's top ten stock market performers
• Drones will tear us apart: Pakistani pop's war fixation
-------
South Asia
• Seven soldiers martyred, 23 militants killed in Afghan military operations
• Seven landmine planters killed by own bomb in Helmand
• Key Taliban commander killed in Afghanistan
• Afghan Forces Battle Taliban as Lawmakers Reject Defense Minister
• ISIS threat to Afghanistan must be taken seriously: Crocker
---------
North America
• America celebrates July 4 with hot dogs, barbecues amid tightened security
• CAIR Seeks Hate Crime Probe After NJ Mosque Targeted by Phone Threat
• Houston Mayor hosts annual Iftar dinner
------
Mideast
• U.N. Nuclear Chief Is Optimistic About Iranian Cooperation on Review
• Syria Forces and Hezbollah Attack Insurgents Near Lebanon
------
Southeast Asia
• Special team to probe graft allegations against Malaysia PM
------
Europe
• Can the son of a Pakistani bus driver be the future mayor of London?
Compiled by New Age Islam News Bureau
URL: https://www.newageislam.com/islamic-world-news/new-age-islam-news-bureau/heads-of-various-religions-laud-tolerance-in-islam/d/103770
--------
Arab World
Heads of various religions laud tolerance in Islam
BY IMRAN MOJIB July 05, 2015
DUBAI: The tolerant nature of Islam and His Highness Sheikh Mohammed Bin Rashid Al Maktoum, Vice President and Prime Minister of the UAE and Ruler of Dubai's generosity to allow people of various faiths to live and practice their religion in the emirate, won much appreciation by heads of various religious organisations in Dubai.
Religious heads from seven churches representing the Christian faith, head of Gurunanak Darbar representing the Sikh community and head of Shiva Krishna Temple representing the Hindu community had gathered at the Al Manar Centre on June 5. The centre had invited them for an Iftar get together to experience the joy of breaking the fast along with other Muslims.
The unique event was aimed at exchanging the pleasantries and building a positive understanding between various religious communities during the Holy Month of Ramadan.
Sharing their observation about Islam and their experiences of living in a Muslim country, the heads of various non-Muslim religious organisations and centres highlighted the fact that Dubai being a home to more than 200 nationalities exemplifies practically a peace-loving society that mirrors Islam's teaching of peace and brotherhood.
Dr Muhammad Al Qubaisi, Grand Mufti of Islamic Affairs and Charitable Activities Department, Dubai, told the gathering that the peaceful co-existence that is seen in Dubai is the norm in Islam not an exception.
Delivering the keynote address, he spoke about the teachings of Islam on tolerance, inter-religious harmony and how the last Prophet Mohammad (PBUH) exemplified during his lifetime establishing a peaceful community who lived with mutual respect for each other.
Ahmed Hamed, a prominent speaker on Islam, spoke about the essence of Ramadan and its message of peace. He said that it is in this month that the Holy Quran was revealed as a message for all humanity in order to bring them from darkness of ignorance to the light of knowledge.
Speaking about the coming together of various religious heads, he said, "Such initiatives will help us come closer to each other creating opportunities for a positive dialogue that can discard the differences."
This initiative was also appreciated by other attendees, who noted that such occasions provide an opportunity to understand the various aspects of each other's faith and develop mutual respect for each other and build a positive atmosphere between the followers of various faiths.
http://gulftoday.ae/portal/741892ad-d78a-49d4-be63-2121e83c5757.aspx
------
Islamic State suicide bombers strike in Iraqi refinery town
Sun Jul 5, 2015
BAGHDAD (Reuters) - Islamic State suicide bombers and fighters attacked the centre of Iraq's northern oil refinery town of Baiji overnight, forcing the army and Shi'ite fighters to pull back, military sources and the local mayor said on Sunday.
The town of Baiji and its refinery - Iraq's largest - have been a battlefront for more than a year. The hardline Islamists seized the town in June 2014 as they swept through much of northern Iraq towards the capital Baghdad.
Control of Baiji neighbourhoods has changed hands many times during the conflict. The latest Islamic State offensive comes after authorities said they controlled nearly the whole town and expected to drive insurgents from the refinery within days.
The militants attacked around 8 pm (1700 GMT) on Saturday with two suicide car bombings. The blasts were followed by fierce clashes that lasted until midnight and drove the army and mainly Shi'ite Hashd Shaabi forces from the centre of town, two army colonels said.
Baiji mayor Mahmoud al-Jabouri said there had been a pattern of withdrawals by Islamic State fighters in the town followed by counter-offensives. "Their lethal weapons are suicide attacks and snipers, and this is why we have fighting back and forth."
Army officers said the army and Hashd groups were preparing a response. "Islamic State fighters are still holding positions in three neighbourhoods in Baiji and they are still receiving reinforcements," said one of the army colonels.
In Anbar province west of Baghdad, witnesses said two rockets hit a crowd in the Islamic State-controlled provincial capital Ramadi on Saturday evening, killing at least 18 people.
They said a group of people had gathered after the daily Ramadan fast to play Muhaibis, a game where players have to identify a member of the opposing team who is hiding a ring.
"I heard a blast and saw fire coming from Dolphin Square. I ran to the place and saw vehicles carrying bodies and wounded covered with blood. They were innocent people playing a ring game; they were not
In northwest Baghdad, at least three people were killed and 11 wounded when a bomb went off near a restaurant in the mainly Shi'ite district of Shulaa on Sunday morning, police and medical sources said. Another two people were killed by a bomb in Hussainiya on the city's northern outskirts.
There was no immediate claim of responsibility for those attacks, but statements in the name of Islamic State said the group carried car bombings on Saturday evening in Baghdad and Balad Roz which killed 10 people.
(Reporting by Ahmed Rasheed; Writing by Dominic Evans; Editing by Larry King)
http://af.reuters.com/article/worldNews/idAFKCN0PF0EH20150705?pageNumber=2&virtualBrandChannel=0
------
ISIS video shows troops' deaths in Syria archaeological site
AP | Jul 5, 2015
BEIRUT: A video posted online Saturday purporteThe Islamic State group posted a video online on Saturday purportedly shows Islamic State fighters killing some 25 Syrian government soldiers in the historic town of Palmyra in central Syria.
The video showed the soldiers being taken in pickup trucks from the town's notorious Tadmur prison to the amphitheater. At the theater, they were shot dead by young IS members armed with pistols. Hundreds of people were seen watching the killings.
The video did not indicate when the killings took place. The Britain-based Syrian Observatory for Human Rights said these shootings took place on May 27.
The Associated Press reported in May that scores of Syrian troops and state employees were killed in the days after the Islamic State group captured the town on May 27.
Palmyra is a Unesco world heritage site famous for its 2,000-year-old Roman colonnades, other ruins and priceless artifacts.
Full report at:
http://timesofindia.indiatimes.com/world/middle-east/ISIS-video-shows-troops-deaths-in-Syria-archaeological-site/articleshow/47942806.cms#write
------
Deadly Strikes by US-Led Coalition Targeting IS in Raqqa
By THE ASSOCIATED PRESSJULY 5, 2015
BEIRUT — U.S.-led coalition aircraft unleashed a series of airstrikes targeting the Islamic State group's stronghold of Raqqa in eastern Syria, killing at least 10 militants and wounding many others in one of the largest coalition operations carried out in Syria to date, the coalition said Sunday.
At least 16 airstrikes were reported late Saturday and early Sunday, triggering successive explosions that shook the city and created panic among residents, activists said. The U.S.-led coalition often targets IS-held towns and cities in Syria, but the overnight strikes on Raqqa were rare in their intensity.
In a statement issued early Sunday, the coalition said it had conducted 16 airstrikes throughout Raqqa, destroying vital IS-controlled structures and transit routes in Syria.
"The significant airstrikes tonight were executed to deny Daesh the ability to move military capabilities throughout Syria and into Iraq," said coalition spokesman Lt. Col. Thomas Gilleran, using the Arabic acronym for the Islamic State group.
"This was one of the largest deliberate engagements we have conducted to date in Syria, and it will have debilitating effects on Daesh's ability to move" from Raqqa.
Raqqa is the de facto capital of the so-called Islamic caliphate declared a year ago by the Islamic State group in territories it controls in Iraq and Syria.
An IS-affiliated militant website confirmed the strikes on the center of the city, saying 10 people were killed and dozens wounded. It also published purported photos of dead victims, including two of young boys suggesting they were civilians.
A Raqqa-based anti-IS activist network reported eight civilians were killed by the coalition airstrikes, including a 10-year-old child. The report could not be independently confirmed.
The network, called Raqqa is Being Silently Slaughtered, said at least one airstrike targeted a group of IS members in the city center. Another targeted an IS checkpoint while a third destroyed large parts of an IS-held brick factory in the city.
In the remote northeastern city of Hassakeh, IS suicide bombers detonated an explosives-laden truck near a main power plant Sunday. State-run news agency SANA reported casualties and material damage in the power plant on the southern edge of the city.
Fighting has raged in Hassakeh since the IS group attacked several southern neighborhoods held by government troops earlier this month. The violence has forced tens of thousands of residents to flee. The predominantly Kurdish city was split between government forces and Kurdish fighters, who have been fighting the IS group separately.
The coalition regularly targets the Islamic State group, which controls about a third of Iraq and Syria.
In Iraq, a Defense Ministry statement said government forces repelled an IS attack on a town and a vital dam in Anbar province after IS fighters launched an offensive on the town of Haditha and the nearby Haditha dam Sunday morning.
At least 20 militants were killed in the failed attack, said the statement, which did not provide any further information.
Iraqi forces, backed by Shiite militias, have been struggling to recapture areas lost to the IS group in the country's west and north.
In May, the militant group scored a stunning victory, overrunning Ramadi, the provincial capital of western Anbar province. Yet, Haditha and some other towns remain under control of government forces and allied Sunni tribal fighters.
http://www.nytimes.com/aponline/2015/07/05/world/middleeast/ap-ml-islamic-state.html?ref=world
-------
Islamic State attacks Syria's power plant in Hasaka
5 July 2015
The ultra-hardline militants continue to stage lighting attacks inside the city, although they were driven out of some districts after they mounted a major offensive that failed last month.
Islamic State suicide bombers on Sunday blew up an explosive- laden truck near a power plant that serves the northeastern city of Hasaka, the latest attack after their expulsion from most parts of the city, the Syrian army said State television said a second attack, against a power plant that serves the southern districts of the city, was prevented, but the first had caused "material damage" and led to "casualties". It did not elaborate.
The ultra-hardline militants continue to stage lighting attacks inside the city, although they were driven out of some districts after they mounted a major offensive that failed last month. That offensive attempted to capture the provincial capital of the oil and grain producing province of Syria.
The city is divided into zones run separately by the government of President Bashar al Assad and a Kurdish administration. The offensive was meant to relieve pressure on IS, which has given up significant ground recently to Kurds and some local Arab tribes backing them. The militants lost villages around Ras Al Ayn and the town of Tal Abyad northwest of Hasaka along the Turkish border.
The northeastern corner of Syria is strategically important because it links areas controlled by Islamic State in Syria and Iraq. Syrian Kurds have also sought to expand their territorial control over a region stretching from Kobani to Qamishili, which they see as part of a future Kurdish state.
http://www.dnaindia.com/world/report-islamic-state-attacks-power-plant-in-hasaka-in-northeast-syria-2101941
------
Shell kills two children and a Woman in Egypt´s Sinai
July 04, 2015
Cairo: A shell slammed into a house in Egypt´s Sinai Peninsula on Saturday killing a woman and two children as the army battles Islamic State group, medical and security sources said.
It was not immediately clear which side fired the shell in the North Sinai town of Sheikh Zuweid, scene of deadly fighting earlier this week.
A woman and a teenage girl were also seriously wounded, the sources said.
The government called in air strikes on Wednesday after a spectacular IS attack in Sheikh Zuweid left dozens dead.
The army said 17 soldiers and 100 militants had been killed. But medical and security officials said the death toll was at least 70 people -- mostly soldiers -- as well as dozens of jihadists.
The violence poses a major test for President Abdel Fattah al-Sisi, the former army chief who has pledged to eliminate the militants.
http://www.thenews.com.pk/article-190111-Shell-kills-two-children-in-Egypt%C2%B4s-Sinai
------
Metal detectors being set up in Dubai mosques
Mustafa Al Zarooni/City Editor / 5 July 2015
Dubai - Video footages showing walk-through security gates being installed in some mosques in Dubai have gone viral on social networking sites. A Dubai government source has confirmed that metal detectors have been set up in some mosques, with plans to set up such gates in some more mosques.
Security guards will be stationed at mosque gates and CCTV cameras will also be installed.
The source said this is a precautionary measure in the wake of the recent bombings claimed by Daesh that targeted mosques in Saudi Arabia and Kuwait. "The security bodies endeavour to provide residents with security by equipping places in the emirate with metal and explosive detectors," the source said.
He did not clarify if such detectors will be installed at other places like hotels and shopping centres.
At the extraordinary meeting of Gulf Cooperation Council (GCC) Interior ministers in Kuwait on Friday, the ministers stressed the unity of member states in dealing with terror attacks directed at Shia mosques.
http://www.khaleejtimes.com/nation/inside.asp?xfile=/data/nationgeneral/2015/July/nationgeneral_July26.xml&section=nationgeneral
------
Egypt's Sisi rallies troops in Sinai after IS attacks
AFP | Jul 4, 2015
CAIRO: Egypt's president made an unannounced visit to the Sinai Peninsula today to rally troops following a wave of deadly jihadist attacks on security forces, his office said.
"President Abdel Fattah al-Sisi is inspecting troops and police in the North Sinai," his office said without specifying where in the restive province.
Sisi's government called in air strikes on Wednesday after a spectacular attack by Islamic State group jihadists in the North Sinai town of Sheikh Zuweid left dozens dead.
The army said 17 soldiers and 100 militants had been killed. But medical and security officials said the death toll was at least 70 people -- mostly soldiers -- as well as dozens of jihadists.
The violence poses a major test for Sisi, a former army chief who has pledged to eliminate the militants.
Today a shell slammed into a house in Sheikh Zuweid, killing a woman and two children, medical and security sources said. It was unclear which side fired the shell.
http://timesofindia.indiatimes.com/world/middle-east/Egypts-Sisi-rallies-troops-in-Sinai-after-IS-attacks/articleshow/47937472.cms
--------
U.S., allies target Islamic State in 24 air strikes in Syria, Iraq
July 3, 2015 9:24 AM
WASHINGTON -- The United States and its allies have conducted 24 air strikes against Islamic State in Iraq and Syria on Thursday, the coalition leading the operations said in a statement today.
In Syria, coalition forces targeted Islamic State positions with nine strikes near the cities of Hasakah, Ar Raqqah and Tal Abyad, destroying tactical units, fighting positions, vehicles and structures, it said.
In Iraq, 15 strikes struck Islamic State targets near the cities of Al Huwayjah, Bayji, Fallujah, Haditha, Makhmur, Mosul, Rawah, Sinjar and Tal Afar. They destroyed tunnel systems, bunkers, vehicles, tactical units, buildings and an excavator.
http://www.post-gazette.com/news/world/2015/07/03/U-S-allies-target-Islamic-State-in-24-air-strikes-in-Syria-Iraq/stories/201507030259
-------
Emiratis break taboo, take up low-paid jobs
Ahmed Shaaban/Senior Reporter / 5 July 2015
Ras Al Khaimah - Have UAE citizens started braving the so-called "cultural taboo" to take up low-paid jobs? Are they willing to work as gas jockeys at petrol stations?
Yes, why not. It's not a taboo anymore, and there is no shame or harm doing so as long as it is a halal or permissible job — that's how a group of Emirati youth have responded.
Khaleej Times met four UAE citizens who have been working as gas filling attendants, locally called 'fillers', in four different petrol stations in Ras Al Khaimah. They reacted with confidence and pride, when asked about their experience in working along with expatriates.
Badr Mohammed Al Shehi, 40, told Khaleej Times he is so proud about his job as a gas jockey.
"I don't pay heed to these silly social complications, which will not feed my family or me. I conveniently do my job despite others' disapproving reactions."
Al Shehi added: "Whenever someone discovers me as a local citizen and compel me stop working as filler, I tell them 'it's my job, and I have no problem to work side by side to expatriate workers under the sun.'"
However, most of the jobless Emirati nationals do not share his flexible attitude, he remarked.
"A kind of complex holds some locals back from undertaking such a hard tiring work that they prefer to remain unemployed."
Though Al Shehi, who belongs to Al Julan area in the northern area, is a supervisor by designation at the gas station, he also works as a filling attendant.
There is still hope though, pointed out Al Shehi, who has been working at the gas station for three months.
He said: "There are Emirati young men who are more aware and do not care about this 'shame culture' due to the skyrocketing costs of living.
Full report at:
http://www.khaleejtimes.com/nation/inside.asp?xfile=/data/nationgeneral/2015/July/nationgeneral_July23.xml&section=nationgeneral
------
Africa
'Scores' killed by Nigeria female suicide bombers
July 04, 2015
KANO, NIGERIA: Several female suicide bombers blew themselves up amid panicked villagers fleeing a Boko Haram attack in a northeast Nigeria killing scores, the army and witnesses said Saturday.
The latest carnage in series of attacks that have claimed more than 200 lives in just three days happened on Friday night in Zabarmari village, 10 kilometres (six miles) from the city of Maiduguri, the birthplace of the jihadist group.
Local resident Haladu Musa, who fled the attack, told AFP that "large numbers" of fighters poured into the village, overpowering government forces deployed to prevent the insurgents reaching Maiduguri.
"The soldiers were forced to retreat," he said.
Then, as people began to flee, female suicide bombers started blowing themselves up in their midst, killing large numbers of people, he said.
"Most of the casualties came from the suicide bombings," he said, without being able to give a precise figure for the dead and injured.
"A total of six suicide bombers detonated themselves... killing scores of people while some people were also wounded. A soldier also died," the Nigerian army said in a statement without specifying the sex of the bombers.
The army said a jeep full of improvised explosive devices was recovered by troops, adding there was an ongoing search "for any bombs that might have been hidden or left unexploded in the area."
Musa said the militants looted shops and torched "almost half the village" before eventually being repulsed after the military sent in reinforcements.
Danlami Ajaokuta, a civilian vigilante helping the military battle Boko Haram, who also witnessed the attack, spoke of heavy casualties.
"The main concern now is to evacuate and attend to the injured and later recover the dead bodies now lying in the village," he said, adding that more than 100 injured had been taken to hospital.
Boko Haram, which is fighting to establish a hardline Islamic state in northeast Nigeria and has sworn allegiance to the Islamic State group, has intensified its campaign of violence since President Mohammadu Buhari came to power on May 29.
The Zabarmari attack followed a series of attacks across restive Borno state since Wednesday that have been blamed on the jihadists.
http://www.thenews.com.pk/article-190144-Scores-killed-by-Nigeria-female-suicide-bombers
------
Tunisia declares state of emergency after beach attack
AFP | Jul 4, 2015
TUNIS: Tunisian President Beji Caid Essebsi on Saturday declared a state of emergency following last week's jihadist beach massacre in which 38 foreign tourists died, his office said.
"The president has declared a state of emergency in Tunisia and will address the nation at 5 pm (1600 GMT)," Essebsi's office said.
http://timesofindia.indiatimes.com/world/rest-of-world/Tunisia-declares-state-of-emergency-after-beach-attack/articleshow/47938747.cms
------
India
After Malegaon, another 'Hindutva Blast' Faces Allegations of Sabotage
Ajmer: In a major blow to the National Investigating Agency's Ajmer blast trial, 13 crucial prosecution witnesses have now turned hostile and gone back on their testimonies.
The trial in the National Investigating Agency (NIA) special court in Jaipur started in September 2013, over six years after a blast killed three people in the Ajmer Dargah during an Iftaar party. Several were injured. The Rajasthan Anti-Terror Squad (ATS) first investigated the case and submitted its chargesheet against Devender Gupta, Lokesh Sharma and Chandrasekhar Leve - all functionaries of the Rashtriya Swayamsevak Sangh (RSS) - in October 2010. The NIA then took over the case and chargesheeted 12 people (including these three) between April 2011 and October 2013 also either former members of the RSS, or belonging to fringe Hindutva groups.
This same group has been accused for a wave of what came to be known as "Saffron Terror" bombings through 2007, setting off deadly explosions in Muslim-dominated areas like Ajmer Dargah, the town of Malegaon and the Mecca Masjid in Hyderabad.
"The whole case of the prosecution depended upon these star witnesses," said Ashwini Sharma, the assistant public prosecutor. "And all those who gave the statement, under Section 164 (of the Code of Criminal Procedure), in front of the magistrate, all turned hostile in court."
Significantly, their statements, which are now retracted, were recorded in 2010, before a judicial magistrate, to ensure there is no pressure from investigators. But starting in November 2014, they began to turn hostile claiming that they were pressured by the NIA to testify. The last such flip by a witness was in May 2015.
But Mr Sharma told NDTV that he "had asked every single witness if they had ever complained to the court that the ATS had pressurised them. They said that they had never got an opportunity to complain to anyone."
Significantly, one of the star witnesses, Randhir Singh, is now a minister in the BJP's Jharkhand government. He recorded his statement in September 2010 but according to Mr Sharma turned hostile in May this year. Just four months ago, Mr Singh defected to the BJP from the Jharkhand Vikas Morcha (Prajatantrik) and was made a minister.
According to Mr Sharma, Mr Singh claimed in his testimony to have seen Mr Gupta and Sunil Joshi (also accused in three other blast cases), who he met while working for the RSS, test fire a weapon.
"Originally Singh had said that the accused test-fired a revolver, but in court he denied making such a statement," said Mr Kumar.
Mr Singh however told NDTV that he has not made any such retraction.
NIA sources told NDTV that there was no pressure on any witnesses. "Our job is to investigate. We cannot control the stand taken by witnesses," said a senior NIA official.
All 13 witnesses were either RSS workers or functionaries, according to Mr Kumar, who examined them in court.
"The fact remains that once BJP government comes in, these cases (involving RSS members) will be diluted and put on hold," said Digvijaya Singh, senior leader of the Congress party. "This is part of larger conspiracy at a higher level."
BJP or RSS spokespersons refused to comment.
The Ajmer probe has been mired in controversy ever since the chargesheet named Indresh Kumar, National Executive Council member of the RSS, as a part of the conspiracy. According to the chargesheet, he attended a secret meeting in Jaipur's Gujarati Samaj guest house just before the Ajmer blasts, where all the accused were staying. In the meeting, Indresh Kumar is said to have told the plotters to associate themselves with religious associations to avoid suspicion. But he was never included as an accused, for reasons that remain unclear.
This latest revelation, of witnesses turning hostile, is likely to add to the controversy surrounding cases of "Saffron Terror". Earlier this week, Rohini Salian, special public prosecutor in the Malegaon case where again Sangh Parivar members are accused, had said since the government changed she has been asked to go soft on the case by an NIA official.
http://m.ndtv.com/india-news/exclusive-after-malegaon-another-hindutva-blast-faces-allegations-of-sabotage-778155
-------
In A First, RSS's 'Muslim Rashtriya Manch' Hosted Iftar Party, Diplomats Of Islamic Countries Attended
July 5, 2015 by moomblr
This is a first.
The hardline Rashtriya Swamsevak Sangh (RSS) held an iftar gathering for followers of Islam, as well as diplomats from Islamic countries Saturday evening in the parliament annexe building.
The RSS has a barely-known wing called Muslim Rashtriya Manch. Its chief patron, Indresh Kumar, said at the gathering that people of one faith should respect other religions and not criticise them.
Kumar quoted from the Quran, the holy book of Muslims, that mutual peace and harmony was the message of god.
Ambassadors of a few countries, including Egypt, and representatives of various Muslim countries attended the event, the organisers said. Union minister Harsh Vardhan was also present.
Hindutva organisations have been facing flak for pushing their hardline agenda with programmes like 'Ghar Wapsi' and 'Love Jihad'.
(With IANS inputs)
http://moomblr.com/2015/07/05/in-a-first-rsss-muslim-rashtriya-manch-hosted-iftar-party-diplomats-of-islamic-countries-attended/
-------
Militants' photo on Facebook, J&K Police turn to court for help
Written by Bashaarat Masood | Srinagar :July 5, 2015
Seeking to block Facebook pages that upload photographs of militants, the J&K Police have sought directions from a local court to social networking sites.
The action comes after a photograph of Hizbul Mujahideen militants was uploaded on a Facebook page. The photograph, apparently taken after a convention, shows the militants in camouflage outfits posing with their automatic rifles. The militants belong to different parts of south Kashmir.
Security agencies are concerned about how the militants were able to meet at one place. "All these militants were already on our radar," said a senior police officer dealing with counter insurgency. "But the matter of concern is how the militants from different parts of south Kashmir managed to assemble at one place despite heightened pressure from the security forces".
The rare photograph, police sources said, indicates that militants from different parts of Tral, Pulwama and Shopian assembled at one place for a meeting. "What is disturbing about this meeting is why the militants took such a risk just for a meeting," said the police officer.
"Also, it shows that the militants in south Kashmir are in close contact with each other and have good mobility too".
Though militants, in army fatigues, roam around in south Kashmir's Tral area, their movement is limited in Pulwama and Shopian districts. These places are more than 30 kilometres away from each other.
Police have identified the militants in the picture. They include Hizbul Mujahideen commander Burhan Muzaffar Wani, the 21-year-old militant from Tral who is seen as the poster boy of the new breed of militancy in Kashmir. There are four militants from Shopian, three from Pulwama, two from Tral and one from Awantipora in the picture. Police sources say that one militant who is masked in the picture has not been identified.
The picture has also confirmed police's apprehensions that Special Police Officer Naseer Ahmad Pandit, who decamped with a rifle from Minister Altaf Bukhari's residence, has joined the Hizbul Mujahideen. Police sources said Pandit, who can be seen in the photograph, had gone to meet an officer at a police station. He was reportedly beaten up at the police station, and later joined militancy.
The photograph, along with many other photographs of militants, has gone viral on social networking sites in the Valley. In recent days, many Facebook pages have appeared with photographs of militants. "There is every chance that the militants are deliberately circulating these pictures," said a police officer. "It is likely that they are doing it to inspire more youth to join militancy".
In the past, the police have managed to track down the people running pro-militant and pro-separatist pages. But with the youth using proxy sites, they are finding their task more difficult.
http://indianexpress.com/article/india/india-others/militants-photo-on-facebook-jk-police-turn-to-court-for-help/#sthash.1uirFcIm.dpuf
-------
Bringing back Dawood Ibrahim is a matter of doing, not talking: Sadhvi Niranjan Jyoti
By: Press Trust of India | Ahmedabad July 5, 2015
Senior BJP leader Sadhvi Niranjan Jyoti on Sunday said the issue of bringing back underworld don Dawood Ibrahim to India was a "matter of doing and not talking."
To a query by reporters in Ahmedabad that the Centre wants to bring back Dawood to India, but his aide Chhota Shakeel has reportedly said the government cannot nab him, Jyoti said much more has been spoken on the issue.
"This is a matter of doing, not talking," she further said.
Notably, senior advocate Ram Jethmalani had recently stated that Dawood, a key accused in the 1993 Mumbai serial blasts, was willing to surrender to Indian authorities but Sharad Pawar, the then Chief Minister heading a Congress government in Maharashtra, had rejected the offer.
Related
Sharad Pawar: Jethmalani's proposal on Dawood Ibrahim was conditional
Union Minister of State Sadhvi Niranjan Jyoti to hit campaign trail in rural Delhi seats
Winter Session: From the chair
However, the NCP chief had on Saturday said that Jethmalani had contacted him over Dawood's willingness to surrender, but conditions put forward for it were not acceptable to the state government.
The offer was made during Pawar's tenure as Chief Minister in 1990s. "It is true that Ram Jethmalani had given a proposal about Dawood's willingness to return. But there was a condition that Dawood should not be kept in jail. Rather he be allowed to remain in a house. This was not acceptable. We said he had to face the law," Pawar had told reporters.
http://indianexpress.com/article/india/india-others/bringing-back-dawood-ibrahim-is-a-matter-of-doing-not-talking-sadhvi-niranjan-jyoti/#sthash.NkN9N4xN.dpuf
-------
Pakistan, India to operate banks across border soon: Mansha
By Web Deskd: July 5, 2015
In a historic move, Pakistan and India's banks are set to open their branches in each other's countries soon, according to business giant Mian Mansha.
"Central banks of both the countries have completed the necessary work and are waiting for a green signal from New Delhi," Mansha told Khaleej Times on the sidelines of an event in Dubai.
"Reserve Bank of India (RBI) has more or less processed our ap-plication, I have also met Indian Finance Minister Arun Jaitley and he is very positive on it," Mansha added.
To normalise trade relations, Pakistan and India will allow three banks to set up branches in the other country.
In 2012, two Indian banks namely the State Bank of India and Bank of India were allowed to operate in Pakistan. While, state-owned National Bank of Pakistan and privately-owned United Bank Ltd were selected for running full banking operations in India once they obtained licences.
"When our government gave two names, NBP and UBL, to the Indian government, the business community in India asked for MCB Bank instead," Mansha claimed.
MCB Bank was incorporated in Calcutta in 1947 but the bank's headquarters is now located in Lahore. "We had more than 65 per cent of our trade flows with India before 1965."
"We will have three branches in Mumbai, New Delhi and it will be the first foreign bank if it gets permission in Amritsar," Mansha added.
However, he explained, "I think now it's a little bit stuck on the political side. Hopefully, we get on track and it will be done soon. Sometimes politics take over economic things. We should have trade relationship that can take the shocks."
Recently Pakistan and India have been involved in a verbal tirade souring relations between the two countries.
http://tribune.com.pk/story/915215/pakistan-india-to-operate-banks-across-border-soon-mansha/
------
Pakistan
Seven troops killed as army pushes to finish anti-Taliban offensive
By Reuters Published: July 5, 2015
DERA ISMAIL KHAN: Taliban ambushes and bombings killed at least seven Pakistani soldiers in the northwest as the military made a new push into the militants' last major stronghold near the border with Afghanistan, intelligence officers said on Sunday.
During the fight, 12 militants were also killed according to a statement by the ISPR.
The army began a major offensive in North Waziristan last summer to drive out Taliban and other extremist militants who launch attacks on government and civilian targets.
The army is meeting fierce resistance as it moves further into the lower-lying areas of the Shawal Valley, the Taliban's last stronghold, military officials said.
Read: 23 militants killed in North Waziristan, Khyber Agency airstrikes
The army chief, Gen. Raheel Sharif, visited troops on Friday and said the initial phase around the surrounding peaks of the Shawal Valley was successful and it was now time to begin a final push into the lower areas.
"We will not stop unless we achieve our end objective of a terror-free Pakistan," he said.
Militants ambushed a military convoy on Saturday in the valley's Pir Ghr area, killing two soldiers and wounding three others, intelligence officials said on condition of anonymity because they were not authorised to speak to the media.
The Taliban claimed responsibility for the attack, with spokesman Azam Tariq saying five soldiers were killed.
The intelligence officials added that troops moving from both the North and South Waziristan sides into the Shawal Valley were encountering tough resistance from militants.
The heavily forested ravines in the area are dotted with Taliban hideouts and the area is a key smuggling route into neighbouring Afghanistan.
Two other attacks in the northwest killed five more soldiers outside the Shawal Valley.
The first, a remote-controlled bomb attack on army vehicles in North Waziristan, killed three and injured six.
A second bomb attack on a military vehicle in South Waziristan killed two others, the military officials said.
The Taliban had controlled almost the entire northwestern region of North Waziristan before troops launched their offensive last year.
Many militants have fled to other parts of the country, and some into Afghanistan, complicating the US-backed Kabul government's fight against its own Taliban insurgency.
http://tribune.com.pk/story/915272/seven-troops-killed-as-army-pushes-to-finish-anti-taliban-offensive/
------
Landmine explosion kills three Pakistani soldiers in North Waziristan
By KHAAMA PRESS - Jul 05 2015,
Pakistan5Three Pakistani soldiers have been killed in a landmine explosion in North Waziristan tribal built.
Security officials say a military convoy was passing through Bannu area when a landmine exploded on one of its vehicles on Sunday.
The explosion destroyed the vehicle and left three soldiers killed and six others wounded.
Those wounded have been shifted to a near by hospital for treatment.
According to officials the bomb was detonated from a larger distance through a remote control.
This comes as Pakistan is on its final stages of winding up its military operation Zarb-i-Azab which started about a year before in North Waziristan.
The operation started in June last year after peace talks with Tehreek-i-Taliban Pakistan (TTP) failed and a deadly militant attack conducted on Karachi International Airport that left around 30 people killed.
http://www.khaama.com/landmine-explosion-kills-three-pakistani-soldiers-in-north-waziristan-3605
--------
Roadside bomb kills 3 troops, injures 6 in Pakistan
Associated Press By ISHTIAQ MAHSUD
DERA ISMAIL KHAN, Pakistan (AP) — Pakistani intelligence officials say a roadside bomb attack has killed three paramilitary soldiers and injured six others in the North Waziristan tribal region near the Afghan border.
Two intelligence officials say the bomb planted near the village of Raghzai detonated as a military convoy drove past on Sunday. The officials spoke on condition of anonymity because they were not authorized to brief the media.
Pakistani security forces are currently engaged in a massive operation against militants in North Waziristan and other tribal regions. The tribal regions along the Afghan border have served for decades as safe haven for local and foreign militants who operate on both sides of the border
http://news.yahoo.com/roadside-bomb-kills-3-troops-injures-6-pakistan-093432161.html
-------
Three security personnel killed in Bannu vehicle bomb attack
July 05, 2015
BANNU: At least three security forces personnel were killed in a remote controlled bomb attack on their vehicle in Bannu area of North Waziristan on Sunday.
According to security sources, six personnel were also injured in the bomb attack.
The injured have been admitted to CMH Hospital, Bannu.
http://www.thenews.com.pk/article-190211-Three-security-personnel-killed-in-Bannu-vehicle-bomb-attack
------
Operation to continue till Pakistan freed from terror: COAS
July 04, 2015
RAWALPINDI: Chief of the Army Staff (COAS) General Raheel Sharif on Friday said the ongoing Operation Zarb-e-Azb will not stop unless achievement of the objective of a terror-free Pakistan.
The army chief said this during his visit to the forward-most locations close to the Pak-Afghan border in the North Waziristan Agency (NWA). He was briefed in detail by the formation commander about the progress of Operation Zarb-e-Azb and future plans to clear the remaining pockets of terrorists in the Shawal area, said an ISPR press release.
Later, talking to fighting troops who have just successfully completed the preliminary phase of the Shawal operation and cleared all peaks around Shawal, the COAS commended their professionalism, sacrifices and the state of high morale so visible through their operational gains so far.
He said it was a matter of great privilege and honour to be commanding such an accomplished and battle-hardened army.Appreciating the special integrated teams which have carried out intelligence-based operations (IBOs) across the urban areas of Pakistan and severed links between terrorists' sanctuaries in remote areas and their sleeper cells in cities, he directed all concerned to continue these operations to apprehend all terrorists, their facilitators, abettors and financiers from anywhere across the country without any discrimination and irrespective of the cost.
"We will not stop unless we achieve our end objective of a terror-free Pakistan," he added.General Raheel also visited Wana in the South Waziristan Agency (SWA) where he was briefed on the ongoing rehabilitation work and its effects on the social landscape of the area, particularly the relief that they bring to all residents of these regions.
Commending the noteworthy effects of already completed numerous small scale and mega projects, he underscored the importance of capitalising operational gains to bring lasting peace and prosperity to the region.
Acknowledging the hardships and sacrifices of internally displaced persons (IDPs), the COAS emphasised on all stakeholders to ensure their expeditious and dignified return to better built and rehabilitated areas for long-term stability on the bordering regions of Pakistan. He reiterated that the army would fully participate to assist in completing all development projects in time.Earlier on arrival, the COAS was received by Corps Commander Peshawar Lieutenant General Hidayatur Rehman.
http://www.thenews.com.pk/Todays-News-13-38395-Operation-to-continue-till-Pakistan-freed-from-terror-COAS
-------
Bollywood legend Naseeruddin Shah to perform in a play at Alhamra
SHOAIB AHMED —July 5, 2015
Bollywood legend Naseeruddin Shah will visit Lahore in November to stage a play at the Alhamra Art Centre, The Mall.
This was stated by Moneeza Hashmi of the Faiz Foundation Trust while talking to Dawn. She said the trust would hold a three-day Faiz Ahmed Faiz Festival and Shah's play would be part of it. There would be four shows of the play, she said, adding the details of Mr Shah's visit would be shared later.
A poetry sitting would also be held during the festival and a number of literary luminaries from Pakistan and India would participate in it, she said.
Full report at:
http://www.dawn.com/news/1192464/culture-circle-naseeruddin-shah-to-perform-in-a-play-at-alhamra
------
Lt Gen. Nasir Janjua asks Balochistan youth to recognize enemy
July 05, 2015
QUETTA: Commander Southern Command, Lieutenant General Nasir Janjua said that people who have fled abroad and now playing with dollars and pounds are engaging innocent youth in fight in the name of freedom.
Addressing the concluding session of Sports Festival at Bugti Stadium, General Nasir Janjua asked the Balochistan youth to recognise their enemy, saying that how can people who have fled from the country be their leaders.
The Commander went on to say that flood of masses in the ceremony shows love of people for the peace. He said he was optimistic that sense of deprivation in Balochistan has ended.
Janjua said, "We all are travelling on the same path of peace and prosperity."
http://www.thenews.com.pk/article-190174-Lt-Gen.-Nasir-Janjua-asks-Balochistan-youth-to-recognise-enemy-
------
Rangers' statement an admission that operation only targeting MQM: Rabita Committee
By Web DeskPublished: July 5, 2015
KARACHI: The Muttahida Quami Movement (MQM) on Sunday slammed a statement from a Rangers spokesperson which said that the paramilitary force will target the party's sector and unit incharges for arrests. The party claimed that the statement was an admission by the force that the ongoing operation in Karachi was targeting the party, not criminals.
In a statement the MQM's central coordination body, the Rabita Committee, said that the paramilitary force was admitting that the political party's workers were being picked up, not because there was any information of their involvement in criminal activities or evidence against them, rather because they were members of MQM. And that the Rangers was admitting that it was targeting MQM workers through a well thought out plan.
The Rangers spokesperson, in a statement released early on Sunday had stated that they will be targeting MQM's organising committee since it empowered the party's militant wing, and was singling out sector and unit incharges for arrests.
"Is being a sector or unit incharge of the MQM against the law?"
It added that the Rangers' statement was in fact a formal announcement that it will arrest office bearers of the MQM.
"The state of Rangers' intelligence is such that the 'organising committee' that they refer to (in their statement), does not even exist, nor does any other department work under that name. Such a section was dissolved a while ago."
The Rabita committee argued that, while the Supreme Court had remarked that all political and religious parties of Karachi have militant wings, why are only office bearers of the MQM detained.
The MQM claimed that the Rangers' attempt at clarifying the unwarranted arrests of party workers served only to further mislead the public.
It added that while the operation, which was supposed to be against criminals, was a pretext for the paramilitary force to target the MQM. The party further claimed that an unannounced ban had been imposed on its political and charity-oriented activities.
"Operation against criminal elements is being used as an excuse to misuse state power to crush the MQM."
MQM workers denied basic rights
The MQM also challenged the Rangers' claim that detained party workers were granted all their rights, stating that the party's workers were treated as prisoners of war when presented in courts. The party condemned the treatment meted out to their detained workers.
Further it said that the Rangers' claim of presenting all detainees in court was false since as many as 50 workers of the MQM, arrested by the paramilitary force, have been missing for months.
The Rabita Committee demanded that the Sindh High Court chief justice take notice of the Rangers' statement.
http://tribune.com.pk/story/915210/rangers-statement-an-admission-that-operation-only-targeting-mqm-rabita-committee/
------
Altaf 'deeply hurt' by PPP leaders not answering his calls
By Our Correspondent: July 4, 2015
KARACHI: Muttahida Qaumi Movement (MQM) chief Altaf Hussain claims to have been 'deeply hurt' by the apathetic attitude of the Pakistan Peoples Party (PPP) leadership after he was unable to convey his grievances to them regarding the recent arrest of his workers by Rangers personnel.
Altaf had called Sindh Chief Minister Qaim Ali Shah and PPP co-chairperson Asif Ali Zardari but was unable to speak to them. According to a press release issued by the party, the MQM chief called Shah but the line was not clear and because of the chief minister's 'old-age', the latter could not hear Altaf Hussain clearly.
The MQM chief then told the chief minister that he would call again from his direct phone. When he called the second time, instead of Shah, it was his operator who picked up. The operator made Altaf wait for several minutes, during which time he was forced to listen to recorded speeches of the deceased Zulfikar Ali Bhutto and Benazir Bhutto, said the press release.
The operator then said that the chief minister would call him back but the call never came.
Altaf also called the PPP co-chairperson, Asif Ali Zardari, several times on his two numbers in Dubai but he did not pick up.
Full report at:
http://tribune.com.pk/story/914744/feeling-lonely-altaf-deeply-hurt-hurt-by-ppp-leaders-not-answering-his-calls/?utm_source=Daily+Roundup+Newsletter&utm_campaign=13be53a238-Daily_Roundup_5pm&utm_medium=email&utm_term=0_19961368d8-13be53a238-65338937
----------
Pakistan jumps among world's top ten stock market performers
2015/07/04
ISLAMABAD: After gaining an index of 16 % during the last 12 months, Pakistan has jumped among the world's top ten stock market performers, said in a recent report by Bloomberg.
The report highlighted the improvements in Pakistan's economic performance in terms of trade, investment, industry, inflation, construction growth to name a few, during PML-N government.
The report stated that during the reign of Nawaz Sharif government, the infrastructure boosted up by 27 percent by spending Rs.1.5 trillion for the current fiscal year started from July 1. Pakistan was making significant progress in meeting targets under its 6.6 billion loan programme, the International Monetary Fund said in May.
The lender predicted a 4.5 % growth in the economy in the year starting July 1 following a 4.1 % expansion last fiscal year the report added.
Inflation in South Asia second largest economy slowed down each month this year through April as transport and food prices fell prompting the central bank to cut the benchmark interest rate in May to the lowest level in 42 years.
http://www.thenewsteller.com/business/pakistan-jumps-among-worlds-top-ten-stock-market-performers/19072/
--------
Drones will tear us apart: Pakistani pop's war fixation
05 July, 2015
PESHAWAR (AFP) - A lover s eyes compared to a drone strike, a smile to a suicide bomb and lips to fire. The violence of Pakistan s bloody insurgency has been injected into catchy pop lyrics after more than a decade of war against Islamists opposed to all forms of song and dance.
Some of the hit songs are regarded as deeply poignant in the country s conservative Pashtun belt — but others are criticised as sensationalist, and accused of capitalising on the brutality.
"Come, look straight into my eyes, attack my heart, come destroy everything, come destroy everything," croons popular singer Rahim Shah in the video to "Shaba Tabahi Oka" (Come On Destroy Everything), as the famous Pashto-language film hero Arbaaz Khan dances.
An actress gyrates her hips in response, singing: "Look at me, bomb my heart, come destroy everything."
Then the hero, jumping, rolling and dancing, replies: "My Laila is carrying bombs in her eyes, you are killing me with your eyes, your lips are on fire — your short top is killing me and your trousers are tight."
The song, which accompanies the popular 2012 Pashto film "Ghaddar "(Traitor), is still a top hit on video websites such as YouTube and Dailymotion.
Full report at:
http://dunyanews.tv/index.php/en/Pakistan/287656-Drones-will-tear-us-apart-Pakistani-pops-war-fix
------
South Asia
Seven soldiers martyred, 23 militants killed in Afghan military operations
By KHAAMA PRESS -Jul 05 2015,
Afghan National Army Seven soldiers have embraced martyrdom and 23 militants killed in military operations in past 24 hours, ministries of defense and interior announced on Sunday morning.
A statement issued by the Ministry of Defense states that the seven soldiers lost lives in roadside landmine explosions and insurgent fire. The statement does not specify the exact location of the incidents.
In the meantime, a statement issued by the Ministry of Interior states that security forces have killed 23 militants during operations in past 24 hours.
The statement adds that the operations were carried out in seven provinces Kunduz, Baghlan, Sar-e-Pul, Heart, Helmand, Oruzgan and Kandahar.
Security forces also defused two roadside bombs which were placed by militants in Parwan and Kandahar provinces.
http://www.khaama.com/seven-soldiers-martyred-23-militants-killed-in-past-24-hours-3599
-------
Seven landmine planters killed by own bomb in Helmand
By KHAAMA PRESS -Jul 05 2015
Helmand-Provincial police headquarters Seven landmine planters have been killed by own bomb in southern Helmand province.
According to security officials the incident took place in Nawzad District late last yesterday.
Officials at the 215th Maiwand Corps say the insurgents were busy planting the landmine on a roadside that exploded on them killing all seven on the spot.
Another news from Helmand's neighboring Zabul province suggest that Taliban have killed a civilian and wounded four others in a provocative attack.
Officials say Mullah Salim, a local Taliban commander, tried to build his house in Meezana District but local residents resisted.
Fawad Askari, spokesman for the provincial police headquarters of Zabul province say on the resistance Taliban opened fire on civilians leaving one killed and four others wounded.
He said those wounded have been taken to Kandahar for treatment.
http://www.newageislam.com/islamic-world-news/new-age-islam-news-bureau/chibok-schoolgirls-fighting-for-boko-haram,-slitting-throats-of-captives/d/103768
-------
Key Taliban commander killed in Afghanistan
IANS | Jul 4, 2015
KABUL: A key Taliban commander in Afghanistan, Hajji Wazir, was killed in a raid on Saturday, police said.
"Hajji Wazir, the commander of Taliban militants in west Afghanistan, was chalking out a terrorist plan in a house when the security forces, acting upon intelligence report, raided the house on Saturday morning and killed him," Xinhua quoted provincial police chief Abdul Majid Rozi as saying.
Wazir commanded some 500 militants and his killing could be a major setback to the Taliban outfit in Herat and adjoining provinces, Rozi added.
Taliban militants have been fighting the government to regain power in Afghanistan's eastern Wardak province and killed at least 30 Afghan police personnel in clashes that broke out between them and security forces on Friday.
-----
Afghan Forces Battle Taliban as Lawmakers Reject Defense Minister
By MUJIB MASHALJULY 4, 2015
KABUL, Afghanistan — Afghan security forces battling the Taliban about 30 miles west of Kabul have sustained heavy casualties, officials said Saturday, as senior members of the government criticized the response to the assault as slow and ineffective.
Details of the fighting in Wardak Province, which began Thursday, were murky, but statements by various officials said that 16 to 30 members of the Afghan Local Police, a militia controlled by the Interior Ministry, had been killed, along with at least two civilians. Some of the dead were decapitated, officials said.
Mr. Ghani, in a statement, said "the desecration" of the bodies was a "war crime."
The ugly turn in the war comes as Afghanistan's struggling coalition government remains without a minister of defense 10 months after taking office. President Ashraf Ghani's third nomination for the post was rejected by Parliament on Saturday.
The fighting was taking place in the province's Jalrez district, which lies on a strategically important highway connecting Kabul, the capital, to the central province of Bamian. The highway was closed Saturday, said Masood Shneezai, deputy chief of Wardak's provincial council.
A spokesman for Wardak's governor said 30 members of the Taliban had been killed and 18 wounded.
Mr. Shneezai said the Taliban had overrun about 11 security checkpoints since the battle began. He accused the province's police chief, Gen. Khalil Andarabi, of negligence and expressed concern that the insurgents could threaten Kabul if Jalrez fell. "There is only one mountain separating Jalrez from Paghman," Mr. Shneezai said, referring to a district on the outskirts of the capital.
Full Report at:
http://www.nytimes.com/2015/07/05/world/asia/afghan-forces-battle-taliban-30-miles-west-of-kabul.html?ref=world
-------
ISIS threat to Afghanistan must be taken seriously: Crocker
By MIRWAIS ADEEL - Sun Jul 05 2015,
ISIS threat to AfghanistanThe former US ambassador to Afghanistan Ryan Crocker has said the threat by the Islamic State of Iraq and Syria (ISIS) terrorist group to Afghanistan must be taken very seriously.
In an interview with the Radio Free Europe/Radio Liberty (RFE/RL), Crocker said the Afghan government and Afghanistan's allies led by the United States should take the emerging threat seriously.
He said "There is no question that IS is a very violent and very dangerous force wherever it is. I have seen the reports, and I have talked to Afghan government officials about this emerging presence inside Afghanistan."
"I think it does have to be taken very seriously by the Afghan government and Afghanistan's allies led by the United States," Crocker added.
According to Crocker further splits among the militant groups are likely in the future. "At the same time, IS is going to encounter its own enemies; certainly the Taliban, at least as represented by the Quetta Shura, is very much against IS. What we may see are further splits in the Taliban with one faction against IS and the other faction, maybe, aligning with them," Crocker said.
He said there could be as much violence among the militants as there would be from IS against the government of Afghanistan.
The remarks by Crocker come as there have been growing concerns regarding the expansion of the activities by the terror group in parts of the country.
Pentagon also released a report earlier this month that the terror group is likely to continue looking for ways to expand their activities in Afghanistan.
According to the report, the US forces have noted a few militants re-branding themselves, likely in an attempt to draw media attention, greater resources and more recruits.
"ISIL's presence and influence in Afghanistan remains in the initial exploratory phase," the report said, adding that "The Islamic Movement of Uzbekistan has publicly expressed support for ISIL as the leader of the global jihad; however, the Taliban has declared that it will not allow ISIL in Afghanistan."
http://www.khaama.com/isis-threat-to-afghanistan-must-be-taken-seriously-crocker-1247
------
Meshrano Jirga ended session in protest to government negligence towards the house
By KHAAMA PRESS - Jul 05 2015,
MuslimyarMeshrano Jirga or the Upper House of Parliament ended its session on Sunday in protest to government negligence towards the house.
Fazal Hadi Muslimyar, senate chairman said that the foreign minister was summoned to the house today but he did not show up.
Muslimyar further said that the recent incident in Jalriz District of Maidan Wardak province which is not very far from Kabul shows the carelessness of the security agencies.
He said that any response from government in this regard is not acceptable mainly because of two reasons. The first reason is that the area is close to Kabul and second because the attack did not last for an hour or two but it continued for 48 to 52 hours and security forces on the ground did not receive additional support.
He said this time senate is closing its doors for a day but if government continues being careless towards the house then a prolonged decision will be taken.
Senators on their session on Sunday before it was closed at around 11:00 am said that hundreds of Taliban militants attacked security check posts in Jalriz District and the clashes continued for about three days, noting that the soldiers on ground called for assistance but they were not helped out.
President Mohammad Ashraf Ghani has assained a government delegation to visit Jalriz District and conduct a thorough investigation into the massacre of more than 20 soldiers.
http://www.khaama.com/meshrano-jirga-ended-session-in-protest-to-government-negligence-towards-the-house-3600
------
North America
America celebrates July 4 with hot dogs, barbecues amid tightened security
REUTERS: July 07, 2015
NEW YORK: Americans marched in star-spangled parades, ran relay races, gathered for fireworks shows and crowned a new world hot dog eating champion as they celebrated Independence Day in traditional style on Saturday.
Possible security threats, wildfires in the West and rainy weather on the East Coast apparently did little to dampen the spirits of celebrants decked out in red, white and blue from their headbands to their shoelaces.
Crowds at Boston's Old State House erupted in applause and cannons shot out tri-color confetti after the annual July Fourth reading of the Declaration of Independence.
Later, thousands flocked to the Charles River Esplanade for the annual Boston Pops concert and fireworks. Krystle O'Brien, 27, wore an American flag cowboy hat and passed out glowsticks.
"It's a good day for Boston," she said. "There's so much history here, we can celebrate this freedom."
In Maplewood, New Jersey, Meskie Hyman, 11, exuded patriot pride in a star-spangled shirt and a hairband with two American flags that fluttered under cloudy skies.
"I love that it's a free country and we have the right to speak. It lets us see everyone's potential and find our heroes," she said.
The crowd in Washington, DC, watched a parade of brass bands, law enforcement motorcycle units, high school drum majorettes, antique cars and police and military detachments.
The National Mall, an open area west of the Capitol and site of a fireworks display expected to draw hundreds of thousands, was soggy from steady rain that had stopped by the time the parade started.
Kearston Andrews, 26, traveled with her family from near Gainesville, Florida, unworried about security.
The Department of Homeland Security and the Federal Bureau of Investigation issued an alert this week asking local authorities and the public to remain vigilant for possible threats following recent calls for violence by leaders of radical group Islamic State (IS).
In New York City, the nation's biggest police force assigned about 7,000 officers and nearly all its counterterrorism personnel to handle security around Independence Day events.
No incidents were reported as of late Saturday, but tens of thousands of spectators crowded onto the banks of Manhattan's East River to watch fireworks shot from barges.
Even after promising an increased presence at weekend events, Massachusetts State Police maintained a holiday spirit, tweeting with a colloquial Boston phrase early Saturday "Have a wicked safe 4th of July!"
In a stunning upset on Coney Island, 23-year-old newcomer Matt Stonie grabbed the famed mustard-colored champion's belt after gobbling 62 hot dogs in 10 minutes in the annual Nathan's International Hot Dog Eating Contest.
Stonie, of San Jose, California, ousted long-time champion Joey "Jaws" Chestnut, who still holds a world record of 69 franks eaten in 2013. Miki Sudo hung onto the women's title, downing 38 hotdogs in 10 minutes.
Wildfires and sharks
On the US West Coast, which is battling wildfires, communities in Washington state and Oregon restricted or banned fireworks for fear of more blazes. Cupertino, California, and Anchorage, Alaska's largest city, also canceled firework shows.
In downtown Los Angeles, thousands of revelers poured into Grand Park to enjoy music and food before a fireworks show.
"I'm Mexican, so I'm thankful to be born here, and being able to celebrate your heritage but mix with the diversity of other cultures too," said Erica Moussa.
A celebration in Austin, Texas featured country music legend Willie Nelson at an all-day picnic replete with music and drinking.
And in Oklahoma, the record to beat at the "Watermelon Seed Spittin' World Championship" in Pauls Valley, about 100 km southeast of Oklahoma City, was 66 feet, set in 1989 by Jack Dietz of Chicago, organisers said.
http://www.dawn.com/news/1192498/america-celebrates-july-4-with-hot-dogs-barbecues-amid-tightened-security
-------
CAIR Seeks Hate Crime Probe After NJ Mosque Targeted by Phone Threat
04 July 2015
(PATERSON, N.J., 7/3/15) – The New Jersey chapter of the Council on American-Islamic Relations (CAIR-NJ) today urged law enforcement authorities to investigate a phone threat targeting a Paterson, N.J., mosque as a hate crime.
Because of the threat, the Islamic Center of Passaic County (ICPC) was evacuated early Thursday as worshippers were about to start their morning (fajr) prayer.
SEE: Paterson Mosque Evacuated Over Threat During Ramadan
In a statement, ICPC Board of Trustees wrote:
"Just before Fajr (dawn) prayer early this [Thursday] morning, the Paterson police department informed us they received a threatening call alleging someone with assault weapons was entering ICPC. As safety and the wellbeing of our congregants is our top priority, all congregants were evacuated to safety to allow authorities to perform precautionary investigations. After a very thorough search of the premises, no weapons were found. Thankfully, the threat turned out to be a hoax.
Full Report at:
http://www.cair.com/press-center/press-releases/13054-cair-seeks-hate-crime-probe-after-nj-mosque-targeted-by-phone-threat.html
-------
Houston Mayor hosts annual Iftar dinner
July 05, 2015
Raja Zahid A Khanzada
HOUSTON: The Mayor of Houston hosted annual Iftar dinner which was attended by members of U.S. Congress, Consul Generals of two dozen different countries and including hundred of muslin citizens.
The Annual Iftar Ramadan Dinner, which has become a tradition in the metropolis over the past 15 years, was held at the Bayou City Event Center. The entire hall was filled with nearly 1800 people with organizers and elected officials from across the city.
his year's event was chaired by Sunny Sharma, and coordinated by Muhammad Saeed Sheikh. Abu Dhabi, Baku, Basrah, Istanbul and Karachi, in conjunction with the Islamic Society of Greater Houston along with 50 plus community organizations were the host.
The event, which was emceed by Nadia Gire, opened with prayers by Zara Khan and verses from the Quran in Arabic by Nihat Yesil, followed by a discourse on the "Human Values in Islam" by Imam Imad Enchassi of Oklahoma City.
Congresswoman Sheila Jackson Lee and after her, Congressman Al Green both were delighted to be at the Iftar and vehemently decried the hate crime in Charleston.
"What is meant for evil turns into good," remarked Lee. "Ramadan is the season for coming together." She emphasized that there was no room for discrimination for people in this country. Green echoed her sentiments.
"This gathering shows how much we appreciate each other," she said, adding, "All religions are based on forgiveness. Sacrifice and suffering can teach us to live as brothers and sisters in peace."
Full Repoert at:
http://www.thenews.com.pk/article-190168-Houston-Mayor-hosts-annual-Iftar-dinner-
--------
Mideast
U.N. Nuclear Chief Is Optimistic About Iranian Cooperation on Review
By MICHAEL R. GORDON and DAVID E. SANGERJULY 4, 2015
VIENNA — The head of the International Atomic Energy Agency said on Saturday that, with Iranian cooperation, his agency could complete an assessment on Iran's suspected past nuclear work by December, potentially removing a major obstacle to a nuclear agreement.
With his statement, Yukiya Amano, the director general of the agency, appeared to be signaling that a preliminary investigation into the "possible military dimensions" of Iran's past nuclear work could happen on an expedited basis, a schedule that could facilitate the lifting of economic sanctions on Iran.
He made the statement a day after returning here from Tehran, where he met with President Hassan Rouhani and other senior Iranian officials.
Ayatollah Ali Khamenei, the supreme leader of Iran, at a government meeting in June. He has said repeatedly that foreigners will not be allowed to visit military sites.Signs of a Compromise Over Inspections in Iran Nuclear TalksJULY 2, 2015
Secretary of State John Kerry, third left, and Mohammad Javad Zarif, the Iranian foreign minister of Iran, second right, during a meeting in Vienna on Wednesday.Iran's President to Meet With Top U.N. Nuclear OfficialJULY 1, 2015
A small group of hard-liners gathered at the base of Tehran's Freedom Tower to urge a nuclear deal with few compromises.Divide on Iran Nuclear Deal: Hard-Liners vs. 'Invisible People'JUNE 30, 2015
Mohammad Javad Zarif, third from left, the Iranian foreign minister, at talks on a nuclear deal in Vienna on Tuesday.Amid Final Talks on Iran Nuclear Deal, Obama Calls Strict Verification CrucialJUNE 30, 2015
Reporters were ushered from a room where John Kerry met with Mohammad Javad Zarif of Iran in Vienna on Sunday.U.S. Tells Iran That Preliminary Nuclear Deal Must Stand JUNE 29, 2015
"With the cooperation from Iran I think we can issue a report by the end of the year on the assessment of the clarification of the issues related to possible military dimensions," said Mr. Amano, a cautious diplomat who weighs his words carefully. "We have made progress on the way forward."
Over the past eight years, the I.A.E.A. has had three different agreements with Iran to resolve evidence that Iranian scientists may have worked on the design of trigger mechanisms used in nuclear weapons, re-entry vehicles that could protect a nuclear warhead, and a variety of related technologies. In 2011 the agency published a list of a dozen questions, but it has barely made a dent in answering them. Iran has contended that the documents the agency is relying on are fabrications, provided by the United States and Israel, and has declined so far to cooperate with the I.A.E.A. inquiry.
It is doubtful that the agency can fully resolve those issues by the end of the year. But American officials have been suggesting that if agency inspectors can get access to Iranian scientists, documents and some sites to resolve suspicions, the sanctions could begin to lift even before the agency reaches final conclusions.
"We have to see that they are getting the access they need," one senior administration official said in May. "We don't have to wait for the I.A.E.A. to issue its reports."
The nuclear talks have moved into high gear with negotiators trying to reach an agreement by Tuesday. If they hit that target date, the agreement could be submitted to the United States Congress by Thursday, limiting the congressional review period to 30 days. If the agreement comes later in the summer, Congress would have twice as long.
Full report at:
http://www.nytimes.com/2015/07/05/world/middleeast/nuclear-agency-leader-signals-progress-on-hurdle-to-accord-with-iran.html?ref=world&_r=0
-------
Syria Forces and Hezbollah Attack Insurgents Near Lebanon
By ANNE BARNARD and HWAIDA SAADJULY 4, 2015
BEIRUT, Lebanon — Syrian government forces and their allies in the Lebanese Shiite group Hezbollah started a new offensive Saturday against insurgents in Zabadani, a mountain town near the border with Lebanon that was one of the first to be wrested by rebels four years ago.
Hezbollah's news channel, Al Manar, showed smoke rising from Zabadani and said that the government forces were attacking from several directions and that heavy airstrikes and shelling were continuing.
Mortar shells hit several central neighborhoods in Damascus, the Syrian capital, as insurgents appeared to strike back, residents said. The Syrian state news agency reported that one person had been killed and two wounded when a shell hit the Dama Rose Hotel, which often hosts dignitaries.
The assault comes a day after insurgents began a major offensive in the divided city of Aleppo in the north near the border with Turkey, and after weeks of fighting in the Qalamoun mountains farther north along the border with Lebanon, where Hezbollah has played a leading role. The government is seeking to maintain and strengthen control over the border area and the crucial Damascus-Beirut highway.
The war in Syria has claimed more than 230,000 lives and driven millions from their homes.
http://www.nytimes.com/2015/07/05/world/middleeast/syria-forces-and-hezbollah-attack-insurgents-near-lebanon.html?ref=world
----
Southeast Asia
Special team to probe graft allegations against Malaysia PM
PTI | Jul 5, 2015
KUALA LUMPUR: A special taskforce will probe the graft allegations that up to USD 700 million were funneled from a government-owned fund to Malaysian Prime Minister Najib Razak's personal bank accounts.
The multi-agency task force comprising officers from the Anti-Corruption Commission, Central Bank and the police will probe the money trail of 1 Malaysia Development Bhd (1MDB), which allegedly ended in the Prime Minister's personal bank accounts, said Attorney-General Abdul Gani Patail.
Razak, 61, has denied the allegations saying these were part of a concerted campaign of "political sabotage" to topple a democratically elected Prime Minister.
"No evidence has been offered following all these allegations, which has only been based on leaked documents and unnamed investigators," Razak said in a Facebook post.
Patail said the task force officers are going through documents taken from the premises of SRC International Sdn Bhd, Gandingan Mentari Sdn Bhd and Ihsan Perdana Sdn Bhd.
The Wall Street Journal had named these three companies in its report on July 2, claiming that USD 700 million was funnelled into what it believed to be Razak's bank accounts.
"After reviewing and analysing the documents retrieved during the raids, I have advised the task force on the next course of action," Patail said in a statement yesterday.
The Attorney-General said the investigations would be focused on all aspects raised.
"With the participation of various agencies, I am confident of professional and in-depth investigations. I hope all parties will extend their cooperation to enable the special task force to proceed with the investigation without issuing statements that can confuse the public," he added.
Deputy Prime Minister Muhyiddin Yassin has urged relevant authorities to investigate allegations made against Razak.
"This is a very serious allegation that can jeopardise his credibility and integrity as Prime Minister and leader of the Government," said Yassin.
"The Prime Minister should explain or deny it. If he is confident all the allegations are mere lies, it would be wise for him to take legal action against those who made them," he added.
http://timesofindia.indiatimes.com/world/south-asia/Special-team-to-probe-graft-allegations-against-Malaysia-PM/articleshow/47945124.cms
------
Europe
Can the son of a Pakistani bus driver be the future mayor of London?
By Web Desk: July 4, 2015
A son of a Pakistani bus driver and the first Muslim MP of London, Sadiq Khan, has said that a Muslim mayor for the city of London will send out a message to all 'the haters in Iraq and Syria' that the city is a 'beacon of tolerance and respect.'
"If Londoners decided to do that, the message it would send to the rest of the world would be quite awesome," Sadiq told the Guardian, explaining his case why it would be helpful for the city to have a Muslim mayor.
Sadiq's statement comes days after a brutal terrorist attack on British tourists in Tunisia and ahead of the 10th anniversary of the 7/7 bombings next week.
Sadiq, who is the first Muslim MP to be elected in London, said the militants who killed 52 people on 7/7 were against British values and the British way of life, so electing a Muslim mayor would send a "phenomenal message and would say something about our confidence as a city".
"The idea that the mayor of London could be the son of an immigrant, son of a bus driver, ethnic minority and by the way, of Islamic faith would speak volumes, particularly when you bear in mind 10 years ago these four men wanted to destroy our way of life," he added.
Further, Sadiq said, "The reality is that we are a beacon in all sorts of ways. I think it's just worth thinking about the impact it could have. It shows the confidence of Londoners – that we don't simply tolerate but respect each other."
"What sort of message would it send if Londoners had the confidence, tolerance and respect to vote for someone of a different faith (from most of them)? I'm a Londoner first and foremost, but it would show the haters in Iraq and the haters in Syria what sort of country we are: a beacon. And I think the reality is sometimes you need cool, calm voices, which is what I'd hope to provide."
During his interview, Sadiq did not criticise David Cameron or Theresa May, the home secretary, over their response to the terror attack in Tunisia or their policy on how to tackle extremism, because he believes their intentions were good.
However, Sadiq did recall his frustration with the reaction of Tony Blair to the 7/7 terror attacks, when the then-prime minister called in the newly elected MP and the three other Muslim Labour members of the House of Commons.
Full report at:
http://tribune.com.pk/story/914120/can-the-son-of-a-pakistani-bus-driver-be-the-future-mayor-of-london/
-----
URL: https://www.newageislam.com/islamic-world-news/new-age-islam-news-bureau/heads-of-various-religions-laud-tolerance-in-islam/d/103770