North America
• Head of Global Ahmadi Community Says Anger of Muslims 'Fully Justified'
• US stops 20 Iran officials attending UN assembly: Report
• A Los Angeles Chef Murders wife, boils remains for four days
• Google bans film links in Jordan
I• n U.S., Ahmadinejad bid to win hearts and minds
• US Senate approves Richard Olson as next ambassador to Pakistan
India
• Mirwaiz leads protest demonstration outside UN office in Geneva
• Indian soldiers lauded in Israeli textbooks for freeing city
• Sher Shah Suri's tomb ' in Bihar exceedingly dirty': Union Minister
• Geneva seminar highlights situation of human rights in Kashmir
• Agartala-Dhaka bus burnt by mob in Bangladesh, service suspended
• Social worker writes daily to Prez, PM for Ajmal Kasab's hanging
• India, Pak heading for new era of trade relations
Arab World
• Burial of non-Muslims made easy in Saudi Kingdom
• Christian Opposition Leader Tells Pope Syria Regime Threat to Christians
• Iraq aims to unite with new national anthem, flag
• Rebels claim control over most of Syria
• Roadside explosion kills five soldiers in Iraq
• UAE Islamist group denies reports it has an armed wing
• Saudi Shiites protest against anti-Islam film
• Damascus meeting calls for peaceful change in Syria
• Egypt president stresses Syria resolve
• Free Syrian Army shifts command from Turkey to Syria
• At 82, the Saudi Kingdom is proud of its all-round achievements
• Kingdom role model of unity, stability
• Seven years' jail for stalling court verdict under new law
• Egypt jihadists: Attack on Israeli border to avenge anti-Islam film
• Saudi Ministry of Health announcement on Corona virus
Mideast Asia
• Sunni-Shia clashes claim 12 lives in Yemen
• Iran lawmaker accuses IAEA of passing nuclear secrets to Israel
• Israelis fear PM is meddling in U.S. politics
• Iran accuses Siemens of nuclear sabotage
• Turkish 'coup plotters' jailing a warning to army
• Iran Denies Hacking Into American Banks
South Asia
• 16 Taliban killed in Afghanistan
• Top Chinese official visits Afghanistan in a rare visit
• Radicalisation threatens tourism says Former Maldivian President
• Maldivian Religious Party asks not to negotiate with GMR
• Teesta treaty to be sealed soon: Bangla minister
• 22 Bangladeshi nationals sentenced to two-year jail term
• Violence in Bangladesh, over 30 injured
• "Time for everyone to tighten their belts": Maldivian Minister Jihad
Africa
• At least three killed in Nigeria Catholic church suicide blast
• Somali MP shot dead in latest militant attack
• 200 Islamists surrender in Somalia
• Libya orders 'illegitimate' militias to disband
• Islamist militia swept out of Libya bases
Pakistan
• Muslims can't' tolerate sacrilegious act against Prophet (pbuh): Nawaz Sharif
• President Zardari to move UN over profane film
• Pakistan condemns bounty on anti-Islam filmmaker
• Muslim caretaker for Karachi's Hindu crematorium
• Beheaded bodies of two Baloch youth found
• Only Pakistan protested against 'anti-Islam' film on state level: Minister for I&B
• Mardan Christians unhappy with security
• Better understanding with US on drones, says Hina Rabbani Khar
• Pak PM announces Rs 600 mln relief package for Balochistan flood victims
• 2 Pakistanis stabbed near Greek anti-racist demo: police
• Reversing 'negative narrative' key to resolve issues with India: Hina
• Pak to grant MFN status to India by end of 2012
• Pak riots cost: Rs. 42 billion
• 185 face trial for riots over hate film
• Law making: Mental Health Legislation in Pakistan
• Cinemas' loss shocks art fraternity
Southeast Asia
• Indonesian President to Propose Protocol vs Religious Defamation at UN Assembly
• Indonesia Police Arrest 10th Terror Suspect in Solo
• Indonesian Domestic Workers in Syria in Need of Repatriation
• Activists remember Gus Dur for pluralism amid current strife
Europe
• UN slams assassination of Somali legislator
• Louvre opens Islamic art wing to the public
• Peaceful protests in Germany
• France deploys riot police to ban rallies
• Man gets 3months' jail for embassy protest
Compiled by New Age Islam News Bureau
Photo: Mirwaiz leads protest in Geneva
URL: https://www.newageislam.com/islamic-world-news/new-age-islam-news-bureau/head-of-global-ahmadi-community-says-anger-of-muslims--fully-justified-/d/8765
----------
North America
Head of Global Ahmadi Community Says Anger of Muslims 'Fully Justified'
September 23, 2012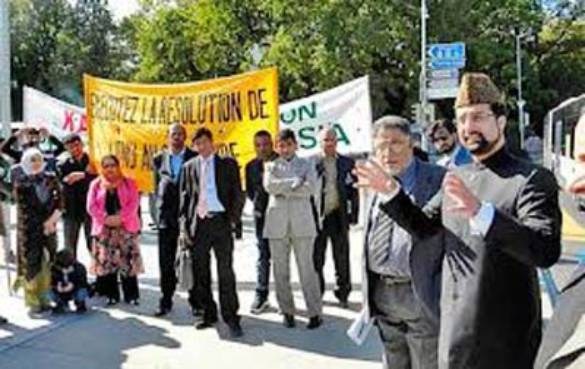 The head of the Ahmadi community said that anger of Muslims regarding the anti-Islam film is "fully justified, but violent reaction must be condemned," a statement issued by their global community quoted him on Sunday.
Speaking to a media gathering, Mirza Masroor Ahmad said that the Muslims across the world should "peacefully unite in their opposition to the film" which has stirred up "great resentment and anger among Muslims worldwide."
Ahmad also called for limiting free speech so that the religious sentiments of people are protected.
The statement quoted the Ahmadiya leader as saying:
It is their [non-Muslim's] inability to defeat Islam that is causing them to resort to such vile acts which they try to justify on the basis of freedom of speech or expression. Let it not be that in the name of freedom of speech the peace of the entire is destroyed.
He condemned the violent response witnessed in a number of countries by Muslims and the killings of innocent people including ambassadors and diplomats.
He said, "Damaging property or burning buildings was completely wrong and benefited no party."
http://tribune.com.pk/story/441209/anti-islam-film-head-of-ahmadi-community-says-anger-of-muslims-fully-justified/
----------
US stops 20 Iran officials attending UN assembly: Report
Sep 23, 2012
DUBAI: The United States has denied visas to about 20 Iranian government officials hoping to attend next week's United Nations General Assembly, including two ministers, Iran's Fars news agency reported on Saturday.
Iranian President Mahmoud Ahmadinejad, a regular at the assembly since he took office in 2005, will give his final speech there on Wednesday and will address a meeting on the "rule of law" on Monday.
But of the 160-or-so visas requested by the Iranian delegation two months ago, about 20 were turned down, Fars said.
It gave no reason, but many Iranian officials are subject to travel bans under sanctions related to Iran's nuclear programme.
In Washington, the US state department had no immediate comment on the matter.
Fars did not name the two ministers who were denied visas and said Ahmadinejad would be accompanied by his chief of staff Esfandiar Rahim Mashaie and Foreign Minister Ali Akbar Salehi.
A US official who spoke on condition of anonymity said: "Visas for foreign officials to attend UN meetings in the UN headquarters district are adjudicated in accordance with all applicable laws and procedures including both US law and the UN HQ Agreement, however, visa records are confidential."
As UN host country, the United States has a policy of issuing visas for members of delegations, in line with a 1947 pact with the United Nations, regardless of disputes with individual countries.
However, it does sometimes refuse entry to government officials and professionals from Iran with which it has had no diplomatic ties since 1979 and which it accuses of seeking nuclear weapons, a charge Tehran denies.
In 2009, as Iranian authorities were crushing protests against Ahmadinejad's re-election, Iran said a delegation headed by its first vice president had been refused visas to attend a UN conference on the global financial crisis.
Ahmadinejad, whose second and final term in office ends next year, has used previous UN speeches to defend a nuclear programme he insists is peaceful and to make verbal attacks on Israel, the United States and Europe.
He has questioned the historical truth of the Holocaust and cast doubt on whether Islamist hijackers were really responsible for the attacks of Sept. 11, 2001.
Most Western envoys walk out of the U.N. chamber during his speeches, in protest.
http://timesofindia.indiatimes.com/world/middle-east/US-stops-20-Iran-officials-attending-UN-assembly-Report/articleshow/16509537.cms
----------
A Los Angeles Chef Murders wife, boils remains for four days
20 September, 2012
A Los Angeles-area chef charged with murdering his wife, whose body has never been found, told investigators he cooked her corpse for four days in a vat of boiling water.
David Viens, 49, whose lawyers were to begin presenting his defense at trial on Wednesday, made the statements in March 2011 under questioning about the 2009 disappearance of his 39-year-old wife, Dawn.
At the time of the two interviews, he was recovering from injuries he had suffered weeks earlier from leaping off a cliff in an apparent suicide attempt. He has appeared in court in a wheelchair.
Viens, a chef who owned a restaurant with his wife in the town of Lomita, south of Los Angeles, told detectives in the recordings that during a quarrel with his spouse he bound and gagged her with duct tape and went to sleep.
Viens, who has pleaded not guilty to murder, was vague about the reason for the fight, saying in the taped interviews that it "seemed like it had to do with her stealing money." But he said he awoke hours later to find her dead, panicked and decided to dispose of her body by boiling it.
Viens then described in grisly detail how he placed her corpse face down into a large vat that held the entire body, and kept it submerged with weights.
"And I just slowly cooked it and I ended up cooking her for four days," he told detectives in one of the two recordings played in court on Tuesday.
"You cooked on Dawn's body for four days?" one sheriff's sergeant is heard asking Viens, to which he replied, "Before it was done." He added that he then let the remains cool, "strained it out" and disposed of what was left in garbage bags mixed in with other debris and waste in a dumpster.
He also told detectives in the recordings that he believed he may have had one bag of body parts left over, saying, "I'm confused now, and — because of these dreams and stuff I've had. I think the skull is there ... In my mother's attic."
Sheriff's Sergeant Richard Garcia testified that detectives searched the attic in Viens' mother's home but found nothing.
Under cross-examination by defense lawyer Fred McCurry, the sergeant acknowledged there was no physical evidence to establish how Viens' wife died, or that establishes that her body was disposed of by cooking.\
http://www.timeslive.co.za/world/2012/09/20/chef-murders-wife-boils-remains-for-four-days
----------
Google bans film links in Jordan
Sep 23, 2012
Google has agreed to block all links connecting internet users in Jordan to an anti-Islam film made in the United States that has stirred outrage across the Muslim world, a Jordanian minister said on Saturday. "We asked Google to block all links to this film in the kingdom and we have had a favourable response," said communications and information technology minister Atef Tel, quoted in the Al-Dustur newspaper.
http://timesofindia.indiatimes.com/world/middle-east/Google-bans-film-links-in-Jordan/articleshow/16509588.cms
----------
In U.S., Ahmadinejad bid to win hearts and minds
ATUL ANEJA
23 September, 2012
Iranian President Mahmoud Ahmadinejad has left for the U.S. to pursue a crowded agenda that focuses on connecting with mainstream Americans including those who are part of the Occupy Wall Street movement.
For a seventh successive year, the Iranian President will address the General Assembly session, which commences on September 25. Mr. Ahmadinejad will also represent the 120-nation Non-Aligned Movement (NAM) as its rotating President.
Full report at:
http://www.thehindu.com/news/international/in-us-ahmadinejad-bid-to-win-hearts-and-minds/article3927137.ece
----------
US Senate approves Richard Olson as next ambassador to Pakistan
September 22, 2012
WASHINGTON: The US Senate on Saturday approved veteran diplomat Richard Olson as the new American ambassador to Pakistan.
President Barack Obama had nominated Olson and Robert Stephen Beecroft as ambassadors to Pakistan and Iraq respectively in June this year. Their appointment, though was subject to the Senate's approval.
On Saturday, a voice vote in the Senate favoured the appointments of the nominees.
The appointment of Olson, a 30-year veteran of the State Department who was envoy to the United Arab Emirates between 2008 and 2011, meanwhile will aim to turn a page in diplomatic relations with Islamabad.
Full report at:
http://tribune.com.pk/story/440963/us-senate-approves-richard-olson-as-next-ambassador-to-pakistan/
-------
India
Mirwaiz leads protest demonstration outside UN office in Geneva
South Asian News Agency (SANA) ⋅ September 21, 2012
GENEVA, (SANA): All Parties Hurriyat Conference (M) Chairman, Mirwaiz Umar Farooq has said the UN cannot shy away from its responsibility and commitment towards the fulfillment of the inalienable right to self determination of the people of Jammu and Kashmir.
While addressing a gathering after leading a demonstration outside the UN office at Geneva against the blasphemous film on Islam, Mirwaiz emphasized that the self-determination of peoples is a basic principle of the United Nation Charter, which has been reaffirmed in the Universal Declaration of Human Rights and applied countless times to the settlement of many international disputes.
"In 1945 the establishment of the United Nations gave a new dimension to the principle of self-determination. The Charter emphasizes the principle as one of the objectives it wants to achieve," he said.
Addressing the gathering, Hurriyat (M) chairman said that freedom of speech cannot be used as a pretext to justify such repugnant activities and a red line has to be drawn. He strongly condemned what he called a abhorrent and reprehensible act that represents an irresponsible misuse of the right to freedom of expression, the exercise of which carries with it special duties and responsibilities under International Human Rights Law, according to Article 19 of the International Covenant on Civil and Political Rights.
Mirwaiz pointed out with concern that this film is not an isolated act, but comes as part of an ongoing anti-Muslim campaign, aiming not only to hurt the feelings of Muslims around the world, but also to distort the true image of Islam.
He appealed the UN to take cognizance of conspiracies against Islam and Muslims, especially making of this blasphemous film and fulfill its responsibilities in this regard.
http://www.sananews.net/english/mirwaiz-leads-protest-demonstration-outside-un-office-in-geneva/
-------
Indian soldiers lauded in Israeli textbooks for freeing city
Sep 23, 2012
ISRAEL: While remaining unknown in their own country, some Indian soldiers will become household names in Haifa in northern Israel after figuring in the history textbooks taught at schools for their contribution in liberating this city in 1918.
The municipality of Haifa has gone ahead with its decision to immortalise the sacrifices made by Indian soldiers, many of whom are buried in the cemetery here, by including the stories of their valiant efforts in liberating the coastal city during the First World War in the school curricula as part of the history textbooks.
Full report at:
http://timesofindia.indiatimes.com/india/Indian-soldiers-lauded-in-Israeli-textbooks-for-freeing-city/articleshow/16513661.cms
--------
Sher Shah Suri's tomb ' in Bihar exceedingly dirty': Union Minister
Sep 23 2012
New Delhi: Not happy with the "exceedingly dirty condition" of Sher Shah Suri's tomb in Bihar's Sasaram, Union minister Jairam Ramesh has shot off a letter to Culture Minister Kumari Selja seeking her intervention to protect it.
The tomb of Sher Shah, one of the striking personalities in the history of medieval India, is an imposing brick structure situated in the middle of a pond. In 1998, it was included in the UNESCO's tentative list for inscription in the World Heritage List.
In his letter to Selja, Ramesh, who visited the tomb last month while touring Naxal-affected district of Rohtas, accused the Archaeological Survey of India (ASI) of not taking care of the mausoleums of Sher Shah and his father.
Full report at:
http://www.indianexpress.com/news/sher-shah-suris-tomb-exceedingly-dirty-jairam-ramesh-to-kumari-selja/1006676/
----------
Geneva seminar highlights situation of human rights in Kashmir
September 22, 2012
GENEVA, (SANA): Islamic Human Rights Commission, in coordination with International Muslim Women Union and International Human Rights Association of American Minorities organised a seminar titled "Kashmir – Trouble in paradise in Palais des Nations". On the occasion, a documentary film "Humans without human rights" produced by the Kashmir Centre London was screened. Professor Nazir Ahmed Shawl has written the script of the film. The human rights situation in Indian Occupied Kashmir as observed by authentic Indian civil society activists and international watchdogs have been highlighted in the film.
The seminar was moderated by Reza Kazim and addressed by the All Parties Hurriyat Conference Chairman, Mirwaiz Umar Farooq, Dr Ishtiaq Ahmed, South Asia expert at Oxford University, Barrister Abdul Majeed Tramboo, Chairman Kashmir Centre Brussels, and Ms Shamima Shawl, Chairperson Kashmir Women Forum and representative of international Muslim Women Union.
Full report at:
http://www.sananews.net/english/geneva-seminar-highlights-situation-of-human-rights-in-ihk/
----------
Agartala-Dhaka bus burnt by mob in Bangladesh, service suspended
September 23, 2012
The bus service between Agartala and Dhaka has been suspended after India's 'Maitree' passenger bus between the two cities was burnt by an angry mob in Bangladesh on Friday, officials said in Agartala on Sunday. "The Agartala-Dhaka bus service has been suspended temporarily following
Friday's incident. The service is expected to resume after an inquiry into the incident and other necessary formalities," a Tripura transport department official said.
"A team of Tripura government officials would visit Bangladesh to probe the incident and to talk to police and officials of that country," he added.
The Dhaka bound 'Maitree' passenger bus, run by Tripura Road Transport Corporation, was torched by an angry mob at Narsindi in central Bangladesh Friday. According to Bangladesh media reports, the incident was a fallout of a clash between two local political groups.
Narsindi is 50 km northeast of Dhaka and 45 km west of Agartala.
Full report at:
http://www.hindustantimes.com/India-news/Tripura/Agartala-Dhaka-bus-burnt-by-mob-in-Bangladesh-service-suspended/Article1-934429.aspx
----------
Social worker writes daily to Prez, PM for Ajmal Kasab's hanging
Sep 23 2012
Thane : A social worker, who had barely left the CST railway station when Pakistani terrorist Ajmal Kasab and his accomplices wreaked havoc on November 26, 2008, has been sending letters every day to the Prime Minister and President since then, praying that he must be hanged immediately.
On death row for the brazen Mumbai terror attacks in 2008, the lone surviving perpetrator, Kasab, recently filed a mercy petition before the President.
Shell shocked after the attacks, 42-year-old social worker Narayan Patil started dropping a letter everyday addressed to Prime Minister, President, state Chief Minister, state Home Minister since December 17 at Kalyan tehsildar'soffice seeking justice be delivered by hanging Kasab.
Full report at:
http://www.indianexpress.com/news/social-worker-writes-daily-to-prez-pm-for-ajmal-kasabs-hanging/1006705/
----------
India, Pak heading for new era of trade relations
Sep 23, 2012
ATTARI: A new era of business activities is being promised to be ushered in, between India and Pakistan, after the latter has promised to totally dismantle the "negative list of commodities" by the end of October. On the anvil is Indian offer of selling locomotives to Pakistan, laying a gas pipeline through Attari, formation of joint business councils, reduction in sensitive list, daily air connectivity between the two capitals besides granting the awaited "most favoured nation" status to India.
These decisions were taken during the 7th round of India-Pakistan talks on commercial and economic cooperation held between Indian commerce secretary S R Rao and his Pakistani counterpart Munir Qureshi on September 20 and 21 at Islamabad.
Full report at:
http://timesofindia.indiatimes.com/india/India-Pak-heading-for-new-era-of-trade-relations/articleshow/16509433.cms
----------
Arab World
Burial of non-Muslims made easy in Saudi Kingdom
23 September 2012
A recent order issued by Riyadh's Deputy Gov. Prince Muhammad bin Saad has eased the rules and regulations for the burial of the dead of expatriates, especially non-Muslims, said Ali Abdullah Bawazir, head of the Forensic Medicine Department in Riyadh.
In accordance with Prince Muhammad's order, expatriates now only need to obtain approval of the police department to complete procedures for burial. "This will help the Forensic Medicine Department to speed up the procedures of burial and deportation and reduce the time of body preservation in mortuaries," Bawazir said.
"The decision will ease the process for the relatives of the dead and their sponsors in preparing papers for the burial or deportation of bodies," he said.
Full report at:
http://www.arabnews.com/burial-non-muslims-made-easy
----------
Christian Opposition Leader Tells Pope Syria Regime Threat to Christians
September 23, 2012
BEIRUT: Syrian Christian opposition leader George Sabra told Pope Benedict XVI that the survival of the Damascus regime poses a threat to the country's Christians, the Syrian National Council said Sunday.
"The survival of the (President Bashar) Assad regime is a danger to Christians and Muslims in Syria alike," Sabra, who is spokesman for the opposition SNC, told the pontiff during a visit to the Vatican on Saturday.
Sabra, who was accompanied by the exiled group's head Abdel Basset Sayda in meeting the pope, also thanked him for his visit to Lebanon and guidance to Middle East Christians, the SNC said in a statement.
Full report at:
http://www.dailystar.com.lb/News/Middle-East/2012/Sep-23/188926-opposition-tells-pope-syria-regime-threat-to-christians.ashx#ixzz27IbkxLei
----------
Iraq aims to unite with new national anthem, flag
September 22, 2012
By Mohamad Ali Harissi
BAGHDAD: Iraq is seeking to replace its national anthem and flag in a move aimed at unifying national symbols and putting decades of conflict and hardship in the country behind it.
"We are determined to finish the new flag and anthem this year, in this legislative session," MP Ali Shlah, the chairman of parliament's culture and media commission, told AFP.
Shlah said a new anthem and flag "will be a unifying factor" for Iraqis, who have suffered through decades of violence, privation and division.
Now-executed dictator Saddam Hussein started a war with Iran in 1980 that lasted for eight years, and then launched a disastrous invasion of Kuwait in 1990 only to be forced out in the 1991 Gulf War.
Full report at:
http://www.dailystar.com.lb/News/Middle-East/2012/Sep-22/188906-iraq-aims-to-unite-with-new-national-anthem-flag.ashx#ixzz27IbvZpI5
----------
Rebels claim control over most of Syria
Sep 23, 2012
ATMA: The rebel Free Syrian Army said on Sunday that it now controls most of the war-torn country, a day after announcing that it has moved its command centre from Turkey to "liberated areas" inside Syria.
UN chief Ban Ki-moon and UN-Arab League peace envoy Lakhdar Brahimi held talks about Syria on Saturday, agreeing the crisis was "a steadily increasing threat to regional peace and stability," according to a statement.
Brahimi, who was appointed in early September, is due to brief the UN Security Council on Monday about his first round of talks with both the regime, including President Bashar al-Assad, and opposition groups.
Full report at:
http://timesofindia.indiatimes.com/world/middle-east/Rebels-claim-control-over-most-of-Syria/articleshow/16515388.cms
----------
Roadside explosion kills five soldiers in Iraq
23 September, 2012
BAGHDAD: Five Iraqi soldiers were killed in a roadside bomb explosion north of Baghdad on Saturday, Iraqi officials said, as suspected Sunni militants, seeking to undermine the Shia-led government continue to target the country's security forces.
A police official in Salahuddin province said the attack on a two-vehicle military convoy occurred early in the afternoon near the predominantly Sunni town of Duluiyah, 75 kilometers north of Baghdad.
Full report at:
http://dawn.com/2012/09/23/roadside-explosion-kills-five-soldiers-in-iraq/
----------
UAE Islamist group denies reports it has an armed wing
September 23, 2012
DUBAI: An Islamist group in the United Arab Emirates denied reports that its members had set up an armed wing with the aim of seizing power and establishing an Islamic state in the Gulf Arab country.
Local media in the UAE reported Thursday that Islamists, who had been detained by the Gulf state's authorities in the last few months, confessed to setting up a secret organization with an armed wing.
"These accusations are not true and are baseless, except in the minds of those who fabricated them," the al-Islah group said in a statement sent to Reuters on Sunday.
Full report at:
http://www.dailystar.com.lb/News/Middle-East/2012/Sep-23/188945-uae-islamist-group-denies-reports-it-has-an-armed-wing.ashx#ixzz27IacRdsE
----------
Saudi Shiites protest against anti-Islam film
September 23, 2012
RIYADH: Hundreds of Saudis demonstrated against an anti-Islam film in a Shiite village in the Eastern Province of the kingdom, which bans any protests, witnesses said Sunday.
Chanting "Oh, messenger of Allah," the protesters marched in Awamiya late Saturday following a call by Shiite cleric Abdulkarim al-Hubail, in line with worldwide demonstrations against the movie titled "Innocence of Muslims".
Demonstrators on Friday in nearby Sihat village of Qatif district burned the Israeli and U.S. flags, also in protest against the film that was produced in the United States.
Security forces did not intervene despite a ban on demonstrations.
Full report at:
http://www.dailystar.com.lb/News/Middle-East/2012/Sep-23/188942-saudi-shiites-protest-against-anti-islam-film.ashx#ixzz27IakbD00
----------
Damascus meeting calls for peaceful change in Syria
September 23, 2012
BEIRUT: Members of Syria's internal opposition held a rare meeting in Damascus on Sunday to call for a peaceful end to President Bashar Assad's rule, after months of fighting in which thousands have been killed.
The meeting went ahead with the blessing of authorities despite the arrest of several opposition figures in recent days and accusations from rebel forces that it gave a false signal that Assad is seeking a political solution to Syria's crisis.
Rajaa Nasser, one of the organizers of the Syria Salvation Conference, called for "an immediate halt to the shooting, a halt to the brutal and barbaric shelling, a truce and a pause for the fighters."
Full report at:
http://www.dailystar.com.lb/News/Middle-East/2012/Sep-23/188935-syrian-opposition-figures-meet-in-damascus.ashx#ixzz27IaryziY
----------
Egypt president stresses Syria resolve
23 September, 2012
Egypt's president on Saturday stressed the need for his country to have a bigger role in international affairs, using his first local television interview to urge the Syrian government to end the carnage coursing through Cairo's onetime ally.
"The Syrian regime needs to understand that the continuation of bloodshed goes against all laws, desires, history and humanity," Mohamed Morsy said in the hour-long interview, broadcast on state TV.
The one-on-one interview addressed a range of issues facing the new president, who was sworn into office on June 30 in the country's first free presidential elections. He assumed the post after a rocky transitional period governed by the country's military, which took power after last year's uprising that ousted longtime President Hosni Mubarak.
Full report at:
http://www.thehindu.com/news/international/egypt-president-stresses-syria-resolve/article3928933.ece
----------
Free Syrian Army shifts command from Turkey to Syria
23 September, 2012
The leaders of the rebel Free Syrian Army say they have moved their command centre from Turkey to Syria.
Brig. Gen. Mustafa al-Sheikh, who heads the FSA's Military Council, told The Associated Press that the move aims to unite all rebel groups. He said on Saturday that the move was made the week before, without specifying its new location.
FSA commander Col. Riad al-Asaad issued a video titled "Free Syrian Army Communiqué Number 1 from Inside" that the command has moved to "liberated areas."
The FSA has been the most prominent of the rebel groups trying to remove President Bashar Assad from power. But its commanders have come under criticism in the past for leading from Turkey, and its authority over numerous locally-based networks of fighters is limited.
Full report at:
http://www.thehindu.com/news/international/free-syrian-army-shifts-command-from-turkey-to-syria/article3926624.ece
----------
At 82, the Saudi Kingdom is proud of its all-round achievements
23 September 2012
Saudi Arabia, which has made unprecedented progress under the leadership of Custodian of the Two Holy Mosques King Abdullah, marks 82nd anniversary of its National Day today (Sunday). It has been playing a significant role on the world stage as a peacemaker to bolster global security and stability.
"On the occasion of the National Day, we are proud of the comprehensive development achieved by the Kingdom in various sectors," said Tawfiq Al-Rabiah, minister of commerce and industry in a statement.
Full report at:
http://www.arabnews.com/82-kingdom-proud-its-allround-achievements
----------
Kingdom role model of unity, stability
23 September 2012
Prince Salman, vice custodian of the Two Holy Mosques, has said the efforts of former kings and the people have made the Kingdom a role model of peace, unity and stability while many countries in the region remain embroiled in political turmoil.
Prince Salman issued a congratulatory message issued on the occasion of the 82nd National Day of the Kingdom.
"On the occasion of our 82nd anniversary, we recollect the struggles of our fathers and grandfathers for the unity of the country on the foundations of tolerance as exemplified in the Shariah and which have made the country a role model of harmony as well as of territorial integrity. Every citizen should be proud of taking part in fostering this integrity, which is one of the major premises of the country's stability," the vice custodian stressed in his message.
Full report at:
http://www.arabnews.com/kingdom-role-model-unity-stability
----------
Seven years' jail for stalling court verdict under new law
JEDDAH: ARAB NEWS
23 September 2012
A new regulation to enforce court decisions includes a jail sentence of up to seven years for those found stalling the implementation of the final verdict.
According to the system, which will be implemented within the next six months, courts will be responsible for applying the punishments against anyone who intentionally fails to adhere to the courts' final decisions, stalls or resists decision implementation — including stashing or smuggling money out of the country.
Full report at:
http://www.arabnews.com/seven-years-jail-stalling-court-verdict-under-new-law
----------
Egypt jihadists: Attack on Israeli border to avenge anti-Islam film
23 September 2012
ISMAILIA, Egypt: An Islamist militant group based in Egypt's Sinai has claimed responsibility for a cross-border attack that killed an Israeli soldier in the restive peninsula where jihadi groups have gained a foothold.
Three gunmen were also killed in Friday's attack, which the group Ansar Bayt Al-Maqdes said was in response to an anti-Islam film that has sparked worldwide protests and violence. A second Israeli soldier was wounded in the attack.
There have been at least four such cross-border raids in just over a year in the area where security lapsed after the uprising that overthrew Hosni Mubarak last year.
Egypt's army and police launched a security sweep after a raid that killed 16 Egyptian border guards in August.
Full report at:
http://www.arabnews.com/egypt-jihadists-attack-israeli-border-avenge-anti-islam-film
-------
Saudi Ministry of Health announcement on Corona virus
23 September 2012
JEDDAH: Saudi Ministry of Health announced Sunday that a new form of the corona virus was diagnosed in three people causing the death of two of them; the third is still undergoing treatment.
The Ministry explained that, with the rapidly changing weather at this time of the year and with the start of the Hajj season a new strain of corona virus has been recovered from 3 patients. Corona viruses are considered to be one of the common etiological agents of the common cold. The first case was a Saudi patient diagnosed in one of the hospitals in Jeddah; the second was a Saudi patient and the third a Gulf State patient both diagnosed in London, England. Two of the patients passed away (God bless their souls) and the third patient is still under treatment.
Full report at:
http://www.arabnews.com/saudi-ministry-health-announcement-coronavirus
----------
Mideast Asia
Sunni-Shia clashes claim 12 lives in Yemen
23 September, 2012
SANAA: Twelve fighters were killed in northern Yemen on Saturday in ongoing clashes between Shia tribesmen allied with the country's former leader and ultraconservative Sunnis, security officials said, as the new president grapples with challenges to his authority.
Tensions have long existed between Salafi Islamists, who are Sunni Muslims, and former Hawthi rebels, who are Shia Muslims. Nearly 200 people died in fighting late last year between the two sides in northern Saada province.
The latest clashes in neighboring Amran province revealed a new alliance between Hawthis and loyalists of former President Ali Abdullah Saleh, whom the group fought in a costly six-year war until a cease-fire was reached in early 2010.
They also underline the larger regional rivalry between Iran and Saudi Arabia for influence in northern Yemen, an impoverished nation on the southern tip of the Arabian Peninsula, at the doorstep of several oil-producing Gulf nations.
Full report at:
http://dawn.com/2012/09/23/sunni-shia-clashes-claim-12-lives-in-yemen/
----------
Iran lawmaker accuses IAEA of passing nuclear secrets to Israel
September 23, 2012
DUBAI: A senior Iranian lawmaker accused the head of the United Nations' nuclear watchdog Sunday of passing confidential information about Iran's nuclear activities to Israel.
In the latest sign of strained relations with the International Atomic Energy Agency, Javad Jahangirzadeh, a member of parliament's presiding board, said IAEA chief Yukiya Amano would be to blame if Iran reduced its ties with the body.
"Amano's repeated trips to Tel Aviv and asking the Israeli officials' views about Iran's nuclear activities indicates that Iran's nuclear information has been disclosed to the Zionist regime (Israel) and other enemies of the Islamic Republic," Jahangirzadeh was quoted as saying by Iran's English-language Press TV.
Full report at:
http://www.dailystar.com.lb/News/Middle-East/2012/Sep-23/188940-iran-lawmaker-accuses-iaea-of-passing-nuclear-secrets-to-israel.ashx#ixzz27Iaox2aJ
----------
Israelis fear PM is meddling in U.S. politics
23 September, 2012
It is a taboo for Israeli leaders to give even the slightest hint of favouritism in politics in the U. S., Israel's closest ally. So some Israelis are squirming over a perception that their Prime Minister is siding with Republican Mitt Romney in the presidential race, in the belief he will take a harder line on archenemy Iran if elected.
With President Barack Obama holding a narrow lead in opinion polls, Benjamin Netanyahu's perceived strategy looks risky to Israelis who fear their alliance with the U.S. could be in trouble if the incumbent wins. "If our Prime Minister doesn't get along with their leader, it will hurt our relations," said Shai Hugi (20), a car rental clerk in Jerusalem. "The US is Israel's best ally, and it's always good that you have a strong friend behind you."
Full report at:
http://www.thehindu.com/news/international/israelis-fear-pm-is-meddling-in-us-politics/article3927148.ece
----------
Iran accuses Siemens of nuclear sabotage
Sep 23, 2012
TEHRAN: Iran accused the Germany company Siemens on Saturday of implanting tiny explosives inside equipment the Islamic Republic purchased for its disputed nuclear programme, a charge the technology giant denied.
Prominent lawmaker Alaeddin Boroujerdi said Iranian security experts discovered the explosives and removed them before detonation, adding that authorities believe the booby-trapped equipment was sold to derail uranium enrichment efforts. "The equipment was supposed to explode after being put to work, in order to dismantle all our systems," he said. "But the wisdom of our experts thwarted the enemy conspiracy."
Full report at:
http://timesofindia.indiatimes.com/world/rest-of-world/Iran-accuses-Siemens-of-nuclear-sabotage/articleshow/16509455.cms
----------
Iran Denies Hacking Into American Banks
2012/09/23
DUBAI (Reuters) - Iran denied its hackers attacked American banks, the semi-official Fars news agency reported on Sunday, following a Reuters report that three of the largest American lenders were repeatedly targeted over the past year.
The hacking of websites and corporate networks at Bank of America Corp, JPMorgan Chase & Co and Citigroup Inc began in late 2011 and escalated this year, people familiar with the situation told Reuters.
"We officially announce that we haven't had any attacks," Head of Iran's civil defense agency Gholam Reza Jalali told Fars, when asked about the report.
Full report at:
http://www.nytimes.com/reuters/2012/09/23/business/23reuters-iran-cyberattacks-
-------
Turkish 'coup plotters' jailing a warning to army
FULYA OZERKAN
23 September 2012
A Turkish court's landmark conviction of some 300 military officers accused of plotting to oust an elected government sends a stark warning to the armed forces, whose dominance may have reached its end, according to analysts.
The civilian court sentenced at least 325 officers to prison terms ranging from 12 to 20 years, at the end of a two-year trial that finally ruled that an army exercise in 2003, named "Sledgehammer," was an undercover coup plot.
The verdict brought a divided emotional reaction across the political spectrum in Turkey, which has seen four coups in half a century with none of their perpetrators yet convicted.
"Even the mightiest of commanders are now being held accountable in courts. That is a positive development," Deniz Zeyrek, Ankara bureau chief of the daily Radikal, said.
Full report at:
http://www.arabnews.com/turkish-%E2%80%98coup-plotters%E2%80%99-jailing-warning-army
----------
South Asia
16 Taliban killed in Afghanistan
Sep 23, 2012
KABUL: A total of 16 Taliban militants have been killed and 24 other suspects detained in security operations in Afghanistan since Saturday, the interior ministry said Sunday.
The militants were killed during security operation launched by the Afghan police and army backed by the Nato-led coalition forces, Xinhua quoted the ministry as adding.
The raids were carried out in the provinces of Faryab, Zabul, Wardak, Logar, Ghazni, Paktiya and Helmand.
http://timesofindia.indiatimes.com/world/south-asia/16-Taliban-killed-in-Afghanistan/articleshow/16515134.cms
----------
Top Chinese official visits Afghanistan in a rare visit
Sep 23 2012
Beijing : A top Chinese security official has made a surprise visit to Afghanistan, the first leader from the country to do so in nearly half a century.
Zhou Yongkang, a member of the Standing Committee of the nine member Political Bureau of the ruling Communist Party of China (CPC) Central Committee, arrived at Kabul yesterday.
In Kabul, Zhou held a meeting with Afghan President Hamid Karzai.
"It is in line with the fundamental interests of China and Afghanistan to strengthen a strategic and cooperative partnership, which is also conducive to regional peace, stability and development," Zhou was quoted as saying in a written statement released by the Chinese delegation upon his arrival.
Full report at:
http://www.indianexpress.com/news/top-chinese-official-visits-afghanistan-in-a-rare-visit/1006664/
----------
Radicalisation threatens tourism says Former Maldivian President
By JJ Robinson | September 22nd, 2012
Former President Mohamed Nasheed has told UK media that growing concessions towards Islamic radicalisation in the Maldives could threaten the country's upmarket tourism industry.
"I think that is the direction we are going. They are talking about alcohol-free resorts, about getting non-drinking tourists to come in from Iran. I can easily imagine holidaymakers being prosecuted for kissing in public, as in some Muslim countries," Nasheed told the UK's Telegraph newspaper. The former president also noted recent calls from the country's Ministry of Islamic Affairs to ban mixed-gender dancing, and dancing by adolescent girls.
"If the country is being radicalised every day, then the staff in the resorts, and their families, are being radicalised also. That must have some impact on the resorts in the medium and long term," Nasheed warned.
Full report at:
http://minivannews.com/politics/radicalisation-threatens-tourism-nasheed-tells-uk-press-44209
----------
Maldivian Religious Party asks not to negotiate with GMR
By Mariyath Mohamed | September 20th, 2012
The religious Adhaalath Party called on President Mohamed Waheed Hassan and other coalition parties to not conduct any communication with Indian infrastructure giant GMR which might disrupt the government's push for airport nationalisation.
This call comes in connection with the visit of GMR's Chairman, G M Rao, and board members on Thursday.
Local newspaper reported that Rao and the delegation arrived on a private jet on Thursday morning at 9:00am, and had departed by 2:50pm in the afternoon.
CEO of Ibrahim Nasir International Airport (INIA), Andrew Harrison, told Minivan News that the visit was part of a regular bimonthly business review and unrelated to the current rhetoric.
"They was never any intention [for the delegation] to meet anyone from the government. Media got hold of the manifest and drew conclusions," he said.
Full report at:
http://minivannews.com/politics/adhaalath-party-called-on-government-not-to-negotiate-
----------
Teesta treaty to be sealed soon: Bangla minister
Mohua Chatterjee
Sep 23, 2012
NEW DELHI: Bucking the domestic uncertainty over the Trinamool Congress's pullout from UPA-II that may have put a question mark over the fate of two crucial pacts — Teesta water-sharing and Land Border Agreement (LBA) — visiting Bangladeshi rural development minister and general secretary of the ruling Awami League, Syed Ashraful Islam, expressed confidence here on Saturday that the accords would be sealed soon.
Islam, who was here at the invitation of rural development minister Jairam Ramesh, said "The climate has changed and both the treaties will be completed soon."
He met a cross-section of political leaders, ministers and government officials during his stay here since September 18.
Full report at:
http://timesofindia.indiatimes.com/india/Teesta-treaty-to-be-sealed-soon-Bangla-minister/articleshow/16509104.cms
----------
22 Bangladeshi nationals sentenced to two-year jail term
IBOYAIMA LAITHANGBAM
23 September, 2012
In a landmark ruling, the court of the Chief Judicial Magistrate, Imphal East sentenced 22 Bangladeshi nationals to two-year prison terms on Thursday. They were further ordered to pay Rs. 10,000 each as fine. In case of default, each prisoner has to undergo a prison term for six more months.
The foreigners had been picked up from Hatta Golabati in Imphal East district on August 30. They had come to India without any travel documents and were eking out a living here as daily wage earners and hawking various items. The court said they were punishable under Section 14-A of the Foreigners Act, 1946.
Full report at:
http://www.thehindu.com/news/national/22-bangladeshi-nationals-sentenced-to-twoyear-jail-term/article3927196.ece
----------
Violence in Bangladesh, over 30 injured
Sep 23, 2012
Hundreds of activists of Islamic parties protesting against an anti-Islam film on Saturday defied a ban on rallies in Bangladesh and clashed with riot police, who fired tear gas and used batons to disperse stone-pelting demonstrators leaving at least 30 people injured. The protest came on the eve of a nationwide shutdown called by a coalition of 12 small Islamic groups, whose 40 activists were arrested while they were trying to carry out a demonstration against the anti-Islam film.
http://timesofindia.indiatimes.com/world/south-asia/Violence-in-Bangla-over-30-injured/articleshow/16509589.cms
----------
"Time for everyone to tighten their belts": Maldivian Minister Jihad
By Neil Merrett | September 20th, 2012
Minister of Finance and Treasury Abdulla Jihad has said the state must brace to enact austerity measures in the long-term if authorities are to address the country's fiscal deficit – with further budget cuts anticipated in all government departments over the next 12 months.
Jihad has told Minivan News that previous commitments by government institutions to cut their budgets by 15 percent would need to be followed by further reductions to state and civil service spending in next year's budget, regardless of financial assistance secured from China and India.
Full report at:
http://minivannews.com/politics/time-for-everyone-to-tighten-their-belts-finance-minister-jihad-44115
--------
Africa
At least three killed in Nigeria Catholic church suicide blast
September 23, 2012
A suicide blast near a Catholic church in northern Nigeria on Sunday killed at least three people and badly wounded several others, the police commissioner in Bauchi state told AFP.
"So far, we have three dead from the explosion at the St. John's Catholic Church. Some others were
badly injured," police chief Steve Opitoju said of the blast in Bauchi city. The bomber also died in the attack.
http://www.hindustantimes.com/world-news/Africa/At-least-three-killed-in-Nigeria-suicide-blast/Article1-934442.aspx
----------
Somali MP shot dead in latest militant attack
September 23, 2012
A gunmen shot dead a Somali lawmaker on Saturday, witnesses said, the first assassination of a member of the war-torn country's newly appointed parliament. The unidentified assailants fired several shots at Mustaf Haji Mohamed shortly after evening prayers in Mogadishu's Waberi district,
the latest in a wave of militant attacks since the assembly elected President Hassan Sheikh Mohamud on September 10.
Full report at:
http://www.hindustantimes.com/world-news/Africa/Somali-MP-shot-dead-in-latest-militant-attack/Article1-934302.aspx
----------
200 Islamists surrender in Somalia
23 September, 2012
More than 200 fighters from the Islamist militant group al-Shabaab surrendered Saturday in Somalia to troops from the African Union's Amisom peacekeeping force.
A statement, issued from the AU's base in Addis Ababa, said the insurgents were disarmed and taken into custody in Garsalem, about 80 kilometres from Mogadishu.
Eight militants were killed in the region in fighting before the surrender, according to the AU, which called the Saturday's capture a meaningful defeat for al-Shabaab.
United Nations refugee officials said Friday that at least 10,000 people have fled this month from Kismayo, a key Somali port city controlled by al-Shabaab, for fear of an impending battle over the area. African Union forces and militias loyal to Somalia's government have been advancing toward Kismayo.
Full report at:
http://www.timeslive.co.za/africa/2012/09/23/200-islamists-surrender-in-somalia
----------
Libya orders 'illegitimate' militias to disband
23 September, 2012
Libya's president has ordered the disbandment of "illegitimate" militias
The move is designed to assert state authority amid violence by armed groups including an assault on the US Consulate in the eastern city of Benghazi that killed the US ambassador.
In the late Saturday news conference, President Mohammed el-Megaref said a joint operations room in Benghazi will coordinate between the various authorized militia brigades and the army. He said others operating outside the "legitimacy of the state" are to be disbanded.
The decision came amid growing public anger at armed factions and Islamic extremists, resulting in the storming of some of their compounds by protesters.
But in the absence of strong security forces, the government relies on some militias to keep order.
http://www.timeslive.co.za/africa/2012/09/23/libya-orders-illegitimate-militias-to-disband
----------
Islamist militia swept out of Libya bases
Sep 23 2012
An Islamist militia was driven out of Benghazi early on Saturday in a surge of protest against the armed groups that control large parts of Libya more than a year after the overthrow of Muammar Gaddafi.
A spokesman for Ansar al-Sharia said the group had evacuated its bases in Benghazi to preserve security.
In a dramatic sign of Libya's fragility, after sweeping through the base, the crowd went on to attack a pro-government militia, believing them to be Islamists, triggering an armed response in which at least 11 people were killed and more than 60 wounded.
Ansar al-Sharia has been linked to the attack on the US consulate in Benghazi last week in which the US ambassador to Libya and three other Americans died, although the group denied involvement.
Full report at:
http://www.indianexpress.com/news/islamist-militia-swept-out-of-libya-bases/1006511/
-----
Pakistan
Muslims can't' tolerate sacrilegious act against Prophet (pbuh): Nawaz Sharif
South Asian News Agency (SANA) ⋅ September 22, 2012
KOTRI, (SANA): Pakistan Muslim League-Nawaz (PML-N) President Mian Muhammad Nawaz Sharif has urged the international community to take notice of the blasphemous film, adding that Muslims can not tolerate any sacrilegious act against Holy Prophet Muhammad (peace be upon him).
While talking to PML-N President Hyderabad Division Khalid Aziz Arain and Jamal Arif Sahrwardi on telephone here on Saturday, Nawaz Sharif said that respect of all religions is necessary at the international level, adding that, adding that the United Nations should formulate law in this regard. He said that the Muslims could give last drop of blood for the protection of the honor of the Prophet Muhammad (PBUH).
Full report at:
http://www.sananews.net/english/muslims-can%e2%80%99t%e2%80%99-tolerate-sacrilegious-
--------
President Zardari to move UN over profane film
23 September, 2012
KARACHI: President Asif Ali Zardari is to arrive in New York on Sunday to lead the Pakistani delegation at the 67th session of the UN General Assembly in which over 120 world leaders are expected to participate.
The President will raise Pakistan's concerns at the United Nations over the profane film disrespecting the Holy Prophet (PBUH), senior Pakistan People's Party (PPP) leader and Governor Punjab Sardar Latif Khan Khosa told reporters on Saturday.
President Zardari will address the 193-member assembly on Tuesday when the high-level debate begins.
Full report at:
http://dawn.com/2012/09/22/president-zardari-to-move-un-over-profane-film/
----------
Pakistan condemns bounty on anti-Islam filmmaker
Sep 23, 2012
ISLAMABAD: The Pakistan government has condemned a minister's announcement of a $100,000 reward for killing the filmmaker of an anti-Islam US film, Dawn reported on Sunday.
The movie's 14-minute trailer posted on YouTube has evoked protests in various parts of the country and the Muslim world.
Pakistan Prime Minister Raja Pervez Ashraf's spokesperson Shafqat Jalil told the BBC the government "absolutely disassociated" itself from comments by railway minister Ghulam Ahmad Bilour.
The film, produced in the US, has led to a wave of angry protests in the Muslim world and many deaths.
Full report at:
http://timesofindia.indiatimes.com/world/pakistan/Pakistan-condemns-bounty-on-anti-Islam-filmmaker/articleshow/16515275.cms
----------
Muslim caretaker for Karachi's Hindu crematorium
Yudhvir Rana
Sep 23, 2012AMRITSAR: For the past 30 years, a Muslim has been giving company to the bereaved who come to cremate their dead at Karachi's Hindu Shamshan Ghat.
Sixty-five-year-old Murad Baksh, who is the caretaker of the Sompuri Shamshan Ghat, has been assisting the Hindu priest maintain the crematorium properly.
Every morning he comes to the Ghat and sweeps it clean. He is also helped by two of his nephews - Akbar and Parvez - in setting the funeral pyre, lighting the diyas and incense sticks in a small temple with idols of Hindu deities.
"Around 5-15 bodies come to the crematorium every month and I take care of everyone," he said while talking to TOI over phone from Karachi on Saturday.
Full report at:
http://timesofindia.indiatimes.com/india/Muslim-caretaker-for-Karachis-Hindu-crematorium/articleshow/16509438.cms
----------
Beheaded bodies of two Baloch youth found
23 September, 2012
Balochistan: As the UN Working Group on Enforced or Involuntary Disappearances was preparing about to complete their 10 days visit to Pakistan and Balochistan, two decapitated bodies of previously abducted Baloch were found in Basima area on Wednesday (19 September 2012).
According to details the Levies Force officials acting on a tip-off recovered two bodies from Basima area of Washuk district and shifted them to a state-run hospital for autopsy. The victims were identified as Aziz Sumalani and Muhammad Khan Sumalani, hailing from Naal area of Khuzdar district. They had been abducted a few days earlier their brutal murder.
It is widely suspected that the victims were abducted by the proxy death squads of the state's military. Eye-witnesses say that throats of both men were slit and their heads were severed from their bodies. The civilian death squads of Pakistan military on several occasions have accepted responsibility of abducting and killing of pro-liberation Baloch activists. Pakistan army and its hired gangs, who call themselves vanguards of religion, often accuse the activists of Baloch Independence movement as anti of state and Islam.
--------
Only Pakistan protested against 'anti-Islam' film on state level: Minister for I&B
23 September, 2012
LALAMUSA: Federal Minister for Information and Broadcasting, Qamar Zaman Kaira has said the government of Pakistan is the only one across the world which protested against the sacrilegious film at state level.
Talking to media and various delegations at Dera Kaira on Saturday, Kaira said the prime minister had announced a public holiday on Friday to observe 'Youm-e-Ishq-e-Rasool' for registering protest at federal capital and four provincial capitals including Azad Kashmir and Gilgat-Baltistan against 'anti-Islam film'.
Full report at:
http://dawn.com/2012/09/23/only-pakistan-protested-against-anti-islam-film-on-state-level-kaira/
----------
Mardan Christians unhappy with security
Zahir Shah Sherazi
23 September, 2012
MARDAN: The Christian community of Mardan, on Saturday, demanded reconstruction of the Paul Lutheran Church which was burnt down by angry mob during the anti-Islam film demonstrations in the cantonment area on Friday.
The Christian community staged a demonstration near the burnt church and said that the police had failed to protect their worship place when angry protestors set the church on fire along with two Pastor houses and the adjacent head-teacher's house.
Vice president of the church Andaryat, speaking to reporters in Mardan, on Saturday said that the Christian community equally condemn the sacrilegious film and demand action against the pastor and the filmmaker.
Full report at:
http://dawn.com/2012/09/22/mardan-christians-unhappy-with-security-demand-reconstruction-of-burnt-church/
----------
Better understanding with US on drones, says Hina Rabbani Khar
By Huma Imtiaz
September 23, 2012
WASHINGTON: Wrapping up her first official visit to the US capital, Foreign Minister Hina Rabbani Khar said she feels there is a better realisation in the US regarding the negative fallout of drone strikes in Pakistan.
Speaking to reporters at a press conference at the Embassy of Pakistan, Foreign Minister Khar said the mission had detailed and frank discussions with the members of the US administration on drones, and reiterated Pakistan's position that they are illegal and counterproductive.
Khar said the reason they were counterproductive is that when US drones carry out strikes, Pakistani officials have to hear remarks that this is the US' war.
Khar said she felt there was better convergence between the US and Pakistan on issues of counter-terrorism and Afghanistan.
Full report at:
http://tribune.com.pk/story/441107/better-understanding-with-us-on-drones-says-hina-rabbani-khar/
----------
Pak PM announces Rs 600 mln relief package for Balochistan flood victims
23 September, 2012
NASEERABAD: Prime Minister Raja Pervaiz Ashraf said that Balochistan province was the most affected region during the recent floods and rains in the country, DawnNews reported.
Speaking to media representatives in Naseerabad, the prime minister said that the recent rains in the country have caused devastation on a very large scale.
He said that the government was making all possible efforts to reach out and provide relief to the flood victims.
Full report at:
http://dawn.com/2012/09/23/pm-announces-rs-600-mln-relief-package-for-balochistan-flood-victims/
----------
2 Pakistanis stabbed near Greek anti-racist demo: police
Sep 23 2012
Athens : Two Pakistani immigrants were in hospital after being stabbed on the margins of an anti-racism rally on the outskirts of Athens, police said.
One of them was said to be in a serious condition.
The attack, in the western suburb of Metamorfossi, came yesterday after the end of the demonstration, in which about 300 people were protesting racist violence.
A motorbike and a car stopped in front of the men and a group of people got out and attacked them with knives. A third Pakistani immigrant with them at the time escaped unhurt, said police.
Full report at:
http://www.indianexpress.com/news/2-pakistanis-stabbed-near-greek-antiracist-demo-police/1006663/
----------
Reversing 'negative narrative' key to resolve issues with India: Hina
23 September, 2012
Building trust by reversing the "negative narrative" of six decades is the key to resolve core issues with India, including Jammu and Kashmir, Pakistan Foreign Minister Hina Rabbani Khar has said, pointing out that efforts to normalise trade was a step in that direction.
In her address to a prominent American think tank in Washington, Ms Khar said this is what Pakistan's civilian government has been trying to do single-mindedly for the last four years.
"One thing is clear that we would not be able to achieve peace within if we are not able to find peace on our borders with our neighbours. Therefore the (need to) change in mindset of an approach to a neighbour with which we particularly had hostile relations," Ms Khar told a select audience at the Council on Foreign Relations.
Full report at:
http://www.thehindu.com/news/international/reversing-negative-narrative-key-to-resolve-issues-with-india-hina/article3926639.ece
----------
Pak to grant MFN status to India by end of 2012
September 22, 2012
India and Pakistan are all set to see a new era on the trade front, as Pakistan has assured to dismantle the negative list by October end and also grant Most Favoured Nation (MFN) status to India by end of 2012.
This was disclosed by Indian Commerce scretary SR Rao, who returned
back to India after holding talks with his Pakistani counterpart Munir Qureshi.
Talking to the media persons after reaching India, Rao said, "It was a very successful visit and key decisions were taken that would go a long way in trading and commercial relations of both countries.
Full report at:
http://www.hindustantimes.com/India-news/NorthIndia/Pak-to-grant-MFN-status-to-India-by-end-of-2012/Article1-934137.aspx
----------
Pak riots cost: Rs. 42 billion
Imtiaz Ahmad
September 22, 2012
The economic cost of the riots that erupted in Pakistan on Friday to protest an anti-Muslim film may be as high as Rs76 billion (R42.84 billion), local business associations have warned. As the country picked up the pieces of the rioting and mayhem on Saturday, the government said that
more than 130 persons were arrested and would be sent to anti-terrorism courts in Karachi and Lahore.
Full report at:
http://www.hindustantimes.com/world-news/Pakistan/Pak-riots-cost-Rs-42-billion/Article1-934203.aspx
----------
185 face trial for riots over hate film
23 September, 2012
KARACHI: Courts in Rawalpindi, Karachi and Lahore granted remand of at least 185 people on Saturday in cases pertaining to riots and arson attacks that took place during the protests against the anti-Islam film made in the United States.
Twenty-three people lost their lives in Karachi and Peshawar while over 200 were injured on Friday across the country as the government-designated "day of love for Holy Prophet (peace be upon him)" saw protests and demonstrations turn anarchic.
Courts in Rawalpindi sent 77 suspects to Adiala jail on a 14-day judicial remand while in Karachi, at least 72 suspects were remanded in police custody by an anti-terrorism court and a judicial magistrate on charges of torching cinemas, banks, police vans, attacking policemen and destroying public as well as private properties.
Full report at:
http://dawn.com/2012/09/23/185-face-trial-for-riots-over-hate-film/
----------
Law making: Mental Health Legislation in Pakistan
By Dr Muzaffar Husain
23 September, 2012
There is a need to initiate a meaningful discussion on the need for mental health legislation in Pakistan, with special reference to the Sindh Mental Health Bill of 2012, currently being considered by the government of Sindh.
My main interest is with the mentally disordered patient, commonly referred to as 'madman', 'pagal', or 'charya'. I have used these immensely distasteful and stigmatising colloquial expressions to emphasise the social ostracism and the desperate plight of this extremely vulnerable group of our compatriots. There is an urgent need to enact legislation for this group of citizens, who deserve both protection from others, and treatment for the mental disorder they suffer from, which renders them unable to seek medical treatment for themselves.
Full report at:
http://dawn.com/2012/09/23/law-making-mental-health-legislation-in-pakistan/
----------
Cinemas' loss shocks art fraternity
Peerzada Salman
23 September, 2012
KARACHI, Sept 21: The burning of five cinema halls by a mob on Friday shocked not just the people associated with the business but the art fraternity in general.
It strengthened the view held by sceptics who have felt that the space for creative expression and artistic representation is increasingly shrinking in Pakistan.
Film exhibitor, distributor and owner of one of the cinemas that were set on fire Nadeem Madviwalla said: "I don't know why the government announced that day (reference to the public holiday). It baffles me.
"The government has completely failed to protect everybody. You see, there isn't protection for anyone. It is confusing as to why every time they allow the mob to enter M.A. Jinnah Road. It's not for the first time. It's nothing new. This provides miscreants an opportunity to do as they please. Incidents like these on M.A. Jinnah Road have become a regular occurrence.
Full report at:
http://dawn.com/2012/09/22/cinemas-loss-shocks-art-fraternity/
----------
Southeast Asia
Indonesian President to Propose Protocol vs Religious Defamation at UN Assembly
September 23, 2012
President Susilo Bambang Yudhoyono has reiterated his plan to propose an international protocol against religious defamation to prevent conflicts and maintain world peace during the upcoming UN General Assembly meeting.
Speaking at a press conference before leaving for New York to attend the UN meeting on Saturday, Yudhoyono said an international protocol on anti-religious defamation was needed to anticipate negative developments, such as those seen recently.
"Indonesia has a moral obligation to convey its view and appeal, and probably also participate in, creating an international protocol on how we could prevent or reject actions or initiatives that could be categorized as denigrating a religion, any religion," he said.
Full report at:
http://www.thejakartaglobe.com/news/sby-to-propose-protocol-vs-religious-defamation-at-un-assembly/545980
---------
Indonesia Police Arrest 10th Terror Suspect in Solo
September 23, 2012
Indonesia's anti-terror squad arrested another terrror suspect on Sunday, bringing to 10 the Islamic militants arrested over the weekend, police said on Sunday.
Eight suspects were arrested Saturday in Central Java's Solo town and a ninth in West Kalimantan on the island of Borneo, national police spokesman Brig. Gen. Boy Rafli Amar said.
The 10th suspect, Joko Parkit, was arrested on Sunday in Solo. Parkit's brother, Eko Joko Supriyanto, was shot to death by police in 2009 during raids seeking Southeast Asia's most wanted Islamist militant, Noordin M. Top. Noordin was killed by police a year later.
Amar said two of those arrested, Badri Hartono and Rudi Kurnia Putra, worked to recruit young men and taught at least one member of the group how to make bombs.
Full report at:
http://www.thejakartaglobe.com/home/indonesia-police-arrest-10th-terror-suspect-in-solo/546025
----------
Indonesian Domestic Workers in Syria in Need of Repatriation
September 23, 2012
Thousands of Indonesian domestic workers in crisis-hit Syria need help to get back home, activists say.
"We wrote to the government in June to bring the suffering of migrant workers in Syria to their attention," Anis Hidaya, executive director of Migrant Care, a Jakarta-based NGO campaigning for migrant workers' rights, told IRIN. "Today we demand the government protect its citizens and repatriate all those in danger."
In Indonesia, families of women and girls working in Syria continue to receive reports about the dire circumstances of their loved ones, including abandonment by employers. These women are particularly vulnerable to abuse in Syria, says Hidaya.
Full report at:
http://www.thejakartaglobe.com/home/indonesian-domestic-workers-in-syria-in-need-of-repatriation/545997
----------
Activists remember Gus Dur for pluralism amid current strife
September 22 2012
Mindful of an increasing number of incidents of religious intolerance in the nation, activists are commemorating late president Abdurrahman "Gus Dur" Wahid, known as the smiling cleric and a champion of pluralism.
The activists gathered on Friday, in observance of the UN's International Day of Peace, to commemorate the death of the late president, who was a leader of the nation's largest Muslim social organization, Nahdlatul Ulama (NU).
Attendees at the event heard speakers say how the ideas of Gus Dur were much needed to counter growing religious intolerance, while others hailed the late president as a peacemaker.
Full report at:
http://www.thejakartapost.com/news/2012/09/22/activists-remember-gus-dur-pluralism-amid-current-strife.html
----------
Europe
UN slams assassination of Somali legislator
23 September 2012
NAIROBI, Kenya: The UN's representative to Somalia on Sunday condemned the killing of a Somali member of parliament.
Politician Mustafa Haji Maalim was killed by gunmen on Saturday, the UN said. Al-Shabab claimed the attack Sunday through its Twitter account.
The Al-Qaeda-linked militant group has been fighting the Somali government for nearly five years. Africa Union forces pushed Al-Shabab out of Mogadishu in August 2011 but the militants have continued to carry out suicide attacks in the capital. Government figures in Somalia are frequently targeted for death.
Full report at:
http://www.arabnews.com/un-slams-assassination-somali-legislator
----------
Louvre opens Islamic art wing to the public
September 22, 2012
PARIS: Paris's famed Louvre museum on Saturday opened to the public a new wing of Islamic art in a bid to improve knowledge of a religion often viewed with suspicion in the West.
Costing nearly 100 million euros ($131 million), it is funded by the French government and supported by handsome endowments from Saudi Arabia, Morocco, Kuwait, Oman and Azerbaijan.
About 3,000 precious works from the seventh to the 19th centuries are spread across 3,000 square metres (33,000 square feet) over two levels.
The project, inaugurated by President Francois Hollande on Tuesday, groups 18,000 treasures from an area stretching from Europe to India and includes the oldest love letter in the Islamic world.
Full report at:
http://tribune.com.pk/story/440872/louvre-opens-islamic-art-wing-to-the-public/
----------
Peaceful protests in Germany
Sep 23, 2012
Around 1,500 people staged a peaceful protest in the western German city of Dortmund on Saturday against an anti-Islam film that has enraged Muslims around the world, police said. A police spokesman said the demonstrators, including many families with children, marched through the city centre and ended the protest with a rally.
http://timesofindia.indiatimes.com/world/europe/Peaceful-protests-in-Germany/articleshow/16509580.cms
----------
France deploys riot police to ban rallies
Sep 23, 2012
PARIS: Riot police were deployed in several areas of Paris on Saturday to enforce a ban on protests over an anti-Islam film or against a French magazine that published controversial cartoons. Squads were positioned near the city's Grand Mosque and on the Place de la Concorde, where a week ago an unauthorized demo about the film led to police making 150 arrests.
Full report at:
http://timesofindia.indiatimes.com/world/europe/France-deploys-riot-police-to-ban-rallies/articleshow/16509552.cms
----------
Man gets 3months' jail for embassy protest
Sep 23, 2012
A French court has convicted a man for carrying a weapon at an illegal demonstration in front of US embassy protesting a video that protesting Muslims say insulted the Prophet Muhammad. The 24-year-old was sentenced to three months in prison.
http://timesofindia.indiatimes.com/world/europe/Man-gets-3months-jail-for-embassy-protest/articleshow/16509533.cms
-------
URL: https://www.newageislam.com/islamic-world-news/new-age-islam-news-bureau/head-of-global-ahmadi-community-says-anger-of-muslims--fully-justified-/d/8765