New Age Islam News Bureau
11 Oct 2018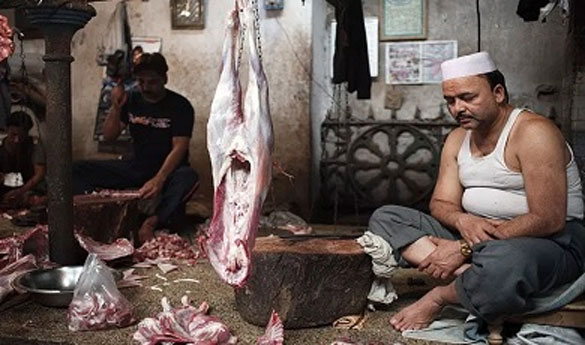 Photo: "Will forcibly close meat shops", Muslim traders seek protection from Police
-------
• Hardliners threaten judges as Pakistan awaits blasphemy ruling
• "Will forcibly close meat shops", Muslim traders seek protection from Police
• China revises controversial anti-terror regulations
• Egypt Deploys Café Clerics To Fight Radical Islam
Pakistan
• Hardliners threaten judges as Pakistan awaits blasphemy ruling
• Violence-related incidents claim 67 lives in Sept, says PIPS
• Pakistan appoints new head of powerful intelligence agency, ISI
• SC refuses to seek help on flow of divergent views from court
• Pakistan, Afghanistan urged to sign treaty on Kabul River water
• Tharis put heads together to find causes of growing suicide trend
• Senator announces to boycott in camera meetings to discuss blasphemy law
• Pakistan, US agree to engage Saudi Arabia for Afghan peace process
• PM Khan launches 'Naya Pakistan Housing Program'
--------
India
• "Will forcibly close meat shops", Muslim traders seek protection from Police
• Stopped From Placing Kali Idol in Temple, 50 Dalit Families in Meerut Threaten to Convert to Islam
• Muslim man pressurized by neighbour to become Hindu
• Migrants are safe in Muslim dominated areas in Gujarat: Milli council
• Maulana Shaukat Ali Road: Famous for eateries and hardware stores, it was once epicentre of Khilafat Movement
• Delhi teacher suspended for placing Hindu, Muslim boys in different classes
• Jalandhar: Three Kashmiri students held in Punjab, police say terror links
--------
Southeast Asia
• China revises controversial anti-terror regulations
• Search and rescue operations called off following Indonesian quake-tsunami
• China region gives legal basis for Muslim internment camps
--------
Arab World
• Egypt Deploys Café Clerics To Fight Radical Islam
• Mass grave of 1,500 Daesh victims discovered in northern Syria
• US senators trigger human rights probe over missing Saudi journalist
• Tahrir Al-Sham Wants Retreat Deadline Delayed
• Terrorists Attack Syrian Army in Aleppo after Claiming Withdrawal from Demilitarized Zone
• Kurdish Militias Fortify Positions in Northeastern Syria to Counter Turkish Threats
• Syrian Army Sends More Troops, Equipment to Sweida Deserts to End ISIL's Presence
• Al-Nusra Commander's Senior Saudi Aide Killed in Northwestern Syria
• Qatar accused of 'undermining Palestinian Authority' through fuel move
• Syria writes to UN to condemn Israel jail sentence of Syrian man in Golan
• Lebanese security forces arrest Daesh-linked minor
--------
South Asia
• More than 8,000 Afghan civilians killed, wounded so far in 2018, UN reports
• 75 Taliban militants including their 5 commanders join peace process in Nangarhar
• 'Islamic terrorism threat to progressive Bangla thinkers'
• Khaleda Zia's son gets life in jail for plot to kill Sheikh Hasina
• The world decries Myanmar's Rohingya abuses. Myanmar's reply: Denial, defiance and propaganda.
• Recent honor killings likely linked to scandalous videos of Mullah Landay
• Taliban commander leading a group of 50 militants killed in Faryab airstrike
• Bangladesh opposition leader gets life over 2004 attack
--------
Europe
• Muslim London: 423 new mosques, 100 Shariah courts
• The legal links between Europe and the Islamic world
• ISIS Britons could return home without facing charges
• Germany open to selling arms to Saudis despite Yemen war: report
• Global media and Muslims: Selective coverage, selective outrage
• UK FM Hunt bashes Saudis over fate of missing Saudi journalist
• White Helmets, Nusra Front's chlorine canisters end up in Daesh's hands: Russia
• Counter-extremism chief attacks Tommy Robinson soldier photo
--------
Mideast
• Erdogan says Turkey-US deal on Syria's Manbij delayed but 'not dead'
• Israeli forces demolish 2 more Palestinian homes in al-Khalil
• Demilitarized zone around Syria's Idlib set up, Turkey says
• Belgium charges Iranian diplomat with planning bomb attack
• Nine dead, 25 missing as migrant boat sinks off western Turkey
• Griffiths holds Yemen talks in Riyadh, heads to Muscat to resume peace efforts
• Yemeni ballistic missile hits military base in Saudi Arabia's Asir: Report
--------
Africa
• Boko Haram terrorists kill 8 Chadian soldiers
• Libya 'shoots at' Italy fishing boats, detains crew
• Dozens of bodies found in mass grave in western Libya
• Al-Shabab executes 5 'spies' in Somalia and kills 2 teachers in Kenya
• Nigeria's envoy addresses UN on Boko Haram
--------
North America
• Muslim 'FBI' star advocates for better TV representation
• US says no Syria reconstruction aid if Iran stays
• Muslim group 'disappointed' that Lee campaign reportedly wanted Dean photographed at 'Muslim event'
• Expelled Canadian ambassador to Saudi Arabia says Canada made a mistake
• Kushner, Bolton, Pompeo talk to Saudi prince over journalist's possible assassination
• How Muslims Became the Enemy
Compiled by New Age Islam News Bureau
URL: https://www.newageislam.com/islamic-world-news/hardliners-threaten-judges-pakistan-awaits/d/116605
--------
Hardliners threaten judges as Pakistan awaits blasphemy ruling
October 10, 2018
Islamabad, Oct 10 (AFP) Religious hardliners in Pakistan Wednesday threatened judges and announced protests as the country awaits a Supreme Court ruling on the fate of a Christian woman who faces becoming the first person to be executed for blasphemy.
Asia Bibi, who has been on death row since 2010, is at the centre of the high-profile case which has divided Pakistan and drawn prayers from the Vatican.
Successive appeals against her conviction have failed.
On Monday the Supreme Court heard her last appeal and said it had reached a judgement, but refused to announce it immediately "for reasons to be recorded later".
On Wednesday Tehreek-e-Labaik Pakistan (TLP), a hardline religious political party — which had a strong showing in nationwide elections earlier this year — said in a press conference aired via YouTube that if she was freed the justices responsible would meet a "horrible" end.
The group's leaders also called for mass protests on Friday.
TLP, founded in 2015, blockaded the capital Islamabad for several weeks last year calling for stricter enforcement of Pakistan's controversial blasphemy laws.
That protest forced the resignation of the federal law minister and paved the way for the group to poll more than 2.23 million votes in the July 25 general election, in what analysts called a "surprisingly" rapid rise.
Separately on Wednesday, a former spokesman for Islamabad's notorious Red Mosque moved to prevent Bibi from leaving the country by petitioning the capital's High Court to put her on the no-fly list.
That case will be heard on Friday.
"Western forces are trying to get Asia Bibi out of the country but she should be hanged," the petitioner, Hafiz Ihtesham Ahmed, told AFP.
If the court upholds Bibi's conviction, the only recourse she will have will be a mercy petition to the president.
Freedom in Pakistan, however, means a life under threat by extremists.
The mere accusation of blasphemy is so explosive in the conservative Muslim country that anyone even accused of insulting Islam risks a violent and bloody death at the hands of vigilantes. (AFP) ZH ZH
https://www.india.com/news/agencies/hardliners-threaten-judges-as-pakistan-awaits-blasphemy-ruling-3374364/
--------
"Will forcibly close meat shops", Muslim traders seek protection from Police
Oct 10, 2018
Gurugram: Yet, again, Muslim meat traders are being boldly threatened across Gurugram by right-wing Hindutva groups with the Navaratri period that has begun today, is triggering safety concerns among Muslims butchers in the region.
According to reports, Sanyukt Hindu Sangharsh Samiti (SHSS) Gurugram, which represents 22 Hindu groups such as the Shiv Sena, the Vishwa Hindu Parishad, and the Hindu Sena, reportedly sent a letter to deputy commissioner Vinay Pratap Singh stating they would not allow meat shops to run in this Navaratri, Tatkalnews reports.
"If any shop opens during Navratri we would close it ourselves. If any case happens due to it, we will take care of it," said Gautam Saini, Shiv Sena district head.
He also said that his team of 500 people has also been informed to take care of the matters across the city in this Navratri.
Muslim traders in the region say they have earlier put up curtains on the direction of some of the Hindu groups, but, though that being done, they have now come to threaten us with dire consequences say the meat traders.
At one place, people also hung a poster in Hindi saying, "Best wishes for Navratri from the Muslim community".
"We have put up curtains after they asked us to but despite this, now they have threatened us to shut shops during Navratri," says Tahir Qureshi, the leader of the market.
He along with other traders sought Police protection but that is yet to be confirmed.
Meanwhile Sumit Kuhar, DCP (crime), said the police will not allow anyone to forcibly shut any shop or bring harm to the Muslim community.
https://www.siasat.com/news/will-forcibly-close-meat-shops-muslim-traders-seek-protection-police-1418697/
--------
China revises controversial anti-terror regulations
October 11, 2018
BEIJING - Anti-terror efforts in controversial "reeducation centres" in China's Xinjiang region will be governed by new standardised rules, as international criticism mounts over the detention of as many one million in the restive far west.
The revised rules, passed Tuesday, call on local governments to tackle terrorism by establishing "vocational education centres" that will carry out the "educational transformation of people who have been influenced by extremism."
The centres should teach Mandarin Chinese, legal concepts and vocational training, and carry out "thought education," according to a copy of the rules posted on the regional government's web site. As many as a million people are believed to have been detained in extra-judicial detention centres in Xinjiang as authorities there seek to battle what they describe as religious extremism, separatism and terrorism.
A previous version of the rules issued in March 2017 included a long list of prohibitions on religious behaviour including wearing long beards and veils.
It also encouraged local governments to engage in "educational transformation", a term critics have described as a euphemism for brainwashing.
The detentions have mostly focused on the region's Muslim minorities, especially the Uighurs, a Turkic ethnic group that make up around half of Xinjiang's population of 22 million.
The new regulations seem aimed at standardising the centres' management, which was initially carried out piecemeal.
Beijing has denied reports of the mass detention of its citizens in camps but evidence is mounting in the form of government documents and testimonies from former detainees.
Chinese authorities have, however, said that they give vocational and language training to people guilty of minor crimes.
Testimony from people who have escaped the centres provides a much darker picture, however.
In July, a former teacher at one of the centres told a court in Kazakhstan that "in China they call it a political camp but really it was a prison in the mountains."
The announcement comes as Communist Party leaders in Urumqi, the regional capital, on Monday led cadres in swearing an oath to fight the "pan-halal trend".
Halal - Arabic for "permissible" - refers to a set of rules guiding Muslims on what is allowed according to the religion. It is frequently applied to food and drinks but also includes other personal hygiene products like toothpaste and cosmetics.
Authorities in Xinjiang have long seen the expansion of the term to include non-food items as a sign of religious extremism.
https://nation.com.pk/11-Oct-2018/china-revises-controversial-anti-terror-regulations
--------
Egypt Deploys Café Clerics To Fight Radical Islam
By Ahmed Mustapha
OCT 11 2018
Engineering graduate Ramy Mohamed's eyes turn watery from smoke as he takes a deep puff from a hookah at Cairo's Kawkab al-Sharq café. His eyes are fixed on a big TV screen; he's watching a soccer game. But earlier in the day, the 32-year-old had an unlikely contender for his attention. A cleric in a brown robe had entered the café to preach moderate Islam to patrons. What was a novel experience for most in the café may now become routine.
Stung by increasing terror attacks — including on the country's Coptic Christian community — Egypt's government and security agencies are turning to cafés to win young hearts and minds. The Waqfs (religious endowments) Ministry is banding with Cairo's famed school of Islamic learning, the Al-Azhar University, to send clerics to the country's most popular cafés. The goal? To proactively reach out with moderate lectures and cut off the supply of youth to extremist groups.
The initiative was launched in April 2017, following terrorist attacks on St. Mark's Cathedral in Alexandria and St. George Church in the Nile Delta town of Tanta on Palm Sunday, which left 44 Copts dead. But it has gained momentum only this year. Starting with cafés in Alexandria, the government and Al-Azhar have now identified about 20 cafés in each of the country's governorates, or states, that they will target. The visits won't be one-offs — clerics are visiting these cafés repeatedly on Fridays. According to Mohieldin Afifi, Secretary-General of Al-Azhar's Islamic Research Academy, clerics have already held more than 2,000 meetings at cafés nationwide. Now, the café sermons are starting in Cairo too.
Not everyone is taken by the initiative. "I don't care what he says about the hereafter. I want a job," says Mohamed bluntly about his experience with the café cleric. But to others, it's a smart move.
"It's rather like a sales strategy, as companies send cohorts of salesmen to places where consumers can be easily reached out," says 58-year-old lawyer Mohamed Abdel Halim, who has heard one of these sermons at Al-Boustan café, also in Cairo. "A café is an ideal target."
In the past, coffee and politics haven't always gone well together for Egypt's rulers. Egypt's cafés were vital political platforms ahead of the 1952 revolution that toppled the monarchy — their role captured by Nobel laureate Naguib Mahfouz in his novels. In 2011, when longtime leader Hosni Mubarak was removed from power during the Arab Spring, the airing of political dissent was common in the country's cafés. But under Mohamed Morsi, who came to power after Mubarak's ouster [but himself lost power in a 2013 public uprising], the public space for political debates shrank amid fears of less tolerance. Today, soccer matches on television and social gatherings dominate Egypt's cafés. Injecting politico-religious teachings into that ambience could bring politics back to the cafés.
But Egypt's government may have few options but to reach out to dissatisfied youth. Like Mohamed, around 800,000 new job seekers join the labor market annually, data from the state-run Central Agency for Public Mobilization and Statistics (CAPMAS) shows. Unemployment — though less than the 11.9 percent in the second quarter of 2017 — was still high at 9.9 percent the same quarter this year, according to CAPMAS.
Among the most successful industries in Egypt are the more than 1.5 million cafés in the country of 96 million people. Licensed cafés make around EGP 2 billion ($112.3 million) in net profits annually, CAPMAS data shows. That makes cafés ideal targets for sermons on moderate Islam. Sometimes up to three clerics visit one café together, says Mahmoud Ibrahim, one of the preachers who has joined the initiative.
But many experts have doubts about whether the initiative will succeed. Egypt has too many often-conflicting Islamic religious authorities, including Al-Azhar, the Waqfs Ministry and the Dar al-Ifta (the religious authority for fatwas, or edicts based on Islamic law), says Islamic researcher Maher Farghali, who calls the café clerics effort "a media show."
"There isn't an overall policy," says Farghali, nor "a long-term strategy."
Farghali points to past efforts of innovative solutions for preaching moderate Islam that he says failed because of inconsistency and chaotic planning. He cites the example of the "Fatwa Kiosks" initiative, also launched by the Waqfs Ministry. Started two years ago, the project involved installing a kiosk at each subway metro station in Cairo, where clerics would dish out fast edicts and religious opinions based on Sharia, or Islamic law. Today, the initiative is widely viewed as having failed. "The whole project was a big fiasco," says Farghali.
The key, if the café clerics initiative is to succeed, will be for the Waqfs Ministry to learn from those mistakes, says Ashraf Saad Mahmoud, a preacher. "People go to kiosks to buy newspaper(s) … but never to get a fatwa from a cleric in an underground metro station," says Mahmoud. He thinks the goal of the cafés project is great but argues that it "should have been well-studied by a special task force capable of strategic planning and management" instead of just by religious scholars and bureaucrats.
Some of that sentiment is evident with Mohamed at Kawkab al-Sharq café too. "The sheikh preached about the need to understand the true meaning of Islam," he recalls. "If I need a sermon I would go to a mosque." Mohamed also highlights the inherently secular nature of cafés, as he points to a fellow patron. "That guy over there is Hany Girgis. He is a Copt and jobless too. Should the church think of something similar? This is a café for all Egyptians. We need no clerics."
Still, Egypt needs a moderate version of Islam, says Halim, and if approached smartly with independent preachers — who aren't employees of the Waqfs Ministry — the initiative may stand a chance. "The preachers should look like ordinary people," he says.
Keeping it less formal than at a mosque is very much part of the strategy, says Ibrahim, the cleric. The meetings, he says, are "a good opportunity to talk to the young people at the places where they feel at ease."
For the moment, Mohamed is more interested in the soccer match than the sermon at the café. Changing that will prove the real test for Ibrahim and his colleagues.
https://www.ozy.com/fast-forward/egypt-deploys-caf-clerics-to-fight-radical-islam/89403
--------
Pakistan
Violence-related incidents claim 67 lives in Sept, says PIPS
OCTOBER 11, 2018
The Pakistan Institute of Peace Studies (PIPS), in its monthly security review of the country, stated that 17 terrorist attacks took place in Pakistan in September 2018, which claimed 34 lives. Out of the reported 17 attacks, 10 happened in Khyber Pakhtunkhwa (KP) and 7 in Balochistan while no act of terrorism was reported from Punjab, Sindh, AJK, and Giligit Baltistan (GB)
The report further stated that those 34 killed in the terrorist attacks included 18 personnel of security and law enforcement agencies (9 army soldiers and 9 levies soldiers), 7 civilians and 9 militants, who were killed in retaliatory fire following some attacks.
The Tehreek-e-Taliban Pakistan (TTP), Jamaat-ul-Ahrar and local Taliban groups were involved in the reported 10 terrorist attacks from Khyber Pakhtunkhwa (KP), which claimed 22 lives compared to 6 in the month before and injured 9 others, the report claimed.
The report added that in Balochistan, Baloch nationalist insurgents beefed up attacks in September 2018 after a month of relative relief. As many as 12 people lost their lives and as many others were injured in 7 reported attacks perpetrated by different Baloch insurgent groups, mainly the Baloch Liberation Army (BLA) and Baloch Republican Army (BRA).
The report continued that about 59 percent of the total reported attacks in Pakistan during September only targeted security forces and law enforcement personnel; most of the reported casualties also resulted from these attacks (71 percent of deaths and 81 percent of injuries in total terror attacks).
Posting a 125 percent increase from the month before, a total of 11 cross-border attacks happened in September 2018, including 9 from across the Indian and 2 from Afghan border. Six people were killed and another one was injured in these attacks, the report explained.
According to the report, the security agencies conducted 3 anti-militant operations and 19 militants were killed in these operations and clashes; 4 army soldiers and 2 FC men also lost their lives.
In all, 35 incidents of violence took place in Pakistan during September 2018 that claimed the lives of 67 people and injured 32 others, the report concluded.
https://dailytimes.com.pk/308745/violence-related-incidents-claim-67-lives-in-sept-says-pips/
--------
Pakistan appoints new head of powerful intelligence agency, ISI
Oct 10, 2018
ISLAMABAD: Pakistan has appointed a new leader for its powerful InterServices Intelligence service, which plays a key role in coordinating its foreign policy, including with regard to the war in neighboring Afghanistan.
The military said Wednesday that Lt Gen. Asim Munir was chosen to replace Lt General Naveed Mukhtar, who retired earlier this month. Munir previously headed Military Intelligence and was a field commander. He was awarded the Hilal-i-Imtiaz, a top medal, earlier this year.
The ISI has long maintained close ties to the Afghan Taliban and other Islamic militant groups. The United States and Afghanistan have repeatedly called on Pakistan to crack down on such militants. Pakistan says it has used its contacts to assist in peace efforts and that it has limited influence over the Afghan Taliban.
https://timesofindia.indiatimes.com/world/pakistan/pakistan-appoints-new-head-of-powerful-intelligence-agency/articleshow/66151793.cms
--------
SC refuses to seek help on flow of divergent views from court
October 11, 2018
ISLAMABAD: The Supreme Court on Wednesday declined to issue a notice to the attorney general's office when a senior counsel requested it to seek assistance for determining whether divergent and inconsistent opinions could flow from a court.
"We are not going to issue any notice, therefore, the counsel should elaborate his arguments and point out flaws in the earlier judgement," observed Chief Justice of Pakistan Mian Saqib Nisar while heading a three-judge bench.
The court had taken up a petition filed by Pakistan Muslim League-Nawaz leader Hanif Abbasi seeking review of the Dec 15, 2017 ruling that had exonerated Imran Khan in a case pertaining to alleged mis-declaration of assets. Last year the court had dismissed an application moved by senior counsel Mohammad Akram Sheikh to form a full bench of the apex court.
On Sept 27, an SC bench rejected Pakistan Tehreek-i-Insaf leader Jahangir Khan Tareen's petition that had sought a review of his disqualification through the Dec 15 verdict.
On Wednesday, Mr Sheikh highlighted that the July 28, 2017 judgement in the Panama Papers case issued by a five-judge Supreme Court bench had laid down strict liability on unintentional mis-declaration of assets by shifting the burden to prove innocence to the respondent (Nawaz Sharif).
However, in the Hanif Abbasi case the burden was shifted away from the respondent (Mr Khan), the counsel argued, adding that the Dec 15, 2017 verdict of exonerating the PTI chairman had overlooked a series of alleged non-declarations and admissions on the part of the latter. It even ignored that concise statements filed on Mr Khan's behalf amended his earlier statements.
The counsel argued that the court could not have different scales for two cases, therefore, divergent and inconsistent opinions could not be issued by the same court.
But Chief Justice Nisar observed that the Panama Papers case was different from Mr Khan's case because former prime minister Nawaz Sharif, who was disqualified for life for making mis-declarations in his nomination papers, was holder of a public office during the period concerned. Also, the Hanif Abbasi case was inquisitorial in nature.
The counsel argued that the trappings of Rule 26(1) of the Supreme Court Rules of 1980, which dealt with the review petitions, was not applicable on petitions moved under Article 184(3) of the Constitution. He recalled that the apex court had itself expressed willingness to determine the contours of Article 184(3) in some other cases.
He contended that 57 countries had promulgated laws for regulating how to revisit judgements if they were inconsistent. He argued that Mr Khan disclosed neither his own assets and liabilities nor that of his former spouse Jemima Khan.
Citing Article 17(3) of the Constitution, which guaranteed freedom of association, the counsel argued that it did not provide for any period but the apex court through its Dec 15 verdict provided a five-year term to look into the accounts of political parties. This had exposed the parties to the danger of being funded by enemy countries, even India.
But the chief justice observed that the court had provided reasons for this by stating that only the federal government had the authority to initiate such proceedings. He asked why the previous government, which belonged to the party being represented by the counsel, had failed to address the matter. At this, the counsel explained that he was a professional lawyer and had no link with the government.
Full report at:
https://www.dawn.com/news/1438237/sc-refuses-to-seek-help-on-flow-of-divergent-views-from-court
--------
Pakistan, Afghanistan urged to sign treaty on Kabul River water
October 11, 2018
PESHAWAR: Experts at a national conference here on Wednesday called for agreement between Pakistan and Afghanistan on the apportionment of the Kabul River water and warned that construction of reservoirs on the river would disturb its entire ecology.
Area Study Centre, University of Peshawar organised the daylong national conference titled "Sustainable usage of the Kabul River: Challenges and opportunities for Pak-Afghan cooperation".
Peshawar-based Afghan Counsul General Prof Moeen Marastial, UoP Vice-chancellor Dr Mohammad Asif, experts and academicians attended the conference and read out their papers.
In his opening remarks, Dr Asif said that Afghan government with the financial and technical support of India had planned construction of 12 reservoirs on the Kabul River that would generate 2400 megawatts electricity.
He said that construction of dams on the river would drastically affect agriculture sector in Pakistan, especially in Khyber Pakhtunkhwa as the water flow in three main tributaries of the river had already been declined by more than 50 per cent.
He stressed the need for having a bilateral water treaty between Islamabad and Kabul for the reasonable and equitable use of the Kabul River water.
Prof Moeen Marastial supported the idea of bilateral water treaty for having close collaboration on the usage of shared water. He said that international and regional water laws could guide the two countries in reaching to an agreement on the issue.
He said that his government was ready for negotiation with Pakistan on water issues within the framework of international conventions including Helsinki Convention.
Prof Moeen said that Afghanistan had an agreement with the Central Asian Republics over the distribution of water of the Amu River. He said that his government had also offered Iran to sign an agreement on the River Helmand.
He also emphasised improvement of trade relations between the two countries as the bilateral trade had declined recently. He said that exchange of scholars and faculty between the Area Study Centre and various universities of Afghanistan needed.
The experts said that the Kabul River played key role in irrigating lands in Peshawar, Charsadda, Nowshera and adjoining areas. They said that the river was mainly fed by the Chitral River, which was known as the Kunar River in Afghanistan.
"Differences over use of shared water of the Kabul River could be an additional irritant in future due to the lack of bilateral water agreement between the two neighbours," they said.
Full report at:
https://www.dawn.com/news/1438211/pakistan-afghanistan-urged-to-sign-treaty-on-kabul-river-water
--------
Tharis put heads together to find causes of growing suicide trend
October 11, 2018
UMERKOT: A gathering of members of civil society, representatives of district adminis­tration, bar councils and non-governmental organi­sations concluded on Wednesday that abject poverty, use of drugs, illiteracy, unem­ployment, early marriages, sale of girls into marriage, domestic violence, depression and intolerance were some of the main causes behind increasing trend of suicide in Thar.
The gathering organised by Umerkot SSP retired Captain Ameer Saud Magsi was informed by the SSP and Rain Network, a conglomerate of 29 NGOs working in the district, that as per media reports 53 persons had committed suicide during 2018 so far while 10 were saved.
Samaro taluka stood at the top of the list with 53 per cent cases of suicide, followed by Umerkot with 26pc cases, Kunri 20pc cases, and Pithoro 2pc cases. The most alarming thing was that 90pc of suicide victims were members of minority communities.
All participants in the gathering vowed to play their role to educate people and press the government to minimise the growing suicide trend.
SSP Magsi said that he would convene similar gatherings at police stations and police posts to understand the root causes of suicide and educate people. Only poverty was not responsible for suicide, there were other factors too because poverty existed in other parts of the world as well, he said.
He said that discouraging behaviours, injudicious distribution of resources, poor justice system, unawareness and lack of ownership and unattended psychological issues were also to blame for the depressing trend.
Sardar Bhayo, a representative of Rain Network, blamed depression, harassment, poverty and other factors for the trend and held the state responsible for it.
Umerkot District Bar Association chairman Poonjo Bheel pointed out that various factors were responsible for the increasing suicide cases. Growing hate and intolerance in society and seemingly inexorable poverty were major reasons behind suicides, he said.
Kashif Bajeer, provincial manager of Society for the Protection of Rights of the Child, said that due to class system, the rich were becoming richer and the poor poorer but there was no proper planning on the issue on the part of the government.
Additional Deputy Commissioner Tahir Memon said that suicide was strictly prohibited in Islam and in other religions as well. Taunts of in-laws, parents and society also contributed to the stress of a helpless person and pushed him to suicide, he said.
Full report at:
https://www.dawn.com/news/1438142/tharis-put-heads-together-to-find-causes-of-growing-suicide-trend
--------
Senator announces to boycott in camera meetings to discuss blasphemy law
Ikram Junaidi
October 11, 2018
ISLAMABAD: Jamiat Ulema-i-Islam Fazal (JUI-F) Senator Maulana Abdul Ghafoor Haideri on Wednesday announced that he will boycott meetings of the Senate Standing Committee on Information Technology if in camera meetings are held to discuss a proposed law seeking equal punishments for those convicted of blasphemy and those who make false accusations of blasphemy.
The Prevention of Electronic Crimes (Amendment) Bill 2018 was moved on the directions of Islamabad High Court after Justice Shaukat Aziz Siddiqui ordered last year during a case that those who make false accusations of blasphemy should be given the same punishment as those convicted of blasphemy.
The bill was later prepared by the government and was referred by the upper house to the committee for discussion.
Chaired by Senator Rubina Khalid, the committee decided not to discuss the bill in the absence of Information Technology Minister Dr Khalid Maqbool Siddiqui, who tabled the bill in Senate but Senator Haideri still started discussing the issue.
"The matter is being discussed in the religious circles and we are of the view that such kinds of bills should not be passed. Many people register baseless cases of theft, robberies and other crimes and people are killed in the main markets but the aggrieved families cannot prove murder because witnesses refuse to record their statements in the court," Mr Haideri said.
"Why is it that punishment has only been suggested for those who cannot prove their allegations of blasphemy and not in other cases? I assume the law is being made to ensure no one files a blasphemy case in fear of being punished," he said.
Senator Rehman Malik said that the law will stop the misuse of blasphemy law as the record shows that most blasphemy cases are registered against Muslims.
"Levelling false allegations is a big crime in Islam. I believe levelling false allegations of blasphemy is also blasphemy. I also suggest that the bill be discussed in camera due to the sensitivity of the matter," he said.
He also suggested that a clause should be added in the law for bringing blasphemers from abroad to Pakistan as most such incidents take place out of the country.
"Whenever something happens in Pakistan, representatives of other countries demand we hand over the accused to them and they cite their law. But we cannot do the same because our law does not support it," Mr Malik said.
Ms Khalid said it is the duty of all Muslims to ensure no one misuses the name of the Prophet Muhammad (PBUH).
"It has now been seen that in the case of Rimsha Masih, the allegation was made in order to get land vacated," she said.
In 2012, a Christian girl, Rimsha Masih, who was mentally challenged, was arrested in a case of blasphemy in Islamabad but the allegations proved to be false.
Retired Justice Mohammad Raza Khan, who was invited to the meeting for his opinion, said there is already a comprehensive blasphemy law in Pakistan and that there is no need for further legislation.
"I believe the government introduced the law due to the high court order. The committee can reject the bill because parliament is not bound to implement the suggestions of the high court and there is also no need for the duplication of the law," he said.
Mr Khan said the government did not want to challenge the high court decision as it did not want to get into any controversy.
Senator Fida Mohammad also suggested the matter should be discussed in camera due to its sensitivity and the committee chairperson endorsed the suggestion.
Full report at:
https://www.dawn.com/news/1438189/senator-announces-to-boycott-in-camera-meetings-to-discuss-blasphemy-law
--------
Pakistan, US agree to engage Saudi Arabia for Afghan peace process
Mateen Haider and Tahir Khan
OCTOBER 11, 2018
ISLAMABAD: Pakistan and United States have agreed to engage Saudi Arabia in pushing forward Afghanistan's political peace and reconciliation process.
Credible diplomatic sources told Daily Times that Saudi Arabia's inclusion was discussed during US Special Representative for Afghanistan Reconciliation, Ambassador Zalmay Khalilzad's day long talks with Pakistani authorities on Tuesday at the Foreign Ministry.
Saudi Arabia enjoys significant influence over Afghan Taliban and remained active in the process in the past.
Zalmay Khalilzad's appointment as Special Representative by Secretary of State Mike Pompeo is seen as a major shift in the US policy to focus on political efforts after the failure of President Donald Trump's strategy announced last year in August to defeat the Taliban militarily.
Sources maintained that Pakistani officials made it clear that they had no objection to Saudi Arabia's inclusion in Afghan peace process as it played a positive role in the past in bringing Taliban to the negotiation table.
Special Representative for Afghanistan Reconciliation, Ambassador Zalmay Khalilzad, after completing his talks with Pakistani authorities left Islamabad for Saudi capital Riyadh on Wednesday.
In Riyadh, Ambassador Khalilzad is expected to meet top Saudi security and intelligence officials, besides meeting the political leadership of the Kingdom.
Credible sources told Daily Times that during talks in Islamabad, both sides identified hurdles in the Afghan peace and reconciliation process and agreed to remain engaged in dialogue to bring Taliban on negotiations table with Kabul government on board as well.
A US embassy spokesman in Islamabad said during his stay in Pakistan, Special Representative Khalilzad met with key Pakistani officials.
The spokesman said Ambassador Khalilzad consulted with Pakistani leaders on how best to achieve a durable political settlement in Afghanistan.
"Peace in Afghanistan is vital to the long-term stability of Pakistan and the wider region", Ambassador Zalmay Khalilzad was quoted as saying by US embassy spokesman in Islamabad.
Countries currently engaged in the Afghan peace process are Pakistan, Afghanistan, and China. Russian has also initiated a process for Afghanistan and 11 countries have joined it already, including Pakistan, Afghanistan, Iran, China, Russia itself and five central Asian states.
"First meeting to be hosted by Russia on Afghan peace process would be held by the end of this month or in the first week of November, finalisation of dates is linked with availability of all participants", Pakistan's Ambassador to Moscow Qazi Khalil told Daily Times on phone from Moscow
He said this meeting was earlier planned for September 4th but was postponed on the request of Kabul government, which wanted some time for consultations.
Khalilzad had earlier accompanied the US Secretary of State Mike Pompeo to his September 5 visit to Islamabad. In Kabul, the US envoy urged Afghan government and the Taliban to form teams for peace negotiations, according to reports.
Full report at:
https://dailytimes.com.pk/308820/pakistan-us-agree-to-engage-saudi-arabia-for-afghan-peace-process/
--------
PM Khan launches 'Naya Pakistan Housing Program'
OCTOBER 10, 2018
ISLAMABAD: Prime Minister Imran Khan on Wednesday has launched 'Naya Pakistan Housing Program' (NPHP) at a special ceremony in Islamabad.
While addressing a media conference the prime minister said the target of the government is to ensure provision of five million affordable houses for under-privileged classes during the next five years.
The prime minister expressed the confidence that the program would not only help realize the dream of a shelter for the poor but also create employment opportunities. It will also attract local and foreign investment and stimulate about forty related industries.
Imran Khan announced formation of a 'Naya Pakistan Housing Authority' (NPHA) to serve as one window for all construction related formalities. The authority would be set up in three months and till then a task force would look after the housing project.
A National Financial Regulatory Body (NFRB) would be set up in two months to remove hurdles in financing of construction of houses.
A legal framework would also be prepared to ensure that there are no legal hurdles in the way of implementation of housing project.
He said a Land Bank would be instituted to identify land with federal government, housing ministry, provincial governments and local bodies.
Imran Khan said in the first phase pilot projects would be launched in seven districts of the country. He said a registration process would be initiated in these districts from tomorrow with the cooperation of NADRA to gather data for housing needs of the people.
He said the government is launching its first project for its employees and registration for the same would begin from tomorrow. Punjab government would also launch a similar project.
PM Khan explained that the government would serve as a facilitator while construction activity would be undertaken by the private sector.
"The project would require huge manpower, training programs would be launched to impart skills to people and seven thousand skills teaching institutes would be established in the country," the prime minister added.
Full report at:
https://dailytimes.com.pk/308688/pm-khan-launches-naya-pakistan-housing-program/
--------
India
Stopped From Placing Kali Idol in Temple, 50 Dalit Families in Meerut Threaten to Convert to Islam
October 11, 2018
Meerut: As many as 50 Dalit families in Meerut's Incholi have threatened to convert to Islam after being allegedly denied to put Goddess Kali idol in the local Shiva temple by locals, said reports on Thursday. The villagers reached the district magistrate's residence to protest and they alleged that the goons had threatened to thrash them as well. One of the protestors, Rajkumar, said, "We are Hindus, if we can't put a goddess idol in a temple, then where should we go? It is better to convert." (Also read: Meerut Cops Suspended For Slapping Woman For Muslim Friend)
A report in The Times of India says about a 100 families had threatened of conversion. It said the protesters claimed that the four families which had stopped them actually used the temple premises to park their cars and tractors. Vijay Kumar, one of the protestors, said, "During the kanwar yatra, we had hosted a bhandara at the Shiva temple and had floated the proposal of installing a Kali Maa idol there. Everybody, including the families that are stopping us now, had agreed to the idea and it was decided that the idol would be set up on the first day of Navratra. However, when we went ahead with our plan on Wednesday, the four families stopped us, claiming to be members of the temple committee, even though they don't have any documents to prove it."
The villagers also went on to claim that the four families, also Dalits, had laid siege of the temple premises and even consumed liquor there. "If we are not allowed to set up the idol in the temple, we will convert to Islam. This holds for at least 100 families of the village, who were not let into the temple. If the district administration does not intervene, we will convert to Islam," said Kuldeep Kumar, another villager.
https://www.india.com/news/india/up-50-dalit-families-in-meerut-threaten-to-convert-to-islam-as-local-stopped-them-from-placing-kali-idol-in-temple-3374609/
--------
Muslim man pressurized by neighbour to become Hindu
Oct 10, 2018
New Delhi: A non-Muslim man is pressurizing a Muslim man to become Hindu. The Hindu man is threatening to kill the entire family of Muslim man if they don't convert. A complaint has been lodged but no action is taken so far. Both had a scuffle on some issue after which the non-Muslim man had been jailed. After release from jail, he filed a rape case against the Muslim man.
Ashraf Ali told that he bought a flat in Rohini sector 25, three and a half year ago where he has been living with his family. After a few days, the non-Muslim man who resides on the first floor of the building met Ashraf and told that Hindu religion is the best and asked Ashraf to accept Hinduism. He said as the majority in India are Hindus, you will have no problem. Muslims are in minority here. Ashraf says initially he shrugged off, but the man started harassing Ashraf's wife and children asking them 'when you will become Hindu?' He also threatened if you don't become Hindu you will be killed.
Full report at:
https://www.siasat.com/news/muslim-man-pressurized-neighbour-become-hindu-1418753/
--------
Maulana Shaukat Ali Road: Famous for eateries and hardware stores, it was once epicentre of Khilafat Movement
by Mohamed Thaver
October 11, 2018
JUST like the popular Mohammed Ali Road winding along under the JJ flyover in south Mumbai, the M S Ali Road or Maulana Shaukat Ali Road is also home to row after row of eateries, offering everything from seekh kababs to delectable mawa jalebis. But as one moves westward, the road, named after the Muslim leader of the Khilafat movement, is also populated with hardware and electronics stores. The road stretches right up to Grant Road railway station, after it crosses the 'Do Tanki Junction', named after two tanks that many decades ago provided water near a former tram station.
Maulana Shaukat Ali, one half of the famous 'Ali Brothers', was an Indian Muslim leader of the Khilafat Movement that erupted in response to the fall of the Ottoman Empire. His elder brother Mohammad Ali Jouhar was also a renowned political leader. The movement brought together Hindus and Muslims
against the British for threatening to oust the Ottoman Caliphate in Istanbul from the guardianship of the holy Mecca and Madina, and for carrying out the Jallianwala Bagh massacre in 1919. Professor Abdus Sattar Dalvi, director of the Anjuman-I-Islam Urdu Research Institute, says: "They operated out of the Khilafat house in Byculla and published a newspaper from there. It was the main centre from where the movement was run."
During the Khilafat movement, Ali was said to be close to Mahatma Gandhi. In his book Gandhi and the Ali Brothers: Biography of a Friendship, Rakhahari Chatterji, a former dean of the Faculty of Arts, Calcutta University, writes: "…he (Gandhi) considered his personal relations with the Ali brothers no less valuable than his political alliance with them." The book says the friendship withered over a period of time. Ali passed away in 1938. According to the The Indian Express edition of November 28, 1938, "the Central Assembly, the Bombay Corporation and the UP Assembly were adjourned for the day, and hartals and condolence meetings were organised across the country."
Today, as one passes the road, not many people have much information on who Ali was. Many, including Tanveer Shaikh, who owns a cloth store, know he was "someone linked to the freedom struggle".
The road is as popular for sweetshops such as Hadiya and Cafe Paradise as for electronics and hardware stores.
The busiest stretch of the road, however, is the 'Do Tanki' (two tanks) Junction, where two tanks had been dug for water supply. Today, the original tanks have been covered and a defunct fountain that had once come up in their place stands forlornly. The fountain has been walled in on three sides with a VP Road police chowky on the other side, making it a spot for policemen to get some rest. The engraving about the two tanks is still maintained to this day. It reads: "This fountain was erected by The Municipal Corporation of Bombay in the year 1901 to mark the site of an old tank built partly from money bequeathed by a person named Huslaji and partly at the expense of government. Water was supplied to this tank from certain well of the Mugbhat Estate of the late Mr Framji Cawasji Banaji."
Full report at:
https://indianexpress.com/article/cities/mumbai/maulana-shaukat-ali-road-famous-for-eateries-and-hardware-stores-it-was-once-epicentre-of-khilafat-movement-5396512/
--------
Delhi teacher suspended for placing Hindu, Muslim boys in different classes
by Sukrita Baruah
October 11, 2018
The teacher in charge of a North Delhi Municipal Corporation primary boys school in Wazirabad has been
suspended for segregating Hindu and Muslim students into different sections.
The Indian Express reported on Wednesday that the section-wise break-up of students showed segregation on religious lines. The teacher, C B Singh Sehrawat, had denied deliberate segregation, but said it "was a management decision to try and do the best we can to see that there is peace, discipline and a good learning environment in the school".
According to sources, a preliminary investigation found Sehrawat guilty of segregating the students. "It was found that this segregation started in August, after the person took charge in July. He undertook this action without any kind of direction or guidance from any official from the education department. We received no information or complaint regarding this earlier. We were shocked when we heard about this," said a senior official of the North Delhi Municipal Corporation's education department.
According to a PTI report, the Union HRD Ministry has asked for a report. "We haven't received any complaint yet but have read about it in media reports. I have asked for a report," HRD Minister Prakash Javadekar was quoted as saying.
The Delhi government has also sought a report. "The act of segregating children in a BJP-governed municipal corporation school is a conspiracy against the Constitution. I have asked the education director to look into the allegations and submit a report by Friday," Delhi Education Minister Manish Sisodia said.
The Delhi Commission for Protection of Child Rights has sent a notice to the head of the school and the director (education), North Delhi Municipal Corporation, asking what procedure was followed in assigning sections to students. It has directed the immediate dissolution of the current sections and asked the authorities to "ensure homogenous distribution of students" within two days of receipt of the notice.
In a statement, Mayor, North Delhi, Adesh Gupta said: "Social divide on the basis of caste, community or religion will not be tolerated in schools of North Delhi Municipal Municipal Corporation… If any such divide is found to be in practice, it will be rectified immediately and strict action will be taken against those found guilty." He confirmed that the teacher in-charge has been suspended and "major penalty proceedings" have been initiated against him.
Full report at:
https://indianexpress.com/article/education/delhi-teacher-suspended-for-placing-hindu-muslim-boys-in-different-classes-5396568/
--------
Jalandhar: Three Kashmiri students held in Punjab, police say terror links
by Anju Agnihotri Chaba
October 11, 2018
In a joint operation, the Punjab Police and the Jammu and Kashmir Police Special Operations Group arrested three Kashmiri students from the hostel of the CT Institute of Engineering, Management and Technology in Shahpur, on the outskirts of Jalandhar, early on Wednesday for alleged terror links.
Stating that they had busted a module of terror outfit Ansar Ghazwat-ul-Hind (AGH), police said they recovered arms and ammunition, including an AK-47, from one of the hostel rooms. They said the students, all in their early 20s, also had links with the Jaish-e-Mohammed (JeM).
"A joint team conducted a raid at the hostel early this morning, from where an AK-47, a pistol, ammunition and explosives were recovered from the room of Zahid Gulzar, a resident of Rajpora, Awantipora. Zahid was detained along with Yusuf Rafiq Bhatt of Noorpura, Pulwama, and Mohammadd Idriss Shah, also of Pulwama," Jalandhar Police Commissioner Gurpreet Singh Bhullar said.
According to Bhullar, both Zahid and Yusuf are B.Tech students at the CT Institute of Engineering, Management and Technology, while Idriss is doing his B.Sc. from the St. Soldier Management and Technical Institute in Jalandhar. He said Yusuf "is the cousin of Zakir Musa, a Kashmiri terrorist".
Bhullar said the police were probing how the weapons were taken into the institute.
"Last night, around 11 pm, the police authorities called us and requested us to extend our cooperation and support regarding the suspected students from Kashmir. When we reached the campus, police asked us to stay near the reception area and let them do their job. After nabbing two Kashmiri students of B.Tech. stream and their guest from hostel room number 94, they covered their faces," CT Group Chairman Charanjit Singh Channi said.
"We don't know what the police recovered from their room… We don't check the bags of every student or outsider because of privacy issues, and we can't suspect anybody or everybody visiting the campus," he said.
Police Commissioner Bhullar ruled out any link between the three students and another Kashmiri student from the St. Soldier Management and Technical Institute in Jalandhar who was arrested in April. Punjab DGP Suresh Arora said the busting of the terror module and the recovery of weapons pointed to the efforts of Pakistan's ISI to expand the arc of militancy on India's western border.
Full report at:
https://indianexpress.com/article/india/jalandhar-three-kashmiri-students-held-in-punjab-police-say-terror-links-5396382/
--------
Southeast Asia
Search and rescue operations called off following Indonesian quake-tsunami
11 October 2018
The search for those killed in Indonesia's quake-tsunami disaster was called off Thursday, despite there being around 5,000 people still missing.
The magnitude 7.5-quake and a subsequent tsunami razed whole swathes of Palu to the ground on September 28.
More than 2,000 bodies have been recovered since the twin disaster on Sulawesi island.
But authorities fear 5,000 more could be buried beneath the ruined city, where entire villages were swallowed.
Rescuers had struggled to find remains in the twisted wreckage, a job made worse as mud hardened and bodies decomposed in the tropical heat.
"The search and rescue (SAR) operation for the victims will end this Thursday afternoon," SAR field director in Palu, Bambang Suryo, told AFP.
The government earlier indicated these hard-hit areas would be left untouched as mass graves.
Parks and monuments are planned at three of these worst-hit areas -- Balaroa, Petobo and Jono Oge -- to commemorate the possibly thousands of dead who will never found.
Those zones were all but destroyed by liquefaction, a phenomenon where the brute force of a quake turns soil to quicksand.
Humanitarian assistance has poured into the disaster-ravaged city but the recovery ever been criticized as moving too slowly.
Some foreign rescue teams were prevented from deploying quickly to the ground to assist in the search for the dead and missing.
The UN says 200,000 people are in dire need of humanitarian assistance in Palu, with clean drinking water and medical supplies still in short supply.
An estimated 80,000 people were displaced by the disaster, many squatting in tents outside their destroyed homes.
https://english.alarabiya.net/en/News/world/2018/10/11/Search-and-rescue-operations-called-off-following-Indonesian-quake-tsunami-.html
--------
China region gives legal basis for Muslim internment camps
October 10, 2018
BEIJING (AP) — China's far-northwestern region of Xinjiang has revised legislation to provide a legal basis for internment camps where up to 1 million Muslims are being held amid mounting international criticism.
New clauses adopted by the regional government officially permit the use of "education and training centers" to reform "people influenced by extremism."
Chinese authorities deny that the internment camps exist but say petty criminals are sent to vocational "training centers." Former detainees in the centers say they were forced to denounce Islam and profess loyalty to the Communist Party in what they describe as political indoctrination camps.
"It's a retrospective justification for the mass detainment of Uighurs, Kazakhs, and other Muslim minorities in Xinjiang," said James Leibold, a scholar of Chinese ethnic policies at Melbourne's La Trobe University. "It's a new form of re-education that's unprecedented and doesn't really have a legal basis, and I see them scrambling to try to create a legal basis for this policy."
The revisions, published Tuesday, say government agencies at the county level and above "may establish occupational skills education and training centers, education transformation organizations and management departments to transform people influenced by extremism through education."
A new clause directs the centers to teach the Mandarin language and provide occupational and legal education, as well as "ideological education, psychological rehabilitation and behavior correction."
The original legislation announced in 2017 banned the wearing of veils, "extreme speech and behavior" and the refusal to listen to public radio and television broadcasts.
Beijing has spent decades trying to suppress pro-independence sentiment in Xinjiang fueled in part by frustration about an influx of migrants from China's Han majority. Authorities say extremists there have ties to foreign terror groups but have given little evidence to support that.
Members of Uighur, also spelled Uyghur, Kazakh and other Muslim minorities who live abroad say they have not been able to contact relatives in China, while authorities are placing children separated from their detained or exiled parents into dozens of state-run orphanages across Xinjiang.
Leibold believes that the revisions are an attempt to deflect international criticism. China has come under increasing pressure from the U.S. and the European Union after a United Nations panel confronted Chinese diplomats in August over reports of arbitrary mass detentions and harsh security measures aimed at Muslims, and China is up for review by the U.N.'s Human Rights Council in November.
Full report at:
https://www.indiatvnews.com/ap/world-news-china-region-gives-legal-basis-for-muslim-internment-camps-470563
--------
Arab World
Mass grave of 1,500 Daesh victims discovered in northern Syria
Oct 10, 2018
Syrian government forces have discovered a mass grave containing the bodies of more than one thousand people executed by members of the Daesh Takfiri terrorist group in the country's northern city of Raqqah.
Russia's RT Arabic television news network reported that Syrian soldiers made the discovery at the Panorama roundabout in the northwestern flank of the city, located about 455 kilometers (283 miles) northeast of the capital Damascus, and that the grave has the corpses of at least 1,500 civilians and military personnel in it.
The report added that responders are working to uncover and identify bodies at the site from clothes, fingerprints, documents or other special markers.
The mass grave makes it the largest one found in Raqqah so far.
Syrian Forensic Medicine General Director Zaher Hajo told Arabic-language and pro-government al-Watan daily in early January that Daesh Takfiris had executed 10,000 people and buried their bodies in mass graves across Raqqah.
He stressed that his colleagues had confirmed the presence of 4,000 bodies in one single grave.
Hajo went on to say that Syrian Health Minister Nizar Yazigi has ordered the formation of a committee in order to collect the remains of the victims and transfer them to the military hospital in Aleppo.
He stated that identification of the victims, using their teeth and bones, will start next week, stressing that he will chair the committee.
The so-called Syrian Democratic Forces (SDF) – a US-backed group of Kurdish and Arab forces – said on October 20, 2017 that it had "liberated" Raqqah after driving out Daesh terrorists from the city, which served as Daesh's de facto capital in the war-ravaged Arab country.
The US-backed forces later said the political future of the city and the province of the same name would be determined "within the framework of a decentralized, federal, democratic Syria."
SDF spokesman Talal Silo said that the group would hand over the control of Raqqah to what he called "the Raqqah Civil Council."
Syrian Minister of National Reconciliation Affairs Ali Haidar reacted by saying that Raqqah's future could only be discussed "as part of the final political structure of the Syrian state."
The so-called Syrian Observatory for Human Rights (SOHR) has, meanwhile, said that the SDF's purported operations in Raqqah have killed civilians and damaged infrastructure in the city.
"When you're killing around 1,200 civilians — nearly half of them women and children — and destroying 80 percent of the city, that's not liberating Raqqah," Rami Abdel Rahman, the head of the SOHR, told Arab News daily newspaper.
https://www.presstv.com/Detail/2018/10/10/576618/Mass-grave-Daesh-victims-Syria
--------
US senators trigger human rights probe over missing Saudi journalist
October 11, 2018
Twenty-two US senators signed a letter to President Donald Trump on Wednesday, triggering a US investigation and determination of whether human rights sanctions should be imposed over the disappearance of a Saudi journalist last seen as he entered the Saudi consulate in Turkey.
In the letter, the senators said they had triggered a provision of the Global Magnitsky Human Rights Accountability Act requiring the president to determine whether a foreign person is responsible for a gross human rights violation.
"Our expectation is that in making your determination you will consider any relevant information, including with respect to the highest ranking officials in the Government of Saudi Arabia," they said.
https://nation.com.pk/11-Oct-2018/us-senators-trigger-human-rights-probe-over-missing-saudi-journalist
--------
Tahrir Al-Sham Wants Retreat Deadline Delayed
Oct 10, 2018
The Arabic-language al-Watan newspaper quoted sources close to the terrorist groups in Aleppo and Idlib on Wednesday as saying that Tahrir al-Sham has not evacuated its heavy weapons from the demilitarized zone, adding that they have hidden their tanks, artilleries and missile-launchers.
They added that Tahrir al-Sham has informed the Turkish intelligence agency that it will not withdraw from the weapons-free zone because of a lack of agreement on areas to be held by the Ankara-backed militants which are due to host Tahrir al-Sham.
According to the report, Tahrir al-Sham has called for continued negotiations and demanded Turkey to hold talks with Russia to give militants some more time for withdrawal until October 20.
A Russian media outlet reported on Wednesday that the terrorist groups continued to fortify positions and dig more tunnels and trenches in Northeastern Lattakia in flagrant violation of the Sochi Agreement.
The Arabic-language website of Sputnik reported that although the Turkish army has sent a convoy from the depth of Idlib to Northeastern Lattakia to create and monitor the demilitarized zone, Tahrir al-Sham Hay'at and its allied terrorists of al-Turkistani Islamic Party and Horas al-Deen have continued building more positions and digging more tunnels on the hills near the small town of Kabani or Kabanah in al-Haffah region in Northeastern Lattakia that is the first contact line in the battlefield in Idlib. In the meantime, a field commander said that a Turkish military convoy that arrived in the small town of Badam in Jisr al-Shughour region has refused to patrol and monitor the strategic region of Kabani that is a triangle-like region stretching from Northeastern Lattakia to Southern Idlib and then the borders with Turkey.
He further said that Tahrir al-Sham has launched missile attacks on the Syrian army positions in Lattakia, targeting an army vehicle that was carrying food near the demilitarized zone.
Full report at:
http://en.farsnews.com/newstext.aspx?nn=13970718001062
--------
Terrorists Attack Syrian Army in Aleppo after Claiming Withdrawal from Demilitarized Zone
Oct 10, 2018
The Arabic-language website of Russia's state news agency, Sputnik, reported that the terrorist groups, deployed in al-Zahra region in Western Aleppo that is a part of the demilitarized zone based on the Sochi Agreement, launched artillery and missile attacks on al-Nil, al-Shahba and al-Sehah Housings that are under the army's control.
It further said that the army later opened heavy artillery fire at the terrorists' positions in Western Aleppo in retaliation.
In the meantime, heavy clashes erupted between the army soldiers and terrorists at the Scientific Research district in Western Aleppo.
The terrorists had announced a few days ago that they were completing withdrawal of heavy weapons from the demilitarized zone.
The London-based Syrian Observatory for Human Rights (SOHR) had claimed that Faylaq al-Sham withdrew its heavy arms from Southern and Western Aleppo.
In the meantime, SOHR reported on Sunday that the Turkey-backed terrorists who had claimed that they started transfer of heavy weapons from the demilitarized zone in Northern Syria were hiding their arms in Northern Lattakia, pro-opposition media sources reported.
SOHR reported that there was no clear indication of a retreat by militant groups from the weapons-free zone after the Sochi agreement between Russia and Turkey, adding that 70% of the demilitarized region was still under the occupation of militants.
It said that Ahrar al-Sham, Faylaq al-Sham and the Coastal Regiments 1 and 2, affiliated to the National Liberation Front (NFL), have not retreated from Northern and Northeastern Lattakia, noting that they have only concealed their heavy weapons in tunnels.
Full report at:
http://en.farsnews.com/newstext.aspx?nn=13970718000625
--------
Kurdish Militias Fortify Positions in Northeastern Syria to Counter Turkish Threats
Oct 10, 2018
The sources said that the Kurds dug a very long tunnel connecting 17th Brigade Base North of Raqqa city to al-Banat Plain region in the Northeastern part of the city.
The sources further said that the Syrian Democratic Forces (SDF) started digging tunnels 4 meters wide and three meters high a few days ago to connect the Brigade to al-Banat Plain.
They went on to say that the SDF also boosted defense capabilities of the base by erecting cement walls around its buildings and posts.
Turkey has threatened to kick off a large-scale military operation on the Eastern banks of the Euphrates River in Syria.
The Arabic-language al-Watan daily reported on Monday that the Kurdish units built more bunkers, dug more tunnels and reinvigorated their posts and positions in several districts in the town of Tal Abyadh in Northern Raqqa and at border with Turkey.
The daily went on to say that the Kurds dug long tunnels and trenches from East of Tal Abyadh up to a Power Plant Southwest of the town, adding that the Kurds also dug long tunnels and tranches between al-Toweihanah region and the village of al-Mantabah near the border with Turkey and also between al-Mantabah and the Old Gate in al-Sakhani neighborhood.
The daily further said that the Kurdish move came after the Turkish army boosted its military presence in Ankara-occupied region, adding that the Kurds also are worried about a plan of the US forces to leave them alone in the war against the Ankara forces.
Full report at:
http://en.farsnews.com/newstext.aspx?nn=13970718000477
--------
Syrian Army Sends More Troops, Equipment to Sweida Deserts to End ISIL's Presence
Oct 10, 2018
The army forwarded a large number of special forces and more military equipment to the battlefields in Toloul al-Safa rugged terrain in the Eastern desert of Sweida from its bases in Damascus and Dara'a provinces to purge the region of ISIL.
In the meantime, other units of the army, backed up by artillery and missile units, continued fighting ISIL in Toloul al-Sasfa, imposing control over more key points.
Meanwhile, local sources reported that attempts to free civilians captured by ISIL have not produced results yet.
Media outlets reported on Tuesday that Syrian paratroopers entered the battle in Southern Syria this week to join comrades to counter ISIL terrorists in Toloul al-Safa in the Eastern desert of Sweida.
According to a military source in Sweida city, the Syrian paratroopers landed behind enemy lines in Toloul al-Safa region, Monday, in order to help eliminate the ISIL's well-fortified trenches that have proven difficult to infiltrate, the AMN reported.
The source added that the Syrian army is now storming the ISIL's positions at three different flanks in a bid to reach the highest peak in Toloul al-Safa.
Full report at:
http://en.farsnews.com/newstext.aspx?nn=13970718000240
--------
Al-Nusra Commander's Senior Saudi Aide Killed in Northwestern Syria
Oct 10, 2018
The Arabic-language al-Manar TV Channel reported that Abu Yusef al-Jazrawi, a Saudi field commander of Tahrir al-Sham, was killed after unknown gunmen opened fire at him near the village of Ma'aratah in Southwestern Idlib.
It further added that al-Jazrawi was a security advisor to Abu Mohammad al-Joulani, Tahrir al-Sham's Chief commander.
Al-Manar went on to say that Mohammad Abu Salam, a Turkish Commander of Tahrir al-Sham, was killed in another attack by other unspecified parties in the small town of Ahsam in Southwestern Idlib.
On Monday, Abu Mas'ab al-Dayeri, a notorious Chechen commander of Tahrir al-Sham Hay'at, was gunned down by unknown raiders in Idlib province.
al-Dayeri was killed after unknown raiders opened fire at him along a road between Darkoush and Azmarin regions in Western Idlib.
Full report at:
http://en.farsnews.com/newstext.aspx?nn=13970718000301
--------
Qatar accused of 'undermining Palestinian Authority' through fuel move
10 October 2018
The Palestinian Authority said that Qatar's move of bringing in fuel to the Gaza Strip without coordinating with Palestinian official authorities has "crossed all red lines."
Trucks loaded with Qatari fuel began entering Gaza to supply a power station amid completely ignoring the sovereignty of the Palestinian national reconciliation government.
The Palestinian Authority has often warned of transforming the Palestinian cause into a mere humanitarian cause in which the call for national rights is replaced with humanitarian aid.
These warnings, however, were ignored as Qatar decided to overlook the Palestinian official stance and coordinated with Israel, UN departments and Hamas in order to bring trucks loaded with fuel to Gaza.
The Palestinian Authority says the Qatari intervention undermines its efforts.
"When Qatar pays for the fuel, Hamas in Gaza will collect the bills and put it in its pocket, and this is an indirect financial aid to Hamas," said a PA official, speaking on condition of anonymity because he was not authorized to speak to reporters.
Mahmoud al-Habbash, the Palestinian president's consultant, said those who want to serve the Palestinian cause must first help end divisions.
Full report at:
https://english.alarabiya.net/en/News/gulf/2018/10/10/Qatar-accused-of-undermining-Palestinian-Authority-through-fuel-move.html
--------
Syria writes to UN to condemn Israel jail sentence of Syrian man in Golan
Oct 10, 2018
Syria has written to the United Nations and the UN Security Council to help release a renowned Syrian activist from the occupied Golan Heights, who is given a prison sentence by an Israeli court for exposing the Tel Aviv regime's ties to terrorist groups. Sedqi Suleiman al-Maqet, who is famously known as the "Dean of Syrian and Arab Captives" for having served the longest time in Israeli jails, was sentenced to serve 11 more years in Israeli jails, Syria's officials news agency SANA reported Tuesday.
The Syrian Foreign Ministry condemned the decision in two separate letters to the UN and the UNSC on Wednesday, asking UN Secretary General Antonio Guterres, the UN High Commissioner for Human Rights and other international organizations to push for al-Maqet's immediate release.
Maqet was released from an Israeli prison in August 2012, after serving 27 years in detention.
However, his freedom didn't last long as Israel's Shin Bet raided his home in 2015 and arrested him for photographing and videotaping Israeli forces during a meeting with terrorist groups wreaking havoc in Syria.
In its letters, Damascus asserted that Israel mistreated al-Maqet only because he had uncovered Israel's support for militant groups that fought Syria's legitimate government.
Sedqi's father, Suleiman, who has also served time in Israeli prisons, told SANA that the ruling was "null and illegal." He also called on human rights organizations to intervene and help free his son.
The Israeli occupation authorities had initially handed al-Maqet's a 14-year prison sentence in May last year, after postponing his trial on numerous occasions.
Lebanese resistance movement Hezbollah has praised Maqet for his resistance and activism work against Israel.
Full report at:
https://www.presstv.com/Detail/2018/10/10/576648/Syria-Golan-Sedqi-Suleiman-Maqet-prison-Israel-ties-to-terrorists
--------
Lebanese security forces arrest Daesh-linked minor
October 11, 2018
BEIRUT: Lebanese internal security forces have announced the arrest of a Lebanese minor suspected of belonging to Daesh who was planning to carry out a terrorist operation by "placing a roadside bomb and remotely detonating it when a Lebanese army patrol passed in the area where he resides."
Security sources told Arab News that the minor "is from the impoverished region of Akkar (northern Lebanon), and when he was arrested, he seemed convinced of what he was doing after he was persuaded by the people who communicated with him to carry out 'jihad.'"
The Directorate General of the Security Forces, Public Relations Section, said in a statement that the arrest of the minor was part of "the preventive security strategy adopted by the information division of the internal security forces, in terms of focusing on members of the Daesh organization and those affected by its terrorist ideology."
The directorate said it received information on Daesh's intent to carry out terrorist operations and "as a result of tracking and monitoring, a special force of the division carried out a rapid security operation in which (the minor) A.D, born in 2002 in the Akkar area, was arrested and interrogated."
Consequently, the detainee admitted to "joining many Daesh-affiliated groups about eight months ago, which distributed Daesh publications and ideologies."
He added that he "met, through these groups, three people belonging to the organization, and discussed with them moving to Syria but, due to the difficulty in reaching Syria, they advised him to work for the organization in Lebanon because that combines the rewards for exodus and jihad itself."
The directorate added in its statement that the minor "was convinced of their point of view, and told one of them that he intended to carry out a terrorist attack in Lebanon. The person encouraged him to do so and asked him to swear allegiance to Abu Bakr Al-Baghdadi as the caliph of Muslims.
The person also told him that he would be assisted and directed in the manufacture of an explosive device in order to carry out an operation in Lebanon.
The minor agreed and he was given the text of the oath of allegiance, which he read before that person.
The person sent to the minor an electronic link under the name of the "explosives channel" containing methods and means of manufacturing and preparing explosives. For five months, the young boy learned how to manufacture explosives with 46-caliber nitrate and other materials.
Two weeks before his arrest, the person sent him the way to prepare an explosive device and a detonator and asked him to get the necessary materials, so that the operation could be carried out through a "cellular phone" linked to the explosive device.
According to the investigation, the detainee said he "started searching for nitrate but was unable to find it.
"Moreover, he did not explore any specific targets, so he decided to put a roadside bomb and detonate it remotely when a Lebanese army patrol passed through the area where he lived."
About a month ago, the directorate said the same person "sent him (the minor) a detailed videotape about how to prepare an explosive device using a domestic gas cylinder used for cooking, and asked him to prepare it because it was easy and the material was easy to find.
"He (the minor) proceeded to prepare it secretly, but he was arrested before the device was finished."
However, journalist Hazem Al-Amin, a specialist in terrorist groups, especially Daesh, told Arab News that he had doubts in the possibility of any communication "between Daesh and other groups in Syria, Iraq and Lebanon because the organization lost its ability to communicate two years ago and became separate segments."
Al-Amin also questioned the possibility that the young boy communicated with Daesh, saying that the Lebanese security services did not show competence or credibility in the field of investigations conducted after the big scandal of one of the security services in the case of Ziad Itani, which later proved to be fabricated.
Full report at:
http://www.arabnews.com/node/1385891/middle-east
--------
South Asia
More than 8,000 Afghan civilians killed, wounded so far in 2018, UN reports
Oct 10, 2018
The UN Assistance Mission in Afghanistan (UNAMA) says at least 8,050 Afghan civilians were killed or wounded in the first nine months of 2018.
The UNAMA said in a report issued on Wednesday that the figure in 2018 saw slight increase compared to the same period a year earlier, when there were 8,084 casualties, with deaths this year increasing five percent to 2,798 and injuries decreasing three percent to 5,252.
"As there can be no military solution to the fighting in Afghanistan, the United Nations renews its call for an immediate and peaceful settlement to the conflict," Tadamichi Yamamoto, the top UN official in Afghanistan, said.
Afghan people still face insecurity 17 years after the United States and its allies invaded the country as part of Washington's so-called war on terror.
Although the Taliban militant group was removed from power as a result of the invasion, the country remains occupied and many areas are still threatened by insecurity.
Since late last year, the Daesh Takfiri terrorist group, which has already lost all its urban strongholds in Syria and Iraq, has taken advantage of the chaos in Afghanistan and established a foothold in the Asian country's eastern and northern regions, launching brutal attacks against civilians and security forces alike.
The UN report showed a rise in the casualties caused by bomb attacks and other improvised devices which caused 3,634 casualties - 1,065 deaths and 2,569 wounded - in the first nine months, compared with 3,007 casualties in the same period last year.
UNAMA recalled that "attacks deliberately targeting civilians and the murder of civilians are serious violations of international humanitarian law that amount to war crimes".
According to the report, 65 percent of casualties have been the result of attacks by the Taliban, Daesh and other anti-government militants.
Meanwhile, the UNAMA reported that casualties from ground fighting dropped by 18 percent to 2,311 (605 deaths and 1,706 injured).
The casualties from airstrikes, which have risen as air operations have been ramped up, were increased by 39 percent to 649 (313 deaths and 336 injured), the report added.
https://www.presstv.com/Detail/2018/10/10/576621/UN-Afghan-civilian-casualties
--------
75 Taliban militants including their 5 commanders join peace process in Nangarhar
Oct 11 2018
At least seventy five Taliban militants including five of their commanders joined peace process in eastern Nangarhar province of Afghanistan.
According to the local officials, the Taliban militants renounced violence and reconciled with the government due to the efforts of Afghan intelligence directorate.
The officials further added that the militants involved in anti-government armed insurgency activities in Bati Kot district for 16 years.
Provincial governor Hayatullah Hayat said the militants were led by Qari Fazal Ur Rehman, Qari Haqqani, Qari Mir Zaman, Zarawar Khan, andQari Sharafuddin.
Hayat further added that the militants have also handed over their weapons to the government which would be used for the security of Bati Kot district.
Provincial intelligence chief Gen. Nazar Ali Wahidi said the militants have handed over 75 various types of heavy and light weapons.
Gen. Wahidi further added that a recommendation would be made to the provincial administration to financially support the reconciled militants.
Full report at:
https://www.khaama.com/75-taliban-militants-including-their-5-commanders-join-peace-process-in-nangarhar-06130/
--------
'Islamic terrorism threat to progressive Bangla thinkers'
07 October 2018
Rise of Islamist extremism in Bangladesh poses serious threats not only to the religious minority communities in the country but also to the secularists, intellectuals and other sects within the Muslim community, said prominent Bangladeshi journalist Saleem Samad. Samad said this while speaking to a group of scribes at Guwahati Press Club from Dhaka through video conferencing.
An Ashoka Fellow and Hellman-Hammett Award recipient journalist, Samad also said that an upsurge of fundamentalist forces in the Muslim dominated country may affect its neighbouring Indian States in future.
Samad narrated how atheist & secularist bloggers and activists are increasingly becoming the target of the Islamic extremists in Bangladesh, which has otherwise slowly (but steadily) marched on the path of becoming a country of one nationality (Bangladeshi), one language (Bangla) and one religion (Sunni Muslims).
The outspoken journalist made an observation that due to overwhelming majority of Sunni Muslims in the country, among whom considerable rise of extremism is observed, other minority sects within the Muslim community like the Ahmadiyya also face threats of survival.
Citing how a network of Jamaat-ul-Mujahideen, Bangladesh was busted in West Bengal few years back, Samad urged the north-eastern States to remain alert about jihadi elements after the ongoing crackdown on Islamic militancy. He revealed that thousands of Bangladeshi youths had joined various militia groups in Syria, Iraq, Chechnya, Indonesia, Philippines, Afghanistan, Pakistan etc. to fight alongside the jihadis there.
Answering queries from Guwahati scribes, the senior journalist reiterated that currently there is no northeastern separatist leader in Bangladesh as the Sheikh Hasina government in Dhaka continues rigorous crackdowns against the outfits. Samad also made it clear that Prime Minister Hasina would leave no stone unturned to wipe out militancy in the country.
A front runner for media rights, Samad painted a dismal picture of press freedom in Bangladesh, as journalists are frequently targeted by both State and non-State actors. He regretted that though 26 Bangladeshi journalists lost their lives to assailants since 1991, majority cases remains pending till date.
In another significant remark, Samad, who works as special Correspondent of The Bangladesh Monitor and contributes news-features to India Today, has divulged that none of the Indian leaders visiting Dhaka and Bangladesh delegation meets in New Delhi had taken up the issue of illegal Bangladeshi infiltrators in Assam (India) with their counterparts.
Speaking about the process of National Register of Citizens (NRC) updation in Assam, Samad asserted that for the Bangladesh government believes that it is an internal affair of India only and hence it has not made any official statement over the development. He agreed that there is hardly any media attention in Bangladesh press over the NRC updation process and its outcome.
Strongly advocating people-to-people contact between Assam (India) and Bangladesh, Samad lamented how Assam had missed the bus despite being so closely located, while other States like West Bengal and Tripura were taking several steps to improve connectivity with Bangladesh via railway and roadways.
Full report at:
https://www.dailypioneer.com/2018/sunday-edition/---islamic-terrorism-threat-to-progressive-bangla-thinkers---.html
--------
Khaleda Zia's son gets life in jail for plot to kill Sheikh Hasina
10.10.18
Opposition Bangladesh Nationalist Party chief Khaleda Zia's fugitive son and political heir Tarique Rahman was sentenced to life and 19 others, including a former home minister, were given the death penalty by a Bangladesh court on Wednesday for their role in a plot to assassinate Prime Minister Sheikh Hasina in 2004.
An attack on an Awami League rally on August 21, 2004, targeted Hasina, the then Opposition leader, when she was about to end a speech in front of thousands of supporters.
While Hasina survived the attack with a partial hearing loss, her party's women front chief and former president Zillur Rahman's wife Ivy Rahman was killed in the blasts.
Special court judge Shahed Nuruddin awarded the death penalty to 19 people, including former junior home minister Lutfuzzaman Babar, ex-deputy education minister Abdus Salam Pintu and several former army intelligence officers.
Rahman and 18 others were sentenced to life. Eleven others were jailed for different terms.
"They (who are sentenced to death) will be hanged by neck until they are dead," Justice Nuruddin said.
Thirty-one of the 49 convicts were present in the court while others, including 51-year-old Rahman, now the acting BNP chairman as his mother is serving a five-year imprisonment in a graft case, are on the run abroad to evade justice.
Rahman was tried in absentia with the court declaring him a "fugitive". He now lives in London where he is believed to have sought asylum though the British authorities have declined to reveal his immigration status.
He leads the main opposition BNP from exile after Zia was jailed in February. Zia was not made an accused in the case.
Rahman, two former ministers and former top police and intelligence officials of the then BNP-led four-party alliance government were among 49 accused in the case.
The judge also made 12-point observations on the background, motive and consequences of the attack, mainly targeting incumbent Hasina.
"The attack was intended to eliminate the Awami League leadership, including Sheikh Hasina," the judge ruled.
The court had wrapped up the hearing on September 18 after a protracted investigation and trial process.
Investigations found an influential quarter of the then BNP-led government, including Rahman, masterminded and sponsored the attackers — the operatives of militant Harkatul Jihad al Islami (HuJI).
Commenting on the verdict, BNP secretary general Fakhrul Islam Alamgir expressed the party's deep frustration, saying it was a "politically motivated" verdict. "It's a naked expression of political vengeance," he added.
However, law minister Anisul Huq said Rahman, the mastermind of the attack, deserved the death sentence.
His Cabinet colleague and the ruling Awami League general secretary Obaidul Qader echoed him, saying "we are not fully satisfied with the verdict".
"We may take steps to challenge his (Rahman's) lenient punishment once we get the copy of the entire judgment," Huq said.
Those who were sentenced to death were fined one lakh Taka each. The high court must confirm their death penalty after a mandatory review.
Other political figures who were given life sentence include former Prime Minister Zia's political adviser Haris Chowdhury and former BNP lawmaker Qazi Shah Mofazzal Hossain Kaikobad.
Law enforcement agencies earlier covered Dhaka with a security blanket while armed guards stood outside the courtroom in the old part of Dhaka to quell possible protests.
A key-accused in the case, HuJI chief Mufty Abdul Hannan, was dropped from the convict list along with two of his associates as they were hanged by now after trial in a separate case.
"We are taking steps to bring back the fugitive convicts," home minister Asaduzzaman Khan Kamal told reporters as the verdict was announced.
Full report at:
https://www.telegraphindia.com/world/khaleda-zia-s-son-gets-life-in-jail-for-plot-to-kill-sheikh-hasina/cid/1671485
--------
The world decries Myanmar's Rohingya abuses. Myanmar's reply: Denial, defiance and propaganda.
By Shibani Mahtani
October 9, 2018
MAUNGDAW, Myanmar — Plainclothes police hovered around him. The elderl y Rohingya man was too afraid to talk.
He was gathered with dozens of other men, staring blankly at journalists on a government-led trip to Myanmar's northern Rakhine state. He is among the 200,000 or so Rohingya Muslims who remain in this area, after more than 720,000 fled to neighboring Bangladesh during a brutal crackdown by the military of mostly Buddhist Myanmar.
The U.N. human rights commission said there was "genocidal intent" in the targeted killings and razing of villages that led to the mass flight of the Rohingya.
Myanmar's leaders — including Nobel Peace Prize laureate Aung San Suu Kyi — have maintained that authorities were trying to quell an insurgency. The Myanmar propaganda push includes media trips, in which a rotating cast of foreign journalists are taken to Rakhine state in police convoys.
As one official put it: "How can it be genocide if Muslims are still here?"
The elderly Rohingya man eventually did talk.
But it came on a phone call to The Washington Post. He mocked the picture painted by Myanmar government minders about the lives of the 300,000 or so Rohingya still in Rakhine.
Some homes in Muslim villages near his were torched as recently as this week, he said.
"We were told to tell [journalists] about how we are treated well here. They told us to talk about how we are living peacefully," said the man, who spoke on the condition of anonymity because he feared for his safety.
He couldn't bring himself to toe the line, but could not speak the truth either.
"We know they are recording us," he said.
Faced with international pressure and mounting calls for accountability, Myanmar has mounted a defense of denial and defiance. Among the collateral damage is Suu Kyi's reputation, which many see as tarnished and compromised.
For diplomats, aid groups and others, the attempt to shift the narrative is more evidence that Myanmar is unable or unwilling to correct long-standing discrimination against the beleaguered Rohingya.
It also underscores Myanmar's unwillingness to bring any measure of accountability to last year's violence in Rakhine, or to allow journalists to freely investigate the killings there.
Two journalists from the Reuters news agency, Wa Lone and Kyaw Soe Oo, who reported on the massacre of 10 Muslim men in the village of Inn Din, were convicted and sentenced to seven years in prison for violating the country's Official Secrets Act.
Meanwhile, the Rohingya languish and grow more desperate.
"The bottom line is that there has been no noteworthy progress," said one senior diplomat in Yangon, who spoke on the condition of anonymity because of the sensitivity of the issue.
The Myanmar government "still seems utterly unable or unwilling to understand what they would need to do to get themselves out of this mess," the official said.
The government's efforts have also failed to mask attempts to erase any indication that hundreds of thousands of Rohingya lived here. Buddhists and Hindus are moving into new homes built across Rakhine state, and Rohingya Muslims who remain in Myanmar say they continue to face harassment and extortion.
The United Nations, which has just begun to access some parts of northern Rakhine state, says communities there are isolated and fearful.
Myanmar press freedom advocates and youth activists hold a demonstration on Sept. 16 demanding the freedom of jailed Reuters journalists Wa Lone and Kyaw Soe Oo in Yangon, Myanmar. (Ann Wang/Reuters)
"Mistrust, fear of neighboring communities and a sense of insecurity are prevalent in many areas," Andrej Mahecic, spokesman for the U.N. refu­gee agency, said Friday. Muslim communities there, he added, also are restricted in accessing education or health services.
International pressure is ­ramping up. In late September, the U.N. Human Rights Council voted overwhelmingly to create an independent body to expedite criminal prosecution of Myanmar generals over their treatment of the Rohingya.
The action followed a ­444-page report from a U.N. fact-finding mission that explored in excruciating detail how the Myanmar military has followed a pattern of abuse and violence across other ethnic minority states, such as Shan and Kachin. It also described the crackdown against the Rohingya as having "genocidal intent."
The U.N. findings could give prosecutors evidence for possible cases in regional or international courts.
The Myanmar government and military have held firm to the explanation that their operation in Rakhine state was provoked by ­Rohingya militant attacks on police posts, but reports from both the United Nations and the State Department indicate a degree of premeditation and coordination.
Myanmar says that it is ready to repatriate hundreds of Rohingya back to their homes.
At a refugee reception center near the border, one Myanmar official boasted about new roads that Rohingya refugees will travel on from Bangladesh before turning over their identification documents for verification and eventually moving into new purpose-built villages to start their lives anew.
New model villages like this are being built all over northern Rakhine state, and in some, Buddhists are moving in — taking over land where Rohingya Muslims lived before more than 720,000 left amid a brutal military operation last year. (Shibani Mahtani/The Washington Post)
"We are ready," said Soe Tun, head of the relocation center, which is prepared to receive 150 returnees a day for five days a week. "I don't know why they wouldn't want to come back."
In the same breath, officials insist that there are "no Rohingya in Myanmar," and will compel those who return to adopt a verification document that makes no mention of the word "Rohingya." The Rohingya people are excluded from citizenship rights.
The Myanmar government says the verification document will be a pathway to citizenship. But the Rohingya — who believe themselves native to Myanmar — say it is just another step to muddle the process and enshrine second-class status.
The document will call them "Bengali." The Rohingya want to keep their identity and to receive recognition as full citizens native to the area.
"Much of the government's narrative so far has been built on physical structures, like model villages, because those structures exist," said Knut Ostby, the United Nations' resident coordinator in Myanmar. "But the rights-based part has not been addressed yet."
As a gesture of goodwill, Myanmar has promised to close squalid camps in the southern part of the state where 125,000 Rohingya live after a spate of violence drove them out of their homes six years ago.
A border guard officer stands watch at the Myanmar-Bangladesh friendship bridge. More than 720,000 Rohingya fled to neighboring Bangladesh during a military crackdown last year. The Myanmar government says it is ready to repatriate Rohingya refugees, but diplomats and rights groups say the government has done nothing to secure their rights. (Shibani Mahtani/The Washington Post)
Reporters were taken to one of the largest, in Sittwe, and were told about a new hospital that would be built here. But no timeline has been given. The Rohingya believe the possible camp closures will shift them to newly constructed villages without restoring freedom of movement, the ability to own shops and businesses again, or the right to go to schools or hospitals freely.
Full report at:
https://www.washingtonpost.com/world/asia_pacific/the-world-decries-myanmars-rohingya-abuses-myanmars-reply-denial-defiance-and-propaganda/2018/10/09/49d11916-c1b9-11e8-9451-e878f96be19b_story.html
--------
Recent honor killings likely linked to scandalous videos of Mullah Landay
Oct 10 2018
Reports emerging from the northern Faryab province of Afghanistan suggest several honor killings have taken place in this province since the scandal videos of a local Mullah went viral on the internet recently.
The local officials in Faryab have said at least nine women have been killed the past three months amid concerns that the women who have appeared in the videos of Mullah Landay have either been killed or fearing their lives.
Sharifa Azimi, the provincial director of women's affairs, has told The New York Times that nine women had been killed in the past three months as a result of gender-based violence, compared with four in the same period last year.
"We are concerned that honor killings will increase, that the women suspected of going to him will be killed," Ms. Azimi said.
Provincial governor Naqibullah Fayeq has also confirmed that several women have killed recently in what appears to be a sharp rise in honor killings.
However, governor Fayeq has said he was not sure and wonders if the recent killings are related to the case of Mullah Landay.
This comes as several videos of Mullah Landay have been published and have gone viral on the internet, purportedly showing the Mullah exploiting the women and sexually abusing them.
Full report at:
https://www.khaama.com/recent-honor-killings-likely-linked-to-scandalous-videos-of-mullah-landay-06129/
--------
Taliban commander leading a group of 50 militants killed in Faryab airstrike
Oct 10 2018
A Taliban local commander who was in charge of a group of at least 50 militants was killed in an airstrike in northern Faryab province of Afghanistan.
The 209th Shaheen Corps of the Afghan Military in the North in a statement said the airstrike was carried out at around 12:20am on Wednesday.
The statement further added that the airstrike left at least seven militants dead, including a Taliban commander who was in charge of a group of at least 50 militants.
According to 209th Shaheen Corps, the airstrike was carried out in the vicinity of Shakh area of Qaisar district.
The Taliban commander killed in the airstrike has been identified as Mullah Daud Taimani, the 209th Shaheen Corps added in its statement.
Full report at:
https://www.khaama.com/taliban-commander-leading-a-group-of-50-militants-killed-in-faryab-airstrike-06128/
--------
Bangladesh opposition leader gets life over 2004 attack
October 10, 2018
DHAKA: A Bangladesh court Wednesday sentenced a top opposition leader to life in prison and sentenced 19 more people to death over a 2004 grenade attack on the current prime minister.
"We thank God for the verdict," prosecutor Mosharraf Hossain told reporters after announcing that Tarique Rahman, the self-exiled acting head of the country's main opposition party, was jailed for life while 19 others, including two former ministers, received the death penalty.
http://www.arabnews.com/node/1385391/world
--------
Europe
Muslim London: 423 new mosques, 100 Shariah courts
2018-10-07
London —Britain has been acquiring an increasingly Islamic face, with hundreds of official Shariah courts operating in the capital and many mosques dotting many cities.
"London is more Islamic than many Muslim countries put together," Maulana Syed Raza Rizvi, an Islamic preacher, was quoted as saying in the local media.
"Terrorists can not stand London's multiculturalism", London Mayor Sadiq Khan said after the deadly terror attack at Westminster last year.
There are 423 new mosques in London and most of these mosques are crowded at prayer times unlike many churches which rarely see visitors.
The Daily Mail published photographs of a church and a mosque a few meters from each other in the heart of London. At the Church of San Giorgio, designed to accommodate 1,230 worshipers, only 12 people gathered to celebrate Mass. At the Church of Santa Maria, there were 20
The nearby Brune Street Estate mosque has a different problem: overcrowding. Its small room can contain only 100.
By 2020, estimates are that the number of Muslims attending prayers will reach at least 683,000, while the number of Christians attending weekly Mass will drop to 679,000.
Since 2001, 500 London churches of all denominations have been turned into private homes. During the same period, British mosques have been proliferating. Between 2012 and 2014, the proportion of Britons who identify themselves as Anglicans fell from 21% to 17%, a decrease of 1.7 million people, while, according to a survey conducted by the respected NatCen Social Research Institute, the number of Muslims has grown by almost a million. Churchgoers are declining at a rate that within a generation, their number will be three times lower than that of Muslims who go regularly to mosque on Friday.
London is also full of Shariah courts. There are officially 100. The advent of this parallel judicial system has been made possible thanks to the British Arbitration Act and the system of Alternative Dispute Resolution.
British universities are also advancing Islamic law. — Agencies
http://www.saudigazette.com.sa/article/545051/World/Europe/Muslim-London-423-new-mosques-100-Shariah-courts
--------
The legal links between Europe and the Islamic world
HA Hellyer
October 10, 2018
One of the UK's most recognisable far-right figures, Tommy Robinson, is famous for many things – chief among them founding the anti-Muslim English Defence League and a string of legal battles and jail sentences. However, among his most notable contributions to popular culture is the creation of the #creepingsharia hashtag on Twitter. Like most things he does, this backfired. It was meant to highlight how the UK is supposedly becoming "Islamised", but instead became a meme used to belittle such absurd concerns.
The greater irony, however, is that sharia "crept" into the UK a long time ago. Indeed, the British legal system depends on it, and has done for centuries.
In his 2004 book The Case for Islamo-Christian Civilisation, Columbia University's Richard Bulliet states: "Muslims have been massively present in Europe before today. In fact, through the centuries, Muslims have been engaged in the creation of Europe and European civilisation." This is an idea I explored in my own book, Muslims of Europe: The "Other" Europeans. However, the influence of Muslim countries on the development of laws and institutions is particularly worthy of further exploration.
It is not clear when the first links between Britain and Islam began to be forged. Some historical documents state that the Celts came into contact and built trade relationships with Muslims in the eastern Mediterranean back in the 8th century. Later records indicate that Arab Muslims were visiting London as far back as the 12th century for trade, and that the alliance between King John and the Sharif of Morocco in the 13th century was so strong that the former proposed to the latter's daughter.
In The Rise of Colleges, published in 1981, the American academic George Makdisi posited the theory that European universities took many of their cues from Arab-Islamic madrasas. He traced the idea of charitable trusts back to the waqf system in Muslim societies, and linked the ijaza or licence system of Islamic tradition to western university degrees, which emerged centuries later.
John Makdisi, George Makdisi's son, has argued in several academic works that the origins of English common law, created in the 12th century, are to be found in Islamic jurisprudence. He has explored several areas of law to make this point, notably the creation of the royal English contract, which he has related to the Islamic aqd, and, most fascinatingly, the creation of the jury. Both have unique characteristics and appeared quite suddenly in 12th-century England, following a close connection between King Henry II of England and King Roger II of Sicily. It is important to note that Roger ruled over a territory that had previously been Muslim, where much of the Islamic legal system remained in place.
It is widely believed that Italian and French civil law are significantly influenced by Islamic jurisprudence. Much has been made, correctly, of the impact Muslim Spain and Portugal had on the rest of Europe, but precious little has been written about the ways in which the Norman conquest of the Emirate of Sicily affected European legal systems far beyond the island's shores.
Some years ago, a wonderful project promoted by the British Council and titled Our Shared Europe took this idea seriously. The point of the project was to educate and enlighten Europeans of all backgrounds about the shared links between Islamic tradition and the development of European history, culture and civilisation. Unfortunately, it did not remain active for long, even though it unearthed a treasure trove of enthralling information.
Full report at:
https://www.thenational.ae/opinion/comment/the-legal-links-between-europe-and-the-islamic-world-1.779103
--------
ISIS Britons could return home without facing charges
October 10, 2018
Britons who moved to Syria and Iraq to fight with ISIS could be allowed back into the country, UK security minister Ben Wallace has said, even if they cannot be brought to justice for their actions.
Ben Wallace said that his "number-one preference" would be to see such fighters taken to court in the UK, and he said the British government would happily accept any who were sent back by foreign governments or who chose to returned voluntarily.
He told the National Security Summit in London: "British citizens are British citizens. If they seek to come back to this country or another country deports them, we will take them and we will either seek to convict them or we will try to deradicalise them."
But there were "clear legal challenges" in trying to bring back Britons who were currently being held by Kurdish forces in Syria - and in putting together watertight legal cases against them in a British court. There are currently nine British fighters with ISIS who are being held by Kurdish forces.
Britain was accused earlier this week of abandoning its long-standing opposition to the death penalty for ISIS terror suspects in the United States, as European capitals sought to avoid the repatriation of foreign fighters from Syria.
British officials shifted the country's stand over three months in 2018, after their ambassador in Washington stirred fears of outraging president Donald Trump, London's High Court was told. Mr Trump could "hold a grudge" if Britain refused to allow its intelligence to be used for death penalty cases in the US, according to the diplomat.
The apparent change in policy came as Britain prepared the ground for members of an ISIS hit squad – suspected of kidnapping 27 people and beheading five westerners in Syria and Iraq – to be tried in the US.
Full report at:
https://www.thenational.ae/world/mena/isis-britons-could-return-home-without-facing-charges-1.779287
--------
Germany open to selling arms to Saudis despite Yemen war: report
October 11, 2018
Germany's government has left the door open to exporting arms to Saudi Arabia and its allies in the Yemen conflict, the news weekly Der Spiegel reported Wednesday, seemingly in spite of a deal within the country's ruling coalition.
There would be no German arms embargo on countries taking part in the Yemen conflict, which has left 10,000 people dead since 2015, the news weekly said on its website. It cited a letter to that effect sent by the economy ministry to Social Democratic Party (SPD) MP Thomas Hitschler.
But part of a March coalition deal between Chancellor Angela Merkel's conservative CSU party and the centre-left SPD appeared to rule out arms exports to countries "directly involved" in the conflict.
The letter to Hitschler, however, said that export licences will be granted on a case by case basis, Der Spiegel reported.
The issue provoked a sharp dispute within the SPD's parliamentary group, the news weekly said, with several deputies accusing Foreign Minister Heiko Maas -- himself a SDP member -- of kowtowing to the Saudis.
Merkel's coalition is already fragile, with its third member, the Bavarian conservative CSU, agitating for a migration crackdown as well as facing regional polls on Sunday.
The Der Spiegel report also comes amid mounting international scrutiny of the disappearance of Saudi journalist Jamal Khashoggi, last seen by his fiancee entering the Saudi consulate in Istanbul last week.
Turkish police say they think he was killed by a 15-strong team sent to Istanbul, an accusation strongly denied by the Saudis.
The authorities in Turkey have released security camera footage showing a man thought to be Khashoggi entering the consulate.
Germany and Saudi Arabia only returned their ambassadors in September after 10 months of frosty relations following criticism from Berlin of what it said was Saudi interference in Lebanese affairs.
Saudi Arabia leads a coalition that intervened in Yemen in 2015 to support the government there against armed rebels backed by Iran.
Full report at:
https://nation.com.pk/11-Oct-2018/germany-open-to-selling-arms-to-saudis-despite-yemen-war-report
--------
Global media and Muslims: Selective coverage, selective outrage
By Syed Zafar Mehdi
October 10, 2018
On the gloomy morning of March 22 2016, Brussels, the capital city of Belgium and a major European tourist attraction, experienced a series of bombings, killing at least 31 people. Like the devastating November 2015 Paris attacks, which claimed 130 lives, Brussels attack provoked unprecedented levels of public outrage and media coverage that went well beyond the tragic event.
Lengthy newspaper editorials were dedicated to Paris and Brussels and 'security analysts' appeared on prime news TV shows to discuss state security and perceived threat of Syrian and Afghan refugees.
This is not to suggest that the mindless bloodletting in Paris or Brussels or Manchester or Madrid should not provoke outrage or it should not be discussed in the mainstream corporate media. But, why does the media – in the west or east – focus so heavily on these attacks when equally deadly, equally ghastly attacks occur in places like Kabul, Baghdad, Beirut, Ankara, Quetta, Tehran, Kenya, Yemen? What does this selective coverage and selective outrage say about the corporate news media?
While attacks by 'Muslims' against non-Muslims in Europe have grabbed headlines recently, a study conducted by the National Consortium for the Study of Terrorism and Responses to Terrorism (START), a research center at the University of Maryland, states that Muslims are most victimized by the global terrorism.
But, the attacks in Paris, Brussels, Manchester or Madrid – and the global response to them – amply highlight the selective outrage towards global terrorism and biased coverage of the corporate news media.
When Paris attacks took place, social media was bombarded with evocative hashtags, candle light vigils were held, popular news sites carried live blogs, world leaders rushed to send out messages of solidarity with the French people.
At the same time, Lebanese people were in a state of mourning, after 43 people were killed and 200 others wounded in multiple suicide bombings in Beirut. But the bombings in Beirut – for which ISIS claimed responsibility – drew no outrage from world leaders, no candle-light demonstrations from human rights defenders, no hashtags or live blogs from Western media.
Blatant double standards
On May 31 2017, a devastating truck bomb in the diplomatic enclave of Kabul claimed at least 100 lives and injured more than 450, mostly civilians. According to security officials, the intended target of 1500 kg explosives packed in a sewage tanker was the 'green zone' – housing foreign embassies – but Afghan policemen manning the main entrance stopped the vehicle from going inside, sacrificing their own lives to save foreign diplomats. It was the deadliest attack with unprecedented civilian casualties on the soil of Afghanistan since 2001 but the news media coverage made it look like just another terror attack, because the victims were poor Afghans.
If the truck packed with ammunition had managed to go past the main entrance and hit the intended target – foreign embassies and NATO headquarters – it would have been a different scenario altogether. But, since the Afghan policemen foiled the plan of attackers, the casualties were all Afghan civilians, which is not something Western readers and viewers are interested in. It was followed by two more deadly attacks in the same week.
The attacks continue as the protracted war stretches into its 18th year now. But these attacks are not 'news' anymore for the mainstream Western media, because the violence in Afghanistan has been normalized to the extent that lives of Afghans don't matter to them.
A day before the Kabul 'green zone' attack, more than 40 people were killed in a spate of explosions in central Baghdad's Karrada area, bringing back chilling memories of the truck bomb attack in which 320 people were killed in the same neighborhood. Less than two weeks after the Karrada attack, a suicide bomber blew himself up in the town of Musayyib, south of Baghdad, killing at least 30 people.
These attacks elicited no angry reactions and no vigils were held. There were no banner headlines and no editorials. World leaders did not deem it important to send out messages of solidarity, unlike Paris attack or Brussels attack or London attack.
It is important to note that Iraq has been turned into a bedlam because of U.S. military intervention and the resurgence of militancy in the form of ISIS can be blamed on America's flawed Middle East policy. As Noam Chomsky once told me, Americans owe huge reparations to Iraqis and Afghans for destroying their lives and their homes.
Iranian capital city Tehran also had a brush with terror on June 7 2017, when two of the most important symbols of Iranian pride – parliament house and Ayatollah Khomeini's mausoleum – came under attack. At least 17 people were killed in two simultaneous attacks. But, reportage in the Western media was in sync with President Trump's statement that Iran was "falling victim to the evil they promote". Tehran later denounced his reaction as "repugnant".
More recently, the deadly attack on a military parade in southwestern Iranian province of Ahvaz claimed almost 30 lives, including children. The attack was claimed by a group that traces links to Arab states, so obviously the Western media and Western leaders had reservations in condemning the attack.
The simple truth is: Muslims are far more likely to die at the hands of other 'Muslims', and they are also more likely to be killed by Westerners who seek to exterminate 'Islamic extremists'.
In Yemen, the carnage continues and the world unforgivably looks the other way. Thousands of people have been killed and injured, mostly in airstrikes. Saudi-led coalition has been committing horrendous war crimes in Yemen but the U.S., Britain, France and other 'allies' keep shipping bombs to Riyadh. Unfortunately, the coverage of Yemen war is pathetically erratic while we had wall-to-wall media coverage of the war in Syria. The answer is simple: most of the Western powers are complicit in the genocide of Yemenis, hence it is a forgotten war.
Muslim attackers, non-Muslim attackers
According to a study by a team of researchers from Georgia State University, attacks by people claiming to be Muslim received 449 percent more coverage on average in recent years than those perpetrated by virtually anyone else. "When attacks are perpetrated by a Muslim, they receive drastically more coverage," Erin Kearns, the lead author of the study, was quote saying. "Across every model that we looked at, we are still finding that Muslim perpetrators have at least 200 percent increase in coverage."
Why do Muslim perpetrators dominate headlines? Who is a terrorist? Apparently, a Muslim is a terrorist even if he is mentally ill, and a non-Muslim is mentally-ill even if he is a terrorist. It's terrorism only when Muslims do it. As George Orwell so succinctly put it, "Actions are held to be good or bad, not on their own merits, but according to who does them."
In November 2009, when a Muslim US army major fatally shot 13 people in Texas, the attack was quickly characterized as 'terrorism'. It was indeed an act of terrorism and American Muslim groups also strongly and unequivocally condemned the shooting.
But when a US military officer went on a rampage in southern Afghanistan in March 2012, mowing down 16 civilians – including nine children and three women – no Western media outlet called him a 'terrorist'. The media protected his identity and refrained from mentioning his faith, because the label is strictly reserved for Muslim perpetrators. All major news outlets in the West reported that the soldier "was suffering from the stress of a fourth combat tour", had a "brain injury" and "marital problems".
Every time there is a terrorist attack, Muslims watch the news with uneasiness and alarm, not because every terrorist is a Muslim but because there is amplified media coverage and a deluge of Islamophobic rhetoric on social media whenever the perpetrator is identified as Muslim.
To put things into perspective, according to FBI, 94 percent of terrorist attacks carried out in the U.S. between 1980 and 2005 have been by non-Muslims, and less than two percent terrorist attacks in Europe in the past five years were carried out by Muslims.
Refugee crisis and vilification campaign
When three men went on a rampage at London Bridge in June 2017, killing seven people, global media went berserk. The religion of perpetrators was repeatedly mentioned to emphasize that it was 'Islamic terrorism' by 'radical Islamists', even though clerics at London city's largest mosque clearly condemned the 'deranged and despicable' act. It was terrorism, but not 'Islamic terrorism'. They were terrorists but not 'Islamists'.
London Bridge attack, followed by Finsbury Park attack, and before that Westminster attack, dominated headlines for weeks. Seasoned 'commentators' spoke of how Islam was a 'part of problem' and why Muslim refugees cannot be trusted, without examining the cause and genesis of refugee crisis.
Why is the European Union facing unprecedented numbers of refugees? Why are Syrians and Afghans and Iraqis and Somalis risking their lives to cross the Mediterranean Sea to Europe? No, they are not "seeking a better life" as some believe, they are setting off into the Mediterranean to seek refugee from war and persecution, for which U.S. and European governments are responsible. Those following their perilous journey will understand why the hashtag #SyrianRefugeeCrisis is just as devastating as #PrayForParis.
Three countries make up more than half of the world refugees: Syria (4.9 million), Afghanistan (2.7 million), Somalia (1.1 million) – all Muslim countries, devastated by unending war and grinding poverty, for which Western governments must share the blame.
In Afghanistan, as President Ghani has repeatedly said, it is an 'imposed war'. Most of the European countries are part of the U.S.-led coalition – or have been – that is fighting the war. In Syria, America and its allies have been financially and militarily supporting 'rebel forces' in their fight against Bashar al-Assad government. In Somalia, the intervention of U.S. has only intensified the civil war, forcing thousands to flee their homes.
Plight of Hazaras and Rohingyas
On August 7 2017, Taliban joined forces with ISIS to overrun Hazara-dominated Mirza Olang village in northern Afghan province Sar e Pul, killing at least 50 civilians. On August 2 2017, a suicide attack at a packed Shia mosque in western Afghanistan killed at least 37 people and injured 60 others.
In the month of Ramadan last year, ISIS suicide bomber and gunmen forced their way into a popular mosque in Hazara-dominated Dasht e Barchi area of Kabul, killing four people and injuring at least a dozen. In the month of Muharram last year, there was an attack on Ziyarat e Sakhi, a popular Shia shrine in Kabul, in which 18 worshippers were killed and 54 others injured. On the day of Arbaeen last year, terrorists struck again, killing at least 27 people and wounding hundreds at the Baqir ul Uloom mosque in central Kabul.
This year, the attacks targeting Hazara Shias, particularly in Kabul, have intensified. There was a deadly attack on a school in Shia-neighourhood of Kabul in August, killing at least 34 school children. In the same neighourhood, a month later, more than 30 people were killed when a suicide bomber detonated his explosives inside a wrestling club.
One thing common about all these attacks is that the victims were Hazara Shias. Afghanistan has a grim history of ethnic violence, especially when it comes to targeted killing of Hazara Shias. These attacks have brought back chilling memories of 1990s when the Taliban would raid houses, identify and kill Hazara Shias.
The attacks on Hazara Shias in Afghanistan and also in Pakistan have become so routine that many major news outlets do not consider it newsworthy anymore. Imagine the anger and outrage if ISIS terrorists had attacked a church or a synagogue in Paris or Manchester or Manhattan or even Mumbai? That explains the hypocrisy of mainstream news media.
Similarly heart wrenching is the plight of Rohingya Muslims in Buddhist-majority Myanmar. The communal violence fanned by the Burmese government led by Nobel Laureate Aung San Suu Kyi has led to the killing of hundreds of Rohingyas and displaced thousands. Satellite images have shown how military burnt Rohingya villages. But there has been little international action so far. Aung San continues to be the darling of the Western leaders.
As per conservative estimates, there are around 905,000 Rohingya refugees in Bangladesh's Cox's Bazar presently, although some human rights bodies have put the figure higher. The exodus of persecuted Rohingya Muslims from Myanmar's Rakhine state started in October 2016, following the crackdown by Burmese security forces. However, things took nasty turn in August last year when more than 720,000 Rohingya refugees fled to Bangladesh en masse to escape persecution, murder, arson and rape. The savagery in Rakhine was described by the United Nations as "a textbook example of ethnic cleansing"
Lynch mobs in India and injustice in Kashmir
In India, it has become difficult for Muslims to look Muslim, with paranoia and suspicion all around. The lynching of Muslims (and also Dalits) in last few years has created a sense of fear and desperation among Muslims.
Indian Prime Minister Narendra Modi was widely criticized for not speaking up on 'cow politics'. He finally broke his criminal silence after the #NotInMyName protests rocked multiple cities across India. But, the big question is: with Sangh Parivar leading this hate campaign against Muslims in the name of 'gaw raksha', can the government stop these lynch mobs?
Unfortunately, the liberals have been unfairly attacked by run-of-the-mill TV channels and prime time 'talking heads' for giving voice to the voiceless. India's TV media, quite bizarrely, has been siding with the lynch mobs and their patronisers.
That brings us to the issue of Kashmir and how the Indian media vilifies Kashmiris. Any debate over Kashmir in TV news studios lacks nuance. The Kashmir narrative peddled by loud-mouthed TV anchors these days seeks to push the agenda of right-wing forces that thrive on hate-mongering and war-mongering. That is precisely why media becomes a devil's advocate when army men convicted in Machil fake encounter are given reprieve by a kangaroo military court and when a poor civilian is tied to a jeep and used as a human shield.
Tailpiece
To quote Aloe Blacc, "we all bleed the same blood". Terrorism and extremism in all their forms and manifestations, irrespective of who the victim and perpetrator are, should be unequivocally condemned. Selective outrage is dangerous and cringe-worthy.
Full report at:
https://www.tehrantimes.com/news/428409/Global-media-and-Muslims-Selective-coverage-selective-outrage
--------
UK FM Hunt bashes Saudis over fate of missing Saudi journalist
Oct 10, 2018
In a rare British challenge to Riyadh, the UK Foreign Secretary Jeremy Hunt has asked Saudi Arabia for answers over the disappearance in Turkey of Saudi journalist Jamal Khashoggi.
Khashoggi was last seen visiting the Saudi consulate in Istanbul last week, and Turkey says he may have been murdered there. However, this suggestion has been strongly denied by the Saudis.
In a phone call to Saudi Arabian Foreign Minister Adel al-Jubeir, Jeremy Hunt warned Saudi Arabia that its friendship with the UK depends on "shared values," after he demanded answers over the claims.
Hunt tweeted a message after meeting the Saudi ambassador to London, Mohammed bin Nawwaf bin Abdulaziz, on Tuesday.
It was the second time in two days that the ambassador had been questioned by the Foreign Office about what the Saudi royal family may know about the disappearance of one of the highest-profile critics of the Saudi leadership.
The ambassador discussed the incident with the permanent secretary to the Foreign Office, Sir Simon McDonald, on Monday.
"Violence against journalists is going up and is a grave threat to freedom of expression. If media reports prove correct we will treat the incident seriously – friendships depend on shared values," Hunt added.
The United Kingdom and Saudi Arabia have long been close allies.
In March, Saudi Crown Prince Mohammed bin Salman visited the UK and signed a raft of business deals. During the visit the two nations launched the UK-Saudi Arabia Strategic Partnership Council, which involves £65 billion mutual trade and investment to be spread across sectors including finance, education, health care, renewable energy and defense.
Full report at:
https://www.presstv.com/Detail/2018/10/10/576619/UK-Hunt-missing-Saudi-journalist-Turkey
--------
White Helmets, Nusra Front's chlorine canisters end up in Daesh's hands: Russia
Oct 10, 2018
The Russian Defense Ministry says chlorine canisters have fallen in the hands of Daesh terrorists after they attacked the headquarters of the Western-backed White Helmets "aid group" and al-Nusra Front militants in northern Syria.
The head of the Russian Reconciliation Center, Major General Vladimir Savchenko, announced in a Wednesday statement that pro-Daesh terrorists on Tuesday evening "attacked the headquarters of the detachment of the terrorist organization Hayyat Tahrir al-Sham," formerly al-Nusra Front, in al-Lataminah village in Hama province.
"As a result, four militants and two employees of the White Helmets organization were killed. Two chlorine containers were stolen from the headquarters room," the statement added.
The Russian official went on to say that the stolen chlorine containers were transported to the south of the Aleppo province and handed over to terrorists of Harras al-Din terrorist group, associated with Daesh.
Savchenko blamed Western countries supporting the militants for their "irresponsible actions", which have led to a situation in which terrorists can gain access to chemical agents.
The chemical agents have ended up in the hands of Daesh terrorists, whose actions are impossible to predict, the statement added.
The statement came a few weeks after the Russian defense ministry warned terrorists and the White Helmets group, which stands accused of working with Takfiri militants and launching false-flag gas attacks in Syria, have met in the northwestern province of Idlib to stage a chemical attack which they will blame on the government of President Bashar al-Assad.
In early September, Russian Defense Ministry Spokesman Major General Igor Konashenkov said based on "irrefutable" data terrorist groups, including al-Nusra Front, and members of the so-called rescue group met in Idlib to prepare the final scenarios for the chemical attack which will target the cities of Jisr ash-Shugur, Serakab, Taftanaz and Sarmin.
Also in August, Russia's Defense Ministry had noted that eight canisters of chlorine had been delivered to a village near Jisr al-Shughur city in Idlib, and that a foreign-trained group of militants had also arrived in the area to simulate a rescue operation after the staged attack.
US seeking to use fake chemical weapons attack to strike Syria: Russian MoD
Russia said the terrorists aimed to stage the chemical attacks and lay the blame on the Syrian government to provoke a western attack as the Assad government was planning to launch a full-scale offensive to retake the militant-held Idlib province.
The offensive, however, was called off after Russia and Turkey agreed to enforce a new demilitarized zone in Idlib from which "radical" rebels were required to withdraw by October 15.
'1,000 terrorists leave demilitarized zone in Idlib'
Russian Foreign Ministry spokeswoman Maria Zakharova told reporters on Wednesday that over 1,000 militants have left the demilitarized zone in Idlib, the last stronghold of militants.
Last month, Turkish President Recep Tayyib Erdogan and his Russian counterpart Vladimir Putin met in the Black Sea resort of Sochi and announced an agreement on Idlib.
Full report at:
https://www.presstv.com/Detail/2018/10/10/576654/Russia-White-Helmets-Syria-chemicals-nusra
--------
Counter-extremism chief attacks Tommy Robinson soldier photo
10 Oct 2018
The government's counter-extremism tsar, Sara Khan, has criticised the far-right activist Tommy Robinson for posing for a photograph alongside military figures, saying his "attention-seeking is cover for divisive anti-Muslim hatred".
The army is investigating after the former English Defence League leader posted an image of himself surrounded by a group of grinning young men in camouflage uniform, apparently soldiers or cadets.
Khan, the lead commissioner for countering extremism, who is overseeing a study of extremism across England and Wales, said: "This is typical of the far right. They manipulate and exploit their way into the mainstream, often targeting the military and co-opting its symbols.
"But Tommy Robinson's attention-seeking is cover for divisive anti-Muslim hatred that is causing real harm to individuals, communities and society in general. We have to call it out. Muslims are proudly and selflessly serving in the armed forces, and the army's decisive response is to be praised.
"I am very worried about the growing impact of the far right in England and Wales. We have to strengthen our response across society.
"Firstly, we need to better understand the scale, the tactics and objectives and the harms of the far right. That is why my commission has confirmed that we will bring in academics and frontline practitioners to review the threat of the far right in England and Wales."
Robinson also posted a video of himself on Monday with a crowd who started cheering and shouting his name. He wrote on Facebook: "A moment like this makes it all worth while. Today I met real British heroes."
The army said it was aware of the photograph and footage, and was "investigating the circumstances surrounding this". A spokeswoman said: "Far-right ideology is completely at odds with the values and ethos of the armed forces. The armed forces have robust measures in place to ensure those exhibiting extremist views are neither tolerated nor permitted to serve."
Imam Asim Hafiz, an Islamic religious adviser to the armed forces, said: "Any form of racism, discrimination or extremism is taken extremely seriously and will be dealt with accordingly. The armed forces remain absolutely committed to welcoming individuals from across all faiths and cultures into its ranks."
The Muslim Council of Britain said Robinson "does not represent our armed forces, however much he tries to claim otherwise".
Full report at:
https://www.theguardian.com/uk-news/2018/oct/09/uk-army-investigates-tommy-robinson-poses-with-soldiers
--------
Mideast
Erdogan says Turkey-US deal on Syria's Manbij delayed but 'not dead'
11 October 2018
The deal between Turkey and the United States regarding the northern Syrian town of Manbij is delayed "but not completely dead", President Tayyip Erdogan was quoted as saying by Hurriyet newspaper on Thursday.
Erdogan made the comments to reporters on Tuesday on the flight back from his visit to Hungary.
Asked about the trial of US evangelical pastor Andrew Brunson in Turkey, Erdogan said he was not in a position to interfere with the judiciary because Turkey is a state of law.
Meanwhile, extremists and Turkish-backed militants have withdrawn most heavy weapons from territory around Syria's last major opposition stronghold ahead of a deadline, a monitor said.
The weapons pullback is the first major test of a truce deal brokered by government-backed Russia and opposition militants-backer Turkey last month to avoid what the United Nations warned would be the appalling humanitarian consequences of a major government offensive.
As agreed by the two NATO allies in June, Turkish and US forces had carried out patrols in Manbij, but those are independent of each other. Training is the last step before the two countries carry out joint patrols.
https://english.alarabiya.net/en/News/middle-east/2018/10/11/Erdogan-says-Turkey-US-deal-on-Syria-s-Manbij-delayed-but-not-dead-.html
--------
Israeli forces demolish 2 more Palestinian homes in al-Khalil
Oct 11, 2018
Israeli forces have bulldozed two more Palestinian houses in Al-Halawa neighborhood in the south of the West Bank city of al-Khalil (Hebron).
Palestinian news outlets reported Wednesday that the two small houses were destroyed the previous day under claims that they had been built without "building permits", which are impossible to obtain from the Israeli regime, said Ratib al-Jabour, the coordinator of the Anti-Settlement and Wall Committee.
Jabour told Quds Press that the Israeli forces had also seized the solar panels used to supply electricity to the two houses, which belong to Palestinians Khalil Younis Arram and his cousin Ahmad Ismail Arram.
The neighborhood where the two homes were located is surrounded by illegal Israeli settlements and has come under increased attacks by Israeli forces. They frequently raid the Palestinian houses and confiscate any new equipment donated to the residents, including mobile homes funded by the European Union.
The demolition was carried out on the same day as the Tel Aviv regime issued a confiscation order against 2,036 acres of Az-Zawiya village's lands in the Salfit district of the West Bank.
The land is located in the western part of the village where Israeli settlements are built on Palestinian lands.
Palestinian land owners have been given seven days to appeal through the so-called Israeli Civil Administration.
Thanks to the support it receives from the administration of US President Donald Trump, the Israeli regime has increased its settlement constructions in Palestinian territories since he came to power in 2017.
Trump, who has thrown his weight behind Israel's policies, recently moved the US embassy from Tel Aviv to Jerusalem al-Quds after declaring the holy city the capital of the Israeli regime, in a globally-condemned move which was in contravention of international law.
Since 1967, the Israeli regime has been enforcing the draconian policy of demolishing the homes of the Palestinians it deems to be behind fatal attacks against Israeli settlers. The practice, however, was temporarily halted from 2005 to 2014, with the exception of 2009, when scores of homes were sealed and razed in East Jerusalem al-Quds.
Nevertheless, in 2014, Israeli Prime Minister Benjamin Netanyahu announced as a policy the resumption of demolitions in the occupied West Bank.
The United Nations Office for the Coordination of Humanitarian Affairs (OCHA) also said in July that Israeli authorities demolished 197 Palestinian structures in the West Bank during the first half of 2018.
Full report at:
https://www.presstv.com/Detail/2018/10/11/576660/Israel-Palestinian-houses-alkhalil-hebron
--------
Demilitarized zone around Syria's Idlib set up, Turkey says
11 October 2018
Turkey's defense ministry said on Wednesday the demilitarized zone in Syria's Idlib has been formed and heavy weapons have been withdrawn, following an agreement by Russian and Turkish leaders in Sochi last month.
The agreement dictated that heavy weapons, tanks, rocket systems and mortars of all opposition groups would be withdrawn by October 10, and the zone will be monitored by coordinated Turkish and Russian patrols.
Under the deal agreed last month between Turkey and Syrian President Bashar al-Assad's ally Moscow, militants will be required to withdraw by the middle of this month from the zone, and heavy weaponry must be withdrawn from the 15-20 km buffer zone by October 10.
Russia's Foreign Ministry said on Wednesday over 1,000 militants had left the zone.
Asked about Turkish reports that all heavy weapons had been removed, Russian Foreign Ministry spokeswoman Maria Zakharova told reporters that around 100 heavy weapon units had been withdrawn from the zone, but gave no further details.
Full report at:
https://english.alarabiya.net/en/News/middle-east/2018/10/11/Demilitarized-zone-around-Syria-s-Idlib-set-up-Turkey-says.html
--------
Belgium charges Iranian diplomat with planning bomb attack
10 October 2018
Belgium has charged an Iranian diplomat and three other individuals with planning to bomb a meeting of an exiled Iranian opposition group in France in June, Belgian prosecutors said on Wednesday.
The diplomat, identified only by his given name as Assadollah, worked at the Iranian embassy in Vienna. He was arrested in Germany on suspicion of planning an attack against the Paris-based National Council of Resistance of Iran (NCRI), an umbrella bloc of opposition groups in exile.
On Tuesday, Germany transferred the diplomat to Belgium, where he was charged with preparing a terrorist attack, the state prosecutor said.
The other three alleged participants have also been charged in Belgium.
Two of them were arrested by Belgian police in June with 500 grams of TATP, an explosive that can be home-made from easily available chemicals, as well as a detonation device.
Full report at:
https://english.alarabiya.net/en/News/middle-east/2018/10/10/Belgium-charges-Iranian-diplomat-with-planning-bomb-attack-.html
--------
Nine dead, 25 missing as migrant boat sinks off western Turkey
10 October 2018
Nine people died after a boat filled with migrants sank off the western coast of Turkey and another 25 were missing, the Turkish coast guard said on Wednesday.
It was not clear where the boat was headed or where it left from. Hundreds of thousands of migrants crossed the sea channel from Turkey to Greek territory in 2015 before Ankara curbed the flow under a deal it struck with the European Union.
The coast guard said the boat sank off the coast of Turkey's Izmir province after water began leaking shortly after its departure. Search and rescue operations for the missing migrants were continuing, a coast guard statement said. It said there were initially around 35 migrants on the boat in total.
Turkey became one of the main launch points for more than a million migrants taking the sea route to EU territory in 2015, many fleeing conflict and poverty in the Middle East and Africa.
The influx of migrants was drastically curtailed by a 2016 accord between Ankara and the EU, after hundreds died crossing to Greek islands a few miles off the Turkish shore.
Full report at:
https://english.alarabiya.net/en/News/middle-east/2018/10/10/Nine-dead-25-missing-as-migrant-boat-sinks-off-western-Turkey.html
--------
Griffiths holds Yemen talks in Riyadh, heads to Muscat to resume peace efforts
11 October 2018
After holding talks in Riyadh on Wednesday, United Nations special envoy to Yemen Martin Griffiths headed to Muscat to revive political negotiations.
Griffiths discussed visions, proposals and efforts to achieve peace and build trust.
The UN envoy met with Oman's Foreign Minister Yusuf bin Alawi in Muscat and discussed latest Yemeni developments and international efforts to reach a political solution in Yemen.
Earlier on Wednesday, Griffiths met with Yemeni Vice President Ali Mohsen al-Ahmar and Prime Minister Ahmed bin Daghr in Riyadh and discussed efforts to reach a peaceful solution to the crisis in Yemen, the official Yemeni news agency reported.
Ahmar voiced his appreciation of Griffiths' efforts to achieve peace and ease the Yemeni people's suffering. He reiterated that legitimacy is headed towards fulfilling permanent peace that's based on the three references, the Gulf initiative, the outcomes of the national dialogue conference and UN Resolution 2216.
Ahmar added that the Houthis' oppressive policy against citizens in areas they control, their assault on civilians, theft of resources and destabilizing regional and international security imply that they adhere to the option of war and violence.
He also called on the international community to exert pressure to implement international resolutions and subjugate the Houthis to sit for dialogue.
Full report at:
https://english.alarabiya.net/en/News/gulf/2018/10/11/Griffiths-holds-Yemen-talks-in-Riyadh-heads-to-Muscat-to-resume-peace-efforts.html
--------
Yemeni ballistic missile hits military base in Saudi Arabia's Asir: Report
Oct 11, 2018
Yemeni armed forces have fired a domestically-developed ballistic missile at a military base in Saudi Arabia's southwestern border region of Asir, in retaliation for the regime's campaign of military aggression, according to a report.
Yemen's Arabic-language al-Masirah television network, citing an unnamed military official from the missile unit of the Yemeni army, reported that the military base had been hit with a short-range Badr-1 missile late on Wednesday, adding that the projectile had struck its target with precision.
The report added that the missile attack left an unspecified number of Saudi mercenaries either dead or wounded, and inflicted damage to the base and its equipment.
Meanwhile, al-Masirah said in a separate report that Yemeni forces killed a number of Saudi-led mercenaries west of a border crossing in Asir in rocket and mortar fire.
It added that the Yemeni forces also managed to retake at least eight strategic areas in the northernmost parts of the country's Sa'ada province, which shares a border with Asir.
Earlier on Wednesday, the Yemeni army had hit a Saudi base in the kingdom's Jizan region with two home-grown Zelzal-1 (Earthquake-1) ballistic missiles. There were no immediate reports about possible casualties or the extent of damage caused.
Saudi Arabia and some of its allies, including the United Arab Emirates, Morocco, and Sudan, launched a brutal war against Yemen in March 2015 in an attempt to reinstall Yemen's former president Abd Rabbuh Mansur Hadi and crush the country's popular Houthi Ansarullah movement, which has played a significant role, alongside the Yemeni army, in defending the impoverished nation.
The aggression initially consisted of a bombing campaign but was later coupled with a naval blockade and the deployment of ground forces to Yemen. Some 15,000 Yemenis have so far been killed and thousands more injured.
More than 2,200 others have also died of cholera, and the crisis has triggered what the United Nations has described as the world's worst humanitarian disaster.
The imposed war has also taken a heavy toll on the country's infrastructure, destroying hospitals, schools, and factories. The UN has said that a record 22.2 million Yemenis are in dire need of food, including 8.4 million threatened by severe hunger.
Full report at:
https://www.presstv.com/Detail/2018/10/11/576664/Yemen-ballistic-missile-Saudi-Asir-Jizan
--------
Africa
Boko Haram terrorists kill 8 Chadian soldiers
Oct 10, 2018
Boko Haram terrorists have claimed the lives of eight Chadian soldiers in the Lake Chad region in an attack that was repelled by the army troops who killed 48 militants.
"Boko Haram terrorists attacked defense force positions in Kaiga Kindji early this morning," a military spokesman said Wednesday.
He added that the attack also injured 11 other soldiers, but had been "vigorously" thwarted.
Chad is a member of a multinational task force combating Boko Haram across its border with Nigeria, Niger and Cameroon. The force has been created with the aim of preventing a spillover of the militancy to those countries from Nigeria.
Boko Haram has been largely pushed out of its main strongholds in northern Nigeria, according to the country's military and government. The group, however, is still active in its Sambisa Forest enclave in Borno and launches sporadic attacks on civilians and security forces from there.
More than 20,000 people have been killed and hundreds of thousands displaced in more than eight years of insurgency by Boko Haram in Nigeria, Chad, Cameroon and Niger. The group pledged allegiance to the Takfiri Daesh group in 2015.
The United Nations has warned that areas affected by Boko Haram face a humanitarian crisis.
Earlier this month, a Chadian soldier was killed in a mortar attack launched by Boko Haram on a military camp in Litri, near the border with Nigeria.
In late September, six people, including two soldiers, were killed in another Boko Haram attack on the Chadian shores of Lake Chad, in which 17 of the assailants were shot dead by the army.
https://www.presstv.com/Detail/2018/10/10/576636/Boko-Haram-Chadian-soldiers
--------
Libya 'shoots at' Italy fishing boats, detains crew
11 October 2018
The Libyan coastguard fired shots at Italian fishing boats before seizing the vessels and detaining their crew, Italian media said Wednesday.
The boats, both from Mazara del Vallo in Sicily, came under fire some 29 nautical miles off the North African coast late Tuesday in an area that Libya insists is an exclusive economic zone (EEZ), the town's mayor was quoted as saying.
Libyan officials boarded the boats and ordered the captains to head to the port of Ras Al Hilal, mayor Nicola Cristaldi said.
The vessels, with crews of six and seven respectively, were boarded "in waters that Libya unilaterally and illegitimately considers its own," Cristaldi said, adding that no one was hurt.
"The Libyans... opened fire on the crew... On defenceless and unarmed people," said Vincenzo Asaro, owner of one of the boats.
The Italian foreign office declined to comment.
Full report at:
https://english.alarabiya.net/en/News/north-africa/2018/10/11/Libya-shoots-at-Italy-fishing-boats-detains-crew-.html
--------
Dozens of bodies found in mass grave in western Libya
Oct 10, 2018
Libyan officials say a mass grave containing 75 bodies has been found near Sirte, the former bastion of the Daesh Takfiri terrorist group in the North African country.
Mohamad al-Amial, the coastal city's municipal council spokesman said on Wednesday that the mass grave was uncovered in an agricultural area of al-Daheir, west of Sirte.
"Seventy-five decomposed bodies were recovered" in the presence of the public prosecutor, Sirte's security force and the Red Crescent.
Amial said the find was made "a few days ago" and that the bodies were believed to be of Daesh members , although there was no confirmation.
DNA samples had been taken for analysis.
Daesh exploited the disarray that emerged in Libya following the 2011 overthrow and death of longtime dictator Muammar Gaddafi, taking over a strip of coastal land, including Sirte, in June 2015.
Located on the Mediterranean coast, the city was the main urban center that Daesh managed to seize outside Iraq and Syria.
Forces of Libya's UN-backed unity government, known as GNA, expelled Daesh from the coastal city in December 2016 after eight months of deadly combat. The group has since pulled back to desert outposts.
Since their defeat in Sirte, the militants have kept up the fight from rural areas of western Libya. In April, the Tripoli-based unity government launched a campaign to flush them out.
The terrorist group claimed responsibility for a an attack last month on the Tripoli headquarters of Libya's National Oil Corporation that killed two staffers as well as an assault in May on the country's electoral commission in which 14 people died.
Despite the formation of the internationally-recognized GNA, which emerged from two competing governments in Libya in December 2015, the country has yet to become administratively unified. Military factions allied with renegade General Khalifa Haftar continue to act on their own and without coordination with GNA. There have been reports that Haftar loyalists have been in contact with foreign forces conducting drone operations in Libya as well.
Forces from several Western countries, including the United States, France and Britain, are in Libya in a purported drone war on Daesh.
Full report at:
https://www.presstv.com/Detail/2018/10/10/576629/Libya-Sirte-alDaheir-Mohamad-alAmial-Daesh
--------
Al-Shabab executes 5 'spies' in Somalia and kills 2 teachers in Kenya
October 10, 2018
NAIROBI: The Somalia-based Al-Shabab extremist group says it has executed five men accused of spying for US, British and Somali intelligence agencies.
Al-Shabab announced the killings on its Andalus radio station, saying they were carried out in a public square in Jilib town in Middle Jubba region late Tuesday.
According to residents, the men were tied to poles and shot by a firing squad shortly after a self-proclaimed judge sentenced them to death.
In a seperate incident, two Kenyan teachers were killed when suspected Al-Shabab militants threw an explosive device at a house at a school in Mandera county near the Somali border, police said.
Al-Shabab claimed responsibility for the attack overnight.
The teachers were killed in a fire caused by the explosion in the attack at Arabia Boys Secondary School, police said on Twitter.
Police reservists guarding the school "engaged the attackers who then fled as more reinforcements were mobilised", police said.
Al-Shabab, Al-Qaeda's East Africa affiliate, has fought for years to impose a strict version of Islam in the Horn of Africa nation.
Full report at:
http://www.arabnews.com/node/1385416/world
--------
Nigeria's envoy addresses UN on Boko Haram
October 10, 2018
The Permanent Representative of Nigeria to the UN, Tijjani Bande, has said that Nigeria has taken measures that contributed to the confrontation and decimation of the dreaded Boko Haram terrorist group.
Mr Bande stated this while addressing a UN Committee on the topic: 'Measures to Eliminate International Terrorism' at the 73rd Session of the UN General Assembly at the UN headquarters in New York.
The envoy said: "Nigeria is no stranger to the activities of terrorists, and in particular, Boko Haram.
"But, the Nigerian Government has since confronted and decimated their activities and has put in place bold and robust strategies to continue to address the heinous atrocities of the Boko Haram insurgency.
"The collaboration of neighbours and many partners aided us in large measure to achieve the current outcome.
"We continue to enjoy closer cooperation with our neighbours, especially Cameroon, Chad, Niger and Benin Republic who have come together within the framework of the Lake Chad Basin Commission to form a Multinational Joint Task Force (MNJTF), headquartered in N'Djamena, Chad".
The Nigerian envoy regretted that terrorism had continued to be a serious menace to international peace and security.
According to him, terrorist acts are insidious in character and usually destabilise the structures of governance with adverse effects on development in the affected countries.
Given this sad reality, Mr Bande said, the international community needed to develop an inclusive and collaborative approach to jointly deter and annihilate terrorism.
He reaffirmed Nigeria's continued support and readiness to cooperate with UN on efforts to end terrorism in all its manifestations.
He said: "I am glad to also emphasise that Nigeria's counter-terrorism strategy is fully anchored on the respect for human rights and international humanitarian laws.
"It is against this background that the residents in the North-Eastern states of Nigeria now move about their daily businesses in relative safety.
"Since the commencement of the revised National Counter Terrorism Strategy (NACTEST) by the current administration in 2016, Nigerians have equipped themselves psychologically to win the war against terrorism."
According to him, the strategy succeeded in uniting Nigerians from all works of life towards defeating Boko Haram.
It also encourages religious leaders to use their various places of worship to enlighten their followers against any extremism or intolerance, he added.
Mr Bande said the programme for de-radicalisation, rehabilitation, reorientation and re-integration for repentant Boko Haram members, Victims Support Fund and the Presidential Initiative for the North East as well as the Safe School Initiative are still ongoing.
These initiatives, he said, had facilitated the provision of humanitarian relief, socio-economic stabilization and resettlement of persons displaced by Boko Haram.
"Certainly, the war against terrorism on all frontiers can only be achieved through the determined resolve of all Member States of the United Nations to work together.
"States Parties must ensure full compliance with all United Nations Resolutions and Conventions against terrorism and its financing as well as other instruments adopted at regional levels.
"This will constitute not only a valid point of departure, but also a contextual framework for cooperation among member states," he stressed.
Mr Bande said Nigeria's adoption of the National Counter Terrorism Strategy and Plan of Action to prevent violent extremism is a clear indication of its readiness to root out terrorism and end the destructive activities of Boko Haram.
Full report at:
https://www.premiumtimesng.com/news/more-news/289465-nigerias-envoy-addresses-un-on-boko-haram.html
--------
North America
Muslim 'FBI' star advocates for better TV representation
By Robert Rorke
October 10, 2018
Television's portrayal of the FBI has fortunately come a long way since the old procedural starring Efrem Zimbalist that aired on ABC in the mid-1960s.
Earlier this year, the Hulu series "The Looming Tower" took viewers inside the workings of the bureau's New York office where real-life agents Ali Soufan (Tahir Rahim) and John O'Neill (Jeff Daniels) fought a nasty turf war with the CIA over intelligence related to al-Qaeda.
"Law & Order" mastermind Dick Wolf has used the New York office as the basis for his latest procedural, somewhat prosaically titled "FBI" (Tuesdays at 9 p.m.) It too has a Muslim agent, the fictitious Omar Adom "OA" Zidan, played by Egyptian-born newcomer Zeeko Zaki. The role was originally written for a Latino detective — until Zaki's agent slipped the actor the script and told him to put himself on tape. Shortly thereafter, he was summoned to Wolf's office.
"They were very interested in me being just me," says Zaki, 28. "I came in so dark and so HBO and they were like, " 'Nah … stop. We want America to have a beer with this guy. Bring a little levity into it.' "
Zaki, who grew up Muslim outside of Philadelphia, laughs, as if he's unlocked the secret to getting a job on a network drama. Prior to this big break, he had $300 in his bank account and was taking real-estate classes. He was making a living playing "terrorist and ex-military characters." In 2017, he appeared simultaneously on the failed Fox series "24: Legacy" and the History Channel series "Six."
After his meeting with Wolf, Zaki received a script where the first line was in Arabic; the part of the Latino detective had been rewritten. "Zeeko's Egyptian/Muslim background both grounds and adds depth to the character," says Wolf. "He speaks fluent Arabic and that character has not been on a series before. I think he is representative of the type of people that are the boots on the ground in the FBI."
Zaki's "boots on the ground" experience was put to the test in the pilot, where a series of Bronx apartment buildings exploded. While much of that shattering effect was created by a special effects team, Zaki says there was enough pandemonium on location to bring back memories of 9/11 for members of the crew. "They had cannons in every window. You're getting covered in soot. You have guys following you around with these dust guns. And there's fire and everything. And in the moment as an actor, I have no precedent for that," he says. "It got a little deep. Our director came out, tearing up. It was a very heavy moment. It kind of showed us how important is to represent FBI agents."
Besides doing his bit to make viewers aware of the personal sacrifices made by FBI agents, Zaki sees a larger purpose to his role as Zidan — to rehabilitate the image of his people on American TV, since he's all too aware that Muslims have been the go-to enemy on network series for years.
Zaki sees "FBI" as a chance to change "the narrative for Arab-Americans and help create a platform and a voice — I hate the word 'tolerance.' I was given this platform and this opportunity so we have to figure out how to use it for good. I have a lot of Arab-American actor friends and everyone is sick and tired of playing terrorists and crying mothers."
https://nypost.com/2018/10/10/muslim-fbi-star-advocates-for-better-tv-representation/
--------
US says no Syria reconstruction aid if Iran stays
OCTOBER 11, 2018
The United States said Wednesday it will refuse any post-war reconstruction assistance to Syria if Iran is present, expanding the rationale for US involvement in the conflict.
Secretary of State Mike Pompeo, speaking to a pro-Israel group, vowed an aggressive push to counter Iran across the Middle East and said that Syria was a decisive battleground.
"The onus for expelling Iran from the country falls on the Syrian government, which bears responsibility for its presence there," Pompeo told the Jewish Institute for National Security of America.
"If Syria doesn't ensure the total withdrawal of Iranian-backed troops, it will not receive one single dollar from the United States for reconstruction," Pompeo said.
Pompeo's speech effectively broadens the official explanation for why the United States is involved in Syria's civil war, which a monitoring group says has killed close to 365,000 people since 2011.
Former president Barack Obama authorized military action with the goal of rooting out the Islamic State group, or ISIS, the extremist force that has boasted of a slew of grisly attacks both in Syria and the West.
The United States has about 2,000 troops in Syria, primarily to train and advise forces other than ISIS that are waging an increasingly precarious fight to topple President Bashar al-Assad.
Pompeo acknowledged that Assad was stronger thanks to Iranian and Russian help and said that, with ISIS "beaten into a shadow of its former self," new priorities had emerged.
"Defeating ISIS, which was once our primary focus, continues to be a priority. But it will now be joined by two other mutually reinforcing objectives," Pompeo said.
"These include a peaceful political resolution to the Syrian conflict and the removal of all Iranian and Iranian-backed forces from Syria."
– Trump hesitant on Syria –
The US funding threats are unlikely to make an immediate impact in Syria.
Trump, a vocal critic of foreign aid as he promotes an "America First" policy, in August pulled the United States out of Syria's near-term reconstruction, suspending $230 million after Gulf Arab allies made their own pledges.
But Pompeo's speech marks a new sign that the United States is not leaving Syria anytime soon after Trump, a onetime critic of foreign interventions, earlier this year mused aloud about withdrawing troops.
Trump's national security adviser John Bolton, a longtime hawk on Iran, told reporters last month that US troops would stay "as long as Iranian troops are outside Iranian borders."
Iran, ruled by Shiite Muslim clerics, has deployed both troops and its Lebanese ally Hezbollah to prop up Assad, a secular leader who belongs to the Alawite sect and is facing down hardline Sunni Muslim forces.
"Iran has seen instability in Syria as a golden opportunity to tip the regional balance of power in its favor," Pompeo said.
He warned that Iran, a sworn foe of Israel, would open a new front against the Jewish state if it remained in Syria.
Israeli Prime Minister Benjamin Netanyahu has similarly warned that he will never accept an Iranian presence in Syria.
Trump has withdrawn from an international agreement negotiated under Obama through which Iran slashed its sensitive nuclear work in exchange for sanctions relief. Pompeo boasted that Trump has imposed on Iran "some of the harshest sanctions in history."
The Trump administration has closely allied itself with both Israel and Saudi Arabia, the Sunni kingdom which sees Iran as its chief rival in the region.
Pompeo in his speech did not air any criticism of Saudi Arabia, which has been accused by Turkish government sources of killing a prominent Saudi journalist last week inside its Istanbul consulate.
Full report at:
https://dailytimes.com.pk/309058/us-says-no-syria-reconstruction-aid-if-iran-stays/
--------
Muslim group 'disappointed' that Lee campaign reportedly wanted Dean photographed at 'Muslim event'
Oct. 10, 2018
The American Muslim Advisory Council is pushing back against Republican gubernatorial candidate Bill Lee's campaign for reportedly trying to have his Democratic opponent photographed at a "Muslim event."
The Nashville-based advisory council, a nonprofit focused on building mutual trust and respect in order to protect all Tennesseans from violence and prejudice, released a statement Tuesday night saying they were disappointed in the campaign's actions.
The statement came after reports that a Tennessee Highway Patrol trooper was reassigned for inadvertently divulging information about Democrat Karl Dean to the Lee campaign about Dean attending a Muslim event.
"In order to create a prosperous, welcoming state, a governor must serve the interests of all Tennesseans, regardless of their race, ethnicity, religion, socio-economic status or zip-code," Sabina Mohyuddin, the advisory council's program manager, said in the statement. "We invite Mr. Lee to reach out to diverse communities, including Tennessee Muslims, and understand how to best serve their needs."
On Tuesday, the USA TODAY NETWORK-Tennessee reported that a trooper assigned to provide security for both candidates was removed from his post last month after violating a nondisclosure agreement by revealing details of Dean's schedule to Lee's campaign.
After learning about a Dean stop the Lee campaign understood to be part of a "Muslim event," the Lee campaign jokingly asked another trooper whether his staff could obtain a photo of Dean at the event, according to the documents.
The Lee campaign did not immediately provide a comment for this story. On Tuesday, Lee spokeswoman Laine Arnold said the candidate didn't remember the interaction taking place.
"Bill has no recollection of the conversation being described in the report," Arnold said in a statement. "He has great respect for the THP members involved, but this sounds like a miscommunication."
Full report at:
https://www.tennessean.com/story/news/religion/2018/10/10/bill-lee-karl-dean-muslim-event-group-disappointed/1589673002/
--------
Expelled Canadian ambassador to Saudi Arabia says Canada made a mistake
11 October 2018
Canada made mistakes in its diplomatic row with Saudi Arabia, and was not effective in its dealings with the kingdom, the expelled Canadian Ambassador to Riyadh Dennis Horak said on Wednesday.
"It was a situation that didn't need to occur … to sort of yell from the sidelines I don't think is effective," Horak said in a phone interview.
He added that the liberal government of Justin Trudeau should have spent more time improving ties with the kingdom.
Horak's comments are considered the first time a top Canadian official makes public statements placing the blame on Ottawa for the row that has almost severed relations between the two countries.
Saudi Arabia froze new trade with Canada in August and expelled the Canadian ambassador in retaliation for Ottawa's call to free arrested Saudis in the kingdom. It also ended state-backed educational and medical programs in Canada, making plans to relocate tens of thousands of Saudi students and patients to other countries.
"The urging of immediate release I think went too far," Horak said.
Saudi Foreign Minister Adel al-Jubeir had demanded an apology from Canada last month during an event at the Council on Foreign Relations in New York. He denounced an "outrageous" tweet by Canadian Foreign Minister Chrystia Freeland directed at the kingdom last month, and accused them of treating the kingdom like "a banana republic."
"What are we? A banana republic? Would any country accept this?" al-Jubeir said at an event at the Council on Foreign Relations in New York. "You owe us an apology. It is very easy to fix -- apologize, say you made a mistake."
Horak, who was head of Canada's diplomatic mission in Iran when the previous government cut ties with Tehran in 2012, said Ottawa needed to put more effort into talking with nations it did not always agree with.
Full report at:
https://english.alarabiya.net/en/News/gulf/2018/10/11/Expelled-Canadian-ambassador-to-Saudi-Arabia-says-Canada-made-a-mistake.html
--------
Kushner, Bolton, Pompeo talk to Saudi prince over journalist's possible assassination
Oct 10, 2018
Top Trump administration officials have talked to Saudi Crown Prince Mohammed bin Salman about the disappearance of a dissident Saudi journalist in Turkey.
National security adviser John Bolton and President Donald Trump's son-in-law Jared Kushner initially talked to him about Jamal Khashoggi.
Secretary of State Mike Pompeo also had a follow-up call with the Saudi's de facto leader.
"In both calls they asked for more details and for the Saudi government to be transparent in the investigation process," the White House said.
White House spokeswoman Sarah Huckabee Sanders added that the US would continue to inquire about the fate of the journalist.
Khashoggi was last seen late last week after entering the Saudi consulate in Istanbul, where Turkish officials insist that he was killed inside the facility, an allegation denied by Saudi officials.
The Turkish Daily Sabah has released the identities of the Saudi operatives, who had apparently travelled from Riyadh to Istanbul on two private jets and entered the Saudi mission on October 2 as Khashoggi entered the building.
Khashoggi's mysterious disappearance has led to protests in front of the Saudi Embassy in Washington, DC, where activists demanded justice for missing journalist.
Several US senators triggered an investigation and potential sanctions against Riyadh.
The lawmakers, Bob Corker, Bob Menendez, Lindsey Graham and Patrick Leahy wrote a letter to Trump demanding a probe under the Global Magnitsky Human Rights Accountability Act.
They urged Trump to consider any information in the investigation "including with respect to the highest ranking officials in the Government of Saudi Arabia."
Full report at:
https://www.presstv.com/Detail/2018/10/10/576655/Kushner-Bolton-Pompeo-talk-to-Saudi-prince-over-journalists-possible-assassination
--------
How Muslims Became the Enemy
byJuan Cole
October 10, 2018
These days, our global political alliances seem to shift with remarkable rapidity, as if we were actually living in George Orwell's 1984. Are we at war this month with Oceania? Or is it Eastasia? In that novel, the Party is able to erase history, sending old newspaper articles down the Ministry of Truth's "memory hole" and so ensuring that, in the public mind, the enemy of the moment was always the enemy. Today, there is one constant, though. The Trump administration has made Muslims our enemy of the first order and, in its Islamophobia, is reinforced by an ugly resurgence of fascism in Germany, Italy, Hungary, and other European countries.
It's hard today even to imagine that, in the late 1980s, the rightwing Christian Voice Magazine published a "candidate's biblical scoreboard," urging its readers (and potential voters) to rate their politicians by how "biblically" they cast their ballots in Congress. One key measure of this: Did that legislator support the anti-Communist Muslim jihadis in Afghanistan, a cause warmly supported by evangelist Pat Robertson in his 1988 presidential campaign? Now, attempting to appeal to twenty-first-century evangelicals, President Trump has announced that "Islam hates us."
The kaleidoscope of geopolitics and Islamophobia is now spinning so fast that it should make our heads spin, too. At times, it seems as if Donald Trump is the anti-Ronald Reagan of the twenty-first century, idolizing former KGB operative Vladimir Putin, but seeing former U.S. allies in the Muslim world like Pakistan as purveyors of "nothing but lies and deceit" -- until, that is, with bewildering rapidity, he suddenly gives us the "good" (that is, oil-rich) Muslims again, willingly performing a sword dance with the Saudi royals, seemingly entirely comfortable with the scimitar of the Saracen.
Islamophobes Galore
While the president oscillates between abusing and fawning over the elites of the Muslim world, his true opprobrium is reserved for the poor and helpless. His hatred of refugees uprooted by the horrific Syrian civil war, for instance, stems from his conviction that this population (predominantly women and children, as well as some men fleeing the fighting) might actually be adherents of the so-called Islamic State group (also known as ISIL, ISIS, or Daesh) and so part of the building of a secretive paramilitary force in the West. He's even speculated that "this could be one of the great tactical ploys of all time. A 200,000-man army, maybe."
This summer, he also tweeted: "Crime in Germany is way up. Big mistake made all over Europe in allowing millions of people in who have so strongly and violently changed their culture!" And a day later claimed it had risen by 10%. Though immigrant communities can indeed produce some crime until they find their footing, the crime rate in Germany, despite the welcoming of two million immigrants in 2015 alone, has fallen to a 30-year low, as have crimes by non-German nationals.
Nor, of course, is there an army of terrorists the size of the active-duty forces of France or Italy among those hapless Syrian refugees. Still, that outlandish conspiracy theory may be part of what lay behind the president's blatantly unconstitutional 2015 call for a "total and complete shut-down" of Muslims coming to the United States. Consider it a great irony, then, that some significant part of the turmoil in the greater Middle East that helped provoke waves of refugees and an Islamophobic backlash here and in Europe was, at least in part, the creation of this country, not Muslim fundamentalist madmen.
The Islamophobes like to argue that Islam is an inherently violent religion, that its adherents are quite literally commanded to such violence by its holy scriptures, the Qur'an. It's a position that, as I explain in my new book, Muhammad: Prophet of Peace Amid the Clash of Empires, is both utterly false and ahistorical. As it happens, you would have to look to far more recent realities to find the impetus for the violence, failed states, and spreading terror groups in today's Greater Middle East. Start with the Reagan administration's decision to deploy rag-tag bands of Muslim extremists (which al-Qaeda was first formed to support) against the Soviet Union in Afghanistan in the 1980s. That set in motion massive turmoil still roiling that country, neighboring Pakistan, and beyond, decades after the fall of the Soviet Union.
Of course, al-Qaeda notoriously blew back on America. Its September 11, 2001, attacks on New York and Washington were then used by American neoconservatives in the administration of George W. Bush -- some of whom had served in the Reagan years, cheering on the American-backed Afghan fundamentalists, as well as their Arab allies -- to set the United States on a permanent war footing in the Muslim world. The 2003 invasion of Iraq, promoted on the false pretext that Saddam Hussein's government supported al-Qaeda, kicked off a set of guerrilla insurgencies and provoked a Sunni-Shiite civil war that spread in the region.
Hundreds of thousands would die and at least four million people, including staggering numbers of children, would be displaced over the years thanks to George W. Bush's boondoggle. The al-Qaeda franchise ISIL (formed initially as al-Qaeda in Iraq in the wake of the U.S. invasion) arose to expel American troops there. Ultimately, its militants made inroads in neighboring Syria in 2011 and 2012 and the U.S. allowed them to grow in hopes of putting pressure on the Syrian government of Bashar al-Assad.
As is now all too clear, such policies created millions of refugees, some of whom streamed towards Europe, only to be greeted by a rising tide of white Christian bigotry and neo-Nazism. There's no way to measure the degree to which America's wars across the Greater Middle East and North Africa have, in fact, changed our world. When, for instance, British Prime Minister Tony Blair signed on to Bush's illegal invasion and occupation of Iraq, how could he have foreseen that he was helping set off events that would result in a British withdrawal from the European Union (a decision in which anti-immigrant sentiment played an outsized role) -- and so the diminishment of his country?
Having helped spread extremism and set in motion massive population displacements, Western elites then developed a profound fear of the millions of refugees they had helped chase out of the Middle East. Executive Order 13769, President Trump's abrupt January 2017 visa ban, which created chaos at American airports and provoked widespread protests and court challenges -- many of its elements were, however, ultimately upheld by the Supreme Court -- appears to have been premised on the notion that a Trojan Horse of Muslim extremism was headed for American shores.
In reality, the relatively small number of terrorist attacks here by Muslim-Americans (covered so much more intensively than the more common mass shootings by white nationalists) have most often been carried out by "lone wolves" who "self-radicalized" on the Internet and who, had they been white, would simply have been viewed as mentally unbalanced.
Still, realities of that sort don't make a dent in the president's agenda. In 2018, the Trump administration will likely only admit about 20,000 refugees, far less than last year's 45,000, thanks to administration demands that the FBI carry out "extreme vetting" of all applicants without being given any extra resources to do so. Of the refugees admitted in the first half of this year, only about one in six was a Muslim, while in 2016, when 84,995 refugees were admitted, they were equally divided between Christians and Muslims.
On average, the U.S. still admits a little more than a million immigrants annually, of which refugees are a small (and decreasing) proportion. Since 2010, more immigrants have come from Asia than any other area, some 45% of them with college degrees, which means that Trump's very image of immigrants is wrong.
His ban on immigrants from five Muslim-majority countries (Iran, Syria, Libya, Yemen, and Somalia) was largely symbolic, since they were generally not sources of significant immigration. It was also remarkably arbitrary, since it did not include Iraq or Afghanistan, where violent insurgencies and turmoil continue but whose governments host American troops. It does, however, include the relatively peaceful country of Iran.
Trump's Muslim ban has broken up families, even as it harmed American businesses and universities whose employees (or in the case of colleges, students) have been abruptly barred from the country. The restrictions on immigration from Syria and Yemen are particularly cruel, since those lands face the most extreme humanitarian crises on the planet and the United States has been deeply implicated in the violence in both of them. Moreover, Iranians who do emigrate to the U.S. are, for the most part, members of minorities or political dissidents. In fact, no nationals from any of those five banned states have committed lethal acts of terrorism in the United States in the last 40 years.
The Islamophobia of President Trump, Secretary of State Mike Pompeo, National Security Advisor John Bolton, and others in the administration, aided and abetted by the megaphone that Rupert Murdoch's Fox News offers, has had a distinct impact on public opinion. Attacks on Muslim-Americans have, for instance, spiked back to 2001 levels. A recent poll found that some 16% of Americans want to deny the vote to Muslim-Americans, 47% support Trump's visa restrictions, and a majority would like all mosques to be kept under surveillance. (A frequent, if completely false, talking point of the Islamophobes is that Muslims here have a single ideology and are focused on a secret plan to take over the United States.) You undoubtedly won't be surprised to learn that such unhinged conspiracy theories are far more prevalent among Republicans than Democrats and independents.
Similarly unsurprising is the fact that Americans in the Trump era give a lower favorability rating to Muslim-Americans (a little over 1% of the U.S. population) than to virtually any other religious or ethnic group (though feminists and evangelicals are runners-up). By a spread of about 20 points, they believe that Muslim-Americans are both more religious than Christian Americans and less likely to respect the country's ideals and laws. They slam Muslims for according women and gays low status, though a majority of Muslim-Americans say that homosexuals should be accepted in society, a belief that Muslim-American women hold in the same percentages as the rest of the American public. As for those women, they are among the best educated of any faith group in the country, suggesting extremely supportive families.
In reality, Muslim-Americans are remarkably well integrated into this country and have committed little terrorism here. In the past decade and a half, on average, 28 Muslim-Americans a year were associated with acts of violent extremism out of a population of 3.5 million and most of those "acts" involved traveling abroad to join radical movements. Muslim-American extremists killed 17 people in 2017, a year in which white gunmen killed 267 Americans in mass shootings.
Changing Bogeymen
The Islamophobia that Donald Trump has made his own arose in the decade after the collapse of the Soviet Union, once the bogeyman of Communism was removed from the quiver of the American Right. The 1990s were hard on the Republican Party and its plutocrats (with a popular Clinton in the White House), and on the arms manufacturers facing a public increasingly uninterested in foreign adventurism with no sense of threat from abroad. The Pentagon budget was even briefly cut in those years, producing what was then called a "peace dividend." (It wasn't.) And though it's now hard to imagine, in 1995 the United States was not involved in a conventional hot war anywhere in the world.
In this no-longer-so-new century, the Republican Party, like the Trump presidency, did, however, find the bogeyman it needed and it looks remarkably like a modernized version of the rabidly anti-Communist McCarthyism of the 1950s. In fact, the endless demonization of Muslims may be less a cudgel to wield against the small Muslim-American community than against Democratic opponents who can be lambasted as "soft on terrorism" if they resist demands to demonize Muslims and their religion.
In my own state of Michigan, Elissa Slotkin, an acting assistant secretary of defense for international security affairs in the Obama years and a former CIA analyst, is running as a Democrat in the 8th District against Congressman Mike Bishop. Slotkin played a role in developing the anti-ISIL strategies that Trump adopted when he came into office. Nonetheless, our airwaves are now saturated with pro-Bishop ads smearing Slotkin, a third-generation Michigander, for her supposed involvement in President Obama's Iran nuclear deal and so for being little short of a Shiite terrorist herself. Similarly, in San Diego, California's 50th district, the scandal-ridden campaign of Republican Congressman Duncan Hunter (indicted for embezzling $250,000 in campaign funds) continues to broadly intimate that his opponent, Ammar Campa-Najjar, a Christian American of Palestinian and Mexican descent, is a Muslim Brotherhood infiltrator seeking to enter Congress.
Full report at:
https://www.commondreams.org/views/2018/10/10/how-muslims-became-enemy
--------
URL: https://www.newageislam.com/islamic-world-news/hardliners-threaten-judges-pakistan-awaits/d/116605
New Age Islam, Islam Online, Islamic Website, African Muslim News, Arab World News, South Asia News, Indian Muslim News, World Muslim News, Women in Islam, Islamic Feminism, Arab Women, Women In Arab, Islamophobia in America, Muslim Women in West, Islam Women and Feminism