New Age Islam News Bureau
31 Jan 2014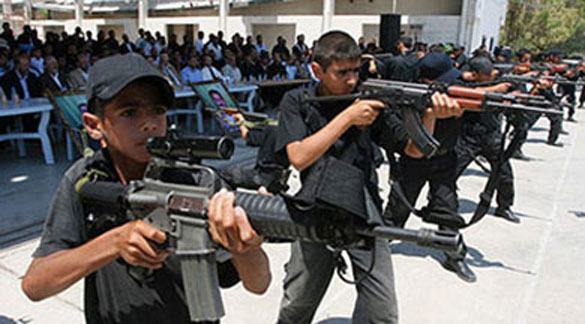 Photo: Hamas Runs Training Camp For Schoolboy "Martyrs", Plans Laid For Girls' Camp Too
------------
Mideast
• Hamas Runs Training Camp For Schoolboy "Martyrs", Plans Laid For Girls' Camp Too
• Yemen: 15 Soldiers Killed In Suspected Qaeda Attack
• Islamic Jihad Threatens Suicide Bombings in Israel
• Fatah official: Palestinians interested in Iranian role in conflict with Israel
• Hamas, Islamic Jihad Gunmen Now in West Bank
Pakistan
• Inside Pakistan army's bomb school, Planted inside a copy of the Holy Quran
• TTP wants enforcement of Sharia: spokesman
• Nizami's death sentence reprehensible- Jamaat-e-Islami leader Munawar Hasan
• Pakistan: vigilantes use blasphemy law to target religious minorities
• Taliban begin consultations to respond to govt talks offer
• PM Nawaz Sharif instructs committee to initiate peace talks immediately
• Bomb kills three security personnel in Awaran: officials
Arab World
• Former Royal Netherlands Army Soldier Trains Jihadists in Syria
• Suicide bombers storm Iraq ministry building, 24 killed
• Syrian troop shells kill 16 in Aleppo
• Syrian opposition accepts invitation to Moscow for open and friendly dialogue
• Militants threaten UN, OPCW personnel in Syria, kill two experts - Russian Foreign Ministry
• Egypt arrests 11 Islamists for Facebook activity
• Syria peace talks take a break as rivals dig in
• A detailed look at Syria's Islamist, jihadist groups
• Lebanon Slams Israeli Threats against Civilians
Africa
• Central African Republic clashes 'kill 35' in Bangui
• Kenya: Police on high alert as young Muslims plan "jihad" meeting
• Defendant in Bulgaria's 'Imam' Trial Stirs Outrage, Refuses to Stand Up
• South Sudan ceasefire monitors needed urgently: Envoys
Europe
• Terrorism spotlight falls on Islington as brothers become Al-Qaeda poster boys
• 'These are children, not terrorists,' say Belgian parents of Syria jihadists
• Jihad murderer of Lee Rigby appeals conviction, says he was acting as a "soldier of Allah"
• Greek minister terms Pak, Bangladesh illegal immigrants 'tragedy'
Southeast Asia
• NGO unveils reasons behind Indonesian jihadist deployment to Syria
• Christians and Jews are dividing Muslims, says Jakim in Friday sermon
• Cancellation of forum on Islam a move to limit talks, says group
• PAS lodges reports against Facebook page mocking Christianity, East Malaysians
South Asia
• 8 Rebels, Policeman Killed in Afghanistan's Helmand Clash
• Afghan election campaign kicks off as NATO troops exit
• 'Help Syria through Winter' campaign raises over MVR600k
• Bangladesh sets eyes on Guinness with largest national anthem choir
India
• College on rails to build bridges with Pakistan, experience life and culture
• International Folk and Sufi music carnival from today in India
• Steady increase in business visa application from Pakistan
North America
• U.S. to seek death penalty in Boston Marathon bombing case
• Judge Orders NYPD To Begin Turning Over Muslim Spying Documents
• US says Syria 'dragging its feet' on chemical weapons
• The NCCM – Pouring the same old Halal wine from a relabelled bottle
• Poll: 52% Americans believe US has mostly failed in Afghanistan
Central Asia
• Tajiks break up alleged Lashkar-e-Islam group
• Islamic Movement of Uzbekistan more active abroad than at home
Compiled by New Age Islam News Bureau
URL: https://newageislam.com/islamic-world-news/hamas-runs-training-camp-schoolboy/d/35533
-----------
Mideast
Hamas Runs Training Camp For Schoolboy "Martyrs", Plans Laid For Girls' Camp Too
Jan 31, 2014
In a grim reminder of the way Islamist groups exploit the young and vulnerable for terrorism, it is being reported that Hamas has held terror training camps for schoolboys this month, with plans outlined for similar camps for girls.
"We will restore the climate of jihad, martyrdom and sacrifice for the sake of Allah to all sectors of society... This is the generation of stones, tunnels and martyrdom operations.
"Today is the anniversary of the death of martyrdom-seeker Rim Al-Riyashi, [Hamas' first female suicide bomber], a woman who gave up everything in her life in order to wage jihad for the sake of Allah," the Middle East Media Research Institute, MEMRI, reported Hamas Prime Minister Isma'il Haniya as saying at a concluding event for the camps earlier in January.
He added that camps for girls should be established too, so that "they can follow the path of the martyrs".
The Western public relies on groups such as MEMRI for information like this since it is not reported in mainstream outlets such as the BBC or CNN.
MEMRI said:
"In early January 2014, for the second time since August 2012, Hamas's education and interior ministries held the "Futuwwa" ("Youth") camps for Gaza schoolboys, in which the boys receive military training and indoctrination. This years' camps were called "Talai' Al-Tahrir" ("Liberation Pioneers") and were attended by 13,000 students, compared to 5,000 in 2012.
"The camps involve activities such as weapons drills, target practice, close-order drills, obstacle courses and war games, as well as lessons in civil defense, first aid and handling emergency situations."
Hamas is committed to the destruction of Israel and is founded on the basis of extreme anti-Semitism calling for the murder of Jews. Its terror attacks are almost always directed at civilians, though its ability to carry out such attacks has been limited by Israeli security measures.
http://www.thecommentator.com/article/4675/hamas_runs_training_camp_for_schoolboy_martyrs_plans_laid_for_girls_camp_too
---------
Yemen: 15 soldiers killed in suspected Qaeda attack
Jan 31, 2014
Suspected Al-Qaeda militants killed 15 soldiers on Friday when they attacked a military checkpoint in the city of Shibam in southeastern Yemen, a security source said.
"Unknown armed men suspected to be from Al-Qaeda attacked an army checkpoint in Shibam, killing 15 soldiers and wounding several others," the official said on condition of anonymity, adding that there were also casualties among the attackers.
http://voiceofrussia.com/news/2014_01_31/Yemen-15-soldiers-killed-in-suspected-Qaeda-attack-8331/
---------
Islamic Jihad Threatens Suicide Bombings in Israel
Jan 31, 2014
A clash seems to be looming between Israel and the radical Islamist movement Islamic Jihad, as they abandon pledges made under a fragile ceasefire that ended the last full-scale war in the Hamas-run Gaza Strip.
Israel recently targeted two of the group's terrorists for firing rockets at it, and Prime Minister Binyamin Netanyahu promised to teach Gaza-based terrorists a "lesson" for repeated breaches of the ceasefire.
Islamic Jihad has in turn threatened to take its war to Israel, both through suicide bombings in major Israeli cities and by fomenting violent unrest in Judea and Samaria - against both Israeli and Palestinian Authority security forces.
Islamic Jihad carried out scores of deadly suicide bombings against Israeli civilians during the "Second Intifada" between 2000 and 2005.
In the latest violence, Islamic Jihad said Israel killed one of its operatives, Ahmad al-Zaaneen (who was also associated with the Popular Front for the Liberation of Palestine) and his cousin in an air strike in the northern Gaza Strip Wednesday.
Israel said Zaaneen was behind rocket attacks on the Jewish state and an "immediate" danger to Israeli civilians.
In response, Islamic Jihad promised to continue targeting Jewish civilians, declaring "the blood of our martyrs will not have been shed in vain."
Following the airstrike, Netanyahu promised Gaza-based terrorist groups, including the enclave's Islamist rulers Hamas, that they would learn a lesson "very soon" if rockets continued to be fired, referring to Israel's policy of retaliating "forcefully."
The security correspondent for Israel's Yediot Aharonot daily said the strikes marked a justified escalation in the face of regular breaches of the truce by terrorist groups.
"Ever since Operation Pillar of Defense (in 2012), there was an understanding with Hamas that no targeted killings would take place as long as the quiet was maintained," he wrote.
"The moment it became clear that Hamas was losing control of the Gaza Strip - this weapon was again pulled out."
"Targeted killings are the most effective means of dissuasion against the organizers of terrorism, especially in the Gaza Strip where the Israeli army cannot go in and make arrests," as in Judea and Samaria.
"The decision to carry out suicide operations in Zionist cities is one that is irreversible," said Abu Ahmad, a senior commander in Islamic Jihad's Al-Quds Brigades.
"The operations will put pressure on the Palestinian leadership, but will also deter the enemy, and we're continuing to try to carry them out," he told AFP.
"We have a high level of weaponry with which to strike deep in the Zionist entity and send messages threatening it."
It is not clear, however, how the threats will change the situation on the ground, as the Iranian-sponsored Islamic Jihad has already been upping its activity in an attempt to target Israelis as negotiations between Israel and the Palestinian Authority continue.
On December 22, a bomb exploded on a bus in the Israeli coastal city of Bat Yam, near Tel Aviv.
No Gaza group claimed responsibility, but Israel's Shin Bet internal security service arrested four men in the PA-controlled town of Bethlehem, saying they were an Islamic Jihad cell behind the attack.
Infighting
Meanwhile, Islamic Jihad spokesman Dawud Shihab told AFP the group would incite Palestinian Arabs in Judea and Samaria to violently "confront" Israeli security forces.
It "will rouse the masses and prepare them for the next confrontation with the occupation, and for the outbreak of a new intifada.
"There will be an explosion in the face of the occupation in the West Bank, because of the failure of the PA and Israel's monstrousness," he said.
But various Palestinian Arab factions are still divided and mired in internal squabbles.
Like Hamas, Islamic Jihad opposes the talks, and sees an escalation in Judea and Samaria as an effective way of undermining the PA's rule there, and thus its legitimacy in the talks.
Gaza groups also accuse the PA of colluding with Israel in the arrest of terrorists in Judea-Samaria, although it publicly bemoans Israel's lack of consultation with it on joint security efforts and insists it does not unjustly target Palestinian Arabs.
Even within Gaza, relations are complex. Islamic Jihad - inspired by Iran's 1979 revolution and formed the following year - sometimes cooperates and is sometimes at odds with the Muslim Brotherhood-allied Hamas, formed in the late 1980s.
The death of an Al-Quds Brigades commander from wounds sustained during a Hamas police raid on his house in June caused a temporary spat between the groups, before they publicly patched up their differences.
Islamic Jihad claims to have 8,000 fighters in its military wing, making it the second largest armed group in Gaza behind Hamas.
Unlike smaller Salafist factions, Islamic Jihad has so far respected an Egypt-brokered truce between Hamas and Israel that ended the 2012 conflict.
http://jewishvoiceny.com/index.php?option=com_content&view=article&id=6539:islamic-jihad-threatens-suicide-bombings-escalation&catid=118:war-on-terror&Itemid=301
-----------
Fatah official: Palestinians interested in Iranian role in conflict with Israel
January 31, 2014
The Palestinians have an interest in Tehran playing an increased role in the region, Jibril Rajoub, a senior Fatah official, said on Thursday.
He announced that Fatah has not abandoned the option of "armed resistance" if the peace talks with Israel fail.
"The year 2014 is the year of decision; we either go to a state or to a confrontation," Rajoub said. "The confrontation would be on three fronts: launching and escalating resistance; boycotting and isolating Israel; and halting all forms of normalization [with Israel] on the political, academic, trade and economic levels."
The option of resistance remains a strategic option for the Palestinians, he said.
"The option of armed resistance is also on the table," he added.
Rajoub, who visited Tehran earlier this week, said an interview with Iran's Al-Alam TV station that he relayed a message from Palestinian Authority President Mahmoud Abbas to the Iranian leadership concerning the latest developments in the Palestinian arena.
Rajoub's visit to Tehran is seen as a sign of rapprochement between Iran and the PA leadership.
Relations between the two sides have been strained over the past decade in wake of Iran's support for Hamas and opposition to the peace process between the PA and Israel.
Relations between Iran and Hamas have deteriorated over the past three years following the Islamist movement's refusal to side with Tehran's ally, Syrian President Bashar Assad, against his enemies at home.
The London-based Al-Quds al-Arabi daily reported on Thursday that the Iranians were planning to invite Abbas to visit Tehran as part of efforts to boost bilateral relations.
"We are interested in creating and building bridges of communication with the Islamic Republic of Iran," Rajoub, a former PA security commander, said in the interview. "This would have positive repercussions on the Palestinian cause, which is going through a decisive phase."
He said that Abbas's message to the Iranian leaders included congratulations for Tehran's "wisdom" in dealing with the Iranian nuclear program and international sanctions. The Palestinians, Rajoub said, consider the sanctions and embargo to be unjust.
US backtracking in the face of Iran shows that the Americans have reached the conclusion that they can no longer view the world through an Israeli perspective and interest, Rajoub said.
He said that Fatah has had a long and historic relationship with Iran since the Islamic Revolution that toppled the shah in 1979.
Iran could play a role in "managing the conflict in the region," he said Iran, he added, is part of the Arab and Islamic front in the Middle East.
Rajoub, who currently heads the Palestinian Football Association, said that the Palestinian leadership was now facing pressure regarding the peace talks with Israel.
"We are entitled to knock on all doors and seek all channels to recruit regional action in favor of our cause," he said. "Our goal is to create elements of pressure on the international community."
The PA leadership was not ruling out the option of unilaterally declaring a Palestinian state, Rajoub said.
"We want to declare a state under occupation," he said.
Referring to the Fatah- Hamas dispute, Rajoub said that the rapprochement with Iran to hurt Hamas.
"We are not establishing relations with Iran at the expense of Hamas," he explained. "Hamas is part of the Islamic Arab social, political and national fabric in Palestine. We didn't ask Iran to cut off its relations with Hamas."
http://www.jpost.com/Middle-East/Fatah-official-Palestinians-interested-in-Iranian-role-in-conflict-with-Israel-339936
-------------
Hamas, Islamic Jihad Gunmen Now in West Bank
Jan 31, 2014
If anything, the rally that saw Hamas, Islamic Jihad and Fatah join forces in a rare show of power means that Abbas's claim that he is fully in control of the situation in West Bank is baseless.
For the first time since 2007, Hamas and Islamic Jihad militiamen this week made a public appearance in the West Bank, raising fears that the two radical groups continue to maintain a military presence in areas controlled by Mahmoud Abbas's Palestinian Authority.
Palestinians were surprised to see Hamas and Islamic Jihad militiamen in broad daylight in an area controlled by the Palestinian Authority.
The masked militiamen made their rare appearance in the Jenin refugee camp during a rally to commemorate Islamic Jihad member Nafi Sa'di, killed by the Israel Defense Forces last December.
The Palestinian Authority security forces, which are supposed to be in control of the refugee camp, did not intervene to stop or arrest the Hamas and Islamic Jihad gunmen, even as they fired into the air in honor of Sa'di.
Over the past few years, the US- and EU-backed Palestinian Authority [PA] security forces have been clamping down on Hamas and Islamic Jihad supporters in the West Bank. Hundreds of activists belonging to the two radical groups have been arrested as part of the crackdown.
But this time the PA decided not to take any action against the Hamas and Islamic Jihad gunmen despite the fact that their public appearance is seen as a challenge to Abbas's authority.
One reason for this decision may be attributed to the possibility that the PA is afraid to confront Hamas and Islamic Jihad. The PA is already under attack from many Palestinians for conducting security coordination with Israel.
Last week, Hamas renewed its appeal to the Palestinian Authority leadership to halt all forms for security coordination with Israel.
A statement published by Hamas urged Abbas to "immediately halt security coordination with the Zionist entity."
Mahmoud Zahar, a top Hamas leader in the Gaza Strip, said that Abbas "was committing a big sin by opting to negotiate with Israel and prevent Palestinian resistance. Abbas's survival depends on continued security coordination with the Zionist enemy. By preventing the resistance, Abbas is weakening himself politically because the resistance supports the political process."
By allowing Hamas and Islamic Jihad militiamen to participate in a public rally in the West Bank, Abbas may also be seeking to send a message of warning to Israel and the US. This is a message that says that Palestinians have not abandoned the option of armed struggle against Israel as a way of achieving their goals.
Abbas may also be seeking to get more financial aid for the Palestinian Authority from the Americans and Europeans. The message he is sending to the American and European donors is that they need to give him more money and weapons, otherwise Hamas and Islamic Jihad would grow stronger and perhaps seize control of the West Bank.
A third message that Abbas seeks to send is one that is directed toward Hamas and Islamic Jihad. By allowing gunmen from the two groups to make a public appearance in the West Bank, Abbas is probably trying to appease the two groups and pave the way for "national reconciliation and unity."
Even more surprising was the fact that Fatah gunmen loyal to Abbas took part in the rally at the Jenin camp alongside Hamas and Islamic Jihad.
The participation of Fatah gunmen in a Hamas and Islamic Jihad rally shows that the PA and Abbas continue to face a serious challenge from their own loyalists. Moreover, it shows that there is coordination between Abbas's Fatah gunmen and Hamas and Islamic Jihad militiamen in the West Bank.
As senior Hamas representative Wasfi Kabaha declared at the rally, "We wanted to send a message to Israel that the Palestinian resistance continues to exist in the West Bank and is prepared for confrontation. We also wanted to affirm the need for national unity."
If anything, the rally that saw Hamas, Islamic Jihad and Fatah join forces in a rare show of power means that Abbas's claim that he is fully in control of the situation in the West Bank is baseless.
Yasser Arafat allowed Hamas to operate freely in the Gaza Strip until Hamas drove the Palestinian Authority out of the area. Abbas is now committing the same mistake and could lose the West Bank to Hamas and Islamic Jihad. The question is whether this will happen before or after the establishment of a Palestinian state.
http://www.gatestoneinstitute.org/4148/hamas-islamic-jihad-west-bank
-----------
Pakistan
Inside Pakistan army's bomb school, Planted inside a copy of the Holy Quran
2014-01-31
RISALPUR: Militants in Pakistan have found clever ways to hide homemade bombs.
They've been strapped to children's bicycles, hidden inside water jugs and even hung in tree branches.
But the most shocking place that Brig Basim Saeed has heard of such a device being planted was inside a hollowed-out book made to look like a copy of the holy Quran.
A soldier who went to pick up the book from the floor was killed when it exploded.
''Normally if that book is lying somewhere on the floor, you tend to pick it up immediately just for respect,'' said Saeed, the chief instructor at a school training Pakistani forces how to detect the so-called improvised explosive devices, which have become increasingly popular in wars in Iraq, Afghanistan and the insurgency in Pakistan's northwest, near the Afghan border.
Saeed and other instructors at the military's Counter IED, Explosives and Munitions School say it is important to constantly come up with new ways to prevent such homemade bombs because that's exactly what the militants are doing.
Full report at:
http://www.dawn.com/news/1083996/inside-pakistan-armys-bomb-school
-----------
TTP wants enforcement of Sharia: spokesman
2014-01-31
MIRAMSHAH: The objective of Tehreek-i-Taliban Pakistan (TTP) is enforcement of Sharia in the country, according to its spokesman Shahidullah Shahid.
Talking to Dawn from an unspecified location on Thursday, he said what mattered was enforcement of Sharia, "whether through peace or war".
He expressed satisfaction over the formation of a four-member team by the government for talks with the outlawed TTP.
He said that a session of the central Shura of the TTP had been in progress since Wednesday on the government's offer.
Full report at:
http://www.dawn.com/news/1083891/ttp-wants-enforcement-of-sharia-spokesman
-----------
Nizami's death sentence reprehensible- Jamaat-e-Islami leader Munawar Hasan
Jan 31, 2014
LAHORE - Pakistan Jamaat-e-Islami leader, Syed Munawar Hasan, said he renounced the death sentences awarded to the JI Bangladesh chief and former minister Muti-ur-Rahman Nizami and thirteen other JI members.
He has appealed to the Pakistan government and all other Muslim rulers to help prevent this tyranny and said that Bangladesh Prime Minister Haseena Wajid should stop political victimisation of her opponents.
He said Muti-ur-Rahman Nizami was falsely accused of smuggling arms and ammunition to secessionists in India.
Full report at:
http://www.nation.com.pk/lahore/30-Jan-2014/nizami-s-death-sentence-reprehensible-munawar-hasan
-----------
Pakistan: vigilantes use blasphemy law to target religious minorities
Jan 31, 2014
Pakistan's blasphemy law is increasingly becoming a potent weapon in the arsenal of Muslim extremists.
LAHORE, PAKISTAN—The elderly man's troubles began when two young men milling inside his homeopathic clinic casually asked him about his religion. He thought they were merely curious. But they belonged to an outlawed militant group and were carrying hidden tape recorders.
Within hours, police officers showed up at Masood Ahmad's clinic and played back the tape in which he explained the tenets of the minority Ahmadiyya sect. The Islamic sect is rejected by mainstream Muslims because it disputes the basic tenet of their faith that Muhammad is Islam's last prophet.
Ahmad was charged with blasphemy, which can carry the death penalty. The 72-year-old has been jailed since his arrest earlier this month, awaiting a trial that could take months or even years to begin.
Full report at:
http://www.thestar.com/news/world/2014/01/29/pakistan_vigilantes_use_blasphemy_law_to_target_religious_minorities.html
-----------
Taliban begin consultations to respond to govt talks offer
January 31, 2014
ISLAMABAD: The Pakistani Taliban on Friday have started consultations to respond to the latest dialogue offer by Prime Minister Nawaz Sharif, said a Taliban leader privy to the talks in conversation with The Express Tribune.
The political shura or council started its meeting at an unknown location to discuss the government's offer and float recommendations, said the Tehreek-e-Taliban Pakistan (TTP) leader, who spoke on the condition of anonymity as he is not authorised to speak to the media.
"The political council will forward its decisions to the central council for a final decision," he said.
The central council is scheduled to meet on Saturday, he added.
Qari Shakil Ahmed Haqqani, a Taliban commander from Mohmand Agency, is presiding over the eight-member political council's meeting, which coincided with the meeting in Islamabad of the four-member committee formed by Prime Minister Nawaz Sharif this week.
Full report at:
http://tribune.com.pk/story/665793/taliban-begin-consultations-to-respond-to-govt-talks-offer/
-----------
PM Nawaz Sharif instructs committee to initiate peace talks immediately
2014-01-31
ISLAMABAD: Prime Minister Nawaz Sharif on Friday morning gave guidelines for holding negotiations to the four-member committee formed to facilitate talks with Taliban militants and instructed it to immediately initiate the peace talks, DawnNews reported.
The first meeting of the committee, chaired by the prime minister, discussed in detail the framework and strategy for the talks.
The committee comprises of the premier's Advisor on National Affairs Irfan Siddique, veteran journalist Rahimullah Yusufzai, former ambassador and expert on Afghanistan affairs Rustam Shah Mohmand and former ISI official Major (retd) Amir Shah and is being assisted by Interior Minister Chaudhry Nisar Ali Khan.
Full report at:
http://www.dawn.com/news/1083985/pm-instructs-committee-to-initiate-peace-talks-immediately
-----------
Bomb kills three security personnel in Awaran: officials
2014-01-31
QUETTA: A bomb blast on Friday killed at least three paramilitary soldiers and wounded four others in Pakistan's restive southwestern province of Balochistan, officials said.
The roadside bomb hit a patrol vehicle in the Jahoo area of remote Awaran district, a stronghold of rebels that was hit by a major earthquake in September last year.
"At least three soldiers were martyred and four others were wounded, two of them seriously when a bomb planted by miscreants exploded on a roadside," spokesman of Frontier Corps Abdul Wasay told news agency AFP.
Full report at:
http://www.dawn.com/news/1083988/bomb-kills-three-security-personnel-in-awaran-officials
-----------
Arab World
Former Royal Netherlands Army Soldier Trains Jihadists in Syria
January 31, 2014
TEHRAN (FNA)- A former Royal Netherlands Army soldier is training jihadists in Syria. The man, Dutch-Turkish dual national, named Yilmaz, wears his Dutch Army uniform while training foreign fighters from Europe and all over the world.
http://english.farsnews.com/player.aspx?nn=13921110000353
----------
Suicide bombers storm Iraq ministry building, 24 killed
Reuters | Baghdad | January 31, 2014
SIX suicide bombers burst into an Iraqi ministry building, took hostages and killed at least 24 people including themselves on Thursday before security forces regained control, security officials said.
The brazen attack on the building belonging to the Ministry of Transportation in northeast Baghdad coincided with a month-long standoff between the Iraqi army and anti-government fighters in the western province of Anbar.
No group claimed responsibility. State buildings are a target for the Islamic State of Iraq and the Levant and its allies, regaining momentum in a campaign to destabilise the Shia Muslim-led government.
Full report at:
http://indianexpress.com/article/world/asia/suicide-bombers-storm-iraq-ministry-building-24-killed/
-----------
Syrian troop shells kill 16 in Aleppo
2014-01-31
BEIRUT: Activists say the latest Syrian government shelling has killed at least 16 people in a rebel-held area of the northern city of Aleppo.
Rami Abdurrahman of the Britain-based Syrian Observatory for Human Rights said on Friday that the shells struck at the city's Qadi Askar area.
Abdurrahman says the shelling took place on Thursday and that it took hours to verify the number of the victims.
Full report at:
http://www.dawn.com/news/1084009/syrian-troop-shells-kill-16-in-aleppo
-----------
Syrian opposition accepts invitation to Moscow for open and friendly dialogue
Jan 31, 2014
The first round of talks between representatives of the Syrian government and the opposition is coming to an end in Geneva. The Voice of Russia was informed that immediately after this, this weekend, a delegation of the National Coalition for Syrian Revolutionary and Opposition Forces is going to visit Moscow. Negotiations are scheduled for February 3 and 4.
In an exclusive interview with the Voice of Russia on the phone from Geneva, one of the leaders of the National Coalition, the closest ally of its leader, Ahmad Jarba, and head of the Democratic Tribune movement Michel Kilo spoke about the composition and goals of the delegation, the results of the first round of the negotiations in Geneva, and the forthcoming second round.
Full report at:
http://voiceofrussia.com/2014_01_31/Syrian-opposition-accepts-invitation-to-Moscow-for-open-and-friendly-dialogue-7787/
---------
Militants threaten UN, OPCW personnel in Syria, kill two experts - Russian Foreign Ministry
Jan 31, 2014
International personnel from the UN and the Organization for the Prohibition of the Chemical Weapons (OPCW) and local experts, involved in the operation to destroy chemical weapons in Syria, are threatened by militants regularly and two Syrian experts have already been killed, Russian Foreign Ministry official said.
"As to the international UN and OPCW personnel deployed in Syria, as far as we know, militants threaten them regularly," Director of the Russian Foreign Ministry Department of the Security Affairs and Disarmament Mikhail Ulyanov said in an interview with Interfax.
"Local experts involved in this operation are in a lot of danger as well. Two Syrian experts have recently been stalked and killed," Ulyanov said.
Full report at:
http://voiceofrussia.com/news/2014_01_31/Militants-threaten-UN-OPCW-personnel-in-Syria-kill-two-experts-Russian-Foreign-Ministry-0831/
---------
Egypt arrests 11 Islamists for Facebook activity
Jan 31, 2014
It accused them of using the social network site for "inciting violence, targeting citizens, making bombs and carrying threatening messages."
Egypt's Interior Ministry says it has arrested 11 Muslim Brotherhood members whom it accused of running Facebook pages inciting violence against the police.
It alleged the group used the social network site for "inciting violence, targeting citizens, making bombs and carrying threatening messages." It said one member called for the formation of an Islamic army and two others circulated names and pictures of police officers.
Egyptian authorities have cracked down heavily on the Brotherhood since the July 3 overthrow of President Mohamed Morsy, who hailed from the group. But Thursday's arrests were some of the first to target alleged Brotherhood members for Internet activity.
Full report at:
http://www.thehindu.com/news/international/world/egypt-arrests-11-islamists-for-facebook-activity/article5635335.ece
-----------
Syria peace talks take a break as rivals dig in
Jan 31, 2014
GENEVA (Reuters) - A first round of peace talks on Syria wraps up Friday with both sides in entrenched positions and the U.N. mediator expressing frustration that it had not even been possible to get agreement for an aid convoy to enter the besieged city of Homs.
After a week of talks at the United Nations headquarters in Geneva, the opposing sides in Syria's civil war were still stuck on the question of how to proceed.
Friday's closing session was expected to be largely ceremonial, with government and opposition delegates expected to meet again on February 10.
"I hope that in the next session, when we come back, we will be able to have a more structured discussion," mediator Lakhdar Brahimi said.
He was "very, very disappointed" that a U.N. aid convoy was still waiting fruitlessly to enter the rebel-held Old City of Homs, where the United States says civilians are starving.
UK to settle some Syrian refugees, says govtPlay videoUK to settle some Syrian refugees, says govt
Full report at:
http://news.yahoo.com/syria-peace-talks-break-rivals-dig-000501039--business.html
-----------
A detailed look at Syria's Islamist, jihadist groups
Jan 31, 2014
Since the Syrian uprising began in March 2011, several Islamist and jihadist groups have entered the fray. The Islamist groups range from relatively moderate factions aimed at establishing Sharia law in Syria, to extremist al Qaeda-linked groups.
The information in the graphic below has been collected and cross-checked with activists, fighters and rebel leaders in the field. The proliferation of rebel factions, including Islamist or jihadist groups, makes it difficult to compile an exhaustive account of the conflict. Salafist-leaning groups – which are cooperating with al Qaeda-allied factions such as the al-Nusra Front and the ISIL (Islamic State in Iraq and the Levant) – are now united in their rejection of any political solution to the Syrian conflict that would include President Bashar al-Assad's regime.
http://www.france24.com/en/20131129-syria-islamist-jihadist-rebel-map-graphic-assad-opposition/
---------
Lebanon Slams Israeli Threats against Civilians
January 31, 2014
TEHRAN (FNA)- Lebanon's President Michel Suleiman slammed Israeli threats to target civilians in Lebanon, saying such intimidation violates international resolutions.
"The Israeli threats to bomb residential and civilian areas are a clear violation to the (United Nations) Resolution 1701 at both political and international levels," Suleiman said on Thursday, the Daily Star reported.
Full report at:
http://english.farsnews.com/newstext.aspx?nn=13921111000205
----------
Africa
Central African Republic clashes 'kill 35' in Bangui
January 31, 2014
Fighting in the Central African Republic capital has left 35 people dead in three days, the country's Red Cross society says.
The violence in Bangui had also left 65 wounded, the country's Red Cross said.
There have been widespread reports of revenge attacks as mainly Muslim fighters withdraw from the city.
The violence has continued even though a new leader was inaugurated earlier this month as part of regional efforts to bring peace after months of anarchy.
France, the former colonial power, has 1,600 troops in CAR, working with some 4,000 from African countries to help end the violence which has seen about a million people - 20% of the population - flee their homes.
But earlier this week, the UN said it believed at least 10,000 troops may be required in any force sent to end the unrest, which began when Seleka rebels overthrew the president last March.
Full report at:
http://www.bbc.co.uk/news/world-africa-25979967
---------
Kenya: Police on high alert as young Muslims plan "jihad" meeting
Jan 31, 2014
Mombasa, Kenya: A radical Muslim group is planning to hold a convention on teachings on jihad at the controversial Musa Mosque in Mombasa this Sunday. The move has sparked fears of renewed clashes with security forces and moderate Muslims. Authorities in Mombasa said yesterday that they were aware of the planned meeting and would not allow it to take place. Police said the planners of the jihad convention seek to spark a new wave of violence and mosque takeovers similar to what happened late last year. Leaflets were distributed in Mombasa yesterday inviting youths to attend the convention aimed at reviving the jihadist movement in the region. Provincial Administration officials and police yesterday asserted that they would not allow the meeting to take place given several security alerts that have been issued in the past one week.
Full report at:
http://www.standardmedia.co.ke/thecounties/article/2000103596/police-on-high-alert-as-youths-plan-jihad-meeting
---------
Defendant in Bulgaria's 'Imam' Trial Stirs Outrage, Refuses to Stand Up
Jan 31, 2014
The Thursday session in Bulgaria's notorious radical Islam and religious hatred case started out scandalously over the attitude of one of the defendants.
Ahmed Mussa Ahmed refused to stand up when the presiding judge was entering the courtroom. He stated from his seat that he was a Muslim and shows respect only for Allah.
His own lawyer told media that this was a huge gaffe and demonstration of contempt for the Court.
Prosecution in the case has asked effective sentence for one of the thirteen defendants.
According to the prosecutor, the same person - the imam of the Roma quarter in the city of Pazardzhik, Ahmed Mussa Ahmed, must serve jail time for fraud; suspended sentences have been requested for the imam of Sarnitsa, Said Mutlu, and the Pazardzhik regional mufti, Abdullah Salih, on fraud charges.
Full report at:
http://www.newsuk24.com/term/Bulgaria%20Apos%20S%20Apos%20Imam%20Apos%20Trial%20Stirs%20Outrage
-----------
South Sudan ceasefire monitors needed urgently: Envoys
January 31, 2014
Monitors of South Sudan's fragile ceasefire must deploy immediately, top diplomats warned Friday, as regional leaders met to bolster peace efforts for the war-torn young nation.
Clashes continue despite the deal signed last week by government and rebels, brokered by the East African bloc, the Intergovernmental Authority on Development (IGAD).
IGAD teams are meant to ensure the warring sides honour their deal, but many fear the unarmed observers will struggle to monitor loose frontlines between multiple forces in a vast country with few roads.
Leaders of Djibouti, Ethiopia, Kenya, Somalia and Sudan met on the sidelines of the final day of an African Union summit, where the bloodshed in South Sudan has been a key focus.
Ethiopian Prime Minister Hailemariam Desalegn warned on Thursday South Sudan faced "falling into the abyss" without urgent action.
Full report at:
http://english.ahram.org.eg/NewsContent/2/8/93091/World/Region/South-Sudan-ceasefire-monitors-needed-urgently-Env.aspx
---------
Europe
Terrorism spotlight falls on Islington as brothers become Al-Qaeda poster boys
Jan 31, 2014
The terrorism spotlight fell on Holloway this week as three people in their 20s were linked to al-Qaeda in Syria.
Propaganda images were ­released on social media of brothers Akram, 24, and Mohamed ­Sebah, 28, who grew up in Cornwallis Square, and are believed to have died in battle in the war-torn country in September.
The two were pictured together smiling and brandishing guns in camouflage gear and were hailed "martyrs" and "young British ­lions" in messages sent out to ­encourage other recruits to follow in their footsteps.
Full report at:
http://www.islingtongazette.co.uk/news/crime-courts/terrorism_spotlight_falls_on_islington_as_brothers_become_al_qaeda_poster_boys_1_3258874
-----------
'These are children, not terrorists,' say Belgian parents of Syria jihadists
Jan 31, 2014
This week, two French teenagers were arrested trying to reach Syria to join fighting against President Bashar al-Assad. Three men from Paris went on trial on Thursday on similar charges. Now Belgian parents tell France 24 about losing their children to jihad.
It is a situation not unique to France. Young people from all across Europe have travelled to Syria to join the 'Holy War' against Assad, often leaving without warning, their parents unaware to their sons' and daughters' plans to become soldiers in a foreign land.
In Belgium, an estimated 300 citizens have left their country for the Syrian battlegrounds. Many parents believe their children, young and impressionable, have been manipulated into taking up the jihadist cause.
Full report at:
http://www.france24.com/en/focus/20140131-these-are-children-not-terrorists-parents-young-europeans-fighting-syria-speak-out/
-----------
Jihad murderer of Lee Rigby appeals conviction, says he was acting as a "soldier of Allah"
Lee Rigby killer Michael Adebolajo makes appeal bid
Jan 31, 2014
Michael Adebolajo, who was found guilty of the murder of British soldier Lee Rigby, has lodged an application to appeal against his conviction, the Judicial Office has confirmed.
Fusilier Rigby was killed on 22 May 2013 in Woolwich, south-east London.
Adebolajo, 29, from Romford, east London, said he was a "soldier of Allah" and it was an act of war.
He and Michael Adebowale, 22, from Greenwich, south-east London, are currently awaiting sentencing.
Mr Justice Sweeney said he would pass sentence on the two men after a key Appeal Court ruling on the use of whole-life terms, with the decision due at a later date.
In December, an Old Bailey jury of eight women and four men took approximately 90 minutes to find the men guilty of murdering Fusilier Rigby.
Full report at:
http://www.bbc.co.uk/news/uk-25961430#
-----------
Greek minister terms Pak, Bangladesh illegal immigrants 'tragedy'
2014-01-30
ATHENS: A Greek cabinet minister said Thursday illegal immigrants in the country are of different "quality" than those elsewhere in Europe, calling the situation "tragic".
"Let me tell you something else: the quality... the difference in culture of the immigrants who come here compared to other countries is tragic," said Nikos Dendias, the minister of public order and citizen protection.
"There's a difference between Sweden facing immigration from the countries of the former Soviet Union, who have a certain level of education, who are Europeans in the broad sense of the term, and Greece, which is facing immigration from Bangladesh and Pakistan."
Dendias, who heads the country's fight against illegal immigration, told Skai Radio that migrants from these countries "belong to another culture...come from a different world than us".
Full report at:
http://www.dawn.com/news/1083800/greek-minister-terms-pak-bangladesh-illegal-immigrants-tragedy
-----------
Southeast Asia
NGO unveils reasons behind Indonesian jihadist deployment to Syria
Jan 31, 2014
An NGO has unveiled the reasons behind the deployment of dozens of Indonesian radicals to join the Syrian conflict, which vary from religious to strategic motives. In fact, according to the NGO, fighting in the war is seen as a prestigious honor for these radicals.
Director of the Institute for Policy Analysis of Conflict (IPAC) Sidney Jones said the popular religious reason among these radicals was the words of Prophet Muhammad that the final battle at the end of the time would take place in Sham (greater Syria).
As for the strategic ones, she continued, was the belief that the jihadists could use the chaos following the Arab spring as a way to restore the caliphate.
Full report at:
http://www.thejakartapost.com/news/2014/01/31/ngo-unveils-reasons-behind-indonesian-jihadist-deployment-syria.html
-----------
Christians and Jews are dividing Muslims, says Jakim in Friday sermon
Jan 31, 2014
The Department of Islamic Development Malaysia (Jakim) said today the division among Muslims is not only caused by a weak faith, but also because of the instigation of Christians and Jews as warned in the Quran.
In its Friday sermon, Jakim said that it was said in the Holy Book that the Christians and the Jews will try with all their might to "deceive" the Muslims to follow their wishes.
"Splits are always bad for the religion but the question is why are Muslims still engaging in disagreements although it is forbidden by Islam?
"It is not only in the weakness of the faith but also encouraged by the instigation of Islam's traditional enemies like the Jews and Christians, which never stops," said the sermon titled "Manhaj Islami Dalam Perpaduan Ummah".
Full report at:
http://www.themalaysianinsider.com/malaysia/article/christians-and-jews-are-dividing-muslims-says-jakim-in-friday-sermon
-----------
Cancellation of forum on Islam a move to limit talks, says group
Jan 31, 2014
The cancellation of a forum titled "Is Islam a threat to freedom of expression?" by the International Islamic University of Malaysia (IIUM) has not gone down well with intellectual movement Islamic Renaissance Front (IRF).
Expressing regret over the cancellation of the February 16 forum, IRF described the move as an attempt to limit the discussion and sharing of knowledge.
"It is as if they (IIUM management) look down on the ability of society, especially academics and the people of IIUM, to evaluate and acquire knowledge," IRF said.
The forum was organised by IRF, Penang Institute and International Institute of Islamic Thought and Civilization (Istac), which comes under the IIUM banner.
"Prior to this, Istac had agreed to organise it jointly and was prepared to host the forum," IRF said in a statement today.
Full report at:
http://www.themalaysianinsider.com/malaysia/article/cancellation-of-forum-on-islam-a-move-to-limit-talks-says-group
-----------
PAS lodges reports against Facebook page mocking Christianity, East Malaysians
Jan 31, 2014
Several photographs mocking Christianity, including one of a frog nailed to a cross, which appeared on a Facebook page, has earned the wrath of Sabahahs and Sarawakians.
The photographs appeared on the Facebook page whose administrator was identified as "Semenanjung Malaysia Anti Sabah and Sarawak".
Apart from the offending photographs, Sabahans and Sarawakians were also ridiculed in the postings.
Sabah PAS deputy commissioner Hamid Ismail took up the issue and lodged reports at the Karamunsing police headquarters and the Malaysian Communications and Multimedia Commission, saying the Facebook page is clearly attempting to disturb and destroy the harmony and unity long shared by Sabahans.
Full report at:
http://www.themalaysianinsider.com/malaysia/article/pas-lodges-reports-against-facebook-page-mocking-christianity-and-east-mala
-----------
South Asia
8 Rebels, Policeman Killed in Afghanistan's Helmand Clash
January 31, 2014
TEHRAN (FNA)- Eight militants were killed during a clash with police in Southern Helmand province, an official said on Friday.
One local policeman was also killed and two others were injured in Thursday's gun battle that erupted in the Sistani area of Marja district, the provincial police spokesman said.
Col. Abdul Ahad Chopan told Pajhwok Afghan News police collected the rebels' bodies after the firefight that continued until late night.
Police seized eight motorbikes, three Kalashnikov assault rifles and three machine guns, according to Chopan, who said six insurgents were caught alive.
http://english.farsnews.com/newstext.aspx?nn=13921111000085
---------
Afghan election campaign kicks off as NATO troops exit
2014-01-31
KABUL: Afghanistan's election campaign kicks off on Sunday, with 11 candidates vying to succeed President Hamid Karzai as the country enters an uncertain new era without the aid of NATO combat troops to fight the Taliban.
A dispute between Kabul and Washington over whether a small force of US soldiers stays behind beyond 2014 is likely to dominate the two-month campaign, which will culminate in Afghanistan's first-ever democratic transfer of power.
Karzai has ruled the country since the fall of the Taliban in 2001, surviving assassination attempts and the treacherous currents of Afghan political life as billions of dollars of military and development aid poured into the country.
Full report at:
http://www.dawn.com/news/1083970/afghan-election-campaign-kicks-off-as-NATO -troops-exit
-----------
'Help Syria Through Winter' campaign raises over MVR600k
By Minivan News | January 30th, 2014
A fund raising campaign dubbed 'Help Syria Through Winter' conducted by local NGO 'Help' has raised MVR605,907 (US$39,294) in three weeks.
According to Sun Online, a delegation from the NGO recently departed for Istanbul, Turkey to deliver the funds, which are to be used to purchase four ambulances.
Fund raising activities that took place across the Maldives included selling T-shirts and placement of fund boxes as well as religious workshops and sermons.
The fund raising efforts were led by NGO Salaf preacher, Sheikh Adam Shameem Ibrahim.
http://minivannews.com/category/news-in-brief
-----------
Bangladesh sets eyes on Guinness with largest national anthem choir
Jan 31, 2014
The government will again attempt to get Bangladesh listed with the Guinness World Records by gathering the largest choir to sing the national anthem on March 26 at National Parade Ground marking Independence Day.
A meeting of the coordination committee, headed by Cultural Minister Asaduzzaman Noor and comprising the Armed Forces Division (AFD), was held at AFD in Dhaka Cantonment yesterday.
Earlier, Bangladesh set a Guinness World Record with the creation of the world's largest human national flag using 27,117 people though an initiative of Robi Axiata Limited and Bangladesh Army.
http://www.thedailystar.net/city/bangladesh-sets-eyes-on-guinness-with-largest-national-anthem-choir-9286
----------
India
College on rails to build bridges with Pakistan, experience life and culture
Jan 31, 2014
Akiljit Kaur grew up hearing stories of her grandfather's journey on the train from Pakistan; the truck ride to the railway station; the long, searing journey on a train so packed there was no room to move; the killings, how many he never counted. Like millions of Partition refugees, Sardar Gurbachan Singh struggled to build a life in India — laying the foundation for Ms. Kaur to study at Delhi University's prestigious Lady Shri Ram College.
Now, 65 years later, Ms. Kaur is hoping she'll have a seat on a train to Pakistan: Delhi University's 'Gyanodaya Express,' an annual cross-country travel opportunity for students which, for the first time, will be headed across the border.
Dinesh Singh, Vice-Chancellor, said the visit to Pakistan was "an exercise in building bridges between the young people of both countries." Dr. Singh said the group would stay in Pakistan for a week, visiting the Lahore University of Management Studies, and the frontier town of Taxila —the cradle of the Indus Valley civilisation.
Full report at:
http://www.thehindu.com/news/national/college-on-rails-to-build-bridges-with-pakistan-experience-life-and-culture/article5635818.ece
-----------
International Folk and Sufi music carnival from today in India
Jan 31, 2014
Facilitating cultural exchange between national and international musicians, artists from six countries will join three teams from India at a musical event here from Friday.
"The three-day annual concert, 'Sufi Sutra,' will have musicians from Iran, Bangladesh, Denmark, Sweden, Portugal and Spain who will enthral audiences at Mohar Kunj," said organiser Amitava Bhattacharya of Banglanatak.com.
Iranian ensemble 'Win-bang' will come up with a modern view of Iranian mystical music with their Iranian-Sufi performances. Besides beautiful compositions, improvisation is one of their strong features.
Full report at:
http://www.thehindu.com/news/national/other-states/folk-and-sufi-music-carnival-from-today/article5635846.ece
-----------
Steady increase in business visa application from Pakistan
MEENA MENON
Jan 31, 2014
The Indian High Commission is keen on promoting the steady increase in business visa applications from Pakistan and has also started a visa helpline to facilitate the process.
Trade between India and Pakistan is gaining paramount importance and the Commerce Minister Anand Sharma is likely to visit Pakistan from February 16 to 18 to coincide with the trade fair in Lahore.
On Thursday, the Indian High Commission held a half- day workshop on business visa facilitation which was attended by business persons and chambers of commerce from all over the country.
Speaking on the occasion, Dr T C A Raghavan, Indian High Commissioner, said in the recent past there has been a significant increase of travel from Pakistan to India. This is a trend which began in 2004 and on the whole continued up to the present, he said.
Full report at:
http://www.thehindu.com/news/international/south-asia/steady-increase-in-business-visa-application-from-pakistan/article5635448.ece
-----------
North America
U.S. to seek death penalty in Boston Marathon bombing case
Jan 31, 2014
U.S. Attorney General Eric Holder has announced that he will seek the death penalty for Dzhokhar Tsarnaev (20), suspect in the April 15 2013 Boston Marathon bombing, in which three were killed and 264 injured.
In a statement Mr. Holder, who is said to personally not support capital punishment although he has authorised its use in the past, said, "After consideration of the relevant facts, the applicable regulations and the submissions made by the defendant's counsel, I have determined that the U.S. will seek the death penalty in this matter."
The Attorney General added, "The nature of the conduct at issue and the resultant harm compel this decision."
The bombing, which represented the first 'successful' terror attack on U.S. soil since 9/11, was followed by a dramatic manhunt by local and federal law enforcement in Boston and its suburbs, leading to the capture of the younger Tsarnaev brother and the killing of his older sibling Tamerlan.
Full report at:
http://www.thehindu.com/news/international/world/us-to-seek-death-penalty-in-boston-marathon-bombing-case/article5636454.ece
-----------
Judge Orders NYPD To Begin Turning Over Muslim Spying Documents
Jan 31, 2014
A federal judge has ordered New York City to begin a process to hand over investigative documents from the New York Police Department's surveillance of Muslims as part of a long-running lawsuit.
In an order issued Thursday, U.S. District Judge Charles Haight, Jr. said there was a "manifest" need for further legal discovery, which could bolster the plaintiffs' claim that the NYPD has engaged in discrimiNATO ry surveillance of Muslims.
"The Muslim community is concerned about the attentions being paid to it by the NYPD. That concern is natural and reasonable," Haight found.
Haight's order comes as part of a still-open lawsuit launched in 1971 against the NYPD's investigation of anti-Vietnam War activists and Black Panthers. Eventually the police department agreed to abide by guidelines prohibiting it from investigating people's political activities without suspicion of a crime. The original lawyers involved in those place now say those guidelines are being violated against Muslims, and they want Haight to order an end to religiously motivated surveillance altogether.
Full report at:
http://www.huffingtonpost.com/2014/01/30/nypd-muslim-spying-lawsuit_n_4697043.html
-----------
US says Syria 'dragging its feet' on chemical weapons
2014-01-31
WASHINGTON: The United States accused the Syrian regime Thursday of dragging its feet over its chemical weapons stockpile and urged Damascus to immediately hand over the cache as promised for destruction. Top US officials voiced concern that a deadline set with Damascus to remove the most dangerous chemical arms from the country had been missed by a month.
"Syria must immediately take... the necessary actions to comply with its obligations," said State Department spokeswoman Jen Psaki. "This is not rocket science here. They're dragging their feet. We need them to pick up those feet and run with this and move forward in moving the chemical weapons stockpile to the ports."
The world's chemical watchdog said Wednesday that Damascus had handed over less than five per cent of the most dangerous chemicals in its armory.
Defense Secretary Chuck Hagel and the White House also voiced concern over the delay and pressed Damascus to solve the problem.
Full report at:
http://www.dawn.com/news/1083984/us-says-syria-dragging-its-feet-on-chemical-weapons
-----------
The NCCM – Pouring the same old halal wine from a relabeled bottle
Jan 31, 2014
Ihsaan Gardee, executive director of the organization once known as CAIR-CAN, gained himself a convenient platform earlier this week to promote his organization's latest "lawfare jihad."
The organization once known as the Council on American Islamic Relations (Canada) is desperately trying to rebrand itself. In July, group's leaders renamed their group as the National Council of Canadian Muslims. The idea, of course, is to get away from CAIR-CAN's tarnished reputation, at least in the minds of some critics, as a hideout for closet Islamists.
Is it working? Not judging by the NCCM's latest antics, which, to my mind, demonstrate that what we're getting is the same old halal wine in a relabeled bottle. The organization wants a "full-throated apology and retraction," NCCM's executive director Ihsaan Gardee told Evan Solomon on CBC's News Network's Power and Politics show.
Full report at:
http://blogs.ottawacitizen.com/2014/01/30/who-speaks-for-muslims-if-anyone/
-----------
Poll: 52% Americans believe US has mostly failed in Afghanistan
Jan 31, 2014
According to a new poll result, the majority of the Americans believe that United Stats has not achieved its goals both in Afghanistan and Iraq after a decade of war.
The poll conducted by USA Today/Pew Research Center also revealed about half of Americans (52%) say the U.S. has mostly failed to achieve its goals in Afghanistan while 38% say it has mostly succeeded.
According to the poll report, the opinions of the Americans about the U.S. war in Iraq are virtually the same: 52% say the United States has mostly failed in reaching its goals there, while 37% say it has mostly succeeded.
Full report at:
http://www.khaama.com/poll-52-americans-believe-us-has-mostly-failed-in-afghanistan-2740
---------
Central Asia
Tajiks break up alleged Lashkar-e-Islam group
Jan 31, 2014
DUSHANBE – Tajik authorities have broken up a five-member group of Tajiks claiming to belong to the Pakistani-based militant group Lashkar-e-Islam (LEI, or Army of Islam), the State National Security Committee (GKNB) said, according to a January 30 CA-News.org report.
The five suspects, all Tajiks, have either been convicted of or are accused of swindling, hooliganism, and attempted homicide, the GKNB said. They had told residents of a Khujand neighbourhood that they were LEI members, security officials said.
Authorities sentenced three of them last November to 10-11 years in prison and detained the remaining two, including the alleged leader, December 19 in Sughd Oblast, CA-News.org reported. LEI, led by Mangal Bagh, is a banned militant group operating in Khyber Agency, Pakistan.
http://centralasiaonline.com/en_GB/articles/caii/newsbriefs/2014/01/30/newsbrief-02
-----------
Islamic Movement of Uzbekistan more active abroad than at home
Jan 31, 2014
TASHKENT – The Islamic Movement of Uzbekistan (IMU) finds itself operating in a chaotic foreign border zone, unable to gain a foothold in the country whose name it appropriated, analysts say.
Rejected by the Uzbek population that it claims to represent, the IMU supports itself by doing the Taliban's dirty work for money in Afghanistan and Pakistan, they added.
Uzbek National Security Service (SNB) spokesman Khotib S. cited a recent Pakistani air force raid against the Taliban that killed more than 30 IMU members, an act that could cause the IMU to lash out in Pakistan, he said.
Full report at:
http://centralasiaonline.com/en_GB/articles/caii/features/main/2014/01/29/feature-01
-----------
URL: https://newageislam.com/islamic-world-news/hamas-runs-training-camp-schoolboy/d/35533