New Age Islam News Bureau
7 Apr 2018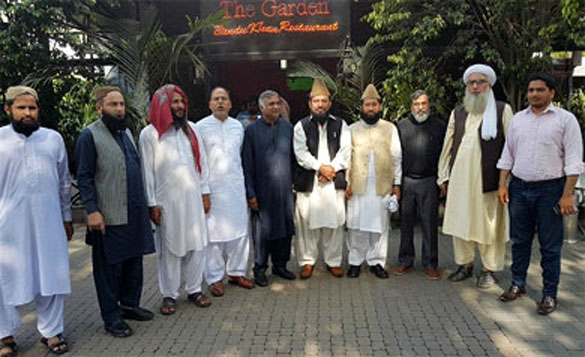 Easter breakfast was given in the honour of the Muslim Christian religious leaders by Mr. Aziz Robinson and his Muslim friends.
----
• Hafiz Saeed Mocks US Ban on His Political Front Milli Muslim League
• Right-Wing Groups in Uttarakhand Town Vandalise Shops Owned By Muslims over Fake Social Media Post
• Bangladesh Builds Billion-Dollar Model Mosques to Counter Radical Islam
• Quranic Recitals for Cows Recommended To Improve Beef Quality in Malaysia
• Fight Bashar Assad's 'State Terrorism,' Opposition Urges US
• Egypt's Copts on 'Forbidden' Path to Jerusalem, Despite Vague Pilgrimage Ban
Pakistan
• Hafiz Saeed Mocks US Ban on His Political Front Milli Muslim League
• Muslim Christian Leaders Come together for an Easter Breakfast
• Students flashing victory signs in Mashal lynching to be put on fourth schedule
• Abbasi meets Ghani: Terrorism a common threat to both countries
• FIA contacts Interpol for Haqqani's 'red notice'
• Three sentenced to death for killing Tablighi Jamaat man in Karachi
--------
India
• Right-Wing Groups In Uttarakhand Town Vandalise Shops Owned By Muslims Over Fake Social Media Post
• Is Polygamy More Important For You than Muslim Rights in Ramjanmabhoomi Case, Dhavan Asks SC
• Goa issues alert after intel on terrorists using sea route to arrive in India
• 1 Hizb terrorist killed, another escapes during Pulwama encounter
• LeT militant arrested from Jammu and Kashmir's Kupwara
--------
South Asia
• Bangladesh Builds Billion-Dollar Model Mosques to Counter Radical Islam
• 4 Senior Local Taliban Leaders Killed In NDS Operation in Nangarhar
• ISIS Khurasan leader Qari Hekmat killed in Jawzjan airstrike
• 4 Taliban militants killed in Afghanistan
• Afghan and Pakistani leaders agree on 7 key issues related to APAPPS
• ANA release new facts as Kunduz airstrike sparks rare uproar in Pakistan
--------
Southeast Asia
• Quranic Recitals for Cows Recommended To Improve Beef Quality in Malaysia
• Police Question Men Who Accused Sukmawati of Blasphemy
• Rohingya refugees seek shelter in Malaysia
• Indonesia fishing boat rescues 5 Muslim Rohingya off Aceh
--------
Arab World
• Fight Bashar Assad's 'State Terrorism,' Opposition Urges US
• Violence Breaks Out Near Syrian Capital Killing Dozens
• Civilians trapped as Syrian airstrikes pound rebels' final Damascus stronghold
• Syrian rebel Jaish al-Islam wants negotiations: official
• Air strikes return to Syria's Ghouta killing 32
• Jordan Asks Syrian Army to Delay Dara'a Offensive
• Russian Warplanes Bomb Heavily Terrorists' Positions in Idlib
• Syrian forces push deeper into Douma
• Saudi air defense forces shoot down Houthi ballistic missile over Najran
--------
Mideast
• Egypt's Copts on 'Forbidden' Path to Jerusalem, Despite Vague Pilgrimage Ban
• Seven Palestinians Killed As Thousands Protest On Gaza Border
• Islamophobia Conference Kicks Off In Istanbul
• Saudi-Led Coalition Suffers Heavy Casualties in Failed Attack on Yemeni Revolutionaries
• Eight killed by Israeli fire in Gaza border protest, as toll rises to 30
• Saudi defense forces destroy Houthi ballistic missile over Najran
• Iran says Saudi crown prince making 'shameful, ridiculous' remarks
• Saudi Arabia's war prophecy may be self-fulfilling
• Israeli forces kill 10 more Palestinians
• US conditions support for Salman's kingship to Israel normalization: Dissident prince
--------
Africa
• Salafists, Mercenaries and Body Snatchers: The War for Libya's South
• 14 Jihadist Suspects Killed In Mali 'Jail Escape' Attemp
• Tunisian army clashes with militants' north-west of the country
• Consultations begin in Libya in advance of peace talks
• Somalia: A Somali Canadian's Reflections on Refugee Rights Day in Canada
• 'Politicians more dangerous than Boko Haram, herdsmen' – Cardinal Okogie
--------
Europe
• France Subjected to Massive Islamization by Muslim Brotherhood
• US, Allies Set Up More Syria Posts, Risking Standoff with Turkey
• ISIS plotter who wanted to murder the QUEEN jailed for 8 years
• Saudi crown prince to visit France, Spain in whirlwind global tour
--------
North America
• Trump's National Security and State Department Picks Alarm American Muslims
• Hardline Islamic Cleric to start U.S. Speaking Tour
• What most Americans get wrong about Islamophobia
• Muslim-American Advocates Hail New York Police Surveillance Settlement
• US will get out of Iran deal and reimpose sanctions: Nikki Haley
Compiled by New Age Islam News Bureau
URL: https://www.newageislam.com/islamic-world-news/hafiz-saeed-mocks-ban-his/d/114856
--------
Hafiz Saeed mocks US ban on his political front Milli Muslim League
Apr 06, 2018
Mumbai attack mastermind Hafiz Saeed on Friday mocked the US decision to designate JuD's political front Milli Muslim League (MML) as a Foreign Terrorist Organisation, saying the move has proved the party's "credibility".
In a setback to Saeed's political ambition, the US on Tuesday designated the MML as a terrorist organisation, making it difficult for it to get registered with Pakistan's election commission.
Pakistan is set to hold general elections this year.
"Well, a party's that is banned by the US is the one that actually holds some credibility," Saeed, who is the chief of the JuD, said at a rally.
The Americans, he added, understand that this is the political party they cannot be an ally with.
Saeed also asked Prime Minister Shahid Khaqan Abbasi to dedicate the rest of his day in office for the cause of Kashmir.
"The US will exclude your name from among its loyalists, but that will be a matter of honour," he said.
https://www.hindustantimes.com/world-news/hafiz-saeed-mocks-us-ban-on-his-political-front-milli-muslim-league/story-6UO9VdjrPZcviMqTo6UGAN.html
--------
Right-Wing Groups In Uttarakhand Town Vandalise Shops Owned By Muslims Over Fake Social Media Post
by Kavita Upadhyay
April 6, 2018
Few right-wing groups, and the local traders' body in Uttarakhand's Agastyamuni town, on Friday, vandalised upto 15 shops owned by Muslim traders in the town, after a fake video was shared on social media along with statements alleging that a 10-year-old Hindu girl had been raped by a Muslim man in the town.
Atleast 2,000 persons gathered near the police station at Agastyamuni, on Friday morning, demanding justice for the alleged rape victim. Simultaneously, upto 15 shops of Muslim traders were vandalised by the agitators, including people from the town's traders' body, a local students' group Jai Ho, and members of the ABVP.
"The shops (of Muslim traders) were emptied, and the materials in them, including mobile phones, watches, clothes, and vegetables, were thrown onto the streets and burnt by the agitating groups. However, no one was hurt," Tripti Bhatt, who currently holds the charge of Rudraprayag district's Superintendent of Police (SP), said.
After the vandalism, Rudraprayag district magistrate Mangesh Ghildiyal posted a video on social media clarifying that the video that was going viral over social media was "fake".
"The faces of the people in the video are not clear. Neither the man nor the woman in the video has been identified. Also, we have not received any complaint of a rape in Agastyamuni. We are searching for the people who have been spreading fake news of rape over social media…strict action will be taken against them," Ghildiyal said in the video.
Agastyamuni falls on the way to the Kedarnath shrine at 70 kilometres from the shrine, and for the locals the incident was the first ever communal incident in the town that they had ever witnessed.
Gajendra Rautela, an Agastyamuni local said, "Agastyamuni has a small Muslim population. Many Muslim traders whose shops were vandalised have been born and brought up in Agastyamuni… I had not witnessed any communal incident in the town until today (Friday). What happened today was shocking."
After the incident FIRs were registered in the Agastyamuni police station against the people who vandalised public and private property, and against people spreading the fake video on social media.
"Few people were arrested (on Friday), and many are yet to be traced," Bhatt said.
http://indianexpress.com/article/india/right-wing-groups-uttarakhand-town-vandalise-shops-muslims-fake-social-media-post-5126693/
--------
Bangladesh builds billion-dollar model mosques to counter radical Islam
April 6, 2018
Bangladesh has launched a billion-dollar campaign to build hundreds of "model mosques", partly with Saudi funding, to try to counter radical Islam in the Muslim-majority country, officials said Friday.
Prime Minister Sheikh Hasina, who inaugurated work on nine mosques through a video conference on Thursday, is also trying to bolster links with Muslim groups in an election year, according to analysts.
A senior official said 560 "model mosques cum cultural centres" would be built in the next 30 months as part of a government attempt to fight extremism.
"In the next one to one and a half months, work on another 100 mosques will begin," Shahmim Afzal, who heads the government Islamic affairs department, told AFP.
They will be used to preach against "distorted Islamic philosophy" of groups such as Bangladesh's largest opposition Islamic party Jamaat-e-Islami and Egypt's Muslim Brotherhood, the official added.
The country has been fighting Islamist extremism in recent years after militants carried out attacks on religious minorities, secular activists and foreigners.
Afzal said the centres of worship would be open to women, unlike most of the country's 300,000 mosques, and would be equipped with libraries and cultural centres.
"Each mosque will cost 150 million taka ($1.8 million)," he said.
Imams would be required to give sermons "to inspire people against extremism".
Afzal last year said Saudi Arabia would bear the lion's share of the project, but a senior official of the Islamic kingdom later denied any such plan.
Afzal, however, told AFP that Saudi Arabia was partly funding the project. "They have already sent part of the fund," he said, without disclosing the amount.
Minority groups have raised concerns over the proliferation of Saudi-backed mosques, saying these could spread the ultra-conservative Sunni doctrine of Wahhabism practised in the Gulf kingdom.
An expert said the real aim of the billion dollar mosque project by Hasina's government could be political.
"She wants to build rapport with traditional Islamic groups. She wants to win over these forces," said Ataur Rahman, chairman of the Dhaka-based Centre for Governance Studies.
Hasina's ruling Awami Legaue party has over the decades championed secular causes.
In recent years Hasina has cracked down on hardline Islamist groups, and tried and executed Islamist leaders accused of war crimes. She has made secularism part of Bangladesh's constitution.
"Ahead of the elections, she is adjusting her secular stand by leaning towards a more rightist Islamist position," Rahman said.
Hasina has said a general election will be held this year.
Some 90 percent of Bangladesh's 160 million people are Muslims. (AFP)
http://punchng.com/bangladesh-builds-billion-dollar-model-mosques-to-counter-radical-islam/
--------
Quranic Recitals for Cows Recommended To Improve Beef Quality in Malaysia
April 6, 2018
KUALA LUMPUR: Cows in a conservative Malaysian state could be played Quranic recitals in the hope it will help them relax and improve the quality of their beef, a senior official said Thursday.
Che Abdullah Mat Nawi, a member of the executive council in Kelantan state, put the idea forward in the hope that it will be taken up by cattle farmers in the rural state.
The influential Pan-Malaysian Islamic Party (PAS) is in charge of the state legislature in Kelantan, in the north of the Muslim-majority country, and has previously attracted controversy for promoting tough Islamic laws.
"We believe that (reading the Quran gives) peace of mind to people, so it might give peace of mind to animals and produce better meat," said Che Abdullah, who oversees the agriculture portfolio in the local government.
"We believe the quality of the beef will get better if the animal is calm or in a relaxed situation."
The official added there was no timetable for the plan and it was not something the government would roll out on its own. It was hoping local farmers would lead the way in implementing it, he said.
PAS has been pushing to introduce a tough Islamic criminal code, known as hudud, in Kelantan that includes penalties such as amputations for theft and stoning to death for adultery.
In 2015, the state assembly passed a law mandating the hudud but it has not been implemented as the federal constitution forbids it.
More than 60% of multi-ethnic Malaysia's 32 million inhabitants are Muslim.
https://tribune.com.pk/story/1679251/3-quranic-recitals-cows-recommended-improve-beef-quality-malaysia/
--------
Fight Bashar Assad's 'state terrorism,' opposition urges US
April 07, 2018
Jeddah: Even as President Donald Trump hints at a US pullout from Syria, insisting that Daesh is "almost completely defeated," the terrorist group is showing signs of a revival.
After being forced out of the main towns they once occupied near the Iraqi border, the militants have regrouped elsewhere and revised their tactics, recently mounting a brazen attack on a border city in eastern Syria and expanding their footprint inside the Syrian capital itself.
Yahya Al-Aridi, the Syrian opposition spokesman, told Arab News that the Kurds had been "taken hostage" by Kurdish groups including PKK (Kurdistan Workers' Party) and PYD (Democratic Union Party), but were also "victims of those with interests in the region — US, Russia, Turkey, Iran and the regime (of Bashar Assad)."
He said: "They were used by the US at a certain point and when the US threatened to pull out its forces, they got worried because somebody out there would fill the vacuum. Their fears are justified."
The plight of Kurds had been heightened because after years of suffering, they thought the US had come to their rescue, Al-Aridi said.
"The US had its own interests, and if the US and its allies have to fight any party, they have to fight Assad's state terrorism."
Meanwhile, Syrian troops began a ground offensive under cover of airstrikes on rebel-held areas outside Damascus on Friday after a 10-day truce collapsed following a dispute over evacuation of opposition fighters.
The new wave of violence left at least 36 people dead, including women and children, according to state media and opposition activists.
By sunset on Friday, artillery pieces, multiple rocket launchers and warplanes had pounded the city of Douma, which is home to tens of thousands of people. Live television footage showed thick smoke rising above sections of the city after intense airstrikes.
http://www.arabnews.com/node/1280301/middle-east
--------
Egypt's Copts on 'forbidden' path to Jerusalem, despite vague pilgrimage ban
7 April 2018
The ban on pilgrimage to Jerusalem is associated to the late Pope Shenouda III who objected to the 1979 Peace Treaty between Egypt and Israel and refused to accompany Sadat on his visit to Israel. "I will never go to Jerusalem except hand-in-hand with my Muslim brothers after the end of the Israeli occupation," said Shenouda in his famous statement, justifying the ban whose violators were denied communion and at times threatened with excommunication.
The ban, however, dates back to his predecessor Pope Cyril VI, who initiated the ban in the wake of the 1967 defeat, in which Israel occupied Jerusalem. Throughout that time, few Copts defied the ban and many of them asked for forgiveness following their return, some through public apologies in official newspapers. The situation, however, started taking a different turn in 2012 when Pope Tawadros II took office. Cairo International Airport has been reportedly witnessing unprecedented growth in pilgrimage trips during the Holy Week of 2018, all operated by Air Sinai that takes them to Ben-Gurion Airport in Tel Aviv and from there to Jerusalem. The trips are organized by private travel agencies, which were for the first time in decades allowed to post their ads inside churches.
'Ban not revoked, but also not enforced'
The numbers of Copts travelling this year to Jerusalem is estimated at 7,000, according to Naguib Gobrail, the lawyer of the Coptic Orthodox Church and head of the Egyptian Union for Human Rights. "The ban was not officially revoked, but it is not enforced at the moment," Gobrail said. "Archbishop Antonios, head of the Coptic Church in the Holy Land asked Pope Tawadros not to penalize pilgrims since their trips preserve the Christian identity of the city and protect the lands of the church from the Zionists." Gobrail said that restrictions were eased gradually so that at first only dual nationals and senior citizens were allowed to travel to Jerusalem then everyone else followed later. Gobrail argued that another factor which contributed to the increasing numbers of pilgrims is the trip Pope Tawadros made to Jerusalem in November 2015 to attend the funeral of late Archbishop Abraham at the head of a delegation of bishops and church officials. "Palestinian President Mahmoud Abbas also asked that Copts, like all Arabs, should travel to Jerusalem," he added. Gobrail, however, is not in favor of pilgrimage to Jerusalem since the ban is initially political. "I refuse to put Copts in a situation where they might be accused of aiding in normalizing ties with Israel."
Journalist Osama Salama questions the impact of trips made by Arabs to Jerusalem and which, according to the argument supported by the Palestinian Authority, preserves the identity of the city. "When Pope Shenouda issued the ban on Copts, he was praised for his rejection of normalizing ties with Israel and he was considered an Arab champion. He was even called 'the pope of Arabs,'" he wrote, adding that Pope Tawadros was expected to follow suit since pilgrimage trips to Jerusalem have not proven to benefit the Palestinian cause. Salama argued that the trips made by Western Christians to Jerusalem did not stop the Israeli authorities from encroaching upon churches. "This was shown in the taxes imposed on churches a few weeks ago and which led to the closure of the Church of the Holy Sepulcher," he explained, in reference to the proposed tax policy and land expropriation law that were seen by different Christian leaders, Armenian, Greek Orthodox and Roman Catholic, as an unprecedented violation of the rights of Christians in Jerusalem. "This means that religious visits and pilgrimages never stop Israeli plans and the same applies to the trips made by Copts," he added. Salama also pointed that keeping the ban while not enforcing it harms the church and weakens its positions. "The ban should either be entirely lifted or strictly applied, but this in-between situation is extremely unwise."
Paid leave from Egypt, visas from Israel
Journalist Mohamed Salah Qassem argued that the Egyptian judiciary played a major part in increasing the number of Coptic pilgrims when the Supreme Constitutional Court ruled in February 2017 that Christian civil servants have the right to a month of paid leave to perform pilgrimage once in their lifetime like their Muslim counterparts. "The verdict was based on the unconstitutionality of the article in the Civil Servants Law that allows Muslim employees paid leave to perform pilgrimage since Christians are not given the same privilege to visit their holy sites in Jerusalem," he wrote. According to Qassem, the repercussions of this verdict mean more steps towards normalization with Israel.
"Pilgrims travelling to Jerusalem will obtain visas from Israel and the money they spend there will be in shekels and will boost the Israeli economy and tourism industry," he explained. "Plus those trips will not change the reality of the occupation or reduce the suffering of Arabs living there, but will rather acknowledge the status quo." For Qassem, the way Israeli press dealt with Pope Tawadros's Jerusalem visit is indicative of how pilgrimages are viewed by Israel. "Israel considered the pope's visit a step towards normalization and in the same year more the 6,000 Coptic pilgrims travelled to Jerusalem."
Testimonies by pilgrims, however, indicate that Palestinians benefit more from those visits than Israelis. According to Milad Rizq, the pilgrims' relationship with Israel ends with the visa. "This is the only document that has an Israeli stamp," he said. "Everything else involves only Palestinians." Rizq explained that pilgrims stay in areas controlled by Palestinians whether in Jerusalem or Bethlehem. "The hotels we stay in are owned by Palestinians and our transportation there is organized by Palestinians, too."
https://english.alarabiya.net/en/features/2018/04/07/More-Copts-on-forbidden-path-to-Jerusalem-despite-a-vague-pilgrimage-ban.html
--------
Pakistan
Muslim Christian Leaders Come together for an Easter Breakfast
April 7, 2018
Lahore: April 6, 2018. (PCP) An Easter breakfast was given in the honour of the Muslim Christian religious leaders by Mr. Aziz Robinson and his Muslim friends.
Fr. Francis Nadeem OFM Cap (Executive Secretary NCIDE) represented the National Commission for Interreligious Dialogue and Ecumenism (Catholic Bishops' Conference Pakistan). This get together took place in a very pleasant atmosphere.
The message of the Resurrection of Jesus was discussed among all the present leaders. The leaders expressed their happiness to be united on this occasion. The Christian leaders were presented flowers as a token of gratitude, peace and brotherhood.
Among the participants were: Fr. Francis Nadeem, Mr. Aziz Robinson, Moulana Asim Makhdoom, Fr. Qaiser Feroz, Mufti Syed Ashiq Hussain, Fr. Inyat Bernard, Dr. Badar Munir, Qari Ahmad Shakil Saddiqui, Qari Kalid Mahmood and Chaudhary Muhammad Shafiq Gujjar. http://www.pakistanchristianpost.com/detail.php?hnewsid=6822
--------
Students flashing victory signs in Mashal lynching to be put on fourth schedule
April 7, 2018
The provincial government of Khyber Pakhtunkhwa will include in the fourth schedule of the Anti-Terrorism Act (ATA) names of those who made speeches and victory signs during the brutal murder of Mashal Khan at the Abdul Wali Khan University (AWKU) of Mardan district in April last year.
The Home Affairs secretary informed the Standing Committee of the National Assembly on Human Rights during a briefing held here on Friday. The panel was discussing issues related to murder of Mashal Khan particularly the steps authorities had taken against the culprits and those who were involved in the tragic incident.
Some of the committee members asked the provincial officials as to why all those who delivered speeches and made victory signs after the brutal murder of the Mass Communication student were not arrested. The secretary said that there was no point in arresting such people because they might obtain bail from the court easily.
"Instead their names will be placed on the fourth schedule," he said. The fourth schedule is a section of the ATA under which people suspected of terrorism might be kept under observation. Such people have to report to the local police regularly.
Mashal Khan was brutally murdered in April 2017 by his fellow students who first accused him of committing 'blasphemy.' In February, an Anti-Terrorism Court in Haripur sentenced one man to death and handed life terms to five others. As many as 25 were given lesser sentences while 26 persons were acquitted because of lack of evidence.
Full report at:
https://www.pakistantoday.com.pk/2018/04/07/students-flashing-victory-signs-in-mashal-lynching-to-be-put-on-fourth-schedule/
--------
Abbasi meets Ghani: Terrorism a common threat to both countries
BY MIAN ABRAR
April 7, 2018
ISLAMABAD: Prime Minister (PM) Shahid Khaqan Abbasi and Afghan President Ashraf Ghani held talks in Afghanistan's capital, Kabul, on Friday where the two leaders reiterated that terrorism was a common enemy and a threat to regional stability. They agreed not to allow their soils to be used for anti-state activities against each other.
The prime minister landed in Afghanistan on a day-long visit and was accompanied by his delegation which comprised of National Security Adviser Nasser Janjua, Foreign Minister Khawaja Asif, Interior Minister Ahsan Iqbal and Khyber Pakhtunkhwa (KP) Governor Iqbal Zafar Jhagra.
Both the leaders also agreed that peace, prosperity and stability of the two countries were interlinked. They reaffirmed their resolve to work together to address all issues of bilateral and transit trade. They also expressed their firm resolve not to allow politics to affect their economic relationship which was important for the welfare of the people of the two countries.
Further, the two leaders reaffirmed their commitment to regional connectivity as they had done in Herat on February 23 this year while jointly inaugurating the entry of TAPI gas pipeline from Turkmenistan into Afghanistan.
They agreed to hold an early meeting of the Joint Economic Commission to take forward the planning and implementation process of the key railroad, gas pipeline and energy projects that would integrate Pakistan and Afghanistan with Central Asia.
The two leaders also agreed to continue work on the Chaman-Kandahar-Herat railway line, Peshawar-Kabul motorway, and other connectivity projects which held tremendous potential for the South and Central Asian Regions by providing shortest access through the seaports of Gwadar and Karachi. They emphasised early completion of TAPI and CASA-1000 projects.
During discussions, the governments of Pakistan and Afghanistan called on the Afghan Taliban to respond positively to the peace offer made by the Afghan president and join the peace process without further delay.
Ghani's offer of peace talks follows US President Donald Trump's announcement that his country would hold talks with the Taliban.
The vow was made by President Ghani and PM Abbasi during a one-on-one meeting. A similar commitment was also made during the delegation level meetings held at the Presidential Palace in Kabul.
On the occasion, the prime minister welcomed President Ghani's vision for peace and reconciliation in Afghanistan and his offer of peace talks with the Taliban.
President Ghani and Prime Minister Abbasi discussed the whole gamut of Pak-Afghan relations, including peace and reconciliation in Afghanistan, counter-terrorism strategies, repatriation of Afghan refugees, bilateral trade and regional connectivity.
Both the leaders agreed that there was no military solution to the ongoing Afghan conflict and that the political solution was the best way forward – a stance promoted by Pakistan since a decade or so.
Moreover, in another major development, the Afghan president also agreed to Pakistan's Afghan peace plan, noting that Afghanistan-Pakistan Action Plan for Peace and Solidarity (APAPPS) provided a useful framework for broad-based and structured engagement on all issues of mutual interest and decided to operationalise the five working groups constituted under APAPPS.
The prime minister also met Afghanistan's Chief Executive Dr Abdullah Abdullah. Both the leaders discussed issues pertaining to bilateral matters and agreed on regular leadership contacts between the two neighbouring countries.
As a gesture of goodwill, PM Abbasi announced a gift of 40,000 tons of wheat for the Afghan people. He also announced a relaxation on additional regulatory duty on Afghan export to Pakistan to help lift Afghanistan's economy. The two sides also agreed to initiate discussions on consular matters and exchange of civilian prisoners.
Moreover, President Ghani and PM Abbasi reaffirmed their resolve to build trust and confidence between the two countries by working closely for peace, prosperity and stability in their countries. The two leaders agreed to continue the exchange of high-level visits.
Prime Minister Abbasi extended invitations to President Ghani and Chief Executive Abdullah Abdullah to visit Islamabad at their earliest convenience.
Full report at:
https://www.pakistantoday.com.pk/2018/04/06/pm-abbasi-afghan-president-hold-talks-on-afghan-peace-process/
--------
FIA contacts Interpol for Haqqani's 'red notice'
Mohammad Asghar
April 07, 2018
RAWALPINDI: The Fed­eral Investigation Agency (FIA) has approached the Interpol Secretariat in Fran­­ce for issuance of a 'red not­ice' for former ambassador to the United States Hussain Haqqani.
According to sources, all formalities required by Interpol's rules and procedures have been fulfilled.
An Interpol red notice is issued to inform member cou­­n­­tries that the person is wanted due to arrest warrants or judicial orders issued by the court of law of a country.
Meanwhile, FIA Director General Bashir Memon is leaving for Lyon, Interpol's headquarters, in France on Sunday to attend a high-level annual conference of intelligence heads of member countries where he will also touch on the issue of obtaining a red notice for Mr Haqqani to bring him back to Pakistan to face trial in the Memogate case.
A senior FIA official said that during his stay in Lyon, Mr Memon would engage a law firm, if needed, to pursue the case of issuance of the red notice for the ex-envoy.
He said the FIA chief would later proceed to the United States and take up the issue of Mr Haqqani with relevant officials there.
The Supreme Court had on March 29 issued an arrest warrant for Mr Haqqani and gave the authorities a 30-day deadline to bring him back after which no excuse would be accepted. The FIA director general had assured the court that a proper case would be registered in the United States if Mr Haqqani refused to return to Pakistan.
Full report at:
https://www.dawn.com/news/1400099/fia-contacts-interpol-for-haqqanis-red-notice
--------
Three sentenced to death for killing Tablighi Jamaat man in Karachi
April 07, 2018
KARACHI: An antiterrorism court sentenced on Friday three men to death and two individuals to life in prison in a sectarian killing case.
The court found Syed Furqan, alias Babaji; Faisal Mehmood; Syed Buturab Ali; Azhar Hussain and Riffat Hussain Jafari, said to be affiliated with a banned sectarian militant outfit, guilty of killing Mohammad Faisal Umer and wounding his friend Mohammad Saad — both members of the Tablighi Jamaat — in February 2014 near the Gharibabad underpass.
An ATC judge, who conducted trial at the judicial complex inside the central prison, handed down capital punishment to Furqan, Faisal and Buturab and another 10 years' jail to the trio for wounding the complainant Saad. The other two convicts were sentenced to life in prison.
According to the prosecution, the complainant and the deceased were the residents of Defence Housing Authority.
They came to the Madni mosque in Azizabad every Thursday. On Feb 27, they were returning home when armed men on motorcycles opened fire on them. Police arrested the accused a couple of months after the incident, it added.
A case was registered under Sections 302 (premeditated murder), 324 (attempted murder) and 34 (common intention) of the Pakistan Penal Code read with Section 7 of the Anti-Terrorism Act 1997 at the Sharifabad police station.
Safoora carnage convict acquitted
A sessions court acquitted an accused, convicted in the Safoora Goth bus carnage case, in an attempted murder case for lack of evidence.
Saad Aziz along with his absconding accomplices was booked for allegedly causing injuries to cobbler Samiullah near the Misri Shah shrine in Defence Housing Authority in May 2015.
An additional district and sessions judge exonerated the accused after recording evidence of witnesses and concluding arguments from both sides.
The military court had sentenced Tahir Minhas, Saad Aziz, Asadur Rehman, Mohammad Azhar Ishrat and Hafiz Nasir Ahmed to death in May 2016 in the Safoora Goth bus carnage case and murder of prominent social activist Sabeen Mahmud.
Full report at:
https://www.dawn.com/news/1400017/three-sentenced-to-death-for-killing-tablighi-jamaat-man-in-karachi
--------
India
Is polygamy more important for you than Muslim rights in Ramjanmabhoomi case, Dhavan asks SC
APRIL 06, 2018
For 45 minutes, Mr. Dhavan confronted a Bench led by Chief Justice Dipak Misra as to why the court chose to refer pleas to declare polygamy unconstitutional to a Constitution Bench, while continuing to mull over whether or not to send questions raised in Ramjanmabhoomi title appeals to a five-judge Bench.
Senior advocate Rajeev Dhavan, appearing for Muslim parties in the Ramjanmabhoomi title appeals, asked the Supreme Court to clarify in open court, before the Press, whether it considered pleas to strike down polygamy more important than Muslim rights involved in the Babri Masjid-Ramjanmabhoomi case.
For 45 minutes, Mr. Dhavan confronted a Bench led by Chief Justice Dipak Misra as to why the apex court chose to refer pleas to declare polygamy unconstitutional to a Constitution Bench, while continuing to mull over whether or not to send questions raised in the Ramjanmabhoomi title appeals to a five-judge Bench, that too, despite repeated requests from the Muslim parties.
"Tell me, are the petitions to declare polygamy unconstitutional — an issue detrimental to Muslims — much more important than the questions raised in the Ramjanmabhoomi-Babri Masjid case? If so, say that now... I am here, the Press is here... please say so," Mr. Dhavan challenged the Bench.
If polygamy petitions can be shifted to a Constitution Bench, the Ramjanmabhoomi appeals can also go, he submitted.
The reference of polygamy pleas to the Constitution Bench was made on the very first day of hearing, on March 26, 2018. "The Ramjanmabhoomi case is the most important issue that affects India's secularism... more than polygamy," Mr. Dhavan said.
In the Ramjanmabhoomi appeals, the Muslim parties want a Constitution Bench to answer the question "whether mosques are essential to Islam". Muslim parties have challenged the 24-year-old judgment of the apex court in the Ismail Faruqui versus Union of India case, which observed that a mosque has no "unique or special status" and was not an essential part of the practice of Islam and namaz. In 1994, the Supreme Court observed that "Muslims can offer prayer anywhere, even in open".
The Muslim parties want a five-judge Bench to reconsider the Ismail Farooqui case verdict before further hearing the Ramjanmabhoomi appeals on merit.
Justice Ashok Bhushan, who is part of the Ayodhya Bench along with Justice S. Abdul Nazeer, said the order passed in the polygamy case cannot be made a ground to refer the Ramjanmabhoomi appeals to a Constitution Bench.
Chief Justice Misra and Justice Bhushan explained to Mr. Dhavan that they would not pass any piecemeal orders in the Ramjanmabhoomi appeals. They intend to hear the arguments from both sides before taking a call on whether the appeals in its entirety or the question of essentiality of mosques to Islam alone should be sent to a five-judge Bench.
The hearing witnessed repeated verbal slugfests between Mr. Dhavan and senior lawyers from the other side.
Both sides warned each other to "behave" in court. The court hearing intermittently erupted into short bursts of verbal brawls. Mr. Dhavan, at one point, even accused senior advocate K. Parasaran of "caricaturing" his arguments.
Justice Ashok Bhushan cut in to urge Mr. Dhavan to respect seniors like Mr. Parasaran. At one point, Justice Bhushan told Mr. Dhavan to "address the court... the Press may be here and they have a different job to do".
"What is wrong about talking about the Press? They have a right to be here... I want the people of India to know. The other side has many compulsions, I am only interested in justice. I argue my case and I go home. I am a recluse," Mr. Dhavan countered.
Mr. Parasaran said Mr. Dhavan was "intimidating the court" into referring the case to a Constitution Bench. "At every stage, he [Mr. Dhavan] cannot confront the court, saying nation is watching. Is this the way? He is intimidating Your Lordships," he submitted.
Mr. Parasaran said the polygamy cases were about fresh matters, while the question in the Ramjanmabhoomi case involved a reexamination of a 24-year-old case law in the Ismail Farooqui case. The latter required intense deliberations before arriving at a decision whether or not to refer to a Constitution Bench.
Chief Justice Misra said the court was aware of the "high significance" and the "enormous impact" of the question of Muslim rights of worship raised in the Ramjanmabhoomi case. "That is why we have decided to hear it keenly," he told Mr. Dhavan.
The Farooqui case dealt with the acquisition of 67.703 acres in Ayodhya after the demolition of Babri Masjid on December 6, 1992. The constitutionality of the Acquisition of Certain Area at Ayodhya Act, 1993 was under scanner.
The Muslim petitioners have raised various points of contention with regard to the 1994 judgement, including the distinction created by the Supreme Court between places of worship with "particular significance" and "ordinary places of worship".
The Faruqui verdict says that only places of worship having particular significance should be considered as an "essential or integral part of the religion".
Mr. Dhavan said the court cannot ask Muslims to pray in the open after deciding that mosques are not an essential part of Islam. A mosque does not cease to be a place of worship merely because it has been demolished.
http://www.thehindu.com/news/national/ayodhya-case-is-polygamy-more-important-for-you-than-muslim-rights-advocate-rajeev-dhavan-asks-supreme-court/article23458152.ece
--------
Goa issues alert after intel on terrorists using sea route to arrive in India
Apr 7, 2018
PANAJI: Goa today issued an alert to all the vessels and casinos operating off the state's coast following an intelligence input about possible arrival of terrorists on board a fishing trawler, the state's ports minister said.
State's Ports Minister Jayesh Salgaoncar told PTI that his department has issued a warning to all the off shore casinos, water sports operators and barges to be alert as the Indian Coast Guard has shared an intelligence input about a possible terror attack on the western coast.
"The alert is not specific to Goa. It can be even to Mumbai or Gujarat coast, but we have alerted the vessels and concerned agencies," Salgaoncar said.
"A fishing trawler from India which was seized by Pakistan has been released and there is intelligence input that on its way back, it may carry terrorists," the minister said.
State's Ports Department has written to the off shore casinos and cruise vessels, and barges to remain alert in the wake of the intelligence input.
"Have received intelligence input from District Coast Guard that anti-national elements have boarded an apprehended Indian fishing boat in Karachi and (are) likely to land on Indian coast and attack vital installations," states the communication by Captain of Ports James Braganza to Goa's tourism department and all the water sports operators, casinos, and cruise vessels and barges.
"All vessels to increase security and report any sighting or untoward movement to concerned authorities," the letter states.
Full report at:
https://timesofindia.indiatimes.com/india/goa-issues-alert-after-intel-on-terrorists-using-sea-route-to-arrive-in-india/articleshow/63652181.cms
--------
1 Hizb terrorist killed, another escapes during Pulwama encounter
M Saleem Pandit
Apr 6, 2018
SRINAGAR: One terrorist of the Hizbul Mujahideen outfit was killed while another managed to escape during a counter-insurgency operation in south Kashmir's Pulwama district on Friday afternoon.
A joint team of Indian Army, Jammu and Kashmir Police and personnel of the Central Reserve Police Force had launched a cordon and search operation in Kangan area following inputs about militants' presence in the region. Soon after, a firefight ensued between the holed-up terrorists and security forces, in which one of the militants was killed while the other managed to escape, said Pulwama SSP Mohammad Aslam Choudhary.
The deceased terrorist was identified as Musavir Hassan Wani, a resident of Dalipora in Pulwama and a BTech student. One AK-47, an SLR gun and other incriminating evidence were recovered from him.
Full report at:
https://timesofindia.indiatimes.com/india/1-hizb-terrorist-killed-another-escapes-during-pulwama-encounter/articleshow/63648495.cms
--------
LeT militant arrested from Jammu and Kashmir's Kupwara
Apr 6, 2018
SRINAGAR: Security forces today arrested a Pakistani terrorist, who had managed to escape an anti-militancy operation recently, from Kupwara district of Jammu and Kashmir, police said.
Pursuing credible leads, security forces had launched a cordon and search operation in Juggiyal village of Hyhama area in Kupwara today, a police official said.
He said during the operation, security forces zeroed in on a house where the terrorist was hiding. The forces strategically trapped the terrorist and arrested him from the spot, he added.
"He has been identified as Zabiullah, son of Sannaullah Saqib, a resident of Multan in Pakistan. He is affiliated to outlawed terror organisation Lashkar-e-Taiba and had recently infiltrated into India," the official said.
The terrorist was part of the terror group which was eliminated at Halmatpora recently. Five militants were killed and five security force personnel lost their lives in the operation on March 20.
Full report at:
https://timesofindia.indiatimes.com/india/let-militant-arrested-from-jammu-and-kashmirs-kupwara/articleshow/63647529.cms
--------
South Asia
4 senior local Taliban leaders killed in NDS operation in Nangarhar
Apr 06 2018
At least four senior local leaders of the Taliban group were killed during an operation of the Afghan Intelligence, National Directorate of Security (NDS), operatives in eastern Nangarhar province of Afghanistan.
The provincial government media office in a statement said the militants were killed during an operation in Bati Kot district and as a result five militants were also arrested.
The statement further added that the NDS operatives conducted a Special Operation in Chahar Dehi area of the district, leaving four dead and three others wounded.
According to the governor's office, the local Taliban leaders killed in the operation have been identified as Tur Dil alias Mullah Tur, Pacha, Mohammad Shafiq alias Sanga, and Muskin.
Another local Taliban leader was also arrested along with three militants during the operation, the statement added.
The militants arrested by the NDS operatives have been identified as Shakirullah alis Qari Shakir, Sangar Kochi, Rahmanullah, Ewaz Khan and Bilal.
According to the provincial government, at least two other suspects were also arrested during another operation in connection to having links with the militants in the same area.
The anti-government armed militant groups including Taliban insurgents have not commented regarding the report so far.
https://www.khaama.com/4-senior-local-taliban-leaders-killed-in-nds-operation-in-nangarhar-04812/
--------
ISIS Khurasan leader Qari Hekmat killed in Jawzjan airstrike
Apr 07 2018
The leader of the Islamic State of Iraq and Syria Khurasan Qari Hekmat has been killed in an airstrike in northern Jawzjan province of Afghanistan.
The 209th Shaheen Corps of the Afghan Military in the North said Qari Hekmat was killed in an airstrike of the US forces in Darzab district.
A statement by Shaheen Corps said the airstrike was carried out at least 11:58 am local time in Sar Dara area of Darzab on Thursday.
The statement further added that another member of the terror group was also killed in the airstrike but there are no words regarding his identity.
In the meantime, Shaheen Corps said the terror group has appointed Mawlavi Habibur Rehman as the new leader of the group to replace Qari Hekmatyar.
According to Shaheen Corps, Mawlavi Rahman is orignally a resident of the Sholgar district of northern Balkh province.
The anti-government armed militant and terrorist groups including ISIS group has not commented regarding the report so far.
This comes as counter-terrorism operations including airstrikes are underway against the terror group in Jawzjan as well as other parts of the country.
Full report at:
https://www.khaama.com/isis-khurasan-leader-qari-hekmat-killed-in-jawzjan-airstrike-04814/
--------
4 Taliban militants killed in Afghanistan
Apr 06, 2018
Kabul [Afghanistan], April 6 (ANI): At least four senior local leaders, affiliated with the terror outfit Taliban, have been killed during an operation of the Afghan Intelligence, National Directorate of Security (NDS), in Afghanistan's Nangarhar province.
"The NDS operatives conducted a Special Operation in Chahar Dehi area of the district, leaving four dead and three others wounded," reported Khaama Press, citing, the provincial government media office, as saying in a statement.
The statement added that the militants were killed during an operation in Bati Kot district. Five militants were arrested as well.
According to the report, the local Taliban leaders, killed in the operation, have been identified as Tur Dil alias Mullah Tur, Pacha, Mohammad Shafiq alias Sanga, and Muskin.
Full report at:
https://www.aninews.in/news/world/asia/4-taliban-militants-killed-in-afghanistan201804061449470001/
--------
Afghan and Pakistani leaders agree on 7 key issues related to APAPPS
Apr 07 2018
President Mohammad Ashraf Ghani and Pakistan's Prime Minister Shahid Khaqan Abbasi agreed on seven key issues related to Afghanistan Pakistan Action Plan for Peace and Solidairty (APAPPS).
The Ministry of Foreign Affairs of Afghanistan (MoFA) said the agreement was achieved during a meeting between the leaders of the two countries in Kabul on Friday with an aim to finalize the APAPPS between the two nations.
According to MoFA, the two leaders agreed that Pakistan will support an Afghan-led peace process and will take effective steps against the militants and circles attempting to pose threat to the security of the countries.
They also agreed that no country, network, group, or individual would be allowed to use the soil of the two countries for conducting destructive activities and a mechanism will be formed to asses, coordinate, and agree on the implementation of the agreement.
The Afghanistan and Pakistan leaders also agreed to respect the airsprace and territorial integrity of each other and refrain from blame game by resolving the issues and differences through the bilateral cooperation mechanism to be established under the APAPPS.
Full report at:
https://www.khaama.com/afghan-and-pakistani-leaders-agree-on-7-key-issues-related-to-apapps-04815/
--------
ANA release new facts as Kunduz airstrike sparks rare uproar in Pakistan
Apr 06 2018
The 209th Shaheen Corps of the Afghan Military said Friday that the latest findings of the Afghan national Army (ANA) reveals that five senior Pakistan military advisors supporting the Taliban were among those killed in Kunduz airstrike as the raid has sparked an unprecedented uproar in Pakistan.
According to the Shaheen Corps, the Pakistani advisors had apparently visited Dasht-e-Archi district to help coordinate the future spring offensive of the Taliban as well as helping the group to establish contacts with the certain regional countries.
Although the civilian deaths in Kunduz airstrike remains a disputed issue so far with investigations underway regarding the airstrike and civilian casualties, the unprecedented uproar in Pakistan has came as a matter utter surprise.
The current affairs observers, media outlets and activists are saying that the uproar regarding the airstrike in Pakistan is a complete surprise considering the silence of the protesters regarding the deadly attacks of the Taliban in Kabul and other provinces which claimed the lives of hundreds of ordinary civilians.
In the meantime, the Ministry of Defense officials are saying that the airstrike was carried out a main stronghold of the Taliban group in Dasht-e-Archi district which was also being used as the training camp by the group.
According to the defense officials, the raid was conducted based on accurate intelligence information and as a result several Taliban insurgents including eighteen of their leaders were killed.
In regards to the civilian casualties, the Ministry of Defense spokesman Gen. Radmanish said the Afghan army helicopters attacked the the compound with rockets but the civilians sustained casualties from small fire arms.
Full report at:
https://www.khaama.com/ana-release-new-facts-as-kunduz-airstrike-sparks-rare-uproar-in-pakistan-04813/
--------
Southeast Asia
Police question men who accused Sukmawati of blasphemy
April 6, 2018
The people who reported Sukmawati Soekarnoputri, the daughter of the country's first president Sukarno, told the Jakarta Police during questioning that the use of the words sharia, full-face veil and adzan in the latter's controversial poem were blasphemous against Islam.
Lawyer Denny Andrian Kusdayat and Hanura Party member Amron Asyhari, as well as the East Java chapter of Indonesia's largest Islamic organization, Nahdlatul Ulama (NU), filed a report against Sukmawati on Tuesday, claiming the latter had blasphemed against Islam by reading the poem, which compared sharia to konde (traditional hair bun), mocked cadar (full-face veil) and insulted adzan (Muslim call to prayer).
"The investigators asked which verses were blasphemous or problematic [within the poem]. We told them…. Just those three [sharia, full-face veil and adzan]," Denny said after the questioning at the Jakarta Police headquarters on Thursday night, as reported by kompas.com.
Sukmawati read the poem during a fashion event held to celebrate designer Anne Avantie's 29th career anniversary during Indonesia Fashion Week (IFW) in Jakarta on March 29.
Denny said the investigators also inquired about the witnesses present when the poem was read.
"We saw there were [artist] Titiek Puspa, Maritime Affairs and Fisheries Minister Susi Pudjiastuti, and several other celebrities [in attendance at the event]."
Denny said the evidence of the crime was a viral video recording of Sukmawati reading the poem, which the anniversary committee uploaded to the internet.
On Friday afternoon, hundreds of protesters staged a rally against Sukmawati in Central Jakarta. Jakarta Police spokesman Sr. Commander Argo Yuwono said that a combined force of up to 6,500 military personnel and police officers had been stationed at Istiqlal mosque to ensure security during the demonstration.
http://www.thejakartapost.com/news/2018/04/06/police-question-men-who-accused-sukmawati-of-blasphemy.html
--------
Rohingya refugees seek shelter in Malaysia
April 7, 2018
The plight of hundreds of thousands of Muslim-majority Rohingya who fled a military crackdown in Myanmar last year captured the world's attention.
But the crisis in Rakhine State has been going on for decades.
More than 62,000 Rohingya live in Malaysia. And some have been there for years.
But they are not legally recognised by the government.
Al Jazeera's Florence Looi met some in Alor Setar to find out about their hopes for a better life.
https://www.aljazeera.com/news/2018/04/rohingya-refugees-seek-shelter-malaysia-180406112808771.html
--------
Indonesia fishing boat rescues 5 Muslim Rohingya off Aceh
Apr 6, 2018
An Indonesian fishing boat has rescued a group of five Muslim Rohingya found in weak condition off westernmost Aceh province after a 20-day voyage that killed five other people, an official said Friday.
The group, including two women and an 8-year-old boy, were brought ashore early Friday and admitted to a hospital in East Aceh District, local search and rescue official Abdul Musafir said
Musafir says the group told officials that five people died during their journey.
"That is their confession, that the bodies of the five were dumped into the sea," Musafir said, adding that it wasn't clear where they traveled from and to where they were heading.
The five were found in their boat at sea Monday.
"We could not yet communicate much with them due to language constraints," Musafir said.
An outbreak of violence that began in 2012 prompted thousands of Muslim Rohingya to flee Myanmar by sea to Thailand, Malaysia and Indonesia.
Some 300 of them are still being sheltered in Aceh, an Indonesia's predominantly Muslim province.
A fresh crisis last year sent hundreds of thousands of Rohingya fleeing by land to Bangladesh.
Full report at:
http://abcnews.go.com/International/wireStory/indonesia-fishing-boat-rescues-muslim-rohingya-off-aceh-54280466
--------
Arab World
Violence breaks out near Syrian capital killing dozens
April 6, 2018
BEIRUT — Syrian troops began a ground offensive under the cover of airstrikes on rebel-held areas outside the capital Damascus on Friday after a 10-day truce collapsed over disagreement regarding evacuation of opposition fighters. The new wave of violence left at least 36 people dead, including women and children, according to state media and opposition activists.
By sunset Friday, artillery pieces, multiple rocket launchers and warplanes intensely pounded the city of Douma, which is home to tens of thousands of people. Live TV footage showed thick smoke billowing from different parts of the city as airstrikes create huge clouds of dust.
Douma is the largest city in eastern Ghouta. Government forces captured the entire region except for the city in a crushing offensive in February and March. The city is a stronghold of the Saudi-backed Army of Islam.
Violence resumed in and around Douma on Friday afternoon after the Army of Islam placed new conditions on an evacuation deal that saw hundreds of fighters and civilians leave earlier this week.
The intense bombardment could be meant to pressure the insurgent group to evacuate the city as many fear that the death toll could be high in an all-out battle to retake the town. Army of Islam has thousands of well-armed fighters in Douma.
Before the fighting resumed, helicopters earlier Friday dropped leaflets on Douma saying rebels should either leave to the northern town of Jarablus or hand over their weapons and receive amnesty with Russian and Syrian government guarantees that would include not drafting young men to the military service until after six to 10 months.
The leaflets also called on civilians to stay, saying their safety would be guaranteed by Russian Military Police deployed outside Douma.
Opposition activists and state media said there are divisions within the Army of Islam between moderate members who want to leave Douma and followers of the hard-line religious chief of the group, Abu Abdul-Rahman al-Kaaka, who rejects any deal with the government and wants to fight.
Top Army of Islam official Mohammed Alloush denied in an interview with the Dubai-based Al-Arabiya TV that there are disagreements within the group, saying that what they are concerned about is the safety of civilians in Douma.
He added that the violence came a day before a new round of negotiations with the Russians during which they were supposed to respond to an offer put forward by the Army of Islam. He did not give details of the proposal.
Nearly 50 airstrikes on Douma as of Friday afternoon killed at least 32 people, including children, according to the Britain-based Syrian Observatory for Human Rights. Douma-based activist Haitham Bakkar said at least 35 people were killed.
"We are being wiped out right now. We are being bombarded with barrel bombs and rocket launchers," Bakkar said via text message from Douma. "The town is overcrowded and many people have no place to hide."
Syrian state TV said several airstrikes hit Douma after members of the Army of Islam rebel group shelled government-held areas nearby killing and wounding a number of people.
State news agency SANA reported late Friday that the shelling on government-held Damascus killed four and wounded 22 others.
Syrian state TV reported that government forces advanced in farms outside Douma getting closer to the town. The channel said troops carried out a ground offensive under the cover of airstrikes moving deep into the so-called Douma Farms.
Bakkar said clashes between Syrian troops and the Army of Islam rebel group are taking place on two main fronts in the town. He said the fighting is concentrated on Douma's frontline in the towns of Masraba and Rihan, which were recently captured by the army.
U.N. spokesman Stephane Dujarric said the renewed outbreak of fighting in Douma "is of great concern to us."
"There are still a number of people who are besieged and trapped in the area," he told reporters at the U.N. headquarters in New York, "We remind all parties that it is a violation of international law to target civilian ese infrastructure, to target civilians."
Dujarric added that the U.N. faces a continuing struggle to get humanitarian aid to those in need because of the continued fighting.
The violence comes after nearly two weeks of calm in the last rebel-held town in the area after the Russians agreed with the Army of Islam to evacuate the area toward rebel-held regions north of the country.
Earlier this week, hundreds of opposition fighters and their relatives left Douma toward northern areas controlled by Turkey-backed opposition fighters in the north. The evacuations were suspended Thursday and state TV said Army of Islam members have refused to release scores of government supporters they have been holding for years.
There have been reports that the Army of Islam wants to negotiate a new deal, complaining of mistreatment by Turkish troops in northern Syria.
"There will be no further negotiations with terrorists over the evacuation deal. No one will be able to twist the army of the Syrian Arab Army," said a state TV reporter as sporadic explosions could be heard in the background. "They will either release the detainees or the terrorists' hideouts and offices will be destroyed."
Army of Islam official Ammar al-Hassan told The Associated Press that he has no information on whether the truce collapsed.
Earlier on Friday, a bomb exploded near a mosque in Damascus killing one person and wounding six others, according to state news agency SANA. It added that the blast occurred in the northeastern neighborhood of Barzeh close to al-Khansaa mosque.
Such explosions have been rare in Damascus recently.
Barzeh is close to the eastern Damascus suburb of Harasta that opposition fighters evacuated last month following weeks of a crushing government offensive on eastern Ghouta.
https://www.washingtonpost.com/world/middle_east/bomb-near-mosque-in-syrian-capital-kills-1-wounds-6/2018/04/06/fc23e15e-3995-11e8-af3c-2123715f78df_story.html?utm_term=.88e68c2aa87f
--------
Civilians trapped as Syrian airstrikes pound rebels' final Damascus stronghold
By Louisa Loveluck and Asma Ajroudi
April 6
BEIRUT — Syrian government warplanes attacked the final ­rebel-held city near Damascus on Friday, killing dozens of people, as civilians who had spent days agonizing over whether to stay or go feared that their decision had been made for them.
Douma is the final Damascus-area city to remain in opposition hands after Syrian and allied Russian forces mixed punishing force and negotiations with individual rebel groups to force a withdrawal from what remained of their shattered suburban stronghold of Eastern Ghouta.
Friday's airstrikes shattered a temporary cease-fire that had provided cover for the Russian authorities to negotiate with holdout rebels from Jaish al-Islam, a hard-line group.
The attack killed at least 32 people and wounded dozens more, according to the Britain-based Syrian Observatory for Human Rights, a monitoring group.
Residents said the strikes had targeted civilian areas and left body parts strewn through the streets.
"Medical and emergency points are crowded with the wounded. Intensive care is crowded," said a medical worker, speaking on the condition of ­anonymity, fearing retribution from both government and rebel forces.
Victory in Eastern Ghouta would effectively spell an end to the war between Syrian President Bashar al-Assad's forces and the opposition that rose up against them in 2011. Although a number of rebel strongholds remain, none are as strategically important as the enclave of Eastern Ghouta, where Douma is located.
More than 130,000 people have fled the once-besieged enclave in recent weeks, according to the United Nations, most of them to government-run reception centers in Damascus. But tens of thousands more have opted to stay under rebel control in the northern province of Idlib, an area that could become the next target of government bombardment.
A steady trickle of buses had been carrying residents from Douma for almost a week, apparently under the terms of an agreement struck between Jaish al-Islam and Russia. Many more people had stayed, fearing what might follow departure from home towns they had not abandoned through seven years of conflict.
On Friday, the buses stopped.
Speaking before the airstrikes, the medical worker said he had decided to stay because his work was not finished. "People still need me," he said. "People are looking for guarantees for when the Syrian government enters Douma to not be harmed. This is what people are looking for. They are not asking for a lot. People are sick of militia groups. People are bored of the war."
Residents said Jaish al-Islam has kept a tight hold over the evacuation, requiring those who wanted to leave to register at local offices. Fighters and civilians with familial ties to the group are being rejected, residents said.
An activist interviewed Friday said the choice to stay had not been his own, after Jaish al-Islam declined to clear two of his relatives to leave and held up his application as a result.
More than 1,000 people have been killed in Eastern Ghouta since the offensive began Feb. 18, most of them in the bombing and shelling by Syrian and Russian forces and in alleged chlorine strikes by the Syrian government.
Full report at:
https://www.washingtonpost.com/world/civilians-trapped-as-syrian-airstrikes-pound-rebels-final-damascus-stronghold/2018/04/06/fc33bd70-375d-11e8-af3c-2123715f78df_story.html?utm_term=.5e758a74fe2c
--------
Syrian rebel Jaish al-Islam wants negotiations: official
APRIL 6, 2018
BEIRUT (Reuters) - The Syrian rebel group Jaish al-Islam does not want to close the door on negotiations with Russia to reach a peaceful settlement to the conflict over the town of Douma near Damascus, its political official Mohammad Alloush said on Friday.
"We don't want to close the door that can lead to sparing the blood of civilians and reaching a peaceful situation," he said in an interview with al-Hadath TV. Alloush also denied the group had shelled residential areas of Damascus.
Separately, Jaish al-Islam military spokesman in Douma said the group's artillery and rocket brigade was targeting government forces in response to "the massacre committed by the Assad militias and their ally the Russian war planes".
https://www.reuters.com/article/us-mideast-crisis-syria-ghouta-group/syrian-rebel-jaish-al-islam-wants-negotiations-official-idUSKCN1HD2HG
--------
Air strikes return to Syria's Ghouta killing 32
April 07, 2018
BEIRUT: Deadly air strikes slammed into the last opposition-held town in Syria's Eastern Ghouta on Friday, killing 32 civilians in the first bombardment since talks sputtered over a rebel withdrawal.
Backed by Russia, Syrian troops had captured nearly all of the one-time opposition stronghold of Ghouta with a combination of ferocious bombing raids and negotiated withdrawals.
All that remained was its largest town of Douma, held by the Jaish al-Islam Islamist faction and home to tens of thousands of people.
Moscow announced a deal with Jaish al-Islam last Sunday, ushering in three consecutive days of evacuations from Douma that saw nearly 3,000 fighters and civilians bussed to northern Syria.
But the evacuations stalled this week amid reports Jaish al-Islam remained divided over a withdrawal, and heavy bombing hit Douma on Friday afternoon for the first time in around 10 days.
The Syrian Observatory for Human Rights said dozens of air strikes hit various parts of Douma, including some suspected to have been carried out by Russian warplanes.
"At least 32 civilians died, including seven children," said Observatory head Rami Abdel Rahman, adding that around 50 people were wounded.
A medic inside Douma described to AFP a state of chaos at the local hospital as wounded and dead were being brought in.
"The hospital is in a state of panic," the medic said.
"Dentists are carrying out emergency surgeries. Dead bodies are being brought in pieces and are unrecognisable."
State news agency SANA said Syrian air strikes hit the town on Friday in response to deadly rebel mortar fire from Douma.
It said mortar shells hit several suburbs of the capital and killed at least one person and wounded more than a dozen.
The regime and its ally Russia launched a blistering air and ground offensive on Eastern Ghouta in mid-February, killing more than 1,600 civilians and causing an international outcry.
The enclave on the eastern edge of Damascus had escaped government control since 2012 and, although it had shrunk over the years, it still covered sizeable territory two months ago.
The daily air raids kept residents cowering in basements for weeks and a ground assault soon sliced the area into three isolated pockets, each held by different rebel factions.
The first two were evacuated under Russian-brokered deals last month that saw more than 46,000 rebels and civilians bussed to the northwestern province of Idlib, which the regime does not control.
Tens of thousands of people also fled through humanitarian corridors opened by Russia and Syrian troops.
Some have already returned to their devastated neighbourhoods, while others are staying in crowded shelters.
As talks over the third and final pocket of Douma dragged on, Russia and Syria's regime threatened Jaish al-Islam with a renewed military assault if they did not agree to withdraw.
Those still trapped in Douma had been nervous that any attempt to renege on an evacuation would only prompt Russia and regime warplanes to resume deadly strikes.
The nature of the ongoing discussions over Douma is unclear and Jaish al-Islam itself has not stated its position since this week's first evacuation.
"It's very tense and there's a lot of confusion. We don't know where we're going, and rumours are flying in the town," said a resident reached by phone who gave his name as Mohammed.
"Waiting for the unknown, with rumours as your only source of information, is worse than the bombardment," said the young man, hours before Friday's fresh strikes.
Jaish al-Islam had been angling for a reconciliation deal that would allow them to stay in Douma as a police force.
The group appears to have little leverage, however, to face the regime's recovered might, and the latest strikes raised fears of a brutal end to the five-year-old siege of Eastern Ghouta.
"These air strikes are paving the way for a ground operation. Forces are already amassing and there is massive pressure on Jaish al-Islam," said Nawar Oliver, an analyst at the Omran Institute.
Full report at:
https://nation.com.pk/07-Apr-2018/air-strikes-return-to-syria-s-ghouta-killing-32
--------
Jordan Asks Syrian Army to Delay Dara'a Offensive
Apr 06, 2018
The source was quoted by massdar news as saying that the Syrian Army has agreed to respect Jordan's request and will once again attempt to hold reconciliation talks with the militant groups in Dara'a.
The Syrian Army and Russian military had earlier sent a delegation to Dara'a to negotiate a reconciliation deal that was similar to an agreement in Eastern Ghouta; however, the militants rejected the offer.
The militants then released a statement rejecting the offer and vowed to continue their fight against the Syrian government.
http://en.farsnews.com/newstext.aspx?nn=13970117000440
--------
Russian Warplanes Bomb Heavily Terrorists' Positions in Idlib
Apr 06, 2018
The sources said that the Russian fighter jets heavily bombarded the terrorist-held town of Jisr al-Shughour, destroying a number of bases and storage facilities.
In particular, the warplanes bombed Jisr al-Shughour and several surrounding towns, including al-Ghassaniyeh, al-Sukkariyah, Ghaniya, al-Barah, Ishtabraq and Halouz.
In a relevant development on Tuesday the Russian and Syrian warplanes carried out several rounds of combat flights over the positions and movements of Tahrir al-Sham in Jisr al-Shughour, Ariha, Jabal al-Zawiyeh, Jabal al-Araba'een, al-Sukriyeh, al-Qasaniyeh and Halouz region in Southwestern Idlib, killing an unspecified number of militants and destroying their equipment.
Full report at:
http://en.farsnews.com/newstext.aspx?nn=13970117000352
--------
Syrian forces push deeper into Douma
Apr 6, 2018
Syrian government forces have advanced deeper into Douma, the last stronghold of militants in Eastern Ghouta on the outskirts of the capital Damascus, state TV says.
State TV footage showed clouds of dark smoke rising from Douma as Syrian forces pushed into the town on Friday.
The Syrian army resumed airstrikes on the positions of militants in Douma following their violation of an evacuation agreement and their shelling of civilian areas earlier on Friday.
State news agency SANA reported that Jaish al-Islam terrorists, who are stationed in Douma, attacked al-Wafedin humanitarian corridor and al-Assad residential suburb in Harasta, causing civilian casualties.
Eastern Ghouta, which is home to nearly 400,000 people, fell to multiple militant groups in 2012, months after Syria plunged into crisis and has since served as a launch pad for fatal attacks against residents and infrastructure in Damascus.
The area has witnessed deadly violence over the past few months, with foreign-sponsored terrorists launching mortar attacks on the Syrian capital in the face of an imminent defeat.
After days of what has been described as one of the deadliest episodes in the war against foreign-backed militancy that has gripped Syria since 2011, Syrian forces agreed to let the militants flee to Syria's northern parts in order to save the lives of civilians caught in the crossfire.
Militant groups and their families have left different parts of Eastern Ghouta in convoys under deals with the government.
Eastern Ghouta has now been almost fully liberated with the exception of the town of Douma.
Recently, Moscow brokered an agreement between the militants based there and the Syrian government, enabling the former's safe exit to Jarabulus, a militant-held town in northern Syria.
Russia said hundreds of militants and their families had left Douma according to the deal. But the terrorist group has sought to remain in the town as what it calls a local security force, the so-called Syrian Observatory for Human Rights said. The demand has been rejected.
A commander in the pro-government regional military alliance said the militants' only option was to quit the town. "The negotiations have ended with failure. As far as Douma is concerned, resolving it militarily is the solution," the commander, whose name was not mentioned in the report, told Reuters on Friday.
State media outlets reported that Jaish al-Islam terrorists had obstructed the agreement and refused to release the abductees they have been holding in Douma.
Full report at:
http://www.presstv.com/Detail/2018/04/06/557642/Syrian-government-forces-Douma
--------
Saudi air defense forces shoot down Houthi ballistic missile over Najran
April 06, 2018
Jeddah: Saudi air defense forces have intercepted and destroyed a Houthi militia-launched ballistic missile heading toward Najran, the Coalition supporting Yemen's legitimate government said on Saturday.
Col. Turki Al-Malki, a spokesman for the Saudi-led coalition, said in a statement that at 09:32 on Friday evening, Coalition air defense forces have monitored that a ballistic missile was launched from Saada, inside Yemen, toward the southern city of Najran
It was subsequently shot down by the Kingdom's Patriot missile defense system before it could hit land. The splinters of the missile scattered on residential neighborhoods, but there were no reports immediate reports of injuries or damage to property, he said.
The attack was just the latest on Saudi Arabia by the Iran-backed Houthis.
On March 25, the militia launched seven missiles toward Riyadh and other Saudi cities, all of which were shot down by air defense forces. Officials have said an Egyptian driver was killed by falling debris from an intercepted missile.
On April 2, Houthi militias fired a ballistic missile toward civilian areas in the border town of Dhahran Al-Janoub in Jazan province, close to the southern border with Yemen. Al-Maliki said the missile fell on wasteland in Yemen two kilometers from the Saudi border.
On April 3, Houthis attacked a Saudi oil tankers in international waters west of the port of Hodeidah, but the attempted attack was foiled after a quick intervention by one of the alliance's naval vessels.
Full report at:
http://www.arabnews.com/node/1280206/saudi-arabia
--------
Mideast
Seven Palestinians killed as thousands protest on Gaza border
6 Apr 2018
At least seven Palestinian men have been killed and scores more injured by Israeli gunfire on the Gaza border, a week after 18 Palestinians were killed at similar demonstrations.
The renewed violence came despite a call by the UN secretary general, António Guterres for Israel to exercise "extreme caution". His appeal was echoed by the UN human rights spokeswoman Elizabeth Throssell who said unjustified recourse to live fire could amount to wilful killing of civilians – a breach of the fourth Geneva convention.
Figures for the dead and injured were supplied by the Hamas-controlled health ministry in Gaza and a website associated with the group. The most seriously injured had reportedly been shot in the head or upper body. Another Palestinian who had been injured in last week's protests also died on Friday from his wounds.
The deaths came as thousands of protesters streamed towards a series of protest camps along the border for a demonstration calling for Palestinian refugees' right of return.
Under the cover of smoke from burning tyres, dozens of protesters approached the fence in one area, despite warnings by the Israeli military that those who did so risked their lives.
Justifying its response, the Israeli military said: "Several attempts have been made to damage and cross the security fence under the cover of the smokescreen created by the burning tyres that the rioters ignited."
Later on Friday, the Hamas leader in Gaza, Yahya Sinwar, visited the Khuza'a camp, receiving a hero's welcome. Sinwar told the crowd that the world should "wait for our great move, when we breach the borders and pray at al-Aqsa", referring to the mosque in Jerusalem which is the third holiest site in Islam.
His address appeared to be the first time a Hamas leader specifically threatened to break through the border, something Israel has said it would not allow at any price.
Among those wounded was Mohammed Ashour, 20, who was shot in the right arm. "We came here because we want dignity," he told reporters from his stretcher before paramedics carried him to an ambulance.
Fresh violence had been widely anticipated after the protests on 30 March, when thousands of Gaza residents participated in the demonstrations, many gathering in five tented encampments that had been set up from north to south along the narrow coastal strip's border with Israel.
According to reports in the Israeli media, the Israel Defence Forces had been anticipating that as many as 50,000 demonstrators could participate on Friday, with the rules of engagement allowing live fire to be used against anyone who approached the border fence.
A Guardian reporter at the demonstrations, however, suggested a far lower turnout than last week, when about 30,000 people demonstrated.
Among those who turned up was Ali Bakroun, 19. "I came here with my friends to fly the kite we made this week," he said. "I wrote our names on it. We got close to the fence to throw stones but we stayed in a low place so we would be under cover. I'm not afraid to be shot or killed because our land deserves our lives."
In a statement, the Israeli military underlined its determination to prevent any protesters approaching close to the fence. "The IDF will not allow any breach of the security infrastructure and fence, which protects Israeli civilians, and will act against those who are involved in these attacks," it said.
Guterres issued a statement from the UN saying: "I particularly urge Israel to exercise extreme caution with the use of force in order to avoid casualties. Civilians must be able to exercise their right to demonstrate peacefully. I call upon all parties on the ground to avoid confrontation and exercise maximum restraint."
The Gaza Strip's border with Israel is highly sensitive for both sides. Overseen in places by observation balloons, in other places the border consists of a double fence and an Israeli security road.
As tensions mounted on Friday, Israeli forces fired teargas that landed inside the encampment near the large agricultural village of Khuza'a, briefly sending people fleeing.
Yehia Abu Daqqa, a 20-year-old student, said he had come to demonstrate and honour those killed in the past. "Yes, there is fear," he said of the risks of advancing toward the fence. "We are here to tell the occupation that we are not weak."
Friday's march was the second in what Gaza's Hamas rulers have said would be a series of several weeks of protests against a decade-old blockade of the territory. Israel has accused Hamas of trying to carry out border attacks under the cover of large protests and said it would prevent a breach of the fence at all costs.
A leading Israeli rights group, B'Tselem, issued a rare appeal to Israeli soldiers to refuse "grossly illegal" orders to fire at unarmed protesters.
A White House envoy urged Palestinians to stay away from the fence. Jason Greenblatt said the US condemned "leaders and protesters who call for violence or who send protesters including children to the fence, knowing that they may be injured or killed".
https://www.theguardian.com/world/2018/apr/06/israel-warned-un-protesters-head-for-gaza-demonstrations
--------
Islamophobia conference kicks off in Istanbul
07.04.2018
By Handan Kazanci
ISTANBUL
A conference on Islamophobia began in Istanbul on Friday to discuss strategies and policies for combatting Islamophobia.
The three-day conference, hosted by the Center for Islam and Global Affairs at Istanbul's Sabahattin Zaim University, has the theme "Contextualizing Islamophobia: Its Impact on Culture and Global Politics."
Mehmet Gormez, the former head of Turkey's Religious Affairs Directorate, spoke at conference on the role of Muslim scholars and combatting Islamophobia.
"We need to have a way of thinking around how we understand the phenomenon of Islamophobia," said Salman Sayyid of the University of Leeds, co-editor of the book Thinking Through Islamophobia: Global Perspectives.
"Conceptually rather than simply drawing various kinds of lists all the time, arguing about the definitions."
'Islamophobia changing ties between citizens, state'
Sayyid also spoke Anadolu Agency that for a long time people thought that Islamophobia only meant mistreatment of Muslim minorities.
"Therefore if you aren't a Muslim minority, you didn't really care that much. It didn't affect anything," Sayyid said.
"What we are seeing in Europe and North America but I would say throughout the world now is Islamophobia is becoming a means of changing the relationship between citizens and their governments," he added.
Sayyid is in Istanbul to take part in a three-day conference on Islamophobia at Istanbul's Sabahattin Zaim University.
A rising wave of Islamophobia has taken hold in Europe, according to a report released this month by Ankara-based Foundation for Political, Economic and Social Research (SETA).
The European Islamophobia Report (EIR) revealed 908 crimes, ranging from verbal and physical attacks to murder attempts, targeting Muslims in Germany, as well as 664 in Poland, 364 in the Netherlands, 256 in Austria, 121 in France, 56 in Denmark, and 36 in Belgium.
According to Sayyid, Islamophobia no longer affects minorities alone.
"It is actually changing how the state thinks of itself," he said, citing U.S. President Donald Trump's travel ban on Muslims.
"What Trump has done is based on legislation which was already implemented by [his predecessor Barack] Obama," he said.
Sayyid said that a lot of people are seeing Islamophobia "more like the falling of the masks rather than a new reality."
"The more kind of worrying aspect is Islamophobia is no longer restricted to where there are Muslim minorities. It is a global discourse, a global phenomenon," he said.
"So you have countries like for example Angola, where there are hardly any Muslims, trying to close down mosques," he added.
Featuring scholars from Turkey as well as worldwide, the conference focuses on Islamophobia on culture, society, politics, and international relations.
Full report at:
https://aa.com.tr/en/todays-headlines/islamophobia-conference-kicks-off-in-istanbul/1110855
--------
Saudi-Led Coalition Suffers Heavy Casualties in Failed Attack on Yemeni Revolutionaries
Apr 06, 2018
The coalition forced stormed Ansarullah's strongholds in the Taybat al-Ism region in Najran yesterday to retake the region but failed and suffered heavy losses at the hands of the Yemen Ansarullah forces.
Also, other units of the Saudi-led coalition attempted to advance in the Beir al-Salameh region in Najran, but they failed again, the sources further said.
Yemeni forces announced on Tuesday that they attacked a "Saudi-led coalition warship" off the coast of Hudaydah in response to an air strike on Monday which claimed the lives of over 16 civilians, including women and children.
The Kingdom confirmed the attack but claims Yemeni forces targeted an oil tanker.
Saudi warplanes targeted a refugee camp in the al-Hali district of Yemen's Western coastal province of Hudaydah on Monday afternoon.
The Yemeni Ministry of Human Rights announced in a statement on March 25 that the Saudi-led war had left 600,000 civilians dead and injured during the past three years.
The United Nations said a record 22.2 million Yemenis are in need of food aid, including 8.4 million threatened by severe hunger.
Full report at:
http://en.farsnews.com/newstext.aspx?nn=13970117000288
--------
Eight killed by Israeli fire in Gaza border protest, as toll rises to 30
6 April 2018
Israeli troops killed eight men on Friday in the second mass protest in as many weeks along Gaza's volatile border, as Palestinians torched piles of tires to create a smoke screen to block the view of snipers.
Friday's deaths brought to 30 the number of Palestinians killed by Israeli fire over the past week, including 22 protesters.
Gaza's Health Ministry said 1,070 people were wounded on Friday, including 293 by live fire. It said 25 of those wounded were in serious condition. Among those hurt were 12 women and 48 minors, the ministry added.
Friday's march was the second in what Gaza's Hamas rulers said would be several weeks of protests against a decade-old border blockade of the territory. Israel has accused Hamas of using the protests as a cover for attacking Israel's border, and has warned that those approaching the fence put their lives at risk.
Hundreds of Palestinians have already arrived at the border area on Friday for what is expected to be the largest demonstration since the first day when most of the fatalities occurred.
Full report at:
https://english.alarabiya.net/en/News/middle-east/2018/04/06/Gaza-protester-dies-of-wounds-suffered-earlier-raising-toll-to-20.html
--------
Saudi defense forces destroy Houthi ballistic missile over Najran
6 April 2018
Al Arabiya correspondent reported that the Saudi air defense forces destroyed a ballistic missile over Najran, fired by the Houthi militia from Yemen, on Friday.
Dozens of the Houthi militias were killed Friday in coalition raids and field battles in Bayda governorate in central Yemen, while 13 others were arrested.
The forces of the Yemeni army were able with the support of the coalition aircrafts to liberate Mas'udah mountain in Qanya eastern of Bayda.
The Arab coalition forces intensified air raids targeting sites and weapons depots belonging to the Houthis in different parts of the province of Bayda.
According to field sources, the raids resulted in causalities among the members of the militia, including Houthi leader called "Abu Qusay."
Full report at:
https://english.alarabiya.net/en/News/gulf/2018/04/06/Saudi-defense-forces-destroy-Houthi-ballistic-missile-over-Najran.html
--------
Iran says Saudi crown prince making 'shameful, ridiculous' remarks
Apr 6, 2018
Iran says the recent Saudi policies are a "very sad tragedy," emphasizing that Saudi Crown Prince Mohammed bin Salman is paying billions of dollars to the United States and the Israeli regime to win their support.
"Amid the power struggle inside the Saudi royal family and in order to win the support of the US and, recently, the regime occupying [Jerusalem] al-Quds (Israel), he (bin Salman) is making every ridiculous and shameful remark in addition to paying billions of dollars of Saudi people's money, " Iranian Foreign Ministry Spokesman Bahram Qassemi said on Friday.
"The recent Saudi policies are a very sad strategy because a Muslim country with all its ostentatious claims is stooping to the level of a sycophant of the regime occupying al-Quds," he added.
In an apparent reference to Iran, the Saudi crown prince recently said the regimes in Saudi Arabia and Israel have "a common enemy" and that they could immediately normalize their relations once the Palestine issue is resolved.
In an interview with the TIME magazine published on Thursday, the first in line to the Saudi throne spoke of the prospect of Riyadh-Tel Aviv relations, describing the regime's conflict with the Palestinians as the only obstacle to the normalization of ties with Israel.
"We have a common enemy, and it seems that we have a lot of potential areas to have economic cooperation," the crown prince said.
In reaction to such comments, the Iranian spokesperson said the ambitions of the Saudi crown prince have no limitation and are turning out to be a "chronic and incurable disease."
Qassemi added that the neophyte and power-thirsty prince has closed his eyes on "all historical realities and seven decades of crimes by the child-killing" Israeli regime and in a "big and blatant act of treason" against the Palestinian cause, the prince spoke about Riyadh's alliance with the "illegitimate" Tel Aviv regime.
During an interview with the Atlantic published on April 2, bin Salman recognized Israel's right to exist, stressing that Israelis are entitled to their own land.
"I believe that each people, anywhere, has a right to live in their peaceful nation. I believe the Palestinians and the Israelis have the right to have their own land," he said.
Qassemi said such claims indicate that bin Salman had not studied either history or geography and knows nothing about the suffering of Muslim nations, including the Palestinians.
He warned that all "divisive plots" hatched against Muslim countries during recent years have been aimed at creating terrorist and extremist groups such as Daesh, sowing discord among countries in the Muslim world, undermining the Palestinian cause and ensuring the Israeli regime's security.
This disgrace would definitely lead to an "ominous outcome" for Saudi Arabia and would be recorded as a "great disgrace" for Riyadh in the course of the Muslim world's developments, he pointed out.
In recent months, Saudi Arabia has been gradually softening its public posture toward Israel in what analysts describe as an attempt by Riyadh to prepare public opinion at home and elsewhere for the establishment of potential normal relations with Israel. A dissident Saudi prince has revealed a series of "conditions" set by the US and Israel for bin Salman to secure their help in ascending to the throne at home, among them the normalization of Riyadh's ties with the regime in Tel Aviv.
Khalid bin Farhan Al Saud, who fled Saudi Arabia in 2007, made the remarks to the pan-Arab al-Hewar television channel in Germany, where he has obtained political asylum, Lebanon's al-Ahd news network reported on Thursday.
In June 2017, bin Salman, 32, replaced his cousin, Prince Mohammed bin Nayef, as the first in line to the Saudi throne. Nayef is reportedly under house arrest.
Full report at:
http://www.presstv.com/Detail/2018/04/06/557620/Qassemi-Saudi-Crown-Prince-Mohammed-bin-Salman-TIME
--------
Saudi Arabia's war prophecy may be self-fulfilling
Apr 6, 2018
By Hossein Jelveh
Since before it was officially admitted to the United Nations as a state in October 1945, Saudi Arabia has relied on American protection. To ensure their security and ultimately survival, generations of Saudi kings and would-be kings have attempted to court different administrations in the United States — starting with King Abdul Aziz Ibn Saud, the first Saudi king, who met with President Franklin D. Roosevelt in February 1945 and who in that very first meeting self-ingratiatingly called himself and Roosevelt "twins."
For the massive political protection and military goods that they have received throughout the many years since then, the Saudis haven't been exactly grateful. Along the way, they have quietly betrayed America — their biggest benefactor — by secretly backing violent fanatics whose acts of terror have not spared American citizens. But the Saudis have been able to get away with it because, as they may have rightly calculated, the US needs them too, even if in a very different way than how they need the US.
Western political ethics can't provide reason to blame the Saudis. After all, the West has been following in the footsteps of the Americans' British cousins:
"We have no eternal allies, and we have no perpetual enemies. Our interests are eternal and perpetual; and those interests it is our duty to follow," Henry John Temple Palmerston, British prime minister from 1859 to the mid-1860s, once infamously remarked.
Saudi Arabia's interests, it turned out, were in remaining nice to America in appearance and holding its attention while funding terrorism that has, among many other world countries, also affected the US.
That is not principled politics. That is naked opportunism.
So, when the Saudi crown prince, Mohammed bin Salman, started an extended tour of the US on March 19, he was about to surprise no one.
Today, as in the past two years when Mohammed and his father have been in power, Saudi Arabia likes to have an enemy in Iran, and it likes to talk about it — a lot.
"We know the target of Iran," Mohammed bin Salman told The New York Times on March 27. "If they (the Iranians) have a nuclear weapon, it's a shield for them to let them do whatever they want in the Middle East, to make sure that no one attacks them or they will use their nuclear weapons."
Then, in an interview with The Atlantic's Jeffrey Goldberg, he referred to Iran as many as 14 times, according to a "condensed" transcript.
Still later, in an interview with TIME, when he was asked how much Saudi Arabia's interests aligned with those of Israel, Mohammed bin Salman replied, "Well, it seems that we have a common enemy," most likely having Iran in mind.
This obsession is pitiful. It is also a pity that the Saudis have misplaced the threat to their national security by expressing bizarre and unfounded concerns about Iran. But there are many pitiful things about Saudi politics if you are to take Mohammed bin Salman's words — not least the clumsy way in which he has attempted to portray the Saudi-led war on Yemen, his agenda for the Saudi economy, and his crackdown on domestic dissent.
In what seems to be a media blitz carefully choreographed by lavishly-paid PR firms in the US, he has parried the more difficult questions, though.
At one point in The Atlantic interview, he attempted to look on the verge of anger, ostensibly setting the ground rules for editor-in-chief Jeffrey Goldberg: "We don't want to come here, as Saudi Arabia, and be asked these questions. We want to be asked about the economy, our partnerships, investment in America and Saudi Arabia."
He was lying. He wanted to talk about Iran.
*
America and the 'free-riders'
Mohammed bin Salman may be getting a lot of media attention and securing purchases of US military hardware during his charm offensive in America; but he is not really getting a decent treatment.
Former US President Barack Obama once famously called Saudi Arabia and like-minded regimes "free riders" that "aggravate me." In essence, Trump holds a similar view.
"Saudi Arabia is a very wealthy nation, and they're going to give the United States some of that wealth, hopefully, in the form of jobs, in the form of the purchase of the finest military equipment anywhere in the world," Trump told the visiting bin Salman on March 20, 2018, almost a full year after he similarly made his interest in Saudi money clear on a trip to Riyadh.
If they don't pay, the Saudis are "free riders." If they do pay, they will enjoy American services as will any other client state. That is not how a country treats a special partner or a strategic ally.
That Saudi Arabia goes out of its way to look special to America boils down to one sad fact: except for money, Riyadh has nothing to sustain its regional attempts for dominion and to fight an imaginary enemy in Iran.
And it is pitiable that Saudi Arabia should have to be treated poorly by the US despite the money and the niceties that it showers America with.
*
It is understandable that Saudi Arabia has had to buy a lot of things that it needs, including what it thinks is security. But that is not "reform" — as the US media attempt to portray Mohammed bin Salman's appeal for foreign investment in Saudi Arabia. It is a huge auctioning off of the country's assets, its security included.
If it is to develop its security, polity, or economy, Saudi Arabia should learn to train itself, not engage in the name-calling of its neighbors or use big checks to persuade the US and the United Kingdom to "reform" its economy.
Full report at:
http://www.presstv.com/Detail/2018/04/06/557577/Saudi-Arabia-Iran-war-Saudi-crown-prince-Mohammed-bin-Salman
--------
Israeli forces kill 10 more Palestinians
Apr 6, 2018
Israeli forces have shot dead 10 Palestinians, including a child, at the Gaza border, raising the death toll to over two dozen in Israel's brutal crackdown on the week-long protests demanding the right to return to homeland.
Gaza's Health Ministry said 38-year-old Ussama Khamis Qadih was killed east of Khan Younis in the southern Gaza Strip on Friday.
The ministry also said Magdy Ramadan Shabat as well as a 16-year-old boy, Hussein Madi, were shot dead east of Gaza City. It also identified the other victim as Sedqi Faraj Abu Etewi, 45, and 20-year-old Ebrahim el-Er. The identities of the other Palestinians shot dead were not immediately available.
About 1,100 Palestinians were also injured in clashes on Friday.
The Palestinian Journalists' Syndicate said six Palestinian journalists were shot and injured despite wearing clothes clearly identifying themselves as journalists, adding it held Israel "fully accountable for this crime".
Clashes broke out between Palestinians and Israeli troops near Gaza's fence as large groups of protesters gathered for a new round of protests as part of a six-week rally dubbed the "Great March of Return," which began last Friday.
Thousands of protesters gathered in locations near the fence east of Khan Yunis, in the south of the blockaded Palestinian enclave, and east of Gaza City.
Last Friday's protests turned violent when Israeli military forces used lethal force to disperse the protesters, shooting and killing 20 unarmed demonstrators. One of the casualties succumbed to his wounds earlier today.
Thousands of Palestinians have stayed in tent encampments near the fence over the past week.
During the latest protests today, Palestinians set fire to mounds of tires in what they want to be a smokescreen from Israeli snipers.
Israel has deployed tanks, armored vehicles and special forces near the fence and given shoot-to-kill permission to its troops.
Israeli forces reportedly took up positions across a ridge on the other side of the fence and set up a giant fan about two meters high in an apparent bid to push away the smoke.
The new casualties came despite a UN call for restraint.
Earlier on Friday, the United Nations human rights office called on Israel to refrain from using excessive force against the demonstrators.
UN human rights spokeswoman Elizabeth Throssell said that guns should only be used as a last resort, warning that unjustified recourse to the use of firearms is a breach of the Fourth Geneva Convention and may amount to willful killing of civilians.
In the Gaza Strip, almost 1.3 million of the small territory's two million inhabitants are refugees demanding their right to return to their pre-1948 homes.
Full report at:
http://www.presstv.com/Detail/2018/04/06/557623/Israel-Palestinian-protesters-Gaza
--------
US conditions support for Salman's kingship to Israel normalization: Dissident prince
Apr 6, 2018
A dissident Saudi prince has revealed a series of "conditions" set by the US and Israel for Crown Prince Mohammed bin Salman to secure their help in ascending to the throne at home, among them the normalization of Riyadh's ties with the regime in Tel Aviv.
Khalid bin Farhan Al Saud, who fled Saudi Arabia in 2007, made the remarks to the pan-Arab al-Hewar television channel in Germany, where he has obtained political asylum, Lebanon's al-Ahd news network reported on Thursday.
Besides normalizing ties with Israel, the kingdom would have to guarantee security for Israeli vessels travelling through the Straits of Tiran between the Gulf of Aqaba from the Red Sea proper if bin Salman seeks to become a monarch, he added.
Israeli vessels are allowed to freely traverse across the waters under the 1979 Israel-Egypt Peace Treaty, which Riyadh ostensibly does not recognize.
Moreover, Israel would have to be given a role in the so-called Neom project.
A brainchild of bin Salman, the project envisages the creation of a transnational city and economic zone in the Tabuk region in northwestern Saudi Arabia, which lies close to the border with Jordan and Egypt.
Last but not least, Saudi Arabia is required to support a "peace" plan, under which Palestinians would be denied their right to the holy occupied city of Jerusalem al-Quds.
Saudi Arabia has been the main sponsor of the Arab Peace Initiative, which envisions a so-called two-state solution to the Israeli-Palestinian conflict.
The kingdom does not officially recognize Israel, but the two sides have widely been reported to have cooperated for years behind the scenes.
In June 2017, bin Salman, 32, replaced his cousin, Prince Mohammed bin Nayef, as the first in line to the Saudi throne. Nayef is reportedly under house arrest.
The young prince then launched a self-promotion campaign meant to consolidate his grip to power, as part of which hundreds of royals and high-profile business man were arrested and tortured over "corruption" charges. Most of them were later released under hefty cash settlements with Riyadh.
Bin Slaman has also tried to portray himself as a "reformist" and advocate of women's rights by introducing a string of economic and social changes.
Under bin Salman, Saudi Arabia's de facto leader, the kingdom has stepped up its overtures towards Israel.
Last week, the crown prince told the Atlantic during his tour of the US that like Palestinians, Israelis had the "right" to have "their own homeland."
The remarks were unprecedented from any Saudi official and mark a significant shift in Saudi Arabia's long-held stance on the Palestinian cause and Israel's occupation.
Bin Salman also told the TIME magazine that the regimes in Saudi Arabia and Israel had "a common enemy" and that they could immediately normalize their relations once the Palestine issue was resolved. He was apparently referring to Iran.
Farhan said the main reason behind Salman's meteoric rise to power was that strong people like bin Nayef and Bandar bin Sultan, a former spy chief, had had their roles diminished in the country's affairs.
Full report at:
http://www.presstv.com/Detail/2018/04/06/557586/Saudi-Arabia-Israel-United-States-Mohammed-bin-Salman-Palestine-Iran
--------
Africa
Salafists, Mercenaries and Body Snatchers: The War for Libya's South
By: Andrew McGregor
April 6, 2018
Renewed fighting in southern Libya around the Kufra and Sabha oases demonstrates the difficulty of reaching anything more substantial than temporary and fragile political agreements in the region. The parties to the seemingly intractable conflict in the south include a range of legitimate and semi-legitimate actors—forces allied to Libya's rival governments, self-appointed police and border security services—and illegitimate actors, such as foreign mercenaries, bandits, jihadists and traffickers.
The fact that membership of these groups often overlaps leads to heated clashes over turf and privileges that endanger the civilian population while inhibiting sorely-needed development initiatives. On March 13, the United Nations Support Mission in Libya (UNSMIL) warned that the buildup of armed forces in the south "risks further escalation" of the ongoing violence. [1] Tensions are so high at present that even the remains of the 19th century head of the Sanusi order have been pulled into the struggle for the resource-rich deserts of southern Libya.
The Madkhali Infiltration
The Saudi-backed Madkhalist religious sect is the most prominent player in the Kufra and Sabha violence. A basic tenet of Madkhalism is respect for legitimate authority, the wali-al-amr. This Salafist movement was first introduced to Libya by Muammar Gaddafi to counter Libya's more revolutionary Salafist groups. Madkhalist militias in Libya typically seek to control local policing duties, providing them a degree of immunity while enforcing Salafist interpretations of sharia that have little in common with traditional Libyan Islamic practice.
Although Saudi sect leader Rabi bin Hadi al-Madkhali issued a surprising declaration of support in 2016 for General Khalifa Haftar's Libyan National Army (LNA) in its fight against "the Muslim Brotherhood" (i.e. the Tripoli-based government), Libya's Madkhalis do not appear to have a preferred allegiance in the rivalry between Tripoli's Presidency Council/Government of National Accord (PC/GNA) and Haftar's military coalition (see Militant Leadership Monitor, January 11, 2017; Arabi21.com, September 21, 2016). Indeed, they appear to be covering their bases by supporting both rivals while avoiding direct conflict with each other.
The Madkhalis in Tripoli are represented by the Rada Special Deterrence Force, led by Abd al-Rauf al-Kara. Nominally loyal to the PC/GNA but operating largely independently of government control, they act as a self-appointed police force complete with private jails reputed to be dens of torture (Middleeasteye.net, January 15).
Meanwhile, the growing Madkhali armed presence in Benghazi appears to be meeting resistance. The January 25 twin car-bombing that killed 41 people in Benghazi, including LNA commander Ahmad al-Fitouri, appears to have targeted the Bayaat al-Radwan mosque frequented by Madkhalist militia members (Libya Herald, January 23). The Madkhalists also dominate the 604th Infantry Battalion in Misrata (Libya Tribune, November 4, 2017).
Body-Snatching at Kufra Oasis
A combination of fresh water and nearly impassable desert depressions on three sides make southeast Libya's remote Kufra Oasis an inevitable stop for cross-desert convoys or caravans. Some 1,500 kilometers (km) from the Libyan coast, Kufra is now a major stop for the flow of illegal migrants that Kufra Mayor Muftah Khalil says is overwhelming local security services (Libya Observer, March 5). Since the 2011 Libyan Revolution, Kufra has several times erupted in tribal violence, usually pitting the Zuwaya Arabs against indigenous black semi-nomadic Tubu tribesmen, whose homeland stretches across southern Libya, northern Chad, northwestern Sudan and northeastern Niger. There is long-standing friction between the two communities—the Zuwaya were only able to take possession of Kufra in 1840 by driving out the Tubu.
Things have been heating up in the Kufra region in recent months, as Sudanese mercenaries clash with LNA forces and Subul al-Salam, a local Madkahlist militia affiliated with the LNA. In the last days of 2017, Subul al-Salam attacked al-Taj ("The Crown"), a height overlooking the Kufra Oasis, destroying the funerary shrine and stealing the remains of Sayyid Muhammad al-Mahdi al-Sanusi, who built a proto-Islamic state in the Sahara and Sahel from 1859 until his death in 1902.
A former representative for Kufra, al-Tawati al-Ayda, insisted that the vehicles used in the attack bore the insignia of the LNA. He also suggested the attack was inspired by the arrival in Kufra of Tripoli Madkhalist preacher Majdi Hafala (Libya Observer, January 2).
The Sanusi are a conservative Sufi religious order that grew into a powerful political and military organization in the 19th and early 20th centuries, resisting invasion by the French and later the Italians. Founded in Mecca by Muhammad al-Mahdi's Algerian father in 1837, the order's rapid growth after moving to Libya in 1843 attracted the attention of the Ottoman rulers of Libya, and the movement shifted south, out of Ottoman control, to the oasis of Jaghbub in 1856.
The conservative asceticism at the core of the movement had wide appeal to the desert communities and tribes. This was especially true in the southern oasis of Kufra, to which al-Mahdi moved the Sanusi headquarters in 1895. Using the trade routes that ran through Kufra, al-Mahdi introduced the commerce-friendly Sanusi brand of Islam to the Saharan and sub-Saharan interior of Africa. The Zuwaya Arabs of Kufra became adherents to the Sanusi tariqa (path) and defenders of the Sanusi family. Today, the Zuwaya form the core of the Subul al-Salam militia responsible for the assault on al-Taj.
While they enjoyed more influence in Cyrenaïca than Tripolitania, the Sanusis eventually formed Libya's post-Second World War pro-Western monarchy between 1951 and 1969. There is some support in Cyrenaïca for the restoration of the exiled royals as a means of bringing rival government factions together. The current heir to the Libyan throne is Muhammad al-Sanusi, who has not pursued a claim to a revived Sanusi constitutional monarchy, but equally has done nothing to discourage discussions about it within Libya.
After overthrowing the Sanusi monarchy in 1969, Gaddafi began a campaign to malign the Sanusis as the embodiment of the inequities of the old regime and a challenge to the peculiar blend of socialism and Islam he propagated in his Green Book. Attitudes shaped by Gaddafist propaganda against the Sanusis still color the way the order is regarded by many modern Libyans.
The desecration at al-Taj was quickly denounced by the Presidency Council in Tripoli. The Dar al-Ifta (Fatwa House) run by Grand Mufti Sadiq al-Ghariani blamed the imported Madkhalilst trend: "Madkhalists are being sent to Libya by Saudi Arabia in order to destabilize the country and abort the revolution. These are all loyalists of Khalifa Haftar and his self-styled army in eastern Libya" (Libyan Express, January 2). Dar al-Ifta also used the incident to launch a broader attack on Libya's Madkhalists, which it accused of detaining, torturing and murdering Islamic scholars and clerics who failed to fall into line with the Salafists sect (Libya Observer, January 2). The Madkhalis in turn accuse al-Ghariani of association with the Libyan Muslim Brotherhood, and hence a follower of the late revolutionary Egyptian Muslim Brotherhood leader Sayyid Qutb (executed in Egypt in 1966), the Madkhalis' ideological arch-enemy.
Surprisingly, this is not the first time al-Mahdi's corpse has gone missing—it was disinterred by unknown individuals in 2012 and reburied in a nearby cemetery before relatives recovered it and returned it to the shrine at al-Taj (Libya Observer, December 30, 2017).
Operation Desert Rage
Chadian and Sudanese rebels driven from their homelands have turned mercenary in Libya to secure funding and build their arsenals. [2] Grand Mufti al-Ghariani has accused Saudi Arabia and the United Arab Emirates (UAE) of funding the recruitment of African mercenaries to occupy southern Libya on behalf of Haftar's LNA (Libya Observer, March 13). In practice, the rebels have found employment from both the LNA and the PC/GNA government in Tripoli.
Sudanese fighters of Darfur's Justice and Equality Movement (JEM) killed six members of the LNA's 106 and 501 Brigades engaged in border security near Jaghbub Oasis on January 15. A seventh LNA soldier was abducted. The area was the site of an earlier clash in October 2016 between JEM and Kufra's Subul al-Salam militia in which 13 JEM fighters were killed (Libya Herald, October 20, 2016).
The LNA responded to the death of the border guards with "Operation Desert Rage," which opened with January 20 airstrikes against what the LNA alleged were Sudanese and Chadian rebels near Rabyana Oasis, 150 km west of Kufra. Possibly involving Egyptian aircraft, the strikes caused "heavy losses" to a 15-vehicle convoy of "terrorists" (TchadConvergence, January 22). The Sudanese and Chadians had been prospecting for gold in the newly discovered deposits near Jabal Uwaynat, the remote meeting point of Egypt, Libya and Sudan (Egypt Today, January 23). The commander of the LNA's Kufra military zone, al-Mabruk al-Ghazwi, said patrols had been sent in every direction to prevent JEM fighters from escaping (Libya Observer, January 20).
Sudan Armed Forces (SAF) spokesman Brigadier Ahmad al-Shami confirmed the presence of Darfuri rebels working as mercenaries in Libya last summer, noting their greatest concentrations were at the oases of Kufra and Rabyana as well as the city of Zintan in Libya's northwest (Libya Observer, July 20, 2017).
The 'Invasion' of Sabha
The Tubu, Awlad Sulayman Arabs and African mercenaries are also engaged in a new round of post-revolutionary fighting in Sabha, capital of Libya's southwestern Fezzan region.
Following the 2011 revolution, the Awlad Sulayman took advantage of shifts in the local tribal power structure to take over Sabha's security services and regional trafficking activities. This brought the Arab group into conflict with the Tubu and Tuareg, who traditionally controlled the cross-border smuggling routes. The result was open warfare in Sabha in 2012 and 2014. One of the leading Awlad Sulayman commanders at the time was Ahmad al-Utaybi, now commander of the Awlad Sulayman-dominated 6th Infantry Brigade.
In mid-February, Haftar announced his decision to join the 6th Brigade with the LNA, but al-Utaybi quickly declared his Brigade's loyalty was to the defense ministry of the GNA government in Tripoli. Following Utaybi's refusal to commit his forces to the LNA, Haftar announced his replacement as commander of the 6th Infantry Brigade with Brigadier Khalifa Abd al-Hafiz Khalifa on February 25, though Khalifa has been unable to assume command (Al-Sharq al-Aswat, February 27). At the same time, the 6th Brigade came under heavy attack from alleged Chadian and Sudanese mercenaries working for Haftar. According to al-Utaybi: "The militias who attacked our locations wanted to take control of it and then seize the entire southern region because the fall of the Brigade means the fall of the security of the south" (Libya Observer, February 24).
Al-Utaybi claims that the fighting is not tribally-based, but is rather a clash between the 6th Brigade and groups loyal to Haftar, consisting largely of Tubu mercenaries from Chad, Niger and Sudan (Libyan Express, March 1; Libya Observer, March 2). [3] There are also claims that the conflict has much to do with the collapse of the Italian agreement with the southern tribes providing them with funding and development aid in return for suppression of migrant flows through Libya to Europe (Eyesonlibya.com, February 27).
The 6th Brigade was forced to withdraw into Sabha's Italian colonial-era fortress. The historic building has been heavily damaged in this round of fighting, with the Libyan Antiquities Authority protesting that: "Those who do not wish us well are seeking to obliterate Libyan history and civilization" (Libya Observer, March 5). The fighting consists largely of artillery attacks on the fortress and ethnic neighborhoods, as well as sniping, assassinations and drive-by killings.
Sabha's mayor, Hamid al-Khayali, insists that well-armed Chadian and Sudanese mercenaries flying the flags of "African countries" were taking advantage of the region's insecurity: "This is an occupation of Libyan land. This is on the shoulders of all Libyans. The south is half-occupied and some Sabha areas are occupied by foreign forces from Sudan, Chad and other countries; why is the Libyan army silent about this?" (Libya Observer, February 25; Libyan Express, February 27).
The long-standing Arab suspicion of the Tubu was reflected in a Presidency Council statement in late February praising the 6th Brigade's defense of Sabha against "mercenaries" intent on changing the south's demographic structure (from Arab-dominant to Tubu-dominant) (Libya Observer, February 27).
Roadblock to Political Resolution
The abduction of Muhammad al-Mahdi's body was, like earlier Salafist demolitions of Sufi shrines in coastal Libya, both a demonstration of Madkhali determination to reform Libya's religious landscape and a provocation designed to reveal what real resistance, if any, exists to prevent further Madkhalist encroachments on Libyan society.
For now the Madkhalists are in ascendance and have made important, even unique, inroads in assuming control of various security services across the country, regardless of which political factions are locally dominant. Reliable salaries, superior weapons and a degree of legal immunity ensure a steady supply of recruits to the Madkhali militias.
However, the Madkhali rejection of democracy, and their indulgence in extra-judicial law enforcement and theological disputes with nearly every other form of Islamic observance, ensures their growing strength will inhibit any attempt to arrive at a democracy-based political solution in Libya.
https://jamestown.org/program/salafists-mercenaries-and-body-snatchers-the-war-for-libyas-south/
--------
14 jihadist suspects killed in Mali 'jail escape' attemp
APRIL 07, 2018
Fourteen suspected jihadists were killed on Saturday during an alleged "escape attempt," a day after they were taken in for questioning, the Malian army said in a statement.
However, two local officials told AFP that 20 civilians had been killed or arrested in Dioura, central Mali, and cast doubt on the prison escape story.
On Tuesday, Amnesty International called on authorities in Mali to investigate extrajudicial killings following the discovery last week of a mass grave containing six bodies.
Coup, civil war and terror
Once a beacon of democracy and stability in Africa, Mali has been undermined by a coup, civil war and Islamist terrorism.
Extremists linked to Al-Qaeda took control of Mali's desert north in early 2012, but were largely driven out in a French-led military operation launched in January 2013.
Full report at:
http://www.thehindu.com/news/international/14-jihadist-suspects-killed-in-mali-jail-escape-attempt/article23463603.ece
--------
Tunisian army clashes with militants' north-west of the country
April 07, 2018
DUBAI: A Tunisian military squad clashed with militants in the mountains of the north-western province of El Kef, Saudi state-news agency SPA reported.
A statement issued by the Tunisian Ministry of Defence said that ground and air military units were combing the area and tracking militants on Friday.
The ministry pointed out that during the operation, a Kalashnikov cache was stored with ammunition, hand-made landmines, various equipment for the manufacture of mines, a bayonet as well as food.
http://www.arabnews.com/node/1280331/middle-east
--------
Consultations begin in Libya in advance of peace talks
06 April 2018
Consultations began Thursday in the Libyan cities of Benghazi and Zuwarah amid preparations for a fresh round of peace talks.
The consultations are being organized by the Center for Humanitarian Dialogue (CHD), a Geneva-based NGO.
CHD Councilor Omayya al-Seddiq told Anadolu Agency that consultations would consist of a series of open meetings with local political figures.
Recommendations made at the meetings will then be raised for discussion at national reconciliation talks, dates for which have yet to be set, according to al-Seddiq.
Libya has suffered a protracted political crisis since 2011, when a bloody NATO-backed uprising ended with the ouster and death of President Muammar Gaddafi after more than four decades in power.
Since then, the country's stark political divisions have yielded two rival seats of power -- an interim government in the city of Al-Bayda and an internationally-recognized government in capital Tripoli -- along with a host of heavily-armed militia groups.
Full report at:
http://www.worldbulletin.net/africa/200750/24th-anniversary-of-rwandan-genocide-marked
--------
Somalia: A Somali Canadian's Reflections On Refugee Rights Day in Canada
5 APRIL 2018
Refugee Rights Day is a day to create awareness in the public consciousness about the rights and protection of refugees in Canada. Celebrated on April 4th, this day is significant particularly for refugee claimants, because it brings attention to the advances made in the protection of refugee rights in Canada as a result of the Supreme Court's 1985 Singh Decision.
In this decision, the Supreme Court found that the Canadian Charter of Rights and Freedoms protects the fundamental rights of refugees. The Court decided that 'everyone' includes refugee claimants in the sentence: 'Everyone has the right to life, liberty and security of the person and the right not to be deprived thereof except in accordance with the principles of fundamental justice.'
Refugee claimants are therefore entitled to the right to have their refugee claim heard, in accordance with the principles of fundamental justice and international law.
I came to Canada as a refugee from Somalia. I live in Victoria, BC, a city with a growing refugee community.
Every year on June 20, cities and communities in Canada and around the world celebrate and commemorate World Refugee Day which gives the world a chance to focus its attention on forced migration and refugee issues.
But World Refugee Day wasn't celebrated in Victoria.
I wanted to change that.
I wanted the city, community organizations, community members, faith groups and elected officials etc to come together to celebrate and recognize their coworkers, neighbors, friends, supervisors, doctors etc who have refugee history in their families, or refugee or former refugees to honor refugees and recognize their resilience.
I really wanted to see the community coming together to talk about how we can be more welcoming and create more empathy and understanding for our shared future in this city.
Days like Refugee Rights Day and World Refugee Day create an opportunity to raise public awareness about the long-term challenges refugees in Canada face beyond just settlement.
What many Canadians often don't realize is the importance of family reunification after part of a family is able to settle in Canada. One of the many shared experiences of refugees is family separation, which has devastating impacts on their wellbeing, and their ability to contribute more to their host countries. Keeping families separated is not good for Canada. When families are united they are able to contribute more to the economy and the mental health of the family is greatly improved.
As a Somali Canadian, I have seen the negative impact of delayed family reunification all to well. I like to think that Somali people are resilient, resourceful and friendly people. I take pride how Somali people have strong family values and support each other, because of that, I was privately sponsored as a refugee to come to Canada by my uncle.
In 2015, just three countries produced half the world's refugees, and Somalia was one of them. Many Western countries are closing their doors on Somali refugees and that includes Canada. For the last few years I have been advocating to make it easier for African refugees to come to Canada through the Canadian Council for Refugees.
Even though Canada has provided a new home to many Somali refugees in the decades since the fall of Siad Barré, it has not offered special immigration measures to respond to the longstanding catastrophic situation in Somalia as it has with other communities. On the contrary, some immigration policies have particularly discriminated against Somalis, with devastating consequences.
In February 1993, Canada's Immigration Act was changed so that accepted refugees had to provide satisfactory identity documents in order to be granted permanent residence. Many Somali and Afghan refugees could not provide satisfactory identity documents, because of the lack of a functioning government in their country of origin. Others were also affected, but the Somalis were by far the most numerous to be caught up in the ID issue over the coming years. The consequences for refugees who could not become permanent residents were dire:
They could not reunite with spouses or young children outside Canada.
They could not go to university or college (unless they could afford to pay foreign student fees). They were not eligible for student loans.
They could not travel outside Canada.
They often could not get better-paid jobs as employers didn't want to hire someone without permanent status.
People's mental health suffered because of their powerlessness.
By 1999 the number of people in limbo was estimated to be 13,000. Finally in 2000, the government agreed to the settlement of a legal challenge, launched in 1996, which argued that the ID rule was discriminatory against Somalis (the case is called Aden). Under the terms of the settlement, Somali refugees without ID would be able to submit instead affidavits from someone who knew them before their arrival in Canada or from a credible Somali organization in Canada. The terms of the agreement were written into the 2002 regulations of the new Immigration and Refugee Protection Act.
During the 1990s, it was often pointed out that keeping thousands of refugees in limbo would have devastating long-term social impacts. Even though the ID issue was largely resolved a decade ago, some of the struggles in the Somali Canadian community today may well be at least partly due to the impacts of the policies, which are felt into the next generation.
Families were only reunited after a long separation, people were unable to educate themselves or get decent jobs, and many fell into depression. Many Somalis felt that their community had been rebuffed and rejected by the government.
Full report at:
http://allafrica.com/stories/201804060196.html
--------
'Politicians more dangerous than Boko Haram, herdsmen' – Cardinal Okogie
April 6, 2018
By John Owen Nwachukwu
Archbishop Emeritus of Lagos, Anthony Cardinal Okogie, yesterday, wrote Nigerians, speaking on the greatest problem of the masses.
According to the cleric, politicians were more harmful to Nigerians than the incessant attacks by Boko Haram and Fulani herdsmen.
The former Archbishop said the recent call by former Defence Minister, Lt. General Theophilus Danjuma (retd), for self-defence should normally cause apprehensions in the presidency, since its legitimacy was in doubt.
In his latest letter to the nation, entitled "We are waiting and watching 2," Okogie said politicians, rather than herdsmen, kidnappers and armed robbers, were the real threat to the nation's security.
His letter came at a time Rev. Fr. Matthew Kukah, Catholic Bishop of Sokoto Diocese, said it would be the greatest miracle for Nigeria to pull through the 2019 elections successfully.
Okogie said rather than worry about several informed admonitions, government's apologists, as usual, opted to insult the messenger, insisting that the nation's "political leaders constitute the greatest threat to security in this country, not armed robbers nor kidnappers, not Boko Haram nor herdsmen."
Okogie's letter is a follow-up to his last, with the same title.
It reads, "Whoever loves Nigeria should be concerned about the security of life and property within her borders.
"It affects all of us across party, ethnic and religious lines. It affects the rich and the poor.
"Unfortunately, it can, and it ought to be said that our political leaders constitute the greatest threat to security in this country, not armed robbers nor kidnappers, not Boko Haram nor herdsmen.
"Nigerians are currently forced to watch a show of shame by the ruling party of today and the ruling party of yesterday.
"Such are accusations and counter-accusations of looting that Nigerians find it difficult to differentiate between the accuser and the accused.
"Huge sums of money belonging to the people of Nigeria obviously got into wrong hands and for wrong reasons. There are good reasons to suspect that the looting that took place cut across party lines.
"Nigerians deserve to know how, for example, the two leading parties financed their campaigns in 2015.
"But instead of honest answers, we are treated by the two big parties to a theatrical display of politically motivated compilation of lists of looters.
"Nigerians deserve to know how, for example, the two leading parties financed their campaigns in 2015.
"But instead of honest answers, we are treated by the two big parties to a theatrical display of politically motivated compilation of lists of looters.
Full report at:
http://dailypost.ng/2018/04/06/politicians-dangerous-boko-haram-herdsmen-cardinal-okogie/
--------
Europe
France Subjected to Massive Islamization by Muslim Brotherhood
06.04.2018
France flagged more than 78,000 people as extremist security threats in 2017 in the all- European system, which is more than Germany and the UK noted. One of the leaders of France's anti-migrant movement, Christine Tasin, told Sputnik why France stands out.
The latest report on the Schengen Information System (SIS) reveals that France with 78,619 entries in 2017 accounted for 60 percent of all entries in 2017. By comparison, the United Kingdom flagged nearly 17,000 people, while Germany registered about 4,000 threats.
The database is monitored by the European Commission and its aim is to track information about individuals that could threaten national security, border control and law enforcement.
The president of the French anti-Islamization movement Résistance Républicaine, Christine Tasin, told Sputnik that the huge gap was not due to differing legislation in the EU states.
She doesn't think that the criteria are very different across Europe, but still acknowledges such a possibility. According to Mrs. Tasin, if this were the case, it would show the inanity of the EU system, which wants to annihilate the differences between the people of Europe, their history and culture.
"Our Penal Code, for example, was created by Napoleon, who took it largely from the Roman Emperor Justinian. We, the French people, do not have the tradition of habeas corpus of the English people. In short, the EU wants to marry things that are like chalk and cheese," Tasin told Sputnik.
Three Reasons For Thousands of Red Flags
The significant increase in the number of "flagged extremists" in France she explains with three observations: there are more Muslims, more criminal Muslims and the Muslim Brotherhood has more influence in France than in any other EU state.
"Although ethnic statistics are banned in France, the most likely estimation is 15 to 20 million Muslims, or a quarter of the French population. A former minister of President Chirac, Azouz Begag, said so already in 2014," the activist stated.
According to her, up to 80 percent of prisoners in France are Muslims, citing a statistic from a letter by former Minister Jack Lang and the information about the number of halal meals served in prisons. She is also alarmed by the 20,000 persons on the French extremist watchlist, which is higher than in any other European country. The activist has warned of the growing Islamization, which may entail more terror on French soil. More than 250 civilians have been killed since 2015 in terror attacks by Islamists, which is more than in any other country in Europe.
"France is subjected to massive Islamization, implemented by the Muslim Brotherhood and its allies, as recently demonstrated by an Israeli documentary titled "The silent jihad": the UOIF [Union of Islamic Organisations of France], which is the arm of the Muslim Brotherhood in France, with the complicity of various French governments, for the last 40 years, has been working to impose on Muslims the Islamic veil, halal, Ramadan, strict submission to Sharia law, refusal to shake the hands of women, anti-Semitic Koranic verses, whose effects are to push more and more young Muslims to succumb to the terrorist temptation," Tasin said.
However, she admits that beside the Muslims, the French services have also flagged as threats "a small minority" of leftist activists and a "few French patriots persecuted by the French government for their opposition to Islam."
Misuse Doubted
Tasin doubted that the French security services misuse the SIS (Schengen Information System) database, commenting on an accusation by German MP Andrej Hunko. She claims that the French police fill the database with only one purpose: "to fight the people who represent a danger to law abiding citizens."
"Because of the vast number of Muslims living in France, the situation in my country is terrible and unique in Europe, and this explains why the numbers in France are the most important," Tasin insists.
Migration Policy To Blame
Commenting on the increase of discreet checks from 70,000 in 2015 to 134,000 in 2017, she claimed, "It is obvious that in Europe and especially in France we are targeted under an unprecedented attack, with a daily increase of enemies within our own country."
She blames the "mass immigration invasion," as "vast majority of illegal immigrants come from Muslim countries that are strictly applying Sharia law, and many of them are sent by ISIS [Daesh*] to carry out terrorist attacks on our soil," according to Tasin.
"The perpetrators of the numerous terrorist attacks in France are partly immigrants, and the others are Muslims who are attending mosques, Salafists or not, such as the Omar Mosque in Paris, where an undercover Israeli journalist was able to record calls for jihad spread by the imam," Tasin told Sputnik.
She also criticizes the government of Emmanuel Macron for his policy towards the Muslims.
"Instead of fighting Islamization, mass immigration and the implantation of the Muslim Brotherhood in our country, it sides with them, by passing laws that favor Islam at the expense of other religions and atheists, laws that implement positive discrimination, laws that prohibit criticism of Islam with the support of leftist judges, despite the abolition of blasphemy since the French Revolution of 1789," Tasin elaborates.
She also points out that Macron isn't the only one, who has such stance on Islam. According to Tasin, the UK's Theresa May and Germany's Angela Merkel do everything to Islamize their countries.
"The consequences are terrible, the number of Muslims on the extremist watchlist will inevitably increase exponentially, and the Muslim terrorist attacks [will] too," she concludes.
*Daesh, also known as ISIL/ISIS/IS, is a terrorist group banned in Russia and many other countries.
https://sputniknews.com/analysis/201804061063293192-france-terror-attack-migrants-police-security/
--------
US, allies set up more Syria posts, risking standoff with Turkey
Apr 6, 2018
The United States and allies Britain and France have been setting up new outposts in northeastern Syria, despite a lack of permission from Damascus to have military presence in sovereign Syrian territory.
Officials from a coalition of Arab and Kurdish militants operating in northeastern Syria said Friday that they had been witnessing increased activity by Western forces in the region, adding that military forces from the US, Britain, and France had been setting up new bases around the city of Manbij.
"The United States and France have increased the number of their military in Manbij," said Helil Bozi, the commander of the so-called Military Council of Manbij of the US-backed Syrian Democratic Forces (SDF). He said British forces, too, had been deployed to the same territories.
Bozi, whose ragtag militant group has been allied to US forces over the past years, said the increased presence was clearly a bid to counter a potential Turkish military offensive into Manbij, as Ankara has vowed to expand its operation from areas in the northwest of Syria, where it has been battling Kurdish militants, to the east.
"The US has deployed its Special Forces units near the Sajur River, thereby setting a red line the crossing of which will be seen by the [US-led] coalition forces as an attack and will prompt retaliatory actions," he said.
Bozi added that the increased presence proved that the US had no intention of leaving the Kurdish-dominated territories in northern Syria — as demanded by Turkey.
Other Kurdish official confirmed the increased military presence of coalition forces in the region, saying US, British, and French forces had also been deployed to Tell Abyad, Dayr al-Zawr, Raqqah, and Tabqa.
The increased deployment comes despite US President Donald Trump's earlier expression of his tendency to withdraw US forces from Syria "very soon." He was reportedly later persuaded by his top aides to take back that stance.
Images of new US bases in Manbij have confirmed earlier plans by the Pentagon to expand US presence in Syria.
US military officials said, however, that the new deployments were not against Trump's will for a pullout, saying they were necessary to adapt to the operational needs of the military on the ground.
The US has reportedly more than 2,000 troops stationed in eastern Syria, in addition to several thousand others in the Arab country's north.
Full report at:
http://www.presstv.com/Detail/2018/04/06/557603/US-military-presence-Syria-Manbij-Turkey-standoff
--------
ISIS plotter who wanted to murder the QUEEN jailed for 8 years
6th April 2018
Somalian Aweys Shikhey dreamed of travelling to take part in violent jihad after moving to Tottenham, north London.
A delivery driver who harboured "chilling fantasies" about murdering the Queen has been jailed for eight years for attempting to join Islamic State.
The 38-year-old kept up a veneer of hard-working respectability, sending money to his families abroad while applying for loans to bankroll his trip to ISIS territory.
But in online chat, he fell in love with a jihadi bride in Norway and discussed committing atrocities in the UK with a fellow Somali living in Kenya.
His fantasies included murdering the Queen and David Cameron as well as launching attacks against Tottenham football fans and the Jewish community in north London with AK47 rifles.
He was found guilty of preparing terrorist acts on or before May 23 last year following a trial at the Old Bailey in February.
Judge Martin Edmunds QC jailed him for eight years with a further four years on extended licence.
He told the defendant: "In travelling you were abandoning your two families, one in Holland and one in Kenya, behind.
"On the surface you appeared to be a hard-working man, regularly sending money to your families. But under the surface you were increasingly radicalised.
"During your conversations with Abdirahman Hassan in Kenya you had discussions about the murder of David Cameron and Her Majesty the Queen and about committing atrocities against football fans and members of the Jewish community in the Tottenham area.
"These conversations although chilling, dangerous and testament to your increasing radicalisation were in my judgment more in the nature of fantasy than conspiracy.
"I am not sentencing you, indeed cannot sentence you, on this charge, for threatened acts of terrorism in this country."
He added: "Given the scope of your ambition, including your fantasies about the commission of very grave terrorist acts in the UK, and your hatred for those who do not share your views, I have no hesitation in finding you to be dangerous within the meaning of the Criminal Justice Act 2003."
The court had heard how the ISIS fanatic tried to raise money for his trip by applying for various loans, securing £10,000 from Barclays for a "wedding", jurors were told.
He borrowed more money from his boss on the pretext of visiting his two wives and children in the Netherlands and Kenya.
All the while he was in contact with a woman in Norway who applied to ISIS to become a jihadi bride, the Old Bailey heard.
Shikhey was arrested at Stansted airport in May last year before boarding a flight to Istanbul, with an onward route planned into ISIS-held territory.
His terrorist desires were revealed in encrypted chat with fellow Somali Hassan on Threema and Telegram.
Hassan's computer had been examined after he was arrested for alleged terrorism offences in September 2016.
Shikhey told Hassan three or five people were needed to "carry out a bloody attack" and it would be best to find AK47s and other automatic weapons.
Full report at:
https://www.dailystar.co.uk/news/latest-news/694196/isis-jihadi-tottenham-Aweys-Shikhey-jailed-murder-queen-terrorist
--------
Saudi crown prince to visit France, Spain in whirlwind global tour
April 7, 2018
RIYADH, Saudi Arabia — Saudi Arabia's crown prince travels Sunday to France on the next leg of his global tour, extending his diplomatic charm offensive as he seeks to project a new liberal image of his conservative kingdom.
Prince Mohammed bin Salman's two-day official visit, which starts Monday, comes after a weeks-long tour of the United States, Britain and Egypt, where the self-styled moderniser courted business leaders and signed a host of multimillion dollar deals.
In Madrid, the royal palace announced that the crown prince will also travel to the Spanish capital on Thursday to meet with King Felipe VI.
For France, President Emmanuel Macron treads a delicate line as he hosts the king-in-waiting in a visit expected to focus on cultural ties and investments, as well as the long-running war in Yemen, dubbed the world's worst humanitarian crisis.
"This is not a traditional state visit," a source close to the crown prince's delegation told AFP.
"It is about forging a new partnership with France, not just shopping for deals."
More than a dozen memorandums of understanding in tourism, energy and transportation are set to be signed between French and Saudi organisations, another source close to the delegation told AFP.
A Franco-Saudi cooperation deal to develop Al Ula, a Saudi city richly endowed with archeological remnants, is also expected to be a central highlight of the visit, he added.
'Enduring skepticism'
Prince Mohammed's first visit to France as the heir to the Saudi throne comes after a tumultuous period at home that saw a major military shake-up and a royal purge as he consolidates power to a level unseen by previous rulers.
His global tour is meant to "garner recognition and acceptance as the de facto leader and next king of Saudi Arabia," Bernard Haykel, a professor at Princeton University, told AFP.
"This is a signal both to domestic as well as international observers that he is in charge and can leave the country for several weeks without any challenge to his authority," he added.
The 32-year-old prince, well-known as MBS, has used his global tour to project his dazzling reforms including the historic lifting of a ban on women driving, cinemas and mixed-gender concerts, following his public vow to return the kingdom to moderate Islam.
"There is little genuine affection for Saudi Arabia across the West," Kristin Diwan, of the Arab Gulf States Institute in Washington, told AFP.
"MBS's clear break with Saudi taboos on women and religious tolerance have been welcomed, but with a fair amount of enduring scepticism."
Underlying tensions
Saudi officials project strong ties between Prince Mohammed and Macron, both young leaders undertaking the difficult task of reforming their countries, but the trip follows a period of underlying tensions.
Macron waded into a regional crisis last November when Lebanon's Prime Minister Saad Hariri tendered his resignation on live television from Riyadh, apparently under pressure from the crown prince.
Macron invited Hariri to Paris for talks and he has since rescinded his resignation.
"There were tensions when MBS reportedly attempted to challenge Macron in his role in the Hariri episode, but later MBS had to back down," said Abdullah Alaoudh, a Saudi scholar at Yale Law School.
"It's never easy for an authoritarian like him to accept that."
In another embarrassment, a French arrest warrant was issued in December against the crown prince's sister for allegedly ordering her bodyguard to beat up a worker at her Paris apartment in 2016.
Macron also faces the challenge of bolstering ties with the world's top crude exporter while managing other regional relationships in the Middle East.
The crown prince has emphasised closer ties with US President Donald Trump just as Macron has sought to improve relations with Iran, Saudi Arabia's arch-nemesis.
Trump has threatened to abandon the 2015 nuclear cooperation deal with Iran unless improvements are proposed by May 12.
The challenge for Macron is to convince the crown prince that "it is better to have the 2015 nuclear agreement with Iran than no deal at all," Denis Bauchard, of the French Institute of International Relations, told AFP.
Macron also faces seething criticism from over the export of arms to Saudi Arabia, including Caesar artillery guns, sniper rifles and armoured vehicles despite the kingdom's role in the Yemen crisis.
Three out of four French people believe it is "unacceptable" to sell weapons to Saudi Arabia, according to a poll last month by independent research group YouGov.
And this week, 10 international rights groups implored Macron to pressure Prince Mohammed over the Saudi-led bombing campaign in Yemen.
Full report at:
https://www.timesofisrael.com/saudi-crown-prince-to-visit-france-spain-in-whirlwind-global-tour/
--------
North America
Trump's National Security And State Department Picks Alarm American Muslims
April 6, 2018
President Trump as a candidate once called for a ban on Muslim immigrants and declared that "Islam hates us." Now, he has alarmed American Muslims again with his choice of a new national security adviser and a new secretary of state, even as he has strengthened ties with Muslim allies in the Middle East.
John Bolton, heading to the White House on April 9, has long denounced "radical Islam" and suggested that the shadowy movement known as the Muslim Brotherhood be designated a foreign terrorist organization. He serves as chairman of the Gatestone Institute, a conservative think tank whose website regularly highlights negative stories about Muslim immigrants.
CIA Director Mike Pompeo, Trump's pick to lead the State Department, has meanwhile portrayed the fight against terrorism as an epic holy war. "The threat to America is from people who deeply believe that Islam is the way and the light and the only answer," he told a church group in his hometown of Wichita in 2014. "They abhor Christians and will continue to press against us," he said, "until we make sure that we pray and stand and fight and make sure we know that Jesus Christ as our savior is truly the only solution for our world."
Such statements have outraged some Muslim civil rights advocates. "By appointing these highly controversial individuals, the Trump administration is normalizing anti-Muslim sentiment," says Nihad Awad, executive director of the Council on American-Islamic Relations (CAIR). "Trump is sending a green light for average people to mistreat Muslims."
An aide to Bolton told NPR he is not available for comment. A CIA spokesperson, asked about Pompeo's comments on Islam, directed NPR to a promise he made during his confirmation hearing that discrimination against Muslim employees at the CIA "will not be tolerated."
In Wichita, however, Pompeo has a history of tense relations with local Muslim leaders. In March 2016, he criticized the Islamic Society of Wichita (ISW) for extending a speaking invitation to Monzer Taleb, a Texas-based imam whom Pompeo described as a "Hamas-connected sheik." In a public statement directed to the mosque leaders, Pompeo said that if the event were not cancelled, "They will be responsible for the damage among religious faiths that is sure to follow."
Following that warning, anti-Muslim protesters planned a demonstration outside the mosque, and the Wichita police advised the mosque leaders that some of the people were likely to be armed. The organizers promptly cancelled the event, but the episode unnerved the ISW leadership.
Hassam Madi, the ISW spokesman, said Pompeo's comments on Islam over the years "scare" the Wichita Muslim community.
"What that does is, it ignites the others that are holding some hatred," Madi told NPR, "or even are willing to take their thoughts into action and ... hurt someone that might practice the Muslim faith."
Since becoming the CIA director, Pompeo has largely avoided controversy. The CIA spokesperson noted that Pompeo "has worked extensively and successfully to strengthen and expand CIA's partnerships with countries throughout the Muslim world."
Saudi Arabia and its Gulf allies are notable examples of those partnerships. Trump's first overseas visit began with a stop in Riyadh. His administration has supported the Saudi offensive in Yemen, and he has spoken warmly of Saudi and other Gulf leaders. Their countries were cool to President Obama, but with President Trump, the Saudi and Gulf governments share a deep distrust of Iran.
"They're quite happy and look at the Trump administration with a sigh of relief," says Brian Katulis, a frequent Middle East visitor who served in the Clinton administration and is now a senior fellow at the Center for American Progress, a left-leaning think tank.
"They were glad to see Obama go," Katulis says, "in part because he did not pick their side. He tried to keep America above the fray and not engage deeply in these political conflicts."
The administration is also on increasingly good terms with Qatar, an independent Gulf state that is shunned by Saudi Arabia and the United Arab Emirates but which hosts a huge American air base at al-Udeid. On Thursday, the White House announced that President Trump will receive the Qatari emir, Tamim bin Hamad Al Thani next Tuesday, April 10.
The Trump administration's deepened relationship with Muslim allies in the Middle East stands in sharp contrast to its cooler relations with U.S. Muslims, who report increasing harassment and are increasingly the target of hate crimes, according to FBI data. Muslim governments that focus first on their own security, however, do not seem overly concerned about the plight of their co-religionists in America.
"To me, that is unfortunate and painful to see, says CAIR director Awad. Once a regular visitor to Saudi Arabia and other Gulf states, Awad says he rarely travels to the region anymore because of what he claims to see there: "Key influential leaders in so-called Muslim countries dealing with hateful, anti-Muslim bigots and organizations, just to save their thrones or protect their own interests."
The Trump administration's narrowed focus on government-to-government alliances with Muslim states means less emphasis on winning Muslim hearts and minds, a goal that got more attention under Presidents George W. Bush and Barack Obama.
Farah Pandith, who worked on global Muslim outreach during the Bush and Obama Administrations, concluded that part of what drives young Muslims to radicalism is an "Us versus Them" mindset and that the United States needs to undermine that mentality through a policy of engagement.
"The commander in chief and his entire cabinet need to make sure everything they're doing hits that chord," Pandith says. Otherwise, she says, terrorist groups can take advantage.
"They take our words and use [them] against us," Pandith says. "They create videos and sound bites, so they can say, 'Look, we told you that the West is against Islam. We told you that America hates Muslims. And look, we can prove it.'"
Advocates for the approach a Trump/Pompeo/Bolton team is likely to follow point out that engagement policies in the aftermath of the Sept. 11 attacks have not been all that successful in combating Islamist terrorist groups and that strengthened partnerships with countries in the Muslim world hold more promise.
"These relationships are critical to keeping America safe," says the CIA spokesperson, who asked not to be named. "By way of example, the Agency's work on countering terrorism around the world .. has been in concert with many Islamic countries and has ... saved countless Muslim lives and added security to the Muslim peoples of those nations."
http://wvpublic.org/post/trump-and-muslims-warming-abroad-cooling-home#stream/0
--------
Hardline Islamic Cleric to start U.S. Speaking Tour
SAM WESTROP
April 6, 2018
On April 6, Muhammad ibn Adam Al-Kawthari, a British cleric from the Deobandi movement, a hardline South Asian Islamic sect, will commence a three-day speaking tour, speaking at five mosques in New York and New Jersey, as well as at St Johns University in Queens. His most widely-advertised lecture, at the Quba Institute in New York on April 7, is titled 'Women's Rights in Marriage.' The hosts call on their audience to come along and "stand up against domestic violence." But, with a dark irony so often a feature of Islamist events in the West, the cleric invited to give the talk on the dangers of domestic violence has previously justified domestic abuse.
Kawthari has written that a husband may hit his wife if she is "slanderous or violates Islamic rulings," as long as it is a last resort and "a light blow that leaves no mark." In addition, he has declared that women should not leave the home, may not refuse their husbands' demands for sex, and should be stoned to death if they commit adultery.
Such views were likely inculcated at Darul Uloom al Arabiya al Islamiya, a seminary in the city of Bury in England where Kawthari studied. It is perhaps the most prominent Deobandi institution outside of South Asia. In 2016, The Times reported that the Darul Uloom "preaches contempt for non-Muslims and warns of the 'repulsive qualities' of Christian and Jewish women."
After graduating from the Darul Uloom, Kawthari studied further under Taqi Usmani, one of the world's leading Deobandi clerics. Shortly after the 9/11 attacks, Usmani issued a fatwa proclaiming that "jihad" was "obligatory" against Western troops in Afghanistan. This teaching evidently appealed to Kawthari, who has ruled that jihad in places such as Chechnya and Kashmir is compulsory for Muslims.
Kawthari's other fatwas and lectures are similarly extreme. He advocates chopping off thieves' hands, and warns Muslims against befriending Jews and Christians, citing religious texts that command: "Do not commence by greeting the Christians and Jews with Salam. If you meet one of them on a pathway, force them to walk on the side." In 2014, the East London Mosque – considered by mainstream British journalists to be one of the most radical mosques in Europe – even banned Kawthari from speaking at its events.
Meanwhile, the Quba Institute in New York is not a well-meaning institution inadvertently entangled in this extremist web. It is a key component, in fact, of the international Deobandi network. Quba's website openly lists its "patron" as Shaykh Ul Hadith Abdul Raheem Limbada, a senior lecturer at the Darul Uloom in Bury. Limbada writes of his despair at seeing Muslim women with their faces uncovered, incites hatred against Shia Muslims, and calls on his followers to boycott Hollywood because: "Of the 60 senior executives of the major Hollywood studios, trade unions, and talent agencies, 50 are Jews or have Jewish spouses. That's 83%. Jews are among the founders and CEO's of major film houses, advertising agencies, news agencies and media of all forms. … Boycott this intellectual assault."
Much like better-known Islamist networks in America such as the Muslim Brotherhood, many Deobandi groups have embraced the art of shrouding their extremism in the language of liberalism and human rights. But it is a thin veil indeed. For Kawthari and his hosts, women's "rights" are in fact women's obligations. And "standing up against domestic violence" appears to be nothing more than determining the extent of its practice.
Full report at:
https://www.rabwah.net/hardline-islamic-cleric-to-start-u-s-speaking-tour/
--------
What most Americans get wrong about Islamophobia
Apr 6, 2018
It's no secret that hate crimes against Muslims have been on the rise.
In one recent incident, an anonymous group in the UK declared Tuesday, April 3, to be "Punish a Muslim Day." They circulated leaflets in several UK cities calling for people to attack Muslims in various ways, by "using gun, knife, vehicle or otherwise," and advocated for burning and bombing mosques.
And in the US, studies show that in 2015 and 2016, hate crimes and attacks against Muslims skyrocketed. According to a 2017 Pew Research center analysis, which relied on FBI statistics, assaults on Muslims have "easily surpassed" post-9/11 levels.
One factor that experts often point to is the rise of Donald Trump.
As a presidential candidate, Trump made frequent use of anti-Muslim rhetoric, saying things like, "I think Islam hates us," and suggesting that he was not opposed to the idea of a Muslim database. After taking office, Trump signed an executive order barring people from several Muslim-majority countries from entering the US. He's appointed people who have espoused anti-Muslim views to key Cabinet positions. And he's even circulated anti-Muslim videos to his tens of millions of Twitter followers.
But Khaled Beydoun, a law professor and the author of a new book called American Islamophobia: Understanding the Roots and Rise of Fear, argues that there's something much more complex going on. According to Beydoun, Islamophobia — fear and hatred of Muslims and the religion of Islam — has deep roots in American history.
I called Beydoun to find out more about Islamophobia in America — and what he told me was surprising. He explained that this type of racialized hatred is not limited to Muslims; it also impacts non-Muslim Arab Americans and South Asian Americans, among others. And anti-Muslim sentiment isn't solely a problem on the right in America, he pointed out. The left also has a problem with Islamophobia.
Our conversation has been lightly edited for clarity and length.
Alexia Underwood
How would you sum up the argument of your book?
Khaled Beydoun
Essentially, it's that even though Islamophobia animates a modern form of bigotry ... the essence of the hate is not new. It's deeply rooted in American political discourse. It's deeply rooted in American law. It's deeply rooted in American framings of who was a citizen and who was not. But it's been given a new face — a new caricature — as a consequence of the war on terror, and then intensified by the rhetoric of, mainly, President Trump.
Alexia Underwood
You write that Trump proved that Islamophobia was an effective campaign tactic. How has this played out during his administration? Have things gotten worse for Muslims in the US under Trump?
Khaled Beydoun
During his campaign, Trump adopted this strategy of full-fledged, explicit, and bellicose rhetoric against not only Muslims but a whole range of people.
I'm sure you remember pundits and analysts on television, even scholars, saying that Trump is only doing this to win the race, and that once he was actually in office he'd do away with that intense rhetoric.
We saw otherwise, obviously. Only a week into his administration, Trump signed the executive order now known as the first rendition of the Muslim ban, or the travel ban. What many thought was mere rhetoric to mobilize voters quickly evolved — or devolved — into Islamophobic policy during the early stages of his presidency.
He weaponized that rhetoric into real policy impacting Muslim communities.
Alexia Underwood
There's a lot of talk about how Islamophobia is particularly strong among right-wing US politicians, but you point out that it's also very present on the left.
Khaled Beydoun
Yeah, definitely. Islamophobia, largely on account of it being so closely tied and tethered to Trump, is caricatured as exclusively a form of hate that comes from people on the right. We almost conflate Islamophobia with right-wing politics, which is really simplistic. It glosses over the idea that you have individuals on the left engaging in and propagating Islamophobia.
President Obama established this state-sponsored program called Countering Violent Extremism. As a consequence of this program, his surveillance of Muslim communities actually was broader and more intense than the Bush administration — and Obama was lauded as one of the most, if not the most, progressive presidents in our country's history.
Another example are popular media personalities and pundits like Bill Maher. I was a fan of his show, Real Time With Bill Maher, and I sometimes still find myself watching it because it's a space for really vibrant and important discussion on a range of issues. Bill Maher is somebody who is very left-wing on a range of issues, like the LGBTQ community and the environment.
But he veers entirely away from that when it comes to Muslims and Islamophobia, and espouses this clash of civilizations, this narrow view of Islam as being a faith that is entirely antithetical to the West — that Muslims are a pariah that need to be policed and dealt with by the state.
Alexia Underwood
You also say in the book that it's not just Muslims who have been targeted. Talk more about what you mean.
Khaled Beydoun
When we think about Islamophobia and who it victimizes, it's important to be nuanced. So your average Joe and Jane living down the street who might be ignorant or misinformed about Islam, who adopt a racialized view of who Muslims are, these are private Islamophobes. Private Islamophobes can victimize and target non-Muslims.
A quintessential example is Balbir Singh [Sodhi], a man who was killed in Arizona in September 2001. He was a gas station owner, a Sikh man who had a turban and a beard, and he was the first post-9/11 hate crime, or hate murder.
He wasn't a Muslim, but because Sikh men fit within this racialized caricature some people have of Muslims, they can be victims to private Islamophobia. Obviously there are South Asian men who are Hindu or Christian or atheist or agnostic. On the West Coast, a lot of Latino men kind of fit within the physical caricature of how people perceive Muslim men.
The state, whether it be the federal government or even local government, is different. They have a more nuanced and developed understanding of Islam as a consequence of 9/11. They know, I think, at this juncture, based on the war on terror mandate, that Muslims are racially diverse and ethnically diverse, diverse in regard to ideology, and so on.
American Islamophobia/Courtesy of Khaled Beydoun
Courtesy of Khaled Beydoun
Alexia Underwood
You mention Black Lives Matter in the book. How does Islamophobia affect a group like Black Lives Matter? How would you connect those two?
Khaled Beydoun
Islamophobia intersects with Black Lives Matter in dynamic and distinct ways. A large number of African Americans are Muslim; we know that anywhere between 25 and 33 percent of the entire Muslim population here, in the states, [is] black. When we think about violent policing, we think about these issues that the Black Lives Matter movement has committed to addressing and dismantling.
I think it's also important to frame Islamophobia as another aspect of white supremacy. Specifically, war on terror programming, when we think about the state-sponsored Islamophobic programs that I talk about in the book, whether it be counter-radicalization in the Patriot Act, the Muslim ban, and so on.
These are also tools that are tied to white supremacy. The ultimate, primary objective of Black Lives Matter is to dismantle and do away with white supremacist structures and policies from the state, and that is also the objective of a movement that's looking to do away with structural Islamophobia.
The victims of Islamophobia, racist policing, the school-to-prison pipeline and so on, can be black Muslims, they can be Latino Muslims, they can be indigent and working-class Muslims. It's important to frame that these movements intersect and that they converge in really dynamic ways.
Alexia Underwood
Do you see these movements working together to combat this type of discrimination?
Khaled Beydoun
One of the positive developments in the context of this current, intense moment is that Islamophobia has become a mainstream social justice issue.
It's something that Muslims, but also non-Muslims, are talking about. I'm doing these talks at universities, and you can talk to, for example, a Chinese-American undergraduate at UCLA who knows what Islamophobia is, who has a nuanced understanding that it's being extended by the state, and it's been unleashed by private individuals.
That, to me, is really eye-opening, and I think it marks progress. It foreshadows, I think, even greater strides being made in the future — the idea that there's a whole range of new communities that are mobilized and committed to fighting Islamophobia in all of its forms.
A second thing is that Muslim America right now has a sizable and growing crop of leadership. Leadership that are really fluent and literate in the language of racial and social justice. I think that's partly a credit to the Black Lives Matter movement, to be frank with you. I think a lot of younger-generation Muslim-American leaders were really politically empowered, mobilized by the BLM movement.
So I want readers to understand that Islamophobia is comprehensive: that it's not only this form of hate and violence coming from individuals on the fringe. It's far more complex than that. It's important to see that it's something that is spearheaded by state policy, and that it's deeply entrenched, it's deeply rooted. It's not a new phenomenon.
Full report at:
https://www.vox.com/2018/4/6/17169448/trump-islamophobia-muslims-islam-black-lives-matter
--------
Muslim-American Advocates Hail New York Police Surveillance Settlement
April 06, 2018
WASHINGTON —
Muslim-American advocacy organizations are hailing a legal settlement with New York City police over the department's surveillance of the community, saying the agreement sends a message that simply being Muslim is not a crime.
The settlement, announced Thursday by lawyers for New York City, the New York Police Department and the Muslim community, resolves a 2012 lawsuit brought by Muslim groups. The suit challenged the lawfulness of a program New York police created after the attacks of September 11, 2001, to gather intelligence on Muslims.
Under the terms of the settlement, the New York Police Department confirmed that it has dismantled the unit responsible for carrying out the intelligence-gathering operation and agreed not to conduct suspicionless surveillance based on religion or ethnicity.
Victory for American Muslims
Farhana Khera, executive director of Muslim Advocates, a legal advocacy organization that initially filed the lawsuit, hailed the settlement as a victory for American Muslims.
"Today's settlement sends a message to all law enforcement: Simply being Muslim is not a basis for surveillance," Khera said during a press call with reporters.
Omar Farah, senior staff attorney at the Center for Constitutional Rights, a progressive legal advocacy organization that later joined the lawsuit, agreed that the settlement bears the same message.
"Attempting to predict criminality on the basis of race or religion is repugnant and it never works — except to humiliate and criminalize targeted communities," Farah said.
Years of spying, not one lead
Muslim Advocates filed the lawsuit after the Associated Press revealed in a series of investigative reports in 2011 and 2012 how the New York Police Department infiltrated Muslim groups and put informants in mosques in the wake of the 9/11 attacks.
As part of the counterterror program, the police monitored at least 20 mosques, 14 restaurants, 11 retail stores, two grade schools and two Muslim student associations in New Jersey, Khera said.
The monitoring included video surveillance of mosques, photographing of license plates, community mapping, and infiltration of mosques, student associations and businesses, she said.
Khera said the surveillance did not produce a single investigative lead.
"This was not lawful policing but just blatant discrimination against innocent Americans," she said.
The settlement came after an appeals court in 2015 struck down a lower court's decision to dismiss the lawsuit, prompting New York City to initiate talks with the plaintiffs.
Farhaj Hassan, a U.S. Army reservist and the lead plaintiff in the case, said the settlement was a victory for the United States.
Full report at:
https://www.voanews.com/a/new-york-muslim-surveillance-settlement/4336582.html
--------
US will get out of Iran deal and reimpose sanctions: Nikki Haley
Apr 6, 2018
The US ambassador to the United Nations, Nikki Haley, says the United States will probably get out of the Iran nuclear deal and reimpose sanctions on the Islamic republic.
Haley made the remarks on Thursday during her lecture titled, "Confronting Today's Global Governance Challenges," at Duke University, in Durham, North Carolina.
She accused Iran of supporting terrorism and violating the terms of the 2015 historic nuclear agreement and went on to say that the Europeans are closing their eyes on this but added that the United States would not do that.
Discussing the background of the 2015 nuclear agreement between Iran and six world powers, Haley said, "Iran was being a destabilizing country that was causing threats and the international community decided that we needed to come together to find a solution."
"They give them a $100 billion and say, 'Behave'. They tell them that where they did have a nuclear activity and research (centers) on their military bases and their universities, that they have the right to inspect them," she said, repeating the lie her boss, President Donald Trump, often tells to Americans.
"But they'll give them 28 days' notice. They do all of this and think that if they treat Iran as a good international neighbor, then they'll act like a good international neighbor. So we don't know all things said, the Iran deal, it seems to be they're following it but they're yet to check a military installation, they have yet to check a university, they have yet to check those places where we know the activity was going to happen. But let's give them the benefit of the doubt and say that they are following the deal the way they were supposed to," she added.
The 100 billion lie
Trump has often denounced the Iran nuclear deal which resulted in the removal of nuclear related international sanctions against the Islamic Republic and Tehran receiving a portion of its own several billions of dollars illegally held by US and European banks.
Trump has falsely claimed that Iran's assets frozen in overseas banks due to sanctions amounted to around $150 billion, but the actual figure is about one third of this.
The sanctions were imposed based on the unfounded accusation that Iran was pursuing non-civilian objectives in its nuclear energy program.
"Since taking the $100 billion and the Europeans would agree to this, they have violated a Security Council resolution that bans them from doing any ballistic missile launches, they violated it," Haley said, parroting another lie of the Trump administration that claims that Iran's missile program is in breach of United Nations Security Council Resolution 2231, which endorsed Tehran's nuclear deal with the P5+1 states.
Tehran maintains that its missile launches fit into its conventional defense doctrine and has nothing to do with the nuclear agreement signed between Iran and the six world powers. Iran insists its missile tests do not breach any UN resolutions because they are solely for defense purposes and not designed to carry nuclear warheads.
Haley repeats terrorism accusation, and others
In her lecture, Haley also accused Iran of sponsoring terrorism, saying Iranians continued to support it. "We see it everywhere, whether it's in Lebanon, whether it's in Syria, whether they are in Yemen if you see what they are doing, what's happening in Gaza, all of that, they are only increasing their presence and moving into more territories."
"And they are not supposed to be selling arms or selling any sort of equipment to other neighbors. And, we know that they are arming the Houthis in Yemen. So you tell me, 'Do we stay in a deal where they have taken our money, and continue to violate – and the Secretary General and in the United Nations has a report that has listed all of these violations?'" she asked.
"We can be like the Europeans and close our eyes and say we are not going to look. Knowing that there is a sunset that ends in ten to fifteen years and we are already three years into it. Are you comfortable with that? Or do we look at another option; the other option is work with the Europeans. Can we fix these things? Can we stop them from doing ballistic missile launches? Can we get them to stop supporting terrorism? Can we get them to quit from giving to the Houthis and selling arms to them?" he said.
"If the Europeans don't find a way to help us to do this and we are making an honest effort everyday to trying to get these things changed, let's say, we do get out of this. What changes? We stay true to our values, that we are not going to support an actor that is supporting terrorism," she said.
"The Europeans stay in the deal. Fine. They can have it. We can put our sanctions back on. Iran is not going to get out of that deal. They want the trade with the Europeans. They want to keep the $100 billion that they have. They are not going to leave, but we don't have to be a part of it," Haley stated.
Haley's anti-Iran rhetoric comes as the longstanding Western dispute over Tehran's nuclear program was settled after the conclusion of a landmark nuclear agreement in 2015. UN Security Council Resolution 2231 also endorsed the nuclear deal, which went into effect in January 2016.
The International Atomic Energy Agency (IAEA) has also confirmed Iran's commitment to the terms of the nuclear agreement, dubbed the Joint Comprehensive Plan of Action (JCPOA).
Iran and the five permanent members of the United Nations Security Council -- the United States, France, Britain, Russia and China -- plus Germany started implementing the JCPOA on January 16, 2016.
Full report at:
http://www.presstv.com/Detail/2018/04/06/557635/US-will-get-out-of-Iran-nuclear-deal-and-reimpose-sanctions-Nikki-Haley
--------
URL: https://www.newageislam.com/islamic-world-news/hafiz-saeed-mocks-ban-his/d/114856
New Age Islam, Islam Online, Islamic Website, African Muslim News, Arab World News, South Asia News, Indian Muslim News, World Muslim News, Women in Islam, Islamic Feminism, Arab Women, Women In Arab, Islamophobia in America, Muslim Women in West, Islam Women and Feminism