New Age Islam News Bureau
21 Dec 2019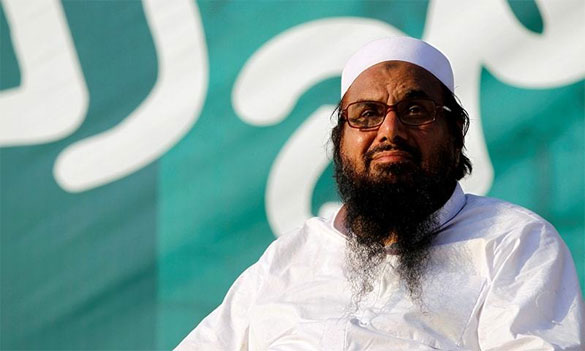 An anti-terrorism court on Wednesday indicted Jamatud Dawa (JuD) chief Hafiz Muhammad Saeed (pictured) and his associate, Prof Zafar Iqbal, in another case of terror financing registered by the Counter Terrorism Department (CTD). — Reuters/File
--------
• Hafiz Saeed Indicted In another Case of Terror Financing
• Pakistani Islamist Leader Hafiz Saeed Pleads Not Guilty On Terrorism Financing Charges
• Dalits and Muslims Come Together At Anti-CAA Protest In Malegaon
• 'Jab Hindu Muslim Razi': Protesters with Satirical Placards Grab Eyeballs At Anti-Citizenship Act Rallies
• Intra-Afghan Peace Negotiations Not Possible Until a Foreign-Forces Withdrawal Agreement Is In Place: Taliban
• Make Tackling Plight of Nation-Less Muslims a Priority - Sultan Nazrin
• Abu Dhabi to Launch New Tourism Tour of City Mosques
• France Is Arming Its Drones To Target Islamist Terrorists In Sahel
• US Retains Pakistan on Religious Watch List
• Lebanon's New Premier Appeals for 'The Chance' To Form Government Of Independent Technocrats
• Nigeria: New Visa Policy Might Attract Islamic Fundamentalists, Clerics Warn
Compiled By New Age Islam News Bureau
URL: https://www.newageislam.com/islamic-world-news/hafiz-saeed-indicted-another-case/d/120592
------
Pakistan
• Academic Junaid Hafeez Sentenced To Death on Blasphemy Charges by Multan Court
• Pakistan says it skipped Malaysia summit over concerns of Muslim Ummah division
• Jab at Pak army? Outgoing CJ says judiciary being maligned
• Justice Gulzar Ahmed takes oath as 27th Chief Justice of Pakistan
• Govt won't let country's stability be derailed: Imran
• WhatsApp told to share details of targeted users of Israeli hacking
• Assertions in US-India joint statement rejected
------
India
• 'Death of Two in Police Firing Was Planned Murder': Muslim Bodies on Mangaluru Killings
• Delhi Gate violence: Police detain women, children at Darya Ganj station, lawyers not allowed in
• 'Let them be in delusion': Asaduddin Owaisi slams Muslim clerics supporting Citizenship Act
• No need to live in fear, Maharashtra CM Uddhav Thackeray tells Muslims
• Do not oppose NRC till it is imposed pan-India: Shia cleric
• Man in khaki goes to Bengaluru mosques to clear air on Citizenship Act
• Sanskrit inscriptional evidence for Muslims in 12th-century Bengal
• Indian Muslims Chant 'Remove Modi' After Prayers at New Delhi Mosque
• Friday prayers at Srinagar mosque after 19 weeks
• Nitish Kumar says won't implement NRC in Bihar, Muslims not "ready" to trust him
• Aligarh Muslim University students in hospital say police were 'merciless'
------
South Asia
• Afghanistan's Saffron Ranked First in the World for Eight Consecutive Year
• 21 Taliban killed in Laghman, Baghlan incidents
• 9 of a family killed in Kandahar accident
• Rohingya genocide: The Gambia's fight for humanity
• In 2K20, let us resolve to be a little different
------
Southeast Asia
• Dr M: Critics' Fears Misplaced, KL Summit Didn't Undermine Any Muslim Nation
• Yoursay: Najib should plead innocence in court, not the mosque
• Why Muslims' challenges bigger than molehill
• Malaysian PM Mahathir 'sorry to see' India depriving Muslims of citizenship: Reports
• China deletes Mesut Ozil from computer games over Uighur Muslims tweet
• Muslims urged to boycott Chinese products over Uighur 'abuses'
------
Arab World
• G20 event on infrastructure investment concludes in Riyadh
• Over 2.2 million visas issued since the beginning of this year's Umrah season
• Jeddah Book Fair enriches children's knowledge with different selections
• Saudi-Jordanian committee concludes meetings
------
Europe
• Bashir Maan, first Muslim elected as councillor in UK, passes away
• Mum-of-two from Nelson jailed for sending funds to Islamic terror organisation
• Alleged Islamic State member Lisa Smith to spend weekend in prison after bail not processed
• UK takes big step closer to Brexit
------
North America
• U.S. Mum on India's Discrimination of Muslims to Protect Military Ties
• Canadian Jewish Group Raises Concerns about 'Extremist' Speakers at Toronto Islamic Conference
• US places Pak, China on watch list for religious freedom curbs
• Bill to promote Gandhi, Martin Luther King Jr's legacies introduced in US House
------
Mideast
• International prosecutor from ICC preparing to open Palestine war crimes probe
• Turkish Constitutional Law Professor Says Turkey Preparing To Switch To Islamic Law
• Iraq: Shia Leader Calls for Early Elections amid Protests
• Iran: 'Fiendish' Pompeo doesn't fit mould of a foreign minister
• US illegal sanctions on Iran aimed at collectively punishing ordinary people: UN ambassador
• Rouhani concludes Japan visit, seeks support for Iran economy
• Attacks target 3 oil and gas facilities in Syria
• Russia, backed by China, casts 14th UN veto on Syria
------
Africa
• How Islam penetrated the interior of Africa through Jihad
• No, this photo does not show an Egyptian religious scholar weeping over Nigeria's immigration policy
• Nigerians raise alarm over controversial Social Media Bill
------
New Zealand
• NZ police call firearms buyback a success in wake of Christchurch mosque shooting
------
Hafiz Saeed indicted in another case of terror financing
December 21, 2019
LAHORE: An anti-terrorism court on Wednesday indicted Jamatud Dawa (JuD) chief Hafiz Muhammad Saeed and his associate, Prof Zafar Iqbal, in another case of terror financing registered by the Counter Terrorism Department (CTD).
This case was lodged by CTD-Gujranwala.
The officials produced both JuD leaders before ATC-I under strict security measures.
Counsel for the JuD, advocates Naseeruddin Nayar and Imran Fazal Gill, did not appear due to strike by the bar.
However, a deputy prosecutor presented a charge-sheet against the suspects and Presiding Judge Arshad Hussain Bhutta indicted them.
The JuD leaders denied the charges and the judge summoned prosecution witnesses on Saturday (today).
The court also recorded statement of a prosecution witness in another case of terror financing wherein the suspects were indicted last week.
In these cases, the defence counsel previously argued that the allegations against the JuD leaders were baseless and a result of international pressure on the Pakistan government. He said the accused had been charged in false cases by wrongly attributing as leaders of the banned Lashkar-e-Taiba (LeT).
He said it was an admitted fact supported by superior courts' decisions that the accused persons had already quit the LeT before the organisation was declared proscribed in the year 2002.
The counsel alleged the CTD registered the cases without any substantive evidence.
https://www.dawn.com/news/1523459/hafiz-saeed-indicted-in-another-case-of-terror-financing
------
Pakistani Islamist leader Hafiz Saeed pleads not guilty on terrorism financing charges
DECEMBER 20, 2019
LAHORE, Pakistan (Reuters) - Pakistani Islamist militant Hafiz Saeed, the alleged mastermind of deadly 2008 attacks in Mumbai, pleaded not guilty on Friday in a second case on charges of financing terrorism, a government prosecutor and a defence lawyer said.
Saeed, who was indicted on similar charges in another case on Dec 11, was presented in an anti-terrorism court in Pakistan's eastern city of Lahore, prosecutor Abdur Rauf Watto told Reuters.
Defence lawyer Imran Gill said the second case was related to Saeed's charity operations. "The militant charities the accused ran collected illegal funds," Watto said.
Saeed is the founder of Lashkar-e-Taiba (LeT), or the Army of the Pure, a militant group blamed by the United States and India for the four-day Mumbai siege in which 160 people were killed. Foreigners, including Americans, were among the dead.
Pakistan's counterterrorism police arrested Saeed in July, days before a visit to Washington by Prime Minister Imran Khan.
The indictments came ahead of a meeting of world financial watchdog Financial Action Task Force (FATF) early next year that will decide whether to blacklist Pakistan for its failure to curb terror financing.
The United States has offered a reward of $10 million for information leading to the conviction of Saeed, who has been arrested and released several times over the past decade.
Washington has long pressured Pakistan to try Saeed, who is designated a terrorist by the United States and the United Nations.
The Islamist has denied any involvement in the Mumbai attacks and says his network, which spans 300 seminaries and schools, hospitals, a publishing house and ambulance services, has no ties to militant groups.
https://in.reuters.com/article/pakistan-militant/pakistani-islamist-leader-hafiz-saeed-pleads-not-guilty-on-terrorism-financing-charges-idINKBN1YO1HX?rpc=401&
------
Dalits and Muslims come together at anti-CAA protest in Malegaon
20 Dec 2019
Thursday morning saw citizens of Malegaon come together for one of the biggest protests against the new citizenship law so far. The protest call was given by Dastoor Bachao Committee (Save the Constitution Committee) and supported by the Vanchit Bahujan Aghadi (VBA) and the Republican Party of India (RPI).
The procession began at 10 AM from Malegaon Fort and ended three hours later at Shahidon ki Yaadgaar. This is significant as this display of Dalit-Muslim unity goes a long way in strengthening the bonds between two communities that have historically faced oppression and discrimination. The rally also attracted thousands of power-loom workers, as Malegaon is a textile hub. Thousands of students, many of them first-time protesters, also attended the rally.
All demonstrations were peaceful. The Indian Express reported that Maulana Umrain Mahfooz Rahmani, convener, Dastoor Bachao Committee and secretary of All India Muslim Personal Law Board, addressed the rally saying, "December 19 is a historic day. It is a day the British hanged two freedom fighters Ashfaqullah Khan and Ram Prasad Bismil. We are their descendants. If the need arises, we are willing to sacrifice our lives to save the country." Rahmani also advised the "globe-trotting" Prime Minister to visit the tomb of Ramses II, the third pharaoh of Egypt to learn that power does not last forever.
VBA chief Prakash Ambedkar also attended the rally and said, "The CAA is just an eyewash. What has raised apprehensions is the NRC." The VBA is coming together with many other like-minded organisations and plans to hold many more anti-CAA protests.
https://sabrangindia.in/article/dalits-and-muslims-come-together-anti-caa-protest-malegaon
------
'Jab Hindu Muslim Razi': Protesters With Satirical Placards Grab Eyeballs At Anti-Citizenship Act Rallies
19 December 2019
Thousands of protesters hit the roads and streets across various cities in India expressing their opposition against the amended Citizenship Act.
While the violence erupted in Uttar Pradesh and Mangaluru, protesters remained mostly peaceful in other parts of the country.
Apart from the number of participants in the rallies, the most striking part of the protests was the witty, sarcastic and creative slogans written on the placards.
Here are some of the striking placards:
The girl making history.
https://www.outlookindia.com/website/story/india-news-jab-hindu-muslim-razi-protesters-with-satirical-placards-grab-eyeballs-at-anti-citizenship-rallies/344402
------
Intra-Afghan peace negotiations not possible until a foreign-forces withdrawal agreement is in place: Taliban
Friday, 20 Dec 2019
Taliban announced on Friday that the intra-Afghan peace dialogue is possible only after a full foreign forces withdrawal agreement is in place.
"Intra-Afghan negotiations will begin only after an agreement with America on the withdrawal of all foreign troops from Afghanistan is signed," Taliban spokesperson, Suhail Shaheen tweeted on Friday,.
This comes as, US peace envoy, Zalmai Khalilzad paused the US, Taliban peace talks a week ago, following a Taliban's attack on the Bagram US military base in order to give some more time to Taliban leadership for consultation on violence reduction.
"When I met the Talibs today, I expressed outrage about yesterday's (12 Dec) attack on Bagram, which recklessly killed two and wounded dozens of civilians. Taliban must show they are willing & able to respond to Afghan desire for peace. We're taking a brief pause for them to consult their leadership on this essential topic, said Khalilzad." Zalmay Khalizad tweeted on Dec 13.
Khalilzad visited Pakistan officials, following which he arrived in Kabul to meet the NUG leaders, US officials and key Afghan political figures.
Calling the trip as 'productive', Khalilzad said in a Twitter post that he met with the U.S. Ambassador John Bass, Resolute Support Mission Commander Gen. Scott Miller, President Mohammad Ashraf Ghani, Chief Executive Abdullah Abdullah, former President Hamid Karzai and other political leaders.
"We discussed efforts to achieve violence reduction and pave the way to intra-Afghan negotiations… We're approaching an important stage in the Afghan peace process," Khalilzad tweeted on Thursday at the end of his two-day consultation.
Meanwhile, the U.S. officials announced last week that President Donald Trump is intending to announce the withdrawal of more than 4,000 troops from Afghanistan in coming weeks, however, the US Defense Secretary did not provide a clear indication on the withdrawal preparations.
"We have a mission in Afghanistan, that is to ensure that it never again becomes a safe haven for terrorists," U.S. Defense Secretary Mark Esper told reporters at a Pentagon news conference. "Until we are confident that that mission is complete, we will maintain a presence to do that," he added.
This comes as the political situation in Afghanistan is uncertain. The country's electoral commissions were unable to announce the election results in over 11.
The presidential election may go to a second round or an interim-government will take shape to facilitate the 'political settlement' agreement will Taliban.
https://www.khaama.com/taliban-does-not-intend-to-stop-violence-until-a-withdrawal-agreement-is-in-place-89874/
------
Make tackling plight of nationless Muslims a priority - Sultan Nazrin
21/12/2019
KUALA LUMPUR, Dec 21 -- Sultan of Perak Sultan Nazrin Muizzuddin Shah said as Muslim nations pursue national development agendas, they should also strive to tackle the hardships faced by nationless Muslims the world over.
Underscoring that this should become a priority, he said Muslim countries must be more involved in the conversation on this matter.
"We have a vital responsibility to our nationless Muslim brothers and sisters, and we must do better at reaching out and offering them homes and hope," the Perak Ruler said in his royal address when closing the Kuala Lumpur Summit (KL Summit) 2019 at the Kuala Lumpur Convention Centre here today.
The Sultan acknowledged that a number of Muslim-majority countries such as Turkey, Lebanon, Jordan, Pakistan and Iran are already doing their share by hosting vast numbers of refugees, part of the nearly 10 million refugees coming from Muslim-majority nations.
But the Muslim world, he said, could do much more particularly as it develops and grows in wealth and power, with many Muslim-majority nations are more affluent now.
"Many more of us could therefore be working much harder to raise awareness, contribute to the global dialogue and provide financial and material support that humanitarian aid efforts so desperately need," he said.
Sultan Nazrin also underscored that Muslims rendered nationless after having been forced to abandon their homes and flee their homelands due to hardships, conflict and persecution should not have to hazard the perilous journey to Europe in order to feel safe, comfortable and secure.
He said one of the reasons that Islamic refugees seek shelter in Europe is that they believe the continent will afford them greater opportunities in education, financial security as well as freedom, dignity and human rights that they were stripped of in their home countries.
Touching on this point, Sultan Nazrin expressed hope that the world will never forget the heart-breaking image of Alan Kurdi, the three-year-old Syrian boy who drowned as he and his family attempted to cross the Mediterranean Sea while fleeing to Europe.
"They sometimes say that a picture speaks a thousand words, but I think that this picture left us with no words at all. This was a heart-rending tragedy. There are surely many, many more, neither seen by the world nor heard by it," the Sultan said.
In driving home the point that this should not have happened, the Perak monarch said: "There should be safe refuge for them closer to home."
He said the KL Summit's focus on development has huge potential to improve the lives of Muslim refugees across the world.
Sultan Nazrin said as Muslim nations become more prosperous, more stable and more developed in terms of technology, education and work opportunities, they become more better placed to offer helpful, safe and productive lives to refugees seeking fresh hope and new homes.
They also become more able to fund humanitarian efforts and command greater power and sway on the world stage in order to ensure that nations pay attention to the crisis as well, Sultan Nazrin said.
"As Muslims, it's my sincerest hope that we can lead the way in helping our nationless brothers and sisters rather than lag behind," he said.
He believed that conferences such as the KL Summit, which build bridges between Islamic nations across the world, could act as a springboard for them to act more earnestly to tackle the problem.
"Indeed, I believe that a great deal of positive change could be achieved if the plight of the nationless is foregrounded at this summit going forward," the monarch said.
Sultan Nazrin also hoped that the next edition of KL Summit will focus on the progress made in implementing the various initiatives outlined to push the Muslim ummah forward.
http://www.bernama.com/en/general/news.php?id=1801566
------
Abu Dhabi to launch new tourism tour of city mosques
Sat 21 Dec 2019
A new initiative showcasing Abu Dhabi's historically significant mosques to tourists was announced on Thursday.
The Department of Culture and Tourism - Abu Dhabi launched the initiative as part of the Year of Tolerance, and in cooperation with the General Authority for Islamic Affairs and Endowments and various churches in Abu Dhabi.
The Mosques Tour Initiative aims to introduce tourists to Islamic history and culture via tours of the emirate's mosques, state news agency WAM reported.
The launch was attended by Father Anderson Thompson of St Joseph's Cathedral and Father Fakhro Bishop of St Anthony's Cathedral for Coptic Orthodox, alongside Omar Habtoor Al Darei, executive director of Islamic Affairs for the General Authority of Islamic Affairs and Endowments.
The first phase of the initiative saw a detailed selection process to identify the most historically significant and iconic mosques in the UAE capital.
The tour covers five mosques, including the Sheikh Sultan bin Zayed the First Mosque, Al Kareem Mosque in Al Marina, Al Aziz Mosque on Reem Island, the Sheikh Zayed bin Sultan the Second Mosque in Al Khalidiyah, and the Mariam, Umm Eisa Mosque in Al Mushrif.
"We are pleased to be cooperating with the General Authority of Islamic Affairs and Endowments in launching this unique initiative, which aligns with the goals of the UAE Year of Tolerance," said Ali Hassan Al Shaiba, acting executive director of Tourism and Marketing Sector at DCT Abu Dhabi.
"Providing tours of our houses of worship also syncs with our efforts to shed light on the features of Islamic culture and civilisation that characterise Abu Dhabi, which are reflected in the historic mosques built by our ancestors, as well as the contemporary mosques built by the new generation."
He added: "The originality and authenticity of the Emirati capital is reflected in all of the mosques selected, and they will give visitors an opportunity to become acquainted with the true teachings of Islam and educate them on the values that teach us tolerance and noble ethics. As the tour takes place, this initiative will help in identifying the story of each of the mosques, the details of Islamic architecture used and the role played by mosques in Emirati society as a symbol of acceptance, peaceful coexistence, and cooperation."
https://www.arabianbusiness.com/travel-hospitality/435730-abu-dhabi-to-launch-new-tourism-tour-of-city-mosques
------
France is Arming its Drones to Target Islamist Terrorists in Sahel
20.12.2019
France is fighting terrorists in the African Sahel region where Islamist violence has been on the rise this year. France has already lost 38 service members in Mali, the country hit most by violence, since 2013 – and a third of those soldiers died in a helicopter accident during an anti-terror raid last month.
France will now start using armed drones to fight terrorists in West Africa, for the first time in its history.
Defence Minister Florence Parly confirmed on Thursday that the military had successfully carried out tests of armed drones from the Niamey air base in Niger.
France launched anti-terror Operation Barkhane in the troubled region of Sahel, south of the Sahara Desert, in 2014. As part of that mission, launched at the request of the local government as a follow-up to Operation Serval, France deploys a total of 4,500 troops in its former colony Mali and in the neighbouring Niger and Chad. It is the only nation with a permanent military presence on the ground in the Sahel.
The French military has already been flying unarmed US-built Reaper drones in the region for reconnaissance. They will now be fitted with laser-guided missiles to strike targets.
Parly announced the decision to arm surveillance drones back in September 2017.
Drone warfare is a controversial practice which appears to be the future of wars. Armed unmanned aerial vehicles were first used by the United States in Afghanistan, and since then were deployed by many other states and, significantly, by non-state actors.
Human rights campaigners have questioned the ethics of drone warfare; the main argument is that separating remote pilots from the consequences of a drone strike takes responsibility away from them and this dehumanises the people they kill.
President Macron is visiting French forces stationed in Ivory Coast on Friday. He is also expected to meet with Niger's president in Niamey on Saturday. Niger is part of G5 Sahel, an anti-jihadist network set up in 2014 with Burkina Faso, Chad, Mali, and Mauritania.
Violence escalated in the region following the Islamist revolt in northern Mali in 2012, leading to thousands of civilian casualties and forcing more than 860,000 people in Burkina Faso, Mali and Niger from their homes.
France and the Malian government prevented Islamist terrorists from overtaking the country, but have so far failed to put an end to the insurgency, which remains active in northern and central parts of Mali.
France will host a summit with G5 leaders in mid-January 2020 to discuss ways to combat terrorists in the region. The summit was supposed to take place this month but was postponed after Islamist militants last week killed 71 soldiers in an attack on a military camp in Niger close to the border with Mali.
In November, 13 French soldiers on a counter-terrorism mission died in a helicopter collision in Mali – France's biggest single military loss in 36 years. The accident brought to 38 the number of French soldiers killed in the country since the intervention began in 2013; over 200 soldiers from regional African nations and international peacekeeping forces died in Mali in September alone, with dozens more killed in Burkina Faso.
Prior to that accident, French forces killed the head of Jama'at Nusrat al-Islam wal-Muslimin (JNIM), the Malian branch of al-Qaeda which is responsible for the majority of deadly insurgent attacks in the country. The terror group in response attacked Malian government forces, killing 54 people in a roadside bomb explosion at a military post in the east of the country.
https://sputniknews.com/africa/201912201077682133-france-is-arming-its-drones-to-target-islamist-terrorists-in-sahel/
------
US retains Pakistan on religious watch list
December 21, 2019
WASHINGTON: The United States has retained Pakistan among the countries that tolerate religious discrimination, says a US State Depart­ment statement released on Friday.
The determination, made on Dec 18, includes Myanmar, China, Erit­r­­ea, Iran, North Korea, Pakistan, Saudi Arabia, Tajikistan and Turkm­enistan among the states that have been re-designated as "Countries of Particular Concern (CPC)".
The State Department makes these designations under the International Religious Freedom Act of 1998 and countries on the CPC list are classified as "having engaged in or tolerated systematic, ongoing, [and] egregious violations of religious freedom".
Countries in this category can face further actions, including economic sanctions, by the United States.
The State Department also renewed the placement of Comoros, Russia and Uzbekistan on a Special Watch List (SWL) for governments that have engaged in or tolerated "severe violations of religious freedom", and added Cuba, Nicaragua, Nigeria and Sudan to this list.
Sudan was moved to the SWL due to significant steps taken by the civilian-led transitional government to address the previous government's "systematic, ongoing and egregious violations of religious freedom".
The watch list includes countries where religious freedom conditions do not rise to the statutory level requiring CPC designation, but which require close monitoring due to the nature and extent of violations of religious freedom engaged in or tolerated by the governments.
The State Department also designated Al-Nusra Front, Al Qaeda in the Arabian Peninsula, Al Qaeda, Al-Shabab, Boko Haram, the Houthis, ISIS, ISIS-Khorasan and Taliban as Entities of Particular Concern.
"These designations underscore the United States' commitment to protect those who seek to exercise their freedom of religion or belief," the State Department said. "We believe that everyone, everywhere, at all times, should have the right to live according to the dictates of their conscience."
https://www.dawn.com/news/1523484/us-retains-pakistan-on-religious-watch-list
------
Lebanon's new premier appeals for 'the chance' to form government of independent technocrats
NAJIA HOUSSARI
December 20, 2019
BEIRUT: "The revolutionaries are right," Lebanon's Prime Minister Hassan Diab announced on the second day of his new assignment. He added that his approach would be "to form a government of independent technocrats. But give me a chance."
Diab met with former prime ministers — Salim Hoss, Fouad Siniora and Tammam Salam — on Friday, as well as Hariri. His tour came in the wake of pro-Hariri protests held by Sunni Muslims in Beirut, Tripoli and parts of the Bekaa on Thursday night and Friday morning. Those protests escalated into violence, and at least four soldiers from the Fourth Intervention Regiment (the riot squad for the Internal Security Forces) were wounded as protesters threw stones at them.
One woman told Arab News: "Diab does not represent us. We are with the return of Hariri as prime minister." She accused those in the government of "obstructing Hariri's work toward achieving the reforms he wanted."
Hariri quickly called on his supporters to leave the streets immediately "if they loved him."
After his meetings, Diab said, "There is a positive atmosphere with everyone" and said Hariri had "expressed his willingness to cooperate to form a government."
"I am an independent technocrat, and my approach is to form a government of independent technocrats to serve the country and solve the problems (which have been) known for some time," he continued.
Diab said that the country had reached this crisis point after three decades of bad policies. "I understand the protesters' demands, but they must give us the chance to be able to form an exceptional government to tackle the thorny issues, and we will be one team, regardless of our affiliations," he said, adding that he expects to form his government within four-to-six weeks.
Against this background, US Under Secretary of State for Political Affairs David Hale arrived in Lebanon on Friday.
After meeting President Michel Aoun, Parliament Speaker Nabih Berri, and Hariri, Hale said his visit reflected "the strength of the partnership between (our) two countries."
He added that US Secretary of State Mike Pompeo had asked him to meet with Lebanese leaders and urge them to "commit to meaningful and sustainable reforms that can lead to a stable, prosperous, and secure Lebanon."
Hale said: "It is time to put aside partisan interests and act in the national interest, advancing reforms and forming a government that is committed to undertaking those reforms and capable of doing so. We have no role in saying who should lead and comprise such a Cabinet. Or indeed any Cabinet."
"The unified, non-sectarian, and largely peaceful protests over the last 65 days reflect the Lebanese people's longstanding and, frankly, legitimate demand for economic and institutional reform, better governance, and an end to endemic corruption," he continued.
"America calls on the security forces to continue to guarantee the safety of protesters as they engage in peaceful demonstrations, and for restraint by all. Violence has no place in civil discourse. America wants Lebanon and its people -— all of its people — to succeed, and we will remain a committed partner in that effort."
Aoun reportedly told Hale that protesters were being provided with "the necessary protection to ensure their freedom of expression without blocking roads, which conflicts with the international laws and norms that guarantee the freedom of others."
Aoun stressed, according to his media office, that "the anti-corruption march continues intensely."
The president also called on the US to renew its efforts to "persuade Israel to commit to the demarcation of maritime borders to establish calm and stability in the South."
https://www.arabnews.com/node/1601886/middle-east
------
Nigeria: New Visa Policy Might Attract Islamic Fundamentalists, Clerics Warn
21 December 2019
Some Anglican clerics have cautioned against the implementation of the proposed visa on arrival policy by the Federal Government for visitors coming into Nigeria from other African countries, saying it might heighten the level of insecurity in the country.
Expressing their fears yesterday in their 2019 Christmas messages to the nation, the Anglican Bishop on the Niger, Rt. Revd Owens Nwokolo and his counterpart in the Diocese of Awka, Rt. Revd. Alexander Ibezim warned that throwing the doors of the country open to all manner of Africans might attract the wrong type of visitors.
The clerics noted that already Boko Haram and other forms of Islamic fundamentalists under various guises had been killing thousands of Nigerians over these years without let, warning that it would amount to an overkill to throw the nation's borders open to outsiders at this point in the nation's history.
Nwokolo noted that citizens' outcry against the policy was a testament that they were suspicious of the real intentions of the promoters. The cleric also blamed Nigerians for keeping quiet while the Federal Government allegedly continues to suppress free speech and hound perceived political opponents into jail.
"It's as if we are still under a military regime. But we are to blame ourselves," he said.He also lamented the free fall of the naira against other major currencies of the world, calling on the government to arrest the situation.
In another development, the Catholic Bishop of Nnewi, Rt. Revd. Hilary Okeke, in his Christmas message, said Nigerians were not only embracing sin but were also returning back to idol worship, calling on Christians to shun all forms of idolatry and occultism.Quoting from the book of Paul to the Galatians 5:19-21, Okeke said: "In fact, many people including some who call themselves Christians commit these sins, especially sexual immorality – adultery, fornication, homosexuality lesbianism, sensuality and masturbation.
"Another serious and widely committed sin in our area is idolatry, the worship of false gods and goddesses."The cleric said it has become imperative for Christians to always remember the reason for celebrating the birth and coming of Christ, saying, "we must be prepared to receive him when he comes again."He noted that all manner of evils confronting the nation would become a thing of the past if every individual endeavours to invite Christ into his/her life, which would lead to holiness in the conduct of citizens.
A member of the House of Representatives, representing Njikoka/Anaocha/Dunukofia, Dozie Nwankwo, called on Nigerians to pursue love, peace and good neighbourliness during and after the Christmas season so as to move the nation forward.Nwankwo said nothing tangible could be achieved in an atmosphere of rancour, strife and backbiting, appealing for peace and selfless service from all Nigerians.
https://guardian.ng/news/new-visa-policy-might-attract-islamic-fundamentalists-clerics-warn/
------
Pakistan
Academic Junaid Hafeez sentenced to death on blasphemy charges by Multan court
Shakeel Ahmed
December 21, 2019
A district and sessions court on Saturday sentenced Junaid Hafeez, a former university lecturer in Multan, to death on blasphemy charges.
Formerly a visiting lecturer at the Department of English Literature of the Bahauddin Zakariya University (BZU), Multan, Hafeez was booked on blasphemy charges and was arrested by police on March 13, 2013. The trial of the case started in 2014.
Additional Sessions Judge Kashif Qayyum sentenced Hafeez to death and a fine of Rs0.5 million under Section 295-C of the Pakistan Penal Code (PPC); in case of default he will undergo further imprisonment of six months.
He was also sentenced to life imprisonment under Section 295-B, and 10 years' rigorous imprisonment and a fine of Rs100,000 under Section 295-A of the PPC.
According to the court's short judgement, "All the sentences shall run consecutively and the accused would not be entitled to the benefit of Section 382-B CrPC because in case of blasphemer, this court has got no circumstance for taking [a] lenient view and it is also not permitted in Islam."
Under Section 382-B of the Criminal Procedure Code, the period of detention of a prisoner has to be considered in the prison term when a person is convicted by a trial court.
Hafeez has been lodged in the high-security ward number 2 of New Central Jail Multan.
His previous lawyer, Rashid Rehman, was shot dead in May 2017 in his office.
Hafeez's parents had earlier this year appealed to former chief justice Asif Saeed Khosa to look into their son's case. They sought justice for their son, fearing for his mental and physical health.
They had said their son had been languishing in solitary confinement in a cell of the Central Jail, Multan, for the last six years on the false charge of blasphemy.
"Due to transfer of many judges, delaying tactics of prosecution witnesses, and difficulties finding adequate legal counsel for the defence because of the sensitive nature of the case, our son continues to await justice in a fabricated case," Junaid's parents had said in a written appeal to the chief justice.
https://www.dawn.com/news/1523521/academic-junaid-hafeez-sentenced-to-death-on-blasphemy-charges-by-multan-court
------
Pakistan says it skipped Malaysia summit over concerns of Muslim Ummah division
December 20, 2019
ISLAMABAD: Pakistan clarified that it withdrew last-minute from a four-day conference held in Kuala Lumpur recently as it needed to address concerns of "major Muslim countries" about the possible division of the Ummah.
"In response to questions from the media, the Spokesperson stated that Pakistan did not participate in the KL Summit as time and efforts were needed to address the concerns of major Muslim countries regarding possible division in Ummah," the Pakistani Foreign Office said in a statement on Friday.
Saudi Arabia had said its leaders were not attending the summit because it was being held outside the aegis of the 57-member Organisation of Islamic Cooperation based in Jeddah.
Pakistani Prime Minister Imran Khan, who along with his Malaysian counterpart and Turkish President Tayyip Erdogan had been a prime mover behind the summit, made a last-minute decision to withdraw from the meeting.
https://www.thenews.com.pk/latest/586184-pakistan-says-it-skipped-malaysia-summit-over-concerns-of-muslim-ummah-division
------
Jab at Pak army? Outgoing CJ says judiciary being maligned
Dec 21, 2019
ISLAMABAD: Pakistan's outgoing chief justice Asif Saeed Khosa said on Friday that he was retiring with a crystal clear conscience but noted that a "malicious campaign" has been launched against him and the judiciary following the death sentence handed out to ex-military ruler Pervez Musharraf in a treason case against him.
Khosa, 64, who would retire at midnight on Friday, said the judiciary and he were being singled out in the criticism.
A three-member special court bench sentenced 76-year-old Musharraf to death in absentia on Tuesday for high treason following a six-year legal case. He was given death sentence for abrogating the constitution in 2007, angering the military and the Imran Khan government.
Pakistan army's spokesperson Major General Asif Ghafoor has been heavily critical of the verdict, accusing judiciary of overstepping its constitutional remit. On Thursday, Law minister Farogh Naseem said that the judge who wrote the judgment was mentally unfit and should be stopped from performing his duties.
UK-educated Khosa said: "A malicious campaign has been started against the judiciary and myself. The allegations are baseless and incorrect. We know the limits of our powers and we know that the truth shall always prevail".
The Pakistan Bar Council condemned the criticism of the verdict by the government and the army, according to a statement on Thursday night. "The legal community in Pakistan is of the view that the attitude adopted by the federal government, its ministers, law officers, and the attorney-general confirms that the party in power has been installed by the Army and that its institution is on the 'driving seat."
The army has directly or indirectly ruled the country for much of its existence. The verdict is likely to be viewed as humiliation for a military used to calling the shots. PTI
https://timesofindia.indiatimes.com/world/pakistan/jab-at-pak-army-outgoing-cj-says-judiciary-being-maligned/articleshow/72910574.cms
------
Justice Gulzar Ahmed takes oath as 27th Chief Justice of Pakistan
December 21, 2019
Justice Gulzar Ahmed on Saturday took the oath as Chief Justice of Pakistan.
In a ceremony held at Aiwan-i-Sadr in Islamabad, President Dr Arif Alvi administered the oath to Justice Ahmed.
Prime Minister Imran Khan, Chief of Army Staff Gen Qamar Javed Bajwa, Chief of Air Staff Air Chief Marshal Mujahid Anwar Khan, Chief of Naval Staff Admiral Zafar Mahmood Abbasi, National Assembly Speaker Asad Qaiser, Senate Chairman Sadiq Sanjrani, Foreign Minister Shah Mehmood Qureshi, Law Minister Farogh Naseem and various ministers attended the oath-taking ceremony.
Former chief justice Iftikhar Chaudhry also attended the ceremony.
Justice Ahmed, who replaces Justice Asif Saeed Khosa as the chief justice, will serve till February 21, 2022, as the 27th chief justice.
Justice Khosa retired on Friday. At a gathering before officially addressing a full-court reference organised at the Supreme Court on the eve of his retirement, just a day after a special court released the detailed verdict in the high treason case against former dictator General retired Pervez Musharraf, Khosa said a malicious campaign has been initiated against the judiciary but the truth shall finally prevail.
Justice Gulzar Ahmed
Justice Ahmed was born on February 2, 1957, in Karachi to the family of Noor Muhammad, a distinguished lawyer. His elementary schooling was from the city's Gulistan School, according to the Supreme Court website. He then went on to earn a Bachelor of Arts degree from Government National College, Karachi after which he obtained his law degree from S.M. Law College, Karachi.
He enrolled as an advocate on January 18, 1986, and joined the High Court on April 4, 1988. Subsequently, he became an advocate of the Supreme Court on September 15, 2001.
Justice Ahmed was elected honorary secretary of the Sindh High Court Bar Association in Karachi for the year 1999-2000.
Throughout his legal practice, he mostly remained on the civil-corporate side, serving as the legal advisor to numerous multinational and local companies, banks and financial institutions.
https://www.dawn.com/news/1523516/justice-gulzar-ahmed-takes-oath-as-27th-chief-justice-of-pakistan
------
Govt won't let country's stability be derailed: Imran
Syed Irfan Raza
December 21, 2019
ISLAMABAD: Amid reported unease between the military and the judiciary over the "controversial" verdict by a special court ordering public hanging of former president retired Gen Pervez Musharraf's body for three days, Prime Minister Imran Khan on Friday said his government would never let the stability of the country be derailed.
During a meeting with his legal aide Dr Babar Awan at the Prime Minister Office, Mr Khan said it was a duty of the government to strengthen the state institutions.
The army and the government have expressed strong reservations over the verdict and the latter decided to file a reference in the Supreme Judicial Council (SJC) against Peshawar High Court Chief Justice Waqar Ahmed Seth who had authored the judgement as head of the three-judge special court. The government has also decided to challenge the verdict in the Supreme Court.
A source privy to the meeting told Dawn that the prime minister vowed to back institutions in the prevailing circumstances. Babar Awan also discussed with the premier legal aspects of the filing of the reference against the PHC chief justice in the SJC and the appeal against the verdict in the Supreme Court.
Babar Awan briefs PM on legal aspects of filing of reference against PHC chief justice, appeal in Supreme Court
Meanwhile, Special Assistant to the Prime Minister (SAPM) on Information Dr Firdous Ashiq Awan stressed at a press conference that harmony among the state institutions was the need of the hour. She said that under the "dynamic leadership of Prime Minister Khan", the nation would defeat the elements conspiring against the "brighter future of Pakistan".
She said efforts were being made to demoralise the army and pit national institutions against each other. However, the government was going to fulfil its responsibility by filing a reference [against PHC chief justice] in the SJC, she said. "If you hit sixes by crossing the boundary, it will not be tolerated."
The SAPM said India, which was continuously violating the Line of Control, was taking advantage of the situation in Pakistan.
The Minister for Science and Technology, Fawad Chaudhry, warned in a series of tweets that it would not be possible to save the country from anarchy if the army was divided or weakened.
Referring to the special court's verdict in the high treason case against the former military ruler, Mr Chaudhry said it was the army, not Gen Musharraf, which was being targeted under a specific strategy.
"First the army and ISI [Inter-Services Intelli­gence] were involved in the [Tehreek-i-Labbaik] sit-in case, then the army chief's extension was made controversial and now a popular former army chief has been humiliated," he said in a tweet.
"The sequence of events is not a judicial or legal matter any more, it is more than that. If the institution of the army is divided or weakened, then it will not be possible to save [the country] from anarchy," he said in another tweet. "Gen Bajwa and the current army setup has stood by democratic institutions, but this support should not be considered as a weakness."
The tweets came a day after the special court had in a detailed verdict in the treason case ordered hanging of Gen Musharraf on five counts. The judgement is split 2-1, with Justice Shahid Karim of the Lahore High Court agreeing with Justice Waqar Seth and Justice Nazar Akbar of the Sindh High Court dissenting. The judgement was authored by Justice Seth, who wrote: "We direct the law enforcement agencies to strive their level best to apprehend the fugitive/convict and to ensure that the punishment is inflicted as per law and if found dead, his corpse be dragged to the D-Chowk, Islamabad, Pakistan, and be hanged for 03 days."
Justice Karim agreed with Justice Seth's decision, but not with paragraph 66, which mentions dragging and hanging of the former dictator's body publicly for three days, saying the punishment "has no basis in law and will be ultra vires for this court to do so".
The verdict drew angry responses from the government and the armed forces, with the former announcing its decision to file a reference against Justice Seth in the SJC. Later, Attorney General Anwar Mansoor in a private TV show negated Ms Awan's claim that the verdict will become void if the SJC gives its decision against the judge.
https://www.dawn.com/news/1523499/govt-wont-let-countrys-stability-be-derailed-imran
------
WhatsApp told to share details of targeted users of Israeli hacking
Ramsha Jahangir
December 21, 2019
KARACHI: In light of fresh claims of Pakistani officials being targeted with a hacking software involving an Israeli spyware company, the Pakistan Telecommunication Authority (PTA) has sought details of the compromised users from the social media company.
In a report published on Thursday, The Guardian claimed that the mobile phones of at least two dozen Pakistani government officials were allegedly targeted earlier this year with technology owned by the Israeli spyware company NSO Group.
According to the report, scores of Pakistani senior defence and intelligence officials were among those who could have been compromised.
The PTA said it had asked WhatsApp to provide details of the remedial measures taken to prevent the occurrence of such hacking attempts in future.
"The public is advised to upgrade the WhatsApp application to latest version and keep the device operating system up to date in order to avoid such incidents. Affected individuals are requested to contact PTA at content-complaint@pta.gov.pk," it said in a statement released late on Friday.
Mobile phones of two dozen Pakistani officials reportedly targeted
In October, WhatsApp filed a lawsuit against the NSO Group for building and selling a hacking platform that exploited a flaw in WhatsApp-owned servers to help clients hack into the cellphones of at least 1,400 users between April 29 and May 10 this year.
The malware would allow NSO's clients — said to be governments and intelligence organisations — to secretly spy on a phone's owner.
"WhatsApp cares deeply about the privacy and security of our users. Once we discovered the spyware issue, we quickly added new protections to our systems and issued an update to WhatsApp to help keep people safe. I also want to reiterate the spyware relied on vulnerabilities within the operating systems that power our mobile phones," a company spokesperson told Dawn.
"We are committed to doing all we can," the official added.
When asked to specify details of the users targeted, neither Citizen Lab nor WhatsApp identified the targets by name. "We are declining to comment on additional countries at this time. We are focused on our litigation ahead and expect we will provide more information as the case proceeds," WhatsApp told Dawn.
Efforts by the govt
In a confidential letter issued by the federal Ministry of Information Technology in November, government officials were advised to not use WhatsApp for official correspondence.
The ministry also advised the government officials to discard all mobile phones purchased before May 10 this year.
Reports of the government working on developing an alternative to WhatsApp to be used for sensitive government data and other classified information also surfaced last month.
When asked if the communication system was being developed in response to the revelations, an official of the National IT Board told Dawn that the development of the project had no connection with the hack. The NITB also said they had no knowledge to confirm users were targeted in Pakistan.
"When it comes to whether or not the Pakistani government is taking this breach seriously, it seems as though it is. Although there was no public statement on the matter, a notice regarding use of WhatsApp was leaked on the internet. Hopefully protocols for digital safety are institutionalised and implemented," Nighat Dad of the Digital Rights Foundation said while speaking to Dawn.
https://www.dawn.com/news/1523497/whatsapp-told-to-share-details-of-targeted-users-of-israeli-hacking
------
Assertions in US-India joint statement rejected
December 21, 2019
ISLAMABAD: Pakistan on Friday took strong exception to the unwarranted references to Pakistan in the joint statement issued in Washington after the conclusion of US-India 2+2 Dialogue and rejected the assertions.
"The anti-Pakistan assertions made by Indian ministers of defence and external affairs during the joint press availability are equally reprehensible and we also take exception to the selective and one-sided nature of the joint statement," said the Foreign Office spokesperson in a statement issued here.
The grave humanitarian and human rights situation in India-held Jammu and Kashmir caused by India's unilateral and illegal measures of Aug 5, 2019 and its belligerent rhetoric and actions pose a serious threat to peace and security in South Asia, the statement said, adding that failing to take cognisance of this serious situation was tantamount to abdication of international responsibility.
The international community recognises Pakistan's efforts, sacrifices and successes in the fight against terrorism, it said, adding Pakistan believed India's state-terrorism in the occupied Valley and its threats to Pakistan imperil regional peace and security.
"Our concerns and rejection of the unwarranted reference to Pakistan in the US-India joint statement have been conveyed to the US side through diplomatic channels," the statement said.
https://www.dawn.com/news/1523480/assertions-in-us-india-joint-statement-rejected
------
India
'Death of two in police firing was planned murder': Muslim bodies on Mangaluru killings
21st December 2019
MANGALURU: Various Muslim bodies have termed the killing of two persons in police firing during the protests against the controversial Citizenship Amendment Act (CAA) in Mangaluru, as 'pre-planned murders' by the BJP government.
Addressing a joint press meet at Al-Ihsan masjid at Vas Lane, from where the bodies were shifted for burial after prayers, the representatives of Jamat-e-Islam, Highland Islamic Forum, SDPI, PFI and others opined that Thursday's situation did not warrant lathi-charge and 'golibaar' (firing) as the people who had gathered for protest were not more than 100.
Umar U H, president of Muslim Writers Forum, said the heavy deployment of police in the city on Thursday morning had led them to worry and their fears turned true as the day progressed. He accused police of unleashing violence on people in the name of restoring law and order and demanded a judicial enquiry.
Advocate and Popular Front of India member Ashrak K Adnad said that as per police manual, the cops should have first asked the protesters to disperse using a megaphone and then resorted to a mild lathi-charge.
Instead, he alleged that the police resorted to a full-fledged lathi-charge suddenly, targetting vital parts of the body. This sudden police excess made the youths to revolt.
Denying Police Commissioner P S Harsha's allegation that agitators attacked the Mangaluru North police station and even tried to kill cops, he said when no cop has suffered injury on vital body parts, how can it be an attempt to murder?
He said if the intention was to contain the riot, there would have been no deaths. Another religious leader Mohammed Kunhi said religious leaders during Friday prayers have appealed to people to maintain peace.
https://www.newindianexpress.com/states/karnataka/2019/dec/21/death-of-two-in-police-firing-was-planned-murder-muslim-bodies-on-mangaluru-killings-2079083.html
------
Delhi Gate violence: Police detain women, children at Darya Ganj station, lawyers not allowed in
December 20, 2019
Delhi Police has allegedly detained women and children in the aftermath of the violence which took place at Delhi gate in New Delhi.
According to several activists outside the police station, the cops have not allowed the parents of the detained children or lawyers to go inside the station, citing law and order situation.
A woman named Aamna was spotted looking for her son Akram.
Advocate and activist Dushyant, who is also at the Darya Ganj police station said that the police had stopped lawyers from entering Daryaganj police station and from finding out details of the detainees.
"Doctor confirms- 8 minors, aged about 14-15. Hands swollen. One with head i jury sent to LNJP hosp. Kids shivering. Cops promised blankets 1 hour back (sic), " the lawyer said in a later tweet.
Several protesters also alleged that several women and children had been injured during the lathicharge by the police.
The protests against the amended Citizenship Act turned violent in the evening as the protesters were on their way back from Jama Masjid. According to the police, the protesters were dispersing peacefully when a few reassembled near Delhi Gate.
"...suddenly some anti-social elements in the gathering started breaking the barricades and indulged in stone-pelting in a bid to march towards Jantar Mantar against the police advice. Police used water cannon and absolutely minimum force to push them back," the police claimed in an official statement.
"While the protesters were being pushed back, a private car parked at Subhash Marg, Darya Ganj was set ablaze. The police staff immediately doused the fire using water and handy fire extinguishers. Some police personnel including senior officers were injured in stone-pelting. Around 40 persons have been detained. Strict legal action will be taken against those who have been found involved in the violence and arson," the statement said.
https://www.indiatoday.in/india/story/delhi-gate-violence-protests-police-women-children-injured-detained-lawyers-doctors-1630209-2019-12-20
------
'Let them be in delusion': Asaduddin Owaisi slams Muslim clerics supporting Citizenship Act
21st December 2019
HYDERABAD: AIMIM chief Asaduddin Owaisi slammed Muslim clerics for making remarks in support of the new Citizenship Amendment Act (CAA). Owaisi said that they "didn't care" while the country was protesting against CAA and the proposed all-India National Register of Citizens (NRC). He also condemned the nationwide violence and emphasised the protesters to be peaceful.
Speaking to mediapersons, Owaisi said, "Let them talk. How does it matter? The country is going one way, all the students are protesting, people are dying and a student lost his eye. Everyone is frustrated with CAA and NRC and these people don't care. Let them (clerics) be in delusion."
His comments came as he convened a meeting of the United Muslim Action Committee on Friday where several Muslim organisations including Jamaat-e-Islami Hind and others were present.
At the meeting, which was called to discuss a strategy against the CAA and NRC, Owaisi said, "We have to oppose this Act strongly, but only after taking police permission and peacefully."
"As you know in Lucknow and Delhi, there was police brutality and violence; in Mangaluru, two Muslims died. If there is violence, then we will condemn and disassociate ourselves from it," he added.
He is also mulling over organising more protests against across Telangana. However, he again stressed on the protests to be peaceful.
His comments against clergy drew ire from Syed Ghayorul Hasan Rizvi, head of the National Commission for Minorities. He compared Owaisi to Muhammad Ali Jinnah.
https://www.newindianexpress.com/cities/hyderabad/2019/dec/21/let-them-be-in-delusion-asaduddin-owaisi-slams-muslim-clerics-supporting-citizenship-act-2078975.html
------
No need to live in fear, Maharashtra CM Uddhav Thackeray tells Muslims
Dec 21, 2019
CM Uddhav Thackeray said he has assured a delegation of Muslim leaders and Congress MLAs that no community needs to live in fear in Maharashtra.
"As far as the NRC or CAA is concerned, the state government is strong enough to protect the rights of every community," Thackeray said. Addressing newspersons at the Vidhan Bhavan, he said he has asked the community leaders not to fall prey to provocations and maintain peace.
Later, making a statement in the assembly, the CM said there was an atmosphere of fear and confusion in the entire country on the new law. "Public representatives need to make efforts to clear the confusion among the masses and ensure their safety. We must try to keep our state's reputation and tradition of being peaceful. I am making efforts to keep law and order situation under control for the last 2-3 days," he said. "The new law is already challenged in the Supreme Court which would decide if it is as per the Constitution. Unless, the judiciary decides, nothing would move further," Thackeray added.
https://timesofindia.indiatimes.com/city/nagpur/no-need-to-live-in-fear-cm-tells-muslims/articleshow/72910019.cms
------
Do not oppose NRC till it is imposed pan-India: Shia cleric
Dec 21, 2019
LUCKNOW: Shia cleric and Majlis-e-Ulama-e-Hind general secretary Maulana Kalbe Jawad on Friday urged the Shia community to exercise restraint and not oppose the National Register of Citizens (NRC) as it has been implemented only in Assam for now. However, the cleric said if NRC is implemented nationwide then Shias should resort to civil disobedience by refusing to provide any proof of citizenship.
Addressing Shia Muslims at Asafi Mosque in Bada Imambara before Friday prayers, Jawad, who is also Imam-E-Juma of Lucknow, said, "There is no need to take to streets and protest against the NRC act as it has been applied only in Assam. However, if it is imposed in the whole country, we should resort to civil disobedience and decline to give any proof or required documents to the government for proving that we are Indians."
Jawad in his 8-minute address said that more than 20 crore Muslims live in India and if all of them resort to civil disobedience, it will make a huge impact. "We will see how they (government) will take action against such a big population," he said.
Flaying Muslim politicians for being silent over police action on protesters in Lucknow, the cleric said, "A person got killed, more than 50 were arrested and scores of innocents were lathicharged but senior politicians like Azam Khan are silent," he said.
https://timesofindia.indiatimes.com/city/lucknow/do-not-oppose-nrc-till-it-is-imposed-pan-india-shia-cleric/articleshow/72910085.cms
------
Man in khaki goes to Bengaluru mosques to clear air on Citizenship Act
21st December 2019
By Ashwini M SripadExpress News Service
BENGALURU: When there is chaos, awareness is the best solution. With the Citizenship Amendment Act sparking nationwide furore, this police officer sought to clear the confusion about the law. On Friday, he chose two mosques for the purpose and his degree in law come in handy for him.
A motivational speaker at the core, Raghavendra, inspector at HSR Layout police station visited Agara and Aqsa mosques, where the appearance of the man in khaki aroused curiosity. Some 3000-4000 people who gathered for namaz were his audience.
His appeal to the gatherings was simple - don't get misled by fake news and cross-check facts before acting. He asked them to approach if they come across any messages that could create confusion or potentially harm harmony.
"Don't get misled. If you get any messages that harm communal harmony, cross-check them. You can come and ask me or call me. I will clarify. But do not take any action without confirming the news,'' the police officer who hails from Chikkamagaluru, said.
"Alert me about any (inflammatory) Whatsapp or FB posts. Don't fall prey to fake news,'' he added.
Raghavendra, who joined the police service in 2003 and worked in various police stations before being transferred to HSR Layout in January this year, told The New Indian Express that many people who seek permission for protests do not have knowledge on CAA.
So was the case with many he met elsewhere, the officer said.
He said he decided to meet a large number of people at one place and Friday namaz was the right time.
"There were questions like whether the Act will create problem for Muslims or if they should leave the country. There were also queries on they should get documents",' he said.
Raghavendra said he did take help from Deputy Commissioner of Police (South East) Isha Pant in his efforts to address the apprehension of people.
An LLB graduate, Raghavendra goes to schools and colleges in his jurisdiction and gives talk once or twice a week and motivates students to achieve.
Raghavendra recently visited a number of women's colleges to speak on the Suraksha App launched by Bengaluru City police.
He is a poet who wanted to become a journalist. But destiny brought him to the police department.
https://www.newindianexpress.com/cities/bengaluru/2019/dec/21/man-in-khaki-goes-to-bengaluru-mosques-to-clear-air-on-citizenship-act-2079048.html
------
Sanskrit inscriptional evidence for Muslims in 12th-century Bengal
December 20, 2019
Herewith, I would like to call your attention to a new article by Ryosuke Furui (Institute for Advanced Studies on Asia, The University of Tokyo) titled "Sujanagar Stone Inscription of the Time of Bhojavarman, Year 7" in Pratna Samiksha, A Journal of Archaeology (Centre for Archaeological Studies & Training, Eastern India, Kolkata), New Series, Volume 10 (2019), 115-122.
Abstract : The present article offers the edition of the Sujanagar stone inscription of the time of Bhojavarman, year 7, with notes and translation, and the discussion on its contents and implications. The inscription records the two acts of mahāsāmanta Avūdeva, a subordinate ruler of Bhojavarman, in relation to a religious institution called a vihāra protected by Allahabhaṭṭārakasvāmin, namely, the withdrawal of cash endowment and the donation of right to tax at a market. It is the sole inscription mentioning the activity of a subordinate ruler under the Varmans. The transactions recorded in it attests to the developed monetary economy based on cowrie-shells. The inscription can also be the earliest epigraphic evidence for the presence of Islam and Muslims in Bengal, with possible references to a subordinate ruler from Arab or Persian merchant family and his establishment of a madrasa, though we need more evidence to buttress this possibility.
VHM: I have a pdf of the article if anyone would like to read it.
This study is a good example of how history, archeology, and philology come together to enlarge our understanding of the past.
https://languagelog.ldc.upenn.edu/nll/?p=45484
------
Indian Muslims Chant 'Remove Modi' After Prayers at New Delhi Mosque
JOHN HAYWARD
20 Dec 2019
Thousands of Muslims chanted "Remove Modi!" after Friday prayers at New Delhi's Jama Masjid mosque, calling for the removal of Indian Prime Minister Narendra Modi over a citizenship law that makes immigration easier for non-Muslims.
Massive protests continued across India despite a police ban on such activities, leading to street battles that left six people dead and dozens injured.
Reuters reported the fatalities occurred in Uttar Pradesh, India's most crowded state and the scene of numerous confrontations between Hindus and Muslims. According to the chief of police, none of the deaths were caused by police firearms.
Police in New Delhi brought out a water cannon to disperse a crowd of 6,000 demonstrators blocking access to a major commercial area.
"A Reuters witness saw a smouldering car that had been torched outside the Daryaganj police station, and shoes strewn across a street as dozens of policemen in riot gear kept watch," the report added, without explaining that shoes were lying all over the place because angry Muslim demonstrators have a habit of throwing them at the police. Shoe-throwing is often employed as a means of expressing contempt in Islam.
The crowds threw stones at several other protest locations, and the police responded with tear gas. Violent incidents were reported across 13 districts by the police, including firebomb attacks on vehicles and protesters swinging sticks. Denunciations of police violence were added to criticism of the citizenship law at many demonstrations.
"The protests began last week at predominantly Muslim universities and communities, and have spread across the country and now include a broad section of the Indian public," the Associated Press noted on Friday.
That broad section of displeased Indians includes a substantial body of Hindu conservatives within Modi's BJP party, who are criticizing the new law from the other partisan direction: they fear extending easier access to citizenship to every group except Muslims will encourage a flood of non-Muslim immigrants into India, which is already having difficulty funding public services for its immense population.
Prime Minister Modi is not the only target of the demonstrators' fury. Heated criticism has also been directed against India's interior minister, Amit Shah, a prime mover behind the citizenship bill and the official who has most frequently linked it to the National Register of Citizens, which is India's effort to identify illegal immigrants.
Shah's tendency to connect the two initiatives has fueled concerns that the Citizenship Amendment Act will become an instrument to deport large numbers of Muslims currently living in India, an allegation Modi strenuously denies.
Shah's Home Ministry issued a new statement on Friday, insisting that no Indian citizen will be "unduly harassed or put to inconvenience" by intrusive demands for documentation. This is unlikely to placate Modi's critics, including foreign media, which is treating the citizenship law as a clear example of "bigotry" and "Islamophobia."
https://www.breitbart.com/national-security/2019/12/20/indian-muslims-chant-remove-modi-after-prayers-new-delhi-mosque/
------
Friday prayers at Srinagar mosque after 19 weeks
Dec 21, 2019
After 19 Fridays, the historic Jamia Masjid hosted Friday prayers on December 20, and hundreds of people from various parts of the city turned up to attend. Hurriyat chairman Mirwaiz Umar Farooq, who has been under house arrest since August 5, was not allowed to pray at the mosque.
Jamia Masjid or the Grand Mosque is one of the biggest mosques in Kashmir; Friday sermons delivered by the Mirwaiz- e –Kashmir hold major political significance in Kashmir. Before August 5, the current Mirwaiz, also the head of the separatist group Hurriyat used to deliver weekly sermons from the pulpit of the mosque. Strict restrictions on movement and communication were imposed across Kashmir on August 5; on August 5 and 6, parliament passed laws and resolutions bifurcating the erstwhile state of Jammu & Kashmir into two union territories, and scrapping constitutional provisions that gave the region special status and its residents special privileges.
On Friday, police and CRPF men in combat gear were deployed along routes to the mosque, although there was little evidence of them in the main square. Senior police officials in three bullet proof vehicles kept a close watch on the people entering. Some shopkeepers downed shutters to observe prayers inside the mosque. After 19 weeks, the mosque's public address system reverberated with the calls for prayer.
"After 19 Fridays we are offering prayers in the historic mosque,'' said Abdul Majid, a shopkeeper in the courtyard of mosque. "It's unfortunate that even after 19 Fridays, Mirwaiz Umar Farooq wasn't released for the prayers. How long will the government suppress our leadership and people?''
Jan Mohammad of Nowhatta said whenever something happens in Kashmir, Jamia Masjid is closed for prayers. "This hurts our religious sentiments. I am happy that I am again able to hear the call for prayers from the mosque now. The government shouldn't close our mosques, especially Jamia Masjid.''
At the mosque's entrance, four volunteers wearing pherans (long Kashmiri tunics) were frisking people thoroughly before allowing them inside. "Instead of Mirwaiz, the head priest will be delivering the Friday sermon,'' said one of the volunteers.
In his Friday sermon, chief cleric, Ahmad Sayeed Naqashbandi condemned the government for not allowing prayers in the mosque since August 5 and sought the release of all those held since. "We urge the government to release Mirwaiz Umar Farooq and other people detained in Kashmir for the past several months.''
On Wednesday, for the first time after 135 days, prayers were held in the grand mosque.
On Tuesday, Anjuman-e-Auqaf, the body managing the mosque held a meeting after security forces were removed from the gates and decided to restart prayers. The management said on Friday that prayers, especially Friday ones, will now be regular.
Local police officers claim that they removed restrictions around the Jamia Masjid on November 22 itself, but that people (and the management of the mosque) refused to hold prayers till the security forces deployed around the mosque were removed.
The cold weather and the fact that the mosque was hosting Friday prayers after 19 weeks meant that only a few hundred people, including many women, turned up.
https://www.hindustantimes.com/india-news/friday-prayers-at-srinagar-mosque-after-19-weeks/story-PCwR3CTLvCrjGBlYadgk2J.html
------
Nitish Kumar says won't implement NRC in Bihar, Muslims not "ready" to trust him
Manoj Chaurasia
December 20, 2019
Amid raging flames of nation-wide protests over the contentious Citizenship (Amendment) Act (CAA) and the National Register for Citizens (NRC), Bihar chief minister Nitish Kumar on Friday declared not to implement the NRC in the state. The move is being described as an attempt to calm down the growing anger of the Muslim community in the state who has been on the streets against the centre's move.
"Kahe ka NRC? Kyon lagu hoga NRC (Why the NRC will be implemented in Bihar)?" shot back Nitish when asked by newsmen for his comment on Centre's plan to roll out the NRC. Barely a day back, the chief minister had asked Muslims not to worry, saying he holds the "guarantee" for their protection and support. "There is nothing to worry for minority community people till I am in power. I guarantee all protection and support to them," the chief minister said in a function in Gaya on Thursday.
Stating that Muslim's interests won't be compromised, the chief minister accused the Opposition parties of "spreading rumour" and "misleading" Muslims. He cautioned Muslims against such "tactics" of the opposition and claimed his government had been constantly working for the welfare of the community.
The move assumes much significance with the JD-U, which the chief minister heads, getting vertically split over the issue of supporting the CAB in the Parliament. A section of top party leaders such as Prashant Kishor, vice-president, Pawan Kumar Varma, national general secretary, and three party legislators have been quite vocal over the issue and openly opposing JD-U's move in the public much to the embarrassment of the chief minister.
Strangely, JD-U strongly supported the CAB in the Parliament after initially opposing the Bill. Prior to that, JD-U had done a U-turn on Triple Talaq and Article 370 as well. So, the Muslims hardly look amused by the chief minister's announcement of not implementing the NRC in Bihar and rather view Nitish with suspicion.
"Who will believe the man who is known for taking U-turns at the drops of a hat? He has a history of eating his own words and supporting the BJP," said HR Ahmed, a resident of Gaya.
"Nitish Kumar had also announced that "Mitti mein mil jayenge lekin BJP se haath nahin milayenge (I will rather get reduced to ashes rather shaking hands with the BJP)", described BJP as "Bharat Jalao Party" and promised to make "RSS-mukt" Bharat. Just everyone is aware of what happened to his tall promises. Does anyone believe this leader?" asked Afroz Alam, a resident of Patna.
https://www.thestatesman.com/india/nitish-kumar-says-wont-implement-nrc-bihar-muslims-not-ready-trust-1502835645.html
------
Aligarh Muslim University students in hospital say police were 'merciless'
20th December 2019
ALIGARH: Days after the violence at Aligarh Muslim University over the amended citizenship law, four students remain admitted at the Jawaharlal Nehru Hospital's trauma centre on the campus, one of them with his hand amputated, a doctor said.
"I do not wish to say anything beyond the fact that I have lost my hand," Mohammad Tariq, a PhD student, whose is being treated at the trauma centre told PTI.
Others alleged that the police had cracked down brutally on AMU students protesting peacefully against the Citizenship Amendment Bill.
The police, however, said they faced stone-pelting by unruly protesters and had to resort to lathi-charge and tear gas to contain them.
AMU Vice Chancellor Tariq Mansoor has said he called the police into the campus after 'an angry mob of thousands' collected inside.
The mob posed an 'imminent danger' to the lives of the students and university property of the university," he said in an open letter after Sunday's violence.
But he has also complained of 'excesses' by police.
Still admitted at the trauma centre, undergraduate Mohammad Tazeen, 19, alleged that he and several others faced a 'merciless attack' by police.
He said he was dragged out of the AMU guest house number 3, thrashed there and again at the Malkhan Singh Hospital, "where nearly 20 of us were taken in police vans supposedly for treatment".
He said he was part of a group of students peacefully holding a protest on Sunday night inside the campus near the Bab-e-Syed Gate, in solidarity with students at Delhi's Jamia Millia University.
He said the students took refuge in the guest house when the police lobbed 'stun grenades' and tear gas shells.
They chased after the students and dragged him and four other students out, Tazeen told PTI.
The students were allegedly thrashed by policemen at the Malkhan Singh Hospital.
They were refused water and policemen said they were 'anti-nationals' should be sent to Pakistan, he alleged.
Next morning, a senior doctor arrived at Malkhan Singh Hospital, plastered his hands and referred him and the others to the Jawaharlal Nehru Medical College hospital, despite objections by policemen.
Most of the students sent there were discharged after immediate treatment.
Dr Ehtisham, Chief Medical Officer at the JN Hospital's trauma centre, said four students are still undergoing treatment there.
AMU Vice Chancellor Tariq Mansoor, who recently visited the hospital, said, "We are following up all the cases of serious injury."
He said Tariq, whose hands were amputated, will get the best possible treatment anywhere in the country, or even abroad, to ensure that he is able to lead a normal life.
"Reports of police excesses have reached me and we will ensure that all such complaints are investigated by competent authorities," he said.
The AMU students were protesting against the law that grants Indian Citizenship Hindus, Sikhs, Buddhists, Christians and Jains who entered the country before 2015 after facing religious persecution in three neighbouring countries.
Muslims are excluded from this list.
https://www.newindianexpress.com/nation/2019/dec/20/aligarh-muslim-university-students-in-hospital-say-police-were-merciless-2078837.html
------
South Asia
Afghanistan's Saffron ranked first in the world for eight consecutive year
Saturday, 21 Dec 2019
Afghan Saffron products have been ranked first in terms of 'quality' by an international instituted based in Brussels, Afghanistan's Saffron Union reported.
"We have fortunately done a lot of good work for the Saffron cultivation growth and quality improvement", Bashir Ahmad the head of Afghanistan's Saffron Union said.
Founded in 2003, the International Taste and Quality Institute has been testing and recognizing different food products globally.
According to the data from the Ministry of Agriculture and Irrigation, Afghanistan produces 6.3% of the world's Saffron.
The 'quality' of our 2019 products tested through our local labs, shoed to be 'above' the international standards according which we have produced the best Saffron of the world, Akbar Rustami, a spokesperson for the Ministry of Agriculture and Irrigation has said.
Afghan Saffron costs around $1,500 per kg in the international market and is exported to Europe, United States, and Gulf countries, carrying the ISO Certification mark.
This comes as in the recent years, the 'Saffron cultivation' has been an attractive 'substitute' for the 'opium' cultivation and processing in the country.
https://www.khaama.com/afghanistans-saffron-ranked-first-in-the-world-for-eight-consecutive-year-2019/
------
21 Taliban killed in Laghman, Baghlan incidents
ByRaz Muhammad
Dec 20, 2019
JALALABAD (Pajhwok): Twenty-one Taliban have been killed in security forces operations in eastern Laghman and northern Baghlan provinces, a statement and official said on Friday.
Eleven Taliban were killed and their training centres and facilities were destroyed in security forces ground offensive and airstrike in the Zango locality of Qarghaio district of Laghman, a statement from 02 Special Forces Unit of the National Directorate of Security (NDS) said.
The statement said that militants trained suicide bombers, made mines and motor bombs in the facility and detonated them in Nangarhar and Laghman provinces.
Elswhere, ten Taliban were killed in separate incidents in Baghlan province, Maj. Abdul Hadi Jamal, spokesperson for Pamir Military Corp said.
Six Taliban were killed when an explosive-laden vehicle detonated on the Taliban in the Dand-i-Ghori locality. Insurgent wanted to shift the vehicle to unknown location.
Four more Taliban were killed in their own mine explosion. Baghlan Police Spokesperson Ahmad Basharat said.
The Taliban have not spoken about the incident.
https://www.pajhwok.com/en/2019/12/20/21-taliban-killed-laghman-baghlan-incidents
------
9 of a family killed in Kandahar accident
ByAhmad Bashir Naadem
Dec 20, 2019
KANDAHAR CITY (Pajhwok): Nine people, including women and children, were killed when a car they were traveling in plunged into a canal in the Arghandab district of southern Kandahar province, an official said on Friday.
Governor Spokesperson Baheer Ahmad told Pajhwok Afghan News a Saracha type car was on its way from the Wayan locality of Shah Wali Kot district when plunged into a canal in the Khawaja Malak locality of Arghandab district.
He said four women, as many children and a man were killed in the accident which took place on Thursday night.
Ahmadi said the driver lost the direction of the road and the vehicle plunged into the canal.
He said the dead are from one family whos bodies had been taken out of water on Friday morning.
https://www.pajhwok.com/en/2019/12/20/9-family-killed-kandahar-accident
------
Rohingya genocide: The Gambia's fight for humanity
December 21, 2019
Hasan Al-Mahmud
When almost all the countries are silent about Myanmar's genocide in its Rakhine state and the Rohingya crisis in Bangladesh, a western African country, The Gambia, has raised its voice boldly. Recently, The Gambia has taken Myanmar to the international court for the first time since the Rohingya genocide started a few years ago, and the Nobel laureate Aung San Suu Kyi has been called upon to respond to this allegation as the representative of the country. Here is how and why The Gambia did this.
The Gambia is the smallest country in Africa, but it has a significant influence on the politics of West African nations. Also, it actively participates in solving Islamic issues around the world. The Civil War of Liberia and Sierra Leone (1991–2002) was also minimised through the active involvement of The Gambia. Now, Gambia's Attorney General and Minister for Justice Abubakar Tambadou has filed a case at the Hague in the Netherlands and has been playing a pivotal role in trying to convict Myanmar for crimes against Rohingya that occurred in its Rakhine state. Tambadou has the experience of dealing with the dictatorship that lasted 22 years in his country; he has also worked on the genocide of Rwanda in the UN court, which indicates that he is a suitable person to bring this issue on stage.
A research titled, "Forced migration of Rohingya: the untold experience", published by Ontario International Development Agency, Canada on July 18, 2018, has estimated in January 2018 that during the genocide, the military and the local Rakhine Buddhists killed at least 24,000 Rohingya people; gang rapes and other forms of sexual violence were used against 18,000 Rohingya Muslim women and girls. 116,000 Rohingya were beaten up, and 36,000 Rohingya were thrown into fire. According to the UN reports of September 2018, over 700,000 Rohingya people, although according to the local NGOs the figure is almost 1,200,000, had fled or had been driven out of Rakhine state. Later, they took shelter in neighbouring Bangladesh as refugees.
Myanmar has been accused by various United Nations agencies, International Criminal Court officials, human rights groups, journalists, and governments, including the United States. CBS News (February 1, 2018), Los Angeles Times (March 13, 2018), CNN (March 12, 2018), Amnesty International (December 11, 2017), Guardian (April 10, 2018), and so on have reported that what the Myanmar military did is a text book example of ethnic cleansing and genocide.
The United Nations Office for the Coordination of Humanitarian Affairs published a report titled, "Rohingya Refugee Crisis" (September 21, 2017) where they mentioned that the UN had found evidence of wide-scale human rights violations, including extrajudicial killings; gang rapes; arson of Rohingya villages, businesses, and schools; and infanticides. Surprisingly, the Myanmar government dismissed all these accusations saying it "exaggerations" as Al Jazeera reported in the report titled, "Government dismisses claims of abuse against Rohingya" (August 6, 2017).
In these circumstances, Abubakar Tambadou came forward and said in the court, "the lives of the Rohingya in that country (Myanmar) are in danger." He believes that The Gambia may not be a neighbour of Bangladesh and Myanmar, but as a signatory of the Genocide Convention, they have a responsibility to stop and prevent genocide. From the beginning, The Gambia has been asking for support from the OIC (Islamic Organisation of Cooperation), and finally, as a sovereign country, The Gambia alone appealed. On the first day of the hearing, Tuesday (December 10, 2019), they appealed to the court to take interim action to stop the genocide. The next day, Myanmar's top civilian leader and peacemaker Noble laureate Aung San Suu Kyi denied genocide having been perpetrated.
In addition to the country's law minister, three other legal experts from The Gambia disputed Myanmar's claims and made statements on Thursday. Their main point was that Myanmar did not deny injustice to the Rohingya; also, the assertion that genocide was not the motive for all those actions taken by the Myanmar army is misleading and disregard international law.
The Gambia's lawyer Paul Reicher first spoke on behalf of the country during a third day hearing before a panel of judges headed by the ICJ President Abdul Quai Ahmed Yusuf. He repeatedly demanded a speedy interim action against the Myanmar army until the trial was completed. Myanmar denies the motive for genocide in the brutal atrocities committed against the Rohingya. Myanmar's lawyer, Professor Sabas, spoke of seven indicators to prove the motive for the genocide. The seven indicators are in Gambia's petition, and Myanmar has not denied them.
Observing Suu Kyi's speech, Paul Reicher made a vital observation—he mentioned that the court must have noticed that Suu Kyi did not use the word "Rohingya" in the court. She described them as Muslims, except when she was talking about the separatist mirror groups. From this, it is easily understood just how hateful and destructive the country's attitude is towards them.
The Atlantic, an American magazine, asks about Suu Kyi's moral degradation through a headline, "What happened to Aung Sun Suu Kyi?" They wrote their sub-headline, "A human-rights icon's fall from grace in Myanmar," where they mentioned that Suu Kyi had not done anything practical to stop the killings in the Rakhine state. Her seemingly callous indifference has felt like a betrayal to many outsiders. How can Suu Kyi, an avatar of human rights for so many years, stand by while her government violently tramples them?
When the situation was not in favour of Myanmar, its lawyer Sabas had to agree that crimes against humanity may have taken place in Myanmar, but according to him, it was "not genocide." Myanmar was involved in the crimes, which was proved by another defensive statement by Myanmar's lawyer Stoker: The Gambia has no right to sue Myanmar even if a crime has occurred. In the reply, The Gambia tabled their logic on how they do indeed have the right to talk about this.
The hearing was finished by the last speaker Aung San Suu Kyi, who assured, showing a photo of a football field, that they do not want anything like inter-caste conflict to resume. After Suu Kyi's speech, the president of the court, Yusuf, said that the court is going to inform the update to both parties as soon as possible. The hearing ended with his announcement. In this battle of words, Myanmar was defensive while The Gambia was strong with the complaints and their logic.
Apart from the debate, what The Gambia has done in favour of landless Rohingyas is a remarkable example of practicing humanity. Somehow, The Gambia has fought for Bangladesh as well, as the country is facing many challenges in terms of environment, food, and national security in hosting the Rohingya refugees. Therefore, The Gambia deserves thanks from the people of Bangladesh for standing with them in their time of need.
Hasan Al-Mahmud was a Fulbright Teaching Excellence and Achievement (TEA) Fellow, Montana State University, USA. He writes on contemporary issues, education, and literature.
https://www.thedailystar.net/opinion/perspective/news/rohingya-genocide-the-gambias-fight-humanity-1842994
------
In 2K20, let us resolve to be a little different
December 21, 2019
Nizamuddin Ahmed
As we draw closer to pulling the curtain on 2019, it is an opportune moment for self-analysing ourselves.
We are mostly a nation of all-knowing, bragging, complaining, doubting, egoistic, fanatical, gossiping, hot-headed, insensitive, jealous, keepta, lying, meddling, nosy, oily, petty, quarrelling, romantic, selfish, turncoat, ungrateful, vainglorious, wasteful, xenophobic, yielding, and zzzz... people.
Thankfully, the alphabet is only that much longer, otherwise there would have been more illustrations of our illustrious character. Don't try this in Khmer (Cambodian) language. They have 33 consonants, 23 vowels and 12 independent vowels.
Tune in to talk-show TV channels for a week to meet our "all-knowing" intellectuals, whose expertise range from onions to beauty queens. Sometimes appearing in two slots in one evening, they juggle with Angela Merkel's Brexit and Suu Kyi's impeachment.
They are also regular "braggers", sending text messages about coming on television, lest you are deprived of their punditry. I wonder if Donald Trump would stoop so low.
We thrive on "complaining", for instance, about foul odour in the neighbourhood after dumping last week's food garbage on the side opposite our front door.
Someone else's success is incinerating, but more so a "doubtful" attainment, achieved surely by means other than talent, effort and dedication.
We live on this side of "ego land". I do not talk to cows. I slaughter the biggest cows. I eat only huge cows. I am the biggest...
"Fanaticism" is best portrayed by those changing allegiance, which is okay the first time as an act of rectification, but seasonal swaying to political winds is an aspersion on one's rectitude.
"Gossip" here travels faster than the ghatak deserting a disastrous union. We are more often interested in breakups. Tiffs among siblings, and loud exchanges between partners are our food for thought, and sleepless nights.
Heated up, we bang the table. "Hotter" still, we leave a party. Totally red, we will become violent. All of that because someone made a derogatory statement about a loved one—a singer perhaps, a foreign actor or the local Ward Commissioner.
Some of our more "insensitive" journalists are laughable for popping up the koti-Taka question in the most awkward of situations, such as to the wife of a badly-injured husband, "What is your onubhuti?"
It is human nature to be "jealous" for a whole range of reasons, but our hypocritical charm allow us to be grudging of even those who we manage to congratulate after their achievements.
Being stingy, read keepta, has nothing to do with poverty, for some of the poorest have hearts as big as the ocean. It is about not sharing even when one owns a bank.
As if we did not have this trait before, but the mobile phone has enabled us to practice the vice of "lying" in 4G. Being in Shahbagh, we claim we are at Mohakhali. "Having dinner at Radisson Blue" maybe another way of saying "we are home alone".
"Meddling" and "nosy" are two sides of the same coin, causing similar discomfort. However, meddlers actively participate in matters that don't concern them, whereas the nosy ones live to smell the crap.
Among the "oiliest" Homo sapiens are the hobu Jamai trying to win over the prospective Amma-in-law. From the perspective of being voluntarily greased, our bureaucrats are clear winners. They all have a towel on the back of their chair.
He was invited to the wedding by an SMS or an email, but some of his friends were also called by phone. Promptly, mountains were made out of "petty" hills.
Resistance to illogical demand can lead to conflicts, as can envy. The scope to "quarrel" is endless, enthusiasm boundless.
Our "romantic" commentators can pen a poem to celebrate a lone goal against seven consumed by Bangladesh. Losing by eight wickets has also brought out the bard in us for a batsman just reaching double figures.
Children, even young students, would die before betraying their friends. Yet, "selfishness" breeds exponentially with age. Riding on self-interest, adults do not hesitate to become "turncoats".
Fanciful migrating children, who should be building their own country after completing their education abroad, and those who dump their parents in briddha asram could be equally branded "ungrateful".
We are a unique people who can boast even in defeat. A "vainglorious" politician can be heard saying, "I lost because only the people of my high intellectual level voted for me".
Keeping the tap running, the lights on, piling food that we do not care to finish or cannot, endlessly providing unsolicited advice, are all "wasteful" acts.
While singing songs of equality, tolerance and praise for mankind, the "xenophobia" in us comes to light when we mock a foreigner in Bangla in his presence. And, most embarrassingly, some of them understand the slang, but not our attitude.
A people, as unyielding as in 1971, soon had some from their kind painting the Pakistan flag on their cheek at a cricket stadium. We also "yielded" at the recent BBPL opening with Indian artistes shaming our culture, unless we have collectively embraced, "Sheela ki jawani…"
Zzzz ... Sleeping with our eyes open is a common malady. Any matter remotely uncomfortable, or something that may benefit others at the cost of my time... it's sleeping time.
Those who are exceptions to the above, please raise your hands. There you are, 160×2 million hands have been raised. Children and babies were assisted by their elders.
https://www.thedailystar.net/opinion/chintito-1995/news/2k20-let-us-resolve-be-little-different-1842997
------
Southeast Asia
Dr M: Critics' fears misplaced, KL Summit didn't undermine any Muslim nation
Saturday, 21 Dec 2019
BY SYED JAYMAL ZAHIID
KUALA LUMPUR, Dec 21 ― Fears that the inaugural Kuala Lumpur Summit mooted by Malaysia would divide the Muslim world have been disproven, its architect Tun Dr Mahathir Mohamad asserted today at the end of the four-day affair.
The Malaysian prime minister who is also chairman of the KL Summit 2019 chairman said it should be obvious to critics that the gathering of Muslim world leaders here is not meant as a slight to any other similar platform.
"Admittedly, some had misunderstood our intentions, intentionally or otherwise, some had felt slighted while a few were suspicious," Dr Mahathir said in his closing remark.
"By now, I am sure it is obvious that the negative opinions were misplaced and not justified.
"We are not here to replace any other Muslim platforms, neither are we intending to create different categories or classes of Muslim nations nor to undermine others," he added.
Saudi Arabia has criticised the KL Summit as divisive, and insisted that any initiative involving Islam should have gone through the Organisation of Islamic Countries (OIC), headquartered in Jeddah.
The attack followed the oil-rich kingdom's snub of Malaysia's invitation to the gathering. Three of its rivals ― Iran, Turkey, and Qatar ― had attended the four-day meeting.
Putrajaya denied the summit is intended to rival the OIC.
In his concluding remark, Dr Mahathir defended the summit as a congregation to look into areas for possible collaborations.
"To establish collaborations that will first benefit the nations involved and then taken onto a bigger platform and collaboration to benefit the Muslim world as a whole," he said.
The summit was born from discussions with leaders from Turkey, Iran and Qatar, who the Malaysian prime minister said saw the need for a multilateral pact to address "problems confronting the ummah".
This included ways to elevate the status of Muslims. Dr Mahathir said espite forming a quarter of the global population, most remain poor and under-developed.
"We share the sentiments that for these efforts to work we need to keep the initial group small," the prime minister said in his closing remark.
"So that we can pursue the objectives immediately without having to be distracted by too many opinions and conditions."
To date, 18 successful exchange of instruments were signed in the course of four days, Dr Mahathir added.
Areas of collaboration included advanced hi-technology; media collaboration; centre of excellence; food security and youth leadership and exchange programmes.
"There are several more in the pipeline which are being worked out resulting from discussions during this summit," Dr Mahathir said.
https://www.malaymail.com/news/malaysia/2019/12/21/dr-m-critics-fears-misplaced-kl-summit-didnt-undermine-any-muslim-nation/1821226
------
Yoursay: Najib should plead innocence in court, not the mosque
YOURSAY | 'If 'sumpah laknat' can prove that a person is innocent, then why do we need judges?'
Love Malaysia: If former prime minister Najib Abdul Razak is a man of faith who truly believed in Allah SWT, he would have rejected the allegedly unknown money (RM42 million) that went into his personal bank account or at least he should have transferred them to the Treasury and declared it to the cabinet.
But he spent the money and fired the cabinet members who questioned him.
A man of true faith in Allah shall not do the sumpah laknat but instead just leave it to Allah and pray for Allah to show the truth.
If he really believes in the afterlife, then there is nothing for him to worry about and Allah shall deal with those who have committed sin accordingly.
Rasullallah SAW had faced various slandering. Did he ever once do a sumpah laknat to prove that he was innocent? Instead, Rasullallah was patient and prayed to Allah so that the slanderers be guided to repent.
Najib, you are just abusing the religion to escape worldly punishment and you forget that awaiting you is a bigger punishment in the next world.
Dizzer: Wow, he did it in full fanfare. I've completely changed my opinion and now believe that Najib is innocent of everything, that he is a fine, upstanding, god-fearing, paragon of honesty and virtue.
How could anyone ever think otherwise?
Anonymous 0123456789: "And if I am speaking the truth, may Allah curse those who have slandered me and refuse to repent here and in the hereafter," said Najib.
Let us see if Najib is cursed by Allah by his sumpah laknat if he lied... or are we going to see those who had slandered him being cursed by Allah instead?
The truth will prevail. Don't play-play with sumpah laknat.
Anonymous_1371640465: Najib is making a mockery of the religion and himself. These things should be addressed in courts.
If such religious oaths are accepted, please take all prisoners to their respective places of worship to do the same reason and shut down our courts.
Open Mind: Indeed, if conducting a sumpah laknat can prove that a person is innocent, then why do we need judges and lawyers?
Basically, there will be no rule of law in this country. If people who accept gratifications or kill another person can just do a sumpah, then there will be chaos.
This is making a mockery of the religion.
Honma: If the accused is as clean as a piece of white paper, he should make a statutory declaration (SD) of rebuttal and most importantly, make a police report against convicted murderer Azilah Hadri and sue him instead of going to the mosque to swear.
Swearing is an act of cowardice to fool the people. We have read literature in schools about the serpent deceiving God.
We want to know the truth and nothing but the truth. So, let the court decides and no amount of swearing can clear an accused of his or her guilt. Period.
FlabberPro: Can this sumpah laknat be used in the mortal court of law? If not, then this is just a drama to gain sympathy from the rural folks.
If every murderer and thieves perform a sumpah laknat, then we may as well discard our legal and prison system.
Some people even lie under oath. With your compromised credibility, Najib, it is wiser if you just keep quiet and let the law prove you right instead.
Godfearing: Absolutely pathetic! Najib is making a fool of himself and making our country a laughing stock.
Worse, he is tarnishing the sanctity of the religion. There is no need for a sumpah. Who is he trying to convince? God Almighty? Isn't He All-Knowing?
This man is cheating no one except himself.
Odysseus: Najib, the problem is in this country, many are not Muslims and what you did doesn't resonate with them.
We have our constitution and laws which, we, as citizens of this country, have to abide to. In other words, you need to stand trial to let the judges determine if you should be punished or not.
If you get punished, then God will proceed to do the subsequent parts in line with your religion and belief. Meanwhile, please look for a lawyer to help you.
Hang Babeuf: This performance of sumpah laknat method is no more compelling morally than a statutory declaration.
And legally it is less so. Azilah's SD trumps Najib's sumpah, for many of us anyway.
Don't Just Talk: So with Najib taking the sumpah laknat, someone else must have ordered Azilah to kill the late Mongolian Altantuya because there was no logical reason for Azilah to do it.
Altantuya was a total stranger to him. After murdering Altantuya, why was there a need to blow up Altantuya's body unless she was pregnant with Najib's or Razak Baginda's child as alleged and the father could easily be known with a DNA test?
Anonymous_1548930241247.981548929973205: Najib, please answer a question, just one question. What's the motive for two the UTK (Special Actions Unit) commandos to kill Altantuya?
Apanakdikato: I am not sure why many Muslims like to resort to sumpah laknat and other forms of sumpah. To tell Allah that "if I am not telling the truth then condemn me to death" is actually an insult to Him.
Does Allah need a human being to tell Him what to do? Allah is the Almighty and He is Sovereign. He certainly does not need any "standing orders" from any of His creations.
Muslims should refrain from such practices because they belittle their religion and faith.
Vgeorgemy: The majority of us trust that the loss of BN in GE14 is the result of God's curse on Najib's previous oath-taking concerning Altantuya's murder case.
God's curse further resulted in continuous attendance of his current course cases. The accused's ongoing oath-taking publicity is to cover up God's curse on his earlier untruthful oath-taking.
The above is a selection of comments posted by Malaysiakini subscribers. Only paying subscribers can post comments. Over the past one year, Malaysiakinians have posted over 100,000 comments. Join the Malaysiakini community and help set the news agenda. Subscribe now.
These comments are compiled to reflect the views of Malaysiakini subscribers on matters of public interest. Malaysiakini does not intend to represent these views as fact.
https://www.malaysiakini.com/news/504431
------
Why Muslims' challenges bigger than molehill
By Mustafa K Anuar
21 Dec 2019
The faithful should address bigger things like climate change, environmental degradation and corruption instead of being obsessed with trivial issues, writes Mustafa K Anuar.
In this contemporary world of ours, challenges of various complexities require our attention and action as they have serious implications in politics, economics, the environment, cultural diversity, human relationships and, above all, our survival as a species on Earth.
It is against this backdrop that Amanah president Mohamad Sabu's criticism becomes fitting and desirable: he lashed out at Muslims who are easily consumed by all things trivial such as the brouhaha about the return of Communist Party of Malaya leader Chin Peng's ashes to his homeland.
In his speech at Amanah's fourth national convention recently, he rightly pointed out that there are bigger things that Muslims need to address, such as climate change, which affects everyone.
Incidentally, the Indonesian Ulema Council, for example, has already delved into the issue of climate change, taking cognisance of the fact that Islam regards humans, including Muslims, as a collective steward or khalifa of the earth, who should be sensitive to and concerned about ecological sustainability.
Mohamad was equally right in reprimanding local religious leaders who seemed to be unperturbed about massive corruption, which is a serious social disease that has occurred in our midst. It should have been repulsive enough to prompt the religious collective to say or do something, especially when such corrupt practices involved Muslims themselves. Keeping mum about such misdeeds can – horror of horrors – imply acquiescence.
Race – which has become an integral part of the playbook of certain ethnic-based political parties and civil society organisations – is a factor that has developed into a manic obsession among Malaysians, including Malay-Muslims, to the extent of drowning out other issues or concerns much more worthy of our collective attention.
While we can take pride in our ethnicity and assume a rightful sense of belonging, it should not, however, engulf us to the point of harbouring ethnocentrism and, worse, racial bigotry that is destructive to ethnic relations and national harmony.
Those who are quick to express utter contempt for ethnic communities other than theirs should remember that being part of a particular ethnic community is not by choice but is divinely ordained, if you like. You are what you are by accident of birth and thus, being a member of the human race shouldn't be frowned upon.
It should be a bigger challenge for Muslims and non-Muslims alike to accept and even celebrate the ethnic and cultural diversity that exists in our society.
There are other challenges that deserve the attention and concern of particularly Muslims in the country: environmental degradation, dumping of toxic wastes, social injustice, economic disparities and violations of minority rights, among others. Taking up causes such as these would help enhance the public image of the Muslim community; it would also give them the opportunity to play a vital role in making a meaningful difference in society.
To take a simple example, one can imagine the significant impact on youth and the larger society if vigilante groups, such as the self-styled moral police Badar squad were to volunteer to monitor toxic waste dumping in Sungai Petani, instead of passionately spying on young people said to be sexually promiscuous. Reformed Badar members could serve as a role model for young people to fill their spare time by contributing usefully to society.
In the larger scheme of things, the concerns for such bigger issues by Muslims would go a long way towards reducing and challenging Islamophobia.
Source: themalaysianinsight.com
https://aliran.com/web-specials/why-muslims-challenges-bigger-than-molehill/
------
Malaysian PM Mahathir 'sorry to see' India depriving Muslims of citizenship: Reports
21 Dec 2019
KUALA LUMPUR: Prime Minister Mahathir Mohamad on Friday (Dec 20) questioned the need for a citizenship law in India that is seen as discriminatory against Muslims, Malaysian media reported.
"I am sorry to see that India, which claims to be a secular state, is now taking action to deprive some Muslims of their citizenship," Dr Mahathir was cited as saying in The Star.
Speaking on the sidelines of Kuala Lumpur Summit 2019, he said that "already people are dying because of this law" and questioned the need for the legislation.
"All this while, for 70 years almost, they have lived together as citizens without any problems," said Dr Mahathir.
Under the new law, religious minorities such as Hindus and Christians in neighbouring Bangladesh, Pakistan and Afghanistan who had settled in India prior to 2015 will have a path to Indian citizenship on grounds they face persecution in those countries.
Critics say the law, which does not make the same provision for Muslims, weakens India's secular foundations.
Opponents see the law as the latest step by Prime Minister Narendra Modi's government to marginalise Muslims, who make up 14 per cent of India's population.
"If we do that here, you know what will happen. There will be chaos, there will be instability and everyone will suffer," added Dr Mahathir.
He also said that Malaysia has accepted immigrants from India and China "even when they don't qualify", adding that "they are all in the government", reported the Malay Mail.
Fourteen people have died as of Friday in more than a week of clashes between Indian police and demonstrators.
The authorities have shut down the Internet in parts of northern India and imposed a curfew in a southern city.
https://www.channelnewsasia.com/news/asia/malaysia-mahathir-india-citizenship-law-muslims-12201508
------
China deletes Mesut Ozil from computer games over Uighur Muslims tweet
By Johannes Pleschberger & Luke Hurst
20/12/2019
Arsenal star Mesut Ozil has been deleted from Chinese computer games in an apparent response to his social media posts criticising the persecution of Uighur Muslims in China.
The publisher of the PES franchise in China, NetEase, said the German had "posted an extreme statement about China on social media" which "hurt the feelings of Chinese fans and violated the sport's spirit of love and peace".
It confirmed Ozil, who is a German Muslim of Turkish origin, had been removed from three games: Pro Evolution Soccer, Pro Evolution: Kings Assembly, and Pro Evolution Club.
"We do not understand, accept or forgive this," NetEase added in a statement on the Chinese social media site Weibo on Wednesday.
The situation is causing further repercussions in the world of sport, with German side FC Cologne announcing it is withdrawing from a deal to run a football academy in China.
The head of the club's members' council, Stefan Müller-Römer, welcomed the decision, telling local newspaper the Kölner Stadt-Anzeiger that Cologne should not cooperate with a country he said was building a "total surveillance state."
However, the club's management said Wednesday that Müller-Römer was not speaking on the club's behalf and that sporting reasons, not politics, were behind their decision to pull out of the project in the city of Shenyang in north-east China.
Uighurs 'warriors who resist persecution'
Ozil posted messages on social media last week calling minority Uighurs "warriors who resist persecution" and criticized both China's crackdown and the silence of Muslims in response.
He also accused China of burning Qurans, closing mosques and the killings of religious scholars.
"Despite all this, Muslims stay quiet," he posted in Turkish, alongside the proposed flag of East Turkestan, a region in northwest China now known as Xinjiang province.
China's foreign ministry said Ozil was "deceived by fake news" as social media platforms in the country such as Weibo were flooded with angry messages.
Arsenal were quick to distance themselves from Ozil's comments, saying the club "always adhered to the principle of not involving itself in politics".
In response, China also cancelled the broadcast of Arsenal's match against Manchester City on Sunday.
China has repeatedly denied any mistreatment of Uighurs. But the United Nations and rights groups estimate up to 2,000,000 mostly ethnic Uighur Muslims have been detained as part of what Beijing calls an anti-terrorism campaign.
https://www.euronews.com/2019/12/20/china-deletes-mesut-ozil-from-computer-games-over-uighur-muslims-tweet?utm_source=feedburner&utm_medium=feed&utm_campaign=Feed%3A+euronews%2Fen%2Fnews+%28euronews+-+news+-+en%29
------
Muslims urged to boycott Chinese products over Uighur 'abuses'
Kuala Lumpur, Malaysia - Muslim countries should initiate a boycott of Chinese products, an influential Malaysian preacher has said, calling for an end to the detention of ethnic Uighurs, at least a million of whom are reportedly held against their will in China's Xinjiang province.
Mohd Asri bin Zainul Abidin, the top Islamic jurist in Malaysia's Perlis state, said political and religious leaders from the Muslim world should exert more economic and diplomatic pressure on Beijing for its treatment and alleged human rights abuse of the minority Muslim group living in its westernmost province.
"We need to go to the extent of boycotting China's products. They know the strength of our purchasing power," Mohd Asri told Al Jazeera on the sidelines of a summit of Muslim-majority countries in the Malaysian capital, Kuala Lumpur.
"The decision should be taken at the highest level of Muslim countries and the ulama [religious scholars and guardians]" to address the Uighur issue, said Mohd Asri, who earlier told summit participants that the almost two billion Muslims should flex their economic muscles to influence policies worldwide.
"We should do something, because they [Uighurs] are our brothers and sisters," he added.
Most member states of the Organisation of Islamic Cooperation (OIC) have been the target of criticism by Uighur rights advocates for their "silence" on the Uighur issue.
In July, more than 20 countries voted for the first time on a resolution before the United Nations Human Rights Council calling for an end to the mass detentions of Uighurs in Xinjiang.
But 14 OIC member states joined 23 other countries in siding with China, praising its "remarkable achievements in the field of human rights".
In November, Dolkun Isa, a senior leader of exiled Uighurs in Europe, said there is no excuse for the world's silence, and also called on countries to cut trade links with Beijing.
On Tuesday, Charles Santiago, a member of the Malaysian Parliament for the ruling coalition, had urged the leaders at the Kuala Lumpur summit to raise the Uighur issue.
Among Muslim-majority countries, Malaysia was the top trading partner of China in 2018, with an estimated $45.8bn in exports, according to the International Trade Centre in Geneva.
Meanwhile China recorded a $76.9bn worth of exports in 2018 to India, which has a Muslim-minority population of 200 million.
According to a UN report, there are an estimated one million Uighurs detained in Xinjiang.
However, Randall Schriver, the top US defence official in charge of Asia, said in May that the figure was "likely closer to three million citizens" - representing almost a third of the total 10 million Uighur population.
Activists and human rights groups have also accused China of trying to erase Uighur language, culture and religion, forcing them to give up Muslim religious traditions and beliefs, such as the use of veil among women and the wearing of facial hair among men. Muslims have also been reportedly banned from fasting during Ramadan.
China has denied that Uighurs are being held against their will. Beijing has described the facilities as "training centres" or "re-education" camps aimed at countering the "terrorist threat" and "extremism" in Xinjiang. Beijing also denies any mistreatment of Uighurs.
Muhamed Ljevakovic, a speaker at the Kuala Lumpur summit from Bosnia Herzegovina, said most of the participating countries are "friends of China", so there is "no chance" to confront Beijing more forcefully on the Uighur issue.
"Friends are supposed to tell each other the truth, and friends are supposed to tell them that what is going on right now is not good for China, and of course not good for the Uighurs. But people are afraid to speak their minds," he told Al Jazeera.
"That is why we did not receive a full resolution here because people are trying to diplomatically say nothing."
https://www.aljazeera.com/news/2019/12/muslim-boycott-chinese-products-urged-uighur-treatment-191220122039763.html
------
Arab World
G20 event on infrastructure investment concludes in Riyadh
December 21, 2019
RIYADH: The Saudi G20 presidency concluded a one-day symposium on infrastructure investment in Riyadh.
The symposium was held on the sidelines of the first G20 Infrastructure Working Group (IWG) meeting, which took place on Wednesday and Thursday in the Saudi capital.
The symposium brought together G20 member countries, international organizations, leading international and local asset managers, and institutional investors to discuss solutions to challenges that prevent or limit private investment in infrastructure. It was also attended by relevant Saudi government entities to enrich and reflect local content.
The symposium's overall objective was to explore a potential partnership between the IWG and asset managers and institutional investors to collectively promote infrastructure investment.
Dr. Fahad Al-Dossari, deputy governor for research and international affairs at the Saudi Arabian Monetary Authority, welcomed speakers and guests at the event.
In his opening remarks, he highlighted the importance of encouraging private sector investment in infrastructure to close the financing gap.
Al-Dossari said the Saudi G20 presidency will foster cooperation with the private sector to increase private investment and enhance the quality of infrastructure spending.
"This symposium will provide an important forum for G20 countries, international organizations, asset managers and institutional investors to put into motion a new collaborative model to continue efforts in promoting infrastructure as an asset class," he added.
The Global Infrastructure Hub estimates a cumulative infrastructure financing gap of $15 trillion to meet adequate global infrastructure needs between now and 2040.
According to the World Bank, around 1 billion people worldwide live more than 2 km away from a drivable road, almost 1 billion lack access to electricity, and 4 billion lack access to the internet.
Under the Saudi G20 presidency, the IWG will focus on promoting private sector investment in infrastructure and exploring ways to utilize technology to increase efficiency, value delivery and sustainability of infrastructure investment.
https://www.arabnews.com/node/1602016/saudi-arabia
------
Over 2.2 million visas issued since the beginning of this year's Umrah season
December 21, 2019
JEDDAH: The official statistics of the Umrah indicator have shown that 2,212,690 Umrah visas have been issued since the beginning of this year's Umrah season.
According to these statistics, 1,782,554 pilgrims have arrived in the Kingdom, while 1,373,963 have already left Saudi Arabia after performing their Umrah.
The indicator looks into aspects such as the number of visas issued, the total number of pilgrims arriving by air, land or sea, the countries that account for the largest number of pilgrims and the number of pilgrims that leave the Kingdom after performing their rites.
The numbers also showed that 1,705,567 pilgrims arrived by air, 76,882 arrived by land and 105 arrived by sea.
Those who arrived included 450,011 Pakistanis, 399,103 Indonesians, 238,981 Indians, 110,739 Malaysians, 85,808 Egyptians, 70,626 Turks, 64,238 Algerians, 61,111 Bangladeshis, 37,191 Emiratis and 27,540 Jordanians.
The Ministry of Hajj and Umrah launched its Inaya (care) centers to provide comprehensive and diverse services to pilgrims.
These centers contribute to the objectives of the Kingdom's 2030 Vision and improve the pilgrims' experience.
"The centers will be available in the areas where pilgrims are, in Makkah, Madinah and Jeddah. Pilgrims, those organizing their affairs or Hajj and Umrah services companies will be able to finalize their procedures in the centers through self-service systems or by directly contacting the centers' qualified Saudi employees," said the Minister of Hajj and Umrah Dr. Mohammed Saleh Benten.
https://www.arabnews.com/node/1602006/saudi-arabia
------
Jeddah Book Fair enriches children's knowledge with different selections
FATIMA MUHAMMAD
December 21, 2019
JEDDAH: Children's books have dominated the landscape of the fifth Jeddah Book Fair.
Rand Saber, a children's author, told Arab News the genre had seen huge development and evolution in terms of plots and characters around the world.
Children's books in the Kingdom, though, need more support to compete with international titles in terms of quality. She called upon the public and private sectors to support the spread and availabilty of children's books at schools and elsewhere.
Saber worked for few years at the Kadi and Ramadi Publishing House, which specializes in children's books, and gained an enriching experience from the owner Thuraya Batterji.
"I've written several stories and got lucky with my tale 'A Hero's Hat' which was published in 2016. The story talks about soldiers defending our country. After that, I worked with Kadi and Ramadi Publishing and the Child Protection Foundation, and published a series of stories on how to protect children from being abused. I also published another series on educating little girls and a book called 'Two Closest Friends,'" she told Arab News.
Rand's story "An Idea to Change the World" came third in the Abdulhameed Shawman Foundation competition in 2018 in Jordan.
The Jeddah Book Fair is staged at a 30,000-square-meter site attracting 400 publishing houses from 40 different countries. The number of visitors has reached 269,135.
The fair will continue for 10 days, with over 50 cultural activities, including art exhibitions, photography, Arabic calligraphy displays, workshops, seminars, plays and documentary screenings.
It features 350,000 books, catering for all reader tastes, and more than 200 authors will also attend to sign their work over its course.
The fair has carved a strong reputation locally and internationally and has enriched knowledge and culture as one of the mega fairs in the Arab world.
Rand said it had brought joy to all visitors who continue to discover its different segments and sections catering to different tastes and ages.
https://www.arabnews.com/node/1601991/saudi-arabia
------
Saudi-Jordanian committee concludes meetings
December 21, 2019
RIYADH: The 16th session of the Saudi-Jordanian Joint Committee concluded in Riyadh on Thursday, under the co-chairmanship of Saudi Minister of Transport Saleh bin Nasser Al-Jasser, and Jordanian Minister of Industry, Trade and Supply Dr. Tariq Al-Hammouri.
The two sides reviewed a number of issues pertaining to the fields of finance, development, commerce, investment, economy, security, judiciary, energy, industry, health, education, culture, media, environment, municipal affairs, housing, Islamic affairs, labor, sports, tourism, transportation, communications and customs.
The committee discussed the recommendations of the joint report and talks at the level of the sub-committees.
It looks to develop the best methods to support the process of cooperation between the two countries, overcome obstacles and difficulties that may arise, and provide opportunities in order to enhance work between them.
At the conclusion of the meetings, the Saudi and Jordanian sides signed an agreement based on the recommendations listed in the minutes.
https://www.arabnews.com/node/1601981/saudi-arabia
------
Europe
Bashir Maan, first Muslim elected as councillor in UK, passes away
Imran Munawar
December 21, 2019
LONDON: Rich tributes were paid to veteran British-Pakistani politician Bashir Maan who passed away in Glasgow on Friday morning aged 93. Born in 1926 in Qila Didar Singh, a town near Gujranwala city in Pakistan, he was elected as a councillor from Glasgow way back in 1970. Bashir was the first Muslim politician to be elected to an office.
Bashir completed his school education in Qila Didar Singh before moving to Labour where he worked as a clerk. He was also part of the Pakistan's independence struggle from 1943-1947. After the patrician in 1947 he moved to the UK in 1953 and lived in Scottish city of Glasgow all his life.
Before becoming a councillor he also served as a Justice of Peace for Glasgow, the first Asian & Muslim to be appointed in that position. Subsequently he was elected as councillor from Glasgow city in 1970 on Labour Party's ticket.
A party he represented for the next 33 years till he left Labour in 2004 over parties misleading Iraq War policies. Such was the significance of his victory that then Indian High Commissioner wrote a letter to congratulate him on this achievement and marked the occasion proud and happy as he was the first immigrant to be elected as councillor in Scotland.
Bashir Maan was also the first British-Pakistani to stand in a general elections in 1974 from East Fife. He was a life-long advocate of Human Rights and community cohesion, in the recognition of his services towards race relations, community work and as a volunteer he was awarded CBE.
https://www.thenews.com.pk/print/586310-bashir-maan-first-muslim-elected-as-councillor-in-uk-passes-away
------
Mum-of-two from Nelson jailed for sending funds to Islamic terror organisation
20th December
A mother-of-two from East Lancashire who sent funds to a terrorist organisation in Syria has been jailed.
Victoria Layla Webster, 28, of Pine St, Nelson, pleaded guilty to two counts of providing money for purposes of terrorism and one count of inviting another to provide money for purposes of terrorism, and was sentenced to 17 months in prison.
Appearing alongside her at Liverpool Crown Court on Friday, was co-defendant Amaani Noor from Wavertree, Liverpool.
Noor, the former girlfriend of a professional footballer, was sentenced to 18 months in prison after being found guilty of one count of providing money for purposes of terrorism.
Noor, of Cinema Drive, had planned to join her Islamist fighter husband in Syria, and had claimed she believed 45 dollars, around £35, she donated to the Merciful Hands organisation on May 23 last year would go to buy food for women and children in Syria.
But earlier this month a jury found her guilty of fundraising contrary to the Terrorism Act 2000.
Serena Gates, prosecuting, said Webster donated a total of about £45 in a series of small amounts.
Both women were in tears as they were told they would be jailed.
Sentencing Noor, honorary recorder of Liverpool Judge Andrew Menary QC rejected the claim that the former performing arts student had set up a PayPal account in a fake name because of "considerations of modesty".
He said: "I don't accept simply that you are that modest or naive in the way you would like people to believe.
"I have no doubt your commitment to your religion is entirely genuine but sadly there is a cunning about you which you maintained during your evidence."
During the trial, the jury heard Noor, a former Miss Teen GB semi-finalist, and Webster messaged using the Telegram app and spoke about extremist groups including so-called Islamic State (IS).
Conversations between the two revealed both females held extremist views and both expressed support for proscribed terrorist organisations Hay'at Tahrir al-Sham and Islamic State.
They had access to video footage showing torture, beheadings and people being set on fire which the judge described as "truly shocking".
Noor, who wore a black hijab, also used the app to message a man named Hakim My Love who, she told the court, she had married over videolink and who described himself as an independent fighter in Syria.
Noor made a payment of $45.51 in May 2018 and Webster made two payments totalling $59.94 between April and August 2018.
On the day officers searched her house, in July 2018, she had a ticket booked to travel to Turkey.
The court was read emails found on a phone seized by police, believed to be written by Noor to Hakim, which said: "It's been my dream to marry a fighter for a long time and my dream to be a fighter myself even longer lol."
The jury was told Noor had been in a relationship with a professional footballer when she was a teenager and also had a short marriage to a preacher.
David Gottlieb, defending, suggested her failed relationships may have led to the offences and "sent her spinning out of the solar system".
He said she was in a new relationship and her fiance was in court along with her brother and mother.
Mr Gottlieb said: "She needs to address issues of self-esteem and making relationships."
Hossein Zahir, defending Webster, who wore a pink niqab, said she was "on a path to reform".
He added: "The ideology she thought she believed in has left her life in ruins."
He said she was influenced by Kamran Awan, who was connected to the Merciful Hands, and had been "cynically used" by him.
Detective Superintendent Will Chatterton of GMP's Counter Terrorism Unit said: "After her arrest, Noor tried to claim she thought the organisation was a charity benefitting innocent victims of the civil war.
"But the organisation's messaging made clear their intent to send weapons and equipment to terrorists fighting in Syria.
"The abhorrent footage and messages found upon both Noor's and Webster's phones clearly showed both to be sympathetic to terrorist organisations.
"While the amounts of money sent were relatively small; the intent of Noor and Webster was clear: to support and further the aims of terrorists fighting in Syria.
"I hope today's sentences send a clear message that we gather evidence and pursue prosecutions against anyone who seeks to engage with and support any form of terrorism."
Every year thousands of reports from the public help police tackle the terrorist threat.
If you see or hear something that doesn't seem right, trust your instincts and ACT by reporting to police in confidence at gov.uk/ACT.
https://www.thisislancashire.co.uk/news/18116199.mum-of-two-nelson-jailed-sending-funds-islamic-terror-organisation/
------
Alleged Islamic State member Lisa Smith to spend weekend in prison after bail not processed
By David Raleigh
December 20, 2019
FORMER Irish Defence Forces soldier Lisa Smith, who is to be tried on a charge of membership of the terrorist organisation Isis, is due to spend the weekend in Limerick prison, despite being granted bail Thursday, after her bail bond was not processed Friday.
The Louth mother of one and former Air Corps member was expected to be released today from Limerick prison, where she was being held on remand.
She had been granted bail Thursday, following a hearing at Cloverhill Prison in Dublin.
As part of her bail terms, Ms Smith must lodge €500 and an independent surer must lodge €1,000 with the courts.
Reliable sources explained Ms Smith had not had the opportunity to the take up bail as it had not been processed, and, it was likely bail would be processed next Monday, which is two days before Christmas.
Ms Smith, 37, whose address cannot be published for legal reasons, is charged that, between October 28th, 2015 and December 1st, 2019 she was a member of an unlawful terrorist group "styling itself the Islamic State of Iraq and the Levant (Isil) also known as Dawlat al-Iraq al-Islamiyya, Islamic State of Iraq (ISI), Islamic State of Iraq and Syria (Isis) and Dawlat al Islamiya fi Iraq wa al-Sham, otherwise known as 'Da'esh' and the Islamic State in Iraq and al-Sham.
The offence she is charged with is contrary to the Criminal Justice (Terrorist Offences) Act 2005.
According to reports Thursday, bail was granted on a number of strict conditions.
Ms Smith must reside at an address in the northeast and sign on at a Garda station twice daily from 10am-1pm and 3pm-6pm.
She was also ordered to obey a curfew, having to remain indoors from 8pm to 7am.
The judge told her she cannot leave the jurisdiction or apply for new travel documentation, having already lost her passport.
She must also provide gardaí with a contact mobile phone number within 48 hours of taking up bail.
The judge warned her that she must answer the phone if rung by gardaí and if she failed to do so it would be a breach of bail. This would result in her going back into custody.
He also banned her from accessing the internet or using any social media and she must not have contact with non-Garda witnesses in the case.
The Director of Public Prosecutions has directed Ms Smith face a trial on indictment. She is to be served with a book of evidence and possible further charges are contemplated, the court heard.
The former soldier, who left Ireland and married after she converted to Islam, had been found in a Syrian refugee camp, and after a trek to Turkey with her daughter, aged two, she was brought back to Ireland on December 1st last.
Ms Smith has been remanded to appear before Dublin District Court on January 8th.
https://www.limerickpost.ie/2019/12/20/alleged-islamic-state-member-lisa-smith-to-spend-weekend-in-prison-after-bail-not-processed/
------
UK takes big step closer to Brexit
Dec 21, 2019
The House of Commons voted 358 to 234 in favour of the government's EU Withdrawal Agreement Bill, in the first tangible sign of how Johnson's election gamble has paid off and given him a clear path to delivering on the key pledge of his victorious campaign. After three years of division, the prime minister appealed for unity.
" Now is the time to act together as one reinvigorated nation, one United Kingdom, filled with renewed confidence in our national destiny, and determined at last to take advantage of the opportunities that now lie before us," he said, as he opened the debate. "This bill and this juncture in our national story must not be seen as a victory for one party over another or one faction over another. This is the time we move and discard the old labels of leave and remain."
Johnson's newly won majo- rity allowed him to break thro- ugh the gridlock and political turmoil that has dominated British politics since the 2016 referendum. MPs later voted to speed the remaining stages of the bill through the House of Commons over three days after the Christmas recess.
Labour party leader Jeremy Corbyn said such a strict end to the agreed transition period with the EU would leave the UK at risk of ending up with no deal at all with its biggest trading partner. " This deal does not bring certainty for communities or for business or the workforce. In fact, it does the opposite, and hard-wires the risk of a no-deal Brexit next year," he said .
There were also signs that Tory Brexiteers will continue to put pressure on Johnson over the shape of the future deal. Former Trade secretary Liam Fox said the UK must be free of EU regulations and cautioned against any plans for alignment with the bloc's rules in return for access to its single market after Brexit.
Jeffrey Donaldson of Northern Ireland's Democratic Unionist Party, who kept Johnson's predecessor Theresa May in power but have described Johnson's deal as a betrayal, said it threatens to undermine the region's economy and fragile peace proces.
https://timesofindia.indiatimes.com/world/uk/uk-takes-big-step-closer-to-brexit/articleshow/72910558.cms
------
North America
U.S. mum on India's discrimination of Muslims to protect military ties
Sat, 2019-12-21
By Daya Gamage – Asian Tribune US Bureau Commentary
Washington, D.C. 21 December (Asiantribune.com):
Final preparations were made by Washington and New Delhi for a high-level meeting between the two nations on a range of military and diplomatic issues mainly concerning the Indo-Pacific region to meet the expansion of China when Narendra Modi's Indian government with a strong nationalist agenda was introducing the divisive anti-Muslim Citizenship Registration Bill.
Protests over India's Citizenship Amendment Act have taken place across the nation
The Act went through India's lower legislature the Lok Sabha for ratification when wide-spread protest many Indian cities initiated by the Muslims whose refugee-brethrens were deprived of permanent residency – despite their long refugee status - that were given to other immigrant refugees who were non-Muslims. Amid this unrest in many Indian cities, and when the issue of human rights emerged in many forums in the globe, India's Defense Minister Rajnath Singh and External Affairs Minister Dr. S. Jaishankar were heading Washington, D.C. to have the second annual India-US 2+2 Ministerial Dialogue with their US counterparts Dr. Mark T. Esper and Michael R. Pompeo schedule for December 18. All four had a close-door discourse with President Donald Trump at the White House the previous day.
Secretary of State Pompeo has gone on record prior to the arrival of India's ministerial duo, describing China's detention of one million ethnic Uighur Muslims as "gross human rights violation" and "one of the worst stains on the world in this century."
In Myanmar, the ethnic cleansing campaign against Rohingya Muslims is "deeply abhorrent to our way of life" and displayed "shocking and brutal violence," according to State Department officials.
People protest against the Citizenship Amendment Bill — which allows Hindus from Afghanistan, Bangladesh, and Pakistan to get citizenship and exclude Muslims from the same countries — in New Delhi
Nevertheless, Washington American diplomats offered only muted public criticism of Narendra Modi government's blatant violation of human rights of Muslims and the discriminatory legislation which degraded that ethnic group.
This naked display of indifference to million-strong Muslim refugees within the Indian border because Washington valued India's collaboration to further shape its militarization in the Indo-Pacific region more important and the strengthening of Indo-US military alliance vital to Washington's militarization in the vast west-south-east Asian region.
This 2+2 Ministerial Dialogue is the highest-level institutional mechanism between the two countries and provides for a review of the security, defense and strategic partnership between India and the United States. This was the second 2+2 meeting and the first in the US.
Alice Wells, the Principal Deputy Assistant Secretary, Bureau of South and Central Asian Affairs addressing the Atlantic Council on December 11 – a week prior to the high-level discourse between defense/foreign affairs officials of the two countries – gave a very muted response when the moderator asked whether the new Citizenship Registration Bill and the deprivation of Muslim refugees of full statehood would be on the agenda of the India-US 2+2 Ministerial Dialogue said "Human rights is not part of this 2+2 discussion that's taking place next week, although I'm confident issues that touch on Kashmir and threat perceptions also that India sees will obviously be a part of the agenda. But that doesn't mean we don't discuss human rights. We do all the time. And just as we do with every other country in the world, we produce a human rights report. That human rights report is the outcome of many conversations as well as work with local NGOs and others involved in this field."
She noted concerns in Congress about India's citizenship bill and said residents in Kashmir "are entitled to their full rights under the Indian Constitution, which enshrines the respect for religious freedom of all Indians."
"The message I want to leave with you is that there are challenges," Ms. Wells said, "but we're working together to overcome them in ways that would have seemed impossible in the past."
The Asian Tribune has previously reported how vociferous Washington players, State Department officials and Foreign Service officers accredited to other countries on human rights, rule of law and good governance when it comes to countries that Washington considers less important to its agenda. India is strategically of high value to Washington because of its military designs in the Indo-Pacific region to meet China's expansionist endeavors.
Under Mr. Pompeo, the State Department has elevated the issue of religious freedom and its role in foreign policy to include for the first time hosting annual meetings of senior foreign diplomats to discuss challenges to faith-based liberty.
"All governments have a duty to protect people from harm regardless of their beliefs, and to hold perpetrators of persecution accountable," Mr. Pompeo said in August, while the siege in Kashmir was underway. At the time, he cited religious persecution in China, Iran and Myanmar, but not India.
In statements this week, the State Department urged India to "protect the rights of its religious minorities." It called on authorities to respect peaceful protests against the citizenship legislation and urged demonstrators to refrain from violence. The department also urged India's government to reopen mosques and shrines in Kashmir that were closed because of the unrest and said it was concerned by restrictions on cellphone and internet access.
"We need like-minded partners," Deputy Secretary of State John J. Sullivan said in New Delhi in August. "That's why the vitality of the U.S.-India partnership is such an important factor in determining whether China ultimately succeeds in reshaping Asia to its purposes."
How muted their comments are as the military ties have overtaken all other issues, Mr. Sullivan did not mention Kashmir in his speech, although he cited religious freedom as a value that both India and the United States "hold dear."
Ashley J. Tellis, a former diplomat and National Security Council official under President George W. Bush said the Trump administration had "been very conscious to not do anything publicly that might embarrass India" — which is why, he predicted, the State Department had toned down its criticism of the anti-Muslim actions.
"There is a perception that India is a strategic ally and a partner," said Mr. Tellis, a senior fellow at the Carnegie Endowment for International Peace. "Whatever their "There is a perception that India is a strategic ally and a partner," said Mr. Tellis, a senior fellow at the Carnegie Endowment for International Peace. "Whatever their discomforts with the Modi government's policies are, I think they want to allow the Indian democratic process to work itself out, and see where the country comes out."
Indian authorities have banned large gatherings and arrested protesters in many cities as opposition to the Citizenship Bill increased, and cut off communications and restricted access to parts of the Capital City of New Delhi to thwart large scale public protests.
- Asian Tribune -
http://www.asiantribune.com/node/93283
------
Canadian Jewish Group Raises Concerns About 'Extremist' Speakers at Toronto Islamic Conference
DECEMBER 20, 2019
A prominent Canadian Jewish group raised concerns on Thursday about several "extremist" speakers scheduled to appear at an Islamic conference in Toronto this weekend.
The event in question — titled "Reviving the Islamic Spirit" — began on Friday at the Metro Toronto Convention Centre and will run through Sunday.
In a statement on Thursday, B'nai Brith Canada highlighted concerns about three of the conference's participants — American preachers Yasir Qadhi, Siraj Wahhaj and Omar Suleiman — who it said have "a history of antisemitic and inciting remarks."
"It is troubling that a major Canadian Muslim conference continues to invite extremist preachers to Canada," Michael Mostyn, chief executive officer of B'nai Brith Canada, said. "Surely there are enough qualified moderate Muslim leaders, without a history of extremist messaging, who can be chosen to speak at events such as these."
According to B'nai Brith Canada, Qadhi defended earlier this year the Islamic hadith that that the End of Days, the Jews will be slaughtered by the Muslims.
Wahaj, B'nai Brith Canada noted, was named as an unindicted co-conspirator in the 1993 World Trade Center bombing.
In a 2012 lecture, B'nai Brith Canada said, Suleiman asserted that "if not for the Children of Israel, meat would not decay," and that Jews "harmed all of their prophets." He is also said to have described Zionists as "enemies of G-d."
"It is troubling that a major Canadian Muslim conference continues to invite extremist preachers to Canada," said Michael Mostyn, Chief Executive Officer of B'nai Brith Canada. "Surely there are enough qualified moderate Muslim leaders, without a history of extremist messaging, who can be chosen to speak at events such as these."
https://www.algemeiner.com/2019/12/20/canadian-jewish-group-raises-concerns-about-extremist-speakers-at-toronto-islamic-conference/
------
US places Pak, China on watch list for religious freedom curbs
Dec 21, 2019
WASHINGTON: The US has re-designated Pakistan and China among seven other countries that are of particular concern for violation of religious freedom, Secretary of State Mike Pompeo said on Friday.
Pakistan and China along with Myanmar, Eritrea, Iran, North Korea, Saudi Arabia, Tajikistan and Turkmenistan were placed in the list for having engaged in or tolerated "systematic, ongoing, and egregious violations of religious freedom," Pompeo said.
The department renewed the placement of Comoros, Russia and Uzbekistan on a Special Watch List for governments that have engaged in or tolerated "severe violations of religious freedom," and added Cuba, Nicaragua, Nigeria, and Sudan to this list.
https://timesofindia.indiatimes.com/world/us/us-places-pak-china-on-watch-list-for-religious-freedom-curbs/articleshow/72910587.cms
------
Bill to promote Gandhi, Martin Luther King Jr's legacies introduced in US House
Dec 21, 2019
WASHINGTON: America's legendary civil rights leader Congressman John Lewis has introduced a bill in the US House of Representatives to promote the legacies of Mahatma Gandhi and Martin Luther King, Jr and sought a budgetary allocation of $150 million for the next five years.
Introduced to mark the 150th birth anniversary of Gandhi, the House Bill (HR 5517) affirms the friendship between the two largest democracies of the world and honours the legacies and contributions of Gandhi and King.
Among other things, the bill proposes establishing a Gandhi-King Development Foundation, which will be created by the United States Agency for International Development (USAID) under the Indian laws.
The bill seeks a budgetary allocation of $30 million every year for the next five years to the USAID for this foundation.
This foundation would have a governing council convened by governments of the US and India and would oversee grants to NGOs in the areas of health, pollution and climate change, education and women empowerment, the bill says.
It is being co-sponsored by six other Democratic lawmakers, three of whom are Indian-Americans - Ami Bera, Ro Khanna and Pramila Jayapal.
Three other Congressmen are Brenda Lawrence, Brad Sherman and James McGovern.
The bill proposes the establishment of a Gandhi-King Scholarly Exchange Initiative with an allocation of $2 million for the next five years till 2025.
It will comprise an annual educational forum for scholars from India and the US held alternately in the two countries.
The conference will focus on the study of the works and philosophies of Gandhi and King and visits to historical sites.
It also seeks to establish a Gandhi-King global academy, which would be a professional development training initiative on conflict resolution.
The bill proposes an allocation of $2 million for each fiscal year from 2020 through 2025, implemented through the United States Institute of Peace (USIP).
Welcoming the introduction of the bill, India's ambassador to the US Harsh Vardhan Shringla said it "reinforces the close cultural and ideological bonds" between India and the US.
Noting that Gandhi and King were dedicated leaders fighting for social justice and social change, peace and civil rights, the bill says that the use of non-violent civil disobedience is a shared tactic that has played a key role in defeating social injustice in India, the US and other parts of the world.
Observing that King's effective use of Gandhi's principles was instrumental to the American civil rights movement, the bill says that there is a long history of civil and social rights movements in the US and in India.
This bill, which has the support of House Speaker Nancy Pelosi, is being considered as a significant landmark initiative by the United States Congress to commemorate the 150th birth anniversary of Gandhi.
There are two other resolutions on Gandhi pending in the Congress - one by Senators Bob Menendez and Ted Cruz in the Senate and other by several other lawmakers led by Congressman Raja Kishnamoorthi in the House of Representatives.
Sent to the House Foreign Affairs Committee for necessary action, the bill christened "Gandhi-King Scholarly Exchange Initiative Act" says the people of the United States and India have a long history of friendship and the world will benefit from a stronger US-India partnership.
Gandhi never visited the US. But King travelled to India, which he described as a pilgrimage.
In February 1959, King and his wife Coretta Scott King travelled throughout India.
By the end of his month-long visit, King said, "I am more convinced than ever before that the method of non-violent resistance is the most potent weapon available to oppressed people in their struggle for justice and human dignity".
Fifty years after King's visit, All India Radio discovered a taped message by him that emphasised the intellectual harmony between messages of King and Gandhi on non-violent social action.
"Mohandas Gandhi, who employed the principle of satyagraha or fighting with peace, has come to represent the moral force inspiring many civil and social rights movement around the world," the bill notes.
https://timesofindia.indiatimes.com/world/us/bill-to-promote-gandhi-martin-luther-king-jrs-legacies-introduced-in-us-house/articleshow/72911328.cms
------
Mideast
International prosecutor from ICC preparing to open Palestine war crimes probe
December 20, 2019
THE HAGUE: The prosecutor of the International Criminal Court took a major step Friday toward opening an investigation into alleged war crimes in the occupied Palestinian territories, asking judges exactly what territory a future investigation could cover.
The announcement ended years of preliminary investigations into alleged crimes by both Israeli forces and Palestinians and signaled that Prosecutor Fatou Bensouda is preparing to open a formal probe.
It drew swift condemnation from Israel, with Prime Minister Benjamin Netanyahu calling it "a dark day for truth and justice."
The Palestinian Ministry of Foreign Affairs welcomed it as "a long overdue step to move the process forward toward an investigation, after nearly five long and difficult years of preliminary examination."
While Israel is not a member of the court and does not recognize its jurisdiction, Palestinians have been recognized as a member state and requested an investigation. Even though Israel is not a member of the court, its citizens could face international arrest warrants if the ICC investigation indicts them for war crimes.
"I am satisfied that there is a reasonable basis to proceed with an investigation into the situation in Palestine," Bensouda said in a statement.
She said she is "satisfied that ... war crimes have been or are being committed in the West Bank, including East Jerusalem, and the Gaza Strip."
Bensouda said she has now asked judges to outline the geographic scope of an investigation.
"Specifically, I have sought confirmation that the 'territory' over which the Court may exercise its jurisdiction, and which I may subject to investigation, comprises the West Bank, including East Jerusalem, and Gaza," she said.
Netanyahu said Bensouda's decision "has turned the International Criminal Court into a political tool to delegitimize the State of Israel. The prosecutor has completely ignored the legal arguments we presented to her."
At the Palestinians' request, Bensouda opened a preliminary investigation in 2015 into alleged violations of international law following the 2014 war between Israel and Palestinian militants in the Gaza Strip.
With the peace process at a standstill for more than a decade, the Palestinians have in recent years sought to hold Israel accountable for alleged violations of international law, including the construction and expansion of Jewish settlements in the West Bank and east Jerusalem.
Israel seized those territories along with the Gaza Strip in the 1967 Mideast war. The Palestinians want all three to be part of their future state.
In a legal opinion released Friday, Israel's Attorney General Avichai Mandelblit said the Palestinians do not meet the criteria of statehood because they do not have sovereignty over defined borders. Citing past peace agreements, Israel said the two sides had agreed to resolve their territorial dispute in negotiations.
"By approaching the ICC, the Palestinians are seeking to breach the framework agreed to by the parties and to push the Court to determine political issues that should be resolved by negotiations, and not by criminal proceedings," the legal opinion said.
The Palestinians insisted they are a fully-fledged member of the court and that the court has jurisdiction.
https://www.arabnews.com/node/1601796/middle-east
------
Turkish constitutional law professor says Turkey preparing to switch to Islamic law
Dec 20 2019
Constitutional law professor Kemal Gözler said the number of students and faculty members in faculties of law and theology could hint to preparations to switch Turkey's legal system to an Islamic one.
In his article titled "The Value of Islamic Law: Could Islamic Law Pose an Alternative to Western Law?" Gözler said students enrolling in the faculty of theology increased fivefold from 2010 to 2019, going from 6,252 to 33,202.
The number of faculties of theology rose from 24 to 92 and the number of faculty members rose from 1,120 to 4,121 during the same nine-year period, according to Gözler's analysis of Turkey's universities.
There are currently 407 academics working in the Islamic law and Fiqh, or Islamic jurisprudence, departments in faculties of theology, Gözler said.
"If this was an ordinary number, there would have been comparable numbers of academics in the Roman law departments in Turkey," Gözler continued, adding that there are currently 24 faculty members in these departments.
Universities employing 24 faculty members for Roman law, which forms the basis of the current Turkish legal system, while employing 407 for Islamic law, which does not, is suspicious, Gözler said. "There must be another underlying idea," he added.
The day Turkey would forego Western law in favour of Islamic law is closer than ever, if such a day were ever to come, Gözler said, adding that Islamic law saw widespread and effective propaganda for years in the country, with poetic language and an emphasis on the values it upholds rather than its content as a legal system.
A code of conduct for participation banks, which pay revenue for savings instead of interest, published in Turkey's Official Gazette had cited several Quranic verses and listed a requirement to be "god-fearing" for auditors, according to a recent report.
https://ahvalnews.com/turkey-law/turkish-constitutional-law-professor-says-turkey-preparing-switch-islamic-law
------
Iraq: Shia Leader Calls for Early Elections Amid Protests
20 December 2019
Demonstrators are pepper sprayed by a member of the security forces during clashes between supporters of former Bolivian President Evo Morales and the security forces, in La Paz, Bolivia November 15, 2019.
How is the Pro-Evo Upheaval Affecting Canada's Politics?
by Arnold August
Supporters of Bolivia's ousted President Evo Morales hold a placard that reads
OAS Has Deceived the Public, Terribly, on the Bolivian El...
by Mark Weisbrot
Demonstration in support of Bolivian President Evo Morales after he announced his resignation on Sunday, in Buenos Aires.
A protester against Bolivia's President Evo Morales fires a weapon during clashes with government supporters in La Paz, Bolivia November 7, 2019.
"It's Now or Never": Bolivian Elite Destroying the Countr...
Ayatollah Ali al-Sistani proclaimed early elections to ease the tensions of mass demonstrations that had persisted in parts of the country since early October, demanding comprehensive reform, fight against corruption, better public services and more jobs.
Iraq's top Shiite cleric Ayatollah Ali al-Sistani called for early elections to ease the tensions of anti-government demonstrations, according to News Agency Xinhua.
"We have noticed that the approval of the election law has been hindered, and the dispute over some of its main articles has been aggravated, and here we stress once again the need to expedite its approval," al-Sistani said.
Furthermore, he called for "forming an independent electoral commission, and putting in place an effective monitoring mechanism."
On Wednesday, the Iraqi parliament passed 14 articles out of 50 of the draft electoral law but failed to pass the others after a dispute, which forced Parliament Speaker Mohammed al-Halbousi to adjourn the parliament session.
Al-Sistani's remarks also came amid a political row over who will be chosen as the new prime minister-designate to form an interim government ahead of early parliament elections.
Mass demonstrations had continued in parts of Iraq since early October, demanding comprehensive reform, fight against corruption, better public services and more jobs. Protesters have complained of being monitored, threatened and harassed in an intimidation campaign they say is aimed at blunting their movement.
They also want a complete overhaul of the political system installed after the 2003 US invasion of the country, where power is apportioned among religious and ethnic groups.
More than 450 people, mostly unarmed demonstrators but also some members of the security forces, have been killed since a wave of popular anti-government unrest began.
https://www.telesurenglish.net/news/iraq-shia-leader-calls-for-early-elections-amid-protests-20191220-0011.html
------
Iran:'Fiendish' Pompeo doesn't fit mold of a foreign minister
December 20, 2019
ABNA: "Pompeo, who came to the US Department of State from a hellish, deceitful, putschist and torturer organization and brought his fiendish ideas to the field of diplomacy which is a civilized domain, does not fit the mold of a foreign minister and has no standing in this field," Mousavi said, Press TV reported.
Pompeo was formerly the director of the Central Intelligence Agency (CIA) from January 2017 to April 2018. He is on record to have told the audience at Texas A&M University in April that as the CIA director, "we lied, we cheated, we stole."
"Foreign ministers are typically the harbingers of peace, reconciliation, dialogue and respect, while Mr Pompeo is the megaphone for bullying, deceit, humiliation and insult with the language of anger, aggression, ignorance and extremism," Mousavi said.
His remarks came in response to Pompeo's announcement of new illegal sanctions against Iran on Thursday and claiming at the same time that "the United States has stood, and will stand under President Trump, for the Iranian people."
Mousavi said, "They will get nowhere with such methods much like what they have presented to the people and elite of the US and the world has been nothing but an inefficient, delusive, chaotic and static bullying diplomacy and foreign policy of bullying."
https://en.abna24.com/news//iran-fiendish-pompeo-doesnt-fit-mold-of-a-foreign-minister_995206.html
------
US illegal sanctions on Iran aimed at collectively punishing ordinary people: UN ambassador
December 20, 2019
ABNA: According to Press TV, speaking at a United Nations General Assembly meeting in New York on nuclear non-proliferation and implementation of Resolution 2231, which backed the 2015 Iran nuclear deal – officially known as the Joint Comprehensive Plan of Action, Majid Takht-Ravanchi stated that the US sanctions "are neither short of war nor better than or an alternative to war," and that they are actually tantamount to war "but by other means and names."
He further noted that Washington has extended its illegal sanctions against Iranians through weaponizing food and medicine, and in total disregard of the International Court of Justice (ICJ) ruling on October 3, 2018.
The United Nations' highest court ordered the US at the time "to lift sanctions linked to humanitarian goods and civil aviation imposed against Iran."
"By any measure, the US sanctions are illegitimate, immoral, inhumane and cruel. It is a shame that the US bullying has resulted in discontinuation of export of certain medicines to Iran, causing nightmare for some patients," Takht-Ravanchi said, arguing that a European pharmaceutical company has stopped exporting special bandages required for people suffering from a rare skin condition known as epidermolysis bullosa (EB) to Iran due to the restrictions.
Often known as butterfly children because their skin is as fragile as the wings of a butterfly, EB patients need special care. Even mild frictions or bumps cause severe blistering of the skin which is very painful.
They often have difficulty with their daily activities, such as walking, eating and even breathing, but without proper protective bandages, their agony would be heartbreaking.
The Iranian UN envoy said in his speech that the US strategy of exerting "maximum pressure" on Tehran are tantamount to economic terrorism, and is claiming the lives of innocent people.
"Therefore, those who have been involved in designing, advocating and executing these sanctions must be held accountable," the diplomat pointed out.
Takht-Ravanchi also touched upon Washington's withdrawal from the JCOPA, and slammed the US for preventing other countries from doing business with Iran and fulfilling their commitments under the nuclear agreement.
The Iranian diplomat underlined that Tehran continues to implement its commitments under the JCPOA, even though the remaining parties to the accord have failed to materialize their compensation assurances in establishing effective financial channels, oil export, shipping and insurance.
"Unilateral implementation of the JCPOA is not sustainable. The deal needs more than one willing and able party to be fully implemented.
"Iran has ceased performing its commitments in part in accordance with paragraphs 26 and 36 of the JCPOA. To give room for diplomacy, a step by step approach with two months' intervals has been designed," he said.
"Iran's steps are reversible, but the damages inflicted upon Iran and the Iranian people due to illegal sanctions are not reversible at all," Takht-Ravanchi highlighted.
The senior Iranian diplomat went on to say that Washington's offer of unconditional talks with Tehran is disingenuous given the fact that the US tends to enter a dialogue from a position of strength and not based on equal footing.
"The call for dialogue with Iran while simultaneously insisting on the application of maximum pressure policy against the Iranian people is mutually exclusive. Iran does not negotiate under the threat of a sword," Iran's ambassador to the United Nations pointed out.
He said certain countries have been trying to include extraneous matters since the conclusion of the JCPOA, noting that Iran's legitimate defensive capabilities are non-negotiable and that the country's missile are "not designed to be capable of delivering nuclear weapons."
https://en.abna24.com/news//us-illegal-sanctions-on-iran-aimed-at-collectively-punishing-ordinary-people-un-ambassador_995204.html
------
Rouhani concludes Japan visit, seeks support for Iran economy
Dec 21, 2019
TOKYO: Iranian President Hassan Rouhani wrapped up his two-day visit to Japan on Saturday as Tehran, under US sanctions pressure, sought economic support from Tokyo.
Rouhani's trip to Japan, the first by an Iranian head of state in two decades, came after deadly protests over fuel price hikes in his country, where the economy has been hit by US sanctions over Tehran's nuclear programme.
The Iranian leader on Saturday held a closed meeting at a Tokyo hotel with Japanese business leaders, during which he criticised those sanctions and expressed hope for strengthening long-standing ties with Japan, public broadcaster NHK said, quoting the Iranian foreign ministry.
The American sanctions were re-imposed last year after President Donald Trump pulled the United States out of the multinational Iran nuclear deal.
In an interview with NHK on Saturday, Iran's deputy foreign minister Abbas Araghchi lashed out at the sanctions as "unilateral, illegal".
Rouhani, during a summit with Prime Minister Shinzo Abe on Friday, had called on Japan and other countries to help the Iranian economy.
"We welcome any plan that can increase trade, especially in the field of energy and increasing the exports and sales of oil," he told Abe, according to Iranian state news agency IRNA.
Ahead of that summit, Rouhani had condemned Washington for "unilaterally and irrationally" withdrawing from the nuclear deal, saying: "I hope Japan and other countries will make efforts to maintain this deal."
As a key US ally that also maintains close diplomatic and economic ties with Iran, Abe has tried to build bridges between the two rivals.
"The two leaders agreed to maintain their close communications," a Japanese government official said.
Abe travelled to Tehran in June to try to ease tensions between the United States and Iran in the Gulf.
Japan was formerly a major buyer of Iranian crude but stopped purchases to comply with US sanctions.
https://timesofindia.indiatimes.com/world/middle-east/rouhani-concludes-japan-visit-seeks-support-for-iran-economy/articleshow/72911963.cms
------
Attacks target 3 oil and gas facilities in Syria
December 21, 2019
DUBAI/BEIRUT: Syria's Ministry of Oil and Mineral Resources said that three oil and gas facilities – the Homs refinery, a gas plant south of the province and the Al-Rayyan gas station – were attacked late Friday, which caused some damage to production units.
Firefighting units rushed to the scenes and the technical workshops began repair operations shortly after the attack, the ministry said.
No one claimed responsibility for the attacks, which targeted the Homs oil refinery — one of only two in the country — as well as two natural gas facilities in different parts of Homs province.
Syria has suffered fuel shortages since earlier this year amid Western sanctions blocking imports, and because most of the country's oil fields are controlled by Kurdish-led fighters in the country's east.
State TV said it believes the attacks were carried out by drones and happened at the same time.
The city of Homs and its suburbs have been fully under Syrian government control since 2017. However, some parts of the province near the border with Jordan remain in rebel hands.
In June, sabotage attacks damaged five underwater pipelines off the Mediterranean coastal town of Banias in Tartous province.
Syria's oil imports dropped in October 2018 and shortages began in early 2019, largely the result of tighter Western sanctions on Syria and renewed US sanctions on key Syrian ally Iran.
Before the Syrian conflict erupted in 2011, the country exported around half of the 350,000 barrels of oil it produced per day. Now its production is down to around 24,000 barrels a day, covering only a fraction of domestic needs.
https://www.arabnews.com/node/1602026/middle-east
------
Russia, backed by China, casts 14th UN veto on Syria
December 20, 2019
NEW YORK: Russia, backed by China, on Friday cast its 14th UN Security Council veto since the start of the Syrian conflict in 2011 to block cross-border aid deliveries from Turkey and Iraq to millions of Syrian civilians.
The resolution drafted by Belgium, Kuwait and Germany would have allowed cross-border humanitarian deliveries for a further 12 months from two points in Turkey and one in Iraq.
But Syrian ally Russia only wanted to approve the two Turkish crossings for six months and had proposed its own draft text.
Russia and China vetoed the text drafted by Belgium, Kuwait and Germany. The remaining 13 members of the Security Council voted in favor. A resolution needs a minimum nine votes in favor and no vetoes by Russia, China, the US, Britain or France to pass.
US Ambassador Kelly Craft told the council after Russia and China's vetoes that she was in a state of shock as the consequences "will be disastrous." She described Russia and China's opposition as "reckless, irresponsible and cruel."
The council then voted on the rival Russian draft resolution that would have approved the two Turkish crossing points for six months, but it failed with only five votes in favor, six against and four abstentions.
"Who won today? Nobody. Who lost? The Syrian people," Russia's UN Ambassador Vassily Nebenzia told the council. He had argued that the humanitarian situation in Syria has improved dramatically and that the council had to recognize that change. "Do not attempt to shift blame for this on us," he said.
Deputy UN aid chief Ursula Mueller had warned the council on Thursday that without the cross border operations "we would see an immediate end of aid supporting millions of civilians."
"That would cause a rapid increase in hunger and disease, resulting in death, suffering and further displacement — including across borders — for a vulnerable population who have already suffered unspeakable tragedy as a result of almost nine years of conflict," Mueller said.
Since 2014 the UN and aid groups have crossed into Syria from Turkey, Iraq and Jordan at four places annually authorized by the Security Council. In a bid to compromise with Russia, the Jordanian crossing point was dropped by Belgium, Kuwait and Germany from their draft.
The current authorization for the four border crossings in Turkey, Iraq and Jordan ends on Jan. 10, so the Security Council could still attempt to reach an agreement, though some diplomats acknowledged this could now be difficult.
Russia has vetoed 14 council resolutions on Syria since a crackdown by Syria's Bashar Assad on pro-democracy protesters in 2011 led to civil war. Daesh militants then used the chaos to seize territory in Syria and Iraq.
Indonesia's U.N. Ambassador Dian Triansyah Djani told the council on Thursday: "The world is watching. The international community is watching. But we are not here to just watch ... we are here to help and take action ... It is not about us. It is all about saving Syrian people on the ground."
Political blocs are expected to name a new consensus-based candidate for the premiership this week.
Reform measures taken to retire key director-generals over the age of 60 has also caused anxieties for companies who have vested business relationships with bureaucrats. Ironically, the very issues raised by protesters on the street, including corruption, bureaucracy and lack of adequate public services, have long been a factor deterring investment, Sethna said.
Two industry officials who were in the middle of negotiating lucrative energy contracts said they have taken a step back — "until the dust settles," one said. Both spoke on condition of anonymity to not derail future talks with the government.
Periodic road closures by protesters leading to Iraq's two main commodities ports in Umm Qasr and Khor Al-Zubair have halted trade activity several times. To compensate, higher volumes of goods were imported through the border cross with Turkey in the north in late November. Hussein Ali, a potato trader, said delays at Umm Qasr cost him up to $6,000 per container, so he opted for the northern land route. Customs from the ports are an important source of state revenue.
There are no figures to know exact economic losses suffered due to protests, because disruptions, when they occur, are often temporary or reliable data is hard to come by.
A military spokesperson for the prime minister, Maj. Gen. Abdul Karim Khalaf, said the protests had cost Iraq $6 billion within the span of a month. This figure is unlikely, since it would require major setbacks in oil earnings, according to calculations by the Associated Press.
The impact has been indelible on Iraq's hobbled private sector.
The World Bank has said developing this sector was key to diversifying the oil-dependent economy and creating much needed jobs. With poor regulations and high start-up costs, however, Iraqis have had little incentive to take the risks associated with entrepreneurship.
As a result, much of the sector remains informal and limited largely to cash-based retailers — who are highly sensitive to any disruptions.
"We have a huge informal sector that has no chance of joining the formal sector — they have no deeds, ownership, just conventions and understandings. If something goes wrong, you are dropped," said Ahmed Tabaqchali, chief investment officer of AFC Iraq Fund.
At Shorja market, Baghdad's main wholesale market, merchants said they have seen daily earnings drop since protests started in October in part because customers are buying less and in part because of the turmoil at Rasheed Street, where most store their merchandise.
In southern Iraq, a rising number of medium to small businesses owners are defaulting on monthly payments on bank loans, said an official in Iraq's League of Private Banks, who requested anonymity because he was not authorized to speak to media.
Iraq's growing ecommerce sector was decimated by widespread Internet cuts imposed by authorities in October and November in a failed attemp to quell the protests, said Mujahid Waisi, an entrepreneur and founder of KAPITA, an incubator space set to launch early next year.
Even with the Internet restored, "because most of those items are not essential, people fear making purchases because of the situation," said Waisi. "They want to keep money in their hands." Moreover, ecommerce startups are hesitant to promote their services online, fearing protesters will criticize them as unpatriotic, he added.
Many cash-strapped merchants have let go of workers because of the escalating crisis.
"It has been 25 days that I haven't worked," said Mohammed Hamid, a worker in Rasheed Street. He said the shopowner he worked for told him not even to come in — "how am I going to pay your ... weekly salary when I am closed?"
https://www.arabnews.com/node/1601896/middle-east
------
How Islam penetrated the interior of Africa through Jihad
MICHAEL ELI DOKOSI
December 20, 2019
The African belief or faith system is regarded by some as the oldest or one of the oldest in the world.
Why then are the majority of Africans dominated by Christians and Muslims and not traditional African Spiritual System practitioners? For today's piece we shall look at how Islam penetrated the interior of Africa.
From the second half of the eleventh century onwards, Islam or Mohammedanism was introduced into the Sahara and the western Sudan.
Islam was introduced into North Africa by the Arabs during their meteoric sweep across the whole of North Africa – from Egypt to Morocco between A.D. 641 and 708. Among the soldiers and freebooters were missionaries who were bent on converting the people of the Sahara and interior of Africa to Islam.
By the tenth century, the Sanhaja Berbers, the main inhabitants of the Western Sahara who had established quite a strong kingdom at Awdaghost as its capital had been worn over. So also had the Berbers of the important Sahara trading centre of Tadmekket.
According to Prof. Albert Adu Boahen in his 'Topics in West African History' book, Ibn Hawkal writing towards the end of the tenth century described the kings of Tadmekket as 'holders of leadership, learning and jurisprudence'. And it was these Berbers who in the course of their normal trading activities in the land of the Negros, that is Sudan, began in turn to propagate the religion of Islam.
As early as A.D. 985, the ruler of Gao was won over and by the middle of the eleventh century, the kings of Tekrur, Silla and Kugha, all vassal of the kings of Ghana, had also embraced Islam.
It should be noted that the although kings of Ghana themselves did not adopt Islam and remained faithful to their traditional gods, they allowed complete freedom of religion and worship and even employed some of the Muslims as civil servants at court.
By 1067, Al-Bakri noted that in the capital city of ancient Ghana, there was a Muslim quarters with 12 mosques.
But this peaceful spread of Mohammedanism was interrupted between 1042 and 1054 when a fanatical religious movement known as the Almoravid movement arose among the Sanhaja Berbers in the Sahara region to the north of ancient Ghana.
This movement was dedicated to the spread of Islam by means of the jihad or holy war. Ghana being a pagan kingdom whose kings hitherto resisted Islam, naturally attracted the attention of these fanatics. The attacks of the Almoravid weaken the ancient empire and although Ghana later organized and regained its freedom, its gold trade routes had lost its security with traders looking elsewhere and with land not seeing agricultural work over time, the state never regained its power.
It is due to the Almoravid jihad that made the Mali Empire right in its formation a muslin state with its kings going to Mecca on the mandatory pilgrimage. As at 2010, there were an estimated 1.6 billion Muslims around the world with 248,420,000 from Sub-Saharan Africa.
https://face2faceafrica.com/article/how-islam-penetrated-the-interior-of-africa-through-jihad
------
No, this photo does not show an Egyptian religious scholar weeping over Nigeria's immigration policy
Friday 20 December 2019
A photo shared thousands of times on Facebook, as well as on WhatsApp, supposedly shows an Egyptian Muslim cleric weeping for Nigeria over President Muhammadu Buhari's newly-announced immigration policy. This is false: the man seen in the picture is a Mauritanian Islamic scholar, who has made no public comments about Nigeria's immigration policy.
We've archived one of the Facebook posts, shared nearly 6,000 times on Facebook, here. In it, the "Egyptian Muslim cleric" asserts that the new immigration policy will hurt Nigerian Christians, especially members of the Igbo ethnic group.
"Breaking News. I am an Egyptian Muslim cleric but seriously weeping for Nigerian Christians. You people don't know the real motive behind the order by buhari for all Africans to come to Nigeria without visa especially those from Muslim part. I am weeping for Christians in Nigeria especially the IGBO people!" it reads.
The cleric is said to have added that Nigerian Christians "should pray seriously because 2020 will be bloody!"
The same post has been circulating among Nigerian WhatsApp groups, as well as on this blog.
Buhari has pledged to make travel easier for Africans
While at the Aswan Forum in Egypt earlier this month, Buhari announced that from January 2020, Nigeria "will commence issuance of visas at the point of entry into Nigeria, to all persons holding passports of African countries".
"Nigeria is committed to supporting the free movement of Africans within Africa," Buhari said.
The policy announcement has received both praise and criticism; while some Africans have hailed it as a move that will make travel and trade easier, some Nigerians worry that it could pose a security threat.
Controversial Nigerian pastor Johnson Suleman tweeted on Wednesday that he's "been thinking about the govt's decision to give Visa on arrival to all holders of africa passport". "Won't that make Nigeria flooded with our already limited Infrastructure and increase crime rate?" he asked.
Details of how the new policy will be implemented, including how long Africans will be able to stay in Nigeria, remain thin. There is as yet no evidence that it will lead to an influx to Nigeria from Muslim countries in particular, as suggested by the post.
Travel for Africans seeking to visit neighbouring countries has long been notoriously difficult -- in 2017, the continent's richest man Aliko Dangote complained that he needed 38 visas to travel within Africa on his Nigerian passport.
However, Nigeria is not the only country that has been loosening its visa policies of late. Kenya announced a similar policy of visas on arrival for Africans in 2017, while Ethiopia announced the same move last year.
This cleric is not Egyptian, and the photo was online long before Nigeria's policy change
The man in the picture is not an Egyptian cleric -- and the photo itself existed on the internet long before Nigeria's change in visa policy was announced.
A quick Google reverse image search showed that the man in the picture is Mohamed Al-Hassan Ould Al-Dido, a Mauritanian Islamic scholar and thinker.
Other image searches also show that the picture had been on the internet as early as 2016, years before Buhari made the announcement.
We have found no public comments by Al-Dido on the new Nigerian immigration policy, despite online searches in both English and Arabic.
The cleric has often been filmed crying while speaking about religion -- for example in this video, where he talks about loving God.
https://factcheck.afp.com/no-photo-does-not-show-egyptian-religious-scholar-weeping-over-nigerias-immigration-policy
------
Nigerians raise alarm over controversial Social Media Bill
by Timileyin Omilana
18 Dec 2019
Lagos, Nigeria - Tens of thousands of Nigerians have banded together online to call for the scrapping of a bill which, they say, threatens to roll back internet freedoms in the country.
The proposed legislation - officially named the Protection from Internet Falsehood and Manipulation Bill 2019 - would allow Nigeria's government to cut off internet access or block specific social media platforms such as WhatsApp, Facebook and Twitter at its own discretion.
"The law enforcement department may direct the NCC [Nigerian Communications Commission] to order the Internet access service provider to disable access by users in Nigeria to the online location and the NCC must give the Internet access service provider access blocking order," it says.
Otherwise known as the Social Media Bill, the proposed act also contains provisions prohibiting statements online deemed "likely to be prejudicial to national security" and "those which may diminish public confidence" in Nigeria's government - offences that would be punishable by fines of up to 300,000 Naira ($825) or imprisonment for up to three years.
Legislators backing the bill, which is advancing through Nigeria's Parliament, claim it will enhance security, peace and unity in Africa's most populous country by curbing the spread of "false statements".
But critics argue it could gag free speech, with many now speaking out via the very platforms they say are at risk of being curtailed.
More than 85,000 people have signed an online petition demanding the bill be done away with. The bill's "aim is to curb our use of social media with the reasoning that the Senate wants to curb the spreading of false information when in reality they want to limit our freedom of speech and our right to criticise them", the petition says.
A campaign on Twitter saw the #SayNoToSocialMediaBill hashtag top the platform's trending charts in Nigeria recently.
"The Protection from Internet Falsehood and Manipulation Bill ... is a backdoor approach to silence critical voices in Nigeria," said Adeboye Adegoke, a digital rights advocate and programme manager at the Nigeria-based social enterprise Paradigm Initiative.
"[It is a] dangerous path to tread ... [and] will serve to provide a legitimate justification for many illegitimate things that the Nigerian government already do," he told Al Jazeera.
Legislative progress
Despite the opposition, the legislation has continued its passage through Nigeria's legislature, passing a second reading and subsequent vote in the Senate in late November.
It has since been moved to the Senate's Committee on Judiciary, Human Rights and Legal Matters for a period of further consideration which could last up to four weeks.
Senator Godiya Akwashiki, a spokesman for the Nigerian Senate, said the open discussions would allow for citizens' concerns over the effect of the bill to be aired.
"Nigerians still have a say over the bill during the public hearing," Akwashiki told Al Jazeera. "[It] is an opportunity for the general public to express their views, in order [for them] to be captured in the bill."
A spokesman for President Muhammadu Buhari meanwhile told Al Jazeera on condition of anonymity that the government had "not made a position" yet on the act, which was introduced by legislators and has not been sponsored by the administration.
Rights groups Amnesty International and Human Rights Watch have raised the alarm over the bill's possible effect on public discourse in a country with an estimated 113 million internet users, 30 million of whom are active on social media.
"Social media is one of the last remaining places where Nigerians can express their opinions freely," Seun Bakare, programmes manager for Amnesty's Nigeria branch, said in a statement on December 4.
"The harassment of journalists and bloggers and the introduction of the Cyber Crimes Act have already shrunk the civic space and created a climate of fear," Bakare added, citing a 2015 piece of legislation that criminalised a broad range of online activity.
'Problematic for many reasons'
Other critics have meanwhile argued the legislation would not only prove restrictive, but also ineffective.
Berhan Taye, a senior policy analyst at global internet advocacy organisation Access Now and leader of the group's #KeepItOn campaign in Africa, said the bill was "extremely problematic for many reasons".
According to Taye, the provisions allowing for internet access to be cut off would not solve more fundamental problems about the veracity of content being shared online - a major talking point in Nigeria's latest presidential election in February.
"An internet shutdown does not solve the problems of disinformation and misinformation," Taye told Al Jazeera, adding that "fake news is a global problem".
Any such move could also have major ramifications for Nigeria's economy, with a 24-hour blackout projected to cost $134m, according to the Cost of Shutdown Tool developed by non-profit organisation The Internet Society and Netblocks, a non-governmental internet governance observatory.
However, supporters of the Social Media Bill have cast aside such concerns, arguing it can be applied effectively and deliver transformative security benefits.
Senator Muhammad Sani Musa, a member of Buhari's political party and a co-sponsor of the legislation, said it would help stop the spread of fake news in Nigeria and hence curtail groups seeking to undermine the country's cohesion.
"Individuals and groups influenced by ideologies and deep-seated prejudices in different countries are using internet falsehood to surreptitiously promote their causes, as we have seen in Nigeria with the insurgency of Boko Haram," Musa said while defending the bill in November.
https://www.aljazeera.com/news/2019/12/nigerians-raise-alarm-controversial-social-media-bill-191218130631539.html
------
New Zealand
NZ police call firearms buyback a success in wake of Christchurch mosque shooting
While New Zealand police praised firearms owners for handing in their now illegal weapons as part of a buyback and amnesty scheme, opposition politicians and the gun owner lobby have called it a failure.
Prime Minister Jacinda Ardern's government banned military-style semi-automatic weapons less than a month after a suspected white supremacist killed 51 people and injured 50 in a massacre at two mosques in Christchurch on 15 March. Gun owners had until Saturday to return their firearms to receive a payout.
"As of midnight, 20 December 2019, 56,250 firearms and 194,245 parts have been handed in," Deputy Commissioner Mike Clement said in a statement.
Mark Mitchell from the opposing National Party said police failed to buy back "anywhere near the number of firearms it was aiming for".
As there is no gun registry in New Zealand, estimates of how many of the now illegal semi-automatic firearms were in circulation differ wildly.
While police earlier this year estimated that there were between 56,000 and 173,000 prohibited firearms, Mitchell suggested numbers were "as high as between 170,000 and 240,000 firearms."
In a statement, Nicole McKee, spokesperson of the lobbying group Council of Licenced Firearms Owners (COLFO), said the organisation believed that "two-thirds of the firearms banned have been retained by owners."
Police Minister Stuart Nash said the number of firearms handed in or still being processed was within the range estimated by consultancy firm KPMG which provided independent advice to the police.
"However police have consistently warned the problem is we just don't know exactly how many guns are out in the community," Mr Nash added.
https://www.sbs.com.au/news/nz-police-call-firearms-buyback-a-success-in-wake-of-christchurch-mosque-shooting
------
URL: https://www.newageislam.com/islamic-world-news/hafiz-saeed-indicted-another-case/d/120592
New Age Islam, Islam Online, Islamic Website, African Muslim News, Arab World News, South Asia News, Indian Muslim News, World Muslim News, Women in Islam, Islamic Feminism, Arab Women, Women In Arab, Islamophobia in America, Muslim Women in West, Islam Women and Feminism