New Age Islam News Bureau
7 May 2018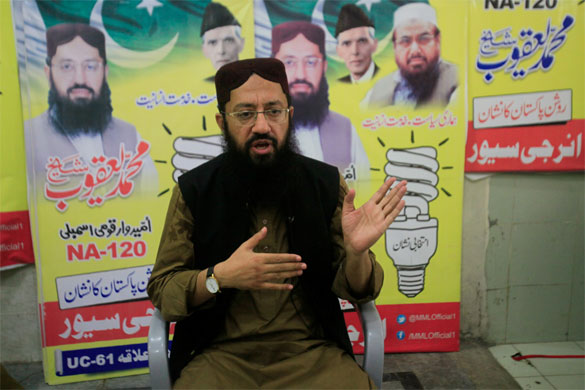 For mainstreaming JuD a new Muslim League is in town? Milli Muslim League Pakistan
---
• Hafiz Saeed Begins Campaigning For Milli Muslim League in Pakistan
• Saudi Detains 'Thousands' For Months without Trial: Human Rights Watch
• Islamic Nations Seek Global Pressure on Myanmar over Rohingya
• Worry, Fear in Iran Ahead of Trump's Decision on Atomic Deal
• Rights Groups to Bring Legal Action against France over Arms Sales to Saudi, UAE
Pakistan
• Hafiz Saeed Begins Campaigning For Milli Muslim League in Pakistan
• Pakistani Interior Minister Shot by Man Linked To New Ultra-Religious Religious Party - Report
• Time for 'Ethnic Politics' Is Over: Sirajul Haq
• Pakistan Seeks Muslims Representation in UNSC
• Remarks about 'aliens' could jeopardise polls: JI chief
• The only Sikh student at Peshawar University wishes to serve as diplomat for Pakistan: report
• Pakistan Brings Together Some Key Countries Ahead Of UN Global Counter-Terrorism Strategy Review
• Muslim communities urged to focus on unity
--------
Arab World
• Saudi Detains 'Thousands' For Months without Trial: Human Rights Watch
• Chinese Nationals Travel Long Way to Join Terrorist Groups in Syria
• Former Jaish al-Islam leader stole millions, launches businesses in Turkey & Saudi Arabia: Report
• Iraq's Prime Minister Is Making Electoral History in the Former Jewel of the Islamic State
• 318 referred to Egypt's military court on charges of terrorism
• Iraq warplanes targeted IS jihadists in Syria
• Kurdish Militias in Fear for Arab Gunmen's Growing Presence in Eastern Syria
• Lebanon awaits results of first parliamentary elections in 9 years
• Iraq's Sadr slams Maliki's absolute majority policy ahead of elections
• Saudi air defence destroys Houthi ballistic missile fired toward Najran
--------
South Asia
• Islamic Nations Seek Global Pressure on Myanmar over Rohingya
• Suspected Taliban Bomb Attack at Mosque Kills 19 in Eastern Afghanistan
• Blast at Afghan voter registration centre kills 17
• PM Hasina: Myanmar Needs To Learn Communal Harmony from Bangladesh
• Taliban rejects involvement in the deadly mosque bombing in Khost
• Taliban militants detonate explosives beneath a main bridge in Helmand
--------
North America
• Worry, Fear in Iran Ahead of Trump's Decision on Atomic Deal
• Efforts Underway To Make Trump Stay In Iran Deal, But Does He Understand It?
• How a Muslim Community Overcame Disinformation Linking Vaccines to Autism
• Republican House Armed Service chair warns Trump against quitting Iran deal
--------
Europe
• Rights Groups to Bring Legal Action against France over Arms Sales to Saudi, UAE
• Religious Summit between Islam and Christianity Soon In Rome
• Pakistan prepares for UN counter-terror strategy review
--------
Mideast
• Iran: 9/11 'Verdict' Attempt At Rewriting History
• Turkey Slams French Figures Demanding Change in Quran
• Three Palestinians killed in latest Gaza cross border violence
• Iran arrests suspect linked to terrorist MKO in Mashhad
• Turkey will carry out more cross-border offensives into Syria, Erdogan vows
• Israeli forces shoot dead 3 Palestinians at Gaza border fence
• Israeli fighter jet targets Hamas position in northern Gaza Strip
--------
India
• AMU Row: Muslims Who Want Jinnah Portrait Insulting Forefathers, Says Union Minister V K Singh
• Seven Indians abducted in Afghanistan, Taliban hand suspected
• Clash between Dalits and Muslims near Theni
• Muslim Aspirants for UPSC Will Get Free Coaching At Haj Houses from Next Year
• Professor-turned-terrorist among 5 Hizbul men killed in Shopian encounter
• From Infrastructure to education, India's $2-billion role in Afghanistan
--------
Southeast Asia
• Mosques May Become Battleground for 2019 Election
• From race card to robust economy: Five reasons why Malaysian PM Najib Razak will likely win
• Malaysia halts people-smuggling ship bound for Australia, NZealand
--------
Africa
• Boko Haram: What Emir said about Mubi suicide bomb attack
• Six Killed In Boko Haram Attack on Lake Chad Island
• Libyan coastguard prevents NGO boat from rescuing migrants: AFP
• 45 Dead As Militia, Bandits Clash in Northern Nigeria
• War drums beat east of Libya amid plans to liberate Derna
Compiled by New Age Islam News Bureau
URL: https://www.newageislam.com/islamic-world-news/hafiz-saeed-begins-campaigning-milli/d/115169
--------
Hafiz Saeed begins campaigning for Milli Muslim League in Pakistan
May 7, 2018
Mumbai attack mastermind Hafiz Saeed has kicked off campaigning for the Milli Muslim League, the political front of the JuD, with an eye on the general elections in Pakistan this year.
The US last month designated the Milli Muslim League (MML) as a foreign terrorist organisation, saying the banned Lashkar-e-Taiba (LeT) members make up MML's leadership and the so-called party openly displays Saeed's likeness in its election banners and literature.
The MML has not been yet registered by the Election Commission of Pakistan (ECP).
Saeed on Saturday held the MML's first rally in Haroonabad, some 400 km from here, asking the participants to vote for the MML and canvass for it.
Former military dictator gen Mohammad Zia-ul-Haq's son Ijazul Hasan was also present on the occasion.
Saeed said the enemies of Pakistan want clash of institutions in the country so that it could achieve its nefarious designs."We have to be united to fail their (enemies) agenda," he said.Saeed urged the Pakistani government to change its policy towards India.
Talking about the MML priorities, the LeT founder said: "the MML wants the country economically strong. We will have to follow the Quaid-e-Azam's vision to achieve a strong and prosperous Pakistan".
Saeed had confirmed that his organisation Jammat-ud-Dawah (JuD) would contest the 2018 general elections under the banner of the MML.
The Election Commission of Pakistan has asked the MML to produce a clearance certificate by the interior ministry for its registration as a political party. The interior ministry has not issued a clearance certificate to the MML, citing its ties to banned militant outfits.
The LeT was designated as a Foreign Terrorist Organization and Specially Designated Global Terrorist (SDGT) group on December 26, 2001.
Its leader Saeed is also designated as an SDGT.
To avoid sanctions, LeT has repeatedly changed its name over the years, the State Department alleged.
The JuD is believed to be the front organisation for the LeT which is responsible for carrying out the Mumbai attack that killed 166 people, including six Americans.
http://www.dnaindia.com/world/report-hafiz-saeed-begins-campaigning-for-milli-muslim-league-in-pakistan-2612198
--------
Saudi detains 'thousands' for months without trial: Human Rights Watch
May 06, 2018
Saudi Arabia has detained thousands of people for years without trial, the Human Rights Watch (HRW) said on Sunday, slamming the country's powerful crown prince for the "arbitrary detentions".
Official data from the Interior Ministry, analysed by the HRW, showed that authorities had detained 2,305 people for more than six months without referring them to court.
More than 1,870 had been held for more than a year and 251 for more than three years with their cases still "under investigation," HRW said, citing the ministry database.
One person has been held for over a decade in what the HRW said was a case of "documented arbitrary detention".
The ultraconservative kingdom, an absolute monarchy, has introduced a string of reforms in past months, spearheaded by the country's unchallenged Crown Prince Mohammed bin Salman, dubbed "MBS", who was appointed heir to the throne in June 2017.
Yet arbitrary detention appears to have "increased dramatically in recent years", according to the HRW. The group urged authorities to "stop holding people arbitrarily".
'Criminal system unjust'
"If Saudi authorities can hold a detainee for months on end with no charges, it's clear that the Saudi criminal justice system remains broken and unjust, and it only seems to be getting worse," said Sarah Leah Whitson, Middle East director for the New York-based rights group. "It seems that MBS's Vision 2030 plan better describes the length of detentions without charge than an aspirational time horizon for reforms."
Salman is the architect of his country's "Vision 2030" plan, a sweeping reform project aimed at weaning Saudi Arabia off of its dependence on oil and modernising one of the most restrictive countries in the world.
https://nation.com.pk/06-May-2018/saudi-detains-thousands-for-months-without-trial-human-rights-watch
--------
Islamic nations seek global pressure on Myanmar over Rohingya
May 07, 2018
DHAKA - Islamic foreign ministers on Sunday launched a campaign to mobilise international support for action against Myanmar over the Rohingya refugee crisis, officials said.
Foreign ministers and diplomats of the 53-member Organization of Islamic Conference (OIC) set up a campaign committee during two days of talks in the Bangladesh capital Dhaka. OIC secretary general Yousef bin Ahmed Al-Othaimeen called the move a key step toward ending a crisis caused by the exodus of about 700,000 Muslim Rohingya from Buddhist-majority Myanmar into camps in Bangladesh.
He said the new committee would "mobilise and coordinate international political support for accountability for human rights violations against the Rohingya community." "This is very important. This is one of the concrete steps that has been taken to alleviate the problem for our (Rohingya) brothers and sisters," he said.
A military campaign launched in Myanmar's Rakhine state in August last year set off the massive influx of the Muslim minority into Bangladesh where they joined 300,000 refugees already living in squalid camps following previous violence. The United Nations and United States have said the crackdown amounted to ethnic cleansing. The Myanmar army has said it only targeted militants. Rohingya civilians have told of murders and rapes as they fled. They say the army burned hundreds of Rohingya villages to the ground. Al-Othaimeen said Muslim nations had to "pressure the international community". "This is not religious, this is human basic rights of our brothers and sisters in the last 50 years," he said.
The International Criminal Court prosecutor has already called for the tribunal to rule on whether it can investigate the allegations of mass rape and killings. Bangladesh has put huge diplomatic effort into pressuring Myanmar to take back the refugees in safety.
The two nations signed a repatriation deal in November, but nobody has since returned. The Rohingya have been persecuted for decades in Myanmar, where they are regarded as illegal immigrants from Bangladesh and denied citizenship.
Last month a UN Security Council delegation visiting the camps called for the safe return of the Rohingya and an end to discrimination against them. Canada's Foreign Minister Chrystia Freeland also called for "accountability" when she toured the Rohingya camps this week.
Bangladesh Foreign Minister A. H. Mahmood Ali said the OIC meeting had urged "strong action against the Myanmar government" on the Rohingya crisis.
https://nation.com.pk/07-May-2018/islamic-nations-seek-global-pressure-on-myanmar-over-rohingya
--------
Worry, fear in Iran ahead of Trump's decision on atomic deal
May 07, 2018
TEHRAN, Iran: On the streets of Tehran, every day seems to bring more worry and fear ahead of President Donald Trump's decision this week on whether to pull America out of the nuclear deal with Iran.
Exchange shop windows that once showed rates for Iranian rial to US dollar transactions have gone blank, as black-market rates have skyrocketed to 70,000 rials to the dollar, far higher than the newly government-imposed rate of 42,000 for $1.
Busy shopping districts that once saw newlyweds buying refrigerators and other major appliances now largely stand empty as people save their money. Some talk openly about leaving the country for anywhere else.
"All of us are thinking about the uncertain future ahead of us," said Mohammad Khaleghi, a 27-year-old appliance salesman on Tehran's Amin Hozour Street. "Everybody is doing that. Everybody is afraid of the future — even myself. I do not know what is going to happen, if I can survive in this business or not. This situation concerns us all."
The sense of foreboding gripping the Iranian capital ahead of Trump's Saturday deadline to decide what to do about the deal is a far cry from the jubilant street celebrations that greeted the 2015 nuclear accord with world powers. Then, people spoke with hope about Iran slowly losing its pariah status with the West, cemented in the aftermath of the 1979 Islamic Revolution and the hostage crisis at the US Embassy in Tehran. Others praised President Hassan Rouhani, himself a cleric, and Iran's other relative moderates for lifting the crippling economic sanctions that choked Iran over its contested nuclear program.
Today though, few can point to any benefit of the atomic accord.
"We do not feel any particular impact especially in our economy or on our life," said Shadi Gholami, a 25-year-old architect. "It is as if such a deal does not exist at all."
While the nuclear deal offered a salve in allowing Iran to sell crude oil and natural gas in the international market, the deal has not helped address its high unemployment, particularly among the youth in this country of 80 million people. Banks remain saddled with massive bad loans from the sanctions era. Government corruption also remains.
"Our economic problems have nothing to do with the deal or Trump. Our problem is that our officials just think of their own pocket," said Ladan Shiri, a 33-year-old sales manager at a private company. "If they really thought about the people and not just their own profits, our people would not have the troubles they have today. This is the main problem."
Ali Forouzi, a 33-year-old industrial engineer, agrees.
"It is not nice to always blame others such as America and Trump for our troubles. I believe that the root of our problems is inside the country," Forouzi said. "If we are strong enough internally, nobody can hit us from the outside, but unfortunately our problems arise from the internal system. This includes the lack of good coordination between our government and other bodies, as well as within the people themselves."
Trump himself has been a divisive figure in Iran even apart from his long criticism of the nuclear deal. Though the United States is home to many Iranians, Trump included Iran in his travel bans, stopping families from getting visas to visit loved ones. Iranians also have criticized him for calling the Arabian Gulf "the Arabian Gulf."
Trump's actions have been a boon to hard-liners within Iran's government, who point to them as a sign that America is the "Great Satan" of the post-revolution years.
"If Trump pulls out, it will show very well to the world and to our own people how disloyal America is to its treaties and the truth will be revealed," Forouzi said. "It may even give a better picture of us internationally because we have been committed to our promises."
Seyed Reza Mousavi, a 58-year-old Shiite cleric, said the deal had "disarmed superpowers" and showed Iran's strength.
"We are not scared by Trump's decision and will resist and stand up to him without wavering," the cleric said. "Even if he pulls out of the deal we will not be harmed. We have chosen our path and it is the United States that will be harmed, not us, if he does it."
One way the US could be harmed is in North Korea, said Alireza Yarmohammadi, the 52-year-old director of a health care and cosmetics company. North Korean leader Kim Jong Un may never take Trump seriously ahead of promised talks between the two leaders.
"It is not very easy for America to leave the deal because if it does, North Korea will not hold talks with it," Yarmohammadi said. "They will not reach a deal with a country that is disloyal to another accord which is only 2 years old. Besides, the next president may come and say that they do not accept a previously reached deal."
But closer to home, Iranians increasingly talk among themselves of trying to leave the country for a better life abroad. Western Europe remains a choice for those with ties there, while those with the money head visa-free to Armenia, Georgia and Serbia to buy citizenship.
"Oftentimes I think that if I want to live a better life I must emigrate from Iran," said Gholami, the architect. "This thought is always with me."
She added: "I wish here was a place where I could live in peace and quiet beside my friends and family. But sometimes things become so bitter that we have no choice."
http://www.arabnews.com/node/1297911/world
--------
Rights groups to bring legal action against France over arms sales to Saudi, UAE
May 7, 2018
Two human rights groups campaigning for a halt to French arms sales to Saudi Arabia and the UAE say they are taking their case to France's highest legal authority.
Legal non-governmental organization Droit Solidarite and Aser, which specializes in armament issues, had given Prime Minister Edouard Philippe a two-month ultimatum in March to suspend licenses for arms sales to the Persian Gulf states.
Having received no response, the groups said they would present a legal challenge on Monday to the Conseil d'Etat, France's highest legal authority, which advises the government on legislative matters and arbitrates on public policy issues.
"It will be up to (Council of State) to decide on the legality of the export license authorizations issued by the prime minister," Aser et Droit Solidarite said in a statement.
The two rights bodies argue that France is breaking international law by providing weapons for the Saudi-led aggression against war-ravaged Yemen and subsequently committing war crimes there.
In March, Amnesty International and French human rights group ACAT published a legal report warning that Paris and its weapons suppliers faced potential legal risks over their dealings with Saudi Arabia and the UAE.
Norway has already suspended arms exports to the United Arab Emirates. The German government has also said it would "immediately" stop weapons exports to anyone participating in the war in Yemen.
France, the world's third-biggest arms exporter, counts Saudi Arabia and the UAE among its major purchasers, and France's biggest defense firms, including Dassault and Thales, have major contracts in the Persian Gulf.
The European country has sold Caesar artillery guns and ammunition, sniper rifles and armored vehicles to Saudi Arabia and the UAE.
Saudi Arabia has been bombing Yemen since 2015 and punishing it with a crippling blockade on Yemeni ports, airports and borders crossings, which has restricted food, aid and vital supplies from entering the impoverished country.
The UAE was the first country to join the Saudi war against Yemen but fissures have emerged in their alliance recently as each side has been trying to carve out a zone of influence in the territories they seize.
The Yemeni Ministry of Human Rights announced in a statement in March that the Saudi-led war had left 600,000 civilians dead and injured since March 2015.
The United Nations says a record 22.2 million Yemenis are in need of food aid, including 8.4 million threatened by severe hunger.
http://www.presstv.com/Detail/2018/05/07/560886/rights-groups-Droit-Solidarite-Aser-France--arms-deal-Saudi-Arabia-UAE-Yemen
--------
Pakistan
Pakistani Interior Minister Shot By Man Linked To New Ultra-Religious Religious Party - Report
MAY 6, 2018
LAHORE/ISLAMABAD, Pakistan (Reuters) - Pakistani Interior Minister Ahsan Iqbal was wounded on Sunday in an apparent assassination attempt by a gunman linked to a new ultra-religious Muslim party - an incident likely to raise tensions before an election expected in late July.
Violence has been a feature of pre-election periods in Pakistan over the past decade, mainly due to Islamist assassinations of political figures, including former Prime Minister Benazir Bhutto in 2007.
Iqbal, 59, a senior member of the ruling Pakistan Muslim League-Nawaz (PML-N) party and a staunch ally of ousted premier Nawaz Sharif, was shot as he was leaving a constituency meeting surrounded by supporters in Punjab province.
An initial report on the shooting by a local administrator, the deputy commissioner of Narowal district, seen by Reuters, said the gunman had been arrested and "showed his affiliation" to Tehreek-e-Labaik.
The party calls for the aggressive enforcement of Pakistan's blasphemy laws, which can carry the death penalty.
However, neither the report nor other officials commented on the attacker's possible motives.
Iqbal was shot soon after addressing voters in Kanjroor village in Narowal, his constituency near the border with India, but the exact circumstances were not immediately clear.
"I can't tell you the motive at this stage due to security reasons," Narowal police chief Imran Kishwar told Reuters.
OUT OF DANGER
Police said the bullet had hit Iqbal in the right arm and gone into his groin. They named the suspected shooter as Abid Hussain, 21, and said they had found him carrying a pistol.
After being rushed to a nearby hospital, Iqbal was taken by helicopter to Lahore, capital of Punjab.
"The minister luckily survived," said junior interior minister Talal Chaudhry. "Thank God, he is out of danger."
Blasphemy is a deeply emotional and politically charged issue in Pakistan, even more so since Labaik has emerged in the past year.
The party was born out of a protest movement supporting Mumtaz Qadri, a bodyguard of the governor of Punjab who gunned down his boss in 2011 over his call to relax Pakistan's draconian blasphemy laws.
Labaik has been gaining strength with an election platform centred on punishing blasphemy.
Many of its supporters say PML-N, despite repeated denials, wants to ease the blasphemy laws. While dozens are on death row for blasphemy, no one has been executed in recent decades.
"UNARMED STRUGGLE"
In a statement on Sunday night, Labaik leader Khadim Hussain Rizvi condemned the attack on Iqbal and said the party had not authorised any of its supporters to take up arms.
"Tehreek-e-Labaik is an unarmed struggle to bring the Prophet's religion to the throne," Rizvi said.
The statement did not specifically mention any suspect in custody or any links to the party.
Tehreek-e-Labaik, whose name means Movement of the Prophet's Followers, is a political grouping with no known links to the various Islamist militants - including the Pakistani Taliban - that have carried out bombings and other attacks in Pakistan.
Iqbal, who also heads the planning ministry, has in recent years overseen the implementation of Chinese-funded Belt and Road infrastructure projects in Pakistan as part of the near $60 billion China-Pakistan Economic Corridor (CPEC).
Prime Minister Shahid Khaqan Abbasi condemned the attack on Iqbal and called for an immediate police report.
A senior government official, who declined to be named, said early information suggested Iqbal had been returning from a meeting with a Christian group.
"We are not sure whether it has got anything to do with the motive. We will know only after investigation of the attacker."
Militant attacks in Pakistan have fallen sharply over the past few years, but Islamist fighters continue to pose a threat and carry out assassinations.
In the run-up to the 2013 elections, which PML-N won handsomely, Pakistani Taliban militants killed more than 70 people in attacks targeting the Awami National Party (ANP), the Pakistan People's Party (PPP) and the Muttahida Qaumi Movement (MQM). Many of their most prominent candidates were prevented from campaigning openly.
https://in.reuters.com/article/pakistan-attack/pakistani-interior-minister-shot-by-man-linked-to-new-religious-party-report-idINKBN1I70J6?il=0
--------
Time for 'ethnic politics' is over: Sirajul Haq
May 07, 2018
KARACHI: Jamaat-i-Islami chief Sirajul Haq on Sunday said the era of ethnicity-based politics had ended and the people in Karachi would vote for those who served them in the past.
"Karachi is a city of politically-conscious people and those who still want to play the ethnicity card will no longer succeed in future elections," said Mr Haq while addressing JI's Karachi Youth Convention at Bagh-i-Jinnah.
The JI emir claimed that his party was the only political force in the country which had organised its youth, in Karachi in particular, at the grass-roots level, adding the young leadership of the party had been elected at the union council level, which was itself unique in the country's history.
"This is what we call real democracy," he said.
The JI chief said all political parties in the country were holding rallies only to champion politically meaty issues while his party was still raising the issues related to the common people.
He said that other parties which ruled the city had always ditched its people.
"Except for Jamaat-i-Islami," said Mr Haq, "every other party, which has ruled Karachi has ditched its people. We are the only one who served Karachi whenever got power and even when we are not in the office we never stop from serving our people."
Full report at:
https://www.dawn.com/news/1406139/time-for-ethnic-politics-is-over-sirajul-haq
--------
Pakistan seeks Muslims representation in UNSC
May 7, 2018
ISLAMABAD: Pakistan has sought 'proportional representation' of Muslim countries in the United Nations Security Council (UNSC), urging the 53-member Organisation of Islamic Cooperation (OIC) to play a greater role in discussions over reforms in the main decision-making body.
The proposal was put forward by Foreign Secretary Tehmina Janjua during a two-day meeting of the OIC foreign ministers which concluded in Dhaka, Bangladesh on Sunday.
Former foreign minister Khawaja Asif was supposed to lead the Pakistani delegation but Janjua had to take his place after he was disqualified by a high court for hiding his employment in a foreign country.
Pakistan opposes creation of new permanent seats at UNSC
Speaking at the meeting, the foreign secretary said the OIC should play a significant role in discussions over the reform of the Security Council.
"Our countries constitute more than one-fourth of the UN membership; we should, therefore, have proportional representation on an expanded Security Council, especially since the council's agenda contains many items of direct concern to Islamic countries," she suggested to the participants.
She further said as the world's second largest inter-governmental organisation, the OIC should play a pro-active role in the reform process and seek adequate representation in the reformed Security Council as laid down in numerous OIC resolutions.
Pakistan demands greater representation for non-permanent members in UNSC
In recent years there have been discussions and specific proposals to expand the Security Council. One of the contenders is India. However, there has been no breakthrough so far given lack of consensus on the issue.
The Security Council has currently five permanent members — the US, China, Russia, Britain and France.
Meanwhile, a statement issued by the Foreign Office on Sunday said one of the main highlights of the OIC meeting in Dhaka was the strong support demonstrated by the member states to the just cause of the Kashmiri people through adoption of resolutions and endorsement of the report of the recently held OIC Contact Group on Jammu and Kashmir.
'Pakistan is not seeking a permanent UNSC seat'
Both the resolutions and the report of the Contact Group reaffirmed OIC's support for the realisation of the right of Kashmiri people to self-determination in accordance with the UN Security Council Resolutions, it said.
The Contact Group report drew attention to the rise in gross and systematic human rights violations in Occupied Jammu and Kashmir, terming them crimes against humanity.
The report also rejected attempts to equate the peaceful indigenous struggle for self-determination with terrorism.
The Memorandum presented by the True Representatives of the Kashmiri people to the OIC Secretary General was annexed to the report.
The foreign secretary, in her statement at the conference, as well as during a brainstorming session on humanitarian challenges and in her meetings inter alia, focused on the issue of Jammu and Kashmir. She also thanked the OIC member states for their consistent support to the cause.
Maleeha Lodhi demands democracy be a 'central tenet' of the UNSC reform process
The foreign secretary also spoke at length about the tragic plight of the Rohingya Muslims and Palestinians and expressed Pakistan's full solidarity with them.
Just before the conclusion of the conference, the host country circulated the text of the Dhaka Declaration. It only reflected the views of the host country, and therefore, issued under its own responsibility, signifying that the text was neither discussed nor negotiated by the participating states.
"The declaration is without prejudice to the well-established positions of OIC member states and the organisation, as enshrined in the CFM and summit documents," the Foreign Office said.
Ahsan Iqbal takes a dig at Imran Khan for his 'political naivety'
Full report at:
https://tribune.com.pk/story/1703896/1-pakistan-seeks-muslims-representation-unsc/
--------
Remarks about 'aliens' could jeopardise polls: JI chief
May 7, 2018
PESHAWAR: Jamaat-e-Islami (JI) head Senator Sirajul Haq said on Sunday that the statement of Pakistan Muslim League-Nawaz (PML-N) supreme leader Nawaz Sharif about aliens and the disclosures of Pakistan Tehreek-e-Insaf (PTI) Chairman Imran Khan about the role of the hidden hands in 2013 general elections could a threat to the next polls.
He asked the Election Commission of Pakistan (ECP) to remove shortcomings to restore the trust of the public in the polling process. Addressing a function at a local seminary in Chamkani and later talking to reporters, he said that viable peace was linked to the establishment of the Islamic system.
The JI head said that nobody could stop the way of the Islamic revolution after the revival of the Muttahida Majlis-e-Amal (MMA). He claimed the alliance of the religio-political parties would win the upcoming general election.
Sirajul Haq expressed displeasure over the non-allocation of budget for the 2.5 million students of the religious seminaries in the country. He demanded a budget like the students of universities, colleges and schools for the seminary students.
Sirajul Haq rejected the allocation of only Rs10 billion for the tribal areas in the budget and said a huge amount should be spent on the development of Fata. He added the JI was the first political party that launched political activities in tribal areas and demanded rights for the people of Fata.
The JI head said the country was facing a host of problems and challenges because of the incompetent rulers who are responsible for the dismemberment of the country in 1971 as well as the growing insecurity and law and order situation in the country for the last many years.
Full report at:
https://www.thenews.com.pk/print/313522-remarks-about-aliens-could-jeopardise-polls-ji-chief
--------
The only Sikh student at Peshawar University wishes to serve as diplomat for Pakistan: report
May 7, 2018
PESHAWAR: A Sikh student of International Relations at Peshawar University, Inderjeet Singh intends to become a diplomat and represent Pakistan as religiously harmonious, a local media outlet reported on Sunday.
Inderjeet's father Samandar Singh explained that Pakistan is to Sikhs what Makkah is to Muslims as Pakistan is the land of Sikh Gurus. Inderjeet's ancestors moved to Peshawar from Khyber Agency and his father has a mobile phone business established in a bazaar where most other businesses are run by the Sikh community. Inderjeet highlighted how no Sikh had obtained higher education in Khyber Pakhtunkhwa (KP) till now as most preferred to engage in commerce rather than pursue education.
"The Sikhs are an integral part of Pashtun society, respected by all and sundry. I'm yet to come across such a case [apprehensions over curriculum]," said Inderjeet's teacher Minhas Marwat.
However, while Inderjeet's experience has been positive, many other Sikh's have alleged that they face harassment at educational institutes. Santokh Singh, who dropped out of university said that he did so because a professor kept trying to convert him to Islam after he scored good grades in an Islamiat examination.
Gurpal Singh, who runs a school for Sikh students in Peshawar said that harassment and discrimination are among some of the reasons why Sikhs pursue commerce instead of education. In addition, he said that out of 1200 Peshawar-based Sikh families, 550 had shifted to Punjab due to limited access to educational facilities in the tribal areas.
Full report at:
https://www.pakistantoday.com.pk/2018/05/07/the-only-sikh-student-at-peshawar-university-wishes-to-serve-as-diplomat-for-pakistan-report/
--------
Pakistan brings together some key countries ahead of UN Global Counter-Terrorism Strategy review
May 7, 2018
Pakistan organised a meeting last week of 15 countries representing all regions of the world ahead of next month's review of the United Nations (UN) Global Counter-Terrorism Strategy that is aimed at updating the document to more effectively combating the terrorist threat by the international community.
According to diplomatic sources, 34 representatives of 15 countries, as well as UN officials, exchanged views on the strategy at a working lunch hosted by Permanent Representative of Pakistan to the UN Maleeha Lodhi.
"Hosting a luncheon for a cross-regional group on an important and sensitive issue of counter-terrorism reflected Pakistan's convening power in a multilateral setting," a diplomat, who attended the event, told APP. In doing so, he said, Pakistan had placed itself in a key position by bringing together Russia, China, India, Egypt and Iran as well as other OIC members and Latin American countries on one platform.
The UN General Assembly (UNGC), which adopted the Global Counter-Terrorism Strategy in 2006, reviews the strategy every two years, making it a living document attuned to member states' counter-terrorism priorities.
"The upcoming review of the strategy will provide us with an opportunity to review the evolving terrorism landscape, give recommendations to address emerging challenges and threats and propose measures to be taken by member states and UN entities to fight terrorism," Lodhi said while welcoming her guests at the luncheon.
Stressing the need for developing preventive approaches to curb the spread of terrorism and violent extremism, she said that the phenomenon could best be understood and effective responses evolved by understanding the conditions under which it thrives and leads to terrorism.
"While we fully support the idea of developing counter-messaging to address the issue of violent extremism, we believe there is a need for a comprehensive international framework to address the 'drivers of violent extremism' as well," the Pakistani envoy said.
Evolving a comprehensive preventive approach, she said, was not possible without assessing the root causes responsible for violent extremism.
The Pakistani envoy said that an erroneous impression was being created about the preventive approach that violent extremism was exclusively the product of lack of good governance, human rights, development and the rule of law at the national level.
"Drivers like foreign interference and occupation, protracted conflicts, lack of rule of law at the international level, political and economic marginalisation of migrant communities are among the issues that are conspicuous by their absence in this discussion," she told her colleagues at the luncheon.
"A balance has to be struck between internal and external factors that drive extremist ideologies in different countries and regions, as well as the role of 'foreign occupation' and 'prolonged unresolved conflicts' that have contributed significantly to the rise of violent extremism, would have to be part of any comprehensive preventive strategy."
Full report at:
https://www.pakistantoday.com.pk/2018/05/06/pakistan-brings-together-some-key-countries-ahead-of-un-global-counter-terrorism-strategy-review/
--------
Muslim communities urged to focus on unity
May 7, 2018
ISLAMABAD: Urging Muslim societies across the country to spread Islam's message of tolerance and peaceful co-existence, they were asked to focus on uniting on shared values mentioned in the Holy Quran.
This was stated by the International Islamic University Islamabad (IIUI) Rector Professor Dr Masoom Yasinzai on Sunday while addressing the concluding ceremony of 27th International Human Resource Development Programme for Muslim minority countries. The programme had been organised by Dawah Academy of IIUI in Islamabad.
"It is our prime responsibility to spread attributes of Islam across the world and it is the need of the hour to strengthen cooperation among human communities and societies to promote unity and peace in the light of teachings of Islam," he said.
He added that Muslim societies are diverse but they should focus on uniformity.
He furthered that the Muslim Ummah should not worry about the prevailing challenges and that they must take initiatives to promote Islam as a religion of peace. He said that any kind of violence not only in Islam but in other religions as well was strictly condemned.
There were 18 participants at the ceremony from eight countries, five participants from Sri Lanka, three from Ghana, two from Uganda, two from South Africa, two from Myanmar, two from Cuba, one from Kenya and one from Cambodia, attended the program which was started from April 11, 2018 and concluded this week at Dawah Academy, IIUI.
Scholars from IIUI and other universities gave lectures on different religious and academic topics. The prevailing situation of Islamic teachings was also discussed by the participants.
Full report at:
https://tribune.com.pk/story/1703976/1-muslim-communities-urged-focus-unity/
--------
Arab World
Chinese Nationals Travel Long Way to Join Terrorist Groups in Syria
May 06, 2018
Recent intelligence reports said that thousands of Chinese terrorists are fighting in the ranks of terrorist groups in Syria. China is very concerned about their return and their influence on the security of its citizens and its worldwide interests, which is why they have recently increased their involvement in Syria, and have pushed to strengthen their ties with the Syrian government.
The Chinese who fight in Syria are members of the Uyghur minority, a Sunni minority that speaks in a Turkish dialect and mainly resides in the Northwestern province of Xinjiang.
President Assad has said that Syrian and Chinese intelligence officials are working together to fight the Uyghurs in Syria, who entered through Turkey—and accused Turkey of the crisis.
A spokesman for the Chinese Foreign Ministry said that China is ready to cooperate with relevant parties, including Syria, to combat the cross-border activities of the Uyghurs.
The Chinese have made great efforts to put a stop to the illegal departure of Uyghurs from the country, but despite the blocking of the shortest route through Pakistan, tens of thousands of Uyghurs have fled through the Southern border and crossed a winding route to reach Turkey, and thousands have opened their way into Syria.
In order to fund the trip, Uyghur families have sold their possessions in Xinjiang. Thanks to their Turkish origin, Turkey helps those who want to reach its territory—which creates tension between Ankara and Beijing.
In June 2013, the TIP (Turkistan Islamic Party) began distributing videos of its fighters in Syria, who called for jihad. The TIP is a separatist Uyghur organization operating mainly outside the borders of China, and the videos have led to a significant increase in the number of Uyghur fighters in the last four years.
3,000 Uyghurs are fighting in the ranks of al-Nusra Front, the al-Qaeda branch in Syria (also known as Fatah al-Sham Front or the Levant Liberation Board), and several hundred fighters in the ISIL. China estimates the number of terrorists to be around 5,000. Many Uyghur families have settled in villages in Syria.
In the early years, China made a point of not choosing a side in the war in Syria, but in mid-2015, a change of direction was becoming evident. Chinese delegations, including military delegations, began arriving in Damascus to expand aid to Syria.
The Chinese terrorists are believed to have been seen and trained in large numbers in disparate regions of Idlib, including the strategic town of Jisr al-Shoqouur, Ariha, and the highlands of Jabal al-Zawiya.
Uyghur militants are known by others for keeping their arms even in bed. They are said to be among the most savage militants of Al-Qaeda now.
http://en.farsnews.com/newstext.aspx?nn=13970216000706
--------
Former Jaish al-Islam leader stole millions, launches businesses in Turkey & Saudi Arabia: Report
May 6, 2018
Former head of the political body of the so-called Jaish al-Islam militant group has reportedly stolen millions of dollars from the money donated by regional sponsors of Takfiri terrorist outfits in Syria, and used the money to buy restaurants and commercial centers in Turkey and Saudi Arabia.
The Arabic-language Damascus Now news website reported on Sunday that Mohammed Alloush has appropriated some $47 million over the past few years, and hid it from the leaders of the terrorist organization.
The report added that Alloush then used the money to purchase real estates in Turkey and in Saudi Arabia, including Ewan Restaurant, car washes and body shops in Istanbul besides Rebou al-Sham Restaurant and three textile markets run by Bilal Oyoun in the Saudi capital city of Riyadh.
Jaish al-Islam commanders have reportedly called on Alloush to return the stolen sum but all to no avail.
Alloush was one of the founders of Jaish al-Islam militant group, and until recently led its political office.
He resigned from his post on May 3, after the group sustained a series of humiliating defeats in battles against Syrian army forces and pro-government fighters from popular defense groups in Eastern Ghouta region on the outskirts of Damascus.
Many leaders of Jaish al-Islam have been accused of corruption over the past few years.
Alloush's older brother and the founder of Jaish al-Islam, Zahran, was accused by other armed groups in the Eastern Ghouta of stealing more than $12 million back in 2015, months before he was killed in a counter-terrorism operation conducted by Syrian government forces in the enclave.
Full report at:
http://www.presstv.com/Detail/2018/05/06/560842/Former-Jaish-alIslam-leader-stole-millions-launches-businesses-in-Turkey--Saudi-Arabia-Report
--------
Iraq's prime minister is making electoral history in the former jewel of the Islamic State
May 6, 2018
MOSUL, Iraq — In advance of national elections next weekend, Prime Minister Haider al-Abadi is the front-runner here, and if he ultimately prevails, he will make political history as a Shiite politician in this overwhelmingly ­Sunni city.
The electoral strength of Abadi and his ticket in Mosul, the country's second-largest city, underscores his nationwide popularity and bodes well for his reelection, which U.S. officials have repeatedly indicated they would like to see.
But beyond that, Abadi's success in a place that had been the jewel of the Islamic State — an extremist Sunni group — would represent an opening for cooperation between Sunni and Shiite Muslims in a country long bedeviled by sectarian grievance and violence.
When campaigning officially kicked off last month for the May 12 elections, the boulevards of this city were instantly lined with candidate posters. But it was Abadi's face, smiling softly and ubiquitous on the vehicle-jammed streets, that stood out as both familiar and entirely unexpected.
For the first time since Iraq began electing a legislature in 2006, a Shiite politician is headlining an electoral ticket in Mosul. Abadi's list is named "Nasr," or "Victory," a reference in part to his role in ending the city's Islamic State trauma by orchestrating the military campaign that liberated the city last year.
Mosul may now be the ultimate proving ground for Abadi's message of nationalism over sect.
"Abadi is a symbol of shedding sectarianism," said Rana al-Naemi, 44, an English teacher from Mosul running on the prime minister's list. "The people of Iraq are ready for this." Alluding to the traditional colors worn by Sunni and Shiite clerics, she added, "Sectarianism is what destroyed us — whether it was a white turban or a black turban."
Once considered a weak and unremarkable leader who stumbled into power in the midst of the Islamic State blitz that conquered about one-third of Iraq, Abadi has been campaigning on a message of national unity in hopes of breaking the cycle of sectarian fighting that has marked Iraq's politics since the U.S. ouster of Saddam Hussein in 2003.
Abadi's popularity has soared since he managed the successful military campaign to claw back Iraqi cities from the Islamic State while artfully juggling the interests of the United States and Iran. He also won plaudits from many Iraqis when he dispatched troops to block an attempted secession by Kurds in the north late last year.
"One thing that we see consistently is that Prime Minister Abadi has a more balanced degree of support across all regions and across all ethnic and sectarian religious groups," said a senior U.S. official, who spoke on the condition of anonymity to discuss Iraq's internal politics.
For the United States, Abadi's presence in Mosul and other Sunni areas, such as Fallujah, is reassuring. He has worked closely with Washington in the fight against the Islamic State while maintaining cordial ties with Iran and reestablishing relations with regional powers such as Saudi Arabia.
The war against the Islamic State has significantly altered the political map in Iraq, where Shiites are the majority.
In previous elections, one or two major Shiite coalitions dominated the vote and subsequently the formation of the government.
This year, the support of the Shiite political establishment is fragmented among Abadi and challengers old and new. His predecessor, Nouri al-Maliki, though severely diminished because of losses to the Islamic State, is headlining a ticket that is running on a traditional platform of Shiite supremacy.
Hadi al-Amiri, the head of the powerful Badr Organization, is the face of a new coalition called "Fatah," or "Conquest," which represents Shiite militias that helped defeat the Islamic State, earning much public support. Many of those militias, including Badr, are backed by Iran, and a key element of their campaign has been urging the expulsion of U.S. forces from Iraq. In a sign of confidence, a number of the militias are running candidates in Mosul even though Abadi kept many of them out of the city during the battle because of their ultra-sectarian leanings.
With those major blocs essentially splitting the vote in Iraq's Shiite heartland, any candidate hoping to become prime minister must run well in Mosul and other Sunni areas.
The province of Nineveh, of which Mosul is the capital, is quickly emerging as one of the hottest contests in the election. This year, 940 candidates have been registered, compared with just 455 in 2014.
Nineveh holds 31 seats in Iraq's upcoming 329-member parliament, second only to Baghdad's 69. Iraq's parliament elects the prime minister and president, and those 31 votes could prove critical to Abadi winning a second term.
His Nasr coalition is the only one fielding candidates in all 18 provinces, and many observers have concluded that he is the only candidate who can credibly claim to be a genuine centrist leader — even though his rhetoric of making a fresh, nonsectarian start has also been embraced by many of his opponents.
"His attitude is one that he will be more successful with a larger variety of constituencies than many of his opponents," the U.S. official said.
Rasha Al Aqeedi, a political researcher at the Dubai-based al-Mesbar Studies and Research Center and a Mosul native, said that Iraq's minorities are unlikely to be enthusiastic about the prospect of another Shiite head of government but that Abadi remains the only candidate with the credentials to garner votes among Sunnis.
"If you compare him to everyone else, he does stand out for sure," she said.
But there are major roadblocks Abadi must overcome in Mosul. Voter apathy runs deep among the population after the grueling nine-month battle against the Islamic State.
In western Mosul, the situation is dire. The Old City neighborhood, where some of the most intense fighting took place, remains largely leveled, with some families living in the skeletons of what used to be their homes.
On one street, a single election poster was hung next to a sign warning of unexploded ordnance in the area — drawing a scornful smile from a police officer stationed at the corner. "These politicians have no shame," he said.
Across the Tigris River in eastern Mosul, there are barely any reminders of the fight. New markets have popped up at a startling pace, and cratered roads and bullet-pocked buildings have been repaired. But the restoration has been largely self-financed by the city's residents, who are becoming impatient with the central government's slow response.
"There will be no change — if there was going to be any change, it would have happened already," said Bilal Mohamed, a 41-year-old restaurant owner who said he will abstain from voting. "These candidates are paying attention to Mosul now, but I'm certain once they get elected, they will forget about us."
But he said that if Abadi wins, it "will be the best possible outcome in a bad overall scenario."
Saleh Elias, a 34-year-old journalist, said he does not expect much to change after the elections but will vote in the hopes of registering his voice. Not doing so has been disastrous in the past, he said.
"This city has always rejected the political process, and what we ended up with was the Islamic State," Elias said.
Abadi has stocked his ticket in Mosul with both new and old faces. Most notable is Khaled al-Obeidi, a career politician whom Abadi named as his first defense minister in 2014. Obeidi is a Mosul native widely respected for his role in the battle against the Islamic State. He retains his popularity despite being ousted by parliament in 2016 during a corruption probe in which he was never formally charged.
Mohsen Abdelkader, 37, a law professor also running on the ticket, said Abadi and Obeidi had inherited a "military that was in shambles" and restored it so it could eventually liberate Mosul.
Abdelkader added that they had treated all Iraqis as equal under the law. "People in Mosul are starting to feel like they are citizens just like the people of Baghdad, and this is because of the leadership of Abadi and Obeidi," he said.
Abadi has also recruited local officials who gained prominence during the battle against the Islamic State. Basma Baseem, the head of the Mosul local council, was vocal during the conflict, drawing attention to the plight of civilians in the crossfire.
"Nasr is not just an election coalition. It's an ambitious project that will start after the elections," she said.
But Abadi's popularity has also made him a prime target for his opponents.
Wissal Ali, a former member of parliament, is running on a purely Sunni ticket led by Osama al-Nujaifi — one of Iraq's current vice presidents and a former speaker of parliament from ­Mosul.
On the campaign trail, Ali has accused Abadi's coalition of being no different from that of the Shiite militias: outsiders interested only in votes and not in Mosul's well-being. She said the legacy of the Islamic State, often known in Arabic as Daesh, has left the city politically vulnerable.
Full report at:
https://www.washingtonpost.com/world/iraqs-prime-minister-is-making-electoral-history-in-the-former-jewel-of-the-islamic-state/2018/05/06/2cb42fd6-431e-11e8-b2dc-b0a403e4720a_story.html?utm_term=.fb7b66ddd273
--------
318 referred to Egypt's military court on charges of terrorism
May 6, 2018
CAIRO – 6 May 2018: Egypt's general prosecution referred on Sunday 318 members of the Islamic State of Iraq and the Levant – Sinai Province (ISIL-SP) to the military court on charges of planning terrorist attacks against military and police forces.
The list of defendants included the Egyptian national fugitive Tarek el Zomor, former chairman of Building and Development Party. El Zomor is accused of funding the terrorist activities in Egypt following July 2013.
El Zomor was among terrorists who assassinated former Egyptian President Anwar Sadat during a military parade on October 6, 1981 while celebrating the victory in war against Israel in 1973.
Full report at:
https://www.egypttoday.com/Article/1/49463/318-referred-to-Egypt's-military-court-on-charges-of-terrorism
--------
Iraq warplanes targeted IS jihadists in Syria
May 07, 2018
BAGHDAD: Iraqi warplanes carried out a raid Sunday targeting Islamic State group commanders in eastern Syria, in the second such strike on the jihadists since mid-April, the premier's office said. Prime Minister Haider al-Abadi ordered the "painful strike" which targeted "a meeting of IS commanders south of Al-Dushashiya in Syrian territory", a statement said.
F-16 fighter jets were used in the early morning strike and the raid was "successful", the spokesman of Iraq's security media centre, General Yehya Rassoul, told AFP. Dushashiya is in a desert region of Syria's Hasakeh province, where a US-backed Kurdish-led alliance is fighting the jihadists. "After receiving information on the target in co-operation with Syria's government and in co-ordination with coalition forces (led by the US), F-16s from the Iraqi air force led strikes against a command post of IS, 10 kilometres from the Iraqi border inside Syria," said General Mohammad al-Askari, an adviser to Iraq's defence ministry.
"This attack took place following a meeting of several Daesh commanders who were planning terrorist operations on Syrian or Iraqi territory," he said, using an Arab acronym for IS. The target "was completely destroyed and all the officials there were killed," he said, without giving a death toll. Askari also said Iraq hosts a centre that co-ordinates military activity with Iran, Russia and Syria "against IS". "This is not the last strike in Syria. They will continue, in relation to the activities of Daesh."
A week ago, Abadi told the media that Iraq would carry out air strikes against IS outside the country's own borders. On April 19, Iraq said it had carried out an air raid against IS in Syria that killed 36 IS fighters, near the town of Hajin in the eastern province of Deir Ezzor.
Full report at:
https://nation.com.pk/07-May-2018/iraq-warplanes-targeted-is-jihadists-in-syria
--------
Kurdish Militias in Fear for Arab Gunmen's Growing Presence in Eastern Syria
May 06, 2018
Local sources said that the US-backed Syrian Democratic Forces (SDF) have arrested a number of Arab militants in Western Deir Ezzur accusing them of cooperation with the Syrian Army.
In the meantime, one of the tribal leaders pointed to the recent clashes between the SDF and the US-backed Arab Special Forces and said that the Kurds are fearful of the Arabs' presence in Eastern Syria.
He further said that the Arab tribes in the region do not intend to join the Kurdish militias in Deir Ezzur, adding that possibility that Arab tribes might join Arab militant groups has pushed the Kurds into a status of deep fear.
In a similar development on Saturday SDF and Special Forces affiliated to the Syrian al-Qad movement headed by Ahmad al-Jarba, both backed by the US, engaged in a tough battle in Eastern Deir Ezzur.
The SDF fighters, backed up by the US-led coalition air force, stormed the positions of the Special Forces of Ahmad al-Jarba in Abu Humam region on the Eastern bank of the Euphrates River.
Also, local sources said that the SDF's offensive against al-Jarba fighters was unprecedented, adding that the SDF had warned to leak al-Jabra militants' secret information to the coalition to be treated by the US-led forces as ISIL unless they hand over their weapons and surrender.
The sources further said that the SDF and al-Jarba fighters exchanged heavy fire that left a number of injuries on both sides.
The sources said that tensions are also high between the regional tribes and the SDF after the infighting between the SDF and al-Jarba fighters intensified in Eastern Deir Ezzur.
Full report at:
http://en.farsnews.com/newstext.aspx?nn=13970216001091
--------
Lebanon awaits results of first parliamentary elections in 9 years
May 7, 2018
The Iran-backed Shiite group Hezbollah and its political allies looked set to win more than half the seats in Lebanon's first parliamentary election in nine years, according to preliminary results cited by politicians and Lebanese media.
The result, if confirmed by the final count, would boost Hezbollah politically, with parties and individuals aligned with the heavily armed group securing a simple majority in parliament in Sunday's election.
Hezbollah's powerful position in Lebanon reflects Iran's regional ascendancy through Iraq and Syria all the way to Beirut. It is classified as a terrorist group by the United States and an enemy of neighboring Israel.
The unofficial results also indicated that Western-backed Prime Minister Saad al-Hariri would emerge as the Sunni Islamic leader with the biggest bloc in the 128-seat parliament, making him the frontrunner to form the next government even though he lost seats.
Lebanon's prime minister must be a Sunni according to the country's sectarian power-sharing system. The new government, like the outgoing one, is expected to include all the main parties. Talks over Cabinet posts are expected to take time.
Less than half of Lebanon's electorate voted in the general elections, according to a provisional turnout figure of 49.2 percent announced by Interior Minister Nohad Machnouk.
The figure marked a drop from the 54 percent of voters who cast a ballot in 2009, the last time Lebanon elected its parliament.
"This is a new law and voters were not familiar with it, nor were the heads of polling stations," Machnouk said in a news conference. "Voting operations were very slow."
Lawmakers had extended their own mandate three times since 2009, ostensibly over security concerns linked to neighboring Syria's war and political divisions that led to long and crippling institutional crises.
A higher turnout had been expected after the long electoral hiatus but the vote was the first to follow a law passed in 2017 and the pre-printed ballots used Sunday appeared to confuse some voters.
With an hour to go before polling stations closed, several senior political leaders appealed for an eleventh-hour rush to the ballot boxes but stopped short of extending polling hours.
Full report at:
https://english.alarabiya.net/en/News/middle-east/2018/05/07/Lebanon-awaits-results-of-first-parliamentary-elections-in-9-years.html
--------
Iraq's Sadr slams Maliki's absolute majority policy ahead of elections
6 May 2018
The Iraqi Shiite leader Muqtada al-Sadr has slammed former Iraqi Prime Minister Nouri al-Maliki for suggesting the formation of an absolute majority policy in the coming new government, in the wake of the awaited parliamentary elections due next week.
Sadr said that he is currently against an absolute majority policy, adding - in a hint to Malaki - that some "illusioned politicians" believe that they can have absolute majority policy to continue with their corruption further.
Blamed for the widespread corruption and divisive policies that contributed to the collapse of the Iraqi military and the rise of Islamic State, Maliki lost the premiership to fellow Dawa Party member Haider al-Abadi after a 2014 election.
Now, after four years sidelined as one of three largely ceremonial vice-presidents, Maliki is taking on Abadi in a May 12 election in a bid to win a third term as prime minister, and is posing again as Iraq's Shiite champion.
Iraq will be holding parliamentary elections on Saturday with 7,000 candidates competing for 329 seats.
Full report at:
https://english.alarabiya.net/en/News/middle-east/2018/05/06/Sadr-slams-Maliki-s-absolute-majority-policy.html
--------
Saudi air defence destroys Houthi ballistic missile fired toward Najran
6 May 2018
Saudi Arabia's air defense forces said they destroyed a ballistic missile fired by Houthi militias from inside Yemeni territory that targeted toward the border city of Najran.
The southern city of Najran - close to the border with Yemen, has borne the brunt ever since the Houthi militia forces took over swathes of the country in a 2014 coup.
According to officials, the city has witnessed more than 10,000 rocket attacks mostly arbitrarily targeting civilians since the conflict in Yemen first began.
https://english.alarabiya.net/en/News/gulf/2018/05/06/Saudi-air-defense-destroys-Houthi-ballistic-missile-fired-toward-Najran.html
--------
South Asia
Suspected Taliban bomb attack at mosque kills 19 in eastern Afghanistan
May 6, 2018
Nineteen people have been killed and dozens more wounded in a bomb explosion, suspected to be carried out by Taliban militants, at a mosque in Afghanistan's eastern province of Khost, police and officials say, capping a bloody week in the crisis-hit country.
According to Basir Bina, spokesman for the provincial police, the deadly blast occurred on Sunday as people had gathered following afternoon prayers in the mosque, which was also being used as a voter registration center for parliamentary elections slated to be held in October.
The official added that the explosion seemed to be the result of explosives planted in the mosque rather than by terrorists detonating explosive belts.
Bina's speculation was confirmed by provincial police chief Abdul Hanan as he believed that the bomb had been placed in a tent being used to register voters in the yard of the mosque. "A crowd of people, who had come out of the mosque, had gathered to register" when the blast took place, Hanan added.
Provincial deputy director of public health Gul Mohammad Mangal said at least 33 people sustained injuries in the attack.
No group or individual has claimed responsibility for the attack, but it has the hallmark of Taliban, who have been leading a campaign of death and destruction across the crisis-hit country for the past 17 years.
It was the latest attack on election preparations, seen as a key test of the government's credibility, and comes nearly a week after 25 people, including nine journalists, lost their lives in a pair of back-to-back bomb blasts that hit near government buildings in the capital Kabul.
Last month, some 60 people lost their lives in a voter center in Kabul in a bomb attack claimed by the Daesh Takfiri terrorist group. Taliban have also warned people not to participate in the elections.
Sunday's deadly explosion came as fierce fighting between government troops and Taliban has spread across the war-torn country, with government officials saying that a district in the northern province of Badakhshan that was overrun by Taliban last week had been liberated.
In a separate development, seven people were killed in an explosion when their vehicle ran over a roadside bomb in the northern province of Faryab early on Sunday morning, said Mohammad Karim Yuresh, the provincial police spokesman.
Additionally on Sunday, Taliban militants partially destroyed a main bridge in Mahajir Bazar of Nahr-e-Saraj district in the southern province of Helmand. Afghanistan's Khaama news service, citing an unnamed provincial official, said that the terror outfit had intended to completely destroy the bridge but only two of the seven explosive devices attached to the structure went off, adding that the remaining five explosives were later defused by the bomb disposal unit.
The escalation in attacks by Taliban showed the group was barely interested in an offer of peace talks by Afghan President Ashraf Ghani. Taliban made no mention of the offer that came in February, showing that the group may even intensify its devastating campaign across Afghanistan.
The US-backed Afghan government is under pressure on multiple fronts this year as it prepares to hold long-delayed legislative elections even as its security forces struggle to get the upper hand on the battlefield and prevent civilian casualties.
Earlier this year, the UN figures showed that more than 10,000 Afghan civilians were killed or wounded in the Afghan conflict last year. While the main cause of civilian deaths was said to be bombings by militants, the report said US airstrikes as well as government forces had also caused casualties.
US-led forces invaded Afghanistan and toppled a ruling Taliban regime some 17 years ago. That ongoing war has failed to bring stability to the country despite the presence of thousands of foreign forces. A recent survey found that Taliban were active in two-thirds of the country and were fully controlling four percent of it.
http://www.presstv.com/Detail/2018/05/06/560816/Afghanistan-Khost-blast
--------
Blast at Afghan voter registration centre kills 17
May 07, 2018
KHOST - A blast at a voter registration centre in Afghanistan's restive east on Sunday killed at least 17 people and wounded 33, a health official said, capping a bloody week in the war-torn country.
The bomb had been placed in a tent being used to register voters on the grounds of a mosque, marking the latest attack on preparations for long-delayed legislative elections.
"A crowd of people who had come out of the mosque had gathered to register" when the blast took place, Khost provincial police chief Abdul Hanan Zadran told AFP. Zadran said the casualty toll stood at "about 30".
But provincial deputy director of public health Gul Mohammad Mangal told AFP at least 17 people had been killed and 33 wounded in the explosion. Among the dead was a female election worker.
Mangal warned the toll could rise, with several of the wounded in a critical condition. "Ambulances are still bringing more people," he added.
There was no immediate claim of responsibility, but the Taliban said it was not involved in the explosion.
It was the latest attack on election preparations and comes almost a week after 25 people were killed in a double bombing in the Afghan capital Kabul.
Nine journalists including AFP chief photographer Shah Marai were among the dead. BBC reporter Ahmad Shah was killed in a separate attack in Khost province.
The latest assault on a voter registration centre is likely to deter more people from signing up for the long-delayed parliamentary and district council elections scheduled for October 20.
On April 22 a suicide bomber blew himself up outside a voter registration centre in Kabul, killing 60 people and wounding more than 100. That was among a series of attacks across the country on places where people were signing up to vote.
Meanwhile, President Ghani, in a statement condemned the Khost explosion and said enemies cannot disturb the national election process. He ordered security institutions to investigate and bring the perpetrators to justice.
Ghani also expressed his condolences to the victim's families, the presidential palace statement said. "I strongly condemn the terrorist attack in a Masjid in Khost this afternoon. Attacking worshippers and holy sites is against all human and religious values. Terrorists yet again committed a war crime by targeting civilians in Masjid," said Chief Executive Officer Abdullah Abdullah.
US embassy in Kabul also condemend the attack. "I condemn the savage attack at a voter registration centre at a #Khost mosque and offer my condolences to the victims and their families. This is an affront to the democratic values of the #Afghan people and an attack on the concept of citizenship," said US Ambassador to Kabul John Bass.The Taliban and IS have made clear their intentions to disrupt the elections. Officials are concerned that a low voter turnout will undermine the credibility of the poll.
Just over 1.2 million adults had registered by Saturday, three weeks after the two-month long process began, data compiled by the Independent Election Commission (IEC) showed.
The IEC, which is overseeing preparations for the vote, hopes to register up to 14 million adults at more than 7,000 polling centres.
But if the current trend were to continue, fewer than three million people would be registered by the mid-June deadline.
Authorities have deployed planes to drop leaflets in a number of provinces raising awareness about the elections, which are seen as a test run for next year's presidential poll.
A radio and television campaign is also under way and civil servants have been granted a day off to sign up.
The IEC has placed many of the voter registration centres inside schools and mosques, triggering concerns that students and worshippers could be at risk.
Another hurdle to voter registration is a sticker placed on national identification certificates showing the holder has signed up for the poll.
There are concerns that the stickers could put voters in restive districts at risk of being targeted by Taliban or Islamic State militants.
In another incident on Sunday, six Indian engineers working on a power plant project in northern Afghanistan were kidnapped along with their Afghan driver.
Gunmen snatched the seven from a vehicle on the outskirts of Baghlan provincial capital Pule-Khumri, police spokesman Zabi Shuja told AFP.
Provincial council chairman Mohammad Safdar Mohseni said the group had been travelling in a largely Taliban-controlled area when they were abducted after ignoring warnings to take a police escort.
Indian external affairs spokesman Raveesh Kumar confirmed the abduction of Indian nationals, but did not say how many were taken or what they were doing in Baghlan. "We are in contact with the Afghan authorities and further details are being ascertained," Kumar said in a statement.
Full report at:
https://nation.com.pk/07-May-2018/blast-at-afghan-voter-registration-centre-kills-17
--------
PM Hasina: Myanmar needs to learn communal harmony from Bangladesh
May 07, 2018
PM Sheikh Hasina was addressing a meeting with Buddhist religious leaders and distinguished persons of the community on the occasion of the Buddha Purnima
Prime Minister Sheikh Hasina on Sunday said Myanmar should take lessons from Bangladesh on running a country while keeping communal harmony unharmed.
She was addressing a meeting with Buddhist religious leaders and distinguished persons of the community on the occasion of the Buddha Purnima at her official residence Ganabhaban in Dhaka.
She said a person belonging to any religion has the right to be there on the soil where he or she was born. "That person's rights must be preserved, and that person needs to get all sorts of facilities from the government."
Talking about sheltering the Rohingyas on humanitarian grounds, Hasina said the government has also ensured their security. "We have also ensured there are no clash and anarchy among them."
She also said Bangladesh did not engage in any conflict with Myanmar over the issue as it continued its efforts to resolve the problem through dialogue, and as a result Bangladesh was acclaimed by all across the world.
Recalling the horrific days of the BNP-Jamaat's 2001-2006 regime when people from all religions came under attacks, the prime minister said her administration does not want that type of environment in the country. "We always want a peaceful environment in the country."
She said the BNP-Jamaat clique had tortured people of all religions during their regime and even no religious institution was spared from their attacks.
Mentioning that no religion supports inter-religious violence and anarchy, Hasina said the creation of a non-violent environment was the main teaching of Lord Buddha.
She said people of all religions, including Islam, Hinduism, Buddhism and Christianity, fought shoulder to shoulder during the 1971 Liberation War to live here in peace.
"Now, the government wants to see the people to live together in harmony and brotherhood as secularism was made one of the basic principles of the country after the independence," she said.
The prime minister said the government has been working to protect the rights of all irrespective of their caste, creed and religion for maintaining social equality in every sphere of life. "This land is yours. You will live here with your own rights. You have to think about the country with your own rights."
Mentioning that Bangladesh has long longer been in the group of LDCs as it has already been recognized as a developing country, she sought cooperation of all, including the Buddhist community, to establish it as a poverty and hunger-free middle-income country by 2021 and a developed one by 2041.
Chaired by Religious Affairs Minister Matior Rahman, the function was addressed, among others, by State Minister for Chittagong Hill Tracts Affairs Bir Bahadur Ushwe Sing, Vice-Chairman of the Buddhist Welfare Trust Shupto Bhushan Barua, Deputy Office Secretary of Awami League Biplab Barua, Buddhist Sangha Nayak Suddhananda Mahathero, Upo Sangha Raj Satyapriyo Mohathero, Joint Secretary General of Swadhinata Chikitsak Parishad Uttam Kumar Barua, Dean of the European School of Law in London and Bangladesh Supreme Court lawyer Prashanta Bhushon Barua.
Trustee of the Buddhist Religious Welfare Trust Dayal Kumar Barua had delivered the welcome address.
Earlier, the Buddhist religious leaders greeted the prime minister by presenting bouquets to her.
Shupto Bhushan Barua presented a statue of the Lord Buddha to her, while Uttam Kumar Barua, also the director of Shaheed Suhrawardy Medical College Hospital, handed over an oil painting on Bangabandhu Sheikh Mujibur Rahman to Hasina.
Full report at:
https://www.dhakatribune.com/bangladesh/2018/05/07/pm-hasina-myanmar-needs-learn-communal-harmony-bangladesh/
--------
Taliban rejects involvement in the deadly mosque bombing in Khost
May 07 2018
The Taliban militants group in Afghanistan has rejected involvement in the deadly mosque bombing in southeastern Khost province of Afghanistan.
Taliban spokesman Zabiullah Mujahid has claimed that the attack has likely been carried out by the enemy circles of Taliban to defame the group.
At least 17 people were killed and dozens more were wounded after an explosion ripped through a mosque in Khost city in Southeast of Afghanistan on Sunday afternoon.
The incident took place in the vicinity of Yaqoobi area targeting a mosque where dozens of people had gathered to obtain voter cards.
Provincial Public Health Director Habib Shah confirmed that the dead bodies of at least 17 People have been shifted to the hospitals along with at least 34 others who have sustained injuries.
In the meantime, a security source says at least 19 people have been killed and nearly thirty others have sustained injuries in the attack.
Full report at:
https://www.khaama.com/taliban-rejects-involvement-in-the-deadly-mosque-bombing-in-khost-05090/
--------
Taliban militants detonate explosives beneath a main bridge in Helmand
May 06 2018
The Taliban militants have detonated explosives beneath a main bridge located on the highway in Nahr-e-Saraj district of Helmand in the South.
According to Helmand governor's office, the Taliban insurgents, as part of their destructive and inhumane activities, detonated explosives beneath a main bridge in Mahajir Bazar of Nahr-e-Saraj district.
The source further adds that the explosion has partially damaged the bridge and at least seven improvised explosive devices were used in the destructive act.
The governor's office also added the militants were looking to totally destroy the bridge as only two of the planted bombs went off while five of them were defused by the security.
In the meantime, the provincial government said at least three militants were arrested and six others were killed during the operations of the security forces in the area.
Full report at:
https://www.khaama.com/taliban-militants-detonate-explosives-beneath-a-main-bridge-in-helmand-05087/
--------
North America
Efforts underway to make Trump stay in Iran deal, but does he understand it?
May 6, 2018
As officials from France, Germany and the United Kingdom are trying to address President Donald Trump's so-called concerns about the Iran nuclear deal to stop him from a US exit, questions are raised in regard to how much the former real estate mogul really understands an agreement that took years of negotiations and brought together six world powers.
Trump's opposition to the deal started during the 2016 presidential campaign, in which all Republican candidates took the stance to take on former President Barrack Obama, whose administration took part in the negotiations.
If others like Florida Senator Marco Rubio, former Florida Governor Jeb Bush, Ohio Governor John Kasich, or Texas Senator Ted Cruz had won the presidency, they would have stayed in the agreement, according to Rick Tyler, a Republican political consultant who worked for Cruz.
"They probably would have looked at it and thought: What's best for the country?" he told The Huffington Post. "I don't know anybody who would have ripped up the deal."
Trump, however, appears to have taken the idea too far and threatened to actually withdraw from the JCPA as a May 12 deadline approaches.
"I strongly doubt [Trump] understands or is even aware of the most straightforward parts of the agreement," Richard Nephew, a top US State Department official in charge of Iran sanctions during the period the agreement was being negotiated told the American news and opinion website.
Republicans in control of the US Congress have at times admitted that the deal is better than no deal at all. They even allowed Obama to go forward with it.
According to Colin Kahl, former Vice President Joe Biden's national security adviser. "The GOP votes in 2015, especially in the Senate, were relatively safe ones because it allowed a lot of anti-Obama, anti-Iran and pro-Israel posturing without actually owning the consequences of the deal collapsing, including a very real prospect of another major war in the Middle East."
Trump still undecided
Currently, foreign leaders are trying to make the US president change his mind about withdrawing from the Joint Comprehensive Plan of Action.
"We have ideas we think that we can find some language, produce some action that meets the president's concerns," Kim Darroch, the British ambassador to the United States, told CBS on Sunday.
Earlier this week, Trump took on the deal again, calling it "ridiculous" and one that "should have never been made," yet according to the UK envoy, he may still be undecided about what to do on May 12.
"The message we are hearing from all contacts in this administration is that although the president's views on the deal are very clear, and have been out there for months and months — actually for years — that a final decision hasn't yet been taken," Darroch said.
http://www.presstv.com/Detail/2018/05/06/560859/Does-Trump-even-understand-Iran-deal
--------
How A Muslim Community Overcame Disinformation Linking Vaccines To Autism
May 7, 2018
When health officials in Minnesota were confronted by the biggest outbreak of measles in decades, they knew that earning the community's trust would be crucial.
The section of the community most affected by the outbreak that eventually infected 79 people, the same as for the whole of the US in any average year, were Somali Americans. The vast majority were children under 10 who had not been vaccinated.
The state's Somali Americans used to vaccinate their children more than other Minnesotans, but the rate fell, between 2004 and 2014, from 92 per cent to 40 per cent. Officials have linked this to visits paid to the community by anti-vaccine activist Andrew Wakefield and other campaigners, whose influence still reverberates.
"The biggest impact is connecting a condition that is one that challenges any parent who has a child with autism, and connecting that to immunisations, and specifically MMR," Lynn Bahta, the immunisation clinical consultant with the Minnesota Department of Health (MDOH), told The Independent last summer as it fought to tackle the outbreak.
"Among our Somali American community we have their rates go from 92 per cent, which was higher than non-Somali rates, down to 42 per cent. And that puts them in a very, very vulnerable position."
To help the state get its message delivered most effectively, officials asked for help from community leaders, in particular imams, who lead prayers at neighbourhood mosques.
Bahta said they told them that the MDOH does not believe that the information being given to them by Wakefield and others was true. She said the community was particularly vulnerable as it already believed there was a higher rate of autism among Somali American boys, something officials in the state say is not supported by data. In the end, more than 30 agreed to help.
"The imams are very concerned about their community and they are very willing to work with us in whatever way they can. They have appreciated the information that we have been able to give them about the outbreak and what they can do as spiritual leaders of the community," Bahta said.
She said the imams provided officials with direct access to the community. In addition, she said the imams could "bring disease and prevention of disease within the context of their faith. That is something that we don't have the words for, but they do".
The outbreak of measles in the Twin Cities (Minneapolis-Saint Paul) was the worst the Midwest conurbation had witnessed for years. But it was not alone in having to confront the problem.
In 2015, around 150 people were infected, the vast majority of them residents of California, after they visited one of two Disney theme parks located in Orange County. The vast majority of those infected were believed to have not received the MMR vaccine, or to have only had one injection (the recommendation is two).
Earlier this year, at least six people in Ellis County, Texas, were infected with the disease, all of them people who had not been vaccinated. Texas is one of the 19 states in the US that does not have a law that requires people to get vaccinations, and since 2003, parents have been able to opt out of public school vaccine requirements if it goes against their "conscientious" beliefs.
In addition to being the home of Wakefield, the state is the base of Texans for Vaccine Choice, a political action committee that supports political candidates who promote doubts about vaccine safety.
After moving to Texas in the early 2000s, Wakefield headed up the Thoughtful House Centre for Children, in Austin, between 2005 and 2010, when he resigned ahead of losing his UK medical license. The group subsequently changed its name to the Johnson Centre for Child Health and Development.
Reports say he then established the Strategic Autism Initiative, which he ran with Polly Tommey, a British mother whose son has autism. Tommey helped produce Wakefield's film, Vaxxed, which seeks to claim there is a link between autism and vaccinations. Dr Peter Hotez, dean of the National School of Tropical Medicine at the Baylor College of Medicine in Houston, told the Huffington Post that since 2003, the number of parents conscientiously objecting to having their children vaccinated rose from 2,314 to 52,756 for the 2016-2017 school year. That did not include data about children who are schooled at home.
"Texas has seen a 20-fold increase in non-medical vaccine exemptions since 2003," said Dr Hotez. "That means we have some schools with 20 to 40 per cent of the children not being vaccinated."
Underscoring the danger that unvaccinated children pose to the wider community, a study published last October in the Journal of the American Medical Association (JAMA) concluded that people who did not get vaccinated were "the most likely reason" for the steady increase in the rate of measles and major outbreaks in the US.
In Minneapolis, among those who ignored the experts was Suaado Salah, a young mother whose three-year-old son and 18-month-old girl were not vaccinated and who subsequently contracted measles. She said her daughter, who had a rash, high fever and cough, had to spend four nights in hospital where she was treated with oxygen and intravenous drips.
"I thought, 'I'm in America.' I thought, 'I'm in a safe place and my kids will never get sick in that disease,'" the 26-year-old told the Washington Post. She said growing up in Somalia, she had measles as a child, and her sister died of it.
But since her children fell ill, she and her husband have become advocates for vaccines.
"When the kids get sick, it's going to affect everybody. It's not going to affect only the family who have the sick kid," she said. "They make everybody sick. That's when you wake up and say, 'Okay, what happened'. "
One of the imams who was central to the state's response to the outbreak was Sharif Abdirahman, the Muslim leader at the Dar al Hijrah mosque in the Cedar-Riverside neighbourhood of Minneapolis. He said he was able to appeal to people using both religion and science. He could also appeal as a parent.
"Islam is a religion of expertise," he said, sat in the second-floor office of the community centre that also contains a mosque.
"Verses in the Quran say ... if you don't a know subject ask the advice of people who know the subject very well."
He said that several years ago, Wakefield had come and spoken to members of the community.
"I think the impact was very, very, very severe because he linked MMR and autism and because of that the Somali community feared the MMR," he said.
"I think that before Andrew visited the Two Cities, Somali parents vaccinated their kids at around 90 per cent. But right now it's 40, and that shows the fear's impact and because of that you see a measles outbreak in the state of Minnesota."
Abdirahman said the public response had varied mosque to mosque. But in his, people had reacted mostly positively to the message he was trying to spread.
"They are receptive and they ask more questions," he said. "They have the right to ask these questions because there is a lot of fear, even though they know me."
Officials said Wakefield's film, Vaxxed, was screened by anti-vaccine campaigners on a number of occasions.
Wakefield, 61, was in 2010 found guilty by the UK's General Medical Council of three-dozen charges including dishonesty and abuse of children, shortly after The Lancet medical journal retracted the 1998 study on which his claims about the MMR (measles, mumps, and rubella) vaccine were based. The magazine's editor said at the time that statements in the article "were utterly false".
Ten years earlier, he had moved to the US where he has become a leading figure within the anti-vaccine movement, and had a 45-minute meeting with in the summer of 2016 with Donald Trump, who has claimed there is a link between vaccines and autism, despite such a link being denied by the US's top national health body and more than a dozen research papers.
Speaking to The Independent in Kansas City, Wakefield, who is believed to have visited Minneapolis at least three times between 2010 and 2011, said he had gone there to speak to parents who were worried about their "exquisite risk" at contracting autism from vaccines – something health officials in the state say is not borne out by data. He said: "They had a problem and they asked me to help.
"We have been showing the film to anyone who wants to watch it. We've not been specifically showing it to people of colour. So the implication that you've put forward is wholly unjustified. The film was shown to any who chose to show up. We did not target any particular audience. Let me make that clear," he said.
"Secondly. I didn't go to Minnesota to show it to any Somali population. As far as I'm aware, it was not shown to the Somali population at all, unless they chose to go and see it. So they were not targeted either.
"I've been to Minnesota to talk to the Somali population twice. I was asked go there to help set up a study to try and answer the question of why it appears that Somali children are at an exquisitely high risk of an adverse reaction, developing severe autism from vaccines ... That was the question I was asked to go and help solve by the Somalis … The data shows these children are at high risk."
A year on from the outbreak, health officials in Minnesota said they were still conducting a formal evaluation of the incident and its response. They said they remained convinced Wakefield's visit to the state and his interaction with the Somali community was a factor in the failure of many to get their children vaccinated.
"Perceptions about the prevalence of autism, coupled with misinformation by Andrew Wakefield about a purported link between the MMR vaccine and autism, compounded by continuous efforts by vaccine opponents, contributed to a steep drop in vaccination rates in the Somali community, from more than 90 per cent in 2005 to nearly 40 per cent in 2017," said Doug Schultz, a spokesperson for the Minnesota Department of Health.
"We know that Wakefield had interactions with the community on at least two occasions."
Full report at:
https://www.independent.co.uk/news/world/americas/andrew-wakefield-anti-vaxxer-measles-outbreak-minneapolis-muslim-anti-vaccine-a8331866.html
--------
Republican House Armed Service chair warns Trump against quitting Iran deal
May 6, 2018
US President Trump should not walk away from the Iran nuclear deal, warns the Republican leader of the US House Armed Services Committee, pledging to try and prevent the "mistake."
Speaking to Fox News on Sunday, days before Trump's May 12 deadline about the future of the landmark deal arrives, Representative Mac Thornberry said he "would counsel against" the a possible decision to quit.
Trump is a few weeks away from making a decision on the future of the 2015 nuclear deal between Iran and the six world powers, known as the Joint Comprehensive Plan of Action (JCPOA).
Iran agreed under the deal with the US, the UK, France, Russia, China and Germany to limit parts of its peaceful nuclear program in exchange for removal of all nuclear-related sanctions against the Islamic Republic.
However, Trump thinks that the JCPOA, achieved under his predecessor Barack Obama, is flawed and needs to be "fixed" or otherwise scrapped in its entirety.
Trump wants the deal to guarantee unlimited access to Iran's military sites for the International Atomic Energy Agency (IAEA)'s inspectors.
He has asked the European signatories of the deal to "fix" the deal or he will pull out. Iran, however, says it will never accept a renegotiation or a new deal.
Thornberry the Europeans should be given a chance but they were not likely to succeed in adding new provisions to the nuclear deal.
"Maybe the best thing is for the president to delay a bit more his deadline of this month and put the French and the British up to the test about whether it is possible to get this other sort of agreement," the Texas lawmaker argued.
He also said while he was once a critic of the deal himself, exiting it today was bound to take away Washington's leverage.
"I thought it was a bad deal," he said. "But the key question is, ok, what happens next if the US pulls out? Does Iran kick out those inspectors so we lose the visibility we have?"
Thornberry said Trump should work with Europeans to address the possible flaws in the accord instead of scrapping it. This, he further argued, would divide the US from its key allies.
Full report at:
http://www.presstv.com/Detail/2018/05/06/560856/US-Iran-nuclear-deal-JCPOA-Thornberry
--------
Europe
Religious summit between Islam and Christianity soon in Rome
Hend El-Behary
May 5, 2018
The Pontifical Council for Inter-religious Dialogue in Vatican City along with the Muslim World League (MWL) are preparing to launch a religious summit in Rome between Islam and Christianity, a joint press statement said.
It comes shortly after a recent agreement has been signed in late April by the General of the MWL Sheikh Mohammed bin Abdel Karim Al-Issa and Cardinal Jean-Louis Tauran, President of the Pontifical Council for Inter-religious Dialogue, to achieve mutual goals between both sides.
The statement describes the summit as the first "fruit" of the historic agreement, noting that the idea of the summit was existing but turned into a practical program after the agreement.
The agreement also states that a coordinating joint committee will be established comprising two representatives for both sides to organize future meetings. The committee is expected to be held once every two years and its meetings will be alternated between Rome and a city chosen by the Islamic World League, according to the Saudi Arabian press.
The historic visit also included a meeting with the Crown Prince of Saudi Arabia Mohamed Bin Salman in the Saudi capital Riyadh.
Tauran said that he supports equal treatment to all citizens regardless their religion. He also called on setting common basis in building worship places, according to "L'osservatore romano", the Italian newspaper published by the Vatican.
In an interview with the Vatican News newspaper after the visit, Tauran said he was pleased by what he described as 'the beginning of the rapprochement'. "It is a sign that the Saudi authorities are now ready to give a new image to the country," he added. Earlier in March, Bin Salman met with Pope Tawadros II, Pope of Alexandria and Patriarch of the See of St. Mark during his visit to Egypt; Tawadros strongly praised the prince, saying he represents an open and modern image of the Kingdom of Saudi Arabia.
"The visit of the Saudi Crown Prince was a great pleasure, and I was very impressed by his personality and smile, and his knowledge and understanding of history and current events," the Pope said during an interview on MBC TV satellite channel.
http://www.egyptindependent.com/religious-summit-islam-christianity-soon-rome/
--------
Pakistan prepares for UN counter-terror strategy review
May 07, 2018
UNITED NATIONS - Pakistan organised a meeting last week of 15 countries representing all regions of the world ahead of next month's review of the UN's Counter Terrorism Strategy that is aimed at updating the document to more effectively combating the terrorist threat by the international community.
According to diplomatic sources, 34 representatives of 15 countries as well as UN Officials exchanged views on the strategy at a working lunch hosted by Ambassador Maleeha Lodhi, permanent representative of Pakistan to the UN.
"Hosting a luncheon for a cross-regional group on an important and sensitive issue of counter-terrorism reflected Pakistan's convening power in a multilateral setting," a diplomat, who attended the event,told APP.
In doing so, he said, Pakistan had placed itself in a key position by bringing together Russia, China, India, Egypt, Iran as well as other OIC members and Latin American Countries on one platform.
The UN General Assembly, which adopted the Global Counter-Terrorism Strategy in 2006, reviews the strategy every two years, making it a living document attuned to Member States counter-terrorism priorities.
"The upcoming review of the Strategy -- its sixth -- will provide us an opportunity to review the evolving terrorism landscape, give recommendations to address emerging challenges and threats, and propose measures to be taken by Member States and UN entities to fight terrorism," Ambassador Maleeha Lodhi said while welcoming her guests at the luncheon.
Stressing the need for developing preventive approaches to curb the spread of terrorism and violent extremism, she said that the phenomenon could best be understood and effective responses evolved by understanding the conditions under which it thrives and leads to terrorism.
"While we fully support the idea of developing counter messaging to address the issue of violent extremism, we believe there is need for a comprehensive international framework to address the 'drivers of violent extremism' as well," the Pakistani envoy said.
Evolving a comprehensive preventive approach, she said, was not possible without assessing the root causes responsible for violent extremism.
Maleeha Lodhi said that an erroneous impression was being created about the preventive approach that violent extremism was exclusively the product of lack of good governance, human rights, development and rule of law at the national level.
"Drivers like foreign interference and occupation, protracted conflicts, lack of rule of law at the international level, political and economic marginalisation of migrant communities are among the issues that are conspicuous by their absence in this discussion," she told her colleagues at the luncheon.
"A balance has to be struck between internal and external factors that drive extremist ideologies in different countries and regions, as well as the role of 'foreign occupation' and 'prolonged unresolved conflicts' that have contributed significantly to the rise of violent extremism, would have to be part of any comprehensive preventive strategy."
Full report at:
https://nation.com.pk/07-May-2018/pakistan-prepares-for-un-counter-terror-strategy-review
--------
Mideast
Iran: 9/11 'Verdict' Attempt At Rewriting History
May 6, 2018
Iran says those behind "political games" such as the one that saw a New York court recently order the Islamic Republic to pay $6 billion to alleged 9/11 survivors are uselessly trying to rewrite history.
Those devising such games are futilely trying to misrepresent truth and "write history in such a way that they wish. But such a thing will surely not happen," Foreign Ministry spokesman Bahram Qassemi said on Sunday.
They, he added, were trying to distort the course of justice even away from the proceedings, which have been taken over the years against the main people committing the acts of terrorism.
The judgment was issued by Manhattan federal judge George Daniels earlier in the day. The lawsuit claims that Iran provided technical assistance, training and planning to the al-Qaeda operatives that conducted the attacks.
Qassemi said the "default judgment" had been issued against Tehran in the absence of any, even circumstantial, evidence of Iran's participation in the incidents.
Such "politically-charged and unacceptable" rulings, the likes of which have been issued against Tehran in the past, mock "not only the international legal system, but also the people of the United States, especially the survivors and victims of the September 11 incident," the spokesman noted.
Qassemi said the so-called proceedings had also violated governments' immunity from prosecution, adding that Tehran reserved all its legal rights to counter the lawsuit.
The official investigation on the attacks, known as the 9/11 Commission Report, has said that Iran did not play a direct role.
The lawsuit is not linked to a case filed against Saudi Arabia, which families of 9/11 victims say provided direct support for the attackers. Fifteen of the 19 Sept. 11 hijackers were Saudi citizens, two were Emiratis, and the remaining two were Egyptian and Lebanese.
http://www.presstv.com/Detail/2018/05/06/560799/Iran-United-States-911-court-ruling-Foreign-Ministry-Qassemi-Saudi-Arabia
--------
Turkey slams French figures demanding change in Quran
06 May 2018
Turkey's EU Affairs Minister Omer Celik slammed a French manifesto proposing removal of some Quran verses, saying those 300 prominent French figures were as "bigot" as ISIL members who infer violence from the holy book.
"This is the most striking example of intellectual violence and barbarism. Whoever these people are and whatever they have been doing up till now, they will be written at the beginning of the history of bigotry," Celik said on Twitter.
"Barbarism is intellectually and politically centered in the modern world," he said.
Celik drew parallel between the "barbaric and immoral" proposal and the ideology of ISIL terrorist group and said: "They could not tell in a better way that they are the closest ideological relative of ISIL. But this approach, which will be the subject of political psychiatry, reveals how barbarism has risen in the midst of Europe, and how this mentality, at least as dangerous as ISIL, keeps itself behind certain concepts," he said.
"These are the most dangerous ones; those who conceals themselves behind an intellectual and political image. This is the mentality of those who are so-called anti-violence, but in fact they worship the bigotry and violence. These 300 French are as same as ISIL which infers violence from the humanity's guide Quran."
Full report at:
http://www.worldbulletin.net/news/201803/turkey-slams-french-figures-demanding-change-in-quran
--------
Three Palestinians killed in latest Gaza cross border violence
6 May 2018
Israeli troops shot and killed three Palestinians who tried to breach the Gaza border fence, the military said, adding that an axe and a wire cutter were found in their possession.
Soldiers fired tank shells and machine guns at the men, according to a Palestinian medic, Izzat Shatat. He said the men had been close to the border fence, but that he was not sure if they actually crossed into Israel.
The attempted breach came at a time of heightened tension on the Gaza-Israel border, including more than a month of weekly mass protests near the fence. Gaza's Hamas rulers have said the marches would continue until a decade-old blockade of the territory by Israel and Egypt is lifted. More protests are expected on Friday, as well as on May 14 and 15.
On May 14, the United States is to move its embassy in Israel from Tel Aviv to Jerusalem, whose Israeli-annexed eastern sector is sought for a Palestinian capital. The move is seen by Palestinians as a US breach of long-standing promises to help negotiate a fair arrangement for the contested city.
On the following day, Palestinians mark the "nakba," or catastrophe, to commemorate the anniversary of their mass uprooting during the 1948 war over Israel's creation. Hundreds of thousands of Palestinians fled or were expelled from what is now Israel, and the border protests are also billed as a "Great March of Return."
Border protests
Since late March, 40 Palestinian protesters were killed and more than 1,700 wounded by Israeli army fire.
Israel has come under international criticism, including from the United Nations and the European Union, for the use of lethal force against unarmed protesters. Rights groups say the army's open-fire orders, under which troops are permitted to shoot at those approaching the border fence, are unlawful.
Israel says that it is defending its sovereign border, including nearby communities, and that its troops target only instigators. Israel accuses Hamas, which is sworn to Israel's destruction, of trying to carry out attacks under the guise of the mass protests.
In addition to those killed and wounded in the context of the protests, 10 Palestinians were killed since March 30 in other border incidents.
Of those, three were shot dead on Sunday.
The Israeli military said four men arrived in the area of the fence "with the intention of infiltrating and conducting a terror attack."
It said troops arrived at the scene and fired shots, killing three of the men. The statement said troops found an axe, a wire cutter, an oxygen mask, gloves and two gas tanks.
The statement was unclear about whether the Palestinians managed to get into Israel. The army spokesman's office, when asked to clarify, said the men did break through and were shot and killed at the fence area.
Earlier Sunday, thousands led by Hamas leader Ismail Haniyeh joined a Gaza funeral procession for six members of the Hamas military wing who were killed in an explosion a day earlier.
Gaza media initially reported the blast as a "work accident," suggesting the men were killed when explosives they were preparing detonated prematurely.
Full report at:
https://english.alarabiya.net/en/News/middle-east/2018/05/06/2-Palestinians-killed-the-latest-casualties-in-the-escalating-cross-border-violence-.html
--------
Iran arrests suspect linked to terrorist MKO in Mashhad
May 6, 2018
Iran's security forces have arrested a person linked to the terrorist Mujahedin-e Khalq Organization (MKO) who was planning to carry out acts of sabotage in the holy city of Mashhad.
Judge Hassan Heydari, deputy for political and security affairs at the Prosecutor's Office in Mashhad, said the 37-year-old suspect sought to infiltrate certain guilds on the eve of Workers' Day and Teachers' Week in Iran.
"The suspect, who had long been under surveillance for contact with the agents of the terrorist group of the hypocrites (MKO), was arrested by judicial order and the investigation continues," he said.
Peaceful protests over economic conditions in Mashhad last December quickly degenerated into unruly riots which spread into a few other towns, with authorities saying terrorist groups such as the MKO played a role.
The MKO has a dark history of assassinations and bombings against the Iranian government and nation. It notoriously sided with former Iraqi dictator Saddam Hussein in his eight-year war against Iran in the 1980s.
The group has been behind most of the terrorist attacks which have claimed the lives of nearly 17,000 Iranians since the victory of the Islamic Revolution in Iran in 1979.
Initially designed as a terrorist organization by Europe and the US, the group has established close links with Western political parties.
Full report at:
http://www.presstv.com/Detail/2018/05/06/560781/Iran-arrest-Mashhad-MKO-terrorist
--------
Turkey will carry out more cross-border offensives into Syria, Erdogan vows
May 6, 2018
Turkish President Recep Tayyip Erdogan has vowed to launch further cross-border military operations into Syria following Ankara's two previous large-scale offensives into the war-torn country, as he announced his ruling Justice and Development Party (AKP)'s manifesto ahead of snap elections on June 24.
"Turkey will launch additional offensives like Euphrates Shield and Olive Branch operations to clear its border of terror organizations in the new era," the Turkish leader said at an AK Party's congress held in Istanbul on Sunday.
Ankara carried out the so-called Operation Euphrates Shield against purported targets of the Daesh Takfiri terrorist group between August 2016 and March 2017, and launched the ongoing Olive Branch offensive against the purported positions of the US-backed People's Protection Units (YPG) Kurdish militia in Syria's western enclave of Afrin earlier this year.
The Turkish government considers the YPG as a terror group and as the Syrian branch of the PKK militant group that has been fighting for an autonomous region inside Turkey since 1984.
Both offensives were conducted in flagrant defiance of Damascus.
Addressing thousands of his supporters, Erdogan said that his government's cross-border operations into the Arab country would continue "until not a single terrorist is left."
"We shattered the terror corridor being formed on our southern border with these operations. Our soldiers, who lastly wrote an epic in Afrin, are ready for new missions," he added.
Earlier this year, the Turkish leader had threatened to push its Afrin offensive against the YPG militants eastward to Manbij, another Syrian city in the northern province of Aleppo, where US forces are stationed, risking confrontation between the NATO allies.
Elsewhere in his remarks, Erdogan made an array of promises about the economy and uniting the country, as he attempts to secure more votes in the upcoming presidential election, in which he must race against senior legislator Muharrem Ince, a tough opponent presented by Turkey's main opposition Republican People's Party (CHP) as its presidential candidate on Friday.
However, Ince will have a an uphill struggle to convince voters as he is racing, in a gloves-off approach, against the veteran Erdogan, who has been in power either as the prime minister or president since 2003, raising the prospect of a potential bruising political campaign.
A victory for Erdogan would mean extended powers as president based on amendments to Turkey's constitution approved by voters in a controversial referendum last year. In an unexpected move last month, the Turkish president called the elections more than a year earlier than scheduled, saying his administration was facing numerous legal problems, including economic challenges and the war in Syria, which could be solved only with a more powerful presidency.
Critics, however, say that Erdogan allegedly intends to exploit the growing nationalist feeling after the Olive Branch offensive, and to hold polls before the economy purportedly deteriorates in the Anatolian country.
Full report at:
http://www.presstv.com/Detail/2018/05/06/560855/Turkey-Erdogan-offensives-Syria
--------
Israeli forces shoot dead 3 Palestinians at Gaza border fence
May 6, 2018
Israeli troops have fatally shot three Palestinians during clashes at the border fence along the besieged Gaza Strip amid the Tel Aviv regime's bloody crackdown on an anti-occupation protest in the Palestinian enclave.
According to a statement issued by the Israeli military, the deadly incident occurred in the eastern part of Khan Yunis in the southern Gaza Strip earlier on Sunday, when the regime soldiers opened fire on four Palestinian demonstrators.
The statement alleged that the young Palestinian men were shot dead because they were purportedly trying to "cross the security barrier from the southern Strip toward" the Israeli-occupied side.
Meanwhile, the Gaza Health Ministry, in a statement, confirmed the deadly shootings, identifying two of the victims as Abdel Rahman Qudeih, 23, and Mohammed Abu Rayda, 20.
Sunday's killings raised to 52 the death toll of unarmed Palestinian protesters who have lost their lives by Israeli forces' live fire since protests began along the Gaza border on March 30. The Israeli regime has faced international criticism over its use of live fire.
The Palestinian rallies, known as the "Great March of Return," will last until May 15, coinciding with the 70th anniversary of Nakba Day (Day of Catastrophe), when Israel was created. Every year on May 15, Palestinians all over the world hold demonstrations to commemorate the day, which marks the anniversary of the forcible eviction of hundreds of thousands of Palestinians from their homeland by Israelis in 1948.
Earlier in the day, an Israeli warplane launched an airstrike against a border observation post, run by the Palestinian Hamas resistance movement, in Beit Lahia city, causing damage to the site and fear among residents, particularly children.
According to a statement by Ezzedine al-Qassam Brigades, the military wing of Hamas, no casualties were inflicted in the aerial aggression.
The United Nations Children's Fund (UNICEF), in a statement released on Friday, warned that the Israeli violence against the inhabitants of the blockaded sliver had particularly "exacerbated the suffering of children whose lives have already been unbearably difficult for several years."
Gaza has been under an Israeli siege since June 2007, causing a decline in the standards of living as well as unprecedented unemployment and poverty there.
In addition, the Israeli regime has imposed increasing power cuts and shortages in fuel in the sliver, hugely disrupting water and sanitation services. Medicines and health equipment are also in dire short supply, straining an already fragile health system.
Full report at:
http://www.presstv.com/Detail/2018/05/06/560835/Gaza-shooting-Israel-protests
--------
Israeli fighter jet targets Hamas position in northern Gaza Strip
May 6, 2018
An Israeli fighter jet has targeted a position of the Palestinian Hamas resistance movement in the northern part of the besieged Gaza Strip as the Tel Aviv regime presses ahead with its acts of aggression against the impoverished Palestinian coastal sliver.
An unnamed Israeli military spokeswoman said "the aircraft struck a post belonging to Hamas adjacent to the border fence in the northern Gaza Strip last night."
She alleged that the strike was in response to kite-borne fire bombings by Gaza-based resistance fighters.
The Ezzedine al-Qassam Brigades, the military wing of Hamas, said in a statement that a border observation post was hit in the attack and that nobody was injured.
Local sources said the Israeli F-16 fighter jet bombed a site in Beit Lahia city, causing damage to the site and fear among residents, especially children.
The spokesman for the Gaza Ministry of Health, Ashraf al-Qidra, said in a statement on April 14 that Israeli tanks had targeted a group of civilians in al-Awdah refugee camp east of Rafah city, located 30 kilometers south of Gaza City, leaving four Palestinian men dead and several others injured.
He identified three of those killed as Ayed Saleh al-Hamaydeh, Amjad Hosni al-Qatros and Hisham Mohammed Abdelal.
On April 11, Israeli battle tanks targeted several positions of the Palestinian Hamas resistance movement in the Gaza Strip.
The Israeli military alleged in a statement that the shelling came after Palestinians detonated a bomb near an Israeli construction vehicle adjacent to the border fence between the Gaza Strip and the occupied Palestinian territories, which caused neither injury nor damage.
The Israeli military frequently bombs the Gaza Strip, with civilians being the main target of such attacks.
Israel has also launched several wars on the Palestinian coastal sliver, the last of which began in early July 2014. The military aggression, which ended on August 26, 2014, killed nearly 2,200 Palestinians. Over 11,100 others were also wounded in the war.
The Gaza Strip has been under an Israeli siege since June 2007. The blockade has caused a decline in the standards of living as well as unprecedented levels of unemployment and unrelenting poverty.
Full report at:
http://www.presstv.com/Detail/2018/05/06/560809/Israeli-fighter-jet-targets-Hamas-position-in-northern-Gaza-Strip-nobody-injured
--------
India
AMU row: Muslims who want Jinnah portrait insulting forefathers, says Union minister V K Singh
May 7, 2018
Union minister V K Singh on Sunday warned Muslims, who supported the presence of Pakistan founder's portrait in the Aligarh Muslim University, and said they were "insulting" their forefathers who had rejected his ideology. "If you are a Muslim and want Jinnah's portrait on your walls, then this is a huge insult of your forefathers who had rejected his ideology. You are an Indian today because of them," Singh said in a social media post.
A controversy has erupted over the presence of Muhammad Ali Jinnah's portrait in AMU, with BJP leaders demanding its removal. A picture of the man responsible for India's division cannot be accepted in a public-funded institution, they said.
"If you are not a Muslim, but support the portrait's presence because you think that protests against it curbs your freedom, then you should think if you would like on the walls of your house a picture of somebody whose hands are stained with the blood of your own people," he said in another post.
The Union Minister said that freedom was everybody's right. "…But we tend to forget that how many great people shed their blood in achieving it. Will they be proud today of the manner in which you are using your freedom?" the former Army chief asked in the post titled 'Let us protect our freedom from abusers.'
In the post, apparently addressing AMU students, the BJP leader said it is one of the leading universities in the country and they (the students) should be aware of the expectations the country has from them.
http://indianexpress.com/article/india/amu-row-muslims-who-want-jinnah-portrait-insulting-forefathers-says-union-minister-v-k-singh-5166140/
--------
Seven Indians abducted in Afghanistan, Taliban hand suspected
TNN & Agencies | Updated: May 7, 2018
KABUL/ISLAMABAD/NEW DELHI: In another instance of Indian interests in Afghanistan being targeted, seven Indian nationals working for a power company in the country's northern Baghlan province were abducted, allegedly by Taliban gunmen, on Sunday.
There was speculation over the exact number of men but they are understood to have been accompanied by a driver, an Afghan national, who is also missing.
The abduction, coming days after India and China announced that they will develop a project jointly in Afghanistan, is a reminder of the vulnerability of Indian projects that have been targeted by Taliban and other extremist militia, often on the instructions of the Pakistani army and ISI.
The foreign ministry in New Delhi said it was in touch with Afghan authorities and was ascertaining details of the incident.
According to television reports, local police officials said they had been told by the Taliban that the Indians were being held by the group. However, Afghan Taliban spokesperson Zabihullah Mujahid told TOI, "So far, we don't have any update about the abduction issue."
The men are employees of Indian company KEC and went missing early on Sunday morning in Bagh-e-Shamal area of the provincial capital Pul-e-Khomre, local news reported. The employees were abducted while they were travelling to the area where the company owns an electricity sub-station contract, the report said.
Baghlan governor Abdulhai Nemati said a Taliban group abducted the employees and moved them to the Dand-e-Shahabuddin area of Pul-e-Khumri city, according to reports. Nemati was quoted as saying that Afghan authorities spoke with Taliban via local people and the terror group said it had abducted the staff members in error, believing they were government employees. But there is no definitive word on the incident so far.
No group, however, has claimed responsibility for the abduction. Nemati said they were trying to get those abducted released through tribal elders and mediation.
Full report at:
https://timesofindia.indiatimes.com/india/seven-indians-abducted-in-afghanistan-taliban-hand-suspected/articleshow/64056797.cms
--------
Clash between Dalits and Muslims near Theni
MAY 06, 2018
They chose the route as there was another funeral procession going on along their regular route. When the procession entered Muslim Street, some residents protested and a minor clash followed.
The police pacified both sides and the Dalits managed to complete the funeral that day. Later, the village witnessed minor skirmishes between the two groups.
On Saturday morning, when Syed went to his coconut farm, a section of Dalits allegedly intercepted him and told him not to go through their area. Later, heated arguments between the two groups led to a clash in which they attacked each other with stones and sticks.
Meanwhile, an unruly mob entered Muslim Street and hurled stones at houses and shops. Two shops, including a photo studio, were destroyed, the police said.
A gang barged into the houses of Muslims and damaged furniture, electronic gadgets and other items. The window panes of several houses were also damaged in stone-pelting incidents, police added.
Police deployed
Later, a mob set afire a car owned by Mubarak Ali, a motorcycle owned by Murugan and an auto-rickshaw owned by Ilangovan. Following this, the police cordoned off the entire village. More than 200 police personnel were deployed. Outsiders were not allowed entry. The locals were searched before being allowed to enter the village. DIG of Police (Dindigul Range) K. Joshi Nirmal Kumar and Superintendent of Police M. Baskaran inspected the village.
Full report at:
http://www.thehindu.com/todays-paper/tp-national/tp-tamilnadu/clash-between-dalits-and-muslims-near-theni/article23789937.ece
--------
Muslim aspirants for UPSC will get free coaching at Haj houses from next year
May 7, 2018
The Haj Committee of India has decided to provide free coaching for UPSC for Muslim aspirants across all states and union territories from the next year.
The decision came after the boost of having 51 Muslim candidates clear the civil services examination this year.
PROPOSAL SENT TO MINORITY AFFAIRS MINISTRY
The Haj Committee of India had recently sent a proposal to the Minority Affairs Ministry about providing coaching for the civil services in Haj Houses in all states and union territories.
The ministry has accepted the proposal.
"We had requested the ministry (of minority affairs) to start free coaching service in Haj Bhavans in different states. We are happy that the minority affairs minister has approved the proposal. We want to start the (coaching) service from next year. We will implement this with the state Haj boards," Chief Executive Officer of Haj Committee of India, Maqsood Ahmed Khan, said.
INCREASING NUMBER OF MUSLIM CANDIDATES FOR UPSC
The Haj Committee of India has already been providing free UPSC coaching at their Mumbai-based headquarters for the last seven years. Forty students are trained for free every year.
But this year, of the 980 candidates selected for civil services this year, 51 were Muslims. Two of them were trained from the Haj Committee headquarters.
"In 2017, around five lakh candidates appeared for the civil services preliminary examination and hardly 2 per cent of them were Muslims," said Syed Zafar Mahmood, the chief of Zakat Foundation of India, which helps aspirants from economically weak Muslim families to prepare for the exam.
Full report at:
https://www.indiatoday.in/education-today/news/story/muslim-aspirants-for-upsc-will-get-free-coaching-at-haj-houses-from-next-year-1228078-2018-05-07
--------
Professor-turned-terrorist among 5 Hizbul men killed in Shopian encounter
M Saleem Pandit
May 7, 2018
SRINAGAR: Five Hizbul Mujahideen terrorists and as many civilians were killed during an encounter with the security forces at Budigam in Shopian district of south Kashmir on Sunday morning.
While the slain Hizbul operatives included Kashmir University (KU) assistant professor Mohd Rafi Bhat and the outfit's top commander Sadam Padder, the civilians who lost their lives were part of a crowd that obstructed the anti-terror operation.
The KU assistant professor had gone missing on Friday. Students and teachers of the varsity had been holding protests over Dr Bhat's disappearance. They were, however, blaming the authorities for his going missing.
The slain professor-turned-terrorist had done a doctorate in sociology. He had also cleared the UGC's prestigious junior research fellowship (JRF) competition, which allows one to directly pursue doctoral research, skipping the MPhil degree.
As it became clear that Dr Bhat was one among the holed-up terrorists, the police roped in his family members from Chunduna in Ganderbal to persuade him to surrender, family sources said.
"We contacted his family at Chunduna village after coming to know that Dr Bhat was with other terrorists at Budigam," a police officer told TOI. Dr Bhat's brother Imtiyaz Ahmad also confirmed that the family went to the site of the encounter to persuade him to surrender but he refused.
However, in an early Sunday morning call to his father Fayaz Ahmed Bhat, the professor-turned-terrorist said, "I am sorry if I have hurt you and this is my last call as I am going to meet Allah", the bereaved father later told the police.
Dr Bhat's mother, wife and brother tried hard to persuade the holed-up university teacher, who was a contractual assistant professor in KU's department of sociology, but they failed, the police said.
Not just his family members, at least 15 KU scholars had also reached Budigam to persuade Dr Bhat to surrender, but he never heeded their appeals, reports said.
As per Dr Bhat's family members, he had gone missing on Friday and they had no clue about him joining the Hizbul. The family had then approached KU authorities, who had lodged a missing report with the police.
A joint team of army's 44 RR, the special operations group (SOG) of the J&K police and CRPF had rushed to Budigam when gunfight intensified, police sources said.
Director General of Police (DGP) SP Vaid confirmed the killing of five militants, including Sadam, who was one of the close associates of Burhan Wani, the Hizbul poster boy whose killing in 2016 had triggered a massive unrest across the Kashmir Valley.
Besides Dr Bhat and Sadam, the other three slain terrorists have been identified as Bilal Ahmad Mohand, Adil Ahmad Malik and Tauseef Ahmad Sheikh, the police said. While Sadam, Bilal and Adil hailed from Shopian, Tauseef came from Quimoh, they added.
The civilians who were killed during the encounter have been identified as Asif Ahmad Mir, a resident of Rahomo village in neighbouring Pulwama district, Sajad Ahmad Rather of Sehpora in Dooru of Anantnag district, Zubair Ahmad of Rajpora in Pulwama district, Yasir of Shopian and Adil Bashir Ganie of Kulgam. All of them had gotten injured during the encounter and were shifted to various hospitals where they died.
A policeman and a soldier of 44 RR were also injured in the initial exchange of fire with the militants, reports said. They were shifted to 92 base military hospital in Badami Bagh, Srinagar.
Former J&K chief minister Omar Abdullah termed the killing of Dr Bhat as "an answer to those who claim jobs and development are the solution to the violence & alienation in Kashmir".
Full report at:
https://timesofindia.indiatimes.com/india/ku-teacher-turned-militant-among-5-hizb-men-killed-in-shopian-encounter/articleshow/64055514.cms
--------
From Infrastructure to education, India's $2-billion role in Afghanistan
by Shubhajit Roy
May 7, 2018
THE ABDUCTION of seven Indians on Sunday has brought attention to India's projects in Afghanistan, which have crossed $2 billion in the last 16 years.
Last September, the two countries agreed to initiate an ambitious and forward-looking 'New Development Partnership', according to which India agreed to take up 116 high-impact community development projects to be implemented in 31 provinces of Afghanistan, including in the fields of education, health, agriculture, irrigation, drinking water, renewable energy, flood control, micro-hydropower, sports infrastructure and administrative infrastructure.
Sources told The Indian Express that the new Indian ambassador to Afghanistan, Vinay Kumar, has been in touch with the Afghan authorities to push forward these projects.
"Bilateral development cooperation is a key pillar of the strategic partnership, and positive impact of the projects implemented under the $2 billion development and economic assistance extended by India to Afghanistan has contributed towards social, economic, infrastructure and human resource development in the country," said a South Block source.
According to officials, the new projects are:
* Shahtoot dam and drinking water project for Kabul that would also facilitate irrigation.
* Low cost housing for returning Afghan refugees in Nangarhar province to promote resettlement.
* Road connectivity to Band-e-Amir in Bamyan province that would promote tourism to the national park and economic development.
* Water supply network for Charikar city in Parwan province.
* Establishment of a gypsum board manufacturing plant in Kabul to promote value added industry.
* Construction of a polyclinic in Mazar-e-Sharif.
* Development of communication infrastructure (optic fibre) and Surobi 2 hydropower plant with capacity of 180 MW.
Besides these new projects, there are some ongoing projects as well. These include:
* Indira Gandhi Institute of Child Health (IGICH): India has been supporting IGICH since its inception, the reconstruction was done with Indian government's assistance in 2002 ($6 million). Medical equipment worth Rs 17.16 cr has already been delivered and installed. Another $1 million has been provided to IGICH, Kabul, to be utilised over the next five years for routine maintenance, setting up additional facilities, and training of doctors, nurses, paramedics & technical staff of the hospital.
* Construction of a decentralised waste water treatment system along with necessary sewage system.
* Habibia High School, Kabul: After reconstruction of the school at a cost of $5.1 million, India has been supporting the school by way of upgradation of facilities, training of teachers.
* Contribution to Afghan Red Crescent Society: India contributes $1 million annually to the programme to treat children suffering from congenital heart disease over a period of next five years.
* Establishment of Afghan Mining Institute in Kabul: Based on the Afghanistan government's request, India is providing technical and financial assistance.
* Afghan National Agriculture Sciences and Technology University (ANASTU) was established with Indian government's financial & technical assistance.
Besides these government-funded projects, Aptech, a private firm, is providing IT training for Afghan youth in the country.
Among the Indian companies doing business in Afghanistan, mostly in the power sector, are KEC (electrical transmission lines), Phoenix (consultancy in electrical transmission), AIPL (establishment of hydropower project in Helmand province), Gammon India (power transmission line & power sub-stations), KPTL (power transmission line). Besides, aviation firm SpiceJet is also active in Afghanistan.
Sources said India has played a "significant role" in the reconstruction and rehabilitation process in Afghanistan.
Full report at:
http://indianexpress.com/article/india/infrastructure-to-education-indias-2-billion-role-in-afghanistan-5166145/
--------
Southeast Asia
Mosques may become battleground for 2019 election
May 7, 2018
Widely spread footage of a Muslim preacher telling his audience at a mosque in Surakarta, Central Java, that voting for President Joko "Jokowi" Widodo is haram has sparked concern about political sermons at houses of worship ahead of the 2019 election.
In the video, Sugi Nur Raharja began his sermon by saying that it was only natural for Muslims to use mosques to talk politics in election years.
"At the time of Prophet [Muhammad], the mosque was the place to settle all kinds of problems, from businesses to politics."
He went on to make a case against voting for Jokowi, who he said had failed as president, asking the people attending his sermon that they could leave the mosque if they supported the incumbent.
The sermon, titled "Indonesia Bangkit dari Masjid" (Indonesia Rising from the Mosque), was delivered at the Jami MUI mosque on April 29.
A video of the sermon was uploaded on Sugi's YouTube channel and immediately sparked criticism from internet users who believed bringing politics into the mosque was wrong.
A Twitter user with the handle @AfifFuads, who identifies himself in his twitter profile as a part of the youth wing of Nahdlatul Ulama (NU), the largest Muslim organization in Indonesia, said he rejected the use of mosques as venues to spread hatred or provocation.
"The house of God should not be filled with profanity, especially when the preachers talk trash, erroneously and full of logical fallacies," he said.
4. Pertama, ini soal Rumah ibadah, rumah tuhan, yg harusnya menjadi tempat persemaian kedamaian, ini menjadi ajang tebar kebencian dan provokasi, seandainya benar sekalipun yg disampaikan, tak elok rumah tuhan dipenuhi caci maki apalagi bicaranya sampah, ngawur dan sesat logika
— Afif Fuad Saidi (@AfifFuadS) May 1, 2018
"Mosques should be a neutral public sphere that can be shared with anyone looking for universal kindness," said International Center for Islam and Pluralism (ICIP) director Syafieq Hasyim.
He argued that Muslims during the time of Muhammad used the mosque for political consolidation, because Muslims were a more homogenous group.
"When the Prophet was still alive, Muslims could easily look up to him for guidance to solve their problems," he said.
He added that contemporary Muslims could not just ignore the fact that they live in a diverse society. "What Sugi delivered was not a religious sermon."
Sugi, however, had one high-profile defender: former Indonesian Military (TNI) commander and presidential hopeful Gatot Nurmantyo, one of Jokowi's potential contenders who appeared to have backtracked on the position he held last year while serving as military chief, that holding any campaign-related activities in places of worship was prohibited under the law.
"It pains me if anyone says you should not talk about politics in mosques," Gatot said while speaking at an event at the Gadjah Mada University Mosque in Yogyakarta on Friday, as reported by
tempo.co.
He said the Prophet himself talked about politics in Nabawi Mosque. "What should be banned is provocation, not political talk."
Using the pulpit at the mosque for political campaigns is not new in Indonesia, particularly after the heated Jakarta gubernatorial election last year, which pitted a Muslim candidate against a Christian.
Some Muslims in Jakarta reported that religious sermons at their mosques became increasingly political ahead of election day.
The trend forced the Religious Affairs Ministry to find ways to "standardize" religious sermons at mosques, mainly during Friday prayers. According to the ministry, the policy was devised to ensure that preachers giving Friday sermons were competent and stuck to their roles as clerics.
But the policy has been widely seen as ineffective, as the ministry lacks the resources and legal authority to enforce it. It was also later forced to soften the policy after being accused of trying to censor religious sermons.
Indobarometer political analyst Muhammad Qodari expects increased use of mosques for political campaigning in 2019. "There is a possibility that mosques will be turned into campaign venues and used for political mobilization," he said.
"This kind of campaign strategy was successful at the regional level last year," he said, referring to the Jakarta election. "There are indications that the strategy will be used again at the national level."
http://www.thejakartapost.com/news/2018/05/07/mosques-may-become-battleground-for-2019-election.html
--------
From race card to robust economy: Five reasons why Malaysian PM Najib Razak will likely win
07th May 2018
KUALA LUMPUR: Malaysian Prime Minister Najib Razak has been accused of involvement in a massive financial scandal, many voters are angry at rising living costs, and a renewed opposition is a real threat.
But he is still tipped to be handed another term in office at elections Wednesday.
Here are five reasons why he is likely to win and extend his coalition's six-decade hold on power:
Scandal? What scandal?
While the controversy surrounding sovereign wealth fund 1MDB grabbed international headlines, the scandal has faded in many Malaysians' minds, and alone is unlikely to prompt them to eject Najib from office.
Billions of dollars were allegedly looted from the fund, which was set up by Najib, and used to buy everything from high-end US real estate to a luxury yacht, while huge sums mysteriously ended up in the leader's personal bank accounts.
Najib and 1MDB deny any wrongdoing.
Many Malaysians are unhappy at having a leader linked to corruption, and the ruling coalition's share of the popular vote could be dented.
But the scandal peaked a few years ago and is no longer at the forefront of people's minds, with voters more concerned about other things.
"Rising living costs, and particularly the rising cost of food, seems to be the top issue," Charles Santiago, a lawmaker from the opposition Democratic Action Party, told AFP.
Skewing the system
Allegations of electoral fraud and skewing the system to favour the long-ruling Barisan Nasional (BN) coalition are nothing new at Malaysian elections, but analysts warn Najib is going further than any other leader in his bid to retain power.
A redrawing of the electoral map in March created constituencies packed with voters from the Muslim Malay majority, who typically support the government, while civil society groups have complained of irregularities in voting lists, including the appearance of dead people's names.
BN insists the elections will be fair.
Playing the race card
Najib has been shoring up BN's key Malay support base, which makes up some 60 percent of the country's 32 million inhabitants, by doling out cash handouts aimed at civil servants and those on low incomes -- often from the Muslim majority.
The leader has also warned that a victory for the opposition, which has tried to present a more multi-racial front than BN, would be a "nightmare" for Malays that could threaten their privileged place in society.
Bridget Welsh, a Malaysia expert from John Cabot University, told AFP that Najib had run a "very aggressive, racist campaign to feed off the insecurities of the Malay community".
Many Malays will continue to back BN as they have benefited from a decades-old affirmative action programme that gives them perks, such as priority for government jobs.
Opposition problems
The four-party opposition alliance, Pact of Hope, got a huge boost when veteran ex-leader Mahathir Mohamad was picked to run as their prime ministerial candidate, and they hope the Malay nationalist will help swing Muslim voters away from BN.
But it may be too little, too late for the long-troubled bloc.
A previous opposition grouping fell apart in 2015 amid a dispute between the DAP and the Pan-Malaysian Islamic Party (PAS) over Muslim law. PAS has gone its own way and is fielding candidates separately at the poll, which could split the opposition vote.
The opposition are also missing their long-time leader Anwar Ibrahim, one of the country's most charismatic politicians, who is in jail after being found guilty of sodomy in a case his supporters say was politically-motivated.
Robust economy
Najib's efforts to maintain power have been helped by a rebounding economy, which posted its best annual growth rate for three years in 2017 at 5.9 percent.
The economy benefited from Najib's cash handouts to low-income earners, which gave consumer spending a lift, as well an export boom.
Full report at:
http://www.newindianexpress.com/world/2018/may/07/from-race-card-to-robust-economy-five-reasons-why-malaysian-pm-najib-razak-will-likely-win-1811303.html
--------
Malaysia halts people-smuggling ship bound for Australia, NZealand
May 7, 2018
Malaysia has arrested more than a dozen members of an alleged people trafficking syndicate after intercepting a ship carrying 127 Sri Lankan migrants believed to be bound for Australia and New Zealand, authorities have said.
Maritime authorities on Tuesday halted a modified tanker named "Etra" in Malaysian territorial waters off southern Johor state, national police chief Mohamad Fuzi Harun said.
Nearly 100 Sri Lankan men, 24 women and nine children were aboard the ship, which was making its way to international waters when it was stopped.
The police chief said in a statement that authorities arrested 16 people involved in an "international network" of people smugglers, including three Indonesians and four Malaysians aboard a fishing vessel used to transport the migrants from the Johor coast to the tanker.
Another four Malaysians were arrested in the nearby state capital of Johor Bahru, while a fifth was taken into custody in northern Penang state.
Four Sri Lankan men were arrested aboard the tanker for suspected involvement in the trafficking network.
Mohamad Fuzi said the remaining 127 passengers aboard the vessel had been detained for violating immigration laws, according to news reports which did not say where they were being held or if they had been allowed to disembark.
He said the international syndicate, which covered Sri Lanka, Australia, New Zealand, Indonesia and Malaysia, had been operating since the middle of last year.
Sri Lanka's foreign ministry said Sunday it was working closely with the Malaysian authorities to establish the identities of those detained.
"While the identities of the 131 persons are still in the process of being determined, initial information indicate that 43 of the 131 persons arrested hold identity cards issued by the UN Refugee Agency (UNHCR)," the ministry said.
Tens of thousands of Sri Lankans who fled decades of ethnic war are refugees in neighbouring India and other countries despite the end of the conflict in 2009.
It is relatively rare for people-smuggling boats seeking to take people to Australia to be stopped off Malaysia. Boats typically bypass Malaysia and head to neighbouring Indonesia, the traditional staging post on the route to Australia.
Over the years, many such vessels have been stopped or have sunk off Indonesia.
This flow has largely stopped in recent years however after Australia introduced tough policies in 2013 of turning back boats when it is safe to do so, an approach that angered Jakarta.
In 2015 some boats carrying Rohingya, a stateless Muslim minority from mostly Buddhist Myanmar, arrived in Malaysia after Thai authorities clamped down on regional trafficking networks and preventing them from coming ashore in Thailand.
A Rohingya boat arrival in northwest Malaysia last month was the first for some time, and came as fears mounted more might be set to take to the high seas after a military crackdown in Myanmar sent many members of the minority fleeing their homeland.
Full report at:
http://www.thejakartapost.com/seasia/2018/05/06/malaysia-halts-people-smuggling-ship-bound-for-australia-nzealand.html
--------
Africa
Boko Haram: What Emir said about Mubi suicide bomb attack
May 6, 2018
By Don Silas
The Emir of Mubi in Adamawa, Alhaji Abubakar Ahmadu has said that the Emirate Council and security agencies have identified the loopholes in security that that led to the recent suicide bomb blast in the town.
The Emir, who disclosed this on Sunday when he received the Chief of Army Staff, Lt.-Gen. Tukur Buratai in his Palace, said steps had been taken to plug the loopholes.
DAILY POST recalls that no fewer than 60 persons were feared dead in the Tuesday terrorist attack in Mubi.
The traditional ruler, however, described the incident as unfortunate and assured that it would not happen again.
He said: "After the unfortunate suicide bomb blast, immediately I summon all my council chiefs and the local government chairman.
"I assure you things will change as we have already identified the loopholes and we shall address them."
Earlier, Buratai noted that security situation had improved in the town compared to three years ago, even though there were still pockets of suicide attacks.
He said: "This is the time we should reflect on what went wrong and ensure it does not happen again."
He urged the residents to be vigilant and work closely with security agencies.
Buratai assured that security agencies would continue to ensure that suicide bombers do not have access to the community, but added that when they do, they would be apprehended before they cause havoc.
The army chief said: "The situation requires vigilance. Suicide bombers disguise in different ways. People can identify them by the abnormal way they dress.
"Therefore, people should be vigilant. Because of improvement in security situation people have relaxed, but it is now they should reflect on their past mistakes.
"There should be continued relationship with security agencies and provision of necessary information."
http://dailypost.ng/2018/05/06/boko-haram-emir-said-mubi-suicide-bomb-attack/
--------
Six killed in Boko Haram attack on Lake Chad island
May 07, 2018
N'DJAMENA : Six people were killed, including four government officials and a soldier, in an attack by Boko Haram jihadists on a Chadian army checkpoint on an island in Lake Chad, a military source told AFP Sunday.
The overnight killings, which cost the life of a civilian along with two customs officials, two forestry agents and the soldier, occurred when "Boko Haram elements attacked an advanced post of the Chad army" in Gabalami in the country's far west, the source said. The attackers were "repelled" but managed to escape without suffering losses, the source added. Boko Haram, a militant movement opposed to Western influence and seeking an Islamic state based on Sharia law, has caused the deaths of at least 20,000 people since it took up arms in 2009 in Nigeria. Neighbouring Chad has seen a recent increase in attacks by the group. Last month, Chad's national television reported that three of the country's soldiers had been killed during a clash with the jihadists, without giving the location.
It came as fighting took place between Boko Haram and Multinational Joint Task Force (MNJTF) soldiers in Arge in Nigeria's Abadam district, which is on the Chad border. A Chadian soldier, as well as 20 Boko Haram members, were killed in another clash in late March in the restive Lake Chad region.
Full report at:
https://nation.com.pk/07-May-2018/six-killed-in-boko-haram-attack-on-lake-chad-island
--------
Libyan coastguard prevents NGO boat from rescuing migrants: AFP
May 07, 2018
The Libyan coastguard on Sunday prevented a rescue ship belonging to two NGOs from approaching a boat in distress carrying migrants, an AFP photographer witnessed.
The Aquarius, chartered by SOS-Mediterranee and Doctors Without Borders (MSF), was informed by the Italian coastguard of the presence of an overloaded boat off the coast of Tripoli, reported the photographer on board the NGO boat.
But Rome also alerted the Libyan coastguard which took charge of coordinating the rescue operation and banned the NGO ship from approaching, also ordering it to move away when migrants jumped into the water to avoid being picked up by the Libyans.
The Libyan navy later announced it had rescued more than 300 migrants in three separate operations, reporting one dead and three missing.
The two victims were with 114 other migrants including 21 women and four children, said a Libyan navy spokesman, General Ayoub Kacem, although he declined to say whether they had been aboard the boat seen by the Aquarius.
And he warned that tensions between the Libyan coastguard and the NGO boats could worsen over coming days if they continued to approach stricken boats.
The Libyan coastguard has previously accused NGOs of causing panic and confusion by their presence during rescues as the migrants all surge to reach the charter boats to avoid being returned to Libya.
But Italian deputy Riccadro Magi, who was present on board the Astral, a boat chartered by the Spanish NGO Proactiva Open Arms, earlier Sunday when it rescued 105 migrants, accused the Libyans of being heavy-handed.
"The Libyans act as pirates in international waters demanding that they be recognised as an authority. They act outside the law and they do so with the means provided by the Italian government," he said on Twitter.
On Saturday, the Libyan coastguard also forced the Astral and another ship to move away from a boat carrying 38 migrants.
Last November, German charity group Sea Watch said lives had been needlessly lost because of a Libyan coastguard being trained and financed by the European Union.
Full report at:
https://nation.com.pk/07-May-2018/libyan-coastguard-prevents-ngo-boat-from-rescuing-migrants-afp
--------
45 dead as militia, bandits clash in northern Nigeria
May 07, 2018
KANO - Fighting between armed bandits and militiamen left 45 dead in northern Nigeria, police and a local militia said Sunday, amid escalating rural violence often involving cattle rustling, robbery and kidnappings.
"The 45 bodies were found scattered in the bush. The bandits pursued residents who mobilised to defend the village after overpowering them," said a vigilante who asked not to be named for fear of reprisals. "The dead included children abandoned by their parents during the attack" in the village of Gwaska, in Kaduna state. The attackers were obviously armed bandits from neighbouring Zamfara state who have been terrorising Birnin Gwari area," he added.
The Kaduna state police chief, Austin Iwar, confirmed the attack, saying: "There was violence between the militias, who are very powerful, and bandits." He could not break down the casualties, saying only: "For now all we know is that 12 people were buried yesterday and 33 today."
The vigilante said the bandits struck at about 2:30 pm (1330 GMT) Saturday and stayed for three hours before retreating to their base in the forest in Zamfara. "They burnt down many homes," he said.
The killings follow the death of at least 25 people in separate attacks in northern Nigeria last week. Thirteen people were killed in prolonged clashes between cattle thieves and local civilian militia in Zamfara. In Adamawa, in the northeast, meanwhile, at least 12 people were killed in an attack on several villages.
The attacks underlined the diversity of Nigeria's security threats that persist in the absence of a robust police force and efficient judicial system. Nigeria is in the grip of a security crisis as nomadic herders and sedentary farmers fight over land in an increasingly bloody battle for resources. Rural communities in Zamfara have been under siege for several years from cattle rustlers and kidnapping gangs, who have raided herding communities, killing, looting and burning homes.
To defend themselves, villages and herdsmen form vigilante groups, but they too are often accused of extra-judicial killings, provoking a bloody cycle of retaliatory attacks.
Nigerian President Muhammadu Buhari has been criticised for failing to curb the violence, which is becoming a key election issue ahead of presidential polls in 2019.
Full report at:
https://nation.com.pk/07-May-2018/45-dead-as-militia-bandits-clash-in-northern-nigeria
--------
War drums beat east of Libya amid plans to liberate Derna
6 May 2018
Army forces are gathering in and around Libya's Derna as military strongman Khalifa Haftar announced plans to liberate the city.
This escalation coincided with threats from a Salafist leader, an ally of Haftar to eliminate militants belonging to the Shura Council of Mujahideen who have controled Derna since they forced out ISIS in 2015. It is the last eastern town out of the Libyan National Army's control.
Meanwhile, the leader of the special forces in Benghazi, Wanis bou Khamadda, announced that additional troops have been sent to the Omar al-Moukhtar operation room controlled by the Libyan National Army, at the entrance of Derna city, east of Benghazi.
Haftar has been away from Libya for some time raising many questions about his health. His return however put an end to the rumors, while his visit to Derna confirmed the Libyan army's intention to resume its battle against extremist groups.
Full report at:
https://english.alarabiya.net/en/News/north-africa/2018/05/06/Military-escalation-ahead-of-liberating-Libya-s-Derna.html
--------
URL: https://www.newageislam.com/islamic-world-news/hafiz-saeed-begins-campaigning-milli/d/115169
New Age Islam, Islam Online, Islamic Website, African Muslim News, Arab World News, South Asia News, Indian Muslim News, World Muslim News, Women in Islam, Islamic Feminism, Arab Women, Women In Arab, Islamophobia in America, Muslim Women in West, Islam Women and Feminism