New Age Islam News Bureau
2 Dec 2014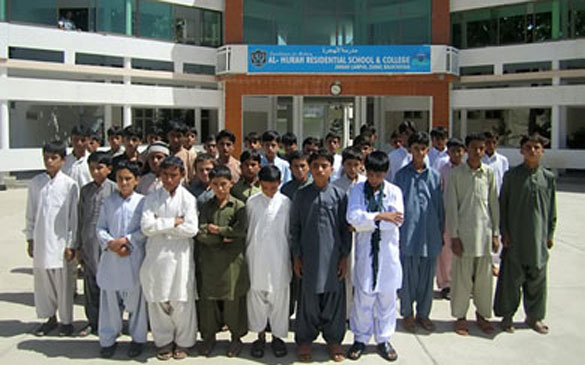 Pupils outside the Al-Hijrah school in Ziarat, Pakistan Photo: Al Hijrah Trust
-------------
Africa
• Gunmen Slaughter 36 in Fresh Northeast Kenya Attack
• Al-Shabab Massacres Non-Muslims at Kenya Quarry
• Cameroon soldiers desperate for help in Boko Haram fight
• Nigeria cancels military training with US
• Tunisia climbs on global terrorism index
Pakistan
• Investigation into Claims Islamic Leaders Used £1m Public Money for Pakistan School
• Airstrikes Kill 30 Suspected Militants in North Waziristan
• Pak HRC: 'Govts Must Probe Violence against Religious Minorities'
• Five suspected militants killed in Khyber clash
• Talks with politicians, not jokers: Jamiat Ulema-e-Islam
• ISI and the military lodge complaint against fake Facebook accounts
• Ransom money being used by militants: KP general of police
• Hundreds of fugitives headhunted by militants, state reports
• No breakthrough expected on bilateral dialogue with India: Sartaj Aziz
• Restoration of relations with Russia is a big change: Khawaja Asif
• Pakistan: Imran Khan alters countrywide 'shut down' plan after criticism
Arab World
• Scores of Takfiri Militants Killed In Hama, Lattakia
• Is Jihadists Kill 16 Border Guards in Iraq
• Islamic State Move to Neighbouring Country Jordan
• Iraqi army retakes chemical weapons site from ISIL
• Iraqi Army Liberates 7 Villages from ISIL Control
• Saudi Kingdom's battle against Aids scourge relentless
• ISIS may possesss nuclear material stolen from Iraq, report says
• Lebanon PM: We will not bow to jihadis
• Egypt prosecution to appeal against Mubarak verdict
• Egyptian 'hipster' ISIS fighter Islam Yaken killed in Kobane
• Saudi King orders $54 million food aid for Yemenis
Europe
• French Parliament Votes On Palestine Recognition
• Tens of Kyrgyz Nationals Fighting For ISIL in Syria
• UN Official: ISIL Can Be Easily Destroyed in Short Time
• Islamic banks grow but may miss out on global footprint
• NATO calls on Turkey to join EU sanctions against Russia as Putin visits Ankara
South Asia
• China Bans Religion in Uighur Home Xinjiang
• Birds as Suicide Bombers
• Drone strike in Nangarhar leaves 8 Taliban militants dead
• Taliban kills 6 soldiers in Afghanistan
• Victory Day: BNP announces month-long programmes
• Nirmul Committee demands ban on activities of Jamaat in Europe
North America
• Iran Bombing Islamic State in Iraq, U.S. Official Confirms
• US Strategy on ISIS Suffers Series of Weaknesses, Study Finds
• US Military Warned Of Possible Islamic State Attacks At Home: Report
• Oklahoma Muslims seek understanding in the face of criticism
• Islam, Christianity share some beliefs, traditions
• Canadian vet fights ISIL with Kurds in 'greatest day' of his life
• U.S. considers opening new front against Islamic State to create a safe zone in Syria
• Obama Administration Considers Deploying Troops to Iraq, Focusing on Assad in Syria
• Obama: Turkey Pardon Will Be My 'Most Talked About Executive Action This Month'
Mideast
• Turkish Students Know Einstein, But Not Muslim Scholars, Erdoğan Complains
• One Muslim's Quest to Save a Revered Syrian Synagogue: Israeli Army Spokesman
• New Peshmerga group to replace troops in Kobane: Turkish army
• Rise of Turkish Islamic schooling upsets secular parents
• Netanyahu: Palestinian failure to recognize Jewish links to Israel is a 'tragedy'
• Senior Iranian Cleric Criticizes Certain States' Dual Approaches towards ISIL
Southeast Asia
• Two Malaysian Civil Servants among Three Isis Suspects Arrested, Say Police
• Parents cry foul over Keningau School barring students wearing crucifix
• Putrajaya turns a deaf ear in returning 'Allah' CDs to Sarawakian Christian
India
• Terrorism, Communalism Major Security Concerns: President
• IS recruit reveals names of two Indians who 'backed out'
• LoC infiltration bid foiled, 3 militants killed in Kashmir
• India ready to sell power to Bangladesh, says Modi
Compiled by New Age Islam News Bureau
URL: https://www.newageislam.com/islamic-world-news/new-age-islam-news-bureau/gunmen-slaughter-36-in-fresh-northeast-kenya-attack/d/100292
---------
Africa
Gunmen slaughter 36 in fresh northeast Kenya attack
2 December 2014
NAIROBI: Gunmen have massacred at least 36 quarry workers in a fresh attack in Kenya´s northeast, police and the Red Cross said on Tuesday, the latest in a series of strikes in the troubled region bordering war-torn Somalia.
The attackers sprayed gunfire at tents where the workers were sleeping in the early hours of Tuesday morning near the town of Mandera, where Somalia´s Al-Qaeda-affiliated Shebab and other militia have carried out a string of raids, Kenyan media said.
The gunmen then separated non-Muslims from the other workers, beheaded several and executed the rest with a bullet to the head, police sources and media reports said, a pattern of attack similar to the killing of 28 people on a bus in the same region last month.
The quarry killings follow a separate attack Monday night in the town of Wajir -- which like Mandera is close to the dangerous border with war-torn Somalia -- which left one person dead and 12 wounded when gunmen hurled grenades and fired into a bar.
"Our team is on the ground undertaking assessments of the attack," the Kenya Red Cross said Tuesday.
Police spokesman Zipporah Mboroki confirmed the attacks but said the force would provide exact tolls of those killed later.
However, a senior police official said 36 people had been killed and there were fears others may have been abducted.
"We have lost 36 people, but there are others missing," said the police official, who asked not to be named. "We don´t know whether they were taken by the attackers."
http://www.thenews.com.pk/article-167453-Gunmen-slaughter-36-in-fresh-northeast-Kenya-attack
---------
Al-Shabab Massacres Non-Muslims at Kenya Quarry
2 December 2014
Somali militants have killed 36 non-Muslim quarry workers near the north Kenyan town of Mandera.
The attackers from the al-Shabab group shot the non-Muslims dead after separating them from Muslims, residents said.
There is growing concern in Kenya about security in regions bordering Somalia after a spate of attacks.
President Uhuru Kenyatta, who summoned top security officials, is to address the nation on TV later on Tuesday.
The attack on the quarry workers took place earlier in the day. Witnesses said the victims were caught after midnight, while sleeping in their tents at the quarry in Kormey, 15km (nine miles) from Mandera town.
A driver who visited the scene of the attack, Ali Sheikh Yusuf, told the BBC most of the victims appeared to have been lined up, and shot in the head, at close range.
He said four were beheaded inside their tents, while three appeared to have escaped to Mandera town.
Al-Shabab said it carried out the attack, blaming the involvement of Kenyan forces in Somalia "and their ongoing atrocities therein, such as the recent air strikes on Muslims". The group put the number of killed at 40, higher than official accounts.
Kenya's Red Cross said that security personnel and one of its own teams were at the scene soon after the attack.
It comes a day after one person was killed at a bar popular with non-Muslims in a neighbouring district.
Gunmen reportedly opened fire and hurled grenades at the bar in the town of Wajir, which also left 12 injured.
Mandera County borders both Somalia and Ethiopia, and it is dominated by Somalis, who are largely Muslims.
Many of the quarry workers killed are reported to have come from the south of the country where Christians predominate.
Somali Prime Minister Abdiweli Sheikh Ahmed was among those to condemn the killings.
Somalis and Kenyans shared "a common commitment" to fight terrorism, he said.
Analysis: Abdullahi Abdi, BBC Africa, Nairobi
Mandera is dominated by Kenyan Somalis, most of whom are Muslims. The attacks will affect the economy and social make-up of the region, as most of its workers - skilled and unskilled - are non-Muslims from other parts of Kenya.
Many of them - including nurses and teachers - fled Mandera after last week's bus attack, and this trend is now likely to continue.
A presidential adviser, who hails from Mandera, Abdikadir Mohamed, has warned that al-Shabab is trying to fan a religious war.
Some Christian leaders have also publicly accused Muslim leaders of not doing enough to tame radicalism within their ranks.
The Kenyan government is being blamed for failing to secure the nation, and this attack will put more pressure on President Uhuru Kenyatta to step up efforts to end the insurgency.
Al-Shabab has stepped up its campaign in Kenya since 2011, when Kenya sent troops across the border to help battle the militants.
Only last week, al-Shabab killed 28 people in an attack on a bus targeting non-Muslims in the same area.
In one of the worst attacks on Kenyan soil, 67 people were killed last year when four gunmen took over the Westgate shopping mall in Nairobi.
In recent months, dozens of people have been killed in a series of shooting attacks in coastal districts.
The security situation has led to calls from the opposition and some in the governing party for the dismissal of Interior Minister Joseph Ole Lenku and police chief David Kimaiyo.
Hundreds of people sought refuge at a military airstrip in the Mandera region last week, fearing a fresh assault by al-Shabab.
http://www.bbc.com/news/world-africa-30288137
------------
Cameroon soldiers desperate for help in Boko Haram fight
2 December 2014
Boko Haram is increasingly a regional threat and the battle against the Nigerian Islamist sect is meant to be a regional campaign -- but that's not the way it feels for Cameroon's soldiers on a desperate frontline.
"We are fed up with fighting this war all alone," a Cameroonian officer said as he described his army's resistance against Boko Haram and the lack of military support from neighbouring governments.
"The attacks against our territory come from a neighbouring country, which calls itself sovereign and does nothing," said a defence ministry official who asked not to be named.
The official complained that Cameroon had been drawn into a "proxy war" against Boko Haram, which has stepped up massacres of villagers in Cameroon's far north at the same time as killing and maiming in Nigeria.
Last Friday alone, suspected Boko Haram fighters slaughtered at least 120 people in a suicide bomb and gun attack on the central mosque in the north Nigerian city of Kano.
Cameroon's army has been stretched in its attempt to check cross-border incursions by the group, whose name loosely translates as "Western education is a sin".
And that task has become harder as Boko Haram fighters grow in strength and ambition.
"Each time Boko Haram captures a town in Nigeria, it recovers all the military equipment there. So now they really have heavy weaponry," a source in the intelligence services said.
In mid-October, Islamist fighters equipped with a tank and a booby-trapped car bomb laid siege to an army position in Amchide, a town that straddles the frontier, while also attacking Limani in the north.
"Fighting of rare violence" left 107 Boko Haram members and eight Cameroonian soldiers dead, the defence ministry said, while a police officer told AFP that before the battle, the Islamists "cut the throat of many civilians, 30 at least".
"We're on our own at the front," said a commander of the elite Israeli-trained Rapid Intervention Brigade (BIR).
Across the border in northeastern Nigeria, Boko Haram controls swathes of territory abandoned by the authorities, leaving the local population to its fate.
In Amchide, Cameroon's army faces enemy forces dug in around the far end of a bridge marking the border. Boko Haram routed local Nigerian troops and now is only separated from Cameroonian soldiers by a dusty and deserted no man's land.
When 500 Nigerian troops crossed into Cameroon in early August, the army command said the soldiers were "charging through the borders in a tactical manoeuvre".
But Cameroon is getting used to seeing Nigerian soldiers arriving for a quite different reason -- fleeing Boko Haram, which is estimated to have killed more than 13,000 people since 2009.
At the same time, Cameroon has come under criticism from neighbouring countries and former colonial power France for not doing enough to stop Boko Haram from using its territory as a rear base for its war in Nigeria.
The 2013 abduction within Cameroon of French national Tanguy Moulin-Fournier and his family by Boko Haram led to a change in strategy.
The hostages were freed, as were two Italian priests and a Canadian nun seized early this year. But Cameroon's President Paul Biya ordered substantial military reinforcements to the far north to tackle the armed fundamentalists in "Operation Alpha".
Some 2,000 men were deployed, but security officials stress that more troops are needed to control the long, porous border.
"We hope that aid from here and there, from the international community, will enable us to bring the swiftest possible end to this aggression," government spokesman Issa Tchiroma Bakary said recently.
During talks in Paris in May, Nigeria and three neighbouring countries -- Cameroon, Chad and Niger -- came up with a battle plan.
They agreed to share information and coordinate their intelligence work, to keep joint watch over their borders and to develop the capacity to intervene swiftly in response to threats.
Each of the four countries pledged to send 700 troops to the Lake Chad region, where their borders all come close together. However, that promise has yet to be fully honoured.
"Cameroon has already sent 300 men from the navy. Chad and Niger are well disposed to provide troops, but it's less certain where Nigeria is concerned," a Cameroonian military source said.
http://english.ahram.org.eg/NewsContent/2/9/116992/World/International/Cameroon-soldiers-desperate-for-help-in-Boko-Haram.aspx
--------
Nigeria cancels military training with US
World Bulletin/News Desk
2 December 2014
Nigeria has abruptly asked the United States to discontinue military training for its army, the U.S. embassy in Abuja said on Monday.
"At the request of the Nigerian government, the United States will discontinue its training of a Nigerian Army battalion," the embassy said in the statement.
The statement said that Nigeria has given no particular reason for discontinuing the program.
The U.S. embassy regretted the cancellation of the military training, saying it would have been a boost in the battle against insurgency.
"Based on mutual assessment of the Nigerian Army and U.S. trainers, a third iteration of training was agreed upon with the intent of developing the battalion into a unit with advanced infantry skills," the statement said.
"The U.S. government will continue other aspects of the extensive bilateral security relationship as well as all other assistance program," it added.
The decision comes as Nigeria-U.S. relations enter a new low, following the refusal of the latter to sell arms to Nigeria to consolidate its efforts in fighting the Boko Haram militant group.
American officials have repeatedly angered Nigeria in their criticism of its human rights record.
Two weeks ago, the Nigerian envoy to Washington criticized the U.S. for allegedly frustrating the country's counterterrorism campaign by refusing to sell required arms to Nigeria. Washington has rejected the accusations.
http://www.worldbulletin.net/todays-news/149698/nigeria-cancels-military-training-with-us
------------
Tunisia climbs on global terrorism index
2 December 2014
Tunisia now ranks 46th on the Global Terrorism Index (GTI), seven places worse than last year.
"Fears about this advanced rank is an indication of what the conditions in the Maghreb can reach, especially as Libya is now ranked 15th," said Bassel Torjeman, an expert on Islamist groups.
In last year's index, before the surge in violence, Libya was at 93rd.
"The results indicate that Tunisia has entered into the group of countries where terrorism has become entrenched," Torjeman told Magahrebia. "This means that terrorism now poses a serious threat to destabilise Tunisia and the Maghreb area in general."
The index scores 162 countries, covering 99.6% of the world's population, for the number of terrorist incidents, fatalities, injuries and property damage.
The GTI report issued November 16th indicates that just as terrorism expanded between neighbours Syria and Iraq, "we have a similar situation between Libya and Tunisia which can evolve," Torjeman continued.
"Libya has now become a big incubator of terrorism, and terrorist groups in Tunisia are ideologically and organically connected to terrorist groups in Libya, especially Ansar al-Sharia, al-Qaeda in the Islamic Maghreb (AQIM) and finally the Islamic State (ISIS)," the analyst added.
Tunisia has witnessed a growing trend in terrorist activity since the revolution because of al-Qaeda ally Ansar al-Sharia. All terrorist attacks in Tunisia, including political assassinations and the killings of soldiers, have been attributed to the organisation.
Four organisations- al-Qaeda, the Islamic State (ISIL), Boko Haram and the Taliban - claimed the majority of deaths from terrorist attacks in 2013, according to the Institute for Economics & Peace (IEP), which produces the index.
The report notes that 80 per cent of the 17,958 lives lost to terrorist activity in 60 countries in 2013 occurred in only five countries – Syria, Iraq, Afghanistan, Pakistan, and Nigeria.
Meanwhile in Tunisia, 40 security agents and troops, as well as 25 terrorists, have been killed in the last three years. More than 2,000 people have been arrested.
"Terrorist events have become the daily bread of news in the world, especially in countries that have witnessed political changes, such as Tunisia, Libya and Syria," employee Mohamed Ali Brinsi, 33, told Magharebia. "Thank God that terrorism in Tunisia is less serious, but it is still threatening our security and undermining our economy. Therefore, we have to confront and uproot it."
"It's scary to see Tunisia ranking high on the terrorism index in the world," agreed Maha Mhiri, 27. "I think this index is a cry of distress for all Tunisians to stand shoulder to shoulder to confront this serious phenomenon," she added.
Lasaad Mezni, 44, is optimistic about Tunisia's future, thanks to the democratic transition and the efforts of the security forces.
"However, the Libya border, which is seen as the biggest threat of terrorism in the Maghreb area, must be secured," the Tunis resident told Magharebia.
"Terrorism is the number one enemy of stability," Meni added. "The terrorism index, which places Tunisia in a high rank, is a warning so we can confront it."
http://magharebia.com/en_GB/articles/awi/features/2014/12/01/feature-02
---------
Pakistan
Investigation into Claims Islamic Leaders Used £1m Public Money for Pakistan School
2 December 2014
Council bosses are investigating claims Islamic leaders spent £1million of British taxpayers' cash on a state-of-the-art school in Pakistan.
The controversial alleged use of public money has engulfed scandal-hit Al-Hijrah School in Birmingham, which is currently in desperate need of repair.
It comes after the school was placed in special measures in May this year, when it was branded "inadequate" in a damning Ofsted report.
A month later, the whole governing body was sacked after financial troubles, including a £900,000 budget deficit, were revealed and a new interim board took over.
Now Birmingham City Council is investigating claims that the trust might have used public money to help fund a £1million boys-only school 5,000 miles away in Pakistan.
The Al-Hijrah boarding school, in the North West city of Ziarat, opened in 2004 and is said to be prospering.
On the trust's website, it boasts the school provides children with an environment in which they can "develop their Islamic principles".
Meanwhile, the school in Bordesley Green, Birmingham, which caters for 800 pupils aged between four and 16, is in a state of disrepair.
Full report at:
http://www.telegraph.co.uk/news/uknews/11264984/Claims-Islamic-leaders-in-Birmingham-used-public-money-to-fund-Pakistan-school.html
---------
Airstrikes kill 30 suspected militants in North Waziristan
2 December 2014
PESHAWAR: At least 30 suspected militants were killed on Tuesday during airstrikes conducted by military fighter jets in the Dattakhel area of North Waziristan tribal Agency.
Security sources said that 30 militants, including two key commanders and several foreign fighters, were killed in the blitz which was carried out in a jungle situated in Dattakhel.
Two vehicles were also destroyed in the strikes.
The Inter Services Public Relations (ISPR) confirmed the deaths of at least 17 suspected militants — many of whom were alleged to be foreign fighters.
Khyber clash
At least five suspected militants were killed and six others were wounded in a clash with security forces in the Akkakhel area of Khyber tribal region's Tirah Valley early on Tuesday.
Security sources said both sides used heavy weapons during the exchange of fire.
Checkpost attacked in Orakzai
Full report at:
http://www.dawn.com/news/1148281/airstrikes-kill-30-suspected-militants-in-north-waziristan
---------
Pak HRC: 'Govts must probe violence against religious minorities'
December 2, 2014
LAHORE: Pakistan's human rights record might be contentious on several levels but in March last year, at its Universal Periodic Review with the Human Rights Council, Pakistan was lauded for its "commitment" to defending human rights.
It had accepted 126 proposals put forward by member countries, rejected seven and claimed that 34 of them were pending.
The International Council of Jurists on Monday held a mid-term review of Pakistan's implementation of its commitments made at the UPR.
The consultation will be followed by a mid-term implementation report discussing Pakistan's progress in fulfilling its commitments made before the Human Rights Council.
Legal experts discussed opportunities for mid-term advocacy; discriminatory laws against religious minorities; violence against disadvantaged groups and their political participation; and how to address religious hatred and building inter-faith harmony.
Reema Omer, legal adviser for the ICJ, opened her talk by identifying five thematic areas in the UPR: women's rights; freedom of religion; rights of the child; enforced and involuntary disappearances; freedom of expression and human rights defenders. She called on the state and advocacy groups to investigate attacks and violence against religious minorities and sects and bring those responsible to justice. She stressed the need for taking deterrent measures to combat discrimination against women, girls and religious minorities and work towards eliminating poverty among those groups.
Full report at:
http://tribune.com.pk/story/800421/human-rights-commitments-govts-must-probe-violence-against-religious-minorities/
--------
Five suspected militants killed in Khyber clash
2 December 2014
PESHAWAR: At lease five suspected militants were killed and six others were wounded in a clash with security forces in the Akkakhel area of Khyber tribal region's Tirah Valley early on Tuesday.
Security sources said both sides used heavy weapons during the exchange of fire.
Khyber is one of Pakistan's seven semi-autonomous regions governed by tribal laws and lies near the Afghan border. The Taliban and other Al Qaeda-linked groups who stage attacks in both Pakistan and Afghanistan are also known to have strongholds in the zone.
The development comes amid Operation Khyber I which was launched in Khyber upon information about the presence of militants in parts of Sipah and Akkakhel areas.
Mangal Bagh-led Lashkar-i-Islam has had a strong presence in the areas being targeted in the operation.
Full report at:
http://www.dawn.com/news/1148281/five-suspected-militants-killed-in-khyber-clash
---------
Talks with politicians, not jokers: Jamiat Ulema-e-Islam
December 2, 2014
SUKKUR: Political dialogue can be held with serious politicians and not with jokers, said the chief of his eponymous faction of Jamiat Ulema-e-Islam (JUI-F), Maulana Fazlur Rehman, while strongly criticising Pakistan Tehreek-e-Insaf (PTI) chairman Imran Khan.
Talking to the media at the residence of his party's leader Agha Ayub in Sukkur on Monday, the politico-religious leader said the nation could judge Imran's seriousness in politics by his statements about the recent murder of JUI-F leader Dr Khalid Soomro.
The JUI-F chief predicted that Imran's plans, from A to Z, would fail, including his announcement regarding shutting down Pakistan, which was an attempt to revisit the history of General Niazi.
Fazlur Rehman claimed that nobody from Sindh or Balochistan had attended PTI's November 30 rally in Islamabad. He refuted allegations that JUI-F protesters stopped PTI supporters from travelling to Islamabad, and said that in Punjab all the roads were open. "Our protest and sit-in in Pehawar ended at 4 pm. Then why did people fail to show up at his rally when it takes only two hours to reach Islamabad from Peshawar?"
Full report at:
http://tribune.com.pk/story/800465/talks-with-politicians-not-jokers-fazl/
---------
ISI and the military lodge complaint against fake Facebook accounts
2 December 2014
ISLAMABAD: Fake Facebook accounts used to be a problem faced by teenage girls, but it appears that in Pakistan, they are also becoming a bother for the military and the Inter Services Intelligence (ISI).
The ISI and the military have formally complained to the Ministry of Information Technology (MOIT) and the Pakistan Telecommunications Authority (PTA) about the existence of fake accounts of their chiefs on the social networking website.
There are a number of accounts on the website, supposedly belonging to the Chief of Army Staff (COAS) Gen Raheel Sharif and Director General ISI Lt-Gen Rizwan Akhtar and other senior officers such as Gen Haroon Aslam and Gen Asif Haroon.
The military spokesperson said that with the exception of one account belonging to Director General Inter Services Public Relations (ISPR) Maj-Gen Asim Bajwa, the rest are all fake.
PTA spokesman Khurram Mehran confirmed to Dawn that the ISI has launched a formal complaint regarding these accounts.
Some accounts on the website claim to belong to COAS, DG ISI and other senior officers
"Whenever PTA receives any such complaint, it is taken up with the relevant organisation for appropriate action, as per procedure," he said.
Full report at:
http://www.dawn.com/news/1148229/isi-and-the-military-lodge-complaint-against-fake-facebook-accounts
---------
Ransom money being used by militants: KP general of police
2 December 2014
PESHAWAR: Khyber Pakhtunkhwa inspector general of police Nasir Khan Durrani on Monday claimed the ransom and extortion money collected in the province was being used for militant activities.
He was speaking at a special ceremony organised at the central police office here to distribute cash and commendation certificates to Karak and Tank police personnel over the recovery of three schoolchildren kidnapped in Bannu lately.
Among the policemen were inspector M Riaz, inspector Azmat, head constable Naseer Iqbal and constable Ibrahim from Karak and head constables Abdul Ghaffar, Tahir Habib and Shah Khalid from Tank.
The IGP praised the 'professionalism, valour, strategy and timely action' on the policemen, who recovered students, and said he hoped that they would continue with the excellent performance.
Full report at:
http://www.dawn.com/news/1148259/ransom-money-being-used-by-militants-igp
---------
Hundreds of fugitives headhunted by militants, state reports
December 2, 2014
ISLAMABAD: The National Crisis Management Cell (NCMC) fears that around 1,000 proclaimed absconders have joined militant groups operating from Awaran in Balochistan, North Waziristan Agency, other tribal regions and Khyber-Pakhtunkhwa. These absconders are either wanted by Islamabad police or anti-terrorism courts (ATCs) within Islamabad, officials claimed.
Examples abound. There is the case of a family of fugitives on the loose. A senior official who prepared a list of these absconders told The Express Tribune that Sharif Khan, 31, joined Haji Namdar group for jihad in North Waziristan after he was declared a absconder by the ATC-I, Islamabad in 2011.
His brother, Junaid Khan, 29, joined Lashkar-e-Islam of Mangal Bagh in Khyber Agency after Islamabad police declared him a proclaimed absconder. Their father Saifur Rehman had migrated from Kaniguram, South Waziristan, to Muslim Colony Bari Imam, Islamabad, in 2004, he added.
Full report at:
http://tribune.com.pk/story/800499/wanted-and-missing-hundreds-of-fugitives-headhunted-by-militants-state-reports/
---------
No breakthrough expected on bilateral dialogue with India: Sartaj Aziz
2 December 2014
ISLAMABAD: Pakistan does not expect any breakthrough on resumption of bilateral dialogue with India while the Modi-administration is in-charge of affairs, Adviser to Prime Minister Nawaz Sharif on Foreign Affairs and National Security Sartaj Aziz said Tuesday.
Aziz was speaking to reporters after inaugurating the annual conference of the Pakistan Institute of Development Economics in Islamabad.
"India has suspended [the] dialogue process and now it's their responsibility to resume it," he said.
Earlier in August, India had called off foreign secretary-level bilateral talks with Pakistan following criticism of Pakistani High Commissioner Abdul Basit's meeting with Hurriyat leader Shabir Shah.
News agencies had quoted the Indian External Affairs as saying: "Pakistan High Commissioner's meeting with the 'so-called' separatist leaders undermines the constructive diplomatic engagement initiated by Indian premier Narendra Modi on his very first day in office."
Aziz also lamented the attitude of the Indian government towards the Kashmir dispute and said that the neighbouring country wanted to link Kashmir with terrorism to divert the world's attention.
Full report at:
http://www.dawn.com/news/1148298/no-breakthrough-expected-on-bilateral-dialogue-with-india-sartaj-aziz
---------
Restoration of relations with Russia is a big change: Khawaja Asif
2 December 2014
KARACHI: Pakistan wants to develop good relations with all neighboring countries and the restoration of relations with Russia is a great development says Federal Defense Minister Khawaja Asif.
Speaking at the second day of the Defense exhibition Khawaja Asif said that the relations with Russia have been restored after many decades and they will become stronger in the future.
He also said that China and Russia are big forces of the region. The federal minister mentioned that Pakistan has everlasting relations with China and is looking forward to their co operation on several issues including economics and defense.
http://www.thenews.com.pk/article-167447-Restoration-of-relations-with-Russia-is-a-big-change:-Khawaja-Asif
---------
Pakistan: Imran Khan alters countrywide 'shut down' plan after criticism
2 December 2014
Pakistan Tehreek-i-Insaaf chief Imran Khan has altered his plan to "shut down" the country on December 16, after being criticised as the protest date coincided with the formal surrender of the army in Bangladesh.
Khan, who has been protesting since mid-August, had threatened to paralyze Pakistan on December 16 if Prime Minister Nawaz Sharif failed to initiate an impartial probe into the alleged rigging in 2013 general elections.
His decision drew flake from different circles as the date of protest coincided with the formal surrender of the army in Dhaka leading to creation of Bangladesh in 1971.
There was also widespread criticism to shut down the country and the major trade organizations refused to become a part of the plan as it would cause a huge financial loss.
Arif Alvi, a senior party, said the party had in-depth talks over the protest plan on Monday at the residence of Khan in suburbs of Islamabad.
Full report at:
http://indianexpress.com/article/world/asia/pakistan-imran-khan-alters-countrywide-shut-down-plan-after-criticism/#sthash.SOD4vtb6.dpuf
---------
Arab World
Scores of Takfiri Militants Killed in Hama, Lattakia
2 December 2014
The Syrian Army made fresh advances in its operations against ISIL Takfiri group in areas near Hama and Lattakia provinces, leaving scores of the militants dead and injured.
The Syrian forces targeted the positions of the rebels in Hama province, killing a large number of them in the areas of al-Bela'as, Jana al-Elbawi, al-Hanoutiyeh, Edneh, al-Heddaj and Kafer Zaita.
Meantime, the rebels sustained toll in the areas of Doureen, Kfar Dalbeh, and Tertyah, as the army made gains in Lattakia.
The army troops also managed to destroy three vehicles of the terrorist group during the operations.
The conflict in Syria started in March 2011, when sporadic pro-reform protests turned into a massive insurgency following the intervention of western and regional states.
The unrest, which took in terrorist groups from across Europe, the Middle-East and North Africa, has transpired as one of the bloodiest conflicts in recent history.
As the foreign-backed insurgency in Syria continues without an end in sight, the US government has boosted its political and military support to Takfiri extremists.
Washington has remained indifferent to warnings by Russia and other world powers about the consequences of arming militant groups.
http://english.farsnews.com/newstext.aspx?nn=13930910000526
---------
IS jihadists kill 16 border guards in Iraq
2 December 2014
BAGHDAD: At least 16 Iraqi border guards were killed on Monday in a dawn assault by the Islamic State jihadist group on their post near the Syrian frontier, provincial and security officials said.
"Sixteen border guards, including a captain, were killed and four wounded in an attack targeting their headquarters in Al-Walid, near the Syrian border", Faleh al-Issawi, deputy head of Anbar provincial council, said. He said the attack occurred at around 6am. A commander in the Iraqi border force and a police major confirmed the death toll.
Despite the attack, "Al-Walid is still in the hands of Iraqi forces," the major said.
The crossing is one of the country's most remote outposts and lies 500 kilometres west of Baghdad near the westernmost point in Anbar province where the borders of Iraq, Syria and Jordan meet.
Full report at:
http://www.dawn.com/news/1148194/is-jihadists-kill-16-border-guards-in-iraq
---------
Islamic State move to neighbouring country Jordan
2 December 2014
In four months, the jihadists who call themselves Islamic State has swept through significant chunks of Syria and Iraq, winning themselves what is in effect a state.
But there is growing concern that IS is moving into other neighbouring countries which could now be drawn into the conflict.
The BBC's Quentin Sommerville travelled to Mann in southern Jordan where people took to the streets last June in support of IS.
http://www.bbc.com/news/world-middle-east-30286961
---------
Iraqi army retakes chemical weapons site from ISIL
2 December 2014
The Iraqi army has retaken from Islamist insurgents a sprawling complex where aging remnants of late President Saddam Hussein's chemical weapons programme are stored in bunkers, the country's deputy foreign minister said on Dec. 1.
Islamic State in Iraq and the Levant (ISIL) militants, who had seized the area during a lightning offensive last June, were not able to penetrate the fortified bunkers, Mohammad Jawad Al-Doraky told delegates at a chemical weapons conference in The Hague.
He said Iraqi government forces had now managed to oust ISIL from the compound, where two sealed bunkers contain stockpiles of old chemicals, rockets and equipment.
Al-Doraky said a facility set up under a plan to destroy the chemicals, built with tens of millions of dollars in U.S. funding, had been looted. The area north of Baghdad had also been mined, postponing the demolition plan that had been set to be carried out this year.
"The Iraqi army, during the past period, has recovered the Muthanna site and the roads leading to it," he told delegates at the annual conference of the Organisation for the Prohibition of Chemical Weapons (OPCW).
Full report at:
http://www.hurriyetdailynews.com/iraqi-army-retakes-chemical-weapons-site-from-isil.aspx?pageID=238&nID=75090&NewsCatID=352
---------
Iraqi Army Liberates 7 Villages from ISIL Control
2 December 2014
The Iraqi Army liberated as many as 7 villages near the North-eastern city of Baquba from the control of Takfiri ISIL militants.
A senior army officer said that the Iraqi soldiers liberated the villages after heavy clashes with the Takfiri militants in Diyala province.
Reports coming out of the city on Monday said that at least 15 militants were killed in the clashes.
The ISIL Takfiri terrorists currently control parts of Syria and Iraq. They have threatened all communities, including Shiites, Sunnis, Kurds, Christians, Ezadi Kurds and others, as they continue their atrocities in Iraq.
Senior Iraqi officials have blamed Saudi Arabia, Qatar, and some Persian Gulf Arab states for the growing terrorism in their country.
The ISIL has links with Saudi intelligence and is believed to be indirectly supported by the Israeli regime.
http://english.farsnews.com/newstext.aspx?nn=13930910001143
---------
Saudi Kingdom's battle against Aids scourge relentless
2 December 2014
Saudi Arabia has witnessed a 26 percent increase in AIDS infections. A total of 831 cases were recorded in 2012, which went up to 1,777 in 2013. The total number of AIDS cases in the Kingdom currently is 18,762, according to a recent study quoted by local media.
A total of 96 percent were infected through sexual relations and injections, while 1.5 percent occurred with mothers passing the virus on to their unborn children.
Meanwhile, on World AIDS Day on Monday, local journalists met with several Saudi women living with the virus. A woman infected with AIDS said she found out about her disease only after her husband was diagnosed 12 years ago.
Although she was depressed for a long time, she has survived to see one of her sons get married, and has managed to raise her other children. They stood by her when she told them about her illness.
Full report at:
http://www.arabnews.com/news/668561
---------
ISIS may possesss nuclear material stolen from Iraq, report says
PTI | Dec 1, 2014
LONDON: Islamic State terror group may have developed a nuclear device by using radioactive uranium stolen from Iraq's Mosul University after seizing control of the city last June, a British media report says.
Militants boasted of the device on social media, with one even commenting on the destruction such a bomb would wreak in London, four months after the chemical went missing from Mosul University, Mirror newspaper reported.
One of the extremists making online threats to the west is British explosives expert Hamayun Tariq, who fled his home in the UK for the Middle East in 2012.
Using the alias, Muslim-al-Britani, he tweeted, "O by the way, Islamic State does have a dirty bomb. We found some radioactive material from Mosul University."
He wrote: "We'll find out what dirty bombs are and what they do. We'll also discuss what might happen if one actually went off in a public area."
A dirty bomb is a speculative radiological weapon that combines radioactive material with conventional explosives.
Full report at:
http://timesofindia.indiatimes.com/world/middle-east/ISIS-may-possesss-nuclear-material-stolen-from-Iraq-report-says/articleshow/45337804.cms
---------
Lebanon PM: We will not bow to jihadis
2 December 2014
BRUSSELS: Prime Minister Tammam Salam said Lebanon would not succumb to the will of the jihadis holding 26 Lebanese servicemen hostage as his government lobbied in Brussels to use the rest of an EU aid package to revamp its fragile infrastructure.
In the firmest remarks made since jihadis captured at least 26 servicemen in northeast Lebanon in August, Salam said the country would not accede to the will of the militants.
"The government will not bow to pressure and will not make concessions and will not allow the captors to take 4 million Lebanese hostages," Salam said during a reception for the Lebanese community in Belgium organized by Ambassador Rami Mortada.
Salam spoke after Lebanese media circulated rumors that the Nusra Front was set to execute one of its Lebanese captives.
But it was the detrimental impact the Syrian refugee crisis has had on Lebanon's host communities and already-weak infrastructure rather than the captured servicemen that was the main focus of Salam's talks with officials here.
Full report at:
http://www.dailystar.com.lb/News/Lebanon-News/2014/Dec-02/279599-salam-we-will-not-bow-to-jihadis.ashx#sthash.ORKDlilo.dpuf
--------
Egypt prosecution to appeal against Mubarak verdict
2 December 2014
Egypt's general-prosecutor has issued an order to file an appeal against the dismisal of all charges against the ousted president Hosni Mubarak.
On Saturday, a court had dropped charges against Mubarak over the killing protesters in January 2011 uprising and acquitted him of corruption charges.
http://english.ahram.org.eg/NewsContent/1/64/116985/Egypt/Politics-/BREAKING-Egypt-prosecution-to-appeal-against-Mubar.aspx
---------
Egyptian 'hipster' ISIS fighter Islam Yaken killed in Kobane
2 December 2014
Islam Yaken, a wealthy young Egyptian who left his homeland to join the Islamic State of Iraq and Syria (ISIS) in the summer, has been killed in a suicide mission in the Syrian conflict town of Kobane, Egyptian media reported on Monday.
Yaken - who according to friends had lived a cosmopolitan lifestyle back home in Egypt - bewildered many when he joined the extremist militants. A photo of him published on social media networks in August showed him brandishing a sword while mounted on a horse in Syria.
Before taking his life in a Kobane suicide operation, he had published a final letter on Twitter on Nov. 21.
"I ask almighty God not to be one of those meant in the verse 'And We will regard what they have done of deeds and make them as dust dispersed' or be one of 'those whose effort is lost in worldly life, while they think that they are doing well in work,'" Yaken addressed his comrades in the letter.
Full report at:
http://english.alarabiya.net/en/perspective/features/2014/12/02/Egyptian-Hipster-ISIS-fighter-Islam-Yaken-killed-in-Kobane.html
---------
Saudi King orders $54 million food aid for Yemenis
2 December 2014
Custodian of the Two Holy Mosques King Abdullah ordered, on Monday, food aid worth $54 million support 45,000 poor Yemeni families.
This was disclosed by Saudi Ambassador in Sanaa Mohammed Saeed Al-Jaber during a meeting with Yemeni Minister of Planning and International Cooperation Mohammed Al-Maitami.
The Yemeni minister commended King Abdullah's humanitarian gesture.
"We appreciate Saudi Arabia's support for Yemen in various fields. This is not surprising from our Saudi brethren, especially King Abdullah."
http://www.arabnews.com/featured/news/668571
---------
Europe
French parliament votes on Palestine recognition
2 December 2014
French lawmakers are set to vote on Tuesday to call on the government to recognize Palestine, a symbolic move that will not immediately affect France's diplomatic stance but demonstrates growing European impatience with a stalled peace process.
While most developing countries recognize Palestine as a state, most Western European countries do not, supporting the Israeli and U.S. position that an independent Palestinian state should emerge from negotiations with Israel.
But European countries have grown increasingly frustrated with Israel, which since the collapse of the latest U.S.-sponsored talks in April has pressed on with construction of settlements in territory the Palestinians want for their state.
Palestinians say negotiations have failed and they have no choice but to pursue independence unilaterally.
In October, Sweden became the biggest Western European country to recognize Palestine, and parliaments in Britain and Ireland both held votes in which they backed non-binding resolutions in favor of recognition.
Full report at:
http://english.alarabiya.net/en/News/middle-east/2014/12/02/French-parliament-votes-for-Palestinian-recognition-.html
---------
Tens of Kyrgyz Nationals Fighting for ISIL in Syria
2 December 2014
Spokesman of Kyrgyzstan's National Security Committee announced that a large number of Kyrgyz citizens are now fighting for the ISIL terrorist group against the Damascus government in Syria.
"A sum of 175 Kyrgyz nationals, who have been attracted to ISIL through the group's Internet advertisements, are now fighting alongside the terrorists group in Syria," Suleymanov said on Monday.
He underlined that ISIL is a serious threat to Kyrgyzstan, and said, "We have arrested 36 terrorists over the past two years and tried them on charges of radicalism."
A recent UN report revealed that terrorists from 29 countries have infiltrated into Syria to fight against the Damascus government, most of whom are extremist Salafists.
In July, sources disclosed that Turkish Air has been transporting large groups of Takfiri terrorists from different countries to Syria and Iraq.
Turkish Air has been transferring large groups of Takfiri terrorists from different countries to Syria and Iraq, including nearly a hundred Takfiri Tajiks to Iraq lately, sources revealed in July.
Full report at:
http://english.farsnews.com/newstext.aspx?nn=13930910001249
---------
UN Official: ISIL Can Be Easily Destroyed in Short Time
2 December 2014
UN Special Representative for Iraq Nickolay Mladenov in a meeting with Chairman of Iran's Expediency Council Akbar Hashemi Rafsanjani in Tehran on Monday underlined that the ISIL terrorist group can be easily defeated in the short-run despite the allegations made to the opposite.
"Despite some claims, ISIL can be easily defeated militarily and be cleansed from people's minds since it has no place among people and communities," Mladenov said during the meeting in Tehran on Monday.
His remarks came after US President Barack Obama underlined in the first days of fight against the ISIL that the Washington-led anti-ISIL coalition can defeat the terrorist group soon but later changed his idea and said such a campaign may take years.
Also during the meeting, Rafsanjani underlined the failure of the so-called anti-ISIL coalition and the dire situation of the people in the Syrian city of Kobani, and said, "The public opinion cannot accept that a coalition of 40 European and Arab states' armies has been unable to fight a small terrorist group in a city after two months."
He also referred to the conditions in Afghanistan 13 years after the US invasion of the country, and said cultivation and production of illicit drugs has grown 8 fold despite the deployment of the US and NATO troops.
Full report at:
http://english.farsnews.com/newstext.aspx?nn=13930910001421
----------
Islamic banks grow but may miss out on global footprint
2 December 2014
Islamic banking is growing faster than its conventional counterpart but is focused in a few core markets and risks missing an opportunity to build a global footprint, the EY consultancy said in a report on Tuesday.
Islamic banks across six core markets of Qatar, Indonesia, Saudi Arabia, Malaysia, the United Arab Emirates and Turkey held $625 billion at the end of 2013 or 80 percent of the global Islamic finance market, the report said.
The figure was 95 percent when Bahrain, Pakistan and Kuwait are included. Estimates exclude Iran which has a distinct model for Islamic finance, which follows religious guidelines such as a ban on interest and on pure monetary speculation.
The report estimated the combined Islamic banking assets in the six core markets will reach $1.8 trillion by 2019, buoyed by growth which has been 1.9 times faster than that of conventional banks over the 2009-2013 period.
Full report at:
http://english.alarabiya.net/en/business/banking-and-finance/2014/12/02/Islamic-banks-grow-but-may-miss-out-on-global-footprint-study-.html
---------
NATO calls on Turkey to join EU sanctions against Russia as Putin visits Ankara
2 December 2014
NATO Secretary-General Jens Stoltenberg has voiced his expectations from Turkey to join the economic sanctions campaign against Russia over the Ukrainian crisis.
His comments come on the day when Russia and Turkey were set to hold talks to increase the trade volume from the current $33 billion to $100 billion by 2020.
Of course I'd like to see as many countries as possible be part of this, to support the sanctions. It's important that it has an effect," Stoltenberg replied to questions at a press conference on Dec. 1 regarding Turkey's efforts to boost trade with Russia while the Western bloc is united to impose sanctions on Russia.
Sanctions are not decided by NATO, but by the European Union and the U.S., Stoltenberg stressed, noting he welcomes these measures. "I believe there has to be consequences when a country is responsible for these kinds of aggressive actions that we have seen in Ukraine [committed] by Russia."
Full report at:
http://www.hurriyetdailynews.com/nato-calls-on-turkey-to-join-eu-sanctions-against-russia-as-putin-visits-ankara.aspx?pageID=238&nID=75048&NewsCatID=510
---------
South Asia
China bans religion in Uighur home Xinjiang
World Bulletin/News Desk
2 December 2014
China's Xinjiang region (East Turkestan) has banned the practise of religion in government buildings and will fine those who use the Internet to 'undermine national unity', in a package of new regulations.
The rules, passed by the standing committee of Xinjiang's parliament on Friday, stipulate penalties of between 5,000 and 30,000 yuan ($4,884) for individuals who use the Internet, mobile phones or digital publishing to undermine national unity, social stability or incite ethnic hatred.
Equipment used in the offences also can be confiscated, the official Xinhua News Agency reported on Sunday.
The regulations, which come into effect Jan. 1, also prohibit people from distributing and viewing videos about 'radical' religious subjects in or outside religious venues, and requires religious leaders to report such activities to the local authorities and police, the China Daily reported at the weekend.
Full report at:
http://www.worldbulletin.net/world/149600/china-bans-religion-in-uighur-home-xinjiang
----------
Birds as suicide bombers
2 December 2014
Terrorists the world over are known to deploy suicide bombers, or "human bombs", to wreak death and devastation on their targets, but have you ever heard of a bird being used as a suicide bomber?
The Taliban seem to be using such a strategy and the Afghan police reportedly shot dead a bird which had been equipped by the terrorists with an explosive pouch, a GPS tracker and a detonator.
The bird had several wires protruding from its feathers, a mobile phone detonator and a specially designed 'suicide vest', the Daily Mail reported on Monday.
Alert officers spotted the suspicious-looking bird in the Faryab province in the north of the country, near the border with Turkmenistan and their suspicions increased as the large bird is not known to be native to the area.
http://www.thehindu.com/news/international/birds-as-suicide-bombers/article6652492.ece
---------
Drone strike in Nangarhar leaves 8 Taliban militants dead
2 December 2014
At least eight Taliban militants were killed following a drone strike by NATO-led coalition forces in eastern Nangarhar province.
According to local government officials, the airstrike was carried out late on Monday in Sherzad district.
Provincial police spokesman Hazrat Hussain Mashriqwal said the drone targeted a gathering of the Taliban militants in Sarkot area.
Mashriqwal further confirmed that eight militants were killed following the airstrike which possibly includes a senior Taliban commander.
The Taliban militants group has not commented regarding the report so far.
Nangarhar is among the relatively volatile provinces in eastern Afghanistan where anti-government armed militants are operating in a number of its remote districts.
This was the second drone strike in eastern Nangarhar province within the past one month. Earlier, a senior Taliban commander was killed following a drone strike in Haska Meena district.
http://www.khaama.com/drone-strike-in-nangarhar-leaves-8-taliban-militants-dead-9082
---------
Taliban kills 6 soldiers in Afghanistan
2 December 2014
An Afghan Army officer on Tuesday said that six soldiers have been killed in the north-western province of Badghis after insurgents launched several attacks on guard posts.
General Douod Shah Wafa, the commander of the Afghan National Army in the province, said Taliban gunmen used machine guns and rocket-propelled grenades to attack the posts in Bala Murghab district early on Tuesday morning.
In eastern Afghanistan, an official said an American drone killed five insurgents in Shirzad district in Nangahar province.
Ahmad Zia Abdulzai , the provincial governor's spokesman, said the drone strike on Monday killed three Taliban group commanders and two fighters.
http://www.thehindu.com/news/international/south-asia/taliban-kills-6-soldiers-in-afghanistan/article6654790.ece
---------
Victory Day: BNP announces month-long programmes
2 December 2014
The BNP has chalked out month-long programmes with a view to observe the Martyred Intellectuals Day and the Victory Day in a befitting manner.
BNP acting secretary general Mirza Fakhrul Islam Alamgir made the announcement at a press briefing at the Nayapaltan headquarters on Tuesday, after holding a joint meeting with the party's front and associate bodies.
The BNP spokesperson said as part of the programmes, party chief Khaleda Zia would visit the martyred intellectuals memorial situated at Mirpur in the morning of December 14 to pay respects to the martyred intellectuals.
"A discussion will also be held in the afternoon in the capital on the same day. The party flag will be hoisted half at the BNP offices across the country along with the national flag."
The party will hold a discussion on December 15, marking the victory day.
BNP chairperson will place floral wreaths at the National Mausoleum in Savar, marking the Victory Day on December 16.
Full report at:
http://www.dhakatribune.com/politics/2014/dec/02/victory-day-bnp-announces-month-long-programmes#sthash.zA826lEY.dpuf
---------
Nirmul Committee demands ban on activities of Jamaat in Europe
2 December 2014
Ekattorer Ghatak Dalal Nirmul Committee has demanded that the European countries ban the activities of war criminals of Bangladesh in their countries including those from Jamaat-e-Islami so that they may not re-emerge and commit crimes again.
Speakers at a discussion in Swedish capital Stockholm on Sunday also said they would raise awareness among the people so that convicted war criminal Zahidur Rahman alias Khokon Razakar, now hiding in Sweden, is tried in a local court.
Another death sentenced war criminal Chowdhury Mueen Uddin is living in the UK. Both the countries are against capital punishment.
Executive President of the organisation Shahriar Kabir said the young Bangladeshis abroad should raise their voice against the enemies of the Liberation War including Jamaat and other groups. "They should be brought to book in the European countries where they have been living in. We demand that the European communities ban their terrorist activities."
If the Swedish government did not return Khokon Razakar, it might try him too, Shahriar said. Otherwise, someday he might be seen playing a vital role in terrorist groups like al-Qaeda or ISIS.
Full report at:
http://www.dhakatribune.com/bangladesh/2014/dec/02/nirmul-committee-demands-ban-activities-jamaat-europe#sthash.cjLe4uF9.dpuf
---------
North America
Iran Bombing Islamic State In Iraq, U.S. Official Confirms
2 December 2014
WASHINGTON -- The list of countries bombing Islamic State targets in Iraq has thus far featured a host of classic United States partners -- Canada, the U.K., France. Now, it looks like the U.S. has a new quasi-partner in the air: Iran.
The U.S. is aware of Iranian bombing activity in the same national airspace where planes aligned with the U.S.-led coalition against the Islamic State are operating, a defense official told The Huffington Post Monday evening.
The official said he believes the Iranian bombing is unlikely to end as long as the Shiite-dominated nation feels threatened by the Sunni extremist group, also called ISIS. The bombing will not require a U.S. response unless Iran presents an immediate threat to U.S. forces in the air, he said.
"We are aware of that. I wouldn't say we're necessarily concerned with it -- we kind of have our eyes on it," the official said. He noted that the Iranian bombing has been taking place near the Iranian border, in a different part of Iraq than most U.S. and coalition activity. The official said he could only confirm reports of the bombing on the condition of anonymity.
While previous reports have said that Iran has provided weapons and equipment to the Iraqi government, the official's comments represent the first confirmation that Iran's own air force is involved in the fight in Iraq against the Islamic State.
Full report at:
http://www.huffingtonpost.com/2014/12/01/us-iran-iraq_n_6251894.html
---------
US strategy on ISIS suffers series of weaknesses, study finds
2 December 2014
The US strategy against Islamic State "suffers from a series of weaknesses," a study by the Tel Aviv-based Meir Amit Intelligence and Terrorism Information Center found recently.
The center is a part of the Israeli Intelligence and Heritage Commemoration Center, which was founded in the 1980s by leading members of the Israeli intelligence community.
The report described goals in the American strategy as unrealistic.
"It is extremely difficult to destroy an organization with a Salafist-jihadi ideology such as ISIS [Islamic State].
There are limits to what military force can achieve against jihadi organizations in general and ISIS in particular. The local forces in Syria and Iraq that America is counting on are weak, and the coalition is heterogeneous, composed of countries with different interests and internal constraints that are liable to make it difficult for them to provide the United States with effective support," the document said.
The situation is made more complex by the fluctuating societal and political situations in Syria and Iraq, the authors added.
"They [such organizations] cannot be fundamentally changed through military action, limited or even extensive.
Full report at:
http://www.jpost.com/Middle-East/US-strategy-on-ISIS-suffers-series-of-weaknesses-study-finds-383391
---------
US military warned of possible Islamic State attacks at home: Report
Reuters | Dec 2, 2014
WASHINGTON: US officials have warned military personnel that Islamic State forces may be planning attacks against them in the United States, ABC News reported on Monday.
A joint intelligence bulletin sent to law enforcement agencies by the FBI and the Department of Homeland Security urged members of the US military to erase from their online social media accounts anything would draw attention from "violent extremists," or reveal service members' identity, the news network said.
ABC said the government indicated late Sunday it had obtained intelligence that Islamic State militants, who have taken over parts of Iraq and Syria with the intention of setting up a fundamentalist caliphate, were targeting the United States within its borders.
"The FBI recently received reporting indicating individuals overseas are spotting and assessing like-minded individuals who are willing and capable of conducting attacks against current and former US-based members of the United States military," the bulletin said, according to a Reuters source.
Full report at:
http://timesofindia.indiatimes.com/world/us/US-military-warned-of-possible-Islamic-State-attacks-at-home-Report/articleshow/45344398.cms
---------
Oklahoma Muslims seek understanding in the face of criticism
2 December 2014
Lamiaa Ali was the only identifiable Muslim in Pryor on 9/11.
"I was the only one who was wearing the scarf in the entire city," said Ali, referring to the religious head covering that Muslim women wear.
And that meant, in a town that at the time had fewer than 9,000 people, she was a little afraid to venture out of the house after it was apparent that people who shared her faith were responsible for the attacks.
As it turns out, aside from some ugly stares by strangers at the grocery store and on the street, Ali and her family didn't deal with much backlash personally.
"Since my husband was the only internist in Pryor, lots of people knew him, and we really had lots of support," Ali said. Ali and her husband, both physicians, moved to the United States from Egypt when her husband was accepted into a residency program.
The consequences of 9/11 encouraged Muslims to share their faith and build bridges in their communities, and many Americans were receptive, Ali said.
Full report at:
http://www.tulsaworld.com/news/local/fighting-fear-oklahoma-muslims-seek-understanding-in-the-face-of/article_b8f3849e-200f-57fe-93e4-d2d9f8b3facb.html
---------
Islam, Christianity share some beliefs, traditions
2 December 2014
Islam and Christianity both come out of the same Abrahamic tradition and share some similar beliefs and ethics.
Both traditions believe in Jesus, but what they believe about Jesus divides them sharply.
Muslims believe Jesus was a major prophet of God, one in a long line of prophets that includes Noah, Abraham, David, and most importantly, Muhammad, the final prophet.
Both Muslims and orthodox Christians believe Jesus was born of a virgin and performed miracles during his earthly life.
Muslims reject the heart of the Christian message, that Jesus died on the cross to pay for the sins of mankind, and was resurrected from the dead. They believe he did not die, but that it was made to appear that he died.
Full report at:
http://www.tulsaworld.com/news/religion/islam-christianity-share-some-beliefs-traditions/article_c96d23aa-567f-5d12-aea9-5ee5ffb19183.html
---------
Canadian vet fights ISIL with Kurds in 'greatest day' of his life
2 December 2014
In his first battle serving on the front lines against ISIL, Dillon Hillier engaged the enemy in a firefight, helped liberate a town, and almost certainly saved a fellow fighter's life. It was, he said after, the greatest day of his life.
Hillier, who used to be a corporal in the Princess Patricia's Canadian Light Infantry, is a volunteer with the 1st North American Expeditionary Force, a private organization that is providing aid to anyone who wants to help the Kurds in their fight against the Islamic State of Iraq and the Levant (ISIL), also known as ISIS or simply Islamic State.
Hillier has been with the Kurds in northern Iraq since late November.
In the Nov. 26 battle, Hillier had one main objective when he reached the town of Tel al-Ward.
Full report at:
http://ottawacitizen.com/news/national/canadian-veteran-fights-isil-with-kurds-in-greatest-day-of-his-life
---------
U.S. considers opening new front against Islamic State to create a safe zone in Syria
2 December 2014
The Obama administration is weighing the opening of a new front in the air war against the Islamic State in Syria, part of an offensive to push back militants along the western part of Syria's border with Turkey and create a relatively safe zone for U.S.-backed Syrian rebel forces to move in.
Under the plan, U.S. aircraft flying from Turkey's Incirlik air base would target positions the militants currently hold along the border north of Aleppo, eastward toward the besieged town of Kobane. Turkish special forces would move into the area to assist the targeting and help Syrian opposition fighters consolidate their hold on the territory.
President Obama, who has not yet approved the proposal, was briefed on its outline at a meeting with his senior national security advisers Wednesday.
The plan, which was developed over the past several weeks during extensive meetings between U.S. and Turkish diplomatic and military officials, also was a subject of discussion between Vice President Biden and Turkey's top political leaders during Biden's visit to Istanbul 10 days ago.
Full report at:
http://www.washingtonpost.com/world/national-security/us-weighs-a-new-front-to-create-safe-zone-in-syria/2014/12/01/1aae1bb0-796b-11e4-9a27-6fdbc612bff8_story.html
---------
Obama Administration Considers Deploying Troops to Iraq, Focusing on Assad in Syria
2 December 2014
In 2009 President Barack Obama received the Nobel Peace Prize before doing much of anything. Since then he has initiated two wars, first in Libya and now in Iraq and Syria, and escalated another, in Afghanistan. Alas, he has demonstrated that it is bad to start wars unnecessarily, but even worse to wage wars foolishly.
The administration appears to have lost its collective mind. The president has added ground forces to the battle in Iraq and the military has suggested introducing thousands more. His officials reportedly have decided to focus on overthrowing Syrian President Bashar al-Assad in the name of fighting the Islamic State.
It is hard to know which of these ideas is worse. Defense Secretary Chuck Hagel may not have wanted to leave the Pentagon, but he might be lucky having been left at the curb.
The U.S. has been back at war in the Middle East for nearly three months. The results have not been pretty.
Full report at:
http://www.huffingtonpost.com/doug-bandow/how-to-lose-to-the-islami_b_6244574.html
---------
Obama: Turkey Pardon Will Be My 'Most Talked About Executive Action This Month'
2 December 2014
WASHINGTON (AP) — President Barack Obama is defending his legal authority to take executive actions — to spare a pair of Thanksgiving turkeys.
Obama joked that his annual turkey pardon will be his "most talked about executive action this month." Last week, the president issued a series of highly anticipated executive actions on immigration that are opposed by Republicans.
The two turkeys who were granted this year's presidential pardons are Mac and Cheese. Obama says that around Thanksgiving, turkeys named after side dishes would normally have a "pretty low" chance of escaping the dinner table.
barack obama
Obama pardons the National Thanksgiving Turkey "Cheese" during the annual ceremony in the Grand Foyer of the White House on November 26, 2014 in Washington, DC. From left: Cole Cooper, who raised the turkey, his father National Turkey Federation Chairman Gary Cooper, Sasha Obama and Malia Obama. (MANDEL NGAN/AFP/Getty Images)
As he sent Mac and Cheese on their way, he said "It is a little puzzling that I do this every year."
Full report at:
http://www.huffingtonpost.com/2014/11/26/obama-turkey-pardon_n_6227650.html
---------
Mideast
Turkish students know Einstein, but not Muslim scholars, Erdoğan complains
2 December 2014
President Recep Tayyip Erdoğan has heralded a new curriculum for schools, after complaining that Turkish students know foreign figures like Albert Einstein but not Muslim and Turkish ones.
"If you ask them who Einstein is, each young person has a word to say. But if you ask them who İbni Sina is, most of them are unaware," Erdoğan said in his address to the 19th National Education Council in the southern province of Antalya on Dec. 2.
Avicenna, a Muslim polymath of the 11th century who is regarded as one of the most significant thinkers and writers of the Islamic Golden Age, is known as İbni Sina in Turkey.
Last month, Erdoğan instructed Turkey's educational institutions to adopt a policy of highlighting the contribution of Islam to global science and arts, including "the discovery of the American continent by Muslim sailors some 300 years before Columbus."
His claim that Muslims made it to the New World first – and that they even built a mosque on a hill in what is now Cuba – have been pilloried both at home and abroad.
In his Dec. 2 speech, Erdoğan turned from science to popular culture, referring to a famous Turkish bard, while complaining that "there are students who have memorized the names of foreign pop stars, but have never listened to Neşet Ertaş."
Full report at:
http://www.hurriyetdailynews.com/turkish-students-know-einstein-but-not-muslim-scholars-erdogan-complains.aspx?pageID=238&nID=75098&NewsCatID=338
---------
One Muslim's Quest to Save a Revered Syrian Synagogue: Israeli army spokesman
2 December 2014
Maj. Avichay Adraee, an Israeli army spokesman, was taken aback when he received a message from a mysterious man writing from the heart of Syria's bloody civil war.
The man, a Sunni Muslim who created a Facebook page called "Jobar Synagogue," said he was on a mission to preserve his town's crown jewel, a centuries-old religious site venerated by the three major religions. Merely contacting the Israelis was an act that could have put his life in danger.
"If we do not move fast to protect this historical heritage, it will be lost forever," he wrote to the Israeli major, via Facebook.
The exchange last year was part of a frantic mission to rescue the synagogue, located in the battle-worn Damascus suburb of Jobar. The man behind the Facebook page, who uses the nom de guerre Abbas Abu Suleiman, got the attention of rabbis in Israel and New York, Syrian exiles in Washington and a Manhattan diamond-district salesman who visited the synagogue as a boy.
Mr. Suleiman hoped the Jewish community would intervene with Syrian President Bashar al-Assad not only to save the site, but to halt the bombardment of his hometown. Safeguarding a part of Syria's multicultural religious heritage, he hoped, might help the country rebuild whenever the war was over.
Full report at:
http://online.wsj.com/articles/one-muslims-quest-to-save-a-revered-syrian-synagogue-1417491144
---------
Rise of Turkish Islamic schooling upsets secular parents
2 December 2014
Turkey has seen a sharp rise in religious schooling under reforms which President Tayyip Erdogan casts as a defense against moral decay, but which opponents see as an unwanted drive to shape a more Islamic nation.
Almost a million students are enrolled in "imam hatip" schools this year, up from just 65,000 in 2002 when Erdogan's Islamist-rooted AK Party first came to power, he told the opening of one of the schools in Ankara last month.
The schools teach boys and girls separately, and give around 13 hours a week of Islamic instruction on top of the regular curriculum, including study of Arabic, the Quran and the life of the Prophet Mohammad.
"When there is no such thing as religious culture and moral education, serious social problems such as drug addiction and racism fill the gap," Erdogan told a symposium on drug policy and public health earlier this year.
Full report at:
http://english.alarabiya.net/en/perspective/features/2014/12/02/Rise-of-Turkish-Islamic-schooling-upsets-secular-parents.html
---------
New Peshmerga group to replace troops in Kobane: Turkish army
2 December 2014
The Turkish Armed Forces (TSK) has confirmed that 150 Kurdish Iraqi fighters combatting Islamist jihadists in Kobane will be replaced with a new group that will also use Turkish soil to travel to the northern Syrian town.
Although precise details are not yet known, a group of around 110 fighters is expected to enter Kobane, passing through Turkey as the first group did, Turkish military sources told daily Hürriyet on Dec. 1.
They added the Peshmerga group that will return from Kobane will also pass through Turkey en route back to northern Iraq.
Full report at:
http://www.hurriyetdailynews.com/new-peshmerga-group-to-replace-troops-in-kobane-turkish-army.aspx?pageID=238&nID=75083&NewsCatID=352
---------
Netanyahu: Palestinian failure to recognize Jewish links to Israel is a 'tragedy'
2 December 2014
It is a "tragedy" that many Palestinians deny any Jewish connection to the Land of Israel, Prime Minister Benjamin Netanyahu said Monday at the start of a meeting with visiting Serbian Prime Minister Aleksandar Vucic.
This marks the first ever visit to Israel by a Serbian prime minister.
"Here, in the State of Israel, the Jewish people have achieved their self-determination in a democratic state that guarantees equal rights for all its peoples, all its citizens, regardless of race, religion or sex," Netanyahu said, as the debate over the Jewish State Bill seemed to animate part of his welcoming comments to Vucic.
"It is indeed a tragedy that so many of our Palestinian neighbors still repudiate the basic facts of history.
Full report at:
http://www.jpost.com/Israel-News/Politics-And-Diplomacy/PM-Palestinian-failure-to-recognize-Jewish-links-to-Israel-is-a-tragedy-383337
---------
Senior Iranian Cleric Criticizes Certain States' Dual Approaches towards ISIL
2 December 2014
Senior Iranian Cleric Ayatollah Nasser Makarem Shirazi voiced concern over the ongoing bloodshed by extremist groups in Iraq, particularly by the ISIL, and lashed out at some western and regional countries for their dual policy towards terrorism in the region.
In a meeting with the UN Secretary General Special Envoy for Iraq Nicolay Mladenov and his accompanying delegation on Monday, the Iranian cleric said that a number of countries have dual behavior concerning the ISIL, on one hand, they condemn crimes of the group and on the other hand, are helping them.
"Of course, challenging their wrong thoughts is responsibility of Islamic Ulama and we expect media to publish whatever we say to be disseminated in the world," Makarem Shirazi added.
Last month, Supreme Leader of the Islamic Revolution Ayatollah Seyed Ali Khamenei described the ISIL terrorist group as just a branch of the Takfiri stream which has troubled the region, and said ISIL is serving the US and Israel's interests.
Full report at:
http://english.farsnews.com/newstext.aspx?nn=13930911000901
---------
Southeast Asia
Two Malaysian Civil Servants among Three Isis Suspects Arrested, Say Police
2 December 2014
Two civil servants were among three suspected terrorists arrested by police late last month for alleged involvement with the Islamic State of Iraq and Syria (Isis) militants in Syria.
The duo, aged 23 and 28, working at a government agency in Kuala Lumpur, were believed to be responsible for channelling funds to Malaysians who wanted to go to Syria and fight alongside the Isis militants.
The third suspect, 36, was said to have joined Isis last year and was in Syria for about four months before returning to Malaysia on April 8.
Inspector-General of Police Tan Sri Khalid Abu Bakar said the trio were picked up separately in an operation by Bukit Aman's Counter Terrorism Division in Kuala Lumpur and Kedah, on November 27 and 28.
He said all of them have been detained under the Security Offences (Special Measures) Act (Sosma).
http://www.themalaysianinsider.com/malaysia/article/two-civil-servants-among-three-isis-suspects-arrested-say-police#sthash.h8TG6gDo.dpuf
---------
Parents cry foul over Keningau school barring students wearing crucifix
2 December 2014
Students in a school in Sabah have allegedly been prohibited from wearing a crucifix – a symbol sacred to Christians – unless they obtain permission from the school's disciplinary board, the Daily Express reported today.
According to the report, the regulation in Sekolah Menengah Ken Wah in Keningau comes under the Kebersihan Diri (personal hygiene) category, where among the rules explained that students are not allowed to wear jewellery and religious symbols.
A teacher from the school told the local daily that those who wanted to wear such symbols should get approval from the school, and if allowed, will be given a pass which they must carry with them.
The teacher said this was because they did not want students to abuse the privilege by wearing jewellery instead of religious symbols, and added that the ruling was in line with the Education Ministry guideline.
Full report at:
http://www.themalaysianinsider.com/malaysia/article/parents-cry-foul-over-keningau-school-barring-students-wearing-crucifix#sthash.PO5cCkXm.dpuf
---------
Putrajaya turns a deaf ear in returning 'Allah' CDs to Sarawakian Christian
2 December 2014
Putrajaya has not bothered to reply to demand letters sent by Jill Ireland to return eight Christian CDs that contained the word "Allah" after a court order in July, said lawyer Annou Xavier.
"We have sent three demand letters to the Attorney-General's Chamber to comply with the court order, but there was no reply at all."
Annou said the Home Ministry could not retain the CDs just because it had filed a stay application.
He said her client was entitled to enjoy the success of her judicial review until that decision was set aside.
"My client wants to know the status of the CDs after the court ordered its return and quashed the Ministry's decision to seize them," he told The Malaysian Insider after attending a case management to fix the date to hear the government's application to stay the July 21 High Court order.
Full report at:
http://www.themalaysianinsider.com/malaysia/article/putrajaya-turning-deaf-ear-to-return-allah-cds-to-sarawakian-christian-says#sthash.R6r4rk3d.dpuf
---------
India
Terrorism, communalism major security concerns: President
2 December 2014
New Delhi: Pranab Mukherjee on Monday said terrorism, indigenous secessionist movements, Left-wing extremism and communalism were the major security concerns for India.
Addressing a group of students from Sardar Patel University of Police, Security and Criminal Justice in Jodhpur, Rajasthan, who called on him at Rashtrapati Bhavan, Mukherjee said India must develop the capability to deal with cyber crime too.
"They pose a great threat to the integrity and unity of the country," he said.
Crime against women, children and elderly citizens have also increased in recent years, the president said.
"In today's world inter-connected by advanced information and communication systems, many crimes are committed with the aid of technology. We have to develop capability to deal with cyber crimes," Mukherjee said.
He also said no state can ignore its responsibility towards its citizens.
Mukherjee asked the students to provide the necessary expertise and core competence to help law enforcing and security agencies to tackle future challenges when they pass out after learning the skills in colleges.
http://zeenews.india.com/news/india/terrorism-communalism-major-security-concerns-president_1507696.html
---------
IS recruit reveals names of two Indians who 'backed out'
2 December 2014
Alleged Islamic State (IS) recruit Arif Majeed has shared the names of two more Indians, who had initially agreed to join Majeed and his three other friends to fight alongside the militant organisation in Iraq, but developed cold feet and withdrew, The Hindu has learnt.
A senior police officer who spoke on the condition of anonymity said: "While one hails from Mumbai, the other is an NRI settled in a Gulf country.
"Aarif got in touch with the Mumbai youth through a common friend and with the NRI over the internet," he adds. The NIA is now on the lookout for this Mumbai resident.
The four young men identified as Aarif Majeed, Fahad Shaikh, Amaan Tandel and Saheem Tanki hail from Kalyan in Thane district on the outskirts of Mumbai.
On May 25, they left along with 40 others by an Etihad flight to Baghdad on a pilgrimage. On May 31, they took a private taxi to Mosul. Since then, they had been missing and are believed to have joined the militant group.
Full report at:
http://www.thehindu.com/news/national/is-recruit-reveals-names-of-two-indians-who-backed-out/article6652819.ece
---------
LoC infiltration bid foiled, 3 militants killed in Kashmir
2 December 2014
Three militants were killed as army troops foiled an infiltration bid along the Line of Control (LoC) in poll—bound Kupwara district of north Kashmir on Tuesday, a Defence spokesman said.
Army troops guarding the LoC noticed a group of militants attempting to infiltrate from across the border in Nowgam sector of Handwara early on Tuesday, the spokesman said.
The militants opened heavy fire when challenged by the troops, triggering a gunbattle, he said.
Three unidentified militants were killed in the encounter, the spokesman said, adding further details are awaited as the operation was still going on.
The infiltration attempt coincided with the second—phase of polling in Jammu and Kashmir wherein a total of 18 Assembly seats, including five in Kupwara district, went to polls today.
Last week, four militants were killed when an encounter broke out between the ultras and security forces in Arnia sector of Jammu region close to Indo—Pak border on November 27.
During the terror attack, in all 12 people were killed including five civilians and three army personnel.
http://www.thehindu.com/news/national/loc-infiltration-bid-foiled-3-militants-killed-in-kashmir/article6655063.ece
---------
India ready to sell power to Bangladesh, says Modi
SYED SAJJAD ALI
2 December 2014
India now has capacity to export power and is ready to sell power to neighbouring Bangladesh, Prime Minister Narendra Modi said on Monday, after dedicating to the nation the second unit of the 726 MW gas-based power plant at Palatana, 60 km south of Agartala, the capital of Tripura.
Mr Modi also expressed his gratitude to Bangladesh Prime Minister Sheikh Hasina for allowing transhipment of heavy machineries to the plant, formation of which was completed with the commissioning of second unit. "We have now a situation to export power and ready to sell to Bangladesh", he said in his speech attended by thousands of people gathered from different parts of the State.
Prime Minister responded to a request by Tawfique-e-Elahi Choudhury, senior energy advisor to Bangladesh Prime Minister Sheikh Hasina, expressing interest to import power from India. "We are now importing 500 MW electricity from India and want to get 500 MW more," he told the audience at the plant of ONGC Tripura Power Company (OTPC).
Earlier, the Prime Minister and his entourage reached Agartala by a special aircraft around 2 p.m. and they flew to Palatana by Air Force choppers. Tripura Governor P.B. Achariya and Chief Minister Manik Sarkar accompanied Mr Modi to the plant site.
Prime Minister commissioned the second unit by pushing a button in the plant control room. His next engagement was to address after sharing dais also with Bangladesh Minister of state of power, energy and mineral resources Nasrul Hamid and Indian Minister of State for Petroleum and Natural Gas Dharmendra Pradhan.
Full report at:
http://www.thehindu.com/news/national/india-ready-to-sell-power-to-bangladesh-says-modi/article6651864.ece
---------
URL: https://www.newageislam.com/islamic-world-news/new-age-islam-news-bureau/gunmen-slaughter-36-in-fresh-northeast-kenya-attack/d/100292