New Age Islam News Bureau
15 March 2019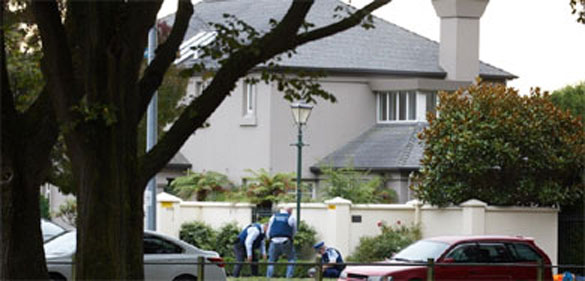 Police officers inspect the shooting site as dead body of a victim is seen on the ground behind of the car in front of Al Noor Mosque in Christchurch, New Zealand [Anadolu Agency]
------
• Gunmen Kill At Least 49 People during Friday Prayers at Two Mosques in Christchurch in New Zealand's Worst Ever Attack
• Australia PM: New Zealand Mosque Gunman Was Australian Right-Wing 'Terrorist'
• Islam Guarantees Protection of Minorities Worship Places: PM Imran
• Islamic World Reacts with Disgust at New Zealand Mosque Attacks
• US Urges Muslim Nations to Condemn China's Xinjiang Abuses
• Israeli Police Assault Muslim Worshipers, Close Al-Aqsa Mosque
• A Muslim-Dalit Axis Going Back to Haji Mastan's shot At Redemption
Europe
• Gunmen Kill At Least 49 People during Friday Prayers at Two Mosques in Christchurch in New Zealand's Worst Ever Attack
• Australia PM: New Zealand Mosque Gunman Was Australian Right-Wing 'Terrorist'
• Interpol issues red notice for Khashoggi killing
• Germany pledges €1.4 billion for Syrian refugees
• Germany expresses concerns over Kashmir situation
• Shamima Begum affair marks the demise of 'Londonistan' era
--------
Pakistan
• Islam Guarantees Protection of Minorities Worship Places: PM Imran
• Terror Financing Watchdog Seeks Reduced ISI Role
• US report raises questions about governance in Pakistan
• EU special envoy for Afghanistan appreciates Islamabad's 'important contributions' for peace
• Pakistan, India decide to speed up Kartarpur Corridor opening
• Bilawal again demands ouster of ministers 'supporting extremists'
--------
Arab World
• Islamic World Reacts with Disgust at New Zealand Mosque Attacks
• Saudi Arabia Rejects Call For International Probe Of Khashoggi Murder
• Syrian, Russian Armies Launch Heaviest Attacks against Terrorists in Hama, Idlib
• Hundreds surrender at ISIS enclave as SDF advance
• Syrian Observatory: Russian air raids kill 13 civilians
• Saudi official: The Kingdom brought perpetrators of Khashoggi murder to justice
• Bahraini court jails nearly 170 people in crackdown on dissent
--------
North America
• US Urges Muslim Nations to Condemn China's Xinjiang Abuses
• US Report Intends To Whitewash Israel's Human Rights Violations: PLO Official
• Tehran rejects Washington's allegations in 2019 'human rights' report
• US announces additional $397M in aid for Syria relief
• US Senate votes to rebuke Trump on Yemen, again
--------
Mideast
• Israeli Police Assault Muslim Worshipers, Close Al-Aqsa Mosque
• Israel strikes 100 Hamas targets in Gaza after rockets fired at Tel Aviv
• New Palestinian PM faces myriad challenges, say analysts
• UN Palestinian aid faces funding battle without US help
--------
India
• A Muslim-Dalit Axis Going Back to Haji Mastan's shot At Redemption
• In Tense Anantnag, CRPF Resurrects 'Heaven' the Movie Hall
• Jaish chief Masood Azhar stayed in Ashok, Janpath hotels in Delhi in 1994
• China Isolated, Nations Seeking 'Other Options' To Counter Beijing on Masood Azhar
• PM Modi talking to heads of Muslim countries, silent diplomatic operation on
• Blacklisting Masood Azhar: Beijing claims it needs more time, Delhi more cautious than before
--------
South Asia
• Atmar Strongly Reacts To Use of Force By Government In Mazar-E-Sharif City
• NDS Special Force Storm Taliban Hideout, Prison, and Drug Lab in Nimroz Province
• Afghans probe US mistaken airstrike of Afghan army base
• Bangladesh 3rd Test Cancelled After Team Flees New Zealand Mosque Shooting
• Taliban leader optimistic about Afghan peace
• Sporadic clashes close to Balkh Police HQ amid rising political tensions
• Afghan airstrikes kill 31 militants among them al-Qaeda fighters
• Afghan forces, supporters of regional leader clash inside key city
--------
Southeast Asia
• Critic Who Exposed China's Muslim Camps is Detained, Even Across the Border
• China defends move to block JeM chief listing
• Don't Use Zakir Naik to Get Malay Votes, G25 Member Tells PH
• Islamic world reacts with disgust at New Zealand mosque attacks
• As MA63 review begins, Sabah churches call for complete religious freedom
• Indonesian election: private equity entrepreneur takes on Muslim cleric
• Indonesian police uncover huge explosives stash after suicide blast
-------
Africa
• Anti-Govt. Protesters Rally In Sudan's Capital After Bashir Promises Dialogue
• Over 30 Boko Haram militants killed in Lake Chad region
• Libyan government warns of 'hostile forces' near Sirte
• US Military Attacks al-Shabab for Third Time This Week
• Islamist militants Boko Haram murder Lebanese man in Nigeria
Compiled by New Age Islam News Bureau
URL: https://www.newageislam.com/islamic-world-news/gunmen-kill-least-49-people/d/118035
--------
Gunmen Kill At Least 49 People during Friday Prayers at Two Mosques In Christchurch In New Zealand's Worst Ever Attack
15 March 2019
New Zealand's Prime Minister Jacinda Ardern told a news conference that the mosque shootings appeared to be a well-planned "terrorist attack".
"This is, and will be, one of New Zealand's darkest days," an ashen-faced Ardern said.
The prime minister also said two explosive devices attached to suspect vehicles were found and were disarmed.
The mosques on target were the Masjid Al Noor in central Christchurch and another one in suburban Linwood.
Sam Clarke, a reporter with TVNZ, spoke with several people inside the Masjid Al Noor mosque when the shooting began. He told Al Jazeera a man entered with an automatic weapon and began firing.
"A gunman - dressed in black with a helmet carrying a machine gun - came into the back of the mosque and started firing into the people praying there," said Clarke. It was later confirmed that 30 worshippers were killed at the mosque, including women and children.
'Australian' attacker
As many as 41 people died at one mosque, seven at another and one person died in hospital, New Zealand's Police Commissioner Mike Bush told reporters, describing the attack as a "very well-planned event".
Bush said four suspects, including a woman, were apprehended in connection with the attacks. One of the arrested men had been charged with murder.
Authorities have urged people in central Christchurch to stay indoors.
A bulletproof vest and protection gear is seen in this undated photo posted on twitter on March 12 by the apparent gunman behind Christchurch mosque attack [Twitter/via Reuters]
Police have also warned worshippers not to visit mosques "anywhere in New Zealand". A lockdown imposed throughout Christchurch was called off at about 05:00 GMT.
Local police officers apprehended four suspects. "There've been some absolute acts of bravery," Bush said without elaborating.
"I won't assume there aren't others but I don't have any information to that effect," Bush told a press conference.
Australian Prime Minister Scott Morrison condemned the attack and said one of the suspects was an Australian national, calling him an "extremist, right-wing, violent terrorist".
He said Australian security authorities were investigating any links between the country and the attack, but declined to provide further details about the Australian gunman.
"It is such a sad and devastating reminder of the evil that can be ever present about us," a visibly emotional Morrison said.
Dressed in black
Len Peneha, a witness, said he saw a man dressed in black enter the Masjid Al Noor mosque and then heard dozens of shots, followed by people running from the mosque in terror.
He said he also saw the gunman flee before emergency services arrived.
Peneha - who lives next to the mosque - said he went into the building to try and help. "I saw dead people everywhere."
One man in the mosque, with blood stains all over his clothes, said he hid under a bench as the shooting took place. He said about 50 people were inside the building.
Sam Clarke said some worshippers managed to escape through windows and doors but "many people had been hit, some as young as 16".
About 10 to 15 people were seen outside the mosque, "some alive, some dead", he said.
Farid Ahmed, a wheelchair-bound witness in Christchurch, told Al Jazeera he was at the back of the mosque and heard the shooting for about seven minutes.
"I pushed myself at the back where my car was parked and I was behind the car. And from there I was hearing shooting after shooting," he said.
"After about 10 minutes, I thought the shooter has left. I pushed myself to get inside the mosque and it was unbelievable. I saw in the main room on the right-hand side more than 20 people, some of them dead, some screaming.
"I saw on the floor hundreds of bullet shells. I saw one guy trying to run out and he was shot dead."
Al Jazeera English
✔
@AJEnglish
⚡️ Mosque attacks in Christchurch, New Zealand: All the latest updateshttps://twitter.com/i/moments/1106443082512384001 …
Mar 15, 2019
Mosque attacks in Christchurch, New Zealand - All the latest updates
Al Jazeera English @AJEnglish
Two Mosques in New Zealand hit by automatic weapon fire with 'a number of fatalities' as police arrest four suspects. Follow the latest updates here.
Ramzan Ali, a second witness in Christchurch, said he heard one of the women died.
"The mosque has segments, you know, he shot inside, went to another room, shot there. There is the ladies section, he went and shot them. I just heard one of the ladies died, I am hoping that it is not true," he said.
Tahir Nawaz of the International Muslim Association of New Zealand said they have decided to restrict activities at the mosques.
"The whole community is shocked. They would never have expected anything like this [to happen] in this peaceful country. As a result of that [the attack], we are restricting our activities in the mosque and we are trying to keep safety in our area."
Attack video on social media
One of the gunmen shared a live stream of the attack on Facebook and posted content on Instagram. Facebook said it has taken down the video and was removing praise for the gunman.
"Police are aware there is extremely distressing footage relating to the incident in Christchurch circulating online," a police statement said. "We would strongly urge that the link not be shared. We are working to have any footage removed."
There were reports racist literature was left behind at the scene denouncing "invaders".
Commissioner Bush said a number of bombs were detected and neutralised on the attackers' automobiles.
"There were a few reports of IEDs strapped to vehicles which we were able to secure," he said, referring to improved explosive devices.
Asked by reporters whether police considered Friday's carnage a "terrorist attack", Bush said an investigation was under way.
'Anger towards Muslims through media'
Media portrayal of Muslims is fueling anger against the community according to a 2017 academic research in which 16,000 New Zealanders were surveyed.
Speaking to Al Jazeera from Dunedin, the lead researcher, Dr John Shaver of the University of Otago, said, "Highly educated and leftist-oriented people normally tended to have a positive attitude toward not just Muslims but migrant populations in general."
"Our study found that highly educated people, even those on the left, developed anger towards Muslims through the media. The more they watched the news, the more prejudiced they became."
Police officers inspect the shooting site as dead body of a victim is seen on the ground behind of the car in front of Al Noor Mosque in Christchurch, New Zealand [Anadolu Agency]
He was, however, careful to add that New Zealand is a multi-cultural society which is accepting of all groups. "There have been only a handful of incidents in which Muslims were harassed or their properties vandalized.
"Things here are not like they are in Australia, the US or the West," he said.
Overwhelmingly, Dr Shaver said New Zealand media tends to absorb content generated by US and European news outlets without providing context.
"In the western media, the focus is only on the conflicts in the Middle East," he said.
He went on to say that there is very little coverage in the New Zealand media of the Muslim population in country which is very diverse and has a history of more than 100 years.
"Instead of focusing on the domestic Muslim population, the media focuses on violence and looks at the community from a western media lens," he said.
Close shave for Bangladesh cricketers
ESPN Cricinfo reporter Mohammed Isam said the members of the Bangladesh cricket team, who were to play a Test match in Christchurch scheduled from Saturday, escaped unhurt from the mosque.
Mario Villavarayen, the strength and conditioning coach of the Bangladesh cricket team, was quoted by the New Zealand Herald as saying the team was close to where the shooting occurred, but was safe.
"The players are shaken up but fine," Villavarayen was quoted as saying.
Tamim Iqbal Khan
✔
@TamimOfficial28
Entire team got saved from active shooters!!! Frightening experience and please keep us in your prayers #christchurchMosqueAttack
Mar 15, 2019
Following the attack, the third Test between New Zealand and Bangladesh was called off.
Perpetrators 'have no place in New Zealand'
Witness Peneha described the scene at Masjid Al Noor as "unbelievable".
"I don't understand how anyone could do this to these people, to anyone. It's ridiculous. I've lived next door to this mosque for about five years and the people are great, they're very friendly. I just don't understand it," he said.
Muslims account for just one percent of New Zealand's population, a 2013 census showed.
"Many of those who would have been affected by this shooting may be migrants to New Zealand," Ardern said.
"They may even be refugees here. They have chosen to make New Zealand their home and it is their home ... they are us. The persons who perpetuated this violence against us ... have no place in New Zealand."
Mass shootings in New Zealand are exceedingly rare. The deadliest in modern history occurred in the small town of Aramoana in 1990, when gunman David Gray shot and killed 13 people following a dispute with a neighbour.
Source: aljazeera.com/news/2019/03/shooter-situation-zealand-mosque-attack-190315015927391.html
--------
Australia PM: New Zealand mosque gunman was Australian right-wing 'terrorist'
15 March 2019
The gunman who killed numerous worshippers in a New Zealand mosque on Friday was a right-wing "terrorist" with Australian citizenship, Prime Minister Scott Morrison said.
"We stand here and condemn, absolutely the attack that occurred today by an extremist, right-wing, violent terrorist," Morrison told a press conference.
He confirmed media reports that the gunman who mowed down worshippers in the main mosque in the southern New Zealand city of Christchurch was an Australian-born citizen.
Scott Morrison
✔
@ScottMorrisonMP
• 3h
I'm horrified by the reports I'm following of the serious shooting in Christchurch, New Zealand. The situation is still unfolding but our thoughts and prayers are with our Kiwi cousins.
Scott Morrison
✔
@ScottMorrisonMP
I condemn the violent, extremist, right-wing terrorist attack that has stolen the lives of so many innocent New Zealanders as they went about their peaceful practice of worship at their mosques in Christchurch today.
831
11:39 AM - Mar 15, 2019
Twitter Ads info and privacy
522 people are talking about this
He said Australian security authorities were investigating any links between the country and the attack, but declined to provide further details about the Australian gunman. An emotional Morrison offered his sympathies to Kiwis.
"We are not just allies, we are not just partners, we are family," he said. New Zealand police said they had detained three men and one woman after attacks on two Christchurch mosques, but they have not provided their identities.
"It is such a sad and devastating reminder of the evil that can be ever present about us," Morrison said of the attacks.
https://english.alarabiya.net/en/News/world/2019/03/15/Australia-PM-New-Zealand-mosque-gunman-was-Australian-right-wing-terrorist-.html
--------
Islam guarantees protection of minorities worship places: PM Imran
14 March, 2019
ISLAMABAD (Dunya News) – Prime Minister Imran Khan on Wednesday said that Islam guarantees protection of minorities worship places and added that his government will take full measures for the welfare of the minority community, Dunya News reported.
This he stated while talking to representatives of minorities who called on him at his office. The delegation included Dr Ramesh Kumar, Sardar Mandal Pal Singh, Sardar Tara Singh and Ravi Kumar. Minister for Religious Affairs Noor ul Haq Qadri, and Special Assistant Naeem Ul Haq were also present in the meeting.
Imran Khan said protecting the rights of minorities and their welfare was included in top priorities of the government. He said that Islam guaranteed protection of religious places of minorities and added that the government in consultation with the minorities was taking various steps in that regard.
The prime minister said a task force about Evacuee Trust Properties Board was being set up, which would present its recommendations to the government for restructuring of the board, end corruption in this department and maintain shrines well.
It was decided that policy matters of the board would handed over to a Board of Management in which representatives of Sikhs and Hindu community would be included.
Secretary Religious Affairs briefed the meeting that purpose of the board was to look-after Gurdwaras and Mandirs, Asset Management, promotion of religious tourism, education, health and shelter homes and policy affairs. He told the meeting that it was also the mandate of the board to evacuate the Evacuee Trust Properties from the encroachers.
https://dunyanews.tv/en/Pakistan/482305-Islam-guarantees-protection-of-minorities-worship-places:-PM-Imran
--------
Islamic World Reacts with Disgust at New Zealand Mosque Attacks
MARCH 15, 2019
JAKARTA (Reuters) - Political and Islamic leaders across Asia expressed their disgust at the deadly shooting at two mosques in New Zealand on Friday as some revealed their citizens had been caught up in the bloodshed.
The timing of the shootings in the city of Christchurch, during Friday prayers, and the posting on social media of what appeared to be live, point-of-view video footage of the assault by a gunman added to the distress of many.
"Indonesia strongly condemns this shooting act, especially at a place of worship while a Friday prayer was ongoing," Foreign Minister Retno Marsudi said in a statement.
She was earlier cited by media as saying six Indonesians had been inside the mosque when the attack occurred, with three managing to escape and three unaccounted for.
Indonesia's ambassador to New Zealand, Tantowi Yahya, told Reuters inquiries were being made as to whether Indonesians were caught up in the attack. There are 331 Indonesians in Christchurch, including 134 students, the foreign ministry said.
In Muslim-majority Malaysia, Anwar Ibrahim, the leader of the biggest party in its ruling coalition, said one Malaysian had been wounded in the attack he described as a "black tragedy facing humanity and universal peace".
"I am deeply saddened by this uncivilized act, which goes against humanistic values and took the lives of civilians," he said in a statement.
"We extend our deepest sympathies and condolences to the families of the victims and the people of New Zealand."
New Zealand authorities confirmed "multiple" deaths but they did not say how many or identify any victims.
New Zealand media reported "dozens" of dead.
Turkish President Tayyip Erdogan's spokesman condemned what he called a "racist and fascist" attack.
"This attack shows the point which hostility to Islam and enmity to Muslims has reached," Ibrahim Kalin wrote on Twitter.
"We have seen many times Islamophobic discourse against Islam and Muslims turning into a perverse and murderous ideology. The world must raise its voice against such discourse and must say stop to Islamophobic fascist terrorism," he said.
'ANTI-MUSLIM VIRUS'
The founder of India's All India Muslim Personal Board, a non-government body of scholars, Kamal Faruqui, said the attack was "highly condemnable".
"An anti-Muslim virus is spreading across the world," he told Reuters.
"People of all religions should be very worried."
Afghanistan's ambassador to Australia, New Zealand and Fiji, Wahidullah Waissi, said on Twitter three Afghans had been wounded.
"My thoughts are with the family of Afghan origin who've been shot and killed at this heinous incident."
Pakistan's foreign ministry spokesman Mohammad Faisal condemned the incident on social media, using the hashtag #pakistanagainstterror.
Ordinary people expressed their horror online about a widely disseminated video of a man apparently indiscriminately shooting people inside a mosque with an assault rifle.
The video has yet to be confirmed by authorities as being posted by a shooter involved in the attack.
"Feeling very sick, that person is brainless and a savage," said one Indonesian twitter user who identified himself as Farhan Adhitama.
New Zealand's prime minister, Jacinda Ardern, said many of those caught up in the shootings may have been migrants and refugees.
"They are us. The person who has perpetuated this violence against us is not. They have no place in New Zealand," she said.
https://in.reuters.com/article/newzealand-shootout-reaction/islamic-world-reacts-with-disgust-at-new-zealand-mosque-attacks-idINKCN1QW0OI?il=0
--------
US urges Muslim nations to condemn China's Xinjiang abuses
Mar 14, 2019
GENEVA: The United States on Wednesday voiced disappointment at the failure ofMuslim nations to jointly take a stand against China's treatment of its Uighurs and other Muslim minorities in Xinjiang province.
"We are, I can say, disappointed about the lack of response from members of the OIC (Organization of Islamic Cooperation), and the lack of outspoken concern," said US Ambassador Kelley Currie who heads the State Department's Office of Global Criminal Justice,.
Currie was speaking to reporters ahead of a US-sponsored event at UN headquarters in Geneva focused on allegations of mass-internment of Uighurs in China's restive Xinjiang province.
While she applauded Turkey for its recent strong criticism of China's treatment of its Muslim minorities, she said Washington had hoped the IOC would have collectively condemned the situation in Xinjiang as it has done regarding rights abuses against Muslims in Myanmar and Syria.
A statement from OIC foreign ministers earlier this month failed to reflect concern about the situation, she said, describing this as "disappointing and frustrating".
Her comments came as Washington released its annual human rights report, in which it maintained that China had "significantly intensified its campaign of mass detention of members of Muslim minority groups in Xinjiang".
"Today, more than one million Uighurs, ethnic Kazakhs and other Muslims are interned in re-education camps designed to erase their religious and ethnic identities," US Secretary of State Mike Pompeo said as he introduced the report.
During the event in Geneva, Currie and other speakers, including experts and an alleged former detainee in a Xinjiang reeducation camp, made similar charges, eliciting a strong reaction from a Chinese diplomat in the room.
"We strongly object to this anti-China side-event sponsored by the USmission," said the diplomat, who didn't give his name, charging that the event was "obviously driven by a political agenda".
"There are no so-called concentration camps in Xinjiang," he said, reiterating Beijing's claims that it is combating separatism and religious extremism through vocational education.
One of the speakers, Adrian Zenz, a China security expert at Germany's European School of Culture and Theology, meanwhile charged that China's so-called vocational training centres were "a mask for an unprecedented campaign of coercive social reengineering".
"What we are witnessing in Xinjiang is nothing less than a systematic campaign of cultural genocide," he said, warning that other regions with large Muslim minorities could soon suffer a similar fate.
Xinjiang "is like a testing ground", he told AFP.
The event, which was also backed by Britain, Canada, Germany and the Netherlands, took place on the sidelines of the UN Human Rights Council and not before the main UN rights body itself.
The administration of US President Donald Trump decided to slam the door on that council last year.
One of the panelists, John Fisher, who heads Human Rights Watch's Geneva office, suggested Washington was partially to blame for the lack of broader international condemnation of the situation in Xinjiang.
"One of the challenges is that the main state that has been willing to stand up to China in the past no longer engages with the Human Rights Council," he said.
"There is a gap of leadership."
https://timesofindia.indiatimes.com/world/us/us-urges-muslim-nations-to-condemn-chinas-xinjiang-abuses/articleshow/68412533.cms
--------
Israeli Police Assault Muslim Worshipers, Close Al-Aqsa Mosque
March 14, 2019
Israeli police on Tuesday assaulted and harassed Muslim worshipers at the Al-Aqsa Mosque compound, using the pretext of a fire in the compound as the excuse for their invasion of the holy site, according to Palestinian News Agency Wafa.
A fire was discovered in one of the police stations in the compound on Tuesday, and the worshipers inside the building were assaulted by Israeli police, who forcefully pushed them out.
Witnesses described a large police force, stationed at the gates of the mosque compound, which entered the compound and attacked many of the people inside praying.
The Al-Aqsa Mosque, or the Noble Sanctuary, is the third holiest site in Islam,
Worshipers were violently pushed away from the main gate, the Lion's Gate (Bab al-Asbat), as they arrived for the evening prayer, one of Islam's five daily prayers.
8 Palestinian worshipers were detained by police, including 3 women, with many others assaulted. The Palestinian Red Crescent ambulance said it transported 4 worshipers to the hospital for injuries related to the assault. The Israeli police also reportedly attacked their medical crew, and obstructed their movement.
Israeli police alleged that worshipers set fire to the police station at the sacred site. But Palestinian worshipers refuted this claim, stating that the fire was more likely started by police, to use it as a pretense for closing the Lion's Gate.
The Lion's Gate closure meant that all gates to the Muslim holy site were closed, restricting Palestinian Muslims' freedom of worship. Because of the closure of the mosque, prayers were held outside the gates, while Israeli police stood guarding the doors.
It is important to note that the Lion's Gate, and Bab al-Rhama prayer area, was closed by Israeli authorities 16 years ago, and was re-opened by Palestinians 3 weeks ago.
Palestinian President Mahmoud Abbas reportedly contacted the Hashemite King of Jordan, to help diffuse the Israeli aggression. Jordan's Royal family funds the Islamic Waqf (Endowment), which controls and manages the property.
President Abbas denounced the Israeli aggression, and warned of grave consequences for its actions against Palestinians and other worshipers.
Visit Quds News Network for videos and pictures of the scene, here.
The Middle East Monitor posted this video on Twitter of the Israeli forces attacking and clashing with the worshipers.
http://imemc.org/article/israeli-police-assault-muslim-worshipers-close-al-aqsa-mosque/
--------
A Muslim-Dalit axis going back to Haji Mastan's shot at redemption
Mar 15, 2019
Efforts by Congress and NCP to bring together disparate outfits in Maharashtra under the banner of a united opposition have been undermined primarily by one man: Prakash Ambedkar. Reaching out to Asaduddin Owaisi's Majlise-Ittahadul Muslimeen early on and renewing the Dalit-Muslim axis, he has set the stage for a three-cornered contest in the state.
The Dalit-Muslim bonhomie in Maharashtra goes back over three decades. In the aftermath of the 1984 Bhiwandi riots, smuggling kingpin Haji Mastan Mirza and Dalit leader Jogendra Kawade made ripples by forming the Dalit Muslim Minority Suraksha Mahasangh. An ageing Mastan was looking to step out of the shadow of the Bombay underworld, which was overrun by the Pathans and mill-land Maharashtrian gangs.
"It was a novel experience in the country's political history. I was known for launching a march to rename Marathwada university in Aurangabad after Babasaheb Ambedkar while Mirza had given up smuggling, performed Haj and wanted an image makeover," recalled Kawade, 75, who is now president of People's Republican Party of India. "I became founder president while he was co-founder of the Mahasangh."
Disenchanted with Congress and wary of Shiv Sena's increasingly communal rhetoric, some Muslims saw Mastan as a reformed don who could offer insurance against Bal Thackeray's majoritarian threats. "Some of us wanted to project him as a Muslim Thackeray. We thought he could respond to Shiv Sena in their language," said senior journalist Sarfraz Arzoo, who was among those who persuaded him to float the Mahasangh. "It was galvanising Muslims and Dalits and seemed an alternative to Congress."
The Mahasangh aimed for a vote bank of Muslims and Dalits concentrated in pockets of Mumbai and its suburbs, to start with.
Both communities had substantial numbers in Dongri, Nagpada, Byculla, Dharavi and Sion with no legislative representation.
Dalits make up 7% of the state's population and Muslims account for 11%, much of it in urban areas. Neither had a strong voice in the Marathadominated Congress or in the Left, which anyway shunned all talk of caste or community.
But the Mahasangh faltered when the Congress-versus-Sena debate took a divisive turn and the minorities chose to consolidate behind the ruling party. Kawade said the Dalit-Muslim experiment collapsed after Mastan's death in 1994. Arzoo said Mastan himself capitulated to pressure from a Congress politician when his properties went into litigation. "The Mahasangh died as we couldn't find a Muslim leader like Haji Mastan," said Kawade.
The project saw a brief resurrection when former cop Shamsher Khan Pathan along with Dalit leader Baban Kamble launched the Awami Vikash Party on May 1, 2012. "I launched it because I wanted to empower Muslims. But now I feel the community has no political awareness and is destined to remain slaves of parties which use them as vote banks," said a bitter Pathan. He is now being approached to be a spokesperson for the Indian Democratic Alliance and Rashtriya Bahujan Aghadi, another alliance of Muslims and Dalits. Electorally though, the best shot may lie with Ambedkar's Vanchit Bahujan Aghadi. With Owaisi backing him, he could upset equations for the two mainstream alliances in some seats.
"The Marathas got 10% reservation while the BJP government denied reservation to Muslims. Dalits and Muslims don't find much space in Congress-NCP," Owaisi told TOI. After the Koregaon Bhima incident, Ambedkar has emerged a credible Dalit voice while I have never shirked from championing the Muslim cause. We had to come together," said Owaisi. "The arrogance of Congress and NCP will backfire and Sena-BJP will certainly benefit from any split in secular votes.
https://timesofindia.indiatimes.com/india/a-muslim-dalit-axis-going-back-to-haji-mastans-shot-at-redemption/articleshow/68418283.cms
--------
Europe
Interpol issues red notice for Khashoggi killing
Beyza Binnur Dönmez
15.03.2019
A red notice was issued for 20 suspects related to the killing of Saudi journalist Jamal Khashoggi last fall in the Saudi Consulate in Istanbul, Turkey's justice ministry said Thursday.
Turkey requested a red notice for 18 suspects Nov. 15 and another two Dec. 21, the ministry said on Twitter.
It announced General Secretariat of Interpol published the red notice March 1 in accordance with Turkey's request.
The 20 suspects will be searched across the world.
Khashoggi was killed and dismembered by a group of Saudi operatives shortly after he entered the consulate Oct. 2.
Riyadh offered various, conflicting narratives to explain his disappearance before acknowledging Khashoggi was murdered in the diplomatic building, seeking to blame his death on a botched rendition operation being carried out by rogue agents.
But that explanation has been roundly rejected outside of the kingdom, as pressure mounts for Mohammad bin Salman, whom many believe had to have signed off on Khashoggi's killing, to be held to account.
https://www.aa.com.tr/en/europe/interpol-issues-red-notice-for-khashoggi-killing/1418575
--------
Germany pledges €1.4 billion for Syrian refugees
Ayhan Simsek
14.03.2019
BERLIN
Germany pledged 1.44 billion euros ($1.6 billion) Thursday for Syrian refugees and internally displaced people.
Foreign Minister Heiko Maas said in a statement that Germany would strongly support the European Union and UN's humanitarian efforts to ease the suffering of the Syrian people.
"Until conditions in Syria make voluntary return in safety and dignity a genuine option, the world cannot leave the people there and in neighboring countries to cope on their own," he said.
"That is why, at this year's Brussels Conference on Syria, Germany is making available a total of 1.44 billion euros," he added.
Germany's top diplomat also called on the Syrian regime and other parties to the conflict to adhere to humanitarian principles.
"All parties to the conflict must allow full humanitarian access to all population groups and adhere to the rules of international humanitarian law. The displaced must be protected against persecution and their fundamental rights and property rights must be guaranteed," he said.
Attacks in Syria's Idlib
Amid recent regime shelling and Russian airstrikes in Syria's Idlib province, Maas warned against a dangerous escalation of an already tense situation in the region.
"Developments in Idlib in particular are a source of grave concern to us. Any renewed flare-up of the fighting must be avoided at all cost," he said.
The recent attacks inside Idlib's de-escalation zone killed at least 15 civilians, according to the White Helmets civil defense agency.
Full report at:
https://www.aa.com.tr/en/economy/germany-pledges-14-billion-for-syrian-refugees/1418261
--------
Germany expresses concerns over Kashmir situation
Islamuddin Sajid
14.03.2019
Germany's foreign minister on Tuesday expressed conditional concern over human rights violations in Indian-administered Kashmir and urged Pakistan and India to resolve the dispute through dialogue.
"If there are human rights violations [in Kashmir], if there are atrocities, then there will be a reaction and that reaction, at times, is difficult to contain," Heiko Mass told a joint press conference alongside his Pakistani counterpart Shah Mahmood Qureshi, apparently referring to a terror attack in Kashmir last month that killed at least 40 Indian soldiers and raised tensions between India and Pakistan
"Germany acknowledges Pakistan's efforts toward de-escalating the current tension with India and Premier [Imran] Khan's offer for dialogue with New Delhi," he added, citing Islamabad's quick release of an Indian pilot as a positive step.
Mass, who arrived early Tuesday from Afghanistan along with a high-level delegation, met Qureshi in Islamabad.
During his stay in Pakistan, he will meet the country's top political leadership.
Mass also lauded Pakistan's efforts to arrange peace talks between the U.S. and Afghan Taliban to resolve the 18-year Afghan conflict.
Qureshi said he briefed Maas on the recent tension with India and human rights violations in Kashmir.
"Kashmir is the main issue between Pakistan and India, and dialogue is the only way to go forward," Qureshi said.
Qureshi called terrorism a global challenge and said his country has taken several steps to eliminate this menace from the region
"Pakistan made huge sacrifices during the fight against terrorism, we lost over 70,000 precious lives with over $120 billion damage to our economy," he said.
According to the top diplomat, in delegation-level talks the two sides discussed bilateral relations, the regional situation, and efforts for peace in Afghanistan.
Jammu and Kashmir, a Muslim-majority Himalayan region, is held by India and Pakistan in parts and claimed by both in full. A small sliver of Kashmir is also held by China.
Since they were partitioned in 1947, the two countries have fought three wars -- in 1948, 1965 and 1971 -- two of them over Kashmir.
Also, in Siachen glacier in northern Kashmir, Indian and Pakistani troops have fought intermittently since 1984. A cease-fire came into effect in 2003.
Some Kashmiri groups in Jammu and Kashmir have been fighting against Indian rule for independence, or for unification with neighboring Pakistan.
Full report at:
https://www.aa.com.tr/en/asia-pacific/germany-expresses-concerns-over-kashmir-situation/1418031
--------
Shamima Begum affair marks the demise of 'Londonistan' era
March 14, 2019
The UK's decision to bar ISIS bride Shamima Begum from her country amounts to a complete reversal of 20 years of policies that had allowed major cities to become key centres for radical Islamist groups.
The treatment of 19-year-old Ms Begum – and the potential for years of legal wrangling over her right to return to the UK – has shown how far British security policy has moved from embracing and monitoring extremists to making them someone else's problem. Ms Begum, who travelled to Syria with two school friends as a 15-year-old, was stripped of her nationality last month as she sought to return with her new-born son after fleeing dwindling ISIS-controlled territory in Syria. The baby later died.
The decision by Home Secretary Sajid Javid on the grounds of the national security threat she posed is expected to be challenged in the courts, but has highlighted how the UK's policies had changed in response to a home-grown domestic threat.
Security officials operated an informal a "covenant of security" in the 1990s which allowed for UK cities to be safe havens for some extremists on the tacit understanding that they would not carry out attacks on British soil. The capital was dubbed 'Londonistan' because of the number of extremists who set up home there.
Abu Hamza, the extremist hate preacher now in jail in the United States, claimed in a 2006 criminal trial in the UK that undercover officers told him that he was free to express his views "as long as we don't see blood in the street".
He added: "It was Londonistan, not because of me, because of government policy."
Despite his claims, he was jailed for six years for inciting racial hatred and soliciting murder and later sentenced to life in jail in the US for supporting terrorism.
In 2013, David Blunkett, home secretary under premier Tony Blair from 2001 to 2004, told an academic: "I think there was a presumption…that if you knew who these people were, then you could monitor them."
In the immediate years before the September 11, 2001 attacks on the United States, the UK was more focused on the threat from Irish republican terrorists, said Prof Michael Kenney, of the University of Pittsburgh and author of The Islamic State in Britain.
The toleration of Islamist groups eroded after 9/11 and changes in policy continued with the emergence of British-based terrorist plots.
The July 7, 2005 bombings of the London transport network, that left 52 people dead. saw police crack down on extremist preachers, such as Abu Hamza, who used the Finsbury Park mosque in north London for fiery sermons against the West.
It also saw police and security services focus on groups such as Al Muhajiroun, founded by Omar Bakri Muhammad, a former Hizb ut-Tahrir activist deported from Saudi Arabia in 1985.
"The authorities began to look at groups like Al Muhajiroun in a different light than they had before," said Prof Kenney. "Before, Omar Bakri Muhammad was seen as a harmless loudmouth who talked a good game but didn't really threaten the internal security of Britain.
"The policy of tolerance is gone. We have gone to the other extreme. The policy of tolerance has been turned on its head and is now a policy of extreme intolerance."
The 2017 suicide bomb attack on a pop concert in Manchester by the British-born son of a prominent Libyan member of the Libyan Islamic Fighting Group – a group supported by the UK to help bring down Colonel Muammar Qaddafi's regime – further highlighted the flaws of previous approaches to hardline Islamist exiles.
Britain's counter-terrorist legislation has also been strengthened to confront the threat and improve the chances of prosecutors to secure convictions of disillusioned young British Muslims who travelled abroad to join Al Qaida and ISIS.
Laws have been expanded to ensure facilitators, accomplices, suppliers, financial backers and those "providing bed and board for terrorists", are more likely to face successful prosecution, said Alex Carlile, a former independent reviewer of terrorism legislation.
New legislation introduced earlier this year allows for countries in conflict zones to become no-go areas for Britons who could face prosecution for travelling there.
The move was an attempt to get around the problems of securing evidence in countries with weak or no government and little prospect of gathering evidence safely.
Advocates of stronger counter-terrorism laws are pushing for the re-writing of Britain's 670-year treason laws to widen the net and bring about increased sentences for extremists who take up arms against the UK.
"There has been some tightening up," the head of prosecutions for England and Wales, Max Hill, told the BBC. "We do have a pretty good suite of legal tools allowing us to prosecute."
But the move to strip Ms Begum of her citizenship and other ISIS members could play into the hands of recruiters and have far-reaching legal implications for the children of immigrants in the UK, counter-terrorism experts warned.
Two sisters held with their five children in Syrian refugee camps have also been stripped of their British citizenship by the Home Office, according to reports.
"For the first time in my 53 years of age, I feel that we are tier-two British citizens," said Haras Rafiq, a British Muslim head counter-extremism think tank Quilliam. "Imagine how a 15-year-old living in a predominantly Muslim quarter in Europe must feel."
Mr Javid ruled that Ms Begum, from east London, qualified for Bangladeshi citizenship through her family's heritage.
While international law forbids stripping a passport if this causes statelessness, the British government said that her eligibility for Bangladeshi nationality meant it could take away her passport. Bangladesh subsequently said it will not grant Ms Begum a passport.
The decision by the UK was "truly witless and morally gutless," said Michael Clarke, associate director of the security studies institute at the University of Exeter.
He said that the move would achieve the opposite of trying to ensure the safety of British citizens.
The best way to achieve security for Britons would be "not to have her rattling around in a refugee camp for the next three or more years" while her appeal grinds on," said Professor Clarke.
"This will mean she remains a cause celebre, focus of resentment," he said. "If she is too radicalised and dangerous to have back in the UK now, will she be less radical and activist after three years of this?"
He said that Ms Begum should be allowed to return to the UK to face trial or be forced to undergo long-term deradicalisation.
Deradicalisation has proven successful for women including Hadiya Masieh, who was recruited by Hizb ut-Tahrir, and Tania Joya, the ex-wife of one of ISIS' most senior commanders.
Revoking citizenship could provide extra ammunition to extremist recruiters who peddle the idea of a West hostile to Muslims, said analysts.
"If we continue with this trajectory we'll be sowing the narrative for [terrorists] to reap and use against us," said Hanif Qadir, who ran a deradicalisation programme in east London and raised the alarm about the plans of schoolgirls linked to Ms Begum to join ISIS in Syria.
Full report at:
https://www.thenational.ae/world/europe/shamima-begum-affair-marks-the-demise-of-londonistan-era-1.837027
--------
Pakistan
Terror financing watchdog seeks reduced ISI role
ByF.M. SHAKIL
Mar 15, 2019
The Financial Action Task Force (FATF), an international terror-financing watchdog, has demanded that Pakistan to foster "inter-agency cooperation" to end the domination of the country's prime intelligence watchdog in handling proscribed terror organizations.
While the new demands seek to discourage the terror networks defined by pro-establishment security analysts as "strategic assets" from resurfacing with a new identity and features, the dominant role of Inter-Services Intelligence (ISI) is also sought to be minimized.
Rana Afzal Khan, a former finance minister and a senior leader of the Pakistan Muslim League-Nawaz (PML-N), told Asia Times, "The FATF demand for inter-agency cooperation is aimed at decentralization of responsibilities and de-monopolization of anti-terror operations against the proscribed outfits. This will increase the cooperation and collaboration among agencies fighting terrorism and coordinate their efforts to come down hard on the forces inimical to regional peace.
"I personally believe that [the] Intelligence Bureau should be given added responsibilities to deal with the banned extremist groups instead of ISI, because most of these elements start operation with new names and identity and make a mockery of the state actions," he added.
However, some analysts do not subscribe to the notion that the FATF's new demands implied trimming the authority of ISI. The term "inter-agency cooperation," some have claimed, is borrowed from the National Counter Terrorism Authority (NACTA) Act of 2013. That act defines the rules for inter-agency cooperation as "receiving, collating and disseminating intelligence and coordination between all relevant stakeholders to formulate threat assessments."
Afrasiab Khattak, a left-wing intellectual, former senator and political analyst, said: "It is not an agency-specific demand because the FATF is primarily concerned with terror-related activities and terror funding operations." He also said the FATF put emphasis on a term coined by NACTA for giving a boost to anti-terrorist operations in the country.
With the imposition of three more conditions on Pakistan, the FATF took the tally of such demands to 18, which need to be complied with by May to qualify for a review on the obligations regarding anti-money laundering (AML) and combating finances of terrorism (CFT). Besides inter-agency synergy among law-enforcement agencies, the FATF also asked Pakistan to revise its risk assessment on terror financing and make improvements in Federal Board of Revenue (FBR) customs related to monitoring to curb currency smuggling.
Pakistan has failed to fulfill most of the FATF conditions set to speed up AML/CFT compliance. The NACTA, for instance, was supposed to devise and implement a policy for the law-enforcement agencies to initiate financial inquiries against terrorist groups and their activists as a part of every terror-related investigation.
For this purpose, the Counter Terrorism Department (CTD) has prepared a comprehensive policy for conducting financial inquiries. However, the CTD has not been following the standard operating procedures for financial investigation. This resulted in an unrestricted flow of funds to Hafiz Saeed's Jamaat-Ud-Dawa (JuD), its offshoot Falah-e-Insaniat Foundation (FIF) and Jaish-e-Muhammad (JeM). They continued to collect huge funds, built capacious training camps and seminaries, and sponsored terrorist attacks in neighboring countries. Pakistan's intelligence agencies and police could not track down the source of funding to these banned organizations despite the fact that the Financial Monitoring Unit has provided intelligence agencies with a guideline.
Under pressure by the FATF and the international community on the recent suicide bombing in Pulwama, in the Indian state of Jammu and Kashmir, Pakistan last week announced a crackdown on Mumbai terror attack mastermind Hafiz Saeed's JuD its its FIF wing. Pakistani authorities also arrested 44 activists connected with the Maulana Masood Azhar-led JeM and its outfits, including Abdul Raoof and Hamad Azhar, the brother and son of Azhar.
In the clampdown, only two seminaries belonging to JuD and FIF were taken over out of around 300 religious schools, hospitals, publishing houses and ambulance services operated throughout the country. As many as 50,000 volunteers and paid workers are running the JuD charity network in Pakistan. The law-enforcement agencies have not touched the training camps operated by these groups.
An updated list of proscribed organizations compiled by NAPTA and released by Pakistan's Interior Ministry revealed that 68 organizations have been banned by the authorities, including Lashkar-e-Jhangvi (LeJ), Sipah-i-Muhammad Pakistan (SMP), Jaish-e-Muhammad (JeM), Laskar-e-Tayyiba (LeT), and Sipah-i -Sahaba Pakistan (SSP), while the ministry has placed JuD and FIF on the watch list. Surprisingly, the list did not include Jamaat-e-Islami's Al Badr group, which was recently shown in a social-media video clip recruiting young people for Kashmir Jihad (Kashmir holy war).
Some political observers do not take the latest crackdown on proscribed organizations seriously. They claim that the fate of the recent action would not be different from previous half-baked attempts.
"There is absolutely nothing new in the government action against banned outfits because the previous such attempts showed that they were just superficial efforts," Afrasiab Khattak said. He claimed that some "defense analysts" astoundingly defend UN-designated terror outfits on TV talk shows, and the fact that media in Pakistan are under draconian state control makes this even more embarrassing.
The imposition of additional conditions on Pakistan coincides with the nomination of India as a co-chair of the Asia-Pacific Joint Group, which put Islamabad in an awkward situation. In a strongly worded letter to the FATF president, Finance Minister Asad Umar demanded the appointment of any other member country for "fair, unbiased and objective" proceedings of the FATF.
Rana Afzal remarked: "It is a genuine demand of the government because India has never been sincere with Pakistan and they will never spare a chance to keep Pakistan on its toes."
https://www.asiatimes.com/2019/03/article/terror-financing-watchdog-seeks-reduced-isi-role/
--------
US report raises questions about governance in Pakistan
Anwar Iqbal
March 15, 2019
WASHINGTON: The annual US report on human rights in Pakistan raises basic questions about the country's political structure, alleging that security agencies have an undue influence over the electoral process and governance.
"The military and intelligence services in Pakistan nominally reported to civilian authorities but essentially operated without effective civilian oversight," says the US State Department's 2018 report on the human rights situation in Pakistan.
"There was a lack of government accountability, and abuses often went unpunished, fostering a culture of impunity among the perpetrators, whether official or unofficial. Authorities seldom punished government officials for human rights abuses," the report added.
The report noted that "sectarian violence decreased significantly across the country" in 2018, although some attacks continued. Targeted killings of religious minorities also continued.
The report includes a detailed analysis of the 2018 elections, pointing out that independent observers noted "technical improvements in the Election Commission of Pakistan's management of the polling process itself". But the observers also raised "concerns about pre-election interference by military and intelligence agencies that created an uneven electoral playing field".
The report noted that there were no restrictions on political parties participating in the 2018 elections, with the exception of those prohibited due to terrorist affiliations.
"Security agencies, however, used pressure tactics — including threats of prosecution for corruption — to convince politicians associated with the former ruling party, PML-N, to switch affiliations prior to general elections," the report alleged.
Organisations that monitor press freedom reported "direct pressure on media outlets to avoid content regarding possible military influence over judicial proceedings against politicians and to refrain from reporting on PML-N leaders in a positive way".
Full report at:
https://www.dawn.com/news/1469676/us-report-raises-questions-about-governance-in-pakistan
--------
EU special envoy for Afghanistan appreciates Islamabad's 'important contributions' for peace
Mar 15, 2019
ISLAMABAD: European Union Special Envoy for Afghanistan Roland Kobia appreciated Islamabad's "important contributions" to push for peace in the region.
The envoy, who is on a two-day visit to the country, called on Foreign Secretary Tehmina Janjua at the Foreign Office on Thursday. The two leaders exchanged views on the ongoing efforts for peace in Afghanistan, said a press statement issued by the FO.
Janjua reiterated Pakistan's "continued commitment to peace in the region and a peaceful neighbourhood".
Stressing that "peace and stability in Afghanistan was crucial for Pakistan", he added Islamabad facilitated talks between the United States and the Taliban in "good faith and as part of shared responsibility".
The foreign secretary also hoped that the "talks would lead to intra-Afghan dialogue".
Acknowledging the EU's role in the efforts, the foreign secretary underscored the importance of working with the EU to push for peace in the war-torn country.
The EU envoy emphasised significance of "peace and stability in Afghanistan for EU as much as for neighbouring countries" and appreciated Pakistan's "important contribution towards peace efforts."
An opportunity is available today that must not be missed at any cost, he added.
Earlier this year, a three-day parleys were attended by representatives of the Afghan Taliban, the US as well as officials from Pakistan and Saudi Arabia.
It was the first time that the Taliban's military and political leaders attended a negotiation – something that has renewed hopes of a possible peace deal. Previously, the Taliban were only represented by their political office in Qatar.
Full report at:
https://www.pakistantoday.com.pk/2019/03/14/eu-special-envoy-for-afghanistan-appreciates-islamabads-important-contributions-for-peace/
--------
Pakistan, India decide to speed up Kartarpur Corridor opening
MARCH 15, 2019
In a 'cordial environment', Pakistan and India Thursday agreed to work expeditiously on opening of Kartarpur Corridor, aimed at facilitating Sikh pilgrims to visit their holy sites on both sides of the border.
The talks held between the delegations of Pakistan and India at Attari Complex, Amritsar, gave the two sides an opportunity to sort out modalities for the opening of the corridor between Gurdwara Darbar Sahib in Pakistan and Gurdwara Baba Nanak in India for the upcoming 550th birth anniversary of Baba Guru Nanak in December this year.
Director General South Asia and SAARC Dr Faisal led the Pakistani delegation, comprising high officials of Ministry of Religious Affairs, Ministry of Communications, National Engineering Services Pakistan (NESPAK) and Ministry of Foreign Affairs.
The Indian side was headed by Joint Secretary Ministry of Home Affairs SCL Das.
"Both sides held detailed and constructive discussions on various aspects and provisions of the proposed agreement and agreed to work towards expeditiously operationalizing the Kartarpur Sahib Corridor," according to a joint statement issued by Pakistan's Ministry of Foreign Affairs and India's Ministry of External Affairs Ministry at the conclusion of the meeting.
After 2015, this is the first joint statement between Pakistan and India, this time on Kartarpur Corridor talks.
The statement read that the meeting, held in a cordial environment, discussed the modalities and the draft agreement for facilitation of pilgrims to visit Gurudwara Kartarpur Sahib, using the Kartarpur Corridor. It was agreed to hold the next meeting at Wagah on April 2 as the Indian delegation will visit Pakistan. This will be preceded by a meeting of technical experts on March 19 at the proposed zero points to finalize the alignment, the joint statement added.
Both sides also held expert-level discussions between the technical experts on the alignment and other details of the proposed corridor.
Earlier, Director General South Asia and SAARC Dr Faisal said Pakistan is continuing with the spirit of constructive engagement and flexibility. Talking to media at Wagah border prior to cross over to Attari, Dr Faisal said the step is in line with Pakistan's sincere efforts to deescalate the situation for regional peace and stability. He expressed hope that the initiative of Prime Minister Imran Khan will not only facilitate Sikhs, especially from India, but in the current vitiated situation, it can be a 'step forward in right direction from conflict to cooperation, animosity to peace and enmity to friendship'.
Kartarpur is a small town in Narowal, some four kilometres from the Pakistan-India border, where the founder of Sikh religion Baba Guru Nanak spent the last 18 years of his life. Subsequently, Gurdwara Darbar Sahab was built at the site on the Pakistan side and Gurdwara Dera Baba Nanak in India, which are visited by thousands of Sikhs every year.
Full report at:
https://dailytimes.com.pk/365348/pakistan-india-decide-to-speed-up-kartarpur-corridor-opening/
--------
Bilawal again demands ouster of ministers 'supporting extremists'
MARCH 15, 2019
Pakistan People's Party Chairman Bilawal Bhutto Zardari Thursday reiterated his demand that the government remove at least three ministers from the federal cabinet who allegedly have 'long-held ties' with the proscribed organisations.
"Everyone knows that three ministers in the federal cabinet have a long history of contacts with the banned outfits," the PPP chief said during a press talk here. "One minister's video went viral on social media. He can be seen assuring them [leaders of a proscribed party] that 'we will not take action against you until our government is in place'," he said. "The other minister made inductions into the PTI from UN-banned organisations like HUM (Harkatul Mujahideen al-Islami) during the elections. He then said on the floor of the House that 'if you are speaking against banned outfits and the National Action Plan then that is against the country's interest," he continued. "The third one not only has a long history of being associated with the banned outfits but has also helped run militant outfits and training camps," he added.
"We doubt your intentions [of the promised crackdown against proscribed organisations] because you were allied with proscribed organisations when you fought elections," Bilawal said, referring to the ruling party. "Folks with such mentality should not be in the 'Naya Pakistan' cabinet. Until you remove them, we will keep doubting you," he maintained.
"Rather than helping the poor, the government is involved in the economic killing of the poor," Bilawal said, adding that the government should sack non-performing ministers and show seriousness in resolving issues of the masses.
Full report at:
https://dailytimes.com.pk/365346/bilawal-again-demands-ouster-of-ministers-supporting-extremists/
--------
Arab World
Saudi Arabia rejects call for international probe of Khashoggi murder
March 15, 2019
Saudi Arabia on Thursday reiterated its rejection of calls for an international, independent investigation into the murder of journalist Jamal Khashoggi, insisting it was well equipped to bring the perpetrators to justice.
The head of a Saudi delegation speaking before the UN Human Rights Council in Geneva insisted that his country was taking all the "measures required for us to resolve this heinous crime".
Bandar Al-Aiban, who heads Saudi Arabia's human rights commission, stressed though that any calls to "internationalise" the investigation "amount to an interference in our domestic affairs".
Aiban was in Geneva presenting his country's response to a review of its rights record before the council last November, during which it faced a barrage of criticism from countries over the Khashoggi murder.
His presentation came after 36 countries last week issued a joint statement demanding justice following the killing, in an unprecedented rebuke of the oil-rich kingdom at the rights council.
Khashoggi, a Washington Post contributor and critic of Crown Prince Mohammed bin Salman, was murdered at the Saudi consulate in Istanbul on October 2.
Saudi Arabia initially said it had no knowledge of his fate.
It has since blamed rogue agents for Khashoggi's death and the kingdom's public prosecutor has charged 11 people over his murder.
Examine: Khashoggi murder: What we know about the Saudi suspects
Aiban insisted that his country was "horrified by what has happened pursuant to this unfortunate accident".
He told the council that most of the recommendations Riyadh had received regarding how to pursue the Khashoggi case during the so-called Universal Periodic Review (UPR) in November were already guaranteed by its constitution.
The suspects, he said, "were entitled to a fair trial... and none of their human rights have been violated, and they have been subjected to no form of torture or cruel and inhuman treatment".
"They are entitled to legal council, and they have also been informed of their rights to resort to the services of council during the investigation phase and during the trial," he said.
Aiban said that there had so far been three hearings, and that the accused and their lawyers had been present.
Take a look: Jamal Khashoggi understood power. That's why he's dead
He also said "representatives of international organisations as well as NGOs and other stakeholders... were able to monitor and see how the court cases were unfolding," but did not specify which organisations had been permitted into the proceedings.
But he said Saudi Arabia could not accept recommendations during the UPR for the country to allow international experts to participate in the investigation and to oversee the process.
"Saudi Arabia is a sovereign country... Such demands made upon us are tantamount to the international community doubting the integrity of our judicial apparatus and doubting the independence of our judiciary," he said.
https://www.dawn.com/news/1469619/saudi-arabia-rejects-call-for-international-probe-of-khashoggi-murder
--------
Syrian, Russian Armies Launch Heaviest Attacks against Terrorists in Hama, Idlib
Mar 14, 2019
The Arabic-language al-Watan newspaper reported on Thursday that the Russian and Syrian fighter jets launched airstrikes against the terrorists' hideouts in al-Tamane'ah, al-Nayrab, Saraqib, Kafr Amim and Ma'arat Hormat in Southern and Eastern Idlib as well as their positions in Northern and Northwestern Hama.
Field sources described the Wednesday attacks as the heaviest airstrikes by the Russian and Syrian air force units since September, saying that a large number of terrorists were killed and wounded in the offensive.
Concurrent with the airstrikes, the Syrian army forces warded off the terrorists' attacks from Kafr Naboudeh, al-Sakhar and Murak against the military points.
They also targeted the militants' moves from the towns of Ma'arat, Hormat al-Khowin, al-Zarzour and al-Tamane'ah towards the military points in Southeastern Idlib with heavy missile attacks, leaving heavy damage on them.
The Syrian army units in response to the terrorists' attacks on safe regions in Aleppo and Lattakia, launched strikes against their positions in al-Khalsah, al-Hamirah in Southern Aleppo and regions near Jisr al-Shaqour and Lattakia mountains.
The Russian Defense Ministry said in a statement that the Russian Aerospace Force has destroyed a weapons depot belonging to the Tahrir al-Sham al-Hay'at terror group in the Syrian province of Idlib.
A pinpoint airstrike was carried out on Wednesday in coordination with Turkey.
The air raid "targeted a weapons depot belonging to the Tahrir al-Sham al-Hay'at terror group in the city of Idlib," the defense ministry added.
"According to information confirmed through several channels, militants earlier brought a large number of combat unmanned aerial vehicles to the facility, which they planned to use for attacks on Russia's Hmeimim air base," the statement read.
In a relevant development on Wednesday, the Syrian army pounded and destroyed a command headquarters of Tahrir al-Sham amid fierce attacks by terrorists on their military positions.
The Damascus army attacked the terrorists' military positions and movements in al-Habit and around Babilon town, destroying a meeting of militant commanders and killing all those present at the venue.
A military source also confirmed that the Syrian Army troops have destroyed a command center of Tahrir al-Sham together with several military vehicles in Harash Abedin town in Southeastern Idlib, inflicting heavy casualties on the terrorists.
In Northern Hama, the Syrian Army troops engaged in heavy clashes with terrorist groups who had concurrently attacked the Syrian Army's military positions near the town of Mahradeh and the al-Jadideh town in Northern Hama, inflicting heavy losses on the assailant terrorists after warding off their attack.
Full report at:
http://en.farsnews.com/newstext.aspx?nn=13971223000211
--------
Hundreds surrender at ISIS enclave as SDF advance
14 March 2019
ISIS extremist group's militants accompanied by women and children surrendered to the Syrian Democratic Forces (SDF) in their hundreds on Thursday as the extremists lost ground to a US-backed assault on their last shred of territory, the SDF said.
Many of the men could be seen limping as they crossed out of the enclave at Baghouz along a dirt path over a rocky hill, accompanied by weeping children and fully veiled women, dragging suitcases and backpacks behind them.
Some of the men were wounded or on crutches. Many were believed to be foreign, SDF fighters said. Children were hoisted onto shoulders to get them up the hill, and strollers left behind.
SDF commander Adnan Afrin said the number of evacuees had yet to be determined as people were still emerging but it was in the hundreds, adding to the many thousands who have streamed out of Baghouz in recent weeks.
The surrender took place during a pause in the US-backed offensive that began on Sunday to seize the final patch of populated ISIS territory - which once spanned a third of Iraq and Syria, including the cities of Mosul and Raqqa.
Earlier, artillery fire had pounded the enclave as warplanes flew overhead.
The SDF said the extremists had deployed more than 20 suicide bombers in three counter-attacks in the last two days.
It said at least 112 militants had been killed since it resumed the assault, including more than 15 on Thursday morning.
No ISIS leaders are believed to be in Baghouz, according to a US defense official. US government experts strongly believe group leader Abu Bakr al-Baghdadi is alive and possibly hiding in Iraq.
Full report at:
https://english.alarabiya.net/en/News/middle-east/2019/03/14/Hundreds-surrender-at-ISIS-enclave-as-SDF-advance.html
--------
Syrian Observatory: Russian air raids kill 13 civilians
14 March 2019
Russian air strikes killed at least 13 civilians, including six children, Wednesday in Idlib province, in the first such raids since a September truce deal, a monitor said.
The Britain-based Syrian Observatory for Human Rights said around 60 people were also wounded in the air strikes that struck several areas in the northwestern province, which is Syria's last major rebel bastion.
"Over the past 24 hours Russian aircraft have carried out dozens of raids targeting several regions in Idlib province, including the city of Idlib and the town of Saraqeb," Observatory head Rami Abdel Rahman told AFP.
"These are the first Russian air strikes against the province" since an accord struck by Russian President Vladimir Putin and his Turkish counterpart Recep Tayyip Erdogan in September last year.
The truce deal was meant to stave off a planned offensive by the regime and its Russian backers that aid groups feared could spark the eight-year-old Syrian conflict's worst humanitarian crisis to date.
Under the deal, opposition backer Turkey would exert its influence over anti-regime groups in the Idlib region to have them pull back fighters and heavy weapons from a demilitarized zone.
Full report at:
https://english.alarabiya.net/en/News/middle-east/2019/03/14/Syrian-Observatory-Russian-air-raids-kill-13-civilians.html
--------
Saudi official: The Kingdom brought perpetrators of Khashoggi murder to justice
14 March 2019
President of Saudi Arabia's Human Rights Commission (HRC), Dr. Bandar al-Aiban, has said the Kingdom brought perpetrators of Khashoggi murder to justice and they have attended three hearings with their lawyers.
Addressing the United Nations Human Rights Council, Dr. al-Aiban said "we are horrified at Khashoggi killing" and that it was a "heinous crime" and an "unfortunate accident".
Dr. al-Aiban also said that the Kingdom rejects calls to "internationalize" the investigation into Khashoggi killing as amounting to interference in domestic affairs.
Saudi Arabia has accepted as many as 453 human rights recommendations, either full or in part, during the past 10 years. In a report published on its Twitter account on Wednesday, the UN Human Rights Council (HRC) detailed the Kingdom's cooperation with the UN mechanisms.
Full report at:
https://english.alarabiya.net/en/News/gulf/2019/03/14/Saudi-Human-Rights-official-Brought-perpetrators-of-Khashoggi-murder-to-justice.html
--------
Bahraini court jails nearly 170 people in crackdown on dissent
Mar 14, 2019
A court in Bahrain has handed down prison sentences to 167 anti-regime protesters as the ruling Al Khalifah regime does not shy away from its heavy clampdown on political dissidents and pro-democracy activists in the tiny Persian Gulf kingdom.
The High Criminal Court sentenced 56 of the defendants to ten years in jail each after finding them guilty of "attacks on police officers." The remaining majority of defendants received one-year terms. The court acquitted four people in the case.
Court documents obtained by Reuters showed that the sentences had been handed to the defendants at a trial on February 27.
The defendants had been detained for six months before being released on bail in late 2017.
"None of the defendants came to the court when the sentences were announced because they feared being arrested," said one lawyer, who declined to be named.
Two lawyers involved in the case said they had filed an appeal.
The defendants had been arrested at a 2017 sit-in in support of distinguished Shia cleric Sheikh Isa Qassim, who had been stripped of his citizenship by the Manama regime, outside his home in the northwestern village of Diraz, situated some 12 kilometers west of the capital.
Bahraini regime forces killed five protesters and arrested hundreds more in a raid on the sit-in.
London-based rights group Bahrain Institute for Rights and Democracy (BIRD) said the majority of those arrested have been subjected to "the most atrocious torture."
"This is a massively unfair trial which has passed completely unnoticed ... this trial is a textbook example of the culture of impunity that prevails in Bahrain," Director of Advocacy at BIRD, Sayed Ahmed Alwadaei, said.
The US State Department, in its latest annual human rights report published on Wednesday, said that authorities were still investigating the "circumstances surrounding the death of five protesters during a May 2017 security operation to clear protesters outside the house of Shia cleric Isa Qassim."
Thousands of anti-regime protesters have held demonstrations in Bahrain on an almost daily basis ever since a popular uprising began in the country in mid-February 2011.
They are demanding that the Al Khalifah regime relinquish power and allow a just system representing all Bahrainis to be established.
Manama has gone to great lengths to clamp down on any sign of dissent. On March 14, 2011, troops from Saudi Arabia and the United Arab Emirates were deployed to assist Bahrain in its crackdown.
Scores of people have lost their lives and hundreds of others sustained injuries or got arrested as a result of the Al Khalifah regime's crackdown.
On March 5, 2017, Bahrain's parliament approved the trial of civilians at military tribunals in a measure blasted by human rights campaigners as being tantamount to imposition of an undeclared martial law countrywide.
Full report at:
https://www.presstv.com/Detail/2019/03/14/591053/Bahraini-court-gives-prison-sentences-to-over-150-political-dissidents
--------
North America
US report intends to whitewash Israel's human rights violations: PLO official
Mar 14, 2019
A high-ranking member of the Palestine Liberation Organization (PLO) says a US decision to drop Israeli-occupied designation from the Golan Heights and Palestinian territories in its latest annual human rights report is meant to whitewash the Israeli occupation and human rights violations against the Palestinian nation.
"After the release of the so-called human rights report by the US State Department, it is now abundantly clear that [US President Donald] Trump's administration is gearing all branches of the government to whitewash the Israeli occupation and its pervasive violations of human rights," Hanan Ashrawi, a member of the Executive Committee of the PLO, said in a statement released on Thursday.
She added, "The report also de-contextualizes the reality by omitting the inescapable fact of Israeli occupation of Palestine, reflecting this administration's infatuation with an alternative yet fallacious version of reality and legality."
The senior Palestinian official further denounced the report for describing Palestinians as mere "residents," saying the account negates Palestinian people's national identity and deep roots in their homeland. "This is both morally and politically reprehensible," Ashrawi said.
"The intention of this publication is clear. It is to exonerate Israel from its indisputable human rights violations, while deliberately attempting to depict the racist policies and attitudes of the Israeli regime as benign despite the fact that they deny the Palestinian people's humanity, nationality, and narrative," she said.
Ashrawi noted: "In its zealous pursuit to justify and mainstream the right-wing agenda in Israel, the Trump administration has made a mockery of the human rights report and reaffirmed its complicity in the promotion and support of human rights violations against Palestinian people. The legal and political standing of Palestine and the Syrian Golan Heights as territory under Israeli occupation is indisputable under international law. Under the Trump administration, these facts have been discarded and denied in these reports. However, denial of facts cannot alter reality nor change the legal and standing moral obligations of states under international law to respect and ensure respect of human rights."
"The Trump administration has spared no effort to reassert its destabilizing role and hostile agenda in the region in collusion with Israel. It is futile to engage with such disruptive actors, especially given their aversion to facts and their demonstrable hostility to the Palestinian people's national and human rights. However, the Palestinian leadership and people will continue to engage with partners who share our values and commitment to international law and peace based on respect, dignity, and justice," she concluded.
In its so-called Country Human Rights Practices for 2018 published on Wednesday, the US State Department dropped references to the Israeli-occupied Golan Heights, the West Bank and the Gaza Strip.
Israel seized the Golan Heights from Syria after the 1967 Six-Day War and later occupied it in a move that has never been recognized by the international community. The regime has built dozens of settlements in the area ever since and has used the region to carry out a number of military operations against the Syrian government.
Any change in US language and terminology in regard to the West Bank and Gaza Strip is a cause of concern for Muslims as it reflects Washington's intentions about supporting the establishment of a Palestinian state envisaged by interim peace agreements in the 1990s.
Analysts believe the Trump administration is turning its back on Palestinians and its international obligations towards the establishment of a Palestinian state to further serve and defend Israel's interests.
In an interview with Press TV last November, American political analyst Mark Glenn said the neoconservatives in the Trump administration want a greater Israel and pursue furtherance of the Israeli empire.
Former US Congressman and presidential candidate Ron Paul also said in an interview that neoconservatives had taken over US foreign policy.
https://www.presstv.com/Detail/2019/03/14/591040/US-report-intends-to-whitewash-Israels-human-rights-violations-PLO-official
--------
Tehran rejects Washington's allegations in 2019 'human rights' report
Mar 14, 2019
Tehran dismisses the Iran section of the US administration's annual "human rights" report as untrue and politically motivated, saying Washington has turned into the "biggest violator" of the Iranian people's human rights by slapping the nation with unlawful economic sanctions.
Iranian Foreign Ministry spokesman Bahram Qassemi was referring to the so-called Country Reports on Human Rights Practices for 2018, in which the US State Department has once again leveled a host of unfounded accusations of rights abuses against the Islamic Republic.
The report, which was released on March 13, claimed that Iran's human rights record had "remained extremely poor and worsened in several key areas." The report also singled out Washington's other adversaries, including China, Russia and North Korea like in previous years.
Responding to the US rights claims, Qassemi said "the issues mentioned in this report regarding the situation of human rights in our country are merely [based on] political, biased and untrue analyses of certain developments inside Iran, about which the US is not eligible to comment due to its indefensible and dark human rights record."
The Iranian further blasted the White House for unleashing a campaign of economic pressure and sanctions against the Iranian nation and said "the US administration has been the biggest violator of the Iranian nation's human rights."
The White House, he added, "has stopped short of no measure in breaching the rights of Iranians."
Qassemi said the unilateral sanctions -- which were reinstated after Washington's withdrawal from a 2015 multinational nuclear deal with Iran, formally known as the Joint Comprehensive Plan of Action (JCPOA) -- run contrary to international law and court rulings as well as reports by independent human rights rapporteurs.
Qassemi further listed a number of Washington's brazen human rights abuses in different corners of the world from the Israeli-occupied Palestinian territories to the war-torn Yemen.
Full report at:
https://www.presstv.com/Detail/2019/03/14/591047/Iran-US-Human-Rights
--------
US announces additional $397M in aid for Syria relief
Umar Farooq
14.03.2019
WASHINGTON
The United States announced Thursday that it will be providing more than $397 million in additional humanitarian aid to further assist relief efforts responding to the Syria crisis.
The new funds will be used to assist non-governmental organizations like the UN Human Rights Council (UNHCR) and the UN International Children's Emergency Fund (UNICEF) in providing food, shelter, medicine and education to 12 million people in Syria as well as nearly 6 million refugees living in nearby countries.
"The United States calls for immediate, safe, and unhindered humanitarian access for all people in need in Syria," the State Department said in a statement.
"The United States reaffirms its support for freedom of movement for all displaced people and the safe, voluntary and dignified return of refugees and internally displaced persons in a process that is free from coercion."
Syria has been locked in a vicious civil war since early 2011, when the Bashar al-Assad regime cracked down on pro-democracy protests.
Since then, hundreds of thousands of people have been killed and more than 10 million others displaced, according to UN officials.
An estimated 83 percent of Syrians live below the poverty line, according to the UNHCR.
The bulk of the funds, or around $135 million, will be going to Syria, where they will be used for not only food and shelter but also "critical relief supplies and much-needed counseling and protection programs" for the most vulnerable people in the country.
In addition to Syria, the countries receiving U.S. aid as part of the Syrian relief efforts include Lebanon, Jordan, Turkey, Iraq and Egypt.
The U.S. will also be giving nearly $81 million in aid to Turkey, which hosts the most Syrian refugees of any country in the world, at 3.5 million. Those funds will be directed towards supporting schools and psychosocial programs for refugee communities in the country.
With the new funds, Washington has now given roughly $9.5 billion to aid Syrian relief efforts since the conflict began, according to the State Department.
The announcement of additional aid comes a day after the UNHCR issued a joint statement with two other UN agencies calling for increased funding towards relief efforts inside Syria as well as the regional refugee and resilience program, which supports countries that host Syrian refugees.
Full report at:
https://www.aa.com.tr/en/americas/us-announces-additional-397m-in-aid-for-syria-relief/1418358
--------
US Senate votes to rebuke Trump on Yemen, again
Umar Farooq
14.03.2019
WASHINGTON
The Senate voted Wednesday to pass a legislation that called for the end to the U.S.'s support to the Saudi-led coalition's war in Yemen.
Despite going through a Republican-led legislature, the legislation, led by Senator Bernie Sanders, passed with a 54-46 vote, according to CSPAN.
It was the second time the legislation passed in four months.
Sanders, who has publicly declared he will be running for president in 2020, announced the vote Tuesday, saying on Twitter "U.S. participation in this war has not been authorized by Congress and is therefore unconstitutional."
Saudi Arabia has been leading a coalition of countries against Yemen's Houthi rebels since 2015, when Riyadh and its Sunni-Arab allies launched a massive air campaign in Yemen aimed at rolling back Houthi gains that began in 2014.
The campaign has devastated Yemen's infrastructure, including its health and sanitation systems, prompting the UN to describe it as one of the worst humanitarian disasters of modern times.
Before becoming fully effective, the resolution must pass the House of Representatives and be signed by U.S. President Donald Trump, who will most likely veto it. The bill will then go back to Congress where it would need to gather enough votes to override the veto.
The House passed a similar resolution on Yemen last month but it was not able to reach the Senate because of a procedural issue.
The bill previously passed in December during the previous Senate session, serving as not only a rebuke to Trump for his continued support for the Saudi-led coalition's efforts in Yemen, but also the administration's stance on the killing of journalist Jamal Khashoggi who was killed shortly after he entered the Saudi Consulate in Istanbul on Oct. 2.
Saudi Arabia initially denied any knowledge of his whereabouts, but following a rising number of contradictions in its narrative sought to blame the journalist's death on a botched rendition operation being carried out by rogue agents.
That explanation fell flat for many, including congressional leaders, who insist Khashoggi's high-profile murder could not have been carried out without Saudi Crown Prince Mohammed bin Salman's blessing.
Full report at:
https://www.aa.com.tr/en/americas/us-senate-votes-to-rebuke-trump-on-yemen-again/1417553
--------
Mideast
Israel strikes 100 Hamas targets in Gaza after rockets fired at Tel Aviv
March 14, 2019
TEL AVIV: Israeli military aircraft bombed at least 100 Hamas targets in the Gaza Strip early on Friday, hours after two rockets were launched at Tel Aviv in the first such attack since a 2014 war.
After the overnight exchanges, sirens sounded again in Israeli border towns after dawn. The Israeli military confirmed two more missile launches from the Gaza Strip toward Israel, but said both were intercepted by Israel's Iron Dome defense system.
Palestinian news media reported strikes throughout Gaza, from Rafah in the south to the north of the densely populated coastal strip that is home to two million Palestinians.
Most of the Israeli strikes were reported to have targeted facilities used by Hamas's security forces. The buildings had been evacuated as a precaution, as the Islamist militant group had expected an Israeli response.
Health ministry officials in Gaza said two people, a man and a woman, were wounded when their house was damaged in Rafah in the early morning.
Witnesses said powerful explosions from the air strikes rocked buildings in Gaza and lit the skies over targeted sites.
The Israeli military said it was targeting "terror sites" in Gaza. It said rocket sirens were sounded in Israeli communities near the Gaza border.
On Thursday night, the sirens howled farther north, in Tel Aviv, Israel's commercial capital, set off by what the military said were two incoming, longer-range rockets from Gaza.
That salvo caused no casualties or damage, missing built-up areas. But it rattled Israeli nerves ahead of an April 9 election in which Prime Minister Benjamin Netanyahu is seeking a fifth term on the strength of his national security credentials.
Explosions were heard in Tel Aviv and witnesses said interceptor missiles had and detonated - although the military said no rockets were shot down.
It was the first such attack on the city since the 2014 Gaza war between Hamas and Israel. There have been several smaller rounds of fighting since, reined in by Egyptian and UN mediations.
"This was basically a surprise," military spokesman Brigadier-General Ronen Manelis told Israel Radio on Thursday.
In that interview, Manelis said Israel did not yet know who had carried out the rocket launches. But another Israeli military spokesman laid the blame on Hamas on Friday.
"Hamas carried out the rocket fire against Tel Aviv yesterday evening," Lieutenant-Colonel Avichay Adraee said.
Hamas denied involvement, saying the launches took place as its leaders met Egyptian delegates about efforts to secure a long-term ceasefire with Israel.
Islamic Jihad and the Popular Resistance Committees, two smaller Gaza armed factions, also denied responsibility.
Israeli analysts speculated that Palestinian militants opposed to any deal between Hamas and Israel were behind the launchings.
The flare-up of Thursday and Friday drew a U.S. statement of support for Israel.
"Hamas and other terror orgs in Gaza continue to fail their people day after day & drag Gaza further & further down by constantly choosing violence," Jason Greenblatt, the White House's Middle East envoy, said on Twitter. "This method will never work. Ever!"
Naftali Bennett, a right-wing member of Netanyahu's security Cabinet whose party is competing against the veteran prime minister's for votes in the looming election, demanded that Israel resume its assassination of Hamas chiefs.
"The time has come to defeat Hamas once and for all," he said on Thursday night.
Netanyahu also faced pressure from the center-left opposition, whose leading candidate, former General Benny Gantz, said: "Only aggressive, harsh action will restore the deterrence that has eroded" under the prime minister's watch.
Tensions have been high for the past year along the Israel-Gaza frontier since Palestinians began violent protests near Israel's border fence that have often drawn a lethal response from the Israeli military.
About 200 Palestinians have been killed in the demonstrations and about 60 more Palestinians have died in other incidents, including exchanges of fire across the border. Two Israeli soldiers have been killed by Palestinian fire.
The one-year anniversary of the start of the protests is on March 30.
On Friday, Islamic Jihad's armed wing said in a statement that it declared full alert among its fighters to respond to Israeli attacks.
http://www.arabnews.com/node/1466921/middle-east
--------
New Palestinian PM faces myriad challenges, say analysts
March 14, 2019
GAZA CITY: Mohammed Ishtayeh, the man charged with forming a new Palestinian government, faces many challenges.
Carrying the "heavy legacy" of predecessor Rami Hamdallah, who headed the national reconciliation government that emerged between Fatah and Hamas in 2014, he knows he cannot count on the support of Gaza's ruling faction.
It is not just Hamas he must win round. The majority of Palestinian political factions wasted little time rejecting his appointment, calling it a move by President Mahmoud Abbas that "violated the national consensus." Moreover, the new prime minister must also contend with a growing financial crisis, partially as a result of Israeli tax policies, which has not been made easier by increased tensions between Israel and Hamas in recent months along the border with Gaza.
Abbas Zaki, a member of Fatah's central committee, told Arab News that Ishtiyah possessed leadership qualities that would enable him to succeed, despite his mandate coming in "very difficult circumstances."
He stressed, though, that unless it had a "very clear" long-term vision, any government he formed would probably fail.
Ahmad Bahar, the first deputy speaker of the Palestinian Legislative Council, claimed any government of Ishtayeh would be "unconstitutional and illegal."
Bahar, also a senior Hamas figure, called the coming government a "separatist" entity, seeking to "split the West Bank from the Gaza Strip ... and strengthen internal divisions and eliminate any glimmer of hope in achieving national unity."
Talal Abu Zarifa, a senior member of the Democratic Front for the Liberation of Palestine, justified his faction's refusal to support Ishtayeh, saying his government would "widen the circle of difference and division in Palestine."
Full report at:
http://www.arabnews.com/node/1466936/middle-east
--------
UN Palestinian aid faces funding battle without US help
March 14, 2019
BRUSSELS: The UN agency that supports Palestinian refugees said on Thursday it needed $1.2 billion in funding for 2019 as it faced its first full year without US support.
Pierre Kraehenbuehl, who heads the UN Relief and Works Agency (UNRWA) for Palestinians across the Middle East, said it had had to turn to countries as poor as Afghanistan last year for help after Washington withdrew its funding in August.
"There is no US funding for the first time and no indication that they are reconsidering," he told Reuters on the margins of a donors conference for Syria.
"I can't think of a time, even in the 1950s, 60s or 70s, when we were without the US ... they built schools, health centers and that is very important to recognize," Kraehenbuehl said.
Washington's decision to pull all funding further heightened tensions between the Palestinian leadership and the administration of US President Donald Trump.
Trump at the time cited US and Israeli criticism of UNRWA's method of counting people as refugees — which they say has created a growing number of agency beneficiaries.
UNRWA provides services to about 5 million Palestinian refugees across Jordan, Lebanon, Syria and the West Bank and Gaza. Most are descendants of about 700,000 Palestinians who were driven out of their homes or fled fighting in the 1948 war that led to Israel's creation.
Gulf states, Norway, Turkey, Japan and Canada stepped in with funding last year, while Afghanistan donated $1 million, Kraehenbuehl said.
He said it was unlikely that all donors would give the same amounts again this year, putting an increased burden on Europe.
Kraehenbuehl said Trump's decision to recognize Jerusalem as Israel's capital, and the resulting tensions with the Palestinians, had prompted the US to halt funding to UNRWA.
Kraehenbuehl warned of the risks to 280,000 school children in Gaza who depend on the UN agency.
"Where do they go if they no longer have access to UNRWA education? What happens? We know: the levels of frustration (in the region) will grow," he said.
"It is crucial to keep children in school to have a personal horizon in the absence of a political horizon," he said, referring to the stalled Middle East peace process.
Full report at:
http://www.arabnews.com/node/1466826/middle-east
--------
India
In tense Anantnag, CRPF resurrects 'Heaven' the movie hall
Mar 14, 2019
ANANTNAG: Inside the forbidding iron gates manned by CRPF jawans, on a screen a little way in, Shahid Kapoor arrives on a Royal Enfield to woo ladylove Shradha Kapoor with Gold Tamba, to loud whistles and cheers in the packed cinema hall in Anantnag.
Thirty years on, this lively scene returned to one of the Valley's most turbulent areas of south Kashmir, allegedly a "safe haven" of more than "200-odd terrorists from Pakistan" and local militants, reportedly why the Lok Sabha election to this seat has been spread over three days: April 23, 29 and May 6.
On March 6, CRPF revived the 70mm screen in its office at the 40 Battalion headquarters which had been reduced to rubbles in a grenade attack in 1991. The building was a commercial property which was converted into a cinema hall, Heaven, by local businessmen in 1989.
"It's an emotional comeback for the theatre. Heaven is synonymous with Kashmir and appropriately named by its owners. It was in shambles for 30 years. We went around Delhi looking for a screen, Dolby speakers, film rights and projectors last year. We cleaned up the doors and made way for the same lights, re-painted the ticket window. That's the film poster of Batti Gul Meter Chalu," says Ashu Shukla, commandant, 40 Battalion, CRPF.
"The movie was a hit here," he grins.
The last movie screened here was Amitabh Bachchan-starrer Kalia in 1991, which still ignites the love for Bollywood among locals.
The theatre has been opened to civilians; the seating capacity, including balcony seats, is 525.
"We have done our bit to revive the cinema hall to give force personnel an evening of enjoyment but also an avenue for locals, especially younger generation, that such a culture existed," said Shukla.
For the first few weeks, the CRPF has decided to screen the movie "on the house" but later may keep the rates very nominal, not beyond Rs 30-Rs 50.
"We must have this continue for a long time. I've already seen Paltan and Batti Gul twice here," said Khaleel, who works in the neighbourhood.
Operational concerns and routine encounters have pegged back the plans to screen the movie daily and restrict it for a weekly screening.
A board with the Indian tricolour flags welcomes the moviegoers. "Reopening of Heaven Cinema hall, Ashajipora, Anantnag.
Celebrating 50 years of 40 Battalion 1988-2018".
On days when the theatre is closed for civilians, there's always a hark back to Border, Uri.
https://timesofindia.indiatimes.com/india/in-tense-anantnag-crpf-resurrects-heaven-the-movie-hall/articleshow/68415920.cms
--------
Jaish chief Masood Azhar stayed in Ashok, Janpath hotels in Delhi in 1994
Mar 15, 2019
A hotel in Delhi's posh Chanakyapuri area, which houses the diplomatic enclave, was the first stop of Masood Azhar, the founder of Jaish-e-Mohammad, when he first arrived in India in January 1994 and dodged immigration officials' queries about his Portugese passport by claiming he was a "Gujarati by birth".
The Pakistan-based terrorist, who was arrested in Jammu and Kashmir within the next two weeks, had also stayed in capital's hotel Janpath and visited Lucknow, Shahranpur and Islamic seminary Darul-uloom Deoband, according to his interrogation report.
Azhar, whose JeM was responsible for a series of terror strikes in India including the attack on Parliament in 2001 and a CRPF convoy in Pulwama last month, had arrived in India on a fake Portuguese passport after visiting Bangladesh.
"I spent two days in Dhaka and thereafter travelled to Delhi by Bangladesh Airlines (Biman), reaching the IGI Airport in early hours of January 29, 1994. The Immigration officials at IGI commented that I did not look like a Portuguese but when I replied that that I was a Gujarati by birth, he did not hesitate to stamp my passport.
"I hired a taxi and asked (the driver) for a good hotel. I was taken to the Ashok hotel in Chanakyapuri where I stayed," according to the interrogation report available with the security agencies here.
During the night, Azhar told his interrogators, that he rang one Ashraf Dar, a Kashmiri, who came to the Ashok hotel along with Abu Mehmood, a member of terrorist group Harakat ul-Ansar.
"I expressed my desired to visit Deoband to pay obeisance at the graves of Deobandi intellectuals. As such Ashraf Dar escorted me in his Maruti car, accompanied by Abu Mehmood to Deoband. We stayed in Darul-uloom Deoband for the night. After offering prayers at Deoband, next morning we went to Gungoh and then proceeded to Saharanpur," the report said.
At Saharanpur, Azhar stayed for the night at a mosque of Tabliq-ul-Jamat and at none of these places, he had revealed his true identity. On January 31, 1994, he came back to Delhi by the same car after staying overnight at Khan Ji of Maulana Masir-ul-ullah Khan at Jalalabad.
On reaching Delhi, Azhar stayed at hotel Janpath located near Connaught Place. Since his flight to Srinanagr was booked for February 9, he decided to visit one Maulana Abu Hassan Nadvi alias Ali Mian at his madrassa in Lucknow.
Accordingly, Azhar went to Lucknow in a bus on February 6 or 7, 1994, where again he did did not disclose his identity.
As he could not meet Ali Mian and another another person whom he intended to meet, Azhar returned to Delhi by bus. This time, he stayed at hotel Sheesh Mahal in Karol Bagh. In all Delhi hotels, Azhar registered himself in the assumed identity of Portuguese national Vali Adam Issa.
"In Delhi, on February 8, 1994, I visited the Centre of Tablig-ul-Jamat at Nizamuddin but did not meet any particular person. I had also purchased 12 compasses (to give direction of Mecca) from Nizammudin to offer them as gift to militants in the Kashmir valley," he told the interrogators.
After his arrival in Srinagar on February 9, 1994, Ashraf Dar escorted him to Madrasa Qasmian in Lal Bazar where a room was arranged for him.
Later in the evening a militant, Sajjad Afghani, came to meet him along with his deputy named Amjad Bilal of Harkat-ul-Jihad al-Islami, who was armed.
Next morning, on February 10, he was escorted by Afghani to a place called Matigund where all Pakistan/PoK terrorists gathered.
"They (the terrorists) were happy about my visit and merger of Harkat-ul-Mujahideen and Harkat-ul-Jihad al-Islami. I had taken their addresses and letters so that I can communicate their welfare to their families on return to Pakistan," he told the interrogators.
While returning from Matigund, accompanied by Afghani and one Farooq, a militant of Matigund area, who was armed and had a wireless set, the car developed some trouble and stopped.
Then Azhar and his accomplice boarded a three-wheeler and proceeded to Anantnag. After travelling for about 2-3 km, the auto rickshaw was stopped by the Army personnel, according to the report.
"Farooq started running and opened fire which was returned by the Army men.
Full report at:
https://www.hindustantimes.com/india-news/jaish-chief-masood-azhar-stayed-in-ashok-janpath-hotels-in-delhi-in-1994/story-55iJWARKHmkbVyhlfvYyrN.html
--------
China isolated, nations seeking 'other options' to counter Beijing on Masood Azhar
Mar 15, 2019
Some permanent members of the UN Security Council are considering "other actions" to counter Beijing's persistent opposition to the designation of Jaish-e-Mohammed (JeM) chief Masood Azhar as a global terrorist even as China said on Thursday that it needs more time to "study" the issue .
On Wednesday, China used a "technical hold" at the UN's Islamic State and al-Qaeda Sanctions Committee to block the latest move spearheaded by France to list Azhar, whose group claimed responsibility for the Pulwama terror attack of February 14. The hold is valid for six months and can be extended by three months. The other 14 members of the Security Council supported the listing.
A Security Council diplomat said: "If China continues to block this designation, responsible member-states may be forced to pursue other actions at the Security Council. It shouldn't have to come to that." The diplomat did not elaborate on the "other actions" that could be taken by permanent members of the Security Council.
But other UN officials familiar with rules for listing terrorists said the stalled proposal can be escalated to the Security Council for an open discussion and vote.
This would be an unprecedented move and a public rebuke of China. Beijing will then be forced to "defend its defence of a well-known terrorist in full public view" as open Security Council proceedings are telecast live, they said.
"India did not co-sponsor the Masood Azhar listing as it wanted this to be part of global coalition against terror and not reduced to an India-Pakistan issue. The proposal was kept straight and narrow so that China would come on board. The remaining members of the Security Council are most disappointed by the Chinese block," said a second UN diplomat. Hindustan Times learns that India spoke to China ahead of the meeting and, in an attempt to make the listing more diplomatically palatable to Beijing, ensured that the location of Masood Azhar was not mentioned in it. Masood Azhar lives in Bahawalpur in Punjab, Pakistan, and is directly responsible for six major terrorist attacks against India, with the Pulwama car bombing, which killed at least 40 paramilitary troopers, being the latest.
India has been critical of the opaque process by which the Sanctions Committee lists terrorists. Its proceedings and decisions are confidential and members don't have to explain their decision. If the designation is put before the Security Council, China will be forced to take a stand publicly, in full view of those watching the live feed as it "either defends its opposition to the designation of a man who is undeniably a terrorist or gives up", the officials said.
The Security Council diplomat – who spoke for France, the US and Britain, which backed the latest proposal to list Azhar – criticised Pakistan for depending "on China to protect it from the listing of Pakistan-based terrorist groups and individuals".
Asked about the reason for blocking the move, China's foreign ministry spokesperson Lu Kang said this was in line with the rules of the Sanctions Committee.
"The UNSC 1267 committee has clear standards and procedures for designating terrorist organisations and individuals. China conducts thorough and in-depth assessment of these applications and we still need more time. That is why we put forward the technical hold," he said.
China hopes the action of the committee "will help relevant countries to engage in dialogue and consultation and prevent adding more complicated factors into regional peace and stability", he said. The technical hold will give China enough time to study the issue and enable stakeholders to have a dialogue, he added.
Interestingly, HT learns that the listing proposal blocked by China contains only one new line, previously approved by the UNSC in its February 21 Pulwama attack resolution, which has been added to the US' January 2017 proposal on the listing of Azhar (which too was blocked by Beijing). Lu further said, "Only a solution… acceptable to all sides could fundamentally provide a chance for a lasting solution to the issue. China is ready to communicate and coordinate with all sides, including India, to properly handle this issue."
Full report at:
https://www.hindustantimes.com/india-news/china-isolated-nations-seeking-other-options-to-counter-beijing-on-masood-azhar/story-HrXsJioci1ozU8LqT4IlqN.html
--------
PM Modi talking to heads of Muslim countries, silent diplomatic operation on
March 15, 2019
India is engaging with heads of all Muslim countries to build diplomatic pressure on Pakistan as Islamabad continues to allow terrorism breed on its soil.
Prime Minister Narendra Modi, National Security Advisor (NSA) Ajit Doval and Foreign Secretary Vijay Gokhale have been actively talking to all heads of the Muslim world since last one week, India TV has learned. These include Saudi, Oman, Iran, Maldives, Bangladesh and Turkey. All these countries have extended support to India.
India is working on the silent diplomatic operation amid deteriorating ties with Pakistan, that has continued to provide safe havens to terrorists since ever.
On Thursday, it was China that blocked India's bid at UN Security Council to designate Jaish-e-Mohammed Chief Masood Azhar as a global terrorist. This was for the fourth time China obstructed the listing of Azhar.
In 2009, a proposal was moved by India to designate Masood Azhar.
In 2016, India again move the proposal with the P3- the United States, the United Kingdom and France in the UN's 1267 Sanctions Committee to ban Azhar, mastermind of the attack on the Pathankot air base in January 2016.
In 2017, the P3 nations moved a similar proposal again.
Full report at:
https://www.indiatvnews.com/news/india-pm-modi-talking-to-heads-of-muslim-countries-silent-diplomatic-operation-on-509163
--------
Blacklisting Masood Azhar: Beijing claims it needs more time, Delhi more cautious than before
by Shubhajit Roy, Sowmiya Ashok
March 15, 2019
A day after China put a technical hold on a proposal to list Jaish-e-Mohammad chief Masood Azhar as a global terrorist at the United Nations Security Council, New Delhi was cautious in its response to what it sees as a deeply complex relationship with China.
Mindful of the consensus evolved from Astana to Xiamen to Wuhan that "differences cannot become disputes", sources said that Delhi's calibrated response to China's technical hold was a "carefully thought-out response."
Minister of State (External Affairs) Gen (retd) V K Singh tweeted, "Is China's stance on Masood Azhar a reflection of the soft position that some leaders & political parties have taken?
Blocking us for the 4th time at the UN, China is not setting the right example for the global fight against terrorism."
Considering the outrage on social media and the flak from the Opposition in an election season, this was a much mellowed response by a government representative.
For its part, China, on Thursday, said that it needed more time to assess the proposal. Its Foreign Ministry spokesperson Lu Kang said that the United Nations Security Council 1267 Committee has "clear standards on the procedures of designating terrorist organisations and individuals". "China conducts thorough and in-depth assessment of these applications and we still need more time so that is why we put forward the technical hold," he said.
Elaborating on this hold, Lu said: "Our action is to make sure this committee will have enough time to study the matter and so the relevant sides could have enough time for dialogue and consultation…I said earlier that only a solution that is acceptable to all sides could fundamentally provide a chance of lasting solution to the issue. China is ready to communicate and coordinate with all sides including India to properly handle this issue."
He also noted that China's actions were "in line" with the rules of the committee. "China sincerely hopes that the relevant action taken by this committee will help relevant countries to engage in dialogue and consultation to solve the problem and prevent adding more complicated factors into regional peace and stability," Lu said.
New Delhi's response, top government sources pointed out, was evident from the Ministry of External Affairs statement which did not name China and just said it was "disappointed" by this outcome.
Saying that the sanctions committee was not able to decide on Masood Azhar "on account of a member placing the proposal on hold," it said: "We are disappointed by this outcome. This has prevented action by the international community to designate the leader of Jaish-e-Mohammed (JeM), a proscribed and active terrorist organization which has claimed responsibility for the terrorist attack in Jammu and Kashmir on 14 February 2019."
Sources said this was the first time such a proposal was moved after the informal Wuhan summit between Prime Minister Narendra Modi and Chinese President Xi Jinping. Consider the last statement on the issue by the Indian government when China had stalled Azhar's listing in November 2017.
"We are deeply disappointed that once again, a single country has blocked international consensus on the designation of an acknowledged terrorist and leader of UN-designated terrorist organization, Masood Azhar. India strongly believes that double standards and selective approaches will only undermine the international community's resolve to combat terrorism. We can only hope that there will be a realization that accommodating with terrorism for narrow objectives is both short-sighted and counter productive," the MEA had said then.
The year before, in 2016, India had come out with blistering attack, naming China in the statement four times and calling out the "Chinese block" for "double standards" in the fight against terrorism.
The MEA had then said: "We note with concern China's decision to block the proposal to list Masood Azhar as a designated terrorist…(it) is an unfortunate blow to the concerted efforts to effectively counter all forms of terrorism, and confirms prevalence of double standards in the fight against terrorism…This decision by China is surprising as China herself has been affected by the scourge of terrorism…We had expected China would have been more understanding of the danger posed to all by terrorism and would join India and others in fighting the common challenge."
Earlier in 2016, when China had put a technical hold, New Delhi had said that it was "disappointed" and had criticised what it called a "selective approach".
Sources said that the "multi-layered relationship" with China makes it difficult to "rock the boat."
"We want the elections to get over and the new government to take charge, before any such measures are taken," a South Block source told The Indian Express.
With China, the next engagement with be in Osaka in Japan for the G-20 summit in the later half of June and then an informal summit in India when Xi is expected to come to India. That patience is wearing thin in Delhi was evident as Ex Dy NSA Arvind Gupta sought for "re-examining the Wuhan spirit".
Gupta, who heads the Vivekananda International Foundation, tweeted: "We need to re-examine Wuhan spirit…How to weaken China Pak nexus? Back to the drawing board! China's tech hold at UNSC committee on Masood Azhar listing was disappointing but entirely expected. Shows depth of China-Pak strategic nexus at India's expense. India should take calibrated long-term action on economic front to show displeasure. Mere statements not enough."
The Chinese Foreign ministry spokesperson Lu, to a question on India and China's relations following the Wuhan summit between Chinese President Xi Jinping and Prime Minister Narendra Modi said that China is "full of sincerity" and is ready to work with India.
Full report at:
https://indianexpress.com/article/india/blacklisting-masood-azhar-beijing-claims-it-needs-more-time-delhi-more-cautious-than-before-5627189/
--------
South Asia
Atmar strongly reacts to use of force by government in Mazar-e-Sharif city
14 Mar 2019
Presidential candidate and former National Security Adviser Mohammad Haneef Atmar strongly reacted to use of force by government in replacing the police chief of Balkh province which resulted into sporadic clashes in provincial capital Mazar-e-Sharif city this afternoon.
In a statement released in the aftermath of breakout of violence in Mazar-e-Sharif city, Atmar said the government's approach to use force will strengthen instability and create further opportunities for armed enemies, accusing the government of adopting a policy of coup d'etat.
Atmar further added that the latest development in Mazar-e-Sharif city could threaten security belts in Balkh and its neighboring provinces, emphasizing that the actions which have been taken in contrast to agreements and illegal moves without considering the goodwill of nation's affairs is not only a electoral approach but is aimed at hurting relations of people and ongoing peace efforts.
Hailing the Afghan National Defense and Security Forces for their efforts in ensuring peace and stability under the leadership of an extrajudicial government, Atmar warned the military action by the government and Special Forces of Police is aimed at eliminating the security arrangements in place for Balkh and sparking enmity and hatred among people against National Defense and Security Forces.
Accusing the government for misuse of National Defense and Security Forces against people, Atmar urged the armed forces to preserve their neutrality against the policies of a corrupt government leadership.
Atmar went on to claim that the leadership of the government is attempting to create an atmosphere for the enemies of tradition and national legacies of the country in the North, particularly in the zone home to holy shrine of Hazrat Ali, vowing that he and his team will prevent such conspiracies with the help of people of Balh province.
https://www.khaama.com/atmar-strongly-reacts-to-use-of-force-by-government-in-mazar-e-sharif-city-03487/
--------
NDS Special Force storm Taliban hideout, prison, and drug lab in Nimroz province
14 Mar 2019
The Special Forces of Afghan Intelligence, National Directorate of Security (NDS), stormed a hideout, prison, and drug lab of Taliban group in western Nimroz province.
The National Directorate of Security (NDS) in a statement said the operations were conducted in Delaram and Khashrod districts.
The statement further added that hideout, prison, and drug lab belonged to Taliban group leader Mullah Salam alias Haji Saboor and Mawlavi Hashim alias Hanzala.
According to National Directorate of Security, a terrorist was killed during the operations, 10 thousand kgs of drugs, a mortar launcher, a PKM machine gun, 4 Ak-47 rifles, a Dragunov sniper rifle, 2500 liters of acid, 2500 liters of liquid drugs, and some other weapons, munitions, and military equipment were confiscated and the hideout, prison, and drug lab were destroyed.
Full report at:
https://www.khaama.com/nds-special-force-storm-taliban-hideout-prison-and-drug-lab-in-nimroz-province-03483/
--------
Afghans probe US mistaken airstrike of Afghan army base
Mar 14, 2019
KABUL (AFGHANISTAN): Authorities are investigating an errant US bombing of an Afghan military base in the country's south that killed at least five Afghan troops, a lawmaker said Thursday.
The soldiers were killed by friendly fire Wednesday in what was supposed to be a precision airstrike by US forces supporting Afghan soldiers battling insurgents near the city of Tarin Kot in Uruzgan province.
The defense ministry earlier said the fatalities were the result of a miscommunication between Afghan troops on the ground and forces in the air, without providing details.
Lawmaker Obaidullah Barikzai from Uruzgan province told The Associated Press that Afghan soldiers inside the base in Tarin Kot believed a darkened convoy approaching the base was the Taliban — not US and Afghan forces — and opened fire, invoking a blistering retaliation.
The Taliban often travel in convoys with no vehicle lights on, Barikzai said.
A US airstrike was called in to aid the under-fire convoy, he added. It hit the Afghan army base, barely 4 kilometers (2.5 miles) from the governor's house and the shootout continued for hours as residents hunkered inside their homes.
The US military said Wednesday it responded to incoming fire on Afghan and US forces on the ground and attempted to come to their defense by conducting a precision airstrike.
"We are operating in a complex environment where enemy fighters do not wear uniforms and use stolen military vehicles to attack government forces," said the US mission spokesman Bob Purtiman.
Barikzai said many of the wounded in the deadly incident were in critical condition but did not provide details.
In other developments, the Taliban slammed the US State Department's 2018 human rights report, released Wednesday for singling out the Taliban for attacks against civilians. The report also took note of what it said were extrajudicial killings by Afghan security forces as well as the Kabul government's rampant corruption.
"The US is an occupier country directly involved in crimes against humanity," said Taliban spokesman Zabihullah Mujahid. "The show of concern and sadness about human rights by such a criminal state is preposterous and comical."
Despite intensified negotiations between the US and the Taliban to end the 17-year was in Afghanistan, the insurgents have been carrying out near-daily attacks across the country, mainly targeting the government and security forces and causing staggering casualties.
Meanwhile, in the capital of northern Balkh province, shops and businesses were closed in a city-wide strike to protest the appointment of a new provincial police chief over the objections of a former governor and powerful warlord.
The incumbent provincial police chief, Gen. Akram Sammeh, said his replacement, Abdul Raqib Mubarez, landed at the airport in Mazar-e-Sharif on Thursday but the police were blocking him from heading into the city to take up his post.
The development threatens to escalate into an all-out feud between Afghan President Ashraf Ghani and Atta Mohammed Nur, a powerful warlord who holds sway over Balkh province where Mazar-e-Sharif is the provincial capital.
Later Thursday, the standoff escalated into a firefight as Nur's militia surrounded the police headquarters in Mazar-e-Sharif, exchanging rocket fire with government forces, said the incumbent police chief Sammeh. There were no immediate reports of casualties.
Several years ago Afghanistan legalized militias loyal to the country's warlords, many of whom took up government positions after the overthrow of the Taliban. Initially, after the 2001 collapse of the Taliban, the United Nations ordered all militias disarmed but as the country's security deteriorated, many warlords both with the government and in opposition redeployed their militias.
Full report at:
https://timesofindia.indiatimes.com/world/south-asia/afghans-probe-us-mistaken-airstrike-of-afghan-army-base/articleshow/68411709.cms
--------
Bangladesh 3rd Test cancelled after team flees New Zealand mosque shooting
March 15, 2019
The third Test match between New Zealand and Bangladesh scheduled to begin on Saturday has been cancelled after the Bangladesh cricket team had a narrow escape from a mass shooting at a mosque in Christchurch.
A New Zealand Cricket spokesperson confirmed the cancellation two hours after multiple people were killed in mass shootings at two mosques in the New Zealand city.
"Our heartfelt condolences go out to the families and friends of those affected by the shocking situation in Christchurch," announced Black Caps Twitter account. "A joint decision between NZC (New Zealand Cricket) and the @BCBtigers has been made to cancel the Hagley Oval Test. Again both teams and support staff groups are safe."
Earlier, members of the Bangladesh cricket team described on social media their narrow escape from the mass shooting on New Zealand's South Island.
Players and members of the team's coaching staff were reportedly on their bus, approaching the Masjid Al Noor mosque in Hagley Park when the shooting broke out.
Opening batsman Tamim Iqbal tweeted "entire team got saved from active shooters. Frightening experience and please keep us in your prayers."
Performance analyst Shrinivas Chandrasekeran, also on Twitter, said "Just escaped active shooters. Heartbeats pumping badly and panic everywhere."
Player Mushfiqur Rahim posted "Alhamdulillah Allah save us today while shooting in Christchurch in the mosque. We (were) extremely lucky...never want to see this things happen again....pray for us."
Mario Villavarayen, a strength and conditioning coach with the team, told New Zealand media the players did not see the shooter but heard shots. He said they were shaken but unhurt.
"I spoke to one of them shortly after," Vllavarayen said. They didn't see anything but heard gunshots. They were at the ground and just started running. The coaching staff were all at the hotel."
New Zealand Cricket confirmed "that both teams and support staff groups are safe and accounted for".
The Bangladesh team is reported to have left the bus and fled on foot to nearby Hagley Oval, where it was scheduled to play New Zealand in the Test match starting on Saturday.
Mohammad Islam, a journalist traveling with the Bangladesh team, earlier said he believed the players would leave New Zealand as soon as possible.
"I don't they're in a mental state to play cricket at all," he told Fairfax Media. "I think they want to go back home as soon as possible. I'm speaking from experience, I'm speaking from what I've heard."
Islam said he was contacted by one of the players as the shooting was taking place and he raced towards the scene.
"It was very traumatic there and people were running out from that mosque presumably and the Bangladesh players were coming out," he said. "They are in terrible and severe mental (distress), they're not feeling well.
"They were just outside the mosque about to get off from the bus and go into the mosque when they heard shooting and a lot of people running out and they saw someone wounded in front of them.
Full report at:
https://www.dawn.com/news/1469798/bangladesh-3rd-test-cancelled-after-team-flees-new-zealand-mosque-shooting
--------
Taliban leader optimistic about Afghan peace
March 15, 2019
KABUL: The Taliban political chief, who headed the militants' delegation during the most recent round of peace talks with the United States, said on Thursday that he was optimistic and assured Afghans that they had no reason to fear a settlement.
The latest round of talks in Qatar lasted 16 days and finished on Tuesday, with officials from both sides saying that progress had been made, but there was no agreement on when foreign troops might be withdrawn.
"We are very hopeful for the peace talks, because the latest round had some good dialogues which paved the way to more progress regarding peace in the future," Mullah Abdul Ghani Baradar said in an eight-minute audio tape of an interview conducted by the Taliban and posted online.
Making his first public comments since his release last year from a Pakistani prison, Baradar sought to reassure Afghans who have worried that peace with the Taliban could herald the return of its strict values.
"If [Afghans] think of us like brothers I trust in God that all the problems will be solved," he said, speaking in Pashto.
"I ask all our countrymen to be sure there is no need to worry. Everyone will be treated very well," he added.
During their time in power from 1996 to 2001, the Taliban banned music and girls' education and carried out public executions in Kabul's football stadium. Fatefully, they also allowed Osama bin Laden's Al Qaeda to establish a base in the country.
The Taliban's role in Afghanistan after a possible peace settlement has not been defined and the group has refused to meet representatives of the government led by President Ashraf Ghani, regarding it as illegitimate.
At the end of the latest round of talks, US negotiators said progress was made over the eventual withdrawal of foreign troops, and on assurances from the Taliban that they would not allow their homeland to be used again by foreign militant groups to mount attacks in other countries.
"We assure the neighbouring, regional and other countries that the upcoming system will not be against anyone; we are not under the influence of anyone, and have no aim of harming anyone," Baradar said.
He also offered a message to Taliban fighters, saying that even though he felt the group had achieved political and military victory, they should remain composed and not become arrogant.
The Taliban today control more territory than at any time since the 2001 US-led invasion that followed Al Qaeda's Sept 11 attack on the United States.
Full report at:
https://www.dawn.com/news/1469665/taliban-leader-optimistic-about-afghan-peace
--------
Sporadic clashes close to Balkh Police HQ amid rising political tensions
14 Mar 2019
Sporadic clashes were reported close to Balkh Police Headquarters amid rising political tensions between the Afghan government and the former governor of the province Ata Mohammad Noor.
Officials in the Ministry of Interior have confirmed that armed clashes took place close to Police Headquarters of Balkh in Mazar-e-Sharif city this afternoon.
The officials further added that the security forces have arrested at least 25 gunmen in connection to the clashes with police forces.
Nusrat Rahimi, a spokesman for the Ministry of Interior, confirmed that one policeman sustained injuries in the clashes while 25 gunmen have been arrested.
He also added that the security situation in Mazar-e-Sharif city including Police Headquarters is under total control of the security forces.
Deputy Interior Minister for Security Gen. Khoshal Sadat had earlier said that the ministry of interior is fully committed to implement the presidential decree for the introduction of Gen. Abdul Raqib Mubarez as new police chief of Balkh province.
Full report at:
https://www.khaama.com/sporadic-clashes-close-to-balkh-police-hq-amid-rising-political-tensions-03485/
--------
Afghan airstrikes kill 31 militants among them al-Qaeda fighters
14 March 2019
Thirty-one militants, many of them believed to have been al-Qaeda fighters, have been killed in airstrikes in south-eastern Afghanistan, officials said Thursday.
The strikes were carried out in Ghazni province late Wednesday, where the defense ministry said they targeted a "base" belonging to the militants.
"Qari Aref, one of the facilitators (for al-Qaeda) was transferring these 31 terrorists, including nine suicide bombers, in several cars when targeted by airstrikes and eliminated," the ministry said.
It described the fighters as all belonging to the Middle Eastern jihadist group, although a spokesman for the Ghazni governor said fighters from the Taliban-affiliated Haqqani network were also present.
The defense ministry did not specify who carried out the airstrikes. Only Afghan and US forces in Afghanistan conduct airstrikes.
The Ghazni governor's spokesman, Mohammed Aref Noori, said the strikes had been carried out by US forces, but there was no immediate confirmation of his claim.
Al-Qaeda is still believed to be active in parts Afghanistan and Pakistan, where some of its surviving leadership such as Ayman al-Zawahiri are thought to be hiding.
Full report at:
https://english.alarabiya.net/en/News/world/2019/03/14/Afghan-airstrikes-kill-31-militants-among-them-al-Qaeda-fighters-.html
--------
Afghan forces, supporters of regional leader clash inside key city
March 14, 2019
KABUL: Fighting broke out between government-backed forces and police loyal to a regional leader in Mazar-i-Sharif in northern Afghanistan on Thursday, over a move to replace the city's police chief.
Supporters of Atta Mohammed Noor, who defied President Ashraf Ghani's order to step down as Mazar's governor two years ago, blocked the appointment of Abdul Raqib Mubarez, the man chosen by Ghani to replace Noor's ally Akram Same.
There were reports of gunbattles across the city, with one officer killed and 18 people wounded, many of them police.
Deputy Interior Minister Khoshal Sadat said Same refused to "leave his post and accept" Mubarez's appointment by Kabul.
The ministry's spokesman, Nasrat Rahimi, confirmed the exchange of hostilities, adding that at least 20 of Same's followers were arrested.
Video footage showed young girls fleeing to safety in deserted streets with small arms fire heard in the background.
On Wednesday night, Noor called for a complete shutdown of the city, and warned of repercussions if people resisted.
"I call upon all residents of Mazar to stay indoors. Shops and markets must be kept shut until further notice," he said in a statement.
Mazar resident Shoiab Qarlook told Arab News: "People are worried. There are clashes in several parts, people were caught by surprise when they heard the firing."
Noor is a supporter of Haneef Atmar — Ghani's main rival in the upcoming presidential elections in July — and was among dozens of politicians who met with Taliban representatives in Moscow a few months ago.
Speaking in Kabul, Atmar called the government's decision to appoint Mubarez "irrational," accusing Ghani of deliberately stirring tensions.
Full report at:
http://www.arabnews.com/node/1466906/world
--------
Southeast Asia
Critic Who Exposed China's Muslim Camps is Detained, Even Across the Border
By Austin Ramzy
March 13, 2019
HONG KONG — For six days a week, every week, in a crowded office in Kazakhstan's largest city, Serikzhan Bilash had been ringmaster of one of the most influential efforts detailing China's internment of Muslim minorities.
Clad in a suit and tie, he would bounce from room to room, consoling distraught relatives of people held in Chinese indoctrination camps in the region of Xinjiang and arranging supplies and housing for those who had recently arrived in Kazakhstan from China. He would also record hours and hours of videos describing the extent of China's crackdown — speaking in English, Chinese and Kazakh.
This week, however, Mr. Bilash went uncharacteristically quiet.
The police detained him early Sunday in Almaty, the city in southeastern Kazakhstan where his organization is, and flew him to the capital, Astana, where he was placed under house arrest. He is under investigation on accusations of "inciting ethnic hatred," said his lawyer, Aiman Umarova. A conviction carries a punishment of up to 10 years in prison.
On two short videos sent to his family by the police, Mr. Bilash said that he was physically safe. He urged the members of the group he leads, Atajurt Kazakh Human Rights, to continue their work while he contested the allegations against him.
Mr. Bilash's case has raised questions about China's efforts to silence critics of its policies in Xinjiang. In the months before his detention, he warned that the Chinese authorities were trying to use their influence in Kazakhstan to silence his group.
"They just want to close Atajurt," he said last month. "They just want to close Serikzhan's mouth and they just wanted so nobody would stand up against Chinese re-education camps."
The Chinese authorities have bristled at foreign criticism of the camps. First, officials denied their existence, then they said the camps were part of a training program for poor Uighurs, Kazakhs and other minorities to help them find jobs and resist extremist ideologies. On Tuesday, a Xinjiang official said the camps were "like boarding schools."
After Turkey broke the general silence of Muslim nations to demand that China close the camps, China announced a temporary closure of its consulate in Istanbul, Turkey's commercial capital, and warned that criticism could lead to economic retaliation.
For Kazakhstan, the camps pose a particular challenge. Russia is still the biggest trading partner for the former Soviet republic, but trade with China is expanding rapidly. In 2013, China's leader, President Xi Jinping, used a visit to Astana to announce the creation of the Belt and Road Initiative, the program of sweeping infrastructure investment more closely linking China with Asia, Africa and Europe.
Ethnic Kazakhs in China are believed to make up the second largest population of people held in the indoctrination camps, behind Uighurs. Kazakhstan has worked to help Kazakh citizens get out of China, but at the same time has avoided publicly criticizing Beijing's policies in Xinjiang. Activists working on the subject of Xinjiang have been a subject of particular scrutiny by the authorities, human rights groups say.
"It is a concern that the authorities detained him and took him away in the middle of the night," said Maya Wang, a senior researcher for Human Rights Watch. "It is a concern given the Kazakh authorities' history of harassing and surveilling activists in general and in particular those related to the cause of Xinjiang."
Mr. Bilash, who was born in Xinjiang and migrated to Kazakhstan in the early 2000s, had previously worked as a translator who tried to facilitate Chinese investment in Kazakhstan, said his wife, Leila Adilzhan. As Kazakhs learned about the detention of their relatives in China, they reached out to Mr. Bilash for help, she said.
"He didn't want do this kind of thing but people started to call him and say my father has been arrested, my wife has been arrested, my mother has been arrested," Ms. Adilzhan said. "So he started collecting their statements and testimonies."
Each workday at Atajurt, dozens of desperate people would fill the offices seeking help for friends and relatives held in China. Many would provide statements that were recorded on video and uploaded to YouTube. Volunteers would translate their messages into Chinese, English and Russian.
In some cases, the testimony appeared to have pressured the local authorities to release detainees. In interviews at Atajurt's office earlier this year, a half dozen Kazakhs said the appeals contributed to their freedom or the release of relatives held in camps.
Mr. Bilash said he often received threats to his safety, which he ignored. He openly worried that China would use its influence in Kazakhstan to shut down his work. Last month, a group of Kazakh intellectuals signed an open letter complaining that Atajurt's work was harming the relationship between Kazakhstan and China.
Some activists have privately expressed concerns that his rhetoric could be bombastic. Anti-Chinese slogans featured heavily during protests in Kazakhstan in 2016 over land sales to foreigners, and the authorities are wary of moves that could inflame such sentiment.
Prosecutors in Astana said in a statement they were focusing on remarks by Mr. Bilash in February calling for "jihad" against the Chinese. A video of his comments was shown on state television after his detention. But his supporters say the clip was edited to omit the full context of his comments, which were referring to waging a campaign of information and not violence.
The status of Mr. Bilash's defense was unclear. On Wednesday, Mr. Bilash told colleagues he was forced to sign documents and record a video rejecting Ms. Umarova as his lawyer and saying he wanted a government-appointed defense attorney — a sign that the authorities might bar her from representing him.
Mehmet Volkan Kasikci, a Turkish researcher who has worked with Atajurt, said that Mr. Bilash's work helped create a model for documenting detentions in Xinjiang case by case.
"Most of what we know about the concentration camps we know thanks to Atajurt testimony," he said. "What Atajurt brought was this dynamism to provide concrete evidence as much as possible."
When the police in Almaty raided the group's offices on Sunday they took away equipment used to make videos about people held in Xinjiang. But volunteers have continued to post videos on the group's YouTube page.
Now, they are calling for the release of Mr. Bilash.
https://www.nytimes.com/2019/03/13/world/asia/china-kazakh-activist-camps-xinjiang-muslims.html
--------
China defends move to block JeM chief listing
MARCH 15, 2019
China on Thursday defended its stance on the issue of Jaish-e-Muhammad (JeM) chief Masood Azhar, urging the relevant parties to get it resolved through dialogue and consultation in order to avoid further complications in the matter.
"The 1267 Committee of the UN Security Council has clear criteria for the procedures to list terrorist organizations or individuals. China is conducting a comprehensive and in-depth review on the listing request put forth by the relevant countries. We still need more time and that is why we decided to put a technical hold on it," a spokesperson of the Chinese foreign ministry told a regular press briefing when asked as to what prompted Beijing to put on a technical hold the listing of Masood Azhar by the UN Security Council.
"It complies with the rules of procedure of the 1267 Committee. We hope that relevant actions taken by the 1267 Committee will help countries concerned to settle their issues through dialogue and consultation and avoid adding more complex factors to regional peace and stability," the spokesperson continued. "China will continue its communication and coordination with all relevant parties in a constructive and responsible way to properly settle this issue."
China had on Wednesday once again put on hold a request by Britain, France and the United States to add to the UN terror blacklist the JeM leader.
It was the third time that the UN Security Council considered a request to put Masood Azhar on the UN sanctions blacklist, which would have subjected him to a global travel ban and assets freeze.
China has twice blocked – in 2016 and 2017 – attempts to impose sanctions on the JeM leader. The group itself was added to the terror list in 2001.
In a note sent to the Security Council, China had said that it needed more time to examine the sanctions request targeting Masood Azhar.
Full report at:
https://dailytimes.com.pk/365331/china-defends-move-to-block-jem-chief-listing/
--------
Don't use Zakir Naik to get Malay votes, G25 member tells PH
Minderjeet Kaur
March 15, 2019
PETALING JAYA: A member of moderate Muslim group G25 has urged Putrajaya to stop being "more Umno than Umno" by using race and religion to garner Malay support, following a meeting between minister Mujahid Yusof Rawa and fugitive Indian preacher Zakir Naik.
G25 spokesman Noor Farida Ariffin also called on the Pakatan Harapan (PH) government to act against those who employ hate speech or use race and religion to divide the nation.
She said it was shocking to see Mujahid, who has been preaching moderate Islam, meeting Naik who has been known to criticise other religions.
"For someone who is promoting moderate Islam, Mujahid should not have anything to do with extremist Muslims like Zakir Naik," she said.
"It was shocking to see Mujahid with Naik. We should send him packing back to India."
Noor Farida said Naik had been making insulting remarks about other religions with no action taken against him. He had also distorted Islam for his own purposes, she said, referring to his call for Muslims to vote for Muslim candidates just before the May 9 polls last year.
"Obviously, he thought, like everyone else, that the Barisan Nasional (BN) government would win the election and remain in power," she said, questioning his principles.
On his Facebook page, Mujahid said Naik's efforts to preach Islam had taken him to every corner of the world and that this served as an "inspiration" to others to keep on preaching.
But Noor Farida said PH should not "pander to Malay sentiments".
"Putrajaya should take stern action by getting the police and the attorney-general to charge those who criticise race and religion," she added.
Lawyers for Liberty executive director Latheefa Koya also criticised Mujahid for meeting Naik, saying it was to garner Malay support.
She said on Facebook that if Naik is not monitored, he would cause a divide among the different races.
Comparing Naik to another Indian preacher in South Africa named Ahmad Deedat, she said Deedat was well-versed in the Bible and had impressed Christians with his knowledge.
"Zakir Naik is a student of Ahmad Deedat. His style is the same as Deedat's but he has taken it to a different level by challenging Christianity and other religions."
Full report at:
https://www.freemalaysiatoday.com/category/nation/2019/03/15/dont-use-zakir-naik-to-get-malay-votes-g25-tells-ph/
--------
Islamic world reacts with disgust at New Zealand mosque attacks
15 March 2019
Forty people were killed and 20 more were seriously injured in armed assaults on two Christchurch mosques Friday, New Zealand Prime Minister Jacinda Ardern said.
"It is clear that this can now only be described as a terrorist attack," she said.
"From what we know, it does appear to have been well planned." Two explosive devices attached to suspect vehicles have now been found and they have been disarmed," she added.
It was earlier reported that a gunman opened fire at a mosque killing many worshippers and forcing the city of Christchurch into lockdown, in what looked set to be the country's worst ever mass shooting.
New Zealand media then reported that between nine and 27 people were killed, but the death toll could not be confirmed. Police said multiple fatalities had occurred at two mosques, but it was unclear how many attackers were involved.
Video footage widely circulated on social media, apparently taken by a gunman and posted online live as the attack unfolded, showed him driving to one mosque, entering it and shooting randomly at people inside.
Worshippers, possibly dead or wounded, lay huddled on the floor of the mosque, the video showed. Reuters was unable to confirm the authenticity of the footage.
One man who said he was at the Al Noor mosque told media the gunman was white, blond and wearing a helmet and a bulletproof vest. The man burst into the mosque as worshippers were kneeling for prayers.
"He had a big gun ... he came and started shooting everyone in the mosque, everywhere," said the man, Ahmad Al-Mahmoud. He said he and others escaped by breaking through a glass door.
Radio New Zealand quoted a witness inside the mosque saying he heard shots fired and at least four people were lying on the ground and "there was blood everywhere".
Prime Minister Jacinda Ardern condemned what she called "an extraordinary and unprecedented act of violence". "This is one of New Zealand's darkest days," she said. Neither Ardern nor police gave a casualty toll.
New Zealand's Police Commissioner Mike Bush said four people – three men and a woman – had been taken into custody but it was not clear if the gunman was among them or if other people were involved.
Bush also said it should not be assumed the attack was isolated to Christchurch. "At this point in time we should never make assumptions," he said. Bush also said IEDs, improvised explosive devices, were found with a vehicle they stopped.
The online video footage, which appeared to have been captured on a camera strapped to the gunman's head, showed red petrol canisters in the back of his car, along with weapons. All mosques in New Zealand had been asked to shut their doors, police said.
The foreign minister of Indonesia, which has the world's biggest Muslim population, condemned the shooting. Muslims account for just over 1 percent of New Zealand's population, a 2013 census showed. "Many of those who would have been affected by this shooting may be migrants to New Zealand," Ardern said.
"They may even be refugees here. They have chosen to make New Zealand their home and it is their home ... they are us. The persons who has perpetuated this violence against us ... have no place in New Zealand."
New Zealand Police
✔
@nzpolice
• 2h
Replying to @nzpolice
4/4 Media please note the stand up with Commissioner Mike Bush has been pushed back to 5.30pm. This will be held at the Royal Society on Turnbull Street, Thorndon, Wellington.
New Zealand Police
✔
@nzpolice
Police can now confirm the lock down of schools throughout Christchurch has been lifted. We would like to reassure members of the public that there is a large Police presence in the city and the safety of the community is our priority.
646
10:27 AM - Mar 15, 2019
Twitter Ads info and privacy
343 people are talking about this
'Blood everywhere'
The online footage showed the gunman driving as music played in his vehicle. After parking, he took two guns and walked a short distance to the entrance of the mosque.
He then opened fire. Over the course of five minutes, he repeatedly shoots worshippers, leaving well over a dozen bodies in one room alone. He returned to the car during that period to change guns, and went back to the mosque to shoot anyone showing signs of life.
The video shows the gunman driving off at high speed and later firing at parked cars and a building. Police said the second mosque attacked was in the suburb of Linwood, but gave no details.
Another unconfirmed video taken by someone else appeared to show police apprehending the gunman by the side of a road. The Bangladesh cricket team is in Christchurch to play New Zealand in a third cricket test starting on Saturday.
"They were on the bus, which was just pulling up to the mosque when the shooting begun," Mario Villavarayen, strength and conditioning coach of the Bangladesh cricket team, told Reuters in a message. "They are shaken but good."
Full report at:
https://english.alarabiya.net/en/News/world/2019/03/15/Australia-PM-New-Zealand-mosque-gunman-was-Australian-right-wing-terrorist-.html
--------
As MA63 review begins, Sabah churches call for complete religious freedom
14 March 2019
By JULIA CHAN
KOTA KINABALU, March 14 — As reviews for the Malaysia Agreement 1963 (MA63) begin, the Sabah council of churches (SCC) wants the review committee to also focus on the guarantee of complete religious freedom for Malaysians.
This, among others, includes the right to change one's faith.
In a statement issued today by SCC president Bishop James Wong, he welcomed the Prime Minister's decision to look into the rights of Sabah and Sarawak within the federation but also wanted to remind the committee that religious freedom was one of the fundamental pillars of MA63.
"This should be one of the focus for discussion in the current review committee just as it was in the years leading up to the formation of Malaysia as recorded in the Cobbold Commission Report and the Inter-Governmental Committee IGC) Report which led to the finalisation of the MA63 and the Federal Constitution.
"The current political leaders must be reminded that without the guarantee of complete religious freedom, there would not have been a Malaysia. This point is well discussed and recorded in our historical documents," he said.
Wong said that some political and community leaders today use Article 3 of the Federal Constitution to declare that Malaysia is an Islamic State.
"This is totally in contravention of the Malaysia Agreement 1963. Even the first Prime Minister, Tunku Abdul Rahman Putra Al-Haj declared before the Legislative Council in 1957 'I would like to make it clear that this country is not an Islamic State as it is generally understood. We merely provided that Islam shall be the official religion of the state'," he said.
Wong also quoted an excerpt from the Cobbold Commission Report which said that although Islam should be the national religion for the federation, it would not jeopardise the freedom of religion and Malaysia would be a secular nation.
"The reality today is there is no complete religious freedom in Malaysia and religious minorities have been marginalised. Complete religious freedom does not mean only freedom to worship but also freedom to profess and practise the religion of their choice without restrictions and repercussions from the state and without being subject to discrimination, hostility or violence.
"Today, many of our people face difficulties in choosing to be identified with the religion of their choice. The National Registration Department (NRD) continues to restrict our people from changing their religious status records," he said.
On the case of a 22-year-old man in Sarawak who was recently sentenced to 10 years' imprisonment and fine for pleading guilty to insulting Islam and the Prophet Muhammad, Wong said that it was too severe a punishment while offensive remarks to other religions did not garner the same response.
"While we support efforts to maintain peace, unity and harmony among our diverse society, we condemn the punishment which are to run consecutively on this young first-time offender and regard it as a disproportionate and harsh one.
"The controversial Islamic preacher Zakir Naik who has made slanderous remarks against Christianity instead has been allowed to remain as a permanent resident in our country. Where is fairness and justice in this instance?" he said.
He called on the government to moot several steps that would uphold and establish the guarantee of complete religious freedom including a revision of the legislation that would give adequate protection to people of all religions, in particular religious minorities and to ensure everyone can freely exercise their right to freedom of religion and belief, including the right to change one's religion, without interference by the state.
Full report at:
https://www.malaymail.com/news/malaysia/2019/03/14/as-ma63-review-begins-sabah-churches-call-for-complete-religious-freedom/1732617
--------
Indonesian election: private equity entrepreneur takes on Muslim cleric
Mar 15, 2019
It's the most compelling contest in Indonesia's election campaign and it doesn't involve the presidential candidates.
On Sunday, the vice-presidential candidates will take the stage. Sandiaga Uno, a 49-year-old private equity investor, who plays basketball, runs marathons and has written a book with a hashtag for a title, will face off against cleric Ma'ruf Amin, former head of the country's largest mass Muslim organisation, who this week celebrated his 76th birthday.
The one and only live debate between the two will play out at Jakarta's Sultan Hotel exactly one month before election day.
The race for president is a re-run of 2014, with former general Prabowo Subianto once again taking on the popular incumbent Joko Widodo who is expected to hold on to power for a second five-year term. There is a sense of deja vu as the two men battle over religious identity and economic nationalism. And so it is their running mates who are attracting the most attention.
Sunday's debate will be as relevant to the 2024 election as it is to the vote on April 17. That's because Prabowo's offsider Sandiaga, despite being a surprise choice, has emerged as a face of the future on Indonesia's political scene.
While Ma'ruf was chosen to shore up Jokowi's support among traditional and rural Muslim voters, Sandi, as he is widely known, was ostensibly chosen for his financial muscle. With a reported wealth of 5.1 trillion rupiah ($500 million), he has been a regular on Indonesia's rich lists, making it to 47th position in 2013. His fortune was built over the past two decades after joining forces with wealthy businessman Edwin Soeryadjaya during the Asian financial crisis to set up what is now one of the country's biggest investment firms, Saratoga Capital.
Indonesia has a history of having VP candidates foot the bill for presidential campaigns and Sandi's wealth and business network helped him leapfrog other potential running mates. These included the son of former president Susilo Bambang Yudhoyono, Agus Harimurti.
Broad appeal
However, since he was named on the Prabowo ticket, Sandi has become an effective campaigner, appealing to women, small business owners and young voters with his active social media profile and entrepreneurial background.
"He is the best thing going for Prabowo at the moment," says Greg Barton, Deakin University's chair of global Islamic politics.
"I think Jokowi will win but the big unknown is the Millennial vote and if there are young voters disillusioned with the government, some of those may be drawn to Sandi."
Almost a third of Indonesia's 190 million voters are younger than 30 and over half are younger than 40.
"These are voters who grew up after the fall of Suharto and came of age during the first term of the Jokowi presidency," Barton says. "They are first- or second-time voters who might be open to changing their vote this time around."
Ella Prihatini from the University of Western Australia's Public Policy Institute says: "Everyone is targeting young voters. Even though he's not young – he's already 49 – Sandiaga Uno is trying to emphasise his youth compared to Ma'ruf Amin. He's trying so hard. He's coming out of his comfort zone. Part of his strategy is to ensure he is approachable."
An Instagram account filled with posts of Sandi running along the beach while campaigning in Bali and swimming laps to stay fit for the election helps promote the youthful image. He has over a million followers on Twitter and 3.6 million on Instagram, a solid reach but still short of Jokowi's social media profile. (The President is followed by 11 million people on Twitter and 17.5 million on Instagram.)
Building brand over votes
However, Prihatini points out young voters can be hard to motivate.
"This group is increasingly apolitical," she says. "They are losing faith in elections. In the last three presidential elections the number of those not voting has increased."
Australia National University Associate Professor Markus Mietzner says Sandi's social media profile has "increased his own name recognition rather than Prabowo's electability".
"He is popular for his good looks, and engages audiences through politeness and demonstrations of his business expertise as well as international connections," he says. "That said, he is not as powerful a public speaker as Prabowo."
Sandi is the most global of those in the race. He studied in the US, graduating from Wichita University with a business degree. He went on to do an MBA at George Washington. He worked in Canada and Singapore before returning to Indonesia to set up a private equity firm with a high school friend and then later joining Soeryadjaya to build Saratoga Capital.
"He's a bit of a Malcolm Turnbull character, a technocrat who did well in the finance industry," Barton says.
Alongside Prabowo and the children of former dictator Suharto, Sandi was mentioned in both the "Paradise" and "Panama Papers", leaks of millions of confidential documents on offshore investments. He has said repeatedly these type of offshore structures are "common" and "perfectly legal" and he had "nothing to hide." Sandi also denied accusations he paid two opposition parties for their backing in his push to be Prabowo's running mate.
"None of this will shock Indonesians," Mietzner says. "All the candidates in the race are a product of Indonesia's patronage-soaked politics."
During the campaign, Sandi has taken the lead on economic issues, pushing the entrepreneurial program he started as Jakarta's deputy governor, to set up training centres across the country. He says Indonesia's economy, which is growing at about 5 per cent annually, is punching below its weight and the government needs to improve the ease of doing business, create new jobs and bring down the cost of housing and food. And he has seized on the declining rupiah, which is near a two-decade low against the US dollar, as a sign the economy is not being managed properly.
However, he has been forced to backtrack on Prabowo's economic nationalism, insisting the team is open to foreign investment. And this week he raised concerns in Australia by telling the ABC he would tweak the recently signed free trade agreement between the countries by changing the requirements around beef quotas.
Cabinet calling
People are paying attention to these comments because Sandi could have a role in the new government – even if the Prabowo team loses.
"I wouldn't be surprised if he ends up in cabinet," Barton says.
Party politics in Indonesia is much more fluid than in Australia. Sandi and Prabowo both supported Jokowi in his successful 2012 bid to become Jakarta governor, kickstarting his rapid political rise. And Sandi's childhood friend, Erick Thohir – a media mogul who owns several soccer teams – is leading Jokowi's presidential campaign.
No political parties in the Parliament hold more than 20 per cent of seats, the threshold needed to support a candidate's team. Instead, there tend to be coalitions of support. Jokowi is a member of PDIP, the party of former president Megawati Sukarnoputri, and his team is also supported by Golkar and PKB, the parties of former presidents Suharto and Abdurrahman Wahid. Prabowo's team is backed by his party, Gerindra, as well as SBY's Partai Demokrat and the Islamic political parties PKS and PAN.
The election has focused on the economy because Jokowi's strategic move to appoint Ma'ruf made it difficult for the opposition to attack the president on religious grounds.
"Prabowo has changed tack since Jokowi appointed Ma'ruf Amin, spiritual leader of the country's most influential Muslim organisation Nahdlatul Ulama, as his running mate," Barton says.
Religion has always played a key role in Indonesian elections and it was on track to dominate the 2019 campaign after the dramatic events surrounding the 2017 election for Jakarta governor.
A series of mass rallies in late 2016 and early 2017 called on former Jakarta governor Basuki Thahaja Purnama, popularly known as Ahok, to resign. A Christian of Chinese descent, Ahok was accused of insulting the Koran and sentenced to two years in jail for blasphemy.
Both the vice-presidential candidates were close to those rallies, as Kevin Evans, Indonesia director at the Australia-Indonesia Centre, points out in his guide to the election. Ma'ruf was one of the leaders calling for Ahok's prosecution while Sandi benefited from his downfall as part of the team that defeated Ahok and was elected vice-governor. Still, Evans says the candidates "reflect two quite different Islamic communities".
Ma'ruf carries weight with traditional and rural Muslim voters while Sandi "is the poster boy and role model for the aspirational urban Muslim middle-class."
Good economic record
On the economy, Jokowi – a furniture salesman turned politician – has done reasonably well. He has rolled out infrastructure projects and welfare programs and inflation and interest rates are, as Evans points out, very low by Indonesian standards while the budget deficit and foreign debt are under control.
Sandi is still likely to be the stronger performer over Ma'ruf when it comes to arguments about economic policy in Sunday's debate but there are unlikely to be any fiery clashes. Showing respect for elders and deference to religious leaders is very important in Indonesia.
If the election produces the expected Jokowi victory, Mietzner thinks Sandi "will probably enter in negotiations with Prabowo over taking over Gerindra".
"If those negotiations fail, he could join an existing party that needs a new leader, or found his own party in preparation for 2024."
However, the field will be wide open and highly contested. If Jokowi wins this year, by 2024 he will have completed his two terms and be unable to recontest - pollster Roy Morgan has the President winning 58 per cent of the vote, compared to 42 per cent for Prabowo.
Already there is speculation about who might run in 2024 with possible candidates including SBY's son, Agus, Jakarta governor Anies Baswedan and former president Megawata Sukarnoputri's daughter, Puan Maharani.
"It will be an open field," Prihatini says. "Other contenders will emerge. So many people will be eyeing that election."
Full report at:
https://www.afr.com/news/world/asia/indonesian-election-private-equity-entrepreneur-takes-on-muslim-cleric-20190313-h1ccbo
--------
Indonesian police uncover huge explosives stash after suicide blast
14 March 2019
Indonesian police said Thursday they had uncovered a huge stash of explosives linked to a terror suspect whose wife blew up herself and a child following a dramatic standoff at their home.
The discovery of some 300 kilograms (660 pounds) of assembled explosives and bomb-making materials raised fears that a major attack was being planned, a month before national elections and less than a year after Indonesia was rocked by a wave of deadly suicide bombings.
The suicide blast early Wednesday morning came after police had arrested the husband, Abu Hamzah, who was identified as a member of Jemaah Ansharut Daulah (JAD).
The ISIS extremist group-linked network has been blamed for attacks last May in Indonesia's second-biggest city, Surabaya, the deadliest in years to rock the world's biggest Muslim majority nation.
Officers surrounded the arrested militant's home in Sibolga on Sumatra island when the confrontation began.
During a nearly 12-hour standoff, the wife lobbed an explosive device at security personnel, wounding a police officer, authorities said.
They later found parts of a woman's corpse and that of at least one child. Police initially said they thought two of the couple's children might have been killed.
"We're still trying to formally identify his wife because the body isn't one piece," said national police spokesman Dedi Prasetyo.
Police said they uncovered a large cache of bombs and explosive materials in the couple's home and another in the same city.
"A total of 300 kilograms of bombs and bomb-making materials were discovered," Prasetyo said.
On Thursday, police destroyed materials in a controlled explosion in a field.
University of Indonesia terrorism expert Stanislaus Riyanta said the large stash hinted that a serious attack was being planned.
"This is frightening," he told AFP.
"The impact of bombs depends on the materials used. But this amount - 300 kilograms - if used all at one time, could certainly be very destructive and deadly, especially in a densely populated area."
The arrest of Hamzah, who police said was a skilled bomb maker, comes days after authorities arrested two other terror suspects in other parts of the country. Police said all three were connected.
Last year, two families carried out attacks at churches in Surabaya, killing a dozen people and children of the attackers, including two young girls.
On Thursday, a Jakarta court sentenced several militants linked to the Surabaya bombings with prison sentences ranging from about three to 10 years.
Full report at:
https://english.alarabiya.net/en/News/world/2019/03/14/Indonesian-police-uncovers-huge-explosives-stash-after-suicide-blast.html
--------
Africa
Anti-govt. protesters rally in Sudan's capital after Bashir promises dialogue
Mar 14, 2019
Hundreds of anti-government protesters have taken to the streets of the Sudanese capital to voice their strong dissent against President Omar al-Bashir, demanding his immediate resignation.
Demonstrations were held in several neighborhoods of Khartoum on Thursday with riot police hurling tear gas canisters in an attempt to disperse the crowds of chanting protesters in at least two districts.
No report of possible injuries or detention of protesters has yet been released.
Sudan is struggling with months of persisting protests. On December 17, an anti-government campaign erupted over price hikes and shortages of food and fuel.
The demonstrations first erupted in the farming town of Atbara after cash-strapped Khartoum cut a vital subsidy on bread and tripled its prices.
The move infuriated people and triggered protests, which swiftly mushroomed into nationwide anti-government rallies, particularly in the capital and its twin city of Omdurman.
That initial public display of anger quickly spiraled into calls for Bashir, who took power in 1989 through a military coup, to step down.
During a swearing-in ceremony for a new cabinet, embattled Bashir said that he was ready to engage in dialogue with the opposition.
"Securing peace and silencing the sound of the rifle is our most important priority for the country and we will communicate with the forces that reject dialogue for the sake of political stability," the 75-year-old president said.
He made the announcement on Wednesday as he reshuffled the cabinet and appointed at least 15 new ministers.
Last month, Bashir declared a state of emergency across the African country, dissolved the central government, replaced state governors with security officials, boosted police powers and prohibited unlicensed public demonstrations.
However, the measures proved to be largely ineffective in halting the wave of rallies. Several protests have been staged since the measures came into effect.
The Sudanese president is wanted by the International Criminal Court (ICC) over his alleged role in genocide in the Darfur region, which he strongly denies. He has also been lobbying for his country to be removed from a list of the countries the US considers state sponsors of terrorism.
Sudan's National Intelligence and Security Service (NISS) has purportedly been carrying out a crackdown on protesters, opposition leaders, activists, and reporters in an attempt to prevent the spread of the rallies, which are viewed as the biggest threat to Bashir's decades-long rule.
Official figures say 31 people, including some security agents, have lost their lives since the onset of the rallies. Some rights groups, including Human Rights Watch, say at least 51 people have died so far.
Bashir, however, has so far remained defiant, addressing loyalists at a number of rallies across the country and seeking support from regional allies.
Sudan has been suffering from a worsening economic crisis, including a serious shortage of foreign currency.
The cost of some commodities, including medicines, has more than doubled and inflation has hit 70 percent. A growing lack of food and fuel has also been regularly reported across several cities, including the capital.
https://www.presstv.com/Detail/2019/03/14/591056/Sudan-peotests-Omar-alBashir-Khartoum-emergency
--------
Over 30 Boko Haram militants killed in Lake Chad region
Rafiu Oriyomi Ajakaye
14.03.2019
At least 33 Boko Haram militants have been killed and many others injured as the West African regional army launched airstrikes on their bases in the Lake Chad region, an army spokesman said on Thursday.
Timothy Antigha, spokesman to the regional troops, said in a statement that the ground troops working with the Air Force team also destroyed or recovered large weapons from the militant hideouts following the air raid.
Full report at:
https://www.aa.com.tr/en/africa/over-30-boko-haram-militants-killed-in-lake-chad-region/1418234
--------
Libyan government warns of 'hostile forces' near Sirte
Walid Abdullah
14.03.2019
TRIPOLI
Any attempt to attack Libya's northern city of Sirte would amount to a "declaration of war", the consequences of which would be "disastrous", the UN-backed Libyan government's military apparatus warned Thursday.
The warning was issued by Mohamed al-Ghosri, a spokesman for the Tripoli-based government's Al-Bunyan al-Marsous Forces, who went on to warn against involving Sirte in "a fresh conflict".
Last week, Al-Bunyan al-Marsous was placed on high alert after "hostile forces" were reportedly spotted near Sirte, which is located some 450 kilometers southeast of capital Tripoli.
At the time, al-Ghosri had identified the "hostile forces" as those loyal to Khalifa Haftar, a military commander affiliated with a rival government based in Libya's eastern city of Al-Bayda.
According to al-Ghosri, Sirte has enjoyed security since the Al-Bunyan al-Marsous Forces liberated the city from the Daesh terrorist group in 2016.
Earlier this week, local activists posted video footage online purportedly showing pro-Haftar forces near Sirte's southern entrance.
Libya has remained beset by violence turmoil since 2011, when a bloody NATO-backed uprising led to the ouster and death of President Muammar Gaddafi after four decades in power.
Full report at:
https://www.aa.com.tr/en/africa/libyan-government-warns-of-hostile-forces-near-sirte/1417913
--------
US Military Attacks al-Shabab for Third Time This Week
March 14, 2019
PENTAGON —
The U.S. military has carried out three airstrikes against al-Shabab militants in Somalia in less than a week, continuing a rapid pace that could triple last year's record-setting strike numbers.
According to U.S. Africa Command (AFRICOM), the latest strike killed three militants near Malayle in the Lower Juba region on Wednesday.
The "collective self-defense airstrike" targeted militants who were shooting at Somali National Security Forces on patrol, AFRICOM said. U.S. service members were not on the ground.
The strike came a day after an airstrike killed two al-Shabab militants in the vicinity of Huley in the Lower Shabelle region.
And on Monday, another U.S. military strike in Lower Shabelle region — this one near Dara Salaam — killed eight militants who had attacked Somali National Army soldiers and U.S. troops who were advising their Somali partners.
No U.S. service members were harmed in the attack, AFRICOM spokesman Air Force Col. Chris Karns told VOA.
AFRICOM has carried out 28 airstrikes against al-Shabab in the first 11 weeks of 2019. Bill Roggio, a senior fellow at the Foundation for Defense of Democracies, said the U.S. military is now on pace to nearly triple last year's record number of airstrikes against al-Shabab.
'Alarming' losses
Maj. Gen. Marcus Hicks told VOA in a recent interview that al-Shabab was "losing troops in the field at what I would suspect is an alarming rate."
He said the ramp-up of strikes was merely a "component" of the broader international fight against terrorism in Somalia.
Somali forces and their international partners have gained ground "particularly out of Kismayo in the south," which just a few years ago was considered the epicenter of the al-Shabab terror group, according to the U.S. general.
"We've cleared about 45 kilometers up the Lower Juba River Valley, established combat outposts that have withheld multiple attacks, and as we — again, 'we' as the Somalis and our AMISOM [African Union Mission in Somalia] partners — make contact with al-Shabab, the enemy is presenting itself in such a way that it can be struck as part of this broader counterinsurgency effort," Hicks told VOA.
The U.S. military carried out 47 airstrikes in Somalia last year and 35 in 2017, killing hundreds of militants. Most targeted al-Shabaab, while some targeted Islamic State militants in the African country.
Full report at:
https://www.voanews.com/a/us-military-attacks-al-shabab-for-third-time-this-week/4829440.html
--------
Islamist militants Boko Haram murder Lebanese man in Nigeria
Mar. 15, 2019
BEIRUT: A Lebanese native of Sidon was kidnapped and killed by Boko Haram militants in Nigeria, a Foreign Ministry source said Thursday. Ahmad al-Sarji, from Haret Saido, was kidnapped a week ago by Boko Haram, and Lebanese officials learned Thursday that he had been killed.
"His kidnappers were demanding ransom," the source told The Daily Star, adding that Lebanon and its ambassador to Nigeria had been in contact with the victim's employee to secure the ransom.
"Today, unfortunately, we were surprised to hear that Boko Haram murdered him."
Nigeria's police Tuesday announced that gunmen had abducted a Lebanese construction worker and killed another man in the northern city of Kano.
The unidentified gunmen also shot one man, Alphonsus Ahmed, who died on his way to hospital, and a bullet injured another, Abdullahi Mohammed, the spokesman said.
Kidnappings are rampant in Nigeria, where both locals and foreigners are targeted, mostly for ransom.
A sluggish economy means the average Nigerian is getting poorer while the national security infrastructure is crumbling.
Kano is the economic heart of northern Nigeria, where many foreigners live and work.
Nigeria is concluding its gubernatorial elections, held last Saturday, though results are yet to be announced. Last month, voters re-elected Muhammadu Buhari for a second term as president.
Full report at:
http://www.dailystar.com.lb/News/Lebanon-News/2019/Mar-15/478879-islamist-militants-boko-haram-murder-lebanese-man-in-nigeria.ashx
--------
URL: https://www.newageislam.com/islamic-world-news/gunmen-kill-least-49-people/d/118035
New Age Islam, Islam Online, Islamic Website, African Muslim News, Arab World News, South Asia News, Indian Muslim News, World Muslim News, Women in Islam, Islamic Feminism, Arab Women, Women In Arab, Islamophobia in America, Muslim Women in West, Islam Women and Feminism