New Age Islam News Bureau
23 Jun 2013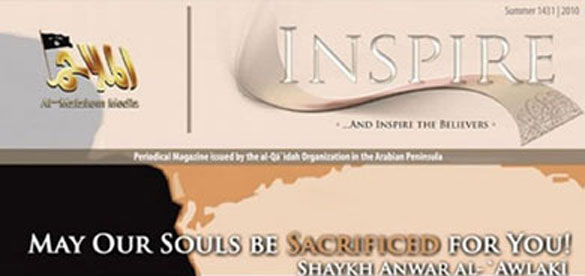 Al-Qaeda's Inspire magazine (File photo: AFP)
----------
Pakistan
• Gunmen kill 9 foreign tourists, guide in Gilgit-Baltistan
• Punjab police to be remodelled on Turkish model
• Security forces kill six militants in Dera Bugti operation
• Five killed in Darra air strike
• Pakistani Taliban claim killing of foreign tourists
• Bomb attack in Bannu leaves 1 security officer dead
• Deteriorating law and order: 377 killed over last 42 days in Karachi
• Najam Sethi appointed interim Pakistan Cricket Board chairman
• Interior Minister Nisar assures efforts to secure neuroscientist Dr Aafia Siddiqui's release
India
• Nitish Kumar Is Commander of Secular Forces: Ajmer Dargah Chief
• Iraq ready to provide as much oil as India needs
• IB officer had hand in Ishrat killing: CBI
• Ishrat Jahan encounter case: CBI quizzes IPS Parikshita
• Malegaon blasts: RSS Pracharak used code names during terror training
• Salman Khurshid hopeful of SC relief to Centre's quota for minorities
Europe
• Son of Belgian Wahhabi cleric a FSA Terror Commander Killed in Syria
• 4,000-year-old Egyptian statue in UK museum moves on its own
Arab World
• Al-Qaeda's Inspire magazine confused with Esquire at Gitmo hearing
• Attacks kill at least 7 people in Iraq
• 3 killed, 10 wounded in Damascus bomb attack: NGO
• Man who executed Saddam Hussein killed in Iraq
• Jordan says 900 US troops boost defence in country
• Islamist Egyptian governor of Luxor resigns
• Saudis record 290 m YouTube views a day
• 'Friends of Syria' agree to give urgent rebel aid
• Albania accepts 71 Iran exiles from Iraq
• Al-Sudais calls on Muslims to adhere to reduction of pilgrims' numbers
South Asia
• Afghanistan urges Pakistan to free Taliban prisoners if it wants peace
• Afghanistan seeks explanation for Taliban office
• Attacks kill NATO service member, two Afghan cops
• Maldivian Criminal Court acquits six men charged with gang rape of 14 year-old girl
• Afghans rush to learn risky art of defusing bombs
North America
• Unidentified diplomats escorting former US intelligence operative: Wikileaks
• Kerry: Taleban office may shut if Afghan talks bid fails
• US made intensive hacking attacks on China, Snowden says
• US charges Snowden with espionage, may seek extradition
• Muddled US tactics can be blamed for Doha deadlock
• Hometown of Taliban captive US soldier rallies in his support
Africa
• Rebels in north Nigeria force thousands to flee
• 'Refugee detention conditions in Libya deplorable'
Mideast
• Saving the holy land's oldest monastery in Gaza
• Iran criticizes Doha decision to arm Syria rebels
• Hamas executes 2 Palestinians for working with Israel
• Abbas formally accepts resignation of Palestinian PM
• A Palestinian hero is born: Mohammed Assaf crowned 'Arab Idol'
Compiled by New Age Islam News Bureau
URL: https://newageislam.com/islamic-world-news/new-age-islam-news-bureau/gunmen-kill-9-foreign-tourists,-guide-in-gilgit-baltistan/d/12237
--------------
Pakistan
Gunmen kill 9 foreign tourists, guide in Gilgit-Baltistan
June 23, 2013
ISLAMABAD / GILGIT: Gunmen dressed as paramilitary forces killed nine foreign tourists in an unprecedented attack in the Himalayas of Gilgit-Baltistan, in a security failure bound to embarrass the new government just weeks after it took office.
The gunmen stormed into a base camp, killing Chinese and Ukrainian climbers in an area of the far-flung north not previously associated with violence or militancy.
The killings will jeopardise the only foreign tourism that remains in Pakistan – that of mountaineers – the few international tourists to still visit a country troubled by al Qaeda and Taliban violence.
Officials said five Ukrainians and a number of Chinese were killed. One Pakistani also died and one Chinese survivor has been recovered, the government said.
The climbers were staying at a first camp, around 4,200 feet from Nanga Parbat, one of the highest mountains in the world, in the Diamer district of Gilgit-Baltistan.
"The number of causalities is 10 and this has happened in Buner Nallah near the base camp," Ali Sher, deputy inspector general police G-B told The Express Tribune on Sunday.
"The area where the incident occurred is unmanned and at a distance of two days track from Chilas," said Alif Khan, a police official based in Chilas, headquarter of Diamer valley where the peak is located.
"There were nine foreigners and one Pakistani. Gunmen came and opened fire on them. It is confirmed that they have been killed," Diamer police official Mohammed Naveed told AFP.
Five Ukrainians were among the dead, Ukraine's ambassador to Pakistan Vladimir Lakomov told AFP.
Interior Minister Chaudhry Nisar told parliament that one Chinese survivor had been rescued.
The Tehreek-e-Taliban Pakistan have claimed responsibility for the killings.
The Himalayas in northern Pakistan offer some of the most spectacular climbing in the world. Its peaks are a magnet for experienced mountaineers, often from Europe.
While Gilgit-Baltistan has seen deadly sectarian violence targeting Shia community, foreigners have never before been targeted in such a remote part of the region, which officials said was inaccessible by road.
Helicopters were dispatched to recover the bodies, and that police and paramilitary had been ordered into the area, officials said.
Nisar told parliament that the attackers were dressed as Gilgit Scouts, a paramilitary police unit, and accessed the camp with the help of two guides whom they kidnapped.
"They abducted two guides and through them reached the area. One guide was killed in the shoot-out. One is alive. He is now detained and being questioned," he said.
The government condemned the attack, but the killings raise serious questions about security failures and embarrass a country already suffering from a poor image.
The interior minister conceded there was no police or security escort for foreigners up in that area of the mountains.
The top bureaucrat and top police official in Gilgit-Baltistan were on Sunday suspended, state TV said.
"The prime minister of Pakistan has condemned these inhuman and cruel acts, ordered to conduct thorough investigation, and apprehend the culprits to bring them to justice," the government said.
Prime Minister Nawaz Sharif extended his sympathies to the bereaved families, saying that "the people and government of Pakistan stand by you in this hour of huge distress".
Officials also spoke to the Chinese and Ukrainian ambassadors on Sunday to express their condolences, the foreign ministry added.
"Those who have committed this heinous crime seem to be attempting to disrupt the growing relations of Pakistan with China and other friendly countries," it said.
The government, which took office earlier this month after historic elections, faces a massive array of problems related to a moribund economy and militancy.
In the past Sharif has advocated peace talks with the Taliban and he publicly criticised a US drone strike that killed Taliban deputy Waliur Rehman in late May, echoing long-held Pakistani complaints that the US campaign violates national sovereignty.
Correction: In an earlier version of this story, it was erroneously mentioned that the attack took place in Fairy Meadows. The error is regretted.
http://tribune.com.pk/story/567190/ten-tourists-shot-dead-at-fairy-meadows/
--------------
Punjab police to be remodelled on Turkish model
June 23, 2013
LAHORE: The Punjab government has decided to redesign its police force on the model of Turkish police which had arrested 40 army generals for plotting a coup, The Express Tribune has learnt.
Prime Minister Nawaz Sharif and Punjab Chief Minister Shahbaz Sharif chaired a high-level meeting to discuss the restructuring of the provincial police force at the PML-N Secretariat in the Model Town neighbourhood of Lahore.
A new system was proposed and approved with the resolve to table a draft of the new police act in coming sessions of the Punjab Assembly. Currently, 177,000 policemen cater to a population of 100 million in Punjab. In Turkey, 200,000 policemen are responsible for the security needs of 60 million people.
The meeting participants pressed for an increase in the police budget informing the Sharif brothers that Turkey set aside $7.5 billion for the police, while the Punjab police's annual budget was $0.75 billion.
The meeting decided upon a number of measures to enhance law-enforcement, while urging review of 36,000 weapon licences on a procedural basis to check weaponisation.
Firstly, police force in the province would be equipped with modern electronic devices for surveillance. The prime minister directed the acting IGP, Khan Baig, to chalk out a comprehensive strategy, while keeping in view optimum utilisation of modern technology and coordinated intelligence for better policing.
Secondly, the Punjab police would be bifurcated where policemen related to security affairs will function separately from those in the public service. Police units such as Elite, Mujahid, 15 and police personnel serving as police stations' staff would comprise the public service category, which will function under a separate command. Following Turkey's model, the service duration of police officers should be increased from six months to two years.
Also, strong accountability system within police system to be established where corrupt, lazy and incompetent officers to be punished like summary trial.
http://tribune.com.pk/story/567101/law-enforcement-punjab-police-to-be-remodelled-on-turkish-model/
--------------
Security forces kill six militants in Dera Bugti operation
SYED ALI SHAH
23 June 2013
QUETTA: At least six militants, including their commander, were killed during a security forces' operation in Dera Bugti district of Balochistan on Sunday.
Sources in Frontier Corps told Dawn.com that forces conducted an operation in Sui town of Dera Bugti, adding that six armed militants, including a Farari (fugitive) commander, were killed during the three-hour long operation.
FC personnel also recovered 30 kilograms of explosives in addition to other heavy weaponry from the spot.
The killing was preceded by an intense exchange of fire between security forces and armed militants.
FC sources claimed that militants were involved in a series of bom
http://dawn.com/news/1020232/security-forces-kill-six-militants-in-dera-bugti-operation?view=print
-------------
Five killed in Darra air strike
23 June 2013
KOHAT: Five militants were killed in shelling by fighter planes in Akkakhel area of Darra Adamkhel on Saturday, official sources said.
An unspecified number of people were also injured in the air strike in the Frontier Region of Kohat.
Security forces had received information that some militants were trying to cross into Darra Adamkhel. Fighter jets spotted a caravan of militants and attacked it. Names of those killed or injured could not be ascertained.
http://beta.dawn.com/news/1020100/five-killed-in-darra-air-strike?view=print
--------------
Pakistani Taliban claim killing of foreign tourists
23 June 2013
Pakistan's umbrella Taliban movement on Sunday claimed responsibility for killing nine foreign climbers in the Himalayas, saying it was carried out by a previously unknown faction.
Spokesman Ehsanullah Ehsan telephoned AFP news agency to claim responsibility on behalf of "one of our factions, Junood ul-Hifa," to avenge the May killing of the Pakistani Taliban deputy leader in a U.S. drone strike.
The gunmen stormed into a base camp, killing Chinese and Ukrainian climbers in an area of the far-flung north not previously associated with violence or Islamist militancy.
The killings will jeopardize the only foreign tourism that remains in Pakistan -- that of mountaineers -- the few international tourists to still visit a country troubled by Al-Qaeda and Taliban violence.
Full report at:
http://english.alarabiya.net/en/News/asia/2013/06/23/Gunmen-kill-10-tourists-at-hotel-in-northern-Pakistan-province.html
-----------
Bomb attack in Bannu leaves 1 security officer dead
June 23, 2013
BANNU: One security officer was killed, while two others sustained injuries in a terrorist attack in Bannu, Express News reported on Sunday.
According to initial details, a bomb exploded near a security forces' vehicle in the area.
Security officers frequently come under attack in this area.
Earlier this month, a security forces official was killed and three others were injured when an improvised explosive device (IED) exploded on a roadside in Jani Khel, Frontier Region (FR) Bannu.
Full report at:
http://tribune.com.pk/story/567191/bomb-attack-in-bannu-leaves-1-security-officer-dead/
--------------
Deteriorating law and order: 377 killed over last 42 days in Karachi
une 23, 2013
KARACHI: Law-enforcement agencies have failed in maintaining law and order in Karachi. As many as 377 people have been murdered in the metropolis over the last 42 days – an average of nine killings a day – but no culprits have been brought to the book so far.
The highest death toll was registered on June 9 when terrorists killed 20 people. In most other incidents, between two to three people lost their lives. In some cases, even police officials were among the victims.
Full report at:
http://tribune.com.pk/story/567117/deteriorating-law-and-order-377-killed-over-last-42-days-in-karachi/
--------------
Najam Sethi appointed interim Pakistan Cricket Board chairman
June 23, 2013
Senior analyst and former caretaker chief minister of Punjab Najam Sethi was appointed as the interim chairman of the Pakistan Cricket Board (PCB) on Sunday, reported Express News.
Talking to the press in Lahore, Sethi said that as an acting chairman he will forge his way forward carefully.
He said major decisions will only be announced after consulting with inter-provincial committees and the court.
"ICC had given us guidelines about how democratic elections should be held in the Board but later only realized that in countries like Bangladesh and Pakistan, democracy at the grassroots level isn't possible because of corruption," Sethi explained.
Critics have lashed out at Sethi's appointment on the grounds that he has never played cricket.
Full report at:
http://tribune.com.pk/story/567262/najam-sethi-appointed-interim-pcb-chairman/
--------------
Interior Minister Nisar assures efforts to secure neuroscientist Dr Aafia Siddiqui's release
June 22, 2013
ISLAMABAD: Even though interior minister Chaudhry Nisar Ali Khan may have his hands full with the law and order situation in various parts of the country, on Saturday he accorded audience to Dr Fouzia Siddiqui, sister of incarcerated neuroscientist Dr Aafia Siddiqui, Radio Pakistan reported.
Dr Fouzia briefed the Interior Minister about various steps relating to Aafia's detention in the United States and the various steps by the previous government to secure her release from American prison.
Full report at:
http://tribune.com.pk/story/566858/at-an-arms-length-nisar-assures-efforts-to-secure-aafias-release/
--------------
India
Nitish Kumar is commander of secular forces: Ajmer dargah chief
TNN | Jun 23, 2013
PATNA: Chief minister Nitish Kumar, who is looking for expansion of his Muslim vote bank after split in NDA, got a shot in his arm when the religious head of Ajmer Sharif dargah, one of the most important Muslim shrines in the country, praised the CM and called him 'commander' of secular forces.
The Sajjada Nashin (successor to the Chishti order) of Dargah Khwaja Garib Nawaz in Ajmer, Diwan Syed Shah Zainul Abedin Ali Khan, said he has learnt that under the leadership of Nitish, the Muslim society has developed widespread interest in education and Muslim boys and girls are getting enrolled in educational institutions in large numbers.
Diwan sahib, as he is popularly known, who hit the headlines in April last year for boycotting the visit of Pakistan President Asif Ali Zardari, prayed to the Almighty to encourage Nitish to do more for Bihar and serve its people without any discrimination and bring happiness on all faces.
The CM met the Sajjada Nashin on late Friday evening in the Khanqah at Maner, on the outskirts of Patna, during the 744th Urs of Hazrat Sultanul Makhdoom Sheikh Kamaluddin Ahmad Yahya Maneri. The Yahya Maneri's Urs from this year is being observed as Sufi Mahotsava by the state government, said tourism secretary Mihir Kumar Singh.
The CM sought the blessings of Diwan sahib, who was here to attend the annual Urs, the birth anniversary of Sufi saint. The religious head blessed Nitish and prayed for his success in political, social and personal life.
Nitish also met Maner shrine Sajjada Nashin Hazrat Syed Shah Enayatullah Firdausi and also released his English title 'Fragrance of Sufi-ism'. He offered 'chadar' at the mausoleum and prayed for peace and communal harmony.
The CM also informed the Ajmer shrine head about the Sufi circuit being developed in the state, which will connect all the spots linked to Sufi saints. Under this plan, the government has decided to organize Sufi Mahotsava at Maner and other important places. "With the blessings of the Sufi saints and their followers, we will progress and reach new heights of development," the CM said.
http://timesofindia.indiatimes.com/india/Nitish-Kumar-is-commander-of-secular-forces-Ajmer-dargah-chief/articleshow/20721184.cms
--------------
Iraq ready to provide as much oil as India needs
PTI | Jun 23, 2013
BAGHDAD: Iraq, currently the second largest crude oil supplier to India, has assured it to provide as much oil as it could to fulfill the needs of the growing Indian economy.
"Iraq is willing to assist, to provide or to meet as much as it could (to fulfill) the needs of Indian economy," Iraqi foreign minister Hoshiyar Zebari said.
Top Iraqi officials believe that India with its strong economic growth will be needing more fuel particularly crude oil and oil-rich Iraq is in a unique position to supply and meet that demand.
Iraq produces 3.15 million barrels a day of crude and plans to double the output by 2020.
Pointing out that Iraq has the world's third largest proven oil reserves and is now second largest oil supplier to India, Zebari said Iraqi potentials are huge in the coming decades.
In recent months, Iraq has replaced sanctions-hit Iran as India's second largest crude oil supplier.
Full report at:
http://timesofindia.indiatimes.com/india/Iraq-ready-to-provide-as-much-oil-as-India-needs/articleshow/20726950.cms
--------------
IB officer had hand in Ishrat killing: CBI
June 23, 2013
The CBI investigation team has concluded that Intelligence Bureau (IB) special director Rajinder Kumar had 'actively connived' with the Gujarat police team that killed alleged Laskhar-e-Taiba (LeT) suicide bomber Ishrat Jahan and her three associates in a fake encounter on June 15, 2004 in Ahmedabad.
Sources say since the investigation team's conclusion is based on statements of lower level Gujarat police personnel involved in the encounter and the investigators so far have not found any material corroborative evidence, the agency is likely to seek legal advice before a charge sheet is filed.
Full report at:
http://www.hindustantimes.com/India-news/newdelhi/IB-officer-had-hand-in-Ishrat-killing-CBI/Article1-1080895.aspx
--------------
Ishrat Jahan encounter case: CBI quizzes IPS Parikshita
TNN | Jun 23, 2013
AHMEDABAD: The Central Bureau of Investigation interrogated IPS officer Parikshita Rathod on Saturday in connection with the 2004 Ishrat Jahan fake encounter case.
Rathod was posted as ACP with the city crime branch at the time, and was the first Investigating Officer of this case. She had certified that the encounter was genuine and had tried to close the case. She didn't succeed as the then special POTA judge Sonia Gokani repeatedly rejected her summary reports.
CBI sources said Rathod, who is now an SP with CID (crime), was questioned for over three hours. She was allowed to go after her statement was recorded.
Rathod had allegedly conducted investigations on the lines pointed out by her then superiors in crime branch - DCP D G Vanzara and JCP P P Pandey. She concluded that the encounter, in which Ishrat, Javed Shaikh alias Pranesh Pillai, Amjad Ali Rana and Zeeshan Johar were killed, was genuine and all four were Lashkar-e-Taiba operatives. She also concluded that three other Kashmiri boys were involved in the terror conspiracy and apparently attempted to trace them.
Full report at:
http://timesofindia.indiatimes.com/india/Ishrat-Jahan-encounter-case-CBI-quizzes-Parikshita-Rathod/articleshow/20721110.cms
--------------
Malegaon blasts: RSS Pracharak used code names during terror training
Mateen Hafeez, TNN | Jun 23, 2013
MUMBAI: Rajendra Chaudhary, a bomb planter in the 2006 Malegaon serial blasts, said that all the youths who attended a terror training camp in Madhya Pradesh in January 2006 were given code names by mastermind Sunil Joshi to hide their identities.
In its chargesheet, the National Investigation Agency (NIA) stated that the terror training camp was organized by RSS Pracharak Sunil Joshi (murdered in 2007). "Joshi gave me a new name as Samundar. Another participant Kamal Chaowhan was given the coded name of Vijay, Lokesh Sharma was called Ajay, and Joshi himself was called Manoj. This was to hide our identity," Chaudhary said in his statement. He, along with three others, is behind the bars for their involvement in the 2006 Malegaon blasts.
Full report at:
http://timesofindia.indiatimes.com/india/Malegaon-blasts-RSS-pracharak-used-code-names-during-training/articleshow/20720907.cms
------------
Salman Khurshid hopeful of SC relief to Centre's quota for minorities
Jun 23 2013
Mumbai : Union Minister Salman Khurshid today expressed hope that the Supreme Court would uphold the Centre's decision to provide 4.5 per cent reservation in education and government jobs to backward classes among minorities.
"The matter is before the constitutional bench and we hope that the decision would get legal clearance soon. The decision of the Centre was just and legal," Khurshid, the Union External Affairs minister, said while addressing a seminar, 'Seven years after Sachar'.
The Sachar committee highlighted the social, economic and educational status of Indian Muslims.
Full report at:
http://www.indianexpress.com/news/salman-khurshid-hopeful-of-sc-relief-to-centre-s-quota-for-minorities/1132760/
--------------
Europe
Son of Belgian Wahhabi cleric a FSA Terror Commander Killed in Syria
23 June 2013
(Ahlul Bayt News Agency) - A Syrian Arab Army unit killed a notorious foreign terrorist from the FSA called Abdul Rahman Ayachi, the son of a Wahhabi cleric Bassam Ayachi, in Sinjar, near Maarat Noman in Idleb countryside north of Syria in what Nusra Front terrorist organization called 'Fatah Mubeen' battles, or 'Clear Opening!'.
The terrorist, with a French & Belgian citizenship, was killed along with 40 members of his group called 'Jund ar-Rahman Brigade' or 'Soldiers of His Gracious (God)', part of the FSA, 'Free from Syrians Army' fighting the Syrian state to establish an anti-Islamic 'Islamist' Wahhabi caliphate under NATO hegemony in the region.
His group was in charge of horrific crimes against locals wherever he moved after Turkish Muslim Brotherhood government of embattled Recep Tayyip Erdoğan smuggled him with his friends into Syrian territories. The exterminated terrorist's father vowed to travel to Syria to fight the Syrian state in their 'Jihad' against Muslims and other religions and infidels..!
Syrian president Dr. Bashar Al-Assad repeatedly warned Europe from sending terrorists to Syria and arming terrorists in Syria, this will backlash at the exporting countries when those terrorists with their ideology return to their home countries, Woolwich killing is just a single example to build upon.
http://abna.ir/data.asp?lang=3&Id=432368
-------------
4,000-year-old Egyptian statue in UK museum moves on its own
PTI | Jun 23, 2013
LONDON: Curse of the spinning statue! In some eerie news, a 4,000-year-old Egyptian statue has puzzled curators at Manchester museum after the relic started to mysteriously spin 180 degrees on its own.
The 10-inch tall relic, which dates back to 1800 BC, was found in a mummy's tomb and has spent 80 years at the Manchester Museum.
However, in recent weeks, curators were spooked after they kept finding the statue facing the wrong way. Experts decided to monitor the room on time-lapse video and were astonished to see it clearly show the statuette spinning 180 degrees - with nobody going near it.
The statue of a man named Neb-Senu is seen to remain still at night but slowly rotate round during the day, 'Manchester Evening News' reported.
Scientists who explored the Egyptian tombs in the 1920s were popularly believed to be struck by a 'curse of the Pharaohs'.
Full report at:
http://timesofindia.indiatimes.com/world/uk/4000-year-old-Egyptian-statue-in-UK-museum-moves-on-its-own/articleshow/20728613.cms
---------
Arab World
Al-Qaeda's Inspire magazine confused with Esquire at Gitmo hearing
22 June 2013
An Arabic-English interpreter confused the al-Qaeda magazine Inspire with the gentlemen's magazine Esquire during a pretrial hearing in the Guantanamo war crimes tribunal on Friday.
The mix-up came in a hearing for five prisoners who could face execution if convicted of launching the Sept. 11, 2001, hijacked plane attacks that killed 2,976 people and propelled the United States into a global war against al-Qaeda.
A week-long hearing has focused on whether military and intelligence agents at the Guantanamo Bay U.S. Naval Base snooped into legal documents and attorney-client conversations that are supposed to be confidential. Defense attorneys said stringent restrictions on their communications had interfered with their attempts to prepare a defense.
The outgoing legal adviser for the Guantanamo detention operation, Navy Captain Thomas Welsh, testified that attorney-client mail was carefully screened to prevent the introduction of physical and informational contraband. He said the rules were tightened after a defense lawyer tried to send a copy of Inspire magazine to one of the defendants.
Full report at:
http://english.alarabiya.net/en/variety/2013/06/22/Al-Qaeda-s-Inspire-magazine-confused-with-Esquire-at-Guantanamo-hearing-.html
--------------
Attacks kill at least 7 people in Iraq
June 23, 2013
BAGHDAD — Suicide bombers and a gunman assaulted a police station in northern Iraq on Sunday, one of several attacks across the country that left seven dead.
They were the latest incidents in a wave of violence that has claimed more than 2,000 lives since the start of April. Militants, building on discontent with the government, appear to have grown stronger in central and northern Iraq.
The commander of the army's 12th Division, Brig. Gen. Mohammed Khalaf, said the assault on the police station near the town of Hawija started with a gunman on foot opening fire on the guards. A suicide bomber with an explosives-laden belt then blew himself up in the reception area and a suicide car bomber rammed his vehicle into the building, Khalaf added. Three policemen were killed and five others wounded.
Full report at:
http://www.saudigazette.com.sa/index.cfm?method=home.regcon&contentid=20130623170952
--------------
3 killed, 10 wounded in Damascus bomb attack: NGO
June 23, 2013
BEIRUT — At least three people were killed and 10 others wounded in a bomb attack on Sunday in the northern Damascus district of Rukn Al-Din, the Syrian Observatory for Human Rights reported.
Syrian state television earlier said a suicide attack hit the district causing "victims" but it did not provide a toll. — AFP
http://www.saudigazette.com.sa/index.cfm?method=home.regcon&contentid=20130623170946
--------------
Man who executed Saddam Hussein killed in Iraq
22 June 2013
One of the executioners involved in the hanging of Iraqi President Saddam Hussein has been killed, the outlawed Baath Party said in a statement on Friday.
While not providing a date for when the executioner was killed, the statement identified him as Mohammed Nassif al-Maliki, who allegedly appeared in the video of Saddam's execution.
The statement said Maliki was the masked man standing on the left side of the former Iraqi strongman and slipping the noose around his neck.
Full report at:
http://english.alarabiya.net/en/News/2013/06/22/Report-Man-who-executed-Saddam-Hussein-killed-in-Iraq.html
--------------
Jordan says 900 US troops boost defense in country
22 June 2013
AMMAN: Some 900 US military personnel, including dozens staying on from joint military drills, are in Jordan to bolster its defense and prevent the Syrian civil war from spreading across its border, Jordan's prime minister said Saturday.
It was the first time a Jordanian official disclosed publicly the numbers of US troops in the Arab kingdom, sent there in recent weeks for military exercises and other deployments.
Abdullah Ensour told reporters Saturday that 200 of the personnel were experts training Jordanians to handle a chemical attack. The remaining 700 are manning a Patriot missile defense system and F-16 fighter jets which Washington deployed this month in case the Syrian war worsens.
Full report at:
"This is why we have been calling for a political solution to the Syrian crisis," he added.
http://www.arabnews.com/news/455919
--------------
Islamist Egyptian governor of Luxor resigns
23 June 2013
Egypt's new governor of Luxor province, Adel el-Khayat, announced his resignation on Sunday, following violent protests against his appointment.
"We will not accept that one drop of blood be spilt because of a position that I did not personally aspire to at any time," said Khayat at a news conference, as quoted by Reuters.
Khayat is a founding member of Al-Gama'a Al-Islamiyya, which was responsible for the murder of 58 foreign tourists and four Egyptians in 1997.
Full report at:
http://english.alarabiya.net/en/News/middle-east/2013/06/23/Egypt-s-hardline-Islamist-to-resign-as-Luxor-governor.html
--------------
Saudis record 290 m YouTube views a day
24 June 2013
JEDDAH: Saudis are recording an average of 290 million views a day of video clips on YouTube, the highest rate internationally, according to a local academic.
Dr. Saud Katib, supervisor general of the information center at King Abdul Aziz University (KAU), said that even though commercials have now invaded YouTube, this has not affected the desire of Saudis to visit the website.
"YouTube is of great interest to the Saudi population because they can find clips matching their moods, despite the growing number of commercials," said Katib.
Full report at:
http://www.arabnews.com/news/455893
--------------
'Friends of Syria' agree to give urgent rebel aid
23 June 2013
DOHA: Western and Arab countries opposed to President Bashar Assad agreed at talks in Qatar on Saturday to give urgent military support to Syrian rebels fighting for his overthrow, and to channel it through a Western-backed rebel military command.
Ministers from the 11 main countries which form the Friends of Syria group agreed "to provide urgently all the necessary materiel and equipment to the opposition on the ground, each country in its own way in order to enable them to counter brutal attacks by the regime and its allies."
Full report at:
http://www.arabnews.com/news/455920
--------------
Albania accepts 71 Iran exiles from Iraq
23 June 2013
BAGHDAD: Seventy-one members of an exiled Iranian opposition group based at a camp near Baghdad have been relocated to Albania, the UN said Saturday, a week after the camp suffered deadly mortar attacks.
The resettlement is the latest in protracted efforts by the UN to move the around 3,000 members of the former rebel People's Mujahedeen at Camp Liberty, on Baghdad's outskirts, outside of Iraq.
Full report at:
http://www.arabnews.com/news/455854
--------------
Al-Sudais calls on Muslims to adhere to reduction of pilgrims' numbers
23 June 2013
Makkah: President General of Affairs of the Grand Holy Mosque and the Prophet's Holy Mosque Sheikh Dr. Abdulrahman bin Abdulaziz Al-Sudais has called on Muslims at home and abroad to adhere to the reduction of the percentage of numbers of pilgrims, Umrah performers and visitors, especially by Muslims from the Kingdom of Saudi Arabia.
He pointed out that Mataf (circumambulation track) accommodates before the expansion project 48,000 persons per hour, during the project 22,000 persons, and after the project 105,000 persons.
Full report at:
http://www.arabnews.com/news/455818
--------------
South Asia
Afghanistan urges Pakistan to free Taliban prisoners if it wants peace
June 23, 2013
KABUL — Pakistan could secure peace in Afghanistan by releasing dozens of senior Taliban prisoners to help kick-start the process, the Afghan foreign ministry said on Saturday, in remarks that underscore the issues vexing peace talks in Qatar.
The ministry's statement was a response to comments by the Pakistani foreign ministry on Tuesday, which welcomed the opening of a Taliban office in the Qatari capital of Doha, saying the country stood "ready to continue to facilitate the (peace) process to achieve lasting peace."
Afghanistan has long accused Pakistan of playing a double game regarding the 12-year-old war against the Taliban, saying its neighbor makes public pronouncements about peace but allows elements of its military complex to play a spoiling role.
"(If) Pakistan has the sincere determination to support the Afghan peace process ... then the most useful and urgent step would be to release those Afghan Taliban leaders who have been arrested by Pakistani authorities," the Afghan foreign ministry said.
Full report at:
http://www.saudigazette.com.sa/index.cfm?method=home.regcon&contentid=20130623170862
--------------
Afghanistan seeks explanation for Taliban office
June 23, 2013
KABUL — Afghanistan's government says it is still waiting for a full explanation of how the Taliban were allowed to open an office in Qatar that was akin to an embassy, flying the militant group's flag and using its formal name from the years it ruled the country.
But Foreign Ministry spokesman Janan Mosazai told reporters Sunday the Afghan government remains willing to send a peace delegation to Doha to negotiate with the Taliban once it has its explanation, as well as assurances that the office will be nothing more than a place for talks.
The Taliban removed the "Islamic Emirate of Afghanistan" sign and lowered its flag after the Tuesday opening of the office. — AP
http://www.saudigazette.com.sa/index.cfm?method=home.regcon&contentid=20130623170947
--------------
Attacks kill NATO service member, two Afghan cops
June 23, 2013
KABUL — Taliban militants attacked local security checkpoints in a provincial capital in northern Afghanistan, killing two policemen in a fight that also left 18 insurgents dead, Afghan officials said Saturday.
NATO said a coalition service member also died in a militant attack in the south on Saturday, but did not provide further details.
The violence follows NATO's formal handover of security in the entirety of Afghanistan to Kabul's forces — a transition that comes at a time with violence levels matching their worst in nearly 12 years of war.
Full report at:
http://www.saudigazette.com.sa/index.cfm?method=home.regcon&contentid=20130623170866
-----------
Maldivian Criminal Court acquits six men charged with gang rape of 14 year-old girl
By Ahmed Nazeer | June 23rd, 2013
The Criminal Court has acquitted six men charged with the gang rape of a minor, on the grounds that the prosecution was unable to offer sufficient evidence to prove they were guilty.
Abdulla Nazeef of Fuvamulah, Mohamed Shifau of Villimale', Azim Ali from Dhigurah in Alif Dhaalu, Hoodh Mohamed of Male' special registry, Inash Abdulla of Gaafu Dhaalu Vaadhoo and Ali Ashraf of Maafannu Athuma were charged with the sexual abuse of a minor by a group.
Full report at:
http://minivannews.com/society/criminal-court-acquits-six-men-charged-with-gang-rape-of-14-year-old-girl-60080
--------------
Afghans rush to learn risky art of defusing bombs
AP | Jun 23, 2013
CAMP BLACK HORSE: In a desolate field outside Kabul, an Afghan soldier hunches over a knee-high robot equipped with cameras, multidirectional pincers and tank-treads built for rough terrain. Carefully, he attaches four bottles of water and a tiny explosive charge to the robot. He uses a remote control to guide it 50 metres (yards) away to his target: a simulated backpack bomb.
"Explosion! Explosion! Explosion," shouts the soldier, Naqibullah Qarizada, in a warning to others nearby. Then he remotely detonates the charge.
A small dust cloud kicks up. If all has gone well, the blast has pushed the water into the bomb with enough force to knock out its triggering mechanism. But to be safe, his partner, Hayatullah, climbs into a heavy protective suit before lumbering over to pluck out the blasting cap and seal it in a fortified box.
Full report at:
http://timesofindia.indiatimes.com/world/middle-east/Afghans-rush-to-learn-risky-art-of-defusing-bombs/articleshow/20725756.cms
-----------
North America
Unidentified diplomats escorting former US intelligence operative: Wikileaks
23 June 2013
HONG KONG:Unidentified diplomats are escorting former US intelligence operative Edward Snowden in his bid to secure political asylum in a country yet to be disclosed, whistleblowing website WikiLeaks said on Sunday.
"Mr Edward Snowden, the American whistleblower who exposed evidence of a global surveillance regime conducted by US and UK intelligence agencies, has left Hong Kong legally," WikiLeaks said in a statement.
"He is bound for a democratic nation via a safe route for the purposes of asylum, and is being escorted by diplomats and legal advisors from WikiLeaks."
"Snowden today voluntarily left Hong Kong for a third country through legal and normal means," a Hong Kong government spokesman had said earlier in a press statement.
The statement added that Hong Kong had "not obtained adequate information"to handle a provisional arrest warrant for Snowden issued by the United States.
Full report at:
http://dawn.com/news/1020226/unidentified-diplomats-escorting-former-us-intelligence-operative-wikileaks?view=print
-----------
Kerry: Taleban office may shut if Afghan talks bid fails
23 June 2013
DOHA: The United States warned yesterday that it could call on the Taleban to close an office in Qatar unless it shows more commitment to reconciliation in Afghanistan.
US special envoy James Dobbins arrived in the Gulf Arab nation and was taking part in talks with Qatar alongside Secretary of State John Kerry.
But Kerry said that the United States was not yet ready to meet the Taleban and accused them of failing to live up to their side of peace efforts.
"It is our hope that this could ultimately be an important step in reconciliation if it's possible. We know that it may well not be possible," Kerry told reporters in Doha.
The opening of the Taleban office was heralded as the best chance of bringing to a peaceful end 12 years of bloody war despite its rocky beginnings. But the peace process ran aground almost immediately when Kabul objected to the wording of its name, saying it was tantamount to the establishment of a rival government office, not a political office.
Full report at:
http://www.arabnews.com/news/455853
--------------
US made intensive hacking attacks on China, Snowden says
PTI | Jun 23, 2013
BEIJING: Edward Snowden, a former private contractor with the CIA who leaked the controversial US secret surveillance programme, on Sunday made fresh claims about America's cyber espionage against China, including intensive hacking attacks on a top university here.
The Tsinghua University, widely regarded as China's top education and research institute, was the target of extensive hacking by the US spies this year, Snowden said in his latest claims to the Hong Kong-based South China Morning Post.
It is not known how many times the Tsinghua University, which carries out a number of China's research programmes, has been attacked by the US National Security Agency (NSA) but details shown to the Post by Snowden revealed that one of the most recent breaches was as early as in January this year.
Full report at:
http://timesofindia.indiatimes.com/tech/enterprise-it/security/US-made-intensive-hacking-attacks-on-China-Snowden-says/articleshow/20725846.cms?
-----------
US charges Snowden with espionage, may seek extradition
23 June 2013
WASHINGTON: The United States has filed espionage charges against Edward Snowden, a former US National Security Agency contractor who admitted revealing secret surveillance programs to media outlets, according to a court document made public on Friday.
The charges are the government's first step in what could be a long legal battle to return Snowden from Hong Kong, where he is believed to be in hiding, and try him in a US court. A Hong Kong newspaper said he was under police protection, but the territory's authorities declined to comment.
Full report at:
http://www.arabnews.com/news/455844
--------------
Muddled US tactics can be blamed for Doha deadlock
June 23, 2013
ISLAMABAD: US Secretary of State John Kerry is working overtime to save the Doha peace process from becoming stillborn. The upheaval he is dealing with has been largely created by the Taliban's naming of their office in Doha as a sort of a mission of the Islamic Emirate of Afghanistan.
Statements coming out of Washington tend to suggest that if the Taliban had not pulled a fast one on everyone, the talks between the US and their representatives would have begun by now and Kerry instead of acting as a fire engine putting out the flames of discontent in three capitals – Kabul, Doha and Islamabad – would be reporting back happy news to his boss, President Barack Obama.
Full report at:
http://tribune.com.pk/story/567103/analysis-muddled-us-tactics-can-be-blamed-for-doha-deadlock/
--------------
Hometown of Taliban captive US soldier rallies in his support
23 June 2013
HAILEY: Hundreds of supporters rallied on Saturday in the central Idaho, hometown of prisoner-of-war Bowe Bergdahl, to call for the safe return of the US Army sergeant believed to be held captive by Taliban militants in northwestern Pakistan.
The rally, expected to be the largest yet for the only known American prisoner of war tied to the Afghanistan conflict, marks the latest effort by residents of Hailey, a close-knit town of 7,000, to draw attention to Bergdahl's plight and push for his release.
Bergdahl, now 27, was serving with an Alaska-based infantry unit when he disappeared from his base in southern Afghanistan in June 2009 and was taken captive by the Taliban.
Saturday's gathering in Hailey caps a week of renewed hope for Bergdahl's release amid reports of a potential prisoner exchange as part of planned peace talks between the United States and the Taliban.
Full report at:
http://beta.dawn.com/news/1019998/hometown-of-taliban-captive-us-soldier-rallies-in-his-support?view=print
--------------
Africa
Rebels in north Nigeria force thousands to flee
23 June 2013
MAIDUGURI: Rebels threatening a bloodbath forced thousands of people from villages along Nigeria's northeast, where refugees said yesterday the rebels have regrouped following a month-long military crackdown.
People who escaped the bush near Nigeria's border with Cameroon fled to the Borno state capital of Maiduguri said militants from the Boko Haram terrorist network also have written letters warning government workers to resign their jobs or face death. Other villagers left for Cameroon.
"They warned government officials and civil servants in Bama to resign or else face death in the next seven days. We are all scared, this could be more deadly, so we ran for our dear lives," said Abba Fannami who fled to Maidguri with six family members.
A police officer said Boko Haram rebels were ransacking homes in neighboring Gwoza district, forcing residents to hide in caves in the rocky hills.
Full report at:
http://www.arabnews.com/news/455847
--------------
'Refugee detention conditions in Libya deplorable'
June 23, 2013
TRIPOLI – The detention conditions for refugees, asylum seekers and migrants in Libya have been slammed as "deplorable" in a new Amnesty International report.
The research, released yesterday on World Refugee Day, also criticized EU funding programs designed to help the Libyan authorities to curb illegal immigration, describing the initiative as "troubling". EU funds should have been allocated to promote human rights in Libya, Amnesty said, but instead have been used: "To support detention centres where thousands of foreign nationals are unlawfully held."
Full report at:
http://www.saudigazette.com.sa/index.cfm?method=home.regcon&contentid=20130623170883
--------------
Mideast
Saving the holy land's oldest monastery in Gaza
23 June 2013
A haven of peace in the sea of concrete that is the Gaza Strip, the crumbling remains of the Holy Land's oldest monastery are in danger of disappearing for lack of funds to preserve them.
Saint Hilarion, also known as Tel Umm al-Amr, draws its name from the fourth century hermit who came from southern Gaza and is considered to be the father of Palestinian monasticism.
Its life close to the Mediterranean shore spanned more than four centuries -- from the late Roman Empire to the Umayyad period. Abandoned after an earthquake in the seventh century, it was uncovered by local archaeologists in 1999.
But today, "it's a complete mess -- archaeologically, scientifically and on a human level," laments Rene Elter, a researcher at the Ecole Biblique, a French academic institution in Jerusalem, who is responsible for trying preserve the site.
Full report at:
http://english.alarabiya.net/en/variety/2013/06/23/Saving-the-holy-land-s-oldest-monastery-in-Gaza-.html
--------------
Iran criticizes Doha decision to arm Syria rebels
June 23, 2013
TEHRAN — Iran has denounced a decision by Western and Arab countries to send weapons to Syrian rebels fighting the regime of President Bashar Al-Assad, the official IRNA news agency reported Sunday.
"Those who support sending weapons to Syria are responsible for the massacre of innocents and for the insecurity in the region," the agency cited Deputy Foreign Minister Hossein Amir Abdollahian as saying.
At a conference in Doha on Saturday, the main foreign backers of Syrian rebels battling Assad's troops said they would provide "urgently all the necessary materiel and equipment" to the opposition.
Full report at:
http://www.saudigazette.com.sa/index.cfm?method=home.regcon&contentid=20130623170949
--------------
Hamas executes 2 Palestinians for working with Israel
June 23, 2013
RAMALLAH – The Hamas security forces on Saturday executed two Palestinians in Gaza Strip after they were found guilty of treason and collaboration with the Israeli occupation.
Islam Shahwan, the spokesman of the Interior Ministry, said that the two men, aged 43 and 49, were hanged to death early Saturday. He added that the hanging took place "in accordance with our religion and Palestinian law."
Shahwan said that the two were accused of "spying for a hostile foreign party, attempted murder, passing Israel information regarding the location of military outposts, governmental offices as well as weapon workshops which were later attacked by the Israeli occupation army."
Full report at:
http://www.saudigazette.com.sa/index.cfm?method=home.regcon&contentid=20130623170876
-----------
Abbas formally accepts resignation of Palestinian PM
23 June 2013
Palestinian President Mahmoud Abbas on Sunday formally accepted the resignation of his newly appointed Prime Minister Rami Hamdallah, the presidential office said.
"The president accepted the resignation of the prime minister and designated him to head an interim government," Abbas spokesman Nabil Abu Rdaineh said, according to Reuters.
Hamdallah's resignation comes only two weeks after he took office.
At a meeting with Abbas on Friday, Hamdallah had withdrawn his resignation, a high ranking government official said, but after a further meeting on Sunday morning, the president decided he would accept it.
Full report at:
http://english.alarabiya.net/en/News/middle-east/2013/06/23/Abbas-accepts-resignation-of-Palestinian-PM-Hamdallah.html
--------------
A Palestinian hero is born: Mohammed Assaf crowned 'Arab Idol'
23 June 2013
Young Palestinian singer from Gaza Strip Mohammed Assaf was crowned on Saturday the "Arab Idol," a singing contest broadcast on the Middle East Broadcasting Center (MBC).
Immediately after he was crowned, the United Nations Relief and Works Agency for Palestine Refugees (UNRWA) named him a goodwill ambassador for peace, while Palestinian President Mahmoud Abbas offered him a position of "diplomatic standing."
Assaf, who came ahead of two other contestants, Syria's Farah Yousef and Egypt's Ahmed Jamal, dedicated his award to the "Palestinian people, who have been suffering for more than 60 years from (Israeli) occupation."
Described as a Palestinian hero by his fans, the 23-year-old Gazan brought together divided Palestinians in celebrations throughout the Palestinian territories in the West Bank and the Gaza Strip.
Full report at:
http://english.alarabiya.net/en/life-style/entertainment/2013/06/23/Young-Palestinian-singer-Assaf-crowned-the-Arab-Idol-.html
--------------
URL: https://newageislam.com/islamic-world-news/new-age-islam-news-bureau/gunmen-kill-9-foreign-tourists,-guide-in-gilgit-baltistan/d/12237