New Age Islam News Bureau
21 Apr 2013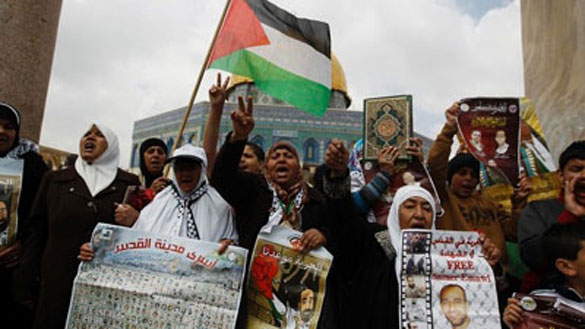 An Israeli spokesman said the police parading a cuffed Palestinian teenager was an attempt to calm tempers of hundreds of Palestinian protesters. (AFP)
----------
India
• Gujarat's Failure to Protect People during 2002 Riots Figures In US Report
• Kashmir issue finds no mention in poll campaigns in Pakistan
• Fake encounter case: Tulsiram cops made 74 calls to Modi's office
• SC upholds 7-year jail term of man for spying for Pak
• Cops start shifting 1993 blast convicts to other jails in Maharashtra
Pakistan
• Sharia court ruling: Taliban amputate thieves' limbs in Herat
• Militant ambush kills four security personnel in Waziristan
• '103 killed in Lal Masjid, Jamia Hafsa operation'
• MQM worker among seven killed in Karachi
• Altaf urges Taliban to lay down arms, enter mainstream politics
• Lawyer barred from meeting Musharraf in sub-jail
• Political crime: Jail the place for Musharraf, says Sana
• Afghanistan second largest export market of Pakistani goods
• Consultative meeting on Mainstreaming of Scheduled Caste's vote in General Election 2013
Southeast Asia
• Sex, Sabotage and Videotape in Malaysian Campaign
• Govt urged to quickly implement new immigration law
• Many independents contesting shows democracy healthy in Malaysia
• Government will continue RM100m annual allocation for Chinese schools, says Najib
North America
• US senator urges cooperation with Russia on radical Islam
• Taliban case: 2 US citizens found guilty in NY
• Boston Attacks Turn Spotlight on Troubled Region of Chechnya
• Kerry Says U.S. Will Double Aid to Rebels in Syria
• Kerry pushes Turkey-Israel rapprochement
• US prosecutors move quickly to build Boston Marathon case
• US-Israel arms deal sends 'clear signal' to Iran: Hagel
Europe
• Chechen brothers strike a chord with al-Qaida
• Nicolas Sarkozy investigated over alleged Libya funding
• North Caucasus rebels deny link to Boston bombings
• London Marathon starts with tributes to victims of Boston bombings
• Russia sought FBI's help in 2011 to probe Boston suspect
• Catastrophe looms in Myanmar as rains near: UNHCR
• Germany will 'respect' move to lift Syria arms embargo
South Asia
• Taliban Attacks Kill 9 People in Afghanistan
• Pro-Sharia march held in Male'
• Arrest, punish 'atheist bloggers', Demands Islami Andolan Bangladesh Ameer
• North Korea slams US website, denies claim over Boston bombing
• Taliban attacks in Afghanistan rise 47%
Arab World
• Egypt Court Postpones Trial of 26 Suspected Islamist Militants
• Egypt detains alleged members of 'Black Bloc' anti-Mursi group
• Egypt jihadist leader warns of Coptic 'triumph'
• Syria opposition urges 'surgical strikes' on Assad missiles
• Hunger-striking Saudi's health deteriorates in Baghdad prison
• Boston Bombing: Attempts to defame Muslims
• Syrians held over violence in Jordanian refugee camp
• Some Iraqis Doubt Benefits of First Vote since U.S. Departure
Africa
• Nigeria Censors Documentary in Growing Crackdown
• Tripoli's twin-tower project back on track
• Libya's book fair promotes reading
Mideast Asia
• Israel police parade cuffed Palestinian teenager to protesters
• Relatives of Flotilla Raid Victims Reject Compensation from Israel
• Iran F-5 fighter crashes killing two crew members
Compiled by New Age Islam News Bureau
URL: https://newageislam.com/islamic-world-news/new-age-islam-news-bureau/gujarat-s-failure-to-protect-people-during-2002-riots-figures-in-us-report/d/11234
--------------
India
Gujarat's Failure to Protect People during 2002 Riots Figures In US Report
PTI | Apr 21, 2013
WASHINGTON: India's civil society continues to express concern over the Gujarat government's failure to protect people or arrest those responsible for communal violence in 2002, a US report on human rights has said.
The report, titled 'Country Reports on Human Rights Practices for 2012' released by the US state department, as mandated by the Congress, says human rights groups continue to allege that investigative bodies in their reports showed bias in favour of Gujarat's chief minister Narendra Modi.
"Civil society activists continued to express concern about the Gujarat government's failure to protect the population or arrest those responsible for communal violence in 2002 that resulted in the killing of more than 1,200 persons, the majority of whom were Muslim, although there was progress in several court cases," said the report, which was released by US secretary of state John Kerry on Friday.
"Human rights groups continue to allege that investigative bodies showed bias in favour of Modi in their reports," the US report said.
The chapter on India in the report runs into 60 pages, according to which the most significant human rights problems in India in 2012 were police and security force abuses, including extra-judicial killings, torture, and rape; widespread corruption at all levels of government, leading to denial of justice; and separatist, insurgent, and societal violence.
"Other human rights problems included disappearances, poor prison conditions that were frequently life-threatening, arbitrary arrest and detention, and lengthy pre-trial detention. The judiciary was overburdened, and court backlogs led to lengthy delays or the denial of justice," the report said.
"Authorities continued to infringe on citizens' privacy rights," it said.
"Separatist insurgents and terrorists in Jammu and Kashmir, the north-eastern states, and the Naxalite belt committed numerous serious abuses, including killing armed forces personnel, police, government officials, and civilians. Insurgents were responsible for numerous cases of kidnapping, torture, rape, and extortion, and they used child soldiers," the report said.
For the second consecutive year, Jammu and Kashmir and the Northeast saw considerably less violence than in the past, it added.
The state department said, law enforcement and legal avenues for rape victims were inadequate, overtaxed, and unable to address the issue effectively.
"Law enforcement officers sometimes worked to reconcile rape victims and their attackers, in some cases encouraging female rape victims to marry their attackers. Doctors sometimes further abused rape victims who had come to report the crimes by using the 'two finger test' to speculate on their sexual history," it said, while referring to the brutal gang rape of a 23-year-old girl in Delhi.
http://timesofindia.indiatimes.com/india/Gujarat-governments-failure-to-protect-people-during-2002-riots-figures-in-US-report/articleshow/19661625.cms
--------------
Kashmir issue finds no mention in poll campaigns in Pakistan
Apr 21 2013
Islamabad/Lahore : Kashmir occupies much of Pakistan's foreign policy space and remains an obsession with its security establishment and non-state actors but the issue hardly finds any mention in the campaign for next month's national assembly elections that may again return a hung verdict.
Nor does India figure in the muted campaign of political parties whose candidates are mainly grappling with militant threats as the country goes to polls on May 11 to elect 272 members in a house of 342.
The remaining seats will be filled up in accordance with various quotas. In the national elections, over eight crore people are eligible to vote. Polls are also being held to choose provincial assemblies.
Lack of any national issues mark the electoral scene in a country that is trying to make the first democratic transition in its history. No elected government in Pakistan had so far completed its term like the PPP-led government did.
After last elections, the PPP, headed by Bilawal Bhutto Zardari, the 24-year-old son of President Asif Ali Zardari and late Benazir Bhutto, and PML-N headed by former Prime Minister Nawaz Sharif came together to form a coalition government
because no one got majority. Later, the two split but the government survived with the help of other parties.
Surprisingly, India and the emotive Kashmir dispute have not figured in the campaign of any of the parties though they are mentioned in their manifestos.
The PML-N's manifesto talks of making Pakistan a bridge between energy-rich Central Asia and Iran and energy-deficit countries like China and India.
It also speaks of linking India with Afghanistan and Central Asia and providing a land route from Iran to India.
The PML-N further says it will make special efforts to resolve the Kashmir issue in line with UN resolutions and the 1999 Lahore Accord. The PPP, which sustained dialogue with India and normalised bilateral trade relations while in power, states in
its manifesto that it will work to resolve all outstanding issues with India, including the "core issue" of Kashmir.
"We will not allow lack of progress on one agenda to impede progress on the others," the manifesto says.
Imran Khan's party, widely perceived as being close to the powerful security establishment, says in its manifesto the resolution of the Kashmir dispute is one of Pakistan's "core national interests".
It states that "progressive detente with India will benefit both countries if centred on conflict resolution".
The party also talks of a "bilateral strategic dialogue with India encompassing all aspects of strategic nuclear deterrence".
Imran Khan, who was not long ago touted as the most popular leader and was speculated as the next Prime Minister, of course, with establishment's backing, does not appear to be to leading in the race. Analysts feel that his party's weakness in crucial provinces of Punjab and Sindh could hamper his performance.
Senior PPP leader Latif Khosa explained the lack of focus on India in the campaign by saying that candidates were highlighting what they had done for the electorate.
"In the local scheme of things, our candidates only talk about what they have done for their voters and what they will do in future. India or Kashmir does not fit in. However, if you have seen our advertisements, you find the Kashmir issue
in them," Khosa said.
Khosa said President Zardari had recently raised the Kashmir issue.
"We are very much concerned about it," he added.
PML-N spokesman Pervaiz Rashid said his party's television advertisements too feature Nawaz Sharif's "daring step of nuclear tests and our soldiers on Siachen".
"We are reminding the people that it is the PML-N leadership that will resolve the Kashmir through dialogue with India. We want peaceful relations with India as we have said several times," he said.
Columnist and TV talk show host Farrukh Pitafi, however, said foreign policy issues had taken a backseat in the ongoing campaign.
"Even the most reactionary parties are focussing more on domestic issues like corruption, good governance and the energy crisis.
"The PML-N leadership brought up the peace process with India to remind us of its legacy but we have witnessed no playing up of Kashmir or similar issues," he said.
Meanwhile, top leaders of key parties like the PML-N, Muttahida Qaumi Movement and Pakistan Tehrik-e-Insaf have addressed only a handful of large rallies while others like the Pakistan Peoples Party and Awami National Party have largey been absent from the campaign trail.
Campaigning by the PPP, MQM and ANP, which were part of the last government, was hit after the banned Pakistani Taliban threatened to target their rallies and leaders.
Nearly 20 people have died in a suicide attack and bombings targeting the secular ANP in the country's northeast.
The Taliban also gunned down a MQM candidate in southern Sindh province.
Other parties like the PML-N and PML-Q have struggled to find issues that can resonate with voters.
In several recent rallies, PML-N chief Nawaz Sharif, who is being widely tipped as Pakistan's next premier, has largely focussed on his achievements in the 1990s and the poor governance of the outgoing PPP-led coalition.
The Pakistan Tehrik-e-Insaf has been able to make vital inroads among the youth and in urban centres, largely due to its charismatic 60-year-old chief Imran Khan's promises to wipe out corruption and usher in a new foreign policy that will pull Pakistan out of the US-led war on terror.
Campaigning has been especially low-key and lacklustre in Punjab, the country's most populous province that holds the key to power in the National Assembly or lower house of parliament.
A visit to several cities of Punjab by PTI correspondent showed that electioneering is yet to take off.
Candidates and voters blamed anomalies in the Election Commission's scrutiny system, among other issues.
"How can we run a campaign when even till yesterday my papers were being challenged in an election tribunal," Amir Dogar, a PPP candidate in Multan, 350 km from Lahore, said.
"One day the Returning Officer accepts the papers of a candidate, then the election tribunal rejects them and finally the court accepts them.
"In such a scenario, how can a candidate risk spending millions when he knows he may be disqualified without entering the race?" he asked.
Dogar's cautious approach was reflected in key districts like Khanewal, Cheechawatni, Sahiwal and Okara, with no visible signs of campaigning like portraits or banners of any candidates.
However, there is a general impression among voters that candidates will go in for hectic campaign during the last two weeks before the polls.
The PPP, which ruled Pakistan during 2008-2013, is banking on programmes that it initiated while in power, like the Benazir Income Support Programme which distributed Rs 1000 a month among tens of thousands of families.
The PML-N is highlighting projects like the Metro Bus Service in Lahore while Imran Khan's campaign centres round the message of building a "New Pakistan".
With President Asif Ali Zardari, the chief of the PPP, barred from campaigning by the judiciary, the party is looking to his son, 24-year-old Bilawal Bhutto Zardari, to woo the voters.
However, Bilawal addressed only one small gathering of PPP workers in Sindh and can be seen only television spots and newspaper advertisements that feature his slain mother Benazir Bhutto and late grandfather Zulfiqar Ali Bhutto.
http://www.indianexpress.com/news/kashmir-issue-finds-no-mention-in-poll-campaigns-in-pakistan/1105572/
------------
Fake encounter case: Tulsiram cops made 74 calls to Modi's office
TNN | Apr 21, 2013
AHMEDABAD: The top cops in the Tulsiram Prajapati fake encounter case were in constant tough with chief minister Narendra Modi's office during the time of encounter in December 2006. This is revealed in call details gathered by probe agency.
Alleging that Modi was "the biggest political beneficiary of the encounters", Sohrabuddin Sheikh's brother Rubabuddin has sought further probe by the CBI into the call details that lead to the chief minister's office (CMO). Addressing newspersons, Rubabuddin's counsel Mukul Sinha said that in all 74 calls were made between two cops and the CMO during two encounters. Sohrabuddin was bumped off on November 26, 2005 and Tusliram was killed on December 28, 2006.
Furnishing call details, gathered earlier by the CID (crime), Rubabuddin has claimed that D G Vanzara and Rajkumar Pandian were in constant touch with the CMO, and the frequency of calls increased as the probe in Sohrabuddin's encounter case gained momentum. As per the call details, two OSDs to CM - Parag and O P Singh were in contact with the accused cops, says Sinha.
The cops were also in touch with CMO on landline numbers. Rubabuddin has claimed that he can now seek investigation on these details, since the Supreme Court has clubbed both the cases. "These call details are available with the CBI from the beginning, then why did the CBI not conduct any probe into them till date?" Rubabuddin's counsel questioned. He added, "There could be a proper explanation of these calls, but they are required to be probed first. And since Modi is the biggest political beneficiary in all fake encounters with his minister of state (Amit Shah) accused in two cases, there is a certain connection with the CM's office, which needs investigation."
Advocate Sinha said the CBI did not investigate the case beyond the alleged involvement of Amit Shah, but the call details raised a question why the accused cops were in contact with the CMO.
Claiming that the CBI has failed to probe the larger conspiracy as well as accusing the agency of acting on limited call details, Rubabuddin has demanded thorough probe into call details of all Modi's officials and Shah's calls. He has also called for a thorough probe into call details of all accused cops, as details of only two officers were made available.
Besides, Rubabuddin has sought probe into how Sohrabuddin's Kauserbi was killed, on connection of Rajasthan and Andhra Pradesh with the encounters and on who ordered Vanzara's transfer from ATS to Bhuj as border range DIG.
http://timesofindia.indiatimes.com/india/Fake-encounter-case-Tulsiram-cops-made-74-calls-to-Modis-office/articleshow/19655666.cms
--------------
SC upholds 7-year jail term of man for spying for Pak
April 21, 2013
The Supreme Court has upheld the seven years rigorous imprisonment awarded to a man for spying for Pakistan intelligence agency and supplying secret information to it about the Indian military establishment.
The court also held that even if police conduct search of a premises in an illegal manner, it would not affect the legality of the search and dismissed the plea of Safi Mohammad who had contended that material seized from his house should not be taken into consideration as it was done illegally and without warrant.
Full report at:
http://www.hindustantimes.com/India-news/newdelhi/SC-upholds-7-year-jail-term-of-man-for-spying-for-Pak/Article1-1047983.aspx
----------
Cops start shifting 1993 blast convicts to other jails in Maharashtra
TNN | Apr 21, 2013
MUMBAI: Prison authorities have started shifting the 1993 serial blasts convicts who surrendered before the Tada court by Friday. Prison sources said 15 convicts have been shifted to Nashik central prison while 21 were sent to Kolhapur central prison; both have factories employing convicts.
"The transfer began on Friday and convicts who surrendered have been shifted to two jails. Two women convicts will be sent to Yerawada's women prison while two men will be sent to Yerawada central jail," the source said, adding, "We can't divulge information about the convicts' names and where they have been shifted, due to security reasons."
Full report at:
http://timesofindia.indiatimes.com/india/Cops-start-shifting-1993-blast-convicts-to-other-jails-in-Maharashtra/articleshow/19655797.cms
--------------
Pakistan
Sharia court ruling: Taliban amputate thieves' limbs in Herat
April 21, 2013
ISLAMABAD: In a brutal example of the Taliban justice system, the militant group in Afghanistan cut off the hands and legs of two 'thieves' after a Sharia court delivered its verdict in the western Herat province.
The Taliban spokesman for western and southern areas of Afghanistan, Qari Yousaf Ahmadi, said the two men had earlier confessed that they had stolen the property of Muslims.
Taliban officials in Herat passed on the information to him in a report that the two men were punished in Rabat Sangi district in accordance with Sharia.
Full report at:
http://tribune.com.pk/story/538453/sharia-court-ruling-taliban-amputate-thieves-limbs-in-herat/
--------------
Militant ambush kills four security personnel in Waziristan
April 21, 2013
PESHAWAR: A convoy of security forces was ambushed with an Improvised Explosive Device (IED) in Mirali area of North Waziristan in which four security personnel were killed and four others were critically injured.
A security official told Dawn.com that exchange of fire continued between security forces and militants near the Khwaja Khar checkpost in Mir Ali district of North Waziristan region.
In another incident clashes between militants and security forces in Orakzai tribal region's Dabori area injured three security personnel. At least three suspected militants were also killed during the exchange of fire, security sources told Dawn.com.
Full report at:
http://dawn.com/2013/04/21/bds-officials-defused-bomb-near-peshawar/
--------------
'103 killed in Lal Masjid, Jamia Hafsa operation'
April 21, 2013
ISLAMABAD: The report of a commission that probed the operation in Lal Masjid has verified from reports, claims, witnesses and media reports that 103 people were killed in the operation.
The report by the one-man commission of Federal Shariat Court's Justice Shahzado Shaikh was made public on the directives of the Supreme Court on Saturday.
The commission worked on eight terms of reference, including how many persons, if any, male or female, civilian or law enforcement agencies' personnel, lost their lives in the Jamia Hafsa-Lal Masjid operation.
Full report at:
http://www.dailytimes.com.pk/default.asp?page=2013\04\21\story_21-4-2013_pg7_3
--------------
MQM worker among seven killed in Karachi
April 21, 2013
KARACHI: Seven people including two workers of a political party were gunned down in the metropolis here on Saturday.
Two activists of the Muttahida Qaumi Movement (MQM) were shot dead in separate attacks of targeted killings.
The first activist was shot dead near Kaghzi Bazaar within the jurisdiction of Kharadar police station.
Police said that victim Omair was shot dead by unidentified assailants who attacked him near his house and managed to flee the crime scene.
Another worker of MQM was killed near Gujjar Nala within the remits of Gulbahar police station.
Full report at:
http://www.dailytimes.com.pk/default.asp?page=2013\04\21\story_21-4-2013_pg12_2
--------------
Altaf urges Taliban to lay down arms, enter mainstream politics
April 21, 2013
KARACHI: In what is being described as a major shift in policy towards the outlawed Tehreek-i-Taliban Pakistan, Muttahida Qaumi Movement (MQM) chief Altaf Hussain has appealed to its leaders to lay down arms and enter mainstream politics.
"You cannot make friends by using force… make them yours with the power of peace and love," he said in his speech from London to a big gathering held on Saturday at the Lal Qila ground to kick off the MQM's election campaign.
The MQM has fielded 671 candidates — 221 for the National Assembly and 450 for the four provincial assemblies.
Full report at:
http://dawn.com/2013/04/21/mqm-fields-671-candidates-across-country-altaf-urges-taliban-to-lay-down-arms-enter-mainstream-politics/
--------------
Lawyer barred from meeting Musharraf in sub-jail
April 21, 2013
ISLAMABAD: The Secretary General of the All Pakistan Muslim League (APML) and a lawyer for Pervez Musharraf were prevented on Sunday from meeting the former military ruler at his Chak Shehzad farmhouse residence, DawnNews reported.
Raja Ibrahim Satti, counsel for Musharraf was stopped from entering the residence of the party chief which was declared as a sub-jail.
The private security deployed at the 5,000 acre farmhouse on the outskirts of Islamabad was also removed along with all communication facilities provided to General (retired) Pervez Musharraf.
Full report at:
http://dawn.com/2013/04/21/lawyer-barred-from-meeting-musharraf-in-sub-jail/
--------------
Afganistan second largest export market of Pakistani goods
April 21, 2013
PESHAWAR: Pakistan's Ambassador to Afghanistan, Mohammad Sadiq said on Sunday that peace in Afghanistan was the top priority of his country and its foreign policy.
Speaking to Dawn.Com on the sidelines of a seminar organised by University of Peshawar's Department of Political Science, titled "Pak- Afghan relations in the changing world scenario", Ambassador Sadiq said reconciliation among all ethnic groups and stakeholders in the war-affected country is the only solution for restoration of peace in the region.
Full report at:
http://dawn.com/2013/04/21/afganistan-second-largest-export-market-of-pakistani-goods/
-----------
Consultative meeting on Mainstreaming of Scheduled Caste's vote in General Election 2013
April 21, 2013
The Consultative meeting was organized by District Development Association (DDAT) in collaboration with Pakistan Institute of labor education and Research (PILER) and Pakistan Dalit Solidarity Network (PDSN) held on 16 April 2013 and Press conference organized by PDSN and PILER on 17 April 2013 in Mithi Tharparkar.
The consultative meeting was joined by representatives of political parties including Engineer Gianchand PPP, Vasand Thari, Ms Hajiyani Lanjo and Hemraj Bheel from Awami Tehrik, Advocate Bhoro Kolhi, Malji Rathore and others.
Speaking at a press conference at the Thar press club on Wednesday, Pakistan Institute of Labour Education and Research joint director Mr. Zulfiqar Shah, Mr. Kirshan Sharma, District Development Association Tharparkar CEO and Pakistan Dalit Solidarity Network representative Pirbhu lal Satyani said that there were 2.78 million registered minority votes in Pakistan.
The voters comprised of 1.4 million scheduled and upper caste Hindus each, 1.23 million Christians, 0.15 million Ahmedis, 5,934 Sikhs, 3,650 Parsis, 1,452 Buddists and 809 Jews.
Speakers said that the significance of minority votes, especially that of the scheduled caste, could be gauged from the fact that out of total 272 national assembly seats, 98 national assembly polls had more than 10,000 minority votes and out of total 537 Sindh and Punjab assembly seats, 191 polls had more than 5,000 minority votes.
Hence, they said, it could be safely concluded that minorities decided the fate of 96 national and provincial constituencies in Sindh and Punjab.
They said that the ensuing election results would not be of any significance without participation of scheduled caste votes and media, civil society and democratic circles should take steps for the participation of 46 per cent minority voters in Thar.
Speakers said that 90 per cent votes within Hindu Population belong to the scheduled caste and 10 percent upper caste rule over scheduled caste. They lamented that the scheduled caste people have been kept away from the political process and have consequently remained deprived of their fundamental rights since they never achieved proportional representation in legislative bodies.
They said that since election was around the corner, all political parties were making hectic efforts to win, however most of them had completely ignored religious minorities for proportional seats and instead gave them to their henchmen. They said that though religious minorities were in majority in Umerkot and Tharparkar districts, they had been ignored for proportional representation in elections.
They said that the election commission should take care in Thar where a good number of minority candidates were contesting election, adding that measures to protect scheduled caste people should be taken.
In the consultative meeting, presentation was given by Pirbhu Satyani, to bring scheduled caste plights in mainstream politics. He gave following recommendations to all political parties on the platform of PDSN and with consensus of meeting participants.
All political parties and leaders to include in their manifesto and election campaign the affirmative action for Scheduled caste community in Pakistan.
Policy legislation on to stop forced conversion of Minority young girls, ban on untouchability and implement the 6% job quota.
Implementation of Bonded labour act 1992 and rehabilitation of Scheduled caste landless families.
Legal support to the victim of caste discrimination
All prejudices should be removed from curriculum and it is designed in a modern way, free of any religious biased.
Initiate poverty reduction projects exclusively for scheduled castes, including trainings on income generation skills.
Mr. Vasand Thari said, it is clearly mentioned in the manifesto of Awami Tehreek that all people will be treated equally including all religious monitories, women and children. He said in constitution of Pakistan Minorities are considered second class citizen and some laws are discriminatory, if their party come into power then their first priority will be to repeal such black laws in the constitution so that minority and women can enjoy their equal rights.
Ms. Hajiani Lanjho said, we have traditional leader who do not want minority and women enjoy their rights in Pakistan. She suggested all women in Thar should come forward to fight against such biased leaders and support her in election campaign. She said Awami Tahreek is the forum who has very clear and secular manifesto.
Mr. Bhooro Mal said, previous government has done nothing for the poor and marginalized communities. Bhooro said he is contesting election from Nanagarpark Taluka, where majority of people belongs to scheduled caste community Kolhi clan, and now they have migrated to barrage area due to scarcity of water in their area so it is fear that votes of this community will not be counted in general election. He emphasized, that the issues of Nangarparkar community would be resolved so that election could be held in transparent way. He said, if he comes in to power than he has plan for the development of Nanagarparkar.
Mr. Eng. Gian Chand Said, it's time to support minority and scheduled caste people in election however they have big number of votes in Tharparkar and Umerkot district. He said he believe in change and equality that is basic right for every human being.
Mr. Zulifqar Shah concluded the session. He said it seem now the situation will turn up, as the votes of scheduled caste and Hindus are almost equal to Muslim in Tharparkar and Umerkot. If all minority and scheduled caste candidate sit together and support each other than they would win the election. Mr. Shah said, now it's not easy for big political party leaders to exploit the votes of oppressed class so for that we are expecting a very transparent election and votes form Muslim population for scheduled caste and minority candidates. He said we need to monitor the situation particularly in those areas where minority communities have big number of votes.
Mr. Sharma formerly thanked to all the participants and political party leaders for their active participation in meeting.
--------------
Southeast Asia
Sex, Sabotage and Videotape in Malaysian Campaign
Agence France-Presse | April 21, 2013
Kuala Lumpur. Malaysia's ruling establishment has been accused of resorting to "gutter politics" as a bruising election campaign starts amid outrage over sex videos and opposition charges of sabotage.
The May 5 vote looks to be a typically hard-fought and polarizing Malaysian election as a 56-year-old regime faces the fight of its life against a rising opposition.
But analysts warn negative tactics in the campaign that officially began on Saturday could backfire on the ruling United Malays National Organization.
Premier Najib Razak had pledged to oversee a civil election run but advocates for a clean campaign have cried foul over alleged improprieties in what one group has warned will be Malaysia's "dirtiest election ever."
A top figure in an opposition Islamic party in the Muslim-majority nation was forced recently to deny involvement over an online video claiming to show him in a tryst with a young woman.
Full report at:
http://www.thejakartaglobe.com/international/sex-sabotage-and-videotape-in-malaysian-campaign/587145
--------------
Govt urged to quickly implement new immigration law
April 21 2013
Indonesian Mixed-Marriage Society (PerCa) chairwoman Melva Nababan told The Jakarta Post on Saturday that the government should immediately issue an implementing regulation (PP) and technical guidance for Law No.6/2011 on Immigration; so, any Indonesians in mixed-nationality marriages would no longer face problems regarding their marriages.
She said the PP should have been issued one year at the latest after the government replaced Law No.9/1992 on Immigration with the new immigration law issued in May 2011.
Full report at:
http://www.thejakartapost.com/news/2013/04/21/govt-urged-quickly-implement-new-immigration-law.html
--------------
Many independents contesting shows democracy healthy in Malaysia, says Ahmad Zahid
April 21, 2013
BAGAN DATOH, April 21 — The emergence of many independent candidates in the 13th general election (GE13) shows that democracy is alive and healthy in Malaysia, says Umno vice-president Datuk Seri Dr Ahmad Zahid Hamidi.
"No matter how many candidates are contesting in this general election, ultimately it's the voters who decide who should represent them.
Full report at:
http://www.themalaysianinsider.com/malaysia/article/many-independents-contesting-shows-democracy-healthy-in-malaysia-says-ahmad-zahid/
--------------
Government will continue RM100m annual allocation for Chinese schools, says Najib
April 21, 2013
KUALA LUMPUR, April 21 — Datuk Seri Najib Razak said today the support he has received from the people has heartened and encouraged him in the knowledge that the government has done a lot for the Chinese community over the last few years.
"I believe this is especially true on education, where we will continue a RM100 million yearly allocation for the maintenance and upgrading of Chinese schools.
Full report at:
http://www.themalaysianinsider.com/malaysia/article/government-will-continue-rm100m-annual-allocation-for-chinese-schools-says-najib/
-----------
North America
US senator urges cooperation with Russia on radical Islam
PTI | Apr 21, 2013
WASHINGTON: The Boston bombings in which two Chechen brothers were allegedly involved, reflects the need of the United States to work more closely with Russia on radical Islam, an American Congressman said.
"As we pull out of Afghanistan, it behoves us to work with Russia, the central Asian Republics, and those anti-Taliban elements inside Afghanistan, to ensure that the realm of radical Islamic terrorism will not dramatically expand its power base and thus pose an even greater threat to the good people of the world," Congressman Dana Rohrabacher said.
Rohrabacher, chairman of the House Foreign Affairs Subcommittee on Europe, Eurasia, and Emerging Threats, called for recognition of radical Islamic elements within the US that may have been trained overseas.
Full report at:
http://timesofindia.indiatimes.com/world/us/US-senator-urges-cooperation-with-Russia-on-radical-Islam/articleshow/19656358.cms
--------------
Taliban case: 2 US citizens found guilty in NY
April 21, 2013
NEW YORK — Two US citizens have been found guilty in New York of conspiring to provide material support to the Taliban and conspiring to acquire anti-aircraft missiles.
US Attorney Preet Bharara says Friday Alwar Pouryan and Oded Orbach face a maximum sentence of life in prison and a mandatory minimum sentence of 25 years in prison for the anti-aircraft missile count. Sentencing is scheduled for Sept. 4. The two men were arrested in Bucharest, Romania, last February.
Authorities say the men were approached by US government witnesses posing as representatives of the Taliban. They say the men thought they were arranging the sale in 2010 of lethal weapons to members of a dangerous drug organization with terrorism links. Lawyers for the men haven't returned calls seeking comment. — AP
http://www.saudigazette.com.sa/index.cfm?method=home.regcon&contentid=20130421162229
-------------
Boston Attacks Turn Spotlight on Troubled Region of Chechnya
By PETER BAKER and C. J. CHIVERS
April 21, 2013
WASHINGTON — The possible motivations of the two brothers linked to the Boston Marathon bombings are as yet publicly unknown. Of Chechen heritage, they lived in the United States for years, according to friends and relatives, and no direct ties have been publicly established with known Chechen terrorist or separatist groups.
Yet, with at least one brother talking of Chechen nationalism on the Internet, their reported involvement in the marathon attack throws a spotlight back on one of the darkest corners of nationalist and Islamic militancy, and to a campaign for separatism and vengeance responsible for some of the most unsparing terrorist acts of recent decades.
Full report at:
http://www.nytimes.com/2013/04/21/world/europe/boston-attacks-turn-spotlight-on-
--------------
Kerry Says U.S. Will Double Aid to Rebels in Syria
By MICHAEL R. GORDON and SEBNEM ARSU
April 21, 2013
ISTANBUL — Secretary of State John Kerry announced Sunday morning that the United States would double its aid to the Syrian opposition, providing $123 million in fresh assistance.
Mr. Kerry made the announcement at a meeting with foreign ministers from Western and Middle Eastern nations that was convened here to decide how to help the opposition in Syria's bitter civil war, which has killed more than 70,000 people.
A portion of the new American aid, the State Department said, will help provide additional "nonlethal" supplies to the military wing of the National Coalition of Syrian Revolutionary and Opposition Forces, an umbrella organization formed in November to unite the various rebel groups that have been trying to overthrow President Bashar al-Assad for two years.
Full report at:
http://www.nytimes.com/2013/04/21/world/middleeast/kerry-says-us-to-double-aid-to-the-
--------------
Kerry pushes Turkey-Israel rapprochement
Apr 21 2013
Wrapping up a 24-hour visit to Istanbul, U.S. Secretary of State John Kerry on Sunday sought to cement and speed up an improvement in relations between Turkey and Israel as well as explore new ways to re-launch Mideast peace efforts.
President Barack Obama has made both issues foreign policy priorities for his second term and Kerry was pushing them in meetings with Palestinian leader Mahmoud Abbas and Turkish Foreign Minister Ahmet Davutoglu.
Full report at:
http://www.thehindu.com/news/international/world/kerry-pushes-turkeyisrael-rapprochement/article4640163.ece
---------
US prosecutors move quickly to build Boston Marathon case
AP | Apr 21, 2013
WASHINGTON: The Obama administration has a range of legal options in the Boston Marathon bombings, and they could include seeking the death penalty against the 19-year-old suspect.
The administration has indicated it intends to move quickly to build a criminal case against Dzhokhar Tsarnaev. But investigators plan to first question him without informing him of his legal rights to remain silent and have an attorney present.
Several Republican lawmakers on Saturday criticized the administration's approach because they said it would afford Tsarnaev more rights than he deserves. The federal public defender for Massachusetts called for the quick appointment of a lawyer to represent Tsarnaev because of serious issues involving his interrogation in the absence of a lawyer.
Full report at:
http://timesofindia.indiatimes.com/world/us/US-prosecutors-move-quickly-to-build-Boston-Marathon-case/articleshow/19657047.cms
--------------
US-Israel arms deal sends 'clear signal' to Iran: Hagel
AFP | Apr 21, 2013
TEL AVIV: A major US arms deal with Israel sends a "very clear signal" to Tehran that military action remains an option to stop it from going nuclear, US defence secretary Chuck Hagel told reporters on Sunday.
Asked if a multi-billion dollar arms package with Israel was designed to convey a message that a military strike remains an option, he said: "I don't think there's any question that's another very clear signal to Iran."
Hagel was speaking just before his plane touched down in Tel Aviv at the start of a six-day tour of the region focused on plans to sell $10 billion worth of advanced missiles and aircraft to Israel, the United Arab Emirates and Saudi Arabia in a bid to counter the threat posed by Iran.
Full report at:
http://timesofindia.indiatimes.com/world/middle-east/US-Israel-arms-deal-sends-clear-signal-to-Iran-Hagel/articleshow/19662100.cms
--------------
Europe
Chechen brothers strike a chord with al-Qaida
TNN | Apr 21, 2013
NEW DELHI: Two Chechen brothers, who had attacked Boston Marathon might have acted on their own without help of any organized group, but their act must have pleased al-Qaida as the global terror outfit has always expressed its solidarity with Caucasian Muslims' struggle.
Though nothing can be said conclusively about the motives of the brothers as yet, the narrative found place in the US media which speculated that if at all the brothers had acted at al-Qaida's behest it could be a big boost for the outfit which had long been looking for its penetration among Caucasians who may act against targets in the West.
Presence of Caucasian fighters in West Asia and Afghanistan had been noticed earlier, but they have never before been known to carry out any attack in the West.
Full report at:
http://timesofindia.indiatimes.com/india/Chechen-brothers-strike-a-chord-with-al-Qaida/articleshow/19656516.cms
--------------
Nicolas Sarkozy investigated over alleged Libya funding
April 21, 2013
French prosecutors are investigating allegations that Libya helped fund Nicolas Sarkozy's successful 2007 presidential election bid.
The inquiry would look at charges of "active and passive corruption", "influence peddling" and other issues, a judicial source told AFP news agency.
The former president was placed under formal investigation last month over claims he received illegal donations from France's richest woman.
Mr Sarkozy denied all the allegations.
He has previously hinted that he might consider another run for the presidency in 2017, but the outcome of these investigations could determine whether he will make a return to politics, observers say.
Full report at:
http://www.bbc.co.uk/news/world-europe-22220272
-----------
North Caucasus rebels deny link to Boston bombings
April 21, 2013
MOSCOW, Russia - A website used by Russia's North Caucasus rebels denied Sunday any link to the deadly Boston Marathon bombings that have been blamed on two ethnic-Chechen suspects.
"The command of the Vilayat Dagestan mujahedeen... declares that the Caucasus fighters are not waging any military activities against the United States of America," the Kavkazcenter.com website said.
"We are only fighting Russia, which is not only responsible for the occupation of the Caucasus, but also for monstrous crimes against Muslims," the rebel site said.
Full report at:
http://www.saudigazette.com.sa/index.cfm?method=home.regcon&contentid=20130421162359
--------------
London Marathon starts with tributes to victims of Boston bombings
AP | Apr 21, 2013
LONDON: The London Marathon started in defiant mood on a glorious sunny morning on Sunday despite concerns raised by the bomb attacks on the Boston Marathon six days ago.
Thousands of runners offered tributes to those killed and injured in Boston. The race began after a dignified moment of silence for the victims in Boston, and many wore black armbands as a sign of solidarity.
"It means that runners are stronger than bombers," said Valerie Bloomfield, a 40-year-old accountant from France just before she started the marathon.
Most participants said they weren't worried by the Boston bombings, but one acknowledged an undercurrent of anxiety.
Full report at:
http://timesofindia.indiatimes.com/world/uk/London-Marathon-starts-with-tributes-to-victims-of-Boston-bombings/articleshow/19661409.cms
--------------
Russia sought FBI's help in 2011 to probe Boston suspect
Reuters | Apr 21, 2013
WASHINGTON: Russia asked the FBI in early 2011 to investigate Boston bombing suspect Tamerlan Tsarnaev out of concern he had embraced radical Islam and was going to travel to Russia to join underground groups, US law enforcement sources said on Saturday.
Russia's federal security service, or FSB, made a request for checks on Tsarnaev - who was killed after a shootout with police on Thursday - to help an investigation of its own, a US government source said.
The Russians were not tipping off the FBI about a plot in the United States or any threat posed to US interests, a law enforcement and national security source said on condition of anonymity.
Full report at:
http://timesofindia.indiatimes.com/world/us/Russia-sought-FBIs-help-in-2011-to-probe-Boston-suspect/articleshow/19657528.cms
--------------
Catastrophe looms in Myanmar as rains near: UNHCR
April 21, 2013
GENEVA: Tens of thousands of Rohingya Muslims who fled communal violence in Myanmar are in danger as the monsoon season looms, the UN's refugee agency said Friday, warning that operations were desperately underfunded.
Agency spokesman Adrian Edwards told reporters that a "humanitarian catastrophe" could be on the cards.
"UNHCR is seriously concerned about the risks facing over 60,000 displaced people in flood-prone areas and in makeshift shelters," he told reporters.
"From May to September, the monsoon season is expected to unleash heavy rains and possible cyclones in Rakhine state, where more than 115,000 people remain uprooted after last year's inter-communal violence," he warned.
Full report at:
http://www.dailytimes.com.pk/default.asp?page=2013\04\21\story_21-4-2013_pg14_4
--------------
Germany will 'respect' move to lift Syria arms embargo
April 21, 2013
ISTANBUL — German Foreign Minister Guido Westerwelle on Sunday said Berlin will have no choice but to accept the lifting of an EU arms embargo on Syria if other European countries push for it.
Germany up to now has opposed providing military support to Syria's rebels, but Britain and France are pushing for the embargo to be allowed to expire at the end of May.
Speaking to journalists in Istanbul after a "Friends of Syria" meeting on Saturday, Westerwelle said the embargo would be discussed when EU foreign ministers meet in Luxembourg on Monday.
Full report at:
http://www.saudigazette.com.sa/index.cfm?method=home.regcon&contentid=20130421162357
-------------
South Asia
Taliban Attacks Kill 9 People in Afghanistan
April 21, 2013
KABUL, Afghanistan (AP) — Insurgents shot six police officers dead at a checkpoint and a suicide bomber killed three civilians at a shopping bazaar in two attacks in eastern Afghanistan on Sunday.
The attacks came during a surge in hostilities as Afghanistan's spring fighting season begins. This year's is being closely watched because Afghan forces must operate with less support from the international military coalition. With foreign forces due to hand over combat responsibilities to the local forces next year, the current fighting is a test of their ability to take on the country's insurgency.
Reflecting the surge in violence, the Afghanistan NGO Safety Office reported Sunday that insurgent-initiated attacks increased by 47 percent during the first quarter of 2013, compared to the same period last year. The U.S.-led NATO coalition has stopped releasing statistics on insurgent attacks in Afghanistan.
Full report at:
http://www.nytimes.com/aponline/2013/04/21/world/asia/ap-as-afghanistan-.html?ref=asia&gwh=7CA71A7CADC3A8F40199E0FE28736E24&_r=0
--------------
Pro-Sharia march held in Male'
By Neil Merrett | April 20th, 2013
Men and women of various ages marched through the streets of Male' yesterday (April 19), calling for Islamic Sharia to be fully implemented in the Maldives.
Yesterday's march, which organisers claimed had no political backing, was said to have been led by a group of young people calling for Sharia to be fully implemented to protect the Maldives from "calamities" that it is presently facing, according to local media.
However, one local religious NGO has argued that Maldivian society was not presently ready to undergo such radical reforms to the nation's legal system, arguing that any changes would need to be made gradually over a long period of time.
Commencing yesterday at 4:30pm by the social centre in the capital, the pro-Sharia march concluded just before 6:00pm at the artificial beach area.
A small number of demonstrators were in attendance, reported the Sun Online news website. Organisers have pledged that further pro-Sharia marches were anticipated in future.
Minister of Islamic Affairs Sheikh Mohamed Shaheem Ali Saeed and State Islamic Minister Mohamed Didi were not responding to calls at the time of press.
Full report at:
http://minivannews.com/politics/pro-sharia-march-held-in-male-ngo-claims-maldives-not-ready-for-full-implementation-56564
--------------
Arrest, punish 'atheist bloggers', Demands Islami Andolan Bangladesh Ameer
April 21, 2013
Accusing the ruling AL-led government of siding with atheists, Islami Andolon Bangladesh Ameer Mufti Syed Muhammad Rezaul Karim, the pir of Chormonai, yesterday demanded arrest and punishment, by enacting a law, of atheist bloggers for "insulting Islam".
The incumbent and previous governments nurtured corruption, violence, nepotism and other different evil practices in the last few decades, he told a rally on Barisal city's Fazlul Huq Avenue.
The rally is part of a road march the IAB initiated from Jessore and set to end in Kuakata over a five-point demand, including restoration of the phrase "Absolute trust and faith upon Almighty Allah" in the constitution.
http://www.thedailystar.net/beta2/news/arrest-punish-atheist-bloggers/
--------------
North Korea slams US website, denies claim over Boston bombing
Apr 21 2013
Seoul : North Korea has dismissed a claim by a right-wing US website that it might have been behind the deadly bombings in Boston, decrying the report as 'false propaganda' and insisting that it is against all terrorism.
"When the (North) feels necessary to strike the US, it would not resort to such heinous terrorism in hiding," Pyongyang's Korean Central News Agency (KCNA) said.
WorldNetDaily (WND), a controversial US website that carries news and commentary from a conservative viewpoint, published Wednesday an article claiming North Korea might be involved in Monday's attack that left three dead and 180 injured.
Full report at:
http://www.indianexpress.com/news/north-korea-slams-us-website-denies-claim-over-boston-bombing/1105591/
-------------
Taliban attacks in Afghanistan rise 47%
April 20, 2013
According to an Afghanistan NGO, there has been a sharp increase in the number of attacks in this year's first quarter, a recent study has revealed. The Afghanistan NGO Safety Office has let out that the first quarter saw 2331 attacks by armed opposition groups compared to 1581 during the same
time last year, with a statistical increase of 47% in the crime rate, the New York Times reports.
The director of the NGO office Tomas Muzik has said that 2013 will follow the marks of 2011 in becoming the most violent year, with the most attacks and victims.
Full report at:
http://www.hindustantimes.com/world-news/afghanistan/Taliban-attacks-in-Afghanistan-rise-47/Article1-1047794.aspx
-------------
Arab World
Egypt Court Postpones Trial of 26 Suspected Islamist Militants
April 21, 2013
CAIRO (Reuters) - A Cairo court postponed the trial on Saturday of 26 alleged Islamist militants accused of planning attacks against the Egyptian state, after the defendants shouted at the judge overseeing the case.
They specifically objected to court officials putting one of them in a separate cage, and called Judge Shaaban el-Shamy a corrupt figure from deposed leader Hosni Mubarak's regime.
"There is no judgment except by God. Allah is great, Allah is great" and "You are from the corrupt era, you are from the former regime," they shouted at the judge.
Shamy ended the day's session, the first in the trial, by saying the defendants' lawyers had requested more time to prepare the case for the group, which includes two former army officers. The trial would resume on June 15, he said.
The state security prosecutor said in February that the accused men had formed an extremist organization that advocated sedition against Egypt's authorities and public sector workers.
The suspects, one of whom is Tunisian, were also charged with possession of weapons and explosives.
Full report at:
http://www.nytimes.com/reuters/2013/04/20/world/middleeast/20reuters-egypt-militants-trial.html?ref=africa&gwh=23C806CF6A99F8EE1366D4AB5BEEA00C
--------------
Egypt detains alleged members of 'Black Bloc' anti-Mursi group
21 April 2013
Alleged members of an Egyptian black-clad youth group, who stanchly oppose Islamist President Mohamed Mursi, have been detained and banned from travel by Egypt's state security prosecution on Saturday.
Seven member of the 'Black Bloc' were detained on accusations that the group seeks destruction of the country, the state news agency MENA said. They have been detained for 15 days.
Full report at:
http://english.alarabiya.net/en/News/middle-east/2013/04/21/Egypt-detains-alleged-members-of-Black-Bloc-anti-Mursi-group.html
--------------
Egypt jihadist leader warns of Coptic 'triumph'
Brother of Al-Qaeda leader warns Egypt's Coptic Christians could take advantage of instability and failure to implement Islamic Sharia law
21 Apr 2013
Mohamed El-Zawahiri, the brother of Al-Qaeda leader Ayman El-Zawahiri, has warned that the current instability in Egypt is "fertile ground for minorities [Coptic Christians] to 'triumph'."
Speaking on the 'El-Hadath El-Masry' programme on El-Arabiya El-Hadath private satellite channel on Saturday, El-Zawahiri – who is a prominent Jihadist-Salafist leader in his own right – added that Egypt has "suffered many injustices because it has not implemented Sharia law. Sharia law has to be implemented and the Christians' religious law must be implemented by them. This is only normal."
Full report at:
http://english.ahram.org.eg/NewsContent/1/64/69744/Egypt/Politics-/Egypt-jihadist-leader-warns-of-Coptic-triumph.aspx
--------------
Syria opposition urges 'surgical strikes' on Assad missiles
April 21, 2013
Syria's opposition on Saturday called on international supporters to carry out "surgical strikes" on positions used by President Bashar al-Assad's regime to fire missiles on civilians.
Voicing frustration at the lack of a strong international response to Syria's crisis, the Syrian National Coalition urged Western and Arab countries gathered for a "Friends of Syria" meeting to take immediate action.
"It is the moral imperative of the international community, led by the Friends of Syria, to take specific, precise and immediate action to protect Syrian civilians from the use of ballistic missiles and chemical weapons," the Coalition said in a statement.
Full report at:
http://www.hindustantimes.com/world-news/restofasia/Syria-opposition-urges-surgical-strikes-on-Assad-missiles/Article1-1047959.aspx
----------
Hunger-striking Saudi's health deteriorates in Baghdad prison
April 20, 2013
JEDDAH — The health of Saudi prisoner Abdullah Al-Qahtani, who was sentenced to death after being accused of killing an Iraqi goldsmith in 2009, has deteriorated following a 16-day hunger strike, Al-Hayat newspaper reported Saturday.
Thamer Al-Belaihid, head of the committee for Saudi prisoners in Iraq, denied reports that claimed Al-Qahtani was taken to hospital.
"He's still on hunger strike and will continue to be until his legitimate demands have been considered," Al-Belaihid said.
Full report at:
http://www.saudigazette.com.sa/index.cfm?method=home.regcon&contentid=20130421162293
-------------
Boston Bombing: Attempts to defame Muslims
April 21, 2013
MANY people, including Americans and other nationalities, were injured in the Boston blasts. Among them was a young Saudi who happened to be at the scene of explosions.
The American media ignored all other nationalities and singled out the young Saudi using him as a pretext to attack all Arabs and Muslims. The concerned American authorities said the man had nothing to do with the incident and he just happened to be in the wrong place at the wrong time.
Full report at:
http://www.saudigazette.com.sa/index.cfm?method=home.regcon&contentid=20130421162258
-------------
Syrians held over violence in Jordanian refugee camp
April 21, 2013
Eight Syrians have been arrested on suspicion of inciting violence at a refugee camp in Jordan, officials say.
The arrests come after an incident on Friday in which some 100 camp residents threw stones at police who would not allow them to leave the camp.
Ten police officers were injured - one so badly he had to undergo surgery, said a government spokesman.
Full report at:
http://www.bbc.co.uk/news/world-middle-east-22238128
--------------
Some Iraqis Doubt Benefits of First Vote Since U.S. Departure
By TIM ARANGO
April 21, 2013
BAGHDAD — Iraq held its first election since the withdrawal of American troops under security so tight on Saturday that the only way for many voters to reach polling places was to walk. But the election, for local councils, was carried out largely free of violence, even as apathy prevailed among many Iraqis who questioned what benefits they have received from a young democracy still marred by political dysfunction, corruption and violence.
"I will not be fooled again," said Haider al-Mutairy, 34, a lawyer in Babil Province, who said he would not vote, reflecting Iraqis' widespread disenchantment with political leaders. "Nothing changed after I participated in the last elections. My street is still broken and filled with dirt, the electricity and water is still bad, and the terrorists are doing whatever they want."
Full report at:
http://www.nytimes.com/2013/04/21/world/middleeast/iraqs-first-vote-since-us-exit-is-mostly-calm.html?ref=middleeast&gwh=58771B985F52548EFFD7FD9D3107179A'
--------------
Africa
Nigeria Censors Documentary in Growing Crackdown
April 21, 2013
LAGOS, Nigeria (AP) — The documentary on a massive strike that paralyzed life in Nigeria features newspaper headlines, television news footage and other information widely known about a government gasoline subsidy that saw billions of dollars stolen by greedy companies and the nation's elite.
It also, according to Nigerian authorities, could spark violence and potentially threaten national security.
The 30-minute film called "Fuelling Poverty" has been online for months, but only recently Nigerian officials have refused its director permission to show it publicly in this oil-rich nation of more than 160 million people. While free speech is enshrined in this democratic nation's constitution, an ever-increasing drumbeat of complaints and critical articles about the administration of President Goodluck Jonathan has seen authorities increasingly target journalists and others.
Full report at:
http://www.nytimes.com/aponline/2013/04/21/world/africa/ap-af-nigeria-
--------------
Tripoli's twin-tower project back on track
April 21, 2013
TRIPOLI – Work is to restart on the twin-tower Al Waha project in Tripoli, it has been reported in the UAE.
Abu Dhabi-based real-estate developer Al Maabar announced that the residential and office project on the Airport Road, 10 minutes from central Tripoli, is back on track.
"We stopped tendering for the project at Al Waha shortly after the Arab Spring, but it gives me great pleasure that the $200 million (Dh734 million) Al Waha project is back on track", the managing director of Al Maabar, Yousuf Mohammad Al-Nowais was reported by Gulf News as saying.
Full report at:
http://www.saudigazette.com.sa/index.cfm?method=home.regcon&contentid=20130421162273
-------------
Libya's book fair promotes reading
April 21, 2013
TRIPOLI – Tripoli's largest ever secondhand book fair will open Sunday in Martyrs' Square, offering thousands of books, each for the price of LD 5 or less.
Coinciding with World Book Day on 23 April, the fair will last three days. It aims to make books affordable and accessible.
"Libyans don't generally read a lot," Eman Alghoul told the Libya Herald. She is a founding member of the Tanweer ('Enlightenment') Movement, which is running the event in partnership with the Libyan Libraries Consortium.
Full report at:
http://www.saudigazette.com.sa/index.cfm?method=home.regcon&contentid=20130421162271
-------------
Mideast Asia
Israel police parade cuffed Palestinian teenager to protesters
21 April 2013
Israeli police paraded a cuffed Palestinian teenager to protesters in what a human rights group charged Saturday was abuse of a "human shield" but an Israeli spokesman said was a move to calm violence.
Defense for Children International-Palestine (DCI) posted a 76-second video clip on YouTube showing helmeted border policemen removing a young Palestinian it identified as "Muhammad R,17," from their armored jeep and forcing him to stand beside them, cuffed hands raised above his head.
"We're outraged that Israeli soldiers continue to use Palestinian children as human shields with impunity," Ayed Abu Eqtaish of DCI-Palestine said in a statement.
Full report at:
http://english.alarabiya.net/en/News/middle-east/2013/04/21/Israel-police-parade-cuffed-Palestinian-teenager-to-protesters-.html
--------------
Relatives of Flotilla Raid Victims Reject Compensation From Israel
By SEBNEM ARSU and JODI RUDOREN
April 21, 2013
ISTANBUL — As Israeli and Turkish officials prepared for talks on Monday to restore relations, frozen since Israel's deadly raid on a Turkish-led flotilla to Gaza, relatives of the nine people killed said Saturday that they would reject the compensation promised by Israel until it fully removes restrictions on the movement of goods and people in Gaza.
The relatives also said that they would not drop their lawsuits against Israelis involved in the 2010 raid, potentially complicating the Washington-brokered reconciliation between the two governments that began last month when Prime Minister Benjamin Netanyahu of Israel called his Turkish counterpart, Recep Tayyip Erdogan, to apologize.
Full report at:
http://www.nytimes.com/2013/04/21/world/europe/relatives-of-flotilla-raid-victims-reject-
--------------
Iran F-5 fighter crashes killing two crew
An Iranian F-5 fighter jet crashes near the Iraqi border, killing both crew members
21 Apr 2013
An Iranian US-made F-5 fighter plane crashed Sunday after hitting a mountain in the west of the country, killing both crew members, Iranian media reported.
The two pilots were killed upon impact as the jet fighter hit the mountain near Abadan town of Ilam province, town governor Morad Naseri was quoted as saying.
Naseri said the crash was being investigated by authorities.
Iran's air force retains an aging fleet, including US-manufactured aircraft purchased before the 1979 Islamic revolution.
In January 2012, a US-built F-14 fighter crashed minutes after takeoff, also killing both crew.
http://english.ahram.org.eg/NewsContent/2/8/69755/World/Region/Iran-F-fighter-crashes-killing-two-crew.aspx
-------------
URL: https://newageislam.com/islamic-world-news/new-age-islam-news-bureau/gujarat-s-failure-to-protect-people-during-2002-riots-figures-in-us-report/d/11234