New Age Islam News Bureau
5 May 2013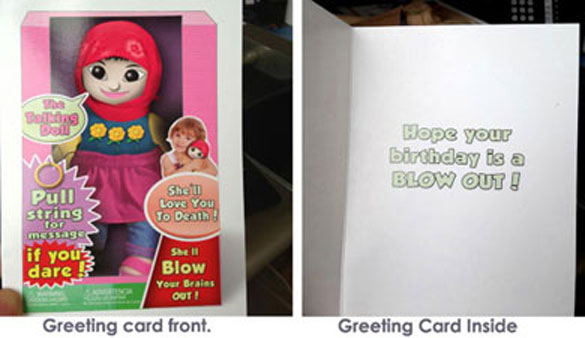 Greeting Card Turns Children's "Muslim" Doll into "Terrorist" Doll
-------
North America
• Greeting Card Turns Children's "Muslim" Doll into "Terrorist" Doll
• Boy, 14, arrested over 'racist' attack in Edinburgh
• Off-the-Cuff Obama Line Put U.S. in Bind on Syria
------------
Southeast Asia
• Islamic Hard-Liners in West Java Attack Ahmadiyah Community for Quran Recital
• Angry mob sets fire to Ahmadiyah mosque
• Protest at Myanmar's Jakarta embassy over Rohingya's treatment
• Indonesia protests the opening of Free West Papua office in Oxford
• Malaysians vote in bitterly contested elections
• Aerosmith bags Indonesia concert amid security fears
• Malaysia's governing party accused of dirty tricks in run-up to election
------------
India
• Senior cleric's Super 30 model for Muslims in Mumbai soon, focus to IITs from ITIs
• Now a Shariah Index for financial inclusion of Indian Muslims
• 2 accused in Ajmer blast case held near Vadodara
• PCI chief Markandey Katju appeals for release of Sanaullah
• Jamaat-e-Islami Hind asks India, China to resolve border dispute through dialogue
• 20 Indian prisoners in Lahore jail mentally ill: Judicial panel
• Jammu jail attack: Pak prisoner Sanaullah's condition remains critical
• Indians in Saudi Arabia seek more community welfare services
• Indian figures in Syrian sanctions-busting probe in America
• India considering more investments in Iran
------------
Pakistan
• Voting for Imran Khan and his candidates is haram: Jamiat Ulema-e-Islam (F)
• Upper Orakzai: 16 militants killed, 2 security men martyred
• Security forces take control of militant strongholds in Tirah valley
• 'Table talks only solution to Kashmir issue': Pakistan Muslim League (N)
• Shutdown in Karachi over twin blasts on MQM
• Tribesmen defy Taliban, embrace historic polls
• Pakistan demands release of 47 prisoners from India
• Two FC personnel killed in shoot-out in Bolan
• Police seize 90,000 'Apparently fake' ballot papers in lower dir
• 1 kg each explosive material used in Azizabad blasts, says DIG
• Performance, not claims, to matter on May 11: Nawaz
• 990 get arrest warrants for refusing poll duties
• TI to abandon war on terror, if voted to power: Imran
• Pakistan should mull support for U.S. war on terror, says election frontrunner
------------
Arab world
• At least 62 bodies found in Syria's Banias: watchdog
• Egyptmob lynches teenage son of an Islamist leader
• Iraq PM's coalition leads in 7 of 12 provinces
• FSA brigade pledges to fight Hezbollah's Qusayr advances
• Madinah court orders SR 150,000 for abused Indonesian maid
• Close but not together: Egypt and Iran seek Syria political exit
• Syria: hundreds of families flee 'death squads' as Israel takes out missile convoys
• In a stern warning, Riyadh police hold 3 Filipino protesters briefly
------------
Africa
• 39 dead in Nigeria sectarian violence
• Car bomb in Somali capital kills 11
• Tunisian army unable to find jihadists
• Bomb hits convoy carrying Qataris in Somalia, eight dead
------------
Europe
• Lebanon will lodge U.N. complaint over Israeli flights
Mideast
• Israel: Syrian chemical arms safe, Hezbollah does not want them
• Israel launches airstrike in Syrian capital, targets Iranian missiles
• Yemen separatist quits national dialogue over 'plot'
------------
South Asia
• 8 Soldiers of American-led coalition Die in Attacks in Afghanistan
• Karzai urges Taliban to fight Afghan enemies after Pakistan clash
• Kabul will never recognise Durand Line: Karzai
• Two held in Myanmar over anti-Muslim unrest
• Thousands of activists of Hefazat-e Islam meet in Motijheel
• India committed to helping Bangladesh
• Bangladesh could be Asia's next tiger
• 'Absconding' Jamaat leader addresses 18-party rally in Dhaka
• Japan keen to give assistance to Bangladesh
• Dhaka wants ban on iqama transfer lifted
Compiled by New Age Islam News Bureau
URL: https://newageislam.com/islamic-world-news/greeting-card-turns-children's-"muslim"/d/11427
------------
North America
Greeting Card Turns Children's "Muslim" Doll into "Terrorist" Doll
By Ahmed Rehab
May 4, 2013
We missed the humor: CAIR-Chicago spotted this troubling greeting card (pictured below) in a local store.
The card features a photo of a Muslim doll with a Hijab (headscarf) that many Muslim women wear out of religious observance. The The talking bubbles placed on top of the doll's photo read, "The Talking Doll, Pull string for message, if you dare," and "She'll Love You To Death! She'll Blow Your Brains Out!" The inside of the card reads "Hope your birthday is a BLOW OUT!"
The card is produced by NobleWorks Inc. with credit for its design given to "Ron Kanfi" according to the company's website, http://www.nobleworkcards.com The m.otto of the company printed under their logo on the back of the card is "modern cards for modern people."
Notice that nothing identifies this doll as a terrorist in the minds of the card designers other than that she wears a Hijab. Moreover, she – like many Muslim girl who choose to wear the Hijab – is a smiling, non-threatening normal-looking female wearing a pink Hijab and a flower-patterned dress. The unmistakable message behind the "humor" is that even the most peaceful looking Muslims are synonymous and exchangeable with terrorists.
To make matters more disturbing, the card is based on an actual doll designed by Desi Doll Company (www.desidollcompany.com) called "Aamina, the Muslim Doll." The doll teaches kids religious greetings and sayings in Arabic with messages like "Assalamu Alaikum is the Muslim greeting, and it means peace be upon you" and "Let's play together insha'Allah, insha'Allah means if God wills it."
The entrepreneurial mother of three who left a cushy job to found this company in the hopes of better teaching her kids Urdu and Arabic probably could not have fathomed that a benign and even laudable endeavor could be twisted into such a bigoted excuse from humor to by another entrepreneur who does not seem as concerned with the message he would be conveying to his own children, let alone hers.
From the company website:
My name is Farzana Rahman and I am the founder of The Desi Doll Company. I am mother to our daughter Zahrah and twin boys, Sami and Zain; my inspiration. It all started when my daughter was 2 ½ years old and I was trying to find toys that would help her to speak her mother tongue, Urdu. Failing to find anything, I embarked upon designing a talking Urdu doll myself.
It wasn't long before I realized that there was a lack of language toys for the "Desi " languages, ie. Languages spoken in the Indian sub continent – and so the project became to design a doll that was able to speak several languages. This was a huge project! And after 2 years working on and off the project I realized I couldn't focus on this whilst working as well.
It was only after I had my twin boys in November 2006, that I decided to swap the world of Investment banking for Toy Design and manufacturing.
Realizing that the language dolls was technically a very complex project and would take some time; I decided, in the mean time, to launch our Arabic/English talking dolls, Aamina and Yousuf , which went from design concept to shops in just 5 months, just in time for Eid 2008.
Islamophobic generalizations and negative stereotypes often hit those who are most visibly perceived as Muslim, and women wearing the Hijab are often the group hit the hardest.
Many Muslim women around the world, certainly in the US, choose to wear the Hijab as a free-willed expression of modesty and self-respect. For them, it is a message that men should address their minds and not their bodies.
And yet all too often, they have to watch themselves being portrayed as oppressed and submissive on cable network talk shows, movies, and documentaries. While on the street, they have to deal with dirty looks, jeering, or in extreme cases, even physical assault, as has been documented by several cases reported to CAIR.
Most recently, conservative right wing commentator Ann Coulter claimed on FOX News that wearing the Hijab ought to be an imprisonable offense.
I recall walking in the mall with my younger sister who chose to wear the Hijab at 18 (my older sister has not of yet); not so used to the attention, I asked her, "why are people looking at you like that?" She said "what people, I don't even notice it anymore."
The case of the greeting card is particularly repulsive given the sobering realization that even the innocence of our young girls and their toys are not spared. After posting an image of the card on a social network, a mother of an 8 year old contacted me telling me how upset she is. "My daughter loves the Aamina doll, she takes it with her everywhere. You press its hands and feet and it says the sweetest things. I am appalled."
The greeting card is not the first time the pink-scarf clad, smiling doll has been used to represent terrorism. Act For America, cited by the SPLC, CAIR, and the ADL as a hate group, posted the below image on its wordpress blog with the message, "The latest toy has hit the shops… A talking Muslim doll. Nobody knows what the hell it says, because no one has the guts to pull the cord." NobleWorks Cards is however the first company that is profiting from this blatant stereotyping.
There are those who will claim Muslims do not have a sense of humor. But one would like to think humor comes with (even a minimal degree of ) intelligence. The notion that a doll, that looks like any other doll that any little girl in the world would play with, can be presented as a terrorist doll simply and only because it is a "Muslim" doll or because it has a "Muslim scarf" on its head is not what defines "funny" for a lot of people, but bigoted, ugly, idiotic, moronic, etc.
Contact the makers of the greetings card and let them know that you do NOT think that stereotyping Muslim women and girls is OK. Ask them if they would get a chuckle out of their daughters growing up exposed to messaging that criminalizes their basic identity for profit. (CAIR-Chicago has written an official letter to the company sharing its concerns.)
As always, be firm and polite.
NobleWorks Cards: 1-855-267-3163
He Who Eats Mud (local Chicago store that is selling the card): (773) 525-0616
You can contact CAIR-Chicago at 312-212-1520 or at info@cairchicago.org
Update: NobleWorks Card company also sells the "Shiite Pet Funny Greeting Card." It pictures a scruffy bearded parody of a Chia Pet with the captions "This gift is the Bomb" and "Thrives in the Dark." Shiism is a sect of Islam practiced peacefully by tens of millions of people around the world.
http://theamericanmuslim.org/tam.php/features/articles/greeting-card-turns-childrens-muslim-doll-into-terrorist-doll/0019778
------------
Boy, 14, arrested over 'racist' attack in Edinburgh
4 May 2013
A 14-year-old boy has been arrested over an alleged racist attack on two Muslim women in Edinburgh.
Police said a youth allegedly shouted abuse at the women and tried to remove their headscarves in the Wester Hailes area on Thursday.
Officers had appealed to the public to identify those involved.
The 14-year-old boy has been charged in connection with the incident and a report is to be sent to the procurator fiscal.
Full report at:
http://www.bbc.co.uk/news/uk-scotland-edinburgh-east-fife-22412282
------------
Off-the-Cuff Obama Line Put U.S. in Bind on Syria
By PETER BAKER, MARK LANDLER, DAVID E. SANGER and ANNE BARNARD
May 04, 2013
WASHINGTON — Confronted with evidence that chemical weapons have been used in Syria, President Obama now finds himself in a geopolitical box, his credibility at stake with frustratingly few good options.
The origins of this dilemma can be traced in large part to a weekend last August, when alarming intelligence reports suggested the besieged Syrian government might be preparing to use chemical weapons. After months of keeping a distance from the conflict, Mr. Obama felt he had to become more directly engaged.
In a frenetic series of meetings, the White House devised a 48-hour plan to deter President Bashar al-Assad of Syria by using intermediaries like Russia and Iran to send a message that one official summarized as, "Are you crazy?" But when Mr. Obama emerged to issue the public version of the warning, he went further than many aides realized he would.
Moving or using large quantities of chemical weapons would cross a "red line" and "change my calculus," the president declared in response to a question at a news conference, to the surprise of some of the advisers who had attended the weekend meetings and wondered where the "red line" came from. With such an evocative phrase, the president had defined his policy in a way some advisers wish they could take back.
"The idea was to put a chill into the Assad regime without actually trapping the president into any predetermined action," said one senior official, who, like others, discussed the internal debate on the condition of anonymity. But "what the president said in August was unscripted," another official said. Mr. Obama was thinking of a chemical attack that would cause mass fatalities, not relatively small-scale episodes like those now being investigated, except the "nuance got completely dropped."
As a result, the president seems to be moving closer to providing lethal assistance to the Syrian rebels, even though he rejected such a policy just months ago. American officials have even discussed with European allies the prospect of airstrikes to take out Syrian air defenses, airplanes and missile delivery systems, if government use of chemical weapons is confirmed.
An Israeli airstrike in Syria on Thursday, apparently targeting advanced missiles bound for the Shiite Lebanese militant group Hezbollah, highlighted the volatile situation. With Syrians already dying by the thousands from conventional weapons, Mr. Obama now confronts the most urgent foreign policy issue of his second term, one in which he must weigh humanitarian impulses against the risk to American lives. After about two years of ineffectual diplomacy, whether or how he chooses to follow through on his warning about chemical weapons could shape his remaining time in office.
The evolution of the "red line" and the nine months that followed underscore the improvisational nature of Mr. Obama's approach to one of the most vexing crises in the world, all the more striking for a president who relishes precision. Palpably reluctant to become entangled in another war in the Middle East, and well aware that most Americans oppose military action, the president has deliberately not explained what his "red line" actually is or how it would change his calculus.
"I'm not convinced it was thought through," said Barry Pavel, a former defense policy adviser to Mr. Obama who is now at the Atlantic Council. "I'm worried about the broader damage to U.S. credibility if we make a statement and then come back with lawyerly language to get around it."
Full report at:
http://mobile.nytimes.com/2013/05/05/world/middleeast/obamas-vow-on-chemical-weapons-puts-him-in-tough-spot.html
------------
Southeast Asia
Islamic Hard-Liners in West Java Attack Ahmadiyah Community for Quran Recital
May 5, 2013
An Ahmadiyah community in Tasikmalaya, West Java, was left in shambles on Sunday after hundreds of Islamic hard-line group members destroyed homes in their village.
Asep Taufik Ahmad, a member of the Sukamaju village in the Singaparna subdistrict, said some 400 hard-liners from a mass organization stormed the village at 1 p.m. and damaged dozens of houses belonging to followers of a minority sect of Islam, Ahmadiyah. "It all started with our decision to hold a Quran recital event to commemorate Isra Mi'raj [the birth of prophet Muhammad]. We already informed the local police about our plan," Asep told the Jakarta Globe on Sunday.
The police tried to persuade the villagers to not go through with their plan, citing security issues.
"The police said we should cancel the event for our own safety, because a mass organization, I won't say which one, was apparently unhappy with our activity, but we proceeded anyway because it was a religious activity," he said.
Some 60 police officers were standing by to secure the event. However, Asep said that hundreds of hardliners came to the village Sunday afternoon and broke past the police barricade.
"The police were outnumbered, everything happened so fast. Suddenly they managed to get into our village and started to attack our houses with stones and sticks while chanting 'Allahu Akbar' ['God is great']. There was not much the police could do to stop them, they were totally out of control," he said, adding that the assailants left the village about two hours later.
"Fortunately there was no fatality or casualty, even though many of our belongings were damaged and people here are still traumatized," he said.
Tasikmalaya Police chief Sr. Comr. Wijonarko told Indonesian news portal portalkbr.com that the attackers were not only from Tasikmalaya but also from Bandung and Ciamis. He said even though the attackers did not wear any identifying articles, the police believe they were members of the Islamic Defender Front (FPI).
Asep denied reports that the hard-liners set an Ahmadiyah mosque on fire.
Ahamdiyah men have been guarding the village since last night, Asep added.
"We did not have a wink of sleep since last night, we are still too scared because we heard that more hard-liners from Majalengka will come to attack us," he said.
Asep said on Sunday around 3:00 p.m. that police officers were standing by in the village, but no additional personnel had been deployed since the attack.
Singaparna Police chief Comr. Nono Suyono told Indonesian news portal Detik.com that the police were investigating the attack.
Full report at:
http://www.thejakartaglobe.com/news/islamic-hard-liners-attack-ahmadiyah-community-for-Quran-recital/
------------
Angry mob sets fire to Ahmadiyah mosque
May 05 2013
An Ahmadiyah mosque in Babakan Sindang hamlet, Tasikmalaya, was vandalized on Sunday morning.
Asep Rahmat, one of witnesses of the incident, said that dozens of people on motorcycles stormed the mosque and threw rocks at it. The angry mob also cut off electricity and threw rocks at nearby homes. "I did not recognize any of the men. It was pitch black and all of a sudden they set fire to the mosque," Asep said as quoted by kompas.com.
He said there were no casualties and that the police were still investigating the incident.
Not long before this incident, an angry mob also set fire to an Ahmadiyah mosque in
Full report at:
http://www.thejakartapost.com/news/2013/05/05/angry-mob-sets-fire-ahmadiyah-mosque.html'
------------
Protest at Myanmar's Jakarta embassy over Rohingya's treatment
04 May, 2013
Hours after Indonesia said it had foiled an alleged plot to bomb the Myanmar embassy in Jakarta, hundreds of hardline Muslims gathered outside the mission yesterday calling for jihad to fight against persecution of their Islamic brothers in the country.
Two suspected militants were arrested the night before, and five home-made bombs were seized from a backpack they were carrying after authorities were tipped off, said National Police spokesman Brigadier General Boy Rafli Amar
Their interrogation led to a rented house where other explosive materials were found.
Amar said the men, Achmad Taufiq, 22, and Sefa Riano, 29, were part of a cell allegedly involved in recent attacks against Indonesian police. "They have a link with terrorism from evidence we have seized," Amar said.
"We are still investigating and searching for other alleged group members." Amar would not say when the embassy attack was to have taken place.
He said the suspects told authorities they wanted to retaliate against Myanmar for recent attacks on Rohingya Muslims there. Meanwhile, up to 2,000 police were deployed yesterday to secure the Myanmar embassy and its ambassador's house before a protest by the Islamic Defenders Front.
Several hundred protesters showed up dressed in white with some holding banners that read: "We want jihad" and "Stop genocide in Myanmar".
They gathered in the street in front of rows of police, peacefully waving flags and shouting: "Muslims unite. Will not be defeated."
The US embassy issued a notice urging its citizens to stay away from the area. Truckloads of officers, many in riot gear, were placed at nearby buildings and hotels while water cannons and armoured vehicles were parked on the street.
Similar demonstrations with hundreds of participants were also held in the central Java town of Solo and at a Buddhist temple in Medan, the provincial capital of North Sumatra.
Sectarian violence in Buddhist-majority Myanmar has killed scores, and thousands of Muslims have been driven from their homes.
Full report at:
http://www.scmp.com/news/asia/article/1229565/protest-myanmars-jakarta-embassy-over-rohingyas-treatment
------------
Indonesia protests the opening of Free West Papua office in Oxford
May 05 2013
The government of Indonesia has issued a statement strongly objecting to the opening of the so-called Free West Papua office in Oxford on April 28. The Indonesian government has
asked its UK counterpart to be consistent in its policy of not supporting any action related to the separatist movement in Papua and West Papua.
"Indonesia's ambassador in London has relayed the government's position on the matter to the UK government," said Indonesia Foreign Minister Marty Natalegawa in a press release sent to The Jakarta Post on Sunday.
The same disapproval has been sent to the British Embassy in Jakarta.
The government stated that the opening of the office was clearly contrary to the good mutual relations between Indonesia and the UK.
As such, the opening of the office was felt to be contradictory to the position taken by the British government, which has acknowledged the territorial integrity of Indonesia. The new office also opposed the international community's view that firmly acknowledged the territorial integrity of Indonesia with West Papua included as an integral part, said the release.
Full report at:
http://www.thejakartapost.com/news/2013/05/05/ndonesia-protests-opening-free-west-papua-office-oxford.html
------------
Malaysians vote in bitterly contested elections
May 05 2013
Malaysians have begun voting in emotionally charged national elections that could see the long-ruling coalition ousted after nearly 56 years in power.
Incumbent Prime Minister Najib Razak has voiced confidence that the National Front coalition will remain Malaysia's dominant political force despite facing its most unified opposition challenge since independence from Britain in 1957.
Full report at:
http://www.thejakartapost.com/news/2013/05/05/malaysians-vote-bitterly-contested-elections.html
------------
Aerosmith bags Indonesia concert amid security fears
5 May 2013
An Aerosmith concert promoter says the band has canceled next week's show in Indonesia over security concerns, one day after news surfaced about an alleged bomb plot at the Myanmar Embassy.
Helmi Sugara, event organizer spokesman, said Sunday that the legendary American rockers were scheduled to perform May 11 before a nearly sold-out crowd of 15,000 in the capital, Jakarta.
He said the band canceled Saturday, a day after Indonesia announced it had arrested two suspected militants with bombs. They were allegedly planning to attack the embassy in Jakarta to protest Myanmar's treatment of Muslims. It's unclear if the concert's cancellation was directly related to the terror plot or if there was some other threat.
Full report at:
http://english.alarabiya.net/en/life-style/art-and-culture/2013/05/05/Aerosmith-bags-Indonesia-concert-amid-security-fears.html
------------
Malaysia's governing party accused of dirty tricks in run-up to election
4 May 2013
Malaysia's governing party has been accused of a series of dirty tricks to ensure it keeps hold of power after Sunday's election.
The prime minister has denied chartering planes to move tens of thousands of voters into marginal constituencies.
Najib Razak's party, the United Malays National Organisation, said the flights had been paid for by supporters and not by the prime minister's office and were a routine effort to help people get back home to vote.
The opposition allege a number of other abuses in the lead-up to the closest election since independence in 1957.
One researcher found a suspiciously large number of voters over the age of 100 in the eastern state of Sabah. Nurul Izzah Anwar, the daughter of the opposition leader, Anwar Ibrahim, says there are nearly 5,000 extra voters registered in her constituency in Kuala Lumpur whom she cannot trace.
The official election commission says it has done everything it can to ensure this is the cleanest election in Malaysian history.
A survey released by the Merdeka Centre, an opinion polling firm, predicted that Najib's National Front coalition could win 85 parliamentary seats, while a three-member opposition alliance led by Anwar will take 89 seats. It said 46 seats were too close to call while two seats would go to smaller parties.
Full report at:
http://www.guardian.co.uk/world/2013/may/04/malaysia-dirty-tricks-election
------------
India
Senior cleric's Super 30 model for Muslims in Mumbai soon, focus to IITs from ITIs
Mohammed Wajihuddin,
TNN | May 5, 2013
MUMBAI: Senior Muslim cleric Maulana Wali Rahmani doesn't confine himself to just running madrassas or preaching about religion. He also nurtures the IIT dreams of Muslim youths. The maulvi runs the Patna-based Rahmani 30, which gives free coaching to Muslims who want to crack the IIT entrance exam, much along the lines of the famed Patna-based Super 30 programme, which helps underprivileged youths make it to the IITs.
And Rahmani is now bringing his dream project to Mumbai. He agreed to do this during a recent meeting in the city. "My dream is that prototypes of Rahmani 30 should be opened in different parts of the country," said the maulana, who is also the secretary of the All India Muslim Personal Law Board.
As per the plan, around 30 students would be chosen from across Maharashtra , and accommodated and coached for two years at a soon-to-be-decided location in the city. "Money should not be a problem if we get good results," said businessman Ateeq Agboatwala, who is leading the initiative in Mumbai.
Maulvi's effort shifts focus to IITs from ITIs
Last week, after the inauguration of Mumbai's first Darul Qaza-Shariah court-at Anjuman-i-Islam near CST, Maulana Wali Rahmani was almost mobbed. As other speakers, including Muslim politicians, left the stage almost unnoticed, a crowd of Muslim intellectuals, senior clerics and lay persons surrounded the tall, frail Rahmani, shaking his hands and seeking his blessings. Rahmani, considered a pir sahib (saint), obviously commands respect in the community.
His Patna-based coaching centre, Rahmani 30, has succeeded in helping several Muslim students crack the IIT entrance exam and gain admission to institutes across the country.
Rahmani 30 is run along the lines of the well-known Patnabased Super 30 programme, which gives free coaching to underprivileged students and sends around 30 of them every year for the IIT entrance exam. In the Rahmani 30 scheme, Muslim youths who have completed Std X take a written test to qualify for a free, two-year course on how to tackle the IIT exam.
Educationists are heartened by Rahmani's vision. "If we have at least 10 maulvis like Rahmani sahib, Indian Muslims would not need government doles," says Anjuman-i-Islam's President Dr Zahir Kazi. Sources said that businessmen and philanthropists would help fund the project in Mumbai.
Full report at:
http://timesofindia.indiatimes.com/city/mumbai/Maulanas-Super-30-model-for-Muslims-in-Mumbai-soon/articleshow_dc/19890152.cms
----------
Now a Shariah Index for financial inclusion of Indian Muslims
May 05, 2013
Followers of Islam, the second largest faith in the world with an estimated 1.7 billion believers, can now be surer when an Indian firm stands the pre-requisites for observant Muslims. The Shariah index launched by the Bombay Stock Exchange (BSE) is a new measure in town, assuring compliance with the Islamic canonical law.
Besides giving Islamic mega funds a surer handle on Indian markets, the aim of the S&P BSE 500 Shariah Index is financial inclusion of Indian Muslims - around 177 million in number and hitherto wary of stock markets - and attract them to 'correct' equities.
'For us, the index is part of a bigger exercise - of inclusion and fairness,' said Ashishkumar Chauhan, managing director of BSE and an alumnus of the Indian Institute of Techonology and the Indian Institute of Management who spent his early years in Ahmedabad.
'The 'maahoul' (composite culture and environs) in the city influenced my appreciation of 'inclusion' as an imperative,' Chauhan, who in the past headed an Indian Premier League franchise, told this IANS columnist.
Last month, the BSE Institute, a wholly owned subsidiary of the exchange, in association with Taqwaa Advisory and Shariah Investment Solution, announced an online certification programme in 'Islamic Banking, Finance and Capital Markets'. Chauhan bets there is a big market for students who have an understanding of the latest developments in the fields of Islamic banking, finance and the capital markets.
Islamic banking and finance extends to some 75 countries, growing at over 15 percent per annum. To be able to sustain its growth, the industry needs large numbers of banking and finance professionals who require training about its basic principles and practices.
This list includes fund managers, chief financial officers, merchant bankers, corporate financial advisors, portfolio managers, product development managers, finance marketing professionals, chartered accountants, stock brokers, wealth and fund managers, students and researchers.
Full report at:
http://india.nydailynews.com/business/7ca4a8e91858374bd198b85e4e1d028a/now-a-shariah-index-for-financial-inclusion-of-indian-muslims-comment
------------
2 accused in Ajmer blast case held near Vadodara
TNN | May 5, 2013
VADODARA/JAIPUR: Two accused in the 2007 Ajmer Dargah blast case, who were also wanted in the Best Bakery case, were nabbed by the National Investigation Agency (NIA) and Vadodara police in a joint operation from a village near Vadodara on Friday night.
Jayanti Gohil and his son Ramesh Gohil had been hiding in the Kashipur village of Waghodiya taluka near Vadodara in Gujarat.
Vadodara police commissioner Satish Sharma said the accused were earlier arrested and tried by a local court in the Best Bakery case.
The father-son duo was absconding since the Supreme Court ordered a retrial in the case. Their names later came up during investigation into the Ajmer blast case.
The two accused are likely to be taken to a designated court in Jaipur which is hearing the Ajmer blast case.
http://timesofindia.indiatimes.com/city/jaipur/2-accused-in-Ajmer-blast-case-held-near-Vadodara/articleshow_dc/19890217.cms
------------
PCI chief Markandey Katju appeals for release of Sanaullah
May 5, 2013
NEW DELHI: PCI chairman Markandey Katju today appealed to the Centre to release Pakistani prisoner Sanaullah, who was injured in a scuffle in a Jammu jail and undergoing treatment at a hospital in Chandigarh.
"I appeal to the Indian Government to forthwith send back Sanaullah, a Pakistani prisoner who was attacked in a Jammu jail and is said to be in coma, to Pakistan, as requested by the Pakistan Government. This will be a humanitarian act," Katju said.
The PCI chief also appealed to Governments of India and Pakistan to immediately set up committees to review cases of all prisoners, and to set up mechanisms for early release of those convicted on alleged 'confessions' or insufficient or suspicious evidence.
http://timesofindia.indiatimes.com/india/PCI-chief-Markandey-Katju-appeals-for-release-of-Sanaullah/articleshow/19894393.cms
------------
Jamaat-e-Islami Hind asks India, China to resolve border dispute through dialogue
May 4, 2013
New Delhi, May 4: Jamaat-e-Islami Hind today urged India and China to resolve their border dispute through dialogue as the cordial relations between the two nations of world's one-third human population are necessary for world peace.
Jamaat expressed deep concern at the recent Chinese military movement in the Indian Territory but condemned Indian political parties for accentuating the issue and talking in military terms. Jamaat said maintaining good relations with China and other neighbors are in our country's own interest.
"India and China, on the basis of population, economic and political power etc., are the most important countries in the world, and China is our neighbour as well. The combined population of the two countries is over 2.5 billion and this consists of more than one-third of the human population. It is of much importance to us that our relations with our neighbours remain cordial and peaceful. This is in our interest and also necessary for world peace," said Ameer (National President) of Jamaat-e-Islami Hind, Maulana Syed Jalaluddin Umri while addressing the monthly press conference at Jamaat's headquarters here on Saturday.
"A border dispute has emerged at Daulat Beg Oldi in the North-Eastern region of Ladakh border region between India and China for quite some time. It is a matter of grave concern that Chinese army has established military posts on Indian side of the actual line of control (ALC). This is in contravention of international principles. It is natural that grave concern is being expressed in our country. But it appears that some politicians are busy accentuating the issue so much so that China is being dubbed as our biggest enemy. This is not the right line of thinking. Cordial relations with our neighbours are in our interest. The real requirement of patriotism, instead of adopting a sentimental attitude or talking of armed response, is to solve the differences with mutual dialogue. The parties should keep from making statements which can further sour the relations between the two neighbouring countries."
While condoling the death of Sarabjeet Singh and condemning Pakistan for lapses in his security in the jail, Jamaat chief strongly criticized the central government, political parties and media for making it a high voltage issue and pushing the two neighbors to intensified conflict.
"The assault on Indian prisoner Sarabjit Singh by jail inmates in Kot Lakhpat Jail of Pakistan which resulted in his death is most unfortunate and condemnable. It appears that there was dereliction of duty on the part of the jail authorities," said the Jamaat.
Jamaat also condemned attack on a Pakistani prisoner in Indian jail yesterday. "Likewise the attack on a Pakistani prisoner in Jammu jail by some un- scrupulous inmates is equally unfortunate and condemnable. Whichever may be country in the world, it is its responsibility to behave humanely with prisoners. It is the duty of jail authorities that they protect prisoners according to law but sadly inhuman behaviour is often meted out to them."
Jamaat Islami demanded that in all countries of the world prisoners should be dealt with humanely. It is the essential requirement of justice and human rights.
Jamaat recalled the killing of under-trial Qateel Siddiqi in Pune jail last year and criticized both government and media for not highlighting that murder. Jamaat demanded NHRC to look into the Pune jail killing.
Full report at:
http://muslimmirror.com/eng/jamaat-islami-asks-india-china-to-resolve-border-dispute-through-dialogue/
------------
20 Indian prisoners in Lahore jail mentally ill: Judicial panel
May 05 2013
New Delhi: Twenty out of 36 Indian prisoners lodged in Lahore's Kot Lakhpat jail, where Sarabjit Singh was fatally attacked, have lost their mental balance and not been taken to any hospital for proper medical care, an India-Pakistan judicial panel has found.
The India-Pakistan Judicial Committee on Prisoners, which visited Pakistani jails in Karachi, Rawalpindi and Lahore last week, has found that 20 prisoners in Kot Lakhpat jail, two prisoners in Rawalpindi's Adiyala jail and one prisoner in Malir jail in Karachi were mentally ill. Click here to read: Pak govt killed Sarabjit, alleges his former jail inmate
The Committee has recommended that serious and terminally ill, mentally challenged and deaf and mute prisoners be kept in appropriate hospitals or special institutions irrespective of confirmation of their national status and offence.
As many as 535 Indian prisoners, including 483 fishermen (11 of them juveniles) and eight civil prisoners at District Jail Malir, Karachi, besides eight prisoners at Adiyala jail and 36 prisoners at Kot Lakhpat jail were presented before the Committee.
Full report at:
http://www.indianexpress.com/news/20-indian-prisoners-in-lahore-jail-mentally-ill-judicial-panel/1111758/
------------
Jammu jail attack: Pak prisoner Sanaullah's condition remains critical
May 05 2013
Chandigarh: Pakistani prisoner Sanaullah Ranjay, who was injured in a scuffle with another inmate in a Jammu jail, today remained critical at PGIMER here.
The prisoner is on ventilator and in deep coma, hospital sources said.
Sanaullah was airlifted from Jammu to the Post Graduate Institute of Medical Education and Research (PGIMER) on Friday evening.
52-year-old Sanaullah is being looked after by a team of doctors, including neurosurgeons, in the intensive care unit.
A team of Pakistani High Commission officials which visited Sanaullah, a resident of Sialkot in Pakistan, at PGIMER yesterday, is expected to meet the doctors again today to seek a fresh update on his condition.
PGIMER in its update on the his condition had last night said that "the patient had metabolic alterations and coagulation abnormalities, which are being taken care of by concerned specialists and these are gradually being controlled, though they are not totally normal. His blood pressure had been going down, so a third vasopressor had to be added (yesterday)".
Upon his arrival here, PGIMER said Sanaullah was checked by neurosurgeons at the Jammu hospital, where he was first rushed to after the attack on him, "who detected head injuries with a large fracture. CT scan showed multiple contusions with severe brain edema (brain capillaries damaged due to head injury)."
Full report at:
http://www.indianexpress.com/news/jammu-jail-attack-pak-prisoner-sanaullahs-condition-remains-critical/1111733/
------------
Indians in Saudi Arabia seek more community welfare services
May 4, 2013
Dubai, May 4 : A group of Indian organisations in Saudi Arabian capital Riyadh have sought enhanced services from the Indian Community Welfare Fund (ICWF) through the Indian embassy in Riyadh and the consulate general in Jeddah.
The Federation of Kerala Associations in Saudi Arabia (FOKASA) and the Pravasi Legal Aid Cell submitted a petition in this regard to visiting Indian minister for overseas Indian affairs Vayalar Ravi in the Saudi capital, the Arab News reported Saturday.
ICWF money is mainly utilised to provide food and shelter to expatriate Indians who fall in distress.
The organisations also gave Right to Information (RTI) reports detailing utilisation of ICWF money from both the Indian missions to the visiting dignitary.
According to FOKASA president R. Muraleedharan, only 41 percent of the ICWF money has been used to help distressed expatriate Indians.
Full report at:
http://muslimmirror.com/eng/indians-in-saudi-arabia-seek-more-community-welfare-services/
------------
Indian figures in Syrian sanctions-busting probe in America
May 4, 2013
Large amounts of computer equipment from Dell have been sold to the Syrian government through a Dubai-based distributor despite strict trade sanctions intended to ban the selling of technology to the regime, according to documents obtained by The New York Times.
The disclosure of the computer sales is the latest example of how the Syrian government has managed to acquire technology, some of which is used to censor Internet activity and track opponents of Syrian President Bashar al-Assad.
According to internal company e-mails, cash transfer statements, sales receipts and shipping documents, the computer equipment was sold by BDL Gulf, an authorised dealer for Dell in West Asia and Africa. The company is owned by Prince Alwaleed bin Talal, a member of the Saudi royal family, who is listed by Forbes magazine as the 26th-richest person in the world, with an estimated worth of $20 billion.
Prince Alwaleed, who owns large stakes in Apple, News Corp. and Citigroup, did not respond to numerous requests for comment.
BDL sold the equipment to Anas Hasoon Trading, a Damascus-based company with contracts to provide computers to the Syrian government, according to billings records and e-mail exchanges between the companies.
Authorised reseller
Jess Blackburn, a spokesman for Dell in Round Rock, Texas, confirmed that BDL was an authorised reseller. He said the company was recently made aware of a possible shipment of Dell equipment to Syria by an anonymous source.
"We are investigating an allegation we received recently that BDL was involved in a possible transaction involving Syria," Mr. Blackburn said in a statement. "Dell requires its resellers to follow U.S. trade requirements, just as Dell does. Resellers of Dell products and services are contractually prohibited from selling or shipping any technology to a customer in a restricted country."
The United States has barred the sales of most U.S.-made goods to Syria for nearly a decade and has repeatedly tightened sanctions against the government. An executive order by President Barack Obama, dated April 22, 2012, specifically addresses the sale of computer technology to Syria, barring Americans from helping the Iranian and Syrian governments engage in human rights abuses, including monitoring and tracking of dissidents.
U.S. officials charged with enforcing sanctions against Syria would not comment on the possible violation of export laws but did say that it was illegal to export technology to Syria unless the sale would promote the free flow of information between the Syrian people and the outside world. Asked about the evidence of shipments to Syria, a manager at BDL said the company had hundreds of customers and did not keep track of their location.
"We cannot know if they are from Pakistan, Egypt or Morocco; we just sell in Dubai," said RamaNarayan Singh, who is listed as BDL's sales manager for the United Arab Emirates, Africa and Iran. "I'm just an employee doing my duty. I don't know if a company is from Syria."
But e-mails between Mr. Singh and a representative from Anas Hasoon Trading show that the Syrian company made it clear to him that it was working on behalf of the Assad government.
Mr. Singh signed several invoices that listed a Syrian address for the trading company. Mr. Singh said he did not recall the e-mails or the invoices.
The records, which were provided to The Times by an individual who was briefed on the transactions, showed that BDL sold hundreds of laptops, tablets and desktop computers to the Syrian company.
Full report at:
http://www.thehindu.com/news/international/world/indian-figures-in-syrian-sanctionsbusting-probe-in-america/article4684092.ece
------------
India considering more investments in Iran
May 4, 2013
Along with the joint development of the Chabahar port in Iran announced by Foreign Minister Salman Khurshid in Tehran on Saturday, India is considering investments in several other projects to boost India-Iran-Afghanistan ties.
Diplomatic sources said India was exploring investments in the Chabahar container terminal project and in the proposed Chabahar-Faraj-Bam railway. Once this railroad is complete, containers can be speedily sent to Bam, on the Afghan border. Then onward journey can commence along the 200-km India-built Zaranj-Delaram road that hooks up with Afghanistan's garland highway, linking all major cities.
From an Iranian perspective, Chabahar's commercial advantages reinforce the importance of its strategic location. Iran was looking for Indian investments in the Chabahar Free Trade and Industrial Zone — an area of around 140 sq km that is carved into nine functional zones. Over cups of freshly brewed coffee, Indian and Iranian officials on Saturday brainstormed the possibility of establishing a 12-lakh-tonne urea plant in Chabahar, taking advantage of the availability of Iran's exceptionally cheap natural gas.
Full report at:
http://www.thehindu.com/news/international/world/india-considering-more-investments-in-iran/article4684077.ece
------------
Pakistan
Voting for Imran Khan and his candidates is haram: Jamiat Ulema-e-Islam (F)
May 5, 2013
DI KHAN: Jamiat Ulema-e-Islam-Fazl (JUI-F) chief Maulana Fazlur Rehman on Saturday declared it 'haram' to vote in favour of Pakistan Tehreek-e-Insaf chief Imran Khan and his candidates.
Imran Khan, according to Fazl, is being sponsored by the West and the Jewish lobby.
Fazlur Rehman used every word that would foment hatred against any person in the conservative masses of Pakistan. He called Imran an agent of "Americans, Jews, Ahmadis and a person of ill character".
"A person who could not make his own children Muslim nor Pakistani, is dreaming of becoming prime minister of Pakistan and making the country an Islamic welfare state," Maulana said.
"The Yahoodi (Jewish) lobby's money is working (for Imran)," he said.
"I am asked, 'what is the proof that he (Imran Khan) is an agent of the Jews,' I say there is only one proof and it is my own responsible personality. I am so righteous that I would never talk ill against anyone. This is enough that Maulana Fazlur Rehman says that he is a Jewish agent."
Full report at:
Published in The Express Tribune, May 5th, 2013.
http://tribune.com.pk/story/544667/political-fatwa-voting-for-pti-is-haram-says-maulana-fazl/
------------
Upper Orakzai: 16 militants killed, 2 security men martyred
May 05, 2013
UPPER ORAKZAI: Security forces captured two militant strongholds in Kismet Sur and Sunghar areas of Tirah valley in Khyber tribal region after successful operations were conducted in the areas, according to Inter Services Public Relations (ISPR) sources.
At least 16 militants were killed and three hide out destroyed during the operation, while scores of other militants fled from the area leaving behind a huge cache of arms and ammunition, which was recovered by security forces. Besides, two security personnel were martyred and three others were injured during the operation.
Sources said that security forces have wiped out the militants from Shaheed Sunghar, Qismet Sunghar, Sarkanay, Sheen Qamar and Shungakh Kandawo by launching operations.
Full report at:
http://www.thenews.com.pk/article-99683-Upper-Orakzai:-16-militants-killed,-2-security-men-martyred-
------------
Security forces take control of militant strongholds in Tirah valley
ZAHIR SHAH SHERAZI
2013-05-05
PESHAWAR: Security forces captured two militant strongholds in Kismet Sur and Sunghar areas of Tirah valley in Khyber tribal region after successful operations were conducted in the areas , according to Inter Services Public Relations (ISPR) sources.
At least 16 militants were killed during the operation moreover scores of other militants fled from the area leaving behind a huge cache of arms and ammunition, which was recovered by security forces.
Moreover two security personnel were killed and three others were injured during the operation.
In another incident in Orakzai tribal region's Mamozai area, at least six suspected militants were killed and five others were injured during clashes between security forces and militants.
Full report at:
http://beta.dawn.com/news/812215/security-forces-take-control-of-militant-strongholds-in-tirah-valley
------------
'Table talks only solution to Kashmir issue': Pakistan Muslim League (N)
May 05, 2013
Syed Jafar Aksari
War is nothing but destruction while table talk is the only solution to the Kashmir issue.
Pakistan Muslim League (N) wants Kashmiri people to fight their legal case by their own will, said PML-N Vice President Azad Kashmir, Kashan Masood while having special talk with The Nation here on Friday night.
Muzaffar Hussain of PPP Azad Kashmir and others were also present on the occasion.
People of Kashmir do not want Pakistani establishment to handle the Kashmir issue like Afghanistan; Pakistan's Afghan policy was totally against the country's interest.
"We do not want bloodshed of innocent people. Kashmiris have been suffering from the dilemma of puppet governments since 1947. People of Azad Kashmir are peaceful and they want to improve cultural and trade relations with Indian-held Kashmir. Pakistan needs the leadership of Nawaz Sharif."
Masood, talking about poor law and order situation in three provinces, said that this was the total failure of provincial governments of Sindh, Balochistan and Khyber Pakhtunkhwa.
He said that Punjab government kept the law and order situation maintained in the province. He retained that the positive role of the judiciary in Punjab is also one of the most important factors behind the good governance in Punjab.
He pointed out that due to negative aspects of Afghan policy, Pakistan is suffering from the dilemma of terrorism and extremism, devouring 40,000 lives of innocent Pakistanis.
To a query, he said that the murder of an Indian spy Sarabhjeet Singh may cause massive problems for Pakistanis, especially Kashmiris, detained in Indian jails in different cases. He shown grave concerns over Pakistan's Kashmir policy; Pakistan never took a concrete step towards the solution of the issue.
PPP-led government made 18th, 19th and 20th amendments but did nothing to give authority to Kashmiri government, he said. All the four provinces are enjoying rule after the devolution of power to provinces after the 18th amendment but Kashmir is still in the grip of puppet government. Kashmir has three to four million population while it is given only Rs49 billion on account of annual budget, which is quite an inferior amount, he said.
"There is a dire need to develop or improve cultural and trade relations between Azad Kashmir and Indian-occupied Kashmir. We do not afford any kind of war," he added.
Full report at:
http://www.nation.com.pk/pakistan-news-newspaper-daily-english-online/national/05-May-2013/-table-talks-only-solution-to-kashmir-issue
------------
Shutdown in Karachi over twin blasts on MQM
2013-05-05
KARACHI: A complete shutdown was observed in Karachi and other cities of Sindh on Sunday (today) following a call to observe a 'day of mourning' by the Muttahida Qaumi Movement (MQM) over twin bomb blasts outside their election office in Azizabad on Saturday which killed three people and injured 40 others, DawnNews reported.
A bomb planted near a park where the MQM had set up its election office for its unit in Karachi's Azizabad (Federal B. Area Block 8) went off around 9pm on Saturday.
The blast caused panic and fear in the densely populated and highly guarded neighbourhood as a number of MQM activists, volunteers, personnel of law enforcement agencies and media crew rushed to the place.
About 20 minutes later, another explosion took place at almost the same place which was crowded by the party's activists, volunteers and security personnel. Police said apparently the MQM election office was the target.
"Both bombs were detonated either by remote control or a timer device," Karachi Central SSP Amir Farooqi said."The first attack appears to have been a trap to draw people to the place before the second explosion. Tight security and surveillance prevented any major damage."
Meanwhile, the Pakistani Taliban have claimed responsibility of the attack. Speaking to Dawn.com via telephone from an undisclosed location, Tehrik-i-Taliban Pakistan (TTP) spokesman Ehsanullah Ehsan said the target was MQM and both bombings were carried out through planted devices.
Full report at:
http://beta.dawn.com/news/812158/shutdown-in-karachi-over-twin-blasts-on-mqm
------------
Tribesmen defy Taliban, embrace historic polls
May 5, 2013
* After years of army offensives, 1.7m voters in FATA say they feel safe enough to vote
MICHNI: Pakistan's tribal belt may have been dubbed the world's most dangerous place by the United States, but enthusiastic tribesmen are defying the Taliban to vote for change at next week's polls.
More than 60 people have been killed in militant attacks targeting politicians and political parties since April 11, but amazingly, no one in the seven districts that make up the semi-autonomous region on the Afghan border.
One of the most remote and undeveloped parts of the country, the Federally Administered Tribal Areas (FATA) provide rear bases for the Afghan Taliban, the Pakistani Taliban and other al Qaeda-linked groups.
But after years of army offensives designed to clear out Taliban hideouts, some of the 1.7 million registered voters in FATA say they feel safe enough to vote and even that women, normally kept in purdah, will vote.
For the first time, political parties can campaign directly in FATA – a reform introduced by the outgoing government in 2011 in an effort to give tribesmen more of a stake in the country and curb militancy.
"People want change. They want a change in the system not just a change of faces," said Miraj Ali, a doctor who runs a clinic in the village of Michni in the district of Mohmand.
Tribesmen in the districts of Mohmand, Khyber, Bajaur and North Waziristan who spoke to AFP accused the outgoing government of doing nothing to improve their lives and blamed it for fighting that has displaced hundreds of thousands.
Instead they are looking to the religious parties, cricket star Imran Khan, looking to make a political breakthrough at the May 11 polls, or opposition leader Nawaz Sharif bidding for a historic third term.
"The two party leaders with the most support are Imran Khan and Nawaz Sharif," admitted Ali.
All main parties are visibly campaigning, but of the 339 candidates competing for 12 National Assembly seats from FATA, only 81 represent parties – the rest are officially independents, even if some privately favour one party over another.
Party flags fly from rooftops, shops and markets. There are banners and posters everywhere. Despite Taliban threats that democracy is un-Islamic, candidates hold street meetings, public rallies and open campaign offices.
Full report at:
http://www.dailytimes.com.pk/default.asp?page=2013\05\05\story_5-5-2013_pg7_2
------------
Pakistan demands release of 47 prisoners from India
Mateen Haider
May 5, 2013
ISLAMABAD: Pakistan has demanded from India the release of 47 Pakistani prisoners who have completed their prison terms and are languishing in various Indians prisons.
"47 Pakistani prisoners in various prisons have completed their sentence and they should be released immediately" Pakistan' envoy to India Salman Bashir wrote in a letter addressed to Indian foreign secretary.
The letter has been handed over to top officials at Indian Ministry of External Affairs by Pakistan's deputy High Commissioner Abdul Rehman Nizamani, spokesman for Pakistan High Commission in India Manzoor Ali Memon told Dawn.com.
The letter has been written following attack on Pakistani prisoner Sanaullah in Jammu jail, in which he suffered severe injuries and is currently in Chandigarh Hospital in a critical condition.
Full report at:
http://dawn.com/2013/05/05/pakistan-demands-release-of-47-prisoners-from-india/
------------
Two FC personnel killed in shoot-out in Bolan
SYED ALI SHAH
2013-05-05
QUETTA: At least two Frontier Corps (FC) personnel and four dacoits were killed on Sunday during an exchange of fire in the Bhag area of Balochistan's Bolan district, FC sources said.
According to FC sources, security personnel conducted a raid to arrest a wanted dacoit Gul Bahar in the Bhag area, adding that the raiding team came under fire as soon as they entered the area to arrest the suspects.
Two companions of Gul Bahar were killed in retaliatory action by security forces.
Full report at:
http://beta.dawn.com/news/812217/two-fc-personnel-killed-in-shoot-out-in-bolan
------------
Police seize 90,000 'Apparently fake' ballot papers in lower dir
May 5, 2013
DIG Malakand range Obaidullah Khan told Dawn.com that the police team recovered and confiscated the National Assembly ballot papers during the search of a vehicle and that the papers were not carrying the seal of the Election Commission of Pakistan and appeared to be fake.Two persons were also taken into custody and were booked under sections 419, 420 , 468 and 471 of the PPC.A probe went underway to ascertain the authenticity of the ballot papers which were apparently meant for NA-34 constituency of Lower Dir .
http://dawn.com/2013/05/05/police-seize-90000-apparently-fake-ballot-papers-in-lower-dir/
------------
1 kg each explosive material used in Azizabad blasts, says DIG
May 05, 2013
KARACHI: DIG Police Karachi (West) Zafar Abbas Bukhari has said that one kilogram each explosive material was used in twin blasts of Azizabad on Saturday evening, Geo News reported.
Speaking to media, the DIG said explosive material was detonated either by a cell phone signal or a remote control.
At least three people were killed and 45 injured in two back-to-back blasts near a unit of office of Muttahida Qaumi Movement (MQM) in Azizabad which is also home to the party's Headquarter, Nine Zero.
Full report at:
http://www.thenews.com.pk/article-99659-1-kg-each-explosive-material-used-in-Azizabad-blasts,-says-DIG
------------
Performance, not claims, to matter on May 11: Nawaz
May 05, 2013
Sajid Zia
ahore - PML-N President Nawaz Sharif on Saturday ridiculed PTI Chairman Imran Khan's claim that his party would capture more than a 100 seats in Punjab alone.
In an interview with WaqtNews, he said, it was for the people to decide which party should get how many seats. People, he said, would support any party on the basis of its performance and not the appearance of any leader.
In the interview conducted by The Nation Editor Salim Bokhari, Nawaz said that presently all parties were pitted against the PML-N but on the day of elections it would emerge victorious. To a question, he said the country was facing multifarious challenges and only a strong government could grapple with them.
"A strong government, not the one working with the support of political crutches, is needed," said the former prime minister. Opposing the concept of a coalition setup as a result of the next polls, he said, the working of a coalition government could be gauged from the performance of the previous PPP-led coalition.
About the situation in Sindh, he said there was unrest in the province. Bad governance and corruption had been ruling the province until recently. To improve the situation in the province, he said, the PML-N had forged an alliance with the like-minded parties. He recalled that even the apex court, in one of the recent judgments, had pointed out that political parties had militant wings and some of the operatives thereof had murdered as many as 100 people. In his opinion, these wings must be disbanded to improve the situation.
About the negative propaganda campaign launched against the PML-N by the PPP leaders, Nawaz said the PPP had failed to solve people's problems over the past five years. Now it had launched a negative campaign to deflect people's attention. According to him, the allegations being levelled by the PPP were baseless. He said the PML-N in its media campaign was highlighting its performance.
About the importance of the Kalabagh Dam, he said, the project could solve many problems. But at the same time, there were serious concerns being expressed by the smaller provinces about it. If consensus could be evolved, the construction of the project would be in the national interest. In his opinion, President Zardari could do a lot to evolve consensus. But, he regretted, that the leader from Sindh had done nothing for the purpose.
Answering a question about Kashmir, the former PM said that when his Indian counterpart Vajpayee visited Lahore, he had agreed to settle all disputes through talks. This was a great achievement, but the Kargil adventurism sabotaged the peace process. He said this issue should be kept alive and pushing it to the backburner would be unacceptable and unfortunate.
Full report at:
http://www.nation.com.pk/pakistan-news-newspaper-daily-english-online/national/05-May-2013/performance-not-claims-to-matter-on-may-11-nawaz
------------
990 get arrest warrants for refusing poll duties
May 05, 2013
LAHORE - Returning officers at the district & sessions court issued arrest warrants for more than 990 officials for committing negligence and refusing to continue their service with the Election Commission here on Saturday.
The notice was issued by 13 various returning officers after they were informed that teachers and other officers were not joining their duties, which could affect badly the free and fair process of the elections.
Considering it as a big offence against the state, the ROs issued arrest warrants for the officers who refused to join their duties and directed the authorities concerned to produce them.
Full report at:
http://www.nation.com.pk/pakistan-news-newspaper-daily-english-online/national/05-May-2013/990-get-arrest-warrants-for-refusing-poll-duties
------------
TI to abandon war on terror, if voted to power: Imran
May 5, 2013
PESHAWAR: Pakistan Tehreek-e-Insaf (PTI) chief Imran Khan on Saturday pledged that if voted to power his party would abandon the war on terror as "it was an American war being fought on Pakistan's soil."
"I will order the army to shoot down the US drone if it crosses the Pakistani border," Imran Khan said while addressing election rallies in Buner, Swabi, Charsasda and Nowshera districts of Khyber Pakhtunkhwa.
He alleged that JUI-F chief Mualana Falzur Rehman, ANP President Asfandyar Wali Khan and PML-N chief Mian Nawaz Sharif were dragging the country into a war of others.
The PTI chief alleged that Maulana Fazlur Rahman had enjoyed perks and privileges during the tenures of Pervez Musharraf and Asif Ali Zardari and now he was again fooling the masses in the name of religion to seek their support. He remained silent on drone attacks in Waziristan, but is now criticising the same, he added.
He alleged that some of the political and religious parties of the country were directly involved in the ongoing wave of militancy.
He said thousands of people were massacred during the Afghan war when they were misled by religious leaders during the US-Soviet Union war.
Full report at:
http://www.dailytimes.com.pk/default.asp?page=2013\05\05\story_5-5-2013_pg7_16
------------
Pakistan should mull support for U.S. war on terror, says election frontrunner
5 May 2013
Nawaz Sharif, seen as the front-runner in Pakistan's election race, said the country should reconsider its support for the U.S. war on Islamist militancy and suggested that he was in favor of negotiations with the Taliban.
Pakistan backed American efforts to stamp out global militancy after the Sept. 11, 2001, attacks on the United States and was rewarded with billions of dollars in U.S. aid.
But many Pakistanis have grown resentful, saying thousands of Pakistani soldiers have died fighting "America's war".
Sharif, a religious conservative who is hoping to become prime minister for a third time after next Saturday's election, said the Pakistani military's U.S.-backed campaign against the Taliban was not the best way to defeat the insurgency.
"I think guns and bullets are always not the answer to such problems," he told Reuters in an interview in his black armored car on Saturday. "I think other options need to be explored at the same time and see what is workable. And I think we're going to pursue all these other options."
Army offensives have weakened the Pakistani Taliban, which is close to al Qaeda, but they have failed to break the movement's back.
Sharif wants a review of the backing provided for the U.S. war on militancy under the previous government's approach.
"Someone will have to take this problem seriously," said Sharif, as he headed to an election campaign rally. "All stakeholders will have to sit down together and understand the concerns of all parties and then take a decision, which is in the best interest of Pakistan and the international community."
His comments are likely to anger Washington, which has been pushing Pakistan to both stamp out domestic militancy - where Taliban militants are waging a violent campaign to impose their austere brand of Islam - and to help defeat the Afghan Taliban.
The United States is hoping the elections will usher instability so that Pakistan can help pacify neighboring Afghanistan as U.S.-led NATO troops prepare to leave by the end of 2014.
Sharif's party, the Pakistan Muslim League - Nawaz (PML-N),has capitalized on widespread frustration with the outgoing Pakistan People's Party, which has failed to address an array of issues from chronic power cuts to widespread poverty.
None of that poverty could be seen anywhere near Sharif's vast estate on the edge of his native Lahore. Peacocks wandered along manicured lawns overlooking a palatial home with stuffed lions beneath photographs of him with heads of state, including former U.S. President Bill Clinton.
Warns against military meddling
Born into a family of wealthy industrialists, Sharif reflected on Pakistan's turbulent history, especially the army's habit of mounting coups and meddling in politics.
Full report at:
http://english.alarabiya.net/en/News/asia/2013/05/05/Pakistan-should-mull-support-for-U-S-war-on-terror-says-election-frontrunner.html
------------
Arab world
At least 62 bodies found in Syria's Banias: watchdog
May 05, 2013
BEIRUT: The bodies of at least 62 murdered residents have been found in a Sunni neighbourhood of the Syrian city of Banias, the Syrian Observatory for Human Rights said on Saturday.
The latest incident was condemned by the opposition Syrian National Coalition, which said reports of several mass killings in the area raised the spectre of a campaign of ethnic cleansing.
"The bodies of dozens of citizens killed on Friday during an assault by the army and Alawite members of the National Defence Forces in the neighbourhood of Banias were discovered on Saturday," the Observatory said.
"We have identified 62 citizens by their names, photos, or videos, including 14 children, and the number could rise because there are dozens of citizens who are still missing."
The mass killing is the second "massacre" to be reported in the Banias area this week.
On Thursday, the Observatory said at least 50 people had been killed in the Sunni village of Bayda, south of the coastal city.
"Witnesses from the village say no less than 50 civilians were killed, including women and children," the group said.
"Some were summarily executed, shot to death, stabbed or set on fire."
After the deaths, which were reported on Friday, regime forces began shelling several neighbourhoods of Banias, prompting residents to flee the area early on Saturday.
The Syrian National Coalition condemned "a proliferation of massacres that is transforming into an ethnic cleansing operation like that carried out by Serbian forces in Bosnia 20 years ago."
Full report at:
http://www.thenews.com.pk/article-99678-At-least-62-bodies-found-in-Syrias-Banias:-watchdog
------------
Egyptmob lynches teenage son of an Islamist leader
May 05, 2013
CAIRO : An angry Egyptian mob has lynched the teenage son of a Muslim Brotherhood leader, accusing him of killing a man over Facebook comments critical of the Islamist movement, security sources said Saturday.
The violence that took place on Thursday in the Nile Delta was the latest in a spate of vigilante killings in the region amid growing lawlessness since the 2011 revolution that toppled former president Hosni Mubarak.
Yussef Rabie Abdessalam, 16, pulled out a gun and opened fire indiscriminately, killing a passerby and wounding another after a heated argument with a man who had openly criticised the influential Brotherhood on the Internet, the sources said.
His action sparked fury in Qattawiya, a village in the Nile Delta province of Sharqiya, where Yussef's father, Rabie Abdessalam is an official at the local branch of the Justice and Freedom Party, the political arm of the Muslim Brotherhood of President Mohamed Mursi.
An angry mob surrounded the Abdessalam house seeking revenge, but the family refused to give Yussef up and hurled stones from inside the residence at the protesters.
A man outside the house was fatally wounded.
Full report at:
http://www.nation.com.pk/pakistan-news-newspaper-daily-english-online/international/05-May-2013/egyptmob-lynches-teenage-son-of-an-islamist-leader
------------
Iraq PM's coalition leads in 7 of 12 provinces
May 05, 2013
BAGHDAD: Iraqi Prime Minister Nuri al-Maliki's State ofLawcoalition won the most provincial council seats in seven of the 12 provinces that voted, according to results released on Saturday.
However, no list won a majority of seats in any of the provinces.
The vote for provincial councils was the first election held sinceUStroops withdrew fromIraqin late 2011, and was seen as an important gauge of Maliki's popularity ahead of a general election next year.
State of Law led in Baghdad, Karbala, Babil, Diwaniyah, Basra, Dhi Qar, and Muthanna provinces, and tied for first with Supreme Iraqi Islamic Council chief Ammar al-Hakim's Citizen's Coalition in Wasit - all of them either Shiite-majority or mixed provinces.
Powerful Shiite cleric Moqtada al-Sadr's movement led in Maysan province, while local lists won the most seats in Diyala, Najaf and Salaheddin provinces.
The Citizen's Coalition came second in Najaf, Babil, Diwaniyah,Basra, Dhi Qar, Muthanna and Wasit provinces.
State ofLawwas second in Maysan, while Sadr's movement was runner-up inBaghdadandKarbala. Parliament speaker Osama al-Nujaifi's list tied for second with a local list in Salaheddin, and a local list was second in Diyala.
Turnout for the provincial vote was about 51 percent, according to officials fromIraq's Independent High Electoral Commission. Security forces voted on April 13, while the general vote was held on April 21.
But six Iraqi provinces did not vote.
The three making up the autonomous Kurdistan region are to vote later this year, as are Anbar and Nineveh, where polls were delayed because authorities said security could not be guaranteed.
Provincial council elections have not been held in Kirkuk province since 2005 because of a lack of agreement between its various ethnic groups.
The credibility of the elections came into question because of the six provinces not voting and attacks that killed more than a dozen candidates.
Full report at:
http://www.nation.com.pk/pakistan-news-newspaper-daily-english-online/international/05-May-2013/iraq-pm-s-coalition-leads-in-7-of-12-provinces
------------
FSA brigade pledges to fight Hezbollah's Qusayr advances
5 May 2013
A Free Syrian Army brigade on Sunday pledged to defend the flashpoint town of Qusayr and fend off attacks from Lebanese militant group Hezbollah.
The pledge, from the FSA's al-Farouq brigade, came after violence in the town triggered the Syrian National Council (SNC) to sound the alarm and issue a statement urging the FSA to increase its reinforcements in Qusayr.
The SNC also warned of the "responsibility" that will befall on the FSA if Hezbollah raids Qusayr.
The al-Farouq brigade is considered to be one of the strongest rebel armed groups in the country's center. Although it first operated in Homs where it was established, it is now deployed in a number of Syrian governorates.
Battles are fierce in Qusayr between the FSA and Hezbollah, as the Lebanese Shiite group's fighters are being aided by the regime's warplanes and tanks.
Hezbollah – an ally of the Assad regime – has repeatedly denied taking part in Syria's two-year conflict – which has killed at least 70,000 people, according to the U.N.
However, the group has held regular funerals for Hezbollah fighters, who – it said – were killed serving their "jihadist duties."
On Saturday, FSA spokesman Louay al-Mokdad said some residents in Qusayr have said Hezbollah was using artillery shells containing fatal Mustard Gas in the area.
His statement follows reports by activists that Hezbollah, along with forces loyal to Syrian President Bashar al-Assad, have been using chemical weapons against the armed opposition and residents in Syria.
Al-Mokdad added that the FSA is still "investigating the reports" before it makes an official announcement, noting however, that there have been cases of asphyxiation, a symptom of Mustard Gas inhalation, which may indicate the use of chemical weapons.
Hezbollah chief Hassan Nasrallah said earlier this week that Syria's friends would not let Assad's embattled regime fall.
"Syria has true friends in the region who will not allow Syria to fall into the hands of the United States, Israel and 'takfiri' groups," Nasrallah said, referring to Sunni Muslims fighting to overthrow Assad.
Full report at:
http://english.alarabiya.net/en/News/middle-east/2013/05/05/FSA-brigade-pledges-to-fight-Hezbollah-s-Qusayr-advances.html
------------
Madinah court orders SR 150,000 for abused Indonesian maid
MARIAM AL-JIHANI
5 May 2013
MADINAH: The general court in Madinah has concluded the case of the Indonesian maid, Keni Sharda, who was abused by her employer in 2008.
The court ordered the employer to compensate Keni with SR 150,000. Keni filed a complaint at her country's overseas workers union and the Saudi Embassy in Jakarta.
Keni was given a visa by the Saudi embassy in Jakarta to attend court sessions inside Saudi Arabia, said her lawyer, Abdul Rahman Al-Muhamadi.
Full report at:
http://www.arabnews.com/news/450483
------------
Close but not together: Egypt and Iran seek Syria political exit
5 May 2013
Regional and Western diplomats in Cairo have told Ahram Online that Cairo and Tehran are both working on a blueprint for a peace plan for Syria that could be "swallowed" by Syrian President Bashar Al-Assad.
The plan that is being discussed is essentially inspired by the Geneva parameters that were drafted by Lakhdar Brahimi, former UN-Arab League envoy, which allow for a gradual transformation of power "under Al-Assad" and would not force Al-Assad to step down.
What brings Cairo, where resides the highest Sunni entity Al-Azhar, and Tehran, the capital of Middle Eastern Shiism, together is one basic fear: foreign military action against Syria.
Egyptian and Iranian diplomats are terse in their remarks, even off the record. However, both agree there is this "growing pressure in Washington to get [US President Barack] Obama to give the go ahead," for limited but forceful military intervention to end the intransigence of the Al-Assad regime after two years of civil war with the opposition.
"There is a growing pressure on Obama. One could say that yes it somehow started in Israel, but there are other players in the region that could benefit from a quick end to the Al-Assad regime," commented an Egyptian diplomat.
He added: "From our point of view, this is not something that we could agree to — no matter what disagreements we have with Al-Assad's regime. We are firmly opposed to any military intervention against Syria."
According to this diplomat, this was not necessarily the case within the Egyptian regime a few months ago, but it has evolved to be so. "Now we all agree that it is only through a political deal that this Syria matter can be fixed," he said.
Meanwhile, an Iranian diplomat shared only a few words: "Tehran will do everything it can to serve the interests of the Syrian people and of course a war is not in the interest of our dear Syrian brothers."
The deal that is currently being discussed in Cairo, Terhan, Moscow — yet another Al-Assad ally — and of course Washington involves a gradual halt to all forms of hostilities with the presence of an Arab-international monitoring mechanism, and eventually a call for early presidential elections.
Full report at:
http://english.ahram.org.eg/NewsContent/1/64/70698/Egypt/Politics-/Close-but-not-together-Egypt-and-Iran-seek-Syria-p.aspx
------------
Syria: hundreds of families flee 'death squads' as Israel takes out missile convoys
04 May 2013
Sunni Muslims sought safety after a second village in two days was destroyed by death squads apparently bent on ethnic cleansing.
Relatives of the dead in the Sunni Muslim villages of Bayda and Ras al-Nabaah told The Sunday Telegraph that scores, possibly hundreds of men, women and children had been killed by Alawite militias that attacked the villages on Thursday and Friday. Pictures posted online showed piles of disfigured bodies, including women and young children.
With the violence continuing to draw in neighbouring countries, Israeli officials confirmed air strikes against a convoy they said was carrying advanced weaponry, believed to be sophisticated Russian-made missiles, and transferring them to the Lebanese Shia group Hizbollah.
The attack was carried out from over Lebanese territory, without entering Syrian air space, but the two events will strengthen the impression that the war is becoming a regional sectarian conflict between Alawites and Shia, backed by Russia, Iran and Hizbollah, and Sunnis backed by the West.
The massacre in Baydah on Thursday followed a build-up of hostility from surrounding villages, one survivor told The Sunday Telegraph by satellite phone.
"Since the revolution started security has been arresting people in a systematic way, but during the last two weeks the process was accelerated and some of the people who were arrested were killed in prison after torture," the man, who gave his name as Abu Abdullah, said.
He said he had watched events of Thursday from a hiding place. There had been a fight between young men of the village trying to avoid arrest and security forces, several of whom were killed, but the men had withdrawn.
"Security and Shabiha militia entered the village with knives and guns and started to kill everybody they met. Almost 60 per cent of the women and children of the village were killed," he said.
He estimated the number of dead at 300, though activists outside the country could only confirm 50. Abu Abdullah said snipers made getting into the village to count impossible.
A man who gave his name as Shami, who is from Ras al-Nabaah but has fled to Lebanon, said hundreds of people had died there. Activists said they had counted 77 names so far but believed the toll might be 250.
"It's a tragic situation, entire families were slaughtered," he said.
"The people recognised the faces of some of these people who were attacking. Some of them are government employees from the nearby Alawites villages - they call them the National Army, who are just civilian Alawites who are armed."
He said a cousin of his mother was killed in Ras al-Nabaah with his wife, three daughters, son, and the son's wife and three children. He said in addition, 30 members of his wife's family were killed in Baydah.
Rami Abdulrahman, head of the British-based Syrian Observatory of Human Rights, a pro-opposition monitoring group, said hundreds of Sunni families were now leaving the area.
The United States state department condemned "atrocities against the civilian population".
"We will not lose sight of the men, women, and children whose lives are being so brutally cut short," it said in a statement.
Full report at:
http://www.telegraph.co.uk/news/worldnews/middleeast/syria/10037801/Syria-hundreds-of-families-flee-death-squads-as-Israel-takes-out-missile-convoys.html
------------
In a stern warning, Riyadh police hold 3 Filipino protesters briefly
GHAZANFAR ALI KHAN
5 May 2013
RIYADH: Three Filipino workers were detained by Riyadh police yesterday for protesting outside the Philippine Embassy. Later they were released.
The three workers were among a group of about 150 workers who gathered in front of the Philippine Embassy yesterday morning to protest against the alleged inability of the Filipino diplomatic missions to help illegal workers go home.
"The police responsible for ensuring security at the Diplomatic Quarter in Riyadh picked up a few of the workers and later released them," Philippine Ambassador Ezzedin Tago told Arab News here yesterday. Tago said: "There is no justification to organize any protest or demonstration in front of the embassy, when we are doing our best to help solve all problems."
"I don't know why the community organizations decided to hold protests," said Tago, adding that all Filipino community organizations, including Migrante, are illegal in Saudi Arabia. He said workers from other countries did not protest outside their embassies at the Diplomatic Quarter. He said over 7,500 Filipino workers have so far registered for repatriation at the embassy and the Jeddah-based consulate.
Full report at:
http://www.arabnews.com/news/450400
------------
Africa
39 dead in Nigeria sectarian violence
May 05, 2013
KANO, Nigeria: Thirty-nine people were killed while 30 others were seriously injured in clashes between Christian and Muslim mobs in centralNigeria's Taraba state on Friday, a police spokesman said.
"We have so far compiled a death toll of 39 people while 30 others were seriously injured," state police spokesman Joseph Kwaji told AFP on Saturday.
"We are still going round the town in search of more bodies," he said on condition of anonymity because he was not authorised to speak to the media about death tolls.
Authorities have imposed a curfew in the area following the bloody clashes, officials said.
Local residents said Friday's violence erupted when the funeral procession of a traditional chief from the predominantly Christian Jukun ethnic group marched through a Muslim neighbourhood chanting slogans, which Muslims viewed as an act of provocation.
Full report at:
http://www.nation.com.pk/pakistan-news-newspaper-daily-english-online/international/05-May-2013/39-dead-innigeriasectarian-violence
------------
Car bomb in Somali capital kills 11
May 5, 2013
MOGADISHU: Around 11 people were killed on Sunday when a suicide attacker rammed a car laden with explosives into a government convoy at a busy junction in the Somali capital, police said.
"Several people have been killed, the blast was big, we are gathering details but the number of those killed is around 11," police official Mohamed Adan said.
The blast is the latest in a string of bloody attacks in the seaside capital, where al-Qaida linked Shebab insurgents have vowed to topple the government and have set off several bombs and launched guerrilla-style strikes.
Adan said that the people inside the armoured government car targeted by the attacker had survived.
The car exploded close to a police station at the central K4 roundabout, a busy part of Mogadishu where many people gather to drink tea at roadside stalls.
Other police officials said that at least 10 people have been killed.
"I saw eight bodies including a woman, some of them were burned very badly by the fire from the explosion," said eyewitness Ali Yusuf. "It was a terrible sight."
Full report at:
http://timesofindia.indiatimes.com/world/rest-of-world/Car-bomb-in-Somali-capital-kills-11/articleshow/19894581.cms
------------
Tunisian army unable to find jihadists
4 May 2013
Tunisian forces have been unable to track down jihadists hiding in the border area with Algeria, an operation in which 15 security force members have been wounded, the interior ministry said on Saturday.
The jihadists, holed up in the Mount Chaambi area, "left their initial positions and we have not been able to find them given the size of the 70-square-kilometre (28-square-mile) area operations have been taking place in. They may have split up," ministry spokesman Mohamed Ali Aroui told AFP.
Soldiers have been pressing their hunt for the gunmen, "raking the area with fire," and now control Mount Chaambi, he said.
Since Wednesday, the army has been pounding the mountainous area with mortars to clear it of mines, after 15 members of the security forces were wounded by handmade devices placed by the jihadists.
Troops are pursuing a second group with links to the jihadists in Mount Chaambi 100 kilometers (60 miles) farther north in the Kef region, also on the Algerian border, the interior ministry said Thursday without giving further details.
Algiers has also boosted surveillance on its side of the border to prevent the group crossing into Algeria, a security source told Algerian daily El-Watan.
The Tunisian interior ministry spokesman said the group in Mount Chaambi was made up of no more than 20 people, and that their names were known.
However, a military source who has taken part in the Chaambi operations told AFP that the group was made up of more than 50 fighters.
Soldiers have seized caches of explosives, documents and food supplies since the operations began.
Full report at:
http://english.alarabiya.net/en/News/africa/2013/05/04/Tunisian-army-unable-to-find-jihadists.html
------------
Bomb hits convoy carrying Qataris in Somalia, eight dead
By Abdi Sheikh, Feisal Omar
May 05, 2013
MOGADISHU: A suicide bomber hit a convoy of cars carrying Qatari officials through the center of Somalia's capital Mogadishu on Sunday, killing eight Somalis, officials said.
The visiting delegation of Qataris, who were travelling in the Somali interior minister's bullet-proof vehicle, were "safe", a security officer told Reuters, without going into further detail. The minister was not in the car at the time.
The Islamist rebel group al Shabaab said it was behind the attack and threatened further strikes against Somalia's government, which it called a "puppet" of Western powers.
"More explosions are on the way," al Shabaab's military spokesman Sheikh Abdiasis Abu Musab told Reuters by telephone.
The Al-Qaeda-linked rebels have kept up a campaign of guerrilla-style attacks since the army and peacekeepers pushed them out of bases in the city.
Witnesses said a suicide bomber rammed a car laden with explosives into the convoy. The blast tore through the busy 'Kilometre 4' road junction in the centre of Mogadishu's commercial and administrative district.
Gunfire rang out immediately after the explosion as the convoy's security guards fired into the air to disperse onlookers.
Qatar has been forging closer political ties with Somalia in recent years as it seeks to expand its influence in the Horn of Africa region.
"The car bomb targeted delegates from Qatar. They are safe," Hassan Osman, a security official, told Reuters, adding that the minister's car was damaged in the blast.
The chairman of Mogadishu's Hodan district, where the blast occurred, told reporters at the scene eight people had been killed and five wounded, most of them civilians.
Full report at:
http://www.dailystar.com.lb/News/Middle-East/2013/May-05/216041-loud-explosion-gunfire-in-somali-capital-witnesses.ashx#axzz2SFVyHEbM
------------
Europe
Lebanon will lodge U.N. complaint over Israeli flights
May 05, 2013
BEIRUT: Lebanon will lodge a complaint to the United Nations Security Council over Israel's repeated violations of its airspace days after Israeli warplanes reportedly targeted Hezbollah-bound shipments in Syria on two occasions.
According to a statement by the Foreign Affairs Ministry Saturday, caretaker Minister Adnan Mansour asked U.N. Ambassador Nawwaf Salam to file "an urgent complaint to the Security Council against Israel over such aggression which represents a blatant violation of Lebanon's sovereignty and international resolution including UNSCR 1701."
Mansour informed Salam of Israel's intensified violations of Lebanon's airspace over the past five days.
Six Israeli warplanes and one reconnaissance jet flew over various parts of the country on Friday, while eight warplanes entered Lebanese airspace on Thursday, according to the Lebanese Army.
On Sunday, a senior Israeli source told Agence France Press that Israel carried out an air strike near Damascus airport Saturday night targeting Iranian missiles destined for Hezbollah.
This could be Israel's third attack in Syria this year.
U.S. media, quoting American officials, have said that Israel targeted a Hezbollah-bound arms Full report at:
http://www.dailystar.com.lb/News/Politics/2013/May-05/216050-lebanon-will-lodge-un-complaint-against-israel-over-flights.ashx#axzz2SFVyHEbM
------------
Mideast
Israel: Syrian chemical arms safe, Hezbollah does not want them
5 May 2013
Syrian President Bashar al-Assad retains control of the country's reputed chemical weapons and they are not sought by his Hezbollah guerrilla allies in neighboring Lebanon, a senior Israeli official said on Saturday.
Defense Ministry strategist Amos Gilad spoke after another Israeli official said Israel had sent warplanes on Friday to attack a Hezbollah-bound missile shipment in Syria, where Assad is battling a more than two-year-old insurgency.
Israel has long made clear it is prepared to resort to force to prevent advanced Syrian weapons reaching Hezbollah or jihadi rebels. In late January, regional sources said Israel destroyed a convoy carrying Syrian anti-aircraft missiles to Hezbollah.
Gilad said Assad had huge quantities of chemical weapons, missiles and rockets. "The good news is that this is under full control [of the Syrian government]," he said in a speech.
"Nor is a group like Hezbollah ... keen to take this [chemical] weaponry. It is keen to take weapon systems, like rockets that can reach, say, all the way here," added Gilad, who was speaking in the southern Israeli city of Beersheba.
Israel believes that Hezbollah, which is allied with Israel's arch-enemy Iran, has built up an arsenal of about 60,000 missiles and rockets. The guerrilla group fired 4,000 missiles into Israel during the 2006 Lebanon war.
Full report at:
http://english.alarabiya.net/en/News/middle-east/2013/05/05/Israel-Syrian-chemical-arms-safe-Hezbollah-does-not-want-them.html
------------
Israel launches airstrike in Syrian capital, targets Iranian missiles
May 5, 2013
BEIRUT: Israel launched an airstrike in the Syrian capital on Sunday targeting a shipment of extremely accurate guided Iranian-made missiles believed to be on their way to Lebanon's Hezbollah militant group, an intelligence official in the Middle East said.
The attack, the second in three days, signaled a sharp escalation of Israel's involvement in Syria's bloody civil war.
The confirmation came hours after Syria's state media reported that Israeli missiles struck a research center near the Syrian capital, setting off explosions and causing casualties.
The official told the Associated Press that, as with Friday's strike, the target was Fatah 110 missiles, which have very precise guidance systems with better aim than anything Hezbollah has in its arsenal.
The official spoke on condition of anonymity in order to disclose information about a secret military operation to the media.
Israel has said it will not allow sophisticated weapons to flow from Syria to the Lebanese Hezbollah militia, an ally of Syrian President Bashar Assad and a heavily armed foe of the Jewish state.
An airstrike in January also targeted weapons apparently bound for Hezbollah, Israeli and US officials have said.
The Syrian state news agency SANA reported early Sunday that explosions went off at the Jamraya research center near Damascus, causing casualties. "Initial reports point to these explosions being a result of Israeli missiles that targeted the research center in Jamraya," SANA said.
A Syrian activist group, the Britain-based Syrian Observatory for Human Rights, also reported large explosions in the area of Jamraya, a military and scientific research facility northwest of Damascus, about 15 kilometers (10 miles) from the Lebanese border.
An amateur video said to be shot early Sunday in the Damascus area showed a huge ball of fire lighting up the night sky. The video appeared genuine and corresponded to other Associated Press reporting.
Israel's first airstrike in Syria, in January, also struck Jamraya.
Full report at:
http://timesofindia.indiatimes.com/world/middle-east/Israel-launches-airstrike-in-Syrian-capital-targets-Iranian-missiles/articleshow/19893670.cms
------------
Yemen separatist quits national dialogue over 'plot'
May 04, 2013
ADEN: A leader of Yemen's Southern Movement said on Saturday he was withdrawing from talks to draft a new constitution in protest at a "plot against the southern cause."
In a statement obtained by AFP, Ahmed bin Farid al-Suraimah said he had pulled out of the talks, which began on March 18, because they "avoid tackling the rights of southerners to self-determination."
"The current dialogue is aimed only at reproducing a system similar to the one that exists now," he said.
But Suraimah, who presided over the committee responsible for the southern question, said his withdrawal was personal and not on behalf of his group which is led by Mohammed Ali Ahmad and is still represented at the talks.
Most southern factions finally agreed to take join the national dialogue after months of negotiations and under UN pressure.
But Southern Movement hardliners led by the former South Yemen's ex-president Ali Salem al-Baid have dug in their heels, insisting instead on negotiations between two independent states in the north and south.
Full report at:
http://www.dailystar.com.lb/News/Middle-East/2013/May-04/216033-yemen-separatist-quits-national-dialogue-over-plot.ashx#axzz2SFVyHEbM
------------
South Asia
8 Soldiers of American-led coalition Die in Attacks in Afghanistan
By ALISSA J. RUBIN
May 4, 2013
KABUL, Afghanistan — Eight soldiers with the American-led military coalition were killed Saturday, making it the bloodiest day this year for Western troops fighting here.
Two were shot in an insider attack, one died in a small-arms attack and five Americans were killed when their vehicle struck a roadside bomb, according to statements from the International Security Assistance Force and Afghan officials.
The explosion that killed the five American soldiers took place in the Maiwand district in western Kandahar Province, said Jawed Faisal, a spokesman for the governor of Kandahar. The soldiers were driving toward villages from central Maiwand when they were attacked, he said. Capt. Dan Einert, a spokesman for the international coalition here, confirmed that the five soldiers were Americans.
The Taliban claimed responsibility for the insider attack in Farah Province in western Afghanistan, where an Afghan National Army soldier turned his weapon on his trainers after an argument, said Lt. Col. Hajji Dil Jan, the deputy police chief of Farah Province.
Full report at:
http://www.nytimes.com/2013/05/05/world/asia/blast-kills-7-soldiers-in-afghanistan.html
------------
Karzai urges Taliban to fight Afghan enemies after Pakistan clash
May 5, 2013
KABUL: Afghan President Hamid Karzai called on the Afghan Taliban on Saturday to fight Afghanistan's enemies in what was widely seen as a swipe against Pakistan days after the neighbours' security forces clashed on their border.
"Instead of destroying their own country, they should turn their weapons against places where plots are made against Afghan prosperity," Karzai told reporters in the capital, Kabul, saying this was "a reminder for the Taliban".
"They should stand with this young man who was martyred and defend their soil," he said, referring to a border policeman who was killed in the Wednesday night clash on eastern Afghanistan's border with Pakistan.
Two Pakistani soldiers were wounded in the clash.
Afghanistan and Pakistan have had testy relations since Pakistan was formed in 1947, at the end of British colonial rule over India. Afghanistan has never officially accepted the border, the Durand Line, between them.
Pakistan supported the Afghan Taliban regime in Afghanistan in the 1990s.
Many Afghan leaders say Pakistan is still helping the militants, seeing them as a tool to counter the influence of its old rival, India, in Afghanistan.
Pakistan denies helping the militants and says it wants peace and stability in its western neighbour.
Full report at:
http://dawn.com/2013/05/04/karzai-urges-taliban-to-fight-afghan-enemies-after-pakistan-clash/
------------
Kabul will never recognise Durand Line: Karzai
May 05, 2013
Afghan president Hamid Karzai on Saturday said the Afghan government would never recognised Durand Line as the international border between the two countries.
He said that the government of Pakistan was trying to force Afghanistan to accept Durand Line as the formal border by creating issues including the construction of border gates and other military installations.
Karzai called on the Taliban to fight Afghanistan's enemies in what was widely seen as a swipe against Pakistan days after the neighbours' security forces clashed on their border.
Karzai's remarks are likely to unsettle already shaky ties with Pakistan and come as the United States wants Pakistan to help Afghanistan persuade the Taliban to engage in peace talks ahead of the withdrawal of most foreign troops by the end of next year. "Instead of destroying their own country, they should turn their weapons against places where plots are made against Afghan prosperity," Karzai told reporters in the capital, Kabul, saying this was "a reminder for the Taliban".
"They should stand with this young man who was martyred and defend their soil," he said, referring to a border policeman who was killed in the Wednesday night clash on eastern Afghanistan's border with Pakistan. Two Pakistani soldiers were wounded.
Hundreds of men took to the streets of the eastern Afghan town of Asadabad on Saturday, near where the clash took place, to protest against both Pakistan and the United States.
A day earlier, thousands of men in Kabul rallied in support of the Afghan security forces.
Afghanistan and Pakistan have had testy relations since Pakistan was formed in 1947, at the end of British colonial rule over India. Afghanistan has never officially accepted the border between them.
Pakistan helped the Taliban take power in Afghanistan in the 1990s. Many Afghan leaders say Pakistan is still helping the militants, seeing them as a tool to counter the influence of its old rival, India, in Afghanistan.
Pakistan denies helping the militants and says it wants peace and stability in its western neighbour.
Karzai also revealed that he had spoken earlier on Saturday to the CIA's Kabul station chief, asking that the intelligence agency continue to provide payments to his country.
There was a report in the New York Times late last month that said his office has been receiving so-called ghost money from the CIA for more than a decade.
"Just this morning I met with the station chief of the CIA in Kabul and I thanked him for the support given to us in the past 10 years and I asked him to continue the support," he said, adding that the money was "flowing to" Afghanistan's intelligence agency, the National Directorate of Security. "In the situation of Afghanistan where there is so much need ... it proves extremely helpful."
The New York Times said the money was meant to buy influence for the CIA but instead fuelled corruption and empowered warlords, undermining Washington's exit strategy from Afghanistan.
However, the Afghan president denied that CIA cash delivered each month to his office was used to buy the support of warlords who could tip the country back into civil war.
The New York Times report provoked anger in both Washington and Kabul.
But Karzai said the bundles of cash — allegedly packed in suitcases, backpacks and plastic shopping bags — were used for health care and scholarships, and that full receipts are issued to the Americans.
Full report at:
http://www.nation.com.pk/pakistan-news-newspaper-daily-english-online/national/05-May-2013/kabul-will-never-recognise-durand-line-karzai
------------
Two held in Myanmar over anti-Muslim unrest
May 05, 2013
yangon: Two Buddhists have been arrested after Muslim shops were destroyed in northern Kachin State, police said Saturday, in a new outbreak of religious violence. Myanmar is in the grip of acute religious tension after a deadly wave of unrest in March that saw monks and Buddhist mobs attack Muslim areas in violence that has edged towards the country's main city Yangon.
But it is the first time similar violence has been reported in the majority- Christian Kachin State, which is also home to a patchwork of ethnic and religious groups who have found work in the jade and timber industries. "We arrested two people at the scene... and are still interrogating them. We will charge them if there is enough evidence," a police official in Kachin State told AFP, speaking anonymously, following Thursday night's violence.
Bordering China the remote resource-rich region is currently locked in a bitter conflict between ethnic Kachin rebels and Myanmar's army.
"About 30 people arrived in the evening and threw with stones at our shops and houses," according to Moe Moe Lwin, 46, a Muslim woman from a village in Kachin's Hpakant township.
"We couldn't do anything except watch while they destroyed our shop... we will leave for a while. We have no idea how we should move forward," she said, adding she believed outsiders were responsible for the attack.
A Buddhist villager nearby confirmed Muslim shops and houses were destroyed in three places in the area.
"We do not want to see this sort of violence. We denounce their act," Tin Soe from a village near Hpakant township told AFP.
A renewed bout of anti-Muslim unrest in Oakkan, around 100 kilometres (60 miles) north of Yangon, on Tuesday left one dead and saw mosques and homes destroyed, raising alarm across the country.
Full report at:
http://www.nation.com.pk/pakistan-news-newspaper-daily-english-online/international/05-May-2013/two-held-in-myanmar-over-anti-muslim-unrest
------------
Thousands of activists of Hefazat-e Islam meet in Motijheel
MAY 05, 2013
Thousands of activists of Hefazat-e Islam have converged in the capital's commercial hub, Motijheel, to join a rally at Shapla Chattar Sunday afternoon.
The activists, who earlier took part in a Dhaka blockade programme blocking all the entry points, started to march towards the rally venue with processions soon after the authorities issued permission for holding the rally.
The rally will begin at 3:00pm.
The activists were seen sitting at the Shapla Chattar intersection, halting transport movement in the area.
Full report at:
http://www.thedailystar.net/beta2/news/thousands-converge-at-shapla-chattar/
------------
India committed to helping Bangladesh
MAY 05, 2013
ndia is committed to extending all assistance and cooperation to help ensure a progressive, stable, secured and prosperous Bangladesh, Parliament Speaker Meira Kumar told an eight-member delegation of parliamentarians from Bangladesh on Friday.
She said the common ideals and values that bound the countries would remain with them forever.
"There is a national consensus on this priority in India, cutting across party divisions or political affiliations," Kumar said. She stressed that "a stable, prosperous, secure and progressive Bangladesh is not only in India's interest but also of the entire region and, most importantly, for the people of Bangladesh".
Full report at:
http://www.thedailystar.net/beta2/news/india-committed-to-helping-bangladesh/
------------
Bangladesh could be Asia's next tiger
MAY 05, 2013
US Ambassador to Bangladesh Dan W Mozena yesterday said Bangladesh had a huge potential and it could be the "next tiger" of Asia if certain things could be kept under check.
"Bangladesh has moved forward recently and it has a huge potential. But the events like recent Rana Plaza collapse and Tazreen fire have held it back. If it can be made sure that these things would not occur in future, Bangladesh can be Asia's 'next tiger', Royal Bengal Tiger, middle income country and most of all 'Sonar Bangla'," the US ambassador said.
He said these while addressing the launching ceremony of USAID's "Justice for all programme".
Full report at:
http://www.thedailystar.net/beta2/news/bangladesh-could-be-asias-next-tiger/
------------
'Absconding' Jamaat leader addresses 18-party rally in Dhaka
MAY 05, 2013
Jamaat-e-Islami lawmaker Hamidur Rahman Azad, who is "absconding" according to police reports, addressed a rally of the 18-party opposition alliance in the capital yesterday in presence of hundreds of law enforcers.
Azad, an MP from Cox's Bazar-2, faces an arrest warrant along with two other Jamaat leaders for "deliberately avoiding" appearance in court in connection with a contempt of court ruling. International Crimes Tribunal-2 issued the arrest orders on March 6.
Earlier the trio were asked to appear in the tribunal and explain why contempt of court proceedings should not be initiated against them for making "provocative and derogatory remarks" about the tribunal during a public rally on February 4 but they never appeared in court.
Full report at:
http://www.thedailystar.net/beta2/news/absconding-jamaat-leader-addresses-18-party-rally/
------------
Japan keen to give assistance to Bangladesh
MAY 05, 2013
Japan is keen to provide assistance to Bangladesh for building capacity of the country's nursing system through providing various kinds of skill development training as well as institutional support to nurses.
The Japan government is planning to provide the support through Japan International Cooperation Agency (Jica).
This was revealed yesterday while President of University of Kochi of Japan Dr Hiroko Minami delivered a special lecture at Dhaka Medical College in front of nearly 700 nursing faculties, nursing students, doctors and nurses.
Full report at:
http://www.thedailystar.net/beta2/news/japan-keen-to-give-assistance/
------------
Dhaka wants ban on iqama transfer lifted
MD RASOOLDEEN & IRFAN MOHAMMED
5 May 2013
RIYADH/JEDDAH: Bangladesh has asked the Saudi government to allow its workers to transfer their sponsorship to other employers. There is currently a ban on Bangladeshi workers transferring their iqamas.
During a meeting with Crown Prince Salman, deputy premier and minister of defense, Bangladesh Foreign Minister Dipu Moni handed a letter, from Prime Minister Sheikh Hasina, appealing to Custodian of the Two Holy Mosques King Abdullah to allow Bangladeshi workers to transfer their iqamas.
According to an official from the Bangladesh Embassy in Riyadh, the crown prince said the Kingdom would consider the request.
Prince Mohammed bin Salman, chief of the Crown Prince's court, Saudi Ambassador to Bangladesh Abdullah Al-Busairi, Bangladesh Ambassador Mohammed Shahidul Islam and senior officials from both sides took part in the discussions.
Full report at:
http://www.arabnews.com/news/450497
------------
URL: https://newageislam.com/islamic-world-news/greeting-card-turns-children's-"muslim"/d/11427