New Age Islam News Bureau
22 Jun 2014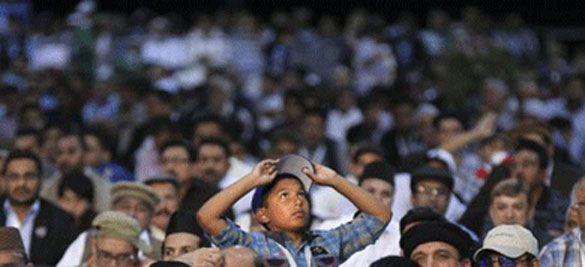 Ahmadiyya Muslim Jama'at religious gathering, dubbed Jalsa Salana, at the International Centre in Mississauga
----------
Arab World
• Grand Mufti Warns Saudis against Temporary Marriages
• Iraq Security Forces Kill 40 ISIL Terrorists in Tikrit
• Syrian Army Kills Tens of Terrorists in Damascus Countryside
• Disciplined Iraq Jihadists Deft With Funds and Social Media as They Advance
• Egypt forces kill militants, arrest others in Sinai offensive
• Syrian jets bomb Iraq border towns, 16 dead
• Suspected mass killer known as 'Zarqawi of the Shiites' returns to Iraq
• Iraq militants 'turning back clock' in captured Mosul
• Syria, Iraq territorial integrity emphasized
• Maher Assad on Facebook 2 years after 'bomb attack'
Pakistan
• Likely Reaction of Zarb-e-Azb in DGK, Multan Feared, Troops Sent
• Govt Decides To Ban Congregations in Islamabad
• Pakistan to Adopt Uniform Curriculum
• PM orders blocking of roaming on Afghan SIMs
• 3, 54.612 persons evacuated due to North Waziristan operation Zarb-e-Azb
• Two militants killed in Karachi: police
• Tahir-ul-Qadri wants chaos in Pakistan: Pervaiz Rashid
• Temporarily suspend N Waziristan operation in civilian areas: Imran
South Asia
• 52 Taliban militants killed during counter-terrorism operations
• Anti-terror talks: Karzai to send top security aide to Islamabad
• Welfare Minister: 'Repatriation from Iraq depends on situation'
• Maldives off US State Department trafficking watch list
Europe
• French National with Arab Origins Heads Beirut Terrorist Network
• UK deputy PM reassures Muslims on 'British values' rules
• Blair 'knew' of Syria's chemical weapons arsenal
India
• Muslims in Delhi slam Iraq terror in one voice
• Stranded Punjabis locked up by companies in Iraq, have no money for tickets
Africa
• Renegade general urges Turks, Qataris to leave east Libya
• Gunmen kill 'many' in attack on Nigerian village, witness says
• Tunisian Commanders Leading ISIL Troops in Syria, Iraq
Mideast
• Abbas: Netanyahu's destructive operation threatens to ignite the West Bank
• 2 Palestinians killed as Israel raids W. Bank
• Qaeda kills 2 Yemeni 'sorcerers': security
• Beware ISIL; Iran's Rouhani warns 'petrodollar' states
• Israel threatens UN envoy over Qatar cash for Palestinians
Southeast Asia
• Umno behind Bible, wedding raids, says PAS
• Two People Killed as Govts Troops, Leftist Rebels Clash in S. Philippines
North America
• Ahmadi leader brings message of peace at speech in Mississauga
• US downgrades Pakistan in human trafficking, China upgraded
• Kerry in Egypt to push democracy as US releases aid
• Amendment to stop funding to Pakistan defeated in US Congress
Compiled by New Age Islam News Bureau
URL: https://www.newageislam.com/islamic-world-news/new-age-islam-news-bureau/grand-mufti-warns-saudis-against-temporary-marriages/d/97670
-------------
Arab World
Grand Mufti Warns Saudis against Temporary Marriages
Jun 22, 2014
Kingdom's Grand Mufti Sheikh Abdul Aziz Al-Asheikh warned the Saudis against temporary marriages being promoted by marriage brokers abroad, stressing that this marriage is not approved in Islam.
In his Friday sermon at Imam Turki bin Abdullah Mosque in Riyadh, he said that some Muslim youth are tricked into marriage with a legal contract and abuse its use. While traveling outside the Kingdom, they get married using these brokers and may even marry a woman who is already married. Some of them remain married for only a few days, he said, noting that this type of marriage is not recognized by our religion.
He said, "This is not a marriage, but is just a contract for spending pleasure times. A Saudi man may perhaps marry four women with one contract and leave them after the birth of their kids," he said.
"Those women may marry more than one man, and they transport diseases; such marriages are not accepted and are considered a means of exploitation of Muslim women," he said.
It is noteworthy the charity for the Care of Saudi Families Abroad (Awasir) stressed the need to beware of such marriage brokers, who are usually stationed at airports in some countries and who try to hunt down some of the Saudis and citizens of Gulf countries to trap them into these temporary marriages, particularly during summer vacation.
http://www.arabnews.com/news/590431
-------------
Iraq Security Forces Kill 40 ISIL Terrorists in Tikrit
Jun 22, 2014
Iraqi security forces killed scores of Al-Qaeda terrorists in fierce clashes in Tikrit, the capital of Salahuddin province, on Sunday.
The security forces killed at least 40 militants of the Islamic State of Iraq and the Levant (ISIL) in Tikrit and they also destroyed five vehicles of the militants
A source in Salahuddin said that the ISIL terrorists were killed in a joint operation by the Anti-Terrorism Unit of Iraq's security forces and Air Force.
On Saturday, military sources said that the Iraqi security forces captured a senior militant of the ISIL in the South of the city of Tikrit as army forces backed by volunteers killed 30 ISIL terrorists in Tal Afar.
Iraqi security forces clashed with ISIL terrorists in Baiji, North of Baghdad, capturing Abu Abdurrahman al-Nasseri, a top ISIL militant, a military source speaking on condition of anonymity said, adding that the captive was one of the close aides to the executed Iraqi dictator Saddam Hussein.
Nasseri was responsible for the killing of 80 Iraqi troops, the source added.
In another incident, Iraq's army troops, backed by volunteers and tribal fighters, killed 30 members of the ISIL terrorist group in Tal Afar, Nineveh province, inflicting heavy losses on the terrorists, Iraq's Army Spokesman Qassim Atta said.
Dismissing reports that ISIL has launched attack on the Baiji oil refinery, Atta underscored that the oil refinery was under the control of army troops.
Three hundred Iraqi Special Forces are protecting the Baiji oil refinery.
On June 10, the ISIL militants took control of the Nineveh provincial capital Mosul, which was followed by the fall of Tikrit, located 140 kilometers (87 miles) Northwest of the capital Baghdad.
Hundreds of thousands of Iraqi people have been forced out of their homes since the attacks.
http://english.farsnews.com/newstext.aspx?nn=13930401001064
-------------
Syrian Army Kills Tens of Terrorists in Damascus Countryside
Jun 22, 2014
The Syrian Army killed tens of militants of Jaysh Al-Islam Group in Damascus countryside on Sunday.
The army units killed at least 100 militants of Jaysh Al-Islam (Army of Islam) on Jobar-Abbaseen road near the town of Jobar and also in other areas located in the Southern parts of the Damascus countryside.
Meantime, over 55 militants surrendered themselves in Beit Sahm region in the Southern parts of the Damascus countryside today.
Earlier this week, the Syrian army carried out massive military operations and made major advances in Jobar in Damascus countryside.
The army units advanced in Al-Afran, Rud Tora and Al-Zoblatani near the town of Jobar as well as Al-Madares, Hamameh, Al-Dabaqat and Aloush streets.
The army killed tens of foreign-backed militants and injured dozens more in fierce clashes in Jobar.
Syria has been experiencing unrest since March 2011 with organized attacks by well-armed gangs and terrorists against both the army and civilians.
The unrest, which took in terrorist groups from across Europe, the Middle-East and North Africa, has transpired as one of the bloodiest conflicts in recent history.
As the foreign-backed insurgency in Syria continues without an end in sight, the US government has boosted its political and military support to Takfiri extremists.
Washington has remained indifferent to warnings by Russia and other world powers about the consequences of arming militant groups.
http://english.farsnews.com/newstext.aspx?nn=13930401001145
-------------
Disciplined Iraq jihadists deft with funds and social media as they advance
Jun 22, 2014
BAGHDAD: When al-Qaida-style insurgents overran the northern city of Mosul, among the war booty they seized were what they claimed were five US-made helicopters.
Noting that they were still nearly new, the group said in a posting on its Twitter feed, "We'll expect the Americans to honour the warranty and service them for us."
"Not only are they effective jihadists but they have a sense of humour," said Toby Dodge, director of the Middle East Centre at the London School of Economics, who related that anecdote.
Behind the image of savagery the extremists of the Islamic State of Iraq and the Levant present to the world, as casual executioners who kill helpless prisoners and behead even rival jihadis, lies a disciplined organization that employs social media and sophisticated financial strategies in the funding and governance of the areas it has conquered.
The insurgents seized as much as $400 million from the central bank in Mosul, said Atheel Nujaifi, governor of Nineveh province, as well as reportedly emptying the vaults in all the other banks in a city of more than 1 million residents. Other officials cite lower figures when discussing the central bank theft.
In a bloody see-saw battle for control of Iraq's biggest oil refinery at Baiji, halfway between Baghdad and Mosul, the jihadists worked with the families of employees there to broker a ceasefire — so the workers could be safely evacuated.
It was no humanitarian gesture. "They want them to run the refinery when the fighting is over," one local official said, who spoke on the condition of anonymity out of fear the Islamic State of Iraq and the Levant, also known as the Islamic State in Iraq and Syria, or ISIS, would kill him.
Their extortion rackets in Mosul netted as much as $8 million a month, according to Gen Mahdi Gharawi, until recently the Nineveh province police commander, in an interview with Niqash, an Arabic language news website. And that was even before they took over. Once in charge, they typically levy "taxes," which are just as lucrative.
Road taxes of $200 on trucks are collected all over northern Iraq to allow them safe passage. The Iraqi government claims they are levying a "tax" on Christians in Mosul, who were a significant minority there, to avoid being crucified.
Even a popular cellphone app that helped the Islamic State of Iraq and the Levant propel its Twitter feed to the top of the jihadi charts, had advertising embedded in it. All of that, in turn, was part of a savvy social media campaign to convince well-heeled Saudi and Persian Gulf Arab supporters to donate to their operations. "We don't know the exact amount of money they stole from Mosul," said Ameen Hadi, a member of the last Iraqi Parliament's finance committee. "But it is big, big enough that ISIS can use it to occupy other countries too," he added.
A member of the board of governors of the Central Bank of Iraq was reluctant to say how much the Islamic State of Iraq and the Levant got away with in Mosul, but said it was at least $85 million and could have been much more. He spoke on the condition of anonymity because he was not authorized to speak publicly about the case.
"ISIS gets some money from outside donors, but that pales in comparison to their self-funding," said a US counterterrorism official. "The overwhelming majority of its money comes from criminal activities like extortion, kidnapping, robberies and smuggling. In Mosul, ISIS has probably been hauling in several million dollars monthly just from its extortion racket. In overrunning the town the group is better off financially, but probably to the tune of millions — not hundreds of millions — of dollars."
While the Islamic State of Iraq and the Levant "is among the wealthiest terrorist groups on the planet," the official said, "it also has significant expenses. Resources flowing into the group's coffers tend to move out the door in the form of payments fairly quickly. Unless it has invested very wisely, it's probably sitting on a pile of assets worth somewhere in the tens of millions of dollars."
The militant group has so much cash that it has reopened some of the banks it earlier looted in Fallujah to stash it in. Jassim Ahmed, 35, who works as a taxi driver in the city, which has been under militant control since January, said he asked one of the gunmen guarding the banks where the militants get their money. "Don't ask me again," the gunman told him, he said. "Just understand, we have a budget to administer all of Iraq, not just Anbar."
"We no longer have to imagine a terror state," said Kamel Wazne, a Beirut-based analyst who has followed the group's development into a self-financing, territory-controlling entity. "We have one."
The Islamic State of Iraq and the Levant started amassing a bankroll in Syria last year after it took over the eastern Syrian oil fields, near Raqqa. It operates primitive refineries to produce products for local use by the Islamic State of Iraq and the Levant's own fighters, but sells much of the crude to its enemy — the Syrian government. In Minbij, it runs a local cement factory, and in Raqqa merchants even pay the militants a trash collection fee.
Invading Iraq has just expanded the revenue base. "The more territory they hold, the more they will become self-reliant," said Peter Neumann, a professor of security studies at King's College in London. "That is one of the dangers and why they have to be stopped. If they become self-reliant and can start paying people salaries and such, that makes it much harder to dislodge them."
They are always on the lookout for new revenue streams. Their extreme ideology may call for all non-Sunni Muslims to be killed, but they apparently overlook that when there is money to be made on the backs of unbelievers. In the course of the last week, several groups of Turkish workers, a group of 40 Indian workers and a Chinese official were among foreigners who disappeared in territory that the Islamic State of Iraq and the Levant overran and were later released unharmed.
While no one confirmed that ransoms were paid, kidnapping for ransom has been in the militants' business plan too.
In a more dubious emblem of corporate success, the insurgents even have a whistleblower, a rival jihadi who apparently split from the Islamic State of Iraq and the Levant and posts insider information about the group under the Twitter handle @Wikibaghdady.
The jihadi posted documents last year that purportedly showed the Islamic State of Iraq and the Levant planning ruthless fundraising drives for Iraq, including imposing taxes on "Shia, Christians and other minorities" and "gaining control over the oil fields and energy sources." Any company with Iraqi government contracts should be taken over by the Islamic State of Iraq and the Levant, the documents said. "If the owner of the company doesn't agree, then he/she should be threatened to be killed or to destroy the company."
Even the insurgents' Twitter operation had a potential money-raising side. According to JM Berger of Intelwire.com, who has studied the jihadis' use of social media, the Islamic State of Iraq and the Levant distributed a cellphone app to its followers called Dawn of Glad Tidings. The Google Android app even had advertising embedded in it, he said, and also was a sophisticated spam generator turning each tweet into thousands of additional tweets while evading Twitter's spam defenses.
After Berger wrote about the app for "Atlantic" last week, Twitter disabled it and closed down many of the group's Twitter accounts, although new ones opened almost immediately, he said. "What they're doing on social media is with a big eye to fundraising," Berger said.
So far the extremists have been prevented from expanding their operations into Iraq's oil-producing areas. But for the past week they have besieged the Baiji oil refinery, the largest in the country with a capacity of 310,000 barrels a day, with the facility briefly falling completely under their control on Wednesday.
While many experts question whether the insurgents could operate the sophisticated facility, they could bring its Iraqi workers back or, at least, gain access to numerous storage tanks.
Baiji supplies Iraq with a third of its domestic fuels, and a nearby 600MW power plant provides 10 percent of the country's electricity, according to Barclay's Research. All of the provinces where the Islamic State of Iraq and the Levant has been active have been without electricity since Baiji's shutdown.
Fear of gasoline shortages sent many Iraqis to Kurdistan this week, where long lines formed Friday at gas stations, which were ordered to give no one more than about 8 gallons apiece.
"If Baiji falls, the fuel crisis will be huge," said Barham Salih, the former prime minister of the Kurdish regional government.
Iraqi government employees, even in areas taken over by the militants, continue to draw their salaries, and the government said they would be allowed to go to safe areas to collect their pay.
That is a hearts-and-minds benefit that would be hard for the insurgents to match, in a country where the central government is the major employer, and many of those employees will end up paying taxes to the Islamic State of Iraq and the Levant. And if the Islamic State of Iraq and the Levant itself becomes the de facto government, it will get the blame for Iraq's chronic electricity shortages — which are nearly total in the Islamic State of Iraq and the Levant-dominated areas, just as the superheated summer months begin.
"They're a very effective organization," Dodge said, "but there's a danger this could be overstated. If you've seen what they've been up to in Raqqa, the area they've held longest, the brutality, the beheading, the austere Islam is bound to come back.
"They're on this hearts-and-minds campaign in Mosul, and to some extent Tikrit, but once they hold territory exclusively on their own, they won't be able to resist assassinating rivals, imposing on society a harsher life, which is what they're about anyway," he added.
http://timesofindia.indiatimes.com/world/middle-east/Disciplined-Iraq-jihadists-deft-with-funds-and-social-media-as-they-advance/articleshow/36955794.cms
-------------
Egypt forces kill militants, arrest others in Sinai offensive
Jun 22, 2014
Egyptian troops in Egypt's border Sinai Peninsula have killed eight Islamist militants and arrested more than two dozen others, state news agency MENA reported, as part of an ongoing campaign against Islamist insurgents in the region.
Raids on militant hideouts in the northern Sinai town of Sheikh Zuweid killed eight Islamist fighters in a shootout with security forces, MENA said early Sunday
Twenty six other suspects were arrested, security sources said.
Also, 21 shacks and buildings used as bases for terrorist attacks were destroyed in the offensive, security sources said.
Full report at:
http://english.ahram.org.eg/NewsContent/1/64/104377/Egypt/Politics-/Egypt-forces-kill-militants,-arrest-others-in-Sina.aspx
-------------
Syrian jets bomb Iraq border towns, 16 dead
Jun 22, 2014
Syrian jets bombed on Saturday rebel-held eastern areas close to the border with Iraq under the control of the Islamic State in Iraq and the Levant, killing and injuring dozens in stepped up raids against the rebel group since its Iraqi offshoot made stunning gains in northern Iraq.
Five raids killed at least 16 people and injured dozens more when bombs hit residential areas in the town of Muhassan just over 100 km (60 miles) from Iraq, a day after tribal elders in the town along the Euphrates River, pledged allegiance to ISIL.
The Syrian branch of the hardline rebels took over the town of Muhassan along with the Albulil and Albuomar, in the latest advance in eastern Syria adjoining territory the al-Qaeda splinter has seized in Iraq.
Syrian fighter jets were seen taking off from the rebel besieged Deir al-Zor military airport to bomb several areas under the control of ISIL and witnesses and activists said areas near the border with Iraq close to the city of Abu Kamal were bombed.
Full report at:
http://www.worldbulletin.net/headlines/139362/syrian-jets-bomb-iraq-border-towns-16-dead
---------
Suspected mass killer known as 'Zarqawi of the Shiites' returns to Iraq
22 June 2014
The past bloody decade in Iraq was full of men who bragged about their criminal acts. Abu Deraa was one of these braggarts and it seems he has returned to Iraq.
Shiite militants have posted a video on YouTube celebrating Abu Deraa returned following years of being untraceable in Iran. In the video, he appeared talking with armed men who belong to a militia he leads in Baghdad. An officer appeared in the video, standing behind him for protection.
The man, whose actual name is Ismail Hafez al-Lami, is infamous for taking delight in killing the Sunnis, according to a 2007 report by The Sunday Times.
"He is said to take personal delight in killing — sometimes with a bullet to the head, sometimes by driving a drill into the skulls of his victims. On other occasions, Iraqis say, he gives them a choice of being shot or battered to death with concrete building blocks," the report said.
Full report at:
http://english.alarabiya.net/en/perspective/features/2014/06/22/Suspected-mass-killer-known-as-Zarqawi-of-the-Shiites-returns-Iraq.html
-------------
Iraq militants 'turning back clock' in captured Mosul
Jun 22, 2014
In the two weeks since it was seized by Sunni militants, some residents of the northern Iraq city of Mosul feel the clock has been turned back hundreds of years.
The militants, led by the Islamic State of Iraq and the Levant (ISIL) jihadist group, have begun imposing an extreme interpretation of Islamic law in the days since they took the city, residents reached by telephone told AFP.
"These militants will return us and our country hundreds of years backwards, and their laws are the opposite of the laws of human rights and international laws," said Umm Mohammed, a 35-year-old teacher.
"We live in continuous fear of being subjected to new pressures," she said. "We are afraid of being prevented from working and contributing to building the community."
The city, known before 2003 for its historic sites and parks and in later years as a hub for deadly violence, fell on June 10 to the militants, who subsequently overran surrounding Nineveh province and swathes of other territory.
Full report at:
http://english.ahram.org.eg/NewsContent/2/8/104404/World/Region/Iraq-militants-turning-back-clock-in-captured-Mosu.aspx
-------------
Syria, Iraq territorial integrity emphasized
Jun 22, 2014
Russia and Saudi Arabia Saturday stressed the importance of preserving Syrian and Iraqi territorial integrity after talks in Jeddah.
Foreign Minister Prince Saud Al-Faisal and his Russian counterpart Sergei Lavrov said they had agreed "to work together to apply the Geneva I agreement that provides for a peaceful transfer of power in Syria," SPA reported.
The ministers also said they were keen to "preserve the independence and territorial integrity of Syria", said the SPA.
Lavrov and Prince Saud also highlighted the importance of "combating terrorist organizations that have exploited the crisis to find safe haven in the Syrian territory."
The ministers discussed the "deterioration of the situation in Iraq and its consequences on the region." Prince Saud and Lavrov said efforts should be made to "maintain the integrity of Iraq and the unity of all the components of the Iraqi people, who should benefit from equality of rights and duties".
Full report at:
http://www.arabnews.com/news/590436
-------------
Maher Assad on Facebook 2 years after 'bomb attack'
Jun 22, 2014
BEIRUT: Syrian President Bashar Assad's feared younger brother Maher has re-emerged in public two years after he was said to have been seriously wounded in a bombing, in a picture on the Internet.
Beirut-based Syrian singer George Wassouf downloaded on his official Facebook page a picture showing Maher wearing a navy blue T-shirt, jeans and looking relaxed.
The picture shows Wassouf standing next to the two brothers on a recent visit to Damascus.
On July 18, 2012, a powerful bomb struck a senior command center in Damascus where Syria's top brass were meeting.
State media said the attack killed Defense Minister Gen. Daoud Rajha, Assad's brother-in-law Assef Shawkat and Gen. Hassan Turkmani, head of the regime's crisis cell on the uprising against the regime.
Full report at:
http://www.arabnews.com/news/590226
-------------
Pakistan
Likely reaction of Zarb-e-Azb in DGK, Multan feared, troops sent
Jun 22, 2014
MULTAN: In a bid to preempt any likely reaction in South Punjab of underway operation Zarb-e-Azb, security in the entire area has been put on high alert, while several contingents of Pak Army have been sent for deployment in different districts of Dera Ghazi Khan and Multan, Geo News reported on Sunday.
Inter Services Public Relation (ISPR) said that in the backdrop of terror incidents in reaction of Zarb-e-Azb feared in southern Punjab, security has been put on high alert, while the troops equipped with modern weapons and a passion to face Himalyan challenges have been sent to the different districts of DIK and Multan for immediate deployment and to thwart any likely attempt from the terrorists. The contingents of troops constituting of Quick Reaction Force and Rapid Reaction Force are fully capable of meeting any emergency situation, ISPR said.
Besides, a joint operation and coordination centre headed by Major General Hasnat Amir has been set up, where the officers of police, civil administration and sensitive organizations along with the army would be available for the security in Multan, DIK, and Sahiwal divisions.
http://www.thenews.com.pk/article-151522-Likely-reaction-of-Zarb-e-Azb-in-DGK,-Multan-feared,--troops-sent--
-------------
Govt decides to ban congregations in Islamabad
Jun 22, 2014
ISLAMABAD - Ahead of arrival of Pakistan Awami Tehreek (PAT) chief Dr Tahirul Qadri at Islamabad airport, the federal government has decided to put a ban on all congregations in the federal capital, besides strengthening the security of all the entry and exit points of the federal capital.
The federal government has decided to take a number of security measures on the arrival of the PAT chief at Islamabad airport on June 23 and it has been decided that no participant of the rally would be allowed to enter Islamabad.
These decisions were taken on Saturday in a meeting held at the ministry of interior in the chair of Interior Minister Chaudhry Nisar Ali Khan to revive the overall security of twin cities, especially ahead of PAT chief's arrival as well as in wake of recently launched military operation in North Waziristan Agency and a bomb blast at a shrine in the outskirts of the capital.
Full report at:
http://www.nation.com.pk/national/22-Jun-2014/govt-decides-to-ban-congregations-in-islamabad
-------------
Pakistan to adopt uniform curriculum
Jun 22, 2014
ISLAMABAD – State Minister for Education, Training and Standards in Higher Education Baligh Ur Rehman has said that the National Curriculum Council would be established soon to prepare the uniform curriculum in Pakistan.
After 18 amendment, there was a confusion that education is a provincial subject or federal government to take decision but uniformity in curriculum is the right of students, so taking on board all the stakeholders they have decided to establish a National Curriculum Council, the state minister said while addressing a seminar on importance of non-formal education for literacy and steps taken by the federal government.
The state minister said that teachers have great contribution in making the non-formal education a success and educating the out of school children. He said that the government was committed to ensure 100 per cent education which was a huge task but not impossible. Full report at:
http://www.dailytimes.com.pk/national/22-Jun-2014/pakistan-to-adopt-uniform-curriculum
-------------
PM orders blocking of roaming on Afghan SIMs
Jun 22, 2014
ISLAMABAD: Prime Minister Nawaz Sharif has directed the Pakistan Telecommunication Authority (PTA) to block cellular roaming on Afghan mobile phone SIMs in Pakistan within two days, ostensibly to block cross-border communication between terrorists.
The order to disrupt roaming facility on Afghan SIMs has been given to block anti-state and criminal activities of terrorists in Pakistan on the recommendation of the law enforcement agencies because of rising security issues. So far, besides some investigating agencies, the governments of Khyber Pakhtunkhwa and Sindh are also reported to have asked the federal government to suspend roaming services on Afghan SIMs in the beginning of the year. "The prime minister has desired that this task may be completed in the next couple of days. This act will be helpful in impeding communications between the terrorists and will also help in reducing crimes related to kidnapping for ransom," reads press statement issued by PM media office on Saturday.
http://www.dailytimes.com.pk/national/22-Jun-2014/pm-orders-blocking-of-roaming-on-afghan-sims
----------
3, 54.612 persons evacuated due to North Waziristan operation Zarb-e-Azb
Jun 22, 2014
PESHAWAR: Three lac fifty four thousand six hundred twelve persons have thus far been evacuated due to North Waziristan operation Zarb-e-Asb, according to FATA Disaster Management, Geo News reported on Sunday.
In fact, the evacuation from North Waziristan had started even a week before the launching of the operation, which is continuing until today, sources said.
FATA DMA said that 3, 54.612 persons have thus far evacuated from NWA of which 1,10,491 females, 1,51,331 children and 92,790 males are included.
Official Camp has been set up at Bakakhel area of FR Bannu for the internally displaced persons (IDPs), however, few families only have opted to camp over there, as most of them leaving for Bannu and nearby districts either to live with their relations or rented houses.
http://www.thenews.com.pk/article-151525-Most-families-living-with-relations-or-rented-houses-in-Bannu,-neaby-districts
-------------
Two militants killed in Karachi: police
Jun 22, 2014
KARACHI: At least two suspected militants belonging to a banned militant organisation were killed in an encounter with police during a search operation conducted Sunday in Afghan Basti of Karachi's Sohrab Goth area near the Superhighway, DawnNews reported.
Senior Superintendent Police (SSP) Malir confirmed that the operation was conducted in the area upon receiving a tip-off about the presence of foreign militants, adding that the police's raid team came under gun attack during the operation.
Police personnel returned the gunfire as a result of which two suspected militants were killed, he added.
Sources said that five suspected foreign militants were also taken into custody during the operation.
http://www.dawn.com/news/1114421/two-militants-killed-in-karachi-police
-------------
Tahir-ul-Qadri wants chaos in Pakistan: Pervaiz Rashid
June 22, 2014
Islamabad- Information Minister Pervaiz Rashid has said that Tahir-ul-Qadri wants chaos in Pakistan, the state media reported today.
In a statement, he said by doing so Tahir-ul-Qadri wants to disunite the nation and intends to extend unrest in the country.
Pervaiz Rashid said Tahir-ul-Qadri cannot survive in a democratic rule so he wanted to weaken democracy.
The Minister said that Qadri was part and parcel of the regime which had conducted the most rigged elections and referendum of 2002.
http://www.nation.com.pk/national/22-Jun-2014/tahir-ul-qadri-wants-chaos-in-pakistan-pervaiz-rashid
-------------
Temporarily suspend N Waziristan operation in civilian areas: Imran
Jun 22, 2014
ISLAMABAD: Pakistan Tehreek-i-Insaf chairman Imran Khan on Sunday said the military should temporarily halt bombardments in areas of North Waziristan where the civilian population has not evacuated.
"The operation should not be conducted in villagers where women and children are present as they are currently stranded," Imran said in a press conference in the capital.
He also said that according to information available with the party, militancy will spread to areas bordering Khyber Pakhtunkhwa in the wake of the operation and that the police and security should be beefed up.
Full report at:
http://www.dawn.com/news/1114426/temporarily-suspend-n-waziristan-operation-in-civilian-areas-imran
-------------
South Asia
52 Taliban militants killed during counter-terrorism operations
Jun 22 2014
At least 52 Taliban militants were killed following military operations by Afghan national security forces in the past 24 hours.
The ministry of interior following a statement said the operations were conducted in Kunar, Laghman, Sar-e-Pul, Logar, Ghazni, Ghor and Helmand provinces.
The statement further added that Afghan national police forces conducted the operations in cooperation with the Afghan national army and Afghan intelligence – national directorate of security (NDS) operatives.
Interior ministry said at least 19 Taliban militants were injured and 3 others were detained during the operations.
Afghan national security forces also confiscated various types of weapons, ammunition and explosives during the operations, the statement added.
Afgahn police forces also discovered and seized 5 improvised explosive device during an operation in northern Kunduz provinve.
Taliban militants group has not commented regarding the report so far.
http://www.khaama.com/52-taliban-militants-killed-during-counter-terrorism-operations-6226
-------------
Anti-terror talks: Karzai to send top security aide to Islamabad
June 22, 2014
ISLAMABAD: Afghan President Hamid Karzai plans to send his top security adviser to Pakistan for follow-up discussions after meeting Prime Minister Nawaz Sharif's special envoy in Kabul this week, a senior Afghan negotiator said on Saturday.
Karzai, who spoke to Prime Minister Nawaz by the phone on Thursday, said an Afghan delegation will visit Islamabad soon and hand over a special letter which "contains all proposals from the Afghan side".
Qazi Amin Waqad, a senior member of the Afghan High Peace Council, said Afghanistan's National Security Adviser Rangeen Dadfar Spanta will lead the delegation. "We have been informed that a high-level delegation will visit Islamabad under the leadership of Dr Spanta," Waqad told The Express Tribune by phone from Kabul.
Premier Nawaz had sent Mehmood Khan Achakzai as his special envoy to "seek Afghanistan's cooperation in eliminating terrorism," the foreign ministry confirmed on Thursday after a two-day mysterious silence on the matter.
Full report at:
http://tribune.com.pk/story/725324/anti-terror-talks-karzai-to-send-top-security-aide-to-islamabad/
-------------
Welfare Minister: 'Repatriation from Iraq depends on situation'
Jun 22, 2014
Khandaker has ordered the Bangladeshi ambassador living in Iraq to visit the camps and monitor the present situation of Bangladeshis
Expatriate Welfare Minister Engineer Khandaker Mosharraf Hossain has said the Bangladeshi migrants in Iraq would be repatriated from the country if the situation deteriorates further.
He made the statement while talking to journalists after a meeting with International Organisation for Migration (IOM) regarding the risk of Bangladeshis living in Iraq on Sunday afternoon.
The minister said: "We do not think that such a situation has arrived that we should repatriate the Bangladeshi migrants immediately. But the government is fully prepared for it and we will bring them back if the situation worsens further."
Full report at:
http://www.dhakatribune.com/bangladesh/2014/jun/22/repatriation-banladeshis-iraq-depends-situation#sthash.rx9eaAOS.dpuf
----------
Maldives off US State Department trafficking watchlist
By Daniel Bosley | June 21st, 2014
The Maldives has been removed from the US State Department's Tier 2 watch list for human trafficking following the introduction of legislation last December.
This year's 2014 Trafficking in Persons (TIP) report – regarded as the key global measure of anti-trafficking efforts – sees the Maldives avoid relegation to Tier 3 along with the accompanying sanctions.
"The Government of Maldives does not fully comply with the minimum standards for the elimination of trafficking; however, it is making significant efforts to do so," read the report.
The report – released yesterday (June 20) – saw Venezuela, Malaysia, and Thailand join 20 other countries deemed to be making no significant efforts to reduce trafficking.
Other states on Tier 3 include Zimbabwe, North Korea, Russia, Eritrea, and Saudi Arabia.
While the introduction of the Anti-trafficking Act in the Maldives was lauded, as well as the opening of the Maldives' first shelter for trafficking victims and the first conviction for the offence, the report made a number of recommendations for further improvement.
"Serious problems in anti-trafficking law enforcement and victim protection remained," said the TIP report, which noted that an unknown number of the approximately 200,000 expatriate workers in the country experienced forced labour.
Full report at:
http://minivannews.com/politics/maldives-off-us-state-department-trafficking-watchlist-87333
-------------
Europe
French National with Arab Origins Heads Beirut Terrorist Network
Jun 22, 2014
Investigations are ongoing with three of the suspects arrested during a security raid in the Hamra neighborhood in Beirut, identifying the head of a terrorist network as a French national with Arab origins, the Lebanese daily al-Mustaqbal reported Sunday.
It also remains to be seen whether this network is behind Friday's Dahr al-Bydar blast.
Al-Mustaqbal added that contacts have started between Lebanese and French authorities to keep up with the investigations.
http://www.almanar.com.lb/english/adetails.php?eid=157815&cid=23&fromval=1&frid=23&seccatid=14&s1=1
-------------
UK deputy PM reassures Muslims on 'British values' rules
World Bulletin / News Desk
Jun 22, 2014
British deputy prime minister and head of the Liberal Democrats Party Nick Clegg has released a statement to the Muslim Council of Britain about the cohesion of British and Islamic values following a scandal which accused Muslims of trying to take over the governorship of a school in Birmingham.
"I am writing following the recent developments in schools in Birmingham and widespread commentary about the role of Muslims in public life," he began his message, according to the Liberal Democrats' official website.
"I would like to place clearly on the record that there is absolutely no doubt that the overwhelming majority of Muslims in the UK are patriotic citizens who hold values that entirely accord with the traditions and values of our nation, not least through the rejection of all forms of intolerant extremism. Indeed for generations many British Muslims have helped protect, defend and enhance these values through their voluntary, civic and military service to our country," he said.
Full report at:
http://www.worldbulletin.net/headlines/139345/uk-deputy-pm-reassures-muslims-on-british-values-rules
-------------
Blair 'knew' of Syria's chemical weapons arsenal
Jun 22, 2014
The former head of the UK's defense intelligence staff has accused Britain's former Prime Minister Tony Blair of trying to "rewrite history" about Syria's chemical weapons
"One wonders whether Mr. Blair read the intelligence assessments we provided him, is consciously trying to rewrite history to his benefit, or is suffering from some sort of prime ministerial false memory syndrome," John Morrison wrote in a letter to the Observer newspaper titled "Tony Blair's 'untruths' on chemical weapons must be challenged."
Morrison's letter, posted Saturday, was a response to a recent article by Blair in which the former leader defended the controversial 2003 invasion of Iraq by the U.S.-led "coalition of the willing."
In the article, titled "Iraq, Syria and the Middle East – An essay by Tony Blair," the former premier denied he had any knowledge of President Bashar Assad's chemical weapons arsenal.
He claimed Western governments did not know the Syrian leader was manufacturing the weapons until the Damascus regime began to use them in 2012, almost a year after the uprising his rule.
Full report at:
http://english.alarabiya.net/en/News/2014/06/22/Blair-knew-Syria-had-chemical-arms-ex-intelligence-chief.html
----------
India
Muslims in Delhi slam Iraq terror in one voice
Amin Ali,TNN | Jun 22, 2014
NEW DELHI: The searing heat matched the burning passions on display at this march at Jantar Mantar organized by Al'Qalam Foundation against the atrocities committed by terrorists on Shias in Iraq. But the group also knew that the entire communication surrounding the events in the west Asian country was acquiring a Shia-vs-Sunni overtone.
To counter that, Delhi MLA Hasan Ahmed-along with MLA Javed Abidi and other Shia clerics from UP-had fellow MLAs Asif Mohammed Khan and Mateen Ahmed along with other Sunni leaders attending the programme. The stage w as festooned with banners carrying messages from top Shia clerics emphasizing Shia-Sunni solidarity. The fiery speeches were all about outright condemnation of ISIS, the militant group in Iraq, as terrorists and "enemies of humanity" rather than representatives of any particular sect.
Full report at:
http://timesofindia.indiatimes.com/india/Muslims-in-Delhi-slam-Iraq-terror-in-one-voice/articleshow/36973629.cms
-------------
Stranded Punjabis locked up by companies in Iraq, have no money for tickets
Jun 22, 2014
CHANDIGARH: More than 200 Punjabi families reported about their kin missing in Iraq by Friday evening. They said many of these distressed youths wanted to come back but don't have money to buy tickets and have been approaching their families back home to arrange funds for their flight back.
Besides, there are nearly 250 Punjabis who have been locked in a basement in Najaf area by their company, and living in constant fear as the militants are reportedly approaching them from Mosul.
Kuwait-based Punjab Welfare Society has been trying to help the Punjabi youths stuck there and received calls from those stuck in the basement on Friday. "Harpal Singh, a Punjabi, made frantic calls, telling us that there is a fierce battle going on 100 metres from their location but there are reports that militants will be approaching that area shortly. Their safety is at risk," said Anantdeep Singh, general secretary of the society.
Full report at:
http://timesofindia.indiatimes.com/india/Stranded-Punjabis-locked-up-by-companies-in-Iraq-have-no-money-for-tickets/articleshow/36909374.cms
-----------
Africa
Renegade general urges Turks, Qataris to leave east Libya
Jun 22, 2014
A Libyan renegade general has called on all Turks and Qataris to leave volatile eastern Libya, accusing the two countries of supporting "terrorism," his spokesman said June 22.
Retired General Khalifa Haftar has declared war on Islamist militants in eastern Libya, part of growing turmoil in the oil producer where the government is unable to control armed groups which helped oust Muammar Gaddafi in 2011 but now defy state authority.
The Tripoli government says Haftar has no authority to act but its orders are routinely ignored in much of the oil-producing country, especially in the east where Islamists, tribes and militias vie for control.
"All citizens of Turkey and Qatar should leave Libya within 48 hours. The deadline started last night," Haftar's spokesman, Mohamed El Hejazi, said.
Full report at:
http://www.hurriyetdailynews.com/renegade-general-urges-turks-qataris-to-leave-east-libya.aspx?pageID=238&nID=68107&NewsCatID=359
---------
Gunmen kill 'many' in attack on Nigerian village, witness says
Jun 22, 2014
Suspected Islamist militants stormed a village in northeast Nigeria, killing several people and torching houses close to where more than 200 schoolgirls were kidnapped two months ago, a witness said.
Clad in military uniforms, the attackers raided Koronginim in a convoy of sport utility and military vehicles, the witness told Reuters by telephone, asking not to be identified.
The attackers shouted "Allahu Akbar" (God is greatest) before opening fire and killing "many", the witness said. "Two of their leaders were giving orders that they should shoot anyone on sight," the witness added.
Koronginim is in Nigeria's remote Borno state, the birthplace of a five-year-old insurgency by Boko Haram militants, bent on carving out an Islamist caliphate in religiously-mixed Nigeria.
http://english.alarabiya.net/en/News/africa/2014/06/21/Gunmen-kill-many-in-attack-on-Nigerian-village-witness-says.html
-------------
Tunisian Commanders Leading ISIL Troops in Syria, Iraq
Jun 22, 2014
Scores of Tunisian paramilitaries are commanding the Islamic State of Iraq and the Levant (ISIL) terrorists fighting in Syria and Iraq, a renowned state research center in Tunisia disclosed.
The Tunisian Strategic Studies Center did not mention the exact number of Tunisian commanders among the terrorists in Syria and Iraq, but revealed that a sum of 14 Tunisians have committed suicide attacks in Iraq only in March and April this year.
The center reported that the Tunisians play an important role in commanding and organizing the terrorist activities in Syria.
Last month, independent sources disclosed that hundreds of Tunisian nationals have been receiving military trainings in Syria by Al-Qaeda-linked terrorist groups.
The sources said around 2,000 Tunisian militants most of them aged under 30 "are present in terrorist bases throughout Syria".
Full report at:
http://english.farsnews.com/newstext.aspx?nn=13930401001202
-------------
Mideast
Abbas: Netanyahu's destructive operation threatens to ignite the West Bank
Jun 22, 2014
Palestinian Authority President Mahmoud Abbas criticized Israel's "cold-blooded shooting of innocent Palestinians," in a phone conversation with Meretz party leader Zehava Gal-on on Sunday.
Abbas's comments came after a Palestinian was shot and killed by IDF forces during an arrest raid that was part of Israel's ongoing efforts to locate three teens kidnapped in the West Bank ten days ago.
According to a statement released by Gal-on, Abbas reiterated his "deep obligation to searching for the abducted boys and bringing them peacefully home."
The PA president pointed to his having condemned the kidnappings at a meeting of Islamic state foreign ministers in Saudi Arabia last week as proof of his dedication to returning the youths.
He told Gal-on that the Palestinians were fully committed to cooperating with Israeli security forces in their efforts to locate the youths.
Abbas has come under fire from Hamas for cooperating with Israeli security forces in their West Bank operation.
Full report at:
http://www.jpost.com/Operation-Brothers-Keeper/Abbas-Netanyahus-destructive-operation-threatens-to-ignite-the-West-Bank-360170
-------------
2 Palestinians killed as Israel raids W. Bank
Jun 22, 2014
RAMALLAH, West Bank: Israeli troops killed two Palestinians on Sunday, Palestinian medics and a militant group said, as Israel pressed on with its crackdown on Hamas, the Islamist group it accuses of abducting three Israeli teens.
Soldiers entered several Palestinian cities and villages in the occupied West Bank, rounding up six suspected militants, the Israeli military said.
Israel has said its West Bank operation is twofold — to find Gil-Ad Shaer and US-Israeli national Naftali Fraenkel, both aged 16, and Eyal Yifrah, 19, who went missing near an Israeli settlement on June 13, and to deal a substantial blow to Hamas.
Hamas, sworn to Israel's destruction, has neither denied nor confirmed involvement in the disappearance of the youths.
Full report at:
http://www.arabnews.com/news/590476
-------------
Qaeda kills 2 Yemeni 'sorcerers': security
Jun 22, 2014
Al-Qaeda gunmen have killed two people in southeast Yemen because they believed they were practising witchcraft and sorcery, which are forbidden under Islam, a security official told AFP on Sunday.
The killings took place late on Saturday in the town of Shehr in Hadramawt province, the official said.
"Al-Qaeda gunmen on a motorbike opened fire on Omar Abdelhafiz, killing him immediately," the official said.
Several hours later, two other extremists killed another Shehr resident, hairdresser Saeed al-Hadrami, the source added.
Jihadists had several times threatened both men, accusing them of "practising witchcraft and sorcery", the official said.
Full report at:
http://english.ahram.org.eg/NewsContent/2/8/104392/World/Region/Qaeda-kills--Yemeni-sorcerers-security.aspx
-------------
Beware ISIL, Iran's Rouhani warns 'petrodollar' states
Jun 22, 2014
Iran's President Hassan Rouhani warned on Sunday that Muslim states which funnel petrodollars to jihadist Sunni fighters wreaking havoc in Iraq will become their next target.
Rouhani did not name any country, but officials and media in mainly Shiite Iran have hinted that insurgents from the Islamic State in Iraq and the Levant (ISIL) are being financially and militarily supported by Saudi Arabia and Qatar.
"I advise Muslim countries that support the terrorists with their petrodollars to stop," Rouhani said in remarks reported by the website of Iran's state broadcaster.
"Tomorrow you will be targeted... by these savage terrorists. Wash your hands of killing and the killing of Muslims," he added.
Full report at:
http://english.ahram.org.eg/NewsContent/2/8/104398/World/Region/Beware-ISIL,-Irans-Rouhani-warns-petrodollar-state.aspx
-------------
Israel threatens UN envoy over Qatar cash for Palestinians
Jun 22, 2014
Israel's foreign minister said Saturday the UN's special envoy could be declared persona non grata for offering to help transfer Qatari funds to the Gaza Strip, Channel Two television reported.
Avigdor Lieberman said Robert Serry, the world body's special envoy on the Middle East peace process, had first tried to convince the Palestinian Authority (PA) to transfer $20 million (14.7 million euros) from Qatar to resolve a pay crisis for Hamas employees in Gaza.
But after Palestinian president Mahmud Abbas refused to do so, the rightwing ultra-nationalist Lieberman charged, Serry proposed UN help in making the transfer, the broadcaster reported.
Serry's spokesman Murad Bakri told AFP it was the PA that approached the UN envoy over the issue, and insisted that no decision would be taken without Israeli agreement.
"The UN position is clear -- there will be no assistance (in making a transfer) without the agreement of all parties concerned, including Israel," he said.
Full report at:
http://english.ahram.org.eg/NewsContent/2/8/104376/World/Region/Israel-threatens-UN-envoy-over-Qatar-cash-for-Pale.aspx
---------
Southeast Asia
Umno behind Bible, wedding raids, says PAS
Jun 22, 2014
A PAS lawmaker has accused Umno of being behind the controversial raids and seizure of Malay and Iban Bibles by the Selangor Islamic Religious Department (Jais).
Shah Alam MP Khalid Abdul Samad said Jais's action had nothing to do with the Pakatan Rakyat Selangor government.
"Umno which lost the state government wants to regain its power through the backdoor, so it uses the Selangor Islamic Religious Council (Mais).
"The head of Mais is not appointed by the state but by the sultan. The chairman Datuk Mohamad Adzib Mohd Isa is an Umno member," he said at the Bukit Gelugor thanksgiving ceramah last night.
On January 2, Jais seized 321 Malay and Iban Bibles from the Bible Society of Malaysia and disrupted the wedding of Zarinah Abdul Majid, who was converted to Islam as a child by her Muslim convert father but grew up practising Hinduism, on June 1.
Although the attorney-general had ordered the seized Bibles returned, Mais and Jais have refused to do so.
Full report at:
http://www.themalaysianinsider.com/malaysia/article/umno-behind-bible-wedding-raids-says-pas#sthash.7T5P70YY.dpuf
----------
Two People Killed as Gov't Troops, Leftist Rebels Clash in S. Philippines
Jun 22, 2014
Government troops clashed anew with leftist rebels in southern Philippines early on Sunday, leaving two people dead.
"A militiaman and a young insurgent died following an hour-long firefight in a hinterland village in San Isidro township in Mindanao's Davao del Norte province around 7 am local time," said Samuel Gadingan, provincial police chief, Xinhua reported.
"Troops from the army's 72nd Infantry Battalion were conducting combat patrol when they encountered some 15 fully-armed New People' s Army rebels at Dacudao village around 5 am local time," Gadingan noted, adding that pursuit operations continue against other rebels who fled after the incident.
"A landmine explosion preceded the clash. Soldiers recovered spent shells from AK-47 assault rifles as well as the bodies of the dead," he added.
Sunday's clash followed a series of gun battles in nearby Compostela Valley province on Friday that resulted in the death of a soldier and wounding of two others.
The 4,000-strong NPA, armed wing of the Communist Party of the Philippines, has been fighting a leftist insurgency in 60 Philippine provinces since 1969.
http://english.farsnews.com/newstext.aspx?nn=13930401001246
-------------
North America
Ahmadi leader brings message of peace at speech in Mississauga
Jun 22, 2014
Nearly a month after Canadian cardiologist and member of Islam's Ahmadi sect, Mehdi Ali Qamar was shot to death in Pakistan, thousands of members of the controversial Muslim minority gathered in Mississauga on Saturday to pledge their allegiance to a peaceful jihad.
"What is our response? Are we going to block roads? Are we going to start burning banks, or burning restaurants, or looting shops? That is not our reaction. Our reaction is if one doctor is slaughtered, if one doctor is murdered, our community will produce hundreds of other doctors," keynote speaker Maulana Mubarak Ahmad Nazir said at the 38th annual Jalsa Salana hosted by Ahmadiyya Muslim Jama'at (AMJ) Canada.
Nazir, a leader in the country's Ahmadi community, was a beacon of light as he stepped to the podium, his white suit a stark contrast to the heavy black curtains cornering off the main room.
He addressed two crowds simultaneously at the three-day convention, held at the International Centre in Mississauga. He spoke directly to the convention's male attendees from a stage set up in front of thousands of chairs and sheets that lay directly on the concrete floor, while the female convention-goers watched from a video feed in a separate women's auxiliary.
Full report at:
http://www.thestar.com/news/gta/2014/06/21/ahmadi_leader_brings_message_of_peace_at_speech_in_mississauga.html
-------------
US downgrades Pakistan in human trafficking, China upgraded
Jun 22, 2014
WASHINGTON: Alleging that the Pakistan government does not fully comply with the minimum standards for the elimination of trafficking, the US has downgraded Pakistan to "Tier Two Watch List" in its latest annual Trafficking in Person report for the year 2014.
In the previous annual report for the year 2013, Pakistan was placed with India in Tier 2, which is for nations whose governments do not fully comply with the minimum standards Trafficking Victims Protection Act's (TVPA) minimum standards, but are making significant efforts to bring themselves into compliance with those standards.
Pakistan is a source, transit, and destination country for men, women, and children subjected to forced labour and sex trafficking, said the annual report released by the secretary of state, John Kerry yesterday.
Full report at:
http://timesofindia.indiatimes.com/world/us/US-downgrades-Pakistan-in-human-trafficking-China-upgraded/articleshow/36928225.cms
-------------
Amendment to stop funding to Pakistan defeated in US Congress
Jun 22, 2014
WASHINGTON: The US house of representatives has defeated an amendment to the Defence Appropriations Bill to stop American funding to Pakistan.
The amendment was moved by Congressman Dana Rohrabacher, who alleged Islamabad had undermined efforts to combat terrorism.
The amendment was defeated in a voice vote yesterday. "The policy which has us funding Pakistan's military is wrong, and the fact that we can't even debate a precise dollar figure is absurd. It is insane for us to continue borrowing large sums of money from China to give to Pakistan," Rohrabacher said.
He said it was a farce to believe that the US aid, sometimes deceptively labelled as 'reimbursements', was buying Pakistan's cooperation in hunting down terrorists.
"It was the Pakistani establishment that sheltered Osama bin Laden for years. And they continue to jail Dr Afridi, the man who helped the CIA locate bin Laden. Why would Pakistan do that if they are really on our side?" the Congressman asked.
Full report at:
http://timesofindia.indiatimes.com/world/us/Amendment-to-stop-funding-to-Pakistan-defeated-in-US-Congress/articleshow/36922783.cms
-------------
Kerry in Egypt to push democracy as US releases aid
June 22, 2014
CAIRO: US Secretary of State John Kerry arrived in Egypt Sunday on a surprise trip to push for democracy in the politically tumultuous country as Washington quietly released $572 million in military aid.
Kerry, the highest-ranking US official to visit since President Abdel Fattah al-Sisi came to power, was to press the former army chief during his lightning trip to install greater political freedoms and discuss security challenges.
The top US diplomat's tour is also focused on trying to find a political solution in Iraq, where militants were Sunday making new gains in an offensive that has triggered international alarm.
"Obviously this is a critical moment of transition in Egypt, enormous challenges," Kerry said as he met first with new Foreign Minister Sameh Shoukri.
But he vowed "the US is very interested in working closely" with the new government "in order to make this transition as rapidly and smoothly as possible".
Since President Mohamed Morsi was toppled by Sisi in July 2013, a government crackdown on his supporters has left more than 1,400 people dead in street clashes and at least 15,000 jailed.
Full report at:
http://tribune.com.pk/story/725433/kerry-in-egypt-to-push-democracy-as-us-releases-aid/
------------
URL: https://www.newageislam.com/islamic-world-news/new-age-islam-news-bureau/grand-mufti-warns-saudis-against-temporary-marriages/d/97670