New Age Islam News Bureau
15 Jun 2017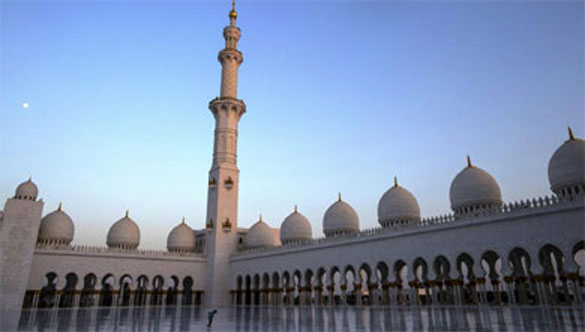 A boy jumps in the courtyard at the Sheikh Zayed Grand Mosque on February 1, 2015 in Abu Dhabi, United Arab Emirates. Authorities have renamed the Sheikh Mohammad Bin Zayed Mosque in Al Mushrif, a district in the capital Abu Dhabi, to 'Mariam, Umm Eisa'—Arabic for 'Mary, the mother of Jesus'.
DAN KITWOOD/GETTY
-----
• Govt Should Hang People Who Eat Beef: Sadhvi in Goa
• UAE Names Sheikh Mohammad Bin Zayed Mosque after Mary, Mother of Jesus
• Muslims Waiting For Sehri Save Lives Of London Tower Residents
• Turkish President Says Qatar Isolation Violates Islamic Values
• Taliban Claims 44 Killed, Wounded In Suicide Attack on Mullah Rasool Militants
India
• Govt Should Hang People Who Eat Beef: Sadhvi in Goa
• Kerala BJP Man Starts Christian Helpline to Fight Christian-Muslim 'Love Jihad'
• Indian Embassy in Egypt Hosts Iftar Banquet
• Pakistan providing sustenance to terrorism, India tells UN Human Rights Council
• New rules on cattle trade: Muslim-Dalit group demands withdrawal of Centre's notification
• RSS' Muslim wing organises Iftar in Ayodhya
--------
Arab World
• UAE Names Sheikh Mohammad Bin Zayed Mosque after Mary, Mother of Jesus
• Former Al-Qaeda Mufti Comes Out In Solidarity with Qatar
• World Muslim Leaders Make Call to Stop Support of Extremist Groups
• Qatar Signs $12 Billion Deal to Buy F-15 Jets from U.S
• Tens of Terrorists, Civilians Killed in Clashes among Rival Groups in Northern Syria
• ISIL Militants Continue to Fight in Lost Battle in Syria's Desert
• Militants in Tens of Towns in Idlib Province End Fight with Syrian Army
• US Aircraft Transfer Western Commanders of ISIL from Raqqa
• Syrian Army Utilizing Russia-Made Howitzer Artillery against Terrorists
• UN: 'Staggering' civilian deaths from US-led air strikes in Raqqa
--------
Europe
• Muslims Waiting For Sehri Save Lives Of London Tower Residents
• This Dinner Party Invites People of All Faiths to Break Bread Together
• French President Macron in Morocco to discuss Libya, Qatar
• Germany's biggest Islamic group slams Muslim 'peace march'
• Britain First Provoke Muslims Helping Grenfell Fire Families Outside East London Mosque
--------
Mideast
• Turkish President Says Qatar Isolation Violates Islamic Values
• • Iran Kills 3 Members of 'Sunni Muslim Jihadist' Group, Arrests 5: Media Report
• Houthi Minister: Defending Qatar is no different from defending Iran
• Palestinian Resistance Figure: Arab NATO Plan to Cross Out Palestinian Issue
• Turkey seeks detention of 189 lawyers in coup probe
• Arab Coalition: Houthis attack UAE ship off coast of Yemen
• Senior Iranian official warns US against any act of aggression
--------
South Asia
• Taliban Claims 44 Killed, Wounded In Suicide Attack on Mullah Rasool Militants
• No Military Solution in Afghanistan, UN Chief Says On Kabul Visit
• Bangladesh HC hosts iftar-dinner in Islamabad
• BSF on high alert for Bangladeshi militants
• Afghan asylum seeker deported from Sweden killed in Kabul explosions
• Explosion targets vehicle in Kabul, no casualties reported: officials
--------
Africa
• At Least 20 People Being Held Hostage in Somalia's Capital after Suicide Bomb Attack
• War Crimes Prosecutor Calls for Arrest of Saif Al-Islam Qaddafi
• Shabab kills 11, takes 20 hostages in Mogadishu
• Muslim group hits Nigerian Army, NYSC again over Ramadan
• Ramadan: Cleric urges Muslims to assist less privileged
• Tunisian smoker jailed for not fasting during Ramadan
--------
Pakistan
• Terrorism Common Enemy of Pakistan, Afghanistan: COAS
• Bajwa Terms US Drone Strike Counterproductive
• Pakistan for principles of democracy to reform UNSC
• Aitzaz Hasan's family seeks security from govt after Taliban threats
• United Nations Development Programme to help KP overcome uplift issues
• China reaffirms its support to Islamabad in fight against terrorism
• Saudi embassy promises to resolve Pakistani pilgrims' visa issue soon
--------
Southeast Asia
• Lawless Waters Test Southeast Asian Nations in Fight against Islamic State
• Malaysia's moral compass: What can our gov't do for Syria?
• Philippines Arrests Senior Member of ISIS-Backed Maute Group Laying Siege To Marawi
• Halal Local app helps Muslim tourists find halal food, prayer spaces
--------
North America
• Tillerson: Blacklisting Muslim Brotherhood Problematic
• Arrest of Envoy In NY Is A Treaty Violation: Bangladesh
• Trump lets Pentagon set Afghanistan troop levels: US official
• US defence secretary vows not to 'repeat mistakes of the past' in Afghanistan
• Trump administration amends travel ban date to keep legal battle alive
Compiled by New Age Islam News Bureau
URL: https://www.newageislam.com/islamic-world-news/govt-hang-people-eat-beef/d/111554
--------
Govt Should Hang People Who Eat Beef: Sadhvi in Goa
Written by Smita Nair | Ponda | Published: June 15, 2017
STATING THAT she will "request" the Central government to hang people who eat beef as "status symbol", Sadhvi Saraswati, from Chhindwara in Madhya Pradesh, on Wednesday urged Hindus to stock arms at home to "save our women from love jihad".
She made the remarks at the inauguration of a four-day All India Hindu Convention, organised by the Hindu Janajagriti Samiti, which is allied to the Sanathan Sanstha. Some members of the Sanstha stand accused in the murder of rationalist and anti-superstition activist Narendra Dabholkar in Pune in 2013. The RSS, BJP and VHP had earlier distanced themselves from the event and the organisation, and no leader representing them was present at the Ponda event.
Sadhvi Saraswati, who drew the loudest cheer, said at the inaugural session that the "biggest challenge" today is not converting a non-Hindu to Hinduism. "Pehle Hindu ko hi Hindu banana hai (first we need to convert a Hindu to Hindu) — that is our biggest challenge today… They are in the garb of seculars… these seculars are the first who will be attacked," she said.
On beef-eating, she said, "Jo vyakti apne ma (gau mata) ka maas khaane ko apna status symbol maanta hai, aisi vyaktiyon ko Bharat sarkar se nivedan karti hoon, phaansi pe latkana chahiye. beech chaurahey pe latkana chahiye… tab logon ko pata chalega ki gau mata ki rakhsa karna hamara kartavya hai (People who take it as status symbol to eat beef… I request the Centre to hang them in public. People will then understand that cow protection is our responsibility)."
Stating that Hindus need to save their daughters from "love-jihad", Saraswati said, "Agar hum shastra nahi rakhenge toh aanewale samay mein hamara vinaash hoga (if we do not stock arms, we will be destroyed in future)."
Abhay Vartak, national spokesperson for Sanstha, who spoke after Saraswati, took on the BJP as well. "There are BJP ministers in Goa who speak in support of beef; in the North-East, a minister says he eats beef; in Delhi, a Union minister says that he loves beef. Is gau mata food for them?"
indianexpress.com/article/india/govt-should-hang-people-who-eat-beef-sadhvi-in-goa-4704699/
--------
UAE Names Sheikh Mohammad Bin Zayed Mosque after Mary, Mother of Jesus
June 14, 2017
Abu Dhabi: The Shaikh Mohammad Bin Zayed Mosque in Al Mushrif, a district in the capital Abu Dhabi, was on Wednesday renamed 'Mariam, Umm Eisa' — Arabic for 'Mary, the mother of Jesus'.
The change was ordered by His Highness Shaikh Mohammad Bin Zayed Al Nahyan, Abu Dhabi Crown Prince and Deputy Supreme Commander of the UAE Armed Forces, to "consolidate bonds of humanity between followers of different religions".
Shaikha Lubna Al Qasimi, Minister of State for Tolerance, thanked Shaikh Mohammad Bin Zayed for his "wise directives in carrying out this initiative that set a shining example, and a beautiful image of the tolerance and coexistence enjoyed by the UAE", according to a statement carried by WAM.
Mohammad Mattar Al Kaabi, Chairman of the General Authority of Islamic Affairs and Endowments, also thanked Shaikh Mohammad for this initiative.
He added that since the days of Shaikh Zayed Bin Sultan Al Nahyan, the UAE has always been keen on tolerance and peaceful coexistence "that is based on justice and brotherliness among all those living in the UAE".
Al Kaabi added that this was the same approach followed by President His Highness Shaikh Khalifa Bin Zayed Al Nahyan and Shaikh Mohammad, as people from more than 200 nations are living in comfort and security in the UAE.
Just steps away from the newly-renamed mosque are St Andrew's Church, an Anglican parish.
Its senior chaplain, Reverend Canon Andrew Thompson, said that he was "delighted" with the news.
Special figure
"We are delighted that we are celebrating something that we have in common between both our faiths," he told Gulf News.
"Mary, as the mother of Jesus, is of course a holy, special figure in our communities. She is a woman who symbolises obedience to God. We look forward to growing in deeper understanding with our neighbours, and we celebrate with them the new name of the mosque."
The senior pastor of the Evangelical Community Church in Abu Dhabi also hailed the news.
"His Highness Shaikh Mohammad has made another generous gesture of religious tolerance in renaming the mosque," said Jeramie Rinne.
"The UAE continues to set the pace in this region for peaceful coexistence and cooperation. We are very encouraged and feel blessed to be a part of this nation."
Amid sectarian conflicts and regional chaos, the UAE has been seeking to boost its national values of tolerance of other faiths.
In February last year, the government created the Ministry of Tolerance, appointing Shaikha Lubna as its head.
In June, the UAE Cabinet approved a new National Tolerance Programme based on seven key pillars — Islam, Constitution, Zayed's legacy and ethics of the UAE, international conventions, archaeology and history, humanity and common values.
This week, a church in Al Ain opened its doors for Maghrib prayers.
The event saw church workers lay down carpets on the wooden floor so that more than 200 Asian Muslim workers could perform prayers.
After hearing the news, several senior Emirati officials in Al Ain called up the church to express their appreciation.
"It was the first time, at least in the UAE, that a church opened its doors for Muslim prayers," said Bobin Skariya, a worker at the St George Jacobite Syrian Orthodox Simhasana Cathedral.
— With inputs from WAM
http://gulfnews.com/news/uae/culture/mary-jesus-mother-is-new-name-for-uae-mosque-1.2043544
--------
Muslims waiting for sehri save lives of London tower residents
Jun 15, 2017
Local community centres and religious buildings have opened to help those who have lost their homes, and left with nothing
Muslims awake to prepare the sehri meal saves lives of hundreds of Grenfell Tower residents in London, rushing to alert them and provide help and free meals.
"Muslims played a big part in getting a lot of people out," Andre Barroso, 33, told The Independent on Wednesday. "Most of the people I could see were Muslim. They have also been providing food and clothes."
Residents said they did not hear alarms as the fire swept through the 24-storey tower block in West London. Instead, they were alerted to the blaze by fellow residents, many of whom were Muslim people who were awake early in the morning to prepare their sehri.
The fire broke out not long after midnight and when many people living inside the tower block were asleep.
Rashida, a local resident, told Sky News how Muslim's observing Ramadan have saved lives in the tower block, as many of them were awake.
"Most Muslims now observing Ramadan will normally not go to be until about 2am maybe 2.30am," she said. "Until they have their late night last meal. They do their last prayer.
"So most of the families around here would have been awake and I think even with the noise with the helicopters, it would have brought a lot of attention to a lot of residents non-Muslim as well that would have thought something is going on that's not quite normal."
Nadia Yousuf, 29, told BuzzFeed Muslim residents were among the first to notice the fire, as they woke up to prepare to break their fast. "They saw it just after they woke up to eat", she said.
Many people have donated water, food and clothing to the nearby St Clement church, where locals have taken refuge. Others are distributing water bottles to those waiting outside.
"Everybody was hands on. It was wonderful to see everyone come together," Barroso added.
http://www.dhakatribune.com/world/europe/2017/06/14/awake-sehri-muslims-save-lives-london-tower-residents/
--------
Turkish President says Qatar isolation violates Islamic values
Jun 14, 2017
ANKARA: Turkish President Tayyip Erdogan on Tuesday denounced the isolation of Qatar by neighbouring states as a violation of Islamic values and akin to a "death penalty" imposed in a crisis that has reverberated across the Middle East and beyond.
Erdogan's comments marked the strongest intervention yet by a powerful regional ally of Doha eight days after Saudi Arabia, the United Arab Emirates, Bahrain and Egypt cut ties with Qatar and applied stringent economic sanctions on it.
Later on Tuesday, the UAE ambassador to the United States, which has an air base in Qatar, said there was no military component to the steps taken against Doha.
Qatar denies accusations that it supports Islamist militants and Shi'ite Iran, arch regional foe of the Sunni Gulf Arab monarchies.
"A very grave mistake is being made in Qatar; isolating a nation in all areas is inhumane and against Islamic values. It's as if a death penalty decision has been taken for Qatar," Erdogan told members of his ruling AK Party in Ankara.
"Qatar has shown the most decisive stance against the terrorist organisation Islamic State alongside Turkey. Victimising Qatar through smear campaigns serves no purpose."
The measures against Qatar, a small oil and gas exporter with a population of 2.7 million people, have disrupted imports of food and other materials and caused some foreign banks to scale back business.
The UAE envoy, Yousef Al Otaiba, told reporters in Washington: "There is absolutely no military component to anything that we are doing."
"I have spoken and seen (U.S. Defense Secretary) General (Jim) Mattis four times in the last week; we've given them our complete assurance that the steps we have taken will not affect in anyway Al Udeid base or any operations supporting or regarding the base," Otaiba said.
Al Udeid Air Base in Qatar is home to more than 11,000 U.S. and coalition forces and an important base for the fight against Islamic State militants in the region.
The chairman of the U.S. Joint Chiefs of Staff, Joseph Dunford, told a Senate hearing that the rift between Qatar and its neighbours was not affecting U.S. military operations.
Qatar, which imported 80 percent of its food from bigger Gulf Arab neighbours before the diplomatic shutdown, has been talking to Iran and Turkey to secure food and water.
The world's second largest helium producer, Qatar has also shut its two helium production plants because of the economic boycott, industry sources told Reuters on Tuesday.
Turkey has maintained good relations with Qatar as well as several of its Gulf Arab neighbours. Turkey and Qatar have both provided support for the Muslim Brotherhood in Egypt and backed rebels fighting to overthrow Syrian President Bashar al-Assad.
Iraqi Prime Minister Haider al-Abadi also criticised the measures imposed on Qatar, saying in Baghdad on Tuesday they were hurting the emirate's people, not its rulers.
SAUDI FOOD SUPPLIES?
Gulf Arab states have issued no public demands to Qatar, but a list that has been circulating includes severing diplomatic ties with Iran, expulsion of all members of the Palestinian Hamas group and the Muslim Brotherhood, the freezing of all bank accounts of Hamas members, ending support for "terrorist organizations" and ending interference in Egyptian affairs.
Some analysts say demands could also include closing down satellite channel Al Jazeera, or changing its editorial policy.
When asked what, if any, further steps would be taken against Qatar, the UAE's Otaiba said: "We've designated 59 people and 12 entities; it's likely that you could see designations of their bank accounts, and perhaps of the banks themselves."
"The specific list is being drawn up and the reason it has not been completed and passed on yet is because there's four countries involved," he added. "Each country has their own set of lists, their own specifications and so we're trying to compile and curate that into one master list and it should be handed over to the United States fairly soon."
Otaiba reiterated the accusations that Qatar was supporting terrorism.
"Doha has become a financial, media and ideological hub for extremism. Then it must take decisive action to deal once and for all with its extremist problem," he wrote in an opinion piece for the Wall Street Journal published on Monday night.
Saudi Arabia's foreign minister, talking to reporters during a news conference in Washington on Tuesday with U.S. Secretary of State Rex Tillerson, said Riyadh was ready to send food and medical supplies to Qatar.
The minister, Adel al-Jubeir, defended the Arab powers' move against Qatar as a boycott, not a blockade, adding: "We have allowed the movement of families between the two countries ... so that we don't divide families."
There has been no breakthrough in Kuwaiti efforts to mediate in the crisis, but a U.S. official in the region said Kuwait was continuing with what is seen as a "slow, painstaking, deliberate" process focused inside the Gulf Cooperation Council.
"The parties are still defining what it is they want out of this confrontation ... It's difficult to conduct negotiations if you don't really know what everybody wants."
Qatari Foreign Minister Sheikh Abdulrahman al-Thani said on Monday that Doha "still had no clue" why Arab states had cut ties. He denied Doha supported groups like the Muslim Brotherhood that its neighbours oppose, or had warm ties with their enemy Iran.
Turkish Foreign Minister Mevlut Cavusoglu said Erdogan would discuss the Gulf rift in a telephone call with U.S. President Donald Trump in coming days.
Turkey approved plans last week to deploy more troops to a military base it has established in Qatar under a 2014 agreement with the Gulf Arab state. The move was seen as support by regional power and NATO member Turkey to Doha.
In Moscow, the Kremlin said President Vladimir Putin and Saudi Arabia's King Salman discussed the crisis in a phone call on Tuesday. The Kremlin said the dispute was not helping to unite efforts to try to find a Syria settlement or fight terrorism.
http://timesofindia.indiatimes.com/world/middle-east/turkish-president-says-qatar-isolation-violates-islamic-values/articleshow/59140043.cms
--------
Taliban claims 44 killed, wounded in suicide attack on Mullah Rasool militants
Jun 14 2017
The Taliban group led by Mullah Hebatullah Akhundzada claimed responsibility behind the attack on Mullah Rasool's faction in southern Helmand province of Afghanistan, claiming that nearly 50 insurgents of the group were killed or wounded in the attack.
A Taliban spokesman Qari Yousuf Ahmadi claimed that 26 militants were killed and 18 others were wounded in the attack.
Ahmadi further added that a check post belonging to the militia forces was leveled in the attack and a commander of the group identified as Wafadar was among those killed.
The Mullah Rasool group has not commented regarding the incident so far.
This come as scores of militants belonging to both sides were killed in deadly infightings in various provinces of the country, including in the restive districts of Herat in the past.
The rift between the main Taliban group and Mullah Rasool insurgents widened after the death of Mullah Mohammad and the appointment of Mullah Akhtar Mansoor as the new supreme leader of the group, a decision which was challenged by the Mullah Rasool group and various other insurgent leaders.
http://www.khaama.com/taliban-claims-44-killed-wounded-in-suicide-attack-on-mullah-rasool-militants-02937
--------
India
Kerala BJP Man Starts Christian Helpline to Fight Christian-Muslim 'Love Jihad'
Jun 14, 2017 17:26 IST
Ramesh Babu, Hindustan Times,
Thiruvananthapura: A Christian man is starting his own version of the Sangh Parivar's Hindu Helpline to stop alleged incidents of 'love jihad', describing it is an attempt to counter secret plots to convert Christian girls to Islam.
Renjith Abraham Thomas, who is a leader of the BJP's minority religions wing, the Minority Morcha, said he had received encouragement from a wide array of Christians and others. Jimmy Poochakkatt, a spokesman of the Syro-Malabar Church, said he was aware of the formation of the Christian Helpline but declined to comment on it.
The renewed attention to 'love jihad' comes within weeks of an unusual and communally-charged court case in Kerala. On May 24, the state High Court annulled a wedding between Shefin Jahan, a Muslim man, and Hadiya, a formerly Hindu woman who converted to Islam. The court said that Hadiya (previously called Akhila) could not be married without the "active involvement" of her parents. It also ordered the police to conduct a probe into suspected conversions of Hindu women by groups linked to the Islamic State.
The Hindu Helpline in Ernakulam, Kerala has been the subject of allegations of illegal or unethical behaviour. In 2015, a widely cited investigation by the news sites Cobrapost and Gulail found it had coerced testimony from women, forcibly drugged some of them, and sought deliberately to "create a true fear in the society, about Muslims," as one member of the helpline service was quoted saying.
Thomas intends to open his Christian Helpline in Ernakulam as well, and said members of the Hindu Helpline have pledged their help. Asked to comment on the allegations against it, Thomas said that there have been no formal charges or complaints.
He plans for the Christian Helpline to recruit volunteers to keep in touch with the Christian community, which will supposedly help identify victims of 'love jihad'. Once identified, girls and boys would be given counselling, and their families would be provided legal help.
Thomas said that he announced his plan on social media to a high level of support. "We are flooded with inquires," he said. "We have the backing and blessing of all major denominations."
The BJP has been trying to cultivate Kerala's Christian community, which makes up 18% of the state's population. Amit Shah visited Kerala and met with bishops and cardinals earlier this month. "Sangh Parivar is trying desperately to widen its base in the state," said CPI(M) leader EP Jayarajan. "But all its attempts failed miserably. This is one such, but people of the state will realise its designs."
Thomas said he had legitimate evidence of the occurrence of love jihad. "We have got definite information that some sleeper cells are active in Malappuram and Kasargode districts to trap girls belonging to other communities. Students of medical and nursing colleges are their main target." Thomas cited as support the disappearance of 22 Kerala men who allegedly joined fundamentalist forces abroad. Some of the 22 have been reported to be converts from other religions.
"We are not against anyone," Thomas said. "But at the same time we have to protect the interest of our community. We don't want export of human bombs from here. If the community is little alert, we can avert such situations."
http://www.hindustantimes.com/india-news/christian-helpline-in-kerala-next-to-fight-so-called-love-jihad/story-XBtmb2ZF47gc5mAWsxJ0EP.html
--------
Indian embassy in Egypt hosts iftar banquet
June 15, 2017
The Indian embassy in Cairo hosted an iftar banquet as part of its annual tradition to commemorate the Muslim holy month of Ramadan. India's Ambassador to Egypt Sanjay Bhattacharyya greeted the guests in Arabic and wished them a blessed Ramadan at the banquet held yesterday. "This is a time when the country with the second largest population of Muslims comes together in prayers and charity, feasting and fasting. Prayer and fasting are common to many religions in my country although it may be in different times of the year," Bhattacharyya said.
He said that India has respect and tolerance for all religions due to the country's diversity. "This Ramdan, a temple in Kerala hosted an iftar party for 500 Indian Muslims. Kerala is home to some oldest mosques in the world — the Cheraman Juma Masjid, built around 629 AD, only seven years after the Prophet (Mohammed) migrated to Madina (in 622)," Bhattarcharya told the guests. He mentioned that Islam is part of the Indian culture as it appears in different aspects of life.
Full report at:
http://www.financialexpress.com/india-news/indian-embassy-in-egypt-hosts-iftar-banquet/719061/
--------
Pakistan providing sustenance to terrorism, India tells UN Human Rights Council
Jun 14, 2017
NEW DELHI: India on Wednesday slammed Pakistan for providing "sustenance" to the scourge of terrorism in Kashmir+ .
Responding to Pakistan's statement at the 35th session of at the UN Human Rights Council (UNHRC), India accused Pakistan of using terror to destabilize Kashmir+ .
The statement blamed Islamabad for supporting protests in the Valley.
"Concrete evidences about cross-border encouragement and support for the protests in Kashmir has been handed over to Pakistan. Instead of working with a sense of purpose to address this issue, Pakistan resorts to short-sighted tactics to divert attention, as we have once again seen today," India told the UNHRC.
India also attacked Islamabad for once again trying to misuse the UNHRC platform to pursue its political objectives.
"Pakistan's unsolicited and unwarranted comments pertaining to the Indian state of Jammu and Kashmir, which is an integral part of India, are factually incorrect and bear no relationship to reality," India said in a statement.
"The foremost challenge to stability in Kashmir is the scourge of terrorism, which receives sustenance from Pakistan. Contrary to Pakistan's claims, and in gross violation of UN Security Council resolution 1267, the designated terrorists entities and organisations continue to carry out their activities freely as reported in the Pakistan's media," the statement said.
India said Pakistan had with complete impunity channelised billions of dollars from international aid to training, financing and supporting terrorist groups as terror proxies against it neighbours.
The Indian delegation also highlighted that Pakistan has witnessed continuous degradation and weakening of its institutions and PoK is administered by a "deep state" and has become an epicenter of terrorism.
"Pakistan's human rights record in PoK and Balochistan is deplorable. It has had no hesitation in using air power and artillery against its own people, not once but repeatedly over the years," Indian delegation informed UNHRC in Geneva.
The delegation also again asked Pakistan to do some introspection.
Full report at:
http://timesofindia.indiatimes.com/india/pakistan-providing-sustenance-to-terrorism-india-tells-un-human-rights-council/articleshow/59146315.cms
--------
New rules on cattle trade: Muslim-Dalit group demands withdrawal of Centre's notification
June 15, 2017
Demanding withdrawal of the Centre's notification banning sale and purchase of cattle for slaughter from animal markets, a group of Muslims and Dalits held a protest meet outside the Academy of Fine Arts in Kolkata on Wednesday.
The agitators under the aegis of 'Shanti O Sampriti Mancha', a common platform for Muslims and Dalits, also asked people to be aware of the "divisive politics" pursued by the BJP and RSS to "create division between the two communities."
"We have seen how gau rakshaks have been carrying out attacks on farmers. In most of these attacks, Muslims and Dalits were targeted. With the Centre issuing a notification banning trade of cattle for slaughter from animal markets, these attacks will intensify. We demand that the Centre should immediately withdraw the notification," Md Kamruzzaman, the group's general secretary, told The Indian Express.
Full report at:
http://indianexpress.com/article/cities/kolkata/new-rules-on-cattle-trade-muslim-dalit-group-demands-withdrawal-of-centres-notification-4704550/
--------
RSS' Muslim wing organises Iftar in Ayodhya
June 15, 2017
Ayodhya (Uttar Pradesh) [India], June 15 (ANI): Rashtriya Swayam Sewak's (RSS) Muslim wing Muslim Rashtriya Manch (MRM) has organised an Iftar party in Uttar Pradesh's Ayodhya on Wednesday.
Senior RSS leader Indresh Kumar was also present at yesterday's party.
The MRM was set up in 2002 by the RSS in a bid to reach out to the Muslims on various issues including the Ayodhya dispute.
According to rituals, Muslims break his fast during Ramzan with dates or a glass of water at the Iftar.
Full report at:
http://www.india.com/news/agencies/rss-muslim-wing-organises-iftar-in-ayodhya-2236647/
--------
Arab World
Former al-Qaeda Mufti comes out in solidarity with Qatar
14 June 2017
Al Qaeda's former Mufti and religious scholar has expressed his support for Qatar in the ongoing diplomatic rift.
Mahfouz Ould al-Walid, also known as Abu Hafs al-Muritani, who is a Mauritanian, stated in a series of tweets on Wednesday his disapproval of the economic and diplomatic measures taken by Saudi Arabia, United Arab Emirates, Bahrain and Egypt towards Qatar.
Al-Muritani, in his tweets, described the actions taken by Qatar's Gulf and Arab neighbors as an "unjust siege" and vehemently supported Qatar.
Mauritania has condemned Qatar's actions earlier and has cut its diplomatic ties in solidarity with the Kingdom, Bahrain, Egypt and the United Arab Emirates.
Al-Muritani met Osama bin Laden in Sudan and joined Al Qaeda and had become very close to the leader. He was a teacher at the al-Qaeda training facility in Afghanistan, before becoming a consultant and the head of the Sharia council of the group ahead of the American invasion of Afghanistan in 2001.
He claims that he has opposed the September 11 attack plans and had advised Osama bin Laden against them.
Escapes to Iran from Afghanistan
At the time of the American invasion and occupation of Afghanistan Muritani escaped to Iran with a number of the advisory council members, including Abu-'Walid al-Masry and Ab-Leith al-Libya through the help of Iranian officials. He has resided tin Tehran for 10 years according to his statements.
He had also attested to having had "good" treatment in Iran and was "under limited restrictions" there.
In 2012 Iran handed over Ould al-Walid to Mauritanian authorities in 2012 where he was questioned by American and local authorities before he was released and all charges were dropped.
He then settled in Nouakchott and received his full rights and ever since he became a regular guest on Qatari television channels.
After the 2011 Abbottabad raid and killing of Osama bin Laden, video tapes of Bin Laden recovered in Pakistan show him pledging 1 percent of his fortune to Ould al-Walid.
https://english.alarabiya.net/en/News/middle-east/2017/06/14/Mufti-al-Qaeda-in-solidarity-with-Qatar.html
--------
World Muslim Leaders Make Call to Stop Support of Extremist Groups
15 June 2017
RIYADH: Muslim leaders have called on governments to stop supporting extremist groups and join Saudi-led efforts to confront terrorism.
They made the call in a statement issued during an international seminar entitled "Muslim communities in non-Muslim countries: Rights and duties," hosted by the Muslim World League (MWL).
The seminar was held at the MWL's main headquarters in Makkah, and was opened by its Secretary-General Sheikh Mohammed bin Abdul Karim Al-Issa.
Leaders praised the outcome of the Arab-Islamic-American Summit held in Riyadh last month, and the Kingdom's international role in confronting extremism and terrorism.
Al-Issa expressed full support for the objectives of establishing a global center to fight extremist thoughts.
He said it is an extension of the Saudi initiative to spread tolerance, coexistence and moderation.
The final statement called for non-interference in Muslim communities and their relationships with their countries.
Full report at:
http://www.arabnews.com/node/1115341/saudi-arabia
--------
Qatar signs $12 billion deal to buy F-15 jets from U.S
Jun 15, 2017
Qatar's Ministry of Defense said on Wednesday the country signed a deal to buy F-15 fighter jets from the United States for $12 billion.
The deal was completed despite the Gulf country being criticized recently by U.S. President Donald Trump for supporting terrorism.
U.S. Defense Secretary Jim Mattis and representatives from Qatar were set to meet Wednesday to seal the agreement, a source familiar with the deal told Reuters. Bloomberg News reported the deal was for 36 jets.
The sale will increase security cooperation and interoperability between the U.S. and Qatar, the Pentagon said in an emailed statement on Wednesday.
Defense Secretary Mattis and Qatari Minister of State for Defense Affairs Khalid al-Attiyah also discussed the current state of operations against the ISIS and the importance of de-escalating tensions so all partners in the gulf region can focus on next steps in meeting common goals, the Pentagon added.
In November, the United States approved possible sale of up to 72 F-15QA aircraft to Qatar for $21.1 billion. Boeing Co is the prime contractor on the fighter jet sale to the Middle East nation.
Boeing declined to comment.
Full report at:
http://nation.com.pk/international/15-Jun-2017/qatar-signs-12-billion-deal-to-buy-f-15-jets-from-us
--------
Tens of Terrorists, Civilians Killed in Clashes among Rival Groups in Northern Syria
Jun 14, 2017
The sources said that Turkish army-backed terrorists engaged in fierce clashes with rival militants in al-Bab region and the town of al-Ra'ei and its surrounding areas in Northern Aleppo.
The sources added that the main clash occurred in the villages of Awlan and Sousyan in al-Bab region among Sultan Morad Brigade, al-Hamzeh division, Ahrar al-Sharqiyeh and Faylaq al-Sham.
A sum of 30 gunmen and 20 civilians were killed in the clashes that spilled over to the refugee camp in the villages of Shamarin in Azaz region.
Local sources in the town of al-Bab reported on Monday that over 30 gunmen have been killed or injured in a fresh round of clashes between rival terrorists groups in the Northeastern countryside of Aleppo.
The sources said that after al-Hamzeh division attacked the positions of the 1st regiment in al-Bab, fierce clashes erupted among militants of al-Hamzeh division and Ahrar al-Sham with other militants from al-Bab military council and Bezaeh military council.
The source further said that 12 terrorists were killed and seven more were wounded in the clashes, adding that along with intensification of the clashes, Liwa Sultan Morad attacked Ahrar al-Sham positions in the villages of Oweilan and Qadiran. The fresh round of clashes between the terrorists in al-Bab has thus far left 30 gunmen dead or wounded.
Full report at:
http://en.farsnews.com/newstext.aspx?nn=13960324001197
--------
ISIL Militants Continue to Fight in Lost Battle in Syria's Desert
Jun 14, 2017
The army troops, backed up by the Russian Air Force, resumed their operations South-East of the ancient city of Palmyra (Tadmur), pounding the ISIL in the strategic Bir al-Badiyeh area near the T-3 Pumping Station East of Homs province.
According to a battlefield source, after hours of fierce clashes, the army soldiers liberated the Bir Al-Badiya area, pushing further East towards the T-3 Pumping Station.
The source added that pro-government forces will soon gain fire control over Talileh to force the ISIL terrorists to retreat from their strongholds in the region.
The army men have also been advancing against ISIL in Eastern Hama towards the last bastion of Takfiri terrorists in Syria's Badiyeh.
Relevant reports said on Tuesday that the army units clashed with the ISIL terrorists Northeast of the wheat silos in Palmyra (Tadmur) and the surroundings of al-Tafheh hills and the outskirts of the village of Huweises in Eastern Homs where they engaged in heavy clashes, killing and injuring a large number of terrorists.
The Syrian fighter jets also targeted the military positions and movements of the ISIL in areas near al-Sukhnah, al-Tafheh, Huweises and Arak energy zone in Eastern Homs.
Full report at:
http://en.farsnews.com/newstext.aspx?nn=13960324001328
--------
Militants in Tens of Towns in Idlib Province End Fight with Syrian Army
Jun 14, 2017
The defense ministry announced that militants in 47 towns in Idlib province joined the reconciliation plan only on one single day, adding, "Total number of towns, villages and regions that have thus far endorsed the peace agreement with the Damascus government stands at 1,619 now."
The ministry went on to say that peace negotiations with militants are underway in the provinces of Aleppo, Damascus, Hama, Homs and Quneitra.
Last week, Syria's military aircraft dropped thousands of leaflets over terrorist-held regions in Southwestern Idlib, urging the militants to lay down arms and surrender themselves before an imminent large-scale attack by the government troops.
News websites affiliated to terrorist groups reported that the army aircraft dropped thousands of leaflets over the town of Jisr al-Shughour, urging terrorists to hand over their weapons to the army men and surrender.
The army, in the dropped leaflets, underlined the pro-government forces' victories as an end to the crisis in the war-hit country, saying stability and security would be restored again to the country.
Full report at:
http://en.farsnews.com/newstext.aspx?nn=13960324000982
--------
US Aircraft Transfer Western Commanders of ISIL from Raqqa
Jun 14, 2017
Ammar al-Assad said that the US has allowed over 120 ISIL members to leave Raqqa with their weapons and go towards al-Sukhnah to create insecurity in Palmyra (Tadmur) region but the Russian and Syrian fighter jets pounded and killed them.
"The US is highly coorindated with the Syrian Democratic Forces (SDF) as some of the group's commanders are from the US, Britain, France and certain regional states. Actually what is happening in the battlefield is against what the media say. Many surprising events happen," he added.
Al-Assad said that three weeks ago, the US-led coalition planes staged heliborne operations in Raqqa and transferred a number of ISIL ringleaders to unknown places, adding that they were not Syrian, Iraqi or Chinese, but were the western commanders of the ISIL.
Noting that Raqqa is highly important to the US, he said, "How could it be possible for the ISIL and the SDF to arrive at an agreement, despite their ideological differences, that allows the ISIL leaders to leave Raqqa through a safe passage."
According to reports, the SDF forces held talks with the ISIL to encourage the militants to withdraw from Sad al-Rashid area as well as the towns of al-Mansourah and Hanidah in Western Raqqa without any resistance, and move towards Syria's Badiyeh (desert).
Reports indicated that Washington prefers to occupy Raqqa immediately without major casualties on the US-backed forces. Also, if the ISIL leaves Raqqa without any clashes, the US will not need the SDF to occupy the city and the territories can be filled with other terrorist groups which are called by the US as moderate militants.
Al-Assad warned that there is a plot to annihilate the Arab countries, adding that the crisis in Qatar is the best instance for this plot and the US will not stop plotting even after this crisis will be settled.
"Actually, Syria thwarted the plot with its resistance and it is merely the Syrian army that will be deployed in Raqqa," he concluded.
Earlier this month, the US-led coalition aircraft carried out heliborne operation in regions controlled by ISIL terrorists in Northern Raqqa in Syria, carrying a number of militants on board.
The heliborne operation to save the ISIL members was conducted in the Northern parts of Raqqa.
Meantime, other reports said that the SDF forces who are stationed in Raqqa under the US supervision allow the ISIL terrorists to leave Raqqa city.
Local sources disclosed in April that the US-led coalition aircraft carried out another heliborne operation in regions controlled by ISIL terrorists in Southeastern Deir Ezzur near Syria's border with Iraq.
The source added that several aircraft of the US-led coalition carried out heliborne operations near T2 Station in desert regions South of the town of al-Mayadeen.
According to reports, the aircraft landed near the T2 station where tens of the coalition forces left them and entered the station, adding the region on which the aircraft landed is one of the military supplying-rescue bases of the ISIL and there are a number of arms depots and fighters in the region.
The coalition's operation lasted for 20 minutes and the US-led forces left the region, Sky news said, adding that the ISIL, meantime, dispatched more forces and military equipment to Koinko oilfields, Jafrah and al-Tonk regions and set up tens of checkpoints in the towns of al-Mayadeen, al-Sho'eitat, Albu Kamal and its surroundings.
Arab media outlets also said in March that the US troops have carried out another heliborne operation to evacuate 10 more ISIL commanders from the Eastern province of Deir Ezzur.
Full report at:
http://en.farsnews.com/newstext.aspx?nn=13960324000820
--------
Syrian Army Utilizing Russia-Made Howitzer Artillery against Terrorists
Jun 14, 2017
Rossiyskaya Gazeta reported that the Syrian Army has deployed two different types of Howitzer artillery pieces of 120mm caliber D-30 and 152mm caliber 2A65 msta B at a single position to target terrorists' concentration centers.
The paper added that the army has for a long time been using D-30 Cannon, but it started to hit terrorists' positions by 2A65 msta B in 2015.
The cannons are capable of firing 7-8 times every two minutes and cover targets in an effective range of 15km for D-30 and 28km for 2A65 msta B.
A Russian-language daily reported in late May that the Syrian Army troops had been using an advanced model of anti-tank missiles known as Tank-Killer in war on terrorism.
The Arabic-language website of Sputnik quoted the state-run Rossiyskaya Gazeta daily as saying that the Syrian army's RPG7 Rocket Launcher was used to fire the new missiles that could penetrate into the armor of any tank or armored vehicle.
The paper added that the missile enjoys several special features, and includes a 65mm missile and a 105mm missile that operate separately and at intervals.
Full report at:
The new missile could hit the target at the speed of 200m/s.
http://en.farsnews.com/newstext.aspx?nn=13960324000702
--------
UN: 'Staggering' civilian deaths from US-led air strikes in Raqqa
14 June 2017
United Nations war crimes investigators said on Wednesday that intensified coalition air strikes supporting an assault by US-backed forces on ISIS stronghold of Raqqa in Syria were causing a "staggering loss of civilian life".
The Syrian Democratic Forces (SDF), a group of Kurdish and Arab militias supported by a US-led coalition, began to attack Raqqa a week ago with the aim of taking it from the militants. The SDF, supported by heavy coalition air strikes, have taken territory to the west, east and north of the city.
Full report at:
https://english.alarabiya.net/en/News/middle-east/2017/06/14/UN-Staggering-civilian-deaths-from-US-led-air-strikes-in-Raqqa.html
--------
Europe
This Dinner Party Invites People Of All Faiths To Break Bread Together
June 11, 2017
During the Muslim holy month of Ramadan, which we're in the middle of right now, it's traditional to break the fast in mosques and homes. In fact, you're supposed to be in congregation with others.
"It's almost like the Christmas for Muslims," jokes Omar Salha. "When you have on Christmas day everyone gathered with family members—it just doesn't seem right that during Ramadan you're breaking fast alone."
When Salha was a graduate student in his native London, he felt especially bad for his classmates who were far from home, and left on their own during Ramadan. So with a handful of donated cookies and chips (or "biscuits" and "crisps" if you're feeling British), Salha started what he called Open Iftar. Students from many different countries sat down in a park, and broke bread together.
While the event was initially started for students, many far from their homes in Muslim-majority countries, it quickly expanded — incorporating people of different faiths, or no faith at all, or those who just happened to be passing by. Since that first event in 2011, Salha has worked with groups launching Open Iftars around the world, hosting tens of thousands of people—from Turkey to Canada, the U.K. to Zambia. He has also extended it to a larger organization, the Ramadan Tent Project, which does charitable events throughout the year.
Although the Open Iftar format varies — every night versus a few days, a set location or a roaming one — the participating cities all follow the same basic template. The event is held outdoors (weather permitting), and is open to all. Often there are guest speakers and evening prayers, and then everyone —Muslim and non-Muslim alike —breaks bread together.
The first Open Iftar in the United States was held last year in Portland, Oregon. And this year, the event was especially charged, coming less than 24 hours after two people were killed standing up to anti-Muslim violence. Over 600 people turned out for the Open Iftar at a local community center, sitting on folding chairs and on the ground, indoors and out. Many had never really sat down with their Muslim neighbors before, but felt compelled to show up and show support.
"I didn't know should I dress differently, should I take my shoes off when I walk in the door—you know, all those things that go through your mind when you've never been to a mosque before," admitted Laurie King, who drove a half hour to attend the event. "I just found that you come as you are, and you're welcome."
And the welcome was a warm one. Although the Open Iftar volunteers had been fasting for nearly 18 hours, they were all concerned with making sure their guests had enough to eat, dishing out donated trays of curried chicken and cinnamon-spiked rice (and a stack of pizzas for the kids), and donated squares of home-made baklava. Over the meal, Muslims and non-Muslims moved beyond political rhetoric and religious divides, and got to know each other. Which Open Iftar founder Omar Salha says is the true point of Ramadan.
"These are interesting habits which are conducted over the course of the month which allow us to come closer to our community," said Salha. "And becoming closer to our community means we are becoming closer to God as well."
The month of Ramadan lasts another two weeks. But Salha hopes this closeness and sense of community — not just among Muslims, but among all neighbors — will last much longer.
http://www.npr.org/sections/thesalt/2017/06/11/532102736/this-dinner-party-invites-people-of-all-faiths-to-break-bread-together?utm_medium=RSS&utm_campaign=religion
--------
French President Macron in Morocco to discuss Libya, Qatar
15 June 2017
French President Emmanuel Macron was in Morocco Wednesday on a 24-hour visit for talks on battling terrorism as well as the Libyan conflict and Qatar's dispute with its Gulf neighbors.
As he stepped off the plane for his first visit to Morocco since his election in May, the French president, his wife Brigitte at his side, was welcomed on the tarmac by King Mohammed VI.
The king's wife, Princess Lalla Salma, and Crown Prince Moulay Hassan, 14, were also present at the airport to greet the French first couple, who were then driven to the royal palace for an hour of talks.
At a press conference following the talks, Macron said both France and Morocco were keen on mediating a solution to the diplomatic crisis in the Gulf.
Shares concern
"The king of Morocco shares our concern: France would like to see the countries talking again and for the Gulf to remain stable, not least because these states are stakeholders in the crises in Syria and Libya," he said.
"The king of Morocco has met with several of those involved, myself I have met all the leaders from the region," Macron said, adding that he would meet a senior leader from the UAE in Paris next week.
The French presidency earlier indicated Macron would meet separately with the emir of Qatar, Sheikh Tamim bin Hamad al-Thani, and the crown prince of the UAE, Sheikh Mohammad bin Zayed al-Nahyan, but later said "nothing was confirmed".
Saudi Arabia, the UAE, Bahrain, Egypt and other countries, severed diplomatic ties with Qatar on June 5 accusing the Gulf nation of supporting Islamist extremism.
At the press conference the French president also touched on recent unrest in Morocco's northern Rif region, where dozens have been arrested as protestors clash with police over corruption and unemployment.
"The Moroccan king is concerned about the future of this region... the king believes it is legitimate for protests to take place and they are protected in the constitution," Macron said.
Conflict in Libya
Also on Macron's agenda was the conflict in Libya, where the UN-backed government is struggling to impose its legitimacy.
The fight against radicalization and terrorism would be at the center of the talks between the two leaders, and Paris would like to "intensify" cooperation in that field, a French diplomatic source said ahead of the visit.
Moroccans, or people of Moroccan origin, are believed to be behind several attacks that have been carried out in Europe in the past two years.
Full report at:
https://english.alarabiya.net/en/News/north-africa/2017/06/15/Macron-in-Morocco-to-discuss-Libya-and-Qatar.html
--------
Germany's biggest Islamic group slams Muslim 'peace march'
14 June 2017
BERLIN: Germany's biggest Islamic association on Wednesday said it won't take part in what is being billed as a Muslim "peace march" against terrorism over the weekend.
The Turkish-Islamic Union said the demonstration in Germany's western city of Cologne would send a wrong signal.
A group calling itself "Not With Us" says it expects several thousand people to come to the Saturday march.
The union said in a statement Wednesday that holding such a march suggests it's only up to Muslims to tackle international terrorism.
It also said Muslims observing the Ramadan-month fast couldn't be expected to march for hours in the summer sun with expected temperatures of 25 degrees Celsius (77 Fahrenheit).
Full report at:
http://www.arabnews.com/node/1115311/world
--------
Britain First Provoke Muslims Helping Grenfell Fire Families Outside East London Mosque
14/06/2017
Britain First today posted an angry video claiming it had been "ABUSED" outside the East London Mosque for the "heinous crime of standing on a British pavement and filming" - despite clear evidence to the contrary.
Leader, Paul Golding, recorded a five minute diatribe from a car as they left the scene, claiming if they had stayed any longer they would have been "physically attacked".
He says: "We've just gone into the Whitechapel area of London with some leaflets and we've walked past the East London Mosque and we were very quickly surrounded by an ever-increasing mob of Muslims and white liberals screaming abuse.
"We had things thrown at us, we had people spit at us and this was for the heinous crime of standing on a British pavement and filming.
"That's all we did... Whose country is this?"
But pictures and video posted by the mosque tell a very different story and show the far-right group was being deliberately provocative just before prayers when Muslims in the area were helping those affected by the devastating fire at Grenfell Tower.
A video also shows Golding and another member of Britain First blocking traffic whilst filming.
Golding can be heard saying: "This used to be our area, it will be our area once again."
The East London Mosque said in a statement: "The far-right Britain First group turned up again outside the East London Mosque today, as the congregation prepared for midday prayers and collected donations for the victims of the Grenfell Tower fire.
"Far-right extremist Paul Golding and his cronies have targeted the local Muslim community in the past. We condemn their attempts to create tension in our communities.
"Once again, they showed flagrant disregard for British traffic laws, parking on a zig-zag next to a busy pedestrian crossing and blocking entirely the cycle lane!"
The East London Mosque is fundraising for those affected by the fire and is currently delivering food to those in need.
Muslims who were awake because they were beginning their Ramadan fast "saved people's lives" when a deadly blaze broke out at a west London tower block, HuffPost UK has been told.
Full report at:
http://www.huffingtonpost.co.uk/entry/britain-first-east-london-mosque_uk_59414373e4b09ad4fbe4a201
--------
Mideast
Iran kills 3 members of 'Sunni Muslim Jihadist' group, arrests 5: Media report
Jun 14, 2017
Iranian forces killed three members of a Sunni Muslim jihadi group in the city of Chabahar in southeast Iran on Wednesday and arrested five others, the Mehr news agency said. It said one member of the security forces had also been killed.
Mehr said the suspects were believed to be members of Ansar al-Furqan, a Sunni jihadi group based in Sistan and Baluchestan Province. The group has threatened to carry out suicide attacks in revenge for the government executing Sunni prisoners.
http://www.hindustantimes.com/world-news/iran-kills-3-members-of-sunni-muslim-jihadist-group-arrests-5-media-report/story-fP2m2MREsfp8q7DTmCaWVN.html
--------
Houthi Minister: Defending Qatar is no different from defending Iran
14 June 2017
The Houthi minister in the militia's government in Sanaa, Hassan Zayd, expressed his opinion about the reasons behind the Iranian support for Qatar. He confirmed that defending Qatar is directly related to defending Iran.
Zayd said that "Qatar signed a joint defense agreement with Iran a few months ago, and highlighted that there are common maritime borders between the two countries."
He praised Iran's intelligence in encouraging Turkey to be on the military front, widening the gap and disagreement between the countries rallying against Iran.
According to the Houthi minister, Turkey is also targeted by the attack on Qatar because they want to weaken Turkey's position on the regional level by turning all the allies of Qatar into enemies.
Hassan Zayd is known to be close to the Hezbollah secretary-general, Hassan Nasrallah, who is also a prominent supporter of Khomeini's revolution in Iran and its expansionist project at the expense of Arab countries.
According to confirmed sources, Zayd plays an important role in the relations between Houthis and Tehran. He has advocated fiercely the Houthi ideology in the Yemeni society.
Full report at:
https://english.alarabiya.net/en/News/middle-east/2017/06/14/Houthi-Minister-Defending-Qatar-is-no-different-from-defending-Iran.html
--------
Palestinian Resistance Figure: Arab NATO Plan to Cross Out Palestinian Issue
Jun 14, 2017
"We understand that the Arab NATO is aimed at omitting Palestine from the world's map and increasing cooperation with the Zionist regime," Abu Sharif said, addressing a ceremony in Tehran on Wednesday.
He said that Israeli Prime Minister Benjamin Netanyahu's repeated speeches about formation of an Arab NATO led by the US and the Zionists are aimed at weakening the resistance front which is thwarting the plots hatched by the arrogant powers and Israel in the region.
There was much hype leading up to US President Donald Trump's Saudi Arabia visit that he would discuss an "Arab NATO" military alliance, but in the end the idea never was mentioned by name.
The US and its allies claimed that the idea was a military union among Arab states would help reduce the dependence on US forces for protection against terrorism threats.
Full report at:
http://en.farsnews.com/newstext.aspx?nn=13960324001389
--------
Turkey seeks detention of 189 lawyers in coup probe
Jun 15, 2017
ANKARA - Turkish authorities issued detention warrants for 189 lawyers as part of an investigation into followers of a Muslim cleric accused of orchestrating last July's attempted coup, state-run Anadolu news agency said on Wednesday.
The scope of purges that have also seen more than 130 media outlets shut down and some 150 journalists jailed has unnerved rights groups and Western allies, who fear President Tayyip Erdogan is using the coup bid as a pretext to muzzle dissent.
The 189 suspects were sought by anti-terrorist police across eight provinces including Istanbul for alleged links to the network of US-based cleric Fethullah Gulen, the agency said. He has denied involvement in the failed putsch.
Police have so far detained 78 of the lawyers, some believed to be users of ByLock, an encrypted messaging app the government says was used by Gulen's followers.
Since the July coup attempt, authorities have jailed pending trial 50,000 people and sacked or suspended 150,000, including soldiers, police, teachers and public servants, over alleged links with terrorist groups, including Gulen's network.
Full report at:
http://nation.com.pk/international/15-Jun-2017/turkey-seeks-detention-of-189-lawyers-in-coup-probe
--------
Arab Coalition: Houthis attack UAE ship off coast of Yemen
15 June 2017
The Arab Coalition in support of restoring the legitimate government in Yemen said on Wednesday that a boast launched a missile targeting a UAE ship off the coast of Yemen.
According to the statement, the ship was attacked by a guided missile fired by the Houthi militias after it left the Yemeni port of al-Mokha, however it caused no damage to the ship.
The statement, carried by the Saudi Press Agency said that it is conducting a thorough follow-up of the incident, and tracked the perpetrators.
https://english.alarabiya.net/en/News/gulf/2017/06/15/Arab-Coalition-Houthis-attack-UAE-ship-off-coast-of-Yemen-.html
--------
Senior Iranian official warns US against any act of aggression
Jun 14, 2017
A senior military adviser to Leader of the Islamic Revolution Ayatollah Seyyed Ali Khamenei has warned the US against launching any act of aggression against the Islamic Republic, saying the US bases in the region are vulnerable to Iran's missiles.
"Should the US seek to launch a war against Iran, all of US military bases in the region would become insecure," Major General Yahya Rahim Safavi (pictured below) said on Wednesday.
Iran is capable of securing its borders with missiles that have a range of up to 2,000 kilometers, he added.
The senior military commander also said the US power was on the decline.
"Despite claims of being a superpower, deployment of warships and expansion of military bases across the globe, the power of the US is vanishing, proof of which is its incapability to put an end to the Syrian conflict and get its own way in that country," he noted.
Iran has recently made major breakthroughs in its defense sector and attained self-sufficiency in manufacturing important military equipment and warfare.
Full report at:
http://217.218.67.231/Detail/2017/06/14/525272/Iran-US-military-aggression-missile
--------
South Asia
No military solution in Afghanistan, UN chief says on Kabul visit
Jun 15, 2017
There is no military solution to the conflict in Afghanistan that is forcing record numbers of people from their homes, United Nations Secretary General Antonio Guterres said on Wednesday, during an unannounced visit to the war-torn country.
Guterres' first visit as secretary general comes as the Afghan government faces internal turmoil, insurgents make gains nationwide and the international military coalition mulls plans to send thousands more troops to help struggling Afghan forces.
These combined threats have worsened the crisis for refugees and internally displaced people, forcing international bodies like the United Nations to call for emergency funding.
The crisis can only be solved by ending the war, said Guterres, standing in a makeshift camp on the outskirts of Kabul that accommodates Afghans displaced by fighting.
"Peace is the solution for the problem," said Guterres, previously a United Nations' high commissioner for refugees.
At least 126,000 Afghans have been forced to flee their homes, the United Nations says.
More than 218,000 Afghan refugees have also returned this year from neighboring Iran and Pakistan, many citing pressure from authorities there.
The International Organization for Migration estimates that at least 600,000 refugees could return this year, piling strain on aid groups struggling to help the newly displaced.
Khumri, a 30-year-old Afghan woman who met Guterres, said she had lived in the squalid camp for the last two years with her family after their home was destroyed and her husband killed by government forces battling Taliban occupying their village in the northeastern province of Kapisa.
"We need everything," she said, recounting the struggle for clean water, food, and hygiene materials that drives some to beg.
Guterres was set to meet Afghan President Ashraf Ghani, who is trying to soothe domestic political tension after recent violence in the capital, Kabul.
Ghani also hosted international delegations last week in a bid to set the stage for peace negotiations with the Taliban, which have remained stalled amid widespread fighting.
If the Taliban do not begin negotiations soon, Ghani will seek new U.N. sanctions against the group as a sponsor of terrorism, he told the June 6 meeting.
Any sanctions would be up to the U.N. Security Council, Guterres said. Afghanistan has endured too many "foreign interventions", however, he added, urging an eventual deal to resolve the war.
Thousands of international troops remain in Afghanistan to train and assist Afghan forces, besides mounting counterterrorism operations.
U.S. President Donald Trump has given Defense Secretary Jim Mattis the authority to set troop levels in Afghanistan, opening the door for future troop increases.
http://nation.com.pk/international/14-Jun-2017/no-military-solution-in-afghanistan-un-chief-says-on-kabul-visit
--------
Bangladesh HC hosts iftar-dinner in Islamabad
Jun 14, 2017
Bangladesh High Commission in Islamabad hosted an iftar-dinner at Hotel Serena in the Pakistan capital of Islamabad on Monday, said an HC press release.
Bangladesh High Commissioner to Pakistan Tarik Ahsan went around different tables set for the guests, exchanged pleasantries with them and enquired about their well-being.
In a welcome speech, the High Commissioner said while fasting during Ramadan, Muslims exercise self-control and sympathize with less-fortunate people. "Sincere embrace of these human values is central to pursuit of Islam's goal of an ideal society."
He added that the experience of sacrifice and empathy in Ramadan promotes a spirit of brotherhood that can bind Muslims together in unity and solidarity.
Bangladesh is committed to cooperation among Muslims around the world under Organisation of Islamic Cooperation, the High Commissioner added.
Tarik Ahsan said Bangladesh is contributing to education for Muslims through hoisting the OIC affiliated Islamic University of Technology.
He further mentioned that Bangladesh plans to host the next session of the Council of Foreign Ministers of OIC next year.
A special Munajat was offered, before the iftar, seeking divine blessings for peace, progress, and prosperity of Bangladesh and the Muslim Ummah.
The iftar-dinner was attended, among others, by members of Senate of Pakistan, ambassadors, high commissioners, diplomats, defence advisors from diplomatic missions, politicians, bureaucrats, businessmen, journalists, officials of the Bangladesh High Commission, and Bangladesh defence officials.
Full report at:
http://en.prothom-alo.com/bangladesh/news/151069/Bangladesh-HC-hosts-iftar-dinner-in-Islamabad
--------
BSF on high alert for Bangladeshi militants
June 15, 2017
Though most of the border with Bangladesh is covered by barbed-wire fencing, unfenced areas are still left, particularly a stretch along Sonamura sub-division'
The Border Security Force (BSF) posted along the Indo-Bangladesh border in Tripura has been put on high alert following reports on a probable infiltration by fundamentalist elements from Bangladesh, said an official from the security forces.
"Though most of the border with Bangladesh is covered by barbed-wire fencing, unfenced areas are still left, particularly a stretch along Sonamura sub-division. This is the stretch which is being misused for infiltration as well as smuggling," the official said on condition of anonymity.
Sources further claim that Bangladesh government's crackdown on fundamentalist elements is perpetuating and recently a security raid in a Jamaatul Mujahideen Bangladesh (JMB) hideout in Rajshahi district, a number of militants have been arrested and a large cache of arms and ammunition have been recovered. This has increased fears of infiltration by fugitive elements from Bangladesh.
Meanwhile, a Bangladeshi man named Liton Ahmed was nabbed along the Indo-Bangla border in Sonamura for smuggling 45 pieces of gold biscuits through Agartala airport.
"Upon intelligence interrogation, Ahmed revealed that he belongs to a gang in Comilla and they smuggle gold through Agartala airport as a conduit and in lieu of it they earn dollars," said the Sub-Divisional Police officer of Sonamura, Babul Das.
"Ahmed also told that two of his partners have fled to Kolkata," added Das.
Full report at:
http://www.dhakatribune.com/bangladesh/foreign-affairs/2017/06/15/bsf-high-alert-bangladeshi-militants/
--------
Afghan asylum seeker deported from Sweden killed in Kabul explosions
Jun 15 2017
An Afghan asylum seeker who was deported from Sweden was killed in back to back explosions that rocked capital Kabul earlier this month, it has been reported.
The Human Rights Watch organization (HRW) has said the young Afghan man was killed days after he was deported to Kabul.
The organization in a report has said the 20-year-old Afghan man was among at least 20 people deported by the Swedish authorities.
The report further added that the victim was deported on 30th May and was killed in a series of explosions that rocked Kabul city on 4th June.
"European countries have increasingly rejected the asylum claims of Afghans without denying their protection needs," HRW said in a statement.
The statement further added "The idea that Kabul is considered 'safe' for Afghans has real repercussions… Kabul is not safe."
The young man was apparently killed during the bombing that targeted the funeral of Mohammad Salim Izadyar, the son of the first deputy house speaker of the Afghan Senate.
Salim was killed during the violent protests in Kabul city on 3rd June as hundreds of people had participated in the demonstrations to protest against the brutal bombing near the embassy of Germany.
Full report at:
http://www.khaama.com/afghan-asylum-seeker-deported-from-sweden-killed-in-kabul-explosions-02940
--------
Explosion targets vehicle in Kabul, no casualties reported: officials
Jun 14 2017
An explosion took place in Kabul city few minutes earlier but the security officials are saying that no one was hurt in the incident.
The Ministry of Interior (MoI) acting spokesman Najib Danish confirmed the incident has taken place in the vicinity of the 5th police district of the city.
He said a magnetic bomb planted in a Ford vehicle went off in Koti Sangi area but one was killed or injured as a result of the explosion.
No group or individual has so far claimed responsibility behind the incident and the main target has not been ascertained yet.
Danish said an investigation is underway regarding the explosion and further details will be released as appropriate.
No individual or group has so far claimed responsibility behind the incident.
This comes as the Taliban-led insurgency has been rampant since the group announced its spring offensive in April and since then the group and other insurgents have been attempting to carry out attacks in key cities of the country, including Kabul city.
A large explosion took place near the embassy of Germany late in May after a tanker packed with explosive was detonated while three back to back suicide attacks targeted a funeral ceremony in the city earlier this month, leaving more than 150 dead and hundreds more wounded.
Full report at:
http://www.khaama.com/explosion-targets-vehicle-in-kabul-no-casualties-reported-officials-02938
--------
Africa
At least 20 people being held hostage in Somalia's capital after suicide bomb attack
Jun 15, 2017
Gunmen were holding at least 20 people hostage in a restaurant in Somalia's capital Mogadishu on Thursday, police said, after a suicide bomber rammed a car next door and militants stormed inside in an attack claimed by Islamist al Shabaab militants.
Police cordoned off the whole district surrounding Mogadishu's Pizza House, which is adjacent to the Posh Hotel where the suicide bomber attacked first, witnesses said. Posh Hotel is the only venue with a discotheque in the capital.
"The fighters are still inside Pizza House and they hold inside over 20 people. We do not know how many of those are dead or alive," Ibrahim Hussein, a police major, told Reuters.
Earlier on Wednesday, police said nine people, mostly women who were hotel staff, had died in the attack.
Security officials said the suicide attacker had rammed the explosive-laden car into the hotel's entrance before gunmen stormed the restaurant.
"A suspected car bomb is also parked in front of Pizza House. This and snipers have made it difficult for the security forces to head inside,' said Hussein.
Other officials said victims inside the hotel had been safely evacuated but that there were likely to be more than nine casualties.
Al Shabaab claimed responsibility. The group has carried out a campaign of suicide bombings in its bid to topple the Somali government and impose its strict interpretation of Islam.
"A mujahid (fighter) with his suicide car bomb martyred himself after he rammed into the Posh Hotel, which is a nightclub. The operation goes on," Abdiasis Abu Musab, the group's military spokesman, told Reuters.
Since losing large swathes of territory to African Union peacekeepers supporting the government, the group has frequently launched raids and deadly attacks in Mogadishu and other regions controlled by the federal government.
The Horn of Africa country has been racked by armed conflict since 1991, when clan-based warlords overthrew dictator Siad Barre and then turned on each other.
http://nation.com.pk/international/14-Jun-2017/suspected-suicide-car-bomber-rams-hotel-in-mogadishu
--------
War Crimes Prosecutor Calls for Arrest of Saif Al-Islam Qaddafi
14 June 2017
The prosecutor of the International Criminal Court on Wednesday called for the arrest and surrender of Saif al-Islam Qaddafi, who is wanted on war crimes charges for allegedly suppressing opposition to the rule of his father, former Libya ruler Muammar Qaddafi.
On Sunday, Saif al-Islam's lawyer said his client had been released under an amnesty law passed by parliament from prison in the eastern Libyan town of Zintan, where he had been held since 2011.
ICC prosecutor Fatou Bensouda said in a statement that her office was trying to verify Qaddafi's release.
"I call on Libya and all other States, if in a position to do so, to immediately arrest and surrender Mr Gaddafi to the ICC," she said.
Saif, whose whereabouts are not known, was last seen by an independent international observer in June 2014.
Saif, 44, is the most prominent of the late leader's children, and was touted by some as a reformist successor before the uprising six years ago in which Muammar Qaddafi was toppled and killed.
On Sunday, Saif's lawyer Zaidi told Reuters Saif could play an important part in national reconciliation efforts and he would not be turning himself in to the ICC in The Hague.
Libya slid into turmoil after Muammar Qaddafi's overthrow, with rival governments and armed alliances competing for power. A UN-backed government in Tripoli has struggled to impose its authority and has been rejected by factions in the east.
A Tripoli court sentenced Saif to death in absentia in 2015 for war crimes, including killing protesters during the revolution. A statement posted by the attorney general's office in Tripoli on Sunday said he was still wanted under that conviction.
Full report at:
https://english.alarabiya.net/en/News/north-africa/2017/06/14/War-crimes-prosecutor-calls-for-arrest-of-Saif-al-Isam-Qaddafi.html
--------
Shabab kills 11, takes 20 hostages in Mogadishu
Jun 15, 2017
Al-Qaeda-linked al-Shabab militants have taken at least 20 people hostage in a restaurant in the Somali capital of Mogadishu after ramming an explosive-laden car into a hotel next door, claiming the lives of 11 people.
Security officials said the militants first rammed the car into the entrance of the Posh Hotel in the capital on Wednesday and then stormed the Pizza House restaurant, which is adjacent to the hotel and a popular venue for young citizens, according to Reuters.
The gunmen cut off electricity to complicate security forces' efforts to end the siege, according to officials. Heavy gunfire was also heard.
"The fighters are still inside Pizza House and they hold inside over 20 people. We do not know how many of those are dead or alive," said Ibrahim Hussein, a police major.
Witnesses said security forces cordoned off the whole district surrounding the site of the incidents, and that the people inside the hotel had been safely evacuated.
Other sources put the number of fatalities from car bomb attack on the hotel at 17.
Somalia has been a scene of deadly clashes between government forces and al-Shabab militants since 2006.
The al-Shabab, an al-Qaeda-aligned militant group, was forced out of the capital by African Union troops in 2011 but still controls parts of the countryside and carries out attacks against government, military and civilian targets seemingly at will in Mogadishu and regional towns.
A particularly deadly Shabab strike on a busy market left 39 people dead in February, while a twin car bomb attack by the group on a popular Mogadishu hotel left 28 dead in January.
Full report at:
http://217.218.67.231/Detail/2017/06/15/525336/Somalia-alShabab-militants-Posh-Hotel-Pizza-House-restaurant
--------
Muslim group hits Nigerian Army, NYSC again over Ramadan
By Ameh Comrade Godwin
June 14, 2017
A coalition of fifty Islamic Propagation Organisations, under the aegis of the Da'awah Coordination Council of Nigeria (DCCN), has once again lamented the conduct of some activities by the Nigerian Army and the National Youths Service Corps (NYSC), during the ongoing Ramadan fast.
Speaking at a press conference held in Sokoto on Wednesday, National President of DCCN, Malam Lawal Maidoki, said despite pleas, appeals and protests, the two organizations continued to put some Muslim youths to the rigours and temptation in their respective camps in the sacred Ramadan period.
"This act of insensitivity betrays the contempt with which Islam and its sanctity are being treated by such common national symbols as the Nigerian Army and the NYSC, among many others.
South African communities give Nigerians quit notice
"As Muslim organisations, we consider the scheduling of the selection and the training exercises by the duo as a deliberate attempt of shortchanging the Muslim youth", he said.
He added that Nigerian Muslims, "do not regard as any good gesture," the exemption of Muslim youth from the rigours of the training in Ramadan period.
"On the contrary, we regard such gesture as another denial of fundamental opportunity to get exposed to the diverse survival skills the camp such as that of the NYSC stands to offer.
Full report at:
http://dailypost.ng/2017/06/14/muslim-group-hits-nigerian-army-nysc-ramadan/
--------
Ramadan: Cleric urges Muslims to assist less privileged
June 14, 2017
An Islamic Scholar, Ustaz Oluwakayode, has urged Muslims to assist the less privileged in the society as they reflect on the significance of the Ramadan fast.
He made the call in an interview with the News Agency of Nigeria (NAN) on Wednesday in Lagos and stressed the need for prayers for peace and development in the country.
Oluwakayode, who also urged Muslims to rededicate themselves to the service of Allah and humanity, added that "we have to reflect on our past mistakes and misdeeds and seek for Allah's forgiveness.
He stressed the need for Muslims to make positive use of the holy month of Ramadan, saying the period had physical and spiritual benefits.
Prof. Imran Oluwole-Smith, the Dean, Faculty of Law, and University of Lagos (UNILAG) described Ramadan as a sacred period for prayers and devotion.
He said Ramadan was a sacred period where prayers of the righteous were promptly accepted and wishes granted.
The dean said "we should not leave the spiritual aspect of Ramadan, which is alms-giving. Muslims should strive in achieving the noble goal of drawing closer to Almighty Allah for forgiveness and blessings."
Alhaja Kudirat Iyabode, the Vice Chairman, Women's Wing of Muslim Association of Nigeria (MAN), urged Muslims to use the Ramadan period for total submission to God, self-denial as well as abstinence from vices.
"We should continue to show love, forgiveness and respect to one another and ensure
that the lessons of the Ramadan reflect in our daily lives."
Full report at:
http://thenationonlineng.net/ramadan-cleric-urges-muslims-assist-less-privileged/
--------
Tunisian smoker jailed for not fasting during Ramadan
14 June 2017
A leading rights group has condemned the imprisonment of a man in Tunisia for smoking a cigarette in public during the dawn-to-dusk Muslim fast.
A court in north-western Bizerte town sentenced the man to one month in jail for "public indecency".
The ruling was an "absurd violation" of personal freedoms, Amnesty International said.
Dozens protested on Sunday in the capital, Tunis, for the right to eat and drink in public during Ramadan.
Africa Live: Updates on this and other African stories
Got you! The rise of Arabic TV pranks for Ramadan
What can I eat to ace exams in Ramadan?
What is Ramadan?
About a fortnight ago, four men were sentenced to one month in prison after eating in public.
There are no laws in mainly Muslim Tunisia requiring individuals to fast or barring them from eating or smoking publicly during the Islamic holy month of Ramadan, Amnesty said.
"The Tunisian authorities should not allow vaguely worded charges to be used to impose harsh sentences on spurious grounds," it added in a statement.
"Everyone should have the right to follow their own beliefs in matters of religion and morality."
Full report at:
However, a large section of the population is conservative, and supports Islamic law.
http://www.bbc.com/news/world-africa-40273859
--------
Pakistan
Terrorism common enemy of Pakistan, Afghanistan: COAS
June 14, 2017
Chief of Army Staff (COAS) General Qamar Javed Bajwa said on Wednesday that Pakistan considers Afghanistan as a brotherly neighbour and terrorists are our common enemy.
Speaking during his visit to Peshawar Corps Headquarters on Wednesday, he said that the threat requires a trust based coordinated response rather than blame game or unwarranted skirmishes.
The army chief said that unilateral actions like drone strike are counterproductive and against spirit of ongoing cooperation and intelligence sharing being diligently undertaken by Pakistan.
He said Pakistan Army is capable of taking effective measures if actionable intelligence is shared.
He said that our focus now is to transform our operational achievements in Fata into enduring peace and stability for which early mainstreaming of Fata through reforms is essential and Pakistan Army fully supports all efforts towards that end.
General Bajwa said that our brave tribal brothers, through their support, cooperation and resolve, have enabled its security forces to succeed during the operations and now it is time for them to live a fearless and quality social life as citizens of Pakistan.
He said that Pakistan Army shall continue its efforts to consolidate gains achieved thus far and stated that Army stands with all other institutions to get Pakistan rid of menaces retarding its progress and prosperity.
He was given detailed briefing on situation along Pak-Afghan border, ongoing and future operations, progress on development works and return of TDPs.
He appreciated improved security situation and measures for better border management including fencing.
Full report at:
http://nation.com.pk/national/14-Jun-2017/terrorism-common-enemy-of-pakistan-afghanistan-coas
--------
Bajwa terms US drone strike counterproductive
Jun 15, 2017
PESHAWAR: Reacting to the US drone strike on a militant hideout in Orakzai Agency on Tuesday, Army Chief Gen Qamar Javed Bajwa said here on Wednesday that "unilateral actions like drone strikes" were counterproductive.
"Unilateral actions, like drone strike, etc., are counterproductive and against [the] spirit of…ongoing cooperation and intelligence sharing being diligently undertaken by Pakistan," the Inter-Services Public Relations (ISPR) quoted Gen Bajwa as saying.
The army chief was given a briefing at the Corps Headquarters about the situation along Pakistan-Afghanistan border, ongoing and future operations, progress on development works and return of temporarily dislocated people of the Federally Administered Tribal Areas (Fata) to their homes.
"Pakistan Army is capable of taking effective measure if actionable intelligence is shared," he said, referring to the drone strike in the Spin Thall area of Orakzai Agency adjacent to North Waziristan Agency.
According to media reports, a US drone fired two missiles at a compound, killing two suspected militants, including a leader of the Haqqani network, Abubakar.
The ISPR, the public affairs wing of the armed forces, said that Gen Bajwa appreciated improved security situation and measures taken for better border management, including fencing. The army has started fencing the border in Mohmand and Bajaur tribal regions in an attempt to prevent infiltration of militants from Afghanistan.
Gen Bajwa expressed satisfaction on operational readiness of the army formations and asked them to stay vigilant against all types of threats.
He said that Pakistan considered Afghanistan a brotherly neighbour and terrorists were common enemies of the two countries.
"The threat thus requires a trust-based coordinated response rather than blame game or unwarranted skirmishes," he was quoted as saying.
He said that now the army's focus was on transforming operational achievements in Fata into enduring peace and stability for which early mainstreaming of tribal region through reforms was essential. The army fully supports all efforts towards that end.
Gen Bajwa said that brave tribal brothers, through their support, cooperation and resolve had enabled the security forces to succeed during the operations and now it was time for them to live a fearless and quality social life.
Full report at:
https://www.dawn.com/news/1339621/bajwa-terms-us-drone-strike-counterproductive
--------
Pakistan for principles of democracy to reform UNSC
Jun 15, 2017
UNITED NATIONS: Pakistan has reiterated its call for reform of the Security Council to be guided by the principles of democracy and representatives, a press release said.
Speaking in the Inter-Governmental Negotiations (IGN) on Security Council reform, Pakistan's Ambas­sador to the UN Maleeha Lodhi responded forcefully to a handful of countries which seek permanent seats for themselves.
Representatives of some of these states had argued against including the principle of democracy in a document prepared by the co-chairs of the IGN, which identified democracy and representativeness as shared principles of the UN membership, which should be taken into consideration in reforming the Security Council.
Full report at:
https://www.dawn.com/news/1339649/pakistan-for-principles-of-democracy-to-reform-unsc
--------
Aitzaz Hasan's family seeks security from govt after Taliban threats
Ali Akbar
Jun 15, 2017
The family of Aitzaz Hasan, a schoolboy who sacrificed his own life to save hundreds of his classmates by tackling a suicide bomber in 2014, has sought protection from the authorities after receiving threats from the Taliban.
On April 3 this year, the family received a threat letter from the outlawed Tehreek-i-Taliban Pakistan (TTP), who wrote that Aitzaz was neither a martyr nor a hero and the media should stop presenting him as a national icon, the deceased's brother Mujtaba Hasan Bangash told DawnNews.
In the letter, the militants also warned Mujtaba against visiting government offices and talking to media personnel or "he will be responsible for [any] loss".
According to Mujtaba, whose family lives in the Ibrahimzai area of Khyber Pakhtunkhwa's Hangu district, he wrote letters to Interior Minister Chaudhry Nisar Ali Khan, inspector general Khyber Pakhtunkhwa, IG Frontier Constabulary (FC) and Commander Peshawar Corps Lt-Gen Nazir Ahmed Butt and asked for protection in the wake of Taliban threats.
The authorities have yet to respond to his requests and provide security to the family, Mujtaba said.
Just after receiving the threat letter on April 3, Mujtaba had lodged a First Information Report in Hangu Police Station.
Mujtaba also expressed concern at the state of security of the school where his brother laid down his life in January 2014 and saved hundreds of other school children.
He said the government had not provided proper security to the school, while two private security guards are currently assigned the school's protection. The guards' salaries are being paid from the pockets of students' parents and teachers.
Mujtaba feared that militants might target the school again as they were unable to do so the last time due to his brother's sacrifice.
Aitezaz Hassan, a 15-year-old, became a national hero after intercepting the bomber before he was able to enter his school.
Full report at:
https://www.dawn.com/news/1339499/aitzaz-hasans-family-seeks-security-from-govt-after-taliban-threats
--------
United Nations Development Programme to help KP overcome uplift issues
Jun 15, 2017
ISLAMABAD: As part of the ongoing partnership, the United Nations Deve­l­o­pment Programme (UNDP) and the Khyber Pakh­tun­khwa (KP) government have stressed the need to improve the rule of law, employment, youth engagement and economic development in order to achieve sustainable development in the region. The UNDP and the KP government agreed to work on a procurement project to develop campsites in the province's most scenic locations.
The project will promote ecotourism and employ the local youth by establishing camping villages with a total outlay of Rs300 million. The UNDP will provide technical support and contribute $50,000 to provide business management train­­­ing to 500 youths.
Full report at:
https://www.dawn.com/news/1339651/united-nations-development-programme-to-help-kp-overcome-uplift-issues
--------
China reaffirms its support to Islamabad in fight against terrorism
June 15, 2017
According to Radio Pakistan, China has reiterated its support to Pakistan's efforts to fight against terrorist forces and safeguard national security and stability.
In a statement in Beijing, China's Foreign Ministry Spokesperson, Lu Kang acknowledged Pakistan's positive efforts for security of Chinese nationals and institutions in the country.
To a question about reports of Chinese nationals allegedly engaging in illegal preaching activities in Pakistan, he said China will work with Pakistani government to carry out investigation into the matter in accordance with law.
http://nation.com.pk/national/15-Jun-2017/china-reaffirms-its-support-to-islamabad-in-fight-against-terrorism
--------
Saudi embassy promises to resolve Pakistani pilgrims' visa issue soon
June 14, 2017
A statement issued by the Saudi embassy has said that the matter concerning the delay in Umrah visas of Pakistani pilgrims will be resolved soon.
Acting Ambassador of Saudi Arabia to Pakistan Marwan Ridwan Mirdad said this while talking to media in Islamabad in the wake of visa problems being faced by the pilgrims.
He told that with the increase of 20 percent quota, around 1,80,000 Pakistanis will perform Hajj this year.
The Acting Ambassador said that the delay in the issuance of visas was due to shortage of visa stickers however; the problem will be resolved in next three days.
Full report at:
http://nation.com.pk/national/14-Jun-2017/saudi-embassy-promises-to-resolve-pakistani-pilgrims-visa-issue-soon
--------
Southeast Asia
Lawless Waters Test Southeast Asian Nations in Fight Against Islamic State
Jun 15, 2017
Singapore. Militants, pirates, drug traffickers, gun runners – the waters between Borneo and the southern Philippines have them all, but as an Islamic State faction burst on the scene in recent weeks, this corner of Southeast Asia plumbed new levels of insecurity.
The mostly Muslim countries of Indonesia and Malaysia, and those with sizeable Muslim minorities, like the Philippines, have been on high alert for fighters returning home from Islamic State frontlines in Syria and Iraq.
So when dozens of Malaysians, Indonesians, Arabs and Chechens showed up in Marawi City on Mindanao island, fighting alongside a Philippine franchise of Islamic State, a nightmare scenario suddenly took shape.
The danger of global jihadis establishing a base in the Philippines, running satellite cells to launch attacks across Southeast Asia, made governments in the region realize just how vulnerable they could be.
"It's easy to jump from Marawi to Indonesia and we must all beware of sleeper cells being activated in Indonesia," Indonesian Military chief Gen. Gatot Nurmantyo said on Monday (12/06).
According to the general, there are Islamic State sleeper cells in almost all of Indonesia's 34 provinces.
Indonesia has called for a conference with the Philippines and Malaysia to discuss events in Marawi – where the Philippine military, backed by United States special forces are still battling after more than three weeks to retake the town from fighters led by the IS-inspired Maute brothers.
So far, Islamic State-inspired attacks have been relatively small-scale in Indonesia, the country with the world's largest Muslim population. But they have become more frequent. Last month, suicide bombers killed three police officers at a Jakarta bus station.
Malaysia, meanwhile, has used draconian security laws to detain scores of suspected militants and Islamic State sympathizers.
Air and Sea
Next week, the three countries, with Singapore's assistance, will begin joint air surveillance over the Sulu Sea, using reconnaissance planes and drones, and enhance joint naval patrols.
Their navies planned joint patrols last year after a spate of kidnappings by Abu Sayyaf, a well established militant group that has declared support for Islamic State. But there are plenty of gaps to fill.
"We don't have communications via radio at this point. We conduct patrols in our own territory. We have not discussed exchanging personnel," said First Admiral Ferial Fachroni, commander of Indonesia's Tarakan naval base in North Kalimantan.
He told Reuters joint operations would begin this month. Situated on Borneo's northeast coast, Tarakan is the nearest Indonesian naval base to kidnappers' hunting grounds in the Celebes and Sulu Seas.
Keeping tabs on hundreds of merchant ships, fishing boats and ferries plying routes between the islands, deciding when and who to stop and search will be a tall order even for three navies working together.
The archipelagos' heavily forested coves and inlets provide excellent cover for any fast vessel looking to escape closer scrutiny.
"The Sulu Sea area has always had sporadic incidents like kidnappings of tourists before, but starting last year and this year, it has really gone up," Noel Chung, the Kuala Lumpur-based Asia head of the International Maritime Bureau, said.
"They started off with tugboats and went on to merchant ships, so they're targeting big ships out at sea. It's different from years ago when the attacks were more localized."
Chung saw comparisons with the Gulf of Aden, where Somali pirates operate, but the difference is that the Sulu Sea is not a major trading route so the international community is disinclined to invest in providing security.
Experts say the number of vessels needed to police the seas and costs incurred would be prohibitive.
'Weak Link'
Despite the long history of militancy and banditry in the area, it has taken the Philippines, Malaysia and Indonesia a long time to pool resources.
Largely dormant territorial disputes, mutual mistrust, and limited capabilities have all played a part retarding closer cooperation.
But seeing the black flags of Islamic State raised in Mindanao could have shocked the region's governments into moving from cooperation to actual collaboration.
"There are still some lingering trust issues but now there is also an understanding of the consequences if they don't develop this collaboration," said Singapore-based security analyst Rohan Gunaratna.
Beyond enhancing air and sea patrols, the countries' security agencies need to coordinate better and act faster on shared intelligence.
A Malaysian government official said that while information was shared on militant suspects, there was some frustration over a perceived lack of follow up in the Philippines.
"One of the challenges is tracking militants once they're in the southern Philippines. Only the Philippine army can confront them on land," the Malaysian official said, declining to be identified because of the sensitivity of the issue.
Philippine officials said security agencies are "doing everything" to address the surge in militancy in Muslim-majority areas of the mostly Catholic country.
"This is a holistic effort, not only in the military but in the government," armed forces chief General Eduardo Ano told reporters last week.
Describing the Philippines as a "weak link," regional terrorism expert Sidney Jones criticized a lack of cooperation between its police, military and intelligence agency.
"More so than other Southeast Asian countries, the security agencies are completely silo-ized," Jones said.
"The fact that the Philippines has been dealing with insurgencies for so long meant that it's somewhat blinded to this new phenomenon of pro-IS groups," she added.
http://jakartaglobe.id/international/lawless-waters-test-southeast-asian-nations-fight-islamic-state/
--------
Malaysia's moral compass: What can our gov't do for Syria?
Jun 15, 2017
FOCUS | Between 2011 and 2013, a Syrian military police photographer documented the conditions of how thousands of victims died inside facilities run by the President of Syria, Bashar al-Assad's regime.
This photographer was code-named Caesar. He risked his life smuggling 55,000 photographs out of Syria then - and 20 of these photos sit among us today. These photos are known as the Caesar Files, and they debuted in the Asia Pacific last weekend, at none other than Kuala Lumpur.
Assad once said, "You can bring photographs from anyone and say this is torture. There is no verification of any of this evidence, so it's all allegations without evidence." But these photographs have been meticulously verified by Human Rights Watch, presenting cruel, damning and incontrovertible evidence of crimes against humanity in Syria.
These photos have been on display at the European Parliament, the UN headquarters in New York, and not least, the International Criminal Court Assembly of States Parties sponsored by Governments of Canada, Liechtenstein and the US.
It is so important that we understand the widespread torture, starvation, beatings, and disease in Syrian government detention facilities.
I ask that the Malaysian government too, consider sponsoring the Caesar files exhibition under the auspices of our Malaysian Parliament to raise public awareness on the ongoing horror inflicted on political prisoners – half of which are women and children, numbering 150,000 to date. They languish, and continue to be tortured in real time, today.
Turning away from the sordid reality
It is nearly impossible to find a headline devoid of news involving deaths of innocents. Yet, does this impossibility justify turning away from the sordid reality? Deflecting from facing problems head-on only allows them to fester.
And fester it did - 465,000 deaths, one million injured, and 12 million on the run. Seven years onward, the tide of blood and the hell on Earth that has afflicted Syrians, rages on.
What some might term a brutal civil war, is made all the more gravely compelling as the UN Commission of Inquiry issued 20 reports accusing Syrian president Bashar al-Assad's government, among those responsible for mass killings, rapes, disappearances and recruitment of child soldiers.
This hell on Earth, war-stricken nation has been under heavy bombardment and conflict for seven years. Syria now faces the double threat of Bashar al-Assad's regime and violent incursions by ISIS, Al Nusra Front and other terrorist groups.
Clearly, if a relatively stable country like Malaysia and many others fail to set the moral parameters that categorically reject the genocidal tendencies of Bashar al-Assad, we will indirectly lend credence to other ill-intentioned actors, encouraging extremism to flourish, thereby exacerbating the crisis further.
Malaysia prides herself and thinks of herself as a predominantly Muslim but moderate, peaceful, and democratic society. Our moral compass mandates that we not turn our backs on state-sponsored terror against civilians, whose uprising in Syria began as nothing but protests for democracy seven years ago.
With this, I urge the government to duly consider three straightforward requests. Firstly, the government should host the Caesar Files exhibition at our Malaysian Parliament. Secondly, the government must condemn Bashar al-Assad's regime of terror in Syria. Thirdly, the government must approve the establishment of a bipartisan parliamentary caucus on the Syrian crisis.
We must condemn Assad's regime of terror
In Malaysia, we care very much about Syria's plight. I have been fortunate enough to work with and learn from one of Malaysia's largest Muslim youth movements, Angkatan Belia Islam Malaysia (Abim), which has led the establishment of a joint NGO named the Malaysian Life Line For Syria (MLLFS) for the sole purpose of providing humanitarian aid to Syria.[7]
To date, the MLLFS has fundraised, organised missions to and donated food, milk powder, medical supplies and learning materials in war-torn Syria. These NGOs are many; they include but are not limited to the Muslim Volunteer Malaysia (MVM) and the Global Peace Malaysia (GPM).
It is only through unwavering concern and generous donations from the public that these organisations have been able to provide humanitarian aid to the ones who need them the most. My heart goes out to the many NGOs that have risked their safety and comfort back home to provide humanitarian assistance to the Syrian people.
But it must be more than the public and NGOs that should be willing to show their support to Syria. The Malaysian government, too, must be a vocal proponent in ending Syria's humanitarian crisis.
However, the Malaysian government has not condemned Assad's torturous regime. This denial to condemn Assad's atrocities have not placed us on proper footing to expose the state's mass killings that continue to worsen the plight of Syrians, which also produced the spillover effect that is the biggest refugee crisis in history.
Malaysia's recent two-year tenure at the UN Security Council (2015-2016) had been an effective means of standing up for Syria.
At the UN, we recognised the problems in delivering humanitarian aid, and called on all relevant "parties to allow humanitarian agencies rapid, safe and unhindered access throughout Syria"[8] With our fellow Council members, we warned "parties to the armed conflict to never make civilians the object of attack or use them as human shields".
We were uncompromising in demanding a nationwide ceasefire, should any proposed peace plan have a chance at actuality. More importantly, again and again, we emphasised on Syria's sovereignty, asserting that any political transition that takes place be "Syrian-led and Syrian-owned, based on the Geneva Communiqué of 30 June 2012".
I whole-heartedly support the government's position in advocating access for humanitarian aid, and in demanding a ceasefire. But the fundamental problem remains to be acknowledged - we still have yet to confront the elephant in the room by condemning Bashar al-Assad's government, a government who labels even innocent women and children and kind-hearted aid workers as terrorists.
Set up a parliamentary caucus on Syrian crisis
As small a country as Malaysia is, we are more than capable of pulling our weight on the international arena, should we give it our best shot.
In 2004, Malaysia set up a Parliamentary Caucus on Democracy in Myanmar. The caucus advocated democracy by demanding the immediate release of political detainees and by engaging with the opposition then for dialogue.
But most significantly, Malaysia's initiative then mobilised member states from Asean to also form an Asean Inter-Parliamentary Caucus that would go on to pressure Myanmar for democratic reforms and demand Myanmar's abdication from Asean's chairmanship that year.
In 2016, Malaysia set up a Parliamentary Caucus on Displaced People of Sri Lanka following almost 30 years of civil war to assess the Sri Lankan government's progress in rehabilitating its human rights situation. The caucus took the government of Sri Lanka to task by demanding demilitarisation and the restoration of a civilian administration.
Clearly, Malaysia is able to participate constructively in peace and rehabilitation efforts on an international level. If Malaysia is indeed a purveyor against injustice, oppression and discrimination, regardless of creed, then this unabating humanitarian crisis in Syria must also warrant no less than a bipartisan parliamentary caucus from us.
Just as it has been vocal on the oppression against the Palestinians, the Rohingyas and Sri Lanka's Tamil population, our government must remain consistent on its moral principles and also denounce the injustice of the Assad government.
Conclusion
With the unrelenting bloodbath, it is almost unthinkable that the crisis in Syria began in 2011 when 15 schoolchildren were arrested for writing anti-government graffiti on a wall. Through peaceful protests, citizens of Syria then called for a free and democratic Syria.
Unfortunately, Assad's government, which responded by opening fire on civilians on March 18, 2011, has relied on increasingly ruthless means through the years, including a suspected chemical attack just two months ago.
The Syrian crisis needs urgent attention. Malaysia is no longer a member of the UN Security Council, but there is still much that Malaysia as a government can do. The government can be a leading moral voice by hosting the Caesar Files exhibition at the Malaysian Parliament, by supporting efforts to condemn Assad's regime in Syria and by establishing a cross-party parliamentary caucus on the Syrian crisis.
With Syria in turmoil and Malaysia in relative stability, there is much that we can learn from each other. From Syria, its people's resilience; from Malaysia, multiracialism and pluralism. After all, the people of Syria do not aspire to be all that different from us.
In the landmark Geneva Communique, issued in 2012 by the UN-backed Action Group for Syria, the aspirations of the people of Syria are clearly expressed that Syria must be "genuinely democratic and pluralistic", and that "there must be no room for sectarianism or discrimination on ethnic, religious, linguistic or any other grounds."
Full report at:
https://www.malaysiakini.com/news/385615
--------
Philippines arrests senior member of ISIS-backed Maute group laying siege to Marawi
Jun 15, 2017
MARAWI CITY (Reuters) - The Philippines military said it arrested one of the Maute brothers on Thursday (June 15), a senior member of the Islamic State in Iraq and Syria (ISIS)-backed militants it is fighting in a southern city.
Mohammad Noaim Maute was arrested at a checkpoint near the coastal city of Cagayan de Oro just after dawn, said Lt Col Jo-Ar Herrera, a military spokesman.
Two of Mohammad's brothers, Omarkhayam and Abdullah, lead the Maute gang that is at the forefront of a vicious battle with security forces for Marawi City, now in its fourth week. Marawi is about 100km south of Cagayan de Oro, but it was not clear whether Mohammad was coming from the besieged city.
Most of the other seven Maute brothers, including Omarkhayam and Abdullah, are believed to be in Marawi.
Full report at:
http://www.straitstimes.com/asia/se-asia/philippines-says-arrests-senior-member-of-isis-backed-maute-group
--------
Halal Local app helps Muslim tourists find halal food, prayer spaces
June 15, 2017
Most Muslim tourists may have encountered difficulties finding halal food or places to pray when going on holiday or business trips. Halal Local, a marketplace containing halal tourism products has an answer for this very problem.
With the app, users can find restaurants that serve halal food, accommodations with praying spaces for Muslims and the nearest mosques to users' locations.
Users are also able to book hotels and reserve a table in the restaurants listed in the app. Halal Local also provides halal tour services, not only in Indonesia, but also in other countries.
Read also: Jakarta to host second Halal Tourism Business Meeting
Akhmad Syaiful Nasrullah, co-founder of Halal Local told Antara news agency: "We collect data from the Indonesian diaspora abroad, and also from halal councils in other countries."
He added that the app currently has 40,000 listings of halal restaurants, hotels and homestays. In Indonesia, Lombok is still the most popular halal tourism destination, followed by Bandung.
"In the past, Arabian tourists used to go to Puncak [West Java] for leisure, but now they also know we have Lombok and Bandung," Akhmad said.
Currently, 80 percent of the halal tourism app is still dominated by local tourists, but Akhmad hopes it can be used by Muslims around the world.
Full report at:
http://www.thejakartapost.com/travel/2017/06/14/halal-local-app-helps-muslim-tourists-find-halal-food-prayer-spaces.html
--------
North America
Tillerson: Blacklisting Muslim Brotherhood problematic
Jun 15, 2017
US Secretary of State Rex Tillerson has said the classification of the Muslim Brotherhood in its entirety as a "terror" group complicates the security and politics of the Middle East.
His testimony on Wednesday before the House Committee on Foreign Relations comes amid rising tensions in the Gulf, part of which centre on Qatari support for the Muslim Brotherhood.
Tillerson said it was problematic to place the entire organisation - whose members amount to more than five million, some of whom occupy positions in governments across the region - on a "terror list".
"There are elements of the Muslim Brotherhood that have become parts of governments," he said, pointing out parliaments in Bahrain and Turkey as examples.
"Those elements... have done so by renouncing violence and terrorism," he said.
"So in designating the Brotherhood in its totality as a terrorist organisation… I think you can appreciate the complexities this enters into our relations with [governments in the region]."
The top US diplomat said Washington had designated elements of the group that are committed to violence as "terrorists", but that a broad classification of the entire group would present complications.
Saudi Arabia, Bahrain, the UAE, Egypt and several other countries cut ties with Qatar earlier this month over its alleged support for "extremist" groups, including the Muslim Brotherhood. Doha has denied all allegations.
The Muslim Brotherhood is the oldest political Islamist group in the Arab world. While it is officially banned in some countries, in many others, its branches play an important role in domestic politics and often serve as government officials.
To date, the countries that have labelled the MB as a "terrorist organisation" are: Bahrain, Egypt, Russia, Saudi Arabia, Syria, and the United Arab Emirates.
In 2013, Saudi rulers threw their weight behind Egypt's brutal crackdown on Muslim Brotherhood supporters. In March 2014, the kingdom designated the Muslim Brotherhood a "terrorist" group.
Analysts have concluded that a brand of Sunni Islamism that called for political participation and electoral legitimacy, of which the Muslim Brotherhood is perhaps the best example, was seen as almost an existential threat, because it offered a different model of Islamist politics to that of the Saudi state.
http://www.aljazeera.com/news/2017/06/tillerson-blacklisting-muslim-brotherhood-problematic-170614193311591.html
--------
Arrest of envoy in NY is a treaty violation: Bangladesh
Jun 15, 2017
NEW YORK CITY - Bangladesh said on Wednesday the arrest of one of its diplomats in New York on charges of labor trafficking and assault appeared to be a violation of an international treaty on the treatment of diplomats.
Mohammad Shahedul Islam, the deputy consul general of Bangladesh Consulate General in New York was indicted on Monday on charges of labor trafficking and assault for forcing his domestic helper to work without pay through threats and intimidation.
"We have reasons to believe that the arrest is a clear violation of the Vienna Convention on Consular Relations 1963. We have lodged a strong protest with the chargé d'affaires of the United States Embassy in Dhaka," the foreign ministry said in a statement.
The ministry on Tuesday summoned a US diplomat to express its dismay over the arrest.
Islam has limited diplomatic immunity and was ordered to surrender his passport when he appeared in court in New York, said Queens District Attorney Richard Brown in a statement on Monday.
According to the indictment, Islam brought another Bangladeshi, Ruhul Amin, to New York between 2012 and 2013 to work as household help.
Soon after Amin arrived, Islam allegedly took his passport and made him work 18 hours a day, allegedly without pay, according to the indictment.
"If the victim disobeyed the defendant's orders, Mr Amin was allegedly physically assaulted," it said.
A spokesman for the Bangladesh embassy in Washington said it believed Amin had filed the case in bad faith and the allegations were "fabricated" and "baseless". Bail was set at $50,000 bond or $25,000 cash.
Shameem Ahsan, the Bangladeshi consul general in New York, told Reuters on Wednesday from New York that Islam has been released from a correctional center. Islam was not immediately available for comment.
Full report at:
http://nation.com.pk/international/15-Jun-2017/arrest-of-envoy-in-ny-is-a-treaty-violation-bangladesh
--------
Trump lets Pentagon set Afghanistan troop levels: US official
June 15, 2017
WASHINGTON — President Donald Trump has granted the Pentagon authority to set troop levels in Afghanistan, a US official said on Tuesday, a move that could lead to the deployment of thousands more soldiers.
Speaking on condition of anonymity, the official said that Pentagon chief Jim Mattis can now directly adjust troop numbers, though the official would not confirm whether a new "force management level" — currently at around 8,400 — had been finalized.
"The White House has done the same that it did with Iraq and Syria, which is to grant the secretary of defense the authority to set troop levels," the official said, referring to recent adjustments Trump has approved for the fight against Daesh (the so-called IS) in those two countries.
Under Barack Obama, troop levels in Afghanistan, Iraq and Syria were closely managed by the White House and commanders complained they felt shackled by the strictures.
The development came just hours after Mattis gave lengthy testimony to lawmakers, some of whom were exasperated at how long it has taken for Trump to come up with a new strategy in Afghanistan.
The official said the final decision to give Mattis the power to adjust troop levels actually came during his testimony, at which he said America still is "not winning" in Afghanistan.
The "Taliban had a good year last year, they are trying to have a good one this year," Mattis told the Senate Armed Services Committee at a hearing about the Pentagon's budget. "Right now, I believe the enemy is surging."
Mattis's latest assessment comes nearly 16 years after the US-led invasion of Afghanistan and amid a war that continues to claim the lives of US troops each year — and those of thousands of local forces and civilians.
US military commanders, who saw fragile security gains eroded under Obama-era troop drawdowns, have been pushing for a new strategy that could see thousands of additional soldiers deploy to Afghanistan to help train and advise beleaguered Afghan partners. Media reports have said Mattis is considering asking for 3,000 to 5,000 additional US and NATO troops, but the defense chief has said little on the matter.
In February, General John Nicholson, who commands NATO forces in Afghanistan, warned that he needs "a few thousand" more troops to reverse what he called a stalemate.
Despite months of expectation that a full Afghanistan strategy announcement is imminent, Mattis said the new plans not be ready before mid-July.
Republican Senator John McCain, who chairs the Senate Armed Services Committee, voiced his "palpable" frustration.
"We're now six months into this administration, we still haven't got a strategy for Afghanistan," McCain said, noting it was difficult to get behind an Afghanistan budget request without knowing what the plan is.
"We know what the strategy was for the last eight years: Don't lose. That hasn't worked."
Full report at:
http://saudigazette.com.sa/world/americas/trump-lets-pentagon-set-afghanistan-troop-levels-us-official/
--------
US defence secretary vows not to 'repeat mistakes of the past' in Afghanistan
15 June 2017
Defense Secretary Jim Mattis vowed on Wednesday that the Trump administration would not repeat the "mistakes of the past" in dealing with Afghanistan, after the president gave him the power to set troop levels in the war-torn country.
Mattis said the "delegation of authority" letting the Pentagon set troop levels in Afghanistan would give the military greater agility in conducting operations.
Unlike his predecessor Barack Obama, who kept battlefield commanders on a tight leash and scrutinized each deployment down to the individual soldier, President Donald Trump has been happy to defer his warfighting policy to his top brass -- the men he likes to call "my generals."
Battlefield commanders under Obama often felt hampered by seemingly arbitrary troop caps.
Currently about 8,400 US troops are in Afghanistan along with another 5,000 or so NATO forces.
"This administration will not repeat the mistakes of the past," Mattis said in a statement.
"We cannot allow Afghanistan to once again become a launching point for attacks on our homeland or on our allies," Mattis said. He was alluding to the former Taliban government's granting haven to Al-Qaeda in the runup to the September 11, 2011 terror attacks in New York and Washington.
Earlier, Mattis told lawmakers that he would present Trump with a new US military strategy for Afghanistan by mid-July.
American military commanders in Afghanistan and the surrounding region have requested thousands of additional boots on the ground for months to boost the NATO troop presence there.
"Together in the interagency, we will define the way ahead and I will set a US military commitment consistent with the commander in chief's strategic directions and his foreign policy, as dictated by Secretary of State Tillerson," Mattis told lawmakers during a hearing at the Senate Appropriations Committee.
Mattis said the decision would come in consultation with other US government agencies in a more comprehensive approach to the conflict.
Full report at:
https://english.alarabiya.net/en/News/world/2017/06/15/Mattis-vows-not-to-repeat-mistakes-of-the-past-in-Afghanistan-.html
--------
Trump administration amends travel ban date to keep legal battle alive
Jun 15, 2017
The Trump administration on Wednesday moved to amend the starting date of its proposed 90-day travel ban on people entering the United States from six Muslim-majority countries in a bid to keep its legal battle alive.
The amendment appears intended to avoid the administration's legal case at the U.S. Supreme Court becoming moot on grounds that parts of the executive order have expired.
Challengers to the ban, who say the order is intended to discriminate against Muslims, have said in court papers that it should expire on Wednesday, 90 days after the executive order was due to take effect on March 16.
A memo issued by the White House, as the Supreme Court considered two challenges to the ban, said parts of the order put on hold would not expire before they can go into effect, and the start date would be when court injunctions were lifted.
The move is part of administration efforts to have the high court rule that the controversial ban should immediately go into effect after Trump's first attempts to impose travel restrictions were blocked by lower courts.
Omar Jadwat, a lawyer with the American Civil Liberties Union, which has challenged the ban, said the need for the revision was a sign of the ban's legal flaws.
"And yet again, these revisions underline that the one thing the president has consistently wanted throughout is a Muslim ban," he added.
Lawsuits by Hawaii and Maryland challengers argued that the order violated federal immigration law and a section of the Constitution's First Amendment, which prohibits the government favoring or disfavoring any particular religion. The Trump administration has said it is needed to protect national security.
Soon after the memo was issued, Acting Solicitor General Jeff Wall filed court papers saying that it resolved "any doubt" about the order's effective date.
If the case was moot, the nine justices would have no reason to rule on it and lower court rulings against the administration would remain in place.
The Supreme Court on Tuesday gave the Trump administration more time to file papers responding to an appeals court ruling on Monday that upheld a block on the travel ban.
The court's action likely delayed any decision on administration requests for the ban to go into effect until at least next week.
Federal judges in Maryland and Hawaii blocked Trump's 90-day ban on travelers from Libya, Iran, Somalia, Sudan, Syria and Yemen. The Hawaii judge also blocked a 120-day ban on refugees entering the United States.
The 9th U.S. Circuit Court of Appeals largely upheld the Hawaii injunction on Monday.
Full report at:
https://www.reuters.com/article/us-usa-court-immigration-idUSKBN1952Z1
--------
URL: https://www.newageislam.com/islamic-world-news/govt-hang-people-eat-beef/d/111554
New Age Islam, Islam Online, Islamic Website, African Muslim News, Arab World News, South Asia News, Indian Muslim News, World Muslim News, Women in Islam, Islamic Feminism, Arab Women, Women In Arab, Islamophobia in America, Muslim Women in West, Islam Women and Feminism