New Age Islam News Bureau
29 September 2022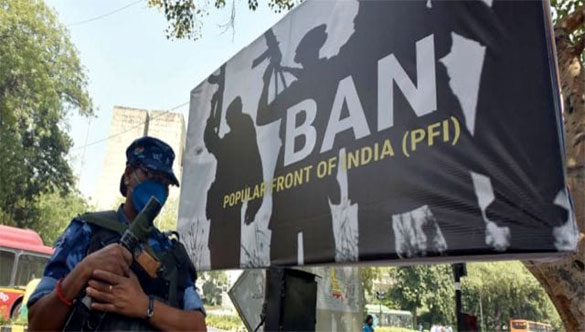 Popular Front of India
-----
• "Yoga for University Students of Both Genders": Saudi Committee for Yoga Aims To Introduce Traditional Yoga and Yogasana Sports to Universities
• Taliban Fire Into Air To Disperse Women's Rally Supporting Protests In Iran Over The Death Of A Woman In The Custody Of Morality Police
• Pakistan Audio Leaks: Clip of Imran Khan's Plan to 'Play' Foreign Conspiracy 'Cipher' Surfaces
• US Capital Declares October as Turkish Heritage Month
India
• From Techie to Lecturer to Govt Employee: Arrested PFI Men Are From All Walks Of Life
• Bajrang Dal activists thrash Muslim man for entering Garba event in Ahmedabad
• After five intrusions in four days, BSF fears Pak may turn drones into bombers
• Madhya Pradesh: Mob attacks Muslim men for suspected cattle theft
--------
Arab World
• Bahrain: Imprisoned Shia Cleric Abused and Denied Medical Treatment
• Three rockets land in Iraq's Green Zone: Report
• Arab leaders congratulate Saudi Crown Prince for being named as prime minister
• Türkiye 'neutralizes' 10 YPG/PKK terrorists in northern Syria
• Thirteen reported killed as Iran Revolutionary Guards target dissident sites in Iraq
• US forces bring in new military reinforcements to bases in Syria's Hasakah
• Iran's IRGC pounds bases of terrorists in northern Iraq with missiles, drones
--------
South Asia
• Facebook must compensate Rohingyas over hate speech, says Amnesty
• Afghan Envoy at UNSC: 'Systematic' Exclusion of Women under Taliban
• 4 Arrested for Selling Young Girl in Northeast Afghanistan
• Russia Calls on US to Return Frozen Asset to Afghan People
--------
Pakistan
• Bilawal wants Taliban rulers to use their influence on TTP for peace
• Posing as patient, gunman kills Chinese national, injures dentist, wife in Karachi clinic
• Pakistan school expels 4 students of Ahmadi minority community
• Legal cover only way to resolve forced conversion issue: speakers
• Four 'terrorists' of banned outfit killed in gun battle with CTD in Quetta
• Resurgence of terrorism won't be tolerated, COAS tells Commanders Conference
--------
North America
• A Black Muslim Man, Ali Osman, Threw Rocks at a Police Car, the Police Shot Him Dead
• US downs Iranian drone threatening American forces in Iraq: CENTCOM
• US slams Tehran for attacks in Iraq, vows to disrupt Iran's destabilizing behaviour
• US says Greek sovereignty on island 'not in question' after Turkey complaint
• Turkiye's Latin America outreach stretches from trade to TV shows
--------
Southeast Asia
• Non-Muslims Are Malaysians Too, Not Political Foes, Guan Eng Tells PAS
• Motivational expert denies trying to damage preacher Ebit Lew's reputation
• PM calls for countries to take in more Rohingya refugees
--------
Europe
• France to Close another Mosque, Accusing the Imam of Being Radicalized
• Pope Francis presses message of Muslim dialogue with Bahrain trip
• Turkey to re-inforce military presence in northern Cyprus: Erdogan
• Armenia and Azerbaijan accuse each other of violating ceasefire deal
• China, Russia call on US to release frozen Afghan assets
--------
Mideast
• Iran President Says Amini's Death Is 'Tragic Incident', But 'Chaos' Unacceptable
• Mahsa Amini's family files complaint in Iran over her arrest: Report
• Israeli forces kill four Palestinians in West Bank town
• Jenin carnage: Struggle continues until complete expulsion of invaders, warns Hamas
--------
Africa
• Türkiye Sympathizes With Burkina Faso Over Deadly Attack
• Ethiopia, Somalia eye shift from military to economic cooperation
• 18 candidates vying for presidency in Nigeria start election campaign
• US warns Sudan of consequences if it hosts Russian military base
• Sudan's Hemedti to testify in Bashir's trial of killing protesters
Compiled by New Age Islam News Bureau
URL: https://newageislam.com/islamic-world-news/india-deobandi-barelvi-sufi-sects-pfi/d/128064
--------
Government of India Had Deobandi, Barelvi and Sufi Sects of Islam On Board before Taking Decision to Ban Wahhabi-Salafi Outfit Popular Front of India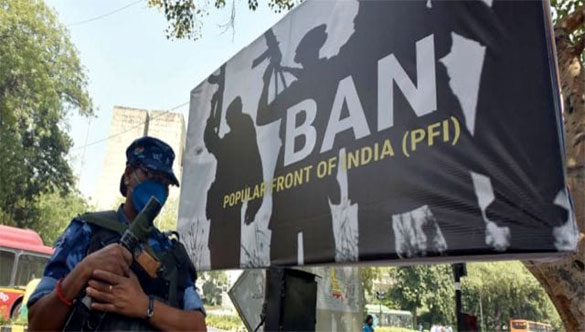 Popular Front of India
-----
Sep 28, 2022
Prime Minister Narendra Modi and Home Minister Amit Shah took the decision to ban the PFI and its affiliates after national security planners had prominent Muslim organization on board against proposed action on Sunni Wahhabi outfit.
It is understood that National Security Advisor Ajit Doval met the prominent Muslim organization leaders on September 17 to understand their views before NIA, ED and State Police raids were conducted on September 22.
The NSA and Intelligence Bureau officers took the opinion of country's biggest Muslim organisations including those representing Deobandi, Barelvi and Sufi sects of Islam. All these organizations were equivocal in their opinion that PFI was following an Wahhabi-Salafi agenda of pan-Islamist organisations with their extremist campaign to exploit the communal fault-lines in India.
The Centre's decision to ban the Popular Front of India and its associates has been welcomed by the Sufi and Barelvi clerics. The All India Sufi Sajjadanashin Council chairman said that everyone should show patience if an action has been taken to curb extremism.
"The All India Sufi Sajjadanashin Council believes that if this action has been taken for compliance with the law and the prevention of terrorism, then everyone should work patiently on it, this step of the government and investigative agencies should be welcomed," the statement read.
Zainul Abedin Ali Khan, the spiritual head of the Ajmer Dargah welcomed the move and said the action taken as per law to prevent terrorism should be welcomed by all.
"If the country is safe then we are safe, the country is bigger than any institution or idea and if someone talks about breaking this country, breaking the unity and sovereignty here, talks about spoiling the peace of the country, then he has no right to live here," the Dewan said.
Maulana Shahabuddin Razvi Barelvi, the president of All India Muslim Jamaat, also issued a video statement, calling the decision the right step to curb extremism.
Source: Hindustan Times
Please click the following URL to read the text of the original story:
https://www.hindustantimes.com/india-news/narendra-modi-govt-consulted-muslim-outfits-before-action-on-pfi-101664357487788.html
--------
"Yoga for University Students of Both Genders": Saudi Committee for Yoga Aims To Introduce Traditional Yoga and Yogasana Sports to Universities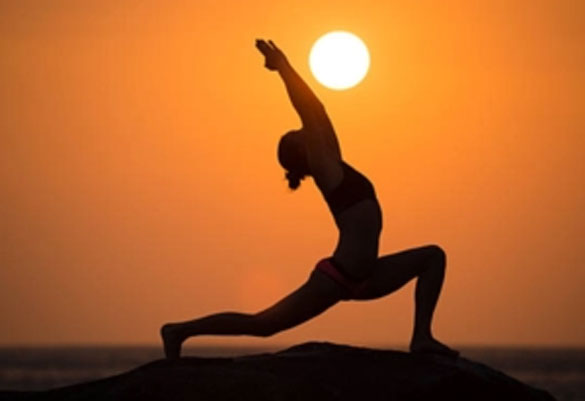 (Representative image) Getty Images
----
Sep 29, 2022
RIYADH: A virtual introductory lecture on Yoga was organised for all Saudi university representatives across the kingdom to spread awareness and motivate its practice as a lifestyle for all segments of society.
The lecture, organised on Monday, aimed to introduce both traditional yoga and yogasana sports to Saudi universities and give a variety of options to the students on university campuses to practice yoga, the Saudi Gazette reported.
The lecture covered both mental and physical health and plans to join professional yogasana sports training to be part of competitions locally and internationally.
In cooperation with the Saudi Universities Sports Federation (SUSF), the Saudi Yoga Committee organised the event in Riyadh.
The Saudi Gazette reported that the event came within the framework of an integrated system of programs and initiatives of the Saudi Committee for Yoga, under the title "Yoga for University Students of Both Genders".
The event coincided with the arrival of the first yoga delegation to the Kingdom from the Asian Yogasana Sports Federation in India for the qualification course for the first Saudi batch of Yoga Referees, the report added.
The event included issues concerning the benefits of yoga for health and physical well-being in youth, yogasana sports for tournaments and competitions, and requirements for professional yoga training. It also included technical regulation of The Saudi Yoga Committee for Championships and Competitions in Saudi Universities.
The lecture, which motivated the youth to join professional yoga training, also shed light on the system of professional yogasana competitions within the university sports and the university league.
Nouf Almarwaai, President of the Saudi Yoga Committee, said that the committee seeks to achieve its vision of spreading yoga on a large scale within Saudi society. "Therefore it took the initiative to cooperate with the Saudi Universities Sports Federation in order to build a generation of yoga lovers, especially young people, to enjoy physical and mental health."
Almarwaai said that the committee seeks to increase the number of practitioners and build yoga teams that participate in local and regional yoga championships.
Source: Times Of India
Please click the following URL to read the text of the original story:
https://timesofindia.indiatimes.com/world/middle-east/saudi-arabia-introduces-yoga-in-universities/articleshow/94525782.cms
--------
Taliban Fire Into Air To Disperse Women's Rally Supporting Protests In Iran Over The Death Of A Woman In The Custody Of Morality Police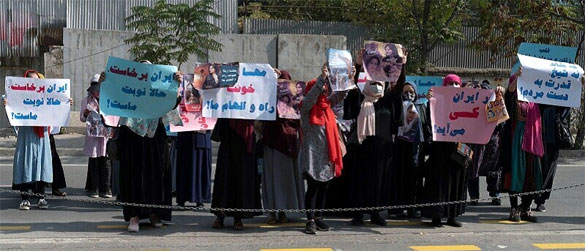 Afghan women hold placards as they take part in a protest in front of the Iranian embassy in Kabul on Thursday. — AFP
-----
Sep 29, 2022
KABUL: Taliban forces fired shots into the air on Thursday to disperse a women's rally supporting protests in Iran over the death of a woman in the custody of morality police.
Deadly protests have erupted in neighbouring Iran for the past two weeks, following the death of 22-year-old Mahsa Amini while detained by the Islamic republic's morality police.
Chanting the same "Women, life, freedom!" mantra used in demonstrations in Iran, about 25 Afghan women protested in front of the Iranian embassy in Kabul before being dispersed by Taliban forces firing in the air, an AFP correspondent reported.
Women protesters carried banners that read: "Iran has risen, now it's our turn!" and "From Kabul to Iran, say no to dictatorship!"
Taliban forces swiftly snatched the banners and tore them in front of the protesters.
Source: Times Of India
Please click the following URL to read the text of the original story:
https://timesofindia.indiatimes.com/world/south-asia/taliban-fire-into-air-to-disperse-womens-rally-backing-iran-protests/articleshow/94526975.cms
--------
Pakistan Audio Leaks: Clip of Imran Khan's Plan to 'Play' Foreign Conspiracy 'Cipher' Surfaces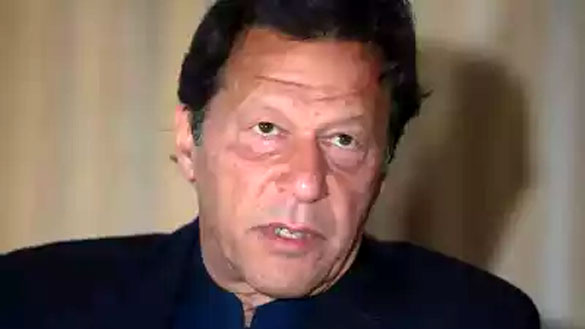 Imran Khan, Former Pakistan PM
-----
Sep 29, 2022
ISLAMABAD: In a continuing sequence of controversial audio leaks involving high-profile names in Pakistan, sound bites of former PM Imran Khan and his then principal secretary Azam Khan purportedly discussing how to "play" the alleged "foreign conspiracy" against him emerged Wednesday amid a National Security Committee meet to discuss a tape featuring incumbent PM Shehbaz Sharif.
"Let's play with this. We won't have to take any country's name; just play with this," a voice believed to be that of the Pakistan Tehreek-i-Insaf (PTI) chief is heard in the leaked clip.
The bureaucrat then tells Imran how to use the conspiracy card to forward the party's political agenda, suggesting that he rope in foreign secretary Sohail Mahmood so that the issue could be highlighted at a "bureaucratic level".
"Let's hold a meeting with Shah Mahmood Qureshi (then foreign minister in Imran's government) and the foreign secretary. Qureshi will read out that letter, and whatever he reads out will be converted into a copy. I will then make minutes out of it and say the foreign secretary has prepared this," a man said to be Azam Khan advises the ex-PM.
Imran purportedly replies, "The analysis will have to be conducted and converted into minutes just as we want so that it becomes part of the official record...Let's do this tomorrow only."
As the latest audio leak went viral, Imran accused PM Shehbaz and his acolytes of being behind it. "Well done on leaking it. I would say the cypher should get leaked too… and so everyone knows what a big foreign conspiracy was made," he said.
"I haven't even played on it yet. Now we will play when they expose it."
Shehbaz himself is under pressure over a purportedly leaked transcript of a chat with a federal secretary in which he allegedly seeks favours for a son-in-law of Maryam Nawaz, ex-PM Nawaz Sharif's daughter.
Source: Times Of India
Please click the following URL to read the text of the original story:
https://timesofindia.indiatimes.com/world/pakistan/pakistan-audio-leaks-clip-of-imran-khans-plan-to-play-foreign-conspiracy-cipher-surfaces/articleshow/94518332.cms
--------
US Capital Declares October as Turkish Heritage Month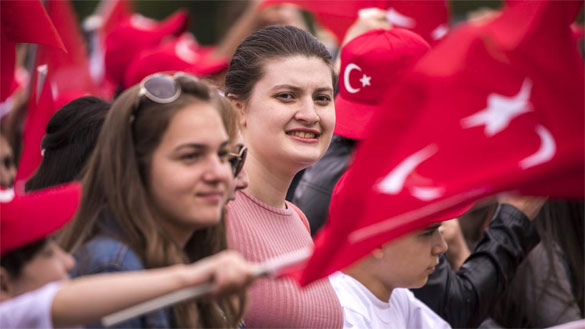 Turkish Heritage Month was first celebrated in the US capital in 2011. (AA Archive)
-----
Servet Günerigök
28.09.2022
WASHINGTON
The mayor of Washington, DC issued a proclamation Tuesday declaring October as Turkish Heritage Month.
Muriel Bowser noted in her proclamation that Turkish Heritage Month was first celebrated in the US capital 11 years ago, which she said was a "way to build bridges and strengthen friendships among Turkish and non-Turkish Americans".
She said the US and Türkiye "have traditionally been strong allies, and Americans of Turkish descent in the District of Columbia have played a significant role in the educational, cultural, economic, and civic development of our community."
Washington, DC and Ankara are sister cities and more than 20,000 Turkish-Americans live in the capital and neighboring states, said Bowser.
October also hosts a traditional Turkish Festival in the capital, organized by the American Turkish Association of DC, or ATA-DC.
The festival this year, which marks its 20th anniversary, takes place Oct. 16 on Pennsylvania Avenue.
Source: Anadolu Agency
Please click the following URL to read the text of the original story:
https://www.aa.com.tr/en/americas/us-capital-declares-october-as-turkish-heritage-month/2696375
--------
India
From techie to lecturer to govt employee: Arrested PFI men are from all walks of life
Sep 29, 2022
NEW DELHI: Among the arrested top leaders of PFI, its chairman OMA Salam is a Kerala government employee who was suspended as recently as 2020; national vice-chairman E M Abdur Rahiman a retired librarian who served in Cochin University of Science and Technology in Kalamassery; national secretary V P Nazarudeen, a former clerical staff in Jamaat-e-Islami-Hind 'mouthpiece' Madhyamam daily; and national executive council member P Koya, an ex-employee of a private company in Qatar who later also served as a lecturer in Government College, Kodenchery, Kozhikode.
Two arrested PFI members from Karnataka - Abdul Wahit Sait (national executive council member) and Anis Ahmed (national general secretary) - are techies. Sait, a founder member of PFI belongs to a well-off Muslim family and is based in Bengaluru, runs a company dealing in Tally, ERP and other software solutions to businesses. Anis Ahmed worked as global technical manager at Ericson in Bengaluru for six months before being expelled recently. He is pro-active on social media and news channels and comments on current issues, including central government policies.
OMA Salam is an employee of the Kerala State Electricity Board but was suspended on December 14, 2020, owing to his role as chairman of PFI. Salam, who has a case registered against him in Malappuram, is also associated with Rehab India Foundation, a PFI front banned on Wednesday. He was NDF state secretary in 2000 and associated with PFI from 2007 onwards.
EM Abdur Rahiman, who hails from Ernakulam, joined SIMI in the 70s and later became its all-India president. He was the mastermind behind the formation of NDF and later PFI front organisations like Campus Front of India and Confederation of Human Rights Organisation. Rahiman also holds positions as director board member of Students Islamic Trust, New Delhi; and as member of All India Milli Council, among others.
E Abubacker, who is from Calicut, was Kerala state president of SIMI from 1982 to 1984. He is also the founder chairman of NDF and Rehab India Foundation, besides being founder president of SDPI and founder member of All India Muslim Personal Law Board. He has also been Editor of India Next Hindi magazine, besides being managing editor of Thejas daily newspaper.
P Koya, who is also national general secretary of now-banned PFI front NCHRO, was an active SIMI worker during 1978-79. Nazarudeen started as teacher at MES College in Aluva and Calicut Orphanage but later worked as clerical staff for Madhayamam Daily, a JEIH mouthpiece. He contested the 2014 Lok Sabha election as SDPI candidate from Malappuram.
Source: Times Of India
Please click the following URL to read the full text of the original story:
https://timesofindia.indiatimes.com/india/from-techie-to-lecturer-to-govt-employee-arrested-pfi-men-are-from-all-walks-of-life/articleshow/94519385.cms
--------
Bajrang Dal activists thrash Muslim man for entering Garba event in Ahmedabad
Gopi Maniar Ghanghar
Ahmedabad
September 28, 2022
A Muslim man was allegedly beaten up by activists of the Bajrang Dal at a garba event in Ahmedabad. The incident took place in Ahmedabad's Sindhu Bhavan area.
Bajrang Dal activists in the city are visiting garba venues for surprise checks.
At one such event, they caught four Muslim men entering the venue. Three managed to run away while one was caught and beaten up.
According to the Bajrang Dal, Muslim men don't participate in garba with religious fervor. They attend them with malafied intentions of luring Hindu girls.
Source: India Today
Please click the following URL to read the full text of the original story:
https://www.indiatoday.in/india/story/bajrang-dal-activists-thrash-muslim-man-for-entering-garba-event-in-ahmedabad-2005916-2022-09-28
--------
After five intrusions in four days, BSF fears Pak may turn drones into bombers
Sep 29, 2022
Pakistani drones have been swarming over the international border in Punjab, flying up to five km inside Indian territory to drop drugs and arms.
The BSF is afraid that the drones will turn into bombers. In four days, the force has reported five drone intrusions, the latest on Tuesday night in Tarn Taran district.
The latest drone was heard near BSF's Amargarh outpost. It remained in Indian skies for up to 10 minutes before being detected by troops who opened fire and forced it to retreat.
Source: Times Of India
Please click the following URL to read the full text of the original story:
https://timesofindia.indiatimes.com/india/after-five-intrusions-in-four-days-bsf-fears-pak-may-turn-drones-into-bombers/articleshow/94520501.cms
--------
Madhya Pradesh: Mob attacks Muslim men for suspected cattle theft
28th September 2022
In a incident reported from Madhya Pradesh's Singrauli district, a mob attacked a few Muslim men over alleged cattle theft. The victims tried to move the cattle which were blocking the road.
The incident occurred in Deosar Tehsil of Singrauli distric on September 21. The victims were travelling in a van when they stopped to move the cattle, the accused suspected that the men were trying to steal the cattle and attacked them. The victims are a group of seven persons including a minor boy.
A video shared on twitter shows the mob surrounding the men questioning and physically assaulting them. "The police have lodged an FIR against six accused under sections 294 (indulging in obscene acts) , 342 (wrongful confinement of people), 34 (indulging in criminal activities with a common intention), 506 (criminal intimidation) and 323 ( voluntarily causing hurt) of the Indian Penal Code" Deosar SHO Kapur Tripathi was quoted as saying by Journalist Kakvi.
Source: Siasat Daily
Please click the following URL to read the full text of the original story:
https://www.siasat.com/madhya-pradesh-mob-attacks-muslim-men-for-suspected-cattle-theft-2422544/
--------
Arab World
Bahrain: Imprisoned Shia cleric abused and denied medical treatment
28 September 2022
A leading Bahraini Shia cleric was assaulted in prison on Tuesday, en route to a medical appointment, a rights group has told Middle East Eye.
Sheikh Abduljalil Al-Miqdad is the founder of Al Wafaa, a Shia opposition political group in Bahrain. The 62-year-old has been in prison for 11 years and is serving a life sentence for his role in the 2011 uprising.
He was due to be transferred out of the notorious Jau Prison on 27 September for an external medical appointment, he told Sayed Ahmed al-Wadaei, director of advocacy at the Bahrain Institute for Rights and Democracy (Bird), in a phone call.
Before the transfer, however, a prison officer informed him that a doctor would not be present. Al-Miqdad responded that he would not attend the appointment if there were no doctor.
He was then told he would have to sign a statement, declaring that he was rejecting medical treatment, but al-Miqdad refused.
A group of officers then responded aggressively, attempting to beat him physically while verbally abusing him. Al-Miqdad added that other officers present intervened and stopped the physical assault, before he was returned to his cell.
"This is a violent assault attempt without any exaggeration," al-Miqdad said in the phone call, a recording of which was sent to Middle East Eye. "The reason is revenge, aggression, injustice, and targeting."
On Wednesday, the Bahraini ministry of interior dismissed his report as "incorrect", saying "there was no mistreatment or infringement".
According to Bird, Sheikh al-Miqdad has been subjected to "deliberate medical negligence", despite suffering a range of health conditions, including chronic headaches, swelling in his leg which restricts his movement, cataracts in his eyes, and a slipped vertebrae disc.
In mid-September, the cleric was transferred to an external medical facility inside a vehicle that was not equipped with air conditioning - despite the exreme temperature at the time.
"During the transfer he thus suffered from a headache, difficulty breathing and feared that he would lose consciousness," Bird said. A complaint was filed to prison authorities about the vehicle, also used to transfer political prisoner Ali al-Hajee in July, but no measures were taken to address the problem, Bird said.
The rights group sent a formal request to the ministry of interior, seen by MEE, calling for an investigation into the transfer.
Jau Prison, where al-Miqdad is being held, is the largest long-stay male prison in Bahrain. Located in the village of Jaww on the southeastern coast of Bahrain, the prison has an official maximum capacity of 1,201, but rights groups estimate at least 2,700 inmates are being held there. Most are classified as political prisoners held in connection with their anti-government activism during the Arab Spring uprisings in 2011
UK government accused of complicity
In his phone call with Bird, al-Miqdad called on the UK government to take action.
"I hold the UK government responsible for this situation because they defend and protect [the Bahraini authorities]," he said. "They should stop promoting human rights if this is how they are acting. Aren't we humans? Their eyes were blinded by oil and their ears were shut by interests so let them move away from human rights."
Meanwhile, Liberal Democrat peer Paul Scriven denounced the assault, calling on the British foreign office to pressure Bahrain to investigate the claims.
"This sick and degrading treatment against a highly respected religious figure should not go unnoticed by the @FCDOGovUK," he posted on Twitter, tagging the account of the UK's foreign office.
"I urge you to publicly call on your ally, the Bahraini government, for an investigation into this assault and immediate treatment."
Official government data show UK government funding for Bahrain more than doubled this year, despite criticism from human rights groups.
Source: Middle East Eye
Please click the following URL to read the full text of the original story:
https://www.middleeasteye.net/news/bahrain-cleric-abused-jail-abduljalil-miqdad
--------
Three rockets land in Iraq's Green Zone: Report
28 September, 2022
Three Katyusha rockets landed in Baghdad's fortified Green Zone on Wednesday while Iraq's parliament voted to reject the resignation of speaker Mohammed Halbousi, Iraq's military said.
Seven security personnel were wounded in the attack, which took place amid a partial lockdown in the capital as parliament was convening. Security forces blocked bridges to the central Green Zone and imposed a curfew on buses, motorcycles and trucks.
Despite the tight restrictions, dozens of supporters of the powerful Shia Muslim cleric Moqtada al-Sadr gathered in Baghdad's Tahrir Square, which lies outside the Green Zone, to protest against the parliamentary session.
A Reuters cameraman said around a dozen were seen throwing stones at security forces.
Sadr emerged as the biggest winner from an election last October but ordered his parliamentarians to withdraw after failing to form a coalition government after months of political deadlock. The Sadrists have called for fresh elections.
Halbousi, who originally backed Sadr's efforts, has broken with him, arguing that efforts should continue on forming a government with other factions.
Source: Al Arabiya
Please click the following URL to read the full text of the original story:
https://english.alarabiya.net/News/middle-east/2022/09/28/Three-rockets-land-in-Iraq-s-Green-Zone-Report
--------
Arab leaders congratulate Saudi Crown Prince for being named as prime minister
28 September, 2022
Arab leaders have congratulated Saudi Arabia's Crown Prince Mohammed bin Salman after King Salman named him the Kingdom's prime minister Tuesday.
UAE President Sheikh Mohamed bin Zayed Al Nahyan and UAE Vice President, Prime Minister and Ruler of Dubai Sheikh Mohammed bin Rashid Al Maktoum both congratulated the Crown Prince on the new role in a cable.
Bahrain's King Hamad bin Isa Al Khalifa wished the Crown Prince continued success in his new role and highlighted his efforts which serve the Kingdom and its people, according to the Saudi Press Agency (SPA).
King Hamad underscored the relationship between Saudi Arabia and Bahrain calling it a historic relationship that "binds the Kingdom of Saudi Arabia and the Kingdom of Bahrain and their leaderships and peoples in terms of brotherhood, close ties, kinship and love."
Qatar's Emir Sheikh Tamim bin Hamad Al Thani also sent a cable to the Crown Prince congratulating him on his new appointment as prime minister.
In the cable, Sheikh Tamim wished the Crown Prince "further success," voicing hope that relations between the two countries will witness further development and growth.
The Organization of Islamic Cooperation (OIC) headed by Hissein Brahim Taha also congratulated the Crown Prince, wishing him success and prosperity. Taha, in a statement published on the OIC's website, also thanked Saudi Arabia for its support of the organization.
Source: Al Arabiya
Please click the following URL to read the full text of the original story:
https://english.alarabiya.net/News/gulf/2022/09/28/Leaders-congratulate-Saudi-Arabia-s-Crown-Prince-for-being-named-as-prime-minister-
--------
Türkiye 'neutralizes' 10 YPG/PKK terrorists in northern Syria
Seda Sevencan
28.09.2022
Turkish security forces "neutralized" 10 YPG/PKK terrorists in northern Syria, the Turkish National Defense Ministry said on Wednesday.
The terrorists, who were plotting an attack, were targeted in the areas of Operation Euphrates Shield and Operation Peace Spring.
Turkish authorities use the term "neutralized" to imply the terrorists in question surrendered or were killed or captured.
Since 2016, Ankara has launched a trio of successful anti-terror operations across its border in northern Syria to prevent the formation of a terror corridor and enable the peaceful settlement of residents: Euphrates Shield (2016), Olive Branch (2018), and Peace Spring (2019).
Source: Anadolu Agency
Please click the following URL to read the full text of the original story:
https://www.aa.com.tr/en/middle-east/turkiye-neutralizes-10-ypg-pkk-terrorists-in-northern-syria/2697016
--------
Thirteen reported killed as Iran Revolutionary Guards target dissident sites in Iraq
September 28, 2022
PARIS/SULAIMANIYA, Iraq: Iran's Revolutionary Guards said on Wednesday they fired missiles and drones at militant targets in the Kurdish region of neighboring northern Iraq, where authorities said 13 people were killed.
The strikes were reported after Iranian authorities accused armed Iranian Kurdish dissidents of involvement in unrest now shaking Iran, especially in the northwest where most of the country's population of over 10 million Kurds live.
Thirteen people were killed and 58 wounded in the attacks near Irbil and Sulaimaniya in Iraqi Kurdistan, Iraq's state news agency said citing its counter-terrorism service in Kurdistan.
Iraqi Kurdish sources told Reuters drone strikes targeted at least 10 bases of Iranian Kurds near Sulaimaniya in Iraqi Kurdistan on Wednesday morning, without elaborating about possible casualties.
The US Army Central Command said it downed an Iranian drone on Wednesday while it was on its way to Irbil, adding that the drone posed a threat to US personnel in the region.
"No US forces were wounded or killed as a result of the strikes and there is no damage to US equipment," it said in a statement.
A senior member of Komala, an exiled Iranian Kurdish opposition party, told Reuters that several of their offices were struck as well.
Tariq Haidari, mayor of the Iraqi Kurdish city of Koye, told Reuters that two people including a pregnant woman were killed and 12 wounded. Some of the wounded were rushed in critical condition to hospital in Irbil, he said.
The Revolutionary Guards, Iran's elite military and security force, said after the attacks that they would continue targeting what it called terrorists in the region.
"This operation will continue with our full determination until the threat is effectively repelled, terrorist group bases are dismantled, and the authorities of the Kurdish region assume their obligations and responsibilities," the Guards said in a statement read on state television.
Iraq's foreign ministry condemned the attacks.
Iraq's foreign ministry spokesman said in a statement on Wednesday that the ministry would summon the Iranian ambassador to inform him of Iraq's objection to the attacks on Iraqi territories and that Iraq considers this action as a violation of sovereignty.
The attacks were condemned by the UN mission in Iraq.
The US condemned the "brazen attacks" and Britain said Iraq's "indiscriminate bombardment" demonstrates "a repeated pattern of Iranian destabilizing activity in the region".
Germany slammed the "escalation... against the backdrop of domestic political protests in Iran" and rejected "attempts to locate the causes of the Iranian protests in the neighboring country".
The Kurdish Democratic Party of Iran, one of the groups targeted, charged that "these cowardly attacks are occurring at a time when the terrorist regime of Iran is unable to crack down on ongoing protests inside and silence the Kurdish and Iranian peoples' civil resistance".
Protests erupted in Iran this month over the death of a young Iranian Kurdish woman, Mahsa Amini, in police custody.
Amini, 22, from the northwestern Kurdish city of Saqez, was arrested on Sept. 13 in the capital Tehran for "unsuitable attire" by the morality police, who enforce the Islamic Republic's strict dress code.
She died three days later in hospital after falling into a coma, sparking the first big show of opposition on Iran's streets since authorities crushed protests against a rise in gasoline prices in 2019.
On Wednesday, Iran's President Ebrahim Raisi condemned the "chaos" sparked by a wave of women-led protests over Amini death.
"Those who took part in the riots must be dealt with decisively, this is the demand of the people," said Raisi in a televised interview.
"People's safety is the red line of the Islamic republic of Iran and no one is allowed to break the law and cause chaos," he said.
"The enemy has targeted national unity and wants to pit people against each other," added the ultraconservative president, accusing Iran's archfoe the United States of stoking the unrest.
Raisi said the nation had felt "grief and sorrow" over Amini death, and that forensics and judiciary experts would soon present a final report, but also warned that "protests are different to riots".
"Woman, Life, Freedom!" the protesters have chanted in Iran's biggest demonstrations in almost three years, in which women have defiantly burned their headscarves and cut off their hair.
Their actions have been matched in solidarity protests worldwide, with British-Iranian Nazanin Zaghari-Ratcliffe, who spent six years in jail in Iran, cutting her hair in a video shared on the BBC Persian service.
Amini's bereaved parents have filed a complaint, demanding "a thorough investigation" and the release of "all videos and photographs" of her while in custody, said their lawyer Saleh Nikbakht.
An Iraq-based cousin of Amini, who is a member of a Kurdish nationalist group, charged that she died after a "violent blow to the head" and that one officer had vowed to "instil the rules in her and teach her how to wear the hijab and how to dress".
As the Iranian protests have flared for 12 nights in a row, Iran's police command vowed its forces would confront them "with all their might", in a crackdown that one rights group says has already killed at least 76 people.
The Iranian government — its economy already hit by sanctions over its nuclear program — has sought to play down the crisis.
Iranian Foreign Minister Hossein Amir-Abdollahian said he told Western diplomats at recent UN meetings that the protests were "not a big deal" for the stability of the clerical state.
"There is not going to be regime change in Iran. Don't play to the emotions of the Iranian people," he told National Public Radio in New York, also accusing "outside elements" of stirring up violence.
Fars news agency said Tuesday "around 60" people had been killed since Amini's death. But the Oslo-based group Iran Human Rights said the crackdown has killed at least 76 people.
Iran's response has drawn concern from the UN and condemnation from the around the world, with Germany and Spain summoning the Iranian ambassadors and the US and Canada announcing new sanctions.
The son of Iran's late shah, in an interview near Washington with AFP, hailed the protests and urged the world to add to the pressure on the clerical leadership.
Reza Pahlavi, whose father was toppled in the 1979 Islamic Revolution, urged greater preparation for a future Iranian system that is secular and democratic.
Source: Arab News
Please click the following URL to read the full text of the original story:
https://www.arabnews.com/node/2171071/middle-east
--------
US forces bring in new military reinforcements to bases in Syria's Hasakah
28 September 2022
American occupation forces have brought in new military reinforcements to their bases in the northeastern province of Hasakah, as Washington pushes ahead with the looting of oil reserves and natural resources in the war-ravaged Arab country.
Local sources, speaking on condition of anonymity, told Syria's official news agency SANA that a convoy of 33 trucks, carrying various types of weapons, military equipment and logistical supplies, as well as chiller lorries and tankers crossed the Waleed border crossing on Monday evening, and headed toward US positions in the oil-rich town of Rumeilan.
The sources added that a US military cargo plane, loaded with heavy weapons systems, also landed at Kharab al-Jeer Airport in the same Syrian province.
Separately, Syrian government troops have intercepted a US military convoy in the country's Hasakah province as the occupation forces were attempting to pass through a community in the energy-rich region.
SANA, citing local sources requesting anonymity, reported that Syrian army soldiers blocked the convoy of five armored vehicles as it was trying to enter the village of Qubur al-Gharajneh, which lies north of Tell Tamer town, on Monday.
The American troops were subsequently forced to turn around and go back in the direction they came from. There were no reports of clashes or injuries.
The US military has stationed forces and equipment in northeastern Syria, with the Pentagon claiming that the deployment is aimed at preventing the oilfields in the area from falling into the hands of Daesh terrorists.
Damascus, however, maintains the deployment is meant to plunder the country's rich mineral resources.
Former US president Donald Trump admitted on more than one occasion that American forces were in the Arab country for its oil.
According to data released by the Syrian Ministry of Oil and Mineral Resources, Syria produced a total of 14.5 million barrels of oil in the first half of the current year, and the daily oil production stood at about 80,300 barrels.
American occupation forces and their allied Takfiris plundered 66,000 barrels of crude oil during the mentioned period.
The data further showed that just about 14,200 barrels were available for the Syrian domestic oil refineries.
Last month, a Chinese foreign ministry spokesman denounced the illegal presence of US military forces in Syria, saying Washington's continued looting of the war-torn country's energy and mineral resources has only exacerbated the suffering of the Syrian people.
Source: Press TV
Please click the following URL to read the full text of the original story:
https://www.presstv.ir/Detail/2022/09/28/689994/US-forces-bring-in-new-military-reinforcements-to-bases-in-Syria%E2%80%99s-Hasakah
--------
Iran's IRGC pounds bases of terrorists in northern Iraq with missiles, drones
28 September 2022
The Islamic Revolution Guards Corps (IRGC) has once again targeted bases of anti-Iran terrorists in Iraq's semi-autonomous Kurdistan region using precision-strike missiles and combat drones.
According to a report by Tasnim agency, the IRGC Ground Force pounded the positions of separatist terror groups, including the so-called Komala Party, in the northern Iraqi region on Wednesday morning, inflicting heavy losses on them.
No further detail has been revealed yet.
Since September 24, the IRGC has been launching daily raids on positions of the terrorists holed up in Iraqi Kurdistan.
Following the first of the military attacks, the Iranian military force said in a statement that it gave a decisive response to the terrorists' infiltration of the Iranian border and attacks on a number of security posts there.
It said the IRGC took action after the Kurdistan Regional Government (KRG) officials failed to adopt an appropriate measure and did not pay due attention to numerous warnings against the deployment and activity of mercenaries and terrorists hostile toward the Islamic Republic.
The terrorists in northern Iraq are reported to have been largely involved in a series of deadly riots in Iran by sneaking armed elements and cashes of weapons to support groups of thugs behind violence in Iranian cities.
Exploiting protests over the death of an Iranian woman in police custody, thugs and rioters engaged in bloodshed, acts of vandalism, and desecration of Islamic sanctities inside Iran.
Iran has on countless occasions warned Iraq's Kurdistan that it will not tolerate the presence and activity of terrorist groups along its northwestern borders, saying the country will give a decisive response should those areas become a hub of anti-Islamic Republic terrorists.
Back in May, the IRGC struck and demolished positions of terrorist groups operating near the country's western borders in Iraq's northern Kurdish regional capital of Erbil.
Source: Press TV
Please click the following URL to read the full text of the original story:
https://www.presstv.ir/Detail/2022/09/28/689988/IRGC-pounds-bases-terrorists-northern-Iraq
--------
South Asia
Facebook must compensate Rohingyas over hate speech, says Amnesty
September 29, 2022
PARIS: Facebook should pay reparations to the hundreds of thousands of Rohingyas forced from their homes in Myanmar in a campaign exacerbated by rampant online hate speech, Amnesty International said in a report today.
The Rohingyas, a mainly Muslim minority, were targeted by Myanmar's military rulers in 2017 and driven into neighbouring Bangladesh, where they have since lived in sprawling refugee camps.
Victims' associations and rights advocates say the violence was ramped up by Facebook's algorithms, saying they play up extremist content that encourages harmful disinformation and hate speech.
"Many Rohingya tried to report anti-Rohingya content via Facebook's 'report' function" but to no avail, "allowing these hateful narratives to proliferate and reach unprecedented audiences in Myanmar," Amnesty said in its report.
It noted the revelations from the whistle-blower "Facebook Papers" divulged in October 2021, indicating that company executives knew the site fuelled the spread of toxic content against ethnic minorities and other groups.
Three legal suits have been lodged against Facebook by Rohingya representatives, in the US and Britain as well as with the OECD group of developed economies, under its guidelines for responsible business conduct.
In the US complaint, filed last December in California, the home state of Facebook and its parent company Meta, refugees are seeking US$150 billion in damages.
"Meta's refusal to compensate Rohingya victims to date -– even where the community's modest requests represent crumbs from the table of the company's enormous profits -– simply add to the perception that this is a company wholly detached from the reality of its human rights impacts," Amnesty said.
The NGO urged Facebook to undertake "proactive human rights due diligence" across its platforms, but also called on national authorities to step up their oversight.
"It is imperative that states fulfil their obligation to protect human rights by introducing and enforcing effective legislation to rein in surveillance-based business models across the technology sector," it said.
Facebook has vowed to revamp its corporate values and operations in response to pressure to clamp down on false information, particularly with regards to politics and elections.
Source: Free Malaysia Today
Please click the following URL to read the full text of the original story:
https://www.freemalaysiatoday.com/category/world/2022/09/29/facebook-must-compensate-rohingyas-over-hate-speech-says-amnesty/
--------
Afghan Envoy at UNSC: 'Systematic' Exclusion of Women Under Taliban
By Saqalain Eqbal
28 Sep 2022
Speaking at the UN Security Council convened to discuss the situation in Afghanistan, Naseer Ahmad Faiq, the Chargé d'Affaires of the Afghan Permanent Mission to the UN, said that Afghan women are denied their fundamental freedoms and rights in Afghanistan under the Taliban rule.
In his address to the UN Security Council, on Tuesday, September 27, Faiq noted that since the Taliban seized power in Afghanistan, Afghan women and girls have been systematically excluded from all economic, social, and political arenas.
He underlined that the door to classrooms should be opened for girls and sought the restoration of fundamental liberties and rights for women and girls, who have been subjected to the Taliban's restrictive edicts for over a year.
According to the Afghan representative, the Taliban's extrajudicial killings, torture, arbitrary detentions and arrests, and mistreatment of former government officials and security forces are some of the flagrant human rights violations of the Taliban.
He argued that these are contrary to their commitments, punishable under the International Criminal Court for blatant abuses of human rights.
Faiq also said that the continued activities and presence of terrorist groups such as al-Qaeda and ISIS have exacerbated the security in Afghanistan, the region, and beyond.
He continued by saying that the Taliban's pledges to combat terrorism had been flagrantly betrayed by the Al-Qaeda leader's presence and killing in the heart of Afghanistan, Kabul. He reiterated that the Afghan people have fallen victim to terrorism in the past and present.
Source: Khaama Press
Please click the following URL to read the full text of the original story:
https://www.khaama.com/afghan-envoy-at-unsc-systematic-exclusion-of-women-under-taliban-67485/
--------
4 Arrested for Selling Young Girl in Northeast Afghanistan
By Saqalain Eqbal
28 Sep 2022
The Taliban arrested 4 people – 3 men and 1 woman – on charges of selling a young girl in the northeastern Afghan province of Takhar, said local Taliban authorities.
Abdul Mubin Safi, the Taliban government's spokesperson in Takhar province, said that four people forced a young girl to be sold against her will without her family's knowledge for money.
The Taliban spokesperson continued by stating that these four people were arrested on Tuesday, September 27, by members of the crimes branch after conducting a comprehensive investigation and with the cooperation of locals.
Safi claims that the four persons who were detained have been charged with selling a young woman and that the case has been sent over to the Taliban-run judiciary for further action.
Previously, Taliban forces in Herat province, in western Afghanistan, arrested a man for allegedly trying to sell his mother for a price of 450 000 Afghanis.
As the Taliban took power in Afghanistan last year, there was an upsurge in reports of family members, including daughters, wives, and parents, selling their children to survive.
Afghanistan is presently experiencing the worst levels of hunger, starvation, despair, unemployment, and poverty, in addition to the deterioration of women's rights and the "worst humanitarian crisis on Earth."
Source: Khaama Press
Please click the following URL to read the full text of the original story:
https://www.khaama.com/4-arrested-for-selling-young-girl-in-northeast-afghanistan-85369/
--------
Russia Calls on US to Return Frozen Asset to Afghan People
By Arif Ahmadi
29 Sep 2022
KABUL, Afghanistan – The Russian ambassador Anna Vestinian at the UN Security Council called for the return of Afghanistan's frozen assets, criticizing the latest announcement by the US government on creation of a foundation based in Switzerland that will use the funds.
Earlier this month, Biden administration moved to establish a foundation for managing $3.5 billion in frozen Afghan funds, according to sources, skirting Taliban in their efforts to having hands on what is known to be the last shot to stabilize country's economy.
"It might seem that after numerous calls to the United States and its allies from the Afghans, American academia and civil society, there would be some progress with this issue," said Russian deputy permanent representative at the UNSC, Anna Vestinian, as TOLOnews quoted.
"Alas, what followed was just a claim about the transfer of Afghan funds to an account in a Swiss bank," she further said.
"Reportedly, this money will not be accessible to the Afghan authorities and will be spent on some ephemeral socio-economic and humanitarian projects," she added. "We call to return the stolen assets to the Afghan people immediately."
Meanwhile, Chinese Deputy Ambassador Geng Shuang told the gathering that safeguarding the rights and interests of Afghan women and girls also means providing them with much needed humanitarian assistance.
"In this context, Afghanistan's frozen overseas assets should be used expeditiously for the improvement of Afghan lives and economic reconstruction," he said.
"Noting the recent developments and the statements of the Central Bank of Afghanistan, we call for the full and swift return of these frozen assets to the Afghan people as early as possible, so that they can be effectively used to alleviate the humanitarian crisis in Afghanistan and the humanitarian suffering of the Afghan people."
Earlier this month, the US government announced the creation of a foundation based in Switzerland that will use the money help address the unfolding economic and humanitarian crisis in Afghanistan, where more than half of the population are starving.
"Pursuant to Executive Order (E.O.) 14064, President Biden set a policy of enabling $3.5 billion of Afghan central bank reserves to be used for the benefit of the people of Afghanistan while keeping them out of the hands of the Taliban and other malign actors," said US Treasury department in statement.
"The Afghan Fund will protect, preserve, and make targeted disbursements of that $3.5 billion to help provide greater stability to the Afghan economy," the statement further said.
But the Afghan Ministry of Economy asked the US government to hand over the frozen assets of Afghanistan to the Da Afghanistan Bank (Central Bank). This way, they will be able to prioritize best for what is needed in the country.
"No one has the right to place conditions on how and by whom these funds should be used," said Abdul Latif Nazari, deputy of the ministry, as local media quoted.
Source: Khaama Press
Please click the following URL to read the full text of the original story:
https://www.khaama.com/russia-calls-on-us-to-return-frozen-asset-to-afghan-people/
--------
Pakistan
Bilawal wants Taliban rulers to use their influence on TTP for peace
Anwar Iqbal
September 29, 2022
WASHINGTON: Foreign Minister Bilawal Bhutto-Zardari on Wednesday urged Afghanistan's Tali­ban rulers on Wednesday to use their influence on Tehreek-i-Tali­ban Pakistan to bring peace and stability in the region.
Speaking at the US Institute of Peace in Washington, the foreign minister also urged the United States to take lead in dealing with the devastating effects of the changing climate, which he called a 'man-made disaster'.
"Following the fall of Kabul, [it] won't be wrong to say that the TTP has found a sanctuary in Afghanistan. We have had a ceasefire which was good. Hopefully, Afghan Taliban will use their influence on TTP so that the group accepts the Consti­tu­tion of Pakistan and disarm."
The foreign minister, in interviews to various US and international media networks, also urged the United States to deal with Afgha­nistan's current Tali­ban regime, even if it requ­ired Washington to "hold its nose" while doing so, warning that isolating the Taliban could have dangerous consequences for all.
Asked by AP's interviewers if he meant the US needed to hold its nose and deal with Afghanistan's ruling power, Mr Bhutto-Zardari said, "Pretty much."
In an interview with AFP, he said the international community had already seen how "washing hands of Afghanistan" created unintended problems.
Afghanistan also figured prominently in the foreign minister's interactions on Capitol Hill on Wednesday as one of his hosts, Jeanne Shaheen wrote after the meeting that the discussions focused on "continued support for our Afghan allies, women and girls' empowerment and counterterrorism efforts."
The senator also assured the foreign minister that "as Pakistan recovers from devastating floods, the Senate is committed to provide humanitarian support."
Mr Bhutto-Zardari, who apparently extended his four-day stay in Washington for a day, urged American lawmakers to play their role in tackling climate catastrophes.
"Discussed the need for leveraging our strong parliamentary ties to tackle climate catastrophes like Pakistan Floods and plans on how we will build back better," he said in a tweet released after a meeting with Senator Chris Van Hollen and Representatives Maxine Waters, Ilhan Omar, and Henry Cuellar in Washington.
Pakistan's top diplomat, who began his interaction with US lawmakers on Tuesday evening, has a simple message for them: play your role in ensuring that countries like Pakistan do get 'climate justice.'
"And justice would be that we work together globally, that we're not left alone, to deal with the consequences of this tragedy," he said in one of his interviews to the American media.
In his discussions on Afghanistan, Mr. Bhutto-Zardari said the Taliban had yet to have the time and ability to grapple with extremist groups as a government should. "For them to demonstrate their will to take on terrorist organizations, we need to help them build their capacity to also do so" before judging them, he told AP.
The foreign minister also emphasised the need to release Afghanistan's funds held by America.
Source: Dawn
Please click the following URL to read the full text of the original story:
https://www.dawn.com/news/1712522/bilawal-wants-taliban-rulers-to-use-their-influence-on-ttp-for-peace
--------
Posing as patient, gunman kills Chinese national, injures dentist, wife in Karachi clinic
Sep 29, 2022
ISLAMABAD: An unidentified assailant masquerading as a patient shot and killed a Chinese national and wounded two others in their seventies inside a dentist's clinic in the southern Pakistan port city of Karachi on Wednesday, five months after a suicide attack there left three Chinese dead.
The killer sat with other patients and waited for his turn to be called to the dentist's table before training his weapon on 25-year-old clinic assistant Ronald Raymond Chow and septuagenarians Margaret and Dr Richard Hu, police said. He bolted without a trace after the shooting frenzy.
While Ronald was fatally shot, the elderly Chinese couple remained in a critical condition at Karachi's Post-Graduate Medical Centre until late in the evening, police surgeon Dr Summaiya Syed said.
Dr Hu is among a clutch of Chinese dentists practising in Karachi for decades.
In April, the separatist Baloch Liberation Army (BLA) had claimed responsibility for the suicide bombing outside the Confucius Institute in Karachi that killed three Chinese. The bomber was a woman.
Source: Times Of India
Please click the following URL to read the full text of the original story:
https://timesofindia.indiatimes.com/world/pakistan/posing-as-patient-gunman-kills-chinese-national-injures-dentist-wife-in-karachi-clinic/articleshow/94518312.cms
--------
Pakistan school expels 4 students of Ahmadi minority community
29 September, 2022
Punjab [Pakistan], September 28 (ANI): Four students of a school in Attock district in Pakistan's Punjab province were expelled reportedly for belonging to a minority community, media reports said.
Shedding light on the matter, a relative of the students Tahir Khan, said they had been expelled for simply being from the Ahmadi community, reported Friday Times. According to him, a class fellow had been harassing one of the expelled students for a while.
The expulsion of the students comes after some parents prevailed on school principal Kulsoom Awan regarding the harassment. Tahir Khan presented a document on the expulsion reading that the students had been expelled due to their confession of belonging to the Ahmadi community.
"The following students who were studying in this institute are being withdrawn on the basis of Qadianiat* Religion," the document read. The institution, the document read, was not in a position to let them continue.
Notably, Qadianiat is a religious slur used to refer to Ahmadi Muslims, who are also known as Ahmadiyyas, in Pakistan.
While responding to the media queries by The Friday Times the school principal Awan refused to comment citing that the school had been closed for the day and ask to approach in person at her office during school hours.
Meanwhile, a Federal Minister and Member of the National Assembly of Pakistan, Mian Javed Latif has launched a fresh hate-filled campaign against the persecuted Ahmadiyya Muslim Community in Pakistan, using religion to score political points, a press release by Office of the United Nations High Commissioner for Human Rights read.
On Wednesday, September 15, Latif appeared on Pakistani State TV Pakistan Television Corporation (PTV) to utter falsehoods and propaganda against the Ahmadiyya Muslim Community, which is already under immense threat and subjected to cruelties and state persecution.
Pakistan's media regulatory body – the Electronic Media Regulatory Authority (PEMRA) has been criticised for not sanctioning television channels from airing such hate-filled rhetoric.
The use of religion is not new in Pakistani politics but the airing of such rhetoric on mainstream state media is a serious and shocking use of state television and risks furthering an already vile hate campaign against Pakistan's most persecuted community.
The Ahmadi Muslim Community is being used as a scapegoat to score political points and malign political opponents, without any regard for the risk of life and the hatred it spreads.
At the cost of further endangering the lives of Ahmadis in Pakistan, this level of hate speech in mainstream media and social media is shocking and inexcusable and likely to radicalise people further against innocent Ahmadis. As a result of such hate campaigns, an Ahmadi, Mr Naseer Ahmed was killed last month on August 12 by an extremist radicalised by hate-filled religious clerics, the press release read.
Another Pakistani politician, Federal Railway Minister Khawaja Saad Rafique similarly stoked the fire of enmity against the Ahmadis Muslims. He tweeted the anti-Ahmadi trope and baseless allegation that Ahmadis were a conspiracy against Islam and a seditious group.
This format of hate speech and incitement which falsely blame the country's ongoing instability on Ahmadi Muslims has a history of triggering violent attacks against innocent Ahmadis.
On July 13, 2021, UN human rights experts expressed their deep concern over the lack of attention to the serious human rights violations perpetrated against the Ahmadiyya community around the world and called on the international community to step up efforts to bring an end to the ongoing persecution of Ahmadis.
Source: The Print
Please click the following URL to read the full text of the original story:
https://theprint.in/world/pakistan-school-expels-4-students-of-ahmadi-minority-community/1147275/
--------
Legal cover only way to resolve forced conversion issue: speakers
Kalbe Ali
September 29, 2022
ISLAMABAD: Majority of the forced conversion cases of non-Muslim girls are known to be complicated because of consent however failure to come up with a solution to this problem is an administrative failure and courts too have not been able to contain the root cause of this issue. Only with the help of legal cover issues faced by non-Muslim Pakistanis can be resolved.
This was pointed out by speakers at the 'National Policy Dialogue on Protection of Minority Girls against Child Marriage' on Wednesday.
They stressed that the core violation related to forced conversion of non-Muslim girls was underage marriage. The panel was organised by Centre for Law and Justice (CLJ) and speakers highlighted that various courts have given different verdicts on violation of the Child Marriage Restraint Act, 1929 and the Sindh Child Marriage Restraint Act, 2013.
Addressing participants, Hafiz Tahir Ashrafi, special representative of the prime minister on interfaith harmony, said certain elements were trying their best to divert attention from the real issue.
"There are some who claim that around 1,000 non-Muslim girls are forcibly converted to Islam in Pakistan, but I have repeatedly asked them to provide us details so that culprits can be brought to the task, but there is no reply," Mr Ashrafi said, adding that parents have to face two troubles under these circumstances; the first one is the loss of their daughter and the second serious issue is that the police and the system does not allow them to even meet their daughter.
"But people on both sides try to make it a religious issue. It is an administrative failure and there is a need to strengthen dialogue among communities to avoid interference by spoilers," he said while criticising religious segments who exploit such situations.
Parliamentary Secretary for Law and Justice Mehnaz Akbar called for stronger legal cover to contain child marriages and said that it would resolve the matter of forced marriages too.
She said that only with the help of legal cover, issues faced by non-Muslim Pakistanis can be contained and there was a need to streamline them in the mainstream.
Meanwhile, CLJ convener Mary Gill said majority of girls belonging to the Hindu and Christian communities were forced into marriage and forced to convert to Islam in the process.
"There are two laws in the country. While the minimum age of marriage for girls was 16 years in the rest of the country, it was 18 years in Sindh. We demand courts to implement these laws," Ms Gill adding that a large number of girls in such cases were as young as 13 years of age, but neither the registrar, the union council, police and not even the courts sought proof from National Database and Registration Authority (Nadra) to determine the age of the bride.
"Besides, courts have even ruled that even though the marriage was solemnised out of law, it cannot be declared void," she added.
Source: Dawn
Please click the following URL to read the full text of the original story:
https://www.dawn.com/news/1712489/legal-cover-only-way-to-resolve-forced-conversion-issue-speakers
--------
Four 'terrorists' of banned outfit killed in gun battle with CTD in Quetta
Saleem Shahid
September 28, 2022
QUETTA: Four suspected terrorists of the banned Jamaatul Ahrar were killed in a gun battle with a team of Counter Terrorism Department (CTD) of police in Hazar-Ganji area of the provincial capital on Tuesday.
The CTD personnel intercepted a truck, on a tip-off about drugs being smuggled to Karachi, at Gulzarabad checkpoint on the outskirts of Quetta, a CTD spokesperson said.
Instead of stopping, the men travelling in the truck opened fire on the CTD personnel, triggering an exchange of fire that continued for half an hour, leaving four terrorists dead.
Upon searching the truck, 27 kilograms of fine quality heroin was recovered from secret compartments meant to hide drugs for smuggling.
"The four terrorists killed in the gunfight belong to banned Jamaatul Ahrar," the spokesman said, adding that further investigation was in progress.
Source: Dawn
Please click the following URL to read the full text of the original story:
https://www.dawn.com/news/1712370/four-terrorists-of-banned-outfit-killed-in-gun-battle-with-ctd-in-quetta
--------
Resurgence of terrorism won't be tolerated, COAS tells Commanders Conference
September 29, 2022
RAWALPINDI: Chief of Army Staff (COAS) General Qamar Javed Bajwa on Wednesday ordered troops to leave "no stone unturned" in acting against terrorists as he presided over the 252nd Corps Commanders' Conference, the Inter-Services Public Relations (ISPR) said.
The forum undertook a comprehensive review of security, particularly of the situation along the country's borders.
The COAS maintained that a resurgence of terrorism would not be tolerated, and troops must use all means to act against terrorists in coordination with all law enforcement agencies.
The ISPR statement further maintained that the COAS expressed satisfaction over the operational preparedness of the army formations and directed them to maintain strict vigilance against any threat.
Gen Bajwa also commended military efforts to reach flood victims. According to the military's media wing, besides discussing the external and internal security situation, the meeting particularly focused on the flood situation and ongoing relief efforts undertaken by the army formations across the country.
They expressed solidarity with flood victims who were "braving great difficulties" and resolved to extend maximum assistance for their relief and rehabilitation.
According to the statement, the COAS commended troops for reaching out to the people in distress and helping them mitigate their sufferings.
He further lauded army doctors and paramedics for providing emergency medical care to victims, particularly children and women, as well as measures taken to check the spread of diseases in flood-hit areas.
Gen Bajwa also appreciated army engineers and the Frontier Works Organisation (FWO) for restoring accessibility to critical routes and communication infrastructure on an emergency basis.
Source: Pakistan Today
Please click the following URL to read the full text of the original story:
https://www.pakistantoday.com.pk/2022/09/29/resurgence-of-terrorism-wouldnt-be-tolerated-coas-tells-commanders-conference/
--------
North America
A Black Muslim Man, Ali Osman, Threw Rocks at a Police Car, the Police Shot Him Dead
By Zainab Iqbal
28 September 2022
Ali Osman, a 34-year-old Somali man from Phoenix, Arizona, was throwing rocks at a police vehicle on Sunday. The officer, who was leaving the scene of an unrelated incident, got out of the car and reportedly told Osman to stop.
"One rock was thrown, [and] as the individual was preparing to throw the second rock, that's when the officer-involved shooting occurred," Brian Bower of the Phoenix Police Department told Fox 10 News.
The officer reportedly fired multiple shots at Osman. The man was taken to the hospital where he died from his injuries. His family told local news that Osman was dealing with mental illness, for which he was being treated. Osman also had no criminal record, family members said.
The Somali Student Association at Arizona State University released a statement saying it was beyond devastated to hear of Osman's death.
"We condemn any violence towards Black and Brown communities by Phoenix Police Department," the statement said. "May Allah grant Ali the highest rank of paradise and may He ease the pain in the hearts of his family and loved ones, and bring swift justice for our community."
Body camera footage will be released in 14 days, the Phoenix Police Department said in a statement, and the incident is currently under investigation. In the meantime, Black and Muslim communities in Phoenix are angry and heartbroken.
"Obviously [the officer was not] in a state of danger. It's reminiscent of the stories that you hear of Palestinian children being gunned down by these hyper-militarised Israeli soldiers and treated as if they're the embodiment of an existential threat. And we have that in our own backyard," Jacob Raiford, a political activist from Phoenix, told Middle East Eye.
According to Raiford, using weapons designed to kill someone who is throwing small rocks is a hyper-militarised approach to engaging with oppressed communities.
"You see tasers, why are they on the breast of the uniform on the weak side? Why are they instinctively trained to kill somebody? Because that's what a gun is designed to do," he said.
The relationships between police and Black, Brown, and Muslim communities in the United States have been riddled with tension. George Floyd's death in Minneapolis in 2020 renewed the trauma of centuries of racial injustice and police brutality against Black Americans.
Black men like Raiford live in a constant state of paranoia, he said.
"You don't know if that traffic light stop is going to result in death. You don't know if sleeping in your vehicle in your driveway is going to result in death. And that is not hyperbole," he said.
In 2020, James "Jay" Garcia, a Brown man, was sitting his car, parked in a driveway in Phoenix. Officers knocked on his window and told him to step out. The intervention eventually led to his death by gunfire.
"We are in a relationship where there is unilateral abuse upon us, upon the Black community, and upon the Muslim community. It is not an exaggeration, and retraining the police is not going to fix this," Raiford said.
Last year, the US Department of Justice announced it was investigating the Phoenix Police Department over the use of excessive force.
Attorney-General Merrick Garland said at the time the probe would also examine whether police had engaged in discriminatory policing practices.
'Mental health requires empathy'
Osman was being treated for a mental illness, his family told local news. Though the officers did not know that, they could have still exercised empathy, Maimun Ali, a resident of Phoenix, told MEE:
"It's a rock versus a weapon that is quite literally designed to kill someone. Even if the police didn't know he was not mentally ok, what gives them the right to murder him?
"The situation could have been de-escalated. We have so many examples of this happening and it seems like the police force will never learn."
In July, police were called to a mental health crisis centre in Phoenix when a 22-year-old man was making suicidal statements. The police reportedly called for a mental health crisis team and an officer with crisis intervention training, but none were available.
They approached the young man who was standing on top of the stairs of a two-story building. When they tried to speak with him, he took out a knife and stepped forward. The officers eventually shot and killed him.
Raiford was attending a conference in Washington DC on Wednesday. He said he attended a panel on mental health and there was something that resonated with him:
"White Americans, they may experience one form of trauma. But for Black folks, there's nuance to trauma that intersects. And so we may be dealing with compounded trauma from multiple aspects. With [Osman], you have him being a person of colour, being Muslim, and then with the prejudice of mental health," he said.
Source: Middle East Eye
Please click the following URL to read the full text of the original story:
https://www.middleeasteye.net/news/black-muslim-man-threw-few-rocks-police-car-then-police-shot-him-death
--------
US downs Iranian drone threatening American forces in Iraq: CENTCOM
28 September, 2022
The US military said it downed an Iranian drone on Wednesday in Iraq, calling it a "threat" to American forces in the area.
"At approximately 2:10 PM local time, US forces brought down an Iranian Mojer-6 Unmanned Aerial Vehicle headed in the direction of Erbil as it appeared as a threat to CENTCOM forces in the area," US Central Command [CENTCOM] Spokesman Joe Buccino said.
For the latest headlines, follow our Google News channel online or via the app.
CENTCOM said no US personnel were wounded or killed.
Earlier in the day, Iran's Islamic Revolutionary Guard Corps (IRGC) claimed missile and drone attacks at what they called militant targets in northern Iraq.
Source: Al Arabiya
Please click the following URL to read the full text of the original story:
https://english.alarabiya.net/News/middle-east/2022/09/28/US-downs-Iranian-drone-threatening-American-forces-in-Iraq-CENTCOM
--------
US slams Tehran for attacks in Iraq, vows to disrupt Iran's destabilizing behaviour
28 September, 2022
The US on Wednesday slammed Iran's drone and ballistic missile attacks inside Iraq with the White House vowing to disrupt Tehran's destabilizing behavior in the region.
Calling attacks on Iraq's Kurdistan region "an unjustified violation of Iraqi sovereignty and territorial integrity," State Department Spokesman Ned Price also hit out at the Iranian government over its threats to carry out more attacks in Iraq.
National Security Advisor Jake Sullivan said the White House stands with Iraq's leaders in the Kurdistan region and Baghdad in condemning the attacks as an assault on the sovereignty of Iraq and its people.
"[Iran's] flagrant use of missiles and drones against its neighbors, as well as its providing of drones to Russia for its war of aggression in Ukraine and to proxies throughout the Middle East region, should be universally condemned," he said.
Sullivan vowed the US would continue to pursue sanctions "and other means" to disrupt Iran's destabilizing activities across the Middle East.
"Iran cannot deflect blame from its internal problems and the legitimate grievances of its population with attacks across its borders," Sullivan said in an apparent reference to the nationwide anti-government protests in the aftermath of the killing of Mahsa Amini.
The US comments came after Iran's Islamic Revolutionary Guard Corps (IRGC) claimed missile and drone attacks at what they called militant targets in northern Iraq. Civilian casualties were reported.
Source: Al Arabiya
Please click the following URL to read the full text of the original story:
https://english.alarabiya.net/News/middle-east/2022/09/28/US-condemns-brazen-Iran-strikes-in-Iraqi-Kurdistan-
--------
US says Greek sovereignty on island 'not in question' after Turkey complaint
28 September, 2022
The United States said Wednesday that Greek sovereignty over two islands was not in doubt after Ankara lodged a protest over the deployment there of US armored vehicles.
Turkey on Monday summoned the Greek ambassador and complained to the United States after releasing aerial images that it said showed ships with the US armored vehicles docking in Lesbos and Samos.
"Greek's sovereignty over these islands is not in question," State Department spokesman Ned Price told reporters.
"We urge all the parties to avoid rhetoric and to avoid taking actions that could further exacerbate tensions. The sovereignty the territorial integrity of all countries should be respected," Price said.
Tension has risen in recent months between Greece and Turkey, fellow members of the NATO defense alliance, which have long feuded over maritime borders and energy exploration rights in the Aegean and east Mediterranean seas.
Turkey says that Greece is violating the non-military status of the islands. The 1923 Treaty of Lausanne restricted naval bases and military aircraft from islands including Samos.
Turkish President Recep Tayyip Erdogan has also accused Greece of "occupying" Aegean islands whose status was settled after World War II and has made a series of comments seen as threatening the neighboring country.
Source: Al Arabiya
Please click the following URL to read the full text of the original story:
https://english.alarabiya.net/News/world/2022/09/28/US-says-Greek-sovereignty-on-island-not-in-question-after-Turkey-complaint-
--------
Turkiye's Latin America outreach stretches from trade to TV shows
Deniz Cicek
28.09.2022
Türkiye's efforts to boost trade and investment ties with Latin American countries are bearing fruit, as Türkiye's goods and services exports saw a major jump in recent years.
Türkiye's exports to Latin America and Caribbean (LAC) countries soared from $296.6 million in 2003 to $6 billion in 2021 thanks to the country's policy of outreach to Latin America.
The region's share of Türkiye's exports also jumped to from 0.6% to 2.7% in the same period.
Brazil, Mexico, Chile, Peru and Colombia were the main markets of Turkish exports in the region, with $3.5 billion in 2021.
The country's imports from Latin America and Caribbean's also surged to $8.9 billion in 2021 versus $1.2 billion in 2003.
This upward trend has continued this year, as Türkiye's exports to LAC jumped 14.1% year-on-year to $4.3 billion in January-August while imports ballooned 47.9% to 8.4 billion.
The services trade volume between Türkiye and the region reached $14.9 billion in 2021, compared to $8.9 billion in 2013.
The figure hit $11.1 this January-July.
Meanwhile, as Latin American audiences have shown great interest in Turkish soap operas and films since 2015, nearly one-third of Türkiye's TV series exports in recent years went to Latin American countries.
Almost all of the TV shows on national channels in Türkiye are shown in Chile.
In addition, as of end-2021, Turkish TV programs began to be procured by Brazil's largest television and digital platforms.
In Mexico, Turkish series are watched on paid TV channels, while Turkish movies are followed on digital platforms.
Source: Anadolu Agency
Please click the following URL to read the full text of the original story:
https://www.aa.com.tr/en/americas/turkiyes-latin-america-outreach-stretches-from-trade-to-tv-shows/2697148
--------
Southeast Asia
Non-Muslims are Malaysians too, not political foes, Guan Eng tells PAS
By Soo Wern Jun
29 Sep 2022
KUALA LUMPUR, Sept 29 — Lim Guan Eng has reminded PAS that non-Muslim Malaysians are their fellow countrymen too, and therefore, should not be seen as the enemy.
Lim said PAS spiritual leader Datuk Hashim Jasin's remarks yesterday had reinforced the Islamist party's exclusive, racist and extremist approach that non-Muslims are opponents it was willing to negotiate with.
"Non-Muslims should not be downgraded, but embraced instead, in an inclusive way by any responsible political party that seeks to unite the nation.
"PAS must be reminded that non-Muslims are Malaysian citizens who are not the political opponents of PAS," said Lim who is DAP's national chairman in a statement today.
Hashim had yesterday defended PAS against accusations the Islamist party is racist or extremist by saying that it was willing to engage with non-Muslims as long as they agreed to its agenda of uniting the ummah.
"Such statements are consistent with the open hostility and contempt towards the rights and dignity of non-Muslims expressed by PAS president, (Tan Sri) Abdul Hadi Awang," added Lim.
Lim was referring to Abdul Hadi's speech on August 20, in which the Marang MP said corruption stemmed from those who reaped profit through illegal means.
Abdul Hadi had then said the majority of those involved in ruining the country's politics and economy were non-Muslims and non-Bumiputera, and that it had reached a point that "these people" ended up controlling the country's economy and using their money to taint politics, the administration and judiciary.
"Yet, Abdul Hadi can be so shameless as to state that there is no reason for PAS to fail to garner non-Muslim support when DAP can elect Indian MPs in Chinese-majority seats.
"Non-Muslims rejected PAS not just for their racism and extremism but also for their failures in economic management and bad governance," said Lim.
He also cited Mohamad Agus Yusoff from Universiti Kebangsaan Malaysia, who labelled three PAS ministers as incompetent, and said PAS were performing poorly in the states that it controlled.
Lim added that even Johor Umno deputy chief Datuk Nur Jazlan Mohamed had described PAS leaders as "low-quality ministers" who were dragging the government down with their incompetence.
"Unfortunately, non-Muslim political parties in government such as MCA, MIC, Gabungan Parti Sarawak and Gabungan Rakyat Sabah behave like political 'eunuchs' by not daring to oppose but continue to support PAS in government and work together with the three PAS ministers in Cabinet.
Source: Malay Mail
Please click the following URL to read the full text of the original story:
https://www.malaymail.com/news/malaysia/2022/09/29/non-muslims-are-malaysians-too-not-political-foes-guan-engtells-pas/30699
--------
Motivational expert denies trying to damage preacher Ebit Lew's reputation
28 Sep 2022
TENOM, Sept 28 — A witness in Ebit Irawan Ibrahim Lew or Ebit Lew's sexual harassment trial denied at the Magistrate's Court here today that he and the founder of a non-governmental organisation (NGO) conspired to damage the preacher's reputation.
Motivational expert Mohd Fairuz Abu, 37, said this during cross examination by counsel Ram Singh.
To a suggestion by the lawyer that he and Multiracial Reverted Muslim (MRM) founder Firdaus Wong still publicised the issue on social media, the first prosecution witness said he did not, but Wong did.
Ram: I put it to you that through the issue of social media (Tenom case) and making arrangement for the woman (victim) to go to Bukit Aman to lodge the police report on the accused, you and Firdaus Wong conspired to damage the accused's reputation.
Mohd Fairuz: I do not agree.
Ram: I put it to you as a matter of fact, the woman had no intention to lodge a police report on the accused.
Mohd Fairuz: I do not agree.
Ram: I put it to you, that the woman decided to lodge a police report only after her conversation with you on July 26, 2021.
Mohd Fairuz: I am not sure.
During re-examination by deputy public prosecutor Zahida Zakaria, Mohd Fairuz said he accompanied the woman and her husband to lodge a police report at Bukit Aman as a sign of support and also to provide testimony to the police on August 7, 2021.
Lew, 37, faces 11 charges, including insulting the modesty of a woman in her 40s by sending obscene words to the victim's phone number via the WhatsApp application between March and June last year.
Source: Malay Mail
Please click the following URL to read the full text of the original story:
https://www.malaymail.com/news/malaysia/2022/09/28/motivational-expert-denies-trying-to-damage-preacher-ebit-lews-reputation/30620
--------
PM calls for countries to take in more Rohingya refugees
September 24, 2022
NEW YORK: It is the responsibility of all countries to take in more Rohingya refugees to be resettled in their respective countries following the crisis in Myanmar, says Prime Minister Ismail Sabri Yaakob.
He said although Malaysia is not a signatory to the 1951 Convention on the Status of Refugees and the 1967 Protocol, the country, on humanitarian grounds, has accepted nearly 200,000 Rohingya refugees.
"The political crisis in Myanmar has also worsened the situation of millions of Myanmar refugees, including the Rohingya refugees," he said when delivering Malaysia's national statement at the 77th session of the United Nations general assembly (UNGA) here.
He said Malaysia strongly emphasises the importance of the world to look into the root cause of the Rohingya crisis and be believed that the issue will not be resolved as long as the crisis in the country continues.
"In the Southeast Asian region, Malaysia has played an important role in conflict resolution. For example, Malaysia has been involved in the peace process between the Philippine government and the Moro Islamic Liberation Front (MILF) since 2001.
What's more saddening, he said is when the Security Council does not take any serious action in dealing with this situation and was even seen as having washed its hands off and handing the matter over to Asean.
"Malaysia is also disappointed there is no meaningful progress in the implementation of the Asean Five Point Consensus (5PCs) by the Myanmar junta. In its current form, Asean's 5PCs cannot continue any longer.
"Therefore, this consensus needs to be given a new lease of life and refined based on a clearer framework, time frame and end goal. Indeed, what's more important is that the aspirations of the people of Myanmar must be fulfilled," he said.
Prior to this, foreign minister Saifuddin Abdullah said Asean needs to address the 5PCs on whether it's working and still relevant, and any decision must be made before the Asean Summit in November.
On the situation in Palestine, Ismail said Malaysia is disappointed with the brutal occupation by Israel that has been going on for a long time, causing the Palestinian people to suffer under the shackles of Israel's discriminatory policies.
"Illegal settlements are becoming more widespread. This is against international law, including Security Council Resolution 2334. The most basic rights of the Palestinian people continue to be denied," he said.
Therefore, Ismail said Malaysia is of the view that the major powers need to be honest in resolving the issue of cruelty faced by the Palestinian people.
"That firm stand should be taken by the UN, to ensure that the crisis that has been going on in Palestine for a long time can be resolved quickly.
"What is happening today is that most countries are so quick to act in the case of Ukraine. Malaysia wants the same action to be taken to resolve the issue of Palestine. Israel needs to stop being an apartheid entity," he said.
Source: Free Malaysia Today
Please click the following URL to read the full text of the original story:
https://www.freemalaysiatoday.com/category/nation/2022/09/24/pm-calls-for-countries-to-take-in-more-rohingya-refugees/
--------
Europe
France to Close another Mosque, Accusing the Imam Of Being Radicalized
Alaattin Dogru
28.09.2022
PARIS
France announced it will close another mosque, accusing the imam of being radicalized, according to media reports Wednesday.
The Interior Ministry has started the process of closing the Obernai Mosque in the Bas-Rhin area, according to French BFM TV and Le Figaro.
Interior Minister Gerald Darmanin said on Twitter that 23 "separatist places of worship" have been closed in the past two years.
He added that the closures came after a request by the president to fight "Islamist separatism."
The ministry accuses the imam of the Obernai Mosque of carrying out radical preaching activities, taking a hostile attitude towards French society and making provocative comments against the values of the republic.
Source: Anadolu Agency
Please click the following URL to read the full text of the original story:
https://www.aa.com.tr/en/europe/france-to-close-another-mosque/2697381
--------
Pope Francis presses message of Muslim dialogue with Bahrain trip
September 28, 2022
Pope Francis will travel to Bahrain in November to press his message of dialogue with the Muslim world, the first pope to visit the country the Vatican said Wednesday.
Bahrain is home to the Gulf's first Catholic Church, located in the capital Manama, as well as its biggest one, Our Lady of Arabia Cathedral, which opened last year in the desert town of Awali.
Francis is due to visit both cities during the Nov. 3-6 visit. The Vatican said he will take part in a conference called the "Bahrain Forum for Dialogue: East and West for Human Coexistence."
Francis, 85, has made dialogue with the Muslim world a hallmark of his papacy. He recently returned from a visit to majority Muslim Kazakhstan, where he took part in an interfaith summit.
Source: Fox News
Please click the following URL to read the full text of the original story:
https://www.foxnews.com/world/pope-francis-presses-message-muslim-dialogue-bahrain-trip
--------
Turkey to re-inforce military presence in northern Cyprus: Erdogan
29 September, 2022
Turkey will re-inforce its military presence in northern Cyprus after the United States lifted defense trade restrictions on Cyprus, Turkish President Tayyip Erdogan said on Wednesday.
Speaking in a televised interview with broadcaster CNN Turk, Erdogan said the lifting of the restrictions was "inexplicable in terms of content and timing."
Earlier this month, the US State Department said Secretary of State Antony Blinken had lifted defense trade restrictions for Cyprus for fiscal year 2023.
"The United States, which overlooks and even encourages the steps by the Cypriot-Greek duo that threaten peace and stability in the eastern Mediterranean, will lead to an armament race on the island with this step," Erdogan said.
"Will we stand by? We cannot," he said, adding that Turkey already has 40,000 troops on the island and will reinforce them with land, naval and aerial weapons, ammunition and vehicles, Erdogan said.
"Everyone must know that this last step will not go unresponded and that every precaution will be taken for the security of the Turkish Cypriots," Erdogan said.
Cyprus was split following a 1974 Turkish invasion triggered by a brief Greek-inspired coup. Since then, Cyprus has been run by a Greek Cypriot administration in the south that Ankara does not recognize.
Source: Al Arabiya
Please click the following URL to read the full text of the original story:
https://english.alarabiya.net/News/world/2022/09/29/Turkey-to-re-inforce-military-presence-in-northern-Cyprus-Erdogan
--------
Armenia and Azerbaijan accuse each other of violating ceasefire deal
28 September, 2022
Armenia and Azerbaijan accused each other on Wednesday of violating a ceasefire agreement that ended two days of warfare this month - the second such violation in five days.
Azerbaijan's defense ministry said that at about 6 p.m. (1400 GMT), Armenian units had started firing at Azerbaijani positions in the Kalbajar region, wounding one serviceman, and that Azerbaijani forces had taken "retaliatory measures."
The Armenian defense ministry gave an opposite account, tweeting that Azerbaijani forces had fired towards Armenian positions near the common border using mortars and large-caliber weapons, and that the Armenian side had retaliated.
After border clashes two weeks ago that killed almost 200 soldiers, the worst bout of fighting since a six-week war between the two ex-Soviet countries in late 2020, the two sides agreed to a ceasefire deal brokered by Russia.
Armenia said then that Azerbaijan had attacked its territory and seized settlements inside its borders; Azerbaijan said it was responding to "provocations" from the Armenian side.
Last Friday, both sides accused each other of breaching the truce by firing across the border.
Source: Al Arabiya
Please click the following URL to read the full text of the original story:
https://english.alarabiya.net/News/world/2022/09/28/Armenia-and-Azerbaijan-accuse-each-other-of-violating-ceasefire-deal
--------
China, Russia call on US to release frozen Afghan assets
29 September 2022
China and Russia have called on the US to release Afghanistan's financial assets, seized and frozen by the United States government after the Taliban took over the Asian country last year.
At the United Nations Security Council on Tuesday, China's deputy ambassador to the UN, Geng Fhung, called for the "full" and "swift" return of the frozen assets to help "alleviate the humanitarian crisis in Afghanistan and the humanitarian suffering of the Afghan people."
Russia's Deputy Ambassador to the UN Anna Evstigneeva also said the US should "return the stolen assets to the Afghan people immediately."
"Lasting peace in Afghanistan is not possible unless the global community helps the Afghans with post-conflict recovery and economic development, solving the old problems of drugs and terrorism," Evstigneeva added.
The United States froze $9 billion in Afghan financial reserves in New York immediately after the Taliban took over Afghanistan in August 2021. Later, US President Joe Biden signed an executive order to free $7 billion and split the money between "humanitarian aid" for Afghanistan and a fund for victims of the September 11, 2001 terrorist attacks in the United States.
Recently, the US Department of State said in a statement that it would transfer $3.5 billion in frozen funds from Afghanistan's central bank to the newly-established Afghan Fund based in Geneva, Switzerland. The Taliban foreign affairs ministry slammed the plan, calling it "unacceptable" and a "violation of international norms." It renewed a demand that the US unfreeze the reserves and lift financial sanctions to allow Afghan traders access to the international banking systems to help improve the poverty-stricken country's economy.
On Wednesday, Stephane Dujarric, spokesman for UN Secretary-General Antonio Guterres, said, "We believe that Afghanistan assets that were frozen last year by a number of states belong to the Afghan people and every effort should be made to find ways in which these funds can be used for their benefit."
"It is critical that all such funds need to be handled in a transparent and accountable way, respecting international sanctions and need to ensure no money is used for illicit purposes," Dujarric added.
The UN has warned that the isolation of Afghan financial systems and other sanctions have pushed the Afghan economy to the brink of collapse, deepening an already bad humanitarian crisis in the country of about 40 million people. Almost the entire Afghan population is living below the poverty line, according to the UN.
Source: Press TV
Please click the following URL to read the full text of the original story:
https://www.presstv.ir/Detail/2022/09/29/690040/China,-Russia-call-on-US-to-release-frozen-Afghan-assets
--------
Mideast
Iran president says Amini's death is 'tragic incident', but 'chaos' unacceptable
28 September, 2022
Iranian President Ebrahim Raisi on Wednesday said that the death of a young woman in custody had "saddened" everyone in the Islamic Republic, but warned that "chaos" would not be accepted amid spreading violent protests over Mahsa Amini's death.
Amini's death two weeks ago has sparked anti-government protests across Iran, with protesters often calling for the end of the Islamic clerical establishment's more than four decades in power.
"We all are saddened by this tragic incident ... (However) Chaos is unacceptable," Raisi said in an interview with state TV, while protests continued around the country.
"The government's red line is our people's security ... One cannot allow people to disturb the peace of society through riots."
Despite a growing death toll and a fierce crackdown by security forces using tear gas, clubs, and in some cases, live ammunition, social media videos showed Iranians persisting with protests, chanting "Death to the dictator".
Still, a collapse of the Islamic Republic seems remote in the near term since its leaders are determined not to show the kind of weakness they believe sealed the fate of the US-backed Shah in 1979, a senior Iranian official told Reuters.
Angry demonstrations have spread to over 80 cities nationwide since the Sept. 13 death of 22-year-old Amini, after she was arrested for "unsuitable attire" by the morality police who enforce the Islamic Republic's strict dress code.
Amini, who was from the northwestern Kurdish city of Saqez, died in hospital after falling into a coma, sparking the first big show of dissent on Iran's streets since authorities crushed protests against a rise in gasoline prices in 2019.
Raisi, who had ordered an investigation into Amini's death, said "forensics will present report on her death in the coming days".
Source: Al Arabiya
Please click the following URL to read the full text of the original story:
https://english.alarabiya.net/News/middle-east/2022/09/28/Iran-s-Raisi-says-Mahsa-Amini-s-death-has-saddened-everyone-
--------
Mahsa Amini's family files complaint in Iran over her arrest: Report
28 September, 2022
Mahsa Amini's parents have filed a complaint against the police who arrested their daughter for allegedly breaching Iran's strict dress code before she died in custody, their lawyer said Wednesday.
Amini, 22, died in a Tehran hospital three days after her arrest by the morality police, authorities announced on September 16.
The complaint was filed "against the perpetrators of their daughter's arrest" and the police who spoke with her following her detention, lawyer Saleh Nikbakht said, quoted by ISNA news agency.
The family has requested "a thorough investigation" into the arrest and the events that led to Amini's hospitalization, the lawyer said, urging authorities to release "all videos and photographs" showing her in custody.
Source: Al Arabiya
Please click the following URL to read the full text of the original story:
https://english.alarabiya.net/News/middle-east/2022/09/28/Mahsa-Amini-s-family-files-complaint-in-Iran-over-her-arrest-Report
--------
Israeli forces kill four Palestinians in West Bank town
28 September, 2022
Israeli forces killed four Palestinian gunmen in the occupied West Bank on Wednesday, pursuing a half-year-long campaign of raids triggered by a series of lethal street attacks in Israel.
Commandos, some of them undercover, were sent into the town of Jenin to capture two Palestinians suspected of carrying out gun ambushes, Israeli police said. The Palestinians opened fire and set off a bomb, and were shot, the statement added.
The raid touched off clashes elsewhere in Jenin, which, along with the neighboring city of Nablus, has been a focus of Israeli forces. Some 40 Palestinians were wounded, medics said.
The Islamic Jihad and Al Aqsa Martyrs Brigades factions said four of their gunmen were killed. One of them worked for the security services of the Palestinian Authority (PA), which exercises limited self-rule in the West Bank.
"We are in great need of members of the security services," an umbrella group of local militants said in an open statement addressed to Palestinian President Mahmoud Abbas.
"Declare the fight, and we will be your soldiers. This enemy knows only the language of firepower."
Israel and the United States have been pressing the PA to do more to boost security. The PA accuses Israel of undermining its credibility.
"We have not hesitated to go anywhere that the Palestinian Authority has not gone to carry out arrests," Ram Ben-Barak, chairman of the Israeli parliament's Foreign Affairs and Defense Committee, told Ynet Radio. "Does this create friction? Yes."
Another of the slain Jenin gunmen was the brother of a Palestinian who shot dead three people in Tel Aviv in April - among attacks that killed 19 people in Israel and triggered its "Operation Breakwater" campaign. More than 70 Palestinians, including gunmen and civilians, have been killed since.
US-brokered peace talks aimed at establishing a Palestinian state in the West Bank, Gaza Strip and East Jerusalem collapsed in 2014, while Israel has expanded settlements in several areas. Gaza is ruled by Hamas Islamists opposed to coexistence with Israel.
Washington has sought ways of improving Palestinian conditions while addressing Israeli security concerns.
Source: Al Arabiya
Please click the following URL to read the full text of the original story:
https://english.alarabiya.net/News/middle-east/2022/09/28/Palestinian-killed-by-Israeli-troops-in-West-Bank-raid-Sources-
--------
Jenin carnage: Struggle continues until complete expulsion of invaders, warns Hamas
28 September 2022
The Hamas resistance movement has blasted the latest Israeli military raid on a refugee camp in the occupied West Bank city of Jenin, which killed four Palestinians, saying the Palestinian struggle will continue until the occupiers are thrown out.
Hazem Qassem, a spokesman for the Gaza-based Hamas movement, said in a statement on Wednesday said the residents of Jenin will carry on their struggle with full zeal until the occupying forces vacate the lands that belong to native Palestinians.
He denounced the crimes perpetrated by Israeli troops in the occupied West Bank city, emphasizing that the regime's blatant aggression and vicious raids will fail to undermine its glory and greatness.
The Hamas spokesman noted that the rise in the number of martyrs has always motivated the Palestinian nation intensify its uprising against Israeli occupiers.
"The resistance front has taught us it is capable of punishing occupiers for their crimes. The battle against the occupiers will continue in all spheres until the enemy is defeated and expelled from the entire Palestinian territories," Qassem pointed out.
The Palestinian Ministry of Health said on Wednesday that four people were killed and at least 44 others injured, when the Israeli army carried out a raid on a refugee camp in Jenin.
The raid began with dozens of Israeli military vehicles entering the camp at approximately 8 a.m. local time (0500 GMT).
The men killed were identified as Ahmad Alawneh, Abed Hazem, Mohammad al-Wanneh and Mohammad Abu Naa'sah.
The al-Aqsa Martyrs' Brigades, a coalition of Palestinian resistance groups in the West Bank, said that three of the men killed were its members.
An Israeli police spokesman said in a statement that the officers along with Israeli military forces sought to arrest Abd al-Rahman Hazem, the brother of Raad Hazem, who carried out a retaliatory operation in Tel Aviv back in April, and killed three Israeli settlers, before being shot dead, and Mohammad al-Wanneh.
The pair were responsible for a series of shooting attacks in recent months, including one that targeted an engineering vehicle of the Israeli military working along the northern West Bank security barrier earlier this month.
Abed Hazem and al-Wannah were killed when Hazem's father's home was hit by a missile.
Plumes of smoke were seen after the missile exploded in the house. Israeli troops then proceeded to encircle the home, during which heavy armed clashes broke out with Palestinian fighters.
Back on September 6, Israeli forces raided Jenin and blew up an apartment that belonged to Raad Hazem, killing a 29-year-old Palestinian man and injuring 16 others.
Israeli forces have recently been conducting near-nightly raids and killings in the northern occupied West Bank, mainly in the cities of Jenin and Nablus, where new groups of Palestinian resistance fighters have been formed.
Source: Press TV
Please click the following URL to read the full text of the original story:
https://www.presstv.ir/Detail/2022/09/28/690006/Palestinians%E2%80%99-struggle-against-Israel-will-go-on-until-all-occupiers-fully-expelled--Hamas
--------
Africa
Türkiye sympathizes with Burkina Faso over deadly attack
Faruk Zorlu
29.09.2022
Türkiye extended condolences Wednesday to Burkina Faso after an attack on a military convoy caused casualties.
"We extend our sincere condolences to the friendly and brotherly people of Burkina Faso as well as to the families and relatives of those who lost their lives and wish the injured a speedy recovery," the Turkish Foreign Ministry said in a statement.
The ministry "strongly condemned the heinous attack" in Soum province.
Source: Anadolu Agency
Please click the following URL to read the full text of the original story:
https://www.aa.com.tr/en/africa/turkiye-sympathizes-with-burkina-faso-over-deadly-attack/2697634
--------
Ethiopia, Somalia eye shift from military to economic cooperation
Addis Getachew
28.09.2022
ADDIS ABABA, Ethiopia
The leaders of Ethiopia and Somalia on Wednesday signaled the neighbors will lay greater focus on economic ties in the coming future.
Prime Minister Abiy Ahmed welcomed Somali President Hassan Sheikh Mahmoud on a two-day working visit to the capital Addis Ababa, his first trip to Ethiopia since taking office this May.
For the past few decades, Ethiopia has been at the forefront of regional support for Somalia's fight against al-Shabaab, a terror group affiliated with al-Qaeda.
While Ethiopia retains a key role in the African Union Mission in Somalia that is engaged in operations against al-Shabaab, Abiy told Mahmoud that Addis Ababa wants to pursue economic cooperation with Mogadishu.
He affirmed Ethiopia's readiness to work at various levels with the new Somali government "with particular emphasis on economic growth," according to a statement from Abiy's office.
"He further reiterated that Ethiopia desires a stronger and stable Somalia which is useful for Ethiopia," the statement said.
Mohamud expressed appreciation for the "sacrifices" Ethiopia has made for "a better Somalia, and highlighted the importance of collaboration to address common challenges faced by the two countries," it added.
Mahmoud's visit also comes as fighting continues in northern Ethiopia between government forces and Tigray rebels.
A months-long truce was shattered in late August, extending a conflict that has already killed thousands and displaced millions of others.
The international community, including Türkiye and the US, has reiterated the need for a permanent end to the conflict that has raged in northern Ethiopia since November 2020.
Hopes for peace talks between the Tigray People's Liberation Front and Abiy's government were handed a welcome boost earlier this month after the rebels said they were willing to halt fighting and take part in a dialogue led by the African Union, but there has been no progress on the matter.
Source: Anadolu Agency
Please click the following URL to read the full text of the original story:
https://www.aa.com.tr/en/africa/ethiopia-somalia-eye-shift-from-military-to-economic-cooperation/2697550
--------
18 candidates vying for presidency in Nigeria start election campaign
Olanrewaju Kola
28.09.2022
MAIDUGURI, Nigeria
Eighteen candidates vying for Nigeria's presidency started on Wednesday their nationwide campaigns ahead of next year's general elections.
"Presidential campaigns start on 28th September 2022," Nigeria's Independent National Electoral Commission (INEC) revealed in its timetable.
Nigerians will go to polls in February 2023 to elect their new president for a four-year term.
Three leading contenders included Ahmed Tinubu, a former governor of Lagos state and candidate of the governing All Progressive Congress, opposition Peoples Democratic Party's Atiku Abubakar, Former Vice President and Labour Party's candidate Peter Obi.
"Nigerians expect the presidential candidates to be transparent; to open up to electorates who they are. We want them to open up the book; electorates deserve to know more about what is happening in government," Malam Nuhu Tahir, a media consultant and radio manager in northwestern Kano city, told Anadolu Agency.
Source: Anadolu Agency
Please click the following URL to read the full text of the original story:
https://www.aa.com.tr/en/africa/18-candidates-vying-for-presidency-in-nigeria-start-election-campaign/2696983
--------
US warns Sudan of consequences if it hosts Russian military base
Ahmad Osama Satti
28.09.2022
KHARTOUM, Sudan
The US ambassador to Sudan has warned of consequences if the northeast African country allows the establishment of a Russian military base on the Red Sea coast.
In an interview with the Tayyar newspaper, John Godfrey said "there are some reports that Russia is trying to implement the agreement it signed with ousted President Omar al-Bashir in 2017 to establish a military base along the Red Sea."
He warned that such a move will isolate Sudan from the international community and undermine the country's interests.
"All countries have a sovereign right to decide which other countries to partner with, but these choices have consequences, of course," Godfrey said.
He added that the US can be a good partner, but that will be possible by the creation of a new civilian-led government and a transitional framework that will take the country back to the path of democracy.
During a visit to Moscow in November 2017 by President Bashir, who was overthrown in 2019 by a military coup, the two countries signed cooperation agreements on military training, experience sharing, and the entry of warships into the ports of the two countries.
According to Russia Today, Russian President Vladimir Putin on Nov. 16, 2020 approved the establishment of a Russian naval base in Sudan capable of accommodating nuclear-powered vessels.
Sudanese army chief of staff, Lt. Gen. Mohamed Osman al-Hussein said in a statement three days later that "there is no full agreement with Russia on the establishment of a naval base in the Red Sea, but our military cooperation has been extended."
Source: Anadolu Agency
Please click the following URL to read the full text of the original story:
https://www.aa.com.tr/en/africa/us-warns-sudan-of-consequences-if-it-hosts-russian-military-base/2696410
--------
Sudan's Hemedti to testify in Bashir's trial of killing protesters
Mohammed Amin
28.09.2022
KHARTOUM, Sudan
A Sudanese court has summoned the deputy leader of Sudan's ruling Sovereign Council, Mohamed Hamdan Dagalo, for testimony in the trial of former President Omar al-Bashir, according to a defense lawyer.
"Dagalo, also known as Hemedti, was ordered by Khartoum court to give testimony in the case," Wail Ali Saeed told Anadolu Agency on Wednesday.
Bashir faces accusations of killing protesters during mass protests that swept him from power in April 2019.
"We believe that Hemedti was close to the security institution in the country and know a lot about the killing of protesters during Bashir's era," Ali said.
Dozens of protesters were killed by security forces during the protests that ended al-Bashir's three-decade rule in Sudan.
Al-Bashir also faces charges of orchestrating the military coup in which he took power in 1989.
Sudan has been in turmoil since last year, when the military dismissed Prime Minister Abdalla Hamdok's transitional government, a move decried by political forces as a "military coup."
Source: Anadolu Agency
Please click the following URL to read the full text of the original story:
https://www.aa.com.tr/en/middle-east/sudan-s-hemedti-to-testify-in-bashir-s-trial-of-killing-protesters/2697557
--------
URL: https://newageislam.com/islamic-world-news/india-deobandi-barelvi-sufi-sects-pfi/d/128064
New Age Islam, Islam Online, Islamic Website, African Muslim News, Arab World News, South Asia News, Indian Muslim News, World Muslim News, Women in Islam, Islamic Feminism, Arab Women, Women In Arab, Islamophobia in America, Muslim Women in West, Islam Women and Feminism