New Age Islam News Bureau
17 Aug 2015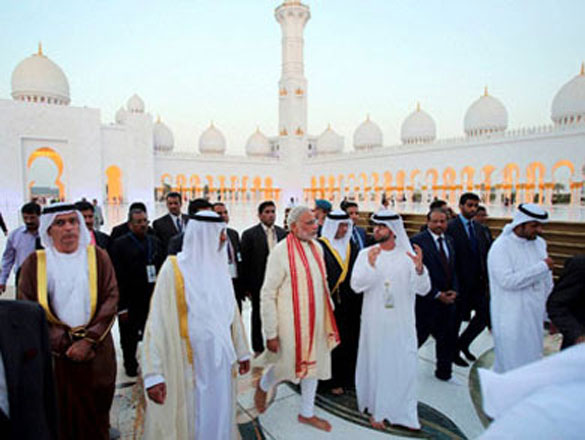 Indian PM Narendra Modi in Abu Dhabi PTI image
---------
India
• Good Taliban, Bad Taliban ... Good Terror, Bad Terror ... this won't work: Indian PM Narendra Modi's Dubai speech: Key highlights
• PM Narendra Modi at Abu Dhabi's Grand Mosque Is No 'Conciliatory Gesture' To Indian Muslims
• India, UAE Denounce and Oppose Terrorism in All Forms and Manifestations
• PM Narendra Modi Offers $1 Trillion Investment Opportunity to UAE
• Attempts Being Made To Impose Hindu Culture on Muslims: AIMPLB
• Muslim Group Plans to Study 'Saffronisation' Of Education
• From where it began in Muzaffarnagar, a march to end lingering unease
• Now, Pak terrorist Naveed wants to train gun on his LeT mentors
• Pakistan violates ceasefire in Jammu
• Pak govt must ensure its military does not undermine peace at border, India tells Abdul Basit
-----------
Arab World
• 100 Dead In Attack by Assad's Army On Rebel-Held Town
• Several Rebel Commanders Killed in Syrian Army Operations in Dara'a
• Iraqi Army Completes Siege of ISIL-Held City of Ramad
• Syrian Air Attacks Hit Militants near Hama
• Saudi Arabia Building-Up Naval Base on Occupied Yemeni Island
• Iraqi Forces Repel ISIL Offensive in Beiji
• Arms seized in Kuwait came from Iran: local media
• Syria militants try to sneak in: Jordan
• Iraq probe finds Maliki, others responsible for Mosul fall
• Massive explosion occurs at Kuwait's Shuaiba oil refinery
• Egyptian president ratifies new 'anti-terror' law
• Iraqi parliament refers Mosul report to prosecutor
-----------
Mideast
• Turkey to Examine Birmingham's Oldest Copy of the Qur'an
• 18 Killed In Saudi Air Raids on Yemen's Jawf: TV Channel
• Israelis Given Green Light to Kill Palestinians: PA
• Tens of Bahraini, Saudi Troops Killed in Clashes with Yemeni Forces
• Iran Calls for Iraqi Government's Firm Stance against West's Plots to Disintegrate Iraq
• Palestinian hunger strike tests Israel force-feeding law
• Two Saudi guards killed on border with Yemen
• Pro-Hadi forces poised to seize key central Yemen city
• Iran Warns Greek Airline to Remove Tel Aviv from Tehran Office's Destinations List
• Israel Confiscates Palestinian Land in Al-Quds
-----------
South Asia
• IS Fighting Taliban In Afghanistan, Says US Commander
• Five Policemen Brutally Martyred In Helmand
• Ex-Jihadi commander urges government to allow him launch parallel anti-militants drive
• 13 charged with murder over Bangladesh boy's killing
• Two Pakistani nationals arrested with Daesh commander in Nangarhar
• Polio campaign kicks off across Afghanistan except Kandahar
• ITU selects Hasina for ICT award
• Bangladesh Jamaat agents' provocateurs let duped foot soldiers languish
------------
Pakistan
• Jamaat-i-Islami Leader Vows To Protect Minorities' Rights
• Sindh Waits For Islamabad's Nod to Launch Drive against Banned Outfits
• Pak Punjab CM vows to eliminate terrorsim from Pakistan
• PM Nawaz accepts Mushahidullah's resignation
• Justice Khawaja takes oath as 23rd CJP for 23 days
• PPP leader Akhundzada Chattan's minor son kidnapped in Bajaur
• Khanzada terrorist attack: Police submit initial report to Shahbaz
• Parents seek govt support for APS attack survivors
• Balochistan leaders condemn Attock suicide attack
• Terrorists strike Attock, again
----------
Africa
• UN Calls On Libyans to Unite Against Terrorism after IS Attack
• Boko Haram's leader Abubakar Shekau refutes death, replacement
• World Powers Slam 'Barbaric' ISIS Attacks in Libya
• Buhari Ends Hajj Sponsorship
----------
North America
• US Court Rules Against Displaying Anti-Muslim Ads on Buses
• Masjid Allahu Akbar: 20 Years of Community Building
• Pataki: US can't 'bow down' to radical Islam
• Roundup: Iran urges Islamic media to defy U.S. influence in region
-----------
Europe
• Police Raids on Islamic State Supporters in Europe after Secret Land Purchases
• Bosnians Deny Youth Radicalization Claims
• Why Western Muslims leave a pleasurable life for jihad
• Critics outraged by British theater's cancellation of play about Muslim radicalization
-----------
Southeast Asia
• Indonesia's Aceh an Example of Peace for Philippines' Mindanao
• Police Find IS Flag after Arrests in Surakarta
• Terrorist suspects plan to bomb churches, police stations
• Malaysia's Helpless Liberals
• Malaysia PM party member: $700 million Saudi 'donation'
• Independence Day brings out the fun
• Plane with 54 on board crashes in remote Indonesian region
Compiled by New Age Islam News Bureau
URL: https://newageislam.com/islamic-world-news/new-age-islam-news-bureau/good-taliban,-bad-taliban--good-terror,-bad-terror--this-won-t-work--indian-pm-narendra--modi-s-dubai-speech--key-highlights/d/104297
----------
India
Good Taliban, Bad Taliban ... Good Terror, Bad Terror ... this won't work: Indian PM Narendra Modi's Dubai speech: Key highlights
NEW DELHI: Prime Minister Narendra Modi on Monday reworked the magic of US's Madison Sqaure as he addressed a large gathering at Dubai's cricket stadium. Here are some of the key highlights of his speech.
* Today in Dubai I am seeing a mini-India
* The way the world is seeing India has changed. And what is the reason - the reason is the 125 crore people of India
* Good Taliban, Bad Taliban ... Good Terror, Bad Terror ... this won't work. A decision has to be taken are you with terrorism or with humanity
* India is a country full of opportunities with 65 per cent of population below the age of 35
* Joint statement between India, UAE is a strong message against terrorism.
* Those who indulge in terror must be punished and this is the message that has resonated from here today
* Time has come for a decisive fight against terrorism
* World has to decide whether they are with those sponsoring terrorism or against it.
* Our effort has been to take India to new heights of progress and maintain a strong friendship with our neighbouring countries
* You are those people who have worked hard and are working here for many years. At the same time you are enhancing India's pride
* The role played by those working in the Gulf, who responded to Atalji's call for help when world put sanctions against us after nuclear tests, was exemplary
* So many flights are there between India and UAE but it took 34 years for a PM to visit this nation
* People from all over the world have come here to Dubai
* People from Kerala are there in large numbers. And I am specially talking about them due to the New Year festival today
* Dubai is no longer a mini-India. It has now become a mini-world Dubai is no longer a mini-India. It has now become a mini-world
----
PM Narendra Modi at Abu Dhabi's Grand Mosque
By Sandip Roy Aug 17, 2015
Ever since Narendra Modi famously declined to put on a Muslim skull cap at a sadbhavana fast in 2011, the media has been on overdrive scrutiny for the slightest hint of a gesture towards India's largest minority from Narendra Modi.
That has led finally to headlines as ludicrous as this one from Reuters after Modi visited the Shaikh Zayed Grand Mosque in Abu Dhabi.
PM Modi visits UAE mosque in conciliatory gesture to Muslims.
Picking up on that refrain, Digvijaya Singh of the Congress says "I'm happy that a person who did not wish to wear a skull cap is visiting a mosque, it is a good sign."
A good sign of what? Conciliation? Outreach? Tour planning?
Kadira Pethiyagoda, visiting fellow at the Asia-Middle East Relations Brookings Doha Center sees the mosque visit as "a clear signal that he wishes to bury his own communalist baggage and build on India's pluralistic reputation and highlight Islam's role in Indian history."
Talk about overreading a tourist selfie moment. Ever heard of "when in Rome…"?
The Grand Mosque is the largest mosque in the United Arab Emirates. Artisans and materials from around the world were used to build it. At 60,570 sq ft, it has the largest hand-woven carpet in the world so that thousands can pray simultaneously. In short, it is one of Abu Dhabi's biggest tourist attractions. According to Tripadvisor, it ranks #1 among 145 suggested things to do in Abu Dhabi. Just because the Sheikh Zayed Mosque is Grand does not make his visiting it a grand gesture as well. But Zafar Sareshwala, the PM's confidant seems to suggest as much to The Hindu when he says ""The UAE visit, on the whole, will have a huge impact on Indian honour and Muslims, though the Prime Minister has visited several Central Asian countries and Bangladesh in the recent past. Indian Muslims do look to the Arab world as a leader in their religious affairs."
To try and spin Narendra Modi's visit to Abu Dhabi's #1 tourist attraction as some sort of conciliatory gesture to Muslims is just plain ridiculous. In fact, if he had skipped the mosque and gone to the Falcon Hospital that would have been far more comment-worthy.
Drawing a parallel with China's famous terracotta warriors, Omar Abdullah rightly tweeted out "This Mosque is Abu Dhabi's biggest tourist attraction, this is the PM's 'Terracotta Army' moment, no more, no less."
Modi's visit to the ICAD City that houses thousands of workers should have been far more significant than selfies at the mosque. That is where India and the UAE really meet in ways that matter far more than a tourist stopover at the Grand Mosque. The UAE is a significant visit for Narendra Modi in ways that has nothing to do with that country's religion. Modi is not there for pilgrimage, but for business. As the Prime Minister told an investor meeting at Masdar City there are 700 flights between India and UAE and a potential of $1 trillion investments in India by the UAE while India's agricultural sector needs UAE expertise in cold storage and warehousing network.
Narendra Modi has gone to the UAE for all those reasons. To think that he would need to go all the way to Abu Dhabi to go to a mosque to send out a conciliatory signal to Muslims in India is absurd and insulting to India's own rich Muslim heritage. There are plenty of ways for Modi to make that kind of gesture in India.
When it comes to gestures Modi has been clear about avoiding what he considers tokenism. At the time of that skullcap controversy Modi had dismissed it saying Mahatma Gandhi did not wear one either and a "kind of deformity had come in Indian politics where anything can be done for appeasement." Of course, Mahatma Gandhi did not need to wear a skull cap because his actions spoke for themselves. In the end he paid with his life for his commitment to his ideals. Narendra Modi says his job is to respect all communities and at the same time accept his own values.
"I don't bluff people by wearing a cap, or getting clicked. But I believe that if someone shows disrespect to another person then he should be given the strictest punishment."
That is fair enough. Modi's actions as the prime minister respecting the values of all and the laws of the land without discrimination should send out a message that is much stronger than wearing a skullcap. His problem is he is too often found to be silent for too long when some hothead in his party says something offensive about another community. There's no sign of that "strictest punishment" for the likes of a Sadhvi Niranjan Jyoti or a Giriraj Singh. At most a tepid half apology is forthcoming. And that impression cannot be rectified by a skullcap selfie inside a mosque, even an impressively large one. Or Eid greetings via Twitter.
So let us not turn a photo-op inside a giant mosque in Abu Dhabi into some kind of selfie postcard to the Muslims back home "wary of his past and his Hindu nationalist party." That would reek of as much tokenism as that skullcap he once turned away not to mention assume utter naivete on the part of India's Muslims. Both Modi and India's Muslims deserve better than that.
http://www.firstpost.com/politics/pm-modi-at-abu-dhabis-grand-mosque-is-not-some-grand-gesture-to-muslims-2395470.html
-----
India, UAE Denounce and Oppose Terrorism in All Forms and Manifestations
India, UAE release joint statement on counter-terrorism
Prime Minister Narendra Modi kicked off day two of his UAE trip by visiting Masdar City, a hub of cleantech and S&T innovation. He also met with a delegation of investors immediately after Masdar.
In the evening, all roads in Dubai will lead to the Dubai International Cricket Stadium where 50,000 Indian expatriates have registered for 'Marhaba Namo' — a grand public reception held for visiting Indian Prime Minister Narendra Modi.
The reception, which is being touted as another Madison Square-like event, is being hailed as unprecedented in the history of the UAE where for the first time a visiting head of state has been allowed a reception on this scale. The cultural programme features 35 international artistes who have been flown down especially for the event.
Earlier on Sunday, Prime Minister Modi visited the Sheikh Zayed Grand Mosque in Abu Dhabi and signed in the visitor's book, saying, "It (the mosque) will serve to remind generations about the extraordinary vision and leadership of the president of UAE, his highness Sheikh Zayed bin Sultan AL Nahyan."
He also interacted with Indian workers at the ICAD Residential Labour Camp, which houses thousands of migrant labourers from the Indian subcontinent.
http://www.thehindu.com/news/live-prime-minister-narendra-modi-at-abu-dhabi/article7546622.ece
------
PM Narendra Modi Offers $1 Trillion Investment Opportunity To UAE
TNN | Aug 17, 2015
ABU DHABI: Prime Minister Narendra Modi said on Monday that there is an immediate investment opportunity of $1 trillion in India.
Addressing an investors meet in Masdar City, a zero-carbon city, PM Modi said his government has got some problems in legacy and his immediate priority would be to kickstart the things which were stalled by the "indecisiveness and lethargy" of the past governments.
Modi also said that though there are 700 flights between India and the UAE but it took 34 years for an Indian Prime Minister to visit, adding: "I promise this will not happen again."
Indira Gandhi was the last Prime Minister to visit UAE in 1981.
The Prime Minister said all major global institutions such as IMF, World Bank and Moody's agree that India is the world's fastest growing economy and it has huge development potential.
"On one hand India is growing fast and on the other hand, the world is looking at Asia. But is Asia complete without UAE? I can clearly see that the UAE should be at the centre of mainstream of things in Asia. UAE's power and India's potential can make it Asia's century," he said.
Modi said he has been told about some problems being faced by investors from the UAE and he wants to assure them that the government is solving those problems.
"I will send my commerce minister to try and find solutions to the problems faced by some UAE investors," he said.
The investors told the Prime Minister that they need steps like single window clearance and cited cumbersome and complex processes for doing business in India. To this, Modi assured that these problems will be resolved.
In their meeting with the Prime Minister, the businessmen also said that the government needs to be a strategic partner to create a conducive business environment for the investors who need safety of their investments.
The issue assumes significance as a number of investors, including some from the Middle-East region, have in the past faced problems due to taxation and policy related issues.
He said in India's agriculture sector, "we need cold storage network and warehousing network where UAE businesses have an advantage".
"Infrastructure development and real estate offer tremendous opportunities for UAE businesses in India," he added.
Top corporate honchos attended the meet.
"A Who's Who of UAE Business. UAE and Indian industrialists come together to meet PM @narendramodi," said external affairs ministry spokesperson Vikas Swarup.
Among them were Etisalat CEO Ahmed Abdulkarim Julfar and Emaar Properties chairperson Mohammed Ali Al Abbar.
Earlier, Modi undertook a tour of Masdar City, a hub of clean technology.
Modi also travelled briefly on the PRT (Personnel Rapid Transit) car - a driver-less vehicle which runs from point to point on magnetic strips.
He also visited the Micro-Nano Fabrication Facility and the Microscopy Lab. The Prime Minister also took a brief walking tour of the city's public spaces and was briefed on the sustainable building methodology and key architectural elements. Throughout the hour-long tour of Masdar City, Modi was greeted by residents and professionals in the city, which include a large number of members from the Indian community.
"Vigyan Jeevan Hai" he wrote, as he signed on a Digital Visitor's Book at Masdar City.
(With inputs from agencies)
http://timesofindia.indiatimes.com/india/PM-Narendra-Modi-offers-1-trillion-investment-opportunity-to-UAE/articleshow/48511109.cms
----
Attempts being made to impose Hindu culture on Muslims: AIMPLB
August 16, 2015
Charging that efforts were being made to impose Hindu culture on other religions through introduction of yoga in schools, the All India Muslim Personal Law Board (AIMPLB) has sought support of other community leaders to launch a campaign against such attempts.
AIMPLB would decide its strategy in its convention to be held in Bhopal tomorrow.
Working general secretary of AIMPLB Maulana Wali Rahmani charged that as part of a conspiracy an effort was being made to "imprint Hindu culture in the mindset of children of other religions, including Muslims".
He alleged that this was being done by making yoga mandatory in schools.
Rahmani said AIMPLB would launch "Deen aur Dastoor Bachao Tahreek" against this attempt to force "vedic culture" in which religious leaders and followers of different religions, including Hindu, Sikh and Christian, would be associated.
"We believe that by associating leaders of different religious this campaign will become successful. Special deliberation will be made on this issue at the AIMPLB meeting tomorrow," he told PTI.
Charging that Brahmin religion was being implemented on new generation, he said, this is a threat to both 'Deen-e-Islam' and the Constitution. "Under Article 28 of the Constitution any religion and its tradition could not be forced on others," he said.
Rehmani said that the board was of the clear view that every person should follow his religion strongly, but it should not be forced on others.
He said Imams of different mosques, madrassas, teachers, students and those who agree with the objections and apprehensions of the board have been invited in the convention.
Earlier the AIMPLB had accused the NDA government of violating the Constitution and implementing the RSS agenda by introducing practices such as yoga.
Reaching out directly to Muslim organisations and Imams, the apex body representing Muslims in the country, had said that the community should remain "cautious" as there are organisations that are "attacking" Islamic beliefs.
The AIMPLB had slammed the government's move to push for yoga, saying its a violation of the Constitution, which does not allow promotion of religious activities by the government.
"In the present scenario, the government and under its garb several organisations and individuals are today violating the Constitution," Maulana Wali Rehmani, the working general secretary of the AIMPLB, had said in a letter sent to various Muslim bodies and individuals.
He had alleged that the celebration of 'Yoga Day' and introduction of 'Surya namaskar' and Vande Matram in the schools were aimed at implementing the RSS agenda.
http://www.financialexpress.com/article/miscellaneous/attempts-being-made-to-impose-hindu-culture-on-muslims-aimplb/120257/
-----------
From where it began in Muzaffarnagar, a march to end lingering unease
by Seema Chishti
Muzaffarnagar
Aug 17, 2015
Joli Neher, the stream that flows just next to Muzaffarnagar's Joli village, is in full flow in the monsoon. It contributes hugely to Muzaffarnagar's agriculture. But since 2013, the scenic Joli bridge has had a policeman posted. The "Neher road" has become known as the epicentre of the riots that hit the city. It was rumours of "several" people being killed and pushed into the stream two years ago that led to the spiral of rioting. It was later found that six people had died in that incident, three Hindus and three Muslims. Now, there is relative peace. But most residents will insist something is not quite right.
It is with that in mind that V M Singh, a prominent farmer-activist and a former MLA currently with Rashtriya Kisan Mazdoor Sangathan, has decided to hold a peace march Monday, meant to commemorate Independence Day, from that very point on where trouble started, through Joli village, to Maulana Azad School in Tewra village. "This is not a political programme, but a Hindu-Muslim ekta meeting. K P S Gill, the archbishop of Delhi, the Madanis from Jamiat Ulema-e-Hind and several other reputable persons, singers like Jassi and poets like Wasim Barelvi will address the meeting." Singh believes just the build-up has done a lot to stir up peace, rather than trouble. "I attended so many small meetings in Muzaffarnagar and saw enthusiasm. Even in the middle of the night, people gathered to hear about the need to acknowledge the breach in the social fabric and sew it back." Dr Irfan, a doctor among the organisers, had stopped going to Jat-populated villages, but has being doing so since a month ago. "I was welcomed heartily… There is nothing like keeping contact alive." There also are economic reasons for the concern. V M Singh is known in these parts for his numerous court interventions and PILs in Allahabad High Court on the problems sugarcane farmers face with mill owners. Peace, he says, is important for farmers, otherwise all their concerns can be overshadowed by a "Hindu-Muslim" situation. Says Vikas Baliyan, a key organiser, "Land prices have fallen one-third at least, other businesses feel the dip, the mazdoor has run away. Farmers hesitate to go alone to their fields… A mediaeval mindset has come back." Dr Uday Beer Singh, a former principal associated with many Jat associations, says: "The knot of unease hasn't been fully loosened. There is mistrust… must mend that." Iqbal Husain, who runs a security agency in Rourkeli, says, "Many small jobs are done traditionally by Muslims. They have disappeared or relocated." Adds Baliya, "Sometimes small tractor repairs are not possible. A way of life has been affected." But talking peace aggressively worries the police. Says officer Pawar at Bhopa police station, "The trouble is healing slowly. Sometimes talking about it, even if talking about peace, can create trouble." Mehraj, 40, who lost her husband Nazar Mohammed that day and now does manual work to provide for her son and two daughters, is quiet when asked about the meeting. Looking at her son Mohsin, 15, training to be a maulvi, she says, "My neighbours, mostly Kumhars, are very good and kind to us."
http://indianexpress.com/article/india/india-others/from-where-it-began-in-muzaffarnagar-a-march-to-end-lingering-unease/
-----------
Now, Pak terrorist Naveed wants to train gun on his LeT mentors
Rajesh Ahuj
Aug 17, 2015
Mohammad Naveed Yakub, the Pakistani captured alive after the Udhampur attack on August 5 and who thought it was "fun" to "kill Hindus", now wants to go back to Pakistan and kill all those who sent him on a fidayeen mission.
The interrogation of the Lashkar-e-Taiba (LeT) operative has also revealed that the failed fidayeen seems to have been administered a psychotropic substance before the attack on a BSF convoy in Udhampur's Narsu Nallah area.
Naveed's questioning has once again shown the tragedy of a life gone wrong, one that soon became fodder for a terrorist organization. A compulsive gambler who was once caught stealing money from his own house, Naveed has said he didn't have any direction in life till he was spotted by a LeT maulvi in a Faisalabad mosque.
An investigator who has spent considerable time with Naveed said Maulvi Bashir, his spotter and later mentor, instilled a sense of purpose in his life and turned him into an archetypal 'jehad baby' of the kind found aplenty in that part of Pakistani Punjab.
"In a very typical manner of Lashkar, he was shown videos of atrocities committed on his Muslim brethren in India, particularly in Kashmir. After three courses, the first in physical fitness, the second in handling weapons and the last on carrying out a suicide attack, Naveed was launched by Lashkar across the border on June, 2," he added.
However, the investigator's claim couldn't be independently verified.
Naveed and another gunman named Noman had attacked a BSF bus on August 5 at Narsu Nallah in Udhampur district, killing two troopers and injuring 11 others.
Investigators say Naveed, 22, dropped out of school after Class 5 and spent most of his time in gambling, playing a card game called 'malpatti' and occasionally billiards at local pool tables.
"His elder brother and brother-in-law both are college lecturers, therefore in the typical middle class family of Faisalabad, Naveed, was written off as a bad apple much earlier. His family doesn't seem to have made much effort in inquiring about his absence after he joined the LeT," said the investigator.
Naveed has told the National Investigation Agency (NIA) sleuths that though he didn't have any criminal case registered against him, but was often called to the local police station.
"He remembers the name of the local thana and of its officer-in-charge who had given him a sound thrashing for the first time," added the investigator.
Naveed has identified on Google Earth his locality, a hosiery factory where he worked before joining the LeT, and the Lashkar offices he visited.
"Naveed's questioning has also revealed that LeT's jehad factory is up and running. During his training in the LeT camp, there were around 180 other boys in the first course but the number dwindled to 40 to 50 for the next two rounds of training," says the investigator.
Naveed now realises, say investigators, how his gamble with Lashkar has cost him heavily. "Please allow me to go back once to kill all those who sent me to Kashmir," Naveed has told his interrogators.
He was given Rs 50,000 by the LeT when sent to the Valley. But all his money was kept by his handler in the Valley Abu Qasim and he was given only Rs 2,000 for daily expenses.
"His interrogation has helped us to identify more than three dozen Lashkar overt and underground supporters in the Valley who sheltered Naveed and his associates during the two months he roamed around before attacking the BSF bus," said the investigator.
The investigator also revealed reason for the delirious nature of his replies after being caught alive by the villagers in Udhampur. Naveed had told villagers that he had come to kill Hindus and 'it is fun killing Hindus' when asked about objective of coming to the Valley.
"He was asked to take a white tablet before the attack which we believe must be some kind of psychotropic substance that dulled his senses," said the investigator.
The attack on the BSF bus in Udhampur was Naveed's second attempt at a fidayeen attack. Investigators say he tried to attack security forces in the same area a month back along with another associate but chickened out at the last moment.
He was scolded and sent with another associate Noman to attack security forces again. This time also he chickened out and could shoot straight leading to his arrest.
Naveed's interrogation details will form the basis of the effort to nail Pakistan for its support to terrorism in India during the National Security Advisor-level talks between the two countries on August 23.
http://www.hindustantimes.com/india-news/ht-exclusive-pak-terrorist-naveed-wants-to-kill-let-handlers/article1-1380829.aspx
-----------
Pakistan violates ceasefire in Jammu
Aug 17, 2015
JAMMU: The Pakistan Army on Monday violated the ceasefire by resorting to unprovoked shelling and firing along the Line of Control (LoC) in Jammu, an army official said.
"The Pakistan Army used 120 mm and 82 mm mortar and heavy machine gun to violate the ceasefire on LoC in Saujiyan and Mandi sectors in Poonch district," defence spokesperson Col Manish Mehta told IANS.
Full report at:
http://timesofindia.indiatimes.com/india/Pakistan-violates-ceasefire-in-Jammu/articleshow/48508238.cms
-----------
Pak govt must ensure its military does not undermine peace at border, India tells Abdul Basit
PTI | Aug 16, 2015
NEW DELHI/ABU DHABI: India on Sunday summoned Pakistan high commissioner Abdul Basit and conveyed its strong protest and anger over "unprovoked" firing by Pakistani troops and "systematic targeting" of civilian population along the LoC as shelling has left six people dead in two days.
Basit was firmly told that Pakistan government needed to take necessary steps to ensure that the Pakistan military does not undermine peace and tranquility along the International Border (IB) and Line of Control (LoC).
"The high commissioner of Pakistan was summoned to the ministry of external affairs today.
"Anil Wadhwa, Secretary (East) lodged a protest, and conveyed our anger, at the unprovoked firing by Pakistani troops since August 8, particularly with regard to the incidents of yesterday and today in Poonch that saw the systematic targeting of our civilian populations and the use of high calibre weapons including artillery," external affairs ministry spokesperson Vikas Swarup said in Abu Dhabi.
A defiant Basit, however, accused India of 70 ceasefire violations along the LoC and International Boundary in the months of July and August and called for a more effective mechanism to determine who indulges in the unprovoked firing.
The MEA Spokesperson said the issue of "continued unprovoked firing" by Pakistani troops since August 8 had been raised on several occasions at the DGMO level.
"Assurances were also received from the Pakistan military authorities that the firing would stop and their troops would be instructed accordingly.
"But in fact the firings have continued up until today. Secretary (East) conveyed that the Pakistan Government needed to take necessary steps to ensure that the Pakistan military does not undermine peace and tranquility along the IB and Line of Control," he said.
Swarup is accompanying Prime Minister Narendra Modi on his two-day UAE visit and the reaction about Pakistan's ceasefire violations assumed significance.
Basit, who was in South Block for around 15 minutes, said, "We are concerned about ceasefire violations. In the months of July and August, there have been close to 70 ceasefire violations from this side of the LoC and the working boundary.
Full report at:
http://timesofindia.indiatimes.com/india/Pak-govt-must-ensure-its-military-does-not-undermine-peace-at-border-India-tells-Abdul-Basit/articleshow/48504695.cms
-----------
Arab World
100 dead in attack by Assad's army on rebel-held town
16 August 2015
At least 100 people were killed Sunday in a string of Syrian government air strikes on a marketplace in Douma, a rebel-held town near Damascus, an activist told Al Arabiya News Channel.
At least 200 people were injured, with the death toll -- most of them civilians -- likely to rise as many of the wounded were in serious condition, the Syrian Observatory for Human Rights said.
"The regime carried out four air strikes against a market in the centre of Douma," said Observatory director Rami Abdel Rahman,
"The preliminary information suggests most of the dead are civilians," he added.
Abdel Rahman said locals had gathered at the site after the first strike to help evacuate the wounded when more raids struck.
A video posted online by activists of the aftermath of the attacks showed an intersection strewn with rubble and twisted metal:
The devastating attack on Douma came as U.N. humanitarian chief Stephen O'Brien made his first trip to Syria since taking the top aid post in May.
Full report at:
http://english.alarabiya.net/en/News/middle-east/2015/08/16/80-dead-in-attack-by-Assad-s-army-on-rebel-held-town-.html
-----------
Several Rebel Commanders Killed in Syrian Army Operations in Dara'a
Aug 17, 2015
The sources said that Mohammad Shlash, the leader of the so-called Liwa al-Ansar, Ahmad Abu Jaish, the leader of the so-called Liwa Tafas Tanks, Amin al-Abboud, nicknamed "al-Laham", the leader of the private operations of the so-called "Falloujet Horan squad" and the self-claimed leaders Hussein al-Joufeh, Diyaa al-Zitawi, Raghb Bashir al-Bakirat and the Jordanian terrorist Hamad Mowafq al-Ersawi were among the killed militants.
Meanwhile, the terrorist groups admitted on their social media websites the killing of terrorists al-Abboud and al-Zitawi.
Full report at:
http://english.farsnews.com/newstext.aspx?nn=13940526000542
-----------
Iraqi Army Completes Siege of ISIL-Held City of Ramad
Aug 17, 2015
"The Iraqi force have cut off all supplying lines of the ISIL Takfiri terrorists in Ramadi, and are now trying to cut off their communications lines," Spokesman for the Anbar province council Eid al-Karbouli said.
"Some of the ISIL elements have shaved their beards to escape," he further added.
"The slow progress of the Iraqi forces is part of a deliberate plan to weaken the ISIL," pointed out al-Karbouli adding, "Khalidiya Island is likely to be liberated in the coming days."
On Sunday, an official in Anbar province said that the Iraqi Army and popular forces have retaken full control over the al-Mallab area and are approaching Ramadi through its Southern side.
Full report at:
http://english.farsnews.com/newstext.aspx?nn=13940526000293
-----------
Syrian Air Attacks Hit Militants near Hama
Aug 17, 2015
The sources said that the rebels' gatherings in al-Mansoura village, Tal Wasit and Tal Zajram were massively pounded by the Syrian warplanes.
In the far north countryside of Hama, the airstrikes destroyed terrorists' vehicles and killed a number of them in Kafar Zita.
The Syrian fighter jets also targeted the ISIL hideouts in Qassr Ibn Wardan East of Hama city, killing many of its members and destroying their weapons and ammunition.
Full report at:
http://english.farsnews.com/newstext.aspx?nn=13940526000698
-----------
Saudi Arabia Building-Up Naval Base on Occupied Yemeni Island
Aug 16, 2015
"Hundreds of workers from Asian countries have been deployed by the Saudi navy to construct the kingdom's naval base on the island," Arabic-language Al-Ittihad news website quoted informed sources as saying on Sunday.
Socotra is a small archipelago of four islands in the Indian Ocean; the largest island, also called Socotra, is about 95 percent of the landmass of the archipelago. Socotra is located between the continents of Asia and Africa.
Saudi Arabia is at war wth Yemen and it has been striking the impoverished nation for the last 144 days to restore power to fugitive president Mansour Hadi, a close ally of Riyadh.
The Saudi-led aggression has so far killed at least 5,419 Yemenis, including hundreds of women and children.
Full report at:
http://english.farsnews.com/newstext.aspx?nn=13940525001141
-----------
Iraqi Forces Repel ISIL Offensive in Beiji
Aug 17, 2015
"The Iraqi forces repelled an ISIL assault by a number of booby-trapped vehicles in the district of Beiji," said the sources adding, "The attack comes to cover up the losses of the terrorist group in the Western province of Anbar."
Full report at:
http://english.farsnews.com/newstext.aspx?nn=13940526000667
-----------
Arms seized in Kuwait came from Iran: local media
16 August 2015
A huge arms cache seized in Kuwait last week was smuggled into the country from Iran, two Kuwaiti newspapers reported on Sunday.
The Interior Ministry said on Thursday authorities had found ammunition, explosives, weapons and grenades in holes dug under houses in an area near the Iraqi border. Three men who owned the houses were detained.
Al-Anba newspaper reported at the time that the weapons had been smuggled across the border from Iraq for use by members of an Iranian-backed Hezbollah cell.
But al-Rai and al-Qabas dailies, citing unnamed sources, reported on Sunday that the weapons had been brought into Kuwait by sea from Iran. They quoted the sources as saying that the new information had come from confessions made by the detainees during interrogation.
Al-Qabas said the number of suspects held had risen to 13.
"The suspects have disclosed that there is a direct Iranian line in supplying weapons to Kuwait by sea," al-Rai said.
The Interior Ministry declined to comment.
Full report at:
http://english.alarabiya.net/en/News/middle-east/2015/08/16/Arms-seized-in-Kuwait-came-from-Iran-Kuwaiti-newspapers.html
-----------
Syria militants try to sneak in: Jordan
17 August 2015
AMMAN: Militants have tried to sneak into Jordan from Syria by blending in with Syrian refugees, and attempts to smuggle weapons and drugs into Jordan have increased, the commander of Jordan's Border Guard said Sunday.
Brig. Gen. Saber Al-Mahayreh said surveillance along Jordan's borders is tight and that his forces can "spot a rabbit" trying to cross. The monitoring system consists of radar, drones and surveillance towers along the borders with Syria and Iraq that can detect infiltrators some 15 km away, he said.
The general said his forces have so far blocked all infiltrators and smugglers. "It is not possible for any terrorist groups to enter Jordan," he said at Border Guard headquarters on the outskirts of the Jordanian town of Zarqa.
Full report at:
http://www.arabnews.com/middle-east/news/792416
-----------
Iraq probe finds Maliki, others responsible for Mosul fall
August 16, 2015
BAGHDAD — An Iraqi parliamentary investigation found ex-premier Nuri Al-Maliki and other officials responsible for militants overrunning second city Mosul, in a report being sent for possible legal action, lawmakers said Sunday.
While various top commanders and political leaders have long been blamed for the Daesh (so-called IS) group's disastrous takeover of the capital of Nineveh province, the investigative committee's report is the first time they have been named officially. Committee member MP Abdulrahim Al-Shammari said that Maliki, who was prime minister from 2006 until last year, was among those named, as did another member who declined to be identified.
The inclusion of Maliki's name — who is now vice president — was a source of controversy on the committee, with his Dawa party pushing for it to be left out. Various former senior officials were also named in the report detailing the committee's findings, which has not been publicly released.
An MP on the committee said these include Defense Minister Saadun Al-Dulaimi, army chief of staff Babaker Zebari, his deputy Aboud Qanbar, ground forces commander Ali Ghaidan, Nineveh operations command chief Mahdi Al-Gharawi and the province's governor, Atheel Al-Nujaifi.
The report was presented Sunday to parliament speaker Salim Al-Juburi, who said it will be sent to the prosecutor general for legal action. "No one is above the law and the questioning of the people, and the judiciary will punish those" responsible, Juburi said in a statement.
Daesh launched a devastating offensive on June 9 last year, overrunning Mosul the next day and then sweeping through large areas north and west of Baghdad. Multiple Iraqi divisions collapsed during the initial assault in the north, in some cases abandoning weapons and other equipment, which the jihadists then used to further their drive.
Maliki is widely viewed as having exacerbated sectarian tensions between the country's Shiite majority and its Sunni Arab minority. Widespread discontent among Sunni Arabs, who say they were marginalized and targeted by Maliki's government, played a major role in aggravating the security situation in Iraq, culminating in the jihadist rout.
He also appointed commanders based on personal loyalty rather than competence, and was commander-in-chief of the armed forces during two years in which the Iraqi military did not carry out necessary training, leading to a decline in skills.
Earlier on Sunday, Prime Minister Haider Al-Abadi's office announced that he had cleared the way for the military prosecution of senior commanders responsible for a military disaster in Ramadi, a city west of Baghdad.
Daesh seized Ramadi in May, after government forces had held out against militants there for more than a year. Abadi approved "decisions of the investigative commission on the withdrawal of the Anbar operations command and units attached to it from the city of Ramadi", his office said in a statement.
Full report at:
http://www.saudigazette.com.sa/index.cfm?method=home.regcon&contentid=20150817253607
-----------
Massive explosion occurs at Kuwait's Shuaiba oil refinery
Aug 17, 2015
A massive explosion has occurred at Kuwait's Shuaiba oil refinery, with no further details available at this time.
http://www.presstv.ir/Detail/2015/08/17/425114/Kuwait-explosion-Shuaiba-oil-refinery
-----------
Egyptian president ratifies new 'anti-terror' law
Aug 17, 2015
Egyptian President Abdel Fattah al-Sisi has ratified an anti-terrorism law which stipulates exorbitant fines, and possible suspension from employment, for "false" reporting on militant attacks.
The ratification was announced in the official gazette on Monday.
It sets a minimum fine of 200,000 pounds (about $25,000) and a maximum of 500,000 pounds (about $62,000) for anyone who strays from government statements in publishing or spreading "false" reports on attacks or security operations against militants.
It also lays out the death penalty for those convicted of leading "terrorist groups" or financing attacks.
The law, which was passed on Sunday seeks prison terms for those "inciting, or prepared to incite, directly or indirectly, a terrorist act".
Full report at:
http://www.presstv.ir/Detail/2015/08/17/425060/Egypt-President-Abdel-Fattah-alSisi-adoption-controversial-antiterror-law
-----------
Iraqi parliament refers Mosul report to prosecutor
17 August 2015
Iraq's parliament on Monday referred to the judiciary a report calling for the trial of former Prime Minister Nouri al-Maliki and dozens of other top officials in connection with the fall of Mosul to ISIS last year, two lawmakers said.
Lawmaker Mohamed al-Karbouli said the vote in parliament was taken by a show of hands and passed by a majority. He said the report was now due to go to the public prosecutor and Prime Minister Haider al-Abadi, who has the right to refer officers for court martial.
The panel's report, the most drastic step yet taken by Baghdad to provide accountability for the loss of nearly a third of the country's territory to the Islamist insurgency, alleges that Maliki had an inaccurate picture of the threat to the northern city because he chose commanders who engaged in corruption and failed to hold them accountable.
There has been no official accounting for how Mosul was lost, or of who gave the order to abandon the fight. Maliki has accused unnamed countries, commanders and rival politicians of plotting the city's fall.
Full report at:
http://english.alarabiya.net/en/News/middle-east/2015/08/17/Iraqi-parliament-refers-Mosul-report-to-prosecutor.html
-----------
Mideast
Turkey to examine Birmingham's oldest copy of the Qur'an
August 16, 2015
MAKKAH — The Birmingham University has agreed to send the oldest copy of the Qur'an to the Research Center for Islamic History, Art and Culture (IRCICA) in Istanbul for further examination, Makkah daily reported on Sunday quoting the director general of the center Halit Eren.
The university had announced its existence in July.
According to the university's version, the manuscript dates close to the time of Prophet Muhammad (peace be upon him) making it one of the oldest in the world.
"The center will carefully study the manuscript using as reference the available manuscripts and the books on various types of recitations to confirm the date of the Birmingham copy," he said.
Eren said radiocarbon analysis conducted by the university does not usually give the exact date and can be at least 10 years more or less. He warned against the machinations of some Orientalists who were attempting to cast doubts on the originality of the present copies of the holy book the Muslims all over the world are using.
"Some Orientalists are trying to find differences between the copies of Caliphs Othman Bin Affan and Ali Bin Abi Talib. We could not find any disparities between them and the small differences here and there do not change the meaning," he added.
The director believes that the oldest copies of the Qur'an exist in Turkey, Tashkent and Egypt in addition to Yemen. "When the current incidents in Yemen are over, we will examine its copies of the Qur'an which may be the oldest in the world," he added. The leaves, kept in the university's Mingana Collection, contain parts of chapters 18 to 20 of the Qur'an. They were written in ink on an animal skin in an early form of Arabic script known as Hijazi.
The university's radiocarbon analysis dates the manuscripts to between the years 568 AD and 645 AD which coincide with the time of the Prophet, who is believed to have lived between 570 AD and 632 AD.
Full report at:
http://www.saudigazette.com.sa/index.cfm?method=home.regcon&contentid=20150817253667
-----------
18 killed in Saudi air raids on Yemen's Jawf: TV channel
Aug 17, 2015
At least 18 civilians have been killed in new Saudi airstrikes in Yemen's northern province of Jawf.
Six women and four children were among those killed in the latest Saudi raids carried out in the towns of al-Khob and al-Shaghaf on Monday, the Yemeni al-Masirah television network reported.
Saudi fighter jets also targeted the western Yemeni city of al-Hudaydah early on Monday.
According to reports, the district of Hidan in the northwestern Yemeni province of Sa'ada was also bombarded by Saudi warplanes.
Also on Monday, Saudi jets pounded the ancient city of al-Jableh in Yemen's southwestern province of Ibb.
Two airstrikes were also carried out on the town of Sahar in the northwestern Yemeni province of Sa'ada.
Reports said Saudi warplanes bombed a bridge linking the Yemeni capital, Sana'a, to the central province of Ma'rib to disrupt the delivery of fuel by tankers to the capital.
Meanwhile, the official Saudi Press Agency (SPA) reported that two Saudi border guards had been killed in a retaliatory attack conducted by Yemeni forces on the southwestern Saudi province of Jazan.
Full report at:
http://www.presstv.ir/Detail/2015/08/17/425095/Yemen-Sanaa-saudi-air-raids-Jawf
-----------
Israelis given green light to kill Palestinians: PA
Aug 17, 2015
The Palestinian Authority (PA) says Israel is allowing its soldiers to carry out "field executions" against Palestinian youths.
The PA Foreign Ministry said in a statement on Sunday that Tel Aviv gave its forces the green light to kill Palestinians.
The statement said that "the ministry affirms that the field executions practiced by the occupation forces against Palestinian teenagers is in accordance with the policy" of Tel Aviv.
"They are also in line with the inflammatory instructions that give the occupation soldiers a green light to facilitate the opening of fire and the killing of Palestinians."
The statement also said that the PA was preparing a report on Tel Aviv's "field execution" in order to file charges with the International Criminal Court (ICC).
The Palestinian ministry added that the deadly violence on Palestinians should be directed against illegal Israeli settlers who have recently increased terrorist attacks against Palestinians.
The remarks come a day after a Palestinian teenager identified as Ahmad Kamel Taj was shot dead by Israeli forces near the West Bank village of Tubas after he allegedly left an Israeli soldier slightly injured in a knife attack.
Full report at:
http://www.presstv.ir/Detail/2015/08/17/425106/Palestine-Israel-Nablus-ICC-Palestinian-Authority-West-Bank--PA-Foreign-Ministry
-----------
Tens of Bahraini, Saudi Troops Killed in Clashes with Yemeni Forces
Aug 16, 2015
"Over 20 Bahraini troops were killed in clashes between the Yemeni and Saudi forces in Jizan province," Abu Maryam said.
He noted that the Yemeni troops also launched military operations in al-Khoba region of Jizan province and Saudi Arabia's al-Hasira military base, and said that tens of Saudi troops were killed in one-on-one clashes.
Abu Maryam said tens of Saudi troops were killed and two Saudi army tanks were also destroyed in Najran.
Earlier today, the Yemeni army and popular forces launched missile attacks on the Saudi army's positions in Jizan, killing over half a dozen soldiers.
"Over seven Saudi soldiers were killed in Yemeni forces' missile attacks on al-Khoba military zone in Jizan province," Yemeni security forces said.
The Yemeni forces fired 28 missiles at the Saudi positions in al-Ramza region of Jizan.
The Yemeni missile attacks came in response to the continued Saudi aggressions against the people of Yemen.
Full report at:
http://english.farsnews.com/newstext.aspx?nn=13940525001233
-----------
Iran Calls for Iraqi Government's Firm Stance against West's Plots to Disintegrate Iraq
Aug 16, 2015
Jahangiri made the remarks in a meeting with his Iraqi counterpart Nouri al-Maliki in Tehran on Sunday and after General Odierno, who used to serve as the top US commander in Iraq, said on Wednesday that partitioning Iraq "is something that could happen and it might be the only solution".
"All the Iraqi officials and political groups should adopt serious stances against these statements," the Iranian first vice-president said in reaction to the statements made by Odierno and other western officials on partitioning Iraq.
He pointed to the Baghdad government's ongoing war against the ISIL Takfiri terrorists, and said, "Safeguarding Iraq's territorial integrity and national unity is of paramount importance that should receive due attention too."
The Iraqi vice-president, for his part, pointed to the ineffectiveness of the US-led anti-ISIL Coalition to eradicate the Takfiri terrorist group, and said, "Despite the presence of some 40 to 50 countries in the anti-ISIL coalition, this terrorist group is easily selling crude reserves of Syria and Iraq, and this shows that one cannot be optimistic about the western countries' determination for real fight against the ISIL."
Maliki reiterated that some western countries are in favor of Iraq's disintegration, and said, "They want the problems of Iraq to persist and they prefer Iraq's partitioning to war against ISIL."
On Friday, Iranian Deputy Foreign Minister Hossein Amir Abdollahian lashed out at Odierno's remarks on disintegration of Iraq, and said Washington's wrong policies are the main cause of problems in the Arab country.
Full report at:
http://english.farsnews.com/newstext.aspx?nn=13940525001425
-----------
Palestinian hunger strike tests Israel force-feeding law
MIKE SMITH
Aug 17, 2015
JERUSALEM: A nearly two-month hunger strike by a Palestinian detainee now in a coma may test a controversial new Israeli law on force-feeding, with doctors vowing to refuse to carry it out.
Mohammed Allan, 31, slipped into a coma on Friday after ingesting only water since June 18 in protest over his detention without charge by Israeli authorities.
After Allan fell into the coma, doctors began treating him with artificial breathing, fluids and vitamins to keep him alive, based on discussions with him before he lost consciousness.
His condition has now stabilised, but his life is still in danger, according to the head of the hospital where he is being treated.
If and when he regains consciousness — and if he continues to refuse to eat — Israel's government must decide whether it will invoke a law passed in July allowing the force-feeding of prisoners when their lives are endangered.
It was not clear how such force-feeding would take place.
Doctors and rights activists strongly oppose the law, including those who say force-feeding amounts to torture and robs Palestinians of a legitimate form of protest.
The law has provoked intense debate, particularly with doctors saying they will decline to carry out force-feeding since the new legislation gives them the choice of whether or not to do so.
'It's a test'
"I think it's a test to many institutions," said Hadas Ziv, ethics committee coordinator for Physicians for Human Rights-Israel, an activist group which opposes the force-feeding law. "It's a test to the medical community in Israel... It's a test to the authorities — how serious are they going to be with this legislation?"
Allan's situation has sparked protests in support of his cause and demands for his release.
Since November he has been in what is known as administrative detention, which allows people to be held without charges for six-month intervals that can be renewed indefinitely.
Israeli figures indicate that of the nearly 5,700 Palestinian prisoners currently held by Israel, some 379 are under administrative detention.
The militant Islamic Jihad movement describes Allan as a member, and Israel has used administrative detention to hold Palestinians they deem to be security risks while not divulging what authorities view as sensitive intelligence.
Many Palestinian prisoners have gone on hunger strike to protest, including those on administrative detention. However, no hunger striker has died since the 1980s.
Hundreds of people rallied on Saturday night in Gaza, while on Sunday several dozen people entered the Red Cross headquarters in East Jerusalem with photos of Allan.
'End to the truce'
Islamic Jihad has called for a general mobilisation and warned from Gaza that his death would be an "end to the truce" with Israel.
Should Israel decide to invoke the new law, authorities would be required to seek a court order.
Full report at:
http://www.dawn.com/news/1200846/palestinian-hunger-strike-tests-israel-force-feeding-law
-----------
Two Saudi guards killed on border with Yemen
17 August 2015
Two Saudi border guards have been killed in an attack from Yemen by Houthis, Saudi Arabia's official news agency, SPA, reported.
SPA said: "the Joint Forces Command announced on Sunday that Sgt. Ali Mufreh Hassan Ghazouani and Sgt. Sorwi Ahmed Al Said of the employees of the ground forces have been Martyred."
It added that the Joint Forces Command, said in a statement, that the "two have been martyred while performing their duty to protect the borders of the homeland against the attacking rebels on the southern boundary of Jazan sector."
Full report at:
http://english.alarabiya.net/en/News/middle-east/2015/08/17/Two-Saudi-guards-killed-on-border-with-Yemen.html
-----------
Pro-Hadi forces poised to seize key central Yemen city
16 August 2015
Militia forces loyal to the Yemeni government of President Abdrabbu Mansour Hadi fought their way deep into the central city of Taez on Sunday, local officials said, largely pushing out Houthi militias from the country's third largest city.
The tribal fighters seized a mountaintop citadel and an intelligence headquarters in battles with the Houthis and allied Yemeni army units, who control two military bases in the city.
Tank battles and air strikes have rocked Taez since April, when the resistance forces backed by Gulf Arab warplanes rose up against the Houthis. The combat has left much of the city in ruins and its residents pinned down inside their homes.
A civil war in Yemen erupted in late March when the Iran-allied Houthis, who had seized the capital Sanaa last September, drove southwards, forcing the government to flee into exile in Saudi Arabia and triggering a Gulf military intervention.
The Arab states say the Houthis are a proxy for Iran, an accusation the movement denies, countering that its advance a revolution against corrupt officials backed by the West.
More than 4,300 people have died in the conflict as hunger, disease and suffering have spread in the impoverished country.
Full report at:
http://english.alarabiya.net/en/News/middle-east/2015/08/16/Anti-Houthi-fighters-poised-to-seize-key-central-Yemen-city.html
-----------
Iran Warns Greek Airline to Remove Tel Aviv from Tehran Office's Destinations List
Aug 16, 2015
"After a (Iranian) media outlet informed us that Greece's Aegean Airline has included Tel Aviv in its online sales system, the CAOI in a written warning cautioned the airline to delete this fake name from its list," CAOI Public Relations Manager Mohammad Rahimi told FNA on Sunday.
Full report at:
http://english.farsnews.com/newstext.aspx?nn=13940525001375
-----------
Israel Confiscates Palestinian Land in Al-Quds
16 August 2015
CAIRO – Sparking fresh tensions in the holy land, Israeli authorities have started seizing the land plots next to the eastern wall of Al-Aqsa Mosque, Palestinian sources revealed to Ma'an News Agency on Sunday, August 16.
The news was revealed by Jawad Siyam, the director of Wadi Hilweh Information Center in Al-Quds [occupied Jerusalem], who told Ma'an that Jerusalem inspectors from the Israeli Nature and Parks Authority stormed and confiscated land belonging to the al-Husseini and the al-Ansari families.
The Nature authority inspectors were escorted by Israeli troops during the confiscation, Siyam said.
He added that security guards from a private security company installed barbed wire fence around the land.
Those affected by the seizure order have shown their anger towards the step taken by the Israeli army. A member of al-Husseini family who owned part of the land told Ma'an that he believes the Israelis plan to confiscate the land for settlement expansion. Concerned by the latest development, Adnan al-Husseini, governor of Al-Quds and Minister of Jerusalem Affairs told Ma'an that the Israeli forces and inspectors stormed the land without prior notice.
He highlighted that the tract of land measures more than 7000 square meters (1.7 acres).
Rejecting the illegal Israeli move, a lawyer representing the Palestinian owners is taking the case to the Israeli court in an attempt to stop the confiscation.
Israel occupied the holy city in the 1967 war and later annexed it in a move not recognized by the international community or UN resolutions.
Full report at:
http://www.onislam.net/english/news/middle-east/491897-israel-confiscates-palestinian-land-in-al-quds.html
-----------
South Asia
IS fighting Taliban in Afghanistan, says US commander
ANWAR IQBAL
Aug 17, 2015
WASHINGTON: Daesh (self-styled Islamic state) militants are attacking Taliban insurgents in Afghanistan, particularly in the areas close to Pakistan, says a senior US military official.
At a news briefing in Washington, Brig Gen Wilson Shoffner said the growth of Daesh in Afghanistan could also influence US plans for ending its 14-year-old military mission there.
The Obama administration, which has reduced the US troop presence in Afghanistan from more than 100,000 to less than 10,000 now, has pledged to withdraw all the troops by the end of 2016.
"We are seeing some fighting between Daesh and the Taliban in Afghanistan. Usually this is a result of Daesh encroaching upon Taliban territory and interfering with established Taliban operations," said Brig Shoffner, who is the deputy chief of staff for communications at the US mission in Afghanistan.
"Most intense fighting between Daesh and Taliban has taken place in Nangarhar. We do expect to see this throughout the fighting season," he said.
The two groups also clashed in Helmand, he added. Both provinces border Pakistan.
"It's clearly a factor — one of many factors — that will be included as part of the (commanders') assessment at the end of this year," Brig. Shoffner said.
"We're committed to working with our Afghan partners to establish sec­urity here, and anyone who's conduc­ting terrorist acts is something we're concerned about," Brig. Shoffner said.
The US official explained that some Taliban were rebranding themselves as Daesh. "We're not exactly sure why this is. We believe it's probably an attempt to gain resources or perhaps attention or better leadership," he said.
Asked why was it a problem for the US or Afghan troops if two of their enemies were fighting each other, Brig. Shoffner said: "It's a problem because it's a destabilising influence and … unfortunately the victims are Afghan civilians. And so that's a security issue."
Brig. Shoffner explained that the emergence of Daesh was not a problem for Afghanistan alone. "I would just say that Daesh and terrorism pose a common threat to all the states in this region, and so it's not just an Afghan problem, it's a regional problem," he said. He said the US military mission in Afgha­nistan had categorised Daesh as "operationally emergent", which did not have operational capabilities but had the potential to acquire them.
"We do not see them having the ability to coordinate operations in more than one part of the country at a time," the US official said.
"We do have reports of them operating in different parts of the country, but again, not in a coordinated fashion."
The group also was generating some funds in Afghanistan but "not a significant amount", he said.
Full report at:
http://www.dawn.com/news/1200933/is-fighting-taliban-in-afghanistan-says-us-commander
-----------
Five policemen brutally martyred in Helmand
Aug 17 2015
Five policemen have been brutally martyred in restive Helmand province.
A security source who did not want to be named has told Ariana News that the five policemen were first made unconscious and then murderred with a knife in their security post last night.
He said the incident took place in Sar Gora area of Lashkargah city, the capital of Helmand province, and that the weapons belonging to the martyred soldiers were also taken away from the post.
Further details into the incident have not been revealed yet but Taliban group has carried out several tricky attacks of this type in the past.
Full report at:
http://www.khaama.com/five-policemen-brutally-martyred-in-helmand-3777
-----------
Ex-Jihadi commander urges government to allow him launch parallel anti-militants drive
By ZABIHULLAH MOOSAKHAIL
Aug 17 2015
Haji Hazrat Ali, a former Jihadi commander and member the parliament has urged government to allow him launch a parallel anti-militant operation in order to restore peace in Nangarhar province.
According to a report published on Monday by Afghanistan's Salam Watandar news, Haji Hazrat Ali believes that government is hesitant in taking on militants in some areas and therefore focusing on Khogyani and Hisarak districts,
He says that the situation would get normal within days if government allows him apply his plans.
"We give the government a limited time to allow us otherwise we would seal this city for three days and move towards Torkham until peace prevails or the government resigns", Hazrat Ali is quoted by the news agency as saying.
Full report at:
http://www.khaama.com/ex-jihadi-commander-urges-government-to-allow-him-launch-parallel-anti-militants-drive-3774
-----------
13 charged with murder over Bangladesh boy's killing
Aug 17, 2015
DHAKA: Bangladesh police have charged 13 men with murder over the brutal lynching of a 13-year-old boy that provoked national outrage after video footage of the attack went viral, a detective said Monday.
Police submitted a charge sheet to a court in the northern city of Sylhet on Sunday over the killing last month of Samiul Alam Rajon, who was beaten to death by a mob after being falsely accused of stealing a bicycle.
"After we filed the charge sheet including the statements of some witnesses, the court last evening accepted it," detective Suronjit Talukder, investigating the case, told AFP.
Samiul, accused of theft, was tied to a pole and then subjected to a brutal assault in which he pleaded for his life.
An autopsy found 64 separate injuries had been inflicted on the teenager.
A 28-minute video of Samiul, which was widely circulated after being posted on social media, has prompted deep soul-searching among Bangladeshis as well as a series of mass protests.
In the video, the terrified youngster can be heard screaming in pain and repeating: "Please don't beat me like this, I will die."
At one stage he is told to walk away. But as he tries to get to his feet, one of the attackers shouts: "His bones are okay. Beat him some more."
Ten men have been arrested since the July 8 killing and have confessed their involvement, Talukder said. Another three, who fled the city, have also been charged in absentia with murder including Kamrul Islam, who was arrested in Saudi Arabia after officials received a tip from members of the country's large Bangladeshi expatriate community.
A foreign ministry official said he hoped the charge sheet would now prompt Saudi Arabia to speed up his repatriation.
Full report at:
http://www.dawn.com/news/1201009/13-charged-with-murder-over-bangladesh-boys-killing
-----------
Two Pakistani nationals arrested with Daesh commander in Nangarhar
Aug 17 2015
The National Directorate of Security (NDS) – Afghanistan's intelligence agency has detained Hayatullah alias Mansour, a commander of the terrorist group of Daesh, in eastern Nangarhar province.
A statement issued on Monday by NDS states that the group was rounded up during a special operation from Torkham area of Nangarhar province.
The two Pakistani nationals are identified as Yasir alias Sikandar and Bashir alias Abu Khalid Mohammadi who had crossed the border into Nangarhar province to carry out terrorist activities.
Full report at:
http://www.khaama.com/two-pakistani-nationals-arrested-with-daesh-commander-in-nangarhar-3776
-----------
Polio campaign kicks off across Afghanistan except Kandahar
By ZABIHULLAH MOOSAKHAI
Aug 17 2015
The polio campaign has begun across the country except the restive Kandahar province where Taliban had imposed ban on vaccination.
Officials at the Ministry of Public Health say that approximately nine million children who age up to five years would be given the polio drops in this campaign.
The three-day drive kicked off on Sunday morning and according to the Ministry of Public Health 7,000 health workers and volunteers are taking part in it.
The health workers will be going from door to door in 33 provinces out of 34 and giving polio drops to children.
Full report at:
http://www.khaama.com/polio-campaign-kicks-off-across-afghanistan-except-kandahar-3773
-----------
ITU selects Hasina for ICT award
august 17, 2015
International Telecommunication Union (ITU) has selected Prime Minister Sheikh Hasina for ICT's Sustainable Development Award 2015.
State Minister for Post and Telecommunications Tarana Halim said this in the weekly cabinet meeting on Monday at Bangladesh Secretariat, reports BSS.
Cabinet Secretary M Musharraf Hossain Bhuiyan said the state minister handed over a letter of ITU secretary general to the prime minister requesting her to receive the award at a function in New York City on September 26, 2015.
Full report at:
http://www.dhakatribune.com/bangladesh/2015/aug/17/hasina-gets-itus-sustainable-development-award
-----------
Bangladesh Jamaat agents' provocateurs let duped foot soldiers languish
August 17, 2015
Working by herself on a rainy morning on the August 15 government holiday, she described the life she and her husband used to lead with their two daughters as simple and decent.
She said her husband, Sultan, used to work in a limestone crushing workshop.
At the end of 2013, when the country was being racked by political violence, her husband fell ill and left his Tk200 a day job.
That was when the family was visited by people who offered him work that would pay twice his wage and three meals per day.
The men with the job offer were Jamaat-Shibir agents provocateurs hiring down and out day labourers to do their dirty work in exchange for money and three meals a day.
"It was a good package. He was ill so he could not take heavy jobs. He agreed to the work they offered: taking part in rallies and cutting down trees. But at the time we did not know what his actual work was; Sultan hid that from us," she said.
Their happiness and the relatively good pay did not last long. In early January 2014, police raided Sultan's house and arrested him on charges of committing violence.
"He is not a criminal. He is a victim. He had no other way to feed his family aside for taking the offer they made," she said.
Asked whether the leaders of the Islamist party had visited the family after his arrest, she said: "Nobody came to see us. Most of them are on the run."
"We cannot even approach the court for bail because we have no money and no political power," she said.
Financially, Sultan's family is in dire straits.
But Sultan's is not an isolated incident. The Dhaka Tribune has found that almost every household in Patgram living a hand-to-mouth existence on day-wages is in the same sort of trouble.
Full report at:
http://www.dhakatribune.com/politics/2015/aug/17/jamaat-agents-provocateurs-let-duped-foot-soldiers-languish
-----------
Pakistan
Jamaat-i-Islami Leader Vows To Protect Minorities' Rights
HABIB KHAN GHORI
Aug 17, 2015
KARACHI: Jamaat-i-Islami secretary general Liaquat Balouch has said that attacks on minorities' places of worship are being carried out by those elements who want to destabilise Pakistan.
He was speaking at a reception rganised by Jamaat-i-Islami as part of Independence Day celebrations to acknowledge the services of the members of minority communities in the establishment and progress of Pakistan.
The JI leader criticised those who imposed their views on others.
The reception was attended by followers of Christianity, Hinduism, Sikhism and other religions.
Describing the gathering as a representative Jirga of patriotic Pakistanis, Mr Balouch spoke about the first cabinet of Pakistan headed by the Quaid-i-Azam, recalling that Jogendra Nath Mandal and Sir Zafarullah were members of that cabinet.
The JI leader said, "We will jointly struggle against all those who are usurping the rights of minorities".
Full report at:
http://www.dawn.com/news/1200964/ji-leader-vows-to-protect-minorities-rights
-----------
Sindh waits for Islamabad's nod to launch drive against banned outfits
HASAN MANSOO
Aug 17, 2015
KARACHI: The provincial government is waiting for guidelines from the federal government to launch action against banned organisations, which are working with new names in Sindh, it emerged on Sunday.
"The Ministry of Interior (MoI) has been requested to provide a list of the religious outfits, which are banned but reemerging under the changed nomenclature," said a senior official in the provincial home department while speaking to Dawn.
He said the MoI was to send policy guidelines. However, till the specific directives arrived, he added, the hierarchy of the Pakistan Rangers, Sindh, and the inspector general of police, Sindh, had been requested to take action against the outlawed outfits.
"Such organisations should not be allowed to hold public gatherings and meetings but they are openly active across the province," admitted the official.
Another official said the MoI's guidance had been sought for taking action against the organisations, which reemerged with new names or titles, particularly against their office-bearers and key activists.
The provincial authorities, in their communication with the MoI, suggested that the databank of such organisations and activists be regularly updated and shared with the National Counter-Terrorism Authority (Nacta) and the provinces.
However, Nacta itself had blamed Sindh and Gilgit-Baltistan authorities for failing to come up with their anti-terrorism policies, which all the provinces and regions had been asked to do after the attack on the Army Public School in Peshawar in December last year.
Officials in the home department admitted that for a host of reasons they had not yet been able to submit to the Nacta the reports outlining their plans to combat terrorism as required in the National Action Plan (NAP).
Sindh's major failure is in mapping thousands of madressahs in its territory unlike the provinces of Punjab, Khyber Pakhtunkhwa and Balochistan, which have already finished the job.
Full report at:
http://www.dawn.com/news/1200906/sindh-waits-for-islamabads-nod-to-launch-drive-against-banned-outfits
-----------
Pak Punjab CM vows to eliminate terrorsim from Pakistan
August 17, 2015
LAHRORE: Punjab Chief Minister Shahbaz Sharif has vowed to eliminate the menace of terrorism from the soil.
"I swear by the blood of Shuja Khanzada that I will turn Pakistan into a cradle of peace. I pledge that we will not rest till the eradication of terrorism from the country", he said while presiding over cabinet's condolence meeting today.
The chief minister declared, "we all will have to move forward in unison for the eradication of terrorism. I will be in the front line and lead you in fighting terrorists. I will lay down my life but will bring the terrorists to justice. I am the first target of terrorists and I don't care for my life".
Full report at:
http://nation.com.pk/national/17-Aug-2015/shahbaz-sharif-vows-to-eliminate-terrorsim-from-pakistan
-----------
PM Nawaz accepts Mushahidullah's resignation
IRFAN HAIDER
Aug 17, 2015
ISLAMABAD: Prime Minister Nawaz Sharif on Monday accepted Federal Minister for Climate Change Senator Mushahidullah Khan's resignation, according to a statement issued by PM Office.
Mushahidullah explained his position with regards to his earlier BBC interview in a meeting with Premier Nawaz Sharif at PM House. The prime minister then accepted his resignation from the Cabinet.
Federal Information Minister Pervez Rashid on Saturday had said that the senior cabinet member had tendered his resignation to the PM.
An official from the PM Office had confirmed to Dawn that the government had received the resignation on Saturday, but had said it would be processed on Monday due to public holidays.
Mushahidullah had, in an earlier interview with BBC, alleged that the former Director General Inter Services Intelligence (ISI) Lt Gen Zaheerul Islam Abbasi wanted to overthrow the country's civil and military leadership during last year's sit-ins by the PTI and the Pakistan Awami Tehreek (PAT).
In his interview, Mushahidullah alleged that during PM Nawaz's meeting with Chief of Army Staff General Raheel Sharif on July 28, 2014, an audio tape was played in which Lt. Gen Zaheerul Islam could be heard giving orders to ransack the PM House and spread chaos.
The tape, claimed the federal minister, was obtained by officials of the civilian intelligence agency – Intelligence Bureau.
On hearing the audio tape, Gen Raheel summoned the ISI chief to the meeting and played the tape in front of him, said Mushahidullah. When Zaheerul Islam confirmed that the voice was his own, the army chief asked him to leave, claimed Mushahidullah in his interview with BBC.
Taking notice of the minister's statements, the PM House had issued a news release, asking Mushahidullah Khan to explain his remarks and tender his resignation. The release also said that Prime Minister Nawaz Sharif had never heard such an audio tape, nor was he aware of its existence.
Full report at:
http://www.dawn.com/news/1201006/pm-nawaz-accepts-mushahidullahs-resignation
-----------
Justice Khawaja takes oath as 23rd CJP for 23 days
Aug 17, 2015
ISLAMABAD: Justice Jawwad S Khawaja took oath as the 23rd Chief Justice of Pakistan (CJP) on Monday, succeeding Chief Justice Nasirul Mulk.
President Mamnoon Hussain swore Justice Khawaja as the new chief justice in an oath taking ceremony held at the Presidency.
Know more: Justice Khawaja's 23-day tenure as CJP begins tomorrow
The ceremony was attended by Prime Minister Nawaz Sharif, federal ministers, members of parliament, chiefs of armed forces, lawyers and Supreme Court judges.
President Mamnoon Hussain had approved the prime minister's advice to appoint Justice Khawaja as CJP on August 5.
Also read: President approves appointment of Justice Khawaja as CJP
It is pertinent to mention that Justice Khawaja will serve as chief justice for only 23 days as he is also due to retire on Sept 9.
Upon retirement of Justice Khawaja, Justice Anwar Zaheer Jamali will be senior most judge of the Supreme Court.
Justice Khawaja took his oath in Urdu and he is the first judge in the history of Pakistan whose appointment order is not in English.
The summary for the appointment of Justice Khawaja as the CJP was written in Urdu because of an ongoing case being heard by a bench headed by him. The case is about the promotion of Urdu, in which the federal government has assured the court that an order has been issued to make it mandatory for the president, prime minister, federal ministers and other official representatives to deliver their speeches in Urdu both inside the country and abroad.
In landmark Supreme Court ruling earlier this month that upheld the establishment of military courts in the country, Justice Jawwad S Khawaja was among the six dissenting judges, who ruled that the 21st constitutional amendment, which essentially gives legal cover to the said courts, is invalid.
Full report at:
http://www.dawn.com/news/1200993/justice-khawaja-takes-oath-as-23rd-cjp-for-23-days
-----------
PPP leader Akhundzada Chattan's minor son kidnapped in Bajaur
Aug 17, 2015
PESHAWAR: The 10-year-old son of PPP Central Executive Committee member Syed Akhunzada Chattan was kidnapped early Monday morning by unidentified persons as he was leaving for school in Bajaur tribal region.
The former MNA from Bajaur Agency told DawnNews that his youngest son, Shah Hussain, had stepped out of the house to go to school when some unidentified people whisked him away in a vehicle.
Akhundzada said he had been receiving threats from the proscribed Tehreek-i-Taliban Pakistan (TTP) militant group. He mentioned that he often received threats and was also attacked recently.
"My children do have security," he said, "But he got out of the house before his brothers ... Our house is on the main road ... The guards fired at the kidnappers but they were out of range," the Pakistan Peoples Party leader said.
Akhundzada Chattan said there had been no contact with the kidnappers as yet.
The former MNA was the purported target of a roadside bomb blast in the Mandal area near Khar earlier this year. Chattan has a security detail of around 17 levies personnel who have been with him for several years, police officials had said.
Akhuzada told that his war ready on deer step for school that some armed persons abducted him. He said the security guard also opened fire but they went way. Akhunzad told continuously he received threats from banned TTP.
Full report at:
http://www.dawn.com/news/1200991/ppp-leader-akhundzada-chattans-minor-son-kidnapped-in-bajaur
-----------
Khanzada terrorist attack: Police submit initial report to Shahbaz
IMRAN GABOL
Aug 17, 2015
LAHORE: The Punjab police sees the involvement of banned Lashkar-i-Jhangvi (LeJ) in the assassination of Punjab Home Minister retired Col Shuja Khanzada.
Know more: Punjab loses minister in terrorist attack
A preliminary report submitted to Chief Minister Shahbaz Sharif by Inspector General of Punjab Police (IGP) Mushtaq Sukhera revealed that the home minister was killed in retaliation of the killing of LeJ chief Malik Ishaq and 13 others, including his two sons, in July 29 in Muzaffargarh district.
Terming the martyrdom of Col Shuja Khanzada a national loss, the IGP said the morale and courage of the police force could not be demoralized with such incidents.
Sees LeJ behind attack
The IGP paid rich tributes to shaheed DSP Shaukat Husain Shah, 40, who had joined the police department in 1998 as an inspector. He left behind a widow and a daughter.
A senior police official, requesting anonymity, told Dawn that intelligence reports had warned about attacks on senior government functionaries, including the Punjab home minister.
He said that intelligence reports suggested the government to increase security of ministers and cabinet members.
He said the police under National Action Plan (NAP) carried out raids in different parts of the province and killed militants at their hideouts and foiled several attempts of terrorism.
On the instructions of the IGP, the security has been beefed up across Punjab in the wake of the Attock incident. The force will perform the security duty strictly in accordance with the SOP.
Full report at:
http://www.dawn.com/news/1200920/khanzada-terrorist-attack-police-submit-initial-report-to-shahbaz
-----------
Parents seek govt support for APS attack survivors
Aug 17, 2015
PESHAWAR: The parents of wounded students of the Army Public School, Peshawar, have presented a charter of demands for medical treatment, education and financial support of their children and asked the government to notify them as victims of terrorism.
Speaking at a press conference at Peshawar Press Club on Sunday, the parents of the injured students of APS said that the federal government had been ignoring them, but if their demands were not accepted till Aug 30 they would take to the streets and raise voice for their rights.
"Our first demand from the federal government is to notify the injured students, teachers and school's administration staff as victims of terrorism so that they would not face problems while going abroad for treatment and education," said Prof Akbar Khan, a nominated president of the newly-formed 'Ghazi Forum APS Peshawar'.
He also asked for issuance of a letter of apology to the injured persons for admitting failure of the state to provide them protection of life in accordance with provisions of the country's Constitution.
Another demand is that the government should declare the injured as special persons and extend them preferential treatment by reserving for them special seats in the professional colleges/universities and allocating employment quota for them to get jobs in the federal and provincial governments' organisations, including those run by the armed forces.
He demanded that lifelong medical and monetary assistance should be approved and provided to the injured students in the combined military hospitals and specialised private sector facilities besides psychiatry, plastic surgery and organ transplanting medical institutions in or outside the country.
Prof Akbar said that the government should issue special treatment cards to the injured people. Referring to the psychological effects of the terrorist activity on the mind of the young injured students, he asked the government to guarantee and provide free education to them in academic institutions of repute.
Full report at:
http://www.dawn.com/news/1200979/parents-seek-govt-support-for-aps-attack-survivors
-----------
Balochistan leaders condemn Attock suicide attack
Aug 17, 2015
QUETTA: Balochistan Chief Minister Dr Abdul Malik Baloch, Home Minister Sarfaraz Bugti, acting Speaker of Balochistan Assembly Abdul Qudoos Bizenjo and former speaker Jan Mohammad Jamali have condemned the suicide attack in Attock and expressed sorrow over the death of Punjab Home Minister Shuja Khanzada and other people.
The provincial government has announced that it will observe one-day mourning on Monday.
In separate statements, the leaders termed the attack a cowardly act and said it could not demoralise the nation or shake the determination of the armed forces to root out terrorism.
They said the country had lost an honest, brave and intelligent leader in Mr Khanzada, who had served the nation for a couple of decades.
Full report at:
http://www.dawn.com/news/1200969/balochistan-leaders-condemn-attock-suicide-attack
-----------
Terrorists strike Attock, again
Aug 17, 2015
ISLAMABAD: On the third anniversary of the terrorist attack at Kamra air base, which is located in Attock district, the terrorists carried out another attack in the district – though this time around the target was a politician, Punjab's home minister Shuja Khanzada.
The terrorists had launched an attack at Kamra air base from a remote village near the base in the early hours of August 16, 2013, which too was not the first terrorist attack in the district.
District Attock has seen a number of attacks as well as cases of target killings in the last one decade.
The Sunday attack also killed DSP Hazro Shaukat Shah, who had been critical of the alignment between criminals and the religious elements in 'Chach' area, which comprises mainly the Hazro tehsil of Attock district.
Exactly three years ago, the Kamra air base had been attacked
In October 2014, the late DSP Shaukat Shah had expressed concerns over isolated target killings, arguing that these killings proved that terrorists were present in the area.
He had said this after the killing of Latif Aalam Butt, a retired air force official who was an Ahmedi. Butt was killed near his house in a civilian residential colony outside the Kamra air base, district Attock.
A month earlier in September 2014, just two lanes away from the site a retired army personnel Sajjad Haider, who belonged to the Shia community, was also killed in a targeted attack.
Meanwhile, a colleague of Shaukat Shah, another DSP of the Punjab police, said that the Sunday attack was linked to the ongoing operations against terrorists in Punjab.
"The attack is aimed at pressurising the Counter Terrorism Department (CTD) of the Punjab," the police officer added, who was affiliated with a team that is investigating a sectarian attack in Attock district.
He highlighted that there were around 370 madressahs in Hazro tehsil.
Analysts are also of the opinion that Attock is home to extremist elements.
"Major terror attacks in Northern Punjab have been linked to people from the Attock area," said Amir Mir, director at Pakistan Institute of Policy Studies (PIPS).
He said that, "A serious security audit is needed in Attock and Taxila region, which is not only very close to the federal capital, but also house sensitive installations."
The first major attack in Attock was reported in April 2000, when 17 people killed in an attack on a Majlis in Malohwali village, Attock district.
Full report at:
http://www.dawn.com/news/1200960/terrorists-strike-attock-again
-----------
Africa
UN calls on Libyans to unite against terrorism after IS attack
August 17, 2015
UNITED NATIONS - Strongly condemning attacks in Sirte by the so-called Islamic State (Daesh), the United Nations Support Mission in Libya stressed Sunday it is "high time" that Libyans agree on a unity government to address the country's challenges and "join together to confront the scourge" of the group, also known as the Islamic State of Iraq and the Levant, or ISIL.
In a statement the UN Mission, known as UNSMIL, deplored the attacks in the coastal city of Sirte, including reports of indiscriminate shelling of residential neighbourhoods and the killing of captives the terrorist group has controlled since May.
"At a time when Libyan key political stakeholders gathered in Geneva for a dialogue to resolve the country's crisis and send a strong message of unity, the terrorist group once again struck to impose its reign of terror" said the statement.
The latest round of UN-sponsored political talks just wrapped up in the Swiss city and UNSMIL has reported that the participants "reiterated their conviction that there can be no alternative to peace in Libya outside this dialogue process, which sets the framework for a comprehensive political settlement that is achieved through consensus."
According to news reports, the latest spate of violence in Sirte erupted this past Tuesday and has continued throughout the week, leaving dozens of casualties. Warning "time and again" of the growing danger of Daesh and the threat the group poses to the country's unity as well as to all Libyans irrespective of their affiliation, UNSMIL stressed that it is "high time that Libyans set aside their differences and join together to confront the scourge of Daesh. While UNSMIL noted Libyan calls for swift action to save Sirte and its people from Da'esh's hold and prevent atrocities.
Full report at:
http://nation.com.pk/international/17-Aug-2015/un-calls-on-libyans-to-unite-against-terrorism-after-is-attack
-----------
Boko Haram's leader Abubakar Shekau refutes death, replacement
Aug 16, 2015
Boko Haram's leader Abubakar Shekau has refuted recent media reports of his death or replacement in an audio message.
"It is indeed all over the global media of infidels that I am dead or that I am sick and incapacitated and have lost influence," he said in an eight-minute Hausa-language message released on social media on Sunday.
"It should be understood that this is false. This is indeed a lie. If it were true, my voice wouldn't have been heard, now that I am speaking," he noted.
The audio message has been verified by the SITE Intelligence Group.
On August 12, Chadian President Idriss Deby announced Shekau had been killed during combat with neighboring Nigeria's Boko Haram terrorists, adding that militant group would be finished "by the end of the year."
Full report at:
http://www.presstv.ir/Detail/2015/08/16/425051/Boko-Haram-alive-Abubakar-Shekau
-----------
World powers slam 'barbaric' ISIS attacks in Libya
17 August 2015
The governments of America, France, Germany, Italy, Spain and Britain issued a joint statement Sunday condemning "barbaric" acts carried out by the Islamic State of Iraq and Syria (ISIS) group in Libya.
ISIS militants seized control of the Libyan coastal city of Sirte in June and militants beheaded 12 local militiamen who had been battling them in the east of the city and hung their bodies on crosses, the official news agency LANA has said.
"We are deeply concerned about reports that these fighters have shelled densely populated parts of the city and committed indiscriminate acts of violence to terrorize the Libyan population," reads the joint statement released late Sunday by the U.S. State Department.
The governments want parties in Libya "to join efforts to combat the threat posed by transnational terrorist groups exploiting Libya for their own agenda."
The situation in Sirte underscores the "urgent need for parties in Libya to reach agreement on forming a government of national accord that, in partnership with the international community, can provide security against violent extremist groups seeking to destabilize the country," the statement reads.
Full report at:
http://english.alarabiya.net/en/News/middle-east/2015/08/17/U-S-other-nations-condemn-barbaric-is-acts-in-Libya.html
-----------
Buhari Ends Hajj Sponsorship
16 August 2015
By Rafiu Oriyomi
LAGOS – A decision by Nigerian President Muhammadu Buhari to stop government's sponsorship of the religious pilgrimage for both Muslims and Christians has been hailed by many people in the West African country, saying these funds can be used to develop the country's nearly obsolete infrastructure.
"If a government wishes to be honest about caring for the religious needs of its citizens, it must institute and drive policies that will economically empower as many Nigerians as possible so that such individuals can on their own afford to cater for the entire needs of the journey," Disu Kamor, executive chairman of the Muslim Public Affairs Centre (MPAC), told OnIslam.net, hailing the decision of the president.
"Additionally, government can lend its support through consular and support infrastructures to enable hitch free pilgrimage operations.
"The way and manner of wasting scarce public fund on sponsoring religiously obligated pilgrimage to Makkah and sight-seeing trips to Jerusalem [Al-Quds] is one more example of misdirected government policies," Kamor added.
Buhari said recently that government has no business expending taxpayer's money on sending delegations for pilgrimage, asserting that going on pilgrimage is an individual business.
At least a million dollar would be saved from the latest decision, which ends decades of government patronage of the pilgrimage.
Dr Saudat Sallah Abdul Baqi, president of the Criterion, a group of Muslim women in business and professions, said Buhari has taken the right decision.
"I think it is a good idea, pilgrimage is now becoming a jamboree in Nigeria," Dr Saudat told OnIslam.net.
"Not all the sponsored pilgrims are spiritually minded to pursue the rite. Some of them have not perfected the other four pillars of Islam but will grab the visa to go on hajj by way of tourism and the financial gains.
"Despite the fact that it is not stated in the book of the Christians to go to Jerusalem, they now clamor for and have gotten a National Commission for Christian Pilgrimage as their share of the national cake," he added.
She however said the president's directive does not preclude government sponsoring "a few officials who will ensure the welfare of the pilgrims," adding that "the monies spent in sponsoring people can now be ploughed into solving more germane problems."
More Praise
Barrister Abdullahi Adam el-ilory, son of the late prominent Muslim philosopher Sheikh Adam Abdullah el-ilory, has also praised the President's deicision.
"It's not a religious duty for any government to sponsor pilgrims from state treasury. As far as Islam is concerned, it's an individual requirement," according to the lawyer, saying Buhari's position matched the long-held belief of the late el-ilory who repeatedly rejected government sponsorship for holy pilgrimage.
Full report at:
http://www.onislam.net/english/news/africa/491881-buhari-ends-hajj-sponsorship-nigerians-elated.html
----------
North America
US court rules against displaying anti-Muslim ads on buses
August 16, 2015
A United States federal appeals court ruled on Wednesday that an anti-Muslim group cannot post ads on buses in Washington showing photos of wanted terrorists and wrongly claiming the FBI offers a $25 million reward for one of their captures.
American Freedom Defense Initiative (AFDI), an anti-Muslim group, claimed that King County had violated its First Amendment right to free speech by refusing to post the advertisements on buses. However, a three-judge panel of the Ninth US Circuit Court of Appeals rejected their claim and ruled against them.
Pamela Geller, the leader of the group which had earlier organised a Prophet Muhammad (pbuh) cartoon contest in Texas that had ended in violence, has put up similar ads in other cities. She had gone to court after some transportation officials in Washington had refused to display the ads.
Geller's group had wanted to advertise the "Faces of Global Terrorism" which included 16 photographs of militants with their names listed and the statement "AFDI Wants You to Stop a Terrorist." Further, they claimed FBI offers a $25 million reward to capture one of the people shown.
The transportation service, King County Metro Transit, chose not to display the ads saying they failed to meet their advertising policy guidelines. According to them, ads that are "false or misleading, demeaning or disparaging or harmful or disruptive to the transit system" were not allowed.
The appeals court agreed that the claim about the reward was false and that the Metro's rejection was "likely was reasonable."
Full report at:
http://tribune.com.pk/story/939009/us-court-rules-against-displaying-anti-muslim-ads-on-buses/
-----------
Masjid Allahu Akbar:20 Years of Community Building
By Layla Abdullah-Poulos
15 August 2015
LONG ISLAND, NY – While many mosques fall victim to vandalism attacks, Masjid Allahu Akbar in Wyandanch, NY, sets an example of 20 years of success in developing congenial relationships with their non-Muslim neighbors, building a community based on respect and understanding.
"We have been here longer than most of our neighbors," Imam Al-Amin Abdul-Latif, the community leader, told OnIslam.net.
"We live on this property. We live around the mosque. We are the face of the community. We feed the neighbors' kids. They know we are Muslim and they know we are peaceful people and they respect our Islam.
"We have a good relationship with our neighbors. This is a mixed community of African-Americans, Hispanics, and European Americans. The people are very respectful," he added.
The Masjid [mosque] dream started 20 years ago as a result of endeavors by members of the Muslim communities in Masjid Al-Mu'mineen in Brooklyn and Masjid al-Mustaqeem in Wyandanch to unite under one cohesive community named Masjid Allahu Akbar.
Al-Amin credits his friend and colleague, Shaikh Inshirah Abdel-Jaleel, who served as imam of Masjid al-Mustaqeem, with having a significant role in the establishment of Masjid Allahu Akbar by facilitating the merging of the two communities.
"We had an economic component, to enable people to buy housing to live around the masjid, so we have neighborhood and community. It entailed developing businesses, educational institutions, and whatever was needed in the community," explained Al-Amin,
The members of Masjid Allahu Akbar planned more than a place of worship, developing a variety of sub-projects, collectively named Project Allahu Akbar, to benefit all Wyandanch residents.
"The concept was building a community not just a masjid, but to provide all of the educational, financial, and cultural components to build a strong vibrant community." Al-Amin added, referring to social outreach to the local community as part of the vision of Project Allahu Akbar.
Till today, the members of Allahu Akbar mosque have succeeded in launching several programs including hosting visiting scholars from Madinah, educational seminars, interfaith dialogues, prison outreach, weekend schools, and da`wah programs.
In addition, the masjid also organized summer camps, backpack giveaways, glove giveaways, homeless feeding programs, and a summer breakfast/lunch program for all the children in Wyandanch.
Full report at:
http://www.onislam.net/english/news/americas/491857-masjid-allahu-akbar20-years-of-community-building.html
-----------
Pataki: US can't 'bow down' to radical Islam
August 16, 2015
Former Gov. George Pataki (R-N.Y.) said on Sunday he would aggressively combat radical Islamic terrorism if elected president.
Pataki added that his experiences during the 9/11 attacks had inspired his current policies for defeating extremist groups like the Islamic State in Iraq and Syria (ISIS).
"America is not going to bow down when I'm president to radical Islam," Pataki told listeners at the Iowa State Fair in Des Moines.
"I felt the horror of New York," he said of the 9/11 terrorist strikes. "We paid a horrible cost, a horrible penalty for not realizing the threat that they pose us."
"We have to stand up and defeat radical Islam over there so they can't attack us over here," the 2016 GOP presidential candidate added.
Full report at:
http://thehill.com/blogs/ballot-box/presidential-races/251247-pataki-us-cant-bow-down-to-radical-islam
-----------
Roundup: Iran urges Islamic media to defy U.S. influence in region
17.08.2015
Iranian international affairs senior advisor to the supreme leader Ayatollah Ali Khamenei, Ali-Akbar Velayati, urged Islamic media Sunday to defy what he deems American regional influence.
"Mercenaries follow the United States objectives in Islamic countries, and the media's role is critical in this regard," Velayati said at the eighth General Assembly of Islamic Radio and Television Union (IRTVU) which started Sunday in Iran's capital of Tehran.
Islamic media's key responsibility is to counter American regional influence, Velayati said.
The IRTVU should reevaluate its strategy to meet the pace of development in western Asia and northern Africa, in order to "neutralize plots against Islamic states," he said.
In addition, the IRTVU needs to upgrade its production quality in order to counteract the cultural and political influences of "devilish unions including Hollywood productions and those against or fighting Islam," Velayati said.
Western media is deaf and dumb when it comes to crimes committed in Syria, Iraq and Yemen, and they do not report any misconduct against Israel and the U.S. division plans in Islamic states, he added.
Velayati hailed what he termed Syrian and Iraqi resistance against Israel and terrorist groups, saying that after their defeat in Iraq, the United States started a war-by-proxy in Iraq.
The U.S.'s vision to disunite and divide Islamic countries will never materialize, he stressed.
Furthermore, visiting Syrian Information Minister, Omran al-Zoubi, said Sunday that Syrian people will never allow the splintering of Syria.
"Although Syria suffered tremendously from recent damage, it will neither die nor collapse," al-Zoubi told IRTVU's General Assembly meeting.
Syrian infrastructure has been wrecked by Islamic State (IS) militants and other terrorist groups supported by the United States, Israel and Saudi Arabia, he said.
"The only one benefitting the most from attacking Syria is the Israeli Zionist regime (but) nobody dares to remove the Syrian flag, and neither the United States, Israel nor similar cowards from the Persian Gulf's southern region have the power to do so," he was quoted as saying by state IRIB TV.
"My country is the hotbed of the Islamic world and is a member of the global Muslim family," he said, adding that "we only have one choice: to fight to the last drop of our blood. Syrians will not allow an iota of their country to be separated."
Political solutions to the Syrian crisis that do not honor free elections by Syrians and their leader(s) are doomed to failure, al-Zoubi added.
Full report at:
http://en.cihan.com.tr/en/roundup-iran-urges-islamic-media-to-defy-u-s-influence-in-region-1860039.htm
-----------
Europe
Police Raids on Islamic State Supporters in Europe after Secret Land Purchases
16 Aug 2015
Macedonian security services have staged a series of raids on Islamic State targets in their country following reports that terrorists have been secretly buying land for training grounds in the Balkans. Kosovan police sources have warned Islamic State is also preparing a huge attack on mainland Europe.
The Sunday Mirror reports the police raids took place in the Macedonian capital of Skopje as well as four other cities across the country. The police hope the raids will smash Islamic State recruiting networks and organisational structures throughout the region, which is on red alert for Islamic terror activity.
Targets of the raids so far identified include 25 homes, the Yaya Pasha and Tutunsuz mosque in Skopje, an internet cafe and the offices of two Islam-linked NGOs – Spark of Grace and Islamic Youth. Nine arrests were made, with suspects aged between 19 and 49. All nine have been detained for 30 days during which time police will continue their investigations, including the hunt for 27 more identified suspects.
The presence of Islamic Youth in the region has previously been identified by Washington-based think tank the Center for Islamic Pluralism, as an "indicator of the bad situation in the Macedonian Muslim communities." Speaking of that country's situation in 2013 Stephen Sulejman Schwartz, Executive Director of the Center for Islamic Pluralism, said:
"The Balkan Muslims have been targeted, clearly, by radicals in the Muslim Brotherhood, as well as representatives of the Wahhabi movement. This is obvious to anybody who visits the region and knows the situation there.
As the most outrageous example, I would cite the terroristic campaign against the Bektashi Sufis of the Harabati Baba teqe in Tetova, conducted by Wahhabi radicals with the complicity of the official Islamic Community of Macedonia.
Full report at:
http://www.breitbart.com/national-security/2015/08/16/police-raids-on-islamic-state-supporters-in-europe-after-secret-land-purchases/
-----------
Bosnians Deny Youth Radicalization Claims
16 August 2015
CAIRO – Amid series of media reports spreading misconceptions about Bosnian Muslim youth, young Muslims have denounced claims that their villages have become a hotbed for recruiting ISIL members, asserting that they reject the deviated teachings by the militant group.
"It's the law of the strongest. The media have the right to say whatever they want about us and we cannot do anything about that. They call us terrorists to tarnish the image of Islam," Edis, a resident of Gornja Maoca, told Gulf News in frustration.
He then used quotes from the Qur'an: "Produce your proof if you are truthful. But where is their proof? As soon as the tension goes down in the country, they try to increase it again."
Edis is one of the few residents in the Bosnian village of Gornja Maoca who accepted to speak to media men after losing faith in journalists.
His village, like small communities spread across Bosnia, have been at the centre of a string of controversies in the national and international media, claiming that they serve as recruiting grounds for terrorists.
The latest bout came in July 2015, when the British Daily Mirror alleged that Ošve village 'has been used for Daesh training camps and could be a base for devastating terror attacks on the West.'
"We think Daesh has deviated from mainstream Islam," he says in a mixture of Arabic, Bosnian and English.
"There are hundreds of isolated villages like Maoca in Bosnia, there is nothing special about us, really," another Gornja Maoca resident who wished to remain unanimous revealed.
The claim was also denied in 2014 by the Mufti of Sarajevo at the entrance of Sarajevo's 15th century bazaar.
"The issue of radicalism in Bosnia is often blown out of proportion and used for political purposes to portray Bosnia as a threat to Europe and a breeding ground for terrorism," he said.
"They make a very limited phenomenon appear much bigger than it actually is," he said.
Dismay
Many Bosniaks are frustrated by the constant hype in the media reports which try desperately to link Bosnia with ISIL.
Full report at:
http://www.onislam.net/english/news/europe/491895-bosnians-deny-youth-radicalization-claims.html
-----------
Why Western Muslims leave a pleasurable life for jihad
08/17/2015
Western Muslim living in the most free and wealthy countries in the world are leaving, or returning, in the thousands to the Arab world in a search for meaning in their life – or an Islamic revival that fits within their traditional cultural religious values.
Samuel Huntington summarized in The Clash of Civilizations and the Remaking of World Order, "As the pace of modernization increases, however, the rate of Westernization declines and the indigenous culture goes through a revival."
How is this possible? This is because the rest of the Muslim world, for the most part, does not hold the same religious or cultural values as the Frenchman or American does, and is why they are having a difficult time integrating into European culture.
The Islamic revival is being driven by a feeling of "revulsion against the West, frustration at the whole new apparatus of public and private life," wrote historian Bernard Lewis in Islam and the West.
It is this "vision of a restored and resurgent Islam, through which God's law and those who uphold it would prevail over all their enemies."
Roger Cohen argued in The New York Times last week, "The honest answer is that we don't know why a 20-something Briton with a degree in computer engineering or a young Frenchman from a Norman village reaches a psychological tipping point."
But we do. It is a radical Islamic ideology – Islamism – which is being ingrained into their heads from their imam, the Internet or their family members.
Daniel Pipes, scholar and president of the Middle East Forum think tank, said Cohen posits that "the Western jihadis are 'yearning to be released from the burden of freedom. ' I disagree."
"The establishment's analysis of Islamism suffers from an inattention to the power of ideas. Neo-Marxist efforts to blame economic deprivation ruled for a while but shattered on the rocks of inaccuracy," Pipes told The Jerusalem Post.
"Self-critical notions about the legacy of colonialism likewise fell into disrepute," he said.
"The simple explanation is that the Islamist vision – like the fascist and communist visions before it – has compelling attraction, especially for educated youths who seek to devote themselves to a great cause."
The challenge for those fighting the Islamist movement, Pipes said, is to defeat and marginalize this vision so that Islamism – again, like fascism and communism before it – loses its appeal.
Full report at:
http://www.jpost.com/Middle-East/Why-Western-Muslims-leave-a-pleasurable-life-for-jihad-412317
-----------
Critics outraged by British theater's cancellation of play about Muslim radicalization
Trevor Grundy
August 16, 2015
CANTERBURY, England ( RNS) Prominent artists and human rights campaigners have criticized the National Youth Theatre in London for canceling a play because its theme is the radicalization of young British Muslims and their attraction to terrorist organizations such as the militant Islamic State.
There is growing concern the play called "Homegrown" by British –born Omar El-Khairy was shut down before its scheduled opening on Saturday (Aug. 15) because of pressure from the British police.
Full report at:
http://www.religionnews.com/2015/08/16/critics-outraged-british-theaters-cancelation-play-muslim-radicalization/
-----------
Southeast Asia
Indonesia's Aceh an example of peace for Philippines' Mindanao
16 Aug 2015
MANILA: More than four decades of fighting and a series of failed peace negotiations have plagued the southern Philippine island of Mindanao.
The conflict there has killed some 120,000 people and displaced more than two million as Muslim separatists fight for independence from the archipelago.
Now, the country finds itself on the brink of a peace deal - the Bangsamoro Basic Law - that could spell an end to this conflict.
The situation in Mindanao is similar to a degree to the one in Aceh before it signed its peace agreement with Jakarta in 2005. That deal ended three decades of armed conflict in Aceh.
The prospect of peace in Mindanao has brought hope that the model could be used to end other long-running insurgencies in Southeast Asia just as it did in Aceh.
In southern Thailand, violence has been high as armed Muslim groups have been fighting for an independent state for decades. In Myanmar, tribal ethnic groups such as the Karen and Kachin have also been battling out for an independent state from the central government.
The Philippines peace plan envisages the establishment of an autonomous Muslim area in Mindanao called Bangsamoro.
DIFFERENT SITUATION
Although some experts point out that there are similarities between the Mindanao situation and that of Aceh before the peace deal was struck, others maintain there are differences.
The geography of the region is one of them. "In the case of Aceh, the reference point has always been the Aceh province," said Miriam Coronel-Ferrer, chief negotiator of the Government Peace Panel.
In the case of the Bangsamoro, we're talking of about a hundred years where there was significant demographic shift in the area that had been predominantly Muslim and other indigenous peoples, eventually being a place for migration from people coming from Luzon and the Visayas. So the actual space on which the autonomous government will stand has to be defined."
Full report at:
http://www.channelnewsasia.com/news/asiapacific/indonesia-s-aceh-an/2054060.html
-----------
Police find IS flag after arrests in Surakarta
August 13 2015
Police personnel found a black flag associated with the Islamic State (IS) group during their counterterrorism searches at a number of locations around the Kliwon market in Semanggi, Surakarta, a witness has said.
"The police picked me up at my home and they asked me to witness their search. I witnessed them search a musholla [small mosque] and a goat pen belonging to Yus Karman. They confiscated a black t-shirt and a black flag, with letters ISIS written on them," said Agus Sumaryawan, the chief of neighborhood (RT) 005 in community (RW) 003 in Semanggi sub-district, on Thursday.
Yus Karman, 30, was one of the two men arrested by the National Police's counterterrorism squad, Densus 88, on suspicion of terrorism on Wednesday.
Apart from Yus Karman's house, Agus said, the police also searched the home of Sugiyanto, 35, the other suspected terrorist arrested on Wednesday, which is also located near the Kliwon market in Semanggi, Surakarta.
The police also searched several locations at RT 004/RW 003, in Semanggi. The area's community chief, Sriyono, said the police searched the home of Ika, the mother-in-law of Udin, 18, another suspected terrorist who is still at large.
Full report at:
http://www.thejakartapost.com/news/2015/08/13/police-find-is-flag-after-arrests-surakarta.html
-----------
Terrorist suspects plan to bomb churches, police stations
August 14 2015
Three terrorist suspects, recently arrested in an operation by the National Police's counterterrorism squad, Densus 88, in Surakarta, Central Java, planned to bomb churches and police stations, a police official says.
Central Java Police chief Ins. Gen. Noer Ali said on Friday that the three suspects – Ibaduddin, Yuskarman and Giyanto -- wanted to disrupt national stability during the commemoration of Indonesian Independence Day this August.
"They want to create chaos. They plan to attack police stations, targeting police officers as well as churches and temples," he said.
Noel said that the three suspects were part of the Badri group that received funding from an IS supporter in Syria, who was identified with the initials BN.
Noer said Ibaduddin received money from BN then he recruited Yuskarman, who was a bomb expert, and Giyanto, who was Yuskarman's assistant to find materials to create bombs.
"One of their targets was Pasar Kliwon sub-precinct police station [Surakarta]. From our investigations, Giyanto conducted a survey [on the target]," Noer said.
Full report at:
http://www.thejakartapost.com/news/2015/08/14/terrorist-suspects-plan-bomb-churches-police-stations.html
----------
Malaysia's Helpless Liberals
By Shaun Tan
August 17, 2015
"The best lack all conviction, while the worst are full of passionate intensity." So goes the poem by William Butler Yeats, a line that could easily be used to sum up the state of affairs in Malaysia.
The Malaysian liberal can be a curious character. Holding views considered liberal when compared against many of his countrymen, but which may well run into the conservative in Western societies, he (or she) is a tragic figure, his way of life often under attack by his country's ruling party and the groups aligned with it.
For news, he eschews the government-controlled press – the vapid broadcasts of RTM, the propaganda sheets of Utusan or The New Straits Times – looking instead to more independent media outlets. He listens to BFM 89.9 and reads The Edge and The Malaysian Insider, or foreign publications like the BBC, The New York Times, or The Wall Street Journal. He learns about the latest crackdown or the latest Malaysian fiasco to grab international headlines and he fumes or laughs in disgusted disbelief. He decries it later with his friends and acquaintances over supper at a mamak stall, or dinner at a restaurant, or drinks at a country club.
If he's young, he often expresses this discontent online. Apart from the usual photos and status updates, his Facebook wall features incredulous posts charting Malaysia's slide deeper into tyranny. He posts and shares and likes, he pulls up dumb statements by the country's ministers and tweets sarcastic rejoinders.
Speak to him, though, and he seems eminently reasonable, strangely mild in the face of all that's happening. What does he want for the country? A variety of things, of course, but ultimately for people to be left free and in peace. How to get it? By eschewing confrontation, spreading awareness, building bridges, dialogue, and so on. He loves his country – still does – with the weary resignation of someone who's been disappointed by the thing he loves and expects to be disappointed again. He is affable and temperate, cautious and considerate. He is also indisputably, utterly, helpless.
Any foreigner observing the rampant spread of corruption and Islamic extremism in Malaysia could be forgiven for asking how it's come to this, how it's been allowed to come to this. It's a question many Malaysians ask themselves.
Over the 1Malaysia Development Berhad (1MDB – a state investment fund) corruption scandal alone, for example, Prime Minister Najib Razak has sacked the attorney general who was meant to be investigating him, had the offices of the Malaysian Anti-Corruption Commission raided to hide evidence of his crimes, suspended The Edge (a local paper) and blocked The Sarawak Report (a whistleblowing website) for reporting on it, and claimed that the $700 million transferred to his personal bank account was a donation. How, many ask, could someone who has so blatantly betrayed the public's trust remain in power?
For that matter, how could Malaysia's government get away with jailing opposition leader Anwar Ibrahim (whose coalition won the popular vote in the last election) over trumped-up sodomy charges? How could its courts get away with a ruling as ludicrous as banning non-Muslims from using the word "Allah"?
Much of the reason for this lies with Malaysia's liberals – those you'd expect to check such abuse.
Full report at:
http://thediplomat.com/2015/08/malaysias-helpless-liberals/
-----------
Malaysia PM party member: $700 million Saudi 'donation'
16 August 2015
By P Prem Kumar
KUALAU LUMPUR
The RM2.6 billion ($700 million) "donation" at the heart of a suspected scandal involving state-owned firm 1Malaysia Development Berhad and Prime Minister Najib Razak came as a token of appreciation from the Saudi Arabian government, a member of the premier's party claimed Sunday.
The United Malay National Organisation (UMNO) chief for Kuantan, the third largest state in Malaysia, said that the money was given in apreciation to Malaysia for "championing Islam" and practising "Sunni Islam."
"Not only did Malaysia receive the donation from Saudi Arabia, two or three more countries also received, including the Muslim community in the Philippines and [Southern] Thailand," Wan Adnan Wan Mamat said at the opening of a Umno Kuantan division meeting.
He added that such funding was also given to Malaysia in 2013 for effectively combatting the widening influence of Daesh.
A Wall Street Journal report had claimed that the RM2.6 billion was from the debt-ridden state investment arm, only for the Malaysian Anti-Corruption Commission to rule that the money was from personal donations, and not 1MDB.
The vice president of imprisoned former opposition leader Anwar Ibrahim's People's Justice Party, Nurul Izzah Anwar, has since claimed that if that the money was a "donation" as claimed then it would have been utilized by the ruling Barisan Nasional (BN) coalition to win the 13th General Election in May 2013, which nulls the election results.
Mamat said that Razak had explained the donation during a meeting with all 146 UMNO divisional leaders last week.
Full report at:
http://www.aa.com.tr/en/news/575713--malaysia-pm-party-member-700-million-saudi-donation
-----------
Independence Day brings out the fun
August 16 2015
If social media is any indicator of real issues and people's perception about them, posts by netizens ahead of Independence Day on Aug. 17 may lead to confusion.
Creative minds with access to the Internet have created memes that have gone viral with diverse content and images, all related to the folk celebration of the 70 years of independence.
A popular one is a pun that derives from the panjat pinang competition in which participants climb a greased pole (usually part of a pinang or areca nut palm tree) to grab gifts hanging at the top of the pole. The fastest climber has the chance to win everything.
For the meme, the creator created a pun out of the words panjat and pinang targeting singles with a caption that says: Do you want to be in panjat pinang or pray for someone to ask for your hand in marriage instead?
In colloquial Indonesian, panjat is a phrase for praying, while pinang is a marriage proposal.
There is also a meme mentioning another popular race: eating kerupuk or cassava starch crackers hung inches above the head. The participant who eats the most wins.
"Kerupuk eating races are so mainstream," it says on the upper side of the image and then, "Why don't you eat your heart out for a change?"
Aside from memes about traditional Independence Day-themed events, some memes show images of a person running away either from the ex-girlfriend or reality.
While the memes may invite a smirk or protest, some touch on serious topics. A logo in red and white — the colors of the Indonesian flag — bearing the image of the national emblem, the Garuda, and the number 70 in the middle, has been adopted by social media users as their profile picture.
Twitter Indonesia, in collaboration with many communities, also launched a similar logo with the number seven made to look like the head of the national emblem. The logo bears the words Indonesia Merdeka (Independence of Indonesia) at the top and ayo kerja (let's work) at the bottom.
It incorporates the hashtags #RI70 and #Indonesia to mobilize Twitterians. The first of them to post the logo was President Joko "Jokowi" Widodo on Aug. 10. Within two hours it became Twitter's top trending topic and held the position for three days.
It was soon followed by #NyalakanIndonesiaRI70 (Light up Indonesia) — a call to netizens throughout the country to share photos and videos displaying how they celebrate Independence Day.
Full report at:
http://www.thejakartapost.com/news/2015/08/16/independence-day-brings-out-fun.html
-----------
Plane with 54 on board crashes in remote Indonesian region
Aug 17, 2015
JAKARTA: An aircraft with 54 people on board crashed in Indonesia's remote and mountainous region of Papua on Sunday, a government official said, the latest in a string of aviation disasters in the Southeast Asian nation.
"The latest information is that the Trigana aircraft that lost contact has been found at Camp 3, Ok Bape district in the Bintang Mountains regency," Air Transportation Director General Suprasetyo told reporters.
"Residents provided information that the aircraft crashed into Tangok mountain." There was no immediate word on whether anyone survived.
Earlier, the National Search and Rescue Agency (BASARNAS) said a twin-turboprop plane had lost contact with air traffic control as it flew over the forested area of eastern Indonesia but efforts to trace it were difficult because of failing light.
Trigana Air Operations Director Beni Sumaryanto said that within 30 minutes of hearing that the aircraft was missing, the airline sent another plane to scour the same flight path but it had found nothing because of bad weather, local media reported.
According to the official BASARNAS Twitter account, the aircraft, a short-haul ATR 42-300 airliner belonging to Trigana Air Service and built in France and Italy, was carrying 44 adult passengers, five crew and five children and infants.
The plane was flying between Jayapura's Sentani Airport and Oksibil, due south of Jayapura, the capital of Papua province.
Air transport is commonly used in Papua, Indonesia's easternmost province, where land travel is often impossible.
According to the Aviation Safety Network, an online database, the ATR 42-300 that went missing made its first flight 27 years ago. ATR is a joint venture between Airbus and Alenia Aermacchi, a subsidiary of Italian aerospace firm Finmeccanica.
The airline has been on the EU's list of banned carriers since 2007. Airlines on the list are barred from operating in European airspace due to either concerns about safety standards or the regulatory environment in their country of registration.
The airline has a fleet of 14 aircraft, according to the airfleets.com database. These include 10 ATR aircraft and four Boeing 737 Classics. These have an average age of 26.6 years, according to the database.
Full report at:
http://www.dawn.com/news/1200812/plane-with-54-on-board-crashes-in-remote-indonesian-region
-----------
URL: https://newageislam.com/islamic-world-news/new-age-islam-news-bureau/good-taliban,-bad-taliban--good-terror,-bad-terror--this-won-t-work--indian-pm-narendra--modi-s-dubai-speech--key-highlights/d/104297