Africa
• Global Arms Trade Contributes to Use of Child Soldiers
• Islam is not the real issue we are facing in Africa, Corruption more pressing a problem
• Libya Christians fear rise of Islamic extremism
• French, Malian troops regain control of Gao
• Tunisia in crisis with secular ministers poised to quit
• Sudan, Darfur Rebels Sign Ceasefire Deal in Qatar: QNA
• In Nigeria, You're Either Somebody or Nobody
• Suicide bomber kills four in Central Somalia: police
India
• Yasin Malik shares Dias with LeT chief Hafiz Saeed in Pakistan
• Reeling under Qaida attacks, Mali to get Indian support
• In Tihar, Officials Feel 'Tinge of Sorrow'
• Two days after hanging, speed post reaches Afzal Guru's family
• Iftekhar Gilani's detention unfortunate: Manish Tewari
• Afzal Guru Execution not political, done according to law: Sushilkumar Shinde
• Afzal's execution with eye on '14 polls: Urdu dailies
• Bangladesh border guards allegedly kills Indian farmer in West Bengal
• Separatist leader Yasin Malik asks Pak govt not make hasty decision on Sarabjit
• 21 illegal Bangladeshi immigrants caught
• 17 Indians likely to reach India on Tuesday from Pakistan
South Asia
• Afghanistan's growing number of child drug addicts
• Kabul inquiry finds evidence of prison torture
• Anti-war criminal demos continue in Chittagong
• No effort made to follow up promises on human trafficking: HRCM
• Ahmadiyya convention concludes
• Bus crash 'kills 16' in Bangladesh
• Lanka appoints new ambassador to KSA
Arab World
• Iraq TV Bombed for Airing Revered Kurdish Leader Criticism
• Fierce fighting in Syria, UN envoy meets opposition leader
• Jeddah streets get bar code tag system signs
• Damascus on Edge as War Seeps into Syrian Capital
• Egypt to ban YouTube over anti-Islam film 'The Innocence of Muslims'
• Gulf force begins war games in Kuwait
• Bahrain crisis talks to begin amid mistrust
• Opposition to presidency opens rifts in Egypt's Islamist current
• 44 pct of Egyptians not willing to re-elect President Morsi
• Egypt opposition to mark 2nd anniversary of Mubarak ouster with anti-govt rallies
• Man sentenced to death for drug trafficking
Pakistan
• Shia-Sunni conflict: One man's faith is another man's funeral
• Pakistan Taliban 'ban vulgar films, Viagra'
• SC orders Tahir ul Qadri to submit details of Canadian nationality
• Pakistani Authorities Consider New Peace Talks Offer from Taliban
• Taliban men freed by Pakistan have re-joined Jihadis: Report
• Police officer among six killed in Karachi violence
• Pakistan test fires Hatf IX missile: ISPR
• Imran warns of 'gory revolution' if votes are 'bought'
• Swiss officials stance has validated mine: Gilani
• Eight people injured after rocket attacks in Quetta
• Stranded in Saudi: 700 innocent Pakistanis duped by Turkish company
• Pakistan reacts cautiously to Afzal Guru's execution
• Taliban's political strategy: Silence voices of dissent
• JeM branches out, sets up base in south Punjab
• 'Pakistan seeing chance to stoke Kashmir flames'
• Tahirul Qadri says petition would not delay elections
• Punjab pigeon-lover kills family over hobby
Southeast Asia
• Musa's 'Arab Spring' prediction will frighten Malaysian voters
• Najib wants Muslims to strengthen unity
• Another Church under Permit Pressure in Indonesia
• Games to replace war for Philippine leader's visit
• Filipino extremists face new foe: fellow rebels
• Indonesian Journalists tested on knowledge of Islam
Mideast Asia
• Turkish Vampire who stabs and bites people to satisfy his blood thirst
• Voter registration starts in Gaza, West Bank: Election chief
• Iran building militias in Syria to protect interests: report
North America
• Eid e Milad un Nabi parade organized in Dallas
• 9/11 lawyers fear government eavesdropping at Gitmo
• Million dollar reward for alleged US cop 'terrorist'
• US starts using Pakistan route for Afghan pullout
• Pope Benedict XVI to resign, first to do so in six centuries
Europe
• U.N. Monitors See Arms Reaching Somalia from Yemen, Iran
• UN Security Council looms for Iran as IAEA tries again
• France probes suspects 'linked to African jihadists'
Compiled by New Age Islam News Bureau
Photo: Global Arms Trade Contributes to Use of Child Soldiers
URL: https://newageislam.com/islamic-world-news/global-arms-trade-contributes-use/d/10368
------------
Africa
Global Arms Trade Contributes to Use of Child Soldiers
11 FEBRUARY 2013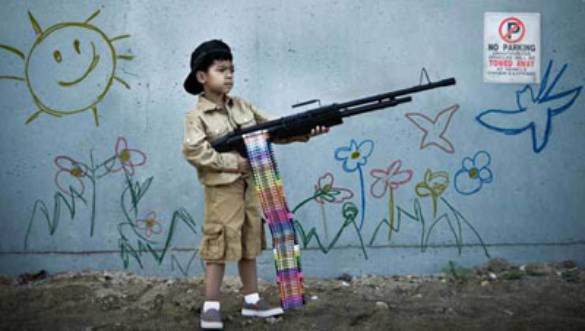 Halting the use of child soldiers in conflicts is just one of a series of compelling reasons for states to adopt a strong Arms Trade Treaty (ATT), Amnesty International said to mark the International Day against the Use of Child Soldiers on 12 February.
In Mali and close to 20 other countries, poorly regulated international arms transfers continue to contribute to the recruitment and use of boys and girls under the age of 18 in hostilities - by armed groups and, in some cases, government forces.
With the final talks on the ATT taking place at the United Nations next month, Amnesty International continues to call on all states to adopt a strong treaty with effective rules to protect human rights.
"Amnesty International's recent research on the ground in Mali has revealed once more the horrors faced by child soldiers who are being recruited in numerous conflicts around the world to support troops and armed groups, sometimes in frontline roles," said Brian Wood, Amnesty International's Head of Arms Control and Human Rights.
"The Arms Trade Treaty must require governments to prevent arms transfers that would be used to commit violence against children and include rules to stem the flow of weapons into the hands of the government forces and armed groups responsible for war crimes or grave abuses of human rights, but the current draft rules are not strong enough to make a real difference."
An overwhelming majority of the world's states oppose the recruitment and use of anyone under the age of 18 by armed forces or armed groups, since taking part in hostilities robs them of their childhood and exposes them to terrible dangers as well as psychological and physical suffering.
Apart from the tragedy of becoming perpetrators of human rights abuses themselves, many child soldiers are killed, maimed or are victims of rape and other sexual violence.
Current use of child soldiers
Since January 2011, child soldiers have reportedly been used in at least 19 countries, according to the global NGO coalition Child Soldiers International, of which Amnesty International is a member.
Among them is Mali, where in recent weeks Amnesty International delegates have interviewed eyewitnesses as well as children who were recruited by the Islamist armed groups currently fighting against Malian and French forces in the north of the country.
In the city of Diabaly - some 400km north-east of the Malian capital Bamako - several people, including the deputy mayor, reported seeing children aged between 10 and 17 with the Islamist armed groups that had taken control of the area.
"These children were carrying rifles. One of them was so small that his rifle was sometimes dragging on the ground," one eyewitness said.
Farther south, in Ségou, Amnesty International met two captured child soldiers - one of whom showed signs of mental illness.
His 16-year-old companion said they were arrested and handed over to the Malian authorities after the French and Malian armies re-conquered Diabaly in late January.
He told Amnesty International about his forcible recruitment and training by the Islamist armed group:
"I used to study with 23 other pupils with a Koranic Master. Two months ago, the grand-son of my master sold us to the Islamists. We joined a group of 14 other young people carrying firearms. At the beginning, I was asked to work in the kitchen. We used to cook in a Christian church occupied by the Islamists. The rebels would beat us [with a rubber belt] during Koran lessons because ...they wanted us to pronounce Arabic like them.
"They trained us to shoot, aiming at the heart or feet. Before the fighting, we had to eat rice mixed with a white powder and a sauce with a red powder. We also had injections. I had three. After these injections and eating the rice mixed with powder, I would turn like a motor vehicle, I could do anything for my masters. I perceived our enemies like they were dogs and all that was in my mind was to shoot them."
The boy told Amnesty International that four child soldiers were killed during the fighting to regain control of Diabaly from the Islamist armed groups and the Malian and French military forces that took over the city of Diabaly around 20 and 21 January.
The organization has evidence that militia groups supported by the Malian government have also recruited child soldiers previously, but so far there is no documented case of these groups using child soldiers on the front lines.
In recent years, Amnesty International has also documented use or allegations of use of child soldiers in numerous other countries, including Central African Republic, Chad, Côte d'Ivoire, Democratic Republic of Congo, Sri Lanka, Somalia, and Yemen.
How the Arms Trade Treaty can help
Some 150 countries, including Mali, have already agreed to prohibit the use of anyone under 18 in armed conflict - by joining the Optional Protocol to the Convention on the Rights of the Child. It is a war crime to conscript or use child soldiers under age 15 in active hostilities.
A strong ATT can help to end the forced recruitment of child soldiers by stopping the flow of arms to governments and armed groups that abuse human rights.
The current draft ATT text proposes weak rules to help prevent arms transfers to states or groups using child soldiers. The draft rules to respect existing international human rights law and international humanitarian law could be circumvented - the rule on violence against children merely requires state to "consider taking feasible measures" and rules to prevent the diversion of arms are weak, for example ammunition is not covered.
Amnesty International is pressing for these loopholes to be closed so that the rule in the ATT would require States Parties to prevent arms transfers that pose a danger of contributing to violence against children, including the recruitment and use of child soldiers.
http://allafrica.com/stories/201302111141.html?viewall=1
-------------
Islam is not the real issue we are facing in Africa, Corruption more pressing a problem
Eliza Griswold
8 February 2013
Stretching from west to east across Africa – from the Atlantic Ocean to the Red Sea – the Sahel today is a militant's dream. Despite the French military's recent routing of al-Qaida in the Islamic Maghreb and its allies in northern Mali, the threat of safe haven for the west's enemies is not going to end there any time soon.
Although, for the moment, the militia have melted from sight, the latest battles in Algeria and Mali are harbingers of a larger catastrophe: the Sahel, the vast grassland north of the equator, has become the latest battleground in the west's war against Islamist militants.
France's plans to withdraw its 4,000 troops from Mali in late March are premature. From the air, US surveillance drones and French fighter planes will not be enough to keep peace in the Sahel – which includes Mauritania, southern Algeria, northern Mali, Chad and Sudan, as well as Somalia, where a 2006 Ethiopian invasion, tacitly backed by the US, looked at first like an utter defeat for the Islamists. Six months later, the militants returned to wage exactly the kind of war Ethiopia and the US had feared.
So how does the west avoid repeating the pattern? By understanding the root causes of the troubles that plague the Sahel.
First, many of its states are weak, if not utterly failing. Ethnic and religious allegiances are much more binding than those of national identity. Exploiting these ties – as well as the growing importance of a global Islamic identity – foreign fighters have decamped from the drone zone of Afghanistan and Pakistan to melt into the lands of North Africa.
All of these factors sharpen the longstanding religious divide that runs along the southern edge of the Sahel, 700 miles north of the equator – the tenth parallel where, thanks to geography, weather and centuries of human migration, most of North Africa's 500 million Muslims meet the 500 million Christians of sub-Saharan Africa. There is nothing new about the co-existence of Muslim and Christian communities at this latitude – it dates back to the seventh century. There's not so much that's new, even, about the emergence of a political form of Islam that sparks conflict with both Christians and more traditional Muslims. Since the Mahdi Muhammad Ahmad launched a 19th-century jihad against the British in Sudan, Islam has gone through periods of revival and rebellion in Africa.
What might be emerging more clearly into public consciousness is a sense that Africa is a zone of strategic concern for the west. Rather than being a place that crosses our radar because of famine, civil war or the legacies of colonialism, we're entering an era in which it becomes a place where western powers directly intervene to protect their interests. So what might this mean for the continent, for some of those key countries, to be placed in this position? And how will it affect our perception of Africa and Africans?
One of Africa's vital interests, which is linked to the rise in militancy, is climate change. Nowhere is this a more urgent issue than in the Sahel, where both flash floods and droughts – which contribute to the Sahara desert's southern spread – are growing more extreme. In Africa, there are now more people fleeing the weather than fleeing war.
Many of these environmental refugees are nomads whose itinerant way of life is in peril. In North Africa, most are Muslims. Since water and grasslands are being replaced by sand dunes, nomads of the Sahel are being forced into different means of survival, such as smuggling cocaine and cigarettes to Europe along ancient salt routes, or joining up with one militant outfit or another.
Another disastrous pattern is that across the continent, Muslim nomads are pushing south into settled land, which tends to belong to Christian farmers. In many places, what begins as a local fight for land and water becomes a globalised battle for religion. In Sudan, for example, the Islamist regime of the north has armed paramilitary Muslim nomads to push south for the sake of their cattle's survival. Deep beneath the surface, that push allows Khartoum to secure its rights to oil.
Oil underlies much of the Sahel – and its well-known curse leads to that curious paradox in which governments such as Nigeria's or Chad's, which receive billions in revenue each year, impoverish their citizens. Despite vast wealth, these states don't safeguard most people's rights to the basic infrastructure of roads, water, electricity or education. Once again, both Muslims and Christians turn to their local mosque or church to help them survive. The resulting corruption on behalf of governments across the region also feeds rebellion in the name of Islam.
Militants use the notion of a return to an idealised Islamic past to control populations from Sudan to Somalia to Nigeria to Mali. This rallying cry for Islamic law, which is reduced to its most extreme measures, is an outgrowth of the rising role of religious identity, but it's also the most expedient means to terrify a population in the name of religion. In many cases, fellow Muslims are the first to suffer at the hands of militants. This is especially true in North Africa, where most Muslims practise Sufism, a mystical strain of the faith that many hardliners see as heretical.
During the cold war, the west fought proxy battles against the Soviets across Africa. In some ways, the vacuum the cold war left behind has left room for a new political contest between Islam and the west. The west's greatest mistake would be to do nothing but militarise this conflict and to shore up corrupt leaders just because they parrot the right kind of western-friendly speak, as we have done in the past.
Far more important – and more daunting – is the need to address the underlying causes of this burgeoning conflict. Corruption and climate change top the list. Until then, American surveillance drones are going to fly over a growing desert that's increasingly hospitable to its enemies.
http://www.guardian.co.uk/commentisfree/2013/feb/08/islam-not-real-issue-africa
------------
Libya Christians fear rise of Islamic extremism
Rising of fundamentalists and extremists in Libya puts more pressures on Christians living in the African country
11 Feb 2013
"Not a day goes by without tombs being vandalised," says Dalmasso Bruno, caretaker of the Italian cemetery in the Libyan capital where Christians fear rising Muslim extremism.
"Human bones have been taken out of their tomb and scattered across the cemetery" in central Tripoli, he said. "The Libyan authorities came and took pictures. They promised to take measures but nothing has been done."
Since the 2011 fall of Moamer Gaddafi's regime, the small Christian community's fears for its safety have increased, especially after a church bombing in December killed two people in the Mediterranean town of Dafniya.
But despite such fears, dozens of worshippers mostly from India, the Philippines and African nations attend mass each week at the Catholic church of Saint Francis near central Tripoli to pray for security to be restored in Libya.
"Look there are no security measures outside the church and the faithful can move around freely around," said Father Dominique Rezeau.
But elsewhere in Libya, Christians are not so untroubled.
"In Cyrenaica, pressure has been exerted on Christians, notably the nuns who had to leave their congregation ... in the east of the country," said Father Rezeau.
He said Libya had as many as 100,000 Christians before the 2011 revolution that toppled Gaddafi. "Now only a few thousand remain."
The main Catholic Church's clergyman in Libya told the Vatican missionary news agency Fides earlier this month that Christians are being driven out of eastern Libya by Muslim fundamentalists.
The Apostolic Vicar of Tripoli, Giovanni Innocenzo Martinelli, said the situation in that region was "critical" and the "atmosphere very tense."
Two religious communities in the east of the country -- the Congregation of the Holy Family of Spoleto and the Franciscan Sisters of Child Jesus -- were forced to leave "after being pressured by fundamentalists."
The Apostolic Vicar of Benghazi has been advised to take precautions ahead of a large-scale demonstration on February 20, Martinelli told Fides.
Libya's second city Benghazi was the cradle of the uprising against Gaddafi's dictatorial regime that erupted in February 2011, and the eastern hub has since been at the forefront of Islamist-linked unrest.
Several international agencies and diplomatic missions have come under attack, the deadliest being a September 11 assault on the US consulate in Benghazi that killed ambassador Chris Stevens and three other Americans.
But the Catholic church in Benghazi remains open, Martinelli said.
Before the uprising, three percent of Libya's population of around 6.3 million were Christian. Most of those who remain are expatriates, including Egyptian Copts who form the largest community.
After mass at St Francis Church, the multinational congregation gathers to socialise while a group of Nigerians in traditional clothes set up a table to sell decorations made of wood.
Antony Amstrong, a Ghanaian who has been teaching French in Libya for the past two decades, deplored the rampant "violence and security" since the anti-Gaddafi uprising.
"All the sacrifice made by Libyans and the price they paid have not brought stability to this country," Amstrong said.
Ftsing Giscard, an electrician from Cameroon who has been living in Libya for three years, agreed.
"Insecurity is a problem that affects everyone," he said, stressing that Africans are most at risk because "Libyans accuse them of being mercenaries who fought alongside Gaddafi's forces."
http://english.ahram.org.eg/NewsContent/2/8/64493/World/Region/Libya-Christians-fear-rise-of-Islamic-extremism.aspx
------------
French, Malian troops regain control of Gao
11 FEBRUARY 2013
The radical Islamic fighters, who had ruled Gao for nearly 10 months before they were ousted at the end of January, returned to the city by crossing the Niger River in wooden boats to launch their assault Sunday afternoon. The fighting lasted more than five hours.
French and Malian government forces have regained control of this strategic northern city, after Islamic fighters invaded and fought a prolonged battle Sunday.
"Yesterday we had the gunfire and hid in our homes all evening," said Soumayla Maiga as he stood with his friends near the rubble of the police offices. "We were stunned when we came out and saw what happened."
Full report at:
http://www.thehindu.com/news/international/french-malian-troops-regain-control-of-gao/article4403631.ece
-----------
Tunisia in crisis with secular ministers poised to quit
2013/02/11
TUNIS: The secular party of was poised to pull out of Tunisia's government Monday, threatening to plunge the country deeper into a political crisis sparked by the killing of a leftwing politician.
Prime Minister Hamadi Jebali's gamble on forming a new cabinet of technocrats in defiance of his religious party after the murder of an opposition leader has left Tunisia in political limbo, with possible resignations from the government.
Full report at:
http://dawn.com/2013/02/11/tunisia-in-crisis-with-secular-ministers-poised-to-quit/
------------
Sudan, Darfur Rebels Sign Ceasefire Deal in Qatar: QNA
February 11, 2013
DOHA (Reuters) - The government of Sudan has signed a ceasefire deal in Qatar with a main Darfur rebel group in a fresh bid to end a decade-old conflict in western Sudan, Qatar's state news agency QNA reported late on Sunday.
Years of international efforts have failed to end a rebellion in Darfur, where mostly non-Arab insurgents took up arms in 2003 to fight against what they called the Arab-dominated government's neglect of the region.
Full report at:
http://www.nytimes.com/reuters/2013/02/11/world/middleeast/11reuters-sudan-darfur-ceasfire.html?ref=middleeast
------------
In Nigeria, You're Either Somebody or Nobody
By ADAOBI TRICIA NWAUBANI
February 11, 2013
IN America, all men are believed to be created equal and endowed by their creator with certain unalienable rights. But Nigerians are brought up to believe that our society consists of higher and lesser beings. Some are born to own and enjoy, while others are born to toil and endure.
The earliest indoctrination many of us have to this mind-set happens at home. Throughout my childhood, "house helps" — usually teenagers from poor families — came to live with my family, sometimes up to three or four of them at a time. In exchange for scrubbing, laundering, cooking, baby-sitting and everything else that brawn could accomplish, either they were sent to school, or their parents were sent regular cash.
Full report at:
http://www.nytimes.com/2013/02/10/opinion/sunday/in-nigeria-youre-either-somebody-or-
------------
Suicide bomber kills four in Central Somalia: police
February 11, 2013
MOGADISHU: At least four people were killed Monday when a suicide bomber blew himself up in his car in an attack aimed at a senior police officer in Somalia's central Galkayo region, police said.
"There are at least five people dead, including the bomber," said police officer Mohamed Abdullahi in the town, which straddles the border between the northern breakaway state of Puntland and the self-proclaimed region of Galmudug.
http://www.thenews.com.pk/article-87593-Suicide-bomber-kills-four-in-Central-Somalia:-police--
---------
India
Yasin Malik shares Dias with LeT chief Hafiz Saeed in Pakistan
Feb 11, 2013
NEW DELHI: Separatist JKLF leader Yasin Malik shared the Dias with 26/11 Mumbai terror attack mastermind and Lashkar-e-Taiba chief Hafiz Saeed to mourn the execution of Parliament attack conspirator Afzal Guru in Islamabad. Malik and some of his supporters observed a 24-hour fast in protest of Guru's hanging.
Afzal Guru was hanged in Tihar Jail on Saturday and buried inside the jail in a top-secret operation.
Addressing the gathering, Malik also asked the Pakistan government not to make any "hasty decision" on Indian death row prisoner Sarabjit Singh in the wake of Guru's execution.
On Malik's meeting with Saeed, foreign minister Salman Khurshid told Times Now that he would look into this matter after getting details from the home ministry.
According to Times Now, home ministry sources say that "Malik has taken things too far this time and is now under the government's scanner", and the ministry is looking into the details of his Pakistan visit.
On queries as to whether any action will be taken against Malik for sharing dais with Lashker-e-Taiba chief Hafeez Saeed while sitting on a hunger strike in Pakistan, home minister Sushilkumar Shinde said, "I will look into the case."
http://timesofindia.indiatimes.com/india/Yasin-Malik-shares-dias-with-LeT-chief-Hafiz-Saeed-in-Pakistan/articleshow/18447879.cms
-----------
Reeling under Qaida attacks, Mali to get Indian support
ByIndrani Bagchi
Feb 11, 2013
NEW DELHI: India gathered with European and African nations in Brussels this week to commit itself to stabilizing Mali which is reeling under al-Qaida attacks. It's the first time India will be involving itself in the political process as well as reconstruction of a country so far from its immediate sphere of influence. The move displays a growing confidence within the Indian foreign policy system.
India had promised to be part of the Support and Follow-Up Group (SFG) for Mali at last week's conference in Addis Ababa, headquarters of the African Union (AU). India has committed to giving $1 million for the upgrade of the Malian army with a pledge to ramp up contribution for reconstruction to $100 million after the situation stabilizes. The Malian army, which will remain in the frontlines after the French intervention is over, is poorly equipped and trained, and markedly different from the fighters of al-Qaida in Islamic Maghreb (AQIM).
Full report at:
http://timesofindia.indiatimes.com/india/Reeling-under-Qaida-attacks-Mali-to-get-Indian-support/articleshow/18441342.cms
-------------
In Tihar, Officials Feel 'Tinge of Sorrow'
GAURAV VIVEK BHATNAGAR
February 11, 2013
'Alvida', said Afzal Guru to his executioner, who had himself bid him good bye with the same words a few seconds earlier. And then as the executioner pulled a lever, Afzal's frame hung from the gallows.
"He was dead in a minute, though", as per the jail norms, the body was kept hanging for a full half hour, said an official who witnessed the hanging. Thereafter Afzal's body was taken down from the gallows and buried with full religious rites near Jail No. 3, right next to the grave of Kashmiri separatist Maqbool Butt who too was hanged in Tihar.
Full report at:
http://www.thehindu.com/news/national/in-tihar-officials-feel-tinge-of-sorrow/article4400897.ece
------------
Two days after hanging, speed post reaches Afzal Guru's family
Feb 11, 2013
SRINAGAR: The speed post sent by Tihar Jail superintendent to Afzal Guru's family in Kashmir Valley's Sopore town was delivered Monday, two days after he was hanged in the national capital. The letter reached postal authorities here Saturday evening, several hours after he was executed.
"A speed post letter has been delivered to us by postal authorities today. Tihar Jail authorities have sent this speed post to Afzal's family," Afzal Guru's cousin Yaseen told journalists in Daibgah (Jageer) village near Sopore town.
Full report at:
http://timesofindia.indiatimes.com/india/Two-days-after-hanging-speed-post-reaches-Afzal-Gurus-family/articleshow/18444932.cms
------------
Iftekhar Gilani's detention unfortunate: Manish Tewari
Feb 11 2013
New Delhi : Terming as "unfortunate" the detention of journalist Iftekhar Gilani by Delhi Police, Information and Broadcasting minister Manish Tewari today said if there is evidence against him, it should be brought on record or else action should be taken against responsible police officials.
Gilani, the son-in-law of Kashmiri separatist leader Syed Ali Shah Geelani, was detained by Delhi Police for 10 hours following the hanging of Parliament attack convict Afzal Guru on February 9.
Full report at:
http://www.indianexpress.com/news/iftekhar-gilanis-detention-unfortunate-manish-tewari/1072616/
-----------
Afzal Guru execution not political, done according to law: Sushilkumar Shinde
Feb 11 2013
New Delhi : Union Home Minister Sushilkumar Shinde said Monday that all constitutional procedures were followed in the execution of Parliament-attack convict Afzal Guru.
''It was not a political decision, but done in accordance to law,'' he said.
Asked why it was done under such secrecy, Shinde said any matter of intelligence and the country's security could not be debated in the open. ''If this is transparent, the country will not run.''
Full report at:
http://www.indianexpress.com/news/afzal-guru-execution-not-political-done-according.../1072601/
-----------
Afzal's execution with eye on '14 polls: Urdu dailies
By Mohammed Wajihuddin
Feb 11, 2013
MUMBAI: A section of Urdu press has said the Congress government decided to execute 2001-Parliament attack convict Afzal Guru with an eye on the 2014 general elections.
Urdu editorials and comment pieces underlined that by executing Guru at a time when elections were around the corner, the Congress took the wind out of BJP-Shiv Sena's sails. "Both, the BJP and the Sena had made Ajmal Kasab and Afzal Guru poll issues in the past and were preparing to exploit it in the next elections too. By executing Kasab and Guru, the Congress has punctured their balloons," said the editorial of Roznama Rashtriya Sahara.
Full report at:
http://timesofindia.indiatimes.com/india/Afzals-execution-with-eye-on-14-polls-Urdu-dailies/articleshow/18438197.cms
-----------
Bangladesh border guards allegedly kills Indian farmer in West Bengal
Sabyasachi Dasgupta
February 11, 2013
New Delhi/Kolkata: A 40-year-old farmer was today killed and a child was injured in "unprovoked" firing by suspected Bangladeshi border guarding force personnel in north Bengal, officials said.
The incident took place around 9:30 am in Uttar Dinajpur area of West Bengal, they said, adding one person identified as Mohammed Saeed (40) was killed while a 14-year-old boy Soor Alam was injured. He was admitted to a hospital in Raiganj.
Full report at:
http://www.ndtv.com/article/india/bangladesh-border-guards-allegedly-kills-indian-farmer-in-west-bengal-329356
----------
Separatist leader Yasin Malik asks Pak govt not make hasty decision on Sarabjit
Feb 10 2013
Islamabad : Jammu and Kashmir Liberation Front chief Yasin Malik today asked the Pakistan government not to make any 'hasty decision' on Indian death row prisoner Sarabjit Singh in the wake of Afzal Guru's execution.
Addressing a gathering of Kashmiri leaders and activists ahead of funeral prayers in absentia in the Pakistani capital for Afzal, Malik said: "I know that some people are demanding that Sarabjit should be hanged. I urge you to make no such demand. That would amount to the same thing as the murder of Guru."
Full report at:
http://www.indianexpress.com/news/separatist-leader-yasin-malik-asks-pak-govt-not-make-hasty-decision-on-sarabjit/1072197/
-----------
21 illegal Bangladeshi immigrants caught
By Mateen Hafeez
Feb 10, 2013
MUMBAI: The Special Branch of the city police arrested 21 Bangladeshi illegal immigrants, including nine women, who were employed in Mumbai and Navi Mumbai as labourers, police said.
The police conducted raids at Rey Road, Mankhurd and Navi Mumbai's Kalamboli areas and caught the illegal immigrants. "We have been working to trace the illegal immigrants. The accused have been arrested," said a police source.
Full report at:
http://timesofindia.indiatimes.com/india/21-illegal-Bangladeshi-immigrants-caught/articleshow/18432200.cms
------------
17 Indians likely to reach India on Tuesday from Pakistan
Feb 11, 2013
AMRITSAR: Defying death the 17 Indians boys are likely to arrive India on Monday. All of them were sentenced to death for the killing of a Pakistani national Misri Khan and injuring Mushtaq Ahmad during a fight over liquor in 200.
President of Dubai based NGO Sarbat Da Bhal SPS Oberoi who has been contesting the case informed TOI on Monday that 13 boys had been transferred to Out Jail from Central Jail while 4 of them were still in Central Jail due to some other case.
Full report at:
http://timesofindia.indiatimes.com/india/17-Indians-likely-to-reach-India-on-Tuesday-from-Pakistan/articleshow/18447826.cms
-----------
South Asia
Afghanistan's growing number of child drug addicts
February 11, 2013
JALALABAD: They play badminton, kick a ball around and huddle over computer games just like normal children. Except that they are recovering drug addicts aged around three to 12, representing a growing proportion of drug users in war-torn Afghanistan.
In response, increasing numbers of rehabilitation centres are weaning such children off their addiction and giving them a new appetite for life in a country that produces 90 percent of the world's opium used to make heroin. While there are no statistics for kids, the rate of relapse is high for their parents, experts say.
For now two young girls, dressed in a blue uniform and playing badminton, and a group of boys playing football are all active and healthy – the total opposite of when they arrived.
"When I see them for the first time, the kids are depressed, unhappy. They don't play actively, they don't care about hygiene," said care assistant Massouma Khatima. "They're like ghosts," added one of her colleagues.
Full report at:
http://dawn.com/2013/02/11/afghanistans-growing-number-of-child-drug-addicts/
------------
Kabul inquiry finds evidence of prison torture
February 11, 2013
KABUL: An official investigation into torture in Afghan prisons has found widespread abuse, President Hamid Karzai said Sunday, following a UN report into the problem.
"According to the report of the commission of inquiry, half of the prisoners interviewed complained of mistreatment, harassment and even torture during their detention," the president's office said in a statement.
It described prisoners' access to lawyers as "problematic", but made no conclusions or recommendations.
Karzai ordered the probe after the United Nations issued a damning report in January citing evidence of frequent abuse in the country's prison system.
The report revealed that 326 of 635 prisoners interviewed across the
country said they had been abused, including 80 minors.
Fourteen types of torture were described in the UN report, including beatings with cables and pipes, attacks on the genitals, threats of execution or rape, electric shocks and forced stress positions.
The United Nations also said 81 people imprisoned in southwestern Kandahar disappeared between September 2011 and October 2012.
"These findings seriously concern us," Jan Kubis, the UN special representative in Afghanistan, said at the time, calling on the government to "do more to prevent torture".
Karzai's spokesman Aimal Faizi questioned the motivations behind the UN report and said the government "is not involved in crimes against detainees".
He also said that torture and abuse of prisoners were "certainly not our policy", adding that the Red Cross had full access to Afghan detention centres and had not revealed any evidence of torture.
http://tribune.com.pk/story/505689/kabul-inquiry-finds-evidence-of-prison-torture/
------------
Anti-war criminal demos continue in Ctg, Rajshahi
11 February 2013
Spirits neither dwindled nor were dampened as countrywide demonstrations continued yesterday demanding death penalty for all war criminals, including Jamaat leader Abdul Quader Mollah.
Our Chittagong correspondent reports: Demonstrations continued in Chittagong city for the fifth consecutive day as thousands, mostly youths, women and school students, congregated before Chittagong Press Club premises.
Chittagong Mass Upsurge Platform announced a six-point demand, with death for war criminals topping the list.
Full report at:
http://www.thedailystar.net/newDesign/news-details.php?nid=268640
------------
No effort made to follow up promises on human trafficking: HRCM
By Neil Merrett | February 10th, 2013
The Human Rights Commission of Maldives (HRCM) has accused state and private sector employers in the country of lacking consistency in their efforts to address human trafficking, preventing "real" change in controlling illegal migration.
HRCM member Jeehan Mahmoud told Minivan News that despite attempts under the present government to try and introduce new legislation, the Maldives had made little progress towards improving the treatment and rights of foreign workers over the last four years.
Full report at:
http://minivannews.com/politics/no-effort-made-to-follow-up-promises-on-human-trafficking-hrcm-52685
------------
Ahmadiyya convention concludes
February 11, 2013
The 89th Annual Convention of Ahmadiyya Muslim Jamaat ended yesterday with a message to establish peace and happiness in the lives of all people across the world.
In celebration of its 100 years, Bangladesh Ahmadiyya Muslim Jamaat organised the three-day long convention from February 8 at its central office in the capital.
National Ameer of Ahmadiyya Muslim Jamaat Mobasherur Rahman chaired the concluding session of the convention while Chief Ameer of world Ahmadiyya Muslim Jamaat Mirza Masrur Ahmed addressed it through a telecast, said a press release. Members of Ahmadiyya Muslim Jamaat and representatives of the Muslim community from 15 countries attended the convention.
http://www.thedailystar.net/newDesign/news-details.php?nid=268656
------------
Bus crash 'kills 16' in Bangladesh
February 11, 2013
A bus carrying pilgrims has fallen off a bridge south of the Bangladeshi capital, Dhaka, killing at least 16 people, officials say.
The bus was carrying Muslim pilgrims who had visited a shrine to the Cox's Bazar district.
Reports said the driver lost control of the vehicle and it fell into a dried-up river bed.
At least 43 people were said to have been on the bus. Reports said at least 15 people were taken to hospital.
Bus accidents are common in Bangladesh where an estimated 10,000 people die in traffic-related accidents every year.
Most are blamed on reckless driving, poor road conditions and old vehicles.
http://www.bbc.co.uk/news/world-asia-21406832
------------
Lanka appoints new ambassador to KSA
11 February 2013
The External Affairs Ministry in Colombo nominated yesterday senior diplomat Vadivel Krishnamoorthy as its next envoy to Riyadh.
The nomination comes just two weeks after his predecessor was withdrawn following the execution of Sri Lankan housemaid Rizana Nafeek, who was convicted of murder.
Following Nafeek's execution on Jan. 9 , the Colombo government asked the ambassador in Saudi Arabia to return to Colombo on completion of his tour of duty in the Kingdom.
Ambassador Ahmed A. Jawad returned to Colombo on Jan. 27.
Full report at:
http://www.arabnews.com/lanka-appoints-new-ambassador-ksa
------------
Arab World
Iraq TV Bombed for Airing Revered Kurdish Leader Criticism
11 February 2013
SULAIMANIYAH, Iraq: A bomb exploded on the roof of an Iraqi satellite channel's offices a day after the broadcaster aired a caller's criticism of a revered Kurdish leader, an official said yesterday.
The explosion in the Kurdish city of Sulaimaniyah came as Human Rights Watch (HRW) criticized the autonomous Iraqi region for infringing on free speech by wrongly detaining journalists, activists and opposition figures for insulting public figures.
On Friday evening, the Nalia television station briefly aired a caller's criticism of Mullah Mustafa Barzani, a Kurdish nationalist leader and the father of Kurdistan's current president, during its "Free Microphone" program before cutting off the caller.
Full report at:
http://www.arabnews.com/iraq-tv-bombed-airing-kurd-criticism
------------
Fierce fighting in Syria, UN envoy meets opposition leader
February 11, 2013
Syrian rebels launched fierce assaults on government troops in several parts of the country on Sunday, as a UN envoy urged the leader of the opposition to seek dialogue with the Damascus regime. There were reports of tension between rival rebel groups in the rebel-held northwest of the
country, where witnesses say local fighters faced off with a hardline Islamist group.
The Syrian Observatory for Human Rights, which collects reports from a network of activists and medics in civilian and military hospitals on the ground, said at least 50 people were killed in violence across Syria on Sunday.
Full report at:
http://www.hindustantimes.com/world-news/restofasia/Fierce-fighting-in-Syria-UN-envoy-meets-opposition-leader/Article1-1009805.aspx
------------
Jeddah streets get bar code tag system signs
11 February 2013
Jeddah Municipality started rolling out its newly designed street signs with QR code tag system.
Visitors and residents will be able to learn of a street name, location and GPS coordinates by taking a snap shot using their smart phone reader.
"The signs have already been mounted at number Jeddah's districts," said undersecretary for projects and urban construction at the Jeddah mayor's office Ibrahim Kutub Khana. "This includes Basateen, Muhamadia, Naeem and Salamh. These new signs includes a property's GPS coordinates, street name and location inside the district. To make locating and navigating in Jeddah more easier and convenient visitors and residents."
By pointing their smart phones at the QR code tag, all the information is stored inside a database. The information can be accessed through satellite positioning systems.
Plans are also under way for installing additional new signs in more of the city's districts.
http://www.arabnews.com/jeddah-streets-get-bar-code-tag-system-signs
------------
Damascus on Edge as War Seeps into Syrian Capital
By an employee of THE NEW YORK TIMES in DAMASCUS SYRIA and ANNE BARNARD
February 11, 2013
DAMASCUS, Syria — Unkempt government soldiers, some appearing drunk, have been deployed near a rebel-held railway station in the southern reaches of this tense capital. Office workers on 29th of May Street, in the heart of the city, tell of huddling at their desks, trapped inside for hours by gun battles that sound alarmingly close.
Soldiers have swept through city neighborhoods, making arrests ahead of a threatened rebel advance downtown, even as opposition fighters edge past the city limits, carrying mortars and shelling security buildings. Fighter jets that pounded the suburbs for months have begun to strike Jobar, an outlying neighborhood of Damascus proper, creating the disturbing spectacle of a government's bombing its own capital.
Full report at:
http://www.nytimes.com/2013/02/11/world/middleeast/syrian-war-closes-in-on-the-heart-
------------
Egypt to ban YouTube over anti-Islam film 'The Innocence of Muslims'
A Cairo court has ruled to ban the video-sharing website YouTube for 30 days for carrying the anti-Islam film that caused riots across the world.
By Ruth Sherlock, Beirut
10 Feb 2013
Judge Hassouna Tawfiq ordered the Egyptian government to block access to the site as punishment for allowing users to see the film clip he described as "offensive to Islam and to the Prophet [Mohammed]".
The "Innocence of Muslims", made by an Egyptian American Christian, is a blasphemous portrayal of Islam, showing the Prophet Mohammed as a religious fraud and paedophile.
Full report at:
http://www.telegraph.co.uk/news/worldnews/africaandindianocean/egypt/9860780/Egypt-to-ban-YouTube-over-anti-Islam-film-The-Innocence-of-Muslims.html
-----------
Gulf force begins war games in Kuwait
10 February 2013
KUWAIT CITY: Joint Gulf force the Peninsula Shield began a 17-day exercise in Kuwait on Sunday as officials said the war games were not related to unrest in the region.
"The exercise was prescheduled and agreed for years. It is unrelated to any regional or political events," the head of Kuwaiti army public relations, Brig. Abdulaziz Al-Rayes, was cited as saying by the KUNA news agency.
Full report at:
http://www.arabnews.com/gulf-force-begins-war-games-kuwait
------------
Bahrain crisis talks to begin amid mistrust
February 11, 2013
After nearly two years of nonstop unrest, opposing factions in Bahrain are set to open talks to ease an Arab Spring conflict that has run longer than Syria's rebellion and is playing out on the doorstep of the U.S. military's main naval base in the Persian Gulf.
But mistrust runs so deep on all sides that even the prelude to Sunday's planned start of negotiations has been a study in the kingdom's divisions and suspicions, and suggests a difficult route toward any possible accords.
Full report at:
http://www.thehindu.com/news/international/bahrain-crisis-talks-to-begin-amid-mistrust/article4400307.ece
------------
Opposition to presidency opens rifts in Egypt's Islamist current
Islamist parties, movements appear more divided than ever in terms of their stances on Egypt's embattled presidency and the Muslim Brotherhood from which he hails
Salma Shukrallah
11 Feb 2013
The escalating conflict between Egypt's political opposition and the administration of President Mohamed Morsi has also led to widening gaps within the Islamist current itself. Some Islamist groups, who had backed Morsi in the past, have now begun to question the policies of Egypt's first Muslim Brotherhood president.
Full report at:
http://english.ahram.org.eg/NewsContent/1/64/64335/Egypt/Politics-/-Opposition-to-presidency-opens-rifts-in-Egypts-Is.aspx
------------
44 pct of Egyptians not willing to re-elect President Morsi: Baseera poll
Opinion poll shows president continues to lose voters' confidence in urban areas and among youth but still enjoys sizeable support in poorer, rural areas; Egyptians split on Morsi's handling of political instability
11 Feb 2013
The Egyptian Center for Public Opinion Research, El-Baseera, revealed that 44 per cent of respondents in a recent opinion poll said they are not willing to re-elect President Mohamed Morsi for a second term.
The results of the poll, which was conducted in late-January, show the highest level of voter disapproval of the performance of President Morsi since he came to power in June 2012.
Meanwhile, the number of those who said they would re-elect Morsi fell from 50 per cent in December to 39 per cent according to the poll.
Full report at:
http://english.ahram.org.eg/NewsContent/1/64/64449/Egypt/Politics-/--pct-of-Egyptians-not-willing-to-reelect-Presiden.aspx
------------
Egypt opposition to mark 2nd anniversary of Mubarak ouster with anti-govt rallies
Opposition parties, groups call for yet another round of mass protests on Monday to mark two-year anniversary of Mubarak's departure
Ayat Al-Tawy
11 Feb 2013
Thirteen Egyptian political parties and movements have announced plans to stage mass anti-government rallies on Monday to mark the second anniversary of former president Hosni Mubarak's ouster.
Protesters on Monday plan to voice their rejection of perceived repressive measures adopted by Egypt's Islamist-led government and what the opposition sees as persistent attempts to "crush the revolution."
Monday's rallies are expected to include marches on Cairo's Tahrir Square and the Presidential Palace in the capital's Heliopolis district. In the evening, a candlelight vigil will also be held in Tahrir Square with the ostensible aim of "mourning freedom."
Full report at:
http://english.ahram.org.eg/NewsContent/1/64/64451/Egypt/Politics-/Egypt-opposition-to-mark-nd-anniversary-of-Mubarak.aspx
------------
Man sentenced to death for drug trafficking
Staff Reporter / 11 February 2013
The Abu Dhabi Criminal Court, on Sunday, convicted an Asian man of smuggling drugs with the intent of trafficking, and handed him down a death penalty.
The Public Prosecution had referred the defendant to court for trial, after he was arrested at the Abu Dhabi International airport for possessing 4.255 kg of Heroin, while he was coming from his home country.
Full report at:
http://www.khaleejtimes.com/nation/inside.asp?xfile=/data/courtroundup/2013/February/
---------
Pakistan
Shia-Sunni conflict: One man's faith is another man's funeral
February 11, 2013
The Old Golimaar area of Karachi is firmly divided between 'us' and 'them' — black flags flutter outside Shia houses, and dark green ones outside those of Sunnis. It is here, in these congested lanes, that the first five Shia men lost their lives in a sectarian conflict which would mark the city's fate for decades.
On February 22, 1978, newspapers carried screaming headlines: Karachi had witnessed the first fatalities resulting from a sectarian confrontation. The stones hurled at a chup taazia procession during Rabiul Awwal that year served as a final spark to the mounting tension between Sunnis and Shias of Ali Basti in Old Golimaar area. Anger, derogatory slogans and many injuries are part of the story. Pictures of the five Shia men killed on that day — Javed, Anwar, Shahenshah, Karar, and Ishrat – adorn the exterior walls of the Hussaini Imambargah located nearby.
Full report at:
http://tribune.com.pk/story/505605/shia-sunni-conflict-one-mans-faith-is-another-mans-funeral/
------------
Pakistan Taliban 'ban vulgar films, Viagra'
Feb 11, 2013
PESHAWAR, Pakistan: The Pakistani Taliban have warned shopkeepers in a popular market to stop selling "obscene films" and Viagra-style male potency pills.
Shopkeepers told AFP Monday that they found handwritten pamphlets containing the warnings after opening Saturday in Karkhano market on the edge of the north-western city of Peshawar.
"Selling sex drugs, vulgar films and obscene movies are against Sharia," said copies of the pamphlet distributed in the name of Tehreek-e-Taliban Khyber.
Full report at:
http://timesofindia.indiatimes.com/world/pakistan/Pakistan-Taliban-ban-vulgar-films-Viagra/articleshow/18443772.cms
------------
SC orders Tahir ul Qadri to submit details of Canadian nationality
2013/02/11
ISLAMABAD: The Supreme Court of Pakistan has ordered Pakistan Awami Tehrik (PAT) chief Dr Tahir ul Qadri to submit in court documents pertaining to his foreign nationality.
A three-member bench of the Supreme Court, comprising Chief Justice Iftikhar Muhammad Chaudhry, Justices Gulzar Ahmed and Sheikh Azmat Saeed, was hearing a petition for the reconstitution of the Election Commission of Pakistan (ECP).
The petition, filed by Qadri, calls for the reconstitution of the commission on the basis that the Chief Election Commissioner (CEC) and the four members were not appointed according to the provisions of the constitution.
Full report at:
http://dawn.com/2013/02/11/sc-orders-qadri-to-submit-details-of-canadian-nationality/
------------
Pakistani Authorities Consider New Peace Talks Offer from Taliban
Ayaz Gul
February 11, 2013
ISLAMABAD — Pakistani opposition parties and their political allies are increasing pressure on the coalition government to consider a recent offer of peace talks from the Pakistani Taliban. Supporters hope the effort may pave the way for ensuring peace during upcoming national elections. However, analysts are skeptical about whether it is worth talking peace at a time when opinion across Pakistan remains deeply divided on how to counter militancy.
Ever since the Pakistani Taliban released a video, earlier this month, offering a set of conditions for peace talks, the initiative has been seized by opposition parties as well as former prime minister Nawaz Sharif as an idea the government should pursue.
Full report at:
http://www.voanews.com/content/pakistani-authorities-consider-new-peace-talks-offer-from-taliban/1601074.html
----------------
Taliban men freed by Pakistan have re-joined jihadis: Report
Feb 11, 2013
WASHINGTON: Some of the Taliban officials and fighters freed by Pakistan to help bring peace in Afghanistan have rejoined their colleagues in waging war against Western troops and the Afghan government, according to a media report on Sunday.
"Pakistan's release late last year of several imprisoned Taliban officials and fighters, which it advertised as a good-faith effort to help bring peace to Afghanistan, is now prompting questions about whether the gesture has yielded anything but potential new dangers for Nato and Afghan troops," the Washington Post quoted US, Afghan and Pakistani officials as saying.
Full report at:
http://timesofindia.indiatimes.com/world/us/Taliban-men-freed-by-Pakistan-have-re-joined-jihadis-Report/articleshow/18440100.cms
------------
Police officer among six killed in Karachi violence
2013/02/11
KARACHI: At least six persons including a police officer were killed on Monday in various incidents of violence in Karachi whereas police arrested a man from Shershah area of Karachi who was suspected of involvement in killing of police personnel, DawnNews reported.
One person was killed in a gun firing incident near Safoorah Chowrangi in Karachi.
Two bodies were found stuffed in gunny bags in Karachi's Abbas town area. The bodies bore marks of torture and gunshot wounds.
Full report at:
http://dawn.com/2013/02/11/police-officer-among-six-killed-in-karachi-violence/
------------
'Pakistan seeing
Pakistan test fires Hatf IX missile: ISPR
February 11, 2013
RAWALPINDI: Pakistan Monday conducted a successful test fire of Short Range Surface to Surface Missile Hatf IX (NASR), ISPR press release said.
According to press release, the test fire was conducted with successive launches of two missiles from a state of the art multi tube launcher. NASR, with a range of 60 km, and in-flight maneuver capability can carry nuclear warheads of appropriate yield, with high accuracy.
Full report at:
http://www.thenews.com.pk/article-87591-Pakistan-successfully-test-fires-Hatf-IX-missile:-ISPR
------------
Imran warns of 'gory revolution' if votes are 'bought'
February 11, 2013
CHAKWAL, Feb 10: Pakistan Tehrik-i-Insaaf (PTI) chairman Imran Khan warned on Sunday of a 'gory revolution' if any attempt to 'buy elections' was made.
He claimed that Pakistan People's Party and Pakistan Muslim League-N had joined hands against the PTI but they would fail to thwart the change his party wanted to bring about in the country.
Addressing four public gatherings here on Sunday, Mr Khan predicted that the PPP and PML-N would jointly contest the elections.
Full report at:
http://dawn.com/2013/02/11/imran-warns-of-gory-revolution-if-votes-are-bought/
------------
Swiss officials stance has validated mine: Gilani
February 11, 2013
Former prime minister Yousuf Raza Gilani has said that the Swiss authorities decision not to reopen corruption cases against President Asif Ali Zardari, confirmed his position that the president has immunity within and outside the country.
Speaking to BBC Urdu, Gilani said that he took a principled stance on the issue and could not write the letter.
The former prime minster said during the interview, that the president of Pakistan enjoys immunity under Article 248 of the constitution.
Full report at:
http://dawn.com/2013/02/11/swiss-officials-stance-has-validated-mine-gilani/
------------
Eight people injured after rocket attacks in Quetta
February 11, 2013
QUETTA: Eight people were injured in three rocket attacks in Quetta, the provincial capital of Balochistan on Sunday night, police said.
Deputy Inspector General Police Operations, Wazir Khan Nasar said three rockets fired by militants from an undisclosed location landed in different areas of Quetta.
Coordinated rocket attacks caused panic in the city. Loud explosions were heard far and wide in Quetta, plagued by violence in recent days.
Full report at:
http://dawn.com/2013/02/10/eight-people-injured-after-rocket-attacks-in-quetta/
------------
Stranded in Saudi: 700 innocent Pakistanis duped by Turkish company
February 11, 2013
ISLAMABAD: The dreams of earning a decent living for their families back home have been shattered for 700 Pakistani workers. Trapped in Saudi Arabia, deprived of their passports and not allowed to work, these honest and hard working Pakistani citizens have been swindled of their life savings in a fraud case involving a Turkish construction company and its Saudi employees.
Talking to The Express Tribune about their ordeal, the workers revealed that they arrived in Saudi Arabia towards the end of 2011 and since then have not been allowed to work or travel outside the Kingdom.
Full report at:
http://tribune.com.pk/story/505557/stranded-in-saudi-700-innocent-pakistanis-duped-by-turkish-company/
------------
Pakistan reacts cautiously to Afzal Guru's execution
Feb 11, 2013
ISLAMABAD: Pakistan on Monday reacted cautiously to the execution of Afzal Guru, hanged for his role in the 2001 attack on Parliament, saying it did not want to "go into details" of his trial.
Responding to a question regarding the hanging of Guru, Foreign Office spokesman Moazzam Khan said he "would not want to go into details of the trial process".
The matter was "being discussed and debated by the media and the human rights organizations", he said in a statement.
Full report at:
http://timesofindia.indiatimes.com/world/pakistan/Pakistan-reacts-cautiously-to-Afzal-Gurus-execution/articleshow/18443634.cms
------------
Taliban's political strategy: Silence voices of dissent
By Sonya Fatah
Feb 11, 2013, 05.46 AM IST
In December last year, a senior leader of the Awami National Party in Peshawar, Bashir Bilour, had just walked out of a party meeting when a suicide bomber snuck up near him and pressed the button on his explosives jacket. Critically injured, Bilour died at Lady Reading Hospital within two hours of the attack.
Every suicide attack is chillingly surreal but this one felt closer to home. On every visit to Peshawar, I have stayed at his house, thanks to my childhood friend, his daughter-inlaw . Ever since the Taliban threat has emerged, the Bilour household has stood up to it, openly expressing its critique of the Taliban vision for Pakistan.
Full report at:
http://timesofindia.indiatimes.com/world/pakistan/Talibans-political-strategy-Silence-voices-of-dissent/articleshow/18439833.cms
------------
JeM branches out, sets up base in south Punjab
Imtiaz Ahmad, Hindustan Times
February 10, 2013
While the Jamat-ud-Dawah (JuD) remains in the limelight in Pakistan, the Jaish-e-Muhammad (JeM) which was founded in 2000, has taken another path. Instead of focusing on attacks in Kashmir, the JeM has branched out and set up a base in south Punjab from where it now operates and now focuses on
both Kashmir as well as sectarian strife within Pakistan. Some say that this had led it to fall foul of the country's military establishment while others insist that this is not the case and the ISI continues to patronize such outfits through one way or another.
Full report at:
http://www.hindustantimes.com/world-news/pakistan/JeM-branches-out-sets-up-base-in-south-Punjab/Article1-1009696.aspx
------------
'Pakistan seeing chance to stoke Kashmir flames'
Jayanth Jacob, Hindustan Times
February 11, 2013
Though it doesn't matter much at the diplomatic or international level, Pakistan could see an opportunity arising out of the hanging of Afzal Guru to stoke the flames in Jammu & Kashmir, New Delhi feels.
Guru was hanged on Saturday after being found guilty in the Parliament attack case in December 2001— an incident that ratcheted up tensions between the two countries.
The attack by five armed men, India said, was on its sovereignty and had left nine persons dead. Guru's hanging had led to protests in Jammu & Kashmir as well as PoK, besides Jamat-ud-Dawah and other Kashmiri groups staging protests in cities across Pakistan.
Full report at:
http://www.hindustantimes.com/IndiaSectionPage/indiasectionpage-
---------
Tahirul Qadri says petition would not delay elections
February 11, 2013
ISLAMABAD: Chief of Tehrik-i-Minhauj ul Quran (TMQ), Tahirul Qadri, on Monday said he did not believe his petition calling for the reconstitution of the Election Commission of Pakistan (ECP) could lead to a delay in the upcoming general elections, DawnNews reported.
Speaking to media representatives outside the Supreme Court, Qadri said the ECP had to fulfill the criterion of transparency in accordance with the Constitution.
He added that an institution which had to meet these requirements had not been constituted in line with the Constitution.
Full report at:
http://dawn.com/2013/02/11/qadri-says-petition-would-not-delay-elections/
------------
Punjab pigeon-lover kills family over hobby
Man confesses to murdering his family for not allowing him to keep birds as pets
February 10, 2013
Karachi: A man slaughtered his mother, two brothers and two sisters in the Punjab province because they would not allow him to keep pigeons as pets, he told police.
The five bodies were recovered from Lisori Kalan, a suburban area of Mandi Bahahuddin city in the Punjab province. The bodies were identified as Asiya Bibi, the mother, Muzammil Hussain, her 18-year-old son, daughters Sana and Hina, aged 17 and 15 years old, and Ali, the youngest son, who was seven years old.
Full report at:
http://gulfnews.com/news/world/pakistan/punjab-pigeon-lover-kills-family-over-hobby-1.1144591
------------
Southeast Asia
Musa's 'Arab Spring' prediction will frighten Malaysian voters
11 February 2013
KUALA LUMPUR, Feb 11 — Tan Sri Musa Hasan's prediction of an "Arab Spring" here after Election 2013 will intimidate Malaysians from voting freely, Pakatan Rakyat (PR) said today, urging the ex-top cop to trust that all parties would respect the democratic process.
National news agency Bernama quoted the former Inspector-General of Police yesterday as saying losers in the coming national polls would create chaos like the uprising in the Middle East to topple the elected government.
"As a former IGP he should stop making speculation like this. It is not giving confidence to the people to vote freely in the next election.
"His statement is not going the help anything. He should put more trust in the people's choice," DAP central executive committee member Anthony Loke told The Malaysian Insider.
Bernama also quoted Musa as saying the police should start gathering information to prevent this "Arab Spring", the term used to describe the violent uprisings in the Middle East, from coming to Malaysian shores.
Full report at:
http://www.themalaysianinsider.com/malaysia/article/musas-arab-spring-prediction-will-frighten-voters-says-pakatan/
------------
Najib wants Muslims to strengthen unity
11 February 2013
GEORGE TOWN, Feb 11 — Prime Minister Datuk Seri Najib Razak said Muslims in the country must unite to strengthen national unity for a more harmonious future.
Citing the conflict in Gaza between Hamas and Fatah, Najib (picture) said unity is the pillar of a respected and sovereign government.
"During my recent visit to Gaza, I told leaders of Hamas and Fatah that they must unite to create a strong government. Unity is important to Muslims as disunity will be disastrous," he said at Prophet Muhammad birthday celebration organised by the Muslim League at Masjid Kapitan Keling here last night.
Full report at:
http://www.themalaysianinsider.com/malaysia/article/najib-wants-muslims-to-strengthen-unity/
------------
Another Church Under Permit Pressure in Indonesia
Mikael Niman | February 11, 2013
A Christian congregation in Bekasi district has become the latest in West Java province to face opposition from local hard-line Muslims on the grounds that it lacks the necessary permit to congregate.
Some 200 people calling themselves the Tamansari Islamic People's Forum (FUIT) rallied outside the Batak Christian Protestant Church (HKBP) in Setu subdistrict on Sunday to block churchgoers from entering the house of worship.
The congregation was forced to hold its Sunday service on the street 30 meters away from its church, which was built in 1999.
Full report at:
http://www.thejakartaglobe.com/news/another-church-under-permit-pressure-in-indonesia/570771
------------
Games to replace war for Philippine leader's visit
11 February 2013
MANILA: Soldiers and guerrilla fighters will meet in sporting events instead of combat when Philippine President Benigno Aquino makes a historic visit to a rebel camp to promote a peace pact, officials said yesterday.
A "fluvial parade" of dozens of colourfully decorated motorboats will also welcome Aquino today when he visits the outskirts of the main base of the 12,000-member Moro Islamic Liberation Front (MILF) in the country's south.
Aquino and MILF chairman Murad Ebrahim will meet in the strife-torn island of Mindanao to hand out social security benefits to impoverished Muslim residents to show their sincerity in furthering the peace process.
Full report at:
http://www.arabnews.com/games-replace-war-philippine-leader%E2%80%99s-visit
------------
Filipino extremists face new foe: fellow rebels
11 February 2013
After years of fighting the government from hidden jungle bases in the southern Philippines, an Al Qaeda-linked militant group is facing a new adversary: fellow insurgents who can match their guerrilla battle tactics and are eager to regain their lost stature by fighting the widely condemned terrorist group.
The emerging enmity between the Abu Sayyaf militants and the Moro rebels could bolster a decade-long campaign by the Philippines and Western countries to isolate the Al Qaeda offshoot Abu Sayyaf, which remains one of the most dangerous groups in Southeast Asia.
Full report at:
http://www.khaleejtimes.com/kt-article-display-
------------
Indonesian Journalists tested on knowledge of Islam
Severianus Endi
February 10 2013
A survey conducted by Pantau Foundation in 2012 reveals that religious intolerance among Indonesian journalists remains high, underlining the need for access to adequate knowledge of Islam, survey coordinator says.
Pantau Foundation survey coordinator, Imam Shofwan, said on Sunday that after the reform era , the phenomenon of religious intolerance perpetrated by Islamic radicals continued to increase.
Full report at:
http://www.thejakartapost.com/news/2013/02/10/journalists-tested-knowledge-islam.html
---------
Mideast Asia
Turkish Vampire who stabs and bites people to satisfy his blood thirst
Feb 11 2013
London: A man from Turkey, who became addicted to drinking human blood, has been described by doctors as having "vampirism".
The 23-year-old married man started slicing his own arms, chest and stomach with razor blades, and gathering the blood in a cup so he could drink it.
He soon became addicted and started turning to other sources to feed his habit which he described as being "as urgent as breathing," the Daily Mail reported.
Full report at:
http://www.indianexpress.com/news/meet-modern-day-vampire-who-stabs-and-bites-people-to-satisfy-his-bloo.../1072468/
------------
Voter registration starts in Gaza, West Bank: Election chief
Feb 11, 2013
GAZA CITY, Palestinian Territories: Palestinian electoral officials on Monday began the long-overdue process of updating voter rolls in the West Bank and Gaza Strip in a key step towards eventual elections, officials said.
"The registration of voters is now beginning in the West Bank and Gaza. We hope accomplishing it will be the first step to ending the division," said Central Elections Commission chief Hanna Nasser in announcing the start of the week-long operation at a news conference in Gaza City.
Full report at:
http://timesofindia.indiatimes.com/world/middle-east/Voter-registration-starts-in-Gaza-West-Bank-Election-chief/articleshow/18444426.cms
-----------
Iran building militias in Syria to protect interests: report
Feb 11 2013
Washington : Iran and its Lebanese-ally Hezbollah, are building a network of militias inside war-torn Syria to preserve and protect their interests if President Bashar al-Assad's regime falls, a media report has said.
The militias are fighting alongside Syrian government forces to keep Assad in power. But officials think Iran's long-term goal is to have reliable operatives in Syria in case the country fractures into ethnic and sectarian enclaves, the Washington Post reported.
A senior Obama administration official cited Iranian claims that Tehran was backing as many as 50,000 militiamen in Syria.
Full report at:
http://www.indianexpress.com/news/iran-building-militias-in-syria-to-protect-interests-report/1072560/
------------
North America
Eid e Milad un Nabi parade organized in Dallas
By Raja Zahid A Khanzada
February 11, 2013
DALLAS: A chain of celebrations during month of Rabi ul Awwal are seen in Dallas as part of the worldwide celebrations. A number of Eid e Milad un Nabi events reflect the emotional sentiments of Muslims in love of Prophet Muhammad (PBUH).
A large celebration and a parade were also organized in this connection. A joint celebration where Mosques of Ahle Sunnat Wal Jamaat including Madina Masjid, Mecca Masjid, Zia Ul Quran Masjid and Barkaat ul Quran Centre organized the parade.
Full report at:
http://www.thenews.com.pk/article-87582-Eid-e-Miladun-Nabi-parade-organized-in-Dallas
-------------
9/11 lawyers fear government eavesdropping at Gitmo
February 11, 2013
By Ben Fox
GUANTANAMO BAY NAVAL BASE, Cuba: Lawyers for the five Guantanamo Bay prisoners charged in the Sept. 11, 2001, attacks want to know if U.S. government officials have been eavesdropping on their private conversations with the defendants.
The evidence for any such listening, the subject of a hearing scheduled to start Monday at this U.S. base in Cuba, is circumstantial.
At a hearing Jan. 28, the sound system in the Guantanamo courtroom was suddenly cut, to the surprise of even the judge. The judge later revealed that a government official, from an agency that the military has refused to disclose, was following the proceedings from outside the courtroom and intervened to prevent the potential release of classified information.
Full report at:
http://www.dailystar.com.lb/News/International/2013/Feb-11/205917-911-lawyers-fear-government-eavesdropping-at-gitmo.ashx#ixzz2KZgXhz1b
------------
Million dollar reward for alleged US cop 'terrorist'
Feb 11, 2013
Investigators have been combing the snow-blanketed California Mountains for Christopher Dorner, 33, a disgruntled former LA Police Department (LAPD) officer who had threatened to murder police in a chilling online manifesto.
Some 50 LAPD officers and families have been placed under special protection, while police were carrying out the manhunt and gearing up to to guard the star-studded Grammy music awards to be held later yesterday.
Full report at:
http://timesofindia.indiatimes.com/world/us/Million-dollar-reward-for-alleged-US-cop-terrorist/articleshow/18439269.cms
------------
US starts using Pakistan route for Afghan pullout
Feb 11 2013
ISLAMABAD : The U.S. says it has started using the land route through Pakistan to pull American military equipment out of Afghanistan.
A spokesman for U.S. forces in Afghanistan, Marcus Spade, said on Monday that the U.S. moved 50 shipping containers into Pakistan over the weekend.
Full report at:
http://www.indianexpress.com/news/us-starts-using-pakistan-route-for-afghan-pullout/1072552/
---------
Pope Benedict XVI to resign, first to do so in six centuries
ByElisabetta Povoledo & Alan Cowell, New York Times
Feb 11, 2013
ROME: Pope Benedict XVI, the former Cardinal Joseph Ratzinger who took office in 2005 following the death of his predecessor, said on Monday that he will resign on February 28, the first pope to do so in six centuries.
Regarded as a doctrinal conservative, the pope, 85, said that after examining his conscience "before God, I have come to the certainty that my strengths, due to an advanced age, are longer suited to an adequate exercise" of his position as head of the world's Roman Catholics.
Full report at:
http://timesofindia.indiatimes.com/world/europe/Pope-Benedict-XVI-to-resign-first-to-do-so-in-six-centuries/articleshow/18446919.cms
-----------
Europe
U.N. Monitors See Arms Reaching Somalia from Yemen, Iran
February 11, 2013
UNITED NATIONS (Reuters) - As the United States pushes for an end to the U.N. arms embargo on Somalia, U.N. monitors are reporting that Islamist militants in the Horn of Africa nation are receiving arms from distribution networks linked to Yemen and Iran, diplomats told Reuters.
The U.N. Security Council's sanctions monitoring team's concerns about Iranian and Yemeni links to arms supplies for al Shabaab militants come as Yemen is asking Tehran to stop backing armed groups on Yemeni soil. Last month Yemeni coast guards and the U.S. Navy seized a consignment of missiles and rockets the Sanaa government says were sent by Iran.
Full report at:
http://www.nytimes.com/reuters/2013/02/10/world/10reuters-somalia-arms-
------------
UN Security Council looms for Iran as IAEA tries again
Feb 11 2013
Vienna : Iran faces possible referral to the UN Security Council in early March unless Tehran and the UN atomic agency defy expectations in talks Wednesday and reach a deal on enhanced inspections.
Iran has consistently rejected as unfounded what the International Atomic Energy Agency calls "overall, credible" evidence that until 2003 and possibly since, it conducted nuclear weapons research.
Full report at:
http://www.indianexpress.com/news/un-security-council-looms-for-iran-as-iaea-tries-again/1072522/
------------
France probes suspects 'linked to African jihadists'
February 11, 2013
A French judge has opened criminal proceedings against four men suspected of links with Islamist militant networks in west Africa.
The four, who were detained in the Paris area on Tuesday, are being investigated for possible "association with a terrorist enterprise".
Three are French and one is from Mali, media reports say.
Full report at:
http://www.bbc.co.uk/news/world-europe-21399075
------------
URL: https://newageislam.com/islamic-world-news/global-arms-trade-contributes-use/d/10368