New Age Islam News Bureau
16 Nov 2016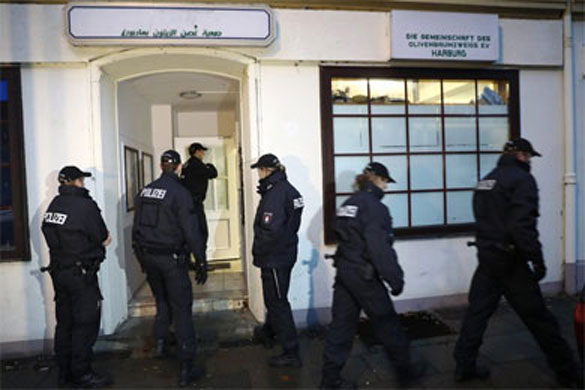 The police raided a mosque in Hamburg, Germany, on Tuesday. Officers searched 190 premises in more than half of the country's 16 states.
----------
• Germany Bans 'True Religion' Muslim Group and Raids Mosques
• US May Have Committed War Crimes in Afghanistan
• Clarion Call to Forge Unity amongst Muslims, Dalits and Adivasis to Fight Injustices Unitedly
• In Indonesia, a New Way to Take Back Social Media from Extremists
• Can Senegal Stop Child Begging, Trafficking By Islamic Teachers?
Europe
• Germany Bans 'True Religion' Muslim Group and Raids Mosques
• Hundreds of Islamic State Fighters Smuggled into Europe as 'Refugees'
• SIDEBAR Islam expert: Salafism is part of German youth culture
• Hunger risks sparking fresh exodus from Syria: UN
• Berlin's wild charms make it first choice for Syrian artists
• Russia detains five IS group-linked suspects for plotting attacks
--------
South Asia
• US May Have Committed War Crimes in Afghanistan
• Afghan Special Forces Rescue 36 from Taliban Prison in Helmand
• Gulbudddin Hekmatyar refuse to apologize over war crime allegations
• Explosion rocks Kabul, leaving 4 dead, 11 wounded
• Afghan warlord shrugs off violent past in bid to rebrand
• Around 200 Rohingya stranded at Bangladesh border
--------
India
• Clarion Call to Forge Unity amongst Muslims, Dalits and Adivasis to Fight Injustices Unitedly
• Government Bans Controversial Preacher Zakir Naik's NGO for 5 Years
• Pakistan violates ceasefire, targets civil locations
--------
Southeast Asia
• In Indonesia, a New Way to Take Back Social Media from Extremists
• What Trump's Victory Means for Muslim-Majority Indonesia
• Indonesia police name Jakarta governor as blasphemy suspect
• Non-Muslims Controlling Halal Market, Minister Tells Bumis
• Suspect or not, Ahok will move on
• Muslim Intellectual Calls for Reconciliation in Ahok Blasphemy Case
• Bangladesh Court Indicts Seven in Killing of Japanese Man
• Samarinda church attack fails to provoke tensions
--------
Africa
• Can Senegal Stop Child Begging, Trafficking By Islamic Teachers?
• Why Nigeria's Shiite Conflict Is Flaring Up Again
• Air Strike Targeting Militants Kills Seven In Southern Libya
• Tunisia seizes three arms caches near Libya border
• Muslim Bangui caught between guns and trade
--------
Arab World
• One-Third of East Mosul Purged Of Daesh Terrorists: Iraq
• Terrorists in Panic as Countdown Starts for Syrian Army's Operation in Aleppo
• Tens of Terrorists Killed in Syrian Armed Forces' Large-Scale Attack in Hama
• Suicide bomber attacks vehicle in Kabul, killing four
• Egypt court overturns Morsi death sentence
• Syria urges OPCW probe chemical attacks by terrorists
• Trump natural ally to Syria if terror battle vows carried out: Assad
• Popular Uprising against Terrorists Begins in Syria's Aleppo
• Syria: Terrorists in Homs, Idlib Surprised by Russian Navy Operation
• Tens of Nusra Terrorists Killed in Syrian Army Attacks in Northern Homs
• Syrian Army Preparing to Win Back Key Towns in Northern Hama
• Arab Daily: Saudi Claim about Ansarullah's Missile Strike on Mecca Mocked by Muslims
• Large Number of Turkish Army Tanks Arrive in Northern Syria
• Challenging government, Egypt's parliament approves 'repressive' NGO bill
• Saudi forces shoot down missile fired from Yemen
--------
Pakistan
• Pakistani Army Destroys Market for Refusing Weapons Supply to Taliban
• Staff of Pak-Turk Schools Told To Leave Pakistan By 20th
• Qatari letter changes PM's stance on London properties: SC
• No interest in MQM, says Musharraf
• Sikhs unburden themselves at Guru Nanak's birthplace
• Britain's PM 'looking forward' to visiting Pakistan
• PTI announces to boycott Erdogan address to joint session tomorrow
• Three 'terrorists' remanded in CTD custody
--------
Mideast
• Settler group seeking to evict Palestinians from East al-Quds homes
• Iran Rejects 'Baseless' Claims Of Housing Taliban
• Turkey says it's tired of 'two-faced' EU attitude
• Hundreds return to Turkish city after eight-month curfew
• Iran warns US after House moves to renew sanctions
• UN human rights bill on Iran politically motivated: Foreign Ministry
• Iran defuses Daesh bombing plot, confiscates 2 tonnes of explosives
• UN committee flags Iran over human rights
• Yemen govt 'not interested' in Kerry's deal
--------
North America
• Hate Crimes against Muslims Up By 67pc In 2015: FBI
• A New Council Will Unite Jewish and Muslim-American Groups In A US Alliance After The Election
Compiled by New Age Islam News Bureau
URL: https://www.newageislam.com/islamic-world-news/new-age-islam-news-bureau/germany-bans-'true-religion'-muslim-group-and-raids-mosques/d/109116
--------
Germany Bans 'True Religion' Muslim Group and Raids Mosques
By MELISSA EDDY
NOV. 15, 2016
BERLIN — A German organization that calls itself the True Religion and that is known for distributing German-language copies of the Quran was outlawed on Tuesday, after the authorities accused it of recruiting jihadists to fight in Iraq and Syria.
Thomas de Maizière, the German interior minister, said the government had banned the True Religion organization, which is also known as Read (as in the instruction to read the Quran), because it acted as a "collecting pool" for would-be Islamist fighters. Starting on Tuesday morning, officers raided 190 premises in more than half of Germany's 16 states. Materials were secured, but there were no detentions, Mr. de Maizière said.
"The organization brings Islamic jihadists together under the pretext of the harmless distribution of the Quran," Mr. de Maizière told reporters in Berlin, stressing that the authorities were acting against the group because of its work to foster violence, not because of its faith. "A systematic curtailment of our rule of law has nothing to do with the alleged freedom of religion," he said.
The move comes after months of surveillance of the organization, whose bushy-bearded members have become a common sight in pedestrian shopping areas in major German cities. Mr. de Maizière said that 140 of the group's supporters are known to have traveled to Syria or Iraq to fight on behalf of the Islamic State.
"The translations of the Quran are being distributed along with messages of hatred and unconstitutional ideologies," Mr. de Maizière said. "Teenagers are being radicalized with conspiracy theories."
The move comes a week after the authorities arrested five men who were accused of aiding the Islamic State in Germany by recruiting members and providing financial and logistical help.
The True Religion is the sixth Islamist organization to be banned in Germany since 2012, under an effort to ensure domestic security and to prevent radicalized young people from leaving the country to fight for extremists abroad.
Germany has been gripped by a wave of small-scale terrorist attacks this year, including three that were claimed by the Islamic State: the knifing of a policeman in February, an ax attack by a young refugee, and a suicide bombing, both in July. (The only deaths in those assaults were those of the attackers.)
Most of the nearly one million migrants and refugees who arrived in Germany last year were Muslims. Security officials have been concerned that those who become frustrated or disillusioned at the difficulty of starting a new life in Europe could provide fertile ground for radical Islamists seeking to recruit members.
The campaign to hand out the Qurans to passers-by was the idea of Ibrahim Abou-Nagie, a Palestinian who preaches a conservative brand of Islam known as Salafism. German security officials said he was not in Germany at the time of the raids. Mr. de Maizière declined to comment on Mr. Abou-Nagie's possible whereabouts.
Mr. Abou-Nagie, who has lived in Germany for more than 30 years, has been on the radar of German security officials since 2005, when he set up a website that officials say spreads extremist propaganda. An attempt to prosecute Mr. Abou-Nagie in 2012 on charges of incitement of religious hatred failed.
Even as they are carrying out a sweeping effort to prevent radical Muslims from committing terrorist acts, the German authorities are also working to stop violence by far-right extremists. There was a 42 percent increase in the number of violent acts committed by the far right in 2015, according to the country's domestic intelligence service, the Federal Office for the Protection of the Constitution.
On Tuesday, federal prosecutors said they had charged eight men from the eastern state of Saxony with forming a far-right terrorist organization known as the Freital Group, after the city near Dresden where many of the group's attacks were carried out. The charges were brought by the state court in Dresden last Wednesday, the prosecutors said.
"The aim of the organization was to carry out explosive attacks on shelters for asylum seekers, as well as homes, offices and automobiles of political dissidents," the prosecutors said in a statement. "Through these actions, the suspects wanted to create an atmosphere of fear and repression."
Others from the group are already facing charges, including attempted murder, carrying out an explosion and vandalism, over a series of attacks that began in late July 2015 and continued through November of that year. Those assaults involved lobbing explosives at the offices of the Left Party and at a refugee shelter in Freital.
http://www.nytimes.com/2016/11/16/world/europe/germany-bans-true-religion-islamist-group-and-raids-mosques.html
--------
US may have committed war crimes in Afghanistan
November 16, 2016
THE HAGUE - US forces may have committed war crimes in Afghanistan from 2003-2004 by torturing prisoners in what appeared to be a deliberate policy, the chief prosecutor of the International Criminal Court has said.
Unveiling the results of a lengthy initial probe into atrocities in Afghanistan, prosecutor Fatou Bensouda said she would decide "imminently" whether to ask to launch a full-blown investigation - and take the world's only permanent war crimes court into uncharted territory.
She stressed that the Taliban militia and the affiliated Haqqani network, Afghan government forces and US troops as well as the CIA all appeared to have carried out war crimes since the Islamic militia was ousted by a US-led invasion in 2001.
And she blamed the Taliban and its allies for the deaths of some 17,000 civilians since 2007 to December 2015 in a brutal insurgency with "numerous attacks" on schools, hospitals and mosques.
But for the first time, Bensouda highlighted allegations of "war crimes of torture and related ill-treatment, by US military forces deployed to Afghanistan and in secret detention facilities operated by the Central Intelligence Agency".
There was a "reasonable basis to believe that" during the interrogation of detainees, "members of the US armed forces and the US Central Intelligence Agency resorted to techniques amounting to the commission of the war crimes of torture" as well as cruel treatment and rape.
If Bensouda does ask judges to authorise a full-scale inquiry, the tribunal would be taking on its most complex and politically controversial investigations to date.
But the United States has not ratified the court's founding Rome Statute, and it is unlikely Washington would cooperate in any investigation which would expose US forces for the first time to the glare of an ICC probe.
And while the US has been leading calls for those behind atrocities in the Syrian conflict to be brought to justice in The Hague, there is little chance of any US soldiers ending up in the dock here.
The former administration of president George W. Bush authorised the use of so-called enhanced interrogation techniques -including waterboarding - after the September 11, 2001 attacks on the United States.
Their use was abolished by President Barack Obama when he took over the White House in January 2009.
But the ICC could be set for a collision course with president-elect Donald Trump, who has said he is in favour of such harsh interrogation techniques and may re-authorise their use.
War crimes allegedly carried out by US forces were "not the abuses of a few isolated individuals," Bensouda insisted in her annual report to the 124 states that belong to the ICC.
Rather it appeared "these alleged crimes were committed" as part of "a policy or policies aimed at eliciting information through the use of interrogation techniques involving cruel or violent methods".
The aim was to "support US objectives in the conflict in Afghanistan".
Detailing her office's initial findings, Bensouda said "at least 61 detainees" were subjected to "torture (and) cruel treatment" by US armed forces in Afghanistan between May 1, 2003 and December 31, 2014.
"Members of the CIA" also appeared "to have subjected at least 27 detained persons to torture, cruel treatment... and/or rape on the territory of Afghanistan" as well as in secret detention centres in Poland, Romania and Lithuania between December 2002 and March 2008.
Any prosecutions of Afghan forces could also be complicated by a general amnesty law passed by the Afghan parliament which came into force in 2009.
The ICC was set up in The Hague in 2002 to try the world's worst crimes in cases where national courts are unwilling or unable to act.
The report was released just ahead of Wednesday's opening of the annual conference of the tribunal's state parties, set this year to be dominated by the shock defections of three African nations, with Bensouda under pressure to widen the geographic scope of her investigations.
Kabul recognised the court's jurisdiction in February 2003, authorising Bensouda's predecessor Louis Moreno-Ocampo to probe atrocities on its territory.
But some African nations have led a chorus to quit the tribunal, accusing it of bias. Of the 10 current full ICC investigations, nine are based in Africa. The other is in Georgia, pitting the ICC against Russia which is also not a signatory.
http://nation.com.pk/international/16-Nov-2016/us-may-have-committed-war-crimes-in-afghanistan
--------
Clarion Call to Forge Unity amongst Muslims, Dalits and Adivasis to Fight Injustices Unitedly
November 15, 2016
AJMER, November 15 (Pervez Bari): Not only cutting across various sects in the Muslim community but prominent religious leaders of different other faiths were perched on the dais giving the strong message loud and clear that India's age old tradition of Unity in Diversity is still alive and kicking.
This scenario was on display at the Jamiat Ulama-i-Hind, (JUH), public meeting in Ajmer at the conclusion of the 33rd national general session of JUH on Sunday at the Kayad Vishram Sthali about 15 Kms away on the outskirts of historical Ajmer city.
The stage was decorated with Muslim clerics of all sects especially Deoband school of thought and caretakers of shrine of Sufi saint Hazrat Khawja Moinuddin Chishti (R) who is remembered as "Ghareeb Nawaz" represented by the office-bearers of the Anjuman Syed Zadgan of Dargah Ajmer and Prof. Akhtar-ul-Wasey, former trustee of Ajmer Dargah along with Maulana Tauqueer Raza Khan, chief of the Bareilly sect and. Religious heads of other faiths who graced the dais to make the picture perfect were Swami Chidanand Saraswati, Achaya Lokesh Muni, Pandit N. K. Sharma and Dalit leader Ashok Bharti, the chairman of the National Conference of Dalit Organisations, (NACDOR).
The above conglomeration representing the Unity in Diversity was a strong rap on the divisionary tactics of the governments of the day vehemently backed by the saffron brigade which has been busy targetting Muslims, Dalits and Adivasis ever since the BJP-led Narendra Modi's NDA Government came to power in May 2014 at the centre. If it was earlier "Ghar Wapsi"; "Love Jehad"; Beef politics; "Gaurakshaks"; it is nowadays the melodrama of Tripple Talaaq and Uniform Civil Code controversy threatening to rip apart communal harmony and peace and thereby severely jeopardise the National Integration of the country.
As such in this backdrop a clarion call was given to forge unity amongst Muslims, Dalits and Adivasis to fight unitedly the injustices being meted out to them and to all the oppressed. A resolution of Muslim-Dalit-Adivasi unity was also passed by voice vote. It also stressed need of forging unity with Dalits and backward classes and asking to all Muslims to maintain cordial relations with members of every section of the society for strengthening the national unity. Maulana Niaz Ahmad Faruqi while reading the resolution asserted that Jamiat will fight against social injustice meted out to the Dalits and Adivasis.
Jamiat announced of launching social reform movement against nudity, alcoholism and pornography and propagating Islamic teachings in the country during the whole year of 2017.
Meanwhile, JUH in 8-point Ajmer declaration warned the Union Government that if Uniform Civil code is imposed on this country or interference made in the Muslim Personal Law, then our status will not be of a free citizen. The declaration also condemned triple talaaq at one go and appeals to every sections of the Muslim society to make stride to eliminate this wrong-practice.
Besides that among a dozen resolutions on a wide range of issues JUH reiterated its long pending demand of enacting anti-communal violence law and made it clear that the community will not tolerate any meddling in the Muslim Personal Law and will oppose Uniform civil Code with tooth and nail as it violates the fundamental rights enshrined in the Constitution.
Presenting the resolutions in the presence of different faith leaders (including Hindu, Sikh, Jain and Christian) and Islamic scholars, Jamiat Ulama-i-Hind general secretary Maulana Mahmood Madani said we would work together to build a new India.
It also strongly protested against forcing school children to observe religious ritual of a particular religion and demanded for the removal of this practice.
On rising communal incidents in the country since the present government came to power, Maulana Madani said the Jamiat has been pressing upon the previous governments to pass anti-communal valence law but unfortunately they did not heed this demand.
The resolution states: "Jamiat considers communal harmony as the pre-condition for the security and integrity of the country. It regards incidence of communal riots as a blot on the face of the nation and stumbling block in the country's progress. It's the primary duty of the Government to maintain peace and security in the country. It must not allow communal disturbance. Therefore this session of the Jamiat demands from the Central and the state Governments to enact anti- Communal violence law.
It also expressed deep concern over declining representation of Muslims in different walks of life and made several demands for rectifying the situation including reservations and scraping of religious bar from the Article 341 .
In his presidential address, Jamiat president Maulana Mohammad Usman Mansoorpuri especially touched upon the sectarian differences among Muslims adding that it is a call of time that every sects should be on a common platform on issues related to the nation and community. In the past, he warned that sectarian differences among Muslims have caused harm to the nation and the Muslim world. (pervezbari@yahoo.co.in)
http://www.siasat.com/news/clarion-call-forge-unity-amongst-muslims-dalits-adivasis-fight-injustices-unitedly-1065801/
--------
In Indonesia, a new way to take back social media from extremists
By Yonat Shimron
November 16, 2016
JAKARTA, Indonesia (RNS) Like most of her Muslim peers, Sarah Hajar Mahmudah, a 21-year-old international relations major at the State Islamic University, wears a tight scarf around her head.
She's proud of her faith and equally proud of her country's long reputation for religious tolerance and coexistence.
And like many Indonesians, she is an avid social media consumer, spending about two hours a day, browsing Facebook, posting to Twitter and Instagram, pausing to view a handful of YouTube videos.
But over the past few years, she's noticed a worrying trend.
"Social media is a problem for religious diversity in this country," she said, pausing to talk at a cafe in a bustling Jakarta mall.
Earlier this month, at a mass protest in Jakarta, Muslim hard-liners pressed for the resignation of the capital's governor, a Christian they say insulted the Quran.
The furor over the alleged insult was sparked after a video circulated online in which the governor lightheartedly cited a verse in the Quran that warns against taking Christians and Jews as friends and said that he should be prosecuted and jailed under Indonesia's blasphemy laws. He later apologized.
Indonesia, the world's largest Muslim-majority nation, is one of the most voracious users of social media.
An estimated 76 million Indonesians regularly log on to Facebook, making the Asian archipelago nation the world's fourth-largest user (after India, the U.S. and Brazil). The country is the fifth-largest user of Twitter (after the U.S., Brazil, Japan and the U.K.)
Both Google and Facebook have recently come under criticism for allowing fake news on their sites, which some have suggested may have influenced the U.S. presidential elections. The internet giants both responded by saying they will not tolerate misinformation.
While most agree that tech companies must do more to filter out hoaxes, an experiment soon to be launched in Indonesia may be one small corrective to the wider problem of false narratives and misleading information on the internet.
It started two years ago when Facebook founder Mark Zuckerberg flew to Indonesia to meet with President Joko Widodo. The two discussed how the tech giant could help support Indonesian microbusinesses and increase internet access in rural areas.
Less noted was another item on the agenda: How could Facebook help the world's third-largest democracy bridge its diversity challenges?
Indonesia has more than 6,000 inhabited islands, dozens of ethnic groups and a multitude of religions.
"Unity in Diversity" (Bhinneka Tunggal Ika) was proclaimed the national motto when Indonesia declared independence from Dutch colonial rule at the end of World War II.
But peaceful coexistence is not always the norm, and as the country struggles to live up to its motto, it's finding that social media is a double-edged sword.
Much has been written about the ways the self-styled Islamic State group has manipulated social media to recruit foreign fighters to Iraq and Syria. But social media is also having a negative effect on social cohesion in other regions of the world, where it is often viewed as a tool for inflaming hatred, reinforcing biases and spreading misinformation.
Which is why Facebook asked Affinis Labs, a Falls Church, Va.-based group that specializes in running social impact hackathons, to organize an event in Jakarta to encourage religious and cultural diversity.
In June, at two co-working office spaces in Jakarta, 25 Indonesians from across the country were invited to come together, including Mahmudah, who applied at the suggestion of one of her professors.
"The idea was to generate ideas around social issues," said Tony Pribadi, a startup entrepreneur who splits his time between Indonesia and the U.S. "First they talked about the issues. Then they picked one topic to work on."
Over the past decade, hackathons have proved popular as a way to bring programming geeks together to work on a unique solution to a technological problem.
The events are addictively high-energy, as teams work around the clock and under tight deadlines — events typically last 48 hours — to come up with a programming prototype that they can demo for prizes.
But Affinis Labs tweaked the hackathon model to focus on finding social solutions to problems such as hate speech and violent extremism.
Founded nearly two years ago by Obama administration consultants on American Muslim engagement Quintan Wiktorowicz and Shahed Amanullah, the organization has acquired a reputation for using the hackathon model to find solutions to counter radicalization and promote positive narratives and social entrepreneurship.
"Facebook came to us and said: Listen, Indonesia is a huge market for Facebook. Can you do something to promote diversity?" said Wajahat Ali, creative director for Affinis Labs and a host/contributor at The Huffington Post. "We wanted to come up with innovative, impactful and scalable solutions that can amplify Indonesian values of co-existence, diversity and pluralism."
Over the course of the three-day event, dubbed "Beda Tapi Satu" or "Different But One," participants were split up into five teams and asked to home in on a social problem that needed fixing and propose a solution.
Mahmudah, the international relations student, teamed up with Reggy Hasibuan, a 47-year-old stand-up comedian. The two, along with three others, hammered out the problem: Social media is fueling a cottage industry of online hoaxes and fake news that spreads misinformation and foments hatred among Indonesian faith traditions.
One online hoax alleged non-Muslims were responsible for torching a mosque in Papua, Indonesia's easternmost province; another falsely alleged an Australian company was crossbreeding sheep with pigs so as to defile Indonesia's halal meat supply (Muslims do not eat pork).
Hoaxes don't always involve Muslims. One fake news meme alleged a statue of Jesus in India was miraculously weeping tears when in fact water from a stopped-up bathroom was dripping onto the sculpture.
Fake news quickly goes viral online — often spinning out of control. Less troubling, but also of concern, are accurate memes distorted and twisted over time.
One way to bust these hoaxes, the team decided, was to counter them with a series of quick, punchy and — most important — funny online videos.
"Humor," said Mahmudah, can enlighten people about the truth. "No matter who you are, you can appreciate a good joke."
The videos, the team proposed, would live on a special website dubbed Asiknaja.com, or "Lighten Up" in Bahasa, the official language of Indonesia.
The team's solution won first place in the hackathon. Mahmudah and Hasibuan have since completed 10 short video clips that aim to debunk online rumors such as "NASA has changed the signs of the zodiac" and "Mark Zuckerberg has converted to Islam."
The three- to five-minute video clips are now being edited. Mahmudah and Hasibuan have plans for another 10 videos. They will post them to a new website, YouTube and various social media outlets.
In Indonesia, "the understanding of other religions is very lacking," said Hasibuan, a nonpracticing Roman Catholic who grew up surrounded by Muslims.
"You're taught at an early age that your religion is the best. This justifies a lot of wrongs that happen afterward."
One wrong is radicalization, which both Mahmudah and Hasibuan are committed to fighting.
While the Indonesian Constitution provides for freedom of religion, international human rights organizations report persistent attacks and intimidation against religious minorities and atheists.
It's not only non-Muslim faiths that face hostility. Indonesia's Ahmadiyya community is increasingly targeted, as are Shiite Muslims.
Mahmudah points out that Indonesia was once a Hindu society and that Islam spread across Southeast Asia through commerce rather than war or military conquest.
She wants the country to be known for a friendly and tolerant version of Islam, and she believes challenging misinformation is critical to that effort.
http://religionnews.com/2016/11/15/in-indonesia-a-new-way-to-take-back-social-media-from-extremists/
--------
Can Senegal Stop Child Begging, Trafficking By Islamic Teachers?
16 November 2016
By Kieran Guilbert
DAKAR, Nov 16 (Thomson Reuters Foundation) - Dressed in ill-fitting football kits and covered in dust and dirt, dozens of young boys chatter, laugh and chase a ball as Maimouna Balde leafs through a list of names.
When a scuffle breaks out between two boys, Balde instantly steps between the former child beggars in the yard of the shelter for abandoned children in Senegal's capital, Dakar.
"It is tough here - many of the boys have been beaten by their teachers and forced to live on the streets," the head of the Ginddi centre told the Thomson Reuters Foundation, reading a file listing boys as young as five and notes on various abuses.
Many of these children, known as talibe, are sent by parents in Senegal or trafficked from neighbouring countries such as Guinea-Bissau to Islamic schools, called daaras, where they are expected to receive food, shelter and teachings from the Koran.
But tens of thousands of children in daaras across the West African nation are forced to beg in the streets to make money for their teachers, called marabouts, said rights groups such as Human Rights Watch (HRW) and Anti-Slavery International (ASI).
These influential Islamic figures, respected and even feared by communities and politicians, punish their pupils if they fail to bring in some 2,000 CFA francs ($3) per day, activists said.
Alongside a drive to take the talibe off the streets, the state is considering a law to regulate daaras - seeking to raise teaching standards and eliminate trafficking and forced begging.
Yet activists are concerned that the clout of marabouts may hold back efforts to protect children in the Koranic schools as Senegal wrestles with its identity amid a rising tide of Islamist militancy in the region.
Many people in the Muslim-majority but staunchly secular West African nation are asserting their cultural and religious identity over Western values in response to growing anti-Islam sentiment in Europe and elsewhere, said Sarah Mathewson of ASI.
"This extends to marabouts feeling excluded from Senegal's education system, which operates in French," she said. "They must be integrated and supported if things are to improve."
MARABOUT MAFIA
Many of the talibe arriving at the Ginddi centre are sick and traumatised, according to staff at the state-run shelter, which works to reunite children with their families.
President Macky Sall in June ordered the removal of children from the streets and said those who force them to beg would be imprisoned in a drive to end a practice estimated by the United Nations to generate $8 million a year for Koranic teachers in the capital.
Yet fewer than 1,000 talibe of more than 30,000 in Dakar have been swept off the streets to date, with marabouts hiding them away or dressing them smartly to evade detection, said the state's national director of child protection Niokhobaye Diouf.
"Many disappeared after Sall's announcement ... hidden by the crooked people who profit from their begging," Diouf said.
Many activists have questioned the political will behind the drive, announced just days after the United States downgraded Senegal in its annual Trafficking in Persons (TIP) report.
Sall vowed to close unsafe daaras after nine children died in 2013 in a fire, yet few have been shut down, while an anti-trafficking law passed in 2005 to stop the abuse of talibe has since led to only a dozen prosecutions of marabouts, HRW said.
A draft law to regulate and modernise the daaras has stalled amid concerns from marabouts about the integration of the schools into Senegal's education system, activists said.
There are doubts whether the curriculum in the religious schools offers pupils the best future, according to a report by the Berkley Center for Religion, Peace and World Affairs at Georgetown University.
Yet with Koranic teachings firmly ingrained in the fabric of Senegalese culture, people want to see the daaras valued and protected, said Katherine Marshall, a professor at Georgetown.
"People say you can't allow a mafia, this small percentage of marabouts involved in abuse, to tar the whole system," said Marshall, a former World Bank country director for the Sahel.
BREAKING THE CYCLE
In a police station in the northern city of Saint-Louis, Issa Kouyate signed a form to secure the release of a teenage talibe, Mamadou, held in a cell overnight on suspicion of stealing a laptop.
As they walk towards Maison de la Gare, a talibe shelter run by Kouyate, the activist calmly spoke to the 15-year-old in his native language Wolof, squeezing his hand gently to comfort him.
"The boys I work with, they don't know what to do or have any skills, because they only know the Koran," said Kouyate, his phone ringing constantly with reports of disputes and abuses.
Recalling cases where marabouts chained talibe to the floor, wounded them with nails and beat them until they could no longer move, Kouyate said the onus was on parents to insist on change.
Civil society groups such as SOS Children's Villages and Mozdahir have adopted this approach, bringing parents and marabouts together and ensuring that young people learn subjects including French and skills ranging from carpentry to sewing.
"By persuading people to stop donating money to talibe and offering marabouts a new vision of education, we can break the vicious cycle of begging," said Moussa Ndoye, head of a project to end begging in Dakar's Gueule Tapee neighbourhood.
Yet such efforts are being hindered by the trafficking of children to daaras from nearby Gambia, Guinea, Guinea-Bissau and Mali, migration experts said.
Around 40 percent of the 800 talibe taken to the Ginddi centre to date are from Guinea-Bissau, state data shows.
"Porous borders and a lack of police coordination highlight the difficulty of fighting this phenomenon," said Michele Bombassei of the International Organization for Migration (IOM).
"If we are ever going to win this battle, we will win it at the community and cultural level - at the source," he added.
PUSH FOR PROSECUTIONS
Many activists said prosecuting marabouts is key to ending abuses. "With the regulatory law in limbo and daaras not part of the education system, how else can Senegal ensure talibe are not subjected to begging and abuse?" said Lauren Seibert of HRW.
Yet few prosecutors choose to take on cases against marabouts, according to a spokesman for the justice ministry's anti-trafficking task force (CNLTP).
Only a handful of marabouts have been jailed in cases of extreme abuse and deaths of talibe in recent years, activists said, while Senegal has only made two convictions for forced begging since 2014, found the U.S. TIP report.
"It may be harder to change the mindset of prosecutors than that of marabouts," said Laetitia Bazzi of the U.N. children's agency (UNICEF).
Dialogue between marabouts, civil society and the state is underpinned by fears of rising extremism in Senegal, after a string of major attacks on hotels across West Africa by al Qaeda in the Islamic Maghreb's (AQIM) over the past year.
While Senegal's moderate Sufi form of Islam has historically insulated it from radicalisation, there are radical teachers and imams with influence across the country, security experts say.
"Many marabouts are involved in the push to raise standards and stamp out abuse," said Mathewson of ASI.
"But there is a perception among some that the agenda for reform comes from the West ... this needs to be addressed." (Reporting By Kieran Guilbert, Editing by Ros Russell; Please credit the Thomson Reuters Foundation, the charitable arm of Thomson Reuters, that covers humanitarian news, women's rights, trafficking, corruption and climate change. Visit news.trust.org)
http://www.dailymail.co.uk/wires/reuters/article-3940794/Can-Senegal-stop-child-begging-trafficking-Islamic-teachers.html
--------
Europe
Hundreds of Islamic State Fighters Smuggled into Europe as 'Refugees'
15 Nov 2016
The German intelligence service and the Austrian government have confirmed that hundreds of Islamic State fighters have come into Europe disguised as refugees.
The German Federal Intelligence Service (BND) has released a new report indicating that Islamic State has used the migrant crisis to smuggle in hundreds of terrorists to Europe. The BND has also revealed that rather than individual jihadis operating and travelling on their own, the group has coordinated and dispersed networks of fighters, reports Die Welt.
The report was released a year after the horrific attacks at the Bataclan theatre in Paris in which it was revealed six of the attackers smuggled themselves into Europe as asylum seekers.
According to the BND report, Islamic State leaders are training the fighters on how to apply for asylum and even how to behave as asylum seeker so as not to arouse suspicion if questioned by police or by other migrants. Despite this training, many of the fighters have been caught in asylum homes across Europe including in Germany and Italy.
The investigators further revealed that Islamic State has also expanded into the Netherlands where anti-Islamisation MP Geert Wilders has announced he would crack down on radical Islam to the extent of shutting down all mosques in the country.
The report also mentioned that the Paris attacks were a coordinated effort between four different "teams".
The first team, named "French group", attacked the Bataclan, "Iraqi group" carried out the Stade de France stadium bombing, and the remaining "Airport group" and "Metro group" attempted to attack Amsterdam's Schipol airport and the Paris underground respectively.
In Austria, a new report from the interior ministry has shown that close to half, or 40 per cent, of the known Islamic State fighters entered the country as asylum seekers. The news has led leader of the anti-mass migration Freedom Party (FPÖ), Heinz-Christian Strache, to demand the "immediate deportation" of all asylum seekers with links to the terror group or radical Islamism.
The terror group is likely to ramp up its efforts to export fighters to Europe as Austrian expert Gerald Tatzgern, the head of Austria's anti-human trafficking force, claims they have taken over much of the people smuggling trade in the Middle East and in Libya. Mr. Tatzgern also claimed that the group was staging attacks on refugee camps in neighbouring Jordan to force more people to flee to Europe.
http://www.breitbart.com/london/2016/11/15/report-hundreds-isis-fighters-smuggled-europe-refugees/
--------
SIDEBAR Islam expert: Salafism is part of German youth culture
15.11.2016
Frankfurt (dpa) - Salafism, an ultra-conservative strand of Sunni Islam that has a growing number of followers in Germany, is becoming part of the country's youth culture, according to a professor of ethno-religious studies at Frankfurt's Goethe University.
The rigid rules advocated by the movement - which supports the implementation of Islamic law, or sharia - are an "answer to uncertainty" experienced by young Muslims in Germany, Susanne Schroeter told dpa Tuesday.
Salafism has become a "protest culture in an era where other protest cultures no longer elicit a reaction," said Schroeter, who has written extensively on Muslims in Germany and gender dynamics in Islamic societies.
Full report at:
http://en.europeonline-magazine.eu/sidebarislam-expertsalafism-is-part-of-german-youth-culture_495315.html
--------
Hunger risks sparking fresh exodus from Syria: UN
Nov 15, 2016
ROME: A farming crisis in war-torn Syria has reduced food production to a record low and raised fears people in the conflict-hit country will be forced to flee famine, the UN's food agency said on Tuesday.
"Widespread insecurity and unfavourable weather conditions" in parts of the country continue to "hamper access to land, farming supplies and markets", the Rome-based Food and Agriculture Organisation (FAO) said in a report.
It warned of "grave consequences not only for the food security of farming households but also on food availability" in the country, which "may ultimately lead to further displacements".
Ongoing fighting is making it difficult for many farmers to access grazing land and water sources, while the price of animal feed has sky-rocketed, forcing "many herding families... to sell or slaughter their sheep, goats and poultry", added the FAO, which produced the report with the UN's World Food Programme (WFP).
Rising prices and scarcity of fertilisers and seeds is also hurting crop farmers, who "will have no other option than to abandon food production if they do not receive immediate support".
Wheat production has plummeted 55 percent, from an average 3.4 million metric tons before the war to 1.5 million metric tons this year, and a water crisis has led some farmers to switch to hardier but less nutritious crops.
"Many farmers have lost the ability to cope," it said, adding that almost 80 percent of households across Syria were already struggling to access or buy food and the situation was likely to worsen.
"The food security situation of millions of people inside Syria continues to deteriorate with more than seven million people classified as food insecure across the country... no longer able to put food on the table for their families," said Muhannad Hadi, WFP regional director for the Middle East, North Africa, Central Asia and East Europe.
Syria, once an exporter in livestock, has seen its herds and flocks shrink significantly since the beginning of the crisis.
Full report at:
http://timesofindia.indiatimes.com/world/middle-east/Hunger-risks-sparking-fresh-exodus-from-Syria-UN/articleshow/55439612.cms
--------
Berlin's wild charms make it first choice for Syrian artists
November 15, 2016
BERLIN: From sculptors to actors and filmmakers, Berlin has become a magnet for Syrian artists fleeing their country's brutal violence to a place where they can express themselves without fear.
While Beirut and Paris have long been the destinations of choice for Arab artists, the German capital has in recent years earned a reputation as a more adventurous, progressive alternative for exiled creators.
As well as offering affordable spaces to live and work, Berlin is "the city of anarchy and rock", says Ziad Adwan, an actor and director who arrived two years ago after spells in jail back home.
Once divided by its infamous wall, reunification energised Berlin as young people who grew up yearning to escape the stifling former East Germany met West German peers who had moved to the city for its special status that exempted them from military service.
The combination produced an open-minded atmosphere -- and an uninhibited party culture -- that continues to lure artists from all over the world.
Syrians have proved to be no exception.
"The Berlin cultural scene has certainly taken on a new tone," says Syrian Ali Kaaf, who has lived in Berlin for the past 16 years and teaches at the well-regarded Weissensee fine arts school.
He helps around 20 refugee students each semester to find places in art schools, put together portfolios or recreate those lost in the chaos of their escape and arduous journey to Europe.
- 'Just like Damascus' -
Once the essentials of life -- having a place to sleep and food to eat -- are out of the way, many of the new arrivals find themselves among familiar faces.
"Some of my students from the Damascus drama school where I used to teach now live in refugee homes," says Adwan.
"It's just like Damascus here," agrees photographer and journalist Doha Hassan, who has found old friends and acquaintances from the Syrian capital among her 600,000 compatriots who have fled to Germany since the war broke out in 2011.
Still, Egyptian Basma El-Husseiny says that "it can be very hard for those who have just arrived to find their way" to resuming their studies or exhibiting works in German institutions.
An activist with two decades of experience in the arts, she founded the charity Action for Hope that helps refugee artists through the thicket of German bureaucracy.
Meanwhile, Adwan and German publisher Mario Muenster have come together to produce an English-language magazine, A Syrious Look, aimed at linking up the new Syrian diaspora with young German artists.
- Out in the open -
What refugee artists have to express is often marked by the war within Syria's borders -- and by their own experiences on the long road to escape that conflict.
Under Syrian President Bashar al-Assad, the ruling Baath Party ideology was forced on art schools, and some artists say the institutions were also riddled with corruption.
"Artists used to use symbols" to criticise the powerful for fear of the censors, Adwan says. "Today, they can just try things out openly."
One of the works by artist Sulafa Hijazi shows a woman's naked body, supine and legs splayed as she gives birth to a rifle.
Full report at:
http://nation.com.pk/international/15-Nov-2016/berlin-s-wild-charms-make-it-first-choice-for-syrian-artists
--------
Russia detains five IS group-linked suspects for plotting attacks
15 Nov 2016
Russia's security service said Tuesday it had detained five suspects with ties to the Islamic State group jihadist group who were plotting to carry out attacks in the country.
The FSB security service said in a statement it had "thwarted the activities of a group created to perpetrate crimes of a terrorist and extremist nature" in Moscow and the Caucasus region of Ingushetia.
"Five members of this criminal group were detained as a result of an operation," the FSB said, without specifying when or where the suspects had been apprehended.
Two homemade bombs, five firearms and ammunition were recovered at the suspects' residence, the statement said.
In October Russian security forces killed six Islamists in the volatile North Caucasus region of Ingushetia.
Full report at:
http://english.ahram.org.eg/NewsContent/2/8/249083/World/Region/Russia-detains-five-IS-grouplinked-suspects-for-pl.aspx
--------
South Asia
Afghan Special Forces rescue 36 from Taliban prison in Helmand
By KHAAMA PRESS - Wed Nov 16 2016
The Special Forces Unit of the Afghan National Police (ANP) rescued at least 36 civilians from a prison run by the Taliban insurgents in southern Helmand province of Afghanistan.
The Ministry of Interior (MoI) said the operation was conducted late on Tuesday night in Greshk district of Helmand.
MoI further added that the Taliban insurgents were torturing the civilians in the cell, including the children who were kept as captives.
According to MoI, the Taliban insurgents managed to flee the area with the deployment of the Special Forces and no casualties were incurred to security personnel or civilians.
The Taliban insurgents have not commented regarding the report so far.
Helmand is among the volatile provinces in southern Afghanistan where the Taliban insurgents are openly operating in a number of its districts and frequently carry out insurgency activities.
The group has conducted numerous attacks including large scale attacks to take control of the key areas of Helmand, including the provincial capital of Lashkargah city.
However, the Afghan forces managed to repel the Taliban attacks, according to the security officials.
http://www.khaama.com/afghan-special-forces-rescue-36-from-taliban-prison-in-helmand-02293
--------
Gulbudddin Hekmatyar refuse to apologize over war crime allegations
By KHAAMA PRESS - Wed Nov 16 2016
The leader of Hezb-e-Islami Gulbuddin Hekmatyar has refused to apologize over war crime allegations as efforts are underway to remove his name from UNSC sanctions committee following the conclusion of a peace deal with the Afghan government.
In an audio message to AFP, Hekmatyar said "Those who have committed crimes or have been charged by a reputable court should apologise. Not those upon whom war is imposed, who have resisted the invaders, defended themselves and defended the country."
Hekmatyar is accused of serious human rights violations during the devastating civil war in Afghanistan in 1990s.
His party joined the peace process following months of negotiations with the Afghan high peace council as the Afghan officials are optimistic that the reconciliation with Hezb-e-Islami will open doors for the other militant groups to join peace process and end the ongoing violence through reconciliation.
A member of the party said late in September that Hezb-e-Islami has apologized to the victims of the devastating war the party was involved in 1990s.
A senior member of the party Qarib-ur-Rehman Syed told VOA's Afghanistan service that "Hezb-e-Islami considers itself a member and party of the people. Hezb-e-Islami belongs to the people and people belongs to Hezb-e-Islami. In every and every second, we apologize from those who were hurt."
Full report at:
http://www.khaama.com/gulbudddin-hekmatyar-refuse-to-apologize-over-war-crime-allegations-02291
--------
Explosion rocks Kabul, leaving 4 dead, 11 wounded
By KHAAMA PRESS - Wed Nov 16 2016
A relatively heavy explosion was heard in Kabul city with preliminary reports suggesting the blast has left several security personnel dead or wounded.
There is no information available regarding the type of the explosion and the target of the blast.
Eyewitnesses say a vehicle of the security forces was targeted close to the Ministry of Defense compound in Pul-e-Mahmood Khan area.
There are conflicting reports regarding the cause of the explosion and it is yet not clear if it was a suicide attack or an explosion triggered by an explosive device.
A security official however said the blast was likely triggered by a suicide attack and at least 4 security personnel were killed and 11 others were wounded.
No group has so far claimed responsibility behind the incident.
Full report at:
http://www.khaama.com/heavy-explosion-heard-in-kabul-city-02289
--------
Afghan warlord shrugs off violent past in bid to rebrand
November 16, 2016
Anuj CHOPRA - Afghan warlord Gulbuddin Hekmatyar roundly refused to apologise over war crime allegations in an audio message to AFP, even as his group attempts to rebrand from a radical, misogynistic movement to a mainstream political force.
A landmark accord signed with Hezb-i-Islami (HIG) in September is Afghanistan's first peace agreement since the Taliban launched their insurgency in 2001, and paves the way for Hekmatyar's political comeback after nearly two decades in hiding.
The deal grants Hekmatyar - accused of killing thousands in Kabul during the 1992-1996 civil war - legal immunity from past crimes, sparking revulsion from human rights groups. But Hekmatyar shrugged off such criticism.
"Those who have committed crimes or have been charged by a reputable court should apologise. Not those upon whom war is imposed, who have resisted the invaders, defended themselves and defended the country," Hekmatyar said, his voice a relaxed drawl.
The audio file from Hekmatyar, a former Afghan prime minister and one of the most controversial figures in the country's modern history, was in response to questions AFP sent him through his son, Habiburrahman. The clip was delivered last week by Mohammad Karim Amin, Hekmatyar's chief negotiator.
It came as HIG is scrambling to repair Hekmatyar's public image as a murderous warlord, with Karim holding daily meetings with civil society activists and women's groups in a luxury hotel in Kabul that sometimes last up to 18 hours a day.
More significantly, Hekmatyar has sought to project himself as a "peacemaker" with the Taliban, a more powerful insurgent group that has repeatedly rebuffed government calls for talks.
"HIG can act as a drive belt linking the Taliban and the government," Karim said after Hekmatyar called for Taliban reconciliation during the signing ceremony of his peace deal in September. Karim said dozens of low-level Taliban commanders have reached out to him, but a Western official in Kabul said Hekmatyar's largely dormant group was trying to punch above its weight.
"The government hopes to use the HIG deal as an opening for further Taliban negotiations, but I'm not convinced the Taliban leadership considers Hekmatyar as a serious influence on their decision-making," he said.
No room for women
HIG, whose followers were once accused of throwing acid at women, has also sought to brush aside its reputation for misogyny. "I don't see any considerable women's groups that have opposed the peace agreement," Hekmatyar said.
"But if you mean a few women who gathered in front of media cameras in a small park in Kabul carrying four or five banners, is this even worth mentioning?"
Hekmatyar was referring to activists who protested in Kabul in September, holding placards portraying him with blood spilling from his mouth and a rocket piercing his nose. It read: "We cannot forgive the executioner of Kabul."
"During the talks I told HIG delegates 'if you are pro women's rights, why are there no women in your delegation?'" said Habiba Sarobi, the only female representative in the negotiation process.
"Their representative smiled and said: 'We have a large number of women supporters but this room is small'."
Women's rights activist Shukriya Jalazay added that HIG should display the courage to apologise for its past, but it was crucial for the peace deal to succeed.
Full report at:
http://nation.com.pk/international/16-Nov-2016/afghan-warlord-shrugs-off-violent-past-in-bid-to-rebrand
--------
Around 200 Rohingya stranded at Bangladesh border
November 15, 2016
Around 200 Rohingya Muslims fleeing a surge in violence after security forces took control of Myanmar's Rakhine state last month are stranded at the Bangladesh border, community leaders said today.
Bangladeshi border guards pushed back the Rohingya -- mostly women and children -- to the Myanmar side on Monday, community leaders said.
"We heard they are 200 in number. They are mostly women and children who were only seeking a safe place to stay. They have no homes to go back," one of the Rohingya leaders from a refugee camp in Bangladesh's Teknaf border town said.
A border guard spokesman put the figure at closer to 80.
Nearly 70 people have died in clashes with security forces since the Myanmar army swooped into Rakhine state, an area along the border with Bangladesh that is home to the Muslim Rohingya minority.
Violence escalated over the weekend, with troops killing more than 30 people in two days of fighting, according to the Myanmar army.
Activists say the actual toll could be much higher, accusing troops of killing civilians, raping women and torching homes -- allegations the army denies.
Authorities have heavily restricted access to the area, making it difficult to independently verify government reports or accusations of army abuse.
The stranded Rohingya crossed the Naf River -- which divides the two countries -- by boats in the early hours of Monday and were immediately sent back by Bangladeshi border guards.
"We have stopped and pushed back around 80 Rohingya people yesterday (Monday)," border guard spokesman, Major Abu Russell Siddique, said.
He said the Rohingya who were pushed back were economic migrants "looking for work and treatment", and denied the community leaders' claim that they were victims of recent violence in Rakhine.
Full report at:
http://www.thedailystar.net/country/200-rohingya-stranded-bangladesh-border-1315153
--------
India
Government bans controversial preacher Zakir Naik's NGO for 5 years
Bharti Jain
Nov 15, 2016
NEW DELHI: The government on Tuesday banned Islamic Research Foundation (IRF), the NGO of controversial Islamic preacher Zakir Naik+ , as an 'unlawful organisation' for five years with immediate effect.
The ban has been enforced under the Unlawful Activities (Prevention) Act (UAPA) and approved at a meeting of the Union Cabinet.
TOI had earlier reported that the government intended to ban IRF+ citing Naik's "objectionable and subversive" speeches, the criminal cases filed against him and other members of IRF in Mumbai and Sindhudurg in Maharashtra and Kerala, as well as his "dubious" links with Peace TV that allegedly features "communal" and "pro-jihad" content as grounds for such a ban.
An 'unlawful' association is different from a 'terrorist' organisation listed under UAPA. The law defines 'unlawful association' as any organisation "which has for its object any activity that is punishable under Section 153A or 153B of IPC" - provisions dealing with threat to social and communal harmony.
Declaration of IRF as 'unlawful' under Section 3 of the UAPA will force closure of its offices and interests across the country.
According to sources in the home ministry, there was a solid case+ for proscribing IRF based on inputs and material shared by the Maharashtra government and the central intelligence agencies.
There are FIRs against Naik and other IRF members under Section 153A and 153B of IPC in 2 police stations of Mumbai, 1 in Kerala and two in Sindhudurg. There are several of Naik's speeches compiled by Intelligence Bureau (IB) including where he extolls Osama bin Laden, claiming that 80% of Indians had not been Hindus as Muslims could have converted them "if we wanted" by sword, justifies suicide bombings, claims Golden Temple may not be sacred as Mecca and makes objectionable comments against Hindu gods. Most of these speeches form the content on Peace TV, a part of which was put together by Mumbai-based Harmony Media Pvt Ltd that once had Naik and his wife as directors. Large money transfers have been detected from UK-based charity IRF International, run by Naik to Harmony Media.
As per the Cabinet note proposing action against IRF, which incorporated legal opinion favouring a ban on the NGO for disturbing communal harmony and attempting forced conversions, Zakir Naik+ has been promoting enmity between religious groups and inspiring Muslim youth in India and abroad to commit terrorist acts.
"Such divisive ideology is against India's pluralistic and secular social fabric and it may be viewed as causing disaffection against India and thereby making it an unlawful activity," states the draft Cabinet note accessed earlier by TOI. "If urgent steps are not taken (to ban IRF), there is every possibility of more youth being motivated and radicalised to commit terrorist acts," it warns.
The NIA is also examining the option of slapping terror charges against Naik, based on testimonies of around 50 terror accused and convicts lodged in various jails, stating that they were motivated by his speeches to take up jihad.
Naik came under the scanner of the security agencies after Bangladeshi newspaper 'Daily Star' reported that one of the perpetrators of the July 1 terror attack in Dhaka, Rohan Imtiaz, ran propaganda on Facebook last year quoting Naik.
The Islamic orator is banned in the UK and Canada for his hate speech aimed against other religions. He is among 16 banned Islamic scholars in Malaysia.
He had been popular in Bangladesh through his Peace TV, although his preachings often demean other religions and even other Muslim sects. The Mumbai-based preacher has not returned to India ever since the controversy erupted.
http://timesofindia.indiatimes.com/india/Government-bans-controversial-preacher-Zakir-Naiks-NGO-for-5-years/articleshow/55439994.cms
--------
Pakistan violates ceasefire, targets civil locations
Nov 16, 2016
JAMMU: Pakistan yet again violated the ceasefire, targeting forward villages and posts on the Line of Control (LoC) twice on Tuesday with unprovoked small-arms fire and mortar shelling in Jammu district's Pallanwala sector and Rajouri district's Sunderbani sector.
"Pakistan resorted to heavy unprovoked firing this morning at around 0715 hours and fired small arms and mortars in Pallanwala and Jogwan post," police sources said.
Full report at:
http://timesofindia.indiatimes.com/india/Pakistan-violates-ceasefire-targets-civil-locations/articleshow/55446689.cms
--------
Southeast Asia
What Trump's Victory Means for Muslim-Majority Indonesia
By Leo Suryadinata and Mustafa Izzuddin
November 16, 2016
Defying all odds, Donald Trump triumphed in the recent U.S. presidential election and sent shockwaves around the world. Trump's adroit use of anti-Muslim and anti-migrant rhetoric to win the election has sparked fears of exacerbating tensions between the West and Islam. The question of how much of Trump's rhetoric, including on trade protectionism, gets translated to official policy is also causing uncertainty. Nonetheless, world leaders have responded to president-elect Trump favorably, tempered, however, with diplomatic caution and guarded optimism.
The president of Muslim-majority Indonesia, Joko "Jokowi" Widodo congratulated Trump on his victory, inviting "the U.S. president-elect to continue our diplomatic relationship to create peace and welfare in the world." Arrmanatha Nasir, a foreign ministry spokesman, also remarked that the United States, long seen as a democratic and pluralistic society, would remain so, and continue to exert a positive impact on relations with Indonesia under a Trump presidency. He added that Trump's anti-Muslim posture was nothing more than a political ruse to canvas for votes. The trade minister, Enggartiasto Lukita, reassured Indonesian businesses that, despite Trump's protectionist stance, Indonesia-U.S. economic relations would remain productive.
But some elites were not enthused by Trump's triumph. Vice President Jusuf Kalla called Trump "a threat to global peace." Din Syamsuddin, chairman of the Indonesian Ulema Council (MUI), similarly expressed concern that Trump's victory on the back of anti-Muslim bigotry could generate new tension between America and the Muslim world. Recognizing that Trump's win could worsen tension in the Asia-Pacific, Defense Minister Ryamizard Ryacudu cautioned Trump not to "bring that matter here [to Indonesia], don't give us more problems." Several Indonesian politicians like Fadli Zon, deputy speaker of the House of Representatives (DPR), have reportedly called for restrictions or bans on Trump's business interests in Indonesia, in a tit-for-tat response to the threats of a Muslim ban and trade protectionism in the United States.
Enjoying this article? Click here to subscribe for full access. Just $5 a month.
Despite a lack of elite consensus on what a Trump presidency would mean for Indonesia, it does seem to be the case that the Jakarta elites are attempting to downplay fears of Trump's Islamophobia, especially among Indonesians, as well as his protectionist posture, by looking at the bigger picture in working with Trump to keep U.S.-Indonesia relations on an even keel.
In the editorials of major Indonesian newspapers, the message was broadly one of cautious optimism. Jakarta Post headlined its editorial "Congrats Donald Trump," writing that despite Trump's virulent rhetoric, "Trump's promise to get along with all nations is indicative that the U.S. under him could do Indonesia good." Kompas essentially followed the direction of Jokowi's congratulatory message and focused more on Trump's impact on Indonesia's economy. The Islamic Republika, which is often critical of Jokowi, merely reported Jokowi's congratulatory message without unduly criticizing it. This could be due to the fact that Muslims in Indonesia were evidently divided on how to respond to a Trump presidency.
Indonesian Muslims on the ground were divided into two groups. One group, represented by Nahdlatul Ulama and Muhammadiyah, believes that Trump should be given the benefit of the doubt, as those anti-Muslim remarks were uttered to pander to his conservative Republican base. But when Trump enters the White House, these "moderate" Muslims are hoping he does not enact policies against Muslims, but instead practices diplomacy premised on universality and humility, especially toward the Muslim world. The other group, represented by "radical" Muslims belonging to hard-line organizations such as the Islamic Defenders' Front (FPI), have taken Trump's remarks at face value, and hence, consider him to be genuinely anti-Muslim.
Trump's triumph intersected with politics in Indonesia becoming exceedingly "Islamized." The demonstration against Jakarta Governor Basuki Tjahaja Purnama (alias Ahok) on November 4, numbering about 150,000, came about under the pretext of Ahok, an ethnic Chinese and a Christian, insulting the Quran. This arose against the backdrop of Ahok's decision to run for a second term as governor of Jakarta. Although Ahok had criticized those who misused Quranic verse 51 to discourage the people of Jakarta from re-electing him, his speech on video was maliciously edited on social media, caricaturing him as someone who had disparaged the Quran.
Some 35 Islamic groups led by FPI urged Indonesian Muslims to demonstrate against Ahok. MUI even issued a fatwa condemning Ahok for belittling the Quran. The Islamic Students Association (HMI) also joined the fray by demanding that Ahok be put on trial. Consequently, Jakarta's gubernatorial election was instantaneously transformed into a national anti-Chinese, anti-Christian candidate campaign. Significantly, the creeping Islamization of Indonesian politics, whereby the secular space becomes increasingly diminished as a consequence, could well compel Jakarta to keep Washington at a distance, given Trump's anti-Muslim bigotry.
As Trump is not interested in the United States being the global policeman, he may not be genuinely interested in Southeast Asia. The re-pivoting of Trump's America from the region may well incentivize China to move into the power vacuum, tilting the regional balance of power from Washington to Beijing. Under such a situation, Jakarta may well navigate closer to China rather than stay neutral between Washington and Beijing consonant with the bebas dan aktif (independent and active) foreign policy doctrine. This tilt, however, depends on China making the right move in choosing bilateral economic engagement over barging into the waters off Indonesia's Natuna Islands.
Should Trump's protectionist policy be enacted, it could adversely impact Indonesian exports. America is one of Indonesia's major export markets, worth about $16 billion in 2015. As a consequence, Indonesia may be compelled to look elsewhere to make up the shortfall. Jakarta may well look to Beijing, further illustrating Jakarta's possible tilt from Washington to Beijing.
Nevertheless, at the moment, it is still uncertain what Trump will do when he officially takes office in 2016. Whether or not Trump will go ahead with the pledges he made during his campaign remains unclear, but one thing is for sure: Jakarta-Washington relations under a Trump presidency are unlikely to be as closely intertwined as under the Obama administration.
http://thediplomat.com/2016/11/what-trumps-victory-means-for-muslim-majority-indonesia/
--------
Indonesia police name Jakarta governor as blasphemy suspect
16 November 2016
JAKARTA, Indonesia (AP) — Police on Wednesday named the minority Christian governor of the Indonesian capital as a suspect in a blasphemy investigation in a major test of the Muslim-majority nation's reputation for religious tolerance.
Earlier this month the capital Jakarta was rocked by a massive protest by conservative Muslims against the governor. One person died and dozens were injured in rioting. Hardliners have threatened more protests if Ahok isn't arrested.
Police announced at a press conference that the popular governor, Basuki "Ahok" Tjahaja Purnama, cannot leave the country while the investigation is underway.
However they said he is not being detained because investigators and religious experts were sharply divided over whether the comments at issue were blasphemous.
"After long discussions, we reached a decision that the case should be tried in an open court," said National Police chief detective Ari Dono.
The accusation of blasphemy against Ahok, an ethnic Chinese and Christian who is an ally of President Joko "Jokowi" Widodo, has galvanized Jokowi's political opponents in the nation of 250 million where about 90 percent of people are Muslims but five other religions are also recognized by the state.
Jokowi canceled an official visit to Australia because of the rioting and has spent the past two weeks rallying the political, religious and security establishments behind him.
It has also been a gift to politicians vying against Ahok, who is seeking a second term as Jakarta governor in elections in February. Among them is the son of Susilo Bambang Yudhoyono, a former president. Yudhoyono courted controversy by calling for Ahok's arrest and saying he supported the Nov. 4 protest.
The Islamic Defenders Front, a vigilante group that wants to impose Shariah law, began demanding Ahok's arrest after a video circulated online in which he joked to an audience about a passage in the Quran that could be interpreted as prohibiting Muslims from accepting non-Muslims as leaders. The governor has apologized for the comment.
National Police Chief Tito Karnavian said that barring Ahok from leaving the country is the appropriate "maximum" step to take at present.
"If there are pressures for his arrest, we need to question if that is because of other motivations," he said. "Once again, there should be no parties who pressure for his arrest. Let's think rationally and logically."
Sumarno, chief of Jakarta's Election Commission, said Ahok is not barred from competing in the gubernatorial election.
Full report at:
http://www.dailymail.co.uk/wires/ap/article-3940552/Indonesia-police-Jakarta-governor-blasphemy-suspect.html
--------
Non-Muslims controlling halal market, minister tells Bumis
BY MELATI A. JALIL
November 16, 2016
KUALA LUMPUR, Nov 16 — Bumiputra entrepreneurs should consider venturing into the halal industry especially in Asean countries, Rural and Regional Development Minister Datuk Seri Ismail Sabri Yaakob said.
Ismail explained that this was because the industry was currently dominated by non-Muslims, despite the Islamic requirement applying only to Muslims.
"About 90 per cent of halal market is dominated by non-Muslims and non-Bumis while halal involves Malay and Bumiputera who are 100 per cent Muslims.
"Those days, it is hard to get halal products in Japan but now they have opened their country and try to bring in more halal products," he told reporters after attending an engagement programme between MARA and Bumiputra entrepreneurs.
He also said that halal products were also attractive to non-Muslims, whom he said associated the status with hygiene.
The halal industry, which is expected to grow in parallel to the growth of the Muslim population, is worth more than US$2 trillion (RM8.3 trillion).
According to a report by Halal Industry Development Corporation (HDC), the global Muslim population will increase to about 27 per cent of the world's total population by 2030 or approximately two billion people.
Full report at:
http://www.themalaymailonline.com/malaysia/article/non-muslims-controlling-halal-market-minister-tells-bumis
--------
Suspect or not, Ahok will move on
November 16, 2016
Desperate to avoid further tension, the police on Tuesday decided not to immediately announce the outcome of the much-anticipated case screening regarding blasphemy allegations against Jakarta Governor Basuki "Ahok" Tjahaja Purnama, who is running for reelection.
The National Police said they would make an announcement on Wednesday on whether the allegation would be dropped or whether there was sufficient evidence and testimony to name Ahok a suspect.
Led by the head of the National Police's Criminal Investigation Department (Bareskrim), Comr. Gen. Ari Dono, police heard testimonies from dozens of witnesses and experts during a 10-hour closed-door session.
After the screening had concluded, participants appeared to be interpreting it differently.
Ahok's lawyer Sirra Prayuna said he was satisfied with the case screening.
"I think the National Police have been professional and transparent in investigating the case. The police gave us and those who lodged the complaints a chance to obtain complete information about the case," he said after attending the screening session.
He added that the case screening had proceeded smoothly, without bickering between parties. Sirra refused to speculate on whether the police would decide if there was a case against Ahok.
"We will wait for the police's conclusion about this case. We will accept the police's decision, whatever it is," he said.
Ahok, who opted to hit the campaign trail rather than attend the screening, maintained it would not be a game changer for him, whatever decision the police might take.
"I believe the police are professional. Whatever the police decide, I will accept it, even if I am named a suspect," Ahok said at his campaign team headquarters in Menteng, Central Jakarta.
Ahok's camp has maintained the candidate will continue to run in the election even if he is named a suspect.
National Police spokesman Insp. Gen. Boy Rafli Amar urged the public to accept any decision taken by the police, emphasizing that the police had "nothing to hide".
"However, we will be prepared if some people are unsatisfied with the result," Boy said.
While experts from the claimants' camp were open to journalists, those called by Ahok's camp seemed reluctant to make any statements to the press after the screening.
A number of witnesses were presented in Tuesday's case screening from Ahok's side and the reporting parties.
The experts from Ahok's camp, according to Sirra, included Jisman Samosir, a legal expert from Parahyangan University; Nur Azis, also a legal expert; Umar Muslim, a linguist from the University of Indonesia; and Sa'dullah Affandy from the nation's largest Muslim organization, Nahdlatul Ulama.
Two eye witnesses, Suhari and Suyandi, had also given their testimonies, Sirra said. They were present when Ahok made the speech with a reference to a Quranic verse in Thousand Islands regency in September.
Singer-turned Islamic teacher Neno Warisman, who was also present in the screening, claimed Ahok had "intentionally" committed blasphemy against Islam.
"Linguistically, blasphemy was committed in that speech," Neno alleged.
Yunahar Ilyas, a leadership board member of the nation's second-largest Muslim group, Muhammadiyah, and Habib Rizieq, the firebrand leader of hard-line group Islam Defenders Front (FPI), were also present for the screening.
Full report at:
http://www.thejakartapost.com/news/2016/11/16/suspect-or-not--ahok-will-move-on.html
--------
Muslim Intellectual Calls for Reconciliation in Ahok Blasphemy Case
November 16, 2016
Jakarta. A young intellectual from Indonesia's largest Muslim group has called for reconciliation to resolve the blasphemy case against Jakarta Governor Basuki "Ahok" Tjahaja Purnama, which has seen many in the Muslim community become restive.
The call comes amid a police investigation into the case, in which Ahok is accused of blasphemy over recent remarks about a Koranic verse.
The case has led thousands of Muslims to demand the immediate prosecution of Ahok, who is a Christian of Chinese ethnicity, even though he has repeatedly and publicly apologized to Muslims for his comments.
Zuhairi Misrawi, of the Nahdlatul Ulama, said based on the Koran, reconciliation between conflicting parties is the best solution.
Full report at:
http://jakartaglobe.id/news/muslim-intellectual-calls-reconciliation-ahok-blasphemy-case/
--------
Bangladesh Court Indicts Seven in Killing of Japanese Man
November 16, 2016
Dhaka. A court in Bangladesh on Tuesday (15/11) indicted seven members of a banned Islamist group in the killing of a Japanese man last year, a prosecutor said.
Kunio Hoshi, 65, was gunned down by motorcycle-borne gunmen while on his way to visit a grass farm project in the northern district of Rangpur, less than a week after an Italian aid worker was similarly killed in Dhaka's diplomatic quarter.
The men were members of the Jamaat-ul-Mujahideen Bangladesh group, and the court indicted them for the murder of the Japanese man, public prosecutor Rathish Chandra Bhowmik told reporters.
"The court fixed Jan. 4 for recording witnesses in the case," he said.
Five of the men pleaded not guilty in court, while two others are on the run.
Police believe the group, which has pledged allegiance to Islamic State, carried out a July 1 attack on a cafe in which 22 people were killed, mostly foreigners, before security forces ended a 12-hour siege, killing five gunmen.
Full report at:
http://jakartaglobe.id/international/bangladesh-court-indicts-seven-killing-japanese-man/
--------
Samarinda church attack fails to provoke tensions
November 16, 2016
The bomb attack perpetrated by alleged Islamic State (IS) group sympathizers at a church in Samarinda, East Kalimantan, killing a toddler and injuring three others, aimed to provoke religious tensions in the area, an analyst says.
But the terror group will likely fail at achieving this goal, as both Muslims and Christians have condemned the attack, which came at a time when the country is facing a growing threat of religious intolerance.
Instead of blaming a specific religion for the attack, religious followers have left it up to law enforcement bodies to resolve the case, a move that has prevented the emergence of sectarian conflict in the area, University of Indonesia (UI) terrorism expert Ridwan Habib said.
The majority of Samarinda's residents are Muslim, with 841,682 adherents, followed by Protestantism with 52,445 followers and Catholicism with 22,554 followers.
East Kalimantan has never experienced a religious conflict before, but the province saw a bloody ethnic conflict in one of its cities, Tarakan, in 2010. Another bloody ethnic conflict rocked Sampit in neighboring Central Kalimantan in 2001.
Triggering sectarian conflict was the typical goal of IS attacks, Ridwan said. Targeting a church, he said, would create tension between Muslims and Christians in the region, especially Christian followers from the Dayak tribe, one of the largest tribes in the region.
But so far there is no indication that the attack will trigger retaliation from local Christians.
The family of Trinity Hutahaean, a 4-year-old toddler who was severely wounded in the attack, said they had forgiven the alleged perpetrator, identified as Johanda.
Trinity's aunt Roina Simanjuntak said that the family would let God decide whether revenge was exacted on Johanda for his attack on a group of innocent toddlers playing in the church compound with a molotov cocktail.
Roina added that the family also did not condemn the attacker because "God teaches us to forgive and not to pay revenge".
"I have a big hope that my family members, especially Trinity's mother, can face this hard time. She is still in trauma after seeing what happened to her child, Roina said on Tuesday as quoted by kompas.com.
Trinity's mother remained patient and did not pray for God to punish Johanda, Roina added.
"Don't let this incident happen again in the future. [The offender] has done enough to hurt the family."
Ridwan said that Sunday's bombing was not a random incident, but a planned attack. Johanda, a former terrorism convict, had lived for years in Samarinda, where he joined an East Kalimantan branch of Jamaah Ansharut Daulah (JAD) — a domestic terrorist faction that supports IS.
Full report at:
http://www.thejakartapost.com/news/2016/11/16/samarinda-church-attack-fails-to-provoke-tensions.html
--------
Africa
Why Nigeria's Shiite Conflict Is Flaring Up Again
11/15/16
On October 12, Shiite Muslims marked Ashura, the holiest day of their religious calendar, when devotees mourn the death of the Prophet Muhammad's grandson. But for Nigerian Shiites, the mourning was not just symbolic: Security forces and angry Sunni mobs disrupted processions across northern Nigeria, killing at least 11 people. The country's biggest Shiite organization, the Islamic Movement in Nigeria (IMN), claims government-backed thugs also looted and burned Shiite homes and businesses. The central government has not responded to the claims, but the state government in northern Nigeria where the violence took place has blamed "mobs" for the violence.On November 14, further clashes between the IMN and police were reported during a Shiite procession in the northern city of Kano, resulting in several deaths. The IMN said that police killed 18 members after firing on the "peaceful procession," but police confirmed only eight deaths plus an officer. Try Newsweek for only $1.25 per week The violence is the latest example of tension between the IMN and Nigerian authorities in the past year, and it threatens to further destabilize a country already fighting Boko Haram, an extremist group in the country's northeast, as well as other militants attacking Nigeria's oil reserves in the Niger Delta. An October report by Nigerian consultancy SBM Intelligence called the consequences of further conflict between Nigerian security forces and the IMN "far-reaching, devastating and possibly apocalyptic."The strife began escalating in December 2015, when the Nigerian army killed hundreds of IMN members in Zaria, a city in the northwestern state of Kaduna. The Shiites had set up a roadblock to direct traffic for a religious ceremony; the army interpreted the barrier as part of a plot to assassinate the Nigerian army's top general, Tukur Yusuf Buratai , who was in a passing convoy.Pediatrician Shuaibu Musa says he was on a 50 mile journey to Zaria from Kaduna on the day the clashes broke out. He received a phone call from a fellow IMN member warning him not to come. "They said armed soldiers had surrounded our husainiyyah [Islamic center] and that they were shooting," says Musa, 50. He lists friends killed or missing after the conflict, including a family of seven who he says were all killed. "I know so many, I can count on and on," he says.
During the clashes, Nigerian soldiers arrested the IMN's founder and leader, Sheikh Ibrahim Zakzaky. Trained in Iran, Zakzaky functions as the group's spiritual and temporal leader, and has been detained for the past 11 months without being charged. He is believed to be still alive but has reportedly suffered substantial injuries during the violence. His detention is being used as a bargaining chip by the Nigerian authorities to prevent violent protests by the IMN, according to Marc-Antoine Pérouse de Montclos, associate fellow at Chatham House. "He's a hostage, basically. It's part of a bargain," he says. "Don't uprise, otherwise we'll finish him off."Responding to pressure from international human rights groups and Iran, which is overwhelmingly Shiite, Kaduna's state government established a commission to investigate the killings. It found that Nigerian soldiers had used excessive force in the clashes, resulting in the deaths of 348 IMN members. The Shiite group claims that another 850 of its members remain missing.
The IMN and the Nigerian government disagree over whether the IMN is a minority religious organization facing persecution from the Sunni majority or a radical political group undermining Nigeria's sovereignty. On October 7, Kaduna's governor banned the IMN ; membership now carries a maximum sentence of seven years in prison. The ban has since spread to five other states. The IMN says the measure effectively prohibits Shiite Islam; the Kaduna state government disputes that.Some Muslim leaders are afraid that the Nigerian government's repression of the IMN could radicalize the group, which holds powerful sway over the country's estimated 3 million Shiites. Nigeria's highest Islamic authority, the Sultan of Sokoto, said the Zaria clashes bore a troubling resemblance to a military crackdown on Boko Haram in 2009. The militant group subsequently launched its ongoing insurgency against the government, which has killed thousands of people.But IMN members say they have no intention to take up arms. On November 2, members of the group demonstrated outside government buildings in the capital, Abuja, demanding freedom for their imprisoned leader, Zakzaky. For journalist Abdulmumin Giwa, an IMN member, that's proof the government's ban is wrong. As he puts it: "No terrorist group would be coming out with peaceful protests.
http://www.newsweek.com/2016/11/25/why-nigeria-shiite-conflict-flare-again-520945.html
--------
Air strike targeting militants kills seven in southern Libya
16 November 2016
An air strike targeting militants has killed at least seven people near the southwestern Libyan city of Sabha, a local official and media reports said on Tuesday. Gunmen later seized the remains of the suspected militants from a morgue, said the official, who did not want to be identified for fear of reprisals.
The early morning strike hit three houses in Gardah, northwest of Sabha, destroying two of them and damaging the third, said the official. It was not clear who carried out the strike, and military officials could not immediately be reached for comment. Forces on both sides of conflict-ridden Libya's east-west political divide have used warplanes to strike militant targets.
The United States has also conducted air strikes on militants in Libya, but a US defense official, speaking on condition of anonymity, said its forces did not carry out the latest strike. There were conflicting reports about whether the suspected militants were linked to al-Qaeda or ISIS, both of which have a presence in Libya's south.
Full report at:
https://english.alarabiya.net/en/News/middle-east/2016/11/16/Air-strike-targeting-militants-kills-seven-in-southern-Libya.html
--------
Tunisia seizes three arms caches near Libya border
15 Nov 2016
Tunisian forces captured three large arms caches near the border with Libya over the weekend, including Kalashnikov rifles, rockets and landmines, the interior ministry said.
The caches in the border city of Ben Guerdane will stoke Tunisia's concerns about the threat of Islamist militants crossing over Libya, where pro-government forces are close to ending Islamic State's hold on Sirte city.
Islamic State, fighting to set up a Caliphate following its brand of Islam across North Africa and the Middle East, sent dozens of Islamic State fighters into Ben Guerdane in March, attacking army and police posts and killing at least 53 people.
Many of the militants in Libya are originally from Tunisia, and the country's young democracy since its 2011 uprising has been seen as a target for the hardline Islamist group.
Full report at:
http://english.ahram.org.eg/NewsContent/2/8/249061/World/Region/Tunisia-seizes-three-arms-caches-near-Libya-border.aspx
--------
Muslim Bangui caught between guns and trade
16th November 2016
"We're not jihadists, we're not bandits, we're defending our community," insisted the leader of a militia group in a powder keg Muslim district of the Central African Republic's capital Bangui.
Outside the group's improvised base, a short distance from the mosques and shops of Bangui's flashpoint PK5 district, a youth from the so-called "50/50" self-defence group guarded the headquarters with an M16 assault rifle. Another man concealed a weapon under a red blanket.
Three years of conflict and massacres that pitted Muslims against Christians and displaced hundreds of thousands have spawned several of the so-called "50/50" armed groups.
They take their name from demands by Muslims, who make up as much as 20 percent of the country's population of 4.5 million, to be guaranteed the same rights as Christians.
The militias are adamant that they will not sign up to the disarmament process pushed by the weak central government and the United Nations until their equal rights are guaranteed.
And this week's donor conference in Brussels could throw Central Africa a crucial lifeline but will likely throw up criticism of the embattled central government's effort to neutralise armed groups like the 50/50 militias.
Back in PK5, six men -- the general staff of the militia group -- sat on a carpet inside a house to plot the future of their movement after its chief was killed in violence that left about 10 dead at the end of October.
The shootout was one of the latest episodes of recent violence to strike the country as it struggles to shrug off the shadow of the civil war between mainly Muslim rebels of the "Seleka" coalition and the militias known as "anti-balaka" (anti-machete) that emerged in Christian communities.
Massacres were carried out by Seleka forces who overthrew then president Francois Bozize in March 2013 and took power for 10 months. The atrocities led to the creation of anti-balaka militias and both sides slaughtered civilians, with the worst mass killings witnessed during the first year of the chaos.
"We're not Boko Haram," said Abdoulaye Mabo Koudoukou, the self-proclaimed "deputy chief of staff" of the Muslim militia, referring to the Islamists active in northern Nigeria and beyond.
"We're not bandits. We are demanding freedom of movement for all Muslims throughout the Central African Republic."
The country's flag hangs on the wall, alongside the movement's mottos: "Equality, justice, brotherhood" -- and "No to Violence".
The armed Muslim groups formed following the attempted Seleka takeover are "a necessary evil" according to the general secretary of the Traders' Association of PK5, Hassan Ben Seid.
'We're trapped'
"We (Muslims) are abandoned to ourselves. The state doesn't exist. You don't see the police, nor the gendarmerie (paramilitary police)," said the owner of a hardware store at the edge of PK5, beside a road leading to other parts of the capital.
PK5 gets its name from its location -- five kilometres (three miles) from the centre of Bangui. Many Muslims no longer feel safe to make that short journey by foot for fear of being attacked if they leave their enclave. Some residents even abandoned other districts to take refuge in PK5.
"We're trapped. MINUSCA (the UN mission in the Central African Republic) encircles us, but does not protect us. For a month, we've no longer had access to the Muslim cemetery on the far side of the airport," Ben Seid told AFP. "The students no longer go to the university."
Yet his Christian clients can still come to PK5, he says.
The best-known Christian in Bangui, Roman Catholic archbishop and future cardinal Dieudonne Nzapalainga, regularly joins the Muslim imam in organising peace marches in the troubled district.
Full report at:
http://www.newvision.co.ug/new_vision/news/1440153/muslim-bangui-caught-guns-trade
--------
Arab World
One-third of east Mosul purged of Daesh terrorists: Iraq
Nov 15, 2016
Daesh Takfiri terrorists have been driven out of one-third of the eastern side of Mosul, Iraq says as the army forces and their allied fighters are conducting a major operation to liberate the strategic northern city.
"More than a third of this (eastern) side has been liberated by the military forces. This area was restive even before the presence of the terrorist, Daesh," Iraqi Interior Ministry spokesman, Brigadier General Saad Maan, said at the Qayyarah air base near Mosul on Tuesday.
Maan also noted that the districts recaptured in eastern Mosul "are very important and their liberation is a key to the liberation of other areas."
The Iraqi army, volunteer Shia and Sunni fighters as well as Kurdish Peshmerga forces launched a long-awaited offensive on October 17 to retake Mosul, the last Daesh bastion in the Middle Eastern country.
Government forces are currently attempting to consolidate their gains in Mosul's eastern neighborhoods.
Elsewhere in his remarks, Maan said that 955 militants had been killed and 108 others captured on the southern frontlines of the Iraqi city since the beginning of the operation.
'Iraqis in liberated areas need food'
Separately on Tuesday, Iraqi Major Salam al-Obeidi warned that some 700 locals had spilled into the streets of the recently liberated neighborhoods of Zahra and Qadisiyah in eastern Mosul to demand food from the military.
The Iraqi troops were sharing their food rations with the civilians, he further pointed out.
"This is a problem for us because the food we have is not enough for them and we're waiting for more food to be sent from the government," al-Obeidi said, adding, "Now the Iraqi soldier is giving his food to the civilians."
Mosul, which is divided by the Tigris River, fell to Daesh in 2014, the year the terror outfit began its campaign of death and destruction in northern and western Iraq.
http://www.presstv.ir/Detail/2016/11/15/493742/Iraq-Mosul-Daesh-Saad-Maan
--------
Terrorists in Panic as Countdown Starts for Syrian Army's Operation in Aleppo
Nov 15, 2016
The Syrian government forces' siege of Eastern Aleppo and rapid advances of the army soldiers against the militants in the Southwestern parts of the city that came after terrorists' defeats and thousands of casualties in their 'Great Epic Operation' have caused Jeish al-Fatah terrorists in Eastern Aleppo to have no hope for defending their positions against the pro-government forces.
With the liberation of Housing Project 1070 and al-Hikmah School, al-Rashedeen neighborhood that is one of the most important gathering centers of the terrorists in Southwestern Aleppo has fallen into the hands of the Syrian Army in military terms and is now under the direct fire of the government forces. Army soldiers are now trying to impose full control over al-Rashedeen.
Terrorists, who carried out the Great Epic Operation and Abu Omar Saraqib Offensives to remove the army siege on the militant-held districts in the Eastern part of Aleppo city lost thousands of their fighters in battles of Zahiyeh al-Assad, Jam'iyat al-Zahra, Menyan and Assad Military-Engineering Academy followed by tough infightings among militant groups over their heavy defeats.
Damascus gave 24 hours to the terrorists in Eastern Aleppo to leave these districts and warned them that the end of the deadline will be the start of the army attacks on their defense lines.
"Continued defeats of the militants in different fronts have made them in Aleppo hopeless and depressed. The militants live in fear of the army's rapid advances in the Southern part of Aleppo and a number of them have fled to far regions in the South," a source close to the dissident groups said.
As thousands of army's Tiger Forces and Desert Hawks have entered Aleppo in recent weeks, Syrian government forces have increased their operations in Aleppo and started a march towards the towns of al-Zerbeh, al-Eis and Khan Touman.
Deployment of the Russian Navy off the coasts of the Russian and Syrian fighter jets' 24-hour combat flights over the roads from Hama and Idlib provinces to Aleppo to prevent transfer of fresh fighters and military equipment to terrorists' position in Aleppo, have given the Damascus forces upper hand.
Full report at:
http://en.farsnews.com/newstext.aspx?nn=13950825001187
--------
Tens of Terrorists Killed in Syrian Armed Forces' Large-Scale Attack in Hama
Nov 15, 2016
The army targeted terrorists' gatherings and positions in the towns and villages of Souran, Tal (hill) Hawash, Kafr Maboudeh, al-Qasabiyeh, Taybat al-Imam, al-Latamina, Kafr Awid, Karsaha, Tarmala, Tal al-Naseriyeh, Morek, Halfaya, al-Lahaya, Albuyizeh, Khirbet al-Hajameh, Latmin, and East of Jabin in Northern Hama, killing tens of terrorists and destroying their armored and military vehicles.
The Syrian air force also carried out ten combat sorties over terrorists' concentration centers in Tal Othman, its surroundings and al-Baneh in Northwestern Hama, killing tens of militants.
The army men also seized a truck of militants carrying arms and ammunition in agricultural development crossroad in the Eastern countryside of Hama.
Hama Governor Qassan Khalaf disclosed on Tuesday that the Syrian army is paving the ground for seizing back the strategic towns of Taybat a-Imam and Halfaya in the Northern part of his province.
Full report at:
http://en.farsnews.com/newstext.aspx?nn=13950825001264
--------
Suicide bomber attacks vehicle in Kabul, killing four
November 16, 2016
A suicide bomber on a motorbike killed at least four people and wounded several in an attack on a vehicle carrying national security officials in Kabul on Wednesday, a security official at the scene in the Afghan capital told Reuters.
An interior ministry official confirmed the attack but could not say immediately how many people had been killed or wounded.
"The suicide bomber was on a motorbike and detonated himself in the Pul Mahmood Khan area (in Kabul). The target is unclear but there were casualties," said Najib Danish, a spokesman for the interior ministry.
Full report at:
http://www.dawn.com/news/1296684/suicide-bomber-attacks-vehicle-in-kabul-killing-four
--------
Egypt court overturns Morsi death sentence
November 16, 2016
CAIRO - An Egyptian appeals court has overturned a death sentence handed down against ousted president Mohamed Morsi in one of four trials since his 2013 overthrow, a judicial official said.
The Court of Cassation ordered that Morsi be retried on the charges of taking part in prison breaks and violence against policemen during the 2011 uprising which toppled longtime president Hosni Mubarak.
Five co-defendants, including the supreme guide of the now outlawed Muslim Brotherhood, Mohamed Badie, who also received death sentences in June 2015, will be retried too.
Nearly 100 others who were tried in absentia are unaffected by the appeals ruling.
Last month, the same appeals court upheld a 20-year jail sentence handed down against Morsi in April in a separate trial on charges of ordering the use of deadly force against protesters during his year in power.
Morsi has also been sentenced to life in prison in two other trials.
In one, he was convicted of spying for Iran, Lebanese militant group Hezbollah and the Palestinian Hamas movement.
Full report at:
http://nation.com.pk/international/16-Nov-2016/egypt-court-overturns-morsi-death-sentence
--------
Syria urges OPCW probe chemical attacks by terrorists
Nov 15, 2016
Syria has called for an investigation by the Hague-based agency responsible for eliminating chemical weapons into the use of chemical agents by terrorists against civilians in the country's battered city of Aleppo.
Syria's Ministry of Foreign Affairs and Expatriates made the request on Tuesday in two identical letters sent to the United Nations Secretary General and the head of the UN Security Council.
In the letters, the ministry condemned the crimes committed by terrorist groups such as Daesh and Jabhat Fateh al-Sham, formerly known as al-Nusra Front, using toxic materials such as chlorine gas in several Aleppo areas and demanded that the Organization for the Prohibition of Chemical Weapons (OPCW) send experts to the city to probe the atrocities.
The ministry further accused Saudi Arabia, Qatar, and Turkey of providing the militants with the banned arms.
The UN and the OPCW pay no attention to the cases in which the extremists use chemical weapons against the Syrian people, but they act differently when it comes to baseless allegations accusing the Syrian government of such incidents, the letters read.
On November 13, terrorists in eastern Aleppo fired mortar shells containing chlorine gas on Aleppo's al-Nairab area, injuring civilians and causing cases of asphyxiation among 30 military personnel, according to the letters.
Terrorists also targeted Aleppo's residential neighborhoods with poisonous gas more than once, among them al-Hamadaniye and al-Assad on October 31 and Manian on November 3, the letters added.
All those injured in the chemical attacks were taken to hospital, where doctors said that the victims inhaled toxic materials such as chlorine gas, the Syrian ministry said, adding that Russian authorities have also verified the use of chemical agents.
Moreover, the ministry urged the OPCW not to politicize the issue as hiding or falsifying facts under threats will not protect humanity from the use of weapons of mass destruction.
Syria has been gripped by deadly foreign-backed militancy since March 2011. Over the past few months, terrorists have suffered major setbacks as the Syrian army has managed to liberate several areas.
Full report at:
http://www.presstv.ir/Detail/2016/11/15/493764/Syria-Aleppo-OPCW
--------
Trump natural ally to Syria if terror battle vows carried out: Assad
Nov 15, 2016
Syrian President Bashar al-Assad says US President-elect Donald Trump will become a "natural ally" if he carries out his vow to battle "terrorists."
"We cannot tell anything about what he's going to do, but if... he is going to fight the terrorists, of course we are going to be allies, natural ally in that regard with the Russian, with the Iranian, with many other countries," said Assad during an interview with Portugal's RTP state television network broadcast on Tuesday.
He also said that he would welcome a notion made by Trump while campaigning that the US should be more focused on battling the Daesh terrorist group. "I would say this is promising, but can he deliver? ...Can he go in that regard? What about the countervailing forces within the administration, the mainstream media that were against him? How can he deal with it?" he added.
He noted that such forces are the reason that Syria is still dubious on whether Trump will be able to live up to his vows. "That's why we are very cautious in judging him, especially as he wasn't in a political position before," he added.
During a March interview, Trump (seen below) said that the US's "approach of fighting Assad and Daesh simultaneously was madness, and idiocy." "You can't be fighting two people that are fighting each other, and fighting them together. You have to pick one or the other," Trump had said.
Assad also went on to accuse the US of meddling in other countries' affairs. "They think that they are the police of the world. They think they are the judge of the world. They're not," he said.
Full report at:
http://www.presstv.ir/Detail/2016/11/15/493799/syria-assad-trump-us-ally
--------
Popular Uprising against Terrorists Begins in Syria's Aleppo
Nov 16, 2016
"Unprecedented clashes between people and terrorists have pushed the Eastern neighborhoods of Aleppo city into a new wave of tensions," sources said, adding, "People have taken part in demonstrations across the districts of Bostan al-Qasr and al-Kelaseh, calling on the terrorists to leave the city now."
"People have also attacked terrorists' food stuff warehouses, fighting with the militants for looting their food stuff from their neighborhoods," the sources added.
The sources went on to say that terrorists have arrested a number of demonstrators, hitting them badly.
Civilians in militant-held districts of Aleppo are tired of terrorist groups' measures, including suppression of people and banning food and medicine for the families who prevent their young sons from joining the terrorist groups.
The Arab media reported on Tuesday that people in militant-held neighborhoods were about to engage in street clashes with terrorists to save their lives.
The Arabic language al-Watan reported on Tuesday that the Syrian Army's deadline for the exit of terrorists from Eastern districts of Aleppo ended, but no militant or civilian left the city via the humanitarian corridors, including Bostan al-Qasr and Costello.
In addition to preventing militants' approach to the two specified corridors, Fatah al-Sham Front (the al-Qaeda-affiliated terrorist group previously known as the al-Nusra Front) threatened civilians with death if they approach the six humanitarian corridors that connect Eastern Aleppo to its Western part.
Reports from the city said terrorists blocked the exit of hundreds of residents in the Eastern districts of Aleppo, who had gathered near al-Kelaseh checkpoint, from approaching Bostan al-Qasr corridor.
Full report at:
http://en.farsnews.com/newstext.aspx?nn=13950826000229
--------
Syria: Terrorists in Homs, Idlib Surprised by Russian Navy Operation
Nov 16, 2016
Although Moscow had previously warned of its Navy's imminent attacks on terrorists' positions in Aleppo, terrorists in Homs and Idlib were strongly surprised by resumption of Russia's military operation against their positions instead of Aleppo.
Analysts say what has happened in Russian's military attacks on terrorists' positions in Homs and Idlib is a war tactic. Russia is to tighten siege on Aleppo via targeting and liberating parts of Homs and Idlib to open roads to Southern Aleppo to dispatch more equipment to anti-terrorism forces via these road that are still under the control of militants in Homs and Idlib.
"Moscow's decision means that Aleppo Operation will not be limited to the liberation of the Eastern districts of Aleppo city, and should rather end in the liberation of the entre Aleppo in next days," they say.
Russian Defense Minister Sergei Shoigu said on Tuesday that Admiral Grigorovich frigate targeted terrorists in Syria with Kalibr cruise missile strikes.
"Today, we started a large-scale operation on launching massive strikes on ISIL and al-Nusra Front targets in the Idlib and Homs provinces in Syria," Shoigu said, Sputnik reported.
According to him, Admiral Grigorovich frigate, Bastion coastal missile systems and "for the first time in history of the Russian Naval Forces" Admiral Kuznetsov aircraft-carrying cruiser take part in the military operation.
"Admiral Grigorovich frigate takes part in the operation. Today, it launched Kalibr cruise missiles on terrorist targets that had been confirmed by intelligence data and determined in advance," the minister said at a meeting of Russian President Vladimir Putin with top officials of the Russian Armed Forces.
Shoigu said that the Russian Armed Forces launch strikes on terrorists' plants in Syria, especially those producing poisonous substances.
Full report at:
http://en.farsnews.com/newstext.aspx?nn=13950826000330
--------
Tens of Nusra Terrorists Killed in Syrian Army Attacks in Northern Homs
Nov 16, 2016
The army soldiers and National Defense Forces hit terrorists' bases and defense lines in the villages of al-Sa'an al-Aswad and Ezzeddeen, claiming the lives of nine militants.
In the meantime, other army units conducted operations against Fatah al-Sham's position in Hawsh al-Diwani, al-Sa'an al-Aswad, Hawsh Hajwa and Hawsh Jafar in Northern Homs, killing at least 15 militants dead or wounded.
A base of Fatah al-Sham in Hawsh Hajwa was targeted by army's artillery and missile units, destroying the base completely and killing all the terrorists inside the base.
Military vehicles of the terrorists were also destroyed in the missile and artillery shelling of the base.
Army attacks on Fatah al-Sham's positions in the village of Ezzeddeen in Northeastern Homs also destroyed their bases and equipment, killing several militants.
Fatah al-Sham's base in the village of Hawsh al-Zawaher was destroyed and several militants were killed in the Syrian army attacks.
Also, Commander of Ahrar al-Sham Hossein Abdul Qader Raqib and three of his forces were killed in army attack on their positions in the village of Ezzeddeen.
Also, Syrian Army soldiers and warplanes hit hard the positions of ISIL and Fatah al-Sham Front (previously known as the al-Nusra Front) in Eastern and Northern Homs on Tuesday, inflicting heavy losses on the militants.
Full report at:
http://en.farsnews.com/newstext.aspx?nn=13950826000430
--------
Syrian Army Preparing to Win Back Key Towns in Northern Hama
Nov 15, 2016
"After the terrorists seized control of the villages and farms in Northern Hama and displaced their residents, the Syrian army managed to recapture those regions and push back the militants; now the army units are readying to seize back Taybat al-Imam and Halfaya towns both of which are close to the city of Mahrada," Khalaf told FNA on Tuesday.
He noted that the terrorists have taken control of many regions in Northern Hama, including al-Kabariya, Ma'an, Khafsin, al-Talissiya, Ma'ardas and Sevran.
Khalaf pointed to a terrorist attack which took place in the town of Ma'ardas, and said, "In terrorist blasts conducted by three suicide bombers in al-Asi square, one terrorist was killed and two others blew up themselves."
The Hama governor said that life is back to normal in Ma'ardas town.
Earlier on Tuesday, the Syrian military forces fended off a joint offensive of al-Izzah Movement and Jeish al-Nusra on government positions Northwest of Hama, killing several militants.
Al-Izzah movement and Jeish al-Nusra left behind several dead members and destroyed equipment and pulled the remaining pockets of forces back at the end of their unsuccessful attack on army positions in Northwestern Hama.
Army soldiers also engaged in clashes with the terrorist groups, repelling their attack and inflicting major losses on their personnel and equipment in Baridij hill in Northwestern Hama.
In relevant developments in the province on Monday, Syrian Army troops targeted the gatherings and positions of Jeish al-Fatah terrorists in at least sixteen different regions, inflicting a heavy death toll on the militants.
Full report at:
http://en.farsnews.com/newstext.aspx?nn=13950825000998
--------
Arab Daily: Saudi Claim about Ansarullah's Missile Strike on Mecca Mocked by Muslims
Nov 15, 2016
Rai al-Youm newspaper run by renowned Arab analyst Abdel Bari Atwan wrote on Tuesday that the allegations against Ansarullah and Ali Abdullah Saleh, the former Yemeni president, are unwise and illogical since they are not "stupid" to incite the enmity of 1.5bln Muslims.
"Some states might think that most Islamic governments are stupid (to believe the attack) but the Muslim nations or most of them are not so," it added.
Rai al-Youm referred to the extraordinary upcoming meeting of the Organization of Islamic Cooperation (OIC) in Mecca on Thursday to study the alleged missile strike, and said the meeting will be held as Ansarullah has dismissed targeting Mecca both in the past and future.
On October 27, the Yemeni army and Ansarullah fighters fired a Borkan-1 (Volcano-1) missile towards King Abdulaziz International Airport, located 19 kilometers North of the Western Saudi port city of Jeddah.
Full report at:
http://en.farsnews.com/newstext.aspx?nn=13950825001138
--------
Large Number of Turkish Army Tanks Arrive in Northern Syria
Nov 15, 2016
"Ninety tanks of the Turkish army crossed the country's Southern border into Northern Syria in al-Shahba region this morning. The army sent the tanks to the battlefields near the town of al-Bab," Hawar news quoted the source as saying.
"It's not yet clear where the tanks crossed the border into Northern Syria, but the Turkish forces and Ankara-backed terrorists are very overtly preparing to capture al-Bab," Hawar added.
On Thursday, the Turkish army in al-Shahba region equipped the terrorists with heavy weapons, including M60 tanks.
According to Kurdish-affiliated Hawar news, several footage and images have been released by the terrorist groups in different websites which show that they are using the Turkish army's armored vehicles in Tal Jorji village in al-Bab region.
Full report at:
http://en.farsnews.com/newstext.aspx?nn=13950825001386
--------
Challenging government, Egypt's parliament approves 'repressive' NGO bill
15 November 2016
Egypt's parliament on Tuesday approved a bill to regulate non-governmental organizations in a move human rights groups say effectively bans their work.
Egyptian rights activists say they are facing the worst crackdown in their history amid a wider campaign under President Abdel Fattah al-Sisi to erase freedoms won in a 2011 uprising that ended Hosni Mubarak's 30-year rule.
The bill, which is subject to a final vote, bans any civil society work that does not fall under its regulation, restricts NGO activity to developmental and social work and introduces jail terms of up to five years for noncompliance.
It also bans NGOs from conducting fieldwork or polls without permission or "from cooperating in any way with any international body without the necessary approval" which human rights groups say includes the United Nations.
The bill stipulates that foreign NGOs be overseen by a regulating agency that includes representatives of the military, general intelligence and the Interior Ministry.
"This law is unprecedented in its repression and is the state's way of declaring war on human rights organizations," said Mohamed Zaree, Egypt programme manager at the Cairo Institute of Human Rights Studies.
Egypt has accused some NGOs of receiving foreign funding to sow chaos.
Social Solidarity Minister Ghada Waly, whose ministry regulates the NGO sector, said: "The government will submit official comments on the law." She did not elaborate further.
Parliament approved all 89 articles of the bill on Tuesday but sent it to the State Council for review and will hold a final vote on it later.
The government had been working on a similar bill for the past two years, but 204 lawmakers drafted their own version, which parliament began debating on Monday.
Legal Affairs Minister Magdi al-Agaty had asked MPs to consider the government draft, but was shouted down by several members of parliament.
Agaty later said the government would submit notes on parliament's bill but there was no "conflict" with parliament and Speaker Ali Abdelaal welcomed the government's amendments.
'Insult to constitution'
Rights groups have repeatedly criticized leaked drafts of the government's bill but say parliament's version is much more stringent, including penalties of up to five years in jail and fines of up to 1 million Egyptian pounds ($65,573).
"The government bill is liberal compared to this bill," said Zaree. "It is an insult to the constitution."
Full report at:
https://english.alarabiya.net/en/News/middle-east/2016/11/15/Challenging-government-Egypt-s-parliament-approves-repressive-NGO-bill.html
--------
Saudi forces shoot down missile fired from Yemen
15 November 2016
JEDDAH: Saudi forces shot down a ballistic missile fired from Yemen toward the southern border region of Najran on Tuesday, the Arab coalition supporting the UN-recognized Yemeni government said.
Royal Saudi Air Defense Forces intercepted the missile at dawn over Najran before it could cause any damage, the coalition said in a statement carried by the Saudi Press Agency (SPA).
Coalition forces subsequently hit back at the missile launch site, SPA said. Saudi air defense forces are using Patriot missiles against rebel missile attacks.
Yemeni rebels had been targeting Saudi Arabia's southern border regions with rocket and missile attacks since the Kingdom led a coalition of Arab states to restore the government of President Abedrabbo Mansour Hadi in March 2015.
Hadi was forced into exile in Riyadh as Iran-backed Shiite Houthi rebels and loyalists of former president Ali Abdullah Saleh combined to seize large areas of Yemen.
More than 500 civilians in the kingdom have been killed by Houthi attacks along the border with Yemen since
March 2015.
Full report at:
http://www.arabnews.com/node/1010986/saudi-arabia
--------
Pakistan
Pakistani army destroys market for refusing weapons supply to Taliban
By KHAAMA PRESS - Wed Nov 16 2016
The Pakistani military has allegedly destroyed a major trade centre located in the tribal regions of the country after it refused to supply weapons to the terrorist groups, including the Taliban and Al-Qaeda terrorist network.
The Asia Human Rights Commission (AHRC) unveiled regarding the Pakistani military step in a report released on 10th November.
According to the report "In in retaliation to locals refusing to supply arms to the international terrorist organisations Taliban and Al-Qaida, Army officers have blown up a two-storey business centre, which had more than 150 shops and four commercial halls. This incident has occurred in Wana City, the headquarters of South Waziristan, located in Federally Administered Tribal Areas (FATA), where the Army claims to be conducting major operations (Zarb-e-Azb) against terrorists."
The report further added that the business center belonged to the Mirza Alam Khan Wazir, ex-Chief of the Ahmadzai Wazir tribe who was the Chief of the whole of Waziristan, FATA. "In his lifetime, Mr. Mirza remained staunchly against terrorism, particularly against the Taliban, at a time when the Pakistan Army was allegedly nurturing these terrorists and facilitating them to conduct cross-border terrorism. Mirza also did not allow Osama Bin Laden to stay in Waziristan; that is why Bin Laden had to settle in Abbottabad and other areas inside Pakistan."
AHRC says the army retaliated by dynamiting the business centre after Army Major Imran was killed and six soldiers were injured in the area in a premature explosion triggered by a hand grenade as the Major was persuading the shopkeepers to re-start delivery of arms and ammunition to the agents of Afghan militants from the Taliban and Al-Qaida.
The report also adds that Mr. Khan had suddenly stopped delivery of arms around two months ago. Khan was delivering arms and ammunition to Angur Ada, a village and a border crossing straddling the South Waziristan Agency of Pakistan and Afghanistan's Paktika Province. Khan decided to do business of carpets instead and hired a shop at the said business center in a quest to change his line of work.
http://www.khaama.com/pakistani-army-destroys-market-for-refusing-weapons-supply-to-taliban-02290
--------
Staff of Pak-Turk schools told to leave Pakistan by 20th
IFTIKHAR A. KHAN
November 16, 2016
ISLAMABAD: Ahead of Turkish President Recep Tayyip Erdogan's visit to Pakistan, the interior ministry has asked the Turkish staff of Pak-Turk schools and colleges to leave the country by Nov 20.
The management of the educational network on Tuesday expressed concern over the "abrupt move" and assured the students and parents involved that it stood firmly against any proposal for "ingress of some other organisation into the teachers and staff of the schools".
A senior official of the interior ministry said the visas of the educational chain's staff had been cancelled and that letters had been sent to them on Sunday, informing them that they had only one week to leave the country.
The decision was in line with the advice of the foreign affairs ministry.
The number of teachers and other Turkish staff in the chain's 28 schools and colleges stood at 108 and the total number of their family members at about 400, the official said.
In August, Pakistan had promised Turkey's visiting Foreign Minister Mevlut Çavusoglu that it would look into affairs of the chain Ankara wanted to be closed for its alleged links with US-based cleric Fethullah Gulen.
During his visit, Mr Çavusoglu had said: "It is not a secret that Gulen's organisation has institutions... in Pakistan and in many other countries. I am sure the necessary measures will be taken. We have to be very careful with such organisations and their causing risk and threat for the security and stability of every country [where] they have presence."
The network of Pak-Turk schools and colleges was launched in 1995 under an international NGO registered with the Turkish government. "Initially, funding was made from Turkey to establish modern campuses in Pakistan. But for the last 15 years or so the chain has been generating its own funds here, offering free education and boarding facilities to 35 per cent of the students, besides awarding foreign scholarships to them," the official said.
The chain's 28 schools and colleges are functioning in Lahore, Rawalpindi, Islamabad, Multan, Karachi, Hyderabad, Khairpur, Jamshoro and Quetta. Some 11,000 students, of pre-school to 'A' Level ages, are studying there.
In the second week of August, the management of the chain removed the Turkish principals of their 28 schools and colleges and also dissolved the board of directors which had representation from Turkish nationals.
The drastic move was seen as an attempt to thwart the likely handing over of the chain to any organisation by the government. According to sources, the Turkish government had suggested that the network be handed over to an international NGO having inks with the Erdogan administration.
The management had also filed petitions in the Islamabad and Lahore high courts, seeking judicial orders to stop the Pakistani government from taking any "unlawful step which would compromise the future of the students", or to maintain the status quo.
Parents of the students say withdrawal of the faculty and change of management will adversely affect standards at the educational institutions.
Last month, the foreign affairs ministry had informed the Islamabad High Court that the government was not going to shut down the institutions and that it had not received any request from the Turkish government for the transfer of their management to a third party.
The petition had been filed in the court amid speculation related to the closure or transfer of the 28 institutions from the current Pak-Turk Education Foundation, allegedly linked to Mr Gulen, to the "pro-President Recep Tayyip Erdogan Maarif Foundation". In its written comments, the ministry had said that "demand from any quarter to close the Pak-Turk Education Foundation has not been received".
Full report at:
http://www.dawn.com/news/1296663/staff-of-pak-turk-schools-told-to-leave-pakistan-by-20th
--------
Qatari letter changes PM's stance on London properties: SC
NASIR IQBAL
November 16, 2016
ISLAMABAD: The Supreme Court was not pleased on Tuesday to hear yet another explanation for how the Sharif family paid for its London properties, observing that both sides were doing their best to ensure that the court would eventually have to form a commission to decide the Panamagate case.
"This document has completely changed the public stand of the prime minister," Justice Asif Saeed Khosa observed after the Sharif children's newly-engaged counsel, Mohammad Akram Sheikh, presented before the court an attested letter from a former Qatari prime minister.
"This is all hearsay," said Justice Khosa, who is part of the five-judge larger bench, headed by Chief Justice Anwar Zaheer Jamali, which has taken up the Panamagate case.
Like a rabbit out of a hat, Mr Sheikh had pulled out a document dated Nov 5, 2016 — marked private, confidential and not to be disclosed to any party, except for the benefit of the courts of Pakistan — on the letterhead of Hamad Bin Jassim Bin Jaber Al Thani, who ruled Qatar from 2007 to 2013.
But the court was not amused. Justice Khosa observed the document originated only a few days ago and was not 30 years old, asking the counsel whether the gentleman who signed the letter would appear for cross-examination if the court placed the document on the record. Although he didn't respond before the court, Mr Sheikh told reporters after the hearing that the former Qatari premier would appear before the court, if necessary.
The letter states that Hamad's father — Jassim bin Jabr Al Thani — had "longstanding business relations with Mian Mohammad Sharif" — Prime Minister Nawaz Sharif's father — "which were coordinated through my eldest brother". In the year 1980, "Mian Sharif expressed his desire to invest a certain amount of money in real estate business of Al Thani family in Qatar," the document said.
"I understood at that time, that an aggregate sum of around Dirhams 12 million was contributed by Mian Sharif, originating from the sale of business in Dubai," the document said, adding that four flats: 16, 16A, 17 and 17A Avenfield House, Park Lane, London, were registered under the ownership of two offshore companies, while their bearer share certificates were kept in Qatar. "These were purchased from the proceeds of the real estate business," the document claimed.
It went on to explain that "on account of [the] relationship between the families, Mian Sharif and his family used the properties whilst bearing all expenses relating to the properties, including the ground rent and service charges".
"I can recall that during his life time, Mian Sharif wished that the beneficiary of his investment and returns in the real estate business [should be] his grandson Hussain Nawaz Sharif," it explained, adding that in the year 2006, the accounts in relation to this investment were settled between Hussain and the Al Thani family, who then delivered the bearer shares of the companies to his representative.
But Chief Justice Anwar Zaheer Jamali was not swayed and observed that the court would examine the evidentiary value of the document later.
"Do you understand the implication of the document?" Justice Khosa asked, pointing at Mr Sheikh. He observed that all this document explained that Hamad bin Jassim did not have to account for anything, and that his father was extremely kind and generous to give away money to Mian Sharif.
"You do not have any explanation for the properties except for this?" Justice Khosa inquired again.
He observed that while Nawaz Sharif was everybody's prime minister, the stance adopted before the court was different from what he said on the floor of the National Assembly on May 16, 2016, where PM Sharif had stated that the flats were purchased using proceeds from the sale of steel mills in Jeddah.
Full report at:
http://www.dawn.com/news/1296666/qatari-letter-changes-pms-stance-on-london-properties-sc
--------
No interest in MQM, says Musharraf
November 16, 2016
KARACHI: Although rumours refused to die down about retired Gen Pervez Musharraf's desire to take control of a unified Muttahida Qaumi Move­ment, the former military dictator claimed on Tuesday that he was not interested in the MQM and he wanted to do "something" for the betterment of the Urdu-speaking community.
"I have sympathy for the Mohajirs but no interest in the MQM," he said in an interview with DawnNews. "I will try to do something for the betterment of the Mohajir community."
He rejected reports that he had a meeting with MQM leader Dr Khalid Maqbool Siddiqui and said that he met Khwaja Izhar-ul-Hassan, the leader of the opposition in the Sindh Assembly, in Dubai by chance.
He said that he had been the president of Pakistan, so how could he restrict himself to a regional party like the MQM.
Gen Musharraf has been tacitly trying to unite all factions of the MQM under his leadership. He has met various MQM-Pakistan leaders and is said to be in contact with the leadership of the Pak Sarzameen Party, former Sindh governor Dr Ishratul Ibad and even those still part of the Altaf Hussain-led MQM-London.
His close aide Ahmed Raza Kasuri recently gave a "plus-one formula", asking all MQM factions to accept Gen Musharraf as their leader for their own advantage.
Full report at:
http://www.dawn.com/news/1296677/no-interest-in-mqm-says-musharraf
--------
Sikhs unburden themselves at Guru Nanak's birthplace
SAHER BALOCH
November 16, 2016
While sermons at the 547th birth anniversary celebration of Guru Nanak at Gurdwara Janamsthan Nankana Sahib asked people to reflect and ensure kindness under any circumstances, creation of Khalistan, a separate homeland for Sikhs, remained the main topic of discussion among the Sikh representatives.
Thousands of Sikh pilgrims from the United Kingdom, the United States, Canada, Malaysia, Iran and Kenya seemed overwhelmed by the prospect of visiting Nankana — the birthplace of Sikhism's founding father.
Inside the Gurdwara, most people from the older generation were busy listening to Sikh representatives. One after the other, the speakers, largely belonging to Pakistan's Sikh Gurdwara Prabandhak Committee, spoke of injustices against the Sikhs, human rights violations and the increasing drug menace in India's Punjab state.
Others went on an anti-India vitriol, but at the same time called upon the Pakistani authorities to set up more Gurdwaras for the 20,000-strong Sikh community living in this country. Banners near the pilgrims' sleeping quarters reminded them about the riots and killings of Sikhs that rocked India in 1984.
Even before the celebrations began on Monday, there was talk at the Gurdwara for the inclusion of two issues in the religious sermons. One relates to the water dispute between the Indian states of Punjab and Haryana and the other to the cancellation of a meeting of Sikh religious representatives that was to be held in both Pakistan and India on Nov 10. It was cancelled after some delegates were arrested in Amritsar. They intended to discuss the Sikh freedom movement and the increasing trend of suicide among farmers in East Punjab and other Indian states.
"These problems faced by our community in India won't go away until we do something about it. We need to separate if we want to remain relevant," said a member of the Gurdwara committee, Gopal Singh Chawla.
As majority of pilgrims listening to him remained hesitant and didn't seem as emotional when he raised slogans of a separate homeland for Sikhs in India, Chawla decided to announce his resignation from the post and left the podium amid blank stares.
Parminder Kaur, 76, a national of the United Kingdom, is visiting Pakistan for the second time to attend the birth anniversary of Guru Nanak at Gurdwara Janamsthan. Sitting at the back in the same veranda, she shakes her head from time to time. "What's the point of using a religious platform for your own political aims?"
Armed with pictures of her ancestral home in Faisalabad Chak 106, she says that there is "no need to listen to those who don't have to face the consequences of their speech. Vulnerable communities in both countries continue to face trouble because of well-timed speeches".
With tensions rising between India and Pakistan, this year the number of pilgrims coming from India is fewer than last year, says Joga Singh, a representative of the Pakistan Gurdwara Prabandhak Committee in Britain .
"There's been a considerable difference due to tensions. There are always other reasons. For instance, people still use passport of their place of birth while being a UK national. And their visas get rejected as a result of it. But the absence of direct flights from India and a general fear of being mistreated kept people away this time around," he added.
Joga Singh himself has not been to India since leaving for Britain in 1981. In addition, his constant campaigning for a separate Sikh homeland ensured that he never gets an Indian visa. "This is how it is everywhere in the world. People like me have to look for places where we can speak our mind. The world is quite similar that way," he added.
A mile away from the Gurdwara, at the sleeping quarters meant for Indian Sikhs coming from the UK, Canada and the US, Manmohan Singh Johal, said Pakistan was his home.
Full report at:
http://www.dawn.com/news/1296424/sikhs-unburden-themselves-at-guru-nanaks-birthplace
--------
Britain's PM 'looking forward' to visiting Pakistan
November 16, 2016
ISLAMABAD: Britain's Prime Minister Theresa May said on Tuesday that she looked forward to visiting Pakistan in the first half of 2017.
She said this as she walked into a meeting between Minister for Interior Chaudhry Nisar Ali Khan and UK's National Security Adviser (NSA) Sir Mark Lyall Grant at 10 Downing Street, London.
The prime minister conveyed good wishes to Prime Minister Nawaz Sharif and the people of Pakistan, according to a message received from London.
Mr Nisar congratulated Ms May on assuming the office of prime minister and said that he hoped that relations between the two countries would improve under her leadership. He expressed the hope that Britain and Pakistan could enhance cooperation at all levels after her visit next year.
He said her visit would be timely considering the regional political situation in South Asia and would help open up new channels of multi-lateral cooperation and coordination.
During his conversation with Sir Mark, the interior minister stressed the need to focus on Indian intransigence. He said India's hegemonic stance and aggressive posturing was a threat to peace and stability in the region.
Mr Nisar stated that Pakistan would not cow down to bullying tactics, adding that "we reserve the right to avenge the blatant and unprovoked killing of our soldiers". He stressed that the global community would have to come together to counter India's designs against Pakistan. He also urged global leaders to stop viewing South Asia through India's lens.
On the subject of the war against terrorism, Mr Nisar said that terrorism was a threat to the region and international peace. "The people of Pakistan and its security institutions are determined to wipe out terrorism from its soil." He said the security situation in Pakistan had improved in the last three years.
Full report at:
http://www.dawn.com/news/1296675/britains-pm-looking-forward-to-visiting-pakistan
--------
PTI announces to boycott Erdogan address to joint session tomorrow
16-Nov-16
ISLAMABAD: The Pakistan Tehreek-e-Insaf (PTI) on Tuesday upheld its earlier stance of not attending the joint parliamentary session on November 17, which will be addressed by Turkish President Recep Tayyip Erdogan.
"Turkish ambassador requested us to attend the joint session and we reviewed the decision but have reached the conclusion to continue the boycott," PTI Chairman Imran Khan told a press conference.
However, Kaptaan added, "We welcome the Turkish president to Pakistan but at the same time, we do not want to endorse a prime minister who has broken the country's law and has engaged in corruption."
He added that it had become impossible for the PTI lawmakers to go to parliament given the treatment that was meted out to party workers.
Criticising the Pakistan Muslim League-Nawaz, he said in the past seven months it had become clear that the government had changed its position several times in relation to its corruption.
To a question; the skipper said, "Turk ambassador requested us not to boycott the session; however, we think that a person who is involved in corruption should not stay in power therefore we will go ahead with our decision to boycott."
Turkish President Recep Tayyip Erdogan is scheduled to arrive in Pakistan on Wednesday (today) on a two-day visit.
Turkish President Recep Tayyip Erdogan would address a joint parliamentary session on November 17 at 2pm.
According to National Assembly spokesman, President Mamnoon Hussain has summoned the joint parliamentary session under Article 54 of the constitution. It would be a special session of both Houses and no other business would be taken up except the address. Prime Minister Nawaz Sharif would welcome Erdogan in parliament while Opposition Leader Khursheed Shah would present vote of thanks. NA Speaker Ayaz Sadiq would chair the proceedings.
Sources told Daily Times that Senate Chairman Raza Rabbani and Ayaz Sadiq would receive the Turkish president at Parliament House. Later, short meeting would take place with the Senate chairman and NA speaker at the speaker's chamber and Erdogan would write down his remarks in the guest book as well.
Full report at:
http://dailytimes.com.pk/islamabad/16-Nov-16/pti-announces-to-boycott-erdogan-address-to-joint-session-tomorrow
--------
Three 'terrorists' remanded in CTD custody
November 16, 2016
GUJRANWALA -An Anti-Terrorism Court Tuesday remanded three alleged terrorists into the CTD custody for seven days.
Earlier, the Counter-Terrorism Department produced the three alleged terrorists in the ATC, requesting the court to grant 14 days physical remand of the accused. ATC judge Khalid Sharif, however, granted seven days remand.
The CTD arrested the suspected terrorists identified as Ali Raza, Atif Mushtaq and Jawad Hamza during a raid in Emanabad. The CTD recovered explosive material along with detonators and fuses and literature of a banned organisation.
Full report at:
http://nation.com.pk/national/16-Nov-2016/three-terrorists-remanded-in-ctd-custody
--------
Mideast
Settler group seeking to evict Palestinians from East al-Quds homes
Nov 16, 2016
An Israeli organization working for the creation of a Jewish majority in East Jerusalem al-Quds is reportedly moving ahead with plans to drive nine Palestinian families out of their homes in an area of the occupied territory.
Ateret Cohanim has recently asked the Jerusalem al-Quds Magistrate's Court to issue eviction orders for the Palestinians families, who are living in the Batan al-Hawa area of Silwan neighborhood, Ha'aretz daily newspaper reported on Wednesday.
The group has employed various legal and economic methods over the past 15 years in a bid to evict the Palestinian residents of the area from their houses, irrespective of the fact that most of the locals have lived there for generations since 1950s or 1960s.
Over the past two weeks, Ateret Cohanim has sought two additional eviction orders against two Palestinian families, identified as Shihada and Ghaith, who are residing in nine apartments in Batan al-Hawa.
The eviction of Palestinians from their homes in Batan al-Hawa would create a sizable Israeli neighborhood in the heart of predominantly Palestinian Silwan neighborhood, the report said.
Illegal Amona settlers to resist eviction
Meanwhile, residents of an illegal settlement in the occupied West Bank have defied the Israeli supreme court's decision to raze the outpost.
Spokesman of Amona, located northeast of Ramallah in the central West Bank, said the settlers would resist any demolitions carried out in the area.
The remarks came after Israel's high court ruled on Monday that the evacuation of Amona "must occur before December 25" and rejected the delay requested.
The Israeli regime had sought a seven-month delay irrespective of an earlier ruling in 2014 by the supreme court that Amona was constructed on private Palestinian land, and had to be razed.
More than half a million Israelis live in over 230 illegal settlements built since the 1967 Israeli occupation of the Palestinian territories of the West Bank and East Jerusalem al-Quds.
The continued expansion of Israeli settlements in occupied Palestine has created a major obstacle to the efforts to establish peace in the Middle East.
The Palestinian Authority wants the West Bank as part of a future independent Palestinians state, with East Jerusalem al-Quds as its capital.
Jordan rejects Israel ban on Muslim prayers call
Also on Tuesday, Jordanian deputy minister for Awqaf and Islamic affairs dismissed Israel's controversial and so-called "muezzin bill," which is aimed at limiting the sound of prayers calls coming from Palestinian mosques.
"An occupier cannot make any historical change to the city it occupies, and things (must) remain the same without any change, a fact that underlines that any Israeli decision on Jerusalem is false and insignificant, for the city is under occupation," Abdullah Abbadi said.
Abbadi added the Muslim call to prayer, played over loudspeakers at al-Aqsa Mosque five times a day, would be played forever.
During a cabinet meeting on Sunday, Israeli Prime Minister Benjamin Netanyahu said he would support the muezzin bill, claiming that prayers calls make excessive noise.
Israeli think-tank Democracy Institute later condemned the legislation as a threat to religious freedoms and unnecessarily divisive.
The group also accused far-right Israeli politicians of dangerously using the issue to gain political gains under the guise of improving the quality of life.
The occupied territories have been the scene of increased tensions ever since Israeli forces imposed restrictions on the entry of Palestinian worshipers into the al-Aqsa Mosque compound in August 2015.
More than 250 Palestinians have been killed by Israeli forces since the beginning of October 2015.
http://www.presstv.ir/Detail/2016/11/16/493830/Israel-group-eviction-Palestinian-families-East-Jerusalem-alQuds-Amona-settlement-demolition-West-Bank-muezzin-bill-Jordan-slam
--------
Iran rejects 'baseless' claims of housing Taliban
Nov 15, 2016
Iran has dismissed as baseless reports by Afghan media about the presence of leaders of the Taliban terrorist group in the Islamic Republic.
Iranian Foreign Ministry Spokesman Bahram Qassemi said on Tuesday that relations between Iran and Afghanistan are based on cordial cooperation and common interests and security.
Qassemi's comments came after the governor of the western Afghan province of Farah, Asif Nang, claimed in an interview with Kabul News TV channel on November 9 that Iran has given houses to Afghan Taliban commanders and provided training facilities for militant groups in some of its cities.
This as Iran has repeatedly emphasized that improving progress and security in Afghanistan is among the Islamic Republic's core policies.
Full report at:
http://www.presstv.ir/Detail/2016/11/15/493749/Iran-Afghanistan-Taliban-Bahram-Qassemi
--------
Turkey says it's tired of 'two-faced' EU attitude
November 16, 2016
ANKARA: Turkey is "fed up" with European Union condescension in talks over its application to join the bloc, Foreign Minister Mevlut Cavusoglu said on Tuesday, reflecting Ankara's exasperation with EU criticism over human rights.
Cavusoglu's blunt comments, made as visiting German Foreign Minister Frank-Walter Steinmeier looked on, also highlighted Turkey's frustration with the fact that, after 11 years of negotiations, its prospects of joining the EU look more remote than ever.
"We are truly fed up of these statements degrading Turkey. The criteria are clear but there are double standards and a two-faced approach. This is what we don't like," Cavusoglu told a joint news conference.
The EU is treading a fine line in relations with Turkey: it needs Ankara's continued help in curbing a huge flow of refugees and migrants, especially from Syria, but is alarmed by Turkey's crackdown on opponents since the failure of a coup attempt in July.
Referring to an issue that could spell the end of Turkey's accession bid, Cavusoglu said that the Turkish people would decide whether or not to reinstate the death penalty.
Steinmeier said he had expressed concern about mass arrests and the treatment of the media since the failed coup, but also that Germany supported its NATO partner in fighting terrorism.
"Turkey's actions against opposition lawmakers and civil society, newspapers, radio and TV stations and countless teachers and bureaucrats do not conform to our constitutional standards, and they have long gone beyond the search for those responsible for the failed July 15 putsch," he told reporters.
More than 110,000 people have been sacked or suspended in the crackdown that followed the putsch, and some 36,000 arrested. Media outlets have also been shut down.
In Berlin, the head of Germany's domestic spy agency on Tuesday rejected as "completely unjustified" Turkey's charge that Germany is harbouring militants tied to the banned Kurdistan Workers Party (PKK).
"That accusation is completely unjustified. We have been working for many years to ensure that the PKK in Germany poses no danger to Germany or Turkey," Hans-Georg Maassen told Reuters in an interview late on Tuesday.
Earlier on Tuesday Cavusoglu said there were outstanding legal cases against 4,500 PKK members in Germany, but only three suspects had been sent back to Turkey so far.
More than 40,000 people have been killed since the PKK began its armed struggle in 1984 for autonomy for mainly Kurdish southeast Turkey. It is considered a terrorist group by Turkey, the United States and the European Union.
"SADDENED AND DISTURBED"
At one point during Tuesday's awkward news conference in Ankara, a microphone was switched off as a German journalist tried to ask a question. "No freedom of media here, that's why," Cavusoglu joked caustically, in English.
Full report at:
http://nation.com.pk/international/16-Nov-2016/turkey-says-it-s-tired-of-two-faced-eu-attitude
--------
Hundreds return to Turkish city after eight-month curfew
November 15, 2016
SIRNAK: Hundreds of people, including children, returned to the devastated Kurdish-dominated city of Sirnak in southeast Turkey on Monday after an eight-month curfew was relaxed, an AFP photographer said.
Since March, Sirnak has been under curfew between 5am (0200 GMT) and 10pm (1900 GMT) as the Turkish military pursued a relentless campaign against Kurdish rebels.
The curfew has now been shortened to seven hours and will remain in place from 10pm to 5am.
There was renewed fighting in the Kurdish-majority southeast after a two-and-a-half-year ceasefire with the outlawed Kurdistan Workers' Party (PKK) collapsed last year.
The PKK has been waging an insurgency since 1984.
As residents returned to their damaged homes in the city centre, the majority found their houses uninhabitable following clean-up operations to rid the rebels from the area, the photographer said.
Some of the returnees, who came from other parts of Sirnak and Mardin province, were forced to cook outdoors because the city has no electricity or water, the photographer said.
Schools and mosques were also damaged during the fighting, sparking tears and anger among the locals.
"These were our homes, these were where our memories were, this was where our furniture was," one resident wailed.
"Now we are left alone, what will happen to us?" the resident said.
Many will be forced to live with family or friends while their homes are rebuilt and damaged homes are demolished.
Full report at:
http://nation.com.pk/international/15-Nov-2016/hundreds-return-to-turkish-city-after-eight-month-curfew
--------
Iran warns US after House moves to renew sanctions
Nov 16, 2016
Senior Iranian officials have warned the US against renewing sanctions on Tehran after the House of Representatives passed a bill on Tuesday to restore the bans in breach of a nuclear accord.
US lawmakers voted 419 to one for a 10-year reauthorization of the Iran Sanctions Act (ISA), which was initially adopted in 1996 on the unfounded ground that Tehran was pursuing a non-civilian nuclear program.
The ISA will expire at the end of 2016 if it is not renewed and the bill must be passed by the Senate before being signed by the US president into law.
Iranian officials warned the US against renewing the ban in light of the fact that Iran has had the sanctions lifted on the back of its 2015 nuclear accord with world powers, known as the Joint Comprehensive Plan of Action (JCPOA).
Secretary of Iran's Supreme National Security Council Ali Shamkhani addressed US officials on Tuesday night in a strident tone.
"If you extend the sanctions, this will mean kicking the JCPOA away and we will confront it through implementing powerful technical packages," he said, without elaboration.
The agreement was struck in July 2015 between Iran and the P5+1 group comprising the US, France, China, Britain, Russia and Germany.
Addressing the pro-Israeli lobby group AIPAC back in March, US President-elect Donald Trump declared that his "number-one priority" would be to "dismantle the disastrous deal with Iran."
Back in July, Leader of the Islamic Revolution Ayatollah Seyyed Ali Khamenei said, "We will not violate the JCPOA, but if the opposite side violates it - as US presidential candidates are currently threatening to tear up the JCPOA - if they tear up the JCPOA, we will burn it."
Trump, himself, has conceded that it would be hard to destroy a deal enshrined in a United Nations resolution. In August 2015, he said he would not "rip up" the nuclear deal, but that he would "police that contract so tough they don't have a chance."
Full report at:
http://www.presstv.ir/Detail/2016/11/16/493826/Iran-JCPOA-Trump-Shamkhani-Safavi
--------
UN human rights bill on Iran politically motivated: Foreign Ministry
Nov 16, 2016
Iranian Foreign Ministry Spokesman Bahram Qassemi has condemned a UN resolution on the state of human rights in Iran as unacceptable and baseless.
On Tuesday, Qassemi stressed that the resolution, which was presented to the 71st UN General Assembly by Canada, is politically motivated.
"Unfortunately this resolution was compiled and ratified with specific political objectives solely based on a selective and confrontational approach without taking into account the realities of the Islamic Republic of Iran," he said.
He added that Iran condemns any attempts for political manipulation of human rights by Western countries against the world's independent nations.
Qassemi added that the UN's human rights mechanisms must not be used in the political games of powerful nations.
Full report at:
http://www.presstv.ir/Detail/2016/11/16/493805/iran-un-human-rights-qassemi
--------
Iran defuses Daesh bombing plot, confiscates 2 tonnes of explosives
Nov 15, 2016
Iran's security forces have confiscated nearly two tonnes of explosives from Daesh terrorists in the city of Garmsar, southeast of the capital Tehran, an Iranian security official says.
Iran's deputy intelligence minister for strategic studies on national security said on Tuesday that the terrorists had sought to use the explosives to carry out bomb attacks in at least 10 locations across the country.
Shafiei added that the Takfiri terrorists planned to conduct their vicious acts after the arrival in Iran of the ringleader of Daesh military branch in the country.
The official did not mention the date of the confiscation of the explosives, but said it was the outcome of people's cooperation, because the intelligence and security operation began following a telephone call by a member of the public.
Back in June, the Iranian Intelligence Ministry reported thwarting a Takfiri-Wahhabi plot to stage attacks in Iran's major cities, including the capital, Tehran. It also released a video showing security forces raiding the hideout of the terrorists in the capital.
Iranian forces have recently engaged in clashes with terror groups, thwarting their terrorist activities on the border and within the country, arresting several of them and confiscating large amounts of explosives and bomb-making materials.
Iran's security forces arrested members of an Iraqi-based terrorist group, comprised of two terrorists and their two accomplices, in a village near the Iranian city of Marivan in the western province of Kordestan on September 16 and 18, before they could find a chance to conduct any acts of terror.
Full report at:
http://www.presstv.ir/Detail/2016/11/15/493774/Iran-Garmsar-Intelligence-Ministry-explosives-terrorists
--------
UN committee flags Iran over human rights
16 November 2016
A UN committee on Tuesday urged Iran to cease enforced disappearances and the widespread use of arbitrary detention and has expressed serious concern about severe limitations on freedom of thought, conscience and religion or belief.
The General Assembly's human rights committee approved the measure by a vote of 85 in favor, 35 against and 63 countries abstaining. The assembly is virtually certain to adopt the resolution when it's put to a vote next month.
Full report at:
https://english.alarabiya.net/en/News/middle-east/2016/11/16/Air-strike-targeting-militants-kills-seven-in-southern-Libya.html
--------
Yemen govt 'not interested' in Kerry's deal
16 November 2016
Yemeni Foreign Minister Al-Mekhlafi said Tuesday that his government was not consulted on the cessation of hostilities deal announced in the same day by US Secretary of State John Kerry, Al Arabiya News Channel reported.
Mekhlafi criticized the agreement saying it will jeopardize prospects of reaching peace between Yemen's warring sides.
"The government was not aware of nor is it interested in what Secretary Kerry announced, which represents a desire to scuttle peace efforts by trying to reach an agreement with the Houthis apart from the government," Mekhlafi wrote on his official twitter page.
Mekhlafi made his statement after Kerry said the Iran-backed Houthi militias in Yemen and the Arab Coalition have agreed to cessation of hostilities starting on Nov. 17.
Speaking to journalists at the end of a visit to the United Arab Emirates, Kerry added that all parties to the conflict have also agreed to work to set up a Yemeni national unity government by the end of the year.
Full report at:
https://english.alarabiya.net/en/News/middle-east/2016/11/15/Kerry-Cessation-of-hostilities-in-Yemen-to-start-Nov-17.html
--------
North America
Hate crimes against Muslims up by 67pc in 2015: FBI
November 15, 2016
Reported hate crimes against Muslims rose in 2015 to their highest number since the aftermath of the September 11, 2001, terrorist attacks, according to Federal Bureau of Investigation (FBI) statistics released Monday.
Overall, the number of hate crimes reported by law enforcement agencies to the FBI increased 6.7 per cent, from 5,479 incidents in 2014 to 5,850 last year.
The total is far lower than the numbers seen in the early 2000s, but the FBI release comes amid numerous reports of attacks nationwide based on race and religion following last week's presidential election.
The most recent reporting covers calendar year 2015, which included the terror attacks in Paris and San Bernardino, California, as well as Republican Donald Trump's call for a ban on all Muslims entering the US. All of the above incidents, however, did not occur until the final two months of the year.
Critics say Trump's pledge has contributed to anti-Muslim sentiment.
"We've seen how words from public figures like Donald Trump translate into violence," said Mark Potok with the Southern Poverty Law Center, which tracks hate groups in the US.
Last year, there were 257 reported incidents of anti-Muslim bias compared to 154 the year before, a 67pc increase. The number of reported hate crimes against Muslims peaked at 481 in 2001.
Ibrahim Hooper, spokesman for the Council on American-Islamic Relations, said he was not surprised to see the large increase in 2015 and said he expects the trend to continue.
"We saw a spike in anti-Muslim incidents nationwide beginning toward the end of 2015. That spike has continued until today and even accelerated after the election of President-elect Trump," Hooper said.
There have been reports of racist and anti-religious incidents around the country since the November 8 election last week.
Two students at a vocational school in York County, Pennsylvania, held a Donald Trump sign in a hallway as someone shouted "white power", an incident captured on video and widely shared on social media.
In Silver Spring, Maryland, a banner advertising a Spanish-language service at an Episcopal church was slashed and the words "Trump nation, Whites only" were written on the back.
Authorities on two California State University campuses, in San Diego and San Jose, are investigating reports that two women wearing headscarves were attacked. At San Diego State University, authorities said a Muslim woman had her car keys and vehicle stolen by two men who targeted her while she wore a hijab and made comments about Donald Trump's election.
At the same time, a videotaped assault in Chicago showed black men beating a white man as onlookers screamed, "You voted Trump!"
On Sunday, Trump said he had not heard reports that some of his supporters might be harassing minorities. "I am so saddened to hear that," Trump said during an interview, "And I say, stop it. If it, if it helps, I will say this and I will say right to the cameras: Stop it."
According to the FBI report, the majority of hate crimes were motivated by bias against race or ethnicity. Of the 4,216 victims of hate crime motivated by race or ethnicity, 52pc were black, 18.7pc were white and 9.3pc were Hispanic or Latino. Crimes against Jews increased about nine per cent, while bias incidents involving sexual orientation were up 3.5pc.
Civil rights groups have expressed concern that the Trump administration could radically reshape the US Department of Justice, particularly when it comes to policing but also in terms of the priority placed on hate crimes.
These concerns were compounded over the weekend after Trump named as his chief White House strategist Steve Bannon, who came to his campaign from Breitbart News. Under his leadership, the Breitbart website became one of the leading outlets of the so-called alt-right, a movement often associated with far-right efforts to preserve 'white identity' and oppose multiculturalism.
Michael Lieberman with the Anti-Defamation League said there have been "unprecedented efforts" to address hate crimes in recent years, from outreach to law enforcement, community meetings and an emphasis on cooperation among federal agencies.
Any increases, including the ones seen in anti-Muslim crimes, could also be due to more reporting by victims as well as better reporting and tracking by law enforcement agencies. The number of reports by law enforcement agencies on hate crimes to the FBI decreased by about three per cent in 2015.
An AP investigation earlier this year found 17pc of local law enforcement agencies had not submitted a single hate crime report during the past six years as part of the FBI's tracking programme, prompting concerns that an undercount was masking the true scope of hate and bias crimes in the US.
"Gaps in participation and incomplete reporting demonstrate materially that this work must continue and we will be pressing the Trump Justice Department and US attorneys so this important work will be ongoing," Lieberman said.
http://nation.com.pk/international/15-Nov-2016/hate-crimes-against-muslims-up-by-67pc-in-2015-fbi
--------
A new council will unite Jewish and Muslim-American groups in a US alliance after the election
November 15, 2016
Among the muted glimmers of hope in a divisive period of US history is this: Prominent Jews and Muslims in business, religion, culture, and politics are banding together to form a new alliance in Washington.
The American Jewish Committee and the Islamic Society of North America announced a seemingly unlikely interfaith alliance on Monday (Nov. 14) called the Muslim-Jewish Advisory Council, an organization they say is committed to working for causes dear to both groups.
The council, comprised of 31 initial members, will include politicians including former senator Joe Lieberman, religious clergy like Imam Mohamed Magid, and academics like Deborah Lipstadt. Stanley Bergman, CEO of Henry Schein, and Farooq Kathwari, president and CEO of Ethan Allen, will serve as the council's co-chairs.
The announcement comes amid growing concern among US minorities about civil liberties.
The organization says its creation has been months in the making, and that it held its initial meeting in New York on Nov. 3. "This was not a reaction to the election," says Bob Silverman, director of Muslim-Jewish relations at AJC. "We saw a strategic need for these two communities to come together. They have been working on parallel tracks on many issues, so why not work together?"
The council's focus, it says, will be addressing bigotry, protecting religious minority rights in the US, and highlighting both groups' contributions to American society. It also wants to confront prejudice between American Muslims and Jews. How it will accomplish this is still in the works, according to Silverman, but it starts with bi-partisanship and diverse political views.
Full report at:
http://qz.com/837794/a-new-council-will-unite-jewish-and-muslim-american-groups-in-a-us-alliance-after-the-election/
--------
URL: https://www.newageislam.com/islamic-world-news/new-age-islam-news-bureau/germany-bans-'true-religion'-muslim-group-and-raids-mosques/d/109116
New Age Islam, Islam Online, Islamic Website, African Muslim News, Arab World News, South Asia News, Indian Muslim News, World Muslim News, Womens in Islam, Islamic Feminism, Arab Women, Womens In Arab, Islamphobia in America, Muslim Women in West, Islam Women and Feminism, Moderate Islam, Moderate Muslims, Progressive Islam, Progressive Muslims, Liberal Islam