New Age Islam News Bureau
5 Jul 2020
• Geelani's Resignation Blows Lid Off Pakistan Medical College Racket and The Shadow War Within Hurriyat
• Turkey Defers Decision on Turning Hagia Sophia Museum into A Mosque
• Game of Thrones: Moscow 'Aiding Taliban To Undermine US Role'
• Religious Conference in Pakistan Communiqué Says Islam Promotes Peace, Interfaith Harmony, Respect for Humanity
• Kedah To Focus on Attracting Investments from Islamic Nations, Says MB
• Taliban Violence Is Unacceptable, It Has to Go Down: NATO SCR
• Over 80 Killed in Fierce Clashes Between Govt. Troops, Daesh Remnants in Syria's Homs: Monitor
India
• Geelani's Resignation Blows Lid Off Pakistan Medical College Racket and The Shadow War Within Hurriyat
• Saw People Being Identified by Religion, Killed, Dumped into Sewer: PCR Caller Is Key Witness to Delhi Riot Murders
• In Assam, Officials Lock Down 3 Villages as Thousands Attend Funeral of Aamir-e-Shariat for the Northeast
• 1 CRPF jawan injured in IED blast by terrorists in J&K's Pulwama
• Two terrorists killed, JCO among three Armymen injured in J&K encounter
• Sopore terror attack: IGP visits civilian victim's family in Srinagar, assures impartial probe
• Pakistan violates ceasefire along LoC in Poonch
• Terrorist dead, two soldiers injured in Kulgam encounter
--------
Mideast
• Turkey Defers Decision on Turning Hagia Sophia Museum into A Mosque
• Move to Turn Hagia Sophia Into A Mosque 'Unacceptable': Russian Orthodox Church
• Top Security Official: US Assassination of General Soleimani Huge Gift to Terrorists
• UN peacekeepers in Israel suspended over sexual misconduct caught on video
• Istanbul court jails human rights activists on terror charges
• Yemen urges UN Security Council to hold session on floating Safer oil tanker
• Israeli nuclear facilities could become targeted in sabotage: Iranian analysis
• Israel's annexation of Palestinian lands could trigger 3rd intifada: Abbas' aide
• Hundreds protest against Israel's annexation plans near Nablus
--------
Europe
• Game of Thrones: Moscow 'Aiding Taliban To Undermine US Role'
• Europe Unites Against Israel's West Bank Annex Plan
• EU Turkey travel restrictions from politics not health
• Turkey using 8,000 spies to track dissidents in Germany
--------
Pakistan
• Religious Conference in Pakistan Communiqué Says Islam Promotes Peace, Interfaith Harmony, Respect for Humanity
• There Is Massive Religious Discrimination In Pakistan: Hamza Ali Abbasi
• PM asks NCOC to prevent virus resurgence on Eid
• Judge Malik shown the door over misconduct
• Zardari wants all institutions to respect parliament
• Rangers detain two members of banned outfit for killing PSP worker
--------
Southeast Asia
• Kedah To Focus on Attracting Investments from Islamic Nations, Says MB
• King Salman not informed Saudi-backed peace centre closed, claims Najib
• Bank Islam ready to help customers after moratorium ends
• Three Suspected Militants Arrested in Central Java
--------
South Asia
• Taliban Violence Is Unacceptable, It Has to Go Down: NATO SCR
• Coronavirus Funerals: Sri Lanka's Muslims Decry Forced Cremation
• Explosion targets police vehicle in Kabul city earlier today
-------
Arab World
• Over 80 Killed in Fierce Clashes Between Govt. Troops, Daesh Remnants in Syria's Homs: Monitor
• Iraq reinforces border posts to try to prevent advance of Turkish troops
• Baghdad condemns US for missile test inside its embassy
• Iraq officially protests Turkey's cross-border offensive
• US Ambassador Shea bans aid distribution among needy families in north Lebanon: Senior cleric
• Lebanese border town sounds alarm over Syrian 'takeover'
• Air defense systems intercept rocket targeting US Embassy in Baghdad, Iraq
--------
Africa
• Jordan Slaps Electronic Bracelets on Arrivals to Monitor Coronavirus Quarantine
• Daesh kills 2, including 5-year-old, in Nigeria
• Nigeria: UN condemns terror attack on civilians
• Somalia: Bomb blasts kill 5 civilians, 1 police officer
--------
North America
• US Envoy Khalilzad Pushing Ahead with Tricky Taliban Peace Deal
Compiled by New Age Islam News Bureau
URL; https://www.newageislam.com/islamic-world-news/geelanis-resignation-blows-lid-off/d/122290
------
Geelani's Resignation Blows Lid Off Pakistan Medical College Racket and The Shadow War Within Hurriyat
by Nirupama Subramanian, Bashaarat Masood
July 5, 2020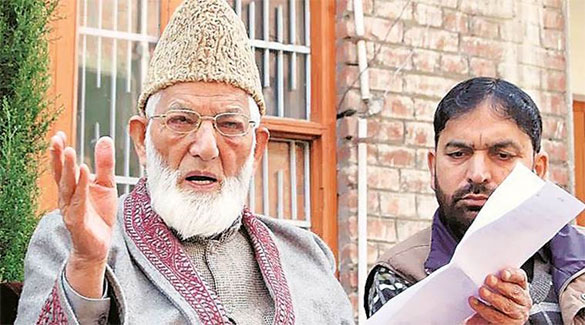 Islamabad would like him to withdraw resignation but the lines have been drawn. (Express archive photo)
----
Two years ago, few would have imagined that questions raised within the All Party Hurriyat Conference (APHC) about an alleged racket in medical seats in Pakistan would come to such a pass.
The bombshell resignation of hardline Kashmiri separatist leader Syed Ali Shah Geelani last week as "chairperson for life" of the APHC has caused a near implosion in the Hurriyat.
In his resignation letter, he accused Hurriyat representatives of corruption and cosying up to power structures in Pakistan which, ironically, is the shadow patron of the Hurriyat and whose voice he was in the Valley. He also nominated Abdullah Geelani, no favourite of Islamabad, as his successor.
The unravelling of this umbrella group of separatists is a high-stakes political thriller still awaiting a denouement. How it ends could have far-reaching consequences given the political vacuum in the Valley.
Its roots go back to the 2018 controversy over medical seats, sources have told The Sunday Express. Geelani's reference to an "internal investigation," in his letter is linked to this issue.
For close to two decades — beginning with the détente in the Musharraf years — Pakistan rolled out the red carpet for Kashmiri students wanting to study medicine and engineering. Until last year, students who could not get admission locally would head to Pakistan, where seats were reserved for them in colleges in PoK, Islamabad, Karachi and Lahore. Most seats were fully sponsored by the Pakistan government, which used the Hurriyat, on both sides, to decide the allocation of these seats.
An indication of how many Kashmiris studied in Pakistan came when hundreds crossed the Wagah border last week and are now at Amritsar, waiting to be transported back to their homes.
In 2018, Abdullah Geelani, a Kashmiri and a former member of the Hizbul Mujahideen, who has lived in Pakistan for many years, alleged that Ghulam Mustafa Safi, then convenor of the Muzaffarabad chapter of the APHC, was "selling" these seats in Kashmir.
Abdullah is the younger brother of the late Delhi University teacher S A R Geelani who was acquitted of involvement in the 2001 Jaish attack on Parliament.
Last year, no students went because of uncertain conditions in Kashmir but before that, in Srinagar, it was an open secret that both the Geelani and Mirwaiz factions of the Hurriyat held sway over who got the seats, according to a beneficiary.
Geelani Senior's grand-daughters, too, study medicine in Pakistan, but after allegations of racketeering first surfaced, he stopped recommending names for the seats.
The allegations are now part of a National Investigation Agency investigation in which several Kashmiris are accused and are in Tihar Jail.
"Allegations are allegations," Safi told The Sunday Express from Pakistan. "These allegations are fake, they have been made in a letter, there is no proof. Allegations of NIA remain as allegations until proven and substantiated by documentary proof."
But even before the NIA investigation, it had set off a storm in the Hurriyat. Geelani sacked Safi at the end of 2018 and appointed Abdullah as convenor in January 2019.
But Abdullah Geelani's convenorship was stormy too. He was not popular with the other Hurriyat leaders in PoK, nor, more importantly, with the Pak establishment.
Armed with Geelani Senior' s mandate, he initiated enquiries against Safi. But Safi, said to have the backing of the Pak establishment, remained a parallel power centre.
In his resignation letter, Geelani Senior makes a reference to these allegations, and says when "investigations" were launched by the party, "to circumvent the process of transparency and accountability…your representatives started non-cooperating with the convenor…"
Safi denied that his exit as convenor of the Hurriyat's PoK chapter was acrimonious. "There are no differences between us," he said, but added that "as I am the representative (in PoK) of the Tehreek-e-Hurriyat which is not part of APHC…I am not bound by the leadership of the APHC".
Safi said he owes allegiance only to Ashraf Sehrai, leader of the TeH in Kashmir. Sehrai, whose militant son was recently killed in an encounter, remains a serious contender to the leadership of the post-Geelani Hurriyat, despite Geelani's naming of Abdullah as heir.
Meanwhile, Abdullah was burning his bridges with Islamabad. Sources said after the August 5 decisions in Kashmir, Abdullah Geelani became a vocal voice against the Pak establishment for not doing enough to protest New Delhi's moves.
Hizbul Mujahideen chief Syed Salahuddin, too, began to question the silence of the Pak establishment. One view in Pakistan is that Geelani's resignation may have also had a Hizb push. At one stage, Salahuddin questioned how some leaders in Kashmir had escaped detention while others had not, and why those who were free had not spoken up. Geelani's resignation letter too raises this concern.
The Indian security establishment has also been saying for some months that Salahuddin has been sidelined, and the new Kashmir militant outfit, The Resistance Front, is a Pak-created front of the globally designated Jaish-e-Mohammed and Lashkar-e-Toiba, and is a snub to the Hizb.
Meanwhile, Hurriyat leaders in Srinagar too have questioned the authenticity of Geelani's resignation letter saying he is in a state of advanced dementia, and allege the letter is a fabrication by Abdullah.
"He has been made completely inaccessible. The security around his house (Geelani is under house detention) doesn't allow any of us to meet him and his access to the telephone has been cut off by people who don't want us to talk to him," said a Hurriyat leader in Srinagar, who did not wish to be named.
The APHC in Muzaffarabad brought out a "report" alleging that Abdullah had foisted himself on the elder Geelani. It alleged Geelani's son Dr Nayeem had "managed" to make Abdullah the convenor in 2019.
Abdullah rejected the allegations. "Geelani sahib, as he has said in his audio message, has written a letter to the Hurriyat constituents. We did not leak that letter so we can't deny or confirm the letter that is making rounds of the social media," he told The Sunday Express from Pakistan.
"In 2018, when Geelani sahib removed Safi sahib, this propaganda about me and Nayeem Geelani continued for one of two months. That was laid to rest when Geelani sahib called me during a (Hurriyat) meeting and informed everyone that I am his representative."
He also said the apprehensions about Geelani's health were not true, and claimed he spoke to him "every alternate day…for five, ten minutes."
Abdullah said it was the administration in Kashmir that had placed him under house arrest and barred access to him. As for telephonic access, said Abdullah, "the people (in Srinagar) would have taken this decision for some reason. They would know it better."
Nayeem Geelani, who lives with his father in Srinagar, told The Sunday Express he would not respond to the accusation against him. "He (Geelani) has a nominated representative Abdullah Geelani. He is authorised to speak, he is authorised to give statements," he told The Sunday Express. "I can't. How can I, on what basis? Family has nothing to do with it."
When asked why telephone access to Geelani had been barred, Nayeem said it was his father's decision. "He has not been talking to media for two years now. He has himself said that he will not talk to media directly."
On June 3, Abdullah was ousted in Muzaffarabad, and replaced by Hussain Mohammed Khatib, said to be a front for Safi. The new appointment was approved by the APHC in Srinagar at its June 5 shura, minus Geelani's participation, a flashpoint for his resignation.
Even as it opposes Abdullah, Islamabad knows Geelani remains a powerful voice, and would prefer that he withdraw his resignation, according to a source.
On this side of the LoC, government sources said they were not backing anyone in the leadership stakes. Said an official: "It is enough for us that there is so much confusion in the separatist ranks. It's best if this confusion remains."
https://indianexpress.com/article/india/geelani-resignation-pakistan-medical-college-racket-hurriyat-conference-6490597/
--------
Turkey defers decision on turning Hagia Sophia museum into a mosque
Andrew Wilks
July 2, 2020
Hagia Sophia or Ayasofya, a UNESCO World Heritage Site, that was a Byzantine cathedral before being converted into a mosque which is currently a museum, is seen in Istanbul, Turkey. REUTERS
------
In a half-hour hearing at a functional court building in Ankara, a landmark step in the future of Istanbul's 1,500-year-old Hagia Sophia was taken on Thursday.
Although the decision of the Council of State's 10th Chamber will not be known for up to two weeks, it could pave the way for the former cathedral and UNESCO World Heritage site to return to use as a mosque.
Built by the Byzantines in the 6th century, Hagia Sophia was for centuries the world's largest building, a centrepiece for Christianity and an engineering marvel.
After conquering Istanbul in 1453, Ottoman Sultan Mehmet II made it a place of worship for Muslims.
In 1934, Mustafa Kemal Ataturk's secular regime turned it into a museum, a decision at the centre of Thursday's hearing.
The verdict has been highly anticipated since President Recep Tayyip Erdogan revived the debate in recent weeks.
Before last year, Mr Erdogan remained outwardly ambivalent about Hagia Sophia but in the run-up to local elections he outlined his support for its role as a mosque.
In May, he appeared on a giant screen as an imam recited the Quran from the iconic monument to mark the anniversary of the Ottoman conquest, an appearance that sparked an outpouring of support for re-designating the site.
Such a move has been foreshadowed in other several cases since 2011 where museums that had been churches and later mosques, were reverted to mosques.
"Given the latest push by Erdogan, who is now armed with legal precedents, Hagia Sophia's conversion into a mosque is increasingly likely," said TugbaTanyeriErdemir, of Turkey's Association for the Protection of Cultural Heritage.
"So far, the alluring prospect of converting Hagia Sophia has served Erdogan well to divert the attention of his voter base away from his political and economic failures. By the same token, Erdogan's readiness to fire his one silver bullet by converting the Hagia Sophia to save the day is a clear sign of the severity of his current political predicaments."
As the court date approached, Christians around the world called for Turkey to back away from reclaiming the building, known as Aya Sofya in Turkish and one of the country's leading tourist attractions, for Islam.
The spiritual head of Orthodox Christianity, Istanbul-based Ecumenical Patriarch Bartholomew I, stressed its importance as a symbol of "mutual understanding and solidarity between Christianity and Islam." He added that the change would "turn millions of Christians across the world against Islam."
Meanwhile, the Orthodox Church in Greece said a switch would "provoke strong protest and frustration among Christians worldwide" and Russian co-religionists warned it would "violate fragile inter-confessional balances."
US Secretary of State Mike Pompeo urged Turkey to retain Hagia Sophia's museum status "as an exemplar of its commitment to respect the faith traditions and diverse history that contributed to the Republic of Turkey".
The Greek government also objected to any change, with Foreign Minister Nikos Dendias claiming it would be a "severe blow" to Turkey's image.
However, international intervention drew criticism from figures in Turkey's ruling party.
"We do not need anyone's advice or recommendation on our own affairs," said NumanKurtulmus, the party's vice-chair, while Foreign Minister Mevlut Cavusoglu also stressed it was a sovereign matter. "What is important is what the Turkish people want," he said in a television interview.p
In an open letter, dozens of academics raised concerns about the stewardship of the building. "Hagia Sophia is too beautiful a monument and too precious a historical document to serve as a pawn in regional politics," they said.
However, others said returning it to Muslim use would not detract from Hagia Sophia's role for other religions or as a tourist attraction.
"It used to be a mosque for centuries and the Ottoman state was a very tolerant state to religious minorities," said Talha Kose, chair of political science and international relations at Istanbul's Ibn Haldun University.
"I don't see any offence to other beliefs in this decision," Saygi Ozturk, a columnist for the secular Sozcu newspaper, said he expected the court to overturn the building's museum status but that the decision would ultimately come from the government.
"When we examine the previous decisions of the Council of State and the claims, it becomes clear that the re-transformation of Ayasofya into a mosque requires a political decision, not a legal one," he said.
Turkish media has speculated the multi-domed structure could open as a mosque on July 15 – the fourth anniversary of a coup attempt against Mr Erdogan.
For the country's tiny Christian minority, any change would mark a sad day for religious tolerance.
"As a Turkish Christian I would like to see Hagia Sophia stay as a museum because I think that's the best way to promote a message of peace and the principle of living together," said Barkin Ozturk, a Catholic convert.
"The decision has many political dimensions but I think the best thing would be to maintain the status quo."
https://www.thenational.ae/world/europe/turkey-defers-decision-on-turning-hagia-sophia-museum-into-a-mosque-1.1043267
--------
Game of Thrones: Moscow 'Aiding Taliban To Undermine US Role'
Sayed Salahuddin
July 04, 2020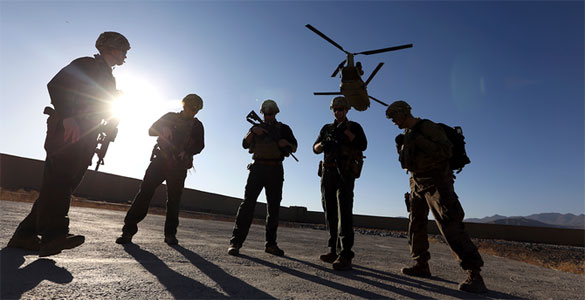 In this file photo, American soldiers wait on the tarmac in Logar province, Afghanistan. (AP)
-----
KABUL: Russia has aided the Taliban for years to force a US withdrawal from Kabul and undermine American influence in the war-ravaged country, a governor and several former Afghan officials told Arab News on Saturday.
Rahmatullah Nabil, director of Afghanistan's intelligence until 2015, said: "Moscow initiated contact with the Taliban through Iran before 2014, just as Daesh emerged in Afghanistan. Russia believed that the Taliban, unlike Daesh, only had a local agenda and no external ambition."
He added that Russian engagement with the Taliban began with a "covert meeting in a central Asian country in 2014/2015."
Nabil's claims follow news reports last week that allege Moscow offered bounties to the Taliban for the killing of US soldiers in Afghanistan.
The reports, based on US intelligence, were established from intercepted electronic data which showed financial transactions between Russia's military intelligence agency and a Taliban-linked account. US officials have also named an Afghan contractor who acted as a key middleman in the relationship.
Afghanistan is seen as an important area of Russian foreign policy. Moscow has long regarded Kabul as a key part of its sphere of influence in Central Asia.
Nabil said Russia built ties with the Taliban by investing in key areas and supplying weapons.
"Russia invested in four layers in Afghanistan — high-ranking government officials, politicians, Taliban and local warlords in the north. To the first two categories, it sent financial support through Hawala (a traditional tool for money transfers) through some Afghan businessmen, and a top-up in fuel which was exported to Afghanistan," he said.
He added that weapons "were given at some borders and crossing points."
"In 2016, Moscow also handed over 10,000 AK-47s to government forces. Even the government does not know where the rifles are," he said.
Moscow welcomed the toppling of the Taliban in the 2001 US-led invasion, but over the years it has — like its regional ally Iran — spoken against an extended US presence in the country.
Experts say Russia's complaints have been long in the making.
It began with the Soviet invasion of Afghanistan in the 1980s, with Russia accusing the US and other Western countries of supplying weapons to Mujahideen factions who fought against Soviet troops.
Russia was eventually forced to retreat from Kabul after nearly 10 years of bloody occupation, creating a deep mistrust between Moscow and Washington, which eventually lead to Russia aiding the Taliban in its bid to force a US withdrawal.
Ghulam Rabbani Rabbani, a member of Kunduz's provincial council, said he was "not surprised" to learn that Russia was using the Taliban. He added that Rahmatullah Azizi, an Afghan businessman, had acted as a middleman between the two groups.
"Azizi has disappeared all of a sudden, but the intelligence agency has arrested four people close to him," Rabbani told Arab News.
Others said the war in Afghanistan had both "regional and international dimensions," and that Russia was just one of the players in the "great game."
"The war here is not between the government and the Taliban, otherwise you would have already seen a winner," Dawlat Waziri, a retired defense ministry general, told Arab News, adding that Moscow was tending to old wounds.
"Russia wants the US to suffer a defeat like it did. It wants America to lose soldiers and see the downfall of its economy so that it is forced to leave Afghanistan," he said.
Anwar Jigdalak, a former governor of Kunduz province, agreed.
Citing locals in northern Kunduz, 335 km north of Kabul, he said the Taliban had once sent one of its shadow governors, Mawlavi Abdul Salaam, to Tajikistan to hold talks with Russian officials and strengthen their relationship.
Kunduz is a strategic province which lies close to Tajikistan, and was the first city seized by the Taliban in 2015 "with the help of Russian intelligence," Jigdalak said.
"But when Salaam returned to Afghanistan, an American killed him in an air strike. When Moscow wants to be present in Syria, which is very far, why not have influence in Afghanistan which is close," he added, referring in part to the Russian support of Syria's Assad regime.
Experts say other issues are at stake, too.
AimalFaizi, an analyst, said the allegations of Russian bounties are "part of an effort by some to keep troops in Afghanistan."
He tweeted: "They have been trying to prolong the US war and occupation in Afghanistan by different means."
Both Moscow and the Taliban have repeatedly denied the allegations. Zabihullah Mujahid, a Taliban spokesman, told Arab News on Thursday that the reports were "false," and spread "to keep US troops in Afghanistan to confront its enemies."
He added: "Our contacts with Russia have been all the time for political and diplomatic goals only."
Last week's report comes amid a push by several current and former US generals to keep US troops in Afghanistan, an important condition for a historic peace deal signed with the Taliban in late February this year.
If it happens, it could throw the spotlight on President Donald Trump's campaign pledge to withdraw all troops from the country.
Trump, who is standing for re-election in November, said all soldiers would leave by next spring based on the February agreement.
https://www.arabnews.com/node/1700006/world
--------
Religious Conference in Pakistan Communiqué Says Islam Promotes Peace, Interfaith Harmony, Respect For Humanity
July 5, 2020
RAWALPINDI: Islam is the greatest religion which always promotes patience and forbearance, peace and protection for everyone, interfaith harmony and respect for humanity.
This was crux of the speeches delivered at a conference, chaired by Federal Minister for Religious Affairs Pir Dr NoorulHaqQadri, and attended by ulema and scholars of different schools of thought here.
Pir Muhammad Naqeebur Rahman presided over the meeting, held at Eidgah Sharif here on Saturday. More than 32 ulema and scholars spoke at the conference, and a joint communiqué was also issued at the end of the event.
The communiqué said all human beings are equal in the eyes of religion, and there is no concept of extremism, sectarianism and intolerance in Islam. It said the country could not afford hatred for others and extremism especially in the current circumstance, and the faithful would have to join hands to steer the country out of all crises.
The joint statement said that once Muslims used to be one irrespective of their sectarian differences, but a wave of sectarianism, spread by the enemy, has divided them all.
It said our internal differences and infighting damaged us more than the conspiracies of the enemies. Quoting various sayings of Holy Prophet (Peace be upon him), the statement urged followers of different schools of though to get united.
The communiqué quoted Sura Aali Imran:103, which says: "Hold firmly to the way, rope of Allah all together and do not become divided."
The statement said those creating differences among followers of different schools of though were, in fact, enemies of both Islam and the state of Pakistan. It stressed protection of life and properties of not only Muslims but all non-Muslims living in Pakistan.
The communiqué specially stressed seven points for creating harmony in the country including ever saying anything that could hurt religious sentiments of other Muslims, finding commonalities and stressing mutual respect, using constructive, instead of destructive, ways of preaching your religious views, discouraging those elements who spread sectarianism, etc.
The communiqué called for setting up a permanent national dispute resolution commission, which should help resolve all interfaith disputes independently and impartially.
The conference participants condemned sectarianism, extremism and terrorism in all its forms and manifestations. They also called for presenting the communiqué in the National Assembly in the form of a bill and making it part of the Constitution.
https://www.thenews.com.pk/print/682389-religious-conference-communique-says-islam-promotes-peace-interfaith-harmony-respect-for-humanity
--------
Kedah to focus on attracting investments from Islamic nations, says MB
04 Jul 2020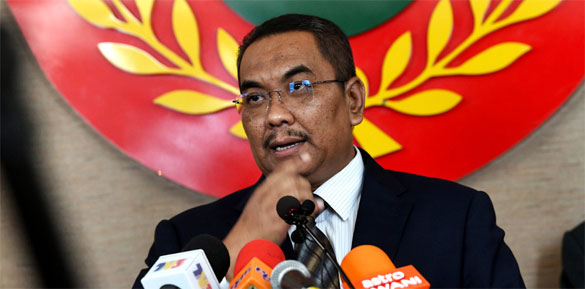 edah Mentri Besar Muhammad Sanusi Md Nor speaks to the media after chairing a meeting of the state executive council at Wisma Darul Aman in Alor Setar May 27, 2020. — Bernama pic
------
ALOR SETAR, July 4 —The Kedah government will focus on attracting new investments from Muslim countries into the state including for its iconic projects, said MentriBesar Muhammad Sanusi Md Nor.
He said the decision was made following the advice of PAS president Datuk Seri Abdul Hadi Awang during the party's Government Advisory Council meeting at Seri Mentaloon here today. Abdul Hadi was appointed as the Prime Minister's Special Envoy to the Middle East in April.
Muhammad Sanusi said among the Muslim nations to be given attention was Turkey, which enjoys good relations with Malaysia.
"Previously, 'tuan guru' (Abdul Hadi) had mentioned about several groups of investors from Turkey and other Middle East countries; he wanted to bring them to invest in our country.
"In Kedah, projects such as the Kulim International Airport (KXP), Kedah Rubber City and Special Border Economic Zone (SBEZ) in Bukit Kayu Hitam still do not have major investors. Thus, we should attract foreign investors especially from Muslim countries," he said at a media conference after the meeting.
He said the state government would ensure technology transfer in the process and there would be better collaboration if investors from Muslim countries are involved in the iconic projects.
However, Muhammad Sanusi said the move to attract investments from Muslim countries was just to provide more options and did not mean rejecting those from other countries such as China.
Existing investments from China would be continued, he added. — Bernama
https://www.malaymail.com/news/money/2020/07/04/kedah-to-focus-on-attracting-investments-from-islamic-nations-says-mb/1881468
--------
Taliban violence is unacceptable, it has to go down: NATO SCR
05 Jul 2020
The NATO called on the Taliban group to decrease violence as the country is going towards an intra-Afghan peace dialogue.
Stefano Pontecorvo, the NATO Senior Civilian Representative to Afghanistan in a video message published on his twitter account has said that the Taliban violence has to go down as it creates an issue for the ongoing peace efforts.
"Taliban violence has to go down, it is simply unacceptable and it is creating an issue, a problem for getting to the peace talks", Stefano said in a twitter message.
Stefano Pontecorvo, the NATO Senior Civilian Representative to Afghanistan and General Scott Miller, the commander of U.S and Resolute Support forces in Afghanistan have travelled to Brussels to meet with the NATO allies.
https://www.khaama.com/taliban-violence-is-unacceptable-it-has-to-go-down-nato-scr-79879/
--------
Over 80 killed in fierce clashes between govt. troops, Daesh remnants in Syria's Homs: Monitor
04 July 2020
Heavy clashes have broken out between Syrian government troops and remnants of the Daesh Takfiri terrorist group in the country's central province of Homs with reported casualties from both sides.
The UK-based Syrian Observatory for Human Rights said in a report on Saturday that clashes had taken place between Syrian soldiers, supported by allied fighters, and Daesh terrorists in al-Sukhna desert in eastern Homs during the previous two days.
It added that at least 80 people had been killed during the fierce fighting, including 30 terrorists and 18 government troopers, who were supported by Syrian and Russian airstrikes.
According to the report, the clashes occurred after the terrorists launched coordinated attacks on several government positions in the vicinity of the town of Sukhna.
Members of Daesh have retained a roving presence in western Syria despite losing their last stronghold last year. They carry out regular attacks against government forces.
Russian jets have been carrying out air raids against targets belonging to Daesh and those of other terror outfits inside Syria at the Damascus government's formal request since September 2015.
The airstrikes have helped Syrian forces advance against anti-Damascus militants, who have been wreaking havoc in the Arab country since 2011.
https://www.presstv.com/Detail/2020/07/04/628896/Syria-Homs
--------
India
Saw People Being Identified by Religion, Killed, Dumped into Sewer: PCR Caller Is Key Witness to Delhi Riot Murders
July 5, 2020
A PCR call made during the Northeast Delhi riots helped Delhi Police track a key eyewitness, who shared details of how a mob carrying weapons identified and killed Muslim men and threw their bodies in a drain, reveal three chargesheets filed in connection with the killing of three men during the riots.
The Delhi Police chargesheets related to the murders of Aamin, Bhure Ali and Hamza place on record details of a PCR call made on February 26 at 10.05 pm, wherein the caller informed police about a Muslim man's bike being set on fire, and the man jumping into the drain to escape. The caller was traced and identified as a Ganga Vihar resident. His disclosure statement is now a key piece of evidence.
As per the chargesheet, the man first made a PCR call at 10.05 pm. The incident description read: "The caller is Hindu. Hindus have set a Muslim man's bike on fire. They were also going to set him on fire, and he jumped into the drain."
According to the chargesheet, in a call 20 minutes later, the same caller said, "Muslims are being killed and their bikes are being set on fire".
The chargesheet quotes the man as saying he was returning home on February 24 evening when he was "accosted by the rioters at Ganga Vihar". "While applying the brake, his bike slipped and he fell down… When he got up, he found his bike missing… He made a PCR call and thereafter went to police station Gokalpuri, but his complaint could not be lodged as the situation was grim and officials told him to come the next day," it states.
The next day, at 4 pm, while returning home from Gokalpuri police station, "he saw a large mob carrying stones, cudgel, sticks, swords, and iron rods, etc, on JohripurPulia, shouting slogans like 'Jai Sri Ram' and 'Har Har Mahadev'. They were checking identity of persons and if any Muslim was found, they were beating and throwing bodies in the naala after killing them. Most in the mob were wearing a helmet or had their faces muffled," the chargesheet states.
On February 26, around 9.30 pm, he went to the Bhagirathi Vihar drain in search of his bike, and "saw that the mob had stopped a person coming from Loni". "After establishing his Muslim identity, they killed him with stones, cudgel, sticks, swords, and iron rods and threw him in the naala. Thereafter, the mob stopped two persons riding an Apache bike. The mob, after establishing their identity, killed both the persons… and threw them in the naala… The mob killed several others after confirming their religious identity," the chargesheet states.
The chargesheet also states he could identify a few "persons in the mob". "Sumit and Ankit Fauji were leading the mob and giving directions to associates… He knows all of them well, being from the same area. Thereafter, he left for his home and called at PCR No. 100 two times," the chargesheet states.
Police have also relied on the disclosure statements of two other eyewitnesses. Both gave similar details of what transpired. On one of the witnesses, the chargesheet states: "After seeing these incidents, he was in fear and did not report them to anyone. Later, he thought he should report these incidents to police."
Aamin was killed and thrown in a drain in Bhagirathi Vihar's C-block around 9.30 pm on February 25, when he was coming from BrijpuriPuliya on foot. On February 26, around 10.30 am, Bhure Ali was killed and thrown at the same spot as Aamin. And on February 26, around 9.15 pm, Hamza was killed and thrown in a drain in E-block, while he was coming from Mustafabad.
Police have named nine accused in the murders — Lokesh Solanki (19), Pankaj Sharma (31), Ankit Chaudary (23), Prince (22), Jatin Sharma (19), Himanshu Thakur (19), Vivek Panchal (20), RishabChaudary (20) and Sumit Chaudhary (23).
https://indianexpress.com/article/cities/delhi/saw-people-being-identified-by-religion-killed-dumped-into-sewer-pcr-caller-is-key-witness-to-delhi-riot-murders-6490678/
--------
In Assam, Officials Lock Down 3 Villages as Thousands Attend Funeral of Aamir-e-Shariat for the Northeast
by Abhishek Saha
July 5, 2020
After thousands of people in Assam's Nagaon district attended the funeral of a well-known preacher—the father of a legislator—fears of the spread of the coronavirus have escalated, prompting officials to lock down three villages surrounding the field where the gathering was held.
The funeral prayer gathering for Khairul Islam — a vice-president of the All India Jamiat Ulema and a "Aamir-e-Shariat" for the Northeast — was held at his native place in Nagaon on the afternoon of July 2. Islam was 87.
The family wanted the funeral to be held on July 3, but later decided to go ahead with it by July 2 itself. Photographs shared on Facebook by his son Aminul Islam, an MLA of the All India United Democratic Front (AIUDF) from Nagaon's Dhing constituency, shows a huge gathering at a field.
District administration officials estimate at least 10,000 people were in attendance.
Nagaon Deputy Commissioner Jadav Saikia said two police cases have been filed, one suo motu by the police and another by a magistrate present at the spot. Saikia added that a lockdown has been imposed on three villages surrounding the field in an attempt to contain any spread of the virus.
"There were no law and order issues in the gathering. But the gatherers violated the ongoing Covid pandemic laws regarding gathering, social distancing, wearing masks, etc. The cases are not against any individual but against violators. We will investigate the case and proceed as per law," Saikia told The Sunday Express.
MLA Islam told The Sunday Express: "My father was a very renowned figure and had a very large following. We had communicated to the administration about the death and the funeral. Accordingly, to limit the number of participants, the police also asked many vehicles to revert back. But still people found ways to turn up."
In April, Aminul Islam was arrested and booked under sedition for allegedly making communal statements in an audio clip and sharing it on social media.
In a viral audio clip, he purportedly said that quarantine centres in Assam were "worse" than the state's detention centres for undocumented migrants and that the government was "conspiring" against Muslims and putting those associated with the Tablighi Jamaat into isolation. He alleged that the state could kill someone in quarantine and then say the person died "due to the coronavirus".
The legislator is out on bail now.
https://indianexpress.com/article/north-east-india/assam/in-assam-officials-lock-down-3-villages-as-thousands-attend-preachers-funeral-6490529/
--------
1 CRPF jawan injured in IED blast by terrorists in J&K's Pulwama
Jul 5, 2020
PULWAMA: A CRPF jawan has suffered injuries in an IED (Improvised Explosive Device) attack carried out by terrorists in Gangoo area of Jammu and Kashmir on Sunday, the CRPF said.
The incident took place at 0740 hours today following which one CRPF personnel of 182 Bn CRPF sustained minor splinter injury and was evacuated to Unit MI room.
It is suspected that the attack was to target a CRPF Convoy, the area is being cordoned off and other details awaited, the CRPF informed.
The forces retaliated with some aerial firing. It was a low-intensity blast.
A search operation is underway.
https://timesofindia.indiatimes.com/india/1-crpf-jawan-injured-in-ied-blast-by-terrorists-in-jks-pulwama/articleshow/76793294.cms
--------
Two terrorists killed, JCO among three Armymen injured in J&K encounter
Jul 4, 2020
SRINAGAR: Two terrorists were killed while three Armymen, including a junior commissioned officer (JCO), were injured in an ongoing anti-terror operation in the Arrah area of south Kashmir's Kulgam district on Saturday afternoon, IGP (Kashmir Range) Vijay Kumar said.
Based on intelligence inputs about the presence of terrorists in Arrah, a joint team of Army's 34 RR regiment, CRPF and J&K Police launched a cordon-and-search operation in the area, Kumar said. As the forces neared the suspected hideout, holed-up ultras opened fire at the search party, triggering a shootout in which initially one terrorist was killed and the Army trio sustained minor injuries.
The IGP said the operation was halted for a few hours as the security forces brought the family members of the second terrorist to the spot of the encounter so that they could persuade him to surrender. The terrorist, however, turned a deaf ear to his kin's pleas and was killed after the exchange of fire resumed.
The injured were shifted to Army's 92 Base hospital for treatment even as the firefight continued till the filing of this report. Internet services were suspended in Kulgam as a precautionary measure. As many as 120 terrorists have been killed in Kashmir Valley this year so far, an official said.
Meanwhile in Rajouri district, a joint team of security forces busted a terrorist hideout in DodassanBala village in Thanamandi area on Saturday and recovered a sizeable amount of arms and ammunition including "one UBGL, 11 UBGL grenades, 14 AK magazines, 920 AK rounds, two Chinese pistols, two pistol magazines, one Chinese grenade, detonators with IED-making material, one pressure mine and one Pika round," Rajouri SSP Chandan Kohli said.
"On specific information, a joint team of police and Army's 38 RR launched a cordon-and-search operation in DodassanBala and Dodassan Pain areas under Thanamandi police station area. During the search, a terrorist hideout concealed within bushes was busted," the SSP said.
Thanamandi Police registered a case under relevant sections of the IPC, Arms Act and Explosive Substances Act and further investigation is underway, Kohli added.
https://timesofindia.indiatimes.com/india/two-terrorists-killed-jco-among-three-armymen-injured-in-jk-encounter/articleshow/76791104.cms
--------
Sopore terror attack: IGP visits civilian victim's family in Srinagar, assures impartial probe
Jul 4, 2020
SRINAGAR: Kashmir range inspector general of police Vijay Kumar visited the family of a civilian, who was killed in a terror attack in Sopore earlier this week, in the HMT locality of the city on Saturday and assured them of an impartial investigation. Kumar also offered to show the family CCTV footage to prove that Bashir Ahmed Khan, 65, was killed by terrorists and not CRPF men.
Family members of the deceased had accused CRPF personnel of killing him after terrorists opened fire on them from inside a mosque at Nowpora crossing in Model Town of Sopore on July 1.
"I heard their grievances and cleared all aspects. I assured them of an impartial investigation into the incident. I also offered to show them CCTV footage (of the incident) if they wish to see the same," Kumar said.
Police maintain that Khan fell to terrorists' bullets when they started firing on a CRPF patrol party from inside the mosque, killing a CRPF trooper and injuring three other paramilitary men.
In a video statement shared on social media, Khan's son Suhail Ahmad had alleged that CRPF personnel "dragged my father out of his car and shot him dead".
On the fateful day, Khan was travelling from Srinagar to Sopore to fetch a domestic help.
https://timesofindia.indiatimes.com/india/sopore-terror-attack-igp-visits-civilian-victims-family-in-srinagar-assures-impartial-probe/articleshow/76791131.cms
--------
Pakistan violates ceasefire along LoC in Poonch
Jul 4, 2020
JAMMU: Pakistan violated the ceasefire along the Line of Control (LoC) in Jammu & Kashmir's Poonch district late on Saturday, attracting prompt retaliation from the Indian side.
"At around 7.45pm, Pakistan initiated unprovoked ceasefire violation by resorting to firing with small arms and mortar shelling along the LoC in Degwar sector of Poonch. Indian Army retaliated befittingly to the breach of truce," said Jammu-based defence spokesman Lt Col Devender Anand.
There has been a spurt in Pakistani shelling along the LoC and International Border in J&K this year with over 2,027 cases of violation being reported in the first six months, till June 10.
Two Pakistan soldiers were killed on July 2 and several bunkers destroyed in retaliatory action by the Indian Army to the ceasefire violation by Pakistan on LoC in three sectors of Poonch district.
Four Indian soldiers were killed in the ceasefire violations by Pakistan in Rajouri and Poonch districts in June — Havildar Mathiazhagan P from Tamil Nadu was killed on June 4 in Sunderbani sector of Rajouri district, Naik Gurcharan Singh (28) of Punjab was killed on June 10 in Manjakote sector of the same district and Sepoy LungambuiAbonmei (29) was severely injured in Kirni sector of Poonch and succumbed to his injuries on June 13 and Havildar Dipak Karki was critically injured in the firing and later succumbed to his injuries in Nowshera sector of Rajouri district on June 22.
National Conference leader Devender Singh Rana expressed concern over recent spurt in LoC shelling and sought early completion of community bunkers. "During these grim times of Covid-19, the people along LoC are braving the brunt of Pakistan shelling that has not only created fear psychosis but also caused enormous suffering", Rana said in an interaction with party functionaries of Poonch district via video conferencing. He expressed solidarity with border residents, saying their welfare is the responsibility of the entire nation.
https://timesofindia.indiatimes.com/india/pakistan-violates-ceasefire-along-loc-in-poonch/articleshow/76791101.cms
--------
Terrorist dead, two soldiers injured in Kulgam encounter
Jul 05, 2020
An unidentified militant was killed and two soldiers injured in an encounter in south Kashmir's Kulgam district on Saturday.
Officials from the Indian Army, the Central Reserve Police Force (CRPF), Jammu and Kashmir police launched a search operation in Arreh village in the district following information about the presence of militants in the area, Gurinderpal Singh, Kulgam's superintendent of police, said.
During the operation, the militants opened fire on the security personnel. A militant was killed in retaliatory firing, Singh said.
There are two to three militants present in the village, people familiar with the matter said.
The encounter has come a day after police and CRPF personnel on Friday killed a local militant Zahid Dass in Malbagh on the outskirts of the city. His accomplices, however, managed to escape under the cover of darkness. One CRPF jawan was also killed in the encounter.
On Thursday, Kashmir inspector general Vijay Kumar said that security forces have prepared a list of top militants and commanders who will be neutralized in the coming months. Many top commanders of different militant outfits have been neutralised over the last few months, Kumar said, adding that about half of those killed belonged to the Hizbul Mujahideen outfit.
In last six months, over 100 militants have been killed in different encounters. According to police data, there has been a nearly 50% decline in local recruitment.
https://www.hindustantimes.com/india-news/terrorist-dead-two-soldiers-injured-in-kulgam-encounter/story-1pBRJsEl4sOjFGU8xAsr8J.html
--------
Mideast
Move to turn Hagia Sophia into a mosque 'unacceptable': Russian Orthodox Church
04 July 2020
Converting Istanbul's Hagia Sophia monument from a museum to a mosque would be "unacceptable", a senior official in the Russian Orthodox Church said on Saturday.
Turkish President Recep Tayyip Erdogan has proposed restoring the mosque status of the UNESCO World Heritage Site, a sixth century building at the heart of both the Christian Byzantine and Muslim Ottoman empires and now one of Turkey's most visited monuments.
"We can't go back to the Middle Ages now," Metropolitan Hilarion, chairman of the Moscow Patriarchate's department for external church relations, said on state television, the Interfax news agency reported.
"We live in a multipolar world, we live in a multi-confessional world and we need to respect the feelings of believers."
For all the latest headlines follow our Google News channel online or via the app.
He said the Russian Orthodox Church did not understand the motive for Hagia Sophia's conversion and that it believed domestic politics was behind the move.
"We believe that in the current conditions this act is an unacceptable violation of religious freedom," he was quoted as saying.
A Turkish court earlier this week heard a case aimed at converting the building back into a mosque and will announce its verdict later this month.
The court case, brought by an NGO for preserving historic monuments, disputes the legality of a decision in 1934, in the early days of the modern secular Turkish state under Mustafa Kemal Ataturk, to convert Hagia Sophia - known in Turkish as Ayasofya - from a mosque into a museum.
The proposal has been criticized by other religious and political leaders.
Ecumenical Patriarch Bartholomew, the spiritual head of some 300 million Orthodox Christians worldwide and based in Istanbul, said converting it into a mosque would disappoint Christians and would "fracture" East and West.
US Secretary of State Mike Pompeo and the Greek government have also urged Turkey to keep the building as a museum.
Erdogan has described foreign criticism over the proposal as an attack on Turkey's sovereignty.
https://english.alarabiya.net/en/News/middle-east/2020/07/04/Move-to-turn-Hagia-Sophia-into-a-mosque-unacceptable-Russian-Orthodox-Church.html
--------
Top Security Official: US Assassination of General Soleimani Huge Gift to Terrorists
Jul 04, 2020
"Assassination of martyr Soleimani was the US biggest gift to the Takfiri terrorism and its supporters," Shamkhani said on Saturday, addressing a meeting to pursue assassination of General Soleimani.
He said that the US and Israel were angry at General Soleimani for his unique role in fighting against Takfiri terrorism in the region and displaying the truth behind the US anti-terrorism gestures and theater, and noted that the world should praise General Soleimani for his smart command and sincere efforts to prevent spread of Takfiri terrorism in the world.
Iran announced last Monday that it had issued arrest warrants for 36 officials of the US and other countries who have been involved in the assassination of the martyred General Soleimani.
"36 individuals who have been involved or ordered the assassination of Hajj Qassem, including the political and military officials of the US and other governments, have been identified and arrest warrants have been issued for them by the judiciary officials and red alerts have also been issued for them via the Interpol," Prosecutor-General of Tehran Ali AlqasiMehr said.
He said that the prosecuted individuals are accused of murder and terrorist action, adding that US President Donald Trump stands at the top of the list and will be prosecuted as soon as he stands down presidency after his term ends.
Lieutenant General Soleimani was assassinated in a US drone strike on Baghdad International Airport in Iraq on January 3.
The airstrike also martyred Deputy Commander of Iraq's Popular Mobilization Forces (PMF) Abu Mahdi al-Muhandis. The two were martyred in an American airstrike that targeted their vehicle on the road to the airport.
Five Iranian and five Iraqi military men were martyred by the missiles fired by the US drone at Baghdad International Airport.
https://en.farsnews.ir/newstext.aspx?nn=13990414000755
--------
UN peacekeepers in Israel suspended over sexual misconduct caught on video
04 July 2020
The United Nations has suspended two male staff members of its peacekeeping operation in the Middle East without pay after an initial inquiry found they had engaged in sexual misconduct in the Israeli-occupied territories.
The UN's Office of Internal Oversight Services launched the investigation after an 18-second video clip was shared widely on social media last month, showing a woman in a red dress straddling a man in the back seat of a UN-marked vehicle, while another man dozes in the passenger seat as the vehicle drives down a coastal boulevard in Tel Aviv.
"Two male international staff members who were in the UN vehicle in Tel Aviv have been identified as having engaged in misconduct, including conduct of a sexual nature," Stéphane Dujarric, spokesman for Secretary-General Antonio Guterres, said in a statement.
Dujarric said the video involved staff of the United Nations Truce Supervision Organization (UNTSO), which provides military observers to monitoring missions in south Lebanon and the occupied Golan Heights.
Given the seriousness of the allegations, Dujarric added, the two were placed on administrative leave without pay, pending the conclusion of the investigation by the UN's internal investigations office.
There have been frequent allegations of sexual misconduct by UN peacekeepers in recent years, placing the forces under scrutiny over such claims.
In 2019, there were 175 allegations of sexual exploitation and abuse against UN staff members, a report said.
Of those allegations, 16 were substantiated, while 15 were unsubstantiated. All other claims are still being investigated.
Guterres has pledged to take a "zero-tolerance" approach against sexual misconduct within the UN's ranks.
https://www.presstv.com/Detail/2020/07/04/628857/UN-peacekeepers-in-Israel-suspended-without-pay-over-sexual-misconduct-caught-on-video
--------
Istanbul court jails human rights activists on terror charges
July 04, 2020
ISTANBUL: Human rights activists, including a former head of Amnesty International's Turkish branch, have been jailed by an Istanbul court on terror-related charges in a decision condemned as an "outrage" by fellow campaigners.
Amnesty International Turkey's honorary chair TanerKilic was sentenced to six years and three months in prison for "terror organization membership."
GunalKursun from the Human Rights Agenda Association; IdilEser, former executive director of Amnesty International Turkey; and OzlemDalkiran, former head of Amnesty International's communications department, were each handed jail terms of one year and 13 months for "aiding a terror organization."
Their lawyers said the motive behind the high-profile case, which concluded on Friday, was to silence and intimidate human rights organizations.
Amnesty International has described the case as a travesty of justice.
IdilEser, a defendant in the case, told Arab News: "It is disappointing and legally concerning to be punished as a human rights defender for acts which are not criminal. It is not a crime to defend human rights. We hope that this conviction which is baseless in legal terms would be annulled at the appeal. It is crystal clear that all defendants in this case are not criminals, because there is not a crime at all."
The defendants are now expected to appeal the verdict in the case dubbed the 'Buyukada trial."
Other human rights activists, including NalanErkem, lknurUstun, Ali Gharavi, Peter Steudtner, VeliAcu, Nejat Tastan and SeyhmusOzbekli, were acquitted.
The activists were arrested three years ago in a police raid on a hotel on Buyukada Island, near Istanbul, where they were taking part in a workshop. Police seized their computers and phones, and arrested the group on terror charges.
The prosecution claimed that the hotel gathering was a "secret meeting to organize an uprising," in order to trigger a "chaos environment" in the country – a claim categorically denied by the defendants.
Members of the international community stood in solidarity with the accused and said that the case is politically motivated.
"Another disappointing court verdict against civil rights and civil society in Turkey. Not how we put our relations on a positive track. My thoughts are with imprisoned and families. Solidarity with democratic forces in Turkey!" tweeted Sergey Lagodinsky, chair of the EU-Turkey delegation at the European Parliament.
DunjaMijatovic, the Council of Europe's commissioner for human rights, voiced concerns that Turkey is targeting and silencing human rights defenders.
Andrew Gardner, Amnesty International's Turkey researcher, who observed the hearing, said the verdict is an outrage based on absurd allegations without any evidence and is supported by a pro-government media smear campaign.
"It was a huge disappointment. It has been three years and 12 hearings so far. What we saw is that the court in its verdicts decided to stick with the claims of the government media in Turkey, rather than justice, reason and logic," he told Arab News.
"We are not only disappointed for these human rights activists in the trial, but also for anyone who believes in justice and peaceful civil society activism in Turkey. But we won't give up until all are acquitted and we will be campaigning for justice," he added.
Later this month, prominent civil society figure and businessman Osman Kavala will mark his 1,000th day behind bars over allegations of terror and fomenting chaos in the country by funding human rights activism.
Erdal Dogan, the lawyer for IdilEser, said defending human rights has never been easy in Turkey.
"However, in recent years, those who defend human rights have been demonized," he told Arab News.
Dogan says a court decision to maintain the verdict will signify a move away from the modern legal and universal human rights systems.
"In that case, the regime will get out of hand and no civil and independent social monitoring will be applied," he added.
https://www.arabnews.com/node/1700036/middle-east
--------
Yemen urges UN Security Council to hold session on floating Safer oil tanker
04 July 2020
Yemeni foreign minister Mohammed al-Hadhrami called on the UN Security Council to hold a special session on the Safer floating oil tank following the Iran-backed Houthi militia's refusal to allow UN experts to conduct their five-year maintenance on the ship.
The tanker, which has been floating near the port city of Hodeidah since 1989 following an oil spill, is at risk of exploding and causing a massive environmental disaster.
Safer – often described by officials as a ticking time bomb – has not docked since 2014 and is currently in waters controlled by the Houthis.
The minister called on the council to address the situation immediately and separate the issue from Yemen's ongoing crisis.
An environmental catastrophe would pose a more immediate threat to Yemen and the region, he added.
https://english.alarabiya.net/en/News/gulf/2020/07/04/Yemen-urges-UN-Security-Council-to-hold-session-on-floating-Safer-oil-tanker.html
--------
Israeli nuclear facilities could become targeted in sabotage: Iranian analysis
04 July 2020
A website close to Iran's Supreme National Security Council says giving credit to an attempt to undermine the country's nuclear capabilities could have wider international ramifications, including the possibility for an attack on nuclear facilities operated by the Israeli regime.
A Saturday article by Nour News said media reports crediting Israel for an alleged cyber attack targeting Iran's Natanz nuclear facility mean that the regime itself would be posed to similar threats.
The article, which had no byline, said the international community should be more concerned about cyber sabotage attempts targeting Iran's nuclear facilities as they could lead to nuclear leaks with environmental ramifications of unknown magnitude.
It added, however, that despite Israel's policy of keeping silent on sabotage acts targeting Iran's nuclear sites, such moves are ultimately attributed to the regime given its long records of hostility towards Iran and its peaceful nuclear activities.
"The sensitivity and significance of this issue becomes obvious when one considers the nuclear nature of the Zionist regime and the proven vulnerability of Israel in facing counter actions," read a part of the article.
Iranian authorities have determined the cause of the incident at Natanz on Thursday which led to fire at an open section of the facility. However, they have vowed to speak about the incident in more details at a more convenient time in future.
Security sources have said that Iran would retaliate if it becomes clear that Israel, or the United States, have been behind any attempt targeting Iran's nuclear sites.
The article by Nour News said Israel should await serious consequences if it crosses Iran's "red lines", adding that in such circumstances, the regime would not be able to show off its sabotage acts against Iran through fantasy televisions series like "Tehran".
https://www.presstv.com/Detail/2020/07/04/628875/Iran-nuclear-facility-incident-Israel-responsibility-article
--------
Israel's annexation of Palestinian lands could trigger 3rd intifada: Abbas' aide
05 July 2020
An adviser to Palestinian President Mahmoud Abbas has warned that a third intifada (uprising) could be just around the corner if Israel goes ahead with its highly-contentious plan to annex parts of the occupied Palestinian territories.
Speaking to France 24 Arabic on Saturday, Nabil Shaath said that the two major Palestinian groups Hamas and Fatah, which are based in the Gaza Strip and the West Bank respectively, are in agreement about a new intifada if Israel annexes the West Bank.
"When things flare up and it becomes a fully-fledged intifada, we will see a combination of forces between Gaza and the West Bank," he said.
Shaath also noted that he expected the potential Palestinian uprising to be funded by the Arab world.
The first intifada, which took place in 1987-1993, involved Palestinian demonstrations, mass boycotts and general strikes as well as attacks on Israeli forces using rocks, Molotov cocktails, and firearms.
The second intifada featured many more pitched gun battles and bombings. It began in 2000 and lasted until 2005, leaving 3,200 Palestinians and about 1,000 Israelis dead.
Israel's ruling coalition, led by prime minister Benjamin Netanyahu, had announced July 1 as the date to begin moving forward with the scheme to impose "sovereignty" over about a third of the West Bank, including settlements and the fertile Jordan Valley.
The regime, however, failed to launch the land grab bid on the set date amid widening differences between Netanyahu and his coalition partner, minister of military affairs Benny Gantz.
Israeli labor, social affairs and services minister OfirAkunis stressed that officials were still working out the details of the plan with their American counterparts.
Akunis also said that he expected the annexation to take place later this month after US President Donald Trump issued a declaration on the matter.
The US president had already given Tel Aviv the green light for the land grab in his self-proclaimed "deal of the century," which was unveiled in January with the aim of re-drawing the Middle East map.
But recently there have been indications of Trump's waning support for the annexation deal, with some analysts arguing that the US president already has too much on his plate to deal with in light of the upcoming elections and the COVID-19 crisis gripping the United States, and therefore is not in a situation to continue his controversial support for Netanyahu's land grab project.
Israel's planned push to illegally consolidate its occupation of Palestine has drawn fierce international condemnations even from some of the regime's closest allies.
The UN, the EU and key Arab countries have all said the West Bank annexation would violate international law and undermine the prospects of establishing a sovereign Palestinian state on 1967 boundaries.
At a joint press conference on July 2, Hamas and Fatah pledged unity against Israel's annexation of Palestinian areas and vowed to "topple" Trump's Middle East plan.
Israeli lawmaker Ayman Odeh of opposition Joint List party also attended the conference.
"I'm taking part in the conference in Ramallah to support Palestinian reconciliation moves. Reconciliation between the factions is a necessary step in combating annexation, ending the occupation and achieving a just peace," he said in a statement.
https://www.presstv.com/Detail/2020/07/05/628917/Palestine-inftifada-Nabil-Shaath-Israel-annexation
--------
Hundreds protest against Israel's annexation plans near Nablus
04 July 2020
Hundreds of Palestinians staged a protest against Israel's plans to annex parts of the occupied West Bank, in the town of Asira, north of Nablus, on Friday.
Footage shows Israeli forces firing tear gas and stun grenades at protesters, as well as the fires those grenades caused in agricultural lands.
The Israeli regime is planning to annex large areas of the occupied West Bank; a step which has been denounced by the United Nations, several European powers, and the Palestinian Authority as well as human rights organizations as being contrary to international law.
https://www.presstv.com/Detail/2020/07/04/628892/protest-West-Bank-Palestine-Israel-annexation
--------
Europe
Europe unites against Israel's West Bank annex plan
Busra Nur BilgicCakmak
04.07.2020
Encouraged by US President Donald Trump's so-called "Deal of the Century," Israeli Prime Minister Benjamin Netanyahu last month announced his government would formally annex the Jordan Valley and all settlement blocs in the West Bank.
The annexation was scheduled to be declared by Netanyahu on Wednesday.
But uncertainty surrounds Netanyahu's position in light of widespread international criticism of the plan along with differences with the US on its application.
Annexation "will certainly happen in July," but it has to be done in partnership with the US, OfirAkunis, Israel's regional cooperation minister, told Army Radio.
The annexation "will only happen after a declaration by Trump," he added.
The West Bank, including East Jerusalem, is viewed as occupied territory under international law, thus making all Jewish settlements there -- as well as the planned annexation -- illegal.
Palestinian officials have threatened to abolish bilateral agreements with Israel if it goes ahead with the annexation, which will further undermine the two-state solution.
Like Turkey and much of the international community, the EU does not recognize Israel's sovereignty over territories it has occupied since 1967.
Germany
Parliament expressed its strong opposition Wednesday to Israeli plans to annex.
Foreign Minister Heiko Maas warned that the Israeli move would threaten the stability of the entire Middle East.
"Peace cannot be reached through one-sided steps," Maas told parliament in Berlin.
He vowed to put the issue on top of the agenda as Berlin assumed a six-month rotating European Union presidency as well as head of the monthlong UN Security Council.
Maas urged Israel to reconsider its plans, saying it was still possible to use "the opportunity and the time window" before a likely annexation.
UK
Prime Minister Boris Johnson said the UK would "not recognize any changes" to Israel's borders set in 1967 unless also agreed to by the Palestinians.
In an article penned for Israeli newspaper, Yedioth Ahronoth, Johnson warned Israel, urging an "outcome that delivers justice for both Israelis and Palestinians."
Johnson argued the proposed annexation "would put in jeopardy the progress that Israel has made in improving relationships with the Arab and Muslim world," adding that Israel's interests "overlap" with Arab partners.
"But however strong their interest in a different kind of relationship with Israel, annexation would inevitably set back these opportunities and constrain potential Arab partners," Johnson said.
Expressing the pride of the UK's "contribution to the birth of Israel with the 1917 Balfour Declaration," he said it would remain "unfinished business until there is a solution which provides justice and lasting peace for both Israelis and Palestinians."
"The only way it can be achieved is for both sides to return to the negotiating table," he said. "That must be our goal. Annexation would only take us further away from it."
Belgium and EU
The Belgian parliament adopted a resolution June 26 that urged the government to prepare a list of countermeasures against Israel in case it annexes occupied Palestinian territories.
The resolution was proposed by the Green Party and passed with 101 votes in favor and 39 abstentions.
It calls the government to "play a leading role at European and multilateral level in order to set up a list of effective countermeasures to respond proportionately to any Israeli annexation of the occupied Palestinian territory."
The resolution acknowledges that some states might veto EU sanctions. So, it suggests Belgium create a European coalition with like-minded countries.
Earlier, more than 1,000 lawmakers from across Europe condemned the West Bank annexation plan in a joint letter.
They urged European leaders to prevent the annexation, save prospects of a two-state solution and expressed support for EU foreign policy chief Josep Borrell's previous statement that warned "annexation could not pass unchallenged."
In total, 1,080 members of national assemblies and the European Parliament from Austria, Belgium, Czechia, Denmark, Finland, France, Germany, Greece, Hungary, Iceland, Ireland, Italy, Luxembourg, Malta, the Netherlands, Norway, Poland, Portugal, Romania, Slovakia, Slovenia, Spain, Sweden, Switzerland, and the UK signed the letter.
Speaking at the plenary session of the European Parliament June 18, Borrell said it would be a "serious violation of international law" if the Israeli government decided unilaterally to annex any parts of the West Bank.
The majority of EU member states can only accept "a negotiated two-state solution, based on international parameters."
The EU's recognition of Palestine as a state would become "inevitable" if Israel moves forward with its controversial plan, Luxembourg's foreign minister told German weekly Der Spiegel on June 14.
Jean Asselborn called for a tougher EU stance against Israel's plan to annex.
"The recognition of Palestine. This debate would gain a whole new dynamic, I would even consider it inevitable," Asselborn said, noting such a decision would not require a unanimous decision by all 27 member states.
Vatican
The Vatican said Israel's "possible unilateral actions" can worsen the "delicate situation in the Middle East."
Cardinal Pietro Parolin, the Vatican's secretary of state, expressed the Holy See's concern that such action could "further jeopardize the search for peace between Israelis and Palestinians," according to a statement issued Wednesday.
"As already declared on 20 November 2019 and on 20 May 2020, the Holy See reiterates that the State of Israel and the State of Palestine have the right to exist and to live in peace and security, within internationally recognized borders," it said.
Parolin emphasized the need for all sides to "reopen the process of direct negotiation … aided by measures that can reestablish reciprocal confidence."
https://www.aa.com.tr/en/europe/europe-unites-against-israel-s-west-bank-annex-plan/1899464
--------
EU Turkey travel restrictions from politics not health
Erbil Basay
04.07.2020
BERLIN
As the European Union has kept travel restrictions on Turkey even though most of its active cases were discharged from hospitals following recovery, recent media reports in Germany suggest political motivations were behind the EU move.
A piece in daily Die Welt said the case count in Turkey was no worse than in many other countries and that the travel restrictions against Turkey are not reasonable from a health standpoint.
The piece also cited Turkish Foreign Minister Mevlut Cavusoglu telling how the safety of hotel facilities in the country was ensured with help of German company TUV and a Turkish certification program.
According to the report, the medical realities in Turkey played a secondary role in Germany's COVID-19-based foreign policy.
Redaktionsnetzwerk Deutschland (RDN), for its part, said Turkish criticism of travel restriction decisions by Berlin and Brussels made good points, adding that Germany's travel warning should be based on a better rationale.
Stating that Germany could be accused of abusing the travel issue with Ankara unless it justifies its decision, RDN went on to say that the unjustified moves would not be politically wise or honest, adding that German travellers should not suffer due to political disputes.
Turkey has so far recorded nearly 205,000 confirmed coronavirus cases, and over 179,000 patients have recovered. The country's death toll stands at 5,206, and a normalization process is underway while people work to keep wearing masks and maintain social distancing.
The country recently adopted a healthy tourism certification program with the collaboration several government ministries to ensure the safety of tourists amid the outbreak. Under the program, a variety of measures have been adopted in many fields including transportation, accommodation, the condition of tourist facilities, and the training of their employees along with the health status of travelers.
https://www.aa.com.tr/en/europe/eu-turkey-travel-restrictions-from-politics-not-health/1899997
--------
Turkey using 8,000 spies to track dissidents in Germany
Jamie Prentis
July 2, 2020
Refugees and dissidents from Turkey living in Germany have witnessed a surge in harassment from the estimated 8,000 Turkish intelligence agents active on German soil, an investigation has claimed.
In the fallout from the failed 2016 coup in Turkey there has been an unprecedented rise in asylum applications by Turkish citizens in Germany as President Recep Tayyip Erdogan increased repression against most forms of opposition. As a result, Turkey's intelligence apparatus has increased its operations.
Germany, which opened its borders during the 2015 migrant crisis, is believed to be home to at least four million people of Turkish origin but has at times been at odds with Turkey over its influence.
Asylum seekers are often Kurdish or supporters of the banned Gulen movement, which Mr Erdogan has clamped down on and blamed the 2016 coup attempt.
According to the newspaper Asharq Al Awsat, there were nearly 11,500 Turkish asylum applications in Germany in 2019 compared with roughly 1,800 in 2014.
The newspaper spoke to Kamil, who has been in Germany for 30 years and is wanted by Turkish authorities for his alleged support of the Gulen movement.
He said the imam at his mosque had banned him from entering after following orders by Turkey and his annual visits to his home country had stopped since 2017 after a visit by German police.
In 2019 Berlin began efforts to have imams trained in Germany rather than abroad amid concerns over the financing of religious institutions by Turkey.
Two other men, Hussein and Omar, who fled to Germany in 2017, refused to speak Turkish at a local cafe so the owners could not eavesdrop on them.
Hussein told Asharq Al Awsat that his brother had urged him to leave Turkey after the failed coup because he feared he would be tortured.
Controversy over Turkish intelligence agents and informants in Germany has rumbled along for years. In 2016 it was claimed there were more Turkish spies working in Germany than communist East Germany had in West Germany during the Cold War.
At the time, security expert Erich Schmidt-Eenboom said Turkish agents were being used for repression rather than intelligence.
"Turkey's internal conflicts between Gulen and Erdogan, and between [ethnic] Kurds and Turks, have been brought into Germany and are impacting the internal peace," Mr Schmidt-Eenboom told Sweden's The Local website.
In 2017, a paper by the Royal United Services Institute warned the spy network was putting Turkey-Germany relations under intense stress. It also said Turkey's security service was using imams and officials from local Turkish-Islamic organisations to spy on Gulenists.
"What is very concerning for German and Austrian authorities is the fact that individuals who have been overheard criticising Erdogan face arrest when they travel to Turkey," said Dr Tessa Szyszkowitz in her commentary for the institute.
In June, Turkey announced it had detained four members of an intelligence cell who were spying for France.
https://www.thenational.ae/world/europe/turkey-using-8-000-spies-to-track-dissidents-in-germany-1.1043210
--------
Pakistan
There Is Massive Religious Discrimination In Pakistan: Hamza Ali Abbasi
July 04, 2020
Hamza Ali Abbasi has never been the one to mince words when it comes to speaking his mind. The actor has always spoken up on national and religious matters, and this time he talked about religious discrimination in Pakistan.
Hinting towards the current temple building issue, Hamza took to Twitter and shared his two cents.
"Pakistan is not an empire or a kingdom. We Muslims didn't conquer Pakistan. We are a Muslim majority nation and state," the Parwaaz Hai Junoon star wrote. "On 14th August 1947, everyone who resided in the boundary of Pakistan became an equal citizen."
He went on to add, "No more hypocrisy, I admit that there is massive religious discrimination in Pakistan."
This is not the first time Abbasi has been vocal about the rights of the minorities.
Earlier, Osman Khalid Butt explained why it is difficult for people to call out discrimination against religious minorities in Pakistan.
Butt shared he believed that speaking in favour of certain minorities may lead the majority to suffer the same fate as the oppressed. Thus, it is out of the fear of that backlash that many tend to stay quiet.
He wrote, "It is difficult for us to come to terms with and be vocal about the discrimination and apartheid of religious minorities in Pakistan - mostly because of fear. We fear the same persecution and ostracism they face almost on a daily basis."
He then added another reason why people fail to understand or even take into account the discrimination against these minorities. "Another reason is that little progress has been made to humanise them beyond statistics and their obvious 'otherness' - a prejudice that has passed on from generation to generation."
Butt concludes by addressing a thread he shared recalling the Lahore massacre of May 28. 2010 which occurred during the Friday prayers. The incident saw 94 people killed and more than 120 injured in simultaneous attacks against places of worship of a minority community.
https://tribune.com.pk/story/2253291/there-is-massive-religious-discrimination-in-pakistan-hamza-ali-abbasi
--------
PM asks NCOC to prevent virus resurgence on Eid
Ikram Junaidi
July 05, 2020
ISLAMABAD: Prime Minister Imran Khan visited the National Command and Operation Centre (NCOC) on the 100th day of its establishment, lauded its role in containing the spread of the novel coronavirus and directed it to take steps to prevent resurgence of the disease during EidulAzha.
Besides federal ministers and Chief of the Army Staff Gen­eral Qamar JavedBajwa, high-ranking officers were present during the visit on Saturday, while representatives of the provinces were available via video link.
Over the past 24 hours, the country reported 3,475 new cases of coronavirus and 88 deaths, taking the national tally of Covid-19 to 227,254 and number of fatalities to 4,680.
Noting that the government had managed to slow down the spread of the virus, PM Khan directed the officials concerned to ensure strict implementation of the standard operating procedures, undertake all required administrative actions for smart lockdowns and the awareness campaign to prevent any resurgence of disease during the upcoming Eid.
Imran visits facility on its 100th day, lauds its role in slowing down the spread of Covid-19
Earlier, the PM was briefed about the current situation and the pattern analysis of Covid-19 spread. He was apprised on how the strategy of smart lockdown yielded results in balancing life and livelihood. It was highlighted that as per the IMF World Economic Outlook, Pakistan is among a group of 30 countries that reversed the projected downturn from -0.4 to 1.1.
Mr Khan lauded the efforts of NCOC team in putting up a robust response to the pandemic and ensuring coordinated actions across the country. From daily monitoring of the situation to the capacity enhancement of health system and from establishing a credible database to better resource management and formulation of appropriate SOPs, the NCOC led from the front in the fight against pandemic, the prime minister said.
He also appreciated the resilience and adaptability of the nation to adjust to the new normal by following SOPs and face the challenge as one nation. Mr Khan also paid tribute to doctors, paramedical staff and emergency responders working as frontline workers in the battle against Covid-19. He ackno­w­ledged the role and services of health care workers and others from the provinces, Azad Jammu and Kas­h­mir and Gilgit-Baltistan.
Earlier, Minster for Information Senator Shibli Faraz at an event at Islamabad's Polyclinic Hospital said PM Khan's policy of smart lockdown had attracted world recognition. "Though the health SOPs are partially implemented in Pakistan, the number of cases has been reduced. However, I want to warn that the threat prevails and there is a need to take precautionary measures," he added.
The minister said as the government had established the NCOC having representation of Pakistan's armed forces, politicians and other stakeholders, it was their collective efforts that the spread of the disease had slowed down.
"Our government has distributed around Rs150 billion among around 15 million people. We have arranged personal protective equipment. Just a few months ago, we had two labs but now we have 129 labs. We have started manufacturing ventilators and we have capacity to accommodate more patients. However, I wish that our capacity would never exhaust and our hospitals would become deserted," he said.
Senator Faraz said that a package had been announced for the healthcare workers so that they would combat Covid-19 with full dedication.
Meanwhile, work has been completed on a 250-bed hospital for Covid-19 in Islamabad.
https://www.dawn.com/news/1567089/pm-asks-ncoc-to-prevent-virus-resurgence-on-eid
--------
Judge Malik shown the door over misconduct
July 04, 2020
LAHORE: The Lahore High Court's administration committee on Friday approved 'removal from service' of Judge Arshad Malik on charges of misconduct after a year-long inquiry into the video scandal that broke last July, sending ripples through political and legal circles.
The seven-judge committee, headed by Chief Justice Mohammad Qasim Khan, took the decision in the light of recommendations made in a report of inquiry conducted by a high court judge into the conduct of the judicial officer, former judge of an accountability court who had convicted former prime minister Nawaz Sharif in the Al-Azizia reference and acquitted him in the Flagship reference.
Both the Pakistan Muslim League-Nawaz (PML-N) and the Pakistan Tehreek-i-Insaf (PTI) hailed the decision, with the former seeking acquittal of its leader and the latter calling it the end of "PML-N era of blackmailing judges".
The legal fraternity, however, observed that the scandal and subsequent removal of judge Malik indicated a complete decadence in justice system and put a big question mark on legitimacy of convictions.
The PML-N had accused judge Malik of convicting the ex-premier in the Al-Azizia reference under duress as per his video confession, however, the judge later claimed that he had been blackmailed by the PML-N supporters after which he acquitted the ex-premier in the Flagship reference.
• PML-N wants Al-Azizia reference sentence voided • Minister terms dismissal an 'end of blackmail era' • Question mark over conviction of politicians, says PBC
The video scandal broke on July 6, 2019 during a press conference of PML-N vice president Maryam Nawaz in which she said the judge in the video admitted that he was blackmailed into convicting ex-PM Nawaz in the Al-Azizia reference under duress. Later, the Islamabad High Court summoned the judge and directed him to explain his position. Malik, in his affidavit, claimed that he had been blackmailed by the PML-N supporters because of an "immoral video" and admitted that he had met Mr Sharif at his JatiUmra residence and Hussain Nawaz in Saudi Arabia.
The IHC on Aug 22, 2019, suspended the accountability court judge and repatriated him to his parent department (LHC) for further proceedings. The LHC then made him OSD and the administration committee approved an inquiry against him on charges of misconduct and violation of the code of conduct.
Terming the conduct of judge Malik 'shameful', the Supreme Court had described the slackness of the Ministry of Law in taking action against the judge as an 'attempt to give refuge' to him.
On Friday, an LHC official said, the inquiry judge, Justice Sardar Ahmad Naeem, recommended maximum punishment of removal from service for judge Malik after finding him guilty of misconduct.
He said minutes of the meeting of the administration committee that also comprised Justice Muhammad Ameer Bhatti, Justice Malik Shahzad Ahmad Khan, Justice Shujaat Ali Khan, Justice Ayesha A Malik, Justice Shahid Waheed and Justice Ali Baqar Najafi would be released soon.
Fate of cases
Asked for his legal opinion on the fate of proceedings conducted by judge Malik, Pakistan Bar Council (PBC) Vice Chairman Abid Saqi said a conviction or trial could not sustain once it was proved that there had been biases.
He said the country's judicial history had a precedent when Supreme Court had quashed a judgment by Ehtesab bench of the LHC in case of former president Asif Ali Zardari. He said the judge Malik Qayyum was also made to resign when it was established that there was bias on his part.
Mr Saqi regretted that the video-scandal of judge Malik and his removal on misconduct indicated a complete decadence in justice system. "This puts a big question mark on integrity of justice system and legitimacy of convictions of other politicians and common people as well."
The PML-N leadership believed the judge's removal established innocence of ex-PM Nawaz and demanded his sentence in the Al-Azizia reference be declared null and void.
"The LHC Administrative Committee's decision of sacking Arshad Malik establishes that Nawaz Sharif was unjustly sentenced. His innocence stands proven today. As a natural corollary, Miansb's sentence ought to be declared null & void," PML-N president and Opposition Leader in National Assembly Shahbaz Sharif said in a tweet on Friday.
Mr Shahbaz said: "I am thankful to God Almighty for vindicating PML-N Quaid Nawaz Sharif by proving his innocence. This decision by the High Court Administration Committee is clear evidence that Nawaz Sharif isn't guilty." He said justice merited that the three-time premier should be exonerated and all sentences against him be annulled.
Expressing her delight on the sacking of judge Malik, Maryam Nawaz tweeted: "The decision of seven respectable judges to sack Arshad Malik shows how Nawaz Sharif was convicted (in Al-Azizia case). Now for the judiciary's prestige and sake of justice, the tainted sentences of the tainted judge should be annulled."
She said: "Today's decision is the victory of truth and defeat of falsehood. It has vindicated Nawaz Sharif."
National Party's Senator Hasil Bizenjo said though the removal of the judge was a positive step, it would be in the interest of justice to probe the matter of Nawaz's conviction that appears to have been decided because of the pressure on the judiciary by powerful elements of the state.
"Arshad Malik's removal and misconduct proved that the verdict against the former prime minister was based on flimsy evidence and that it put a question mark on the independence of the judiciary. A majority of the people feel that the Panama case was a conspiracy against the democratic forces of the country. Even the former judge of the Supreme Justice Ejaz Choudhary has admitted that the judiciary is pressured by intelligence agencies. This is a matter of grave concern and the judiciary should probe into his revelations regarding the pressure of intelligence agencies," NP Senator Bizenjo said.
Federal Information Minister Shibli Faraz said in a tweet: "Judge Arshad Malik's dismissal from service is the drop scene of an era where certain judges were blackmailed through cronies. PML-N & its leadership should apologise to the nation for patronising blackmailing & corruption, traits of mafioso mindset."
Special Assistant to Prime Minister on accountability Shahzad Akbar said Maryam demanded scrapping of all court verdicts of Judge Malik. "If her logic is accepted that Judge Malik had acquitted Nawaz Sharif in Flagship case, then it should be reversed. You (Maryam) should consult good lawyers. Like the Panama Papers case, you have eaten sweets before going through the verdict," he said. "It must be remembered this Al-Azizia case was shifted to Arshad Malik's court on Nawaz Sharif's request as Nasir Butt was his close acquaintance. Justice Qayyum saga should not be forgotten. The Sharif family did such things with the judiciary in the past," the PM's aide added.
https://www.dawn.com/news/1566905/judge-malik-shown-the-door-over-misconduct
--------
Zardari wants all institutions to respect parliament
Amir Wasim
July 05, 2020
ISLAMABAD: Pakistan Peoples Party (PPP) leader and former president Asif Ali Zardari has warned against any effort to undo the 18th Amendment, saying such a move will be an attack on the federation.
The former president issued the statement on the eve of the 'black day' being observed by the party on Sunday (today) throughout the country to mark the 43rd anniversary of the toppling over of the party's elected government under Zulfikar Ali Bhutto by military dictator Gen Ziaul Haq on July 5, 1977.
The PPP leader further said that all the institutions in the country must respect the parliament. "Parliament is the supreme institution and it is the constitutional duty of each and every institution to respect it," he said.
The PPP on Saturday announced that black flags would be hoisted at residences and offices of the party across the country on Sunday to mark the 'black day'.
Peoples Party plans 'Black Day' today
Mr Zardari, who has been ill and away from public view and media for months, said some people were dreaming about scrapping the 18th Amendment, saying their dreams would never come true.
The amendment that granted autonomy to provinces, he said, was an agreement between the federation and the federating units and "tinkering with it will amount to an attack on the federation". He said the 1973 Constitution guaranteed autonomy to the federating units, besides ensuring human freedom.
Mr Zardari said the PPP was determined to stay firm for the cause of democracy, Constitution and supremacy of the parliament and would not make any compromise on these principles.
He paid rich tribute to Benazir Bhutto and thousands of the party workers who spent their 'golden days' in jails, faced lashes and other difficulties during the struggle for the restoration of democracy in the country.
Darkest day
In his separate message, PPP chairman Bilawal Bhutto-Zardari termed July 5, 1977 "the most shameful and darkest day" in the history of Pakistan.
He said the people's elected government and first directly elected prime minister Zulfikar Ali Bhutto was ousted by the elements who "either vanished into thin air or living a shameful life".
"The way all the characters involved in it met their fate proved that crime and sin have no legacy. Still, every illegitimate ruler of the time, like today's puppet, fails to grasp and realise this universal reality," he said.
The PPP chairman said the Constitution was suspended on July 5, 1977, wrapping up democracy, suspending all civil rights, stopping the process of development and hoisting the colours of the authoritarian in all directions.
He said just by promoting and protecting the dictator's personal vested interests, the foundations of dictatorial rule were laid through inventing corruption and unleashing intimidation.
"Dictators have been interested in petty personal gains, developing hotbeds of intolerance and extremism," he added.
He said even today after four decades, the scourge of July 5, 1977 was not leaving the Pakistani nation behind.
"Democracy is still in its teething stage; the ground for implementation of provincial autonomy is narrow, the poor are at the mercy of plagues and locusts, the swords of unemployment are hanging over the heads of workers, the bread and justice are expensive and the poor is getting poorer by each passing day," he added.
Mr Bhutto-Zardari said the present 'puppet regime' was the culmination of the crime of July 5, 1977. But at the same time, this chapter was about to be closed forever. He said the day was not far when the people's right to sovereignty and the use of religious extremism, militancy, sectarianism and linguistics as weapons in government buildings to perpetuate their aggressive rule would be removed in the same way that many racist and hate-mongering societies today were tearing down statues of fake greats.
He said the PPP had made unparalleled struggle and eternal sacrifices for the Constitution and democracy in the country; this struggle would continue till the final victory of the people.
https://www.dawn.com/news/1567031/zardari-wants-all-institutions-to-respect-parliament
--------
Rangers detain two members of banned outfit for killing PSP worker
July 05, 2020
KARACHI: Pakistan Rangers, Sindh, on Saturday claimed to have arrested two members of a banned outfit on charges of killing a worker of the Pak Sarzameen Party on sectarian grounds in Liaquatabad two days ago.
The paramilitary force and police jointly carried out an intelligence-based action and apprehended the two suspects — Syed Naeem Haider, alias Bara, and Mohammed Danish Iqbal, alias Hakla — while their third accomplice escaped, for whose arrest raids were being conducted, said a Rangers spokesperson.
On July 2, PSP worker Asim Mohammed Khan was shot dead at Liaquatabad No. 10. The murder case was registered against unknown suspects at the Sharifabad police station. The Rangers formed a special investigation team, which managed to solve the blind murder case within 48 hours, said the official.
A 30-bore pistol used in the murder was also seized from them and the forensic examination of the spent bullet casings confirmed that the weapon was used in the crime.
During initial probe, held suspect Naeem said he belonged to a banned outfit. He also admitted that prior to that murder too, he had remained involved in sectarian killings. Subsequently, the detained persons were handed over to the police for further legal action.
'Suspect shot dead in 'encounter'
A suspected robber was shot dead in an alleged encounter off the Superhighway on Saturday morning.
According to the SITE Superhighway Industrial police, three suspects after looting some citizens were fleeing when four policemen riding two motorbikes chased them. During an exchange of fire at Yasrab Goth, one suspect identified as Mohammad Sharif was wounded while his two accomplices escaped. The incident occurred at 9.15am.
The wounded suspect died while being taken to the Abbasi Shaheed Hospital, the police said.
A TT pistol with ammunition and a motorcycle were seized from the custody of the dead suspect.
https://www.dawn.com/news/1566995/rangers-detain-two-members-of-banned-outfit-for-killing-psp-worker
--------
Southeast Asia
King Salman not informed Saudi-backed peace centre closed, claims Najib
Sean Augustin
July 3, 2020
PETALING JAYA: Najib Razak claimed that the Saudi monarch, King Salman Abdul Aziz, was not informed of the previous government's decision to close the Saudi-backed King Salman Centre for International Peace (KSCIP).
The announcement of the centre's closure was made by then defence minister Mohamad Sabu.
And this, the Pekan MP said, was the reason Saudi Arabia skipped the KL Summit in December last year.
"No letter was sent to King Salman. Do you know how he felt?" he said at a ceramah while campaigning for the Chini by-election.
"Are we not courteous? If you don't want a project, backed by King Salman, to be implemented, at least send him a letter or give him a call. This is common courtesy."
The ceramah was attended by Umno deputy president Mohamad Hasan and his PAS counterpart, Tuan Ibrahim Tuan Man, as well as Umno Youth chief Asyraf Wajdi Dusuki.
Najib went on to claim that the decision to shut down the centre was why Saudi Arabia gave the summit a miss.
"(That's why) many countries skipped it. Pakistan didn't attend, Brunei didn't attend and even Indonesia didn't attend."
Najib went on to say that when he was the prime minister, there was an increase in quota for Malaysians to perform their haj as he had applied for it through King Salman every year.
Putrajaya, then under Pakatan Harapan, had ordered the closure of the centre in August and its role to be absorbed into the Malaysian Institute of Defence and Security, which comes under the defence ministry.
KSCIP was first proposed following the visit by King Salman to Malaysia in 2017. The Barisan Nasional government had then agreed to allocate a massive plot of land in the administrative capital of Putrajaya.
Critics, however, questioned the partnership with Saudi Arabia to fight terrorism, highlighting Riyadh's military and ideological role worldwide.
Meanwhile, the KL Summit – described as a game-changer in the Muslim world's relations with Saudi Arabia – was attended by Turkey's President Recep Tayyip Erdogan, Qatar head of state Sheikh Tamim bin Hamad Al Thani, and Iranian President Hassan Rouhani.
The summit also made headlines after Pakistan Prime Minister Imran Khan cancelled his trip at the eleventh hour, reportedly under pressure from the Saudi government.
Foreign Minister Retno Marsudi represented Indonesia at the summit.
In March, London-based news outlet, the Middle East Eye, alleged that the Saudi Arabian government launched a media campaign to belittle the KL Summit, including compiling a series of messages which local media organisations and commentators were instructed to issue.
It also allegedly targeted newspapers, websites and television channels in various countries, including Pakistan, Indonesia and several Arab states.
https://www.freemalaysiatoday.com/category/nation/2020/07/03/king-salman-not-informed-saudi-backed-peace-centre-closed-claims-najib/
--------
Bank Islam ready to help customers after moratorium ends
July 5, 2020
KUALA LUMPUR: Bank Islam Malaysia Bhd says it is ready to work out repayment arrangements with customers badly affected by the Covid-19 pandemic after the six-month moratorium ends on Sept 30.
Its chief executive officer, Mohd Muazzam Mohamed, said the bank empathised with these customers who made up a sizeable portion of its financing portfolio.
In a statement today, Muazzam said Bank Islam had been adopting viable options to assist them in coping with the economic fallout from the pandemic which had impacted small businesses and retail customers.
He said the bank had assisted more than 394,000 customers since the six-month moratorium was implemented in April to help customers cushion the impact of Covid-19.
"The customers will continue paying the same instalment amount after the moratorium period ends.
"The bank stands ready to ensure the customers' financial needs are taken care of during this challenging period. All they need to do is come and talk to us," he said.
Customers may visit the nearest Bank Islam branch or call the bank's contact centre at 03-2690 0900 for information on alternative payment solutions.
https://www.freemalaysiatoday.com/category/nation/2020/07/05/bank-islam-ready-to-help-customers-after-moratorium-ends/
--------
Three Suspected Militants Arrested in Central Java
JULY 05, 2020
Jakarta. Counter-terror squad Detachment 88 arrested three suspected militants in Central Java in connection to last month's attack on police officers, a spokesman said on Saturday.
The three men were arrested during separate operations in the provincial capital of Semarang and Boyolali.
One of the suspects was identified by initials I.S., 47, National Police spokesman Insp. Gen. Argo Yuwono said in Jakarta. Identities of the other two were not disclosed pending initial investigation, he added.
The spokesman didn't specify when the arrests were made.
"The three have links to the militant who attacked the Karanganyar Police deputy chief," Argo said.
He was referring to the June 21 incident in which a militant attacked Comr. Busroni, the deputy police chief in the Central Java town of Karanganyar, and injured his subordinate and a civilian with a knife.
Busroni, who was on a field trip on the slope of Mount Lawu when he was attacked, survived the incident with minor knife wound on his arm, while the attacker was stoned and shot to death at the scene.
Further investigation revealed that the lone attacker, identified as Karyono Widodo, was a terrorism convict who had spent three years in prison.
Karyono was earlier found guilty for being an accessory to the January 2016 daylight attacks by a group of militants on a police post and a nearby building on Jalan Thamrin, Central Jakarta, that killed four civilians. All four attackers were also killed by security officials.
Global militant network Islamic State has claimed responsibility for the Jakarta attack.
Karyono, 46, was sentenced to four and a half years under the Anti-Terrorism Law but was released in July last year.
https://jakartaglobe.id/news/three-suspected-militants-arrested-in-central-java
--------
South Asia
Coronavirus funerals: Sri Lanka's Muslims decry forced cremation
July 5, 2020
Sri Lankan authorities are insisting on cremation for coronavirus victims - a practice forbidden by Islam. The nation's minority Muslim community says they are using the pandemic to discriminate, writes BBC Sinhala's Saroj Pathirana.
On 4 May, Fathima Rinoza, a 44-year-old mother of three from Sri Lanka's minority Muslim population, was admitted to hospital with a suspected case of Covid-19.
Fathima, who lived in the Sri Lankan capital, Colombo, had been suffering from respiratory problems and the authorities feared she had caught the virus.
On the day she was admitted to hospital, the family was "set upon" by the authorities, her husband Mohamed Shafeek said.
"The police and military along with officials arrived at our door," he said. "We were kicked out and they sprayed [disinfectant] everywhere. We were all scared but they didn't tell us anything. Even a three-month-old baby was tested and they took us like dogs to the quarantine centre."
The family was held for a night but released the next day and told to quarantine for two weeks, Mohamed said. By then, they had received news that Fathima had died, at the hospital, on her own.
Fathima's adult son was asked to go to the hospital to identify his mother's body. He was told that her body could not be returned to the family, he said, as her death was linked to Covid-19.
Instead he was forced to sign papers authorising her cremation, the family said - even though under Muslim law cremation is considered a violation of the human body.
"He was told that her body parts needed to be removed for further tests. Why would they need body parts if she had corona?" said his father Shafeek, who feels the family were not fully informed about what happened.
Fathima's family and others in Sri Lanka's Muslim community say the authorities are violating their rights by forcing them to cremate victims even though coronavirus victims can be buried.
They argue it's the latest step in a pattern of discrimination by the majority Sinhalese population. A petition against the cremation rule has been accepted by the country's Supreme Court, which will begin hearing the case on 13 July.
Many Muslims in Sri Lanka feel they have been demonised since April 2019, when Islamists linked to little-known local groups targeted high-end hotels and churches in Colombo and in the east of the country, killing more than 250 people in a spate of devastating attacks.
Since the death of the first Sri Lankan Muslim from coronavirus on 31 March, some media outlets have openly blamed the Muslim community for spreading the disease, even though only 11 deaths have been officially recorded in the country.
All 11 bodies, including Muslims, were cremated.
Dr Sugath Samaraweera, the government's chief epidemiologist, told the BBC it was government policy that all those who die from Covid-19, as well as those suspected of dying from it, are cremated, as burials could contaminate ground drinking water.
Dr Samaraweera said the government was following expert medical advice, and applying the rule to anyone suspected of dying from coronavirus, regardless of religion.
"The WHO offers guidelines for the whole world. It is our responsibility to adopt or customise those guidelines suitable to our country," he said.
But Muslim activists, community leaders and politicians have asked the Sri Lankan government to reconsider the decision.
Ali Zahir Moulana, a former minister and senior leader of the Sri Lanka Muslim Congress party, said the Muslim community was prepared to accept the rule "if there is evidence or scientific backing to prove that burial is dangerous to public health". But he questioned the science behind it, and accused the government of pursuing a "dark political agenda".
Interim guidance published by the WHO in March says victims of coronavirus "can be buried or cremated", and does not mention dangers to groundwater.
On the same day that Fathima died, 64-year-old Abdul Hameed Mohamed Rafaideen passed away at his sister's house in Colombo. The labourer and father of four had been suffering from breathing difficulties.
His youngest son, Naushad Rafaideen, told the BBC that a neighbour from the majority Sinhala community died the same day.
Because of lockdown travelling restrictions, local police asked the family to take the body of the neighbour, together with their father's body, to the hospital.
At the mortuary, the doctor told Naushad he was not allowed to touch his father's body because of the risks of Covid-19, even though it wasn't clear whether the virus was the cause of death.
Naushad, who cannot read, was asked to sign some papers which gave permission for his father's body to be cremated.
He said he wasn't sure what would happen to him if he didn't sign, but he feared a backlash against his family and community if he refused. He said the Sinhalese family was treated differently, and allowed to pay respects to their relative at a funeral parlour, though the BBC could not independently verify this. Only Naushad and a handful of relatives were allowed to attend the cremation of his father, he said.
Meanwhile, nearly six weeks after the death of his wife, Shafeek is unsure whether she ever tested positive for coronavirus, and he is struggling to come to terms with not being able to bury her body. One thing he was sure of, he said. "We Muslims do not cremate our dead."
https://www.bbc.com/news/world-asia-53295551
--------
Explosion targets police vehicle in Kabul city earlier today
04 Jul 2020
An explosion ripped through a vehicle of the Afghan National Police (ANP) forces in Kabul city earlier today, the security sources said.
According to the officials in Kabul Police Headquarters, a magnetic bomb planted in a police vehicle went off at around 7:21 am local time in the 11th district of the city.
The officials further added that the explosion left at least two people wounded includuing a civilian and police officer.
Ferdaws Faramurz, a spokesperson for Kabul Police confirmed that the incident took place in Hesa-e Awal area of the city earlier today.
No individual or group including Taliban has so far claimed responsibility for the incident.
https://www.khaama.com/explosion-targets-police-vehicle-in-kabul-city-earlier-today-08937/
--------
Arab World
Iraq reinforces border posts to try to prevent advance of Turkish troops
03 July 2020
Iraqi troops were enforcing positions along the border with Turkey, officials said on Friday, to prevent Turkish forces from advancing deeper into Iraqi territory after two weeks of airstrikes as Ankara continues to target Kurdish rebels in northern Iraq.
Security officials said Ankara has established at least a dozen posts inside Iraqi territory as part of a military campaign to rout members of the Kurdistan Worker's Party, or PKK, who Turkey says have safe havens in northern Iraq. The airborne-and-land campaign, dubbed "Operation Claw-Tiger," began June 17 when Turkey airlifted troops into northern Iraq.
Since then, at least six Iraqi civilians have been killed as Turkish jets pound PKK targets, and several villages in Iraq's northern Kurdish region have been evacuated.
The invading Turkish troops set up posts in the Zakho district in northern province of Dohuk, about 15 kilometers inside Iraqi territory, said the officials, speaking on condition of anonymity to discuss the military operations.
Zerevan Musa, mayor of Darkar, said there were five Turkish posts close to his town, including two on the nearby Mt. Khankiri. He said Turkish airstrikes have hit Sharanish and Banka villages in the area.
For all the latest headlines follow our Google News channel online or via the app
"We demand from both sides, the Turkish government and the PKK, to keep their fight away from us," said Qadir Sharanshi, a resident from Sharanshi village. He said his village has been hit several times.
Iraqi border guards erected two posts along the Khankiri range, said Brig. Delir Zebari, commander of the First Brigade of the Iraqi Border Guards, tasked with securing a 245-kilometer (153-mile) stretch of border territory.
Speaking from the brigade base, he told The Associated Press that his troops' task is to "eliminate attacks on civilians in the area."
Turkey regularly carries out air and ground attacks against the PKK in northern Iraq. It says neither the Iraqi government nor the regional Iraqi Kurdish administration have taken measures to combat the group. The recent incursion into Iraqi territory has drawn condemnation from Baghdad, which has summoned Ankara's ambassador to Iraq twice since the campaign was launched.
Turkey maintains that until the Iraqi government take actions against the PKK, it will continue to target the Kurdish group, considered a terrorist organization by Turkey, the United States and the European Union for its decades-long insurgency within Turkey.
Turkey's latest campaign poses a dilemma for the semi-autonomous Kurdish region in northern Iraq, which relies on Turkey for oil exports through a pipeline running from Iraq's Kirkuk province to the Turkish port of Ceyhan.
Kaiwan Kawa, a 30-year-old store owner displaced with his family from the area, said a Turkish airstrike last month struck his mini market in the village of Kuna Masi in Sulaymaniyah province. The airstrike targeted a pickup truck with PKK members who had stopped by his store to buy some eggs.
At least one of the fighters was killed, his body torn to pieces, Kawa said.
Kawa's wife, Payman Talib, 31, lost a leg in the bombing while their 6-year-old son, Hezhwan, had shrapnel wounds to the head. Doctors say it's too dangerous to remove the shrapnel.
Kawa said he had opened the shop just a month before. Now he can never go back.
"I will always carry the fear in my heart," he said. "It will never be the same."
https://english.alarabiya.net/en/News/middle-east/2020/07/03/Iraq-reinforces-border-posts-to-try-to-prevent-advance-of-Turkish-troops.html
--------
Baghdad condemns US for missile test inside its embassy
05 July 2020
The Iraqi government has condemned the United States for testing an air defense missile system inside its embassy in Baghdad.
Iraq's deputy parliament speaker Hassan Karim al-Kaabi on Saturday described the move as provocative and in violation of international law.
Kaabi also called on the Iraqi government to take swift measures to halt such actions.
The Embassy's move to fire in a residential area in the heart of Baghdad is an unacceptable act and another challenge for the Arab country, adding to the mass of its provocations and illegal actions in Iraq, he noted.
According to Iraqi media, the US tested a patriot missile system inside Baghdad's heavily fortified Green Zone.
Anti-US sentiments have been running high in Iraq since Washington assassinated top Iranian commander Qassem Soleimani and the second-in-command of the Iraqi popular mobilization units, Abu Mahdi al-Muhandis, in January.
Following the attack, Iraqi lawmakers unanimously approved a bill on January 5, demanding the withdrawal of all foreign troops.
Baghdad and Washington are currently in talks over the withdrawal of American troops. Iraqi resistance groups have vowed to take up arms against US forces if Washington fails to comply with the parliamentary order.
https://www.presstv.com/Detail/2020/07/05/628913/iraq-us-embassy-green-zone-missile-test
--------
Iraq officially protests Turkey's cross-border offensive
05 July 2020
The Iraqi government has expressed its official protest at Turkey's attacks against the Arab country's north, saying the offensive must immediately stop.
The Iraqi cabinet's spokesman Ahmed Mulla Talal said in a statement on Saturday the Turkish ambassador to Baghdad has been summoned to receive two official letters of protest, with strong tone, regarding the attacks by the Turkish forces on Iraqi lands.
The spokesman warned that his country will use the international law and covenants to establish the right of Iraq to reject and stop these attacks.
Baghdad strongly rejects and condemns the Turkish attacks on its territories which violate Iraq's sovereignty and harm the close, long-standing relations between the two peoples, he noted.
The attacks are "detrimental to regional peace," the spokesman said, describing the offensive as an "assault on the Iraqi sovereignty, lives and property."
The statement urged the international community to "take steps that would enhance stability in the region, and to assign the sovereign right of Iraq to protect its lands and preserve the safety of its people."
Turkey began fresh air and ground military operations in Kurdistan region in northern Iraq in mid-June, with the stated aim of removing suspected Kurdistan Workers Party (PKK) targets from the area. Five civilians have been confirmed killed by Turkish airstrikes.
The ground campaign, dubbed Claw-Tiger Operation, was launched against PKK positions in the Qandil Mountains as well as Sinjar and Makhmur districts on June 17. Claw-Eagle Operation, the air campaign, had begun two days earlier.
On Thursday night, Iraq threatened to cut off its trade ties with Turkey in protest at Ankara's ongoing cross-border operation.
"Turkey has interests in Iraq as the annual trade balance between Baghdad and Ankara stands at more than 16 billion dollars annually. There are also hundreds of Turkish commercial insinuates operating inside Iraq. The Iraqi government will take actions against all these interests if urgent need arises," spokesman for the Iraqi Ministry of Foreign Affairs, Ahmed al-Sahaf, said in an exclusive interview with local Kurdish-language Rudaw television news network.
Sahaf further noted that the Iraqi government has a wide array of options to stop the Turkish offensive and demand compensation for the loss of civilian lives.
The PKK militants regularly clash with Turkish forces in the Kurdish-dominated southeast of Turkey attached to northern Iraq.
A shaky ceasefire between the PKK and the Turkish government collapsed in July 2015. Attacks on Turkish security forces have soared ever since.
Turkish ground and air forces frequently carry out operations against PKK positions in the country as well as in northern Iraq and neighboring Syria.
More than 40,000 people have been killed during the three-decade conflict between Turkey and the autonomy-seeking militant group.
https://www.presstv.com/Detail/2020/07/05/628910/Iraq-protest-Turkey-offensive-north
--------
US Ambassador Shea bans aid distribution among needy families in north Lebanon: Senior cleric
04 July 2020
A prominent Lebanese Muslim cleric has lambasted US Ambassador to Beirut Dorothy Shea over preventing political parties from distributing aid among needy families in the country's northern district of Tripoli.
"US Ambassador to Lebanon Dorothy Shea has met with a number of political leaders in Tripoli, and told them it is forbidden to offer assistance to any underprivileged member of the community there," Arabic-language al-Manar television network quoted Secretary General of the Islamic Unification Movement, Sheikh Bilal Shaaban, as saying during the last Friday's sermon.
He condemned the demand as outrageous, saying it is part of the agenda to build up pressure on the Lebanese people.
Sheikh Shaaban then called on all Lebanese politicians to help needy people during the current socio-economic crisis in Lebanon, irrespective of all foreign pressures.
Back on June 28, Lebanese President Michel Aoun denounced the latest comments by the US ambassador to Beirut against Hezbollah resistance movement, stating that Washington is continuously meddling in the internal affairs of the Arab country.
"The Americans are directly interfering in the Lebanese domestic affairs; and this is unacceptable," Aoun said in an exclusive interview with Beirut-based and Arabic-language al-Mayadeen television news network at the time.
Earlier in the day, Lebanon's Foreign Minister Nassif Hitti had summoned Shea over her anti-Hezbollah criticism.
Hitti met with Dorothy Shea the following day to inform her that, under the Vienna Convention on Diplomatic Relations of 1961, an ambassador must not interfere in the domestic affairs of another country, and that her speech must not seek to pit Lebanese people against each other.
The Vienna Convention on Diplomatic Relations is an international treaty that defines a framework for diplomatic relations between countries.
Late last month, Shea told Saudi-owned al-Hadath television news network that Washington has "great concerns" over Hezbollah's role in the Lebanese government.
Hezbollah's growing popularity in the Arab and Muslim world after the resistance movement shattered the Israeli military's myth of invincibility during the 33-day military offensive on Lebanon back in the summer of 2006 has been a matter of serious concern for the Tel Aviv regime and its Western allies.
The resistance movement's heroic defense as well as its vehement opposition to any foreign intervention in Lebanon's domestic affairs have turned the group into a major stakeholder in the country's political and military domains.
https://www.presstv.com/Detail/2020/07/04/628863/US-Ambassador-Shea-forbids-aid-distribution-among-needy-families-in-northern-Lebanon-Senior-cleric
--------
Air defense systems intercept rocket targeting US Embassy in Baghdad, Iraq
05 July 2020
Air defense systems in Iraq have intercepted a rocket targeting the US Embassy in Baghdad's heavily fortified Green Zone, according to Al Arabiya's correspondent.
A Patriot battery system was able to respond to the rocket but was unable to intercept it far enough and therefore fell within the Green Zone, local media outlet al-Dijla TV reported citing its own security source.
"The missile that was intercepted by the American embassy in Baghdad fell near a number of sit-ins protesters close to the Green Zone area. It landed close to the bridge leading to the Green Zone itself," Al Arabiya's correspondent in Baghdad Majid Hamid reported.
There was no immediate claim of responsibility as of Sunday morning.
Recent attacks on the Green Zone follow more than two dozen similar attacks against American interests in Iraq since October that the US has blamed on Iran-backed factions among Iraq's security forces.
https://english.alarabiya.net/en/News/middle-east/2020/07/05/Air-defense-systems-intercept-rocket-targeting-US-Embassy-in-Baghdad-Iraq.html
--------
Africa
Jordan slaps electronic bracelets on arrivals to monitor coronavirus quarantine
04 July 2020
Jordan began putting electronic bracelets Saturday on travelers who have recently arrived in the kingdom to ensure that they observe home-quarantine against the spread of coronavirus, an official said.
People arriving in Jordan must isolate for 14 days at hotels designated by the authorities on the shores of the Dead Sea, west of the capital Amman.
After that period, they must self-isolate for an additional 14 days at home, according to Nizar Obeidat, spokesman for Jordan's virus task force.
Read the latest updates in our dedicated coronavirus section.
He told state-run al-Mamlaka television that "the use of the electronic bracelet began on Saturday for those self-isolating at home" in order to ensure quarantine rules are respected.
Jordan imposed tough measures, including curfews and the deployment of drones, to curb the spread of COVID-19, before easing policies in early June.
The kingdom has so far registered 1,147 coronavirus infections, including only 10 deaths.
For all the latest headlines follow our Google News channel online or via the app.
Flourish logoA Flourish chart
But health authorities have almost daily been reporting new cases among Jordanians and foreigners entering the country.
They have also maintained measures such as social distancing and the compulsory use of face masks in most public places, with those breaking the rules fined.
Several countries around the world have turned to electronic tracking devices including bracelets and smartwatches connected to special apps to contain the spread of coronavirus.
In March, Hong Kong began ordering all arrivals from overseas to wear electronic bracelets to monitor the observance of quarantine.
South Korea, China, Taiwan, and Singapore have also employed a range of tech solutions to tackle coronavirus.
https://english.alarabiya.net/en/coronavirus/2020/07/04/Jordan-slaps-electronic-bracelets-on-arrivals-to-monitor-coronavirus-quarantine.html
--------
Daesh kills 2, including 5-year-old, in Nigeria
05 July 2020
Takfiri Daesh terrorists have killed two civilians, including a five-year-old, in an attack in northeast Nigeria, the United Nations (UN) says.
Edward Kallon, the UN humanitarian coordinator in Nigeria, said in a statement on Saturday that the fatalities took place during an attack by the so-called West Africa Province (ISWAP) branch of Daesh in the town of Damasak in the northeasternBorno State.
The assault left several others injured.
Kallon said the terrorists also fired at and damaged a helicopter used to dispatch humanitarian support to the civilian population in vulnerable and hard-to-reach Nigerian states. He said no aid workers were on board at the time and crew members were all safe.
Kallon also called on the Nigerian authorities to reinforce the safety and security of humanitarian workers in the country's northeast, which is close to the border with Niger and dominated by the ISWAP.
"I strongly condemn any attack against civilians, humanitarian assets or aid workers and call on all armed parties to respect international humanitarian law and international human rights law, and ensure the protection of civilians, humanitarian property and personnel," Kallon said.
The attack was the second deadly assault against civilians and aid workers within a month.
The ISWAP made an alliance with the Boko Haram terrorist group in 2015 before separating in 2016.
ISWAP has been launching numerous attacks in Nigeria since Daesh lost all its urban strongholds in Iraq and Syria to government troops and allied fighters.
Both ISWAP and Boko Haram are notorious for ambushing military and civilian convoys on highways and abducting travelers at fake checkpoints.
Around 36,000 people have been killed in the decade-long Takfiri terrorism which has spilled over into neighboring Chad, Niger, and Cameroon and forced more than two million people to flee their homes.
https://www.presstv.com/Detail/2020/07/05/628923/Nigeria-Daesh-terrorist-attack-5-year-old
--------
Nigeria: UN condemns terror attack on civilians
05.07.2020
The UN on Saturday condemned a Boko Haram terror attack on civilians in a town in northeast Borno State that killed at least two people and injured several others.
Terrorists attacked Damasak, a volatile town along the Lake Chad shores Thursday, said UN Humanitarian Coordinator in Nigeria Edward Kallon.
"I am gravely concerned by reports of another violent attack by non-state armed group in Damasak," said Kallon. A five-year-old child was among the casualties.
The attack was not immediately reported because of a breakdown in telecommunication services in the area.
Kallon said an aid helicopter was badly damaged when Boko Haram fired at the aircraft. It was being used to facilitate humanitarian support to the civilian population in the vulnerable, hard-to-reach area after more than a decade of violence in the region.
The UN welcomed the government's commitment to bring terrorists to justice, he said.
The attack was the second deadly assault that targeted civilians and aid workers within one month.
More than 30,000 people have been killed in the region since 2009 by Boko Haram, according to a report by the National Emergency Management Agency.
https://www.aa.com.tr/en/africa/nigeria-un-condemns-terror-attack-on-civilians-/1900035
--------
Somalia: Bomb blasts kill 5 civilians, 1 police officer
Mohammed Dhaysane
04.07.2020
MOGADISHU, Somalia
At least six people including five civilians were killed and several others wounded on Saturday in separate bomb blasts in Somalia.
The first was a land mine that went off in the southwestern city of Baidoa, killing at least five people, all of them civilians, and wounding several others, Mowlid Ibrahim, a local police officer, told Anadolu Agency over the phone.
The second was a suicide car bomb blast that targeted a tax collection office located near the capital city port of Mogadishu, killing one police officer and wounding six, according to an Information Ministry statement.
Somali-based al-Qaeda affiliated group al-Shabaab claimed responsibility for the deadly attack.
The group claimed that it had killed two police officers and wounded eight others in a suicide bombing in Mogadishu.
Al-Shabaab was behind a truck-bombing attack in October 2017 in Mogadishu that took some 600 lives, the worst attack in the Horn of Africa country's history.
https://www.aa.com.tr/en/africa/somalia-bomb-blasts-kill-5-civilians-1-police-officer/1899955
--------
North America
US envoy Khalilzad pushing ahead with tricky Taliban peace deal
04 July 2020
Washington's envoy to Afghanistan stressed on Saturday the economic benefits of the peace deal with the Taliban, forging ahead with an agreement that has run into new political obstacles both in the US and regionally.
Zalmay Khalilzad was wrapping up a week-long trip that included stops in Uzbekistan, Pakistan and the Gulf state of Qatar, where the Taliban negotiators are headquartered.
The US signed a peace deal with the Taliban in February to end 19 years of war in Afghanistan.
Khalilzad has sought to stress the economic benefits of the peace deal throughout his tour. In a series of tweets early Saturday, the US envoy said he had met with the Qatar Investment Authority and the Taliban's chief negotiator Mullah Abdul Ghani, in the tiny Gulf state's capital of Doha.
"We agreed development plans in support of peace can never start too early," Khalilzad tweeted.
However, Washington has recently become embroiled in a controversy over intelligence reports that Russia was paying money to insurgents with links to the Taliban to kill American and NATO soldiers.
The identity of the insurgents who took the bounty money is still vague but the payments have been traced to an Afghan drug lord Rahmatullah Azizi, who is living in Moscow, according to Afghan officials who spoke with The Associated Press.
The officials said the money was delivered through Azizi's brother Wahidullah, who was the go-between for those facilitating the attacks on US troops.
The New York Times first reported the US intelligence claiming the payment of bounties as well as Azizi's involvement.
Added to the uncertainty and delays swirling around the US-Taliban peace deal, the Pentagon released a report on Wednesday that questioned the Taliban's commitment to end its ties with al-Qaida. The peace deal calls for the Taliban to fight against terrorist organizations and ensure Afghanistan would not be used again to attack US interests or its allies. Critics of the deal say the militants can't be trusted.
Read more: US intelligence says Russia ordered killing of American troops in Afghanistan: Report
Taliban spokesman Zabihullah Mujahid denied contacts with al-Qaida in the Indian Subcontinent, saying the insurgents were committed to the peace deal.
Khalizad embarked on his tour of the region last weekend, even as the rate of coronavirus infections in the United States soared and countries worldwide struggled with the dangers of re-opening. He did not travel to Afghanistan citing the dangers of the pandemic and instead held video conference calls with both Afghan President Ashraf Ghani and his government partner, Abdullah Abdullah.
Pakistan's Foreign Minister Shah Mahmood Qureshi tested positive for COVID 19, just 48 hours after meeting with Khalilzad. Both had been pictured wearing masks during their meeting on Wednesday in the Pakistani capital of Islamabad
Qureshi said he developed a fever on Friday and tested positive to the virus. But he promised to "carry on" his official duties from home.
For all the latest headlines follow our Google News channel online or via the app
Even as Khalilzad winds up his latest diplomatic mission, there was no date for crucial intra-Afghan negotiations that bring the Taliban together with the Afghan government and other local actors. Khalilzad called for a quick resolution of outstanding issues so those negotiations could begin.
Until now the biggest hurdle has been the release of prisoners.
The peace deal called for the Afghan government to free 5,000 Taliban prisoners, in exchange for the Taliban releasing 1,000 government personnel. So far the government has freed 3,500 and the Taliban around 700.
Ghani earlier this week suggested that his government had a problem with some of the names on the Taliban's list of prisoners to be released and said alternative names would be given.
It seems unlikely that the Taliban will accept anyone not on the list agreed upon during negotiations with the US.
Suhail Shaheen, the Taliban's political spokesman in Doha, called the Afghan government reasons for delaying prisoner releases "phony excuses" and the reason for the delay in beginning intra-Afghan talks.
Coronavirus infections
As of Saturday, Afghanistan recorded 32,600 coronavirus infections, but international NGOs say the rate is much higher and have warned that the country's war-ravaged healthcare system risks collapsing.
For more coronavirus news, visit our dedicated page.
Seemingly indicative of the lack of healthcare facilities in Afghanistan to deal with the virus, Ghani's special envoy for economic development, YosufGhaznafar, went to Turkey when he became ill with COVID-19. On Friday he died of the disease, according to a statement from the presidency. Ghaznafar is the senior most Afghan official to die of the virus.
Afghanistan has so far recorded 826 deaths from the virus.
https://english.alarabiya.net/en/News/world/2020/07/04/US-envoy-Khalilzad-pushing-ahead-with-tricky-Taliban-peace-deal.html
--------
URL: https://www.newageislam.com/islamic-world-news/geelanis-resignation-blows-lid-off/d/122290
New Age Islam, Islam Online, Islamic Website, African Muslim News, Arab World News, South Asia News, Indian Muslim News, World Muslim News, Women in Islam, Islamic Feminism, Arab Women, Women In Arab, Islamophobia in America, Muslim Women in West, Islam Women and Feminism