New Age Islam News Bureau
27 Dec 2013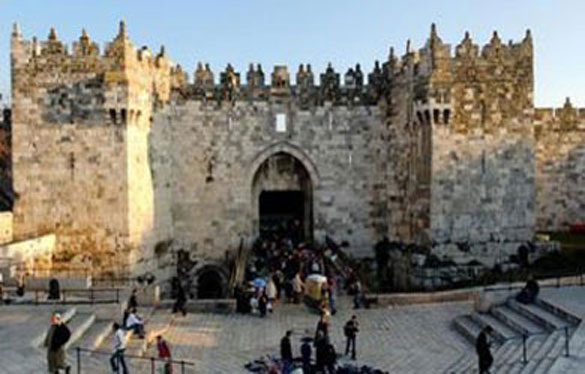 Gaza Christians Banned From Bethlehem and Celebrations Even At Christmas
-----------
Mideast
• Gaza Christians banned from Bethlehem and celebrations even at Christmas
• Hamas should disengage from 'terrorist' Muslim Brotherhood: Fatah
• 10 dead as army shells funeral tent in south Yemen
• Palestinians urge US to block new settlements
• "Azerbaijan - a pearl of the Islamic culture" exhibition opens in Istanbul
• Abbas denies back-channel diplomacy with Netanyahu
• Iran develops new generation of centrifuges
South Asia
• Government considering ban on Jamaat-e-Islami's politics, says Bangladesh Minister
• Freedom fighters vow to protect country against Jamaat-Shibir violence
• Gonojagoron Mancha demands severing trade ties with Pakistan
• Khaleda Zia would be tried for 'terrorism' one day: Hasina
• Six civilians killed in Kabul car bombing
• 3 coalition soldiers killed in Kabul car bombing
• Sino-Pak nuclear cooperation to continue: Chinese Ambassador
• Government must reward those who helped win presidency: Yameen
• Jamaat-Shibir make all-out preparations for Dhaka march
Southeast Asia
• We will keep on using Allah in Selangor churches, says priest
• Indonesia Ready to Be Southeast Asia's Peacekeeper
Arab World
• Syrian Army Destroys Militants' Hideouts in Aleppo, Idlib
• Saudi activist could be executed for alleged apostasy
• Those who harm Egyptians will 'vanish from the face of the earth': El-Sisi
• Kuwait court rejects former Al Qaida spokesman's citizenship claim
• Islamist charities targeted in Egypt
• Egypt arrests dozens of Brotherhood members under anti-terror law
• Former Minister among 5 killed in Lebanon bombing
• Egypt violence: One killed in Muslim Brotherhood clash
• Iran dissidents 'killed in Iraq missile attack'
Pakistan
• Army operation in North Waziristan faces debacle, says Jamaat-i-Islami chief
• Bangladesh cable operators seek ban on Pakistani TV channels
• Govt offers to bring Musharraf's ailing mother to Pakistan
• Benazir fought against dictators for democracy, says Zardari
• 'Democracy can solve all Balochistan's problems': Balochistan CM
India
• 34 kids died in camps for riot victims, admits UP govt
• 2002 riots: 'Ethnic cleansing, genocide are foreign terms... cannot be considered'
• Efforts on to ensure safety of Indian expatriates in south Sudan
• Jammu Festival revived after six years
Africa
• Second imam shot dead in Kenyan city this month
• 10 Somali soldiers killed in Mogadishu bombing
• Nigeria seeks deal to hunt Boko Haram inside Cameroon
• Six Chadian peacekeepers killed in Central African Republic
• CAR: Attack on presidential palace thwarted in Bangui
North America
• Canada set to host biggest convention of western Muslims
• US suit over Arabic flashcards rejected
• US not considering designating the Muslim Brotherhood as a terrorist organization
• Obama calls on Congress to do more on Guantanamo Bay
Europe
• Jihadists in Syria Draw Children of Muslims Who Settled in Europe
• Islamophobia: Surge revealed in anti-Muslim hate crimes
• Syrian developments demonstrate Russia's rejection of force for sake of peace - FM
• UN speeds up troop deployment as fighting rages in South Sudan
Compiled by New Age Islam News Bureau
For Details and More Headlines from All Regions, Please click, 'More'
URL: https://newageislam.com/islamic-world-news/gaza-christians-banned-bethlehem-celebrations/d/35029
---------
Mideast
Gaza Christians Banned From Bethlehem and Celebrations Even At Christmas
12/27/2013
Gaza (AsiaNews / Agencies ) - Christians living in Gaza are a mere 73 km from Bethlehem, but for most of them it is impossible to celebrate Christmas in the place where Jesus was born. As is now the case every year, in 2013 the Israeli government once again rejected hundreds of visa applications forwarded by Greek - Orthodox and Catholic Churches.
Suzy and Samer, are a young Orthodox couple. She is 22 years old, he 30. Both fall within the travel ban for religious festivals and to visit relatives living in the West Bank for Palestinians between 16 and 35. However, for years they have been sending their request to go to Bethlehem, even if it is rejected. Interviewed by the online newspaper Al- Monitor, Suzy said: "We were hoping to spend Christmas at the Church of the Nativity. But this seems impossible. There is very little festive spirit here in Gaza because of the economic situation and the limited scope of celebrations". Samer added that "it is every Christian's dream to spend the holiday in Bethlehem. Geographically, we are very close to the city, yet it is impossible to go there".
The Greek - Orthodox bishop Alexios says: "I have lived in Gaza for the past 12 years. I have witnessed all the wars and am now a witness to the harsh blockade imposed on the city and its inhabitants. I ask world powers to permit citizens of the Strip to exit and enter normally; for love is everywhere, but we must see it in our hearts." He added that the church submits applications each and every year, but approval is not his to give, and came from the authorities. He believes that the main problem lies in the war between the two peoples, leading to this blockade and a situation that affects mostly young people.
Jabr al- Jaldeh , head of religious relations of the Greek Orthodox church in Gaza, says that thousands Christians of all denominations have requested permission to travel to Bethlehem through the Patriarchate of Jerusalem on January 7. Some have received the visa, but 214 young people were rejected because their age ranged between 16 and 35 years.
For 2013, the Islamist Hamas government made ​​some concessions to Christians, allowing them to decorate some stores and to erect a Christmas tree in the city these days hit by a devastating flood that flooded most of the Gaza Strip. However, the celebrations permitted are limited to the secular while the religious festivities are confined to churches.
Lisa al- Souri, 20, and her husband of 27 Tarek are a couple of Catholics. Like the rest of the youth of Gaza's Christians they celebrated their last Christmas in Bethlehem more than 10 years ago. Lisa does note, however, that now it is also difficult to celebrate Christmas in Gaza itself. "In 2005 - she says - a large lighted tree was erected in the city centre and everyone participated in the celebrations. Unfortunately, this dates back some eight years ago. This was eight years ago. Instead of wishing to go to Bethlehem and celebrate there, I wish to celebrate as a Christian here in Gaza with the rest of the people, just as we did in the past".
http://www.asianews.it/news-en/Gaza-Christians-banned-from-Bethlehem-and-celebrations-even-at-Christmas-29903.html
------------
Hamas should disengage from 'terrorist' Muslim Brotherhood: Fatah
Dec 27 2013
The Palestinian Fatah movement has called on Hamas to disengage from the Muslim Brotherhood to protect the Palestinian people from "atrocities," Egypt's state-run news agency MENA reported Thursday.
The statement comes a day after the decision of Egypt's interim government to officially declare the Muslim Brotherhood a terrorist group.
Ahmed Assaf, the spokesman for Fatah, said in a statement that the continuation of Hamas's "subordination" to the international Muslim Brotherhood organisation will put millions of Palestinians -- especially those in the Hamas-ruled Gaza Strip -- in confrontation with several Arab states, including Egypt.
"This will lead to dangerous security and economic situation that will threaten the future and lives of the people there [in Gaza]," Assaf said.
Assaf called on Hamas, an ideological offshoot of the Muslim Brotherhood, to prioritise the interests of the Palestinians over other "partisan interests and foreign connections."
The Fatah leader said his movement, Hamas's main Palestinian rival, is confident of Egypt's awareness of the fact that Hamas forcefully controls Gaza, and represents a "small part" of the Palestinians living in the Gaza Strip.
"Most Palestinians are loyal only to their identity, culture and nation," Assaf concluded.
Egypt and Hamas: Tense relations
The relationship between Egypt and Hamas has become tense following the ouster of Egyptian president Mohamed Morsi in July, who hailed from the Muslim Brotherhood.
Since Morsi's ouster, the Islamist president has been charged with a number of crimes, including involvement with Hamas at the time of the Egyptian revolution.
Morsi, members of Hamas, Egypt's Muslim Brotherhood and Lebanon's Hezbollah movement are accused of storming prisons and the attempted murder of police officers on 28 January 2011.
The day saw mass protests in cities around Egypt against the rule of then-president Hosni Mubarak.
Titled "The Most Dangerous Terrorism Crime the Country Has Ever Seen," a statement issued by investigative judge Hassan Samir on 21 December accused the defendants of the attempted murder and kidnapping of three police personnel, and of detaining them in the Gaza Strip, along with other charges including possessing heavy weapons, committing aggressive acts, vandalising government facilities and looting "livestock, poultry and weapons" from prison warehouses.
The statement also accused the international Muslim Brotherhood organisation of concocting a "terrorist plan" in collaboration with Hamas and Hezbollah "to give up part of the Sinai Peninsula for the resettlement of Palestinians from Gaza."
On 18 December, prosecutors released new charges against the ousted president, of "collaborating with foreign organisations to commit terrorist acts in Egypt and revealing defence secrets to a foreign country," also naming Hamas and Hezbollah and running between the period 2005 to 2013.
Since Morsi's ouster, the Egyptian armed forces have launched a large-scale operation against militant groups who had stepped up their attacks against security forces in the northern Sinai Peninsula.
Cairo has repeatedly accused Hamas of interfering in its internal affairs to support Morsi and his Muslim Brotherhood and launching joint attacks with hard-line Islamists in Sinai, a position that was repeatedly denied by Hamas leaders.
Egypt, however, has warned of a military response if Hamas or any other Palestinian group tries to violate Egyptian security, Reuters reported in September.
Egyptian Foreign Minister Nabil Fahmy told the London-based newspaper Al-Hayat there was "tension" in relationship with Hamas. He suggested Hamas was not helping enough to secure the border.
"If Hamas proves through actions and not words -- and unfortunately there are many negative indicators -- its good intentions, then it will find an Egyptian party that ... protects the Palestinian side," Fahmy said.
In the post-Morsi period, Egyptian authorities have only intermittently opened the Rafah border with the Gaza Strip. The Rafah crossing is the only official gateway for the 1.7 million Gazans who live in the enclave, which is being blockaded by Israel.
Egypt has allowed only authorised travellers such as foreign nationals, visa holders, and patients seeking medical treatment, to cross.
Bassein Naim, advisor to Gaza premier Ismail Haniyeh, revealed communication between the Islamist government and Egypt's interim cabinet mainly through the General Intelligence Apparatus, MENA reported in November.
"These communications had positive implications; chief among them is the opening of the Rafah border crossing every now and then," Naim said in a press statement, adding that he wished for an improvement in "the circumstances, the means and the results of communication."
Naim further expressed his hope for a complete and undisrupted opening of the crossing, given that its closure has negatively impacted "everyone and everything in Gaza."
On Tuesday, Hamas denied involvement in bomb attack in the northern Egyptian city of Mansoura that killed 15 and injured 134 when a large explosion hit the city's security directorate, causing widespread damage to buildings in the vicinity including the city's council building, a state-owned theatre and a bank.
The Palestinian Islamist movement's spokesperson Sami Abu Zuhri said in a statement that the group had no link to this attack or any other in Egypt, and that Hamas condemns such accusation.
http://english.ahram.org.eg/NewsContent/2/8/90073/World/Region/Hamas-should-disengage-from-terrorist-Muslim-Broth.aspx
----------
10 dead as army shells funeral tent in south Yemen
AFP | Dec 27, 2013
ADEN: An army tank shelled a funeral tent erected by the Southern Movement at a school in Yemen on Friday, killing 10 people among them children, a medic and witnesses said.
"We received 10 bodies, among them children, and 15 wounded people," the medic from Al-Nasr hospital in the southern province of Daleh told AFP.
Witnesses said that an army tank had shelled the tent in Sanah, 300 km south of the Yemeni capital in Daleh province, in an attack linked to tension between southerners and the political and military authorities.
One witness told AFP by telephone that troops fired more shells "when we tried to hospitalize the casualties," adding that "there are wounded victims still inside the tent."
The tent was set up by the Southern Movement, which is campaigning for autonomy or outright secession for the formerly independent south, for mourners paying condolences following the death of a man killed during clashes with security forces on Monday.
The clashes in Daleh erupted when southern secessionists attempted to storm the governorate building to hoist a flag of the former South Yemen, which was an independent state until it was united with the north in 1990.
The gunfight left two Yemeni policemen and a civilian dead.
Violence has intensified in south Yemen amid tribal anger over the killing of a local chief and his bodyguards at a checkpoint earlier this month.
http://timesofindia.indiatimes.com/world/middle-east/10-dead-as-army-shells-funeral-tent-in-south-Yemen/articleshow/28015192.cms
----------
Palestinians urge US to block new settlements
Dec 27 2013
A senior negotiator says the Palestinian president has appealed to the US to block plans by Israel to announce new settlement construction.
Top Palestinian negotiator Saeb Erekat said President Mahmoud Abbas voiced his plea at a late-night meeting with senior US officials Thursday in West Bank.
Abbas "asked for US intervention to stop the Israeli government from issuing new settlement decisions in order to save the peace process and the American efforts," Erekat said Friday.
An Israeli official said the government is expected to announce new settlement construction next week. Channel 2 TV reported the plan will include hundreds of new homes in the West Bank and east Jerusalem — captured territories claimed by the Palestinians.
http://english.ahram.org.eg/NewsContent/2/8/90150/World/Region/Palestinians-urge-US-to-block-new-settlements.aspx
---------
"Azerbaijan - a pearl of the Islamic culture" exhibition opens in Istanbul
Dec 27, 2013
A photo exhibition named "Azerbaijan - the pearl of the Islamic culture" dedicated to the birthday of Azerbaijani President Ilham Aliyev has been held at the Ciragan Palace in Istanbul.
The exhibition, organized by the State Committee for Work with Religious Associations of Azerbaijan (SCWRO) featured photos reflecting the Azerbaijani president's activities on the restoration of historical monuments and construction of new mosques and promoting expansion of Islamic religion and architecture.
Visitors of the exhibition have been informed that the number of mosques in Azerbaijan increased from the 17 to 1700 over the last 20 years. Moreover, it was noted that the oldest mosque in the South Caucasus - Juma Mosque in Shamakha, which was destroyed and burned by Dashnaks and Bolsheviks in 1918, was restored in accordance with the presidential decree.
The exhibition was attended by the Turkish and foreign social and political figures, members of the parliament and representatives of mass media.
Earlier, the same exhibition was held at the Osman Gazi University in Eskisheher within the framework of the International Symposium on the theme of "Cultural Bridges from Caucasus to Anatolia: Seyid Yahya Bakuvi and Khalvati movement".
http://www.azernews.az/culture/62940.html
---------
Abbas denies back-channel diplomacy with Netanyahu
Dec 27 2013
The Palestinian Authority on Thursday denied that that PA President Mahmoud Abbas and Prime Minister Binyamin Netanyahu have been conducting secret talks.
Nabil Abu Rudaineh, a spokesman for Abbas, said that the Palestinians were not conducting any behind-the-scenes negotiations with Israel.
The denial came in response to a report in Yedioth Ahronoth, which revealed that Netanyahu and Abbas have been maintaining a secret channel of talks for several years.
According to the report, attorney Yitzhak Molcho, Netanyahu's confidant, has been travelling to London from time to time and meeting with one of Abbas's associates.
This back-channel diplomacy includes an exchange of messages and ideas and is aimed at solving problems troubling both sides, the report said.
A source told the paper that Bassel Aqel, a Palestinian businessman living in London, may be Abbas's representative to the secret talks.
It said that there are three goals to back-channel diplomacy: solving daily problems on the ground; preparing the ground for a major diplomatic breakthrough; and creating an impression among those involved in the secret talks that there is an interest in making political progress while the formal negotiations are deadlocked.
Full report at:
http://www.jpost.com/Middle-East/Abbas-denies-back-channel-diplomacy-with-Netanyahu-336268
---------
Iran develops new generation of centrifuges
IANS | Dec 27, 2013
TEHRAN: Iranian nuclear chief said on Friday the country is developing a new generation of centrifuges for uranium enrichment.
The Islamic republic currently has 19,000 centrifuges and is developing a new generation of centrifuges which needs all kinds of tests before operation, reported Xinhua citing Ali-Akbar Salehi, head of the Atomic Energy Organization of Iran (AEOI).
Iran is among the countries that are able to implement the full process of nuclear fuel production cycle, he said, without providing further details on the new generation of centrifuges.
Full report at:
http://timesofindia.indiatimes.com/world/middle-east/Iran-develops-new-generation-of-centrifuges/articleshow/28016045.cms
-----------
South Asia
Government considering ban on Jamaat-e-Islami's politics, says bangladesh Minister
Dec 27 2013
Information Minister Hasan ul Haque Inu yesterday said the government was considering a ban on Bangladesh Jamaat-e-Islami's politics following the court verdicts and taking the organisation's recent activities in consideration. The minister also termed the "March for Democracy" programme on December 29, as "March for Destruction." Inu made the remarks while talking to the media at his secretariat office, just hours after the Communications Minister; Obaidul Quader said the government had nothing to say about the march, if it was non-violent. Contradicting Quader's statement, Inu said: "The government will prevent such steps legally and politically. It is better not to let the opposition to hold programmes that may hinder the polls process. There is no alternative of holding the election to uphold the constitution." He claimed, the main opposition was trying the save the war criminals, terrorists, arsonists, and Jamaat activists by forming the "democracy protection committee" across the country.
http://www.dhakatribune.com/politics/2013/dec/27/government-considering-ban-jamaat%E2%80%99s-politics-says-inu#sthash.4t2QDSPb.dpuf
---------
Freedom fighters vow to protect country against Jamaat-Shibir violence
Dec 27 2013
Freedom fighters in Chittagong yesterday vowed to take up arms again as in 1971, if required, for the sake of protecting the country from the anarchy of Jamaat-e-Islami and Islami Chhatra Shibir.
Jamaat-Shibir is trying to destroy the country through creating anarchy in the name of blockades and movement, freedom fighter Nazrul Islam Chowdhury told a rally at the Central Shaheed Minar in the port city.
"We freedom fighters have submitted our arms but not our training," he said. "If necessary we have to take arms in hands again to save the country."
Full report at:
http://www.thedailystar.net/city/ffs-vow-to-protect-country-against-jamaat-shibir-violence-4207#.Uss_3tJDsqM
---------
Gonojagoron Mancha demands severing trade ties with Pakistan
Dec 27 2013
Gonojagoron Mancha activists yesterday demanded that the government sever trade relations with Pakistan unless the country apologises for its December 16 National Assembly resolution criticising war criminal Abdul Quader Mollah's execution.
A six-member delegation led by its Spokesperson Imran H Sarker met Commerce Secretary Mahbub Ahmed at the latter's office in the capital and submitted a letter.
The letter included the demand for not allocating stalls for Pakistani products in the upcoming Dhaka international trade fair.
Full report at:
http://www.thedailystar.net/city/gonojagoron-mancha-demands-severing-trade-ties-with-pakistan-4198#.Uss_2dJDsqM
---------
Khaleda Zia would be tried for 'terrorism' one day: Hasina
2013-12-27
FARIDPUR: Bangladeshi Prime Minister Sheikh Hasina said the country would hold the trial of main opposition leader Khaleda Zia one day for unleashing terrorism and militancy in the name of movement.
Speaking at a public rally in Faridpur on Thursday, she said: "We believe in justice. The opposition leader will be charged with issuing orders for killing and burning people to death. Her trial will be held on Bangladesh's soil."
Hasina, the chief of Awami League, was addressing the rally as part of the first leg of her electioneering for the Jan 5 polls in favour of party candidate Kazi Zafarullah.
Urging the opposition leader not to play with the fate of people, she said her arch rival would have to shoulder responsibility for the death of so many people across the country.
The Bangladesh Nationalist Party, headed by Zia, is at the head of an 18-party opposition alliance which has refused to take part in the polls after Hasina blocked their demands to stand down and let a neutral caretaker government oversee the contest.
Full report at:
http://www.dawn.com/news/1076711/khaleda-zia-would-be-tried-for-terrorism-one-day-hasina
---------
Six civilians killed in Kabul car bombing
December 27, 2013
A suicide bomber targeted a convoy of the coalition security forces in capital Kabul on Friday afternoon, leaving at least six civilians and three NATO soldiers dead.
The blast took place in Pul-e-Charkhi area of Kabul city after a suicide bomber detonated a vehicle packed with explosives near the coalition forces vehicles.
Hashmatullah Stanekzai, spokesman for the Kabul security commandment confirmed the incident and said, preliminary reports suggest at least six civilians were killed following the explosion.
Taliban group spokesman, Zabiullah Mujahid claimed that heavy casualties were incurred to coalition forces following the suicide attack in the 9th district of Kabul city.
http://www.khaama.com/suicide-bomber-attack-coalition-forces-convoy-in-kabul-city-2645
---------
3 coalition soldiers killed in Kabul car bombing
Dec 27, 2013
The U.S.-led coalition in Afghanistan said that three service members were killed on Friday when a suicide car bomber attacked their convoy in an eastern district of the capital, Kabul.
The International Security Assistance Force didn't provide details on the identities or nationalities of those killed.
Full report at:
http://www.thehindu.com/news/international/south-asia/3-coalition-soldiers-killed-in-kabul-car-bombing/article5508240.ece
---------
Government must reward those who helped win presidency: Yameen
By Mariyath Mohamed | December 26th, 2013
President Abdulla Yameen has refuted allegations that his administration was creating a high number of political posts, but said the government must provide incentives for those who helped him win the presidency.
"We are not creating useless political positions just to appoint persons to them," Yameen told the press at a Wednesday event in which former President Dr Mohamed Waheed and senior members of his party joined his ruling Progressive Party of Maldives (PPM).
Yameen said members of the ruling coalition were only raised to political positions after the resignation or dismissal of those who currently filled the posts.
Full report at:
http://minivannews.com/politics/government-must-reward-those-who-helped-win-presidency-yameen-74071
---------
Sino-Pak nuclear cooperation to continue: Chinese Ambassador
2013-12-27
ISLAMABAD: The Ambassador of People's Republic of China to Pakistan, Sun Weidong said on Friday the cooperation with Pakistan on the nuclear program would continue and the reservations of some states in this regards were baseless, DawnNews reported.
The Ambassador said the Pak-China civil nuclear cooperation was according to the standards set by the International Atomic Energy Agency and the deal would soothe Pakistan's energy-starved state and the economic condition as well.
While speaking to the media representatives in the Foreign Office, the Chinese Ambassador said the concept of an economic corridor would bring an economic revolution in western China and Pakistan, and for the completion of this purpose Pakistan and China would have to work in unison.
Full report at:
http://www.dawn.com/news/1076725/sino-pak-nuclear-cooperation-to-continue-chinese-ambassador
----------
Jamaat-Shibir make all-out preparations for Dhaka march
Dec 27 2013
Jamaat-e-Islami is planning to use all its strength to make the opposition's December 29 programme to march to Dhaka a success, party insiders told the Dhaka Tribune. Several senior leaders told the Dhaka Tribune that they would stage a massive showdown on the day, and that they were taking full preparations to tackle the situation if law enforcement created any obstacles to foil this "March for Democracy." A senior Jamaat leader told the Dhaka Tribune that the party had plans to bring at least one lakh activists to Dhaka for the programme. He also said they had instructed their activists to take preparation to stay there for days if necessary. He said the party had instructed its activists to bring dry food and water so that they would not face problems in stay there for several days.
Full report at:
http://www.dhakatribune.com/politics/2013/dec/27/jamaat-shibir-make-all-out-preparations-dhaka-march#sthash.b2Edderg.dpuf
---------
Southeast Asia
We will keep on using Allah in Selangor churches, says priest
Dec 27 2013
Catholic churches in Selangor will continue to use the word Allah during its weekend services in Bahasa Malaysia despite the state's Islamic Religious Department (Jais) intention to send them reminders on a 1988 state enactment prohibiting non-Muslims from using the word.
Catholic weekly Herald editor Rev Father Lawrence Andrew said Article 11(3) (A) of the Federal Constitution prescribes that every religious group has its right to manage its own religious affairs.
"Our religion cannot be managed by any Muslim group. It is against the Federal Constitution.
"We will continue to use the word Allah in our masses," he told The Malaysian Insider today.
He said that Jais as an Islamic body has no jurisdiction over other religious bodies.
"At the moment, the case is still in court and no decision has been made yet. They can't pre-empt this," he added.
Full report at:
http://www.themalaysianinsider.com/malaysia/article/we-will-keep-on-using-allah-in-selangor-churches-says-priest
---------
Indonesia Ready to Be Southeast Asia's Peacekeeper
Dec 27 2013
Indonesia will continue to play a role as facilitator to reduce tension and avoid conflicts in Asia and the Pacific region, as the United States and China look to engage in a heated rivalry in the region in the coming months.
As new tensions emerging in the East China Sea could spill over to the South China Sea, Foreign Minister Marty Natalegawa guarantees that Indonesia will remain neutral, and will actively contribute to maintain peace in the region.
"While we have a global perspective, our focus is in our region where we live. Our foreign policy's cornerstone will still be prioritizing diplomacy and negotiation to solve all problems, while avoiding the use of violence," he told the Jakarta Globe in an interview last week.
Possible conflicts threaten to tear the region apart as countries are still facing a deficit of trust generated by internal territorial conflicts.
Full report at:
http://www.thejakartaglobe.com/news/ready-to-be-southeast-asias-peacekeeper/
---------
Arab World
Syrian Army Destroys Militants' Hideouts in Aleppo, Idlib
December 27, 2013
TEHRAN (FNA)- Syrian army continued its mop-up operations against foreign-backed militants in several areas, killing tens of armed rebels in Aleppo and Idlib.
A military source said on Thursday that scores of militants were killed in the villages of Jadideh, Erbid, Kwairis, al-Zarzour, Mayer and al-Ziyarah and surrounding Aleppo central prison, al-Tamourah, surrounding the thermal station as their tools were also destroyed.
The source said that a big number of militants were killed in the industrial area, al-Wdaihi, Ebtin, Blas and Hadadin. Militants' weapons and ammunition were also destroyed.
Army eliminates militants in Idlib countryside
Full report at:
http://english.farsnews.com/newstext.aspx?nn=13921005000652
----------
Saudi activist could be executed for alleged apostasy
Dec 27 2013
A Saudi judge has recommended that a liberal activist be tried in a higher court for apostasy, a charge that could carry the death penalty, rights campaigners said Thursday.
A court in the ultra-conservative kingdom sentenced Raef Badawi in July to seven years in jail and 600 lashes for setting up a "liberal" network and for allegedly insulting Islam.
On Wednesday, a judge remanded Badawi to the General Court on charges of apostasy, rights lawyer Waleed Abulkhair told AFP.
After Badawi's sentence, the appeals court had sent the case back to the court of first instance, where a newly-appointed judge remanded it to the General Court, saying his lower court was not qualified to deal with the case, Abulkhair explained.
Human rights activists said, however, that the apostasy charge was only a recommendation from the judge and not a decision.
Full report at:
http://english.ahram.org.eg/NewsContent/2/8/90091/World/Region/Saudi-activist-could-be-executed-for-alleged-apost.aspx
---------
Those who harm Egyptians will 'vanish from the face of the earth': El-Sisi
Dec 27 2013
Army chief and Minister of Defence Abdel Fattah El-Sisi said Thursday that Egypt will stand still in the face of "terrorism" and that the Egyptian people will never feel fear as long as the Egyptian army exists, Al-Ahram Arabic website reported.
El-Sisi, in a speech given at a graduation ceremony for non-commissioned officers, urged attendees not to let recent terrorist attacks dampen their spirits.
On Tuesday, a bomb exploded near a security directorate in the Nile Delta city of Mansoura, killing 16, mostly security personnel, and injuring more than 135.
El-Sisi said that the "freedom and stability" that the Egyptians seek will not come by easily, and that Egyptians have to "put their trust in God, the army and the civilian police to take Egypt to freedom, stability and progress."
Full report at:
http://english.ahram.org.eg/NewsContent/1/64/90106/Egypt/Politics-/Those-who-harm-Egyptians-will-vanish-from-the-face.aspx
---------
Kuwait court rejects former Al Qaida spokesman's citizenship claim
Dec 27, 2013
Kuwait: A Kuwaiti court has rejected a petition by a former Al Qaida spokesman to reclaim his Kuwaiti citizenship revoked by the Gulf state over his militant activities, a newspaper reported Thursday.
In a ruling issued Wednesday, the administrative court based its rejection on the grounds that Sulaiman Abu Gaith, the son-in-law of slain Al Qaida chief Osama Bin Laden, was a member of a group that carried out terrorist attacks killing innocent people, Al Qabas daily reported.
The Kuwaiti government withdrew the nationality of Abu Gaith, currently on trial in a New York court on terror charges, immediately after the September 11, 2001 attacks in the United States that killed several thousand people.
Full report at:
http://gulfnews.com/news/gulf/kuwait/kuwait-court-rejects-former-al-qaida-spokesman-s-citizenship-claim-1.1270956
---------
Islamist charities targeted in Egypt
Dec 27, 2013
Cairo: Egypt's military-backed government this week ordered freezing the assets of more than 1,000 Islamist charity groups as part of a draconian crackdown on the one-time governing Muslim Brotherhood.
Government officials said the move was in compliance with a September court ruling outlawing the Brotherhood and freezing assets of its subsidiaries.
Most such charities have denied links to the Brotherhood, warning that the asset freeze will hit thousands of poor people in Egypt hard where around 40 per cent of the 85 million population are believed to live below the poverty line.
"We are a religious and social society, which has nothing to do with politics or the Brotherhood," said Abul Atta Abdul Qader, a board member of Ansar Al Sunna, one of around 1,055 charity organisations covered by the controversial ban.
Full report at:
http://gulfnews.com/news/region/egypt/islamist-charities-targeted-in-egypt-1.1271285
---------
Egypt arrests dozens of Brotherhood members under anti-terror law
Dec 27 2013
CAIRO - Egypt increased pressure on the Muslim Brotherhood on Thursday, detaining dozens of its supporters on suspicion of belonging to a terrorist organization the day after it was declared one by the government, security officials said.
A bomb blast in a Cairo suburb wounded five people - the second attack this week after a suicide bomber killed 16 people north of the capital on Tuesday. Army chief Abdel Fattah al-Sisi, who led the overthrow of President Mohamed Morsi in July, said Egypt would be "steadfast" in the face of terrorism.
The Cairo blast, which blew windows out of a bus, appeared to be the first aimed at civilians in a recent wave of attacks. But there was no claim of responsibility to say what had been targeted. A second device found nearby was defused.
Full report at:
http://www.jpost.com/Middle-East/Egypt-arrests-dozens-of-Brotherhood-members-under-anti-terror-law-bomb-hits-Cairo-336317
---------
Former Minister among 5 killed in Lebanon bombing
Dec 27 2013
The former Lebanese Finance Minister Mohamad Chatah has been assassinated in a big bomb blast in central Beirut.
He was an adviser to the former Prime Minister Saad Hariri, a Sunni Muslim.
Four others were also killed in the suspected car bombing near government offices and the parliament. At least 50 people were injured.
The Syrian war has increased Lebanon's Sunni-Shia tensions. Lebanon's Shia Hezbollah movement is helping Syria's President Bashar al-Assad.
President Assad comes from the Alawite sect, a heterodox offshoot of Shia Islam.
The Beirut blast damaged several buildings near the Phoenicia Hotel and set several cars ablaze.
Full report at:
http://www.bbc.co.uk/news/world-middle-east-25524729
---------
Egypt violence: One killed in Muslim Brotherhood clash
Dec 27 2013
One person has been killed in clashes between student supporters of Egypt's Muslim Brotherhood and residents in the capital Cairo, officials say.
They say one of the students died after the two sides exchanged gunfire in the Nasr City district.
It comes a day after the government declared the Islamist Muslim Brotherhood a terrorist organisation.
In a separate incident, five people were injured by a bomb close to a bus in Nasr City.
The bomb was planted on a pedestrian island and exploded as the bus passed by.
No group has so far claimed responsibility for the bomb blast.
A security source told the BBC that explosive experts had detonated a second bomb that was planted in an advertising board close to where the first explosion went off.
Earlier on Thursday, at least 16 members of the Brotherhood were detained on charges of belonging to a terrorist group.
Full report at:
http://www.bbc.co.uk/news/world-middle-east-25518116
---------
Iran dissidents 'killed in Iraq missile attack'
Dec 27 2013
A rocket attack has killed three members of an Iranian opposition group in Iraq, the group and its parent organisation say.
They say a number of people from the Mujahideen-e-Khalq (MEK) group were injured at Camp Liberty in Baghdad.
Baghdad has in the past repeatedly denied attacking the group.
MEK members fought with Iraq against Iran in the 1980s, but have since fallen out with the current Iraqi government.
In an emailed message, the Paris-based National Council of Resistance of Iran (NCRI), the MEK's parent group, said dozens of missiles hit the camp on Thursday evening.
Full report at:
http://www.bbc.co.uk/news/world-middle-east-25523482
---------
Pakistan
Army operation in North Waziristan faces debacle, says Jamaat-i-Islami chief
2013-12-27
MANSEHRA: Jamaat-i-Islami chief Munawar Hassan on Thursday warned that the army would suffer a debacle if it continued with the military operation in North Waziristan Agency.
"I want to make it clear to the government that North Waziristan is not like of South Waziristan, Buner and Swat and if it (government) doesn't stop military operation there, then the military is bound to suffer a disastrous failure and thus, harming national interest," Mr Hassan told participants of a condolence reference here.
The reference was held in the memory of JI leader Younas Khattak, who had died of cardiac arrest the other day.
The JI chief said the government had launched the North Waziristan offensive to please the US though it was against the national interest.
He said no military operation carried in the country since its creation had produced desirable results.
"Though our soldiers are highly skilled and have high morale but whenever it began operation against own people, it suffered setback whether it's West Pakistan, Balochistan or Karachi," he said.
Full report at:
http://www.dawn.com/news/1076655/army-operation-in-north-waziristan-faces-debacle-says-ji-chief
---------
Bangladesh cable operators seek ban on Pakistani TV channels
Dec 27 2013
DHAKA: The Cable Operators Association of Bangladesh (Coab), a body of cable operators in Bangladesh, threatened on Thursday that they would take all Pakistani television channels in Bangladesh off-air, Thedailystar.net reported.
The ban, if enacted, will be yet another step towards a complete breakdown in fast deteriorating ties between Pakistan and Bangladesh.
It has been reported that the ban on Pakistani channels will be put into effect due to rising tension between the two countries following JI leader Abdul Quader Molla's hanging.
Pakistani investors who have invested into Bangladesh also face uncertainty after the incident.
Full report at:
http://tribune.com.pk/story/650893/bangladesh-government-to-ban-pakistan-tv-channels/
---------
Govt offers to bring Musharraf's ailing mother to Pakistan
PTI | Dec 27, 2013
ISLAMABAD: The Pakistan government on Friday offered to bring former military ruler Pervez Musharraf's ailing mother from Dubai in a special aircraft as a humanitarian gesture so that the two could be reunited.
The government would "provide all available medical facilities for the treatment" of Musharraf's 95-year-old mother, said a statement from the Prime Minister's Office.
The government is ready to send a special plane or air ambulance to bring Musharraf's mother to "Pakistan on humanitarian grounds so that she can get treatment in Pakistan and live with her son", the statement said.
Full report at:
http://timesofindia.indiatimes.com/world/pakistan/Govt-offers-to-bring-Musharrafs-ailing-mother-to-Pakistan/articleshow/28009382.cms
----------
Benazir fought against dictators for democracy, says Zardari
2013-12-27
LARKANA: PPP co-chairman and former president Asif Ali Zardari said on Thursday that Benazir Bhutto had fought against dictators for restoration of democracy in the country.
Addressing the Shaheed Benazir Bhutto Women Excellence Award-2013 ceremony held in Naudero, he said the slain PPP leader had taken what he called unparalleled steps for socio-economic development and empowerment of women. Because of her sincere efforts women rose to prominence in society and enjoyed the status they deserved.
Mr Zardari asked the Sindh chief minister to double the allocation for the revolving fund established by the provincial government's women development department.
Full report at:
http://www.dawn.com/news/1076658/benazir-fought-against-dictators-for-democracy-says-zardari
---------
'Democracy can solve all Balochistan's problems': Balochistan CM
December 27, 2013
LAHORE: Balochistan Chief Minister Abdul Malik Baloch said on Thursday he hoped his government would succeed in persuading the rebellious groups that the solution to their problems lay within the Federation of Pakistan.
Addressing media men at the Lahore Press Club on Thursday, the chief minister said the economic and political issues of Balochistan could be resolved through democratic institutions.
"We have taken steps to make Balochistan a corruption-free province," he said.
Baloch said the government of Balochistan had already held the local government elections in the province.
Full report at:
http://tribune.com.pk/story/651022/healing-touch-democracy-can-solve-all-balochistans-problems/
----------
India
34 kids died in camps for riot victims, admits UP govt
TNN | Dec 27, 2013
LUCKNOW: The Uttar Pradesh government on Thursday admitted that 34 children — all below 12 years — died at the relief camps in Muzaffarnagar and Shamli districts between September 7 and December 20, 2013.
The death toll was confirmed by the high-powered committee constituted by the government to look into the deaths of infants as reported by the media. The panel submitted its report to the government on December 25 and the findings would now be placed before the Supreme Court which is hearing petitions related to different aspects of the communal riots in Muzaffarnagar in which 61 persons were killed and over 50,000 got displaced.
Briefing newsmen about the findings of the panel, Principal secretary (home) A K Gupta said, 4,783 people were still living in five camps including one in Loi in Muzaffarnagar district and another four at Madarsa Taimul Shah, Malakpur, Barnavi and Edgah in Shamli district. He said most of the children who lost their lives were the ones who had been taken outside the camps for treatment by their parents or were referred to government hospitals, Gupta said. "The cause of the death of all these children was different. Four of them died of pneumonia while some breathed their last due to dysentery. One infant died due to premature birth," Gupta added.
Full report at:
http://timesofindia.indiatimes.com/india/34-kids-died-in-camps-for-riot-victims-admits-UP-govt/articleshow/27989153.cms
---------
2002 riots: 'Ethnic cleansing, genocide are foreign terms... cannot be considered'
Dec 27 2013
Ahmedabad: In her petition challenging the clean chit given by a special investigation team to Narendra Modi and others in the Gulbarg Society killings, Zakia Jafri had used the expressions "ethnic cleansing" and "genocide". On Thursday, Ahmedabad metropolitan magistrate B J Ganatra dismissed both "foreign terms" as not applicable while rejecting Zakia's petition.
Ganatra also rejected the "larger conspiracy" argument raised by Jafri. Excerpts from his order:
'Foreign terms'
"Based on all the witness statements and documents on record, this court has to see whether the Gulbarg Society incident was because of a conspiracy by powerful people in the state government or not. And whether, as the complainant says, this can be called 'ethnic cleansing' and 'genocide'."
Full report at:
http://www.indianexpress.com/news/2002-riots-ethnic-cleansing-genocide-are-foreign-terms...-cannot-be-considered/1212232/
---------
Efforts on to ensure safety of Indian expatriates in south Sudan
SANDEEP DIKSHIT
Dec 27 2013
A small team of Indian diplomats is working overtime to ensure the safety of 150-odd Indian expatriates in south Sudan where inter-ethnic violence has resulted in a worrying security situation.
The team of Indian Ambassador Pramod Bajaj and two diplomats along with a handful of locally employed staff are trying to keep in touch with the Indians serving in scattered locations as well as their employers as security deteriorates in the region.
Thus a total of 100-150 Indian nationals remain in south Sudan and all were advised to leave using commercial flights , said officials here.
"Our envoy Pramod Bajaj and his team have been toiling to ensure the safety and security of Indian nationals in south Sudan,'' pointed out a Ministry of External Affairs official.
Mr. Bajaj had just come off from a high pressure posting in New York where he was Devyani Khobragade's predecessor as Deputy Consulate General.
Full report at:
http://www.thehindu.com/news/national/efforts-on-to-ensure-safety-of-indian-expatriates-in-south-sudan/article5505108.ece
---------
Jammu Festival revived after six years
Dec 27 2013
The Jammu Festival, aimed at showcasing the rich culture, heritage and traditions of the city, began with a scintillating recital on the santoor, enthralling many visitors.
The six-day long festival was inaugurated by Governor N.N. Vohra and Tourism Minister Gulam Ahmed Mir at the General Zorawar Singh Auditorium of Jammu University on Wednesday.
Addressing a gathering, Governor Vohra complimented Mr. Mir for taking the initiative and reviving the Jammu Festival after a gap of six years. He hoped the people of Jammu would enjoy the five-day programme and the festival would be a memorable experience for them.
A melodious confluence of the tabla and the santoor, played by Pandit Shiv Kumar Sharma, filled the air, mesmerising the 1,000-strong audience.
Full report at:
http://www.thehindu.com/news/national/other-states/jammu-festival-revived-after-six-years/article5504938.ece
---------
Africa
Second imam shot dead in Kenyan city this month
Dec 27 2013
A Muslim community leader was shot dead by unidentified gunmen in the coastal Kenyan city of Ukunda on Wednesday, the local police force has revealed.
Salim Mwasalim, 60, was shot dead while walking home from the mosque. Jack Ekakoro, a local security official, said "He appears to have been a target of the attackers."
He is the second Muslim cleric to be killed in the region this month, following the assassination of Hassan Mwayuyu on December 6.
http://www.worldbulletin.net/?aType=haber&ArticleID=125771
---------
10 Somali soldiers killed in Mogadishu bombing
Dec 27 2013
Ten Somali soldiers were killed on Friday in a deadly bombing at a café in the capital Mogadishu.
According to eyewitnesses, the explosion was caused by a mine planted in the café, frequented by government forces.
At least 11 soldiers were injured in the blast.
No group has yet claimed responsibility for the attack.
http://www.worldbulletin.net/?aType=haber&ArticleID=125767
---------
Nigeria seeks deal to hunt Boko Haram inside Cameroon
World Bulletin / News Desk
Dec 27 2013
Nigeria is negotiating a security agreement with Cameroon and France to grant its troops access to Boko Haram settlement in the former French colony, which officials claim has become the new haven for the fighters.
"It is discovered that Boko Haram terrorists now launch attacks on Nigeria from their hideouts in villages located on the Cameroonian side of the border," a Defense Ministry official told Anadolu Agency on Thursday, requesting anonymity for the sensitivity of the issue.
"It is for this reason that we are seeking an agreement with Cameroon and France which still maintains some military outpost in its former colony to enable our troops to, where and when necessary, chase these terrorists down to their haven," he added.
Full report at:
http://www.worldbulletin.net/?aType=haber&ArticleID=125754
--------
Six Chadian peacekeepers killed in Central African Republic
Reuters | Dec 26, 2013
BANGUI: Six Chadian peacekeepers were killed by militia in the capital of Central African Republic during hours of sporadic fighting on Wednesday, a spokesman for the African Union peacekeeping mission (MISCA) said.
The Chadians were attacked by "anti-balaka" militia in the Gabongo neighbourhood of Bangui, near the airport, MISCA spokesman Eloi Yao told Reuters.
Five of them were killed immediately on Wednesday during fighting in Bangui which displaced hundreds of people. The violence eased on Thursday as French peacekeepers took up positions on main roads near the airport and in troubled neighbourhoods, though sporadic shooting was reported.
Full report at:
http://timesofindia.indiatimes.com/world/rest-of-world/Six-Chadian-peacekeepers-killed-in-Central-African-Republic/articleshow/27980408.cms
-----------
CAR: Attack on presidential palace thwarted in Bangui
AP | Dec 27, 2013
BANGUI, Central African Republic: Assailants armed with heavy weapons attempted late Thursday to attack the presidential palace as well as the residence of the Central African Republic's embattled leader, but were pushed back, officials said.
Reached by telephone, Guy Simplice, spokesman for President Michel Djotodia, said there had been heavy fighting near the seat of government, before the army was able to block the aggressors. Although the attackers could not immediately be identified, for weeks there have been rumors that a Christian militia, believed to be backed by the president, who was ousted by Djotodia in a coup nine months ago, would attempt to seize back power.
Full report at:
http://timesofindia.indiatimes.com/world/rest-of-world/Central-African-Republic-Attack-on-presidential-palace-thwarted-in-Bangui/articleshow/27995318.cms
-----------
North America
Canada set to host biggest convention of western Muslims
World Bulletin / News Desk
Dec 27 2013
The Canadian city of Toronto is due to host one of the largest conventions of Muslim speakers on Friday, thinkers and theologians in the world.
The Reviving the Islamic Spirit (RIS) convention is expected to attract around 20,000 Muslims from North America and around the world, where lectures will be delivered in English.
As well as Muslim speakers giving lectures on spirituality, the event has in the past featured non-Muslim guest speakers who touch on subjects such as political and civil engagement.
This year the line-up includes well-known western Muslim speakers Dr. Seyyed Hossein Nasr, Habib Ali Al-Jifri, Ambassador Shabazz, Professor Tariq Ramadan, Shaykh Hamza Yusuf, Sr. Dalia Mogahed, Imam Zaid Shakir, Imam Suhaib Webb, Ustadh Nouman Ali Khan and Dr. Yasmin Mogahed.
Full report at:
http://www.worldbulletin.net/?aType=haber&ArticleID=125723
---------
US suit over Arabic flashcards rejected
Dec 27 2013
PHILADELPHIA — A US appeals court has rejected a former college student's effort to sue federal agents after he was stopped at an airport for several hours over Arabic language flashcards he was carrying. Nicholas George says the Transportation Security Administration and FBI agents violated his constitutional rights during the August 2009 stop at Philadelphia International Airport. A district judge rejected the agents' assertion of immunity. But the 3rd US Circuit Court of Appeals disagreed Tuesday and said the agents were justified in detaining George briefly to investigate. Chief Judge Theodore McKee said they couldn't "turn a blind eye to someone trying to board an airplane carrying Arabic-English flashcards with words such as 'bomb' and 'kill.'" Attorneys for George didn't immediately respond to messages seeking comment Wednesday.
http://www.saudigazette.com.sa/index.cfm?method=home.regcon&contentid=20131227190624
---------
US not considering designating the Muslim Brotherhood as a terrorist organization
Dec 27 2013
A US official said the Egyptian government was going "way too far" in the crackdown on the Brotherhood, but added that the Obama administration was not planning to take any action against Cairo in response.
The US official said that the administration of President Barack Obama was not considering, or even discussing, the possibility of the US government designating the Muslim Brotherhood as a terrorist organization.
Historically, the US has placed the names of some individuals associated with the Muslim Brotherhood on US government sanctions list, but has not imposed sanctions on the movement itself.
Full report at:
http://english.ahram.org.eg/NewsContent/1/64/90144/Egypt/Politics-/US-not-considering-designating-the-Muslim-Brotherh.aspx
---------
Obama calls on Congress to do more on Guantanamo Bay
Dec 27 2013
President Barack Obama on Thursday gave credit to Congress for relaxing restrictions on transferring detainees from the US prison at Guantanamo Bay, Cuba, to the custody of foreign governments but said lawmakers need to go further. After signing the National Defense Authorization Act for fiscal 2014, Obama noted that Congress retained regulations that prevent the transfer of prisoners to American soil, where they could be tried in federal court.
"The executive branch must have the authority to determine when and where to prosecute Guantanamo detainees," Obama said in a signing statement released during his Hawaiian vacation.
Full report at:
http://voiceofrussia.com/news/2013_12_27/Obama-calls-on-Congress-to-do-more-on-Guantanamo-Bay-3206/
--------
Europe
Jihadists in Syria Draw Children of Muslims Who Settled in Europe
Dec 27, 2013
Rahma and Ugbad Sadiq packed their school bags as they did every morning, and left the family home in Kolsås, Norway, where their parents immigrated in 1996 to escape war in their native Somalia.
But by 5 p.m. that day, Oct. 17, the teenage sisters hadn't returned to help prepare dinner. An email was waiting for the parents in their inbox.
"Papa, we're on our way to Syria. It isn't enough to stay in Norway while Muslim people are in huge trouble. We have to deal with them in their daily life to help them," it said.
Their mother fainted, hitting the floor, her husband, Juma Sadiq, recounted.
"It was the beginning of the nightmare for our family," he said in an interview last month.
At a time when Syrians are risking their lives to take refuge in countries such as Norway, there is a reverse migration among some Arab families such as the Sadiqs who immigrated to Europe to escape hardships in their homelands.
Full report at:
http://online.wsj.com/news/articles/SB10001424052702303722104579239671607577520
--------------
Islamophobia: Surge revealed in anti-Muslim hate crimes
The Independent | Dec 27, 2013
Islamophobic hate crimes across Britain have risen dramatically this year, new figures have revealed.
Hundreds of offences were perpetrated against the country's Muslim population in 2013, with the Metropolitan police alone - Britain's largest force - recording 500 Islamophobic crimes, compared with 336 incidents in 2012 and 318 in 2011.
A large number of forces across the country reported a particular surge in the number of anti-Muslim hate crimes following the murder of soldier Lee Rigby by two Islamic extremists in Woolwich, south-east London.
In May, the month in which Fusilier Rigby was killed, Scotland Yard recorded 104 anti-Muslim hate crimes, followed by a further 108 in June.
Full report at:
http://timesofindia.indiatimes.com/world/uk/Islamophobia-Surge-revealed-in-anti-Muslim-hate-crimes/articleshow/28009783.cms
---------
Syrian developments demonstrate Russia's rejection of force for sake of peace - FM
Dec 27 2013
Russia's foreign policy focus in 2013 was on collective international efforts aimed at facilitating a peaceful resolution of regional crises and conflicts, with the Syrian developments serving as an example of policy that rejects the use of force in favour of peaceful methods, the Foreign Ministry said.
"The consistent position of our country largely helped prevent an external armed interference in Syria, a dangerous degradation of the situation in the Middle East and the spread of the conflict beyond the region," it said.
The ministry noted that the development by Russia and the United States of a joint position had helped reach a solution that put Syria's chemical weapons under international control for further elimination.
Full report at:
http://voiceofrussia.com/news/2013_12_27/Syrian-developments-demonstrate-Russias-rejection-of-force-for-sake-of-peace-FM-8436/
---------
UN speeds up troop deployment as fighting rages in South Sudan
Dec 27 2013
African leaders will on Friday discuss a spiralling crisis in South Sudan as the UN speeds up the deployment of extra troops in a bid to stem the violence sweeping across the world's youngest nation.
A day after the leaders of Kenya and Ethiopia claimed "good progress" in peace talks held in Juba, east African leaders are due to meet in Nairobi to further efforts to end the raging ethnic violence.
As the international community scrambles to halt the country's slide into civil war the United Nations on Thursday announced extra troops and "critical assets" like helicopters would be on the ground by Saturday. "We are working on 48 hours delivery of several of the critical assets that we need," the world body's special envoy to the violence-wracked country, Hilde Johnson, told journalists via videoconference from Juba. She stressed that the growing violence needed to be met with "unprecedented speed." Tensions in the country, which won independence from Sudan only two years ago, erupted into violent conflict on December 15 amid a vicious fight between troops loyal to South Sudanese President Salva Kiir and fighters backing his sacked vice president, Riek Machar.
Full report at:
http://www.hurriyetdailynews.com/un-speeds-up-troop-deployment-as-fighting-rages-in-south-sudan.aspx?pageID=238&nID=60205&NewsCatID=359
----------
URL: https://newageislam.com/islamic-world-news/gaza-christians-banned-bethlehem-celebrations/d/35029