New Age Islam News Bureau
9 Jul 2012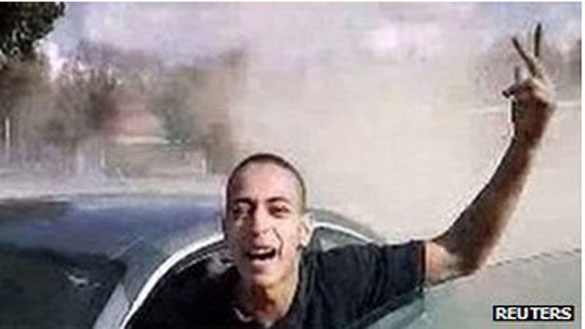 Europe
• Fury As Toulouse Killer Mohamed Merah's Words Broadcast
• Islamic Jihadists Using Switzerland as Base
• UK to deport thousands if Pakistan abolishes death penalty
India
• Majority of Hindus understand Muslims' plight: Farooq Abdullah
• SC seeks details of religious sites damaged in Gujarat riots
• Rein in ATS, Jamaat-e-Islami Hind asks UP CM
• China's arming Pakistan makes it second class enemy: Ratan Tata
• India provides Pakistan 'new proofs' on Mumbai attacks
• Ansari may get a second term as VP
• India in touch with high commission in Pak
• I have shed my blood in Kashmir valley: Army chief Gen Bikram Singh
• Haj pilgrimage: FIRs registered against 170 people
South Asia
• Karzai Says Donors Must Help Fight Afghan Graft
• Video shows Taliban publicly executing woman for adultery in Afghanistan
• Clinton in plea for rights of Afghan women
• Bombs, attacks kill 23 in southern Afghanistan
• Taliban claim bombing that killed six US troops
• 36 World War II British fighters found in Myanmar
• Six US soldiers killed in Afghanistan bomb attack
• Afghanistan gunmen attack police HQ in Kandahar
• Afghanistan: US NATO soldiers killed by roadside bomb
Pakistan
• Boy abducted by Pakistani security agencies is at risk of being killed: Family
• Pakistan Shuts Capital As Islamists Protest NATO Route Reopening
• Balochistan govt not taking missing persons issue seriously: SC
• Militants protest NATO supply line in Pakistan
• Pakistan shuns its only Nobel laureate - physicist linked to discovery of 'God particle'
• 500 Pakistanis invest SR 2 bn in Saudi economy
• Bill seeking ISI's accountability submitted to Pak Senate
• Suspected militants kill 7 security personnel in Pakistan
• Gunmen attack Pakistani army camp, kill 8 people
• 'Pak officer harboured Osama with full knowledge of Musharraf'
• Put pressure on Haqqani network, US tells Pakistan
• Customs authorities begin work to speed Nato supply transit
Mideast Asia
• Yemen frees 25 southern separatists
• Three Palestinians injured in clash with Israelis
Arab World
• Egypt court challenges Mursi's reopening of parliament
• Youth Union Stresses Islamic Sharia Source of Legislation in Egypt
• Two die during Saudi Arabia protest at Shia cleric arrest
• Iraq VP trial delayed on defence appeals
• Mubarak's sons back in court on graft charges
• Syrian opposition group says death toll from uprising has topped 17,000
• Egypt arrests 68 African migrants
• Kofi Annan ends 'positive' Syria talks, heads for Iran
• Syrian Naval Forces test missiles
• Assad Says Public Support Assures He Will Continue to Lead Syria
• SCB appoints Pakistani as new Mideast, Africa consumer bank head
• Mubarak sons on trial again for corruption
Africa
• Liberals lead polls in Tripoli, Benghazi: Islamists
• 115 killed in central Nigeria in internecine clashes
Compiled by New Age Islam News Bureau
Photo: Mohamed Merah died in a shoot-out with police at his flat in Toulouse
URL: https://newageislam.com/islamic-world-news/fury-toulouse-killer-mohamed-merahs/d/7869
Europe
Fury As Toulouse Killer Mohamed Merah's Words Broadcast
9 July 2012
French police have launched an investigation into how a TV channel came to broadcast recordings of conversations between the Islamist killer Mohamed Merah and police.
The dialogue, recorded during the siege in Toulouse in which Merah died, was played by the TF1 channel on Sunday.
Relatives of Merah's victims were "outraged" that the exchanges had been broadcast, their lawyers said.
Merah, 23, killed three soldiers and four Jews in several attacks in March.
He was shot dead after a huge manhunt culminated in a 32-hour stand-off with police at an apartment in the southwestern city of Toulouse. The Jewish victims included three children murdered at a school.
Merah's rampage, from 11 to 19 March, terrorised the region.
France's Interior Minister Manuel Valls condemned the decision by TF1 to broadcast audio clips of the negotiations, saying it showed a lack of respect to relatives of the victims.
He also regretted that they were run at a time when court proceedings relating to the killings were still ongoing.
Legal moves
Lawyers representing relatives of Merah's victims said they would seek a legal injunction to prevent any further broadcast of the recordings.
One lawyer, Samia Maktouf, said "the victims are outraged to learn the contents of these negotiations on television", the AFP news agency reported.
"At this rate, the videos of the killings will end up on the web and the damage then will be irreversible," she added.
Merah made a video recording of his attacks, using a camera strapped to his chest, and in late March al-Jazeera, the Qatar-based satellite TV channel, received a copy on a USB memory stick. The channel decided not to run the footage or give it to any other media outlet.
In the audio clips, broadcast by TF1, Merah tells a negotiator: "I know you may kill me, it's a risk I'm taking. So there you are, you know you're confronting a man who doesn't fear death. I love death the way you love life."
TF1 is understood to have four-and-a-half hours of recordings in total, during which Merah also claims to have links with al-Qaeda "brothers" in Pakistan.
The producer of Sept a Huit, the programme that broadcast the extracts, defended the decision to air them.
"We acted responsibly," said Emmanuel Chain, pointing to the recordings' news value.
"We learn how Merah trained with al-Qaeda, his determination. We learn a lot of things, it has been very much put in context."
http://www.bbc.co.uk/news/world-europe-18766956
---------
Islamic Jihadists Using Switzerland as Base
by Soeren Kern
July 9, 2012 at
Swiss analysts say the initiative of "Ummah Schweiz" is an effort to establish "parallel" legislative body in Switzerland that will be a mouthpiece for the Islamic fundamentalists, who are seeking to impose Sharia law on the country. With representatives in all 26 cantons, the group will be fully functional in 2013.
Radical Muslim groups are using Switzerland as a base from which to promote Islamic jihad in Europe and beyond.
Islamists in Switzerland are providing jihadists with logistical support, and also stepping up their use of Internet websites there to spread Islamic propaganda as well as to incite their supporters to commit acts of terrorism and violence.
Swiss authorities have identified at least 10 trips by Islamists from Switzerland to jihadi training camps overseas just during the past 12 months.
One finding of Swiss Federal Police Annual Report for 2011 (in German), published in Bern on June 21, is that although Switzerland was not a direct target of Islamic terrorism in 2011, the Swiss Federal Police Office, also known Fedpol, did investigate a Swiss convert to Islam who used the Internet to discuss a terrorist attack involving explosives against an American installation in Germany. Although the report does not provide further details about the investigation, it states that the suspect's being Swiss proved that "not only people with immigrant backgrounds could be supporters of jihad."
In response to the rising threat from radical Islam, Fedpol, recently launched a new specialist IT research department to intensify efforts to monitor jihadist websites and their operators. Fedpol also strengthened its cooperation with the Swiss Federal Intelligence Services.
In a related move, the Swiss Federal Justice Ministry on June 30 announced that Switzerland has refused to take back a Jordanian refugee who, after he was found to have links to Islamist rebels in Somalia, had been given asylum.
The refugee, 19-year-old Magd Najjar, had been caught in May and charged in Nairobi, Kenya, on June 6 for links to Islamist Al-Shabaab rebels affiliated with al-Qaeda, and who openly state that they want to impose Islamic Sharia law in Somalia.
"Clear evidence shows that he visited regions of Somalia where jihadist groups are involved in conflict (against the government). It also appears that he had contact with Islamist elements in Switzerland," the Justice Ministry said in a statement.
Swiss law states that refugees can lose their asylum status if they threaten or compromise national or international security.
Separately, leading Islamic groups in Switzerland say they want to establish a single national representative body that will enable all of the country's Muslims to "speak with one voice."
The organizers say their new "parliament" will be called "Umma Schweiz" [The Islamic Nation in Switzerland"] and be based on the principles of Islamic Sharia law. The headquarters of the organization will be located in Basel with "representatives" in all 26 cantons (or "states") of Switzerland. The first "test vote" of Umma Schweiz will be held in the fall of 2012; the group will be fully functional in 2013.
Ummah, an Arabic word that means "nation," refers to the entire Muslim community throughout the world. In recent years, Muslims have stepped up efforts to unify the globally fragmented ummah in an effort to revive an Islamic Caliphate or empire. Many Muslim scholars view the political unification of the ummah as a prerequisite to the consolidation of global Muslim power and the subsequent establishment of an Islamic world order.
Swiss analysts say the initiative is an effort to establish a "parallel" legislative body in Switzerland that will be a mouthpiece for Islamic fundamentalists, who are seeking to impose Sharia law on the country, according to an exposé published by the newspaper Basler Zeitung.
"Umma Schweiz" is being spearheaded by two of the leading Muslim groups in Switzerland: the Coordination of Islamic Organizations of Switzerland (KIOS), led by an Iranian; and the Federation of Islamic Umbrella Organizations in Switzerland (FIDS), led by a Palestinian.
The effort to unify Muslims in Switzerland comes amid calls by the Organization for Security and Co-operation in Europe (OSCE) to establish an umbrella organization for all Swiss Muslims to counter discrimination.
The OSCE, which sent three observers to Switzerland in November 2011, warned that Muslims in the country are being exploited by "the extreme right and populist parties." The OSCE also noted that Muslims in Switzerland are increasingly unifying around their religious identity, according to the Swiss Broadcasting Corporation. "Groups like Bosnians and Albanians, who were previously defined by their ethnicity, are now identified by their religion," the OSCE report says.
Currently, there are more than 300 Muslim associations in Switzerland, and several umbrella organizations, but none is regarded as representative of Muslims as a whole.
The Muslim population in Switzerland has more than quintupled since 1980; it now numbers about 400,000, or roughly 5% of the population. Most Muslims living in Switzerland are of Turkish or Balkan origin, with a smaller minority from the Arab world. Many of them are second- and third-generation immigrants firmly establishing themselves in Switzerland.
The new Muslim demographic reality is raising tensions across large parts of Swiss society, especially as Muslims become more assertive in their demands for greater recognition of their Islamic faith.
In January 2012, another Swiss Muslim group, the Islamic Central Council of Switzerland (IZRS), announced that it was trying to raise money from countries in the Persian Gulf to build a 20-million franc ($21 million) mega-mosque in Bern.
With three floors, the planned mosque would be the biggest in Switzerland. In addition to a prayer room for more than 500 worshippers, the building would have conference and training rooms, shops, underground parking and a garden.
Swiss citizens have been pushing back against the rise of Islam in their country. In November 2009, for example, Switzerland held referendum in which citizens approved an initiative to insert a new sentence in the Swiss constitution stipulating that "the construction of minarets is forbidden."
The initiative to ban minarets was approved 57.5% to 42.5% by some 2.67 million voters. Only four of Switzerland's 26 cantons or states opposed the initiative, thereby granting the double approval that now makes the minaret ban part of the Swiss constitution. The minaret ban represented a turning point in the debate about Islam in Switzerland.
In a related victory for free speech in Switzerland, the Swiss Federal Court in Lausanne on May 21 ruled that a citizens group called Movement against the Islamization of Switzerland (SBGI) has the legal right to set up information booths in Swiss cities and distribute literature that is critical of Islam.
The City of Freiburg had prevented the group from setting up an information booth because it said that by doing so it would provoke violence and unrest.
The Federal Court upheld SBGI's complaint that the authorities had impinged on its freedom of expression as well as on freedom of information. Although Swiss law does grant local authorities powers to ban demonstrations from public spaces, the court confirmed that they may not do so simply because they disapprove of the ideas being communicated.
http://www.gatestoneinstitute.org/3147/switzerland-islamic-jihadists
----------
UK to deport thousands if Pakistan abolishes death penalty
By Asif Mehmood
Jul 09 2012,
LONDON: The British government could deport tens of thousands of undesirable Pakistani migrants if death penalty is abolished in Pakistan, Daily Times has learnt.
In an alleged secret deal, Britain has offered to revive British nationality of the interior minister and other dual national Pakistani parliamentarians in return for implementation of their long-standing demand of repealing the death penalty.
Adviser to the Prime Minister on Interior Rehman Malik's statement that abolition of death penalty is under consideration does not seem to be motivated by any genuine concern towards those facing death sentence, but a direct consequence of the British government's alleged offer and purely for self-interest with sole aim to benefit a foreign government at the cost of Pakistani interests.
The British demand also reeks of self-interest and does not seem to have the humanitarian consideration behind it as the sole purpose seems to be repatriation of illegal immigrants without regard for their human rights. It is the European Union law that no country within the union will extradite a person to any country where the death penalty is valid and the deportee could face it. This law has been causing a lot of problem for Britain vis-à-vis the United States where a way has not yet been found by both countries. However, in the case of Pakistan, Britain seems to have found an easy way to bypass this EU law by asking Pakistan to repeal death penalty, which it cannot demand from the United States.
Shedding some light on the background of proposed abolition of death penalty and the illegal migrants issue may provide interconnectivity to, apparently, the three isolated news reports published in the Pakistani media about deportation of illegal migrants, abolition of death penalty and revival of British citizenship.
The elaboration of the references to the context would enable the readers to see the relevance. Abolition of death penalty is Britain's long-standing demand with Pakistan, initially in the context of the extradition treaty that two countries intended to conclude but death penalty was a major stumbling block. But since 2009, the importance of abolition of death penalty from the PPC gained greater significance when the issue of deportation of terror suspects from the UK to Pakistan emerged in the wake of the arrest of 10 Pakistani students in the UK. The British authorities were unable to bring about any concrete evidence that could stand the trial in the court of law. However, the police and counter-terrorism officials had concluded that keeping the students was a threat to Britain's national security.
The then Labour government strived hard to conclude an agreement with Pakistan, called Deportation with Assurances (DWA), but to some sincere government officials in Pakistan and at the high commission in London who stood in the way. According to the official sources in the ministries of foreign affairs and interior in Pakistan, the terms of DWA would not allow those considered security threat to the UK for possible links to terrorism to be tried or investigated in Pakistan. It may be important to mention that there is death penalty for those proven guilty of terrorism. In view of Pakistan's reluctance to sign DWA, the British authorities agreed to a quid pro quo arrangement with the students allegedly involved in terrorism and prepared ground for their return to Pakistan. Ever since, the UK persuaded Pakistan to agree to DWA in one form or the other, though the students' episode was over. The times ahead were to reveal why the British thought that such an agreement would be necessary. The British government ad taken measures during the Labour government that nationality of a Briton of some other origin could be renounced, if found involved in terrorism charges, and deported. All such deportees would face the risk of death penalty in Pakistan. Britain wants to play safe by avoiding criticism on account of human rights violation by ensuring that terror suspects are not subjected to any investigation and death penalty.
The issue of illegal migrants from Pakistan had led to the signing of an agreement called MOU on managed migration between the two countries, which was renewed in 2010 for five years amidst a lot of toing and froing and clamouring on foul play. The MOU should have been seen as redundant once the Lisbon Treaty came into effect in 2010 and shortly after ratification of agreement between Pakistan and the EU for repatriation of illegal migrants from across the EU member states. But Britain wanted to avail both to be able to deport unlimited number of Pakistanis. According to sources, this aspect remains unsettled as saner elements in Pakistan are reluctant to give Britain a free hand. Britain's frustration with Pakistan to avoid signing DWA-type agreements may facilitate repatriation of even suspected terrorists under the arrangement without notice.
Independent Chief Inspector for Immigration John Vine's report revealed that tens of thousands of Pakistanis were among the missing illegal migrants. The MOU has an upper limit on the number of people who could be deported. If UK could avail both the agreements then the issue of the cap would be resolved. Reportedly, Rehman Malik's cooperation is exemplary. He generously allows mass deportations using High Commissioner Wajid Shamsul Hasan, another, reportedly, loyal dual national, as a conduit. The axe of constitutional provision that prohibits dual nationals from holding a public office recently fell on Malik and stripped him off of his Senate seat and ministerial portfolio. This is an open secret that he has more financial interests in the UK than in Pakistan. His hope to revive his British nationality, which he surrendered to escape the Supreme Court's wrath, has been rekindled with Pakistani parliament's recent move to give relief to dual nationals in the National Assembly.
http://www.dailytimes.com.pk/default.asp?page=2012\07\09\story_9-7-2012_pg1_6
India
Majority of Hindus understand Muslims' plight: Farooq Abdullah
Jul 9, 2012
NEW DELHI: Jul 9, 2012,, Majority of Hindus in the country understand the plight of Muslims who are being targeted by security forces on terror charges but the minorities must take part in the legal process to ensure timely delivery of justice, Union minister Farooq Abdullah said here on Monday.
Addressing a gathering on the issue of 'Politics of Terror: Targeting Muslim Youth', Abdullah asked the Muslim community to maintain their faith in Indian legal system which he said has never discriminated against them on grounds of religion.
"We all are Indian Muslims and not Chinese, Japanese or Pakistani Muslims. Majority of Hindus understand our plight and our country has always treated us equally, barring a few instances which are being addressed," Abdullah said.
Pointing out that several Muslim youth have not been given justice and are languishing in jails for years after being picked by police on terror charges, he said "we need to bring out this injustice done to us as it takes ages to get justice here."
During his address, Abdullah was hooted several times by the gathering for giving "sermons" and "not suggesting any solution" to the problem.
He also said terror attacks such as that on the World Trade Tower in New York, London and Mumbai have created a bad impression about the Muslim community the world over.
"Whenever I go to the US, as soon as I speak my name I am frisked there. Our former President was also frisked and this happens with most of the Muslims but we have to be patient and make every one understand," Abdullah said.
http://timesofindia.indiatimes.com/india/Majority-of-Hindus-understand-Muslims-plight-Farooq-Abdullah/articleshow/14781268.cms
---------
SC seeks details of religious sites damaged in Gujarat riots
9July 2012
The Supreme Court on Monday directed the Gujarat government to file a survey report of the religious sites which were damaged and destroyed during the 2002 riots in the state.
A bench of justices K S Radhakrishnan and Dipak Misra also asked the state government to quantify the amount needed for building and repairing those sites that were affected by the riots.
The court gave the directions on an appeal filed by the Gujarat government challenging a Gujarat High Court order directing it to pay compensation for damage and destruction of the religious sites.
At the very start of the proceedings, the Gujarat government said that the state exchequer could not be used for building and repairing religious sites.
The bench, however, said it would look into the issue whether public funds could be used for restoring the damaged sites.
"You compensate if a house is washed away in a flood or if it is damaged in an earthquake. Then why not in case of a religious place?" the bench asked.
The court directed the state government to file an affidavit with regard to the religious sites affected by the riots and posted the matter for further hearing on July 30.
On February 8, the Gujarat government was pulled up by the Gujarat High Court for "inaction and negligence" on its part during the 2002 post-Godhra riots that led to large-scale damage or destruction of religious structures.
Full report at:
http://www.thehindu.com/news/national/article3620053.ece?homepage=true
---------
Rein in ATS, Jamaat-e-Islami Hind asks UP CM
Jul 09 2012,
'Muslim youth should not be implicated in false terror cases'
Criticising the random arrests of Muslims by security agencies in Uttar Pradesh in the name of fighting terrorism, the Jamaat-e-Islami Hind (JEI) has demanded the immediate release of those against whom terror charges have not been proved and who have been languishing in jail for years.
The State government should give the victims compensation, and those behind the "conspiracy" to nail "innocent" Muslims should be punished, the JET said on Sunday.
Reminding the Akhilesh Yadav government of the Samajwadi Party's poll promises, the Jamaat, in a memorandum, said it should issue a directive to the Anti-Terrorist Squad to not implicate in and arrest Muslim youth on false terrorism charges.
Maulana Jalaluddin Umri, JEI Ameer, advocated unity among Muslims to ensure justice and reminded them of the power of their vote bank. "No political force can ignore the 20 crore Muslims," he said.
Referring to the regime change in Uttar Pradesh, Maulana Umri said the minority community could not only vote a party to power but also change the government. The JEI wanted justice for all in the country, including other communities like Dalits and women, who had been subjected to atrocities.
Full report at:
http://www.thehindu.com/news/national/article3617266.ece
---------
China's arming Pakistan makes it second class enemy: Ratan Tata
July 9, 2012
China's overpowering economic strength is not a real concern but a way should be found by India to be an ally with it, according to Tata Group Chairman Ratan Tata.
He described India-China relationship as, "Not adversarial, but it is not the best".
He, however, added, "You know, China has never done anything adversarial to India, and India, I think, has been more concerned about China's economic strength overpowering India, which we really don't see".
When asked if he is worried about China, he said: "No, I am not worried. I wish we could find a way to be allies with China."
"I really do believe, deep down inside, that...the Indian tiger has not been unleashed," Tata said.
Full report at:
http://www.indianexpress.com/news/chinas-arming-pakistan-makes-it-second-class-enemy-ratan-tata/972079/
----------
India provides Pakistan 'new proofs' on Mumbai attacks
Jul 09 2012,
* Krishna tells Khar Delhi believes forces inimical to India's interests are being encouraged by Pakistan's state agencies
TOKYO: India on Sunday provided more evidence to Pakistan about terrorist activities currently taking place on Pakistani soil against India, Indian media reported.
Indian Foreign minister SM Krishna gave this evidence, based mostly on disclosures made by Mumbai attacks accused Abu Jundal, to Foreign Minister Hina Rabbani Khar in a bilateral meeting in Tokyo on the sidelines of the Tokyo conference on Afghanistan.
Krishna conveyed to Khar that India had now even more reasons to believe that forces inimical to India's interests were being encouraged by certain state agencies in Pakistan. Khar said Pakistan did not believe that its agencies were involved in perpetrating terror strikes against India, something which Foreign Secretary Jalil Jilani too had stated in India last week.
Full report at:
http://www.dailytimes.com.pk/default.asp?page=2012\07\09\story_9-7-2012_pg1_5
----------
Ansari may get a second term as VP
Jul 09 2012,
Hamid Ansari could get a second term as Vice President with his name figuring high in the consultations Prime Minister Manmohan Singh has had with leaders of political parties but a contest may be on the cards.
The Prime Minister is believed to have discussed with JD(S) chief H D Deve Gowda and CPI(M) General Secretary Prakash Karat names of candidates for the August 7 poll for the Vice President's post in the last few days.
In the Electoral College for the Vice President's election, comprising just the members of Lok Sabha and Rajya Sabha, the UPA is comfortably placed to ensure the success of its candidate.
"Prime Minister Manmohan Singh called our leader H D DeveGowda on Saturday and discussed about Vice-Presidential elections. Hamid Ansari's name came up during the discussion.
Our party fully supports Ansari's candidature," JD-S spokesperson Danish Ali told PTI. "Hamid Ansari name was only name that was discussed and no other name came up during the discussion," he said.
Ali also said that it was very natural for incumbent Vice-President to get a second term if the ruling dispensation, during which he was elected the first time, comes to power next time too.
Full report at:
http://www.thehindu.com/news/national/article3620696.ece
---------
India in touch with high commission in Pak
July 09, 2012
Foreign secretary Ranjan Mathai is in touch with the Indian high commission in Islamabad over an emergency landing by an Air India flight in Pakistan early Monday. The pilot has informed that all passengers and crew on board are safe. The external affairs ministry said it
AI airplane makes emergency landing in Pakistan; all safe
is in constant touch with the Indian high commission and the pilot.
A relief plane is awaited to bring passengers back to India, said official sources.
An Air India flight bound for New Delhi from Abu Dhabi with 122 passengers and six crew members made an emergency landing in Pakistan early Monday due to what is being called a technical fault.
All on board were reported safe.
The carrier said a relief aircraft would be sent to Nawabshah airport in Pakistan's Sindh province to bring those on board back by afternoon.
The Abu Dhabi-New Delhi flight AI940, which originated from Bahrain, was forced to make the landing after a hydraulic failure warning, an airline official said.
http://www.hindustantimes.com/India-news/NewDelhi/India-in-touch-with-high-commission-in-Pak/Article1-885573.aspx
--------
Haj pilgrimage: FIRs registered against 170 people
Jul 9, 2012,
LUCKNOW:Jul 9, 2012, FIRs have been lodged against 170 people who got their names included in the list of Haj pilgrims for Uttar Pradesh by committing forgery, a state minister said here today. "These people have also been blacklisted after which they will not be able to perform the Haj in future," Minority Welfare and Haj minister Mohammad Azam Khan told reporters here. The forgery was detected during an inquiry which was conducted in coordination with the Central Haj Committee, he said.
"FIRs have been lodged against 170 people who got their names included in the list of Haj pilgrims," the minister said.
Full report at:
http://timesofindia.indiatimes.com/city/lucknow/Haj-pilgrimage-FIRs-registered-against-170-people/articleshow/14778698.cms
South Asia
Karzai Says Donors Must Help Fight Afghan Graft
Jul 9, 2012,
TOKYO: Afghan President Hamid Karzai says he is encouraged by the promise of $16 billion in international aid, but warns corruption in his country cannot be rooted out unless donors themselves take more action.
Karzai says fighting corruption remains a top priority, but notes his government is not solely to blame. He says the selection process for projects can lead to influence-buying and higher wages for foreign workers that fuels resentment.
Speaking on Monday, he said he is grateful for the pledges made at a conference the day before to help his country's transition after most foreign troops pull out by the end of 2014.
The aid, to be provided over the next four years, is tied to a new monitoring process to assure Afghanistan is on the right track.
http://timesofindia.indiatimes.com/world/south-asia/Karzai-says-donors-must-help-fight-Afghan-graft/articleshow/14768554.cms
----------
Video shows Taliban publicly executing woman for adultery in Afghanistan
Jul 9, 2012,
KABUL: A manhunt was underway on Monday for Taliban militants who publicly executed a woman accused of adultery, Afghan authorities said, as outrage mounted after a video of the cold-blooded killing surfaced.
The commander of NATO's 130,000 troops in Afghanistan, General John Allen, offered to help local security forces track and capture the men involved in what he called "an atrocity of unspeakable cruelty".
The brutal shooting of the lone woman before a cheering mob of men is shown in graphic detail in a video of the event in a village in Parwan province some 100 kilometres (60 miles) north of the capital Kabul.
"We have sent a police force to the area," Parwan provincial governor Basir Salangi told AFP, adding that the government had no permanent presence in the valley.
"They are searching for the Taliban who are responsible but the Taliban, including the killer, have fled to the mountains."
Roshna Khalid, Salangi's spokeswoman, separately told AFP the 22-year-old woman, named as Najiba, was married to a member of the hardline Islamist Taliban and was accused of adultery with a Taliban commander.
Full report at:
http://timesofindia.indiatimes.com/world/south-asia/Video-shows-Taliban-publicly-executing-woman-for-adultery-in-Afghanistan/articleshow/14771996.cms
---------
Clinton in plea for rights of Afghan women
8 July 2012
US Secretary of State Hillary Clinton made a powerful plea on Sunday for the rights of women in Afghanistan, using a global forum to insist that they must be part of the country's future growth.
"The United States believes strongly that no nation can achieve peace, stability and economic growth if half the population is not empowered," she told the Tokyo conference on Afghanistan.
Clinton said the way forward for Afghanistan "must include fighting corruption, improving governance, strengthening the rule of law, access to economic opportunity for all Afghans, especially for women".
"All citizens need to have the chance to benefit from and contribute to Afghanistan's progress. The United States will continue to stand strongly by the women of Afghanistan."
She was addressing a world conference aiming to chart a way forward for the nation after NATO combat troops leave in 2014.
The talks have already raised pledges of $16 billion in civilian aid for the conflict-torn nation over the next four years.
Representatives from more than 80 nations and international organisations gathering in the Japanese capital are expected to adopt the "Tokyo Declaration", pledging support and cash for Kabul.
Clinton told the meeting the administration of US President Barack Obama would be asking Congress to agree to keep American civilian assistance to Afghanistan at or near current levels until 2017.
Full report at:
http://www.khaleejtimes.com/kt-article-display-1.asp?xfile=/data/newsmakers/2012/July/newsmakers_July11.xml&section=newsmakers
--------
Bombs, attacks kill 23 in southern Afghanistan
8 July 2012
KABUL, Afghanistan - Roadside bombs and insurgent attacks killed 16 Afghan civilians, five policemen and two members of the U.S.-led coalition in southern Afghanistan where militants are trying to reclaim territory, Afghan and NATO authorities said Sunday.
A surge in Afghan and coalition forces during the past two years routed Taliban fighters from many of their strongholds in the south, but the insurgents stepped up their attacks this summer to take back key areas.
The civilians, including women and children, were killed in a trio of blasts in Arghistan district, along Afghanistan's border with Pakistan.
Kandahar province spokesman Ahmad Jawed Faisal said one bomb exploded when a minivan ran over it Sunday morning. A second went off when other civilians riding a tractor arrived to help the wounded. A third explosion occurred about two hours later when a civilian vehicle hit a roadside bomb in another area of the district, killing two women.
At least 10 other civilians were injured in the three blasts.
According to the United Nations, last year was the deadliest on record for civilians in the Afghan war, with 3,021 killed. The number of Afghan civilians killed dropped 36 percent in the first four months of this year compared with last year, but the U.N. says that too many are still being caught up in violence.
The policemen were killed while responding to a gun battle being waged against insurgents early Sunday at a checkpoint in the Musa Qala district of neighboring Helmand province.
Daoud Ahmadi, the spokesman in Helmand, said a group of Taliban fighters attacked the Full report at:
http://www.khaleejtimes.com/kt-article-display-1.asp?xfile=/data/international/2012/July/international_July161.xml&section=international
---------
Taliban claim bombing that killed six US troops
Jul 09 2012,
KABUL: The Taliban claimed responsibility on Monday for a roadside bombing that they said killed six American troops in a volatile part of eastern Afghanistan.
Taliban spokesman Zabiullah Mujahid said in a statement the blast struck the US troops in their armoured vehicle around 8 pm Sunday in Wardak province, just south of Kabul.
Coalition and Afghan forces are trying to secure areas of Wardak that insurgents use as gateway into the Afghan capital where they stage high-profile attacks on Afghan government and Nato targets.
Nato would not disclose the nationalities of the service members killed, but Wardak provincial police chief Gen Abdul Qayum Baqizoi said they were American.
He said that after the Americans were killed in Jalrez district, a coalition air strike killed a local Taliban commander and wounded three insurgents.
Also in the east, authorities said gunmen assassinated a chief prosecutor in Ghazni province Monday morning as he drove to work.
Full report at:
http://dawn.com/2012/07/09/taliban-say-their-bomb-killed-six-us-troops/
----------
36 World War II British fighters found in Myanmar
Jul 8, 2012,
YANGON: (IANS) The remains of 36 British Spitfire aircraft, which were secretly buried during the World War II in what was then Burma to prevent them from being seized by the Japanese, have been discovered in the country.
The remains of the fighter aircraft were found through radar.
They will be dug by experts from Leeds University in cooperation with their counterparts from Myanmar, Xinhua reported citing the Flower News journal.
After the planes are unearthed, they will be shipped to Britain to be kept in museums.
Myanmar agreed to hand back the aircraft during an official visit to the country by British Prime Minister David Cameron in April.
http://timesofindia.indiatimes.com/world/south-asia/36-World-War-II-British-fighters-found-in-Myanmar/articleshow/14748979.cms
---------
Six US soldiers killed in Afghanistan bomb attack
Jul 9, 2012,
KABUL: Six American soldiers serving with Nato forces were killed by a roadside bomb in Afghanistan today, the alliance's military in Kabul and an American official said.
"Six International Security Assistance Force service members died following an improvised explosive device attack in eastern Afghanistan today," ISAF said in a statement, without naming their nationalities or giving any further details.
In Washington, an official said the dead were Americans. Another Nato soldier died in a similar attack earlier today, ISAF announced, taking the day's toll to seven and the total toll for this year to at least 234, according to an AFP count based on the icasualties.org website.
As is traditional, ISAF deferred the identification of the casualties to their home countries.
Nato has some 1,30,000 troops in Afghanistan fighting an insurgency by Taliban Islamists who were ousted from power by a US-led invasion in 2001 for sheltering Al-Qaeda leader Osama bin Laden after the 9/11 attacks.
Full report at:
http://timesofindia.indiatimes.com/world/south-asia/Six-US-soldiers-killed-in-Afghanistan-bomb-attack/articleshow/14755281.cms
--------
Afghanistan gunmen attack police HQ in Kandahar
Jul 09 2012,
An insurgent attack on a police base in the southern Afghan city of Kandahar has ended after three gunmen were killed, officials say.
The gunmen entered an empty school, from where they started firing at the headquarters of the Afghan National Police.
Six people were injured in the attack, but Kandahar's police chief was unharmed, a government spokesman said.
The attack comes a day after six Nato troops were killed in the east.
Kandahar is considered to be the spiritual home of the Taliban, which has been leading attacks against Western forces and the Afghan government since it was ousted from power in 2001.
Earlier on Monday, three suicide bombers on motorcycles blew themselves up in the Zarang district of Kandahar province.
Two children were killed in those blasts, and six others wounded, according to provincial officials.
http://www.bbc.co.uk/news/world-asia-18767362
--------
Afghanistan: US Nato soldiers killed by roadside bomb
Jul 09 2012,
A roadside bomb in eastern Afghanistan has killed six US soldiers serving with the Nato force.
The nationality of the soldiers was not immediately given, but the Pentagon later confirmed they were all American.
The incident came as donors meeting in Japan pledged to give Afghanistan $16bn (£10.3bn) in civilian aid over four years, including the period during which foreign troops are to pull out.
Violence has recently spiked. At least 14 civilians were killed on Sunday.
The civilians were killed in two roadside bombs in the southern Kandahar province, regional police chief Gen Abdul Raziq said.
The first bomb hit a car, and the second exploded when a tractor arrived to rescue the wounded. Women and children are among the dead, the regional governor's office said.
And a new video has been released apparently showing the a woman being shot in a village north of Kabul by local Taliban fighters last week.
The woman was reportedly accused of adultery. A Taliban spokesman denied the group had ordered the killing.
Full report at:
http://www.bbc.co.uk/news/world-asia-18764552
Pakistan
Boy abducted by Pakistani security agencies is at risk of being killed: Family
July 9, 2012
Gawadar: Family of an 18 year Baloch boy has, in a press release, has held Pakistani security agencies of abducting him and feared that his life is in danger.
According to details Asghar Baloch S/O Rahim Bakhsh Baloch was off-loaded from a passenger Van by the personnel of intelligence agencies of Pakistan. Family sources further said that Asghar, a resident of ward number 6 in Pasni region of Balochistan, had gone to attend a job interview for department of agriculture in Gwadar town.
He was travelling back to Pasni by Alzahid Van along with several other passengers, when they arrived at Nalaint check post situated on Coastal high way their Van was stopped by the personnel of security agencies. Eye-witnesses reported that Asghar Baloch was dragged out from the vehicle by uniformed and plan clothed officials and taken away to an undisclosed location.
The family of Mr Baloch said that he is not affiliated with any political parties. He works for a local fish company as a labour. They appeal the president and Supreme Court of Pakistan to play their role for safe and early release of their teenage son.
http://balochwarna.com/xnews/articles.39/Boy-abducted-by-Pakistani-security-agencies-is-at-risk-of-being-killed-Family.html
--------
Pakistan Shuts Capital As Islamists Protest NATO Route Reopening
By Haris Anwar
Jul 9, 2012
Pakistani authorities deployed paramilitary forces in Islamabad and shopkeepers shut early as thousands of supporters of an Islamist group converged on the capital to protest the decision to reopen NATO supply routes.
The rally by about 8,000 members of the Difah-e-Pakistan Council, or Defense of Pakistan Council, a movement of parties with links to the Taliban and other extremist groups, began yesterday in the eastern city of Lahore. Protesters plan to demonstrate in front of parliament later today after completing the 300-kilometer (185-mile) journey, according to the Associated Press.
"The opening of NATO supply routes is a violation of parliament resolutions," Maulana Samiul Haq, a senior leader of the council, said in a speech in Lahore yesterday that was broadcast by television channels. "This long march will free our nation from rulers who are just serving U.S. interests."
Full report at:
http://www.bloomberg.com/news/2012-07-09/pakistan-shuts-capital-as-islamists-protest-nato-route-reopening.html
---------
Militants protest NATO supply line in Pakistan
KHALID MAHMOOD CHAUDHRY
8 July 2012
LAHORE, Pakistan: Thousands of militants streamed toward Pakistan's capital in a massive convoy of vehicles Sunday to protest the government's decision to allow the US and other NATO countries to resume shipping troop supplies through the country to Afghanistan.
The demonstration, which started in the eastern city of Lahore, was organized by the Difah-e-Pakistan Council, or Defense of Pakistan, a group of politicians and religious leaders who have been the most vocal opponents of the supply line.
Pakistan closed the route in November in retaliation for American airstrikes that killed 24 Pakistani troops. After months of negotiations, Islamabad finally agreed to reopen the route last week after the US apologized for the deaths.
One of the reasons Pakistan waited so long to resolve the conflict is that the government was worried about domestic backlash in a country where anti-American sentiment is rampant despite billions of dollars in US aid over the last decade.
Full report at:
http://www.arabnews.com/world/militants-protest-nato-supply-line-pakistan
---------
Pakistan shuns its only Nobel laureate - physicist linked to discovery of 'God particle'
Jul 9, 2012,
Praise within Pakistan for Salam, who also guided the early stages of the country's nuclear program, faded decades ago as Muslim fundamentalists gained power.
ISLAMABAD: The pioneering work of Abdus Salam, Pakistan's only Nobel laureate, helped lead to the apparent discovery of the subatomic " God particle" last week. But the late physicist is no hero at home, where his name has been stricken from school textbooks.
Praise within Pakistan for Salam, who also guided the early stages of the country's nuclear program, faded decades ago as Muslim fundamentalists gained power. He belonged to the Ahmadi sect, which has been persecuted by the government and targeted by Taliban militants who view its members as heretics.
Their plight along with that of Pakistan's other religious minorities, such as Shiite Muslims, Christians and Hindus has deepened in recent years as hardline interpretations of Islam have gained ground and militants have stepped up attacks against groups they oppose. Most Pakistanis are Sunni Muslims.
Full report at:
http://timesofindia.indiatimes.com/world/pakistan/Pakistan-shuns-its-only-Nobel-laureate--physicist-linked-to-discovery-of-God-particle/articleshow/14768961.cms
--------
500 Pakistanis invest SR 2 bn in Saudi economy
9 July 2012
Pakistan Ambassador Muhammad Naeem Khan held a meeting with Saudi Arabian General Investment Authority (SAGIA) Gov. Abdullatif Al-Othman yesterday. They discussed ways and means to further develop and diversify cooperation between SAGIA and the business community of Pakistan.
During the meeting, the ambassador felicitated the governor on the assumption of his office stating that it manifested the confidence of Custodian of Two Holy Mosques King Abdullah in his capabilities. The ambassador also appreciated the role of SAGIA in the progress and development of the Kingdom.
The ambassador of Pakistan thanked the governor on SAGIA's continuous support to more than 500 Pakistani businessmen who have invested close to SR 2 billion in the Saudi economy primarily in the manufacturing and services sectors. The governor appreciated the role of Pakistani investors and extended his full support for the further enhancement of bilateral cooperation in this regard. He emphasized that SAGIA would welcome more Pakistani companies in the Kingdom in order to mutually benefit from each other's experience and expertise.
The two dignitaries also agreed on early establishment of institutional framework to attract investment in each other's countries and to provide more conducive environment to the investor communities of the two countries to tap into the immense business opportunities.
http://www.arabnews.com/500-pakistanis-invest-sr-2-bn-saudi-economy
---------
Bill seeking ISI's accountability submitted to Pak Senate
Jul 9, 2012,
ISLAMABAD: A bill has been submitted in the Senate as part of efforts by Pakistan's presidency to tame the spy agency Inter-Services Intelligence through parliamentary oversight and to make it answerable to Parliament and the government.
The 19-page draft bill was submitted in the Senate or Upper House of Parliament by Farhatullah Babar, the spokesman for President Asif Ali Zardari, a few days ago and may be taken up during a session beginning on Monday.
Sources in the ruling Pakistan People's Party told the Dawn newspaper that the important legislation had been discussed with partners in the federal coalition.
The proposed Inter-Services Intelligence Agency (Functions, Powers and Regulation) Act of 2012 suggests that the powerful spy agency should be answerable to Parliament and the prime minister, the daily reported.
Full report at:
http://timesofindia.indiatimes.com/world/pakistan/Bill-seeking-ISIs-accountability-submitted-to-Pak-Senate/articleshow/14772513.cms
---------
Suspected militants kill 7 security personnel in Pakistan
Jul 9, 2012,
ISLAMABAD: Suspected militants attacked a security forces camp near the city of Gujrat in Pakistan's Punjab province on Monday, killing six soldiers and a policeman.
Five soldiers were injured in the pre-dawn attack, officials said.
TV news channels reported that the security personnel were attacked by a group of gunmen shortly after they had offered their morning prayers.
The gunmen, who were using cars and motorcycles, fled after the shooting. The military confirmed the incident and the casualties in a brief statement.
It said seven security personnel, including a police official, were killed and five others were injured "due to firing by unknown assailants near Wazirabad", a town located 12 km from Gujrat city.
The security personnel were part of a small rescue party that had camped on the bank of the Chenab river to search for the body of a pilot mission since a military helicopter crashed on May 23, the statement said.
The injured persons were taken to the nearest military hospital in Gujranwala district, the statement said.
Full report at:
http://timesofindia.indiatimes.com/world/pakistan/Suspected-militants-kill-7-security-personnel-in-Pakistan/articleshow/14766464.cms
---------
Gunmen attack Pakistani army camp, kill 8 people
Jul 9, 2012,
Gunmen attack Pak army camp, kill 8 people
ISLAMABAD: Gunmen killed eight people in an attack on Monday on a Pakistani army camp in a city where thousands of hardline Islamists spent the night on their way to the capital to protest the government's recent decision to reopen the NATO supply line to Afghanistan, police said.
Police were searching for the culprits and it was unclear if any of the Islamist protesters were involved, said Basharat Mahmood, police chief in the eastern city of Gujrat where the attack occurred.
"It is surely a terrorist attack," said Mahmood. "The attackers could have taken cover. They could have hid themselves among the protesters."
The camp on the outskirts of Gujrat was attacked at around 5:20am, a little less than an hour after the leaders of the Difah-e-Pakistan, or Defense of Pakistan, protest movement finished delivering speeches inside the city, said the police.
Full report at:
http://timesofindia.indiatimes.com/world/pakistan/Gunmen-attack-Pakistani-army-camp-kill-8-people/articleshow/14770498.cms
----------
'Pak officer harboured Osama with full knowledge of Musharraf'
July 09, 2012
A Pakistani Brigadier harboured Osama bin Laden for years with the full knowledge of Pervez Musharraf at a time when the US was hunting for the elusive al Qaeda chief, former ISI head Gen Ziauddin Butt has claimed.
Brigadier Ijaz Shah, a long-term close associate of former military ruler
Gen Pervez Musharraf, was the "most important and all-powerful person" in his regime, General Butt said in a television interview.
"I fully believe that Ijaz Shah had kept this man (Osama bin Laden, in Abbottabad) with the full knowledge of Pervez Musharraf," General Butt was quoted as saying by the Sydney Morning Herald newspaper.
Shah was the Intelligence Bureau chief during Musharraf's rule and is believed to be the ISI handling officer of the British-born terrorist Omar Sheikh, convicted for the murder of Wall Street Journal reporter Daniel Pearl.
Butt, the former chief of directorate of Inter-Services Intelligence or ISI, alleged that Shah harboured the world's most wanted criminal for years, at the same time that other arms of the Pakistani military and the US were hunting him.
He said the Abbottabad compound where bin Laden was killed by US special forces in a covert raid on May 2 last year was built on Brigadier Shah's orders.
But Brigadier Shah said the allegations were groundless.
"Not only do I reject it, but any sensible man in the world will reject this allegation," he said.
Full report at:
http://www.hindustantimes.com/world-news/Pakistan/Pak-officer-harboured-Osama-with-full-knowledge-of-Musharraf/Article1-885607.aspx
----------
Put pressure on Haqqani network, US tells Pakistan
Jul 09 2012,
TOKYO: The United States on Sunday pressed Pakistan to pressure into talks the Haqqani network, which it blames for attacks on US targets in Afghanistan.
During their one-hour meeting, US Secretary of State Hillary Clinton urged Foreign Minister Hina Rabbani Khar to put pressure on the Haqqani network, said a senior US official, who acknowledged that it was unclear whether Pakistan would step up its counter-terrorism efforts. "In terms of counterterrorism, my answer is we'll see," the official told reporters on condition of anonymity.
"In many ways, the fact that the (land routes) were closed was getting in the way of a lot of conversation with Pakistan. Now that (they) are open, we have an opportunity, it seems to me, to go back into business with them and counter-terrorism is one of those areas. So, we'll see," he added.
Speaking after she met Khar, Clinton said both were encouraged they had "put the recent difficulties behind us" but she acknowledged the difficulties in the relationship in blunt terms.
The US-Pakistan relationship remained challenging for both despite the reopening of Pakistani land routes to resupply US troops in Afghanistan, Clinton said.
"I have said many times that this is a challenging but essential relationship. It remains so. And I have no reason to believe it will not continue to raise hard questions for us both," She told a news conference in Tokyo, where both officials attended an Afghan donors' conference. "But it is something that I think is in the interests of the United States as well as in the interests of Pakistan."
Full report at:
http://www.dailytimes.com.pk/default.asp?page=2012\07\09\story_9-7-2012_pg1_2
----------
Customs authorities begin work to speed Nato supply transit
Jul 09 2012,
PESHAWAR: Pakistan is doubling the capacity for Nato trucks at a key border crossing, officials said Monday, to speed up processing for an expected influx of supplies for troops in Afghanistan.
Customs officials at Torkham border crossing in the country's troubled northwest told AFP that work had begun to expand dedicated parking for Nato containers.
Islamabad agreed to reopen overland routes to Nato convoys last week after a seven-month blockade sparked by a US air raid on a border post that killed 24 Pakistani soldiers.
"After expansion the parking capacity for Nato trucks will be doubled," Obaidullah Khan, a customs official at Torkham, the closest border crossing to Kabul, told AFP.
"Prior to the closure the terminal had a parking capacity of 250 vehicles and now we are expanding it to 500." Khan said work was also under way on two special rooms for customs officers dealing with paperwork for Nato vehicles to speed up their transit into Afghanistan.
Security at the crossing is being boosted, Khan said, to foil Taliban militants who have vowed to attack Nato trucks and kill their crews.
Full report at:
http://dawn.com/2012/07/09/customs-authorities-begin-work-to-speed-nato-supply-transit/
Mideast Asia
---------
Yemen frees 25 southern separatists
9 July 2012
Yemeni authorities have released 25 activists hours after they were arrested in the south following deadly clashes between police and separatists, activists said on Sunday.
The capital of the formerly independent South Yemen, Aden, was cautiously calm on Sunday, a day after a gathering by separatists commemorating the north's seizure of the south in 1994 turned into a gunbattle.
Two protesters were killed and one man was left "clinically dead" in the clashes which took place in Aden's Mansura district, a medical official from Al Naqib hospital said.
Further east, in the town of Seyun in Hadramawt province, one protester was killed and four others were wounded on Saturday when police opened fire on another group of demonstrators, activists said.
Meanwhile, 25 activists, including Yahia Saleh Said, deputy head of the Southern Movement's superior council who were arrested were released a few hours later on Saturday.
http://www.khaleejtimes.com/kt-article-display-1.asp?xfile=data/middleeast/2012/July/middleeast_July98.xml&section=middleeast
----------
Three Palestinians injured in clash with Israelis
9 July 2012
Israelis and Palestinians clashed near the West Bank settlement of Itamar on Saturday but the two sides gave conflicting accounts of the incident.
Palestinian security officials said Jewish settlers attacked Palestinian shepherds from the neighbouring village of Yanun, south of Nablus, and stabbed five of their sheep to death.
They said Israeli troops who arrived at the scene joined the settlers in opening rifle fire on the Palestinians, wounding one seriously and two moderately.
An army spokeswoman said no Palestinian was wounded by live fire, adding that soldiers employed "riot dispersal means" to separate the sides, usually a reference to teargas or rubber bullets. "There was a clash between Israeli civilians and many Palestinians that broke out and included mutual rock-throwing," she said. "We know that during this confrontation one Israeli civilian and one Palestinian were injured by rocks."
The UN Human Rights Council has set up a panel to probe illegal Jewish settlements in the occupied Palestinian territories.
Israel, which severed ties with the council in March, said on Friday that it would bar the panel's experts from access to the sites of inquiry.
http://www.khaleejtimes.com/kt-article-display-1.asp?xfile=/data/middleeast/2012/July/middleeast_July95.xml&section=middleeast
Arab World
Egypt court challenges Mursi's reopening of parliament
9 July 2012
Egyptian President Mohammed Mursi's order to reconvene parliament has been rejected by the highest court, which says its ruling that led to the assembly's dissolution is binding.
The speaker of the dissolved house has already responded to Mr Mursi's decree, calling on MPs to meet on Tuesday.
Army units outside parliament have left and some MPs have gone in.
The decision by Mr Mursi, whose Muslim Brotherhood has most seats, sets up a potential showdown with the military.
On the face of it, the court's pronouncement means that President Mursi and the Muslim Brotherhood are on course for a confrontation, both with the military and with the courts.
In practice it's not quite so simple.
All the court did last month was to rule that part of the election for parliament was unconstitutional. It didn't order the dissolution of parliament -- that was done by the military. So President Mursi is not going directly against a court order.
As for the military, they are not acting at the moment as if they are preparing for a showdown with the Brotherhood - rather the opposite.
Security outside parliament has been reduced, not increased. So it's still possible this crisis could be resolved without a major confrontation.
However the situation is unclear as Egyptians elected Mr Mursi without a constitution and without his powers being defined.
'No appeal'
Full report at:
http://www.bbc.co.uk/news/world-middle-east-18765947
---------
Youth Union Stresses Islamic Sharia Source of Legislation in Egypt
8 JULY 2012
The Revolution Youth Union on 7/7/2012 has said that it agrees with the new constitutional article stipulating that Sharia or Islamic law is the source of legislation and that non-Muslims resort to their creeds in personal status and religious affairs.
Member of the union's executive office Mohamed el-Badry said on 7/7/2012 that all people here wish to live under Sharia law because it guarantees safety and security to Muslims and non-Muslims.
http://allafrica.com/stories/201207090590.html
--------
Two die during Saudi Arabia protest at Shia cleric arrest
Jul 09 2012,
Two men have been killed in Saudi Arabia during a protest against the arrest of a prominent Shia cleric.
Activists said Akbar al-Shakuri and Mohammed al-Filfil were shot by police while attending a demonstration in Qatif, a city in Eastern Province.
The interior ministry said there had been no clashes with police, and that the incident was being investigated.
Earlier, officials had said the cleric, Sheikh Nimr al-Nimr, was hurt in a car accident as security forces chased him.
The interior ministry said Sheikh Nimr was an "instigator of sedition" and would be interrogated after receiving treatment for a leg injury.
Ten days ago, the cleric said in a speech that he was confident his arrest or killing would be a "motivation" for more widespread demonstrations demanding reforms, an end to sectarian discrimination and the release of political prisoners.
Full report at:
http://www.bbc.co.uk/news/world-middle-east-18768703
----------
Iraq VP trial delayed on defence appeals
9 July 2012
The trial of Iraq's fugitive Vice-President Tareq Al Hashemi, accused of running death squads, was postponed on Sunday as judges await an appeals court ruling on the conduct of the trial.
Hashemi, last known to be in Turkey, is being tried in absentia along with several of his bodyguards. The vice-president insists the charges filed by the government are politically-motivated.
Hashemi's legal team said they presented an appeal to the federal appeals court after their requests for top government officials, including President Jalal Talabani, to testify were rejected by judges.
"Initially, we presented requests to the court about calling witnesses such as Talabani, (ex-vice president) Adel Abdel Mahdi, (Talabani's office manager) Nasser Al Ani and five MPs," Muayad Al Izzi, who heads the vice president's legal team, said, referring to a May 31 request.
"This request was rejected so we decided to present the request to the federal appeals court. The court demanded that the whole case be brought to them to review it, and to review our request."
Earlier, a judge presiding over the Hashemi trial said: "We are obliged, as a court, to listen to the appeals court's ruling. They will examine it, and we will wait to see what they decide."
Full report at:
http://www.khaleejtimes.com/kt-article-display-1.asp?xfile=data/middleeast/2012/July/middleeast_July97.xml&section=middleeast
---------
Mubarak's sons back in court on graft charges
9 July 2012
The two sons of Egypt's former president were back in court on Monday facing charges of stock market manipulation, five weeks after separate corruption charges against them were thrown out.
Gamal and Alaa Mubarak, with seven other men, were charged with violating stock market and central bank rules to make unlawful profits through dealing of shares in Al Watany Bank of Egypt.
Mubarak's eldest son, Alaa, is a businessman. His brother Gamal, a former banker, was widely viewed as being groomed for Egypt's top job until Mubarak was toppled in February 2011.
Wearing white prison uniforms, they sat in a steel cage reserved for defendants in the court at a Cairo police academy as a prosecution official read out details of the charges. The other executives wore suits.
"This has absolutely no basis in fact. I deny these charges in whole and in their details," Gamal Mubarak told the judge. His brother said: "Unfortunately, sir, this is all lies and defamation."
Full report at:
http://www.khaleejtimes.com/kt-article-display-1.asp?xfile=data/middleeast/2012/July/middleeast_July100.xml&section=middleeast
---------
Syrian opposition group says death toll from uprising has topped 17,000
Jul 09 2012,
BEIRUT — An opposition group that documents human rights violations in Syria says more than 17,000 people have been killed since the uprising against President Bashar Assad began in March 2011.
The violence has grown increasingly chaotic in recent months, and it is difficult to assign blame for much of the bloodshed as the country spirals toward civil war.
The government restricts journalists from moving freely, making it impossible to independently verify death tolls.
The Britain-based Syrian Observatory for Human Rights said Monday that among the 17,129 deaths are 11,897 civilians, 4,348 soldiers and 884 military defectors.
The group has a network of activists on the ground who document deaths and rights violations through eyewitness, accounts, hospitals and video footage.
Another group, the Local Coordination Committees, says 14,841 civilians have been killed.
Copyright 2012 The Associated Press. All rights reserved. This material may not be published, broadcast, rewritten or redistributed.
http://www.washingtonpost.com/world/middle_east/syrian-opposition-group-says-death-toll-from-uprising-has-topped-17000/2012/07/09/gJQATeu2XW_story.html
---------
Egypt arrests 68 African migrants
9 July 2012
An Egyptian security official said border guards have arrested 68 African migrants trying to illegally cross into Israel.
The official said guards spotted the group close to the barbed wire border in the Sinai Peninsula late on Saturday and shot in the air, forcing them to stop and surrender.
The official says the 68 Africans included Sudanese, Ethiopians and Eritreans.
He spoke on condition of anonymity because he is not authorised to brief the media.
Hundreds of Africans seeking political asylum and jobs try to illegally enter Israel every year, in long perilous desert trips, often with the help of Bedouin traffickers.
Egyptian border guards trying to stem the flow of illegal migration into Israel have killed dozens of migrants in recent years.
http://www.khaleejtimes.com/kt-article-display-1.asp?xfile=data/middleeast/2012/July/middleeast_July99.xml&section=middleeast
----------
Syrian Naval Forces test missiles
9 July 2012
Syria's navy fired live missiles from ships and helicopters over the weekend, state media said on Sunday, in an exercise aiming at showcasing its ability to "defend Syria's shores against any possible aggression".
Syrian television aired video of a variety of missiles being fired from launchers on land and from ships and showed the Syrian Defence Minister Dawud Abdallah Rahijia in attendance.
"Naval Forces conducted an operational live fire exercise on Saturday, using missiles launched from the sea and coast, helicopters and missile boats, simulating a scenario of repelling a sudden attack from the sea," Syrian news agency Sana said, adding manoeuvres would continue for several days.
Opposition figures have been calling for a no-fly zone and Nato strikes against Syrian forces, similar to those carried out in Libya last year which enabled rebel ground forces to end the rule of Muammar Gaddafi.
Full report at:
http://www.khaleejtimes.com/kt-article-display-1.asp?section=middleeast&xfile=data/middleeast/2012/July/middleeast_July92.xml
---------
Egypt arrests 68 African migrants
9 July 2012
An Egyptian security official said border guards have arrested 68 African migrants trying to illegally cross into Israel.
The official said guards spotted the group close to the barbed wire border in the Sinai Peninsula late on Saturday and shot in the air, forcing them to stop and surrender.
The official says the 68 Africans included Sudanese, Ethiopians and Eritreans.
He spoke on condition of anonymity because he is not authorised to brief the media.
Hundreds of Africans seeking political asylum and jobs try to illegally enter Israel every year, in long perilous desert trips, often with the help of Bedouin traffickers.
Egyptian border guards trying to stem the flow of illegal migration into Israel have killed dozens of migrants in recent years.
http://www.khaleejtimes.com/kt-article-display-1.asp?xfile=/data/middleeast/2012/July/middleeast_July99.xml&section=middleeast
--------
Kofi Annan ends 'positive' Syria talks, heads for Iran
Jul 9, 2012,
Kofi Annan said he had constructive talks in Damascus on Monday with Syrian President Bashar al-Assad.
DAMASCUS: Kofi Annan said he had constructive talks in Damascus on Monday with Syrian President Bashar al-Assad, who said the UN peace envoy's plan to end 16 months of bloodshed was being undermined by US political support for "terrorists".
Within hours, Annan was due to head for Iran for talks with Syria's main ally in the region.
"I just had a positive and constructive discussion with President Assad," the United Nations special envoy said.
"We agreed an approach which I will share with he opposition," he told reporters. Once again, Annan stressed the important of halting violence and promoting political dialogue -- the key points of the plan he put forward in April.
Syrian foreign ministry spokesman Jihad Makdissi said in a Twitter message: "In both meetings we reassured Annan of Syria's commitment to implement the 6-points Plan and hoped other side is mutually committed."
In a television interview aired on Sunday, Assad accused Saudi Arabia, Qatar and Turkey, as well as the United States, of supplying arms and logistical support to the rebels trying to overthrow him.
Full report at:
http://timesofindia.indiatimes.com/world/middle-east/Kofi-Annan-ends-positive-Syria-talks-heads-for-Iran/articleshow/14778345.cms
----------
Assad Says Public Support Assures He Will Continue to Lead Syria
By NEIL MacFARQUHAR
Jul 09 2012,
BEIRUT, Lebanon – President Bashar al-Assad of Syria said in an interview on German television that public support for his rule meant he would remain in office, and maintained that victims of violence among government supporters, including the military, outnumbered those among civilians.
The interview came in tandem with a visit by Kofi Annan, the special envoy on Syria for the United Nations and the Arab League, to Damascus for talks on Monday about rescuing his six-point peace plan from oblivion. He was to fly on to Iran afterward.
In Damascus, Mr. Annan told reporters that he had reached an agreement with Mr. Assad on an approach to end the violence, but he did not provide any details.
"We discussed the need to end the violence and ways and means of doing so," Mr. Annan said. "We agreed on an approach which I will share with the armed opposition. I also stressed the importance of moving ahead with a political dialogue which the president accepts."
There were reports of scattered violence around Syria on Monday, with particularly heavy government shelling directed at Ariha in northern Idlib province and a number of victims, opposition activists said. The government and rebels have been vying for control of territory in the province for months.
Full report at:
http://www.nytimes.com/2012/07/10/world/middleeast/bashar-al-assad-meets-with-kofi-annan.html?ref=middleeast&gwh=3D80B9475DD1ACD46106A17FD3C6E54B
---------
SCB appoints Pakistani as new Mideast, Africa consumer bank head
Jul 09 2012,
DUBAI: Standard Chartered appointed Raheel Ahmed as its regional consumer banking head for the Middle East, Africa and Pakistan, replacing Vishu Ramachandran who has been named chief operating officer for global consumer banking, the lender said.
He will report to Steve Bertamini, group executive director and chief executive of consumer banking, and will be based in Dubai, the Asia-focused bank said in a statement on Monday.
Ahmed, who graduated with an MBA from Pakistan's Institute of Business Administration (IBA) in 1991, joined Standard Chartered bank in 2004. He has worked for Citigroup as Regional Credit Risk Manager for Europe, Middle East & Africa prior to joining Standard Chartered.
In May, the UK-based lender named Morad Mahlouji as its regional head for origination and client coverage for Middle East and North Africa (MENA).
http://dawn.com/2012/07/09/scb-appoints-pakistani-as-new-mideast-africa-consumer-bank-head/
---------
Mubarak sons on trial again for corruption
Jul 09 2012,
CAIRO: The sons of ousted Egyptian president Hosni Mubarak appeared in court to face a new corruption trial on Monday, after the two were acquitted in another case.
Dressed in white prison outfits, Alaa and Gamal — once the symbols of wealth and power — faced accusations of insider trading along with seven other defendants.
The pair had faced different corruption charges along with their father in a separate trial, but the court dropped them because of the expiry of a statute of limitations.
They have remained in prison pending investigations into the new case.
On June 2, a court sentenced Hosni Mubarak and his interior minister to life in jail for their involvement in the killing of protesters during the uprising that ousted the former strongman in February 2011.
Gamal, 48, headed a powerful policy committee in the ruling party under his father and was widely seen as the heir apparent, a perception that helped fuel the uprising against Mubarak.
Alaa, the older son, stayed out of politics but was rumoured to have amassed a fortune using his father's connections.
http://dawn.com/2012/07/09/mubarak-sons-on-trial-again-for-corruption/
Africa
Liberals lead polls in Tripoli, Benghazi: Islamists
8 July 2012
TRIPOLI: The leader of one of Libya's main Islamist parties said on Sunday that a rival liberal coalition had a solid advantage after the country's first election since the ouster of Muammar Qaddafi.
"The National Forces Alliance achieved good results in some large cities except Misrata. They have a net lead in Tripoli and in Benghazi," said Mohammed Sawan, who heads the Justice and Construction party.
The bulk of Libya's population and registered voters are concentrated in the capital, which lies in the west of the oil-rich desert country, and in the eastern city of Benghazi.
"But it is a tight race for us in the south," Sawan added.
Libyans on Saturday voted for a General National Congress, a 200-member legislative assembly which will steer the country through a transition period following the toppling and killing of Qaddafi last year.
A total of 80 seats in the incoming congress are reserved for political entities while the remaining 120 are open to individual candidates, some of which are openly allied to specific parties.
Full report at:
http://www.arabnews.com/liberals-lead-polls-tripoli-benghazi-islamists
--------
115 killed in central Nigeria in internecine clashes
Jul 9, 2012
Abuja: Spiraling ethnic violence has claimed over 100 lives, including that of two lawmakers, over the past two days in central Nigeria where herdsmen from the Fulani tribe raided Christian villages prompting violent clashes between rival tribes.
At least 115 people have been killed in horrifying violence since Saturday near the conflict-prone Jos city, forcing authorities to clamp a curfew.
With no let up in violence, two lawmakers a federal senator and a state parliamentarian — were killed, and a House of Representatives member narrowly escaped yesterday.
The lawmakers were attending a funeral service of 63 people who were killed on Saturday in Karkuruk village in Barkin Ladi local government area when the assailants returned with guns and machetes to launch another attack.
Senator Gyang Dantong, and Gyang Fulani, a representative of the constituency in the state House of Assembly were the two lawmakers who were killed. House of Representatives member Simon Mwadkom was wounded and was rushed to a hospital in an unconscious state.
Full report at:
http://www.firstpost.com/world/115-killed-in-central-nigeria-in-internecine-clashes-372368.html
URL: https://newageislam.com/islamic-world-news/fury-toulouse-killer-mohamed-merahs/d/7869