New Age Islam News Bureau
17 Jun 2014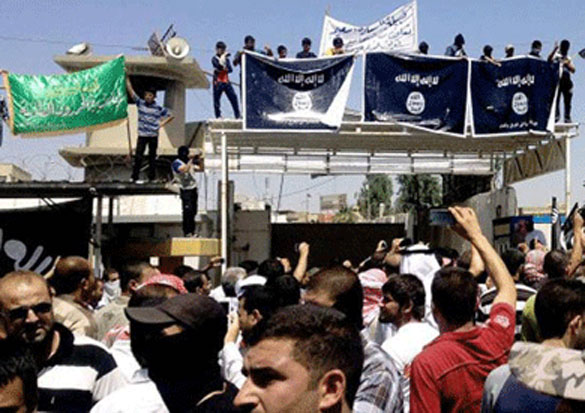 Demonstrators chant pro-al-Qaida-inspired ISIL in front of the provincial government headquarters in Mosul, Iraq. (AP Photo)
------------
Arab World
• Fugitive VP, Hashemi Says Iraq Violence Part of a 'Sunni Arab Revolt'
• Fighting northeast of Baghdad kills 44 detainees
• Deir Ezzor Blast Kills Several Commanders in Nusra Front, Ahrar Al-Sham
• ISIL militants attack ethnic Turkmen village near Kirkuk, approach to Baghdad
• Iraqi historical sites at risk amid crisis
• ISIL, Opposition Militant Groups Clashes Resume in Eastern Syria
• Sunnis and Kurds on Sidelines of Iraqi Leader's Military Plans
• Salafist leader demands repeal of protest law
• Madinah residents clamour for entertainment spots
• KSA calls for national consensus govt in Iraq
South Asia
• 55 Taliban militants killed, 36 others injured in Afghan operations
• China executes 13 for Xinjiang 'terrorist attacks'
• Buddhists vs Muslims: Sri Lanka deploys army as riots spread in country
• Afghan police kill Taliban who cut off voters' fingers
• Visiting Lankan minister blames extremists for anti-Muslim violence
• Kabul asked not to shelter fleeing NWA tribesmen
• "President Yameen's administration will fall in a coup," says Nasheed
• Machine-Readable Passports Home Delivery for Saudi Arabia Expats
Pakistan
• Over 50 Militants Killed In North Waziristan Air Strikes'
• Pakistan seeks Afghanistan's help for Waziristan offensive
• Taliban control 25pc of Karachi, claims MQM leader
• Annihilate the Enemies: TTP Brought Bad name to Both Islam and Pakistan
• 8 dead, 85 injured in clash between Qadri supporters, police in Lahore
• Jamaat-i-Islami asks militants to shun terrorism
• Terrorists tarnishing Islam's image: Chief Justice
• 'Selective operation' in NWA not to end terrorism: JUI-F
North America
• US Support Pakistan's Efforts to Extend Sovereignty and Stability
• Pentagon won't coordinate possible Iraq military action with Iran
• US hikes surveillance on Pak-Afghan border
• 300 US military personnel stationed in Iraq to protect US citizens and assets
• Gulen lobbies for S. Africa asylum if deported from US
Europe
• UN Rights Chief Says ISIL Likely Guilty Of War Crimes
• In diplomatic breakthrough, UK to reopen embassy in Iran
• Netherlands gives Turkey names of 100 possible jihadists travelling to Syria
• UN demands action after Sri Lanka anti-Muslim riot
• Chechnya's Mufti-For-Life Sidelined
• Google, YouTube Remain Inaccessible In Tajikistan
India
• Stand by Iraq in its fight against terrorism, says India
• Pakistan surges ahead of India in nuclear stockpile: Report
• India will work closely with new Afghan President
Southeast Asia
• EU Expresses Concern over Shariah-Related Human Rights Abuses in Aceh
• Two Abu Sayyaf militants held in Philippines
• PAS MPs tell off Selangor Islamic authorities over Bibles issue
Africa
• Nigeria Muslim body urges dialogue with Boko Haram
• Islamist militants kill 8 more in new attack on Kenya coast
• Nigeria: Army Arrests 486 Suspected Boko Haram Members in Abia
• Ethiopian bank to provide interest-free funds for pilgrims
Mideast
• Istanbul-based Islamic charity organization uses ISIL-adopted insignia on logo
• Turkish court issues gag order on reporting of Mosul hostage crisis
• Bennett threatens Hamas in West Bank with 'ticket to hell'
• Iran, EU, US Held Trilateral Meeting on Nuclear Issue Only: Zarif
Compiled by New Age Islam News Bureau
URL: https://www.newageislam.com/islamic-world-news/new-age-islam-news-bureau/fugitive-vp,-hashemi-says-iraq-violence-part-of-a--sunni-arab-revolt-/d/87596
------------
Arab World
Fugitive VP, Hashemi Says Iraq Violence Part of a 'Sunni Arab Revolt'
Jun 17, 2014
The violence in Iraq is part of a broader Sunni Arab revolt that could lead to a holy war in the country, and is not just a rampage by Islamist militants from an al-Qaeda splinter group, fugitive vice president Tarek al-Hashemi told Reuters on June 16.
Militants from the Islamic State of Iraq and the Levant have routed Baghdad's army and seized the north of the country in the past week, threatening to dismember Iraq and unleash all-out sectarian war.
"What happened in my country ... is desperate people revolted. Simple as that. Arab Sunni communities over 11 years faced discrimination, injustice, corruption," Hashemi said, rejecting the suggestion that militants from ISIL, also known as ISIS, alone were responsible.
"We do have about 11 to 12 armed groups, and they are being reactivated now. And we do also have political parties involved, we have ex-army officers, we have tribes, we have independent people in fact," he said in an interview in Istanbul.
Hashemi, a Sunni sentenced to death in 2012 after an Iraqi court convicted him of running death squads while vice president, something he denies, has long accused Prime Minister Nuri al-Maliki of a witch-hunt against his Sunni opponents.
"We have many groups beside ISIS. I am not going to deny that ISIS are existing, that ISIS are not influential. No, they are influential, very strong, could be a vanguard even in the whole operation in Mosul and other provinces, but they are not representing the whole spectrum of the groups," Hashemi said.
Shiite cleric's fatwa 'fuel on fire'
He warned the situation could descend into a full-blown religious war and said Iraq's most senior Shiite Muslim cleric, Grand Ayatollah Ali al-Sistani, had fanned the flames when he called at Friday prayers for his followers to take up arms.
"If we leave things developing on the ground there will be a possibility for wide-scale sectarian warfare," said Hashemi, who divides his time between the Gulf Arab state of Qatar and Turkey.
"The fatwa of Grand Ayatollah Sistani just put more fuel on the fire. There will be a reaction from the Arab Sunni communities and at the end of the day we are expecting a holy war between Muslim people, Shi'a and Sunnis," he said.
"We have to stop that; we should try our best to stop the bloodshed. This is the responsibility of everybody and on top of them, the United Nations," he said, calling for Maliki to resign and for the international community to intervene.
Like Hashemi, critics of Maliki say he has gained undue control over the army, police and security services, using them freely against Sunni Muslim and other political foes, while allowing grave abuses in prisons and detention centres.
Maliki has said in the past that his fight is with al-Qaeda, not with Sunni Muslims as a community. He lists an end to sectarianism and militias among his core principles.
Hashemi said Maliki's leadership and the international community's abandonment of Iraq had fuelled the extremists' rise. The last U.S. troops left Iraq in late 2011, nearly nine years after the invasion that ousted Saddam Hussein.
"We are not generating ISIS, we are not generating al Qaeda ... They just left things on the ground, and because of the injustice, they pushed our youngest sons to be more extreme," Hashemi said.
"We kept warning the international community but everybody kept his eyes blind to what's going on in Iraq. And all of a sudden, 'why has this happened in Mosul, why this happened in Salahaddin?' You should blame yourself," he said.
http://www.hurriyetdailynews.com/fugitive-vice-president-hashemi-says-iraq-violence-part-of-a-sunni-arab-revolt.aspx?pageID=238&nID=67891&NewsCatID=352
------------
Fighting northeast of Baghdad kills 44 detainees
Jun 17, 2014
Sunni insurgents pushed further into a province northeast of Baghdad, laid siege to a police station and battled pro-government Shiite militiamen in overnight clashes that left at least 44 detainees dead, Iraqi officials said Tuesday.
There were conflicting reports on details of the fighting in the al-Kattoun district near Baqouba, the capital of Diyala province.
Three police officers said the police station, which has a small jail, came under attack on Monday night by Islamic militants who tried to free the detainees, all suspected Sunni militants.
The three said Shiite militiamen, who rushed to defend the facility, killed the detainees at close range. A morgue official in the provincial capital of Baqouba said many of the slain detainees had bullet wounds to the head and chest. All four officials spoke on condition of anonymity fearing for their own safety.
However, Iraq's chief military spokesman Lt. Gen. Qassim al-Moussawi told The Associated Press that 52 detainees who were held at the station in al-Kattoun died when the attackers shelled it with mortar rounds.
Al-Moussawi said the attackers belonged to the Islamic State of Iraq and the Levant, an al-Qaida-inspired group that last week captured a large swath of territory in a lightning offensive in northern Iraq.
The group is known to be active in Diyala, where Shiite militiamen are deployed alongside government forces.
Nine of the attackers were killed, said al-Moussawi. The conflicting reports could not immediately be reconciled.
The Islamic State has vowed to march to Baghdad, Karbala and Najaf in the worst threat to Iraq's stability since U.S. troops left in 2011. Their push has largely been unchecked as Iraqi troops and police melted away and surrendered in the militants' onslaught on the city of Mosul and Trikrit, Saddam Hussein's hometown.
But a call to arms on Friday from Iraq's top Shiite cleric, Iranian-born Grand Ayatollah Ali al-Sistani, raised the specter that the turmoil in Iraq is quickly evolving into a Sunni-Shiite conflict.
http://english.ahram.org.eg/NewsContent/2/8/103965/World/Region/Fighting-northeast-of-Baghdad-kills--detainees.aspx
------------
Deir Ezzor Blast Kills Several Commanders in Nusra Front, Ahrar Al-Sham
Jun 17, 2014
Several commanders of terrorist groups in Syria were killed in a car bomb in Deir Ezzor late on Monday.
Sources told al-Manar that a car bomb hit Shmaita town in Der Ezzor's western countryside, noting that senior commanders of the terrorist groups, Nusra Front and Ahrar al-Sham, were killed.Nusra Front terrorists
Extremist websites reported that commander in Nusra Front, Ibrahim al-Kherfan, along with Abu Abdullah Al-Shami, Ahrar al-Sham Emir in Deir Ezzor's western countryside.
The explosion also killed Abu Mohamad al-Humsi, a judge in the so-called juristic council, according to the extremist websites.
The so-called coordination committee in Deir Ezzor said that two civilians were killed in the blast, noting that ten others were injured, most of them are members in Ahrar al-Sham movement.
http://www.almanar.com.lb/english/adetails.php?fromval=1&cid=23&frid=23&eid=156869
------------
ISIL militants attack ethnic Turkmen village of Basheer near Kirkuk, approach to Baghdad
Jun 17, 2014
Sunni Muslim militants of the Islamic State in Iraq and the Levant (ISIL) attacked a northern Iraqi village inhabited by Shiite ethnic Turkmens but were repelled, police said on June 17, highlighting an upsurge of sectarian violence after stunning advances by jihadi fighters.
The militants were beaten back from the village of Basheer, 15 kilometers south of the city of Kirkuk after an hour of clashes with local militia and police forces.
The government of Shiite Prime Minister Nuri al-Maliki is seeking to repel the Sunni militants who have seized several cities over the past week.
Fighters from the ISIL and other Sunni militants have swept through towns in the Tigris valley north of Baghdad in recent days but appeared to have halted their advance outside the capital on June 16 as they tightened their grip on the north.
But on June 17, militants attacked and took control of parts of the central Iraq city of Baquba
The overnight attack took place in the centre of Baquba, capital of Diyala province, and according to the officers, saw militants temporarily occupying several neighbourhoods. But security forces eventually repelled the assault on June 17, army and police officers said.
The city, located just 60 kilometers north of Baghdad, is the closest the fighting has come to the capital since a major militant offensive swept down from the north last week.
ISIL's offensive overran all of one province and major parts of three more since it began late on June 9.
http://www.hurriyetdailynews.com/isil-militants-attack-ethnic-turkmen-village-of-basheer-near-kirkuk-approach-to-baghdad.aspx?pageID=238&nID=67894&NewsCatID=352
---------
Iraqi historical sites at risk amid crisis
World Bulletin / News Desk
June 17, 2014
Historical and archeological sites in Iraq had barely survived the US occupation of the country which started in 2003, but in the past week the Iraqi Tourism Ministry has reported that up to 4,370 sites had been destroyed as rebels sweep the country from their stronghold in Mosul.
The Ministry stated that the sites had been destroyed in Mosul, Diyala, Kirkuk, Anbar and Salahuddin - all cities held by the self-styled Islamic State of Iraq and the Levant (ISIL).
"Terrorism does not recognise the meaning of civilization and does not know its importance to humanity," the Ministry said in a statement.
Full report at:
http://www.worldbulletin.net/todays-news/139143/iraqi-historical-sites-at-risk-amid-crisis
-----------
ISIL, Opposition Militant Groups Clashes Resume in Eastern Syria
Jun 17, 2014
New clashes erupted in Deir Ezour, eastern Syria, between the opposition militant groups and the Islamic State in Iraq and the Levant (ISIL) after a two-week stop, a monitor said Tuesday.
The Syrian Observatory for Human Rights said Monday night's fighting broke out when ISIL tried to push an advance carried out by al-Nusra Front and other militant groups in the village of Basira, located in the east of Deir Ezzor province close to Iraq.
http://www.almanar.com.lb/english/adetails.php?eid=156924&cid=23&fromval=1&frid=23&seccatid=20&s1=1
------------
Sunnis and Kurds on Sidelines of Iraqi Leader's Military Plans
Jun 17, 2014
BAGHDAD — Prime Minister Nuri Kamal al-Maliki has presented himself as the man who could bring Iraqis together, but with the collapse of his army before a Sunni militant assault, he has taken on only one role — that of commander in chief of Iraq.
He is spending much of his time on the military side of the presidential compound, while some of his close civilian aides have taken to wearing starched military fatigues. He spends the better part of his day running the war.
He meets with military commanders, travels to the front lines, makes speeches at recruiting drives rallying young Shiite men and, not infrequently, falls into fits of anger, according to members of his inner circle.
What he does not do, by all accounts, is spend much time on the political reconciliation with the Sunni Arabs and Kurds that his international allies in Washington and Tehran have insisted is his country's only possible salvation. Even his top aide in charge of reconciliation said Monday that he thinks it is all but hopeless at this point.
Full report at:
http://www.nytimes.com/2014/06/17/world/middleeast/sunnis-and-kurds-on-sidelines-of-iraq-leaders-military-plans.html?hpw&rref=world
------------
Salafist leader demands repeal of protest law
Jun 17, 2014
Nour Party chairman Younes Makhion has called for the controversial protest law to be scrapped and for the release of non-violent detainees.
The Salafist leader said the penal code was sufficient to deal with violent protesters until a new law is passed by the upcoming parliament.
Makhion, who has frequently called for an end to protests by loyalists of deposed president Mohamed Morsi, has been critical of the protest law since it was issued by interim president Adly Mansour in November.
Makhion, whose party backed Abdel-Fattah El-Sisi in the May presidential election, has defended his anti-protest stance since last December by saying the country can only move towards democracy through elections, not protests.
Full report at:
http://english.ahram.org.eg/NewsContent/1/64/103942/Egypt/Politics-/Salafist-leader-demands-repeal-of-protest-law.aspx
------------
Madinah residents clamor for entertainment spots
Jun 17, 2014
Since the Madinah Mayoralty closed the amusement parks in the city two years ago, residents say they have no place to go for fresh air and spend their leisure time during the summer vacation.
Naser Nafe, a local resident, told Arab News that the residents are suffering from a lack of recreational sites. "We are yearning for some open spaces. The only public space we have is King Fahd Park which doesn't have the amenities of the now closed amusement parks," he said referring to the theme parks that were scattered around the city.
Families complained of the costly journeys to nearby cities or malls where they go to seek entertainment. However, the Madinah Mayoralty's closure of Beijan Park, Dorr Al-Madinah and Luna Park entertainment venues have left citizens with no other alternatives.
Full report at:
http://www.arabnews.com/news/587481
------------
KSA calls for national consensus govt in Iraq
Jun 17, 2014
JEDDAH – Saudi Arabia called on Monday for the quick formation of a national consensus government in Iraq, blaming Baghdad's sectarian policies against Sunni Arabs for the unrest now sweeping the country.
The weekly session of the Council of Ministers, chaired by Vice Custodian of the Two Holy Mosques Prince Salman Bin Abdulaziz, also warned against foreign meddling in Iraq after rebels took control of vast swathes of territory north of Baghdad in a matter of days.
In a statement to the Saudi Press Agency following the session, Minister of Culture and Information Dr. Abdulaziz Khoja said that the Cabinet voiced the Kingdom's deep concern over the latest developments in Iraq, saying that the unrest could not have taken place if it was not for the sectarian and exclusionary policies implemented in Iraq over the past years that threatened its security, stability and sovereignty.
Full report at:
http://www.saudigazette.com.sa/index.cfm?method=home.regcon&contentid=20140617208727
------------
South Asia
55 Taliban militants killed, 36 others injured in Afghan operations
Jun 17 2014
At least 55 Taliban militants were killed following counter-terrorism operations conducted by Afghan national security forces in the past 24 hours.
The Ministry of Interior (MoI) following a statement said the militants were killed during operations in Helmand, Kandahar, Ghazni, Maidan Wardak, nangarhar, Uruzgan, Logar and Ghor provinces.
The statement further added that the operations were jointly conducted by Afghan national police, Afghan national army and Afghan intelligence operatives.
At least 36 Taliban militants were also injured and various types of light and heavy weapons along with ammunition and explosives were confiscated, interior ministry said.
Afghan police forces also discovered and seized 15 improvised explosive devices (EIDs) during operations in Uruzgan, Khost, Balkh and Kandahar provinces.
The Taliban militants group has not commented regarding the report so far.
http://www.khaama.com/55-taliban-militants-killed-36-others-injured-in-afghan-operations-6192
------------
China executes 13 for Xinjiang 'terrorist attacks'
June 17, 2014
BEIJING: China executed 13 people Monday for 'terrorist attacks' in the violence-wracked northwestern region of Xinjiang, state media said, as death sentences were issued over a suicide car crash at Beijing's Tiananmen Square.
The announcement by the official Xinhua news agency said the 13 were involved in seven different cases connected to Xinjiang, where Beijing says separatist militants are behind a string of attacks that have rocked China in recent months. Xinhua provided names of four of the executed without identifying them by their ethnicity, though some of the names appeared to be Uighur, a Turkic-speaking mainly Muslim group with cultural and linguistic links to Central Asia. The report identified two of the cases as taking place last year and resulting in more than two dozen deaths, including those of 24 police officers and ordinary citizens in Xinjiang's Turpan Prefecture in June. 'The execution of criminals involved in terrorist attacks and violent crimes answers the calls of all ethnic groups, deters criminal activities, and demonstrates the resolve of the Communist Party of China and the government in cracking down on terrorism,' Xinhua quoted a spokesman for the Xinjiang regional higher people's court as saying.
Full report at:
http://www.nation.com.pk/international/17-Jun-2014/china-executes-13-for-xinjiang-terrorist-attacks
------------
Buddhists vs Muslims: Sri Lanka deploys army as riots spread in country
PTI | Jun 17, 2014
COLOMBO: Sri Lanka on Tuesday deployed its army as clashes between Buddhists and minority Muslims spread to newer areas overnight in a popular tourist region where a curfew failed to douse the flare-up that has killed at least four people and destroyed a number of homes and businesses.
Officials said the Sri Lankan army was called in as tensions in Aluthgama and Beruwala areas in the country's southwestern region escalated last night. The decision followed a request made by the police.
The affected areas, often frequented by international tourists, are about 60 kilometres south of the capital Colombo. However, no tourist have reported to be caught in the middle of the violence.
Local residents claim that a poultry farm caretaker was hacked to death by a mob in th fresh round of arson, taking the toll in the two-day ethnic violence to four. Another 80 people have been wounded in the riots.
Full report at:
http://timesofindia.indiatimes.com/world/south-asia/Buddhists-vs-Muslims-Sri-Lanka-deploys-army-as-riots-spread-in-country/articleshow/36720473.cms
----------
Afghan police kill Taliban who cut off voters' fingers
17 June 2014
"Afghan police hunted down and killed two Taliban insurgents who cut off the fingers of 11 elderly men who voted in the presidential election run-off, officials said Tuesday.
All voters in Afghanistan had their fingers marked with ink after voting to prevent them from casting more than one ballot, but the ink also identified those who participated in the election in defiance of Taliban threats.
"Insurgent commander Mullah Shir Agha and one of his officers were killed in a police operation yesterday in Herat," a statement from the interior ministry said.
"The pair were accused of having cut off the ink-dyed finger of 11 voters."
The ministry said another insurgent involved in the attacks was injured in the operation and held by police.
Full report at:
http://english.alarabiya.net/en/News/2014/06/17/Afghan-police-kill-Taliban-who-cut-off-voters-fingers-.html
------------
Visiting Lankan minister blames extremists for anti-Muslim violence
Jun 17, 2014
A visiting Sri Lankan minister has blamed Bodu Bala Sena (BBS), an extremist Buddhist group, for the anti-Muslim riots in which three Muslims were killed and several injured.
The rioters damaged movable and immovable properties belonging to the Muslim community in the southern part of the island nation.
Commerce and Industry Minister Abdul Rishad Bathiudeen, who is also a leader of the All Ceylon Muslim Congress, told Arab News that an inflammatory speech made by BBS General Secretary Gnanasara Thero at a meeting in Aluthgama on Sunday triggered the violence against the Muslim community.
According to him, the BBS is trying to take law into their hands and unleash violence by misguided Sinhalese youngsters.
Full report at:
http://www.arabnews.com/news/587911
------------
Kabul asked not to shelter fleeing NWA tribesmen
Jun 17, 2014
PESHAWAR: Khyber Pakhtunkhwa Governor Sardar Mahtab Ahmad Khan on Monday asked the Afghan government not to provide shelter for the North Waziristan people fleeing their homes due to the uncertain security situation.
Addressing a news conference at the Governor's House here, Sardar Mahtab said the Afghan government should refrain from encouraging Pakistani tribesmen to take shelter on its soil and that Islamabad had already taken up the matter with Kabul through the Foreign Office.
"This is inappropriate. The Afghan government should not offer refuge and incentives to the dislocated people on its territory," he said while replying to a question about the movement of the people from North Waziristan to Afghanistan.
Full report at:
http://www.dawn.com/news/1113300/kabul-asked-not-to-shelter-fleeing-nwa-tribesmen
------------
"President Yameen's administration will fall in a coup," says Nasheed
By Zaheena Rasheed | June 16th, 2014
The presidential system of government in the Maldives is unstable and will result in more coup d'états, former President and opposition leader Mohamed Nasheed has said.
"The presidential system in the Maldives has not brought about a secure government. There is no doubt of coups in the Maldives. President [Abdulla] Yameen's administration will fall in a coup. It will be overthrown," he told Maldivian Democratic Party (MDP) supporters at a rally in Malé on Sunday.
Nasheed, the first democratically elected leader in the Maldives, claims he was ousted in a coup just three years into his term in February 2012.
However, a Commonwealth backed Commission of National Inquiry (CONI) called the transfer of power "legal and constitutional."
Full report at:
http://minivannews.com/politics/%E2%80%9Cpresident-yameen%E2%80%99s-administration-will-fall-in-a-coup%E2%80%9D-says-nasheed-87065
------------
Machine-Readable Passports Home Delivery for Saudi Arabia Expats
Jun 17, 2014
The government is reportedly planning to home deliver machine-readable passports (MRP) to 15 lakh expatriates in Saudi Arabia before the use of regular passport is phased out in November next year.
According to guidelines of the International Civil Aviation Organisation, the government has to convert all Bangladeshi passports to machine readable versions by November 2015.
Bangladeshi expatriates in Saudi Arabia will have to pay an extra $9, over the Tk3,000 (for normal processing) or Tk6,000 (for speedy processing), as delivery charge to get their MRPs sent to their addresses from the Bangladesh embassy in Saudi Arabia.
A senior official of the Home Ministry said 90% of Bangladeshi expatriates, especially those in the Middle East, do not hold machine-readable passports. The official also said Bangladesh might miss the MRP deadline if the civil aviation authority did not speed up the process.
Full report at:
http://www.dhakatribune.com/foreign-affairs/2014/jun/17/mrp-home-delivery-saudi-arabia-expats#sthash.F9Wxa5NG.dpuf
----------
Pakistan
Over 50 militants killed in North Waziristan air strikes'
June 17, 2014
PESHAWAR: The Pakistan Air Force aircraft pounded militant hideouts early Tuesday morning in parts of North Waziristan, killing more than 50 militants, sources said.
The sources said that the air strikes were conducted in Mir Ali and other areas of the agency as part of Pakistan's newly launched offensive against the Tehreek-e-Taliban Pakistan (TTP) and other foreign militants in NWA that borders war ravaged Afghanistan.
Official sources said that as many as eight hideouts were targeted in the latest air strikes and death toll might rise.
The operation was launched a week after militants stored Karachi's Jinnah International Airport,causing many casualties.
http://www.thenews.com.pk/article-150999-Over-50-militants-killed-in-North-Waziristan-air-strikes--
------------
Pakistan seeks Afghanistan's help for Waziristan offensive
Jun 17 2014,
Pakistan's Prime Minister Nawaz Sharif has called on Afghan President Hamid Karzai to seal the common borders between Afghanistan and Pakistan in order to blcok the escape of pro-Taliban forces from military operations.
Tasnim Aslam, spokeswoman for Pakistan's Foreign Office said the request was made during a telephone call by Prime Minister Nawaz with president Karzai on Monday night.
"Prime Minister Nawaz Sharif called Hamid Karzai last night to request him for the closure of Afghan border to avoid exit of militants to Afghanistan from Pakistan during the military offensive," Aslam quoted by AFP said.
She also added that military officials of Pakistan had previously demanded from Kabul to take action to eradicate the hideouts of the Pakistani pro-Taliban militants across the border in Afghanistan.
Full report at:
http://www.khaama.com/pakistan-seeks-afghanistans-help-for-waziristan-offensive-6190
------------
Taliban control 25pc of Karachi, claims MQM leader
Jun 17, 2014
ISLAMABAD: The Muttahidda Qaumi Movement (MQM) leader, Farooq Sattar, on Monday claimed that Taliban control 25 per cent of Karachi and warned that, if immediate steps are not taken, the commercial hub of the country could slip into a bigger crisis.
"Taliban are running a state within the state," the MQM parliamentary leader said.
Mr Sattar was speaking at a seminar on negotiations with Taliban and operation Zarb-e-Azb. The seminar was organised by Sustainable Development Policy Institute (SDPI).
The MQM parliamentary leader further stated that militants and their sympathisers had made transactions of around Rs1.25 billion in various banks of Karachi, but the state was not paying any heed to this important issue.
Full report at:
http://www.dawn.com/news/1113259/taliban-control-25pc-of-karachi-claims-mqm-leader
------------
Annihilate the Enemies: TTP Brought Bad name to Both Islam and Pakistan
June 17, 2014
LAHORE - Though much belated, the decision to launch an all-out operation against terrorists in North Waziristan Agency is a step in the right direction, which almost all political parties will ultimately support in the larger national interest. They will be left with no other option. And the parties that still opposed the operation will stand isolated – and be looked down upon as allies of the miscreants.
Now the army should continue the operation till the last terrorist is eliminated. They pose a serious threat to Pakistan, and if Pakistan has to survive the militants have to be crushed at all costs. Enough is enough. They cannot be allowed to go on killing the innocent people any more.
The decision to go for the operation, throwing away the policy of talks that failed to deliver, also calls for the government to review the 'moratorium' on executions of the condemned prisoners, most of them the Taliban operatives. The hangings had been stayed about six years ago by the PPP government, mainly to please the human rights organisations, and the PML-N government did not alter the decision in the hope that a 'soft approach' will serve as an incentive to the Taliban to behave and stop killing the people through suicide bombings.
Full report at:
http://www.nation.com.pk/national/17-Jun-2014/annihilate-the-enemies-of-islam-pakistan
------------
8 dead, 85 injured in clash between Qadri supporters, police in Lahore
June 17, 2014
LAHORE: Eight people – including two women – were killed, while 85 others sustained injuries in a clash between the supporters of Dr Tahirul Qadri and the police in Lahore, Express News reported on Tuesday.
The clash started last night when members of the Pakistan Awami Tehreek (PAT) tried to stop the police from removing barriers outside their leader's house in Model Town Colony and party secretariat. Police baton-charged and shelled the demonstrators for not letting them do their job.
Around 53 protesters were also arrested for creating trouble.
The injured, 22 of whom are stated to be in critical condition, were shifted to a hospital for medical treatment. According to hospital sources, the injured also include 17 police personnel.
Full report at:
http://tribune.com.pk/story/722971/4-dead-59-injured-in-clash-between-pat-workers-police-in-lahore/
--------
Jamaat-i-Islami asks militants to shun terrorism
Jun 17, 2014
LAHORE: Being seen as an indirect support of Zarb-i-Azb military operation in North Waziristan, the Jamaat-i-Islami (JI) has called upon militants active in the tribal belt and elsewhere in the country to shun their terrorist activities and instead join the national mainstream.
"I appeal to militants hailing from tribal areas and other parts of the country to give up the way of getting their demands met at gunpoint and instead use the people's force for joining the mainstream," JI emir Sirajul Haq said after a consultative meeting of the party on the army operation here on Monday.
Full report at:
http://www.dawn.com/news/1113185/ji-asks-militants-to-shun-terrorism
------------
Terrorists tarnishing Islam's image: Chief Justice
Jun 17, 2014
QUETTA: The Chief Justice of Pakistan, Justice Tassaduq Hussain Jillani, has said that non-state actors are responsible for acts of terrorism in the country, adding that by committing such crimes they are bringing a bad name to Islam.
Speaking to judges and lawyers in the auditorium of the Balochistan High Court on Monday, he said intolerance in society was creating problems and fuelling terrorism in the country.
"Lack of a culture of tolerance is causing cases of terrorism and society can fight it only by promoting a culture of tolerance," the chief justice said.
Full report at:
http://www.dawn.com/news/1113194/terrorists-tarnishing-islams-image-cj
------------
'Selective operation' in NWA not to end terrorism: JUI-F
June 17, 2014
ISLAMABAD - Criticising the government for not taking political parties on board, Jamiat Ulema-e-Islam leadership has said that the issue of terrorism should be dealt with in totality as 'selective operation' in North Waziristan would not end terrorism in the country and demanded of the government to come up with a clear and unambiguous policy against militancy.
Giving a policy statement on behalf of JUI-F, the spokesman of the party Jan Achakzai said if the operation has limited aim to target a few militant groups, which are operating and sustaining infrastructure of terrorism in the country intact and while leaving others, things would not improve for better.
Full report at:
http://www.nation.com.pk/islamabad/17-Jun-2014/selective-operation-in-nwa-not-to-end-terrorism-jui-f
------------
North America
US support Pakistan's efforts to extend sovereignty and stability
Press Trust of India | Washington | June 17, 2014
The US supports Pakistani efforts to extend its sovereignty and stability in the country, the Obama Administration said as Pakistan army continued its major military operation against terrorists in the North West Frontier Province.
"This is a Government of Pakistan operation. We've long supported Pakistan efforts to extend their sovereignty throughout the country and stability throughout the country," State Department Spokesperson, Jen Psaki, told reporters.
This is an entirely Pakistan-led and executed operation, she said. "We have long supported any Pakistani efforts to extend stability and sovereignty in their own country," she reiterated.
The Pakistan army launched an all-out offensive using jets and tanks in the restive North Waziristan, killing nearly 184 Taliban fighters including foreigners, while six soldiers were killed in an IED blast, the first military casualties in the operation.
http://indianexpress.com/article/world/asia/us-supports-pakistans-efforts-to-extend-sovereignty-and-stability/
------------
Pentagon won't coordinate possible Iraq military action with Iran
Jun 17, 2014
The Pentagon said on Monday U.S. officials may hold discussions with Iran about Iraq's security crisis sidelines of nuclear talks this week, but it will not coordinate any possible military action with its traditional foe.
"It's possible that on the sidelines of those discussions there could be discussions surrounding the situation in Iraq,"
Pentagon spokesman Rear Admiral John Kirby said, referring to talks in Vienna this week between world powers and Iran over Tehran's nuclear program.
"But there is absolutely no intention and no plan to coordinate military activity between the United States and Iran
... there are no plans to have consultations with Iran about military activities in Iraq," he told reporters.
Full report at:
http://english.alarabiya.net/en/News/middle-east/2014/06/16/Kerry-U-S-open-to-Iran-cooperation-on-Iraq.html
------------
US hikes surveillance on Pak-Afghan border
Jun 17, 2014
WASHINGTON: The top US military commander in Afghanistan says the US has increased its surveillance over the Pak-Afghan border since Pakistan began pounding North Waziristan with airstrikes, but so far officials have not seen any militants fleeing the latest offensive.
Marine Gen. Joseph Dunford told The Associated Press in an interview that the US was not coordinating military operations with Pakistan along the border, but officials have increased the amount of intelligence-sharing with the Afghans.
He said the Afghan troops and US forces in that region were ready for any effects of the strikes, including extremists seeking refuge in Afghanistan.
The US has long pressed Pakistan to root out Taliban militants who have found safe haven in the lawless tribal region of North Waziristan, along the Afghan border, and used it as a staging area to launch attacks.
Full report at:
http://www.dawn.com/news/1113305/us-hikes-surveillance-on-pak-afghan-border
------------
300 US military personnel stationed in Iraq to protect US citizens and assets
Press Trust of India | Washington | June 17, 2014
Nearly 300 American forces are being positioned in and around Iraq to help secure U.S. assets as President Barack Obama nears a decision on an array of options for combating fast-moving Islamic insurgents, including airstrikes or a contingent of special forces.
The U.S. and Iran also held an initial discussion on how the longtime foes might cooperate to ease the threat from the al-Qaida-linked militants that have swept through Iraq. Still, the White House ruled out the possibility that Washington and Tehran might coordinate military operations in Iraq.
Obama met with his national security team Monday evening to discuss options for stopping the militants known as the Islamic State of Iraq and the Levant. Officials said the president has made no final decisions on how aggressively the U.S. might get involved in Iraq, though the White House continued to emphasize that any military engagement remained contingent on the government in Baghdad making political reforms.
Full report at:
http://indianexpress.com/article/world/middle-east-africa/300-us-military-personnel-stationed-in-iraq-to-protect-us-citizens-and-assets/99/
------------
Gulen lobbies for S.Africa asylum if deported from US
World Bulletin / News Desk
June 17, 2014
US-based Turkish congregation leader Fethullah Gulen is currently lobbying non-governmental organizations in South Africa to persuade President Jacob Zuma to grant him political asylum, a reported has stated.
A letter sent to the office of the prime minister from an executive at an influential Islamic non-governmental organization in South Africa claimed that Fethullah Gulen, the leader of the Hizmet Movement, is currently lobbying non-governmental organizations in South Africa to persuade President Jacob Zuma for political asylum.
According to Daily Sabah, representatives of the Muslim Judicial Council (MJC) asked them to provide sanctuary to Fethullah Gulen in the case that he is deported from the United States, if Turkey requests his extradition or in the case that he is found guilty of the offences he is currently charged with.
Full report at:
http://www.worldbulletin.net/headlines/139145/gulen-lobbies-for-safrica-asylum-if-deported-from-us
-----------
Europe
UN Rights Chief Says ISIL Likely Guilty Of War Crimes
Jun 17, 2014
The United Nations' human rights chief, Navi Pillay, says fighters with the Islamic State of Iraq and the Levant (ISIL) have almost certainly committed war crimes in northern Iraq in recent days by executing hundreds of non-combatant men.
In a statement, Pillay said corroborated reports show that soldiers, military conscripts, police, and others who surrendered or were captured by the Al-Qaeda splinter group have been summarily executed during the past five days.
Pillay said: "Although the numbers cannot be verified yet," the killings appeared to be a "systematic series of cold-blooded executions, mostly conducted in various locations in the Tikrit area."
Full report at:
http://www.rferl.org/content/un-rights-chief-says-isil-committed-war-crimes/25424598.html
------------
In diplomatic breakthrough, UK to reopen embassy in Iran
By REUTERS
LONDON - Britain plans to re-open its embassy in Iran, British Foreign Secretary William Hague said on Tuesday, saying it would soon establish a small initial presence in Tehran two and a half years after a mob ransacked its embassy there.
The announcement comes after the United States, a close ally of Britain, said it could launch air strikes and act jointly with its arch-enemy Iran to shore up the Iraqi government after a rampage by Sunni Islamist insurgents across Iraq that has scrambled alliances in the Middle East.
"I have ... now decided the circumstances are right to reopen our embassy in Tehran," Hague said in a written statement to parliament. Hague said he had discussed the matter with Iranian Foreign Minister Mohammad Javad Zarif on Saturday.
Full report at:
http://www.jpost.com/International/In-diplomatic-breakthrough-UK-to-reopen-embassy-in-Iran-359621
------------
Netherlands gives Turkey names of 100 possible jihadists travelling to Syria
Jun 17, 2014
The Netherlands has given Turkey a list of 100 possible militants who might travel to Syria to fight against regime forces, according to a report by Dutch daily Volkskrant.
The daily said all persons on the list will be refused entry if they arrive at the border, citing a police source. "Some of these people may already be in Turkey, or have traveled on to Syria. But if we find them, they will be deported," the source said.
Ankara has long championed robust support for Syria's fragmented opposition, but the growing influence of al-Qaeda-affiliated groups in the war-torn country has left it open to accusations that it is backing radical Islamists. Thousands of European jihadists were recently blacklisted by Ankara, and Foreign Minister Ahmet Davutoğlu vowed no tolerance for the groups last month, noting Turkey has also suffered from their activities.
Full report at:
http://www.hurriyetdailynews.com/netherlands-gives-turkey-names-of-100-possible-jihadists-travelling-to-syria.aspx?pageID=238&nID=67900&NewsCatID=359
------------
UN demands action after Sri Lanka anti-Muslim riot
Jun 17, 2014
ALUTGAMA: Sri Lanka slapped an indefinite curfew in a popular tourist region Monday after rioting Buddhist mobs killed three Muslims in a surge of religious violence that triggered international concern.
Local community leaders accused authorities of doing little to prevent Sunday night's carnage that made hundreds of Muslims homeless after attacks on their homes, shops, factories, mosques and even a nursery.
The most senior Muslim member of President Mahinda Rajapaksa's government threatened to quit at the decision to allow militant Buddhists to rally in the flashpoint region.
UN human rights chief Navi Pillay expressed concern that the religious riots could spread to other areas of Sri Lanka and demanded that Colombo immediately bring the perpetrators of attacks to justice.
Full report at:
http://www.arabnews.com/news/587951
----------
Chechnya's Mufti-For-Life Sidelined
Jun 17, 2014
Meeting on June 11 in Grozny's central mosque, Chechnya's religious leaders unanimously elected theologian Salakh Mezhiyev as their new mufti. Mezhiyev replaces Sultan-hadji Mirzayev, who at the proposal of then Chechen President Ramzan Kadyrov was elected Chechnya's mufti for life four years ago. On June 3, it had been announced that Mirzayev, 49, is no longer able to discharge his duties due to ill health. His first deputy, Magomed Khiytanayev, was "temporarily" appointed acting mufti in his place.
Ill-health was the reason adduced in May 2005 when Mirzayev was first appointed mufti in place of Akhmad-hadji Shamayev. Shamayev admitted, however, that the real reason he stepped down was his disapproval of unspecified developments in Chechnya and inability to influence the situation there. It is not clear whether he was alluding to the appointment of Ramzan Kadyrov as deputy prime minister one year earlier.
Full report at:
http://www.rferl.org/content/chechnyas-mufti-for-life-sidelined/25423604.html
------------
Google, YouTube Remain Inaccessible In Tajikistan
Jun 17, 2014
Internet users in Tajikistan report that Google services, including YouTube and the Gmail electronic mail system, remain inaccessible, despite protests by international organizations.
Reporters Without Borders and the OSCE's representative on freedom of the media have urged Tajik authorities to restore access to YouTube and Google.
The services became inaccessible via Tajikistan's leading Internet providers starting on June 9.
The deputy chief of the Tajik government's Communications Service, Rafiqjon Shakirov, told RFE/RL on June 11 that his agency had nothing to do with the situation and cited "possible technical problems" as the cause of the disruption.
Meanwhile, owners of expensive Android smartphones, which run Google-based software, complain that the situation has turned their phones into ordinary mobile devices.
http://www.rferl.org/content/google-youtube-remain-inaccessible-in-tajikistan/25423753.html
-----------
India
Stand by Iraq in its fight against terrorism, says India
June 17, 2014
The Indian government has strongly condemned the takeover of two cities in Iraq by 'terrorist outfits' and has expressed concern for the safety of its citizens trapped in the war-torn nation.
In a statement issued Monday, the Ministry of External Affairs (MEA) termed the recent attacks in Iraq as a direct threat to the security and territorial integrity of the country.
"The Government of India strongly condemns such attacks and firmly stands by the Government and the people of Iraq in their fight against international terrorism and in their efforts to preserve the unity and territorial integrity of the friendly country of Iraq," the statement said.
Full report at:
http://indianexpress.com/article/world/middle-east-africa/stand-by-iraq-in-its-fight-against-terrorism-india/
------------
Pakistan surges ahead of India in nuclear stockpile: Report
Rajat Pandit,TNN | Jun 17, 2014
NEW DELHI: Pakistan's nuclear arsenal continues to surge ahead with 100-120 warheads as compared to India's 90-110. China has more than double that number with 250 warheads. The US and Russia, of course, are in a different league altogether with 7,000-8,000 warheads each, together possessing 93% of all nuclear weapons.
This is the latest assessment of the Stockholm International Peace Research Institute which holds that all the nine nuclear-armed countries continue to "modernize" their nuclear arsenals and delivery systems like long-range missiles.
With the US and Russia slowly reducing their huge inventories under the new strategic arms reduction treaty of 2011, the overall number of nuclear weapons continues to decline. But there are still 16,300 nuclear weapons around the globe, of which around 4,000 are "operational", said SIPRI.
Full report at:
http://timesofindia.indiatimes.com/india/Pakistan-surges-ahead-of-India-in-nuclear-stockpile-Report/articleshow/36684824.cms
-------
India will work closely with new Afghan President: Amar Sinha
Jun 17, 2014
Abdullah Abdullah and Ashraf Ghani — the two presidential candidates in Afghanistan — are good friends of India and the country will work very closely with whoever wins the election, a top Indian diplomat said in Kabul.
Indian Ambassador to Afghanistan Amar Sinha said that the new government formation in Afghanistan will have a strong relationship with India.
"Either of the candidates become President they both are good friend of India and will work very closely with them. They look towards India as a true friend," Mr. Sinha said.
"Our policy towards Afghanistan transcends political differences and each government work very closely both in India as well as here," he told reporters.
Mr. Sinha said that Indo-Afghan relationship will further strengthen.
"We are strategic partners close friends, when Afghanistan President Hamid Karzari attended Indian PM's swearing-in ceremony in Delhi, the PM said that we have close relations. Karzai has also always said that relations are between the governments but it so close because people of the two countries want to be close," he said.
Full report at:
http://www.thehindu.com/news/international/south-asia/india-will-work-closely-with-new-afghan-president-amar-sinha/article6123042.ece
------------
Southeast Asia
EU Expresses Concern Over Shariah-Related Human Rights Abuses in Aceh
Jun 17, 2014
Banda Aceh. In a visit to Sumatra's northernmost province, the European Union's ambassador to Indonesia expressed concern over human rights abuses, against women in particular, that have been documented under the semi-autonomous province's enforcement of shariah law.
"There have been a few cases during the implementation of sharia law in Aceh that have shed a negative light abroad," Ambassador Olof Skoog said on Tuesday, during his two-day visit to Aceh.
Over the course of his visit, Skoog — accompanied by the ambassadors from the Czech Republic, Denmark, Germany, Italy, and Sweden — met and talked with local human rights activists, with Aceh Governor Zaini Abdullah and with members of the Aceh Legislative Council (DPRA).
Full report at:
http://www.thejakartaglobe.com/news/eu-expresses-concern-shariah-related-human-rights-abuses-aceh/
---------
Two Abu Sayyaf militants held in Philippines
Jun 17, 2014
Philippine security forces have captured two Abu Sayyaf militants in a southern city, including one who allegedly was involved in the kidnappings of an American teenage boy and an Australian man, officials said on Tuesday.
Police and army troops captured Jimmy Nurilla and Bakrin Haris on Monday in a raid on their hideout in Sangali village in the port city of Zamboanga in a volatile region where the al-Qaeda-linked Abu Sayyaf group has carried out kidnappings for ransom, bombings, extortion and other acts of banditry. One other militant escaped during the raid, police said.
The Presidential Anti-Organized Crime Commission said without elaborating that the militants were in possession of explosives and rebel documents when arrested.
Full report at:
http://www.thehindu.com/news/international/two-abu-sayyaf-militants-held-in-philippines/article6123075.ece
------------
PAS MPs tell off Selangor Islamic authorities over Bibles issue
Jun 17, 2014
The Selangor Islamic Council (Mais) has come under fire from four PAS MPs today, who said its refusal to return Bibles seized from the Bible Society of Malaysia (BSM) early this year has soiled the name of Islam and is an attempt to discredit the Pakatan Rakyat-led state government.
Khalid Samad (Shah Alam), Hanipa Maidin (Sepang), Dr Siti Mariah Mahmud (Kota Raja) and Dr Che Rosli che Mat (Kuala Langat) slammed Mais for their insistence on holding on to the Bibles despite the Attorney-General having cleared BSM of accusations of using the books to proselytise to Muslims.
"The actions of Mais and Jais have given Islam a bad name. Is is as though Islam does not respect the Holy Books of other religions," Khalid said in a press conference at the Parliament lobby today.
Full report at:
http://www.themalaysianinsider.com/malaysia/article/pas-mps-tell-off-selangor-islamic-authorities-over-bibles-issue#sthash.oEAWDZcI.dpuf
------------
Africa
Nigeria Muslim body urges dialogue with Boko Haram
World Bulletin / News Desk
June 17, 2014
Jama'atu Nasril Islam (JNI), Nigeria's Muslim umbrella body, has urged the government to explore dialogue in its dealing with the rebels in the country's northeast.
"Considering the universal acceptability of dialogue in resolving crises, insurgency and all other forms of insecurity, the government of Nigeria should also consider the dialogue option," the JNI said in a statement released Monday.
The statement featured 11 resolutions reached during a conference at JNI headquarters in northwest Kaduna.
The meeting was chaired by Sultan of Sokoto and President-General of JNI Muhammad Sa'ad Abubakar II.
It was attended by the country's top Muslim leaders including Nigeria's House of Representatives Speaker Aminu Tambuwal, northwestern Kebbi Governor Saidu Dakingari, prominent Muslim scholars and traditional emirs nationwide.
Full report at:
http://www.worldbulletin.net/todays-news/139142/nigeria-muslim-body-urges-dialogue-with-boko-haram
------------
Islamist militants kill 8 more in new attack on Kenya coast
Jun 17, 2014
Somali-linked Islamist militants killed at least eight people in a second night of attacks on Kenya's coast, after a raid on the town of Mpeketoni left at least 50 dead, the Kenya Red Cross and the Somali rebel group said on Tuesday.
Red Cross coordinator for the coast Mwanaisha Hamisi told Reuters that gunmen on Monday night attacked Poromoko area near Mpeketoni, which lies on the coast between Mombasa and the Somali border in the north, killing at least eight people.
"We raided villages around Mpeketoni again last night," Sheikh Abdiasis Abu Musab, the spokesman for al Shabaab's military operations, also told Reuters, saying it killed as many as 20 people, mostly police. "Our operations in Kenya will continue."
http://english.ahram.org.eg/NewsContent/2/9/103925/World/International/Islamist-militants-kill--more-in-new-attack-on-Ken.aspx
------------
Nigeria: Army Arrests 486 Suspected Boko Haram Members in Abia
Jun 17, 2014
About 486 suspected Boko Haram members have been intercepted by men of the 144 Battalion of the Nigerian Army stationed at Asa in the Ukwa West Local Government area of Abia State.
The suspects, who were moving in a convoy of 33 buses, among them eight females, were rounded up on Sunday between Aro Ngwa and Imo Gate along the Enugu-Port Harcourt expressway.
Briefing newsmen at the headquarters of the 144 Battalion of the Nigerian Army, Asa, where the suspects were being detained shortly after their arrest at about 3.00 a.m., Base Commander, Rasheed Omolori, a Lieutenant, said the suspects claimed to be on a joint hunt in the state.
Full report at:
http://allafrica.com/stories/201406170693.html?viewall=1
------------
Ethiopian bank to provide interest-free funds for pilgrims
World Bulletin / News Desk
June 17, 2014
An Ethiopian bank has signed an agreement with the Islamic Affairs Supreme Council to provide an interest-free savings account for Muslims going on pilgrimage.
The account, dubbed "Lebeik," will allow Ethiopian Muslims to deposit money in savings for their Hajj and Umra pilgrimage, according to a statement issued following the signing of the agreement.
Under the agreement, the Oromia Cooperative International Bank will give money in interest-free credits for beneficiaries whose savings would not be enough to pay travel to the holy lands for the pilgrimage.
Full report at:
http://www.worldbulletin.net/muslim-world/139121/ethiopian-bank-to-provide-interest-free-funds-for-pilgrims
------------
Mideast
Istanbul-based Islamic charity organization uses ISIL-adopted insignia on logo
Jun 17, 2014
An Islamic charity organization based in an Istanbul suburb is using an insignia adopted by the Islamic State of Iraq and the Levant (ISIL), daily HaberTürk has reported.
The report comes amid claims that some Turkish associations were recruiting militants for the jihadist group who have recently launched a wide-scale offensive in Iraq.
The Haznedar Islamic Research, Sustenance and Helping Association (HİSADER), located in Istanbul's popular district Güngören, have for a long time been campaigning to raise funds for charity work to be undertaken in Syria.
The association notably uses "the stamp of the Prophet Muhammad," nowadays associated with the ISIL, but previously used by several other Islamic organizations. The insignia includes the Shahadah (the Islamic declaration of faith) and the Quranic phrase: "There is no god but God, Muhammad is the messenger of God."
Full report at:
http://www.hurriyetdailynews.com/istanbul-based-islamic-charity-organization-uses-isil-adopted-insignia-on-logo.aspx?pageID=238&nID=67896&NewsCatID=341
-----------
Turkish court issues gag order on repoting of Mosul hostage crisis
Jun 17, 2014
Turkey's Supreme Board of Radio and Television (RTÜK) has delivered a court ruling to newspapers, television and websites on June 17, announcing a broadcast and publication ban on reports relating to the kidnappings of Turkish citizens in the northern Iraqi city of Mosul.
Some 49 members of Turkey's Mosul Consulate and 31 truck drivers were kidnapped by the Islamic State of Iraq and the Levant (ISIL), after they seized Mosul late June 9. One of the Turkish drivers managed to escape over the weekend.
According to the June 16 ruling of the 9th Heavy Penal Court in Ankara, the ban will continue until the investigation to "secure the Turkish citizens who were in Turkey's Mosul Consulate and were taken by the terrorist organization ISIL to an unknown
http://www.hurriyetdailynews.com/turkish-court-issues-gag-order-on-repoting-of-mosul-hostage-crisis.aspx?pageID=238&nID=67897&NewsCatID=339
------------
Bennett threatens Hamas in West Bank with 'ticket to hell'
Jun 17, 2014
Economy Minister Naftali Bennett threatened members of Hamas on Tuesday morning as the IDF continued operations in the West Bank against the Islamic terror organization that has been accused of the kidnapping of three Israeli youths last Thursday.
"We're turning the membership card for Hamas into a ticket to hell," he told Army Radio.
Security forces have so far arrested some 200 Hamas members in the West Bank during searches for Gil-Ad Shaer, Eyal Yifrach and Naphtali Fraenkel who went missing late Thursday from a hitchhiking point in Gush Etzion.
Full report at:
http://www.jpost.com/Pillar-of-Defense/Bennett-threatens-Hamas-in-West-Bank-with-ticket-to-hell-359597
------------
Iran, EU, US Held Trilateral Meeting on Nuclear Issue Only: Zarif
Jun 17, 2014
Senior negotiators of Iran, European Union, and US held trilateral talks in Vienna on Monday and discussed issues to decrease differences and make viewpoints closer before reaching a comprehensive agreement.
Burns, Ashton, ZarifThe intensive negotiations between Mohammad Javad Zarif, Catherine Ashton and William Burns took place after a working lunch between Ashton and Zarif.
The US Assistant Secretary of States William Burns, who had more than 11 hours of discussion last week with Iranian Foreign Minister Deputies Abbas Araqchi and Majid Takht-e-Ravanchi in Geneva, Switzerland came to Vienna again today to accompany with the US negotiating team to follow up his discussions with the Iranian side.
After the working lunch with Ashton, Zarif said that the issues would be discussed again tomorrow in the general meeting with Group 5+1.
Full report at:
http://www.almanar.com.lb/english/adetails.php?eid=156880&cid=56&fromval=1&frid=56&seccatid=249&s1=1
------------
URL: https://www.newageislam.com/islamic-world-news/new-age-islam-news-bureau/fugitive-vp,-hashemi-says-iraq-violence-part-of-a--sunni-arab-revolt-/d/87596