New Age Islam News Bureau
24 Jun 2020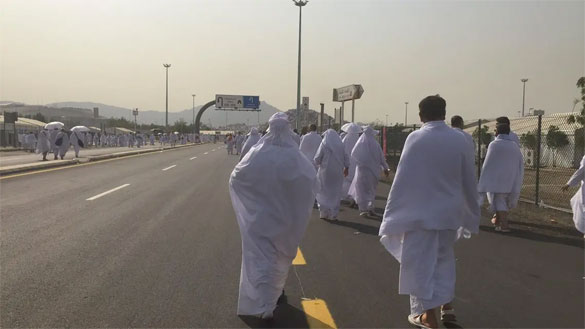 Hajj pilgrims seen walking toward Jabal Arafat on the ultimate day of Hajj in 2017. (File photo: Ismaeel Naar/Al Arabiya)
-------
• Indonesian Muslim Scholars Worried by Europe Islamophobia
• Muslims In Nizamabad Village Accuse Village Development Committee of Social Boycott
• 'Unity Is Solution to Muslim World Challenges': Minister of Human Rights
• US Newspaper Sorry For 'Horrific' Advert Claiming A Muslim Plot To Nuke Nashville
• Erdogan Critics: Turkey Tried to Silence Them, Now These Journalists Demand Justice
• Libya Conflict: Arab League Calls for Withdrawal Of 'Foreign Forces' in The Country
• EU, China Restate Commitment to Iran Nuclear Deal
--------
Arab world
• From Djibouti to Pakistan, Muftis Across Arab, Islamic World Welcome Saudi Decision to Limit Hajj
• New US Sanctions Meant to Revive Terrorism in Syria, Serve Israel: Syrian Foreign Minister
• Iraq launches third phase of anti-ISIS operations as coalition withdraws
• Two soldiers killed, four hurt in Israeli strikes in southeast Syria
• Syrian air defense respond to Israeli aggression in multiple areas
• Saudi Cabinet denounces attacks by Yemen's Houthis on Saudi Arabia
• Arab Coalition intercepts Houthi ballistic missiles targeting Saudi Arabia's Riyadh
• 2 Syrian soldiers killed in Israeli strikes: military source
--------
Southeast Asia
• Indonesian Muslim Scholars Worried by Europe Islamophobia
• Rohingya Refugees Tell Malaysia How Dozens Perished During Four-Month Voyage
• Anwar-Mahathir countercoup hits a wall in Malaysia
• Indonesian peacekeeper killed in eastern DR Congo
--------
India
• Muslims In Nizamabad Village Accuse Village Development Committee of Social Boycott
• Announcement of Film on Muslim Freedom Fighter, Variyamkunnath Kunjahammed Haji, From Kerala Leads To Hate Campaign
• Mob Beats 35-Year-Old Muslim Man to Death In Saharanpur, Police Dismiss 'Lynching' Angle
• OIC Rights Body Urges India To Halt Abuses in Kashmir
• Babri Mosque Demolition Case: NIC Fails to Provide Video Links With Accused, Upsets Court
• MBA youth who worked with MNC in Gurugram has joined Hizbul: Cops
• Money laundering: ED searches Tahir Hussain's premises
• J&K: CRPF personnel, two militants killed in Pulwama encounter
• Security forces apprehend 4 LeT terrorist associates in J&K's Sopore
--------
Pakistan
• 'Unity Is Solution to Muslim World Challenges': Minister of Human Rights
• Gen Bajwa Lauds Chinese Support In Fight Against Covid-19
• CTD Kills Four Suspected Terrorists In Peshawar
• Company linked to PM's Digital Pakistan unit stirs controversy
• Zardari suggests state handle Balochistan carefully
• Imran tells ministers not to reveal internal rifts in public
--------
North America
• US Newspaper Sorry For 'Horrific' Advert Claiming A Muslim Plot To Nuke Nashville
• US: Muslim rights group offers reward in car vandalism
• 'Blood on their hands': Canadian police kill Muslim man during mental health check
• Anger, disquiet and some relief in H-1B circles
• Trump determined to pull troops out of Afghanistan: ex-aide
• US senator backed by Israeli lobby attacks Turkey
--------
Mideast
• Erdogan Critics: Turkey Tried to Silence Them, Now These Journalists Demand Justice
• Envoy: Iran Not to Forget China's Support in IAEA
• IRGC Starts Anti-Terrorism Drills in Western Iran
• Father of Slain Iranian Protester Blasts Soleimani After Attending Memorial
• In occupied West Bank, Israeli settler leaders complicate Netanyahu's annexation plan
• UN chief calls on Israel to drop West Bank annexation plans
• Fighting intensifies in Yemeni province despite truce
• Yemen's Houthis fire missiles, drones towards Saudi Arabia
--------
Africa
• Libya Conflict: Arab League Calls for Withdrawal Of 'Foreign Forces' in The Country
• Sudan says near settlement with US for 1998 embassy bombings
• Suicide bomber kills 2 at Turkish military base in Somalia
• Why South Africa has a keen interest in extremist violence in northern Mozambique
• Ivory Coast arrests armed group leader behind border post attack
--------
Europe
• EU, China Restate Commitment to Iran Nuclear Deal
• Greece: Muslim Prayer Hall Ordered Shut
• European lawmakers condemn Israel's plan to annex West Bank
• Virus pushes Syrian war-displaced to greater need: UN
• Germany bans neo-Nazi group Nordadler
• St Paul's bomb plotter encouraged attacks by others, court told
--------
South Asia
• Ghani Calls on Taliban To Accept the Demands of Government and The Afghan People
• Taliban kill eight Afghan security personnel ahead of talks
• 9 Taliban militants killed, wounded in Kapisa clashes: Silab Corps
• Sikh Abducted in Afghanistan, Afghan-American Sikhs Seek India's Support
• Violence against children in Myanmar's Rakhine up sixfold in 1st 3 months of 2020: report
• Taliban reacts to killing of Afghan prosecutors close to Kabul
Compiled by New Age Islam News Bureau
URL: https://www.newageislam.com/islamic-world-news/from-djibouti-pakistan-muftis-across/d/122206
--------
From Djibouti to Pakistan, Muftis Across Arab, Islamic World Welcome Saudi Decision to Limit Hajj
24 June 2020
From Djibouti to Pakistan, religious scholars and Islamic organizations have welcomed a decision by Saudi Arabia to host a limited Hajj this year given the COVID-19 coronavirus pandemic.
Earlier on Monday, Saudi Arabia's authorities confirmed the Hajj pilgrimage would be held in a limited capacity this year amid the global pandemic.
Visit our dedicated coronavirus site here for all the latest updates.
The Council of Pakistani Scholars had endorsed Saudi Arabia's decision to preserve the health and safety of pilgrims by hosting a limited Hajj this year, according to a statement from its chairman, describing the announced protocols as "wise."
In Egypt, Dr. Ahmed al-Tayeb, Grand Imam of the al-Azhar, said that Saudi Arabia's decision to organize the Hajj this year with a limited number of people wishing to perform the pilgrimage was Sharia-compliant given the extraordinary global health crisis and circumstances.
The Secretary-General of the Organization of Islamic Cooperation (OIC), Dr. Youssef bin Ahmed al-Othaimeen, in a statement affirmed his group's support for the decision.
"The Secretary-General appreciated the utmost care given by the Kingdom of Saudi Arabia to the health and safety of pilgrims," the statement read.
Sheikh Dr. Muhammad al-Issa, the head of the Mecca-based Muslim World League, said the safety of Muslim pilgrims during Hajj was "a priority," and the coronavirus countermeasures introduced by Saudi Arabia have been supported by Islamic leaders around the world.
Hajj is one of the five pillars of Islam and a must for able-bodied Muslims at least once in their lifetime. Last year, 2.5 million pilgrims performed their Hajj pilgrimage to Mecca and Medina.
https://english.alarabiya.net/en/coronavirus/2020/06/24/Coronavirus-Muftis-across-Arab-Islamic-world-welcome-Saudi-decision-to-limit-Hajj.html
--------
Indonesian Muslim scholars worried by Europe Islamophobia
23.06.2020
JAKARTA
Indonesian Muslim intellectuals have voiced their concerns following a recent report on mounting Islamophobia in western countries.
A report published Sunday by the Foundation for Political, Economic and Social Research (SETA), a think tank based int eh Turkish capital Ankara, outlined the discrimination and xenophobia that many Muslims face in European countries.
The European Islamophobia Report 2019 recounted many Islamophobic developments that occurred last year in both Europe and across the world.
"The elections to the European parliament and to several national parliaments saw a further rise in popularity of ultra-nationalist parties in some countries," it said, quoting the annual report of European Commission against Racism and Intolerance.
Ahmad Suaedy, a lecturer at the University of Nahdlatul Ulama Indonesia, agreed that Islamophobia was a rising tide in western countries.
"Recently, Islamophobia has not only been present in a form of employment discrimination, but also manifested in violence, physical assault, and terrorism," Suaedy told Anadolu Agency on Monday.
According to the SETA's report, the European Commission recognized that people from ethnic or racial minorities in the EU experienced higher risks of economic hardship, poorer-quality housing, residential segregation, unemployment and assault.
Suaedy said Islamophobia was also present in the Brexit victory and Donald Trump's election win across the Atlantic.
Citing the Islamophobic terrorist attack in Christchurch, New Zealand, that left 51 people dead in two mosques, he said that research had revealed that acts of "violence and terrorism" were employed more by "far-right" groups rather than Muslims and migrants.
Suaedy asserted that the rise of Islamophobia was a symptom of oligarchic populism.
"Such a phenomenon can be seen as a response to the rise of grassroots movement, like what happened when Barrack Obama won the US presidential election, that emboldened pro-Trump sentiment among white supremacists," he said.
Suaedy underlined that Islamophobia was also present in India with its controversial Citizenship Act that he said brought discrimination against Muslims by Hindus, and in Myanmar, where Buddhists have long discriminated against the Muslim Rohingya.
"This is a global [phenomenon], but each region has a specific issue," he added.
Western media bias
SETA said in its report that the media, alongside politics, were the most influential spaces where Islamophobia could either be challenged or consolidated.
Hamid Fahmy Zarkasyi, a vice-chancellor of the Darussalam University, told Anadolu Agency on Monday that Islamophobia in Europe was triggered by images often raised by the media, particularly in the West.
"The face of Islam that is often displayed is one that is full of violence and acts of terror," he said.
Zarkasyi said though the elites in the current global society had a better understanding of Islam, their views were sometimes eclipsed due to bias in Western media.
He said there had been a mutual understanding between religious communities on each other's worship needs.
"Theologically, there isn't really a problem. It becomes a problem among non-religious communities as they don't really understand Islam," said Zarkasyi.
He said the West currently needed a greater understanding of pluralism, more than Indonesia -- a diverse country with the world's largest Muslim population.
"Indonesia has long had a good mutual understanding among religious communities," he added.
Dialogue is solution
Ali Munhanif, the dean of the Faculty of Social and Political Sciences of Syarif Hidayatullah State Islamic University in Jakarta, said Islamophobia was a manifestation of globalization in the short term.
He said its rise suggested that the Western world -- especially the US and the EU -- were not ready for the migration of professionals and laborers that come with globalization.
"Globalization requires a willingness to have new experiences. Ironically, the West was unprepared," added Munhanif.
He also identified crises in identity as one of the causes of Islamophobia, triggered by the conflict between socialism and capitalism.
"Due to the lack of dialogue, this identity issue gave birth to violence against community, ethnicity and religion. Then, it later emerged as Islamophobia," he said.
Munhanif said he believed the West had actually known other cultures, including Islam, through colonialism.
However, the newer generation does not know other cultures besides their own, so they grow up with prejudices, he added.
"Islam and its culture are seen as a threat to the modernity they live in."
Munhanif added that dialogue between religious groups must continue if this problem is to be overcome.
"Religious dialogue is a long-term solution and it must continue in our country, as well as Western countries, to eliminate Islamophobia," he said.
The annual European Islamophobia Report was launched in 2015 by SETA in response to the need to demonstrate the presence of Islamophobia across the European continent in different fields.
*Writing by Rhany Chairunissa Rufinaldo and Maria Elisa Hospita from Anadolu Agency's Indonesian language services in Jakarta.
https://www.aa.com.tr/en/asia-pacific/indonesian-muslim-scholars-worried-by-europe-islamophobia/1886709
--------
Muslims In Nizamabad Village Accuse Village Development Committee of Social Boycott
24th June 2020
NIZAMABAD: Several Muslims from Velpur village, Nizamabad district, lodged a complaint with the district collector on Tuesday, alleging that the Village Development Committee (VDC) has imposed a social boycott on 150 Muslim families in the village. Bahujana Left Front (BLF) State president D Venkat led a delegation to meet the district collector and explained the situation. Due to the VDC's decision, the villagers are unable to purchase anything from those shops owned by Muslims in the village.
Sheikh Nayeem, one of the affected villagers, said differences between Muslims and the VDC arose last year with a squabble over construction of compound wall around a graveyard, and a boycott was imposed then too. Prior to the imposition of lockdown, VDC had imposed another boycott, and imposed it for the third time from June 3.
From that day onwards, the villagers stopped utilising services, including purchase of water, from shops owned by Muslims. The villagers also boycotted services of auto rickshaws driven by Muslims. About 20 Muslim auto drivers ply their services in the village. Nayeem said they had complained to the collector regarding the issue a few months ago.
Velpur sub-inspector (SI) Sridhar Goud said the police have registered a case on the issue and the probe is underway. Meanwhile, he said there was no evidence of a social boycott being imposed in this case.
However, Venkat said boycotts are being repeatedly imposed in the district. He said a similar incident had occurred in Kamareddy district too, while in Nallamadugu village, the VDC had imposed a boycott on 93 families.
He said he had visited the village and consoled Dalit families who were affected by the boycott.
Venkat added that the authorities should take stern action against VDC members by arresting them under the PD Act. He alleged that perceived upper caste communities are carrying out pre-planned attacks on SC, BC minorities to suppress their rights.
https://www.newindianexpress.com/states/telangana/2020/jun/24/muslims-in-nizamabad-village-accuse-vdc-of-social-boycott-2160518.html
--------
'Unity Is Solution To Muslim World Challenges': Minister Of Human Rights
June 24, 2020
Islamabad : Pakistan's Federal Minister of Human Rights Shireen Mazari has called upon the Muslim world to shed its dependence on the western world and take a united stance on critical issues like Kashmir and Palestine in order for the rest of the world to take them seriously and to emerge as a global force to be respected.
She was addressing an international webinar organised by the Institute of Policy Studies (IPS). International speakers who spoke on this occasion included British House of Lord Member Lord Nazir Ahmed, British Member of Parliament Khalid Mehmood, Member Turkish Prime Minister's Advisory board for Human Rights Dr Hamit Ersoy, Vice President to Egyptian National Constitutional Committee Dr. Kamal Helbawi, Professor Dr Halil Tokar, Istanbul University, Turkey; Professor Dr Farhan Mujahid Chak, Qatar University. The webinar was chaired by Khalid Rahman, Executive President IPS and moderated by Syed Muhammad Ali, IPS Senior Research Fellow. Lord Nazir Ahmed stated that India is no longer a secular country whose political system is controlled by Hindutva extremist ideology that does not provide equal opportunities to its minorities.
He appreciated the Arab countries for beginning to see the true extremist Indian reality, which was hidden under the façade of secular democracy for a long time. He said that India is using its intelligence agency RAW to destabilize Pakistan particularly Karachi. British Member of Parliament Khalid Mehmood called upon the Kashmiris to shed mutual differences and forge their ranks around the world to put greater pressure on world powers. He said Indian government has been brazen facedly violating Geneva Convention and urged Muslim countries to take the issue to International Criminal Court (ICC). He also called upon OIC to consider putting economic sanctions on India for violating human rights of Muslims and Kashmiris.
Turkish Professor Dr Halil Tokar stated that Indian BJP's ideological core is RSS, which has an extremist philosophy based on hatred towards other religions, identical to the one followed by Nazi leader Adolf Hitler. He reminded the international audience that PM Modi was responsible for the massacre of Muslims in Gujrat in 2002. BJP and RSS want to wipe out minorities including Muslims and Christians from India by 2021. He said that the molestation of Muslim ladies and setting fire to Holy Quran are actions which deserve the attention of the entire Muslim world.
Egyptian Professor Dr Kamal Helbawi stressed the peaceful, progressive and moderate spirit of Islam and stated that Muslims are being deliberately painted by India as terrorists in order to hide its own atrocities against the Muslims and also to justify its aggressive behavior towards neighboring Muslim countries.
Turkish Professor Dr Hamit Ersoy highlighted the fact that India, US and Israel are jointly working against the Muslim world and deliberately painting Muslim freedom struggles against foreign occupation as terrorism in order to justify their continued occupation and oppression and caste Muslims in a negative light as extremists and terrorists.
Dr Farhan Mujahid Chak augmented Dr Ersoy's argument by urging the Muslim scholars to look for indigenous and innovative solutions for resolving their important issues. In his concluding remarks Executive President IPS Khalid Rahman reminded the international audience that India did not exist in its current form before 1947 and sixty percent of its territory consisted of provinces while forty percent consisted of princely states which were ruled by the British.k
https://www.thenews.com.pk/print/676759-unity-is-solution-to-muslim-world-challenges
--------
US Newspaper sorry for 'horrific' advert claiming a Muslim plot to nuke Nashville
June 23, 2020
A Tennessee newspaper has fired a manager and apologised for a "horrific" full-page advert that claimed there was a plot by unspecified Muslim groups to detonate a nuclear device in Nashville.
The Tennessean newspaper has apologised for the full-page advert in Sunday's edition and an investigation found that three members of the advertising team had the opportunity to review the advert before it ran but that neither they nor the design team fully read through the text.
The advertising manager who failed to fully review or flag the advert was fired on Monday.
"The ad is horrific and is utterly indefensible in all circumstances. It is wrong, period, and should have never been published," Vice President and Editor Michael A. Anastasi said. "It has hurt members of our community and our own employees and that saddens me beyond belief. It is inconsistent with everything The Tennessean as an institution stands and has stood for."
The newspaper said it is donating the $14,000 value of the advert to a local Islamic advocacy group and giving the Muslim Advisory Council $50,000 of credit for advertising in the newspaper.
"We apologize for publishing this ad and we specifically apologize to the Muslim community, in Nashville and more broadly. This should have never happened," said Kathy Jack-Romero, the president of local sales for the paper's parent company Gannett.
The posting by the religious group calling themselves Future for America claimed that Donald Trump "is the final president of the USA" and features a photo of Mr Trump and Pope Francis. It begins by claiming that a nuclear device would be detonated in Nashville and that the attack would be carried out by unspecific interests of "Islam."
The group also ran a full-page ad in last Wednesday's editions of the newspaper stating its intention to warn Nashville residents about next month's event "so that they may be able to make a decision intelligently."
Local council member Zulfat Suara, the first American Muslim to hold office in Nashville, said that the move by the paper was a start but more was needed to build trust with the local Muslim community.
We got the apology. That was nice and dandy, but that's not enough… For us, it's making sure it doesn't happen again," Ms Suara said. "For us, it's making sure it doesn't happen to another community."
The group Future for America, based in Arkansas, warns of so-called end-of-the-world Bible prophecies whose fulfilment "is no longer future—for it is taking place before our eyes."
https://www.thenational.ae/world/the-americas/us-newspaper-sorry-for-horrific-advert-claiming-a-muslim-plot-to-nuke-nashville-1.1038067
--------
Erdogan critics: Turkey tried to silence them, now these journalists demand justice
23 June 2020
Exiled Turkish journalist Bulent Kenes wants justice. He was indicted on three life sentences plus 15 years in prison in Turkey, after writing a column critical of Turkey's President Recep Tayyip Erdogan in July 2016, just one week before a failed coup attempt.
"A few days after the coup attempt Erdogan's regime announced a list of 47 critical journalists to be detained. My name was second in the list," Kenes, who now lives in exile in Sweden, said in an interview with Al Arabiya English.
There can be no real retribution for these "unjust verdicts" in Turkey, according to Kenes, which is why he is welcoming a newly announced European tribunal that aims to serve justice in cases of human rights violations in his homeland.
Turkey Tribunal
The 'Turkey Tribunal,' set to be held in Geneva in September, aims to shine light on Ankara's human rights violations through testimonies of witnesses.
While the verdict by the judges will not be legally binding, the "ruling of the tribunal will have high moral authority," according to the press release issued by the Turkey Tribunal.
As Erdogan systemically destroys Turkey's system of checks and balances, it is admirable that Europeans have built up their own court to address these injustices, according to Imam Abdullah Antepli, a native of Turkey and professor at Duke University.
Face-to-face with Erdogan
Like Kenes, exiled Turkish journalist Ahmet Donmez narrowly escaped imprisonment for his critical journalism of the country's top leader. In 2014 Donmez asked the Turkish president in a press conference about issues concerning corruption.
"Erdogan became very angry and threw insulting and scolding words towards me," said Donmez in an interview with Al Arabiya English.
"One of the questions was about his purchase of an important media group and turning it into his mouthpiece," he said, adding that Erdogan now controls all media in the country including the largest media empire, Doğan Media Group.
In the two years after the heated exchange, Donmez published books about Erdogan and his companies.
"Due to my books, President Erdogan, together with the former Prime Minister Binali Yıldırım, filed a case of defamation against me," said Donmez, who decided to leave the country rather than fight the case, due to distrust of "Erdogan's courts."
Future of Turkey
Erdogan has silenced journalists from all walks of life, so no media outlet can publish any news against him or his allies, according to Donmez.
There are currently 153 journalists in prison in Turkey, according to the Stockholm Center for Freedom (SCF), an advocacy organization of which Kenes is a founder.
The Turkish government, which is ranked one of the top jailers of journalists in the world, argues that these detained individuals are not journalists - but terrorists.
"The ones who have been sentenced, who have been imprisoned, are not journalists. Most of them are terrorists," said Erdogan in an interview with Bloomberg in 2017.
In three months, the Turkey Tribunal will convene to address this claim, and whether Turkey can still be considered a country that guarantees "a sufficient degree of freedom of the press and freedom of expression."
For Kenes and Donmez, the answer to the question is a no-brainer.
"There is no real free media in Turkey, which now has a perfect media climate that is most appropriate for a one-man-despotic-rule," said Kenes.
https://english.alarabiya.net/en/News/middle-east/2020/06/23/Turkey-tried-to-silence-them-Now-these-journalists-speak-out-demand-justice-.html
--------
Libya conflict: Arab League calls for withdrawal of 'foreign forces' in the country
23 June 2020
The Arab League on Tuesday called for the withdrawal of foreign forces in Libya and urged for talks on ending the conflict in the north African country.
The virtual meeting, held at Egypt's request, comes amid a flaring conflict in neighboring Libya between the Turkish-backed government in the country's west and eastern-based forces loyal to strongman General Khalifa Haftar.
For all the latest headlines follow our Google News channel online or via the app.
It was attended by representatives from 21 Arab countries, including Libya's Government of National Accord (GNA), which had opposed the meeting earlier this week.
The 14-clause resolution submitted by the Arab League provided for "rejecting all illegitimate foreign interventions" in Libya and called for "the withdrawal of all foreign forces on Libyan territories and its regional waters."
Libya's representative, Saleh al-Shamakhi, expressed reservations on the Arab League's call, saying that foreign forces backing the GNA helped roll back the "aggression" by Haftar's forces.
The Turkish-backed GNA has recently made major military gains against Haftar's forces, seeking to regain control over the west in an abortive attempt to seize Tripoli.
Egypt, which backs Haftar, has warned that advances by Turkey-backed forces on the strategic Libyan city of Sirte could prompt Egyptian military intervention.
The GNA denounced Sisi's statements as a "declaration of war."
This month, Cairo proposed a peace initiative calling for a ceasefire, withdrawal of mercenaries and disbanding militias in the neighboring country.
The proposal was dismissed by the GNA and Ankara.
On Tuesday, the Arab League welcomed Egypt's proposal and urged Libyan factions to "positively engage" with such initiatives.
Shamakhi also voiced reservations on the call, saying the GNA was not invited to be part of Cairo's initiative. He added that "whoever wants to mediate... should not be siding with one party over the other."
Tunisia, Qatar and Somalia expressed reservations on the clauses criticized by Libya.
Besides Egypt, the United Arab Emirates and Russia back Haftar's forces.
https://english.alarabiya.net/en/News/north-africa/2020/06/24/Arab-League-rejects-illegitimate-foreign-interventions-in-Libya.html
--------
EU, China restate commitment to Iran nuclear deal
23 June 2020
According to a press release issued following a virtual EU-China summit on Monday, views were exchanged between both sides regarding the Iran nuclear deal. At a press conference following the summit the subject was not referred to directly. However, an assessment of EU-China relations was conveyed.
Ahead of the online summit, the European Commission had this to say about the Iran nuclear agreement.
When it was signed by world powers in 2015, the Joint Comprehensive Plan of Action, or JCPOA Iran nuclear deal, was hailed as a huge achievement but then came President Trump.
Political commentators have repeatedly made the point it is incredible that the JCPOA is underpinned by a United Nations resolution and yet Donald Trump has shown zero respect for international agreements, undermining the credibility of the United States.
Trump pulled the US out of the accord in May 2018. Tehran is clearly frustrated that since then the EU has not taken concrete steps to negate Trump's actions despite repeated verbal support for the deal. Other signatories to the accord can understand why Iran is dissatisfied.
According to analysts, given the EU's failure to stand up to Trump, a lot depends on whether the Iran-hating president is re-elected in November.
https://www.presstv.com/Detail/2020/06/23/628052/EU,-China-restate-commitment-to-Iran-nuclear-deal
--------
Arab world
New US Sanctions Meant to Revive Terrorism in Syria, Serve Israel: Syrian Foreign Minister
23 June 2020
Syrian Foreign Minister Walid al-Muallem has denounced the latest round of United States economic sanctions against his country, saying the coercive measures are meant to revive terrorism in Syria and force Damascus to turn its back on the anti-Israel resistance front.
Speaking at a press conference in the capital Damascus on Tuesday, Muallem dismissed recent remarks by Secretary of State Mike Pompeo and United States Special Representative for Syria Engagement James Jeffrey about the new financial restrictions against Syria, describing the comments as part of a "chorus of lies."
"They are all liars because those seeking the interests of the Syrian people wouldn't conspire against their livelihoods," he highlighted.
Pompeo has called the anti-Syria sanctions, which came into force last week, "the beginning of what will be a sustained campaign of economic and political pressure" to deny the government of Syrian President Bashar al-Assad of "revenue and support."
Jeffrey has also claimed that the United States will provide a "significant amount" of new humanitarian aid for Syria in the wake of the stringent sanctions.
Muallem then stressed that the latest US economic sanctions against Syria do not include any exemptions, and adversely affect the imports of food, medicine and medical devices.
"Syrian people are accustomed to unilateral sanctions, which have been imposed on them since 1978 under various pretexts. Syrians should try to use the latest sanctions as an opportunity to advance the national economy, achieve self-sufficiency, and deepen our cooperation with friends and allies," he said.
Muallem also cast grave doubts over Washington's hollow promises of assistance to Syria, especially as it has deployed military forces to the Arab country's oil-rich regions, torches crop lands there and threatens any country, individual or entity that provides support to the Damascus government.
He went on to say that occupying US forces are heavily investing on the spread of terrorism in Syria and transfer of Daesh terrorist commanders from neighboring Iraq while providing tremendous support to the Jabhat Fateh al-Sham Takfiri terrorist group, formerly known as al-Nusra Front.
Muallem highlighted that the US defends the Israeli regime's interests, and that is why it is fairly unlikely for Washington to withdraw its forces from the region.
The new sanctions, he added, were designed to force Syria to give up its alliance with the resistance front and accept normalization with the regime in Israel.
The top Syrian diplomat further slammed Turkey's military intervention in his country.
Turkey is occupying swathes of Syrian land, said Muallem, adding history has taught that those who struggle for their freedom and sovereignty will eventually emerge victorious.
Elsewhere in his remarks, Muallem reiterated that Damascus is committed to a political solution to the ongoing crisis in Syria, and rejects any foreign interference in the work of the Constitutional Committee, which includes members of the incumbent Syrian government and opposition representatives.
He emphasized that the Syrian nation will not allow anyone to interfere in drafting their constitution, and will only accept a constitution that serves the interests of outsiders.
The Syrian foreign minister said the Syrian people are the only ones who will decide their own fate, and neither President Donald Trump nor any other US official is not entitled to discuss the matter.
https://www.presstv.com/Detail/2020/06/23/628087/New-US-sanctions-under-Caesar-Act-meant-to-perk-up-terrorism-in-Syria-FM-Muallem
--------
Iraq launches third phase of anti-ISIS operations as coalition withdraws
June 22, 2020
Iraq on Monday launched the third phase of a military operation in the north to combat ISIS sleeper cells as US-led coalition forces begin to withdraw.
The military announced victory over the terrorist group in 2017, but in recent months ISIS militias have increased attacks across the north, killing and wounding Iraqi and foreign security personnel.
"We announce the start of the third phase of the Heroes of Iraq military operation to clear and inspect areas of Saladin, Diyala, Samarra, and Kirkuk from ISIS remnants," Yehia Rasool, spokesman for the Iraqi Ministry of Defence, said.
The operation will be conducted by the Iraqi army, members of the Popular Mobilisation Forces, the Iraqi federal police and will be supported by Iraqi air forces and coalition warplanes, Mr Rasool said.
The operation will "target 4,853 square kilometres to search and chase terrorist elements, to raise our military presence and to ensure stability in those areas", he said.
The terrorist group has bases in rural areas of Anbar, Diyala, Kirkuk, Saladin and Mosul provinces.
ISIS has about 3,000 to 4,000 active fighters and 8,000 other personnel in Iraq, according to the Centre for Global Policy, a Washington-based think tank.
Since 2014, the main mission of US troops deployed in Iraq was to defeat ISIS.
The US has about 5,200 troops in Iraq as part of an international coalition fighting the terrorist group.
Full report at:
https://www.thenational.ae/world/mena/iraq-launches-third-phase-of-anti-isis-operations-as-coalition-withdraws-1.1037571?utm_source=iterable&utm_medium=email&utm_campaign=1307907_
--------
Two soldiers killed, four hurt in Israeli strikes in southeast Syria
23 June 2020
Syrian air defenses responded to Israeli strikes on the air space of the southeastern part of the country near the city of Sweida and in the eastern province of Deir al Zor bordering Iraq that left two soldiers dead, the
Syrian army said on Tuesday.
An army statement said several attacks occurred simultaneously, one at a military outpost in Kabajib, east of Deir Zor province and in the vicinity of the town of Sukhna in the nearby eastern desert.
A third strike hit a military installation farther south in the town of Salkhad, near the southern city of Sweida, that left two soldiers dead and four injured.
The bases are located in zones in eastern and southern Syria which Israel had hit in recent months and which are believed to have a strong presence of Iranian-backed militias.
The Israeli army declined to comment.]
On Monday, Syrian air defenses intercepted an unknown drone attack in the airspace of the Syrian city of Jableh on the Mediterranean coast, state media said.
It gave no details. Previously, rebels have struck at the nearby Russian air base of Hmeimim, and Israel has been active for years in striking at Iranian bases that are spread across the war-ravaged country.
Regional intelligence sources say Israel's strikes on Syria are part of a shadow war approved by Washington and part of the anti-Iran policy that has undermined in the last two years Iran's extensive military power without triggering a major increase in hostilities.
Israel has acknowledged conducting many raids inside Syria since the start of the civil war in 2011 where it sees Iran's presence as a strategic threat.
Full report at:
https://english.alarabiya.net/en/News/middle-east/2020/06/23/Syrian-air-defenses-intercept-Israeli-strikes-on-southern-and-eastern-Syria.html
--------
Syrian air defense respond to Israeli aggression in multiple areas
23 June 2020
Syrian media say the country's air defenses have responded to Israeli airstrikes in several parts of the country, with reports of multiple casualties as a result of the aggression.
Syria's official news agency SANA, citing a military source, announced late on Tuesday that the Israel missiles had violated the air space over the skies of the southernmost Syrian province of Suwayda, the eastern province of Dayr al-Zawr and the central province of Homs.
SANA said the attacks occurred simultaneously as "several hostile missiles" were fired at Syrian army positions, with one on a military outpost in Kabajib in the west of Dayr al-Zawr and the other in the vicinity of the town of Sukhnah in Homs.
The news agency said the Syrian air defenses successfully repelled the aggression but a third Israeli strike targeted a military site in the town of Salkhad in Suwayda Province, leaving two soldiers dead and four injured in addition to material damage.
The news came a few hours after the Syrian air defense units managed to intercept an unknown drone attack over the city of Jableh on the Mediterranean coast.
The unmanned aircraft had reportedly made an unsuccessful attempt to hit a Russian airbase in the region.
Russia, at the official request of the government in Damascus, has since 2015 been helping Syrian forces in their battles across the conflict-plagued Arab country.
Syria has been gripped by foreign-backed militancy since March 2011. The Syrian government says the Israeli regime and its Western and regional allies are aiding Takfiri terrorist groups that are wreaking havoc in the country.
Israel frequently targets military positions inside Syria, especially those of Hezbollah which has played a key role in helping the Syrian army in its fight against terrorists.
The Tel Aviv regime mostly keeps quiet about the attacks on Syrian territories which many view as knee-jerk reaction to Syrian government's increasing success in confronting terrorism in country.
Israel has been a main supporter of terrorist groups that have opposed the government of President Bashar al-Assad since militancy erupted in Syria nine years ago.
Syrian government forces have taken back many areas once controlled by the terrorist groups. The government and allied forces are currently busy fighting last bastions of militants in the northwestern province of Idlib and areas in the neighboring Aleppo province.
Full report at:
https://www.presstv.com/Detail/2020/06/23/628120/Syria-air-defenses-Israeli-airstrikes-Suwayda-Dayr-al-Zawr-Homs
--------
Saudi Cabinet denounces attacks by Yemen's Houthis on Saudi Arabia
June 24, 2020
CAIRO: Saudi Arabia's Cabinet on Tuesday denounced Yemen's Houthis for targeting the Saudi Arabia with eight armed drones and three ballistic missiles, state news agency (SPA) said in a statement.
The statement called the attacks terroristic acts that target civilians and threaten the lives of hundreds of people.
Earlier on Tuesday, the Saudi-led coalition fighting the Iran-aligned Houthi movement in Yemen said that the coalition had intercepted three Houthi missiles fired toward the southern border cities of Najran and Jizan, as well as several armed drones launched toward the kingdom late on Monday.
https://www.arabnews.com/node/1694446/saudi-arabia
--------
Arab Coalition intercepts Houthi ballistic missiles targeting Saudi Arabia's Riyadh
June 23, 2020
DUBAI: The Arab Coalition intercepted a Houthi ballistic missile targeting Riyadh, state news agency SPA reported.
The Houthis have launched eight drones and three ballistic missiles towards the city between late Monday and early Tuesday, coalition's spokesman Col. Turki Al-Maliki said.
The missile was targeting innocent civilians, Spokesman Col. Turki Al-Maliki said.
Earlier on Monday, Al-Maliki said that the Houthi militia "launched a number of unmanned (booby-trapped) drones at civilians and civilian objects" from Sa'dah in Yemen. Two were targeting Najran and the other was targeting Jazan.
The Iran-backed militants have targeted Saudi Arabia with 313 ballistic missiles and 357 drones in total, he added.
https://www.arabnews.com/node/1694076/saudi-arabia
--------
2 Syrian soldiers killed in Israeli strikes: military source
June 23, 2020
DAMASCUS: Two Syrian soldiers were killed and four others wounded in Israeli strikes Tuesday in the southern province of Sweida, a military source said, reporting other raids elsewhere in the war-torn country.
"Several hostile missiles were fired at our military positions in Kababej, west of Deir Ezzor and in the Al-Sukhna region," a military source quoted by the official SANA news agency said, using its common term for Israeli attacks.
"At the same time, one of our military positions was targeted near the town of Salkhad in the southern city of Sweida, resulting in the death of two martyrs and the wounding of four other soldiers," the source added.
https://www.arabnews.com/node/1694436/middle-east
--------
Southeast Asia
Rohingya refugees tell Malaysia how dozens perished during four-month voyage
24 JUNE, 2020
KUALA LUMPUR - Survivors from a boat crammed with over 300 Rohingya Muslim refugees told Malaysian authorities that dozens of their people perished and their bodies were thrown in the sea during a tortuous four-month voyage
The head of the Malaysian Maritime Enforcement Agency (MMEA) described the ordeal suffered by Rohingya whose damaged boat had made land on the Malaysian island of Langkawi on June 8, with 269 people aboard.
He also recounted how the Rohingya had been transferred from a larger "motherboat" to a smaller vessel half-way through a voyage that began close to the Myanmar-Bangladesh border back in February.
"I was told that around 300 plus were transferred" to the boat that reached Malaysia, MMEA Director General Mohd Zubil Bin Mat Som told a news conference on Wednesday.
"But some died at sea. They were thrown overboard," he said, later telling Reuters that those that perished had fallen sick, without elaborating further.
The Rohingya had risked the perilous sea journey south across the Bay of Bengal and the Andaman Sea, having lost hope of making a better life in the refugee camps in Bangladesh, where many of them had found sanctuary after fleeing their homes in Myanmar following a military crackdown in August 2017.
Mainly Muslim Malaysia is home to the second largest number of Rohingya refugees after Bangladesh, though there is growing opposition to them settling in the Southeast Asian nation as an ailing economy and the coronavirus scare have made people less tolerant of the newcomers.
The survivors of the boat that came ashore in Langkawi have been detained and their future remains unclear.
Mohd Zubil declined to comment on whether a decision had been made to push the detainees back out to sea once their boat is repaired, a reported proposal that has been criticised by human rights groups.
He said the fate of close to 500 Rohingya who had remained on "Motherboat 1" after the transfer at sea was unknown.
"We cannot locate Motherboat 1... We've been trying for two weeks but we can't locate it." REUTERS
Read more at https://www.todayonline.com/world/rohingya-refugees-tell-malaysia-how-dozens-perished-during-four-month-voyage
https://www.todayonline.com/world/rohingya-refugees-tell-malaysia-how-dozens-perished-during-four-month-voyage
--------
Anwar-Mahathir countercoup hits a wall in Malaysia
By NILE BOWIE
JUNE 23, 2020
SINGAPORE – Nearly four months after losing power in a backroom political maneuver, the Pakatan Harapan (PH) opposition's efforts to reclaim the electoral mandate it won at historic 2018 elections have hit a wall.
An impasse over who should lead a potential new government if PH is able to resume control through defections in parliament has brought the political alliance's many fault lines into clear view.
Intrigue and ambiguity over a tacit agreement for then-premier Mahathir Mohamad to hand power to his former deputy and rival Anwar Ibrahim pervaded the multi-racial coalition's 22 months in power, a factor that analysts say contributed to its dramatic collapse in February.
PH's quest to return to federal power and unseat Prime Minister Muhyiddin Yassin's ethno-nationalist Perikatan Nasional (PN) coalition is now in disarray over a failure by its component parties and allies to reach a consensus over their candidate for the premiership.
Full report at:
https://asiatimes.com/2020/06/anwar-mahathir-countercoup-hits-a-wall-in-malaysia/
--------
Indonesian peacekeeper killed in eastern DR Congo
June 23, 2020
An Indonesian soldier with the United Nations' peacekeeping mission in Democratic Republic of Congo was killed, and a second was injured, in a militia attack late Monday in the country's troubled east, the UN said.
Their patrol was attacked around 20 kilometers from the city of Beni in North Kivu province, Sy Koumbo, a communications officer with the MONUSCO peacekeeping force, told AFP on Tuesday.
"A Blue Helmet died and another is wounded but not seriously. He is in a stable condition," she said.
In a statement, MONUSCO chief Leila Zerrougui condemned the attack, which she said was carried out by "suspected members of the ADF" -- the Allied Democratic Forces, a notorious armed group in eastern DRC.
The soldier had been taking part in a project to build a bridge in the Hululu area, she said.
The ADF is a mainly Muslim movement that originated in neighbouring Uganda in the 1990s, opposed to the rule of Ugandan President Yoweri Museveni.
In 1995, it moved into the DRC, which became its base of operations, although it has not carried out attacks inside Uganda for years.
According to UN figures, it has killed more than 500 people since the end of October, when the Congolese army launched an offensive against it.
Full report at:
https://www.thejakartapost.com/news/2020/06/23/indonesian-peacekeeper-killed-in-eastern-dr-congo.html
--------
India
Announcement Of Film On Muslim Freedom Fighter, Variyamkunnath Kunjahammed Haji, From Kerala Leads To Hate Campaign
Jun 24, 2020
New Delhi: The announcement of a film on the life of Variyamkunnath Kunjahammed Haji, a freedom fighter in the Malabar region of Kerala who fought the British in the early 20th century, has led to a hate campaign against the proposed film and its crew, The Hindu reported.
The film, said to be titled Variyamkunnan, is set to be directed by Aashiq Abu and the title role will be played by Prithviraj Sukumaran. It is expected to be released in 2021, to coincide with the 100th year anniversary of the Malabar uprising led by Variyamkunnath.
"He stood up against an empire that ruled a quarter of the world. Etched out his own country with an army that waged a never before war against the British. Though history was burned and buried, the legend lived on! The legend of a leader, a soldier, a patriot. A film on the man who became the face of the 1921 Malabar revolution. #Vaariyamkunnan. Filming begins in 2021. On the 100th anniversary," Prithviraj wrote on social media.
The right-wing Hindutva aligned ecosystem swung into action to threaten the crew and said that the film will not be allowed to be shot. OpIndia, for instance, referred to Variyamkunnath as a 'jihadi' and a 'terrorist' in an 'article' posted on June 23. It accused the freedom fighter of murdering 'thousands' of Hindus in 1921. The article also said that his reign led to destruction of 'hundreds' of Hindu temples.
Variyamkunnath, who was a distinguished scholar and was vociferous in his opposition to the British, decided to pick up arms after a Khilafat movement leader Ali Musaliyar was arrested. He then arranged an army with the help of some sepoys and led a rebellion which began to spread across Malabar. It even led to the escape of several British officers leaving large tracts under the control of the rebels. This territory was declared in 1921 an 'independent state' with Variyamkunnath as its ruler.
To create divisions within the movement, the British tried to stoke Hindu-Muslim animosity and attempted to paint Variyamkunnath as a 'Muslim fanatic', similar to OpIndia's description. But the freedom fighter ensured that people of all faiths were treated equally.
In 1922, his reign came to an end when a friend colluded with the British to betray him. He was arrested and sentenced to death.
https://thewire.in/film/announcement-of-film-on-muslim-freedom-fighter-from-kerala-leads-to-hate-campaign
--------
Mob beats 35-year-old Muslim man to death in Saharanpur, police dismiss 'lynching' angle
BISMEE TASKIN
23 June, 2020
New Delhi: A 35-year-old Muslim man named Israr was beaten to death in Uttar Pradesh's Saharanpur district last Thursday, and a video of the incident that began circulating Monday has since gone viral.
The police maintain that this was not a case of "lynching", and Saharanpur's superintendent of police (rural) Ashok Kumar Meena told ThePrint that local residents had said Israr was "mentally unstable", which is why he stole a bike and attacked a minor. He labelled the cause of Israr's death as a "jhadap" or clash.
In the viral video of the incident, Israr can be seen lying on the ground as the attackers beat him up. At one point, he gets up, only to be beaten up again until he lies motionless on the ground. Israr breathed his last at the Saharanpur district hospital.
The incident took place Thursday evening when Israr was travelling from his village, Imliya, which is about 4 km from Deoband, to a nearby village called Kutesa, on a motorcycle. The attackers cornered him in Dehra village and started beating him up.
An FIR has been registered at Deoband police station on a complaint by the victim's family, under sections 302 (murder), 147 (rioting), 342 (wrongful confinement).
The police are however, yet to make any arrests.
"The family has named 11 people, of which nine have been identified. A team has been formed to investigate the matter," SP Meena said.
Not a case of 'lynching'
"We have been informed that Israr was mentally unstable. Upon investigation, it was found that Israr had, in fact, stolen the motorcycle from someone of his own village Imliya and then attacked a minor (around 8-9 years old) with a sharp object. The child has two deep cuts. An FIR against Israr was also lodged in the Deoband police station under section 307 (attempt to murder)," Meena said.
"The mob attacked Israr in retaliation. A clash broke out between the attackers and Israr, which led to his death. He suffered fatal injuries. We had reached the spot just 10 minutes after we got the call about the incident," the SP added.
Asked if a case was registered over Israr allegedly stealing the bike, Meena said: "Until now, nobody has registered a case for the stolen bike. The people he stole from are from his village and know him, probably that's why they haven't registered a case for it."
Brother refutes police version
Israr's brother Mohammad Gulfam told ThePrint that this was the first he had heard about his brother having a "mental" condition.
"They are saying now that he had a mental disorder. Even if he attacked the child, they could have just handed him over to the police and registered a case. Instead, they killed him with sticks and rods," Gulfam said.
The brother said Israr owned two bikes, but had taken one from an acquaintance for the trip to Kutesa. "We have two motorcycles at home, both belonged to Israr. But on the day of the incident, he had taken the motorcycle from someone we know in our village," Gulfam said.
According to Gulfam, Israr, a carpenter by profession, was on his way to attend to a customer.
"An hour after Israr had left home, I was told that a mob is attacking my brother in Dehra village. I saw the mob mercilessly beating up my brother with rods and sticks, but it was already too late," Gulfam said.
"They tied him up with a rope and hit him on the head continuously. Nobody stopped the mob. I tried to stop them, but they didn't listen and continued till he was motionless," he added.
Asked if he knew that an FIR was lodged against his brother for assaulting a minor, Gulfam said: "Now many things will come up, but fact is that Israr is dead."
Apart from his brother, Israr is survived by his wife Khushnuma, who is four months pregnant, and three young children aged between 1.5 and 5 years.
Gulfam said Khushnuma was inconsolable since his death, and that Israr was the main source of income in the family.
Full report at:
https://theprint.in/india/mob-beats-35-year-old-muslim-man-to-death-in-saharanpur-police-dismiss-lynching-angle/447343/
--------
OIC rights body urges India to halt abuses in Kashmir
Riyaz ul Khaliq
24.06.2020
The human rights body of the Organization of Islamic Cooperation (OIC) demanded Tuesday that India be compelled to "halt rights violations" in Jammu and Kashmir.
In a statement on Twitter, the Independent Permanent Human Rights Commission (IPHRC) "urged the OIC to compel India to halt its gross and systematic human rights violations; refrain from altering the geographic and demographic status of Indian-occupied Jammu and Kashmir; provide access to UN/OIC fact-finding missions and let Kashmiris exercise their legitimate right to self-determination."
The IPHRC said it made these demands during an emergency meeting of the OIC Contact Group on Jammu and Kashmir which was held via a video link on Monday.
It welcomed a statement by the group which urged India to "immediately" halt security operations against the people of Jammu and Kashmir and respect basic human rights, refrain from changing the demographic structure of the disputed territory as well as settle the conflict under the relevant UN Security Council resolutions.
There are 20 UN resolutions on Jammu and Kashmir which include seeking a plebiscite in the disputed region to decide its political future.
"The IPHRC highlighted the sufferings of Kashmiri Muslims due to a communication blackout in IOJ&K [Indian-occupied Jammu and Kashmir]," the statement said, adding it also condemned "extrajudicial killings" of Kashmiris and rejected newly notified "Reorganization" and "Domicile Rules 2020" which are "violative of #IHRL [international humanitarian laws] including the 4th Geneva Convention."
On Aug. 5, 2019, the Indian government led by Prime Minister Narendra Modi scrapped two pieces of legislation that guaranteed Kashmir an autonomous political status besides barring people outside Jammu and Kashmir from buying land or applying for government jobs in the disputed region.
The OIC Contact Group on Jammu and Kashmir was formed in 1994 to coordinate OIC policy on the Kashmir dispute and has Turkey, Azerbaijan, Niger, Pakistan and Saudi Arabia as its five members.
Disputed region
The latest surge in violence in the disputed Himalayan valley this year has left over 100 suspected Kashmiri militants dead. Some 72 militants have been killed since the coronavirus pandemic emerged in the region on March 20.
Kashmir, a Muslim-majority Himalayan region, is held by India and Pakistan in parts and claimed by both in full. A small sliver of Kashmir is also held by China.
Since they were partitioned in 1947, the two countries have fought three wars – in 1948, 1965, and 1971 – two of them over Kashmir.
Also, in the Siachen Glacier region in northern Kashmir, Indian and Pakistani troops have fought intermittently since 1984. A ceasefire took effect in 2003.
Some Kashmiri groups in Jammu and Kashmir have been fighting Indian rule for independence or for unification with neighboring Pakistan.
Full report at:
https://www.aa.com.tr/en/asia-pacific/oic-rights-body-urges-india-to-halt-abuses-in-kashmir/1887746
--------
Babri Mosque Demolition Case: NIC Fails to Provide Video Links With Accused, Upsets Court
June 24, 2020
A special CBI court hearing the Babri mosque demolition case on Tuesday expressed concern over National Informatics Centre's failure to arrange video links to record the statements of the accused, including senior BJP leader LK Advani. The CBI court also sent a letter to Uttar Pradesh's principal secretary (law) on this.
The court had asked the central government body, to make arrangements at the residence of 10 of the 32 accused who had opted to record their statements through video conferencing. The court was set to record statement of Ram temple trust head Mahant Nritya Gopal Das through video conferencing from Ayodhya on Tuesday. But there was no video link in place.
Others in the list include former Uttar Pradesh chief minister Kalyan Singh and former Union minister MM Joshi.
"This court had directed the NIC to make arrangements for video links at the residence of 10 accused, but no response has come so far," Special Judge SK Yadav said in his order. "The court will wait till June 24 and even then if no response comes, the NIC will be sent a reminder," he added.
The statements are being recorded under section 313 of the CrPC, a stage in the trial after the examination of prosecution witnesses. The Supreme Court on May 8 had permitted the CBI court to use video conferencing. The special court offered the video link option to the accused, keeping in view the COVID-19 pandemic and government guidelines on social distancing.
On Tuesday, the judge recorded statement of the 15th accused, Dharmadas, who denied his involvement in the demolition of the Babri Masjid and the alleged conspiracy.
The case pertains to the demolition of the Babri Masjid on December 6, 1992, after which two FIRs were lodged. One FIR was filed against the kar sevaks who allegedly demolished the mosque; another FIR named Advani, Joshi, Bharti, Singh, BJP Rajya Sabha MP Vinay Katiyar, Vishwa Hindu Parishad leaders Ashok Singhal, Giriraj Kishore, Vishnu Hari Dalmiya and Sadhvi Rithambara, and others for "making provocative speeches" that instigated the kar sevaks.
Full report at:
https://www.thestatesman.com/india/babri-mosque-demolition-case-nic-fails-to-provide-video-links-with-accused-upsets-court-1502903094.html
--------
MBA youth who worked with MNC in Gurugram has joined Hizbul: Cops
Jun 23, 2020
SRINAGAR: J&K police on Tuesday said a 26-year-old man from Srinagar Hilal Ahmad Dar who had dodged his friends during a trekking expedition on June 13 and went "missing", has joined the Hizb-ul-Mujahideen, reports Saleem Pandit. IG (Kashmir range) Vijay Kumar said, "Hilal Dar has joined Hizbul Mujahideen outfit" and added that police will not arrest him if the family brings him back.
An MBA from Kashmir University, Hilal was working with a private company in Gurgaon and had returned to Srinagar in March after the Covid-19 pandemic struck the nation. On June 13, he went on a trekking trip with five of his friends. Hilal told them he needed rest and asked them to proceed. "Our son is innocent. He has no terrorist connection," Nisar Ahmed, Hilal's uncle told reporters. "Check his phone records of 20 years. He has nothing offensive against him."
https://timesofindia.indiatimes.com/india/mba-youth-who-worked-with-mnc-in-gurugram-has-joined-hizbul-cops/articleshow/76538138.cms
--------
Money laundering: ED searches Tahir Hussain's premises
Neeraj Chauhan
Jun 24, 2020
The Enforcement Directorate (ED) on Tuesday raided the premises of suspended Aam Aadmi Party (AAP) Councillor,Tahir Hussain, and others in connection with a money laundering probe, officials said.
The agency is investigating two cases of money laundering – one against Hussain and another against the Popular Front of India (PFI) -- for allegedly mobilizing funds during the February riots.
The officials cited above, who requested anonymity, said the raids were carried out at six places in Delhi and Noida.
Full report at:
https://www.hindustantimes.com/india-news/money-laundering-ed-searches-tahir-hussain-s-premises/story-kZ7O7BRsNOFkxjBsvteZoJ.html
--------
J&K: CRPF personnel, two militants killed in Pulwama encounter
by Adil Akhzer
June 24, 2020
A CRPF personnel and two militants were killed in an encounter in Jammu and Kashmir's Pulwama district on Tuesday morning.
Kashmir Police Zone said on Twitter that two militants were killed in an encounter in Bandzoo area of Pulwama.
Separately, a CRPF spokesperson confirmed that one of their personnel who had suffered bullet injuries in the gunfight succumbed to injuries. "Regret to inform that the injured HC of 182 Bn CRPF succumbed and attained martyrdom," the spokesperson said.
Officials said a cordon and search operation was launched in the area following the inputs about the presence of militants in the area and turned into an encounter after militants fired at security forces.
A senior police officer said identification of slain militants is yet to be done and search operation is going in the area.
On Sunday, four militants, including a Pakistani national, were killed in two encounters in Srinagar and Kulgam, according to police. The three militants were identified as Srinagar resident Shakoor Farooq Langoo, Shahid Ahmad Bhat of Bijbehara's Semthan and Mohsin from Srinagar's Anchar, police said in the evening. Mohsin was missing since May 26, police sources said.
Full report at:
https://indianexpress.com/article/india/pulwama-encounter-jammu-and-kashmir-live-updates-6471809/
--------
Security forces apprehend 4 LeT terrorist associates in J&K's Sopore
Jun 24, 2020
BARAMULLA ( JAMMU AND KASHMIR): Security forces on Wednesday apprehended 4 Lashkar-e-Taiba terrorist associates in Sopore, following a search operation in Pothka Muqam and Chanpora Athoora.
"Sopore Police along with 52 Rashtriya Rifles and Central Reserve Police Force (CRPF) launched cordon and search operations (CASOs) simultaneously in Pothka Muqam and Chanpora Athoora and apprehended 4 Lashkar-e-Taiba terrorist associates," said Jammu and Kashmir Police.
Further investigation is underway.
On Tuesday, after an encounter between terrorists and security forces in Pulwama's Bandzoo area, two unidentified terrorists were killed while one CRPF personnel succumbed to his injuries.
https://timesofindia.indiatimes.com/india/security-forces-apprehend-4-let-terrorist-associates-in-jks-sopore/articleshow/76542748.cms
--------
Pakistan
Gen Bajwa lauds Chinese support in fight against Covid-19
June 24, 2020
RAWALPINDI: Chief of Army Staff (COAS) General Qamar Javed Bajwa on Tuesday expressed gratitude for China's support related to immediate medical supplies and other assistance, especially the visit by Chinese medical experts to help Pakistan fight the pandemic.
He said this while meeting a 10-member People's Liberation Army (PLA) medical team, led by Major General Doctor Zhou Feihu, Chief of ICU Department, PLA General Hospital, at the GHQ on Tuesday, the Inter-Services Public Relations (ISPR) said in a statement.
During the interaction, matters related to coronavirus containment and Pakistan's comprehensive response against Covid-19 were discussed, it said.
Speaking on the occasion, Gen Bajwa said that while the international community is busy making efforts to find a cure against Covid-19, multinational support and global cooperation is vital to boost national efforts to manage the disease and also its economic impact.
The Chinese delegation re-assured Beijing's continued support for Islamabad at all fora.
https://www.pakistantoday.com.pk/2020/06/23/gen-bajwa-lauds-chinese-support-in-fight-against-covid-19/
--------
CTD kills four suspected terrorists in Peshawar
June 24, 2020
PESHAWAR: The Counter-Terrorism Department (CTD) on Tuesday killed four suspected terrorists in a security operation.
According to CTD, the terrorists were hiding in a house in the Ghaziabad area.
"The terrorists opened fire on [CTD] personnel during a raid on the house, following which four terrorists were killed in retaliation," a statement issued by the department said.
Four Kalashnikovs, six grenades and hundreds of ammunition rounds were recovered from the terrorists' hideout.
Khyber Pakhtunkhwa Inspector General of Police (IGP) Sanaullah Abbasi said that operations against terrorists will continue.
Moreover, public safety will be ensured and police have made significant gains against militants in this regard, he added.
https://www.pakistantoday.com.pk/2020/06/23/ctd-kills-four-alleged-terrorists-in-peshawar/
--------
Company linked to PM's Digital Pakistan unit stirs controversy
Ramsha Jahangir
June 24, 2020
KARACHI: A company related to the Digital Pakistan initiative — a brainchild of Prime Minister Imran Khan's government — has stirred a controversy on social media, questioning the involvement of Tania Aidrus, the premier's special aide leading the initiative, who is among the board of directors of the related company.
Prime Minister Khan had launched the Digital Pakistan programme on Dec 5 last year and named Ms Aidrus, a Google executive who quit her position, to lead the initiative.
The Digital Pakistan programme operates directly under the Prime Minister Office. Later in February, Ms Aidrus was appointed as Special Assistant to the PM (SAPM) on Digital Pakistan, according to terms of rule 4 of the Rules of Business 1973.
During the same month, as per recent disclosures made on social media and verified by Dawn, a not-for-profit company named the Digital Pakistan Foundation (DPF) was registered with the Securities and Exchange Commission of Pakistan (SECP) under section 42 to compliment the government's Digital Pakistan initiative.
According to the SECP website, the founding directors of the foundation are Ms Aidrus, PTI stalwart Jahangir Tareen (who has been disqualified by the Supreme Court), ride-hailing app Careem's CEO Mudassar Ilyas Sheikha and Mr Tareen's lawyer Sikander Bashir Mohmand.
The inclusion of Ms Aidrus on the board of directors and the lack of transparency around the foundation's funding and operations have raised concerns, particularly one leading to conflict of interest.
Company is not-for-profit entity & won't take any payments from govt, says PM's aide
Reacting to the concerns, Ms Aidrus told Dawn: "There is absolutely no issue with an SAPM being on the board of a not-for-profit company. It's important to remember that this is not a private limited company and the same sector would only be an issue when the company is a profit-making entity."
The purpose of the foundation, she said, was to provide free-of-cost support to the government in its digitisation initiatives.
"As such, the foundation does not intend to take any payments from the government. The foundation does not intend to increase the burden on the government, rather looks to alleviate it by raising funding from external donors via grants, not loans," she said.
Tareen's involvement
Ms Aidrus confirmed to Dawn that Mr Tareen was indeed part of the founding team "as someone who is tied to the government's reform initiatives".
However, she said, due to pressing personal and business commitments, which required his full-time attention in April, he resigned from the board.
"On April 15, 2020, Mr Tareen chose to resign as member and director and informed the board accordingly. The SECP approved Mr Tareen's request to resign as subscriber member on April 23," she said.
The former Google executive said the foundation's team was in touch with numerous granters, including high net worth Pakistanis who were looking to give back to Pakistan.
The PM's aide said Mr Tareen had no ongoing engagement or role within leadership, management or operations of the foundation.
With Mr Tareen and his lawyer's resignation, the board is yet to make new appointments. Ms Aidrus said the expansion of the board had been delayed due to the Covid-19 pandemic but should be done in July at the start of the new financial year.
The company, according to her, is yet to start operations formally and obtain funding.
Monetary gains
Ms Aidrus said no director or chairperson was permitted to draw a salary or a stipend from the organisation while holding any public office, or playing any other part-time or full-time role.
"No contracts have been signed or even exchanged at this point. The Digital Pakistan Foundation, like any other not-for-profit organisation, will need to go through the government/regulator's requisite approval processes," she told Dawn.
Conflict of interest?
According to lawyers, there is a lot to unpack in terms of legality surrounding the company's operations and links to the government.
"There may not be a question of making personal monetary gains here. However, it's in the interests of transparency and good practices to avoid such conflicts of interest between one's role as a government actor on the one hand and acting as a board member for a privately controlled entity on the other," constitutional lawyer Waqqas Mir told Dawn.
"In her capacity as SAPM she shouldn't consult the government or advise it in relation to a private body where she serves as a board member," he added.
According to Mr Mir, if the DPF was a foundation run by private citizens, and it bid for any government contracts where Ms Aidrus is also present in the capacity of a decision maker or consultant on the government's side, such a conflict of interest would have to be disclosed to the government.
"As per a general rule, when a conflict of interest is disclosed, the person with the conflict doesn't participate in the voting or decision-making process when it is taken up by the relevant government department or agency," he added.
The role of SAPM is defined under rules of business that provide for the fact that the terms and conditions of appointment are approved by the cabinet.
Full report at:
https://www.dawn.com/news/1564826/company-linked-to-pms-digital-pakistan-unit-stirs-controversy
--------
Zardari suggests state handle Balochistan carefully
June 24, 2020
LAHORE: PPP Parliamentarians President Asif Ali Zardari has cautioned that the state should act carefully in Balochistan as any untoward incident in the province may spin the situation out of control.
"The state needs to be more careful in Balochistan. If another Akbar Bugti-like incident happens, it will be difficult to handle the situation."
He was talking to PPP Punjab President Qamar Zaman Kaira and General Secretary Chaudhry Manzoor Ahmed on telephone on Tuesday.He discussed in detail the latest situation and party affairs in Punjab.
Zardari said he did not commit any crime when he, as head of state, had apologised to the Baloch.
"I thought it was my responsibility to bring the angry Baloch back into the national mainstream. All the nationalist parties in Balochistan boycotted the 2008 polls. But, with our efforts, all the Baloch parties returned to the national mainstream in the 2013 elections."
He said the PPP was talking to Balochistan National Party-Mengal chief Akhtar Mengal because he is in parliament.
"The PPP is still ready to play its role in solving the problems of Balochistan. Our only condition is that the Baloch return to national politics and renounce armed struggle.
Full report at:
https://www.dawn.com/news/1564775/zardari-suggests-state-handle-balochistan-carefully
--------
Imran tells ministers not to reveal internal rifts in public
June 24, 2020
ISLAMABAD: Prime Minister Imran Khan on Tuesday told his cabinet ministers to maintain unity within the party, a day after Federal Science and Technology Minister Fawad Chaudhry said in an interview that Pakistan Tehreek-e-Insaf (PTI) leader Jahangir Khan Tareen was the reason why Planning Minister Asad Umar had stepped down as the finance minister in April 2019.
Addressing a presser after a meeting of the federal cabinet chaired by PM Imran, Federal Minister for Information and Broadcasting Shibli Faraz said that Fawad Chaudhry's interview with the Voice of America came under discussion during the cabinet meeting.
"Fawad Chaudhry's interview was discussed in the cabinet [meeting] and the prime minister said we should maintain unity within the party," Faraz said.
In the interview, Fawad Chaudhry said there were rifts among Tareen, Umar and Foreign Minister Shah Mahmood Qureshi, which hurt the party and forced the PTI's "political class" to part ways.
"As soon as the PTI government was formed, quarrels among Qureshi, Umar and Tareen began. Tareen used his influence to get Umar removed from the cabinet and later Umar got Tareen out," Chaudhry had said.
During the cabinet meeting, the information minister said that the prime minister has instructed the ministers and party leaders not to talk about things that "affect" the party or the government.
Faraz also spoke about a recent interview of Climate Change Minister Zartaj Gul in which she said that Covid-19 means that the virus has 19 points that can be applied to any country based on its respective immunity levels.
Her remarks were widely shared on social media and she was criticised for not knowing that Covid-19 is actually an acronym for the coronavirus.
"It was a slip of the tongue and people make mistakes," the information minister said, referring to Gul's remarks. "It should not have happened and I completely agree with you."
The information minister said that Gul is an "outstanding" minister "who is doing great work".
"We should ignore the mistakes because people make mistakes," Faraz added.
Briefing on other key agenda items of the day's meeting, the minister said that the federal cabinet welcomed the Islamabad High Court's (IHC) verdict in the sugar inquiry case and reiterated its resolve to bring those who made undue profits to task.
He said that the cabinet decided that the recommendations of the committee should be materialised within stipulated time. The minister said this step will bring improvement and transparency in the whole value chain of sugar production. He said that the process of determining the prices of sugar will be visible in next three months and will result in the provision of the commodity to people at reasonable rates.
He also said that the federal cabinet expressed concern on rising price of flour and endorsed the instructions of Prime Minister Imran Khan to rectify the situation. A committee under Advisor to Prime Minister on Finance Hafeez Shaikh will monitor and supervise the situation to streamline the process and make it transparent.
Faraz said that the prime minister directed to determine the demand and supply of flour on scientific basis. He said that 27 million tonnes of flour is the national requirement with availability of 25 million tons. He said that Punjab government has been directed to release 900,000 tonnes of wheat from its stores to overcome the shortage of commodity. He added that steps are being taken to stop smuggling of wheat as well as bringing transparency in its availability.
The minister said that the federal cabinet discussed and appreciated the performance of Ministry of Education for introducing uniform curriculum in the country. The cabinet discussed the use of online education by utilising modern technologies in the post-coronavirus environment and the prime minister emphasised on making this facility available in far-flung areas of the country, especially Balochistan, he added.
The minister said that the premier is determined to improve the health system in the country.
He said that Planning Minister Asad Umar and Special Assistant on Health Dr Zafar Mirza gave a detailed briefing to the meeting on prevalent Covid-19 situation.
Faraz said that in a short span of time, the laboratories in the country for coronavirus testing have reached 129 from two. He said that the testing capacity has increased to 50,000 tests daily from initial 472.
The minister said that 770 hospitals in the country are catering to the needs of coronavirus patients. He said that the number of oxygenated beds available in the country is 8,886, of which 2,671 are occupied. He also said that 2,150 more beds will be available by next month. He added that the government is very clear from day one on how to take steps to overcome the coronavirus disease.
Faraz said that PM Imran's vision from the beginning is to run the economy as well as protecting the lives of people.
He said that said India and Brazil both suffered immensely due to their extreme strategies to counter the disease.
He added that the government adopted the best strategy keeping in view the ground reality to tackle the situation arising out of coronavirus.
He further said that the meeting gave approval to construction of a teaching hospital in Islamabad. The cabinet also deliberated on optimum use of the properties of Evacuee Trust Property Board (ETPB), he added.
ZERO TOLERANCE FOR SMUGGLING AND HOARDING
Separately, PM Imran on Tuesday directed all the provincial chief secretaries to ensure zero- tolerance policy over wheat smuggling and hoarding and also formulate a long-term strategy in view of the country's future requirements.
While chairing a meeting to review steps taken to reduce prices of wheat and flour in the country, the prime minister also directed for immediate implementation of all the decision taken in consultation with the provincial governments in this regard.
The finance adviser briefed the prime minister about the decisions taken in consultation with the provincial governments to meet the requirements of wheat and flour besides, reduction in the prices of these commodities.
Addressing the participants of the meeting, the prime minister stressed that it was the government's priority to ensure sufficient availability of wheat in accordance with the country's requirements besides, controlling prices of wheat and flour.
Full report at:
https://www.pakistantoday.com.pk/2020/06/23/government-says-will-bring-sugar-mafia-to-task/
--------
North America
US: Muslim rights group offers reward in car vandalism
Servet Gunerigok
23.06.2020
WASHINGTON
The US's largest Muslim civil rights organization is offering a $1,000 reward for information that will help arrest the perpetrator who vandalized a Muslim's property in the state of Massachusetts.
Swastikas were spray painted June 11 on all four sides of the victim's car in Revere. It is the fourth time the car has been vandalized, according to the victim's husband.
Barbara J. Dougan, civil rights director of the Massachusetts chapter of the Council on American-Islamic Relations, condemned the "appalling act of hatred."
"The perpetrator made his views clear with a can of spray paint. But we know that many residents of Revere are outraged by such a blatant hate crime and are raising their voices to send their own message: this kind of behavior will not be tolerated," she said in a statement.
The victim requested her identity be not disclosed but CAIR-MA said she uses the car to deliver medical supplies to sick people, according local news and information platform Patch.
"You hurt me with your hate, but you also hurt the sick people I am trying to take care of. If you are from Revere, you hurt your entire community," she said.
Police launched an investigation Saturday into the incident as "a possible hate crime."
https://www.aa.com.tr/en/americas/us-muslim-rights-group-offers-reward-in-car-vandalism-/1887494
--------
'Blood on their hands': Canadian police kill Muslim man during mental health check
By Umar A Farooq
23 June 2020
The killing of a 62-year-old man with schizophrenia by Canadian police on Sunday has continued to draw outrage, prompting a national conversation about racism and police brutality across the North American country.
Activists are calling for the defunding of the police, arguing that Ejaz Choudry's death, captured on video, has illuminated the abject way in which minorities are treated by police forces in Canada.
Choudry was shot and killed over the weekend when police responded to a call in Mississauga, a city some 25km west of Toronto, to "check on the wellbeing of a man".
Ibrahim Hindy, the president of the Muslim Council of Peel (MCP) in Mississauga, told Middle East Eye that Choudry was in his apartment when a relative called an ambulance as he was having a mental health episode.
When the paramedics approached his home and saw that he had a knife in his hand, police were notified.
According to the family, when the officers arrived they began shouting commands in English, a language Choudry did not understand.
Hindy explained that the family pleaded with officers to be allowed to communicate with Choudry, who had a severe paranoia of the police.
"He's more triggered by the police than anyone else," Hindy said. "His family never actually felt fearful of him, they just were afraid he was going to hurt himself."
The Peel Police Department said its officers believed Choudry had access to weapons and entered his home after he stopped communicating - leading to an "interaction" where police fired a stun gun, plastic bullets and a gun.
Video footage taken by a bystander showed police kicking down Choudry's door and firing several rounds of ammunition. Choudry was pronounced dead at the scene.
"This incident [has] really shined a light on the fact that the police are not well equipped for de-escalation," Hindy told MEE.
Defund the police
Choudry's death has drawn parallels to a spate of recent police-involved deaths that began as mental-health calls.
Earlier this month, Chantel Moore, an Indigenous Canadian woman, was shot dead by police who were responding to a request for a wellness check. In April, 26-year-old D'Andre Campbell, a Black man, was fatally shot by police after he called for help while experiencing a mental health episode.
The outcry over the deaths sparked protests in Mississauga and Toronto on Monday that called on the government to defund and even abolish the police, in light of the recent George Floyd protests.
The Muslim Council of Peel and the province's official opposition joined the Choudry family in calling for a public inquiry into his death, and noted a "disproportionate number of individuals including Black, Indigenous and Muslims are the victims of police shootings across Canada".
"The police need to be held to the same level of justice as the rest of us are. There is blood on their hands and the officer who pulled the trigger should never be trusted with a gun or badge again," said Mohammed Hashim, who sits on the board of the Urban Alliance on Race Relations.
Still, some members of the community have noted that there have not been enough calls from Muslim leaders to address the funding of the police or the socioeconomic disparities that lead to officer misconduct.
"Working and poor people are more susceptible to this type of police brutality and violence," Aminah Sheikh, a union organiser, told MEE. "We need to stop this punitive structure of policing and incarceration."
"It was beautiful to see Black, brown and diverse people are standing together and saying we need to defund the police and stop police brutality because it's their communities that are also affected."
The Peel Police Department told MEE they could not speak on the matter as the incident was under investigation. Still, the department's service board said in a statement that its members were "saddened" by Choudry's death and urged the province's police watchdog, the Special Investigation Unit (SIU), to "work as expeditiously as possible to conclude" an investigation into his death.
Hindy told MEE that many in the community doubted the SIU's ability to deliver justice and called for an independent inquiry unconnected to the police watchdog.
"There are reports that show that there are significant failures in police investigations," Hindy said.
"So there isn't any faith that the community has that the SIU is going to be able to conduct a fair investigation and that's why they've asked for a public inquiry that is independent of the SIU to perform the investigation."
Full report at:
https://www.middleeasteye.net/news/canada-outrage-police-kill-muslim-man-mental-health-call
--------
Anger, disquiet and some relief in H-1B circles
Yashwant Raj
Jun 24, 2020
Vikram Desai, an IT professional on H-1B visa cleared for Green Card, says when he and his wife first heard of President Donald Trump's order suspending work visas, they panicked.
"We have parents in the high-risk category of those vulnerable to Covid-19 and our first thoughts were that if one of us had to leave the US for India we may not be able to return until the end of the year," he said.
His H-1B visa has expired and he is on extension, which is being granted easily by US authorities in view of the Covid-19 restrictions and lockdowns. But if he or his wife were to travel to India or anywhere out of the US, they will be unable to return without getting their passports stamped with renewed visas.
That was already a problem with consular operations closed at US missions, and now with the suspension until end of the year, it's an even worse.
"It feels just safer to stay in the US," Desai said, adding, "things are so uncertain at this time."
Many Indians on H-1B or in line for Green Cards are stranded in India already because of no commercial flights. They have begun to make their way back, slowly.
"This is a Hindu Ban much like the Muslim Ban," said one of those impacted by the suspension, referring to the controversial ban imposed on the entry of people from some Muslim majority countries by Trump early on in his presidency, which remains in force, in a version diluted by legal challenges.
This person may have actually meant an "India ban", not a Hindu ban, because Indians, irrespective of their religion, have been the largest beneficiaries of the suspended H-1Bs and H-4, that are given to spouses of H-1B visa-holders cleared for the Green Card. It allows the spouses to work.
Indians are the largest beneficiaries of both H-1Bs (more than 70% of the annual 85,000) and H-4 (for spouses and unmarried children). Indians accounted for 93% of the 126,853 H-4 EAD (employment authorization document) applications approved till December 2017, according to a study by the Congressional Research Service, a non-partisan provider of data and analysis to US congress, based on numbers from the USCIS.
This is because the queue for Green Cards is the longest for Indians and the current waiting time is statistically estimated to be over 100 years. H-4 was introduced by President Barack Obama in 2015 as an incentive for these Green Card hopefuls. The Trump administration wants to rescind it.
Pramila Jayapal, the Indian American congresswoman who led an joint appeal by lawmakers to the administration to not cancel H-4, slammed Trump's new order in a post on twitter: "For months, Trump has been desperately trying to do anything to open the country back up and return to 'normal'. EXCEPT for those who are immigrants seeking to contribute to this country," she wrote, and added, "We must defeat Trump's racist and white nationalist agenda."
But for some IT services companies that use H-1Bs to hire workers from India, or elsewhere, the Monday order was "not as bad as feared".
"I breathed a sigh of relief,," said Deepali Khadakban, owner of New Jersey-based Precision Technologies. Based on news reports and speculation, they had expected a hike in H-1B visa processing fee, which is paid by the employer, a change in the qualification for H-1B, and an end of work authorization for graduates as part of their course.
Full report at:
https://www.hindustantimes.com/world-news/like-us-ban-on-muslims-anger-disquiet-and-some-relief-in-h-1b-circles/story-AFEHRXlELFVLHKNZmL2HZK.html
--------
Trump determined to pull troops out of Afghanistan: ex-aide
Anwar Iqbal
June 24, 2020
WASHINGTON: US President Donald Trump was worried about the impact on Pakistan of a Taliban takeover in Afghanistan, but still wanted to withdraw his troops from the war-ravaged country, according to a book written by one of his former aides.
The book, The Room Where It Happened by former National Security Adviser John Bolton, was released on Tuesday and is already on the bestsellers list.
"It is a terrifying warning about what Trump could still do," wrote the Foreign Policy magazine while commenting on the book.
The Slate called it a "scathing indictment" of Trump while CNN noted that the book "oozes with contempt for Bolton's old boss".
Bolton, who worked at the White House from April 2018 to September 2019, also wrote about Trump's views on Afghanistan and Pakistan.
One chapter revealed how senior US generals, diplomats and even cabinet members tried to convince Trump to keep at least some troops in Afghanistan but failed.
In one of the White House meetings held in November 2018, the then chairman of Joint Chiefs of Staff General Joseph Dunford argued, "If we withdrew, he feared a terrorist attack on the US in the near future."
"Fifty billion dollars a year," said Trump while explaining why he wanted to leave Afghanistan now. Bolton wrote that Trump quoted this figure every time his withdrawal plan was questioned.
In one meeting, Trump asked Bolton to share his views. "I said I might have been the only one worried about Pakistan if the Taliban regained control next door, but Trump interrupted to say he worried as well."
Trump kept reminding his aides that he wanted to withdraw troops soon after the 2016 election but his generals persuaded him not to and said that he no longer would listen to his generals.
Once Trump also mentioned Ambassador Zalmay Khalilzad, his chief negotiator who concluded a peace treaty with the Taliban in February this year.
"Mentioning Khalilzad, Trump said I hear he is a con man, although you need a con man for this."
The book also showed that Trump's desire to leave Afghanistan stemmed from his belief that the US could not regain control over that war-torn nation.
"We have lost everything. It's a total failure. It's a waste. It's a shame. All the casualties. I hate talking about it," said Trump while explaining why he wanted troops to leave Afghanistan.
When former Defence Secretary Jim Mattis, who opposed Trump's strategy, lauded Nato's efforts in Afghanistan, Trump said: "We pay Nato."
Mattis reminded him that "ISIS is still in Afghanistan." "Let Russia take care of them," Trump responded.
Full report at:
https://www.dawn.com/news/1564818/trump-determined-to-pull-troops-out-of-afghanistan-ex-aide
--------
US senator backed by Israeli lobby attacks Turkey
Vakkas Doğantekin
24.06.2020
Controversial US senator from the state of New Jersey known for his anti-Turkey initiatives, Robert Menendez, has called for sanctions against Turkey because of its "increasing aggression" against Greece and Greek Cypriots.
"US ties with Greece, Cyprus and Israel are vital for stability in the eastern Mediterranean," Menendez said in a letter to US Secretary of State Mike Pompeo on Monday. "However, in recent months [Turkish] President [Recep Tayyip] Erdogan has been threatening regional stability and US policy interests by increasing aggression against our Greek and Cypriot partners."
Last November, Ankara and Libya's UN-recognized Government of National Accord (GNA) signed a pact that drew the exclusive maritime zones of the two countries in the eastern Mediterranean Sea.
The following month, Greece and Greek Cyprus announced the pact for drilling activities was illegal.
Enemy of Turkey
Menendez, a member of the Armenian Caucus, among others, has long attacked Turkey's interests on all platforms and is trying to disrupt a decades-long NATO alliance between the US and Turkey.
Erdogan last year called the senator an "enemy of Turkey" whose actions pose a "thoughtless threat" to Turkish-American relations.
The Democratic senator's career is stained with scandals, according to American journalist and analyst Dick Polman.
Menendez's name is "synonymous with ethical lapses," Polman said in one of his articles published in the Atlantic Council in 2018.
"It's difficult to pinpoint when Bob Menendez's name first became synonymous with ethical lapses. Perhaps it was in 2006, when federal prosecutors suspected that the New Jersey senator had steered federal funds to a nonprofit group that was paying him rent," he wrote.
"Or perhaps it was in 2014, when the FBI suspected that he'd intervened on behalf of two accused Ecuadorian criminals in exchange for campaign donations. Or perhaps it was in 2017, when he stood accused in federal court of helping Salomon Melgen, an affluent eye doctor, in exchange for gifts that were valued at nearly $1 million," Polman continued.
There were even rumors on the eve of his 2012 reelection that he partied with underage prostitutes in the Dominican Republic, Polman said, as he grilled Menendez's compromised legacy.
"The prosecutors had contended that Menendez "sold his soul for a lifestyle he couldn't afford", but the jury couldn't agree on whether his behavior—taking free flights, free vacations, and big donations, in exchange for helping to promote Melgen's personal and business interests (including the settlement of an $8.9 million Medicare dispute)—was criminally corrupt or politics as usual."
Polman said federal prosecutors failed to prove a direct bribery-for-favors connection because the "bar for proving such a connection had been raised by the Republican-led U.S. Supreme Court." It was ironic that Menendez, the scandal-tainted Democrat, would ultimately benefit, Polman said.
Israeli lobby behind Menendez
According to data available at OpenSecrets website that tracks campaign donations to US politicians, NorPAC stands out as the dominant force behind Menendez's election to office.
NorPAC describes itself as a "non-partisan political action committee whose primary purpose is to support candidates and sitting members of the U.S. Senate and House of Representatives who demonstrate a genuine commitment to the strength, security, and survival of Israel."
NorPAC was Menendez's top contributor from 2015 to 2020 with $248,889.
Relations between Turkey and Israel have been minimal and sour for almost a decade because of Turkey's strong support for Palestinian rights and statehood. Turkey opposes Israeli expansion plans in the region and its designs for illegal annexations in the West Bank.
Besides financial support from Armenian and Greek diasporas in the US, Menendez receives considerable campaign donations from members of the Fetullah Terrorist Organization (FETO), which attempted a military coup against the democratically elected government in Ankara on July 15, 2016.
Full report at:
https://www.aa.com.tr/en/americas/us-senator-backed-by-israeli-lobby-attacks-turkey/1887620
--------
Mideast
Envoy: Iran Not to Forget China's Support in IAEA
Jun 23, 2020
"China's recent position towards the Agency's resolution was firm and memorable. We will not forget it," Keshavarzzadeh wrote on his twitter page on Monday.
He also retweeted the Chinese foreign ministry spokesperson's recent remarks.
"E3 Foreign Ministers released a joint statement on Iran and upholding JCPOA commitments. Having quit JCPOA, the US has no right to ask the UNSC to trigger sanctions snapback. We urge the US to return to JCPOA and the UNSC resolution," the spokesperson had said.
On Friday, the IAEA's Board of Governors passed a resolution, put forward by Britain, France and Germany, and opposed by Russia and China, to push for intrusive inspections of two Iranian nuclear sites that the trio claims may have been used for undeclared nuclear activities in the early 2000s.
Succumbing to Washington's pressure, the three European countries, parties to Iran's 2015 nuclear deal with world powers known as the Joint Comprehensive Plan of Action (JCPOA), have so far failed to honor their commitments under a landmark agreement and offset the impacts of the US sanctions, which were re-imposed on Iran following the US' unilateral withdrawal from the deal in May 2018.
This is while Tehran has rejected the allegations of non-cooperation with the IAEA, insisting that it is prepared to resolve potentially outstanding differences with the IAEA.
In relevant remarks on Friday, Iranian Foreign Minister Mohammad Javad Zarif said the EU Troika (Britain, France and Germany) are accomplices of the US and Israel, adding that they are not entitled to advise Iran.
"E3 must stop public face-saving and muster the courage to state publicly what they admit privately: their failure to fulfill even own JCPOA duties due to total impotence in resisting US bullying," Zarif tweeted.
"Behind facade, E3 are accessories to Trump and Netanyahu—and in no position to counsel Iran," he added.
Also, on Thursday Zarif wrote, "BoG should not allow JCPOA enemies to jeopardize Iran's supreme interests."
The Iranian foreign minister said that "E3 should not be an accessory, after failing own JCPOA duties."
"We've nothing to hide. More inspections in Iran over last 5 yearrs than in IAEA history," he noted.
"An agreeable solution is possible, but Res will ruin it," Zarif reiterated.
https://en.farsnews.ir/newstext.aspx?nn=13990403000487
--------
IRGC Starts Anti-Terrorism Drills in Western Iran
Jun 23, 2020
"The drills zone stretches to the borders of Iraqi Kurdistan region as some terrorists might be present in this geography and one of the most important goals of the wargames is cleansing these regions from the terrorists," IRGC Ground Force Commander Brigadier General Mohammad Pakpour said on Tuesday.
He noted that similar operations in the past few years were also aimed at cleansing the terrorists and outlaws from the region, and added, "Actually, the anti-revolutionary forces and their supporters have understood that Iran is fully serious about protecting security of the country and the nation and we attack any point in which the terrorists are stationed."
"We will firmly respond to any move by the terrorists in the current year too," General Pakpour said, elaborating on his force's agenda.
He also asked the officials of the Iraqi Kurdistan region and Iraqi government to adopt more actions to earn control over the terrorists to prevent them from using these regions as launchpad for cross-border attacks on Iran.
In a relevant development in October, the Iranian Army Ground Force staged massive drills in the Northwestern parts of Iran in the presence of Army Commander Major General Seyed Abdolrahim Mousavi.
The wargames started by the rapid reaction and mobile offensive units of the Army Ground Force supported by the Airborne helicopters in Orumiyeh region in Northwestern Iran.
Combat preparedness, rapid reaction, mobility and assessment of the units' power are among the goals of the unprecedented wargames that are staged with the motto of 'one target, one bullet'.
Full report at:
https://en.farsnews.ir/newstext.aspx?nn=13990403000903
--------
Father of slain Iranian protester blasts Soleimani after attending memorial
23 June 2020
The father of an Iranian protester killed by security forces in Iran said Monday he was forced to attend a memorial of slain military commander Qassem Soleimani, who he considers responsible for the killing of thousands of women and children.
Manouchehr Bakhtiari's remarks come after pictures and videos of him holding a Soleimani poster went viral on social media recently, sparking debate amongst Iranian users.
Bakhtiari's son, Pouya Bakhtiari, was shot dead on the second day of anti-government protests, which erupted across Iran last November after the government announced gasoline price hikes of at least 50 percent.
Since then, Bakhtiari, who holds the regime responsible for his son's death, has been highly vocal in his opposition to the Islamic Republic.
In response to a campaign launched by the Iranian foreign ministry calling for sanctions relief amid the coronavirus pandemic, he urged the international community in April to not lift sanctions against the regime and instead send aid to Iranians directly, arguing the Islamic Republic will spend any money it makes or receives on its own needs.
In a video on his Instagram page, Bakhtiari said on Monday he considers Soleimani a "mercenary," and that he was forced to attend the event and take pictures holding a poster of the slain commander.
"They have been trying to assassinate my character and fool Iranians by circulating videos and pictures of me and my brother Mehrdad Bakhtiari on social media," said Bakhtiari.
"These videos were taken at a time when my family and I were under arrest," he said, adding: "Through threats, they forced me to take these videos."
Last December, Iranian authorities arrested and later released several members of the Bakhtiari family, including Manouchehr Bakhtiari, after they insisted on commemorating their dead son.
On Soleimani, Bakhtiari said: "I consider Qassem Soleimani a mercenary of the regime, a devoted follower of [Khamenei], and the cause of the killing of thousands of women and children as well as the forced displacement of millions of humans."
He added that the Islamic Revolutionary Guard Corps (IRGC) is an "anti-people, fascist and mercenary institution."
Soleimani, who headed the Quds Force, the overseas arms of the IRGC, was killed in a US airstrike at Baghdad's international airport in January.
Iranian activists believe it was regime accounts that were circulating pictures and videos of Bakhtiari holding a Soleimani poster.
Attempting to associate Bakhtiari with Soleimani in order to damage the former's reputation is proof that despite claiming Soleimani is a popular figure in Iran, the regime and its supporters are aware of how unpopular Soleimani is amongst Iranians, say Iranian activists.
Full report at:
https://english.alarabiya.net/en/News/middle-east/2020/06/23/Father-of-slain-Iranian-protester-blasts-Soleimani-after-attending-memorial.html
--------
In occupied West Bank, Israeli settler leaders complicate Netanyahu's annexation plan
23 June 2020
Jewish settler leaders who resist the creation of a Palestinian state are complicating Israel's plans to annex scores of settlements in the occupied West Bank under US President Donald Trump's peace blueprint.
Prime Minister Benjamin Netanyahu's cabinet is due next month to discuss the annexation plan, under which Israel would apply sovereignty over 30 percent of the West Bank - in areas where most of its about 130 settlements are located.
The plan is opposed by the Palestinians, who seek a state in all of the West Bank, as well as in the Gaza Strip, with East Jerusalem as a capital. Most world powers agree.
The plan also faces resistance from settler leaders who oppose Trump's calls for a future Palestinian state that would envelop at least 15 Jewish settlements - despite US guarantees of protection for, and access to, the future "enclaves."
"We're talking about strangling a community," said Hananel Elkayam, mayor of Itamar settlement, one of the 15 named in the plan.
In misgivings echoed in the other 14, Elkayam predicted residents would be unable to commute to jobs through territory that would be in a new Palestinian state, would by denied construction and would be at greater risk of attack than now.
"I would tell (Trump): Thanks very much for the plan, thanks very much for the great affection for the Jewish people (but) we'll set our own destiny," Elkayam said.
For all the latest headlines follow our Google News channel online or via the app.
Keeping door to diplomacy open
US officials will this week discuss whether to give Israel the green light for annexation moves seen by the Palestinians and many other countries as illegal land-grabs.
Israel's West Bank settlements were built by successive governments on land captured in a 1967 war. More than 400,000 Israelis now live there, with another 200,000 in East Jerusalem, which was also taken in 1967.
A Direct Poll survey last week found 56.8 percent of settlers support the Trump plan, more than the Israeli average.
Elkayam and other settler leaders say that backing is for annexation - on condition that plans for Palestinian statehood are scrapped.
Israeli and US officials want to be seen as keeping a door open to diplomacy. Where that door might lead worries Yochai Damri, head of a regional council that includes four of the 15 listed settlements.
Damri sees Palestinian statehood becoming more likely if the Republican president is defeated by Democrat Joe Biden in November's US election, and if, or when, Netanyahu is succeeded by centrist Benny Gantz, the Israeli premier's partner in a fragile unity government.
Full report at:
https://english.alarabiya.net/en/features/2020/06/23/In-occupied-West-Bank-Israeli-settler-leaders-complicate-Netanyahu-s-annexation-plan.html
--------
UN chief calls on Israel to drop West Bank annexation plans
24 June 2020
United Nations Secretary General Antonio Guterres has called on the Israeli regime to drop plans to annex parts of the occupied West Bank, saying the move would constitute a "most serious violation of international law."
Guterres made the remarks in a report to the UN Security Council on Tuesday and warned that the Israeli annexation plans would be "devastating" for hopes of fresh negotiations and a so-called two-state solution.
"I call upon Israel to abandon its annexation plans," the UN chief said in the report, adding that such a move would "threaten efforts to advance regional peace."
"If implemented, this would constitute a most serious violation of international law, including the Charter of the United Nations," Guterres underlined. "This would be calamitous for Palestinians, Israelis and the region."
The report comes ahead of the Security Council's twice-yearly meeting on the Israeli-Palestinian conflict, which is scheduled on Wednesday.
Meanwhile, an estimated one thousand protesters in Tel Aviv slammed the regime's annexation plans and expressed concern that the scheme could lead to more violence.
Israeli prime minister Benjamin Netanyahu, who is facing a number of criminal indictments, has repeatedly said that he would commence cabinet-level discussions for annexing more areas in the West Bank on July 1, in accordance with US President Donald Trump's so-called deal of the century.
The American president officially unveiled his much-condemned Middle East plan in January at the White House with Netanyahu on his side, while Palestinian representatives were not invited.
Back in late 2017, Trump enraged Palestinians by recognizing the whole Jerusalem al-Quds, both its eastern and western parts, as Israel's "undivided capital," a highly-provocative move he took in the face of historic Palestinian demands that the city's eastern part serve as the capital of their future state.
The annexation scheme, which has already been categorically rejected and condemned by Palestinians, largely gives in to Israel's demands while creating a Palestinian state with limited control over its own security and borders.
It enshrines the occupied Jerusalem al-Quds as Israel's "capital" and allows the regime to annex settlements in the West Bank and the Jordan Valley, which Israel occupied in 1967.
In response to Trump's highly-provocative scheme and Israel's annexation plans, Palestinian President Mahmoud Abbas declared the end of all agreements signed with Tel Aviv and Washington on May 19.
Israel's aggressive settlement expansion and annexation plans have dealt a serious blow to any prospects of peace.
The last round of Israeli-Palestinian talks collapsed in 2014. Among the major sticking points in those negotiations was Israel's continued settlement expansion on Palestinian territories.
More than 600,000 Israelis live in over 230 settlements built since the 1967 Israeli occupation of the Palestinian territories of the West Bank and East Jerusalem al-Quds.
Israelis fatally shoot Palestinian at checkpoint
In a separate development on Tuesday, Israeli forces shot and killed a Palestinian man in the occupied West Bank over claims that the slain Palestinian had attempted to run over a police officer at a checkpoint near the city of Jerusalem al-Quds.
Witnesses said the Palestinian, identified as Ahmad Erekat, was left to bleed to death on the ground as soldiers prevented Palestinian medics from approaching him.
Palestine's Wafa news agency, citing Palestinian officials, said the 27-year-old was rushing to the nearby city of Bethlehem to pick up family members from a beauty salon on his sister's wedding day.
Saeb Erekat, secretary general of the Palestine Liberation Organization, said the man killed was his relative and that his wedding was also slated for next week.
"This young man was killed in cold blood. What the occupation army (Israeli military) claims, that he was trying to run someone over, is a lie," he said.
A video of Erekat's lifeless body lying next to his car has been circulated on social media, with Israeli forces stepping over the body as blood can be seen flowing across the road.
Full report at:
https://www.presstv.com/Detail/2020/06/24/628124/UN-Antonio-Guterres-Israel-West-Bank-annexation-plans
--------
Fighting intensifies in Yemeni province despite truce
June 24, 2020
AL-MUKALLA: Yemeni government forces and southern separatists traded mortar and cannon fire in the southern province of Abyan on Tuesday, despite a truce and diplomatic talks in Saudi Arabia, local officials said.
Separatists said the government launched an offensive on their forces in the Al-Taryia region in Abyan, which triggered heavy clashes and resulted in deaths on both sides.
"They launched a big offensive from Shouqra, hours after agreeing to the truce. We are committed to the truce and implementing the Riyadh Agreement as long as the government abides by it," Nizar Haytham, a spokesperson for the Southern Transitional Council (STC), told Arab News.
He added that STC forces acted in self-defense and that a Saudi-led committee had been formed to monitor the truce.
Government forces accused separatists of attacking their positions with artillery and heavy machine guns and said they only acted in response.
"Fighting has not stopped for even one hour since the truce was announced," an army officer, who asked to remain anonymous, told Arab News from Abyan.
The medical charity Medecins Sans Frontieres said on Tuesday that its Aden hospital treated more than 20 people who were injured in the fighting.
The Yemeni government and separatists have clashed since early 2018, when the government accused separatists of obstructing ministers' movements in the port city of Aden, the country's interim capital.
In August, separatists expelled the government from Aden, prompting loyalists into regrouping in Abyan and launching a counterattack.
Seeking to broker peace, Saudi Arabia oversaw a peace deal in November, known as the Riyadh Agreement.
Under the deal, both sides would disarm and withdraw personnel from Aden, Abyan and Shabwa, as the internationally recognized president names a new government and governors.
Western diplomats and Yemeni politicians have praised the Saudi-brokered agreement for including the separatists in the decision-making process and allowing the Yemeni government to operate from Aden.
"By implementing it the Yemeni government and STC will be in a situation where they are united in a newly formed government where they both feel they have adequate representation. The STC have been demanding a place at the UN talks and the Riyadh Agreement offers them a place at the table as part of the delegation," Michael Aron, the British ambassador to Yemen, told Arab News.
The UN Yemen envoy has attempted to forge a peace deal that would put an end to the war that has claimed more than 100,000 lives and caused the world's worst humanitarian crisis.
Full report at:
https://www.arabnews.com/node/1694576/middle-east
--------
Yemen's Houthis fire missiles, drones towards Saudi Arabia
June 23, 2020
Yemen's Houthi rebels say they have carried out their largest-ever military operation against neighbouring Saudi Arabia, targeting the defence ministry and a military base in the kingdom's capital, Riyadh.
Their announcement on Tuesday came after a Saudi-led military coalition battling the rebels in Yemen said it had intercepted and destroyed missiles and drones fired from the Yemeni capital of Sanaa.
"A large number of winged ballistic missiles and drones targeted the capital of the Saudi enemy ... pounding military headquarters and centres including the defence and intelligence ministry and [King] Salman Air Base," Houthi military spokesman Yahya Sarea said in a televised speech.
The Houthis said they had also targeted military sites in other cities including Jazan and Najran in the south, close to the border with Yemen.
There were no immediate reports of damage or casualties.
Earlier, Saudi-led coalition spokesman Turki al-Malki was quoted by the official Saudi Press Agency as saying: "Joint coalition forces managed ... to intercept and destroy a ballistic missile launched by the terrorist Houthi militia from Sanaa towards Riyadh in a deliberate hostile operation."
The coalition said it had also brought down "eight booby-trapped unmanned aircraft to target civilian objects and civilians in the kingdom", as well as "three ballistic missiles from Saada governorate towards the kingdom".
'Big escalation'
Speaking to Al Jazeera, Mamoun Abu-Nowar - a retired Jordanian air force general - said the latest developments were reason enough to make Saudi Arabia insecure about its military prowess - despite Riyadh's claims of intercepting missiles.
"Reaching Riyadh with that accuracy and targeting the ministry of defence and some other military [base] is a big escalation because the Houthis are winning now in Jawf and some parts in Yemen," he said, speaking from Amman.
"This makes the Saudis insecure and unstable for any investment in the future and it's a big threat for the Saudi defence air system which I feel is a bit weak to intercept such missiles," he continued. "They need the THAD [Terminal High Altitude Area Defence] system which intercepts missiles beyond the atmosphere."
The attack came after Saudi Arabia announced on Monday that Yemen's southern separatists - backed by the United Arab Emirates (UAE) and the country's internationally-recognised government - agreed to a ceasefire after months of infighting.
The agreement aims to close the rift between the two former allies in the war against the Houthis.
Yemen has been locked in conflict since 2014 when the Houthis took control of Sanaa, and went on to seize much of the north.
Fighting escalated in March 2015 when the Saudi-UAE-led military coalition intervened to restore the government of President Abd-Rabbu Mansour Hadi.
Saudi Arabia was targeted with dozens of attacks using ballistic missiles or drones last year, including a devastating raid on oil giant Aramco's facilities that temporarily knocked out half the kingdom's crude output.
Full report at:
https://www.aljazeera.com/news/2020/06/saudi-coalition-shoots-houthi-ballistic-missiles-drones-200623073541760.html?utm_source=iterable&utm_medium=email&utm_campaign=1307907_
--------
Africa
Sudan says near settlement with US for 1998 embassy bombings
June 23, 2020
KHARTOUM: Sudan is close to finalizing a deal with the United States to compensate the victims of 1998 embassy bombings in Kenya and Tanzania that killed 224 people, Foreign Minister Asma Abdalla said Tuesday.
"The final touches of a settlement with victims of embassy bombings in Nairobi and Dar es Salaam are being finalized," Abdalla told AFP in an interview.
"We now have a delegation in Washington negotiating with the victims' lawyers and officials at the US Department of State."
The twin bombings took place in August 1998 when a massive blast hit the US embassy in downtown Nairobi, shortly followed by an explosion in Dar es Salaam.
The attacks claimed by Al-Qaeda killed a total of 224 people and injured around 5,000 — almost all of them Africans.
The US has accused Sudan of aiding militants linked to the jihadist bombings and demanded compensation for victims' families.
Sudan has since August been led by a transitional administration following the military ouster of president Omar Al-Bashir in the wake of mass protests against his rule.
Under Bashir's 30-year rule, the country adopted a more radical course of Islam, hosting Al-Qaeda founder Osama bin Laden between 1992 and 1996.
This strained ties with the US, which blacklisted Sudan as a state sponsor of terrorism.
The post-Bashir government has sought to boost the country's international standing and rebuild ties with the US.
In February, Sudan had to compensate families of victims of the USS Cole bombing in 2000 in Yemen's Aden harbor, for which Al-Qaeda also claimed responsibility.
Khartoum had always denied any involvement but agreed to the settlement to fulfil a key US condition to remove it from Washington's terrorism blacklist.
After the deal on the embassy bombings, Sudan "will have fulfilled all the requirements" to be removed from the US blacklist of state sponsors of terrorism, Abdalla said.
https://www.arabnews.com/node/1694376/middle-east
--------
Suicide bomber kills 2 at Turkish military base in Somalia
June 24, 2020
NAIROBI, Kenya (AP) — A suicide bomber detonated inside a Turkish military training base in Somalia's capital and killed two people, police said Tuesday.
It was the first time Turkey's largest overseas military base has been attacked by the al-Qaida-linked al-Shabab extremist group. The Somalia-based group quickly claimed responsibility, according to its Radio al-Furqan affiliate.
Police Capt. Mohamed Hussein said the attack occurred as new military cadets were doing their morning drills. Col. Ahmednor Abdulle, a Somali military officer, said authorities were investigating how the bomber managed to sneak into the base.
The Turkish Defense Ministry in a statement said a Somali citizen was killed and one other person was wounded. It said no Turkish personnel were hurt and there was no damage to the barracks.
The ministry condemned the "terrorist organization and its supporters who carried out this cowardly attack" and added: "We will not leave our Somali brothers alone in their fight against terrorist organizations."
Turkey has a significant presence in Somalia and operates one of a number of foreign military training operations in the Horn of Africa nation long destabilized by conflict.
The Turkish-run Anadolu Agency quoted the Turkish ambassador to Somalia, Mehmet Yilmaz, as saying the attack was foiled at the last minute by guards who noticed the assailant and shot him. It said the incident occurred during an event to recruit students to the base's training program.
"According to the initial information, the assailant left the crowd and tried to enter (the base). He was shot after he failed to abide by the Somali soldiers' order to stop," Yilmaz said. "There was an explosion."
Speaking on state-run radio, Somali army chief Gen. Odowa Yusuf Rage also said security forces shot dead the bomber outside the main gate — contradicting the accounts of other local security officials.
Full report at:
https://apnews.com/bf6879d78ab1ff8e0e7de3f7342ed89a?utm_source=iterable&utm_medium=email&utm_campaign=1307907_
--------
Why South Africa has a keen interest in extremist violence in northern Mozambique
June 23, 2020
A growing insurgency in the northern parts of Mozambique has caught the attention of conflict analysts and observers worldwide. There is now even a possibility that the South African National Defence Force might become involved in the most northern Cabo Delgado province, with a view to ending the deadly violence and litany of atrocities, abductions and destruction of infrastructure.
Should the South African government decide to send in its military, the main aim would be to focus on the violent activities of an extremist and militant Islamic group, Ahlu Sunnah Wal Jammah. It is also locally known as Al Shabaab, even though it has no connections with the Somali movement of the same name. The group aims to establish its own mosques and madrassas to enhance the spread of its radical dogma.
Ahlu Sunnah Wal Jammah started as a religious sect which turned into a guerrilla group. Initially its goal was to impose Sharia law (Islamic law) in Cabo Delgado. It rejected the state's schooling, health system and laws, which resulted in much tension in the province. Some analysts argue that the movement is motivated more by greed than by dogma or grievance: that it is making millions of dollars a week through criminal activities relating to mining, logging, poaching and contraband.
Be that as it may, many of its members appear to be socio-economically marginalised young people without a proper education and formal employment. They have been joined by young immigrants in a similar marginalised position. It is estimated that the movement's members are organised in tens of small cells along the coast of northern Mozambique.
There is rightly widespread concern over these developments. Should South Africa – and specifically its defence force – get involved, it would certainly be venturing into a highly violent and complex landscape, requiring a counter-terrorism type of operations.
Such operations are always highly challenging. Countering terrorist and insurgent forces in Mozambique could be as challenging as the protracted operations against Boko Haram and Al Shabaab, the militant Islamist sects that operate predominantly in Nigeria and Somalia, destabilising large areas with their terror campaigns.
Why should there be serious concern over the situation in Mozambique?
Mozambique borders Tanzania, Malawi, Zambia, Zimbabwe, South Africa and eSwatini. Four of these six countries are landlocked, and hence depend on Mozambique as a gateway to global markets. Events in Cabo Delgado could thus threaten regional stability.
Even though Mocímboa da Praia, which is regarded as the headquarters of the extremists, is about 2,500km from South Africa, the group nevertheless poses a challenge to the country too. After all, Mozambique has strong economic ties with South Africa as the region's economic engine. Regional stability is certainly in the interest of South Africa.
From a South African standpoint, four main issues stand out. These are: the danger of the spread of Islamist extremism so close to home; the strategic importance of the area under siege; weakness of Mozambican security forces; and combating organised crime.
Violent extremism
This is the first case of violent extremism of this kind in southern Africa. It is also the first manifestation of a militant movement which is associated with the Islamic State of Iraq and Syria, and the notion of a jihadist insurgency.
Until recently, acts of terror conducted by extremists in southern Africa were confined to Tanzania and Zanzibar.
The death toll and displacements of Mozambican locals in Cabo Delgado are difficult to verify. But reports indicate that more than 1,000 people have died and about two million are affected by the crisis overall.
Secondly, in recent years massive offshore natural gas deposits have been identified, drawing some of the world's biggest energy players. Offshore exploration in the Cabo Delgado area is among Africa's three largest liquid natural gas projects.
Investments of billions of dollars have already been made, but an escalation of violence is putting the future of these investments at risk.
These projects could be of major importance to poverty alleviation in the country. Poverty affects most of those in rural areas with low levels of formal education. Economic activity in Mozambique has improved in recent years and has the potential to strengthen in the foreseeable future. But much will depend on the megaprojects in Cabo Delgado, debt restructuring, COVID-19, macroeconomic stability and improved political and economic governance, among other key factors.
For decades, South Africa has experienced an illegal influx of Mozambicans due to development challenges in their country. Thus, economic, political and social development in Mozambique are of the utmost importance to South Africa, which is battling massive poverty and unemployment of its own.
Although exploration in Mozambique is offshore, support facilities are onshore and most vulnerable to attacks. The foreign companies with their massive investments feel threatened, especially now that final investment decisions have to be taken.
South Africa has another interest in these developments. The South African energy and chemical multinational Sasol has invested heavily in gas exploration projects since 2014.
The arrival of foreign companies has led to deep discontent among local people who are deeply aggrieved by their activities. They had to relocate to make way for the infrastructure development, amid complaints about the compensation they received. They're also aggrieved that they have been resettled inshore, away from the coastal fishing areas.
These factors further complicate security challenges in the very delicate social landscape. Moreover, the insurgents can easily exploit local grievances as matters play into their hands.
The Mozambican military and police have proven to be no match for the militants. They have been unable to prevent them from taking the northern strategic town of Mocímboa de Praia, as well as invading a town near Quissanga.
To counter the growing insurgency, the Mozambican government has contracted the Wagner group, a private Russian military company, to assist government forces. But the situation appears to have gone from bad to worse.
A South African security group, the Dyck Advisory Group, was also allegedly assisting the Mozambican government.
A fourth cause for concern over dynamics in the Cabo Delgado province relates to organised crime. The area is a major conduit for smuggling drugs and other contraband. The volume of heroin produced and shipped from Afghanistan along a network of routes, via East and southern Africa, has increased considerably in recent years.
Cabo Delgado is a key point for smuggling drugs, wildlife, timber, gems and gold. The insurgency makes it more difficult to enforce the law in the province.
No choice
Operations aimed at countering Islamist extremists tend to continue for many years. Success at curbing violent terrorist attacks requires careful and long term responses.
Ideally, these should comprise a mixed set of interventions, including social reform, economic development and varying degrees of military force.
Full report at:
https://theconversation.com/why-south-africa-has-a-keen-interest-in-extremist-violence-in-northern-mozambique-140745?utm_source=iterable&utm_medium=email&utm_campaign=1307907_
--------
Ivory Coast arrests armed group leader behind border post attack
22 Jun 2020
Ivory Coast says it has arrested the leader of an armed group that last week carried out a deadly attack on a military post near the border with Burkina Faso.
"The commander of the team who led the action was taken yesterday," Minister of Defence Hamed Bakayoko said on Monday at a military camp in the main city of Abidjan.
"We will go further as the investigation progresses. We will know who he was in contact with, who is behind it," said Bakayoko without identifying the individual or giving further details about the capture.
His comments came during a speech honouring the victims of the pre-dawn June 11 attack, when at least 10 soldiers were killed and six others wounded after dozens of fighters assaulted the post at Kafolo, on the northeastern border with Burkina Faso.
Other sources put the death toll at 12, comprising 11 soldiers and a gendarme, and described the raid as a reprisal for a crackdown on armed groups.
Bakayoko said the authorities had carried out a "very large (number) of arrests of people directly involved" in the attack, adding that these arrests came thanks to photos retrieved from mobile phones.
The assault was the deadliest carried out in the country since gunmen from al-Qaeda's North African branch stormed the beach resort of Grand Bassam in March 2016, killing at least 19 people.
On June 18, the Ivorian army said it had carried out a sweep in the Kafolo area and in the neighbouring Comoe National Park.
Troops picked up 27 people, destroyed logistical materiel and seized communications equipment, it said.
Ivory Coast shares a 550km (340 miles) border with Burkina Faso, one of the countries that have been severely affected by a worsening security situation in the Sahel
A 2012 separatist movement in Mali sparked a multilayered conflict that has spilled across the borders of Niger and Burkina Faso in recent years. The escalating violence involves an amorphous array of al-Qaeda and ISIL (ISIS)-affiliated groups and ethnic armed groups, as well as state, regional and international forces.
Full report at:
https://www.aljazeera.com/news/2020/06/ivory-coast-arrests-armed-group-leader-border-post-attack-200622150301450.html?utm_source=iterable&utm_medium=email&utm_campaign=1307907_
--------
Europe
Greece: Muslim prayer hall ordered shut
23.06.2020
ATHENS
Greece is closing down one of the oldest Muslim prayer halls in the greater Athens metropolitan area.
Saying the facility lacks a license to operate, the Education and Religious Affairs Ministry gave a 15-day notice to clear the premises in Piraeus, a port city just 12 kilometers (seven miles) from the Athens city center.
"We are sad to announce that we received a closure order for one of the oldest prayer halls of the capital…without any chance of negotiating with the ministry," said the Muslim Association of Greece in a press release.
The Al Andalus prayer hall has been operating since 1989, according to the association.
"We believe that acceptance and recognition is evolving in society," said the press release. "That is why we consider this unexpected closing a symbolic act on behalf of the government that wants to suppress religious expression when it is not coming from the predominant religion."
Greece has a sizeable Muslim population, including a quarter-million Muslims in metropolitan Athens.
The Turkish Muslim minority in Greece has complained that their exercise of religion is stifled, including the right to choose their own muftis and the administrators of Muslim pious endowments (waqfs), rather than ones appointed by the state.
Last June, after years of delays, a new mosque nominally opened in Athens, but so far it lacks an imam, so it is not yet open for worship, leaving Athens the only capital in Europe without an official mosque.
In December, state officials said three more months were needed to appoint new personnel and make necessary arrangements for the mosque, set to accommodate 350 worshippers.
https://www.aa.com.tr/en/europe/greece-muslim-prayer-hall-ordered-shut/1887460
--------
European lawmakers condemn Israel's plan to annex West Bank
Agnes Szucs
24.06.2020
BRUSSELS
More than 1,000 European lawmakers condemned Israel's plan to annex West Bank in a joint letter published on Tuesday night.
The parliamentarians representing 25 European countries urged European leaders to prevent the annexation and save the prospects of a two-state solution.
They also show strong support for the EU foreign policy chief Josep Borrell's previous statement warning that "annexation could not pass unchallenged."
"We, parliamentarians across Europe committed to a rules-based global order, share serious concerns about President Trump's plan for Israeli-Palestinian conflict and the imminent prospect of Israeli annexation of West Bank territory," the lawmakers wrote.
They also warned that the US president's plan "promotes effectively permanent Israeli control over a fragmented Palestinian territory, leaving Palestinians with no sovereignty and giving a green light to Israel to unilaterally annex significant parts of the West Bank."
The parliamentarians insisted that the new Israeli government's annexation plan would be "fatal to the prospects of Israeli-Palestinian peace" and carry a destabilizing potential for the region and the international order as well.
In total, 1,080 members of national assemblies and the European Parliament from Austria, Belgium, Czechia, Denmark, Finland, France, Germany, Greece, Hungary, Iceland, Ireland, Italy, Luxembourg, Malta, the Netherlands, Norway, Poland, Portugal, Romania, Slovakia, Slovenia, Spain, Sweden, Switzerland, and the UK signed the letter.
Encouraged by Trump's so-called "Deal of the Century," Israeli Prime Minister Benjamin Netanyahu last month announced that his government would formally annex the Jordan Valley and all settlement blocs in the West Bank.
The West Bank, including East Jerusalem, is seen as occupied territory under international law, thus making all Jewish settlements there -- as well as the planned annexation -- illegal.
Palestinian officials have threatened to abolish bilateral agreements with Israel if it goes ahead with the annexation, which will further undermine the two-state solution.
Full report at:
https://www.aa.com.tr/en/europe/european-lawmakers-condemn-israels-plan-to-annex-west-bank/1887862
--------
Virus pushes Syrian war-displaced to greater need: UN
Peter Kenny
23.06.2020
GENEVA
Syria's war along with the COVID-19 virus has pushed hundreds of thousands of refugees deeper into need, the World Food Program said Tuesday.
"Most have fled to neighboring Turkey, Lebanon, Jordan, Iraq and Egypt and these five countries alone host more than 5.5 million Syrians, the biggest refugee group in the world," Elisabeth Byrs, WFP Geneva spokeswoman, said at a UN briefing in Geneva.
She said the resulting economic fallout has aggravated the impact of the novel coronavirus on refugees.
"The COVID-19 and the consequent economic downturn has pushed hundreds of thousands of Syrian refugees in the region deeper into need," she said, noting that even before the pandemic most refugee families were living in extreme poverty.
The number of vulnerable refugees who lack the essential resources to survive in exile has dramatically surged as a result of the public health emergency.
Byrs said that loss of income has pushed refugee families to the edge and that many are unable to pay their rents and are forced to take on additional debt, cut down on food and medication,
WFP said it is providing assistance to 1.8 million refugees and communities hosting them, of whom 1.2 million of them are Syrian refugees.
The WFP's assistance is mostly through cash transfer, and e-food cards or vouchers, which it said is the most extensive humanitarian food voucher program in the world.
On June 21, the UN Refugee Agency said that Turkey continues to host the largest number of refugees worldwide, as the number of people forcibly displaced across the world due to conflict, violence, and persecution hit record levels.
"Turkey currently hosts some 3.6 million registered Syrian refugees along with close to 330,000 persons of concern from other nationalities."
Full report at:
https://www.aa.com.tr/en/europe/virus-pushes-syrian-war-displaced-to-greater-need-un/1887136
--------
Germany bans neo-Nazi group Nordadler
23.06.2020
An allegedly neo-Nazi group called Nordadler (roughly: the Northern Eagles) was banned by Germany's Interior Ministry on Tuesday.
Police made four raids targeting the group in the German federal states of North Rhine-Westphalia, Saxony, Brandenburg and Lower Saxony.
Interior Ministry spokesman Steve Alter announced the ban on Twitter, saying the group operated mainly online.
"Right-wing extremism and anti-Semitism have no place on the internet either," he said.
Steve Alter
✔
@BMISprecher
Bundesinnenminister #Seehofer hat die rechtsextremistische Vereinigung "Nordadler" verboten. Sie agiert vorwiegend im Netz. Seit den Morgenstunden laufen in vier Bundesländern polizeiliche Maßnahmen. #Rechtsextremismus und #Antisemitismus haben auch im Internet keinen Platz.
329
10:05 AM - Jun 23, 2020
Twitter Ads info and privacy
179 people are talking about this
The ministry said the group pursued a national socialist ideology and also operated under four other names, which all make National Socialist-style references to the German Volk, or people/ethnicity: Völkische Revolution (People's Revolution), Völkische Jugend (People's Youth), Völkische Gemeinschaft (People's Community) and Völkische Renaissance (People's Renaissance).
Rural society planned
The ministry said members of the right-wing extremist group professed their allegiance to Adolf Hitler and other important representatives of the Nazi regime and used the symbols and language of the Nazi regime.
It said Nordadler was planning a national socialist settlement project with like-minded people in rural areas.
In 2018, after separate raids against the group, the alleged founder of Nordadler told public broadcaster NDR that he saw himself as a Nazi and that they were considering attacks against politicians.
The Federal Prosecutor's Office announced at the time that the group had tried to obtain weapons, ammunition, and explosive material.
According to the ministry, this is the 20th ban of a right-wing extremist association by a federal interior and the third one this year.
Full report at:
https://www.dw.com/en/germany-bans-neo-nazi-group-nordadler/a-53903904?utm_source=iterable&utm_medium=email&utm_campaign=1307907_
--------
St Paul's bomb plotter encouraged attacks by others, court told
22 Jun 2020
A Muslim convert and supporter of Islamic State who plotted to bomb St Paul's Cathedral and a nearby hotel also encouraged others to launch similar attacks, a court has been told.
Safiyya Amira Shaikh, 37, from Hayes, west London, has admitted preparing terrorist acts and disseminating terrorist publications.
At a sentencing hearing at the Old Bailey, Alison Morgan QC, prosecuting, said Shaikh was a violent extremist who had pledged her support to Isis. She had not just planned an attack but also encouraged others to commit attacks of a similar kind, Morgan said.
Shaikh's online propaganda postings were sophisticated and prolific, the court was told, including pictures of executions, glorification of past atrocities and spreading threats to carry out mass murder.
Shaikh visited St Paul's to scout out security and the best place to leave a bomb, Morgan said. She initially intended to carry out the attack at Christmas but later put it back to Easter.
She gave undercover intelligence officers, who were posing as co-conspirators, measurements for the size of the improvised explosive device she would require.
In one exchange, Shaikh said: "Killing one kufar [non-believer] is not enough for me." In another, she admitted that watching beheading videos had been difficult at first "but now I love".
Morgan said Shaikh created some of the images and video material she posted on the Telegram communications channel. "She kept a list of those suspected to be spies and created a false profile of herself as a man," the prosecutor said.
Shaikh was previously known as Michelle Ramsden and converted to Islam in 2007 after being impressed by the kindness of a neighbouring Muslim family. Her family did not approve and she became increasingly isolated, the court heard.
She became "disillusioned by the moderate version of Islam followed by the mosques" she attended, and by 2016 she had stopped attending mosques, Morgan said. That year she was referred to the government's counter-terrorism Prevent programme.
In August 2019, Yousra Lemouesset, a Netherlands-based Isis supporter who has since been convicted of terrorism offences, paid for her to fly to Amsterdam. On 18 August, Shaikh was stopped at Luton airport and subjected to a search in which her phone and passport were confiscated. She was not allowed to leave the country.
Among the images she posted shortly afterwards was one with the message in bloody letters: "Pigs You Will Soon Pay For Your Crimes". In later messages she said that if approached by the police at her home address, she would detonate a device to kill them and herself.
Morgan said the choice of St Paul's as a high-profile target was Shaikh's idea.
Shaikh described the Easter Sunday suicide bombings that killed western holidaymakers in Sri Lanka last year as "attacks which really inspired me". Shaikh said she wanted "action and revenge deep from my heart".
On 7 September last year she carried out a reconnaissance trip. She stayed at the Great St Helen's Street hotel in the City of London, and she was in contact throughout with undercover officers who were posing as co-conspirators, informing them at one stage: "Just had a pizza."
She sent them pictures of the inside of St Paul's after she had looked around the next morning. "Under this dome," she messaged, "I would like to put the bomb."
In another post, Shaikh said: "Always wanted to be a warrior soldier of Allah. I just don't want to waste any second. If I am going to die, I want to do most I can till end." She said she wanted to achieve martyrdom.
Morgan added: "It's been suggested [in a psychiatrist's report] that it is the role-player who is instigating … We say that's not right. She is reciting a plan she has."
Shaikh met an undercover officer who was posing as the wife of her co-conspirator, to be measured up for a suicide vest. She told the officer "about the route to her beliefs [and] said that moderate Muslims are not true, only those who fight. She gave her measurements, including her bra size."
Shaikh had been in contact with Anjem Choudhary, a convicted British jihadist, and had listened to the recorded online lectures of the Yemeni militant Anwar al-Awlaki, who was killed by a US drone strike.
She was arrested on 10 October last year. Morgan said that in police interviews Shaikh attempted to diminish her role, although she admitted to a previous drug addiction and said she wanted to go to heaven. Shaikh has previous convictions for burglary and possession of heroin.
Morgan said plans for the attack had been well advanced. Shaikh had selected the location, the weapon type and the date, she said. "She had expressed herself in an oath of allegiance to IS and had even contemplated her funeral arrangements to avoid having any kind of Christian burial."
Full report at:
https://www.theguardian.com/uk-news/2020/jun/22/st-pauls-bomb-plotter-encouraged-attacks-by-others-court-told?utm_source=iterable&utm_medium=email&utm_campaign=1307907_
--------
South Asia
Ghani calls on Taliban to accept the demands of government and the Afghan people
23 Jun 2020
President Mohammad Ashraf Ghani called on Taliban group to accept the demands of the government and the Afghan people and renounce violence.
According to a statement released by ARG Presidential Palace, President Ghani made the call on Taliban militants following the attack on prosecutors of the Attorney General's Office.
He also added that the attack on civilians and government workers is an act against the humanity and principles of Islam, insisting that the continued violence by enemies, is an attempt to harm the peace process.
The Taliban group had earlier condemned the killing of five prosecutors of the Attorney General's Office, warning that the peace process has many enemies and opponents.
Zabiullah Mujahid, a spokesperson for the Taliban group said the group has no links with attack on prosecutors close to Bagram prison which took place on Monday.
"We are launching a comprehensive investigation," Mujahid said in a Twitter post, adding that "It should be reminded that the peace process has many enemies & opponents. Everyone must remain cautious of such plots."
No individual or group has so far claimed responsibility for the attack.
The Afghan authorities said at least five prosecutors of the Attorney General's Office lost their lives in an attack by unknown gunmen in Deh Sabz area of Kabul.
https://www.khaama.com/ghani-calls-on-taliban-to-accept-the-demands-of-government-and-the-afghan-people-08916/
--------
Taliban kill eight Afghan security personnel ahead of talks
June 24, 2020
KUNDUZ: Dozens of Taliban fighters stormed three check posts in pre-dawn raids in northern Afghanistan on Tuesday, killing at least eight security personnel, in the latest attack on government forces ahead of expected peace talks.
It comes after authorities this week accused the Taliban of increasing attacks on Afghan forces at a time when both sides are preparing to start delayed negotiations.
The simultaneous raids on one army and two police checkpoints in Kunduz province led to fierce gunfights that lasted for hours, officials said.
Eight members of Afghan security forces were killed and seven more were woun­ded in the fighting, said district head Nasruddin Saadi.
Kunduz provincial governor's spokesman Esmat­ullah Muradi confirmed the coordinated attack but said nine security personnel were killed in the night-time battle.
The Taliban have so far not commented.
Taliban fighters have repeatedly attacked security forces in and around Kunduz province. The city itself has briefly fallen twice to the insurgents in recent years.
Taliban fighters also raided an army check post in Balkh province and another in Ghazni province during the night, the defence ministry said, adding that several insurgents had been killed in ensuing clashes.
On Monday, the National Security Council said the Taliban had killed at least 291 Afghan security personnel over the past week, saying it was the "deadliest" week in the 19-year conflict.
President Ashraf Ghani, in an address to the cabinet on Monday, said the violence unleashed by the Taliban was "running against the spirit of commitment for peace".
Violence had dropped across much of Afghanistan since the Taliban announced a three-day ceasefire on May 24 to mark the Eidul Fitr holiday, but officials now accuse the insurgents of stepping up attacks.
Ghani, however, has vowed to complete a Taliban prisoner release as agreed in a deal between the insurgents and Washington in February.
Full report at:
https://www.dawn.com/news/1564810/taliban-kill-eight-afghan-security-personnel-ahead-of-talks
--------
9 Taliban militants killed, wounded in Kapisa clashes: Silab Corps
23 Jun 2020
The Afghan forces killed or wounded at least 9 Taliban militants during separate clashes in North-eastern Kapisa province of Afghanistan.
The 201st Silab Corps in a statement said the Taliban militants clashed with the security forces in 7 areas of Shalitoo area of Tagab district in the past 24 hours.
The statement further added that the Taliban militants attacked the security forces during clearance operations which the security forces launched in response to repeated attacks of the militants on public uprising forces.
According to 201st Silab Corps, the security forces killed 6 Taliban militants and wounded at least 3 others during the clashes.
The Taliban group has not commented regarding the clashes so far.
https://www.khaama.com/9-taliban-militants-killed-wounded-in-kapisa-clashes-silab-corps-08915/
--------
Sikh abducted in Afghanistan, Afghan-American Sikhs seek India's support
Jun 22, 2020
WASHINGTON DC:: An Afghan Sikh was abducted from the Paktika province in Eastern Afghanistan four days ago, confirmed the Afghan Sikh community living in the United States.
The man identified as Nidhan Singh, hails from Tsamkani district in the Paktika province and was employed as a Gurusewak (helper) at the local Gurudwara.
Post Singh's abduction, the Afghan Sikh community living in the United States has again urged the Government of India to help in the resettlement of the Sikhs living in Afghanistan .
They have appealed to India to make special arrangements under Vande Bharat Mission to provide a safe haven for over 600 Sikhs.
"I have spoken to Sikh Member of Parliament Narinder Singh and he confirmed that officials in the Afghan Government have promised to help and find Nidhan," Paramjit Singh Bedi, chairman of the Afghan Sikh community in New Jersey told ANI.
"Narinder Singh has also reached out to the Taliban leaders and has been assured that all efforts will be made to ensure his release," Bedi further said.
Bedi and other community members will send written appeals to former diplomat and Union civil aviation minister Hardeep Singh Puri, the external affairs minister S Jaishankar and the Indian envoy to the United States Taranjit Singh Sandhu.
Worried for the lives of the Sikh minorities living in Kabul, Jalalabad and Ghazni, the Sikh community has been constantly seeking support from India.
Encouraged by the steps taken in the past by the Indian government, leaders of the Afghan Sikh community have made several appeals to India to accommodate the Sikhs and Hindus from Afghanistan and grant them legal entry with long term residency multiple entry visa.
The community leaders living in the United States said it is imperative to alleviate the dire situation of religious minorities in Afghanistan who look to India as the only safe haven in the region.
In May this year, expressing concerns over the safety and security of religious minorities in Afghanistan, twenty-six US Congressmen urged Secretary of State, Mike Pompeo, to take all available steps to facilitate the "safe and expeditious relocation" of members of the Sikh and Hindu communities trapped in the war-hit country.
Full report at:
https://timesofindia.indiatimes.com/world/south-asia/sikh-abducted-in-afghanistan-afghan-american-sikhs-seek-indias-support/articleshow/76502837.cms
--------
Violence against children in Myanmar's Rakhine up sixfold in 1st 3 months of 2020: report
JUN 23, 2020
Violence against children increased sixfold in the first three months of 2020 in Myanmar's conflict-ridden northwest, the humanitarian group, Save the Children, said in a report Tuesday. Eighteen children were killed and 71 children were physically injured or maimed between January and March this year in Rakhine state, according to the report. In comparison, there were three recorded cases of children being killed and 12 others injured between October and December 2019.
"Children are at serious risk of being killed or maimed in the ongoing conflicts between the Myanmar military and various armed groups, all while having to cope with the threat of COVID-19," Duncan Harvey, Save the Children's top official in Myanmar, said in a statement.
"The widespread use of mines and improvised explosive devices poses a specific threat to children, for instance while playing, picking fruit or walking to and from school. Children's well-being is also under threat by other conflict-related risks, such as displacement, malnutrition, mental trauma, attacks on schools and interruption of education," Harvey said.
"We cannot forget the children of Myanmar who continue to face daily risks to their safety, health and well-being. The only way forward is for all parties to the conflict to stop the killing and maiming of civilians, commit to a ceasefire and take all necessary steps to hold the perpetrators of grave violations accountable for their crimes," the statement added.
Full report at:
https://www.dailysabah.com/world/asia-pacific/violence-against-children-in-myanmars-rakhine-up-sixfold-in-1st-3-months-of-2020-report
--------
Taliban reacts to killing of Afghan prosecutors close to Kabul
23 Jun 2020
The Taliban group condemned the killing of five prosecutors of the Attorney General's Office, warning that the peace process has many enemies and opponents.
Zabiullah Mujahid, a spokesperson for the Taliban group said the group has no links with attack on prosecutors close to Bagram prison which took place on Monday.
"We are launching a comprehensive investigation," Mujahid said in a Twitter post, adding that "It should be reminded that the peace process has many enemies & opponents. Everyone must remain cautious of such plots."
No individual or group has so far claimed responsibility for the attack.
Full report at:
https://www.khaama.com/taliban-reacts-to-killing-of-afghan-prosecutors-close-to-kabul-08914/
--------
URL: https://www.newageislam.com/islamic-world-news/from-djibouti-pakistan-muftis-across/d/122206
New Age Islam, Islam Online, Islamic Website, African Muslim News, Arab World News, South Asia News, Indian Muslim News, World Muslim News, Women in Islam, Islamic Feminism, Arab Women, Women In Arab, Islamophobia in America, Muslim Women in West, Islam Women and Feminism