New Age Islam News Bureau
22 Jan 2016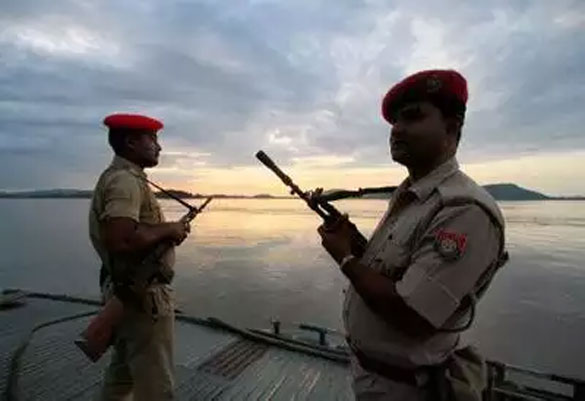 • Friday Terror Crackdown: A Dozen Arrests across India, Terror Alert Issued In Delhi
• Crushing Scandal for Saudi Regime: Ex-Wife Says King Fahd Was Gambler and Addict
• Taliban Faction In Pakistan Vows To Hit More Universities And Schools
• Islamic State Radio Beams Propaganda, Threats across Rural Afghanistan
• Saudi Arabia's Highest Islamic Cleric 'Bans' Chess
India
• Friday Terror Crackdown: A Dozen Arrests across India, Terror Alert Issued In Delhi
• Driver of Taxi Hired From Pathankot Found Dead; Alert Issued
• Indian expatriates hit hard as Gulf economies slip on free fall in crude prices
----------
Pakistan
• Taliban Faction In Pakistan Vows To Hit More Universities And Schools
• Taliban Send Message of Impunity with School Massacre
• 'Charsadda Attackers Didn't Wear Suicide Jackets'
• Bacha Khan University teachers forced to go on battlefront to save students' futures
• Two elite force cops shot dead in Peshawar
• slamabad shares Charsadda attack evidence with Kabul
• India, Pakistan secretary-level talks likely in near future: FO spokesman
• 'Airport-like terrorism plot foiled', 11 suspects held in Karachi
-----------
Arab World
• Saudi Arabia's Highest Islamic Cleric 'Bans' Chess
• 12 Terrorists Killed Near German Camp in Hama
• Another Village Captured by Syrian Army in Lattakia
• 150 Militants Surrender to Government in Damascus Province
• Syria: Terrorists' Casualties Increasing Dara'a
• Syria: Militants' Positions Hit Hard in Army Attacks in Aleppo
-----------
South Asia
• Islamic State Radio Beams Propaganda, Threats across Rural Afghanistan
• 16 Militants Killed, 14 Wounded In Afghan Armed Forces Operations
• Afghanistan rejects its soil was used to attack Bacha Khan University
• NATO Chiefs of Defence of stress continued support to Afghan forces
• Afghan youths recruited for Yemen war from Saudi Arabia
-----------
Mideast
• 10 Killed In Egypt Blast
• At Least 15 Migrants Drown As Boats Capsize Off Greek Islands
• Israel Says It Will Seize West Bank Land
• IRGC Commander: Iran Will Not Allow Disintegration of Iraq, Syria
• Foreign Ministry Rejects US Media Claims on Presence of Levinson in Iran
• Russian troops near Turkish border bound to escalate tension
• Explosion hits school in Diyarbakır, wounds 5 students
• Turkey, Germany to hold inter-governmental talks, migrant crisis tops agenda
• Amnesty says onslaught in Southeast puts 200,000 lives at risk
-----------
Africa
• Over 20 Killed As Somali Forces End Al Shabab Siege of Beachfront Restaurant
-----------
Europe
• Anti-IS Coalition Has Killed 22,000 Jihadists Since Mid-2014: France
• Moscow Surprised over Washington's Claims about Russian Humanitarian Aid Deliveries to Syria
-----------
North America
• Pakistan, Afghanistan Need to Work Together To Tackle Taliban: US
• Obama, Merkel Discuss Refugee Crisis
• Davos elite alarmed at 'unbelievable' Trump
Compiled by New Age Islam News Bureau
URL: https://newageislam.com/islamic-world-news/new-age-islam-news-bureau/friday-terror-crackdown--a-dozen-arrests-across-india,-terror-alert-issued-in-delhi/d/106082
------
Friday Terror Crackdown: A Dozen Arrests across India, Terror Alert Issued In Delhi
TNN | Jan 22, 2016
NEW DELHI: In a countrywide swoop, a number of terror suspects have been apprehended by security agencies.
An alert has also been issued in Delhi about a missing taxi, a white Alto, which was hired from Pathankot, where a terror attack earlier this month killed seven people. The taxi's driver was reportedly found dead on January 20 in Kangra in Himachal Pradesh.
Six men, including a chemical engineering dropout, were detained by the National Investigation Agency (NIA) in Karnataka for suspected links with the terror group Islamic State (IS). The detentions took place in Bengaluru, Mangaluru and Tumkur districts, on the intervening night of Thursday and Friday.
In Mumbai, the Maharashtra Anti-Terror Squad arrested some terror suspects from the outskirts of Mumbai. Four people have also been arrested by the NIA in Hyderabad on similar charges.
The arrests come in the wake of heightened security in the country during the Republic Day week. The police is on alert in Delhi and the National Capital Region (NCR) after the official vehicle of an IG-rank official of the Indo-Tibetan Border Police Force (ITBP) was stolen a few days ago. The Noida Police has issued an alert asking citizens to share information about the white SUV, a Tata Safari.
The police have also issued an alert after the driver of a white Alto taxi, which was hired by three unknown people in Pathankot, was found dead. The police say that the driver was found dead on January 20 and that the car is missing. Search operations are on and the police have asked people to share information regarding this.
http://timesofindia.indiatimes.com/india/Friday-terror-crackdown-A-dozen-arrests-across-India/articleshow/50680607.cms
--------
Crushing Scandal for Saudi Regime: Ex-Wife Says King Fahd Was Gambler and Addict
January 22nd, 2016
TEHRAN (FNA)- A new film that is based on the real events narrated by an ex-wife of the late Saudi King Fahd bin Abdulaziz al-Saud has already brought a crushing scandal to the Saudi royal family even before going on screen. The film, now in production, will reveal the claims of a Palestinian woman who was a secret wife of King Fahd.
A film is being made that will claim to reveal the untold lives of Saudi Arabia's royal family, focusing on the claims of a Palestinian woman who says she was a secret wife of the late King Fahd bin Abdulaziz al-Saud, Middle East Eye reported.
Janan Harb, 68, is a Palestinian-born Christian who says that after a forced conversion to Islam in 1968 as a 20-year-old, she married the 47-year-old "dashing and immensely powerful" Fahd, who was at the time Saudi Arabia's crown prince and first in line to the throne.
But the royal family didn't like Harb and in 1970 she was forced to flee Saudi Arabia at two hours' notice after Fahd's brother Salman, the current king, told him to get rid of her and her family.
Harb, who now lives in London, says that Fahd promised to look after her financially for life. But she accuses Fahd's son Prince Abdulaziz bin Fahd of refusing to deliver on an agreement struck in 2003 when Fahd was ill, which was to give her £12m and two flats in London's upmarket district of Chelsea.
Last November she won a landmark UK high court case and Abdulaziz was ordered to pay up, although the prince has until the end of March 2016 to decide whether to try and appeal the ruling.
In the interim, Harb has sold the rights to her extraordinary story to media relations consultant Damien McCrystal, who says funding has been secured in part to produce a film that will provide a unique insight into the inner workings of Saudi Arabia's famously secretive royal family.
McCrystal told Middle East Eye that a two-minute trailer is currently being filmed in an undisclosed North African country. He said the clip will be published by the end of February in both English and Arabic.
The trailer will feature images of extraordinary claims including Fahd gambling at the Clermont Club casino in London; another showing him injecting himself with intravenous drugs to feed a claimed addiction to methadone; and another airing Harb's allegation that Fahd forced her to have three abortions because he "didn't want any little Arafats running about the palace," in a reference to the late Palestinian leader Yasser Arafat.
Harb says she doesn't regret marrying Fahd and in fact describes him as a "gentleman" who she has to thank because "he allowed me to escape Saudi rather than killing me".
However, she admits that if Fahd were alive he "would not be very happy" about the film being made.
"But it has to come out," she said. "No one in the whole world knows exactly how they live inside their palaces." she told Middle East Eye. "It is part of history."
Saudi Arabia is renowned for being a deeply conservative Muslim country, where alcohol and gambling are banned and women aren't allowed to drive. Harb's controversial claims will likely cause much debate in the kingdom, where Fahd was widely adored during his reign between 1982 and 2005.
The film is being made by British director Malcolm Walker of the London-based production company Itasca and McCrystal estimates that it will require a budget of between five and 15 million pounds.
Its working title is "The Weaknesses of King Fahd" and beyond making salacious claims about Fahd's personal life, it will also prominently feature the current King of Saudi Arabia Salman bin Abdulaziz al-Saud.
Harb says she knew Salman back when she lived in the palace with Fahd, but she doesn't speak highly of him.
"He is not one of the nice people. I called him the 'Butcher of Riyadh' because of how he executed so many people," she said, in a reference to Salman's governorship of Saudi capital Riyadh.
"He didn't have a good reputation, he was very aggressive. He was the one behind me being told to leave. But, he was a very handsome man – handsome and a dictator!"
Harb has a broad disdain for the Saudi royal family, although much of her dislike is reserved for her late husband's son Prince Abdulaziz bin Fahd, who she defeated in the compensation case in November 2015.
Harb described Abdulaziz as having "no shame" and said: "He is ungrateful. Fahd was such a nice man but he went cuckoo when he had that boy."
Abdulaziz, 43, was revealed by a New York court in 2012 to have a $1bn property portfolio and he is also known to own several super-yachts.
The prince's wealth comes from him being one of Fahd's favourite sons, and as part of this legacy he receives 50 percent of the profits from Saudi media company the Middle East Broadcasting Corporation.
Harb claims that Abdulaziz travels the world with an entourage of at least 100 people and spends at least $6m a week on his lifestyle.
The prince has hit the headlines in the past year after his convoy of 10 cars was robbed in Paris of $335,000. He has also been accused of drugging one of his cousins in Switzerland.
His highflying controversial lifestyle has caused much anger among his fellow royals in Riyadh, according to Harb.
"He is shunned by the family," Harb said. "The family is very happy I took him to court because they don't like him. He's not allowed to go to Saudi Arabia now."
Harb's autobiography, telling the full story of her life as Fahd's secret wife, is planned to be published by the end of 2016. No date has been set for when the film will be completed.
In Saudi Arabia it is fair to say Harb's story is given short-shrift.
When contacted by Middle East Eye for comment prominent journalist Jamal Khashoggi, a former advisor to the royal family, said: "I prefer to stay away from such gossip stories."
Despite her controversial claims, Harb doesn't fear any retribution from Saudi Arabia.
"I am Palestinian, I don't get frightened," she said.
http://en.farsnews.com/newstext.aspx?nn=13941030001386
--------
Taliban Faction In Pakistan Vows To Hit More Universities And Schools
By KHAAMA PRESS - Fri Jan 22 2016
Pakistani Taliban faction vows more attacks on schoolFollowing a deadly attack on Bacha Khan University in Charsadda area of Khyber Pakhtunkhwa province of Pakistan, a faction of Tehrik-e-Taliban Pakistan (TTP) has vowed to carry out more similar attacks in the future.
The faction led by Omar Mansoor claimed responsibility behind the attack on Bacha Khan University which claimed lives of at least 21 people while scores of others were wounded.
In a videotaped message posted on Facebook social media website, Mansoor warned to target more universities and schools, claiming that such institutions promote democratic governance instead of Muslim theocracy.
He appeared in the video along with the four assailants of Bacha Khan University attack, insisting that the Pakistani people must 'repent of polytheism and democracy."
Mansoor vowed to disrupt the system and its foundation that has come from Britain and America and is human made, emphasizing on the establishment of Allah's system and rule.
The Taliban faction led by Mansoor had also claimed responsibility behind a deadly attack on a school in Peshawar city of Pakistan late in 2014, which left at least 130 children dead.
There are fears that the latest declaration by Mansoor faction of the Taliban group could begin a new wave of jihadist violence in Pakistan where the country's military has fought to suppress the militants.
http://www.khaama.com/taliban-faction-in-pakistan-vows-to-hit-more-universities-and-schools-0033
-----------
Islamic State Radio Beams Propaganda, Threats across Rural Afghanistan
AP | Jan 22, 2016
KABUL, Afghanistan: The Afghan reporters recognized the voice threatening them with death on the Islamic State group's local radio station. It was a former colleague, who knows their names and where they work.
The threats were made during a discussion program on "Voice of the Caliphate," an elusive radio station operated by one of the extremist group's newest affiliates. The so-called Khorasan Province has battled Afghan forces and the Taliban alike, carving out an enclave in Nangarhar, a rugged eastern province bordering Pakistan.
It has adopted the media strategy of its mother organization in Syria and Iraq, including the production of grisly, professionally made videos showing battles and the killing of captives. But in impoverished Afghanistan, where few have access to the Internet, radio could prove more effective at recruiting fighters and silencing critics.
The group is actively targeting other media outlets to prevent them from competing with its chilling broadcasts. Militants bombed a building housing two radio stations in the provincial capital, Jalalabad, in October, and attacked the local offices of the independent Pajhwok news agency and Voice of America in July.
The menacing broadcast in mid-December, in which a former local radio broadcaster called on reporters to either join IS or risk being hunted down and killed, could be heard across Jalalabad.
"It is a great concern for us because he knows all the journalists who are working locally," said Shir Sha Hamdard, chairman of the Journalists' Union of Eastern Afghanistan.
"He also knows that as journalists we do not take sides and that our only weapon is the pen. We've tried to talk to representatives of IS to make sure they know this but we haven't been successful," he said. He and other Jalalabad-based reporters asked that The Associated Press not name the IS broadcaster for their own safety.
IS radio can be heard across Nangarhar on an FM frequency for 90 minutes a day in both the Pashto and Dari languages. Programs include news, interviews, vitriol against the Afghan government and the Taliban, recruitment propaganda, and devotional music in multiple languages.
The message is clear: the Afghan government is a doomed "puppet regime" of the Americans. The Taliban are a spent force hijacked by Pakistan. The caliphate is coming.
"Soon our black flag will be flying over the (presidential) palace in Kabul," an announcer crowed in a recent broadcast.
The IS affiliate "is against everything — free media, civil society, education, all of which they say are secular, un-Islamic," said Haroon Nasir, a civil society activist in Nangarhar. He said the message likely resonates among young men in impoverished rural areas, where after nearly 15 years of war many have soured on both the US-backed government and the Taliban.
In those areas — which make up most of Afghanistan — Internet access is spotty at best, and computers and smart phones are a luxury. Just 10 percent of Afghanistan's 30 million people have access to the Internet.
But nearly everyone has a radio.
A 2014 study by Altai Consulting found that 175 radio and 75 television stations had been set up since the 2001 US-led invasion that toppled the Taliban — which had one radio network and banned television. Wind-up radios that operate without electricity or even batteries have been widely distributed since then.
IS militants are believed to use mobile broadcasting units and cross back and forth along the porous border with Pakistan, making them difficult to track. The National Directorate of Security, the Afghan intelligence agency, did not respond to requests for comment.
Hazrat Hussain Mashriqiwal, the spokesman for the Nangarhar police chief, said "Voice of the Caliphate" broadcasts had been banned and were rarely picked up, especially in Jalalabad.
But residents tell a different story. Jalalabad shopkeeper Janat Khan said IS radio is popular chiefly due to its novelty. "Most people are listening to them because they want to know about Daesh and its strategy," he said, referring to the extremist group by its Arabic acronym. "The preachers are strong, their message is clear — they talk against the Taliban and against (President Ashraf) Ghani's government."
Although IS and the Taliban both want to impose a harsh version of Islamic rule, they are bitterly divided over leadership and strategy, with the Taliban narrowly focused on Afghanistan and IS bent on establishing a worldwide caliphate.
The US State Department recently added the IS Afghan affiliate to its list of foreign terrorist organizations. It said the group emerged in January 2015 and is mainly made up of disenchanted former Taliban fighters.
Over the last six months the group has taken over four Nangarhar districts, where it has imposed the same violent interpretation of Islamic law championed by the IS group in Syria and Iraq, including the public execution of alleged informers and other enemies. In August, students at Nangarhar University staged a pro-IS demonstration. Security forces swooped in to make arrests and have since cracked down on campus activism nationwide.
As the group has expanded its reach, its media strategy has grown more sophisticated and more brutal.
"They have not only made every attempt to promote themselves through all mediums from mainstream media to social media, but they have also resorted to coercing tactics to force local media to publish their news and follow their agenda," said Najib Sharifi, director of the Afghan Journalists' Safety Committee.
"In areas where the government cannot provide sufficient security, media might resort to compromising their editorial independence out of fear — something that could make media turn into the propaganda machinery of Daesh."
http://timesofindia.indiatimes.com/world/south-asia/Islamic-State-radio-beams-propaganda-threats-across-rural-Afghanistan/articleshow/50671254.cms
-----------
Saudi Arabia's Highest Islamic Cleric 'Bans' Chess
The Independent | Jan 22, 2016
RIYADH: Saudi Arabia's highest religious cleric has declared chess "haram", meaning it is forbidden for Muslims, while claiming the game shows "enmity and hatred".
Sheikh Abdul Aziz bin-Abdullah al-Sheikh, the Grand Mufti, made the proclamation while taking questions during his weekly television show.
"The game of chess is a waste of time and an opportunity to squander money. It causes enmity and hatred between people," he said, according to a translation by Middle East Eye.
Abdullah reportedly compared it to a pre-Islamic Arabian game called "maisir" which was forbidden by the Koran.
His fatwa does not constitute a ban in Saudi Arabia as it does not carry the force of law, but it was provoking debate in the country today.
Musa Bin Thaily, who presides over the Saudi Chess Association's law committee, said the planned chess tournament in Mecca would be going ahead on Friday.
Pointing out that the Grand Mufti's proclamation is old, with a YouTube video showing it put online last month, he referenced a previous fatwa that banned chess being used for profit, gambling or interrupting prayers and other religious duties.
"Many things are said to be illegal and religiously banned in #Saudi," Mr Thaily wrote on Twitter, sharing photos of United Arab Emirates dignitaries at Saudi Chess Association events.
"The Saudi Chess Association has put great efforts in chess popularity and will continue holding events everywhere unless forced otherwise."
He noted that many religious bans are not enforced in Saudi Arabia, adding that "religious society banned public music festivals but they're everywhere".
But Mr Thaily did raise concerns that the fatwa gave authorities "a window to be taken as justification" to cancel or disrupt events.
Grand Ayatollah Ali al-Sistani, Iraq's supreme Shia religious authority, previously issued a fatwa saying chess is forbidden "in all circumstances", even if a computer rather than real pieces are used and no bets are placed.
http://timesofindia.indiatimes.com/world/middle-east/Saudi-Arabias-highest-Islamic-cleric-bans-chess/articleshow/50673441.cms
------
India
Driver of taxi hired from Pathankot found dead; alert issued
Agencies | Jan 22, 2016
NEW DELHI: Delhi Police on Friday issued an alert after the driver of a taxi hired by three unidentified persons from Pathankot was found dead in Kangra district in Himachal Pradesh, in the aftermath of the airbase attack.
The taxi driver, identified as Vijay Kumar, a resident of Gaggal village in Kangra district, was found dead on Wednesday at the Kalta bridge in Kangra and his taxi missing, police said.
"A white colour Alto taxi No. HP 01D 2440 was hired from Pathankot by three unknown people. The driver of the taxi, Vijay Kumar from Gaggal, Kangada was found dead on 20 Jan 2016 at the Kalta Bridge, District Kangada. The Alto car is missing. Search operations are on. Stay Alert!" the pinned tweet on Delhi Police's official handle read.
Asked on the threat perception, Delhi Police commissioner B S Bassi urged people in the city to remain alert without disclosing any further details citing security concerns.
The alert was issued in the backdrop of the attack on IAF base in Pathankot where terrorists had first killed a cab driver and robbed his car before launching the strike
http://timesofindia.indiatimes.com/india/Driver-of-taxi-hired-from-Pathankot-found-dead-alert-issued/articleshow/50682859.cms
-----------
Indian expatriates hit hard as Gulf economies slip on free fall in crude prices
Daniel George | TNN | Jan 22, 2016
CHENNAI: With most Gulf countries taking austerity measures or planning to impose tax on the income of expatriates, many Indians in those nations are sending their families back to India. Others have decided not to take their families with them.
Oman, in particular, which has released an austerity-driven budget, has made moves that are likely to affect the monthly expenses of expatriates.
Low oil prices have also hit the economies of the Gulf Cooperation Council (GCC) countries. Gulf economies, with the exception of Dubai, are almost fully dependent on petro income. The free fall in crude prices have led to job cuts and resulted in companies not granting increments. There are no new projects while several projects have been cancelled across the region.
Full report at: http://timesofindia.indiatimes.com/nri/middle-east-news/Indian-expatriates-hit-hard-as-Gulf-economies-slip-on-free-fall-in-crude-prices/articleshow/50676772.cms
----------
Pakistan
Taliban send message of impunity with school massacre
AFP | Jan 21, 2016
ISLAMABAD: As grieving Pakistani parents lament the government's failure to keep their children safe, analysts say the Taliban have sent a message with their latest campus massacre - a national crackdown on extremism has failed and they can hit targets at will.
The rampage at Bacha Khan university left 21 people dead on Wednesday and shattered the sense of security growing in the troubled northwest, a year after Pakistan's deadliest ever extremist attack, a 2014 assault on a school in nearby Peshawar.
The chilling similarities between the two atrocities starkly underscored the failings of a government- and military-led initiative launched in the wake of the strike on the army-run school.
Full report at: http://timesofindia.indiatimes.com/world/pakistan/Taliban-send-message-of-impunity-with-school-massacre/articleshow/50674966.cms
-----------
'Charsadda attackers didn't wear suicide jackets'
January 22nd, 2016
PESHAWAR: The militant attack on the Bacha Khan University Charsadda appears to be the first of its kind in the province as the attackers didn't wear suicide vests in sharp contrast to the past.
Security officials say they're curious to know why the militants didn't use suicide jackets while storming the university.
A senior security official told Dawn that none of the university attackers had worn suicide vests nor did they have other paraphernalia like edibles and water bottles.
"They (attackers) didn't carry even candies or biscuits on their bodies," he said.
Security officials insist militants wanted to flee after attack but plan foiled by guards, locals
Full report at: http://www.dawn.com/news/1234633/charsadda-attackers-didnt-wear-suicide-jackets
-----------
Bacha Khan University teachers forced to go on battlefront to save students' futures
January 22nd, 2016
CHARSADDA: Stuck with 15 of his students on a third floor balcony of a campus building as gunmen came up the stairs, university director Mohammad Shakil urged police personnel arriving at the scene to toss him a gun so he could fight back.
"We were hiding ... but were unarmed," said Mr Shakil, narrating the events that unfolded on Wednesday when four militants attacked Bacha Khan University in Charsadda.
"I was worried about the students, and then one of the militants came after us," he recalled. "After repeated requests, the police threw me a pistol and I fired some shots at the terrorists."
Full report at: http://www.dawn.com/news/1234562/bacha-khan-university-teachers-forced-to-go-on-battlefront-to-save-students-futures
-----------
Two elite force cops shot dead in Peshawar
January 22nd, 2016
PESHAWAR: Unknown militants shot dead personnel of Khyber Pakhtunwa Police's Elite Force Unit in Rasheed Ghari area on the outskirts of the provincial capital.
Superintendent of Police (SP) Imtiaz told DawnNews that elite force policemen Shahzeb and Ihsanullah were riding a motorcycle en route to their office when unidentified armed men opened fire.
The SP stated that both the victims were well trained in the use of security scanners.
The motorcycle-riding assailants escaped from the attack site.
Capital City Police Officer (CCPO) Mubarak Zeb Khan told journalists that search operations are being conducted in the area where the cops were targeted.
Full report at: http://www.dawn.com/news/1234676/two-elite-force-cops-shot-dead-in-peshawar
-----------
Islamabad shares Charsadda attack evidence with Kabul
January 22nd, 2016
ISLAMABAD: Pakistan has shared credible evidence with the Afghan authorities that a faction of the Tehreek-i-Taliban Pakistan (TTP) directed the Bacha Khan University attack from Afghanistan.
Chief of the Army Staff Gen Raheel Sharif called Afghan President Ashraf Ghani, who is in Davos for attending a meeting of the World Economic Forum, Chief Executive Abdullah Abdullah and top US and Nato commander in Afgha­nistan Gen John Campbell to inform them about the evidence that has emerged from investigations into the university attack pointing towards Afghanistan-based terrorists controlling it.
Full report at: http://www.dawn.com/news/1234555/islamabad-shares-charsadda-attack-evidence-with-kabul
-----------
India, Pakistan secretary-level talks likely in near future: FO spokesman
January 22nd, 2016
ISLAMABAD: Secretary-level talks between Pakistan and India will be held in the near future, said Foreign Office spokesman Qazi Khalilullah on Thursday, adding that deliberations between the two countries were going on in this regard.
The secretary-level talks were expected to start in mid-January, but were put off in the wake of the attack on the Indian air base in Pathankot. Islamabad condemned the strike and has offered to help in the investigations.
Full report at: http://www.dawn.com/news/1234564/india-pakistan-secretary-level-talks-likely-in-near-future-fo-spokesman
-----------
'Airport-like terrorism plot foiled', 11 suspects held in Karachi
January 22nd, 2016
KARACHI: Police on Thursday claimed to have foiled a "major terrorism plan" in Karachi after they arrested nearly a dozen suspected militants associated with the Al Qaeda in the Indian Subcontinent (AQIS) and Lashkar-i-Jhangvi (LJ) following an encounter that left a policeman wounded. They were planning a "deadly assault" like the June 2014 airport attack to occupy "key and sensitive government buildings", officials said.
A huge quantity of explosive material and sophisticated weapons were also seized from them.
Full report at: http://www.dawn.com/news/1234498/airport-like-terrorism-plot-foiled-11-suspects-held-in-karachi
-----------
Arab World
12 Terrorists Killed Near German Camp in Hama
Jan 22, 2016
TEHRAN (FNA)- The Syrian army and popular forces' special operations in the Northwestern battlefronts of the province of Hama near the German camp claimed the lives of 12 terrorists.
The Syrian army units killed 12 Takfiri terrorists and destroyed one of their armored vehicles between the German Camp and al-Sarmaniya in Hama's Northwestern countryside, a military source said on Thursday.
Also on Wednesday, several militants, including a senior commander, were killed in the Syrian fighter jets' strikes in the Southern part of Hama province.
"Abdullah Fitrawi, a notorious commander of a terrorist group affiliated to al-Nusra Front, was killed in the Syrian warplanes' bombardments in near Talf village and the town of Hirbnafsa," local sources said.
"In the meantime, the Syrian bombers stormed concentration centers of Jeish al-Fatah terrorists in the towns of Kafr Naboudeh and al-Lataminah in the Northwester territories of the province, which claimed the lives of several militants and destroyed their military hardware," they added.
The sources further said that Jeish al-Fatah's strongholds in the town of Morek town and the villages of Atshan and Skeik, North of Hama were shelled by the Syrian army's artillery units, which destroyed several military vehicles loaded with weapons and ammunition.
http://en.farsnews.com/newstext.aspx?nn=13941101000522
-----------
Another Village Captured by Syrian Army in Lattakia
Jan 22, 2016
TEHRAN (FNA)- The Syrian Army continued to push the militant groups back from more territories in Lattakia province, taking back another village on the Western side of the recently captured town of Salma on Thursday.
The Syrian Army and popular forces continued to advance against the Takfiri terrorists in Northern Lattakia and pushed the terrorists back from Al-Ghanimeh village after their defense lines came under massive attack.
Battlefield sources said a number of militants were killed or wounded during the government forces' operation.
During the recent months, Syrian soldiers and the country's fighter jets, backed by the National Defense Forces (NDF) and the Russian warplanes, have managed to seize back several towns, villages and strategic hills in the Lattkia province.
Last week, the Syrian Army won full control over the strategic town of Salma Northeast of Lattakia province in yet another landmark victory over the foreign-backed Takfiri terrorists.
http://en.farsnews.com/newstext.aspx?nn=13941101000812
-----------
150 Militants Surrender to Government in Damascus Province
Jan 22, 2016
TEHRAN (FNA)- 150 Takfiri terrorists laid down arms and turned themselves in to the Syrian army in Damascus province, officials announced on Thursday.
"150 wanted militants in al-Qadam area in Damascus gave up fighting and surrendered to the army," a Syrian official said.
Also last Thursday, tens of wanted militants turned themselves in to the Syrian authorities as government troops continue to gain ground across the Arab country.
Some 42 wanted militants from Damascus, Damascus countryside, Tartous, Quneitra and
Dara'a turned themselves in to the authorities on Thursday.
Full report at: http://en.farsnews.com/newstext.aspx?nn=13941101000575
-----------
Syria: Terrorists' Casualties Increasing Dara'a
Jan 22, 2016
TEHRAN (FNA)- The Syrian government forces targeted Takfiri militants' positions in Dara'a province on Thursday, killing and injuring scores of them.
Syrian forces targeted concentration centers of the militants in Dara'a al-Balad area in Dara'a province, killing and injuring dozens of terrorists and destroying their weapons.
A group of terrorists were also killed and wounded on the road of al-Sadd and their vehicles were destroyed North of Wadi al-Zaidi district.
A hideout and a vehicle loaded with arms and ammunition were also destroyed in army operations on the hideouts of al-Nusra and other terrorist organizations in al-Karak al-Sharqi town.
Full report at: http://en.farsnews.com/newstext.aspx?nn=13941101000601
-----------
Syria: Militants' Positions Hit Hard in Army Attacks in Aleppo
Jan 22, 2016
TEHRAN (FNA)- The Syrian army troops continued to pound the militant groups' strongholds in different parts of the Northern province of Aleppo on Thursday, inflicting heavy damage and casualties on them.
The Syrian army forces targeted positions of ISIL in al-Sbeihiyeh village in Aleppo province, where three vehicles equipped with heavy machineguns were destroyed, and scores of Takfiri terrorists were killed.
Also, several gatherings of al-Nusra-linked terrorist groups were targeted in al-Sheik Lutfi village and al-Rashidin area in the Southern outskirts of Aleppo city.
Four vehicles and several hideouts of terrorists along with arms and ammunition inside were destroyed.
Full report at: http://en.farsnews.com/newstext.aspx?nn=13941101000660
-----------
South Asia
16 militants killed, 14 wounded in Afghan armed forces operations
By KHAAMA PRESS - Fri Jan 22 2016
forcesAt least 16 anti-government armed militants were killed and 14 others were wounded in counter-terrorism operations conducted by the Afghan armed forces in the past 24 hours.
The Ministry of Defense (MoD) said at least four commanders of the militants were also among those killed and four others were arrested.
A statement by MoD said the operations were conducted in Kunar, Logar, Uruzgan, Kunduz, and Zabul provinces.
The Afghan armed forces also confiscated various types of weapons during the operations, MoD said, adding that scores of Improvised Explosive Device (IED) were also discovered and defused.
Full report at: http://www.khaama.com/16-militants-killed-14-wounded-in-afghan-armed-forces-operations-0032
-----------
Afghanistan rejects its soil was used to attack Bacha Khan University
By KHAAMA PRESS - Fri Jan 22 2016
The Afghan government has rejected that the Afghan soil was used by the terrorists to launch attack on Bacha Khan University in Charsadda area of Pakistan.
The Office of the President in a statement said the Islamic Republic of Afghanistan has never supported a terrorist group and has never provided sanctuaries for the terror groups.
The statement further added "The recent remarks by Head of the Inter Services Public Relations, Gen. Asim Bajwa, suggesting that the group of terrorists launch attack on Bacha Khan University in Charsadda area of Khyber Pakhtunkhwa, are baseless."
Strongly condemning the attack on Bacha Khan University, the Office of the President said fight against terrorism is only possible through joint and sincere cooperation.
Full report at: http://www.khaama.com/afghanistan-rejects-its-soil-was-used-to-attack-bacha-khan-university-0030
-----------
NATO Chiefs of Defence of stress continued support to Afghan forces
By KHAAMA PRESS - Fri Jan 22 2016
The Chiefs of Defense of the North Atlantic Treaty Organization (NATO) stressed the continued support of the alliance to the Afghan National Security Forces (ANSF).
Reviewing the NATO-led Resolute Support (RS) mission during the one-day meeting in Brussels, the NATO Chiefs of Defence reviewed the ongoing challenges for the way ahead in 2016.
Commending the Afghan forces for remaining resilient amid deteriorating security situation, the Chairman of the NATO Military Committee, General Pavel, said "2015 was a challenging year for the ANDSF, however they have demonstrated resilience and courage in combating the insurgency across the country."
"The Chiefs of Defence recommended to pursue the ongoing efforts based on conditions on the ground, thus assuring Afghanistan of our long-term commitment," General Pavel added.
The Afghan forces took full security assumed full charges of the security responsibilities from the NATO-led coalition security forces with the conclusion of the NATO combat mission in the end of 2014.
The security situation has rapidly deteriorated despite efforts to bring an end to the ongoing violence through reconciliation process.
http://www.khaama.com/nato-chiefs-of-defence-of-stress-continued-support-to-afghan-forces-0029
-----------
Afghan youths recruited for Yemen war from Saudi Arabia
By KHAAMA PRESS - Thu Jan 21 2016
Distressing reports have emerged regarding the recruitment of Afghan youths from Saudi Arabia to fight in the ongoing war in Yemen.
The Afghan youths are mainly recruited to fight against the Houthi rebels amid ongoing campaign by Saudi-led coalition, according to BBC Persian findings.
The revelation was made after conducting interviews with the family members of the Afghan youths who have gone missing after visiting Saudi Arabia for Hajj pilgrimage.
Their family members however have said it is yet not clear who are deploying the youths to Yemen.
Full report at: http://www.khaama.com/afghan-youths-recruited-for-yemen-war-from-saudi-arabia-0027
-----------
Mideast
10 killed in Egypt blast
IANS | Jan 22, 2016
CAIRO: At least 10 people were killed in a blast in Egypt's Giza province, the media reported.
The blast killed ten people, including seven policemen, and injured 13 as security forces raided a terrorist hideout in Giza province near the capital Cairo on Thursday, Xinhua reported.
The security force stormed the apartment after receiving information that a group of terrorists were hiding inside, Egypt's interior ministry said.
Egypt has been facing anti-government attacks, mostly in the Sinai peninsula, which killed hundreds of police and soldiers since 2013.
Most of the terror attacks were claimed by Ansar Bayt al-Maqdis militant group, which has changed its name to "Sinai State" and declared loyalty to the Islamic State.
http://timesofindia.indiatimes.com/world/rest-of-world/10-killed-in-Egypt-blast/articleshow/50679485.cms
-----------
At least 12 migrants killed in new tragedy off Turkey: Reports
AFP | Jan 21, 2016
ISTANBUL: At least 12 migrants were killed and several more went missing on Thursday when their boat sank while trying to cross the Aegean Sea from Turkey to EU member Greece, Turkish media reports said.
The boat, carrying some 50 migrants, struck trouble after leaving the western Turkish resort of Foca in the Izmir region for the Greek island of Lesbos.
Twenty-eight people were saved while up to dozen more are still feared missing, NTV television said.
Turkey, which is home to some 2.2 million refugees from Syria's civil war, has become a hub for migrants seeking to reach Europe, many of whom pay people smugglers thousands of dollars for the risky crossing.
Ankara reached an agreement with the EU in November to stem the flow of refugees heading to Europe, in return for financial assistance.
Brussels vowed to provide three billion euros as well as political concessions to Ankara in return for its cooperation in tackling Europe's worst migrant crisis since World War II.
But onset of winter and rougher sea conditions do not appear to have deterred the migrants, with boats still arriving on the Greek islands daily.
http://timesofindia.indiatimes.com/world/europe/At-least-12-migrants-killed-in-new-tragedy-off-Turkey-Reports/articleshow/50672693.cms
-----------
Israel says it will seize West Bank land
Reuters | Jan 21, 2016
JERUSALEM: Israel confirmed on Thursday it was planning to appropriate a large tract of fertile land in the occupied West Bank, close to Jordan, a move likely to exacerbate tensions with Western allies and already drawing international condemnation.
In an email sent to Reuters, COGAT, a unit of Israel's defence ministry, said the political decision to seize the territory had been taken and "the lands are in the final stages of being declared state lands".
The appropriation, covers 154 hectares (380 acres) in the Jordan Valley close to Jericho, an area where Israel already has many settlement farms built on land Palestinians seek for a state. It is the largest land seizure since August 2014.
Full report at: http://timesofindia.indiatimes.com/world/middle-east/Israel-says-it-will-seize-West-Bank-land/articleshow/50671472.cms
-----------
IRGC Commander: Iran Will Not Allow Disintegration of Iraq, Syria
Jan 22, 2016
TEHRAN (FNA)- Commander of the Islamic Revolution Guards Corps (IRGC) Major General Mohammad Ali Jafari voiced Iran's strong opposition to the enemies' scenarios to disintegrate Iraq and Syria, and vowed to stand against them.
"We will defuse the scenario for disintegrating Iraq and Syria which is a Zionist-US plot," Jafari said.
His remarks came after Israeli Justice Minister Ayelet Shaked spoke out in favor of an independent Kurdish state. She also urged increased cooperation between Israel and the Kurdish people. Shaked sees this as an opportunity to weaken Israel's rivals in the region.
"We must openly call for the establishment of a Kurdish state that separates Iran from Turkey, one which will be friendly towards Israel," Shaked told the annual INSS security conference in Tel Aviv on Tuesday, as cited by the Times of Israel.
More precisely, Shaked proposed the new state be founded between Turkey, Israel and Iraq.
http://en.farsnews.com/newstext.aspx?nn=13941101000329
-----------
Foreign Ministry Rejects US Media Claims on Presence of Levinson in Iran
Jan 22, 2016
TEHRAN (FNA)- An informed source in the Iranian foreign ministry dismissed media reports claiming that the US retired FBI agent, Robert Levinson, is in Iran.
The source rejected the CNN news channel's claim that Levinson is being held in Iran, and said, "Different US officials, the latest of whom the White House spokesman, have many times underlined in their remarks that this person has been traced out of Iran."
"The Islamic Republic of Iran has done any possible cooperation to help clarify this person's fate based on a humanitarian attitude," the source told FNA on Thursday.
Full report at: http://en.farsnews.com/newstext.aspx?nn=13941101000706
-----------
Russian troops near Turkish border bound to escalate tension
January 21, 2016
The protracted Syrian conflict is destined to be a source of renewed friction between Turkey and Russia after a recent report suggests that Russia has deployed nearly 100 troops and military advisers in the northern Syrian town of Qamishli, located near the Turkish border -- a development that is bound to cause tension ahead of the Syria peace talks in Geneva.
Based on information from local sources, the Britain-based Syrian Observatory for Human Rights (SOHR) claimed that Russia sent a team of military technicians and experts along with troops to examine the airfield and other facilities in the town for the possible further deployment of Russian forces.
Full report at: http://www.todayszaman.com/diplomacy_russian-troops-near-turkish-border-bound-to-escalate-tension_410190.html
-----------
At least 15 migrants drown as boats capsize off Greek islands
January 22, 2016
At least 15 migrants including eight children drowned when their boats capsized off the Greek islands of Kalolimnos and Farmakonisi early on Friday, a coastguard official said, as the refugee flow towards Europe continues despite the winter cold.
A search and rescue operation was ongoing off Kalolimnos, a small island in the southeastern Aegean Sea close to Turkey's coast, assisted by a helicopter and other vessels, the official said.
"Eight bodies have been recovered and 26 have been rescued and taken to the island," the official said. "They were on a wooden sailboat. We do not yet have a clear picture of how many were on board."
Full report at: http://www.todayszaman.com/latest-news_at-least-15-migrants-drown-as-boats-capsize-off-greek-islands_410308.html
-----------
Explosion hits school in Diyarbakır, wounds 5 students
January 22, 2016
An explosion hit a primary school in the Bağlar district of Diyarbakır on Friday and wounded five students.
The Cihan news agency reported that the explosion took place on report card day in the schoolyard just before the students went to their classes, and was due to a homemade bomb.
The students who sustained minor injuries in the explosion were taken to Diyarbakır State Hospital.
http://www.todayszaman.com/latest-news_explosion-hits-school-in-diyarbakir-wounds-5-students_410309.html
-----------
Turkey, Germany to hold inter-governmental talks, migrant crisis tops agenda
January 22, 2016
Europe's migrant crisis is the main issue at a meeting today of top officials from Turkey and Germany in Berlin.
The meeting is to be co-chaired by Turkish Prime Minister Ahmet Davutoğlu and German Chancellor Angela Merkel. Ministers of interior, foreign affairs, defense and economy from both countries will also be attending.
Germany saw an unprecedented 1.1 million asylum seekers arrive last year, many of them fleeing conflicts in Syria, Iraq and Afghanistan.
Full report at: http://www.todayszaman.com/anasayfa_turkey-germany-to-hold-inter-governmental-talks-migrant-crisis-tops-agenda_410310.html
-----------
Amnesty says onslaught in Southeast puts 200,000 lives at risk
January 21, 2016
The government's actions in Kurdish towns and neighborhoods, which includes round-the-clock curfews and cuts to services, is putting the lives of up to 200,000 people at risk and amounts to collective punishment, Amnesty International said in a report released on Thursday.
Amnesty International released report on its website on Thursday based on research carried out in areas under curfew and currently inaccessible to external observers in Turkey's Southeastern provinces, based on reports from residents in the affected areas.
According to the report, locals living under curfew face extreme hardships as a result of harsh and arbitrary measures by the government. There have also been numerous reports of security forces preventing ambulances from entering areas under curfew and providing treatment to the sick, Amnesty said.
Full report at: http://www.todayszaman.com/national_amnesty-says-onslaught-in-southeast-puts-200000-lives-at-risk_410214.html
-----------
Africa
Over 20 killed as Somali forces end Al Shabab siege of beachfront restaurant
Jan 22, 2016
MOGADISHU: Somalia's security forces ended a deadly siege of a beachfront restaurant in the capital, with more than 20 people killed in the attack, a police official said Friday.
The security forces took control of the restaurant just before dawn, said Capt. Mohamed Hussein, speaking from the scene of the attack in Mogadishu. It was not clear whether Hussein's report of more than 20 killed included the assailants.
Blasts and bursts of gunfire could be heard as Somali special forces went from room to room pursuing the Al Shabab gunmen who were holed up inside the restaurant.
Full report at: http://www.dawn.com/news/1234667/over-20-killed-as-somali-forces-end-al-shabab-siege-of-beachfront-restaurant
-----------
Europe
Anti-IS coalition has killed 22,000 jihadists since mid-2014: France
AFP | Jan 22, 2016
PARIS: Around 22,000 jihadists have been killed by the US-led coalition fighting the Islamic State group since mid-2014, France's defence minister said on Thursday.
"The figure given by the coalition... is about 22,000 dead since the start of operations in Iraq and Syria," Jean-Yves Le Drian told the France24 news channel, adding that the figure was "approximate".
He also sounded upbeat about a series of military successes against IS in recent months.
"We haven't seen a large offensive by Daesh for some time," Le Drian said, using an alternative name for the group. "Daesh is in a very fragile position but we must remain very careful," he added.
The coalition air strikes against IS began in the summer of 2014 and intensified following last November's jihadist attacks in Paris, with strikes notably targeting IS oil production facilities, a key source of income for the group.
In a major setback for the group, IS lost the Iraqi city of Ramadi to US-backed local forces last month.
http://timesofindia.indiatimes.com/world/europe/Anti-IS-coalition-has-killed-22000-jihadists-since-mid-2014-France/articleshow/50676700.cms
-----------
Moscow Surprised over Washington's Claims about Russian Humanitarian Aid Deliveries to Syria
Jan 22, 2016
TEHRAN (FNA)- Russian Foreign Ministry's Spokeswoman Maria Zakharova slammed the US over its allegations over Russian humanitarian operations in Syria.
Addressing a weekly press briefing in Moscow on Thursday, Russian Foreign Ministry Spokeswoman Maria Zakharova said that her country will continue its humanitarian operation in Syria, adding that Moscow was surprised over Washington's claims that it "does not see" Russian humanitarian aid deliveries to the war-torn country.
Full report at: http://en.farsnews.com/newstext.aspx?nn=13941101000744
-----------
North America
Pakistan, Afghanistan need to work together to tackle Taliban: US
PTI | Jan 22, 2016
WASHINGTON: Pakistan and Afghanistan need to work together to effectively overcome the Taliban challenge, the White House said, a day after the militant group massacred 21 people, mostly students, at a popular Pakistani university.
"The conclusion that we've drawn here is...that the Taliban poses a security threat to both countries, and that the nations of Afghanistan and Pakistan are going to be able to more effectively confront that threat if they're able to more effectively cooperate," White House press secretary Josh Earnest told reporters on Thursday.
Full report at: http://timesofindia.indiatimes.com/world/pakistan/Pakistan-Afghanistan-need-to-work-together-to-tackle-Taliban-US/articleshow/50678501.cms
-----------
Obama, Merkel discuss refugee crisis
IANS | Jan 22, 2016
WASHINGTON: US President Barack Obama and German Chancellor Angela Merkel discussed over phone the European response to the refugee crisis, the White House said.
Both leaders agreed on Thursday that the upcoming Syria donors conference in London presents an important opportunity to galvanize global efforts to address the Syrian humanitarian crisis, Xinhua cited the White House as saying in a statement.
Full report at: http://timesofindia.indiatimes.com/world/us/Obama-Merkel-discuss-refugee-crisis/articleshow/50679562.cms
-----------
Davos elite alarmed at 'unbelievable' Trump
Reuters | Jan 22, 2016
DAVOS, SWITZERLAND: "Unbelievable", "embarrassing" even "dangerous" are some of the words the financial elite gathered at the World Economic Forum conference in the Swiss resort of Davos have been using to describe US Republican presidential frontrunner Donald Trump.
Although some said they still expected his campaign to founder before his party picks its nominee for the November election many said it was no longer unthinkable that he could be the Republican candidate.
Some noted that whatever the outcome, a heated campaign, which has also seen self-proclaimed Socialist Bernie Sanders provide a tough challenge to former Secretary of State Hillary Clinton for the Democratic nomination, could alter the U.S. political environment, giving vent to new populist anger on both sides of the political divide.
Full report at: http://timesofindia.indiatimes.com/world/europe/Davos-elite-alarmed-at-unbelievable-Trump/articleshow/50682701.cms
URL: https://newageislam.com/islamic-world-news/new-age-islam-news-bureau/friday-terror-crackdown--a-dozen-arrests-across-india,-terror-alert-issued-in-delhi/d/106082
New Age Islam, Islam Online, Islamic Website, African Muslim News, Arab World News, South Asia News, Indian Muslim News, World Muslim News, Womens in Islam, Islamic Feminism, Arab Women, Womens In Arab, Islamphobia in America, Muslim Women in West, Islam Women and Feminism, Moderate Islam, Moderate Muslims, Progressive Islam, Progressive Muslims, Liberal Islam, Liberal Muslims