New Age Islam News Bureau
26 Sept 2013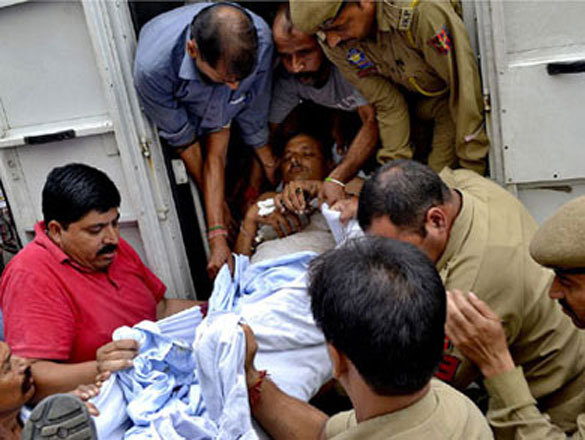 An injured policeman is rushed to a hospital for treatment, in Jammu after militants attacked a nearby army camp in Samba. (Reuters Photo)
-----------
Africa
• Kenya mall massacre 'message to westerners', al-Shabaab chief says
• Attackers kill pastor, torch church in Nigeria
• Libya MOE says no to segregation of Male and Female Students
• Tunisia says it foiled plot to divide country into three emirates
• Militant group attacks Kenyan border town
• Sudan's Arab Spring? Public anger rises against Bashir, again
Arab World
• Bomb blasts in markets in mainly Sunni Muslim districts of Baghdad kill 23 people
• Al-Qaida-linked terrorists destroy Jewish graves in Syrian city
• Lebanon issues warrants for Nusra Front members
• A Sign of the Times: New Muslim Brotherhood R4BIA symbol
• Qatar supported Egypt not Brotherhood: Qatari FM
• Military representative defends military trials article in constitution
• Assad says U.S. aggression against Syria still possible
• Sidon mufti calls for local state of social emergency
• Bahrain rights group wins Norwegian award
• Activists claim Saudi held in Lithuanian CIA site
• Citizen, 80, recalls King Abdul Aziz's fairness
Pakistan
• Pakistan Blasphemy Laws Reform Will Give Death Sentence to False Accusers
• Taliban be allowed to open office for talks: Imran
• 'Peshawar attack a plot to sabotage PM's visit'
• Terrorists attack dam site in Mohmand, kill three
• Two 'Qaeda aides' held
• Karachi operation: 55 suspects arrested
• Islamia College professor shot in Karachi
• Dawood not in Pakistan: Advisor to PM on National Security
India
• Militants kill 12 in J&K ahead of Manmohan-Sharif talks
• Omar to chair Unified Headquarters meet to assess Fidayeen attacks
• Jammu 'terror attacks will not deter us': Manmohan
• Attacks aimed at derailing Manmohan-Sharif talks: Omar Abdullah
• India Wants Pak to Fix Accountability For 26/11 Terror Attack: Salman Khurshid
• China helped Pak during Kargil war: Brigadier
• Suicide bombing: Catholic forum urges govt to raise the case with Pakistan
• Jammu terror attack: All 3 militants killed in gun battle
• Afghan films for Mumbai Film Festival
South Asia
• 16 Militants Killed in Joint Afghan Operations within Day
• Afghanistan wants key role for Mullah Baradar in peace process
• Bangladesh: Jamaat-Shibir men vandalise vehicles, blast bombs in capital
• US 'supports' Islamist terrorism: GDNC Leader
• Afghan soldier kills NATO ally in 'insider' attack
• Nasheed calls for tourism workers to strike should election be delayed
Southeast Asia
• Indonesian Shiites hope to return home soon, but no word from govt
• Filipino troops capture dozens more Muslim rebels
• 'Humanitarian Crisis' in Battle-Scarred Philippine City
• Non-Muslim Ward Chief Stays On
• Malaysia Shift on Affirmative Action Angers Minorities
North America
• US, EU bungled Arab Spring strategy: Study
• 'The Elders' urge Myanmar to address religious strife
• Bill Clinton pays emotional tribute to staffer Elif Yavuz killed in Kenya mall siege
• Kerry: Israel, Palestinians agree to intensify peace talks with increased US role
Mideast
• Iranian press lauds Obama's UNGA speech, dismisses Israel as 'isolated,' 'warmonger'
• Ruling AKP mulls paving way for political activity in Kurdish
• Turkey recaptures most escaped 'Kurd rebel' prisoners
• Iran's Rouhani: 'People Are Tired of War'
• Israel must do more to normalize ties with Turkey, FM Davutoğlu says
Europe
• French Sufi Imams Back Pope after Vatican Audience
• Russia's Jewish community unimpressed with Rouhani's Holocaust acknowledgement
• Russia FM: Ready to guard Syria's chemical weapons stockpiles
• Homemade sarin was used in attack near Damascus – Lavrov
Compiled by New Age Islam News Bureau
URL: https://newageislam.com/islamic-world-news/french-sufi-imams-back-pope/d/13700
-----------
French Sufi Imams Back Pope after Vatican Audience
26 September 2013
A group of French imams attended a general audience with Pope Francis on Wednesday, saying they saw the Catholic leader as a figure of reconciliation.
"We feel something strong with this pope. We the minorities need him," Hassen Chalghoumi, a Tunisian imam in Drancy, a suburb of Paris, told AFP.
"Moderates should be supported. We should not be grouped with extremists who burn churches," he said.
The visit was organised by Marek Halter, a French writer of Polish Jewish origin, who briefly met with the pope during the audience in St Peter's Square.
There were a total of eight imams -- seven from Paris and suburbs and one from Marseille. Chalghoumi said they were all "Sufis" -- a moderate current in Islam.
Tunisian cinema and television tycoon Tarak Ben Ammar brought the imams on his private plane and said the visit would boost inter-religious dialogue.
"We have a problem to resolve ourselves. Christians had this in the Middle Ages. Political Islam is winning the upper hand," Ben Ammar said.
Halter said that Francis "can do what Benedict XVI never managed to do: reconcile Christianity and Islam".
John Paul II and Benedict XVI both made overtures to the Muslim world but Benedict was widely criticised for appearing to link Islam and violence in a speech in Germany shortly after being elected in 2006.
http://english.ahram.org.eg/NewsContent/2/9/82504/World/International/French-imams-back-pope-after-Vatican-audience.aspx
----------
Africa
Kenya mall massacre 'message to westerners', al-Shabaab chief says
AFP | Sep 26, 2013
The Nairobi mall carnage in which several foreigners were killed by Islamist fighters was a "message to westerners" who supported Kenya, Somalia's al-Shabaab chief said in an audio message on Wednesday.
Reclusive rebel supremo Ahmed Abdi Godane said the four-day bloodbath was a warning to Westerners who "backed Kenya's invasion (of Somalia) that has spilled the blood of the Muslims for the interest of their oil companies".
Godane, who called the killing of at least 67 people including the execution of children a "historic operation", said the assault on the upmarket Westgate mall was also a threat of "more bloodshed" if Kenya did not withdraw its troops from Somalia.
The al-Qaida linked group he co-founded has already claimed responsibility for the shocking assault on the sprawling complex, but it is the first time Godane, for whom America has offered a $7 million bounty, has issued a public statement.
"The Kenyan people, you went to a war that is not yours and which is against your interests," he said, in a speech peppered with the traditional verses of Somali martial poetry he is renowned to love.
President Uhuru Kenyatta announced an end to the 80-hour bloodbath late on Tuesday, with the "immense" loss of 61 civilians and six members of the security forces. Dozens more are reported missing.
"You have squandered your peace and prosperity and lost your boys," Godane added.
"You elected your politicians, you pay the tax to arm the forces of Uhuru that are massacring the Muslims, you supported the decision to go to war."
In one of the worst attacks in Kenya's history, the militants marched into the four-storey, part Israeli-owned mall at midday Saturday, spraying shoppers with automatic weapons fire and tossing grenades.
"Make your choice: pull your forces out of Muslim lands or face more bloodshed on your soil," Godane added.
http://timesofindia.indiatimes.com/world/rest-of-world/Kenya-mall-massacre-message-to-westerners-al-Shabaab-chief-says/articleshow/23064897.cms
-----------
Attackers kill pastor, torch church in Nigeria
September 26, 2013
POTISKUM, Nigeria: Police say suspected Islamic militants armed with automatic rifles and explosives killed a pastor and his son and torched a church in northeast Nigeria before dawn Thursday.
Corporal Musa Ibrahim said the attackers also killed the village head at Dorawa, about 100 kilometers (60 miles) from the Yobe state school where extremists in July killed 29 students, some burned alive.
Ibrahim said gunmen used explosives to set ablaze the church and five homes.
Yobe is one of three northeastern states under a military emergency to try to halt an Islamic uprising by militants who have killed more than 1,700 people since 2010 in their quest to turn Nigeria into an Islamic state and ban Western education though the country of 160 million people has as many Christians as Muslims.
http://www.dailystar.com.lb/News/International/2013/Sep-26/232642-attackers-kill-pastor-torch-church-in-nigeria.ashx#ixzz2g0eYVSr8
------------
Libya MOE says no to segregation of Male and Female Students
Ashraf Abdul-Wahab
Sep 26 2013
TRIPOLI — The Ministry of Education has stated that it will not segregate male and female students in schools and universities. The reason, it says, is because this would damage people's education because the vast majority of teachers are females. The ministry added that another of the reasons for rejecting segregation was that many parents disapproved of the idea. It had received many letters from parent stating their opposition to the idea. Segregation is a main demand by many Islamists in Libya. Last week, Derna University was told by members of a local brigade widely viewed as Islamist that it must separate male and female students if the brigade were to provide security at the campus. In January, Zawia Congressman Mohamed Al-Kilani called for segregation in Congress, blaming its shortcomings on the fact that men and women are not kept apart in it. The Grand Mufti, Sheikh Sadid Al-Ghariani has also entered the debate. Last year he said that ideally male and female students should be separated but that it would be too costly for Libya to set up separate schools and colleges to address the situation. — Libya Herald
http://www.saudigazette.com.sa/index.cfm?method=home.regcon&contentid=20130926181686
-----------
Tunisia says it foiled plot to divide country into three emirates
25 September 2013
Associated Press, Tunis
Tunisian authorities have dismantled a plot by extremist Salafi Muslims to slice up the North African country into three Islamic emirates, a top security official said Wednesday.
Security forces that have been battling al-Qaeda-linked extremists also disrupted jihadist plots in recent weeks to assassinate political figures and carry out bombings in central Tunisia and near the capital, Tunis, Interior Minister Lotfi Ben Jeddou said on Mosaique FM radio.
In the course of interrogating terror suspects rounded up in recent months, authorities uncovered a "plot aiming to divide up the country in three emirates - one in the north, another in the center, and the third in the south," said Ben Jeddou, who took up his post six months ago.
Since then, Ben Jeddou said he has tallied around 300 arrests in terrorism case files being prosecuted by investigating magistrates. Authorities, culling information from questioning of those suspects, now believe that about 30 alleged terrorists are currently holed up in Tunisia's western mountains including Kamel Gadhgadhi, the man suspected of killing left-wing opposition legislator Chokri Belaid in February.
Those in hiding are believed to be members of the banned al-Qaeda-linked extremist group Ansar al-Shariah, Ben Jeddou said. Sixteen of them are believed to be in Mont Semmama, while the other 14 are said to be in Mont Chaambi - both near the western town of Kasserine, he said.
"We identified them all thanks to their arrested accomplices," he said. When it comes to Gadhgadhi, authorities "will surely end up catching (him) dead or alive."
The minister also said Tunisia's most famous militant, Seifallah Ben Hassine, the founder of Ansar al-Shariah who is also known as Abu Yadh, is currently hiding in Libya - where he said the group has training camps, notably in the volatile city of Derna. Despite an international arrest warrant against him, Ben Jeddou acknowledged an unstable security situation in Libya has made apprehending him difficult.
Tunisia, now headed by an Islamist-led government, is struggling through a political transition nearly three years after the pro-democracy uprising that ousted long-time President Zine El Abidine Ben Ali and set off the chain-reaction of Arab Spring uprisings across the Middle East.
The killings of Belaid and Mohammed Brahmi, a leading opposition figure who was gunned down on July 25, plunged Tunisia into its current crisis. Dozens of opposition lawmakers quit, freezing efforts to write a new constitution, and street protests and political paralysis have crippled the country. Ansar al-Shariah was allegedly behind both killings, as well as an assault last year on the U.S. Embassy in Tunis.
http://english.alarabiya.net/en/News/middle-east/2013/09/25/Tunisia-says-it-foiled-plot-to-divide-country-into-five-emirates-.html
---------
Militant group attacks Kenyan border town
Sep 26 2013
Nairobi : Kenyan authorities say militants from the same extremist group, al-Shabab, that took over a Nairobi mall have attacked a security post near the Somali border, killing two police officers.
The attack that took place earlier is the second by al-Shabab after the bloody four-day standoff at the Westgate Mall that ended Tuesday in which at least 67 people were killed.
Al-Shabab threatened in a message that if the Kenyan troops remain in Somalia, Kenyans must "be prepared for an abundance of blood."
Full report at:
http://www.indianexpress.com/news/militant-group-attacks-kenyan-border-town/1174591/
-------
Sudan's Arab Spring? Public anger rises against Bashir, again
26 September 2013
Sudanese President Omar Al-Bashir entered a new societal confrontation this week after the government suspended subsidies on petroleum products, as if problems with neighbouring Juba and Darfur and the International Criminal Court (ICC) arrest warrant against Al-Bashir were not enough to shake the regime's stability.
Tyres were burned, and anti-government slogans were chanted as hundreds of demonstrators took the streets of Sudan to express rejection to a decision influencing their day-to-day lives.
Those scenes cannot be regarded as unique for the people of Sudan, for a wave of wide-range demonstrations against price hikes and austerity measures adopted by government hit Khartoum in 2012.
Full report at:
http://english.ahram.org.eg/NewsContent/2/8/82534/World/Region/Sudans-Arab-Spring-Public-anger-rises-against-Bash.aspx
---------
Arab World
Bomb blasts in markets in mainly Sunni Muslim districts of Baghdad kill 23 people
26 September 2013
Bombs left inside busy markets in mainly Sunni Muslim districts of Baghdad killed at least 23 people on Thursday, police said, in statements carried by Reuters.
Four bombs in Saba al-Bur north of the capital killed 15 people, while another in the predominantly Sunni neighborhood of Dura in south Baghdad killed eight, the officials said.
Militants in Iraq often bomb areas where crowds of people gather, and have targeted markets, football fields, cafes mosques, weddings and funerals this year, reported Agence France-Presse.
Also on Thursday, a magnetic "sticky bomb" on a car killed a policeman and wounded two civilians in the northern city of Mosul, reported AFP.
A similar device killed an employee of a local television station and wounded a second in Baquba, north of Baghdad.
With the latest violence, almost 700 people have been killed this month and over 4,500 since the beginning of the year, according to AFP figures based on security and medical sources.
http://english.alarabiya.net/en/News/middle-east/2013/09/26/Bomb-blasts-in-markets-across-Baghdad-kill-23-people.html
---------
Al-Qaida-linked terrorists destroy Jewish graves in Syrian city
Sep 26 2013
Al-Qaida-linked terrorists have allegedly demolished several ancient Jewish mausoleums in the northern Syrian city of Aleppo, Iranian media reported Tuesday.
The graves were located in the historical town of Tadif, according to the semi-official Iranian Fars news agency and other Iranian news outlets.
The terrorists reportedly belong to the al-Qaida-backed al-Nusra Front.
A tomb said to be that of Ezra the Scribe is located in the town. It is unclear if it was one of the damaged grave sites.
Several religious sites in Syria have been destroyed in the country's two-year civil war.
http://www.jpost.com/Middle-East/Report-Al-Qaida-linked-terrorists-destroy-Jewish-graves-in-Syrian-city-327091
-------
Lebanon issues warrants for Nusra Front members
September 26, 2013
BEIRUT: Military Investigative Judge Imad al-Zein issued arrest warrants Thursday against four Palestinians accused of belonging to the radical Islamist group Jabhat al-Nusra.
The four are accused of belonging to the al-Qaeda-affiliated Jabhat al-Nusra, one of the strongest rebel groups fighting in Syria, and operating in Lebanon with the aim of carrying out terrorist attacks, collecting funds and recruiting members for the group.
The judge issued one warrant against a Palestinian identified by his initials S.H. and three warrants in absentia against Palestinians identified as H.M. M.M. and A.SH.
Several members of Jabhat al-Nusra have been charged in Lebanon courts and some politicians argue that the group has training camps and bases in the country.
http://www.dailystar.com.lb/News/Lebanon-News/2013/Sep-26/232660-lebanon-issues-warrants-for-nusra-front-members.ashx#ixzz2g0aN7W8P
---------
A Sign of the Times: New Muslim Brotherhood R4BIA symbol
Sep 26 2013
CHARLOTTE– If you haven't seen the new Muslim Brotherhood four-fingered R4BIA symbol yet, not to worry, it will not be long before you do. With four black fingers raised against a yellow background, it almost looks like an Islamic version of the Yellow Pages only it represents more than just your "fingers doing the walking."
According to an R4BIA website, "The blessings of R4BIA have been spreading rapidly around the world, and they bring with them a new spirit, fresh ideas and a novel sense of brotherhood. Conscientious human beings in more than 30 nations, who stand against all kinds of injustice and inequity, express themselves through the R4BIA sign, flag, logo and slogans."
That sounds nice on the surface, but the implications, as always when dealing with Islamists, are far deeper and have little to do with "a new spirit, fresh ideas and a novel sense of brotherhood."
Full report at:
http://communities.washingtontimes.com/neighborhood/what-world/2013/sep/24/sign-times-new-muslim-brotherhood-r4bia-symbol/
-----------
Qatar supported Egypt not Brotherhood: Qatari FM
26 September 2013
Qatari Foreign Minister Khaled Al-Ateya said Wednesday that the Gulf country has supported Egypt since the 25 January 2011 uprising, not only following president Mohamed Morsi's rise to power in 2012. The FM also denied rumours of a rift with Saudi Arabia over their support for Egypt's interim-government regarding Morsi's ouster.
"Qatar was the first Arab country to support the 25 January revolution without knowing who was going to take power. It supported the military council and the interim-government led by Essam Sharaf," Al-Ateya told London-based Al-Hayat newspaper Wednesday.
Full report at:
http://english.ahram.org.eg/NewsContent/1/64/82489/Egypt/Politics-/Qatar-supported-Egypt-not-Brotherhood-Qatari-FM.aspx
---------
Military representative defends military trials article in constitution
26 September 2013
An Egyptian military representative who is a member of the committee amending the constitution has defended an article that permits military trials for civilians.
Article 198 in the 2012 constitution stated that military trials were allowed for crimes that "harm the armed forces." A draft set of amendments, prepared in August by a technical committee, reformulated the article. Article 174 in the amended document allows civilian trials for crimes that "represent a direct assault on the armed forces."
Full report at:
http://english.ahram.org.eg/NewsContent/1/64/82513/Egypt/Politics-/Military-representative-defends-military-trials-ar.aspx
---------
Assad says U.S. aggression against Syria still possible
26 September 2013
Syrian President Bashar al-Assad said in an interview broadcast Thursday that his country was committed to the convention against chemical weapons it signed under a U.S.-Russian deal.
Assad, speaking to Venezuela's Telesur, said he saw "no obstacles" to the deal's implementation but that he did not rule out a U.S. military strike against his regime.
"Syria is generally committed to all the agreements that it signs," he said in the interview published by the Syrian state news agency SANA.
Full report at:
http://english.alarabiya.net/en/News/middle-east/2013/09/26/Assad-says-Syria-committed-to-chemical-weapons-deal.html
---------
Sidon mufti calls for local state of social emergency
September 26, 2013
SIDON, Lebanon: Sidon's Mufti Salim Sousan called Wednesday for a state of social emergency to be declared in the southern city to cope with an increasing influx of Syrian and Palestinian refugees.
A delegation from the Ain al-Hilweh refugee camp visited Sousan to discuss the situation in Palestinian territories as well as in Lebanon's camps, particularly Ain al-Hilweh, and the estimated 45,000 Syrian and Palestinian refugees who have fled the war in Syria to Sidon.
Full report at:
http://www.dailystar.com.lb/News/Lebanon-News/2013/Sep-26/232605-sidon-mufti-calls-for-local-state-of-social-emergency.ashx#ixzz2g0akHB44
---------
Bahrain rights group wins Norwegian award
September 26, 2013
OSLO: The Bahrain Centre for Human Rights won Norway's Rafto Prize for rights defenders Thursday for its fight against repression in the Gulf state.
The award would "turn the spotlight on systematic violations of human rights in a region where abuse is too often met with silence from Western governments," the Rafto Foundation said in a statement.
"In Bahrain, a wave of protests arose at the same time as the Arab Spring, and since they started in 2011 the protests have been met with an increasingly harder hand by the authorities."
Full report at:
http://www.dailystar.com.lb/News/Middle-East/2013/Sep-26/232668-bahrain-rights-group-wins-norwegian-award.ashx#ixzz2g0bE7J8q
---------
Activists claim Saudi held in Lithuanian CIA site
September 26, 2013
VILNIUS, Lithuania: Human rights activists say a Saudi citizen was once held at an alleged secret CIA detention site in Lithuania and are urging the Baltic government to re-open an investigation.
The human rights organization Reprieve says Mustafa al-Hawsawi, who is currently being held in Guantanamo Bay, was secretly brought to Lithuania in March 2004 and held there until September 2006.
Full report at:
http://www.dailystar.com.lb/News/Middle-East/2013/Sep-26/232653-activists-claim-saudi-held-in-lithuanian-cia-site.ashx#ixzz2g0bLuq49
---------
Citizen, 80, recalls King Abdul Azizā€™s fairness
September 26, 2013
An 80-year-old citizen here has revealed how he proposed to the founder of the Kingdom of Saudi Arabia, King Abdul Aziz, to compensate citizens for land appropriated by the government.
Nasser Al-Omari said he was 18 years old when he sent a telegram to King Abdul Aziz about people from Qassim living near Mesial Al-Butah, whose land had to be appropriated for strategic reasons.
Full report at:
He said Prince Naif also responded positively to his call to reduce the cost of electricity.
http://www.arabnews.com/news/465766
---------
Pakistan
Pakistan Blasphemy Laws Reform Will Give Death Sentence To False Accusers
By Richard S. Ehrlich
09/25/2013
Pakistan's constitutionally mandated Council of Islamic Ideology told the government anyone who wrongly accuses a person of blasphemy against Islam must be executed — a measure intended to protect innocent people who are often killed by mobs.
The CII demanded the measure after endorsing Pakistan's blasphemy laws, which allow a death sentence for people found guilty of desecrating the Quran, the Prophet Muhammad, mosques or Islamic beliefs.
Charges of blasphemy are sometimes leveled to settle scores or acquire property, a Pakistan Today editorial said on Friday (Sept. 20).
"Once a person is arrested it takes years, sometimes eight to 10 years, to prove his or her innocence in courts. Even if honorably acquitted, the innocent victim is not safe" and sometimes "killed inside the jail or after they were released," the editorial said.
Full report at:
http://www.huffingtonpost.com/2013/09/25/pakistan-blasphemy-laws-death-sentence_n_3984508.html
-----------
Taliban be allowed to open office for talks: Imran
ASHFAQ YUSUFZAI
2013-09-26
PESHAWAR, Sept 25: PTI Chairman Imran Khan urged the government on Wednesday to allow Taliban to open an office for the peace dialogue to be held in accordance of a decision of the recently held all-party conference.
"If the government is serious about pursuing the dialogue process with the Tehreek-i-Taliban Pakistan it should allow them to have their own office like the one opened by the Afghan Taliban in Qatar," Imran Khan told reporters outside the Lady Reading Hospital in Peshawar.
"If the Americans can allow the opening of office in Qatar to facilitate talks with the Afghan Taliban, why can't we do in our own country," he said.
Full report at:
http://www.dawn.com/news/1045486/taliban-be-allowed-to-open-office-for-talks-imran
-----------
'Peshawar attack a plot to sabotage PM's visit'
September 26, 2013
FAISALABAD: "I see a deep conspiracy in the Peshawar church suicide attack to sabotage Prime Minister Nawaz Sharif's address at the United Nation and the interior minister's visit to the UK," Punjab Governor Chaudhary Muhammad Sarwar said on Wednesday.
He was addressing the inaugural ceremony of a water filtration plant at an orphanage and the Kindergarten Girls High School Tariqabad.
The governor condemned the attack that killed 83 people and injured more than 200 others.
Calling it an act of barbarism, the governor said it had created an awkward situation for Pakistan across the world and for the Pakistani diaspora.
Full report at:
http://tribune.com.pk/story/609334/peshawar-attack-a-plot-to-sabotage-pms-visit/
-----------
Terrorists attack dam site in Mohmand, kill three
Sep 26 2013
PESHAWAR: Terrorists attacked an under-construction irrigation dam in the tribal areas, killing three workers and kidnapping at least two others, officials said on Wednesday.
Around a dozen gunmen attacked the Ghallanai Dam site in Mohmand Agency overnight. The attackers planted an improvised bomb on the road leading to the dam, which hit a vehicle carrying labourers, killing at least three people. "At least two labourers and one contractor were killed and five others were wounded in the blast.
Full report at:
http://www.dailytimes.com.pk/default.asp?page=2013\09\26\story_26-9-2013_pg1_4
-----------
Two 'Qaeda aides' held
Sep 26 2013
LAHORE: Intelligence agencies on Wednesday arrested two men from Lahore on the charges of having links with al Qaeda.
According to sources, the two young men, Arsalan Zubair and his cousin Umar Hassan, were arrested by personnel of the secret services in Lahore. The sources said that the arrested men were students of a private educational institution in the city. Meanwhile, the Punjab government has issued directives to all the vice chancellors (VCs) of universities to prepare afresh standard operating procedures (SOPs) with the consultation of police authorities to curb illegal stay of miscreants at the hostels.
Full report at:
http://www.dailytimes.com.pk/default.asp?page=2013\09\26\story_26-9-2013_pg13_4
-----------
Karachi operation: 55 suspects arrested
2013-09-26
KARACHI: A total of 55 suspects were arrested on Thursday during targeted operations in different areas of the city conducted by police forces and Rangers personnel, DawnNews reported.
The police and Rapid Response Forces arrested 18 suspects in a targeted operation near Central Jail.
The operation was carried out in order to arrest criminals, along with suspects who had been involved in a prior smoke grenade attack on the central jail. Three drug peddlers were also arrested after the police raided a drug den in Pak Colony and confiscated their weapons and drugs.
Full report at:
http://www.dawn.com/news/1045560/karachi-operation-55-suspects-arrested
-----------
Islamia College professor shot in Karachi
September 26, 2013
KARACHI: A professor of Islamia College was shot while driving his car in Karachi, Express News reported on Thursday.
According to the police two unidentified men on a motorcycle fired on Professor Ghulam Nabi Wassan's car.
Wassan was immediately rushed to hospital, where doctors said there were two bullets in his chest and his condition is critical.
Full report at:
http://tribune.com.pk/story/609678/islamia-college-professor-shot-in-karachi/
-----------
Dawood not in Pakistan: Advisor to PM on National Security
Sep 26 2013
New York: India's most wanted fugitive Dawood Ibrahim is not in Pakistan, a top Pakistani official has said.
"There have been lots of talk and discussion on this (extradition of Dawood to India). He is not in Pakistan," Advisor to the Pakistani Prime Minister on Foreign Affairs and National Security Sartaj Aziz told reporters in New York.
Speaking on the sidelines of the SAARC Foreign Ministers meeting, he said if India gives information about Dawood's whereabouts, Pakistan will 'try' and see what can be done.
Full report at:
http://www.indianexpress.com/news/dawood-not-in-pakistan-sartaj-aziz/1174593/
-------
India
Militants kill 12 in J&K ahead of Manmohan-Sharif talks
Sanjay Khajuria & Bharti Jain, TNN | Sep 26, 2013
JAMMU/NEW DELHI: At least twelve people, including a lieutenant colonel of the Indian Army, were killed and four injured in twin terror attacks by a single 'fidayeen' suicide squad in Kathua and Samba districts of Jammu region Thursday morning.
An unknown outfit Shohada Brigade, suspected to be Lashkar-e-Taiba's shadow or proxy name, has claimed responsibility for the attack. Sami-ul-Haq , spokesman of Shohada (martyrs) Brigade called up local newspaper offices in Srinagar and told them that three of their boys carried the attacks in Kathua and Samba. Indian Intelligence agencies believe that the Brigade is a nom de guerre of Lashkar-e-Taiba, the banned Pakistani terrorist group.
The twin attacks came ahead of the September 29 scheduled meet between Prime Minister Manmohan Singh and Pakistani Prime Minister Nawaz Sharif in the United States.
Police sources said a suicide squad after attacking a police station in Kathua district, boarded a truck on the national highway and commandeered the driver to arrive at an Army camp in Samba district. The fidayeen killed five Jammu and Kashmir Police personnel at the Kathua police station before striking the second time at 16 Cavalry in Mesar area of Samba. An Army officer identified as Lt Col Bikramjeet Singh and two soldiers were killed in the attack. The gun battle between the fidayeen and the security forces is still going on.
Full report at:
http://timesofindia.indiatimes.com/india/Militants-kill-12-in-JK-ahead-of-Manmohan-Sharif-talks/articleshow/23097629.cms
---------
Omar to chair Unified Headquarters meet to assess fidayeen attacks
AHMED ALI FAYYAZ
Sep 26, 2013
Having deputed Principal Secretary Home Suresh Kumar and Director General of Police Ashok Prasad to the site of the ongoing gunfight in Samba, Jammu and Kashmir Chief Minister Omar Abdullah on Thursday said he would assess the twin fidayeen attacks and the related security scenario at the Unified Headquarters meeting in Jammu in the next 24 hours.
General Officer Commanding-in-Chief Northern Command Lt Gen Sanjeev Chachra and GOC of Nagrota-based 16 Corps, among other senior Army, Police and intelligence officials, would participate in the meeting.
Full report at:
http://www.thehindu.com/news/national/other-states/omar-to-chair-unified-headquarters-meet-to-assess-fidayeen-attacks/article5170453.ece
-----------
Jammu 'terror attacks will not deter us': Manmohan
Sep 26, 2013
"Such attacks will not deter us or succeed in derailing our efforts to find a resolution to problems through dialogue," said Prime Minister Manmohan Singh following a terror attack in Jammu that left 12 dead.
Dr. Singh took to Twitter following the terror attack on Thursday on a police station and an army camp in Jammu region.
He tweeted: "We are firmly resolved to combat and defeat the terrorist menace that continues to receive encouragement from across the border."
"Such attacks will not deter us or succeed in derailing our efforts to find a resolution to all problems through a process of dialogue," said another tweet.
Full report at:
http://www.thehindu.com/news/national/jammu-terror-attacks-wont-deter-us-manmohan/article5170502.ece
-----------
Attacks aimed at derailing Manmohan-Sharif talks: Omar Abdullah
PTI | Sep 26, 2013,
SRINAGAR: Condemning the "dastardly" twin terror attacks, Jammu and Kashmir chief minister Omar Abdullah on Thursday said they are aimed at derailing talks between Prime Minister Manmohan Singh and his Pakistan counterpart Nawaz Sharif.
"Given our history and given the timing as well as location of the attacks, one thing is obvious that the aim of these terrorists is to derail the proposed dialogue between the Prime Minister of India and Prime Minister of Pakistan," he told reporters here.
Omar said the forces inimical to interests of Jammu and Kashmir have always tried to derail the peace process between India and Pakistan and the terror strikes were a step in that direction.
Full report at:
http://timesofindia.indiatimes.com/india/Attacks-aimed-at-derailing-Manmohan-Sharif-talks-Omar-Abdullah/articleshow/23091207.cms
------------
India Wants Pak To Fix Accountability For 26/11 Terror Attack: Salman Khurshid
26 September 2013
With the stage set for a meeting between Prime Minister Manmohan Singh and his Pakistani counterpart Nawaz Sharif here, India has said it will ask its neighbour to fix the accountability for the 26/11 terror attack that left 166 people dead.
"The work that we have done on this meeting (between Singh and Sharif) includes conveying the expectation of some signal, addressing our concerns, which essentially are accountability for 26/11, people who are involved in planning and executing, who happen to be either in the custody of Pakistan or on their soil. We are looking for accountability," External Affairs Minister Salman Khurshid told reporters here.
Full report at:
http://www.dailypioneer.com/top-stories/india-wants-pak-to-fix-accountability-for-2611-terror-attack.html
-----------
China helped Pak during Kargil war: Brigadier
Ajay Sura, TNN | Sep 26, 2013
CHANDIGARH: Did China support Pakistan during the Kargil war? The answer is in the affirmative if the claims of Chandigarh-based Brigadier Surinder Singh -- who was the commander of the 121-Brigade in Kargil at the time of the war -- are to be believed.
In a startling revelation, Singh, who himself was on the front when the 1999 India-Pakistan conflict broke out in Kargil, also claimed that his inputs about Chinese support to Pakistan during the Kargil war were ignored and even K Subrahmanyam, head of the Kargil review committee, made an adverse comment against his statements in the report.
Surinder Singh was the commander of "Kargil Brigade," which looked after 160 km border when the Kargil intrusion took place. The revelations are significant as the brigadier has filed a petition before the military tribunal, Chandigarh, demanding an independent probe into Kargil war. The matter is still pending.
Full report at:
http://timesofindia.indiatimes.com/india/China-helped-Pak-during-Kargil-war-Brigadier/articleshow/23073553.cms
-----------
Suicide bombing: Catholic forum urges govt to raise the case with Pakistan
Stanley Pinto, TNN | Sep 25, 2013
MANGALORE: Mumbai-based activist community organization, the Catholic Secular Forum (CSF), has urged the Pakistani high commissioner Salman Basheer in New Delhi to assist in organizing a delegation of Indian Christians to Peshawar to express solidarity with the victims of the blasts that killed over 80 Christians and others on Sunday. The CSF has called upon the international community and human rights NGOs not to remain silent and take up the issue with the Pakistan government, as there is no guarantee that the situation will not be repeated in the future.
Full report at:
http://timesofindia.indiatimes.com/india/Suicide-bombing-Catholic-forum-urges-govt-to-raise-the-case-with-Pakistan/articleshow/23055704.cms
-----------
Jammu terror attack: All 3 militants killed in gunbattle
Sep 26 2013
New Delhi : Three militants who had carried out the twin attacks in Jammu and Kashmir are reported to be killed in the encounter. However, there is no official confirmation of the report.
At least 12 people, including four policemen and an six army personnel, were killed as terrorists first attacked a police station in Hiranagar town of Kathua district and later stormed an Army camp in adjoining Samba district on Thursday morning.
Full report at:
http://www.indianexpress.com/news/jammu-terror-attack-all-3-militants-killed-in-gunbattle/1174645/
-----------
Afghan films for Mumbai Film Festival
Sep 26, 2013
Afghanistan may be in turbulence but it is producing some of the world's best cinema. Taking note of this, the 15th edition of the Mumbai Film Festival will show nine films under a segment called "Kabul Fresh." This is the second year that the festival will see films which mark the blossoming of the film movement in Afghanistan. Over 200 films from 65 countries will be shown at the Festival between October 17 and 24.
http://www.thehindu.com/news/national/afghan-films-for-mumbai-film-festival/article5168217.ece
-----------
South Asia
16 Militants Killed in Joint Afghan Operations within Day
Sep 26 2013
TEHRAN (FNA)- Sixteen Taliban militants were killed in a series of joint operations carried out by the Afghan forces and the NATO-led coalition troops since early Wednesday, said the country's Interior Ministry on Thursday morning.
"Afghan National Security Forces (ANSF), supported by the coalition troops, conducted several cleanup operations, killing 16 armed Taliban insurgents over the last 24 hours," the ministry said in a statement, Xinhua reported.
Up to 14 militants were wounded and four arrested during the raids launched in Herat, Kunar, Nangarhar, Kunduz, Wardak, it noted.
Full report at:
http://english.farsnews.com/newstext.aspx?nn=13920704000305
-----------
Afghanistan wants key role for Mullah Baradar in peace process
IFTIKHAR A. KHAN
2013-09-26
ISLAMABAD: Syed Farukh Shah Faryabi Jenab, who is heading an Afghan parliamentary delegation, said on Wednesday that the release of Taliban leader Mullah Abdul Ghani Baradar would be meaningless if he was unable to play a role in the peace process.
"We are not seeking Mullah Baradar's handing over to Afghanistan, but he should be freed in real terms to make the initiative purposeful," he said at a press conference at the end of the ninth round of Pakistan-Afghanistan parliamentary dialogue in Islamabad.
The dialogue, facilitated by the Pakistan Institute of Legislative Development and Transparency, takes place alternatively in Islamabad and Kabul.
Full report at:
http://www.dawn.com/news/1045499/afghanistan-wants-key-role-for-mullah-baradar-in-peace-process
-----------
Bangladesh: Jamaat-Shibir men vandalise vehicles, blast bombs in capital
Sep 26 2013
The activists of Jamaat-e-Islami and its student wing Islami Chhatra Shibir brought out a brisk procession in Badda area of the capital and vandalised several vehicles there Thursday.
During the nearly 10-minute demonstration that was staged as part of the organisation's countrywide demonstration demanding release of its leaders and activists, the Jamaat-Shibir men also exploded three cocktails, witnesses said.
Around 30-40 activists suddenly brought out the procession at Merul Badda around 9:45am and resorted to the vandalism and explosion, they added.
http://www.thedailystar.net/beta2/news/shibir-men-vandalise-vehicles-blast-bombs-in-capital/
-----------
US 'supports' Islamist terrorism: GDNC Leader
Sep 26 2013
Terming the USA "godfather of all terrorism," Ghatak Dalal Nirmul Committee leader Shahriar Kabir on Wednesday accused the super-power of patronising "pro-Islamist terrorism" all over the world.
"During my research about terrorism and militancy, I came to know about the United States' green-belt strategy, which aimed at creating a belt of Islamic states around what they considered red belt [of Russia]. The USA devised this strategy soon after the World War II and it eventually gave birth to the present global Islamist terrorism," he told a discussion in the city.
Full report at:
http://www.dhakatribune.com/law-amp-rights/2013/sep/26/us-%E2%80%98supports%E2%80%99-islamist-terrorism-shahriar-kabir
-----------
Afghan soldier kills Nato ally in 'insider' attack
2013-09-26
KABUL: An Afghan soldier opened fire Thursday on his Nato trainers, killing one and wounding several others in the country's east, officials said.
Attacks in which Afghan forces turn their guns on their international partners have killed scores of US-led troops, breeding mistrust and undermining efforts to train local forces before Nato combat troops withdraw next year.
Full report at:
http://www.dawn.com/news/1045588/afghan-soldier-kills-nato-ally-in-insider-attack
-----------
Nasheed calls for tourism workers to strike should election be delayed
By Zaheena Rasheed | September 25th, 2013
Former President and Maldivian Democratic Party (MDP) presidential candidate Mohamed Nasheed has called on tourism workers to strike, should run-off elections scheduled for September 28 be delayed.
Following Nasheed's appeal, the Maldives Association for Tourism Industries (MATI) issued a statement warning of "irreparable consequences" to the Maldivian economy unless the election is expedited.
Full report at:
http://minivannews.com/politics/nasheed-calls-for-tourism-workers-to-strike-should-election-be-delayed-66660
---------
Southeast Asia
Indonesian Shiites hope to return home soon, but no word from govt
Sep 26 2013
The atmosphere at the Sampang Shia Muslim refuge at the Puspa Agro apartments in Jemundo district, Sidoarjo regency, East Java, seemed livelier on Wednesday afternoon, as displaced children played along the corridors, while the men were seen chatting as they awaited the Magrib call to prayer.
"We're more relaxed now following the reconciliation [on Monday]. What I'm thinking about now is how we can immediately return to our home villages in Sampang. It's still unclear due to the lack of response from the government," Shiite representative Iklil al Milal told The Jakarta Post at the shelter.
Full report at:
http://www.thejakartapost.com/news/2013/09/26/shiites-hope-return-home-soon-no-word-govt.html
-----------
Filipino troops capture dozens more Muslim rebels
September 26, 2013
MANILA: The Philippine military says troops have taken custody of at least 45 more Muslim rebels - all exhausted and low on ammunition - as a guerrilla siege that has dragged for three weeks in a southern city continued to crumble.
Military spokesman Lt. Col. Ramon Zagala said Thursday that troops needed to clear coastal communities in Zamboanga city "to the last rebel" from the Moro National Liberation Front before they can declare the Sept. 9 siege over.
Zagala said the 45 rebels surrendered or were captured in clashes that left three gunmen dead.
More than 300 rebels, angry over the failure of a 1996 peace pact, stormed communities and took scores of residents hostage after troops foiled their attempt to take over Zamboanga's city hall.
http://www.dailystar.com.lb/News/International/2013/Sep-26/232664-filipino-troops-capture-dozens-more-muslim-rebels.ashx#ixzz2g0eMN9z7
----------
'Humanitarian Crisis' in Battle-Scarred Philippine City
Sep 26 2013
Manila. Aid workers warned Thursday of a worsening humanitarian crisis in a major Philippine city wracked by more than two weeks of deadly street battles between Muslim rebels and soldiers.
The overnight deaths of three troops brought the official death toll from the conflict in Zamboanga to 173, as the Moro National Liberation Front (MNLF) guerrillas remained defiant despite being heavily outnumbered.
"We are increasingly alarmed by the situation and the growing needs of people caught up with violence," the UN Resident and Humanitarian Coordinator in the Philippines, Luiza Carvalho, said in a statement.
Full report at:
http://www.thejakartaglobe.com/international/humanitarian-crisis-in-battle-scarred-philippine-city/
-----------
Non-Muslim Ward Chief Stays On
Sep 26 2013
Opposition against a South Jakarta ward chief for being a non-Muslim heated up on Wednesday after protesters delivered a coffin and a yellow flag, a symbol often associated with death, and demanded that she be removed from her position.
Some 600 residents rallied against Susan Jasmine Zulkifli on Wednesday, rejecting her as their ward chief and claiming that 99 percent of the population in Lenteng Agung, the area she represents, is Muslim.
Full report at:
http://www.thejakartaglobe.com/news/jakarta/non-muslim-ward-chief-stays-on/
-----------
Malaysia Shift on Affirmative Action Angers Minorities
Sep 26 2013
Kuala Lumpur. The Malaysian government's new measures to benefit the Malay majority are angering the multi-ethnic nation's other races and raising fears they could accelerate a "brain drain" of talent heading overseas.
Prime Minister Najib Razak pledged in 2010, shortly after taking office, to reform controversial decades-old affirmative-action policies for Muslim Malays, seeking to halt a flood of minority voters to the opposition.
But he reversed course this month with a slate of new perks to placate conservatives in his Malay ruling party who are upset over a weakened mandate he won in May elections in which minorities continued to snub Najib.
Full report at:
http://www.thejakartaglobe.com/international/malaysia-shift-on-affirmative-action-angers-minorities/
-----------
North America
US, EU bungled Arab Spring strategy: Study
Sep 26 2013
The United States and the European Union lack strategy and influence in countries affected by the Arab Spring despite directing billions of dollars in aid towards the region since 2011, a report said Wednesday.
"The United States and Europe have yet to show the requisite political will or to develop sustainable strategies to help Egypt, Tunisia, Libya, and Yemen in their democratic transitions more than two years after a wave of popular revolutions toppled decades old autocracies," the report by the Atlantic Council's Rafik Hariri Center for the Middle East found.
"Faced with the vast amounts of cash the Gulf countries could provide rapidly to the transition countries, some in Washington and Brussels wondered if the United States and the EU even had much to offer," the study added.
Full report at:
http://www.hurriyetdailynews.com/us-eu-bungled-arab-spring-strategy-study.aspx?pageID=238&nID=55183&NewsCatID=359
-----------
'The Elders' urge Myanmar to address religious strife
September 26, 2013
Jimmy Carter and two other former world leaders who are part of a group known as "The Elders" wrapped up a visit to Myanmar on Thursday with calls to address spiralling Buddhist-led violence against minority Muslims.
"No one can afford to ignore these senseless, destructive, repeated acts of brutality," the group said in a press release.
"This is a very serious problem for the world community," the former U.S. President said, adding how it is tackled by the new quasi-civilian government will be a "key test as to whether Myanmar is going to honour international standards of human rights."
Full report at:
http://www.thehindu.com/news/international/south-asia/the-elders-urge-myanmar-to-address-religious-strife/article5171232.ece
----------
Bill Clinton pays emotional tribute to staffer Elif Yavuz killed in Kenya mall siege
Sep 26 2013
Former U.S. president Bill Clinton paid an emotional tribute Sept. 24 to mother-to-be Elif Yavuz, a staffer of his foundation working in Kenya who was killed during the bloody siege of a mall in the capital Nairobi over the week-end.
The 33-year-old Dutch citizen of Turkish origin was a malaria specialist who worked with people suffering from AIDS. Yavuz was over eight months pregnant when she and her Australian partner Ross Langdon were killed in the attack.
Full report at:
http://www.hurriyetdailynews.com/bill-clinton-pays-emotional-tribute-to-staffer-elif-yavuz-killed-in-kenya-mall-siege.aspx?pageID=238&nID=55167&NewsCatID=359
-----------
Kerry: Israel, Palestinians agree to intensify peace talks with increased US role
By REUTERS
Sep 26 2013
UNITED NATIONS - Israel and the Palestinians have agreed to intensify their peace talks and to increase the US role, US Secretary of State John Kerry said on Wednesday in a rare comment on the negotiations.
Speaking to donors who support the Palestinian Authority, Kerry said the two sides have met seven times since the talks resumed on July 29 although Israeli Prime Minister Binyamin Netanyahu and Palestinian President Mahmoud Abbas have not met.
"We have agreed now, in the last week, when I have met with both President Abbas and Prime Minister Netanyahu, we have agreed now to intensify these talks," he said. "And we have agreed that the American participation should be increased somewhat in order to try to help facilitate."
Full report at:
http://www.jpost.com/Diplomacy-and-Politics/Kerry-Israel-Palestinian-agree-to-intensify-peace-talks-with-increased-US-role-327097
-----------
Mideast
Iranian press lauds Obama's UNGA speech, dismisses Israel as 'isolated,' 'warmonger'
Sep 26 2013
Iranian media on Wednesday lauded US President Barack Obama for a speech in which he attested to "past mistakes" made by Washington, and said a favorable shift has commenced in the global community's attitude toward Tehran, AFP reported.
Newspapers in Iran hailed Washington's seemingly altered tone toward its long-time foe as alluded to in Obama's address to the UN General Assembly on Tuesday during which he spoke of engaging in a "diplomatic path" with the Islamic Republic.
AFP cited what it called the moderate Donya-e-Eqtesad daily as welcoming the US leader's "different tone". The report also noted the so-called conservative Jomhouri Eslami newspaper as praising Obama's pledge that the US was "not seeking regime change" in Iran.
The report quoted Shargh newspaper as welcoming Obama's speech while arguing that the hawkish Israeli stance on Iran would lose pertinence.
Full report at:
http://www.jpost.com/Diplomacy-and-Politics/Iranian-media-hail-Obamas-UNGA-speech-dismiss-Israel-as-isolated-warmonger-327087
-----------
Ruling AKP mulls paving way for political activity in Kurdish
Sep 26 2013
The democratization package to be presented by Prime Minister Recep Tayyip Erdoğan on Sept. 30 is expected to include a cancelation of both the ban on political parties attending religious events and the ban on political parties holding their activities in languages other than Turkish.
The Justice and Development Party (AKP), through this two pronged approach, is attempting to appeal to both ethnic and religious sensibilities in the region.
From what the Hürriyet Daily News has learned, there will be a change on the Political Parties Law, similar to that enacted on the Electoral Law in 2010, which paved the way for campaigning in Kurdish.
Full report at:
http://www.hurriyetdailynews.com/ruling-akp-mulls-paving-way-for-political-activity-in-kurdish.aspx?pageID=238&nID=55158&NewsCatID=338
-----------
Turkey recaptures most escaped 'Kurd rebel' prisoners
26 September 2013
Turkish security forces have recaptured all but one of 18 escaped prisoners detained for suspected links with the outlawed Kurdistan Workers' Party (PKK), the interior minister said Thursday.
"Seventeen of the escapees have been apprehended. Security forces are looking for the last one," Muammer Guler said on his official Twitter account.
The minister said they had been seized in the countryside in the province of Bingol, not far from where they had staged a spectacular escape by tunneling their way out of prison.
Four of the fugitives had already been convicted and the remainder were being held, charged with "membership of a terrorist organization," the justice ministry said on Wednesday after the escape.
Full report at:
http://english.alarabiya.net/en/News/middle-east/2013/09/26/Turkey-recaptures-most-escaped-Kurd-rebel-prisoners.html
--------
Iran's Rouhani: 'People Are Tired of War'
Andrea Germanos
Sep 26 2013
People "are tired of war," Iran's President Rouhani said as he addressed the United Nations General Assembly on Tuesday in a speech in which he also railed against drones, sanctions and U.S. "warmongering."
In his address, the new president repeated his message that Iran's nuclear program is for "exclusively peaceful purposes," and said that his country was "prepared to engage immediately in time-bound and result-oriented" negotiations over its nuclear program.
Rouhani said:
The human society should be elevated from a state of mere tolerance to that of collective collaboration. We should not just tolerate others. We should rise above mere tolerance and dare to work together.
Full report at:
http://www.commondreams.org/headline/2013/09/25-4
-----------
Israel must do more to normalize ties with Turkey, FM Davutoğlu says
Sep 26 2013
Turkish Foreign Minister Ahmet Davutoğlu said there has been "some progress" in improving Turkish-Israeli relations but Israel has not yet fulfilled all conditions for normalizing ties.
Relations between the former allies soured dramatically after Israeli commandos stormed a pro-Palestinian ship trying to breach a blockade of the Gaza Strip in May 2010. The raid killed eight Turks and one Turkish-American. Under a U.S.-brokered rapprochement in March, Israel apologized to Turkey for the deaths and agreed to pay compensation.
But Foreign Minister Davutoğlu told a news conference on the sidelines of the U.N. General Assembly on Wednesday that there are three conditions that are important to Turkey and only one has been met. Turkey's demand for an Israeli apology "was fulfilled," he said.
A second is compensation where "there is progress" and negotiations are continuing, Davutoğlu said. "We hope this will be concluded," he said. The third condition is an end to Israeli restrictions "against Palestine," he said.
Full report at:
http://www.hurriyetdailynews.com/israel-must-do-more-to-normalize-ties-with-turkey-fm-davutoglu-says.aspx?pageID=238&nID=55172&NewsCatID=338
-----------
Europe
Russia's Jewish community unimpressed with Rouhani's Holocaust acknowledgement
Sep 26 2013
A senior member of the Russian Jewish community said the acknowledgement of the Holocaust by the Iranian President Hassan Rouhani was neither new, nor enough, to change attitudes towards the Iranian regime.
The Iranian leaders have acknowledged Holocaust before, although to a different extent, but Hassan Rouhani's statement change nothing as long as the Iranian state maintains its anti-Israeli rhetoric, said Borukh Gorin, of the Federation of the Jewish Communities of Russia.
"I would say that people are paying a disproportional amount of attention to this because they do not understand what was there before. The Iranian state is now showing the lack of anti-Semitism as an ethnic division of people in its ideology, but it maintains the political rejection of Zionism and the state of Israel, which it wants to destroy," Gorin told the RIA Novosti news agency.
Full report at:
http://rt.com/politics/russian-rabbi-irannian-holocaust-330/
-----------
Russia FM: Ready to guard Syria's chemical weapons stockpiles
By REUTERS
Sep 26 2013
MOSCOW - Russia is ready to help guard Syria's chemical weapons sites when President Bashar Assad's chemical arms stockpiles and factories are destroyed, Deputy Foreign Minister Sergei Ryabkov was quoted as saying on Thursday by news agencies.
"We will be ready to help in guarding those facilities where work is being carried out," Interfax news agency reported Ryabkov as saying at an arms fair.
Ryabkov was speaking as the United Nations Security Council works on agreeing to a resolution on a chemical arms deal that is acceptable to both Russia and Western countries.
US Secretary of State John Kerry and Russian Foreign Minister Sergei Lavrov agreed earlier this month to a deal under which Assad would account for his weapons stockpiles within a week and allow their destruction by mid-2014.
Full report at:
http://www.jpost.com/Middle-East/Russia-Ready-to-guard-Syrias-chemical-weapons-stockpiles-327129
-----------
Homemade sarin was used in attack near Damascus – Lavrov
Sep 26 2013
Russia has enough evidence to assert that homemade sarin was used on August 21 in a chemical attack near Damascus, the same type but in higher concentration than in an Aleppo incident earlier this year, Russian FM Sergey Lavrov said.
"On the occasion of the incident in the vicinity of Aleppo on March 19, 2013 when the United Nations, under the pressure of some Security Council members, didn't respond to the request of the Syrian government to send inspectors to investigate, Russia, at the request of the Syrian government, investigated that case, and this report, i.e. the results of this investigation are broadly available to the Security Council and publicly," Lavrov said.
"The main conclusion is that the type of sarin used in that incident was homemade. We also have evidence to assert that the type of sarin used on August 21 was the same, only of higher concentration."
Full report at:
http://rt.com/news/syria-chemical-un-resolution-356/
-----------
URL: https://newageislam.com/islamic-world-news/french-sufi-imams-back-pope/d/13700