New Age Islam News Bureau
14 Sept 2018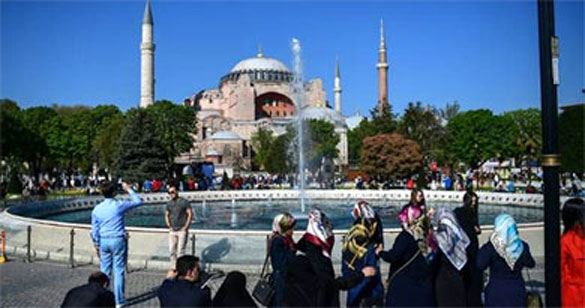 The Hagia Sophia in Istanbul has been a church and a mosque over its long history. (Photo: AFP/OZAN KOSE)
-----
• France Will Adopt A Special 'Halal Tax' If Macron Accepts Report Aimed At Fighting Extremism
• Turkey Court Rejects Plea to Open Hagia Sophia for Islamic Prayer
• Public Caning 'Free Marketing' For Islamic Administration, Says PAS Ulama
• Federation of Muslim Women Association of Nigeria Sensitises 45,075 Youth on True Meaning of Jihad
• Chandrababu Naidu Plans a Grand Mosque in Amaravati
Europe
• France Will Adopt A Special 'Halal Tax' If Macron Accepts Report Aimed At Fighting Extremism
• Tory MEPs Criticised By Jewish and Muslim Groups for Hungary Vote
• Leading Muslim organisation wants Franklin Graham banned from Britain
• Controversial 'Anti-Islam' Book Shoots to Top of German Best Seller List
• France warns against chemical attacks in last Syria rebel stronghold
• Germany backs Turkey's efforts for Idlib cease-fire
--------
Mideast
• Turkey Court Rejects Plea to Open Hagia Sophia for Islamic Prayer
• Seljuk Mosques Display Turkish-Islamic Design Elements
• Saudi-led Coalition seizes main road linking Yemen's Hodeidah to Sanaa
• Turkey gives Fethullah Gulen's foster son 30-year jail term
• Israel not prepared to launch new war on Lebanon: Hezbollah official
• Scores of Saudi mercenaries killed, injured in Yemeni army offensives
• Israeli forces take down protest huts at West Bank Bedouin village
• Turkish FM: US should reconsider its alliances in Syria
--------
Southeast Asia
• Public Caning 'Free Marketing' For Islamic Administration, Says PAS Ulama
• Islam Is Not the Property of the Malays, Minister In Charge Of Islamic Affairs Reminds
• Video Of Muslim Preacher In Bali Nightclub Attracts Netizens' Attention
• China Installing QR Codes On Uighur Muslim Homes in Mass Security Crackdown
• China educating, not mistreating, Muslims: official
• Sultan Ibrahim: Tahfiz centres must be monitored
--------
Africa
• Federation of Muslim Women Association of Nigeria Sensitises 45,075 Youth on True Meaning of Jihad
• Nigeria: Factional Boko Haram Leader Mamman Nur Killed By Own Fighters
• UN renews Libya mission but no date for elections
• US and Somalia forces come under attack during operation against Al Shabaab
• Nigeria troops repel fresh Boko Haram base attack
--------
India
• Chandrababu Naidu Plans a Grand Mosque in Amaravati
• Emotional Reunion for Hindu and Muslim Villagers in Bihar
• NIA Gets A Mouthful from Delhi HC As Key Accused In J&K Terror Funds Case Gets Bail
• PM Modi to meet head of Dawoodi Bohra community in Indore today
• Thol Thirumavalavan's findings on religious conversion under scanner
• No quota, few TRS candidates: Dalit-Muslim body cries apathy
• India calls out Pakistan at UN on terrorism
• Hizb terrorist on mission to strike Ganesh festival held
• 5 JeM terrorists killed, DySP among 14 injured in J&K
--------
North America
• US: Former Afghan Refugee Wins New Hampshire Primary
• US Denies $5 Billion Offer In Aid To Palestine
• U.S. 'looking at situation' on China's Muslim crackdown: official
• Coalition working to reduce civilian deaths in Yemen - US State Department
• Utah Valley University Professor Resigns After Claiming Muslims Shouldn't Be Allowed Into The U.S. Because 'They Hate Us and Always Will'
--------
Pakistan
• 3 Soldiers Martyred, 4 Terrorists Killed In N Waziristan Operation
• French President Appreciates Pakistan's Efforts In Fighting Terrorism
• Britain's Home Secretary Sajid Javed to visit Pakistan soon
• Joint sitting of parliament put off on opposition request
• Kulsoom Nawaz's funeral to be held in Lahore today
• Govt asked to bring back looted money from abroad
• Farooq Sattar resigns from MQM-P's coordination committee
• COAS, British high commissioner discuss bilateral relations
--------
South Asia
• Local Taliban Leaders, Militants Suffer Heavy Casualties in Baghlan
• Taliban's Spy Chief for Southeastern Provinces among 7 Key Militants Killed
• Suu Kyi defence of jailing of journalists 'unbelievable': Haley
• Bangladeshi nun on mission to heal hearts
• Regional elements attempting to cut Afghanistan's relations with the world: Ghani
• Planned Taliban attacks against the Afghan, U.S. forces foiled in Kandahar
--------
Arab World
• Popular Uprising Continues against US Occupation in Raqqa
• UN Shares Locations of Idlib Hospitals and Schools
• Syrian Army Regains Control of Strategic Regions in Badiyeh of Sweida
• Syrian Politician: US Needs White Helmets to Provoke Int'l Community against Damascus
• New Clashes Reported among Ankara-Backed Terrorists in Afrin
• Turkish Army Sends New Military Convoy to Northern Syria
• Syrian Army Pounds Tahrir Al-Sham Positions in Hama
• Iraq PM Abadi announces new Basra initiatives ahead of key vote
• UN report: 38,500 flee hostilities in Syria's Idlib in two weeks
• Marines hold eight days of drills with militants in southern Syria
Compiled by New Age Islam News Bureau
URL: http://www.newageislam.com/islamic-world-news/new-age-islam-news-bureau/france-will-adopt-a-special-'halal-tax'-if-macron-accepts-report-aimed-at-fighting-extremism/d/116378
--------
France Will Adopt A Special 'Halal Tax' If Macron Accepts Report Aimed At Fighting Extremism
September 13, 2018
France will adopt a special "halal tax" if President Emmanuel Macron accepts a major new report aimed at fighting extremism and creating an independent new body for Europe's largest Muslim population.
Mr Macron is urged in the study by Montaigne Institut, the respected Paris-based think tank, to support a small levy on halal products, pilgrimages and donations.
The report's author, Hakim El Karoui, a French academic and the nephew of a former Tunisian prime minister, says the proposed tax would be collected by Muslims themselves rather than the state.
Entitled The Islamist Factory, the report has gone to the Élysée Palace as Mr Macron makes final deliberations before his long-awaited announcement on the organisation of Islam in France.
It has been widely reported that Mr Macron is determined to curb foreign involvement in French Islam. He is said to favour a new body to replace existing bodies including the much-criticised French Muslim Council (CFCM), established in 2003 by a former president, Nicolas Sarkozy, when he was interior minister in Jacques Chirac's centre-right government.
Critics say the CFCM fails to assert itself as an authoritative, fully representative voice. Even some Muslim figures see it as fragmented and inefficient.
Mr Macron wants a root-and-branch overhaul that tackles thorny issues of overseas funding and the training of imams. He has excluded the CFCM from a broad consultation process.
As well as arguing for the creation of a new Muslim Association for Islam in France (AMIF), Mr El Karoui calls for much wider teaching of Arabic in French schools.
Both ideas – and the report itself - have provoked a mixed and sometimes hostile reaction among Muslim and political leaders but will be considered by Mr Macron before he unveils his initiative, now promised for an unspecified date in the autumn.
Mr El Karoui, a former banker who served a centre-right prime minister, Jean-Pierre Raffarin, as speechwriter, says the levy would be managed by the new body, following the example of the "kosher tax" administered by French Jewish authorities.
In the conclusion to his report, he says: "French Islam, contrary to what is said, is not poor.
"It merely needs those who are impoverishing it to move away from the management of financial flows linked to it and for a healthy management to regulate the market of Islamic consumption."
This, he says, would allow the establishment of a central fund to serve the public interest: financing theological work, enabling the training of religious figures, remunerating imams and combating both anti-Muslim xenophobia and "the anti-Semitism shown by some Muslims".
In interviews on how the scheme could work, he says AMIF would be independent of the countries of members' origin and of mosques. It would collect a small sum on each act of Islam-related consumption, reinvesting proceeds in theological work "because it is the mother of all the battles".
Mr El Karoui warns that young Muslims in particular increasingly learn about their faith through social networks, not family or even mosques.
He says France must learn from Britain's anti-radicalisation Prevent programme to develop an alternative Muslim narrative to counter the Salafist discourse he considers "prevalent on social networks today".
Otherwise, he fears a "minority of Muslims in France", regarding French society as "illicit", will push for an alternative society with its own rules, norms and standards of behaviour. French imams, he argues, have been too weak to compete with "the strength of Salafist influencers".
He told The National: "We have to make Muslims eager to speak up by explaining that it is their responsibility not to leave their religion to the Islamists who impose their view and rules.
"It is in their interest [to speak up] because the image of Islam in Europe is very negative due to the terrorist attacks, because of the behaviour of certain Islamists and especially their behaviour towards women."
But his analysis was condemned on Thursday by one prominent French Muslim, Kamel Kabtane, rector of the Grand Mosque in the eastern city of Lyon, as calculated to "divide the French".
"Taking as its pretext the fight against Islamism, this report with an uncertain outline and risky objectives shows how much its promoters, in defiance of the rules of ethics, try to discredit the Muslim community and its representatives," he said.
He said the report was at odds with attempts by Muslim institutions, civil society and state officials to work together ahead of Mr Macron's announcement to help Islam find its proper place in France. "For us the only fight that is worthy of fighting is against Islamism; it is the one that unites all the French in building a France that is just and fraternal," he said.
The French mainstream right and Marine Le Pen's far-right preferred to attack the idea of teaching Arabic in schools, with claims this would "Arabise or Islamicise" France.
But qualified and perhaps unexpected approval of a halal tax came from Ahmet Ogras, president of the CFCM. He tweeted that he was "not against a halal tax provided it is not ordered by the state".
Mr Ogras has few reasons to look forward to Mr Macron's initiative. A clear hint of the president's thoughts came when he declined an invitation to attend the council's post-Ramadan Iftar.
Addressing parliamentarians at a Versailles congress in July, Mr Macron said his government would give "a framework and rules to Islam guaranteeing that they will be exercised in accordance with the laws of the republic".
Approached by The National, the president's press office failed to respond to questions.
https://www.thenational.ae/world/europe/macron-urged-to-adopt-halal-tax-for-new-counter-extremism-body-1.770077
--------
Turkey court rejects plea to open Hagia Sophia for Islamic prayer
September 13, 2018
ISTANBUL: Turkey's top court on Thursday turned down a plea to open the Hagia Sofia, an Istanbul landmark that is now a museum after serving as both a church and a mosque over its long history, for Muslim worshipping.
The Constitutional Court rejected an association's demand that the Hagia Sophia be opened for Muslim prayers on "non-competence" grounds, indicating it was not the proper instance to allow any change, the official Anadolu news agency reported.
In its plea, the association had claimed that barring prayers at Hagia Sophia was breaching the right to freedom of expression and conscience.
The Haberturk website said that the demand had come from an independent Turkish heritage association.
The Hagia Sophia was turned into a museum accessible to all by the secular founders of modern Turkey in the 1930s. Secular Turks are wary of any moves to re-Islamise the building or have it reconsecrated as a mosque.
There has in recent years under the rule of President Recep Tayyip Erdogan been an increase in Muslim activity inside the museum, with Qur'an readings taking place on occasion.
The Hagia Sophia was constructed in the sixth century as a church in the Christian Byzantine Empire and was the seat of the Patriarchate of Constantinople, Istanbul's former name.
When Ottoman forces under Sultan Mehmet II conquered the city in 1453 he ordered the immediate conversion of the Hagia Sophia into a mosque. Islamic minarets were built around its Byzantine dome.
It served as a mosque until after the collapse of the Ottoman Empire when in the mid-1930s the authorities of the new Turkish state under its secular founding father Mustafa Kemal Ataturk ordered it to become a museum for all.
Neighbouring Greece, which keeps a close eye on the state of Byzantine heritage in Istanbul, has occasionally expressed concern that the Hagia Sophia's status as a secular museum could be under threat.
http://www.arabnews.com/node/1371516/middle-east
--------
Public caning 'free marketing' for Islamic administration, says PAS ulama
13 September 2018
KUALA LUMPUR, Sept 13 — Dewan Ulama chief Datuk Dr Mahfodz Mohamed today said the controversial caning of two lesbians in Terengganu Shariah Court can be viewed as 'free marketing' as to what Islamic administration entails.
In his opening speech at the 57th Muktamar Dewan Ulama PAS this morning, Dr Mahfodz said while some criticised the decision, there were also many who applauded the punishment upon further understanding.
"The caning in Terengganu was an eye-opener to some, who learned some valuable lessons on the beauty of Islam. Of course, some were against it and even questioned the punishment but our duty is to give the best explanation from a religious viewpoint.
"Not everyone is against it. Therefore, this can be viewed as a free marketing. Especially since it was conducted in Terengganu but it managed to get the whole nation talking," he said in a live telecast of the event from the Permai Hotel in Kuala Terengganu today.
On September 3, the two women found guilty for attempted lesbian sex were caned six times in public at the Terengganu Shariah Court.
The punishment was widely criticised including by Prime Minister Dr Tun Mahathir Mohamad.
PAS president Datuk Seri Abdul Hadi Awang, among other party leaders and state muftis, responded by insisting that Islamic caning is not meant to torture but to educate the offenders.
Dr Mahfodz, in his keynote address, also stressed that PAS will continue to put religion on the forefront of its fights.
"PAS has been consistent with our stance that Islam is of utmost priority. Only with Islam and the implementation of Shariah laws will God grace us with His blessings," he said.
The Ulama convention this morning is the start of the four-day muktamar in Terengganu. The PAS Youth wing will also convene later today at the Duyong Marina and Resort in Pulau Duyong.
https://www.malaymail.com/s/1672147/public-caning-free-marketing-for-islamic-administration-pas-ulama-says
--------
Federation of Muslim Women Association of Nigeria Sensitises 45,075 Youth on True Meaning of Jihad
September 13, 2018
The Federation of Muslim Women Association of Nigeria (FOMWAN), says it has sensitised 45,075 Muslim youths in 10 states on the true meaning of jihad in Islam.
The National Amirah of FOMWAN, Halima Jibril, stated this on Thursday in Benin at a news conference heralding the 33rd FOMWAN National Conference.
The theme of the conference is "Family Life in Islam: Issues and Challenges in a Dynamic Society."
Mrs Jibril said the re-orientation would help reduce youths' vulnerability to the propaganda of Boko Haram insurgents.
She said the association worked in collaboration with Non-Governmental Organisations (NGOs) to provide access to education for 400,000 out-of-school children in rural areas and improve early grade reading for 100,000 children.
FOWMAN national leader expressed the group's willingness to collaborate with traditional rulers in fighting the menace of human trafficking in the country.
Mrs Jubril urged traditional rulers across the country to be in the vanguard of sensitising communities to the dangers of human trafficking and importance of tracking the traffickers.
"By our own acts of commission and omission, we have abdicated our responsibilities, and allowed extraneous factors to redefine the Nigerian family," she said.
She explained that the association decided to discuss family issues because they were critical to both community and national developments.
https://www.premiumtimesng.com/news/more-news/283565-boko-haram-islamic-group-sensitises-45075-youth-on-true-meaning-of-jihad.html
--------
Chandrababu Naidu plans a grand mosque in Amaravati
September 13, 2018
Hyderabad: If Hyderabad has historic and magnificent Mecca Masjid can Andhra Pradesh capital Amaravati afford not to have one? Andhra Pradesh Chief Minister N Chandrababu Naidu thinks the under construction capital should also have a grand mosque.
At a review meeting with the officials of Capital Region Development Authority at Undavalli the Chief Minister announced that a glorious mosque of international standards will be built in Amarvati, which will be a wonderful tourist attraction. "The mosque will be built on an area of 10 acres under the supervision of the state Waqf Board", he said. "There should be a mosque in the architectural style of Mecca Masjid (of Hyderabad) and it should become a major tourist attraction", he said.
Naidu made the remarks while reviewing the progress of various projects in the capital region.
Historical significance
Though Guntur, Nellore, Vijaywada, Rajahmundry and Visakhapatnam have some ancient mosques but none of them could match the grandeur and historic significance of Mecca Masjid and several other mosques in Hyderabad.
Mecca Masjid, which draws its name from Mecca, the holiest place in Islam, was built in Qutub Shahi era of Hyderabad. Its foundation stone was laid by Qutub Shahi king Mohammed Quli around 1616AD century and was completed in 1687 when Moghul emperor Aurangzeb has occupied the Golconda kingdom by defeating the Qutub Shahis. Though not completely built in accordance with the original plans Mecca Masjid remains one of the biggest mosques in India.
Chandrababu Naidu's meeting with the officials also decided to allocate 3.5 acres of land to Murli Fortune group in the capital region for building a health and recreating resort with an investment of Rs40 crore.
CRDA commissioner Ch Sridhar said that in the administrative city the secretariat and the departmental headquarter buildings will be ready by January 15, 2021. AS part of these there will be four ground plus storied towers estimated to cost Rs932.46 crore. The GAD tower where the office of the Chief Minister will be located will have 49 stories. It will be built at a cost of Rs554.06 crore.
https://gulfnews.com/news/asia/india/chandrababu-naidu-plans-a-grand-mosque-in-amaravati-1.2277997
--------
Europe
Tory MEPs criticised by Jewish and Muslim groups for Hungary vote
13 Sep 2018
Jewish and Muslim leaders have criticised Conservative MEPs for voting against measures to censure Hungary, saying it was deeply worrying that they had declined to condemn the repressive policies of the Hungarian prime minister, Viktor Orbán.
The European parliament voted on Wednesday to trigger the EU's most serious disciplinary procedures due to policies in Hungary to reduce judicial independence and boost control over the media, as well as concerns about corruption.
It was the first use of a so-called article 7 procedure against a member state, which could, if pursued, see Hungary stripped of its voting rights in the EU. It was narrowly passed by the necessary two-thirds majority, with the Conservatives almost alone among centre-right parties opposing it.
While the Conservative group argued the plan was counterproductive and would strengthen Orbán domestically, the Board of Deputies of British Jews (BoD) and the Muslim Council of Britain (MCB) condemned the decision.
Marie van der Zyl, president of the BoD, said it was "very concerning that Conservative party MEPs chose to defend Hungary's appalling track record rather than supporting a motion to uphold the rule of law".
She said: "As we have stated previously, we are very alarmed by the messages at the heart of Orbán's election campaign, including his comments about 'Muslim invaders', calling migrants 'poison', and the vivid antisemitism in the relentless campaign against Jewish philanthropist George Soros.
"This whipping up of prejudice by the Hungarian government, alongside restrictions on press freedom and the independence of the judiciary, must be stopped before it undermines Hungary's democracy irreversibly."
The MCB's secretary general, Harun Khan, said: "At a time when there are growing concerns about the rise of the far-right across Europe, it is deeply disappointing that Conservative party MEPs were whipped to align themselves with far-right parties in supporting Mr Orbán.
"One can only hope that the rights of Muslims and other minorities are not considered expendable as support is sought for the government's Brexit position, as appears to have been the case with this vote."
He added: "The Conservative party has thus far resisted calls to have an inquiry into Islamophobia amongst its ranks. This latest action raises further concerns of bigotry in the party."
Khan said that the MCB "would like to specifically pay tribute" to Nosheena Mobarik, the one Conservative MEP who backed the motion.
Downing Street has argued that MEPs make their own decisions, distancing itself from the move.
Tory MEP Daniel Dalton tweeted that the vote against article 7 was "not an endorsement of Viktor Orbán". His message was retweeted by Ashley Fox, leader of the Conservative delegation in the European parliament.
Jeremy Corbyn said the prime minister should speak out on the issue. He tweeted: "The Tories brought shame on the UK by backing Hungary's far-right government in a crucial vote in Europe. Theresa May trying to sweep it under the carpet is disgraceful. The prime minister must apologise and explain why her party voted in the way it did."
https://www.theguardian.com/politics/2018/sep/13/tory-meps-criticised-by-jewish-and-muslim-groups-for-hungary-vote
--------
Leading Muslim organisation wants Franklin Graham banned from Britain
September 13, 2018
The largest Islamic organization in Britain is urging the government to ban Franklin Graham—son of the late Billy Graham— who is scheduled to appear at an event in the country later this month.
The Muslim Council of Britain (MCB), an umbrella organisation for hundreds of Muslim groups, has lent its support to calls from three members of parliament and thousands of members of the public to deny the preacher a visa for spreading what the organization calls "hate speech."
The "hate speech" they refer to according to CBN News, is Graham's preaching against Islam as "evil" and as a "religion of war." He's also been an opponent against the movement for LGBTQ rights.
Graham is to be the featured speaker at the Festival of Hope event in Blackpool, located in northwest England, on Sept. 21.
On the website Jihad Watch, writer Robert Spencer asks "Would anyone be calling for the banning of Graham from the UK if he had called Christianity 'evil'?"
The MCB in a statement to The Guardian said: "In the past, the government has banned individuals whom they claim are 'not conducive to the public good'. Mr. Graham's remarks are on record and clearly, demonstrate a hatred for Muslims and other minorities. "We would expect the government to apply its criteria here. If it does not, it will send a clear message that it is not consistent in challenging all forms of bigotry."
Spencer says the British government is already inconsistent.
"It bans foes of jihad terror and critics of Islam while letting in jihadis," he wrote. "The Home Office recently banned Martin Sellner, Brittany Pettibone, Lauren Southern and Lutz Bachmann from entering, all for the crime of opposing jihad terror and Sharia oppression, and thereby made it clear that it is more authoritarian and unwilling to uphold the freedom of speech than ever – at least when it comes to criticism of Islam, Muslim rape gangs, and mass Muslim migration."
Spencer writes he and Pamela Geller were banned from entering Britain five years ago for telling the truth about Islam and jihad.
"Just days after Geller and I were banned, the British government admitted Saudi Sheikh Mohammed al-Arefe. Al-Arefe has said: 'Devotion to jihad for the sake of Allah, and the desire to shed blood, to smash skulls, and to sever limbs for the sake of Allah and in defense of His religion, is, undoubtedly, an honor for the believer,'" he wrote. "Allah said that if a man fights the infidels, the infidels will be unable to prepare to fight."
"And Syed Muzaffar Shah Qadri's preaching of hatred and jihad violence was so hardline that he was banned from preaching in Pakistan, but the UK Home Office welcomed him into Britain," he continued.
Spencer also writes that the UK Home Office also admitted letting Shaykh Hamza Sodagar into the country despite the fact that he had said: "If there's homosexual men, the punishment is one of five things. One – the easiest one maybe – chop their head off, that's the easiest. Second – burn them to death. Third – throw 'em off a cliff. Fourth – tear down a wall on them so they die under that. Fifth – a combination of the above."
He also points out that Prime Minister Theresa May's government allowed two jihadi preachers into the country, and one of them was even greeted by the Archbishop of Canterbury. At the same time, the British government banned three Christian bishops from Iraq and Syria from entering the country even though they were facing persecution back at home.
Full report at:
http://ugchristiannews.com/leading-muslim-organisation-wants-franklin-graham-banned-from-britain/
--------
Controversial 'Anti-Islam' Book Shoots to Top of German Best Seller List
13 Sep 2018
A new book that is highly critical of Islam is now the number one bestselling non-fiction book in Germany, selling well over 100,000 copies less than two weeks after its initial release.
The book, entitled Hostile Takeover: How Islam Impedes Progress and Threatens Society, is the latest from former Social Democrat (SPD) politician and former member of the Executive Board of the Deutsche Bundesbank, Thilo Sarrazin. Hostile Takeover now leads Der Spiegel's bestseller list for non-fiction.
Mr Sarrazin is no stranger to controversy in Germany, having already published a harsh criticism of the country's multicultural experiment entitled Germany Abolishes Itself in 2010. He has also become a leading thinker in Germany's new right, which is largely centred around the populist Alternative for Germany (AfD).
The new work by the former SPD politician has also seen its own share of problems, having originally been picked up by publisher Random House which decided earlier this year they did not want to release the book. The move forced Sarrazin to take Random House to court and publish the book with FinanzBuch Verlag, instead.
During a press conference on August 30th to announce the sale of the book, Sarrazin said: "Everything has been worse than I predicted eight years ago." He was joined by SPD politician Heinz Buschkowsky who described one of the main theses of the book which examines the higher on average birthrate of Muslims in Germany.
Buschkowsky also described Sarrazin's proposal to reform the asylum laws in which he recommends asylum seekers be kept in transfer zones and that a decision on their claim should come no later than 30 days after their application saying the current asylum law had "degenerated into a gateway to illegal migration".
Reactions to the book on Amazon have been overwhelmingly positive but divided with 78 percent of reviews giving the book five stars while 17 percent gave it one star.
German media opinion has also been mixed, with right-wing newspaper Junge Freiheit giving the book a glowing review, while most other mainstream media outlets have criticised the book, claiming it not to be entirely factual, or having taken facts out of context.
Full report at:
https://www.breitbart.com/london/2018/09/13/controversial-anti-islam-book-shoots-to-top-of-german-best-seller-list/
--------
France warns against chemical attacks in last Syria rebel stronghold
13 September 2018
Any chemical weapons attack on Syria's last rebel stronghold would lead to "consequences" for the regime in Damascus, French foreign minister Jean-Yves Le Drian warned in Beijing on Thursday.
Russia-backed regime forces have massed around Idlib in recent weeks, sparking fears of an imminent air and ground attack to retake the last major opposition bastion.
Speaking at a joint press conference with his Chinese counterpart Wang Yi, Le Drian said the use of chemical weapons in the assault would prompt a response from Paris.
"France warns against the use of chemical weapons," he said, calling it a "red line".
The Assad regime has twice been targeted by US air and missile strikes after previous alleged chemical attacks, and US officials have in recent days said additional action would follow if Assad uses the banned weapons in rebel-held Idlib.
The US launched a missile strike on a Syrian air base in April 2017 after an alleged chemical attack in Idlib, while a second US-led strike, supported by the British and French militaries, took place in April this year.
Le Drian said any regime chemical attack in Idlib would "have the same consequences as we knew in April".
UN chief Antonio Guterres on Wednesday warned Syria and its backers against a full-scale offensive in Idlib, saying it "must not be transformed into a bloodbath".
Throughout the seven-year war, which has claimed more than 350,000 lives, Syrian regime forces have repeatedly been accused of targeting rebel-held areas with chemical attacks -- mostly with chlorine but also with deadly sarin nerve gas.
The regime and Russia have consistently denied the accusations, blaming opposition fighters instead.
Full report at:
https://english.alarabiya.net/en/News/middle-east/2018/09/13/France-warns-against-chemical-attacks-in-last-Syria-rebel-stronghold-.html
--------
Germany backs Turkey's efforts for Idlib cease-fire
13.09.2018
By Ayhan Simsek
BERLIN
Germany's Foreign Minister Heiko Maas has voiced support for Turkey's efforts to avert a humanitarian crisis in Syria's Idlib province amid worries over a large-scale military offensive by the regime.
Speaking at a news conference in Berlin on Thursday, Maas said he was "very grateful" for Turkey's cease-fire initiative, and warned that a major military offensive could result in the deaths of thousands of civilians.
"Tomorrow I will have the opportunity to talk to my Russian colleague again," he said and renewed Germany's call on Russia to use its influence on the Syrian regime.
"We should make every effort to prevent a humanitarian disaster in and around Idlib," he stressed.
Maas is scheduled to meet with his Russian counterpart Sergey Lavrov in Berlin on Friday.
Chancellor Angela Merkel's spokesman stressed Wednesday that a cease-fire in Syria could only be possible with Russia's active support.
"Russia and Iran, as conflict parties, bear special responsibility," Steffen Seibert told a news conference in Berlin.
Located near the Turkish border, Idlib province is home to more than 3 million Syrians, many of whom fled from other cities following attacks by regime forces.
The Syrian regime has recently announced plans to launch a major military offensive to the area, long controlled by various armed opposition groups.
Full report at:
https://www.aa.com.tr/en/europe/germany-backs-turkey-s-efforts-for-idlib-cease-fire/1254122
--------
Mideast
Seljuk mosques display Turkish-Islamic design elements
Sep 14, 2018
Mosques in central Turkey with unusual wooden features were built by the Seljuks for the first time in history and have been a significant representation of Turkish-Islamic architecture for centuries.
When the Seljuks arrived in Anatolia in the 13th century, they constructed mosques with wooden columns and roofs like those of Uzbekistan's Samarkand, Bukhara and Khiva, according to the United Nations Educational, Scientific and Cultural Organization's (UNESCO) official website.
The website said the architectural design of the mosques represent features of Middle Asian tents, as well as wooden-columned mosques of Turkistan in the 11th and 12th centuries.
Arslanhane Mosque in Ankara, Afyon Ulu Mosque in Afyonkarahisar, and Esrefoglu Mosque in Konya are among the first wooden-columned-and-roofed mosques built by Anatolian Seljuks and Beyliks.
They were included on UNESCO's temporary list of World Heritage sites in 2018.
Muslim-Turks built these kinds of mosques for the first time, Esrefoglu Mosque field management head Yasar Erdemir told Anadolu Agency (AA).
The tradition of building wooden-roofed and wooden-columned mosques went on till the 21st century in Turkey, Erdemir said.
He added: "These mosques served as important places of worship in Anatolia. They are aesthetically very dazzling."
https://www.dailysabah.com/religion/2018/09/14/seljuk-mosques-display-turkish-islamic-design-elements
--------
Saudi-led Coalition seizes main road linking Yemen's Hodeidah to Sanaa
13 September 2018
Yemeni forces backed by the coalition seized the main road linking the port city of Hodeidah to the capital Sanaa, blocking a key supply route for the Houthi group that controls both cities, military sources and residents said on Thursday.
The alliance resumed its offensive on the Red Sea city after the collapse of peace talks on Saturday which the United Nations had hoped would avert an assault on the main port city.
The coalition has repeatedly said that by taking control of Hodeidah they would be able to force the Iranian-aligned Houthi movement to the negotiating table by cutting off their main supply line.
Control of the road
"The main entrance in Hodeidah leading to Sanaa has been closed after forces backed by the UAE took control of the road," a pro-coalition military source told Reuters.
Residents said the main eastern gate had been damaged in air strikes by coalition warplanes and that fighting was still ongoing on secondary streets off the main road.
Full report at:
https://english.alarabiya.net/en/News/gulf/2018/09/13/Saudi-led-Coalition-seizes-main-road-linking-Yemen-s-Hodeidah-to-Sanaa.html
--------
Turkey gives Fethullah Gulen's foster son 30-year jail term
Sep 13, 2018
A court in Turkey's southeastern province of Sanliurfa has handed down a 30-year jail term to the foster son of the US-based opposition cleric Fethullah Gulen, whom the Ankara government accuses of having masterminded the July 2016 coup attempt against President Recep Tayyip Erdogan.
On Thursday, the Sixth Heavy Criminal Court in the province passed the verdict against Ferhat Kucuk, who allegedly led the activities of the Gulen's movement, branded by the Ankara government as the Fetullah Terrorist Organization (FETO), within Turkish Armed Forces in Sanliurfa.
Kucuk, better known by the alias Vedat, was accused of "managing an armed terror organization, fraud in the public domain and forgery of official documents."
He denied his links to the Gulen movement during the hearing, and refuted accusations leveled at him.
During the 2016 botched putsch, a faction of the Turkish military declared that it had seized control of the country and the government of Erdogan was no more in charge. The attempt was, however, suppressed a few hours later.
Ankara has since accused Gulen of having orchestrated the coup. The opposition figure is also accused of being behind a long-running campaign to topple the government via infiltrating the country's institutions, particularly the army, police and the judiciary.
Gulen has denounced the "despicable putsch" and reiterated that he had no role in it.
"Accusations against me related to the coup attempt are baseless and politically-motivated slanders," he said in a statement.
The 77-year-old cleric has also called on Ankara to end its "witch hunt" of his followers, a move he says is aimed at "weeding out anyone it deems disloyal to President Erdogan and his regime."
Turkish officials have frequently called on their US counterparts to extradite Gulen, but their demands have not been taken heed of.
Turkey has been engaged in suppressing the media and opposition groups suspected to have played a role in the failed coup.
Tens of thousands of people have been arrested in Turkey on suspicion of having links to Gulen and the failed coup. More than 110,000 others, including military staff, civil servants and journalists, have been sacked or suspended from work over the same accusations.
Full report at:
https://www.presstv.com/Detail/2018/09/13/574036/Turkey-gives-FETO-ringleaders-foster-son-30year-jail-term
--------
Israel not prepared to launch new war on Lebanon: Hezbollah official
Sep 13, 2018
A high-ranking member of the Lebanese Hezbollah resistance movement says the ongoing developments in the Israeli-occupied territories do not allow the Tel Aviv regime to launch new military aggression against Lebanon.
"Israel has some political and military circumstances that do not allow it to think of waging a war against Lebanon at this time," Arabic-language online newspaper Elnashra quoted Hezbollah Deputy Secretary General Sheikh Naim Qassem as saying on Thursday.
Qassem, however, noted that Hezbollah is ready for any possible military confrontation.
"Also, Lebanese security services are doing a good job in taking preemptive measures to stop terrorist attacks," he pointed out.
Addressing his supporters last month via a televised speech marking the 12th anniversary of Hezbollah's victory in the 2006 Israeli war on Lebanon, Hezbollah Secretary General Sayyed Hassan Nasrallah stressed that the movement is not scared of a potential war with Israel.
"No one should threaten us with war and no one should scare us by war... We are not scared or worried about war and we are ready for it and we will be victorious," he said on August 14.
"The resistance in Lebanon today, in its possession of weapons and equipment and capabilities and members and cadres and ability and expertise and experience, and also of faith and determination and courage and will, is stronger than at any time since its launch in the region," Nasrallah pointed out.
Also on August 26, the Hezbollah chief said the Israeli military cannot escape defeat despite its apparent capabilities, stressing that thousands of Israeli troops are now seeking mental health treatment.
Nasrallah stated that even though Israel has massively developed its arsenal and acquired state-of-the-art missiles and military hardware, it cannot yet escape defeat in any possible military confrontation.
"The Israeli army is incapable of recruiting a new generation of soldiers as the draftees lack any sense of motivation to fight," he said.
Full report at:
https://www.presstv.com/Detail/2018/09/13/574026/Israel-not-prepared-to-launch-military-aggression-against-Yemen-Hezbollah-official
--------
Scores of Saudi mercenaries killed, injured in Yemeni army offensives
Sep 13, 2018
Dozens of Saudi-sponsored militiamen loyal to Yemen's former president Abd Rabbuh Mansur Hadi have lost their lives when Yemeni army soldiers and fighters from allied Popular Committees launched offensives against their positions in the country's strategic western province of Hudaydah.
The media bureau of Yemen's Operations Command Center announced in a statement on Thursday that Yemeni troops and their allies launched attacks against the gatherings of Saudi mercenaries in the Kilo 16 district of Hudaydah, killing more than 45 of them and injuring several others.
The statement added that eight Oshkosh Mine Resistant Ambush Protected (MRAP) vehicles and a number of military vehicles belonging to the Saudi-backed militiamen were destroyed in the assaults as well.
Separately, two children were killed when Saudi warplanes pounded a residential building in the Haydan district of Yemen's mountainous northwestern province of Sa'ada.
Local sources, speaking on condition of anonymity, told Yemen's Arabic-language al-Masirah television network that the air raid also caused immense material damage to the targeted area.
Saudi Arabia and a number of its regional allies launched a devastating military campaign against Yemen in March 2015, with the aim of bringing the government of Hadi back to power and crushing the Houthi Ansarullah movement.
Some 15,000 Yemenis have been killed and thousands more injured since the onset of the Saudi-led aggression.
Full report at:
https://www.presstv.com/Detail/2018/09/13/574015/Scores-of-Saudi-mercenaries-slain-injured-in-Yemeni-army-offensives
--------
Israeli forces take down protest huts at West Bank Bedouin village
September 13, 2018
WEST BANK: Israel security forces on Thursday dismantled several shacks built by Palestinian protesters near Khan Al-Ahmar, a Bedouin village in the occupied West Bank that Israel has slated for demolition.
Reuters witnesses said Israeli forces arrived at the village before sunrise on Thursday and began taking down the newly built protest huts, without touching the Bedouin encampment, the fate of which has become a focus of Palestinian protests and international concern.
Israel's military liaison agency with the Palestinians, COGAT, said on Twitter that five "movable structures that were illegally transported & installed" in the area had been taken down.
The five new huts had been assembled this week by activists from several rights groups and the Western-backed Palestinian Authority in support of the Bedouin community.
Khan Al-Ahmar is beside an Israeli highway that runs through the West Bank from Jerusalem to the Dead Sea.
Israel's plan to demolish the village and relocate its 180 residents — Bedouins who scrape a living by raising sheep and goats — to a site 12 km (7 miles) away, has drawn criticism from Palestinians and some European states, who cite the impact on the community and prospects for peace.
Palestinians say the demolition is part of an Israeli push to create an arc of settlements that would effectively cut off East Jerusalem from the West Bank, territories Israel captured in the 1967 Middle East war and which the Palestinians seek for an independent state.
Full report at:
http://www.arabnews.com/node/1371321/middle-east
--------
Turkish FM: US should reconsider its alliances in Syria
14.09.2018
By Dildar Baykan
NEW YORK
Turkey's Foreign Minister said early Friday that Washington should reconsider its alliances in Syria as the Assad regime prepares to launch a bloody offensive on northwestern Idlib province.
In a letter to The New York Times titled 'A Looming Disaster in Syria', Mevlut Cavusoglu warned that the YPG terrorist group has struck an alliance with Bashar al-Assad and is sending troops to help him recapture Idlib from the rebels.
"The alliance has grown deeper since senior leaders of the so-called Syrian Democratic Forces, spearheaded by the YPG, held formal talks with the Syrian regime to carve out a place for themselves in the new Syria," he said.
"Having YPG forces operating from Syria, just miles from the border of Turkey, is untenable. It's time for Washington to assess who its real allies in the region are."
Located near the Turkish border, Idlib province is home to more than 3 million Syrians, many of whom fled from other cities following attacks by regime forces.
The Syrian regime recently announced plans to launch a major military offensive in Idlib, which has long been controlled by various armed opposition groups.
As a result, Turkey has been reinforcing its military presence on the border with Syria.
The UN has warned that such an offensive would lead to the "worst humanitarian catastrophe in the 21st century".
Cavusoglu also emphasized in the letter that the YPG is the Syrian affiliate of the PKK, which has led a violent terror campaign in Turkey for more than 30 years and that Turkey, the U.S. and the EU have listed the PKK as a terrorist organization.
Full report at:
https://www.aa.com.tr/en/americas/turkish-fm-us-should-reconsider-its-alliances-in-syria/1254375
--------
Southeast Asia
Islam Is Not the Property of the Malays, Minister In Charge Of Islamic Affairs Reminds
Nur Hasliza Mohd Salleh
September 13, 2018
PUTRAJAYA: Islam must not be perceived as the property of the Malays, the minister in charge of Islamic affairs told a seminar on Islamic jurisprudence today.
Mujahid Yusof Rawa said Muslims in Malaysia should strive to fulfil Islam's universal appeal based on the Quranic concept of "rahmatan lil alamin", or mercy for the world.
"The choice we have is between creating a society that aspires rahmatan lil alamin based on maqasid shariah (higher objectives of Islamic laws) without racial and religious consideration, or to remain stagnant in a country where its people are racially polarised," Mujahid told a seminar on Fiqh al-Waqi, or contemporary Islamic jurisprudence.
Mujahid said it was wrong to view Islam as a Malay religion because its teachings were universal.
"It will be an injustice if Islam is interpreted through the perspective of Malays only," he said.
Another speaker at the conference, Perlis mufti Mohd Asri Zainul Abidin, urged Muslim scholars to understand different cultures and customs before issuing fatwas.
Asri said there were some who disagreed with this view by arguing that Islam was suitable for all times and places.
"This is a shallow view," said Asri.
He said Muslims must come to terms with the reality of a changing world.
"There are different cultures and problems in different times and places," he said.
He said Muslim scholars should take into account contemporary issues in coming out with Islamic rulings, instead of merely quoting verses from books of old.
"There are some who are too literal and follow rulings on politics and economy issued by scholars who are shallow and who lived in a different environment with different needs."
https://www.freemalaysiatoday.com/category/nation/2018/09/13/islam-is-not-the-property-of-the-malays-mujahid-reminds/
--------
Video of Muslim preacher in Bali nightclub attracts netizens' attention
September 12, 2018
Gus Miftah, a Muslim preacher noted for his eccentric sermons, is the talk of the internet after a video of him preaching on the stage of a nightclub in Bali went viral on social media.
The footage was reportedly taken at Boshe VVIP Club in Kuta and posted onto Gus Miftah's own Instagram account, @gusmiftah,last week, after which similar footage was uploaded onto YouTube.
In the video, Gus Miftah, who is also head of the Yogyakarta-based Ora Aji pesantren (Islamic boarding school), is seen preaching in front of the club's visitors and workers. He also led them in reciting and singing shalawat,a religious chant praising Prophet Muhammad.
"The world and its creatures were created by God because of Nur [light] Muhammad, so if [you] want to get the whole world, [you] must do shalawatto Prophet Muhammad," Gus Miftah wrote in his Instagram post published last Thursday.
"My brothers, there is only one difference between a good person and a bad person; a good person has done something bad and a bad person must have done something good. Never judge them, but please pray for them," he went on.
This is not the first time Gus Miftah has been in the spotlight for his eccentric preaching. In 2015, he made news after holding a pengajian(learning forum) with prostitutes from the Pasar Kembang red-light district in Yogyakarta.
While Instagram and social media users were divided in acknowledging the preacher's actions, with some calling them inappropriate, Gus Miftah appeared to have received the backing of an influential Islamic politician affiliated with the Nahdlatul Ulama (NU), Indonesia's largest Islamic organization.
The Islam-based National Awakening Party (PKB) chairman, Muhaimin Iskandar, affectionately known as Cak Imin, said on his Twitter account, @cakimiNOW, that shalawat was allowed and fitting to be held in places such as a nightclub.
Full report at:
http://www.thejakartapost.com/news/2018/09/12/video-of-muslim-preacher-in-bali-nightclub-attracts-netizens-attention.html
--------
China installing QR codes on Uighur Muslim homes in mass security crackdown
Sep 13, 2018
LONDON: China is installing QR codes on the homes of the Uighur Muslim community in order to get instant access to the personal details of people living there, according to a report by Human Rights Watch (HRW).
The development comes as part of a mass security crackdown on minorities in Xinjiang province, the charity said, which includes arbitrary detentions, daily restrictions on religious practice and "forced political indoctrination".
Officials reportedly scan the "smart" doorplates with mobile devices before entering homes to monitor the inhabitants.
Sophie Richardson, China director at HRW, said: "The Chinese government is committing human rights abuses in Xinjiang on a scale unseen in the country in decades. The campaign of repression in Xinjiang is a key test of whether the United Nations and concerned governments will sanction an increasingly powerful China to end this abuse."
Authorities claim the codes — which in some locales feature on every home — help with population control and delivery of "Starting from spring 2017, in every home where one enters there's a QR code," one former resident who left Xinjiang, in the far west of the country, told HRW. "Then every two days, or every day, the cadres come and scan the QR code, so they know how many people live here — and starting around then, they would ask [our] visitors, 'Why are you here?' In the evenings the cadres would check as well."
Former residents said authorities are also collecting biometric data, such as DNA and voice samples, when people apply for passports or ID cards, or during police interrogations.
"They did take our DNA samples and iris scans when we applied for the passports," a middle-aged woman who left Xinjiang last year said. "For those who can read, they read out from a paper but for those who cannot, they said, 'You can sing a song or tell a story and we will record you'. You aren't in a position to argue with them." She said people were even forced to walk back and forth at police stations so officials could record their gait.
The United Nations human rights panel in August said China is believed to be holding up to one million ethnic Uighurs in a secretive system of "internment camps" in Xinjiang, where they undergo political education.
Beijing has denied such camps are for "political education", insisting instead they are vocational training centres, part of government initiatives to bolster economic growth and social mobility in the region. China has said Xinjiang faces a serious threat from Islamist militants and separatists who plot attacks and stir up tensions between Uighurs who call the region home and the ethnic Han Chinese majority.
Uighurs and other Muslims held in the camps are forbidden from using Islamic greetings, must learn Mandarin Chinese and sing propaganda songs, according to former camp detainees interviewed by HRW. People in Xinjiang with relatives living abroad in one of 26 "sensitive countries", including Kazakhstan, Turkey and Indonesia, have reportedly been targeted by the authorities and are often held for several months, without any formal procedure.
Punishments for refusing to follow instructions in the camp could mean being denied food, being forced to stand for 24 hours or even solitary confinement, HRW said.
China's foreign ministry spokesperson, Geng Shuang, declined to give a detailed response to the report and said HRW was a group "full of prejudice" against China. Measures in Xinjiang aim to "promote stability, development, unity and livelihoods", while also cracking down on "ethnic separatism and violent terrorist criminal activities", he said.
Security conditions in Xinjiang outside the camps have also intensified markedly and now bear "a striking resemblance to those inside", said Hong Kong-based HRW researcher Maya Wang, who has interviewed 58 former Xinjiang residents now living abroad.
Full report at:
https://timesofindia.indiatimes.com/world/china/china-installing-qr-codes-on-uighur-muslim-homes-in-mass-security-crackdown/articleshow/65795623.cms
--------
China educating, not mistreating, Muslims: official
September 14, 2018
GENEVA: China is not mistreating Muslims in Xinjiang province but is putting some people through training courses to avoid spreading of extremism, unlike Europe which had failed to deal with the problem, a Chinese official told reporters on Thursday.
Reports of mass detentions of ethnic Uighurs and other Muslims in China's far-western region have prompted a growing international outcry, prompting the Trump administration to consider sanctions against officials and companies linked to the allegations of human rights abuses.
"It is not mistreatment," said Li Xiaojun, director for publicity at the Bureau of Human Rights Affairs of the State Council Infor­mation Office. "What China is doing is to establish professional training centres, educational centres.
"If you do not say it's the best way, maybe it's the necessary way to deal with Islamic or religious extremism, because the West has failed in doing so, in dealing with religious extremism. Look at Belgium, look at Paris, look at some other European countries. You have failed."
He said the Chinese education centres were not "detention centres or re-education camps", which he dismissed as "the trademark product of eastern European countries", an apparent reference to Soviet Gulag detention camps during the Cold War.
"To put it straight, it's like vocational training... like your children go to vocational training schools to get better skills and better jobs after graduation.
"But these kinds of training and education centres only accept people for a short period of time; some people five days, some seven days, 10 days, one month, two months."
Full report at:
https://www.dawn.com/news/1432863/china-educating-not-mistreating-muslims-official
--------
Sultan Ibrahim: Tahfiz centres must be monitored
September 13, 2018
JOHOR BAHRU: The Sultan of Johor, Sultan Ibrahim Sultan Iskandar, wants the state government to monitor all tahfiz centres (religious schools) operating in the state and ensure they comply with the rules.
He said all tahfiz centres operating in Johor must get a certificate of recognition before commencing operations.
"Lately, many private tahfiz centres have been set up and are seeking public donations and assistance to operate.
"Any tahfiz centre which flouts the rules should be closed immediately," said Sultan Ibrahim when launching the 100th Year Anniversary of Islamic Education in Johor at the International Convention Centre, here, today.
He also proposed the setting up of a special tahfiz class in every religious school in Johor for students keen to memorise the Quran, if there was a demand and need.
In his speech, the sultan also issued a reminder that the administration of Islamic religious affairs fell under the state's jurisdiction as enshrined in the federal constitution.
He stressed that all affairs related to Islam, including shariah law, religious schools and so forth, were state rights.
Meanwhile, State Islamic Religious Affairs and Education Committee chairman Aminolhuda Hassan said the Johor government would conduct investigations and coordinate tahfiz centres in the state to ensure they all operated according to the rules and regulations.
Full report at:
https://www.freemalaysiatoday.com/category/nation/2018/09/13/sultan-ibrahim-tahfiz-centres-must-be-monitored/
--------
Africa
Nigeria: Factional Boko Haram Leader Mamman Nur Killed By Own Fighters
14 SEPTEMBER 2018
By Hamza Idris and Ibrahim Sawab
A damaged Boko Haram vehicle after a battle between the insurgents and troops of 145 Battalion, Operation LAFIYA DOLE in Damasak, Borno State on Wednesday night, where many Boko Haram members were killed
The factional leader of the Boko Haram loyal to Islamic State in West Africa (ISWA) Mamman Nur has been killed by his fighters who rebelled against him, sources with ample knowledge of the group told the Daily Trust.
Nur, the brain behind the ties between Boko Haram and the Abu Bakr al-Baghdadi led Islamic State, was reportedly killed by his closest lieutenants on August 21. He had in 2014 led the rebellion against Abubakar Shekau, which saw the emergence of Abu Mus'ab Al-Barnawy faction of the group.
The breakaway faction which moved to shores of Lake Chad region in Northern Borno was later recognised by the Al-Baghdadi.
The new leader Al-Barnawy, whose real name is Habib, is the son of Boko Haram founder Mohammed Yusuf, who was killed in 2009.
One of our sources said, "Mamman Nur, who was killed on August 21, is the actual leader of the Boko Haram faction after they parted ways with Shekau. He (Nur) only put Habib in the front as shadow leader because of his father (Mohammed Yusuf).
"The name Al-Barnawy is only being heard as symbolic leader; he was meant to lead so that followers would remain committed to the cause championed by his late father but he (Nur) is the major link of the faction with the Islamic State; the chief strategist around Lake Chad, including their cells in Nigeria, Niger and Chad," he said.
Why Nur was killed
Another source told the Daily Trust that Mamman Nur was killed after long period of disagreement with his subordinates who established "relative authority and contacts" over the years.
According to him, "The commanders became disenchanted with Nur's style of leadership; they saw him as not as rough as Shekau.
"They followed him in staging the revolt because the argument back in 2014 was that Shekau was a hardliner who killed almost everyone, both Muslims and Christians who disagreed with his brand of Islam.
"But according to some of the fighters, after establishing his base in Lake Chad, Mamman Nur too 'deviated from the real course' and compromised on so many occasions," he said.
He said a major disagreement broke after the release of the some 100 girls abducted in a secondary school in Dapchi, Yobe State, in March.
"The negotiation of the release of the girls did not go down well with some close associates of Mamman Nur who released the girls unconditionally, following a directive by Al-Baghdadi," the source said.
"Nothing was paid before the girls were released and besides, Mamman Nur's soft approach and close contact to governments and different levels angered his foot soldiers who rebelled against him and thereafter executed him," he said.
It was learnt that Al-Barnawy had also lost firm control of the group which is now under the "guidance" of a certain commander.
"The man in charge of all the cells in the Lake Chad region is the former commander of the fighters who was directly under the control of late Mamman Nur," he said.
A security expert, Major Salihu Bakari, told the Daily Trust yesterday that the upsurge in Boko Haram attacks in Northern Borno might not be unconnected with the change of leadership.
"The truth is Mamman Nur had lost control long before he was killed; the factional group was taken over by hardliners who share a lot in common with the Shekau faction who's landmarks include kidnapping, assault, abductions for ransom and other atrocities," he said.
He said the new group had recently attacked many army facilities in northern Borno and also captured individuals for ransom.
"They want ransom to continue financing their activities; I think their demands for high ransom is what is delaying the release of many abductees, including the female health workers that were captured in Rann in Kala-Balge Local Government Area of Borno State," he said.
The Nigerian military has yet to confirm the killing of Mamman Nur.
However, on January 6 this year, the military said the wife of Mamman Nur was killed when troops attacked the group's location in the Lake Chad region.
The spokesman of the Operation Lafiya Dole Theatre Command in Maiduguri, Onyema Nwachukwu, said at the time that about 250 Boko Haram fighters on the side of Mamman Nur had surrendered.
The announcement came hours after the military declared Nur as "fatally injured" during an operation.
Daily Trust recalled that in in September 2011, the Department of State Service (DSS) placed a N25 million bounty on Mamman Nur, a close ally of Mohamed Yusuf and Shekau, who was accused of masterminding the bombing of the UN building in Abuja.
Military kills many insurgents in Damasak
In a related development, the military said troops of the Operation Lafiya Dole have engaged Boko Haram militants and killed many of them.
It added troops pursued others who attacked a military location in Damasak, the headquarters of Mobbar Local Government area in Northern part of Borno State.
It was gathered that the incident occurred on Wednesday.
The insurgents reportedly besieged the military facility in full force with the intention to dislodge soldiers of the 145 Battalion from their location but were repelled.
Army spokesman, Brig.-Gen. Texas Chukwu, said in a statement yesterday that, "the terrorists were subdued following a superior fire power of troops in Damasak.
"The Nigerian Army wishes to state that, 145 Battalion deployed in Operation LAFIYA DOLE at DAMASAK, Mobar Local Government Area of Borno State on 12 September 2018, inflicted many casualties on the Boko Haram Terrorists and their weapons as well as vehicles were captured and some were destroyed during the encounter.
"Seven members of the terrorists group were neutralised during the encounter while others flee into the nearby bush. Items recovered include: two vehicles; one anti-aircraft gun; four AK 47 rifles; seven magazines; two hand grenades; one bayonet; 47 rounds of 7.62mm special ammunition; 174 rounds of 7.62mm NATO ammunition," he said.
He said efforts are on by the troops to get other fleeing members of the group, even as he announced that seven soldiers sustained injuries during the attack.
https://allafrica.com/stories/201809140023.html
--------
UN renews Libya mission but no date for elections
13 September 2018
The UN Security Council on Thursday extended its political mission in Libya for a year but did not endorse a December 10 date for elections that was agreed during a Paris meeting four months ago.
Four key leaders from Libya agreed in May to hold the landmark polls on December 10 as part of a French-led plan to stabilize the war-torn north African country despite ongoing violence and deep divisions.
The council unanimously adopted a British-drafted resolution that called for parliamentary and presidential elections to be held "as soon as possible, provided the necessary security, technical, legislative and political conditions are in place."
France had called for the December 10 election timetable to be maintained, but faced opposition from the United States along with other European Union countries, notably Italy.
US Deputy Ambassador Jonathan Cohen warned during a council meeting last week that "imposing false deadlines will backfire" and lead to worse divisions inside Libya.
Libya descended into chaos after the 2011 overthrow and killing of Moamer Kadhafi, with two rival governments scrambling for control of the oil-producing country.
Full report at:
https://english.alarabiya.net/en/News/middle-east/2018/09/13/UN-renews-Libya-mission-but-no-date-for-elections-.html
--------
US and Somalia forces come under attack during operation against Al Shabaab
September 13, 2018
U.S. and Somali forces came under attack during an operation against the al-Qaeda affiliated group al-Shabaab in central Somalia, U.S. Africa Command said.
A Somali soldier was killed and two others injured in the attack, which occurred on Wednesday, September 11 in the village of Mubaraak, approximately 37 miles west of the capital Mogadishu, Africom said on Thursday.
U.S. forces conducted an airstrike in response to the attack, killing two al-Shabaab fighters and injuring another. No U.S. personnel were killed or injured, the command said.
Al-Shabaab is fighting to overthrow the internationally backed government in Mogadishu, but has also carried out attacks in neighboring Kenya, which has deployed troops as part of the African Union Mission in Somalia.
Full report at:
https://thedefensepost.com/2018/09/13/us-somalia-forces-al-shabaab-attack/
--------
Nigeria troops repel fresh Boko Haram base attack
2018-09-13
Soldiers have thwarted another Boko Haram attack on an army base in northeast Nigeria, the latest in a series of offensives against military targets in the remote region.
Scores of fighters attacked the base in Damasak, in the far north of Borno state, on Wednesday evening, firing heavy artillery in an apparent bid to overrun it.
Hours of fighting ensued but the attack was repelled with the help of aerial support, military sources in the Borno state capital, Maiduguri, told AFP on Thursday morning.
Nigerian Army spokesperson Brigadier General Texas Chukwu confirmed troops from 145 battalion were fighting the jihadists, calling the battle "fierce".
"The troops are dealing with the terrorists," he said on Wednesday evening.
Chukwu's statement was a departure from the military's repeated denials of Boko Haram attacks in recent weeks, which have seen dozens of troops killed and weapons stolen.
Last month, 48 soldiers were killed in a raid in the village of Zari, near Damasak, while last Friday, a base was sacked in the town of Gudumbali.
Gudumbali is 80km from Damasak. Thousands of civilians were forced to flee and Boko Haram temporarily seized the town before withdrawing the next day.
On Saturday, a regional fighting force set up to stop cross-border attacks helped to repel another attack on a base near Baga, on the shores of Lake Chad.
A senior military officer, who asked to remain anonymous because he is not authorised to speak to the media, said the jihadists in Wednesday's attack were heavily armed.
"The terrorists attacked the base around 1700 GMT but they met stiff resistance from troops who engaged them in hours-long battle," he added.
After about four hours of fighting the militants were "beaten" and forced to withdraw after a fighter jet bombarded their positions, he said.
There was no immediate indication of casualties on either side.
The latest attacks have been blamed on the Islamic State West Africa Province (ISWAP), a Boko Haram splinter group headed by Mus'ab al-Barnawi and backed by ISIS.
Security analysts assess that the Barnawi faction currently poses a greater threat than that led by Abubakar Shekau, who has indiscriminately targeted civilians.
President Muhammadu Buhari was elected in 2015 on a promise to defeat Boko Haram, whose insurgency has killed more than 27 000 people in northeast Nigeria since 2009.
Full report at:
https://www.news24.com/Africa/News/nigeria-troops-repel-fresh-boko-haram-base-attack-20180913
--------
India
Emotional reunion for Hindu and Muslim villagers in Bihar
September 13, 2018
PATNA: Members from the Hindu and Muslim community buried the hatchet and hugged each other in Bihar after a long spell of rivalry in a lovely gesture, giving much-needed relief to the local authorities.
The emotional reunion took place on Wednesday when the Hindu and Muslim villagers from two villages — Malik Sarai and Moghalpura — in Kaimur district, some 200 south-west of Patna, came together and decided to forget the troubled past. While the Hindus wore skull caps on their heads, Muslims wrapped their heads with saffron turbans as a show of bon homie. Quite many villagers couldn't control themselves and were seen sobbing inconsolably at the rare reunion never seen in near past.
Malik Sarai is dominated by Hindus (upper caste Rajputs) while Moghalpura is dominated by Muslims. Both villages were located side by side but they always remained indulged in bitter rivalry which was also a matter of concern for the local administration as communal tensions always erupted there.
It was, however, a different scene on display on Wednesday when Muslim villagers reached Hindu-dominated village to be welcomed by open armed hugs and showers of rose petals. Villagers from all age groups and sex joined the march.
The climax in the story came when the Muslim villagers were offered sherbet (sweet drinks), sweets and folded betel leaves which they happily accepted. "Nothing more could be a matter of joy than this reunion. Everyone wants to leave with peace. We are very happy today," one of the villagers Mohammad Shahnawaz said, chewing betel leaves.
Reports said the rivals communities from the neighbouring villages were indulged in bitter rivalries for long and suspected each other. The tension touched a new high last year some Hindu youths were assaulted by Muslims during Ram Navami procession, triggering a chain of attacks and counter attacks. The local police registered at least five cases of murderous attacks and rioting, leading to deployment of security forces in both the villages to calm down tension.
It was here that a local police official decided to settle the issue permanently. Reports said the local sub-divisional magistrate Kumari Anupam Singh launched the initiative to bring the two communities together and then later held a peace marches and cricket matches between the two villages as the idea clicked.
Of late, communal tensions have become a matter of serious concerns in the state. According to a data compiled by the state police, a total of 5,630 incidents of rioting have taken place in the past six months of the current year. Last year, 11,698 such cases were reported while in 2016, the number of such incidents reported stood at 11,617. In 2015, 13,311 incidents had been reported, as per the police report.
https://gulfnews.com/news/asia/india/emotional-reunion-for-hindu-and-muslim-villagers-in-bihar-1.2278026
--------
NIA gets a mouthful from Delhi HC as key accused in J&K terror funds case gets bail
by Pritam Pal Singh
September 14, 2018
The Delhi High Court Thursday granted bail to Kashmiri businessman Zahoor Ahmad Shah Watali, who was arrested by the NIA in a terror-funding case involving Lashkar-e-Taiba (LeT) chief Hafiz Muhammad Saeed, and observed that nothing has been shown to suggest that his trade was "geared toward funding of terrorist activities".
In its 40-page bail order, a bench of Justices S Muralidhar and Vinod Goel directed Watali not to influence or intimidate prospective prosecution witnesses or tamper with the evidence in the case. The court also ordered 70-year-old Watali to surrender his passport before the trial court and said he will not travel abroad without prior permission of the court.
"The documents (seized in the case) do not enable this court to prima facie conclude, as the trial court has in its order stated, that appellant (Watali) received money from A-1 (LeT chief Hafiz Muhammad Saeed) or PHC (Pakistan High Commission in New Delhi) or others and was passing on the said funds to the Hurriyat leaders for funding terrorist activities and stone pelting," the High Court said.
"The court is not satisfied at this stage that there is prima facie material to show the involvement of Watali in any criminal conspiracy with the other accused, justifying the accusations for the offences under section 120-B (criminal conspiracy) of the IPC or sections 121 (waging or attempting to wage war against India), 121-A (conspiracy to wage war), or 124-A (sedition) of the IPC."
The HC ordered his immediate release on bail, subject to his furnishing a personal bond in the sum of Rs two lakhs with two sureties of like amount to the satisfaction of the trial court. The court also imposed certain conditions of Watali, including that he report to the Investigating Officer (IO) in charge of the case as and when required. The HC also made clear that if there is any breach of the conditions, it will be open to the NIA to apply to the trial court for cancellation of bail.
Watali had challenged the special court's (NIA) June 8 order rejecting his bail plea. He was arrested on August 17, last year and chargesheeted by the NIA on January 18 along with the head of the Lashkar-e-Toiba (LeT), Hafiz Saeed, and the head of the Hizbul Mujahideen, Sayeed Salahudeen, along with 10 others.
All the accused were chargesheeted under stringent anti-terror laws, for allegedly hatching a conspiracy with Saeed and Salahuddin to wage a war against India. Earlier, Kamran Yusuf, a photojournalist and Javed Ahmad Bhatt a hawker of home appliances, were granted regular bail after the chargesheet was filed. Only Hafiz Saeed and Salahudeen have not been arrested in the case.
Probing the Jammu and Kashmir terror funding case, the NIA had alleged that Zahoor Watali moved money from Pakistan to Kashmir to fuel stone-pelting and unrest in the Valley. He was allegedly the connection between LeT chief Hafiz Saeed and Hurriyat chief Syed Ali Shah Geelani.
In its 1,200 page chargesheet filed in a special court in February this year, the NIA cited a diary, recovered from the office of Watali, as key evidence. Doubling up as an account book, the diary allegedly has entries of receiving several lakh rupees against the name of Hafiz Saeed, mentioned in brackets. There are corresponding entries for payments made to one "Fantoosh", which the NIA claimed is the nickname of Altaf Ahmed Shah, son-in-law of Tehrek-e-Hurriyat chief Syed Ali Shah Geelani.
On the dairy, the HC concluded that a sheet of paper produced by the NIA containing typed entries and in loose form, cannot constitute material to even prima facie connect Watali with the crime with which he is sought to be charged.
"The conclusion of the trial court that this document shows the connection of the appellant with the other accused as regards terrorist funding does not logically or legally flow from a plain reading of the document," it added.
Senior advocate Vikas Pahwa, appearing for Watali, had said no offence under the stringent Unlawful Activities (Prevention) Act (UAPA) was made out against him in the chargesheet. Pahwa said the probe in the case was already concluded and the charge sheet was filed.
Opposing the bail plea, senior advocate Sidharth Luthra, appearing for the NIA contended that Watali could not satisfactorily explain the sources from which he had received the funds.
"It also emerged during the course of the hearing of this appeal that neither the All Parties Hurriyat Conference nor any of its 26 constituent organisations are banned organisations within the meaning of the UAPA," the court said.
The HC further observed that "this court holds, for the limited purposes of the present appeal, that there are no reasonable grounds to form an opinion at this stage that the accusations against the appellant under the UAPA are prima facie true."
Full report at:
https://indianexpress.com/article/india/srinagar-businessman-gets-bail-in-kashmir-terror-funding-case/
--------
PM Modi to meet head of Dawoodi Bohra community in Indore today
September 14, 2018
Prime Minister Narendra Modi will meet the religious head of Dawoodi Bohra community, Syedna Mufaddal Saifuddin, at a mosque in Indore on Friday and address the community members. Dawoodi Bohras are a sect within Shia Islam.
The PM's meeting with Syedna Saifuddin will take place at the Saifi Nagar mosque, where the Dawoodi Bohra community head is holding a nine-day religious discourse.
Thousands of community members have arrived here from various parts of the world to hear their religious head's sermons.
Lok Sabha Speaker Sumitra Mahajan, Madhya Pradesh Governor Anandiben Patel and Chief Minister Shivraj Singh Chouhan will also be present during Modi's visit.
The prime minister's visit here also assumes significance as Assembly polls are due in the BJP-ruled Madhya Pradesh by year-end. Around 2.5 lakh Dawoodi Bohras are estimated to live in the state, mainly in Indore, Ujjain and Burhanpur districts.
In view of the prime minister's visit, security has been ramped up, Indore range Deputy Inspector General of Police HC Mishra said.
Full report at:
https://www.indiatvnews.com/news/india-pm-modi-meeting-dawoodi-bohra-community-head-syedna-mufaddal-saifuddin-latest-updates-live-streaming-indore-463077
--------
Thol Thirumavalavan's findings on religious conversion under scanner
14 September 2018
The findings by Thol Tirumavalavan, president of the Viduthalai Chiruthaikal Katchi (VCK), a Dalit fringe outfit, that religious conversion to Islam offers the Dalits self-respect and economic independence has put the Hindu forces in the State on their guards. Experts in Population Studies rejected Tirumavalavan's arguments while Hindu activists term it as an effort to encourage more Dalits in the State to get converted to Islam or Christianity.
Arjun Sampath, leader of Hindu Makkal Katchi, who had a providential escape from the knives of Islamic terrorists recently, had submitted a memorandum to Governor Banwarilal Purohit and Vice Chancellor of Manonmaniam Sundaranar University at Tirunelveli stating that the PhD thesis submitted by Tirumavalavan is a travesty of truth and facts.
Tirumavalavan claims he has brought to light the reasons behind the mass conversion of Dalits of Meenakshipuram in Tirunelveli to Islam in 1981. He argued during the viva voce of his Ph D thesis held recently that the Dalits were discriminated against and oppressed all over the State. When a Dalit youth of Meenakshipuram fell in love with a girl belonging to the upper caste, relations of the girl stood up against the romance. The youth eloped with the girl to neighbouring Kerala and got married with her.
When the couple returned to the village, the girl's relations thrashed the youth and his family members. This forced the 180 Dalit families in the village embrace Islam to escape from the persecution "unleashed by caste Hindus", says Thirumavalavan.
The VCK leader claimed that the Dalits who got converted to Islam in 1981 prospered economically and socially. "The religious conversion of 1981 has given the Dalits the economic independence and self-respect," claims Tirumavalavan in the thesis titled "Mass Religious Conversion at Meenakshipuram: a victimological analysis."
Leaders of Hindu outfits are suspicious of the objective of Tirumavalavan's studies. "This is an open invitation and encouragement to the Dalits to get convert to Islam," said Sampath.
Dr Jatinder K Bajaj, demography scientist at the Centre for Policy Studies, is of the view that the findings and conclusion of Tirumavalavan's findings do not stand the test of scrutiny. "Individually one of two members of the community might have been benefited because of conversion. But majority of them continue to be poor and helpless. Why the leaders of Islam and Christian communities insist that the Dalits among them need reservation?" asked Dr Bajaj.
Full report at:
https://www.dailypioneer.com/2018/india/thol-thirumavalavan-s-findings-on-religious-conversion-under-scanner.html
--------
No quota, few TRS candidates: Dalit-Muslim body cries apathy
Sep 13, 2018
CHARMINAR: Upset with the TRS government for failing to fulfill promises made to Muslims, members of the community said that they will go with parties that field more Muslim candidates in the ensuing polls.
"The SC/ST/BC Muslim Front has decided to undertake a campaign across the state and ask people to vote or support parties who field more Muslim candidates in the elections," said Sanaullah Khan, chief convenor of the group while urging parties to name at least 10 Muslim candidates for the Assembly polls and nominate two people for MP seats.
To register their angst against chief minister K Chandrasekar Rao, scores of people staged a protest outside the Telangana State Waqf Board (TSWB) office, demanding he offer an explanation for his failure to honour promises. "The CM had promised 12% Muslim reservations, to give judicial power to TSWSB and provide minority loans. The Sudheer Commission had even recommended that the government incorporate a budget sub-plan for Muslims. Sadly, they have got nothing," said Md Abbas, state secretary of Awaaz Tanzeem.
Full report at:
https://timesofindia.indiatimes.com/city/hyderabad/no-quota-few-trs-candidates-dalit-muslim-body-cries-apathy/articleshow/65793815.cms
--------
India calls out Pakistan at UN on terrorism
Geeta Mohan
September 13, 2018
India on September 11 had a scathing reply to Pakistan's jibe on Kashmir and the alleged violations at the 39th Session of the United Nations Human Rights Council in Geneva.
India's First Secretary at the Permanent Mission in Geneva Mini Devi Kumam exercised the Right of Reply' to respond to a statement made by the Pakistani envoy Farukh Amil on the state of Jammu and Kashmir. Rejecting Pakistan's claims, she said that their efforts were "futile" and references to reports fallacious and motivated.
Highlighting the fact that J&K is an inalienable part of India and the real problem is terrorism emanating from Pakistan, Kumam said, The main challenge in Jammu and Kashmir is cross-border terrorism emanating from Pakistan. In 2017 alone, unrelenting cross-border terrorism from Pakistan was responsible for 342 terrorist attacks in Jammu and Kashmir resulting in the death of 120 civilian and security personnel.
Citing the OHCHR report of Kashmir, the envoy had said that Kashmiris should be given a life of dignity to which the Indian diplomat responded by exposing the state of the minorities in Pakistan.
No amount of hyperbole can hide the dismal human rights record of Pakistan, which has been systematically violating the rights and freedoms of people of POK including exploitation of their natural resources. Extrajudicial killings and disappearances in Sindh, Balochistan and Khyber Pakhtunkhwa continue to be the order of the day. Minorities are harassed through blasphemy laws. Forced conversions and marriages of minority women are routinely carried out with impunity. Even Muslim minorities such as Shias, Ahmadiyas, Ismailia and Hazaras are victims of sectarian violence and systemic persecution.
Recently a renowned economist Professor Atif Mian was forced to quit Prime Minister Imran Khan's Pakistan's Economic Advisory Council because he belonged to the Ahmadi sect, one which is not even recognised as part of the Muslim community of Pakistan.
Full report at:
https://www.indiatoday.in/india/story/india-calls-out-pakistan-at-un-on-terrorism-1339608-2018-09-13
--------
Hizb terrorist on mission to strike Ganesh festival held
Sep 14, 2018
LUCKNOW: The Anti-Terrorist Squad (ATS) of Uttar Pradesh police arrested a suspected terrorist on Thursday from Kanpur for his alleged links with Hizbul Mujahideen. Police said that he was planning a terrorist strike during the 10-day Ganesh Chaturthi celebrations beginning Thursday.
Qamar-uz-Zama, a native of Assam, was arrested from Kanpur on inputs from National Investigation Agency. He was sent to seven-day police custody by a court in Lucknow. Zama confessed that he was a member of Hizbul Mujahideen and was staying in the city for the last 15 days. The ATS sleuths also recovered a phone from him which had sketches and videos of Lord Ganesha temple in Collectorganj, Kanpur.
Full report at:
https://timesofindia.indiatimes.com/india/hizb-terrorist-on-mission-to-strike-ganesh-festival-held/articleshow/65802871.cms
--------
5 JeM terrorists killed, DySP among 14 injured in J&K
Sep 14, 2018
JAMMU: At least five Pakistani terrorists were killed on Thursday in two separate anti-terror operations, one of which also left 14 security personnel, including a deputy superintendent of police, injured. All the injured men are stable.
A senior police officer from the IGP office said three Pakistani terrorists of the Jaish-e-Mohammad (JeM) terror group were killed during an eight-hour long encounter at Tirsi-Kakrayal village of Reasi district.
He added that 14 security personnel, including five cops, six CRPF men and three Army jawans were injured in the encounter that ended around 5pm.
In north Kashmir's Baramulla district, the JeM suffered a jolt when security forces killed two of its members, including one of its oldest militants nicknamed 'Ali', at Sopore. Security forces were acting on specific intelligence inputs about the presence of Jaish terrorists in the area. The encounter at Reasi began after a group of five suspected terrorists travelling in a truck opened fire at Jammu-Srinagar National Highway on Tuesday, injuring a civilian near Kakrayal-Jhajjar Kotli.
While the truck driver and his helper were detained, the three Pakistani terrorists had fled the scene.
One AK-56, loaded magazines, one Chinese pistol and other "incriminating material" was recovered from the site.
Full report at:
https://timesofindia.indiatimes.com/india/5-jem-terrorists-killed-dysp-among-14-injured-in-jk/articleshow/65802581.cms
--------
North America
US: Former Afghan refugee wins New Hampshire primary
14.09.2018
By Umar Farooq
WASHINGTON
Former Afghan refugee Safiya Wazir recently won an upset victory in the New Hampshire Democratic primary against four-term State Representative Dick Patten.
By winning the Democratic primary for the 17th district of New Hampshire, she is on track to become the first refugee to ever serve public office in the state of New Hampshire.
She will face Republican candidate Dennis Soucy in the general election in November.
Wazir, 27, fled Afghanistan with her family when she was six years old and arrived in the U.S. in 2007.
After settling in Concord, New Hampshire, she made a new home in the United States, eventually becoming a citizen.
While the victory came as a surprise, it was absolute. Wazir dealt a heavy blow to incumbent Patten, winning 327 to 143 in Tuesday's primary.
"Thank you to all my supporters who helped me win tonight's Dem. primary. I will work hard for all the residents of Ward8," Wazir said on Twitter.
The newly-elected Democratic nominee is running on a campaign platform of advocating for school safety, access to health care and equal housing and economic opportunities.
https://www.aa.com.tr/en/americas/us-former-afghan-refugee-wins-new-hampshire-primary/1254385
--------
US denies $5 billion offer in aid to Palestine
13.09.2018
By Umar Farooq
WASHINGTON
The White House rejected a claim Thursday that U.S. President Donald Trump offered $5 billion in aid to Palestine if it returns to the negotiating table with Israel.
The claim was reported by Globes, an Israeli newspaper, which said the U.S. president was even willing to give more than the amount proposed, according to anonymous diplomatic sources who spoke to Globes.
"Either the Palestinians continue their refusal and stubbornness, in which case the PA [Palestine Authority] will sink into a severe economic crisis, or the Palestinian leadership straightens up, comes to talk, and gets political and economic independence," the Globes wrote.
Trump's Special Representative on International Negotiations Jason Greenblatt responded saying that it was completely false and no such offer was made.
"Fact: False. When the peace plan is released, if the PA [Palestinian Authority] is serious about peace & wants to improve Palestinian lives, the PA should want to review the plan & engage. It is an absurd idea to pay $5b for a party to 'return to the negotiating table.' How would that accomplish peace??" Greenblatt said on Twitter.
The U.S. has taken steps in recent months to cut funding and resources to Palestinian interests, including cutting aid to Palestine and shutting down the office of the Palestinian mission in Washington.
Full report at:
https://www.aa.com.tr/en/americas/us-denies-5-billion-offer-in-aid-to-palestine/1254302
--------
U.S. 'looking at situation' on China's Muslim crackdown: official
SEPTEMBER 13, 2018
WASHINGTON (Reuters) - The United States is looking more closely at a crackdown by China on minority Muslims in the Xinjiang region, a senior U.S. economic official said on Thursday, as Washington considers imposing sanctions against Chinese senior officials and companies linked to allegations of human rights abuses.
"We are looking at the situation, and Global Magnitsky is a tool that we use to curb human rights abuses around the world," U.S. Assistant Secretary of State Manisha Singh told a congressional hearing.
Singh was responding to a question about possible sanctions against China for its treatment of ethnic Uighurs and other Muslims.
The Global Magnitsky Act allows the executive branch to impose visa bans and targeted sanctions on individuals anywhere in the world responsible for committing human rights violations or acts of significant corruption.
A U.N. rights panel said last month it had received credible reports that up to a million ethnic Uighurs may be held in extra-legal detention in Xinjiang, and called for them to be freed.
The State Department this week acknowledged receipt of a letter from a bipartisan group of U.S. lawmakers asking Secretary of State Mike Pompeo to impose sanctions on a number of China officials accused of overseeing policies in Xinjiang.
The officials include Chen Quanguo, Communist Party chief in Xinjiang and also a member of the party's politburo.
Any sanctions decision would be a rare move on human rights grounds by the Trump administration against China, with which it is engaged in a trade war while also seeking Beijing's help to resolve a standoff over North Korea's nuclear weapons.
Acting against so senior official as Chen would be unprecedented and would greatly anger Beijing.
On Tuesday, the State Department expressed deep concern over China's "worsening crackdown" on Muslims in Xinjiang, while U.S. congressional sources said discussions of possible sanctions had gained momentum within the U.S. government, although imposition of steps did not appear imminent.
Also under consideration are sanctions the lawmakers sought against several Chinese companies involved in building detention camps and creating surveillance systems used to track and monitor Uighurs.
Full report at:
https://in.reuters.com/article/china-xinjiang-usa/us-looking-at-situation-on-chinas-muslim-crackdown-us-official-idINKCN1LT2LN
--------
Coalition working to reduce civilian deaths in Yemen - US State Department
14 September 2018
US State Department spokeswoman Heather Nauert praised the steps being taken by the Coalition in Support of the Legitimacy in Yemen to save civilian lives and minimize casualties.
"The Saudi-led coalition in Yemen is taking steps in the right direction to reduce civilian casualties," Nauert told a briefing.
Her comments came a day after Pompeo told Congress that Saudi Arabia and the United Arab Emirates were working to reduce civilian casualties.
Pompeo said in a statement that he told Congress that the governments of Saudi Arabia and the UAE were taking concrete steps to reduce the risk of harming civilians and civilian infrastructure due to the operations of the Yemeni Legitimacy Alliance.
US Defense Secretary Jim Mattis confirmed that he fully supported and approved Pompeo's certification, adding that Saudi Arabia and the United Arab Emirates are making every effort to reduce the risk of civilian casualties and collateral damage.
Full report at:
https://english.alarabiya.net/en/News/gulf/2018/09/14/Coalition-working-to-reduce-civilian-deaths-in-Yemen-US-State-Department.html
--------
Utah Valley University professor resigns after claiming Muslims shouldn't be allowed into the U.S. because 'they hate us and always will'
By Courtney Tanner
Sep 14, 2018
An adjunct professor at Utah Valley University has quit after facing criticism for sharing his experience of the Sept. 11 terrorist attacks with students this week in an online post that ended with him declaring he is "very opposed" to Muslims immigrating to the U.S. because "they hate us and always will."
The Orem school's administration learned of the statement hours after it was sent out Tuesday evening when a student reported it to the chair of the School of Aviation Sciences. By Wednesday night, James Green "voluntarily resigned," said university spokesman Scott Trotter, and the comment had been removed from the course website.
Green started his post — on the 17th anniversary of 9/11 — by saying he wanted to tell students what he saw of the 2001 attack while living in Manhattan and working as a pilot for Continental Airlines. He and his wife, he wrote, walked onto the roof of their building and watched one of the Twin Towers collapse, according to a copy the concerned student shared with The Salt Lake Tribune.
The couple then went to a local church, Green recounted, to assist survivors. He said he later pushed for pilots to be able to carry a gun in the cockpit and did so himself until he retired.
"It was a sad time for our country and made me wonder 'how' could people harbor so much hatred toward anyone that they would perpetrate such a horrendous act of violence," he said.
He ended the post: "That's my story about the 9/11 events. And it is also why I am 'very' opposed to allowing any Muslims to immigrate into the USA! They hate us and always will."
In a brief phone conversation with The Tribune, Green said he's no longer at the university before adding he had "no comment." His LinkedIn page lists his current job at aviation director at the American International Aviation Academy of Utah.
Utah Valley University said in a statement that it has referred the matter to its Equal Opportunity/Title IX Office for review and "appropriate action."
"One of the university's core themes is inclusivity, and we value the richness that comes from diversity," the statement says. "We seek genuine inclusion to create a safe and supportive environment for all, and believe that diversity is an essential element of UVU's mission and of excellence, and that intolerance inhibits progress. We remain committed to our anti-discrimination and anti-harassment policies."
Green's comments echo similar anti-Muslim rhetoric from President Donald Trump. During his campaign, Trump said during on interview on CNN, "I think Islam hates us." He also claimed that "thousands and thousands" of Arab-Americans living in New Jersey cheered when the World Trade Center collapsed.
Full report at:
https://www.sltrib.com/news/education/2018/09/13/utah-valley-university/
--------
Pakistan
3 soldiers martyred, 4 terrorists killed in N Waziristan operation
SEPTEMBER 14, 2018
Four terrorists were killed while three soldiers embraced martyrdom during an intelligence-based operation in North Waziristan, Inter-Service Public Relations (ISPR) said on Thursday.
According to the ISPR, security forces launched an IBO in North Waziristan against terrorists involved in an attack on armed forces on September 12.
The terrorists were also involved in an attack on Lieutenant Moin in December 2017, which took his life, said the ISPR. Terrorists were fully armed and gave a tough time, said the ISPR, adding that all four, including operational level terrorist Aftab Parakay, were killed.
Meanwhile, three soldiers Naib Subedar Nazir Ahmed Chandio, Sepoy Fakhar and Sepoy Amir were martyred in the exchange of fire. The ISPR said that the area had been cleared.
https://dailytimes.com.pk/297690/3-soldiers-martyred-4-terrorists-killed-in-n-waziristan-operation/
--------
French president appreciates Pakistan's efforts in fighting terrorism
Sep 14, 2018
ISLAMABAD: French President Emmanuel Macron telephoned Prime Minister Imran Khan on Thursday where he recognised Pakistan's struggle and sacrifices in the global war against terrorism.
The French leader congratulated PM Khan on his party's election victory and for assuming the office of Prime Minister.
French President Macron stressed the importance of deepening bilateral political dialogue. He expressed the desire to cooperate in the fields of energy, water resource management, trade, and economy and to work together on issues of mutual interest at the global level.
He appreciated Pakistan's efforts in fighting terrorism and recognised the high price paid by Pakistan dealing with this menace. In this context, he condoled the July terrorist incidents in Pakistan.
In return, PM Khan thanked the French president for his call. He expressed the desire for further developing bilateral relations with France into a mutually beneficial, broad-based and long-term partnership.
The premier added that trade and investment ties between Pakistan and France were growing and appreciated the presence of a large number of French companies in Pakistan. He invited more French investment into Pakistan.
PM Khan briefed the French President on the regional situation, especially the importance of a peaceful settlement in Afghanistan, and on the relations with India.
He underscored the need for the resumption of the comprehensive dialogue with India to address all outstanding issues, including the Jammu and Kashmir dispute. He referred to the sad plight of Kashmiris facing massive human rights violations and the need for the international community to play its role to mitigate the sufferings of the Kashmiri people.
Full report at:
https://www.pakistantoday.com.pk/2018/09/14/french-president-appreciates-pakistans-efforts-in-fighting-terrorism/
--------
Britain's Home Secretary Sajid Javed to visit Pakistan soon
Sep 14, 2018
ISLAMABAD: Britain's Home Secretary Sajid Javed will visit Pakistan soon.
According to media reports, Just after Pakistan Tehreek-e-Insaf government came into power ministers and ambassadors of many countries made their official visits to Pakistan and hold meetings with Prime Minister Imran Khan and other senior party leaders.
Now it has come into light that UK's Home Secretary Sajid Javed will also visit Pakistan soon where he will meet with PM Imran Khan, President Dr Arif Alvi and other senior party leaders.
https://www.pakistantoday.com.pk/2018/09/13/britains-home-secretary-sajid-javed-to-visit-pakistan-soon/
--------
Joint sitting of parliament put off on opposition request
Amir Wasim
September 13, 2018
ISLAMABAD: The government on Wednesday first convened a joint sitting of parliament for the presidential address on Thursday and regular sessions of the National Assembly and the Senate on Friday, and then cancelled them on the opposition parties' request to avoid possible criticism on the move as it coincided with the funeral of former first lady Begum Kulsoom Nawaz.
Talking to Dawn, Minister for Information Fawad Cha­udhry said it was on the directive of Prime Minister Imran Khan that the government had taken back its decision of convening the already planned sessions when he came to know about the opposition's request.
Earlier in the day, President Dr Arif Alvi on the advice of the government had convened the joint session of parliament on Thursday afternoon for addressing it and the regular sessions of the National Assembly and the Senate on Friday in which Finance Minister Asad Umar was to present the mini-budget for the remaining 10 months of the financial year.
Soon after the summoning of the sessions, the Pakistan Muslim League-Nawaz (PML-N) protested over the government's move to convene the sittings at a time when the party was in a state of mourning and had already announced suspension of its political activities for three days due to the demise of Kulsoom Nawaz.
Sources in the PML-N told Dawn that the party through former speaker Ayaz Sadiq had approached the government leaders and NA Speaker Asad Qaiser with the request to delay the sessions to enable the party legislators to attend them.
Similarly, speaking at a news conference, Jamiat Ulema-i-Islam (JUI-F) chief Maulana Fazlur Rehman had also suggested to the government to postpone the joint sitting on the PML-N's request.
The government had disclosed its plan to convene the joint sitting for the maiden and mandatory address of President Alvi in a meeting of the parliamentary leaders presided over by Speaker Asad Qaiser on Monday.
The meeting had been convened by the speaker in an effort to seek cooperation from the opposition parties for conducting the proceedings smoothly. However, the opposition parties asked the government to constitute a parliamentary commission to probe the charges of rigging in the July 25 general elections before convening the joint sitting, if it wanted a smooth sailing in the parliament.
After the meeting, PTI's Vice Chairman and Foreign Minister Shah Mehmood Qureshi had confirmed that the opposition had put the condition of formation of the parliamentary commission for ensuring the smooth proceedings. He had stated that the PTI would make a decision on the opposition's demand in the next few days after discussing it within the party.
Speaking at a news conference in Lahore last week, PML-N president and Opposition Leader in the National Assembly Shahbaz Sharif had asked Prime Minister Imran Khan to keep his words and constitute a powerful parliamentary commission to probe allegations of rigging in the July 25 general elections and recommend steps to block rigging attempts in future.
Mr Sharif had threatened that the opposition alliance would not let the house function if the commission to probe rigging allegations was not constituted.
Under Article 56(3) of the Constitution, the president is required to address the joint sitting of parliament at the commencement of the parliamentary year.
Full report at:
https://www.dawn.com/news/1432625
--------
Kulsoom Nawaz's funeral to be held in Lahore today
September 13, 2018
Begum Kulsoom Nawaz's funeral prayers will be offered at Lahore's Sharif Medical City on Friday at 5pm.
Ex-premier Nawaz Sharif's wife's casket reached the provincial capital this morning on PIA flight PK-758 from London. Her body was received by members of the Sharif family, including Hamza Shahbaz, and was later transported to the family's Jati Umra residence via ambulance.
She will be laid to rest at Jati Umra near the graves of her father-in-law Mian Sharif and brother-in-law Abbas Sharif at Jati Umra.
Congregational prayers (Rasm-i-Qul) for Begum Kulsoom will be offered on Sunday between Asr and Maghreb, according to PML-N Spokesperson Marriyum Aurangzeb.
Funeral prayers were offered for Begum Kulsoom at London's Regent Park mosque on Thursday, where hundreds of people showed up to pay their respects. The funeral had been arranged since Kulsoom's sons, Hasan and Hussain, cannot travel to Pakistan.
Other members of the Sharif family, including Asma, Nawaz and Kulsoom's daughter, Shahbaz Sharif, and Zikriya Sharif were all in attendance at the funeral in London, alongside other known faces such as former finance minister Ishaq Dar and former interior minister Chaudhry Nisar.
Shahbaz had travelled to London, where he arrived on Wednesday evening, to take Begum Kulsoom's body back to Lahore for burial.
Begum Kulsoom, who was diagnosed with lymphoma in August last year, passed away in London on September 11.
The sources said the family had received a death certificate issued by the private hospital where Begum Kulsoom Nawaz breathed her last on Tuesday, and the "out-of-England" letter from the coroner's court, paving the way for the departure of her body to Lahore this evening.
Nawaz Sharif, his daughter Maryam Nawaz and son-in-law retired Captain Safdar, who were all sentenced to jail by an accountability court weeks before the July 25 polls in the Avenfield property reference, were granted parole by the Punjab government on an application moved by Shahbaz in order to attend Begum Kulsoom's funeral.
The Punjab Home Department later announced an extension in the short 12-hour parole for an additional five days, from Sept 12 (4pm) to September 17 (4pm). The time does not include the time it takes to travel.
Nawaz oversees funeral arrangements in Lahore
Also on Thursday, Nawaz Sharif paid a visit to Sharif Medical City to oversee arrangements for his deceased wife's last rites.
The former prime minister directed that all arrangements for the funeral be complete so that everyone is able to comfortably offer the funeral prayers. "There should not be any kind of issue in Sharif Medical City," he had said.
He was accompanied on the visit by his son-in-law retired captain Muhammad Safdar, grandson Junaid Safdar, and nephew Salman Shahbaz. During the course of this visit, Nawaz met some PML-N leaders at Sharif Medical City.
Condolences offered for Begum Kulsoom
To condole her demise, PML-N and other political party workers have been visiting the Sharif family residence at Avenfield House in London and Jati Umra in Lahore since Wednesday.
Former Balochistan chief minister Sardar Sanaullah Zehri and Rasikh Elahi, son of Punjab Assembly speaker Chaudhry Pervaiz Elahi, were prominent among the visitors in London.
In Lahore, political leaders and workers including former prime minister Shahid Khaqan Abbasi, Khurram Dastagir, Maulana Fazlur Rehman, Azad Jammu and Kashmir Prime Minister Raja Farooq Haider, Malik Pervaiz, Saad Rafique, Ameer Muqam, Ali Pervaiz, Uzma Bokhari and Rana Mohammad Iqbal visited Jati Umra to offer their condolences.
Regarding reports that Nawaz Sharif did not see the visitors on Wednesday because he was unwell, Marriyum Aurangzeb said: "That was not the case. Mian sahib was shattered and tired but he met relatives. On Thursday, he will meet the political leaders and workers between 4pm and 6pm. Similarly, Maryam Bibi also met relatives."
Hamza Shahbaz met those arriving at Jati Umra to condole the death of the former first lady.
Former president Mamnoon Hussain also called on Nawaz on Thursday and offered his condolences to the PML-N quaid.
Full report at:
https://www.dawn.com/news/1432682/kulsoom-nawazs-funeral-to-be-held-in-lahore-today
--------
Govt asked to bring back looted money from abroad
September 14, 2018
PESHAWAR: Jamaat-i-Islami chief Sirajul Haq on Thursday said Pakistan didn't need a bailout package from the International Monetary Fund or loans from other countries to handle the current financial crisis if the government brought back the country's looted money from abroad.
Addressing a mass wedding ceremony here, Mr Siraj said the government was responsible for bring the country's looted wealth back.
"Our country neither requires any bailout package or donations for building dams if the government carries out across-the-board accountability," he said urging the government to fulfil its commitment in this regard.
He demanded that the government recover looted national wealth and spend it on the people's welfare and development of health and education.
The Al-Khaidmat Foundation, charity wing of the JI, organised the function in which 50 couples got married. Relatives of the couples and JI office-bearers attended the ceremony.
Mr Siraj said the government had become a tax collection machine, while rulers spent thje taxpayers' money on their luxurious lives.
He said the government should begin across-the-board accountability and take concrete measures to bring looted wealth from abroad.
"We'd demanded action against 436 people, whose names appeared in the Panama Leaks case, but ironically nothing happened," he said.
Full report at:
https://www.dawn.com/news/1432796/govt-asked-to-bring-back-looted-money-from-abroad
--------
Farooq Sattar resigns from MQM-P's coordination committee
September 13, 2018
Dr Farooq Sattar, a senior politician and lawmaker associated with the Pakistan faction of the Muttahida Qaumi Movement, on Thursday announced that he was resigning from his position in the party's coordination committee due to some "personal commitments", DawnNewsTV reported.
It is pertinent to mention that last week Sattar had claimed that he had been invited to join the Pakistan Tehreek-i-Insaf (PTI) and was mulling over the offer.
Sattar, while speaking to the press, had said that the PTI offered him a ticket to contest the NA-247 by-poll after the seat fell vacant following the election of Arif Alvi as the president of Pakistan.
"The PTI is trying to get me to contest on the NA seat," he said, adding that he was consulting his inner circle over the invitation.
PTI leader Haleem Adil Shaikh, however, had expressed surprise over Sattar's claim and categorically denied it.
Full report at:
https://www.dawn.com/news/1432699/farooq-sattar-resigns-from-mqm-ps-coordination-committee
--------
COAS, British high commissioner discuss bilateral relations
Sep 14, 2018
RAWALPINDI: British High Commissioner to Pakistan Thomas Drew called on Chief of Army Staff (COAS) General Qamar Javed Bajwa at the General Headquarters (GHQ) on Thursday, said Inter-Services Public Relations (ISPR).
During the meeting, matters of mutual interest including regional security situation were discussed. The visiting dignitary also pledged to keep working for better relations between the two countries.
https://www.pakistantoday.com.pk/2018/09/13/coas-british-high-commissioner-discuss-bilateral-relations/
--------
South Asia
Local Taliban leaders, militants suffer heavy casualties in Baghlan
Sep 13 2018
Dozens of Taliban militants including their local leaders were killed or wounded during the operations in northern Baghlan province of Afghanistan.
The 209th Shaheen Corps of the Afghan Military in the North in a statement said the militants were killed during the ground operations and airstrikes in Shash Kapi, Larkhabi, and Dand Shahabuddin areas of the province.
The statement further added that a total 36 militants were killed during the operations and at least 12 others sustained injuries.
According to 209th Shaheen Corps, some senior leaders of the group, including the shadow district chief of the group for Pul Khumri Mawlavi Qadir, Qari Khalid, Mullah Ibrahim, Qari Zahir, Ghazi Malang, and Mullah Hadifa Jalalabadi are among those killed.
The Afghan forces also confiscated a vehilce, two motorcycles, and some flags of Pakistan during the same operations, the 209th Shaheen Corps added.
The anti-government armed militant groups including Taliban militants have not commented regarding the report so far.
Baghlan has been among the relatively calm provinces in northern parts of the country but the security situation of the province has deteriorated during the recent years.
https://www.khaama.com/local-taliban-leaders-militants-suffer-heavy-casualties-in-baghlan-05954/
--------
Taliban's spy chief for southeastern provinces among 7 key militants killed
Sep 13 2018
At least seven key Taliban group members including their shadow spy chief for the southeastern parts of the country have been killed in Paktia province.
The provincial government media office in a statement said the Taliban spy chief for southeastern provinces Zainatullah, also famous as Farhad, was killed with six others in an airstrike.
The statement further added that the militants were killed as they were travelling in a vehicle to plan future terrorist activities.
Other key Taliban group members killed during the airstrike have been identified as Gul Rahman famous as Anas, Habibullah famous as Edris, and Bohran.
This comes as at least 35 militants were killed during the ground operations and airstrikes in Zurmat district Tuesday, the statement said, adding that some key Taliban group leaders and Pakistanis were also among those killed.
According to the provincial government, more than sixty militants were also wounded during the same operations.
Full report at:
https://www.khaama.com/talibans-spy-chief-for-southeastern-provinces-among-7-key-militants-killed-05955/
--------
Suu Kyi defence of jailing of journalists 'unbelievable': Haley
September 14, 2018
Myanmar leader Aung San Suu Kyi said yesterday the jailing of two Reuters journalists had nothing to do with freedom of expression and that they can appeal against their seven-year sentences, prompting a sharp rebuke from the United States.
Suu Kyi, in her first public comment on the case since the two, Wa Lone, 32, and Kyaw Soe Oo, 28, were convicted last week, referred to the colonial-era law under which they were charged.
"They were not jailed because they were journalists, they were jailed because ... the court has decided that they have broken the Official Secrets Act," she said at a conference of the World Economic Forum in Hanoi.
US Ambassador to the United Nations Nikki Haley described Suu Kyi's remarks as "unbelievable," in what appeared to be the sharpest direct public rebuke of the Myanmar leader by a US official.
"First, in denial about the abuse the Burmese military placed on the Rohingya, now justifying the imprisonment of the two Reuters reporters who reported on the ethnic cleansing. Unbelievable," Haley wrote on Twitter yesterday.
Speaking at a later news briefing, US State Department spokeswoman Heather Nauert said Washington disgreed with many of the comments Suu Kyi had made and added that the journalists should be released immediately.
"That verdict calls into question press freedom in Burma (Myanmar)," she said.
"The fact that those journalists were convicted despite testimony by police that they were ordered to frame those journalists, that in our view raises serious concerns about the judicial independence and the fair trial guarantees they are supposed to have in that country," Nauert said.
"We continue to urge the government of Burma to take action immediately to correct this injustice."
Suu Kyi made her comments in response to a question from a forum moderator who asked whether she felt comfortable about the reporters being jailed.
Wa Lone and Kyaw Soe Oo were convicted on official secrets charges on September 3 in a landmark case that has raised questions about Myanmar's progress towards democracy.
The two reporters, who had pleaded not guilty, were investigating the killing of 10 villagers from the Muslim Rohingya minority by the Myanmar security forces at the time of their arrest. The military later acknowledged the killings and said it punished several soldiers.
The United Nations, human rights and press freedom groups and various governments criticised the convictions. US Vice President Mike Pence and US Secretary of State Mike Pompeo have called for their release.
The United States was a strong backer of Suu Kyi as she emerged in the 1980s as a pro-democracy icon who endured years of house arrest for standing up to military rule and was awarded the Nobel Peace Prize for her struggle.
But Western criticism has mounted of Suu Kyi's failure to speak out against military treatment of the Rohingya and of her attitude to the treatment of the journalists.
In Hanoi, Suu Kyi questioned whether people were aware of the details of the case against the reporters.
"I wonder whether very many people have actually read the summary of the judgement which had nothing to do with freedom of expression at all, it had to do with an Official Secrets Act," she said.
"If we believe in the rule of law, they have every right to appeal the judgement and to point out why the judgement was wrong."
Myanmar government spokesman Zaw Htay was not immediately available to comment on Suu Kyi's remarks. He said last week the court was independent and followed due process.
Reuters, in response to Suu Kyi's comments, said in a statement: "We continue to believe that Wa Lone and Kyaw Soe Oo did not violate Myanmar's espionage law, and at no point in time were they engaged in activity to hurt their country."
Pressure
During eight months of hearings, Wa Lone and Kyaw Soe Oo testified that two policemen they had not met before handed them papers rolled up in a newspaper during a meeting at a Yangon restaurant on December 12.
Almost immediately afterwards, they said, they were bundled into a car by plainclothes officers.
On Feb. 1, a police witness said under cross-examination that information in the documents had already been published in newspapers.
In April, a prosecution witness testified that a senior officer had ordered subordinates to plant secret documents on Wa Lone to "trap" the reporter.
Phil Robertson, deputy Asia director for Human Rights Watch, said Suu Kyi was wrong when she spoke about the verdict.
"She fails to understand that real 'rule of law' means respect for evidence presented in court, actions brought based on clearly defined and proportionate laws, and independence of the judiciary."
The convictions came amid mounting pressure on Myanmar over a security crackdown sparked by attacks by Rohingya Muslim insurgents on security forces in Rakhine State in west Myanmar in August 2017.
Earlier on yesterday, Suu Kyi said that in hindsight, her government could have handled the Rakhine State situation better.
"There are of course ways in which we, with hindsight, might think that the situation could have been handled better," she said. "But we believe that for the sake of long-term stability and security we have to be fair to all sides ... We cannot choose and pick who should be protected by the rule of law."
More than 700,000 stateless Rohingya have fled into Bangladesh, according to UN agencies. Myanmar has denied accusations of atrocities made by refugees, saying it conducted a legitimate counterinsurgency operation against militants.
UN investigators said last month that Myanmar's military carried out mass killings and gang rapes of Rohingya with "genocidal intent", and that the commander-in-chief and five generals should be prosecuted under international law.
Haley said last month that findings of a yet-to-be released State Department investigation into the crisis were "consistent" with those of the UN report.
Full report at:
https://www.thedailystar.net/asia/news/suu-kyi-defence-jailing-2-reuters-journalists-unbelievable-nikki-haley-1633819
--------
Bangladeshi nun on mission to heal hearts
September 14, 2018
Lipy Gloria Rozario was born to a Catholic family of refugees on Nov. 31, 1971, just weeks before Bangladesh gained its independence from Pakistan on Dec. 16. Fast-forward 47 years and Gloria, the sixth of nine children, has dedicated her life to serving God and healing the hearts of people suffering various forms of psychological distress in this Muslim-majority South Asian nation.
Since 2010, Sister Gloria has served as director of the Healing Heart Counseling Unit in Dhaka, funded by the Our Lady of Sorrows (OLS) religious order.
She is one of a number of Catholic nuns including Salesian Sister Zita Rema who provide spiritual aid and other services to the destitute in Bangladesh. Other nuns in the country help patients struck by leprosy, tuberculosis and related social stigmas, or focus on helping children born with disabilities rebuild their lives.
In addition to offering counseling services to individuals, couples and families, Sister Gloria hones the skills of students, academics and professionals by arranging seminars and workshops both inside and outside the center.
When she's not at the center, or teaching at a local university, the nun finds time to visit Rohingya refugees from Myanmar in eastern Bangladesh's Cox's Bazar, where she offers counseling services through BRAC, one of the country's leading development organizations.
"We are a charity, so most people come to us though word of mouth because we are not allowed to advertise. Sometimes people mistake us for a profit-making organization as we have many foreigners on staff who are volunteers," she added.
"Many people struggle to grasp how a charity can offer professional services without making money. Our mission is to prove them wrong."
The Healing Heart Center now has two full-time and four part-time counselors treating around 30 people a week on average, mostly Muslims.
The center charges 1,200-2,500 Bangladeshi taka (US$14-30) per session but people living on the breadline need only pay a token fee of US$2.40.
This covers staff salaries, maintenance costs and donations to charities run by the religious order.
The center has one school and a day care center for 40 slum children. It also funds for two more day care centers in Dhaka serving 62 kids from greatly impoverished families who attend free of charge.
"We never have any money left at the end of each month," the nun said.
Humble beginnings
In 1971, Pius Rozario and his wife Magdalene witnessed the birth of their sixth child, Gloria, at a classroom that was being used as a shelter for refugees during Bangladesh's war of independence with Pakistan.
The couple had fled their village home in Rangamatia in central Bangladesh to escape the fighting and bloodshed by relocating to the faraway village of Moani.
For nine distressing months they shared a crowded space with hundreds of war refugees including Muslims, Hindus and Christians.
After the war ended, the couple returned home to resume a more normal life, with Pius working as a schoolteacher and Magdalene a housewife.
"Financially, we weren't solvent as all of us studied and my father wasn't very well paid," she said. "But despite this we had a very enjoyable childhood even though we grew up in a very disciplined household where life was divided into prayer time, study time and play time."
She moved to St. Mary's School in neighboring St. John the Baptist parish at an early age and completed high school with the Sisters of Associates of Mary Queen of Apostles (SMRA). All of her teachers and some of her cousins were nuns.
"From an early age, their lives became an inspiration for me, so I started cherishing the dream of one day becoming a nun myself," she said. "I wasn't into boys at that age, so I just wanted to live a simple life."
She joined the Sisters of Our Lady of Sorrows (OLS) congregation on Dec. 31, 1990, after completing her undergraduate degree. The next few years saw her collect a graduate degree in Dhaka and spend two years in Italy for her novitiate training.
On returning to Bangladesh in 1995, she spent a year at a convent in the capital run by OLS, after which she landed a secretarial role at the Vatican embassy in the capital, a role she held for five years.
"At first I felt uncomfortable with a job that kept me inside all day," she recalled. "So that first year wasn't much fun. But I stuck with it because I'd taken my vows."
During her time at the Vatican embassy, Sister Gloria began visiting nearby slums and Christian families, who slowly shared their problems with her.
"Their stories stuck in my mind. I began thinking that, as people were so willing to share so many personal experiences with me, maybe I should study psychology to offer them a better service," she said.
Sister Gloria said she found her true calling after studying counseling psychology in Italy and the U.S.
Her superior granted her request to study psychology and off she went to Rome, where she also studied spirituality. This was followed by a move to California to gain a master's degree at Santa Clara University.
In 2014, she set a new milestone by becoming the first person in Bangladesh to earn a PhD in education-counseling psychology.
Our Lady of Sorrows
Maria Elisabetta Renzi, an aspiring Catholic nun, founded the congregation in Italy in 1839. She was beatified 150 years later in 1989.
The order arrived in Bangladesh in 1988 and its first mission was to serve the Vatican embassy in Dhaka.
Now the order has 16 Bangladeshi confreres including one who serves as a missionary outside the country.
Full report at:
https://www.ucanews.com/news/bangladeshi-nun-on-mission-to-heal-hearts/83247
--------
Regional elements attempting to cut Afghanistan's relations with the world: Ghani
Sep 13 2018
President Mohammad Ashraf Ghani says certain regional elements are attempting to cut the relations of Afghanistan with the world.
Speaking during a gathering to mark the Week of Martyrs, President Ghani said the situation is better to achieve peace more than any other time and that the nature of war has changed.
He said the Afghan forces have proved that fill the security gap with modern equipment and the capabilities of the Afghan armed forces are increasing day by day.
However, President Ghani said regional elements are attempting to cut the relations of Afghanistan with the world and efforts are being made to misuse the emotions of the people to reverse the gains which have been achieved with major sacrifices.
President Ghani did not elaborate further in this regard but emphasized that the time has come and there is an opportunity to end the 40-year long conflict in the country, emphasizing that confidence exists on the capabilities of the national defense and security forces.
https://www.khaama.com/regional-elements-attempting-to-cut-afghanistans-relations-with-the-world-ghani-05953/
--------
Planned Taliban attacks against the Afghan, U.S. forces foiled in Kandahar
Sep 11 2018
The Afghan and U.S. Special Forces have thwarted planned Taliban attacks against the security forces in southern Kandahar province of Afghanistan.
The NATO-led Resolute Support Mission in a statement said the Afghan Special Security Forces (ASSF), advised by U.S. Special Operations Forces, conducted a helicopter raid on Taliban compounds in Maywand district, Kandahar province September 4.
The statement further added that Afghan Special Security Forces killed 14 Taliban fighters, detained five, destroyed a vehicle-borne improvised explosive device (VBEID), heavy weapons and a defensive fighting position.
Information recovered during the raid indicated that Taliban fighters were using Maywand district to plan attacks against U.S. and Afghan forces in the Kandarhar area, the statement added.
"By methodically uncovering then spoiling the plans of future coordinated Taliban attacks, this operation showcases the increased capability and lethality of Afghanistan's well-known fighting force," said U.S. Army Brig. Gen. Otto Liller, NATO Special Operations Component Command-Afghanistan/Special Operations Joint Task Force-Afghanistan deputy commanding general.
Full report at:
https://www.khaama.com/planned-taliban-attacks-against-the-afghan-u-s-forces-foiled-in-kandahar-05938/
--------
Arab World
Popular Uprising Continues against US Occupation in Raqqa
Sep 13, 2018
The rallies were held on Thursday 500 meters away from the US base in the region.
The protestors carried placards in support of the Syrian government, calling for the US forces' withdrawal from Raqqa province and deployment of the Syrian army units.
Meantime, reports from Raqqa said that attacks by unknown assailants against the US-backed Syrian Democratic Forces have increased in the region as SDF has intensified moves against the civilians.
The SDF suffered casualties on Wednesday after two bombs went off at their bases in Raqqa province.
A bomb went off at SDF's base in al-Nour street in the Northwestern part of Raqqa city, injuring a number of SDF members.
In the meantime, fierce clashes were also reported between the SDF and the attackers after the bomb explosion.
Also, a bomb went off near Ibn Khaldoun school in Raqqa city, killing two SDF militias.
The SDF has arrested over fifty young men in the villages and towns in Northern Raqqa under a forced recruiting plan.
http://en.farsnews.com/newstext.aspx?nn=13970622000261
--------
UN shares locations of Idlib hospitals and schools
September 13, 2018
GENEVA: UN officials have notified Russia, Turkey and the US of the GPS coordinates of 235 schools, hospitals and other civilian sites in the Syrian province of Idlib, in the hope the move will help protect them from being attacked.
"We share these coordinates so there is no doubt that a hospital is a hospital," Panos Moumtzis, UN regional humanitarian coordinator for the Syria crisis, told a briefing.
"We would like to see civilians not targeted, hospitals not bombed, people not displaced."
An estimated 2.9 million people live in Idlib, the last major stronghold of opposition to President Bashar Assad. Syrian regime and Russian warplanes began airstrikes last week in a possible prelude to a full-scale offensive.
Four hospitals in Hama and Idlib have been hit by airstrikes in the past week, constituting "serious attacks" that violate international law, Moumtzis said.
"A hospital is a hospital and has to be respected by all on the ground."
Moumtzis called on all warring sides to ensure that civilians in Idlib were able to move freely in any direction to flee fighting or bombing, and for aid workers to have access to them. He quoted a Russian official as telling a humanitarian task force meeting in Geneva on Thursday that "every effort to find a peaceful solution to the problem is being made." The UN is working 24/7 to ensure delivery of shelter, food and other assistance if, as feared, hundreds of thousands of people flee, he said.
"In no way am I saying we are ready. What is important is that we are doing our maximum to ensure a level of readiness," Moumtzis said.
"As humanitarians, while we hope for the best we are preparing for the worst."
An estimated 38,300 people have fled hostilities in Idlib this month, UN figures show.
About 4,500 of them have returned to their homes following a slight calming, Moumtzis said, calling it a "barometer."
At least 33 people have been killed and 67 wounded in aerial and ground-based bombing, according to a partial UN toll from Sept. 4 to 9.
Moumtzis said he was going to Turkey for talks with government officials and to oversee preparations for stepping up cross-border aid deliveries to Idlib, where the UN is providing supplies to 2 million people.
Turkey has said it is working with Russia and Iran to stabilize the Idlib region, indicating continued efforts to avoid an offensive in the area.
Idlib is part of an arc of territory at the Turkish border. Turkey has reinforced 12 military observation posts in the region, and stepped up arms shipments to allied fighters.
But Turkish Defense Minister Hulusi Akar, in comments on Wednesday evening, indicated that there were continued contacts with Russia and Iran for a diplomatic solution.
"We are working intensively with Russia, Iran and our allies for peace and stability to be brought to the region and for a humanitarian tragedy to be prevented," he was quoted as saying on Thursday by the state-run news agency Anadolu.
Turkish President Tayyip Erdogan met with the leaders of Iran and Russia last week in Tehran, but failed to win a cease-fire pledge.
Already hosting 3.5 million Syrians, Turkey says it cannot take in more and has accused the West of abandoning it to the consequences of Assad's reconquest of Syria.
"For the past three days things have been calm," said Abdel Razzaq, a monitor for the Sentry warning service, which operates in opposition-held parts of Syria.
Full report at:
http://www.arabnews.com/node/1371726/middle-east
--------
Syrian Army Regains Control of Strategic Regions in Badiyeh of Sweida
Sep 13, 2018
The Syrian army units attacked the ISIL terrorists' stronghold in Toloul al-Safa in Eastern Badiyeh of Sweida from several fronts on Thursday, advancing in the heights of the region.
Meantime, a field source referred to the Syrian army's extensive advance, saying that they smashed a military vehicle of terrorists by advancing in the Northern front of Toloul al-Safa, killing over 10 terrorists, including their snipers.
Also, in the Western front, the army troops advanced hundreds of meters in the depth of the terrorists' stronghold after heavy clashes.
A field source said that the Syrian army has advanced 3.5km in the depth of the rocky regions, adding that clashes still continue between the army forces and terrorists.
Once the army gains back full control over the high rocky regions of Toloul al-Safa, the ISIL's strong defense lines will be broken and their supply lines will be cut, resulting in the Syrian army forces' military control over the region.
In a relevant development on Wednesday, the Syrian army forces continued storming ISIL's positions in the Eastern desert of Sweida, seizing control over more points in Toloul al-Safa.
The army men stormed ISIL's strongholds in the depth of Eastern desert of Sweida, imposing control over more points in the rocks in Toloul al-Safa region.
In the meantime, the army's artillery and missile units and aircraft pounded ISIL's movements and positions in Toloul al-Safa, inflicting major losses on the terrorists.
A field source pointed to the tightening of the army's siege on the ISIL in Toloul al-Safa, adding that the army units have now imposed control over a large rocky region with a number caves and hideouts of the ISIL terrorists.
The source further said that other units of the army repelled ISIL's heavy attack Northeast of Toloul al-Safa to lift government forces' siege on the terrorists.
Full report at:
http://en.farsnews.com/newstext.aspx?nn=13970622000281
--------
Syrian Politician: US Needs White Helmets to Provoke Int'l Community against Damascus
Sep 13, 2018
Sa'ad al-Qasir, the deputy secretary-general of the Syrian Forces Union, told the Arabic-language service of Sputnik news agency on Thursday that the White Helmets are the only official body which can justify the US possible attacks against Syria under the pretext of false-flag chemical operations.
He added that after White Helmets' role was disclosed, the US has been showing direct support for them and trying to display them as a justified organization because it needs the powerful presence of this organization in regions outside the control of the Syrian government to provoke the international community against Bashar al-Assad.
Al-Qasir said that the US helped establishment of an office for the White Helmets in Northern Hasaka despite the fact that it knew that its presence would distort all efforts to resolve the crisis in Syria politically, adding that the US is making attempts to continue deployment in the battleground in Syria by creation of new organizations and terrorist groups.
Syrian Foreign Minister Walid al-Muallem said on Wednesday that the US is using internationally-banned chemical weapons to invent a pretext for a military campaign against his conflict-plagued Arab country.
Speaking in an exclusive interview with English-language al-Hayat magazine, Muallem said it is not the first time that chemical attack claims have been used to justify an attack on Syria.
He noted that the Damascus government does not possess any chemical warfare, and that the so-called White Helmets aid group has on occasions staged mock chemical attacks to serve as proof that the Syrian government has conducted the assaults.
The top Syrian diplomat said the cession of foreign intervention in Syria's domestic affairs will help the settlement of the Syrian conflict, stressing that intra-Syrian negotiations will produce a political solution to the ongoing crisis once such meddling is completely halted.
Muallem further noted that drafting a new Syrian constitution is in its early stages as special focus is being given on reaching an agreement on the formation of committee tasked with the job.
He emphasized that there is not a unified Syrian opposition, but rather a number of groups whose leaders are insisting on advancement of agendas of countries where they have taken refuge.
The opposition cannot take decisions independently, and its delegates cannot pursue their own desires and interests in peace talks with representatives from the Syrian government, Muallem highlighted.
The Syrian foreign minister then called on Syrian refugees displaced because of terrorism to return, and assign a high priority to the reconstruction of their homeland.
Muallem went on to say that Syria has relied on its strategic allies Russia and Iran concerning the reconstruction activities, adding that a number of friendly states like China, India, Malaysia, Brazil and South Africa have also expressed their desire to be part of the process.
Full report at:
http://en.farsnews.com/newstext.aspx?nn=13970622000486
--------
New Clashes Reported among Ankara-Backed Terrorists in Afrin
Sep 13, 2018
Local sources in Afrin reported that heavy clashes erupted between Ahrar al-Sharqiyeh and other terrorists in the Center of Afrin near the road leading to Rajou on Wednesday.
They added that the infighting killed and wounded a number of militants of both sides, adding that the terrorists in the region are on alert now.
Meantime, detention of civilians by the Ankara-backed militants still continues in Afrin with the aim of plundering the properties of residents.
In a relevant development last Monday, at least 13 terrorists were killed after Ankara-backed militant groups engaged in a fresh round of clashes in Afrin over controlling a key passageway at Syria-Turkey border, a Kurdish-language news agency reported.
Hawar news reported that Battalions of Sultan Murad and Firqa al-Hamza engaged in a fresh round of clashes with rival terrorists of Ahrar al-Sharqiyah and Aswad al-Sharqiyah in the villages of Hiyami, Ali Karo and Za'ara in Bolbol region in Afrin in Northwestern Aleppo, leaving at least 13 terrorists dead and several more wounded.
It further said that the infighting came after differences erupted among rival groups over running a border-crossing used by terrorists to traffic narcotics to Turkey with Turkish army's coordination.
Full report at:
http://en.farsnews.com/newstext.aspx?nn=13970622000445
--------
Turkish Army Sends New Military Convoy to Northern Syria
Sep 13, 2018
Media activists reported on Thursday that a military convoy of the Turkish army, escorted by newly-found National Liberation Front terrorist group, has been dispatched to the regions monitored by Turkey in Hama province.
They added that the convoy which consisted of tanks, 5 personnel carriers and a vehicle carrying weapons and ammunition was sent to the East of the town of Mourak in Northern Hama along with 5 vehicles carrying the National Liberation Front terrorists.
The Turkish army had also on Wednesday forwarded new military equipment, including military vehicles and vehicles consisting of artilleries, ammunition and armored personnel carriers, to Kalis and Hatai regions in Southern Turkey at the borders with Syria.
Meantime, Reuters had also quoted militant sources as saying earlier that Turkey has equipped them with weapons and military equipment, including rockets, in the past few days.
It appears that the Turkish military is not planning to abandon the rebel forces in Idlib, despite their alliance with the Russian forces, it added.
Syrian sources revealed on Wednesday Turkey's demand from Damascus, via Russian channels, again to further delay the army's military operations in Idlib.
The Arabic-language website of Sputnik quoted informed Syrian sources as saying that Ankara has asked the Syrian army's command center, with Moscow's mediation, to provide the country with more time to separate those who it calls as "moderate dissidents" from Tahrir al-Sham (the Levant Liberation Board or the Al-Nusra Front) and the ISIL terrorists.
Based on the report, the Turkish side has admitted dispatch of military equipment to several regions of Idlib province in the past few days, saying that if Tahrir al-Sham rejects leaving the regions occupied by the "moderate dissidents", it will use military power against them. Turkey has not mentioned where the terrorists could retreat to after leaving Idlib.
The sources said that if Syria and Russia agree with Turkey's demand, it will be the last deadline given to Ankara to act upon its undertakings based on the Astana conference.
Full report at:
http://en.farsnews.com/newstext.aspx?nn=13970622000420
--------
Syrian Army Pounds Tahrir Al-Sham Positions in Hama
Sep 13, 2018
The Arabic-language website of SANA news agency reported on Thursday that the army's artillery units targeted a group of Tahrir al-Sham terrorists who were digging tunnels and setting up trenches West of the village of Tal Wasit in Northern Hama, destroying three of their positions and killing and wounding several militants.
Meantime, the Syrian army forces engaged in clashes with Turkistani terrorists near the town of al-Hawiz in Sahl al-Qab region in Western Hama who were planting bombs in abandoned houses and farms, inflicting tolls and damages on the militants and forcing others to flee.
In a relevant development on Wednesday, the Syrian army's artillery and missile units opened heavy fire at the positions of Tahrir al-Sham Hay'at in Northern Hama, destroying terrorists' bases and positions used as missile launchpads.
The artillery and missile units targeted a base of Tahrir al-Sham near Qala al-Maziq in Northern Hama, inflicting major casualties on the terrorists.
Full report at:
http://en.farsnews.com/newstext.aspx?nn=13970622000221
--------
Iraq PM Abadi announces new Basra initiatives ahead of key vote
14 September 2018
Iraqi Prime Minister Haider al-Abadi on Thursday announced a new series of public works initiatives for the southern city of Basra, hit by a wave of deadly protests last week.
The move comes just two days before a key parliamentary meeting that could allow the premier's political rivals to form a government without him.
Abadi made the statement following a cabinet meeting, delayed by two days as he visited Basra where violent demonstrations last week saw 12 protesters killed and government buildings torched.
Basra has been at the epicenter of protests that broke out in July in the southern province before spreading to other parts of the country, as demonstrators railed against poor services and condemned corruption among Iraqi officials.
Anger in Basra flared early last week over a growing health crisis, after more than 30,000 people were hospitalized by pollution in the city's water supply.
On Thursday, Abadi said a team of advisers would "assure the immediate implementation" of new water pumping, routing and filtration projects -- but did not provide a budget or a timetable.
The announcement came as the parliament prepares to elect a new speaker on Saturday.
It also comes on the heels of an emergency meeting in parliament at the weekend that threw Abadi's ability to hold onto his role into question, as the top two parliamentary blocs call on him to step down over the crisis in Basra.
Firebrand cleric Moqtada Sadr, whose bloc won the May 12 elections, distanced himself from his one-time ally Abadi, while a rival alliance of pro-Iranian former paramilitary fighters led by Hadi al-Ameri said it would work with Sadr to form a new government that excludes the premier.
Just a day later, Abadi said that he was "not set on a second term".
The results of Saturday's vote will give a concrete indication as to which bloc will be able to form the future cabinet.
On Wednesday, Sadr hosted Ameri in the southern city of Najaf, but the two leaders did not put out any statement.
In what appeared to be a head nod on Thursday to the powerful Hashed al-Shaabi paramilitary force, Abadi said the government had decided to increase its fighters' salaries and make them "equal to that of the armed forces".
Full report at:
https://english.alarabiya.net/en/News/middle-east/2018/09/14/Iraq-PM-announces-new-Basra-initiatives-ahead-of-key-vote-.html
--------
UN report: 38,500 flee hostilities in Syria's Idlib in two weeks
13 September 2018
Violence in northwest Syria has displaced more than 38,500 people in less than two weeks amid increasing hostilities and a looming regime assault on the opposition-held Idlib province, the UN said Thursday.
The UN, which has warned a full-fledged assault on Idlib could create the century's "worst humanitarian catastrophe", has created a plan to help up to 900,000 people who could flee the onslaught.
And an exodus has already begun.
During the first 12 days of September, "available information indicates that a sharp increase in hostilities and fears of further escalation has led to the displacement of over 38,500 people," the UN humanitarian agency (OCHA) said.
That marks a hike of nearly 10,000 people from the figure provided by the UN on Monday.
However, OCHA said that 4,500 of those who had fled since September 1 had "spontaneously returned" over the past three days amid a relative decrease in hostilities in western and southern rural parts of Idlib province.
It said most of those who left their homes had fled towards the north, towards the Turkish border.
Others chose to flee into agricultural lands near their original communities "with the hope that they will be able to quickly return ... should the hostilities stop," OCHA said.
The province and adjacent rural areas form the largest piece of territory still held by Syria's beleaguered rebels, worn down by a succession of government victories in recent months.
President Bashar al-Assad has now set his sights on Idlib, and his forces and their Russian allies have since the beginning of the month stepped up bombardment of the densely populated province.
Some three million people live in the zone now, about half of them already displaced by the brutal seven-year war and others heavily dependent on humanitarian aid to survive.
A major military operation in Idlib is expected to pose a humanitarian nightmare because there is no nearby opposition territory left in Syria where people could be evacuated.
"We are in no way ready for the worst-case scenario," the UN's Regional Humanitarian Coordinator for the Syria Crisis, Panos Moumtzis, told reporters in Geneva.
"Should we see three million of the people headed to the Turkish border, this is a scenario that by far outweighs the capacity of all the humanitarian organisations put together," he said.
"At the moment as humanitarians while we hope for the best, we are preparing for the worst."
Full report at:
https://english.alarabiya.net/en/News/middle-east/2018/09/13/UN-report-38-500-flee-hostilities-in-Syria-s-Idlib-in-two-weeks-.html
--------
Marines hold eight days of drills with militants in southern Syria
Sep 14, 2018
US marines have held eight days of unprecedented military exercises with US-backed militants in southern Syria in an attempt to send a "strong message" to Iran and Russia, a senior military official said.
Colonel Sean Ryan, a US military spokesman, described the drills as "a show of force," saying that the Pentagon had notified Russia through "deconfliction" channels to prevent "miscommunication or escalate tension".
"The exercise was conducted to reinforce our capabilities and ensure we are ready to respond to any threat to our forces within our area of operations,'" he noted.
The eight days of drills ended this week at the US military outpost in Tanf, located 24 km to the west from the al-Tanf border crossing between Syria and Iraq in Homs Governorate, said Colonel Muhanad al Talaa, the commander of the US-backed Maghawir al Thawra militant group.
He told Reuters the war games were the first such exercises with live-fire air and ground assault, involving hundreds of US troops and militants operating against the government of President Bashar al-Assad.
Thawra claimed the drills were meant to send what he described as "a strong message to Russia and Iran" that the Americans and the militants intended to stay and confront any threats to their presence.
The US presence in Tanf military base is illegal and lacks the permission of the Syrian government. Damascus, Moscow, and Tehran have repeatedly denounced the American military presence in Syria and called on the US to withdraw its marines from the base. However, the US has so far refused to pull its forces out, and even moved to deploy hundreds of more marines in Tanf earlier this month.
The new forces have reportedly joined "special operations troops already based in the garrison" and are going to participate in the drills amid an escalation of US-Russian tensions in Syria and Russia's military exercises in the Mediterranean.
Meanwhile, the CNN cited several US military officials as saying last Friday that Russia had warned the Pentagon twice in the past weeks that its forces, together with Syrian troops, were prepared to wage an attack on terrorists in the area where dozens of US troops are stationed - including those in Tanf garrison.
Reacting to Moscow's warnings, US military officials "bluntly warned Russia and Syria not to go forward with an attack within a 35-mile-wide security zone that the US maintains around Tanf," Task & Purpose further reported.
The US illegally built the military outpost in early 2016 under the pretext of fighting Daesh terrorists, but it has declared a 55 km-radius "deconfliction zone" off-limits to others, providing a safe haven for at least 50,000 militants and their families in the Rukban camp that lies within it.
This is while US President Donald Trump had previously stated that he wanted American troops out of Syria as soon as possible and has also called for redirecting millions of dollars meant to help rebuild Syria to other military projects.
Full report at:
https://www.presstv.com/Detail/2018/09/14/574071/US-drill-Syria-militants-tanf
--------
URL: http://www.newageislam.com/islamic-world-news/new-age-islam-news-bureau/france-will-adopt-a-special-'halal-tax'-if-macron-accepts-report-aimed-at-fighting-extremism/d/116378
New Age Islam, Islam Online, Islamic Website, African Muslim News, Arab World News, South Asia News, Indian Muslim News, World Muslim News, Women in Islam, Islamic Feminism, Arab Women, Women In Arab, Islamophobia in America, Muslim Women in West, Islam Women and Feminism