New Age Islam News Bureau
20 Feb 2019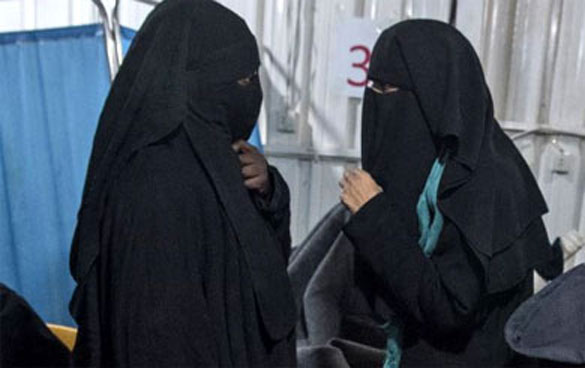 Two women reportedly wives of Islamic State (IS) group fighters, wait with other women and children at a makeshift clinic at the Internally Displaced Persons (IDP) camp of al-Hol in al-Hasakeh governorate in northeastern Syria, Feb. 7, 2019.
------
• France to Move UN to Blacklist Jaish Chief Masood Azhar, All Eyes On China
• No 'Love Jihad' If BJP Leader Ram Lal's Niece "Shriya Weds Faizan"
• Pulwama attack: 'Horrible situation', says US President Donald Trump
• Muslim Cleric of Nahdlatul Ulama Urges Europe to Challenge Radicalism
• US Rushing To Give Saudi Sensitive Nuclear Technology: Congressional Report
• Britain Debates Whether Islamic State Recruits Should Be Given Second Chance
• UN Calls On India and Pakistan to Defuse Tension
• Daesh Terrorists in Syria Face Two Choices: Surrender Or Death
• Bloopers Galore At Pakistan Official Lunch for Saudi Crown Prince
• This India-Bangladesh Urs Special Train Has Been In Operation Since 1902
India
• France to Move UN to Blacklist Jaish Chief Masood Azhar, All Eyes on China
• No 'Love Jihad' If BJP Leader Ram Lal's Niece "Shriya Weds Faizan"
• Pulwama attack: 'Horrible situation', says US President Donald Trump
• Naseeruddin Shah, Kamal Haasan Have Become Agents of 'Ghazwa-E-Hind': Giriraj Singh
• 'Time for Imran Khan to 'walk the talk' on terrorism': Indian leaders react to Pak PM's remarks on Pulwama
• 'Without Food, Plastic Bags for Urination': Sikh Samaritans Come to Rescue of Kashmiris in U'khand
• Why Imran Khan's words ring hollow: Pakistan sitting on Jaish dossiers
• Jammu and Kashmir: Hibzul Mujahideen Valley chief Riyaz Naikoo warns of more attacks
• If Imran Khan is serious about talks, he must first hand over Masood Azhar: Congress
• SC, ST, BC, Muslim Front stage dharna against Pulwama terror attack
• Punjab CM Jabs Imran Khan, says "Will find Masood Azhar for you"
--------
Southeast Asia
• Muslim Cleric of Nahdlatul Ulama Urges Europe to Challenge Radicalism
• Minister: Malaysia urges Rohingya oppressors be brought immediately to ICC
• Muhyiddin: Cops know individual who posted caricatures insulting to Islam on FB
• Shariah-compliant fintech to improve financial inclusion
--------
North America
• US Rushing To Give Saudi Sensitive Nuclear Technology: Congressional Report
• US House panel opens probe into Saudi nuclear transfer
• US Senator warns withdrawing from Syria and Afghanistan will embolden Iran
• 2 American Wives of ISIS Militants Want to Return Home
--------
Europe
• Britain Debates Whether Islamic State Recruits Should Be Given Second Chance
• UN Calls On India and Pakistan to Defuse Tension
• British FM: German halt in Saudi arms sales hurting UK industry
• Russia's Putin, Saudi King ready to continue energy cooperation
• Qatar embassy in London faces legal action over racial discrimination
• Anti-Extremism Activist Maajid Nawaz 'Racially Attacked' In London
• Myanmar must ensure safety of returning Rohingya: UK
--------
Arab World
• Daesh Terrorists in Syria Face Two Choices: Surrender Or Death
• For Yazidi Survivors Of Daesh Killings, The Nightmares Go On
• Syrians Hoist Gov't Flag across Raqqa City
• Egyptian security forces kill 16 suspected militants
• SDF Kidnaps, Arrests over 100 Civilians in Northern Syria
• Report: Tahrir Al-Sham's Ringleader Al-Jolani Injured in Idlib Blasts
• Syrian Army Wards off Tahrir al-Sham's Attacks in Hama, Idlib
• Syrian Army Discovers US, Israel-Made Missiles from Terrorists' Hideouts near Damascus
• Two safe corridors opened for displaced Syrians at Rukban camp
--------
Pakistan
• Bloopers Galore At Pakistan Official Lunch for Saudi Crown Prince
• Pakistan interested in advancing its ties with Israel: Qureshi
• Iran Guards say Pakistan national carried out suicide attack on troops
• UN offers help in defusing Pakistan-India tensions
• FPCCI sees more joint ventures with Saudi investors
• Erdogan likely to visit Pakistan next month
• US-Taliban talks will be affected if India 'acts irresponsibly over Pulwama attack'
• Pakistan raises nine points against Kulbhushan at ICJ
--------
South Asia
• This India-Bangladesh Urs Special Train Has Been In Operation Since 1902
• Another Suspected Bangladeshi Terrorist Arrested In Burdwan Blast Case
• Taliban commanders, militants in Afghan Air Force airstrikes in Faryab province
• President Ghani met with the U.S. CENTCOM Commander in Kabul
• China urges restraint by India, Pakistan on Pulwama terror attack
--------
Mideast
• Turkey Seeks To Detain Over 300 For Alleged Gulen Ties
• Griffiths: Troop withdrawal in Hodeidah could start any time now
• Ten Palestinian worshippers injured as Israeli forces raid al-Aqsa Mosque
• Dozens of Gazans injured during protest against Israeli blockade
• Israeli police arrest 19 Palestinians at Jerusalem holy site
--------
Africa
• Security Forces Free Mali Official From Extremists
• Man detained 5 days for probe into Al-Shabaab spy claims
• Boko Haram: Monarch advocates Better funding for Nigerian Army
• Troops inflict more casualties on Boko Haram terrorists
Compiled by New Age Islam News Bureau
URL: https://www.newageislam.com/islamic-world-news/france-move-un-blacklist-jaish/d/117804
--------
France to move UN to blacklist Jaish chief Masood Azhar, all eyes on China
by Shubhajit Roy |
February 20, 2019
In a significant move, Diplomatic Advisor to French President Emmanuel Macron, Philippe Etienne, dialled National Security Advisor Ajit Doval Tuesday and decided to move a resolution at the United Nations Security Council (UNSC) for listing Jaish-e-Mohammad chief Maulana Masood Azhar as a "global terrorist".
Sources said France will be moving a proposal in a "couple of days". They said that more countries are likely to join in the next few days and conversations are taking place through diplomatic channels with other members of the UNSC.
Apart from P-5 countries, New Delhi is also in conversation with Indonesia, which is the chair of the UNSC resolution 1267 sanctions committee that covers terror groups, and vice-chairs, Russia and Peru, for moving the resolution.
This is the second time that France has decided to take the lead in getting Azhar listed after a similar attempt along with the US and the UK in 2017 was blocked by China.
The French side has also decided to push for keeping Pakistan on the "grey list" of countries at the meeting of Financial Action Task Force (FATF) in Paris this week. Pakistan was put on the FATF list in June 2018 and placed on notice to be blacklisted by October 2019 if it did not curb money laundering and terror financing. This, if implemented, has serious costs for Islamabad as it is trying to woo investors to Pakistan amid a dire economic situation.
New Delhi's attempts to list Azhar at the UNSC have been repeatedly blocked by China. The most recent effort began after India blamed JeM for the attack on the IAF base in Pathankot on January 2, 2016, and proposed a month later to designate Azhar as a global terrorist. But China intervened at Pakistan's behest and placed a technical hold on India's move in March and again in October 2016. It subsequently used its veto power to block the proposal in December 2016, a day before the technical hold ended.
China again employed a technical hold and blocked a proposal put forward by the US, the UK and France on January 19, 2017, to designate Azhar as a terrorist. India had started pushing for Azhar's listing since 2008-09, after the 26/11 Mumbai terror attacks, and even then China had put a technical hold.
After the Pulwama attack, India had reiterated its appeal to all members of the international community to support the proposal to list terrorists, including Azhar, and to ban terrorist organisations operating from territories controlled by Pakistan.
The latest French initiative comes a day after Saudi Arabia signed off on a joint statement with Pakistan on the need to avoid "politicisation of the UN listing regime" — an apparent reference to India's efforts to list Azhar. As the Saudi Crown Prince landed in Delhi Tuesday night for a two-day visit, the statement was seen as a snub to Delhi.
https://indianexpress.com/article/india/france-to-move-un-to-blacklist-jaish-chief-masood-azhar-all-eyes-on-china-5591937/
--------
No 'Love Jihad' if BJP leader Ram Lal's niece "Shriya weds Faizan"
Feb 19, 2019
LUCKNOW: On Sunday evening, a high-profile interfaith wedding took place at Taj Vivanta hotel in Lucknow, the capital of northern India's Uttar Pradesh state.
Howver, this pool side wedding of Hindu bride with a Muslim groom does not invite the anger of right-wing organisations and there was no attack on the couple from the right-wing brigade.
According to media reports, Shreya Gupta, niece of BJP's National General Secretary (Organization) Ramlal Gupta tied the knot with Faizan Kareem.
The wedding was attended by senior leaders of Bharatiya Janata Party including Governor Ram Naik, Union Minorities Welfare Minister Mukhtar Abbas Naqvi, Deputy CM Keshav Prasad Maurya and functionaries to poured their blessings to the couple.
Faizan is the son of Dr Wijahat Kareem and Congress leader Dr. Surheeta Chatterji Kareem.
As the news of BJP leader's niece tying knots with a Muslim youth of Gorakhpur broke out, people no time to brought-in the controversial issue of love-jihad and give their opinion.
"Where is love jihad brigade now, the RSS outfits had recently attacked a couple in Agra," said a journalist while reacting to this interfaith wedding.
"A wedding is a private matter and I can't say much but one cannot overlook the hypocrisy of the politicians," he added. "I hope that people who get provoked by this love jihad bogey are able to see through hypocrisy of the political class," he said.
"It looks like what is good for the goose is not good for the gander. A Muslim friend married a Hindu girl in Lucknow only to be hounded by the police and rightwing elements for months on end. The cops would not just raid his house every few days in the middle of the night, they would conduct similar unauthorised searches in the homes of his friends and relatives," recalled Indian expat Mohsin, 45.
"The couple lived in fear. The girl was 24 years old at the time of her marriage but her parents lodged a police complaint saying she was a minor. The police knew she wasn't and would refuse to listen or reason with us," he said.
https://www.siasat.com/news/no-love-jihad-if-bjp-leader-ram-lals-niece-shriya-weds-faizan-1469168/
--------
Pulwama attack: 'Horrible situation', says US President Donald Trump
February 20, 2019
US President Donald Trump Tuesday described as a "horrible situation" the Pulwama terrorist attack by the Jaish-e-Mohammed group, in which 40 Indian paramilitary personnel were killed, and said he was getting reports on it and would issue a statement.
Separately, State Department Deputy Spokesperson Robert Palladino expressed "strong support" for India and asked Pakistan to "punish anyone responsible" for the February 14 attack.
The suicide attack has led to escalation of tension between India and Pakistan and Trump told reporters at the Oval Office of White House that it would be "wonderful" if the two South Asia neighbours get along.
"I have watched. I have got a lot of reports on it. We will have comment (on it) at an appropriate time. It would be wonderful if they (India and Pakistan) get along," Trump said in response to a question.
"That (the terrorist attack) was a horrible situation. We are getting reports. We will have a statement to put out," Trump said.
At a separate news conference, the State Department Deputy Spokesperson said the US has been in close communication with the Indian government "to express not only our condolences but our strong support".
"We urge Pakistan to fully cooperate with the investigation into the attack and to punish anyone responsible," Palladino said. In the aftermath of the Pulwama attack, the US has also been in contact with Pakistan, he said.
Following the terrorist attack, Trump's National Security Advisor, John Bolton, has supported India's right to self-defense.
Secretary of State, Mike Pompeo, Bolton, and the White House Press Secretary Sarah Sanders in separate statements have asked Pakistan to immediately take action against the JeM and its leaders and end support to terrorist safe havens.
The CRPF personnel were killed when a JeM terrorist rammed an explosive-laden car into a vehicle carrying them in Jammu and Kashmir's Pulwama
https://indianexpress.com/article/india/pulwama-attack-donald-trump-india-pakistan-5592086/
--------
Muslim Cleric of Nahdlatul Ulama Urges Europe to Challenge Radicalism
February 20, 2019
Do European politicians dare to tell Muslims what they should do? According to one of Indonesia's leading Muslim figures, K.H. Yahya Staquf, general secretary of Sunni movement Nahdlatul Ulama (NU), it's important that they do so for the sake of their own communities.
Staquf has been in Europe lobbying for more discussion on his call for Muslim societies to discard passages of the Quran and the hadiths — the sayings of the Prophet Muhammad — that condone violence toward others.
The Muslim cleric has been arguing that European political parties, including those on the right, should stay united and actively address populist concerns about threats linked to Islam, terrorism and migration. Under this scenario, leaders like Hungary's Viktor Orban should not only be trying to insulate their countries from Muslim migrants but also engaging in dialogue with Muslim communities.
But while Staquf certainly deserves praise for continuing to campaign internationally and at home for a more liberal interpretation of Islam, it will be difficult for European political parties to take up the issue. In doing so, they would be making themselves targets for radicals and for barbs from populists such as Orban who reject Muslim migration to Europe.
Staquf's campaign previously took him to Washington, D.C., in support of what he and his allies in NU call humanitarian Islam. It argues that Islam has many faces, just as it has prospered among different cultures. It rejects the Salafist view favored by Sunni radicals that insists that there is only one formal expression of Islam.
The Islam favored by the Salafists finds its ultimate expression in the hate-filled diatribes and abuses committed by Islamic State. Followers believe they have the right to kill infidels and even fellow Muslims who don't agree with their extreme position. Staquf is calling for a reinterpretation of Muslim jurisprudence — fiqh — to reject articles in the Quran and the hadiths that support this violent ideology.
In doing so, he is probably high on the hit list of hard-line Islamists in many corners of the globe. While Christianity's holy texts — particularly the Old Testament — contain vengeful passages, modern Christians have largely put them aside. In Islam, the followers of Islamic State have resurrected passages in their holy books that encourage the murder of apostates, including beheading, and stern action against anyone, Muslim or not, who doesn't follow Shariah law.
According to a press release from NU, Staquf's visit to the European Parliament on Jan. 31 and Feb. 1 in his capacity as a member of Indonesia's Presidential Advisory Council was designed to encourage EU politicians "to halt the rapidly accelerating polarization of European societies by acknowledging and addressing legitimate concerns raised by populist forces about the nexus of national and international security threats linked to Islam, terrorism and migration."
He urged his audiences to take part in "frank discourse" about "problematic tenets of Islamic orthodoxy" and to encourage Muslim religious authorities and Middle East governments to "boldly acknowledge and reform them."
Theological roots
Up until now, most Western governments have been keen to stay out of the argument, believing that interference in debate over Muslim jurisprudence would do more damage than it was worth. The Barack Obama administration steadfastly refused to recognize the violent passages in Muslim texts as the core problem behind al-Qaeda or Islamic State. The Donald Trump administration has not addressed the issue.
The press release noted that Staquf directly addressed this reluctance to get involved in talks with the center-right European People's Party (EPP) think tank — the Wilfried Martens Centre for European Studies.
He critiqued Western governments' tendency to ignore and even deny the obvious theological roots of violent and non-violent Islamist extremism. Staquf's remarks "validate discussions that have recently emerged at the heart of the EU itself. These developments reflect the fact that the multibillion-euro P/CVE [Preventing/Countering Violent Extremism] industry has proven ineffective due to flawed root cause analysis, while religious supremacism, separatism and violence continue to spread."
Holland Taylor, founder of the LibForAll Foundation which is sponsoring Staquf's lobbying efforts, dismisses fears that European or other politicians would make themselves targets by promoting Staquf's argument and engaging in debate.
He says it is in Europe's own self-interest to be proactive on the issue of Islamic jurisprudence. "Throughout Europe, election results are increasingly determined by security issues inextricably linked to Islamist terrorism and migration," he told ucanews.com.
"Politically effective discourse regarding these issues is the main electoral currency in Europe today. National elections consistently hinge on political maneuvering around these issues, and the 2019 EU parliamentary elections will constitute a de facto referendum on related policy agendas.
"Political trends in Europe appear to favor increased honesty about these issues, and the spiritual wing of the NU is unique in addressing these issues with clarity and frankness. European security services can, by and large, ensure politicians' physical safety but cannot preserve their hold on political power if popular sentiment on these issues continues moving steadily to the right."
It remains to be seen how successful Staquf's lobbying will be in encouraging politicians and governments outside the Muslim world to get involved in an issue which most Muslims believe is purely their own domain.
In a speech last year, Staquf said he had been invited to take part in a foreign nation's deradicalization program. He had declined, he said, because NU's approach was "not to focus primarily upon the deradicalization of people, one by one. Rather than limit our focus to individual grains of sand upon a beach — questioning why they behave as they do — we seek to shape the tidal forces and other elements responsible for the deposition and alignment of the beach itself. We do that by reinforcing a civilizational worldview that marginalizes and discredits extremist ideology while isolating the radicals themselves."
In the past, he has admitted privately that he is not optimistic about his task of changing the nature of "the beach" but says he feels he has no choice but to keep trying.
https://www.ucanews.com/news/muslim-cleric-urges-europe-to-challenge-radicalism/84532
--------
US rushing to give Saudi sensitive nuclear technology: Congressional report
Feb 19, 2019
A congressional report reveals that the United States is rushing to transfer "highly sensitive nuclear technology" to Saudi Arabia, with President Donald Trump being "directly engaged" in the push.
The House of Representatives' Oversight and Reform Committee released the 24-page report on Tuesday, listing the actions taken by the Trump administration in an attempt to win government support for American firms to construct nuclear power plants in Saudi Arabia, in what could increase the risk of spreading nuclear weapons technology.
The report is based on whistleblower accounts and documents showing communications between administration officials and nuclear power companies.
"Experts worry that transferring sensitive U.S. nuclear technology could allow Saudi Arabia to produce nuclear weapons that contribute to the proliferation of nuclear arms throughout an already unstable Middle East," says the report.
The House panel has opened an investigation into case.
The report said the probe was "particularly critical" because the administration's efforts to hand over the technology to the kingdom appear to be ongoing.
Trump is reportedly "directly engaged in the effort."
Why the hurry?
The report, meanwhile, questioned why the push was characterized by such haste.
It said the House panel had obtained additional documents bolstering earlier whistleblower concerns about potential illegalities and conflicts of interest facing top White House aides, whom it accuses of advancing the push.
The document names some of the officials as former National Security Advisor Michael Flynn, Energy Secretary Rick Perry, Trump's son-in-law and senior advisor Jared Kushner, and Tom Barrack, the president's inaugural committee chairman.
The report also implicates some firms linked to the president in contributing to the drive.
The commercial entities named are IP3 International, a private company, which has reportedly organized a group of US companies to build "dozens of nuclear power plants" in the kingdom, ACU Strategic Partners, a nuclear power consultancy group, Colony NorthStar, Barrack's real estate investment firm, and Flynn Intel Group, a consultancy and lobby group.
The House report divulges communications between Trump administration officials and nuclear power companies.
It states that "within the US, strong private commercial interests have been pressing aggressively for the transfer of highly sensitive nuclear technology to Saudi Arabia."
Big bucks
These commercial entities could "reap billions of dollars through contracts associated with constructing and operating nuclear facilities in Saudi Arabia," it adds.
Saudi Crown Prince Mohammad bin Salman laid the foundation of the kingdom's first nuclear research reactor last November amid nuclear talks with the United States.
The report also says that private commercial interests inside the US are behind the push to trust Saudi Arabia with the "highly sensitive technology."
Riyadh has refused to agree to safeguards, which ban it from using nuclear technology for military purposes.
https://www.presstv.com/Detail/2019/02/19/589012/Saudi-Arabia-United-States-sensitive-nuclear-technology-Trump-White-House
--------
Britain Debates Whether Islamic State Recruits Should Be Given Second Chance
February 19, 2019
LONDON —
British-born Sumaiyyah Wakil was 16 years old when she sneaked away to war-torn Syria, flying first to Bulgaria, then Turkey, to join the Islamic State terror group.
Once in IS's de facto capital, Raqqa, she bragged, according to British court documents, about watching the public stoning of a woman, describing the killing as "so cool."
But now her family say the British authorities should repatriate her when she re-emerges, likely soon, from IS territory as well as other British teenagers who joined the militants. Wakil's parents and the families of IS recruits argue their offspring were manipulated by jihadist recruiters and were too young to know what they were doing when they went off to Syria.
The predicament of surviving young foreign IS recruits — especially of the women, most of whom left like Wakil, as schoolgirls without family approval or prior parental knowledge — has sparked a ferocious moral, political and legal debate in Britain, as well as other European states, about whether they should be readmitted to their birth countries, let alone helped to return and given a second chance.
Opinion polls suggest most Britons don't think they deserve the right to return.
In Britain, the debate was triggered in earnest last week with the discovery by reporter Anthony Loyd of a pregnant 19-year-old British woman in a Kurdish-managed refugee camp in northeast Syria. Shamima Begum, who gave birth to her third child Sunday, joined the militant group in 2015 at the age of 15, slipping off with two school friends, all from east London.
One of the girls died in an airstrike in 2016; the other, Amira Abase, is still in IS territory. At least 900 Britons, an estimated 145 of them women and 50 minors, joined IS. In total, an estimated 5,000 Europeans joined the militant group, although some analysts say the figure is likely higher.
Britain, like other European countries, has been reluctant to repatriate IS recruits, whether it be male fighters or so-called "jihadi brides," as well as their children. A small number have been assisted in returning to their countries of origin, but hundreds are awaiting political or legal resolution of their cases as their appeals for repatriation have largely been ignored by alarmed European governments, who see the recruits as security risks who betrayed their countries.
U.S. officials have been urging European governments, for more than a year, to take back surviving recruits — and prosecute them. Otherwise they will slip away, they say, from refugee and detention facilities in northeast Syria and pose a greater threat once unsupervised. On Saturday, a frustrated U.S. President Donald Trump urged the Europeans to take charge of their rogue citizens, saying the alternative is the Kurds will have to free them.
European officials say most can't be put on trial because of the difficulty in collecting hard evidence against them for individual wrongdoing, and they worry their presence will over-tax already strained security services. More than 900 foreign jihadists and 3,200 wives and children are being held by the Kurds.
Begum, whose two previous children died from malnutrition and sickness, says she wants to return to Britain, mainly because she's worried about her baby's health. "I think a lot of people should have, like, sympathy towards me for everything I've been through," she said in a recent interview.
But she has neither expressed remorse over joining IS nor disavowed the group's ideology. In an interview with Sky News, she claimed she was "just a housewife" during her time in IS's self-styled caliphate, where she married a young Dutch jihadist shortly after arriving.
And asked whether she was aware of the IS beheadings and executions, she answered matter-of-factly that she'd been "OK with it." She said: "Yeah, I knew about those things and I was OK with it. Because, you know, I started becoming religious just before I left. From what I heard, Islamically, that is all allowed." In an interview with the BBC, she said the 2017 terror attack on the Ariana Grande concert, in which 22 people were killed, was justified retaliation.
Her lack of contrition has prompted public outrage, with detractors saying she displays a breathtaking sense of entitlement. Her family, though, says she is brainwashed.
Muhammad Rahman, her brother-in-law who is married to an older sister, told reporters: "I can understand why many people in Britain do not want Shamima to be allowed back into the country after what she has done … but she went as a 15-year-old and I don't know a 15-year-old can make such a decision with any responsibility. She was a minor when she left and she surely has been brainwashed."
Some radicalization experts have long argued that young Westerners were cleverly groomed by recruiters, in much the same way pedophiles target prey with tailored, manipulative narratives to build a false sense of kinship.
Mia Bloom, a communications professor at George State University and recognized radicalization expert, highlighted, as the caliphate unfolded, how IS groomers were skillful at exploiting the vulnerabilities and confusion of disoriented Western teenagers already struggling with identity issues.
Bloom said IS matched recruiters with potential supporters in terms of age, nationality and gender. The marketing narratives would shift depending on the target's vulnerabilities — from arguments about equality and inclusion to offers of friendship and the promise of belonging. For some, there would be the lure of utopian adventure. Others would be manipulated by recruiters emphasizing their obligations to Islam.
Manipulated or not, commentator Janice Turner, a columnist with The Times of London, says while the age of some IS recruits should be taken into account, she questions, "at what point does a young person stop being a gullible victim, malleable clay moulded by older minds and dangerous ideology, and become responsible for his or her deeds?"
In Begum's east London neighborhood of Bethnal Green, there are mixed feelings. Some locals say she might have been manipulated into going, but her lack of remorse now is alarming and suggests she remains a radicalized menace. The plight of the children of IS recruits is what pulls at most heartstrings, and even those adamant that the recruits should not return, say the children can't be left to their fates.
On the legal front, there have been calls for treason laws to be applied against IS recruits, including jihadi brides, but those laws may not be appropriate, legal scholars say.
Interior minister Sajid Javid reflected British anger last week by saying Begum and other recruits shouldn't be readmitted. He later conceded, however, that he can't block legally most of them permanently from re-entry. But Tuesday he made a U-turn, ordering his officials to start the process of stripping Begum of her British citizenship.
https://www.voanews.com/a/britain-debates-whether-islamic-state-recruits-should-be-given-second-chance/4794103.html
--------
UN calls on India and Pakistan to defuse tension
20 February 2019
UN Secretary General Antonio Guterres on Tuesday called on India and Pakistan to take immediate steps to defuse tensions and offered to help broker a solution if both sides agree.
The two countries have been locked in a diplomatic clash following a suicide attack on February 14 in Kashmir that killed 40 Indian security personnel, triggering counter-operations by Indian forces in the area.
"We are deeply concerned at the increasing tensions between the two countries," said UN spokesman Stephane Dujarric.
Guterres stressed "the importance of both sides to exercise maximum restraint and take immediate steps" to de-escalate, while also offering to mediate "should both sides ask," said Dujarric.
Pakistan's Foreign Minister Shah Mahmood Qureshi appealed to Guterres to step in to defuse tensions, in a letter seen by AFP.
"It is imperative to take steps for de-escalation. The United Nations must step in to defuse tensions," said the letter sent on Monday.
The attack was claimed by Pakistan-based Islamist group Jaish-e-Mohammed (JeM), but the foreign minister insisted that "attributing it to Pakistan even before investigations is absurd."
In response to the rising tensions, France, Britain and the United States were considering a new push at the Security Council to place Masood Azhar, the leader of JeM, on the UN terror list, but faced opposition from China, diplomats said.
China has twice blocked -- in 2016 and 2017 -- attempts to put the JeM leader on the blacklist. The group itself was added to the terror list in 2001.
Kashmir has been split between India and Pakistan since independence from Britain in 1947. Both countries claim the former Himalayan kingdom in full and have fought two wars over it.
India has long accused Pakistan of harboring militants who launch attacks on its soil.
Pakistan's UN Ambassador Maleeha Lodhi met with Guterres and with the president of the Security Council to appeal for action, warning that a flareup in Kashmir could undermine peace efforts in Afghanistan.
"The escalation in the subcontinent poses a threat to prospects for peace in Afghanistan," Lodhi told AFP.
The United States is holding talks with the Taliban on ending 17 years of war.
US envoy Zalmay Khalilzad's talks also involve Pakistan, Saudi Arabia and the United Arab Emirates, the three countries that recognized the Taliban regime in Kabul before the US-led coalition toppled it following the September 11, 2001 attacks.
https://english.alarabiya.net/en/News/world/2019/02/20/UN-calls-on-India-and-Pakistan-to-defuse-tension.html
--------
Daesh terrorists in Syria face two choices: Surrender or death
February 19, 2019
OMAR OIL FIELD, SYRIA: Militants defending their last dreg of territory in Syria will be "killed in battle" if they do not surrender, a Kurdish-led force said on Tuesday ahead of a final showdown.
The US-backed Syrian Democratic Forces (SDF) said they are trying to evacuate civilians trapped in the last half-a-square km of Daesh's once-sprawling "caliphate" before storming the terrorist holdout.
"We are working on secluding and evacuating civilians and then we will attack. This could happen soon," spokesman Mustafa Bali said, declining to provide more details on the operation.
Daesh militants "have only two options, either they surrender or they will be killed in battle," he said. Daesh declared a "caliphate" across large swathes of Syria and neighboring Iraq in 2014.
A small hamlet of buildings in the village of Baghouz is all that is left of the proto-state, which at its height spanned an area the size of the UK.
The UN on Tuesday expressed concern over "the situation of some 200 families, including many women and children, who are reportedly trapped" in the Daesh holdout.
"Many of them are apparently being actively prevented from leaving by Daesh," the UN said in a statement. The frontline in Baghouz was quiet on Monday afternoon. Tattered buildings and the twisted skeletons of cars dotted the side of the road.
At the entrance of the village, the SDF had turned an embattled building into a temporary base.
Thousands of people have streamed out of Daesh turf in recent weeks, but no civilians have made it out in the past three days.
Those that managed to escape have been ferried on trucks to Kurdish-held camps for the displaced to the north.
The International Rescue Committee said on Monday that 62 people, mostly children, had died on the way to the Al-Hol camp or shortly after arriving in past weeks.
Beyond Baghouz, Daesh still has thousands of fighters and sleeper cells scattered across several countries.
In Syria, it retains a presence in the vast Badia desert, and the terrorists have claimed deadly attacks in SDF-held territory.
An SDF official on Monday said that an announcement will be made this week.
"In a few days we will announce a great victory over the largest terrorist organization that waged war on the world and wreaked chaos and death everywhere," Zeidan Al-Assi said in a statement.
Trucks entered Baghouz to evacuate remaining civilians on Tuesday, Reuters quoted an SDF source as saying. A Reuters witness in a location near Baghouz saw dozens of trucks moving along a road toward the village.
http://www.arabnews.com/node/1454996/middle-east
--------
Bloopers Galore At Pakistan Official Lunch For Saudi Crown Prince
Feb 19, 2019
NEW DELHI: Pakistan state lunch in honour of Saudi Crown Prince Mohammed bin Salman on Tuesday saw some embarrassing moments and violation of protocol by the hosts.
In videos of the event circulating on social media, Pakistan President Arif Alvi is seen facing a moment of embarrassment when he had to be prodded to stand up and give his speech during the state lunch for the Saudi Crown Prince.
In a move that went against the protocol, the Pakistan president started his speech to welcome Crown Prince Salman while others on the table, including Pakistan Prime Minister Imran Khan, were still having their lunch.
PM is busy eating, President begins address sitting down, then is told: "kharay hu jaey". They have to be micro man… https://t.co/X3qdd5130l
— Naila Inayat नायला इनायत (@nailainayat) 1550513210000
Strangely, what was supposed to be a welcome speech was not read out before the lunch. It was as if the president had to be reminded to read out the welcome address even as the Saudi Prince sat quietly in between the Pakistan president and the PM.
The Saudi Crown Prince was looking towards the Pakistan President as he started his speech sitting on the table.
As Alvi started reading out the opening lines from a paper, he was prodded by someone on his left, possibly Imran Khan to stand up and speak.
The Pakistan President then stood up and continued with his speech.
The incident evoked funny reactions on Twitter, with many trolling the Pakistan leaders for the protocol lapse.
https://timesofindia.indiatimes.com/world/pakistan/bloopers-galore-at-pakistan-official-lunch-for-saudi-crown-prince/articleshow/68070040.cms
--------
This India-Bangladesh Urs Special train has been in operation since 1902
February 20, 2019
On the morning of 17 February, a train chugged into India from across the border with Bangladesh ensuring the continuation of a long history of religious harmony between the two nations. But the train was not the Maitree Express.
Carrying 2255 pilgrims, the Indo-Bangladesh Urs Special Train arrived at Midnapore railway station in West Bengal from Rajbari in Bangladesh.
The pilgrims are here for the annual congregation for all faiths held in Midnapore every year. The train itself has been making the trip every year since 1902, barring a few instances.
Unlike the Maitree Express, which runs between Dhaka and Kolkata, the Urs Special Train has been relatively little known even though it holds a very important place in the hearts of all the pilgrims who board it and the shared history of the two nations.
In its 117-year history, the Urs Special train was cancelled only four times – 1965, 1971, 1992 and 1994. While the first two cancellations were due to the Indo-Pak wars, the 1992 cancellation came after the Babri Masjid demolition. The train did not come to India in 1994 because of the fear of plague outbreak.
And while the Dhaka-Kolkata rail service remained suspended for 43 years after the 1965 Indo-Pak war, the Urs Special service resumed in 1966.
Why is the train religiously significant?
The pilgrims are followers of Midnapore Boro Huzur, a descendant of Quaderia order pioneer in Bengal Abdul Quadir Jilani.
An Iraqi, Jilani had come in India in the 19th century to preach Islam. Devotees of Boro Huzur believe that his disciple Midnapore (the name of the person) came from Rajbari on 17 February 1901.
While the Muslims call Midnapore Boro Huzur, the Hindus devotees call him Guru Dev. They, too, like the Muslim Bangladeshi, make the trip from Rajbari.
Bangladesh's Anjuman-e-Quadria Committee manages the trip.
According to Bangladeshi media reports, the pilgrims are selected by lottery and their papers sent for visas to the Indian High Commission in Bangladesh.
The trip starts the journey every year on 15 February from Rajbari and stops at Darshana in Bangladesh, Gede and Rana Ghat in India before reaching Midnapore.
The train, which has 24 carriages, returns to Rajbari four days after leaving for India.
https://www.thedailystar.net/southeast-asia/news/india-bangladesh-urs-special-train-has-been-operation-1902-1704775
--------
India
Naseeruddin Shah, Kamal Haasan Have Become Agents Of 'Ghazwa-E-Hind': Giriraj Singh
Feb 19, 2019
NEW DELHI: Union Minister and BJP leader Giriraj Singh on Tuesday labelled actors Naseeruddin Shah and Kamal Haasan as the agents of 'Ghazwa-e-hind' at a time when anti-Pakistan sentiments are on the rise after the deadly attack on a CRPF convoy in Jammu and Kashmir's Pulwama last week.
''In Pakistan, there are talks of 'Ghazwa-e-hind', which means 'Islamikaran' of India (the spread of Islam) and the same have gained momentum after the Pulwama attack. It is unfortunate that in India, people like Naseeruddin Shah and Kamal Haasan have become agents of those who talk of 'Ghazwa-e-hind','' the Bihar BJP MP said.
Both Shah and Haasaan have in the recent past faced intense criticism for their comments on mob lynching and Hindu terrorism and have even issued clarifications over the same.
This is not the first time that Singh has made such critical remarks targeting celebrities and his political rivals for their soft posturing on issues like cross-border terrorism, Ram temple, Triple Talaq among others.
Giriraj Singh had earlier called the Islamic seminary Darul Uloom Deoband a 'temple of terrorism' and warned that no one in this world will be able to stop the construction of Ram temple in Ayodhya.
The Union Minister had earlier suggested that India needs a law to control population growth.
He said the population of Hindus in 54 districts of the country has fallen and said if population control measures are not put in place it would pose a threat to social harmony and impede progress.
Giriraj Singh made these controversial remarks in Uttar Pradesh's Amroha hours after he used population figures to tweet that India would face another partition in 2047 if population control in not put in place.
"The population of the country in 1947 was 33 crore. Today, the declared population is 125 crore and the undeclared population is 136 to 141 crore. The population level of Hindus has fallen in 54 districts across the country. There will be no social harmony if population control laws are not passed. Neither will there be progress," Singh had said in Amroha.
https://zeenews.india.com/india/naseeruddin-shah-kamal-haasan-have-become-agents-of-ghazwa-e-hind-giriraj-singh-2181643.html
--------
'Time for Imran Khan to 'walk the talk' on terrorism': Indian leaders react to Pak PM's remarks on Pulwama
February 19, 2019
Hours after Pakistan Prime Minister Imran Khan issued a statement Tuesday saying his country has nothing to do with the Pulwama terror attack and was open to any investigation, leaders from Opposition parties in India have lashed out at him saying he needs to 'to walk the talk' on terrorism.
Challenging Khan's statement, senior Congress leader Manish Tewari told The Indian Express, "This is like a two-headed snake. While one head continues to bite India, the other head makes sanctimonious noises about talking….If Imran Khan is serious about what he is saying then he should first hand over Masood Azhar to India." Read MEA's response to Imran Khan's statement
The Congress leader also said that Maulana Masood Azhar and the Jaish-e-Mohammad (JeM) had helped Khan become the Prime Minister of Pakistan and his support to them is not surprising.
Khan had asserted that the country wanted stability. Hailing the concept of 'Naya Pakistan', he said in a pre-recorded message, "We do not benefit by attacking India. It is in our interest that nobody from our soil spreads violence. I want to tell Indian government that we will take action if evidence is found against anyone from Pakistan."
Despite Pakistan-based Jaish-e-Mahmood claiming responsibility for the Pulwama terror attack, Khan accused that India was blaming Pakistan government over the attack, "without any evidence". He also demanded proof from India for the recent terror attack and had said that appropriate action would be taken if 'evidence were found against anyone from Pakistan'.
Punjab Chief Minister Amarinder Singh further nudging on Congress' earlier statements, questioned what proof was Khan demanding as Masood Azhar, the mastermind behind JeM initiated terror attacks with the help of ISI, was sitting in Bahawalpur in Pakistan. Singh said, "Imran is a `Courtesy ISI' prime minister, so how else can one expect him to react. Time to walk the talk."
Former Jammu and Kashmir Chief Minister and PDP Chief Mehbooba Mufti said on Twitter that Pakistan was not being blamed without any evidence. Hitting back at Khan's assurance for action, she said, "Disagree. Pathankot dossier was given to them (Pakistan) but no action was taken to punish the perpetrators. Time to walk the talk."
Union minister Rajyavardhan Singh Rathore alleged that security agencies have 'strong evidence' on Pakistan's involvement in the Pulwama attack which has already been clearly conveyed to the neighbouring country.
Rathore while speaking to reporters on the sidelines of an event in Delhi, was quoted as saying to news agency PTI: "The security and investigative agencies have strong evidence regarding this (Pakistan's involvement in the Pulwama attack) and it has been clearly conveyed to them."
Meanwhile, Navjot Singh Sidhu who has been under the gun to file his resignation over his statements in favour of Khan in the wake of the attacks was trolled by senior Congress leader Digvijaya Singh as he urged Sidhu to convince his "friend" and Pakistan Prime Minister Imran Khan to act against terrorists.
Full report at:
https://indianexpress.com/article/india/imran-khan-pulwama-attack-amarinder-singh-mehbooba-mufti-mea-political-reactions-5591641/
--------
'Without Food, Plastic Bags for Urination': Sikh Samaritans Come to Rescue of Kashmiris in U'khand
February 19, 2019
New Delhi: With fear hanging in the air over Kashmiri students being targeted in Dehradun following the Pulwama terror attack on Thursday, Khalsa Aid International is reaching out to the distressed students and offering them transportation, food and accommodation.
The Punjab-based NGO has got in touch with Jammu and Kashmir Students' Organisation (JKSO) and providing transportation to 250 students waiting to leave for Mohali from Dehradun.
"When I saw members of Jammu and Kashmir Students' Organisation are providing help to students facing threats after Pulwama, I followed up with them. We are giving them transportation, food and accommodation. I saw them hungry and scared," Amarpreet Singh, managing director, Khalsa Aid International, told News 18.
He adds, "What is their fault… that they are Kashmiris? We will stand by them and help them. About 250 more students are stranded in Dehradun and want to leave for Jammu. We will take care of their travel."
Providing Safe Sanctuary
While some Kashmiri students are huddled up in a housing society, others have found refuge in gurudwaras. The JKSO — a socio-cultural group that has been working for the Kashmiri students since two years ago — has helped 800 students from Dehradun find safe refuge. Some have been sent back to Jammu and some are staying at various places in Mohali.
Singh says the issue is being hijacked by those who don't know the ground realities of Kashmir. "People with no understanding of what's happening on ground are playing politics over the issue. Another country is being dragged into our internal matter. At this hour, we are there for those who need help," he says.
300 Students Expected in Chandigarh
Kashmiri students studying in Dehradun, many of who have been roughed up since the Pulwama attack, are fearing for their lives and fleeing to Chandigarh, where several shelter camps have surfaced. Khwaja Itrat, president, JKSO, said 300 more are joining fellow Kashmiri students in the Chandigarh camp. Those who were assaulted by the Bajrang Dal and VHP members have been sent to Jammu.
"The students are extremely worried for their well-being. After the protests broke out, we helped 800 Kashmiri students from Dehradun and some from Haryana. Today, again, 300 students have joined the camp as things are not safe for them in Uttarakhand," Itrat said, adding that there are some students like Imtiaz Ahmad Mir — final-year postgraduate student of chemistry at Alpine College in Dehradun — who spent two days to reach Chandigarh — "without food and by using plastic bags for urination."
One of the students, on the condition of anonymity, shared: "Our college has assured that in 10 to 15 days when things get normal they will call us back. There is no safety for us and the crowd outside the campus has threatened to beat us up. Some of our brothers were beaten up. We will return when we get a call from our college."
The Saffron Threat
In Dehradun, the Bajrang Dal convener Vikas Verma continues to issue threats to Kashmiri students, claiming they "engaged in anti-national activities". He says: "The Kashmiri students are our targets and we want them to leave Uttarakhand. Today, we protested at the medical college near Shimla bypass, making sure those who are still living in area also leave."
His declares his message loud and clear: "Dogs are allowed but Kashmiri Muslims are not allowed in this state. Within 48 hours, we want them gone from here." He adds, "Only when the access to education will get restricted will these people stop pelting stones. The nationalists anywhere in the country should make Kashmiri students leave."
Full report at:
https://www.news18.com/news/india/amid-bajrang-dal-offensive-sikh-samaritans-come-to-rescue-of-kashmiri-students-in-uttarakhand-2040829.html
--------
Why Imran Khan's words ring hollow: Pakistan sitting on Jaish dossiers
by Rahul Tripathi
February 20, 2019
For, Pakistan has been sitting on "actionable intelligence" for quite a while when it comes to the Jaish-e-Mohammad — and hasn't responded to several official requests for help against Jaish chief Maulana Masood Azhar.
In fact, Azhar was named by India in two key investigations: the 2001 Parliament and the 2016 Pathankot attacks.
Two Red Corner notices were issued against Azhar by the Interpol, first in 2004 for the attack on Parliament and in 2016 for his role in the Pathankot airbase attack. You can read the full text of Imran Khan's speech here
Five persons including Afzal Guru, Shaukat Hussain Guru, both members of Jaish, were named by Delhi police in Parliament attack. Afzal Guru was convicted and hanged in 2013, Shaukat Guru's sentence was reduced but no trial was held for Azhar. Azhar, released by India in exchange of the passengers and crew of the hijacked IC-814, is in Pakistan.
Another prime accused, identified as Ghazi Baba, was killed in an encounter with the Border Security Force (BSF) in Srinagar. Azhar was named by the National Investigation Agency (NIA) in its probe into the airbase attack. After the Jaish's role was established, a five-member Joint Investigation Team (JIT) from Pakistan including an Additional IGP, a DIG, two Lt Colonels and one Inspector, offered assistance and visited India in 2016.
NIA, in its chargesheet, filed before the court noted, "The CIO of NIA requested them (JIT from Pakistan) in writing for providing relevant investigational assistance such as DNA samples of family members of the terrorist (killed inside Pathankot airbase), details of JeM and Al-Rahmat trust, questioning of Maulana Masood Azhar and other accused. They promised to revert back and also assured for reciprocal visit to Pakistan by Indian investigators. However, no reply was received till date."
In December 2016, NIA sent a Letter Rogatory (LR) and an additional LR seeking assistance in its probe but no response has been received so far.
Besides Azhar, NIA named his younger brother, Mufti Abdul Rauf Asghar and Jaish members Shahid Latif and Kashif Jan in the chargesheet. Also named were four militants killed in the Pathankot airbase, all Pak nationals. On Tuesday, Imran Khan again offered Pakistan's help to probe the role of its nationals into the Pulwama attack where 40 CRPF jawans were killed by a suicide attacker owing allegiance to JeM.
In its Pathankot chargesheet, the NIA said the outfit headed by Azhar, Jaish, has been designated as a terrorist organisation in Australia, Canada, USA, UK, UAE and the UN. "It was designated as militant organisation by United States by UN 1267 committee and Foreign Terrorist Organisation by US State Department in 2001," the chargesheet said.
While New Delhi has been demanding a ban on Azhar before the UNSC, Beijing has vetoed the move.
In its dossier on Azhar given to the UNSC and Pakistan, New Delhi describes Maulana as a "Pakistan-based international terrorist and a leader of JeM, its chief financier, recruiter and motivator. It adds Azhar has been associated "with ISIL and al-Qaeda for participating in the financing, planning and perpetrating" terrorist attacks.
Listing Azhar's role, New Delhi's dossier says, "In early 1994, Azhar surfaced in Jammu and Kashmir to mediate between various feuding factions of terrorist groups active in the State. He was arrested in February 1994 by Indian security forces and charged for terrorist linkages."
The funding for the JeM is derived from both business interests and the so called Islamic charitable foundations. According to the NIA chargesheet, the JeM-linked front includes Al-Rahmat trust which collects donations in the garb of helping families of mujahideen and has been seeking land in donation to build mosques in Lahore, Peshawar and Karachi.
Full report at:
https://indianexpress.com/article/india/why-imran-khans-words-ring-hollow-pakistan-sitting-on-jaish-dossiers-5591938/
--------
Jammu and Kashmir: Hibzul Mujahideen Valley chief Riyaz Naikoo warns of more attacks
February 20, 2019
Days after a suicide car bomber rammed his explosives-laden car into a paramilitary bus, killing 40 CRPF personnel, Hibzul Mujahideen's operations chief in the Valley, Riyaz Naikoo, has warned of more such attacks, thus signalling a shift in dynamics of militancy in Jammu and Kashmir. On Monday, Naikoo released an audio message praising the suicide bomber, Adil Ahmad Dar, and warned against attacks on Kashmiris outside the Valley.
The statement assumes significance since it hints at a shift in dynamics of militancy in Kashmir.
While Hizbul Mujahideen has been the largest militant outfit in the Valley, in the past it has refrained from carrying out suicide the fidayeen on security camps in the Valley.
Full report at:
https://indianexpress.com/article/india/jammu-and-kashmir-hibzul-mujahideen-valley-chief-riyaz-naikoo-warns-of-more-attacks-5591957/
--------
If Imran Khan is serious about talks, he must first hand over Masood Azhar: Congress
February 20, 2019
The Congress on Tuesday said that Pakistan Prime Minister Imran Khan's statement that his country had nothing to do with the Pulwama terror attack was "unacceptable", and argued that Khan should "first hand over Masood Azhar to India" if he is serious about talks with India.
Having extended support to the Narendra Modi government, the Congress, however, said it did not want India's response to be foolhardy or reckless. Explained: Imran Khan's speech had these two significant departures
Speaking to The Indian Express, former external affairs minister Salman Khurshid said, "Frankly, it is unacceptable when Pakistan says it has nothing to do with it. Whether they have ability to control or not…Merely saying that we are not responsible will not do," he said.
On Khan's demand for actionable intelligence, Khurshid said, "We have given actionable evidence in the past. Mr Shinde gave it, Mr Chidambaram gave it. I am not sure if there was any satisfaction at all. And even the trial of the Mumbai attackers has not progressed. So how do we accept that they will now do something serious…"
On the offer for talks, former Union minister Manish Tewari said, "This is like a two-headed snake. While one head continues to bite india, the other head makes sanctimonious noises about talking… If Khan is serious about what he is saying, then he should first hand over Masood Azhar to India. Jaish has claimed responsibility for the attack."
Full report at:
https://indianexpress.com/article/india/if-imran-khan-is-serious-about-talks-he-must-first-hand-over-masood-azhar-congress-5591950/
--------
SC, ST, BC, Muslim Front stage dharna against Pulwama terror attack
Feb 20, 2019
Hyderabad: The leaders of SC, ST, BC and Muslim Front registered a protest at Ambedkar Statue located at Tank Bund, Hyderabad. Chief Convener of the front, Mr. Sanaullah Khan led the protest. Maulana Syed Tariq Qadri, Mr. Hayat Husain Habeeb, Mr. Nayeemullah Shareef demanded Govt. of India to extend every possible help to the relatives of the martyrs.
They asked Govt. of India that how is it that after demonetization, terrorist attacks have not been reduced whereas Mr. Modi had claimed that demonetization is a great success against terrorism.
The leaders also felt the need for Govt. of India to change its foreign policy. They reiterated that breaking economic ties has no sanctity for ending terrorism.
Full report at:
https://www.siasat.com/news/sc-st-bc-muslim-front-stage-dharna-against-pulwama-terror-attack-1469306/
--------
Punjab CM Jabs Imran Khan, says "Will find Masood Azhar for you"
Feb 19, 2019
NEW DELHI: Pakistan Prime Minister Imran Khan's comment on Pulwama attack that he will take action if evidence is found against anyone from Pakistan has not gone down well with Punjab Chief Minister Amarinder Singh.
Mr Singh said that the mastermind of the attack, Jaish-e-Mohammad chief Masood Azhar was in Pakistan, and if the country was unable to nab the terrorist, "we will do it for you".
He took on Twitter and said "Dear Imran Khan, you have Jaish chief Masood Azhar sitting in Bahawalpur and masterminding the attacks with ISI help. Go pick him up from there. If you can't let us know, we'll do it for you. BTW what has been done about the proofs of Mumbai's 26/11 attack. Time to walk the talk."
Pakistan-based terror group Jaish-e-Mohammad was behind the deadliest terror attack on security forces in Kashmir in which 49 CRPF personnel were killed on Thursday when their convoy was targeted in Pulwama district on the Srinagar-Jammu National Highway. Earlier today, Pakistan Prime Minister Imran Khan while addressing the media for the first time after the Pulwama attack today said that Pakistan will retaliate if India attacks. He denied any role of Pakistan in the Pulwama terror attack in which over 40 soldiers were killed by a suicide bomber from Jaish-e-Mohammad
Full report at:
https://www.siasat.com/news/punjab-cm-jabs-imran-khan-says-will-find-masood-azhar-you-1469127/
--------
Southeast Asia
Minister: Malaysia urges Rohingya oppressors be brought immediately to ICC
19 February 2019
KLANG, Feb 19 — Malaysia urged that the 'criminals' who oppressed the Rohingya ethnic community in Myanmar to be brought immediately to the International Criminal Court (ICC), said Foreign Minister Datuk Saifuddin Abdullah.
He said although the matter could take a long time, the Malaysian government is very serious regarding the issue because such oppression had forced the Rohingya ethnic community to become refugees all over the world.
"The Malaysian government is openly adhering to the principle that the (humanitarian) criminals must be punished. The root problem is that the Rohingyas have been driven out from their own country.
"For us, the investigation into the case of Myanmar and the (humanitarian) crime is very important to be resolved from the root of the problem so that the criminals could be dragged to court," he told reporters after visiting the Rohingya Education Centre (REC) in Klang, today.
He added the information from the Independent International Fact-finding Mission on Myanmar (IIFFMM) reported by the United Nations (UN) last month revealed that six individuals were allegedly involved in the humanitarian crimes against Rohingyas in the country.
Therefore, Saifuddin said, Malaysia wanted to be involved in ensuring the humanitarian 'criminals' were brought to the ICC as soon as possible and the steps taken would be announced later.
In August last year, UN-appointed investigators recommended that Myanmar's top military commanders be brought to justice for an inquiry and be prosecuted as it 'undoubtedly amounts to the gravest crimes' against the general public, including genocide, under the international law.
The IIFFMM report has drawn up a list of alleged perpetrators including Myanmar's Commander-in-Chief Senior-General Min Aung Hlaing and five other military commanders.
Meanwhile, Saifuddin said, for the time being, Malaysia will still adhere to its principles to accept the Rohingya refugees as most of them said they were too afraid to return to their home country for safety reasons.
"Our government standpoint is we don't reject people (Rohingya refugees) coming. On the humanitarian ground, we never send (Rohingya refugee) boats away. We don't have the capacity to do much more, but we never reject, we want to do more in assisting them.
"We understood the concerns of our own people (about the presence of the Rohingyas) but we do not have the heart to send them back to Myanmar just like that. The majority of them want to return, but for the time being, they feel unsafe to go back," he said.
He also believed that if there were social problems related to the ethnic Rohingya in the country such as begging and so on, surely the local authorities had taken the necessary action.
Saifuddin also mentioned, so far, there are 88,880 Rohingyas from all age groups that took shelter in the country and were registered with the United Nations High Commissioner for Refugees (UNHCR) but some are unregistered and the number is unknown.
He said 25 per cent of them also received educational facilities provided by non-governmental organisations in certain locations.
"For instance, REC educational facilities that were provided by the Jaringan Islam Global Malaysia Association. Although this school does not have the same standard as the Sekolah Kebangsaan (SK), the curriculum used is at par with SK and the personnel of the association has wide experience in terms of school administration and education," he added.
Apart from the Klang branch, REC which was established since 2006 has three other branches namely in Permatang Pauh, Penang; Kuantan, Pahang; as well as the latest centre in Gombak, which provides primary and secondary education to 724 Rohingya ethnic children. — Bernama
https://www.malaymail.com/news/malaysia/2019/02/19/minister-malaysia-urges-rohingya-oppressors-be-brought-immediately-to-icc/1724628
--------
Muhyiddin: Cops know individual who posted caricatures insulting to Islam on FB
19 Feb 2019
PUTRAJAYA: The police have identified the owner of a Facebook page who posted caricatures deemed insulting to Islam.
Home Minister Tan Sri Muhyiddin Yassin said he had received information from the Inspector-General of Police that the person concerned had been identified.
"Police have yet to question the individual but will carry out investigations," Muhyiddin said when asked on the multiple police reports that had been lodged against the individual.
Full report at:
https://www.thestar.com.my/news/nation/2019/02/19/muhyiddin-cops-know-individual-who-posted-caricatures-insulting-to-islam-on-fb/
--------
Shariah-compliant fintech to improve financial inclusion
February 19, 2019
Home to the largest Muslim population, Indonesia is looking to sharia-compliant financial technology (fintech) to enhance financial inclusion in the country, where access to financing remains limited.
Speaking as the chairman of the Sharia Economic Society supervisory board, Ma'ruf Amin, the running mate of President Joko "Jokowi" Widodo in the 2019 presidential election, told a conference in Jakarta recently that sharia-compliant fintech players could increase loan disbursement to many Indonesians lacking access to financial services.
"The ummah [Islamic society] should be empowered to have access to economic and financial services," he said. "That's why we should push for bottom-up economic development, building the economy of the ummah through the use of the sharia system. This will also strengthen the nation's economy."
According to a recent survey conducted by the Financial Services Authority (OJK), at least 40 percent of Indonesia's population does not have direct access to financial services, including banks.
The National Strategy for Financial Inclusion (SNKI) aims to make financial products accessible to 75 percent of the population this year.
Ma'ruf argued that shariah-compliant fintech companies could not only give people in rural areas easier access to financial services but could also introduce innovative products in the country's sharia economy, which has seen slow growth amid low economic literacy.
OJK records show that only 8.11 percent of the country's population were versed in the sharia economy in 2016. Although about 88 percent of Indonesia's population of some 260 million people is Muslim, Islamic finance is struggling to penetrate the market. OJK data also show that the market share of Islamic financial services stood at 8.47 percent of the total financial services market as of June last year, marking a slight increase from 8.24 percent in December 2017.
The market share of Islamic banking at less than 6 percent lags far behind Malaysia's 24 percent.
When it comes to fintech, only three of 99 peer-to-peer (P2P) financing companies registered with the OJK are shariah-compliant, and only one sharia-compliant financing company, Paytren, is registered with Bank Indonesia.
Despite the promising market, Ma'ruf said more regulations were needed to support the growth of sharia-compliant fintech.
"We should pay more attention to the lack of regulations needed to protect the interests of the stakeholders," he said.
The OJK has the same requirements for conventional and shariah-compliant fintech companies. The latter, though, must be screened by the National Sharia Council (DSN) under the Indonesian Ulema Council (MUI), which has issued a fatwa to ensure the companies comply with Islamic principles. One of the requirements is for sharia-compliant fintech companies to have a board of sharia advisors (DPS).
That requirement put a financial burden on companies in the sector, said Indonesia Sharia Fintech Association (AFSI) chairman Ronald Yusuf Wijaya, who is also the CEO of multinational crowdfunding platofrm Ethis Crowd.
He said sharia-compliant fintech companies were commonly start-ups that did not have enough capital to set up a board of sharia advisors, which could be costly.
"If supported by the government, maybe we could come up with some alternative [solutions], such as assigning a board of sharia advisors for several companies at once, at least for those unregistered, so that they can comply with the OJK regulations," he said.
Full report at:
https://www.thejakartapost.com/news/2019/02/19/shariah-compliant-fintech-to-improve-financial-inclusion.html
--------
North America
US House panel opens probe into Saudi nuclear transfer
19.02.2019
By Michael Hernandez
WASHINGTON
The House Oversight committee opened an investigation Tuesday into the Trump administration's plans to transfer "highly sensitive" nuclear technology to Saudi Arabia.
The committee issued a 24-page interim report that catalogues charges brought by whistleblowers who claim the proposed U.S.-Saudi joint venture, which would create a series of nuclear power plants in the Kingdom if realized, would create glaring conflicts of interest that could jeopardize American national security.
That report says plans to build the nuclear plant network may be accelerating following a meeting last week at the White House, and a planned trip to Saudi Arabia by U.S. President Donald Trump's son-in-law and senior advisor Jared Kushner.
Oversight committee Chairman Elijah Cummings sent a letter to the White House requesting all related documents, including emails from Trump's former National Security Advisor Michael Flynn who whistleblowers said was pushing the plan early in the administration.
The effort was continued after Flynn's ouster by senior White House officials despite warnings from top ethics advisors "who repeatedly and unsuccessfully ordered senior Trump Administration officials to halt their efforts," the report says.
"Further investigation is needed to determine whether the actions being pursued by the Trump Administration are in the national security interest of the United States or, rather, serve those who stand to gain financially as a result of this potential change in U.S. foreign policy," Cummings' staff said in concluding the interim report.
Concern has already mounted about the prospective deal following the Oct. 2 murder of Washington Post journalist Jamal Khashoggi. Saudi Arabia acknowledged he was killed by Saudi agents, claiming he was killed in the course of a botched rendition operation.
Riyadh initially denied any knowledge of his whereabouts after Khashoggi went missing, and critics have taken issue with the Saudi government's explanation, insisting Khashoggi's murder could not have been executed without the explicit consent of Crown Prince Mohammad bin Salman.
In October, five Republican senators - Cory Gardner, Dean Heller, Rand Paul, Marco Rubio and Todd Young -- sent a letter to the president urging him to suspend talks that covered the transfer of civilian nuclear technology to the Kingdom, in part because of Khashoggi's murder.
But Trump has equivocated on bin Salman's culpability in the murder, and his top officials have pointed to punitive sanctions taken against lesser officials as an adequate response to the controversy.
https://www.aa.com.tr/en/americas/us-house-panel-opens-probe-into-saudi-nuclear-transfer/1397404
--------
US Senator warns withdrawing from Syria and Afghanistan will embolden Iran
Federica Marsi
February 19, 2019
An abrupt US withdrawal from Syria and Afghanistan will have ripple effects in the region and open the door wider to Russia and Iranian influence in the Middle East, Democrat Senator Chris Coons warned on Monday at the Royal United Services Institute (RUSI) in London.
"If we are talking about a future where the United States and its regional allies have no forces on the ground… I think we are suddenly looking at a regional ascendant Iran with consequences that we are to take quite seriously," Mr Coons said after attending the Munich Security Conference, which came to a close last weekend.
"I strongly support a continued presence of US forces on the ground in Syria and Afghanistan to retain the capacity to prevent groups like al Qaeda, ISIS, from establishing strongholds and launching again attacks against our nations."
The absence of "meaningful consultation" with Congress on the plans to withdraw US troops, as well as with regional and international allies, "gravely concerns me", Mr Coons said.
"It frustrates me deeply to think that such behaviour may cause our allies across Asia and Europe to wonder if they might be the next American partner to be abandoned."
This year's Munich Security Conference — an event that was conceived during the Cold War — largely fell short of its intent to showcase the solidity of the post-war Western alliance and America's commitment to European security.
The estrangement between the US and the EU has grown out of a number of issues including the Iranian nuclear deal, climate policy, trade and commitment to NATO. President Donald Trump's abrupt announcement on Twitter of plans to withdraw US troops from Syria and to remove up to half of the 14,000 US forces in Afghanistan is the latest strain in the relationship between the transatlantic partners.
Mr Coons was among those senators who presented an amendment last month that challenges President Donald Trump's plans. The non-binding amendment, which would be attached to a bill on broader US policy in the Middle East, warns that a precipitous withdrawal of US forces could allow terrorists to regroup and create vacuums that could be filled by Iran or Russia.
Mr Coons – who was one of 68 senators to vote in favour – said more should be done. "In my mind, Congress can and should do more," he said.
While the US cannot expect a clear-cut battlefield victory after decades of military engagement in the region, Mr Coons said the US "can lose, and we can lose decisively." A US withdrawal could mean the resurgence of an ISIS-like groups, a surge in Russian and Iranian influence in the region and the loss of US credibility as an ally and peace-keeper on the international level.
The US-backed Syrian Democratic Forces launched an offensive earlier this month to oust ISIS from its last enclave in the town of Baghouz Al-Fawqani in the country's east. Mr Coons said he believed that US partners may not be there after April if the US ends its key protection role.
Additionally, voices demanding the withdrawal of its troops from Iraq will also grow louder, weakening an already tentative grip on the country and opening it up further to Iranian influence.
Backers of Mr Trump's move argued that the US should focus on more pressing issues – such as the perceived immigration emergency at the border with South America – and that a US withdrawal from the Middle East is long-overdue.
"It is time to bring our troops home from Afghanistan and Syria," Senator Rand Paul, who backed Mr Trump, said on Twitter. "It is ludicrous to call withdrawal after 17 years 'precipitous.'"
Mr Coons claimed this move would be a mistake born out of the president's own skewed vision of international politics.
Full report at:
https://www.thenational.ae/world/the-americas/us-senator-warns-withdrawing-from-syria-and-afghanistan-will-embolden-iran-1.827662
--------
2 American Wives of ISIS Militants Want to Return Home
By Rukmini Callimachi and Catherine Porter
Feb. 19, 2019
AL HAWL CAMP, Syria — She was a 20-year-old college student in Alabama who had become convinced of the righteousness of the Islamic State. So she duped her parents into thinking she was going on a college trip, and instead bought a plane ticket to Turkey with her tuition money.
After being smuggled into the caliphate, the student, Hoda Muthana, posted a photograph on Twitter showing her gloved hands holding her American passport. "Bonfire soon," she promised.
That was more than four years ago. Now, after being married to three Islamic State fighters and witnessing executions like those she had once cheered on social media, Ms. Muthana says she is deeply sorry and wants to return home to the United States.
She surrendered last month to the coalition forces fighting ISIS, and now spends her days as a detainee in a refugee camp in northeastern Syria. She is joined there by another woman, Kimberly Gwen Polman, 46, who had studied legal administration in Canada before joining the caliphate and who possesses dual United States and Canadian citizenship.
Both women, interviewed by The New York Times at the camp, said they were trying to figure out how to have their passports reissued, and how to win the sympathy of the two nations they scorned.
"I don't have words for how much regret I have," said Ms. Polman, who was born into a Reformed Mennonite community in Hamilton, Ontario, to an American mother and Canadian father and who has three adult children.
Ms. Muthana, who attended high school in Hoover, Ala., and the University of Alabama at Birmingham, said she was first drawn to ISIS in high school reading Twitter and other social media posts.
"Once I look back on it, I can't stress how much of a crazy idea it was," she said. "I can't believe it. I ruined my life. I ruined my future."
In a tweet this weekend, President Trump criticized allies including Britain, France and Germany for not taking back hundreds of ISIS prisoners captured on the battlefield. "The alternative is not a good one in that we will be forced to release them," he warned.
The president made no mention of American women who had married ISIS fighters and whom the United States had not returned home. Both Ms. Muthana and Ms. Polman said they had not been visited by American officials since their capture last month. They also said there was a family of four sisters from Seattle, with four children, who were being detained in a separate camp. A former law enforcement official confirmed that a Seattle family had traveled to Syria to join the Islamic State, but did not have further information.
A small number of Americans — as few as 59, according to data tracked by the George Washington University Program on Extremism — are known to have traveled to Syria to join ISIS. Nearly all the American men captured in battle have been repatriated, but it is unclear why some of the American women and their children — at least 13 known to The Times — have not been.
A spokeswoman for the Federal Bureau of Investigation declined to comment on the two cases, but said that agents would typically work to build a criminal case against any American who joined the Islamic State, a designated terrorist organization.
Robert Palladino, a spokesman for the State Department, on Tuesday described the situation for Americans in Syria as "extremely complicated." He said, "We're looking into these cases to better understand the details," but declined to comment further, citing privacy and security concerns.
A Canadian government official said that it could be difficult for Canadians detained in Syria to leave the region because they were likely to face serious charges in neighboring countries.
Citing the many crimes committed by ISIS, Seamus Hughes, deputy director of the George Washington program, said there were "thousands of legitimate reasons to question the sincerity" of appeals like those of Ms. Muthana and Ms. Polman.
"The foreign women of the Islamic State, while often reduced to simplistic narratives about 'jihadi brides,' 'brainwashing' and 'online grooming,' aided and abetted many of these atrocities and in some cases directly perpetrated them," he said.
Ms. Muthana and Ms. Polman acknowledged in the interview here that many Americans would question whether they deserved to be brought back home after joining one of the world's deadliest terrorist groups.
"How do you go from burning a passport to crying yourself to sleep because you have so much deep regret? How do you do that?" Ms. Polman asked. "How do you show people that?"
'Doing the Right Thing'
The daughter of Yemeni immigrants, Ms. Muthana grew up in an ultra-strict household — no partying, no boyfriends and no cellphone.
When she finished high school, her father gave her a phone as a graduation gift. It soon became her portal to the world of extreme Islam, she said.
Two years later, in 2014, an online contact walked her through the steps of joining the Islamic State, she said: Board a flight to Turkey. When you land, call this number.
To pay for the trip, Ms. Muthana enrolled in classes at the University of Alabama at Birmingham, where she was a sophomore business major, but then withdrew and cashed the tuition check from her parents. She packed a book bag with her clothes and told her family she was going to an event in Atlanta, a two-hour drive away. Instead she headed directly to the Birmingham airport for a flight to Istanbul.
"I was crying because I thought I was making a big sacrifice for the sake of God and I was giving up my family, my home, my comfort, everything I know, everything I loved," she said. "I thought I was doing the right thing."
Ms. Muthana said she was smuggled across the Syrian border in November 2014 and taken to a female dormitory, which was packed with hundreds of single women from around the world. Every day, she said, an ISIS official roamed the dormitory carrying a list of men looking for brides.
"You are not allowed to leave the house until you get married," she said. "I did know that would happen, but I thought there was a way out. I didn't know there were locks on the doors. I didn't know there were chains. There were people guarding it."
She said that she held out for a month before acquiescing to meet Suhan Rahman, an Australian originally from Melbourne. He used the name Abu Jihad, or "Father of Jihad," she said. They met in a room with a chaperone. After a brief conversation, he took her home.
She took the name Umm Jihad, or "Mother of Jihad." Home alone as her husband went out to fight, she posted toxic tweets under her pseudonym. "Hats off to the mujs in Paris," she said in one of them, using an abbreviation for "mujahedeen" on the day in 2015 when jihadists stormed the offices of Charlie Hebdo and killed 12 people at the satirical magazine.
She also urged others to join the terror organization. "There are soooo many Aussies and Brits here but where are the Americans, wake up u cowards," she posted.
And she used her account to help incite attacks in the West, including in the United States. "Americans wake up!" she wrote on March 15, 2015. "You have much to do while you live under our greatest enemy, enough of your sleeping! Go on drive-bys and spill all of their blood, or rent a big truck and drive all over them."
Her Twitter account has since been suspended, but the posts were copied by The Times.
She had barely been married three months, Ms. Muthana said, when she was at home napping and a man ran up the stairs yelling that her husband had been "martyred." After his death, she consented to two more arranged marriages, she said.
Ms. Polman said she was smuggled into the caliphate in early 2015, after using an American passport to fly from Vancouver to Istanbul.
She said she had recently taken an interest in nursing, and had begun corresponding with a man in Syria who used the nom de guerre Abu Aymen. The man, whom she later married, told her that nursing skills were needed in the growing caliphate.
Years earlier, she had left the Reformed Mennonite faith of her childhood and converted to Islam. With nothing else to do, she said, she spent her days online, where her Facebook timeline exploded with images of Muslims dying in Syria.
Ms. Polman said that at one point in her life she learned she had post-traumatic stress disorder and had been unable to get out of bed. Two of her siblings, speaking from British Columbia, said she had been told she had a mental illness. "She hasn't created an easy life for herself," said a brother, who did not want to be identified for fear of reprisals.
Ms. Polman studied legal administration at Douglas College, and for a brief time worked at a Muslim school in Richmond, British Columbia, according to her sister, who also did not want to be named. She won a Women's Opportunity Award in 2011 from Soroptimist International. The announcement of the award, printed in the local paper, said her "ultimate goal is to work as a child advocate."
Her sister said that in summer 2015, Ms. Polman left on a trip to Austria, ostensibly for two weeks. "She gave me a hug goodbye and said we'd have tea when she got back," the sister said.
It was only after the family heard from the Canadian authorities that they realized she had joined ISIS. At one point, the sister had not heard from Ms. Polman in six months and assumed she had been killed.
"We've been able to help her as a family in the past," the sister said. "This was the one time we haven't been able to help her. So it's been very hard for us."
By the time Ms. Polman arrived in the caliphate, its crimes were well documented, including beheading journalists, enslaving and systematically raping women from the Yazidi minority and burning prisoners alive. Both she and Ms. Muthana were evasive when asked about that brutality.
"I'm not interested in bloodshed, and I didn't know what to believe," Ms. Polman said. "These are videos on YouTube. What's real? What's not real?"
A Breaking Point
In her telling, Ms. Muthana began to pull away from the terrorist group in her second year in the caliphate. She was married to a second fighter and was pregnant. Anemic from an iron deficiency, she spent much of her time in bed.
"I started having doubts," she said in an account that The Times could not verify. "I was pregnant. Very emotional, because I missed my family," she said. "I thought — what am I doing?"
Her second husband was killed in Mosul, Iraq, she said. "Either a missile or an airstrike," she said.
By then it was 2017, and the siege of Raqqa, Syria, had begun. When her water broke, she walked more than a mile at night to reach the nearest clinic as bombs fell on the city, she said.
After giving birth to a son, Ms. Muthana moved from house to house, chasing the shrinking shadow of the caliphate. When Raqqa fell in late 2017, she moved to Mayadeen, along the Euphrates River Valley. When Mayadeen fell, she moved to Hajin, and from there to Shafa, a village in the last sliver of ISIS's territory. Hundreds of airstrikes hammered the area.
She married a third time and sometime after, she divorced her husband, whom she declined to name.
Ms. Polman said her break with the caliphate came more violently, just a year after her arrival. She claims that she tried to escape, but was spotted by ISIS intelligence agents as she approached a woman about finding a smuggler at the market. She was imprisoned in a jail cell in Raqqa, she said, where she spent so much time that she eventually counted all 4,422 tiles.
She was repeatedly taken out of her cell and interrogated, she said. One night, she said, she was gang-raped.
"They took me down the hallway, and it was really dark," she said. "There were metal doors, heavy ones, and I slipped, I remember, and they kicked me."
She said the guards warned her that if she ever reported the rapes, they would say they had evidence that she was a spy. Before releasing her, she said, they had her sign a statement in both Arabic and English stating that if she tried to run away again, she accepted the "hukm," or Shariah judgment, of death.
Leaving the Caliphate
The two women, a generation apart, met and befriended each other in the final pocket of the caliphate, which by January consisted of less than six square miles.
Encircled, the area faced severe shortages. When the market ran out of paper diapers, the two friends cut up towels. When food was hard to come by, they collected grass from crevices in the pavement, boiled it and forced themselves to eat it. "Seeing a potato," Ms. Muthana said, "was like seeing a Lamborghini."
They began talking about making a run for it, and they said they shared their growing horror over the choices they had made.
"It's hard to change your mind-set when you have lost everything and sacrificed everything. Even if you feel a tug that tells you something's not right here, this isn't O.K., and that there's too many holes here, something's wrong, I think it's very, very difficult when you feel like you have burned bridges, to know how to shift," Ms. Polman said.
ISIS forbade anyone to leave, planting land mines and using snipers to shoot down anyone who tried. But last month, Ms. Muthana said, she decided to give it a try by latching on to a Syrian family who left Shafa at dusk.
All she took was her baby and his stroller, she said. When darkness fell, the group got lost and spent the night in the frigid cold, she said.
The next day, Jan. 10, she completed the journey and surrendered to American troops in the Syrian desert, who fingerprinted her.
Full report at:
https://www.nytimes.com/2019/02/19/us/islamic-state-american-women.html
--------
Europe
British FM: German halt in Saudi arms sales hurting UK industry
20 February 2019
Britain has urged Germany to exempt big defense projects from its efforts to halt arms sales to Saudi Arabia or face damage to its commercial credibility, the German magazine Der Spiegel reported on Tuesday.
Germany said last November it would reject future arms export licenses to Saudi Arabia over the killing of Saudi journalist Jamal Khashoggi. It has not formally banned previously approved deals but has urged industry to refrain from such shipments for now.
Germany accounts for just under 2 percent of total Saudi arms imports, a small percentage internationally compared with the United States and Britain, but it makes components for other countries' export contracts. That includes a proposed 10-billion-pound deal for Riyadh to buy 48 new Eurofighter Typhoon fighter jets from Britain.
"I am very concerned about the impact of the German government's decision on the British and European defense industry and the consequences for Europe's ability to fulfill its NATO commitments," British foreign minister Jeremy Hunt wrote in a letter to his German counterpart Heiko Maas, Spiegel reported.
Hunt said British defense firms would not be able to fulfil several contracts with Riyadh including the Eurofighter Typhoon and the Tornado fighter jet, both of which are made with parts affected by the German halt in deliveries to Saudi Arabia.
"This letter shows how Germany's arms export practices are costing it the ability to partner with its closest European allies," Hans Christoph Altzpodien, head of Germany's defense industry association BDSV, told Reuters.
Reuters has not seen the letter and a spokesman for the German foreign ministry declined to comment.
Losses
In his letter, Hunt also wrote that the German government's decision to halt arms exports to Saudi Arabia would cost German defense firms 2.3 billion euros in revenues by 2026.
The German move is also holding up shipments of Meteor air-to-air missiles to Saudi Arabia by MBDA, which is jointly owned by Airbus, BAE Systems and Italy's Leonardo, since the missiles' propulsion system and warheads are built in Germany. MBDA has declined to comment on the issue.
"Germany can't expect to be a part of the European defense industry and various cooperation projects if it behaves so unilaterally on this," said one European diplomat.
A top Airbus official said on Friday that the German halt in exports to Saudi Arabia was preventing Britain from completing the Eurofighter sale to Riyadh, and had delayed potential sales of the A400M military transport and other weapons.
Hunt's letter comes as Britain prepares to leave the European Union on March 29, in the biggest shift in its commercial and diplomatic relations with the continent in decades. It has still to reach a deal with the EU on the terms of its exit, raising the risk of serious economic disruption.
https://english.alarabiya.net/en/News/world/2019/02/20/British-FM-German-halt-in-Saudi-arms-sales-hurting-UK-industry.html
--------
Russia's Putin, Saudi King ready to continue energy cooperation
19 February 2019
Russia's President Vladimir Putin and Saudi King Salman, in a telephone conversation, voiced their support for continued coordination on the global energy markets, the Kremlin said on Tuesday.
The Kremlin also said the two leaders praised bilateral cooperation between Russia and Saudi Arabia.
"On both sides, a high assessment was given to the high level of cooperation achieved, including in the trade, economic and investment spheres. Mutual attitude for further strengthening of multifaceted Russia-Saudi Arabia ties has been expressed," the Kremlin said in a statement.
"The schedule of upcoming contacts at various levels was also discussed," the Kremlin added.
Full report at:
https://english.alarabiya.net/en/business/energy/2019/02/19/Russia-s-Putin-Saudi-King-ready-to-continue-energy-cooperation.html
--------
Qatar embassy in London faces legal action over racial discrimination
February 19, 2019
A former receptionist at the Qatar embassy in London is attempting to raise £25,000 so he can fund legal action against his ex-employers over claims of racial discrimination.
Mohamoud Ahmed, 79, from Kensington, worked for over 20 years at the embassy before being dismissed in 2013.
He claims that he suffered verbal and physical abuse from a Qatari diplomat, who called him a "black slave" and assaulted him.
In a crowdfunding page set up by his son, Somali-born Mr Ahmed claims to have been "immediately sacked" when he stood up to the abuse.
Mr Ahmed, who has British citizenship, had his legal claim delayed while the embassy tried to claim diplomatic immunity from UK employment laws.
In 2017, the Supreme Court ruled that embassies in the UK could not claim immunity from such laws.
Mr Ahmed's son Rashid said the family had paid the legal costs until now but "now have to find a much needed shortfall to afford to attend the court".
He added that his father's case is one of the first to go to trial against an embassy in the UK.
"Embassies in the UK have been able to hide behind the shield of state immunity for so many years and, in our case, we hope to bring to light Qatari human rights abuses that have been suppressed for too long," he wrote.
Full report at:
https://www.thenational.ae/world/europe/qatar-embassy-in-london-faces-legal-action-over-racial-discrimination-1.827733
--------
Anti-extremism activist Maajid Nawaz 'racially attacked' in London
Claire Corkery
February 19, 2019
An anti-extremism campaigner said he could be scarred for life after being racially attacked outside a theatre in central London.
Maajid Nawaz said he was racially abused and hit in the face by a white male as he stood alone outside Soho Theatre.
The LBC radio presenter posted images to social media of showing a deep cut to his forehead, which he said could have been caused by a signet ring.
Mr Nawaz wrote on Twitter after the incident: "Tonight I was racially attacked while alone outside Soho theatre, from behind, as I bent down to pick up my phone."
He said the attacker had called him "f***ing P***" before hitting him and then "ran away like a coward".
"He took nothing," the presenter added. "He was just a racist."
London's Metropolitan police said they were called to a report of racially aggravated assault at 7.10pm GMT on Monday.
An investigation has been launched but no arrests have been made, police said.
Mr Nawaz wrote on Twitter: "My forehead will probably be scarred for life. But we will find you, you racist coward, and you will face British justice."
The presenter, a Briton of Pakistani heritage, is the founder of counter extremism organisation the Quilliam Foundation. Formerly an extremist, he later became a critic of radical Islamic movements.
He thanked those who looked after him in the aftermath of the attack as well as well-wishers for their support.
Full report at:
https://www.thenational.ae/world/europe/anti-extremism-activist-maajid-nawaz-racially-attacked-in-london-1.827554
--------
Myanmar must ensure safety of returning Rohingya: UK
19.02.2019
By Md. Kamruzzaman
DHAKA, Bangladesh
A top British official on Tuesday urged Myanmar's authorities to ensure a safe environment for the repatriation of hundreds of thousands of persecuted Rohingya Muslims who fled the country since August 2017.
"This major man-made humanitarian crisis has been ethnic cleansing on an industrial scale and I urge the government of Burma [Myanmar] to create the necessary conditions that would allow those Rohingya currently living in Bangladesh to return," Penny Mordaunt, Britain's international development minister, told reporters in Dhaka, Bangladesh's capital, on Tuesday after visiting Rohingya camps in Cox's Bazar, some 278 kilometers (173 miles) from Rakhine state, Myanmar.
Mordaunt, the first British Cabinet minister to visit Bangladesh since the country's elections late last year, met Rohingya refugees living in Kutupalong camp at a food distribution center, spoke with women being protected from violence, and saw how children with disabilities were getting the therapy and treatment they need, supported by U.K. aid, according to a British press release.
British aid has provided £129 million to Bangladesh in funding to address the refugee crisis, said the press release.
Mordaunt added: "The plight of the Rohingya refugees to return home must not fall off the international agenda and they must be given justice."
Mordaunt was accompanied by Bangladeshi State Minister for Foreign Affairs M Shariar Alam, who spoke of new strategies for peaceful repatriation of the Rohingya, but gave no specifics, local media reported.
Mordaunt's visit to the camp also focused on exploring longer-term solutions by supporting education, developing skills, and improving access to training opportunities, according to a press release by the U.K. High Commission in Dhaka on Tuesday.
Persecuted community
The Rohingya, described by the UN as the world's most persecuted people, have faced heightened fears of attack since dozens were killed in communal violence in 2012.
According to Amnesty International, more than 750,000 Rohingya refugees, mostly women and children, have fled Myanmar and crossed into Bangladesh after Myanmar forces launched a crackdown on the minority Muslim community in August 2017.
Since Aug. 25, 2017, nearly 24,000 Rohingya Muslims have been killed by Myanmar's state forces, according to a report by the Ontario International Development Agency (OIDA).
More than 34,000 Rohingya were also thrown into fires, while over 114,000 others were beaten, said the OIDA report, titled "Forced Migration of Rohingya: The Untold Experience."
Some 18,000 Rohingya women and girls were raped by Myanmar's army and police and over 115,000 Rohingya homes were burned down and 113,000 others vandalized, it added.
The UN has also documented mass gang rapes, killings – including of infants and young children – brutal beatings and disappearances committed by Myanmar state forces.
Full report at:
https://www.aa.com.tr/en/asia-pacific/myanmar-must-ensure-safety-of-returning-rohingya-uk/1397451
--------
Arab World
For Yazidi survivors of Daesh killings, the nightmares go on
February 19, 2019
SINJAR, Iraq: Ever since Daesh visited death and destruction on their villages in northern Iraq nearly five years ago, Yazidis Daoud Ibrahim and Kocher Hassan have had trouble sleeping.
For Hassan, 39, who was captured, it is her three missing children, and three years of imprisonment at the hands of the extremist group.
For Ibrahim, 42, who escaped, it is the mass grave that he returned to find on his ravaged land.
"They burnt one house down, blew up the other, they torched the olive trees two three times...There is nothing left," the father of eight told Reuters.
More than 3,000 other members of their minority sect were killed in 2014 in an onslaught that the United Nations described as genocidal.
Ibrahim and Hassan lived to tell of their suffering, but like other survivors, they have not moved on.
She will never set foot in her village of Rambousi again. "My sons built that house. I can't go back without them...Their school books are still there, their clothes," she said.
'They want to be buried'
As US President Donald Trump prepares to announce the demise of the extremist group in Syria and Iraq, UN data suggests many of those it displaced in the latter country have, like Hassan, not returned home.
Meanwhile, Ibrahim and his family live in a barn next to the pile of rubble that was once their home. He grows wheat because the olive trees will need years to grow again. No one is helping him rebuild, so he is doing it himself, brick by brick.
"Life is bad. There is no aid," he said sitting on the edge of the collapsed roof which he frequently rummages under to find lost belongings. On this day, it was scarves, baby clothes and a photo album.
"Every day that I see this mass grave I get ten more grey hairs," he said.
The grave, discovered in 2015 just outside nearby Sinjar city, contains the remains of more than 70 elderly women from the village of Kocho, residents say.
"I hear the cries of their spirits at the end of the night. They want to be buried, but the government won't remove their remains." They and their kin also want justice, Ibrahim adds.
When the militants came, thousands of Yazidis fled on foot toward Sinjar mountain. More than four years later, some 2,500 families — including Hassan and five of her daughters — still live in the tents that are scattered along the hills that weave their way toward the summit.
The grass is green on the meadows where children run after sheep and the women pick wild herbs.
But the peaceful setting masks deep-seated fears about the past and the future.
Grateful for the sun
Until a year and a half ago, Hassan and five of her children were kept in an underground prison in Raqqa with little food and in constant fear of torture.
She doesn't know why Islamic State freed her and the girls, then aged one to six, and hasn't learnt the fate of the three remaining children: two boys Fares and Firas, who would be 23 and 19 now, and Aveen, a girl who would be 13.
There is no electricity or running water in the camp where they live today. She doesn't remember when her children last ate fruit. "Life here is very difficult but I thank God that we are able to see the sun," she said.
During the day, her children go to school and are happy, but at night "they are afraid of their own shadow," and she herself has nightmares.
"Last night, I dreamt they were slaughtering my child," she said.
Mahmoud Khalaf, her husband, says Islamic State not only destroyed their livelihoods. The group broke the trust between Yazidis and the communities of different faiths and ethnicities they had long lived alongside.
"There is no protection. Those who killed us and held us captive and tormented us have returned to their villages," Khalaf, 40, said referring to the neighboring Sunni Arab villages who the Yazidis say conspired with the militants.
"We have no choice but to stay here...They are stronger than us."
http://www.arabnews.com/node/1454691/middle-east
--------
Syrians Hoist Gov't Flag Across Raqqa City
Feb 19, 2019
The Syrian flags were hoisted in several districts such as al-Sokna and al-Hani in Raqqa City Center as well as al-Basel Street and Shabat 33 Street stretched from Rashid Garden to al-Sanaeh Street, the Arabic-language service of Russian Sputnik News Agency reported.
Meantime, three explosions also hit an SDF patrol in al-Sanaeh Street, the SDF security headquarters and another patrol near Hazimeh Square which resulted in the death and injury of several SDF troops.
The SDF declared a state of alert after the blasts and the US helicopters also increased their flights over Raqqa city.
On Monday, President al-Assad implicitly warned the Syrian Democratic Forces against reliance on the United States, and said Washington would not protect those who depend on it.
"We say to those groups who are betting on the Americans, the Americans will not protect you. The Americans will put you in their pockets so you can be tools in the barter, and they have started with it," Assad said in a meeting with the heads of local councils in the capital Damascus, without naming those US-sponsored groups.
"Nobody will protect you except your state. If you do not prepare yourselves to defend your country, you will be nothing but slaves," he added.
The US forces have long supplied arms and training to the SDF, and used the predominantly Kurdish militants as their main partner in the purported fight against the Takfiri Daesh terrorist group.
Turkey has been threatening for months to launch an offensive in Northern Syria against Washington-backed People's Protection Units (YPG), which forms the backbone of the SDF. Ankara considers the YPG a terrorist organization and an extension of the outlawed Kurdistan Workers' Party (PKK), which has been fighting for an autonomous region inside Turkey since 1984.
Elsewhere in his remarks, Assad further noted that support for terrorism plus attempts to undermine the Damascus government's sovereignty form the core policies of some states vis-à-vis Syria.
He went on to say that the United States and its allies will not give up plotting to partition Syria, but rather want to break up the entire Middle East region.
"The US scheme to impose hegemony on every corner of world has not changed at all, but the fact is that our people [Syrian nation] have mounted stiffer resistance," the Syria's president noted.
"After all these years of crisis, mercenaries and agents have not realized that nothing can maintain their value expect for their own essence. The only way to get rid of misguidance is to join the reconciliation process and to hand over your munitions to Syrian government forces," Assad emphasized.
The Syrian president added that his country has managed to score major victories over terrorist groups, thanks to the enormous scarifies made by government troops and the solid support offered by its allies.
"It couldn't have been possible to protect our homeland without a unified front and contribution of people from different strata of the Syrian society. Syrian people have a deep-rooted history and they have resisted terrorism… We can achieve the final victory with each other not over each other," Assad underlined.
He said the Damascus government is doing its utmost for the return of displaced people to their homes and an end to their sufferings.
"We will not allow the sponsors of terrorism to transform Syrian refugees into a political tool to achieve their goals," he stated.
"We are currently at war on multiple fronts: The first front is a military one; the second is the blockade, the third is through cyberspace and the final is the one being carried out by corrupt people," the Syrian president underscored.
Assad stressed that the current situation in Syria demands greater discretion, saying, "Having failed in generous support for their agents and proxies, enemies have now turned to attempts to create chaos inside the Syrian society."
The Syrian president said the future of Syria must be independently decided by its people.
"We will not allow hostile states to achieve any of their objectives through their agents, who hold the Syrian nationality. Hostile countries are still insisting on their aggression and obstruction of all viable processes, namely the Astana talks and relevant consultations," he commented.
Full report at:
http://en.farsnews.com/newstext.aspx?nn=13971129001121
--------
Egyptian security forces kill 16 suspected militants
19 February 2019
Egyptian security forces killed 16 suspected militants in two separate raids in the city of Arish in North Sinai, state media said on Tuesday.
The report came the day after an explosion in central Cairo killed three policemen.
Ten suspected militants were killed in the Obeidat district of Arish and another six were killed in the Abu Eita district of the city, state-run Al Ahram said.
An undisclosed quantity of weapons, ammunition and explosives were found with the six in Abu Eita.
The two sides exchanged gunfire, it said without elaborating. It made no mention of any security forces casualties.
The suspected militants' bodies were taken to several hospitals in the city of Ismailia to be examined and identified, security and medical sources said.
Full report at:
https://english.alarabiya.net/en/News/middle-east/2019/02/19/Egyptian-security-forces-kill-16-suspected-militants.html
--------
SDF Kidnaps, Arrests over 100 Civilians in Northern Syria
Feb 19, 2019
The SDF fighters have conducted a wave of arrests of civilians and dissidents in areas under their control in Raqqa and Hasaka provinces as well as the cities of Kobani and Manbij in Aleppo province, Syrian Network of Human Rights (SNHR) reported.
It noted that a sum of 107 Syrian citizens, including women and children, were arrested by the SDF while the fate of 52 of them is still unknown.
The SOHR also said the arrested people are tortured by the Kurdish forces, "and in one case, one of them has died under torture".
The report also cautioned that children aged 13-17 have been forced to join the SDF ranks.
In a relevant development in late January, hundreds of people were arrested by the Syrian Democratic Forces in the recent uprisings against the US-backed SDF in Raqqa's areas under the control of the Kurds.
The Syrian Democratic Forces have detained more than 1,300 Syrian citizens, most of them children, youth and women, in areas stretching between Abu Qabi and al-Tabaqa, South of Euphrates River, the Arabic-language service of Russian Sputnik news agency quoted media activists as saying.
It noted that a number of Arab members of SDF left the group after the US-backed militia arrested a number of Arab tribesmen in Raqqa.
Meantime, media activists in Raqqa were quoted as saying that the residents of Raqqa hoisted Syria's national flag and printed graffiti against the US occupying troops and the SDF in several regions, including the town of Kadiran to West of Raqqa, calling for the Syrian Army rule over the region.
Full report at:
http://en.farsnews.com/newstext.aspx?nn=13971130000607
--------
Report: Tahrir Al-Sham's Ringleader Al-Jolani Injured in Idlib Blasts
Feb 19, 2019
At least 56 people were killed and wounded in two huge explosions in one of the main bases of Tahrir al-Sham al-Hay'at in Idlib city near the venue of a meeting between al-Jolani and other terrorist commanders.
"Al-Jolani (Al-Nusra Front chief commander) was injured and two of his Uzbek aides were also killed in the twin simultaneous blasts in Idlib's al-Qasour region," the Arabic-language service of Russian Sputnik News Agency quoted local sources as saying on Tuesday.
Two bomb-laden cars exploded almost concurrently in al-Qasour region in the Center of Idlib.
Sources close to the White Helmets - that is affiliated to the military groups specially Tahrir al-Sham al-Hay'at - pointed to the tight security measures adopted by Tahrir al-Sham terrorists near Special Surgical Hospital after al-Jolani was moved to the hospital following the blasts, and said that al-Jolani has been swiftly relocated to an unknown place outside Idlib after receiving treatment.
The explosions occurred near one of the main strongholds of Tahrir al-Sham which was due to host a meeting between Jolani and other commanders of Tahrir al-Sham.
The sources said that the explosions targeted a security convoy - that was said to be part of Jolani's security escort team – passing through al-Qasour region.
The report said, at least 24 people, including 11 foreign terrorists, were killed in the explosions and 32 others were wounded.
In a relevant development earlier this month, a number of Tahrir al-Sham commanders and members, including one of the Egyptian leaders of the group named Abu Mus'ab Misri, were killed by unknown assailants in Idlib province.
Also, late last month, a notorious commander of Tahrir al-Sham and a close aide to Jolani was killed in a failed attack on the Syrian Army's military positions in Southeastern Idlib.
"During an attack by Tahrir al-Sham and their allied militants on the Syrian Army's military positions near Abu Dhuhour Military Airport in Southeastern Idlib, senior commander of Ajnad al-Kavkaz, nom de guerre Abu al-Bara Qafqazi, was killed," the Arabic-language service of the Russian Sputnik news agency quoted local sources in Idlib province as saying.
The report noted Qafqazi's proximity with Abu Mohammad Jolani and that he was second-in-command of Tahrir al-Sham who had taken part in worst possible crimes in Northern Syria.
Full report at:
http://en.farsnews.com/newstext.aspx?nn=13971130000334
--------
Syrian Army Wards off Tahrir al-Sham's Attacks in Hama, Idlib
Feb 19, 2019
The Damascus Army's artillery and missile units pounded the movements of the terrorists in the towns of Latmin, al-Zuka and al-Sayyad in Northern Hama, inflicting heavy losses and casualties on the militants.
The Army also heavily pounded the terrorists' military positions in the towns of al-Latamanieh and Kafar Zita in response to their attacks on safe regions, killing and wounding a large number of them.
Meantime, the terrorists attacked the town of Shizar in the demilitarized zone in Northern Hama, killing a civilian and injuring four children.
In Southern Idlib, the Syrian Army troops also targeted and pounded the military positions of Tahrir al-Sham near the towns of Khan Sheikhoun and Ma'arat al-Na'aman, destroying an arms and ammunition depot as well as several hideouts of the militants.
The Syrian Army's missile and artillery units pounded the terrorists' movements in areas near the town of Deir Sonbol, Northwest of Ma'arat al-Na'aman and Badama, Southwest of Idlib, pushing back militants' invasion after the start.
In a relevant development on Monday, the Syrian Army pounded and destroyed the military positions, centers and arms cache of Tahrir al-Sham al-Hay'at in Northern Hama and Southern Idlib.
The Syrian Army units pounded the terrorists' military positions and movements near Khan Sheikhoun in Southern Idlib in response to the terrorists' continued attacks on safe areas in Northern Hama and Southern Idlib, destroying a large arms depot.
In Northern Hama, the Syrian Army's artillery and missile units targeted the Jeish al-Izza and Tahrir al-Sham terrorists' military positions and movements in the outskirts of al-Masaseneh, al-Latamineh and al-Jiesat, destroying several military positions of the terrorists as well as killing and wounding a large number of militants.
Full report at:
http://en.farsnews.com/newstext.aspx?nn=13971130000468
--------
Syrian Army Discovers US, Israel-Made Missiles from Terrorists' Hideouts Near Damascus
Feb 19, 2019
The Damascus Army's engineering units continued their cleansing operations around Damascus and retrieved large amount of weapons, ammunition and military equipment, including hundreds of Grad missiles, US-made anti-tank missiles and 128-Caliber missiles made in Israel.
The army troops also discovered an arms cache packed with large amounts of weaponry, ammunition, canons, mortar rounds and rocket-propelled grenades.
In a relevant development in mid-December, the Syrian army discovered several arms and military equipment caches which included Israeli missiles and West-made medicine during cleansing operations in Dara'a province.
The engineering units of the Syrian army found the arms caches in the Western parts of Nawa in Northwestern Dara'a which included missiles, missile launch-pads, Israeli LAV missiles, different types of anti-tank missiles, some of them Israeli, as well as a large number of ammunition for heavy and mid-sized machine guns and explosives, RPG rockets, mines, Dushka guns, artilleries, mortars and thermal cameras.
Meantime, a Syrian field source reported that the engineering units also found another cache which included different types of medicine produced by the Persian Gulf littoral states and western countries.
Full report at:
http://en.farsnews.com/newstext.aspx?nn=13971130000933
--------
Two safe corridors opened for displaced Syrians at Rukban camp
Feb 19, 2019
Russian and Syrian coordination centers on returning refugees have managed to open two humanitarian corridors for thousands of displaced Syrians stranded in a camp near the Jordanian border to leave the site toward government-controlled areas.
"In accordance with the February 16 joint statement by the Russian and Syrian coordination centers on opening the humanitarian corridors for the evacuation of Syrians from the Rukban camp, two checkpoints at Jleb and Jabal al-Ghurab opened today," the chief of Russia's National Defense Control Center, Major General Mikhail Mizintsev, said in a statement on Tuesday.
He added that the Syrian refugees will be provided with voluntary, unimpeded and safe exit from the camp to places of their choice of residence within 24 hours.
"The situation in al-Rukban camp is catastrophic, and civilians are being held hostage by terrorist groups under the auspices of the United States. They are hovering between life and death. They continue to live in appalling conditions despite the arrival of humanitarian convoys to the camp," Mizintsev said.
The Russian official added, "The camp is suffering from lack of basic healthcare. The fact is that women, children and people with disabilities do not receive the lowest level of medical assistance. Eight children suffered food poisoning last month alone."
Russian officials have accused the US and Washington-backed militants of holding people in Rukban hostage.
"We call on the American command and leaders of illegal militant groups in the al-Tanf region to put an end to the forcible keeping of women and children, mostly affected by cold, illness and malnutrition in the camp. All of them will be given necessary assistance," Russian Defense Ministry spokesman Major General Igor Konashenkov said on February 15 as a humanitarian convoy of the United Nations and the Syrian Arab Red Crescent (SARC) delivered aid, including medical supplies and basic commodities, to Rukban.
Konashenkov added that Russia and Syria would jointly establish a temporary housing area for refugees from the camp.
The UN says about 45,000 people, mostly women and children, are trapped inside Rukban, where conditions are desperate. This is while Geneva-based international aid agency Doctors Without Borders has put the number there at some 60,000.
Russian Foreign Minister Sergei Lavrov said on Monday that US forces are unlawfully deployed to al-Tanf region in southern Syria, training terrorists, who carry out acts of terror across Syria and prevent the return of displaced people in the Rukban refugee camp to their hometowns.
On January 12, a Syrian mother attempted to torch herself and her children to death in the camp after she failed to find food for her family for three straight days.
In October, the so-called Syrian Observatory for Human Rights said people in Rukban had been without access to food and humanitarian aid for several months, highlighting that the tough situation was further complicated with a closed border by Jordan.
The area where Rukban is located is controlled by the former US-backed Shuhada al-Qaryatayn militant group. The extremists were supposed to evacuate to northern Syria in accordance with a Russian-backed deal, but refused to do so.
UN: 200 families under Daesh siege in eastern Syria
Meanwhile, United Nations High Commissioner for Human Rights Michelle Bachelet has warned that some 200 families are trapped in a shrinking area in Syria's eastern province of Dayr al-Zawr, which is controlled by Daesh Takfiri terrorists.
Many of the families in the village of Baghouz "continue to be subjected to intensified air and ground-based strikes by the US-led coalition forces and their [Syrian Democratic Forces] SDF allies on the ground," Bachelet said in a statement on Tuesday.
"We understand that ISIL [Daesh] appears to be preventing some of them if not all of them from leaving. So that's potentially a war crime on the part of ISIL [Daesh]," her spokesman Rupert Colville told a news briefing.
Bachelet also voiced concern for some 20,000 people, who have fled Daesh-held areas in Dayr al-Zawr province over the past few weeks.
They are being held in makeshift camps run by the Kurdish armed groups, including the SDF, who are reported to be preventing the internally-displaced people from leaving the camps, she said.
Full report at:
https://www.presstv.com/Detail/2019/02/19/588978/Two-safe-corridors-opened-for-displaced-Syrians-at-Rukban-camp
--------
Pakistan
Pakistan interested in advancing its ties with Israel: Qureshi
Feb 19, 2019
JERUSALEM: Pakistan is interested in advancing its ties with Israel if there is an improvement in the political situation in the region, foreign minister Shah Mahmood Qureshi has said.
Qureshi's remarks assume significance as Pakistan does not recognise Israel and the two nations have no diplomatic ties.
"Pakistan is interested in advancing its relations with Israel, but this is a question of the political situation in the region," Qureshi told Ma'ariv, an Israeli news portal, on the sidelines of recently concluded Munich Security Conference.
"Progress in solving the Israeli-Palestinian conflict will be very helpful," he said adding, "if the American plan succeeds in doing so, it will be good. We wish all the best for Israel. We have many friends in the region and we would like you to join them," the Pakistani minister was quoted as saying.
Pakistan and Israel have also in the past tried to engage each other with their foreign ministers meeting on September 1, 2005 in Istanbul in a much publicised coming together.
This meeting was followed by a handshake between Pakistan's then President Pervez Musharraf and Israeli Prime Minister Ariel Sharon just a few weeks later on the sidelines of a UN summit.
Several Islamic countries with no diplomatic relations with Israel have been increasingly coming close to it with the common threat of Iran bringing them together.
https://timesofindia.indiatimes.com/world/pakistan/pakistan-interested-in-advancing-its-ties-with-israel-qureshi/articleshow/68067046.cms
--------
Iran Guards say Pakistan national carried out suicide attack on troops
Feb 19, 2019
TEHRAN: The suicide bomber who carried out last week's attack that killed 27 members of Iran's Revolutionary Guards was a Pakistani national, the elite force said Tuesday.
"The suicide bomber was named Hafez Mohammad-Ali and was from Pakistan," said Brigadier General Mohammad Pakpour, commander of the Guards' ground forces, quoted by the force's Sepah news agency.
The February 13 suicide bombing killed 27 Revolutionary Guards on a bus in the volatile southeastern province of Sistan-Baluchistan which borders Pakistan.
The general said the probe into the attack had made headway after the model of the explosives-packed car that exploded next to the bus had been identified.
"Two days ago the first clue, a woman, was identified and arrested, and through this woman, we reached others," Pakpour said.
Apart from the suicide bomber, one of the suspected accomplices was also Pakistani, he said.
Pakpour said the attack had originally been planned for February 11 to coincide with celebrations for the 40th anniversary of Iran's Islamic revolution.
But had security forces had been "fully prepared" on that day, he said.
A jihadist group, Jaish al-Adl (Army of Justice), which Tehran says operates mostly out of bases in Pakistan, claimed responsibility for the attack.
Full report at:
https://timesofindia.indiatimes.com/world/pakistan/iran-guards-say-pakistan-carried-out-suicide-attack-on-troops/articleshow/68066797.cms
--------
UN offers help in defusing Pakistan-India tensions
Masood Haider
February 20, 2019
UNITED NATIONS: Expressing deep concern "at the increase in tensions between India and Pakistan", UN Secretary General Antonio Guterres has asked both sides to exercise maximum restraint and offered his "good offices" to ease the crisis.
"The secretary general stresses the importance for both sides to exercise maximum restraint and take immediate steps to de-escalate tensions. His good offices are available if accepted by both sides," said Stephane Dujarric, spokesperson for the UN secretary general, while responding to a question at a media briefing.
Full report at:
https://www.dawn.com/news/1464825/un-offers-help-in-defusing-pakistan-india-tensions
--------
FPCCI sees more joint ventures with Saudi investors
February 20, 2019
ISLAMABAD: The Federation of Pakistan Chambers of Commerce and Industry (FPCCI) on Tuesday hailed business-to-business agreements with Saudi Arabia while stressing on the need to improve standards of Pakistani goods and services to avail maximum potential of the deals.
At a media briefing held at the apex body's capital office, FPCCI high-ups welcomed bilateral arrangements with the private sector of Saudi Arabia.
"The most important part of these agreements is that the crown prince is directly supervising these business agreements," said FPCCI President Engineer Daroo Khan Achakzai. "It is for the first time that the private sector has been given the opportunity to take the lead in devising business deals," he noted.
Accompanied by senior FPCCI leaders including Mirza Ikhtiar Baig and Vice Chairman Saarc Chambers of Commerce and Industry Iftikhar A Malik, Mr Achakzai stressed that the agreement for technical cooperation will be the key to success of the MoUs.
"The Saudi Standards, Metrology and Quality Organisation (SASO) and PSQCA of Pakistan will cooperate so that standards of Pakistani goods and services can be improved for exports to Saudi Arabia," he added.
Mr Baig on the occasion welcomed the establishment of Saudi-Pak Joint Business Council. The council, which will have 10 members from each side, will hold its first meeting next month. The FPCCI leader stressed on reducing high markup rates.
Meanwhile, Mr Malik said that Pakistan has a strong base in industrial, agriculture and research sectors but there is a need for modernisation and investments to compete in changing global environment.
"Though Pakistan allows investments on 100 per cent ownership but we expect that there will be joint ventures with Saudi business community as they too are seeking to broaden their economy and also want to enter into the agri-businesses," Mr Malik said.
He suggested that Pakistani business community as well as the government must adapt to the changing business environment globally.
"Our product and service standards have to be in accordance with the importer and after improving the standards of our human resources, we should approach other Muslim countries that they should invite our workforce," he added.
Full report at:
https://www.dawn.com/news/1464852/fpcci-sees-more-joint-ventures-with-saudi-investors
--------
Erdogan likely to visit Pakistan next month
February 20, 2019
KARACHI: Turkish President Recep Tayyip Erdoğan is expected to arrive in Pakistan on an official visit next month, Turkish Consul General in Pakistan Tolga Uçak said on Tuesday.
Speaking at an event in Karachi, Uçak said that Erdoğan will bring along a delegate of Turkish businessmen to announce fresh investments in Pakistan. The populist president is expected to land in Islamabad on March 23 – the Pakistan Day.
Prime Minister Imran Khan, on his two-day maiden official visit to Turkey on the invitation of Turkish president earlier in January, formally invited Erdoğan to visit Pakistan.
Uçak observed that "bilateral ties between Pakistan and Turkey are deeply rooted in history" and the "two countries have always cooperated with each other in difficult times".
He said that "Turkey seeks further business opportunities with Pakistan in all sectors including defence".
It has emerged that Turkish officials – who had always expressed keen interest in joining the China-Pakistan Economic Corridor (CPEC) – were in touch with their Pakistani counterparts in matters pertaining to the game-changer project.
Full report at:
https://www.pakistantoday.com.pk/2019/02/20/erdogan-likely-to-visit-pakistan-next-month/
--------
US-Taliban talks will be affected if India 'acts irresponsibly over Pulwama attack'
February 20, 2019
KABUL: Pakistan's ambassador to Afghanistan said on Tuesday that peace talks between the United States and Afghan Taliban would be affected if India resorted to violence against Pakistan in response to a deadly bombing in occupied Kashmir.
The remarks by Zahid Nasrullah come as tension between the nuclear-armed neighbours has risen sharply over the killing 40 Indian paramilitary police in a suicide bomb attack reportedly claimed by Jaish-e-Mohammad.
US envoys say Pakistan has an important role to play in the Afghan peace effort.
Taliban representatives are due to meet US special peace envoy Zalmay Khalilzad in Qatar on February 25 in the next round of talks to end America's longest war.
https://www.pakistantoday.com.pk/2019/02/19/us-taliban-talks-will-be-affected-if-india-acts-irresponsibly-over-pulwama-attack/
Husain Haqqani asks why Jaish-e-Muhammad took responsibility for Pulwama attack
Former Pakistani ambassador to the United States Husain Haqqani on Tuesday asked why the "Bahawalpur-based Jaish-e-Muhammad" claimed responsibility for carrying out the terrorist attack in Pulwama.
When a Twitter user asked him why he blamed Pakistan for the attack, citing intelligence report, and why those intelligence agencies were unable to stop the attack before it was executed, he said, "Good question. Better question for ppl of Pakistan: why did Bahawalpur-based Jaish-e-Muhammad accept responsibility for the attack and issued a statement from Pakistan within minutes of the attack?"
Earlier, he drew ire of Twitterati for his comment about Pakistanis "justifying" the Pulwama attack on social media despite state's condemnation.
Full report at:
https://www.pakistantoday.com.pk/2019/02/20/husain-haqqani-asks-why-jaish-e-muhammad-took-responsibility-for-pulwama-attack/
--------
Pakistan raises nine points against Kulbhushan at ICJ
FEBRUARY 20, 2019
Pakistan on Tuesday made a strong statement in Kulbhushan Jadhav case based on solid evidence of espionage against the Indian spy as International Court of Justice (ICJ) resumed its public hearing on the second day at The Hague, Netherlands, reports said. At the Peace Palace, English Queen's Counsel Barrister Khawar Qureshi representing Pakistan raised nine points in light of evidence pertaining to espionage, Jadhav's confessional statement, his 17 times travel on fake Indian passport and unlawful claim of consular access under Vienna Convention.
The case proceedings were shown live from the courtroom and shared by the ICJ's website for real-time update of the viewers worldwide, including in the party states Pakistan and India.
Before the 15-member bench, Qureshi termed India's oral arguments – presented a day earlier – as 'an opportunity wasted', saying India failed to answer fundamental questions regarding subversive activities of its serving navy commander inside Pakistan. He argued India's demand of provisional measures without conduct of any hearing since it invoked ICJ's jurisdiction on May 8, 2016, and termed 'outlandish' the Indian claim for 'at least' acquittal, release and return of Jadhav.
Calling India's proposition as 'absurd and nonsensical', he said India was showing lack of good faith and sponsoring terrorism in Pakistan through Jadhav. He also referred to a few cases of Russia and China where states were free to modify their own practice in dealing with espionage as a special case. He said India and Pakistan entered into a clearly worded agreement on consular access (operative since 1982 and amended in 2008) which identified the basis to consider the option of consular access in case of espionage.
He emphasized that India's conduct in sending Commander Jadhav to engage in acts of espionage violated the Article 5(a) of Vienna Convention and said permitting consular access would be in blatant violation of the fundamental precepts of international law. He requested the court to declare India's petition inadmissible by reason of its conduct manifesting abuse of rights, illegality and misrepresentation.
On alternative, he said, even if the court were to hold that Vienna Convention's Article 36 was engaged and a right to consular access was denied, the appropriate remedy would be filing a review before Pakistan's high court, any time by Jadhav and his family.
Earlier, Attorney General for Pakistan Anwar Mansoor Khan as Agent said Pakistan remained committed to peaceful resolution to all outstanding disputes and mentioned that the country suffered more than 74,000 casualties due to interference by neighbouring India. In this context, he said, Commander Jadhav working for Indian spy agency Research and Analysis Wing (RAW) entered Pakistan with predetermined plan of sabotage and confessed to his crime before the judicial magistrate.
The attorney general said Jadhav was involved in carrying out bombings, targeted operations, kidnapping and unlawful activities to create anarchy in Pakistan and target the China-Pakistan Economic Corridor. He mentioned that he himself had been a victim of Indian brutalities when faced torture during the 1971 Indo-Pak war as a prisoner of war.
He recalled that Jadhav's mother and wife were allowed to meet him in December 2017, and said it was a challenge for India to quote a similar example where a person involved in espionage and terrorism was granted access to family on humanitarian grounds.
The attorney general said Indian Prime Minister Narendra Modi in 2016 and also National Security Adviser Ajit Doval admitted to use of spy activities for creating unrest in Pakistan. He mentioned the massacre of Army Public School Peshawar, where 140 school children as young as six years, were killed by militants operated by India through Afghanistan.
Pakistan's Judge Ad hoc Justice Tassaduq Hussain Jillani, who was to sit in the bench, could not attend the hearing on the second consecutive day due to ill health.
The attorney general requested the court for replacement of the Judge Ad hoc in view of the country's right under Article 35(5) of Rules of Court, to which the head of the bench reserved the decision.
Pakistan's Co-Agent Dr Faisal, Ambassador to the Netherlands Shujaat Ali Rathore and junior counsels Joseph Dyke and Catriona Nicol attended the hearing from Pakistani side.
Full report at:
https://dailytimes.com.pk/356592/pakistan-raises-nine-points-against-kulbhushan-at-icj/
--------
South Asia
Another Suspected Bangladeshi Terrorist Arrested In Burdwan Blast Case
February 19, 2019
KOLKATA: The Special Task Force (STF) of Kolkata Police arrested an operative of terror outfit Jamaat-ul-Mujahideen Bangladesh (JMB) who allegedly got training under Kausar, one of the key accused in Burdwan's Khagragarh blast case of 2014, an officer said on Tuesday.
"Asif Iqbal alias Nadeem (22), an active JMB member since 2017, was arrested from Kolkata's Santragachi railway station at 6.20 p.m. on Monday. He was produced today (Tuesday) before the court, which remanded him to 15-day police custody till March 5," an STF officer said.
According to the STF, he was part of the conspiracy hatched to secure Kausar's escape on the way from court to the Presidency Correctional Home.
Charges of criminal conspiracy (IPC 120B) and aiding escape of state prisoner from lawful custody (IPC 130) has been slapped on him.
Nadeem, a resident of Kulgachi village in West Bengal's Murshidabad district, allegedly visited Chennai in 2017 and got training under Kausar.
He was involved in some cases of dacoities in Bengaluru. He came to Santragachi station on Monday (February 18) and was subsequently arrested by a team of STF, the official said.
The STF on Saturday had arrested another JMB operative, Ariful Islam, from central Kolkata's Babughat area. He was said to be involved in last year's Bodh Gaya blast.
Police said he was also working on securing escape of Kausar.
The NIA had arrested two suspected JMB terrorists from West Bengal's Hooghly district for their alleged involvement in the case last month.
https://www.ndtv.com/india-news/another-suspected-bangladeshi-terrorist-arrested-in-burdwan-blast-case-1996094
--------
Taliban commanders, militants in Afghan Air Force airstrikes in Faryab province
20 Feb 2019
At least fourteen Taliban group members including two of their commanders were killed or wounded during the airstrikes of the Afghan Air Force in northern Faryab province.
The 209th Shaheen Corps of the Afghan Military in the North in a statement said the airstrikes were carried out in Garziwan district on Tuesday.
The statement further added that the Afghan Air Force A-29 Super Tucanos carried out four airstrikes in Aliabad Village at at around 11:10 am local time, leaving ten militants dead and 4 others wounded.
One of the commanders of the group identified as Mullah Najib was also among those killed while another commander of the group Mullah Wali has been critically wounded, the 209th Shaheen Corps added.
The statement by 209th Shaheen Corps also added that 3 compounds and some weapons and munitions were also destroyed in the airstrikes.
Full report at:
https://www.khaama.com/taliban-commanders-militants-in-afghan-air-force-airstrikes-in-faryab-province-03339/
--------
President Ghani met with the U.S. CENTCOM Commander in Kabul
20 Feb 2019
President Mohammad Ashraf Ghani on Tuesday met with the Commander of the U.S. Military's Central Command Gen. Joseph Votel in Kabul.
The Office of the President, ARG Palace, in a statement said the two sides discussed peace process, funding and equipping the Afghan forces, and joint fight against terrorism.
The statement further added that Gen. Joseph informed President Ghani that his mission and service period has come to an end but assuring that his successor would be someone who would have better knowledge of Afghanistan and remain a strategic partner of the government of Afghanistan, the Afghan armed forces and people of Afghanistan.
In his turn, President Ghani hailed the United States and Gen. Votel for his cooperation in different sectors with Afghanistan.
He also added that the Afghan National Defense and Security Forces have become more capable as compared to the past.
Full report at:
https://www.khaama.com/president-ghani-met-with-the-u-s-centcom-commander-in-kabul-03338/
--------
China urges restraint by India, Pakistan on Pulwama terror attack
Feb 19, 2019
BEIJING: China on Tuesday urged restraint by India and Pakistan amid escalating tensions over the Pulwama terror attack and called on both the countries to peacefully resolve their issues through dialogue as soon as possible.
On February 14, at least 40 Central Reserve Police Force (CRPF) personnel were killed in Kashmir's Pulwama district in a suicide attack claimed by Pakistan-based Jaish-e-Mohammad (JeM) terror group.
The attack has heightened bilateral tensions with both New Delhi and Islamabad calling back their envoys for "consultations". India on Friday announced the withdrawal of the Most Favoured Nation status for Pakistan and hiked the customs duty by 200 per cent on goods originating from the neigbouring country.
"Pakistan and India are both important countries in South Asia. A stable bilateral relationship between the two is essential to the peace and stability in the region," Geng Shuang, spokesperson of the Chinese foreign ministry told a media briefing when asked about the tensions between the two countries following the Pulwama attack.
"South Asia has maintained an overall stability which should be cherished and upheld by all sides. China hopes that Pakistan and India will exercise restraint, engage in dialogue and realise the soft landing of the relevant issues as soon as possible," he said.
To another question about Saudi Arabia and Pakistan signing $20 billion agreement for Saudi investments in Pakistan during the just concluded visit of Saudi crown prince Muhammad Bin Salman, Geng said, "China is glad to see Pakistan having friendly exchanges and cooperation with other countries including Saudi Arabia".
On the China-Pakistan Economic Corridor, Geng said, "It will help with connectivity and shared development. China is ready to on the basis of consultation and consensus with Pakistan have a third party cooperation."
Full report at:
https://timesofindia.indiatimes.com/world/pakistan/china-urges-restraint-by-india-pakistan-on-pulwama-terror-attack/articleshow/68065121.cms
--------
Mideast
Turkey seeks to detain over 300 for alleged Gulen ties
19 February 2019
Turkish police on Tuesday launched raids to detain over 300 people, including military personnel, suspected of ties to a group blamed for a 2016 coup bid, state media reported.
Prosecutors in Turkey's three biggest provinces -- Istanbul, Ankara and Izmir -- issued arrest warrants for 324 people as part of different probes into followers of US-based Muslim preacher Fethullah Gulen, the private DHA and the Anadolu state news agency said.
Turkey accuses Gulen of ordering the abortive bid to topple President Recep Tayyip Erdogan on July 15, 2016 but he strongly denies the claim.
The Istanbul public prosecutor sought the arrest of 53 active duty soldiers in 15 provinces, including in the metropolis, Anadolu reported.
In the Aegean province of Izmir, the public prosecutor issued 182 arrest warrants with police conducting raids across 42 provinces, including Izmir, DHA reported.
The capital's public prosecutor said it issued 89 arrest warrants in two separate probes including one looking at the gendarmerie, which is in charge of domestic security.
The Ankara prosecutor's office said 30 suspects had already been detained.
The operations against alleged members of Gulen's movement have increased in recent months.
More than 760 people were detained last week in operations across 76 provinces of Turkey's 81 provinces, although 122 suspects were later freed under judicial supervision.
Sixteen other suspects were released, according to the Ankara public prosecutor's office.
Since 2016, tens of thousands of people have been arrested over suspected links to Gulen.
Meanwhile, more than 100,000 people have been sacked or suspended from the public sector.
Despite criticism from Western allies and human rights defenders over the scale of the crackdown, the police operations and probes continue with rigor.
Turkish officials insist that the raids are necessary to remove the "virus" caused by the Gulen movement's infiltration of Turkish state bodies.
https://english.alarabiya.net/en/News/middle-east/2019/02/19/Turkey-seeks-to-detain-over-300-for-alleged-Gulen-ties.html
--------
Griffiths: Troop withdrawal in Hodeidah could start any time now
19 February 2019
A redeployment of forces in Yemen's Hodeidah by the warring parties could start "possibly even today or tomorrow," United Nations Yemen envoy Martin Griffiths told the UN Security Council on Tuesday.
The Houthis and the Yemeni government agreed at talks in Sweden in December to withdraw troops by January 7 from the Red Sea city under a truce aimed at averting a full-scale assault on the port and paving the way for negotiations to end the four-year war.
But the pact stalled over control of Hodeidah, a lifeline for millions facing famine. After weeks of diplomacy, the United Nations said on Sunday the parties had reached agreement on phase one of a troop redeployment.
"With the beginning, possibly even today or tomorrow, of the implementation of that part of the Hodeidah agreement we now have the opportunity to move from the promise made in Sweden to hope now for Yemen," Griffiths told the 15-member council.
Ceasefire
Under phase one, the Houthis would withdraw from the ports of Hodeidah, Saleef, used for grains, and Ras Isa, used for oil.
This would be met by a retreat of the coalition forces from the eastern outskirts of Hodeidah, where battles raged before a ceasefire went into effect on December 18.
Houthi spokesman Mohammed Abdulsalam said late on Monday the withdrawal of troops from the ports could be implemented in the two days following Sunday's agreement but the group was waiting to hear from the United Nations.
However, the Yemeni government believes implementation of phase one should only start when both sides agree on the local authority that will run the ports and the city under the Stockholm agreement, said Sadeq Daweed, a government spokesman.
Two sources involved in the negotiations, who declined to be named, said on Monday that both sides had yet to agree on a mechanism for local forces to take over security at the ports and city.
Griffiths said phase one of the redeployment of forces would "facilitate humanitarian access to the Red Sea Mills."
The World Food Program grain stores at the Red Sea Mills are enough to feed 3.7 million people for a month and have been inaccessible for more than five months. The United Nations has warned the food is at risk of rotting.
Griffiths urged the parties to agree on the details of the second phase of troop withdrawals, which entails full redeployment of both parties' forces in Hodeidah province.
Full report at:
https://english.alarabiya.net/en/News/gulf/2019/02/19/Griffiths-Troop-withdrawal-in-Hodeidah-could-start-any-time-now-.html
--------
Ten Palestinian worshippers injured as Israeli forces raid al-Aqsa Mosque
Feb 19, 2019
Nearly a dozen Palestinians have been injured after Israeli military forces attacked worshipers entering al-Aqsa Mosque in the occupied Old City of Jerusalem al-Quds.
Local sources, requesting not to be named, told the Arabic-language Palestine al-Aan news agency that ten Palestinians sustained injuries on Tuesday evening after Israeli troops assaulted them at Bab al-Rahma (Gate of Mercy) to the third-holiest site in Islam.
The sources added that 15 other Palestinians were arrested by Israeli forces inside the mosque as well. A majority of those arrested were reportedly seminary school students.
The Palestinian sources identified some of those arrested as Mohammed Abu Shousha, Omar Zaghir, Omar Ouda, Hamza Zagir and Hisham al-Bashiti.
Palestinian Ma'an News Agency reported on Monday that Israeli soldiers had sealed off Bab al-Rahma with locks and iron chains a day earlier and prevented the Palestinian worshipers from entering the al-Aqsa Mosque compound.
The agency said the Israeli move sparked clashes between Palestinian youths and the Tel Aviv regime forces, which resulted in the detention of five Palestinians, including a woman.
Firas al-Dibs, spokesperson of the Islamic Waqf (Endowment) organization, said Israeli forces had installed the locks and chains at the gate in response to members of the organization performing prayers at the gate last Thursday.
The al-Rahma Gate is a big building that lays to the east of the al-Aqsa Mosque.
The building was sealed by Israeli authorities in 2003 as it was the headquarters of the Islamic Heritage Committee. Israel claimed at the time that the building was being used for political activities.
In 2017, an Israeli court ordered that the building be closed until further notice.
Tensions continue in the occupied territories following US President Donald Trump's decision last year to recognize Jerusalem al-Quds as Israel's capital and relocate the US embassy to the occupied city.
The dramatic shift in Washington's policy vis-à-vis Jerusalem al-Quds on December 6, 2017 triggered demonstrations in the occupied Palestinian territories, Iran, Turkey, Egypt, Jordan, Tunisia, Algeria, Iraq, Morocco and other Muslim countries.
On December 21, 2017, the United Nations General Assembly overwhelmingly voted in favor of a resolution that calls on the US to withdraw its controversial recognition of Jerusalem al-Quds as Israeli "capital."
In an attempt to prevent the passing of the resolution, Trump threatened reprisals against countries that backed the measure, which had earlier faced a US veto at the UN Security Council.
Despite the vote, the United States went ahead with the embassy transfer on May 14 last year, triggering demonstrations in the occupied Palestinian territories and across the Muslim world.
Full report at:
https://www.presstv.com/Detail/2019/02/19/589016/Ten-Palestinian-worshippers-injured-as-Israeli-forces-raid-alAqsa-Mosque
--------
Dozens of Gazans injured during protest against Israeli blockade
Feb 19, 2019
Dozens of Palestinians have been injured as hundreds of people staged another demonstration near the Gaza Strip's northern maritime border with the Israeli-occupied territories against the Tel Aviv regime's 12-year naval blockade.
The spokesman for the Gaza Ministry of Health, Ashraf al-Qidra, said in a statement that 39 protesters were struck with live bullets on Tuesday as they participated in the 24th weekly naval march near Zikim naval base, which lies just north of Gaza.
Dozens of Palestinians also suffered excessive tear gas inhalation after Israeli forces sought to suppress the protest rally.
Israel imposed a limit of three nautical miles on fishing in the waters off the Gaza shore until August 2014, when Palestinian fishermen were allowed to go out six miles under a ceasefire agreement reached between the Israelis and Palestinians following a deadly 50-day Israeli war in the same month.
The fishing zone is supposed to extend to 20 nautical miles under the Oslo Accords. The Oslo Accords were signed between the Israeli regime and the Palestine Liberation Organization (PLO) during the early-mid 1990s to resolve the Israeli-Palestinian conflict.
In May 2017, Israeli authorities increased the fishing area for Gaza fishermen to nine nautical miles.
Over the past few years, Israeli forces have carried out more than a hundred attacks on Palestinian boats, arresting dozens of fishermen and confiscating several boats.
Palestinians have held weekly protests on the Gaza border, over the siege on the enclave and the right for refugees to return to their homes they were forcibly expelled from during the 1948 creation of Israel.
More than 260 Palestinians have been killed by Israeli forces ever since anti-occupation protest rallies began in the Gaza Strip on March 30. Over 26,000 Palestinians have also sustained injuries.
The Gaza clashes reached their peak on May 14 last year, on the eve of the 70th anniversary of the Nakba Day (Day of Catastrophe), which coincided this year with the US embassy relocation from Tel Aviv to occupied East Jerusalem al-Quds.
On June 13, 2018, the United Nations General Assembly adopted a resolution, sponsored by Turkey and Algeria, condemning the Israeli regime for the death of Palestinian civilians in the Gaza Strip.
Full report at:
https://www.presstv.com/Detail/2019/02/19/589003/20-injured-as-hundreds-demonstrate-in-Gaza-against-Israeli-blockade
--------
Israeli police arrest 19 Palestinians at Jerusalem holy site
February 19, 2019
JERUSALEM: Israeli police say they have arrested 19 Palestinians as clashes broke out at a contested Jerusalem holy site.
Police say dozens of Palestinians participated in a prayer protest Tuesday, attempting to breach a section of the compound that has been closed by Israeli court order for years.
Palestinian medics reported that several protesters were injured in the standoff.
The incident follows a similar scuffle on Monday in which Palestinians tried to break the gate that Israel placed on the closed area last week.
The compound, revered by Jews as the Temple Mount and by Muslims as the Noble Sanctuary, is considered the holiest place in Judaism and the third holiest in Islam.
Full report at:
http://www.arabnews.com/node/1455091/middle-east
--------
Africa
Security forces free Mali official from extremists
February 20, 2019
BAMAKO, Mali: A senior government official and a journalist abducted by suspected extremists in Mali have been freed, a security source told AFP on Tuesday.
Makan Doumbia, the prefect of Tenenkou commune in central Mali, "was freed Monday thanks to an action by state security," the source told AFP.
Doumbia, the most senior government representative in the commune, was abducted in the Mopti region on May 8 last year.
He is now being treated in intensive care in the capital Bamako, said the source, who refused to comment on claims that Doumbia was freed under a prisoner exchange.
A son of the official, who declined to give his full name, also confirmed the prefect had been released.
"I was able to speak to my father. He is very tired. But the most important thing is that he is free. I am very happy," said the son.
Malian journalist Issiaka Tamboura, who was kidnapped in central Mali in December, was also released and taken to hospital in Bamako, security and media sources said.
However, elsewhere in the Mopti region, four hostages taken by suspected extremists were killed at Toguere-Koumbe last week, according to Kisal, a rights group for nomadic communities.
Kisal announced on its Facebook page Monday that those killed were members of the Bozo ethnic group.
A security source confirmed that "four civilian hostages of terrorists" were found dead at Toguere at the weekend.
Extremist militias linked to Al-Qaeda seized the north of Mali in 2012, but were pushed back by French troops the following year.
A peace agreement signed in 2015 by the Bamako government and armed groups was aimed at restoring stability, but the accord has failed to stop violence by extremist militants — who have also staged attacks in neighboring Burkina Faso and Niger.
http://www.arabnews.com/node/1455231/world
--------
Man detained 5 days for probe into Al-Shabaab spy claims
FEBRUARY 19 2019
A Mandera court has allowed police to hold a man believed to an Al-Shabaab spy for five days so they can complete investigations.
Officers of the Anti-Terrorism Police Unit (ATPU) arrested Mr Abdu Hassan Yamah alias Somo Dubat Oukor on Sunday, informed by an intelligence report.
Police noted that Mr Yamah is Somali but was found with a Ugandan identity card.
'SHABAAB SPY'
While praying for the suspect's detention for a probe by a multi-agency security unit, ATPU officer Newton Mbogo said he is believed to be a spy for the terror group.
According to the ATPU, intelligence revealed that Mr Yamah acquired the Ugandan ID fraudulently for purposes of concealing organised criminal activities.
It is believed he was to be deployed to the Kenya–Somalia border.
"He is suspected to have been collecting information for Al-Shabaab in Mandera," Mr Mbogo told Mandera Resident Magistrate Dancun Mtai in a sworn affidavit.
"The ATPU wants to carry out investigations in Kenya, Uganda and Somalia to exonerate or charge the respondent."
ATTACKS
Police further argued that the suspect did not give a clear picture of his mission in Kenya during preliminary interrogations.
"He did not tell us where he was coming from. We suspect he is a spy (Amniyaat) who, on several occasions, conducted surveillance and gave information to Al-Shabaab," said Mr Mbogo.
Full report at:
https://www.nation.co.ke/counties/mandera/Suspected-Shabaab-spy-held-5-days/1183298-4988810-ix4lyt/index.html
--------
Boko Haram: Monarch advocates Better funding for Nigerian Army
February 19, 2019
Tunde Eludini
The Nigerian Army needs better funding than it presently enjoys if the fight against insurgents and armed banditry across the country will be totally won.
This is the view expressed by a Yoruba monarch, the Olowu Of Owu-Kuta, Adekunle Makama.
Mr Makama while speaking at an interactive session with the media in Lagos on Tuesday commended the Nigerian Army for its noble role in the fight against insurgents and renewed drive to make the country safe for all.
He, however, noted that there was still the need for improved budgetary allocation to the defence ministry which can be utilised to confront the challenges of modern urban and conventional warfare.
The monarch also expressed happiness that in all the reasons adduced for the postponement of the 2019 elections by the Chairman of the Independent National Electoral Commission (INEC), Mahmood Yakubu, the military was not accused of bias in the discharge of its duties.
He said: "I am happy that our armed forces were never accused of bias in the discharge of their duties in the run to this election. In fact, two days before the election was postponed, our armed forces announced to provide support for the police and other security agencies deployed for the election if the need arises. And despite the attack on the convoy of Borno State Governor, Kashim Shettima, and the attack on Buni Yadi, our armed forces was able to dislodge the insurgent and restore hope.
Okowa Campaign AD
"I salute the courage of the Chief of Army Staff, Lt Gen. Tukur Buratai for his professionalism despite the daunting task to contain the Boko Haram and other banditry. I want to plead with our politicians across the board not to play politics with our Armed Forces being the symbol of our unity."
Peaceful Polls
With new dates already announced for the presidential and gubernatorial polls, Mr Makama enjoined all candidates to be primarily concerned with peace.
"I want to urge all the presidential candidates to keep to the peace accord they subscribe to recently, bearing in mind that we must have country first before any other thing.
Full report at:
https://www.premiumtimesng.com/news/more-news/314015-boko-haram-monarch-advocates-bettter-funding-for-nigerian-army.html
--------
Troops inflict more casualties on Boko Haram terrorists
February 19, 2019
The Nigerian Army said on Tuesday that troops have inflicted heavy casualty on fleeing Boko Haram terrorist after an attack at Gajigana on Saturday.
Its Deputy Director of Public Relations, Colonel Ado Isa, said in a statement that the troops recovered weapons from the terrorists.
Colonel Isa said :"Following the Boko Haram Terrorists (BHTs) attack at Gajigana on Saturday 16 February 2019 at about 1850hrs and successfully repelled and fatally dealt with by the gallant troops deployed at Gajigana Forward Operating Base (FOB), an early hours exploitation operation was conducted today 17 February 2019 through their withdrawal route to mob up and clear the general area of the remnant elements of the BHTs.
"During the exploits, it was confirmed that members of the BHTs suffered heavy casualty based on the splits and flow of bloods around the parapets and the tracks where their deads were dragged away through the escape route.
"Items recovered along the route includes: One 36 hand grenade, Five 60 Millimetre (mm) Mortar rounds, 13 X 12.7mm rounds, 142 X 7.62mm rounds, one AK 47 magazine and a Night Vision Goggle.
"Based on the occurrence, the Acting General Officer Commanding (GOC), 7 Division Nigerian Army and Commander Sector 1 Operation Lafiya Dole, Brigadier General Abdulmalik Bulama Biu and his team visited the location on Sunday 17 February 2019 to assess the situation and the success of the operation.
"General Bulama addressed the troops and salute their fighting spirit and urge them to maintain the momentum with assurance that the Division will promptly support them at all times.
Full report at:
http://thenationonlineng.net/troops-inflict-more-casualties-on-boko-haram-terrorists/
--------
URL: https://www.newageislam.com/islamic-world-news/france-move-un-blacklist-jaish/d/117804
New Age Islam, Islam Online, Islamic Website, African Muslim News, Arab World News, South Asia News, Indian Muslim News, World Muslim News, Women in Islam, Islamic Feminism, Arab Women, Women In Arab, Islamophobia in America, Muslim Women in West, Islam Women and Feminism