New Age Islam News Bureau
10 December 2020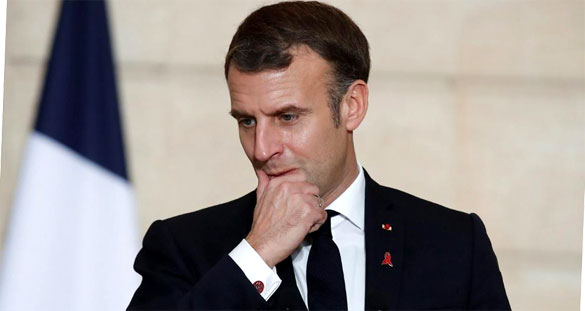 France is not 'fostering anti-Muslim racism', Macron said Photo: POOL / BENOIT TESSIER
------
• No FIR, No Conversion, But Muslim Man Held For 'Love Jihad' Probe and Woman to A Shelter at Meerut in UP
• Khaleda, Tarique, Fakhrul, Mamunul, Babunagari Sued Over Anti-Sculpture Remarks
• Malaysia Says Halal Issue Won't Affect Covid-19 Vaccine Roll-Out amid Concerns Among Muslims
• Pakistan: Court Orders Arzoo — A Teenage Christian Girl's Purported Husband Be Tried for Rape
• U.S. Counterterrorism Chief Says Mozambique Militants Are Islamic State Affiliate
• NATO Accuses Taliban of Undermining Afghanistan Peace Process with Attacks
• Total Dead In Syria War Reaches 387,000 In Slowest Annual Increase: Monitor
• Iran, UN Confer on Latest Developments in Syria
Europe
• France Defends Law Combatting 'Pernicious' Islamist Radicalism
• Macron touts law to 'free Muslims from radical Islamism'
• Charlie Hebdo Attack: France Seeks Long Jail Terms In Paris Trial
• Alleged Neo-Nazi Teenager Charged With Encouraging A 'Mass Casualty' Terror Attack
• Only Muslim School in Paris Closed Down Amid Claims of Islamophobia
• Finnish minister to face no charges over push to bring home Islamic State children
• Erdogan in Azerbaijan to hail 'glorious' Karabakh victory
• European Union will impose more sanctions for Turkish drilling in Mediterranean
• EU to toughen sanctions on Turkish drilling — draft statement
--------
India
• No FIR, No Conversion, But Muslim Man Held For 'Love Jihad' Probe And Woman To A Shelter at Meerut in UP
• Telangana State Waqf Board Forms Committees To Manage Mosques
• 45% People in 11 States Borrowed Money to Eat Since Lockdown, Dalits and Muslims Went Hungrier: Survey
• J&K's GI-tagged saffron launched in Middle East; apples in stores too
• Al-Badr trio killed, civilian hurt in Pulwama encounter
• China, Pakistan behind farmers' protest: Union minister Danve
--------
South Asia
• Khaleda, Tarique, Fakhrul, Mamunul, Babunagari Sued Over Anti-Sculpture Remarks
• Sri Lanka Cremates Muslim Covid-19 Victims, Overriding The Families' Objections Against The Contentious Policy
• Sculpture Fiasco: Taposh asks Hefazat leaders to stop and maintain peace or be sent to Afghanistan
• Hefajat has no intention of creating hostility with govt, it says
• Naderi Discusses Peace Negotiations with US Diplomat
• UK Vows to Stand 'United in Fight against Corruption' in Afghanistan
• Taliban kill two Afghan soldiers in Ghazni: Ministry
--------
Southeast Asia
• Malaysia Says Halal Issue Won't Affect Covid-19 Vaccine Roll-Out Amid Concerns Among Muslims
• Umno's unlikely romance with DAP in Perak could leave PM Muhyiddin jilted
• No signs of PM Muhyiddin losing support, confidence vote not a priority: Malaysian minister
--------
Pakistan
• Pakistan: Court Orders Arzoo — A Teenage Christian Girl's Purported Husband Be Tried for Rape
• PM dares opposition on no-trust motion against him
• PM discusses Covid situation with Bill Gates
• Marching orders for yet another officer for 'defying' CCPO
• Pak lawmakers to resign en masse to paralyse govt: PDM chief Rehman
--------
Africa
• U.S. Counterterrorism Chief Says Mozambique Militants Are Islamic State Affiliate
• Coronavirus: Morocco raises $3 bln with bonds to bolster COVID-19-hit economy
• Akufo-Addo narrowly re-elected in Ghana presidential election
• Ethiopia conflict 'spiraling out of control,' UN rights chief warns
--------
North America
• NATO Accuses Taliban of Undermining Afghanistan Peace Process with Attacks
• Pakistan gets US presidential waiver to avoid sanctions
• Florida man seeks plea deal after being charged with backing terror group ISIS
• Member of Toronto 18 terror group is granted day parole in Quebec
--------
Arab World
• Total Dead In Syria War Reaches 387,000 In Slowest Annual Increase: Monitor
• Lebanon's PM-designate Hariri gives president new government line-up
• Two bombs spark fire at Khabbaz oil field in Iraq's Kirkuk: Security sources
• Arab Coalition destroys two bomb-laden boats belonging to Iran-backed Houthis
• Bid to stop sales of f-35 jets to UAE fails in US Senate
• Fighting to preserve Armenian culture, cuisine and crafts in crisis-hit Lebanon
• Syria resolved to take back occupied Golan from Israel: Envoy
• Egyptian forces kill, arrest Islamist fighters in Sinai
--------
Mideast
• Iran, UN Confer on Latest Developments in Syria
• President Rouhani: US Return to N. Deal Needs No Renegotiation
• Iran Stresses Need for Permanent Solution to Karabakh Crisis
• Speaker: EU's Meddling in Iran's Official Law "Astonishing"
• Turkey's Erdogan to discuss US tensions when Biden takes office
• Iran announces sanctions against US envoy to Yemen, cites pivotal role in humanitarian catastrophe
Compiled by New Age Islam News Bureau
URL: https://www.newageislam.com/islamic-world-news/france-defends-law-combatting-pernicious/d/123719
--------
France Defends Law Combatting 'Pernicious' Islamist Radicalism
Dec 9, 2020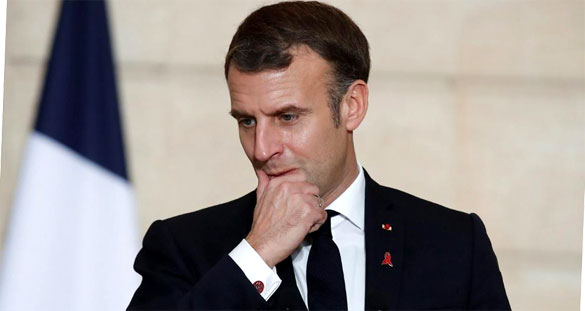 France is not 'fostering anti-Muslim racism', Macron said Photo: POOL / BENOIT TESSIER
------
PARIS: The French government defended draft legislation clamping down on Islamist radicalism on Wednesday as a "law of freedom" after a torrent of criticism from Muslim countries and expressions of concern from the US.
President Emmanuel Macron has pushed the legislation -- which would tighten rules on issues ranging from religious-based education to polygamy -- after a spate of attacks blamed on extremists.
"This bill is not a text aimed against religions or against the Muslim religion in particular," Prime Minister Jean Castex told reporters after the cabinet approved a text to present to parliament.
"It is the reverse - it is a law of freedom, it is a law of protection, it is a law of emancipation against religious fundamentalism."
Castex said the target of the bill "was the pernicious ideology that goes by the name of Islamist radicalism".
But the government's staunch defence of France's tradition of secularism, sealed in a landmark 1905 law, has caused unease even among allies.
"There can be constructive engagements that I think can be helpful and not harmful," said Sam Brownback, a US envoy for religious freedom.
"When you get heavy-handed, the situation can get worse."
The law was in the pipeline before the October killing of Samuel Paty, a junior high school teacher who was beheaded in the street after showing cartoons of the Prophet Mohammed in a class.
But the killing, committed by an 18-year old Chechen after a virulent social media campaign against the teacher, gave fresh impetus to the bill and prompted the inclusion of the specific crimes of online hate speech and divulging personal information on the internet.
Paty's death came amid a spate of jihadist-inspired attacks in France this year, including a knife assault outside the former offices of the Charlie Hebdo satirical magazine and deadly stabbings at a church in Nice.
The legislation is one of two hugely controversial items of legislation the government is pushing through parliament, the other a security bill that would restrict publishing the faces of police that has met with fierce opposition from activists.
Castex said the new bill against extremism was needed after "ever more numerous attacks" against France's principles "which affect our ability to live serenely together".
"This ideology aims to divide us from each other and spread hatred and violence in society," said Castex. "This is what we call separatism," he said, using a term repeatedly used by Macron to condemn how some communities are seen as withdrawing from French society.
Castex cited concerns about children being taken out of French schools to be given an alternative education in underground Islamic facilities.
The new legislation bans "clandestine schools that promote a radical Islamist ideology," he said.
But he emphasised that at the same time authorities were expanding the number of primary school classes and housing available in the most affected areas.
Under the legislation, doctors would be fined or jailed if they performed a virginity test on girls.
Polygamy is already outlawed in France but the new law would also ban authorities from issuing residency papers to polygamous applicants.
"It is a text that seeks to protect all our citizens. It is a text in line with the great tradition of the founders of our republic," said Castex.
Macron has become a figure of hate in some Muslim countries with some boycotting French products after he said the right to blaspheme would always be guaranteed in France and that Islam was "in crisis".
Turkish President Recep Tayyip Erdogan has called the draft law an "open provocation", while Egyptian scholars called Macron's views racist.
Macron has also been forced on to the defensive by critical headlines in influential English-language media such as the Financial Times and New York Times.
Muslims in France -- often from former French colonies in north and west Africa as well as the Middle East -- are estimated at nearly four million, about six percent of the population, the biggest such community in Europe.
https://timesofindia.indiatimes.com/world/europe/france-defends-law-combatting-pernicious-islamist-radicalism/articleshow/79648650.cms
--------
No FIR, No Conversion, But Muslim Man Held For 'Love Jihad' Probe and Woman to A Shelter at Meerut in UP
Dec 10, 2020

Love Jihad
-----
MEERUT: A Muslim man, 27, and a Hindu woman, 24, fell in love, eloped and started living together. Their parents, while not supportive, didn't press charges. The woman had not been misled about the man's religious identity. But now, under pressure from right-wing groups against what they said was a case of "love jihad", police have been holding the man for questioning and have sent the woman to a shelter.
But they don't know how an FIR could possibly be filed. "The woman said the man hadn't hidden his identity."
"So, we called up her parents, who said they have disowned her but didn't press charges," Kankerkheda SHO Tapeshwar Sagar told TOI on Wednesday.
An Allahabad high court judgment had weeks ago upheld personal liberty in choosing a partner, referring to interfaith marriages. And under The Uttar Pradesh Prohibition of Unlawful Conversion of Religious Ordinance, 2020, conversion from one religion to another by "misrepresentation, force, fraud, undue influence, coercion, allurement or marriage" is a criminal offence. But it's a difficult case to make for this couple, police added.
Yusuf Ahmad and Anshu Singh (name changed) were colleagues at a call centre in Bareilly. When they fell for each other, Anshu's family was extremely unhappy. They applied for marriage at the Arya Samaj Temple in Bareilly, but it didn't get processed. As family pressure kept mounting, they ran away to Meerut, where Yusuf got a job and they put up at a rented house. This was four months ago.
When their landlord came to know of Yusuf's religious identity, he told Balraj Dungar, the former west UP convener of Bajrang Dal. Dungar and other members of right-wing outfits banded together at the Kankerkheda police station, demanding action, on Tuesday.
"We cannot allow right-wing groups to file a complaint for an FIR because they have no legal stakes," SHO Sagar said. But they have been holding Yusuf for "investigation" since Tuesday. "If the woman's parents file a complaint, it will definitely be an offence under the new law," Sagar added, referring to the ordinance.
Dungar insisted there was a conspiracy afoot. "This is nothing but love jihad," he said. But Anshu said she had never been misled: "I know about his faith and still want to marry him. He never asked me to convert. On the contrary, he wants to convert to Hinduism." She has been sent away to Asha Women's Centre, a shelter in Meerut.
Meanwhile, taking off from the police statement that only the family could file an official complaint, the right-wing groups have got to work. Dungar said, "We have sent a few activists to speak to the woman's parents in Bareilly today (Wednesday). We will try and convince them."
https://timesofindia.indiatimes.com/city/meerut/no-fir-no-conversion-but-muslim-man-held-for-love-jihad-probe/articleshow/79648822.cms
--------
Khaleda, Tarique, Fakhrul, Mamunul, Babunagari Sued Over Anti-Sculpture Remarks
December 9th, 2020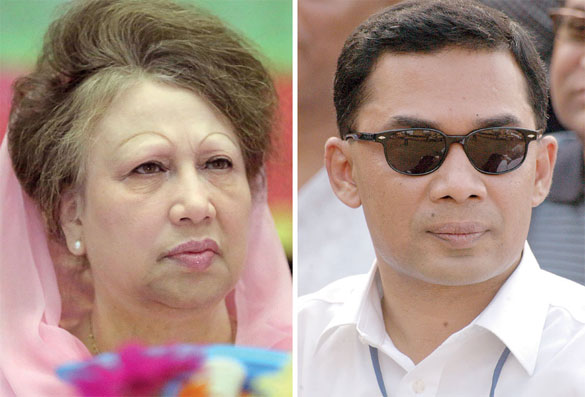 BNP Chairperson Khaleda Zia and her son, acting party chairman Tarique Rahman Syed Zakir Hossain/ Dhaka Tribune
------
The court accepted the plaintiff's statement and said it would issue the order on Thursday
A defamation case has been filed against six people, including former prime minister and BNP chairperson Khaleda Zia and her son Tarique Rahman, for allegedly aiding in making anti-sculpture remarks.
AB Siddiqui, president of a pro-Awami league organization named Jananetri Parishad, filed the case under Section 500, 501, 427, and 109 of the Penal Code with the court of Dhaka Metropolitan Magistrate Satyabrata Sikder on Wednesday.
The court accepted the plaintiff's statement and said it would issue the order on Thursday.
The other accused in the case are Mirza Fakhrul Islam Alamgir, general secretary of BNP; Junaid Ahmed Babungari, acting chief of Hefazat-e-Islam; Mamunul Haque, joint secretary general of Hefazat-e-Islam; and Faizul Karim, senior nayeb-e-ameer of Islami Andolan Bangladesh.
According to the case file, On November 13, Mamunul Haque said: "There will be no sculptures in Bangladesh and we will not allow constructing a sculpture of the Father of the Nation."
On November 27, Junaid Babungari said: "If the country follows the Medina Charter, then there will be no sculpture in the country." He also threatened to create a situation like the Shapla Chattar again.
Faizul Haque said in a speech: "If any sculpture is constructed in Bangladesh, it will be smashed and thrown into the Buriganga. If necessary, we will gather at Shapla Chattar again."
The case file also stated that earlier, Khaleda Zia had said at a Hefazat-e-Islam rally at Shapla Chattar that Sheikh Hasina will be brought down within 6am in the morning.
Earlier on Monday, two complaints were filed with a Dhaka court, alleging sedition for speaking against the sculptures of Father of the Nation Bangabandhu Sheikh Mujibur Rahman against Babunagari, Mamunul, and Faizul.
President of Muktijoddha Mancha Aminul Islam Bulbul and Executive President and founder of Bangabandhu Foundation Advocate Moshiur Malek filed the cases with the same court.
Following which, Metropolitan Magistrate Satyabrata Sikder directed the Police Bureau of Investigation (PBI) to probe the issue, and submit a report before it within January 7, 2021.
https://www.dhakatribune.com/bangladesh/court/2020/12/09/khaleda-tarique-fakhrul-mamunul-babunagari-sued-over-anti-sculpture-remarks
--------
Malaysia says halal issue won't affect Covid-19 vaccine roll-out amid concerns among Muslims
Hazlin Hassan
10 Dec 2020
KUALA LUMPUR - The much-anticipated Covid-19 vaccine need not be halal in order to be administered in Malaysia, said Health Ministry director-general Noor Hisham Abdullah, allaying concerns among local Muslims about the shots containing substances forbidden by Islam.
"If they can get the halal certification that would be better, but we do not register a medicine based on halal status or not. We do register non-halal medicine too," Dr Noor Hisham told The Straits Times.
Concerns over whether the Covid-19 vaccine is permissible for use by Muslims have surfaced as Malaysia signs deals with manufacturers to procure shipments.
The Special Muzakarah Committee of the National Council for Malaysian Islamic Affairs met on Dec 3 to discuss whether the vaccine can be administered to Muslims. Religious Affairs Minister Zulkifli Mohamad Al-Bakri said last week that the decision would be announced after it has been presented to the King, who oversees religious matters, for his consent.
Malaysian pharmaceutical company Pharmaniaga has said it is planning to build the world's first halal vaccine facility by 2022.
Malaysia inked a deal with Pfizer in November to supply 12.8 million doses of the Covid-19 vaccine for 20 per cent of the population. It has also entered a pact with the Covax Facility to cover another 10 per cent of the population.
The country is also set to obtain the vaccine from China, which has raised questions among Muslims over its halal status.
"Even if there is an ingredient which is not permissible, the chemical transformation process will make it clean and halal," said Perlis mufti Mohd Asri Zainul Abidin in a Facebook post after attending last week's Muzakarah committee meeting.
Malaysia recorded 959 new cases on Wednesday (Dec 9) and five deaths. This brought the tally of confirmed cases to 76, 265, while fatalities totalled 393.
The halal issue in Malaysia can be a sensitive one, and can sometimes raise racial tensions.
While Muslims are obligated to make sure the food they consume is halal, cases of fake certificates or unhygienic production processes frequently make the headlines in Malaysia.
Malaysia's halal industry contributes to 7.8 per cent of the country's gross domestic product.
As the agency responsible for certifying if products are halal, the Department of Islamic Development Malaysia (Jakim) has found itself at the centre of recent furores fuelled by social media claims that certain certified restaurants served pork.
Jakim has had to play the role of myth-buster lately, after a viral video claiming that halal-certified coffee shop chain OldTown White Coffee served pork, when it was actually chicken.
While Muslim Malays make up 60 per cent of the country's 32 million population, a video released by Jakim last month revealed that nearly 70 per cent of halal certificate applicants were not bumiputeras - a term used to jointly refer to the Malay Muslim majority and indigenous tribes.
As at Dec 2, a total of 6,403 applications for the halal certification have been approved this year, out of 7,853. Of those that were successful, 67 per cent were non-bumiputera applicants.
The bulk of these were for products (62 per cent), and eateries (22 per cent).
OldTown White Coffee is far from being the only victim of fake news regarding its halal status. Jakim has had to post 99 statements this year, rebutting hoaxes and inaccurate information.
It also began a series on its Facebook page last week, debunking misinformation over posers such as whether the earth is flat and whether Muslims are allowed to play online battle game PlayerUnknown's Battlegrounds.
"Spreading fake news is a serious matter. It is like an epidemic that must be handled quickly, and firmly," Mr Bukhari Md Akhir, director of Jakim's Halal Management Division, told ST.
https://www.straitstimes.com/asia/se-asia/halal-issue-will-not-impede-malaysias-vaccine-roll-out-says-health-chief-amid-muslim
--------
Pakistan: Court Orders Arzoo — A Teenage Christian Girl's Purported Husband Be Tried for Rape
Naeem Sahoutara
09 Dec 2020
A judicial magistrate on Wednesday invoked offence of rape against the main suspect in a case pertaining to the alleged underage marriage of Arzoo — a teenage Christian girl who was allegedly abducted before being forcefully converted and married to a Muslim man.
The judge also ordered the registration of a case against Syed Ali Azhar, who is the girl's purported husband, as well as against cleric Qazi Abdul Rasool Naqshbandi, the justice of peace and facilitators and witnesses under Section 3 of the Sindh Child Marriages Restraint Act, 2013.
The magistrate also issued non-bailable arrest warrants for the absconding suspects. The judge sent the matter to the district and sessions' judge (South) for initiating a trial.
During the hearing, the judge ruled that the investigation officer in the case was at liberty to determine the question of the issuance of sanad (certificate of conversion of religion) in accordance with the Supreme Court's judgment (SCMR-474 of 2014), which was raised by the complainant's counsel during the course of the arguments.
Police had booked Azhar, his brothers Syed Mohsin Ali and Syed Shariq Ali and their friend Danish for allegedly kidnapping the teenage girl, forcibly converting her and marrying her to a Muslim man.
Officials had also booked cleric Qazi Abdul Rasool, Junaid Ali Siddiqui and Mehmood Hassan for facilitating and solemnising the underage marriage of Arzoo Raja with Azhar. They are all currently on interim pre-arrest bail while Azhar is in police custody.
On Wednesday, judicial magistrate (South) Muhammad Ali Dall pronounced his verdict on the charge-sheet filed by the investigating officer after hearing arguments from the state prosecutor, defence counsel Muhammad Nizar Tanoli and the counsels for the complainant, Jibran Nasir and Asghar Narejo.
In his 20-page order, the judge noted that from perusal of the material available on record, it appeared that the "ingredients" of Section 376 (punishment for rape) of the Pakistan Penal Code (PPC) and Section 3 of the Sindh Child Marriages Restraint Act, 2013 were "attracting" against the suspect Syed Ali Azhar.
Section 3 states: "Whoever, being a male above eighteen years of age, contracts a child marriage shall be punished with rigorous imprisonment, which may extend to two years or with fine, which may extend to one hundred thousand rupees or with both."
Similarly, the judge said that "ingredients" of Section 201 (causing disappearance of evidence of offence, or giving false information to screen offender) of the PPC also "attracted" against Azhar.
He further wrote that in view of the facts, it appeared that "ingredients" of Section 4 (punishment for solemnising a child marriage) of the Child Marriage Act was "attracting" against Qazi Abdul Rasool Naqshbandi, who solemnised the couple's marriage, Justice of Peace Muhammad Azharuddin, witnesses Muhammad Danish, Habib, Mahmood Hassan and Junaid Ali Siddiqui.
The magistrate accepted the charge-sheet filed by the investigation officer and took cognisance under Section 376 of the PPC and Section 3 of the SCMRA, 2013 against Azhar.
The magistrate also took cognisance under the Section 4 of the SCMRA, 2013 against the cleric Qazi Abdul Rasool Naqshbandi, Justice of Peace Muhammad Azharuddin, Muhammad Danish, Habib, Mahmood Hassan and Junaid Ali Siddiqui.
The judge further took cognisance under Section 201 of the PPC against Azhar.
However, the judge noted that since no evidence for initiating trial is available against the suspects Syed Shariq Ali and Danish, both were discharged from the case accordingly for the time being.
"Let the case be registered against Syed Ali Azhar, Qazi Abdul Rasool Naqshbandi, Justice of Peace Muhammad Azharuddin, Mahmood Hassan and Junaid Ali Siddiqui." The magistrate sent the record of proceedings of the case to the District and Sessions' Judge (South) for initiating trial.
Meanwhile, the court issued non-bailable warrants for the arrest of the absconding suspects, the Justice of Peace Muhammad Azharuddin and witnesses of the marriage ceremony, Danish and Habib.
https://www.dawn.com/news/1594881/underage-marriage-court-orders-arzoos-purported-husband-be-tried-for-rape
--------
U.S. counterterrorism chief says Mozambique militants are Islamic State affiliate
8 December 2020
NAIROBI, Dec 8 (Reuters) - The insurgency in northern Mozambique is a "committed" affiliate of Islamic State and should be seen as a global terrorism issue, the U.S. counterterrorism coordinator said on Tuesday, pledging to support the government against the militant group.
Islamist militants in Mozambique's Cabo Delgado province - home to gas projects worth $60 billion - are gaining ground. Violence spilled across the border into Tanzania in October, prompting the two countries to launch joint military operations.
"The United States wants to be Mozambique's security partner of choice," Coordinator for Counterterrorism Nathan Sales said in a call with journalists after he visited Mozambique and neighbouring South Africa.
"Regardless of the origins of these violent networks or individuals who participated in them, what we're seeing today is a committed ISIS affiliate that embraces the ISIS ideology, that embraces the ISIS tactics and procedures, and embraces the ISIS vision of a caliphate with territorial control," said Sales.
It was the clearest insight yet into Washington's perspective on the escalating conflict in Mozambique.
In recent years the United States has shifted its priorities away from counterterrorism in favour of tackling what it sees as great power rivalry with China and Russia on the African continent and elsewhere.
But some analysts have warned that a wholesale retreat from helping weak states tackle insurgencies is short-sighted.
Sales said Washington could provide the Mozambican government with the capabilities to investigate and prosecute crimes and respond to attacks.
"The way to fight terrorists is not to send in a bunch of mercenaries to loot natural resources and then abscond."
South Africa has a key role to play as an economic and military power and a strong democracy, Sales said, adding that he hoped the country would join the U.S. effort to defeat the Mozambican insurgency.
The insurgent group known as Ahlu Sunnah Wa-Jama declared allegiance to Islamic State in 2019, but the exact nature of its ties with the jihadist organisation was unclear.
https://news.trust.org/item/20201208193829-456v0/?utm_source=iterable&utm_medium=email&utm_campaign=1798992_
--------
NATO Accuses Taliban of Undermining Afghanistan Peace Process with Attacks
BY BRENDAN COLE
12/9/20
NATO says an increase in attacks carried out by the Taliban threatens to derail Afghanistan peace process talks whose terms have just been hammered out.
The statement on Wednesday by the alliance comes after an agreement between the Afghan government and the Taliban for a framework for peace talks in Qatar was struck last week.
Last month, the Pentagon's Sigar (Special Inspector General for Afghanistan Reconstruction) warned of a 50 percent spike in violence from the Taliban violence within three months and accused the group of targeting journalists.
Radio Free Europe reported that the Taliban is carrying out targeted killings and assassinations as well as staging mass casualty attacks against Afghan government military targets. The outlet reported that the aim was to gain leverage in the peace talks.
Amid the backdrop of increased violence, NATO said it hoped the negotiations in Doha would lead to an "enduring and comprehensive" Afghan peace agreement aimed at ending nearly two decades of war.
It praised the deal agreed by Kabul and the Taliban and the first meeting of the leadership committee of the High Council for National Reconciliation as "important steps toward a comprehensive and lasting peace in Afghanistan."
NATO added that a negotiated political settlement is the "only hope for a lasting peace" but said that "violence, especially driven by Taliban attacks, continues to undermine the peace process and must end."
Under a deal agreed in Doha in February, foreign forces were due to leave Afghanistan by May 2021 in exchange for counter-terrorism guarantees from the Taliban. But in November, acting defense secretary Christopher Miller announced that U.S. troop numbers would be reduced to 2,500 by January, which was welcomed by the Taliban.
Germany's foreign minister, Heiko Maas has warned NATO must not withdraw troops from the country too early for fear of jeopardising the peace talks. Critics fear that the insurgents are biding their time for the exit of U.S. troops and want to take the entire country by force.
Chairman of the joint chiefs of staff, Mark Milley told a virtual conference last month that there was a stalemate between the Taliban and the forces of the Kabul government. He also admitted that the U.S. had achieved only a "modicum of success" in nearly 20 years of trying to establish stable democracy in Afghanistan, Military.com reported.
The graphic below provided by Statista shows the expense of U.S. military involvement in Afghanistan this century.
https://www.newsweek.com/afghanistan-taliban-peace-kabul-nato-1553534
--------
Total dead in Syria war reaches 387,000 in slowest annual increase: Monitor
09 December 2020
The overall death toll for Syria's civil war has crept up to 387,000 following the least deadly of 10 years of conflict, a monitor said Wednesday.
For all the latest headlines follow our Google News channel online or via the app.
The Syrian Observatory for Human Rights, which relies on a wide network of sources inside Syria, said the new figure included almost 117,000 civilians, among them more than 22,000 children.
The Observatory's previous tally was issued in January and stood at more than 380,000.
The fighting, which erupted in 2011 after the brutal repression of anti-government protests, has largely abated this year as a ceasefire held in northwestern Syria and attention turned to containing the coronavirus pandemic.
The latest toll included more than 130,500 pro-government fighters, among them foreigners.
More than half of those were Syrian soldiers, while 1,703 were from the Lebanese Shiite group Hezbollah whose members have been fighting in Syria since 2013.
The conflict has claimed the lives of more than 57,000 non-jihadist rebel fighters.
It has also killed more than 67,500 jihadists, mainly from the Islamic State group and Hayat Tahrir al-Sham (HTS), a group dominated by ex-members of Syria's former Al-Qaeda affiliate.
More than 12,500 Kurdish-led Syrian Democratic Forces fighters have been killed in battles against IS and Turkish forces.
The Observatory's toll does not include some 88,000 people it says died of torture in government-run prisons, nor thousands who were abducted during the conflict and are still missing.
After turning the tide of the war with Russian and Iranian support since 2015, the Syrian government now controls around two-thirds of the country.
Among the regions still beyond its reach are the last rebel enclave of Idlib in the northwest, Turkish-held areas along the northern border, and northeastern parts of the country held by US-backed Kurdish forces.
The war has forced more than half the country's pre-war population to flee their homes.
Some 6.7 million Syrians remained displaced inside the country, while 5.5 million are registered as refugees abroad, according to the United Nations.
https://english.alarabiya.net/en/News/middle-east/2020/12/09/Total-dead-in-Syria-War-reaches-387-000-in-slowest-annual-increase-Monitor-
--------
Iran, UN Confer on Latest Developments in Syria
2020-December-9
During the conversation on Wednesday, Khaji and Pedersen reviewed the latest developments in Syria, including the Syrian Constitutional Committee.
Pedersen put forward a report on the outcomes of the fourth round of meetings of the Syrian Constitutional Committee in Geneva last week.
Khaji briefed Pederson about the latest developments in Syria, the Constitutional Committee, and Idlib issues.
The two sides also voiced support for the continuation of future meetings of the Syrian Constitutional Committee.
The Constitutional Committee's fifth round of the Syria talks is set to be held at the United Nations' Geneva office on Jan. 25-29, 2021.
The fourth session of Syria's Constitutional Committee was held on November 27 in Geneva to hammer out the roots of the basic laws for a peaceful Syria.
In his November meeting with Pedersen in Tehran, Khaji had said that the western states are using the humanitarian issues in Syria to attain their political goals.
During the meeting, the two sides discussed the latest developments in Syria, including the constitution committee, conference on refugees, Idlib and Eastern Euphrates.
Khaji lauded Pedersen for his efforts to find a political solution to the crisis in Syria and continued meetings of the constitution committee, blasting certain countries, specially the western states, for non-participation in the conference on refugees.
"The western states which claim to be supporting the humanitarian issues, have taken hostage the humanitarian issues in Syria to attain their political goals and have attempted to prevent holding the conference (on refugees)," he added.
Pedersen, for his part, elaborated on the latest coordination with members of Syria's constitution committee about their next meeting, appreciating Iran's efforts to support the political process to resolve the crisis in Syria.
https://www.farsnews.ir/en/news/13990919000866/Iran-UN-Cnfer-n-Laes-Develpmens-in-Syria
--------
Europe
Macron touts law to 'free Muslims from radical Islamism'
December 9, 2020
PARIS: President Emmanuel Macron on Wednesday seeks his cabinet's blessing for draft legislation combatting "radical Islamism" after a spate of attacks, which critics fear risks targeting all Muslims.
Macron argues the legislation is needed to shore up France's staunchly secular system but the plan has further stirred up social tensions over the consequences for Europe's largest Muslim community.
"The enemy of the Republic is a political ideology called radical Islamism, which aims to divide the French among themselves," Prime Minister Jean Castex told Wednesday's edition of Le Monde.
He argued that rather than targeting Muslims it aimed to "free Muslims from the growing grip of radical Islamism".
The legislation will be discussed at a cabinet meeting at the Elysee Palace with Castex announcing the outcome in the early afternoon.
But the government's staunch defence of the foundations of the French state that date back to the French Revolution has caused unease even among allies, with the US envoy on international religious freedom saying he was concerned by the legislation.
"There can be constructive engagements that I think can be helpful and not harmful," Ambassador Sam Brownback told reporters.
"When you get heavy-handed, the situation can get worse," he said.
'Strengthen republican values'
The text was originally titled the "anti-separatism" bill, using a term Macron uses to describe ultra-conservative Muslims withdrawing from mainstream society.
Following criticism of that term, it is now called a "draft law to strengthen republican values", mostly secularism and freedom of expression.
The law was in the pipeline before the murder in October of Samuel Paty, a junior high school teacher who was attacked in the street and beheaded after showing cartoons of the Prophet Muhammad in a class.
But the killing, committed by an 18-year old Chechen after a virulent social media campaign against the teacher, gave fresh impetus to the bill, prompted the inclusion of the specific crimes of online hate speech and divulging personal information on the internet.
Paty's death is one in a string of militant-inspired attacks in France this year including a knife assault outside the former offices of the Charlie Hebdo satirical magazine and deadly stabbings at a church in the Mediterranean city of Nice.
The draft law sets out stricter criteria for authorising home schooling of children over three years old in a bid to prevent parents taking their children out of public schools and enrolling them in underground Islamic facilities.
Doctors, meanwhile, would be fined or jailed if they performed a virginity test on girls.
Polygamy is already outlawed in France, but the new law would also ban authorities from issuing residency papers to polygamous applicants.
It would also require city hall officials to interview couples separately prior to their wedding to make sure that they were not forced into marriage.
'Open provocation'
Macron has become a figure of hate in some Muslim countries, with some boycotting French products, after saying that the right to blaspheme would always be guaranteed in France and that Islam was "in crisis".
Turkish President Recep Tayyip Erdogan has called the draft law an "open provocation", while scholars at Egypt's prestigious Sunni Islamic institution, Al-Azhar, called Macron's views "racist".
Macron has also been forced onto the defensive by critical headlines in influential English-language media, such as the Financial Times and New York Times.
Muslims in France – the former colonies of which include predominantly Muslim countries in north and west Africa as well as the Middle East – are estimated at nearly four million, about 6% of the population.
Once, as is expected, the cabinet backs the draft law, it heads to parliament at the start of next year for what promises to be a heated debate.
France's state council, which advises the government and the National Assembly on future laws, has already signalled that some parts of the bill, especially on education, may clash with the principle of freedom of choice enshrined in the French constitution.
https://www.freemalaysiatoday.com/category/world/2020/12/09/macron-touts-law-to-free-muslims-from-radical-islamism/
--------
Charlie Hebdo attack: France seeks long jail terms in Paris trial
Dec 09, 2020
France's anti-terror prosecutors have called for defendants on trial for a series of militant Islamist attacks in Paris to be given long jail terms.
The January 2015 attacks on Charlie Hebdo magazine, a policewoman and a Jewish supermarket left 17 people dead.
Fourteen people are appearing in court and three are being tried in absentia.
One of those being tried in absentia is Hayat Boumeddiene, the fugitive partner of Amedy Coulibaly who was killed after attacking the supermarket.
Two brothers are also being sought.
Prosecutors are seeking a life sentence for Ali Riza Polat, the main defendant, who is in court.
All three actual participants in the 7-9 January 2015 attacks were killed and the defendants, who went on trial in early September, are accused of obtaining weapons or providing logistical support. All 14 in the dock deny the charges and verdicts are expected on 16 December.
Prosecutor Julie Holveck told the court that all the defendants had "their share of responsibility" for the deadly process that led up to the attacks and she called for a "firm and balanced" response. It was not a question of making the living pay for the crimes of the dead, she insisted.
"They are the kingpin and backbone of this plot."
Who has been singled out by prosecutors?
Ali Riza Polat, described as Coulibaly's right-hand man, had a pivotal role in preparing the attacks and had a "precise knowledge of the terrorist plan", even if he disputed that, prosecutors allege. He has admitted taking part in "scams" but denies any knowledge of the plot.
It is unknown whether the three being tried in absentia are even alive, but prosecutors say Hayat Boumeddiene should be given a 30-year sentence with a minimum of 20 behind bars.
She fled France for Syria via Turkey a week before the attacks. Prosecutors say she took part in preparing the attacks and used a variety of methods to buy the weapons. She was thought to have died in a US air strike last year but a female jihadist told French security services she had escaped from a camp for militant detainees late last year.
As for the other two defendants being tried in absentia, prosecutors want Mohamed Belhoucine, a close friend of Coulibaly, to be jailed for life with a minimum tariff of 22 years behind bars for complicity in his attack on the Hyper Cacher supermarket which left four people dead. Belhoucine is suspected of giving the killer the most significant operational support as well as acting as his religious mentor. Prosecutors want his younger brother, Mehdi, to face 20 years in jail for helping Hayat Boumeddiene escape.
Of the other defendants present in court, prosecutors want 11 to face heavy jail terms of 13 to 20 years for helping the three killers.
Nezar Mickaël Pastor Alwatik was with Coulibaly in jail and his DNA was found on two pistols at his home, while Amar Ramdani and Saïd Makhlouf are alleged to have provided weapons. The trio are described as being part of a support group based in Lille in northern France.
Four others, based in the Ardennes area of Belgium, should also face long sentences, prosecutors say.
What happened in January 2015?
On 7 January 2015, brothers Chérif and Saïd Kouachi stormed the Paris offices of Charlie Hebdo in the Rue Nicolas-Appert before opening fire on its staff and murdering 11 people including five of the satirical magazine's cartoonists.
A police officer was murdered outside the building. The Kouachis were killed in a shootout with police two days later.
On 8 January Coulibaly shot dead a woman police officer in the Paris suburb of Montrouge.
The next day he took hostages in Hyper Cacher, a kosher supermarket, killing an employee and three customers. Coulibaly was eventually shot dead in a police raid.
Charlie Hebdo marked the start of the trial in September by reprinting controversial cartoons of the Prophet Muhammad that sparked protests in several Muslim countries.
The following month, teacher Samuel Paty was murdered near his school by a Chechen, days after the teacher showed some of the cartoons to a class on free speech.
https://www.bbc.com/news/55231200?utm_source=iterable&utm_medium=email&utm_campaign=1798992_
--------
Alleged neo-Nazi teenager charged with encouraging a 'mass casualty' terror attack
10 Dec 2020
A New South Wales teenager who allegedly expressed neo-Nazi and white supremacist views is has been charged with encouraging a mass casualty terrorist attack, with police claiming he accessed material online relating to bomb-making.
The 18-year-old from Albury on the NSW-Victoria border was arrested on Wednesday morning by members of the NSW joint counter terrorism team, which is made up of officers from the Australian federal police and the NSW police force.
The arrest came as federal parliament's powerful security committee launched an inquiry into extremist movements and radicalism in Australia – including the far right – after a referral from the home affairs minister, Peter Dutton.
AFP assistant commissioner Scott Lee told reporters on Wednesday: "The male we've arrested has an extremely rightwing ideology and is focused on neo-Nazi, white supremacist and anti-Semitic material."
Lee alleged the man had been "accessing and engaging [with] extreme rightwing material" including "bomb-making materials" which he had allegedly shared "to urge others to commit terrorist acts and violence against community members".
"The decision to arrest today was made as a result of an escalation that we saw in this male's online behaviour which continued up until this morning, and that was why we made the decision that we did," the assistant commissioner said.
Police said the man did not appear to have planned a specific attack and that his activities were "only occurring in the online environment". Lee said the 18-year-old was arrested after officers observed an "escalation" in the tone of his social media posts.
"A couple of days ago what we observed was an escalation in the tone which went to a support of a mass casualty event, and potentially his involvement in that event," Lee alleged. "There was a post in the very early hours of this morning which actually expressed support for a previous mass-casualty shooting that had occurred internationally."
Lee said in a statement the investigation was ongoing "but we remain wary about the speed with which lone actors can progress from online activities to ones that impact the real world".
The federal police assistant commissioner said the previous shooting was "not Christchurch related" but the teenager had allegedly "expressed support for the ideology of the individual who committed that attack".
NSW police assistant commissioner Mark Walton alleged the teenager had expressed views against "almost anyone that didn't look like him".
"More specifically it's non-whites, it's immigrants, it's people of the Jewish and Islamic faith," he told reporters.
Authorities stressed on Wednesday that there was no ongoing threat to the community.
Separately, Dutton has asked parliament's joint committee on intelligence and security to open an inquiry into "the nature and extent of, and threat posed by, extremist movements".
The proposed terms of reference include "the motivations, objectives and capacity for violence of extremist groups including, but not limited to, Islamist and far-right extremist groups". The inquiry would also consider whether that threat had changed during the Covid pandemic.
Dutton's request came as the government faced a motion from Labor's shadow home affairs minister, Kristina Keneally, for an inquiry examining the threat of rightwing extremism in Australia.
Keneally said on Tuesday an inquiry should consider whether "our proscription laws to list groups as terrorist organisations are fit for purpose and whether our counter-terrorism programs and our preventing of radicalisation will work when it comes to rightwing extremism".
The inquiry referred by Dutton increases the scope to include "Islamist" groups, but the terms broadly align with those proposed by Labor. The inquiry may also consider "the role of social media" in "allowing extremists to communicate and organise".
The terms of reference include looking at "further steps the commonwealth could take to disrupt and deter hate speech and establish thresholds to regulate the use of symbols and insignia associated with terrorism and extremism, including online". The committee on Wednesday afternoon accepted Dutton's referral.
A report by the New Zealand royal commission into the Christchurch mosque shooting was released earlier this week. It found the Australian shooter who killed 51 Muslim worshipers last year was active in far-right groups in his home country but escaped the attention of authorities.
https://www.theguardian.com/australia-news/2020/dec/09/alleged-neo-nazi-teenager-arrested-in-nsw-to-face-terror-charges?utm_source=iterable&utm_medium=email&utm_campaign=1798992_
--------
Only Muslim school in Paris closed down amid claims of Islamophobia
Dec 10, 2020
France targets the capital's only school catering to Muslims amid a wider crackdown on the country's 4.5 million Muslim population.
Paris's only Muslim school was shut down by French authorities while pressure continues to increase on Europe's largest Muslim community.
MHS College and High School is a private secondary in Paris, originally established in 2015. Although the school is officially secular and follows the national curriculum, its students are predominantly Muslim.
One of the school's founders spoke to TRT World on the condition of anonymity saying that "we are an open school to all cultures religion convictions origins" adding that "we don't teach any courses around religion."
A unique feature of the school, however, is that it allows its female students to follow their religious convictions and wear the hijab if they wish, "because we think that everybody should wear the clothes they want!" said the founder of the MHS.
In 2004, France cracked down on Muslim girls' right to wear the headscarf on school premises, compelling many to take off their head-covering at the entrance of the school gate.
Since then, there have been few options in which a Muslim woman could receive an education while still being able to practice her faith.
MHS in Paris was one such unique operation which allowed this freedom.
In a statement, the school called this latest decision to shut the school as "arbitrary", not least because the closure has left more than 110 students without a placement in the middle of an academic year, as well 18 teachers and support staff unemployed.
The closure order came about after an inspection took place on November 17.
During that inspection, students "found themselves surrounded by around forty controllers, inspectors and ministerial agents and police officers."
Authorities claimed that the building's safety standards were insufficient. The school contends that it had carried out extensive renovation to meet legal obligations. In addition, they explained the building is shared with other institutions that are also working with children and "they were not asked to shutdown. Only MHS was ordered to."
The school warned that the disruption to students' education will hamper their progression at a time when the country is grappling with the Covid-19 pandemic, during which academic institutions are facing the heavy burden of trying to teach in difficult circumstances.
The abrupt closure at this inconvenient, mid-year time, has left some wondering whether rising anti-Muslim sentiment in the country and recent statements by the French President Emmanuel Macron singling out Muslims, has helped this decision come to pass.
One online user said that "France has now shut down the first and only Muslim school in Paris @mhs_paris. This was a secular school that taught the national curriculum, the difference was 90% of students were Muslims, and girls were free to wear hijab, unlike other French schools where it's banned."
Another called the move an "absolute scandal" drawing attention to the more than seven Jewish schools in Paris alone and at least twenty Catholic Schools which have not been molested by the state.
So far the school has appealed for "solidarity, responsible and peaceful support in the face of this injustice."
https://www.trtworld.com/magazine/only-muslim-school-in-paris-closed-down-amid-claims-of-islamophobia-42199
--------
Finnish minister to face no charges over push to bring home Islamic State children
DECEMBER 9, 2020
HELSINKI (Reuters) - Finland's foreign minister Pekka Haavisto should not face charges despite breaking the law in an effort to quickly bring to Finland children of Finnish mothers who joined Islamic State, a parliamentary committee ruled on Wednesday.
Like other European countries, Finland has struggled with the question of what to do with its citizens who joined the violent Islamist movement that seized swathes of Syria and Iraq, and with their children who were born or taken there.
Many Europeans and their children ended up in camps in Syria after the group was defeated there two years ago. Fifteen children of Finnish women have been brought to Finland so far.
Parliament's constitutional committee found that Haavisto, who had pushed for the children to be brought to Finland quickly last year, had broken the law by trying to replace an official who refused to act. But it said the breach did not meet a threshold to press charges.
"I want to express a feeling of relief," Haavisto said after the ruling. "It was clear all the time that helping the children in distress was also our legal responsibility."
Haavisto says he pressed for quick action last year because winter was approaching and conditions were deteriorating at the al-Hol camp in northeastern Syria where the children were being held with their Finnish mothers.
The Prosecutor General has been investigating whether Haavisto broke the law by trying to replace the official.
While decisions by the parliamentary committee are usually unanimous, members of parliament from Haavisto's Greens group filed a rare objection to the ruling that censured him.
Parliament, which is likely to follow the constitutional committee's recommendation, will vote on whether to charge Haavisto. No date for the decision has been set.
https://in.reuters.com/article/finland-foreign-minister-impeachment/finnish-minister-to-face-no-charges-over-push-to-bring-home-islamic-state-children-idINKBN28J29S
--------
Erdogan in Azerbaijan to hail 'glorious' Karabakh victory
Dec 10, 2020
BAKU: Turkish President Recep Tayyip Erdogan was in Azerbaijan Thursday to join nationwide celebrations marking his close ally's decisive military victory against Armenia in their conflict for control of disputed territory.
Azerbaijan's army paraded military hardware and weapons seized from Armenia during the six-week war through the capital Baku ahead of Erdogan's arrival to rehearse for a large-scale victory parade on Thursday.
The Turkish leader's visit to Azerbaijan was an opportunity to celebrate together the "glorious victory" against Armenia for control of the mountainous Nagorno-Karabakh region, Erdogan's office said ahead of his arrival.
Erdogan was scheduled to hold talks with Azerbaijani counterpart Ilham Aliyev and preside over the military showcasing that is the culmination of nationwide festivities for the victory.
Erdogan's office said the visit would provide an opportunity for the "brotherly countries" to strengthen ties and for talks on promoting Azerbaijan's "rightful cause on international platforms".
Azerbaijan's historic win against Armenian separatists in Nagorno-Karabakh last month was an important geopolitical coup for Erdogan who has cemented Turkey's leading role as a powerbroker in the ex-Soviet Caucasus region.
Turkey backed Azerbaijan during the six weeks of fighting that erupted in late September and left more than 5,000 people dead. Ankara was widely accused of dispatching mercenaries from Syria to bolster Baku's army, but repeatedly denied the charge.
"Azerbaijan would not have been able to achieve military success in Karabakh without Turkey's open political backing," analyst Elhan Shahinoglu of Baku-based think-tank, Atlas, told AFP.
"If not for Erdogan's support, Yerevan's ally Russia -- which competes with Ankara for influence in the Caucasus -- would have pressured Baku to stop fighting."
The clashes were ended by a peace deal brokered by Moscow after Baku's army overwhelmed separatist forces and drew closer to Nagorno-Karabakh's main city Stepanakert.
The deal spurred mass celebrations in Azerbaijan but was met with fury in Armenia, where Prime Minister Nikol Pashinyan has faced large demonstrations calling for his resignation.
The deal saw Armenia cede control over parts of the enclave it lost during the recent fighting and seven adjacent districts it had seized during a war in the 1990s.
But the agreement leaves Nagorno-Karabakh's political status in limbo.
The enclave will see its future guaranteed by nearly 2,000 Russian peacekeepers deployed for a renewable five-year mandate and the truce will be monitored in Azerbaijan by Turkish military.
Separatists in Nagorno-Karabakh broke away from Baku in a war in the early 1990s that left some 30,000 people dead and displaced tens of thousands of Azerbaijanis.
But their claim of autonomy has not recognised internationally, even by Armenia.
Armenia accused Turkey of direct involvement in the recent fighting -- including sending foreign fighters to the battlefield -- allegations dismissed by both Baku and Ankara.
Their shared border has been closed since 1993 when the two countries cut diplomatic ties.
Erdogan in 2009 dismissed internationally mediated reconciliation efforts with Armenia and said ties could only be restored after Armenian forces withdrew from Nagorno-Karabakh.
The two countries share a deep and mutual distrust over Armenia's efforts to recognise as genocide the World War I massacres of some 1.5 million Armenians in the Ottoman empire.
Turkey has furiously rejected the genocide label.
Referred to as "one nation, two states," Turkey's alliance with Turkic-speaking Azerbaijan was forged following the Soviet Union's collapse in 1991 and has deepened under Erdogan's tenure.
Turkey has helped Azerbaijan train and arm its military and serves as the main route for energy exports to Europe, bypassing Russia.
Meanwhile, Azerbaijan links Turkey with ex-Soviet Turkic nations in Central Asia and with China.
https://timesofindia.indiatimes.com/world/europe/erdogan-in-azerbaijan-to-hail-glorious-karabakh-victory/articleshow/79656176.cms
--------
European Union will impose more sanctions for Turkish drilling in Mediterranean
09 December 2020
The European Union will impose sanctions on more Turkish individuals and companies responsible for drilling in contested waters in the Mediterranean, according to a draft statement prepared for EU leaders to agree at a summit on Thursday.
If agreed, the EU will "prepare additional listings" on the basis of a sanctions list already in place since 2019 and "if need be work on the extension" of its scope, according to the draft statement seen by Reuters.
For all the latest headlines follow our Google News channel online or via the app.
Negotiations over the two-page statement are still ongoing and Greece and Cyprus, which accuse Turkey of drilling for hydrocarbons off its continental shelf, believe the sanctions do not go far enough, according to diplomats briefed on internal discussions.
EU leaders are considering whether to make good on a threat made in October to sanction Turkey over the drilling for hydrocarbons off the coast of Cyprus and off Greece.
On Monday, EU foreign ministers said Turkey had failed to help end the row with Greece and Cyprus over potential gas resources, but they left any decision on retaliatory sanctions for the EU summit.
The EU created a sanctions program last year to punish unauthorized exploration in the eastern Mediterranean, freezing assets of people and companies accused of planning or participating in activities in Cyprus' exclusive economic zone or on its continental shelf.
So far, only two senior officials of Turkey's state-owned Turkish Petroleum Corporation (TPAO) have been put on the sanctions list but Cyprus proposed a list of more names earlier this year.
Cyprus' internationally recognized government discovered offshore gas in 2011 but has been at loggerheads with Turkey over maritime zones around the island, where it has granted license to multinational companies for oil and gas research.
Turkey, which does not have diplomatic relations with Cyprus' government, says it is operating in waters on its own continental shelf or areas where Turkish Cypriots have rights.
https://english.alarabiya.net/en/News/middle-east/2020/12/09/European-Union-will-impose-more-sanctions-for-Turkish-drilling-in-Mediterranean
--------
EU to toughen sanctions on Turkish drilling — draft statement
December 09, 2020
BRUSSELS: The European Union will impose sanctions on more Turkish individuals and companies responsible for drilling in contested waters in the Mediterranean, according to a draft statement prepared for EU leaders to agree at a summit on Thursday.
If agreed, the EU will "prepare additional listings" on the basis of a sanctions list already in place since 2019 and "if need be, work on the extension" of its scope, according to the draft statement seen by Reuters.
Such sanctions would be among the more conservative measures available to EU leaders, who vowed in October to use "all instruments" to pressure Turkey to stop exploring for hydrocarbons off the coast of Cyprus and Greece.
France had voiced support for "sectorial" sanctions on the Turkish economy. But imposing them on a NATO ally and EU candidate country is seen by Germany, Spain and Italy as a step too far that would put Turkey in the same camp as Russia, which is viewed as hostile to the bloc.
The hydrocarbons dispute is part of wider issues with Turkey including the divided island of Cyprus and Turkey's foreign policy in Libya and Syria, which the United States and the EU say undermines Western goals.
However, Turkey's role as a host for Syrian migrants fleeing civil war who would otherwise seek refuge in the EU limits European appetite to punish Ankara, diplomats say.
The draft statement also sought to delay retaliation, saying the European Commission and the EU's top diplomat Josep Borrell should prepare "options on how to proceed" for the next EU summit in March.
"The EU will seek to coordinate on these matters with the US," the draft said, something diplomats said was a recognition of hopes for closer foreign policy ties with Washington once US President-elect Joe Biden takes office in January.
Negotiations over the two-page statement are still ongoing and Greece and Cyprus, which accuse Turkey of drilling for hydrocarbons off its continental shelf, believe the sanctions do not go far enough.
"We welcome additional listings," a Cypriot diplomat said. "We would like to see preparations for targeted sectoral measures at a later stage, in February or March, should Turkey's behavior not change," the envoy said.
The EU created a sanctions program last year to punish unauthorized exploration in the eastern Mediterranean, freezing assets of people and companies accused of planning or participating in activities in Cyprus' exclusive economic zone or on its continental shelf.
So far, only senior officials of Turkey's state-owned Turkish Petroleum Corporation (TPAO) have been put on the sanctions list but Cyprus proposed a list of more names earlier this year.
Cyprus' internationally recognized government discovered offshore gas in 2011 but has been at loggerheads with Turkey over maritime zones around the island, where it has granted license to multinational companies for oil and gas research.
Turkey, which does not have diplomatic relations with Cyprus' government, says it is operating in waters on its own continental shelf or areas where Turkish Cypriots have rights.
https://www.arabnews.com/node/1774826/world
--------
India
Telangana State Waqf Board Forms Committees To Manage Mosques
Dec 10, 2020
Hyderabad: A board meeting headed by Telangana State Waqf Board (TSWB) chairman Mohammed Saleem was held on Wednesday to chalk out a plan to develop and protect Waqf properties across Telangana.
Mohammed Saleem, chairman TSWB said that there were total 77 agendas were discussed in the meeting for the development and safeguard of the Waqf properties in the State. Twenty-three committees were constituted for managing mosques & dargahs as well as six Mutawallis have been appointed.
"The Board has come out with certain agendas unanimously in the meeting and Masajids construction permission was given simultaneously. The Board also discuss over the generating the income and cancelling the registeration of properties executed on Waqf land,'' clarified, Mohammed Saleem, chairman, TSWB.
The Board resolved to construct the Toilets and Bathroom at Dargah Jahangir Peeran and Dargah Yakoob Shaheed Warangal to provide facilities for the devotees. The contractors, however, were asked not to harass the devotees and urged the managements to maintain neat and clean inside the Mosques and Dargha.
https://timesofindia.indiatimes.com/city/hyderabad/waqf-board-forms-committees-to-manage-mosques/articleshow/79651197.cms
--------
45% People in 11 States Borrowed Money to Eat Since Lockdown, Dalits and Muslims Went Hungrier: Survey
DECEMBER 09, 2020
Afirst-of-its-kind survey on hunger has found that the period of Covid-19 and the restrictions placed because of it has hit Dalits and Muslims much harder than the rest of the population.
The report also noted that the three farm acts, against which farmers have been protesting for the past fortnight, endanger the entire procurement mechanism, and hence, the PDS itself, which has been one of the few safety mechanisms for the marginalised during this tough period. In other words, the three farm laws are likely to exacerbate the worsening hunger situation in the country.
One in four Dalits and one in four Muslims reported facing discrimination in accessing food since the lockdown, a report compiled by the Hunger Watch, a collective of the 'Right to Food' campaign and allied organisations, found in its post-Covid hunger survey. One in ten people from the 'general' category reported facing discrimination in accessing food.
The survey also found that the quantity of food consumption decreased for about 74 per cent of the Dalits.
The study also found that nearly 45 per cent people from these 11 states were so affected financially that they had to borrow money to eat. This was an increase from pre-lockdown levels. "The need to borrow money among Dalits was 23 percentage points more than those in the 'General' category'," the report noted.
'Hunger Watch' also found that the quantity of food consumption decreased for about 74 per cent of the Dalits.
The survey also found that till as late as in September-October this year, one in four respondents, from the 11 states in which the survey was conducted, 'often went to bed without eating'.
About 56 per cent of the respondents never had to skip meals before lockdown. Of them, one in seven had to either skip meals 'often' or 'sometimes' in the September-October period.
The report was compiled on the basis of the feedback received from nearly 4000 respondents, from vulnerable and marginalised communities, from Uttar Pradesh, Madhya Pradesh, Gujarat, Rajasthan, Maharashtra, Chhattisgarh, Jharkhand, Delhi, Telangana, Tamil Nadu and West Bengal.
For 'Hunger Watch: Situation of Hunger and Food Security in Post-Covid Times' the respondents' situation in pre-lockdown (April-May) was compared to their post-lockdown situation in September-October.
Of these respondents, 43 per cent reported no income for the months of April-May and the incomes of only 3 per cent had gone back to the pre-lockdown levels.
On an average, the report found that, the quantity of food consumed by the people in these 11 states had decreased by 66 per cent. Sharpest decrease in quantity of food consumed was found in Jharkhand (82 per cent) followed by Delhi (81 per cent) and Rajasthan (80 per cent). Over two-third of the respondents said that their nutritional quality had worsened by as much as 90 per cent (Chhattisgarh) in some places.
The report noted that "the four labour codes disempower the informal sector workers and make their access to wage employment even more precarious thereby affecting their ability to buy food. The three farm Acts, as is being argued by the farmers' movements, endanger the entire procurement mechanism and hence the PDS itself."
Hunger Watch in its report recommended setting up a universal public distribution system that provides every individual with 10 kg grain, 1.5 kg pulses and 800 gm cooking oil for at least the next six months up to June next year and 200 days of employment per household under the National Rural Employment Guarantee Act (NREGA), among other measures.
https://www.news18.com/news/india/45-people-in-11-states-borrowed-money-to-eat-since-lockdown-dalits-and-muslims-went-hungrier-survey-3160232.html
--------
J&K's GI-tagged saffron launched in Middle East; apples in stores too
Dec 10, 2020
NEW DELHI: Jammu & Kashmir UT administration on Wednesday launched a GI-tagged saffron in the UAE retail market following an agreement with super market stores in Dubai.
A geographical indication (GI) tag is a sign used on products that have a specific geographical origin and possess qualities or a reputation that are due to that origin.
Saffron from Kashmir will be made available for retail in Al Maya Supper Market in Dubai, said J&K principal secretary(agriculture and farmer welfare) Navin Chouhdary.
The decision was taken at the ongoing UAE-India Food Security Summit, 2020 with an aim to promote horticulture produce of UT in the international market and tap the Gulf market, said officials.
Kashmiri saffron is cultivated by at least 42,000 families between Pampore, Pulwama, Shopian and Srinagar, leading to annual production of estimated 8 MT annually, even though its declined from 25 MT decades ago before pre-militancy era. Efforts are on for a revival.
This is the second such move in last year to take J&K produce to international markets.
In 2019, after the abrogation of article 370 in J&K, the horticulture department had entered into a similar agreement to sell Kashmir apples in UAE's main super markets.
On Wednesday, the J&K administration roped in more international chains - Choitram, Carrefour, Al Adil, Waitrose —that may allow producers from Kashmir to take their apples internationally easily.
Catering chains like such as Taj Hotels and Emirates are also among the planned buyers.
Consulate general of India, Dr Aman Puri, said India is on radar for import of best quality fruits and food products and formulation of trade agreements with UAE.
The summit is likely to see more agreements on development of logistics and integrated cold chains, infrastructure for fishing harbours, floriculture with multi-national companies of UAE.
https://timesofindia.indiatimes.com/india/jks-gi-tagged-saffron-launched-in-middle-east-apples-in-stores-too/articleshow/79655819.cms
--------
Al-Badr trio killed, civilian hurt in Pulwama encounter
Dec 9, 2020
SRINAGAR: Three Al-Badr terrorists were killed, the police said, and a civilian was injured in an anti-terror operation in south Kashmir's Pulwama district on Wednesday. Meanwhile, six civilians were injured in Pattan area in north Kashmir's Baramulla district after terrorists lobbed a grenade at a vehicle carrying Sashastra Seema Bal personnel, but the explosive missed the intended target and burst on the roadside at Singhpora main market locality.
Early morning, a joint team of Army's 55RR, CRPF and J&K Police launched a cordon-and-search operation in Pulwama's Tiken village acting on intelligence inputs about the presence of terrorists. "The terrorists, who were holed up in a house, were given a chance to surrender but opened indiscriminate fire at the search party. In the ensuing encounter, the house owner Zamir Sadiq Lone was injured and the Al-Badr trio killed," IGP (Kashmir Range) Vijay Kumar said.
The slain ultras — identified as Mehraj-ud-Din Lone from Pulwama's Arigam, Umer Ali from Tral's Dadsara, and Owais Farooq from Kadlabal Noorpora — were part of groups involved in numerous terror crimes including planning and executing several terror attacks on security personnel and establishments, IGP Kumar said. Authorities temporarily snapped internet services in Pulwama during the operation.
The civilians injured in the Singhpora grenade attack — identified as Farman Ali from UP, Tabasum from Doodipora Handwara in Kupwara, and Singhpora residents Ghulam Mohammad Parray, Gulzar Ahmad Khan, Manzoor Ahmad Bhat and Zubair Ahmad Dar — were hospitalised. Their condition was stated to be stable, police said.
https://timesofindia.indiatimes.com/india/al-badr-trio-killed-civilian-hurt-in-pulwama-encounter/articleshow/79649829.cms
--------
China, Pakistan behind farmers' protest: Union minister Danve
by Susmita Pakrasi
Dec 10, 2020
Union minister Raosaheb Danve on Wednesday claimed that China and Pakistan were behind the ongoing protests by farmers, who are seeking repeal of three new farm laws.
He also alleged that Muslims were earlier misled over the Citizenship (Amendment) Act (CAA) and the National Register of Citizens (NRC), but as those efforts did not succeed, now farmers were being told that they will face losses due to the new laws.
Danve was speaking at the inauguration of a health centre at Kolte Takli in Badnapur taluka of Maharashtra's Jalna district.
"The agitation that is going on is not that of farmers. China and Pakistan have a hand behind this. Muslims in this country were incited first. What was said (to them)? That NRC is coming, CAA is coming and Muslims will have to leave this country in six months. Did a single Muslim leave? "Those efforts didn't succeed and now farmers are being told that they will face losses. This is the conspiracy of other countries," Danve said.
The minister, however, did not elaborate on what basis he claimed that the two neighbouring countries are behind the farmers' protests.
"The government is buying wheat at Rs 24 and rice at Rs 34 per kg and giving it to people at Rs 2 and Rs 3 per kg respectively. The government is spending Rs 1.75 lakh crore on the subsidy for this. The government is spending money for the welfare of farmers," the Minister of State for Consumer Affairs said.
"These initiatives by the central government show that it is ready to spend money for farmers, but others don't like it," the BJP leader claimed.
Danve said Prime Minister Narendra Modi is the prime minister of farmers and none of his decisions would be against farmers.
The Shiv Sena slammed Danve for dragging China and Pakistan in the farmers' stir, saying the BJPleaders are out of their senses.
Sena spokesperson and former Union minister Arvind Sawant told PTI that the BJP leaders are out of their senses because they lost power in Maharashtra.
"They don't know what they are speaking," the Sena leader said.
https://www.hindustantimes.com/india-news/china-pakistan-behind-farmers-protest-union-minister-danve/story-tOJWJn9H1SBNvPolwSW9yM.html
--------
South Asia
Sri Lanka Cremates Muslim Covid-19 Victims, Overriding The Families' Objections Against The Contentious Policy
December 9, 2020
COLOMBO: Sri Lanka said Wednesday it would cremate the bodies of 19 Muslim coronavirus victims, overriding the families' objections against the contentious policy.
The island nation has been experiencing a surge in cases since October, with the number of infections increased more than eight-fold since then to over 29,300 and 142 dead.
Coronavirus victims' bodies are claimed by families and then cremated — a practice forbidden under Islamic law — under the strict supervision of health authorities.
But families of 19 Muslims killed by the virus have refused to claim the bodies from a morgue in the capital Colombo, triggering the edict by Attorney-General Dappula de Livera.
"Bodies of Covid-19 victims not claimed by families can be cremated in terms of quarantine regulations," De Livera's spokeswoman said, adding that the bodies would be cremated this week.
Five were cremated on Wednesday, police said.
The policy has been challenged by Muslims, with 12 petitions filed by the minority community and civil society groups in the Supreme Court.
But the top court rejected the petitions last week, without giving reasons why it made that decision.
The Sri Lanka Muslim Council has said a majority of the country's coronavirus victims were Muslim.
A council spokesman added that members of the community feared seeking medical help if Covid-19 positive, as they did not want to be cremated.
The Organisation of Islamic Cooperation last month urged Colombo to permit Muslims to bury their family members "in line with their religious beliefs and obligations".
Sri Lanka made Covid-19 cremations compulsory in April amid fears spread by influential Buddhist monks — who support President Gotabaya Rajapaksa — that burying bodies could contaminate groundwater and spread the disease.
The World Health Organisation states both burials and cremations are permitted.
There have been ongoing tensions between Muslims — who make up 10% of Sri Lanka's 21 million population — and the majority Sinhalese who are mostly Buddhists, after local jihadists were accused of being behind the deadly 2019 Easter bombings.
https://www.freemalaysiatoday.com/category/world/2020/12/09/sri-lanka-cremates-muslim-covid-19-victims-against-religious-beliefs/
--------
Sculpture Fiasco: Taposh asks Hefazat leaders to stop and maintain peace or be sent to Afghanistan
December 10th, 2020
The Awami League leader says fundamentalism will be eradicated in the same way war criminals faced justice and militancy have been exterminated
Dhaka South City Corporation (DSSC) Mayor Barrister Sheikh Fazle Noor Taposh has sounded a warning to Islamist organization Hefazat-e-Islam chief Junaid Babunagari, saying they will be sent to Afghanistan if they do not maintain peace under the current government.
On Wednesday, he said: "Be at peace under the leadership of Sheikh Hasina. Otherwise, in line with the slogan you once gave that 'Bangla will become Afghan', you will be sent to Afghanistan."
Taposh, also member secretary of the Bangabandhu Awami Bar Council, made the remark at a human chain organized on the Supreme Court premises to protest the recent vandalism of a sculpture of Father of the Nation Bangabandhu Sheikh Mujibur Rahman in Kushtia, according to media reports.
He said: "Under the leadership of the prime minister, we have now established a nest of peace in Bangladesh. We are peace loving. We are beautifully engaged in building a nation to move the country forward. So the people of the country will not allow another 'Bangla Bhai' to take over the existing peace."
Sounding off the warning to Hefazat chief Babunagari, the DSCC mayor said: "Have you forgotten the May 5 mayhem, when you thought that if Shapla Chattar was occupied, Bangladesh would be occupied. As long as we are alive under the leadership of Sheikh Hasina, no one will be able to occupy this Bangladesh."
He said fundamentalism will be eradicated in the same way that 1971 war criminals have been brought to justice and militancy have been exterminated under the valiant leadership of Sheikh Hasina, reports BSS.
Taposh, also a leader of ruling Awami League, issued a stern warning against the vandalism, saying: "They think they have won by breaking the sculpture. Whenever anti-constitutional activities have taken place, democracy or the spirit of the liberation war has been hurt and then we, the lawyers, have given a strict answer and we are ready to do it again."
He said that conspiracy against Bangabandhu is not new. "Bangabandhu means Bangladesh, he is our consciousness and ideal and it won't be easy to hold schemes against him for long," he added.
Supreme Court Bar Association President and Attorney General AM Amin Uddin said: "We will bring all those who are involved in this heinous crime under the law…will bring them to justice."
https://www.dhakatribune.com/bangladesh/2020/12/10/sculpure-fiasco-taposh-asks-hefazat-leaders-to-stop-and-maintain-peace-or-be-sent-to-afghanistan
--------
Hefajat has no intention of creating hostility with govt, it says
December 09, 2020
Hefajat-e-Islam has said it has no intention of creating any hostility with the government.
"Islamophobic groups" were persuading the government to engage in clashes with Alems, the Qawmi madrasa-based organisation said in a statement issued last night.
In the statement, Hefajat Secretary General Nur Hossain Kasemi called upon Prime Minister Sheikh Hasina and the concerned authorities not to allow any conspiring group todestroythe peace and stability in the country.
He said the evil forces centring the issue of sculptures were trying to create chaos.
The Hefajatsecretary general said that the religious freedom of the citizens has been guaranteed in the constitution of Bangladesh.
Therefore, it is the constitutional right and religious duty of the Alem community to give a correct explanation of religion and to call for the avoidance of misguidance, he said.
No individual, organisation or the government has the legitimacy to interfere in the performance of this duty by the Alems, he added.
Nur Hossain demanded immediate withdrawal of the cases filed against Hefajat Amir JunayedBabunagari, Joint Secretary General MamunulHaque and Senior Nayeb-e-Amir of Islami Andolon Bangladesh Faizul Karim.
At the same time, the Hefajatsecretary general demanded to stop creating obstacles in waaz-mahfil and stop propaganda against the Alem-Ulama.
Nur Hossain said: "On the issue of sculpture, Alem community has called for a return from wrongdoing by explaining the provisions of Islam and has issued a fatwa on Sharia in this regard."
He also advised to find out a better way in light of Islam for the salvation and peace of the departed soul of Bangabandhu Sheikh Mujibur Rahman and to make his memory memorable.
https://www.thedailystar.net/country/news/hefajat-has-no-intention-creating-hostility-govt-it-says-2008417
--------
Naderi Discusses Peace Negotiations with US Diplomat
By Mohammad Arif Sheva
10 Dec 2020
KABUL, Afghanistan – Sayed Sadat Mansoor Naderi, State Minister for Peace and a member of the negotiating team of the Islamic Republic, met with United States Chargé d'Affaires to Afghanistan Ross Wilson in Kabul Wednesday.
The State Minister for Peace spoke about the peace process in Afghanistan, said the State Ministry for Peace in a statement.
"Both sides discussed the recent developments of the Afghan peace negotiations in Doha and the role of the High Council of National Reconciliation in strengthening the national consensus and supporting the negotiations," the statement read.
Meanwhile, in a separate meeting later that day, Naderi met with Diplomatic Representative of the Aga Khan Development Network (AKDN) Sheherazade Hirji, discussing peace process and the networks rule in Afghan peace process.
"Both sides also discussed the use of the Aga Khan Development Network activities and cultural innovations for inclusive public participation in the peace process," the statement read.
Doha Talks Bear Result after Months of Struggle on Procedural Rule
After two months of struggle on deciding upon the procedural rule for Afghan peace talks, sources Monday morning confirmed a breakthrough that can potentially lead to a peace deal between the Afghan and Taliban negotiators in Qatari capital Doha.
https://www.khaama.com/naderi-discusses-peace-negotiations-with-us-diplomate-345534/
--------
UK Vows to Stand 'United in Fight against Corruption' in Afghanistan
By Mohammad Arif Sheva
10 Dec 2020
KABUL, Afghanistan – The British Embassy in Kabul Wednesday – on occasion of the International Anti-Corruption Day 2020 – vowed to stand "united in the fight against corruption", said the embassy in an emailed statement to Khaama Press.
"On International Anti-Corruption Day, and every day, the UK stands alongside our Afghan and international partners: united in the fight against corruption," the statement read.
Meanwhile, the embassy praised local ArtLords who project various messages on peace and prosperity, including anti-corruption, throughout the city, calling it "eye-catching artworks".
"I have seen for myself the striking art pieces Artlords has created in Kabul and across the country," said the British Ambassador to Afghanistan Alison Blake.
"Its work transforms forbidding and grey walls into bright, eye-catching artworks promoting peace and community through creativity."
Unveiling UK's new mural on the theme of anti-corruption and education, Blake said they hope this will highlight the UK's commitment to help eliminate corruption in Afghanistan and to making sure that all children across the country receive the education they deserve.
"All Afghanistan's citizens deserve access to quality public services," the ambassador added. "We see this as essential in building a more prosperous and fairer Afghanistan, free from conflict, and with opportunity and promise."
Over the last six years, ArtLords completed nearly 2,000 murals in 24 provinces of Afghanistan that raise awareness about key issues confronting the country such as human rights, corruption, drugs and warlords, and public health.
https://www.khaama.com/uk-vows-to-stand-united-in-fight-against-corruption-in-afghanistan-34534/
--------
Taliban kill two Afghan soldiers in Ghazni: Ministry
09 December 2020
Afghanistan's Defense Ministry says the country's security troops have foiled a Taliban car bomb attack on a military base in the province of Ghazni, adding that two forces were killed in the ensuing clashes with the militants.
The ministry said in a statement on Wednesday that a bomber tried to detonate his car bomb at the base, but he was identified by the security forces and his vehicle was destroyed before reaching its target.
According to the statement, three security forces were also wounded in the clashes.
A security source said the clashes began on Tuesday night and continued until the early hours of Wednesday.
"First, a car bomb exploded near the base and then a number of attackers clashed with the security forces," the source said.
No group, including Taliban, has so far claimed responsibility for the attack.
The incident comes while Afghanistan's government and the Taliban militant group reached a preliminary deal last week that sets out rules for further talks, the first written agreement between the two sides since the US-led invasion of 2001.
Representatives from the government in Kabul and those from the Taliban held the first round of the much-awaited intra-Afghan negotiations in the Qatari capital of Doha on September 12. The talks are also attended by politicians from Afghanistan, international organizations and the United States.
The intra-Afghan talks were set to take place in March, but were repeatedly delayed over a prisoner exchange agreement made as part of a deal between the Taliban and the United States.
Under the deal, signed on February 28, the Taliban agreed to halt their attacks on international forces in return for the US military's phased withdrawal from Afghanistan and the prisoner exchange with Kabul.
https://www.presstv.com/Detail/2020/12/09/640360/Taliban-Afghan-soldiers
--------
Southeast Asia
Umno's unlikely romance with DAP in Perak could leave PM Muhyiddin jilted
Shannon Teoh
DEC 8, 2020
KUALA LUMPUR - While all eyes were glued to the tabling of Malaysia's crucial budget in early November, the seeds of what could be of greater consequence to the nation's seemingly unending political intrigue were being sown up north.
Perak Menteri Besar Ahmad Faizal Azumu's ouster last Friday (Dec 4), following his failure to win a confidence vote in the state assembly, took nearly six weeks of delicate discussions between his own allies from the Umno state chapter with counterparts from fierce opposition rivals Democratic Action Party (DAP).
"Up until the day of the motion itself, we weren't sure if Umno would actually pull the trigger," a source from the opposition Pakatan Harapan (PH) coalition, which includes DAP, told The Straits Times.
An Umno lawmaker had tabled the motion, which saw 24 Perak opposition lawmakers from PH and 24 Umno assemblymen voting against Datuk Seri Faizal, who hails from Prime Minister Muhyiddin Yassin's Parti Pribumi Bersatu Malaysia.
Umno had stewed in anger for months over the Bersatu deputy president's unilateral approach to governing and his attempts to force a schism in the largest member of his administration.
The opposition's natural enmity to a sitting head of government was deepened by the fact that Mr Faizal had defected from PH in March despite having been its chief minister following the 2018 elections.
The carefully orchestrated confidence vote that toppled Mr Faizal took a long gestation period due to scepticism on both sides at biting the forbidden fruit.
After all, they have spent decades demonising each other, a mutual strategy that has led to much success.
Umno accuses DAP of an anti-Malay Muslim agenda, while DAP points to endemic corruption in Malaysia's longest-ruling party, which enjoyed six decades of hegemony after independence in 1957.
But after their overwhelming success in booting out Mr Faizal - who only secured 10 votes - PH strategists believe it could be the first of three potential phases of cooperation between the unlikely couple who are the two largest parties not just in the Perak legislature, but also the federal Parliament.
The next problem is to set up a stable government as snap polls are undesirable given that Malaysia is still in the midst of its worst wave of coronavirus infections.
An Umno-PH government - it is learnt the three parties in the opposition pact will act en bloc - remains a dark-horse outcome, but it could even lead to an electoral pact in Perak when expected polls are called after the pandemic eases.
Should these two boxes be ticked, it would have national ramifications, potentially breaking up Tan Sri Muhyiddin's already shaky Perikatan Nasional (PN) pact that only controls 112 seats in the 220-strong Parliament.
Just as with Perak, Umno has been disgruntled at playing second fiddle to Bersatu at federal level, even to the extent of flirting with backing opposition leader Anwar Ibrahim to replace Bersatu chief Muhyiddin.
A PH official told The Straits Times: "It would be nearly impossible to take back federal government if PN enters the next election as a united alliance. Whatever the damage, we would suffer for working with Umno. At least we have a chance if the Umno-led Barisan Nasional coalition clashes with the rest of PN."
Those in Datuk Seri Anwar's camp also believe that the ouster of Mr Faizal, and more so a possible deal with Umno to form government, could revive his hopes of a similar outcome at federal level and end his 22-year wait to become prime minister after being sacked as deputy premier in 1998.
It will still require careful massaging of egos and public rhetoric.
"The DAP's Howard Lee - a rising star in the opposition ranks and known among the Malays for his thick Perak Malay accent and deep understanding of Malay culture - was a key player in Ahmad Faizal's departure.
"In the past few weeks, Mr Lee worked hard to deliver the shock result by negotiating adroitly with various groups," wrote ISEAS-Yusof Ishak fellows Faizal Musa and Norshahril Saat.
Umno, led by president Zahid Hamidi, has twice been granted an audience by the Perak Palace to present its claim to lead a new government. But the blow to their deputy president has left Bersatu unwilling to back an Umno replacement.
Parti Islam SeMalaysia (PAS) had initially said it would not be part of a new government in a knee-jerk reaction to what it viewed as an act that endangered the unity between itself, Umno and Bersatu.
It later said it was open to discussions but underlined that the Muafakat Nasional accord between the three parties must be upheld.
Umno has 25 members in the 59-strong assemblymen, with Bersatu and PAS having five and three respectively.
It is understood that Umno has managed to add the support of one rebel Bersatu representative and an independent assemblyman, and would inch past the 30-mark for a simple majority if it can woo PAS back.
But The Straits Times understands that Perak ruler Sultan Nazrin Azlan Shah wants a new chief minister to enjoy a large majority to ensure the stability of his administration.
The state has in the past dozen years seen narrow majorities result in at least three mid-term changes of government.
This large majority would be achieved if PH - in which DAP has 16 of 24 assemblymen - were onboard.
Zahid has said Umno is open to forming government with all parties while Perak DAP chief Nga Kor Ming has repeatedly expressed a willingness to put aside differences in the public interest.
Both Zahid's camp in Umno and the Perak DAP have suffered backlash internally over their courtship, leading Mr Nga to issue several explanations.
"Perak DAP's readiness to cooperate with Umno proves... scaremongering that DAP is 'anti Malay or anti Islam' is completely untrue.
"It must be stressed... the main principle is to form a multiracial government that is clean, with integrity and guided by 'good governance'," said Mr Nga.
Already, the newfound love between the two old foes has been contagious enough for Umno's Johor Chief Minister Hasni Muhammad to unprecedentedly hand opposition assemblymen RM200,000 ($65,650) each for constituency spending, resulting in the state budget being unanimously passed on Sunday.
This is despite his government only holding 29 of the 56 seats in the assembly, where Umno and DAP are the largest parties, with 14 members each.
https://www.straitstimes.com/asia/se-asia/umnos-unlikely-romance-with-dap-in-perak-could-leave-pm-muhyiddin-jilted
--------
No signs of PM Muhyiddin losing support, confidence vote not a priority: Malaysian minister
By Amir Yusof
10 Dec 2020
KUALA LUMPUR: There are no signs that Malaysian Prime Minister Muhyiddin Yassin is losing the support of the Members of Parliament (MPs), and hence tabling confidence motions is presently not a priority for the government, said Minister in the Prime Minister's Department (Parliament and Law) Takiyuddin Hassan.
Mr Takiyuddin was responding to a parliamentary question on Thursday (Dec 10) by Pasir Gudang MP Hassan Abdul Karim who asked if the 25 motions of no confidence and two confidence motions filed on Mr Muhyiddin's position would be tabled, debated and voted in parliament.
Mr Takiyuddin outlined that while MPs are allowed to file these motions, Article 15(1) of the Standing Orders of parliament states that government business must be prioritised over other business during a parliamentary sitting.
"Since there are no signs that Pagoh MP (Mr Muhyiddin) has lost support, (and that) the government believes that the motions of no confidence and confidence are specific motions and (should be) based on the needs of the people, I am sure this House knows they are not something that must be prioritised," said Mr Takiyuddin.
He explained that Mr Muhyiddin remained the rightful prime minister of Malaysia as he was appointed by the king following due process in March, after attaining the support of 114 MPs, more than half of the 222 federal parliamentarians.
Mr Takiyuddin also noted that opposition leader Anwar Ibrahim had claimed in September that he had the support of the majority of MPs to be the prime minister.
However, the de facto law minister pointed out that after Mr Anwar's audience with the king in October, the palace released a statement highlighting that Mr Anwar only presented the total number of MPs that supported his bid, but not a full list identifying who the MPs were to strengthen his claim.
Mr Muhyiddin, who pulled Parti Pribumi Bersatu Malaysia out of Pakatan Harapan to join forces with Barisan Nasional and Parti Islam Se-Malaysia to form the federal government in late February, only commands a razor-thin majority in the House.
In October, he sought to declare a state of emergency as the number of COVID-19 cases in the country continued to rise.
The proposed state of emergency would have suspended the parliament, which was due to table and debate the 2021 budget in November and December. However, the king had rejected the suggestion.
On Nov 26, the budget was passed at the policy stage following a voice vote. Only 13 MPs stood up to protest the vote, short of the 15 required to enforce bloc voting.
As of Thursday, the budget allocations for each individual ministry that had been put forward at the committee stage were also passed by either bloc vote or voice vote.
Mr Takiyuddin highlighted that this was another indication that Mr Muhyiddin still garnered support of the majority of MPs.
He noted that the opposition had earlier stated that if the 2021 national budget did not pass, it would be a "reflection that the prime minister has lost majority support".
But the budget was passed on Nov 26 with a voice vote, with few disagreements from the MPs, he said.
"This is on the record in this House. Hence, there is no valid point to say that there has been a reduction or loss in majority support for Pagoh (Mr Muhyiddin)," he added.
https://www.channelnewsasia.com/news/asia/malaysia-muhyiddin-no-signs-losing-support-confidence-motions-13740822
--------
Pakistan
PM dares opposition on no-trust motion against him
Abid Mehdi
10 Dec 2020
SIALKOT: Prime Minister Imran Khan on Wednesday said the Constitution stipulated a no-confidence motion for the removal of the government and dared the opposition to do so.
"If the opposition wants to move a no-confidence motion, they should come and do so in the assemblies," he said, criticising the call for en masse resignations from assemblies by Pakistan Democratic Movement chief Maulana Fazlur Rehman.
Talking to media here on Wednesday, Mr Khan said he did not backtrack from holding a national dialogue to steer the country out of multiple crises.
"Parliament is the best place for political dialogues and I'm ready to respond to all questions [in the parliament]. Democracy will only work when there is a debate."
The premier said the major challenge for the government was to steer the country out of crises, adding his government had inherited `historic' deficits in every sector.
Mr Khan said the opposition wanted quashing of corruption cases whenever the government held dialogues with them, adding the cases against the opposition leaders were registered during their own tenures.
"We have no problem and the government is ready to hold talks on any issue but NRO will not be discussed," he said and added the [corruption] cases could not be closed.
Earlier, addressing a ceremony after inaugurating a private airline company AirSial, Mr Khan was critical of the attitude of opposition parties and said those who had criticised the government for not imposing a complete lockdown, were [now] holding public gatherings.
"Now during the second wave, people again need to adhere to the SOPs so that the pandemic could be overcome," he said.
Speaking of the private airline, the premier appreciated the business community and said Sialkot would become a business hub in the coming days. "AirSial will create competition for other Pakistani airlines."
He was accompanied by federal ministers Hammad Azahar, Ghulam Sarwar, Adviser Razak Dawood, SAPM Usman Dar, Punjab Chief Minister Sardar Usman Buzdar and Special Assistant to CM Dr Firdous Ashiq Awan.
AirSial's third Airbus A320-200 will arrive at Jinnah International Airport, Karachi, from the United States on Friday (tomorrow) and later the aircraft will be flown to its base, Sialkot. The airline is to be operated by the Sialkot's business community. With current fleet of three Airbus A320-200, the airline would operate flights to and from Sialkot, Islamabad, Karachi, Lahore and Peshawar.
Mr Khan said Sialkot exporters were playing a pivotal role in strengthening the national economy by earning foreign exchange to the tune of $2.5 billion annually. He said there was no doubt to say that exporters set a unique example of self-help by establishing several projects including international airport, dry port trust, export processing zone and now AirSial airline.
The premier spoke of initiating equal development in all parts of Pakistan for ending poverty and unemployment.
He said: "The time is ripe for equal development in neglected areas of the country, including Gilgit-Baltistan and Punjab as well. Launching projects in an area can never develop the country. The government is committed to removing all hurdles in the way of national development."
The prime minister announced early establishment of an Austria-like state-of-the-art international school and technology at Sialkot. He said it would help innovate the industrial and engineering technology.
He announced full support to promote small and medium enterprises, saying SMEs were backbone of the economy of a country.
Mohammad Asghar in Rawalpindi also contributed to this report
https://www.dawn.com/news/1594917/pm-dares-opposition-on-no-trust-motion-against-him
--------
PM discusses Covid situation with Bill Gates
From the Newspaper
10 Dec 2020
ISLAMABAD: Prime Minister Imran Khan, during a telephone conversation with Bill and Melinda Gates Foundation co-chair Bill Gates on Wednesday, discussed the Covid-19 situation and polio eradication efforts in Pakistan.
According to an official press release, the prime minister informed Mr Gates about Pakistan's policy to contain the pandemic and mitigate its deleterious impact on health and economy. Mr Khan spoke about Pakistan's national coordinated efforts being implemented through 'smart lockdowns' to save people from dying from the infection and hunger. Noting the recent surge in Covid-19 cases, the prime minister underscored his government's commitment to combat the second wave of the pandemic through similar interventions. He, however, noted that implementation of standard operating procedures was more challenging this time.
Prime Minister Khan acknowledged the Foundation's continued support for the Ehsaas Programme, which would help the most vulnerable segments of Pakistan's population to benefit from its expertise in health, nutrition and financial inclusion.
The prime minister commended the Foundation's strong advocacy for provision of safe and effective Covid-19 vaccines to developing countries.
Mr Khan reaffirmed that eradication of polio remained a key priority of the government. While thanking the Foundation for its critical support in building Pakistan's emergency management capacity for polio eradication, he said that anti-polio campaigns were being intensified across the country. Mr Khan said that Special Assistant to the Prime Minister on Health Dr Faisal Sultan and his team would continue to collaborate with the Foundation for eradication of polio.
Mr Gates acknowledged Pakistan's efforts to combat the Covid-19 pandemic while stimulating economic growth.
The prime minister and Mr Gates agreed to continue working together on the shared objectives of eradicating polio and combating the Covid-19 pandemic.
https://www.dawn.com/news/1594919/pm-discusses-covid-situation-with-bill-gates
--------
Marching orders for yet another officer for 'defying' CCPO
Asif Chaudhry
10 Dec 2020
LAHORE: Working under the command of Capital City Police Officer Umar Sheikh seems to have become a 'nightmare' for the police officers as he has shown the door to yet another one — SSP Investigation Abdul Ghaffar Qaisrani — over a 'petty issue'.
Mr Sheikh got upset during a meeting held late on Tuesday for an official matter and then suddenly 'ordered' Mr Qaisrani to leave the venue saying, "Your services are no more required to me".
The CCPO's order was so sudden and unexpected that the SSP investigation and other senior police officers for a moment couldn't understand the gravity of the situation, a senior official told Dawn. However, he said, the senior officers were left red-faced when the CCPO repeated his order and Abdul Ghaffar Qaisrani obeyed the very next moment.
The SSP Investigation brought the matter to the notice of the IGP and didn't join duty on Wednesday.
The matter was the "arrest of PML-N workers in the wake of the Dec 13 public meeting of the PDM in Lahore at Minar-i-Pakistan," he said. During the meeting, the CCPO assigned task to both operations and investigation police to arrest the workers of the opposition party ahead of the scheduled public meeting. Mr Qaisrani raised an objection to the proposal and said the prime duty of such arrests was of the operations wing. He suggested to the CCPO to let the investigation wing do its original work and this dissenting note irritated Mr Sheikh and led to the unhappy incident.
The official also linked the matter to an 'action' of Mr Qaisrani against two divisional SPs of investigation wing posted in Lahore. He said Mr Qaisrani had recently issued 'letter of advice' to these divisional SPs showing his displeasure over some disparities and flaws in investigation of the cases they handled. This action was later brought to the notice of the CCPO who called it an unnecessary punishment to the SPs — the officers who were posted by him in Lahore.
The official said Mr Qaisrani had been shown the door almost two months after his posting as Lahore SSP Investigation. Ironically, he was the choice of the CCPO.
Hardly a week ago, Lahore DIG Investigation Shahzada Sultan was transferred by the Punjab government following his differences with the CCPO.
Similarly, he had surrendered the services of Crime Investigation Agency's Asim Iftikhar after heated argument with him at a meeting on Oct 15.
https://www.dawn.com/news/1594968/marching-orders-for-yet-another-officer-for-defying-ccpo
--------
Pak lawmakers to resign en masse to paralyse govt: PDM chief Rehman
Dec 9, 2020
ISLAMABAD: The political crisis in Pakistan has deepened after an 11-party Opposition alliance announced that the lawmakers will resign en masse by the end of this month from parliament to paralyse the government and force Prime Minister Imran Khan to call early snap polls.
The decision was taken after the Pakistan Democratic Movement (PDM), an alliance of 11 Opposition parties formed in September this year to overthrow Prime Minister Khan's government, held a marathon meeting in Islamabad.
PDM chief Maulana Fazlur Rehman announced on Tuesday night that a consensus was reached on resigning from parliament.
"All lawmakers will submit their resignation letter to their party chiefs by 31st December," he said, flanked by PML-N leader Maryam Nawaz and PPP chief Bilawal Bhutto Zardari.
The exact timing of stomping out of assemblies would be decided later, said Rehman.
Soon after the election in 2018, he had urged the Opposition leaders not to take oath to join parliament due to alleged rigging. But his idea was overruled by others, chiefly by the Pakistan Peoples Party (PPP) and the The Pakistani Muslim League-Nawaz (PML-N).
It is believed that en masse resignation is the only way to bring the government on its knees and force it to call early elections.
The PPP government in the Sindh province was considered as a hurdle as it was not sure if that it would sacrifice its government to help the Opposition alliance.
The leaders also agreed to go ahead with a rally in Lahore on December 13 as a show of power to the government. It will be the sixth rally after similar gatherings held in Gujranwala, Karachi, Quetta, Peshawar and Multan.
The Opposition parties succeeded in attracting a huge number of people despite hurdles created by the government.
Prime Minister Imran Khan rejected the demand to step down or call early elections and consistently advocated that Opposition was protesting to put pressure to stop probes in corruption cases against their leaders.
Speaking to a group of senior journalists and columnists on Tuesday, he said that "by-election will be held on the vacant seats" and no concession would be given to the protesting parties.
However, experts and Opposition leaders argue that when hundreds of lawmakers resign from the national and provincial assemblies, it would be virtually impossible to avoid general elections.
"The government will be forced to call general elections, otherwise the legitimacy of the entire process will be questionable," said PML-N leader Ahsan Iqbal, warning the more protests would follow in case elections were not held.
The Opposition alliance has alleged that Khan was supported in elections by the 'establishment' and also failed to run the country and address chronic issues.
PML-N chief Nawaz Sharif has directly named Army chief General Qamar Javed Bajwa and ISI head Lt Gen Faiz Hameed for meddling in political affairs.
https://timesofindia.indiatimes.com/world/pakistan/pak-lawmakers-to-resign-en-masse-to-paralyse-govt-pdm-chief-rehman/articleshow/79640772.cms
--------
Africa
Coronavirus: Morocco raises $3 bln with bonds to bolster COVID-19-hit economy
09 December 2020
Morocco has raised $3 billion in a triple-tranche bond sale, it said on Wednesday, as it seeks to bolster state finances hit by the coronavirus pandemic.
For all the latest headlines follow our Google News channel online or via the app.
The government sold bonds with maturities of seven, 12 and 30 years, raising $750 million, $1 billion and $1.25 billion from each tranche respectively, according to a document issued by one of the banks leading the deal and reviewed by Reuters.
The debt sale, which offers coupons of 2.375 percent, 3 percent and 4 percent, was managed by Barclays, BNP Paribas, JPMorgan and Natixis.
Demand for the bond exceeded $13 billion, Morocco's finance ministry said in a statement, confirming earlier Reuters reporting on the $3 billion sale.
This is the first dollar-denominated bond for Morocco in seven years and the second this year after a sale in October of a dual-tranche bond worth 1 billion euros. It also comes after Fitch in October cut the country's credit rating to BB+ from BBB-.
The pandemic has hit both Moroccan exports and demand, with the economy expected to contract as much as 7 percent this year, according to the International Monetary Fund.
The government deficit this year will widen to 7.8 percent of gross domestic product from 4.1 percent last year, the Fund has said.
Morocco's bonds come after a flurry of issuance by governments in the Middle East, who have tapped foreign investors by record levels this year to contain widening and attract yield-chasing investors amid low global rates.
Morocco's government debt is set to surge to 76.1 percent of GDP in 2020 from 65 percent in 2019, the central bank has said.
Last week, the World Bank approved a $400 million loan in support of Morocco's reforms to strengthen the safety net for poorer households.
https://english.alarabiya.net/en/coronavirus/2020/12/09/Coronavirus-Coronavirus-Morocco-raises-3bln-with-bonds-to-bolster-COVID-19-hit-economy
--------
Akufo-Addo narrowly re-elected in Ghana presidential election
09 December 2020
Ghana's President Nana Akufo-Addo has narrowly defeated his long-time rival John Mahama to win a second term, the electoral commission announced Wednesday, sending thousands of his supporters onto the streets to celebrate.
The West African country is known for its stable democracy, but tensions rose over Monday's presidential and legislative vote after Mahama claimed to have won a parliamentary majority and warned Akufo-Addo against stealing the vote.
In the presidential race, Akufo-Addo received 51.59 percent of the vote, beating opposition leader and former president Mahama's 47.36 percent, the electoral commission said.
The announcement was greeted with chanting and dancing by a crowd of supporters in the seaside capital Accra.
"Now is the time, irrespective of political affiliations, to unite, join hands and stand shoulder to shoulder," the 76-year-old president told excited supporters honking vuvuzelas outside his Accra residence.
Observers viewed polling as generally free and fair but police said five people were killed and 19 injured in election-related violence.
The political climate soured late Tuesday when Mahama accused his rival of showing "credentials that are very undemocratic".
Mahama, 62, charged that Akufo-Addo had harnessed the military in a bid to sway the outcome, a claim the government said was false.
"You cannot use the military to try and overturn some of the results in constituencies that we have won. We will resist any attempts to subvert the sovereign will of the Ghanaian people," the former president said.
Mahama – who has twice before lost to Akufo-Addo by a narrow marginr, the last time in 2016 – has yet to comment on the results.
The full count of the 275 parliamentary seats has not been announced and are expected to be very close between Akufo-Addo's center-right New Patriotic Party (NPP) and Mahama's National Democratic Congress (NDC) party.
'Prosperous and progressive'
Ghana has recorded high levels of growth during Akufo-Addo's first term as he worked to diversify an economy largely dependent on cocoa exports and more recently oil and gold.
On education in particular, he is considered to have done well, which matters in a country where 18- to 35-year-olds account for more than half of all eligible voters.
But while Ghana has made large strides in recent years, many still live in extreme poverty with scarce access to clean water or electricity.
"There could be a tendency for an incumbent, who has just secured a second term, to take it easy and relax," Akufo-Addo said.
"I am of a different character. I give you my word that I will continue to work very hard to build a prosperous and progressive Ghana, for which we yearn."
Former Ghanaian president John Kufuor was one of the first to congratulate Akufo-Addo, saying on Twitter, "you deserve it."
Peace pact
Ghana has had seven peaceful transitions of power since the return of democracy more than 30 years ago, as post-electoral grievances have always been pursued through the courts – a rarity in the troubled region.
Hoping to retain that reputation, Akufo-Addo and Mahama on Friday signed a symbolic peace pact, which the 15-nation regional bloc ECOWAS urged "all political parties and their leadership to respect."
The European Union's chief observer Javier Nart said Wednesday that "Ghanaians voted freely."
"While there were isolated violent incidents, both on election day and during the campaign... fears of violence and vigilantism fortunately didn't materialise: they were minor, isolated incidents, some of them tragic," he said.
Despite the coronavirus pandemic, turnout was high, with 13,434,574 people voting – 79 percent of registered voters.
An urgent task for the next government will be to limit mounting debt and control rising inflation.
https://www.presstv.com/Detail/2020/12/09/640395/Ghana-presidential-election-result-Akufo-Addo
--------
Ethiopia conflict 'spiraling out of control,' UN rights chief warns
09 December 2020
The UN rights chief voiced deep concern Wednesday over the situation in Ethiopia's northern region of Tigray and beyond, warning it was "spiraling out of control."
"The situation in Ethiopia is, I think, really worrying and volatile," Michelle Bachelet told journalists in Geneva, adding that the conflict was having an "appalling impact on civilians."
Thousands have been killed in fighting that began November 4 between government forces and those loyal to the leadership of the Tigray People's Liberation Front (TPLF).
The fighting was declared over on November 28, but Bachelet voiced alarm that "in the Tigray region itself, fighting is reportedly continuing, in spite of government claims to the contrary."
Bachelet said her office had corroborated information about a range of "gross human rights violations and abuses," including attacks on civilians, looting, abductions and sexual violence.
"There are reports of forced recruitment of Tigrayan youth to fight against their own communities," she said.
The UN High Commissioner for Human Rights said blocked communication in the region was making it particularly difficult to verify all of the allegations her office was receiving.
"There is an urgent need for independent monitoring of the human rights situation in the Tigray region, for all necessary measures to protect civilians, and for accountability for violations," she said.
Bachelet also decried the "deeply distressing" obstacles to humanitarian relief efforts in Tigray.
"In spite of an agreement between the government and the UN, unfettered humanitarian access has not been possible," she said, appealing to the government to "ensure humanitarian access, and to ensure access to water, electricity and other basic needs is restored."
Bachelet also voiced concern about the situation beyond Tigray, pointing to intercommunal violence in recent weeks in other parts of Ethiopia, with reported fatalities.
And she warned that Tigrayans in other parts of the country appeared to be facing "ethnic profiling", including in the capital Addis Ababa.
"We have reports of dismissals from jobs, including in the civil service, harassment of Tigrayan journalists and hate speech against Tigrayans," she said.
"Such discriminatory actions are deeply unjust but are also fostering divisiveness and sowing the seeds for further instability and conflict," she warned, calling on the government to take "immediate measures to halt such discrimination."
Ethiopian PM makes first foreign trip since start of conflict
In a separate development on Wednesday, Ethiopian Prime Minister Abiy Ahmed began a two-day visit to neighboring Kenya, his first official trip since launching military operations against the leaders of the dissident Tigray region last month.
As skirmishes continued in the north of Ethiopia and aid agencies decried the lack of humanitarian access, Abiy travelled south to the border town of Moyale where he and his Kenyan counterpart, President Uhuru Kenyatta, presided over the inauguration of a new border post promising a bonanza in cross-border trade.
The remote market town lies roughly halfway between the Kenyan and Ethiopian capitals -- which are 1,500 kilometres (930 miles) apart -- has no airport and a population of fewer than 40,000.
The two heads of state also presided over the ceremonial opening of a 500km stretch of the highway connecting Nairobi and Addis Ababa.
Periodically, cross-border raids and violence between neighbouring communities has depressed trade and uprooted civilians, as Kenyatta acknowledged.
"We must also work together because we cannot establish economic victory if we are consistently having security challenges," he said.
Soon after Abiy took power in 2018, fighting between ethnic Somalis and Oromos in Moyale killed 21 people, while earlier the same year thousands of Ethiopians fled into Kenya for safety during another spate of violence, that time involving the Ethiopian military.
Abiy said such clashes were now in the past.
"This artificial border... will be dismantled with the new infrastructure... (which) will bring the two families together and tap the potential and opportunities of business and economy," he said.
Abiy made no mention of the crisis in Tigray during his visit to Moyale.
Abiy and Kenyatta also travelled later Wednesday to the Kenyan island of Lamu to inspect a new port that is under construction, also aimed at boosting regional trade.
It is unclear what the second day of Abiy's official visit will entail as no formal program has been released.
https://www.presstv.com/Detail/2020/12/09/640380/Ethiopia-Tigray-UN
--------
North America
Pakistan gets US presidential waiver to avoid sanctions
Anwar Iqbal
10 Dec 2020
WASHINGTON: US Secretary of State Michael Pompeo has issued a presidential waiver for Pakistan, exempting it from the sanctions that follow a country's designation as a violator of religious freedom.
On Monday, Secretary Pompeo had designated Pakistan and nine others as Countries of Particular Concern (CPC) for alleged continued violations of religious freedom during 2019-20.
Pakistan rejected the designation as an "arbitrary and selective assessment", which was "completely against the realities on the ground and raises serious doubts about the credibility of the exercise".
The designations, slapped under the US International Religious Freedom Act of 1998, automatically leads to strict economic sanctions against the alleged violator.
Islamabad says India's omission as a violator of religious freedom puts credibility of US report into question
But America's Ambassador-at-Large for International Religious Freedom Samuel D. Brownback told a news briefing on Tuesday afternoon that some of the designated countries have been exempted from these sanctions.
"For Pakistan, Nigeria, Saudi Arabia, Tajikistan, and Turkmenistan, the Secretary issued a waiver for the presidential action requirement, determining that there were important national interests of the United States requiring the exercise of the waiver authority," he said.
The US Commission on International Religious Freedom, which recommends the designations, had suggested also placing India on the violators' list. But the list issued on Monday did not include India.
Pakistan pointed out that "the glaring omission of India, where the RSS-BJP regime and their leaders openly disregard religious freedom and discriminate against minorities communities in an institutional manner, is unfortunate and puts the credibility of the US report into question".
This issue was also raised at the Tuesday afternoon briefing in Washington when a journalist reminded Ambassador Brownback that the Modi government had enacted discriminatory laws and openly targeted religious minorities and yet India was not designated.
"There were several recommendations made by the commission that the Secretary did not follow, and this was one of them," Ambassador Brownback replied. "We watch the situation in India very closely. The Secretary traveled there, multiple times … and is well aware of a lot of the communal violence that's happening in India."
Secretary Pompeo, he said, was also aware of the statute enacted by and the issues associated with the Modi government.
"He's raised it at the highest levels, but just decided at this point in time not to place them on a CPC or a Special Watch List," he added.
In reply to another question, Ambassador Brownback said the designations followed an extensive review of the situation in both India and Pakistan.
"We've reviewed extensively the situation in Pakistan and India, and I've visited both countries in this role. I've visited both countries … and we note the problems that are taking place in our annual report in both Pakistan and India."
Explaining why the US treated India differently, he said: "Pakistan — a lot of their actions are done by the government. In India, some of them are done by the government and the law that was passed, and much of it is communal violence. And then when that takes place, we try to determine whether there has been effective police enforcement, judicial action after communal violence takes place."
He claimed that "half of the world's people that are locked up for apostasy or blasphemy" were in Pakistani jails, which, he explained also was taken into consideration while designating Pakistan.
Ambassador Brownback said that Pakistan was also one of the source countries for forced brides, mostly from religious minorities, being sent to China.
"Christians and Hindu women (are) being marketed as concubines or forced brides into China because there's not effective support, and then there's discrimination against the religious minorities that make them more vulnerable," he claimed.
The US envoy for religious freedom said that not designating India as a country of particular concern did not mean that they did not have these problems.
"The violence (in India) is a problem. We will continue to raise those issues, but those are some of the basis as to why Pakistan continues to be on the CPC list and India is not."
https://www.dawn.com/news/1594935/pakistan-gets-us-presidential-waiver-to-avoid-sanctions
--------
Florida man seeks plea deal after being charged with backing terror group ISIS
BY JAY WEAVER
DECEMBER 08, 2020
A Cuban-born man accused of supporting a foreign terrorist group by distributing propaganda videos on social media is being held in a Miami federal lockup, according to court records.
Jonathan Guerra Blanco, 23, who lives near Fort Myers, was denied bail and charged this past week in Miami with providing material support to ISIS, a spin-off of al-Qaida that has gained notoriety through its Middle East conflicts and decapitations of Western hostages. He was arrested in Miami in September while visiting an undercover FBI operative.
Guerra, a naturalized U.S. citizen who faces up to 20 years in prison on the single terrorism charge, has an arraignment set for Jan. 7. His defense attorney, Ana Davide, said Guerra plans to work out a plea deal with the prosecutors in the counter-terrorism section of the U.S. Attorney's Office to limit his potential punishment.
"After reviewing the facts associated with this case and after numerous consultations with the government, we expect to resolve this matter in a manner most favorable to my client," Davide told the Miami Herald Monday.
Over the past year, Guerra was swept up in an FBI undercover operation that targeted an ISIS suspect known as "Confederate A" who allegedly collaborated with him in producing promotional and recruitment videos that were distributed on the Islamist terrorist organization's encrypted social platforms and networks, including "IMN1" and "IMN2," a criminal affidavit says. Guerra's alias was "Abu Zahraal-Andalusi."
The propaganda videos, graphics and instructional guides were designed to "incite and equip primarily Spanish-speaking followers to conduct operational attacks in support of ISIS," according to the FBI affidavit. He was considered what authorities call a "keyboard warrior" who uses internet expertise to drum up support for ISIS recruits and missions. He was targeting Spanish language countries in South America as well as Spain.
"While IMN1 and IMN2 focus on producing Spanish-translated ISIS media, they also coordinate translations into various other languages, including English, Dutch, French, German and lndonesian."
Deploying three covert online employees and a confidential source, the FBI exchanged information with Guerra about his developing videos and related media material for the ISIS platforms. In their interactions, the affidavit says, Guerra held himself out as the head of one of the group's networks, IMN1, tried to recruit the FBI's online employees for contributing pro-ISIS content and revealed his actual name to one of them after initially identifying himself as "Stefan Smart."
A year ago, after an ISIS sympathizer was arrested in Spain, Guerra sent one of the FBI online employees a network link to a graphic titled: "Jamas Nos Capturaras." Translated: "You Will Never Capture Us," an apparent reference to Guerra being free and operating IMN1. Guerra then released a video threatening terrorist attacks against the Spanish National Police and the country's subway systems, according to the FBI affidavit. The pro-ISIS video, featuring Confederate A wearing a black mask and dark sunglasses, was widely reported in the Spanish media.
In February of this year, Guerra produced and distributed an ISIS video titled "Called to Islam" that featured a Spanish-language video "threatening non-believers to convert to Islam." Among the video footage were shots of the Biltmore Hotel in Coral Gables and the Las Vegas Strip, along with clips of a suicide bomber's farewell address and a prisoner execution.
Guerra also produced and released an instructional guide titled "Elabora una bomba en la cocina de tu Mama,'' which, translated, means "How to make a bomb in the kitchen of your mom." It was previously published in the al-Qaida Arabian Peninsula magazine, Inspire, the FBI affidavit says.
In correspondence with one of the FBI online employees in June, Guerra said his ISIS network's goal was to "make the word of Allah ... the highest."
In another communication the following month, Guerra said: "I always strive to please Allah. I don't want to brag, but I dedicate my life to [jihad]."
According to the FBI affidavit, Guerra also sent $572 in cryptocurrency to support Confederate A's missions for ISIS overseas. The money was sent in August from his relative's account with an address in Lehigh Acres, where Guerra lived until his arrest.
https://www.miamiherald.com/news/local/article247673625.html?utm_source=iterable&utm_medium=email&utm_campaign=1798992_
--------
Member of Toronto 18 terror group is granted day parole in Quebec
Dec 09, 2020
A convicted terrorist who was part of a group that plotted to blow up the Toronto Stock Exchange and a Canadian military base has been granted day parole following a hearing Tuesday at a penitentiary in the Eastern Townships.
"You will not be sorry," Shareef Abdelhaleem told the two Parole Board of Canada members who granted him the release even though his case management team advised against it.
"You will never hear from me again."
However, Abdelhaleem will have to appear before the board in six months if he wants to ask for full parole.
The board agreed to release him to "closed day parole" — an apparent reference to a halfway house run by Correctional Service Canada rather than by a community group.
One reason why his case management team did not recommend his release was that he was rejected as a candidate at Résidence Emmanuel-Grégoire, a halfway house in eastern Montreal. Abdelhaleem planned to study online courses there, but there were concerns over whether his access to the internet could be monitored.
Although he is from Ontario, Abdelhaleem hoped to reside in Montreal during his day parole because a condition of his release would have required him to stay away from Toronto, unless he got authorization from his parole officer.
As one of the leaders of the home-grown terror group, Abdelhaleem was initially incarcerated at the Special Handling Unit, a super-maximum security penitentiary in Ste-Anne-des-Plaines, 60 kilometres north of Montreal. Four years ago, he was transferred to a medium-security penitentiary in Cowansville, where he is now incarcerated.
Because of the pandemic, the parole hearing was held through remote connections between the penitentiary and the people who participated in it.
Abdelhaleem admitted he was so nervous that he vomited 15 minutes before the hearing started.
"If I throw up again, please excuse me," he said.
Abdelhaleem was part of a group of 18 men based in and around Toronto who plotted to blow up the TSE, CSIS headquarters on Front St. in Toronto and a Canadian military base east of the city in November 2006. He was 30 at the time.
The group, which came to be known as the Toronto 18, ran training camps with the goal of preparing terrorists to storm Parliament in Ottawa. Abdelhaleem was not part of the training camps.
While the group was being investigated, a CSIS undercover agent posed as someone who could supply chemicals to the group. Abdelhaleem and the group's leader, Zakaria Amara, arranged to buy three tons of ammonium nitrate fertilizer and other chemicals that were to be used to make truck bombs. He told an undercover agent he did not intend to go to prison "for something small."
Amara and Abdelhaleem were convicted of terror-related offences and received life sentences.
Abdelhaleem had met Amara at a mosque. The group objected to Canada's military presence in Afghanistan.
On Tuesday, Abdelhaleem said he felt alienated and isolated in Toronto back then while running a successful software company. He said he grew disillusioned with consumerism and frustrated with world events, including a major oil spill. He conceded he was immature at the time the group was being investigated.
"I felt like my presence in life was insignificant. I felt like a grown pig whose sole purpose was to consume," he said. "I hated myself for going out and spending $5,000 on a jacket."
When a parole board member asked why he took part in the plot to set off what could have been three powerful bombs, he said: "It seemed like a very fast way to change things. It's definitely the wrong thing to do.
"At the time, it was the answer to the question: How to make the world a better place."
He admitted, as he has before, that part of his motive was financial: He planned to short-sell stocks before the TSE was attacked, which presumably would have disrupted Canada's economy.
"I don't consider myself a very religious person. I'll be honest with you. I was conflicted with my identity," he said. "I don't participate in religious groups here (at Cowansville). But I did attend a mosque (before joining the terrorist group) to solve my existential problems."
Abdelhaleem said he feels his life sentence is too severe for a plot that was never carried out, but added he has thought about the people who worked in the targeted buildings and how they must have felt when details of the conspiracy were made public.
"I want to apologize to anyone who worked in those buildings. An apology is all I can offer. There's nothing I can do to make it up," he said. "I feel like s–t."
https://montrealgazette.com/news/local-news/member-of-toronto-18-terror-group-is-granted-day-parole-in-quebec?utm_source=iterable&utm_medium=email&utm_campaign=1798992_
--------
Arab World
Lebanon's PM-designate Hariri gives president new government line-up
December 09, 2020
BEIRUT: Lebanon's Prime Minister-designate Saad Al-Hariri presented President Michel Aoun with a line-up of 18 ministers on Wednesday after months of wrangling that blocked a deal on a new government.
Without a credible government, there will be no bailout to save Lebanon from its spiralling financial crisis, French President Emmanuel Macron has warned ahead of his visit to Beirut later this month.
Former colonial ruler France, which has led foreign efforts to help the country, had sought to rally Lebanese leaders to tackle the meltdown but grew frustrated as it got bogged down in fractious sectarian politics.
After a meeting at the Baabda palace on Wednesday, Hariri said the president would examine his list of "non-partisan, expert" ministers and that the "atmosphere was positive."
When he was named premier for a fourth time in October, Hariri pledged to quickly form a government that could revive the French roadmap. But old rifts still plagued cabinet talks as the country hurtles toward what United Nations agencies have warned will be a "social catastrophe."
The economic collapse has pushed at least half the population into poverty and crashed the currency.
The outgoing government quit after the massive explosion at Beirut port in August, which killed more than 200 people and devastated swathes of the capital.
https://www.arabnews.com/node/1774851/middle-east
--------
Two bombs spark fire at Khabbaz oil field in Iraq's Kirkuk: Security sources
09 December 2020
Two wells in a small oilfield in northern Iraq were set ablaze by explosives in a "terrorist attack" on Wednesday but overall production from the field was not affected, the Oil Ministry and officials said Wednesday.
The Oil Ministry gave no further details about the assailants behind the explosive devices that targeted the wells in Khabbaz oilfield, 20 kilometer (12 miles) southwest of Kirkuk.
For all the latest headlines follow our Google News channel online or via the app.
Technical teams isolated the two burning oil wells and there was no impact on output, two sources from the state-run North Oil Company (NOC), who spoke on condition of anonymity, said.
The field produces about 25,000 barrels per day, oil officials said. The ministry said production from the two wells that were targeted did not exceed 2,000 bpd.
The ministry statement said a fire erupted at the two oil wells after explosive devices were set off half an hour apart, with one going off at 1:30 a.m. (1030 GMT) and the second at 2:00 a.m (1100 GMT).
https://english.alarabiya.net/en/business/energy/2020/12/09/Oil-Two-bombs-spark-fire-at-Khabbaz-oil-field-in-Iraq-s-Kirkuk-Security-sources
--------
Arab Coalition destroys two bomb-laden boats belonging to Iran-backed Houthis
Rawad Taha
10 December 2020
The Arab Coalition supporting the Yemeni government intercepted and destroyed a bomb-laden boat belonging to the Iran-backed Houthi militia, which was targeting maritime routes south of the Red Sea, the coalition spokesman Turki al-Maliki said on Thursday.
For all the latest headlines follow our Google News channel online or via the app.
"The boats represented a threat to regional and international security, maritime routes and international trade," al-Maliki said.
The spokesman said the boats were launched from Hodeidah Governorate, which the Houthi militia uses "as a base to launch ballistic missiles, drones, booby-trapped remote-operated boats, as well as the random deployment of sea mines in flagrant violation of international humanitarian law and a violation of the provisions of the Stockholm cease-fire agreement in Hodeidah."
https://english.alarabiya.net/en/News/gulf/2020/12/10/Arab-Coalition-destroys-two-bomb-laden-boats-belonging-to-Iran-backed-Houthis-
--------
Bid to stop sales of f-35 jets to UAE fails in US Senate
10 December 2020
Democrats on Wednesday failed to block a US sale of top-of-the-line F-35 jets and drones to the United Arab Emirates.
Splitting mostly along party lines, opponents of the $23 billion sale could not reach the 50 senators needed on procedural votes that would pave the way to blocking the deal.
The UAE, one of Washington's closest Middle East allies, has long expressed interest in acquiring the stealthy F-35 jets and was promised a chance to buy them in a side deal when it agreed to normalize relations with Israel.
Because of the qualitative military edge restriction, in the past the F-35 has been denied to Arab states, while Israel has about 24 of the jets. Israel is currently slated to purchase 50 of the fighters.
https://english.alarabiya.net/en/News/gulf/2020/12/10/UAE-government-Bid-to-stop-sales-of-f-35-jets-to-UAE-fails-in-US-Senate
--------
Fighting to preserve Armenian culture, cuisine and crafts in crisis-hit Lebanon
Robert McKelvey
09 December 2020
In Lebanon, struggling workshops have been forced to shut down as customers are less willing to spend what little money they have on handmade crafts. For ethnic Armenian craftsmen, who are proud of their unique history and space in Lebanon, their art is a dying breed.
"I have a small shoe factory and I manufacture shoes for designers," Raffi Pamboukian told Al Arabiya English.
Pamboukian, who has been in the business nearly 10 years, took over his father's business.
"When I was young, after school time, I used to come to my father's factory and watch what the workers [were] doing. The political crisis here is very bad here now. Plus, we have the COVID-19 situation. Sometimes, you're closing. Sometimes, you're locked down," he said.
Lebanon just exited another lockdown implemented to slow the spread of coronavirus, and such lockdowns can have devastating effects on those who cannot afford not to work, like many in the Armenian traditional crafts community.
A year-long economic crisis in Lebanon has been exacerbated by the novel coronavirus.
The small community in Lebanon is at risk of vanishing, and anti-government protests, ongoing financial troubles and the widespread destruction caused by the August 4 Beirut port explosion have meant that artisans in Beirut's Bourj Hammoud neighborhood are now struggling more than ever.
"Legally, we do not have a definition for 'crafts' in Lebanon, and that means that they are not protected by the government," explained Executive Director of NAHNOO Mohammad Ayoub. "First, there are the products coming from foreign countries which are cheaper, making them lose their market. Second, the materials that they want to buy to do what they want to do have become very expensive."
A 2019 assessment by NAHNOO – a youth-led NGO working toward a more inclusive society through advocacy campaigns promoting good governance, public spaces and cultural heritage – recommended policies that would help revive the vanishing community.
"Some people go to the Industry Ministry, [thinking that] maybe they'll give them some help and some protection, but most of the craftsmen don't have the criteria to register there," he added. "Others are registered with the Ministry of Social Affairs, and most of them are not even registered with anything. That's why the craftsmen in Bourj Hammoud are threatened."
For all the latest headlines follow our Google News channel online or via the app.
Promoting and supporting the gradually disappearing skills of Armenian traditional crafts in Lebanon, Badguer is a cultural center and cafe housed in a pink 1930s house in the Marash area of Beirut's Bourj Hammoud quarter.
"Around 2005, I was planning to have the opportunity to create a local organization that can present the original arts and crafts and cultural heritage of the Armenian community in an interesting, vivid way," said founder and manager Arpi Mangassarian. "In 2011, I registered an NGO under Badguer, which means 'image.' It is the image of the community and the neighborhood."
The Badguer building, like many in the neighborhoods surrounding the port, was heavily damaged in the explosion.
Fight for survival
Every sector in Lebanon today is struggling, but for those that have been traditionally neglected, things are especially difficult.
"Arts and crafts businesses keep taking hard blows from the economic and public health crises in Lebanon. Restaurants and culinary activities are in a bad situation," said Mangassarian. "Market retail and local production are victims of a disorganized, wild atmosphere where imports are not regulated. The local industries cannot withstand the competition from imported goods, and all of this has a negative impact on the community."
Bourj Hammoud has a majority Armenian population, with most of the streets being named for various Armenian cities, mountains and rivers. Others – including Marash – are named after cities and regions in modern-day Turkey that once were heavily populated by Armenians. The municipality is home to a variety of traditional handicrafts, including woodworking, jewelry and weaving.
Supported by several different organizations and institutions – including INTERSOS, UNIDO, and NAHNOO – and dedicated to preserving Armenian traditions, Badguer frequently holds concerts, embroidery workshops and culinary experiences focusing on traditional Armenian dishes, as well as hosting exhibitions by local artists. Items produced by local artisans are also often displayed at the venue in the hope that it will expand their customer base, while also serving to educate others about Armenian handicrafts.
"We believe that the happiness of a community is directly related to its freedom and space for expression," explained Mangassarian. "Badguer is a platform that inspires our fellow countrymen, both young and elderly. The elderly find the heritage and the old taste [of home]. The youth find a space for expression and communication."
After already being forced to slow down activities in March, due to onset of the COVID-19 pandemic and the subsequent lockdown in Lebanon, Badguer suffered yet another setback when their building – along with many others across Beirut – was severely damaged during the August 4 blast.
Trouble back home
Meanwhile, hostilities between Armenia and neighboring Azerbaijan over the long disputed Nagorno-Karabakh region reignited in September, the worst clashes since the 1994 ceasefire, causing alarm throughout the international community. Hundreds have been killed over the last two months on both sides, including over 100 civilians.
"Armenians around the world feel that the world hasn't changed since a century ago in terms of the fate of small nations," said Mangassarian. "Many tragedies of the past may unfortunately still be repeated in the new, civilized world, as long as the perpetrators of crimes against humanity are not brought to justice."
With repairs to damage done completed, Mangassarian hopes she and her team can raise awareness for shops and businesses still in need. An artist-in-residency space is also being set up on the venue's second floor.
"It is a driving force for new ways of interaction with the local communities," she said.
Following the Armenian Genocide carried out by the Ottoman government in the aftermath of World War I, large numbers of Armenians were dispersed to other countries across the Middle East, including Lebanon.
"The community started to organize, seeking to preserve their cultural heritage and identity by living together and keeping alive the spiritual richness that they brought with them," explained Mangassarian. "All of this was impacted by the lived experience of this historic tragedy in our motherland. However, it carried the challenge to keep creating and expressing the love of life, preservation and rebirth.
"For an Armenian, their identity and cultural heritage is a safe domain where they can feel at ease, at home in hope of a safe world," she added. "Particularly in Lebanon, where society is a mosaic of different communities and minorities, Armenians will feel comfortable, but they are different from the others in their history, culture and aspirations."
https://english.alarabiya.net/en/features/2020/12/09/Lebanon-crisis-Fighting-to-preserve-Armenian-culture-cuisine-and-crafts-in-crisis-hit-Lebanon
--------
Syria resolved to take back occupied Golan from Israel: Envoy
10 December 2020
A top Syrian diplomat has reiterated his country's determination to retake the occupied Golan Heights from the Israeli regime.
Bashar al-Jaafari, the permanent ambassador of Syria to the United Nations, slammed the US administration's policies on the occupied Golan, and said they are no different from the British colonialism.
He pointed to the Israeli prime minister's move to name an illegal settlement in Golan after US President Donald Trump, and said the move is part of an Israeli-American occupation.
"We believe in the power and capability of our people in the occupied Golan to confront Israel," Jaafari said, speaking to the Lebanese TV channel al-Mayadeen on Wednesday.
He expressed the Damascus government's support for Golan residents, stressing that the Syrian government is resolved to use all the channels secured by the international law in order to liberate the occupied territory of Golan.
The top diplomat said his country has already submitted "very important" letters to the UN and its Security Council on Tel Aviv's moves in the occupied Golan Heights, and that his country speaks the language of law and logic at the United Nations.
In 1967, Israel waged a full-scale war against Arab territories during which it occupied a large swathe of Syria's Golan Heights and annexed it four years later, a move never recognized by the international community.
Syria has repeatedly reaffirmed its sovereignty over the Golan Heights, saying the territory must be completely restored to its control.
In March 2019, US President Donald Trump signed a decree recognizing Israeli "sovereignty" over Golan during a meeting with Israeli Prime Minister Benjamin Netanyahu in Washington.
In their latest unlawful move, Israeli forces have closed a number of the main entrances to the villages in the occupied Golan Heights, barring the locals from reaching their farms, where the Tel Aviv regime wants to set up wind turbines.
Syria's official news agency, SANA citing an unnamed local source, announced the news on Monday, adding that crowds of locals in rural areas of Majdal Shams, Sheita and Baqaatha, and Masada were gathering on the blocked roads leading to their farms.
The source added that Israeli soldiers were present in the areas in large numbers and had already cut off the main roads there.
https://www.presstv.com/Detail/2020/12/10/640398/syria-occupied-golan-heights-jaafari
--------
Egyptian forces kill, arrest Islamist fighters in Sinai
Dec 8, 2020
The Egyptian military has reportedly killed dozens of Islamist fighters on the Sinai Peninsula since September.
Egyptian forces killed at least 40 of the fighters since Sept. 1, in addition to destroying 440 hideouts and arms storage areas. They also destroyed 38 vehicles, dismantled 160 explosives, found weapons and arrested more than 20 suspected fighters, The Associated Press reported Tuesday.
Various Islamist groups have been fighting the Egyptian state in the Sinai insurgency since 2011. The Islamic State (IS) and al-Qaeda are among the groups operating in the strategic territory that links the Middle East to Africa.
There have been numerous incidents in Sinai recently. In November, IS claimed an attack on an Egyptian gas pipeline to Israel in the northern part of the peninsula. Egypt said it conducted successful attacks on IS in Sinai in September.
Egyptian security forces have also clashed with Islamist fighters in the greater Cairo area this year.
Egypt has one of the most powerful militaries in the region, in part because of decades of US military aid. Egypt has a peace treaty with Israel, which is located on the other side of Sinai.
Also this week, French President Emmanuel Macron said France would continue to sell weapons to Egypt, despite human rights concerns about President Abdel Fattah al-Sisi's rule.
https://www.al-monitor.com/pulse/originals/2020/12/egypt-sinai-peninsula-islamist-islamic-state-fighters.html?utm_source=iterable&utm_medium=email&utm_campaign=1798992_
--------
Mideast
Egyptian forces kill, arrest Islamist fighters in Sinai
Dec 8, 2020
The Egyptian military has reportedly killed dozens of Islamist fighters on the Sinai Peninsula since September.
Egyptian forces killed at least 40 of the fighters since Sept. 1, in addition to destroying 440 hideouts and arms storage areas. They also destroyed 38 vehicles, dismantled 160 explosives, found weapons and arrested more than 20 suspected fighters, The Associated Press reported Tuesday.
Various Islamist groups have been fighting the Egyptian state in the Sinai insurgency since 2011. The Islamic State (IS) and al-Qaeda are among the groups operating in the strategic territory that links the Middle East to Africa.
There have been numerous incidents in Sinai recently. In November, IS claimed an attack on an Egyptian gas pipeline to Israel in the northern part of the peninsula. Egypt said it conducted successful attacks on IS in Sinai in September.
Egyptian security forces have also clashed with Islamist fighters in the greater Cairo area this year.
Egypt has one of the most powerful militaries in the region, in part because of decades of US military aid. Egypt has a peace treaty with Israel, which is located on the other side of Sinai.
Also this week, French President Emmanuel Macron said France would continue to sell weapons to Egypt, despite human rights concerns about President Abdel Fattah al-Sisi's rule.
https://www.al-monitor.com/pulse/originals/2020/12/egypt-sinai-peninsula-islamist-islamic-state-fighters.html?utm_source=iterable&utm_medium=email&utm_campaign=1798992_
--------
Iran Stresses Need for Permanent Solution to Karabakh Crisis
2020-December-9
"During the visit of the Foreign Minister of the Republic of Azerbaijan to Tehran, views about Karabakh dispute, regional issues and bilateral relations were exchanged," Iranian Foreign Ministry Spokesman Saeed Khatibzadeh wrote on his twitter page.
"Within the framework of good neighborliness policy, the Islamic Republic of Iran welcomes the progress made and the liberation of the occupied territories and emphasizes the need for a permanent solution to the crisis politically," he added.
Azerbaijani Foreign Minister Jeyhun Bayramov who arrived in Tehran on Wednesday met and held talks with his Iranian counterpart Mohammad Javad Zarif and President Hassan Rouhani.
During the meeting, Rouhani announced the country's readiness to play a role in helping to strengthen the ceasefire between Azerbaijan and Armenia and to stabilize the region.
The visit focuses on deepening Iran-Azerbaijan ties in the post-Karabakh-war period, as well as reviewing the latest regional and international developments.
Bayramov is scheduled to meet with Speaker of Parliament Mohammad-Bagher Ghalibaf and Secretary of the Supreme National Security Council Ali Shamkhani as well.
Zarif and his Azeri counterpart in a video conference late in November had underlined the need for widening mutual cooperation.
During the video conference, Zarif and Bayramov talked about the latest developments in bilateral relations and post-war conditions in the Karabakh region.
While emphasizing the further development and deepening of bilateral relations regarding the cooperation of the two countries in international fora, the Caspian Sea, reconstruction projects, on-the-implementation projects, the two sides also discussed the operation of Khoda Afarin Dam, the Rasht-Astara railway, the north-south, and east-west corridors, and the holding of the joint economic commission of the two countries and other issues of interest.
The two parties also called the borders of the two countries the borders of peace, friendship, and cooperation and stressed its security.
https://www.farsnews.ir/en/news/13990919000901/Iran-Sresses-Need-fr-Permanen-Slin-Karabakh-Crisis
--------
Speaker: EU's Meddling in Iran's Official Law "Astonishing"
2020-December-9
"The three European countries' request from our government not to implement the law was amazing, as these three states stress democracy and legal obligations," Qalibaf said on Tuesday in reference to the E3's statement calling on Iran's government not to implement the strategic law for removal of sanctions and preservation of Iranian nation's right that has recently been ratified by the parliament.
He made the remarks in a meeting with Italian Ambassador in Iran Giuseppe Perrone late on Tuesday.
Highlighting Italy's role as an active member of the European Union, he added that Iran-Italy relations should not be influenced by US unilateral, inhuman and illegal measures.
"While the three European countries have not reacted to the recent terrorist attack in Tehran which led to the martyrdom of the Iranian scientist Mohsen Fakhrizadeh, they are now saying that the Iranian government should not implement the country's official law," Qalibaf said, noting that the law is not in fact a withdrawal from JCPOA, but within the framework of the deal and in accordance with Articles 36 and 37, which allows Iran to reduce its obligations once other parties do not fulfill their commitments.
Giuseppe Perrone, for his part, hailed bilateral relations, saying that Italy is determined to increase trade with Iran.
Iranian Parliament Speaker Mohamamd Baqer Qalibaf on Wednesday December 2, notified the government of the new law to adopt strategic measures to confront and remove sanctions against the country.
Qalibaf notified the government of the strategic plan to counter sanctions imposed against the Islamic Republic in a letter.
The strategic action plan to counter sanctions imposed against the Islamic Republic of Iran was approved by the Guardian Council on Wednesday.
The Iranian parliamentarians in their last Tuesday meeting ratified the general points of a bill to adopt strategic measures to remove sanctions against the country and defend the nation's interests.
The lawmakers had last month given the green light to the single-urgency of the strategic motion, but the plan turned into a double-urgency on Sunday after the assassination of the Iranian nuclear scientist Mohsen Fakhrizadeh.
Iranian nuclear scientist Mohsen Fakhrizadeh's car was targeted by an explosion and machinegun fire in Damavand's Absard 40 kilometers to the East of Tehran on November 27.
The nuclear scientist and one of his companions were immediately taken to a nearby hospital but he could not be saved.
The bill requires the Atomic Energy Organization of Iran (AEOI) to build a heavy water reactor and bring a metal uranium production plant on line.
"The AEOI is required to put into operation a uranium metal production plant in Isfahan 5 months after the adoption of this law," an article of the bill said.
Also, the article 5 of the bill states that the AEOI is required, in accordance with paragraph 4 of the 'Law on Appropriate and Reciprocal Action of the Government of the Islamic Republic of Iran', simultaneous with optimizing and launching the 40-MW heavy water reactor in Arak, design a new 40-MW heavy water reactor with the aim of producing stable radio-isotopes for use in hospitals based on a timeline and inform the parliament of the timeline within one month after the adoption of this law.
Under the bill, the AEOI is required to start in two months after the approval of the present bill to produce at least 120 kg of 20%-enriched uranium annually at Fordow nuclear site and store it inside the country, increase the enrichment capacity and production of enriched uranium to at least 500 kg per month, start the installation of centrifuges, gas injection, enrichment, and storage of materials up to proper purity levels within 3 months, via at least 1000 IR-2m centrifuges in the underground part of Shahid Ahmadi Roshan facility in Natanz, transfer any enrichment, research, and development operations of IR-6 centrifuges to the nuclear site of Shahid Ali Mohammadi in Fordow, and start enrichment operation via at least 164 centrifuges and expand it to 1000 by the end of 20 March 2021 (end of the Iranian calendar year) and return the 40 megawatts Arak heavy water reactor to its pre-JCPOA condition by reviving the heart (calandria) of the reactor within 4 months from the date of the adoption of this law.
Also, the government is required to suspend the nuclear deal-based regulatory access beyond the Additional Protocol within 2 months after the adoption of this law based on the articles 36 and 37 of the nuclear deal.
Also, after 3 months from the adoption of this law, if Iran's banking relations in Europe and the amount of oil purchases by them from Iran is not back to normal and to satisfactory conditions, the government is required to stop the voluntary implementation of the Additional Protocol.
Meantime, if after 3 months from the adoption of this law, the nuclear deal parties return to fulfill their undertakings, the government is required to submit a proposal to the parliament for Iran's reciprocal action to return to the nuclear deal undertakings, the bill said.
The Iranian lawmakers will study the details of the bill after approval of its generalities.
After ratification of the generalities of the bill with 251 yes votes, Parliament Speaker Ali Larijani said that the move sent this message to the enemies that the one-way game has ended.
Also, Rapporteur of the Iranian parliament's National Security and Foreign Policy Commission Abolfazl Amouyee said that the bill pursues several goals, including opening the locks on Iran's nuclear industry and making the western states to pay a price for imposing and supporting sanctions against Iran.
US President Donald Trump, a stern critic of the historic deal, unilaterally pulled Washington out of the JCPOA in May 2018, and unleashed the "toughest ever" sanctions against the Islamic Republic in defiance of global criticism in an attempt to strangle the Iranian oil trade, but to no avail since its "so-called maximum pressure policy" has failed to push Tehran to the negotiating table.
In response to the US' unilateral move, Tehran has so far rowed back on its nuclear commitments four times in compliance with Articles 26 and 36 of the JCPOA, but stressed that its retaliatory measures will be reversible as soon as Europe finds practical ways to shield the mutual trade from the US sanctions.
Tehran has particularly been disappointed with failure of the three European signatories to the JCPOA -- Britain, France and Germany -- to protect its business interests under the deal after the United States' withdrawal.
On January 5, Iran took a final step in reducing its commitments, and said it would no longer observe any operational limitations on its nuclear industry, whether concerning the capacity and level of uranium enrichment, the volume of stockpiled uranium or research and development.
https://www.farsnews.ir/en/news/13990919000191/Speaker-EU%E2%80%99s-Meddling-in-Iran%E2%80%99s-Official-Law-%E2%80%9CAsnishing%E2%80%9D
--------
Turkey's Erdogan to discuss US tensions when Biden takes office
09 December 2020
President Recep Tayyip Erdogan said he would discuss strained US relations with President-elect Joe Biden when he takes office, playing down the possibility of sanctions over Turkey's purchase of Russian missile defense systems.
Bilateral ties have been hit by Turkey's purchase of Russian S-400 missile defense systems, differences in policy on Syria and the detention of US consulate employees and citizens in Turkey.
"We don't find the statements they (the US administration) make and the actions they take regarding our arms procurements to be nice. We especially don't find their approach in northern Syria to be right," Erdogan said.
Speaking to reporters before traveling to Azerbaijan, he said that it was too early to comment on the incoming US administration under Biden, who has criticized Erdogan's policies.
"Let Mr Biden take office. Once he assumes office, we will surely sit down and discuss certain things with Mr Biden. Just like we sat and talked in the US or Turkey in the past, we will discuss these again," he said.
Ankara's purchase last year of the S-400s from Moscow raised the prospect of US sanctions early next year if Congress approves a defense spending bill including language requiring the president to sanction Turkey. The House of Representatives passed the bill on Tuesday.
"In diplomacy, a path is found to these issues by talking and meeting. (...) I believe we will manage this period very differently with the US," Erdogan said, playing down the prospect of sanctions.
https://english.alarabiya.net/en/News/middle-east/2020/12/09/Turkey-s-Erdogan-to-discuss-US-tensions-when-Biden-takes-office
--------
Iran announces sanctions against US envoy to Yemen, cites pivotal role in humanitarian catastrophe
09 December 2020
The Iranian Foreign Ministry has announced sanctions against US Ambassador to Yemen Christopher Henzel for his pivotal role in the ongoing humanitarian catastrophe in the conflict-plagued, impoverished Arab country.
In a statement on Wednesday, the ministry said that Tehran had put Henzel's name on its blacklist, highlighting his role in Yemen's humanitarian crisis.
The statement said the US envoy was involved in leading the destructive war, massacre of innocent and oppressed people, arms, financial and political support to the aggressor coalition, and the ongoing cruel and inhumane sanctions in Yemen while he playing a role in a "sinister scenario" of the disintegration of Yemen, as well as destructive measures to impede a political settlement of the Yemeni crisis and the consequent persistence of the humanitarian catastrophe in the country, which is described as the "greatest tragedy of the century."
The ministry said that the US envoy was sanctioned based on a law titled "Countering America's Human Rights Violation and Adventurous and Terrorist Actions" that was passed by the Iranian Parliament in 2017.
According to sufficient evidence at hand, the US ambassador to Yemen has played an instrumental role in organizing, financing, arming, directing and carrying out the actions of the aggressor coalition in Yemen, the statement added, highlighting his role in violating the fundamental principles of international law, including international humanitarian law, and in imposition of illegal US sanctions on the people of Yemen.
The announcement came a day after the administration of outgoing US President Donald Trump added the names of Iran's ambassador to Yemen to the list of its sanctions.
Hassan Irloo, Iran's new ambassador to Sana'a, had submitted his credentials to Yemeni officials in early November, amid the United States' ire at the progressive course of the two countries' relations.
In October, US State Department spokeswoman Morgan Ortagus issued a raft of meddlesome remarks on Iran-Yemen relations, which featured Irloo and her accusations against him.
She addressed Iran's appointment of the official as its new envoy to the Arab Peninsula country, claiming that the Islamic Republic had "smuggled" the official into Sana'a.
This is while Iran's Foreign Ministry Spokesman Saeed Khatibzadeh had previously verified the appointment and Iran's reputable news agencies widely reported on the development.
The Treasury's Office of Foreign Assets Control (OFAC) echoed Ortagus' accusation back then that Irloo was "linked" to Iran's Islamic Revolution Guards Corps (IRGC), without providing any proof.
https://www.presstv.com/Detail/2020/12/09/640386/Iran-sanctions-US-ambassador-to-Yemen-
--------
URL: https://www.newageislam.com/islamic-world-news/france-defends-law-combatting-pernicious/d/123719
New Age Islam, Islam Online, Islamic Website, African Muslim News, Arab World News, South Asia News, Indian Muslim News, World Muslim News, Women in Islam, Islamic Feminism, Arab Women, Women In Arab, Islamophobia in America, Muslim Women in West, Islam Women and Feminism