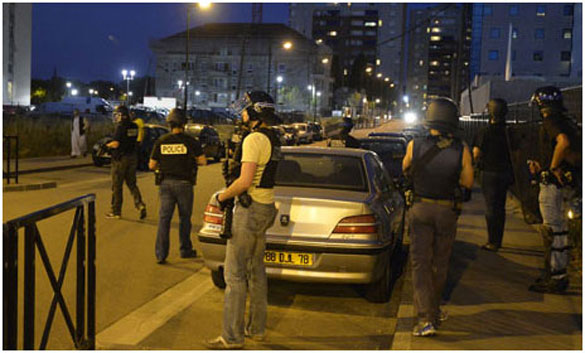 France arrests 20 suspected Islamists in dawn raids
Separatist leader Mirwaiz Umer Farooq controlled by ISI: US Attorney
Jakarta: Police found 'jihad' books and explosive powder in raided house
Pakistan: Chitrali women trafficked, forced into prostitution
Al Azhar withdraws from Egypt's constitution panel
Assad's minority Alawite sect against Sunni now
Toulouse Killer's Path to Radicalism a Bitter Puzzle
Hindus in Pakistan protest for law to register their marriages
'Angels' to protect US soldiers in Afghanistan
France waits with bated breath as N-scientist faces terror trial of plotting attacks with the North African wing of al-Qaida
Israel 'does Azerbaijan airbase deal' in plan to attack Iran
Bangladesh plans to build its first satellite
Afghan Policeman Kills 9 Sleeping Fellow Officers
Dozens of Taliban fighters killed in US air strike
Southern Libya militias reach new agreement to end fighting
Iran suspends accreditation for Reuters in Tehran
US to rely on India if Pak doesn't open NATO supply route: Pentagon
Pak former minister seeks commutation of death sentences to Sarabjit, Kirpal Singh
'Indo-Pak nuke war possible if Pak keeps backing terror'
35 militants killed in Pakistan clashes
US drone strike kills 4 militants in Pakistan: Officials
4 female teachers among six killed in Abbottabad
Two NATO troops killed in south Afghanistan
Fresh Clashes Erupt in Northern Syria
Book launch: Showcasing Pakistan's Christian heritage
Kurds struggle for recognition in Syrian revolt
Top US military officer says ties between US and Pakistan on 'road to recovery'
Pak SC rejects request to close case 'involving' Gilani's son
Pak teacher disqualified for including Zardari's name in exam paper
Gilani may face 2nd contempt case
Pakistan media feels 'smug' over letter leak
Iran opposes all interference in Syria, Khamenei says
Assad wants foreign powers to stop backing rebels
Assad remarks give little hope of peace
Turkish prosecutors seek jail for 364 officers
Syria's Bashar al-Assad says 'terrorism' must stop if he is to accept peace plan
Annan demands Syrian government begins ceasefire 'now'
Anti-war protesters again denied permit for NATO summit march
Israel closes off West Bank ahead of Arab protests
Turkey supports Iran's N-plan
In Afghan war, US struggle with insidious insider threat
Palestinian detainee ends hunger strike, expelled to Gaza
Israel Girds for Regional Anti-Israel Protests
Swiss woman's Yemen captors want Osama's wives freed
Osama bin Laden had 4 children, 5 safe houses, says a wife
Complied by New Age Islam News Bureau
Photo: French police arrested some 20 suspected Islamists in dawn raids
URL: http://newageislam.com/islamic-world-news/new-age-islam-news-bureau/france-bars-four-more-islamic-preachers-from-entry/d/6956
-----------
France bars four more Islamic preachers from entry
Mar 30, 2012
France barred four Islamic preachers from entering the country on Thursday after banning prominent preacher Sheikh Youssef al-Qaradawi and another Egyptian cleric who wanted to attend a Muslim conference in Paris.
Foreign Minister Alain Juppe and Interior Minister Claude Gueant said in a joint statement the four preachers "call for hate and violence ... and, in the current context, present a strong risk of upsetting public order".
President Nicolas Sarkozy, who ordered a crackdown on radical Islamists after the Toulouse killings by an al Qaeda-inspired gunman last week, said on Monday that Qaradawi and Mahmoud al-Masri were not welcome in France.
The Union of French Islamic Organisations (UOIF), which invited the clerics to an April 6-9 conference, said it was surprised and hurt by the government's "manifest determination to prolong a polemic ... based on total ignorance".
Sarkozy and his UMP party, campaigning hard to win votes from the far-right National Front, have stressed divisive issues such as halal food and Islamic radicalism in their campaign for the two-round presidential election on April 22 and May 6.
The UOIF said the bans "risk deepening the feeling French Muslims have of being blacklisted and treated with prejudice".
FOUR BANS, ONE REGRET
The four preachers - a Palestinian, an Egyptian and two Saudis - were due to take part in an annual conference in Paris hosted by the UOIF, which is close to the Muslim Brotherhood.
They are Ikrima al-Sabri, former Grand Mufti of Jerusalem and the Palestinian territories, Egyptian preacher Safwat al-Hijazi, Saudi self-help preacher Ayedh al-Qarni and Saudi imam and Koran reciter Abdallah Basfar.
The UOIF said none of them advocated violence.
The ministers regretted the UOIF had invited Swiss-born Tariq Ramadan, who teaches at Britain's Oxford University, but they did not bar him. They said his views "are contrary to the republican spirit and do no service to French Muslims".
Ramadan has a following among young French Muslims, whom he encourages to insist on their right to practice their faith despite official bans on religious symbols in state schools and in the public service.
France's five million Muslims are the largest Islamic minority in Europe.
Qaradawi, well-known in the Arabic-speaking world thanks to his weekly programme on Al Jazeera television, was barred from Britain in 2008 after defending Palestinian suicide bombers in Israel and attacks on U.S.-led coalition forces in Iraq.
PREVIOUS VISITS WITHOUT PROBLEMS
UOIF President Ahmed Jaballah said Qaradawi was "a great, learned Muslim known for his moderation and balance" who had already visited France several times.
The UOIF said al-Masri had already been invited to two other conferences in France this year without French authorities raising any objections. He visited Paris last December.
Sabri addressed a conference in Evry, near Paris, last year.
But that was before Mohamed Merah, a French-born petty criminal known to have visited Afghanistan twice, shot dead seven people in a 10-day rampage in southwest France before police killed him after a 30-hour siege at his flat.
After that, Sarkozy announced plans last week to make it a crime to repeatedly consult Internet sites advocating Islamic extremism and to punish those who travel overseas for indoctrination or militant training.
Juppe and Gueant said France respected all religions and upheld the right to free speech.
"But while France is hit by extremists who attack it in the name of ideologies and errant beliefs, it is crucial that these liberties are exercised within the law and with respect for our fundamental values," they said.
http://in.reuters.com/article/2012/03/29/france-islam-bans-idINDEE82S0CQ20120329
-----------
France arrests 20 suspected Islamists in dawn raids
March 30 2012
Police in France have arrested some 20 suspected Islamists in dawn raids, French media say.
Several of the raids were in Toulouse, where gunman Mohamed Merah operated, but also took place in other cities.
Merah, who killed seven people in three separate attacks, was buried in Toulouse on Thursday after being killed in a shoot-out with police on 22 March.
Police have been hunting possible accomplices but sources said there was no direct link with the raids.
Merah's brother, Abdelkader, has been charged with aiding him and police are hunting a third man said to be involved in the theft of a scooter that Merah used in all the killings.
Forsane Alizza
The raids were carried out by the domestic intelligence agency, the DCRI, with the help of the elite Raid police commando group, Agence France-Presse news agency reports.
Several of the raids were in Toulouse, particularly the Mirail quarter, sources told AFP.
But there were also raids in Nantes, which is believed to be a centre for the Forsane Alizza (Knights of Pride) group, to which Merah had been linked by some French media.
It is a Salafist group that was dissolved by the interior ministry in an earlier investigation.
Other arrests took place in Lyon, Marseille, Paris, Nice and Le Mans.
Police sources told AFP that some weapons had been seized, including at least one Kalashnikov rifle.
After Merah's killings, French President Nicolas Sarkozy ordered police to evaluate the level of danger posed by those known to sympathise with radical Islamists.
Merah, 23, was buried at the Cornebarrieu cemetery in Toulouse on Thursday. His body was accompanied by around 15 men, although it was not clear who they were.
Toulouse's mayor had said it was "inappropriate" for Merah to be buried there, but Algeria, where his family is originally from, had refused to accept his body.
Merah died in a police assault on his flat in Toulouse on 22 March after a 32-hour siege. He had killed three soldiers in two separate attacks before shooting dead three children and a teacher at a Jewish school.
Merah is said to have told police he wanted to avenge Palestinian children and to attack the French army because of its foreign interventions.
http://www.bbc.co.uk/news/world-europe-17558564
-----------
Separatist leader Mirwaiz Umer Farooq controlled by ISI: US Attorney
Mar 30 2012
Washington: Separatist leader and chairman of moderate Hurriyat Conference in Jammu and Kashmir Mirwaiz Umer Farooq is "supported and controlled" by Pakistan's ISI, a US District court was informed by an attorney.
Ahead of sentencing of Ghulam Nabi Fai, who has pleaded guilty to charges of receiving money from ISI after his arrest last year, US Attorney Neil H MacBride said "Mirwaiz Umar Farooq was supported and controlled by the ISI."
MacBride informed the court Wednesday in a footnote of the 10-page submission to US District Court in Alexandria, Virginia.
Efforts to seek reaction from the Mirwaiz, who arrived in Delhi from Jeddah, did not succeed.
MacBride said Fai has submitted as many as 53 individuals from Pakistan, India and the US in his support – all of whom urge the District Judge Liam O'Grady to give the Kashmiri separatist a lighter sentence.
In the footnote, the US Attorney said many writers of the letters submitted by Fai to the Court on his behalf failed to disclose facts the disclosure of which might undermine their credibility before this Court.
"For example – and this is just a sampling from the
first ones listed – Farhan Chak is a 9/11 Truther. Arif Kamal was copied on at least 26 emails to Fai from the ISI," the footnote said.
"Mirwaiz Umer Farooq was supported and controlled by the ISI. Attiya Inayatullah was invited to KAC conferences by Fai at the ISI's direction. Gautam Navlakha was introduced to an ISI general for recruitment by Fai at the ISI's direction," MacBride wrote.
Navlakha is a civil rights activist in India. Prominent among those who wrote a letter in support of Fai to the US District Judge seeking leniency were Rajmohan Gandhi, Ved Bhasin, Karen Parker, Zaffer A Shah, Zahid G Muhammad and Hamida Bano.
Mirwaiz, in his undated letter, represents himself as the religious head of the State. He said he knew Fai for over two decades and he had an opportunity to meet with him large number of officials from the State Department, Senators and Congressmen.
http://www.indianexpress.com/story-print/930517/
-----------
Jakarta: Police found 'jihad' books and explosive powder in raided house
03/30/2012 1
Following the raid on a house on Jl. Lio Pondok Kacang in South Tangerang in the wee hours of Friday, police recovered a revolver, traces of explosive powder, books on how to rob a bank and books containing lessons about jihad, or holy war during its search.
Jakarta Police chief detective Sr. Comr. Toni Hermanto, however, declined to directly connect the suspects to terrorist groups based on the discovery of the jihad books alone.
Toni said police had gunned down two suspects in a shootout. The suspects, known only as H, 23, and A, 30, were allegedly members of armed robbery gang.
The suspects' bodies were later taken to Kramat Jati Police Hospital in East Jakarta for autopsy.
According to Toni, police detectives had tailed the suspects for the past three days.
The suspects were allegedly responsible for an attack on two patrolling police officers in Setu, Bekasi, West Java on Sunday. Police found their hideout after they arrested another suspect, also a member of the gang, in Cianjur, West Java.
Police are still hunting down two suspects who remain at large.
http://www.thejakartapost.com/news/2012/03/30/police-found-jihad-books-and-explosive-powder-raided-house.html
-----------
Pakistan: Chitrali women trafficked, forced into prostitution
Mar 30 2012
PESHAWAR: The most frequent way of trafficking women from Chitral to other parts of the country is promising them marriage, according to a recent study.
The study titled, 'Documenting causes and consequences of down country marriages in Chitral,' says that over the past two decades internal trafficking of women from Chitral to southern parts of the country in the name of marriage has increased. The study has been conducted by the Regional Women Empowerment Project of the Aga Khan Rural Support Program.
Women in the district, suffering from poverty, illiteracy and unemployment, are tempted with a city life by middlemen who promise to find them suitors in other parts of the country. The report also quotes an official from the Anjuman Dawat-e-Azeemat Chitral, as saying that only 10% of marriages were genuine.
http://tribune.com.pk/story/357246/alarming-trend-chitrali-women-trafficked-forced-into-prostitution/
-----------
Al Azhar withdraws from Egypt's constitution panel
30th March, 2012
CAIRO, March 29: Al-Azhar, highest religious authority in Egypt, said on Thursday it was withdrawing from a disputed panel dominated by the Muslim Brotherhood to draft a new constitution, following the example of liberals.
Al Azhar said in a statement that it was under-represented in the constituent assembly which the Islamist-majority parliament appointed to draft the new charter. "Al Azhar announces that it will not participate in the panel," it said in a statement, because it was "not appropriately represented".
The Coptic Christian Church, which has only a handful of representatives in the panel, is also considering pulling out, according to press reports.
The constitution is to replace the one suspended by the military when it took power following president Mubarak's overthrow last year in a popular uprising.
http://www.dawn.com/2012/03/30/al-azhar-withdraws-from-egypts-constitution-panel.html
-----------
Assad's minority Alawite sect against Sunni now
Mar 30 2012
Sunni Muslims who have fled Syria described a government crackdown that is more pervasive and more sectarian than previously understood, with civilians affiliated with President Bashar al-Assad's minority Alawite sect shooting at their neighbours as the military presses what many Sunnis see as a campaign to force them to flee their homes and villages.
The refugees, from in and around Qusayr, a town near the rebellious city of Homs, offered a rare witness account of the unfolding tumult in Syria. They said it appeared the government concluded that when it pushed rebels from strongholds like Homs, they regrouped in other Sunni areas. As a result, they said the government was not only striking at large urban centers, but had also hit towns and villages.
Full report at:
http://www.indianexpress.com/news/its-alawite-against-sunni-now/930276/
-----------
Toulouse Killer's Path to Radicalism a Bitter Puzzle
By DAN BILEFSKY
March 30 2012
TOULOUSE, France — During the long standoff that ultimately ended his life, a boastful Mohammed Merah told law enforcement officials that he had been trained by Al Qaeda. He described being driven to kill his seven victims in a shooting rampage that terrorized this city by his resentment over the fate of the Palestinians, and France's military presence in Afghanistan and ban on the full Muslim veil.
Little more than a week later, the French authorities say they have grown doubtful of his claims to terrorist ties, though questions remain about how Mr. Merah, an unemployed 23-year-old of Algerian descent, acquired a large cache of firearms and $26,000 in cash.
Full report at:
http://www.nytimes.com/2012/03/30/world/europe/toulouse-killers-path-a-bitter-puzzle.html?ref=global-home&gwh=9D29E3DF0557373DB1E8644ABA68263A
-----------
Hindus in Pakistan protest for law to register their marriages
Mar 30 2012
Islamabad : Pakistan's minority Hindu community has protested the prolonged delay in the approval of a law to register their marriages, saying the lack of legislation affected the inheritance rights of women.
A large group of Hindus joined a protest outside the National Press Club in Islamabad yesterday and shouted slogans against the government.
They also performed a mock Hindu marriage to protest the delay in the approval of the Hindu Marriage Registration Act by parliament.
Shakuntala Devi, an activist of the Scheduled Caste Rights Movement, said Hindu women had suffered for more than six decades due to the absence of any law to protect their matrimonial rights.
"There are no family laws for Hindus. Their marriages are not registered. The women cannot claim their inheritance rights as they cannot produce any evidence of their marriage in court," she told the media.
There were cases of married Hindu women being kidnapped while their husbands were unable to approach the court because they had no documentary evidence of their marriage.
"Women cannot file for divorce nor can they claim custody of their children as men often deny the marriage in court," Shakuntala Devi said.
There were also cases of Hindu women being abducted and married off to non-Hindus and even this phenomenon goes unchallenged because there is no law to protect the women, she said.
http://www.indianexpress.com/story-print/930553/
-----------
'Angels' to protect US soldiers in Afghanistan
Mar 30, 2012
WASHINGTON: US military commanders in Afghanistan have assigned 'guardian angels' - troops that watch over their comrades even as they sleep - and have ordered a series of other increased security measures to protect troops against possible attacks by rogue Afghans.
The added protections are part of a directive issued in recent weeks by Marine Gen John Allen, the top US commander in Afghanistan, to guard against insider threats, according to a senior military official. And they come in the wake of a spike in attacks on the US and coalition forces by Afghans.
Some of the changes have been subtle, others not so much. In several Afghan ministries, Americans are now allowed to carry weapons. And they have been instructed to rearrange their office desks there to face the door, so they can see who is coming in, said the official.
"We have taken steps necessary to protect ourselves with respect to sleeping arrangements, internal defences associated with those small bases in which we operate," Allen said.
http://timesofindia.indiatimes.com/world/us/Angels-to-protect-US-soldiers-in-Afghanistan/articleshow/12463982.cms
-----------
France waits with bated breath as N-scientist faces terror trial of plotting attacks with the North African wing of al-Qaida
Mar 30, 2012
PARIS: A former nuclear physicist went on trial in Paris on Thursday on accusations of plotting attacks with the North African wing of al-Qaida. But his defenders say he only sent some angry emails and fear he may be unfairly linked with a gunman who recently sowed terror in southern France.
Adlene Hicheur, who used to work at Europe's most prestigious particle accelerator, has been in prison for two and a half years awaiting trial. Now that the trial has started, his allies worry the timing couldn't be worse: it comes days after France's biggest terror attacks in years, where another young man of Algerian descent, Mohamed Merah, killed seven people in a week and claimed ties to al-Qaida.
"I think that there should be no confusion between Mohamed Merah and Adlene Hicheur," said Hicheur's attorney Patrick Baudouin.
Hicheur, 35, never took a single step toward carrying out a terrorist act, his defenders say.
http://timesofindia.indiatimes.com/world/europe/France-waits-with-bated-breath-as-N-scientist-faces-terror-trial/articleshow/12463968.cms
-----------
Israel 'does Azerbaijan airbase deal' in plan to attack Iran
Mar 30, 2012
Americans may have leaked news in effort to stop Israelis carrying out their threats
Israel's military may have negotiated access to strategically placed air bases in Azerbaijan that could be used in an attack on Iran's nuclear facilities, US officials have said.
The unconfirmed report in Foreign Policy magazine suggested deepening co-operation between Israel and the Caucasian republic, which shares a border with Iran. It said that Israel and Azerbaijan secured a $1.6bn arms deal in February, which included the pledged sale of drones and anti-aircraft missile systems to Baku.
"The Israelis have bought an airfield, and the airfield is called Azerbaijan," an unnamed senior US administration official was quoted as saying.
The article did not fully address doubts over whether Azerbaijan would really be prepared to expose itself to possible retaliation from Iran, and Israeli officials yesterday declined to comment. Azerbaijan's defence ministry denied any agreement, AFP news agency reported.
Full report at:
http://www.independent.co.uk/news/world/middle-east/israel-does-azerbaijan-airbase-deal-in-plan-to-attack-iran-7601132.html
-----------
Bangladesh plans to build its first satellite
March 30 2012
DHAKA: An American firm will help Bangladesh design and launch the South Asian country's first satellite.
Officials say Space Partnership International signed a $10 million consultancy deal with the state-run Bangladesh Telecommunication Regulatory Commission in Dhaka on Thursday.
SPI Managing Director Bruce D Kraselsky says his Maryland-based company will design the satellite and hire a company to build and launch it. He says Bangladesh wants to launch the satellite by 2015.
Bangladesh says the satellite would improve its telecommunications services, collect meteorological data for disaster warnings and map natural resources.
Bangladesh says the satellite may cost $150 million. It spends $11 million a year renting foreign satellites.
http://www.dawn.com/2012/03/30/bangladesh-plans-to-build-its-first-satellite.html
-----------
Afghan Policeman Kills 9 Sleeping Fellow Officers
March 30, 2012
KABUL, Afghanistan (AP) — An Afghan policeman killed nine of his fellow officers as they lay sleeping in a village in the eastern Paktika province on Friday, police said, blaming the attack on the Taliban.
Provincial police chief Dawlat Khan Zadran said the incident took place in Yayakhil town of Yayakhil district.
Bowal Khan, chief of Yayakhil district, identified the gunman as Asadullah, who goes by one name. He said the gunman was assigned to a small command post when he woke up at 3 a.m. for guard duty. He then used his assault rifle to kill the nine men sleeping inside the post, took their weapons and piled them in a pickup truck.
According to Khan, Asadullah then sped away in the truck.
Khan said the victims included one of his brothers and the commander of the post, identified as Mohammad Ramazan. He said two of the dead were Ramazan's sons.
The motive for the killing was not known, but police in the area blamed the Taliban for the attack. Paktika is a stronghold of the Haqqani network, a Pakistani-based group with ties to the Taliban and al-Qaida. Although they mostly attack U.S.-led coalition forces, they have often carried out assaults and bombings against the Afghan army and police.
Full report at:
http://www.nytimes.com/aponline/2012/03/30/world/asia/ap-as-afghanistan.html?ref=asia&gwh=E6C9D8093ADED9C752B74B3465088C6E
-----------
Dozens of Taliban fighters killed in US air strike
March 30 2012
Dozens of Taliban fighters were killed in US air strikes and a gun battle in western Afghanistan after an insurgent attack on an Afghan army patrol, Nato and Afghan officials said on Friday.
A spokesman of the International Security Assistance Force said the patrol came under attack in Gulistan district in western Farah province on Wednesday, prompting a call for air support.
"Numerous insurgents were killed, and several motorbikes were damaged or destroyed" following two strikes by coalition aircraft, he said.
Abdul Raoof Ahmadi, a police spokesman in western Afghanistan, said 30 Taliban were killed and another 15 wounded in the fighting in the remote area.
Officials have warned of a hard summer ahead as the fighting season resumes and Afghan national forces assume responsibility of security in more parts of the country from Nato combat forces set to leave by the end of 2014.
Full report at:
http://www.telegraph.co.uk/news/worldnews/asia/afghanistan/9175141/Dozens-of-Taliban-fighters-killed-in-US-air-strike.html
-----------
Southern Libya militias reach new agreement to end fighting
March 30 2012
TRIPOLI: Rival militias in the southern Libyan city of Sabha have reached an agreement to end clashes that killed more than 50 people, marking a fresh attempt by the government to impose order nationwide months after the overthrow of Muammar Qaddafi.
Representatives from the militias had agreed to a cease-fire on Wednesday but some clashes resumed hours later. Trouble erupted on Sunday when the groups - one comprising fighters from Sabha, the other from the Tibu ethnic group - fell out in a minor dispute over a car, locals there had said.
Bereft of a genuine national army, the Libya's ruling National Transitional Council (NTC) has struggled to persuade the many militias who fought Qaddafi to lay down their arms and join the armed forces and police.
A delegation of officials from various government ministries traveled to Sabha to try to reach an agreement between both sides.
"The conflict parties have reached an agreement and it will be signed in the next few hours," Mohammed Al-Harizy, spokesman for the NTC, told a news conference, adding the violence had begun from a dispute over payment for former rebel fighters.
Full report at:
http://arabnews.com/middleeast/article601615.ece
-----------
Iran suspends accreditation for Reuters in Tehran
March 30 2012
LONDON: The Iranian government has suspended the press accreditation for Reuters staff in Tehran after the publication of a video story on women's martial arts training which contained an error.
Reuters, the news arm of Thomson Reuters, the global news and information group, corrected the story after the martial arts club where the video was filmed made a complaint.
The story's headline, "Thousands of female Ninjas train as Iran's assassins," was corrected to read "Three thousand women Ninjas train in Iran."
Iran's Ministry of Culture and Islamic Guidance subsequently contacted the Reuters Tehran bureau chief about the video and its publication, as a result of which Reuters' 11 personnel were told to hand back their press cards.
"We acknowledge this error occurred and regard it as a very serious matter. It was promptly corrected the same day it came to our attention," said editor-in-chief Stephen J. Adler.
Full report at:
http://arabnews.com/middleeast/article601616.ece
-----------
US to rely on India if Pak doesn't open NATO supply route: Pentagon
Mar 30 2012
Washington : US will have to default and rely on India and Northern Distribution network if Pakistan does not open up its crucial Afghan supply route, a top Pentagon official told lawmakers today.
However, the Pentagon official testifying before a Congressional subcommittee did not gave details of the Indian network, on which it can depend for its crucial supplies to Afghanistan.
"If we can't negotiate or successfully negotiate the reopening of the PAK GLOC (Ground Lines of Communication) we have to default and rely on India and the Northern Distribution Network, our increased strategic airlift," Marine Corps Lieutenant General Frank Panter, the Deputy Commandant for Installations and Logistics, told lawmakers.
Both are expensive propositions and it increases the deployment or redeployment, Panter said in his testimony before the Readiness Subcommittee of the House Armed Services Committee.
Full report at:
http://www.indianexpress.com/news/us-to-rely-on-india-if-pak-doesnt-open-nato-supply-route-pentagon/930453/
-----------
Pak former minister seeks commutation of death sentences to Sarabjit, Kirpal Singh
Mar 30, 2012
AMRITSAR: Pakistan's former federal minister for human rights Ansar Burney has written to Pakistan president Asif Ali Zardari for commutation of death sentences of Sarabjit Singh and Kirpal Singh into life imprisonment. Sarabjit Singh and Kirpal Singh have been on the death row in Pakistan since 1990 and 1992 respectively. Talking to TOI on Thursday, Burney, who is also former expert advisor in United Nations on human rights, said, "One-day detention in a death cell is like having spent a year in usual jails of Pakistan."
He said Sarabjit and Kirpal had spent more than the life term and they should be released on humanitarian grounds. "The gesture will also forge better ties with India," he said.
Full report at:
http://timesofindia.indiatimes.com/india/Pak-former-minister-seeks-commutation-of-death-sentences-to-Sarabjit-Kirpal-Singh/articleshow/12463462.cms
-----------
'Indo-Pak nuke war possible if Pak keeps backing terror'
Mar 30 2012
Washington : Observing that India and Pakistan have a complex history characterised by "animosity, mistrust, and conflict", a top Pentagon official has warned that there is a potential of a nuclear exchange between them if Islamabad continues to support terror groups against the neighbouring country.
"Support by elements of Pakistan's military and intelligence services for violent extremist organisations targeting India has the potential to result in military confrontation that could rapidly escalate to a nuclear exchange," James Miller said in written answers submitted to the Senate Armed Services Committee during a confirmation hearing for the post of Undersecretary of Defence for Policy.
He noted that India and Pakistan have "a long and complex history characterised by animosity, mistrust, and conflict."
Full report at:
http://www.indianexpress.com/news/indopak-nuke-war-possible-if-pak-keeps-backing-terror/930483/
-----------
35 militants killed in Pakistan clashes
Mar 30, 2012
ISLAMABAD: At least 35 militants and a security personnel were killed in clashes with security forces in northwest Pakistan's restive Orakzai tribal region today, officials said.
The clashes erupted while security forces were conducting a clearance operation in Balaras and Khadezai areas of Orakzai Agency, officials were quoted as saying by TV news channels.
A total of 35 militants were gunned down by the troops, officials said.
One security personnel was killed and four more were injured during the operation.
Troops had taken control of Balaras area, the officials said.
Pakistani troops have conducted several operations against pro-Taliban militants in Orakzai Agency, one of seven semi-autonomous tribal districts in the country's northwest.
http://timesofindia.indiatimes.com/world/pakistan/35-militants-killed-in-Pakistan-clashes/articleshow/12467429.cms
-----------
US drone strike kills 4 militants in Pakistan: Officials
Mar 30, 2012
MIRANSHAH: A US drone launched a missile attack on a militant compound in Pakistan's northwestern tribal region near the Afghan border early Friday, killing four insurgents, security officials said.
The missiles targeted a house in a market area of Miranshah, the main town in North Waziristan, known as a stronghold of Taliban and al-Qaida-linked militants, they said.
"Two missiles hit a house and four militants were killed," a security official told AFP. "The attack took place at about 3:00am," he said.
Witnesses said the attack triggered a fire which destroyed the building. The compound is located in the money changers market in the Miranshah commercial district.
An intelligence official also put the toll at four dead and said two people were wounded. He said local people, including Pakistani Taliban, were engaged in rescue work.
Full report at:
http://timesofindia.indiatimes.com/world/pakistan/US-drone-strike-kills-4-militants-in-Pakistan-Officials/articleshow/12463706.cms
-----------
4 female teachers among six killed in Abbottabad
March 30 2012
ABBOTTABAD: A passengers van plunged into a deep ditch at Havelian, killing six persons, including four female teachers, and injuring five others, on Thursday.
The school van carrying teachers and students of Government Middle School Kiyala when reached the Rajoya Village, fell into a deep ravine due to overspeeding.
As a result, school teachers Rifaat Shaheen, Nighat Bibi, Fauzai Bibi, Darya Bibi and students Faizan and Furqan died on the spot while Mohtasim Bibi, Najwa Shafique, Zohra Jan, Malka Bibi and driver Shafique sustained critical wounds.Soon after the accident, local volunteers reached the spot and started a rescue operation to rescue the bodies and injured and shifted them to nearby Havelian Rural Health Centre, and some of them to Abbottabad Ayub Teaching Hospital (ATH), however, according to ATH sources the death toll may increase. Meanwhile, Khyber Pakthunkhwa Minister for Environment and Forests Wajid Khan expressed grief over the loss of human lives and directed the hospital administration to provide best medical facilities to the injured.
http://www.dailytimes.com.pk/default.asp?page=2012\03\30\story_30-3-2012_pg7_14
-----------
Two Nato troops killed in south Afghanistan
March 30 2012
KABUL: Nato says two of its service members have been killed in southern Afghanistan, one in a roadside bomb explosion and the other one in an insurgent attack.
A statement says the roadside bomb killed the service member on Friday, while the other died in an insurgent attack on Thursday.
Nato did not disclose any further details.
So far this year, 88 international troops have been killed in Afghanistan.
http://www.dawn.com/2012/03/30/two-nato-troops-killed-in-south-afghanistan.html
-----------
Fresh Clashes Erupt in Northern Syria
Mar 30 2012
BEIRUT (AP) — Fresh clashes between Syrian soldiers and rebels erupted Friday as the country's relentless violence overshadowed hopes for a peace plan brokered by U.N. envoy Kofi Annan.
Syrian President Bashar Assad accepted the peace plan earlier this week, but the bloodshed has continued unabated despite calls for a cease-fire. The opposition is deeply skeptical Assad will carry out Annan's peace plan, saying he has accepted it just to win time while his forces continue their bloody campaign to crush the uprising.
On Friday, activists reported clashes in the northern Idlib province and the restive central province of Homs. There was no immediate word on casualties.
At an Arab League summit in the Iraqi capital on Thursday, U.N. Secretary-General Ban Ki-moon and Arab League Secretary-General Nabil Elaraby discussed the Syrian crisis and Annan's mission and they agreed "that it was imperative for president Assad to match his commitments with action," the U.N. spokesman's office said.
Full report at:
http://www.nytimes.com/aponline/2012/03/29/world/middleeast/ap-ml-syria.html?ref=middleeast&gwh=E01A70CB7709CC29C56796EAA92EDFFF
-----------
Book launch: Showcasing Pakistan's Christian heritage
Mar 30 2012
ISLAMABAD: To portray Pakistan's tolerant nature towards the minorities, a book comprising of hundreds of pictures of churches from all over Pakistan was launched in Islamabad on Thursday evening.
In collaboration with the Asian Study group, the book was launched at Kuch Khaas – Centre for Arts, Culture and Dialogue. A small group of people came to watch the photographic presentation of the churches in Pakistan. Author of Churches of Pakistan, Dr Safdar Ali Shah explained the significance of each church and gave its historical background and importance.
"It was not by coincidence that the Christian community decided to join Pakistan, they had campaigned for a separate Pakistan along with the Muslims when the resolution was moved" said Shah.
Full report at:
http://tribune.com.pk/story/357391/book-launch-showcasing-pakistans-christian-heritage/
-----------
Kurds struggle for recognition in Syrian revolt
March 30 2012
Veteran Kurdish human rights campaigner Radeef Mustafa lived in the shadow of huge Syrian secret police compounds towering over his decrepit hometown on the border with Turkey.
When security police cracked his son's head open with an iron bar in a demonstration last year, Mustafa fled.
He and his family came to Turkey where he joined the opposition Syrian National Council (SNC), hoping the year-long uprising against President Bashar al-Assad would end discrimination against the country's largest ethnic minority.
His hopes were dashed, though, when the SNC, dominated by Islamists, vetoed a proposal at a meeting in Istanbul this week to recognize Syria's Kurds and their demand for self-rule.
"This is chauvinism. The international community is worried about civil war and is demanding that the opposition guarantees minority rights," Mustafa told Reuters.
"The Kurdish issue is a time bomb. It cannot be left to be decided when Assad falls."
Full report at:
http://www.reuters.com/article/2012/03/30/us-syria-kurds-idUSBRE82T05C20120330
-----------
Top US military officer says ties between US and Pakistan on 'road to recovery'
March 30 2012
The top U.S. military officer said Thursday that ties between the U.S. and Pakistan were on the "road to recovery" and that he hoped to resolve differences by mid-May to allow the reopening of supply lines for troops into neighboring Afghanistan.
Martin Dempsey, the chairman of the U.S. Joint Chiefs of Staff, didn't say whether any agreements emerged from talks among the two nations' top commanders Wednesday in Islamabad.
The talks involved James Mattis, the senior U.S. military officer for the region, and John Allen, the top U.S. commander in Afghanistan. The two met Pakistan army chief Ashfaq Parvez Kayani in the first such session since relations were ruptured when US helicopters accidentally killed 24 Pakistani soldiers in an air strike in November.
Full report at:
http://www.foxnews.com/world/2012/03/30/top-us-military-officer-says-ties-between-us-and-pakistan-on-road-to-recovery/?test=latestnews#ixzz1qa72jrTy
-----------
Pak SC rejects request to close case 'involving' Gilani's son
Mar 30 2012
Islamabad : Pakistan's Supreme Court has turned down a request from authorities to close a case of "irregularities" in the import of a chemical that allegedly involved Premier Yousuf Raza Gilani's younger son Ali Musa Gilani.
A three-judge bench headed by Chief Justice Iftikhar Chaudhry rejected the request from the Anti-Narcotics Force (ANF) yesterday while hearing a petition filed by a regional director of the ANF.
Ali Musa Gilani was recently elected a member of the National Assembly or lower house of Parliament in a bypoll in Multan.
Earlier, the Prime Minister's elder son, Abdul Qadir Gilani, was linked to alleged corruption in the arrangement of the Haj pilgrimage in 2010.
The apex court ordered the ANF to submit an investigation report on out-of-turn quotas for importing raw materials that were granted to two pharmaceutical companies by the Health Ministry, allegedly under the influence of Ali Musa Gilani.
The regional director from the ANF informed the court that a quota of 9,000 kg had been granted to Berlex Labs International and Denis Pharmaceutical though the official limit for the concerned chemical is 500 kg.
The chemical, commonly known as the "poor man's cocaine," is used to make a medicine called 'Ephedrine' to cure common cold, flu and asthma.
http://www.indianexpress.com/news/pak-sc-rejects-request-to-close-case-involving-gilanis-son/930500/
-----------
Pak teacher disqualified for including Zardari's name in exam paper
Mar 30 2012
Lahore : A teacher responsible for setting a school test paper with multiple-choice questions that included the names of President Asif Zardari and Prime Minister Yousuf Raza Gilani as answers have been disqualified by authorities in Pakistan's Punjab province.
The educational board in Dera Ghazi Khan has recommended to the Punjab higher education department that action should be taken against the teacher who set the test paper, including possible removal from service.
Class 9 students appearing for an Urdu paper were surprised when they saw a multiple-choice question that asked who was responsible for the protection of Pakistan and listed Allah, 'Zardari sahib', 'Gilani sahib' or the Pakistani people as possible answers.
Full report at:
http://www.indianexpress.com/story-print/930479/
-----------
Gilani may face 2nd contempt case
Mar 30, 2012
ISLAMABAD: Adding to woes of premier Yousaf Raza Gilani, Pakistan's supreme court today warned him that a second contempt case could be initiated against him if he failed to act on its verdict that annulled a graft amnesty issued by former military ruler Pervez Musharraf.
During a hearing by a seven-judge bench on the implementation of the apex court's verdict striking down the National Reconciliation Ordinance (NRO), justice Ejaz Afzal Khan said that another case of contempt could be taken up against Gilani if he does not act on SC's orders.
The same bench is hearing a contempt case initiated against Gilani earlier this year after he failed to act on the court's orders to approach Swiss authorities to revive cases of alleged money laundering against president Asif Ali Zardari.
Since the supreme court struck down the graft amnesty in December 2009, it has been pressuring the government to reopen corruption cases against Zardari.
During Thursday's proceedings, the bench said it would announce its verdict in the NRO case on April 16.
Full report at:
http://timesofindia.indiatimes.com/world/pakistan/Gilani-may-face-2nd-contempt-case/articleshow/12463951.cms
-----------
Pakistan media feels 'smug' over letter leak
Mar 30, 2012
NEW DELHI: Indian Army chief General V K Singh's leaked letter to Prime Minister Manmohan Singh about ammunition shortage among other things has made headlines in the Pakistani media. Most newspapers have quoted Gen Singh's letter highlighting "two inimical neighbors (Pakistan and China)" and the "lack of preparedness of the Indian Army".
Express Tribune had a headline, 'India's million-strong army exposed as hollow', outlining details from the letter like Indian tanks lacking ammunition, the IAF's defences being "97% obsolete" and India's elite forces short of essential weapons.
It then says how, anachronistically, the India is the world's biggest military hardware importer.
Full report at:
http://timesofindia.indiatimes.com/india/Pakistan-media-feels-smug-over-letter-leak/articleshow/12462851.cms
-----------
Iran opposes all interference in Syria, Khamenei says
Mar 30, 2012
DUBAI: Supreme leader Ayatollah Ali Khamenei has said Iran strongly opposes any foreign intervention in Syria's conflict and will defend Damascus so it can continue "resistance" against Israel, his official website reported on Thursday.
Khamenei, the Islamic Republic's highest authority, made the comments during a meeting with visiting Turkish Prime Minister Tayyip Erdogan in Mashhad.
The Islamic Republic supported popular uprisings in Egypt, Libya and Yemen last year but has steadfastly supported Syrian President Bashar al-Assad against a year-old uprising. Assad is a rare ally for Iran in an Arab world largely suspicious of Iranian ambitions for greater regional clout.
In contrast, Erdogan has urged Assad to step down and has allowed opposition groups to meet in Istanbul.
Full report at:
http://timesofindia.indiatimes.com/world/middle-east/Iran-opposes-all-interference-in-Syria-Khamenei-says/articleshow/12462191.cms
-----------
Assad wants foreign powers to stop backing rebels
March 30, 2012
Beirut: President Bashar al-Assad said on Thursday Syria would spare no effort to ensure the success of international envoy Kofi Annan's peace mission but warned it would not work without securing an end to foreign funding and arming of rebels opposing him.
Assad is under international pressure to call his troops and tanks back to their bases, a year into a popular revolt against his rule. Fighting between troops and rebels killed at least 22 more people on Thursday, six of them soldiers.
The state news agency SANA quoted Assad, in a letter to the leaders of the BRIC economic powers, which include his key ally Russia, as saying "countries which support the armed groups with money and weapons must be persuaded to stop this immediately".
Full report at:
http://zeenews.india.com/news/world/assad-wants-foreign-powers-to-stop-backing-rebels_767112.html
-----------
Assad remarks give little hope of peace
March 30 2012
BAGHDAD: Bashar Assad's remarks on a UN-Arab plan yesterday gave little hope of peace as the Syrian tyrant called for an end to "terrorist acts" by foreign powers.
"It's not surprising, but it's discouraging and disappointing," US State Department spokesman Mark Toner said.
Arab leaders, meanwhile, urged a peaceful end to the bloodshed through "serious national dialogue," at a landmark summit in the Iraqi capital yesterday.
They approved a resolution calling on the "Syrian government and all opposition factions to deal positively with the envoy (Kofi Annan) by starting serious national dialogue."
Arab leaders said the plan should be implemented "immediately and completely."
It said "the massacre committed by the Syrian forces against civilians in Baba Amro ... can be considered crimes (against) humanity."
"The solution for the crisis is still in the hands of the Syrians as a government and opposition," Arab League Secretary-General Nabil Elaraby told Arab heads of state at the summit meeting.
Full report at:
http://arabnews.com/middleeast/article601694.ece
-----------
Turkish prosecutors seek jail for 364 officers
March 30 2012
SILIVRI, Turkey: Turkish prosecutors demanded 15-20 year jail sentences for 364 serving and retired military officers at a coup plot trial on Thursday, marking a dark day for a military that until recently held the power to make or break governments.
General Cetin Dogan rose from his chair in fury and followed the action of ex-armed forces commander general Ilker Basbug, who stormed out of a separate coup plot trial on Tuesday at a nearby court room in the Silivri top security prison.
Both are accused of leading roles in separate coup plots, one named "Sledgehammer" and the other "Ergenekon," against Prime Minister Tayyip Erdogan. They deny the accusations and view them as a slur on the armed forces whose power over political life has been dramatically cut back since Erodgan took office.
Full report at:
http://arabnews.com/middleeast/article601545.ece
-----------
Syria's Bashar al-Assad says 'terrorism' must stop if he is to accept peace plan
March 30 2012
Syrian president claims he will co-operate with proposals if opposition and international backers cease 'terrorist acts'
Bashar al-Assad, Syria's president, has promised he will try to implement a UN-backed peace plan but is demanding that opposition groups pledge to end violence and other countries cease backing them.
In his first comments on the six-point plan being promoted by former UN secretary-general Kofi Annan, Assad said Syria would "spare no effort" to make the mission a success but warned that Annan must secure a commitment from armed groups to cease "terrorist acts" against the government.
Unnamed countries supporting and financing terrorism would also have to stop, he said in a message to the Brics summit (Brazil, Russia, India, China and South Africa) reported in Arabic by the official Sana news agency.
The Syrian opposition and western governments have reacted sceptically to the claim that Syria has accepted the Annan plan.
Full report at:
http://www.guardian.co.uk/world/2012/mar/29/syria-bashar-assad-terrorism-peace-plan
-----------
Annan demands Syrian government begins ceasefire 'now'
Mar 30 2012
The UN and Arab League envoy to Syria, Kofi Annan, expects the government to implement his peace plan immediately.
Mr Annan's spokesman, Ahmed Fawzi, told reporters: "The deadline is now."
The peace plan, which the government accepted on Tuesday, calls for a UN-supervised cessation of armed violence in all its forms by all parties.
Earlier, activists said government forces had clashed with armed rebels in the north-western province of Idlib and shelled the central city of Homs.
Two people were killed near the village of Bsas, in Homs province, when their car was fired at, the Syrian Observatory for Human Rights said.
At least 20 people were killed in clashes across Syria on Thursday.
'No hope of survival'
Full report at:
http://www.bbc.co.uk/news/world-middle-east-17560072
-----------
Anti-war protesters again denied permit for Nato summit march
March 30 2012
CHICAGO: A US judge on Thursday rejected a request from anti-war protesters to demonstrate during the Nato summit of world leaders in May, but organizers said they still plan a protest they hope will draw 10,000 people opposed to the war in Afghanistan.
"I can say definitively we are marching on May 20. We will hold a peaceful protest," said leader Andy Thayer.
He said organizers would get together to decide whether to appeal to a higher court.
Anti-war protesters want to march on May 20 and frustrated by the city's refusal to allow a march that day.
Activists have warned there could be a confrontation such as those that occurred during the anti-Vietnam War protests at the Democratic convention in 1968, which has marred Chicago's image ever since.
The judge's ruling on Thursday agreed with the city of Chicago, which had earlier denied the permit after a hearing at which city officials said the march would clog traffic and over-tax police resources.
Full report at:
http://www.dawn.com/2012/03/30/anti-war-protesters-again-denied-permit-for-nato-summit-march.html
-----------
Israel closes off West Bank ahead of Arab protests
March 30 2012
JERUSALEM (AP) — Israel's military has closed off the West Bank as Palestinians and Arabs prepare for protests throughout the region against what they say are discriminatory Israeli land policies.
Thousands of troops and police have been deployed in anticipation of possible violence on Friday.
The military says the closure is "in accordance with security assessments."
It means Palestinians in the West Bank can't enter Israel, unless it's for humanitarian reasons.
The Land Day march is an annual protest marked by Israeli Arabs and Palestinians in the West Bank and Gaza. Supporters in neighboring Arab countries are also planning marches near Israel's borders in a solidarity event.
Last year similar demonstrations turned deadly.
Copyright © 2012 The Associated Press.
-----------
Turkey supports Iran's N-plan
30th March, 2012
TEHRAN, March 29: Turkish Prime Minister Recep Tayyip Erdogan on Thursday voiced his country's unwavering support for Tehran's nuclear ambitions in a meeting with Iran's President Mahmoud Ahmadinejad, according to an official statement.
"The government and nation of Turkey has always clearly supported the nuclear positions of the Islamic republic of Iran, and will continue to firmly follow the same policy in the future," Erdogan was quoted as saying in the statement issued by Ahmadinejad's office.
Ahmadinejad thanked Turkey for its "clear and frank" stance on the issue, the statement added.
The exchange occurred on the last day of a two-day visit Erdogan was making to Iran to discuss the nuclear issue and bilateral ties.
The Turkish prime minister was to hold talks later Thursday with Iran's supreme leader, Ayatollah Ali Khamenei, before flying home.
Full report at:
http://www.dawn.com/2012/03/30/turkey-supports-irans-n-plan.html
-----------
In Afghan war, US struggles with insidious insider threat
Mar 30 2012
WASHINGTON: Nato commanders are struggling to contain the damage from a spike in "fratricidal" attacks by Afghan forces, seeking to protect their troops without rupturing a frayed partnership with Kabul.
With Afghan soldiers opening fire on their Nato comrades with alarming frequency, US defense officials on Thursday confirmed that Nato troops had been ordered to adopt strict new security precautions to counter the insidious threat.
The stepped up security underlines the dilemma facing the American-led force that has portrayed its alliance with Afghan troops as a cornerstone of the war effort.
"The danger with these things is the degree to which they undermine trust between the two countries," said Carter Malkasian, who worked as a civilian adviser alongside American troops in Afghanistan and Iraq.
"It kind of creates a spiral. Some of our members are killed, some of our advisers are killed. And in turn we take efforts to protect ourselves and distance ourselves."
"But by distancing ourselves, the Afghans start to distrust us more because they can sense that we don't trust them," he said.
Full report at:
http://tribune.com.pk/story/357372/in-afghan-war-us-struggles-with-insidious-insider-threat/
-----------
Palestinian detainee ends hunger strike, expelled to Gaza
03.30.12
Islamic Jihad hunger-striker Hana Shalabi ends hunger strike after 43 days. Compromise reached states Shalabi will be deported to Gaza for 3 years
A compromise between Israel and the Palestinian Authority regarding the release of Palestinian hunger-striker Hana Shalabi to the Gaza Strip was reached late Thursday, the Ma'an Palestinian News Agency reported.
Officials said Shalabi will be sent to Gaza for three years in exchange for giving up a 43-day hunger strike.
Shalabi, 30, a supporter of the Islamic Jihad terror group, launched the strike to protest her administrative detention in Israel.
Palestinian sources reported that the agreement was reached after the Red Cross and several Palestinian officials intervened with Shalabi's consent.
Meanwhile,sources in Israel confirmed the details.
Full report at:
http://www.ynetnews.com/articles/0,7340,L-4210076,00.html
-----------
Israel Girds for Regional Anti-Israel Protests
Mar 30 2012
JERUSALEM (AP) — Israeli security forces in riot gear prepared Friday for Palestinian and Arab demonstrations, deploying at traditional flashpoints and along Israel's frontiers and confining West Bank Palestinians to their territory.
By midday, minor skirmishes had broken out between protesters and security forces in the Jerusalem area. Palestinians threw rocks and Israeli troops responded with stun grenades. No casualties were reported.
Elsewhere things were calm.
Palestinians were banned from entering from the West Bank except for medical emergencies, and police barred Palestinian men under 40 from visiting a volatile Jerusalem holy site. Military deployments along Israel's borders were reinforced to repulse any attempts to breach Israel's borders as demonstrators did twice last year, touching off deadly clashes with Israeli troops.
The Land Day rallies are an annual event marked by Israeli Arabs and Palestinians in the West Bank and Gaza who protest what they say are discriminatory Israeli land policies. Supporters in neighboring Arab countries also planned marches near the Israeli frontier.
Full report at:
http://www.nytimes.com/aponline/2012/03/29/world/middleeast/ap-ml-israel-palestinians.html?ref=middleeast&gwh=BBA21A2404CCDFDEA010823F94AFE88A
-----------
Swiss woman's Yemen captors want Osama's wives freed
March 30 2012
ADEN: A bid to release a Swiss woman kidnapped in Yemen has suffered a blow after her abductors made excessive demands, including for Osama bin Laden's widows to be freed, a tribal chief said on Thursday. Al Qaeda fighters abducted the woman on March 14 from her home in the Red Sea port city of Hodeida, where she had been teaching at a foreign language institute. She was taken to far eastern Shabwa province. Tribal chief Ali Abdullah Zibari said, however, that mediation efforts had so far failed because of excessive demands placed by her captors, including the release of bin Laden's widows held in Pakistan. Zibari said the terroists also demanded the release of several women held in Iraq and Saudi Arabia in return for the Swiss captive.
http://www.dailytimes.com.pk/default.asp?page=2012\03\30\story_30-3-2012_pg7_6
-----------
Osama bin Laden had 4 children, 5 safe houses, says a wife
Declan Walsh
Mar 30, 2012
ISLAMABAD, PAKISTAN: Osama bin Laden spent nine years on the run in Pakistan after the September 11 attacks, during which time he moved among five safe houses and fathered four children, at least two of whom were born in a government hospital, his youngest wife has told Pakistani investigators.
Osama bin Laden's three widows are under house arrest in Islamabad, and they and two children face prosecution.
The testimony of Amal Ahmad Abdul Fateh, bin Laden's 30-year-old wife, offers the most detailed account yet of life on the run for the bin Laden family in the years preceding the American commando raid in May 2011 that killed the leader of al-Qaida at the age of 54.
Her account is contained in a police report dated Jan. 19 that, as an account of that frantic period, contains manifest flaws: Ms. Fateh's words are paraphrased by a police officer, and there is noticeably little detail about the Pakistanis who helped her husband evade his American pursuers. Nevertheless, it raises more questions about how the world's most wanted man managed to shunt his family between cities that span the breadth of Pakistan, apparently undetected and unmolested by the otherwise formidable security services.
Full report at:
http://timesofindia.indiatimes.com/world/us/Osama-bin-Laden-had-4-children-5-safe-houses-says-a-wife/articleshow/12466160.cms
URL: http://newageislam.com/islamic-world-news/new-age-islam-news-bureau/france-bars-four-more-islamic-preachers-from-entry/d/6956