New Age Islam News Bureau
20 March 2017
• France: Airport Attacker 'Was Driven By Drugs, Not Islam'
• Shekau in New Video, Threatens Cameroon, Nigeria, Mali, Others over Sharia
• Police Forces Resume Push Towards IS "Caliphate" Mosque in Western Mosul
• 'Muslims Can't Marry Under General Law' In Sri Lanka
• Jaipur: Hotel Sealed, 2 Held after 'Beef' Rumour
------
Europe
• A Year after Brussels Blasts: 'Terror Can't Finish Everyone, Humanity Will Survive'
• London's Islamic Finance Boom Shows That Flexibility And Innovation Are In The City's DNA
• UK-Trained Fighters Will 'Absolutely' Beat Islamic State, Says Senior Officer
• Germany Says Erdogan Has 'Gone Too Far' With Nazi Jibe
• Tory election candidate suspended after allegedly posting anti-Islamic tweet
• A National Pact for an Italian Islam
------
Africa
• Nigeria: 3 Suicide Bombers Kill 4 In North-Eastern Maiduguri
• Security in Mali 'worrying': UN peacekeeping mission
• Africans denied visas to attend trade meeting in US
• World Bank announces $57 bn in financing for Africa
• Somalia wants Saudi probe of refugee boat attac
------
Arab World
• Six Islamic State Leaders Killed In Mosul
• As anti-Islamic State battle in Mosul escalates, civilians get caught in crossfire
• Politician: S. Arabia Supports Sabotage Acts to Block Political Settlement of Crisis in Syria
• Syrian Army on Verge of Retaking Strategic Region in Eastern Homs
• Syrian Army Expanding Buffer Zone around Palmyra
• Syrian Army Tightens Noose on ISIL in Deir Hafer
• Dara'a: Army Captures Al-Nusra Front Positions
• Homs: Over 1,400 Militants, Family Members Leave Al-Wa'er District
------
South Asia
• 26 ISIS Militants and Weapons Depot Eliminated In East of Afghanistan
• Bangladesh SC upholds death sentence of HuJI leader, two others
• Bangladesh Imam Held for Facebook Post
• Afghan Taliban signal interest in joining Moscow talks
• Afghan 'insider attack' leaves three US troops injured
• Paktika governor's door to door campaign for children's education
• Afghan soldier open fire on US soldiers in Helmand leaving 3 wounded
• Taliban suffer casualties as airstrike likely destroyed biometric equipment in Pakti
------
India
• Trinamool Congress Appeasing Islamic Fundamentalists and Jihadis: RSS Leader
• Mohsin Raza, lone Muslim face in Saffron brigade
------
Pakistan
• Rulers' Fail to Pioneer Islamic System in Country: Pakistan Islamic Scholars
• Hindu Marriage Bill Becomes Law in Pakistan
• Rules Finalised On Freezing, Seizing Assets of Banned Organisations Of Pakistan
• Pakistan wants to address issues with neighbours peacefully: Nawaz Sharif
• Pakistan memorial seeks security to mark Bhagat Singh's anniversary
• Budget cuts may abolish position of US special envoy for Af-Pak region
• Partnership with Russia to promote regional peace: PM
------
Southeast Asia
• Myanmar Hard-Line Buddhists Protest Citizenship for Rohingya Muslims
• More Islamic Banks Need To Offer Fintech Solutions
• Philippines can't stop China moves in disputed sea: Rodrigo Duterte
• Philippine military attacks extremist bomb-makers
------
Mideast
• Israeli Defence Minister Threatens To Destroy Syrian Air Defences
• Turkish Mosque in Germany Vandalized
• Erdogan launches scathing attack against Merkel
• A momentous referendum in Turkey
• 'He Is Blind or Deaf,' Turkish Defence Minister Says About German Intel Chief
------
North America
• Trump Muslim travel ban: Hawaii judge rejects motion to limit injunction
• Using Special Forces against Terrorism, Trump Seeks to Avoid Big Ground Wars
• Two dead, several injured in riot at Guatemala prison
• Al-Qaeda operative convicted on multiple terror offenses in US
• 3 US troops injured as Afghan soldier opens fire inside base
• Muslim supporters turn out in South Bay
Compiled by New Age Islam News Bureau
--------
URL: https://www.newageislam.com/islamic-world-news/new-age-islam-news-bureau/france--airport-attacker-'was-driven-by-drugs,-not-islam'/d/110463
---------
France: Airport Attacker 'Was Driven By Drugs, Not Islam'
MAR 2017 Monday 20TH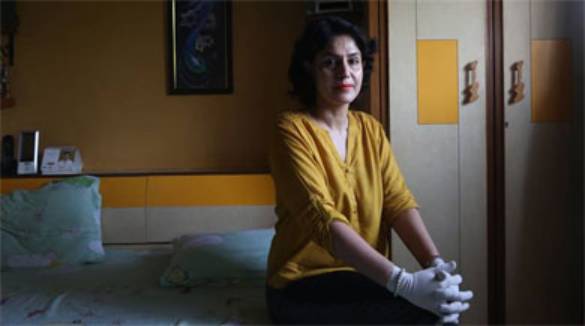 Nidhi Chapekar one of the two injured Jet Airways crew of Belgium airport attacks in 2016, a year after in Mumbai, 15-03-17. (Express Photo by Amit Chakravarty)
-----------
THE father of the slain Paris airport gunman said yesterday that his son was under the influence of drink or drugs, not radical Islam.
His comments on a radio programme hours after being released from police questioning came as Paris prosecutors said that coroners were testing Ziyed Ben Belgacem's body for alcohol or drugs.
His brother and a cousin were still being questioned.
The father, whose name was not given, told Europe 1 radio: "My son was never a terrorist.
"He never attended prayers. He drank. But under the effects of alcohol and cannabis, this is where one ends up."
Paris prosecutor Francois Molins said Mr Belgacem stopped at a bar in the small hours of Saturday before his first attack, when he shot a gendarme with a revolver loaded with birdshot.
A police search of his flat found traces of cocaine, Mr Molins said. Ninety minutes after shooting the gendarme, Mr Belgacem took a female soldier hostage at Orly airport and demanded her two comrades throw down their arms.
"I am here to die for Allah. Whatever happens, there will be deaths," he reportedly said, armed with his hostage's rifle and a can of petrol.
His father confirmed Mr Molins's assertion that Mr Belgacem had phoned him after the first incident.
"He called me at seven, eight in the morning and said: 'There you go, Papa.' He was extremely angry, even his mother couldn't understand him," he said.
"He told me: 'I ask for your forgiveness. I've screwed up with a gendarme'."
Mr Molins said that Mr Belgacem was on a watch list after being "radicalised" during a spell in detention from 2011- 2012 and had to report to police regularly over preliminary robbery charges last year.
http://www.morningstaronline.co.uk/a-48e4-France-Airport-attacker-was-driven-by-drugs,-not-Islam#.WM-fYoGGPIU
------
Shekau in new video, threatens Cameroon, Nigeria, Mali, others over Sharia
ON MARCH 20, 2017
Boko Haram leader, Abubakar Shekau, has appeared in a new video threatening world leaders and disputing the Cameroonian government's claim that it has defeated the terror group. Speaking Hausa, Shekau ordered his fighters to remain steadfast, boasting that the sect will not back down until Sharia is established in Benin, Cameroon, Chad, Niger, Nigeria and Mali. The video came three days after Boko Haram released a video showing them killing three men allegedly working for the Nigerian government. Video Translation: "Let me speak briefly in Hausa language, Allah's help towards us made us to continue fighting, our brothers too fought along Cameroon-Nigerian border. But you kept lying to the people that you have killed 60 of our people, that you succeded in arresting 20 of our men. That you even rescued 5000 of your people. "Why all these lies? Paul Biya, why are you lying? Is this how to convince your masters, the whitemen who are pigs and children of monkies? "Lies! Lies every day, you better be careful, Paul Biya because you are not fighting Shekau but God. It would have been easy for you to fight Shekau not God. This thing is beyond your imagination even though you underrated our strength you cannot joke with the holy Quran, prophet's hadith and the religion of Allah. No! No! No! "Buhari, I'm very much sure that you have learnt your lessons by now. You have really learned your lessons but you can still continue if you like. Remember that nobody has ever done bad and gotten away with it. "By Allah, all your deception and lies to Nigerians that you are doing them good will not help you. Following the steps of America, Britain or practising democracy and educating children with Western education will equally not do you good. "I rather not wish you bad but let me urge you to seek Allah's forgiveness and repentance. Accept the real teaching of the Islam by not only depending on fasting, salat, zakkat and Hajj. "It's not my saying because religion is ideology which is based on practicing the Quran and its laws. I better not make too much talk. Niger Republic President Muhammadu Yusufu you are a liar. You can't dare my students and if I rise against you it will be difficult for you to face me. "Just remember that as long as we are Muslims and we practice the injunction of the Holy Quran we will be powerful. This is not something you can play with. Stop saying Boko Haram people are jobless because your propaganda will not help you in the presence of Allah." This is my warning to you all. By the way, this message was meant for my brothers in Islam to remind them to remain resilient and dedicated towards the struggle. I assured them that the struggle is not shaken or weakened in anyway. All the explosions in Maiduguri are carried out by us and we will continue to detonate bombs. In fact, you will never have rest of mind until you accept the holy Quran.
http://www.vanguardngr.com/2017/03/shekau-new-video-threatens-cameroon-nigeria-mali-others-sharia/
------
Police forces resume push towards IS "caliphate" mosque in western Mosul
by Mohamed Mostafa
Mar 20, 2017
Nineveh (IraqiNews.com) The Iraqi Federal Police command said Monday its troops resumed advances towards a strategic mosque in western Mosul as operations continue to clear the region from Islamic State militants.
The command said its forces proceeded towards Al-Hadbaa (leaning) Minaret at the Grand Nuri al-Kabir Mosque, where Islamic State's supreme leader Abu Bakr al-Baghdadi delivered a famous sermon in 2014 proclaiming the establishment of an "Islamic Caliphate" in Iraq.
The Grand Nuri al-Kabir mosque in western Mosul (Google Maps)
The statement said forces had killed 36 Islamic State members and destroyed 13 booby-trapped vehicles.
Inclement weather over the past few days had added to the difficulties facing Iraqi troops eyeing the Old City, a strategic target where the mosque is located. The area's narrow alleyways and the density of the civilian population therein had prompted Iraqi and U.S.-led coalition troops to rely solely on precision air and artillery strikes without advancing on the ground.
Iraqi government troops recaptured eastern Mosul in January and are working to retake the western side of the city, making a remarkable progress by recapturing major government facilities, the city's airport and a major military base.
Operations in Mosul have displaced more than 200.000 civilians since October, according to Iraqi government and United Nations counts.
http://www.iraqinews.com/iraq-war/police-forces-resume-push-towards-caliphate-mosque-western-mosul/
------
'Muslims Can't Marry Under General Law' In Sri Lanka
By UMESH MORAMUDALI
Activists pressing for reforms in the Muslim Marriage and Divorce Act (MMDA) raised concerns regarding the statement by Sri Lanka's Permanent Representative to the UN Ravinatha Aryasinha at the Interactive Dialogue with the Special Rapporteurs on Minority Issues, Rita Izsák-Ndiaye regarding the MMDA.
Aryasinha had stated that regardless of the origin, race or religion, any Sri Lankan can enter into a marriage bond under the General Marriages Ordinance and hence the application of personal laws is not automatic, but a matter of choice of the individual.
Commenting on the statement, Independent researcher on MMDA and author of Unequal Citizens, Hyshyma Hamin said, the General Marriage Ordinance in its introduction has the specifying clause "other than the marriages of Muslims", hence it is clear that Muslims cannot marry under general law.
"It is not even a matter of interpretation. The application of personal law is explicitly automatic and there is no choice for the individual," she noted.
In the recent past, there were many concerns regarding the MMDA and activists' groups were lobbying for reforms claiming that the MMDA hinders the rights of Muslim women.
Aryasinha, meanwhile had told the UNHRC that the Government has sought the assistance of eminent persons in the Muslim Community who are well versed in Muslim law and the system of Quazi Courts to consider reforms in Muslim law. This Committee is headed by a sitting Supreme Court Judge. These discussions are being conducted with a positive approach.
http://www.ceylontoday.lk/article20170101CT20170331.php?id=4490
------
Jaipur: Hotel sealed, 2 held after 'beef' rumour
"We have sealed the hotel as they could not produce a licence to operate their restaurant."
March 20, 2017
A hotel in Jaipur was sealed while its owner and one of his staff members arrested for alleged improper disposal of meat remains, police said on Sunday. "Someone spread a rumour that Hotel Hayat Rabbani in Sindhi Camp area in Jaipur was preparing and disposing beef remains. However, the rumours were baseless and the actual matter is that locals were unhappy over the 'non-vegetarian' remains which the hotel threw openly; cows were consuming these remains which angered the locals," Jaipur (West) Deputy Commissioner of Police, Ashok Kumar Gupta said.
"So, after the complaint by (Gau Raksha Dal leader) Kamal Didi, we arrested hotel owner Naeem Rabbani and one of his staff members under section 295 A (deliberate and malicious acts, intended to outrage religious feelings of any class by insulting its religion or religious beliefs) of the Indian Penal Code," Gupta said.
"The hotel was vacated and shut down by the municipal corporation," he said. Police denied that the hotel staff was beaten up by angry locals. Jaipur deputy mayor Manoj Bhardwaj said, "We have sealed the hotel as they could not produce a licence to operate their restaurant. Second, they were disposing their waste openly and flouting rules."
http://indianexpress.com/article/india/jaipur-hotel-sealed-2-held-after-beef-rumour-4576752/
------
Europe
A year after Brussels blasts: 'Terror can't finish everyone, humanity will survive'
As Chapekar waits for permission to fly again, she recalls the officer who 'kept talking to her', the man who was first to reach her
TABASSUM BARNAGARWALA
March 20, 2017
Nidhi Chapekar, Brussels blasts, Brussels terror attack, Brussels blasts 2016, Brussels 2016, Brussels airport attack, Brussels attack victim, latest news, latest india news
Her hands, in white gloves, are a stark reminder of the burns. Next week, when Nidhi Chapekar (42) visits Brussels on the invitation of King Philippe of Belgium, she plans to visit her doctors, nurse Marc Hermans, police officer Alan, Indian embassy official Sudeepta and a phone booth owner Shabbir bhai.
A Year After Brussels Blast, Survivor Says Terror Can't Finish Everyone
"All of them were there with me," says Chapekar. When she lay in hospital, Sudeepta would bring her homemade khichdi, and Shabbir bhai was the first one to reach there and take a picture of the bandaged Nidhi, unsure if it was her, to send to her husband Rupesh in India. Nurse Marc was the one she interacted with the most in hospital, and officer Alan kept talking to her for 20 minutes at the airport to comfort her after two blasts ripped through Zaventum Airport in March 2016.
Read: Amit Motwani took selfies after the attack, for family to see final moments if he died
Now, with an almost-ready book to recount her experience during the Brussels attack, Nidhi says her question to doctors at St Augustine Hospital, Brussels, where she was rushed from the blast site, was, "Is my face burnt?" They had answered yes. In that moment, she did not want to live. "You see this in movies. I didn't want pity from anyone," she says. A cabin manager with Jet Airways, she had reached Brussels airport before 8 am for her flight duty to Newark, which would begin at 10.15 am. She had taken an escalator to level 2 when the first bomb exploded. Colleague Amit Motwani steered her the other way. She had just turned left when an abandoned bag exploded in her face.
Now, she feels her viral picture — in a torn yellow blouse, burnt hair, blood-smeared face, and a shocked look directed straight at the camera — was a 'life saver'. At least her family knew she was alive. Though she adds that her pictures may have reached rural parts of India. "With our culture, I wish they had blurred it a bit, showing my face was okay."
Post attack, she kept telling the police not to let her lose consciousness. "I wanted to see everything, to be able to give an account later," she says. This is when officer Alan kept talking to her as they carried her out of the airport. Shabbir bhai, a phone booth and convenience store owner, had befriended Nidhi during her routine visits to Brussels. After the blasts, he took his car to look for her. Finding her bandaged head-to-toe in hospital, he took a picture for Rupesh.
Rupesh, who later flew to Brussels, hardly believed it was her in the first few days after the attack. "I had doubts Nidhi was still out somewhere," he says. She spent the next 25 days in an induced coma. When she did open her eyes, he asked her whether she knew who he was. "I couldn't understand initially," she laughs, adding she had weird dreams of solitaires, old age homes and of her being stuck to a glass. "I would recount my dreams, and everyone would laugh," Nidhi smiles. She had 15 per cent burns, multiple fractures in the legs, an ear injury, and a burnt face. Her right heel had a cavity where a metal piece had ripped through. Forty seven shrapnel were removed from her body in a series of surgeries. She underwent skin grafting and later plastic surgeries for face and body. Her hand still has scars, and she keeps them tucked in gloves at all times, with a coat of cream.
15-03-17 Nidhi Chapekar one of the two injured Jet Airways crew of Belgium airport attacks in 2016, a year after in Mumbai, 15-03-17. (Express Photo by Amit Chakravarty)
In 2016, she returned to Mumbai after over a month for her children, aged 15 and 11. "My son never cries, but he cried when he saw me," she says. Relatives would take turns for 15-20 days to look after her. By sheer will power, she attempted to move out of bed after two-and-a-half months. She started changing, dressing herself, taking two hours to do so. "I wanted to be independent. I did not like crawling, needing help," she explains. She and Rupesh had a love marriage, and he knew she would come out of this. Her children would call her a tigress.
In a year, Nidhi's once burnt hair has grown to a wavy brown neck-length crop. Her skin has cleared. And her walk seems normal. She may require two more surgeries for ear and leg following a check-up in Brussels. In the past one year, she has attended all family functions to make use of time. Her children, all this while, never missed school, except for one badminton session on the day of the attacks.
She is a proud mother, and a more satisfied person. The attacks and months of home rest have made her reflect on humanity and the growing need for it. "Terrorism can't finish everyone, right? Humanity will survive," she smiles, keen to fly again. Her medical papers will soon be sent to the Director General of Civil Aviation for permission to fly. If not that, she will work as ground staff.
http://indianexpress.com/article/india/brussels-blasts-terror-cant-finish-everyone-humanity-will-survive-4576606/
------
London's Islamic finance boom shows that flexibility and innovation are in the City's DNA
Andrew Parmley
London now has more than 20 international banks operating in Islamic finance (Source: Getty)
In recent years, the UK has stepped up its game in Islamic finance. In 2014, for example, it became the first country outside the Islamic world to issue a sovereign sukuk, the Islamic equivalent of a bond.
With such significant developments taking place here in the UK, I was very much looking forward to a trip to Turkey where I discussed how we can build upon this further.
A major focus of my trip was the Islamic Finance Summit, hosted at the British Consulate-General in Istanbul. Playing host to more than 100 Turkish, British and other international bankers, business people and academics, it was a good opportunity to see close up how the rise in prominence of Sharia-compliant finance in the UK had helped strengthen bonds with Turkey.
Built upon Islamic law, Sharia-compliant investment firms are prohibited from investing in businesses that trade, for example, in the sale of alcohol, pork products and gambling. The other significant difference lies in the way in which interest is paid and owed. Instead of charging or receiving interest, a bank and its customer will share the risk of an investment on agreed terms, dividing any profits between them. The collection and payment of interest by lenders and investors is not permitted under Islamic law.
Read more: Gold is now an accepted Sharia investment under new Islamic banking rules
It wasn't until the turn of the century that the UK started its first Islamic finance working group. Since then, however, City firms have grown exponentially to meet demand – business in Sharia-compliant finance is stronger now than ever before, demonstrating yet again the flexibility and ability to innovate that is inherent in the City's DNA.
London now has more than 20 international banks operating in Islamic finance – five of which are fully Sharia-compliant. Further to this, more than 20 law firms – with offices in the UK – are supplying legal services relating to Islamic finance for global and domestic markets.
Islamic finance mechanisms have been used in a number of projects in London itself, such as The Shard, the Olympic Village, and the redevelopment of the Chelsea Barracks and the Battersea Power Station sites.
The UK is also the global leader in Islamic finance education with over 70 business courses in the UK having an Islamic finance element and more than 20 universities offering degree programmes specialising in the subject. As an educator I firmly believe that these courses will foster the next generation of finance professionals who will cement London's position as the western hub for Islamic finance.
As we start the process of leaving the EU, it is now more important than ever that we deepen our business relationships across the world with valued partners such as Turkey. The United Kingdom has always been a global trading nation, epitomised most strongly by the City of London, the world's leading financial centre. Turkey too for centuries has been a hub of global trade, with East and West meeting in Istanbul. I believe we can both play to each other's strengths.
http://www.cityam.com/261190/londons-islamic-finance-boom-shows-flexibility-and
------
UK-trained fighters will 'absolutely' beat Islamic State, says senior officer
Iraqi and Kurdish fighters being trained by UK forces will "absolutely" beat Islamic State, a high ranking British Army officer has said.
A member of the Zervani storms a building during a training exercise at Tiger Town on the outskirts of Erbil, Iraq
20 March 2017
Iraqi and Kurdish fighters being trained by UK forces will "absolutely" beat Islamic State, a high ranking British Army officer has said.
As part of the UK's role in the 68-member Global Coalition committed to defeating the terror group, more than 500 British soldiers are currently deployed in locations across Iraq.
Lieutenant Colonel Rob Singleton Commanding Officer of the 2nd Battalion of The Duke of Lancaster's Regiment is based in Erbil in the Kurdish region at UK camp, JOB Zorbash.
Over the past few months, the 40-year-old dad-of-two said 2 LANCS have been training Iraqi and Kurdish security forces in medical techniques, infantry skills and counter Improvised Explosive Device (IED) measures.
"In Mosul at the moment they are making real progress, and whilst we are not fighting we have got an indirect approach," he told the Press Association.
"It is our job to train the Iraqis and the Kurds so that they are able to do their job in Mosul - and it appears to me that they are doing it really well, they are very brave, and they have been fighting for a while now.
"I think that they are absolutely going to beat Daesh (another term for Islamic State) and it is to their credit."
Lt Col Singleton said the Kurds and Iraqis are confident the fight against IS is one they can win, and that it is the job of his battalion to make sure they have the right skill set to do it.
"I think my training teams are genuinely first class and so they are held in really high regard by both the coalition and Kurdish and Iraqi security forces," he said.
"When they deliver those periods of instruction, it is the best it gets and the Iraqis and Kurds know that and they know that it will keep them safe in Mosul and beyond."
An unfinished and abandoned development on the outskirts of Erbil called Tiger Town, is now being used by the Peshmerga, British and coalition forces for training purposes.
The half-built structures provide a "first-class training environment" Lt Col Singleton said, with the facilities allowing training to take place in a realistic environment as they practice urban warfare.
Lieutenant Tommy Flight of the Corps of Royal Engineers has been leading a team which carries out training in counter IED techniques.
"That has two component parts, the first is the search element where we are training the forces how to find devices that Daesh would use and are using up in places like Mosul and Kirkuk," Lt Flight said.
"Then we are doing the EOD (explosive ordnance disposal) side of things, which is how to deal with that said device once they have found it in the safest manner possible."
The 31-year-old from Kent said the Kurdish forces they have been training have come to them with a "whole range" of information on devices they discover.
Lt Flight said working with the Kurds has been "fantastic" and his biggest takeaway from the tour is the "uplift in capability" his team have seen.
"Taking them from almost rudimentary at times, to a point where you know you are happy for them to go out onto the front line and that they will be safe because of what you have taught them.
"It is quite rewarding to know that maybe somewhere along the lines you have saved their lives or what you have taught them has saved someone else's life."
As the Kurds fight IS on front lines across the region, Lance Corporal Nicquita Chamberlain a combat medical technician with 2 LANCS, said the main injuries Peshmerga forces have been sustaining are from gunshot wounds and IED's.
The 26-year-old from Blackpool said she has been teaching them how to stop the bleeding and save lives when it comes to "catastrophic haemorrhages, gunshot wounds, chest injuries".
As well as training them on how to use conventional tourniquets, she has also been instructing them on how to make them out of improvised medical kit, such as rope, rags, plastic wrappers and sticks.
Providing skills on how to deal with a severe casualty by using "nothing medical at all", she said the Peshmerga realise how important medical training is.
And that the biggest thing she has learned on the tour is "how lucky" British troops are.
"In our infantry they always have medics, they have me with them," the 26-year-old said.
"These guys don't have a medic, so, not only are we lucky to have specialists in each field, but we also have all the kit we want.
"I have endless amounts of tourniquets and fluids, they have nothing. So I have taken from that how lucky we are, and how appreciative they are of us showing them little things like this."
Praising the "leading role" Britain is playing in the coalition's efforts to train Iraqi and Peshmerga forces, Defence Secretary Sir Michael Fallon said the skills being provided are "vital".
"Since 2014 we've helped train over 44,000 of these forces in countering Daesh booby traps, infantry skills, and bridge building," he said.
"These skills are proving vital in the current operation to liberate western Mosul and push Daesh out of their last major stronghold in Iraq."
http://home.bt.com/news/uk-news/uk-trained-fighters-will-absolutely-beat-islamic-state-says-senior-officer-11364166261776
------
Germany says Erdogan has 'gone too far' with Nazi jibe
March 20, 2017
BERLIN: Germany angrily warned Turkey on Sunday that President Recep Tayyip Erdogan had gone too far after he accused Chancellor Angela Merkel of using "Nazi measures" in an escalating diplomatic feud.
Turkey and the European Union are locked in an explosive crisis that threatens to jeopardise Ankara's bid to join the bloc, as tensions rise ahead of an April 16 referendum on expanding Erdogan's powers.
Erdogan's Nazi claim 'unacceptable': German chancellery
The row erupted after authorities in Germany and other EU states refused to allow some Turkish ministers to campaign for a 'yes' vote on their soil, provoking a volcanic response from the Turkish strongman who said the spirit of Nazi Germany was rampant in Europe.
"When we call them Nazis they (Europe) get uncomfortable. They rally together in solidarity. Especially Merkel," Erdogan said in a televised speech on Sunday.
"But you are right now employing Nazi measures," Erdogan said referring to Merkel, pointedly using the informal "you" in Turkish.
"Against who? My Turkish brother citizens in Germany and brother ministers" who planned to hold campaign rallies for a 'yes' vote in the referendum, he said.
Germany's Foreign Minister Sigmar Gabriel branded Erdogan's comments "shocking".
"We are tolerant but we're not stupid," he told the Passauer Neue Presse newspaper. "That's why I have let my Turkish counterpart know very clearly that a boundary has been crossed here."
Julia Kloeckner, the vice-president of Merkel's CDU party, also reacted angrily to the comments.
"Has Mr. Erdogan lost his mind?" she said, telling journalists she was urging the EU to freeze "financial aid amounting to billions of euros" to Turkey.
Home to 1.4 million Turkish voters, Germany hosts the world's largest Turkish diaspora but the partnership between NATO allies Ankara and Berlin has been ripped to shreds by the current crisis.
Turkey reacted furiously to a Frankfurt rally on Saturday urging a 'no' vote where protesters brandished insignia of outlawed Kurdish rebels, accusing Germany of double standards.
"Yesterday (Saturday), Germany put its name under another scandal," presidential spokesman Ibrahim Kalin told CNN-Turk. He said the German ambassador had been summoned although this was not confirmed by Berlin.
Turkey's president likens Germany's blocking rallies to Nazis
The Turkish foreign ministry accused the German authorities "of the worst example of double standards" for allowing the pro-Kurdish protest while preventing Turkish ministers from campaigning there.
Many protesters carried symbols of the Kurdistan Workers' Party (PKK), listed as a terror organisation not just by Turkey but also the EU and the United States.
Ankara also reacted with indignation after Germany's intelligence chief said he was unconvinced by Turkish assertions that US-based Islamic preacher Fethullah Gulen was behind the failed July coup aimed at overthrowing Erdogan.
Kalin said Europe was seeking to "whitewash" Gulen's group, while Defence Minister Fikri Isik said the comments raised questions about whether Berlin itself was involved in the putsch.
"The fact that the head of German intelligence made such a statement will increase doubts about Germany and give rise to the question 'was German intelligence behind the coup?'," he said.
In an interview with Der Spiegel published Saturday, German foreign intelligence chief Bruno Kahl said Ankara had repeatedly tried to persuade Berlin that Gulen was behind the coup "but they have not succeeded".
The dispute has left Turkey's ambition to join the EU — a cornerstone of its policy for half a century — hanging in the balance ahead of the referendum.
Erdogan threw further oil on the fire Saturday by saying he believed parliament would, after the referendum, agree a bill to restore capital punishment which he would then sign.
It was Erdogan's clearest warning yet that he could reverse the 2004 abolition of capital punishment, a pre-condition for joining the EU.
European Commission chief Jean-Claude Juncker warned Sunday that any return of the death penalty in Turkey would be a "red line". And Gabriel told Der Spiegel: "We are further away than ever from Turkey's accession to the EU."
Thousands of Turkish women rally in favour of Erdogan's powers
The crisis is hitting Turkey's relations with key EU members and Turkish-Dutch ties hit an all-time low in the run-up to the March 15 election in the Netherlands.
Erdogan last week even called on Turks living in Europe to have more children to tilt the demographic balance.
Danish Foreign Minister Anders Samuelsen on Sunday said he was summoning the Turkish ambassador for an explanation after a report that dual nationals critical of Erdogan had been threatened.
https://tribune.com.pk/story/1360166/germany-says-erdogan-gone-far-nazi-jibe/
------
Tory election candidate suspended after allegedly posting anti-Islamic tweet
Roxana Iancu, 30, was to stand for the Conservatives in Glasgow City Council's Govan ward at the local elections in May.
BYJOHN FERGUSON
20 MAR 2017
A Tory election candidate has been suspended over allegations that she posted anti-Islamic tweets.
Roxana Iancu, 30, was to stand for the Conservatives in Glasgow City Council's Govan ward at the local elections in May.
She was deselected after a picture was posted on her Twitter account of a coin, accompanied by the caption: "This coin is 2000 years old. Says Israel on it".
The message next to it read: "No sign on Palestine. Say something w******."
Iancu, who is Jewish Romanian and campaigns against anti-Semitism, denied writing the tweet.
She said: "The post that has been highlighted to the party wasn't something that I wrote.
"I was contacted by Kyle Thornton, chairman of Glasgow Conservative Association, and he told me that I was being deselected and suspended."
The coin post could be seen as anti-Muslim in light of the dispute between predominantly Jewish Israel and Palestine, which is mainly Muslim.
Iancu, who was previously an SNP supporter who campaigned for Scottish independence in 2014, added: "I am absolutely not anti-Islam. I have many friends who are Muslims and I respect them and all religions."
A Conservative Party spokesman said: "The candidate was suspended following unacceptable and offensive remarks made online."
Iancu came to Scotland three years ago. She lives in Govan and works as a carer.
She said she now intends to look into whether she can stand for the council as an independent candidate.
http://www.dailyrecord.co.uk/news/politics/tory-election-candidate-suspended-after-10059883
------
A National Pact for an Italian Islam
Islam is Italy's second largest religion but it isn't formally recognized there. That could be about to change thanks to a pact signed by the government and eleven Muslim organizations. It's called the 'National Pact for an Italian Islam'. It's designed to facilitate the recognition of Islam, promote transparency, mutual respect and prevent radicalization. Angelo Van Schaik reports from Rome.
http://www.dw.com/en/inside-europe-a-national-pact-for-an-italian-islam/av-37973604
------
Africa
Nigeria: 3 suicide bombers kill 4 in northeastern Maiduguri
Suicide bomb attacks have almost become a daily occurrence around Maiduguri recently.
March 19, 2017
Three suicide bombers suspected to be members of Boko Haram detonated explosive devices strapped on their bodies Saturday night, killing at least four people in Maiduguri, the Borno state capital. One member of the civilian militia, a woman and two children were killed and 8 others were injured, officials said.
Residents of Maiduguri were jolted by some deafening sounds of explosions at about 9 p.m. on Saturday. The attackers were a male and two teenage girls believed to be working for Boko Haram, Nigeria's homegrown Islamic extremism rebels, said Victor Isuku, spokesman of the Borno state police command.
The bombers infiltrated Maiduguri by sneaking in during the dark hours, but were spotted by members of the civilian self-defense group on sentry duty, he said. The three then detonated their explosives, said Isuku, a deputy superintendent of police.
Suicide bomb attacks have almost become a daily occurrence around Maiduguri recently.
A teenage female who had been strapped with explosives but was captured and disarmed last month by security officials said the bombers are usually brought on motorcycles to the outskirts of Maiduguri by some male Boko Haram members and then they proceed on foot into the town. She said it took them two to three days to get to Maiduguri from their bush locations.
http://indianexpress.com/article/world/nigeria-3-suicide-bombers-kill-4-in-northeastern-maiduguri-4576342/
------
Security in Mali 'worrying': UN peacekeeping mission
Deployed since July 2013, the UN's 13,000-strong peacekeeping operation is considered one of the deadliest missions in peacekeeping.
March 19, 2017
mali, mali security, un, united nations, bamako, un peacekeeping mission, un peacekeeping force, minusma, mali infighting, tuareg, insurgency mali, world news
Image used for representational purposes. (AP Photo/Jason Patinkin, File)
The security situation in Mali "remains worrying" despite recent troop deployments and some progress on the country's peace accord, the head of the UN's peacekeeping force has said in Bamako. "The overall security situation remains worrying. We are all too frequently attacked by armed groups," Herve Ladsous said at a press conference.
Deployed since July 2013, the UN's 13,000-strong peacekeeping operation — known as MINUSMA — is considered one of the deadliest missions in peacekeeping since the UN deployed to Somalia in 1993, with more than 70 Blue Helmets killed.
"The (peace) process is far from being achieved," despite the peace accord of June 2015 signed between Bamako and the groups which support it, and the former Tuareg rebels in the north, said Ladsous.
Having arrived late Friday in Bamako, Ladsous spoke after meeting with Malian president Ibrahim Boubacar Keita. Ladsous is due to be replaced as head of the peacekeeping force in April by another Frenchman, Jean-Pierre Lacroix.
The peace accord signed by the Malian government and rebels ended years of fighting in the north, but its implementation has been piecemeal.
Mali regained control of the north after a French-led military intervention in January 2013 drove out jihadists, but insurgents remain active across large parts of the region.
http://indianexpress.com/article/world/security-in-mali-worrying-un-peacekeeping-mission/
------
Africans denied visas to attend trade meeting in US
By Wilfred Ayaga
Mon, March 20th 2017
In the latest episode of the Donald Trump administration's tough immigration policies, the US government has denied visas to over 100 African delegates attending a trade summit. Voice of America reported that the delegates, many of them government officials and business leaders, were denied a chance to enter America to meet their counterparts in what an organiser termed discrimination against African nations. "I have to say that most of us feel it's a discrimination issue with the African nations...We experience it over and over and over, and the people being rejected are legitimate business people with ties to the continent," said Mary Flowers, who chairs the African Global Economic and Development Summit. This year's summit started on March 16, 2017 and ended two days later. The summit, organised by The University of Southern California, was meant to promote bilateral foreign direct investment, international trade, cultural exchange and tourism with the 54 individual countries in Africa. It was the first time that the event went on without Africans, organisers said. The Trump administration is progressively tightening its immigration policies and slamming doors on foreigners. The American government has introduced visa bans for citizens from six Muslim countries. Kenya Chamber of Commerce and Industry chairman Kiprono Kittony expressed disgust, saying: "If the reports are true, then this is something that we would like to condemn in the strongest terms possible." ALSO READ: No exams for Tanzanian doctors as medical board releases requirements Social media users, reacting to the VOA report, were equally disappointed. "Why not hold the summit in Ghana, Ethiopia or South Africa? I am sure that The University of Southern California can partner with African institutions to organise it....bring us some much needed revenue. The weather is great here," said one social media user. Another one replied: "Because the point is to get Africans to meet with business leaders and government officials who are not easy to reach. If the first step was for them to travel to Africa they would never go on this trip!" "This kind of idiotic travel ban is just the beginning of the sharp decline of the American soft power the Trump administration is heading to. In a couple of years, US officials and businesses alike will complain that other global players such as China will have replaced them on the fastest growing continent on earth..." yet another added. Countries whose delegations were affected included Sierra Leone, Guinea, Ghana, Nigeria, Ethiopia and South Africa. Reports indicated the delegates are said to have been called for visa interviews a few days before their travel date though they had applied several weeks before. "Usually we get 40 per cent that get rejected but the others come," said Flowers. "This year it was 100 per cent. Every delegation." VOA reported that one of those denied a visa was Prince Kojo Hilton, a Ghanaian artist, whose work includes special effects and graphic art. He paid his Sh51,500 ($500) fee to attend the event and was asked to lead a session on filmmaking.
Read more at: https://www.standardmedia.co.ke/article/2001233293/africans-denied-visas-to-attend-trade-meeting-in-us
------
World Bank announces $57 bn in financing for Africa
The package will also feature an estimated $8 billion in private sector investments from the International Finance Corporation
March 20, 2017
world bank, world bank africa, world bank africa funding, news, latest news, world news, africa news, africa world bank funding, latest newsThe World Bank has announced $57 billion in financing for sub-Saharan Africa over the next three fiscal years.
Of that total, $45 billion will come from the International Development Association, the World Bank fund that provides grants and interest-free loans for the world's poorest countries.
The package will also feature an estimated $8 billion in private sector investments from the International Finance Corporation, a private-sector branch of World Bank, and $4 billion will come from the International Bank for Reconstruction and Development, the bank's unit for middle-income nations, World Bank president Jim Yong Kim yesterday said in a statement.
Germany, which hosted a meeting of the G20 countries Friday and Saturday, said that a partnership called "Compact with Africa" would be a priority of its presidency this year of that club of powerful nations. Of all the countries in Africa, only South Africa is a G20 member.
"This represents an unprecedented opportunity to change the development trajectory of the countries in the region," Kim said.
"With this commitment, we will work with our clients to substantially expand programs in education, basic health services, clean water and sanitation, agriculture, business climate, infrastructure and institutional reform," he added.
Kim left for Rwanda and Tanzania yesterday in a show of World Bank support for the entire region.
The new financing from the International Development Association will target 448 projects that are already underway in sub-Saharan Africa. The region accounts for more than half of the countries eligible for this kind of financing from the IDA, the bank said.
http://indianexpress.com/article/world/world-bank-announces-57-bn-in-financing-for-africa/
------
Somalia wants Saudi probe of refugee boat attack
The International Organization for Migration, which has operations in Yemen, said 42 bodies were found, and more than 30 wounded people were reportedly taken to hospital.
March 19, 2017
Somalia has called on the Saudi-led coalition fighting in Yemen to investigate an incident in which dozens of Somali refugees were shot dead on board a boat. It was not immediately clear who was behind the attack that killed more than 40 Somali refugees in waters off the coast of war-torn Yemen early on Friday.
The bloodshed was quickly condemned by UN and the International Committee of the Red Cross, and Somalia's Foreign Minister Abdusalam Omer urged the Saudi-led coalition fighting Huthi rebels in Yemen to investigate.
Somalia is a member of the US-backed coalition fighting against Shiite Huthi rebels aligned with Iran. "We call on our partners in the Saudi-led coalition to investigate the raid," the minister said in a statement released late yesterday.
"It is very sad, targeting a boat carrying Somali migrants near the coast of Hodeida in Yemen." On Friday, a coalition spokesman denied responsibility for the attack. The Red Sea attack took place off rebel-held port of Hodeida, with women and children among the dead.
The International Organization for Migration (IOM), which has operations in Yemen, said 42 bodies were found, and more than 30 wounded people were reportedly taken to hospital.
The IOM said it believed the boat was heading for Sudan when it was attacked.
Despite a two-year war that has cost more than 7,000 lives and brought the country to the brink of famine, Yemen continues to attract people fleeing the horn of Africa.
http://indianexpress.com/article/world/somalia-wants-saudi-probe-of-refugee-boat-attack-4576348/
------
Arab World
Six Islamic State leaders killed in Mosul
19 Mar 2017 - 18:08
Iraqi forces, consisting of the Iraqi federal police and the elite Rapid Response Division, advance in the Old City in western Mosul on March 19, 2017, during the offensive to retake the city from Islamic State (IS) group fighters. / AFP / AHMAD AL-RUBAYE
Baghdad: The Iraqi military said Sunday that six foreign members of the ISIS group were killed in airstrikes on western Mosul as security forces captured more areas.
The statement by the service said the airstrike on Shaarin marketplace in western Mosul killed six foreign members.
The strike came as army forces recaptured more areas in western Mosul from ISIS militants, according to the Defense Ministry.
The forces took over a so-called "contaminated area", a mill and a fuel station, it quoted Lt. Gen. Abdul-Amir Yarallah, field commander of the Joint Operations Command as saying.
http://thepeninsulaqatar.com/article/19/03/2017/Six-Islamic-State-leaders-killed-in-Mosul
------
As anti-Islamic State battle in Mosul escalates, civilians get caught in crossfire
Families fleeing Mosul in recent weeks have talked of high numbers of civilians killed by air strikes, and said that in many cases Islamic State fighters have already slipped away by the time the bombs hit.
March 19, 2017
islamic state, mosul, is, is fighters, islamic state in iraq, islamic state of iraq and levant, mosul, is led iraqi forces, anti IS us iraq coalition, mosul civilian deaths, world news, middle east news
Iraqi civilians flee their homes in the back of a military truck during fighting between Iraqi security forces and Islamic State militants, on the western side of Mosul, Iraq, Saturday, March 18, 2017. (AP Photo/Felipe Dana)
Shihab Ayed and several other men struggled to push a cart carrying the bodies of his son and wife, wrapped in blankets, through a muddy ditch nearly two miles (3 km) from their destroyed home in Mosul. Four other carts followed, laden with days-old corpses from air strikes which the men said had killed 21 relatives and neighbours in an area Islamic State militants controlled earlier in the week. Ayed, a 40-year-old labourer, pulled back a blanket to show his only son, three-and-a-half year-old Ahmed, lying lifeless with his eyes closed and a big gash in his right cheek.
"Three houses were destroyed by two air strikes," Ayed said.
"Islamic State fighters were firing from our house and from the road outside, and we were hiding inside. Fifteen minutes later the strikes hit.
"We pulled the bodies from the rubble and now we're going to bury them. Then I'll come back to my three remaining daughters," Ayed said, in tears.
The bodies had begun to smell but it had only just become safe enough to leave the district, now cleared of the militants, and bring the carts to Mosul airport, where a bus might be able to take them to the nearest village for burial, he said.
Reuters counted about 15 corpses on the carts.
They are among the latest victims caught in the crossfire of an intensifying battle between US-backed Iraqi forces and Islamic State militants holed up the centre of Mosul, their last major stronghold in Iraq.
Rights groups have expressed concern over the mounting civilian death toll, as Islamic State fights from homes and densely-populated areas, a threat the Iraqi military and US-led coalition have been countering with heavy weaponry to support troops on the ground.
Families fleeing Mosul in recent weeks have talked of high numbers of civilians killed by air strikes, and said that in many cases Islamic State fighters have already slipped away by the time the bombs hit.
"When the coalition see a sniper on a home, it's five minutes before that house is hit," Mohammed Mahmoud, a 40-year-old former police officer, told Reuters in another area of Mosul.
"But they don't kill the Daesh (IS) militants. Daesh withdraw, and the strikes end up killing civilians – whole families."
Islamic State's tactics since the beginning of the offensive to drive them out of Mosul, which began in October, have been to deploy car bombs and snipers, rain shellfire on troops and residents alike and take cover among the civilian population.
On Friday, even as Ayed and his helpers waited with their carts, helicopters fired at positions in Mosul and forces further back launched Grad missiles into the city.
BODY BAGS
Human Rights Watch has said the fight to recapture the western half of Mosul has been "dirtier and deadlier to civilians" than the battle to retake the east, which was completed in January.
The New York-based watchdog said Iraqi Interior Ministry units had recently used non-precision rockets in west Mosul.
"Their indiscriminate nature makes their use in populated civilian areas a serious violation of the laws of war," it said in a statement.
Separately, the United Nations says it has received many reports of civilian deaths in air strikes.
The number of civilians killed in the Mosul campaign – by Islamic State, including executions, or by errant Iraqi and coalition fire – is unclear, with various estimates given by residents, watchdogs and the military.
The US-led coalition backing Iraqi forces with air power and military advisers admits causing unintentional civilian deaths.
This month the US military said the total number of civilians killed by the coalition since the start of operations against the militant group in 2014 in both Iraq and Syria was 220.
That estimate is lower than those of some monitoring groups.
Airwars, a journalist-run project to monitor civilian casualties, says at least 2,590 civilians have likely been killed by coalition "actions" since 2014, including scores in Mosul in the first week of March alone.
Coalition and Iraqi forces have mostly been careful to avoid civilian deaths, a reason military officials said they slowed some assaults in eastern Mosul last year.
But the west, which houses the narrow-alleyed Old City, has been a tougher fight, and Islamic State have pinned down Iraqi forces for days on end in some areas without significant advances.
The level of destruction is visibly greater, with dozens of buildings flattened and large holes in roads from air strikes.
In the wrecked Mamoun district on Tuesday, a man trudged down a muddy road in search of body bags.
"I have 18 bodies I need to bury — my brother's family," Faisal Umm Tayran, 50, said matter-of-factly. "They're just lying in the garden at the moment."
http://indianexpress.com/article/world/as-anti-islamic-state-battle-in-mosul-escalates-civilians-caught-in-crossfire-iraq-4575966/
------
Politician: S. Arabia Supports Sabotage Acts to Block Political Settlement of Crisis in Syria
Sun Mar 19, 2017
TEHRAN (FNA)- A senior Syrian politician underlined that Saudi Arabia supports those sides which oppose the political settlement of the crisis in Syria, and added that the recent suicide attacks in Damascus are one of the alternatives used by supporters of terrorism.
"The Syrian sides which oppose the political process are affiliated to certain regional states, including Saudi Arabia, and they reject any peaceful solution to the crisis in Syria," Secretary-General of Syria's National Development Party Inass al-Hamal told FNA on Sunday.
Noting that the dissidents who obey the Persian Gulf sheikhdoms aren't representative of people, he said when these Arab states witnessed the failure of their plots in peace talks, they resorted to terrorist blasts in Damascus.
At least 31 people were killed and dozens more wounded after two suicide bomb attacks in Damascus on Wednesday, state media reported, the second double bombing in the Syrian capital in five days.
The first suicide bomber targeted the Palace of Justice, the main courthouse in central Damascus near the Old City.
The justice minister, Najem al-Ahmad, told reporters the initial death toll was 31, mostly civilians.
The second suicide blast struck a restaurant in the al-Rabweh area, to the West of the first attack, causing several casualties, state media reported.
http://en.farsnews.com/newstext.aspx?nn=13951229000287
------
Syrian Army on Verge of Retaking Strategic Region in Eastern Homs
Sun Mar 19, 2017
TEHRAN (FNA)- The Syrian army intensified military operations in Eastern Homs after liberating Palmyra (Tadmur), and could advance in the outskirts of the ancient city.
The army units launched a fierce attack on ISIL moves and gathering centers in al-Talilah crossroad in the Eastern parts of Homs, killing several militants and destroying their military vehicles.
The Syrian soldiers also launched heavy offensives on ISIL in the Western parts of the crossroad and drove the terrorists out of several points near the region.
A field source reported that the army troops are now on the verge of regaining full control of this strategic point in Eastern Homs, and added that the army will start operations to take back al-Talilah village after seizing control over the crossroad.
Also on Saturday, the Syrian army scored more victories against the terrorists in Eastern Homs and advanced in important areas East of the ancient city of Palmyra.
According to al-Masdar news, the army soldiers continued military operations in Eastern Palmyra and seized back control of all oilfields near al-Mustadireh mountain after regaining the heights from the militants.
Reports said that tens of ISIL terrorists were killed during the army operations in the region.
The Syrian Army troops continued their anti-ISIL operations in the Eastern suburbs of Palmyra to stretch their chain of security around the ancient city, informed sources said.
The sources said that the army spent a great deal of time this week to attack the ISIL's positions around the newly-liberated ancient city of Palmyra, expanding their buffer-zone around the city via forcing ISIL to withdraw from several positions in order to reinforce important regions, including Arak gas fields and T-3 Pumping Station.
They added that the army soldiers liberated several sites from the terrorist group, including the strategic Mazar mountains and Palmyra gas fields North of the city.
The army men also launched another powerful attack this morning that concentrated on the al-Talilah crossroad and al-Antar Mountains at two different fronts.
Al-Talilah crossroad is located in Palmyra's Eastern countryside, while the al-Antar mountains are to the North of the city.
http://en.farsnews.com/newstext.aspx?nn=13951229000232
------
Syrian Army Expanding Buffer Zone around Palmyra
Sun Mar 19, 2017
TEHRAN (FNA)- The Syrian army troops continued their anti-terrorism operations in the Eastern parts of Homs province, stretching their chain of security around the ancient city of Palmyra (Tadmur).
The army soldiers liberated the mountains on the Northern side of al-Mazar mountain in their operations near Palmyra on Sunday.
The army troops could also win fire control over al-Heram mountain.
The Syrian army has advanced in vast areas in Palmyra region in recent days and seized al-Mazar and al-Mustadireh mountains and adjacent areas.
In a relevant development on Saturday, the Syrian army scored more victories against the terrorists in Eastern Homs and advanced in important areas East of the ancient city of Palmyra.
According to al-Masdar news, the army soldiers continued military operations in Eastern Palmyra and seized back control of all oilfields near al-Mustadireh mountain after regaining the heights from the militants.
Reports said that tens of ISIL terrorists were killed during the army operations in the region.
The Syrian Army troops continued their anti-ISIL operations in the Eastern suburbs of Palmyra to stretch their chain of security around the ancient city, informed sources said.
The sources said that the army spent a great deal of time this week to attack the ISIL's positions around the newly-liberated ancient city of Palmyra, expanding their buffer-zone around the city via forcing ISIL to withdraw from several positions in order to reinforce important regions, including Arak gas fields and T-3 Pumping Station.
They added that the army soldiers liberated several sites from the terrorist group, including the strategic Mazar mountains and Palmyra gas fields North of the city.
http://en.farsnews.com/newstext.aspx?nn=13951229000345
------
Syrian Army Tightens Noose on ISIL in Deir Hafer
Sun Mar 19, 2017
TEHRAN (FNA)- The Syrian army continued anti-ISIL military operations in Eastern Aleppo, expanding the range of its advances near Deir Hafer and retaking control of several villages.
The army units engaged in heavy clashes with the ISIL terrorists in Eastern Aleppo, and retook control of Ahmadiyeh village in the Northern parts of Deir Hafer.
They also seized back control of Um Tineh and al-Mabou'jeh in the Eastern and Western parts of Deir Hafer, respectively.
Also, on Saturday, the Syrian army continued military operations in Eastern Aleppo and regained control of all villages located to the South of Kuweires airbase.
The army forces seized back full control over the towns of Rasm al-Abd, Tal Ahmar and al-Asemiyeh to the South of Kuweires that are linked to Sabkhat al-Jaboul region in Eastern Aleppo after heavy clashes with the ISIL terrorists.
A military source also said that the Syrian soldiers laid siege on the strategic town of Deir Hafer from the Northern, Western and Southern directions after retaking control over the town of al-Harmal Southwest of Deir Hafer, adding that the ISIL has already lost the town in military terms.
The Syrian Army troops had on Friday continued their advances against ISIL South of the terrorist-held town of Deir Hafer and managed to retake control over two villages after hours of fierce clashes on Friday.
The army soldiers engaged in heavy fighting with ISIL and drove them out of Zubaydeh and Khasaf villages South of Deir Hafer town, killing and wounding a number of terrorists.
http://en.farsnews.com/newstext.aspx?nn=13951229000131
------
Dara'a: Army Captures Al-Nusra Front Positions
Sun Mar 19, 2017
TEHRAN (FNA)- The Syrian army units targeted the gatherings and fortified positions of al-Nusra (Fataha al-Sham) Front terrorists in Dara'a city and its countryside, killing a number of them and destroying their vehicles and weapons.
The army troops carried out special operations against al-Nusra terrorists in Dara'a al-Balad area in Dara'a city and in Tal Hamad and Nawa in the city's Northern countryside.
The operations inflicted tens of losses on the terrorists and destroyed three of their military vehicles.
Earlier this week, the Syrian army forces intensified operations against the al-Nusra Front in Dara'a and targeted the terrorists' moves and positions in Dara'a al-Balad region.
The army troops launched several assault on the al-Nusra Front's positions and moves in al-Karak, al-Sibah, al-Bihar, al-Arba'een, Hara al-Badou/al-Badou district, Hara al-Faran and areas near al-Masri square in Dara'a al-Balad and smashed 7 of their command posts on Thursday.
During the operations, 14 al-Nusra Front militants were killed and 20 others were wounded and one of their military vehicles equipped with 14.5mm machinegun was also destroyed.
Also on Thursday, the Syrian army units targeted the positions and supply routes of al-Nusra Front in Tafs and Eastern parts of Da'el in Dara'a, smashing the terrorists' command center, machinegun base and two military vehicles.
The Syrian soldiers also attacked the al-Nura Front's moves in al-Karak, Hara al-Faran, West of al-Masri square, al-Abbasiyeh district and areas near the Dara'a al-Balad crossroad, killing and wounding a number of militants.
http://en.farsnews.com/newstext.aspx?nn=13951229000303
------
Homs: Over 1,400 Militants, Family Members Leave Al-Wa'er District
Sun Mar 19, 2017
TEHRAN (FNA)- The Syrian media reported that more than 1,400 militants who rejected the government's peace offer have left al-Wa'er district in Homs province along with their family members.
According to SANA news agency, over 1,400 gunmen and members of their families have left al-Wa'er neighborhood in the Western outskirts of Homs city for the Northern part of Homs province as part of the reconciliation agreement that was reached in the neighborhood, paving the way for the return of all state services.
432 gunmen who rejected the reconciliation agreement and 1,056 of their family members have headed towards the Northern territories of Homs.
Homs Governor Talal al-Barazi said that the governorate has completed all logistical preparations and measures for getting the first group of the gunmen out of al-Wa'er in the framework of the reconciliation agreement which was agreed upon last week.
The Governor added that the first group includes the evacuation of more than 1,500 gunmen and members of their families who would go to the Northeastern countryside of Aleppo province, pointing out that the Syrian Arab Red Crescent (SARC) and the Syrian and Russian military police supervise the process.
The Governor denied reports circulated by some media outlets "which are involved in the bloodshed" in Syria that a demographic change is planned for al-Wa'er neighborhood.
"These lies are a desperate attempt aimed at sabotaging the reconciliation agreement of al-Wa'er neighborhood in particular and the process of successive reconciliations in general," al-Barazi underlined.
He clarified that over 40,000 people will stay in the neighborhood after all the gunmen who reject the reconciliation leave along with their families, who are 10,000 people in total.
He stressed that the governorate is working on drawing up a comprehensive plan to secure the return of all the families that had earlier left their houses in al-Wa'er neighborhood after the evacuation process is completed and services are fully restored.
Secretary of Homs Branch of al-Baath Arab Socialist Party Ammar al-Sibaai noted that over 100,000 people are expected to return to their homes after the reconciliation agreement is fully implemented.
Commander of Homs Police Mag. Gen. Khaled Hilal said after the agreement is fully completed, al-Wa'er neighborhood will be declared secure, and consequently the whole city of Homs will be fully secured.
He added that units of the Internal Security Forces will be back on duty in al-Wa'er neighborhood once the agreement is accomplished, affirming that security will be established in the neighborhood and families will return to their home.
http://en.farsnews.com/newstext.aspx?nn=13951229000138
------
South Asia
26 ISIS militants and weapons depot eliminated in East of Afghanistan
Mon Mar 20 2017
At least twenty six militant affiliated with the Islamic State of Iraq and Syria (ISIS) terrorist group were eliminated along with a weapons depot of the group in East of Afghanistan.
The 201st Silab Corps of the Afghan National Army (ANA) forces said the militants were killed in the past 24 hours in the vicinity of Kot district.
The source further added that the operations were conducted by the Afghan Commandos and with the support of the air force.
The Afghan security forces and the local residents did not suffer any casualties during the operations.
This comes as the Afghan forces are busy conducting clearance operations under the name of Shaheen-25 operations which were launched more than one ago to suppress the growing insurgency of ISIS terrorist group in Nangarhar province.
The operations led by 201st Silab Corps of the Afghan National Army (ANA) forces were launched after receiving approval from the national security council of the country.
This comes as the officials were concerned that the loyalists of the terror group are attempting to expand their foothold in Nangarhar and turn the province into their regional operational base, forcing the Afghan officials as well as the US administration to resume airstrikes against the group.
http://www.khaama.com/26-isis-militants-and-weapons-depot-eliminated-in-east-of-afghanistan-02432
------
Bangladesh SC upholds death sentence of HuJI leader, two others
HuJI leader Mufti Hannan lost the legal battle to save himself from the charges of an attempt on life of the former UK envoy to Bangladesh.
March 19, 2017
Bangladesh, Bangladesh supreme court, b'desh SC, HuJI leader Mufti Hannan, HuJI leader, Mufti Hannan, Mufti Abdul Hannan, world news
The apex court on December 7, 2016 upheld the three militants' death penalty endorsing a previous High Court verdict in February this year that had validated a lower court judgment handing them the capital punishment.
Bangladesh Supreme Court Sunday upheld the death sentence of banned Harkat-ul-Jihad al-Islami's former leader and two of his accomplices for attacking Britain's then envoy in 2004, paving the way for their execution. HuJI leader Mufti Hannan lost the legal battle to save himself from the charges of an attempt on life of the former UK envoy to Bangladesh. Hannan and two of his associates attacked a shrine in 2004 that left three persons dead and injured Anwar Chowdhury, the British high commissioner at the time.
"There now remains no barrier in executing (HuJI chief) Mufti Abdul Hannan and the two other operatives of the outfit," a spokesman of attorney general's office said as the Supreme Court's Appellate Division rejected a plea by the convicts seeking review of the apex court decision.
He said a three-member apex court bench led by Chief Justice Surendra Kumar Sinha rejected the plea after holding hearing on the convicts' review petition.
According to Bangladesh's legal system, the convicts can seek presidential clemency to save their neck and unless they are pardoned jail authorities could hang them in four weeks time.
The apex court on December 7, 2016 upheld the three militants' death penalty endorsing a previous High Court verdict in February this year that had validated a lower court judgment handing them the capital punishment.
Chowdhury narrowly escaped the grenade attack by sustaining minor injury at a shrine in northeastern Sylhet when three policemen were killed and 70 others wounded.
The HuJI operatives carried out the attack on him at the shrine of saint Hazrat Shahjalal in Sylhet, also the birthplace of Chowdhury, as he went to visit there 18 days into his new assignment in Dhaka.
A speedy trial tribunal originally tried the case and delivered its verdict on December 23, 2008, also sentencing to death HuJI leaders Sharif Shahedul Alam and Delwar Hossain alongside Hannan.
Hannan and seven other kingpins and operatives of his outfit were earlier sentenced to death by another court in Dhaka for a deadly 2001 bomb attack killing 10 people during Bengali New Year celebrations at a public park in the capital.
The US several years ago designated HuJi as a foreign terrorist organisation and "specially designated global terrorist" while Indian officials suspected the outfit's links in the Jaipur serial bombings and several other attacks.
Twenty-one HuJI men, including Hannan and an ex-junior minister of past BNP government, are also being tried for another grenade attack on incumbent Prime Minister and Awami League chief Sheikh Hasina on August 21, 2004.
The then opposition leader Hasina narrowly escaped the attack which killed a total of 24 people.
HuJI was formed in 1992 by Bangladeshis who took part in Afghan resistance against the Soviet forces in Afghanistan.
http://indianexpress.com/article/world/bangladesh-sc-upholds-death-sentence-of-huji-leader-two-others-4576534/
------
Bangladesh Imam Held for Facebook Post
March 19, 2017
Bellal has long been sharing anti-government posts on Facebook.
Police have arrested the imam of a mosque in Borhanuddin of Bhola for repeatedly posting anti-government contents on his Facebook.
Md Bellal Hossain, 35, of Indra Narayanpur village under Shambhupur of Tojumuddin was picked up by the police from Tobogi area of Borhanuddin around Sunday noon.
He is the imam of Paschim Ilisha Jame Mosque in Bhola Sadar.
"Bellal has long been sharing anti-government posts on Facebook. On Saturday, he made derogatory comments on the photos of two lawmakers from Bhola," OC Asim Sikder told the Dhaka Tribune.
A case was filed against him under Section 57 of the ICT Act.
http://www.dhakatribune.com/bangladesh/nation/2017/03/19/bhola-imam-held-facebook-post/
------
Afghan Taliban signal interest in joining Moscow talks
By Tahir Khan
March 20, 2017
ISLAMABAD: The Afghan Taliban have signalled willingness to take part in a meeting that Russia is expected to host next month on peace and reconciliation in war-ravaged Afghanistan.
Russia has extended an invitation to 12 countries for consultations in Moscow on April 14.
Russia hopes to rope in Taliban for Afghan talks
The process of informal consultations was initially started by Pakistan, China and Russia in December and was expanded to six-nation talks in mid-February with the participation of Afghanistan, India and Iran. The US, some Central Asian states and the EU will also be invited to next month's meeting.
Taliban officials say it is possible the group may participate in the Moscow meeting, if invited. "Our response would be positive if we get a formal invitation," two Taliban officials said on Sunday.
Initially when Moscow had floated the idea of inviting the Taliban political representatives from the Qatar office, Kabul disagreed with the proposal and insisted that Afghans should lead the process not others.
But on Tuesday Afghanistan said it would welcome Russia's diplomatic efforts for peace and stability in the war-torn country. "The government of the Islamic Republic of Afghanistan welcomes the Russian Federation's recent position with regards to peace and stability in Afghanistan which states that their recent contacts with Afghan armed groups are aimed at promoting peace and stability in Afghanistan and the region," the Afghan foreign ministry said.
Afghan Taliban's political negotiators visit China
Afghanistan was upbeat at a recent Russian foreign ministry statement which asked the Taliban to "lay-down their arms, cut their ties with terrorist groups and join the peace talks to ensure durable peace and stability and end fighting in Afghanistan."
Afghanistan's National Security Adviser Hanif Atmar's visit to Moscow on March 17 helped in developing understanding with Russian officials.
Speaking in Moscow following the talks, Atmar threw his weight behind Russia's peace efforts in Afghanistan. "During the meeting with Russian Foreign Minister Sergey Lavrov and Russian Security Council Secretary Nikolai Patrushev, I received a confirmation that Moscow is committed to facilitation of peace in the region. In this context, the contacts with the Taliban were only aimed at national reconciliation in Afghanistan. I was very happy to hear that. Both of them assured me that Russia is Afghanistan's close friend and will further support efforts of Afghanistan's legitimate government," Atmar told Sputnik news agency.
The Taliban also seem to be open to Russia and China's diplomatic efforts after the two major powers announced a trilateral meeting in Moscow in December to help lift UN sanctions on Taliban leaders. China had hosted the Taliban political representatives after the Moscow's trilateral talks.
Pakistan, which had long been pressing Russia to host the long-awaited trilateral meeting, has recently again "conveyed to the Taliban to join the peace process," The Express Tribune has learnt.
https://tribune.com.pk/story/1359933/afghan-reconciliation-taliban-signal-interest-joining-moscow-talks/
------
Afghan 'insider attack' leaves three US troops injured
March 20th, 2017
KANDAHAR: Three American troops were wounded on Sunday when an Afghan soldier opened fire in southern Helmand province, officials said, in the first known "insider attack" on international forces this year.
No insurgent group claimed responsibility for the attack in Camp Antonik in Washer district, which highlights long-simmering tensions between Afghan and foreign forces.
"Three US soldiers were wounded this afternoon when an Afghan soldier opened fire on them at a base in Helmand province. Coalition security forces on the base killed the soldier to end the attack," a spokesman for the US forces in Afghanistan told AFP. "The US soldiers are receiving medical treatment at this time and we will release more information when available."
An Afghan soldier was also killed in the shootout, provincial spokesman Omar Zwak said.
The Pentagon has said it would deploy some 300 US Marines this spring to Helmand, where American forces engaged in heated combat until they pulled out in 2014.
The Marines will head to the poppy-growing province to assist a Nato-led mission to train Afghan forces, in the latest sign that foreign forces are increasingly being drawn back into the worsening conflict.
So-called insider attacks — when Afghan soldiers and police turn their guns on their colleagues or on international troops — have been a major problem during the more than 15-year-long war.
In May, gunmen wearing Afghan military uniforms shot dead two Romanian soldiers in neighbouring Kandahar province.
Western officials say that most such attacks stem from personal grudges and cultural misunderstandings rather than insurgent plots.
The killings have bred fierce mistrust between local and foreign forces even as the rate of such incidents has dropped in recent years.
The Afghan military, which has been built from scratch since the fall of the Taliban regime in 2001, has also struggled with insider attacks, high casualty rates and mass desertions.
https://www.dawn.com/news/1321648/afghan-insider-attack-leaves-three-us-troops-injured
------
Paktika governor's door to door campaign for children's education
Mon Mar 20 2017
The provincial governor of the southeastern Paktika province has launched a door to door campaign to encourage the families send their children to schools for education.
Local officials are saying Governor Elias Wahdat started knocking the doors of the residents by launching the campaign for children's education on Sunday.
The officials further added that a number of other high level government officials, including provincial education directorate and some activists supporting the children's education.
The campaign was launched from Mata Khan District as the officials are saying that the other districts of the province will also be covered.
The provincial officials are saying that the local government aims to increase the number of school children to 20 thousand this year.
According to the officials, the campaign is mainly aimed at encouraging those families whose children have reached to age of seven.
The campaign involving senior government officials, specifically the provincial governor was widely welcomed across the country.
This comes as the deteriorating security situation across the country, specifically in remote districts has affected the education services to school children.
http://www.khaama.com/paktika-governors-door-to-door-campaign-for-childrens-education-02433
------
Afghan soldier open fire on US soldiers in Helmand leaving 3 wounded
Sun Mar 19 2017
A soldier of the Afghan National Army (ANA) forces opened fire on his international comrades in southern Helmand province, leaving at least three US soldiers wounded.
The NATO-led Resolute Support Mission in a statement said "3 US soldiers wounded when shot by Afghan soldier on a base in Helmand Province. US soldiers receiving medical care. Updates as appropriate."
This comes as at least three American soldiers were wounded in an explosion in eastern Nangarhar province of Afghanistan earlier this month.
The latest insider attack on US forces in Helmand comes as counter-terrorism operations are underway in this province which are jointly being conducted by the Afghan National Defense and Security Forces (ANDS) and the air support of the US forces.
The US forces in Afghanistan resumed their counter-terrorism operations mainly involving airstrikes last year under a broader role granted by the Obama administration earlier last year.
The current counter-terrorism operations being conducted under the name of Shaheen-25 to eliminate the militants affiliated with the Islamic State of Iraq and Syria (ISIS) terrorist group.
http://www.khaama.com/afghan-soldier-open-fire-on-us-soldiers-in-helmand-leaving-3-wounded-02431
------
Taliban suffer casualties as airstrike likely destroyed biometric equipment in Paktia
Sun Mar 19 2017
At least ten Taliban insurgents were killed in an airstrike conducted in southeastern Paktia province of Afghanistan.
According to the local government officials, the airstrike was carried out late on Saturday afternoon in Dand-e-Patan district.
Provincial governor's spokesman Zalmai Weesa confirmed the airstrike and said at least ten insurgents were killed.
He said the militants were targeted in the vicinity of Nari Kama village and some weapons and other materials belonging to the insurgents were also destroyed.
In the meantime, another official, said two modern equipments, including a biometric system confiscated by the Taliban were destroyed in the raid.
He said the other equipment was used to control the Improvised Explosive Device.
The anti-government armed militant groups including the Taliban insurgents have not commented regarding the report so far.
Paktia is located in southeastern parts of the country which lies close to the Durand Line and borders with the tribal regions of Pakistan.
The Taliban insurgents and militants belonging to the Haqqani terrorist network are actively operating in a number of its districts and often carry out insurgency activities.
http://www.khaama.com/taliban-suffer-casualties-as-airstrike-likely-destroyed-biometric-equipment-in-paktia-02430
------
India
Trinamool Congress appeasing Islamic fundamentalists and jihadis: RSS leader
By S Senthil Kumar
20th March 2017
COIMBATORE: The Trinamool Congress government in West Bengal is appeasing Islamic fundamentalists and jihadis, who are working against Hindus, RSS joint general secretary V Bhagaiah has alleged. The Sangh will ask the Centre to put pressure on the State to end its support to those involved in "attacking, looting and murdering" people, he said. Bhagaiah was speaking to mediapersons on the sidelines of the Sangh's Akhil Bharatiya Pratinidhi Sabha (national council) meeting, which began at the Amrita Vishwa Vidyapeetham on Sunday.
"West Bengal is 26 per cent Muslim population. The government, to appease the Muslim vote bank, is supporting Islamic fundamentalists. This is harmful to national security and the interests of society," he said.
"The national council will urge the Centre to put pressure on the West Bengal government to take action against attacks by jihadis. A resolution in this regard will be passed at the meeting. Now, Hindu society, writers, intellectuals and the general public are working to change this situation," said Bhagaiah.
"In the last three years, attacks by Islamic fundamentalists have been increasing. Among those murdered were six Dalits. Some hooligans, calling themselves jihadis, burnt 200 houses in a village near Kolkata only because they belonged to Hindus," he claimed.
"During Milad un-Nabi celebrations they forced the closure of all government schools. They also prevented the celebration of Durga Puja. As a result, Hindu society is living in fear. A police station and its crime records were burnt. However, the police remained mute spectators. The State government is protecting them," he added.
"When the CPM was in power, they were attacking all those opposed to them. In the first two years of the TMC regime, a democratic atmosphere prevailed to some extent. Later it started supporting jihadis," he said.
Responding to questions on alleged attacks on RSS workers in Kerala, he said, "Since 1948, CPM goons have been attacking RSS workers. They are not the only ones being attacked. So far, 40 workers of the Congress and 16 of the CPI have been murdered by CPM men in Kerala," he said.
To a question on the Ram Temple in Ayodhya, Bhagaiah hoped the construction would be take place naturally.
http://www.newindianexpress.com/states/tamil-nadu/2017/mar/20/trinamool-congress-appeasing-islamic-fundamentalists-and-jihadis-rss-leader-1583335.html
------
Mohsin Raza, lone Muslim face in Saffron brigade
Shailvee Sharda
Mar 20, 2017
LUCKNOW: As colours of celebration descended on BJP's office in Lucknow on March 11, hundreds of workers were seen sprinkling kesariya gulaal on each other.
But one of them stood tallest among all. The man, over six feet tall, was Mohsin Raza, who took oath as minister with 46 others on Sunday. Raza, a former Ranji cricketer, is the only Muslim face on Yogi minister.
A Shia from old Lucknow, Raza a BJP spokesperson who defends the party on air during debates on various regional news channels. Like a perfect all-rounder, Raza has been batting for his party for over a year now. Talking to TOI he said, "the perception that BJP is an anti-Muslim party is wrong and by associating myself with it, I tried to counter the misconception."
He often quotes his own example to prove his point. "Parties like Congress have for long kept the community in fear of the BJP, which they project as being anti-Muslim. But that's not the case at all. We just don't believe in vote bank politics practised by others," says Raza.
Muslim leaders are not doing good for their communities by openly opposing Modi on every forum. They should realise that BJP is largest party and now rulling 3/4th area of the country. Any community ... Read More
While his brother Arshi had affiliations with Congress, he made way into the party in 2013 through a pro-BJP posters campaign. The posters made way into the mind space because they voiced what BJP leaders had been asserting for long. But they also came with problems. "I've received death threats and face all sorts of wild accusations, ranging from molestation to trespass," he recalled.
Raza promised to raise Old city's pending issues like drainage and power woes though he is not sure of the role he would be given. "I am a dedicated party worker and would take up any area of work given to me," he said.
http://timesofindia.indiatimes.com/elections/assembly-elections/uttar-pradesh/news/raza-lone-muslim-face-in-saffron-brigade/articleshow/57725760.cms
------
Pakistan
Rulers' Fail to Pioneer Islamic System In Country: Pakistan Islamic Sholars
March 20, 2017
Bashir Ahmad Rehmani
Hafizabad
Central leaders of different schools of thoughts stressed the need of the unity to thwart conspiracy of western powers creating rift among the different sects. Addressing Ittihad-i-Ummat Conference under the auspices of Mutahida Jamiat-i-Ahle Hadith and Milli Yakjehti Council Hafizabadin the Jinnah Hall Sunday, JI/MYC Council General Secretary Liaqat Balooch Ameer Pakistan JAH Allama Syed Ziaullah Shah Bukhari Vice President MYC Allama Muhammad Ameen Shaheedi, Jawanan-i-Pakistan President Muhammad Abdullah Hameed Gul, Allama Saqib Akbar Deputy Secretary MYC and local religious leaders have said that Pakistan came into being on the fair name of Islam but unfortunately all rulers failed to introduced Islamic system in letter and spirit.
They said that infidels were spending billion of rupees to tarnish the image of Islam and making nefarious attempts to push the Muslims into western civilization. However, the Muslims would foil their evil attempts.
http://pakobserver.net/rulers-fail-to-pioneer-islamic-system-in-country/
------
Hindu Marriage Bill becomes law in Pakistan
Mar 19, 2017
ISLAMABAD: In a landmark development, the bill to regulate marriages of minority Hindus in Pakistan became a law on Sunday after President Mamnoon Hussain gave his approval.
With the President's nod, Pakistan's Hindus got an exclusive personal law to regulate marriages.
"On the advice of Prime Minister Nawaz Sharif, the President of the Islamic Republic of Pakistan has assented to the 'The Hindu Marriage Bill 2017'," a statement from the Prime Minister's Office said.
The law aims to protect marriages, families, mothers and their children while safeguarding the legitimate rights and interests of Hindu families.
"It is a consolidated law for solemnisation of marriages by Hindu families residing in Pakistan," the statement said.
Prime Minister Sharif said that his government has always focused on provision of equal rights to minority communities residing in Pakistan.
"They are as patriotic as any other community and, therefore, it is the responsibility of the state to provide equal protection to them," he said.
The statement said the Hindu families will be able to solemnise marriages in accordance with the customary rites, rituals and ceremonies.
According to the law, the government will appoint marriage registrars in areas convenient for the Hindu population for registration of their marriages.
The law also provides for procedures relating to restitution of conjugal rights, judicial separation, void and voidable marriages, termination of Hindu marriage, financial security of the wife and children, alternate relief in termination of marriage and termination of marriage by mutual consent.
It also provides the right to a separated person to marry again, entitlement of re-marriage for a Hindu widow at her own will and consent after stipulated time, legitimacy of child born out of void and voidable Hindu marriage.
As per the law, Hindu marriages solemnised before commencement of this law shall be deemed valid and petitions under this law shall be presented before the family courts.
The law also provides for punishments of imprisonment and fines up to Rs 100,000 or both for contraventions and that all offences could be tried in the court of a first class magistrate.
I wonder, are there any hindus left in pakistan?
a wolf is now trying to lure Indians wearing deer mask. Pakistan has changed its war strategy. For 65 years they systematically threatened and era... Read More
It is the first law which would be applicable to entire Pakistan except Sindh province which has its own law to regulate marriages of Hindus.
The law was unanimously passed on March 10 by the National Assembly which endorsed amendments made by the Senate in February.
http://timesofindia.indiatimes.com/world/pakistan/hindu-marriage-bill-becomes-law-in-pakistan/articleshow/57720773.cms
------
Rules Finalised On Freezing, Seizing Assets Of Banned Organisations Of Pakistan
March 20th, 2017
ISLAMABAD: Rules on freezing and seizure of the assets of banned organisations and persons on Schedule-IV of the Anti-Terrorism Act (ATA) 1997 have been finalised by the authorities concerned and submitted to the Law and Justice Division for vetting.
The government constituted the prime minister's subcommittee on choking financing for terrorists and terrorist organisations under the National Action Plan (NAP). Actions have been taken by the federal and the provincial governments and the State Bank of Pakistan (SBP) on the recommendations of the committee.
Highlighting the steps taken by the government to obstruct terror financing, sources in the interior ministry said that under the ATA, designated/proscribed entities and individuals were prohibited from opening bank accounts and availing of any facility from financial institutions.
Accordingly, they said, banks had reported freezing 4,461 accounts of persons on 4th Schedule, which had deposits amounting to around Rs400 million.
Implementation of the ATA provisions related to terror financing has also been strengthened through capacity building, enforcement actions and frequent practice of proscription of terrorist organisations.
The Financial Monitoring Unit (FMU) of the State Bank is organising capacity building programmes in coordination with national and international stakeholders. The programmes are meant to train law enforcement agencies (LEAs) and regulators in investigating cases of terror financing.
https://www.dawn.com/news/1321658/rules-finalised-on-freezing-seizing-assets-of-banned-organisations
------
Pakistan wants to address issues with neighbours peacefully: Nawaz Sharif
The Prime Minister expressed the hope that the Joint Business Forum with businessmen from both sides would develop mutually beneficial contacts and help boost bilateral trade.
March 19, 2017
Nawaz Sharif, Nawaz Sharif's holi message, Pakistan PM greets Hindus on Holi, Pakistan Holi celebrations, Pakistan forced conversion, Pakistan religion conversion, Pakistan news, indian express news
Pakistan's Prime Minister Nawaz Sharif said on Sunday that his country wants to address all outstanding issues with neighbours peacefully. He made the remarks while meeting President of the Republic of Tatarstan, Rustam Minnikhanov, who called on the Prime Minister at his house here.
Jat Quota Stir: All-India Jat Aarakshan Sangarsh Samiti Postpone Their Agitation Planned In Delhi
"The Prime Minister emphasised that Pakistan is pursuing a policy of peaceful neighbourhood and wishes to resolve all outstanding issues with its neighbours, peacefully through dialogue," a statement from the Prime Minister's Office said.
While warmly welcoming the President of Tatarstan and his delegation, Sharif said that longstanding bilateral relations were a manifestation of a common desire to explore possibilities for enhancing cooperation between Pakistan and Russia.
The Prime Minister reiterated his resolve to establish a strong partnership between Pakistan and Russia in all fields, stating that this cooperation would positively contribute towards promoting peace and stability in the region.
"Pakistan remains confident that its longstanding partnership with the Russian Federation as well as with its Muslim regions, including the Republic of Tatarstan, would witness significant progress in all areas of mutual interest," Sharif said.
Minnikhanov told Sharif that the Tatar business delegation held fruitful meetings in Lahore.
The Prime Minister expressed the hope that the Joint Business Forum with businessmen from both sides would develop mutually beneficial contacts and help boost bilateral trade.
"Cooperation in sectors including Banking, Halal food, production of cement, automotive industry, pharmaceuticals, technology, culture and education, should be explored," Sharif said.
The visiting delegation comprised Deputy Prime Minister of Tatarstan Albert Karimov, Ambassador of Russian Federation to Pakistan Alexey Dedov, Chief Executive of Tatarstan Investment Development Agency Taliya Minullina and Deputy Director of the Foreign Affairs Marat Gatin.
http://indianexpress.com/article/world/pakistan-wants-to-address-issues-with-neighbours-peacefully-nawaz-sharif-4576566/
------
Pakistan memorial seeks security to mark Bhagat Singh's anniversary
Advocate Qureshi requested the court to order the respondent authorities to take security measures for the upcoming event in order to protect the lives of the participants and public at large.
March 19, 2017
Pakistan's Bhagat Singh Memorial Foundation has filed a petition in the Lahore High Court seeking security to mark the death anniversary of Indian freedom fighter, citing threats from "religious extremists". The foundation's chairman advocate Imtiaz Rasheed Qureshi filed a writ petition yesterday contending that the organisers of the March 23 event should be provided with security.
Qureshi said threats had been received from "religious extremists" for the event.
"We had requested the provincial government and police high ups to ensure security for the function but they did not respond positively," Qureshi said.
He said the Punjab chief secretary, inspector general of police and DIG operations Lahore have been denying protection and security at public place which is a fundamental right of every citizen of the country.
Advocate Qureshi requested the court to order the respondent authorities to take security measures for the upcoming event in order to protect the lives of the participants and public at large.
Justice Abid Aziz Sheikh would take up the petition tomorrow.
March 23 marks the death anniversary of freedom fighter Bhagat Singh who was hanged along with his comrades Raj Guru and Sukhdev in 1931 at Fawara Chowk in Shadman Lahore.
http://indianexpress.com/article/world/pakistan-memorial-seeks-security-to-mark-bhagat-singhs-anniversary-4576295/
------
Budget cuts may abolish position of US special envoy for Af-Pak region
ANWAR IQBAL
March 20th, 2017
WASHINGTON: The Trump administration's budget cuts may lead to disbanding of the office of the US Special Representative for Pakistan and Afghanistan, a key diplomatic position devoted to restoring peace to the region, according to diplomatic sources.
The sources, who spoke to Dawn and US media outlets, said an unprecedented 28 per cent cut in the State Department's budget would mainly affect the foreign assistance that the department provides to US allies. But the cut, proposed in the Trump administration's 2018-19 budget, would also force the State Department to cut down its size.
Publications that specialise in posting, transfers and sackings in the US government reported that President Donald Trump and his aides were reviewing whether to eliminate many special envoy positions. The proposal, if approved, will affect the "diplomatic staff assigned to key regions and issues, including climate change, anti-Semitism and Muslim communities".
The Chicago Tribune, while reporting on how the budget cut announced last week, would affect the State Department, noted that although the Trump administration had completed its second month in office, "many key national security and foreign policy positions still remain vacant".
Vacancies at the State Department include both key positions that deal directly with the greater South Asian region, US special representative for Afghanistan and Pakistan and the Assistant Secretary of State for South and Central Asia.
The last assistant secretary, Nisha Biswal, was let go soon after the new administration took charge. The last special representative was Richard Olson, who served from Nov 17, 2015, to Nov 17 of last year. He was replaced by an acting representative, Laurel Miller.
The State Department defines the special representative's role as that of coordination "across the government to meet US strategic goals in the region while engaging Nato and other key friends, allies, and others to support these efforts".
Dan Feldman, who served in the special representative's office since its creation in 2009 and also as its head from 2014 to 2015, argues that the office was created to combine diplomacy with the US military offensive to restore peace in Afghanistan.
"Any long-term Afghanistan resolution requires integrated and comprehensive military and diplomatic leadership from the United States," he said in a piece he wrote for The Chicago Tribune.
"And if that was the case when international forces were at their apex in Afghanistan several years ago, with close to 150,000 foreign troops on the ground, that's even more the case now, with 13,000 international troops remaining," he added.
Mr Feldman wrote that "the only feasible, sustainable, cost-effective, long-term resolution for Afghanistan is a negotiated political settlement between all parties, including the Taliban".
And this will "unequivocally require sustained US diplomatic leadership to achieve. In the interim, continued US diplomatic leadership, as an equal counterpart to military leadership," said the former US diplomat while explaining why he believed the Trump administration needed to continue the office of the US Special Representative for Afghanistan and Pakistan (SRAP).
The special representative also engages with the key nations of the region, which will need to support any long-term resolution. "Doing all this effectively requires not just diplomacy, but an empowered, credible, experienced US diplomat," Mr Feldman wrote.
But reports in other US media outlets say that such arguments are not having much impact on the Trump administration, which is determined to reduce the size of the State Department. Trump advisers believe that the job assigned to SRAP could also be done by a section within the office of the Assistant Secretary of State for South Asia.
But there are also proposals to combine the offices of the assistant secretaries for South, Central and East Asia. If such proposals are accepted, the new assistant secretary will be required to look after an area that will stretch from the borders of Russia to Japan. This will not only cover three huge nations — China, India and Indonesia — but also close US allies like Japan and South Korea.
The combined office of South, Central and East Asia will also include two major crisis zones, the Korean peninsula and the Pak-Afghan region. That's why think-tank and media experts say that this merger may not happen, although merging the SRAP's office in the South and Central Asian bureau is more likely.
https://www.dawn.com/news/1321661/budget-cuts-may-abolish-position-of-us-special-envoy-for-af-pak-region
------
Partnership with Russia to promote regional peace: PM
March 20, 2017
ISLAMABAD: Prime Minister Nawaz Sharif on Sunday said Pakistan's "longstanding partnership" with the Russian Federation as well as with its Muslim regions, including the Republic of Tatarstan, would witness significant progress in all areas of mutual interests.
The prime Minister reiterated his resolve to establish a strong partnership between Pakistan and Russia in all fields "as this cooperation will positively contribute towards promoting peace and stability in the region".
He was talking to President of Republic of Tatarstan Rustam Minnikhanov, who called on him at the PM House, according to the PM Office media wing's press release.
While warmly welcoming the president of Tatarstan and his delegation to Pakistan, the prime minister said: "Longstanding bilateral relations are a manifestation of a common desire to explore possibilities for enhancing cooperation between Pakistan and Russia."
Russia lauds Operation Radd-ul-Fasaad
"Pakistan has been pursuing a policy of peaceful neighbourhood and wishes to resolve all outstanding issues with its neighbours peacefully through dialogue."
President Rustam Minnikhanov thanked the prime minister for extending warm hospitality during his visit to Pakistan and informed him that the Tatar business delegation held fruitful meetings in Lahore.
The prime minister expressed the hope that the Joint Business Forum "will develop mutually beneficial contacts and help boost bilateral trade".
"Cooperation in sectors including banking, Halal food, production of cement, automotive industry, pharmaceuticals, technology, culture and education, should be explored," he added.
The visiting delegation comprised Albert Karimov, Deputy Prime Minister; Alexey Dedov, ambassador of Russian Federation to Pakistan; Ms Taliya Minullina, chief executive of the Tatarstan Investment Development Agency; and Marat Gatin, Deputy Director of the Foreign Affairs.
Special Assistant to the PM on Foreign Affairs Tariq Fatemi, Secretary to the PM Fawad Hasan Fawad and Zaheer Janjua, Additional Secretary, Foreign Office were also present.
Meanwhile the Tatarstan president also met Punjab Chief Minister Muhammad Shehbaz Sharif in Lahore and heaped praise on him during his one-day visit to the provincial capital.
The chief minister was at the airport to see off the visiting president.
Speaking on the occasion, the Tatarstan president said that the Punjab chief minister had won their hearts with his great hospitality and love.
"I have been overwhelmed with the warm welcome and generosity extended to me by Shehbaz Sharif," he said, adding that "My days in Lahore are memorable and I am leaving Lahore with unforgettable memories.
Moscow not mulling to join CPEC: Russian foreign ministry
"The love and respect that the people of Punjab and Lahore have given me is unforgettable."
He also appreciated Shehbaz for rendering invaluable services for progress and development of the province and said "Shehbaz Sharif's vision for development deserved praise and commendation.
"I am impressed by Shehbaz Sharif's extraordinary administrative capabilities," he added.
Former PM of Qatar
Prime Minister Nawaz Sharif said Pakistan and Qatar enjoyed strong brotherly relationship which would be further strengthened into sustained cooperation for the benefit of both countries.
The prime minister was talking to Sheikh Hamad BinKhalifa Al Thani, father of Emir of State of Qatar and Sheikh Hamad Bin Jassim Bin Jaber Al Thani, former Prime Minister of the State of Qatar, who called on him at the PM House, a PM Office media wing said.
Nawaz expressed his good wishes for Emir of State of Qatar Sheikh Tamim Bin Hamad Al-Thani.
https://tribune.com.pk/story/1359921/partnership-russia-promote-regional-peace-pm/
------
Southeast Asia
Myanmar hard-line Buddhists protest citizenship for Rohingya Muslims
The Rohingyas face discrimination in Buddhist-majority Myanmar, with many in Rakhine to be illegal migrants from neighbouring Bangladesh.
March 19, 2017 7:10 pm
myanmar hard-line buddhists, buddhists, buddhism, myanmar, rohingya muslim minority community, rohingyas, rohingya, rohingya muslims, minority community, minority, arakan national party, rakhine, indian express news
The government withdrew the Rohingya's so-called white cards two years ago to expel them from the country and cancel their citizenship under the 1982 law.
Hundreds of hard-line Buddhists in a Myanmar state wracked by religious violence protested on Sunday against the government's plan to give citizenship to some members of the persecuted Rohingya Muslim minority community. Rakhine state's dominant Arakan National Party led the protest in Sittwe, the state capital, where many Rohingya lived before an outbreak of inter-communal violence in 2012 forced them to flee their homes.
Hoardings In Jammu By National Panthers Party Asking Rohingya, Bangladeshi Muslims To Leave
"We are protesting to tell the government to rightfully follow the 1982 citizenship law and we cannot allow the government giving citizenship cards to these illegal migrants," said Aung Htay, a protest organiser.
The Rohingya face severe discrimination in Buddhist-majority Myanmar, with many in Rakhine and elsewhere considering them to be illegal migrants from neighbouring Bangladesh, even though Rohingya have been in Myanmar for generations.
The 2012 violence killed hundreds and drove about 140,000 people predominantly Rohingya from their homes to camps for the internally displaced, where most remain.
Rakhine, one of the poorest states in Myanmar, is home to more than 1 million stateless Rohingya.
Today's protest took place three days after the Rakhine Advisory Commission, led by former UN chief Kofi Annan, urged Myanmar's government to reconsider a failed program to verify Rohingya for Myanmar citizenship and to remove restrictions on freedom of movement.
"We also look at the question of citizenship, and we also call for all those who have been recognised as citizens to have all the rights attached to that citizenship," Ghassan Salame, a member of the commission, said last week.
Myanmar's new civilian government, led by Aung San Suu Kyi, welcomed the commission's proposal. Suu Kyi's office said that most of the commission's recommendations would be "implemented promptly."
The government withdrew the Rohingya's so-called white cards two years ago as part of a plan to expel them from the country and cancel their citizenship under the 1982 law.
http://indianexpress.com/article/world/myanmar-buddhists-rohingya-muslims-minority-community-4576350/
------
More Islamic Banks Need To Offer FinTech Solutions
KUALA LUMPUR, March 20 (Bernama) -- More Islamic banks need to come on board in offering financial technology (FinTech) solutions as this will distinguish Malaysia from the rest of the world.
AmInvestment Bank Chief Executive Officer Raja Teh Maimunah Raja Abdul Aziz in stating this, also said the country was however on the right track towards this goal, led by Bank Negara Malaysia (BNM).
"When current Governor Datuk Muhammad Ibrahim took office, he had in his first public address at the Global Islamic Finance Forum 5.0 in May last year, spoken about digital banking.....
http://www.bernama.com/bernama/v8/bu/newsbusiness.php?id=1339619
------
Philippines can't stop China moves in disputed sea: Rodrigo Duterte
Mar 19, 2017
MANILA, Philippines: Philippine President Rodrigo Duterte said Sunday that his militarily inferior country can't stop China's actions in contested waters, responding to a reported plan by Beijing to construct an environmental monitoring station in a disputed shoal off the northwestern Philippines.
Duterte, however, warned that he would invoke a July 12 arbitration ruling that invalidated China's territorial claims in the South China Sea if the Chinese "start to tinker with the entitlement," apparently meaning when Beijing starts to tap the offshore area's resources.
"We cannot stop China from doing his thing, the Americans were not able to stop it," Duterte said in a news conference at the airport in southern Davao city before flying to Myanmar.
"Sir, what will I do? Declare a war against China?" he asked, without saying who he was addressing his question to. "I can, but we'll all lose our military and policemen tomorrow, and we are a destroyed nation."
Duterte's remarks differed slightly from those of the Department of Foreign Affairs, which said that it was trying to verify the news reports about China's construction plans on Scarborough Shoal and that it would refrain from commenting while doing so.
In the past, the Philippine government routinely filed protests or expressed its concern whenever China took aggressive actions to assert its sovereignty in contested territories, but Duterte did not mention any planned protest.
The top official in Sansha City, which has administered China's island claims in the South China Sea since 2012, was quoted by the official Hainan Daily newspaper as saying that preparations were underway to build an environmental monitoring station on Scarborough Shoal.
The preparatory work on Scarborough and on five other islands in the Paracel island group off Vietnam were among the government's top priorities for 2017, Sansha Communist Party Secretary Xiao Jie was quoted as saying in an interview published in the paper's Monday edition and seen online Friday in Beijing. No other details were provided.
If the construction plans on Scarborough proceed, it would be China's first permanent structure in recent memory on a shoal that has been at the heart of a territorial dispute with China and would likely reignite concerns over Beijing's increasingly assertive actions to cement its claims in the crucial waterway, where an estimated $5 trillion in global trade passes each year.
It will also be a defiance of last year's ruling by an arbitration tribunal in The Hague that invalidated China's territorial claims in the South China Sea on historical grounds.
Chinese government ships took control of Scarborough in 2012 after a tense standoff with Philippine vessels. China then blocked Filipinos from fishing in the shoal, which has a vast, coral-encircled lagoon that also serves as a storm shelter for Asian fishermen.
The Philippines brought its disputes with China to international arbitration the following year, but China ignored the complaint and the tribunal's ruling, which found Beijing to have violated the rights of Filipinos to fish at Scarborough.
After he took office in June, Duterte put his country's territorial conflicts with China on the backburner and reached out to China in an effort to revive robust trading and seek Chinese economic aid. Contrastingly, he has lashed out at then-President Barack Obama and the U.S. government, his country's treaty ally, for raising alarm over his deadly crackdown on illegal drugs.
Duterte met Chinese President Xi Jinping and other top officials in a visit to Beijing last year but did not raise the July 12 arbitration ruling. He repeated Sunday that there would be a point in his six-year term when he would do so.
China's money power works. Accepting defeat means selling the nation to china. If he can't save his country must step down and elect new leader who can get support from International community to sa... Read More
"When? When they shall start to tinker with entitlements," he said without elaborating.
Since Duterte met with Xi, Filipinos have been allowed to fish at Scarborough and the Philippine coast guard said it has resumed patrols in the area, easing yearslong tensions in the area.
http://timesofindia.indiatimes.com/world/south-asia/philippines-cant-stop-china-moves-in-disputed-sea-rodrigo-duterte/articleshow/57717959.cms
------
Philippine military attacks extremist bomb-makers
Foreign and local extremists were meeting in a BIFF enclave in the southern province of Maguindanao when the attack was launched, Padilla said, declining to say where the foreigners had come from.
March 19, 2017
The Philippine military has used aircraft and artillery to attack a group of Muslim extremists who were learning how to make improvised explosive devices, a spokesman said today. The attacks between March 13-16 were a severe blow to fighters of the Bangsamoro Islamic Freedom Fighters (BIFF), some of whose members have pledged allegiance to the Islamic State group, said Brigadier General Restituto Padilla.
"The target was completely destroyed," he told AFP following assaults by planes, helicopter gunships and artillery in the southern island of Mindanao.
There were no civilians in the area during the attack, he said.
Foreign and local extremists were meeting in a BIFF enclave in the southern province of Maguindanao when the attack was launched, Padilla said, declining to say where the foreigners had come from.
He cited intelligence sources as saying 21 extremists were killed and 26 wounded, although no bodies were recovered. Muslim rebels often carry away their dead and wounded. Five completed improvised explosive devices were recovered along with bomb-making manuals and materials, the military said. Troops are still tracking down the remnants of the BIFF group, Padilla said. Muslim rebels have waged a separatist insurgency in the south of the mainly Catholic Philippines since the 1970s, with the conflict claiming more than 120,000 lives.
While the major rebel organisations have for years observed a ceasefire as part of peace efforts, breakaway factions like the BIFF and other Muslim gangs still engage in bombings and kidnappings.
http://indianexpress.com/article/world/philippine-military-attacks-extremist-bomb-makers-4576370/
------
Mideast
Israeli Defence Minister Threatens To Destroy Syrian Air Defences
Israel has long focused on stopping the transfer of weapons from Syria to terror groups.
March 20, 2017
Israeli Defence Minister Avigdor Liberman has warned that the country will destroy Syria's air defense system if it fires an anti-aircraft missile at Israeli aircraft again.
"The next time the Syrians use their air defence systems against our airplanes, we will destroy all of them without thinking twice." CNN quoted Liberman as saying on Israel public radio on Sunday.
His threat comes after Syria fired anti-aircraft missiles at Israeli military jets overnight Thursday into Friday.
The Syrian military said the jets struck a military site near Palmyra, while Israel says they targeted a weapons shipment to Iran-backed Hezbollah. Syria claims their missiles downed one Israeli jet and hit another, which Israel rejected as "absolutely untrue."
Meanwhile, the military actions did not go unnoticed both in the Middle East and further afield as in a sign of Russia's displeasure with the strike, Moscow summoned Israel's ambassador to Russia, Gary Koren, less than 24 hours after it happened.
It is the first time in recent years that Moscow has summoned Israel's envoy over a strike in Syria, and it comes one week after Israeli Prime Minister Benjamin Netanyahu visited to reaffirm coordination between the two sides over Syria.
The two countries established coordination last year to avoid conflicts in Syrian airspace, ostensibly to allow both countries to operate freely.
Israel has long focused on stopping the transfer of weapons from Syria to terror groups.
http://indianexpress.com/article/world/israeli-defence-minister-liberman-threatens-to-destroy-syrian-air-defenses/
------
Turkish mosque in Germany vandalized
In yet another instance of Turkophobia and anti-Islam attitudes running rampant in Europe, a mosque run by the local Turkish community in Bremen, Germany, was vandalized by unknown assailants late Saturday.
The suspects threw pig's ears and feet in the courtyard of the Yeni Fatih Mosque in Bremen's Bremerhaven town. The Turkish foundation that runs the mosque called German police to find the perpetrator or perpetrators as soon as possible.
The mosque opened in 2011 in a ceremony attended by German politicians.
Employing pigs in attacks targeting Muslims is quite common as pigs are viewed as "unclean" by Muslims and raising or eating it is "haram" or forbidden.
Mosques in Germany, where anti-Muslim sentiment that has accompanied the influx of Muslim refugees is rising, are occasionally subject to attacks, which range from Molotov cocktails to the tossing of pig's heads. A Turkish parliamentary committee investigating the targeting of mosques found some 297 attacks against mosques between 2001 and 2014, mostly targeting Turkish mosques. German police have been criticized for their failure to identify the suspects responsible for the attacks. Turks, who comprise one of the largest minorities in the country with more than 3 million people, have been frequent targets of racist attacks in the formerly Nazi-ruled Germany, especially in the 1990s. The trend of attacks targeting mosques reemerged in recent years with the rise of the far right in the country. In December, German police detained a man linked to the anti-Islamic, xenophobic group Patriotic Europeans Against the Islamification of the West (PEGIDA) on suspicion of involvement in an attack targeting a Turkish mosque and an event venue in Germany's Dresden in September. The suspect is accused of throwing homemade explosives at Fatih Mosque, owned by the Turkish Islamic Union for Religious Affairs (DİTİB), on Sept. 26.
Far-right crimes have significantly increased in Dresden since 2015, potentially triggered by neo-Nazi propaganda and right-wing populist movements that have exploited the refugee crisis and fears of Islam.
https://www.dailysabah.com/investigations/2017/03/20/turkish-mosque-in-germany-vandalized
------
Erdogan launches scathing attack against Merkel
March 20th, 2017
ISTANBUL: Turkish President Recep Tayyip Erdogan on Sunday launched a scathing personal attack against German Chancellor Angela Merkel, accusing her of using "Nazi measures" in an intensifying dispute between Ankara and Berlin.
Tensions flared after German authorities refused to allow some Turkish ministers to campaign for a 'yes' vote in the April 16 referendum on expanding Erdogan's powers, and he responded by saying Berlin was behaving like Nazi Germany.
"When we call them Nazis they (Europe) get uncomfortable. They rally together in solidarity. Especially Merkel," Erdogan said in a televised speech.
"But you are right now employing Nazi measures," Erdogan told Merkel using the informal 'you' in Turkish.
"Against who? My Turkish brother citizens in Germany and brother ministers" who went to the country to hold campaign rallies for a 'yes' vote in next month's referendum.
Authorities in Germany have blocked some Turkish ministers from holding rallies, infuriating Ankara.
Erdogan said the crisis in relations with Europe over the last days "showed that a new page had been opened in the ongoing fight against our country".
Accusing Europe of backing outlawed terror groups, he warned: "The masked ball is over!" without specifying further.
Turkey had earlier expressed fury that German authorities had on Saturday allowed a pro-Kurdish demonstration in Frankfurt to go ahead where many participants carried insignia of the outlawed Kurdistan Workers Party (PKK).
Germany meanwhile is livid over the jailing ahead of a trial on terror charges of dual Turkish-German national Deniz Yucel, the Turkey correspondent of the German newspaper Die Welt.
Erdogan described Yucel, whose arrest has caused global concern, as a "terror agent" and "supposed journalist" and accused Germany of hosting him for one month at its Istanbul consulate before he went to police for questioning.
https://www.dawn.com/news/1321652/erdogan-launches-scathing-attack-against-merkel
------
A momentous referendum in Turkey
March 20th, 2017
IRFAN HUSAIN
BERKIN Elvan, a Turkish teenager, died in 2014 after being in a coma for 269 days. He had been struck on the head by a tear gas shell during Istanbul's Gezi Park protests in 2013. This tragedy provoked further protests among Turkish liberals, but these soon petered out, as such things usually do. However, three years later, Berkin's image resurfaced, this time on a poster in Geneva's Place des Nations, a square outside the United Nations office.
The message on the poster read: "My name is Berkin Elvan. The police killed me on the orders of the Turkish Prime Minister." At the time, Recep Tayyip Erdogan was prime minister of Turkey.
As soon as the poster — part of an exhibition — went up, the Turkish consulate protested and demanded that it be taken down. But the Swiss government refused, citing freedom of expression. For the touchy Turkish president, this was just another example of European bias against him.
Once more, Turkish patriotism, pride and paranoia have clashed with European laws and liberal traditions. When cities in Germany and Holland refused permission for ruling Turkish AK Party ministers to hold rallies to drum up support for next month's referendum that seeks to hand over unprecedented powers to Erdogan, he and his colleagues erupted. "I thought Nazism was over," he thundered. "But I was wrong. In fact, Nazism is alive in the West."
Apart from accusing Germany and Holland of being run by "remnants of Nazism", Erdogan advised Turkish women living in Europe to "have five children each as three are not enough". Three is the number he has been suggesting to Turkish women at home, much to the ire of feminists.
He also brought in the recent European Court ruling that permits employers to demand that employees avoid wearing garments that proclaim religious belief. While applying to all faiths, this decision was made in response to a legal challenge from a Muslim woman who was fired for wearing a headscarf at work. Erdogan declared he was fed up of this Islamophobia: "Where is the freedom of religion, freedom of conscience?" His interior minister, Suleyman Soylu, was even more provocative: "Let's send 15,000 migrants a month to Europe to shock them."
European response has been relatively muted, and Angela Merkel, the German Chancellor, has said her government would not descend to Erdogan's level. However, the Nazi insults have stung badly, especially for Germans who have lived with the stigma for decades.
There was apprehension in Holland that the spat with Turkey would drive voters in the recent elections to support Geert Wilders, the right-wing Islamophobic populist. Although he did less well than he had hoped, his party still emerged with the second largest bloc of seats. As the Turkish residents of Holland demonstrated against the decision to prevent AK Party rallies on security grounds, Wilders was able to point to their Turkish flags and say: "These people aren't Dutch."
For Erdogan, the whole episode has been a win-win exercise. Had he been permitted to hold rallies, he might have persuaded more Turks in the European diaspora to vote "Yes" to the constitutional changes proposed in the 14 April referendum. But by being refused permission, he has been able to claim that the West is against a strong presidency, and thus a strong Turkey. As for any long-term damage he might have caused to relations with key European states, he doesn't really care.
Turkey's long-held ambitions to join the European Union lie in tatters. Apart from the recent bad blood, Erdogan's crackdown on real and imaginary political foes has caused concern and revulsion in Europe. Claiming to be fighting on three fronts against the militant Islamic State grouo, the Kurdish separatist group known as the PKK, and the Gullenists, Erdogan is asking the Turkish people for enhanced powers as the executive and all-powerful president.
Despite beating loudly on the nationalist drum, and having a large state propaganda apparatus behind him, the outcome of the referendum is far from certain. The tightness of the polls is one reason Erdogan is reaching out to the four million Turks in the European diaspora. One tracker poll shows 'Yes' voters at 48 per cent, while the 'No' vote is projected at 52pc. Another puts both sides at 40pc, with 20pc undecided. While opinion polls in Turkey are notoriously unreliable, these numbers do reflect a surprising degree of ambivalence over giving Erdogan powers that even Mutafa Kemal Ataturk, the founder of modern Turkey, did not enjoy.
A defeat in the referendum would be a huge setback for Erdogan. Had he not been such a towering figure in modern Turkish politics, such a stinging rejection would have spelled an end to very successful career. But Erdogan is a resilient politician who has bounced back more than once, and his AK Party has a solid constituency in Turkey's conservative Anatolian heartland.
Indeed, his rise from a poor Istanbul neighbourhood to a 1,000-room palace in Ankara has been phenomenal by any yardstick. Under him, the economy has flourished and the powerful military has been cut down to size. But his large ego has been his undoing. His ambition to determine Syria's fate following the outbreak of the civil war six years ago has caused a wave of terrorism in Turkey, and has forced many to re-examine his judgement and his good sense.
Above all, his growing authoritarian tendencies have alarmed many in and out of Turkey. For these people, a victory for the 'No' camp in the April referendum will be a victory for Turkey.
https://www.dawn.com/news/1321519/a-momentous-referendum-in-turkey
------
'He Is Blind Or Deaf,' Turkish Defence Minister Says About German Intel Chief
March/19/2017
'He is blind or deaf,' Turkish defence minister says about German intel chief
Turkish Defence Minister Fikri Işık has criticized the statements of German Federal Intelligence Service (BND) head Bruno Kahl, who said Turkey failed to convince that U.S.-based Islamic preacher Fethullah Gülen was behind the July 15, 2016 failed coup attempt in Turkey.
"If the person who is at the top of Germany's intelligence service says 'we cannot see who is behind the coup attempt,' he is either blind, deaf or feels the need to hide the suspects of it [coup attempt]. This is not explainable. This brings questions to minds. Did you collaborate with them? Which part are you taking place in?" he said.
"It could be more suitable to say 'we do not want to see it' instead of 'we cannot see who is behind it,'" he added.
He said the statement was "unfortunate," noting it raised questions on whether Germany was behind the thwarted coup attempt.
"A statement like this from Germany's intelligence chief raises doubts about Germany, and makes us ask if Germany was behind the coup," he said.
Kahl told German magazine Der Spiegel on March 18 that the Turkish government failed to convince them that Gülen was behind the coup attempt.
"Turkey has tried on different levels to convince us of that fact, but they have not succeeded," Kahl said.
http://www.hurriyetdailynews.com/he-is-blind-or-deaf-turkish-defense-minister-says-about-german-intel-chief.aspx?pageID=238&nID=111010&NewsCatID=510
------
North America
Trump Muslim travel ban: Hawaii judge rejects motion to limit injunction
James Tennent By James Tennent
March 19, 2017
A federal judge in Hawaii who ordered an injunction halting the new travel ban by US President Donald Trump's administration has rejected a motion from the Department of Justice to limit his restraining order to only affecting the part of the order that stops citizens of six Muslim majority countries from entering the United States.
Judge Derrick Watson rejected the DoJ motion, leaving in place his injunction from Wednesday that halts the travel ban against citizens from the six countries, as well as the temporary ban on refugees and annual refugee cap.
After the initial ruling, Trump told a rally in Nashville that the injunction was "an unprecedented judicial overreach".
During the legal battle that struck down the Trump administration's first attempt at a ban on selected entry into the US, Trump called the man who made the legal ruling a "so-called judge". That sparked a backlash rallying around the independence of the judiciary - a cornerstone of the American constitution.
The latest version of the ban differs in that Iraq is not included in the list of countries whose citizens cannot enter the US and it does not affect permanent residents or those who already hold visas.
The first order was roundly criticised for it's roll-out, with little warning or consultation that it was coming, leading to chaos at airports.
The Department of Justice filed a motion on Saturday (18 March) asking for clarification on which sections of the executive order the restraining order applied to. It argued that because some sections were not addressed by attorneys fighting the ban, "it is therefore unclear whether the court intended for its Temporary Restraining Order to extend to all of those provisions".
Quoted in Politico, Watson responded that the motion asked for a distinction that was never made in earlier arguments.
IBTimes UK contacted the US Department of Justice for comment on the ruling but did not receive a response by the time of publication.
http://www.ibtimes.co.uk/trump-muslim-travel-ban-hawaii-judge-rejects-motion-limit-injunction-1612487
------
Using Special Forces Against Terrorism, Trump Seeks to Avoid Big Ground Wars
By ERIC SCHMITT
MARCH 19, 2017
Chadian soldiers carrying out a training operation led by a United States Special Forces trainer, right, in N'Djamena last week as part of an annual exercise. Credit Bryan Denton for The New York Times
MARA, Chad — From Yemen to Syria to here in Central Africa, the Trump administration is relying on Special Operations forces to intensify its promised fight against the Islamic State and other terrorist groups as senior officials embrace an Obama-era strategy to minimize the American military's footprint overseas.
In Africa, President Trump is expected to soon approve a Pentagon proposal to remove constraints on Special Operations airstrikes and raids in parts of Somalia to target suspected militants with the Shabab, an extremist group linked to Al Qaeda. Critics say that the change — in one of the few rejections of President Barack Obama's guidelines for the elite forces — would bypass rules that seek to prevent civilian deaths from drone attacks and commando operations.
But in their two months in office, Trump officials have shown few other signs that they want to back away from Mr. Obama's strategy to train, equip and otherwise support indigenous armies and security forces to fight their own wars instead of having to deploy large American forces to far-flung hot spots.
"Africans are at war; we're not," said Col. Kelly Smith, 47, a Green Beret commander who fought in Iraq and Afghanistan and was a director of a counterterrorism exercise in Chad this month involving about 2,000 African and Western troops and trainers. "But we have a strategic interest in the success of partners."
Mr. Trump came to office without a clearly articulated philosophy for using the military to fight terrorist groups. He had promised to be more aggressive in taking on the Islamic State — even suggesting during the presidential campaign that he had a secret plan — but had also signaled a desire to rein in the notion of the United States as the world's peacekeeper and claimed at various points to have opposed the ground invasion of Iraq.
Continue reading the main story
Now, surrounded by generals who have been at the center of a decade-long shift to rely on Special Operations forces to project power without the risks and costs of large ground wars, he is choosing to maintain the same approach but giving the Pentagon more latitude.
A Chadian soldier pretending to be a dead Boko Haram fighter in a training demonstration during the exercise in N'Djamena last week. Credit Bryan Denton for The New York Times
That leeway carries its own perils. Last week, the Pentagon went to unusual lengths to defend an airstrike in Syria that United States officials said killed dozens of Qaeda operatives at a meeting place — and not civilians at a mosque, as activists and local residents maintain.
It was yet another example of the mixed success Mr. Trump's forays with special operators have had so far. An ill-fated raid in January by the Navy's SEAL Team 6 against Qaeda fighters in Yemen marred the president's first counterterrorism mission, five days after he became commander in chief. In Mosul, however, Special Operations advisers are the American troops closest to the fight in Iraq to oust the Islamic State from its stronghold there. That is also likely to be the case in the impending battle to reclaim Raqqa in eastern Syria.
Mr. Trump is largely relying on the policies of his two immediate predecessors, Mr. Obama and President George W. Bush, who were also great advocates of Special Operations forces. On Mr. Obama's orders, SEAL Team 6 commandos killed Osama bin Laden in his hide-out in Pakistan in 2011.
But Mr. Trump seems to have taken that appreciation and reliance to another level. He appointed a retired Marine Corps general, Jim Mattis, as defense secretary, and a three-star Army officer, Lt. Gen. H. R. McMaster, as his national security adviser. Both men have extensive experience with Special Operations forces. And the National Security Council's new senior director for counterterrorism, Christopher P. Costa, is a retired Special Forces intelligence officer.
Sharing an unusual window into the private conversations between Mr. Trump and his senior commanders, Army Gen. Tony Thomas, the head of the military's Special Operations Command, said the president had made clear his urgent priority for counterterrorism missions conducted by the military's elite forces during a visit to military headquarters in Tampa, Fla., last month.
"There were some pretty pointed questions about what winning looks like, and how are you going to get there," General Thomas told a Special Operations conference outside Washington after the presidential visit.
And while the Pentagon could eventually send a few thousand more conventional troops to the fights in Iraq, Syria and Afghanistan, General Thomas warned that senior commanders feared that "more troops on the ground may mean you own the problem when you're done with it."
Flat-bottomed boats carried Chadian Special Antiterrorism Group soldiers and their American Special Forces trainers during an exercise along the shore of the Chari River last week. Credit Bryan Denton for The New York Times
That concern gives weight to arguments for greater reliance on special operators as the Trump administration for now eschews larger deployments of conventional troops and proposes deep cuts in foreign aid and State Department budgets.
The global reach of special operators is widening. During the peak of the conflicts in Iraq and Afghanistan, nearly 13,000 Special Operations forces were deployed on missions across the globe, but a large majority were assigned to those two countries. Now, more than half of the 8,600 elite troops overseas are posted outside the Middle East or South Asia, operating in 97 countries, according to the Special Operations Command.
Still, about one-third of the 6,000 American troops currently in Iraq and Syria are special operators, many of whom are advising local troops and militias on the front lines. About a quarter of the 8,400 American troops in Afghanistan are special operators.
The Interpreter Newsletter
Understand the world with sharp insight and commentary on the major news stories of the week.
Receive occasional updates and special offers for The New York Times's products and services.
In Africa, about one-third of the nearly 6,000 overall troops are Special Operations forces. The only permanent American installation on the continent is Camp Lemonnier, a sprawling base of 4,000 United States service members and civilians in Djibouti that serves as a hub for counterterrorism operations and training. The United States Air Force flies surveillance drones from small bases in Niger and Cameroon.
Elsewhere in Africa, the roles of special operators are varied, and their ranks are small, typically measured in the low dozens for specific missions. Between 200 and 300 Navy SEALs and other special operators work with African allies to hunt shadowy Shabab terrorists in Somalia. As many as 100 Special Forces soldiers help African troops pursue the notorious leader of the Lord's Resistance Army, Joseph Kony. And Navy SEALs are training Nigerian commandos for action in the oil-rich delta.
The United States is building a $50 million drone base in Agadez, Niger, that is likely to open sometime next year to monitor Islamic State insurgents in a vast area on the southern flank of the Sahara that stretches from Senegal to Chad.
Mr. Trump's tough talk on terrorism has been well received here in Chad, where American Special Operations and military instructors from several Western nations finished an annual three-week counterterrorism training exercise last week.
U.S. Troops and Equipment in Africa
The countries in Africa where the United States has the most troops, and the cooperative security locations, where military equipment is stored.
Cooperative security locations
Note: The U.S. Department of Defense uses cooperative security locations to store pre-positioned equipment and supplies, including tents, cots and munitions, for military emergencies. Troops include trainers and support personnel.
Sources: U.S. Africa Command; senior U.S. military officials
By The New York Times
Many African soldiers and security forces said they would welcome an even larger United States military presence to help combat myriad extremist threats. "Of course we'd like more," said Hassan Zakari Mahamadou, a police commissioner from Niger. "U.S. forces enhance us."
The Pentagon has allocated about $250 million over two years to help train the armies and security forces of North, Central and West African countries.
But American aid and training alone — along with occasional secret unilateral strikes — will not be enough to defeat groups like Al Qaeda, Boko Haram and the Islamic State, officials say.
"We could knock off all the ISIL and Boko Haram this afternoon," Gen. Thomas D. Waldhauser, the leader of the military's Africa Command, told the Senate this month, using an acronym for the Islamic State. "But by the end week, so to speak, those ranks would be filled."
Here on the outskirts of the Chadian capital, N'Djamena, last week, four flat-bottomed boats with mounted machine guns roared down the Chari River. The boats pulled up along the riverbank, just opposite neighboring Cameroon, and disgorged rifle-toting Chadian Special Antiterrorism Group forces and their American trainers.
In a hail of gunfire, shooting blanks, they stormed the thatched huts of a suspected Boko Haram bomb maker; seized laptops, cellphones and other material inside for clues on terrorist operations; and dashed back to the river, fending off a mock ambush on the way. Piling back into their boats under covering fire, the Chadian commandos sped off in a drill that American and Chadian officers often play out for real in the nearby Lake Chad Basin area.
"Extremism is like a cancer," said Brig. Gen. Zakaria Ngobongue, a senior Chadian officer who has trained in France and at Hurlburt Field, Fla., and was helping oversee the exercise. "We need to continue to fight it."
https://www.nytimes.com/2017/03/19/world/africa/trump-special-forces-navy-seals.html
------
Two dead, several injured in riot at Guatemala prison
Officials said inmates also started a fire in part of the prison, and police threw tear gas canisters seeking to regain control.
March 20, 2017
guatemala prison riot, guatemala city, guatemala prison, guatemala city police, prison riot, world news
Inmates climb to the roof as police take control during a riot at the reformatory for youth and men, Centro Correccional Etapa II, in San Jose Pinula, Guatemala, Sunday, March 19, 2017. (AP Photo/Oliver de Ros)
A riot erupted Sunday at a prison for juveniles and adults, and authorities said two jail monitors were killed and several other people suffered injuries.
The incident came two weeks after unrest at a state-run shelter for children resulted in a fire that killed 40 girls.
The National Civil Police confirmed that two monitors were dead at the Central Correctional Stage II prison in San Jose Pinula, about 12 miles (20 kilometers) east of the capital.
Officials said inmates also started a fire in part of the prison, and police threw tear gas canisters seeking to regain control.
Volunteer firefighters told local media that the monitors who were killed had been beaten, but the cause of death had not been determined.
http://indianexpress.com/article/world/two-dead-several-injured-in-riot-at-guatemala-prison/
------
Al-Qaeda operative convicted on multiple terror offenses in US
Ibrahim Suleiman Adnan Adam Harun, 46, a citizen of Niger, was convicted on all five counts presented to the jury.
March 19, 2017
al qaeda, al qaeda operative, us embassy, nigeria, american military, al qaeda terrorist convicted, us nationals, world news
An accused al Qaeda operative, Ibrahim Suleiman Adnan Adam Harun, is shown in this US Attorney's office in Brooklyn evidence photo. (REUTERS/File Photo)
An al-Qaeda operative, who had travelled to Pakistan and met leaders of the terror group there, has been convicted by a jury here on multiple terrorism offenses including conspiracy to murder American military personnel in Afghanistan and bomb the US embassy in Nigeria.
Ibrahim Suleiman Adnan Adam Harun, 46, a citizen of Niger, was convicted on all five counts presented to the jury, including conspiracy to murder US nationals, conspiracy to bomb a government facility, conspiracy to provide material support to foreign terrorist organisation al-Qaeda and use of explosives in connection with terrorist activities.
When sentenced in June, Harun faces a maximum sentence of life in prison.
Harun had traveled to Afghanistan in the weeks before the September 11 attacks and had joined al-Qaeda, trained at the group's training camps and participated in attacks on US and Coalition troops in Afghanistan in which two American service members were killed and others were seriously wounded in 2003.
He had also received training in explosives from an al-Qaeda weapons expert and traveled from Pakistan to Nigeria intending to attack US government facilities there.
"Harun is an al-Qaeda operative who targeted US personnel and diplomatic facilities across two continents. The evidence presented at trial established that the defendant and other jihadists attacked a US military patrol in Afghanistan, resulting in the death of two American soldiers and the serious injury of others," said Acting Assistant Attorney General Mary B McCord for National Security.
During the two-week trial, the government established that immediately after the September 11 terrorist attacks, al-Qaeda military leaders sent Harun to training camps in Afghanistan, in anticipation of an American invasion.
At these camps, he learned how to use weapons and explosives and met top al Qaeda leaders. Harun then traveled to Waziristan in the Federally Administered Tribal Areas region of Pakistan, where he operated under Abdul Hadi al-Iraqi, one of bin Laden's deputies who was al-Qaeda's top military commander in Afghanistan at that time.
In April, 2003, Harun and fellow jihadists ambushed a US military patrol from Firebase Shkin. Two US servicemen were killed in the attack and several others were seriously wounded. Harun was also wounded but escaped to Pakistan.
While recovering from his wounds in Pakistan, Harun met with senior al-Qaeda officials – including Abu Faraj al-Libi, then al Qaeda's external operations chief – and expressed his desire to engage in acts of terror against US interests outside of Afghanistan, specifically attacks similar to 1998 al-Qaeda bombings of the US embassies in Kenya and Tanzania.
He also swore formal allegiance to al-Qaeda chief Osama bin Laden through bin Laden's military commander Abdul Hadi.
In summer of 2003, Harun traveled from Pakistan to Nigeria, where he planned to bomb the US Embassy.
In early 2005, Harun was arrested by Libyan authorities and held in custody until his release in June 2011.
Subsequently, Harun was arrested on June 24, 2011 by Italian authorities and was later extradited to the US to face charges pending in the Eastern District of New York.
http://indianexpress.com/article/world/al-qaeda-operative-convicted-on-multiple-terror-offenses-in-us/
------
3 US troops injured as Afghan soldier opens fire inside base
19 Mar, 2017
An Afghan soldier opened fire at Camp Shorab air base in southern Afghanistan, wounding three US soldiers before being shot dead.
The injured American troopers are receiving medical treatment, the NATO-led Resolute Support mission said.
Afghan military spokesman, Rasoul Zazai, told Reuters that the incident happened at 3 p.m. local time Sunday at Camp Shorab in the Afghan province of Helmand.
Protest outside the Royal Courts of Justice in London on February 8, 2017. © Daniel Leal-OlivasMarine's murder conviction reduced to manslaughter on diminished responsibility grounds
An Afghan special forces operative "lost his life in exchange of fire" after wounding three US soldiers, he said.
According to AP, Zazai claimed the Afghan soldier's actions weren't deliberate and that he just made a "mistake."
Insider attacks by Afghan soldiers, once a major security concern, have been on the decline recently due to improved security at bases, and the withdrawal of most of the international contingent from Afghanistan in late 2014.
Currently, around 13,000 foreign troops remain in the country as advisers and instructors for the local security forces fighting the Taliban.
In October 2016, an Afghan man dressed in a military uniform shot dead a US serviceman and an American civilian contractor at a military base in Kabul.
Two Romanian soldiers were shot dead and one wounded last May after Afghan police officers they were training, opened fire on them.
https://www.rt.com/usa/381323-us-troops-injured-afghanistan/
------
Muslim supporters turn out in South Bay
By SHARON NOGUCHI
March 19, 2017
Distressed over the targeting of Muslims, opposed to national and religious scapegoating and seeking to channel their outrage and anguish, hundreds of South Bay residents turned out at a Santa Clara mosque Sunday afternoon to express solidarity with their Muslims coworkers, neighbors and colleagues.
"We protest policies and executive orders that divide, dehumanize and demonize," said the Rev. Joey Lee of the Presbytery of San Jose — which serves Presbyterian churches in four counties — and one of 20 speakers addressing the crowd. "We protest the building of walls rather than bridges and even the idea of a Muslim registry."
Several hundred people held hands while circling the mosque at the Muslim Community Association, before mingling and listening to speakers exhorting people to stand together and reject hatred and divisiveness.
"I was worried we wouldn't have enough people to form a circle," said Yasmine Kilani of Santa Clara, who happened to be teaching at the community association that day and joined in. Instead, she was more than gratified. "When we see so many people from different faiths here — this is awesome."
The "Hands Around the Mosque" event drew a noticeably bigger crowd than in two previous years. "I would like to think that it's the relationships we have built," said organizer Samina Sundas, founder of the American Muslim Voice Foundation, co-host of the event along with the community association. While a number of people came from supportive congregations and religious groups, others were propelled by concern over national leadership and politics.
"I am very worried," said Laurie Castellano, 75, of Palo Alto. "The Trump presidency has really made a resistance worker out of me."
"We have been looking for a way to show our support for the Muslim community. We thought this was a lovely way to do it," said Jenn Ibbotson-Brown of Palo Alto, who said she's become newly political. She, her husband Jeff Brown and children ages 13, 11 and 3, were all holding hands around the mosque.
Many, like Erica Wang, 45, of Sunnyvale, got word via social media and from various resistance movements that have sprung up since November — the political network Indivisible, and huddles," small groups that grew out of the women's march.
Others do not see Muslims in isolation. "The Jewish people stand with our Muslim brothers and sisters," said Rabbi Jonathan Prosnit of congregation Beth Am in Los Altos Hills. "We know an attack on one community of faith is an attack on all communities of faith."
Nestor and Renata Melo of Fremont also turned out to show solidarity. "It's very important for the Muslim community to understand that they are welcome," Nestor Melo, 45, said.
As immigrants from Brazil, the couple detected a change in U.S. attitudes when they flew back into this country on a recent trip. Immigration authorities, they said, were noticeably less welcoming, and more rigorous in their checks.
But Sundas is convinced that as a whole, "Americans are kind, compassionate and open-minded people."
In confronting hateful rhetoric, she said, "hate cannot drive out hate," she said. "We need to resist the spread of hate and fear. We need to sow the seeds of friendship."
It's not certain how much hand-holding will diminish hate crimes, influence national politics or counter hatred for Muslims.
But Sunday's mosque gathering "was not meant to change the minds of those under the sway of Islamophobia," said the Rev. Rowan Fairgrove, 63, of San Jose. A Wiccan, or pagan, priestess, Fairgrove said, "It's meant to show our Muslim neighbors that we have their backs."
http://www.mercurynews.com/2017/03/19/muslim-supporters-turn-out-in-south-bay/
------
URL: https://www.newageislam.com/islamic-world-news/new-age-islam-news-bureau/france--airport-attacker-'was-driven-by-drugs,-not-islam'/d/110463
New Age Islam, Islam Online, Islamic Website, African Muslim News, Arab World News, South Asia News, Indian Muslim News, World Muslim News, Women in Islam, Islamic Feminism, Arab Women, Women In Arab, Islamophobia in America, Muslim Women in West, Islam Women and Feminism